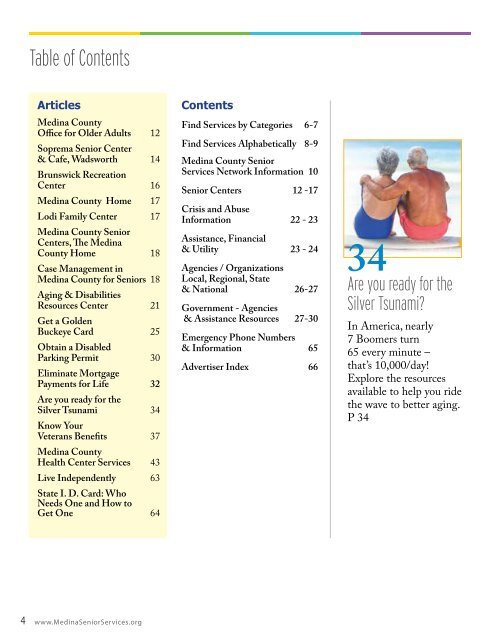 MCSSN-active The only and most comprehensive directory of services, facilities and guidance professionals serving the lifestyle and needs of senior adults and their families, this 68-page, full color SENIOR SOLUTIONS RESOURCE GUIDE reaches over 25,000 Medina County area seniors.
Table of Contents

Articles

Medina County

Office for Older Adults 12

Soprema Senior Center

& Cafe, Wadsworth 14

Brunswick Recreation

Center 16

Medina County Home 17

Lodi Family Center 17

Medina County Senior

Centers, The Medina

County Home 18

Case Management in

Medina County for Seniors 18

Aging & Disabilities

Resources Center 21

Get a Golden

Buckeye Card 25

Obtain a Disabled

Parking Permit 30

Eliminate Mortgage

Payments for Life 32

Are you ready for the

Silver Tsunami 34

Know Your

Veterans Benefits 37

Medina County

Health Center Services 43

Live Independently 63

State I. D. Card: Who

Needs One and How to

Get One 64

Contents

Find Services by Categories 6-7

Find Services Alphabetically 8-9

Medina County Senior

Services Network Information 10

Senior Centers 12 -17

Crisis and Abuse

Information 22 - 23

Assistance, Financial

& Utility 23 - 24

Agencies / Organizations

Local, Regional, State

& National 26-27

Government - Agencies

& Assistance Resources 27-30

Emergency Phone Numbers

& Information 65

Advertiser Index 66

34

Are you ready for the

Silver Tsunami?

In America, nearly

7 Boomers turn

65 every minute –

that's 10,000/day!

Explore the resources

available to help you ride

the wave to better aging.

P 34

4 www.MedinaSeniorServices.org

5
More magazines by this user