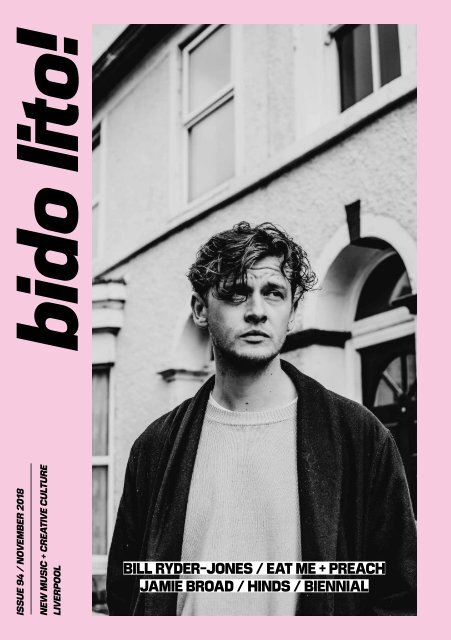 Issue 94 / November 2018
November 2018 issue of Bido Lito! magazine. Featuring: BILL RYDER-JONES, JAMIE BROAD, JONH WATERS, HINDS, THE ALEPH, SARA WOLFF, LIVERPOOL BIENNIAL 2018, ACID CORBYNISM, TELEMAN and much more.
November 2018 issue of Bido Lito! magazine. Featuring: BILL RYDER-JONES, JAMIE BROAD, JONH WATERS, HINDS, THE ALEPH, SARA WOLFF, LIVERPOOL BIENNIAL 2018, ACID CORBYNISM, TELEMAN and much more.
SHOW MORE
SHOW LESS
Do you know the secret to free website traffic?
Use this trick to increase the number of new potential customers.
ISSUE 94 / NOVEMBER 2018

NEW MUSIC + CREATIVE CULTURE

LIVERPOOL

BILL RYDER-JONES / EAT ME + PREACH

JAMIE BROAD / HINDS / BIENNIAL
---
Fri 19th Oct • SOLD OUT

The Sherlocks

+ Trampolene

+ Paris Youth Foundation

Fri 19th Oct • SOLD OUT

The Vryll Society

+ Peach Fuzz + Sunstack Jones

+ Lemonade Fix

Sat 20th Oct • SOLD OUT

Tom Grennan

Sun 21st Oct • SOLD OUT

Dermot Kennedy

Wed 24th Oct • SOLD OUT

Mountford Hall, Liverpool Guild of Students

First Aid Kit

Thu 25th Oct

Neil Hilborn (USA)

Fri 26th Oct

The White Buffalo (USA)

+ Xander And The Peace Pirates

Sat 27th Oct

The Southmartins

The Beautiful South & Housemartins Tribute

Sat 27th Oct • 10pm

ABBA Disco Wonderland

Fri 2nd Nov

Bad Sounds

Fri 2nd Nov

Talk Tonight

ft. Louis Berry, Peach Fuzz, Jamie

Webster, Timo Tierney and Matty

Loughlin (Ship Builders)

Sat 3rd Nov

Ladytron

+ Stealing Sheep + Haarm

Sat 3rd Nov • SOLD OUT

Old Dominion (USA)

Sat 3rd Nov • 11pm

Mountford Hall, Liverpool Guild of Students

Festival Of The Dead

Wed 7th Nov

Hothouse Flowers

Fri 9th Nov • SOLD OUT

Mountford Hall, Liverpool Guild of Students

George Ezra

Fri 9th Nov • SOLD OUT

Less Than Jake &

Reel Big Fish (USA)

Fri 9th Nov

Shaun Ryder's

Black Grape

Sat 10th Nov

The Carpet Crawlers

Perform 'Selling Foxtrot By The Pound'

Sat 10th Nov

Antarctic Monkeys

Sun 11th Nov

Samantha Harvey

Tue 13th Nov

Of Mice & Men

+ Shvpes + Loathe

Tue 13th Nov

The Dead Daisies:

Welcome to Daisyland

+ Massive Wagons

Fri 16th Nov • SOLD OUT

Slaves

Fri 16th Nov

Absolute Bowie Presents

50 Years of Bowie

ticketmaster.co.uk

Sat 17th Nov

UK Foo Fighters

Sat 17th Nov • SOLD OUT

Johnny Marr:

Call The Comet Tour

Thur 22nd Nov

Limehouse Lizzy

25th Anniversary Tour

Fri 23rd Nov

Stillmarillion

Fri 23rd Nov • 10pm

Foreverland:

Enchanted Forest

Sat 24th Nov

Pearl Jam UK

Sat 24th Nov

Heaven 17 + Propaganda (GER)

Wed 28th Nov

Natty

Thur 29th Nov

Bars and Melody

Thur 29th Nov

The Damned

Fri 30th Nov

The Doors Alive

Sat 1st Dec

Alabama 3

Thur 6th Dec

Razorlight

Fri 7th Dec

The Lancashire Hotpots

+ Stu Penders & Spladoosh

Sat 8th Dec

Slade - Merry Christmas

Everybody 45th Anniversary

Sat 8th Dec

CKY

+ Sumo Cyco + Bullets and Octane

Sat 8th Dec

Mountford Hall, Liverpool Guild of Students

Miles Kane

+ Cabbage + The Mysterines

Tue 11th Dec

Bjorn Again

Fri 14th Dec

Polar States

Sat 15th Dec

Prince Tribute:

Endorphinmachine

Sat 15th Dec

Skindred

Fri 21st Dec

Sex Pissed Dolls

Sat 22nd Dec

Ian Prowse

and Amsterdam

Sat 22nd Dec

Mountford Hall, Liverpool Guild of Students

Cast + The Bohos

Sat 22nd Dec

The Smyths

Wed 16th Jan

Enter Shikari

Fri 25th Jan • 6.30pm

OMYO

o2academyliverpool.co.uk

11-13 Hotham Street, Liverpool L3 5UF

Doors 7pm unless stated

facebook.com/o2academyliverpool

twitter.com/o2academylpool

instagram.com/o2academyliverpool

youtube.com/o2academytv

Sat 26th Jan

Mountford Hall, Liverpool Guild of Students

Kaiser Chiefs

Sat 26th Jan

The ELO Show

Sat 26th Jan

The Maximum Who

Fri 1st Feb

Clem Burke (Blondie)

and Bootleg Blondie

Sat 2nd Feb

Cash

Tue 5th Feb

The Dead South (CAN)

Wed 20th Feb

White Denim (USA)

Sat 23rd Feb

The Spitfires

Thur 7th Mar

Mountford Hall, Liverpool Guild of Students

Trixie Mattel (USA)

Sat 9th Mar

The Clone Roses vs

Kazabian + Sapho

Mon 11th Mar

Mountford Hall, Liverpool Guild of Students

Greta Van Fleet (USA)

Wed 13th Mar

The Wailers

Thur 14th Mar

Wille and the Bandits

Fri 15th Mar

Joanne Shaw Taylor

Fri 22nd Mar

Liverpool Rocks:

Semi Final

Sat 23rd Mar

AC/DC UK & Dizzy Lizzy

Wed 27th Mar

Hayseed Dixie

Sat 30th Mar

Liverpool Rocks:

Semi Final

Sat 6th Apr

The Showhawk Duo

+ Benji & Hibbz

Sat 27th Apr • 6.30pm

Liverpool Rocks Final

Sat 27th Apr

Mountford Hall, Liverpool Guild of Students

Hollywood Undead

Fri 3rd May

The Bon Jovi Experience

Sat 4th May

The Amy Winehouse

Experience…A.K.A Lioness

Sat 18th May • 11pm

Party With The

Greatest Showman

Club Tour

Thur 23d May

Glenn Hughes Performs

Classic Deep Purple

Sat 25th May

The Icicle Works

Mon 3rd Jun

Mountford Hall, Liverpool Guild of Students

Anne-Marie

Venue box office opening hours:

Mon - Sat 10.30am - 5.30pm

ticketmaster.co.uk • seetickets.com

gigantic.com • ticketweb.co.uk

FRI 19TH OCT 6PM

KILA

+ HERMITAGE GREEN

+ BILL BOOTH

SAT 20TH OCT 7PM

WE ARE SCIENTISTS (USA)

+ COLUMBIA

SAT 20TH OCT 11PM

TRACKSUIT & TRANCE:

THE 90S RAVE FT. ULTRABEAT

THUR 25TH OCT 7PM SOLD OUT

VILLAGERS

+ BILLIE MARTEN

MON 29TH OCT 7PM

THE BLINDERS

TUE 30TH OCT 7PM

CHELCEE GRIMES

+ SUB BLUE + SATIN BEIGE

FRI 2ND NOV 6.30PM

RHYTHM OF THE 90'S

SAT 3RD NOV 7PM

TIDE LINES

FRI 9TH NOV 7PM

DUSKY GREY

SAT 10TH NOV 6PM

MiC LOWRY

SAT 10TH NOV 7PM

ROBERT VINCENT

SUN 11TH NOV 7PM

BRIX AND THE

EXTRICATED

+ THE GENTLE SCARS

TUE 13TH NOV 7PM

SHEAFS

THUR 15TH NOV 7PM

SAINT RAYMOND

FRI 16TH NOV 7PM

HINDS (MADRID)

+ SPORTS TEAM

FRI 16TH NOV 6.30PM

THE NOTION

SAT 17TH NOV 7PM SOLD OUT

GRUFF RHYS

FRI 23RD NOV 6.30PM

THE KAIROS

SAT 24TH NOV 6PM

MORGAN JAMES

THUR 29TH NOV

THE AMORETTES

FRI 30TH NOV 7PM

JORDAN ALLEN

FRI 30TH NOV 7PM

CLEAN CUT KID

SAT 1ST DEC 7PM

THE ALARM

+ RYAN HAMILTON & THE

HARLEQUIN GHOSTS

SAT 1ST DEC 7PM SOLD OUT

THE WANDERING

HEARTS

+ RUSTON KELLY

SAT 8TH DEC 10PM

DANNY HOWARD –

NOTHING ELSE MATTERS

TOUR

+ ILLYUS & BARRIENTOS

WED 12TH DEC 7PM

MONA (USA)

+ OCTOBER DRIFT + BRIBES

SAT 15TH DEC 7PM

THE WEDDING PRESENT

"TOMMY" 30TH

ANNIVERSARY TOUR

TUE 22ND JAN 7PM

J MASCIS (USA)

FRI 25TH JAN 6PM

SAT 26TH JAN 6PM

FRI 1ST FEB 6PM

SAT 2ND FEB 6PM

LIVERPOOL ROCKS –

ROUND 1

WED 20TH FEB 7PM

STONE BROKEN

FRI 22ND FEB 6PM

SAT 23RD FEB 6PM

SAT 2ND MAR 6PM

LIVERPOOL ROCKS

– QUARTER FINAL

SAT 16TH MAR 7PM

ADY SULEIMAN

SAT 4TH 7.00PM

BLANCMANGE

TICKETS FOR ALL SHOWS ARE AVAILABLE FROM

TICKETMASTER.CO.UK

90

SEEL STREET, LIVERPOOL, L1 4BH

PRESENTS

(MADRID)

with support from

FRIDAY 16TH NOVEMBER

ARTS CLUB THEATRE

90 SEEL STREET LIVERPOOL, L1 4BH

£14 ADV PLUS BOOKING FEE VIA SEETICKETS.COM & TICKETMASTER.CO.UK

7PM DOORS - 14+ SHOW - SUPPORTS TBA

@CLUBEVOL

@HINDSBAND
---
22 nov 2018 - 3 mar 2019

FACT

88 WOOD STREET, LIVERPOOL, L1 4DQ

fact.co.uk

#brokensymmetries
---
CONSTELLATIONS

a_ Greenland St, Liverpoo

w_ constellations.co

ART | MUSIC | FOOD | BAR

Escape the city centre bustle in our Baltic Triangle retreat

By day a cafe meets art gallery | By night a music infused bar

Thursday : Live Music

Fri/Sat* : DJs in the bar

Sunday : Roasts & Records

Pies, donuts, hot and cold beverages plus weekly drink and cocktail offers

*Subject to some closures due to private/ticketed events
---
What's On

October– November

Sunday 28 October 8pm

Music Room

Liverpool Irish Festival

Stephen James Smith

Wednesday 31 October 7.30pm

Royal Liverpool Philharmonic Orchestra

Psycho: Film with Live

Orchestra (cert 15)

Saturday 10 November 7.30pm

Homotopia Festival 2018

John Waters:

This Filthy World

Sunday 25 November 7.30pm

Film

Bohemian Rhapsody (cert 12A)

Thursday 1 November 8.30pm

Music Room

Liverpool Arab Arts Festival

Cairokee

Sunday 4 November 12pm

Music Room

Coffee Concert

Troika Klezmer Kabaret

Box Office

0151 709 3789

liverpoolphil.com

LiverpoolPhilharmonic

liverpoolphil

liverpool_philharmonic

Principal Funders

Thanks to the City

of Liverpool for its

financial support

Principal Partners

Media Partner

Image John Waters
---
MEMBERSHIP

THE ALL-NEW BIDO LITO! COMMUNITY MEMBERSHIP

Bido Lito! has always been about supporting and championing Liverpool's new music and creative

culture. Through our team of community writers, photographers, illustrators and creative minds we've

charted our city's vibrant, do-it-together creative ethos since 2010. This community spirit is central to

what Bido Lito! has become, and it's something we're committed to expanding upon.

A new global movement towards community journalism has emerged in recent years, and we see

Bido Lito! playing a key role the movement's continuing development. As traditional media organisations

face existential threats to their business models and their moral authority, community journalism

harnesses the energy and passion of local people, creating a powerful, independent media voice free

from advertorials and clickbait.

With this in mind, we are making some changes to our Bido Lito! Community Membership.

Bido Lito! Community Members will still receive the latest edition of the magazine in the post before

anyone else, along with exclusive download and playlist content from Liverpool's most exciting new

artists. And, members are still invited to come along to our monthly Bido Lito! Social for free.

But - and most importantly - Bido Lito! Community Members will be at the heart of shaping the

content of the magazine itself; whether it be recommending features, providing insight into live events,

curating playlists or suggesting artists for our Bido Lito! Socials, our members will be at the centre of

everything we do.

We still believe strongly in the editorial integrity of the magazine, so Bido Lito! Editors will have the

final say on commissions; but the voice of Bido Lito! going forward will be shaped by our community

members.

If you are passionate about supporting and championing Liverpool's new music and creative culture,

join the community media revolution. Become a Bido Lito! Community Member today.

For more information go to bidolito.co.uk/membership
---
"Community journalism

harnesses the energy

and passion of local

people, creating a

powerful, independent

media voice free from

advertorials and clickbait"
---
The Merchant, Liverpool

26th December 2018

11pm

Tickets via Skiddle

A clubnight devoted to all things ABBA.

GIMME!

GIMME!

GIMME!

AFTER MIDNIGHT
---
Giant Spectacular (John Johnson)

New Music + Creative Culture

Liverpool

Issue 94 / November 2018

bidolito.co.uk

Second Floor

The Merchant

40-42 Slater Street

Liverpool L1 4BX

Publisher

Craig G Pennington - info@bidolito.co.uk

Editor-in-Chief

Christopher Torpey - chris@bidolito.co.uk

Media Partnerships and Projects Manager

Sam Turner - sam@bidolito.co.uk

Features Editor

Niloo Sharifi - niloo@bidolito.co.uk

Live Editor

Elliot Ryder - elliot@bidolito.co.uk

Digital and Social Media Officer

Alannah Rose - alannah@bidolito.co.uk

Design

Mark McKellier - mark@andmark.co.uk

Branding

Thom Isom - hello@thomisom.com

Student Society Co-Chairs

Daisy Scott - daisy@bidolito.co.uk

Sophie Shields - sophie@bidolito.co.uk

EDITORIAL

Was Liverpool improved by its 2008 European

capital of culture status? With arguably the

biggest draw of the 10-years-on celebrations

having just stridden through the city, it seems

like an apt time to weigh an answer. For me, though, there

cannot be a clear judgement: my view will never possess an

empirical understanding of Liverpool through the 70s and 80s;

plus, I was only eight years old when it was announced Liverpool

was to wear a much-deserved cultural crown when 2008 came.

I was quite oblivious to the city's social and economic standing

at that age, and you'll have to forgive me for the Michael Owen

poster that was then adorning my wall.

Peer behind the dense layer of glass and

shiny cladding added to the city centre, though,

and you see that 2008 marked the year Liverpool

was brought in line. Gone were the days of

Militant, the red stronghold within Liverpool City

Council. By 2008, Liverpool, like much of the

UK, was in the eye of the New Labour storm –

financial ruin only months away. However, the

years of redevelopment granted by EU money

allowed Liverpool to compete. Some streets are

now unrecognisable compared with how they

stood 10 years ago, Mann Island the gleaming

example.

Since 2008, Liverpool has hosted the Labour Party conference

three times, returning in 2011 for the first time since 1925. Last

month the conference took over the city for the second time in

three years. On the Saturday, people flocked to see Jeremy Corbyn

deliver a speech in the early evening shadow of the Liver Birds.

With monuments to our 2008 achievements glistening in the

damp backdrop, the current Labour leader fixated on the need

to overturn austerity, the growing injustice of Universal Credit

FEATURES

"The city has

to collide

head-on with

events passing

through"

and an economy rigged for the few. Hardly a tone that suggests

we've waded through a decade of progression. But, sadly, he was

right. 10 years later, with our cultural status enhanced, we're now

seemingly optimistic about upheaval rather than redevelopment.

The European capital of culture status boosted Liverpool's

star rating as a place to stay. Come, peruse the streets, host your

events, bring your bridesmaids and ushers, throw up in Concert

Square. In many ways we became a perfect surrogate. But what

do we, as a city, hold on to? What changes for the people that

don't check out and drag their heels and cases towards Lime

Street on a Sunday morning?

Things still come and go: art exhibitions, bands, politicians.

We're a port city, we should be used to

transience. But departures don't have to be a

complete hacking of the roots. The Giants graced

Liverpool one last time before their inevitable

departure. Sure, they divide opinion, but they

were able to light up one million faces on the

streets of Liverpool – here, thanks to our title of

European capital of culture, now 10 years past.

With or without the body-length Echo pull-out,

they won't be forgotten any time soon.

It's all about engagement. If Liverpool is

to avoid falling into a vacuum of EU-funded

neoliberal regeneration, the city, its range of people, and its

cultures, has to be brought out to collide head-on with events

passing through. By simply being a surrogate to money-spinning

tours and events, we risk losing connection to the creative culture

that arrives and leaves with little more than an Instagram-worthy

photo of the waterfront.

Elliot Ryder / @elliot_ryder

Live Editor

Proofreader

Nathaniel Cramp

Intern

James Booton

Cover Photography

Robin Clewley

Words

Elliot Ryder, Niloo Sharifi, Christopher Torpey, Iona

Fazer, Caitlin Whittle, Amy Czarnecki, Stuart Miles

O'Hara, Del Pike, Sam Turner, James Booton, Carl

Roberts, Julia Johnson, Ian Abraham, Jennie Macaulay,

Ken Wynne, Ross Scarth, Georgina Schwarz, Matthew

Hogarth, Glyn Akroyd, Conal Cunningham, Ailsa

Beetham, Danny Fitzgerald, Jake Penn, Roy.

Photography, Illustration and Layout

Mark McKellier, Robin Clewley, Mary Nicholson, Rob

Mathieson, Caitlin Whittle, Hannah Blackman-Kurz,

Nick Booton, Rob May, Simon Gabriel, Neelam Khan

Vela, Ed Waring, Stuart Moulding, Georgia Flynn,

Tomas Adam, Molly Norris, Lucy McLachlan, Jessica

Grace Neal, Jamie Sherwood, Julia Giacomini.

Distributed by Middle Distance

Print, distribution and events support across

Merseyside and the North West.

middledistance.org.uk

The views expressed in Bido Lito! are those of the

respective contributors and do not necessarily

reflect the opinions of the magazine, its staff or the

publishers. All rights reserved.

12 / BILL RYDER-JONES

"If you run from the world into music, but then that becomes

your world – where do you escape to?"

14 / JAMIE BROAD

"These two rivers all flow from the same sources. In that sense,

there's more that connects us then divides us"

16 / ONE GIANT LEAP

"Liverpool's got just one word for dancing, activism,

accessibility and identity: MDI"

18 / EAT ME + PREACH

"I never thought I'd be in this family of queer weirdos, it makes

you feel really good about yourself. For once, finally, we're the

cool gang"

REGULARS

10 / NEWS

28 / SPOTLIGHT

32 / PREVIEWS

20 / ACID CORBYNISM

"Acid Corbynism isn't the counterpunch for contemporary

counter culture, but rather it's the place where we realise

fighting back is necessary."

22 / LONG LIVE THE PRINS

"The Scouse Prin is surely one of the most iconic looks to come

out of Northern England since the days of the casuals"

24 / SOUNDTRACKING JOHN

WATERS

"I basically hated all music from The Beatles to punk. Punk put

the danger back in music."

26 / MERSEYRAIL SOUND

STATION

"It's helped me to understand the difference of being a musician

as a creative hobby and a creative professional."

38 / REVIEWS

52 / ARTISTIC LICENCE

54 / THE FINAL SAY
---
NEWS

A Year In Liverpool Culture

The 2018 edition of the Bido Lito! Journal is now

available to pre-order! Collating and celebrating 12

months in Liverpool's creative and cultural endeavours,

the Bido Lito! Journal will bring together the story of

2018 in a deluxe, coffee table book format. Printed in

a limited edition run, the Journal will curate a selection

of exclusive commissions and reflections from artists

we've covered throughout the year. It's our way of

reflecting on another amazing year in Merseyside for

new music and creative culture, and to showcase the

talent that makes this city such a vibrant place to live,

work and create in. It'll arrive in time for Christmas,

too, so it's the perfect gift for yourself or for the

music and culture-loving pal in your life. From mid-

November, you'll also be able to purchase a copy from

some of the city's key independent retail hubs.

Bido Lito! Journal

Winter Arts Market

Open Culture's WINTER ARTS MARKET will set

up home again in the Anglican Cathedral on 1st

December. The independent shopping experience

brings together over 200 artists, designers and makers

under one magnificent roof for what is always a

heartwarming day out in the festive hustle and bustle.

Whether you're looking for screen prints, photography,

paintings or homewares for yourself or for that hardto-buy-for

acquaintance, it's likely you'll find something

that fits the bill here. In addition to the main market,

there'll be craft opportunities for little ones in the Kids

Craft Lab, and a pop-up vintage and clothing fair in the

Cathedral's Concert Room.

Winter Arts Market

Callin' All

The La's Scrapbook

A unique snapshot of the first three years of The La's has been condensed into a new book,

released by 80sCasuals and The Viper Label. The La's Scrapbook 1984-87 is a collection of

photographs, handwritten lyric sheets and memorabilia that tells the tale of the period before

the iconic band signed a record deal and released their era-defining debut album. A lot of the

material in the book has never been seen before, with only a handful of the photos being shown

in public beforehand at a 2017 exhibition at The Florrie. Author Dave Hewitson attended the

exhibition and compiled the book from the photos and posters on show. The scrapbook, which

is released in November, also features artwork from original La's members Lee Mavers and

Mike Badger – and is accompanied by a 7" vinyl EP of early tracks, including two previously

unreleased versions of I.O.U. and Feelin'.

The Big Bido Survey

To ensure we are delivering the best monthly dispatch of what's

bubbling in our region's new music and creative culture we need

help from you, our dear readers. That's why we are inviting you

to have your say on the whys and wherefores of Bido Lito! 2018.

The Big Bido Survey has been launched this month and we'd

really appreciate your input. To sweeten the deal we are giving

away 10 fabulous classic Bido Lito! logo T-shirts and limited

number of Bido Lito! Journals to lucky prize draw winners, plus

everyone who responds to the survey gets a specially curated

playlist that includes the Bido team's favourite jams from 2018

thus far. You can find the survey here bidolito.co.uk/survey2018.

It's Quizmaaaaaaaaaaaaaas!

Bido Lito! and Liquidation's joint Christmas trivia

extravaganza returns on 12th December, with

Constellations once again hosting proceedings. The event

looks to cap off a great year in Liverpool music with fans,

friends and colleagues pitting their wits and arcane bits

of music knowledge against one another for a selection of

fantastic prizes. Once again, proceeds from the night will go

to chosen charities The Whitechapel Centre and MIND, and

there will be festive live music from some special guests.

Head to bidolito.co.uk to get your tickets before we're all

booked up.

Manc You For The Music

SPQR

Last month's Bido Lito! front page stars SPQR are among

the fine array of acts vying for attention at this year's OFF

THE RECORD showcase. The festival, based in Manchester's

stylish Northern Quarter, is curated by music business guests

and features a wealth of artists on the periphery of industry

radars. As well as the October cover kids, STEREO HONEY,

MDP and ANOTHER SKY have all found their way onto invite

lists of OTR curators EVERYTHING EVERYTHING, SOUND

CITY, FICKLE FRIENDS and TOM RAVENSCROFT. The multivenue

festival and conference takes place between the 14th

and 16th November and is the perfect place to discover your

newest sonic squeeze.

10
---
DANSETTE

Electronic quartet THE TEA STREET

BAND take us to the dancefloor to

shed some light on the music that

inspired their pulsating new album,

Frequency.

New Order

Temptation

Fairytales In The Park

Willo The Wisp and the Fire Sprite is an

enchanting walkabout adventure that turns five

parks in Liverpool into a fairytale world. Using

immersive storytelling and theatrical spectacles,

MATE Productions pull children and adults alike

into an otherworldly quest. Along the way, guests

will meet a host of elves, sprites, witches, gnomes

and trolls – all in the familiar green spaces we

already love. The upcoming performances bring

audiences out into the full range of Liverpool's

green spaces – they will take place in the Ness

Botanic Gardens, Croxteth Hall Walled Garden

and Court Hey Park. The final performance is on

4th November, so don't miss out, get your tickets

online.

Beer Prudence

For anyone who likes great music and delicious beer,

H1780 Tap & Still should be at the top of their must-visit

list. The brewpub has scheduled in a fantastic programme

of DJ nights for the foreseeable future, with the likes

of SisBis' GIOVANNA and CAP SPATCH taking to the

decks on Bridgewater Street. The Baltic Triangle's stylish

watering hole is also hosting brewery tours and beer

tasting so you can sample the sweet fruits of Higson's and

Love Lane's labour as of the last week of October.

Join The Community

Sun Blue

Do you want to be part of something great? We believe that,

by picking up this magazine, you already are part of something

great, and that you believe in supporting the amazing and diverse

culture of creativity that exists in this region. We do, too, which

is why we're expanding on our Community Membership, placing

the people who support Bido Lito! – and, by extension, all of the

artists, venues, clubs and galleries in the city – at the heart of

our community, do-it-together creative ethos is. If you become a

Bido Lito! Community Member, not only will you receive the latest

edition of the magazine in the post before anyone else, exclusive

download and playlist content from Liverpool's most exciting

new artists, and free entry to our monthly Bido Lito! Social, you

will also be central to the content of the magazine itself. Join the

community media revolution, and make your voice heard!

Willo The Wisp and the Fire Sprite

Please Doughn't Stop The

Music

The kings and queens at AMERICAN PIZZA SLICE

are laying on the perfect pre-gig nosh-up with twofor-one

offers on slices for ticket holders to two of

November's top gigs. Those lucky enough to have

snapped up tickets to Slaves' gig at O2 Academy on

16th November, or are heading to Clean Cut Kid at

Arts Club on the 30th, can flash their tix to entitle

them to two slices for the cool price of one on the

night of the show. What's more, the good folks at

APS will be playing a specially-curated playlist to get

you in the mood for the respective shindigs, featuring

tunes from the headliners and their ilk.

Blue Runs The Game

H1780 Tap & Still

SUB BLUE crafts smooth, sultry grooves from his own interpretation

of modern RnB. Taking his name from his self-described style of

music, "suburban blues", the artist formerly known as Tyler Mensah

offers a fresh take on chilled-out, introspective rhythm 'n' blues.

But what does he mean exactly by suburban blues? "It means

I'm reflecting my experiences and telling the stories of me and

my friends who have grown up in a suburban setting, where life

isn't always as nice or as straightforward as it appears." Sub Blue

headlines his first show in Liverpool on 30th November, in time for

the release of a brand new EP. Neo-soul artist KYAMI and electronic

soulster NEIL NOA join Sub Blue for the show at 24 Kitchen Street –

your attendance is the only thing missing.

Factory

New Order were a major

focus for us all working on this

record, we referenced them in

so many ways. I think Temptation sums this up the most

in the production and in the song's style. It's a masterclass

in my eyes, by a band at the top of their game. Electro,

pop, tapping into simple ideas but with depth and layers to

unravel. If we could get anywhere close to this then I was

always gonna be happy. NO

Au/Ra and

CamelPhat

Panic Room

RCA

While we were in the progress

of recording the album I

revisited all the old State Tapes my sister used to buy

me. Loads of songs I have never heard again apart from

on those tapes. Songs with choruses that make the hairs

stand up on my arms and I feel proper boss. From that I

heard this CamelPhat tune – it was the closest thing to

those State Tapes songs I'd heard. I've been on their case

to do us a remix, but they haven't messaged me back yet!

Come 'ed Mike, lad. TT

Lindstrøm

Ęg-Gęd-Ōsis

Feedelity

When we were touring the

first album I was listening to

a lot of Lindstrøm and Todd

Terje, and this track especially stood out to me because

of the hypnotic bassline, which definitely inspired some

of the synth bass sounds on the new album. The synth

sounds he gets throughout the record, as well as the

drums, are superb! The dynamics of this particular tune

are boss; it's up and down, but keeps you moving all the

way. Belter track! LS

Pional

It's All Over

Hivern Discs

Pional is a Spanish DJ who

released this track a couple of

years ago. It's what everyone

wants to achieve when making electronic music, by

incorporating interesting build-ups and distinctive vocals.

The slow build-up of the track is intense and pays off with

a lovely synth in the latter half which is superb. The video is

great too! DA

@teastreetband

Frequency is released on 9th November via Modern Sky

UK. Head to bidolito.co.uk now for a full list of song choices

on The Tea Street Band's Dansette.

NEWS 11
---
An instant classic, Yawn is the fourth LP by Bill

Ryder-Jones – a lush, disarming album that finds

the Bard of West Kirby in the form of his life.

"If you run from the

world into music, but

then that becomes

your world – where

do you escape to?"

BILL RYDER-JONES suppresses a smile as Robin,

today's photographer, takes his picture. Sitting on the

sofa in Yawn Studios, his new production base, he

rolls himself a cigarette and throws me the pack. The

West Kirby studio occupies one of several spaces in a building

in a quiet back street; one of his neighbours makes Samurai

swords. There is a large room filled with instruments, cables,

tattered Persian rugs and ashtrays left behind by bands. Yawn

has allowed Bill to diversify his musical labour – musicians come

here to record and he mixes and masters in a smaller room

upstairs. His new album, also titled Yawn, was recorded here. It's

an album that steals you with a warm embrace, lush with watery

guitars and washes of cello from which Bill's gravelly melodies

emerge. Across its 10 songs, Yawn demonstrates the mark of an

experienced musician; a certain restraint.

Although he still hand-rolls his cigarettes, Bill has lost many

of his habits since Bido Lito! first interviewed him in 2010,

around the release of If…, his first album since leaving The Coral.

As I remind him, back then he was adamant that he would be

regarded as a musician rather than a songwriter. "There are a

couple of words that used to really drive me mad, like solo artist

and songwriter." If… was a largely instrumental concept album,

an unequivocal declaration of Bill's ability as a composer. The

ambiguity of those emotional landscapes might surprise someone

who knows Bill for his confessional, lyrical guitar music. Now, he

doesn't care so much what people call him. "It's senseless to me

arguing that I'm not a songwriter, because that's half of my job.

It did bug me for a long time, but then other problems make you

realise that's not a fucking life problem."

Over the last eight years, his priorities have shifted. I

suggest that you can hear this in his music – he has stripped

back production, leaving more of himself bare. I use the perhaps

tactless words "smoke and mirrors" to describe this, but he

doesn't seem offended. "I didn't want to talk. I didn't like talking,

and I certainly didn't like singing. I wanted to make something

where I don't have to literally say, 'Fucking look at me, see how

much pain I'm in'. I just wanted people to listen to it and go,

'Fucking hell, look how much pain he's in'." Music is a wordless

code that shelters naked feeling, but it begs its own unravelling.

The popular preference for lyrical spoon-feeding has been a

frustration for Bill. "I thought people had more imagination

than they do. I thought people would be able to see how much

it meant to me. I forget that people aren't actually schooled in

listening to music without a lyrical narrative."

"It was just a young man trying to not seem like he cares

too much, and 'this isn't really me', or whatever, but desperately

wanting people to see us." Ultimately, Bill wanted what most

of us desperately want: for others to care enough to read

between the lines we use to obscure ourselves. "I felt a little bit

let down that people were so concerned with the concept that

they couldn't fathom that it was all about me, and these are just

my feelings and my thoughts. People proved themselves to be

completely inept at seeing that, and as a result I didn't do much

of it since, but that's no fault of theirs." His next two records were

far more wordy and direct – "alright then, if you're not going to

fucking work it out, I'll tell you." He recorded the song Daniel for

2016's West Kirby County Primary, which deals explicitly with

the death of his brother. The song ends with the refrain, "If you

take the pill/You might not feel so ill/Let's make it easy for ya Bill"

– there's no abstraction there.

When I mention this line, he is characteristically open

about his mental health, revealing a major change in his life:

"I've stopped all that. No, I don't take any of that anymore." He

describes realising he no longer recognised the "very sad, very

sensitive" person he was at 18. "It has been, really, 15 years of

trying to numb that sensitivity in different ways, and I'm bored

of that now. I want to feel. But it can be a very daunting thing

to face, particularly after such a long time." Bill has achieved

what my therapist is always telling me is possible – a greater

tolerance for the disappointments of reality. This maturity has

made him freer as a musician. "I don't feel the need, anymore, to

scream at people that this is what I'm going through. Generally,

I try to be a bit more elusive. It's not fucking abstract; the central

message is always quite clear, but I tried to be a bit smarter."

I ask whether his intent to be elusive means he won't tell me

what his new songs are about. "Well, I don't think it's my job to

tell anyone what the songs are about." For Bill, his listeners have

their own part to play. "I wanted people to be able to take it into

their world… I see it more now like a dialogue that I want to be

a part of with people who need it. It was always super selfish,

music, for me. I always used it to make myself feel better, and

now it's different. I feel a bit of a duty to a small number of people

who are very loving to me, and fund my lifestyle by buying my

records." The loyalty of his supporters has afforded him a certain

level of trust.

Turning 35 seems to have been something of a milestone for

Bill – by his prophecy, it is the midpoint of his life. "For the first

time, I'm feeling my age. I know for a fact with what I put my

body through, 70 is probably top end for me. There's so much…"

This year has signalled a turning point for what he puts his body

through: "At 35, I've become quite bitter and angry, and nasty at

times. I wanted to work out why that was, so I stopped drinking

the start of the year – eight months completely sober." Now, he

stays sober when he can, "Unless it becomes unbearable, and

then I'll have a bender... but like with any drug that you lean on,

it's [about] getting it out of your lifestyle." He doesn't beat himself

up when he slips up – by now, he can accept it.

Bill has insights on why his chosen profession and addiction

come in tandem – "Music can be so healthy, and so fucking

unhealthy. That is a high you can't buy on the corner of the street,

and it's just not always there. If you get hooked on something that

is not always available to you, it can send you places – especially if

you're obsessive, like myself." For Bill, music is both a source and

a cure for obsession. "It seems to be the only thing that kind of

alleviates… something, I don't know what it is. I've never worked it

out. But take, like, someone you're obsessed with. For some reason,

explaining it and putting it in music – I put it somewhere else. It lives

there for a bit." Bill's emotions are all wrapped up in music – he is

not religious, but he believes in his ears. "I was born with very good

ears… they help me understand the world in really profound ways.

That helped me work out which people I thought were good, and

motives, and ethics, and things like that."

With all this in mind, I ask him whether making music is a

way to escape loneliness. "Yeh, probably a way to stop being

lonely… the thing with music is it's different when it's a career.

When I sit at home in my boxer shorts, I'm on my own, just me

and the telly and I know I've got a bath – and it's what to do

with the rest of my fucking time, sitting in my boxer shorts and

pyjamas. And it's either split between writing because I've got

a career, and writing because I need to." This joy has waned

over the years, he says, as the financial impetus has increased.

"And then you get this added issue, which is – if from the age of

14, you run from the world into music, but then that becomes

your world, where do you escape to?" For a person whose art

is so often about expressing pain, it is a strange predicament to

become contractually obliged to produce it.

"That's part of the reason why I've stopped my medication –

because I'm ready. I'd take some serious heartbreak right now. If

no one's died, no one's left us, I haven't fucked up or anything…

I've got nothing to say." He says his audience will not listen to

him talk about how happy he is. "And I've got no desire to write

about that." This seems to me a grim paradox; your livelihood

depending on bouts of misery. But Bill is wary of bemoaning his

circumstances too much: "I made a conscious decision not to

moan about that paradigm I just mentioned, because I love what I

do. Not only am I not very good at anything else, I have no desire

to do anything else." Bill is one of those artists for whom creation

is a means of survival. I am reminded of Franz Kafka's words: "the

only thing worse than writing is not writing". As burdensome as

the vocation gets, it cannot be done away with.

Bill has found healthier ways to stay inspired than

suspending himself in a state of anguish. "There's a way out

of it, and that's to study art, and to study yourself, and never

forget. We try so hard to forget those horrible feelings." There

is a certain resilience in keeping your gaze on the awful things

without succumbing to them. He seems to walk a delicate line

between optimism and pessimism about the world. Aside from

music, Bill's secondary obsession is ancient history. "I think I'm

just generally quite dissatisfied with the world, and have been

since I was a child. We've just never really matched up, and I

like reading about a different version of it." He starts to reel off

facts about Göbekli Tepe, one particular site of archaeological

discovery that clearly captures his imagination. He is entranced

by the idea of murky, unknowable civilisations in the distant past

– the possibility of something completely different.

It seems as though Bill has spent considerable time trying

to make sense of the world, by reading and creating. "We as

a species have just been getting it wrong for a very, very long

time. The real tragedy of this fucking comic is that, as huntergatherers,

we lived hand to mouth, and it was very hard, and

to navigate all the shit that we went through we domesticated

things, and as a result made it ten times worse." I can relate to

this sense of fundamental disappointment; I tell him that what

terrifies me is the universe's unblinking indifference, a blankness

which defies you to find magic in it. "I think that might be where

we differ, because I see the world as still, like, this magic, aweinspiring

thing, and that will never change." He is resistant to my

morbid claim that creativity springs from an impulse to evade the

inevitability of death, and your own insignificance. "I don't know

any artists who started making music through fear of death,

because I think you do it through fear of living."

Bill is not interested in leaving a legacy; he's too busy trying

to make it through another day on our beautiful, terrifying planet.

Music remains his preferred vehicle for this precarious navigation.

With his new album, Yawn, he extends another invitation for

his listeners to mingle their world with his. Bill has spoken

about his new desire to be present in his emotions and reality.

Perhaps those who have bought and played his records from the

beginning may think of this as a returned favour; after all, they

have been listening intently to Bill's reality for years. !

Words: Niloo Sharifi

Photography: Robin Clewley / robinclewley.co.uk

billryderjones.co.uk

Yawn is released on 2nd November via Domino Recordings.

Bill Ryder-Jones plays Grand Central Hall on 13th December,

and appears in-store at Jacaranda Records Phase One on 2nd

November.

FEATURE

13
---
JAMIE BROAD

From rapping about cups of tea to destroying his identity through an

alias of his own creation, Jamie Broad talks to Iona Fazer about the two

new projects he's released this year, and how he's been leading the

Scouse rap scene from the front.

not a question of how many words you can use,

it's about how you choose to say it," JAMIE BROAD

tells me. The Scouse rapper is sat on my couch in

"It's

his signature look (hooded jacket, T-shirt and jeans),

while I'm stood in my kitchen/living room attempting to make a

brew for the artist who created the strictest rhyming rulebook

about how to make A Nice Cup Of Tea.

Over the past decade, this master's degree-level student

has become one of the biggest names on the Scouse rap scene,

with his first EP The Caped Crusader followed by albums A

Nice Cup Of Tea, the 40 Project (Vol 1 and 2) and Swear Words.

More recently, he released a collaborative album Rivers: Mersey

And Seine with French producer Slim Guesh in July of this year.

"Me and Slim have known each other for years, and it was an

opportunity for me to have an album produced completely by one

producer, so he sent me a batch of beats and I started writing,"

Broad tells me, speaking with conviction.

"With him being in Paris, we'd obviously be discussing topics

like Brexit, and we kind of realised that even though were placed

on either side of a divide, we have still got unity. We believe that

you can be proud of what defines you, whether it be Mersey

pride or French pride, but let's not jump to criticise each other's

differences. Because when you think about the oceans and the

water cycle, although we are in two different places, these two

rivers all flow from the same sources. In that sense, there's more

that connects us than divides us."

The Rivers album can be described as politicised, old school

hip hop. At the time of making it, Broad was "feeling very

politically minded" and "had a lot of anger". This is evident in

how each track explores its own dark and thoughtful themes;

Hand On My Heart expresses mistrust in the government and

the monarchy. The message that sticks goes "I won't sing

your national anthem, hand on my heart". Broad describes it

as "sticking my flag in the ground, and saying this is how I feel

right now". However, despite poignant and critical messages, he

says: "You should always be open to change and new evidence.

For me, there are no absolutes and I hate people being put into

boxes."

Despite not shying away from hard-hitting themes, Broad

maintains the reputation of Liverpool's nicest rapper. Tracks

such as I Like You feel emotional, relatable and down-to-earth,

perhaps taking influence from his favourite artists Leonard

Cohen and Joni Mitchell. Broad displays an archive of tracks

on his YouTube page, and quite a few gems feature on the

popular channel Lab TV. Knock A Door Dash received great

attention from Scouse rap fans far and wide. With its energising

instrumental taken straight from Naughty By Nature's banger

Feel Me Flow, it appeals to the reminiscence of old school days

gone by. Broad has coined nostalgia as part of his style; when

reflecting on this he recalls, "When I made Knock A Door Dash,

people started saying I was comedy rapper. The rest of the album

wasn't like that. I was conscious that everything after had to be

more conscious hip hop."

Broad's most recent project, Agent Alias, is a different strand

of conscious hip hop; self-conscious hip hop. Only five months

ago, out of nowhere, the Scouse rap scene received a shock to

the system. It came in the form of a three-video project on Lab

TV, kicking off mercilessly with the debut track and video Jamie

Broad Diss by an (at the time unknown) unusual character in

a Rorschach mask, named Agent Alias. Shortly after came the

release of Agent Alias' Face Off. The use of a lyric video helped

draw attention to the always smooth and entertaining wordplay

– "At my desk sitting writing rhymes when the rest didn't/Now

I got some live wires like electricians/My lyrics are so sick that

they're bedridden".

The final video presented on Lab TV was Fall Back. This

time, Alias was in a chrome, candy-orange-coloured Anonymous

mask. He stands in multiple locations, including next to one

of Liverpool's signature modern towers on Princes Dock. The

track uses funky vocal samples to complement its punchy beat,

while his lyrical flow contains a few punches of their own: "I've

got what rappers call swagger/I just call it confidence/Saying

something nonchalant, like I'm bored of your compliments/Fact

is I don't need them/I'm sure of my competence even if I don't

reach to all your accomplishments/Raw with the consonance and

vowels/I'm deeper with spittin'/Leave a rapper crying like he's in

the foetal position."

Broad has been known to write songs from other people's

point of view, for example the track One Night Stand from the

new album. "It's meant to be light-hearted with a twist at the end

and I wanted to play around with the concept of having a hook

that stayed the same all the way through," Broad describes. "As

the character in the story's situation changes, the hook remains

relevant." Now, through Agent Alias, Broad has ventured into

new territory and when I ask him 'why?' he describes feeling

"ready to give up on the scene." Feeling out of the game, Broad

had asked himself "why fight to be relevant?" and saw the idea

of sending up himself, essentially destroying his own identity.

"Every artist struggles to rip themselves."

With the alias, he "tried to be introspective and honest", and

by killing Jamie Broad off as a character he's created someone

new, or as he describes it "another part of me". "There is a

dissonance between the two Alias and Rivers albums because

it feels like I've written for two different audiences." In the case

of songs from Rivers that are politically minded, he's aware that

"there are some people who don't want to hear that", but adds

that, "it's always about expanding and getting new listeners.

Even if no one was listening I'd still be making it – but I'm happy

"These two rivers

all flow from the

same sources. In

that sense, there's

more that connects

us then divides us"

people are listening, I wanted that too. I have a fanbase to a

degree, there are people who get excited when I put something

out."

Broad fears that the consequence of people not supporting

their local rappers will result in a decline in urban music, and

ultimately the representation of our cultural heritage. He tells me

how, in a city that maintains a love of indie rock bands, it "feels

like hip hop and grime have no platform". Artists like himself

have had to build their own music industry. Despite this, he feels

"proud of the few channels we have" and shouts out to historical

faces in the scene such as Tony Lawson, Mac of Trades, Nikki

Blaze and First In Command. Earlier this year he dropped an

exclusive track and lyric video by @rapstatsmedia, dedicated to

DJ 2Kind's L100, a radio show on 99.8FM KCC Live dedicated

exclusively to Merseyside urban music. The track mentions as

many Liverpool rappers as he can cram in, celebrating those

who have graced this small but dedicated scene in his time. The

video is a highly informative lyrical journey through Liverpool and

Merseyside's hip hop history, as seen from Jamie Broad's eyes.

This well-crafted story accounts for his rise within the music

industry, starting from the very moment he first heard a local

artist.

Despite having been married to the Scouse rap game for over

a decade, rap is still Broad's unveiled bride. Always more doors

to be opened, more avenues to explore and more bars to be spat.

Support your local rappers today! !

Words: Iona Fazer / @ionafazer97

Photography: Mary Nicholson / mdotphotography

jamiebroad.bandcamp.com

Rivers: Mersey And Seine and Agent Alias are both out now.

Jamie Broad performs at the Bido Lito! Social on 29th November

at Brick Street.

14
---
FEATURE

15
---
"Liverpool's got

just one word for

dancing, activism,

accessibility and

identity: MDI"

ONE GIANT LEAP

Stuart Miles O'Hara meets force of nature and head of Merseyside Dance Initiative for 25 years, Karen

Gallagher. As she plans her next step, Karen reflects on dance as a force for good in our world and our city.

In many languages there's no distinction between what in

English is called music, and dancing. It's common in Sub-

Saharan Africa (nkwa in Igbo) and Asia (sangīta in Sanskrit,

wai khruu in Thai). So, for many people around the world, the

movement of the body is inseparable from the sounds to which

it moves. And why stop there? Dance is one of the most versatile

art forms people can do – like singing, we're born with the

equipment. So, being naturally human, dance is super relatable

to an audience, and it goes well with sounds and images. This

makes it a great medium for storytelling, too.

"I always align dance with going to the cinema or art gallery –

you get the same visual element, and an element of storytelling."

You kind of expect dancers to be energetic, and Karen

Gallagher is very energetic. If she's been running MERSEYSIDE

DANCE INITIATIVE (MDI) and their flagship festival LEAP for 25

years with half as much energy as she uses to talk, there's no

secret behind their success and longevity. She runs through the

line-up for LEAP 2018, their 10-day dance festival, at quite a lick.

"Liz Aggiss' Slap And Tickle is autobiographical, telling

how maverick she was (and is, still quite happy to show off her

bottom); Lost Dog's Juliet And Romeo reimagines the Bard,

looking forward after his play ends and Avant Garde's Fagin's

Twist looks back on Dickens. We've had some extra funding for

that which allows audio description for the shows, and even a

touch-tour before one of the performances."

Funding is a loaded topic for MDI this year, as Karen explains.

"Unfortunately, we lost our regular funding status. The festival

is normally in March, but we had to fundraise and change our

approach. We've developed a partnership with Liverpool Hope

University – they gifted the space on their creative campus [in

Everton] to us and we allowed their students to see a whole load

of dance. It would have gone ahead in September but building

work meant pushing it back to November. It's allowed us to

spend a bit more time on presenting it."

LEAP 2018 differs from, while building on, what's come

before. The ethos, as Karen explains, is "who are we, what is it

about being in a society and what does that mean to us as an

organisation. Trying to be as transformative as we can in terms

of what we do. We thought about what happens when peoplepower

comes together. We were throwing ideas around, and

realising 2018 was 100 years of suffrage was a real lightbulb

moment. It's also about how women are perceived in the dance

sector, and we've now got a dance festival that is 98 per cent

created by women."

MDI aren't just inclusive in terms of gender. They're not

just open to, but actively seek out racial diversity, international

and intergenerational participation, and people from different

socioeconomic and educational backgrounds.

"That's why we started our own venue in 2017: to shine a

light on different kinds of people. We also thought about how

to talk about this. Just because you're based in Liverpool doesn't

mean you're not international. So, we set up a conference: Our

Dance Democracy, bringing keynote speakers from all over

the world, as well as from the Merseyside region, to talk about

how democratic we are as a city in recruiting people. Cultiv8 is

something we've done for years, and having empowered black

activists and black women involved is the point of that. It's a

workshop, discussion and performance; a real celebration of who

we are as women. Jennifer Hale from Taciturn is really prolific,

she's curated the Northern Dance Platform, and dances in it too.

Then there's the Cultiv8 Showcase – it was curated by Maxine

Brown for 16 years, and that features Nafisah Baba, who was

BBC Young Dancer 2017. And then Mark Doyle has created the

youth showcase. It's important to show that we've got works

being created by our team as well as featuring touring shows.

Loads of people also came out saying, 'Oh, I've got this show

Karen, do you wanna put it on?'"

That enormous surge of support was partly motivated by the

fact that it's Karen's last LEAP, after 25 years as Artistic Director

of MDI. In 2017, Arts Council England (ACE) didn't renew MDI's

place in its National Portfolio of Organisations (NPOs), leaving

them without public funding for the first time in 22 years. How do

you come back from that?

"Since 2017… it's important at this time to reflect where we

are and consider our future. I was going to leave last year, but

the board wanted me to remain, so I stayed another year. I've

been here for 24 years, but with the ACE decision I wondered,

'Is a change needed?' You wonder about your reputation, and

if people want to support you when you lose that NPO status.

Liverpool City Council gave us a culture-enhancement grant as

part of Liverpool 2018 which has gone towards Avant Garde at

the Epstein Theatre, and that is the only one taking place offcampus."

These aren't just stories and distractions, though. Many

of these dancers are trying to use their art to articulate the

difficult, nuanced issues that we live with and understand, but

often struggle to verbalise. In North West Seen Parts 1 And 2,

Warrington's Kate Jackson will explore surviving terrorism on the

same bill as a piece on female objectification and patriarchy by

duo Baba Yage. In Part 2, Vicci Riley examines the working life

and conditions of women past and present in Herring Girls, which

also considers how food trends affect migration and commerce.

All this proves that dance can't be boxed off from the world

or the issues that concern us. The idea of physical movement as

something brash and in-your-face runs throughout LEAP, but

possibly nowhere as strongly as in the revival of Gaby Agis' Shouting

Out Loud – a 1984 performance for 13 women, with a soundtrack by

Ana da Silva and seminal post-punk band The Raincoats.

"We want audiences to come from all over, to see stuff they

won't see anywhere else. This is an intergenerational company

– and [Shouting Out Loud] was written during the Thatcher

years, in many ways the same political situation we're in now.

We're hoping for a young audience for MK Ultra [named after

the top-secret, semi-legal programme of experimentation by the

CIA in the 50s and 60s which explored mind control through

hallucinogenics]. It is just gonna look and sound amazing."

Despite the global pull of LEAP, showcases of northern

and North West dance are crucial for MDI. "Venues don't

present dance regularly in the city – we're the only organisation

presenting this kind of work in the North West." This isn't

braggadocious on Karen's part. If you've been to a public event

in Liverpool with any kind of dancing, chances are MDI were

involved at some point. "We've got a really good core team. Not

a dance company per se to do touring and so on, but we do loads

of work such as International Dance Day, City Steps, appearing in

shop windows, and then there are the big events like Light Night

and the Halloween Lanterns."

They've earned that place as the prime dance organisation

on Merseyside after years of hard graft. "LEAP predates MDI by

a year. It started in 1992, but there have been odd years without

a LEAP festival depending on funding. We celebrated 25 years

of MDI last year, not just with a festival, but by building our own

venue at Make.Liverpool's North Dock base. It's a 5,000-squarefoot,

288-seater space. It's allowed us to present work on a

bigger scale. And we could prove a point. ACE had said Liverpool

wasn't a dance destination [by deciding not to include MDI in the

National Portfolio for their 2018-22 funding round] so that was

like a red rag to a bull!"

MDI have their main premises on Hope Street (you've

probably walked past a class in session in the ground floor studio,

with samba wafting through the open windows) but they operate

around the city area – they believe that nobody should be denied

access to dance because they can't reach it. Likewise, they offer

their literature in eight languages, in association with Granby

Sure Start. "There's a load of men dancing downstairs right now,

they're 50-60 years old, one comes from Wales, it's been running

for 15 years and a few people in the class have been coming from

the start," laughs Karen.

With Karen bowing out, where do MDI go from here?

"We're doing a big piece of consultation – what's the role of

the organisation both in the city and with other funders and

developers. We're still to appoint a new leader, whether that be

someone in my role as artistic director or a chief executive, we

don't know yet. We're keeping all the classes going and having

talks with our partners about what to do for 2019. It's still that

idea of trying to get as much dance out across the city [as we

can]. Constantly fundraising, building new partnerships. And

we're always thinking of inclusivity and accessibility. No matter

how populist a show is, we want to be as diverse as we can,

reach as many people as we can."

Karen Gallagher's vision proves that physical movement

can be loud. Dance isn't just an amusing distraction – it can

give people a voice. Echoing the lexicon of far-flung languages,

it seems Liverpool's got just one word for dancing, activism,

accessibility, and identity: MDI !

Words: Stuart Miles O'Hara / @ohasm1

Photography: Brian Slater (MK Ultra – Rosie Kay)

mdi.org.uk

LEAP takes place between 2nd and 12th November across

various venues.

16
---
DO YOU HAVE

A PASSION

industry

standard

studios

FOR SOUND?

2-year degree and short courses

available in Liverpool

Degree

• BA/BSc (Hons) Audio Production

Start in January, May or September

Short Courses

• Diploma in Sound Engineering 12 months

• Electronic Music Production 12 weeks

• Introduction to Ableton Live Weekend

• Professional Mixing and Mastering 8 weeks

Get in the mix at www.sae.edu/gbr/audio

Visit our campus

SAE Liverpool

38 Pall Mall

Liverpool

L3 6AL

03330 112 315

enquiries@sae.edu
---
18

Caitlin Whittle reports on the

most exciting, experimental

and fearless performance

event that is happening in

Liverpool today. Eat Me +

Preach is a multidisciplinary

drag dinner cabaret and

queer disco, platforming the

most unique, emotionally

sincere and visually

arresting performers in the

city. It's the most fun you'll

ever have and the most

confused you'll ever be.
---
EAT

ME

An imposingly large, blank canvas sits at the front

of the stage, as Ave Maria softly begins to play.

The audience is calmly expectant, until a knife rips

through the canvas and our host bursts out from

the surface like Alien, wearing an expression only comparable

to Edvard Munch's The Scream. This is Auntie Climax, drag

queen and founder of EAT ME + PREACH. She tears more holes

in the canvas, sticking her hands and feet through, waving the

knife around maniacally. When she finally falls out of the canvas

onto centre-stage, three stage hands scramble to dress her in

a ridiculously tight, red PVC dress and wig. Breathless from the

whole encounter, she staggers, turning around to tell the DJ to

cut the track; "Weh weh… Welcome to… Eat Me!"

Before Auntie Climax, began Eat Me + Preach, she recalls

feeling underwhelmed by Liverpool's queer entertainment scene.

"We used to go out in gay town and kinda storm it, but not really

feel welcome. And we got frustrated that all of these gay spaces

were filled with straight people, where the music was shit, the

drinks were expensive and we had to manufacture our own fun."

Eat Me started as an afterthought when Climax was pitching a

different idea for a theatre event in the Invisible Wind Factory

basement. When the meeting went well she decided to throw in

another idea: drag dinner. "I wanted to combine food and drag.

That's my shtick as an artist, I suppose – putting things together

that don't usually go together." The first Eat Me, she says, was

"under-resourced" and "messy as fuck". "I was involved in literally

everything. I went off stage, tossed the salad in nails, went back

on and hosted. That was the first one, and after that the queers

and the freaks just got involved along the way."

One of these queers/freaks who were there from the start

is the most illustrious and stunning drag queen Midgitte Bardot

(aka Tammy Reynolds). She was so blown away by her first Eat

Me experience that she felt compelled to share her knowledge

from working in the arts, to help the night grow. "I was absolutely

gobsmacked by every single thing that I saw, but the most

interesting thing to me was that at the end of the night, Auntie

Climax came on stage and sang a Roy Orbison song. She was

obviously quite frazzled at this point, and I assumed it was part

of the performance, when she walked off stage I said to my friend

'Was that it? Is this the end?' and she was like, 'Well, she is called

Auntie Climax…' I thought it was so clever. I've told Auntie Climax

this since, and she told me that I'd got it wrong and it wasn't

intentional, but that made me like it even more."

Midgitte Bardot's performance tonight is intoxicating. The

theme for the night being the September Issue, Tammy wants

to explore the relationship between fashion and queerness:

"Fashion is somehow queer, but it's also over the years been

incredibly oppressive to queer people, because fashion is

gendered and binary and the industry isn't kind – especially to

disabled bodies." When Midgitte Bardot is on stage she's only

wearing underwear. Images flash across the projector screen

of thin models on runways and the seven dwarves from Snow

White. She sings a dark, slow rendition of All The Small Things

by Blink-182, as another performer comes out and starts tying

pieces of fabric tightly around her waist, legs and arms. The

knots look uncomfortable, painful. There is a heavy feeling in

the room when she sings "no no no no…" as she is gagged by

another piece of fabric. Suddenly, the song cuts off and we

hear the infamous clip of Tyra Banks shouting at a contestant in

America's Next Top Model, as Midgitte frantically runs down the

runway lip-syncing to Tyra's rant. She then storms off stage and

the audience hesitantly begins to clap, not knowing if she would

return or not. She doesn't, rightfully, and afterwards she explains

why: "I didn't come back on stage and say, 'Don't worry, it's all

OK', because it's not OK, and it would have diminished everything

I'd done."

Eat Me + Preach welcomes entertainers of any kind. It

emerged out of the dissatisfaction of feeling excluded by the

rigidity of pre-existing performance spaces – everyone who is a

part of the Eat Me team, or is a regular performer, has a similar

story and expresses the same gratitude for Eat Me's existence.

"It's encouraging of mistakes. There are no rules of what your

drag has to be, or what you have to be like," Carl Pattrick tells me,

the third member of the Preach team and a gorgeous, bearded

drag queen known as Babs Darling. Carl moved to Liverpool from

London, where he had a successful drag career with a group he

formed called Legs And Coq (the q is silent (it's not)). However,

he felt a similar disappointment to Brendan with the drag scene

feeling inflexible and exclusive. Meeting Brendan and getting

involved with Eat Me has given Carl a queer, inclusive setting

for both performance and generally just meeting up. "I'd always

really wanted to be a part of something that created, like, a queer

nexus. There are so many queer people in and around Liverpool,

and there's nowhere for them to meet. I don't see them when I'm

out and about – where the fuck do these guys go? Everybody

seemed to go to Manchester or to London because things

are always happening there, but why the fuck can't we make

something happen here?" Carl's drag plays with the boundaries

"I never thought I'd be

in this family of queer

weirdos. For once,

finally, we're the cool

gang"

of gender; while bearded and very masculine, she presents as

a very soft feminine character. This gorgeous, confusing sight

interferes with our preconceived ideas about how we categorise

gender in the first place.

Eat Me + Preach is a multidisciplinary event, so it's difficult to

predict what you're going to see. One of the most breathtaking

performances of the night is Day Mattar's poetry. Completely

naked, he walks over to a mannequin sitting on a chair facing

the audience and begins cutting the mannequin's hair. Our nude

hairdresser reads his poem colloquially, laughing occasionally or

pausing in thought. The tangible intimacy this creates heightens

our emotional involvement with the words. Day has always

wondered why there is such little experimentation with how

poetry is read. "Not to be negative about anyone else's style of

poetry, but I didn't want to be one of those gobshite poets who

stands up on a stage all lofty like a priest. It works for some

people, but I just get turned off by it. I feel like I'm being spoken

at, rather than spoken to." The audience watch the scene unfold

like a play. It feels like when a hairdresser accidentally says

something profound that changes your life. Having recently

moved back to Liverpool from New Zealand, Day was initially

concerned that the city would have nothing for him. "I'm so

happy to be back and all this shit is happening, because I was

so nervous I was going to come home, and the winter was

going to kill me, and I'd have nothing to do, but it's beautiful. I'm

so happy I've found this little clan." Eat Me has provided that

feeling for performers and audience members alike. It is truly a

nurturing environment for queers to interact with each other and

experiment in their respective art forms.

Aside from local acts, Eat Me + Preach bring artists from

around, and outisde of, the UK to come and perform for their

audience. Tonight, we are graced with the unnerving presence of

screaming poet and artist Liv Fontaine who lives in Glasgow, and

Marilyn Misandry from Manchester. Next on is Kevin Le Grand,

who thankfully is moving back to Liverpool from London to live,

perform and make this city her home again. Kevin embodies

the September Issue theme in a way that was as punk as it was

glamorous, wearing a beautiful, pink satin gown with 'ACAB'

emblazoned across the front. Kevin has been at Eat Me + Preach

many times, and this time she performs twice, in two different

outfits. The first performance is a hysterically funny interpretive

dance describing her journey – moving to London to study

fashion, dropping out, and leaving a drag performer. "She hurts

me, she makes me laugh so much that I always feel injured by

the next day after seeing her," Brendan says. When I meet with

Kevin I have to ask about her second performance of the night; a

gloomy, theatrical cover of Cheeky Song by The Cheeky Girls. "I'm

really into changing songs and putting different spins on them.

I have another one where I sing Madonna's Material Girl, but it's

called Affordable Girl and it's all about rising house prices."

The final performance of the night is Graham Mercer, who,

as part of the theatre collective Hungry Bitches Productions, is

a regular here. He starts his act with a monologue: "I've been

terribly sick…" He's wearing a huge white T-shirt with a hospital

red cross stitched on the front. He tells the audience a relatable

tale; trying to get help for mental illness through the NHS and

being turned away. "We're making shit happen and sharing work

which is often about pain and trauma, as well as the experience

we all have in common – being othered for years. It's great

to get that all out on the table and be able to speak about it."

Everyone I have spoken to about Eat Me has been clear about the

contentment they feel from being a part of a welcoming queer

community, but none so much as Graham. He is totally open

about his mental health struggles, and how the growing scene in

Liverpool has helped him along the way. Eat Me + Preach, Beers

For Queers and Sonic Yootha create an endlessly welcoming

atmosphere, and even more events are appearing as time goes

on that subscribe to the same ethos of acceptance. "I never

thought I'd be in this family of queer weirdos, and now I am and

it's fab, it makes you feel really good about yourself. For once,

finally, we're the cool gang in this – and there's no hierarchy, it's

all love." After his monologue, Graham plays guitar while his

friend sings a melancholic song he wrote called One Bad Day.

At the end of Graham's set, he comes out triumphantly in a

cape and glittering pasties. "It's not about performing as either

gender for me. Every time I get into drag, I just try to look like a

super-person." As he performs Baby's On Fire by Die Antwoord,

audience members and other performers from the night rush

onto the stage to dance with him.

The future for Eat Me and the queer scene in Liverpool from

this point seems full of opportunity and possibility. Everyone

involved has a million ideas for things that they want to see

happen. Day wants to set up a sex positive, queer poetry night;

Auntie Climax and Carl are considering an Eat Me + Preach

scratch night, where new aspiring performers would be able to

test their material; Tammy talks about having a drag flea-market.

The momentum and energy behind Liverpool's queer creatives

is undeniable. When I ask Climax where she wants this all to

go, she says "I just want people to feel like they can make it

their own: I want to include performers of colour, international

performers, more disabled performers, more trans performers,

drag kings! Where are they? I want to push the multidisciplinary

idea even further – how weird can we get?" !

Words and Photography: Caitlin Whittle

Eat Me: The Bad Taste Edition takes place at District on

9th November, as part of Homotopia and DaDaFest. If

you're interested in performing or getting involved, email

eatmeandpreach@gmail.com.

FEATURE

19
---
ACID CO

Searching for collective joy in the far-out left: Elliot

Ryder pitches up at The World Transformed.

It's day three of The World Transformed and I'm not sure if

I'm one of the many or a parody. It's not clear whether I've

been charmed or conformed.

The four-day festival of "politics, art, music and

culture", curated by Jeremy Corbyn-supporting campaign group

Momentum, is running alongside the official Labour Party

conference for the third successive year. This is my first year in

attendance, and the festival's second appearance in Liverpool.

Right now, the city is awash with red ties and clipboard-wielding

guerrillas. Delegates and Labour suits are wandering through the

tight-knit streets of the festival fringes, waving hands through a

mist of cigarette smoke.

Press credentials have enabled entry to a wide range of

events, but my mind is busy kneading the potential of one

workshop in particular: ACID CORBYNISM – a rave, of sorts,

dreamed up by the far-out left. Cutting shapes and sticking

it to Tory policy seems to be the procedure. Having seen

newsreel clips of delegates and activists awkwardly swaying

to Jon Hopkins' Open Eye Signal at the Acid Corbynism event

at Brighton in 2017, I saw it necessary to become one of the

awkward many when it debuted in Liverpool.

This psychedelic strain of Corbynism is spreading within

Hinterlands' theatre room, in the heart of the arts versus luxury

redevelopment warzone, the Baltic Triangle. Leaving the bicycleringed

Black-E, where I sat on dusty floors and listened with

the Momentum movement, I travel down towards the Baltic in a

stream of turn-ups and Golden Virginia plumes.

Much of the day so far has been as expected; the socialist

hipsters, Q&A segments lacking brevity, handlebar moustaches

greeting each another with "that policy sounds sick, but have you

got a spare filter". And, of course, lots of clapping. The movement

demands tired hands and woke minds. What's to come next this

evening still appears mystifying beyond theoretical explanation.

It's outlined that the event will help relieve our post-capitalist

desires, before moving our flesh prisons to the approved sounds

of the new faith. This doesn't sound too dissimilar from an

evening spent babbling away in a Russell Group university

student's bedroom, listening to psytrance and commenting on the

social order of the house-plants. So, how will this Momentumapproved

'rave' find validation through political confluence? In the

words of Jeremy Gilbert, academic and Merseyside native, "Acid

Corbynist politics would ask what it might take to turn us into

a different sort of people, a people comfortable in the complex

world of the 21st Century. Politics that would put forward the

argument that government has a responsibility to facilitate the

development of real artistic and social creativity among all of

its people." It's a theory that lends from Mark Fisher's research

into Acid Communism, a utopian style of politics that sought

to replace capitalism with a social structure which enables the

exploration of human potential in a more communal atmosphere.

Acid Corbynism, then, isn't so much an escape, it's an inquisition;

a self-assessment carried out to unlock the potential of new

ideals awoken through collective dancefloor movements.

Outside Hinterlands we form two lines; one for the upcoming

Q&A with Jean-Luc Mélenchon, leader of French left-wing party

La France Insoumise, the other for Acid Corbynism. Here's where

the faces of the disco revolution make themselves known.

At first the opposing line is far greater in length and

popularity – unsurprising. Mélenchon is a populist, after all.

Attendees drip into line for Acid Corbynism while being stared

down by the geopolitically-informed stood opposite. Their

faces question why anyone would want to enter a communist

confession box complete with 128bpm soundtrack. I ask the

same question of myself.

The line grows more excitable as the opposing queue filters

inside. Nobody seems sure of what's to come. A pair behind me

hatch the following plan: "We'll take some trippers and align our

stars with the communist dream – sound good?" "Yeh, sounds

alright, cool."

We're still outside. One attendee cuts from the line to smoke

his roll up, resting on a fence guarding a farm of propane tanks.

His comrade notices and calls to his aid: "Mate, I don't think

you should smoke there, imagine if you were to destroy half the

movement!" The potential irony of a waywardly-tossed extra slim

20
---
filter bringing down the youthful Corbynista movement would be

more scorching than any flames lighting up the night sky.

It passes half seven, and frantic volunteers finally usher us in.

We reach a holding stage; a tunnel sporadically plastered with

vibrant colours. Anticipation builds, as rumbles from whatever

awaits inside lights up the faces of those towards the front of the

queue. It feels as though we're wayward tourists over-indulged

on psychedelic truffles, about to set foot on the hallowed turf of

Ajax's Amsterdam Arena.

The volunteers pull back the doors and the visual entity of

Acid Corbynism is revealed. High-powered spotlights glare from

each side of the room; opaque red sheets hang from the ceiling

and swoop down towards head level; seats are dispersed in

circles with a carpet of balloons filling the floor; turntables are set

up along with two projectors. There's even a snack table loaded

up with pots of hummus and carrots. Is this the future? Corbynista

club culture rising from the subterranean depths, a contingent

red curtain of hope? Foregoing standard clubbing procedure,

attendees stock up at the bar and take seats in designated circles

where we await our orders. Arms loaded with Red Stripe jolt as

balloons begin to explode below foot. Eyes fill with wonderment

and perplexity. It's time to find out if we pass the acid test.

"We're going to start with a radical consciousness-raising

workshop before getting into the party," a microphoned voice

informs. "Radical consciousness-raising" sounds like the deep

breath you take before crossing Concert Square on a Saturday

night. "Essentially, you're going to be answering questions," the

microphone asserts. After a day of lengthy debate, I'm unsure

whether it's my capitalist urges I can feel loosening or my sober

eyelids growing heavier at the prospect of an ideological predrinks.

There are two guides for the first instalment of this

Corbyn acid trip: one female and one male. The male begins

by articulately outlining the importance of the counterculture

movement of the 1960s. He draws the dots between the room's

fluorescent spotlights and Ken Kesey's famed acid tests in

1960s San Francisco – the cerebral blueprint for the evening in

waiting. Lurching back towards Fisher's Acid Communism, we're

informed that the counterculture of the 1960s discovered there

was another form of existence, one where LSD was a vessel to

make the permanent contingent, the understood absurd. Here,

the use of LSD is not being endorsed; rather, its effects are being

highlighted to prove the validity in exploring possibility beyond

the regimented reality of neoliberalism. A strain so viral even free

spaces such as festivals, clubs and universities now feel its evertightening

hold. And for collective joy, dipping into the pocket

for another pill isn't free from market logic either. Our launch pad

to the authentic now simply provides a blinkered euphoria. One

where the heights of dreams don't percolate any higher than the

subterranean roofs of shared experience. A comedown is merely

fighting the dominant tide on the final reserves of energy.

Our female tour guide of the Acid Corbyn psyche initiates the

beginning of assessment. This is my litmus test for membership

of the hedonistic left. Questions range from "when was the last

time you felt free from work?" and "when were you last bored?"

to "when did you last experience collective joy?" My circle is a mix

of young and old, those sure of their answers and others taking

encouragement from the relatable responses. Each group reports

back a general consensus:

"Even when I'm at home, I feel guilty for being there."

"I feel like I should always be productive."

"It's a constant battle between productivity and creativity."

"Not even boredom is free from work; I've stood there on the

dancefloor at 3am, answering emails."

"If you're ever bored, you should really try morning yoga. It

helps!"

"Acid Corbynism isn't

the counterpunch for

contemporary counter

culture, but rather it's

the place where we

weigh up the opponent

and realise fighting

back is necessary. It's

up to us to swing first"

on Seel Street, "who used to go there? Do any of you remember

their TV advert in the 1990s? People working crappy jobs, in

offices, and then the tag line springs up at the end: 'Cream: it's the

reason I work all week'." This harrowing depiction of the neoliberal

state of consciousness shows how dredging creative culture and

collective joy is necessary to free ourselves from unnecessary

anxiety. Work does not make you free. It's here where the stars of

Acid Corbynism begin to align with progressive, grounded policy.

It's the reason the event makes sense.

Acid Corbynism has gone way beyond the provocative

tagline that ensured my attention and attendance. Through

Corbyn's strain of socialism, the drive for individuality can be

altered; community aspiration can be restored; cooperative ideals

find a more hospitable environment to flourish; environments

such as Hinterlands, The Gallery, The Royal Standard, venues

that can be the home to these ideals. But, for how long?

Neoliberalism denies permanence beyond its own dominance.

Even the 2008 financial crash couldn't bring it down. How long

before the stagnant white brush of redevelopment attempts to

RBYNISM

The responses show the prevalence of anxiety regarding

employment and self-dependency: the neoliberal fatigue. It's

difficult to weigh up whether this collective strain would be felt

differently in a socialist society. But it's painfully clear that, like

first light through a half-drawn curtain when smashing that

same Boiler Room mix at an after-party, neoliberalism instils

chaotic anxiety. Those not already climbing the social ladder on

the back of their parents worry about validating their existence,

rather than success. This isn't the defining mood. As a seasoned

lefty attests: "I have the universe to consider; I'm never bored.

Boredom is a fetish, and there are drugs for that." The room's

laugher is wholesome, yet the statement confirms the intrusive

reality we live in. These drugs have been normalised to offer

momentary escapes; our night-time culture plays by the rules of

the market and turns a blind eye to the necessity of a three-hour

release for a single slice of your minimum wage. We're handed

our ideal pleasure drug to bookend the 40-hour week, our very

own 'soma'. You must work before play.

The room is asked to come up with questions that will enable

us to assess our post-capitalist desires in modern society. "Is

there any happiness in monogamy?" rolls out first. Faces are

momentarily bemused, elder partners look towards one another

sheepishly and raise a wry smile, then look away, anxiously

awaiting the room's approval. "When was the last time you were

enchanted?" "When was the last time you spent a day away from

your phone". The contemporary set of questions again provoke

an uncomfortable awareness of society's expectations and the

piercing individuality that perforates our communities.

It's been over an hour, and this disco is yet to feature music.

Having felt the room collectively air its frustrations towards

constant neoliberal surveillance, the party mood is lacking. New

attendees have entered the room and stand towards the door,

bemused by the loose conversations against a surreal backdrop.

The palpable impatience has me wondering whether music and

shared experience has been commandeered by neoliberalism

to generate a distraction: a reason to journey to the end of each

week without question. The peak we strive for through remedial

work, suffocating ties and razor-sharp heels. The room is assured

the music will come following the next round of discussion.

Aforementioned academic and Merseyside native, Jeremy

Gilbert, takes the microphone and spurs on my prevailing thought.

He touches on the hollow nature of collective joy in the capitalist

world. "Cream," he announces, in reference to the former club

stretch its bristles from its latest trophy, Constellations? Through

Acid Corbynism, contemporary politics has a mixing pot in

which it can draw out ideas informed by utopian and democratic

impulse, those that see beyond the permanence of capitalism,

just as the counterculture of the 1960s saw past the necessity of

the commodified American dream with the help of LSD.

It's an evening where the pre-drinks alerted mental despair,

rather than the serotonin depletion in the days after. Collective joy

is now in the hands of the neoliberal weekend, a living replication

of Aldous Huxley's Brave New World where its occupants

are advised to load up on prescribed drugs to fight off an

understanding of their free-range prison. At the Acid Corbynism

workshop, it's as though you've removed yourself from the party,

taking a breather outside as the senses grow too vibrant. You

find a seat on the pavement and next to you, slouched on the

floor, is Foucault. He's muttering in your ear: 'Prison, panopticon,

punishment... and all this, mon ami, we let happen without

question.'

It's easy to ridicule Acid Corbynism as a kitsch Momentum

brainchild bred to blur the lines of getting pissed up and politics.

But over two hours in, and I haven't had one drink or awkwardly

danced to Jon Hopkins with some aging socialists. Acid Corbynism

hasn't so much raised my consciousness, as forcefully reminded

me of its need for change. Acid Corbynism has the potential to

nudge the first wave of a movement, the potential to watch it roll

back across a fairer society cleansed of individualistic urge.

Acid Corbynism isn't the counterpunch for contemporary

counter culture, but rather it's the place where we weigh up the

opponent and realise fighting back is necessary. It's up to us to

swing first. 2022 perhaps, maybe sooner, if Theresa May's vision

of a red, white and blue Brexit loses all colour. The dancing queen

would be no use here. Nobody is dancing, and there's no music.

When it does come, heading into the final hour of the event, I

barely notice the calm disco-goers who fold away their seats and

ignite the party. I was the spectacle that I set out to document

at the beginning of the day; sitting on floors, relentless clapping,

discussing hatred of neoliberalism, taking refuge in shared

anxiety, finding my place as one of the many. !

Words: Elliot Ryder / @elliot_ryder

Illustrations: Hannah Blackman-Kurz / @hbkurz

theworldtransformed.org

FEATURE

21
---
LONG LIVE

THE PRINS

Reclaiming a Scouse stereotype – Amy Czarnecki argues that the

Scouse Prin has overtaken the casual as today's iconic Liverpool look.

Instantly recognisable by her year-round

tan, larger than life curly blow-dries

and immaculately-groomed brows, the

Scouse Prin (short for 'Princess') has, in

recent years, become as much of a Liverpool

icon as Steven Gerrard or Cilla Black. And

she's well on the way to earning herself

the same amount of screen time, thanks to

her regular appearances on the likes of Big

Brother, Love Island and countless other

British reality shows.

This September saw Scouse Prin Gabby

Allen, a fitness instructor turned Love Island

2017 contestant, reach the final of Celebrity

Big Brother; plus, this summer's series of

Love Island brought us Hayley Hughes, the

Liverpool model who became infamous for

asking "what's Brexit?" during her time on the

show. While Hayley received her fair share

of criticism for her cluelessness, the Scouse

Prin still clearly has a reality TV appeal; Bear

Grylls' survival show The Island just put out a

casting call specifically requesting Scousers in

the Liverpool Echo.

Scouse Prins are some of Liverpool's most

successful public figures, yet in Liverpool they

are often derided as badly representing the

city. When the creatively-named, scripted

reality show Desperate Scousewives

launched in 2011, Liverpool Metro Mayor

Steve Rotheram (MP for Walton at the time)

wrote an entire piece for The Daily Telegraph

detailing his worries of the "regional racism"

(a dubious term) it would fuel; "simply

reinforcing negative stereotypes".

For those that missed the ill-fated show,

Desperate Scousewives pulled together the

most high-maintenance Scouse Prins that the

casting directors could find. E4 described the

cast as "the strong, independent women who

quite literally run this town, looking to make a

name for themselves in the city famous for its

big personalities, big dreams, and even bigger

hair". The show's press release also noted

that "the girls spend every hard-earned penny

making sure they stand out from the crowd".

Although it received criticism for lacking any

real plot and some cast members not actually

coming from Liverpool, E4's premise sounds

as if it could have been written about any

number of Scouse Prins that we know. And,

what's wrong with that? Steve Rotheram's

reaction to Desperate Scousewives raises

the question of how this type of woman has

become written off as such a "negative Northern stereotype".

Steph B, of Scouse Bird Blogs, sums it up well. "They're

the stereotypical pampered princesses who go out and spend

their fella's money, wear two packs of extensions and have a

perma-tan. I think that's what would pop in to most people's

head when you think of a Scouse Prin. They're the type that seem

to keep getting picked for reality TV, and so the stereotype lives

on. There's nothing wrong with that – live and let live – but it's

frustrating when they make up such a small part of Liverpool

culture, and I don't think they represent the majority of Scouse

women."

Steph prefers the notion of a Scouse Queen as a more

realistic depiction of Liverpool women. This is "someone who's

very much got her shit together, doesn't take any nonsense,

knows what she wants, what she's about and is generally an allround

boss babe". And in the eyes of Steph, "a Queen outranks

a Prin".

Prins vs Queens debate aside, we know that the women of

Liverpool are fast turning the city into a British beauty capital of

sorts. Liverpool is home to the only dedicated Harvey Nichols

Beauty Bazaar in the country, and it seems that every Scouse

Prin and her dog are becoming lash, brow or nail technicians,

with over 30 beauty therapy schools appearing on a Google

Maps search of Liverpool. Clearly there is money to be made; to

maintain a set of semi-permanent lash extensions (which are

showing no sign of decreasing in popularity) costs around £30 a

go, needing to be replenished every four to six weeks.

What's interesting is that girls are, a)

"The Scouse Prin

is surely one of the

most iconic looks to

come out of Northern

England since the

days of the casuals"

forking out for this, and b) creating a micro

economy/industry out of it. Claire, a lash

extension devotee and PA from South Liverpool,

is currently saving up to undergo a lash course,

simply to supplement her normal full-time

income. She currently pays £25 for the upkeep

of her lashes, so with courses costing typically

around £300 it would only take a year of doing

her own lashes (or 12 sets of infills for clients)

to make her money back.

Scouse Prins should be applauded for

their dedication to a look that could almost

be described as being a full-on lifestyle. The

Scouse Prin is surely one of the most iconic

looks to come out of Northern England since

the days of the casuals. While there are books,

films and documentaries all dedicated to the

Liverpool casual boys, we are yet to see the

Prin celebrated in the same way. It's interesting

to note, though, that when the hugely popular

North: Fashioning Identity exhibition made its

way down from Liverpool to London last year,

it was a contemporary photo of Scouse girls

in rollers that was used in all the promotional

material and posters, with not a trainer in sight.

One thing that perhaps unites these two

unlikely tribes, the causals and the Prins, is

that both looks developed in a very insular

way. Unlike Fashion Week shows that take

place across the globe, where stylists, editors

and designers simply look to each other to

determine the trends, Liverpool takes its own

path. Scouse Bird, (or Steph B) sheds some

further light on this, noting "there's the phrase

'Scouse not English': Liverpool distances itself

from the rest of the UK, particularly down

South. We have an attitude of looking out for

ourselves and forgetting what the rest thinks.

That breeds a culture of individuality; we don't

care what Vogue says, or what's coming out

of London Fashion Week. We wear what we

think looks good, we do our hair however we

want it. We're influenced by local designers

and each other – if the girl in work dyes her hair

bright red and people think it looks good then

that's how trends catch on here. It's not about

what the reality stars or Hollywood celebs are

doing. We're a micro-culture in a big, glamorous

bubble."

You could argue that Liverpool Prins are

starting the trends; the Kardashians/Jenners are

given a whole lot of credit for revolutionising the

beauty industry, but let's not forget that Scouse

girls were contouring their faces and shaping

their brows well before Kylie Jenner got her first lip filler. Likewise,

Patrick Wilson, the 25-year-old Liverpool hairdresser, has gone

from training at Barbra Daley, gaining a reputation in Liverpool

for his voluminous curly blowouts, to assisting world-renowned

hairdresser Sam McKnight at shows such as Chanel and Fendi,

taking his signature 'Wilson Waves' with him.

It is high time that we celebrate and take ownership of the

Scouse Prin. She is truly a phenomenon and an icon, uninfluenced

by the trends governing the wider fashion and beauty world.

The level of dedication to the Scouse Prin look is rivalled only by

fashion weeks and subcultures, and for a city that's so typically

regarded by the rest of the country as working class, the financial

dedication required to maintain such looks is also something we

should be shouting about. These are, for the most part, normal

girls who are driving a micro-economy of their own and couldn't

care less about leaving the rest of the country to catch up with

them. !

Words: Amy Czarnecki / @amyczzz

Illustration: Lost Art's 'Scouse Girl' by Rob Mathieson

22
---
10 November – 1 December 2018

Highlights

SOLD

OUT

Lemn Sissay

Festival Artist in Residence

Hollie McNish

Saturday 10 November

Nigella Lawson

Saturday 10 November

Robin Ince

Monday 19 November

Dan Snow

Tuesday 20 November

Ross Sutherland

Thursday 22 November

Jenni Murray

Saturday 24 November

Poetry Pub Crawl

Saturday 24 November

Raoul Martinez

Sunday 25 November

Chester's multi-award-winning

theatre, cinema and library

01244 409 113

Book now

storyhouse.com

Hunter Street,

Chester,

CH1 2AR
---
24
---
SOUNDTRACKING

JOHN WATERS

Trashy, kitsch movie making has never been so aspirational in the hands of anyone other than John

Waters. Ahead of an appearance in Liverpool for Homotopia, Del Pike digs into the back catalogue of

the Prince Of Puke, unearthing some bubblegum pop gems that have lit up his filmmaking career.

JOHN WATERS, the most gleefully sleazy director in

exploitation cinema, is back in town, making his only UK

appearance at this year's Homotopia festival with his

This Filthy World show. Last time he brought his show

to the Liverpool festival in 2013 was a visit to remember, with a

bonus appearance at LJMU presenting his favourite Burton/Taylor

flick, Boom!

With most of Waters' own heroes packed off to the big

grindhouse in the sky, Waters is one of the few true exploitation

figureheads still with us, and for that alone he is a treasure.

Waters' last movie, A Dirty Shame, was released some 14 years

ago, and other than appearances in other folk's TV and movies,

he has kept a relatively low profile. Appearing at a recent Devo

gig however, he introduced the band and added a diatribe

against Trump, calling him a "feckless prick" and a "shithole of a

President". Thankfully, the wonderful spirit of Waters endures.

Waters' appearance at a Devo gig is no great surprise: he

may well be the coolest 72-year-old on the planet. Music is

always prominent in his movies – part of the excitement of these

films is his hilarious juxtaposition of classic bubblegum/trash pop

against shocking and outlandish imagery. How could anyone

who's ever seen Pink Flamingos (1972) hear The Trashmen's

Surfin' Bird without unearthing the mental image of a singing

anus?

Waters' affiliation with musical royalty continued with his

2017 release on Jack White's label, Third Man: a 7" single entitled

Make Trouble. The single found Waters reciting from his book,

also entitled Make Trouble. The book itself is a transcription

of a full-length speech that Waters delivered to Rhode Island

School Of Design, an inspirational anti-establishment rant that

immediately went viral.

What better time to look back on John Waters' relationship

with music in film? His style of movie making may have shifted

throughout his career, but his love of great music and his ability

to match it to his images has remained intact.

A brace of short, garishly titled, monochrome underground

movies kicked off Waters' career in the 60s. This was around the

same time that Kenneth Anger was shocking his audiences with

Scorpio Rising (1964) – this homoerotic biker movie, drenched in

Technicolor, featured a found soundtrack of jukebox classics from

Ray Charles, Elvis, Bobby Vinton, The Crystals and The Surfaris.

Waters' films were similar, with Mondo Trasho (1969) and

Multiple Maniacs (1970) making full use of bubblegum pop hits

to deliver virtually dialogue-free narratives. Whereas Anger used

music to create a menacing contrast with his images, Waters

used the music for purely campy and hilarious effect.

The opening sequence of Mondo Trasho sees a masked

butcher beheading live chickens in the woods to the sound of

Link Wray's ominous Jack The Ripper. In this, Waters instantly

created a trope that would follow him on and off for years:

extreme kitsch via the fantastic marriage of music and image.

"Well, music has been a constant. Yes. Rock 'n' roll was

huge!" Waters told New Zealand webzine Stuff back in 2011.

"My first hero was Elvis Presley, when I saw him I just wanted to

be him. I wanted to swap! I wanted to wiggle my hips like that.

And it was the same with Little Richard. You have to remember

that the 1950s are remembered fondly now because of the

music. But the 1950s were horrible!"

Waters took great influence from Frank Tashlin's 1956

comedy, The Girl Can't Help It, particularly the iconic scene that

sees Jayne Mansfield knocking them dead as she parades down

the street to Little Richard's title song. Waters' own muse was

the wonderfully overweight and maddeningly beautiful Divine,

the ludicrous creation of childhood friend Glenn Milstead. Divine

"I basically hated

all music from The

Beatles to punk.

Punk put the danger

back in music"

became Waters' own Mansfield. Over and over again, he would

recreate the scene with Divine in skin-tight cocktail dresses, high

heel slippers and extreme make-up, prowling the streets of their

hometown Baltimore: in Multiple Maniacs, Lady Divine parades to

Sil Austin's instrumental Wildwood before being attacked by glue

sniffers; in Pink Flamingos (1972), Babs Johnson flaunts it to The

Girl Can't Help It with a slice of raw steak in her knickers; Female

Trouble's version totally steals it as Dawn Davenport walks by to

Nervous Norvus' Dig and an onlooker's eye casually drops from

its socket (yes, it's real).

Waters' love of tracks that feature blaring, distorted horns

became his stock in trade throughout those early days and

always act as a siren, forewarning a gross-out scene. While

Mondo Trasho still awaits a formal release, which is unlikely

due to the hundred-plus songs used without permission, Pink

Flamingos surely holds the title of most insane usage of songs

against shocking images. The singing bumhole takes some

beating, but Patti Page's How Much Is That Doggy In The

Window playing over Divine's dog-egg feasting comes close.

As Waters broke free from purely grindhouse audiences

following the Divine-free Desperate Living, changes were stirring.

Some of his original ensemble – known as the Dreamlanders after

his production company Dreamland Productions – fled the nest

and the overweight, grotesque Baltimore characters were slowly

replaced with accepted, recognisable actors. Waters explained

this move as "spreading his germs to suburbia". Sadly, his

soundtracks suffered in the transition.

Debbie Harry and Chris Stein provided the soundtrack for

Polyester (1981), alongside Michael Kamen. However effective,

it was a polished affair compared to the favourable blaring retro

tracks of old. The song, The Best Thing, that plays over Divine

and Hunter's frolicking, has a melodramatic vocal from Bill

Murray, who Waters allegedly hated at the time for being "too

mass audience".

Polyester saw the return of Divine as Francine Fishpaw,

placed opposite love interest, the recently departed Tab Hunter.

Hunter, a 50s heartthrob with a batch of hit singles and

appearances in romantic comedies, was a rebel with a string of

secret gay relationships including a partnership with Anthony

(Psycho) Perkins. Perfect quarry for Waters. Also on board

was Lords Of The New Church frontman, Stiv Bators, as Bo-Bo

the juvenile delinquent. Waters' films would continue to boast

appearances from cult music figures including Iggy Pop, Sonny

Bono, Debbie Harry and Chris Isaak. 90s grungers L7 appear in

1994's Serial Mom as Camel Lips, with matching tight trousers.

Waters' appreciation of unusual music can be detected

beyond his own soundtracking. His compilation albums, A John

Waters Christmas and A Date With John Waters bring together

the brilliant and the bizarre. Christmas gems including Santa

Claus Is A Black Man by Akim, and Rudolph And The Gang's

Here Comes Fatty Claus ("Here comes Santa with a sack of shit!")

have become annual favourites in this writer's house. His 2010

book, Role Models – a collection of tributes to his own personal

roll call of heroes – opens with Me And Johnny, a surprisingly

enthusiastic love letter to Johnny Mathis.

In a 2007 interview with The New York Times, Waters went

into a bit more detail on the depth to which he felt music was a

part of his art. "When I turn in a script, I almost always turn in a

complete soundtrack with it. The music is another character in

the movies. I use the songs like a punchline or a costume."

Waters found mainstream appreciation with his double

whammy as the 80s reached an end – Divine's swansong,

Hairspray (1988) and the film that propelled Johnny Depp to

stardom, Cry-Baby (1990). Both films were driven by their

extraordinary soundtracks, reminiscent of Waters' early movies.

Cry-Baby remains Waters' only actual musical. The Cramps

had originally written and recorded songs for the soundtrack,

including the title track. However, these were never used, only

turning up as B-sides on their All Women Are Bad single under

the name Cry-Baby Suite. One track, High School Hellcats,

appears in the film in title alone, re-written by Dave Alvin and

performed by rockabilly performer James Intveld. Cry-Baby made

it to Broadway status and failed miserably, unlike Hairspray,

which has been an enormous stage hit internationally and was

remade for the cinema, with John Travolta replacing Divine in

2007 with the approval and endorsement of John Waters. He

appears briefly in the remake as a flasher.

Following the routine, Stewart Copeland scored Pecker

(1998), while Cecil B. Demented (2000) pays homage to Waters'

favourite directors in a tale of guerrilla filmmaking gone berserk.

Basil Poledouris returns to scoring duties, having previously

helmed Serial Mom, and the result is overwhelming and as far

away from a Waters soundtrack as you can imagine. The added

factor of John Waters co-writing the rap tracks Bankable Bitch

and No Budget with DJ Class is perhaps the least expected

element of any of his soundtracks.

If A Dirty Shame (2004) turns out to be the final film in

the director's canon, it does so much more than satisfy. The

soundtrack is worth the ticket price alone.

The film tells the tale of Sylvia Stickles (Tracey Ullman), a

prudish housewife living in a Baltimore suburb teeming with

perverts. Following a bonk on the head, Sylvia succumbs to

Ray Ray (Johnny Knoxville) and enters a hilarious world of

sexual misadventure. It's an absolute return to form, and has

a soundtrack packed with sauciness to match the onscreen

shenanigans. Titles such as Tony's Got Hot Nuts, Eager Beaver

Baby, Boobs A Lot and Hump A Baby are priceless. Old classics

like Billy Lee Riley's Red Hot bring Waters' career full cycle with

its blaring horns and joyful, sleazy nostalgia. The scene where

Sylvia does The Hokey Pokey in an old folks' home, squatting to

pick up a water bottle (hands free), is one of Waters' last great

soundtrack gags – pure gold.

If Waters never makes another film, at the very least we have

these gems to pore over. A great collection of movies with an

equally breathtaking assemblage of tunes. Long live the Prince

Of Puke. !

Words: Del Pike / @del_pike

Illustration: Nick Booton / bruïstudio.com

John Waters: This Filthy World shows at the Philharmonic Hall on

10th November as part of Homotopia.

FEATURE

25
---
MERSEYRAIL

SOUND STATION

Opening doors and making connections: how an innovative new artist development programme is helping

some of the region's finest musicians to make big strides in their careers.

"If the labels today aren't going to be the architects of

artist development, then who is?"

Talent manager Steve Rennie posed this question

in a 2014 blog he wrote for Billboard, where he

described how the process of artist development had changed

over the 30 years he's been working in the music industry. As

well as working at Epic Records, Rennie managed Primal Scream,

Incubus and The The, and has been praised for his knowledge

on the workings of an industry that has undergone massive

upheaval since the digital revolution. "There was a concept in the

record business for years called artist development. The idea was

actually pretty simple. The label would sign an artist that they

loved or whose future they believed in. Typically, those artists

were at the beginning of their creative potential but still had not

totally dialled in their thing."

"In those glory days, the artist development process could

be analogous to a budding romance," he continued, describing

how the traditional courting of new talent by big labels was the

norm, in an era when physical sales of CDs dominated, meaning

that labels held all the aces. "In today's music business, there are

no such luxuries: no candles, no wine, no romantic dinners, just a

simple yes or no. It's not about love. It's about results."

Since the 2000s, when streaming and digital sales became

the primary way of consuming music, the whole infrastructure

of the industry has changed. Record labels – for a long time

the custodians of who and what gets released – have had less

resource to spend on developing musicians. They no longer

have the time and money to waste on breaking large numbers of

artists and allowing them to make mistakes – they need results,

fast. This means that artists need to be further down the road

with their image, style and fanbase than they previously had to –

plus, there are fewer places to fight for.

And it's not just labels who are still adapting to these

changes: the media is still catching up with the new possibilities

of the web, where artists and labels can go direct to customers

themselves. Finding out just where TV, radio and written media

fits into this new structure has been a struggle, but the upheaval

has thrown up one positive for budding artists: the power has

shifted back to them.

This thought process has been central to the development

of the MERSEYRAIL SOUND STATION artist development

programme. Over the past five years, ourselves at Bido Lito! have

been working with Merseyrail to profile the amazing musicians

that call Merseyside home. For 2018, we wanted to take that

further, and really help some of these fabulous artists to develop

their craft and learn more about the music industry that they

could – and should – be shaping.

In August, we took on a cohort of 13 musicians that

represent some of the brightest talent in the region, and put

then through a five-week programme geared towards their own

personal development. Across a series of sessions, the artists

– Astles, Beija Flo, Bill Nickson, Breezy iDeygoké, Charity Shop

Pop, Eyesore & The Jinx, François, Hannah & The Wick Effect,

KingFast, Niki Kand, Remy Jude, Sara Wolff and Yank Scally

– were given the chance to meet with industry professionals,

successful musicians and each other to talk face-to-face about

the realities of being in the music industry, and to gain insight on

how they could hone their own processes to get the best out of

their talent.

Stealing Sheep's Becky Hawley is keenly aware of the

importance of having a network of friends and artists around you,

having blossomed from a fertile scene of creatives of all different

stripes based at The Kazimier. In the Artist Masterclass she gave

to the artists, she preached this idea of collaborating, and sharing

talents, as a way of growing together as a community. "It's

interesting because of the connections that are made," said Becky

after the tall at the Philharmonic Music Room. "Just hearing oneon-one

about the different artists in the room and their different

backgrounds, it's already really inspiring for me. I feel like I want

to put on a show, and I feel like I want to meet all of these people

again and work with them – and they want to work with each

other. This is how stuff starts."

Being an artist is more than just about writing great music

and putting on a jaw-dropping show – although, that does help.

The ability to navigate the practical side of being a musician is also

key, and these things can often slip by the wayside when time and

resources are tight. Representatives from the Musicians' Union

and publishing organisation Sentric were also on hand to promote

the idea of getting the basics in order, to support the artistic

side. The MU's regional officer for the north west, Barry Dallman,

talked about the value of having both the creative and the logistics

side of your career in good health. "Projects like this can connect

grassroots musicians with the industry that's local to them, and

give them great advice and tools to help them develop their career

and take their music to the next level."

The cohort were also put through their paces in the studio,

with experienced musician and tutor Jez Wing leading a

songwriting course at Sort Rehearsal Rooms. Working with the

artists to develop their arrangements, melodies, lyrics, hooks, the

session was designed to get the artists to think differently about

their own processes, and invited them to learn from each other's

techniques and styles. Studio manager of The Cabin at Sort,

Alec Brits, also gave the musicians a crash course in working in a

studio environment; he also praised the idea behind the sessions,

and sees the wider impact of artist development courses that

encourage musicians to think and work together across genre

boundaries. "Projects like this are invaluable to a city like Liverpool,

or any place where there's a thriving cultural scene. If these sorts

of things become the norm, it will raise the overall quality, making

a stronger community of musicians who all work together."

This is a sentiment that is echoed by Lynden Campbell, Head

of Synchronisation at Domino Publishing. Lynden was part of

a team of industry professionals who took part in an Industry

MOT session at the British Music Experience, where the 13

artists were put through their paces on their press assets and

approaching the media and festivals. "Projects like MSS are so

important today because, despite the fact that we are so well

connected digitally, it's still important that people come together

and talk openly."

Having seen the group of musicians tackle each session with

gusto, learn from each other and take on board the advice on

offer, and see them buzzing after performing as a whole group at

Liverpool Central station as part of BBC Music Day, it was difficult

not to feel buoyed by the enthusiasm that the whole process

generated. And, as Becky Hawley said, this is where stuff starts.

There's no telling where those 13 artists might go next. Becky's

final comments sum it up neatly: "The music industry is there to

be made by you. And it's up to the creative people to invent it." !

Words: Christopher Torpey

Photography: Rob May

Applications for the second semester of the Merseyrail Sound

Station development programme are open now. Head to

merseyrailsoundstation.com to fill out the short application form.

26
---
Eyesore & The Jinx

"The programme has

massively helped us, by

introducing us to people

with the skill set to help us

develop and make the next

step, as well as introducing

us to a host of talented

artists we otherwise may

not have encountered."

Breezy iDeygoké

"Sound Station has

helped me to understand

the difference of being a

musician as a creative hobby

and a creative professional.

The programme has

helped me realise a

guideline to follow as part

of my musical career."

Charity Shop Pop

"The fact that I've grown

in confidence has been

the most important thing,

and then just general help

and support that will stand

me in good stead. Also,

meeting the various people

and having links with other

artists and other influential

people in the area."

Beija Flo

"Merseyrail Sound Station

kidnapped me with my

permission and has fed me

knowledge about really good

things like self-promotion.

I had a really good time

meeting professional

music wizards and am

grateful for the advice

my brain has received."

FEATURE

27
---
SPOTLIGHT

THE ALEPH

The avant jazz reconstructivists talk to us about the hauntological

sound they've hit upon with their new EP, Sunspots.

"What could be more

truthful than singing

something from the

bottom of your heart at

the top of your voice?"

"We can't tell you what we sound like; we can tell you our

aspirations for what we want to sound like, but it's probably

a million miles away from the reality," says Benjamin Fair,

somewhat cryptically, catching us off guard with his answer

to our opening gambit ('Can you describe your music in one

sentence'). "We pair off repetition with change, tradition with

exploration, the familiar with the strange, love with fear."

His fellow experimentalist in THE ALEPH, Jonathan

Hering, goes even further with his response. "In his story The

Aleph, Jorge Luis Borges says 'How can I translate into words

the limitless Aleph, which my floundering mind can scarcely

encompass?' Early on, we adopted this as a manifesto."

If you've had the chance of marveling at their latest

work, the five-track Sunspots EP, you'll probably agree that this

is as close as you're likely to get to describing the duo's singular

aesthetic. The two Ex-Easter Island Head members produced the

material themselves, with help coming from Andrew PM Hunt (of

Dialect and Outfit fame). Stealing Sheep's Lucy Mercer joins them

on the EP's closer, She Hangs Her Coat On The Highest Pin, by

which time the pair have drifted from sugary sweet synth pop to

ominous baroque overtures, and back again.

"When we first started working with Andy [Hunt], we had a

bunch of songs that we played to him and he said, 'Yeh, but what

do you want to sound like?'," says Ben. "We'd just written these

things we wanted people to feel or experience and nuts-andbolts

sonics hadn't really featured. So, I thought, we love songs

by ABBA, The Beatles, The Beach Boys. We love counterpoint

and minimalism. We love the queasy nostalgia of TV themes and

music for adverts. Hauntology, I suppose. But we also love music

by artists who create these vivid, defined sound worlds where

you only need hear a snippet and know who it is immediately:

Kraftwerk, Moondog, The Birthday Party, Coil, Eden Ahbez, Delia

Derbyshire, Darkthrone, Laurie Anderson. Music where you are

very much a visitor to their planet."

Picking up the thread, and also the initial intention of the

original question, Jon chimes in. "We decided we too needed

a unique sound world, something quintessentially Aleph that

gave us scope to play anything from Kraftwerk to Moondog.

Somewhere that would allow us to explore these themes of

memory, nostalgia, fear, love. But in one sentence? A bit like Joe

Meek."

As you might already have guessed, this pair think a lot more

laterally about music and its applications than most musicians.

Jon sees "layers and strong lines" in the roots of their artistic

influences, which stretches across "music, visual art, in buildings,

in histories and in emotions". Ben builds on this idea of there being

different strata in the way they work: "I equate layers to physical

environment or relationships. Strong lines are a form of personal

truth. What could be more truthful than singing something from

the bottom of your heart at the top of your voice?"

It's no surprise to find that The Aleph's methods lend

themselves well to working to with film – and, indeed, their rare

live shows are accompanied by a visual element that accentuates

the music's cinematic feel. "Our music/film piece The Good Eater

is very special to us," Jon says, "as its very structure epitomises

our approach: threads of music, language and imagery that

diverge, re-emerge, converge and entwine; music from the

distant past to the far future that meets in a spectral present;

invocations and evocations of the near-forgotten and the halfremembered."

This 2016 work, made in collaboration with friend

and filmmaker Craig Sinclair, plays on childhood memories and

the lurking fear that lives inside of us. "There's a moment in The

Good Eater," continues Ben, "where Jon sings When I Am Laid in

Earth by Henry Purcell with an accompaniment of counterpoint

synths, while the film shows a father looking for his lost son. I

really don't know what that says about us: perhaps that deep

down we value emotion over thought."

Jon dodges our final question, about why music is

important to them ("Impossible to answer! Why do you like

the taste of cherries?"), but Ben, thankfully, confronts it in the

characteristically frank Aleph way: "It makes us feel different and

nobody knows why. That's magical. And real." !

Words: Frankie Muslin

Photography: Simon Gabriel

Sunspots is out now from thealeph.bandcamp.com.

28
---
SARA WOLFF

We challenge you not to be smitten by the storytelling nous of

this Norwegian artist, whose fireside tales are brought alive with

inventive lyricism.

If you had to describe your music/style in a sentence, what

would you say?

I usually describe it as lyrically-focused jazz pop.

How did you get into music?

I started out playing the violin and singing in a church choir when

I was young, so the first music I learnt was classical. When I

was 12 my mom bought my brother a guitar hoping he would

start playing it, but I was the one picking it up instead. It was a

summer when I was very bored and I started teaching myself

the chords of cheesy songs online. It was around that time that I

started writing my own songs.

Can you pinpoint a live gig or a piece of music that initially

inspired you?

It's hard to pinpoint one thing really, when the things I take

inspiration from are always very different. I grew up listening to

the Norwegian band Kings Of Convenience, and I think they've

influenced the way I write a lot. The way they play with space in

their song My Ship Isn't Pretty really inspires me.

Do you have a favourite song or piece of music to perform?

What does it say about you?

I have a song called The Hanging Man, which is a song about a

man who's struggling with depression. I think this song says a lot

about my love for writing stories; the songs I write don't always

come from personal experiences. I mostly enjoy performing this

song because, as it is a story, I feel a more intimate connection

with the people listening to it. And I also love creeping people out.

What do you think is the overriding influence on your

songwriting: other art, emotions, current affairs – or a mixture

of all of these?

A mix, definitely! A new song usually starts with me remembering

a feeling I had years ago, a friend telling me something or just

a nice sentence I've written down. Sometimes even interesting

words can inspire me to build around them. Even though they

seem very personal, my songs aren't always about my own

emotions; I see my process as taking tiny feelings, mine or yours,

and magnifying them.

Do you have a favourite venue you've performed in? If so, what

makes it special?

My favourite venue so far must be in the Walker Art Gallery! I

played an acoustic gig during LightNight in the room with all the

beautiful stone statues. Biggest crowd of stoners I've ever played

to.

Photography: John Davies

sarawolff.tumblr.com

Scarf Song is released on 30th November. Sara Wolff supports

Nicolai Hardman at Jacaranda Records Phase One on 16th

November.

"I see my process as

taking tiny feelings,

mine or yours, and

magnifying them"

STRAWBERRY

GUY

Bask in the sweet and calming

waters of chill-out lounge pop with

this synth whizzkid.

"Classic instruments

mixed with synths,

sweetness with a

touch of heartache"

If you had to describe your style in a sentence, what would you say?

Classic instruments mixed with synths, sweetness with a touch

of heartache.

Have you always wanted to create music?

Yeh, pretty much! I started piano lessons when I was four as my

Mum wanted one of her children to be musical, so I guess she got

her dream! I wrote my first full song when I was about 14, and it

started from there.

Can you pinpoint a live gig or a piece of music that initially

inspired you?

Hmm, I was very young when I started learning… but I remember

that my Dad used to play a lot of The Beach Boys when I was a

kid, which I loved. It made me want to make music that makes

people feel happy but emotional at the same time. I guess that

thought process still falls through today.

What does your new single F Song say about you and the way

you perform?

I'm yet to play a gig as Strawberry Guy! However, when I play

keyboard in my room I play chord progressions and sing melodies

over them. Sometimes I'll think in my head when I'm away from

a keyboard what a chord progression might sound like and

then I test it when I can play a keyboard to see if I was right

in how it sounded… I guess this says that I'm quite a free but

unintentionally methodical writer, ha!

If you could support any artist in the future, who would it be?

Hmm, so many to choose from! I'm really digging Andy Shauf

right now so that'd be up there, but an all-time favourite would

be Michael Franks.

Do you have a favourite venue you've performed in? If so, what

makes it special?

I played Piece Hall in Halifax playing keys for The Orielles in May.

It just really stood out to me, it was such a tremendous place to

play and I've not really had any other gigs quite like it. Fun fact:

it's called Piece Hall cos they used to make pieces of cloth there!

Why is music important to you?

I think music is important in many ways... Writing a song is an

emotional release, it makes me feel incredibly happy. It gives me

such an insane buzz, something I don't get from anything else. I

think it's important because it can evoke so many emotions, it can

make me dance, make me cry and flip your mood whatever mood

you were in before. It's powerful stuff, mayn.

soundcloud.com/strawberryguy

F Song is out now, and brand new track What Would I Do is

available on the cassette The Music Will Save Us Vol. 2 from Sad

Club Records.

SPOTLIGHT 29
---
Book now for an alternative Christmas party!

Exclusive hire spaces available!

Book: info@crazypedros.co.uk | 0151 559 2599

25 Parr Street, L1 4JN
---
Manchester Northern Quarter's music conference by day,

featuring a handpicked line-up of emerging talent at night.

SHOWCASE ARTISTS:

ANOTHER SKY•AVALANCHE PARTY•BABE PUNCH•CHAPPAQUA WRESTLING•CHERRYSHOES

CHILDCARE•DEBRA OHALETE•DELIGHTS•DITZ•DJUNO•FIZZY BLOOD•GIANT BOYS

HAPPY SPENDY•HIMALAYAS•KINKAJOUS•LADY ICE•LIBRALIBRA•MARY MILLER•MEDIKUL

MELLT•MDP•OLIVIA NELSON•PARIS YOUTH FOUNDATION•PEANESS•PEARL CITY•RASCALTON

RED RUM CLUB•SEATBELTS•SEE THRU HANDS•SELF ESTEEM•SPQR•STEREO HONEY

TEAM PICTURE•THE NINTH WAVE •THE OLD PINK HOUSE •THYLA•VANA BLUE•VWLS •WOOZE

CURATED BY:

EVERYTHING EVERYTHING•ROB DA BANK [BESTIVAL]•HUW STEPHENS [RADIO 1]

ANA MATRONIC [SCISSOR SISTERS]•JOHN KENNEDY [RADIO X]•THOMAS SMITH [NME]

THE ORIELLES•ABBIE MCCARTHY [RADIO 1]•FICKLE FRIENDS•KENDAL CALLING

BBC INTRODUCING MANCHESTER •MCR LIVE + MANY MORE

TICKETS FROM JUST £17.50 AT OTRMCR.CO.UK
---
PREVIEWS

"We are not 'girls

that just wanna

have fun'. We are

fucking making art,

and we will do it for

a long time"

GIG

HINDS

Arts Club – 16/11

Stand still long enough and you'll be bowled over by

the boundless energy of this Madrid quartet when

they arrive in Liverpool in November. Better keep

running.

While it's easy to slap the indie label on HINDS' music, their sound bears an

avant-garde individuality, a uniqueness. It's something that can be hard to wrap

your head around at first, but one that carries a certain magnetism, pulling you

towards their soundwaves with an inescapable force. The Madrileños' tales

of heartbreak, heartache and a whole lot of bullshit are attenuated by the overlapping vocal

melodies and sun-kissed riffs that could have come straight from America's West Coast. The

bleak yet vibrant contrast is characteristic of their sound and creates a blissful exploration of the

bittersweet tides of life.

Having recently released their second album I Don't Run, the four amigos are heading out on a

headline UK tour this November, with a stop in Liverpool at Arts Club. Ahead of the show, vocalist

and guitarist Ana Perotte, on tour in the USA with the rest of the band, kindly set aside some time

in their hectic schedule to chat with James Booton about the constraints of touring, the freedom of a

second album and the complexities for an all-female band battling against the industry.

Hi Hinds, how're you? How's touring in the US been so far?

Hola! America is incredible. I'm actually typing this while I sit on the porch of our Airbnb in El Paso,

Texas! This tour has been really special so far; we have finally got the time to go to other states such

as Florida, Louisiana, Texas, etc., not just New York and California. It has been wonderful. As we are

from Madrid, we are used to bands skipping our city on tour, so we really relate to the excitement of

the fans in these cities.

You're renowned for playing a blistering number of shows when on tour (was it really 20 shows

at SXSW 2015?). Have you been taking things a little slower stateside this time?

Not at all. Our first year at SXSW we did 16, and our second year we did 17. Last year was 14.

Does that sound like relaxing?!

This relentless pace and demand is something you feel made you rush your first LP. Were you

able to combat this a little more on I Don't Run?

Yeh, totally. That's one of the reasons we called the album I Don't Run! We were able to take a

whole two months to write the songs and then we then spent two weeks recording. After that it

took around 10 days to be mixed.

Did you feel as though there was more pressure on the finished product, given more time was

spent on writing on recording?

I don't think so. When music is your life, it's easy to get a bit lost and think timing is the most

important thing; you tend to rush things because you are a touring machine. We would feel like, 'Oh

my god, it's been a whole month without playing a show in Madrid, what the fuck am I doing with

my life? Who am I?' But everything needs time, and releasing a record not only depends on you; a

lot of people have to be coordinated as we have a label in the UK, another one in the USA, another

one in Japan, Australia and Mexico!

You have previously said that your new album is "more honest". Do you think it is essential for

music to be sincere? Is this something Hinds always try to convey to the listener?

I don't think we could do anything that's not sincere. We are like that. When we started the band

we never thought of changing the people we are and the people we show on stage, on social media

and in interviews. Hinds is Hinds.

Was there a greater sense of creative freedom on your latest album than on the first? Any

changes to the songwriting process, or new recording techniques?

The main change was time. We didn't have to exhaust ourselves in the 10 days between tours

like we did with Leave Me Alone. On that record we were literally meeting to do the album instead

of doing laundry, that's how little time we had. The writing process on I Don't Run didn't change

much, though. Generally, our songs have two different phases: one where Carlotta and I find chords,

melodies and lyrics, and one where the four of us play our instruments plugged in and make it

electric. With I Don't Run, we had a bit more time to start things in the rehearsal room, the four of

us. But we always have to take that back to our house to see if it makes senses for our two vocals.

Have there ever been moments where your commitments to recording and relentless touring

have become strenuous?

Of course. Always. We never have enough time to go everywhere we want to, to design all the

merch we like, choose the supporting bands we dig. We've tried since the beginning to be as fair

with all the cities we visit as possible, but the world is pretty huge. We are constantly working and

thinking on Hinds. This is still a very personal band; it's the most precious thing we have, and we

won't stop taking care of it. However, I do think we are getting better with experience. We now

know how to have a meeting on the phone in the van in the middle of the desert, design posters on

airplanes, or do interviews backstage hungover! It's an art.

There's an audible sense of camaraderie in Hinds' music. Is spending so much time together on

tour as breezy and joyous as your records?

Yeh, it really is. But, to be honest, as soon as we land in Madrid we all go and have a beer together

with our friends. We don't get sick of each other. What we live is something that no one can

understand except us. This makes us more than friends – kind of like sisters.

Do you think there is more pressure on all female bands to uphold certain ideals? Is this

something you have noticed in the music industry as your popularity has increased?

Totally. Because we are women, we've taken so much shit. Especially when we started. People

are not used to seeing real life, down to earth women making music, it seems. Our representation

in music is mainly pop stars, related to beauty, delicacy and perfection. We started as a DIY band,

learning how to play our instruments on stage, singing and performing as we wanted. We got a

lot of critics in Spain. Nobody even thought we were pop-punk, indie. For them it was just women

yelling: something very new and annoying, apparently. I think we have to work twice as hard and

constantly prove everyone wrong. Still now, we are not 'girls that just wanna have fun'. We are

fucking making art, and we will do it for a long time.

There are some pretty brutally dissatisfied lyrics running throughout the new album. How do

you draw such a euphoric atmosphere out of songs that explore such dark stories as Tester?

Everything we write is based on stories that happened to us. I don't think you need more details

than that...

Do you feel that this bittersweet contrast between lyrics and instrumentals is the product of

using music as an expression of emotion and as a way to deal with your struggles in life?

Totally. Carlotta and I write the song or a lyric all together, and then we split it to see who sings what.

But it's really easy and enjoyable for us to write. It's just like having a beer with your best friend and

remembering what you/she went through. Sometimes when we feel heartbroken or someone fucks

with us, we say to each other, 'He has no fucking clue of the song we are gonna write!'.

In what direction is the band moving now? What's next for Hinds when the touring is over?

NEW MUSIC! !

Words: James Booton / @BOOT_MUSIC

Photography: Neelam Khan Vela

hindsband.com

Hinds play Arts Club Theatre on 16th November. I Don't Run is out now via Mom + Pop Music.

32
---
Yunchul Kim's Cascade (Mark Blower)

EXHIBITION

Broken Symmetries

FACT – 22/11-03/03

The rethinking of scientific fact doesn't sound like a wholesome

practice in an era that's supposedly sick of experts. But rather

than commandeering such rhetoric in the ilk of our toxic,

scaled, mutant fish secretary of state for environment (yes,

that's Michael Gove), FACT's newest exhibition, BROKEN SYMMETRIES,

is aiming to uncover nuance within our regimented laws of nature.

Through a collection of works that will be performing and interrogating

theories and experiments, the exhibitions attempt to challenge our

process of arriving at 'certain fact', and the validation of attributing such

a prestige to our understandings.

The exhibition, a partnership with CCCB Barcelona, Le Lieu

Unique Nantes, iMAL Brussels and Arts at CERN – the world's largest

particle physics laboratory – isn't so much looking for alternative facts,

but testing our understanding of the world and the clarity of human

observation. The works at the heart of the exhibition have been curated

in order to challenge our sensory relationship with presumed certainty

and discover new aspects within our immediate surroundings. The

show itself, curated by Mónica Bello and José-Carlos Mariátegui, will

feature 10 brand new commissions from artists working in the field of

arts and science.

One work in particular included in the exhibition is Yunchul Kim's

Cascade, which uses electrically charged subatomic particles to

show how an organism engages with the invisible elements of its

environment. Also contributing to the exhibition is artist and musician

Haroon Miza, who interchanges between the alias of hrm199. Working

in collaboration with Jack Jeffs, Miza's work asks of the observer to

imagine a world in the year 4250 where spoken communication is

regarded archaic. This inquisition is curated through a combination

of video and light installations and aims to touch on the relationship

between written and spoken word.

fact.co.uk

Koffin Blue

FESTIVAL

DaDaFest International

Various venues – 01/11-08/11

DADAFEST International takes us into December with an

amazing line-up of events across a myriad of creative

disciplines. Award-winning visual artists, A-list comedians and

boundary-pushing performance artists make up a programme

which spreads across more than 10 city centre venues from 21st

November to 8th December.

Samuel Beckett's acclaimed play Not I tells the story of a woman's

life through the voice of disembodied character Mouth and takes place

at DaDaFest's base, The Bluecoat. The monologue piece, which won

plaudits from the likes of The Guardian during its Edinburgh run, is

performed by Touretteshero founder JESS THOM. Over at the Unity

Theatre, the familiar face of comedian FRANCESCA MARTINEZ will be

appearing in support of her bestseller What The **** Is Normal. There

is also comedy from LAWRENCE CLARK who keeps the laughs coming

with his show The Irresponsible Father's Guide To Parenting.

The striking spectacle of brightly designed eco-friendly coffins

decorate the grounds of the Oratory with visual artist and entrepreneur

GINA CZARNECKI's Who We Are Now exhibition. An innovative design

by her company Koffin ensure the caskets produced are biodegradable

as well as customisable. Czarnecki put out the call for artists to come

up with their own designs for the coffins earlier in the year, and the

exhibition fits squarely into the festival's central narrative for 2018.

The theme running through the vast programme is Passing: What's

Your Legacy? which invites artists to explore the concepts of ageing,

death and disability, as well as how our journeys change and the legacy

we leave. As a key moment for the recognition of disability as a social

construct, the festival also commemorates the end of the First World

War. Elsewhere on the bill, award-winning artist SIMON MCKEOWN's

installation of vintage disability cars – No Passengers – will be on display

at St. George's Hall where Until The Last Breath Is Breathed, a video

piece by MARTIN O'BRIEN, will also be screened.

DaDaFest remains a vital event for the challenging of stereotypes

and a celebration of the exciting work of D/deaf cultures. Last time

around, the festival brought the amazing Malian duo Amadou and

Mariam to the city: this year's programme has developed the festival

further into a genuine highlight on the region's cultural calendar.

dadafest.co.uk

PREVIEWS 33
---
PREVIEWS

"Every record I've

ever made has a story

behind it. You've got

to try and keep these

traditions alive"

GIG

AIDAN MOFFAT

Leaf – 05/11

Ahead of Aidan Moffat's show with current

collaborator RM Hubbert, we asked Carl Roberts of

Welsh melanchodelia outfit Gintis to interview the

former Arab Strap man about his latest work.

I

have

been a huge fan of AIDAN MOFFAT's work for nearly 20 years. I am fairly vocal about

my love for his particular brand of self-deprecating humour, warts-and-all storytelling and his

ability to express complex, internal thought processes across his multitude of projects.

Arab Strap represented the harrowing comedown after the Britpop party. Propelled by

legendary Scottish label Chemikal Underground, they excelled at spacious, deft guitar motifs

atop an intense introspection that allowed their protagonist to leave all of his foibles on display.

Subsequent records have displayed an evolving, wizened euphoria beneath the sometimes-macabre

veneer. Nowadays, Moffat cuts a statesmanlike figure in the Glasgow music scene.

I wanted to find out more about his newest collaboration with RM HUBBERT, the live show

coming to Liverpool and the spectacular record Here Lies The Body. What I got was so much more:

we talked at length about the award-winning film Where You're Meant To Be, other projects he has

worked tirelessly on and how his career has developed with its fanbase.

Can you tell us about the collaboration with RM Hubbert and how that came about?

Hubby and I have always been part of the same scene. He used to run a club in Glasgow about 20-

odd years ago. But it really started when he made his second album six years ago. He asked me to

sing one of the songs on that. If he was doing a gig and we were in the same city I would always come

on and sing it with him. We were on our way down to Newcastle to do a show which I opened with a

spoken word set that went dreadfully, as I recall. I very casually suggested we should do a few more

songs and maybe make an album together. This was probably five years ago, and it's taken us years to

find the time to do the record and put it out. So, it's been a long time coming, aye.

There is a thread running through most of your records to date. Would you say there was a

common theme behind Here Lies The Body?

Oh, definitely. Every record I've ever made has a story behind it; some more obvious than others.

Even the six Arab Strap records have a story behind them and, in fact, they tell a story from start to

finish as well, if you listen to them all in a row.

With this one, the first lyrics I wrote were for the last song Fringe. That was inspired by an article

I'd read about a woman who left her family, and how that was still such a rare occurrence – for the

woman to leave. So Fringe is about the aftermath of that, where the woman is eyed suspiciously by

other mothers and things like that [laughs]. After I'd had that idea I started to fill in the blanks about

what happened before it. Every song is about the same two people. Perspectives shift throughout

the record, but it's a story about how that happened.

You know that the first album ever released was a 10" by Frank Sinatra? It took eight of Sinatra's

hits at the time, 1948 I think it was. They were put in the sequence that tells a story. So, the very

first LP was a concept record. You've got to try and keep these traditions alive [laughs].

I wanted to ask you about the songwriting process. I remember reading in the Arab Strap liner

notes that you did everything non-musical. I wondered if this has changed over the years, or

even if this changes from record to record?

I work pretty much the same as I've always worked. For this album, Hubby would send me a

recording of a guitar part, then I'm left to my own devices. So, I'll add drums or keyboards and I'll

write the words. It's exactly how it was with Arab Strap. In those days, Malcolm [Middleton] would

just give me a cassette. It was a wee bit different with Bill [Wells]; he would have things a bit more

fleshed. He'll have an idea for a melody and then he'll have a string part written in his mind and all

that kind of stuff. So, it was a bit different working with Bill, but for the most part it's the same for

each record.

What is the band setup for the tour? What can we expect in Liverpool?

We are actually doing things a wee bit different for these gigs. We are going to do new

arrangements. It's going to be me, Hubby and Jenny Reeve, who played with Arab Strap, too. We're

going to make it a bit more intimate and quieter. The plan is to record it as well. We're recording

these gigs, and may do a Record Store Day live album. These five dates are the only time we're

going to play like this. So, you'll get something a wee bit special.

How was making Where You're Meant To Be, and is film something you'd like to do more of?

It was the hardest I've worked on any one thing, without a doubt. Not the songs, the songs were

a piece of pish. But I wrote at least 100 pages for the narration of the film. The final script was five

pages long. Now I have a greater appreciation for a how much you throw away when you make a

film. There were hundreds of hours of footage that we could have used. Getting among that and

finding the story you want to tell is the really hard part. I'm very proud of it. I loved doing it, but I'm

in no hurry to dedicate that many years of my life to one project again.

There is a great part where you are singing one of the reimagined folk songs a cappella, in a

social club, and there is a young man looking at you with a look on his face that says, 'What the

fuck are you doing?'

Those earlier gigs were absolutely excruciating. But the mantra all the way through filming and

doing the tour was, 'Don't worry, it will look good in the film' [laughs]. Luckily, I'm absolutely happy

to look like a dick, I don't care. Obviously, when you go into other people's communities they're

going to treat you suspiciously, but as long as you don't wade in there acting the wank, and you

have no pretensions about yourself, it's a way to disarm people. We met a lot of great people

through that.

My introduction to your music was Mad For Sadness when I was about 16. I remember seeing

the Arab Strap farewell tour when I was in first year of university in Liverpool in 2006. Now I'm

33, I feel like your music has soundtracked a lot of my growing up. Do you feel like your audience

has grown up with you?

Yeh certainly, but you'd be surprised how many young people were at the Arab Strap reunion tour.

Even with Bill, I mean audiences were predominantly middle-aged [laughs], but younger people

were coming to the gigs too. Generally speaking, we're all going at the same pace, aye. !

Words: Carl Roberts

hereliesthebody.com

Aidan Moffat and RM Hubbert play Leaf on 5th November. Here Lies The Body is out now via Rock

Action Records. Gintis play at Sound Basement on 30th November.

You can read an extended version of this interview at bidolito.co.uk.

34
---
FESTIVAL

Homotopia

Various venues – 02/11-01/12

Burgerz

Over the last 14 years, HOMOTOPIA has gained a reputation

as one of the most innovative and exciting festivals in the North

West, and as a major event in the LGBTQ+ calendar. With artist

and theatre director Cheryl Martin on board as the Guest Curator

of this year's event, the UK's longest-running LGBT+ arts festival

has taken on even greater significance, with the 2018 programme

coming together under the theme I Will Survive. Martin's own

immersive theatre piece, Rent Party, is one of the festival's flagship

events for this year, alongside Travis Alabanza's Burgerz and The

Ginger Snapped, from Jinkx Monsoon and Major Scales. All details

and tickets can be found at homotopia.net.

CLUB

ENRG: Bonobo

Bramley Moore Dock – 03/11

One big space and a whole host of big names, ENRG isn't taking

things lightly when it takes over Bramley Moore Dock's warehouse

in November. The site situated in the north docks is the prospective

home of The Blues, but the mood will be far closer to euphoria for this

all-day affair. Headline duties are being put in the trusty hands of the

magisterial BONOBO, who'll be spinning his patchwork collection of

tastes in a DJ set ranging from oriental to UK bass. Also on the line-up

is perennial party starter DENIS SULTA, as are fellow Glaswegians

DIXON AVENUE BASEMENT JAMS, with added support from

DEBONAIR, SALLY C and BLEHRIN. Told you it was big.

Bonobo

FESTIVAL

Trojan Records @ 50

Brick Street – 03/11

TROJAN RECORDS has become a cultural icon. The label is recognised as one of the

most influential imprints in the UK, having educated the people of Great Britain on the

sounds of Jamaica for half a century. To mark this momentous 50-year anniversary, a

TROJAN SOUND SYSTEM will land in Liverpool to lead a one-day festival delving into the

dub and reggae archives. They will be joined by newly founded RADIO RIDDLER (Brian

'Fast' Leiser and Frank Benbini of Fun Lovin' Criminals) who will be performing their dub

remix of Prince's classic album, Purple Rain, as well as Positive Vibration DJs. The event

will explore the infectious grooves of ska, reggae and rocksteady with a fresh twist to

celebrate the integral role that Trojan have played in the UK music scene.

GIG

Another Sky

The Jacaranda – 18/11

The sheer density of the electronic blend these Londoners produce is

astonishing. It is vast and ever-expanding, lifting your mind up to a higher

level and never giving you a moment to sink back to normality. Each track is

packed full of different elements, especially latest single Chillers. It creates

a whirlwind of sound, making it impossible to focus. Your only hope is to let

ANOTHER SKY do their thing and let the thunderous expanse wash over you.

The anthemic art-pop they specialise in – which has invited comparisons with

alt-J and Radiohead – pounds straight into the centre of your chest, working

as the perfect remedy for any mid-autumn blues.

GIG

Ladytron

O2 Academy – 03/11

Ladytron

The pioneering electronica collective LADYTRON have been guiding fans across new musical landscapes since before the

millennium. In 2011, the quartet – who formed in Liverpool – decided to head out on separate journeys. Now, complete

with new experiences and a new set of creative strings to their bow, the group are again one, and have announced their

first tour in seven years, alongside a much-anticipated new album. The self-titled record (slated for release in February)

seems set to propel to the group closer their roots, with dense synth-pop that churns out an elevated sense of being.

Ladytron are not a group to be heard, but experienced: simply stand back and let their electro waves reverberate around

the O2, a venue that their expansive sounds will have no trouble filling.

GIG

RAT BOY

Invisible Wind Factory – 09/11

Since gathering a cult-like following with his coming-of-age tales, RAT BOY (Jordan Cardy)

has entered a completely contrasting stage in his life. Spending his time mixing with LA

producers and managing his new Scum clothing range, you could be forgiven for thinking that

he'd turned his back on the lifestyle that gave him his break. Although his current existence

is a long way away from those early days posting bedroom beats on SoundCloud for a few

devoted fans, Cardy is still as laidback as ever. After springing three tracks from his upcoming

album Internationally Unknown, it's clear that RAT BOY is still the same tongue-in-cheek

skater we originally fell for, now backed by the money to deliver his punkified urban rhythms

in a live spectacle like no other.

RAT BOY

PREVIEWS 35
---
PREVIEWS

GIG

Mogwai

The Olympia – 22/11

Mogwai

Taking inspiration from pretty much all of the biggest names from the

80s and 90s, MOGWAI manage to feed off the post-rock revolution

that swept through their younger years and produce a sound that

is disturbed, yet heartfelt. They started their career with a musical

manifesto, to make "serious guitar music", but over the years this

has evolved into a combination of rich, unnerving suspense, soaring

crescendos and deep electronic veins running throughout their

more recent work. Fresh from providing the full soundtrack for the

sci-fi thriller Kin, the band have developed new aspects of their

varied portfolio and are ready to grace Liverpool and create a gritty

atmosphere.

GIG

Zuzu

Jacaranda Records Phase One – 06/11

The playful energy that ZUZU creates is infectious and has seen her

project skyrocket over the past year, topped off with a feature on

Spotify's The Indie List and catching herself a support slot with Tom

Grennan. This recent flurry of growth has largely been down to her new

single, Dark Blue. The cosmic euphoria closes you off from the world

outside, and spreads only positive vibrations through your mind. Ever

since she began her career, her quirky vibes and onstage excitement

have been eye-catching, yet she just keeps on proving that she has the

songs to match. This headline, hometown show from one of Liverpool's

brightest new artists is sure to fizz out any stresses that have been

brought in from outside.

Zuzu

CLUB

SisBis presents Mr Bongo

24 Kitchen Street – 23/11

When it comes to crate digging, MR BONGO are the archaeologists

of the scene. The Brighton-based record store and DJs have been

scouring the world for almost 30 years on a quest to unearth

and share the most flavoursome Latin, soul and jazz, hip hop

and leftfield grooves. In that time, they've built up an unmatched

collection, and thanks to SisBis, you'll be able to revel in the

selectors' vibrant glory when the Mr Bongo team touch down for

the first time in Liverpool. The evening will feature support from

SOPHIE K and SisBis host GIOVANNA, with all proceeds from the

dance going towards charity Refugee Women Connect.

GIG

Gruff Rhys

Arts Club – 17/11

GRUFF RHYS' output as a solo artist is rivalling that of his

'day job' with Super Furry Animals, not just in quantity, but

in breadth, humour and quality. To promote the release of

his fifth solo album, Rhys has set out on a worldwide tour

incorporating almost 40 dates. With his blend of soulful

ballads and surf-pop grooves, you feel almost uneasy

revelling in such desperate lyrical content. The new LP

Babelsberg captures the unfortunate experiences of the

super furry rock star while at times transforming his sorrow

into contemporary euphoria. We dare you not to be moved.

EXHIBITION

Fernand Léger: New Times, New Pleasures

Moon Kyungwon and Jeon Joonho: News From Nowhere

Tate Liverpool – 23/11-17/03

Fernand Léger

(Young girl holding a flower, 1954)

Two brand new exhibitions will be launching at Tate in November and running throughout the winter months. The first focuses on the work of

FERNAND LÉGER, featuring a number of his works never before seen in the UK. The modernist, who produced a wide-ranging collection of

abstract and figurative works across multiple disciplines, will have more than 50 works on display. Léger's work is renowned for brandishing

politically charged textures, uniquely captured through his signature use of bold, graphic and colourful figures. The socially and politically-charged

themes will also be continued in a parallel exhibition; MOON KYUNGWON and JEON JOONHO's film News From Nowhere, which reacts to the

city of Liverpool, is being shown alongside other pieces which ask questions about the social function and role of art in the contemporary world.

GIG

Luna: 5AM Launch Party

24 Kitchen Street – 27/11

The lyrics and hidden tones beneath the trance-like serenity of LUNA's

music can catch you off guard. On first impressions, you may be drawn

into a meditative state by her lucid electro-pop. Yet, in reality, the electronic

producer's music is a vicious exploration of the back cavities of the soul. The

new single, 5AM, encapsulates this adroitly, delivering an engulfing swell with

an added dose of aggressive tension. The track is focused, feeling like LUNA's

pure emotions have been sharpened at the edges and channelled just for your

listening pleasure. Even if you are a newcomer to this kind of music, you may

just leave the venue having discovered something inside yourself you didn't

know was there.

Luna (Photo by Robin Clewley)

36
---
FILM

We Out Here: A LDN Story

Storyhouse – 09/10

The London jazz scene is thriving, a bustling network of vibrancy

and community. Yet, this fertile state hasn't simply sprung

out of nowhere. With the help of director Fabrice Bourgelle,

BROWNSWOOD RECORDINGS have created a 40-minute

documentary detailing the integral events that sowed the seeds for

the capital's jazz scene in 2018. The film is one that never stands

still, teeming with energy from start to finish, and mirroring the

perpetual static frisson that is present in the jazz scene. A screening

at Chester's Storyhouse will be complemented by STEPPING TIGER

DJs spinning a variety of tracks from jazz to Afrobeat, completing a

special night that encapsulates the twists and turns in the story of

London jazz.

GIG

King Nun

Sound Basement – 14/11

After a year-long break, KING NUN are back and

embarking on their first ever headline tour of the UK,

coinciding with the release of their debut EP, I Have Love.

They will take to the streets of England, scoping out an

array of local venues including Duke Street's own Sound.

The basement at Sound is becoming known for housing a

fine selection of emerging talent. The compact enclosure

perfectly suits the pounding angst that the band deliver,

the surroundings trapping sound inside the strippeddown

walls. Blending grunge riffs with euphoric choruses,

King Nun will feel right at home and will be set to deliver

one big sonic endorphin hit.

GIG

Annexe The Moon

81 Renshaw – 22/11

Journeying across the water comes the intricate psych-pop

of ANNEXE THE MOON, ready to deliver an intergalactic

expedition of textures and melodies. Mersey-psych has

become synonymous with the region, but these guys differ.

They produce the harmonies and steady beats that shot

Liverpool into cultural fame, and then splice in piercing,

electro cuts throughout their tracks. The art of hook

maintenance is also something the group have become

notably proficient in; their whirling hooks provide spikes that

will cling to the walls of the venue and lure you into their

astronomical experience as they celebrate the release of

their new single In The Mean Meantime.

GIG

Here Lies Man

Shipping Forecast – 09/11

The LA rock masters surged into full view of the UK music scene

last year with their self-titled debut album. The record brought a

rare innovation, pumping out classic fuzz rock infused with a host

of exotic elements from Europe and Africa. The sheer ingenuity of

HERE LIES MAN attracted praise from all across the country, with

Rough Trade naming their album in their top 10 for 2017. And it's

not merely the unique blend that is enticing; it's the primal thud and

mind-melting fuzz of their abstract riffs that lock your attention,

especially on the refined beast that is new LP You Will Know

Nothing. Even more ferocious and anthemic, these art-rockers are

set to put the walls of the Shipping Forecast to the test.

Here Lies Man

GIG

Pip Blom

Shipping Forecast – 24/11

Pip Blom

The haunting indie sounds of PIP BLOM have been lighting up the local venues

in her hometown of Amsterdam for a few years now. However, this year has

seen a surge in her popularity which has been met with international praise.

Now armed with a full band and plenty more singles, Blom is heading over to the

UK for her first ever headline tour. Although the project began as a solo project,

Pip Blom is now certainly a group, and with the new additions come an added

layer of depth and character to the music. The songs are comparable to solid

indie tracks that have been dragged through the sludge, emerging hazy and

distorted, yet all the more pleasurable.

GIG

Fresh Goods: Batch 002

Fresh Goods Studios – 17/11

Having barely recovered from its last outing, the makeshift venue at Fresh Goods Studios is ready to play host to another

sweaty night of local music. The second batch's headliners are SEATBELTS and FUSS. The former bring with them a

sound full of bittersweet lyricism, attenuated with loose-fitting riffs and vocal melodies characteristic of Scouse pop.

FUSS generate a kind of spaced out euphoria that can plunge you into a state of disconnection between yourself and the

world around you. Together with ASTLES, MONO SIDEBOARDS and MUNKEY JUNKEY, they look set to create another

mind-melting event. With all sets from the night being recorded, you will not only become part of an immersive night of

community, but also a snapshot in the timeline of Merseyside culture and in the lives of these local artists.

Fresh Goods

GIG

Bido Lito! Social: Jamie Broad + guests

Brick Street – 29/11

Jamie Broad

We've saved up a special treat for our final Social of the year, as we head down to the Baltic's

newest party venue for a Liverpool grime extravaganza. Teaming up with host IONA FAZER,

we've pulled together a bill featuring some of the most important names in the Scouse rap

revolution – these are the movers and shakers you need to be watching over the next few

years. JAMIE BROAD, featured in this month's issue, is one of the more high-profile names

in Liverpool rap, but SAINT and NICOLA JANE aren't far behind. Their profile is extending

well beyond the city now, and the pair will be joined by CHEDEYE KNIGHTS, MISS DEEP and

THAT'S JUVEY? on this stocked line-up. Remember, Bido Lito! members get free entry to our

monthly Socials – join up now if you don't want to miss any of the city's emerging talent.

PREVIEWS 37
---
REVIEWS

The List (Robin Clewley / @robinclewley)

"Most of this year's

Biennial feels as

though it could have

existed anywhere in

the world. It's not clear

if the Biennial see in

Liverpool reflections

of the beautiful world

they so long for"

Liverpool Biennial 2018

Multiple venues and locations

As one of the biggest events on the UK art calendar,

LIVERPOOL BIENNIAL once again arrived with high

expectations. The theme of Beautiful World, Where Are You?

could hardly be more apt for these politically turbulent times, and

the programme announced back in March sounded promising.

As always, it has been possible to find some very good

art around the city this summer, pieces which turn a powerful

gaze on our true experiences of the world and alienation from

it. Hosting Agnès Varda's Ulysse, which perfectly encapsulates

the dilemmas of subjective memory and truth, was a brilliant

example. The film captures so many contemporary moods about

how we create meaning out of 'my version of the facts'. Ulysse

completely fails to remember the events captured in the famous

Varda photograph he is the subject of. In turn, the time lapse of

the photograph and those featured are shown to be unrelated

to the parallel newsworthy events of the time. It's a story of

half-truths and false memories which intimately explores the

boundary between recorded fact and personal interpretation.

Meanwhile over at Tate, the drawings by Annie Pootoogook

were a treasure waiting to be found. She uses marker pens and

bright colours to capture the mundane, stark reality of the oftenexoticised

indigenous Inuit life. Casual domestic violence and

listless flicking through magazines make ice fishing seem a very

distant fantasy indeed.

The 2018 Biennial feels like it's missing something of its

usual intrigue, though. Usually, one of the most interesting

aspects is how it breaks out into the wider city to encourage

exploration. From the Cains Brewery to the Old Blind School,

Biennial has always been as much about exploring the hidden

corners of Liverpool as about the art. It's been a forward-thinking

practice that's thrown light onto how much potential is in these

otherwise lost spaces, and has provided another reason for

anyone to take the time to explore the Biennial as an event. As

fabulous as some of this year's venues are (who couldn't fall in

love with the architecture of the Victoria Gallery?), exhibiting

entirely within established galleries gives off a very strong

message about who the event is aimed at – primarily, existing

audiences.

If the 2018 Biennial was about presenting stories to an

art-world audience, the question that has to be asked is: why

Liverpool? The format of the large-scale biennial is increasing in

global popularity for its ability to put cities on the cultural map,

The List (Robin Clewley / @robinclewley)

The List (Robin Clewley / @robinclewley)

38
---
Holly Hendry, Cenotaph

and as an outlet for artists to find international exhibitions. To

stand out in an increasingly saturated climate, each biennial

needs to bring something unique. A city with such a rich

collection of stories to be told as Liverpool, it shouldn't be hard

to devise a programme that stands out. If anything, though, this

year has exposed where the festival fails in connecting with the

authentic voices of the city.

Some of this missing engagement with the people of

Liverpool is evidenced in the relatively small amount of public

artwork: and yet, what there has been has provided some of the

strongest talking points of the show. With Granby's Resilience

Garden, Mohamed Bourouissa has created a space which

enthused and engaged visitors and communities, and will live on

as a place for the next generations to learn from. Then there's the

saga of the most obvious public interaction with any artwork –

Banu Cennetoğlu's The List on Great George Street. As repellent

as its right-wing defacement was, it started a conversation

online, on the streets and on the piece itself about what the

general public expect the artwork to stand for. An action that the

Biennial could not have foreseen (in none of its other international

displays has The List been vandalised) has generated more public

conversation and adopted more social resonance than any action

curators could possibly have taken.

This is not to say that the Biennial should be expected to be

entirely inward-focused. The fact that Liverpool becomes a centre

for international cultural conversation at least once every two

years is something to celebrate. Another highlight comes in the

form of Aslan Gaisumov's two poignant films about his Chechen

heritage, rooted in erasure and struggle. Keicheyuhea and People

Of No Consequence emotionally capture a sense of cultural

loss, things that were once precious having now disappeared

forever. Few of us would claim to know much about the history

of Chechnya, and yet these films capture how certain stories

and anxieties are almost too common across the world. In a time

wrought with divisive political rhetoric, it feels more important to

remember the prevalence of these shared experiences.

But in other ways, there feels like a disconnect between

what's brought in and the existing creative life and stories in the

city. The wealth of artistic perspectives that exist here, which

the Biennial could have tapped into, was on abundant display

throughout the summer in the old George Henry Lee's building.

The Independents Biennial programme has constantly evolved,

exhibiting work by graduate artists alongside more established

names and providing space for workshops and projects which

have evolved with audience interaction. Across the Mersey, New

Brighton Revisited brought nationally known photographs by

Martin Parr, Tom Wood and Ken Grant back home – as curator

Tracy Marshall tells the British Journal of Photography, "It's like

the town itself is another artist in the show."

In contrast, most of this year's Biennial feels as though it

could have existed anywhere in the world. It's not clear if the

Biennial see in Liverpool reflections of the beautiful world they

so long for. As the Biennial becomes a more popular format

for art shows, an international audience of artists, critics and

aficionados is accustomed to travelling to find contemporary art.

This means that sometimes it feels as though the artists matter

more than the content, resulting in indifferent art. It is difficult to

find a purpose to the "visual musical score" of Suki Seokyeong

Kang's Land Sand Strand in Bluecoat, and in Exchange Flags

Holly Hendry's sculptural pipes lack a coherence to connect them

to anything specific about the city, or in fact anything at all. Is it,

perhaps, that in focusing on the names, formats (so much film!)

and international curatorial interests, that the audience from

the art world expects, Biennial have side-lined the potential for

Liverpool's own uniqueness to be as fundamental as the content?

If so, it seems to have hit the mark – in contrast to the general

critical view that 2016 was a bit of an incoherent mess, the art

world's response to Liverpool Biennial 2018 has been positive.

Perhaps the moment of this national coverage which comes

closest to finding a connection to the city is The Guardian's

review, in which Rachel Cook observes the parallels between

"a city botched by a few greedy developers, [and] a planet on

fire". As much as there is a clear crisis in the city's development

planning, it's a shame this was the only tale of our city that Cook

could relate to. Why did Biennial not tap further into Liverpool's

strong sense of identity, community spirit or determination to

triumph over adversity? In its 20 years of existence, Liverpool

Biennial has become a touchstone of the city's creative identity,

a landmark which, from the outside, defines it as a destination of

cultural excellence. The 2018 edition, though, could have done

more to capitalise on the local experience as a piece of the jigsaw

through which it could explore the conditions of the modern

world.

Julia Johnson / @messylines_

"The Granby Resilience

Garden has created a

space which engaged

visitors and communities,

and will live on as a place

for the next generations

to learn from"

Abbas Akhavan, Variations On Ghost

REVIEWS 39
---
REVIEWS

Hollie Cook (Lucy McLachlan / lucyalexandramclachlan.com)

Wooden Shjips (Stuart Moulding / @oohshootstu)

Hollie Cook

I Love Live Events @ District – 09/10

Wooden Shjips

+ The Lucid Dream

+ Mildlife

Harvest Sun @ Invisible Wind Factory

14/09

Hot on the heels of their first album release in five years,

WOODEN SHJIPS set sail once more, and it will be interesting to

see how the somewhat softer grooves of this year's V translate

to the live arena. Not that they have abandoned their motorik

base altogether, but the direction hinted at on These Shadows,

the salient track from 2013's Back To Land, provides the template

for V; furthermore, songs like Red Line and Already Gone have

added a more obviously melodic, dare I say poppier, slant to the

driving, unsettling core.

Harvest Sun have provided us with a full bill tonight, support

coming from Melbourne's MILDLIFE, on their first European

venture, and Cumbria's THE LUCID DREAM, long-time favourites

on the Liverpool psych scene.

The Invisible Wind Factory is busy early; an attentive crowd

providing a warm enough welcome for Mildlife's extended,

proggy grooves that become more engaging as the set

progresses, with the tempo increasing and vocals kicking in.

The Lucid Dream obviously have their own fanbase in the

room and when they launch into an instantly danceable groove

there's no shortage of takers. Mark Emerson constantly switches

between guitar and synth, occasionally adding an Augustus

Pablo-esque melodica vibe in a nod to their dub influences. The

shifting textures keeping things fresh throughout the set as his

echo-laden vocals worm their way into the mix. It's a hugely

enjoyable performance from a band that command headline slots

themselves.

The crowd is now pretty much at capacity as Ripley Johnson

walks out for a brief line-check. A few bluesy licks are fired off,

people in the crowd grinning from ear to ear; a palpable sense of

expectation simmers.

An ambient soundscape announces Wooden Shjips and they

launch into V opener Eclipse, with its classic 60s garage rhythms

accompanied by flickering black and white lights that look like

bad television reception from the same era. Drummer Omar

Ahsanuddin and bassist Dusty Jermier are on driving, metronomic

repeat, Nash Whalen's keys drone woozily throughout and

Johnson's guitar is fuzzed up and echoey. His voice has a lovely,

light quality to it but his words are quite unintelligible – the vocals

becoming another instrument that carries sweet melodies above

the hypnotic mix.

They go on to somewhat confound expectations by playing

a set that includes only three new tracks and is culled from

several of their previous recordings, ensuring a hard-driving,

trance-dance of a ride. Not that there isn't some shade among

the brilliant light, V's Ride On and Staring At The Sun being cases

in point; the former a hazy, elegiac blues, a beautiful slow burn,

heads in the crowd nodding in unison, and the latter already

sounding like a classic, Whalen's keyboard repetitions ripple out

to mingle with the preceding note, like slow, heavy raindrops

falling onto the surface of a calm lake. Visually, there is no overt

politicising, no tanks, no Molotovs, no whales, but a constant

shower of vibrant patterned light covers the band in an abstract,

shifting evocation of the music.

Flight, Ruins, and Lazy Bones increase the intensity. Echoes

of surf, garage and rockabilly are found amid the pulsating

rhythms. An over-excitable mosh-pit develops centre stage.

Someone, obviously unaware that the song he is crashing about

to is entitled Death's Not Your Friend, climbs on stage and then

proceeds to leap heedlessly back into the crowd, parting them

in a flurry of spectacles and phones, before smashing onto the

concrete floor. (In a brief chat with bassist Dusty Jermier after

the gig I ask him if tonight's crowd reaction is the norm and, in

typically laconic West Coast fashion, he raises an eyebrow and

replies, "Well, we always get people dancing, but they don't

usually injure themselves.")

They encore with a sublime These Shadows and their

favourite cover, Snapper's Buddy, which pounds and swirls

with heady abandon. These Wooden Shjips are not lake-bound

pleasure steamers, condemned to circle forever. They're Viking

longboats, rowed with rhythmic intensity, constantly seeking new

horizons.

Johnson's "Thank you, goodnight" reverberates around the

room above deafening applause. A definite contender for gig of

the year.

Glyn Akroyd / @ GlynAkroyd

District is the perfect venue to host a former member of

the (briefly reformed) post-punk band, The Slits. District has

DIY punk aesthetic in its DNA; as does HOLLIE COOK, tonight's

headliner.

Formed in 1976, dissolved in 1982, and subsequently reformed

in 2005, The Slits redefined the concept of the 'girl band'

with their era-defining debut Cut. This was followed by their

sophomore effort Return Of The Giant Slits in 1981, which saw

the band experimenting with a softer African sound. Hollie Cook's

first appearance as backing vocalist and keyboardist for The Slits

was on the 2006 EP Revenge Of The Killer Slits, alongside her

father, Sex Pistols drummer Paul Cook. This EP, along with The

Slits' 2009 LP Trapped Animals, further explored elements of

reggae.

After The Slits, Cook released her own self-titled reggae

album in 2011, followed by Twice in 2014, and her latest album

Vessel Of Love earlier this year. It is this uplifting fusion of reggae

and pop that Cook brings to Liverpool, like a ray of sunshine that

acts as a reminder of the warmest summer days.

For her headline appearance in Liverpool, Hollie Cook greets

us all with her infectious smile; a smile that never leaves her face

– or her audience's faces – for the duration of her mesmerising

set. Performing alongside General Roots – a band, and perhaps

more accurately, a group of friends with a passion for reggae

music – Cook's songs feel like they were written for the stage

rather than the studio. As she sings her way through songs from

all three LPs, her energy and charisma is matched by General

Roots' captivating performance.

Gracefully dancing in the small space District offers, partially

lit by the pink flamingo lights that adorn her mic stand, Cook

rallies the crowd with her tropical sounds that have us swaying

along to each guitar riff resonating from the stage. Guitarist Joe

Price is particularly impressive, incorporating acid blues guitar

solos effortlessly into dub-infused-reggae melodies.

Oozing with confidence, Cook's combination of personality,

vocal talent and lovers rock has everyone transfixed. She

genuinely loves the music she creates and performs, humbly

thanking her audience for joining her on this journey – a journey

that started with The Slits' progressive experimentation and

continues with Cook's own evolution from the dubbier influences

of Prince Fatty, to ethereal tropical pop sounds, solidifying Hollie

Cook as one of the most exciting artists in reggae.

Ken Wynne

40
---
20 November SEASICK STEVE

22 November MOGWAI

24 November WWE NXT UK

25 November WWE NXT UK

08 December ALEXANDER O'NEAL

21 December THE CHRISTIANS

07 February WHITE LIES

20 March SHAKIN' STEVENS

20 April UB40

www.eventimolympia.co.uk
---
REVIEWS

Laurel (Jessica Grace Neal / @JGNPhotography)

Laurel

+ Another Sky

I Love Live Events @ Sound Basement

27/09

Sound's Basement is a great space for a gig. The small,

dimly-lit area invites feelings of comfort and inclusivity, as if

all attendees are smug with the knowledge that they're on to

something before everybody else. With LAUREL, and opening

act ANOTHER SKY, there's not so much a feeling of smugness,

however; everyone seems to accept that they're lucky to be

here with these two artists. Another Sky quickly impress as

frontwoman Catrin Vincent's powerful vocals instantly bring all

attention to the stage. Her projection blends dramatically with the

band's atmospheric sound and they lock in your attention. Their

songs oscillate impressively from the quiet to the climactic.

As Londoner Laurel Arnell-Cullen takes to the stage, her

piercing vocals leave you almost speechless. Immediately you're

mentally comparing her to the best pop singers: Paloma Faith,

Florence Welch et al. Her style, however, is more Lana Del Rey;

her sound often bends between the heartfelt and country-esque,

to pure, melodic pop.

Lyrical themes of love, lust and jealousy dominate Laurel's

debut album DOGVIOLET, made all the more raw in that they are

unabashedly personal. Like any great songwriter, you're elevated

from the real and instead positioned into her world. Here you

Laurel (Jessica Grace Neal / @JGNPhotography)

feel in close proximity to the people and situations she is singing

about. This is especially heightened with her solo duo of Sun King

and Empty Kisses. These stripped-back, delicate tracks dreamily

echo around the room, the ballads mixing effortlessly with her

more pop moments; her songs are still buzzing around your head

long after they're played.

Laurel has a clever knack of creating songs that feel

cinematic, like The xx stylings of All Star and Same Mistakes,

where they would fit perfectly in the closing scenes of a comingof-age

film. Lovesick continues this feeling and is a tune so

catchy you're left singing along even when you're not 100 per

cent on the lyrics. Adored is possibly the highlight. It's pure pop;

the song you didn't realise you needed with its catchy chorus,

rhythms and bassy undertones.

The feeling of inclusivity that's been around all night becomes

even more intensified from Laurel's mid-song anecdotes, her

almost emotional gratitude to people singing all her lyrics back to

her, and her beckoning of the crowd to be as close as possible to

her. Like her lyrics, it's intimate. The relationship between crowd

and act is broken down and instead feels more like a collective, an

entwined experience of gratitude through a love for music. These

days, phrases like 'ones to watch' are too loosely branded about

in an age where music feels unlimited. Yet, it's the beauty of live

music to know that phrases like such belong to certain people.

Writing all elements of her songs, Laurel is one of the people that

deserves this title, and seeing her live will surely convince you of

this belief, too.

Conal Cunningham

Teleman

Harvest Sun @ Hangar 34 – 05/10

TELEMAN are unashamedly good. In fact, they're one of the

best bands around at the moment. Their latest album, Family Of

Aliens, is innovative and instantly catchy in the Teleman vein. The

interest around the tour for this album only reflects their growing

popularity. The fact they choose to play venues such as Hangar

34 means there's an intimacy to this gig, a chance to get up close

and personal with a band whose talent suggests they should be

playing venues of a much larger size.

Thankfully they're not. Hangar 34 is the perfect venue and

atmosphere for Teleman to thrive in. Even halfway through

a tour that takes in most of the UK and a fair bit of Europe,

there's a gentle easiness to the band and an energy on stage

that's infectious. If the rather eye-catching shirts worn by lead

singer Tom Sanders and bassist Pete Cattermoul reflect their

enthusiasm, Liverpool's in for a good night.

Kicking off with Fun Destruction and following it with

Tangerine, the audience is given a glimpse of the excellent hooks

and melodies at which Teleman excel. Mixed in are favourites

from their earlier albums: Steam Train Girl is welcomed like an old

friend.

They revel in the music; Cattermoul dances around the stage,

at one point indulging in a little Status Quo-esque rocking. At the

other end of the scale, Hiro Amamiya (drums) and Jonny Sanders

(synths) just get on with the job quietly, calmly doing their thing.

It's well-rehearsed and thought through, but it comes naturally.

They create catchy, pop-infused rock with ease.

The crowd is receptive and loyal, even if they are rather

static at times. There's a sense that a lot of them have rocked

along since 2014's Breakfast, and there are genuine flutters of

excitement about the introduction of Teleman pin badges to the

merchandise stall, and again later on when the set-list, written as

a watercolour painting, is tossed out to the crowd.

Trailing round the country touring a new album might get

tiresome, but Teleman's exuberance isn't dampened: their joy

in the music is absolutely at the forefront of what they do and

there's a warmth to their performance which the crowd mirror

and understand.

The encore of two contrasting songs reflect Teleman's ability

to cover the gamut of emotions. The melancholia and beauty of

Cristina is followed by the frenetic defiance of I'm Not In Control,

which gets the crowd jumping.

It's a night of perfectly pitched rock-pop from an intelligent

and creative band. It's fun and it's wonderful. Roll on the next gig.

Jennie Macaulay

Teleman (Molly Norris / @clarathecarefreechicken)

Objekt

Abandon Silence and The Wonder Pot @

24 Kitchen Street – 04/10

A lot has changed within the dynamic landscape surrounding

Liverpool's electronic music scene since OBJEKT first played

under the roof of 24 Kitchen Street over four years ago. And yet

it's two of the city's most prestigious promoters that join forces

to bring him back to Liverpool and prove why he is one of the

most celebrated DJs and producers of the contemporary era.

Solely booking Objekt would not be deemed so adventurous

considering his history playing in the city – so here we are

presented with the prospect of observing him expertly

manoeuvre through an extended six-hour set, delving into more

obscure territories to showcase the extent of his influences and

artistic palette.

Upon arrival, early entrants are eased into the six-hour

journey through a collation of abstract and avant-garde

soundscapes. Much like his production, Objekt's records are a

masterclass in sound design, forming an introspective and futurist

experience. The Berlin-based producer's ear for space within the

music and mix is extremely prominent. Intricate micro-glitches

and dubbed out electronics are gradually layered, fluttering

around our concrete bunker on top of rich, dense pads that sound

like droning planes swooping over the vast ocean. The selections

then move away from the obscure toward the more rhythmic,

as more bodies start to arrive. The ominous disposition between

blissful ambience and dissonant, metallic oscillations weave

in and out of each other add to the unnerving tension. Tracks

such as his own smash Secret Snake chug away around the

100bpm mark. Even with the slower tempos, each track carries

tremendous weight – reinforced by the impact of the newly

installed sound system. More percussive tracks are introduced,

such as Gila's Trench Cadence, which test the frequency clarity of

the system, with every range of the ear's sensory response being

stimulated by the thunderous kicks and tribal grooves.

As the set progresses, tempos feel unrestrained and open,

giving a sense of weightless freedom and fluidity that display

the dexterity of Objekt's capabilities behind the decks. Within

the space of half an hour, tempos have drastically risen without

warning. The set to this point feels especially UK-defined,

whereby traces of jungle, dub and hardcore linger across all of

the 130bpm selections. It is hard to distinguish whether vinyl or

digital tracks are being presented as the selector playfully toys

with accented beats by melding twisted rhythms.

The lighting is kept minimal throughout the set, allowing

the music to be the focus of the audience's concentration. A

single beam highlights Objekt's form as he steers the dancefloor

through more functional numbers, including Blawan's Stell,

before moving to more hardcore tracks such as Wildchild's Bring

it Down.

It's at around 1.45am when things take a slight left turn. Here

the Berliner joyfully introduces elements of UK garage to create

a buoyant setting; many inside jokingly mimic the MCs of the late

90s/early 2000s. The exuberant mood is short lived, however,

with alien textures and rhythms regaining control. Now we drift

closer toward electro. Objekt constantly asserts his presence by

majestically interweaving and manipulating tracks. It's as though

there's constantly a surprise at his fingertips as tempos rise

well above 150bpm. The juxtaposition between the futuristic,

electro timbres of ScanOne's Re-Turn fuse with the more organic

breakbeats of Greenleaf's Time. At this moment the atmosphere

created is loose, free and full of perspiration.

As the set progresses through the night, the trajectory carries

a more direct, hypnotic techno angle. Objekt has displayed his

ability to link complex, diverse genres in a fluent and effortless

style. He has once again proven to Liverpool why he is one of the

most compelling DJs of modern times. As for Abandon Silence

and The Wonder Pot, the pair have proved that Liverpool, too, is

a cynosure of UK clubbing culture.

Ross Scarth / @rossscarth

42
---
Glasvegas (Tomas Adam)

Glasvegas (Tomas Adam)

Glasvegas

Arts Club – 10/11

As a fairly late bloomer to live music, my first gig fell on the

Liverpool leg of GLASVEGAS' second album tour. Their debut

album had thrown me into a world of seasonal affective disorder,

stabbings and sectarianism, all delivered in a thick Glaswegian

drawl, with a sprawling soundscape wrapped up in radio static

and distortion. The album played continuously between my tinny

Apple headphones from the moment I heard it; I couldn't get

enough. As soon as the chance to see them arose, I jumped at

it, and as I pushed my way through the crowd to the writhing,

humid mass of bodies huddled near the front, a spark was ignited

inside which hasn't stopped glowing since. Covered in sweat

and beer, and with a souvenir T-shirt in hand, the first experience

of temporary tinnitus whistled loud in my ears; their songs still

echoing through the night as I lay in bed reliving the experience

afterwards.

Almost a decade has passed since that first show, with

hundreds if not thousands of gigs having been attended since.

But that first experience remains one of the happiest gigs of my

life. Tonight's show – 10 years on from the release of the group's

self-titled, Mercury-nominated debut album – opens up a little

differently; this time there's a stomach full of anxiety as I head

into the room, but that fades away the moment the band take the

stage. The awkwardness of being a solo gig-goer disappears as

the blaring guitars allow self-consciousness to slip away.

For some bands, anniversary tours are shameless moneymaking

initiatives feeding on people's nostalgia for the past.

Although this is in part why I'm here, the band still seem vital and

tighter than ever. James Allan is the frontman he's always been:

enigmatic, down to earth, strong yet vulnerable. Between songs

Allan speaks modestly of how praise leaves him feeling uneasy,

touring life and The Beatles vs Simple Minds. Unlike a lot of their

contemporaries in the late noughties UK indie scene, the songs

sound as current as ever and the band still possess the same

energy that they did a decade ago. The crowd is just as hooked,

with strangers hugging, arms wrapped around each other.

Geraldine and Go Square Go see the crowd hit fever pitch, lyrics

sung back at the group like football chants.

It's easy to forget the power of Glasvegas' sound. Huge and

atmospheric, it conjures up bleak landscapes that you can't help

but get lost in. They offer drama and euphoria in equal measure.

As they leave the stage, cries for an encore are louder than

ever. Having played through the entirety of their debut, choice

cuts from elsewhere are brought out for the finale. Tonight may

not be anything groundbreaking, but it's a show which brings

back special memories. Judging by the fervour of tonight's crowd,

the majority in the room tonight feel the same: the perfect chance

to reflect on one of the great Scottish albums of the 21st Century.

Matthew Hogarth

Skinny Pelembe

+ Pete Beardsworth

Stepping Tiger @ Alexander's, Chester

20/09

Tonight, at least in our little corner of north-west England,

it is a particularly cold, windy, and relentlessly rainy affair. The

kind of miserable weather you'd like to be comfortably spectating

from behind glass, deep in the loving embrace of your favourite

armchair, waiting for the coffee to percolate. Out in the wet

wilderness, however, a brave few of Liverpool's dedicated heads

are heading over to Chester for a musical remedy. DJ crew

and promotion team Stepping Tiger launched their inaugural

event in April, and in just a few months have already built up a

strong local reputation for unexpected, eclectic bookings, from

soul-jazz vocalist Yazmin Lacey to legendary reggae selector

Oxman. Tonight's treat is a profoundly talented pairing – singersongwriter-guitarist-MC-producer

SKINNY PELEMBE and multiinstrumentalist

jazzman PETE BEARDSWORTH.

Tucked away in an arcade off a main road, the unassuming

yet surprisingly spacious Alexander's is a cosy reprieve from

the interminably bad weather. We are greeted by a thundering

bassline as the DJs warm up the room, blending funky afrobeat,

spacy dub reggae, and bouncing calypso rhythms (an airing of

Count Sticky's raucous mento single Chico Chico is particularly

appreciated). A varied demographic of young and old begin to

busy the bar as a rather serious-looking Pete Beardsworth and

his band take to the stage to open up the night's live showcase.

Intertwining horn and guitar lines lead into an accomplished

fusion of soul, jazz, and Latin stylings, Beardsworth alone

handling keyboards, saxophone, flute and vocals alongside

his guitarist, bassist, and drummer. It emerges that the band's

serious faces can be attributed to nerves, as Beardsworth quietly

and humbly reveals to the crowd that this is their first ever gig.

Their spirited mixture of downtempo grooves and fast-paced bop

is presented with a careful grace that suggests much practice

and hard work, and by the end of the set the band cook with

confidence.

Beardsworth blows his sax with a bright, melodic warmth

reminiscent of 70s horn stars Eddie Harris, Lou Donaldson or

Harold Alexander. Shades of Yusef Lateef are apparent in his

nuanced flute playing. His vocal imperfections are disarming,

exhibiting a vulnerability which lends much charm to his songs.

Together with Roshan Gunga's brilliantly restrained, low-key

guitar contributions and the rock-solid rhythm section of bassist

George Butt and drummer Tom Towle, the crowd is smitten, and

after the finale of Beardsworth's romantic opus Back To You, the

beaming bandleader excitedly flogs copies of his debut EP to his

new-found fanbase.

As Skinny Pelembe and his group begin, I wonder how

the expansive psychedelia of Pelembe's studio recordings will

translate to a live setting. The supporting cast is comprised of

Chloe Beth Smith (keyboards, vocals), Alley Lloyd (bass, vocals),

Remi Graves (drums) and percussionist Regan Bowering (conga,

cabasa, cowbell). Pelembe himself is armed with his guitar and

a vocal style ranging between cool minimalism and passionate

intensity, mixing straightforward singing with rapping in a

fashion similar to the singjay school of reggae.

Beyond the immediate influence of Jamaican music – we are

treated to a hazy solo rendition of Willie Williams' roots classic

Armagideon Time – Pelembe deftly balances the influences of

RnB, trip-hop, and indie rock into a compelling sonic hybrid that

is uniquely his own. His reverb-soaked, overdriven Telecaster

twang brings to mind the menacing 60s surf-rock of Link Wray

or Dick Dale, while simultaneously echoing the 80s dreampop of

Galaxie 500. It is a huge, sweeping guitar sound that is wielded

masterfully over the complex yet deceptively effortless-looking

rhythm section of Graves and Bowering, and further enhanced by

the synchronised vocal hooks and instrumental comping of Smith

and Lloyd.

They funk. They rock. They get down. Heads nod and feet are

tapped to the irresistible thump of I Just Wanna Be Your Prisoner.

Rebellious whoops and cries of "Yeh!" are incited by Pelembe's

thinly-veiled political critiques. Motivated by a lone, enthusiastic

dancer (who's a bit like The Dude from The Big Lebowski), the

reserved Thursday night crowd, once weary from the weather,

become merry (and presumably well-watered). As the night

draws to close, and Pelembe, like Beardsworth before him, is

mobbed by devotees eager to pick up a copy of his new EP, the

feeling sinks in that we've been lucky tonight. Not just for the

opportunity to score some limited-edition merch, but to witness

the beginnings of two very promising musicians. As we reflect

in the pissing rain at Chester train station, waiting for the last

train back to Liverpool, we're really glad we didn't stay at home

tonight.

Danny Fitzgerald / @rumpunchsounds

SPINN

+ Monks

O2 Academy – 28/09

Well before SPINN have even graced the stage, the air is

thick and muggy, dense with the excitement and adrenaline of

a crowd who are itching to get their teeth stuck into a night of

wavy guitar and dreamy pop. A young crowd swamp the front of

the venue in big groups, while those older than 20 gather closer

near the bar. It has created an interesting distribution among

the crowd, highlighting the range of ages and eclectic variety of

people drawn here tonight. Clearly Liverpool's own indie scene

is thriving, evidenced by all those here holding down an energy

and liveliness to match that of festival performances. The sense

of belonging here is apparent in the diversity and friendliness of

the crowd, perhaps fuelled by those locals who've, evidently, seen

SPINN numerous times before.

Easing us into the feel-good vibes of the evening, MONKS

deliver a delicious range of textures and tones through a variety of

instruments. Their display of dreamy guitar and brassy drums create

a mesmerising aura: waves of psychedelic guitar bounce off the heat

within the venue, washing over you with their patterning and flowing

melodies. This is soon cut through by the raw and heavy drums,

providing direction and stability to the pieces. The single Sundried is

a stunning development of summer ambience and warm vocals, set

off by melodic synth and deep, solid bass.

The crowd erupts as SPINN bound onto the stage; all the

colours and array of visuals displayed by each band member is

an absolute feast for the eyes. Everyone squeezes in close to fill

the gaps close to the stage; it is sweaty and intense with bodies

jumping on beat to feel good, intoxicating songs like Notice Me.

Strong and catchy guitars lead the performance, guiding us

through a medley of textured riffs and bass developments. The

cheerful and youthful sound created unites the audience in a

wave of nostalgia. Everyone seems truly united, especially for

more sombre songs such as It's Not Getting Better. Frontman

Jonny Quinn's silky dance moves see us follow him around the

stage; he engages with the audience throughout and evidently

knows how to please. This intense burst of energy is indicative

of the vibrancy and talent Liverpool has to offer, and the devoted

following that is growing within this music scene in the north.

Well done, lads.

Ailsa Beetham

REVIEWS 43
---
REVIEWS

AURORA

FACT and Invisible Flock

@ Toxteth Reservoir

Stepping into the cavernous vaults of Toxteth Reservoir,

a grid of blue and green lasers provides the only light source,

bouncing off the wet expanse of floor. We wade through inches

of black water, the depth indistinguishable at first until we find

AURORA (Ed Waring)

ourselves walking upon the water's surface. Rings of cyan ripple

out with each step. More than a century and a half earlier, in

1845, the first of eight million litres of water flowed through

and filled this vast fortress of brick and steel. A feat of Victorian

engineering, Toxteth Reservoir was one of the first of its kind

in the world to preserve and supply fresh water to the rapidly

expanding population of Liverpool.

Illuminating, revelatory, spellbinding and monumentally

engaging: art and technology organisation FACT and interactive

art collective Invisible Flock make a formidable collaboration,

celebrating the 10 years since Liverpool held the title of European

Capital of Culture with evocative and unprecedented installation

AURORA. The decommissioned grade II listed reservoir has been

taken over and redefined by the two organisations to host an

elemental installation of ice, water and rain, aiming to transform

and address the current lax perspective on our most precious and

abundant resource.

Standing in the darkness of the reservoir, soft plinks of rain

build gradually, overlaid by a light-hearted timbre of percussion.

A pendant of carved ice hanging down from the ceiling lights

up momentarily, then another, gradually increasing in energy

and number like crystalline insects thawing the grip of winter.

Rich bells and the splintering of melting ice reverberate through

the space, adding to the binaural soundscape. The cave slowly

melts around its audience, a live (cold and wet) parable of global

climate change – with added resonance now following the

hottest summer on record for years.

A warm, Close Encounters-like glow emits from behind us

like a strengthened sun defining the iron arches before a heavy

mist fills the room and water pours through the vaults of the

reservoir. The deliberately cacophonous waterscape goes beyond

vision and sound: dominating blows to the chest from intense,

quadraphonic bass juxtaposed with the atmospheric choral and

string alignments are enough to send you floating around the

astral plane.

In the latter half of the show, 42 pieces of ice move up and

down in a choreographed dance, reflecting a spectrum of purples,

greens and blues in a display reminiscent of the show's title.

School children from four local primaries visited the reservoir

and created recordings both using and inspired by water. The

sophomoric voices now perpetuating through this historic

space are both melancholy and euphoric, and really pack in an

emotional punch.

This immersive piece stands out for me in this year's

cultural highlights. For a city perched on the edge of a vast

water resource, our relationship and understanding of this vital

element as anything beyond a utility is seriously stunted. Having

experienced an ice cave, rainforest and monsoon in a short period

of time, the metaphor here is clear and supremely moving. This

show reinstates our spiritual connection with water: reflective,

rapturous and poignant.

Georgina Schwarz / @gsschwarz

44
---
Half Man Half Biscuit

O2 Academy – 28/09

"Anyone here from Crosby?"

*small cheer*

"Do you want a fucking medal?"

And we're off… First 'local' gig in over 13 years. Not in

Birkenhead, but the Scouse side of the water, just like, err, the

last one. Oh well. That would explain the speed at which this

sold-out (in hours, apparently). Nigel Blackwell and Neil Crossley

are back. Back! And this isn't lost on the heaving, slightly tipsy

and very up for it Friday night crowd. The roar that greets our

Wirralian brethren is so huge there are young kids waking from

their slumbers in Dovecot. Yes, there's anticipation and love here

on Hotham Street, slight bewilderment on why it's taken 13 years

to play a gig here, but relief that they are, in fact, on stage. On

Merseyside. Woo and, indeed, hoo.

If you've read this far, one assumes you are aware of the

power of HMHB in this part of the world. Blackwell is the

greatest poet of his generation and the new album No-One Cares

About Your Creative Hub, So Get Your Fucking Hedge Cut has

gone into the Top 40, the first HMHB album to do so; basically,

because it's brilliant. The aural equivalent of a rant that you agree

with by someone you can overhear in the pub – with added

pathos.

In the years that have passed since their debut (Back In

The D.H.S.S. was 1985) HMHB have stuck to a route that is

unequivocally awkward. No tours, just random shows. No

interviews, unless they feel like it. Constant references to places

that no-one has heard of. Constant references to people no-one

has heard of. Cultural references that no-one (outside of the

Wirral) has heard of. Oh – they like the Lake District. And the real

nub is a staunch refusal to write and sound anything other than

Half Man Half Biscuit. If it ain't broke…

The fanbase has grown exponentially over the last five years

or so, for no real reason other than a slightly aging generation,

who aren't quite finished yet, are finding humour in music a rare

beast. So, when it's as explicit as Blackwell's barb and basic

chord changes there's a unique homely aura to the proceedings.

Coupled with twisted sing-along banter and clever mundane

observations, there's your evening out. Right there.

The set owes much to the band giving the punters what they

want, but there's an overwhelming love of the new record. Songs

about bat-walking naked in Royston Park (Renfield's Afoot) or

avoiding going to watch the mighty Tranmere Rovers in a crap

cup competition (Swerving The Checkatrade) all sit proudly

and comfortably alongside anthems that were the language of

schoolboys in the 80s (99% Of Gargoyles Look Like Bob Todd,

Fuckin' 'Ell It's Fred Titmus). The fact that the 28-song (28!!) set

list smothers the entire career of Birkenhead's finest is of such

elation to this 40-plus crowd. There's even a sing-along from

those that know when Nigel and the band belted out the radio

advert "Maincrest Car And Van Hire: seven double three three

two oh one".

With an encore that inevitably gives us Joy Division Oven

Gloves (and yes, someone down the front was wearing a pair.

Sigh. It's the equivalent of donning a lab-coat at a Kraftwerk gig)

and a rather rousing obligatory cover version (Jimmy Jimmy by

The Undertones), that was that.

There's a local affection for the band that seems to be

lost on them, in spite of tonight's congregation giving it large

in that direction. Homecoming shows can put the fear of God

into anyone, but the performance tonight suggests a relaxed,

confident and, above all, funny band who deserve to be seen by

everyone on Merseyside. Now, who wants to book them a show

at Prenton Park?

Ian Abraham / @scrash

The Orielles (Jamie Sherwood)

The Magic Gang

+ The Orielles

I Love Live Events @ O2 Academy – 03/09

Pale Waves

+ Swimming Girls

O2 Academy – 24/09

Pale Waves (Georgia Flynn / @georgiaflynncreative)

Roll up, roll up, fan boys and fan girls, for a lesson in emo aesthetics and electro-pop. After making the ascent into the windowless

attic that is the Academy, the teenage angst is almost palpable as SWIMMING GIRLS entertain the gathering crowd of edgy fans.

With the scene developing like a Tim Burton creation, the moody and brooding support act deliver their sounds with a fluidity that

chimes with the front row inhabitants. Penultimate track Back Of Your Car breezes through the thick air, followed by the roar of Tastes

Like Money, reminding the crowd that Swimming Girls are here and definitely ones to watch.

As the energetic indie-pop four-piece exit the stage, ripples of impatience emanate from the fans as they wait for their

Manchester-based champions to take the helm. Looking around the Academy, I can't help but wonder whether Robert Smith of the

Cure is sat behind a face-painting stall recreating his pop culture image, or the majority here tonight are just paying homage to PALE

WAVES' poster girl and vocalist, Heather Baron-Gracie. Suddenly, there's a break in the low murmur of muttering and ignorable

background music. The lights cut and all in attendance are still. An electro buzz grows and grows into an almost unbearable volume,

then drops as the band enter.

Opener Television Romance gets Pale Waves on the front foot from the start, with a familiar chorus to get everyone hooked and

in the mood for what wonders lie ahead. As the black silhouettes move around in front of their red background (drawing comparisons

to the artwork of their newly released album My Mind Makes Noises), the band receive a mixed reception when announcing their

geographical origins. They then proceed to get their fans back onside with a flurry of popular choices such as Kiss and Eighteen,

resulting in a collective catching of breath. With Baron-Gracie's approach to performance resembling that of a ragdoll, the pace slows

and lighters come out. As the genuine fire hazard continues, it's nice to see the sentiment has been properly received, but all too

quickly, as Noises (a crowd favourite) rings around the walls, the lighters are rapidly swapped for the recording feature of numerous

smartphones, leaving many to witness this track through digital means.

With the closing of the set consisting of Obsession and There's A Honey, Pale Waves have set the bar high when talking in terms

of electro-pop. They leave the crowd feeling re-energised and filled with hope that a once-proud genre of music may continue to see

a meaningful resurrection. With their melancholy lyrics, yet upbeat and fanciful music, the formula seems to be a winning one among

this young and hungry audience.

Jake Penn / @p3nno

As the smell of dangerously cheap lager and teenage

pheromones lingers in the air, you could be forgiven for

presuming that you have arrived at the wrong address and

found yourself caught up in the middle of a freshers' week party.

However, the room is not about to be filled with the thumping

basslines that seem to dictate university life, but with the mellow

tones of the UK's new brand of indie. For a city as culturally rich

as Liverpool, you can, on occasion, be left feeling disheartened by

the poor turnout from the Scouse youth, as if the intangible spark

that has driven these city streets for decades has finally burnt

out.

Yet, it is clear that the Autumn drizzle has not eliminated any

spark here. The next generation of musicians have arrived in their

hordes and the ebb and flow of sonic anticipation is beginning

to circulate. The night boasts an enticing line-up of some of the

county's most highly praised young acts. As a disciple of these

new artists myself, I await the answers as to why they create

an unusual amount of attraction for a cold Wednesday night in

Liverpool.

Before the main act arrive, the indie-disco cocktail that is THE

ORIELLES take to the stage and begin to explore the depths and

intricacies of their debut album, Silver Dollar Moment. Although

still clearly sticking to a set-list, their performance is lucid. Their

sounds work their way around the room, flowing between the

members of the crowd and whirlpooling towards the centre of

the room where a mosh-pit begins to form. This lively reception

from the audience is testament to the bubbling atmosphere The

Orielles create.

The songs are bustling with tropical static, deconstructed

and then rebuilt, injected with a new layer of infectious energy.

I Only Bought It For The Bottle provides the perfect platform

as the guitar solo is replaced by a wild samba frenzy. The usual

instruments are substituted for cowbells and an apito (samba

whistle), all topped off by a reworked, unstructured version of the

final chorus; it's an atmospheric swell that engulfs the audience

below. This experimental quality to their live sound, summarised

by the psych-pop outro of Sugar Tastes Like Salt, is captivating

and concocts a colourful vibe, full of alcohol, smiling faces and

flailing limbs. The question that I can't help thinking is why these

vibrant creations are only deemed worthy of a support slot,

while the indistinguishable songs of THE MAGIC GANG take

precedence.

Having grown up amid the peak of mid-2000s indie, you

would have thought that the four lads from The Magic Gang

would be packed full of youthful, chaotic exuberance – akin

to The Cribs, Arctic Monkeys, even The View. Maybe this is a

northern gaze, but they give the impression that they've soaked

up this spirit and pushed it through a London Millennial filter,

appearing on the other side clean, refined, good-looking and kind.

Although their performance is a long shot from the

underground culture of garage and psych that perpetuates the

constant buzz of Liverpool's music scene, their influence has to

be commended. With their uplifting, sing-along choruses and

their soothing Beatles rendition (featuring in a proper encore)

they have dragged the young people of Liverpool out from their

homes and packed out a sizeable venue. Even though they

lack any definitive edge they may be crucial, playing a part in a

genre that is keeping guitar music alive. Having said this, while

watching them placed next to a band such as The Orielles, I know

which way I would prefer indie to swing in the coming years.

James Booton / @BOOT_MUSIC

REVIEWS 45
---
BOOK NOW: 0161 832 1111

MANchesteracademy.net

POPCAAN

FRIDAY 7TH DECEMBER

MANCHESTER ACADEMY

ENTER SHIKARI

SUNDAY 3RD FEBRUARY

MANCHESTER ACADEMY

FAT FREDDY'S DROP

SUNDAY 4TH NOVEMBER

MANCHESTER ACADEMY

JAYKAE

FRIDAY 16TH NOVEMBER

ACADEMY 3

CKY

FRIDAY 7TH DECEMBER

ACADEMY 2

PARCELS

MONDAY 5TH NOVEMBER

ACADEMY 2

GREGORY ALAN ISAKOV

SUNDAY 9TH DECEMBER

ACADEMY 3

JUNGLE

FRIDAY 15TH FEBRUARY

MANCHESTER ACADEMY

JAX JONES

THURSDAY 8TH NOVEMBER

ACADEMY 2

WSTRN

SUNDAY 18TH NOVEMBER

ACADEMY 3

AUGUST BURNS RED

SUNDAY 9TH DECEMBER

CLUB ACADEMY

MAYDAY PARADE AND

THE WONDER YEARS

SUNDAY 17TH FEB / MCR ACADEMY

CHASE & STATUS:

RTRN II JUNGLE

SATURDAY 10TH NOV / MCR ACADEMY

MILES KANE

SATURDAY 24TH NOVEMBER

MANCHESTER ACADEMY

ALLAN RAYMAN

THURSDAY 13TH DECEMBER

ACADEMY 3

OCTAVIAN

WEDNESDAY 27TH FEBRUARY

ACADEMY 2

BERNHOFT & THE

FASHION BRUISES

MONDAY 12TH NOV / CLUB ACADEMY

MP NAMATCHOUA

SUNDAY 25TH NOVEMBER

ACADEMY 3

BLUE OYSTER CULT

FRIDAY 1ST MARCH

MANCHESTER ACADEMY

CAKE

SATURDAY 20TH JANUARY

ACADEMY 2

HINDS

TUESDAY 13TH NOVEMBER

ACADEMY 2

SUNFLOWER BEAN

TUESDAY 27TH NOVEMBER

ACADEMY 2

ADY SULEIMAN

THURSDAY 14TH MARCH

ACADEMY 2

TONIGHT ALIVE - FULLY

PLUGGED

TUESDAY 13TH NOV / CLUB ACADEMY

BROTHERS OSBORNE

WEDNESDAY 28TH NOVEMBER

MANCHESTER ACADEMY

THE K'S

FRIDAY 25TH JANUARY

ACADEMY 2

TONIGHT ALIVE -

ACOUSTIC

WEDNESDAY 14TH NOV / CLUB ACADEMY

RUFUS DU SOL

SUNDAY 12TH NOVEMBER

ACADEMY 2

THE INTERNET

SATURDAY 23RD MARCH

MANCHESTER ACADEMY

LEON BRIDGES

WEDNESDAY 14TH NOVEMBER

MANCHESTER ACADEMY

HOBO JOHNSON AND

THE LOVEMAKERS

SATURDAY 26TH JAN / MCR ACADEMY

PERTURBATOR

WEDNESDAY 27TH MARCH

ACADEMY 2

BASEMENT

FRIDAY 16TH NOVEMBER

CLUB ACADEMY

SG LEWIS

TUESDAY 4TH DECEMBER

CLUB ACADEMY

STEVE MASON

SATURDAY 2ND FEBRUARY

ACADEMY 2

FUN LOVIN' CRIMINALS

FRIDAY 29TH MARCH

MANCHESTER ACADEMY

facebook.com/manchesteracademy @mancacademy FOR UP TO DATE LISTINGS VISIT MANChesteracademy.net
---
E V E N T H I G H L I G H T S

JOIN THE CONVERSATION

@ECHOARENA

The Prodigy

8 November

Paul Smith

16 November

15 December

Liverpool International Horse Show

28 - 31 December

Rick Astley

17 November

Professor Brian Cox UNIVERSAL

21 February 2019

Bowie: Starman

24 November

Nish Kumar

3 March 2019

Star Wars: A New Hope Live in Concert

28 November

26 March 2019

30 November

Jason Manford

6 April 2019

2 December

25 May 2019

GET YOUR TICKETS AT ECHOARENA.COM | 0344 8000 400
---
the

29.11.18

social

7:30 PM

BRICK STREET

£5 OTD

CHEAPER IN

ADVANCE

FT.

Featuring

AVANT GARDE

DANCE

ROSIE KAY

DANCE COMPANY

Plus:

LOST DOG

UCHENNA DANCE

LIZ AGGISS

JO FONG

GABY AGIS

ANDREA BUCKLEY

VICCI RILEY

PAULA HAMPSON

KATE JACKSON

ABOUTIME DANCE COMPANY

LAILA DIALLO

LIZ ROCHE COMPANY

LIZ LEA

TACITURN

CLARICIA PARINUSSA

NAFISAH BABA

BABA YAGA

CHARLENE KALIYATI

2nd–12th November 2018

For more information and to book tickets

visit leap2018.co.uk or call 0344 800 0410

Funders

Producer

Major Partner

Principal Sponsor

Sponsor

Hotel Sponsor

Supporters
---
Passing:

What's your

Legacy?

DaDaFest

International 2018

1 November – 8 December

See the full programme:

www.dadafest.co.uk/events

BASEMENT LISTINGS

25/10 Turn That Sh*t Off Open Deck Night

26/10 Welcome to Hell! With the

Competent Theatre Co,

27/10 Sea Bass IV: Deadliest Catch

28/10 Ghost Stories from Tom

Slemen's Haunted Liverpool

30/10 Ghost Stories from Tom

Slemen's Haunted Liverpool

31/10 Ghost Stories from Tom

Slemen's Haunted Liverpool

01/11 Free Rock & Roll02/11 -

Arts Hub Presents

06/11 Glasswerk Presents: Chest

Pains + Support

08/11 I Love Live Events present:

Bloxx + Support// Turn That

Sh*T Off Open Deck Night

10/11 Yeah Buddy! Presents - Dusty

Stragglers + Support

13/11 Arts Hub Presents

14/11 I love Live Events Present:

King Nun + Support

15/11 Free Rock & Roll

16/11 Hushtones EP Launch

17/11 I Love Live Events Present:

Monks + Support

22/11 Turn That Sh*t Off Open Deck Night

23/11 Delights + Kula Bay/The Difference

24/11 Chloe Pitchford Album Launch

28/11 Cactus Paradox

Productions presents:

29/11 Free Rock & Roll

DaDaFest principle funding partners:

DaDaFest International is funded by:

SoundDukeSteet

@SoundDukeStreet

@SoundDukeStreet

Sound / 52 Duke Street / Liverpool
---
#UTP

up-coming fixtures

october

27 W Dids & Chorlton a 3.00 HSL

NOVEMber

03 ABBEY HEY H 3.00 HSL

06 CHARNOCK RICHArd H 7.45 HSL

10 squires gate a 3.00 HSL

or

10 MACRON CUP TIE H 3.00 MC2

17 padiham a 3.00 HSL

24 congleton town a 3.00 HSL

Watch city of liverpool this season

adults £6 concessions £3 under 15's free!

TDP Solicitors Stadium, vesty road, bootle l30 1NY
---
ARTISTIC

LICENCE

ROY

November's featured writer explains about developing his voice and how the musicality of his spoken

language seeps into his work.

When and why did you start writing?

I started writing short stories a few years ago. Mainly, because I

read Trainspotting when I was 15 and thought, 'I could do that',

but then spent 15 years procrastinating. Initially, I wrote them to

amuse my mates, just testing the waters. I thought they would

tell me the truth, which they did – "That was fuckin' ridiculous, it

just wouldn't happen like that", or "I know that situation. Is that

real? Better not be me you've based it on". Everyone always spots

someone else in the stories; they never spot themselves. I'm

treading a fine line. I'll be disappointed if someone doesn't want

to fill me in within 12 months, especially a ticket tout. I wanted

some of the characters to be rather likeable and for readers/

listeners to identify with them, despite them clearly being quite

unhinged people. I started to enjoy the process, enjoying people's

reactions to performances. Getting more gigs. Going around the

country telling tales. I want people to wonder, 'That can't be true,

can it?' It was a challenge. I naively thought it might not translate

to London, Glasgow, Hull, Bradford, etc. They got it in the same

way I got Trainspotting all those years ago. I'm literally making it

up as I go along... but thoroughly enjoying the uncertainty of it all.

Fiction is just the lie through which we tell the truth, isn't it?

Your work seems to deal a lot with place; can you describe how

poetry helps you interact with the world?

I'm sticking with what I know so far. I lived in the same street for

25 years, in four different houses. A bit like Autumn Almanac

by The Kinks… this is my street, and I'm never going to leave

it… Places you spend a lot of time in obviously impact who you

are. You develop your identity based on where you grow up.

Sometimes this helps you in later life, sometimes it doesn't. It's

a double-edged sword, isn't it? Travel broadens the mind – but

having no deep-rooted connection to a place may mean there is a

lack of identity there? Do any of us know who we really are? I do

like to listen and observe, often with incredulity. A place can stick

to you, even when you left that particular place a long time ago.

It can hold you back. It's part of who you are. Yet even when you

get out of it, you still take your own mentality with you. Places are

often perceived to be 'the problem'. They're not though; you are.

What would you say about how your use of vernacular and

idiomatic phrases have developed?

It's just how I write. It has to sound credible. The stories and the

language, they have to be congruent with each other. I don't

doubt that people may hear my stuff and refuse to believe that

anybody actually talks like that. In that tone, those words, that

volume. They do, though. I hear them every day. Someone once

said to me, "I don't think people want to hear that kind of stuff

when they've just come out for a few drinks." I told them to fuck

off and go for a few drinks somewhere else then. I'm horrible

like that. My storytelling voice works through other people and

places: a pub in Walton, a gym in Aigburth, a park in Bootle, a

bus in Old Swan. The stories are always being told; I just tune

into them and make them my own. This modern Scouse accent,

though? What's all that about? We were quite Lancastrian in the

50s and 60s. The influx of the Irish saved us from being Wools.

Then it got a bit Beatley. Dunno what happened in the 80s, it all

went a bit Brookie, la. Telly Scouse. These days? It's put on. Got

to be. No one really talks like that, do they? The audio version of

keeping up appearances. All in the name of acceptance, people

can twist themselves into all sorts of weird contortions, becoming

quite insular and fearful of what others think of them. I did. We

all do, in a way. The only people who say, 'I don't give a fuck what

people think of me' are people that really do care what you think

of them. Lad.

Photography: Robin Clewley / robinclewley.co.uk

From A To B

A concoction of agitation, alarm and bewilderment wash over me. I very rarely venture

into town for a drink. Prefer to stay local. Old Swan 'til I die, me. Yet here I am, trudging

down Lord Street, observing a stag party from the north-east jostling for position at the

cashpoint outside Barclays. I don't think they're Geordies. I reckon they're pure Darlo.

Either way, there are some horrific shoe/shirt combos going off. Really offensive… and

that's without mentioning the distressed jeans. Possibly named after the owner's mindset.

Inexplicably, I wonder what became of Max Farnham. The character, not the actor who

played him. Couldn't give a shite about him… unless he's out there being Max. Knowing

full well that he'll never be on screen again – but just refusing to stop being Max. I'd go

for a bevvy with Max. Got a feeling he's just not arsed. A maverick. Begbie for the Jamie

Oliver generation.

You never really know whether what you're seeing is what you'll actually get. These stag

dickheads though. You know. I know. Gym rats. Instagram watch show offs. Ted Baker

boxies. Cheering when a glass smashes in a pub. They seem harmless enough though,

until four of them get nicked for sexually assaulting Gill the philosophy student from

Congleton around 03:47am at the Formula 1 hotel. This is why I'm not much of a town

head, particularly of a night. I just go on a para. It seems everyone has got it in for me,

even when I know they haven't.

Strolling a bit further down the street, I watch, furtively, as a couple of street drinkers face

off. I can't hear what they're braying to each other over the din of the Home And Bargain

shutters coming down. When I say street drinkers, I don't mean the types who'll just catch

some fresh air whilst smoking a Marlboro and sipping on a four pound bottle of European

lager before re-entering the garishly decorated bar to sniff low grade cocaine and talk

over everyone all night. Nah, I'm on about these black can warriors whose streets are

paved with shit. They can be quite contradictory with their tone and manner at times.

I recall scrutinising a couple of shoplifters in Breck Road Kwikky years ago. Not from any

kind of moral standpoint, more of a ghoulish fascination really. The female of the species,

who was clearly in charge of this particular law-breaking enterprise, had taken it upon

herself to fit as many tubes of Colgate as she could upon her person. Her partner in crime

though, wasn't doing a very good job of keeping dixie. When she noticed that he's started

to gouch instead of covering her, she scolded him with a line that just had so much in it:

"Oh, will you just fuck off… babe?" Vicious yet tender, like Max Farnham.

Our gruesome twosome here are now hugging it out. Which confirms my suspicion that

the whole of town is balanced on a knife-edge. Not a fine Sabatier or the likes. More one

you would encounter in a scummy café that's had the same bottles of Sarsons vinegar

on the same wipe-able table-cloths since 1988. Uncertain whether it'll cut through

yesterday's crusty cobs. Similarly to how I think about whether I'm going to get my head

kicked in tonight. You just don't know until it happens.

This is an extract from the short story From A To B.

52
---
John Wheeler

(Hayseed Dixie)

Saturday 10th November

81 Renshaw Street,

Liverpool

Tide Lines

Leeds Brudenell

Friday 2nd November

Manchester Gullivers

Saturday 24th November

Sheffield Greystones

Monday 26th November

Aidan Moffatt

& RM Hubbert

Monday 5th November

Leaf, Liverpool

Rob Heron &

The Tea Pad

Orchestra

Philharmonic Hall,

Liverpool

Wednesday 13th February

Ezio

Philharmonic Hall,

Liverpool

Saturday 2nd March

Kristin Hersh

plus band

Philharmonic Hall,

Liverpool

Saturday 16th March

@Ceremonyconcert / facebook.com/ceremonyconcerts

ceremonyconcerts@gmail.com / seetickets.com
---
SAY

THE FINAL

"Music and the performing

arts rely on exchange

of ideas. If musicians

can't travel easily both

ways, our reputation as

a country that embraces

all arts and culture will

be severely damaged"

By raising a petition calling for a

touring visa, the Musicians' Union

are fighting for the right of UK

artists to be allowed to travel and

perform across the EU. Here, the

team from the MU explain why

they're calling on the government

to protect the rights of creative

workers in a post-Brexit world.

The MU made no secret of the fact that it was

overwhelmingly in favour of remaining in the European

Union. We believed then, as we do now, that the

benefits of remaining for musicians were overwhelming.

That's why our executive committee – the governing body of

the MU – recently voted to back the People's Vote campaign;

and why we welcomed the motion passed at the recent Labour

Party conference here in Liverpool, which included the option to

campaign for a second referendum if Theresa May's deal does

not pass through Parliament and a general election is not called.

Nevertheless, we're also lobbying and campaigning hard for

musicians' rights in a post-Brexit world. As the March 2019 deadline

looms, there is still very little information as to what the future will

look like for musicians, and this is undoubtedly a time of uncertainty

and confusion for the 30,000-plus members we represent. Those

members work right across the industry and in every genre, ranging

from orchestras like the Liverpool Phil to contemporary artists like

Natalie McCool and She Drew The Gun. While there are numerous

reasons to be concerned about Brexit, one issue that's guaranteed to

impact on musicians from every genre is freedom of movement and

the ability to tour and perform across Europe.

MU General Secretary Horace Trubridge summed it up

recently when he said that "music and the performing arts rely

on exchange of ideas and interaction between performers of

different nationalities. We love working in the EU and we love

artists coming over here. If musicians can't travel easily both

ways, our reputation as a country that embraces all arts and

culture will be severely damaged. Our members' ability to earn a

living will also be severely affected".

The reality is that most UK-based musicians and performers

are reliant on touring and performing across the European Union

to sustain their careers. Musicians, and other creative and cultural

workers, are a distinct workforce with specific needs. Post-Brexit,

visa and customs rules need to account for that.

After more than a year lobbying government and Parliament

for freedom of movement to continue post-Brexit, the MU

believes that an affordable, multi-entry, admin-light touring visa

that covers all European Union member states is the best way

forward to protect musicians' right to work.

Consequently, we're now calling on government and

Parliament to introduce an EU touring visa for UK-based

musicians working in the EU post-Brexit and at the time of

writing, over 14,500 people have signed an online petition in

support of the visa should free movement end.

Any EU touring visa must be affordable, multi-entry and

admin-light. Introducing costly and resource-heavy barriers could

have a severe impact on working and aspiring musicians – as well

as the broader UK music industry. It should also be reciprocal so

that musicians based in EU territories can include the UK in their

touring plans.

Musicians already have experience with difficult visa systems.

It can cost thousands to take a band to the United States, and

the cost of fast-track visa processing fees has just gone up 15

per cent. Musicians have voiced their fears that something similar

might happen with the European Union, to devastating effect. Any

visa must also cover working in all EU member states; musicians

visit multiple countries on tour, often jumping across borders on

a daily basis or with very little notice. If every musician has to get

a visa and carnet for every country they visit, it will make work in

Europe impossible to schedule – regardless of whether that's for an

emerging band or a world-renowned orchestra.

Fortunately, there is some recognition of the problem. The

House Of Lords' European Union Home Affairs Sub-Committee

reflected the Union's position, calling for clarity on free movement

post-Brexit. In a report on the movement of people in the culture

sector, the Committee emphasised the "profoundly important

contribution" the culture sector makes to the UK's society,

economy and international influence.

We also met recently with Margot James, the Minister for

Culture, Communications and the Creative Industries where we

raised the idea of a single visa that would allow entry to all EU

member states and would only need to be renewed once a year.

The Minister was very supportive and agreed to take the idea to

the Home Office for consideration.

However, we can't take anything for granted and, with the

29th March 2019 fast approaching, it is more important than

ever that we know how musicians and performers can continue

working in the EU once the United Kingdom formally leaves.

So, what can you do to help? Well, firstly you can go to

change.org and sign the petition in support of the touring visa.

Secondly, if you're a musician, you might consider joining the MU.

The more members we represent, the louder our voice and the

greater our influence. If you're not a musician and you love music,

you can join our supporter network for free and help protect the

music and musicians you love.

The whole ethos of the Trade Union movement is that we

are stronger together than we are apart. Whatever happens with

Brexit, you can guarantee that the MU will be leading the way

in advocating for the best possible outcome and fighting for the

rights of musicians everywhere.

Photography: Julia Giacomini

theMU.org

If you support the campaign, sign the Musicians' Union Calling for

Touring Visa for Musicians Post-Brexit petition at change.org.

54
---
An all new music

development programme

Includes:

⋅ Practical studio workshops

⋅ Artist masterclasses

⋅ Tailored advice from Industry

professionals

⋅ Exclusive live opportunities

APPLY NOW

Semester two open for applications 25th October

For more information go to merseyrailsoundstation.com