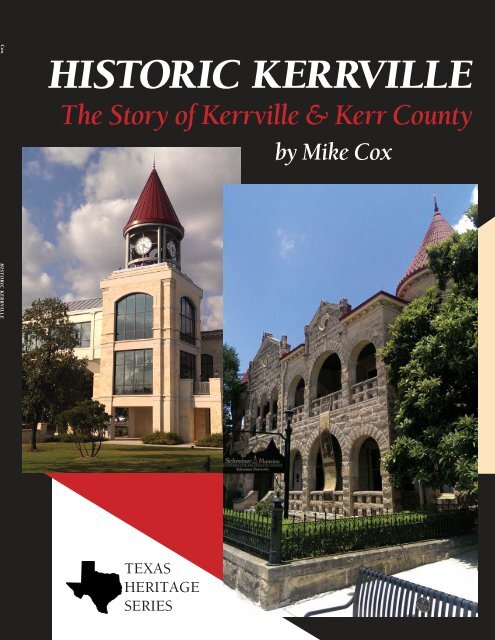 Historic Kerrville: The Story of Kerrville & Kerr County
An illustrated history of Kerrville and Kerr County, Texas, paired with the histories of local businesses and organizations that make the city great.
An illustrated history of Kerrville and Kerr County, Texas, paired with the histories of local businesses and organizations that make the city great.
SHOW MORE
SHOW LESS
You also want an ePaper? Increase the reach of your titles
YUMPU automatically turns print PDFs into web optimized ePapers that Google loves.
Cox HISTORIC KERRVILLE

HISTORIC KERRVILLE

The Story of Kerrville & Kerr County

by Mike Cox

TEXAS

HERITAGE

SERIES
---
Thank you for your interest in this HPNbooks publication.

For more information about other HPNbooks publications, or information about

producing your own book with us, please visit www.hpnbooks.com.
---
HISTORIC KERRVILLE

The Story of Kerrville & Kerr County

by Mike Cox

HPNbooks

A division of Lammert Incorporated

San Antonio, Texas
---
First Edition

Copyright © 2016 HPNbooks

All rights reserved. No part of this book may be reproduced in any form or by any means, electronic or mechanical, including photocopying, without permission in writing

from the publisher. All inquiries should be addressed to HPNbooks, 11535 Galm Road, Suite 101, San Antonio, Texas, 78254, (800) 749-9790, www.hpnbooks.com.

ISBN: 978-1-944891-07-7

Library of Congress Card Catalog Number: 2016936606

Historic Kerrville: The Story of Kerrville & Kerr County

author: Mike Cox

contributing writer for "Sharing the Heritage": Scott Williams

HPNbooks

president: Ron Lammert

project manager: Joe Neely

administration: Donna M. Mata

Melissa G. Quinn

book sales: Dee Steidle

production: Colin Hart

Glenda Tarazon Krouse

Chris Sturdevant

Evelyn Hart

Tim Lippard

Tony Quinn

2 ✦ HISTORIC KERRVILLE
---
❖ Above: This 1940s postcard emphasized Kerrville's local, state and federal infrastructure, including (clockwise)

the State Highway 16 bridge across the Guadalupe River, the Veterans Administration Hospital, city hall and the post office.

Left: The Bluebonnet Hotel on the banks of the Guadalupe River, Kerrville.

PHOTOGRAPHS COURTESY OF THE AUTHOR.

CONTENTS

4 FOREWORD

5 THE HISTORY OF KERRVILLE & KERR COUNTY

43 SHARING THE HERITAGE

50 ABOUT THE AUTHOR

Contents ✦ 3
---
FOREWORD

The first time I saw Kerrville was in the summer of 1957, a year after its centennial celebration.

I was with my late grandfather, L. A. Wilke, then editor of what is now Texas Parks and Wildlife

Magazine, who took me with him when he visited the Kerr Wildlife Management Area to take some

photos for an article he was writing. I still have a pre-historic flint point the management area's

superintendent gave me when I was a wide-eyed nine-year-old.

The WMA acreage lies well outside of town, but we passed through on the way there and likely

had lunch or supper at the Del Norte Motel restaurant on State Highway 27. If we didn't eat there on

that trip, in later years we often enjoyed a hamburger and slice of apple pie at the Del Norte when

returning to Austin from hunts on the Y.O. Ranch.

I took my first eight-point buck on the ranch, personally guided by owner Charlie Schreiner III,

in the fall of 1961 and continued as a regular guest there well into my young adulthood. In 1980,

I covered the Y.O.'s all-night 100-year birthday bash for the Austin American-Statesman, where at the

time I was a staff writer. Charlie and I became friends and I later served with "Three" (as everyone

called him) on the board of directors of the Former Texas Ranger Association Foundation.

Someone should do a book on the Schreiner family and its myriad influences on Kerrville.

With all respect to the descendants of Kerrville namesake James Kerr, by all rights, Kerrville should

have been named for Captain Charles Schreiner, an 1852 immigrant to Texas from Alsace-Lorraine

who settled in Kerr County shortly after its founding. He and his children, grandchildren and

great-grandchildren contributed incredibly and in many ways to Kerrville.

But to tell that story in the depth it deserves is beyond the scope of this book, which is an

illustrated overview of Kerrville's history. It is an interesting city that enjoys one of the most attractive

settings in the state.

Demographically, Kerrville is a mixture of fourth- and fifth-generation residents and newcomers,

many of the newer arrivals being retirees who continue to move to this Hill Country city (the area's

largest) for its climate, scenery, a wide range of things to do and excellent healthcare. One of its

residents, Joseph Luther, is a combination of both types—a Kerrville native who left for a long career

in academia and then decided it was where he and his wife Vicky wanted to retire.

A PhD historian and avocational archeologist, he has written two books dealing with area history

and is a former member of the Kerr County Historical Commission. My thanks to him for providing

a lot of help on this book, including squiring me around in his SUV for a VIP tour of historic sites

and then reading and commenting on the manuscript.

A third category of resident is Laura Bechtel, a relatively new arrival who came to Kerrville from

Ohio to serve as director of the Butt-Holdsworth Memorial Library. Even though the library's history

center was closed for remodeling, she graciously facilitated my access to the library's archival

holdings on Kerrville and her staff provided digital copies of many of the vintage photographic

images in this book. A shout-out also to Austinite Ned Coleman, a longtime dealer in vintage

postcards and old friend, who allowed me to scan assorted Kerrville cards in his inventory, including

a never-published photo of the record Guadalupe River flood in 1932.

Finally, my thanks to Beverly Waak, who gave my manuscript its first edit and traveled with me

when I went to Kerrville to do research and picture-taking. In addition, she cheerfully donned white

gloves to help me select images from the Butt-Holdsworth Library collection.

I certainly hope you enjoy reading about Kerrville's interesting history. If it doesn't convince you

to move to the Hill Country "capital" city, I bet this book will make you want to visit.

Mike Cox

Austin, Texas

4 ✦ HISTORIC KERRVILLE
---
THE HISTORY OF KERRVILLE &

KERR COUNTY

When Joshua David Brown began cogitating on who the new county he'd had a hand in creating

should be named for, his late friend James Kerr came to mind.

So far as is known, Kerr had never set foot along the upper Guadalupe River, a full two day's ride

west of San Antonio, but Brown figured his well-thought-of fellow Kentuckian deserved recognition

for the part he had played in Texas's evolution from Mexican province to independent republic and

finally, as the twenty-eighth state of the Union. Born in 1790 in Danville, Kentucky, when it was still

a part of Virginia, Kerr fought in the War of 1812 and served as a senator in Missouri before coming

to Texas in 1825 as surveyor general for colonizer Green DeWitt. With famed scout and ranger

Erastus (Deaf) Smith and five other men, Kerr selected and surveyed a site at the confluence of the

Guadalupe and San Marcos rivers that would become the town of Gonzales.

As Texas moved toward independence from Mexico, Kerr took part in the Battle of Lipantitlán in

the late fall of 1835 and also rode for a time as a Texas Ranger. Though always willing to fight, he

also played a political role in forging what became the Republic of Texas, later elected to its Congress.

Trained as an attorney and doctor as well as in surveying, Kerr spent the rest of his life in Jackson

County. By the time Kerr died in 1850, Texas had been part of the United States for five years.

At 17, Brown came to Texas from Kentucky in 1833 with his parents, a brother and a sister. The

family settled in Sabine County and his mother and father stayed there the rest of their lives. The Texas

Revolution broke out in October 1835, and while some have written that Brown fought at the Battle of

San Jacinto in 1836, the record only supports his later service in the Republic of Texas's military during

the 1839 Cherokee campaign in East Texas and in the Battle of Salado Creek following a Mexican

incursion into Texas in 1842. He also participated in the disastrous Mier Expedition later that year.

Brown's early days in Texas are not as well documented as Kerr's. Papers held at the state General Land

Office do show that for his military service to the republic, in 1846 Brown received title to 640 acres in

the Gonzales area. The same year, he rode for a time with Ben McCulloch's Texas Ranger company. By

then 30 years old, Brown turned to domestic life a bit later than many men. On July 20, 1846, he married

❖

Kerrville's first settlers followed the

Guadalupe River up from Gonzales in

the late 1840s.

COURTESY OF NED COLEMAN.

The History of Kerrville & Kerr County ✦ 5
---
Eleanor Smith in Gonzales and a year later, they

had a daughter. At some point during his time

in the Gonzales area, Brown became acquainted

with Kerr. Though separated in age by twenty-six

years, they developed a friendship.

While Brown's suggestion in 1856 that the

newly created political subdivision in the Hill

Country be called Kerr County, a less modest

man might have put his friends up to suggesting

that he be the namesake of the 1,101-squaremile

area the legislature had carved from Bexar

County. After all, he had been its first settler.

No matter its namesake, the story of Kerr

County and its principal town of Kerrville goes

back much further in time, long before people

of European descent became interested in what

would become Texas.

Artifacts excavated by archeologists in the

Kerrville area show that hunter-gatherers

whose ancestors had migrated onto the North

American continent from Asia lived along the

upper Guadalupe River as long as 12,000 years

ago. The common identifier of this culture and

time period are chipped flint dart tips called

Clovis points, a variety of artifact first found

in the vicinity of Clovis, New Mexico. Retired

University of Nebraska professor and Kerrville

native Dr. Joseph Luther notes that the early

peoples who occupied the area lived off longvanished

megafauna that included giant species

(at least as compared to most animals today)

such as the Columbian elephant, mammoth,

mastodon and giant bison. They took down

those animals with spears tipped with flint

points made from the ample quantities of chert

found throughout the Hill Country.

By the seventeenth century, two adversarial

European powers—Spain and France—vied for

possession of what had come to be called the

New World. The Spanish Crown's concern that

the French might have succeeded in establishing

a presence in what is now Texas is what

indirectly led to the naming of the spring-fed

stream that would be the genesis of Kerrville.

In the spring of 1689, Spanish explorer and

provincial governor Alonso De Leon guided

an entrada north across the Rio Grande in search

of a reported French colony somewhere on

the Texas coast. The official, leading 114 men,

skirted the lower Hill Country as he moved eastsoutheast.

On April 14, likely in present Victoria

County, his expedition came to a tree-lined river.

De Leon named the stream in honor of Our

Lady of Guadalupe, a name that stuck in Texas.

France and Spain, on the other hand, did not.

The stream De Leon named forms with the

merger of two branches in the Edwards Plateau,

more than 230 miles to the northwest of its

mouth at San Antonio Bay. While De Leon never

saw the upper reaches of the river he named,

later Spanish military expeditions—sent from

San Antonio de Bexar to engage the Lipan

Apaches and Comanches who frequently raided

the Spanish settlement—crossed the Guadalupe

where Kerrville is now.

In 1767, the Marques de Rubi led an inspection

tour through part of future Kerr County.

We traveled four leagues [12 miles] southeast

along the river's floodplain through extended

plains covered with pasture that creates the

appearance of a great shore…. Tall stands of

cypress, cottonwood, and live oak grow on the

banks of the river and are constantly in view."

Other expeditions, both exploratory and

military, crossed through the area periodically.

Spanish soldiers fought Apaches and

Comanches on several occasions along the

upper Guadalupe, but in time Spain finally

grasped that it could neither kill nor convert

to Christianity all the Indians in Texas. Even if

the empire had the stomach to keep trying,

that issue became moot when disaffected

Spaniards and a growing population of the

progeny of Spaniards and Mexican Indians

revolted against the Crown and established an

independent Mexican nation.

Swiss botanist Jean Louis Berlandier, a

member of the 1828 Mexican boundary and

scientific expedition, visited the area of future

Kerrville while buffalo hunting. Guided by

friendly-for-the-moment Comanches and

escorted by Mexican cavalrymen, Berlandier

left San Antonio on November 19. Nine days

later, as he later reported, they "…reached

some rocky hillocks, known to the Mexicans

as the 'Pedernales'" and killed their first buffalo.

Near the headwaters of the Guadalupe,

the party found an old Lipan Apache village.

"I saw their principal farm, which is known as

the Labor de los Lipanes, the Lipans' Field,"

6 ✦ HISTORIC KERRVILLE
---
he wrote. "The North Americans used to come

there to buy the mules and the horses the

Lipans had stolen, in exchange for weapons and

farm tools."

While Mexicans or Anglos occasionally

crossed the Guadalupe where Kerrville would

develop, not until Texas had gone through its

near-decade as an independent republic and

joined the union at the twenty-eighth state did

anyone even remotely deem it practicable to

live in that area. A federal military presence

gave what turned out to be a false impression of

security for those who did venture to the upper

reaches of the river.

In 1848, to protect the area from Indians,

the Army established Fort Martin Scott, a post

two miles east of Fredericksburg, and roughly

twenty-two miles from what would become

Kerrville. But while the garrison arguably

added to the security of the nearby German

community founded in 1846, its sphere of

influence did not extend very far.

Meanwhile, in the mid-summer of 1848

Joshua Brown suffered a terrible loss with the

death of his wife of less than two years. Soon,

leaving his daughter with his late wife's family,

Brown left Gonzales and travelled up the

Guadalupe to Curry's Creek, in what is now

Kendall County. Whether he did that hoping to

outride his grief, or simply out of a desire to see

new country, he at least discovered what

seemed to be a good way to make a living off

the land—shingle making. At Curry's Creek, he

found a small community of men who felled

thick cypress trees and with froe and drawing

knife, produced roofing material that could be

sold in San Antonio, where a robust market

existed. The process was hard, but the profit

was good, so he threw in with them for a time

and learned the trade.

One problem with this new Hill Country

industry was renewability of the resource. With

a potential life span of 600 years, cypress grow

slowly albeit grandly. While the shingle-making

business flourished along Curry's Creek, the

supply of the giant trees was dwindling.

Keeping an eye out for hostile Indians, Brown

rode farther upriver in search of more cypress.

Along the upper Guadalupe in what would

become Kerr County, more than 135 winding

river miles from Gonzales, he found ample

virgin timber.

Brown returned to Gonzales, where in May

1849 he married Sarah Jane Goss, a preacher's

daughter. Hoping to provide for a family that

would grow, he found ten area men interested

in joining him in the shingle-making business.

With his new wife, he led the men upstream to

the cypress-lined river crossing he had found

the year before.

The area had a bountiful supply of eight-toten-feet-diameter

cypress, good water, and plenty

of game for the taking. The only problem with

Brown's choice of location was the proximity of

❖

Bald cypress trees attracted shingle

makers to the future site of Kerrville

in the early 1850s.

COURTESY OF NED COLEMAN.

The History of Kerrville & Kerr County ✦ 7
---
❖

Above: A Kerrville old-timer

demonstrates the nearly lost art of

making shingles by hand.

COURTESY OF THE BUTT-HOLDSWORTH

MEMORIAL LIBRARY.

Opposite, top: Kerrville and Kerr

County were named for early-day

Texas patriot James Kerr, a friend of

pioneer settler Joshua D. Brown.

PHOTO BY MIKE COX.

Opposite, bottom: Kerrville started

out as a collection of log cabins.

COURTESY OF THE BUTT-HOLDSWORTH

MEMORIAL LIBRARY.

hostile Indians. He and his fellow entrepreneurs

found enough Indian sign to convince them that

the area was not safe, even for battle-tested

Texans, which most of them were. Desiring to

keep their scalps, the Brown party moved

downriver back to Gonzales County.

In the early 1850s, Brown and his family

returned to the upper river. The Indian threat

had not ended, but Texas Ranger scouting

expeditions had lessened the likelihood of

depredations. Other settlers—married men with

families and younger, single men—followed,

and soon a modest colony of shingle-makers

plied their trade along the river. (And some

hardy men, their names lost to history, may

already have been there.)

Another early arrival in future Kerr County,

Julius Dresel, described the German element of

the shingle-maker sub-culture in his diary:

[U]nemployed German gentlemen…could

live an entirely independent life, occupying

themselves by hunting and reading in jolly

company. At times, from half to a whole dozen

unattached young men lived in the caves formed

by the overhanging rocks in the [Guadalupe

River] bottoms…. They were often students

who chopped down the cypresses…. Here they

formed an interesting gypsy group in the cool

thicket under the giant trees. Fraternity brothers

hunted deer, turkey, panther, and bear, on horseback

and on foot. Usually they worked quite

hard because money was chronically absent, and

one thousand shingles brought in six dollars.

Fed by clear, cool, surging springs, the

Guadalupe normally had a substantial flow.

In addition to the shingle-making camps,

water-powered mills began to go up along the

upper river. At first millers turned cypress

trees into lumber, but soon they were grinding

corn and wheat. Beginning with the building of

the first mill in 1854, at least ten mills

harnessing hydraulic power would develop

along the Guadalupe before electricity made

them obsolete.

While Brown is credited as being the area's

first settler, in a strictly legal sense, he started

out as a squatter. Most of future Kerrville,

at least on paper, belonged to one Benjamin F.

Cage, a veteran of the 1836 Battle of San Jacinto

who had received 640 acres along the

Guadalupe for his military service. The first

person to purchase land in what would become

Kerr County was German immigrant Frederick

Heinrich Schladoer, who bought 1,006 acres

for $1,200 on May 3, 1852. The next day he

conveyed half of that land to his father-in-law,

Carl Wilhelm Wiedenfeld. Two years later,

Tennessean J. Clark Ridley became the future

county's largest property owner when he

bought 2,240 acres. Another two years would

go by before Brown ponied up any money

for acreage.

On his land, about 400 yards above the

Guadalupe River, Ridley built a large house

about 10 miles downstream from future Kerrville

in the area that would develop into Center Point.

The exact location of the structure, long since

razed, has not been determined but it is

believed to have stood at the end of what is now

Wyatt Street in that community.

Brown initially plied his shingle-making

business at a point on the Guadalupe about

twenty miles southeast of future Kerrville. Since

he had been the first in the area, the small

community of shingle-makers came to be

known as Brownsborough. A perception later

developed that Brownsborough was Kerrville's

first name, but they were separate communities.

At some point, possibly because the cypress

supply was dwindling, Brown moved to the area

that would become Kerrville.

Though scattered here and there, by middecade,

enough people lived along or near the

Guadalupe to want the convenience of a county

8 ✦ HISTORIC KERRVILLE
---
seat closer to them than San Antonio. Meeting

at the Ridley's residence, roughly eighty men

"laboring under great embarrassment, owing to

the remoteness from their respective county

seats…" signed a petition beseeching the

Texas legislature to create a new county. Their

desire was that "the Guadalupe River may be

central in passing through it [the new county],

to include such limits and territory as your

honorable body's wisdom may seem proper

and reasonable."

Governor Elisha M. Pease signed into law the

legislation creating Kerr County on January 26,

1856. The bill named Ridley as commissioner in

charge of seeing to the organization of the new

political subdivision, one of 16 counties born by

legislative fiat that year.

On March 22, male, white residents of the

nascent county (the only citizens allowed to vote

back then) cast their ballots in favor of Kerrville

as the seat of county government. By three votes,

26 for Kerrville, 23 for Comfort, the people spoke.

It was an election, old-timers used to say, that

advocates of Kerrville stole "fair and square." This

was accomplished, a German woman noted in her

1901 memoir, because the "American settlers who

resided in the small colony of Brownsborough

gathered relatives and friends from all areas of

the state in order to out-vote the Germans."

Brown had promised to furnish land for the

new county seat if voters chose Kerrville. True to

his word, on May 15, 1856, Brown purchased

the 640-acre Gage grant along the Guadalupe.

At $2 an acre, the acquisition cost $1,280.

Five days after closing on that real estate,

Brown deeded four acres to the new county for

use as a public square in the soon-to-be-platted

Kerrville town site. In addition, he gave land for

the town's streets as well as a "good sized lot

fronting on the public square for county use [a

courthouse], one lot for public church, one lot for

public school, and one lot suitable for a jail…."

In 1857, master miller Christian Dietert built a

mill on a bluff southwest of present Water Street,

in an area between what is now Earl Garrett and

A Street. The mill, which grew into the largest

west of New Braunfels and San Antonio, formed

the nucleus of the new settlement.

At the time, the community consisted of

only "a cluster of five small log huts, of one or

two rooms" standing in a clearing above the

Guadalupe amid "a wilderness of trees, and grass

as high as a man," Dietert's widow Rosalie later

told her young granddaughter. "Your grandfather

built the sixth house."

More than two years would pass before anyone

could send a letter or parcel to or from the new

county seat. Residents had to travel to Comfort to

The History of Kerrville & Kerr County ✦ 9
---
❖

Early settlers harnessed the

Guadalupe River to run saw mills and

to grind corn and grain.

COURTESY OF THE AUTHOR.

do that. The post office did not get around to

opening a station in Kerrville until June 9, 1858.

(Early on, Kerrville was called Kerrsville, but

Kerrsville would lose its "s" in 1866.)

Deed records show that the first person to buy

a town lot was Daniel Arnold, whose occupation

was listed as "bear hunter." Arnold purchased

Lot 99, but did not build on it immediately, if

ever. By 1859, he was still living near the log

courthouse in a ramshackle shelter that had

to be supported by poles to keep it standing.

Brown and his family lived in a cabin that stood

on high ground about where the A. C. Schreiner

house would later be built at 529 Water Street.

By 1860 federal census takers counted 634

people living in Kerr County, 49 of them slaves.

Kerrville had 68 residents belonging to 14 families.

The military abandoned Fort Martin Scott in

April 1853, but returned to the area, this time

in Kerr County, in 1856 with the establishment

of Camp Verde only twelve miles from Kerrville.

Not only did cavalrymen stationed at Camp

Verde patrol the area on the lookout for Indians,

in 1857 the camp became a major participant in

one of the more unique experiments in American

military history—the use of African camels to

carry soldiers and equipment. Thirty-three

camels and a dozen Armenians to handle them

arrived at the port of Indianola along the middle

coast, and Camp Verde served for a time as the

home of the Army's short-lived Camel corps.

The idea of using beasts of burden from

the Middle East in the Western United States

came from Secretary of War Jefferson Davis,

a Mississippian who in 1861 would become

president of the Confederate States of America.

One of the officers who spent some time at

Camp Verde was Robert E. Lee, who at the

beginning of the Civil War returned to his

native Virginia, resigned his commission

and became the ranking general in the

Confederate Army.

When Texas voted on whether to secede

from the Union, Kerr County approved the

idea, but not by a landslide. The final count

was 76 for secession, 57 against. That balloting

reflected an ideological split that portended

trouble for the Hill Country.

The bloodiest battles of the Civil War

happened in other states far from Kerrville,

but the small community and surrounding Kerr

County residents did not escape the war. Local

men signed up to fight on both sides, though

most opted to support the South. While the

enlistees were away, Southern partisans and

Union sympathizers (mostly German settlers

who wanted nothing of slavery or war)

clashed in Kerr and neighboring Gillespie

Counties. It amounted to a mini-Civil War in

the Hill Country, an ugly chapter in the area's

history replete with lynchings, assassinations

and massacres.

10 ✦ HISTORIC KERRVILLE
---
Another conflict playing out during the Civil

War had to do with whether Kerrville would continue

as the seat of government for Kerr County.

Citizens of rival Comfort had never gotten over

losing the initial election to determine the county

seat, and not quite four years after voters had

picked Kerrville, county commissioners set a

second election on the matter for March 31, 1860.

If Kerrville residents had rigged the first election in

their favor in 1856, Comfort supporters returned

the compliment and succeeded in getting most of

the ballots cast in and around Kerrville tossed

out. That done, Comfort finally reigned as the

new county seat. Even so, as if county residents

did not have enough to worry about with a

bloody rebellion wracking the nation, yet another

election on the matter was set for October 24,

1862. Once again, Comfort prevailed.

Texas is dotted with the faded remnants of

once-vital communities that became ghost

towns after they lost their status as county

seats, and Comfort's gain could have been

catastrophic for the future of Kerrville. The

legislature finally settled the matter when it

created Kendall County in 1862. The line

separating Kerr County from the new county

was drawn a half-mile west of Comfort, thus

making it a town in Kendall County.

One of the tens of thousands Texans who

fought hard, if in vain, for the Confederacy was

Charles Armand Schreiner. Born in 1838 in the

mountains of Alsace-Lorraine, France, he had

come with his family to Texas in September

1852. The family settled in San Antonio, where

his 52-year-old father soon died. Four years

later, his mother died at 48 from a snakebite.

Except for his siblings—three brothers and a

sister—he was on his own.

Only 16, Schreiner first rode as a Texas

Ranger in 1854, periodically serving under

various captains. While scouting for Indians

with the rangers, he saw the Hill Country for

the first time. As historian J. Evetts Haley later

wrote, "[H]e must have reasoned that a man

was foolish to range and rove, and thirst and

starve, in such a bountifully attractive land…."

In 1857, Schreiner took up ranching with

his brother-in-law, Caspar Real. He lived with

his sister Emilie and Real in a log cabin on

Turtle Creek in the vicinity of Camp Verde.

Census takers in 1860 listed his occupation as

farmer, but his "crop" came in on four feet.

Not quite six months after the outbreak

of the Civil War, Schreiner married Mary

Magdalene Enderle on October 1, 1861. Soon

after, he enlisted in the Confederate army at

❖

Captain Charles Schreiner built this

two-story stone house in the heart of

Kerrville in 1878.

COURTESY OF THE AUTHOR.

The History of Kerrville & Kerr County ✦ 11
---
❖

For most of his life, Charles Schreiner

continued to diversify his business

interests, including establishing a bank

that would stay in his family's hands

until 1990.

COURTESY OF THE AUTHOR.

San Antonio. After service throughout the rest

of the conflict, Schreiner was mustered out in

San Antonio in 1865. One story has it that he

walked from San Antonio back to Turtle Creek

in Kerr County with only five gold dollars to

his name.

Even after the war, the county still lay well

beyond the more settled, relatively safer eastern

half of the state—the small burg of Kerrville

being non-existent on most maps. In fact,

a map drawn by A. von Steinwehr for a

primary school geography textbook printed in

Cincinnati, Ohio, in 1870 showed nothing of

the western half of Texas other than a reddishorange

shaded outline of its borders with Indian

Territory (Oklahoma), New Mexico and Mexico,

the region's significant rivers, and a distant

mountain range ominously labeled "Apache

Mts." Anyone, pupil or adult, studying this map

would see that Fredericksburg was the westernmost

town in Texas. Beyond the nearly twentyfive-year-old

predominantly German settlement,

at least in the view of most Americans, extended

nothing but a vast, open land. As the nationally

distributed grade school text put it, while

agriculture was "the chief occupation of its

inhabitants," Texas nevertheless abounded in

"panthers, bears, antelopes, and other wild

animals. Large herds of wild horses roam over

the prairies…." West Texas, in particular, hardly

seemed like a place a cautious person would

want to venture across, much less live.

Schreiner understood that staying in that part

of the state would be a dangerous undertaking.

But he must also have grasped that all that open

land, no matter the hostile Indians who still saw

it as their home, offered fine economic potential

to anyone willing to take a chance. Even so, with

a growing family that would eventually include

eight children, Schreiner barely got by. However,

what he lacked in cash, he made up for it in

fortitude, energy and innovative thinking.

On Christmas Eve 1869—with $10,000 put

up by August Faltin of Comfort—Schreiner

opened a general store in a 16 by 24-foot

cypress plank building at the intersection of

Water and Mountain (now Earl Garrett) Streets

in Kerrville. Before closing for the day, the store

had sold 7.5 pounds of coffee and two quarts

of whiskey—on credit. Whoever bought that

liquor probably intended to enjoy eggnog and

toast the arrival of a new year, but whiskey also

dulled the ongoing pain of Reconstruction and

the terrible memories that haunted many Texans

who had fought in the Civil War.

Tens of thousands of the state's young men had

been killed and wounded or died of disease during

the Civil War, but Texas—never successfully

invaded by the North—had escaped most of

the physical devastation of the bloody four-year

conflict. Unlike Georgia and other Southern states,

its cities did not lay in smoke-stained ruin, but

Texas's economy had nearly been destroyed.

Not that the state lacked certain assets that

could be converted into cash. Over much of

southwest Texas, long-horned, thick-hided,

four-legged "dollars" managed to live well off

the semi-arid land, wild cattle descended from

strayed Spanish stock brought to the New

World in the eighteenth century. Enterprising

Texans realized that all that livestock, free for

the taking and branding, could supply ample

protein for a growing nation. The only problem

with that otherwise spot-on business model was

the lack of a close market. The state had no

railroad connection allowing for easy transport

of longhorns to beef-hungry northern markets.

To hitch supply to demand, Texas ranchers

began rounding up Longhorns and walking them

north to the railheads, first to Sedalia, Missouri,

and starting in 1867 to Abilene, Kansas. The

Chisholm Trail, beginning in the brush country

south of San Antonio, became the best known

route. But a route lying farther to the west, known

initially as the Dodge City Trail and soon simply

as the Western Trail, passed through Kerrville.

The trail had been blazed by a Pennsylvaniaborn

South Texas rancher, John W. Lytle. In

addition to herding his own stock to market,

Lytle became the range industry's equivalent of

a riverboat pilot, leading herds gathered by

12 ✦ HISTORIC KERRVILLE
---
other ranchers up the trail he had developed.

His enterprise soon caught the attention of

Schreiner, who in 1874, along with Kimble

County rancher John W. Light, bought an

interest in Lytle's firm, infusing the business

with new funding and the shiny patina of the

captain's already favorable reputation.

Not only did Schreiner derive income from

his interest in the trail-driving enterprise and

the shipping pens he had built in Kerrville, the

captain moved tens of thousands of his own

Longhorns up the trail. And Kerrville's emergence

in the mid-1870s as a cow town did nothing to

harm his bottom line at his general store.

But cattle were not the only animals that

could get by on the semi-arid land of Southwest

Texas. Schreiner and Caspar Real had pioneered

sheep raising in the area, successfully breeding

Delaines to his flock to produce better wool.

Soon he also began raising goats.

"He probably did more than any other Texan

to encourage the combined use of these

animals on the same range where cattle ate the

long grass, sheep the short grass and goats the

leaves of trees and shrubs—the Texas range

livestock triumvirate," wrote historian Paul

Carlson of Schreiner.

Schreiner's three-pronged approach to

ranching not only enhanced his success, it

helped transform Kerrville from a town with a

courthouse and a few businesses into a regional

agricultural center. Ranchers came to Kerrville

for their supplies, giving Schreiner's store a

steady business, and freight wagons hauled

wool and mohair from there to San Antonio and

the state's coastal bend.

Before long, the astute Alsatian-Texan had

enough cash to begin loaning money to others,

the beginning of Schreiner's soon to be quite

profitable banking business. Long before the

advent of complicated government banking

regulations, Schreiner for a time had a unique

qualifier for a loan: Part of the funds had to be

used to buy sheep.

While an increasingly successful young

capitalist, Schreiner had not forgotten what the

business end of a Winchester was for. On June

30, 1873, a rowdy-looking group of cowboys

walked into his store, ostensibly to have a drink

or two. But what they really had in mind was

relieving Schreiner of any money he had on

hand. Unluckily for them, the captain had

been tipped off as to their true intentions and

members of the local minute man company

that he commanded had been strategically

positioned outside to await developments.

One of the strangers unwisely shot at a local

resident inside the store and the minute men

opened up on the party. When the smoke

cleared, five of the outlaws were dead and

several lay moaning in spreading pools of blood

or staggering around wounded to various

❖

Hundreds of thousands of longhorn

cattle passed through Kerrville in

the 1870s and '80s along the

Western Trail.

COURTESY OF THE BUTT-HOLDSWORTH

MEMORIAL LIBRARY.

The History of Kerrville & Kerr County ✦ 13
---
❖

Right: Different headgear for different

generations, but the work was the

same when it came to shearing sheep.

COURTESY OF THE BUTT-HOLDSWORTH

MEMORIAL LIBRARY.

Below: Kerrville reigned for decades

as the hub of Texas' sheep and

goat country.

COURTESY OF THE AUTHOR.

Opposite, top: Cattle raising has been

an important part of the Kerrville

economy since shortly after the

Civil War.

COURTESY OF THE BUTT-HOLDSWORTH

MEMORIAL LIBRARY.

Opposite, bottom: Until the state

highway department started paving

roadways in the Hill Country, the

easiest way to get to Kerrville was

by rail.

COURTESY OF NED COLEMAN.

14 ✦ HISTORIC KERRVILLE
---
The History of Kerrville & Kerr County ✦ 15
---
❖

Opposite, top: Kerr County's third

courthouse, built in 1886, continued

in use until the mid-1920s.

COURTESY OF THE BUTT-HOLDSWORTH

MEMORIAL LIBRARY.

Opposite, bottom: Constructed in

1926, the county's fifth courthouse

remains in use.

COURTESY OF THE AUTHOR.

extents. The survivors had mounted their horses

and galloped out of town, the minutemen in

hot pursuit. The Kerrville men caught up with

the robbers about eight miles from town and

surrounded a house where they had holed up.

Newspaper accounts are sketchy as to what

happened next, but the Galveston News reported

later in July that some twenty outlaws had been

killed in the area recently.

Two years later, when five horse thieves hit

town and appropriated two head of other people's

stock, Schreiner led a group of his minutemen

in pursuit. Thirty miles upriver, the ranger-like

unit and their tracking hounds caught up with

the thieves and mortally wounded one of them.

Ten horses had been recovered, with another

accidentally killed in the exchange of gunfire.

Even though the minutemen had recovered

the stolen stock, they rode on after the other

thieves. "The Highwaymen Come to Grief!," the

San Antonio Express reported on June 16, 1875.

"Captain Schreiner and the Kerrville Minute Men

Do Their Business."

Not for another year would Kerrville residents

have a local source of news. Twenty years after

the county's organization, the county seat got its

first newspaper, The Frontiersman. It stayed in

business for five years before its owner relocated

to Bandera. More than three years went by until

someone started the Kerrville Eye, the town's

second, but also short-lived newspaper.

About to turn forty, the captain had proven to

be adept at whatever business he undertook, be

it frontier law enforcement, ranching or some

other form of commercial enterprise. In 1878,

he hired noted San Antonio architect Alfred

Giles to design for his large family an equally

expansive two-story stone house that still

stands at 226 East Earl Garrett Street. The most

impressive structure in Kerrville at the time,

it soon became known as the Schreiner Mansion.

Schreiner had a deserved reputation as being

hard on Indians and outlaws, a hard-working

rancher and an astute businessman, but he was

not above having a little fun. One story has

him, as a young man, participating in a weekly

footrace from the end of Mountain Street

(now Earl Garrett Street) to a certain saloon.

The last man to belly up to the bar bought

the drinks. Reportedly, the captain never lost

a race.

Clearly, the captain was doing well as a

rancher-merchant. A decade after having gone

into business, in consideration of $50,000,

Schreiner bought out his partner and Faltin's

went off the store's sign. From then on, it was

just Schreiner General Merchandise. Three years

later, in 1882, he purchased the Dietert Mill,

which had a flour mill and cotton gin. The old

mill, which at its peak produced 140 barrels

of flour a day, would stand until it was razed

in 1920.

More than two decades after Kerrville's

founding, hostile Indians remained a threat.

Comanches killed four children in the summer

of 1878. State rangers and local minutemen

under Schreiner rode after the marauders, but

they lost their trail. Tragic as it was, at least

the incident proved to be the final Indian raid

in the area.

In 1880, with income from the cattle, sheep

and goat business, his store and a newly

founded bank, Schreiner bought the 550,000-

acre Taylor-Clements Ranch. The previous

owners had branded their cattle with a YO, and

Schreiner kept that name for his new property

roughly forty miles west of Kerrville.

By the early 1880s, Kerrville had homes,

business buildings, a substantial hotel, several

well-patronized saloons (as well as at least one

bawdy house), a courthouse and a jail. But no

church. To remedy that, Mrs. Whitfield Scott,

whose husband owned the recently constructed

St. Charles Hotel, rode horseback from house

to house with her sister to collect money for

a multi-denominational house of worship to

be built on land donated by Schreiner. The

first services were conducted in the new Union

Church in 1885. Each of four denominations

used the church on alternate Sundays.

For Kerrville's first thirty-plus years, ranching

and related businesses drove its economy. But

that changed in 1887, when the San Antonio

and Aransas Pass Railroad reached town. That

came about not so much out of anyone's desire

to extend rail service to Kerrville, but from an

ambition to connect the Alamo City with the

Gulf of Mexico.

Though San Antonio had gained its first rail

connection in 1877, the business community

wanted a more direct route from there to

the mid-Texas coast. Organized in 1886 to

16 ✦ HISTORIC KERRVILLE
---
The History of Kerrville & Kerr County ✦ 17
---
18 ✦ HISTORIC KERRVILLE
---
accomplish that end, the San Antonio and

Aransas Pass linked the city to the Gulf at

Aransas Pass the following year. But the movers

and shakers of Bexar County wanted more.

The Panhandle had begun to develop, and

San Antonio businessmen—not to mention the

railroad's management—wanted to capitalize

on that growing market. Accordingly, the SAAP

decided to lay track northwest from San

Antonio. Fredericksburg and Kerrville both

vied for the line, but the railroad wanted

$180,000 to provide service.

In the early 1870s, Schreiner had been a

merchant and hometown ranger when the

need arose. But by the 1880s, now a rancher

with expanded and diversified business

interests, he had become a wealthy civic leader.

He led the drive to raise the money the SAAP

wanted, contributing a large share himself, and

Kerrville prevailed.

Greeted by music from the Fredericksburg

Mexican Brass Band, the first train—six Pullman

cars behind the steam locomotive A. C. Schryver

—rolled into Kerrville at 11:45 a.m. on October 6,

1887. It carried 502 passengers, roughly two

hundred more people than lived there. A parade,

speechifying and barbecue (14 beeves, 20 sheep

and enough young goats for plenty of cabrito)

marked the occasion. Everyone thought Kerrville

was about to take off faster than a highballing

locomotive on a downgrade. Prior to this time,

traveling to San Antonio from Kerrville amounted

to a two-day trip, with an overnight stop in

Boerne. Now, by rail, it took only three hours.

Soon, everyone believed, the rail line would

continue to San Angelo and the high plains,

bringing even more prosperity to the town. But

construction of the seventy-one miles of track

from San Antonio to Kerrville had proven more

costly than the railroad's management expected

and Kerrville became the end of the line. While

bad for the company's stockholders, being the

railroad's terminal point was still good news for

Kerrville—at least for the time being.

For one thing, having rail service served as

the impetus for Kerrville's incorporation. Within

two years after the arrival of that first train, the

population had increased to a thousand. Meeting

in the office of attorney Robert H. Burney on

August 23, 1889, a group of businessmen

decided the time had come for incorporation.

Not long afterward, fifty "qualified voters of

Kerrville, Texas" signed a petition requesting

incorporation "for municipal purposes, in

accordance to the laws of the State of Texas"

and presented it to County Judge W. G. Garrett.

On September 7, 1889, county residents voted

on whether Kerrville should have a city

government. Fewer than ten percent of its

residents bothered to vote, but of the 98 who did

cast ballots, 95 voted "Yes" for incorporation.

Elected as the town's first mayor was

Joseph A. Tivy, a Canadian-born surveyor who

had come to Texas in 1837 with his two sisters.

They settled in San Antonio, which is where

he met the celebrated ranger "Bigfoot" Wallace.

The frontiersman accompanied Tivy on a

survey along the Llano River and Tivy later

made field notes along the Guadalupe River in

what would become Kerr County.

In 1844, he enlisted for a time in the Texas

Rangers. But when gold was discovered in

California, Tivy and his siblings left for what

they hoped would be richer fields, literally

and figuratively. After eight years in California

and a short time in New Mexico, the three Tivys

❖

Opposite page: During the earlier

decades of the twentieth century,

each of the major denominations built

churches in Kerrville. These are early

images of the First Presbyterian

Church (top) and the First Baptist

Church (bottom).

PHOTOGRAPHS COURTESY OF NED COLEMAN.

Above: Civic leaders built a union

church in 1885 for use by four

different denominations on

varying Sundays.

PHOTO BY MIKE COX.

The History of Kerrville & Kerr County ✦ 19
---
❖

Above: On land donated by Captain

Joseph Tivy, a new high school named

in his honor opened in 1891.

COURTESY OF THE BUTT-HOLDSWORTH

MEMORIAL LIBRARY.

Opposite, top: One of the earlier

known views of downtown Kerrville,

taken in the 1890s.

COURTESY OF THE BUTT-HOLDSWORTH

MEMORIAL LIBRARY.

Opposite, middle: As a youngster

future World War Two Admiral

Chester Nimitz lived with his family

in the St. Charles Hotel in the

early 1900s.

COURTESY OF THE AUTHOR.

Opposite, bottom: Kerrville Roller

Mills located on Water Street, 1908.

COURTESY OF THE KERRVILLE MOUNTAIN SUN.

returned to Texas. He left again to fight in the

Civil War. After the war, he and his sisters took

up residence in Karnes County.

Remembering with fondness the country he

had seen as a surveyor and ranger, in 1872

Tivy moved to Kerrville and acquired extensive

acreage in and around the town.

For whatever reason, years before, Tivy and

his sisters had vowed to each other that they

would not marry. But Tivy had plenty of male

friends, including a local doctor. At one point,

the two men took a trip to East Texas, and while

they were away, the doctor died unexpectedly.

In 1875, Tivy decided to break the pact with his

sisters and married the doctor's widow. Furious,

the two sisters left Texas. Tivy stayed, opening a

hotel in 1884.

Though Tivy had chosen to disregard his

arrangement with his sisters by getting married,

in 1888 he readily honored his wife's last wish—

to be buried on the highest point overlooking

Kerrville, a prominence that would come to be

known as Tivy Mountain. The grieving widower

had a road blasted to the top, and his wife's

casket was laboriously taken to her final resting

place in a wagon pulled by two mules. Soon, her

beloved cat meowed its last and Tivy had it

buried near his wife. Later, when his youngest

sister died (she had forgiven her brother and

moved back to Kerrville), he buried her up

there, as well. Making it known that he intended

when he died to join his wife, her cat, and

his sister there, he told friends who asked why

he wanted to be buried on a mountain top,

"I do not wish to drown after I am already dead."

In addition to his sense of humor, Tivy had

a philanthropic bent. On August 16, 1890, he

closed on the transfer of 160-plus acres to the

City of Kerrville for construction of a public

school. The gift included both land for a stone

school house and acreage that could be sold to

pay for building and furnishing the new facility.

He did that, he said, "chiefly in consideration of

the deep interest I feel in the cause of public

education and with a view of promoting and

advancing the growth and development thereof

in the City of Kerrville."

Tivy conveyed the land to the city because it

oversaw public education as well as the more

traditional services of local government. After a

false start because the first design submitted

would cost more than the $8,000 the city had

allocated for the project, construction began on a

public school that opened its doors to students in

early 1891. Named for the man who had given

the land on which it was built, Tivy High School

graduated its first class four years later. But Tivy

had died on July 5, 1892, and was buried on

Tivy Mountain. To this day, the senior class of Tivy

High School keeps the Tivy Cemetery maintained.

20 ✦ HISTORIC KERRVILLE
---
Among those attending the new school was

young Chester William Nimitz, whose stepfather

operated the St. Charles Hotel. He lived there

with his family until he left Kerrville to attend

the U.S. Naval Academy, where he graduated

seventh in his class of 114 in 1905. Later, as

admiral of the Pacific Fleet, he would play a

crucial role in the Allied victory in World War II.

With its new school and other amenities,

by the mid-1890s, Kerrville had begun to take

on the trappings of a modern late nineteenth

century city. But even with rail service and

public utilities, it remained a relatively remote

community, still more town than city. At the

meat market August Henke operated on Water

Street, he kept a pet bear as a living reminder of

the not-too-far-distant day when bruins roamed

the Hill Country.

One day in 1895, the bear got loose. First he

barged into an insurance office on Earl Garrett

Street, scattering customers and staff. Then the

animal ran into the front yard of the Schreiner

house, startling the captain's son Louis and

two of his brothers. Seeing the animal, several

Italian stone masons who had been doing

some work at the mansion found they also

were skilled tree climbers. Uninterested in

molesting them, the bear continued through

the Schreiner's back yard and went in the rear

entrance of Schreiner Merchandise.

Hearing all the commotion, blacksmith John

Grider grabbed a rifle and strode across the

street to confront the bear. Blasting away at the

hapless animal, he put bullet holes through at

least six pair of shoes on display in the store

before finally ending the bear's short-lived shot

at returning to the wild.

The History of Kerrville & Kerr County ✦ 21
---
❖

Above: A mountain-top view of

Kerrville in 1903.

COURTESY OF THE BUTT-HOLDSWORTH

MEMORIAL LIBRARY.

Bottom, left: Newspaper editor

J. E. Grinstead published a booklet

touting Kerrville in 1905.

COURTESY OF THE AUTHOR.

Bottom, right: The San Antonio &

Aransas Pass Railway brought

"excursionists" to Kerrville for its

"mountain scenery".

COURTESY OF THE AUTHOR.

Sheep could be sheared and cattle shipped

to market, but the railroad brought a new

"commodity" that did not have to be watered or

fed unless they paid for it themselves—tourists.

In the summer, the SAAP advertised special

excursion rates to entice passengers to Kerrville

to beat the heat. Beyond its scenery, in the days

before air-conditioning, even the town's modest

1,645-feet elevation above sea level made it

cooler at night than in San Antonio, Austin or

more distant cities. Being farther to the west,

it also generally had a lower relative humidity.

Too, the cypress-shaded Guadalupe River offered

no shortage of places to wade, swim or fish.

John L. Pampell came to Kerrville in 1891 as

an express messenger with the SAAP.

"The town was a thriving village of about

1,500 people," he later recalled. "Captain

Schreiner's store, his residence, the St. Charles

Hotel, and Dr. Parsons' livery stable, with the

dance hall above, were the chief buildings

except the courthouse and the Union Church."

22 ✦ HISTORIC KERRVILLE
---
Leaving the employ of the railroad, Pampell

opened an ice cream parlor and confectionary

(as candy stores were then called) and by

1899 had a thriving concern at the former

Gregory Hotel on the corner of Water and

Sidney Baker. Pampell had his business, which

eventually he expanded into a drug store, on

the first floor with the second floor serving as

the town's auditorium. Later, he put a brick

façade over the building, which still stands.

Not all of those who traveled by rail to

Kerrville came to open businesses or to enjoy

the area's recreational possibilities. Back

when doctors believed a higher, dryer climate

benefited tuberculars, the town gained new

residents who moved there for their health.

"The wonderful salubrity of the climate of

Kerr County has long been known," the

husband of one of those health-seekers later

wrote. "When Kerrville was but a little village,

isolated from the…world, her fame travelled

afar and many came in quest of health."

The author of that passage was James E.

Grinstead, a Missouri-born itinerant journalist

who moved to Kerrville from Indian Territory

(now Oklahoma) hoping an increase in

elevation above sea level and corresponding

decrease in relative humidity would help his

wife Sarah's lung troubles. The Grinsteads hit

town in 1899, but if the change in geography

helped Mrs. Grinstead, it did not do so for long.

She died that December, only twenty-seven

years old.

While he could have been forgiven for

moving on to start a new life, Grinstead

remained. Within a year, he had remarried,

this time to a young widow who operated a

Kerrville boarding house. He had purchased the

Kerrville News, renamed it the Kerrville Mountain

Sun and was giving the town's other sheet,

the Kerrville Times, stout competition. Elected

mayor in 1902, he served a two-year term and

then gained election to the local school board.

In 1905, he published a thirty-two page

booklet, "Kerrville and Kerr County, Texas," that

went a long way toward helping the community

further develop its reputation as a great place to

visit and perhaps stay. But Grinstead, and most

of the rest of the business community, did not

want too much growth.

"The city of Kerrville seeks no 'boom,'" he

wrote, "but rather a continuation of that steady

growth that has characterized her progress since

the first settler built his humble cabin on the

river bank and the painted savage stood on our

mountain tops and with hand to brow looked

with awed surprise upon the usurper of his

hunting ground."

❖

Above: The Guadalupe River around

Kerrville has been a popular fishing

destination for generations.

COURTESY OF THE BUTT-HOLDSWORTH

MEMORIAL LIBRARY.

Below: J. E. Grinstead.

The History of Kerrville & Kerr County ✦ 23
---
❖

Above: For a time in the early

twentieth century, Kerrville hosted

the annual West Texas Fair at this

long-vanished park.

COURTESY OF THE AUTHOR.

Right: Freight wagons laden with

wool and mohair lumbered in and out

of Kerrville well into the

twentieth century.

COURTESY OF THE BUTT-HOLDSWORTH

MEMORIAL LIBRARY.

Below: A postcard view of Kerrville

around 1910.

COURTESY OF THE AUTHOR.

24 ✦ HISTORIC KERRVILLE
---
To avoid creating "erroneous impressions of

the merits and resources" of the community,

the newspaper editor continued, "we have been

conservative in every statement."

That said, he still went on to refer to

Kerrville as "The Gem City of the Guadalupe."

Reflecting the racial prejudices of the times,

Grinstead noted the population was 2,000,

"with a very great preponderance of white

citizens, there being but few negroes in

the city."

Then, putting on his former mayor's hat, he

quickly noted that Kerrville had "many modern

public utilities not found in towns of much

greater population," including tax-paid streets

(as opposed to streets maintained by publically

summoned citizens) and an excellent water

supply from the Guadalupe River, water from

its headwater springs "pure and lipid as the

wells about Jericho." The Kerrville Water Works

Company had begun operation in 1894,

followed two years later with the arrival of

telephone service. With a hundred subscribers,

by the time Grinstead published his booklet,

Kerrville had telephone connections to "all

neighboring county seats" as well as longdistance

service all the way to San Antonio.

C. C. and Florence Butt came to Kerrville,

like many others, for C. C.'s health. The

relocation proved too late to help him, but it

would have an enormous impact on Texas. On

November 26, 1905, Mrs. Butt opened a small

grocery on the first floor of their residence.

She ran it until 1919, when her youngest son,

Howard Edward Butt, came home from World

War I. He soon took over operation of the

business, opening new stores in Del Rio and

Laredo. That marked the beginning of retail

giant HEB, which by 2015 operated more than

300 grocery stores in 150 Texas communities.

The corporation has its headquarters in San

Antonio, but it all began in Kerrville.

❖

Girls Day Out early 1900s style.

COURTESY OF THE BUTT-HOLDSWORTH

MEMORIAL LIBRARY.

The History of Kerrville & Kerr County ✦ 25
---
❖

Right: Kerrville phone service cost all

of $1.75 a month in 1920.

COURTESY OF THE AUTHOR.

Below: Money changed hands in the

1920s with as little as a telephone call

and a handwritten message, as this

document demonstrates.

COURTESY OF THE AUTHOR.

Opposite, top: The 23rd Infantry

Division, stationed at Fort Sam

Houston in San Antonio after service

in France during World War I, passes

through Kerrville on maneuvers.

COURTESY OF THE BUTT-HOLDSWORTH

MEMORIAL LIBRARY.

Opposite, bottom: By the 1920s,

trucks had begun to replace freight

wagons in hauling wool and mohair

into town for storage and eventual

sale at Charles Schreiner's

wool warehouse.

COURTESY OF THE BUTT-HOLDSWORTH

MEMORIAL LIBRARY.

By 1909, automobiles were beginning to

replace horses in Kerrville and elsewhere across

Texas and the nation. "Less than two months

ago," Grinstead wrote that September, "there

were but two automobiles in Kerr County.

Now, there are eight machines owned here."

Observing "there seems to be an automobile

craze in Kerrville and surrounding territory,"

he noted the planned opening of the town's

first car dealership and an "automobile livery

business." Three years later, the city began

paving the major streets in town.

But with only wagon roads connecting

Kerrville to the rest of Texas, the railroad

continued to be the primary way people

traveled from there to other cities. The original

SAAP depot burned down in 1913, replaced

two years later by a brick structure that

still stands.

Crowding 80, in 1917 Captain Schreiner

decided he ought to retire. Having accumulated

some $6 million since settling in Kerr County,

he divided his numerous businesses among

his six sons and began concentrating on

philanthropy. He donated funds for roadbuilding

projects, a high school in Junction,

and high school scholarships. Most of his efforts

benefited the Kerrville area, but he also helped

pay for improvements to a church in his home

community in Alsace-Lorraine.

26 ✦ HISTORIC KERRVILLE
---
The History of Kerrville & Kerr County ✦ 27
---
❖

Above: Aerial view of the Veterans

Administration Hospital complex.

COURTESY OF NED COLEMAN.

Right: Veterans Administration nurses

had their own quarters adjacent to the

government hospital.

COURTESY OF NED COLEMAN.

Below: Veterans Administration

Hospital stands on land donated by

the Schreiner family.

COURTESY OF NED COLEMAN.

28 ✦ HISTORIC KERRVILLE
---
In 1923, four years before his death, the

captain donated $100,000 and 140 acres along

the Guadalupe for development of a military

prep school for boys and two-year college.

Operated by the Presbyterian Church, the

new Schreiner Institute honored the name of

its benefactor.

The same year Schreiner Institute opened, a

healthcare facility for military veterans called

Legion Hospital started accepting patients.

Operated initially by the Texas American

Legion, the hospital was the forerunner of the

large Veterans Administration Hospital that

would be built after the next world war. The

plan had been to build the facility on a tract

on the Junction highway later occupied by the

Inn of the Hills. But the Schreiners felt that site

was a poor choice. The area the family thought

would be best was a 700-acre tract belonging

to Potter Brown, one of pioneer settler Joshua

Brown's sons. The younger Brown agreed to sell

the land to the Schreiners for $40,000, and they

in turn donated the acreage for the hospital.

A year after the Shriner Institute opened its

doors to young men, University of Texas football

coach E. J. "Doc" Stewart founded Camp Stewart,

the beginning of the summer camp business in

the Kerrville area. While Camp Stewart was for

boys, two years later Camp Mystic opened for

girls. Over the coming years, more and more

summer camps would follow as Kerrville's

reputation as a resort area grew.

Trains continued to carry visitors to Kerrville,

but in the early 1920s, the Sunset Limited

Bus Line—using buses built by Buick at

Loudenville, Ohio—began operating between

Kerrville and San Antonio. In 1929, the

transportation company became Kerrville Bus

Company, which at the height of its operations

literally sent the name "Kerrville" rolling all

across the Southwest.

In summer of 1926, the owner of an

automobile dealership in San Antonio furnished

a brand new Locomobile Junior 8 so that

the San Antonio Express could send a reporter

and photographer and others to describe the

sights to see along a 174-mile loop that

extended through Kerrville. The road from

San Antonio to Kerrville was only paved as far

as Boerne, with another stretch just beyond

❖

Above: Downtown Kerrville in the

early 1920s.

COURTESY OF THE BUTT-HOLDSWORTH

MEMORIAL LIBRARY.

Below: Founded in the 1920s,

Kerrville Bus Company carried

the name "Kerrville" across

the Southwest.

COURTESY OF THE AUTHOR.

The History of Kerrville & Kerr County ✦ 29
---
❖

Above: Built adjacent to the Schreiner

Mansion, the art deco downtown

post office has since been converted

into a cultural center.

COURTESY OF THE AUTHOR.

Below: The Arcadia Theatre, once

considered the finest movie house

between San Antonio and El Paso,

started showing films in 1926.

COURTESY OF THE BUTT-HOLDSWORTH

MEMORIAL LIBRARY.

Kerrville, but was still a "good hard-surfaced

road." Getting eighteen miles to the gallon, the

newspaper excursionists thoroughly enjoyed

their day.

"For those motorists…who have never made

this trip," the newspaper said, "it is highly

recommended as a cure for that tired feeling,

while the invigorating atmosphere of the higher

altitude imparts fresh vigor to the body and

mind. This visiting motorist will find much

to…admire."

The same year the San Antonio daily touted

Kerrville as a travel destination, construction

began on the five-story Bluebonnet Hotel, the

30 ✦ HISTORIC KERRVILLE
---
city's first high-rise structure. The new hotel

rose at the intersection of Earl Garrett and

Water Streets, former site of the Kerr Fire

Department. (Three additional floors would

be added to the building in 1936.)

Opened on April 2, 1927, the hotel had

a Mediterranean architectural flavor, with

stuccoed exterior walls and red tile roof.

"The new hostelery added metropolitan

atmosphere," the Kerrville Mountain Sun boasted.

Financed by the Schreiner family, the

Bluebonnet quickly became the social center

of Kerrville. In addition to providing visitors

with rooms overlooking the Guadalupe River

or the city's surrounding hills, the Bluebonnet

hosted banquets, weddings, and all the

community's civic clubs. The hotel's

restaurant or coffee shop saw many a

handshake deal among ranchers and

area businessmen.

In addition to a new hotel, with the

opening of the Arcadia Theatre on Water

Street on June 29, 1926, Kerrville

residents could boast that their town

had the largest movie house in

West Texas. Not only that, it had airconditioning.

With a roomy balcony

that customers paid extra for, the

Arcadia could seat 1,000. Opening

night, a packed house enjoyed seeing

Colleen Moore in the silent film Irene

with Mrs. J. S. Colley playing the

theater's large pipe organ to provide

background music The theater's large stage,

which could handle as many as a dozen

performers, accommodated visiting vaudeville

troupes and notable entertainers, including

Will Rogers.

The good times waned three years later

following the 1929 stock market crash. At first,

the chaos on Wall Street did not mean much

to the average person, but the financial collapse

had a domino effect on the nation's and

eventually, the world's economy. Kerrville and

the rest of the nation became mired in what

came to be called the Great Depression, the

latter word descriptive not only of the economy,

but of the mindset of many.

❖

Above: Funded by Captain

Charles Schreiner and built on land

he donated, Schreiner College

(now Schreiner University)

opened in 1924.

COURTESY OF NED COLEMAN.

Below: Opening in 1926, the

Bluebonnet Hotel became Kerrville's

first high-rise.

COURTESY OF NED COLEMAN.

The History of Kerrville & Kerr County ✦ 31
---
❖

Kerrville's worst-ever flood hit the

town hard in the summer of 1932.

COURTESY OF NED COLEMAN.

Adding to Kerrville's woes the hundred-year

flood of July 2, 1932 sent the Guadalupe River

on a rampage. Water rose to the back of the

Bluebonnet Hotel, but spared the heart of

town. Even so, the lower parts of town saw

extensive damage.

Since 1918, Captain Schreiner's son Louis

had been in charge of the bank that bore

the family's name. The family and the bank

stayed solvent throughout the Depression, with

Schreiner urging area ranchers to stick to their

land and ride it out. Most did just that. The

City of Kerrville thought ahead, as well. In

1934, it donated 517 acres along the Guadalupe

River for use as a state park. The Civilian

Conservation Corps set up a camp there and

constructed an entrance, park road, a caretaker's

residence and other infrastructure. The park

opened in 1937. Sixty-seven years later, the

state returned the land to the city and the

acreage became Kerrville-Schreiner Park.

During World War II, Louis Schreiner

donated land between Kerrville and Ingram for

a Navy air training field, named in his honor.

Student pilots began training there in February

1943. Meanwhile, scores of young men and

women signed up to serve in the armed forces.

When the war ended and the military

declared the facility surplus, Kerrville opened

its own airport at a new location east of town.

For a time, Trans-Texas Airlines provided

passenger service with two-engine DC-3s.

Some came to Kerrville in their own airplanes,

including Howard Hughes and World War I

flying ace Eddy Rickenbacker, who had a ranch

in the county.

In addition to air passenger service, Kerrville

soon had its first non-agricultural or tourismrelated

industry. The Mooney brothers, Albert

and Arthur, had started a small airplane

manufacturing company in Wichita, Kansas,

in 1929. It went bust a year later as the

Depression set it, and the brothers hired on

with other aviation companies. After the war,

Albert resurrected the company and moved

it to Kerrville, entering into partnership with

investor Charles Yankey in 1946. Arthur

Mooney soon joined the business and all went

well until Yankey died in 1953. Within two

years, the loss of their principal financial

banker forced the brothers to sell the business.

Manufacturing continued under a succession

of owners, but each new owner retained the

brand name.

Texas began to grow rapidly after World War

II, but despite its popularity as a destination,

Kerrville continued to add population and

amenities slowly. Residents and visitors alike

still could find plenty of solitude in the hills

along the Guadalupe.

32 ✦ HISTORIC KERRVILLE
---
"Kerrville is a dead end for most of the Austin

buses, as well as the sole rail service, a freight

which toots with great éclat round the bend

every noontide, and then, after the crews have

had lunch, toots back to 'San Anton,'" Emerson

Stringham wrote in 1948. He went on to note

what continues to be true, that San Antonio

is the closest big city, "constituting Kerrville's

source of daily papers and everything else for

which a village must depend upon a town…"

In 1947, Stringham continued, that "village"

covered more than 2.5 square miles, with some

1,900 homes and 250 buildings. "The outline

of the city bulges so as to collect itself some

purlieus—an educational institute [Schreiner

Institute], a golf course, and livestock pens."

❖

Above: Aerial view of Kerrville

in 1947.

COURTESY OF THE BUTT-HOLDSWORTH

MEMORIAL LIBRARY.

Below: When Kerr County celebrated

its centennial in 1956, the centennial

committee office displayed relics

ranging from vintage firearms to

old furniture.

COURTESY OF THE BUTT-HOLDSWORTH

MEMORIAL LIBRARY.

The History of Kerrville & Kerr County ✦ 33
---
❖

Above: Pampell's Drugstore at

Water and Sidney Baker Streets

opened in 1898 and continued to

cater to the necessities and sweettooth

indulgences of Kerrville

residents well into the 1980s.

COURTESY OF THE BUTT-HOLDSWORTH

MEMORIAL LIBRARY.

Below: Downtown in the

early 1950s.

COURTESY OF THE AUTHOR.

Rail passenger service had opened the way

for Kerrville's development as a recreational

destination, but by the late 1940s, most people

traveled by car, bus or plane. The last passenger

train pulled out of the depot in Kerrville in

1947, though freight service continued.

By most measures, in 1949 Kerrville remained

a small town (with roughly only a population of

7,500) when its residents got the benefit of a

decidedly big city healthcare facility. That year,

Sid Peterson Hospital opened for patient care

at Sidney Baker and Water Street in the heart

of downtown. The six-story, 88,000-square foot

hospital accommodated 55 rooms along with

state of the art surgical and treatment facilities.

A decade before the facility opened, early day

area rancher Sid Peterson—father of brothers

Hal and Charlie Peterson—had died in a San

Antonio hospital more than sixty miles from

his home. The two sons told their family and

acquaintances that they would see to it that

Kerrville gained its own first-class hospital. It

took ten years, but the Hal and Charlie Peterson

Foundation got it done.

34 ✦ HISTORIC KERRVILLE
---
❖

Left: Sid Peterson Hospital opened in

1949 with a street-level gas station.

COURTESY OF NED COLEMAN.

Below: View of Sid Peterson Hospital

from the Bluebonnet Hotel in 1956.

COURTESY OF THE BUTT-HOLDSWORTH

MEMORIAL LIBRARY.

The History of Kerrville & Kerr County ✦ 35
---
❖

Top to bottom: Thanks to cheap gas

and a robust post-war economy,

"tourist courts" in Kerrville grew in

popularity as patronage of traditional

hotels declined in the 1950s.

COURTESY OF NED COLEMAN.

36 ✦ HISTORIC KERRVILLE
---
The first hospital in the nation to have an

intercom system enabling patients to call for a

nurse, it also was the first hospital built with

central air conditioning. Unlike the harsh white

walls of most hospitals, Kerrville's new facility

had soft colors ranging from pale green to a

subdued terra cotta as well as a roof-top garden

offering a healing view of the surrounding

countryside and the Guadalupe River.

The hospital's business model was as

innovative as its design: Part of Sid Peterson's

operating money would come from renting out

much of the buildings first three floors for

commercial usage, including doctor's offices, an

attorney, a tire and appliance store, a beauty

parlor, the Kerrville Bus Company and even

a service station. Time Magazine ran an article

on the hospital along with other publications.

declared, "Kerr County will build a park in a

day," 2,000 local volunteers from Boy Scouts

to cowboys turned out at 7 a.m. on April 26,

1950, to make that happen. By 7 p.m., they had

cleared the wooded bottomland, graded a road

and completed picnic tables, a stage for openair

performances, a playground and a miniature

golf course. The park now covers 506 acres.

In 1954, with $250 in capital, James Avery

started a custom jewelry business in the twocar

garage of his mother-in-law at the time.

Even its first year, Avery made money followed

by more money the second year. In 1957,

he put out his first catalog and hired his

first employee. The operation outgrew its first

home, and would continue to expand with

more workers, a wider variety of inventory,

increased production and ever-rising sales.

"There are larger hospitals," Hal Peterson

told the Houston Chronicle in 1950, "but there

is no finer one in any other Texas city. That's

not bragging, that's stating the facts."

The same year, with Peterson again the

driving force, Kerrville gained national news

media attention when the town built a large

new park in only twelve hours. Earlier that

year, Robert and Louise Hays of Houston

donated 35 acres along the Guadalupe across

from downtown. After Peterson famously

Counting babies born at the new hospital,

and folks who moved there from elsewhere,

by 1960 Kerrville had 8,901 residents. First

Lady Claudia Taylor (Ladybird) Johnson came

to Kerrville in the fall of 1967 for the opening

of a new 22,000-plus-square-foot library overlooking

the Guadalupe River at 505 Water

Street. Built of limestone with ample use of

glass to take advantage of the setting, the threefloor

Butt-Holdsworth Memorial Library holds

more than 50,000 volumes.

❖

During the 1960s Charlie Schreiner III

helped reestablish longhorn cattle in

Texas, building a herd on the

Y.O. Ranch, the Kerr County ranch

his grandfather founded in 1880.

PHOTO BY L. A. WILKE.

The History of Kerrville & Kerr County ✦ 37
---
❖

Guests staying at the Bluebonnet

Hotel did not have far to walk to

enjoy Kerrville's municipal

swimming pool.

COURTESY OF THE BUTT-HOLDSWORTH

MEMORIAL LIBRARY.

The same year the new library opened, the

high school building at 1009 Barnett Street in

use since 1891 was closed and a new Tivy High

School facility began educating local teens.

The old school was later restored and became

the administration building for the Kerrville

Independent School District.

Throughout the 1960s, Kerrville remained

primarily a destination, not a way point for

travelers. That changed in 1969, with the

completion of Interstate 10 through the

hills just north of town. Stretching from

Jacksonville, Florida, to San Diego, California,

and covering 881 miles across Texas, the super

highway made it easier for the rest of the nation

to see what Kerrville had to offer, provided

they bothered to take the Kerrville exit as they

whooshed by.

As singer Bob Dylan lyrically observed in

1964, "the times they are a changing."

In 1971, military training ceased at Schreiner

College. That same year, the college admitted

female students for the first time. Two years later

the school dropped its high school program,

focusing on college-level curricula only and

in 1981, Schreiner College (now Schreiner

University) became a four-year liberal arts school.

With the venerable Bluebonnet Hotel beginning

to wilt businesswise, the Kerrville skyline

would soon change with the times. Most

motorists stopping for the night had no interest

in parking in a garage and having a bellhop

carry their luggage to an upstairs room when

they could park right outside their room at a

motel with a swimming pool. The Bluebonnet

Hotel had been in decline for some time, and

in 1971 Schreiner Bank purchased it with

plans to tear it down to make room for a bank

expansion and more parking space. That fall,

the old hotel fell before a 2,000-pound wrecking

ball. Fittingly, many of its bathtubs were

sold for use as water troughs on area ranches.

Travel habits were not the only things

changing in the 1970s. At the height of its

popularity, the Bluebonnet had hosted Big

Band ensembles, but by the 1970s, rock and

roll, country music or a combination of both

styles held sway.

38 ✦ HISTORIC KERRVILLE
---
In 1972 Rod Kennedy, a New Yorker who

came to Texas in the late 1940s when his

mother got a job in Houston, had an idea that

would result in hundreds of thousands of

visitors to Kerrville and national recognition for

the community.

Kennedy attended the University of Texas in

Austin, and helped with the early development

of KUT FM, a broadcast operation which would

grow into a National Public Radio station.

Looking to radio as a career, in the 1960s he

purchased an Austin radio station licensed as

KHFI and turned it into a jazz station. In a few

years, he built the station into a combination

AM-FM operation and then accomplished something

most Central Texans thought impossible—

he got a second television station on the air in

Austin. What made that particularly notable

was the fact that the Lyndon Johnson family

owned the Capital City's only broadcast station.

Prior to then, any time someone tried to get

a license to open another TV station in Austin,

the application faded away in Washington like

so much radio wave nighttime "skip."

Kennedy broadcast jazz and folk music on

his radio station because he liked it. In the late

'60s, his appreciation of both genres led to his

opening a music house in Austin. None of this

had any particular impact on Kerrville, 100

miles away. But in 1972, Kennedy decided to

stage a folk music event in the Hill Country.

The first gathering, which featured thirteen

performers, drew 2,800 ticket-buyers. That was

the beginning of the Kerrville Folk Festival,

which grew into one of the nation's largest

annual music events. When the second festival

brought in nearly twice the number of people

who had attended the first year, Kennedy

realized the event needed more space. Since

Kerrville did not have a facility capable of

handling larger crowds, Kennedy bought a

sixty-acre tract nine miles south of town and

named it Quiet Valley Ranch.

Thanks to the interstate, the folk festival

and continuing popularity as a recreational

destination, by 1980 Kerrville's population had

nearly doubled in twenty years, increasing

from 8,901 in the 1960 U.S. Census to 15,276

in the 1980 national head count. The city broke

the 20,000 mark in 2000, and in 2010 the

population had risen to 25,000.

To capitalize on the increased traffic through

town brought by the interstate highway and

Kerrville's growing status as a tourist mecca

(one of the attractions being his ranch), in 1984

Charles Schreiner III opened the 200-room

Y.O. Ranch Hotel only a few blocks south of

the interstate.

In the early 1980s, noted Southwestern

architect O'Neil Ford was commissioned to

design what would prove to be his last public

project, a home for the Cowboy Artists of

America Museum. Built of heavy timber and

limestone, the 14,000-square foot museum

is evocative of a fortified Mexican hacienda.

Now known as the Museum of Western Art,

❖

Founded in 1869, the Schreiner Store

continues in business in the heart

of Kerrville.

PHOTO BY MIKE COX.

The History of Kerrville & Kerr County ✦ 39
---
❖

The 1950s-vintage municipal

auditorium was transformed into a

state-of-the-art center for the

performing arts with a donation from

the Cailloux Foundation.

PHOTO BY MIKE COX.

it opened April 23, 1983. The museum

underwent an expansion in 2004 with the

completion of the Masel S. Quinn Pavilion of

the Western Art Academy and a year later

with the addition of the Journey West

Children's Gallery. Located at 1550 Bandera

Highway, the internationally known art

museum draws thousands of visitors annually

to Kerrville.

The Kerrville Folk Festival, meanwhile,

continued to grow in popularity through the

1980s and 1990s. But when he turned 70,

Kennedy felt it was time to slow down. He

sold the festival and its much-expanded

Kerrville-area infrastructure to a group of

Dallas investors in the fall of 1999. A second

change of ownership came in 2008, when the

Texas Folk Music Foundation purchased the

festival and its assets and converted it into a

nonprofit organization.

When Kennedy died in 2014 at 84, his old

friend Peter Yarrow (of Peter, Paul and Mary

fame) flew to Austin from New York to attend

his funeral. In praising Kennedy, the folksinger

also complimented Kerrville. "If I wanted to

imagine the way the world could be," he said,

"I'd go to Kerrville."

Like many Baby Boomers (those born

between 1946 and 1964), midway into the first

decade of the twenty-first century it had become

clear that Sid Peterson Hospital was getting long

in the tooth. The hospital purchased a thirtyfive-acre

tract at Cully Street and Hill Country

Drive and began making plans to build a larger,

state-of-the-art regional medical facility.

Renamed Peterson Regional Medical Center,

the 124-bed hospital opened in April 2008.

Demolition of the old hospital and the sevenstory

medical office building across from it

began in the spring of 2010 and continued

through that fall. A four-level parking garage for

the benefit of downtown visitors soon rose

where the Kerr Bus Company and Peterson Auto

once stood. The new city hall and public plaza

were then built on the site of the former medical

building, transforming the look of downtown.

The Schreiner name continues to loom

large in Kerrville on public and commercial

buildings, at the entrance of a large city park,

a university, a golf course, an airport and street

signs, but the family's influence in Kerrville

began to wane in the first decade of the

twenty-first century. After 139 years, Schreiner's

Department Store closed in 2007 though it later

40 ✦ HISTORIC KERRVILLE
---
esumed operation under a corporate owner

not connected to the family. The storied Y.O.

Ranch changed hands in 2015.

But those who know their Kerrville history

understand the enormous impact the Schreiners

had on a community that arguably should have

been renamed after the old captain.

"He started out with $5, and by the time he

died in 1927, he had $6 million and 600,000

acres of land, and before that he gave

$5 million back to the community," Alice

McDaniel of the Schreiner Mansion Museum

told the San Antonio Express in 2007. "The town

may not have been so prosperous if it wasn't

for him. He owned practically everything…at

one time…the electric company, a bank, the

telephone company, the store and Y.O. Ranch.

And he helped bring the railroad into town

in the late 1880s to make it the hub of the

Hill Country."

Another family name important to modern

Kerrville is Cailloux. A foundation created by

Floyd and Kathleen Cailloux, who retired from

Houston to the Hill Country, funded construction

of the Peterson Plaza at Sidney Baker and Water

Street after the old Sid Peterson Hospital and its

adjoining medical office were razed. The Cailloux

Foundation also funded the transformation of

Kerrville's 1950s-vintage municipal auditorium

into the Kathleen C. Cailloux Theater (opened in

2003), the renovation and reopening of what was

once Schreiner Department Store as a ladies'

fashion store, and two home furnishing stores

and the land for Kerrville's new city hall. In July

2015 the foundation also took over ownership

and management of the Schreiner Mansion from

Schreiner University.

Kerrville's role as a hub city has continued.

For anyone driving from San Antonio to El Paso

along Interstate 10, it is the largest city they

will go through. It's also the largest city in the

five-county Hill Country region and, given

that an additional 50,000 or so people live in

various developments just outside Kerrville's

extra territorial jurisdiction, for all practical

purposes Kerrville is three times as large as its

population signs suggest.

Old buildings fall to make room for new

structures or amenities, civic leaders die, family

dynasties crumble and memory fades, but the

Guadalupe River still flows clear and cool

through cypress trees, cedar-covered hills still

surround the city, and people from all over still

want to live in or visit Kerrville.

❖

Kerrville's new city hall stands where

the old Sid Peterson Hospital used to

be at Water and Sidney Baker Streets.

PHOTO BY MIKE COX.

The History of Kerrville & Kerr County ✦ 41
---
42 ✦ HISTORIC KERRVILLE
---
SHARING THE HERITAGE

❖

Inset: Unloading wool at Schreiner's

wool warehouse.

Historic profiles of businesses,

organizations, and families that have

contributed to the development and

economic base of Kerrville

Catering of Central Texas, Inc. .........................................................44

Mini Mart .....................................................................................46

Wilson Asset Management, Inc. .........................................................48

Sharing the Heritage ✦ 43
---
CATERING OF

CENTRAL TEXAS,

INC.

❖

Above: Celebrating Hans' induction

into the Academy of Chefs, 1967.

Below: The Folklore Dancers at the

Inn of the Hills.

A seed to the American dream was planted

on October 16, 1959, when Hansueli (Hans)

Schlunegger with wife Annemarie and infant

son Ueli, having left their home of Switzerland,

disembarked a DC 6 Swissair. Although Catering

of Central Texas was merely a dream then, it

nonetheless was the beginning of an American

career that started at the Olympic Westin Hotel

in Seattle where Hans was a young chef de partie.

It was at his second job in America, at the newly

inaugurated Glendale Country Club in Bellevue,

Washington, that Chef Hans and Annemarie

worked together for the first time—they proved

to be a natural team.

Moving to Houston in 1962, Hans worked as

sous chef at the newly renovated Rice Hotel. On

November 21, 1963, he orchestrated the dinner

for John F. Kennedy and wife, Jacqueline the day

before the tragic event in Dallas. A year later,

Hans became executive chef at the country's

foremost hotel, the Warwick in Houston. He

won several culinary awards, but his proudest

triumph was leading the Texas Chefs' team to

victory in the Culinary Olympics in Miami.

During his colorful career, Hans served the

Duke and Duchess of Windsor and skating

champion Sonja Henie, as well as many movie

stars, including Phyllis Diller, Walter Matthau,

and John Wayne (a picture with him and Wayne

hangs in his office).

In 1969, Hans and Annemarie moved to

Kerrville to start an entrepreneurial career, when

they leased the food and beverage operations

of the Inn of the Hills Resort and the muchcelebrated

Angora Club. A year later, Catering

of Central Texas was incorporated. It also was

the year when Hans, Annemarie, and Ueli took

the oath of allegiance before a federal judge in

San Antonio. The couple quickly built a long

list of loyal clients. Hans credits their success

to Annemarie. "Her exceptional hospitality

skills are as natural as her beauty," he said.

"Annemarie has this unique gift for making

our guests feel content and comfortable."

Greatly contributing to their success were their

three children, Ueli, Marian, and Kurt, who

started in the family business early on, standing

on milk crates to reach the carving block and

pasta skillets.

When the Inn of the Hills sold in 1972,

the Schluneggers moved to the other side of

town and founded Annemarie's Alpine Lodge

Restaurant and Tick Tock Club at the Sunday

House Inn, which they operated for twenty

years. Their customers followed faithfully to

the new location, and, under Annemarie's guidance,

the business flourished from day one.

Hans' favorite recollections are working with

his three school-aged children early Sunday

mornings, preparing for their renowned

Champagne Brunch. While he prepared the

shrimp creole, chicken a la king, prime rib

roasts, and leg of lamb, Marian and Kurt brought

up the salad table, including Russian eggs

and their supremely popular twenty-four hour

fruit salad. Ueli and a friend, Otto Huber, did

the lavish desserts. "We were a wonderful team

and spirits were flying high!" Hans would add.

Within two years (1974), Catering of Central

Texas was expanding. A new adventure, the

Chalet Discotheque opened its doors across the

street from Annemarie's Alpine Lodge, and it

was from the start an incredible success. People

swarmed to the uniquely designed dance club

from as far away as Junction, Austin, and

San Antonio, and Wednesdays' "Ladies Night"

resembled a Texas stampede. This was followed

quickly by their first lodging escapade, the

Swiss Chalet Inn & Suites in Ruidoso, New

Mexico, which spurred the addition of an

airplane that Hans piloted himself. A Kerrville

manufactured Mooney, of course. In 1976, they

purchased two Motor Inns located in Fort

Stockton and Pecos, Texas. "It's a natural move,"

he would justify, "it's on the way to our lodge

in New Mexico!"

44 ✦ HISTORIC KERRVILLE
---
When the Inn of the Hills Resort became

available for purchase in 1993, the Schlunegger

family moved "back home" as longtime customers

liked to say. Run down after years of

neglect, the challenge of restoring the hotel's

infrastructure, gutting, and rebuilding many

parts of it, was almost overwhelming. Soon,

the sounds of backhoes and skill saws disturbed

the tranquility around the junior Olympic-size

swimming pool, the patios and cabanas, as hotel

guests balanced on wooden planks across ditches

and culverts to reach Chef Kurt's good food

and Marian's superior service in the dining

room. The awkward front desk was expanded,

and twenty additional rooms soon crowned the

cabana suits. In order to secure larger group

bookings, a new state-of-the-art ballroom,

seating up to 600 for banquets, was added

under the watchful eyes of Ueli, who was now

an architectural engineer. The hard work paid

off—but so did the strain on Annemarie and

Hans, who were well past retirement age. The

family decided, with some regret, to list the Inn

for sale, and eventually accepted an offer from

1859 Historic Hotels who, they were confident,

would maintain the integrity of their jewel.

Today, Catering of Central Texas is still

blooming. Ueli, now owner of EuroTex, a

construction company specializing in inimitable

designs, built in 2009 their 105 room

Swiss Chalet Hotel & Suites in Pecos, Texas,

adjacent to the Swiss Clock Inn that they have

owned for forty years. The new, distinctively

built hotel has brought out unique comments

from its clientele: "A diamond in the desert," as

one guest put it, and "Are we truly in Pecos?"

said others. With the new hotel, Ueli, Marian,

and Kurt became equal participants of the

company. What is in the young people's future?

Well, for one, they are planning a new four

star hotel in neighboring Fredericksburg

that Ueli's EuroTex Company will build. "Why

Fredericksburg?" The response is unanimous:

"Because, for the near future, Kerrville has

all the hotels it'll need." Of course, the last

word has not been spoken, and the door to

a Kerrville expansion stands wide open.

"After all, it's our hometown."

❖

Above: Ribbon cutting ceremony

at the Swiss Chalet Hotel & Suites,

May 2009. From left to right,

Ueli and Marian Schlunegger;

Dean Oates; Kurt, Annemarie and

Hans Schlunegger.

Sharing the Heritage ✦ 45
---
MINI MART

❖

Right: Ann Fritz working in the

meat market at the Fritz Grocery,

Center Point, Texas, early 1960s.

Below: The Mini Mart #6 in Comfort,

Texas. Left to right, Junior and Ann

Fritz, son David Fritz and daughter

Sylvia Fritz Dobbs, 1997.

The Mini Mart convenience stores that dot

the Texas Hill Country in and around Kerrville

represent the culmination of a dream that

William J. Fritz, Jr.—better known as Junior—

envisioned when he entered the grocery

business more than half a century ago.

Junior grew up in the Doss/Fredericksburg

area and was introduced to the grocery business

in 1949 when his parents began operating a

grocery store/garage in Doss. In 1954 his

parents moved to Center Point and leased a

store at 5887 Highway 27, on the corner of

Highway 27 and San Antonio Street. Within a

year, they purchased Hoffman's Grocery, located

on the corner of China and San Antonio Street,

and renamed it Fritz Grocery and Market. The

store was a small market, selling fresh meats,

produce, and canned goods. It only had a

single hose gasoline pump in front of the store.

Junior worked in the store before and after

school, and even on his lunch break. When

he was not learning the grocery business,

he was hauling hay or working at other part

time jobs. In between, he earned the rank of

Eagle Scout.

Junior graduated from Center Point High

School in 1957 and married Ann in 1959. For a

few years, he worked for a surveying crew with

the Texas Highway Department in San Antonio.

He also spent ninety days on active duty in the

Air National Guard, and briefly sold insurance

in Seguin.

When his father died in 1960, Junior and

Ann continued to help his mom with the

grocery store. In 1966, they decided to move

back to Center Point and purchase the store

from his mother. Working together, the store

prospered. It was during this time that Junior

started ranching and farming, all the while

thinking about how to expand his business.

Soon, Junior learned about convenience

stores and envisioned owning a chain of them.

The first one came in 1973. He traded the

Center Point property, Fritz Grocery, for a store

in Kerrville, swapping stores with B. A. Hunter,

who had built and dubbed his store "Mini

Mart." That transaction was the beginning

of today's Mini Mart, which now stretches

from Bandera to Center Point, to Comfort,

Fredericksburg, Ingram, and Kerrville. And

during this time, the motto that Junior lived

by was born: "Serving the Needs of the Texas

Hill Country."

46 ✦ HISTORIC KERRVILLE
---
As he began to expand the Mini Mart brand,

Junior leased the Center Point Store from

Hunter and ran it alongside Ann until late

1980. He started buying existing convenience

stores and renaming them or building them

from the ground up. Between 1973 and 1980,

he added eight additional stores to the area.

In 1992, his dream of bringing back Mini Mart

to Center Point was realized. He purchased

a store on Highway 27 and renamed it Mini

Mart #4. That location became the fourteenth

store in the growing chain. In 2003, he started

a garbage collection company, Dumpster

Dumpers, Inc., providing yet another service to

the area. When he died in 2013, the Mini Mart

chain had grown to seventeen locations.

Today, Mini Mart employs over 135 people,

and a typical store is 3,000 square feet. Each

location sells a wide variety of products. You

can purchase snacks, drinks, and groceries, and

fill up your car at one of the numerous pumps

that sell such branded gasolines as Shell, Valero,

and Exxon. And, since Mini Mart has had two

different $7.5 million winners, you may even

be able to purchase a winning lottery ticket!

Junior loved the Hill Country and the people

who live here, and he enjoyed farming and

ranching on his land. He especially enjoyed

working with the Hill Country District Junior

Livestock Association and sharing his love of

land and stewardship with the next generation.

Today his children, Sylvia and David, co-own

and operate Mini Mart and Dumpster Dumpers,

Inc. In 2014, they opened their first store

without their father's involvement, which served

as a major milestone for them. This purchase

brought the total number of locations to eighteen.

Sylvia is married to Razor Dobbs and

together they partnered in a company called

BladeVision Films, which produces a hunting

television show called Razor Dobbs Alive.

David and his wife, Stacy, have a son, Gage,

and a daughter, Lucy. It is possible that his

children may become the fourth generation of

Fritz family grocers.

The family owned business will continue to

fulfill Junior's mission of serving the needs of

the Texas Hill Country for generations to come.

❖

Above: Our hometown store in

Center Point, Texas, 2015.

Below: Junior Fritz, owner and

founder of Mini Mart, 2006.

Sharing the Heritage ✦ 47
---
WILSON ASSET

MANAGEMENT,

INC.

❖

Top, left: Ken Wilson.

Top, right: Entrance to the

Kerrville Camera Safari.

Above: Lorraine Wilson.

Bottom, left: Renovation work at

Pampell's Sports Bar & Grill.

Bottom, right: Ken Wilson in

his office.

In 1986, Ken Wilson visited Kerrville and the

Texas Hill Country six times in order to produce

the first broadcast quality videos (now DVDs) of

the exotic hunting industry titled Hunting the

Exotics: Part One and Part Two. In doing so, he

worked with several legendary pioneers of the

industry including Thompson Temple of Texotic

Wildlife and the Schreiner brothers, Louis,

Charlie IV, Walter and Gus. He was assisted

by famous guides Bo Wafford, Finn Aagaard,

Thompson Temple, Lad Shunneson, and others.

Those hunts and encouragement by Temple, led

to Ken's move from California to Kerrville

in 1992 along with his wife, Lorraine and their

children, Summer and Ryan (who later graduated

from Tivy High School and the University of

Texas and Texas State University, respectively).

In 1992, Ken and his partner, Roger Haley,

purchased 222 acres at the northeast corner

of Interstate 10 and Highway 16 known as

the Wilson-Haley Ranch. Assisted by some

outstanding contractors, Ken spent six months

improving the property and stocking it with

thirty big game species and 300 animals.

Kerrville Camera Safari, ably managed by Kathy

Rice, was open every day from 1992 until sold

for development in 1999.

In 1994, Ken bought 227-231 East Garrett

in historic downtown Kerrville from Jon

Wolfmueller's mother, Charlotte. He renovated

the second floor and moved in his real estate

companies, his worldwide hunt booking agency,

and Sportsmen on Film, his video company. At

the time, Sportsmen on Film had produced twentyfive

broadcast quality titles on hunting, shooting,

and adventure. Since his move to Kerrville, the

company has produced an additional 45 titles

on 6 continents including 11 countries in Africa

and 7 in Asia. Ken's office is decorated with 225

big game mounts from his worldwide hunts.

Ken's real estate activities have resulted in

several important renovations of historically

significant properties: Pampell's (arguably

Kerrville's most important historical commercial

property), 227-231 Earl Garrett, 301-315 Earl

Garrett, and 802-814 Main Street. The original

HEB was located at the site of 806 Main Street,

where the Hill Country Café has been located

for the past seventy-three years.

Not to be outdone, Lorraine, was the hostess

of Kerrville's first television talk show with

co-host Jim Weathersbee, was a lead actress

in several plays at Playhouse 2000, and is a

past-president of the Texas Host Lions Club.

Speaking of lions, for over twenty years, Ken has

conducted sensory safaris involving the viewing

and touching of big game mounts for the kids

attending Kerrville's famous Texas Lions Camp.

48 ✦ HISTORIC KERRVILLE
---
Sharing the Heritage ✦ 49
---
ABOUT THE AUTHOR

M IKE

C OX

Mike Cox, an elected member of the Texas Institute of Letters, is the

author of more than a score of non-fiction books and hundreds of

articles over the course of a career dating back more than forty years.

In 2010 he received the A. C. Greene Lifetime Achievement Award

and has earned numerous other recognitions for his writing over the

years. His most noted work is a two-volume history of the legendary

Texas Rangers, published in 2008-2009. A long-time newspaper

writer turned state government spokesman, Cox lives in Austin. When

not writing, he spends as much time as he can fishing and hunting

or traveling and otherwise enjoying life in Texas.

50 ✦ HISTORIC KERRVILLE
---
$19.95

Historical Publishing Network

ISBN: 978-1-944891-07-7