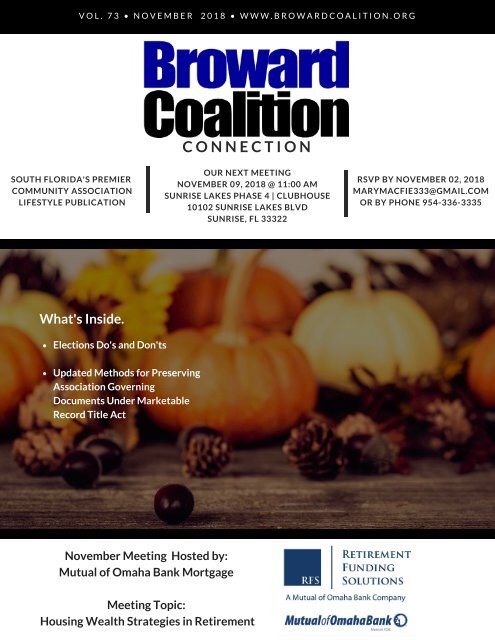 Do you know the secret to free website traffic?
Use this trick to increase the number of new potential customers.
V O L . 7 3 • N O V E M B E R

2 0 1 8 • W W W . B R O W A R D C O A L I T I O N . O R G

SOUTH FLORIDA'S PREMIER

COMMUNITY ASSOCIATION

LIFESTYLE PUBLICATION

C O N N E C T I O N

OUR NEXT MEETING

NOVEMBER 09, 2018 @ 11:00 AM

SUNRISE LAKES PHASE 4 | CLUBHOUSE

10102 SUNRISE LAKES BLVD

SUNRISE, FL 33322

RSVP BY NOVEMBER 02, 2018

MARYMACFIE333@GMAIL.COM

OR BY PHONE 954-336-3335

What's Inside.

Elections Do's and Don'ts

Updated Methods for Preserving

Association Governing

Documents Under Marketable

Record Title Act

November Meeting Hosted by:

Mutual of Omaha Bank Mortgage

Meeting Topic:

Housing Wealth Strategies in Retirement
---
The President's Message

November 2018

C O N N E C T I O N

South Florida's Community Association

Publication serving Broward, Miami-Dade,

and Palm Beach Counties.

Board of Directors

1st Vice- President - Mary Molina-Macfie

2nd Vice -President - Toby Feuer

Treasurer - Alex Leonardo

Secretary - Catherine Evanoff

Director - Jill Aronofsky

Director - Theresa Sortino

Director - John Perrini

Director - Ann Zucker

Director - Alison Kallman

Director - Joanne Sterner

Marketing Manager - Luis Alicea

Legislative Liason

Michael S. Bender, Esq.

Kaye Bender Rembaum

Lisa Magill, Esq.

Kaye Bender Rembaum

Corporate Council

Steven J. Weinberg, Esq.

Frank, Weinberg and Black

23

Dear Broward Coalition Members,

When you look up the definition of

Thanksgiving in the dictionary it reads in

part " the expression of gratitude". I

would like to take this time to express my

gratitude. Thank you to all my colleagues

on the Board of Directors of The Broward

Coalition. Thank you for all the hard work

do you on monthly basis. Thank you to all

our Vendors that support us every month

whether by hosting a monthly meeting,

advertising on our newsletter or just

being a Corporate Member. My biggest

Thank you will go out to you, our

Members without you we wouldn't be the

largest Community Association

Organization in Broward County.

We are all Thankful for something.

Whether it's our Families, a loved one, a

new job or being newly retired. Let's not

wait till the 4th Thursday of November to

express our gratitude. Sometimes a simple

Thank you to those that are around you all

the time makes all the difference.

I'll leave you with this quote by Melody

Beattie about Gratitude.

Gratitude unlocks the fullness of life. It

turns what we have into enough, and

more. It turns denial into acceptance,

chaos to order, confusion to clarity. It can

turn a meal into a feast, a house into a

home, a stranger into a friend.

Warmest Regards,

Mary Molina-Macfie

1st Vice-President
---
ELECTIONS DO'S AND DON'TS

By Matthew Goode, Esq.

Hollander, Goode & Lopez, PA

Election season is upon us again for Condominium Associations

across Florida. Before anyone begins sending out notices and ballots, it

would be wise to brush up on the condominium election law, as a strict

procedure must be followed. Failure to follow the proper procedure can

void an election so read this article carefully and contact your Association

attorney to avoid having to redo your election.

The first step should be for the Association to determine when the

Association must hold its annual meeting and election. The Association's

By-Laws generally provide a date or time that the Association must hold

its annual meeting. Oftentimes, it will state something to the effect that

the election is to be held on "The third Thursday in January each year."

If the By-Laws specify a certain date, then that date must be used for

the annual meeting and election. Alternatively, the By-Laws may give

discretion for the Board of Directors to determine the date, time, and

location of the annual meeting. If so, the Association must generally

hold their annual meeting no later than 13 months after the last annual

meeting and election.

It is important to determine the proper date to hold annual meetings

as all deadlines are calculated from this date. Florida Statute 718.112

and Florida Administrative Code 61B-23.0021 require that the first

notice of the date of the election must be mailed, hand delivered, or

electronically transmitted to those who have provided consent, not less

than 60 days before a scheduled election. The first notice must also set

forth the manner in which a unit owner can submit their name to candidacy

for the Board. A unit owner or other eligible person desiring to be a

candidate for the board of administration must give written notice to the

association not less than 40 days before a scheduled election. Notice is

effective when received by the Association and can be sent by certified

mail, person delivery, regular US mail, facsimile or other method of

delivery to the Association.

Candidates must be eligible to serve on the Board on the deadline

of the notice of intent to run (40 days before the election). A person

suspended or removed by the dvisiion under the Condominium Act,

who is delinquent in the payment of any monetary obligation, or who

has been convicted of a felony and whose civil rights have not been

restored for at least 5 years are not eligible for Board Membership. The

Association's By-Laws may also impose an additional requirement that

all directors must be Unit Owners or members of the Association. The

Condominium Act was recently amended precluding a board member

from serving more than eight consecutive years unless approved by an

affirmative vote of unit owners representing two-thirds of all votes cast

in the election or unless there are not enough eligible candidates to fill

the vacancies on the board at the time of the vacancy. Since the recent

amendment only applies to service on the Board, a unit owner who has

served more than 8 years may still run for the Board.

Candidates also have the right to require the Association to mail a

candidate information sheet which does not exceed an 8 ½ X 11 piece

of paper. The Association may not modify this candidate information sheet,

however, the unit owner is responsible for all content that is included in

the candidate information sheet. This information sheet must be provided

to the Association not later than 35 days before the election.

Once the Associaiton has a slated list of candidates, it must determine

if an election is necessary and prepare a ballot. If there are more open

spaces on the Board then there are candidates, no election is necessary

and those members shall automatically take the positions at the annual

meeting. If there are more candidates then open spots on the board,

3

then the Associaiton must prepare a ballot of the eligible candidates in

alphabetical order by surname. The ballot may not list incumbents and

may not contain any signature lines or request unit information which

can void the secrecy of the ballot.

The association must then mail or deliver a second notice and

ballots not less than 14 days and no more than 34 days prior to the

election. The second notice and accompanying documents shall not

contain any communication by the board that endorses, disapproves,

or otherwise comments on any candidate. Accompanying the ballot

must be an outer envelope and a smaller inner blank "ballot" envelope

in which the ballot shall be placed. The exterior of the outer envelope

shall contain a space for the owner to indicate the name of the voter,

and the unit or unit numbers being voted, and shall contain a signature

space for the voter. Any exterior ballot that is not signed by an authorized

voting member of the Association shall be deemed "Disregarded" and

shall not count in any election.

On the night of the election, no quorum of the membership is

required by the Condominium Act to have an election. However, at

least 20% of the units must cast a ballot for the election to proceed. The

exterior envelopes must be checked against the Association's roster of

eligible voters. Once all of the exterior envelopes are checked, they

may be opened and separated from the interior ballot envelopes to

preserve the secrecy of the ballots. The Association then tabulates the

ballots.

The Association may wish to have an election monitor present on

the night of the meeting. Elections are required to be completed and

ballots counted by an impartial committee. This means that the election

must not be conducted by current board members, officers, or candidates

for board. However, this does not always occur. Unit owners are often

wary that the election procedure is not neutral, fair, and open. Our Firm

has heard complaints where the election committee will take voting

ballots to a closed room for counting. Ensure that the votes are counted

publicly to ensure that votes are not destroyed or not counted. If you

suspect that there could be impropriety with a condominium association

election, the Florida of Condominiums Ombudsman's office can

appoint a monitor to act as a neutral party to conduct the election and

ensure the proper procedures are followed on the night of the meeting.

Contact the Florida Condominium Ombudsman and request a Petition

Form for the appointment of an election monitor. Mail a completed

petition to the Ombudsman with the signatures of 15% of the unit owners

or 6 unit owners, whichever amount is greater, and other pertinent

information such as time, date, place, number of directors to be elected,

units and name of the association. An election monitor will then be

appointed to conduct the Association's election and ensure the correct

procedures are followed on the night of the election.

After completion of the election, all election records including the

exterior envelopes, ballots, notices, and all other election documents

must be maintained as part of the Association's official records for at

least one year.

Matthew Goode, Esq. works at the law firm of Hollander, Goode

& Lopez, PA that is a full service community association law firm.

The Firm is located at 314 South Federal Highway, Dania Beach, FL

33004. If you wish to contact the Firm to inquire about representation

or its upcoming Association classes, please contact them by telephone

at 954-523-3888 or by email at Contact@HGL-Law.com.
---
4
---
Updated Methods for Preserving Association Governing Documents Under Marketable Record Title Act

by Roberto C. Blanch

SRHL Law

The Florida Marketable Record Title Act (MRTA) requires HOAs to

reaffirm and renew their covenants and restrictions 30 years after they were

originally recorded in the local county records. MRTA was created to extinguish

claims to property which are at least 30 years old in an effort to stabilize

property law by clearing old defects from the chains of title to real property,

limiting the period of record searches, and clearly defining marketability by

extinguishing old interests of record.

One of the unintended consequences of the Act is that the declarations

of covenants, conditions and restrictions recorded by HOAs may be set to

expire after 30 years of the date in which they were recorded. Keep in mind

that for most HOAs, if the residents are no longer compelled to act

in accordance with the community's declaration, the results could be

catastrophic for the associations' administration and finances.

restrictions affecting the community or association from extinguishment

under MRTA; a listing by name and recording information of those

covenants or restrictions affecting the community which the association

desires to be preserved from extinguishment; the legal description of the

community affected by the covenants or restrictions, which may be satisfied

by a reference to a recorded plat; and the signature of a duly authorized

officer of the association, acknowledged in the same manner as deeds are

acknowledged for record.

The signed notice must be recorded in the official records of the clerk

of the circuit court or other recorder for the county, and a copy must be included

as part of the next notice of meeting or other mailing sent to all association

members.

The new law also stipulates that governing documents can be preserved

by a recorded amendment under certain conditions, but amendments

recorded prior to the effective date of the new statute may not qualify for

preservation purposes.

The new amendments to the MRTA statutes will help many associations

to streamline the process for the preservation of their governing documents.

However, it is imperative for associations to consult with highly qualified and

experienced legal counsel in order to ensure that they select and utilize the

best possible method for their specific needs.

The Florida legislature passed a law earlier this year to update the

process for HOAs to renew and preserve their covenants and restrictions

under MRTA in order to keep them in place after the 30-year term. Under

the new law, which is now in effect, at any time during the 30-year period

following the effective date of the title for the covenants and restrictions of

a community association, the association may preserve and protect those

covenants or restrictions from extinguishment by following more simplified

filing procedures which include the following:

• The filing of a written notice in accordance with Section 712.06

(similar to prior requirements); or

• The filing of a summary notice as required under Section

720.3032(2); or

• The filing of an amendment to a community covenant or restriction

that is indexed under the legal name of the property owners' association and

references the recording information of the covenant or restriction to be

preserved.

The summary notice must have the legal name, mailing address and

physical address of the association; the names of the affected subdivision

plats and condominiums or, if not applicable, the common name of the community;

the name, address and telephone number for the current community

association management company or community association manager, if any;

indication as to whether the association desires to preserve the covenants or

5
---
The Theatre at

Sunrise Lakes Phase 4

The Five Boroughs

November 3, 2018

8:00PM $10.00

Garth and Shania

Tribute Show

November 10, 2018

8:00PM $11.00

Get Your Tickets Today!

Including Coffee & Cake

Call: 954-748-3230 Ext. 1

Box Office Hours: Mon-Fri. 9:00am - 2:00pm

Wednesday Hours: 9:00am - 8:00pm

For More information

emai: marian@sunriselakesphase 4.org

6

The Theater at

Sunrise Lakes 4

10102 Sunrise Lakes Blvd.

Sunrise, Florida 33322
---
Trust is more than

just a word.

let us earn yours.

Legal Counsel to Community Associations Since 1977

Offices in Miami-Dade, Broward and Palm Beach

Main Office: Suntrust Plaza, 201 Alhambra Circle, Suite 1100, Coral Gables, FL 33134

800-737-1390 | www.srhl-law.com

7
---
PRESRT STD

US Postage

PAID

Ft. Lauderdale FL

Permit # 2727

PO Box 452874

Fort Lauderdale, FL

33345-2874

Dedicated to the Representation of Community Associations

Free CEU Courses & Seminars for

Community Association Board Members & Licensed CAMs

The First in the 11 th Annual 'Ask the Attorneys' FREE Seminar Series

Wed., Nov. 7 • 6:30 to 8:30 p.m. • Tamarac Community Center, 8601 W. Commercial Blvd.

Led by ROBERT L. KAYE, Esq. and MICHAEL S. BENDER, Esq.

Bring questions or topics for discussion with you. RSVP to KBRLegalSeminar@piersongrant.com or call 954-776-1999, ext. 242

Nov. 7 Co-Sponsors:

BROWARD COUNTY

1200 Park Central Blvd. South, Pompano Beach

RSVP required: seminars@KBRLegal.com or 954.928.0680

Condominium Association

Board Member Certification Course

Provider #: 0005092 • Course #: 9626451

Tuesday, November 13 • 6:30 p.m. to 8:30 p.m.

Two (2) IFM or ELE Credits are provided.

Fair Housing

Provider #: 0005092 • Course #: 9627147

Tuesday, November 27 • 6:30 p.m. to 7:30 p.m.

One (1) OPP or ELE Credit is provided.

"Ask the Experts" on WWNN 1470 AM and on 93.5 FM

Join Robert Kaye and Michael Bender on the first Thursday of

each month, from 5 p.m. to 6 p.m.

Call in with your pressing association law questions to 888.565.1470. Also available

on KBRLegal.com, iHeart Radio, YouTube and U Stream.

PALM BEACH COUNTY

9121 North Military Trail, Suite 200, Palm Beach Gardens

RSVP required: trisha@KBRLegal.com or 561.241.4462

Condominium Association

Board Member Certification Course

Provider #: 0005092 • Course #: 9626451

Wednesday, November 7 • 6:00 p.m. to 8:30 p.m.

Two (2) IFM or ELE Credits are provided.

Homeowners Association

Board Member Certification Course

Provider #: 0005092 • Course #: 9627379

Wednesday, November 14 • 6:00 p.m. to 8:30 p.m.

Two (2) IFM or ELE Credits are provided.

2019 Legal Update

Provider #: 0005092 • Course #: 9629127

Wednesday, November 28 • 6:00 p.m. - 8:30 p.m.

Two (2) Legal Update (LU) Credits are provided.

Broward Office: 1200 Park Central South Blvd. | Pompano Beach, FL. 33064 | 954.928.0680

Palm Beach Office: 9121 North Military Trail, Suite 200 | Palm Beach Gardens, FL. 33410 | 561.241.4462

Info@KBRLegal.com KBRLegal.com

The hiring of a lawyer is an important decision that should not be based solely upon advertisements. Before you decide, ask us to send you free written information about our qualifications and experience.

8