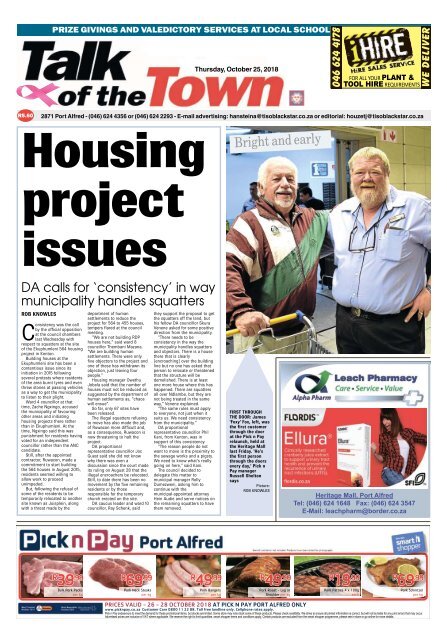 Create successful ePaper yourself
Turn your PDF publications into a flip-book with our unique Google optimized e-Paper software.
PRIZE GIVINGS AND VALEDICTORY SERVICES AT LOCAL SCHOOLS – SEE INSIDE

Thursday, October 25, 2018

R5.60 2871 Port Alfred - (046) 624 4356 or (046) 624 2293 - E-mail advertising: hansteina@tisoblackstar.co.za or editorial: houzetj@tisoblackstar.co.za

Housing

Bright and early

project

issues

DA calls for 'consistency' in way

municipality handles squatters

ROB KNOWLES

Consistency was the call

by the official opposition

at the council chambers

last Wednesday with

respect to squatters at the site

of the Ekuphumleni 564 housing

project in Kenton.

Building houses at the

Ekuphumleni site has been a

contentious issue since its

initiation in 2015 following

several protests where residents

of the area burnt tyres and even

threw stones at passing vehicles

as a way to get the municipality

to listen to their plight.

Ward 4 councillor at that

time, Zache Ngxingo, accused

the municipality of favouring

other areas and initiating

housing projects there rather

than in Ekuphumleni. At the

time, Ngxingo said this was

punishment for residents having

voted for an independent

councillor rather than the ANC

c a n d i d at e .

Still, after the appointed

contractor, Ruwacon, made a

commitment to start building

the 564 houses in August 2015,

residents seemed willing to

allow work to proceed

unimpeded.

But, following the refusal of

some of the residents to be

temporarily relocated to another

site known as Juisplein, along

with a threat made by the

department of human

settlements to reduce the

project for 564 to 455 houses,

tempers flared at the council

meeting.

"We are not building RDP

houses here," said ward 8

councillor Thembani Mazana.

"We are building human

settlements. There were only

five objectors to the project and

one of these has withdrawn its

objection, just leaving four

people."

Housing manager Owethu

Jobela said that the number of

houses must not be reduced as

suggested by the department of

human settlements as, "chaos

will ensue".

So far, only 67 sites have

been released.

The illegal squatters refusing

to move has also made the job

of Ruwacon more difficult and,

as a consequence, Ruwacon is

now threatening to halt the

project.

DA proportional

representative councillor Joc

Guest said she did not know

why there was even a

discussion since the court made

its ruling on August 28 that the

illegal encroachers be relocated.

Still, to date there has been no

movement by the five remaining

residents or by those

responsible for the temporary

church erected on the site.

DA caucus leader and ward 10

councillor, Ray Schenk, said

they support the proposal to get

the squatters off the land, but

his fellow DA councillor Skura

Venene asked for some positive

direction from the municipality.

"There needs to be

consistency in the way the

municipality handles squatters

and objectors. There is a house

there that is clearly

[encroaching] over the building

line but no one has asked that

person to relocate or threatened

that the structure will be

demolished. There is at least

one more house where this has

happened. There are squatters

all over Ndlambe, but they are

not being treated in the same

way, " Venene explained.

"The same rules must apply

to everyone, not just when it

suits us. We need consistency

from the municipality."

DA proportional

representative councillor Phil

Kani, from Kenton, was in

support of this consistency.

"The reason people do not

want to move is the proximity to

the sewage works and a pigsty.

We need to know what's really

going on here," said Kani.

The council decided to

delegate this matter to

municipal manager Rolly

Dumezweni, asking him to

continue with the

municipal-appointed attorney

Hein Audie and serve notices on

the remaining squatters to have

them removed.

FIRST THROUGH

THE DOOR: James

'Fo x y ' Fox, left, was

the first customer

through the door

at the Pick n Pay

relaunch, held at

the Heritage Mall

last Friday. 'He's

the first person

through the doors

every day,' Pick n

Pay manager

Russell Shelton

says

Picture:

ROB KNOWLES

Heritage Mall, Port Alfred

Tel: (046) 624 1648 Fax: (046) 624 3547

E-Mail: leachpharm@border.co.za

R

39 .99

R

69 .99

R

49 .99

R

49 .99

R

19 .99

R

69 .99

Bulk Pork Packs

per kg

Pork Neck Steaks

per kg

Pork Bangers

per kg

Pork Roast - Leg or

Shoulder per kg

Pork Patties 4 x 100g

each

Pork Schnitzel

per kg

PRICES VALID - 26 - 28 OCTOBER 2018 AT PICK N PAY PORT ALFRED ONLY

www.picknpay.co.za Customer Care 0800 11 22 88. Toll free landline only. Cellphone rates apply.
---
2 Talk of the Town ADVERTISING / NEWSDESK: (046) 624 4356 Find us on Facebook

October 25, 2018

Gun store robbers still at large

CRIMEBRIEFS

SCENE OF THE CRIME: Police and security personnel comb the scene at

the Gidana Arms and Sports store at the corner of Bank Lane and Pascoe

Crescent last Thursday for clues after the store was robbed of weapons

and ammunition

Picture: JON HOUZET

¿

29 Miles St, Port Alfred

PO Box 2871, Port Alfred, 6170

046 624 4356 / Fax: 046 624 2293

Mauneen Charter, mcharter@tisoblackstar.co.za

Sonja Raasch, sonjar@tisoblackstar.co.za

Anneli Hanstein, hansteina@tisoblackstar.co.za

Jon Houzet, houzetj@tisoblackstar.co.za

ĂůŬŽŌŚĞŽŶĐŽĂ

ΛĂůŬŽŌŚĞŽŶĞĐ

ĂůŬŽĨŚĞŽŶ

ĂůŬŽĨŚĞŽŶŶĚůĂŵďĞ

ROB KNOWLES

Bank Lane in Port

Alfred, the main

arterial road

between the CBD and

Nemato, was closed off

last Thursday by police

and security companies

as SAPS investigated a

robbery at the Gidana

Arms and Sports store

on the corner of Bank

Lane and Pascoe

Crescent.

According to a police

report, the robbers

walked away with a

camouflage bag from

the store containing

shotguns, rifles and

handguns.

Municipal workers,

along with others, stood

waiting to hear what

had been stolen but

police remained

tight-lipped regarding

the incident. Shortly

thereafter, SAPS

spokeswoman Captain

Mali Govender issued a

st at e m e n t .

"At about 11am

[October 18] one male

suspect approached a

firearm dealer [Gidana

Arms and Sports] store

where the owner's

daughter was alone. He

posed as a customer

wanting to purchase an

item of clothing and left

it on the counter. He

then walked outside and

came back with another

male who showed her a

firearm and she was

asked for the keys to the

s a fe .

"They took the keys

from the till and opened

the safe. They then took

a camo bag from the

store and put several

shotguns, rifles and

handguns inside. They

then left her in the

strong room and closed

it. They then left the

store on foot. The

victim's cell phone was

taken. Different types of

ammunition were also

t a ke n , " she said.

One of the suspects

MONTHLY AUCTION

1 NOVEMBER 2018 AT 10am

ENTRIES WELCOME

SEE OUR FACEBOOK PAGE FOR PICTURES

was short and estimated

to be in his 50s with a

fair complexion, dressed

in a white shirt, black

tie and formal pants as

well as a peak cap, and

the other slender and

tall with a dark

complexion, wearing a

black jersey, black track

pants and was

estimated to be in his

late 20's.

The firearm was

carried by the neatly

dressed suspect.

"Two other assistants,

who were away from the

store, contacted the

owner and the police. A

case of aggravated

robbery is under

investigation. No shots

were fired and no one

was injured," Govender

said.

Govender was

contacted for more

information this week

but was unable to

supply anything as she

said the case was being

handled by the

directorate of priority

crime investigation, also

known as the Hawks. At

this time the DPIC were

unable to answer

requests for more

i n fo r m at i o n .

Govender asked that,

anyone with information

on this crime contact

Crime Stop on

086-001-0111 or else, for

enquiries, contact her

on 082-779-7123. So far,

no arrests have been

made and no weapons

have been recovered.

A number of burglaries were reported by

MultiSecurity in Port Alfred over the past week.

On Tuesday October 16, there was a break-in at a

shop on Albany Road at around 7.30pm. The

following day, cattle were reported along Bathurst

Street at 10.14pm. The cattle were collected and

removed. Late on Wednesday and into the early

hours of Friday, there were several incidents

reported of barking dogs and suspicious people

walking the streets but no arrests were made.

At about 7.40am on Friday, there was a break-in

reported at a garage on Albany Road. On his arrival,

the manager reported the suspect had broken off

the padlocks on the wooden door by the workshop

at the back and stolen seven cases of dragon

energy drinks. At 7.49am, a beggar informed the

owner that the workshop door was open.

Still later, at 10.48am it was reported that two

suspicious youngsters in front of a shop across the

road were identified as those who had stolen items

from the garage shop.

Still on Albany Road, another attempted break-in

occurred at a cycle shop where a window was

broken and the burglar bars bent, but nothing was

stolen. In Coronation Street in Station Hill later that

night a man was seen wearing a balaclava in a

resident's garden. Nothing suspicious was found at

the premises.

That evening there was an attempted break-in at

a home in Sevenoaks Street. Having failed to

break-in to the premises the perpetrator ran off onto

the golf course.At Dickenson Road at 10.26am

guests at a guest house reported they had been

robbed and their I-phones stolen. They were sitting

outside when a man approached and demanded

their cellphones. A scuffle broke out and the

perpetrator fled with the phones. Gardmed were

also called as one of the guests had been injured

but was treated at the premises.

Just after 11pm there was a break-in at cottages

on Freshwater Drive. The sliding door to one of the

cottages had been forced open and a TV was taken.

In the early hours of Sunday morning three

gunshots were reported at Burke Close. After

investigation security reported that nothing

suspicious had been found.

In Simbiti Street in Nemato at 10.39am there was

a break-in at a shop where a sports bag worth

R600, an extension lead priced at R200,an iron,

baby clothes and grocery were also taken.

On Tuesday there was a break-in at a shop in

Rosehill Mall. The mall manager reported there was

a list of contact people at his office to enable the

relevant contact person to be contacted. The

perpetrators had kicked in the front door but

nothing inside the shop was disturbed.
---
October 25, 2018 ADVERTISING / NEWSDESK: (046) 624 4356 Find us on Facebook

Talk of the Town 3

'Make us proud, matrics'

Officials inspire Ndlambe pupils before exams

TK MTIKI

Speaker after

speaker rendered

testimonies of their

own struggles and

experiences at a matric

prayer session at Titi

Jonas Multipurpose

Centre last Friday.

And hopefully

matriculants who

listened attentively

enough to them have

learnt something from

others who have walked

a similar path.

Ndlambe FM

management together

with Ndlambe

Municipality organised

the prayer session to

motivate the students.

The speakers had all

passed grade 12 and

were therefore walking

the talk.

Stenden South Africa

was represented at the

event by academic dean

Rene Oosthuizen.

Station manager Dudo

Shuping said Stenden

was the biggest sponsor

of the station.

Other dignitaries

included the ANC chief

whip in council, ward 5

councillor Andile Marasi,

Ndlambe librarian

Vuyolwakhe Kwanini,

Pastor Venu Dilima and

Bishop Caleb

M va n d a b a .

Although prayer

appeared to be the most

important thing during

this challenging time for

grade 12 pupils, the

speakers made it clear

that it should be

accompanied by

dedication, commitment

and sacrifices in order

to pull them through.

"This is the difficult

time – you are attacked

left and right but we are

here to break that spirit.

"We are here to say

press on, you must

never give up," Pa st o r

Dilima said.

Kwanini encouraged

pupils to make use of

the resources provided

to them by the

municipalit y.

"Most of you know me

and I am your friend. I

am that sister you

always meet at the

library. This event shows

how important you are.

We never had exam

ENCOURAGED TO DO WELL: Just three days before the start of the matric exams, Ndlambe FM

management in partnership with Ndlambe Municipality organised prayers for the matrics at Titi

Jonas Multipurpose Centre in Thornhill last Friday

Picture: TK MTIKI

p r ay e r s , " she said.

Talking about the

municipalit y's role, she

said.

"We are trying our

utmost best to expose

you to the relevant

i n fo r m at i o n .

"The Saturday classes

which are paid for by

the municipality are

meant to assist you. Be

thirsty for success and

make us proud for all

the money we spent."

Although she did not

dwell much on spiritual

aspects, she acknowledged

the importance

of prayer.

"The key to success is

p r ay e r, " she said.

She further said that

they had great hope in

the pupils' future.

"We see the future in

you and we will never

give up on you.

"Pass with flying

colours so that you will

be able to choose the

degrees of your own

choice."

Final exams are

believed to be a vehicle

that took matrics

through to university but

Nomzamo Secondary

School teacher Nomvuzo

Mbombela said this

could materialise

through self-discipline

and sacrifices.

"You have been on

this journey for 12 years

and some of you might

be here for more than

that, but here you are

t o d ay.

"You have not finished

– this is the beginning.

There are a lot of things

you need to sacrifice

just for a month and few

weeks," she said.

"Sacrifice for your

future and after that you

will reap something and

you cannot do this with

your own strength. Pray

before your exams,

during and after."

ENJOY OUR ALL YOU CAN EAT BUFFET

E-mail your view to h o u z e t j @ t i s o b l a c k s t a r. c o . z a

ROSEHILL

NEMATO

Trading Hours Superspar: Mon– Sat: 8am – 7pm Sun 8am - 5pm

Valid: 25 - 28 October 2018 | E&OE | Tel: 046 624 3542 | www.rosehillsuperspar.co.za |

While stocks last. WE DELIVER - Place orders telephonically or via email rosehill1@retail.spar.co.za

Trading Hours Nemato Spar: Mon– Sat: 7am – 7pm Sun: 7:30am - 6pm

Valid: 25 - 28 October 2018 | E&OE | Tel: 086 002 1039 | While stocks last

WE DELIVER - Place orders telephonically or via email nemato1@retail.spar.co.za

Boneless Gammon

R69.99 Per kg

Cheese Griller & Chips

R19.99 Each

Potatoes 2kg or

Onions 2kg

R19.99 Each

SPAR L/L Milk 6x1L

R59.99 Each

SPAR Sunflower Oil 2L

R33.99 Each

Sasko Cake Wheat

Cake Flour 10kg

R79.99 Each

Whole Turkey

R64.99 Per kg

Speciality Breads

R19.99 Each

Cream Buns 6's

R9.99 Per kg

SPAR Super Maize Meal

10kg

R43.99 Each

SPAR French Polony

2kg

R35.99 Each

Heineken Dumpies

24x330ml

R219.99 Each
---
4 Talk of the Town ADVERTISING / NEWSDESK: (046) 624 4356 Find us on Facebook

October 25, 2018

Marathon trek across SA – by bicycle

Spanish couple enjoy

their stop in Port Alfred

JON HOUZET

ASpanish couple cycling

across South Africa hit the

coast for the first time last

Saturday when they entered

Port Alfred, and have been

charmed and delighted by our

town.

First-time visitors to South

Africa Ivan Martinez, 31, and

Manon Saenz, 32, decided to

take a trek by bicycle across the

country, starting in Polokwane

on September 10 and keeping to

an inland route which took them

through the rural heartland.

They average about 60km a day

and so far have travelled

1 , 700 k m .

They were impressed with the

beauty of the countryside,

travelling through

Haenertsberg, Tzaneen, Sabie,

Nelspruit, Badplaas and

Chrissiesmeer, which Martinez

described as "very rural, and

one of the toughest places.

"There was a big storm as we

arrived."

They loved the inland lakes

and continued on to Piet Retief,

Paulpietersberg, Vryheid,

Dundee, close to Elandslaagte

and then through Collings Pass

where they saw beautiful

mountain scenery.

From there they headed to

Harrismith, the Golden Gate

National Park, Clarens,

Ficksburg, Ladybrand, Zastron,

Lady Grey, Komani, Hogsback

and the Great Fish, where they

spent last Friday night before

cycling to Port Alfred early on

Saturday morning.

"The Great Fish was so

special," Saenz said. "We didn't

know we were going to see

wildlife – we saw buffalo. We

only found out afterwards we

should not have been allowed in

the nature reserve on bicycles."

Martinez said they had

altered their route as they met

people along the way.

"We 've experienced such

incredible hospitality," he said.

"Afrikaans farmers who

invited us to stay on their farms.

We stayed a whole week

between Clarens and

Fouriesberg, just enjoying the

middle of nowhere, looking at

the landscape and cattle.

"We met somebody in Blyde

River Canyon who has a brother

A GOOD BREAK: Showing the map they use to plot their journey, Ivan Martinez and Manon Saenz

relax for a drink at Kenny's in Port Alfred on Saturday after a hard day's cycling, during their

marathon trek across South Africa

Picture: JON HOUZET

in Port Alfred and he said we

must come here as we could

stay with him."

That did not work out, but

after spending the night with

this reporter, the couple were

happy to check into a B&B in

Hards Street before friendly

local Stuart Lavender also

invited them to stay at his

house before they departed on

Wednesday morning.

Martinez said he had

previously cycled solo across

Mongolia, covering about

1,800km, four years ago.

"Manon is the first person I

felt I could do something like

that with. She got fit along the

way and now is very fit," he

chuckled.

"I wasn't a cyclist before this,"

Saenz said. "I had a bicycle, but

I wasn't a serious cyclist."

Martinez said he grew up in a

t ravellers' family, but decided to

cycle after a knee operation as

he was told it was good

exercise.

Both he and Saenz studied

medicine, and Saenz was

already working as a doctor

when they met. Martinez still

has three months to go before

he qualifies.

They live and work in Berlin,

G e r m a n y.

Even after he qualifies,

Martinez said he did not want to

work full-time as a doctor

because he valued his free time

too much.

Asked why they chose South

Africa for their trip, he said: "I

didn't know much about South

Africa before this trip. We're

doing it as a test to do the

whole Africa, which should take

about one-and-a-half years. If I

like it and Manon likes it, then

we'll do it."

He said they had both learned

a lot on their journey.

"I don't read the news and

know what's going on with

politics. Now I know because I

met people. We didn't know the

landscape either. Now we know

and every day the landscape

changes."

They have had no bad

experiences on the road.

"We 've been warned by a lot

of people, but we've never been

unsafe. But we have taken

care," Martinez said. "My

intuition tells me if something

doesn't feel right."

They try to travel offroad as

much as possible, but

sometimes it's not possible.

They did not care much for the

R72 without safe shoulders for

cyclists, and got some good

advice to travel by farm road to

Alexandria before continuing

their journey to Port Elizabeth

and their final destination in

Cape Town.

FROM FARMING TO EVANGELISM: Missionary

Mark van Niekerk, centre, with his wife, Marie

Anne, and Clumber Church member Courteney

Bradfield, after Mark's talk on his evangelism

work among Muslim refugees and the

marginalised Kurdish people in Syria and Iraq

Picture: JON HOUZET

Friday 26 October 2018 to Thursday 01 November 2018

PAPILLON (R)

Wrongfully convicted for murder, Henri

ŚĂŝĞĞĨŽŵĂŶŶůŝŬĞůĞůĂŽŶŚŝŝŚ

ĨĞůůŽŝŶŵĂĞĂŶĚŝŬĐŽŶŝĐĞĚĐŽŶĞĨĞŝĞ

ŽŝĞŐĂŝŶĂŶĂĞŵŽĞĐĂĞĨŽŵŚĞ

ŶŽŽŝŽĞŶĂůĐŽůŽŶŽŶĞŝůΖůĂŶĚ

Starring: Rami Malek, Charlie Hunnam,

Tommy Flanagan

ΈΉ

ΈΉΈΉΈΉ

A STAR IS BORN (R)

ŵŝĐŝĂŶŚĞůĂŽŶŐŝŶŐĞĮŶĚĨĂŵĞ

ĞĞŶĂĂŐĞĂŶĚĂůĐŽŚŽůŝŵĞŶĚŚŝŽŶĐĂĞĞ

ŝŶŽĂĚŽŶĂĚŝĂů

ĂŝŶŐĂĚĂŐĂĂĚůĞŽŽĞĂŵůůŝŽ

ΈΉ

ΈΉΈΉ

ΈΉ

THE TITAN (NR)

ŵŝůŝĂĨĂŵŝůĂŬĞĂŝŶĂŐŽŶĚďĞĂŬŝŶŐ

ĞĞŝŵĞŶŽĨŐĞŶĞĐĞŽůŽŶĂŶĚĂĐĞ

ĞůŽĂŽŶ

Starring: Sam Worthington, Taylor Schilling,

Tom Wilkinson

Έ

ΉΈΉ

ΈΉ

R50 Adults - R40 Children (U/13). 3D Movies - R65 per person.

Pensioner's Special Wednesdays - R30

Times are subject to change due to demand.

Like our FACEBOOK page and stay informed of

ŵĞĂŶĚŚĞůĂĞŶĞ

A heart for the suffering people of Iraq and Syria

JON HOUZET

Missionary Mark van

Niekerk related a

harrowing yet hopeful

tale of his evangelism

work among the

suffering people of Syria

and Iraq, when he

visited Clumber Church

last Saturday.

Van Niekerk, who was

visiting with his wife

Marie Anne, came to

Clumber because he

wanted to see where his

ancestor, 1820 Settler

Distinctive

By TIMBER TOWN

William Pike was buried.

Church member

Courteney Bradfield,

who introduced Van

Niekerk, said the

restoration of the

historical church which

began a couple of years

ago – with an official

opening ceremony

almost exactly a year

ago – had a purpose

beyond just making the

building look beautiful

again.

"This morning is a

fulfilment of that

purpose. It's one of the

Kitchens

Ŗ

Ŗ

Ŗ

Ŗ

Ŗ

things the restoration

was for," Bradfield said.

Van Niekerk, who

hails from

KwaZulu-Natal, said he

was a farmer for about

30 years, and was a

nominal Christian before

both he and Marie Anne

came to a deeper faith in

Christ and were baptised

together, studying and

growing in knowledge

and grace.

With a love for the

Jewish people, they

began visiting Israel in

about 1994 and have

made 30 trips there over

the past 20-plus years.

He became friends

with a Messianic Jewish

believer, Antony Simon,

who was a big influence

on Van Niekerk's forays

into the Middle East.

"The Jewish people

are going into the time

of what is called Jacob's

trouble, where Jesus

said, 'If those days were

not shortened, no flesh

would survive'," Va n

Niekerk said.

"I believe we are living

in a pivotal period of

history. I believe we are

near the time of the

Lord's return.

"The nations are

linked into Israel. The

salvation of the nations

is linked to the salvation

of Israel."

Van Niekerk said the

church has had an

arrogance towards the

Jewish people, feeling

nothing for their pain

over the past 2,000

years.

He reminded the

audience of the Apostle

Pa u l 's words to the

gentile church in

Romans 11, that if the

natural branches (Israel)

were broken off because

of unbelief, God would

not spare the branches

that had been grafted in

(gentiles), if they did not

continue in faith and

kindness.

Van Niekerk first

accompanied Simon to

minister to the Syrian

refugees in Athens,

handing out Bibles in 12

different languages.

Simon next

encouraged Van Niekerk

to go with him to Iraq.

"He said, 'your life will

change'."

He went with Simon

first two years ago. He

described how

thousands of people had

been driven from the

Ninevah plains by Isis,

which once controlled

Mosul, which is where

ancient Ninevah was.

"Most of Christianity

in the Middle East is

cultural," Van Niekerk

said. "They don't know

Jesus."

They were stopped

from giving Bibles to

people by the Christian

bishops.

For their next trip to

Iraq, Simon told Van

Niekerk he had to bring

another 100kg of

luggage, to carry Bibles.

Just 24 hours later he

received a call that his

friend Simon was dead,

killed in Iraq.

He thought his

mission trips were over,

but he felt a burden from

God to continue, already

having the contacts in

Iraq.

He described his work

among the Kurds who

live in Iran, Iraq, Turkey

and Syria – 40 million

people who are despised

in all of those countries.

He was warned by an

Iraqi evangelist not to go

to a certain area, but

again felt the Lord

calling him to go there.

Marie Anne was also

upset about his plans.

"People were being

killed for leaving Islam. I

said, 'what can

Christianity offer them if

I'm afraid of death?'

"That step of faith

opened another door

into the mountains of

Iran."

He accompanied a

Peshmerga evangelist to

Kurdish villages in the

mountains. They

delivered food to the

widows of men who had

died fighting Isis. "This

is James 1 in practice,"

Van Niekerk said.

He told story after

story of Muslims being

excited about getting a

Bible in their own

language and coming to

faith in Jesus. He was

invited into many homes

to share the gospel.

They also visited

refugee camps in the

plains.

He said they had to

exercise caution about

who they could speak to

about the Bible, as

people sometimes spied

on them.

He saw places where

Isis had brutally

executed people.

Sometimes, it was just

about showing

compassion. He was

introduced to an

18-year-old woman who

had being doused with

petrol and set alight,

suffering burns from her

chin down.

"I just hugged her and

wept," he said.

"When I see people

turning to God in this

way, and I see we can't

get interest in the west,

how much time do we

have left?"

WARRICK STRACHAN CFP ®

T: 046 604 2300 (o) 072 3766 523 (m)

E: warrick@oldmutualpfa.com

30 Campbell Street, Port Alfred

27 Lyon Road, Kenton on Sea

Cnr African & Allen Streets, Grahamstown

ĞůĞďĂŶŐĞĂŽĨĮŶĂŶĐŝĂůůĂŶŶŝŶŐΘŝŶĂŶĐĞĞĐĞůůĞŶĐĞ
---
October 25, 2018 ADVERTISING / NEWSDESK: (046) 624 4356 Find us on Facebook

Talk of the Town 5

What do you think

must be done to

ensure safety for

locals and visitors

during the festive

s e a s o n?

YOUR VOICE

LOUIS CASTELYN:

We need more

police on foot

patrols, I think that

will make things

better somehow.

... vox pops on the street

ESTMAN CANNON: The

police must leave their

offices and be visible

to the people. Crime is

happening out there

and not in their

of f i c e s .

SHAHEED BURTON:

Ensure the safety of the

children, especially

people who go to the

beach during the festive

season. The kids must

be tagged with their

names.

M Z WA N D I L E

NKINQANA: The police

need to be in the right

place at the right time,

and do thorough

investigations as well.

ROBERT MAIDSTONE:

The police must be

more visible on the

streets and that will

curb crime somehow.

SUSAN MAIDSTONE:

I think more police

visibility will help. I

think crime is way

less here than

where we come

from in East Rand.

BEST BY FAR! R1 350 000

SOLE MANDATE

SWEET TREAT: Pick n Pay served Damant Lodge residents tea and cake last Friday. Pick n Pay staff members, standing from

left, Geraldine Kulati and Brenda Shelton are pictured with residents, seated from left, Phyllis Futter and Colleen Shaw

Picture: NTOMBI MSUTU

VIEW BY APPOINTMENT

ŚŝŝŵŵĂĐůĂĞŵŽĚĞŶĐŚĂŵŝŶŐŽŶŚŽĞĐůĞĂůĐŬĂůůŚĞďŽĞĂŶĚ

ŝŝĂĞĚŝŶĂŽŐŚĂŌĞĐŽŵůĞŶĞĂŽůĨĐŽĞŚŝŶŝŽīĞďĞĚŽŽŵ

ďĂŚŽŽŵŽĞŶůĂŶůŽŶŐĞĚŝŶŝŶŐŬŝĐŚĞŶĂůŽĂŶŽŽŵŚŝĐŚŽĞŶ

ŽŶŽŶĚĞĐŽĞŶŽŚĨĂĐŝŶŐĂŽŚŝŝĐůĂĂŶĚĐŽŵĨŽĂŝďĞ

For more info contact Heather 073 542 6202

The Anchorage, Gluckman Road: Tel 046 624 2454 Fax 046 624 3347

www.jawitzportalfred.co.za e-mail: admin@jawitzportalfred.co.za

36

CEMENT

PEDDIE

BRICKS

ALPINE

CEMENT

GUARANTEED

LOWEST

PRICES

CEMENT

STOCK BRICK

YARD

2.75

PAINT

DURAM

ARMATEX PVA

20

619.95

CONCRETE BLOCK M6

9.25

YARD 1099216

Prices on bricks will vary from store to store. Check your

local store for applicable Direct and Yard prices.

0km - 5km FREE

5km - 15km R180.00

DELIVERY RATES

15km - 25km R250.00

25km - 35km R350.00

35km - 50km R500.00

FOR FURTHER DISTANCES ENQUIRE IN-STORE.

The advertised rates are estimate rates and are subject to change if the road conditions vary and if areas are not accessible.

Handling fee applies to bricks, blocks, concrete rooftiles and cement. Enquire in-store for details.

TRADING HOURS: OEEVE

VOEVMME

ADDRESS

Albert Street,

Peddie.

Tel: 040 673 3434

PRICES VALID UNTIL 04 NOVEMBER 2018

Zone 41d

CASH AND CARRY WHILE STOCKS LAST!

PRODUCTS MAY NOT BE AVAILABLE AT ALL STORES
---
6 Talk of the Town ADVERTISING / NEWSDESK: (046) 624 4356 Find us on Facebook

October 25, 2018

OPINION

Lear ning

through

t r av e l

Travellers are interesting people –

especially travellers who commit to

a substantial amount of time in a

country, going far and wide, engaging

the locals and absorbing the scenery.

I met two such travellers who stayed in

Port Alfred for a few days this week,

more than halfway through a long trek

by bicycle through SA, starting in

Polokwane and set to finish in Cape

To w n .

I chanced upon the couple as they

were approaching the Nico Malan Bridge

on the R72 at about lunchtime on

Saturday on their heavily-burdened

bikes. Curious, I turned around and saw

them head into the CBD along Causeway.

After parking at Heritage Mall, I lost

sight of them and was about to give up,

but told a colleague about the couple on

their oddly-burdened bicycles.

Unbeknown to me, she sent her son out

to look for them in the CBD and he found

them on the corner of Main Street and

Biscay Road.

So I got a call and headed back into

town. Then I heard the story of how

these two foreign visitors were surprised

when a young teenage boy went up to

them and said. "Two people on heavily

loaded bikes – it must be you. Come

with me."

They became a little suspicious. "No

one knew we were coming to town," I va n

Martinez told me as I chatted to him and

Manon Saenz in the street.

In what is now humorous in hindsight,

they wondered if they were being set up

for a mugging.

Easy-going and approachable, the

Spanish visitors agreed to tell me their

story and relaxed over a couple of beers

at my favourite watering hole, Kenny's,

where everybody knows your name.

It was lovely getting to know them,

and to feel their excitement and energy

at experiencing new things.

We sandboarded down the dunes at

East Beach and a little walk along the

beach on Saturday evening encouraged

them to return there on Monday and

spend six hours walking along the coast.

After a chat about faith and the Bible

over supper on Saturday night, they

wanted to visit the church I attend on

Sunday and enjoyed the worship

experience and the warm greetings of

the people – more good feelings they

will carry with them.

After a bit of shopping we had to rush

to the movies as I had told them we had

a cinema and they might enjoy A Star is

Born. Another good experience. Seeing

Port Alfred through their eyes made me

appreciate my hometown even more.

What a blessing it is to forge new

relationships with people from far away.

25

26

27

28

29

30

31

1

Tide Guide

Kind courtesy-SA Navy

HIGH

0410 1624

0440 1655

0512 1727

0547 1802

0626 1841

0713 1930

0821 2050

1016 2302

L OW

Jon Houzet

1017 2239

1048 2311

1120 2344

1156 –

1235 0020

1324 0102

1441 0158

1653 0330

STILL GOING STRONG: The Port Alfred Art Club celebrated its 60th anniversary on Thursday last week with a delicious sit-down meal at Harry B's on

the Kowie, showcasing the artwork of several members, scrapbooks of art club news and photos going back to the 1980s, and a fancy cake marking

the milestone

Picture: JON HOUZET

HAVE YOUR S AY

Letters to PO Box 2871, Port Alfred - or e-mail to houzetj@tisoblackstar.co.za

This is an open forum for readers to express their opinions. However, the publishers reserve the right to shorten letters. Those printed are not necessarily the views of Talk of the Town. Although noms de plume may be used,

letters must be signed and have an authentic contactable address & telephone number. Talk of the Town reserves the right to not publish letters. Please limit letters to 250 words or less.

Celebrate Word

of Truth's 30 years

Word of Truth is

celebrating 30 years in

ministry and to

commemorate the

occasion we are hosting

a Legacy Conference and

this year's theme is "It's

time for greater works!"

You can register

online, if you go to the

Word of Truth Facebook

page or just come on the

day. Either way you don't

want to miss out on this

momentous occasion.

Our programme is as

follows: Friday – Session

1 from 9am to 10.30am;

Session 2 from 11am to

12.30pm; Session 3 from

2pm to 3.30pm; Session

4 from 6pm to 9pm.

Saturday will be on the

same times and finally

on Sunday October 28

we will have two

sessions – one from 9am

to 11am and the final one

Emergency numbers

Port Alfred hospital – (046) 604-4000

Police station – (046) 604-2001/2

Multi-Security – (046) 624-2508

Chubb Security – (046) 624-4810

Sky Alarms – (046) 624-2806

NSRI – 082-990-5971

Electricity (a/h) - (046) 624-1111

EMS (Emergency Medical Services) – 10177

Gardmed –082-759-2134

Holistic EMS – 063-460-0042

Fire Department – (046) 624-1111

Healing Horses thanks

PA Fraternal to pray for our country

South Africa has never needed

Christianity more than it does at this

moment, to rid itself of corruption

e s p e c i a l l y.

The Port Alfred Ministers Fraternal,

Nemato Ministers Fraternal and the

Christian Men's Association (CMA),

in support of "It's Time", Augus

Buchan's million-strong corporate

time of prayer in Pretoria, will gather

to pray for our country here in our

at 6pm to 8pm.

Our speakers are:

Riaan Allen, from

Amanzimtoti, who is a

successful businessman

and carries a strong

prophetic grace, Keith du

Plessis, from Port

Elizabeth, carrying an

apostolic grace, Dr

Fowler, from Dallas

Texas, also carries a

strong apostolic grace to

awaken and revive

nations, and Pastor Felix

Shamuyarira from

Knysna is a teacher with

an intercessory grace.

The time has come for

the church of Christ to

arise and shine and be

relevant. Together, linking

arms, we can make it

happen. Come and

celebrate with us. All are

welcome!

KARIN KAHN

town.

We will pray:

ý For the president and his

initiative to secure investment to

boost the economy and curb

corruption;

ý For jobs and strengthening our

economy as envisaged by the

president;

ý For women, their protection and

contribution to our country;

We have three new volunteers for the disabled

riding project, who heard about us through the

articles in TotT.

Thank you so much for featuring us. We

need at least six volunteers for each session,

Carrying a load on her shoulders

Last Monday in Wharf Street, just

as I was getting into my car, I saw

a frail, elderly lady walking on the

sidewalk towards Nemato.

Well, I was stunned, to say the

least. She was carrying a black

refuse bag, half full. This was

balanced over her shoulders and

around her neck. I saw things tied

around her waist and she was

carrying a plastic bag as well.

I just stood staring as she

walked very slowly. People must be

used to her because most of them

just walked past her. I just could

not turn around and go the other

way to avoid her as it is a one-way.

I don't think I would want to turn

around and avoid her; it just tore

ý For God's mercy on we His

people, a people of this land;

ý Against corruption and that

those responsible are held to

account; and .

ý Against the culture of crime

gripping our land.

Along with "It's Time" in Pretoria,

prayer will start at 12 noon, Saturday

November 27, at the Port Alfred

Baptist Church. All are invited. All are

me apart to see such a frail, elderly

lady carrying such a load.

I drove up to her and tried to

attract her attention, but she just

plodded on. Behind her was

another lady and I asked her

assistance to get this old lady into

the car. We got her baggage in the

back and not much further along,

she asked to be dropped off, as

she lived up the hill and still

needed to walk up that steep

incline to her home.

My passenger asked her what

was in the bag and we were told it

was cooked food. I could barely

pick up the bag, let alone lift it

onto her back! Obviously she

collected the food somewhere and

NOT TOO

CHICKEN TO

WED: With his

we d d i n g

looming, Bossie

Boshoff, left, was

taken out by his

friends, including

Keith Hoskin, for

a bachelor's

party, and were

snapped at

Kenny's Pub on

Saturday last

week Picture: JON

HOUZET

and couldn't operate without them. I really

appreciate your help with getting people

i n t e r e st e d .

JANN WEBB, Healing Horses

welcome. We will pray in unity, that

our land be released from the

scourge of corruption, freed from

differences which divide.

For more information contact Leon

Coetzee on 082-673-1492 or Tony

Bryant on 072-736-9328.

PORT ALFRED MINISTERS FRATERNAL,

NEMATO MINISTERS FRATERNAL and

CHRISTIAN MEN'S ASSOCIATION

was on her way home to her family.

This has once again made me

realise how fortunate we are. How

blessed we are. We complain, but

oh, we have no idea what hardship

is. This dear frail, very elderly lady

knows hardship and she is willing

to carry that load to her family.

I do not know how to put this

into words to tell everyone how

fortunate they are to sit down to a

plate of food at night. I pray that

that family appreciates their

mother/grandmother for what she

does for them. Wow! I am not sure

many of us would be willing to do

that. This is one lady I will not

forget to pray for each day.

LYNET TE
---
October 25, 2018 ADVERTISING / NEWSDESK: (046) 624 4356 Find us on Facebook

Talk of the Town 7

Every dawn a

reminder of God

The rising of the sun, with

the dawning of each new

day, is a stark reminder of

the resurrection of the

Lord Jesus Christ.

It is He who brought life

and light into this world of

darkness.

When Jesus spoke again to the

people, he said: "I am the light of the

world. Whoever follows me will never

walk in darkness, but will have the

light of life" (John 8:12).

Psalm 113:3 says, "From the rising of

the sun to the place where it sets, the

name of the Lord is to be praised."

Our circumstances may change, and

we may experience a "cloudy day," but

the Lord never changes.

Our praises should not depend on

our circumstances, but on our love and

adoration for a glorious and holy God.

Christians are not exempt from the

trials and tribulations of this world, but

we must not become so engulfed in

darkness that we can no longer see

the light of His glory! We do not deny

the reality of suffering, but rather

"Music is a moral law. It gives soul to the

universe, wings to the mind, flight to the

imagination, and charm and gaiety to life

and to everything."– P l at o

Few quotes on the profound role

played by music in the existence,

development and enjoyment of mankind

can match this one from the revered

p h i l o s o p h e r.

Through all the ages of human

civilisation, the tapestry of life has been

inextricably and gloriously intertwined

with music. Styles have evolved and

changed, sophistication levels have

I N S P I R AT I O N A L

INSIGHTS

... with Pastor Theo Snyman

acknowledge the existence of a

praiseworthy God.

"Because of the Lord's great love we

are not consumed, for his compassions

never fail. They are new every morning;

great is your faithfulness"

(Lamentations 3:22, 23).

His compassions are new every

morning! We speak about a light at the

end of a tunnel, but the darkest night

is greeted each morning with the

Lord's love and compassion.

Every new day is a gift from God and

is filled with opportunities and perhaps

some challenges. We need to make

use of every opportunity and meet

every challenge bravely. "Do not boast

about tomorrow, for you do not know

what a day may bring forth" (Proverbs

27:1). May each dawn be radiant.

varied, and genres have developed to

become synonymous with specific

places and regions in the world. Cultures

and religions, philosophies and value

systems, all have music as a common

thread ... in a way that defines them and

distinguishes them.

Many participants in the world of

literature may argue that poetry is the

most sophisticated form of written

communication ... and well it may be

with its widely varied formats, high levels

of symbolism, potently evocative

imagery and mystery-in-message to

First Putt Bridge

SERENDIPITY

... with Bev Young

The delightful

photograph this week

shows the very excited

crowd at the opening

ceremony for the first

Putt Bridge in 1907.

The bridge, which

took two years and

one week to construct,

cost £6,400 and

supervision a further

£450. This was

apparently considered

a very low cost as, to

quote from Mr De

Villiers Graaff's

remarks on reinforced

concrete: "We might

be allowed to draw

attention to the

advantages and

suitability for its

adoption elsewhere

throughout the colony

on account of its

cheapness (only 2/3

of the cost of an iron

structure), durability

and graceful

appearance."

Prior to the

construction of the

bridge, the only way to

cross from the east to

the west bank of Port

Alfred entailed barges

or rowing boats.

An inscription on

Let the music play and give soulful wings to universe

THINK

ABOUT IT

... with Roy Hewett

challenge many on occasion.

What about the vast appeal of the

creative and performing arts? Devotees

to music could counter that this art form

embodies all of those, but incorporates

movement and sound of incomparable

beauty, range and variety. It arouses the

MOMENTOUS OCCASION: Laying the foundation stone for Port Alfred's

Putt Bridge in 1907

the foundation stone

of the Henry Putt

Bridge indicates that

the bridge was

extremes of emotions from overflowing

joy and triumph to the depths of grief

and loss, from heights of passion to the

relaxed states of meditative music.

Every participant in the music

experience will have preferences of

genre, style, period relevance and

musical instruments. Some would

contend that the concert band including

a wide range of instruments represents

the pinnacle of sophistication in music.

Others prefer the robust sounds of

military or jazz bands and brass

inst ruments.

designed by the

department of public

Works under the

supervision of Mr FW

Waldron, Amice, and

that the chief engineer

was Mr W Craig,

Amice.

Rhythmic beats and the arousing

sounds of drums and other percussion

instruments can stir any soul. There are

also supporters of popular music of a

specific era, or the soft melodies of

individual wind or string instruments.

The piano and its many cousins arguably

occupy a majestic pedestal. Singing and

voice styles have their devotees.

Can any human activity compete with

the range and all-encompassing appeal,

entertainment value and sophistication

of music? Can sport, work, hobbies or

sightseeing and travels measure up?
---
8 Talk of the Town ADVERTISING / NEWSDESK: (046) 624 4356 Find us on Facebook

October 25, 2018

Port Alfred

BUSINESSFORUM

Combine living

and life annuity

A living annuity (ILLA) is

the preferred choice at

retirement today, as it

allows investors the

flexibility to select their

income level and manage

the funds in which their

retirement capital will be

invested – and thereby

control their exposure to

growth assets.

Another attractive

point is that it addresses

many investors' desire to

leave a legacy by

allowing them the option

of nominating

beneficiaries to inherit

the proceeds (in most

cases their children).

ý Considerations when

selecting an ILLA:

However, according to

Sanlam financial adviser

Sticks Stiglingh, investors

who haven't saved

enough may see their

capital depleted during

the course of their

retirement. The reason for

this is that investors

often draw too high an

income, which eats into

their capital.

A sustainable income

that lasts throughout

retirement should be the

main concern of investors

and their advisers. Some

of the pitfalls include

retiring too early, not

saving enough before

retirement, drawing too

high an income – and

lastly, but most

significantly, investing

too conservatively in the

years before retirement.

ý Is there another way?

Many retirees opt for a

living annuity since the

flexibility allows them to

draw a higher income –

early in retirement – than

a life annuity would

provide. In some cases

investors may need to

accept that leaving a

legacy may not be

possible. Their main

priority must be to

ensure that the

month-to-month income

requirement is catered

for sustainably. One of

the ways in which this

may be achieved is by

looking at the traditional

life annuity, which

guarantees an investor

an income for life.

ý Combining the two

PEOPLE MANAGEMENT SOLUTIONS OFFER:

ŽŶůŶŐĞŝĐĞŽŶĂůůĂĞĐŽĨ

ŵĂŶĞŽĐĞŶĚŝĂůĞůĂŽŶĂŶĚ

ĂŝŶŝŶŐŝŶŚĞĂĞŶĂĞ

ĐĐĂŽŶĂůĞĂůŚĂŶĚ

ĂĨĞĂŝŶŝŶŐĐŽĞĂĂŝůĂďůĞ

ŽŶĂĐĞŶŽŽŶ

Ğů

Ă

ŵĂŝůĞŶΛĞŽůĞŵĂŶĂŐĞŵĞŶŽůŽŶĐŽĂ

options may be the

answer:

Stiglingh said many

retirees may benefit by

combining a life and a

living annuity, which they

can do through Glacier by

Sanlam. This offers them

a guaranteed income for

life on the one hand with

no capital risk, with on

the other hand the

flexibility of the living

annuity by means of

which investors (now

with a guaranteed

income provided by the

traditional annuity) are

freed to a large extent to

expose themselves to

growth assets to ensure

that their capital in the

living annuity continues

to grow.

If this is a route you

would like to consider,

now or even at a later

stage, then plan ahead

and speak to your

financial adviser before

retirement. Stiglingh

concludes that the

month-to-month income

should be the main

priority of every investor

and his or her financial

adviser, rather than

focusing on the capital

alone.

Contact Sticks

Stiglingh at Strata

Financial Solutions

BlueStar on

046-624-4948,

071-612-7339 or

s t i c k s @ s t ra t a b l u e s t a r. c o . z a

Erratum

In the building feature in last week's Talk of the

Town, plumber Ryan Owsley's e-mail address was

incorrect. It should be r ya n o . p l u m b i n g @ g m a i l . c o m

We apologise for the error.

Catch up with what's happening on the PA business front

Assistance in handling labour issues

People Management Solutions is a local

company that provides human

resources, industrial relations and

training services to small businesses at

a reasonable cost.

Most employers are not aware of the

labour legislation changes and how it

affects them, until they receive a visit

Pick n Pay relaunch brightens store

ROB KNOWLES

With balloons and ribbons

and a great deal of

singing and dancing

from the staff, Port Alfred Pick n

Pay 's relaunch was exactly what

co-owners Mark Shelton and

Jon Campbell had envisioned,

and they trust that the changes

made will bring even more

customers to their flagship

store at the Heritage Mall.

Staff worked diligently to

present the store, which has

undergone changes and

extensions over the last year, in

a pristine condition for the

relaunch. With visitors from

other Pick n Pay branches in the

Eastern Cape – some of them

familiar faces having worked at

the Heritage Mall Pick n Pay in

the past – all arriving well in

time for the 6am ceremony,

Campbell laid down the ground

rules to staff before the ribbon

was cut and the first customers

arrived.

"We needed this revamp,"

said Campbell. "The old store

was looking old and drab. The

economy is not good at the

GRAND OPENING: The Heritage Mall Pick n Pay was officially

relaunched last Friday morning following a revamp of the

store to match the alterations under way of the mall itself.

Cutting the ribbon at the relaunch were, from left, co-owner

Mark Shelton, his wife, Jane Shelton who cut the ribbon,

and Ian Hughes from Pick n Pay corporate for the Eastern

Cape

Picture: ROB KNOWLES

Something cathartic about removing weeds

Our garden received a little

rain while we were away and

just after we got home.

While it was great to be

home there were a number of

issues that needed

addressing, not least a great

surge in weeds in the lawn

and the beds.

My real interest is the lawn as I

believe that a beautiful lawn

shows off a garden.

Unfortunately, in this part of the

world there are a number creepy

crawlies and weeds that do their

best to retard any progress I

make. It doesn't help that Judy

thinks my obsession with the lawn

is amusing!

Anyway, the first job I got the

gardeners to work on was

removing the weeds from the

from an inspector or land at the CCMA.

"We are there to assist you in handling

your labour issues in the correct, fair and

consistent manner required by law," said

People Management Solutions owner

Ren Mouton.

Do you know how to deal with an

employee under the influence, ot h e r

moment, and people have a

choice as to where they shop.

So we have to be good to make

sure people continue to shop

with us.

"Everyone sells baked beans,

but it is the service they receive

that brings them back. It is the

customer who pays your salary,

not me. We are all ambassadors

of Pick n Pay, so every customer

needs to be treated as if what

they need, say or do is your

number one priority. It doesn't

matter where in the store you

are, help them find what they

are looking for, or find someone

else who can assist them."

MYHOME

... with Simon Oliver

lawn. The first day it was a bit

windy, then a bit cold and then a

bit hot. Needless to say, progress

was slow and it reminded me of

the saying, "When there is no

inclination, any excuse will do to

persuade one not to do

something".

The nett result is that they had

to spend several days doing a job

that they really didn't enjoy, that

could have taken one.

I am sure many of you relate to

this, and have projects that have

misconduct and poor performance? Or

do you as an employee know what your

rights and obligations are?

Send your questions and Mouton will

answer what she can next week.

Contact her on 076-092-4001 or e-mail

ren@peoplemanagementsolutions.co.za for a

consultation and quote.

The relaunch finished a little

ahead of, but in line with,

current modifications to the

mall itself.

The staff seemed genuinely

excited about the store's

relaunch, keeping smiles on

their faces even though many

had been working hard

throughout the night to make

the relaunch a reality.

Ian Hughes from Pick n Pay

Corporate in the Eastern Cape

put his seal of approval on the

store which he said was looking

fa n t a st i c .

Hughes said this was what

was required from every store,

and that he was impressed by

the staff's level of commitment.

Jane Shelton, accompanied

by her husband and Hughes,

cut the ribbon officially opening

the store at 6.30am and

customers began to enter the

store immediately thereafter.

Shelton was also impressed

with proceedings and thanked

everyone for their efforts to get

the store in an immaculate state

for the relaunch.

not been started or are half

complete. You have a nagging

feeling that you should do

them but there is always

something that stops you

from getting started.

Spring is a time when

things in your garden happen

quickly and if you don't tackle

them at the first opportunity they

become overwhelming.

I am sure that once the weeding

of the garden is complete

everything will start to bloom and

most importantly my conscience

will be clear.

I hope this has pricked your

conscience to do a few of the odd

jobs you have been procrastinating

on. Please give me a call

on 082-653-5643 or contact me on

s i m o n . o l i v e r @ s e e f f. c o m

Kenton on Sea | R2 700 000

Large family home in quiet street

Bedrooms 5 | Bathrooms 3 | Garage 2

ĂŝŽīĞŽĞŶůĂŶŵŽĚĞŶŬŝĐŚĞŶĚŝŶŝŶŐŽŽŵĂŶĚ

ůŽŶŐĞůĞĂĚŝŶŐŽŚĞĂĂůůĞŶĐůŽĞĚůĞĚĂŽďĞĚŽŽŵ

ĂŶĚďĂŚŽŽŵŽŶĂŝŚĂďĞĚŽŽŵĂŶĚďĂŚŽŽŵ

ůĂŶĚŽĞŽŽŵĂŶĚĚŽďůĞŐĂĂŐĞWEB REF 393897

MIKE BAILEY | 082 899 8103 | mike.bailey@seeff.com

Make that call today.

ŝĞ ď ĂŽŝŶŵĞŶŽ Ăůů ŽĞŶĂů ŶĞĞĚ ůĞĂĞ ĐĂůů

ŝĐŚĞůůĞ

Kenton on Sea | R2 950 000

ŵŵĂĐůĂĞŚŽŵĞŽīĞŝŶŐůĞŶŽĨĂĐĐŽŵŵŽĚĂŽŶ

ŽŶĂůĂŐĞůŽ

Bedrooms 5 | Bathrooms 4 | Garages 3

ĂŝŽīĞŚĞŵĂŝŶďĞĚŽŽŵĞŶŝĞŵĂůůŬŝĐŚĞŶĞĞ

ĚΘĞĂĚŝŶŐĐŽŶĞŽŶĂŝŚĂďĞĚŽŽŵďĂŚŽŽŵ

ůŽŶŐĞĚŝŶŝŶŐŽŽŵŬŝĐŚĞŶΘĨĂŵŝůŽŽŵďĞĚŽŽŵ

ŐĂĚĞŶĐŽĂŐĞŝŚůŽŶŐĞΘŬŝĐŚĞŶĞĞWEB REF 465879

MIKE BAILEY | 082 899 8103 | mike.bailey@seeff.com

Make that call today.

ŝĞ ď ĂŽŝŶŵĞŶŽ Ăůů ŽĞŶĂů ŶĞĞĚ ůĞĂĞ ĐĂůů

ŝĐŚĞůůĞ
---
October 25, 2018 ADVERTISING / NEWSDESK: (046) 624 4356 Find us on Facebook

Talk of the Town 9

TIME TO SHINE: Ziyaad

Rahman, left, and

Sarah Riddin with the

certificates they were

awarded for academic

excellence at the PAHS

foundation phase

prize-giving on

Thursday last week

Pictures: JON HOUZET

PLEASED AS PUNCH: PAHS pupils Hayley

Coetzee, left, and Robyn Dacombe were among

the foundation phase pupils who received

certificates and prizes at the prize-giving in the

school hall on Thursday night last week

MANY YEARS OF SERVICE: Retired teacher Yma

van Zyl was presented with a bouquet after

doing the honours of handing out certificates

and prizes to pupils at the PAHS foundation

phase prize-giving

R3.3m care facility for elderly set for Thornhill

TK MTIKI

Things are about to change for elderly

people who are currently spending

their days in a container which is

used as a care centre in Ndlovini

township.

Ndlambe municipal officials together

with the director of human settlements

in the Sarah Baartman Region, Mpho

Ndoni, attended a sod-turning ceremony

at a plot set aside for the centre at

Thornhill, just behind Titi Jonas

community centre.

Ndoni said the project, which is being

developed and funded by human

settlements, would start soon.

"It's the middle of October now. I

believe the project will start early

November".

She said R3.3-million had been

TURNING SOIL: Ndlambe officials and human settlements representatives attend a sod-turning ceremony at a portion

of land allocated for the building of a day care facility for the elderly at Thornhill last Thursday

Picture: TK MTIKI

allocated for the project.

Ward 6 Councillor Mkhululi Raco said

they were trying to make a place of

comfort and love for the elderly.

"You know from an African culture

when you place parents in an old age

home it feels like [you're] neglecting

them but with the new day centre there

will be warmth, care and love," he said.

He said the appalling conditions that

many elderly people have been living in

were not good. "Remember for the past

10 years these old people have been

living in that container," he said.

Infrastructure portfolio councillor

Thembani Mazana said Sassa and the

department of health and social

development would be involved in the

initiative. He further mentioned that the

day care would make life easier for old

people since they would not have to go

to the clinics or hospital for medical

needs, but rather be attended to at the

cent re.

However, Mazana said the community

was not aware of the project. "We are

still going to introduce the project to the

community and it is where we will

discuss maintenance," he said.

Ndlambe spokesman Cecil Mbolekwa

confirmed their role in the project as the

municipalit y.

"Once the structure is finished it's

going to be handed over to the municipality

by the department of human

settlements. Our role will be the security

of the property, maintenance of the

property, and we also have to make sure

that the property is occupied," he said.
---
10 Talk of the Town ADVERTISING / NEWSDESK: (046) 624 4356 Find us on Facebook

October 25, 2018

N E I G H B O U R LY NOTES

E-mail Rob Knowles at knowlesr@tisoblackstar.co.za or fax (046) 624-2293

or drop in at 29 Miles Street from 8am to 4.30pm, Monday to Friday

THIS weekend is a little busier than it has been

recently, so there's a lot more to consider

attending. Let's start with the African Christian

Democratic Party (ACDP) AGM at the Wimpy

restaurant this evening (Thursday). It starts at 6pm

and all are welcome.

Saturday, however, is a little more active with the

St James Catholic Church bazaar from 9am, and a

Prayer service for the country at 12 noon at Port

Alfred Baptist Church. The Rhodes University Jazz

Band will be hosting their end-of-year concert at

The Lowlander in Makhanda at 7pm, and Two's

Company will be performing at Tash's Craft Bar

starting at 7.30pm.

But, perhaps the biggest event on Saturday is the

Duck Pond clean-up where you are invited to join

Talk of the Town in helping to clean up the Duck

pond in the CBD. Ladies, gents, boys and girls, this

is our town and, no matter whose job it is

supposed to be, we need to take care of our town.

We need visitors to generate more income for our

town, and the more attractive we can make it the

more visitors we will get. Conversely, if we leave

the town to degenerate into wrack and ruin there

will be no visitors, no economy and no jobs. So join

Talk of the Town for the clean-up and do your bit to

help clean-up our town.

For more information on these and all other

activities in the area, please see the Diarise This

section, below.

I N C I D E N TS of crime seem to have escalated over

the past few weeks, and residents and visitors are

reminded that they should be aware of how to

lessen the chances of being robbed by following

some simple and even obvious rules. Do not walk

alone through the CBD or in isolated places at

night. Be attentive to your surroundings. Lock

doors and windows of your place of residence and

if there is an emergency alarm system, activate it

even at night when you are in the house sleeping.

Do not leave valuables visible in your vehicle

wherever you park it. You can probably think of a

lot more obvious ways to prevent crime so, just be

vigilant and aware that criminals are at large. Do

not make it attractive for them to steal or rob from

you.

PORT Alfred's only gun shop was robbed last week

Thursday in a manner that implies there was

inadequate security at the premises. Our page 2

story is a brief description of the incident as

provided by SAPS spokesperson, Captain Mali

Govender. However, on further enquiry it appears

that the directorate of priority crime investigation

(DPCI), more typically referred to as The Hawks, is

now on the case. Therefore it appears that this is a

priority crime yet, as far as we are aware, no

arrests have yet been made and the weapons

stolen (including handguns, shotguns, rifles and

ammunition) have not yet been recovered. Let's

hope that none of these weapons end up killing or

injuring anyone here.

IT has to be said, but the sheer arrogance of some

of the civil servants and government officials, as

well as the business people they dealt with, have

shown nothing but complete contempt at the state

capture inquiry. They refuse to answer questions

put to them and earnestly believe that South

Africans are so brow-beaten that we will just

accept this type of behaviour from people whose

salaries we pay. The VBS scandal has brought an

entirely new angle to the matter of state capture

and corruption, where municipalities unlawfully

invested in a mutual bank, VBS, and now expect us

to ignore the fact that billions have been stolen

and that some people, particularly pensioners, now

have no savings left for their retirement. But

inquiries cost the taxpayer (you and me) a lot of

money, so we need to move these along as quickly

as possible and get the fraudsters out of their

positions. But first, they need to pay back the

m o n e y.

THE trial of Nigerian Pastor Timothy Omotoso (he's

the clown-like character with the frilly shirt sitting

in the dock) continues, and the defence's efforts to

have the judge recuse himself on the grounds of

bias toward the witnesses failed. Let's get this one

out of the way as quickly as possible. If Omotoso is

guilty this is not just a crime against the girls but

against God in whose name the pastor worked

enslaving and raping girls, some who were just

entering puberty. To the authorities; stop wasting

our money and get it over with.

HAPPY birthday greetings to everyone celebrating

and enjoying a special day in the week ahead.

Congratulations to all with wishes for many more,

especially Dr Glenda Hicks, twin brothers Jacques

and Billy Krige, Rob Chris Hammond, Patricia

Maqanda, Graham Frost, Kadekile Nosilda, Kyle

Menin, Jeremy Briscoe, Heine Aylward, Gail Elliott,

John Elliott, Chadley Alexandre, Rebecca Simes,

Claudine Riddle, Alma Surmon, Val van der Bergh,

Clinton Schultz, Benita Gibb, Janine van der

DIARISE THIS

Merwe, Maude Cannon, Andre Mahne, Patrick

Moran, Merwyn Jones.

B E ST wishes for your continued success to all

businesses or organisations having or adding

another anniversary to their score, especially The

Kowie Museum, Pig 'n Whistle (when they

reopened in 2008), Sew Smart, Wharf Street Brew

Pub.

BY the time you read this Finance Minister, Tito

Mboweni, will have announced his medium-term

budget policy statement which will be in the public

domain. Let's hope that his strategy, together with

that of President Cyril Ramaposha, is enough to

give the economy what it needs to be able to

create jobs and assist people out of poverty.

Fat-cat salaries have to be lowered (and yes, I even

mean councillors who earn R25k and upwards plus

allowances in a job that was previously a voluntary

position), and the obscene pay-outs awarded to

people to get them out of office (For example, at

Eskom and the other state-owned enterprise, along

with other business leaders). This must stop. In

fact, having calculated how much these people

have stolen from our fiscus, they should be made

to pay it all back or go to jail for a very long time

so they have no way to enjoy the fruits of their

nefarious activities. With last year's figures in

brackets to compare against, the Rand was trading

at R14.18?$ (R13.91), R18.29?£ (R18.40) and R16.14

to the Euro (R16.42). Gold was trading at $1,230.39

per fine ounce ($1 274.99), Platinum at $836.30

per ounce ($925.50) and Brent Crude Oil at $75.87

per barrel ($58.54).

SPECIAL thoughts and prayers are with all those

folk who are unwell, having or have already had

tests, operations and treatments. 'Sterkte' to Roy

Potter, Andrew de Vries, Jenny Groenewald,

Rowena Collin, Marian Eaton.

WEDDING anniversary greetings and our

congratulations to all couples celebrating an

anniversary, especially Dave and Ann Tyrrell, Greg

and Elzette Reed, Rico and Belinda Viljoen, Christo

and Deirdre Muller, Emil and Wilma Jurgenson,

Trevor and Sue Langley, Colin and Joan Purdon.

THOUGHT for the week: "Many good minds

working together are always better than one

working alone – teamwork certainly makes the

dream work!"

BEST regards as always,

The Team.

THE TALL AND THE SHORT OF IT: Port Alfred High School

headmaster Clive Pearson announced the head prefects

for 2019 at the recently held senior school prize giving

event. They are, from left, deputy head boy

Mhlangovuyo Beja, head girl Lynn Baatjies, head boy

Joel Austin and deputy head girl Asisipho Dingile

OUR ENTRIES ARE OPEN FOR NOVEMBER, DECEMBER and JANUARY

E-mail houzetj@tisoblackstar.co.za or fax (046) 624-2293 or drop in at 29 Miles Street from 8am to 4.30pm, Monday to Friday

Albany Vintage and Classic Motor Club Museum opens

on the last Saturday of each month – 9am-12 noon –

Hawkins Industrial Park, Alfred Road, Port Alfred.

Alzheimer SA East Cape Support Group meets the last

Thursday of each month at 3pm at Brookshaw Home at 9

Donkin Street, Grahamstown. The Support Group is for

family, friends and caregivers of those with Alzheimer's

Disease or any form of Dementia. There is usually a speaker

followed by discussion and tea. Contact Dr Heather Rauch

081-350-8079 for information and to get on to our mailing

l i st .

Bathurst Farmers Market – Every Sunday rain or shine at

Yesterday Today and Tomorrow Nursery, Kowie Road from

9am-12.30pm.

Birdwatching Tours and Three Sisters Saunter. Book with

Anne 046-675-1976 or 083-719-4950. w w w. a n n e s b i r d i n g . c o . z a

Bonsai Club meets once a month on a Saturday. For more

information please contact David Brewis on 076-457-3218.

Or e-mail d a v i d b re w i s 77 @ g m a i l . c o m

Bring your tools and layout in and enjoy the creative

atmosphere and free coffee at Bcreative Scrapbooking, Shop

12, Rosehill Mall. Available weekdays and Saturdays, groups

welcome. Call Nicolene on 046-624-3096 to book.

Builders and contractors networkingon the first Thursday

of every month at Diaz Country Club in Bushman's River

Mouth. Starts at 6pm. Open to builders and contractors of

Bushman's River Mouth, Kenton-on-Sea, Boknes and Port

Alfred. For more information contact Built-it Bushmen's

River Mouth on 046-622-3158.

Cricket Club – Practices on Tuesdays and Thursdays at the

Port Alfred Country Club, French Street from 5pm. Contact

Rob Nel on 076-394-4067.

Duck Pond Morning Market every Wednesday, Friday and

Saturday from 9am-2pm, between Burksies Coffee Shop and

Penny Farthing restaurant. Jams, pickles, secondhand

books, cakes, quiches, secondhand clothing, crochet

knitting, plants. All stallholders welcome. Contact Wendy

081 - 347 - 9562 .

East Cape Shotokan-Ryu, Port Alfred - Mondays and

Thursdays: 4.30pm for beginners. 5.15 for intermediate class

and 6pm for the advanced cl;ass. Contact Gary Grapentin on

073-346-0059 for more information.

FAST (Forum for Astronomy, Science and Technology) meets

on the first Thursday of each month at the Port Alfred

Ski-boat Club at 2.30pm. Visitors welcome. Please contact

Shirley Marais at s h i r l e y @ t h e a n n o u n c e r. c o . z a or on

082-928-8671 for more information.

First Port Alfred Scout/Cub meetings. Every Friday at the

Girl Guide Hall, from 3pm-5pm. Visitors welcome. For more

information contact Dot Fethers on 046-624-3192.

Hockey Club – Practices on Tuesdays and Thursdays from

5pm at the Port Alfred Country Club, French Street. Contact

Chris Pike on 082-350-0900.

Kenton Garden Club meeting second Wednesday of the

month at 9.30am. For info visit w w w. k e n t o n g a r d e n c l u b . c o . z a

Kenton Pub Quiz – 6.30pm – first Sunday of each month at

Kenton Bowls Club. Cash bar available. Cash and other

prizes. Teams of four to six. All welcome.

Kleinemonde Morning Market on the first Saturday of

every month, from 8.30 to 10am. Kleinemonde Community

Hall. Enjoy breakfast and browse the stalls selling

wholesome farm chickens and home produce, including

quality meats, vegetables, pancakes, frozen meals, quiches,

bread, rusks, gingerbread houses, home baked cakes, doggy

treats, candles, gifts and more.

Knit and Knatter Crafters club at Holly House, every

Wednesday at 9am. All welcome. Contact Kathy on 046-

624-4452 for further information.

Kowie Auctioneers - monthly auction every last Thursday of

the month at 35 North Street. Entries for the auction need to

be in on the Tuesday before the auction. Viewing day prior

from 2pm. For more information call Colin Maclachlan

083-521-3623 or Peter Charter on 082-569-3478.

The Kowie Camera Club monthly meeting, the last Monday

of every month (except December) at 7pm in the Settlers

Park Retirement Village hall. Contact Herman Groenewald

078- 428-9551.

Kowie History Museum,at The Old Railway Station, Pascoe

Crescent. Open 9.30am-12.30pm Tuesday-Saturday. Closed

Sunday/Monday and public holidays.

Lower Albany Historical Society meets third Thursday of

the month – some meetings in Don Powis Hall, Settlers

Park, others, outside trips. Call Avonne on 083-473-6823 for

details.

Lower Albany Woodworkers' Guild, meets first Tuesday of

each month. Call Brian Edwards on 046-624-2945, or John

Moss on 082-829-5484 for more information.

Memory Book Scrapbook Club meets twice a month on a

Thursday afternoon. All welcome. Contact Cheryl 046-

624 - 2733 / 083 - 556 - 7562 .

MOTHS – Old soldiers never die – Calling all ex-servicemen

"Ou Manne" and their ladies for a get-together on the first

Sunday of every month at 12 noon and the MOTH Hall

(behind the Ski-boat Club) for a light lunch and some

memories. RSVP MOTHS at 082-537-9033 or 084-983-8550

for catering purposes.

National Sea Rescue Institute practices every Wednesday

at 5pm. To join the NSRI visit the base in person to undergo

an evaluation.

Pigeon Club – Meets at Port Alfred Country Club, French

Street, to basket birds on Thursdays from 5pm and striking

out on Saturdays from 5pm. Official race programme from

May 31 available. Contact Ray Schenk on 083-558-3195

Port Alfred Art Club welcomes new members, both

experienced or wanting to learn. We meet weekly offering a

monthly DVD from leading artists, giving excellent tips and

guidance on how to draw and paint. Contact Jenny

(083-292-2650) or Netty (084-584-6629).

Port Alfred Bowling and Croquet Club invites you to try

your hand at lawn bowls. Free coaching and bowls available.

Situated next to the Nico Malan Bridge. Enquiries: Rod

Wilson at: 082 375 2968 or 046 624 5671. See our website

at: w w w. p a b c c . c o . z a

Port Alfred Bridge Club – Now meets at the Eddie Grant

MOTH Hall every Monday and Thursday – 1pm for 1.30pm

start. All bridge enthusiasts and persons wishing to learn to

play bridge are most welcome.

Port Alfred Community Police Forum meets on the third

Tuesday of each month at the Port Alfred Police Station at

2.30pm.

Port Alfred Floral Art Group (PAFAG) meets on the 3rd

Saturday of the month at Settlers Park hall at 2.30pm. For

more information please phone 082-464-4606 (Hennie de

Bruin). All welcome.

Probus Club of the Kowie meets on the second Tuesday of

each month at 10am at the Port Alfred River and Ski-boat

Club.

Richmond House Museum and Music Room. P r i vat e

non-profit museum est. 2007. The building (1948) is a

replica of the Castle, and the displays trace 175 years of

owners and alterations. No admission fee, but donations

welcomed. Tours by appointment only: 082-456-7437.

'Classics at the Castle' classical/jazz concerts check press

or w w w. fa c e b o o k . c o m / r i c h m o n d h o u s e m u s e u m m u s i c

Rocky Ridge Farm Market opens every Saturday and

Sunday from 9am with a variety of home made delights,

"egg-cellent" free-range eggs, honey, biltong, droewors as

well as its very popular morning breakfast. Contact Desia

Holmes on 083-589-0765 for more information.

Rosehill Mall Art and Crafters Market, the first Saturday

of every month, from 9am-4pm. A true art and craft market.

Only handmade items available by our local crafters. Large

selection of goods.

Running and Walking – Kowie Striders meet at the Port

Alfred Country club, for the trials on Tuesday from 5pm and

track speed work sessions on Thursdays from 5pm. Contact

Sticks Stiglingh on 071-612-7339 or Alan Robb on

082-495-6842

Scottish Country Dancing at Don Powis Hall, Settlers Park,

every Wednesday from 5.30pm-7pm. For more information

please phone(046-604-0478.

Scrapbook workshops and classes: Bcreative offers

monthly workshops, night classes, social classes and a

whole lot more. Call 046-624-3096 to book or for more

i n fo r m at i o n .

Sunshine Coast Women's Forum meets every fourth

Tuesday in the Don Powis Hall, Settlers Park at 2.30pm.

Come and join us. Visitors welcome. For more information

contact Tosca Spenceley 046-624-4339.

Tap dancing classes by Belinda Prince on Mondays and

Wednesdays. For more information contact Belinda on

073 - 251 - 2076 .

The Riverside Ramble: a new self-guided tour (map R10

from Sunshine Coast Tourism or Kowie History Museum) of

historic Wharf Street and Van der Riet Streets.

U3A – Port Alfred Branch meets on the fourth Thursday of

every month at 9.30 for 10am at the Don Powis Hall, Settlers

Park village. All welcome.

Vespers (Evensong)- St Paul's Anglican Church, 15 Ferndale

Road, 4.30pm every Tuesday, officiant and organist: Father

Noël-Jean Creille. Contact 060-851-4483

Thursday October 25

Port Alfred Art Club– Month-end social, Library and DVD

exchange. Bring paintings for review and enjoy tea, coffee

and snacks at the Catholic Church Hall. Starts at 9.30am.

Memory Book Scrapbook Club – 2pm to 5pm –

Presbyterian Church Port Alfred. All welcome. Contact Cheryl

046 - 624 - 2733 / 083 - 556 - 7562 .

ACDP Port Alfred branch AGM – 6pm – Port Alfred Wimpy,

Southwell Road. Nelson Mandela Metro councillor Lance

Grootboom will be speaking on how one man with God can

make a difference. All welcome.

Saturday October 27

Duck Pond cleanup – join Talk of the Town in helping to

clean up the Duck pond in the CBD. Gloves and bags

provided. Meet at the Duck Pond car park at 9am.

St James Catholic Church bazaar, from 9am. Garden stall,

needlework, cake stall, tea garden, boerewors rolls, white

elephant table, book corner and more. Exciting raffle draws

will also take place, and tickets will still be available at the

b a z a a r.

Prayer service for the country – 12 noon – Port Alfred

Baptist Church. To coincide with It's Time, the meeting held

by Angus Buchan in Pretoria. Arranged by the Port Alfred

Ministers Fraternal, Nemato Ministers Fraternal and the

Christian Men's Association. For more information contact

Leon Coetzee on 082-673-1492 or Tony Bryant on

072 - 736 - 9328 .

The Rhodes University Jazz Band will be hosting their

end-of-year concert at The Lowlander in Makhanda, at 7pm.

The 18-piece band will be performing various styles of the

big band jazz genre from well-known American and South

African jazz classics to latin, funk and other contemporary

arrangements. Entrance is R20 at the door – all welcome.

Tw o 's Company: At Tash's Craft Bar. With costume changes,

some old songs and some new ones, Rob Gillmer and Candy

Gilson are sure to entertain with hits from Sinatra, The

Carpenters, The Beatles and Freshly Ground. Show starts at

7.30pm and tickets cost R130 which includes a delicious

chicken or beef burger.

Sunday October 28

Diaz Cross Bird Club outing: Visit to Craigdoone near

Makhanda/Grahamstown. There will be an entrance fee of

R30pp. Bring a picnic brunch. Visitors welcome (R10 per

person to DCBC). Meet at Heritage Mall car park at 6am or

Prestons, Kenton at 6.30am. For further details contact Tim

Cockbain 046-624-8483.

Thursday November 1

Port Alfred Art Club – DvD morning. Don Powis Hall at

Settlers Park. Starts at 9.30am

Saturday November 3

CMA breakfast – 7 for 7.30am – Ta s h 's Craft Bar. Speaker

Piers Steenekamp, who committed his life to God while

playing in a rock band in 1967, and went on to be a full-time

pastor. He will share thoughts on a church celebration in

Port Alfred. Suggested donation of R45 (R20 for students) to

cover costs of breakfast.

Settlers Park Craft Market – Come and do your early

Christmas shopping. A wide variety of stalls to suit

everyone. Jewellery ,cards, toys, glass art, baking,

woodwork,deli, and much more. Spend the morning

browsing then enjoy a cup of tea or coffee and sumptuous

eats. Doors open at 8.30

Saturday November 3 and Sunday November 4

Bathurst Art Fair: Indulge in this year's unique art

meanderand& collectables showcase.

Sunday November 4

Organ recital – with Father Noël-Jean Creille at the St

Pa u l 's Anglican Church. Starts at 3pm. Retiring donation.

Saturday November 10 and Sunday November 11

SA Open Kneeboard Championships at East Beach. Started

in honour the late Clinton Bradfield who was a Springbok

Kneelo. The Kowie Boardriders Club will be assisting with

running the event and hosting the visitors. They are

expecting around 40-50 kneeboard surfers to attend. All age

divisions: cadet to immortal.

Monday November 12 to Monday November 19

Kowie Camera Club inaugural photo exhibition at the RD

McKenzie Art Gallery, Wharf St, Port Alfred.

Sunday November 25

Organ recital – with Father Noël-Jean Creille at the St

Pa u l 's Anglican Church. Starts at 3pm. Retiring donation.
---
October 25, 2018 ADVERTISING / NEWSDESK: (046) 624 4356 Find us on Facebook

Talk of the Town 11
---
12 Talk of the Town ADVERTISING / NEWSDESK: (046) 624 4356 Find us on Facebook October 25, 2018 ADVERTISING / NEWSDESK: (046) 624 4356 Find us on Facebook

Talk of the Town 13

El Shaddai honours its top achievers

JON HOUZET

Top achievers in sports and academics

received certificates and awards at the

El Shaddai Christian Academy's senior

prize-giving on Friday last week.

The awards ceremony was preceded

by a demonstration of the pilot

training programme at El Shaddai, in

which pupils use a computer flight

simulator programme to take off, fly

and land at airports around the world.

The experience they get by

participating in the programme gets

them credits towards going to the

flight school, like 43 Air School, or the

South African Air Force.

The school is proud that one of its

pupils already has a part-time

apprenticeship at 43 Air School.

The pupils who learn the

programme first become teachers to

the ones after them.

In her address to pupils, principal

Rene Payne said the year had been an

exciting one, including a visit to the

Kowie Museum by various classes,

visits to museums in Makhanda

( G r a h a m st o w n ) , game drives,

participation in Sci-fest, trips to Addo

and Shamwari for tourism,

entrepreneurs days, a visit to Bay

World, a visit to 43 Air School, a

Words of wisdom for Kuyasa Combined School matrics

N TO M B E N TS H A

MSUTU

Kuyasa Combined School

in Endlovini held its

valedictory service at the

school hall last Thursday,

with matriculants,

parents and special

guests in attendance.

The event opened with

song and prayer, setting

the tone for the

at tendees.

The main aim of the

event was to motivate

grade 12 pupils,

celebrate the journey

they had travelled during

their school careers and

to give them strength as

they were about to write

their final exams, and to

give them hope for the

future.

Deputy principal

Lulamile Mxube was

tasked with welcoming

the guests.

School principal Xolani

PUPILS' VOICE: Members of the representative council of learners (RCL)

at El Shaddai Christian Academy senior prize-giving on Friday last week.

Some will serve a second term and welcomed new members to their

ranks

Pictures: JON HOUZET

leadership camp at Beyond Adventure,

visits by the SAPS to talk about st e a -

ling, bullying, drugs and kidnapping, a

visit by the Edudome planetarium, a

visit to NMU for aptitude tests and

hikes along the beach.

For fun, there were movie and stor y

evenings, a travelling bookshop,

sports days, the matric farewell and

40 days braai, camps, the Polar

Plunge, hosting water tables for the

Kowie Striders 10 and 27km run and a

Justice Mayana

welcomed Reverend

Andile Mboyi from the

African Methodist

Episcopal Church in Port

Elizabeth, who delivered

a motivational address.

He started his talk

with a quote from

Jeremiah 29:11 – "For I

know the plans I have for

you," declares the Lord,

"plans to prosper you

and not to harm you,

plans to give you hope

Va l e n t i n e 's Day social, among other

things. "This is only our second year

playing team sports and slowly we are

growing in this area," Payne said.

El Shaddai has fielded teams for

hockey, netball, soccer, cricket and

seven-a-side rugby.

"Our archers have been amazing

and under the careful, expert guidance

of their coaches.

"They have hosted exceptionally

professional archery shoots and we

and a future."

Mboyi said: "When

you have a plan in place

for your life don't plan to

fail but plan for success.

"Sometimes we are

born into challenges and

situations that confine

us, sometimes we are

born to parents who are

not educated but their

intentions are to take us

to school and be

educated so that we may

change our past."

He also warned the

pupils against wanting to

take the easy way out of

things in life because it

never ended well, with

people landing up in jail

or in trouble.

"Easy come, easy go

in life.

"You must be willing

to work hard, start

imagining yourselves in

the future, tell yourself

what you want in life –

that will keep you

studying hard and make

you push yourself even

harder because you are

pushing yourself towards

that dream," he said.

"Another thing, always

know that God has a

plan for your life, and

start prophesying good

about your life.

"Make sure that you

always pray and include

God in your life, for your

plan to come true, you

need to work hard and

be patient.

"Short cuts have never

helped anyone and they

will never take you

anywhere."

In closing, Mboyi

prayed for the matrics

and told them to be

confident in themselves

and study hard and then

they would pass their

exams and succeed in

their dreams.

have had pupils attend Nasp [National

Archery in Schools Programme]

shoots. Well done," Payne said.

"One of our pupils has also excelled

at horse riding and brought home a

trophy that was almost heavier than

she is!"

Payne credited the hard work of her

staff, including teachers, support staff

and admin staff – "people who love

your children and strive to give them

the best".

She encouraged the children to

pursue their dreams, reminding them

they are each unique as created by

God.

"Be faithful with little and God will

entrust you with more, go the extra

mile, don't look for man's praise," she

told the pupils.

"Mix with people who are

like-minded, positive people who

motivate and encourage you, who care

about you and your future," she said.

"Find people of faith, not people

who are negative and have a bad

attitude to life – they will destroy your

dreams."

She also exhorted the pupils to have

courage and get out of their comfort

zo n e s .

"Don't allow fear to limit you.

"Be the person God has created you

to be."

ATHINA'S DELIGHTS

will no longer be trading from The

Courtyard in van der Riet Street

from October 31 st . Everything is

for sale - Fixtures, Fittings, Stock etc.

For orders please contact Penny

on 074 166 5076

DP ENGINEERING

..........................................................

75 Bathurst Street, Port Alfred

Tel: 046 624 4957

Cell: 083 360 6949

www.dpengineering.co.za

For all your steelwork requirements,

including burglar bars, balustrades,

fencing, security gates and wall spikes.

We also offer a powder coating &

galvanizing service and gate motors.

ACADEMIC AND SPORTS STAR: Erin Birch was

one of the top achievers at the El Shaddai

Christian Academy senior prize-giving on Friday

last week

EXTENDING THEIR THANKS: Reverend

Andile Mboyi, left, receives a vote of

thanks gift from Kuyasa Combined

School pupils' representative council

member Thandokazi Ngqowana and

school principal Xolani Justice

Mayana at the school's valedictory

service last Thursday

Picture: NTOMBENTSHA MSUTU

WINNING TEAM: Jacqui de Lange, left, and Gill Turner of IPC stand

outside the Bathurst branch where it is plain to see that they have much

to offer in terms of property and service

Picture: BRYAN SMITH

advertising feature

A decade of real estate with IPC Bathurst

Local Property agents celebrate 10 years of quality service, excellence

real estate agency Independent Property

Consultants (IPC) in Bathurst is celebrating

its 10th anniversary and looking back on a

decade of excellence and service as they proudly

help create home-owners.

IPC Port Elizabeth was established in 1992, and

has grown to be one of the most successful

estate agencies in the Eastern Cape, with more

GRAHAMSTOWN

Monika 082 855 0015

Richard 072 621 2846

¿046 622 5546

Congratulations

on your success

over the

10 years of

client service!

than 40 registered, qualified real estate agents

working for themselves under the IPC umbrella.

Principal of the Port Alfred IPC Gill Turner

opened an IPC Bathurst branch in 2008, adjacent

CONGRATULATIONS

IT IS A PRIVILEGE TO

BE PART OF THE

ACHIEVEMENTS OF

IPC - BATHURST.

WE WISH YOU MANY

MORE YEARS OF

EXCEEDING EXPECTATIONS,

BUILDING THE

COMMUNITY AND

MAKING A DIFFERENCE

IN THE PROPERTY MARKET.

PORT ALFRED

31 v d Riet Street

046 624 2901

info@ipcportalfred.co.za

BATHURST R850 000

SOLE

MANDATE

Jacqui

de Lange

083 651 7462

2 2 1

Quaint cottage set in a cul-de-sac in

the centre of the village. Open plan

living with deck, under cover patio,

2 bedrooms, 2 bathrooms, ideal starter

or retirement home.

to the Pig and Whistle pub, under the

management of her sister, Jacqui de Lange.

"Both Port Alfred and Bathurst are

experiencing good sales," said Turner.

The Bathurst branch has also become a hub for

the community and visitors alike where they are

welcomed by the always friendly Jacqui de Lange

who is ready to assist with any query or simply

offer directions or a cup of coffee.

"It has been a great journey and I have learnt a

lot. We have also forged great friendships and

look forward to the continued success of the

business and the community," said De Lange.

Having always expressed a passion for

property, Turner began her career as an estate

agent in 1971. "Then I stopped to raise a family

and assist my husband, Rob, with his business

for the next 25 years."

Turner went back into the estate agency

business in Port-Alfred 18 years ago and worked

for two different agencies before taking on the

IPC franchise.

"You have excellent exposure if you list your

property with IPC, as it will be accessible from

the main IPC website and Property 24, giving

Congratulations to

IPC Bathurst

on your 10th Anniversary!

WELL DONE!

29 Miles Street, PA | Tel: 046 624 4356

2 November -

Dia De Los Muertos Party

Mexican food specials

Live music with Claude Samuel

Mondays: Weigh and pay Steak Night 18h30

Wednesdays: Asian Cuisine (and normal menu)

Thursdays: Peri Peri Evening

Fridays: Meal Special

Sundays: Roast lunch

Congratulations to IPC Bathurst on your 10th Anniversary!

SOLE

MANDATE

Gill Turner

082 450 7720

BATHURST

Pig 'n Whistle Building

046 625 0308

www.ipcproperties.co.za

BATHURST R1 250 000

2 2

Stunning elevated Vermont home in

a quiet part of Bathurst. Open plan

living with 2 bedrooms, 2 bathrooms,

workshop and deck which surrounds

the house.

exposure to a vast range of people who may be

interested in buying property in our area."

She said that her team, including her qualified

agents De Lange, husband Rob and secretary

Noleen Horrmann, were all committed to the

business.

IPC has certainly done their part in putting

Bathurst on the map through their passion for

property and always going the extra mile to

accommodate the needs of their clients. "We

have a very enthusiastic sales team," said Turner.

Thus far, year-on-year, Turner and her team

have seen the company grow in terms of

revenue. "We hope to continue this trend," she

said.

So, if you are looking to sell or buy, speak to

an estate agency that understands your needs

and will do their utmost to fulfil them. Speak to

IPC, as they know the area and the people and

will give you the professional advice you would

expect from one of the Eastern Cape's most

successful franchises.

The last word is Turner's. "It's a way of life for

us; the small team with the big dream."

041 363 0000 | 276 Main Rd, Walmer

Congratulations

IPC Bathurst

on 10

successful

years -

We wish you

many more

years of success.

Tel: 046 624 2600 | Fax: 046 624 5969

P.O. Box 2510 | Port Alfred | 6170

ŵĂŝůũĂŶŶĞΛŐŝĞĞůĂŽŶĞĐŽĂ

ŽŶĞŽŶĞĂŶĐĞŽĂŝĞĂŝĞ

ĚŵŝŶŝĂŽŽĨĂĞ

Dear Gill and Team.

Congratulations on your 10 year

Anniversary in Bathurst!

We wish you many more years

ahead! Jannes & Staff -

Griesel & Associates.

BATHURST

CONVENIENT STORE

(next to Pig and Whistle)

Tel: 082 445 4841

*Home-made Pies

*Biltong

*Samoosas

*Springrolls

*Soft Serve

*Take-Aways Menu

*Slap Chips

Congratulations to Gill and her team

on 10 years in Bathurst! We wish you

great success going forward.
---
14 Talk of the Town ADVERTISING / NEWSDESK: (046) 624 4356 Find us on Facebook

October 25, 2018

AGRI FORUM

Agriculture sector gets clarity on land reform

DOUG STERN

Over the last few months, there have been

significant developments with regard to

organised agriculture's engagements with the

ANC and government in regard to land reform and

expropriation without compensation.

On August 21 Agri SA and Agbiz (agricultural

business centre) met with ANC deputy president

David Mabuza and ANC treasurer-general Paul

M a s h at i l e .

In this meeting, specific policy comments were

made, including that no land grabs will be allowed,

the protection of productive agricultural ground will

remain a priority, fallow land in the deep rural areas

will be optimised, property rights will remain a key

priority in agrarian development, and production will

be initiated on the approximately 4,000 farms

currently in government possession, to unlock their

commercial value and create farming opportunities.

Furthermore, an invitation was extended to

organised agriculture to delegate representatives to

serve on the advisory panel on land reform to

support the inter-ministerial task team on land

reform chaired by Mabuza. This meeting was

seperate to the meeting held in Cape Town between

President Cyril Ramaphosa, minister in the

presidency responsible for planning, monitoring and

evaluation, Nkosana Dlamini-Zuma and Agri SA

president Dan Kriek.

The Landbou Weekblad/Agri SA Land Summit in

Bela Bela was also attended by Mabuza, minister of

rural development and land reform Maite

Nkoana-Mashabane as well as department of

agriculture, forestry and fisheries director-general

Mike Mlengana. At this summit, the

above-mentioned points were again highlighted by

Mabuza. More than 65 presentations were made by

farmers of all races from a variety of agricultural

backgrounds, as well as prominent academics,

industry role-players and the financial sector.

Sub-themes presented included: How do we trust

each other?; What is the context?; Workers-partners

AGRI EC PRESIDENT DOUG STERN

Small company with big vision for farmers

At Overberg Bedrywe we understand the diverse demands of the

agricutural sector and the need to exercise control over every

ĂĞĐŚĞĞĨŽĞĞŽīĞĐŽŵĞŚĞŶŝĞĞŝĐĞĂŶĚŽĚĐ

ŚĂŽīĞŚĞŵŽĞīĞĐĞŽůŽŶĨŽĂůůĂŐŝĐůĂůŶĞĞĚĨŽ

convenience, peace of mind and sustainability.

ŐŝĐůĂůĞŝĐĞŝŶĂŶĐŝĂůĞŝĐĞĂŝŶŽĂŐĞŶĂŶĐĞ

ŝŐĂŽŶĞĐŚĂŶĚŝŝŶŐŽĚĐĞĞĚŽĐĞŝŶŐĂĚĞ

Tel: 074 128 2138 | www.overbergagri.co.za

for success; regenerating the platteland;

regenerating communal areas; good neighbours and

mentorships; regenerating restitution farms; farming

in partnership; black farmers' experiences; and

funding models.

The common threads running throughout were

that the lack of tittle deeds directly affects access to

production finance. Government support

programmes are poorly implemented where they

exist and most of the success stories involved no

government support and were initiated by farmers

voluntarily. What became clearly apparent was that

there is no shortage of innovative ideas and

structures to enable meaningful progress to be

made in this regard. The institutions providing

funding within the agricultural space were, however,

criticised for not doing enough and were challenged

to present their loan books regarding loans to

emerging farmers if they differed from this view.

This obviously struck a nerve, and the recent

announcement by Banking Association of South

Africa that the major banks were investigating the

establishment of a special fund for this purpose.

On Monday August 27, under the umbrella of Agri

Sector Unity Forum, the presidents of the four major

agricultural organisations, African Farmers

Association of South Africa, National African

Farmers Union,Transvaal Agricultural Union and Agri

SA signed a declaration of intent to develop an

economically sustainable national development

strategy for the agricultural sector. Agri SA has

undertaken to present a plan in this regard by the

end of November.

Recently Agri SA and several provincial affiliates

as well as Agbiz, Grain SA and a number of farmers

have met with ambassadors and diplomatic staff

from 13 countries. This was done to view how

foreign jurisdictions view the expropriation without

compensation (EWC) debate as well as serve as a

platform to discuss trade barriers and risks. It

emerged that our economic partners were

concerned about EWC, but there was also an

overwhelming appetite for agrarian reform and a

ROB KNOWLES

Situated on the outskirts of

Alexandria, Cape Eastern

Livestock (CEL) is a small

company with a big vision.

CEL owner David Howard

started the company in 2002

following stints at other

agricultural concerns.

Howard was born into the

business of agriculture as

his father was a livestock

agent, but travelled to

Johannesburg after leaving

school to "get a trade".

While there, he worked for

Atlas Aircraft as an aircraft

technician.

"I really didn't enjoy

Johannesburg," said

Howard, who couldn't wait to

get back to his native

Eastern Cape.

Then, when the time

seemed right, he opened

CEL, a livestock marketing

and export company.

He was joined in the

business by his father, John,

who has more than 40 years'

experience in the livestock

trade. CEL is a boon to

farmers in that it will act as

their agent.

CEL does not just operate

in the Eastern Cape, but also

has large deals in exporting

animals to neighbouring

count ries.

"We export animals to

other African countries, such

as Zimbabwe," said Howard.

"We are also committed to

assisting at the local

commonage and want to

help the municipality as

much as we can."

Among the small team at

CEL there is Howard, as well

willingness to get involved through funding.

Agri SA and its provincial affiliates remain

resolute in their opposition to EWC and will not

deviate from this view.

Legal advice and opinion has been already been

obtained from some of the top legal experts in the

field, if amendments to Section 25 of the

Constitution are tabled that will affect the industry

and the property rights of our farmers. However,

constant engagements with the governing party will

as Sandra Goosen as the

administrator, Leon

Schoombee, who is the

general manager, and Dwain

Goldsmith who handles the

company's marketing. "We

continue to convince decision makers that EWC is

not going to solve the challenges facing South Africa

with regards to land reform.

With this purpose, Agri SA and representatives

from its provincial affiliates again met with some of

the ANC's NEC members on September 7 where agri

business leaders, organised agricultural leadership

and farmers were given the opportunity to voice

their concerns. Discussions were open and frank

and set the basis for further engagements.

On September 21, Ramaphosa appointed the

advisory panel on land reform comprising 10

members who are eminently qualified by virtue of

academic background, professional experience,

social entrepreneurship or activism related to the

agricultural economy and land policy.

The panel is chaired by Dr Vuyokazi Mahlati who

is serving her second term as a member of the

National Planning Commission and who is president

of the African Farmers' Association of South Africa.

The other members of the panel are Prof Ruth Hall of

PLAS, Prof Mohammed Karaan from Stellenbosch,

Adv Tembeka Ngcukaitobi, Bulelwa Mabasa, Dr

Thandi Ngcobo, Wandile Sihlobo, Dan Kriek, Thato

Moagi andchairman of the Sernick Group, Nick

Ser fontein.

This panel is expected to provide perspectives on

land policy in the context of persisting land

inequality, unsatisfactory land and agrarian reform

and uneven urban land reform. The panel is

mandated to review, research and suggest models

for government to implement a fair and equitable

land reform process that redresses the injustices of

the past, increases agricultural output, promotes

economic growth and protects food security.

Agri EC supports the initiatives of Agri SA as our

national body and commits to contributing where we

possibly can to this national development strategy.

We therefore call on all our members to support

us in this regard and to please forward details of any

initiatives that have potential within your areas to

the Agri EC office, so that we can endeavour to

assist where possible.

also have a network in place

with other agents all around

SA," explained Howard.

Howard said that the

market was big enough for

all players, and that it was

CONTACT DES, DONNY OR JANNIE

TEL: (046) 653 0189

KABA ROAD, ALEXANDRIA

GREAT PRICES!

GREAT SERVICE!

VISIT US TODAY!

important to show respect

for and even work with

competitors to ensure the

success of farming in this

area.

S U P P O RT I N G

FARMERS: The Cape

Eastern Livestock

team is ready and

able to assist

farmers with

getting cattle to

market or in

securing the best

deals at the

abat toir,

guaranteeing

payments, transport

and other essential

services to the

farming community.

They are, from left,

manager Leon

Schoombee, Patties

Sizani, Dwain

Goldsmith

(marketing), Joshua

Bam, Sandile Keke,

CEL owner and

director David

Howard, Steven

Damani, bookkeeper

Sandra Goosen,

Mzamo Njajula and,

in front, Melumzi

B r a k fa s

Picture: ROB KNOWLES
---
October 25, 2018 ADVERTISING / NEWSDESK: (046) 624 4356 Find us on Facebook

Talk of the Town 15

Celebrating the life of an

independent nonagenarian

Game, set and match for Dot's 'just do it' attitude

CAROL TAGGART

Driving about

Kenton, you may

see a little

champagne-coloured

car, with a little, fluffy

toy dog peering out of

the back window – t h at

is Dot Thorburn and

"My Darling".

We visited Dot in her

home at Bushman's

River to find out all the

attributes that make up

an active 95-year-old

member of our Kenton

and Bushman's

communit y.

At the age of 90,

when most people are

downsizing and moving

into a gated estate, Dot,

having had and hated

that type of living, made

the decision to buy a

double-storey house,

and live independently

once again.

Her garden is her

pride and joy – it is

beautifully tended and

has an amazing variety

of plants. She

propagates many

cuttings which she

sometimes gives away

for a small donation to

Hospice.

Tuesday and Friday

mornings are Dot's

tennis days when she

joins the morning

Kenton tennis ladies to

play a full set of tennis.

Not only has she got a

keen eye for the ball,

but she contributes to

our tennis morning

conversation with news

and points of interest.

Dot loves watching

sport and even wrote an

article giving the

High School where she

matriculated. Union

High was founded in

1919 and Dot plans to

visit the centenar y

celebrations in 2019.

While still at school,

she set eyes on a

handsome man, a

Scotsman who had

moved to SA to work at

Standard Bank in

I am very blessed by the Lord and

thank Him daily for watching over me

"bookie" some advice –

pass to the wings!

Dot is a member of

the Dutch Reformed

Church and attends a

Bible study group every

week.

Asked what has

allowed her to lead

such a full life, her

answer was simply, "I

am very blessed by the

Lord and thank Him

daily for watching over

me."

Dot is a strong

witness to her

relationship with God,

his constant

companionship and

direction throughout her

l i fe .

Born in 1923 in

Graaff-Reinet, Dot

attended the Union

Graaff- Reinet. No

sooner had he arrived,

when war broke out.

It was 1939 and he

joined the South African

volunteers – Die

Middellandse Regiment.

He was sent to the

Eastern Desert and was

captured during the

Siege of Tobruk and

taken as a prisoner of

war for most of the war.

This had a lasting effect

on his health.

In 1946, "Sandy" John

McKenzie Thorburn,

returned to

Graaff-Reinet and the

young couple were

married.

They were relocated

with the bank to

Rhodesia (now

Zimbabwe) and spent

many years at various

branches.

They returned to SA

and continued to live in

different towns,

eventually ending up in

Port Elizabeth.

At this stage Sandy

retired, but

unfortunately, he was

not in good health and

died in 1984.

Following her

husband's death, Dot

moved into a retirement

village, but this was not

for her. Too many rules.

She had bought a

caravan some time

back and was spending

quite a bit of time in

Bushman's. Eventually

she decided to "just do

it" and moved into her

caravan on a permanent

basis, where she lived

very happily for the next

eight years.

She continued with

her interests and even

made a garden

surrounding her

caravan for which she

won second prize in the

local garden

competition.

She describes this

time as some of her

happiest and carefree

years.

D ot 's association with

Bushman's River goes

back many years, as

most family Christmas

holidays were spent at

Bushman's.

Dot has two sons

and, together with their

families and children,

they spend time visiting

her. She takes great

pride in her family, but

is quick to add she is

very independent and

really looks after

h e r s e l f.

Her other family are,

she told us, her church

and tennis friends.

Dot certainly is an

independent, intelligent

and interesting lady and

we had such an

enlightening tea,

listening to anecdotes

of her life story.

Thank you, Dot.

We celebrated Dot's

birthday on October 12

at the Kenton-on-Sea

Tennis Club. Dot was

awarded an honorary

membership by club

president Tony Bayley.

One thing is for sure,

Dot is a fun person and

up for any excitement

that may come her way.

ĨŽĞĐĞŵďĞĞĂŽŶ

ďĞĞŐŝĞĞĚŝŚ

ĂŶĚŝŶĂ

ŽŝĞĐĞĐŝ

ŽĸĐĞĂĞŶŽŶŽĂĚ

ĞŶŽŶŽŶĞĂ

LET THEM EAT CAKE: Dot Thorburn turned 95 recently and celebrated with

a cake from Patsy Bern, who made and donated the cake on behalf of

Pa n d o r a 's Home Industry

Trading Hours Sunshine Coast Spar: Mon – Fri: 7:30am – 6pm

Sat: 7:30am - 5pm Sun 7:30am - 4pm

Valid: 26 - 28 October 2018 | E&OE | Tel: 046 648 1023 | While stocks last

Chicken Kebabs

R59.99 Per kg

Koo Baked Beans

5 for R50

Stork Country Spread

Margarine 1kg

R34.99 Each

Castle Lite 340ml

NRB 6's

2 for R109.99

SPAR Milk 1L 6's

R59.99 Each

KWV 3 Year 750ml

R125.99 Each

THE VOLO SUPPORTS RESPONSIBLE GAMBLING

Follow us on Facebook
---
16 Talk of the Town ADVERTISING / NEWSDESK: (046) 624 4356 Find us on Facebook

October 25, 2018

ANGLICAN CHURCH ALBANY

A R C H D E A C O N RY

St Paul's Port Alfred – Ferndale Road.

Sunday Eucharist 8.30am

Wednesday: Eucharist 8.30am.

St Barnabas – Nemato Port Alfred

Sunday Eucharist 9am.

St John's – Bathurst Sunday Eucharist

8.30am

St Mary's – Cuylerville 11am Eucharist (1st

Sunday in the month only).

St James – Southwell 11am Eucharist (3rd

Sunday in the month only).

Enquiries: (046) 624-1236.

ANGLICAN PARISH OF ALEXANDRIA

St David's Bushman's River Mouth

Holy Communion Service:

Sunday 8am

Wednesday 9am.

Christ Church, Alexandria Eucharist S u n d ay

9am.

Enquiries: Rev Mxolisi Somandi (046)

648-1232 or 078-950-3960.

APOSTOLIC FAITH MISSION BETH-EL

ASSEMBLY ALEXANDRIA – 14 De Wet Street

Sundays at 10am and 6pm

Wednesday Prayer meeting at 6.30pm.

Enquiries: Pastor Alan Cannon

072-907-8405..

AFRIKAANSE PROTESTANTSE KERK

Vir AP Kerkdienste. Kontak Anton Kok by

082-964 -3123.

BAPTIST CHURCH PORT ALFRED

Morning services and Children's church

(Ignite) 9.30am.

Evening services 6pm – (NO evening service

on the last Sunday of the month)

Youth: Fridays: Grades 1-3 (KICK) at 5pm-6pm,

Grades 4-7 (SWAT) at 6pm-7pm. Grades 8-12

(RIG) at 7pm-9pm.

Pastor: Josh de Wit – 073 -166-2 939

Office: (046) 624-1335.

We b s i te : w w w. p o r t a l f re d b a p t i s t . c o . z a

Email: p o r t a l f re d b a p t i s t @ g m a i l . c o m

BATHURST COMMUNITY CHURCH

The Village Chapel, 1 The Stables, Kowie

Road, Bathurst

Ser vices: Sundays at 9am

Pastor on 084-441-2876 or (046) 624-3623.

CATHOLIC CHURCH

St James Catholic Church – Caxton Lane,

Port Alfred.

Mass Times: Sunday – 9.30am

Tuesday – 5pm

Friday – 8.30am

St Thomas Catholic Church – Tenth St,

Station Hill, Port Alfred.

Mass Times: Sunday – 9.30am,

Wednesday – 6pm

St Anthony's Catholic Church – Bushman's

CHURCH NOTICES

River Mouth.

Mass Times: Sunday – 7.30am

Sacred Heart Catholic Church – A l ex a n d r i a .

Mass Times: Saturday – 5.30pm

Enquiries: Fr Trymos Munyaka on (046)

624-1509 or 082-676-6573

CELEBRATION CENTRE

Little Theatre on the Wharf, Wharf Street.

Sunday morning service – 9am.

Pastor Eldin and Lyn Rudolph cell

078-342-9194. All welcome.

CHRISTIAN SCIENCE SOCIETY

Goodwill Centre.

Sunday 9.30am.

Enquiries: 082-600-5429.

CHRIST AMBASSADOR MINISTRIES

770 Runeli Drive, Nemato.

Sunday Services: 10am-12pm.

Evening services 6-8pm. Tel/Fax: (046)

624 -2632.

CHRISTIAN HARVEST CHURCH

3013 Shiceka Street, Nemato

Sunday Services: 9.30-12pm.

Evening 5pm-7pm.

Contact: 083-513-5638.

PORT ALFRED CHURCH

21 Masonic Street, Port Alfred.

Grace Bible College (Free) Mon – Fri am.

Sunday: 9am.

Contact: John 073-633-2465 or Mark

073- 465- 4555.

FULL GOSPEL

Sunday Morning Service 9.30am.

Evening Service: 6.30pm.

Friday Junior Youth: 7pm.

Enquiries: (046) 624-1915.

FULL GOSPEL (STATION HILL)

Sunday morning: 10am.

Enquiries: Pastor P Israel 084-582-4607

GEREFORMEERDE KERK

Eredienste elke Sondag oggend om 9vm in

die "Settlers Church" historiese monument)

h/v Buthurst str and North str. Navrae ds

Aucamp by (046) 654-0106/083-654-9190 of

Bert Venter by (046)

654 -0272/082-451-2426.

GRACE AND TRUTH CHURCH

Albany Centre, 90 Albany Road.

"For the law was given through Moses, but

grace and truth came through Jesus Christ."

(John 1:17).

Sundays: 9.30am

Contact: Gary Ford 072-761-3417, (046)

624 -4985

GREAT COMMISSION CHURCH

Previously Bushmans Family Fellowship meet

in Bushmans Town Hall 9am Sunday

mornings! All welcome!

Contact: Ps Charles Southey 078-650-3694.

KING OF KINGS GLOBAL MOVEMENT

Meets at the MyPond Hotel Conference Centre

every Sunday from 10am (intercessory prayer

followed by the service) until 1pm.

LIFE CHRISTIAN CENTRE, ALEXANDRIA

Sunday Morning Service and Club Jesus.

(ages 4 to 12) 9am. (Baby cry room).

Sunday Evening Service: 6.30pm. (Praise and

p r ay e r ).

Friday evening "G U TS " (All Teens Welcome)

6pm-8pm.

Free Bible school – Tuesdays 6.30pm.

Enquiries: PS Leon De Smidt 082-330-6865.

METHODIST CHURCH

WESLEY (Hards St):

Every Sunday: 8.30am (only).

ALEXANDRIA

Sunday service: 10am.

Bible Study : Wednesday 6.15pm

Cell 074-582-0812.

STATION HILL (Windvogel St):

Every Sunday: 11am and 4pm

B AT H U R ST (York Rd):

Every Sunday: 9am

C LU M B E R (Shaw Park Rd from Bathurst then

Martindale turn off):

Monthly services on fourth Sunday of every

month at 11am.

ROKEBY PARK (Opp Halfway Store on

Grahamstown Rd):

Second Sunday: 11am.

KLEINEMONDE ( N at u r e 's Way):

First, Third and Fifth Sundays: 11am

Enquiries: (046) 624-2420.

K E N TO N :

Every Sunday: 8.30am.

Call 084-319-9634, Rev Rod Burton.

NEDERDUITSE GEREFORMEERDE KERK

DIAS GEMEENTE KERKKANTOOR: B r o a d way

26, Port Alfred, 6170

Kantoorure: Maandag tot Vrydag 8am-12pm.

Tel: (046) 624-3534

PORT ALFRED: (Broadway 26)

Elke Sondag: 9vm.

Kinderkerk and Kategese tydens erediens.

BOESMANSRIVIERMOND: (Mainst reet)

Elke Sondag: 9vm.

Kinderkerk tydens die erediens en 10vm

K at e g e s e .

KLEINEMONDE:

Dienste elke 4de Sondag van die maand:

11vm.

Leraar: Ds Wikus Venter Sel: 078-800-3353

ALEXANDRIA: (Mainst reet)

Erediens elke Sondag: 09:30am.

Kantoorure: Maandag tot Vrydag 8am- 1pm.

Tel: (046) 653- 0147.

Kontak: Ds Willem Schoeman (046)

653-0010 of 083-607-8790.

NEDERDUITSCH HERVORMDE KERK

St Nicolas, Beachweg, Port Alfred

Eredienste: Elke Sondag om 9vm.

Kategese na erediens.

Kontak Prof John Gericke (046) 624-9025

of sel 082-565-9534

NEW APOSTOLIC CHURCH

Port Alfred and Kenton on Sea.

For information on services. Eddie

078-752-2233 or Arnol 082-809-3421.

NUWE LEWE VOLLE EVANGELIE KERK

Honeycombsentrum, 88 Albanyweg, Port

Alfre d.

Sondae: 9.30vm en 6.30nm.

Dinsdae: Vrouebiduur 10vm

Woensdae: Seldiens by kerk 7nm

Vir meer inligting kontak: Pastoor Theo en

Marinda Snyman 084-811-0606 / (046)

624-2265. Almal welkom – All welcome

PERISOS SONSKYNKUS

Perisos (Oorvloed/Abundance) nooi u uit na

samekomste: Alexandria. Elke Sondag om

9.30vm te Maria-saal (agter Caltex-garage).

073 - 586 - 0201 .

Prediker Theunis Pienaar – 082- 895 - 8830 .

Ons verkondig: Oorvloed in Christus.

PRESBYTERIAN CHURCH

Corner of Southwell and Becker Street.

Sunday worship and Children's Church: 9am –

10am

Communion Services: 1st Sunday of the

month

Cell groups: Monday 4pm at the church and

Thursday 7pm at 11 Lambert Road.

Enquiries: Errol Parsons 084-800-3033 /

(046) 624-4471.

SEVENTH DAY ADVENTIST CHURCH

Service Times – Saturdays: 9:30am- 12 noon.

Enquiries: Judith on 083-652-5655 or Trevor

082- 492-3789.

SHEKINAH MINISTRIES

Sunday mornings: 10am

Monday and Wednesday: 7pm

Youth on Friday evenings: 7pm.

Enquiries: Dan Hilpert 079-649-8750.

THE SHEKINAH GLORY OF GOD - 1 PET 4:14.

STUDENT CHURCH

Meets Sunday mornings 9am in Kenton on

Sea Town Hall. The 1st church in South Africa

to be operating on this concept. Called

Student Church as the services are run by the

full time students from Generation Impact

Bible College. Believers of all ages welcome.

Exciting Children's Church available.A church

that equips Saints of all ages. Contact:

Madelein 084-513-7306.

THE CHURCH AT MERRY HILL

Sunday morning services: 9am.

All are welcome.

Enquiries: Gavin – 079-211-4675 or Diana –

072-344 -1102

THE CHURCH OF JESUS CHRIST OF

LATTERDAY SAINTS

Meets every Sunday for Sacrament Service at

9am followed by Sunday School at 10am.

Priest hood meeting at 11am and Relief

Society meeting at 11am.

New church location is 25 Biscay Road across

the street from Sky Security in Port Alfred.

Visitors welcome.

Phone: 083-452-8801 or 078-132-7336.

WESTSIDE CHURCH

Contemporary – Connected – Commit ted.

"Connecting people to people – Connecting

people to God."

M e et i n g s :

Sunday 9:30am

Wednesday: 6:30pm

"Connect Groups". Directions: Turn left into

Van Riebeeck Street – Last street on main

road leaving Port Alfred for PE (VW

Showroom on corner) – 800m turn first right

into Green Lane – Go straight up to T-junction

will see roof of church ahead.

Enquiries: 083-444-9380/ 082-373-8181 /

082- 677-78 00 .

WORD OF TRUTH MINISTRY, LIVING WATERS

BOOKSHOP, CHURCH OF THE NATIONS

Across the road from the BP garage and

fire station open every day 8am-12pm

except Mondays.

Sunday : 9am (Morning Service with Mother's

room and Children's Church)

Evening service: 6pm. All are welcome.

Youth: 6.30pm on Friday Evening.

Enquiries: (046) 624-2381, After hours:

072-219 -9065.

SUDOKU - WIN A WHARF STREET FRUIT & VEG VOUCHER

Complete this Sudoku and be in line to win a R35 voucher from

Wharf Street Fruit & Veg in Wharf Street.Entries must be in

by 3:30pm on Tuesday at the TotT office - 29 Miles St. Winner

to please collect voucher (must show ID) from TotT offices

Maurice

Bradfield.

Wharf Street

Name:...................................................................................................

Tel No:...................................................................................................

SOLUTION TO LAST WEEK'S SUDOKU

WIN A VOUCHER FROM PAPER NAUTILUS RESTAURANT OR TASH'S CRAFT BAR

Name:.........................................................................................................................

Address:....................................................Tel No:......................................................

Entries must be

submitted by 3:30pm

on Tuesday at the

TotT Office -

29 Miles Street.

Winner of last

Royal St Andrews -

Camelot Spa Voucher

Julie Sliziuk

Halyards Sunday

Lunch Buffet

ă

Heather Howard

Winner to please

collect voucher

(must show ID) from

TotT offices before

attempting to redeem

prize.
---
October 25, 2018 ADVERTISING / NEWSDESK: (046) 624 4356 Find us on Facebook

Talk of the Town 17

OUT ON THE TOWN

CONTACT US

Newsdesk: (046) 624-4356 (Jon Houzet) Advertising: (046) 624-4356 (Mauneen Charter)

PA Art Club celebrates 60 years

CELEBRATORY SLICE : Port Alfred Art Club president Jenny

Basson cuts the cake made especially to mark the milestone

of the club's 60th anniversary last week Picture: JON HOUZET

Love, fame and heartache in musical remake

MAKING

BEAUTIFUL

MUSIC

TO G E T H E R :

Bradley Cooper

as country rock

singer Jackson

Maine and Lady

Gaga as his

talented

ingénue Ally

Campana in 'A

Star is Born',

now showing at

Rosehill Cinema

AT THE

FIVE STARS

MOVIES

What's hot or not at the box office

JON HOUZET

The Port Alfred Art Club (PAAC)

celebrated its 60th anniversary

last Thursday, with members

enjoying a meal at Harry B's on the

Kowie, perusing scrapbooks

collecting news snippets about the

club going back to the 1980s, and

listening to a historical overview of

the club.

"We are here to celebrate 60

years of art and fun. We have

always made sure that we meet

firstly to learn, then to share and

enjoy the passion of art, and this

definitely has been the focus

throughout the years," club

president Jenny Basson said.

She said she had looked through

the archives to get an idea how the

little club started, but not much

was available before the 1980s.

What she had gleaned was that

the club was founded in 1958 by

Beryl Legg, a member of the

artistic Stocks family, and Mrs A

van der Merwe, who were being

tutored in oils by a Mr Braak who

was a professional artist. The

meetings were held every Monday

at the West Beach Café and the

lessons at that stage cost a mere

75c each.

"Mr Braak left in 1959 and his

space was taken over by a Mrs

Gates who gave lessons regularly

in oils. The club at this point was

now meeting in private homes,"

Basson said. "Apparently they had

their very first exhibition which

was held in the Girl Guide Hall in

1959. In that exhibit three paintings

were sold."

In 1961, Marjorie Keeton joined

the art club after attending a

lecture by Legg. Keeton became a

very successful artist in her own

right and sold many pictures.

The club continued to draw new

members over the years. Pat

Fischer, who is still living in Port

Alfred, joined in 1963. Another

long-time former member was Tish

Marshall, who is 100 years old and

living in Damant Lodge.

Sylvia Lazarus (Mrs Gluckman)

became an accomplished artist

even though she had never painted

seriously before.

The Girl Guide hall became a

regular venue for exhibitions, and

Remembering the Battle of El Alamein

JON HOUZET

The Port Alfred Moths commemorated the

Battle of El Alamein in a parade at the

Battleaxe Shellhole on Sunday.

Although there are no World War 2 veterans

left in the ranks of the Port Alfred Moths, other

old soldiers keep the memory alive of those

who went before them. Old Bill Mark Schroder

related the history of the battle. He said SA

had entered World War 2 by going into

Abyssinia (Ethiopia) to fight Italian troops.

They successfully pushed the Italians out of

Abyssinia, and many Italian POWs were sent to

SA, some even to Port Alfred.

After that, South African troops joined the

Allies in North Africa, also to fight Italians.

Adolf Hitler sent Field Marshall Erwin

Rommel and the German Afrika Korps to North

Africa to help Italy. Rommel's plan was to take

JON HOUZET

A Star is Born, with

Bradley Cooper, Lady

Gaga, Sam Elliott.

Directed by Bradley

Cooper. 4/5

Being familiar with the

1976 version starring Kris

Kristofferson and Barbra

Streisand, it was a

revelation to find out A

Star is Born had its

origins back in 1937 and

has been remade

several times since

then.

Bradley Cooper

stars as Jackson

Maine, a successful

but hard-drinking

country rock star

whose life enters a

downward spiral even as

the young bar singer he

meets, Ally Campana

(Lady Gaga), becomes a

pop sensation through

the exposure he gives

h e r.

Finding the closest

pub after a concert he

has performed at,

Jackson accidentally

enters a gay bar where

drag queens are

performing cabaret. But

among the men posing

as women onstage,

Jackson is mesmerised

by Ally, who is singing La

Vie en Rose.

He is introduced to her

in the dressing room

after the show and she is

charmed by his flattery

and affection.

She agrees to go out

for a drink and defends

him from a drunk fan.

They chat into the early

hours, and Jackson gets

a glimpse of Ally's talent

as a songwriter too.

So begins a whirlwind

romance that starts out

with so much promise

but soon is tainted by

Jackson's alcoholism

and drug addiction, as

Egypt. If he was successful, he would have

been able to move into Palestine, then Iraq and

even to the borders of northern India, and cut

off Britain's allies. The South Africans suffered

badly at the Battle of Tobruk, and British prime

minister Winston Churchill sent General

Bernard Montgomery to North Africa to lead

the allied troops. The Battle of El Alamein was

fought at the same time as the Battle of

Stalingrad in Russia. "If either of those battles

had gone differently, the war might have been

over for the Allies," Schroder said.

The first Battle of El Alamein was fought in

June 1942. The Axis forces ran into South

Africans again, but this time the South Africans

stopped them. As a result Italian dictator

Benito Mussolini left Italy, but Rommel fought

on. Rommel had 10,000 vehicles at his

disposal, including tanks, armoured cars and

trucks. Montgomery decided to attack first, on

well as a sense of

betrayal and shame.

Ally gets her first big

break when Jackson

invites her to perform

onstage with him, his ear

for music having

developed a lyric she

sang to him on their first

night out.

His fans are delighted

with their beautiful duet,

and so begins her many

appearances with

Jackson in

concer t.

She is soon

noticed by a

record producer

and starts a

separate musical

journey to

Jackson, even as their

relationship deepens.

We find out that

Jackson is not only an

alcoholic but suffering

from hearing loss which

poses a risk to his

c a r e e r.

His long-suffering

brother Bobby (Sam

Elliott) has been

managing his career, but

ditches Jackson over a

squabble over their

long-dead father.

As Ally is remade into

a pop diva, her early

comments about her

nose making her

unsuitable for stardom

October 23 1942. Both he and Rommel were

World War 1 veterans, and they both knew

what trench warfare was like and wanted to

avoid that. The strategy was to keep moving.

South African artillery provided a five-hour

barrage with 25-pounder guns, after which

sappers went in and cleared minefields, then

the infantry moved in. South African forces lost

600 men in the first three days of the battle –

the British lost 2,000 men in the same time.

But by November 4 fighting had ceased and

the Allies advanced continuously on Rommel's

forces until he was forced to retreat from Africa

in early 1943. This opened the way for the

Allies to invade Sicily and the rest of Italy.

Moths stood on parade for the last post and

reveille, and lay minister Kathy Cutter led a

devotional in honour of the sacrifice of the

soldiers who laid down their lives.

are quite humorous,

especially in that she has

nothing on Streisand.

Gaga proves to be a

capable actor, and it was

great hearing her lovely

voice singing songs in a

music genre a far cry

members also started exhibiting at

the Bathurst Show. By the 10th

anniversary of the PAAC, there

were 16 members. By 1978

membership stood at 20, and by

1988, it had skyrocketed to 63.

By the 50th anniversary of the

club, there were 80 members.

"There were now vibrant

exhibitions and the club had its

own permanent place above

Touchwoods Antiques where they

could permanently exhibit.

There was a well-established

library of Books and DVDs. And the

club now met regularly in the

Catholic Church hall," Basson said.

Carol Lynn Mills also filled in

some more recent history.

She and her husband settled in

Bathurst in 2009 after coming

from Zimbabwe.

"I joined the club to paint and

make friends. When Nette Clough

and Pierre Hendricks resigned I

took over as president, thrown in

the deep end, with Mary Ann Lang

as vice president," Mills said.

The club held annual exhibitions

at various venues, including

Heritage Mall, Bushman's River,

from Poker Face and

Alejandro.

But Cooper steals the

show with his amazing,

believable performance –

and can really sing. It's

an excellent directorial

debut for him too.

Halyards Hotel, MyPond Hotel,

Wharf Street and Medolino

Caravan Park. The club painted

murals on the walls of the SPCA

and also painted pictures to be

hung in the new wing at Marjorie

Parrish TB Hospital, a project

sponsored by Round Table and

Dulux.

Piet Holthuysen recalled the art

shop at Rosehill Mall that lasted

five years.

He related a humorous story of

first noticing the shop while

walking in the entrance to

SuperSpar, and asking if he could

display some paintings there.

They said yes, and when he sold

one he differed with curator Marie

Wessels how much he was owed –

she said R400 and he said R500.

"She paid me the R500 but said,

'I never want to see you again!'

But we became good friends,"

Holthuysen said.

Pe o p l e 's taste in art was

changing, Basson said, and "we as

artists must remain always open to

creative changes and challenges".

The club presently has 32

members.

OLD INFRANTYMEN: Port Alfred Moths, from left, Tom Bower,

Richard Francis and David Tyrrell at the Battleaxe Shellhole after

the Battle of El Alamein parade on Sunday Picture: JON HOUZET

2's Company

Saturday 27 October

Tickets R130

Includes Meal
---
18 Talk of the Town ADVERTISING / NEWSDESK: (046) 624 4356 Find us on Facebook

October 25, 2018

CLASSIFIED ADVERTISEMENTS

Errors reported before Tuesday will not be charged for. Deadline: Friday 10am

CLASSIFIED INDEX

1. DOMESTIC

ANNOUCEMENTS

1010 Births

1040 Engagements

1050 Marriages

1070 Deaths

1100 In Memoriam

1220 Congrats / Best Wishes

1230 Birthday Greetings

1290 Thanks

2. PERSONAL

2070 Health & Beauty

2110 Lifts

2140 Lost

2142 Found

2240 Personal Services

3. ENTERTAINMENT

3060 Entertainment General

5. SERVICE & SALES GUIDE

5010 Education & Tuition

5090 Plumbing

5100 Electrical Services

5120 Building Services

5122 Home Maintenance

5160 Walls / Fencing

5190 Painting / Decorating

5210 Pools, Spas, Accessories

5260 Computer Services

5330 Photography

5360 Garden Services

5380 Special Services

5451 For Sale

5480 Horses

5510 Kennels and Pets

5550 Misc Wanted

5551 Wanted Known

5570 Removals and Storage

5630 Services Offered

5640 Shuttle Services

6. EMPLOYMENT

6140 Education & Training

6150 Employment Wanted

6151 Employment

6170 Estate Agents

6370 Employment Wanted Domestic

7. ACCOMMODATION

7020 Accomm. Off / Wtd

7060 Flats to Let

7090 Houses to Let

7151 Holiday Accommodation

8. PROPERTY

8010 Flats For Sale

8050 Houses For Sale

8161 Business Premises To Let

8163 Business Premises For Sale

9. MOTORING

9070 Used Car Sales

9440 Motorcycles

2180 NOTICES

DOMESTIC

ANNOUNCEMENTS

Thanks

1

1290

IN MEMORIAM:

HEATHER SIMES

1948 – 2018

A loving wife to Ed and

a Great Grandmother

to Richard and Robert!

A caring Mother-in-Law

and Grandmother to

Melisa, Cindy, Becky,

Calim and Jason.

Yes, we all do miss you

very, very much.

Thank God the cancer

pain is over and that

you are with your Lord!

Also, many,

many thanks to the

Sunshine Coast Hospice.

Zelda, Margie and

Pam were great!

ŽĞŽīĂĂŶĚ

Lynn Ford of Grace and

Truth Church – a very

big thank you!

Also, our sincere

thanks to Dr. Tommy

ĞďĞĂŶĚĂīĂ

the P.A. Hospital and

Dave and Michele of

Keetons – and Sister

Badenhorst.

Yes, we were blessed

by all the help and

good care, much

appreciated.

- Ed of A!

2

PERSONAL

2070

Health & Beauty

Nico Weeber

Hope-Healing-Compassion

Masters Degree (Pastoral Therapy)

Registered Counsellor

(Council for Counsellors in S.A)

Qualified HNLP Coach

Qualified Sound Therapist

Sound Therapy - Restoring

balance in Body, Mind and

Spirit via Sound.

ĞŽŝŶŐŝĐ

Programming -īĞĐŶŐ

change in your life, Goal

ĞŶŐŝĨĞŽĂĐŚŝŶŐ

Counselling - ŝŶŐŽŽ

ĚĞĂůŝŚŚĞīŽĨůŝĨĞ

By appointment only.

For bookings at

ĂŶĐŝĞĂůŚĞŶĞ

046 625 0927 | 082 922 4650

nicoweeber100@gmail.com

MARGIE

MORRELL

Physiotherapist

Treating Backache,

Neck-Ache, Headaches,

Joint and Muscle

Problems, Sports

Injuries, Orthopaedic

Rehabilitation,

Bladder Control.

Kenton-on-Sea

Tel: 046 648 1396

Psychologist

Belinda Wood

M.A. (Couns. Psych.) (UPE)

Psychotherapy

(incl. dealing with lifes challenges

maximizing potential)

Contact: 083 680 5300

26-28 Hill Street, Port Alfred

2240

Personal Services

FAMSA

(Families SA)

ŽŶŽĮŐĂŶŝĂŽŶ

- Relationship counselling

for indiv, couples, families

- Trauma debriefing

- Premarital counseling

To book an appointment:

Netty Green:

084 5846629

FOR INFO ON SERVICES/

TRAINING:

046 622 2580

famsa@imaginet.co.za

If you want to drink

that's your business.

If you want to stop,

thats ours...

Baptist Church, York Road, Port Alfred

7pm - 8 pm. Every Thursday.

First Thursday of the month is open.

Has your life become

unmanageable as a result

of alcohol?

Call Alcoholics Anonymous.

076 978 7156

2260

Finance

Žŵ

ŝŶĂŶĐŝĂůĂĞŵĞŶ

ĂĞŶ

ŽŶŚůĂĐĐŽŶ

Ğůů

ŵĂŝů

ůΛŝŵĂŐŝŶĞĐŽĂ

SERVICES & SALES

GUIDE

Plumbing

5

5090

5120

Building Services

Ž

ŽůĨĞĚ

Ğů

Ă

Ğůů

ŝŶĐĂĞĞůŬŽŵ

ůŝŶĞŝĚŽŶ

5120

Building Services

BUILDING

PLANS

DRAWN

JOB

SUPERVISION

EXPERT BUILDING

ADVICE

35 YEARS

EXPERIENCE

Call

Rob Owsley

046 675 1021 or

082 567 3651

5122

Home Maintenance

WOODPECKER

INSTALLATIONS

Kitchens, bedroom

cupboards, decks,

windows, building,

plumbing and electrical,

ĂŝŶŶŐĐŽŶĂĐŽ

Lloyd 082-821-7997

woodpeckerjoinery.co.za

5360

Garden Services

For Sale

5451

PORTABLE OXYGEN

CONCENTRATOR

ĨŽĂĞŶ

ŶŽŐĞŶŶĞ

ůŝĞŵŝŶŶĞ

ďŽŐŚŶĞ

ĂďĂŐĂŶĚ

ĐŚĂŐĞĞĐ

ĞĂĚŽĞ

Tel: 081 736 5027

For Sale

Diane Hosty:

082 775 2777

5451

sunshinecoast@movingon.co.za

www.movingon.co.za

MOVING

ON SALE

11am - 1pm,

40 Albany Road

(Home Contents)

Saturday

27 October 2018.

5510

Kennels and Pets

34 Atherstone Road

Port Alfred, EC

Dr L de Bruyn

Dr H Brink

Dr M Van Vuuren

Dr J Krüger

Consulting Hours:

Week days

08:00 -18:00

VET NOW AVAILABLE

AT LUNCH TIME

Saturdays & Public

Holidays 09:00 – 13:00

Sundays 10:00 – 12:00

Contact us:

Tel: 046 624 1092

Fax: 046 624 1092

Emergency No:

082 566 3502

GROOMING NOW

AVAILABLE!

Expanded kennels

& Cattery

5550

Misc. Wanted

SUNSHINE COAST

HOSPICE

Require stock for their

charity shop. We accept

anything including

furniture, crockery, cutlery,

kitchen and electrical

appliances, glassware,

ĂŝŶŶŐŽŶĂŵĞŶ

linen, curtains, clothes,

toys, books, bric a brac etc.

THE SHOP IS OPEN

EVERY WEDNESDAY

AND FRIDAY

ĨŽŵŚŚĂ

ŽůĨĞĚŽĂĚŽ

ůĨĞĚTel: 046 624 4107

5570

Removals & Storage

U-Store

Clear your garage

or spare room of

ůŝůĞĞĚĐůĞ

ŽĞŝŚŽĞ

Secure, convenient

storage for individuals and

companies in container

ŽĂĞŚŽĞĨĂĐŝůŝĞ

located in Port Alfred's

prime industrial area.

Also store boats, vehicles

and camper vans.

ŽŵĞĞĂĞĂŶĚ

professional service.

Call Doug on

0832259688 or mail:

ĚĂŶĚŬĞŵΛŐŵĂŝůĐŽŵ

Advertising Deadline:

Friday 10am for the

following week's publication.

5570

Removals & Storage

15m 2 Unit - R700p.m

20m 2 Unit - R850p.m

Long & Short

Term.

CONTACT

TANYA

082 565 8660

5630

Services Offered

For the hiring of the

HALL, FIELDS,

CROCKERY, TABLES,

ETC. at / from

PORT ALFRED HIGH.

CONTACT: LAURA GUEST

084 607 6174

ŵĂŬĞŶŐΛĂŚĐŽĂ

WILSON COATINGS

ŽĂŝŶŶŐŝůĚŝŶŐ

ĂĞŽŽĨŝŶŐ

ŝůŝŶŐĂŝŶŐ

ĂŶĚůĂĞŝŶŐ

Contact:

WILSON MAARMAN

Cell: 083 654 8529

References Available.

Advertising Deadline:

Friday 10am for the

following week's publication.

6

EMPLOYMENT

6150

Employment Wtd.

CAROLINE is looking for

part time work. Mondays

and Wednesdays. Phone

076 814 9902

CYNTHIA is looking for full

time domestic work.

References available.

Phone: 073 719 4666

JACKIE is a looking for full

time work as a careworker.

Has references.

Phone: 071 7820 162

JUDY is looking for full or

part time domestic work.

Phone 083 957 2832

MARIA is looking for

domestic work. Mondays &

Thursdays. Very reliable

and honest. References

available.

Phone: 078 699 2265.

MELODY is looking for

domestic work on

Mondays, Wednesdays &

Fridays.

Phone: 071 732 5146

TINAH is looking for full

time domestic work.

Phone 061 139 7317

6170

Estate Agents

RENTALS PROPERTIES

REQUIRED FOR

QUALIFIED TENANTS!

All Tenants are screened and

Credit checks are done.

We update payment profile

at the national credit bureau.

Contact us for professional

and Experienced property

management.

Contact Arlene Du Plessis

at Remax Kowie

Tel: 046 624 1110

arlene@remaxkowie.co.za

Harcourts Port Alfred

046 624 5222

rent.pa@harcourts.co.za

We have a number

Ǧ

CONTACT JILLIAN

046 624 5222 or

on 082 604 2733

7

ACCOMMODATION

7020

Accomm. Off / Wtd

ŏ

RETIRED PENSIONER

WIDOWER requires

ůŝĞŝŶŽŝŽŶŝŶ

Port Alfred. Willing

to contribute towards

expenses. House,

ŇĂŽĨŶŝŚĞĚ

ŐĂĚĞŶŇĂ

Contact Doug

064 921 0798

Call us

if your

business

is about to

celebrate

something

special.

Call now on

(046) 624 4356

and find out more

about our adversing

features.

NOTICES

IN THE ESTATE OF THE LATE

ANTONIO CHRISTIAAN KOTZE,

IDENTITY NUMBER 580525 5115 08

8, UNMARRIED, FORMERLY OF 39

DICKINSON ROAD, PORT ALFRED,

WHO DIED AT PORT ALFRED ON

14 NOVEMBER 2017

ESTATE NO: 399/2018

Debtors and Creditors are hereby

called upon to lodge their claims and

pay their debts to the undersigned

within a period of 30 (thirty) days from

26 October 2018.

JJ GRIESEL

Executor

Griesel & Associates

39 Campbell Street

PORT ALFRED 6170

Ref: JJ Griesel

In the Estate of the Late LOREEN

DOROTHY WILLIAMS, Master's

Reference No: 000410/2018. Notice is

hereby given in terms of Section 35(5)

of the Administration of Estate Act that

the First and Final Liquidation and

Distribution Account will lie for

inspection at the Master of the

Supreme Court, Grahamstown and

the Magistrate Port Alfred for

Twenty-One (21) days as from the

26 th October 2018. Any person

objecting to the said account must

notify the Master of the Supreme

Court, Grahamstown in writing before

the expiry of the said period.

MR H A WORMALD

c/o CHARTERIS & BARNES CC,

P O BOX 2083, PORT ALFRED, 6170

ADVERTISING:

Please contact one of our

sales executives for all your

advertising needs.

Bryan: 076 817 9130

Adele: 083 307 3063
---
October 25, 2018 ADVERTISING / NEWSDESK: (046) 624 4356 Find us on Facebook

Talk of the Town 19

Port Alfred High School sports report

COURIER SERVICES

DENTIST

Help

Guide

APPLIANCE SERVICES

AWNINGS, BLINDS & CARPORTS

AUTO REPAIRS & TOWING

CARPET & UPHOLSTERY

CLEANING

COMPUTER & PRINTER

SERVICES

CONSTRUCTION

DSTV

ESTATE AGENTS

ELECTRICIAN

GAS SUPPLIES & SERVICES

HAIR STYLISTS

HOME RENTALS

MARINE & POWER PRODUCTS

OPTOMETRIST

TYRES

Squash

PAHS 1st squash team

finished the third term on

a high note last week,

BUSINESS NOTICE

SALE OF BUSINESS

comfortably beating a

strengthened Kingswood

College 3rd team 4-1 in

matches (12-3 in games).

NOTICE is hereby given in terms of Section

34 (1) of Act No. 24 of 1936, to interested parties

and creditors of the intention of alienation of

businesses and/or goodwill, goods or property

forming part of the businesses, after a period of

30 (thirty) days from the last publication of relevant

advertisements, and of actions, circumstances or

conditions pertaining to businesses or parties or

debtors as mentioned therein.

TOWN:

SELLER:

BESIGSHEIDSKENNISGEWING

BUSINESS SOLD

and ADDRESS:

PORT ALFRED

A VILLA DE MER

PROPRIETARY LIMITED

A VILLA DE MER

GUEST HOUSE

20-22 WEST BEACH DRIVE

PORT ALFRED

REASON FOR NOTICE: SALE OF BUSINESS

PURCHASER:

VERKOOP VAN BESIGHEID

KENNISGEWING geskied hiermee ingevolge die

bepalings van artikel 34 van die Wet Nr. 24 van

1936, aan belanghebbende partye en skuldeisers

van voorgenome vervreemding van besighede en/

of klandisie, goedere of eiendom wat 'n deel vorm

van besighede en/of klandisie, goedere of eiendom

wat 'n deel vorm van besighede, na 'n tydperk van

30 dae vanaf die laaste publikasie van betrokke

advertensies, en van aksies, omstandighede

of voorwaardes wat op besighede of partye

of skuldenaars, soos daarin genoem, betrekking

het.

DORPSGEBIED: PORT ALFRED

VERKOPER:

A VILLA DE MER

EIENDOMS BEPERK

BESIGHEID VERKOOP

en address: A VILLA DE MER

GASTEHUIS

WESTBEACH RYLAAN 20-22

PORT ALFRED

DOEL VIR

KENNISGEWING: VERKOOP VAN BESIGHEID

KOPER:

DENZIL ERITH WESTCOTT

EFEKTIEWE DATUUM: 30 November 2018

AGENT:

NEAVE, STÖTTER ING

Posbus 76 (CAMPBELLSTR 37)

PORT ALFRED, 6170

(VER. NS/tw)

stotter@palaw.co.za

DENZIL ERITH WESTCOTT

EFFECTIVE DATE: 30 TH NOVEMBER 2018

AGENT: NEAVE, STÖTTER INC

P O Box 76, (37 Campbell Street)

PORT ALFRED, 6170

Ref. NS/tw

stotter@palaw.co.za

PORT ALFRED BRIDGE CLUB

Results for Thursday, 18 October 2018

Red Section (6½ tables)

N-S 1st D Ellender & B Waddington 57.5 %

2nd H Webber & M Newport 54.6%

E-W 1st J Tagg & E Jurgensen 65.8%

2nd B Osborne & L Allin 55.4%

Green Section (7 tables)

N-S 1st G Ford & P Bailes 66.7%

2nd G Renecle & G Wallace 57.4%

E-W 1st M Smith & R Jackson 65.8%

2nd A Paling & E Segers 59.5%

Board 16: Dealer W, E-W Game

Currently the team has

played close to 20

matches this year, only

losing three. This is in the

Makana and Districts

Adult 3rd League. What is

more impressive is that to

date the PAHS1, PAHS2

and PAHS junior teams

are currently leading their

respective leagues in the

final stages of the

competition.

The PAHS Senior Boys'

Squash Championships

were concluded with

some great matches

being played. Stefan

Botha (#1) beat Keagan

Botha (#2) 3-0 (11/1; 11/6;

11/9) in a pulsating final.

For #3 position on the

ladder, Calvin du Preez

beat Jayden Roesstorff

3-2. For #5, Jack Both

beat Jarryd Harty 2-1.

In the backdraw final,

Tiaan Labuscagne beat

Cameron Nelson 2-0.

Cross- country

Interschools meeting

held at El Shaddai:

U9 Boys: 1st Henry

Oosthuizen, 2nd Chris

Winterbach

U9 Girls: 3rd Jorja

Wa l ke r

U10 Girls: 2nd Lisolethu

Mbambani

U11 Girls: 1st Lily Heny,

3rd Scarlett Tweedie

U12 Boys: 1st Olwethu

Landu, 2nd Adam Schultz

U12 Girls: 1st Linray

Hilper t

U14 Girls: 3rd Mia

Marais

U15 Boys: 2nd Elam

Nanana

U16 Boys: 1 st

Simamkele Mata

U17 Boys: 2nd Lukholo

(no surname provided)

Te n n i s

Port Alfred High School

has climbed the ranking

with more than 25 of their

pupils selected for Albany

trials for a place in the

2019 Albany Tennis

Teams. They are:

Connor Bessinger –

Boys U10

Eli Wood – Boys U12

Reinhardt le Roux Boys

U12

Gabby Murray – Girls

U12

Lily Heny – Girls U12

Scarlett Tweedie – Girls

U12

Lara Heny – Girls U12

Lou Coetzee – Boys U12

James Campbell –

Boys U12

Thomas Stanford –

NDLAMBE

MUNICIPALITY

PORT ALFRED

Boys U12

Jean van der Merwe –

Boys U12

Liyabona Xanti – Girls

U14

Kate Heny – Girls U14

Saffron Tweedie – Girls

U14

Chani Campbell – Girls

U14

Josh de Vos – Boys U14

Onwabilie Bobo – Boys

U14

Kaine Heny – Boys U14

Ethan Murray – Boys

U14

Kyle Labuschagne –

Boys U14

Siya Mbanzi – Girls U16

Nakita Avis – Girls U16

Lize-Mari Coetzee –

Girls U16

Eden Calitz – Girls U16

Jarryd Harty – Boys

U16

Jack Botha – Boys U16

SPORTING FUN: Shaw

Park pupils enjoyed a

fun morning of cricket

at Station Hill recently.

All schools played well

and fun was had by

all. Coach Shani

Stewart is pictured at

the back, with, back

from left, Nathan

Achermann, Mnombo

Mbongwana, Luthando

Racu, Rogan Coetzee,

Lubabalo Dyibishe and

Carter Stewart, and,

front from left, Jayson

Webber and Corban

Calitz

EXTENSION OF TENDER PERIOD

PROJECT NAME: AUGMENTATION OF THE ALEXANDRIA

BULK WATER SUPPLY - PHASE 1B

The closing date was previously stated as 16 October 2018, the closing date has been

extended to Tuesday, 30 October 2018 at 12h00.

Further enquiries may be directed to Mrs V Tshangana and Mrs N Vithi- Masiza and the

consultant on Tel: 046 604 5500 / Fax: 046 6242 669.

NOTICE NO: 177/2018

A possible auction for this deal is:-

double guard in the opponent's suit.

points, not vulnerable, and holding the all-important spade suit, the bid

has the merit of conveying to partner a fairly accurate picture of your hand with one bid.

Not many people know the meaning of a 2NT bid after an opening two bid, but even if you don't

know the bid its meaning can be deduced easily,

South knows the hand patterns and strengths after only two opening bids. Assume that North

has 8 points and East has 16 points, taken together with your 11, leaves West with about 5

À

points strategically behind the strong East hand. 3H is an obvious bid and should be clear

to North as an almost certain seven card heart suit, with no help for partner's spades, but a

One would have expected 3H to conclude the auction, but four pairs bid (and made) 4H; pre-

take other than East's 2NT bid.

Results by section

Red Section 2H+1; 3H=; 3H+1; 3H+2; 4H=; 4H*= Green Section 3H+1 (2); 3H+2 (3); 4H= 4H+1

Full results at: www.pabridge.co.za, including details of all the hands.

ADV. R. DUMEZWENI

MUNICIPAL MANAGER

Results for Monday, 22 October 2018

Red Section (8½ tables)

N-S 1st M Wesselo & E Clayton 66.9%

2nd M Newport & H Webber 60.6%

E-W 1st H Clohessy & N Wood 66.7%

2nd W Jurgensen & L Wisener 63.0%

Green Section (8 tables)

N-S 1st B Waddington & D Wood 61.9%

2nd C Lardner-Burke & L Butler 55.7%

E-W 1st G Richards & M Waddington 60.4%

2nd M Smith R Jackson 53.9%

Board 1: Dealer N, love all

¹ accepts spades as the trump suit; forcing to game: asks partner to bid a

singleton or void.

This auction may come as a surprise to most people!! After the 2NT bid

from West, East will normally bid 3S, (the trump suit) to deny holding a

singleton or void. The 3NT bid in this case is an attempt to tell partner that "I have an above

minimum hand"

ÀÀ

West now knows that E-W are in the slam zone, but missing the heart Ace. A contract of 6S would

be at risk of a heart lead from South pinning the heart King and perhaps losing two heart tricks.

À

À

showing enough points for a 6NT contract to be a real possibility; hence West's bid.

Note that South has a natural lead of the heart Queen against a 6S contact: rather surprisingly

À

Results by section

Red Section 4S+2 (2); 5S+1; 6C=; 6S= (4)

Green Section 4S+1 (2); 4S+2; 5NT+1; 6S-1; 6S=; 6NT-1; 6NT=

Full results at: www.pabridge.co.za, including details of all the hands.
---
20 Talk of the Town ADVERTISING / NEWSDESK: (046) 624 4356 Find us on Facebook

October 25, 2018

EC coastline riddled with shipwrecks

ROB KNOWLES

The Lower Albany

Historical Society's

(LAHS) latest

speaker, Colin Urquhart,

together with his wife,

Lynette, spoke of the

vast number of

sea-going vessels that

have either been

wrecked or abandoned

along the Eastern Cape

coast over the years,

leaving the audience to

LAHS talk by expert backed by years of investigation

consider just how

dangerous our stretch

of coastline really is.

Urquhart has long

been fascinated with

the shipwrecks along

this stretch of the coast

and has visited many of

the sites, carried out

years of investigation

and authored and

co-authored several

NDLAMBE

MUNICIPALITY

PORT ALFRED

NOTICE IN TERMS OF

SECTION 33 OF THE LOCAL

GOVERNMENT MUNICIPAL

FINANCE MANAGEMENT

ACT, NO. 56 OF 2003

NOTICE IS HEREBY GIVEN, in terms of

Section 33 of the Local Government:

Municipal Finance Management Act, No.

56 of 2003, that Ndlambe Local Municipality

intends entering into a contract relating to

the provision of services relating to the

operation, management, maintenance

and appurtenant construction services in

respect of the electricity undertaking of the

municipality for a period of ten (10) years.

¿

obligations on the Municipality for a period

longer than the three (3) year period covered

in the 2018/2019 annual budget.

NOTICE IS FURTHER GIVEN, in accordance

with Sections 21 and 21A of the Local

Government Municipal Systems Act, No. 32

of 2000, that -

1. The local community and other interested

persons are invited to submit comments

or representations to the Municipality in

respect of the proposed draft contract.

Such comments or representations must

be submitted by no later than Thursday,

27 December 2018 via electronic mail to

the email address provided below or to the

mailing or physical addresses provided

hereunder.

2. Copies of the draft contract and information

statement summarising the Municipality's

obligations in terms of the draft agreement

are available for inspection at the location

listed hereunder as well as at all the

libraries and will also be accessible

on www.ndlambe.gov.za ¿

website of the municipality).

3. Further details and clarity may be

requested via email from nvithi@

ndlambe.gov.za or Telephone

046 6045502.

4. People who have physical disabilities or

are unable to write but need to participate

in the process may present themselves

¿¿

Municipality where a staff member will

assist them to transcribe the relevant

comments or representations.

SUBMISSIONS MUST BE MARKED:

"ELECTRICITY SERVICES CONTRACT"

AND SHOULD BE DELIVERED EITHER

VIA EMAIL TO rgates@ndlambe.gov.za

or adyani@ndlambe.gov.za OR TO THE

PHYSICAL ADDRESS BELOW.

DOCUMENTS ARE AVAILABLE FOR

INSPECTION AND SUBMISSIONS WILL

BE ACCEPTED AT:

SUPPLY CHAIN MANAGEMENT UNIT

NDLAMBE MUNICIPALITY

OFFICE 8, FIRST FLOOR

44 CAMPBELL STREET

PORT ALFRED

NOTICE NUMBER 223/2018

ADV R DUMEZWENI

25 October 2018 MUNICIPAL MANAGER

books on the subject.

As the former chief

photojournalist for The

Herald, Urquhart had

the opportunity to

actually witness and

take photographs of

some of the wrecks at

the time they occurred.

His slides showed

historical pictures and

records, as well as

photographs he had

taken himself.

Lynette, the editor of

his books, helped show

the slides as Urquhart

explained the picture's

significance.

He told the 100-plus

members of the LAHS

who had come to listen

to the talk of how, in the

mid- to late-16th

century, the only maps

available for sailors

were those used by the

Portuguese, which were

not terribly accurate,

especially around the

coastline, and that

accidents were

inevitably going to

happen. It was not just

the hazards of scuttling

the ships on the many

rocks along the

coastline that caused

problems.

"There were a

number of dangers. Fire

aboard ship, out on the

open waters, was the

worst nightmare for any

s a i l o r, " he said. "But

piracy and mutiny were

also dangers the crews

fe a r e d . "

Urquhart also

mentioned great waves,

also known as rogue

waves, that produced a

wall of water that could

crash down on a ship

and sink it.

By the mid-19th

century, there was a

group of people based

in Port Elizabeth known

as the Rocket Brigade

that would fire rockets

to alert those on shore

that an accident at sea

was occurring.

He explained how

wrecks are identified.

NDLAMBE

MUNICIPALITY

PORT ALFRED

Up until the British

arrived, there were no

formal records of

shipwrecks but, in 1795,

the government gazette

posted a shipping

column that made it

easier to identify

wrecks.

"But you must be

careful as some of the

data available prior to

the gazette are

i n a c c u r at e , " said

Urquhart. "The

government gazette

was the only

authoritative source for

identifying shipwrecks

until the dawn of

newspapers and the

Lloyds Register in the

early 1860s."

Urquhart showed

many pictures of ships

lost along the coast and

explained why hunting

for them was difficult.

He said that a ship

might break up as it

sank, and therefore

could be widely spread

out on the ocean

bottom. Added to this

tides, gales and other

natural phenomena can

also scatter wreckage

far and wide and make

it difficult to establish

the location of the

wreck. The dearth of

accurate information

TENDER INVITATION - SUPPLY AND DELIVERY OF ROAD MATERIAL

Ndlambe Local Municipality invites bids from prospective service providers to submit written

quotations for supply and delivery of road material to Port Alfred.

Scope of works:

The scope of works for the project shall include the following:

Port Alfred

Quotations must be placed in sealed envelopes marked "TENDER FOR SUPPLY AND

DELIVERY OF ROAD MATERIAL (NOTICE NUMBER 216/2018)" and must be placed in a

¿12h00

on 09 November 201812h00 on the same day.

BIDDERS SHALL TAKE NOTE OF THE FOLLOWING BID CONDITIONS

Prices must be valid for at least 90 days from the closing date.

¿

Ndlambe Municipality does not bind itself to accept the lowest bid or any other bid and

reserves the right to accept the whole or part of a bid.

sarily

be accepted. Quotations per fax or E-mail will also not be considered.

¿

MBD4).

¿MBD9).

Bidders who wish to claim for preferential points in terms of the Preferential Procurement

MBD 6.1 as well as a

of the proof of B-BBEE status level of contribution.

¿

¿

directors/owners) must accompany all bids.

¿

email: sbabama@ndlambe.gov.za.

NOTICE NUMBER: 216/2018

ADV R DUMEZWENI

25/10/2018 MUNICIPAL MANAGER

prior to the government

gazette and the Lloyds

Register also hampers

i n v e st i g at i o n .

"You might be lucky

and find a ship's bell

and so identify a ship

that way, or you might

find one of the many

anchors discovered

along the coast," said

Urquhart, who then

explained some of the

different anchors,

including the old

Admiralty anchors, that

help to identify the

ships they come from.

"These anchors were

used on ships after the

Portuguese sailing

ships," he said. "Of

course, if you find a

boiler, then this would

indicate it came from a

wreck from a motorised

ship."

Urquhart has

discovered lots of

wrecks off the coastline

and showed pictures of

them, explaining where

the ships could have

originated, and thus the

name of the ships, but a

lack of reliable

information in the 17th

century, before the

gazette and register

were established,

means i d e n t i f i c at i o n

can still be a problem.

SHIPWRECK INVESTIGATOR: Speaking at the

Lower Albany Historical Society meeting last

week, former The Herald chief photojournalist

Colin Urquhart explained why there are so

many shipwrecks along the Eastern Cape

coastline and why it is not always easy to

identify them

Picture: ROB KNOWLES

NDLAMBE

MUNICIPALITY

PORT ALFRED

NOTICE OF COUNCIL MEETING

In accordance with Section 19(a) of the Local

Government Municipal Systems Act No.32

of 2000 Notice is hereby given that a Full

Ndlambe Local Council meeting is scheduled

to take place on Wednesday, 31 October

2018 at 10h00 in the Council Chambers,

Campbell Street, Port Alfred.

NOTICE NUMBER: 220/2018

25 October 2018 ADV R. DUMEZWENI

(Ref. 2/7/2) MUNICIPAL MANAGER
---
October 25, 2018 ADVERTISING / NEWSDESK: (046) 624 4356 Find us on Facebook

Talk of the Town 21

FUN RUN BENEFITS SPCA

Later today, the Rapportryers service club

and PJ Olivier High School will host their

23rd fun run/walk, an annual event that has,

over the years, raised no less than R193,000

for worthy local causes.

The 2018 event has a 5.30pm start on PJ

Olivier's main rugby field, and the 5km route

will take runners, joggers and walkers – dogs

are welcome provided they are on leashes –

through the suburb of Sunnyside on the

southern side of town.

The annual event is a real community

effort. Not only does it attract entrants from

across Makhanda (formerly Grahamstown), it

has also benefited numerous societies and

organisations over its 23 years.

Past beneficiaries have included

Grahamstown Hospice, Kuyasa Special Needs

School, SA Library for the Blind, Settlers

Close Retirement Centre, House of Joy,

McKaiser Home, St Raphael Centre and

Meals on Wheels.

On the receiving end of the proceeds from

this evening's event will be Grahamstown

SPCA.

Entry fee is R20 for adults and R15 for

school pupils, and the organisers are always

in a generous frame of mind – not only when

dishing out the proceeds to worthy causes

but also to participants.

Prize money this year totals a whopping

R1,700 with the first male and female

finishers each pocketing R500, the

runners-up R200 and third-placed finishers

R150 each.

But it's not all about the leading finishers

– medals will be awarded to the first 100

finishers, numerous spot prizes will be

handed out, each finisher will receive a

sachet of fruit juice, and 100 button badges

will be handed out.

WRITING

Rhodes University students are about to start

writing their end-of-year examinations.

Matrics are busy writing their exams, and

pretty soon all the other grades will be

writing their exams. Best wishes to all of you!

WORRYING WATER POSITION

MBB Consulting Engineers has been

re-appointed by Makana Municipality to

attend to water conservation and demand

management issues, according to a

statement released by the municipality last

week. MBB, whose priority focus is to attend

to leaks to conserve water, has managed to

repair some massive leaks, which have

improved the water supply to some areas.

Meanwhile, settlers dam has remained at

the same capacity over the last few months –

27% – and residents are urged to save water

as restrictions are still in place.

The municipal statement urges people to

use no more than 60l per person per day, no

hosepipes are to be used, and the watering

of gardens using municipal water is not

allowed.

Massive amounts of water are being lost

through leaks, and these can be reported by

visiting website w w w. m o b i s a m . n e t or by

phoning 046-603-6063 (office hours) or 046-

622-4444 (after hours).

W H AT 'S IN A NAME

These are my thoughts, thus it is not set in

concrete, if you know what I mean.

To many residents of this once beautiful

city of ours, Grahamstown will always be

Grahamstown. Makhanda is a new name

thrust upon us. But, it should be remembered

that Makana is the name of the municipality

and the district once known as Albany.

Well, that's that sorted out. Not quite, it

would seem. If, for instance, the

Grahamstown Tiddlywinks Association, or the

Grahamstown Pothole Counters Guild, or the

Grahamstown Satellite Spotters' Society had

been in existence for many years and they

wished to retain their names, a government

official cannot just come along and change

the names willy-nilly. Or am I wrong?

GOOD SHEPHERD CELEBRATES

It has been quite a week of celebrations for

Good Shepherd School in Huntley Street,

particularly on Tuesday when staff and pupils

visited the Cathedral for the school's 134th

birthday celebration service and the

installation of its new principal, Manie

Cronje. This year also sees the school

celebrating 100 years in its Huntley Street

building.

CHOIR AT COUNTRY FAIR

Christ Church in Speke Street holds its

country fair from 9am to 1pm on Saturday

October 27, and a feature of the event will be

an hour-long performance by the Pro Carmine

Choir from 11am. On offer at the fair will be

the usual fete stalls including a tea garden,

baked goods, food and a white elephant, plus

children's entertainment.

GOING, GOING, GONE

I notice – probably belatedly so – that the

red post box at the corner of George Street

and Jackson Street has been removed,

presumably on the instructions of the SA

Post Office. I suspect that many other post

boxes around town have vanished in similar

fa s h i o n .

Readers may well remember that earlier

this year attempts were made to remove

some of our more historical post boxes.

However, some vigilant spotting by

residents prevented this from happening.

Hands off our history!

SAFETY GLOVES

Should municipal refuse collectors not be

wearing heavy-duty gloves when they go

about their duties? Just wondering.

JAZZ AT THE LOWLANDER

The 18-member Rhodes University jazz band

presents its end-of-year concert at The

Lowlander at 10 Worcester Street from 7pm

on Saturday, October 27.

The band will perform various styles of the

big band jazz genre from American and

South African jazz classics to Latin, funk and

other contemporary arrangements.

Entry fee is R20.

CRAFT BEER AT THIS FEST

Featherstone Brewery in Howiesonspoort

holds an Oktoberfest event this weekend

(Saturday from midday to 6pm and Sunday

from midday to 5pm) featuring craft beer

from around the Eastern Cape, accompanied

by some relaxed acoustic live music and

German-style food.

Featherstone Brewery is situated on

Brackenfell farm just off the N2 in

Howiesonspoort, a few hundred metres

before Stone Crescent Hotel.

PARKRUN LANDMARK COMING UP

Provided both are in the starting line-up at

the entrance to Makana botanical gardens

this Saturday, Lynne Henson and Peter

Stockwell will achieve significant parkrun

landmarks. Since the inception of

Grahamstown parkrun, Henson and Stockwell

have each completed 199 and are due to

tackle number 200 on Saturday.

Meanwhile, Paul Caiger completed his

50th parkrun last Saturday, while four

participants are fast approaching their 100th

parkrun – Nqabisa Bridget Mazwai (98),

Mariss Stevens (98), Angie Marriner (95) and

Rasayi Mdlankomo (94).

Parkruns are held at 8am each Saturday

from the entrance to the botanical gardens.

SCOOPING THE SILVERWARE

Among the trophies awarded at the PJ Olivier

High School prize-giving evening last week

were six whose recipients' names were not

known until the moment they were awarded.

Grade 12 pupil Daniel Retief walked off

with no fewer than three of the trophies –

GBS Mutual Bank Trophy for Dux Student;

Van Rheede Van Oudtshoorn Trophy for

Initiative and Resourcefulness; and Boshoff

Trophy for Sportsman of the Year.

Simone Schoonbee scooped two of the

trophies – R de V Olckers Trophy for

Versatility, and Pieterse Trophy for

Sportswoman of the Year. Tony Rudman was

awarded the Old Mutual Trophy for Excellent

Per formance.

SCENIC WIN FOR GRAEME

The first teams of Graeme College and

Alexander Road High School played their

cricket fixture last Saturday in the very scenic

Asante Sana Game Reserve near

Graaff-Reinet. Morning rain saw the match

reduced to 40 overs for each team.

Graeme batted first, managing 191 for 9 off

40 overs, Chris Gleaves and Mark Amm

scoring 46 apiece. Alexander Road was all

out for 96, Garwin Dampies taking 4 for 21

and Mark Amm 3 for 25, and Liam Agnew

putting in a superb spell of bowling, his six

overs conceding only five runs. Graeme won

by 95 runs.

Meanwhile, the Graeme U13A team

defeated Herbert Hurd Primary School by

seven wickets on Saturday.

Scores in brief: Herbert Hurd 58 all out

(Murray Tyson 6 for 9, Onosizo Ntinga 2 for 6

and Ethan Beyleveld 2 for 7. Graeme 59 for 3

(Ethan Beyleveld 46 not out). Graeme won by

seven wickets.

BANKING UP THE RAMP . . .

Well done to Standard Bank for constructing

a wheelchair ramp from the pavement to the

interior of its premises on Church Square.

REMEMBERING

A good turnout of local residents and school

pupils, plus military personnel in uniform,

plus ex-servicemen and women is expected

at the annual Remembrance Day parade on

Church Square from 10.30am on Sunday

November 11.

Oh, and to add colour to the occasion –

besides the many wreaths that will be laid –

the Kingswood College concert band, St

Andrew's College pipe band and St Andrew's

cadets will also be in attendance.

At the eleventh hour of the eleventh day of

the eleventh month in 1918, the guns fell

silent to end the First World War (1914 –

1918). Remembrance Day is also known as

Poppy Day in many parts of the world.

Who remembers the days when a group of

Grahamstown (now Makhanda) ladies would

gather in groups to make poppies by hand,

using crinkle paper and thin wire? These

days the poppies come in the form of stickers

printed in their thousands.

TIME FOR ACTION IN GEORGE STREET

This is a message to the Makana Mayor, the

relevant minister and others. While you're in

a renaming mood, why not rename George

Street in Sunnyside "Kyalami Street".

Walk up and down George Street

sometime and check it out for yourself. You

will be shocked by the speeds at which some

vehicles travel, either driving into the city or

leaving it – cars, SUVs, LDVs, inter-city

ALL ABOARD: One of the more

popular attractions at the

recent Graeme College family

fun fair on Somerset field was

the 'quad bike train' t h at

criss-crossed the field taking

people for rides. Here the

driver prepares to take a

group of teenagers around the

field Pictures: SID PENNEY

PROUD PARENTS: Grade 9 pupil Shirley Retief, left, and grade 12 pupil Daniel

Retief with their parents, Joubert and Anna, after walking off the PJ Olivier

High School stage with armfuls of prizes and awards at the school's annual

prize-giving ceremony last week. Among their prizes were those for achieving

first places in their respective grade classes.

PROUD OF THEIR SCHOOL: One of the

last official duties of the head

prefects of PJ Olivier High School

involved officiating at the school's

annual prize-giving ceremony last

week when they delivered various

speeches. Here, Chevandre Doyle

(left, deputy chairperson of the

pupils' management committee) and

Jaydee Murray (right, chairperson of

the pupils' management committee)

carry the school badge into the

packed hall as part of the

procession at the start of

proceedings

buses, heavy-duty delivery trucks and

motorcycles. I'm not writing this from hearsay

– I walk and drive George Street on a regular

basis. It really is scary at times. Seriously,

some earnest thought should be given to

creating rumble strips and/or speed humps

in that street.

HARROWING TIMES IN HUNTLEY

Oh, my goodness, it just gets worse all the

time. I'm talking about the potholes and

trenches of Makhanda (formerly

Grahamstown), a subject I don't seem to tire

of. On a recent walkabout in the CBD I was

appalled at the current state of Huntley

Street and the entrance to Coles Lane. Not

only have the pavements in that very busy

street been dug up for the laying of cables,

but several big potholes have also appeared.

The area in Huntley Street below Coles Lane

appears to be in real vehicle-wrecking mode.

Remember, Huntley Street is even busier

during school terms, what with Good

Shepherd Primary, Victoria Primary and

VGHS having entrances leading from it.

TYRES, CLOTHING AND BOOZE

I was parked adjacent to the centre island at

the northern end of Bathurst Street the other

day, and my mind went back several decades

to the mid-1960s as I checked out the various

buildings and businesses.

First to catch the eye across High Street

was Wesson's (Koch family), the tyre,

exhaust and battery specialists, which traded

as Kingsley Tyre Services back in the 1960s

(Rautenbach), according to the Grahamstown

1966 Directory.

Moving towards Church Square we find

Commemoration Methodist Church (still the

same as it was back in the 1960s) and

adjacent to it the Commem Hall.

Back in the sixties the hall was the office

of Stanley J Dold Auctioneers (John van

Wijk) at 43 High Street.

Next up is Birch's men's and women's

outfitters, and it's been there like forever.

Staff members' names I remember from

the 1960s, 1970s and 1980s are Ernest Dicks,

Clyde Wallace (still living in Grahamstown),

Sannie Marais, Ernest Luke, Pat Matthews,

Mel Westaway, Shirley Lemmer and John

Penney (the best maker of tailor-made suits

this side of Texas!).

Across the little lane from Birch's these

days is some municipal department or

project, but back in the sixties it was Joseph

Lawrence & Co Bottle Store (Charlie

Hewson).

EVERY NATION AT NUMBER 10

A short while ago I mentioned that Gary

Banks Refrigeration had moved from 10 Hill

Street to a premises on the corner of New

Street and Anglo-African Street, and that a

church was moving into 10 Hill Street.

Readers may remember that back in the

1960s and 1970s, a church did occupy the

premises. Signs affixed to the 10 Hill Street

building when I walked past the other day

reveal that the current tenant is Every Nation

Grahamstown, whose vision is to disciple

leaders, plant churches and reform nations.

ARTWORK AWARDS

During the recent Balloon Week celebrations,

Diocesan School for Girls and St Andrew's

College held an art exhibition, during which

various awards were made to pupils: Best

DSG senior artwork – Tayla Kapp; Best St

Andrew's senior artwork – Andre Renaud;

Best DSG junior artists – Enya Kapp and

Sarah de la Harpe; Best St Andrew's junior

artists – Ethan Breetzke and Daniel Bradfield;

Lady Helen Crewe Prize – Abigail Mukungu.

STEAK NIGHT AT TINY'S

One of the longest-standing members of this

community has given me a copy of Tiny's

Restaurant & Steak House menu that

appeared as an advertisement in a local

publication many years ago. Now, I would

like to know how long ago this menu

appeared in the restaurant.

You may remember that Tiny's was at 59A

New Street, the same premises as the

present-day Rat & Parrot. Owners at the time

the advert was placed were Judy and George

G r u b e r.

Take a look at some of the prices and

decide whether it was in the 1970s or 1980s –

unfortunately no dates were given in the

advert. The Tiny's three-course Sunday lunch

was priced at R7.95 and steaks from R5.75.

Then there were vegetarian dishes priced

from R3.55 and desserts from R1.45. Imagine

a salad bar with salads priced from R1.95!

ON THE CORNER

An advertisement in a local publication in

1983 informed readers that MacRae

Volkswagen on the corner of Hill and Dundas

Streets were Audi, VW Golf and VW Jetta

dealers.

A HOTEL AND AN INN

The coffee-table book G r a h a m st o w n

Reflected, written by Emily O'Meara and

published in 1995, contains a chapter titled

"Hotels and Hostelries". Two establishments

Emily visited during her writings were Hotel

Victoria and Settlers Inn Motel.

Of Hotel Victoria she wrote: "The Hotel

Victoria in New Street, scene of 1001 nights of

student roistering, more vividly recalled by

some Old Rhodians than the hallowed halls

of their Alma Mater."

Below the 1820 Settlers National

Monument was the Settlers Inn Motel, and its

Flare Path Pub kept the homefire burning in

winter. The author recalled: "It was filled with

photographs assembled by ex-Rhodian RAF

pilot Bert Leach, who got the enterprise off

the ground in 1968."
---
22 Talk of the Town ADVERTISING / NEWSDESK: (046) 624 4356 Find us on Facebook

October 25, 2018

BOWLSBANTER

... what's happening

Port Alfred Bowling Club

Congratulations to Colette Reid, Mo Goff and Phil

Taylor who were the winners of the Personal Trust

competition last Tuesday afternoon.

Thank you to Personal Trust for their continued

support and sponsorship.

Colette Reid's name was pulled out the hat for

the black box, but unfortunately the key didn't fit, so

she didn't win the money. Your chances get greater

with fewer keys, so make sure you buy a few tickets

to support this imitative, and maybe you will get

l u c k y.

The finals of the ladies' handicap singles were

also played last Tuesday afternoon. Well done to

Hilary Allen who is the winner, as well as Eulalie

Moorcroft who is the runner-up.

Last weekend was the start of the men's Eastern

Areas (EA) Fours competition which was played at

Kenton. Eric Kent's team from Kowie as well as

Clive Bartlett's team from Albany will play this

weekend in the play-offs. The two women's teams

Gwen Bartlett's team from Albany and Wendy

P fot e n h a u e r 's team from Port Alfred will also play.

The venue will be advised in due course.

Non-bowlers, as well as bowlers, are all welcome

to join us on Friday evening for a bring and braai.

The evening will commence with bowls, followed by

a bring and braai. The winner of the bowls will win

a chicken from Kekkel en Kraai and the loser will

get an egg for their effort.

This is a fun evening, so come and join in. There

will be lots of help for the non-bowlers, so not to

worry if you have never rolled a bowl before. The

bowls starts at 5.30pm.

The Ladies' Renee Vroom 101 singles competition

starts on Wednesday October 31. Should you wish

to play, please enter your name on the list as the

entries close soon.

Duties for the week October 30 to November 3:

Tabs – Ron Orford and Sandra Wiblin, Bar – Noeline

Kirsten and John Hodges, Ironing – Bill Wragg.

Kenton Bowling Club

The Personal Trust Trips competition on Friday

afternoon was not completed due to the otherwise

welcome rain and the day's prize money has been

carried over to the next PT Trips competition which

is scheduled for November 30. The increased prize

money is bound to ensure lots of interest, so be

sure to get your entries in for what is also the last

PT Trips of the year.

The EA Men's Fours play-offs were hosted at

Kenton at the weekend with Ron Orford's Port Alfred

team and Clive Bartlett's Albany team advancing to

the next round after some extremely tight and

competitive bowls. Well done to our Kenton team of

Brian Aldag, Richard Beresford, Wickus van

Schalkwyk and Dave Wallace who finished second

in their pool and narrowly missed making the next

round.

The finals of the 2018 Kenton Men's Drawn Pairs

and Men's Selected Pairs competitions will be

played at the club this Tuesday afternoon, kick-off at

2pm.

One semifinal of the Ladies' Senior Singles will be

played at the same time. Please join us for some

great bowls in the afternoon and undoubtedly, some

vocal post-match banter over a cool drink in the

clubhouse afterwards.

Last week's attendance draw was missed by Bob

Burrows and the resultant carry over means that the

prize up for grabs this week will be R800.

Club Championships results:

Patricia Greig beat Leonie de Villiers in the

semifinals of the Ladies' Open Singles and will play

Pam Bowker in the final.

Club duties (October 22 to 28): Tabs – Stompie

Bellingan, Bar – Anthony Coleman and Brian Aldag.

Dates to remember (October 22 to 28): 23 -

Men's Drawn and Selected Pairs finals, Ladies'

Senior Singles semifinal, 24 – Les Clarke and Doris

Ford competitions at Kenton, 25 – President's Chair

competition at Kowie.

Kowie Bowling Club

Our 8th Kowie Men's Classic has come and gone.

After months of planning and living with the

ever-present fear that something could still go

wrong, last Sunday evening brought a sense of

relief that our fears had been unfounded .

Comparisons are odious when it comes to

deciding whether this one was the best so far,

especially because, at the conclusion of each

classic, they had all passed the acid test. Our

visitors were queuing up to ensure that they were

booked for next year.

In bowling parlance a classic is a bowling

tournament of two or more days.

Starting from a very modest beginning with Peter

Ford having to spend time trying to cajole bowlers

into entering our first "Classic", the impact that first

one had virtually assured it's future and within a

few years, the "Classic" generated its own

distinctive character and popular appeal.

To be successful, a "classic" must meet certain

basic criteria – good greens, good food (never try to

economise on food), and constant contact with the

prospective entrants. A secondary consideration

would be the importance of recognising the fact

that there are two groups attending the tournament

– only about 25% of the visiting teams have a

realistic chance of winning the tournament, the

other 75% have come to enjoy a weekend of bowls

and meeting old friends. After all, this is the

meeting place for Eastern Province and Border

bowlers.

For the record, Deon Fourie and his Albany team

won with Eric Kent, Jonty Alexander, Bob Ford and

Peter Giblin from Kowie second, H Lombard third,

Paul Sprigg fourth and then another Kowie team –

Steve Minnaar, Rob Owsley, Rodney Gradwell, and

Gavin Deenik – came fifth with an unblemished

record, except for one peeled game.

With most of our members having missed bowls

at the weekend, there was ample evidence of

withdrawal symptoms.

The Tuesday was going to be a heavy day. Our new

captain, Jonty Alexander, introduced some innovations

which gave the players more to think about.

There still had to be a winner which proved to be

our most-capped bowler Rob Owsley; Bryan Burger,

with Jill and Rob Turner in the front.

With the Friday trips looming, we had a reduced

field on Thursday. Jonty Alexander, Peewee

Tomlinson, Jackie Watson and Helise Hattingh won

the most ends and the Mega-bucks.

While the soft drizzle limited the Friday Trips to

one game, it did not deter the "braaiers" from

waiting for a break in the weather so they could go

ahead with what they had come for.

In the EA Fours, Eric Kent, Stan Long, Jonty

Alexander, and Bob Ford qualified for the EP finals

in Middelburg. Well done

Duties: Roll – Ron Smith, Mark – Roger Purdon/

Gerald Mills, Tabs – Jonine McFarlane.

ON THE

WING

Kowie Pigeon Racing Club

The members flew their

birds from Touwsrivier

on Saturday, a distance

of about 637km in clear

conditions, with a

moderate easterly wind.

The weather stayed

clear with only the

easterly wind turning

into a light southsouthwester

as the birds

arrived at their

respective lofts.

In the All Ages (AA)

category, a total of 25

birds from four members

flew the race.

The winning bird was

CROQUET

CORNER

We have had good

attendance on the last

days of play.

Saturday saw 17

players on the greens

and meal vouchers were

played for.

Jill Pople was first +1,

Sue Darkes second +9,

Ria Burger and Peggy

Southey joint third +3

on a count-out.

Well done to all.

Please remember tabs

in is at 1.45pm, with

from M Mxube, arriving

home with an average

velocity of 1,123.9210m

per minute.

Second place was

taken by B Samuel,

followed by another bird

from Mxube, then one

by Samuel and, in fifth

s p ot , Mxube once more.

In the yearling race,

(YRL) Samuel took the

first four places, his

winning bird arriving

home with an average

velocity of 1,059.5902m

per minute. No other

results were reported.

start of play at 1.55pm.

Latecomers will have to

sit out for the first game.

New players are

welcome and coaching

is given on Wednesdays

at 9am. Contact Roger

on 083-373-8181.

As there was no

croquet corner last week

we would like to wish

belated birthday wishes

to Lynne Peterson.

Hope you had a good

one on October 19.

Energy orange for the Micra Acenta

Way back when light cars

were not always so

remarkable on

performance, the original

for a 3D print was

developed for durable,

cheap cars that kept on

delivering, right until their

wheels eventually fell off.

At that time, Datsun/

Nissan's most memorable

baby car was the 1200 GX

which, its ad agency told

us, once the wheels

vanished in all directions,

the motor could still be

adapted as a reliable farm

borehole pump.

Now we have the new

Nissan Micra Acenta, a

spunky little pugilist – a

sort of boxer, Baby Jake,

of the mini car world and,

again, it's the car's motor

that gets one's attention

f i r st .

It's not so, but I can

imagine those Nissan

boffins taking that

1,200cc, four-cylinder

engine out of the old GX,

lopping off a cylinder,

bolting on a turbo, and

viva – there you have the

new Micra Acenta.

Modern car engines are

getting smaller and are

punting out more and

more power for drastically

less fuel usage than ever

before. While the

government is applying

those levies on our fuel

price in thick layers, the

heroic motor game is, at

least, offering us vastly

more fuel-efficient power

packs for light vehicles.

And, yes, the cost is

ultimately worth it.

The Acenta's motor is

but 898cc's, but is

turbo-boosted and has

only three-cylinders in

order to accommodate a

decent size piston for

more grunt than there

would have normally

been.

Its output is 66kW at

5,500 r/min of power, and

torque registers 140Nm at

a low 2 250r/min on the

dynamometer. This all

gets relayed through a

five-speed manual

gearbox.

Our test car's

performance had a few

jaws dropping when we

informed them the motor

was only 0.9l.

Best was its overtaking

prowess. Hit the hammer;

the turbo kicks in nicely

around 3,000r/min with a

kitty-cat snarl, and you

find yourself safely past.

For the record, Nissan

claims a top speed for the

Acenta of 170km/h and a

zero to 100km/h

OTHER COLOURS AVAILABLE: Our test orangy Nissan Micra Acenta

certainly caught the eye, as did its punchy performance and economical

outlook on life

PORT ALFRED

SERVICE CENTRE

084 094 1288

Cnr of Hallier & R72

(Next door to

Truck Stop)

Specialising in

Korean Motors

SERVICES AND

REPAIRS ON

ALL MAKES

OF VEHICLES!

acceleration time of 12,1

seconds.

Keep off the bugle,

drive normally, and the

"Outspan Orange" Micra

will use only 4,2 l/100km,

but, call on the turbo

often and this will rise to

6,7 l/100km, says Nissan.

These hatchbacks come

mainly in striking "Energy

Orange", which I liked,

given the nature of whom

this car is aimed at.

Outspan oranges don't

exist anymore so there is

no danger of mistaking

them for those orangeshaped

SA citrus specials

that ran around on our

roads, for promotions.

Styling-wise, the

Acenta cuts an attractive

form, and turbine-style,

16-inch, alloy wheels add

purposefulness to its

appearance.

Nissan's "V - m ot i o n "

grille and the shape of the

LED daytime running

lights and halogen

headlights ahead of the

new, shortened bonnet

works well on the visual

impact of the car, viewed

from the front.

The design also lends

itself to remarkable

interior space utilisation

for a lightweight.

Firstly, the boot,

although it has a fairly

high sill, is a handy 300l

in size.

The driver sits low

behind the wheel for extra

headroom, while the fore

and aft adjustment is

phenomenal, allowing

even a driver of up to

2.3m tall to enjoy enough

legroom.

Adjusted back to its

maximum though, there is

no legroom for rear seat

passengers. However, that

situation should never

normally arise.

Additionally, the

steering wheel is fully

adjustable for rake and

reach, so a big man's

elbows need not encroach

on the front passenger's

living space.

This Micra is a nimble

handler with a light

steering feel, enabling

precise driver inputs

when cornering hard.

It's fun in traffic but

has long enough legs on

the open road for you not

to become strained and

i m p at i e n t .

The dash is what

Nissan terms "gliding

wing", T-shaped design

with the instruments and

controls grouped together

for the driver.

The seven-inch

touch-screen colour

display allows the driver

to access features such as

music, messages and

maps through Apple

CarPlay, in addition to

MP3, USB and Bluetooth.

When an iPhone is

connected via an Apple

lightning cable, it offers

users Siri voice control,

Apple maps with

turn-by-turn navigation,

access to music,

telephone services and

other apps such as

Audiobooks and Spotify.

The centre console has

a 12v socket and, at last,

someone has thought of a

flat storage area for a

mobile phone, that is

visible to the driver.

Electronic safety

systems include Vehicle

Dynamic Control, ABS,

Electronic Brake Force

Distribution and Hill Start

A s s i st .

A full house of six

airbags look after you in

the event of a shunt, as

do the height-adjustable

seatbelt both front and

r e a r.

After the salesperson

has walked away from

you, the company's

Nissan Assured,

three-year/90,000km

service plan kicks in, and

there is a six-year/

150,000km warranty and

24/7 roadside assistance.

The price tag is

R 2 57 , 4 0 0 .
---
October 25, 2018 ADVERTISING / NEWSDESK: (046) 624 4356 Find us on Facebook

Talk of the Town 23

KOWIE

STRIDERS

... runners with pride

A couple of our members

were in the Western Cape

competing in the West

Coast road race at Melkbos

Strand on Saturday.

Carol Nepgen walked the

21km in two hours 59

minutes, while Marietjie

Robb ran it in 2:23. Jean

Nepgen walked the 5km in

44 minutes.

The Nepgens then walked

the 10km ARD 3 Vlei road

race. Carol finished in 1:26

and Jean in 1:34.

The end of the year is fast

approaching and there are

not too many road races left

on the calendar.

Depending on the

response, the club will be

arranging a bus to the

Aspen 42 and 10km race in

Port Elizabeth on December

1. So give it some thought

and let Alan know.

Our next club function

will be our year-end dinner.

It will be at the Royal Port

Alfred Golf Club on Saturday

November 24. Please diarise

this. More details to follow.

Then on December 26 is

the Kowie Striders Fun Run

which is a huge event with

lots of holidaymakers taking

par t.

Entries for the Comrades

Marathon opened on

October 19. About 17,000

entries were taken on the

first two days. I see

Marianne Stiglingh was one

of them.

Any other takers?

Time Trial: October 16

8km Run

Jeremiah Dayonashe

30:09

Ayabonga Saul 31:18

Lethemba Jekana 40:25

Andrew Kingon 40:25

Alex Weed 40:37

Sticks Stiglingh 41:29

Dave Sansbury 41:49

Ian Robertson 42:32

Marianne Stiglingh 42:45

Zanel Venter 45:25

Gerald Greef 45:25

Sizakele Dayimani 51:42

Nellie Phiri 51:42

5km Run

Sinthemba Jilingisi 20:02

Asakhe Solwadle 21:07

Siyanda Xanti 21:07

Jess Harris 24:29

Oliver Momberg 24:37

Kevin Lee 25:16

Mike Nelson 25:21

John Smith 25:55

Rebecca Nelson 26:57

Petrie Heyns 29:04

Alan Robb 30:12

Lulu Mceka 31:12

Marietjie Robb 32:22

Cathy Momberg 38:50

3km Run

Mpho Nxabazi 10:30

Sirhelele Naika 14:32

Chumani Lose 14:48

Kimberley Mphela 14:48

Axola Klaas 17:13

Sipho Stephen 17:25

Mike Momberg 17:57

Emily Lessing 19:35

JoAnne Betts 19:39

Dinky Davenport 20:05

Anel Heyns 24:07

8km Walk

Billy Futter 01:26:20

Pauline Weed 01:26:20

Leslie Futter 01:26:20

6km Walk

Ray Basson 01:20:07

5km Walk

Anna-Marie Hockley 37:09

Charles Joubert 39:11

Sue Robertson 45:28

Louis Du Preez 52:10

Jill Du Preez 52:10

Melodie Greeff 54:08

Sally Blake 54:08

Jenny Basson 54:08

3km Walk

Alistair Blake 34:06

COUNT ON US: Regular parkrun participants Doug Jennings, left, and Mitch Ramsay, supported the special breast cancer awareness fun

run/walk for Sunshine Coast Hospice along the usual parkrun route last Saturday

Picture: JON HOUZET

KEEPING

ABREAST

OF

THINGS

SETTING THE PACE:

Supporting the breast

cancer awareness fun

run/walk for Sunshine

Coast Hospice last

Saturday were friends

Camilla von Bonde,

left, and Kirsty Jooste

Picture: JON HOUZET

Wednesday October 17: Pick n Pay 4 Ball

Alliance, with 84 players.

Results:

1st: Desmond Mjimla, Earl Tsolekile,

Mbulelo Veto, Michael Gidani – 92

2nd: Bob Shaw, Tom Tagg, Freek van

Rooyen, Corrie van Zyl – 91

3rd: Leon Evans, Dave Nicoll, Noel Stötter,

Basil Dukas – 90

4th: Les Wasdell, Mark Shelton, Terry

Counihan, Alan Rosenthall – 88

Two clubs:

6th: N Oosthuizen, G Bladen

8th: W Wolmarans, G Shanks, B Wright, J

Sharrock, B Dukas, L Evans

13th: E Tsolekile, N Stötter

Best Gross: 71 – Desmond Mjimla

Best Nett: 68 – Desmond Mjimla

Nearest the pins:

Fishaways – 6th: Geoff Bladen

Rise Cafe – 8th: Wollie Wolmarans

The Wharf Street Brew Pub – 11th: Ian

Moncur

Thymes 2 Catering – 13th: Noel Stötter

Wimpy longest drive – #14th: Leon Nell

Kingsley Beverages – Nearest the pin for

two on the first: Rocky Rowe

Saturday October 20: Viv Jordan golf day,

a Two-ball Alliance with 64 players.

Viv Jordan trophy – Corrie van Zyl

Results:

1st: Meekah de Sousa, Clint Roesstorff – 51

2nd: Quinton Fick, Jayden Roesstorff – 51

KOWIE

CANOE

CLUB

Time trials: October 18

Dave Sansbury 32:58

Dave Legg 33:14

Alan Robb 35:21

Ian Robertson 35:52

Adrian Cole 38:30

Lynette Harbrecht 41:48

Louis du Preez 41:48

Dudley

Emslie 41:48

3rd: Kyle Blom, Kevin Daniel – 50

4th: Bob Shaw, Adrian White – 49

Two Clubs:

6th: E Tsolekile, C Forster, W Osborne

8th: A White, V Jordan, T Taylor. M de

Sousa

13th: T Stötter, M de Sousa

Best gross: 70 – Meekah de Sousa

Best nett: 69 – Meekah de Sousa, Quinton

Fick, Earl Tsolekile, K Blom

Nearest the pins:

Mooifontein Quarry – 6th: Colin Forster

Auto Smart Body Shop – 8th: Martin

Flanegan

Sibuya Game Reserve – 11th: Ross Wright

The Whart Street Brew Pub – 13th: Meekah

de Sousa

Wimpy longest drive – Men's #18th: Jayden

Roesstor ff

Royal St Andrews – Nearest the pin for two

on the first: Mark Shelton

1820s GOLF

Monday October 15: 25 players in cool and

windy conditions.

Winners on 40: Derick van Harmellan,

Lawton Amos, Juan Southey.

Moosehead on 47: Roy de Wet, Patrick

O'Kelly, Barry Scarterfield.

Good scores: 49 – Peter Rinaldi, 48 –

Dallas Cowie, Lionel Timm.

Two clubs: 6th Barry Scarterfield, 8th Dallas

Cowie.

VOLOVIKINGS

... runners with pride

Time Trial: October 18

3.8km

1 Lucia January 24.42

2 Sileshile 25.03

3 Nosipho Vazi 27.58

4 Theiijmen Wigley 36.05

5 Luc Wigley 37.44

6 Anoek Verheijen 37.45

7 Erin Cooper 43.18

8 John Crandon 43.19

5km

1 Lukhanyiso Nobi 21.32

2 Sihoseto Magwaxaza

21.45

3 Siyabulela Sali 23.54

4 Athi James 24.07

5 Mbonge Kentshe 25.43

6 Xolele Johannes 27.41

7 Ivewe Matyunu 28.07

8 Damien Tsingos 28.19

9 Uthimna Tana 28.57

GOLFW E E K LY

... the results

Thursday October 18: 23 players in sunny

conditions.

Winners on 43: Dale Wisener, Dennis

McElwee, Dudley Kieser, Windsor Bagley.

Moosehead on 46: Roy de Wet, Lawton

Amos, Stan Weyer, Dallas Cowie.

Good scores: 48 – Juan Southey.

Two clubs: Nil.

L ADIES' R E S U LTS

October 16: There was a little rain in the air

as 27 members of the ladies' section teed

off on Tuesday afternoon, but thankfully

this disappeared later in the afternoon.

A better-ball Stableford was the format

played with the captain's prize at stake.

Tracy Bessinger partnered alongside Jill

Lake and carded a massive 49 points to

win the competition and the captain's prize.

They were well to the fore of runners-up

Pogs Smith and Margie Siegers (42) and

third placed Kim Gardner and Shirley Heny

(40).

Sonia Reynolds holed out the only par

three birdie of the afternoon (eighth) after

being closest to the pin on this Rosehill

Driving Range's hole. Pru Peacock was

10 Sibiso 30.48

11 Siyakana 30.50

12 Simanye 30.54

13 Mihle Ngxaga 31.55

14 Olothando 31.56

15 Yvonne Van Breugel

32.33

16 Mandile 32.49

17 Emihle 32.52

8km

1 Mark Crandon 31:54

closest on Top Carpet's sixth and Sonia

again on Wimpy's 11th. Pogs Smith was

nearest the pin after two shots on River

Spa's 13th.

The longest drive competitions were held

on the 17th and struck by Pogs Smith and

Trish Barwick in the lower and more

generous handicap sections respectively.

Good individual rounds were recorded by

Pogs (nett 68) And Jill Lake (nett 65).

KGB RESULTS

Tuesday October 16: Grey skies did not

deter 31 players from entering the draw to

play in seven four-balls and one three-ball

in an Alliance Stableford two scores to

count.

Intermittent rain kept golfers on their

toes and with wet gear intermittently being

put on and taken off, the unusual situation

of three coveys being tied for first place on

87 points was the end result.

Those unable to separate themselves at

the top of the leader-board were (1) Cliff

Roberts, Don Thomson, Paul Fryer and

Hugh Holmes plus (2) John Abbot, Derick

van Harmelen, Neil Loundar and Eric

28 Main Street - Tel: 046 624 1125

Email: robert.avis@ecmpa.co.za

Segers and (3) Arnie Schultz, Dale Wisener,

Ian Storer and Rose Calmeyer Leach.

Bryan Robinson, Dave Curran, Cecil

Grobler and Tom Tagg, despite more being

expected from the talented ensemble, were

the only covey to post a score below 80,

and the 79 points returned meant the

ignominy of the Hamer en Sukkel.

John Dell birdied the par three sixth but

Tom with his two-club on the 11th captured

the two-club pool to ease his covey's woes.

John and Richard Laing both shot nett

69 to have the best individual rounds of the

morning.

Friday October 19: A chilly, blustery

morning saw 30 players turn out for the

d r aw, to play the usual two-to-count

Stableford Alliance.

Conditions were difficult and this was

reflected in the scores posted.

In fact, it took just 81 points to win the

competition and this score was recorded by

two covies: (1) Barry Brady, Andy Barnes

and Andy Stembridge and (2) Dave Curran,

Dale Wisener, Nick Oosthuizen and Ian

S t o r e r.

Last on the points list with 76 points,

and consequently the Hamer en Sukkel

receipients were Guy Cash, John Abbott,

Andy Manson and Philip van der Byl.

Heinz Czepluch alone holed out a

two-club (sixth). There were no individual

scores of note.

R339 4 900*
---
Sp ort

Contact us with any sports news: (046) 624-4356 (Jon Houzet) Thursday, October 25, 2018

Inter national

instructor to

visit Makhanda

LEGENDARY STYLE: International karate instructor Sensei

Pascal Lecourt will be presenting a seminar in Makhanda

this weekend

United Shotokan-Ryu's

(USR) intention of

bringing top-class

international karate

instructors to South Africa will

be realised with Sensei Pascal

Lecour t's (7th dan) arrival in

the Eastern Cape later this

week.

Lecour t's Seminar will be

held in the university town of

Makhanda (previously

Grahamstown) and is open to

Shotokan karateka 12 years and

older who hold the level of

green belt or higher.

The occasion will mark

Lecour t's first visit to South

African shores. Lecourt is a

former protégé of the legendary

Japanese karate master Sensei

Taiji Kase (1929-2004) and is

currently one of the world's

leading authorities on Kase's

unique form of Shotokan karate.

He is in demand throughout

Europe, and has also taught in

Israel and England, as well as

in many other countries.

The style is fondly known

throughout the world as

Kase-Ha, and is a pure form of

Japanese budo (martial arts),

which emphasises the use of

powerful large-scale blocking

and striking techniques based

on the use of the Japanese

katana (sword). In 1964, Kase

became one of the first

Japanese Shotokan karate

masters to ever visit South

Africa. During this time he

spent six months primarily

instructing karate in

KwaZulu-Natal and in 1996 he

returned to South Africa to

teach in various cities and

towns.

Lecour t's karate is a

continuation of Kase's research,

innovation and development

into the practice of Shotokan

karate, and considering Kase's

historical significance to South

African Shotokan karate, his

visit will play an important role

in re-establishing these ties.

Karateka are expected to

attend the Seminar from the

Western Cape, Gauteng as well

as a large contingent from the

Eastern Cape.

With the assistance of USR's

presenting partner, the

Grahamstown Foundation,

Lecour t's Seminar will be held

in the Thomas Pringle Hall at

the 1820 Settlers Monument in

Makhanda.

The seminar times are as

follows: 9.30am to 11.30am, and

1.30pm to 3.30pm on Saturday

October 27 and Sunday October

28. Please note that the

seminar is closed to spectators.

Seminar organiser Gary

Grapentin may be contacted for

further information on

073-346-0059, or at

garyg@geenet.co.za

PSIRA: 1241091 SAIDSA: 890

24 Hours : (046) 624 2508

Office Hours : (046) 624 3708

STRONG SUPPORT: There was a fantastic turnout of 240 people – nearly double the usual

number of parkrun participants –for the special breast cancer awareness fun run/walk for

Sunshine Coast Hospice last Saturday. The event was sponsored by Rosehill SU P E R S PA R

and Nemato SPAR, and there was a festive atmosphere at the finish, with egg and bacon

rolls, boerewors rolls and cupcakes for sale, with proceeds going to Hospice. Standing,

from left, are Christo Loubser, Rosehill SUPERSPAR and Nemato SPAR co-owner Lesley

Theunissen, Vuyo George, Trish Gillies from Hospice, Luzuko Mbodlana, Angela Hibbert

from Hospice and Analisa Fanayo, with bottom row, from left, Thabisa Nyaba, Mabhuti

Nikelo, Nomawethu Mpati and Sinovuyo Faku

Picture: JON HOUZET