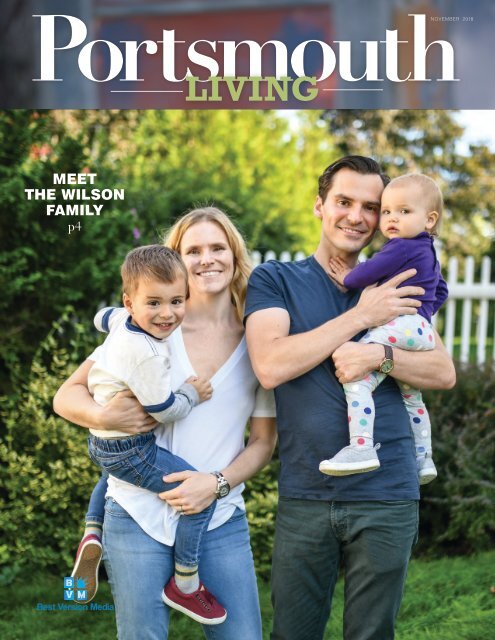 Portsmouth Living Magazine November 2018
You also want an ePaper? Increase the reach of your titles
YUMPU automatically turns print PDFs into web optimized ePapers that Google loves.
Portsmouth

NOVEMBER 2018

LIVING

MEET

THE WILSON

FAMILY

p4
---
Happy Thanksgiving!

What are you thankful for? Family ? Friends?

Your career? Your health?

Whatever it is, this month, express some of

that gratitude by helping others that may not

be so fortunate.

A simple act of kindness or paying someone

a visit goes a long way for you as giver and

the recipient of your good deeds.

You'll be happier and filled with a special

kind of contentment that one can only feel

while giving.

We hope you are enjoying Portsmouth

Your home

belongs here!

- Barbara

PUBLICATION TEAM

PUBLISHER | Mark Kasper

DESIGNER | Gabrielle Rohmer

CONTENT COORDINATOR | Rob Levey

Living Magazine and we are working hard to

make improvements each and every month.

This month, we hope you enjoy great articles

on family, community, and local organizations.

MARK KASPER

Publisher

Keep those suggestions and

comments coming!

Happy Thanksgiving!

~ Mark

ADVERTISING

CONTACT | Mark Kasper

EMAIL | mkasper@bestversionmedia.com

PHONE | (603) 686-3131

FEEDBACK/IDEAS/SUBMISSIONS

Barbara Dunkle | NH & ME Broker

PLATINUM GROUP MEMBER

Web: www.barbaradunkle.com

Cell: 603-498-7927

Office: 800-450-7784 ext.7078

Email: barbara.dunkle@beangroup.com

Distinctive Properties. Exceptional Service.

®

®

Have feedback, ideas or submissions? We are always happy to hear from you!

Deadlines for submissions are the 1st of each month. Go to www.bestversionmedia.comand

click "Submit Content." You may also email your thoughts, ideas,

and photos to rlevey@bestversionmedia.com.

IMPORTANT PHONE NUMBERS

Emergency.......................................................................................................... 911

Police Department........................................................................(603) 427-1500

Fire Department.............................................................. ..............(603) 427-1515

City Hall........................................................................................(603) 431-2000

Library......................................................................................... (603) 427-1540

Recreation Department......................................................... ......(603) 427-1548

School Department....................................................................(603) 431-5080

Important Websites.................................................www.cityofportsmouth.com

EXPERT CONTRIBUTORS

To learn more about becoming an expert contributor, contact BVM

at mkasper@bestversionmedia.com or (603) 686-3131.

CONTENT SUBMISSION DEADLINES

DEADLINE FOR CONTENT SUBMISSION

IS THE I ST OF EACH MONTH

Any content, resident submissions, guest columns, advertisements and advertorials are not necessarily endorsed by or

represent the views of Best Version Media (BVM) or any municipality, homeowners associations, businesses or organizations

that this publication serves. BVM is not responsible for the reliability, suitability or timeliness of any content submitted.

All content submitted is done so at the sole discretion of the submitting party. © 2018 Best Version Media. All rights reserved.

Attention:

Portsmouth

Cooks!

Send your favorite holiday recipe(s)

to share with your neighbors.

Email them to mkasper@bestversionmedia.com

Subject to copyright and space availability.

©2018 Bean Group, All Rights Reserved.

2 PORTSMOUTH LIVING

NOVEMBER 2018
---
Resident Feature

MEET

THE WILSONS

BY ROB LEVEY

PHOTO SUBMITTED

BY THE WILSONS

Having met at Harvard

University in 2002 and

then marrying each other

7 years later, Anthony

and Emily Wilson are thrilled to call

Portsmouth home. For Emily, living in

Portsmouth is something of a homecoming.

"I grew up in Exeter so

moving back to the Seacoast was like

coming home for me after 15 years

spent in Cambridge, NYC

and Philadelphia," she says.

Living across from Little Harbour

Elementary, Emily says they chose this

neighborhood because they love its

family feel and thought it would be a

great place to raise kids, Julian (3) and

Rose (15 months).

"Moving here after years in big cities,

our neighborhood felt like the perfect

mix of city access and a safe neighborhood

for our kids to enjoy," she says.

She expresses excitement at the

prospect of walking across the street

totake their kids to Little Harbour in a

few years.

"Every morning, our kids love to

watch the throngs

of 'big kids' walking

and biking to

school through

our neighborhood,"

she says.

She says the

neighborhood has

been welcoming,

too, including the

sheep and geese at

"Griffin Farm."

"Many Portsmouth and Seacoast

residents have also been incredibly

supportive of Anthony's new practice,

which has been wonderful as we've

navigated starting a small business

together," she adds.

This business is AW Plastic Surgery

in Portsmouth. Anthony is a board certified

plastic surgeon and Emily serves

as business manager for the practice.

When not working, the Wilson's

favorite hobby as a family is gardening.

Emily says Anthony is an avid gardener

and grows beautiful roses.

"We start all of our seedlings in an

indoor tent and spend a lot of time

tending to our numerous vegetable

beds," she says. "We've also put in 8

fruit trees and several berry patches

and the kids love eating raspberries,

blueberries and strawberries right off

the plants. Rosie is also partial to eating

fresh tomatoes like they are apples right

off the vine."

The humans in the Wilson family

are not the only ones who enjoy their

gardens.

"Moving here after years in big cities, our neighborhood

felt like the perfect mix of city access and a safe

neighborhood for our kids to enjoy," she says.

"Neb, our rabbit, enjoys all the vegetable

scraps from our garden and turns

them into compost for the next round

of plants," adds Emily.

Their cats also enjoy their gardens.

"Cheeto and Rocky enjoy keeping

our house mouse free and lounging in

our raspberry patch," she says.

Their dog Prim, a Staffordshire Bull

Terrier, seems less interested in the

garden, although she has a full agenda.

"She spends her days snuggling with

her people, running after a ball, watching

out for her human babies, and

catching falling kid food," Emily says.

Regarding their kids, she notes that

Julian loves his Montessori School,

spending time outside and helping out

around the house.

"We hope his interest in the lawnmower

continues until he is actually

old enough to touch it," she adds

with a laugh.

According to Emily, Rose tries to do

anything Julian is doing and spends

a lot of time making sure her voice is

heard.

"It can get a little loud in our house,"

she admits.

When not gardening or hanging out

together as a family, Emily says she

and Anthony enjoy taking cycle and

other classes at Mission

Portsmouth. She hopes

they have more time for

other activities in the

future, but notes a busy

schedule prevents time for

anything else.

"We look forward

to getting

more involved

with activities

as our kids get

bigger," she says.

"Currently,

between the new

business and

the kids at their

young ages,

we're pretty all

hands on deck

for the most

part."

DO YOU HAVE A NEIGHBOR WHO HAS A STORY TO SHARE? Contact us at:mkasper@bestversionmedia.com

Newest member of the family Willow!

4 PORTSMOUTH LIVING

We would like to thank our sponsor, Porstmouth Christian Academy for the opportunity to bring you this story.

NOVEMBER 2018 5
---
School Scene

Portsmouth Christian Academy

RECOGNIZED AS A 2019 BEST SCHOOL BY NICHE

Real Estate

NEW HOUSING DEVELOPMENT

IN PORTRSMOUTIN

BY ROB LEVEY

Adually accredited, independent, college-preparatory,

day school for kids, preschool through Grade

12, Portsmouth Christian Academy (PCA) has

recently been ranked as the number #1 private K-12 school

in New Hampshire by Niche.com.

PCA earned this ranking by scoring highly on a variety

of factors, including SAT/ACT scores, student-teacher

ratio, quality of colleges considered by students and reviews

from students and parents. The statistical data used in

this ranking was obtained from the U.S. Department of

Education and then analyzed by Niche to create the 2019

rankings.

Dr. John Engstrom, PCA head of school, says they are

"thrilled with this ranking."

"It is such a great endorsement from the parent community

and from the U.S. Department of Education," he says.

"We are so proud to have received this recognition."

As for what he feels differentiates PCA from other

schools, Engstrom cites its campus location on "a tidal river

with access to nature, outdoor estuary, animals, birds and

marine life.

Elaina Russo, director of admissions, agrees and says the

location is "amazing."

"We have 50 acres right on the Bellamy River set far back

from the main thruway," she says. "It's safe and open with

lots of room for kids to breathe and grow."

She says this location, however, does present challenges,

as some people still do not know PCA is right on the Seacoast.

"Once families visit the campus and they see inside the

heart of our school, they want to be a part of it," she says.

"We have 50 acres right on

the Bellamy River ... It's safe

and open with lots of room for

kids to breathe and grow."

Engstrom says another differentiating factor is their education,

as he notes they offer more AP classes than other

schools in the Seacoast region. He also cites their "CODE,"

which is an acronym that stands for Christ-Centered Community,

Outstanding Academics, Differentiated Learning,

and Exceptional Character, as another important differentiating

characteristic.

"These combined elements, realized through our mission

and vision, make for a truly unique educational program,"

he adds.

Currently, PCA has 460 enrolled students, and he says

enrollment is trending upward.

"Until this year like many schools in the area, we were

seeing our enrollment contract," he says. "This year,

though, was a turnaround year for us. We have almost

100 new students enrolled. We're excited about these new

students and about the feedback we're getting on the difference

parents are seeing in their children's lives."

Looking ahead, he expresses enthusiasm at PCA's expansion

of its "Outdoor Classroom" program and STEM curriculum

in elementary and junior high programs. He says

they are also expanding opportunities for home-schooled

and part-time students.

His hope, like that of Russo, is that more people come to

know PCA.

"We would like people to know more about our consistent

academic rigor and focus on excellence in every area

of school life as well as the individualized attention and

differentiation for all students," he says.

To learn more about PCA, visit www.pcaschool.org.

YEAR # UNITS STATUS

2010-18 446 Completed Construction

2018 149 Currently Under Construction

2018 175 Approved

2018 175 Under Review

2018 204 No Land Use Application Yet

2018 1,149 Total New Housing Since 2010

2018 11,007 Housing as of 2010

Best Version Media does not guarantee the accuracy of the statistical data on this page. Any real estate agent's ad appearing

in this magazine is separate from any statistical data provided which is in no way a part of their advertisement.

The leaves may be falling, but average

selling prices and new home starts

continue to rise.

Let's talk.

Barbara Dunkle | NH & ME Broker

Web: www.barbaradunkle.com

Cell: 603-498-7927

Office: 800-450-7784 ext.7078

Email: barbara.dunkle@beangroup.com

10.44% Percentage Increase

Since 2010

6 PORTSMOUTH LIVING

NOVEMBER 2018 7
---
Community

INNOVATIVE PARTNERSHIP ELIMINATES

SINGLE-USE PLASTIC AT THE MUSIC HALL

BY ROB LEVEY

Two of Portsmouth's most distinctive

characteristics are its natural

beauty and health, which is

jeopardized by single-use plastic and the

reason behind a recently formed partnership

between Sustainable Seacoast and

The Music Hall.

According to Keith Tharp, co-founder

of Sustainable Seacoast, this partnership

has resulted in the elimination of more

than 22,000 plastic bottles annually at

The Music Hall.

"I would say this is Sustainable Seacoast's

biggest success to date as far as

the scope of the challenge tackled and

the overall impact of the effort," he says.

As for the development of the partnership,

Tharp says it results from a chance

encounter with someone from The Music

Hall at an unrelated local event. He

says they were able to discuss Sustainable

Seacoast's mission to eliminate single-use

plastics in the region's restaurant industry,

which led to a more formal meeting

with The Music Hall.

"During our first meeting, we chatted

about their use of single-use plastic

bottles and how we'd love to work with

them on a solution for eliminating

them," he says. "Their concern was the

challenge presented by the revenue from

bottled water, which was a vital part of

their funding."

While a solution did not immediately

present itself at the time, James Paone,

general manager of Front of House &

Rentals at The Music Hall, says he felt

confident one would.

8 PORTSMOUTH LIVING

"After talking it through, I was as confident

as he was that the time had come

and we had the determination and knowhow

to get it done," he says. "We've

always made moves toward sustainability,

but joining up with Sustainable Seacoast

was a big, important step that covered a

lot in one go."

As for the solution, Paone says Tharp

connected The Music Hall with Bluedrop

Water, which installed a still and

sparkling water refill system that enables

them to maintain an essential revenue

stream.

"Their presentation of a stainless steel

tap system to deliver filtered water is a

gorgeous upgrade," he said. "We can now

use compostable cold cups and lids for

soda and water and sell them for about

the same price we sold their bottled

counterparts without asking patrons to

buy a $2 souvenir cup."

He said the system also addresses their

environmental concerns, which brought

The Music Hall to Sustainable Seacoast

in the first place.

"Not only are our customers getting

delicious, better tasting water, but also

they are doing better for our environment,"

he says.

Brendan Dickinson, Bluedrop Water

president and CEO, says they will continue

to service The Music Hall by providing

equipment service, support, filter

changes and all other program-specific

needs. He is equally enthused about the

emerging partnership with Sustainable

Seacoast.

"We plan to continue to focus on

our shared vision for more sustainable

water initiatives within the food-service

industry," he says. "Bluedrop will be

sponsoring water refill stations for

upcoming Sustainable Seacoast events to

help spread the word about Sustainable

Seacoast and Bluedrop's environmentally

friendly water program."

As for the future, Paone says he and

Keith talk on a regular basis about

"what's next." Neither one of them plan

to rest on their laurels.

"There are always

ways to improve-

-whether it's reducing

waste even further or

improving on the steps we've

already made," he says. "Sorting compostables

from trash and recycling is new

to almost everyone, so the fewer decisions

our patrons and staff have to make,

the better. We've gotten rid of publicfacing

recycle bins because the audience

isn't generating any recycling--the next

step is the trash."

Expressing gratitude at the chance

to work with both The Music Hall and

Bluedrop Water, Tharp says he and

Co-Founder Kate Harris are just getting

started at Sustainable Seacoast, which

formally launched this past spring.

"Many restaurants in the Seacoast area

are definitely environmentally conscious

already, but there are opportunities for

improvement," he says.

Regardless of the specific arena in

which they operate to achieve their mission,

Tharps says Sustainable Seacoast

will approach the problem from " a positive

place."

"More importantly, we want to inspire

change by rewarding the success and

positive actions of those restaurants and

patrons working together to move away

from single-use plastic and other unsustainable

practices," he says.

To learn more about Sustainable Seacoast,

NOVEMBER 2018 9
---
"It is not how much we have, but how much we enjoy, that makes happiness."

~ Charles Spurgeon

THURSDAY, NOVEMBER 1

BEER FOR HISTORY

@Folsom Tavern, 164 Water St., Exeter

Sponsored by Hoefle Phoenix Gormley &

Roberts, P.A. Attorneys at Law, each event

in the four part series features one brewer

who will pour three of their beers, including

one of their most popular. At this event,

von Trapp Brewing from Stowe, VT is the

featured brewer. Step back in time and

enjoy beer in a restored historic tavern with

live music, refreshments, colonial inspired

games and more.

TIME 6pm-8pm

COST $15 members/$20 not-yetmembers

www.independencemuseum.org

THURSDAY, NOVEMBER 1

NICO, 1988

@The Music Hall Loft, 131 Congress St., Portsmouth

Follows the singer-songwriter, approaching

50, leading a solitary existence in Manchester,

far from her 60s glam days as a

Warhol superstar and celebrated vocalist

for cult band The Velvet Underground. Her

life and career on the fringes, Nico's new

manager Richard convinces her to hit the

road again and tour Europe to promote her

latest album.

TIME 7pm

COST $9 - $12

www.musichall.org

THURSDAY, NOVEMBER 1

BLACKKKLANSMAN

@The Music Hall, 28 Chestnut St., Portsmouth

From visionary filmmaker Spike Lee comes

the incredible true story of an American

hero. It's the early 1970s, and Ron

Stallworth (John David Washington) is the

first African-American detective to serve in

the Colorado Springs Police Department.

Determined to make a name for himself,

Stallworth bravely sets out on a dangerous

mission: infiltrate and expose the Ku Klux

Klan. The young detective soon recruits

a more seasoned colleague, Flip Zimmerman

(Adam Driver), into the undercover

investigation of a lifetime.

TIME 7pm

COST $9 - $12

www.musichall.org

SATURDAY AND SUNDAY, NOVEMBER 3 AND 4

NH OPEN DOORS

@need info here

NH Open Doors is an annual statewide

touring and shopping event and a fun way

to connect and engage with the people,

products, and places of New Hampshire.

During this weekend, artists, craftsmen,

and business owners are opening their

doors with special activities and promotions.

The tour is self-guided, so visitors

create their own driving routes using an

interactive Google map on the NH Open

Doors website. See the website for a list of

participants, their activities, and suggested

itineraries.

TIME 6pm-7pm

COST FREE

www.nhopendoors.com

SATURDAY, NOVEMBER 3

ST. MICHAEL PARISH

CHRISTMAS FAIR

@Rt 111, Corner of Lincoln & Front St., Exeter

Come and enjoy one of the best fairs on

the Seacoast. This fair offers unique and

affordable handcrafted gifts, more than

100 gift certificates/baskets from Seacoast

area businesses for raffle, a money

raffle, wine raffle, silent auction, jewelry,

Christmas items, gifts to go, cookies and

baked goods, breakfast & lunch, fun for

kids, and a visit from Santa.

TIME 7am-3pm

Cost: Free

SATURDAY,NOVEMBER 3

PORTSMOUTH

FARMERS MARKET

@ Portsmouth City Hall, 1 Junkins Ave., Porsmouth

You'll find an abundance of local meat and

veggies, garden starting plants, take-home

meals, and ready-to-eat treats!

TIME 1pm-4pm

COST FREE

www.seacoastgrowers.org

SATURDAY, NOVEMBER 3

DAWNLAND

SEACOAST PREMIERE

@STAR Theatre, 120 Rogers Ave., Kittery

This new documentary film examines the

history of forced removal of Native children

from their families, and the work of the

Truth and Reconciliation Commission

launched in 2011 by 5 Wabanaki Chiefs

and the state of Maine . The film will be

followed by Q&A with Mishy Lesher Ed. D.,

Learning Director for Dawnland and The

Upstander Project.

TIME 1am-1pm

COST FREE

www.kitterycommunitycenter.org/star-theatre

SATURDAY, NOVEMBER 3

BIRCHTREE BENEFIT

FOR LEARNING AUCTION

@The Regatta Room, 28 Levesque Drive, Eliot, ME

Enjoy great live music, tasty food, and

fabulous shopping opportunities just in

time for the holidays. All proceeds benefit

the nonprofit Birchtree Center's educational

and therapeutic programs for children

and youth with autism and their families.

Auction prizes include restaurant gift

cards, ski lift tickets, resort stays, wine,

beer, golf packages, jewelry, outdoor

adventures, massage and salon services,

original artwork, family entertainment, and

more.

TIME 7:00pm-10:30pm

Cost: $30

www.birchtreecenter.org

SUNDAY, NOVEMBER 11

SEACOAST

HALF MARATHON

@Portsmouth High School,

56 Andrew Jarvis Dr., Portsmouth

The Seacoast Half Marathon is Portsmouth's

premiere 13.1-mile race. The race

starts and finishes at Portsmouth High

School, and the course travels through

rural Rye, along the rugged New Hampshire

seacoast, through historic New Castle,

and back along the Piscataqua River to

Portsmouth. Racers get long-sleeve technical

race shirts, finisher's medals, and great

post-race eats.

Each year, all of the proceeds of the

Seacoast Half Marathon are donated to

a different local non-profit organization.

Since 2006, the race has contributed over

$1,000,000 to the race beneficiaries. The

2018 beneficiary is The Birchtree Center,

which works to transform and enrich the

lives of children with autism.

TIME 8:30am-1pm

COST $65

www.seacoasthalfmarathon.com

SUNDAY, NOVEMBER 11

ITALIAN WATERCOLOR WORKSHOP

– STILL LIFE

@Tuscan Kitchen, 581 Lafayette Road, Portsmouth

We all LOVE Italian food, so what better way

to celebrate pasta than to paint a still life!

Maggie Green will be teaching this one-day,

all ages, all skill levels class in the Tuscan

Kitchen market area. Bring a friend or family

and enjoy a creative Sunday afternoon!

TIME 1pm-4pm

COST $40

www.maggiegreenart.com

TUESDAY, NOVEMBER 13

WPM – WRITING,

PUBLISHING & MARKETING

@WSCA Community Radio,

909 Islington Street, Portsmouth

Three authors will each give a 10-minute

presentation — one on writing, one on

publishing, one on marketing — followed

by Q&A, and then time for hanging out and

chatting. The event is recorded and made

available as a podcast.

Get your questions answered and connect

with others in the field: writers, editors,

cover artists, publishers, marketers. Complimentary

refreshments will be served.

TIME 6pm-8pm

COST FREE

www.maatpublishing.net

THURSDAY, NOVEMBER 15

ANTISOCIAL MEDIA:

HOW FACEBOOK

DISCONNECTS US AND

UNDERMINES DEMOCRACY

@Hamilton Smith Hall, Room 210, UNH,

95 Main Street, Durham

Siva Vaidhyanathan, professor of media

studies at the University of Virginia, delivers

the 2018 Holden Lecture. In Antisocial Media,

Vaidhyanathan explains how Facebook

devolved from an innocent social site

hacked together by Harvard students into

a force that, while it may make personal

life just a little more pleasurable, makes

democracy a lot more challenging.

TIME 11am-8pm

COST FREE

www.calendar.unh.edu

MONDAY, NOVEMBER 26

GET INTO THE HOLIDAY SPIRIT

WITH RENOWNED GIFTED

PSYCHIC JOCELYN

@Age Less Weigh Less.

50 Sheffield Dr.,Dover NH

Refreshments , Gifts Bags,

Package Specials

TIME 6-8 pm

COST FREE

THURSDAY, NOVEMBER 29

20TH ANNUAL

FESTIVAL OF TREES

@Exeter Town Hall, Front St., Exeter, NH

Come see the Town Hall magically transformed

by fifty beautifully decorated

evergreen trees. Some will be whimsical,

others will be traditional, but all of them will

be unique. Proceeds from the Silent Auction

will benefit the Exeter Area Chamber of

Commerce Children's Fund, providing warm

winter clothing and bedding to local children

in need.

TIME 11am-8pm

COST FREE

FRIDAY, NOVEMBER 30

BUTTON FACTORY OPEN STUDIOS

Button Factory, 855 Islington St., Portsmouth

Open Studios is a once- a-year opportunity

to visit the artists, explore their

private studios, and purchase their work.

These artists and craftsmen have earned

prominence in their fields and represent

a range of disciplines, including painting,

photography, jewelry, pottery, art furniture,

custom picture framing, and bookbinding.

Explore the various studios and you will find

that each one reflects the artist's creative

personality.

TIME 5pm-8pm

COST FREE

www.buttonfactorystudios.com

HAVE AN EVENT

FOR OUR

NEXT ISSUE?

Contact us at: rlevey@bestversionmedia.com

10 PORTSMOUTH LIVING

Nove mber 2018

11
---
As people age their needs

evolve, which underscores

the importance of

the Portsmouth Senior

Activity Center.

Located at the Community

Campus in Portsmouth, the center

operates within the city's Recreation

Department and is open

Monday through Friday from 9:00

a.m. to 3:00 p.m.

Brinn Sullivan, senior services

supervisor, describes it as "a vibrant

gathering place for people,

ages 50 and over."

"We offer a variety of programming

and activities for healthy

aging, including fitness, social,

enriching, and active," she says.

"Plus, we eat together a lot."

Seniors from both inside and

outside the city have access to the

center and its wide range of programs

and activities. Sullivan says

it all starts with complimentary

Wi-Fi, coffee/tea, newspaper and

of course conversation. Throughout

the day, the center offers programs

that range from yoga and

art to lunch trips, Ukulele, Zumba

and more.

To access services and programs,

residents of Portsmouth and and

non-residents may become members

of which there are now 1,300.

Noting the average age of a member

is 74, Sullivan says membership

is free.

"Portsmouth is an age-friendly

community committed to providing

programs and services that

enhance a person's quality of life as

they age and allow people to age in

place longer," she says.

Portsmouth Provides

OPPORTUNITIES FOR SENIORS

BY ROB LEVEY

Some of the programs offered

by the center in October included

Work for Yourself at 50+, Tea

Time, Healthy Rhythms Drumming,

and Seacoast Trailblazers.

"Each month, we feature a so

many different programs and activities,"

says Sullivan. "We always

try to offer something new."

"We have a lot happening in November, including

group social eating at off-site locations, which

are always very popular," she says.

In November, the center plans

to offer a jam-packed line-up of

activities and programs, some of

which include Zumba Gold, Walking

in the Gym, Chair Yoga, Drop

in Art, Ukulele for Everyone,

Thanksgiving Luncheon

and Craft Fair.

"We have a lot happening

in November, including

group social eating at

off-site locations, which

are always very popular,"

she says.

To learn more about

the center and its

upcoming schedule,

Sullivan says they have

created easy to navigate

web pages at www.

cityofportsmouth.

com/recreation/senior-activity-center.

"You can easily find

out what is happening

here, learn more

about our senior

Charity Spotlight

Transportation Program and read

our Senior Newsletters, which

show in great detail all we offer,"

she says. "We want people to know

we are here and that we care about

our seniors."

As for the future, there are plans

for a new senior center at the Paul

A. Doble Army Reserve Center

on Cottage Street in Portsmouth.

The project may be completed in

2020.

To learn more about current activities or programs at the

Portsmouth Senior Activity Center, or its plans for a new

facility, visit www.cityofportsmouth.com/recreation/

senior-activity-center.

Orion (detail) by Brian Rutenberg

Fair to Benefit

PEASE GREETERS

BY ROB LEVEY

For Deb Fournier-Johnstone, Annual Fair As for the mission 500 Jones Ave, Portsmouth

Committee Chair, the most exciting aspect of Pease Greeters, FREE admission and AMPLE parking

of the event is that proceeds benefit Pease Chairman Frank Lasorsa

says they welcome troops passing through

Greeters.

"Last year, we were able to donate $2,900 to Pease Air Terminal.

the Pease Greeters," she says. "This is a wonderful

event and we are happy to host it to support a Afghanistan, Iraq, Africa, or any other areas of

"They could be on their way to or from

worthy cause."

conflict in any part of the world," he says.

At this year's event, more than 20 vendors Pease Greeters will be at the Fair, too, as they

will offer for sale a variety of locally handmade will invite attendees to sign cards that will then

items. Some of these items include water color be sent to troops.

paintings, hand-turned wood products, bird "They will be on hand to talk about their

houses to sweater mittens, crochet items, mission and have a variety of Pease Greeters

alpaca wool products, hand hooked rugs, items for purchase," adds Fournier-Johnstone.

jewelry greeting cards, healthy body According to Colin A. McGee, Past Exalter

care, and more.

Ruler and Trustee of Portsmouth Elks Lodge

In addition to vendor tables, the Lodge #97, founded in 1888, supporting local nonprofit

will have a raffle table and their popular agencies like Pease Greeters and others is an

$5 Fill A Box of baked goods. Vendors are important part of their mission.

asked to donate an item from their table for "We provide more than $40,000 annually to

the raffle, while Lodge members bake homemade

cookies and brownies and donate to the members with great opportunities to enjoy

local charitable causes and provides its 1400+

Fill A Box table, too.

social activities while also assisting such

charities," he says.

ELEVATING

WEALTH MANAGEMENT

TO AN ART FORM

The name "Dakota" means friend and ally –

here at Dakota Wealth Management, we

focus on caring for you, understanding

your family, lifestyle needs, goals and

long-term aspirations.

At a time when the financial industry has

resorted to passive strategies and

computer-generated models, our team of

investment managers and advisors brings

experience, knowledge and sound

judgment to thoughtfully position every

aspect of your financial life to ensure the

greatest success.

In everything we do, from crafting

portfolios to facilitating a comprehensive

wealth management experience, Dakota

brings a highly-personalized wealth

management approach to downtown

Portsmouth.

Contact Marilyn Rios, Partner and Senior Client Advisor

147 Middle Street

Portsmouth, New Hampshire

(603) 766-7694 | mrios@dakotawm.com

www.dakotawm.com

MARK YOUR CALENDAR

Portsmouth Elks Lodge #97

4th Annual Fair

Saturday, November 10

9am - 2pm

12 PORTSMOUTH LIVING

SEPTEMBER 2018 13
---
Community

SEACOAST HALF MARATHON

MAKES A DIFFERENCE

ON THE SEACOAST

BY MIKE TEMPLETON

Since 2006, the Seacoast Half Marathon (SHM),

which takes place in Portsmouth every November,

has been a major event in the region. Drawing

people from around the country and Canada, the

race is more than simply a fun time, though, as it donates

100% of net proceeds each year to a local nonprofit organization.

"Since we started the Seacoast Half Marathon in 2006,

we've raised over $1 million for local non-profits," says Jay

Diener, race director. "Most of this money goes to provide

essential social services in our communities."

According to Diener, the race committee makes sure

that "every penny the race brings in either pays for goods

and services that make the race fun and safe for our racers

or to beneficiaries."

"We are perhaps irrationally proud of that fact," he

laughs.

This year, the SHM beneficiary is The Birchtree Center,

which helps children and youth with autism. Birchtree

has provided more than 500,000 hours of one-on-one

programming and instruction to students with autism in

New Hampshire both at school and at home.

Sandra Pierce-Jordan, executive director of Birchtree

, states they are "incredibly excited to be part of the race

this year."

"As beneficiaries of the race, we will be able to raise

funds to help local children and youth with autism and

their families," she says.

In addition to the direct benefits provided through race

proceeds, Pierce-Jordan explains that the recognition they

receive as SHM beneficiary is "an opportunity to increase

awareness about Birchtree's programs."

MARK YOUR

CALENDAR

The 13th Annual

Seacoast Half Marathon

Sunday, November 11

Kick-Off, 8:30 a.m.

As for why Birchtree was selected as beneficiary, Diener

cites the "extraordinary and necessary work" they perform

in schools and family homes "to successfully integrate

children and youth with autism into our communities."

"The numbers of children with autism continues to

climb," he says. "With this increase in children with

autism, the work of The Birchtree Center becomes more

important and necessary."

"Every penny the race brings in

either pays for goods and services

that make the race fun and safe for

our racers or to beneficiaries."

As for the planning that goes into the race each year,

Diener says the committee spends 10 months working

through every detail. He says these months of planning

are focused on how to best provide a positive impact on

the community.

Regarding how they plan to utilize proceeds from this

year's race, which could exceed $100,000, Pierce-Jordan

says they will go toward a new location on the Seacoast.

"The proceeds from the race will help enhance new programs

and increase enrollment at the day-school by 25%,"

she says.

Founded in 2002, Birchtree serves 31 public school

districts in New Hampshire, Maine and Massachusetts.

Their autism specialists travel 50,000+ miles per year to

help students succeed in public schools and at home.

23 school districts send students to its day school in

Newington, and Birchtree is the only school in New

Hampshire that exclusively serves students with autism.

Throughout the school year, Birchtree's also offers admission-free

workshops, which provide practical tips for

families and educators.

Helping you

design for

the life you

want to lead!

Monday-Friday

7am-5pm

Saturday

8am-4pm

105 Bartlett Street,

Portsmouth

(603)436-7480

"Looks AMAZING"

~everyone who sees your new kitchen

For more information about the race,

visit seacoasthalfmarathon.com.

To find out more about The Birchtree Center, visit www.birchtreecenter.org.

www.riccilumber.com

14 PORTSMOUTH LIVING

NOVEMBER 2018 15
---
Charity Spotlight

Thyme to Cook in Portsmouth

SERVICES OFFERED UNDER

"ONE SKY"

Ethel's Creamy Lobster Roll

CHEF JEREMY SEWALL | ROW 34 PORTSMOUTH

BY ROB LEVEY

Since 1983, One Sky Community

Services has been dedicated to

the notion that every individual

has the potential and right to live a rich

and fulfilling life as valued and participating

members in their communities.

Their focus, according to Billie

Tooley, director of development and

outreach, is on individuals with developmental

disabilities and acquired brain

disorders.

"We help them receive the support

and services they need to fulfill their

potential and make their contribution to

their community," she says.

To achieve this mission, nonprofit

One Sky operates under state-mandated

rules and regulations. Through their

contract with the State, they are the

designated agency and initial point of

contact for any individual with a developmental

disability or acquired brain

disorder who requires support and/or

assistance their service area.

"We determine eligibility for available

Medicaid and other funding and

work with eligible individuals and their

guardians to identify specific service

needs," she says. "We determine

budgetary needs, suggest a variety of

possible service providers, help the individual

and guardian decide which ones

to select, and monitor the quality of care

throughout their lifetime."

Through One Sky Futures, they also

provide comprehensive services for

long-term employment.

Today, One Sky serves between 1,000

and 1,200 individuals and families

1,000-1200 individuals and families

throughout 24 towns/cities in Rockingham

County. These towns include

Seabrook, Hampton Falls, Hampton,

North Hampton, Exeter, Kensington,

Kingston, East Kingston, Portsmouth,

Newington, New Castle, Rye, Fremont,

South Hampton, Raymond, Epping,

Northwood, Deerfield, Newfields,

Newmarket, Greenland, Stratham,

Brentwood, and Nottingham.

Collaboration with other agencies is a

big part of their operation.

"By establishing better ongoing relationships

and partnerships within the

communities we serve, it provides more

opportunities for us to dispel the misconceptions

about developmental disabilities

and acquired brain disorders,"

says Toolie. "We can showcase how this

unique segment of our population offers

so much to our community."

One current collaboration is with the

NH Art Association (NHAA) on a pilot

series of art workshops for clients with

an artistic passion. These workshops result

from an exhibition held at NHAA's

gallery last January entitled, "Looking

Beyond Disability."

"There are always other collaborations

in the works," she says. "We are

excited about the future and how it will

open more doors towards acceptance.

We also want to work with other human

services organizations so that collectively

we can be more responsive and

comprehensive in the services and supports

we offer."

In regards to challenges for the agency,

Toolie cites finding and maintaining

the staffing needed to do the work on

behalf of their clients.

"They are underpaid, dedicated

employees who want to do the work

because they are passionate about serving

this segment of our population," she

explains. "They are challenged, though,

with the cost of living on the Seacoast,

which is a bit high--particularly housing."

She says they are also at the mercy of

their vendors, who provide many of the

services and supports that their clients

need, yet face the same challenge of too

few staff.

"Basically, the need is greater than

the funding given," she says. "This is

not just our problem. It is a statewide

problem felt by all the other agencies

like us."

For Toolie, however, she has a passion

for her job, which makes it much easier

for her to tackle any problem.

"I love my job because it is so satisfying

to be able to be part of a team and

help facilitate some aspect of a client's

need for the better," she says. "Our

clients really do appreciate our efforts

and we in return feel strongly that we

cannot let them down in any way… At

the end of the day, the satisfaction one

feels when you have improved the load

for one individual is truly gratifying."

If there is one thing she hopes people

remember about One Sky, it is that the

individuals they serve are no different

than anyone else.

"They want the same things out of

life that the rest of us do," she says. "Because

of something they were born with

or received through an accident, they

just need a little extra help in fulfilling

their life goals."

She says they want to be independent

and hold a meaningful and satisfying

job that allows them to live on their

own.

"They want to be a valuable part of

their community and make a contribution

to that community," she adds.

"They want to have friendships and

good relationships just like the rest of

us. All of us at One Sky are working

hard to make sure that happens."

To learn more about One Sky, or its upcoming 35th

anniversary celebration on November 8,

visit www.oneskyservices.org, or call Toolie at (603) 436-6111.

Ethel Sewall was my grandmother and a great cook.

She was married to a lobsterman (my grandfather) for

almost fifty years. I don't think she ever got sick of

cooking lobsters. I certainly never got sick of eating

them. Lobster rolls were a guaranteed lunch the day

after a big lobster cookout. Every house in Maine has

a different recipe for this classic – my grandmother's

remains the best in my eyes.

INGREDIENTS

2 each 1 ¼ -pound lobster,

steamed

¼ cup pickles, diced small

¼ cup celery, diced small

1 teaspoon celery salt

1 teaspoon white pepper

½ cup mayonnaise

4 hot dog buns

3 tablespoons butter

1 tablespoon lemon juice

DIRECTIONS

Remove all meat from the lobster and dice into medium size

pieces. Mix the mayonnaise, pickles, celery, lemon juice, celery

salt, kosher salt and pepper with the lobster. Reserve. In a nonstick

pan or on a griddle, melt the butter. Lightly toast the hot dog

buns on both sides. Fill the buns with lobster salad and serve.

Enjoy!

Seacoast Financial Planning

A financial advisory practice of

Ameriprise Financial Services, Inc.

603.427.8252

314 Middle Street,

Portsmouth, NH 03801

contact:

charles.m.beynon@ampf.com

gregory.m.vallee@ampf.com

nicolas.curtis@ampf.com

seacoastfinancialplanning.com

16 PORTSMOUTH LIVING SEPTEMBER NOVEMBER 2018 15 17
---
OCTOBER 2018

COVER PHOTO BY LORI TIERNAN

MAY

2018

COVER PHOTO

BY DIANE BIBLE

JULY 2018

THANKSGIVING is the symbolic start of the holiday season–

and for many readers of Portsmouth Living, it is a day of special traditions.

FOR ROBIN LURIE-MEYERKOPF, Thanksgiving is a day for Trivial Pursuit.

FOR NATHAN MOSS, this day is all about Cards Against Humanity.

"You have to speak with a 'southie accent,'" he laughs. "Fun, right?"

FOR LEE ROBERTS AND HER HUSBAND, Thanksgiving took on new

meaning when their four kids were in high school and college.

"We decided that each [kid] would choose two items to make and prepare for

Thanksgiving Dinner," she says. It was wild, crazy and fun, but we seemed to

end up with an overload of desserts and few vegetables."

She says they they ultimately changed the rules so each kid could choose only

one dessert to make. The other choice was had to be an item for the main

meal ,such as bread, vegetable, soup or salad.

"Those were great years, ones that we, now in our 80's, look back to with

great joy," says Roberts, who cites one more fond memory from Thanksgiving.

"We always went for a walk after the meal in order to make room for the

yummy desserts," she recalls.

Have a holiday story to share?

Contact us and we may include it in our next issue!

Email mkasper@bestversionmedia.com

Reach Out To Your Local Community

Advertise Your

Business in

Portsmouth Living

Call (603) 686-3131 Today!

Portsmouth

LIVING

Portsmouth

LORI TIERNAN

& DEAGLAN

MCEACHERN

Committed to Family

and Community

p4

LIVING

Portsmouth

LIVING

Come in for Our

Fall SALE!

COME AND SEE

Why So Many in Portsmouth Choose Us

Quality Furniture That Lasts

MEET

THE STERN

FAMILY

p4

THE

CROTTO

FAMILY

On the go

in Portsmouth

p4

STORE HOURS

Monday-Saturday 10:00am - 6:00pm

Sunday 11:00am - 5:00pm

603-433-2217

www.furnitureforever.com

18 PORTSMOUTH LIVING

NOVEMBER 2018 19
---
2786

Portsmouth

LIVING

THE ALL NEW

VOLVO S90

THE ALL NEW

VOLVO S90

Introducing the all-new VOLVO S60.

An athletic expression of Scandinavian design with effortless power.

The sophisticated S90 shines with its intrinsic style, conspicuous

safety, and a limo-like back seat. It's available with two four-cylinder

The sophisticated S90 shines with it's Scandinavian style, world

engines: the 250-hp turbocharged T5 or the 316-hp turbocharged

class safety and the most interior room of any car in it's class.

and supercharged T6. Both pair with a silky eight-speed automatic.

The all-new Volvo S60 is a different kind of car for a different kind of driver – one with confidence

to stand out on the road. Our completely redesigned sedan comes with connected, easy-to-use

technology, human-centric innovations and engaging performance, no matter where you're headed.

Industry leading features like semi autonomous driving and

available 400hp hybrid engine make this a true luxury sedan.

Come in for a test drive

Come in for a test drive

1-603-772-5975

VOLVO CARS OF EXETER

VOLVO CARS OF EXETER

140 PORTSMOUTH AVENUE EXETER, NH 03833

140 PORTSMOUTH https://www.volvocarsexeter.com

AVENUE EXETER, NH 03833

https://www.volvocarsexeter.com