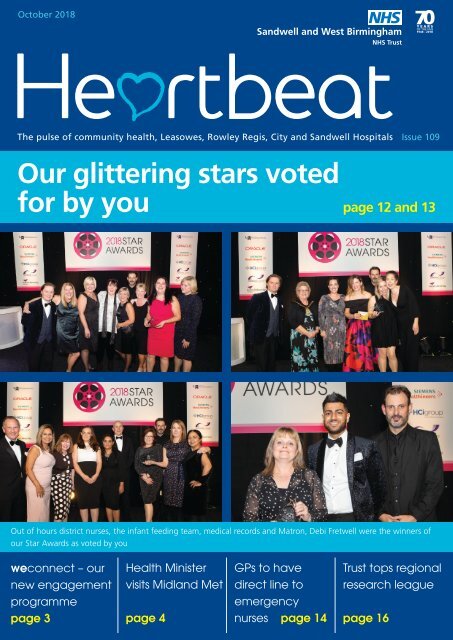 You also want an ePaper? Increase the reach of your titles
YUMPU automatically turns print PDFs into web optimized ePapers that Google loves.
October 2018

Sandwell and West Birmingham

NHS Trust

The pulse of community health, Leasowes, Rowley Regis, City and Sandwell Hospitals Issue 109

Our glittering stars voted

for by you page 12 and 13

Out of hours district nurses, the infant feeding team, medical records and Matron, Debi Fretwell were the winners of

our Star Awards as voted by you

weconnect – our

Health Minister

GPs to have

Trust tops regional

new engagement

visits Midland Met

direct line to

research league

programme

emergency

page 3

page 4

nurses page 14

page 16
---
FROM THE CHAIR

Contact us

Communications Team

Ext 5303

swbh.comms@nhs.net

HELLO

Welcome to the October edition of

Heartbeat.

In the centre spread this month you

can find all the winners of our 2018

Star Awards.

Elsewhere - you can find out

more about our new engagement

programme weconnect (page 3), Dr

Nick Sherwood is our NHS Hero (page

16) and the latest shout outs are on

page 10.

Communications Department

Ground Floor, Trinity House

Sandwell Hospital

Published by

Communications Team

Sandwell and West Birmingham

Hospitals NHS Trust

Designed by

Medical Illustration,

Graphics Team

Sandwell and West Birmingham

Hospitals NHS Trust

Thank you for all your

contributions

Last month I wrote about how much I

was looking forward to our annual star

awards event. It was indeed a fantastic

evening of celebration where we heard

stories from patients and colleagues

about our stars and unsung heroes

working, volunteering and fundraising

across our Trust and in the community.

You will see the full list of winners in this

edition of Heartbeat. Of course, many

people in our Trust do amazing things for

patients, day in, day out, and not everyone

will be nominated, shortlisted or given a

prize. Thank you for your extraordinary

efforts, and particular thanks to those of you

who haven't yet been recognised for your

contributions.

Therefore, a bit of a plug for the people

that deserve recognition. We have a regular

monthly awards scheme (our Compassion in

Care awards) that gives people the chance to

win vouchers and be entered into the annual

Star Awards. We will look to re-energise

that scheme in 2019, and probably change

its name – it is a scheme for everyone in our

Trust, not just clinical colleagues, and possibly

the title does not make that clear. It's easy

to make a short nomination for someone

via Connect or contact the communications

team for more details.

And, of course, a simple "thank you" or

praise for good work goes a long way which

is why I am so pleased to see how popular

the Shout-outs are. You can see these on

Connect and we also feature some of them

in Heartbeat (see page 10). It takes seconds

to give someone a Shout-out. Have a think

today about someone you can recognise in

this way. What I heard during the awards

night, was that being recognised and

thanked, even in a small way, has a hugely

positive impact on how we feel about

ourselves, our role and our organisation.

I was privileged to be part of the long service

award celebrations this month where 119

colleagues were recognised for the many

years of service they have given to the NHS

– 3,120 years in total! These awards are

particularly special for being given during

the NHS's 70th year. It was particularly nice

to see Staff Nurse, Laurice Jackson collect

an award for 40 years service. She and her

family represented three generations of

Windrush nurses serving the NHS. I am proud

of everyone who has dedicated their working

lives to the NHS – the NHS has changed

during its lifetime and will continue to do so,

yet, what hasn't changed, is the commitment

from so many to stay true to the NHS's core

values, and continue to deliver the best for

patients, families and our communities.

Richard Samuda – Trust Chairman

Submit an idea

If you'd like to submit an idea

for an article, contact the Editor,

Emily Smith

Ext 5877

emily.smith46@nhs.net

Stay updated

We send out a Communications

Bulletin via email every day and you

can now read Heartbeat articles

throughout the month on Connect.

Don't forget you can follow us on:

Chairman, Richard Samuda presents the Chair's Award for Notable Contribution to the Local

Health and Social Care System at the Star Awards to Dr Sally Bradberry

2
---
Let's connect to new engagement

approach

CORPORATE AND GENERAL

NEWS

This month sees the start of our

new surveying programme to gain

a better understanding of how we

feel about our jobs, our teams and

our organisation. The survey will go

out to a sample of our Trust and is a

more in depth look at engagement,

slightly longer than the Your Voice

surveys we are all accustomed to.

This forms part of our new

engagement approach – weconnect

– our own version of a tried and tested

model from Wigan, Wrightington and

Leigh Foundation NHS Trust (WWL)

that is being adopted by several other

NHS Trusts. The Wigan approach tests

different factors of engagement and

will help us to identify where and how

we can improve. We also have the

opportunity for teams to volunteer to

be part of an intensive engagement

approach. Some Trust colleagues (our

"Connectors") are being specially

trained in new tools and techniques

to support teams who really want to

improve their engagement.

connec

Simple things done well

We know that there are a number of

daily frustrations that get in the way

of us feeling like we have been able

to give our best at work. These issues

have been raised through our Your

Voice survey, through Team Talk

the results...

1. IT that works

every day

2. More

flexible

working

approaches

3. Improved

communication

about change

4. More

printers and

computers

409

315

254

238

6. Guaranteed

car parking 231

7. Getting

equipment

fixed quickly

5. The vacancy

process being

too slow

8. Improved

personal

security at

work

monthly feedback and during our

regular Speak Up days.

Over 1,000 colleagues voted in our

recent poll where you were asked to

prioritise which issue you would most

like to see resolved.

228

216

145

9. Raising

concerns being

simpler

10. The right

uniform to do

my job

All of these

issues are being

worked on by

a team led by

Paula Gardner,

Chief Nurse.

116

78

These are our plans for your top three issues...

IT that works every day

The investment in people and

equipment continues and by

December we will have both

implemented our existing IT

plan and finished an external

review to see what we are

missing. If some systems will

never deliver, we will replace

them.

Flexible working

approaches

The policy suite for leave and

time off is being revisited. This

will be simplified by February

into a straightforward guide

for managers and employees.

Alongside this a process will be

in place to support employees

to ask for a second opinion on

local decisions.

Improved communication

about changes

We will support managers

in their communication with

team members including

manager's briefings,

guides to meetings and

the accredited manager

programme. The promise to

employees must be access

to a face to face briefing

session not less than once a

month where they work.

Interested in your team being one of our weconnect pioneers?

25 teams will be selected over the next year to take part in a dedicated programme to improve engagement. This will come with

support from our specially trained Connectors and your teams will be part of the programme for around six months. If you are

interested contact Kam Dhami, Director of Governance on kdhami@nhs.net

3
---
Health Secretary signals total

commitment to Midland Met by 2022

CORPORATE AND GENERAL

NEWS

Matt Hancock, Secretary of State

for Health and Social Care visited

the Midland Metropolitan Hospital

earlier this month and vowed "it will

be built on time and in budget".

The Minister was shown around the

Smethwick-site as part of his whistlestop

tour of the West Midlands. The

visit comes as our organisation is in the

process of tendering for a contractor to

take over construction of the two thirds

built emergency hospital.

Building giant Balfour Beatty were

appointed last month to take on the

"We've still got a long way to go but I am

absolutely determined to do what we can

to make sure that this hospital gets built

The Minster was shown around the inside of the Midland Met, by members of our executive team

and senior clinicians

L-R: Secretary of State for Health and Social Care, Matt Hancock is shown the model of Midland

Met by Chairman, Richard Samuda and Chief Executive, Toby Lewis

on time, within the new budget and I'll

be making sure the team keeps to their

promises."

During the visit, the Health Minister met

with clinicians from our organisation, as

well as Chief Executive, Toby Lewis and

Chairman, Richard Samuda. He also spoke

with representatives from Balfour Beatty.

Toby said: "We were delighted to welcome

Matt Hancock to the Midland Met site to

see for himself how well positioned it is in

the heart of the community. It is critical

to the future of healthcare in Birmingham

and in Sandwell, serving both populations,

many of whom do not recognise artificial

boundaries, but want to use their local

hospital.

"That new hospital will help to regenerate

the surrounding area, with new transport

links and commercial ventures as well

as housing and schools. With a new

swimming pool coming locally for the

Commonwealth Games, 2022 will be an

exciting time for Smethwick."

4

early works contract on the site, and

started work on 22 October, to make

good the parts of the building that were

left open to the elements since work

stopped in January.

After his tour, the Minister said: "I've

come to see how the Midland Met

progress is going. Next week they are

going to start the physical rebuilding of

this hospital. The steels are going up and

we've been to see where that is going

to happen. We are back on track for a

2022 opening.

"The collapse of Carillion meant that

an awful lot of work has had to go into

getting this hospital going again. But I've

been talking to the clinicians who are

going to be working in the hospital and

have been involved in the design.

"I've seen how it's going to be one of

the leading hospitals in the country once

it is complete.

L-R: Managing Director - Balfour Beatty, Thomas Edgcumbe; Dr Sarb Clare, Acute Medicine

Consultant; Secretary of State for Health and Social Care, Matt Hancock; Chief Executive, Toby

Lewis; Clinical Director Emergency Care, Dr Nuhu Usman; Chairman, Richard Samuda and Group

Director of Nursing – Medicine and Emergency Care, Claire Hubbard
---
Jasmeet takes to the sky for

Your Trust Charity

"I have to congratulate her as I wouldn't

have been so brave."

If you would like to fundraise for the charity

or get involved in capacity, please contact

amanda.winwood@nhs.net.

YOUR TRUST CHARITY

@SWBHCharity To donate

to the Your Trust Charity text

"SWBH16 £5" to 70070

Senior Management Accountant,

Jasmeet Dhaliwal raised £540 for Your

Trust Charity after diving 10,000 feet

from a plane through the clear skies of

Whitchurch, Shropshire.

Jasmeet wanted to raise funds for Your

Trust Charity after she heard about the

fantastic work they do in improving the

patient journey within our hospitals.

Jasmeet said: "Initially I was a little fearful

of skydiving again as I used to have a big

fear of heights, however I overcame this

initial feeling as I wanted to raise money for

Your Trust Charity.

"Skydiving was a truly thrilling experience

and if it means with the money raised the

charity is able to enhance patients, staff and

family care it was definitely worthwhile."

She added: "It's been an amazing life

experience and I believe you only live life

once and shouldn't be fearful of anything.

"You can do everything and anything as

long as you believe in yourself."

Dinah McLannahan, Acting Director of

Finance said: "I was really impressed to

hear of such a dare devil fundraiser raising

money for Your Trust Charity, well done

Jasmeet!

Christmas charity single seeks

vocal volunteers

Your Trust Charity will be producing

their debut charity Christmas Single

'O Holy Night' in partnership with

Bristnall Hall Academy all in an effort

to raise vital funds for the charity.

Currently we have over 30 colleagues both

clinical and non-clinical from across the

organisation that will be on the record

however the Charity is still appealing for

more singers.

Amanda Winwood, Fundraising Manager is

spearheading recruitment for the Christmas

Senior Management Accountant, Jasmeet Dhaliwal raised over £500 for Your Trust Charity

charity single and is encouraging all to join

in the fun.

She said: "I'm urging everybody to get

involved with our charity single, 'O Holy

Night' as it will be a fantastic way to raise

funds for the charity whilst getting in the

Christmas spirit.

"You don't have to be the greatest singer,

just available for recordings at the Bristnall

Hall Academy on the afternoon of 6

November."

Recordings will take place on Tuesday 6

November from 2pm in the main hall at

Bristnall Hall Academy, Bristnall Hall Lane,

Oldbury, B68 9PA.

If you would like to be involved,

for more information and official

lyrics for the single, please contact

amanda.winwood@nhs.net as soon as

possible so numbers can be confirmed

prior to the recording session.

5
---
Restart a Heart sees hundreds trained

in life-saving techniques

CORPORATE & GENERAL NEWS

Colleagues were urged to update

their basic life support training

on Restart a Heart Day earlier this

month. The awareness event also

gave visitors to our sites a chance to

try out CPR, with many praising the

drive.

The campaign, which has been

organised by the Resuscitation Council

(UK) and is in its fifth year, aimed to train

a record-breaking 200,000 people with

the skills and confidence to help save a

life.

Events were hosted, not only at our

organisation, but also at schools,

community centres, and emergency

service stations across the country.

Dr Derek Connolly, Consultant

Interventional Cardiologist, said: "This

is an important campaign as we know

that if CPR is started early it can double

the person's chances of survival. The more

people educated in crucial life-saving

techniques, the more people will survive outof-hospital

cardiac arrests in the future."

Bethan Downing, Deputy Director of

Organisation Development and Learning

organised the events with the deteriorating

patient and resuscitation team.

She said: "The day was a huge success, with

over 400 people taking part. Not only were

we able to teach visitors CPR, but colleagues

were able to update their basic life support

training. There was a lot of energy and

enthusiasm at both sites."

In the UK there are over 30,000 cardiac

arrests a year outside of hospital where

the emergency medical services attempt to

resuscitate the victim. Less than 10 per cent

of these people will survive.

Federico Moscogiuri, Chief Executive Officer

at the Resuscitation Council (UK), added:

"This year's Restart a Heart campaign was

bigger than ever. We were aiming to train

over 200,000 people, both face-to-face and

online through our free lifesaver app, which

can be downloaded at Lifesaver.org.uk.

"CPR is an important skill which anyone can

learn, and which everyone will carry with

them throughout their lives. The Restart

a Heart campaign builds the skills and

confidence of the lifesavers of today, and

tomorrow."

Critical Care Consultant, Jon Hulme helps

Denice Bryan and her grandson Diaz

Whittaker to give CPR a go

The four is with our Muslim colleagues

L-R: Finance Manager, Masood Hussain

and Head of Employee Benefits and

Engagement, Amir Ali have had their flu

vaccine and are encouraging other Muslim

colleagues to have theirs too

Our flu campaign this year is based

around 'may the 4 be with you,' as

we encourage colleagues to gain

their four shields of protection

against the dark side. At the time of

Heartbeat going to print, over half

of our patient facing colleagues have

already joined the force.

This includes a number of our Muslim

colleagues who have had their flu

vaccine for the first time this year –

Heartbeat spoke to Finance Manager,

Masood Hussain to find out more.

He said: "One of the main reasons that

Muslim staff, including myself, have

been reluctant to have the flu vaccine in the

past was due to the misconception that it

contained animal or pork derivatives.

"The campaign this year is so eye catching

that it made me think that I should try and

seek clarification on this, so I contacted

occupational health who confirmed that the

vaccine they use does not contain any pork

or other meat products or derivatives.

"Thanks to this reassurance, I have now

had my vaccine for the first time and

have spoken to a lot of Muslim and BME

colleagues and have convinced them to have

their vaccine too."

Occupational Health and Wellbeing Nurse

Manager, Tracy Lees is delighted that

Masood and other Muslim colleagues have

been reassured about the vaccine.

She told Heartbeat: "It's great to hear that

Masood has been reassured and has now

had his flu vaccine for the first time and I am

delighted that he is now encouraging his

colleagues to get protected too.

"There is a few common misconceptions

about the vaccine containing animal

products or being unsuitable for those with

an allergy to egg.

"The vaccine has a very low albumin

content, so it can still be given to staff who

have mild allergies to eggs and can even

been given in A&E to those who have had

an anaphylactic reaction to eggs.

"If anyone else has concerns about the

vaccine and thinks they are unable to have

it, please do contact occupational health for

advice as the vaccine is perfectly safe for the

majority of colleagues."

Flu drop in clinics will continue until

9 November and it is never too late

to get your vaccination.

Sandwell Hospital

Tuesday and Thursday –

8.30am – 12noon

Main Reception

Friday – 1pm – 4pm

Occupational Health Department

City Hospital

Tuesday and Thursday –

8.30am – 12noon

Old foot health clinic – by main reception

Friday – 1pm – 4pm

Old foot health clinic – by main reception

The FluMobile will also be visiting

sites until 15 November – see Connect

or the Communications Bulletin for

the schedule.

6
---
New hub helps hospital visitors find

their way

A new initiative has been launched

to help thousands of patients and

visitors navigate their way around City

Hospital. The opening of the Volunteer

and Charity Hub has been heralded as

an important step to launch a new"

with "as part of our 'meet and greet'

scheme at the site.

The hub acts as a base for wayfinding

volunteers, who aim to guide patients

and visitors to their intended destination.

Volunteers will also play an important role

in raising the profile of our charity work.

Johnny Shah, Head of Your Trust Charity,

said: "We are delighted to fund the 'meet

and greet' scheme as we know that this

project enhances our patients and visitors'

experience.

"We understand that it can be challenging

for patients and visitors to find their way

when visiting our hospitals. Whilst maps

and signage act as reference, not every

visitor is comfortable or able to use the

maps to get across what is a very large

and spread out hospital site, with some

buildings dating back to 1887.

previous visits to the site. This scheme offers

us the opportunity to greet visitors in a more

welcoming and consistent way, whilst helping

them get to where they need to be. Having

the volunteer hub at City Hospital is the first

key step to achieving this goal."

Patricia Hunt, Volunteer Service Manager,

added: "We are pleased to be delivering this

project and grateful for the support from Your

Trust Charity.

"We are also thankful to our wayfinding

volunteers as without them, this project would

CORPORATE & GENERAL NEWS

not be possible.

"We are still recruiting more volunteers.

So if anyone would like to spare a few

hours per week to support our patients

and visitors, please contact us."

To find out more about volunteering

go to www.swbh.nhs.uk/services/

volunteers-service/.

"This is especially true for first time visitors

who have no knowledge gained from

Chairman, Richard Samuda officially opened the volunteer and Your Trust Charity hub at City

Hospital

Learning from our patients'

experiences: Patient Board story

Jenny Clarke is the mum of Finlay, an 8

year old boy who has severe non-verbal

autism. Finlay has been undergoing a

number of diagnostic tests to find out

what is making him unhappy. As Finlay

doesn't talk it has been difficult for

Jenny, her partner and the rest of the

family to find out what is wrong.

Jenny has been bringing Finlay to our

hospital for a range of appointments. Finlay's

autism means that he can find trips to new

places and invasive tests very distressing.

Jenny came to talk to the Trust Board

members during the public board meeting

on 4 October.

"Finlay gets very anxious and distressed,"

said Jenny. "I want people to know that

he has certain needs before we arrive at

the appointment otherwise it can be really

upsetting for him and for me.

"He is much better if he is in a side room

where it is quieter. But I have to raise this

every time I come. He needs to be sedated

for some of the procedures he has had and

I think it would be better to have tests all

done in one go rather than having to attend

multiple times."

As well as being an upsetting experience

for Finlay, Jenny has described the impact of

Finlay's distress on the rest of the family.

She said: "Finlay has a twin sister who is

affected by all this and our whole family has

had a really difficult time. Finlay has been

unable to attend school but he is slowly

starting back now for around 2 hours a

day. We both work too so it has been really

difficult."

Chief Executive, Toby Lewis, asked Jenny

whether we listened to her when she came

to appointments. Jenny explained that she

needs to tell people a few times how Finlay

should be cared for. "Some things won't

work with Finlay and I have to tell the staff

a few times how to adapt their care for him.

There is often a perception that he just has

challenging behaviour."

Paula Gardner, Chief Nurse, has been

talking to Jenny about her experience so we

make sure we care for Finlay in the most

appropriate way.

Jenny is going to keep working with us so

we can provide better care to other people

with autism.

L-R: Jenny Clarke, mum of Finlay pictured

with Chief Nurse, Paula Gardner

7
---
Here to Stay exhibition heads home for

launch of Black History Month

CORPORATE AND GENERAL

NEWS

The Mayor of Sandwell joined the

celebrations to mark the launch of

a poignant photo exhibition which

captures some of the West Midlands'

Windrush generation colleagues.

Councillor Joy Edis attended the event at

the Education Centre, Sandwell Hospital,

where the pictures of 25 members of

staff – past and present – are displayed.

The exhibition has been organised as

part of our recognition of Black History

Month and runs throughout October.

Councillor Edis, who worked at Sandwell

Hospital as a domestic supervisor before

retiring in 2012, said: "I think the

exhibition is fabulous – it's great to think

how the Windrush generation helped

to build our country and the NHS after the

Second World War.

"I even recognise one of the members of staff

featured in the photographs."

Janice Barrett, aged 40, works as a senior

sister in A&E and was photographed for the

exhibition.

"I feel quite privileged to have been asked to

take part in this exhibition," she said. "I have

directly benefited from what the Windrush

generation have done, and I truly recognise

that.

"They opened up opportunities for me

working in this country and I appreciate that."

Janice's picture is on the stairway within the

Education Centre, next to images of other

colleagues.

She added: "It is quite strange seeing my

photograph up there."

Donna Mighty, Co-Chair of the BME Staff

Network, has led the organisation of this

event and the exhibition.

She said: "It was a really successful event,

with many of those featured in the

photographs coming along.

"We were very grateful that the Mayor of

Sandwell, Councillor Joy Edis also attended,

showing her support for the Trust and our

BME colleagues, but also recognising what

the Windrush generation have done for the

NHS."

Chairman Richard Samuda (left) with some of those featured in the Here To Stay exhibition, the

Mayor of Sandwell Joy Edis (fourth from left) and Toby Lewis, Chief Executive (right)

Janice Barrett, Senior Sister in ED, with her

Here To Stay photograph, which was on

display in the Education Centre at Sandwell

Hospital throughout October

Medicine information at your fingertips

The British National Formulary (BNF) is

a reference book that contains a wide

spectrum of information on prescribing,

along with specific facts and details

about many medicines available on the

NHS.

It is used by prescribers as a reference for

correct dosages, indication, side effects and

interactions with other drugs, which could

potentially lead to harm.

Last year, the publishers of the BNF

launched an app which can be downloaded

onto smartphones, giving you instant

access to important information about

medicines.

The new app is purpose built for both iOS

and Android platforms and has an intuitive

design which provides enhanced access to

high quality, authoritative information and

guidance on the move.

It is the first time that both adult and

child BNF content has been available

together through a single app and can be

downloaded for free and uses very little

space on your device. The app is also fully

portable and you don't need an internet

connection to use it.

Dr John Bleasdale, Consultant in Intensive

Care Medicine and Anaesthesia is a regular

user of the app and finds it extremely

useful.

He told Heartbeat: "I have had the BNF app

on my phone for a while now and I use it

regularly. It is really easy to use and means

you can instantly check for any adverse

interactions between drugs that you may

be looking to prescribe to a patient."

At a recent coroner's inquest into the death

of a one of our patients following a drug

interaction, HM Coroner for Birmingham,

Louise Hunt, issued a regulation 28 notice

to prevent future deaths raising awareness

of the BNF app for all trusts and GPs.

To download the app, visit your App

store and search BNF.

There is also a guide to checking

interactions which can be found on

Connect: https://connect2.swbh.nhs.

uk/wp-content/uploads/2018/10/

BNF-app-interactions-checker-how-to.

pdf?x22708

8
---
Library drop-in sessions to mark

World Mental Health Day

CORPORATE & GENERAL NEWS

L-R: Preeti Puligary, Library and Knowledge Service Manager, Bally Barquer from Sandwell Asian Mental

Health support Group (SAMHSG), Chief Executive, Toby Lewis, Jean Fenn, Oldbury Town Library

Manager, and Karamjit Kaur, from SAMHSG at the World Mental Health Day event

Our library service team worked in

partnership with local organisations

to mark World Mental Health Day by

hosting a joint event to raise awareness

of the importance of mental wellbeing.

Preeti Puligari, Library and Knowledge

Service Manager and Nicola Ager, Service

Development Librarian, visited Oldbury

Library on Wednesday 10 October, where

they showcased the help available to

sufferers of mental health conditions.

The team, along with Sandwell Public

Libraries and the Black Country Partnership

NHS foundation Trust (BCPFT), organised

drop-in sessions to show visitors how to

look for reliable information and how to

access the right help.

The event was part of a national campaign,

organised by Public Health England.

Preeti said: "We were delighted to be working

with Sandwell Public Libraries and BCPFT to

run this much-needed event.

"Mental health is such an important aspect

of wellbeing. By working with our partners,

we hope that more people will be aware of

mental health issues and seek the right help

"As well as hosting drop-in sessions on the

day, visitors had the opportunity to learn

how to access evidence-based websites,

such as Patient UK and the NHS website.

Kaleidoscope Plus, one of our partners, was

also at the event talking to the public about

stress and how to deal with it."

There were also interactive workshops

where two mental health experts from

BCPFT, offered advice on how to cope

with depression.

Jean Fenn, Oldbury Town Library

Manager, added: "We were pleased to

work in partnership with Sandwell and

West Birmingham NHS Trust to organise

this great event. It has been such a great

collaboration and we look forward to

working with the Trust in the future to

make a positive difference to our local

community."

Chief Executive, Toby Lewis, came along

to show his support. He praised the

event and vowed to make sure mental

health is not treated as a stigma. He

said: "Mental health is so important.

Lots of our staff, lots of our patients and

lots of us in our lives will have issues

with mental health.

"We want to make sure that this is not

a stigma and we want to make sure we

can talk about it and we can get the

right kind of support targeted at people.

"This is all about joining up connections

across our community on World Mental

Health Day, but also every day of the

year."

We have a range of mental health

support offers for colleagues,

including a 24/7 counselling service.

To find out more please contact

occupational health on extension

3306.

Trust goes green as finalist in two

award schemes

Our organisation has recently been

shortlisted for two prestigious

awards – sustainable excellence and

the water and energy catagories –

as part of the Sustainable Health

and Care Awards. These awards will

highlight and celebrate the fantastic

sustainable development work across

the NHS, social care and public sector.

The shortlisting is as a result of our

continued efforts in making the

organisation more environmentally

friendly and a little greener.

We have become more environmentally

friendly by implementing a variety of

different changes over the last few years,

for example upgrading to LED lighting

across multiple sites which is more energy

efficient, installing solar panels at City

and Rowley Regis sites, installing electrical

vehicle charging points and solar panels

across our Sandwell and City sites, and

recycling 100 percent of our general waste.

In addition, we are soon to launch a new

staff engagement programme called 'Green

Impact'. The programme encourages

colleagues to take small actions that

can collectively add up and make a big

difference in making the Trust greener

whilst reducing costs.

Fran Silcocks, Sustainability Officer, is

ecstatic about being shortlisted for both

awards.

She said: "We're delighted to have been

recognised for both of these fantastic

awards.

"We're always looking for new and

innovative ways to become more energy

efficient whilst saving costs so to be

acknowledged like this is amazing."

For more information and to join

us, visit the intranet page: https://

connect2.swbh.nhs.uk/estates/

sustainability/green-impact-2/

9
---
Countdown to smoke free: New

support now available

CORPORATE & GENERAL NEWS

A new stop smoking service will be

launched at Rowley Regis Hospital

for both colleagues and patients as

we prepare to go smokefree across

site on 5 July, next year.

The sessions will start on 3 November

and run every Saturday over a three

month trial period, between 10am and

2pm.

Both colleagues and patients will be able

to book a 30 minute appointment slot

with the Health Exchange Stop Smoking

Service Coordinators, Caroline Kenny or

Stephanie Morris.

As well as the new sessions at Rowley

Regis, services will continue to run

at Sandwell and City Hospitals for

employees.

Stephanie said: "This is a brand new

service to help both patients and

those working at the organisation quit

smoking in time for the 5 July deadline.

"Both Trust employees and patients

will be able to call the Health Exchange

L-R: Caroline Kenny and Stephanie Morris,

who are Health Exchange Stop Smoking

Service Coordinators, are launching a new

service at Rowley Regis Hospital to help

colleagues and patients quit the habit

service to book an appointment, where

will go through how much they smoke,

their motivation and the health benefits of

giving up.

"We will also provide 12 weeks' worth of

nicotine replacement therapy at no cost to

staff."

A wide range of support is available

for those wanting to kick the habit in

preparation of the Trust-wide smoking

ban. At Sandwell Hospital, Stephanie runs

an appointment-only clinic every Monday

between 8.30am and 1pm. A slot can be

booked via Jatinder Sekhon on extension

3306.

Meanwhile every Tuesday, Nadia Al-Sohaini, a

stop smoking advisor, holds a drop-in session

at Sheldon Block, City Hospital, between

9.30am and 1.30pm.

Although our workforce, patients and

visitors will not be allowed to light up on the

grounds of our organisation, they will be able

to vape.

Latest figures from Public Health England

show that, although not risk-free,

e-cigarettes are far less harmful than

smoking. There are currently 1.2 million

vapers who have now quit smoking, whilst

statistics also show that smokers are four

times as likely to quit using a combination of

behavioural support, than no help or over the

counter nicotine replacement therapy.

More than half of all people who smoke are

intending to quit – so it could mean that by

offering these services, it gives those smokers

the encouragement they need to give up.

To book an appointment with the new

Rowley Regis Hospital stop smoking

service call 0121 663 0007.

Shout out has been a regular feature

in Heartbeat for a year now and it is

fantastic to see colleagues regularly

taking the time to give positive

feedback to each other.

We regularly receive positive feedback

from our patients too, and this month

we wanted to share some of those heartwarming

messages which have been

sent via our website and social media

platforms.

To: Ann Maureen Jackson

Always giving 100 per cent towards

the care of her patients. A lovely

smiley face for staff and patients to

be with.

From: Laura Morris

To: Vanessa Taylor

Our infection control queen. We would

like to thank her for her continuing

hard work and support to the team.

She ensures the care delivered to the

patients is always of a high standard.

In addition to this, she is a very

approachable manager supporting her

team often going out of her way.

From: Critical Care Team

To: Leon Williamson

Thank you for your quick action and

co-operation when I had a patient pass

out in the x-ray room. It was much

appreciated.

From: Yvette Malcolm

To: Carol Williams and Sharon Bunce

McCarthy ward would like to thank

Carol Williams and Sharon Bunce

for always lending a helping hand

whenever we needed help in Rowley.

They always go the extra mile if we

need anything urgent.

From: Staff on McCarthy Ward

To: Michelle Harris

Michelle always goes the extra mile to

support her staff on a day to day basis.

She is a highly respected hard working

manager. Thank you Michelle!

From: Cathy Dhanda

To: Steve Smith (Porter) and Louise Hale

(HCA Newton 3)

Went the extra mile and really pulled

together with X-ray to ensure as many

post-op patients as possible were

x-rayed during a very challenging shift.

Thank you!

From: In-patients x-ray department

To: Eva Graham

Thank you for supporting me when I

worked on the neonatal unit recently.

You were calm, kind and supportive

during a challenging shift.

From: Louise Thompson

10
---
"Love shouldn't hurt" message for

Domestic Violence Awareness Month

Our specialist domestic abuse team

have been out and about across our

organisation this week, talking to

colleagues and visitors about domestic

abuse.

October is National Domestic Violence

Awareness Month, which has been running

since 1981. Domestic violence affects

millions, both women and men, of every

race, religion, culture and status.

Heartbeat spoke to Domestic Abuse Lead

Nurses, Claire Holmes and Carolyn Hawkins

to find out more what they have been up

to.

"We have had a busy month!" laughed

Claire.

"We have had stalls at both City and

Sandwell Hospitals throughout October and

have had some fantastic conversations with

staff and visitors. We wanted to promote

that we are a domestic abuse awareness

hospital and inform our colleagues of the

training opportunities we have for them."

"Colleagues were really receptive," added

Carolyn.

"We have even booked training in clinical

areas as a result of meeting staff – these

include trauma and orthopaedics and

gynaecology.

"The training will teach people how to

handle disclosures of domestic abuse and

where to refer the patient to for support."

The team have also been putting up posters

across the organisation, which includes

As part of our NHS70 celebrations

this year, we're producing a

cookbook containing recipes from

our colleagues with roots from

across the globe.

We live in one of the most culturally

diverse regions in the UK with a rich

heritage of delicious food history and

recipes handed down to generations

of food lovers. Following our appeal in

June, we received many submissions

from colleagues across sites.

Vanya Rogers, Head of External

Communications, said: "We're thrilled

with the amount of support that we

four screening questions, which are aimed

at identifying victims of domestic abuse. The

poster also provides information on how to

get support.

"I think the posters are really eye catching,"

said Claire.

"They highlight the questions which we use

within parts of the hospital during admission

– this includes A&E and our paediatric

departments.

"Some people may not recognise themselves

as a victim of domestic abuse, but when they

read the questions it helps them to realise

that some of the things they have been

experiencing aren't right."

Carolyn said: "We have also had some

disclosures of domestic abuse, who we were

able to support and refer to Black Country

Women's Aid and we also had discussions

with victims who have previously reports

domestic abuse about how they found the

support and information."

In addition to raising awareness, the team

also carried out a collection for Your Trust

Charity and Black Country Women's Aid.

"Everyone was really generous and willing to

give to the charities," said Claire.

"We are delighted to have raised over

£150 which will be split between the two

charities."

If you would like more information or

would like to arrange training for your

area, please contact Claire Holmes on

claire.holmes1@nhs.net.

Food lovers, cooks and

alchemists come together for

tasty celebration of our trust

CORPORATE & GENERAL NEWS

L-R: Carolyn Hawkins, Domestic Abuse

Lead Nurse and Rachana Chauhan,

Independent Domestic Violence Advisor

Sandwell and

West Birmingham

have received from colleagues for this

Ingredients by quantity

project.

Step by step instructions

"We are hoping to publish the cookbooks

around Christmas and sell them to raise

funds for Your Trust Charity.

NHS Trust

"There is still time for colleagues who

would like to take part in this project. So

if you have a family recipe that you would

like to be included in this cookbook, please

be in touch with us before 12 November."

Please send your recipe, whether it's a

starter, main dish, or dessert, to Vy Tran,

Senior Communications Officer, at v.tran@

nhs.net. Please include the following:

The number of portions the recipe

will make

How long it will take to make the

dish

Please also write a short message

(50-100 words) to explain why this

recipe is important to you with a photo

of yourself, or the family member that

shared the recipe with you. You can

also share a photo of the meal cooked

and plated up.

11
---
1 3

Our glittering stars recognised

at awards bash

12

12

THE

WINNERS

ARE

2 4

r e c o g n i s i n g

o u t s ta n d i n g

c o m m i t m e n t

8

5

1

Employee of

the Year

Debi

Fretwell

2

Clinical Team of the

Year Adults

Out of Hours

District Nurses

3

Clinical Team of the

Year Children

Infant Feeding

Team

4

Non-Clinical Team of

the Year

Medical Records

Digital Leader of the Year

Dominic LeGros

6

Excellence in Education Prize

Bishwajeet Elangbam

7

Excellence in Research Prize

Kanthan Theivendran

2020 Prize for Integrated Care

Pioneer of the Year

Lawrence Kelly

9

New Leader of the Year

Sam Beck and Natalie Whitton

12

14

18

Learner of

the Year

Stephanie

Craig

10

Volunteer of

the Year

Janet Dearne

11

Patient Safety Award

Safety Plan

Project Team

13

Prize for Innovation

Louise Thompson

Distinguished Service Award

Ann Stevenson

15

Award for Equality and

Diversity Champion

Donna Mighty

16 Fundraiser of the Year

Stroke and Neurology

Therapy Team

17

Quality of Care Award

Lisa McFarlane

Local Primary Care Award for the Most

Valued Service in the Trust

Respiratory Consultants

19

Chairman's Award

Dr Sally Bradberry

The 2018 Star Awards saw 58

nominees recognised for their hard

work over the past year.

The Mayor of Sandwell, Councillor Joy

Edis was a special guest at the event,

which was held at Aston Villa Football

Club on Friday 12 October.

Those honoured included Volunteer

of the Year, Janet Dearne, who has

devoted 40 years to her role with the

League of Friends organisation. She has

helped to raise an impressive £500,000

for equipment used at Sandwell, City

and Rowley Regis Hospitals.

The coveted Distinguished Service

Award went to the recently retired

Rev Ann Stevenson, who joined the

organisation over 26 years ago.

She said: "I am absolutely delighted to

win this award and it's a huge privilege

to have worked here for three decades.

"I am proud to be part of the SWBH

family and it's been a joy to have

conducted colleagues' weddings and

bless their children. The obvious sad

side is conducting funerals for staff and

their families.

"I love the family feel of this

organisation where people and their

lives matter."

Toby Lewis, Chief Executive, said: "It

was a very successful event which

celebrated the achievements of our

wonderful workforce.

"We have so many dedicated and

caring employees who deserve this

recognition. They have devoted their

time to looking after patients and

improving their experience when

visiting our hospitals.

"We were also delighted to welcome

the Mayor of Sandwell to the

ceremony, who presented the Clinical

Team of the Year (children) award to

the Infant Feeding Team."

Toby added: "We want to thank our

sponsors, without whom this event

would not have been possible."

2018 STAR

AWARDS

w i n n e r s

5

6

7

8

9

10

11

13

14

15

16

17

18

19

13
---
Lyndon 5 had a blast celebrating their

first year of success

MEDICINE AND EMERGENCY

CARE

It's one year since Lyndon 5 ward

was opened and the important

milestone was marked with

celebrations.

The Lyndon 5 team have enjoyed a

successful year - and it's no wonder –

colleagues working on the ward have

achieved the highest number of 'golden

patient discharges' (which means

patients are discharged before 10am)

and successfully implemented a new

initiative which has resulted in zero falls

with harm.

Heartbeat visited the team's birthday

celebration and spoke to Ward Manager,

Vikki Howard to find out about the

team's journey.

"I'm so proud of my team for their hard

work and dedication. During the year we

have been open, we have established

rhythm of the day, where staff know

exactly what happens on their shifts, the

processes in place, and the discharge

plans," said Vikki.

Chief Nurse, Paula Gardner (right) visited the

Lyndon 5 team to join in their celebrations

"One of our proudest achievements has to

be the implementation of the 'grab bags'

scheme. These contain all the necessary

equipment for patients, such as wipes and

towels, and they are placed outside toilets

on the ward.

"This means that when a nurse takes a

patient to the toilet, they have the right

items to hand. Thanks to this simple and

safe initiative, there have been zero falls

with harms since June."

Vikki has been credited for the team's

success. Her colleagues believe her

determination has built a positive

environment on the ward.

Dr Asim Majeed, Consultant Geriatrician,

said: "I truly believe that Vikki's leadership

makes a big difference to Lyndon 5.

"It is no longer an extra capacity ward, but

a substantive team now. Doctors feel more

confident when working on the ward and

have actively chosen to come and work

here, as they see how the ward is safely run

and well-coordinated."

Helen Barners, daughter of patient Edward

Griffiths, also praised the team. She said:

"My father has been on the ward for six

weeks and he has been treated so well.

"The nurses and healthcare assistants

always give him extra help and spend

time talking to him. We do feel that the

clinicians are part of our family and I can't

thank them enough for the care that they

have been giving to my father."

Future plans for the ward include improving

their current performance and recruiting

more nurses to join the team.

If you are interested in working on the

ward please email your query to Vikki

at vikki.whitehouse@nhs.net.

Single Point of Access gives GPs direct

line to emergency nurses

GPs seeing a patient who may need

emergency care will be able to use

a special phone line that links to a

team of nurses who will carry out a

telephone assessment and triage the

unwell person.

The Single Point of Access (SPA) system

could mean that the patient avoids

an unnecessary trip to the emergency

department at either City or Sandwell

Hospitals.

It will not replace the two week patient

pathway, urgent pathway referrals or

Single Point of Access initiatives currently

operating for other Birmingham healthcare

trusts.

The nurses will advise whether the patient:

• Should be admitted to our emergency

department

• Should be sent directly to one of our

assessment areas (medicine, surgical, or

gynae) for treatment

• Should be seen within 24-48 hours by

a medic in one of our specialty "hot

clinics"

• Needs to be referred for a routine

outpatient appointment or diagnostic

test.

The new system is expected to increase

the use of specialty assessment areas and

simplify the process for health professionals

to access clinicians at our organisation. The

phone line will initially be manned Monday

to Friday, between 8am-8pm.

Nuhu Usman, Clinical Director for

Emergency Care, said: "This new process

means GPs will have direct access to our

experts who will be able to carry out

an assessment and triage the patient

immediately. We want to ensure that our

patients receive the right care in a timely

manner.

"We believe this new system will do

just that, and reduce the waiting times

for patients visiting our emergency

departments. Those who are triaged by

the team of nurses may not even see the

inside of an A&E waiting room and could be

sent straight to an assessment unit within

our medicine, surgery, and gynaecology

departments. If their condition is thought

to be less urgent, in order to enable our

clinical teams to manage workloads better,

the patient may be asked to attend the next

day.

"In time, our orthopaedic, paediatric, ENT

and urology teams will also be included in

this process.

"In order to reduce the delay in

presentation and reduce the risk of

overnight admission, we ask that the

patient arrives promptly, after the

telephone assessment has been carried out.

Ambulatory patients should not be booked

an ambulance, but encouraged to make

their own way to hospital."

Dr Usman added: "This service will not

replace the Single Point of Access run by

the Birmingham Community Healthcare

Trust. The SWBH SPA is for patients who

would usually have been sent to A&E."

The project is due to go live on 1

November.

14
---
NHS National Staff Survey

– take part for a chance to

win £50 worth

of vouchers

The national staff survey has launched. A sample

of 1,250 colleagues have been approached for their

feedback either by email or in the post. If you have

received an invitation, please take part as the results

help us to understand how we are performing

compared to similar organisations.

If you complete the survey you will be automatically put into a draw

which will see three lucky people win shopping vouchers worth £50 each.

Responses are strictly confidential - no one from the Trust will see your

completed survey or be able to identify individual responses.

Trainee physicist gains top marks

A trainee clinical scientist, who has

been with our organisation for three

years, has recently been awarded a

distinction in his training programme.

Joe Burmiston joined us in 2015 after

completing his degree in physics and

gaining a place on the Scientist Training

Programme (STP) with the National School

of Healthcare Science.

The STP is a three year training programme

that includes work-based and academic

learning. The aim of the programme is

to attract, select and retain the very best

people to clinical scientist posts.

Heartbeat spoke to Senior Clinical Scientist,

Joseph O'Brien to find out more about the

programme and Joe's success.

"We have had a number of trainees in the

past and Joe is our latest one to complete

the STP programme," said Joseph..

"He has spent three years with us,

alongside studying a master's degree at

the University of Liverpool. In the first

year of the programme, Joe undertook

four placements; in nuclear medicine,

radiotherapy, radiology and radiation safety

– he then selected which one he would like

to specialise in and chose nuclear medicine.

"For the next two years he was part of our

nuclear medicine team and underwent

some more advanced training, whilst also

completing a scientific dissertation."

Around 300 students are accepted onto

the STP each year and only a proportion

achieve a distinction grade, making Joe's

achievement very special and all of the

nuclear medicine team are proud of him.

"It's been fantastic training him," said

Joseph.

"He has a genuine enthusiasm for science,

but also for patient care. He has contributed

generously to the department during his

time with us and has helped where ever he

possibly could".

"I am incredibly pleased that he achieved

a distinction in what is a challenging three

year course. To me it shows his commitment

and it also highlights that our department

can be assured to handle the expectations

of the School of Healthcare Sciences in

providing a full STP training placement".

"It also shows that our organisation is

investing in young people and in their

career progression."

There are no vacancies for clinical scientists

within nuclear medicine in our organisation

at present, but Joe has secured a position

at the prestigious Edinburgh Royal Infirmary

and starts the first week of December.

"I am delighted that Joe was able to fight

off stiff competition to secure a full-time

role in Edinburgh," said Joseph.

IMAGING

"Edinburgh Royal Infirmary clearly

snapped him up and have got

themselves an incredible young clinical

scientist – I just hope we see him back at

SWBH one day."

Joe Burmiston said: "I have really

enjoyed my time at SWBH, and am

grateful for all the time and support

the nuclear medicine department has

provided to allow me to achieve my goal

of becoming a clinical scientist within

nuclear medicine."

Trainee Clinical Scientist, Joe Burmiston

gained a distinction in his scientific training

programme

15
---
NHS Hero: Nick Sherwood, Critical

Care Lead

MEDICINE AND EMERGENCY

CARE

Our organisation is full of

remarkable, motivated people,

who give a lot to the communities

we serve. Since 2014, we have

been recognising our quiet heroes

who come from a wide variety of

backgrounds, and do a wide variety

of jobs across our organisation. Each

week we shine a spotlight on one

of those heroes, and following an

interview by our press office the

Sandwell Chronicle publishes these

inspirational stories.

This month we learn more about our

Critical Care Lead, Nick Sherwood.

When Swine Flu hit the UK in 2009 it led

to us treating more patients than almost

any other hospital in the country.

For Nick Sherwood, Consultant

in Anaesthesia and Intensive Care

Medicine, it has been one of the most

memorable moments in his 20-year

career at our organisation.

He recalled: "We managed more flu

cases than almost any other ICU in

the country and nearly all our patients

survived. The team work was fantastic.

Nick Sherwood, Consultant in Anaesthesia

and Intensive Care Medicine

I also I ended up working with the Health

Protection Agency and the World Health

Organisation in Washington DC."

Critical care is a fast-paced environment,

which can be difficult at times, as Nick

explained: "I'm very lucky in that I love

this job. Being able to help people in their

absolute darkest hour is something not

everyone gets to do and we should never

forget what a privilege that is.

"The workload in critical care is variable

but it's usually busy and getting busier. In

a typical critical care week we do about 70

hours on the shop floor and will then have

a few nights on call. We spend a lot of time

dealing with very ill, unstable patients and

distressed and upset relatives, so the job can

be both physically and emotionally draining.

However, being part of a great clinical team

is a big plus point.

"Since we became a merged Trust we have

managed to combine two very different

units, doing very different things into a

unified critical care service. It's not always

been an easy 10 years but it has been worth

it and I'm incredibly proud of what our

team has achieved"

Nick began his career at Birmingham

Medical School and then trained in the

West Midlands. He added: "I've been very

lucky. I had an anaesthetic when I was

aged eight and thought it was amazing

- after that it was all I wanted to do and

to be honest I never thought about doing

anything else.

"My hero has to be my dad. None of

my family were medical but he always

supported my career choice."

So where does Nick go to escape the hustle

and bustle of a busy hospital? "My wife and

I bought a classic 1970s VW campervan last

year so a lot of weekends are spent away

in the van, particularly north Cornwall and

Devon."

Trust tops the regional research league

Our researchers have been named as

the best in the region – after scooping

a prestigious award for their dedication

and hard work.

The research and development team were

given the Best Overall Performance accolade

in the Clinical Research Network (CRN)

West Midlands awards ceremony held on 4

October.

Professor Karim Raza, Director of Research

and Development (R&D), said: "This

award is a testament to the hard work

and dedication of R&D staff and other

researchers at SWBH. The Trust Board

has been particularly supportive of our

department recognising the enormous

benefits that a vibrant research environment

has for the patients we serve and for our

colleagues - we look forward to building on

this success and developing further over the

next few years."

Zaida Khalil, Research and Governance

Manager added: "We were nominated by

the CRN senior leadership team and this

in itself was an honour. To win the award

is a real privilege and it acknowledges

the brilliant work that the research and

development team and our investigators

are carrying out here. This raises our profile

not just within the West Midlands but also

nationally. We intend to continue with this

work and are grateful for the recognition

we have received."

The award is described by the CRN as

a special one and a very difficult one to

judge, which is there to acknowledge the

organisation which has worked most closely

with the network in terms of contribution

to its overall joint objectives, and engaging

with the teams.

The citation said of SWBH: "This

organisation has been consistently meeting

both their recruitment targets and their

activity based funding targets, and is one

of the best at keeping its data up-to-date,

despite staff changes and shortages. They

are very engaged with the network's teams

and work well with the study support team

in the network to ensure that the studies

are set up quickly and efficiently."

The Research and Development team promote

World Clinical Trials Day at Sandwell Hospital.

The department has been recognised at the

prestigious Clinical Research Network West

Midlands Awards for its work

Professor Jeremy Kirk, Clinical Director for

the CRN, said: "These awards showcase

the commitment of individuals and teams

throughout the region to giving people the

opportunity to take part in research. We

received many outstanding nominations this

year and offer warmest congratulations to

all our winners."

16
---
RBS volunteers transform maternity

and children's spaces

Head office staff from the Royal Bank

of Scotland (RBS) Birmingham recently

redecorated the bereavement room and

D19 at City Hospital all as part of their

corporate and social responsibilities in

supporting Your Trust Charity.

The Brindley Place and Colmore Row based

staff gave up their company away day all to

improve our patient facilities.

A RBS volunteer from the day said: "I think

it's a very good thing we can give back to

the children and the bereavement suite

as the people there are going through a

difficult time.

"It's really nice to be able to give back

to them (and) hopefully we can make a

difference to people's lives."

Ward Sister, Rebecca Talbot was delighted

with the transformation in the D19

paediatric ward.

She said: "We recently had RBS come to

give our ward a much needed make over.

"They painted our ward entrance,

treatment room and parents' kitchen with

an underwater theme, as we thought it has

a relaxing vibe for the children when having

procedures done and can be a good form

of distraction therapy with bubbles, fish,

dolphins and ceiling decorations.

"We're really grateful for the work they did

as it has improved the working environment

for colleagues and patients and it has made

the ward more welcoming for children who

aren't very well."

RBS also took time to decorate the Jasmine

Suite on our maternity unit.

Bereavement Support Midwife, Ann Minto

said: "The Jasmine Suite is our bereavement

room on delivery suite. Thanks to the

team of RBS, it is now a more inviting and

friendly environment for women and their

families who are going through a terrible

experience.

Ann's fellow Bereavement Support Midwife,

Mary Molloy said: "We have also had a

tree of remembrance painted by one of

our charity volunteers Sabriya Hussain, our

parents are now able to leave a message in

memory of their child."

Amanda Winwood, Fundraising Manager

at Your Trust Charity is thankful to RBS and

said: "I would like to say a massive thank

you to all the colleagues at RBS and Sabriya

who took time out to make our paediatric

ward and bereavement room a better place

for our patients.

"Without the support of our community,

much of the work we do would not be

possible and it's really appreciated."

WOMEN AND CHILD HEALTH

Ward Sister, Rebecca Talbot outside the

entrance to D19 which was decorated by

staff from the Royal Bank of Scotland

Mayor joins maternity team to mark

baby loss awareness week

Our bereavement support midwifes

hosted a special event to raise the

profile of baby loss awareness week,

which took place earlier this month.

Every year, thousands of people in the

UK are affected by the death of a baby

or experience pregnancy loss. This week

aims to recognise the detrimental impact

that the loss of a baby can have on a

family.

The event was hosted at Birmingham

Treatment Centre where a cake sale was

held to raise money for the bereavement

fund of Your Trust Charity which

supports our bereaved families.

Specialist Midwife for Bereavement

Support, Mary Molloy said: "We and our

dedicated colleagues are very passionate

about providing individual care and

support to bereaved families at the most

devastating time of their life.

"We cannot take their pain away but the

support and guidance can help the families

to create special memories that will last a

life time."

The Mayor of Sandwell, Councillor Joy Edis

joined representatives from SANDS and Lili

Mae Foundation at the event.

Midwife, Ann Minto said: "We're honoured

the Mayor of Sandwell, Councillor Joy Edis

has selected our bereavement services and

the neonatal unit as her chosen charity

of the year and we're delighted to have

welcomed her to our event for baby loss

awareness week."

The Mayor of Sandwell, Councillor Joy Edis visited our baby loss awareness event earlier this month

17
---
Families help shape future of local

maternity care

WOMEN AND CHILD HEALTH

A feedback event to find out how

new parents have helped to shape

maternity services in the Black

Country featured colleague Lydia

Nestor as a speaker.

Local women, mums, dads and their

families were invited to attend the

event in September to find out how

their voices helped to shape maternity

services in the Black Country and West

Birmingham.

Lydia Nestor, Matron for the Community

Midwifery team, said: "I was delighted

to be asked to speak at the event. We

discussed some of the previous issues

that women and their families had raised

and what we had put in place to address

them.

"One of the issues that came previously

was about maintaining privacy and

dignity for women in maternity care.

We took this on board and have been

working to improve it across the local

maternity system.

"We are working with the teams to improve

the culture of knocking on clinical room

doors and waiting to be invited into the

room. Where conversations are taking place

and there are curtains between beds, the

team have been reminded to be mindful

of reducing the volume of their discussions

with the patient.

"Maintaining dignity is very much about the

patient being involved in decisions about

their care. By improving this we improve

partnership working with the women in our

care."

Over the last year, we have worked

alongside other NHS organisations in

Dudley, Walsall and Wolverhampton

talking to more than 200 women and

families about their experience of using

local maternity services at four listening

workshops.

Lydia Nestor, Matron for Community Midwifery presented at the 'Whose Shoes' event in

September

Did you know that you can

download treatment-specific patient

information leaflets from the EIDO

Healthcare website for FREE?

EIDO has hundreds of patient leaflets for different

procedures that are being carried out across the Trust.

They are available in an easy-to-read format and

in different languages.

Visit Connect Clinical Systems EIDO PT Leaflets.

For more information, please contact Vy Tran, Senior

Communications Officer, at v.tran@nhs.net

18
---
Top tips to protect your eyes

Nearly 100 people visited awareness

events at the Birmingham and Midland

Eye Centre (BMEC) during National

Eye Health week, which took place in

September.

Patients, visitors, and colleagues were

invited to visit BMEC to learn about how to

look after their sight - as part of activities

organised across the country to raise public

awareness of eye health.

Russell Stephenson, Eye Clinic Liaison

Officer, who organised the two awareness

events, said: "We talked to nearly 100

people about tips to look after their vision. A

lot of people were surprised to learn that by

simply wearing sun glasses when it's sunny,

they can reduce the risk of getting blind.

L-R: Russell Stephenson, Eye Clinic Liaison Officer

with John Southworth, Support Worker for

Birmingham Vision

"We also encouraged people to quit smoking

as smokers are up to four times more likely to

lose their sight than non-smokers.

SURGICAL SERVICES

"During our first event, we gave out free

fruit to people who visited our stand to

encourage them to eat healthily, as we

know that protecting eyes starts with the

food that we eat.

"I'm glad that both events went well and

people gave us positive feedback. We

hope to do more activities next year to

raise further awareness."

Colleagues are also reminded that

if you regularly use visual display

units (display screen equipment), you

are entitled to a free eye test. More

details on Connect: https://connect2.

swbh.nhs.uk/news/free-eye-test/.

Continence support group thriving

after 14 years

Our community continence team is a

small, hardworking team of specialist

nurses who provide professional advice,

support and education to patients in

Sandwell about promoting continence

(controlling the bladder and bowels)

and managing incontinence.

The team works in partnership with other

health and social care professionals across

the borough to provide care that is as

sensitive as possible.

In 2004, the team thought that their

patients may benefit from coming together

to discuss their continence issues, with

people who are going through the same

thing as them – thus the community

continence support group was born.

The group meets four times a year at Greets

Green Community Centre, and Heartbeat

was invited to attend the September

meeting.

Julie Hopkins-Budd, Clinical Nurse Specialist,

was one of the team who was involved

when the group was set-up 14 years ago.

She explained more about the purpose

of the group to Heartbeat: "The group

originated in 2004, when we brought a

group of our patients together to discuss

how they manage their continence

problems.

"On average we have around 12

The community continence support group has

been going for 14 years

participants that attend, a couple have been

coming since we first started."

The group provides a safe environment for

patients to talk to the continence team and

each other about any particular issues they may

be facing. Patients have also been involved in

tendering containment products for the service,

trying samples and giving their feedback. They

have also had input into the patient information

leaflets which are used by the service.

Julie said: "Having the group's input on things

such as new products or rewording our leaflets

is invaluable. They are living with continence

issues day in day out, so there is no one better

to advise us."

The support group also welcomes guest

speakers from other departments within the

Trust or external agencies such as, foot health,

physiotherapy and Agewell.

PRIMARY CARE, COMMUNITIES

AND THERAPIES

At the September meeting, West

Midlands Fire Service attended to talk

to the patients about their safe and well

service.

"The talk from the fire service was

brilliant," said Julie.

"They discussed all aspects of home

safety and a number of our patients

booked a free home assessment with

them.

"We have a different external speaker

each time we meet and the group decide

between them who they would like it

invite."

The group has gone from strength

to strength since its launch, but now

the community continence team are

encouraging colleagues to refer any

patients that they feel may benefit from

attending.

The next meeting takes place on 5

December, 10.30am at Greets Green

Community Centre, Wood Lane, West

Bromwich.

For more information please e-mail

Julie on julie.hopkins-budd@nhs.net

19
---
Red Bag

Sandwell

Red Bag

Sandwell

Red Bag

Sandwell

Red Bag

Sandwell

Red Bag

Sandwell

Red Bag

Sandwell

Red Bag

Sandwell

Red Bag

Sandwell

Red Bag Sandwell is provided by the Better Care Fund,

working together to integrate health and social care services in Sandwell

Sandwell and

West Birmingham

Clinical Commissioning Group

Sandwell and

West Birmingham

NHS Trust

With thanks to Sutton Homes of Care vanguard for use of designs

20

www.sandwell.gov.uk/redbag
---
Mark Stankovich, Directorate General Manager –

Portering and Security

Mark Stankovich started his NHS

career at Worcestershire Royal

Hospital in a temporary role, in

between teaching and travelling

around Asia.

21 years later, and having worked

in various senior management roles,

mostly within the private sector –

providing services to the NHS – he

felt it was the right time for him to

return to the fold.

He recently joined our organisation

as the directorate general manager

for portering and security. Heartbeat

caught up with him to find out more

about his role.

He said: "I oversee the delivery

of services on our sites, including

providing security to staff, visitors

and patients and maintaining a safe

environment to protect people and

property, deter and detect crime and

provide a reassuring presence.

"The portering aspect of my role

includes overseeing tasks such as

the safe transfer of patients, medical

equipment, medical gases, blood

products and various other ad hoc

requests."

So what is Mark most looking

forward to within his new role at our

organisation?

"I am looking forward to the

many challenges ahead," he told

Heartbeat.

"Amongst these is the roll out of

Unity, which I believe will make for

a better patient experience, provide

opportunities for development

with the department and enhance

the services that the portering

department provides.

"I am also looking forward to

continuing to working towards the

opening of Midland Met, to ensure

that security and portering aspects

are aligned to provide and effective

and efficient service."

Mark Stankovich has

joined as Directorate

General Manager –

Portering and Security

Wave goodbye to…

Rev Ann Stevenson, waved her

goodbye after spending more than two

decades working for the NHS.

Ann's retirement thanksgiving service took

place in September at City Hospital. The

event was well attended, as nearly 100

people, including patients, relatives, and

colleagues came along to say goodbye to

Ann.

The poignant service was led by Rev Mary

Causer.

Ann said: "I would like to say thank you to

those who came to the service and joined

me to thank God for his blessing, for he

gave me the strength and spirit to help so

many people during their most difficult time

at hospital.

"I love my SWBH family and it has been

such an incredible privilege to be working

here. I'm sad about leaving, but of course

things have to come to an end.

"I've had such a fantastic time working

at our organisation. I have met so many

wonderful people, colleagues and patients,

who left a mark in my heart. I'm truly

blessed."

Patient Andrea Kerr, who came along to

the event, said: "I have been in and out of

the hospital for so many years and Ann has

always been there for me.

"She is my true friend. She always visited

me and lent me her shoulder whenever I

needed one to cry on. I will really miss her."

Ann, aged 66, started her early career as

a missionary in the Caribbean island of

Puerto Rico and came back to the UK to

study in the Birmingham Bible Institute in

1987, with the intention of returning to

the mission field after her three years of

study ended. However, when she came to

the hospital on placement in her third year

Rev Ann Stevenson retires after

26 and half years

of study, it was suggested she apply for

the chaplain post and she has stayed with

the organisation ever since.

Her future plans include indulging in

her favourite hobby - glass fusing – at

home and working as a minister at the

Crosspoint Church.

Rev Ann Stevenson at her special thanksgiving service.

21

21
---
Letters, of less than 200 words please, can be sent to the Communications Department,

Trust Headquarters, Sandwell Hospital or by email to swb-tr.SWBH-GM-Heartbeat@nhs.net

YOUR RIGHT TO BE HEARD

Why no wheelchairs at

Sandwell?

Dear Heartbeat,

Can anyone explain why at Sandwell

we have a shortage of wheelchairs, As

an x-ray porter we need wheelchairs

to move patients from their ward to

the departments within the imaging

department. Each day we have to look

around the hospital to find them, yet

at City Hospital you seem to be able to

find them all over the hospital.

If we cannot find a wheelchair, we

have to take the patient off the ward

on their bed – which requires taking

a member of staff off the ward to

assist us. This can leave the ward short

staffed, particularly if more than one

patient needs to be taken off the ward.

If there are no other staff to assist the

porter, this means that the patient will

miss their slot in x-ray and it will have

to be rearranged at a later date.

X-RAY PORTER.

Dear Colleague,

Thanks for speaking up about this.

We have recently bought more

wheelchairs, for all our sites, and

are also sorting out a system to

make them less prone to be taken

off our sites. A bit like supermarket

trolleys.

Kind regards,

Rachel Barlow

Chief Operating Officer

Why are we doing so much

printing?

Dear Heartbeat,

Can you please tell me why once again

there is leaflets attached to our payslips

(which I thought we was going to go

paperless with) when we can find all

the printed leaflets on the Connect

page. We are constantly being told not

to print anything if we can help it, so

surely this should be the whole of the

trust - after all these leaflets just end

up in the bin and working from the

community we don't have access to

any recycling facilities.

Thank you.

Dear Colleague,

We still have about 3,000

employees who do not routinely

use or access computers at work.

We have created a new digital

format for Heartbeat although

currently we still produce paper

copies. Our feedback from

colleagues who are not deskbased

is that attachments to paper

payslips are highly valued as they

are a core way for them to receive

information from across the Trust.

Our new app, MyConnect, is

becoming more widespread and

able to provide news on the go for

people on their own smartphones,

without being reliant on sitting

in front of a computer. We will

continue to review our provision of

paper copies of Heartbeat.

Kind regards,

Ruth Wilkin

Director of Communications

Are we not here to help?

Dear Heartbeat,

I work in an outpatient department at

City Hospital and I am patient based. It

is very important that I give the service

I would like to receive. I know quite

a few patients who have attended

the hospital over the years for various

treatments, on the whole they have

been very satisfied with the service,

but lately they have complained about

the attitude and coldness of some

members of staff. They have stopped

staff in the corridors for help, only to

be told 'sorry I can't help you, I'm on

lunch.'

Some jobs are repetitive, done day

in and day out, but we need to

remember that each patient is an

individual and should be treated as

such.

Another gripe is staff walking round

on their mobile phones. I believe this

doesn't look good, especially if the

patients are kept waiting way beyond

their appointment time or are not

informed as to what is happening and

then the same said member of staff

puts their phone away and called the

patient through.

One patient even commented to me,

'the NHS is a fantastic service – the

only problem is some of the staff. A

very sad comment but in many cases

true.

A concerned member of our NHS

Dear Colleague,

Thank you for raising your

concerns.

All of us want to do a good job

and come to work that in mind.

Sometimes we need to retreat,

and we try and create spaces at

work for that. But you are surely

right that at and in work, if we are

approached by patients or carers,

there is no lunch break, we are here

to help.

We might not able to help but we

can definitely find someone who

can. I don't agree with the person

in your last paragraph though. The

staff are in the NHS are a massive

asset - our staff, especially.

Kind regards,

Toby Lewis

Chief Executive

22

22
---
Toby writes about learning from excellence

and making change happen…

TobyLewis_SWBH

TOBY'S LAST WORD

The NHS, NHS leaders, and

commentators in all forms, make a

fetish out of change. Don't get me

wrong, there is much to change. But

after 70 ½ years, and still the country's

best loved public service, we have a

huge amount to preserve, save,

conserve and retain as well. I know

that for many people in our teams,

there is a fear that we are losing the

time to talk, to care and just a bit of

friendliness. There is a letter this month

in Your Right to be Heard section,

that makes that point, and recently

our Chairman devoted his Heartbeat

column to just that after discussions

with Chris Rickards. As we go into

winter, and winter "pressure", I want to

be certain that the language we use to

make sure we respond to patient need

and service demand is proportionate

and encouraging. If the language of

management is not, or if you hear that

the Board, or management, or Toby, are

insisting on, or pushing for something,

feel free to speak up, challenge,

question and disagree. We all, mostly,

want the same good things for our

patients, and in a big organisation

subtlety can get lost. Yet to be clear, it

is ok for someone's line manager to ask

them to do something they disagree

with or do not like. That is accountability

not bullying.

At the end of this month, we will be

judging the first annual SWB Quality

Improvement Poster Competition

(deadline for submissions is Bonfire

Night – 5 November). Thank you to

Preeti Pulgari for spearheading this

from behind the library front-desk at

Sandwell. The poster competition is a

chance to have some fun, but really a

chance to learn across our Trust about

innovation and good practice. The

learning might come from a trainee

doctor's project, or from something

done in catering or IT. It might be about

better outcomes for a patient, better

working conditions for employees, or

research changing how care is given.

Two things come from the contest.

Firstly, knowledge amongst us about

what is working well and secondly, a

determination to learn from that and

apply it. This last month has seen both

the Board and the clinical leadership

executive review line by line every

single serious incident in this Trust since

2017. There is plenty of learning there,

but also a worry that that learning

does not spread. The never event in

dermatology last year has produced real

change in that team (thank you). But

if you undertake a surgical procedure

in outpatients and you do not know

what that team has changed, then our

approach to learning in SWB is not yet

good enough!

In 2019 I strongly suspect that alongside

our incident reporting system, and

alongside celebratory work like our

shout outs, we will be looking to create

a system to formally report good

practice. I know Birmingham Children's

and Women's Hospital have this, as

others do. We want to create a portal

where we cannot just recognise personal

excellence, but create a learning space

that all of us can use to look for best

practice inside our organisation. That

is not a substitute for looking outside

our walls or beyond our system. But if,

with all our challenges, fragile IT, and

recruitment hot spots, among them, we

can overcome and succeed, then that is

worth knowing and sharing. One of the

fantastic things about projects this year

like Purple Point has been the way that

compliments and good work has been

phoned through as well as problems

that we need to tackle and resolve.

In this month's Heartbeat we highlight

the current weconnect programme.

This builds on great work on employee

engagement in teams like primary

care, community and therapies, or

organisation development. It looks to

spread that excellence Trustwide,

tackling dissatisfaction, and

improving a belief that individuals

and teams can change how things

work round here. The new, longer

but deeper survey work will help to

get under the skin of what needs to

change. And pioneer teams will get

support and a platform from which

to change their working systems,

environment, and approach. In an

organisation like ours, with not only

great people, but £450m to spend,

and a balanced budget, we are well

placed to make things happen. This

month's TeamTalk features a simple

project in pharmacy that has seen a

300 per cent change in productivity

for a tiny investment of time and

money. Yet that project started from

the voices of junior staff talking to

Board members.

My optimism might grate with you.

A&E colleagues had two weeks

without IT. Midwives have had to

swap laptops back for iPads. We

have put disaster recovery in place for

our servers. And colleagues cannot

find Winscribe letters that were

dictated in good faith. The Board,

and I, understand that the digital

failure of the last 12 months

is fundamentally undermining

much great work. We have funds,

and commitment, to change this.

We have on board better advice

through which to deliver and we will

work doggedly now to improve the

position. Acknowledgement of our

number one safety issue is a start.

What excellence needs is consistent

delivery, and we will find a route to

that. Neighbouring trusts do not have

our friendliness or our passion to

support excellence with investment.

But they do have decent IT. That

shows what can be done and we will

be borrowing from that in the weeks

ahead to give you a chance to come

23
---
Events Diary November 2018

EVENT DATE TIME VENUE

Public Trust Board 1 9.30am–12.30pm Aston University

Recording for Your

Trust Charity single

6 2pm – 5pm Bristnall Hall Academy

QIHD 13 Afternoon session Trust Wide

SWB TeamTalk 28

11am

1pm

1pm

Committee Room, Rowley Regis Hospital

Education Centre, Sandwell Hospital

Hayward Lecture Theatre, City Hospital

September 2018 staff lottery results

1st £196.50

Miss Liane Taylor

2nd £117.90

Mrs Louise Thomson

3rd £78.60

Christine Bennett

Don't forget that the Trust Charity lottery costs just £1 a month and

anyone who works for the Trust can join. Payment is deducted from your

wages each month. To take part email amanda.winwood@nhs.net.

Take a break:

In this month's Heartbeat

These words are all common medical conditions which have been mixed up. Can

you unscramble them? You can e-mail your answers to swbh.comms@nhs.net and

all correct answers will be put into a draw to win vouchers - good luck!

1. DAIENMTE ___________________________________________________________

2. TIHSIRTRA ___________________________________________________________

3. EEPTHNSYIRNO ___________________________________________________________

4. ATMASH __________________________________________________________

5. NHTSIIIR ___________________________________________________________

6. BDIAEETS ___________________________________________________________

7. ELYIEPPS ___________________________________________________________

8. POCD ___________________________________________________________

9. SMALSEE ___________________________________________________________

10. NEOIMUNAP ___________________________________________________________