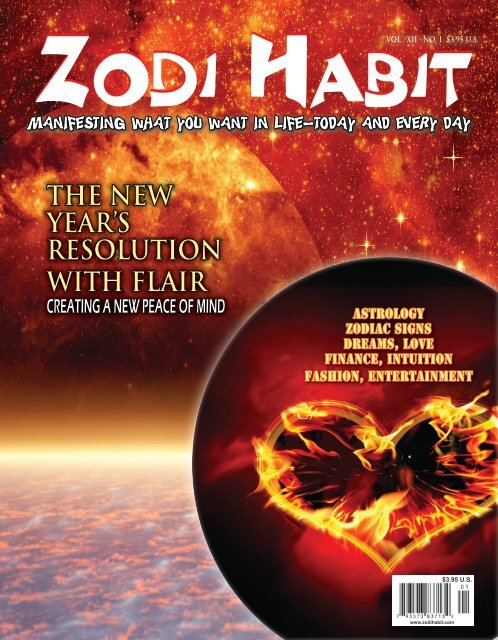 Zodi Habit Magazine January-March 2016 Issue
Create successful ePaper yourself
Turn your PDF publications into a flip-book with our unique Google optimized e-Paper software.
VOL . XII · NO. I $3.95 U.S.

ZODI

HABIT

MANIFESTING WHAT YOU WANT IN LIFE-TODAY AND EVERY DAY

THE NEW

YEAR'S

RESOLUTION

WITH FLAIR

CREATING A NEW PEACE OF MIND

ASTROLOGY

ZODIAC SIGNS

DREAMS, LOVE

FINANCE, INTUITION

FASHION, ENTERTAINMENT

$3.95 U.S.

www.zodihabit.com
---
ZODI HABIT MAGAZINE

January - March 2016 Vol. XII No. I

ISSN 2156-2482

Publisher, Founder & CEO

Joan Bastady

Editor in Chief

Renee Bastady

ZODI HABIT

FEATURES

IN THIS ISSUE

JANUARY-MARCH 2016 VOLUME XII NUMBER I

Contributing Writers

Joan Bastady, Lexie Bling, Deeanna Chapman,

Tina Johnson, Styla Jones, Holley Kelley, Natasha

Myers, Blake Sandoval, Timothy Umney

Robert Webb, Lisa Yorkshire

Cover Photography / Cover Image

Cover Images Used in Background by: canstockphoto.com

Graphic design by Joan Bastady Publications LLC

Inside pages layout/artwork

Layout/design by: Joan Bastady Publications LLC

Stock photos by: canstockphoto.com

Oscars Photos Used: Photo Credits: ©A.M.P.A.S.®

Marketing & Events Director

Joan Bastady

Advertising Sales

To advertise in Zodi Habit Magazine please

email us at advertising@zodihabit.com

Distribution

To have Zodi Habit Magazine distributed to your

business, please email distribution@zodihabit.com

Contact Us

Comments, Questions, Suggestions

info@zodihabit.com

Events

Want us to be at your event? Let us know the details.

events@zodihabit.com

DISCLAIMER

The information and astrological interpretations in this magazine

are for entertainment purposes only. By utilizing and accessing Zodi

Habit Magazine and/or by requesting and/or receiving astrological

interpretations, psychic readings, dream interpretations and/or

advice either through Zodi Habit or any of the writers or affiliates of

the company, you agree to release Joan Bastady Publications LLC,

dba Zodi Habit from any and all liability with regard to the contents

in the magazine and/or advice received. All printed work is owned

by Joan Bastady Publications LLC, dba Zodi Habit Magazine and

can not be re-printed or used electronically without the consent of

Joan Bastady Publications LLC, dba Zodi Habit Magazine's CEO.

WRITE TO US!

We may even publish your question

& answer in the next issue if you're selected

Letters to Owner/Publisher

joan@zodihabit.com

Zoditastrophy Questions

questions@zodihabit.com

Dream Interpretation Questions

dreams@zodihabit.com

Questions for Psychic Tara

Astrology

7 Astro 101 - Jupiter Goes Retrograde into Virgo

9 Zodi-Scopes - Horoscopes for the 12 Zodiac Signs

17 Cool Zodiac Info - Astrology products & things to know about

45 Tarot Reading For Your Zodiac Sign - Tarot reading for Jan-March

21 Zodi-tastrophy - Q&A about the Scorpio & Leo Compatibility

25 Love is in The Stars - The sign you're most compatible with

40 All About Aries- For Your Zodiac Sign

41 All About Taurus- For Your Zodiac Sign

42 All About Gemini- For Your Zodiac Sign

Publishers Page

5 Letter from the Publisher

Entertainment

20 Year of The Monkey: 2016 - Per the Chinese Zodiac

35 Did You Know? - Interesting Facts

43 Fabulous Findz For your Zodi Sign - Products

33 Beware of Dating a Man With Female "Friends"

15 The 88th Oscars - Info on the upcoming Oscars

27 We All Dream In Gold - News about Oscars in February

37 Ten Animals That Mate For Life - Loyalty Exists

Zodi Market

49 Directory Listing

Metaphysical Realm

23 New Year's Resolution With Flair - Creating Peace of Mind

31 Enlighten Thy Soul - Book Reviews

19 What's Up In The Sky? - Celestial Events for Jan - March 2016

20 What Is Lucid Dreamin? - Control your dreams

29 Reaching For Insights - Short Stories to Motivate You

CONTENTS

psychic@zodihabit.com

3 |ZODI HABIT MAGAZINE • www.zodihabit.com

www.zodihabit.com •• ZODIHABIT MAGAZINE| 4
---
NOTE

FROM THE PUBLISHER

Happy New Year 2016

Happy New Year! And welcome 2016! I don't know about you, but with this fresh

new year upon us, I'm ready to grab the reins and take control of the year ahead....

okay okay, I mean once mercury retrograde is over on January 25th...then it's full

speed ahead! There's something about a new year that gives us all a feeling of a fresh

start, new beginnings. Sure any day of the year we can wake up and start again, start

fresh, a new day and a new you. But we don't. There's a strange phenomenon that

happens worldwide on New Year's Day that gives everyone that extra drive and that

need to make resolutions to change something in their lives. Maybe it's because we

feel we are all back at start and it's an even playing field from the start of the first day

of the year to see who will win this year, who will accomplish more. Whatever the

cause, it's great to feel fresh and awakened and I'm going with it. The universe has a

lot in store for us in 2016, we just need to be open to receive it.

This new issue of the new year has a lot of insightful information for you on starting

the year with a flair. Waking up your senses and doing something new. The 3 month

ZodiScopes and the Tarot readings also will give you a quick roadmap of what to

look out for in the next few months so you can start the year off aware and ready for

anything.

Zodi Habit Magazine wants to assist you this year in becoming the best, well

prepared, focused individual you want to be and help you to succeed at all of your

resolutions you set forth. If there's anything you want to know about and would like

to read about in the coming issues, then please write me at info@zodihabit.com and

I'll be sure to assist you with getting you the info you need! Zodi Habit is all about

YOU! Whatever you want to know more about, we are here to provide you with it,

just ask and you shall receive. A prosperous and magical year is upon us....let's allow

ourselves to take advantage of the universe's gifts.

And remember - "In order to manifest what you want in life - you must first

know what it is that you truly want"

Peace, Love & Light

Joan Bastady

Founder, Publisher, CEO

Zodi Habit Magazine

Joan Bastady Publications LLC

MERCURY

RETROGRADE

JAN 5th - JAN 25th

2016

MERCURY RETROGRADE

January 5 - January 25, 2016

Starts in Aquarius, ends in earth Capricorn

Mercury Retrograde occurs when the planet Mercury

appears to be moving backwards when viewed from

earth, but in all reality it is just slowing down and

gives the illusion that it's going backwards. Mercury

is the planet of communications and thus when

the planet slows down so does our communication,

scheduling, transportation and our judgment becomes

cloudy or prone to error.

Mercury retrograde occurs at two levels.

1. The Observatory/Awareness Level

2. The Personal Level

At the Observatory/Awareness level, there is not

much we can do with the actions of others, except

to be more conscious and prepare for delays and

errors by double checking schedules, not overreacting

to someone else when they say something we don't

agree with and know it's out of their character but

we are aware we are in a retrograde period and allow

it. Leaving early when we have a trip or meeting

planned in order to be prepared for delays.

At the Personal level we can do a lot in order to

avoid the consequences of Mercury Retrograde.

Most of us encounter the consequences when we are

not centered, aware or conscious of what is going on

around us, and more often than not the culprit is that

we are not acting from our heart and spirit. Instead

we are snapping out of frustration or malice. We are

reacting from our needs, our hurts, from our buttons

being pushed, or the way that we take care of others

and not ourselves. We are aware it's retrograde and

will need to take personal accountability not to sign

contracts, purchase electronics or start a new business

venture during this time. We must remember to think

before we speak as communications are off balance

so everything we say can be misconstrued by others.

We also need to personally focus on what challenges

we are experiencing and remove these toxins from

our life. During mercury retrograde we can patch up

or end a relationship, it'll always point out the faults

of the energy involved in the relationship, be it a

significant other or even just an employer.

ZODI HABIT READER SURVEY

WHAT DO YOU THINK OF ZODI HABIT'S CURRENT ISSUE?

We want to know what YOU like and what YOU want

Please take a minute to give us your opinion and feedback by completing this enclosed survey and mailing it to:

Zodi Habit Magazine, 3165 S. Alma School Rd., #29-296, Chandler, AZ 85248 or by scanning and emailing it to: info@zodihabit.com

12 lucky respondents will be chosen at random and will win a Zodiac necklace with a Charm of their specific Zodiac Sun Sign.

You will also be added to a drawing that will take place in December where One Lucky Reader Will Win $150.00 & a free Year Subscription to Z.H.

Which Stories in this Issue did you find most

interesting?

a. ______________________________

b. ______________________________

c. ______________________________

What is YOUR zodiac sun sign?

Aries

Taurus

Gemini

Cancer

Leo

Virgo

Libra

Scorpio

Sagittarius

Capricorn

Aquarius

Pisces

What made you read Zodi Habit Magazine

today? ______________________________

Do you Believe in Ghosts?

Yes

No

What stories would you like to read about in

Zodi Habit?

______________________________________

______________________________________

______________________________________

How often would you like to receive

Zodi Habit?

Monthly

Quarterly

Bi-Annually

Once a Year

What's your Gender?

Male

Female

Do you think Astrology affects your

daily life?

Yes

No

How often do you read your horoscope?

Daily

Weekly

Monthly

Every now and then

Do you know the traits of your

zodiac sign?

Yes

No

Would you like fashion advice for

your zodiac sign?

Yes

No

Astrology to you is……

Insight into my life

Entertainment to pass the time

A joke, there's no basis to it

Undecided

Would you be interested in a singles

dating section by zodiac sign?

Yes

No

Do you Believe in Psychics?

Yes

No

Sometimes

Name ________________________________________________ D.O.B (Age)_________________ Zodiac Sign __________________

Street Address __________________________________________________________________________________________________

City and State ______________________________________________________ Zip Code___________________________________

Area Code and Phone#: __________________________________________________________________________________________

Email Address (will not be used for junk mail – we promise!) __________________________________________________________

Mail entry form to: Zodi Habit Magazine, 3165 S. Alma School Rd., #29-296 Chandler, AZ 85248

or scan and email to: info@ zodihabit.com

www.zodihabit.com • ZODIHABIT MAGAZINE| 6
---
THE ZODIAC IS BACK! - ASTRO 101

JUPITER

RETROGRADE

January 7th - May 9th 2016

Jupiter Retrograde begins on January 7th at 23°

Virgo, and goes direct on May 9th at 13° Virgo.

Jupiter goes into Virgo

when viewed from earth, but in all reality

Jupiter Retrograde occurs when the planet

Jupiter appears to be moving backwards

it is just slowing down and gives the

illusion that it's going backwards.

By Lisa Yorkshire

Jupiter is the planet of luck and when the

planet slows down so does our communication,

scheduling, transportation and our judgment

becomes cloudy or prone to error.

Jupiter is considered to be the most powerful

and influential planet among nine planets.

It represents wealth, fortune, honesty,

justice, positive qualities and happiness.

In normal conditions, when Jupiter is direct,

it's the provider of wisdom, intelligence and

happiness. A

retrograde

Jupiter is

equivalent to

training our

mystical

powers

and our

strength.

People

with Jupiter

retrograding

in their

astrology

chart houses

are able to perform all the tasks that a

normal person cannot even think of doing

in his lifetime. The outcome is that these

people (with Jupiter Retrograde passing

through houses in their chart) will achieve

fame and respect while doing unusual tasks

during the Jupiter retrograde period.

The Astrological House that Jupiter is in

shows where there will be good fortune

and expansion in your personal life. This

Astrological House position will indicate

the specific area in life in which you gain

insight and grow in understanding. This area

will generally be very fortunate for you. (if

you'd like Zodi Habit Magazine's Astrologers

to work up your personalized astrology

chart to find out which houses Jupiter is

in now, you can email info@zodihabit.com

for more info on price and turn time)

Overall, regardless of the house placement,

Jupiter's retrograde encourages us all to slow

down, pull back and make sure we aren't

wandering off the Path that is right for us.

Jupiter Retrograde is not that bad as that of

the other planets' retrograde motion but it

does cause one to overdo in certain matters.

It may delay the final outcome but it also

should be beneficial in the end result. The

planet Jupiter rules travel so during its

retrograde period this might bring in lots

of wanted and unwanted travel for you.

Jupiter retrograde is also connected with

pregnancy and bloating of the body.

Overall, Jupiter retrograde 2016 is very

promising, suggesting plenty of personal,

spiritual and material growth. Success can be

achieved in whatever area of life that needs more

fulfillment, from new love relationships

to breaking addictions, overseas

travels or accumulating wealth.

We all have inner wisdom if

we take the time to listen to

it, and Jupiter Retrograde

encourages just that. We will

ask ourselves questions such

as: Do I like my job? Am I

happy in my relationship? Am I

fooling myself about something?

Do I like where I'm headed in life?

Jupiter Retrograde asks those kinds of

questions, and gives us more than three months

to think about the answers before going direct.

Even while in retrograde, bountiful Jupiter

wants to help you figure out how to grow

and change and become the best version of

yourself. Use this time wisely - it's a gift!

FIND WHAT HOUSE JUPITER IS PASSING

THROUGH FOR YOUR ZODIAC SIGN

This Is The Area In Your Life That Jupiter

In Virgo Will Bring You Luck

ARIES - Jupiter is in your 6th house of work/wealth

TAURUS - Jupiter is in your 5th house

of self expression/creativity

GEMINI - Jupiter is in your 4th house

of family/home/security

CANCER - Jupiter is in your 3rd

house of communications

LEO - Jupiter is in your 2nd house

of possessions/self worth

VIRGO - Jupiter is in your 1st house

of self awareness/self image

LIBRA - Jupiter is in your

12th house of secrets

SCORPIO - Jupiter is

in your 11th house

of aspirations/

personal goals

SAGITTARIUS - Jupiter is in your 10th house

of career/profession and responsibility

CAPRICORN - Jupiter is in your 9th house

of personal beliefs and higher learning

AQUARIUS - Jupiter is in your 8th house

of transformation and sexuality

PISCES - Jupiter is in your 7th house of

relationships, partnership/marriage

ABOUT JUPITER

Jupiter is the Planet of Luck and Fortune

Jupiter is the fifth planet from the Sun and

by far the largest! It is twice as massive as

all the other planets combined. Its mass

is over 300 times that of the Earth.

Jupiter is the fourth brightest object in the

sky (after the Sun, the Moon and Venus)

Jupiter spins faster than any other planet, taking

a little under 10 hours to complete a turn on

its axis, compared with 24 hours for Earth

Jupiter is said to bring great good fortune,

and its influence is to expand the effect of

everything it comes into contact with

The Astrological House that Jupiter is in shows

where there will be good fortune and expansion

in your personal life. This Astrological House

position will indicate the specific area in life in

which you gain insight and grow in understanding.

This area will generally be very fortunate for you

Jupiter is the ruling planet for Sagittarius

The entire Jupiter retrograde 2016 phase

points to success in achieving the growth

necessary to find greater happiness,

fulfillment and satisfaction in life.

The retrograde phase starting in January 2016

represents a major test of faith and self-control.

Any addictive behaviors will need to be addressed

When Jupiter goes direct in May 2016, this

indicates overall success and happiness!

7 |ZODI HABIT MAGAZINE • www.zodihabit.com

www.zodihabit.com • ZODIHABIT MAGAZINE| 8
---
ZodiSCOPES

ARIES

Born March 21 - April 19:

In January there will be a lot of attention brought to

your career. The Sun, Mercury and Pluto as well as

the new moon on Jan 9th will all be in Capricorn (the

ruler of Saturn). And Saturn will be in your 10th house

(fame and honors) indicating a change is brewing for

your career. Remember to stay grounded and absorb

the non emotional energy Capricorn brings so you do

not fly off the handle with unnecessary stress. This

change coming about is one of a positive light. The

feeling of not knowing what path you're headed within

your business is driving you mad but have faith that

someone higher up than you, a superior is pulling some

strings to make sure you shine in the brightest of lights.

They have seen you out-perform your peers and handle

difficult situations with ease and professionalism in the

past that they think you are the best candidate for the

upcoming position.

Mars is in your eight house (intense emotions) and you

have been worried to the extreme about your finances.

But the good news is with this intense energy in your

eighth house, you will go to any measure to make sure

you make ends meet and obtain the cash you need.

You may have a desire to pick up a part time job, or

sell items on e-bay or even pick up a creative hobby

that you can sell your creations on the side. The planes

energy is giving you the drive you need to accomplish

this financial setback you think you're in.

Early February will be the time you meet your one

true love and have a magical moment like none you've

ever experienced before. If you are in a relationship

currently, you will grow on the deepest of levels and

have a moment that the two of you will cherish for the

rest of your lives. You'll be smitten in love and on cloud

nine.

Travel will be difficult and have many setback in

January and early February so avoid it if you can. A

vacation in March is going to be presented to you and

you should accept, do not let your work responsibilities

hold you back as you need this trip to recharge your

juices and et you motivated for the rest of the year and

your new career tasks at hand.

Trust in others that praise you and tell you about your

positive attributes. They are speaking from the heart as

well as from their admiration they have for you. You

have had a big impact on others both in your career and

personal life over the past year and have felt you've

been unappreciated and have gone unnoticed, but that's

not the case. Everything you've done is gratefully

appreciated and in March you will hear about the

endless praises they have for you. Suck it all up like a

sponge and remember what they say so next time you

are feeling low about putting in so much effort with no

return, you'll remind yourself, it takes time for others

to catch up to what you already know. But your good

deeds and hard work have not gone unnoticed..

TAURUS

By Blake Sandoval

January - March 2016

Bio: Blake Sandoval is a noted Astrologer living in Northern

California. He has been studying astrology for over

25 years and has a weekly radio segment in which he

analyzes astrological charts, he writes articles for various

publications and believes astrology is our roadmap to

answers we seek if we observe and learn from it's lessons.

Born April 20 -May 20:

January you will have your focus on your next new

venture you're about to embark on this year, be it

marriage, a new child or a career change.

Your focus in mid January will be your career and

getting your ducks in a row so when you're ready to

launch your new project or start your new job you

are beyond prepared. You know it will take time

and right now you are grounded and focused on the

tasks at hand. Just be sure that you do not make

any new changes or sign contracts until we are past

mercury retrograde (after Jan 25).

The 2nd week of January shows that unexpected

money will come your way, a nice little windfall to

assist you with your finances, something you didn't

even see coming.

Mars will be in your 7th house (commitment,

marriage) and you will be focused on your partner

as you have a lot to discuss and plan right now.

January - March will have you very busy between

your commitment to your partners needs and to

your responsibilities with your new endeavor

at work. Mid February is the best time for you

to launch your new venture or release your new

project if you want it to be accepted with open arms

by others. Prior to that you make run into to some

communication issues with others as the remnants

of mercury retrograde are still acting haywire which

could hinder the point you're trying to get across.

This new endeavor is huge and you need it to all

go smooth so that the year ahead brings you the

financial gain you've been dreaming of.

You'll run into a few flaws on either a patent or

copyright infringement being challenged sometime

in January that definitely needs to be addressed.

Maybe even an issue with your company's logo or

slogan. Something along the lines that someone is

challenging you but in the end they really do not

have any grounds to back it up. Do your research

in January, but do not act on anything or discuss

with anyone your plans to resolve this matter until

February. After February it'll be smooth sailing with

your business venture and you'll be off on a good

step. Nothing to stress over, stay grounded and do

not fly off the handle getting all worked up about

nothing.

There seems to be a lot of emphasis on your home

the beginning part of the year with big plans to

re-model or re-decorate. New beginnings in the

beginning of the year are always good to change the

energy surrounding you. The best time to act on this

home renovations would be in early March.

GEMINI

Born May 21 – June 21:

January gets off to a slow start for you as you're

feeling exhausted and worn out from everything

you've been trying to do over the past few months

that you finally just feel overwhelmed and get into

a procrastination phase. With Mercury Retrograde

(January 5th-25th) upon us you are really feeling

like nothing can go right. Mercury is the ruling

planet for Gemini, the planet of communications,

electronics, travel, contracts, negotiations, etc and

as a Gemini you feel this slow down energy from

Mercury the most intense of all the signs. But take

a breath, remind yourself it doesn't mean everything

will blow up in your face, it's just supposed to be

a time to "slow down" (retrograde is the slowing

of the planet mercury which makes people nuts

because nothing goes as planned, but it's really a

time to clear your head and get rid of unnecessary

obstacles holding you back). Right now your focus

should just be on brainstorming and setting a plan

in action for what you want to accomplish this year

but it is not a time to execute those plans, at least not

until after January 25th. In February you will be so

happy that you waited and gave yourself the time to

prepare for the year ahead. The obstacles in front of

you (throughout most of January) are just stepping

stones headed in a positive upward stance that will

surely be in your favor if you heed the advice to plan

and not jump the gun by executing on your plans

because of being impatient.

Around January 18th Mars and Neptune will be

in your 10th house of career, fame and honors.

Originality and creativity are at an all time high

and a great time now to present ideas to a potential

client or employer that will surely impress them.

Right now is all about focusing on the presentation

and ideas you have, but not so much deciding on an

outcome of how you plan to execute these ideas into

motion. At least not until February.

The New Moon and Pluto passing through Capricorn

indicate someone you know very well will be very

supportive and helpful to you in your business. They

will be your words of wisdom and your financial

advisor that will take you to the next step of success.

You'll be directed towards financial capital you are

in need of and guidance on sales and something to

do with banking or investments. This person you

have known for a while, does anyone come to mind?

They are already part of your life and a person you

admire from afar.

In March you will shine the brightest in real estate,

maybe you're working on selling your home, or

investing in a new home, maybe even getting in the

real estate field. But the spotlight is definitely on

real estate in some shape or form. Jupiter (the planet

of luck and happiness) is passing through your 4th

house of home and family into your eighth house

(other peoples money), indicating much financial

gain in real estate or mortgages.

Wait until after February 8th to launch your new

project or endeavor you've been working on over

the past few months. It will welcome you with great

success right out the door. Your excitement compiled

with your preparation are the keys for your success.

Venus (the planet of love) will be in your 7th house

(commitment, marriage) and re-assure you that

you are ready to commit to "the one". If you're

in a relationship, you will be taking it to the next

level sometime this year but in February and March

the wheels are actively in motion. Saturn is also

passing through the 7th house that clearly shows you

are entering the next chapter of your life and will

be committed in your relationship whether that be

moving in together or getting married.

CANCER

Born June 22 – July 22:

The end of January through March you'll experience

some negative issues with an associate (based on

the angle of Uranus to the new moon on Jan 9th

indicating problems will arrise). You will have some

problems arise with a business partner or someone

whom you work closely with in the business aspect

of your life. You find this person to be unfair and

treating you more like their employee rather than

their equal. This person is hard headed and self

absorbed, looking out only for their best interest.

They will try to dominate you and push you back

into a corner as they are trying to gain control. They

are trying to devise a plan to steal your market share

(or idea, credit for work you've done) Steer clear

of any legal disputes as this person is cunning and

will have more money than you to fight it through

the courts and has no shame in twisting the truth to

benefit themselves. If you can spot them/identify

whom this is ahead of time and break ties with

them now, that would be the best avenue to take

to avoid the headache they are about to bring upon

you. You need to stand up for yourself and trust

your gut instinct; if it seems to you like they have

an ulterior motive, then you are right, they do, and

you need to have faith in your internal guide. Uranus

shows you where you are vulnerable and where you

need to become strong. Stop keeping them around

thinking you will gain something (business contacts,

notoriety, acknowledgement, business lessons/

advice), as you are only falling into their trap. They

are a master manipulator so unless you want to

run your business/career by not being honest, this

person will bring nothing to your success and will

result in your demise or set you back, and after all

the work you have invested in your career, you do

not deserve or need this.

There will be a new child in your family this year, set

to arrive mid-year. This child will bring your family

closer and there will be admiration towards you for

your generosity you show when your relatives are in

need. Around March you will be asked for a favor

and how you respond is important, think before you

speak.

Plans you have to travel or move in mid January will

be delayed for a couple weeks during retrograde, but

do not worry as this is only a minor setback. You

will have the money and resources you need in early

February.

Around the new moon on January 9th you will focus

on your romantic personal life and a discussion of

commitment will arise. The planets Mercury, Pluto,

The Sun and The Moon are in your commitment

house and the universe is gently pushing you

forward to commit to your significant other or person

of interest even though your original plan was to

wait. Also around the new moon (Jan 9), Uranus

will play a role in a disagreement you and a partner

have over your career or something else important

to you and it will have you all fired up. They have

a few objections and opinions regarding what you

are doing and you are not so receptive at first until

you step back and see they have your best interest

at heart. The energy of Uranus is to intellectually

challenge you and teach you when to let your guard

down. You both (your partner/love interest) seem to

finally be on the same page after this discussion and

in February and March you understand one another

on a much deeper level. This person admires you

and gives you a lot of attention and support on all

levels.

(CONTINUED ON NEXT PAGE)

9

|ZODI HABIT MAGAZINE • www.zodihabit.com

www.zodihabit.com • ZODI HABIT MAGAZINE|10
---
ZodiSCOPES

LEO

Born July 23 – August 21:

January is the time you will need to go through

a healthy detox. It's a time to reform your eating

and exercise patterns. Portion control is key and

counting your calories will and should consume

you most of the month until you are mentally

focused on hitting your fitness goals. This will

eventually come as second nature after you have repatterned

your way of thinking to a healthier one.

One that will surely benefit you, mind body and

soul, through-out the year ahead.

There's many planets passing through Capricorn

which is an indication of a lot of projects on

your plate at work involving accounting and/

or budgeting. Things in regards to reviewing

the numbers from last year and restructuring a

few necessary things to allow for the business to

prosper in 2016.

Venus (the planet of love) will be in your fifth house

(love, romance and children) which indicates if you

are in a relationship that has been very positive

lately, you are without a doubt headed to a serious

commitment/proposal to take it to the next level. In

early February there will be a big transition in your

relationship that will either be to commit (marriage

or baby or moving in together) if your relationship

is strong and has been on a positive note. But there's

also an indication that if things have not been going

smooth with you and your partner/love interest then

you will break ties indefinitely in the beginning of

February so that you can make way for the love of

your life to enter shortly thereafter.

If there are financial matters surrounding sale of a

home or other real estate, it is best for you to resolve

them in mid March because if you wait until May

you will have nothing but headaches since many

planets will be retrograde at that time causing many

challenges and delays in any type of resolution for

months to come. So be prepared in March to hunker

down and use all the resources you have at hand to

resolve matters of real estate in mid March. Seek

advice from a trusted financial advisor to help guide

you through this. You currently know a person in

real estate that is extremely knowledgeable and

it's time to go pick their brain and ask for their

guidance on what steps you will need to take to

make everything move ahead smooth and to come

to a simple resolution that satisfies all parties

involved.

VIRGO

Born August 22 – September 22:

January starts out on a lovely note, many planets

(The Sun, The January 9th New Moon, Mercury

and Pluto) are in your 5th house of love, romance

and children. If you're in a relationship, you and

your partner may decide to have a baby and take the

relationship to another level. If you're single you'll

find yourself out and about in the social scene and

surrounded by many admirers.

Early February will bring about sudden expenses

so keep a watchful eye on your finances as you

will have a lot of money going out. You can look

forward to a positive turn in your finances come the

end of February and into early March. You'll finally

be able to catch up on what you were behind in.

Venus (the planet of love) will be passing through

Capricorn and you'll find yourself out in the social

scene more come the end of January. You can relax

and unwind while enjoying the ambiance and new

found release of stress that is upon you. You will

effortlessly draw others towards you and now in the

first time in 12 years, (because Jupiter is in Virgo

bringing you luck) and you will meet with the

person who is your true love. This person is older

than you or more mature than you've been involved

with which will be a breath of fresh air as you won't

have to go through the drama as you've experienced

in past relationships. You will be "lucky in love"

during these next few months.

You're New Year's resolution should be one that

involves improving your health as you will be

successful in any plan you put into action at this

time. Lately you have been feeling drained and

extreme fatigue but with a little focus on how

you eat and a daily exercise routine, you will be

rejuvenated by March.

Travel plans you have scheduled for the end of

January will be frustrating to say the least, there will

be many delays and things will not go as planned.

If you can reschedule until the end of February it

is suggested you do so to save yourself from the

unneeded stress that comes along with being late to

an important meeting that you have scheduled with

a very important/influential individual.

LIBRA

Born September 23 – October 23:

The start of January may have you frustrated with

your work. Since we're entering Mercury Retrograde

on January 5th and it doesn't go direct until January

25th you will run into many challenges while

communicating with clients or your superiors. But do

not throw in the towel when you are bombarded with

rejection or pushed aside to a later date because this

Mercury Retrograde is just a lesson for you dear Libra

to slow down your gumption and sit and ponder what

really is going on. Now it would be a good time to

reassess your approach to the tasks at hand and come

up with logical and easier ways to reach out to these

individuals without giving them the feeling of being

pressured. Come February you will have devised a

sure way to approach these individuals with tact and

courtesy that you're guaranteed to get the positive

response you were after.

Early January with mercury retrograde coupled with

Uranus in Aries, you will find a lot of pushback from

your significant other in regards to plans the two of

you are making. They will not be very receptive and

shoot down any and all of your ideas. It seems very

harsh and you're at a standstill wondering what the

heck their problem is. But it's not you, it's not them,

it's the universe. Right now is not the time to do what

it is you want to do at the moment and the universe

is assisting in the only way you are receptive with a

direct NO. Accept it and move on, do not argue or try

to convince the other person to just give in as it will

not work and you will just end up even more frustrated

and feeling extremely let down.

Over the past few months you've done a good job

planting the seeds towards your financial future.

Setting things in motion to assure a great financial

windfall midyear. January and February you will be

spending your money like crazy because you feel

that you are in a good position to do so, but that's

not the case, your seeds are not yet cultivated and

spending your rainy day money could lead to some

disappointments in March when an unexpected

expense arises and you do not have the funds to pay

for it. Do not plan a trip to go on vacation in Jan, Feb

or March as you'll learn it will not go as planned.

Emotions are high and finances are low so this trip

would only end disastrous. You can plan a trip, just do

not go on one until June at the earliest.

Not all is bad in this quarter. The end of January or mid

February you will be invited to a prestigious VIP only

event by a close friend, an event you do not want to

miss and one you should not miss. Make arrangements

with your work schedule to allow yourself the time

off to go. It may be out of town, not a vacation but

an event that may require a few hours of travel and

an overnight stay but one that will not cost you much

if anything at all. At this event you will be pampered

and treated like a queen/king. Dress to impress! The

surroundings will be high class, beautifully decorated

and decadent food as well as ambiance surround this

event. A time for you to let your inner god/goddess

shine through and soak up all the universe is sending

to you.

SCORPIO

Born October 24 – November 21:

January starts out pretty prestigious and exciting

for you. Mars (the ruling planet of Scorpio) is in

Scorpio now which is a prime spot that you want

it to be. You'll be center stage to all the events you

attend and will be the focal point in everyone's

parties/events. This is a time for you to dictate and

delegate. Those who do not follow your command

will be sorry when you decide to wash your hands

of them and kick them out of your inner circle.

People are flocking towards you and looking

for your direction as if they were sent to be your

slave for the month. Be fair and kind but indulge

in the power as you rarely get the opportunity for

the universe to align so generously putting you in

ultimate control.

Some communications you have will others could

come across abrasive and brash, but you do not care

one bit, you have the power and you are using it to

the fullest. But be careful through January 25th as

Mercury is in retrograde and what is typically brash

will come out forceful and mean. If you care about

keeping future relationships with these individuals

then you should pause and think before you speak.

February you may find yourself becoming a bit

selfish but you need to put yourself in check

immediately as you run the risk of losing people

that are very dear to your heart. There's a couple

individuals that you know would do anything in

their power for you and they always have your back

but lately you have not been very appreciative and

rather than thanking them, you take on the persona

of expecting it and assuming you deserve their

selfless gratitude.

Mid February you will get exciting news from

a friend who is eager to help you with a project

you have been talking about for months. Venture

capital has arrived and the time to act on this new

endeavor is now. You will have a rise in status as an

outcome of this new venture and it will happen fast

so be prepared and go with the flow as you own the

position and shine. It could be from a promotion,

a new business, a project you are launching or

favorable publicity on tv or the radio.

Romantically you will have no problem what so

ever drawing in the admirers with little to no effort

at all. If you're single this is great news and if

you're in a relationship it's even better because you

and your partner will be able to regain that spark

you had when you first met. Your pheromones are

working in your favor, as is Mars in Scorpio.

Venus will be in perfect sync with Neptune the last

two days of January indicating your love life will

deepen and your connection with your partner/love

interest will flourish. You will have a deep desire to

do anything and everything for the one you love to

keep them happy, safe and secure.

SAGITTARIUS

Born November 22 – December 21:

In January The Sun, The New Moon, Mercury and

Pluto will be in your 2nd house (earned income)

which shows a great financial windfall obtained

from your hard work and devotion. All of the

months leading up to now were well worth it as

your new frame of mind to spend on a budget has

prepared you to handle your finances this time

around and put you in a better financial situation for

many years to come.

Jupiter is in your 10th house (honors, awards and

achievements) indicating a powerful switch in your

career status. A promotion or some sort of notoriety

is very likely now. Anything you pitch will be well

received.

Uranus is in your 5th house (creativity) which

may hinder any projects you are working on in the

creative field. You'll still succeed with landing the

account but you may end up doing do at a financial

cost to yourself due to miscommunications or false

expectations you had.

There will be unexpected costs involving children

in February. Either your own children, niece or

nephew or a friends child you are extremely close

with just like they were part of your family. This

child will approach you with a request for money

or an item that costs money and it's detrimental to

either their future education or their career so you

give in and give them whatever it is that they need.

It may be a minor setback financially for you, but

an endeavor you need to take and one that will be

gratefully appreciated in years ahead.

Do not change jobs in January or February as you

will not be looking clearly at all the pitfalls this

new job could create. The grass isn't greener on

the other side in this case. Something's are being

hidden from you on purpose which is skewing

your judgment, allowing you to believe it's the best

opportunity for you, but trust that it is not.

Stay alert with those close to you, family friends

and colleagues as someone is about to attack at

your weakest moment. Mars is in your 12th house

(of secrets) and someone whom you thought was

true to you is far from it and getting ready to sue

you by using their inside advise against you. Or

possibly someone is backstabbing you and talking

behind your back as a defaming your character to

your higher ups in order for them to get you out of

their way so that they can capitalize on the position

you are in. Stay confident and positive as you will

overcome this shady person and show their true

colors which in turn only makes you shine brighter

and it all backfires on this individual.

CAPRICORN

Born December 22 – January 20:

January will have Jupiter aligned in a perfect

position bringing you luck to follow your dreams

you have of a career/path you are very passionate

about or even one you aren't even aware of but

will soon learn to find it is what you're meant to

be doing. You may be planning a long distance trip

to a destination you've been wanting to go to but

hadn't had the time....now is the time. This long

distance trip, or possibly even just long distance

communications with someone from afar will be

beneficial for fulfilling your dreams. This could be

the start of your new life/destiny that will get you to

greater heights than you had ever imagined.

Early January you will receive some unsettling

news about a real estate or housing matter that

needs your attention and you'll be notified of

things that need to be fixed right away. Possibly a

deal you recently closed on didn't have the proper

documents signed or recorded correctly, or maybe

news of having to house a relative or put a parent

in a nursing home or a settlement from a divorce

being held up due to unforeseen circumstances.

It will come about sudden with no indication in

sight that would have allowed you to be prepared

for it on a conscious level, but just keep your cool.

Everything will work out just fine if you handle the

situation amicably and with great detail to get the

task at hand completed in a timely manner.

Money looks to be coming in around early February,

possibly from an earned commission or a loan you

recently applied for. This will be a time to budget

as a lot of money will be exchanging hands and you

need to be prepared to budget your finances.

In early February Venus will be in Capricorn and

Mars will be in Scorpio indicating your social status

will heighten and your social life will be full of

activities. You will be romantically involved with

another or many others (if single) and there's an

aura about you drawing other towards you during

this time. You will definitely feel the energy that

you are admired by many.

February and March will have you re-analyzing

your current friendships/acquaintances and reevaluating

what they really bring to the table. You

begin to see peoples true colors for what they really

are and find its time to eliminate some people from

your life. Not to be on a negative note, but to burden

yourself from the toxic energy they are bringing to

your life. Out with the old and in with the new.

(CONTINUED ON NEXT PAGE)

11 |ZODI HABIT MAGAZINE • www.zodihabit.com

www.zodihabit.com • ZODIHABIT MAGAZINE|12
---
ZodiSCOPES

ZodiSCOPES

AQUARIUS

Born January 20 – March 18:

January will have you thinking very seriously about your career and different avenues you should take to advance further. You've outgrown your current position and

feel as if you've been "stuck" in a never ending monotonous path doing something you're good at but not passionate about. Mars is in your tenth house of fame and

honors and bring about the courage you've been needing to make a transition in your career path. January 13th indicates a generous commission headed your way as

Jupiter is bringing about good fortune financially. Be careful not to make and drastic changed in January during Mercury Retrograde. January is a time to get the wheels

in motion for action you will take in February and March.

You have a solid bond with your partner/love interest and are sincere friends, they will bring you news in February that will have you jumping up and down with joy.

Maybe you're expecting a baby, possibly they told you they are approved for a loan you both had been waiting on for money to come in or something as simple as them

telling you how much they deeply care for you. The full moon passing through Leo on January 23rd will have your relationship challenged as your partner/love interest

is feeling neglected and isn't shy about voicing their concerns to you. Handle it with care, we're still in mercury retrograde until the 25th so what you say could have

detrimental impacts if not handled with care and mindfulness.

The solar eclipse that occurred on Sept 1, 2015 was in your eight house (partners finances), and while you're not typically one to loan money to a friend or love interest,

you felt obligated to help them out over the past few months making an exception to your rule because you trust this individual. The early part of this year you will find

that your generosity and kindness will pay off with immense gratitude from the individual in which you helped out. Your kind deeds have not gone unnoticed and this

individual greatly appreciated all you had done and wants to give back to you. This experience of getting back what you put out is restoring your faith in others and

opens you up to feel good about helping others, but be careful not to get overly generous. This individual is a rare gem, not everyone is as grateful, so stay cautious as

this is your best financial attribute Aquarius.

Lately you have been concerned about a medical issue that you have kept to yourself because you're worried but January is the month to address this concern and speak

to others about it rather than sweeping it under the rug. Speak with a therapist or a close friend who can help you and support you with this concern that scares you and

saddens you at the same time. Talking things over with another person will bring you a new perspective and ease your mind by helping you see it's not as bad as you

think it is.

PISCES

Born February 19 – March 20:

Your finances have been up and down lately but starting in January you will begin to see a positive shift. Money will come to you mid January, money that is owed to you,

that you earned but never thought you'd receive. Jupiter will be in perfect alignment with The Sun on January 13th and this indicates money is on its way. This will be a

prosperous month for you. Also, Venus is in your tenth house of career until the end of January and this is indicating sudden news of unexpected money headed your way.

February or March you will be traveling, taking a much needed getaway vacation and in the mist of the relaxation you will connect with very influential people who are

put in your path to assist you with your career growth. Most Pisces are self employed, so the news you were hoping to receive to take your business to the next level have

set their wheels in motion.

The new moon in Capricorn on Jan 9th is passing through your 11th house of friendship, hopes and wishes. Also accompanied by The Sun, Pluto and Mercury all in

Capricorn (the ruler of Saturn) indicating a lot of socializing and invitations to events by successful happy people that will help to further your career. Saturn is in your

10th house of fame, notoriety and grand ambitions. And Jupiter (a planet of luck and happiness) is in a great alignment with this new moon. This indicates that you will be

a social butterfly and all the networking and social activities you are involved in now will have a major impact on your career over the coming months. Friends of friends

will want to link you up with important individuals that will assist in furthering your career.

Early February to early March, with Mars is in your 9th house (interactions with foreign people and places) is aligned with Neptune, your ruling planet (planet of dreams

and creativity) indicating much success for you through publishing, media (tv/broadcasting) and the internet via social media where someone will come to you/reach out

to you asking you to write a story or be on tv/radio to discuss a topic in a field you are very passionate about and thought of as the expert in your field.

You'll re-connect with a friend from years ago and collaborate together on a business plan you will both discussed at one point but set aside due to it not being the right

time. Now is the time and you will both benefit from this endeavor.

January 13th will bring about excellent news that you have wanted to hear from your partner/love interest. The two of you are both going through a very positive transition

right now and may even take a step towards a deeper commitment that you have put on hold. A business collaboration with them is very likely in February as you both

feed off of one another's energy to motivate and push the other to extraordinary achievements. More of a balance in power and friendship is growing to bring you closer.

You're both very optimistic about the year ahead.

**********************************************************************************************************************************

13 |ZODI HABIT MAGAZINE • www.zodihabit.com

www.zodihabit.com • ZODI HABIT MAGAZINE|14
---
Photo Credits: ©A.M.P.A.S.®

THE 88TH OSCARS®

The Oscars will air Sunday, February 28, 2016

live on ABC at 7 p.m. ET/4 p.m. PT.

88th Oscars Information

Number of competitive award

categories for the 88th Oscars = 24

Number of voting members = 6,261

Number of ushers / ticket takers inside

the Dolby Theatre at Hollywood &

Highland Center® = 60

Number of Red Carpet fan bleacher

seats = 745

Number of people who work in the

Oscar® telecast production office =

Approx. 250

Number of production vehicles / trailers

(including press and catering) = Approx.

100

Number of crew members working during

the telecast = Approx. 270

How many Americans watched the 87th

Oscars? (estimate) Average U.S. audience

= 37.3 million

Number of countries in which the 88th

Oscar telecast will be seen = More than

225

Estimated global viewership of 88th

Oscars = Several hundred million

Number of press organizations requesting

credentials for 88th Oscars = 787

Number of Governors Balls, including the

88th Oscars = 58

Size of the The Ray Dolby Ballroom at

Hollywood & Highland Center = 25,090

square feet

Photo Credits: ©A.M.P.A.S.®

HISTORY OF THE OSCARS® RESENTATION

When the first Academy Awards® were handed out on May

16, 1929, at an Academy banquet in the Blossom Room of the

Hollywood Roosevelt Hotel, movies had just begun to talk. The

attendance was 270 and guest tickets cost $5. It was a long

banquet, filled with speeches, but presentation of the statuettes

was handled expeditiously by Academy President Douglas

Fairbanks.

The suspense that now touches most of the world at Oscar®

time was not always acharacteristic of the Awards presentation.

That first year, the award recipients were announced to the public

three months ahead of the ceremony. For the next decade, the

results were given in advance to newspapers for publication at

11 p.m. on the night of the Awards. But in 1940, much to the

Academy's dismay, the Los Angeles Times broke the embargo

and announced the winning achievements in its evening edition,

which was readily available to guests arriving for the event. As

a result, the Academy adopted the sealed-envelope system the

next year, and the system remains in use today.

Since the earliest years, interest in the Oscars® has run high,

if not at the modern fever pitch. The first presentation was the

only one to escape a media audience; by the second year,

enthusiasm for the Awards was such that a Los Angeles radio

station actually did a live one hour broadcast from the event. The

ceremony has had broadcast coverage ever since.

There have been only three circumstances that prevented the

Academy Awards presentation from going off as scheduled.

The first was in 1938, when destructive floods all but washed

out Los Angeles and delayed the ceremony one week. In 1968

the Awards ceremony was postponed from April 8 to April 10

out of respect for Dr. Martin Luther King Jr., who had been

assassinated a few days earlier, and whose funeral was held on

April 9. In 1981 the Awards were postponed for 24 hours because

of the assassination attempt on President Ronald Reagan. In

2003, when U.S. forces invaded Iraq the Thursday before the

telecast, the show went on, but the red carpet was limited to the

area immediately in front of the theater entrance, the red carpet

bleachers were eliminated and the bulk of the world's press was

not able to photograph or interview guests as they arrived. In

2004 the red carpet returned in all its glitz and glamour.

Attendance at the Oscars ceremony is

by invitation only. No tickets are put on

public sale.

Achievements in up to 24 regular

categories will be honored on February

28, 2016, at the 88th Oscars® presentation

at the Dolby Theatre at Hollywood &

Highland Center®. However, the Academy

won't know how many statuettes it will

actually hand out until the envelopes

are opened on Oscar Night®. Although

the number of categories will be known

prior to the ceremony, the possibility of

ties and of multiple recipients sharing

the prize in some categories makes the

exact number of Oscar statuettes to be

presented unpredictable. As in previous

years, any surplus awards will be housed

in the Academy's vault until next year's

event.

THE 88TH OSCARS®

OSCARS

OSCARS

Photo Credits: ©A.M.P.A.S.®

A BRIEF HISTORY OF THE OSCAR®

Since the initial awards banquet on May 16, 1929, in the

Hollywood Roosevelt Hotel's Blossom Room, over 3,000

statuettes have been presented.

The statuette stands 131/2 inches tall and weighs a robust 81/2

pounds. The design of the statuette has never changed from

its original conception, but the size of the base varied until the

present standard was adopted in 1945. Officially named the

Academy Award® of Merit, the statuette is better known by its

nickname, Oscar, the origins of which aren't clear.

The 15 statuettes presented at the initial ceremonies were

gold-plated solid bronze. Within a few years the bronze was

abandoned in favor of britannia metal, a pewter-like alloy,

which made it easier to give the statuettes their smooth finish.

Because of the metals shortage

during World War II, Oscars® were made of painted plaster

for three years. Following the war, all of the awarded plaster

figures were exchanged for gold-plated metal ones.

The Oscar statuette is the most recognized award in the world.

Its success as a symbol of achievement in filmmaking would

doubtless amaze those who attended that dinner more than 80

years ago, as well as its designer, Cedric Gibbons.

OSCAR®, OSCARS®, ACADEMY AWARDS®, ACADEMY AWARD®, A.M.P.A.S.® AND

"OSCAR NIGHT® are registered trademarks, and the OSCAR statuette is a registered trademark

and copyrighted property, of the Academy of Motion Picture Arts and Sciences.

Photo Credits: ©A.M.P.A.S.® Photo Credits: ©A.M.P.A.S.®

Photo Credits: ©A.M.P.A.S.®

15 |ZODI HABIT MAGAZINE • www.zodihabit.com

www.zodihabit.com • ZODIHABIT MAGAZINE|16
---
COOL

ZODIAC INFO

Karnataka

Government set

to ban all TV

shows based

on Astrology!

Zodiac Sign Design

Speaker by Pieladium

The Pieladium, is a portable Bluetooth

speaker that delivers undeniably bold

sound. With a Bluetooth range of 33ft,

this speaker lets you switch tracks from

across the room without stopping the

fun! The Pieladium is designed with a

rechargeable battery that lasts up to 10

hours and features a built in microphone

to make hands free phone calls in your

vehicle or wherever you go. Customize

a one-of-a-kind Bluetooth speaker with

your favorite images, designs or text,

for a speaker that looks as amazing as

it sounds!

Where to Buy it: www.zazzle.com

17 |ZODI HABIT MAGAZINE • www.zodihabit.com

Zodiac Signs Together Car Mat

Keep your car floors protected with matching front

and rear car mats. Made with a polyester surface

and a non-skid Durgan backing, these mats are

easy to clean and guaranteed to endure dirt and

spills. Personalize with your designs, images, and

initials for a special in-ride experience for you and

your passengers! Get the floor mats customized

for your personal zodiac sign.

Where to Buy it: www.zazzle.com

In December 2015, The Congress

Government in Karnataka (SW India)

wants to ban astrology-based shows

being telecast on regional Kannada

TV channels, as Chief Minister

Siddaramaiah believes that too much

of superstition is being spread by the

astrologers.

Even though the government had

planned a similar legislation in 2013, it

was never implemented due to pressure

from various corners including channels

themselves. Most of the channels in

Karnataka have regular astrology related

programmers which have high ratings.

Orlaj Dial

Astrological

Clock Locket

A vintage image of an Orlaj Dial

Astrological Clock of Prague is

found within this Locket

Complete with a 18" silver

plated chain (2" extender) and

lobster claw clasp, this necklace

is finished with a UV resistant

and waterproof coating to

protect your imagery for years

to come.

Astronomical Clock In

Prague Wine Stopper

Preserve and prolong your open

bottles to enjoy all of the flavors

and aromas of your favorite

beverage. These wine stoppers

are fully customizable on both

sides for a one-of-a-kind gift for

that wine lover in your life. They

are made with heavyweight, bright

chrome finish for extra durability.

Where to Buy it: www.zazzle.com

BLACK BOOMBOT

REX BLUETOOTH

SPEAKER

With revolutionary acoustic

and industrial design, a noisecanceling

microphone and a

built-in clip, the Boombot REX

allows you to stay connected to

your friends and your music while

keeping your phone safely in

your pocket. The Boombot REX

connects to iPods, smartphones,

tablets, and laptops using

wireless Bluetooth technology.

Stream music, change tracks,

and answer, end, or deny phone

calls on the fly. The Boombot

REX is built to withstand the

demands of an active lifestyle

so you can bring music to

where you enjoy it most.

Where to Buy it: www.zazzle.com

Astrocartography

The area where you will be most

successful and happy can be

determined by comparing your

birth chart to different areas in

the world.

Astrology Watches

Greek Astrology Zodiac Wristwatches customized with your personal

zodiac sign. Options with Vintage Black Leather Strap, classic brown

leather strap, gold and silver two-tone, Stainless Steel Bracelet,

Unisex Oversized Bracelet, the Crown Protector Watch features a

polished and matte steel finish for a sporty and rugged look, and

many more options. Some are water resistant up to 300+ feet.

Where to Buy it: www.zazzle.com

Astrology

Duvet Covers

They are made of 100pct soft

Turkish cotton. -305 Thread

count. -With reversible design.

-Oversized flat sheet provides

versatility, can be tucked under

the mattress or can hang with no

need for bed skirt. -Concealed

plastic snaps at the foot of the

duvet cover make it easy to insert

a comforter, quilt or blanket.

Where to Buy it: www.

walmart.com

The Moon Impacts

the Human Body

The moon has the same effect

on humans, as it does on the

ocean. If the moon can affect

the huge tides it obviously

affects the human body, which

consists of 75 per cent water.

www.zodihabit.com • ZODIHABIT MAGAZINE|18
---
WHAT'S UP IN THE SKY?

CELESTIAL EVENTS

JANUARY - MARCH 2016

CELESTIAL EVENTS JANUARY - MARCH 2016

JANUARY

January 3, 4 - Quadrantids Meteor Shower - The

Quadrantids is an above average shower, with up

to 40 meteors per hour at its peak. The shower

runs annually from January 1-5. It peaks this year

on the night of the 3rd and morning of the 4th.

January 5-25 - Mercury Retrograde - Mercury

Retrograde begins on January 5th at 1° Aquarius,

and goes direct on January 25th at 14° Capricorn.

This Mercury retrograde will be one of the most

challenging in a long time. Intense battles of beliefs

will lead to greater chaos, intolerance and aggression.

FEBRUARY

February 7 - Mercury at Greatest Western Elongation.

The planet Mercury reaches greatest western

elongation of 25.6 degrees from the Sun. This is the

best time to view Mercury since it will be at its highest

point above the horizon in the morning sky. Look for

the planet low in the eastern sky just before sunrise.

MARCH

March 8 - Jupiter at Opposition. The giant planet will

be at its closest approach to Earth and its face will be

fully illuminated by the Sun. It will be brighter than

any other time of the year and will be visible all night

long. This is the best time to view and photograph

Jupiter and its moons. A medium-sized telescope

should be able to show you some of the details in

Jupiter's cloud bands. A good pair of binoculars

should allow you to see Jupiter's four largest moons,

appearing as bright dots on either side of the planet.

March 9 - New Moon

March 9 - Total Solar Eclipse. A total solar eclipse

occurs when the moon completely blocks the Sun,

revealing the Sun's beautiful outer atmosphere

known as the corona. The path of totality will only

be visible in parts of central Indonesia and the

Pacific Ocean. A partial eclipse will be visible in most

parts of northern Australia and southeast Asia.

JANUARY

January 7 - Jupiter Retrograde - Jupiter Retrograde

begins on January 7th at 23° Virgo, and goes direct

on May 9th at 13° Virgo. Jupiter's retrograde

encourages us to slow down, pull back and make sure

we aren't wandering off the Path that is right for us.

January 10 - New Moon

January 24 - Full Moon

FEBRUARY

February 8 - New Moon

February 22 - Full Moon

MARCH

March 20 - March Equinox. The March equinox

occurs at 04:30 UTC. The Sun will shine directly

on the equator and there will be nearly equal

amounts of day and night throughout the world.

This is also the first day of spring (vernal equinox)

in the Northern Hemisphere and the first day of fall

(autumnal equinox) in the Southern Hemisphere.

March 23 - Full Moon

March 23 - Penumbral Lunar Eclipse. A penumbral

lunar eclipse occurs when the Moon passes

through the Earth's partial shadow, or penumbra.

During this type of eclipse the Moon will darken

slightly but not completely. The eclipse will be

visible throughout most of extreme eastern Asia,

eastern Australia, the Pacific Ocean, and the west

coast of North America including Alaska.

Year of the Monkey

By Timothy Umney

The Chinese New Year of the Monkey will start on February 8, 2016.

In the traditional Chinese Astrology, the Monkey is very intelligent, hyperactive and strong-minded. He represents the unfettered mind

freed from inhibitions and guilt. Relieving himself from the heavy burdens of a touchy conscience, the Monkey type will not hesitate to

test his theories, experiment and think the unthinkable. In his domain, everything is possible. What is difficult, he could do right away;

what is impossible may take a little longer.

The positive and negative quality of The Year of The Monkey 2016

The influence of the Monkey puts everything into motion. Things will get accomplished, but largely through personal and individual

efforts. Group movements, such as political upheaval or revolutions, will not make a mark during this year.

This animal (the monkey) bursts with exuberance, bringing a lightning fast pace and an unbelievable amount of motivation. The Monkey

increases communication, humor and wit, helping us get through stressful times with grace and ease. Business flourishes and risks tend

to pan out. The Monkey's gift is the ability to find unconventional solutions to old problems. Daring to be different can lead to success.

Talk is cheap though, so be on the alert for deceptions. With so much mental energy around, everyone needs to re-think their fitness

program, diet and health plan. If you don't have one, you definitely need to instigate some form of regular physical activity this year.

It'll be a lively, optimistic and progressive year where finances, politics, and real estate should see an upturn, there will be a decided

undercurrent of insecurity. Everyone wants to work the shrewdest angle, get the best deal, and win big. However, business decisions

made this year should be based on fact, not emotion. Problems can still arise, so nothing this year should be taken for granted, whether

politically, financially, professionally, domestically or emotionally.

A particularly promising time for new inventions, the Year of the Monkey is for taking risks and being rebellious, a year where agile,

inventive minds, sheer guts and bravado will win out. Now is the time of courage, action, anarchy, and true devotion to even the wildest

of schemes, a time to start new endeavors, for they are destined to succeed under Monkey's influence.

The Year Of The Monkey 2016 is a time for planting the seeds in a new venture, embracing new business concepts, creating new

inventions and the confidence to forge ahead.

This year will reward the individual effort, those who are doing things independently. And those who place their trust in a team or a

group effort, will face disappointment.

19 |ZODI HABIT MAGAZINE • www.zodihabit.com

www.zodihabit.com • ZODIHABIT MAGAZINE|20
---
Q

ZoditastrophyBy: Styla Jones

I'm a Scorpio and have my eye on a certain Leo. I'm

curious to know if it's a compatible sign.

We sort-of-know each other through work but have

not gone out. He is extremely handsome and is

always flirting with me every chance he gets. I can

tell he's into me but neither of us have made the time

outside of work to get together yet because of our

hectic schedules. Before I invest too much thought

on him I wanted to see what the stars show. Is he

worth my time, is a Leo my soul mate sign?

I have never actually dated a Leo, but I have dated

an Aries which is another fire sign so I walk with

caution since Leo is a fire sign too. The Aries I was

with was bossy and controlling and only absorbed

with his work with no time for me. I don't want to

make the same mistake again wasting time getting

to know someone to find out he's not even remotely

close to being compatible for my sign. I'm a true

Scorpio through and through.

I follow all of the Scorpion traits I've read about

so I know my faults and high points but not sure

about Leo's. Any insight you could provide about a

relationship with a Scorpio and a Leo I'd appreciate.

Thank you.

-Rebecca

A

Dear Rebecca,

Leo rules the house of romance and affairs (the Fifth House) and

Scorpio rules the house of sexual intimacy and lust (the Eighth

House). Both signs are extremely passionate, making this the anchor

of their relationship. Beyond that, unfortunately, these two signs have

no other reason to be together. They constantly battle over who's the

boss and dominant one in the relationship and that will make this

volatile pairing almost impossible.

Scorpios are motivated when it comes to business and have a true

entrepreneur spirit about them. They are innovative, very creative

and extremely hard workers. They will often feel that a Leo is a lazy

individual, always waiting for someone else to do the work for them

while they get credit. They think that Leo's arrogance to delegate

everything to others shows their lack of interest in anything of

substance.

Leos are very demanding and expect things done their way and

require constant praise and admiration but a Scorpion will not stand

for this. A Scorpio will not take orders from anyone, especially not

their partner they are in a relationship with. And a Scorpio doesn't

want to be forced to complement someone just to keep them happy,

they prefer to give genuine & sincere compliments.

Scorpios are great listeners and attentive but in return they expect the

same from their partner, fair is fair. But there's no way that a Leo will

stop being self-consumed enough to cater to the Scorpios emotional

needs. Leo's are too self-absorbed most of the time to even care what

their partner is talking about.

While the sex and lust for one another is strong, this pair can never

last outside of the bedroom. They are two domineering personalities

with their own set of rules that do not complement one another at all.

This pair may be fun for a fling, but nothing more.

With that said Rebecca, I'd advise not wasting your time with this

one.

Holistic Practitioners

Wellness Products

New Age Books, Mp3s

Holistic Schools

Health Stores

Wellness Workshops

Holistic Videos

and so much more

AlternativesForHealing.com

21 |ZODI HABIT MAGAZINE • www.zodihabit.com

www.zodihabit.com • ZODIHABIT MAGAZINE|22
---
Sunrises and Sunsets

New Year's resolutions are a long-held tradition, marking

new beginnings and renewed commitments for more of what we

hope for, but fell short of achieving in the years prior. Marked

with motivation and newfound pledges, the best of resolutions

often fade to the wayside by February.

So this year, how about a New Year's resolution that makes

the top of the list for priorities, is guaranteed to be personally

enriching, and is met with complete success in just two months?

Instead of planning your life, how about planning your death!?

We often spend so much time focusing on specific goals, that

we easily overlook the omnipresent aspect of our life... agingand

ultimately being a conscious participant in our own future

passing. Acknowledging these two inevitable realities creates

a wonderful opportunity to personally define your destiny for

gracious and dynamic aging, while thoughtfully putting your

signature on the specific details of your future providence. It's

letting your body and your spirit depart on YOUR own terms.

However, final-affairs planning is also an incredibly important

component of your existing life affairs today. It's far more than

just matters such as advance care planning aspects, advance

directives, and your Last Will and Testament. It's really about

having peace of mind while you are living!

Done right, it is a rewarding personal journey, involving a multilayered

approach that creates an opportunity for heartening

growth, transcendence into new levels of higher consciousness,

and confidence that your desires will be carried forth as you

deem them. It's a chance to set the record straight, to un-clutter

your conscience, and define the legacy YOU wish to leave.

By Holley Kelley

The New Year's Resolution With Flair,

Finesse And FUNctionality Creating

A New Peace Of Mind

Instead of planning your life this January, how about planning your death--ENJOYABLY!?

When your affairs are in order, you have distinguished your

future in spectacular detail, as well as eased unnecessary

burdens from your loved ones. Doing so provides the perfect

opportunity to do a house-cleaning self-reflection, to relive

what is special and unique about your life, to leave behind a

distinctive written legacy that serves as a virtual and meaningful

remembrance of you. It is a way to avoid familial discord, by

making important decisions about your life and preferencesutilizing

dependable faculties and sound mind. When finalaffairs

planning is purposefully embraced, it makes the second

half of life more rewarding, happier and more deeply soulful.

Consider taking these actions as part of your 2015 Final

Affairs resolutions:

• Creating a bucket list is a wonderful exercise,

allowing you to identify life pursuits and interests you dream of

experiencing. It serves as a blueprint for future fulfillment and

adventure! Furthermore, it's a way for you to truly express your

soul-driven desires.

• But, what is equally important is the "kick-the-bucket

list;" defining anything that must transpire so that you can

consciously and virtuously solidify your life's passage with

genuine peace and comfort. Such items include resolving

long-held feuds, making peace or amends, asking forgiveness

from yourself or others. The point is to ensure you remain in

complete concord with yourself and those you care about.

Completing a bucket list and a "kick-the-bucket" list can be a

revitalizing and liberating experience, providing surprisingly

new opportunities for spiritually-enlightened living.

• Funeral planning is another area of importance

and allows you to design every detail regarding your life

celebration. This soul-soothing exercise can be really

enjoyable, allowing you to personally create your own

farewell-one that really reflects your self-expression--a

last "themed" festivity for instance, or something with

special nuance (think doves, butterflies, uplifting music

choices from your life history). Let this be a connection to

your living heart and your everlasting spirit.

• Well-orchestrated, pre-determined funerals

encourage healing and heartfelt remembrance for those

left behind. Wise funeral planning also includes writing

your own obituary, a reflective task that tells the world who

you are, who you love and what is significant about your

amazing life. You'd be surprised to see the immeasurable

gratitude this elicits from your survivors!

• From family trees, archiving family history, to

logging important family medical information and financial

information-each is a vital and unique piece of the final

affairs planning puzzle-including itemizing meaningful

personal mementos, family heirlooms and sharing

family customs. Defining who gets what in advance can

circumvent family quarrels and conflict because wishes

have been clearly conveyed. Planning and recording all

these matters in advance prevents indecision, infighting,

and hurt feelings that often plague families.

• In "putting your house in order," this presents

a perfect opportunity to also release those items you no

longer need, that don't contribute to your joy and welfare

any more, and that would only be left for your family to

sort through and discard. Find other places (shelters,

thrift shops, direct donations to others, etc.)---where

your "things" can be loved and appreciated--a wonderful

uplifting feeling knowing they have gone on to bring joy to

someone else. And a relief to your survivors!

• While there are many areas of comprehensive

final affairs planning, one area not to overlook is sharing

your wishes with your family and medical providers. This

is one of the most important aspects related to your

planning endeavors.

• Yet, there is also a chance for you to impact

not only your own healing, but the healing of your loved

ones. Besides leaving a written legacy of your life for

them to have as a warm and loving memorial to you,

there is an opportunity to write letters to individual family

members and friends, a beautiful "gift" to those you love,

when you are no longer present to do so. Explanations of

your decisions, wishes for their future, encouragement,

wisdom, requests for family to stay connected, letters to

the future bride or grandchildren yet to be born.... You can

impact their lives long after you are gone.

In writing my book, Sunrises and Sunsets, Final Affairs

Forged with Flair, Finesse, and FUNctionality, I was

determined to take the trepidation out of end-of-life

planning and actually make the process engaging and

fun. The secret recipe for richer enjoyment and deeper

satisfaction is ensuring all areas of advance care

planning are achieved now...well before the crisis point.

Completing these important initiatives must be done while

you are capable of making these paramount decisions

independently and with a positive and optimistic outlook.

The best time to plan for later is now. Doing so certainly

allows for renewed spiritual advancement and encourages

familial elevation in incomparable ways. It's the ideal way

to start 2016!

Bio: Holley Kelley, M.S., C.P.G , gerontologist

and author of Sunrises and Sunsets, Final

Affairs Forged with Flair, Finesse, and

FUNctionality, has awakened the nation on final affairs

planning with her ground-breaking and captivating new

book that seeks to make the process comprehensive,

cleansing and conscious. Through her Latter-Day Life

Planning Institute, she encourages an inspirational

approach to end-of-life initiatives through consulting,

workshops, seminars, presentations, and written works.

For more information, visit: www.sunrisesandsunsetsbook.

com or www.latterlifeplanninginstitute.com.

23 |ZODI HABIT MAGAZINE • www.zodihabit.com

www.zodihabit.com • ZODIHABIT MAGAZINE|24
---
LOVE IS IN THE STARS

THE SIGN THAT YOUR SIGN IS MOST COMPATIBLE WITH

By Tina Johnson

Aries

You are driven and focused so you will

need a relationship that supports you in

your goals and doesn't nag you about

working so much. Most Compatible

with: Capricorn who is just as driven

as you so they admire you for it and a

Sagittarius who prefers there time apart.

Taurus

You are set in your ways and a

homebody. You need a relationship that

doesn't require you to go out and one

that doesn't push your buttons. Most

Compatible with: Virgo and Scorpio.

Virgos understand your need for

solitude. And a Scorpio will love the one

on one time.

Libra

You are charming and kind. You need a

partner that will appreciate your social

side and provide you with admiration.

Most Compatible with: Gemini and

Aries. Gemini shares your Air element

and are as social as you are so they get

it and an Aries appreciates those who

are kind.

Scorpio

You are highly sexual and full of

passion, you need a partner that will

satisfy these needs and understand

your sensitive side. Most Compatible:

with Pisces and Taurus. Pisces will be

the most sensual partner you could

ask for and Taurus are very sexual and

understanding of their partner's needs.

Gemini

You have a need for constant mental

stimulation and despise monotony. You

need a partner that can meet these

criteria. Most Compatible with: Aquarius

and Libra. These signs share the same

Air element as Gemini and understand

your need for socializing and constant

change in your day to day life.

Cancer

You are very sensitive and defensive but

extremely caring. You need a relationship

that allows you to let your guard down

and not feel challenged. Most Compatible

with: Pisces and Scorpio. These signs

share the same Water element as

Cancer and understand your emotions

and they appreciate your kindness.

Sagittarius

You have a need to be free and want

a partner who is adventurous and

spontaneous. Most Compatible with

Aries who share your fire element and

understand your need to be free to do

what you want and Gemini who dislikes

monotony as much as you do.

Capricorn

You can be heard headed and

impractical at times because you think

you're always right and everyone else is

an idiot. Most Compatible with Aquarians

who also think the world around them is

off balance and Pisces who prefer to live

in a delusional fantasy land.

Leo

Virgo

Aquarius

Pisces

You have a need for constant praise and

admiration and you need a partner that

understands your desire to be center

stage. Most Compatible with: Aries

and Sagittarius. These signs share the

same Fire element as Leo and do not

get intimidated easily; they are your

powerhouse and support.

You are very analytical and set in your

ways that you need a relationship with

someone that isn't so defensive and

sensitive. Most Compatible with: Taurus

and Capricorn. These signs share the

same Earth element as Virgo and are

grounded and sensible; they have a

deeper understanding of your needs.

You are unique and eccentric and want

a relationship that stimulates your mind

body and soul. You crave knowledge &

intellect. Most Compatible with: Gemini

and Capricorn. The Gemini shares your

need for mental stimulation and the

Capricorn is logical and makes sense

to you since you're all about reasoning.

You have a lot of love to give and

appreciate a relationship that allows you

to safely open your heart without fear

that you will be taken advantage of. Most

Compatible with: Scorpio and Cancer.

These signs share the same Water

element as Pisces and understand your

sensitive caring nature.

25 |ZODI HABIT MAGAZINE • www.zodihabit.com

www.zodihabit.com • ZODIHABIT MAGAZINE|26
---
88TH ANNUAL ACADEMY

AWARDS® SIDEBARS

88TH ANNUAL ACADEMY

AWARDS® SIDEBARS

Photo Credits: ©A.M.P.A.S.®

CHRIS ROCK RETURNS

TO HOST THE OSCARS®

THE OSCARS®

The 88th Oscars will be held on Sunday,

February 28, 2016, at the Dolby Theatre® at

Hollywood & Highland Center® in Hollywood,

and will be televised live by the ABC Television

Network at 7 p.m. ET/4 p.m. PT. The Oscar

presentation also will be televised live in more

than 225 countries and territories worldwide.

Photo Credits: ©A.M.P.A.S.®

Photo Credits: ©A.M.P.A.S.®

At age 25, Jennifer Lawrence is

the youngest four time Acting

nominee

Roger Deakins has the

most nominations for

Cinematography of any living

person with 13. Charles B.

Lang, Jr. and Leon Shamroy

share the all-time record with 18

nominations each.

Sandy Powell now has the

most nominations for Costume

Design of any living person with

12. The overall record in the

category belongs to Edith Head

with 35 nominations.

Steven Spielberg has set the

record for the most Best Picture

nominations for an individual

producer with nine.

Inside Out is the ninth animated

feature to receive a Writing

nomination. To date, none has

won. With his fourth Writing

nomination this year, Pete

Docter has tied Andrew Stanton

for the most writing nominations

for animated films.

With his two nominations for

Sound Mixing (for Bridge of

Spies and Star Wars: The Force

Awakens), Andy Nelson has tied

Kevin O'Connell's record for the

most individual nominations in

the category with 20.

Thomas Newman's nomination

for Original Score for Bridge

of Spies is his 13th and brings

the total for members of the

Newman family (Alfred, Lionel,

Emil, Thomas, David and Randy)

to 89, more than any other family.

OSCAR®, OSCARS®, ACADEMY AWARDS®, ACADEMY AWARD®, A.M.P.A.S.® AND

"OSCAR NIGHT® are registered trademarks, and the OSCAR statuette is a registered trademark

and copyrighted property, of the Academy of Motion Picture Arts and Sciences.

Photo Credits: ©A.M.P.A.S.®

©A.M.P.A.S.®

Multi-hyphenate artist and filmmaker

Chris Rock will return to host the

Oscars® for a second time. The 88th

Academy Awards® will be broadcast

live on Oscar® Sunday, February 28,

2016, on the ABCTelevision Network.

Rock previously hosted the 77th

Oscars telecast in 2005.

"I'm so glad to be hosting the Oscars,"

said Rock. "It's great to be back."

With a career spanning more than

three decades, Rock most recently

directed the comedy special "Amy

Schumer: Live at the Apollo," which

premiered this month on HBO. In

2014 he wrote, directed and starred

in the critically acclaimed feature

"Top Five," and in 2009 ventured into

the documentary world as a writer,

producer and star of "Good Hair."

Rock has enjoyed ongoing success

in both film and television as a

comedian, actor, writer, producer and

director. Known internationally for his

groundbreaking stand-up comedy,

Rock has won four Emmy® Awards

for his comedy series and specials.

He also has earned three Grammy®

Awards for his comedy albums.

88TH OSCARS® NOMINATIONS ANNOUNCED

Academy President Cheryl Boone Isaacs, Guillermo del Toro, John Krasinski and

Ang Lee announced the 88th Academy Awards® nominations January 14, 2016. Del

Toro and Lee announced the nominees in 11 categories at 5:30 a.m. PT, followed by

Boone Isaacs and Krasinski for the remaining 13 categories at 5:38 a.m. PT, at the

live news conference attended by more than 400 international media representatives.

For a complete list of nominees, visit the official Oscars® website, www.oscar.com.

Photo Credits: ©A.M.P.A.S.®

27 |ZODI HABIT MAGAZINE • www.zodihabit.com

www.zodihabit.com • ZODIHABIT MAGAZINE|28
---
REACHING

FOR INSIGHTS

Stories of Love, Faith, and

the Kitchen Sink

Reaching for Insights: Stories of Love, Faith, and the Kitchen Sink

is Mitch Rosenzweig's thoughtful collection of rich vignettes that is

meaningful for people seeking inspiration, self-care, and a new way of

looking themselves and how they navigate life's daily challenges. With

more than 200 brief essays penned from the author's personal and

professional observations and experiences, there is something relateable

for anyone within this motivational treasure. At its core, this unique

and charming book attempts to access that well-defended sense of

self. The writings always start by looking at an ordinary situation, one

that most people can relate to-such as the angst of hosting the family

gathering for Thanksgiving, or getting lost from an errant GPS, or

the neighbor's dog that incessantly barks-and then, through a twist,

a play on words, an analogy or a metaphor, reaching a different-but

meaningful-conclusion.

It's a back-door approach to self-awareness and self-care that avoids

all of the disapproving junk that we all carry around. Although not

necessarily a life-changing shift, it helps to think about something in a

different way. This opens up new vistas for understanding and behavior.

By: Mitch Rosenzweig

do to make money, but what we are all about. Simple messages

that convey our values and character. Just reach into your

pocket and pass it out. It certainly would cut down on the

guessing and confusion.

What would your card say? Would it be covered in 6-point

font with all the things you think you are-barely readable,

but comprehensive? Would it include your life roles, such as

husband, wife, father or mother? Would it show an important

value or quality-like optimistic, or "I believe"? Perhaps it

would show your wishes or dreams. The possibilities are

seemingly endless. But of course, the more you cram on it the

more confusing it gets.

I know what mine would say. Clean and simple, with no flowery

distractions. Simple black and white type, with the largest font

that would fit. It would encompass everything I am and that I

value. Five words would say it all. With apologies to Descartes,

it would simply say: I care, therefore I am. What's in your

pocket?

Now You Have Everything

At my house, everybody used to help out. And it seems it may be that way around the world. Why, it's is almost

as much of a tradition as the meal itself. After hours of fussing in the kitchen and an equal amount of feasting,

laughing, and dessert-eating we all seemed to bond again around getting the remains cleaned up. The table

had been so full there was barely room for our plates. A dish for everything - and everything delicious. But with

all the anticipation and most of the food gone, the used dishes were piled on every surface and overflowing. From

fine china to burnt bean casserole, the debris was everywhere. You would have thought we fed the 7th Marines.

We didn't have a dishwasher; we had five of them - and dryers too. Wrap, box, bag and put away the

leftovers and scale the mountain of dishes. Scrape, soak, wash, rinse, dry and put away. It seemed

endless. Although the work wasn't enjoyable, we had fun, all laughing and smiling, everyone pitching

in, almost dancing in the kitchen. And just when you thought the last dish was done, a few more

would magically appear. It was hot and sweaty, but we didn't mind... we were family.

In the joyful moments we forget about all the hard work that it took to get us to the feast and the challenges

that still await. For some, that may be the holiday buffet in our homes. For others, it is the promise of eternal

salvation. Either way, it takes work to get there. And there will always be dirty dishes left over from our banquet.

So as you plan and prepare in your life, wash away what is done and move toward your potential. Go

ahead and use a new dish for each of your accomplishments and challenges - there is plenty of room

on the table. It will all fit. When your day is done, take time to clean up and be grateful for those that

have helped you enjoy your buffet. Our feast is nothing more than a sandwich without them. Without

love we would certainly starve. And there is no such thing as unwanted leftovers of love.

When I think back on those long gone days it is not the dishes I remember. It's the joy of

being together. Gathered around the kitchen sink, we washed ourselves clean of any other

junk that remained. And we had piles and piles of potential in the clean.

Heaven may have an amazing buffet, but I sure hope that it has dirty dishes. Gather around and

grab a cloth. Together, we can get it done. We can't have everything without the kitchen sink.

The author's candor and light-hearted approach, combined with simple

language and a dry sense of humor draws in the reader. Collectively

these stories remind us that we are not alone in our daily situations and

struggles. They encourage readers to view even the most mundane

parts of life from a different perspective, one that inspires them to

see life's challenges and celebrations in a new light.

Rosenzweig has been a licensed Clinical Social Worker and

Psychotherapist for more than 25 years. Currently, he is working for the

Air Force in Washington State, helping active duty military servicemen

and servicewomen with their life challenges. Mitch holds a BA in

Psychology from Rutgers University and a Master's in Social Work

from the University of Michigan.

Enjoy the following sample essays..........

Get Carded

Every place I worked, I would get new ones. If I had kept one

of each business card, I could have probably wallpapered my

house. Even though they all they were all the same, they were

different. Each was unique in color, photos, and design. But

in their essence, the function is the same: to proclaim, to the

lucky receiver, who you are and what you do, in tiny 6-point

font. Yup, in 3.5 x 2 inches, you're supposed to say everything

someone needs to know about you.

How often we spend our time trying to figure out people. What

makes them tick-why would they act this way or that way, or

say something like that? We receive all kinds of messages, most

of the time mixed, about who they are trying to be or what they

are trying to communicate.

How simple life would be if we could just walk up to someone

and hand them a card that would say it all. Not what it is we

The Zone

At the gym, some of the equipment has them built right in;

you just grab them and they tell you all kinds of information.

Ideally, you are supposed to be at a certain heart rate,

to maximize your efforts. But to actually get an accurate

reading you either have to stop what you're doing or, like me,

hold on to the handles for dear life until it registers. Without

them, it seems next to impossible to tell your heart rate or

pulse. Just because you're tired or out of breath doesn't mean

your workout has been effective. Too fast or too slow and you

are not in the critical zone.

Many of us spend our days trying to chillaxe, relax, detox,

and meditate away life's challenges. Many things seem to

assault us each day that we need to overcome, get over, or

run away from. We seek solace in our own unique ways to get

rid of whatever the yuck might be. We dream of trouble-free

white sand beaches and tropical breezes. It is one of the most

common things discussed in counseling: how to let go and let

life. Many of us aren't very good at it.

But if we spin too fast we burn more than calories. We wear

ourselves out from being on the edge of spent. And a life of

meditation offers no opportunity for growth or love. Without

things that make our heart race, we just exist fat and

unhappy. We are born to seize opportunities, risky or not, to

achieve our maximum potential. That moment when you first

know love, the exuberance of finding your purpose and "aha"

of understanding: these are the sweet spots of the critical zone.

Do one thing a day that scares you, something that thrills

you, settles you, and expresses your love and you will find your

sweet spot and achieve maximum potential.

Superman and Elvis Did, Too

I felt like Elvis, swiveling my hip into the slightly stuck front door; my hands were

full in my superhuman feat of carrying 14 plastic grocery bags in from the car.

Real men don't make two trips. As it swung in a bit too fast, I heard a satisfying

"boing" and the door swung angrily back at me, knob into ribs. Ouch! Doorstop

must have been loaded and waiting for the unsuspecting. Although it saved

the wall from the hole-inserting doorknob, my ribs are a little offended

from its anger. A softer rebound and a louder expletive and I was inside.

Of course, we all know the metaphors about doors and the future. One open,

one shut, on the threshold, etcetera, etcetera...I confess that I have cheaply

used them a few times. Yawn. But what about the lowly doorstop silently

waiting for that flung door? No poems or prose written, it just sits there slightly

screwed waiting for its opportunity to serve. I am sure that none even give it a

second thought unless they have hound-dog hips and hit the door too hard.

But I am grateful for the doorstops in my world. Being a seeker and

adventurer, I always fling open doors. Forget the timid peek, let's

rock that door open and see what is on the other side. Screaming fans,

adulation, love me tender? I am in! Well that is, until I go too hard

or too fast and then it's nothing but heartbreak and bruised ribs.

Your doorstops are as important as your doors. They are there to stop you

when you go too far and prevent you from doing too much damage. They

serve to ground you when you go too fast and spring back with reality when you

think you are Superman or Elvis. Yet, they don't inhibit your swinging groove and

are totally invisible when you are moving at the right speed. I am grateful to my

doorstops in life-mom, my family, and my faith for helping to slow me down when I go

too fast. A little poke in the ribs reminds me that I am not Superman, just plain 'ole me.

But every once in a while I make the perfect entrance, and I can hear the

loudspeaker announcing, "Elvis has entered the building."

29 |ZODI HABIT MAGAZINE • www.zodihabit.com

www.zodihabit.com • ZODIHABIT MAGAZINE|30
---
Books to Awaken Your Soul

Enlighten

Thy

Soul

Easy Breezy Prosperity includes a 28-Day Prosperity Plan

with a journal that features simple yet effective daily practices

readers can use to dramatically improve their lives on every

level. Including his "radical generosity project" and other fun,

proven tools and exercises such as the "Gratitude Dance"

to ensure the reader will prosper and pay it forward in the

process.

Visit Emmanuel's exclusive pre-order campaign, which

includes myriad bonus gifts at EasyBreezyProsperity.com.

Easy, Breezy Prosperity is available on amazon.com, bn.com

and with various book retailers nationwide.

For more information please visit www.EmmanuelDagher.com

REACHING

FOR INSIGHTS

Stories of Love, Faith,

and the Kitchen Sink

By: Mitch Rosenzweig

EASY BREEZY PROSPERITY

Inspirations to Turn Struggles into Success

In his new book. Easy Breezy Prosperity, author

Emmanuel Dagher redefines the true meaning of

prosperity and offers readers practical tools to

expand and enrich their lives —well beyond just

obtaining their financial goals.

By examining how and why we treat money the way

we do, Emmanuel shows readers how to cultivate the

clarity needed to attract more abundance. With over

3,000 books sold in pre-order, this highly anticipated

book is recommended for those seeking to positively

transform their lives in 2016 and includes a 28-Day

Prosperity Plan to support their goal!

The author of the Amazon bestselling book Easy

Breezy Miracles, Emmanuel now takes his readers

on a journey to open their hearts and minds to the

miracle of prosperity. Each chapter of Easy Breezy

Prosperity: The Five Foundations for a More Joyful

and Abundant Life (RODALE/ January 5, 2016 /

Hardcover $19.99) is designed to empower readers,

leaving them feeling optimistic not only about their

working lives and finances, but their entire life's path

including healing their relationship to money, shifting

their mindset , understanding the power of giving

back and more.

"My book is designed to help others break self

By Emmanuel Dagher

limiting blocks to live a truly whole and prosperous

life," reveals Emmanuel. He adds, "One of the main

reasons I wrote this book is because there is still a

strong notion that money is not "spiritual", in truth,

money is just energy; a sacred and spiritual gift

meant to be received and shared."

In Easy Breezy Prosperity readers will learn to align

with their spiritual center as they master lessons

from five foundations that form Emmanuel's core

philosophy for a more joyful, prosperous life:

• Finding Your Happiness

• Embracing Circulation

• Investing in Yourself

• Building a Support Network

• Practicing Gratitude & Kindness

Growing up during the civil war Lebanon—Emmanuel

spent his life praying that if he survived his childhood

growing up in a convent with very little food or

amenities —he would dedicate his life to service. In

his book, he not only shares his personal struggle

out of poverty to living the "American dream" but e

also share success stories of his personal clients

and fans who have turned their lives around using his

meditations, rituals, and exercises.

Bio: Emmanuel Dagher is a highly sought

after Transformation Specialist, Holistic

Health Practitioner, inspirational Social

Media Personality and Speaker. He is the author of the Amazon

bestseller Easy Breezy Miracles. Considered by many a next

-generation new thought leader, Emmanuel is a gifted humanitarian

who is devoted to assisting people and the planet in positive

transformation, in service to the well-being of humankind. His

forthcoming book, Easy Breezy Prosperity: The Five Foundations

for a More Joyful Abundant Life will be released by RODALE in

January, 2016. To subscribe to his popular Energy Forecast and for

more information please visit: EmmanuelDagher.com

In this new book "Reaching for Insights: Stories

of Love, Faith, and the Kitchen Sink", veteran

clinical psychologist and social worker Mitch

Rosenzweig attunes his therapeutic sensibilities to

his daily landscape and uncovers life lessons for us

all - treasures gained by observing the ordinary from

an often amusing, and always positive, perspective.

This rich collection of 200 brief essays penned

from his personal and professional observations

delights us and invites us to grow into better,

more compassionate human beings. For more

information, visit http://www.reachingforinsights.

com/media/.

With more than 200 brief essays penned from the

author's personal and professional observations

and experiences, there is something relate-able for

anyone within this motivational treasure.

SEE PAGE 29 FOR SAMPLE STORIES FROM THIS BOOK

31 |ZODI

|ZODI

HABIT

31 HABIT

MAGAZINE

MAGAZINE

•

•

www.zodihabit.com

www.zodihabit.com

www.zodihabit.com • ZODIHABIT MAGAZINE|32
---
If You're In A Relationship – Then It Is *Not*

Okay For Him To Have Other Woman In His

Life

Noone Should Take Priority Over You Just

Because He Labels Them "Friends"!

If your man has close female friends that he

stays in constant communication with: It's time

to move on! He doesn't know what he wants.

He's still trying to figure himself out.

Regardless of their Zodiac sign, men are

admired by many women because of their

arrogance and ego, their stability, or even their

caring sensitive side that every woman wants

to have in their lives. But a man's ego is what

makes him need to receive a lot of attention

from many women and surround himself with

many female "friends". Without the attention he

feels as if something is missing and will doubt

himself, his attractiveness, dominance and

position in his life.

Sadly, the reason these woman are okay with

being just close "friends" is because they too

are insecure and need the attention. Plus, most

woman want what they can't have so they stick

around him hoping for some sort of commitment

even though they know he's in a relationship

and he put them in the friend zone for now; they

still haven't given up hope since the chase is

fun for them, hoping one day to conquer. These

"so called friends" are really just his admirers

trying to break into his sensitive side, the side

you, as his girlfriend get to see when he feels

comfortable with you and lets his guard down.

It's quite possible that these female "friends"

have broken through to see his sensitive side too

or maybe it's part of his suave approach to draw

them in by giving a little but not all and that just

draws them into him even more with false hope

of what may be if they can get him to commit

to them and choose them over the others. Of

course they have ulterior motives, and they are

never going to be loyal to you, they want your

man's attention and you are just an obstacle.

Even if he has no sexual attraction to them,

he has ulterior motives as well since he only

keeps them around to boost his self-esteem.

Be assured though, odds are, if he wanted

them he'd be with them. He may be sleeping

with them on the side but hasn't committed to

them as they are just a game he's playing to

get himself to a feel good moment where he's

desired by many. Truth is, many men play this

game and it's not all about ego as it is about

their extremely low self-esteem they are trying

to hide from others. If they knew themselves and

respected themselves they wouldn't need all

the attention from every female; they wouldn't

need the validation, all they would need is your

attention, the attention of their girlfriend they

promised to be committed to. If they respected

themselves and they cared about themselves

then they would work on building a relationship

that meant a lot to them. However some men

really aren't sure what means a lot to them and

they are lost looking for it everywhere else then

within.

Unfortunately when he's opening the door

to everyone and accepting their praises and

admiration he is disrespecting you and your

relationship just to satisfy his need to feel

wanted by the opposite sex. My guess is that

he's been doing this his whole life and it's an

addiction. He doesn't know how to stop flirting

and getting attention, the euphoria feels great,

he loves to know other people want him because

he doesn't see the true value in himself.

I'd suggest speaking with him openly and letting

him know how you feel disrespected and how it

makes you question your relationship and his

loyalty to you when he's giving as much, if not

more attention to the

people he barely even

knows just for a small

return of attention from

them. If he tells you that

you're over-reacting

and they are his friends,

stop being jealous, you

need to deal with it, or

anything other than he's

sorry and will change

to please you and work

on strengthening your

relationship, then it's

time for you to move on.

It's a toxic relationship

and he cares more

about his self-fulfilling

needs then he cares

about you.

Beware

of DATING

a Man With

Female "FRIends"

By Natasha Myers

In order for any relationship to work there needs

to be boundaries. No man needs a handful of

female friends while he is in a relationship. He

should be getting all the attention he needs

with his partner and giving all of himself to his

partner… not to other women outside of the

relationship he's wanting to grow and deepen.

Having friends/acquaintances of the opposite

sex is totally fine but boundaries need to be

drawn. It is NOT okay for him to share things

with his female friends as he would with his

male friends, it is NOT okay for him to ask

his female friends for advice about his current

relationship and it is definitely NOT okay for him

to pay more attention to his female friend then

he does to his partner.

Bottom line is; if you address your concerns

with him and he sees nothing wrong with it and

is unwilling to change his ways to make you

feel secure and confident in your relationship

then he is not the man for you. A man you see

yourself spending your life with or even just a

portion of your life with should not make you

feel any type of negative way what-so-ever.

You should never doubt where you stand with

him nor should you feel like you come second

fiddle to another person. He should never give

you a reason to question his love or doubt his

loyalty. If your views are different and neither

of you will reach a compromise (not his way or

no way), then it's not a relationship nor is there

any respect. Move on. You'll know if he truly

loves you when he wants to make you happy

no matter what. Those female "friends" should

not be his priority nor should he care how

they will feel if he stops speaking with him.

YOU should be his #1 priority at all times, no

one else. You are the one he asked to be his

girlfriend, the one he committed to and has to

take responsibility to honor that commitment

or not be in a relationship.

His only concern should be how you feel as

that's the only way you will know you have a

strong and solid relationship that will last. A

man that is emotionally detached is only that

way because he has yet to find himself. As the

age old saying goes "you need to love yourself

before you can ever love another". There are

no truer words as these are words to live by.

To hurt another person because you don't

know yourself yet is just mean and selfish.

So in my opinion, no, you are not the crazy

jealous insecure girlfriend! All you are asking

of your partner is his partnership, true love,

commitment, loyalty and respect. These

are the things that make a relationship a

relationship. If these things are missing, then

it's not a relationship. It's just a temporary

lusting and control over each other. Move on,

life's too short to fix others or mold them how

you want them to be. Eventually you'll find the

right man, the one who values you so much

that he can't imagine his life without you and

NO GIRL WANTS A GUY WHO FLIRTS WITH EVERYONE

SHE WANTS TO FEEL SPECIAL

SHE WANTS TO BE THE ONLY LOVE IN YOUR LIFE

If you're that guy that really believes you have a "real friendship" with

other females and want to keep her around in your life but still be in

your relationship with your girlfriend then you should ask yourself these

questions and see if it's acceptable or not. Odds are you're holding on

to these female "friends for the wrong reason and trying to justify/lie to

yourself and others on why you keep them around.

Advice/Reality Check For Men:

If You Want To Make A Relationship Work and Grow With Your

Girlfriend...Then Lose the Female "Friends"

Have you ever slept with this female "friend"? Like ever? Even if it was

years ago and haven't since but at some point of knowing her have you

had sex or made out?

If the answer is yes, then by no means what-so-ever is it morally okay for

you to continue the friendship with this female while you are in a committed

relationship with your girlfriend.

Is your female friend single? Or is she in a committed, stable and

secure relationship with someone? Is she genuinely happy in her life

with her boyfriend/significant other or are their highs and lows?

If she is single or in an unhappy relationship and not tied down emotionally

to another then no it is not okay for you to still be part of her life as "friends"

when you're in a committed relationship with your girlfriend. Girls know that

another female will always rebound with the man they are closest to and

your girlfriend is not okay with you being the side guy to emotionally support

and comfort another woman other than her.

Does your female "friend" dislike your girlfriend for no reason other

than she's another female in your life? Does your female friend find

faults with every one of your girlfriends and voice her opinion to you

as to why you shouldn't be with them other than giving solid advice

backed up with facts to support her genuine concern to you as a friend?

Some female "friends" may secretly have a thing for you and they really do

not want to see you in a relationship. Even though they may not want to be

with you on that level they don't want to lose the attention you are giving to

them. These friends need to go! You cannot keep them around as they will

never be a supportive friend and will have ulterior motives that will be toxic

to your relationship with your girlfriend.

Does your girlfriend genuinely dislike your female friend? Does she tell

you that this female friend has motives that you are blinded by and that

she doesn't feel comfortable with you having her around?

In this case you need to side with your girlfriend. If she is the one you want

to be with and see yourself growing together with, then you must end your

so called "friendship" with the other female as it will only cause tension in

your relationship. You need to decide if this is the girl you want to be with

or if you're okay just being single and holding onto your female "friend" who

admires you and boosts your self-esteem.

will always make you his #1 priority no matter

what!

Men with female "friends" while still in a

relationship aren't bad horrible people. They

are just lost and looking for answers within

themselves. They are emotionally detached

because they haven't yet found out who they

are and what they want. So in order to be fair

to both of you; if you can't compromise and

work on fixing this insecurity he's dealing

with and the insecurity he's bringing into your

relationship by making you have doubts; then

it's time to let him go so he can find himself

and so you can find the REAL relationship that

you deserve and know that you want.

Is your female friend someone you knew from childhood and genuinely

a friend who supports you every step of the way and loves almost

every girlfriend you bring around and goes out of her way to get to

know your girlfriend and be as good of friends with her as she is with

you? Does your female "friend" act more like your homeboy who could

care less that you're dating as long as you're happy and always makes

your girlfriend feel part of the group and wanted around?

In this case she may genuinely be your friend and make your girlfriend feel at

ease. However, remember to still hold respect for your girlfriend at all times

so she never doubts your intentions with this female "friend". Don't ever go

out with this female "friend" without inviting your girlfriend too. Don't ever pay

more attention to your female "friend" in front of your girlfriend and do not

constantly bring her up. Your girlfriend may tolerate her but truth is she's only

compromising because she loves you;

Things you should Never EVER do with a female "friend" if you

are in a relationship that you want to work:

** Do not spend special occasions like holidays with your female

"friend" without your girlfriend there and orchestrating the event

** Never go out on a date-like outing such as movies or dinner or fill in

as a guest to a wedding or work party with your female "friend".

** Do not go on road trips with your female "friend", that's too much

alone time together with "her"

** You may never ever ever crash at your female "friends" house.

Sleepovers are not acceptable ever! Not even if you are stranded

without a ride, you find a phone and call or take a cab home regardless

of how much it'll cost. And crashing at their house because you're out

of state and they live there is not okay either.

**Do not spend the day with your female "friend" while your girlfriend

is home alone. Always invite her to go and if she declines but you

sense a vibe that she's not comfortable with you going, then do not go!

Bottom line is, if you're not ready to let go of these other females in your

life, then you're not ready to have a girlfriend. It's find to do those things

above when you are single, but they are not things a committed person

would or should ever do. A girlfriend, the one you chose and the one you

claim to want to be with, should be the only female in your life (other than

family members) as one day she may be your life companion so make her

feel loved and respected. If you're not ready to end the female friendships

because you love the attention from these female "friends" then at this

time you need to stay single until you can find yourself and figure out what

it is you really are craving in your life to fulfill your needs.

You should not start any type of serious emotionally charged relationship

with a woman until you are prepared to give her your 100% attention,

mind, body and soul.

33 |ZODI HABIT MAGAZINE • www.zodihabit.com

www.zodihabit.com • ZODIHABIT MAGAZINE|34
---
Interesting Facts

What Is

Lucid

Dreaming?

How Can I Take Control

of My Dreams?

By Robert Webb

By: Lexie Bling

There are coffee houses in Russia where food

and drink are free, but you pay for time

1 sq inch of human skin contains 625 sweat glands

Emus can't walk backwards

Astronauts cannot burp in space

There are five different strains of the Ebola virus

Approximately 70,000 people in the

U.S. are both blind and deaf!

Avocados are poisonous to birds

Beavers can swim half a mile

underwater on one gulp of air

Approximately 115 tons of ocean salt spray

enters the earth's atmosphere each second

Buttermilk does not contain any butter

Apple seeds are poisonous

A woodpeckers tongue can wrap

around its head twice

Nylon is made from coal and petroleum

Butterflies don't have lungs

A killer whales heart beats 30

times a minute under water, 60

times a minute on the surface

Bananas are not fruit! They are a type of herb

A lucid dream is any dream in which you are aware that

you are dreaming. Most people wake up at the moment

they are aware it's only a dream but there's a way to

become an active participant in your own dreams, and

make decisions and influence the dream's outcome

without awakening.

An example of a lucid dream would be when you're flying and

having trouble landing, but then at some point after crashing

or bouncing back up in the sky, you realize it's a dream and

you can control it, so you sharpen up your skills and become

a pro at it.

Another example is when you wake up but you want to

continue off from where you last started in your dream

because it was so exciting. So you close your eyes and you

try to jump back into the dream where you left off but this

time entering the dream with full awareness it's just a dream

and changing a few things around to work out the way you

want it to.

In the lucid state, you are more willing to confront threats and

as a result, become more self-confident. You're more aware

of what you should do and will just do it. Because brain

activity during the dream state is the same as during a real

life event, what you "learn" or "practice" in your lucid dream

state is similar to the training and preparation you do in the

waking world. Your neuro-transmitters are being conditioned.

Many dream interpreters say that most of our dreams

are our subconscious minds working out problems we

experienced in the waking world. In the dream state we are

provided with clues and hints to relate with the topic such

colors and shapes, imagery, feelings and people of different

personalities that represent something we can relate to so

when we wake up we can figure the clues out and fix our

problems . Many times we will dream the same dream over

and over again with a little tweak to it because we just aren't

getting the message and keep following the wrong path in

our waking world. However, if we could control our dreams

and come to a positive solution and outcome, then we may

be at peace when we wake up and banish that dream lesson

and have conditioned the conscious mind to be aware of the

issue at hand.

Lucid dreaming is beneficial but often hard for some to

attempt because they are unaware of the power they have to

control a dream. We all have the power, we just need to tap

into it and utilize the many benefits.

To hone in on your ability to Lucid Dream there's a few things

you could do to help you out and allow you to start taking

control of your dream state.

Here's 4 Ideas to get you started with Lucid Dreaming:

1.) Try meditating and calming the mind from all of the chaotic

thoughts you have from your stressful day. Clear your mind

and feel at peace ad you relax and fade into dream state.

2.) Keep a dream journal that you write in when you awake

and the dream is fresh in your mind. Re-read this dream and

refer to it nightly before you go to sleep. This may refresh

your mind as to where you left off so you can jump back in

once you get to your dream state again.

3.) Before falling asleep repeat to yourself over and over "I

will be aware I'm dreaming, I will be aware I'm dreaming" I

will be in control in my dream, I will be aware of the dream"

4.) Vitamin B5 or Vitamin B6 supplements can increase

dream vividness, weirdness, and emotional intensity, which

can lead to lucid dreaming, but consult with your doctor on

the safety of the dosage you can take.

35 |ZODI HABIT MAGAZINE • www.zodihabit.com

www.zodihabit.com • ZODIHABIT MAGAZINE|36
---
10 Animals That

Mate For Life

Loyalty Really Does Exist

Beavers

Known for their elaborate dam building skills, beavers are monogamous creatures who stay

together for life, living in family groups, or colonies, made up of parents and their offspring. Adults

stay together in these colonies and care for their young for

the first two years of their lives, teaching them valuable skills,

before they go off to find their own mates.

Wolves

Wolves are very

loyal to members

of their family and

have complex

social structures

within their packs. The alpha male and alpha

female within packs mate for life and share

leadership roles and responsibilities caring

for their young and other pack members.

Bald Eagles

Bald Eagles partner up for life. According to studies on

their behavior, they court and reinforce their bond through

elaborate displays that involve locking their talons in midair

before free falling through the sky.

Prairie Voles

Prairie voles are fascinating with their lifelong pair-bonds

and live otherwise monogamous lifestyles. They co-parent

their young, share the housework and have been known to

experience grief and stay single in the wild if they lose their

partner.

French Angelfish

They're estimated to spend half of their time swimming right at

their partners side. When they reunite after brief periods apart,

they circle each other in a behavior known as "carouseling", which

is thought to reinforce their pair bond.

Whooping Cranes

The tallest bird in North America,

whooping cranes can live up to 24 years in the wild and migrate

thousands of miles a year. They're also known for mating for life,

although they may choose a new mate if their partner dies.

Albatross

They don't just mate for life, but engage in

an elaborate courtship ritual before settling

down with a partner that consists of a precise

sequence of dance moves when choosing a

partner. They also raise their young together,

before sending them off into the world to find their own mates.

Sea Horses

Sea horses are unique and fascinating little creatures that

live in a broad range of marine environments. Sea horses

are technically considered a fish, but unlike most fish

species, they form monogamous pairs that stay together for

life. Sea horses are also known for the role the males play

in reproduction. Females deposit eggs in the male's pouch,

where he fertilizes and carries them until giving birth.

Titi Monkeys

Titi monkeys live mostly in the Amazon in small family groups

consisting of parents and their young. These adorable and

monogamous monkeys are believed to be very emotionally close

and spend a lot of time near each other, cuddling, grooming each

other and holding hands. Fathers in these tight-knit families also

play a hugely important role as the main carrier and protectors

of their young.

Lovebirds

The monogamous birds reach sexual maturity when

they're about ten months old. Mating begins with

courtship behavior, and can continue throughout their

roughly 15-year life spans. Monogamy is essential to

the social stability of flocks and underlies much of their

social behavior.

37 |ZODI HABIT MAGAZINE • www.zodihabit.com

www.zodihabit.com • ZODIHABIT MAGAZINE|38
---
CAPRICORN

Born: December 22nd - January 19th

Born: January 20th - February 19th

AQUARIUS

Pisces

Born: February 20th - March 20th

CAPRICORN

Born: December 22nd - January 19th

Guide To Dating

A Capricorn

Capricorns, both male and female, are ambitious

hard workers striving to reach a goal they set forth for

themselves. They enjoy engaging in conversations

about what they plan to do with their lives and where

they see themselves headed in the future. They have

a plan and believe their ideas are innovative and stellar

and want to share them with those they care about so

they can be patted on the back for being so original.

Capricorns tend to feel that they are entitled and get

very agitated when someone is receiving what they

feel they have earned and will say things that hint to

the idea that the only reason another person got where

they are is because they cheated their way to the top

or to a position they felt they deserved over this other

person. They will play the "it's not fair" card all the

time because they feel they are deserving of all the

highlights in life and career and no one should get it first.

They have a hard time trusting others and opening up. They

have a hard core shell around them that they want you to

break down so they know you cared enough to take the

time to get to know them. Once that outer shell has been

broken you'll find a compassionate caring and protective

person who will go out of their way to help a friend in need.

Capricorn men especially, cannot stand games

in a relationship. Don't try to make him jealous or

flirt with others in front of him. Do play the text and

wait game and if you want something then ask,

don't make them be a mind reader because they

won't waste their time trying to figure out what you

really mean with your subtle gestures and hints.

Capricorns want to be your friend first. They like to take

things slow and get to know you. They want to really see

if you're worth their time invested. They are looking for

someone who is a good listener, someone who doesn't

speak over them. Someone with a sense of humor

and very witty banter will always peak their interest.

Trust is a requirement if you plan to have a relationship

with any Capricorn. They are faithful and not the flirting

type so they despise a person that questions everything

they do. Do not challenge them or accuse them of

cheating unless you want to see their negative side.

By Robert Webb

Drama needs to be banished from any type of relationship

with your Capricorn. They do not have time for it. They

would rather spend their time building on the relationship

rather than stirring the pot. Always tell them what's on

your mind, don't beat around the bush. If you don't like

something they are doing then just tell them and come

to a solution to resolve it. A Capricorn that values your

relationship will always work towards a compromise but

don't make it so difficult. Get to the point and clear the air.

A Capricorn, both male and female, will require that the

person they are in a relationship with be as ambitious

as they are. They want you to have your own goals and

dreams you're chasing after. They want to see your inner

passion to succeed emanate from you so they know

you understand deeply where they are coming from. A

Capricorn will support you and lift you up with any goal

you set forth for yourself or for the two of you together.

When it comes to love and romance, they are not really

the mushy lovey-dovey type. They are more traditional

when it comes to romancing you. A Capricorn man will

bring you red roses and take you to dinner and a movie,

something you expect. A Capricorn female may buy you

a card and a nice dress shirt. Not much more creative

than that. They are not ones to go out of their way to

woo you as they don't have it in them. Capricorns are

using all of their creative juices for their goals and career

that their relationship needs to be a time for them to just

relax and cuddle and have no stress at all. They want

you to be their comfort zone and retreat away from it all.

A Capricorn typically would like to keep what the two of you

share together behind closed doors and not display their

affection in public. They may hold your hand or give you a

gentle hug in front of others, but the make out session or

even just a passionate kiss in the public eye is not in their

comfort zone. They also expect you to keep secrets and

not broadcast to your friends the intimate details about

your relationship together. They are shy when it comes to

the intimate passionate personal part of their relationship

and wants everything to stay between you and them.

Capricorn females will appreciate it if you were to spoil

them with the finer things in life. Not all the time, they

don't want them to become the norm, but a surprise to

an elegant restaurant or a classy opera would win you

points. A Capricorn male on the other hand will prefer a

quiet night in or just a small group of friends around and

very low key with minimal attention brought towards them.

Capricorn males and females just want to be loved by a

genuine person whom they can trust and feel secure with.

39 |ZODI HABIT MAGAZINE • www.zodihabit.com

www.zodihabit.com • ZODIHABIT MAGAZINE|40
---
AQUARIUSBy Robert Webb

PISCES

By Robert Webb

Guide To Dating

An Aquarius

Aquarian men and woman are very eccentric and

unique individuals. They beat to their own drum and

definitely do things outside of the box. Their way of

thinking is unlike any other zodiac sign out there.

To impress an Aquarian you need to engage them in

conversation by asking questions about themselves,

their views and their plans. Genuinely listen to what

they are saying and let them know what you think

about the angle they are taking and why you feel it will

or not work. They will always debate you and get you

to eventually agree with them, but they enjoy this part

of the communication, they enjoy getting others to see

things their way rather than the way the "norm" sees it.

Aquarians are very analytical and will pick a situation

apart and dissect it until they get to the core of the

matter. They need to know how something or someone

ticks so they can devise a plan to put the pieces together

to make it work in their favor. They are master problem

solvers and they will not stop until a resolution or new

solution to a problem as been found and implemented.

An Aquarius female or male will value you if you're

intellectual. They want to be around someone they can

learn from and absorb ideas from. They are a sponge

soaking up all the insight they can wrap their brains

around. If you have nothing to bring to the table as

far as unique ideas or viewpoints then they will lose

interest fast. The more that you show an Aquarian your

true self and abnormal behaviors, the more they adore

you. They already feel like they are an oddity living on

a planet amongst a bunch of robots with no originality

so it'd be a relief for them to know they found someone

that accepts them and is a little bit like them too.

Aquarians are a hard one to get to settle down because a

serious relationship or marriage is a confinement to them.

A contract to agree to stay with someone is suppressing

and the idea of knowing they are going to be with only

one person for the rest of their lives scares them. They

need to know you're adaptable and willing to change and

willing to grow within the relationship for them to ever

commit to you. If they feel it's one way and one way only

with no room for negotiations then they will feel trapped

and retreat into themselves, distancing themselves from

the relationship before they eventually just run away.

They want to surprised, they don't want the predictable

Born: January 20th - February 19th

or they will be grumpy and moody. Find something

creative and exciting for the two of you to do together,

something that the "average" couple doesn't do.

Something that is mentally stimulating yet something

that makes sense for the time invested into it.

Aquarians are not known for being very emotional. They

are all about logic and reasoning. If it doesn't make

sense then they do not want to be bothered. They won't

fall for guilt trips as they are too smart to be brought

into that trap and the moody emotional rollercoasters

are foreign to them as they don't know how to handle

someone who's being irrational. To get any problem

solved you need to be straight forward with an Aquarian

and tell them exactly and precisely what is on your mind

and where you see a solution to fix the problem. If there's

no sense to what you're saying and no possible solution

then they do not want to be bothered with the nonsense.

An Aquarian values his/her independence and will

not tolerate clingy and needy people. Go do your own

thing, don't wait on them to decide what you want

to do. They want you to have your own mind and be

confident with yourself. They are loyal individuals when

they feel valued. If you start to make them second guess

themselves or put them down then their first instinct is

to wonder off to find someone who will get them. But

if you value them and reassure them that you "get

them" then you will find the most loyal partner who

will always have your back and never let you down.

Aquarians do not like close minded people. They

cringe at those who are so predictable and ordinary. If

you judge others in front of them then you better have

a lot of ammunition to back up your words as to why

you're judging them. If it makes sense they may see

your side of things, but if it's just out of malice then

they will openly let you know their disgust of your

behaviors. When you're an open book and easy to

ready they will get bored fast because this leaves

nothing to their imagination and the suspense is gone.

They want someone who just goes with the flow and

is adaptable. They don't understand people who

make plans in advance, how can they possibly know

they will be free then? An Aquarian is all about last

minute planning and leaving their options open in case

something better comes along. Aquarians cannot stand

jealous people, if you can't handle the fact that they are

social butterflies who crave communication with others

then it will arouse many issues in your relationship.

Aquarians want a partner who is an oddball, one

who is intriguing, mystical and full of insight on life.

Guide To Dating

A PISCES

The Pisces female is sensitive when she's in love

and believes in the fairy tale romance. Don't let her

down. Court her from the moment you meet her,

grow as friends and court her through the entire

relationship to keep her interest and hold onto her trust.

Pisces are very intuitive and will trust their gut instinct

when it comes to people they meet. Don't give her a

reason to doubt you, she will sense something is up

almost immediately and withdraw from you or storm off

in a temper tantrum to show her dissatisfaction with the

feelings she is having from an unsettling circumstance.

Be it as small as you not paying enough attention to

her because your mind is elsewhere because she will

internalize this as if you do not care about her. She is not

insecure or doubting herself but she is so in tune with

energy around her that she feels you withdrawing and that

feeling makes her mind wander to the worst. She trusts

her gut so much that sometimes it overcomes her and

she forgets to think rationally and detach her emotions

from the reality of a situation. Just reassure her and be an

open book to why you are giving off a certain vibe. She will

hear you and sense your honesty and just let it go, she's

pretty versatile when you release her of her unnecessary

doubts and doesn't dwell on it further, she just needs the

clarity of a situation and a little reassurance and a reality

check that her intuition was right but a little over the top.

Manners and respect towards others is very important

to her. Do not demean others just for the fun of it and

always say please and thank you. Never take advantage

of her or ask her for much and you'll see she will give

you the world. If she feels like you're taking advantage

of her she will become very distant and agitated.

Many will tell her that she's a people pleaser and way

too emotional but that's not really the case. She is just

so full of love and genuinely does care about people

closes to her. She wants to help others when she

can and lift their spirits up. But she's not dumb, she

knows when she's being used so don't even try to take

advantage of her or make everything always about

you. She is not shy about calling you out for it and

will do her best to make you feel awful about yourself

for how you made her feel used and unimportant

Be a gentleman. Open doors, offer her your jacket when

it's cold outside, hold her hand in public and hold her

Born: February 20th - March 20th

close when you know she just needs some attention.

Be a strong and confident man. She wants someone she

can look up to and feel comfortable and secure with. Be

her protector, but not possessor as she must feel free to do

whatever her flighty self wants to do when she wants to do it.

When you're trying to be romantic, remember she also

enjoys the thought behind it and the surprise. She wants

to know you put thought into it and didn't just treat her

like a generic. She also doesn't want to tell you what she

wants, she expects you to be creative and come up with

your own idea to make it romantic and mysterious. So,

simply getting her flowers and taking her out to dinner

won't work. Bring her a bouquet of her favorite flowers

or flowers with significant meanings behind them and

take her to a restaurant she always wanted to go to

but hasn't been to yet, make memories. Write her love

notes, take a lot of pictures together and frame some

of them and place around your house to share with

guests. Cook her favorite meal, buy her favorite drink,

call her in the middle of the day to tell her you're thinking

of her, give her a massage, write cute little notes and

stick them in her purse to find later, cuddle a lot, just

show her how much you care by the little things you do.

Pisces is a dreamer and visualizes the life she wants

and 100% feels she deserves to and will make all of her

dreams come true. Never put her creative ideas down or

tell her she's being unrealistic as she will just shut down

from you all together. She wants someone who dreams

with her and sees a future of magic, prosperity and

extravagance. And one that's surrounded with true love.

She wants to be madly in love and be with

someone who's totally madly in love with her

The Pisces male has all of the same traits a Pisces

female has but the biggest challenge they face is the

stereotypical sexist mindset society has placed on

how a man should act and how a female should act.

A Pisces male is sensitive and emotional but doesn't

feel its "manly" to show these traits all the time and

a lot of them will retreat to alcohol and drugs to

suppress these feelings from showing. They escape

to another reality, one they will not feel judged in.

The Pisces male needs your re-assurance and

your understanding of who he is. He doesn't want

to be picked on or ridiculed for being sensitive or

spiritual and artsy. He needs someone in his life

that admires these traits and lets him just be himself.

41 |ZODI HABIT MAGAZINE • www.zodihabit.com

www.zodihabit.com • ZODIHABIT MAGAZINE|42
---
Snow2 HUD & UVEX G.GL 9 Bundle

FABULOUS FINDZ

FOR YOUR ZODI SIGN

Orée

Sengled "Smart" Light Bulbs

Sengled has a range of light bulbs with varying functionalities. The Snap light bulb, has a wireless HD camera so that you can

attach it to your porch or garage for outdoor monitoring. Video can be reviewed instantly or stored in the cloud. The Boost

bulb, provides WiFi in addition to LED light, so you can add connectivity to Internet dead zones within the house. The Voice

bulb responds to your voice, notes your appointments, and sends you reminders. You can also use Voice to send alerts if it

records sounds such as a smoke alarm or a crying baby. www.sengled.com

RECOMMENDED FOR: Aries

Orée builds keyboards, wireless chargers, smartphone cases, and trackpads, among other tech products, made of natural

materials like wood, marble and leather. www.oreeartisans.com

RECOMMENDED FOR: Taurus

Quell

Klaxoon

Klaxoon aims to provide a new means of communications for groups of people, specifically those in the

workplace. The cross-platform tool works on iOS, Android, and Windows Phone devices. The Klaxoon Box

stores the presentations and activities for you and up to 40 participants. This way you can access group content

remotely without the need for an Internet connection. With Klaxoon Cloud, up to 1,000 participants can connect

to a single session. www.klaxoon.com

RECOMMENDED FOR: Gemini

Quell is a revolutionary new technology, wearable intensive nerve stimulation (WINS), that is clinically proven to help

you manage chronic pain. Quell is FDA cleared for use during the day while active and at night while sleeping - so you

can regain control and get on with your life. www.quellrelief.com

RECOMMENDED FOR: Cancer

Adidas miCoach SMART BALL

The miCoach SMART BALL is a soccer ball with an integrated sensor that provides feedback on speed, spin, trajectory, and strike

point. Data is uploaded to your iPhone or Android phone. www.adidas.com

RECOMMENDED FOR: Leo

Snow2 is a Heads-up Display (HUD) for alpine sports to record what you see. Snow2 comes packed with a powerful

dual-core processor resulting in 3x the processing power and a 35% increase in battery life from previous generation

HUDs. Snow2 now has a dedicated graphics processing unit providing crisp brightness and contrast for enhanced screen

readability. Blur on the screen's edges is virtually non-existent with Snow2′s ultra-sharp widescreen display. Wi-Fi and

Made for iPhone certification for seamless phone and web connectivity. www.reconinstruments.com

RECOMMENDED FOR: Virgo

Adidas Micoach SMART RUN Watch

The miCoach SMART RUN watch delivers an advanced, intuitive blend of coaching and performance data designed to help

serious runners maximize training. Clean and simple, it delivers a strapless continuous heart rate, GPS, Bluetooth 4.0, wireless

music player, WLAN and a color touch screen. www.adidas.com

RECOMMENDED FOR: Libra

L'Oreal My UV Patch and MC10 BioStamp

Sonders eBike

Improving human health care through digital solutions.These two stick-on sensors from MC10 are tiny wearables designed to

monitor your health. My UV Patch, developed in partnership with L'Oreal, is a heart-shaped sticker that's as thin as a single

strand of hair and monitors your sun exposure — too much can be terrible for your skin. The sticker changes color when you're

in the sun and pairs with a smartphone app to tell when you've had enough. www.mc10inc.com

RECOMMENDED FOR: Scorpio

The Sondors electric bike is the most affordable eBike ever (starting at $499). Whether for commuting, running errands, heading

outdoors or just for the pure pleasure of riding, the Sondors eBike is designed for durability and comfort with some serious

fun factor built in. Sondors eBike comes equipped with a 350 watt geared drive motor. Your Sondors eBike is rechargeable.

RECOMMENDED FOR: Sagittarius

Skulpt

Caséta Wireless

Caséta Wireless expands beyond lighting control. It works with other connected home solutions, such as thermostats and

shades, and even other manufacturer's apps. The Pico remote has a "favorite" button to record a favorite light setting; the inwall

dimmer replaces an existing light switch to work with dimmable LEDs and other light bulbs. www.casetawireless.com

RECOMMENDED FOR: Capricorn

The Skulpt Aim measures electrical current flow in different directions and depths to determine muscle condition and body

fat percentage. You can use the device to measure muscle quality on different parts of the body and view more detailed

feedback, including a body heat map in the tool's mobile app. www.skulpt.me

RECOMMENDED FOR: Aquarius

IonVR

IonVR has created a virtual reality headset that provides a high quality visual experience using nearly any smartphone with or

without a case. IonVR's headset works for screens 4.5″ to 6″ across platforms, including Android and iOS. www.ionvr.com

RECOMMENDED FOR: Pisces

43 |ZODI HABIT MAGAZINE • www.zodihabit.com

www.zodihabit.com • ZODIHABIT MAGAZINE|44
---
Tarot Card Reading for

Your Zodiac Sign

Find out what is in store for you

over the next 3 months of Jan-Feb-March 2016

The Basics of this Tarot Card Reading to assist you with what it all means:

By Deeanna Chapman

Most classic Tarot decks are comprised of 78 cards, These 78 cards are divided into a Major Arcana (22 cards) and

a Minor Arcana (56 cards). The Major Arcana cards, also called trump cards, are important because they represent

significant life events on a large scale, Minor Arcana imply short-term and fleeting aspects of our life experiences.

In these Tarot readings, I pulled 1 Major Arcana card for each zodiac sign as a

goal/lesson for the season (Jan-March 2016) then I pulled 3 other (Major & Minor Arcana) cards

to offer guidance as how to solve the problem at hand based on prevailing energies.

Aries

The overall energy: The Moon ~ The overall energy of this season has to deal with

misunderstandings, deceit and lack of communication.

How this energy will manifest:

The Emperor, reversed: It is vital for you to release some of the power and control

you have over others to meet on a common ground.

Strength: This is a time for you to focus on empathy, harmony and cooperation with

others.

9 of Pentacles, reversed: This card suggests that you may be suffering from financial

setbacks or you have experienced a loss due to unwise decisions or foolish actions.

A sign that you need to learn from your mistakes and build a more solid and secure

foundation next time. It also is an indication that if you are looking for love or want

to be happy and fulfilled in your love relationship, you need to realize that you can't

expect this to "just happen", action and intention on your part is required. You must

be willing to talk, and really listen, to your loved one or to prospective partners.

Remember communication is key to get all that you want out of a relationship.

Taurus

The overall energy: The Hierophant ~ The overall energy of this season focuses on

seeking deeper meanings in things, desire for wisdom and being part of a team.

How this will manifest:

The World: This indicates working in harmony with others, a time for you to have

your dreams come true and have the world at your feet. Being content, having peace

of mind and being thankful for your blessings in life.

King of Wands, reversed: This card can signify a man who has been through a lot in

life, and as a result, he is warm, kind, and understanding towards others. While it may

not necessarily mean a man as in a person but masculine energy of a letting things go

and giving a lot of leniency to others because you understand where they are coming

from and the trials they have been through. It indicates support and understanding.

Queen of Wands: A natural born leader and business person. One who is straight

forward, domineering and bossy. At times can be tactless and will need to remind

oneself there's better ways to phrase things to get what you want and to work as an

equal with others. A reminder to come off your high horse.

Gemini

The overall energy: The Star ~ The overall energy of this season focuses on balance,

pleasure and fulfilling dreams.

How this will manifest:

The Magician: Set the Intention that everything you are creating and manifesting comes

from a place of Highest Love and is for the Highest Good of all concerned.

Ace of Wands, reversed: This card suggests that you are finding it difficult to clearly

define what it is that you want. This lack of direction may be sapping your energy levels

and leaving you feeling incredibly unmotivated and uninspired. As a result, you are

often asking yourself if this is what you really want in life. It also indicates that you

feel weighed down by existing responsibilities and commitments and feel as though you

cannot pursue the new ideas that you have.

Knight of Wands: This card indicates that you need to take action in a bold and fearless

way. You need to re-group your thoughts and remind yourself that the ultimate goal is to

fulfill your dreams. The more you focus on your wants and desires you may discover a

talent that you didn't even know you had that could result in more money.

Cancer

The overall energy: Judgement ~ The overall energy of this season is to remind yourself

to let go of other's judgments of you, a time for you to come alive. Also a time to stop

judging new relationships based on past failed relationships.

How this will manifest:

The Chariot: Symbolizes travel, both physically and mentally. Take control of where

you want to go, be firm and assertive without being aggressive.

2 of Wands: This card is about earned success. It indicates help and support from affluent

individuals, one's in which "you" cultivated the seeds to grow. Beware though; you

currently have the power and influence and someone else wants it, be very cautious of

who you assist as they have ulterior motives. This card also indicates choosing career

over love. There's a spiritual connection you have with another person who is currently

part of your life, this person is keeping you grounded with your career by reminding you

to watch out for deceitful people. Even though you value their support, you don't know

how to juggle a career and relationship so you have put them aside emotionally.

5 of Pentacles: This card indicates money that is tied up and someone is not going to

receive as much money as they were expecting in a situation. Do not feel hopeless, if you

need help, just go out and ask for it. The help you need will come.

Leo

The overall energy: Temperance ~ The overall energy of this season deals with keeping

an open mind and your options plentiful. Going with the flow, keeping balance and

staying calm.

How this will manifest:

4 of Swords, reversed: This card suggests that some time off from work would be

beneficial. The weight of your responsibilities are heavy and stressful. Allow yourself to

rest, and re-center yourself through meditation and relaxation.

King of Pentacles, reversed: This card describes a very weak person who pursues, but

cannot find satisfaction or pleasure in material things. It's important to know that your

happiness and success is not built on how much money you make and it's important to

remind yourself that money is just a tool needed at certain times in life to get where you

are suppose to be and be accepting of times of financial hardship because it is these times

that lessons are learned.

King of Cups: Indicates a male who offers you good advice and he has many positive

qualities. He is wise, helpful and caring. He likes peace and harmony around him.

Virgo

The overall energy: The Emperor ~ The overall energy of this season demands that you

look within yourself and find your dominance and reclaim power.

How this will manifest:

King of Swords, reversed: This card may be warning of someone who may have a

negative influence in your life at this time. A forceful, opinionated male with dark hair.

He is stubborn and not open to change.

3 of Swords: There is sorrow, sadness, strife, conflict, disappointment and great emotional

pain. Indication of a miscarriage, heartache from a lost love, or a serious argument.

3 of Cups, reversed: This card indicates that you may be involved in an affair or dealing

with an unfaithful partner. Another indication of this card is over-indulgence in the party

scene with drugs and/or alcohol.

45 |ZODI HABIT MAGAZINE • www.zodihabit.com

www.zodihabit.com • ZODIHABIT MAGAZINE|46
---
Libra

The overall energy: Strenth ~ The overall energy of this season is about your inner

strength. This is a time for you to focus on empathy, harmony and cooperation with

others.

How this will manifest:

Justice, reversed: This energy indicates being objective and balanced in your

approach of dealing with others. You need to stop assuming you know everyone's

situation and really listen to get to the core of their emotions.

The High Priestess: This card indicates not everything on the surface is as it seems so

you need to ask probing questions to get the core underlying motive of others.

Queen of Pentacles: This energy points towards stability in your life. This is in both

emotional and financial matters.

Scorpio

The overall energy: Death ~ The overall energy of this season is change, a time to let

go of the old, endings with new beginnings.

How this will manifest:

Ace of Wands, reversed: This card shows a need to pay close attention to what you

are doing with your money. Do not take chances or just hand over your financial

responsibility to someone else to control.

3 of Swords: There is sorrow, sadness, strife, conflict, disappointment and great

emotional pain. Indication of a miscarriage, heartache from a lost love, or a serious

argument that is painful to hear but some words are necessary to clear the air.

8 of Swords: The energy of this card identifies self-imposed restrictions and a

reminder that a situation may not be as difficult as it is perceived to be.

Sagittarius

The overall energy: The Sun ~ The overall energy of this season deals with health,

happiness, balance and joy.

How this will manifest:

Page of Cups, reversed: This card indicates a reminder to allow yourself to play and

dream, but also remain grounded in reality.

2 of Swords: The card indicates you do not know what to do and do not seem to

be able to see all the necessary information before you to think clearly. You may be

struggling with a difficult decision even though you know something needs to be done

to correct the situation.

2 of Pentacles, reversed: This card indicates you are trying to juggle too many things

in your life right now and you need to take a break.

Aquarius

The overall energy: The High Priestess ~ The overall energy of this season is

all about tapping into your inner guidance system/intuition to make decisions. Not

everything on the surface is as it seems so you need to ask probing questions to get the

core underlying motive of others. Meditate and relax your mind to find the guidance

you seek.

How this will manifest:

Death, reversed: The message of this card indicates it's time to release what no longer

serves you. A time to let go of your fear and to keep moving forward.

4 of Swords: This card indicates a time of quiet contemplation and preparation for

the goals you wish to obtain. It is a time to heal your mind, body and spirit. Do not

overwork yourself and become stressed out.

4 of Cups, reversed: The message here is to allow yourself to feel. Awaken yourself

to the world around you and put in the effort required to obtain the results you desire.

Pisces

The overall energy: The Magician ~ The overall energy of this season will be for

you to tap into your inner abilities to manifest whatever you want. Connect with the

universe through your thoughts, energy and feelings. Trust your intuition.

How this will manifest:

4 of Pentacles: This card indicates trying very hard to hold onto money, a time to not

spend frivolously. The fear and anxiety you are holding about money and status quo

and material items needs to be released in order to clear the blockage of money flow

you are manifesting out to the universe.

Queen of Swords, reversed: This energy is a female energy, possibly yourself,

causing problems and stumbling blocks to your success by the abrasive manner in

which things are communicated. Step back from the situation and take it as a learning

lesson that you need to compromise with others to avoid unnecessary complications.

King of Pentacles, reversed: Watch out for others who seem charming and very

persuasive but have ulterior motives about spending your money and what you

worked so hard to obtain.

Capricorn

The overall energy: The Hermit ~ The overall energy of this season calls for you to

look within and isolate yourself from others so you have the quiet time to reflect on

what you want and decide what you really need to do get there.

How this will manifest:

3 of Cups: A time to reflect on true friendships and realize who you need and do not

need in your life.

Queen of Pentacles, reversed: This card reminds you to stay in touch with the simple

things in life. It is time to recognize your need for stable and nurturing relationships.

The Fool: This card indicates a need to let go of your past experiences and memories

so they do not control you on your journey. Take from it the lessons you have learned

but then move on with no emotional attachment to those experiences and memories.

47 |ZODI HABIT MAGAZINE • www.zodihabit.com

www.zodihabit.com • ZODIHABIT MAGAZINE|48
---
ZODI MARKET

EVERYWHERE

Donna Page

Professional Astrologer

for deep soul centered

astrology readings

www.lovinglightastrologer.com

FeliceBiscotti

felicebiscotti.com

Italian Biscotti

The traditional with a

hint of the unexpected

Celtic Attic

360-765-0186

kc@celticattic.com

www.celticattic.com

Decorate your life with

a Celtic Twist!

Mystic Unicorn

702-531-6608

service@mysticunicorn.com

www.mysticunicorn.com

Fantasy Gifts, Neon

Art, Herb Shop

UPSTATE NY

Magick Source

279 Whitehall Road

Albany, NY 12209

magicksource.com

518-489-7119

Avalon Moon, Inc.

68 Main Street

Delhi NY 13753

avalonmoon.com

607-746-7389

Elemental Gardens

37 Prospect St., Suite 102

Amsterdam NY 12010

elemental-gardens.com

518-810-1615

Wolf Enterprises

47 Ruggles Road

Saratoga Springs, NY 12866

thewolfpacktarotdeck.com

Phone: 518-583-4573

One Roof Holistic Health Center

58 Henry Street

Saratoga Springs, NY

www.oneroofsaratoga.com

518-581-3180

Albany Institute of

Holistic Studies Institute of NY

1510 Central Ave., Suite 375

Albany, NY 12205

www.holisticstidies.com

518-464-6200

The Center for

Natural Wellness

3 Cerone Commercial Drive

Albany, NY 12205

cnwsmt.com

518-489-4026

Holistic Healing Arts

of Saratoga

28 Clinton Street

Saratoga Springs, NY 12066

518-885-3707

A Peaceful Place

1733 Route 9, D&G Village

Clifton Park, NY 12065

www.apeacefulplace.com

518-371-2225

SensibiliTeas

Lawrence & Cooper Streets

Glens Falls, NY

www.sensibiliteasonline.com

518-824-1290

Living Well

18 Low Street

Ballston, Spa, NY 12020

livingwellbalstonspa.com

518-885-9145

Still Point Retreat Center

20 Still Point Road

Mechanicville, NY 12118

stillpointretreatcenter.com

518-587-4967

CALIFORNIA

Alexandria II

567 South Lake Ave.

Pasadena, Ca 91101

www.alexandria2.com

626-792-7885

Psychic Eye Book Shop

13435 Ventura Blvd.

Sherman Oaks, CA 91423

www.pebooks.com

818-906-8263

Crystal Cave

891 Baker, Suite A-16

Costa Mesa, CA 92626

www.crystal-cave.com

714-754-1151

Tree of Life

4870 Santa Monica

Ave. Suite 1A

San Diego, CA 92107

www.treeoflifestore.com

619-223-3970

The Sacred Grove

924 Soquel Avenue

Santa Cruz, CA 95062

sacredgrovesantacruz.com

831-423-1949

BOOK STORES, NEW AGE

SHOPS & WELLNESS CENTERS

The Mystic Dream

1437 N. Broadway

Walnut Creek, CA 94596

www.themysticdream.com

925-933-2342

Gateways

1126 Soquel Avenue

Santa Cruz, CA 95062

www.gatewaysbooks.com

831-429-9600

The White Lotus

1924 Hillhurst Avenue

Los Angeles, CA 90027

www.thewhitelotusinc.com

323-665-7322

Angel Dreams

1167 North Lake Avenue

Pasadena, CA 91104

www.angeldreams.net

626-798-8337

Panpipes Magickal

Marketplace

1641 N. Cahuenga Blvd.

Hollywood CA 90028

www.panpipes.com

323-462-7078

Bodhi Tree Bookstore

8585 Melrose Avenue

West Hollywood, CA 90069

www.boditree.com

310-659-1733

Aura Shop

2914 Main Street

Santa Monica, CA 90405

www.aurashop.com

310-584-9998

ARIZONA

Intuitive Development, LLC

2525 W. Beryl Ave., Ste. 301

Phoenix, Arizona 85021

intuitivedevelopment.org

623-203-5942

Intuitive Journey

3938 E Dulciana Ave.

Mesa, Arizona 85206

www.IntuitiveJourney.com

480-924-7086

QuantumPathic Center of

Consciousness

6701 E Clinton St

Scottsdale, Arizona 85254

www.QuantumPathic.com

480-609-0874

Southwest Institute of Healing

Arts

1100 E Apache Blvd

Tempe, Arizona 85281

www.swiha.net

480-994-9244

The Solace Institute

6159 W. Blackhawk Drive

Glendale, Arizona 85308

www.solaceinstitute.com

623-399-0132

Vision Quest

2225 North Scottsdale Road

Scottsdale, AZ

www.visionquestbooks.com

480-949-8883

Wellspring Books

323 North Gilbert Road

Suite 104

Mesa, Arizona 85203

www.wellspringbooks.net

480-834-4187

The Astrology Store

5731 W. Glendale Ave

Glendale, AZ 85301

www.theastrologystore.com

623-463-6286

Changing Hands Bookstore

6428 S McClintock Dr

Tempe, AZ 85283

www.changinghands.com

480-730-0205

A Piece of the Universe

7000 E. Shea Blvd. #1710

Scottsdale, AZ 85254

www.apieceoftheuniverse.com

480-596-3755

Panhalla Metaphysical

& Psychic Center

2413 E. Osborn Road

Phoenix, AZ 85016

www.panhalla.net

602-977-7770

Mystical Cove

152 S. Willow Creek St.

Chandler, AZ 85225

www.mysticalcove.net

480-786-3848

Metaphysics World

2559 E Broadway Blvd

Tucson, AZ 85716

520-327-7449

Sedona Energy Crystals LLC

2370 W. Hwy 89A

Ste. 11 #444

Sedona, AZ 86336-5341

888-674-2797

Spirit Child Metaphysical

Center

3870 W. River Road Suite 120

Tucson, AZ 85741

www.spiritchild.com

520-744-4402

49 |ZODI HABIT MAGAZINE • www.zodihabit.com
---
©A.M.P.A.S.®