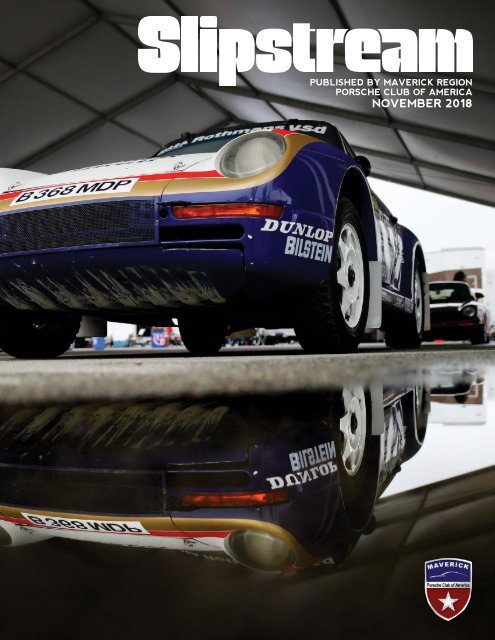 Slipstream - November 2018
The monthly newsletter of the Maverick Region of the Porsche Club of America
The monthly newsletter of the Maverick Region of the Porsche Club of America
SHOW MORE
SHOW LESS
Create successful ePaper yourself
Turn your PDF publications into a flip-book with our unique Google optimized e-Paper software.
PUBLISHED BY MAVERICK REGION

PORSCHE CLUB OF AMERICA

NOVEMBER 2018
---
Sports-car performance.

SUV versatility. This is big.

Presenting the next generation of Porsche sports car, flawlessly fitted into an SUV.

The redesigned 2019 Cayenne boasts a dynamic new design. Incredible innovation

and versatility. And turbocharged engines with up to 541 horsepower and

0–60 times of 3.9 seconds. But for all that's new, one thing never changes: the

high-performance dealership experience that makes Park Place feel like Your Place.

Discover the 2019 Cayenne at Porsche Grapevine.

1280 Texan Trail

Grapevine, TX 76051

833.470.0671

PorscheGrapevine.com

©2018 Porsche Cars North America, Inc. Porsche recommends seat belt usage and observance of all traffic laws at all times.
---
VOLUME 57

ISSUE 11

NOVEMBER 2018

MAV.PCA.ORG

The other Porsches at Rennsport

Photo by Bob Aines

FEATURES

6 | Founders Day: Anniversary Party

8 | Maverick Tech Session: Growler Motor Labs

12 | Rennsport VI: As told by our members

14 | Cars, Coffee & Conversation

17 | Maverick Marktpreis: Porsche Values

22 | Porsche Grapevine: Grand Opening Celebration

23 | Autocross: Event #8 Lone Star Park

24 | Mavs&Mochas: Zims Autotechnik

27 | Bucket List: Banff

28 | Renegade Rally: 2018

UPCOMING EVENTS

17 | Board Meeting

17 | Maverick Lunch Series

17 | Texas Showdown: Clubrace

18 | Autocross #10

18 | Motoring Mavs at Mayo

18 | Officer Elections

25 | Mavs&Mochas

DEPARTMENTS

2 | Sprockets (President's Column)

2 | Maverick of the Month

4 | List of Officers and Board Chairs

4 | Zone 5 Presidents

9 | New Mavericks

9 | Member Moments

20 | Porsche of the Month

20 | Porsche Trivia

36 | Advertiser Index

36 | Anniversaries

38 | Oversteer (Editor's Column)

Slipstream (USPS 666-650) is published monthly by the Maverick Region, Porsche Club of America, 155 Jellico

Southlake, TX 76092. Subscription price is $24.00 per year. Periodical postage is paid at Fort Worth, TX.

POSTMASTER: Send address changes to Hiram Saunders, Slipstream, 155 Jellico, Southlake, TX 76092.

EVENT DATES

See more details and check for event updates via the QR code

here or our online calendar at http://mav.pca.org/go/calendar

Halloween Rally...........................................................................(Sat) 3

Tech Session: Insurance...............................................................(Sat) 3

Autocross #10 - Lonestar Park......................................................(Sun) 4

Board Meeting.......................................................................... (Wed) 7

Mavs & Mochas: Pearl Cup Coffee............................................. (Sat) 10

Texas Showdown: Club Race................................................(Sat) 10-11

Lewisville area lunch.................................................................(Tue) 13

Motoring Mavs at Mayo............................................................ (Sat) 17

Southlake area lunch................................................................(Thu) 22

Maverick Tour: Farm Road 4..................................................... (Sun) 28

Mavs & Mochas and People's Choice Car Show............................(Sat) 1

Maverick Toy Drive.......................................................................(Sat) 1

Maverick Founders Day Celebration.............................................(Sat) 1

Board Meeting.......................................................................... (Wed) 5

Lewisville area lunch.................................................................(Tue) 11

Motoring Mavs at Mayo............................................................ (Sat) 15

Southlake area lunch................................................................(Thu) 27

On the Cover

959 Group B rally car at Rennsport VI.

Photo by Paul Moseley

November

December

Renegade Rallye Hijinks, an ambitious breakfast plan.

Photos by Peter Wen

Opinions expressed herein are not necessarily endorsed by the Club's membership or officers. Contributions will be

printed on a space available basis. Chartered regions of PCA may reproduce items from this issue provided the author/

artist and Slipstream are credited. Slipstream is printed by Ussery Printing Company in Irving, Texas.

1
---
SPROCKETS: A Little Rain Won't Hurt your Porsche

By David Robertson, Region President

It doesn't seem like it has stopped raining in the

last couple of months. This has been challenging for

all types of outdoor activities including the driving

events hosted by our club. DE, Tours, and Mavs &

Mochas have continued to press on, rain or shine. I

have been impressed (if not amazed) by the turnout

for these events in the rain. This really points to the

passion our members have for driving and coming

together. As I have mentioned previously, Porsches

are meant to drive in all conditions!

For those of us who use our Porsches as daily

drivers, we have no choice but to brave the elements

and drive in varying weather conditions to get

to work or other obligations that transportation

requires. Often, if I don't stop by the grocery store

on my way home from the office in my 911, it's

going to be the pickles and ketchup from July 4th

for dinner. I know that I should have these things

planned out but many times when I look out the

window at 6 pm and the rain is pounding down it

dawns on me that I have a few errands I have to

run before I can get the car into my dry garage.

As I write this page it looks to be another very

rainy day. The forecast is ugly, and everything is

soaked from previous rain. I will be getting in my

911 within the hour and heading out perhaps a little

more cautiously than usual to a car show where I

know that even in the rain I am going to have a

great time with my fellow Maverick members!

MAVS OF THE MONTH:

TJ Kroele, Chris Sorrells, Mark Schnoerr

We are very lucky in our club to have so many

talented individuals with such a diverse set of

backgrounds and experience that

are always more than gracious

with their time and expertise

wherever it can add value to one

of our programs. TJ, Mark, and

Chris have teamed up and spent

countless hours over the past few

months to develop a proposal to

make sure that the DE program

remains competitive with other

groups' DE events and relevant

for the future. Even though our

club is a non-profit organization,

2 November

we still have to think like any other business to keep

up with the shifting demographic environment

and competition from other driving programs in

the area. Many of these challenges are new and

we cannot waste any time getting in front of them.

These three individuals have combined expertise

in building successful businesses, a lifetime of

racing, DE Instruction and many, many years of

participating in, and running driving programs

both in the Maverick region and other car clubs.

Chris, Mark and TJ, we appreciate all of the

time and effort that you have put into ensuring

the continued success of the Maverick Region

DE program!
---
Like a Personal Trainer for your Porsche!

• Expert maintenance and repair services • Track day preparation

• Performance and appearance upgrades from GMG, Manthey, FVD and more

• Superior customer service and free loaner cars • PCA discounts

• Show quality detailing services • Comprehensive service from air-cooled to 991

We Buy, Sell and Consign Quality Pre-owned Porsches

PCA Special - Brake Flush $149 00

Plus Sales Tax

With this coupon. Brake Flush with MOTUL Brake Fluid. Offer includes complimentary car wash and vacuum.

3236 Skylane Drive, Dallas, Texas 75006 • 214-269-1570 • www.racperformance.com

3
---
2018 Maverick Region Board - Officers and Chairs

President

David Robertson

617-797-0516

president@mavpca.org

Vice President

Jim Falgout

vp@mavpca.org

Secretary

Carey Spreen

817-422-3480

secretary@mavpca.org

Treasurer

Deborah Fike

972-672-4282

treasurer@mavpca.org

Autocross Chair

Mark Schnoerr

ax@mavpca.org

Charity Chair

Chris Hamilton

hope@mavpca.org

Club Race Co-Chair

Pat Heptig

214-649-7907

cr@mavpca.org

Club Race Co-Chair

Joel Nannis

cr@mavpca.org

Coffee Meets Co-Chair

Derrick Tate

972-748-1178

coffeemeets@mavpca.org

Concours Chair

Mike Mahoney

801-230-1482

concours@mavpca.org

DE Co-Chair

Chris Tabor

817-371-4888

de@mavpca.org

DE Co-Chair, Event Set-up

Daren Kirbo

254-396-2973

de@mavpca.org

DE Chief Driving Instr.

John Sandusky

817-777-0421

cdi@mavpca.org

DE Hospitality

Rose Gohlke

de@mavpca.org

DE Registrar

Jason Brodigan

deregistrar@mavpca.org

DE Marketing Director/

Event Planning

Chris Sorrels

demarketing@mavpca.org

Goodie Store

Chris Flaugh

214-288-5300

goodiestore@mavpca.org

Region Historian

Carey Spreen

817-422-3480

historian@mavpca.org

Marketing, Social

Media Chair

Bill Orr

marketing@mavpca.org

Membership Chair,

Jim Hirsch

972-740-7377

membership@mavpca.org

Monthly Social Co-Chair

Clark Randall

hh@mavpca.org

Monthly Social Co-Chair

Vanessa Fernandes

hh@mavpca.org

Online Calendar

Karl Poulsen

calendar@mavpca.org

PCA Tours Co-Chair

Mark Pitarresi

817-715-7156

tours@mavpca.org

PCA Tours Co-Chair

Brant Worrell

tours@mavpca.org

Rally Co-Chair

Don Sebert

214-613-6900

rally@mavpca.org

Rally Co-Chair

George Luxbacher

rally@mavpca.org

Registrar, Club Race

Wendy Shoffit

crreg@mavpca.org

ARK-LA-TEX

Ken Chandler

bad968@bellsouth.net,

Safety Co-Chair

Wayne Elliott

safety@mavpca.org

Slipstream Editor

Kurt Scaggs

469-446-1690

editor@mavpca.org

Social Chair

Debi Kruder

social@mavpca.org

Trivia Chair

Jerry DeFeo

972-240-5800

trivia@mavpca.org

HILL COUNTRY

Tuffy von Briesen

president@hcrpca.org

Safety Co-Chair

Bob Kramer

safety@mavpca.org

Slipstream Event Ad Design

David Tierny

eventads@mavpca.org

Tech Sessions Chair

Michael Baynton

214-641-2848

techsessions@mavpca.org

Volunteers Chair

Landon Stogner

214-233-6858

volunteers@mavpca.org

MARDI GRAS

Scott Spradley

swsprad@bellsouth.net

WAR BONNET

Eric Costello

ecostellodo@gmail.com

Slipstream Advertising,

Coffee Meets

Bill Kruder

214-497-0711

ads@mavpca.org

Slipstream Mailing

Andy Mears

214-394-5857

mailing@mavpca.org

Time Trial Chair,

(AX/TT Rules)

Travis Howard

214-616-6152

tt@mavpca.org

Web Site Chair

James Shoffit

972-786-6246

webmaster@mavpca.org

2018 PCA Zone 5 Presidents and Zone Representative

Slipstream Content Ed.

Carey Spreen

817-422-3480

editor@mavpca.org

Slipstream Printing

Fran Ussery

972--438-8344 (W)

817-481-8342 (H)

printing@mavpca.org

TT Registrar, AX/TT

Schools, Swap Meets

Robyn Howard

214-991-0873

drivingschools@mavpca.org

Link to

Board

Meeting

minutes:

CIMARRON

Jason Tollison

presidentcmr@gmail.com

COASTAL BEND

Bryan Kerrick

bksailspadre@sbcglobal.net

LONE STAR

Steve Bukoski

president@lsrpca.com

LONGHORN

Mikel Matthews

Mikel.matthews@gmail.com

MAVERICK

David Robertson

president@mavpca.org

OZARK

Jim Woolly

jim.carol_NOSPAM@sbcglobal.net

WHISKEY BAY

Stan Labat

labat@cox.net

WHITE RIVER

Leonard Zechiedrich

whiteriverregionpca@gmail.com

ZONE 5 REP

Jon Jones

zone5rep@pca.org

www.zone5.pca.org

4 November
---
VISIT OUR NEW 8600 SQ FT LOCATION!

MONTHLY SPECIAL

$195

MOTUL OIL

$187

MOBIL 1 OIL

CERTIFIED MASTER TECHNICIANS

GENERAL MAINTENANCE

PERFORMANCE UPGRADES

SUSPENSION MODIFICATIONS

ALIGNMENTS ( TRACK AND STREET )

TRACK PREPARATION

TECH SHEET INSPECTIONS

CUSTOM FABRICATION

CUSTOM BUILT SPEC 996S AND SPB

2520 Tarpley Rd. Suite 700

Carrollton, Texas 75006

(972) 418-1996

innovativeautosports.com

innovativeautosportstx@gmail.com

5
---
M A VE RICK R EGION

FOUNDERS DAY

2018

GRAPEVINE

PORSCHE

Early years 1963-1973

g-series 1973-1989

964 1989-1994

993 1994-1998

996 1998-2004

997 2004-2012

991 2012-2019

Tradition is a commitment. Without our tradition and without our core values, we would not be where we are today. We plan to uphold the standard of

technical excellence set by Ferry Porsche well into the future. Intelligent dynamic mobility has a great future ahead of it. And we have the solid technologi-

cal expertise, creative employees and unique team spirit to be involved. We have what it takes to ensure that the Porsche brand continues to fascinate –

even in another 70 years.

The first vehicle to bear the Porsche name was registered on June 8, 1948: It was the 356 "No.1" Roadster. This is the day on which the Porsche brand

was born. The Type 356 turned Ferry Porsche's dream of a sports car into a reality. "His vision at that time embodied all of the values that still define the

brand to this day", said Oliver Blume, Chairman of the Executive Board of Porsche AG, at yesterday's New Year Reception at the Porsche Museum. Repre-

sentatives from the state of Baden-Württemberg as well as from the city of Stuttgart and the worlds of politics, economics and society, joined Porsche to

celebrate the beginning of its anniversary year with the slogan "70 years of the Porsche sports car.

3 EVENTS, 1 DAY, 2800 MEMBERS

SATURDAY, DECEMBER 1ST 2018

6 November
---
Founders Day: Maverick Region's Anniversary Party

By Debi Kruder

It's hard to believe it's been nearly a year since we

celebrated our 55th Anniversary at our Founders Day

event last December. I still remember perfect weather,

toys, the smell of barbeque, laughter and conversation,

and many fond memories from the evening. This year

promises to be no different.

Please mark your calendar and register today as we

celebrate Porsche's 70th Anniversary at our Founders

Day Event on Saturday, December 1. It's one day, three

events, and over 2800 members!

The morning will kick off with our monthly Mavs

& Mochas bright and early at Nordstrom's North Park,

where we will also host the second annual Top Ten

People's Choice Car Show. Nordstrom continues to be a

gracious host to our members, generously opening their

department store doors early to allow us to sneak through

for coffee and shopping. And what better time of year

than December? So, rain or shine, bring your Porsche and

your pocket book to start that Christmas shopping!

Speaking of shopping: don't forget to load up your

Porsche too with holiday goodies for children in need, as

we will be departing Nordstrom for our second annual

Mavs Toy Parade at 10:30 am. As last year, the Maverick

PCA is partnering with the Plano Police Department in

support of Plano Christmas Cops. This was a highlight

of Founders Day last year for me,

personally driving our 356 with

windows full of stuffed pups,

board games, and baby dolls,

with Christmas tree on top to add

to the merriment! So motor your

car full of new and unwrapped

toys, baby supplies, and new

coats for all ages, but especially teens.

Once your car is unloaded and a quick nap is taken,

it's time for the Founders Day grand finale with dinner,

drinks, and more fun than you can shake a gearshift

at! Many of your favorite things about last year will be

back, along with some wonderful additions.

First, an exciting new venue: Grapevine Porsche.

This new dealership boasts a two-story venue with

the latest design and features including a classic car

shop. For those of you in attendance at the Grapevine

Porsche grand opening in

September, I think you will

agree that this venue will not

disappoint. Many thanks for

opening their doors to us, as

well as their financial support

to subsidize some of the cost

for our members.

New this year too is our

very first online silent auction

for our charity: the Huffaker-

Hughes Hope House. Yes, you

read that right -- the items

photos, descriptions, bidding,

and payment will all take place

online! Just visit the website,

https://www.32auctions.com/MPCAHopeHouse and

start bidding now! Our Founders Day Silent Auction

is our largest financial contributor to our Mav PCA

charity. Last year, with the contributions of our

sponsors and members, our Silent Auction raised

nearly $10,000, and this year we are challenging our

Mavs to increase these contributions to achieve our

2018 Founders Day goal to support the Hope House

in the amount of $12,000. Hope exists to eliminate

domestic violence through intervention, offering

shelter, counseling, support, and education to promote

the healing of abusive relationships. Maverick Region

is proud to partner with this great cause.

Back by popular demand to our Founders Day

evening are two favorites: Pecan Lodge and Steel City

Pops! If the name Pecan Lodge makes your mouth

water, you'll be happy to know that, in addition to their

award winning pulled pork and smoked chicken, we've

added their smoked brisket to the menu this year too!

Mix in 200 or so of your favorite

Porsche people, our Maverick

Photo of the Year Contest, our

James Shoffit Maverick of the

Year Award, a little live music

from a duo by the name of Fanci

(with a mixed bongo flair) and

you are sure to have a great night!

Registration is now available online at mav.pca.org and

on social media. Early registrants receive a discounted

rate so don't hesitate. It's sure to be one of your

December highlights in 2018!

7
---
Maverick Tech Session Series: Growler Labs Recap

By Michael Baynton

photos by Bill Orr

Power tends to corrupt and absolute power

corrupts absolutely. – Lord Acton

One could wonder if historian Lord Acton's most

famous religious quote (way back in 1887) might have

been applicable if he had been inclined to tether a few

extra horses to the front of his carriage. Hard to say.

But what can be said definitively in 2018 is that some

owners of powerful modern Porsches agree that an extra

dollop of vehicular corruption is certainly a good thing.

On Wednesday evening, September 26, a group of

60+ power-hungry owners descended on Growler Motor

Labs in Plano to learn about options for making their

Porsches perform above and beyond what the good folks

in Stuttgart deem prudent. Focusing primarily on watercooled

Porsches (especially those with easily prodded

turbo snails under the hood/boot), Growler owner and

8 November

tuning expert Chris Fleming clearly laid out the various

upgrade paths to deliver safe and reliable power gains.

Three primary solutions were discussed: AMS hardware

such as intercoolers and piping, COBB Accessport tuning

software, and high-end Akrapovic exhaust systems.

Distilling very complex engineering principles such as

air flow optimization, turbo boost generation, and heat and

pressure management into easy-to-understand language is

Chris' forte. He did a terrific job of explaining how various

aftermarket components (either individually or as part

of a larger system) can improve the overall efficiency and

subsequent power delivery of Porsche motors. Parts laid out

on a table for examination and a customer 911 on a rack for

closer inspection were perfect visual aids for our members

to see the complex engineering solutions up close. The

ongoing questions and answers really demonstrated the deep

engagement between our members and Chris and his team!

As always, Growler had staff on hand to answer questions,

and their shop space was immaculate and welcoming. Pizza

and drinks were provided beforehand, and at the end of the

session Growler marketing manager Al Muir generously

presented every member in attendance with a "$100 Off"

certificate toward the systems that were discussed that

evening. What a fabulous bonus to end the evening!

Many thanks again to Chris and Al for being such

generous hosts, and a special shout-out to the Mav

volunteers (Bill, Jimmy, Mike, Derrick) who arrived early

to help with parking and set-up. We couldn't do this

without you!
---
Your mind's been racing.

Catch up.

Decades of dreaming, fulfilled instantaneously. The iconic 911 Carrera. Legendary

handling, immediate power, and decades of motorsport heritage. It is the full

measure of a sports car. Found only in a Porsche. Porsche. There is no substitute.

The 911 Carrera.

Porsche Plano

5924 W Plano Pkwy.

Plano, TX 75093

(214) 579-1911

porscheplano.com

©2018 Porsche Cars North America, Inc. Porsche recommends seat belt usage and observance of traffic laws at all times.

9
---
10 November
---
Welcome Our New Mavericks!

By Jim Hirsch, Region Membership Chair

New Members September 2018

Jim Barber Fairview 2007 911 Carrera 4S Cabriolet

Kevin Bassham Addison 2005 911 Carrera S

John Brabec Granbury 2001 911 Carrera

James Collins Dallas 2012 Cayenne

Jonathon Crim Irving 1999 911 Carrera 4

Josh Eadie Carrollton 2018 Macan S

Gil Ek McKinney 2011 911 Turbo S

Austin Finch Dallas 2006 911 Carrera S

Michael Graves Dallas 2017 911 Carrera S Cabriolet

Andrew Holywell Irving 2014 911 Carrera S

James Howell (Candice) Fort Worth 2003 Boxster

Douglas Jacobson Dallas 1999 911 Carrera

Michael Kelsheimer Richardson 2018 718 Cayman S

Zeshan Khan Carrollton 2015 911 GT3

Beth Mahler Plano 2014 Panamera

Fred Malesa Fort Worth 2018 911 Targa 4S

Jeffrey Marin Plano 2017 911 Carrera Cabriolet

Mirko Mcclammy Frisco 1974 914 1.8

S. Scott Parel Dallas 2012 911 Carrera GTS

James Quimby (Wanda) Fort Worth 1984 911 Carrera

Robert Radcliff Frisco 2019 718 Boxster S

Darrell Seal Dallas 1963 356 cabriolet

Mayur Shree Dallas 2018 911 GT3

James Taylor Frisco 2012 Panamera 4S

Henry Trinh Haslet 2009 Cayenne Turbo S

Alfredo Valdovinos Northlake 2007 Boxster

Craig Walker Dallas 2018 Panamera 4 E-Hybrid

Gutic Zoran Fort Worth 2004 911 40th Anniversary

Transfers In

Michael & Gina Levy (MNY) Dallas 2012 Cayenne White

Brian Margetts (SMT) Colleyville 1985 911 Carrera

Daniel & Venitha Rajaratnam (HCT) Allen 1987 911 Carrera

Silvio Zucchet (LA) Dallas 1987 944

Please give a Maverick Welcome to these new members when you meet them!

If you have any changes that

you would like to make to the

MRPCA membership guide, contact Jim

Hirsch at membership@mavpca.org

Member Moment

Debbie Walter Bollinger

(and Craig)

(joined 8/2018)

Occupation

Senior Account Executive for TPA

Primary reason for joining PCA

We thought it would be fun to get to know

our PCA friends and neighbors.

Current Porsche

2017 Blue Macan S

Favorite Porsche

Porsche 718 Cayman GTS

Best thing about owning a Porsche

Great car to drive and I love how it handles.

Hobby interests

Riding our 2007 Ultra Screaming Eagle

Harley Davidson, traveling, going to

Motorcycle and Car shows (mainly Porsche

car shows now).

Member Moment

Greg Ward

(joined 6/2015)

Occupation

Engineering Manager

First Porsche

2009 Cayman S

Current Porsche(s)

2009 Cayman S

Favorite Porsche

2009 Cayman S

(so far, I am still on my first one).

Favorite Maverick or PCA event

I have had a lot of fun at Mavs & Mochas

events getting to know other people that

are out enjoying their Porsches.

Best thing about owning a Porsche

That feeling you have when you drive it

and the friends I have acquired just by

having a Porsche.

Maverick Membership Statistics as of October 1

Members: 1914 Affiliate Members: 936 Total Membership: 2850

11
---
Rennsport Reunion VI: As told by our members

By George Luxbacher and Don Sebert, Region Rally Co-Chairs

pphotos provided by Authors

Rennsport Reunion. This event is

Bob Aines

known by most Porsche enthusiasts, and

based on the 80,000-plus that showed up at Laguna

Seca at the end of September, growing in popularity.

This was my fourth and best yet.

A group of four cars departed DFW Monday

morning and stopped at former Maverick Steve Fallon's

home in Albuquerque for refreshments before heading

to our hotel and dinner. Some of our party headed to

the casino after dinner to cover the costs. We had four

more cars join us to make a convoy of eight.

Our next overnight was in Bakersfield, where we

had our one mechanical issue: a broken shift rod. The

Porsche community came through with a recommended

shop which had the repair completed and Mark Hanna

back in the road by 9:30.

We rolled into Laguna Seca around 11:00 Wednesday.

This was move-in day, and a great time to visit and

catch up with old friends before the crowds and event

schedule were to keep people busy. The best description

of this event is total Porsche overload. Where else can

you see eight 959s parked together, a lineup of 917s,

908s, and a couple of 906s. A 918 rolling through the

paddock doesn't even get a notice.

This being our

first Rennsport,

we had an idea of what to expect

from fellow returning Mavs, but to

recap with one of Bill's infamous

expressions: WHOA!

There is truly something for

everyone; you might call it a car

And the cars are just the icing: the drivers who drove

them in anger back in the day, reliving their experiences

on stage, is a highlight. I was asked what was most

memorable from the weekend and it had to be the La

Mans start for the tractor race.

The drive home was uneventful, which is the best

kind. What a great trip, event, and group of Porsche

friends to share it with. If you have never been, you

should plan on making it to the next!

Above: 919 warming up in the paddock, you really could get that close.

Below: Bill getting an autograph from legend Derek Bell, The 'new' Pink Pig, Rennsport line up (Type 718 RS 60, 2008 RS Spyder, 959 Group B rally car).

Debi Kruder

vintage cars in the paddock and the

next moment you would see that

same car on the track with several

others with speeds of 100-plus

mph passing one another. Whether

it was the racers in full gear, the

engine sounds, the history, or the

number of rare Porsches, you were

facing turn 4, or the straight from

behind pit row. My most favorite

memory will always be the look on

Kruder's face (like a kid in a candy

shop!) especially when he met

Derek Bell and David Hobbs. Their

autographs are his take-home prize

in the bill of his official Rennsport

show that happens to have a race or

a race that has a car show. What we

found amazing was that you would

be admiring one of hundreds of

12 November

quite simply kept in awe.

The track itself is a marvel with

so many vantage points, from the

famous Corkscrew, the grandstands

cap. Suffice it to say Porsche's 70th

Anniversary celebrated at

Rennsport will always be a

memorable
---
Rennsport

Michael McGrath

was a bucket

list opportunity for me. With family

commitments I had a 20-year gap in

my Porsche ownership history, and

felt I had missed experiencing a lot

of great events and people during

that time. I made this trip into a 10-

day journey with my Porsche 981.

We visited seven National Parks and

Monuments on this trip and traveled

some amazing roads.

Arriving at Laguna Seca I was

immediately impressed with the

organization of the event and the

sheer quantity of amazing Porsche

cars and history. Over the next

several days I was able to get up

close and personal with P-cars that

previously I had only read about in

books or had seen in videos online.

The history ranged from the first

production 356 roaster (which was

later driven on the track by Mr.

Porsche and his wife) to the latest

reveals of the Porsche Speedster,

935, and PCA GT3 in that beautiful

blue color! The Chopard Heritage

Display featured an impressive

display of Porsche racing history

ranging from the rare Model 804

Formula One car to the variations

of the early 718 giant killers to later

iconic models like the Martini-clad

935, 936, and many more.

The best aspect of this event was

the chance to chat with car owners

and fellow Porsche fans while looking

over the displays and racing cars as

they were prepped for their hot laps.

The other opportunity was to meet

some racing heroes in person, or at

least be up close to them, as part

of the many interviews that were

conducted each day.

The most special moments for me

were casual conversations with Hurley

Haywood and Norbert Singer. Hurley

and I shared the track one weekend

at Lime Rock Park in the early 90s,

as I did Formula Ford and he ran the

Audi Quattro with teammate Hans

Stuck. We reminisced for a while and

then fast forwarded to a discussion

about the upcoming release of his

documentary movie. In 1992 I worked

on a project for my Master's degree,

documenting the effort of Porsche to

enter Indy Car Racing Series in the US

(Project 2708), developing not only

the engine but also their own chassis.

Norbert had responded to my letters

back then and sent me some very

helpful information. This was simply

a chance to say thank you.

In all, Rennsport was a fabulous

experience and wonderful journey.

I can't wait for the 75th anniversary

celebration to come!

As the name implies,

Carey Spreen

Rennsport (which of course

means "race sport" or simply "racing" in the language

of the Fatherland) focuses on Porsche's vast racing car

history, with seven different historic race car classes

on track each day, practicing, qualifying, and actually

racing wheel-to-wheel. But the unique part is that you

can get as close as you want to those race cars – they

are on display right there in the paddock,

where you can walk right up and touch

them, although it's better if you don't!

But the point is this: one minute your

favorite race car is right in front of you,

a static display of automotive art, and the

next minute it's being started and driven

onto the racetrack, navigating a sea of

spectators as it winds through the paddock

to the hot pits.

That is the heart of the Rennsport

Reunion experience, and I strongly urge

you to put it on your list of things to do

before you . . . well, before you can't!

Above:550 A Spyder, 911 RSR on track, author's 981

underway in sunny California.

Left: David Hobbs, Bob Varsha, and 917-30, Wolfgang

Porsche (center), Twelve 959s under one roof!

13
---
Coffee, Cars & Conversation

By Bill Kruder

photos by Jim Hirsch and Andrew Barber

This month, sadly, I would like to share with you a very special friend we

recently lost. I met him about three and a half years ago at one of our Mavs &

Mochas: we would say hi, talk about the cars, and of course he would wander off

taking hundreds of pictures.

Then a few months later, at the Mavs & Mochas held at Stonebriar Community

Church, we started to talk, and I mentioned that I had retired from JC Penney.

Andrew said, "that's funny -- my Dad retired from JCP."

The small world it is, I knew his Dad when I had first come into the Home

Office in Plano in the early '90s.

Andrew and I decided to go inside and watch the Grand Prix Pinewood cars race.

Well about an hour later, who walks in but his dad, Don Barber, and we proceed

to get to know one another more

over grilled cheese and fast 7" cars.

Our friendship continued over the

next three years. He was always

there no matter the weather, with

camera in hand, providing us with

some of the most unique angles,

perspectives, and lighting that made

you altogether see our Porsches in

a whole new way. And he didn't

stop there . . . always capturing

friendships and people too.

While you might not have met

him in person, I'd venture to say

you know him very well through

his camera work, which appeared

on many Slipstream covers, not

to mention countless articles each

month. I, as well as the Club,

consider him instrumental in

driving friendships, and his quiet

spirit and amazing talent will be

greatly missed.

So here is the next in my series

of "conversations", this one

captured through Andrew's lens.

His pictures tell all the real story

we need.

Andrew Barber, member since

Novermber 2015, owner 2016

Carmine Red Cayman GT4

http://mav.pca.org

http://mav.pca.org

April 2016

Published by the Maverick Region, Porsche Club of America

April 2017 Published by the Maverick Region, Porsche Club of America July 2017 Published by the Maverick Region, Porsche Club of America

PUBLISHED BY MAVERICK REGION

PORSCHE CLUB OF AMERICA

SEPTEMBER 2018

Many of Andrews

photos have been

published in Slipstream

over the past three

years. Among them are

these four covers.

Upcoming Events

Past Events

• Father's Day Picnic

• Wild Wildflowers

• Sunday Drive

• May at Mayo's

• Rally School

• Results

June 2007 - Published by the Maverick Region

Porsche Club of America

Upcoming Events

Past Events

• Father's Day Picnic

• Wild Wildflowers

• Sunday Drive

• May at Mayo's

• Rally School

• Results

June 2007 - Published by the Maverick Region

Porsche Club of America

14 November
---
your baby deserves

its own room.

Introducing Garages of Texas, a community of first-class, affordable, completely customizable garage suites. Here, you don't rent a

space. You buy it. Giving you complete financial control and power to make it your own with unlimited customization options. So, stop fighting

for space in your family garage. Upgrade to a garage suite and move your show cars, motorhome or boat to the showroom they deserve.

Contact our sales team at 888.988.8049 or sales@GaragesOfTexas.com for more information.

PLANO • DALLAS • ALLEN • ROANOKE • FRISCO • CARROLLTON • SAN ANTONIO • AUSTIN • HOUSTON • LEWISVILLE

GaragesOfTexas.com • Facebook.com/GaragesOfTexas

15
---
We Buy, Sell & Tradethe

World's Finest Timepieces

Precise, sleek, distinctive and exceptional. de Boulle is a family-owned business

established in 1983. Along with de Boulle Motorsports, both are a living and moving

illustration of the passion for excellence for jewelry, watches and racing. de Boulle is an

uthorized Dealer for major brands including: Patek Philippe, Rolex, Bell & Ross, Blancpain,

Corum, Girard Perregaux, Greubel Forsey and Tudor. de Boulle also provides the options

of pre-owned timepieces, which includes vintage watches of notable brands.

Visit deBoulle.com to view our extensive collection.

6821 Preston Rd., Dallas, TX 75205 214.522.2400

River Oaks District Houston, TX 77027 713.621.2400

deBoulle.com

16 November
---
Maverick Marktpreis is proudly sponsored by:

Maverick Marktpreis: Boxster (986)

by Peter Wen

Porsche is the most profitable car company in the world

today with 250,000 annual vehicle sales worldwide. It is hard

to imagine 25 years ago that Porsche struggled financially. With

a stagnant product lineup, only 14,000 cars were sold in '93! It

desperately needed a low cost, high production model to turn the

company around. Enter the Boxster, the car that saved Porsche.

In '96, three years after the highly successful concept car

debut in Detroit, Porsche launched the Boxster: a boxer-engine,

two-seat roadster. Clever name, right? Code-named 986, the

first-gen Boxster was the first Porsche to leverage Toyota's "justin-time"

manufacturing principle. It drastically reduced cost and

improved reliability. To further reduce expense, the Boxster was

jointly developed alongside the new 911, type 996. The two cars

shared similar looks and had many common parts.

The Boxster was a huge success. With exceptional handling

and unmatched open-top fun, it was the best-selling Porsche from

'96 to '03. Today, you too can enjoy this Miata-inspired, Toyotaprocess-improved,

mid-engine roadster for around ten grand.

Excellence's Porsche Buyer's Guide

offered these price ranges for the

Boxster (986):

'97-'99 - $8,000-$12,000

'00-'02 - $8,500-$13,000

'00-'02 S - $10,000-$17,000

'03-'04 - $10,000-$15,000

'03-'04 S - $12,000-$18,000

Fun Fact: The Boxster was so popular,

Porsche had to contract Valmet, a

Finnish company, to increase production.

Valmet-assembled Boxsters have

the letter U in the 11th position of the

VIN (for Uusikaupunki, Finland).

$25,000

$20,000

$15,000

$10,000

$5,000

$0

Hagerty Valuation Tool:

2004 Boxster

$10,000 average value

Sep 2013 May 2014 Jan 2015 Sep 2015 May 2016 Jan 2016 Sep 2017

2001 Boxster S

Sold for $12,700 + $635 buyer fee

35k miles

Lapis Blue Metallic/Savanna Beige

leather/Black

3.2L Flat-Six

6-speed manual

2 owners (original owner 17 yrs),

hardtop and car cover, IMS fixed

2004 Boxster S – 550 Spyder

Anniversary Edition

Sold for $24,500 + $1,225 buyer fee

40k miles

GT Silver Metallic/Cocoa Brown leather/Brown

3.2L Flat-Six

6-speed manual

3 owners, IMS fixed, 1,953 produced, 1 of

only 500 in US

2002 Boxster S

Sold for $13,250 + $663 buyer fee

60k miles

Guards Red/Black leather/Black

3.2L Flat-Six

6-speed manual

2 owners (current owner 13 yrs),

18" turbo twist wheels

2000 Boxster S

Sold for $19,986 + $1,000 buyer fee

65k miles

Artic Silver/Black/Black

3.2L Flat-Six

6-speed manual

3 owners, aero kit, hardtop, new soft top,

IMS fixed, 18" sport design wheels

1997 Boxster

Sold for $15,000 + $750 buyer fee

35k miles

Guards Red/Savanna Beige leather/Black

2.5L Flat-Six

5-speed manual

3 owners, 17" twist-spoke wheels,

aluminum trim

2002 Boxster S

Sold for $11,650 + $583 buyer fee

78k miles

Seal Gray/Black leather/Black

3.2L Flat-Six

6-speed manual

3 owners, Hardtop, Speedster humps,

IMS fixed, Borla exhaust,

18" turbo twist wheels

With over 50 years of experience, Dallas Motorsports

offers a unique blend of inventory including some of the

most desirable performance and exotic vehicles available.

17
---
Upcoming Maverick Region Events

18 November
---
2019 Maverick Region Officers Ballot

I am a (pick one): _____ Primary Member _____ Associate Member

President

Treasurer

_______ David Robertson (incumbent) _______ Deborah Fike (incumbent)

_______ _________________________ _______ _________________________

Vice President

Secretary

_______ Jim Falgout (incumbent) _______ Carey Spreen (incumbent)x

_______ _________________________ _______ _________________________

Upcoming Maverick Region Events

Print Name _________________________ Signature _________________________

Turn in your ballot at the Annual Celebration or mail it to the Nominating Committee

Chair, Bill Kruder at 1716 Hollyhock Dr Celina TX 75009 prior to December 2.

Mailed ballots must be signed and received prior to the Founders Day event or presented

at that time. Winners will be announced during the Founders Day event.

You can also get this ballot online at http://mav.pca.org/go/vote

or use the QR code in the upper right.

19
---
Porsche of the Month

Selected by Bill Orr, Region Marketing Chair

Yellow 2008 Porsche 911 GT3 • Photo by Michael Durovick

You can test your

knowledge (or Google

search ability) of all

things Porsche by

participating in the

monthly trivia contest

posted online at http://

mav.pca.org/trivia.

Answers are due by the

last day of each month.

The winner of the trivia contest receives a $25 gift

certificate from our sponsor, Zims Autotechnik. In the case

of ties, a random drawing determines the winner.

We do have a winner. It is Tom Martin getting all 5 of 5

correct!!! An Honorable mention goes out to Christopher

Hand that did get 4 of 5 Correct; while no one else got

more than 3. I guess using all these Prices was somewhat

confusing; so I will throw away that April of 1980 NADA

Used Car Guide I found while cleaning my Office.

Thanks for Playing and we will

see you next month.

Answers: 1)b, 2)b, 3)d, 4)c, 5)c

20 November

For instruction on how to submit your Porsche photos in the

POTM contest go to: http://mav.pca.org/photos/POTM/

Maverick Trivia: Are you a Porschephile?

Jerry DeFeo

sponsored by Zims Autotechnik

1. In 1973 one could buy a New 911S Targa for $11,200. By 1980

a somewhat equivalent New Porsche (911SC Targa) was over

$25,000 List Price. And today that 1973 911S Targa in nice shape

is worth some $160,000 to $175,000 List Price according to NADA.

However, in the Spring of 1980 how much did NADA say was the

average Retail Price for a 7-year-old 1973 Porsche 911S Targa?

a. $7,950 b. $8,775 c. $9,850 d. $11,375

Source; April 1980 NADA SW Edition Used Car Guide, page I-30

2. And how much in 1980 for a 1973 Porsche 911S Coupe, average

Retail Price? a. $8,125 b. $8,350 c. $9,775 d. $10,950

Source; April 1980 NADA SW Edition Used Car Guide, page I-30

3. In 1979 one could buy a New 911SC Coupe for $22,960 Retail List

Price. One year later in 1980 that same 911SC in nice clean condition

with 10,000 to 12,000 miles on it had an average Retail Price of ___?

a. $16,550 b. $18,625 c. $20,275 d. $22,250

Source; April 1980 NADA SW Edition Used Car Guide, page I-30

4. In 1978 Porsche introduced the Magnificent GT Road Car, the 928.

It had MSRP of $28,500. One year later that same 928 had a MSRP

of _________? a. $29,950 b. $31,840 c. $32,885 d. $33,975

Source; April 1980 NADA SW Edition Used Car Guide, page I-28

5. Also, in 1978 the Absolutely Fantastic 930 Turbo Engine was

upgraded from 3.0 L to a 3.3 L developing an unheard of 300 HP

RoW (261 HP USA). The MSRP here in the USA was a Whopping

$36,700. But again Porsche and Inflation changed the MSRP of a

1979 Porsche 930 Turbo to __________? a. $38,250 b. $39,995

c. $42,520 d. $44,950

Source; April 1980 NADA SW Edition Used Car Guide, page I-28
---
MarvelousHomeMakeovers.com | 972.951.1932 | Botond@MarvelousHomeMakeovers.com

21
---
Porsche Grapevine: Grand Opening Celebration

By Mark Palmer

photos by Bill Middleton

The Grand Opening celebration for the new

Grapevine Porsche Dealership was held Thursday

evening, September 13, and what a terrific event. The

sparkling new 68,000 square foot dealership was

decked out with fabulous Porsches and people!

Ken Schnitzer, CEO of Park Place Dealerships, was

on hand to welcome all the guests, to introduce the

mayor of Grapevine, and unveil the 2019 Cayenne.

Great food and beverage vignettes were located

throughout the facility and everyone present thoroughly

enjoyed the evening. The PCA Maverick Region and

Mavs & Mochas were well represented and very pleased

to help celebrate this great new Porsche Dealership,

which is the fourth in the DFW Metroplex.

Congratulations Grapevine Porsche -- we wish you

great success!

Right: Joined by Grapevine

mayor William D. Tate, seated,

Ken Schnitzel, CEO of Park Place

dealerships is at the podium

addressing the crowd.

From the exotic to

the everyday driver,

we've got you covered.

• Preventative Maintenance & Scheduled Service

• Repairs on Electrical Systems, Engine and Drivetrain

• Full Restorations

• Paint Protection Film and Detailing

Factory level diagnostics for

Mercedes, Volkswagen, Audi,

Porsche and BMW

serving north dallas since 1989

13595 Floyd Circle #400

Dallas, TX 75243

972-437-4216

22 November
---
Autocross Event 8: Lone Star Park

By Mark Schnoerr, Region Autocross Chair

With the circus tent gone, the full lot at Lone Star

Park was available this time, and Scott Cummings, the

course designer, set up a very challenging autocross course

with many diverse elements and speed change-ups. This

is typical of the late-season layouts that also make lateseason

class championships points battles so close.

We had 16 Porsche entries in our P-classes and another

eight or nine Porsche spectators. Sigrid Schnoerr got many

of the Porsche spectators to sign waivers and jump in as

passengers in a variety of cars to get a taste of autocross.

I bet they enter an event soon after learning more about

all the excitement.

The Cayenne GTS driven by Igor Tulandin, at his

first autocross with his new toy, placed third in Class P1.

Yes, four-door Porsches have autocross classes and are

competitive out there!

Owen Coulman was determined to be the fastest raw time

and index time Porsche again and put in a couple of flyers in

his red 996 GT3 to keep the rear-engine faithful happy.

Class P4 had six drivers in three cars. The course

workers must have thought we got twice as many runs as

anyone else! Carey Spreen took his 924S to the fight on

this course, splitting Mark and Sigrid's 914 best times and

also coming in ahead of Ed Mayo's orange and blue early

911S. Sigrid was running in first place until the last runs

by Mark and Carey.

Scott Wolthuis got a new limited slip in his improved

and Hoosier-tired 911. It made him struggle on the tight

turns but he was flying in the sweeper. Doug Edney won

class P7 in his 996, and Sherry and Steve Farnham's yellow

GT4 came up from Longhorn region to keep us all on our

photos by Robert Kirby, LightSpeed Images

P1 - 'PCA 1'

Total Entries: 4

Total Diff.

1T P1 7 Amir El-Baghdady Maroon 944 S2 68.346 -

2T P1 11 William Mayo Blue Boxster 987 68.495 0.149

3 P1 958 Igor Tulandin Silver Cayenne GTS 72.368 3.873

4 P1 168 Carolle Liu White Boxster 987 74.991 2.623

P3 - 'PCA 3'

Total Entries: 2

Total Diff.

1T P3 428 Owen Coulman Red Porsche 911 GT3 63.055 -

2 P3 59 William Whitney Black Porsche 911 Turbo DNS

P4 - 'PCA 4'

Total Entries: 6

Total Diff.

1T P4 915 Mark Schnoerr Green 914 66.466 -

2T P4 906 Carey Spreen Red 924S 66.792 0.326

3T P4 914 Sigrid Schnoerr Green 914 67.073 0.281

4 P4 5 Edward Mayo Blue/Orange 911S 68.175 1.102

5 P4 90 Sue Crimm Red 924S 70.381 2.206

6 P4 9 Julia Underwood Blue/Orange 911S 76.782 6.401

P6 - 'PCA 6'

Total Entries: 1

Total Diff.

1T P6 56 Scott Wolthuis Blue 911S 67.326 -

P7 - 'PCA 7'

Total Entries: 1

Total Diff.

1T P7 7 Douglas Edney Black 996 70.759 -

z

Total Entries: 2

Total Diff.

1T P8 171 Steve Farnham Yellow Cayman GT4 63.764 -

2 P8 71 Sherry Farnham Yellow Cayman GT4 67.313 3.549

From top: Carolle Liu getting some coaching from Mark Schnoerr, Scott

Wolthuis locking them up, Mark and Sigrid Schnoerr first run in the family

914, Igor Tulandin in a Cayenne GTS and Steve Farnham exercising the GT4

toes again. Steve and Owen were trading fast times right

up to the late runs.

There are two more events in the 2018 season: October

28 and November 4, both at Lone Star Park in Grand

Prairie. Come out to see what we are all so excited about,

join in the fun or take a ride. Novices are always welcome,

and we have instructors who will help you learn the ropes.

23
---
Mavs & Mochas: Zims Autotechnik

By Pat Carmichael

Tradition . . . that's what this month's Mavs &

Mochas reflected in several aspects. First, Al Zim: his

presence reflects almost five decades of friendship and

service to the Porsche and enthusiast car community.

Second: all the people that brought the almost seven

decades of Porsche models to a time-honored club

event reflected a camaraderie without comparison.

Last but not least: the annual Zims Porsche swap meet,

reflecting what it's all about. Dozens offering treasures

enthusiasts at all levels, from the technician club racer

to the weekend tinkerer, gathered to enable the eager

(or desperate) to find just what they need. It was good

times for all.

Free coffee from Felix Coffee, good weather, good

people, good conversation, and ample parking made

for a successful event. The volunteers were there bright

and early, all was prepared for a good turnout, and

around fifty cars obliged. Thanks to all who came; we

hope to see you all next month at Pearl Cup Coffee in

Richardson, TX. See y'all then, if not before!!!

photos by Bill Middleton

24 November
---
We'll give

you an

assist on

your future

goals.

Contact me to learn how you can get

the most out of retirement.

Lisa D. Ward, MBA

Agent, New York Life Insurance Company

777 Mains Street Suite 3800

Fort Worth, TX 76102

817-614-3165

ldward01@ft.newyorklife.com

www.facebook.com/LisaWardNYL/

SMRU1710429 (Exp.10/21/2018)

©2018 New York Life Insurance Company,

51 Madison Avenue, New York, NY 10010

Insure. Prepare. Retire.

25
---
When all HAIL breaks loose...

Roofing Solutions

By Darren Houk

Impact Resistant Roofing Options Including:

Metal, Tile, and even COMPOSITION shingles.

SAVE up to 28% on insurance premiums

www.RoofingSolutionsHOUK.com

817.692.8496

Showroom by Appointment

5500 Meandering Road Fort Worth 76114

26 November
---
Bucket List: Banff

By Wendy Shoffit

Two years ago, when the PCA Treffen committee

announced that Banff would be the destination in fall

2018, James' eyes got wide! For years he had seen photos

of the area and knew he wanted to go! Then a year ago he

had a stroke and I was unsure if we would make it. First,

HE had to make it and then we'd see. Thankfully, he lived

and I knew I had to do everything to make this bucket list

item happen. So, we bought tickets we needed and made

important hotel reservations. The rest we would fill in as

it came along. The 31-hour drive (one way) was daunting

because James had ALWAYS done ALL the driving (his

choice). He loves to drive! Me, on the other hand . . . not

as much (I get sleepy). I decided to leave plenty of time

and drive each day until I got tired and wanted to stop.

We spent parts of five days getting there (first and last days

were three hours each). Approaching the hotel, we knew

we'd made the right decision! The area was spectacular.

We checked in to the Fairmont Banff Springs hotel,

which looked and felt like a castle. We grabbed a delicious

lunch in their restaurant and later that afternoon went to

the Treffen check-in. Everyone was welcoming, had great

information, and gave us a goodie "bag" complete with

winter vests for each of us. That evening was a meet and

greet with hors d'ouevres. We enjoyed seeing old friends

and meeting new ones. It was a "free night," so we went

off property with friends to a delicious and very "foodie"

restaurant nearby with stuff like foam and Canola crisp.

Fancy schmancy.

Overnight temperatures dropped, and we awoke

to snow. Bright and early we drove to the nearby tour

launching area. Many were concerned they had the

wrong car and tires for the snow. We were smart to bring

our Macan with All Season tires (thanks to my smart

husband)! After the drivers meeting we set off on an

amazingly beautiful "Yoho Loop" tour while whistling

"It's Beginning to look a lot like Christmas." We'd planned

to see the beautiful greens of the trees, we found it more

special to see them snow-covered but still drivable. We

saw great sites like the Takkakaw Falls and stopped at

breathtaking Emerald Lake for lunch. We'd tried to view

the spiral tunnels, but the snow was so heavy we couldn't

see them. We were glad to have the extra vest layer

under jackets, as we were NOT properly prepared for

snow. That night we had a "Hoedown Dinner" featuring

amazing fiddlers from a local group.

Friday we again were up early (why does PCA not want

you to SLEEP?) to go on the Highway 40/Kananaskis (ask

me how to pronounce THAT in person) tour. Again, more

snow, slippery roads, but breathtaking scenery! This tour

we stopped at a local museum and saw (at a distance) a

few black bears. Another great dinner that night featuring

interesting foods from different provinces of Canada.

Saturday was "Navigator's Day Off," during which

they had bus tours available. We'd purchased tickets for

one tour, but we were running late that morning and

literally "missed the bus." Regardless, we went into the

photos provided by the author

The Shoffit's Macan in the mountains of Canada and requisite Porsche photo

content. Fairmont Banff Springs. Wendy and James (center) with some fellow

Treffen friends.

town of Banff and enjoyed walking along main street,

shopping, and eating Beaver Tails (pastry – look it up).

Others who went on the tours truly enjoyed themselves

and were glad they made it! Most tours all weekend

went off without a hitch from what I knew, except for

the Columbia Ice Fields, which were too rough for most

people to attend. Other than that, it was all good!

The final dinner Saturday night was a "Night at the

Castle" and it was great, like the others. The best part of

the evening for me was the presentation by two Canadian

RCMP "Mounties." While we were skeptical about

being bored, when they started talking, we were quickly

entertained by his stories and explanation of why they

wear those funny shaped pants. Awesome guys and an

amazing time! We were thankful to be there with fellow

Mavericks Jerry and Myra Sutton and Madhu and Roshni

Rao (now living in NYC).

Sunday morning we were sad to leave, but anxious to

get on to the next leg of our trip… Lake Louise and then

to Rennsport Reunion VI in Monterey, CA (a week and a

half later)! Ahhhhh… what a journey.

27
---
Renegade Rallye: 2018

By Don Anderson

photos by courtesy author and Peter Wen

As a relatively new Maverick member, I was asked to

provide my perspective of my first drive to the Hill Country.

I had heard many good things about the area, and being new

to Texas, I was thrilled to be invited to go on this adventure.

Ten cars, 1100 miles, four days: it was a blast!

The drive started in Plano, where we gathered part of the

group. We met a few more participants en route in Cleburne,

and a couple more drove down later that evening and met

us at our hotel in Kerrville. The next three days were filled

with spirited driving and great scenery. I thoroughly enjoyed

the cuisine at different establishments along the way and was

grateful to be making new friends.

Like Letterman or ESPN, here's my top 10 list for the trip:

10. Learning more about my car and the opportunity to use

"sport mode" in a meaningful way.

9. Not leading the pack or having to know where to go.

(Much easier following!)

8. The spirited driving was fun, but we kept it safe and

within our capabilities.

7. While turning onto one of the many fun and twisty roads

that Mark Palmer had selected for us, a sheriff got

interested and inserted himself in the middle of the pack

and followed for far too many miles -- until we pulled off

at a scenic river crossing to take pictures

(without incident).

6. A young boy was mesmerized by all of our cars parked

together at a coffee shop stop and rated each of them (he

liked the one with the big wing best, of course).

5. Peter Wen's smile when he discovered the LED valve

stem lights that were placed on his tires by the group

without his knowledge.

4. The visit to l'art et l'automobile in Harper, where

automobile memorabilia is sold by Jacques and his

wife, all housed in an amazing barn brimming with rare

and desirable car art.

3. The libations, conversation, and laughs after the drive.

2. Hill Country and its roads and scenery.

1. Making new friends and creating wonderful memories

. . . true Driving Friendships.

Already looking forward to next year!

28 November
---
Engine Restoration

• Restore, Rebuild to OEM Original

or Modified Spec

• Partial or Complete Car

Preservation Restoration

• We Manufacture NLA Parts to

OEM Original Condition

• Specializing in 911 930 928

Visit us on Facebook - Randall Kara Techniques

R A N D A L L K A R A

RKT 817-624-1322

T E C H N I Q U E S

901 TERMINAL ROAD • SUITE 400 • FORT WORTH, TEXAS 76106

35 Years Doing What We Love.

29
---
877 C

OUR PASSION DRIVES OUR CRAFTSMANSHIP

At APEX, your unique, personalized service program is crafted to meet your

speciic desires. Our passion is delivering a concierge level of service that

goes above expectations to create an unparalleled client experience.

To Ensure that you and your Porsche enjoy an unmatched standard of care,

contact us today for a private consultation.

855.998.APEX (2739) | www.ApexAutoCo.com | info@ApexAutoCo.com

CONCOURS LEVEL RESULTS

Using cutting-edge processes and

state-of-the-art equipment, our

detail techniques consistently

deliver an unsurpassed level

of care for your Porsche.

Expert Paint Correction | Professional

Detailing | Paint Protection Films (Clear Bra)

Ceramic Coatings | Window Films | Vinyl

Vehicle Wraps & Accents

Ceramic Pro Certiied Installer

The World's #1 Ceramic Coating

Member; IDA & Elite

Detialers Alliance

CARS & CANNOLI

Monthly on the 3rd Sat.,

Mar.-Nov., 9AM - 11:30AM

4756 Frank Luke Dr.

Addison, TX 75001

EXPERT ADVICE, OPTIMUM

ENHANCEMENTS

We have the knowledge and experience

required to truly enhance your

Porsche's aesthetics and

performance with

customized and proven upgrades.

Automotive Customization | Performance

Parts Sold & Installed | Intake/Exhaust |

Wheels/Tires | Suspension/Brakes | Custom

Methanol Injection Kits | ECU & TCU Tuning |

Racing Fuels and Methanol Sales | CEL/Code

Clearing & Diagnostics | Light Bodywork,

On-The-Go Hand Car Cleaning,

Reenishing & Respraying | Powder Coating

Automotive Customization &

Services | Integrated Radar/Laser Systems

Automotive Gifts

We indulge the needs of the connoisseur who values unsurpassed expertise

and craftsmanship for their Porsche. APEX; an automotive lifestyle brand.

200 C

200 C

200 C

200 C

200 C

123 C

German Car

Service & Maintenance

by Appointment

Specializing in:

307 C

307 C

354 C

354 C

354 C

108 C

108 C

108 C

307 C

108 C

354 C

200 C

108 C

307 C

354 C

307 C

299 C

151 C

Ussery Printing

Printer of SliPStream

Since 1982

817-366-1678

DasZauberwerk@ix.netcom.com

3402 Century CirCle irving, texas 75062

972-438-8344 Fax 972-721-1847

www.usseryprinting.com

30 November
---
autoscope.co

3 Dallas Locations:

Porsche Specialists with over

35 years experience in DFW

Park Cities

6134 Denton Dr

Dallas, Tx 75235

214-350-3050

Plano

601 Coit Rd

Plano, Tx 75075

972-867-7467

White Rock

9796 Ferguson Rd

Dallas, Tx 75228

214-320-8280

31
---
Since 1971

Providing personalized service

on all Porsche automobiles.

• Complete servicing and repairs

on all air or water cooled models

• In-house machine shop

• M96/M97 reconditioning

• Performance and track mods

2530 Tarpley Road • Suite 700

Carrollton, Texas 75006

(972) 417-0997

32 November
---
The Art of Paint Protection

josh@invisibra.net

214-704-9299

Paint Protection Film

Ceramic Coating

Full Detailing

Window Tinting

33
---
Maverick November Anniversaries

40 Years

Lee Oneacre (Dixie)

35 Years

Steve Perrin (Angelena)

William Smith

30 Years

Dan Cashman (Billie)

20 Years

Andrew Popsack (Karen Evans-Popsack)

15 Years

Joe Ortenberg

Raymond Urbanik

10 Years

Galen Caraveau (Christina)

Kien Nguyen (Julie Warren)

William Timberlake (Andrea)

5 Years

Jennifer Bailey (Jason)

Nicholas Cade (Betts)

Steve Fitzpatrick (Charlotte)

James Houston (Riki)

Debra Kidwell (Bob)

Bob Kramer

Brent Mahoney (Karen)

Jeffrey Poland (Kim)

Michael Schoor (William)

Murray Tysinger (Jan)

Dallas

Irving

Dallas

Irving

Richardson

Fort Worth

Dallas

Garland

Frisco

Southlake

Keller

Dallas

Dallas

Highland Village

Granbury

Irving

Abilene

Argyle

Irving

Wylie

Member Moment - 25th PCA Anniversary, October 2018

Lee and Linda Wilkins

Occupation

Business and Tax Lawyers. Lee served as General Counsel

of the Porsche Club from 2001-2004.

First Porsche

1983 Porsche 928

Current Porsche

2015 Panamera S

Most memorable Maverick or PCA event

There are so many memorable events! But I particularly recall my first Parade in 2001.

Best thing about owning a Porsche

Allowing us to get to know so many friends and like-minded people in the Mav Region.

Advertiser Index

Advertising rates available upon request.

For more information contact Bill Kruder at

ads@mavpca.org

Apex Automotive........................................ 30

Attic Butlers................................................. 33

Autobahn Motorcar Group........................ B.C.

Autoscope................................................... 31

Bennett Motor Werks.................................. 22

Competition Motorsport............................. 31

Concorso Detailing...................................... 29

deBoulle Diamond & Jewelry...................... 16

DFW Garage Design.................................... 31

Fast Lane Travel........................................... 35

Falgout & Associates, P. C ............................ 32

Fifth Gear Motorsports................................ 38

Growler Motor Labs....................................... 7

Garages of Texas.......................................... 15

Innovative Autosports................................... 5

Invisibra...................................................... 33

Louden Motorcar Services....................... I.B.C.

Marvelous Home Makeovers...................... 21

Mayo Performance...................................... 26

Mullenix Motorsport................................... 32

Mustard Racing........................................... 30

New York Life.............................................. 25

OCD'tailers.................................................. 33

Onsite Tires................................................. 26

Park Place Porsche................................... I.F.C.

The Phoenix Insurance................................ 25

Porsche Plano............................................... 9

RAC Performance.......................................... 3

RKT Techniques........................................... 29

Roofing Solutions by Darren Houk.............. 26

Stuart's Paint and Body................................. 8

Texas Motor Works...................................... 32

Ussery Printing........................................... 30

Zims Autotechnik........................................ 35

These advertisers support our

Maverick Region.

Tell them you saw their ad in

Slipstream!

34 November
---
Parts or Service, We Deliver Excellence.

Over 300,000 parts in stock.

Expert service and repair.

Parts and Service for: Porsche, Mercedes-Benz, BMW, Mini, and Smart Car.

817-267-4451

Visit us online at:

1-800-356-2964

www.allzim.com

zimips@allzim.com

1804 Reliance Pkwy. Bedford, TX 76021 M-F 8am to 5:30pm

Zims Autotechnik is not affiliated with Porsche AG or PCNA Registered Trademark of Dr. Ing h.c.F. Porsche A.G.

Hey Maverick Region, Reward Yourself!

European Luxury Driving Tours since 1976

Germany, Austria, Italy, France, Switzerland, China and USA

Our PORSCHE driving tours for 2019 combine fun,

adventure, luxury & gorgeous scenery!

For more information contact us at: 813-343-3001

info@FastLaneTravel.com or

visit us online at www.FastLaneTravel.com

It's Our Business to Do Pleasure. TM

35
---
Oversteer: Letter from the Editor

By Kurt Scaggs, Managing Editor

It seems like certain Slipstream issues take on a

common name, the Christmas issue, the Autocross

issue, well, this is probably the Rennsport issue. The

cover photo and the center spread pay tribute to the

event, but also the people that enjoy, attend and yes

enable us to take a week off of work and play race car

driver. We like to say it's not just the cars, it's the people.

Never was that more evident than before, during and

after my first trip to Rennsport.

I looked at the ads and thought 'that would be fun to

do someday'. Cue the music and dreamy recap sequence.

Things just began to line up. I was encouraged by fellow

members, connected with tickets for sale, a corral pass,

a group to drive out with. But things like that don't

just happen magically, it takes people. I'm sorry if this

offends anyone, but car people are the best people. I

know dog people are great and Aggies are generally

very nice unless you happen to mention that you think

Texas has a better team this year, but car people have a

special bond that is a little different. Take for example

a new friend that I met in the Porsche corral at the

event. We started in the usual manner, talking about

our cars and the event, fifteen minutes later I wound

up with an invitation

to take his spot in the

next day's parade lap

around Laguna Seca

(a boyhood dream) if

I was willing to bring

his boys with me. I

nearly choked trying to

accept. That has never

happened to me at a

PTA meeting.

I'm not a special

case, far from it. A

quick look on the

Maverick Facebook

page will confirm that

our members stand

ready to lend advice,

experience and hands

at a moments notice.

Don't just 'Enjoy the

drive!', enjoy the

friends new and old.

Giants in the mist. A moment I won't

forget, the 917 warming up on a quiet

morning in the California fog.

Our group during a needed back break.

Porsche Specialists - Experienced Enthusiasts

Dealer-Like Service at Independent Prices

fifthgear.biz

Excellent Service Maintenance & Repair Sales

•All Porsches' Serviced

•Fast Turnaround Times

•Same Day Service In Some

Cases

•Serving DFW Area For Over

14 Years

•Family Founded, Owned &

Operated

•100+ Years of Porsche Tech Experience

•11,000 sq. ft. State-Of-The-Art Facility

Equipped with the latest Diagnostic

Tools

•Comfortable Waiting Area with

Free WiFi & Coffee Bar

•Same Services and Capabilities as the

Dealers

•Consignment Sales performed

on a case-by-case basis

1975 Archer Ave • Lewisville • TX 75077 • 972•317•4005

36 November
---
Hiram Saunders, Slipstream

155 Jellico

Southlake, TX 76092

Periodical Postage

Paid at Fort Worth, TX