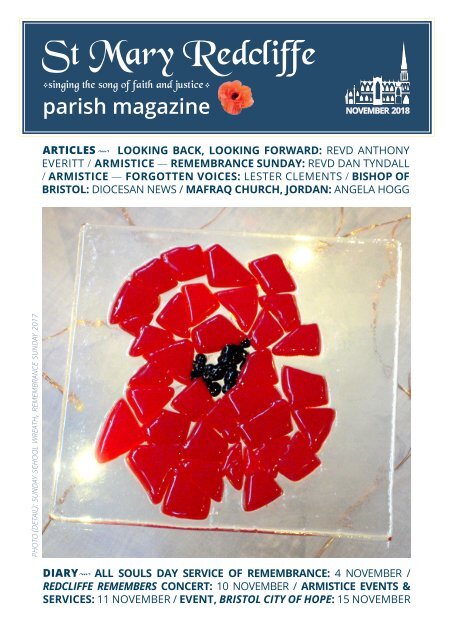 St Mary Redcliffe Church Parish Magazine - November 2018
Create successful ePaper yourself
Turn your PDF publications into a flip-book with our unique Google optimized e-Paper software.
St Mary Redcliffe

+ singing the song of faith and justice+

singing the song of faith and justice

Parish parish magazine Magazine

…

november 2018

ARTICLES LOOKING BACK, LOOKING FORWARD: REVD ANTHONY

EVERITT / ARMISTICE — REMEMBRANCE SUNDAY: REVD DAN TYNDALL

/ ARMISTICE — FORGOTTEN VOICES: LESTER CLEMENTS / BISHOP OF

BRISTOL: DIOCESAN NEWS / MAFRAQ CHURCH, JORDAN: ANGELA HOGG

photo (detail): sunday school wreath, remembrance sunday 2017

DIARY ALL SOULS DAY SERVICE OF REMEMBRANCE: 4 NOVEMBER /

REDCLIFFE REMEMBERS CONCERT: 10 NOVEMBER / ARMISTICE EVENTS &

SERVICES: 11 NOVEMBER / EVENT, BRISTOL CITY OF HOPE: 15 NOVEMBER
---
St Mary Redcliffe

With Temple, Bristol & St John the Baptist, Bedminster

church wardens

Richard James — 0117-966 2291

richard@bristolbound.co.uk

Elizabeth Shanahan — 07808 505977

eshanahan21@googlemail.com

vergers

Vergers' office — 0117-231 0061

Matthew Buckmaster — Head Verger

matthew.buckmaster@stmaryredcliffe.co.uk

Andy Carruthers, Paul Thomas — Vergers

director of music

Andrew Kirk — 0117-231 0065

andrew.kirk@stmaryredcliffe.co.uk

assistant organists

Claire and Graham Alsop

vicar

Revd Dan Tyndall — 0117-231 0067

email: dan.tyndall@stmaryredcliffe.co.uk

associate vicar

Revd Kat Campion-Spall — 0117-231 0070

email: kat.campion-spall@stmaryredcliffe.co.uk

associate minister

Revd Anthony Everitt

email: anthony.everitt@stmaryredcliffe.co.uk

associate clergy

Revd Canon Neville Boundy, Revd Peter Dill

operations manager

Peter Rignall — 0117-231 0073

email: peter.rignall@stmaryredcliffe.co.uk

admin associate

Pat Terry — 0117-231 0063

email: pat.terry@stmaryredcliffe.co.uk

admin assistant

Noelle Gartlan — 0117-231 0063

email: noelle.gartlan@stmaryredcliffe.co.uk

the parish office

12 Colston Parade, Redcliffe, Bristol BS1 6RA — 0117-231 0060

email: parish.office@stmaryredcliffe.co.uk

research assistant

Rhys Williams — 0117-231 0068

rhys.williams@stmaryredcliffe.co.uk

education officer

Sarah Yates — 0117-231 0072

sarah.yates@stmaryredcliffe.co.uk

community development worker

Rachel Varley — 0117-231 0071

rachel.varley@stmaryredcliffe.co.uk

community youth worker

David Cousins — 0117-231 0067

david.cousins@stmaryredcliffe.co.uk

— Any of the above can be contacted via the parish office

— Visit us at www.stmaryredcliffe.co.uk
---
vicar's letter

IT IS NOVEMBER; we are in the final month

of the Christian Year. The clocks have just

turned back, the new Christian year starts at

Advent. So we have an opportunity to review

and re-form ready for then.

LOOKING BACK, LOOKING FORWARD

— REVD ANTHONY EVERITT

ASSOCIATE MINISTER

The month starts with the twin, interlinked

celebration of All Saints, and commemoration

of All Souls. We think of the Christian saints of

old, and we learn from their lives and work. We

consider the saints of today, and those yet to

come; dedicated to God's work. We remember

the Souls, the Christian essence, of those who have gone before, known to

us or not; and we can each consider our own Soul. Do we ensure it is fed

through studying the Bible, sharing the Eucharist, in worship and in prayer?

Later this month the country keeps Remembrance Sunday; particularly

poignant this year, 100 years since the Armistice formally ended the

enormous tragedy of First World War. The so-called "War to end all

Wars" was no such thing, followed as it has been by wars, conflicts, oppression

and violence on national and international scales. In this season let us reflect

on whether our own language, thoughts and interaction with others may fail

to show respect and honouring of them. Or rather do they reveal poverty in

our recognition of the validity of difference in all spheres of human existence?

Later again we celebrate the festival of Christ the King. We are reminded

that the risen and ascended Christ is enthroned in heaven. It is to Him

that we are called to worship, honour, and praise. This past year has there

been something that you have let become more important to you than

God? Something to which you have given more honour than to Jesus? Is

there a person, a job, a place, to which you have given so much attention

that you have given little or none to God? Let us each ponder on that, hand

on heart; consider whether it is true.
---
Having reflected, honestly, about how we are in ourselves, with others,

and towards God, then we can rededicate ourselves to seek to live lives

sanctified and nurtured by strong relationship with Christ. Relationship

built on prayer, worship, reading and communion with Him and with one

another. We can pray and work for the reform of individuals and society

to recognise that in God's sight all can be whole, all are equal. We can

refocus so that, whilst honouring others and ourselves, we honour Christ

as King in our lives; to Him be the glory now and always.

"The voices of creation raise"

Revd Anthony Everitt

— Associate Minister

Hymns from my sabbatical

— Revd Dan Tyndall, Vicar

This hymn is sung to the "Gonfalon Royal" (with thanks to Andrew Kirk

for suggesting it), which is best known when sung to the words "The

royal banners forward go".

This is a hymn of praise to God, a hymn of thanksgiving for the love that God

has for us. However, God's love is not simply ours, although it is undoubtedly

"ours and ours always". In this hymn I am trying to take the congregation

on a journey towards a deeper understanding of the expansiveness of

God's love. There is no doubt that God's love is ours: but if we truly believe

that "God's love is where we all belong" then that challenges us to consider

the extent of the boundary of those within God's love. Is it more extensive

than we might have thought … even than we might like to accept?

As the hymn moves through the verses we are reminded that the love of

God is not earned or deserved, but a free gift for all; and, more than that,

in Jesus of Nazareth we see a love made known particularly to those at

margins, to the poor and the outcast, and to those "where love's unknown".

The final verse affirms the journey we have made and, confident in our

growing understanding of God's universal and inclusive love, we can "sing
---
with thanks to kendra lindegaard age 9 and family for this detail of a sketch of an smr candelabra

more firmly than before" of God's love for other people knowing that that

in no way diminishes the love of God that is ours.

One of the lines of poetry that I had in mind when writing this hymn comes

from T S Eliot's the Four Quartets —

We shall not cease from exploration

And the end of all our exploring

Will be to arrive where we started

And know the place for the first time.

+

+

The voices of creation raise

The voices of creation raise

a melody of thanks and praise

in one unfolding joyous phrase:

God's love is ours and ours always.

Within that universal song

we join our voices, loud and long,

and dare to name what's never wrong:

God's love is where we all belong.

The message that the lovesong brought

is keeping rules will come to naught,

until the time when all are taught:

God's love is free and never bought.

This truth we claim in certain tone

but vain conceit we shall disown

and sing of love's true cornerstone:

God's love is sure where love's unknown.

And so we tune our voice once more,

reminded who this lovesong's for,

to sing more firmly than before:

God's love is all, will all restore.

Amen.

Revd Dan Tyndall
---
from the diocese of bristol

SATURDAY 20TH OCTOBER —

SERVICE OF WELCOME & ENTHRONEMENT FOR THE NEW BISHOP OF BRISTOL

THE RT REVD

VIVIENNE FAULL,

Bishop of Bristol,

was formally welcomed

to the Diocese at a service

in Bristol Cathedral this

weekend. Representatives

of churches and communities

from across

the Diocese gathered to

witness her enthronement

on Saturday 20th October.

Bishop Viv arrived for the service aboard the Bristol Packet ship Tower

Belle. She was greeted by children from local schools who accompanied

her to the Cathedral, as the Bristol Easton Salvation Army band played. She

entered the Cathedral to the sound of a fanfare played by the City Trumpeters,

after the ceremonial striking of the west door with her pastoral staff.

Around 700 guests, including community and faith leaders and representatives

from charities and the arts, attended the service. Among

those attending was the Lord-Lieutenant of Bristol, the Archbishop of York,

the Lord Mayor of Bristol, the High Sheriffs of Bristol and Wiltshire, and

the Deputy Lord-Lieutenant of Somerset, the Deputy Lord-Lieutenant

of Wiltshire and the Lord-Lieutenant of Gloucestershire. The Diocese of

Bristol covers churches in the Church of England across Bristol, Swindon,

North Wiltshire and South Gloucester.

Bishop Viv said: "This is a service filled with celebration and prayer which

marks the beginning of my public ministry in this Diocese. I am grateful for

the many ecumenical and diocesan representatives who are supporting me

in the service and will be assisting in the worship. I do look forward with

great anticipation to all that lies ahead for the Diocese of Bristol. I have been
---
sustained by the welcome I have received and the assurance of the prayers of

so many, and continue to hold the Diocese in my prayers."

— from the Diocesan website; read Bishop Viv's enthronement sermon at

https://www.bristol.anglican.org/documents/bishop-bristols-enthronement-sermon/

PROGRAMME FOR ARMISTICE DAY 2018

ON 11 NOVEMBER 2018, the day will begin at the Commonwealth War

Graves Commission St Symphorien Cemetery near Mons, Belgium where

the war began in 1914, where the war's first and last casualties lie and where

the government began the commemorations in 2014. It offers a fitting place

to reflect on the cost of the war.

The 14–18 Now cultural programme will return for a compelling final season,

culminating on 11 November 2018 in a UK-wide event to draw the nation

together in a shared moment of remembrance. The full programme will be

announced in January.

In the evening, the national commemorations will end with a ceremony at

Westminster Abbey. The service will reflect on the Centenary, recognise the

impact of the war after the Armistice, and give thanks to all those who were

affected over the course of the conflict.

Visit www.bristol.anglican.org for the latest Diocese news, events and training

Follow us on Facebook at www.facebook.com/Diocese.of.Bristol

and Twitter at @diobrizzle

— sketch at performance of "1918: Home at Last" on 13 October 2018; EJ Lee
---
emembrance 1914–2018 armistice

Photo: EJL 2018

REMEMBRANCE DAY 2018

BY NOW, we are all very aware that this month sees the centenary

commemorations of the ending of World War One. Along with

churches, cathedrals and others up and down the country, we are

marking this anniversary in a number of ways. Elsewhere in this magazine

you will be able to read about the exhibition about choristers who died and

the concert, Sing unto the Lord a new song, by our choir on Saturday 10th

November. I want to let you know a little bit more about Sunday 11th

November itself.

In the morning we shall be doing what we usually do on Remembrance Day:

a said service at 8.00am, followed by an extended 9.30 Sung Eucharist

which will end round the War Memorial in the south churchyard with
---
the national silence at 11.00am. There will be no service of Mattins,

also as usual. [*see below]

However, there are two slight differences to "the norm". The first will

herald the start of this day of commemorations: along with hundreds of

other locations, a lone piper will stand on the steps of the north porch at

play "Battles O'er", the traditional Scottish lament played at the end

of battle. The second is the use of a travelling Communion set owned and

used by my grandfather, Rev Canon Denis Tyndall. He was chaplain from

1915 until the end of the war and his Communion set would undoubtedly

have travelled with him through the trenches. I have recently discovered

that he was awarded a Military Cross for "organising parties who cleared

up the battlefield and brought in large numbers of wounded under heavy

fire". As was the custom then, the altar will set up 'east-facing' and I will

preside at the Eucharist in that manner.

Then, in the evening, we are having very different style of service: one

which will aim to be more participatory as well as honouring the men

who died from this parish. From 5.30pm there will be a pop-up café in

the south transept and people are welcome to bring their own World War

One memorabilia. From the conversations I have had so far, I think we

will have over 100 exhibits ranging from my grandfather's Communion

set, to medals and spurs and shell cases. A little after 6.00pm the service

will start. During the service we will name all those from this parish

who died during the war and invite members of the congregation to help

make a poppy cross as an act of remembrance. The service will end at the

West End, near our indoor World War One memorial, with a sharing of light

from the lamp lit on 4 August 2014, which has been in St John's Chapel

throughout the anniversary of the war, and the Last Post. At 7.05pm the

commemorations come to an end as bells from our tower, and towers

across the land, ring out to mark the end of the war and the end of our

commemorations.

* Further Remembrance Day

information: a lone piper will

play Reveille at 6.00am on the

north steps of the church — see

the Press Release on page 30

Sunday 11th November 2018 will be a day

like no other —please do join in.

Revd Dan Tyndall

Vicar
---
soundbites music at redcliffe

SING UNTO THE LORD A NEW SONG

CONCERT AT ST MARY REDCLIFFE CHURCH

10TH NOVEMBER 2018 FROM 3.00-4.15PM

St Mary Redcliffe Choirs & Petronella Dittmer, Violin

AS PART OF our Redcliffe Remembers theme, which has been

running from 2014–2018 to mark the centenary of the First World War,

our choirs will give a concert of music appropriate to the Remembrance

season. We are delighted that Petronella Dittmer will join us as guest violin

soloist, accompanied by Andrew Kirk on the organ.

Boys

Boys

Violin

Girls

Violin

Organ

Boys

Boys

Boys

Violin

Girls

Girls

All

All

Lighten Our Darkness

For Lo I Raise Up

Excerpt from The Lark Ascending

Movements II & III from Dona Nobis Pacem

Chanson de Nuit

Images

Factum est silentium

As the tanks roll by

God is our hope and strength

Meditation from Thais

The limit of our sight

So they gave their bodies

Libera Me & In Paradisium from the Requiem

And I saw a new heaven

Stanford

Stanford

Vaughan Williams

Vaughan Williams

Elgar

Park

Hawes

Marsh

Moore

Massenet

Kirk

Aston

Fauré

Bainton

Tickets are £5 on the door; there

will be tea and cake at the end of

the concert, served at the West

End of the church. Please also

visit our exhibition in the North

Transept on the sixteen choirmen

who died in WWI,which will be up

in early November.

ANDREW KIRK

Director of Music
---
The Canynges Society, in association with the Festival of Ideas, invites you

to a special event to be held in St Mary Redcliffe Church on

Thursday 15 November 2018

at 6.15 pm for 6.30 pm

Bristol: a City of Hope

Programme

6.30 - 7 pm Talk

7 - 7.20 pm Organ Duets

7.20 - 8 pm Drinks at West End

On the evening of Thursday 15 November, The Canynges Society is delighted

to host an event where Bristol Mayor Marvin Rees will make a presentation on

"A City of Hope". The themes will include his vision for the City of Bristol, the

relationship with faith and the role of St Mary Redcliffe within the city.

Following the talk there will be an opportunity to listen to organ duets performed

on the famous Redcliffe Organ by Andrew Kirk, Director of Music and Organist at

St Mary Redcliffe and Alison Howell, Organist at St John the Baptist, Keynsham.

Music will include pieces by Handel, Verdi and Brahms.

The evening will end with drinks in the West End of church.

There is no admission charge for this event. There will be an opportunity to make

a donation to The Canynges Society at the end of the evening.

Apply for tickets through Eventbrite:

https://cityofhopecanynges.eventbrite.co.uk

Seating will be unreserved.

Further details available (including accessibility) from the Canynges Administrator,

Mrs Pat Terry, on pat.terry@stmaryredcliffe.co.uk or canynges@stmaryredcliffe.co.uk

The Canynges Society is a Registered Charity. No. 242231

+++
---
1918 — HOME AT LAST : COMMUNITY OPERA : 12 & 13 OCTOBER

SEE THE CUTTINGS below from the Bristol Post published on Wednesday 17th

October — for legibility, the article shown on this page is reproduced

opposite. Overleaf read an audience member's impressions of the opera,

and see the images opposite (bottom right) and overleaf, as well as elsewhere

in the magazine, of some of the many fused-glass 'poppy' tiles made for the

occasion by the schoolchildren who participated in the event.
---
""WAR AND CRY

Pupils pack church for

moving opera

YOUNGSTERS

from

across Bristol performed

a new opera to

mark 100 years since the

end of the Great War.

Two hundred children

packed into St Mary

Redcliffe Church, alongside

the Gurt Lush Choir,

Bristol MAN Chorus and

St Mary Redcliffe Church

Choir to perform the

new community opera

1918 — Home at Last.

The opera has been written

by Bristol composer

Mark Lawrence and librettist

Claire Williamson, and

the story is told through the

eyes of both soldiers at the

front, and families at home,

whose roles are taken by

children.

Solo characters were

performed by professional

vocalists, Martin Le

Poidevin, Esther Mallett,

Laurel Steel and Peter

Wagstaff, and Michael Alsop,

a chorister from St Mary

Redcliffe Church, gave the

child's solo perspective.

The event also included

The Show by Phil Dixon,

performed by Bristol MAN

Chorus and Gurt Lush Choir

and Ring of Light by

Raymond Warren, performed

by percusssonist

Jeremy Little; SMRT string

ensemble and organist

Claire Alsop.

More than £13,000 was

raised to commission the

community opera, including

grants from the Arts

Council of Great Britain,

Quartet Foundation, the

Royal Society of St George

and The Arts Society Bristol.

St Mary Redclife and Temple

School head teacher

Elisabeth Gilpin said: "We

realise in this centenary

year that very few children

will have heard first-person

accounts of war-time experiences

and we hope this

project will keep these

local and national memories

alive and relevant to

Bristol children".

Fused-glass tile — one

of many created by

children as mementos

of the occasion, and the

WWI commemorations
---
1918 — HOME AT LAST : AN INSPIRATIONAL PERFORMANCE

June Saunders writes:

ON SATURDAY 13th October I had the pleasure of attending a community

concert at St Mary Redcliffe Church. As I entered the church

I realised that it was full to capacity. The church has a commemorative

chapel, but at the back of the church there was a 'field of stained glass

poppies' beautifully displayed. Each primary school child participating had

made one of these poppies as a symbol of remembrance, this being very

significant as it is the centenary of the end of World War One.

The concert started with a selection of Footnotes to the Great — a First World

War Suite performed by Gert Lush Choir and Bristol MAN Chorus. In complete

contrast to the lively war songs was Ring of Light written by Professor

Raymond Warren and performed by St Mary Redcliffe and Temple String

ensemble, percussion and organ. Finally there was Stille Nacht. It is said

that this was performed by the troops on both sides of the line when there

was a short Christmas truce.

After a short interval we were treated to 1918 — Home at Last, written by

Mark Lawrence and Claire Williamson. It was commissioned by Horfield

Primary School and St Mary Redcliffe Church to commemorate the end

of World War One. What made the performance so memorable was the

blend of soloists, organ, instrumentalists and massed choirs — people of

all ages and experience.

Over fifty years ago, I played in a production of Noye's Fludde by Benjamin

Britten and I noticed that there were quite a few similarities between the

two works. Both start and end with a hymn, in this case Jesu, lover of my

soul and Lord of all gentleness. Besides soloists and choirs, the organ took a

central part, with a brass quintet, percussion and parts for student players.

There are different strands running through the work:

Major Adams (sung by Martin Le Poidevin) is the Narrator. He is haunted by

how he led men to their deaths, and tells us of the extent of the war, with

"a Massacre at Gallipoli, at Jutland, in Galicia. And so it goes on". His young

son yearns to be a soldier.
---
One group of children sang about the soldiers on the Front, with songs like

Your country needs you, and We want to do our duty — I thought of my Grandfather

telling me how they struck matches to burn the lice in the seams

of their uniform trousers; he did not talk about the war very often as the

memory was too painful. The other group of children sang about keeping

homes, factories and farms running at home — chiv vied along by Connie

(Esther Mallet) and Ivy (Laurel Steele). The St Mary Redcliffe choristers' part was

more poetic and reflective, as was the evocative part sung by Michael Alsop.

Through this was woven the story of Edward (Peter Francis) and Connie.

Private Edward C Cooke of the Gloucestershire Regiment sets off for war,

leaving Connie behind. He is sustained by their letters but, sadly, the

haunting words "for the life of a man is but a span, he's cut down like a

flower" are followed by the news of his death. The news arrives by letter

just as the bells announce the Armistice.

The opera clearly relates the sadness and futility of war and the horror of

the trenches, also how life at home was carried out. Most important is the

theme that there is hope — "there's new life, new hope, new growth". It was

good to know that children were being given an accurate picture of their

history. We were commemorating the past and remembering those who

had died, but also looking to the future.

Well done for a truly inspirational performance given in a magnificent

setting. Thank you to all who supported it in various ways.

J D Saunders

Photo: EJL 2018
---
forgotten voices November 1918: Armistice

"Winchester Cathedral—on the eleventh hour of the eleventh day of the

eleventh month, officers and men of the United States Army in tribute to

their fallen comrades"

"The Commanding Officer of the Irish Guards

reading the news of the Armistice to his men"

Voices compiled by Lester Clements, for November 2018
---
WE WERE STILL FIGHTING

hard and losing men. We

knew nothing of the proposed

Armistice, we didn't know until a

quarter to ten on that day. As we

advanced on the village of Guiry a

runner came up and told us that the

armistice would be signed at 11 o'clock

that day, the 11th of November.

That was the first we knew of it.

We were lined up on a railway bank

nearby, the same railway bank that

the Manchesters had lined up on in

1914. They had fought at the battle

of Mons in August that year. Some

of us went down to a wood in a little

valley and found the skeletons of

some of the Manchesters still lying

there. Lying there with their boots

on, very still, no helmets, no rusty

rifles or equipment, just their boots.

Marine Hubert Trotman

Royal Marine Light Infantry

AS FAR AS THE ARMISTICE

itself was concerned, it was a

kind of anticlimax. We were too far

gone, too exhausted really, to enjoy it.

All we wanted to do was to go back

to our billets, there was no cheering,

no singing. That day we had no alcohol

at all. We simply celebrated the

Armistice in silence and thankfulness

that it was all over. And I believe that

happened quite a lot in France. It was

such a sense of anticlimax. We were

drained of all emotion. That's what it

amounted to.

Corporal Clifford Lane

1st Battalion, Hertfordshire Regiment

IT WASN'T LIKE LONDON where they

all got drunk of course. No, it wasn't like

that, it was all very quiet. You were so dazed

you just didn't realise that you could stand

up straight and not be shot.

Corporal Reginald Leonard Haine

1st Battalion, Honourable Artillery Company

AS WE ADVANCED we saw the terrible state of the Ypres salient. There

were wrecked tanks from 1917 all over the place. I was used to dead

horses and mules but not in the numbers that we saw up there. Of course it

was just shell-holes everywhere. By the end of the first day we were clear of

Ypres and on a ridge where we could look ahead and see trees and landscape

that had not been affected by war. It was just unbelievable. We knew then

that things were going well.

We came back out of the line at a place called Vichte and had gone to

bed in a hay loft. Our sergeant came in shouting that the war was over.

Everybody got up and went down into this wee village. The estaminet owner

opened his pub and issued free drinks and then went back to bed. We were

paraded at the usual time. We were made to do slope arms by numbers till

11 o'clock. Then were were disbanded. That was the Armistice.

Trooper Alexander Jamieson, 11th Battalion, Royal Scots Fusiliers
---
Sergeant Melvin Krulewitch, United States Marine Corps

EVERY PIECE OF ARTILLERY in the Armerican army and the

adjoining French units opened up. This action produced a symphony

in colour: you had the red artillery flares; orange flames coming out of the

cannon; green signals indicating possibility of gas attack, and you had the

shells bursting in the air creating a white colour. On top of this you could hear

the thunder of the guns. It was a great support to our morale to know what

this extraordinary barrage was going on behind us. On we moved in the usual

way, in a long skirimsh line; men five yards apart, moving along at a leisurely

pace, just making sure that you wouldn't get into our own barrage fire. The

artillery fire had almost wiped out the first row of trenches, so we were soon in

them taking prisoners. One or two of our boys were wounded. A great shout of

triumph went up and down the line when we made the German prisoners carry

out wounded back on stretchers. The we pushed ahead. Occasionally some of

the boys would kneel and take a shot at a German, but they were retreating.

Then another great shout of triumph went up because we'd captured their

artillery: that was about two and a half miles behind the line.

We were attacked then by long-distance machine-gun fire and we had some

casualties. The fire came from the heights of Bayonville, which was part of the

Kriemhild Stellung defence line. That night we moved up and took the heights

of Bayonville, so there was nothing ahead of us except the retreating Germans.

And we pursued them relentlessly, night after night, day after day. The Germans

were losing food; losing their artillery horses and their baggage and ration

wagons. There were so hungry that they would shoot a horse and cut steaks

out of the rump. At first we thought the horses had been hurt by shellfire: then

we saw the skilful butchering of the steaks, and we knew what they had done.

Finally we reached our objective, which was to cut the Metz-Malmédy railroad

on the heights looking down to the Meuse river below Sedan. We cut that on the

last might of the war — November 10th — and we put a footbridge across the

Meuse river under withering gunfire. We crossed the river that night and made

an attack on the other side. To us the fight was just like any other fight — the

fight of the 9th, the 10th. That morning we found our wounded and gassed

boys lying around on the ground and we took care of them. We expected an

infantry attack, but the Germans never came that night, because there was

too much gas in the woods and they took a chance of being killed themselves

by their own gas if they attacked. So they let go with a box-barrage of highexplosive

shelling and mustard and phosgene gas. The following morning

when we collected our unit, all I had was eleven men out of a company of

two hundred.
---
Herbert Sulzbach, 9th Division, German Army

IN OCTOBER I HAD LEAVE TO GO HOME TO FRANKFURT, my

home town, to my parents. I was very much looking forward to this

leave after the terrific battles we had been through. I went through the streets

of Frankfurt. I was not saluted. I was a commissioned officer, yet no one

saluted. Everything was rationed and there was hardly anything to buy.

Dance halls were closed, the streets were dull and the mood of the people was

really bad. We hadn't realised at the Front how bad it was at home. People were

fed up with war. They wanted the war to be ended as soon as possible, victory or

no victory. After a fortnight I went back to the front line, to my comrades, to

my guns, and I felt at home amongst the mud, the dirt and the lice.

In spite of our retreats for weeks and months, we still received mail, bags of

it, even some parcels. Parcels didn't come from Germany but from Belgium,

where there was still some food and chocolate. The letters I received were

not depressing, but some of my comrades received letters which were most

upsetting. Their families wrote, "We have nothing to eat, we are fed up with

war, come back as soon as possible." You can imagine how it affected the

morale of these poor chaps.

On November the 1st we were at Étreux not far from St Quentin, where we

had started our big offensive on March the 21st. Then we were so full of hope

and broke through the British 5th Army. Now it seems a million guns of the

American, French and British were bombing us. The war was entirely lost. As

adjutant I had to give the order of the day. On the 11th of November it was:

"From noon onwards our guns will be silent." Four years before, full of

optimism, now a beaten army.
---
Sketches at performance of "1918: Home at Last" on 13 October 2018; E J Lee

AT 11 O'CLOCK ON THE 11TH NOVEMBER I was sitting in a room,

in the Brewer's house at Le Cateau, which had been Sir John French's

headquarters at the time of the battle of Mons. I was sitting at a table with a

major in the Scots Greys who had a large, old-fashioned hunting watch which

he put on the table and watched the minutes going round. When 11 o'clock

came, he shut his watch up and said, "I wonder what we are all going to do

next!" That was very much the feeling of everyone. What was one going to

do next? To some of us it was the end of four years, to others three years, to

some less. For many of us it was practically the only life we had known. We

had started so young.

Nearby there was a German machine-gun unit giving our troops a lot of

trouble. They kept on firing until practically 11 o'clock. At precisely 11 o'clock

an officer stepped out of their position, stood up, lifted his helmet and bowed

to the British troops. He then fell in all his men in the front of the trench and

marched them off. I always thought that this was a wonderful display of

confidence in British chivalry, because the temptation to fire on them must

have been very great.

Major Keith Officer, Australian Corps
---
forgotten voices Armistice: November 1918

THE END OF THE WAR

— REFLECTIONS

LESTER CLEMENTS

COMPILER, FORGOTTEN VOICES 1914–1918

WAR BROKE OUT against Germany in 1914 and ultimately

involved nearly all of Europe, as well as the United States

of America, and Japan. The end came in November 1918 with

Germany decisively defeated. The Kaiser, Wilhelm II, abdicated and fled to

Holland. A conditional peace treaty was signed at Versailles in 1919.

During the four years the battle raged backward and forward. Land gained

today was lost tomorrow. Historians have called the slaughter at Verdun,

The Somme and Passchendaele "appalling butcheries". For example, in

one day of fighting at The Somme, Britain lost 60,000 soldiers.

The war continued until the Great Alliance offensive of July 1918 and the

storming of the Hindenburg line in September joined with revolution in

Germany, mutiny in the German fleet, and the precipitate flight of the

Kaiser to Holland. All combined to bring Germany to her knees.

The war, a world conflict in which more than 50 million armed men had

been engaged, was over.

The Armisitice was signed at 11th hour of the 11th day of the 11th month

of 1918. Thirty million dead, including 7 million civilians. Killed by

bullet, bayonet, drowning (water and mud), gassing, bombing, and shell

shock — executed as cowards or deserters.

A total of seven Victoria Crosses were awarded to servicemen from the City

of Bristol.

O valiant hearts who to your glory came through

dust of conflict and through battle flame.
---
From 2014, in our magazine

through Voices, we have shared

the lives of soldiers as they

have told us their experiences.

Stories of hope, despair, hate,

love, fear, joy but at the Front

the outstanding comradeship.

Strangers thrown together becoming

brothers — brothers

led to believe this was the war

to end wars, so many of them

having to take up arms again

twenty-one years later.

When comes the promised time

that war shall be no more?

Maybe the nuclear weapons

will give the destroyed world

the answer.

Lester Clements

Voices of the First World War

O Risen Lord,

O Shepherd of our dead,

whose cross has brought them

and whose staff leads;

in glorious hope

their proud and sorrowing

land commits her children

to thy glorious hand.

Photo: EJL 2018
---
sunday school

OFF TO A GREAT START!

— BECKY MACRON

SUNDAY SCHOOL LEADER

WE HAVE GOT

OFF TO A GREAT

START with our

Children's Ministry. Since

September, we have welcomed

new families from

the local area and beyond

to both our Sunday School

and our youth group. It is

always a great pleasure to

meet and worship with the

children and families at SMR.

As Dan recently mentioned

in his notices, our

increase in numbers does

mean that we need more

leaders! We are looking in

particular for leaders and

assistants to support our

youth group, Rockets. The

group takes place most

Sundays from 4.30–5.30pm.

We have a small group of

boys who regularly attend

and we hope to welcome

more teenagers from the

secondary school and community.

If you would like to

know more about our youth

group and what we do,

please let me know — my

contact details are below.
---
On Sunday 14th October

I was invited to help out

with Messy Church at the

Faithspace Centre. This was

a wonderful experience

and I was delighted to be

asked along. The activities

were very creative and fun.

Moreover, I had the great

pleasure of meeting people

of all ages from the local

community — one of the

older ladies was very keen

to help out with our Sunday

School and I look forward

to having her on board. I

firmly believe that intergenerational

learning has

multiple benefits for both

older and younger people;

in my job as an Early Years

Teacher we are embarking

on a project in which

will be opening our doors

to the elderly members of

our community. I extend

this invitation to Sunday

School: we are all children

of God, and all children

are welcome to my Sunday

School.

We ended the month of

October in style. Our much

anticipated backpacking

session for Mary's Meals

was a great success: in total,

we had ninety backpacks,
---
All photos courtesy of SMR Sunday School

which was an amazing

number — and lots of donations

of clothing, toiletries

and stationery. In addition

to filling the backpacks, we

also celebrated Halloween

with baking and needle felting.

The children produced

some excellent pumpkins,

and the Halloween biscuits

were shared with the rest

of the congregation — a

token of our thanks for the

continued support for Sunday

School and for this very

worthy cause.

Becky Macron

Sunday School Leader

Contact Becky — mob: 07443 000420 / email: sunday.school@stmaryredcliffe.co.uk

community

OF THE AGES

treefest 2018

who stirred our ancestors to build this

tuesday house of prayer 4th to the – saturday glory of your name, 8th inspire december

us with that

it's time to get your entries in!

G

OD

same longing to be a beacon of your kingdom; bless our current

endeavours, that, begun, continued and ended in you, what we

build in stone may be woven into a community of hope where your

name is praised, your story is told, and your love is shared; so that

this and future generations may be heard singing the song of faith

and justice; for the sake of Jesus Christ our Lord.

— Revd Dan Tyndall
---
eminder

treefest 2018

tuesday 4th – saturday 8th december

it's time to get your entries in!

community overseas

Stop press — overleaf read Angela Hogg on volunteering at Mafraq Allicance Church in

Jordan; readers may wish to note the synergy with Treefest at the end of the article — Ed

All photos © Christine Medan 2018
---
A JORDANIAN FAITHSPACE

ANGELA HOGG

— REPORTING FROM JORDAN

PUT UP YOUR HANDS in a vague offer of help in Mafraq Alliance

Church, Jordan, and you might be left holding the baby. About 40

Syrian refugee women in abayas (long black overdresses) were rummaging

for children's clothes piled up on trestle tables, but one young mother

was looking around wildly. What did she want? A drink of water? A chair?

More polythene bags? No, just two hands free to fight her corner for baby

clothes. Luckily the baby

boy thrust into my hands

was less surprised than I

was so we jiggled around

the hall without tears.

Clothes distribution is just

one facility in a long list of

services which the church

complex offers to Syrian

refugees, who make up

roughly half the population

in the town of Mafraq.

Under the leadership of

Pastor Nour, the church

and all its accompanying

rooms/spaces over five

floors (including the huge

flat roof) is a Faithspace in

action — big time. Prior to

the Syrian war, the church

vision was to reach out to

Mafraq's predominantly

Muslim population — and

that still goes on, but the

arrival of thousands and

thousands of Syrian refugees

across the Jordan-Syria
---
Border (ten miles away) demanded the church's immediate and ongoing

humanitarian attention — as follows:

• refugee registration in order to receive mattresses, stoves, food, clothes,

advice in accessing health care and other general advice such as how to

access schooling (Jordanian children attend government schools in the

morning; Syrian refugees in the afternoon);

• home visits to the refugees;

• free spectacles service;

• speech therapy for children with severe hearing loss and/or speech defects

• English lessons, sewing sessions — open to Jordanians too;

• women's discussion group;

• occasional events such as specialist teams giving out specially-adapted

recycled wheelchairs to 90 adults and children, and a team of three

doctors who spent two days examining patients in need;

• Saturday School for children (alias Sunday School)

• two 2-hour church services (English/Arabic in the morning; Arabic in the

afternoon) on Sundays as well as volunteer daily meetings for reflection;

Whatever is done and wherever people are waiting, time, tea, Arabic coffee,

and water, are always offered as a welcome. As one American volunteer

remarked, Muslims are happy to walk into the church complex as though

it's their friend's house — which it is.

That's just what happens on the church premises. As well as the daily home

visits, there is a church school four mornings a week (including breakfast)

for 160 Syrian refugee children, plus a separate football club, and bible

story sessions for boys and girls on Saturdays.

Most of the work is based on volunteer help, with financial support given

to long-term volunteers, some of whom have fled religious persecution in

other countries. I'm a mid-term volunteer (i.e. a couple of months). The

majority are short-term volunteers, often coming in a church team, for as

little as a week, though often that same church will send a team once, twice

or three times annually. As I write this, a church team from Texas is now

filming the school activities to muster their congregation's commitment to

underwriting all the school's expenses. This whole church operation seems

to run on a worldwide faith grapevine.
---
Snapshot moments in the past month that I've been here?

Visiting one particular Syrian refugee family with smiles as wide as Avonmouth

who had to leave a fairly prosperous life in Syria, and walk with their tiny

children and elderly infirm grandparents across the border with just what

they stood in.

Overseeing 30 keen-as-mustard young Americans, Dutch, Australians and

Germans, and even a guy from Gloucester, all belonging to a world church

organization who had volunteered to clean the Mafraq church complex for

two hours. Sixty hours' vigorous sweeping, mopping, slopping from the

huge roof to the children's' playground plus all the rooms and church in

between. Eat your hearts out all ye vergers!

Refereeing adolescent girls playing very robust football. I don't know

soccer rules in English, let alone Arabic, but when they got really noisy I

told them I'd start giving out yellow cards... — "and a red one means we

get thrown off", they said. We clearly understood one another!

Watching 50 Syrian

adolescent girls

respond to a talk on

early marriage. YES,

they shouted, they

would stay at school

and YES, they would

resist their parents'

attempt to arrange

their marriage when

they were only 14

years old — and then

they tucked into a sort

of Jordanian pizza...

Finally — Revd Dan Green, Director of Bridges for Communities, the chosen

Treefest beneficiary, is a friend of Pastor Nour and recommends Mafraq

church to any potential volunteers.

Angela Hogg, Reporter
---
community initiatives

WE ARE NOW READY

to take orders for the

Christmas Cards — all proceeds

from the sales will go towards

the Bristol Churches Night

Shelter Project this winter.

The card is from an original

drawing by Eleanor Jane Lee

and is taken from the North

Window in the Lady Chapel at

St Mary Redcliffe.

Please do give this some

thought, and complete the

order form below or contact

us by email or phone with

your order. The price of the

cards is £3.00 (minimum) per

pack of five cards.

Marcus and Jane Ashman

HELPING BRISTOL CHURCHES WINTER NIGHT SHELTER

Christmas Card fundraising project

— Marcus and Jane Ashman

— please email or telephone your order to email: marcus@mandjashman.co.uk

or tel: 0117–968 2949, or alternatively fill in and return the slip below to the parish office

....................................................................................................................................................

I would like to order ................... packs of the Christmas Card @ £3 (min) each —

Name .....................................................................................................................................

Address .....................................................................................................................................

............................................................................................................................................................

........................................................................................................ Postcode ...............................

Email .....................................................................................................................................

Tel / mob .....................................................................................................................................
---
c0mmunity messages, news & notes...

*précis

NEW IN — PRESS RELEASE* : A lone piper on the north

steps of Bristol's St Mary Redcliffe Church will sound Reveille

at 6am on Remembrance Sunday, November 11th, heralding

the start of a day filled with moving acts of remembrance.

STORIES behind 100 First World War artefacts will be told by their

owners during a church exhibition. The Candle of Remembrance lit

on August 4th 2014, marking the hundredth anniversary of the start of

the First World War, will be extinguished in a candle-lit ceremony signifying

the hundredth anniversary of Armistice Day, and the end of the conflict.

The previous day the choir of St Mary Redcliffe will perform "Sing unto

the Lord a New Song", a concert featuring works by composers including

Stanford, Vaughan Williams, Elgar, Parry and Fauré.

During Choral Evensong at 6.30 pm poppies bearing the names of the

202 Redcliffe parishioners killed during the First World War will be fixed

to a five-foot-high cross before a bugler sounds The Last Post.

Finally, the Candle of Remembrance in the St John's Chapel, lit at 11pm

on August 4th, 2014 to mark the hundredth anniversary of the start of

the First World War, will be carried in procession to the west end of the

church where the flame will be shared by worshippers holding candles.

Just after 7 pm, a peal will be rung on the church bells and the candles

will be extinguished to signify the end of the war.

Angel of Mons (detail);

charcoal drawing; EJ Lee
---
c0mmunity messages, news & notes...

WELCOME! Our congratulations to

Evelyn and Ross Burton-Guyett on

the birth of their son Reuben, born on 10th

October 2018 at 3.41pm, weighing 7lb 5oz.

We send the family love and best wishes!

HYMN SINGALONG — watch this space…

Sing-Along will be on tour in December — keep an eye open for

information in December's mag. We're a happy group of folk consisting

of "some-people-who-can-sing-and-some-people-who-can't", but as a

group we make a joyous sound! We meet on the first Wednesday in every

month — on November 7th we will be in the Faithspace Centre starting at

11am. There's tea and cake afterwards so do come and join us.

RECAPPING OCTOBER EVENTS — watch this space…

ST LUKE'S DAY GALLERY TALK

Look out for an article from Dan on his conversation at Bristol City Museum

& Art Gallery last month with Dr Jenny Gaschke, Curator of Fine Art

pre-1900 at the Museum. The subject of the conversation was the 15th

century painting St Luke Drawing the Virgin & Child, a Flemish masterpiece

currently on loan to the Museum. Here's a starter quote from Dan...

"...I was surprised how enjoyable it was. I have never done anything like this

before and consider myself to be totally uneducated in matters of fine art.

So it was rather extraordinary to hear myself interpret the painting as the

story of Christ breaking through from the divine realm into the human, and

then following his life through to his death on a green hill outside a city wall!"

HARVEST LUNCH & QUIZZINGO

Last month's Harvest Lunch and Quizzingo events were well attended and

very much enjoyed; look out for a low-down on both in the magazine in the

near future — as above, watch this space!
---
Harvest Festival flowers

—in memory of

Ann Anderson

Harvest Festival flowers, Mildred Ford and team; photo EJL

CHRISTIANS IN SCIENCE (CiS) — LECTURE SERIES 2018–2019

CARING FOR THE EARTH — I

Friday 16 November 2018; 7pm for 7.30pm

Professor Simon Stuart — Species conservation: a summary of

progress and challenges for the future

Venue: Redland Church Hall, Redland Green Rd, Bristol BS6 7HE. Free entry;

donations to cover costs welcome (suggested amount £5). No need to book.

Refreshments provided. Travel: no 9 bus or by train to Redland Station.

OUR FRAGILE PLANET — A CHRISTIAN PERSPECTIVE: 8 lectures looking at

the Biblical mandate for caring for our world and the science that lies behind the

challenges we face. Email Christina Biggs at cmbbiggs@gmail.com for more details
---
diary dates 1st November – 4th December

please note that all entries in the diary are correct at the time of going to print given the

information supplied. please note also that, in addition to the listings below, which vary

in frequency or other details, the following events happen every week in this period —

Tues

Tues

Weds

Thurs

Fri

Faithspace Coffee Morning // 10am–12 noon — Faithspace Community

Centre (FCC)

Christian Meditation // 6.30–7.00pm — FCC

Jazz in the Undercroft // 7.30–10.00pm

Redcliffe Gardening Group // 10.00am–12.00 noon — Somerset Square

Police Beat Surgery Drop-in // 1.00–2.00pm — FCC

1 Organ Recital // 1.15pm — Derek Grover; Sheffield

1 Holy Communion // 12.30pm — Revd Dan Tyndall

2 WWI exhibition starts; open daily till 30 November

4 All Souls Service // 6.30pm

5 Pot Luck Lunch // at the Pickards

5 Faithfood // Bible study and discussion — FCC

6 Holy Communion // 12.30pm — Revd Peter Dill

6 Bristol/Oporto twinning event

7 Hymn Sing-Along // 11.00am — Rosemary Kingsford — FCC

7 Redcliffe Lunch Club // 12.00 noon — Sergeant Andy — FCC

7 Redcliffe Film Club // 2.00pm — Death at the Funeral — FCC

8 Eucharist with Prayer for Healing // 12.30pm — Revd Dan Tyndall

8 Organ Recital // 1.15pm — Jonathan Price

9 Preludes Band with Oasis Academy Schools // 1.00–2.00pm — Celebrating

the centenary of the Armistice

10 Sing Unto the Lord a New Song // 3.00–4.15pm — Redcliffe Remembers concert

11 REMEMBRANCE SUNDAY // Commemorating the Armistice

Service with Holy Communion — 9.30–11am

Full Peal Bell Attempt — 2.00pm

Choral Evensong — 6.30pm

Extinguishing of Candle of Remembrance — 7.00pm (approximate time)

12 Faithfood // Bible study and discussion — FCC

13 Holy Communion // 12.30pm — Revd Dan Tyndall

13 Faith Pictures // 7.30pm — Seekers Faith group — at the Vicarage

NOVEMBER

14 Redcliffe Lunch Club 12.00 noon — Belinda returns; a surprise — FCC
---
15 Holy Communion // 12.30pm —

15 Bristol City of Hope // 6.30pm — Canynges Society event; presentation by

Mayor Marvin Rees, followed by Organ Recital, and drinks

17 Sing for Joy! // 7.30pm — Concert with the Pheonix Choir

20 Holy Communion // 12.30pm — Revd Peter Dill

21 Redcliffe Lunch Club // 12.00 noon — to be confirmed — FCC

21 Redcliffe Film Club // 2.30pm — The Philadelphia Story — FCC

22 Eucharist with Prayer for Healing // 12.30pm —

22 Organ Recital // 1.15pm — Simon Hogan, Southwell Minster

26 PCC Meeting // 7.30pm — at the Mercure Hotel

27 Holy Communion // 12.30pm —

29 Holy Communion // 12.30pm —

2 ADVENT SUNDAY

4 Holy Communion // 12:30pm —

4-8 Treefest // daily from 4 to 8 December — opening times:

4, 5, 7 & 8 December — 10am–5pm; 6 December—10am–8pm

parish register & Sunday records Sept-Oct 2018

DECEMBER

Please note that there were no baptisms, weddings or funerals at church during October.

SUNDAY CHURCH SERVICE ATTENDANCE

Date 2018 30 Sept 7 Oct * 14 Oct 21 Oct 28 Oct

Adult Child Adult Child Adult Child Adult Child Adult Adult

8.00am 15 - 6 - 9 - 11 - 8 -

9.30am 107 46 - - 85 33 85 36 123 23

10.30am * - - 120 42 - - - - - -

11.15am 22 - - - 16 - 30 - 22 -

6.30pm 22 - 20 - 44 - 34 1 44 -

— NB attendance figures refer to congregation, not to clergy, servers, choir or vergers

* Harvest Festival: Sung Eucharist at 10.30am (in lieu of 9.30am), and no service of Mattins

SUNDAY CHURCH SERVICE COLLECTIONS

Period: 23 September – 14 October 2018

23 Sept 30 Sept 7 Oct 14 Oct - - -

£299.41 £541.82 £501.15 £393.45 - - -
---
editor's note

email: editor.mag@stmaryredcliffe.co.uk

UST SAYING... Commemorating the Armistice

J

This month we join with the national and international commemorations

of the World War One Armistice one hundred years ago this month. A

poignant and a salutary time — many of us will have lost family members

in that conflict, and our children will have learnt about the experiences of

its soldiers and civilians — and will be affected by what they have learnt.

Thank you to Lester Clements for his work in compiling an account for

the magazine, from 2014–2018, of the experiences of soldiers. We shall

miss their voices and presence with us in its pages; it has been a privilege,

and very moving, to read their testimonies, and we say thank you again to

Lester for providing us all, though the magazine, with their words.

We have been fortunate to have access to inspiring musical works commemorating

the Armistice. Last month we heard 1918 — Home at Last, the

community opera commissioned by Claire Alsop at SMR and colleagues

at Horfield Primary School; a memorable performance, as June Saunders'

article says. This month we will hear Sing Unto the Lord a New Song, a programme

of choral and instrumental music compiled by Andrew Kirk.

So a busy and creative space again, as Becky Macron's Sunday School

piece shows, and likewise Angela Hogg's on volunteering with the Church

in Jordan. We hope to show further drawings done at this year's Doors

Open day in the next issue of the magazine, and our poetry corner will be

back then too. And a note too to say that news of our reader survey of

the magazine, mentioned last month, will also follow in the next issue.

Finally, readers of the print version of the magazine will

notice that this issue is in colour. This is done, of course, to

tally with and to honour our First World War commemorations

— grey poppies simply won't do for Armistice Day

(or any other)! Colour is symbolic and powerful, and we

don't live in a black-and-white world (perhaps one day we

shall be able to print every issue in colour).

— best wishes, Eleanor

Tel: 0117-9634856 (direct) or 0117-2310060 (Parish Office)

The deadline for the December 2018-January 2019

issue is Friday 23rd November

Visitor's sketch at Doors

Open day [Hogarth's pug?]
---
Wer bin ich?

prayers for November

W

ho am I? They often tell me

I would step from my cell's confinement

calmly, cheerfully, firmly,

like a squire from his country-house.

Who am I? They often tell me

I would talk to my warders

freely, friendly and clearly,

as though it were mine to command.

Who am I? They also tell me

I bore the days of misfortune

equably, smilingly, proudly,

like one accustomed to win.

Am I then really all that which other men tell of?

Or am I only what I myself know of myself?

restless and longing and sick, like a bird in a cage,

struggling for breath, as though hands were compressing my throat,

yearning for colours, for flowers, for the voices of birds,

thirsting for words of kindness, for neighbourliness,

trembling with anger at despotisms and petty humiliation,

tossing in expectation of great events,

powerlessly trembling for friends at an infinite distance,

weary and empty at praying, at thinking, at making,

faint, and ready to say farewell to it all?

Who am I? This or the other?

Am I one person today and tomorrow another?

Am I both at once? A hypocrite before others,

and before myself a contemptible woebegone weakling?

Or is something within me still like a beaten army,

fleeing on disorder from victory already achieved?

Who am I? They mock me, these lonely questions of mine.

Whoever I am, thou knowest, O God, I am Thine!

Dietrich Bonhoeffer

— in "Letters and Papers from Prison"; ed Eberhard Bethge;

translated from the German "Widerstand und Ergebung: Briefe und Aufzeichnungen aus der

Haft" (Munich 1970); New York; Simon & Schuster; 1997; pp 347–8 / © SCM Press Ltd 1971
---
groups within the church

The regular congregation is large, active and involved. If you would like to

join one of the many groups connected with the Church, please contact the

appropriate group leader

Head Server

Head Sidesman

Head Steward

PCC Secretary

PCC Treasurer

PCC Safeguarding

PCC Recorder

Sunday School

Faithspace Centre

Lunch Club

Meditation

Mothers Union

Church Flowers

Coffee Rota

Bell Ringers

Canynges Society

Journey into Science

Magazine Editor

Dean Barry

Graham Marsh

Andy Carruthers

Keith Donoghue

David Harrowes

Stephen Brooke

c /o Parish Office

Becky Macron

Sarah James

Bobby Bewley

Lewis Semple

Hilda Watts

Mildred Ford

Christine Bush

Gareth Lawson

Pat Terry

Eric Albone

Eleanor Vousden

0117-9099862

01275-832770

0117-2310061

0117-9422539

0117-9779823

0117-3311260

0117-2310060

07443 000420

0117-9258331

0117-9864445

0117-9255763

01275-543588

0117-9359064

0117-9773023

07798 621834

0117-2310060

0117-9247664

0117-9634856

If you or one of your family are sick or have gone into hospital, please let us

know — contact the Clergy or Vergers as soon as possible.

Please consult the Parish Office before making any arrangements for

baptisms, weddings or funerals.

NB — the opinions voiced in the body of the magazine are not necessarily those of the Editor
---
sunday services

8.00am holy communion

9.30am sung eucharist

with crèche and Sunday School / followed by coffee

11.15am choral mattins

6.30pm sung evensong

weekday services

holy communion

Tuesdays and Thursdays at 12.30pm

2nd and 4th Thursdays at 12.30pm with prayers for healing

morning and evening prayer

Monday to Friday at 8.30am and 4.30pm in the Lady Chapel

opening times

weekdays all year round from 8.30am–5.00pm

bank holidays 9.00am–4.00pm, except New Year's Day

Sundays 8.00am–8.00pm

the church is occasionally closed for special events and services

The Arc Café in the Undercroft

serving home made refreshments all day

opening hours:

Monday to Friday 8.00am–3.00pm

lunch served from 12.00 noon–2.30pm

tel: 0117-929 8658