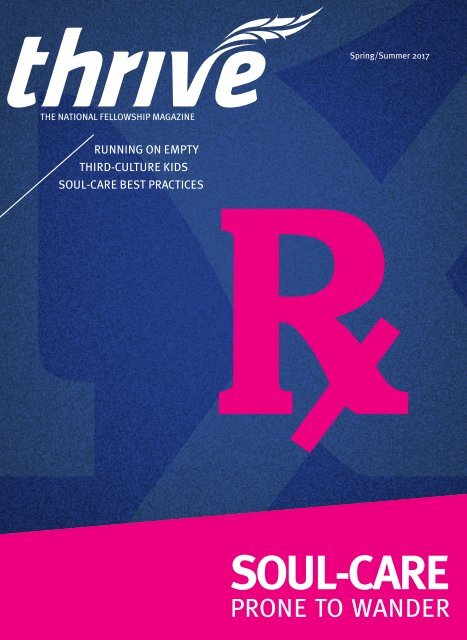 Thrive magazine Spring/Summer 2017
Soul-Care — Prone to Wander Thrive magazine, Spring/Summer 2017
Soul-Care — Prone to Wander
Thrive magazine, Spring/Summer 2017
SHOW MORE
SHOW LESS
You also want an ePaper? Increase the reach of your titles
YUMPU automatically turns print PDFs into web optimized ePapers that Google loves.
Spring/Summer 2017

THE NATIONAL FELLOWSHIP MAGAZINE

RUNNING ON EMPTY

THIRD-CULTURE KIDS

SOUL-CARE BEST PRACTICES

SOUL-CARE

PRONE TO WANDER
---
Spring/Summer 2017

FAITHFUL

TO

FINISH

by Steve Jones

THE

THE FIRST WORD

Oscar Wilde said: "I can withstand anything, except temptation." Some might say the only way to get rid of temptation is

by giving in to it.

In one of my favourite hymns, the lyrics read:

"PRONE TO WANDER, LORD, I FEEL IT,

PRONE TO LEAVE THE GOD I LOVE;"

All of us have experienced seasons in our spiritual lives where our soul has felt particularly lean. A difficulty, disappointment

or depression has robbed us of the joy of our salvation.

In this edition of Thrive we're featuring the critical importance of soul-care. Trials and temptations are a fact of life, and both

deplete our inner reserve. It would be prudent for each of us to learn how to respond well to these recurring facts of life.

• Trials are situations designed by God to help us grow to spiritual maturity.

• Temptation is designed by Satan to cause us to sin and hinder our spiritual growth.

Wise pilgrims learn to clearly identify both in life, benefiting from trials and not allowing temptation to rob one's spiritual

validity. Those sojourners that consistently win over temptation will experience soul-health and receive the promise of

James 1:12 (NLT):

"God blesses the people who patiently endure testing. Afterward they will receive the crown of life that God has promised to those who

love Him."
---
thrive-magazine.ca

thrive / 3

The promise and prize of resisting

temptation is the "crown of life". This is

understood as receiving God's blessing

over our life. When we consistently win

over temptation, we live and enjoy life

to the fullest.

Don't let Satan get a foot-hold in your

life by playing the shame-game or the

blame-game. Be keenly aware of where

the enemy of our soul seeks to penetrate

our heart. His game-plan is spelled out

in James 1:14.

• DESIRE (James 1:14, NLT):

"… each one is tempted when by his

own EVIL DESIRES…"

Desires are not all evil. They can be

good, even essential — but any desire

to excess becomes destructive, bringing

harm to our spiritual and emotional life.

We can often be doing damage to our

life while pursuing something good, but

to excess. Temptation is often a fulfillment

of a legitimate desire, but done in a

wrong way or at the wrong time.

The second step in the Devil's game-plan is:

• DECEPTION (James 1:14, NLT):

"… he is dragged away and enticed…"

The words "dragged away" create a

haunting term meaning "to be snared

in a trap". The word "enticed" is a fishing

term, meaning "to be lured by bait".

Different traps and bait work on different

fish and animals. The Devil knows

the bait that works best in your life.

You see, you desire, you start to nibble,

believing you're smart enough to know

when to pull back. The deception is

complete — you've been hooked. This is

a sign of spiritual immaturity.

The third step in the Devil's game-plan is:

• DISOBEDIENCE (James 1:15, NIV):

"Then, after desire has conceived, it

gives birth to sin…"

The Message paraphrases this verse as

"Lust gets pregnant and has a baby: sin".

James moves from a fishing metaphor

in vs. 14 to a child-birth metaphor in

vs. 15. What begins in our minds gives

birth to an action or destructive habit,

but it starts in the mind. Often what we

initially flirt with, we eventually fall for.

Marketing professionals know this and

use it to their advantage.

Desires lead to deception, which leads to

disobedience, which ends up in…

• DEATH (James 1:15, NIV):

"… and sin when it is full grown, gives

birth to DEATH."

Death is the final consequence of our

tendency toward being "prone to wander".

Instead of receiving the crown of

life, we receive death.

We all have free will; we have freedom to

choose the narrow path or wander from

it. However, God has not given us the

freedom to choose the consequences.

For the unbeliever it means separation

from God.

For the believer it means broken fellowship

with God.

The pastor and hymnist Robert Robinson

penned these familiar words in 1757:

"Prone to wander, Lord, I feel it,

Prone to leave the God I love."

But, Robinson finishes his thought and

his hymn with a final promise:

"Here's my heart, O take and seal it;

Seal it for thy Courts above."

In James 1:17-18 the Bible turns from

sin and evil desires (vv. 14-16) to God's

goodness. Two things will help us from

wandering. We will focus on these two

realities in the following pages of this

edition of Thrive, entitled "Soul-Care:

Prone to Wander".

THINK on whatever is good and perfect

(James 1:17) and remember our true

IDENTITY, for we are God's choice possessions

(James 1:18).

God has adopted us into His family.

The Bible has given us absolute assurance

that has sealed us as His children

forevermore.

When those inevitable occasions in

life visit that seek to rob us of the joy

of this reality, the Bible challenges us

to refocus our thoughts (James 1:17)

and remember we're Kingdom kids

(James 1:18).

This won't make us immune to dark

days, but it will give sufficient light

for us to find our way back from our

wanderings.

Steven Jones is President of The

Fellowship of Evangelical Baptist

Churches in Canada. Follow Steve on

Twitter @FellowshipSteve
---
4 / thrive Spring/Summer 2017

THE FELLOWSHIP'S THEME VERSE FOR 2017

IS: "ROOTED AND BUILT UP IN HIM AND

ESTABLISHED IN FAITH, JUST AS YOU WERE

TAUGHT, ABOUNDING IN THANKSGIVING."

COLOSSIANS 2:7 (ESV)

10 CARING FOR BODY AND SOUL

You can connect with us on FACEBOOK: www.facebook.com/FellowshipNatl,

on INSTAGRAM: @FellowshipNatl and on TWITTER: @FellowshipNatl.

Come and join the conversation.

2 THE FIRST WORD

FAITHFUL TO THE FINISH / Steve Jones

5 FELLOWSHIP FOUNDATION NEWS

SUPPORTING YOUR LOCAL CHURCH IN

PERPETUITY / Gord Baptist

6 OUT THERE

RUNNING ON EMPTY / Peter Hambrey

NEARLY BURNED-OUT IN

PAKISTAN / Terry Wiley

THIRD-CULTURE KIDS / Dave Marttunen

10 LOVE EXTENDED

CARING FOR BODY AND

SOUL / Denise Wicks

PROJECT UPDATE: BRINGING KIDS TO

CHRIST (POLAND) / Dan Shurr

ALBERTA WILDFIRE: ONE YEAR

LATER / Denise Wicks

SOWING THE SEED / Steve Jones

16 GROUND WORK

SPIRITUAL-CARE AMIDST SPIRITUAL

DARKNESS / Monique Saulnier

CHAPLAINCY SOUL -CARE / Richard

Flemming

18 UP TO SPEED

SOUL-CARE BEST PRACTICES /

Betty-Anne Van Rees

PASTORAL MEMBER CARE

FELLOWSHIP HEALTH AND PENSION

PLANS / Rob Cole

20 TRUTH TALK

TRANSITIONS / Glenn Taylor

SPIRITUAL-EMOTIONAL SPIRITUALITY:

FROM THE PRAIRIES TO

COLOMBIA / Phil Webb

CLERGY CARE

22 THE LAST WORD

CLASSIC SOUL-CARE: AN EVANGELICAL

PERSPECTIVE / Michael Haykin

FOR MORE GREAT STORIES, VISIT

OUR WEBSITE: thrive-magazine.ca

MISSION STATEMENT: Thrive is the official magazine of

The Fellowship of Evangelical Baptist Churches in Canada. It

is published to enhance the life and ministry of church leaders

and members in Fellowship congregations by providing articles,

resources and news that reflect evangelical values, a common

mission as well as a shared sense of identity and vision. Thrive is

published three times a year and is available in English and French.

out there

love extended

ground work

© The Fellowship of Evangelical Baptist Churches in Canada

MINISTRY CENTRE: P.O. Box 457, Guelph ON N1H 6K9

T: 519-821-4830 F: 519-821-9829 EMAIL: president@fellowship.ca

thrive-magazine.ca

SENIOR EDITOR: Steven Jones MANAGING EDITOR: Valerie Heaton COPY EDITOR: Louise Buchner LAYOUT & DESIGN: Big Footprints Inc.

Email: thrive@fellowship.ca POSTAGE: Return undeliverable Canadian address to Circulation Department, P.O. Box 457, Guelph ON N1H 6K9
---
fellowship foundation news thrive / 5

SUPPORTING YOUR LOCAL CHURCH…

IN PERPETUITY by Gord Baptist

It's no secret that God's people support

their local church through regular attendance,

offering their spiritual gifts,

praying for the church and staff regularly,

and through the faithful contribution

of their tithes and offerings. Though

regular giving is a normal part of our

worship as Christians, many do not realize

that you can continue to give to your

church long into the future through a

legacy gift.

God spoke of his perpetual bond with His

house in 2 Chronicles 7:16:

"For now have I chosen and sanctified this

house that my name may be there forever:

and mine eyes and mine heart shall be there

perpetually."

The word "perpetuity", meaning "a

contractual provision", usually refers to

a financial product that has no end, like

cash payments that continue forever.

One example is an ordinary annuity or

endowment.

Supporting the church perpetually is

done through tithing a portion of your

Estate. Sadly, many who do allocate a

portion of their Estate to God's kingdom

fail to honour their local church.

Statistics show that 20% of people who

give in their Will to a charity neglect to

allocate a portion to their own church. It

is also estimated that 70% of Canadians

have no Will at all.

The Fellowship Foundation supports the

local church in this way. Through the

Fellowship Foundation you can allocate

a portion of your Estate to go directly to

your local church, continuing your support

for many years. If you do not have

a Will, we can provide the legal support

to have one drawn up for you, all done

quickly and easily at an extremely affordable

cost.

To leave a legacy gift, simply follow

these three steps:

1. Confirm – Ask God what He would

have you do with your Estate. Is

He directing you towards leaving a

legacy gift?

2. Call – Contact Gord Baptist using the

contact information provided below.

3. Continue – Continue to give sacrificially

to your church now, and enjoy

peace of mind knowing that your

Estate will provide support to your

chosen ministries for many years to

come.

— Gord Baptist is

Fellowship Advancement

Director and can be

reached at:

519-821-4830, Ext. 244,

fax: 519-821-9829, or

gbaptist@fellowship.ca.
---
EMPT

RUNNING ON

by Peter Hambrey

Spring/Summer 2017

OUT THERE: FELLOWSHIP INTERNATIONAL

It was, I think, the greatest shock of

my life: I found myself believing

that God probably did not exist.

It was 1998. I was on home assignment

from ministry in Pakistan after

one of my most grueling terms on the

field, and one day it suddenly hit me:

nothing in my life shows the work of

God. As I looked back at the previous

month, I saw nothing. The previous

year, still nothing. My belief in a

living, active, involved God seemed

contrary to the facts.

After the initial shock came the realisation

that I could not continue what

I was doing — missionary work — in

this state, so I made some adjustments

while I sought to clarify my state of

mind and do some hard thinking.

I never turned away from God conclusively;

I continued to pursue him in a

tentative way, praying "God, if you are

there…" and even reading the Bible. One

thing moving me back to belief was a

review of my spiritual history and the

events I had considered miracles and

answers to prayer, some of which I had

thankfully written down. I spent much

time reviewing the thinking that led

to my first adoption of the faith and

re-reading several introductions to the

Christian faith, such as Know Why You

Believe by Paul Little and Surprised by

Joy by C.S. Lewis.

Another important factor in my recovery

— perhaps the most important,

from observations of both my

own and similar situations — was the

engaged prayer of the few who knew

my situation. The understanding support

of the Fellowship International

staff was also crucial, giving me time

to process and recover.

In retrospect, several circumstances

led to this period of doubt: stress and

disappointment with God resulted

in depression. I was struggling to

adapt my understanding of creation

in light of the fascinating new science

of genomics. And somewhere along

the way, I stopped taking steps of
---
thrive-magazine.ca

thrive / 7

NEARLY BURNED-OUT

IN PAKISTAN by Terry Wiley

It was a typical case of frog-in-the-pot syndrome: I could see the steam, but

couldn't feel the heat. The tell-tale signs of poor memory, impatience, and

struggles engaging deeply in conversation were only a few of the indicators

that I was in trouble. Not wanting to mess up our kids' high school studies

in Pakistan, we had decided to put off a lengthy home assignment until our

youngest graduated from grade 12. Instead, we opted for two- to three-month

whirlwind trips to Canada every two years, during which we attempted to

catch up with supporters and family in two provinces 3,500 kilometers apart.

We knew that there would be a physical and emotional cost to such a decision.

Our problem stemmed from neglecting to provide adequate soul-care to

compensate for the largely break-less long haul we'd set out for ourselves.

When we arrived in Canada, close friends quickly recognized that all was not

well. Forty-five minutes into any conversation, I had nearly exhausted my

ability to remain engaged — even with family members.

Y

faith. Thankfully, our God is a God

that pursues and rescues us, planting

our feet firmly on solid ground and

renewing our strength.

— Peter Hambrey serves as

the Canadian Coordinator for

LeadersFor, which provides leadership

training to indigenous pastors.

After serving

overseas for

many years, he

and his wife,

Cheryl, are

now based in

Fort McMurray,

AB.

Both our leadership and my mentor had encouraged me to make rest and

renewal a top priority during our time home, which I did. Focused reading

and working with my hands were only a couple of the things that helped to

heal and restore my body and mind. However, as the smoke started to clear, a

soul-restlessness remained that hadn't been dealt with, even after the deliberate

rest. A nagging emptiness and lack of purpose combined with a desire for a

deeper relationship with God continued to gnaw at me. Through the prompting

of my pastor, I set up a two-day retreat to seek God in a new way. He used

this time to give me a renewed vision — not of what I should do, but of what

my life should be. My spirit instantly received a whole new level of rest and

purpose.

One thing remained, however: occasional bouts of depression and extreme

weariness continued to surface occasionally, even late into our home assignment.

This left me worried about the prospects for our return to Pakistan, a

place known for chewing people up and spitting them out. On day two of my

retreat, while searching for a book to read, I "happened" on John Ortberg's

book, Soul Keeper. Through it, I came to understand the cause of the state

in which I'd placed myself — a prolonged neglect of soul-care. "I and no one

else am responsible for the condition of my soul," points out Ortberg. On this

point, I had much work to do.

While I had maintained a meaningful daily quiet time and fed my mind with

good ministry and leadership resources, I had not done well in the area of nurturing

my soul: listening to messages and music, using healthy self-talk, and

spending time with friends just for friendship's sake, to name a few examples.

God not only showed me the specific things I needed to change in order to

keep from getting back into the same state, but He also did one other amazing

thing for me. He reached down and healed me — a

direct soul-healing that I knew had come from God.

The bouts of depression and weariness were gone, by

the grace of God.

— Terry Wiley has worked as a Fellowship

International missionary in Sindh, Pakistan, ministering

to Muslims for over 25 years. He serves as the

Pakistan Field Chairman.
---
8 / thrive Spring/Summer 2017

THIRD-CULTURE

KIDS

by Dave Marttunen

The term "third-culture" represents a new culture that is made by combining

two existing cultures; it's often used to describe the culture of

missionary kids. In these third-cultures, there are elements of both the

parents' culture and the host culture that combine to form a new thirdculture.

The important thing to remember is that a third-culture is unique:

it's neither one nor the other of the contributing cultures. This can have

huge advantages, but can also present some distinctive challenges.

OUT THERE:

FELLOWSHIP INTERNATIONAL
---
thrive-magazine.ca

thrive / 9

Often, children raised in third-cultures

go through phases in which

they feel that they just don't fit anywhere.

In their hearts, they may identify more

with their host culture, but their appearance

and first language don't fit into that

culture. For many, the questions "who

am I?" and "where do I belong?" create

an ache long before they provide roots or

wings. Most adolescents transition from

finding their identity within their home

to trying to find it with their friends or

peers. Third-culture kids face more challenge

in this area because they "don't

quite fit anywhere" — or at least that's

how they feel. The result can be a marked

increase in social anxiety, which can lead

to malaise or depression. In spite of this,

many third-culture kids eventually discover

enormous social advantages due to

their unique cross-cultural experiences.

There are some behaviours that mark

third-culture kids in social settings, the

first of which being that they go deep

— really deep, really fast. Most monoculture

youth find this overwhelming

and, predictably, withdraw, leaving some

third-culture kids feeling rejected. In addition,

third-culture kids can sometimes

view monoculture kids as shallow and

immature by comparison. Most missionary

kids have had to navigate complex

social structures and circumstances

compared to monoculture

kids — things like city/national

transportation, social

injustice, abject poverty, flying

around the world, complex

governments, language, culture

and various armed personnel.

One outcome

growing from their

life experience is that

third-culture kids

just can't be like

monoculture kids

and being different

often translates to

a feeling of not

fitting in anywhere…

except

with other

third-culture

kids.

Many kids

that grow up in

third-cultures possess two advantages,

the first of which being they are often

educated with other third-culture kids,

with whom they find understanding

and acceptance. Unfortunately one of

the costs is separation from their families,

as these schools frequently require

boarding. While not for every child, it

can be an enormous benefit for some,

giving them room for growing independence.

The second advantage is their

participation in various re-entry programs

upon their return to their parents'

home country. We have recently banded

together with other agencies to offer

an excellent re-entry program called

"ReBoot". Volunteers and professionals

work together to help third-culture kids

understand both themselves and others

in a context of spiritual support and

discipleship.

"Ciao! In Italian this means both hello and

goodbye. It also encapsulates the easiest

and hardest thing I have learned to say. As a

third-culture kid, I learned to expect change.

I changed countries, languages, houses,

schools, churches, and every time I got to meet

new people. It became easy for me to say ciao

(hello) to many new wonderful people. However,

it was so difficult to also have to say ciao (goodbye)

to many, many good friends. I have learned

to value friendship and family above anything else.

Ciao!" — Gioia Stover (nee Bruno)

In order to help their third-culture kids

thrive, missionary parents need to band

together with other missionaries and

support people to provide what they

can't and shouldn't provide all by themselves

— a meaningful support community,

similar to a miniature church.

They need a team of people, supporting

each other in community so that each

member of the family thrives. We love

our missionary families, and do all that

we can to provide the support that they

need through our staff, missionaries, and

other support programs. We want them

to not just survive,

but to thrive!

— Dave

Marttunen is

the Fellowship

International

Director.

"Although my parents were the ones who were called to serve in Pakistan, being an MK meant that the call extended

to me as well. Being an MK was never a choice I made, but it has shaped every aspect of who I am. From

growing up in simplicity to learning the independence of boarding school life, growing up as an MK in Pakistan

has prepared me for many of the challenges I face in life today." — Stephen Wiley

"My greatest struggle was learning to speak a second language and integrate into a new culture,

through which I developed a sensitivity for people of other nationalities and cultures. Being back in

Canada, I find myself sympathetic towards the foreigner; it is easy to connect and communicate with

them. The greatest reward I experienced was witnessing faith in action, answered prayers, and God's

protective hand and caring interactions with His people. It was the beginning of a deep faith and

trust in God which has helped me navigate through life." — Holly Robinson (nee Brubacher)
---
CARING FOR BODY AN

love extended

Spring/Summer 2017

At face-value, the ministry of FAIR could be said to be focused

on physical needs more so than spiritual needs.

Our FAIR projects range from emergency relief in the form

of food and hygiene packs to support for refugees, dental

services in Cambodia, and construction and renovation

projects at many mission locations across the globe. It can

be easy to overlook the biblical and spiritual importance of

seeing to these very practical needs, as well as the spiritual

impact these actions can have.

Jesus speaks of fulfilling practical needs at many different

points in the New Testament. He speaks of the importance

of loving our neighbour as we would ourselves (Mark 12:31)

and caring for the hungry, thirsty, unclothed and sick

(Matthew 25:31-46). Jesus also fulfils the prophecy of

Isaiah, speaking of how He was sent "to proclaim good

news to the poor… liberty to the captives and recovering

of sight to the blind, to set at liberty those who are oppressed…"

(Luke 4:18). As followers of Jesus, it is our joy to

follow His direction and to emulate His example.

Despite these clear instructions found in God's Word, we

tend to overcomplicate things, asking questions such as,

ROJECT UPDATE:

BRINGING KIDS TO CHRIST (POLAND) by Dan Shurr

LOVE EXTENDED; FAIR

In the spring

of 2016, FAIR

released the first

of two mini appeals

for the year.

This focused

project, called

Bringing Kids to

Christ (Poland) sought to support the

kid's club and soccer camps run by

Fellowship International missionaries

Pierre and Hanna Jutras in various locations

throughout Poland. Through the

generosity of churches and individuals

who had previously supported projects

in this country, we received $11,200

towards facilitating the provision of

quality kids' programming, as well

as follow-up with the kids and their

families.

These funds helped establish a new

soccer camp in Lódz (the third largest

city in Poland, with only 0.08 %

Evangelical believers), providing food

and soccer equipment as well as three

interns. Over 30 kids attended, many

hearing the Gospel with their parents

for the first time. Plans are in progress

for follow-up work with the families

who participated. The kids' clubs in

Biała Podlaska and Płock were also

enhanced by the Bringing Kids to Christ

project, through the purchase of a

small electrical oven for warm lunch

prep, a ping pong table and other

games and materials, and equipment

for after-school activities. During the

winter months, the kids' club continues

inside, thanks to the ability to rent

indoor space. This is such a blessing to

the children who attend, since many

would otherwise have nothing to do

after school. It seems that the love of

Christ needs to shine strong and long

among these poor people for them to

be willing to hear about Christ — we

pray for abundant and lasting fruit!

Pierre and Hanna have this to say about

the project:

"We are very grateful for all those who

support our FAIR programs. Through the

partnership of individuals, churches, and

pastors in Canada and Poland, the lives of

many Poles who need to hear and receive

the Gospel of our Lord Jesus Christ can be

touched and changed. Thank you!"

— Dan Shurr is our FAIR Director.
---
thrive-magazine.ca

thrive / 11

D SOUL

by Denise Wicks

"why is it important?", "will this really help?", and "why

should I participate?"

Some of the answers to these questions can be answered

through basic human psychology, where the different needs

we each encounter on a daily basis are arranged in a theory

called Maslow's Hierarchy of Needs. This model places needs

in different levels, forming a pyramid with five layers. The

theory proposes that to reach the top (self-actualization), one

must have met needs listed in the first four levels (physiological,

safety, belongingness/love, and esteem needs). To see how

body-care can equal soul-care, I like to look at it from a FAIR

standpoint, using refugee sponsorship as an example.

The first two levels of needs are considered the basic needs.

These physiological and safety needs would include items

like food, water, warmth, and rest as well as a safe place to

live. When churches commit to sponsor a refugee/family,

they are committing to provide these basic needs. They offer

refugees safety and stability by bringing them to Canada, far

away from the chaos of refugee camps. By fulfilling those

needs, it's then possible for sponsorship teams to create

intimate relationships, connecting refugees with their new

community, building their skills and confidence, and helping

them find a sense of accomplishment and belonging. These

desires to belong and feel loved/esteemed are called psychological

needs.

The final level of need is self-fulfillment, or self-actualization.

It typically relates to achieving one's potential but can also

lead to finding one's identity. As sponsorship groups walk

with their refugee(s), relationships are built and opportunities

to help them discover and strengthen their identity in

Christ increase. However, without meeting the most basic

needs first, it's unlikely these opportunities would arise.

With this in mind, it's easy to see that God wants us to help

others in such basic ways — body-care translates into soulcare.

By meeting physical needs, hearts are prepared and relationships

are built, opening doors for the Gospel to be shared.

By supporting FAIR in providing for these physical needs, we

participate in Kingdom-building as surely as if we were sharing

the Gospel in person.

— Denise Wicks is Administrative Assistant for FAIR and our

Communications department.

ALBERTA WILDFIRE

ONE YEAR LATER by Denise Wicks

The year 2016 brought a seemingly unending list of devastating natural and man-made events around the world. In

spite of this, it's hard to argue that the Alberta wildfires, which caused the hurried evacuation of the entire city of

Fort McMurray, doesn't loom largest of these events in the minds of many Canadians. However, from the ashes of this

fire came stories of the compassion and love of Christ, flowing out from Fellowship churches and individuals. To date

we've received over $255,000 towards relief efforts that are ongoing in Fort McMurray. With this financial support,

NorthLife Fellowship Baptist Church (Fort McMurray, AB) staff were quickly able to start providing relief through

their pre-existing food bank immediately upon their return to the city. To date, approximately 4,500 families have

come through their doors seeking help. Since November 2016, NorthLife has handed out 2,300 quilts; 1,200 duvets;

1,050 pallets of food, clothing, and toiletries; 29 oversized boxes of clothing, socks, and towels; 30,000 pairs of shoes;

and 2,500 flats of water — all supplied from various sources across Canada. With the ability to provide food, water,

clothes, shoes, kids' summer camps, and other events to keep spirits high, NorthLife continues to spread hope and

light to the city in the name of Christ.

— Denise Wicks is Administrative Assistant for FAIR and our Communications department.
---
y Steve Jones #

12 / thrive Spring/Summer 2017

SOWING

THE SEED:

A FELLOWSHIP PROJECT

It seems that the Bible is more accessible

today than it ever has been in

history. People can access it through

the internet, mobile apps, e-readers,

and in paperback or hard copy. It's

difficult to comprehend that while we

enjoy this incredible ease of access,

some people still have no way to read

God's Word, making spiritual growth

a difficult task.

Two main people groups that are in

great need of Bibles are Muslim and

Francophone peoples. The Sowing

the Seed project aims to provide

Bibles for these two people groups

in their native tongue, giving them

personal access to the living Word of

God.

The Goal: $60,000

Sowing among Muslims

Sindh, Pakistan

The Sindhi people of Pakistan are in desperate need of the Gospel. With

80% of the population of the Sindh province currently practicing Islam,

persecution of Christians is not just a threat — it's a reality for many.

Fellowship International missionary Mark Naylor has been diligently

working on a Sindhi translation of the Bible for many years now, publishing

the Old Testament in 2007. This is the first time that any part of the

Bible has been available in the Sindhi language. He's currently working on

translating the New Testament, but it takes time and funding to do so.

Through the Sowing the Seed project, we are seeking to raise $25,000 to

go towards the ongoing translation, printing, and distribution of the

New Testament in Sindhi.

Ottawa/Gatineau area, Ontario

FEB Central church planter Richard Raya has followed the call to share

the Gospel with Muslim peoples in the greater Ottawa/Gatineau region,

through his role as pastor of Jesus Light of the World Arabic Evangelical

Church in Ottawa. The church's outreach programs reach countless

people, including many Syrian refugee families, with the Gospel. We

aim to raise $15,000 to help provide Bibles for Richard's ministry to the

over 38,000 Arabic-speaking peoples of the Ottawa/Gatineau area.
---
thrive-magazine.ca

thrive / 13

Sowing among Francophones

Dondon, Haiti

The people of Dondon, Haiti are starved for even basic necessities.

Many go without food, water, shelter, and education

— some will never be able to touch a Bible, let alone read one.

Through the Sowing the Seed project, we are seeking to raise

$10,000 towards placing French Bibles in the hands of Haitians

so that they can learn about the love and salvation offered

through Christ. Through one of our partners, Salem Christian

Church, Bibles will be distributed to those in need who would

otherwise never experience the transforming power of God's

Word.

D. R. Congo

The church in the D. R. Congo continues to grow and flourish,

but the need for Bibles is great. Fellowship International missionaries

Richard and Brenda Flemming have met with many

pastors who don't have one single Bible in their entire church.

Similarly, Fellowship International missionaries Apollo and

Lois Midigo see a great need for Bibles as they minister to the

people in the war-torn city of Goma , D. R. Congo. Through the

Sowing the Seed project, we aim to raise $10,000 to go towards

the purchasing of French Bibles for those in the D. R. Congo.

"YOUR WORD IS

A LAMP FOR MY

FEET,

A LIGHT

ON MY PATH."

PSALM 119:105 (NIV)

In Psalm 119:105, we're reminded that God's Word brings light

to those who read it. It spreads and touches every area of darkness,

changing the way things are seen and experienced. With

your help, we can bring the light of Scripture to Francophones

and Muslims who are in desperate need of God's Word.

THEGREATESTBOOK

#TheGreatestBook is a call to all Fellowship churches to spend 14 days (November 5-19, 2017)

together studying the Bible, celebrating the gift of God's Word, and enjoying the joy of community.

Participating churches can download the digital toolkit from our website, which contains

suggested sermons, studies for every age group, and a reproducible devotional booklet.

Here's a list of potential next steps to implement the Bible Engagement project in your church:

1. Take a look now at your planning calendar and schedule

November 5-19 (or an alternate two weeks) so that you

and your church can participate in this life-impacting

project.

2. Download and use the reproducible promotional materials

(brochure, poster) to promote the project among your

congregation.

3. Download the Bible Engagement video and highlight the

project in your Sunday morning worship service.

4. Encourage your church family to be praying for and during

the #TheGreatestBook Bible Engagement event.

5. Download the ministry toolkit from our website.

6. Provide the study materials to small group leaders,

Sunday School teachers, youth leaders and provide copies

(digitally or printed) of the devotional for individuals

in your congregation to use.

7. Review the suggested sermons to consider which you

might use for the three Sundays; or use the outline to

prepare a sermon that highlights the importance and

value of the Scriptures.

8. Beginning Sunday, November 5th, join other Fellowship

churches from across Canada as together we engage in

the Word of God.

9. Encourage your congregation to engage throughout

the study on social media using #TheGreatestBook

and @FellowshipNatl .

10. Send a testimony to the Fellowship National office after

your Bible Engagement project and we'll share the

blessing with others.

FOR MORE INFORMATION ABOUT

#THEGREATESTBOOK SERIES, VISIT OUR WEBSITE

AT WWW.THEGREATESTBOOK.CA.
---
ground work

Spring/Summer 2017

GROUND WORK: FRANCOPHONE MINISTRY

SPIRITUAL CARE AMIDST

SPIRITUAL D

by Monique Saulnier

Spiritual burn-out affects many in ministry positions.

With the heavy demands placed on pastors in this day

and age, stress can lead to over-commitment and, eventually,

spiritual exhaustion and burn-out. We recently

surveyed a number of our ministry workers in Quebec, a

region that is one of the most spiritually resistant and discouraging

in all of Canada; more than 26 people responded.

The answers they provided help to shed light on the issue

of spiritual burn-out and how we can better serve our ministry

personnel.

Those who responded had an average of 16 years serving

in ministry — none were engaged in the ministry prior

to 1980. Of these, more than 47.4% of respondents experienced

burn-out at one time, while the remaining 52.6%

reported never experiencing exhaustion in their ministry.

CAUSES

The top causes of burn-out provided by respondents were

unrealistic expectations placed on them by the congregation,

problems within the church, and problems within

the Church Council. It was surprising to find that family

life was not a primary cause of exhaustion — only three

pastors reported experiencing issues with their wives (one

over struggles with children and two over financial difficulty)

that contributed to their burn-out.

SOLUTIONS

We asked our pastors what helped them to overcome their

burn-out. Of those who responded, 42% reported taking a

sabbatical from their work, 26% turned to psychological

counseling, 19% received encouragement from a friend,

and 15% were encouraged by their Church Council. Only

8% used medication to help treat the issue, and 7% sought

help from a doctor.

LESSONS LEARNED

It was encouraging to see that each of the pastors who

responded was eager to help others prevent spiritual burnout

before it happens to them. The most reiterated recommendation

was to ask the elders or Church Council for

help before burn-out occurs. One comment emphasized

that we as Christians should not be proud of the unrealistic

pressures applied to those in ministry. Accountability and

humility are necessities when working among the people

of God, and go a long way in preventing the over-commitment

that leads to burn-out.

Some who responded also encouraged pastors to acknowledge

their limitations. We are all limited, and it is not a

weakness to be upfront about our capacity. That's why it is

important not to do everything on your own, but to learn

to delegate responsibilities.
---
thrive-magazine.ca

thrive / 15

ARKNESS

Mention was made of the importance of consistently

seeking God during trials. Suffering can turn us away

from hope and faith; we must fix our eyes on God and

spend time with Him through prayer in order to weather

the storms of life. It should be mentioned that many saw

themselves as their worst enemy — they put added pressure

on themselves in response to the high expectations

of others.

In many cases, isolation can contribute or worsen spiritual

burn-out experienced by pastors. We need to have friends,

coaches who will help us break down misconceptions and

help bring clarity. We need others to pour into us — their

encouragement, their listening, and their advice.

Over all, it was strongly recommended that pastors ask

for support when returning to work after a period of

spiritual burn-out. Ideally, this should be done gradually

instead of abruptly. Burn-out takes time to heal, and

jumping back into ministry with both feet can be an

overwhelming experience, which may lead straight back

to more burn-out.

— Monique is the Administrative Assistant for the AÉBÉQ

Region.

SUFFERING CAN

TURN US AWAY

FROM HOPE AND

FAITH; WE MUST FIX

OUR EYES ON GOD

AND SPEND TIME WITH

HIM THROUGH PRAYER IN

ORDER TO WEATHER THE

STORMS OF LIFE.
---
16 / thrive Spring/Summer 2017

CHAPLAINCY

SOUL-CARE

by Richard Flemming

Our chaplains are spiritual caregivers who serve in a variety of secular settings. They invest

time in building relationships of trust with people who might never think of passing

through the doors of our churches. As spiritual caregivers, they spend a great deal of time

listening to those willing to seek counsel for a variety of issues. We know that caregivers of all kinds can experience

burn-out from this type of work, and it's no different for our own chaplains. Not only do they deal with

the problems of others, but they must also deal with their own individual concerns as well. There are times

when even chaplains require soul-care. Read what three of our chaplains have to say about their personal

journeys in this matter.

— Richard serves as Fellowship National Coordinator.

DEPRESSION by David Brown

One of the most important things I've come to understand is that God will sometimes allow me

to experience challenges and difficulties in order to mold me and shape me, even times of great

sorrow and suffering.

GROUND WORK: CHAPLAINCY MINISTRY

For the past year and a half I've battled with anxiety and depression — the most difficult time

in my life. I was unable to perform my duties as a Fellowship chaplain and experienced disruption

in every area of my life. I am happy to report the Lord did not leave me nor forsake

me for a moment during this time. The Lord eventually lifted me in a miraculous way and

restored me, giving me back my enjoyment of life as a Christian husband and father.

Psalm 119:71 says: "It was good for me to be afflicted so that I might learn your decrees."

Through my struggles I have learned to trust the Lord deeply, even

when experiencing extreme sorrow and suffering.

"And we know that in all things God works for the good of those who

love him, who have been called according to his purpose," Romans

8:28.

— David is a Fellowship Community Chaplain working in

Cambridge, ON.
---
thrive-magazine.ca

thrive / 17

GRIEF by Eric Lanthier

The presence of a chaplain proves to be

vital for someone who is in distress. But

when a chaplain lives through a crisis,

life takes a whole different turn. On

April 6, 2013, I learned that a former coworker

had died. I was overwhelmed to

learn that after such a short time, the disease

had prevailed. I did not know that

only 90 minutes later I was going to live

a greater trial by finding my lifeless wife.

Imagine, someone who comforts and

generates hope daily discovers that his

wife has taken her life in their own

home. But I give glory to God, who

sustained me through this terrible

ordeal. The prayers of my brothers and

sisters in Christ, the involvement of

churches, the support of my family, my

pastor, and a Christian therapist helped

me to find my way back to life. Today,

I understand much more deeply what

mourning, solitude, celibacy, inner pain,

and human suffering mean. Moreover,

the Lord, in His goodness, knew not only

how to lift me from this ordeal, but also

to fill me as I had never imagined. He

gave me back a wife, a woman of quality.

What grace, for I never imagined that I

could have loved again. I began to preach

again and, in addition, the Lord is using

me to minister to non-Christians by providing

them with pastoral services as a

chaplain. All I can say is, "Glory to God!"

In view of the greatness of His goodness,

I can only celebrate the grace bestowed

upon me by my

Lord and Saviour

Jesus Christ.

— Eric is a

Fellowship

Chaplain working

in the area

of media.

HOPE by Serge Caron

L'Ancre was founded in 2007 in response to the pressing needs of men fresh from

prison. For isolated men who have spent years in prison, L'Ancre volunteers are often

the only unpaid people that take an interest in them.

The mandate of the thirty volunteers working at L'Ancre is to encourage, support, and

facilitate the integration of detainees and former prisoners into a community of faith.

Volunteers work periodically at the penitentiary chapel, sharing the Word of God with

detainees. They also offer a weekly presence in transition houses, where their role is

to instigate reflection and the evaluation of past choices in the lives of those who have

been recently released. Perhaps it is time for them to consider the spiritual path, to seek

in God a path that will succeed.

For L'Ancre volunteers, the detainee and the ex-prisoner remain

"our neighbors", regardless of their choice to follow Christ or not.

Our services are not conditional on a commitment of faith, but

they do often associate chaplaincy with the unconditional love of

God.

— Serge is a Fellowship Chaplain serving in the area of

Corrections.
---
Spring/Summer 2017

SOUL-CARE BEST PRACTICES

by Betty-Anne Van Rees

UP TO SPEED: REGIONAL UPDATES

"As

for you, brothers, do not grow weary in doing good"

(2 Thessalonians 3:13). The only problem is… sometimes

we do. We know we're to make the best use of the time

because the days are evil (Ephesians 5:16) and lay down

our lives (John 15:13) and discipline ourselves for godliness

(1 Timothy 4:7), but what do we do when we feel

like we're running dry? How do we offer ourselves as living

sacrifices without it killing us?

Wait for God

Job had an ash heap (Job 2:8), Elijah had a broom tree (1

Kings 19:5), David had a cave (Psalm 57, 142), and Jesus had

a garden (Matthew 26 and Hebrews 5:7-8). When life was

overwhelming, they sought solitude. They stopped and

waited for God, and God met them, cared for them, and

answered the cry of their hearts. These, and many other

stories like them, tell us about the kind of God we serve:

He meets people where they are; He doesn't condemn them

for being there but He doesn't leave them there either; He

speaks truth to replace the lies — and the whole process is

powerfully infused with love that then grows in the hearts

of those with whom He meets. Not only is the relationship

comforting, it's transformative.

Know Yourself

When we take time to know God in this way, He tells us

important things about ourselves. If we're to thrive in the

places God calls us to serve, we must allow Him to x-ray our

hearts to find our root issues and then listen to His diagnosis.

Am I burning out because I'm trying to do what only He

can do? Whose glory fuels my service — His or mine? Am

I trying to overflow what I'm not taking in? Is my vessel

clean enough for His glory to flow through? Am I remembering

that all of life is ministry, or is one area hijacking my

whole life? Am I allowing Him to minister grace and truth

to my life through His body?

It is essential that we know His answers to these questions

— this is the diagnosis. Once we do, He calls us to drink

long of the medicine that will heal our souls: grace upon

grace. And like any good disease-killing medication, we

mustn't stop until we've consumed it all.

But Why?

We cannot give what we have not received. Those we serve

find themselves in the very same struggles we have come

to. When we struggle and God meets us, planting our feet

on solid ground, we will be ready, with gentle respect, to

give an answer for the hope that is in us.

— Betty-Anne, a member of Hespeler Baptist Church in

Cambridge, ON, helps to facilitate the Canadian network

of the Biblical Counselling Coalition, in addition to helping

in its initial Canadian launch.

PASTORAL

MEMBER CARE

Each of our Fellowship Regions offers their

own resources to aid pastors and their families

in their soul-care:

Fellowship Pacific offers a database of equipping

tools, as well as their OASIS workshops

and seminars. They also offer leadership

training tools such as Called to Influence,

Called to Dialogue: Tools for handling Crucial

Conversations, and Called to Lead. Experienced

pastor Bruce Christensen is available to counsel

pastors during times of stress, and church consultation

resources are available on their website,

as well as appointments upon request.

Fellowship Prairies offers the help of Regional

coaches Phil Webb, Leadership Health and

Development, and Rod Black, Multi-Cultural

Ministry. They assist pastors in strategizing for

missions outreach, provide outings for pastors

apart from ministry, lead workshops on

Significant Conversations, and train small group

leaders.
---
thrive-magazine.ca

thrive / 19

Other resources and retreats offered

include: Engage, which is annual and

varies in format each year between

a personal retreat, conference, etc.;

Encounter, an annual retreat that is for

pastors and their wives; and Equip which

is an annual convention/business meeting

followed by speakers and electives.

The Regional Director and Regional

Leadership Coach meet with pastors

once a month in northern and southern

Alberta, and also meet with pastors in

Saskatchewan and Manitoba throughout

the year. There is also a team available

for church consultations that meets with

the church leadership for the purpose

of helping them determine how to encourage

and strengthen their team and

congregation.

FEB Central offers the help of Area

Shepherds, who help to encourage,

support, and pray for pastors. They also

connect with pastors, staff, and families,

attend Association meetings, build relationships,

encourage the development

and healthy functioning of Associations,

broker resources, and assist in reconciliation

when invited. In addition to

our Area Shepherds, we offer retreat

centers such as Enrich Canada, OASIS

Retreats, and Kerith Retreats (Focus

on the Family Canada), as well as the

Pastors' Conference and Pastors' Wives

and Women in Ministry Retreat. We also

host workshops for the health of pastors

(Do MORE BETTER, Critical Care, and

Gospel Coaching).

AÉBÉQ offers ministry workers the help

of regional pastoral activities, for the

purpose of collaboration and mutual edification;

provincial pastoral care for rest,

exhortation, and instruction; follow-up

care through Regional Coordinators (a

resource person who provides leadership

in the Region), the Director of Church

Vitality, and the Director General, who

offer financial resources and tools to

help churches regain and maintain their

vitality. The Region also offers coaching

to younger ministry workers, carried

out by an experienced pastor, as well

as external counseling resources for

married couples (financial and human

resources). A portion of their regional

funding is set aside for the purpose of

helping couples who go through difficult

times to seek support from qualified

advisors. Finally there is the support of

The Barnabas Foundation, which was

founded to provide pastors with supports

to prevent burn-out or help deal

with other needs.

Fellowship Atlantic offers pastors care

through their Regional Director, including

monthly cluster gatherings for all

of our pastors which include significant

peer encouragement and counsel.

Retired pastors are available to counsel

and encourage younger men, and the region

provides an annual two-day retreat

for pastoral staff that includes quality

prayer and share times as groups and

one on one. There are also people within

the region who offer the use of property/

homes for pastoral couples to get away

for a week at no cost to them.

FELLOWSHIP HEALTH AND PENSION PLANS

by Rob Cole, Fellowship Services Director

Health Plan

The Fellowship Group Insurance Plan

was designed to provide a single package

that would include Extended

Health Care, Dental Coverage, Life

Insurance, Accident Insurance, Longterm

Disability and a provision for

local churches to assist in providing for

Short-term Sick Leave. In addition, optional

life and accident insurance for the

insured and their spouse/children is also

available.

Fellowship Group Benefits are administered

by Gwen Pifer. She can be reached at

the Fellowship National Ministry Centre

by phone at 519-821-4830 ext. 229, or by

email at healthcare@fellowship.ca.

For questions about Health and Dental

coverage or claims, contact GreatWest

Life at: 1-800-957-9777.

Pension Plan

The Fellowship Pension Plan is registered

with Canada Revenue Agency,

which allows tax deductibility of contributions.

The Plan is also registered

with the Financial Services Commission

of Ontario, the administrative body

charged with oversight of pension plans

operating within the province.

Participation in the plan is open to employees

of Fellowship Baptist Churches.

In situations where provincial pension

legislation in the province of residence

differs from that of Ontario, those plan

members will be extended the local provincial

entitlements.

Sun Life Financial provides investment

management and record-keeping

services for the plan and plan members.

The Fellowship provides service to the

plan members for enrollment, retirement,

termination, death, government

reporting, general inquiries, collection

and forwarding of contributions, as well

as the distribution of annual statements.

Members are charged a small yearly fee

for these services.

The Fellowship Pension Plan is administered

by Mr. Rob Cole, our Director

of Ministry Support Services. He can

be reached at the Fellowship National

Ministry Centre by phone at

519-821-4830 ext. 226, or by email at

rcole@fellowship.ca. For more information

about our Pension Plan, visit our

website at www.fellowship.ca/Pension.

Affinity Program

At the National Ministry Centre we

continue to look for opportunities to

provide benefits and advantages to our

churches, our pastors and the members

of our churches. We currently have three

program partners: Brokerforce Insurance

Inc., D.L. Deeks Insurance Services Inc.,

and National Car Rental and Enterprise

Rent-A-Car.

For more information about our

program partners, please visit our website

at www.fellowship.ca/AffinityProgram.
---
truth talk

Spring/Summer 2017

TRANSITIONS by Glenn Taylor

Transitions in ministry are traumatic —

thus the need for soul-care. The trauma

of transitions in ministry rock the ship, and

everyone onboard is affected. Pastors, spouses,

children, church members, church leaders,

and communities are all impacted in greater or

lesser ways. In such a brief article each of these

cannot be dealt with adequately but must be

acknowledged.

Each will deal differently with grief, anger, disappointment,

and change; these emotions are experienced in different

ways. The ingredients of transition will not be personalized.

Feelings are personal and expressed differently,

therefore processing experiences are very individualistic.

These variables make the experience unique for everyone.

Soul-care must seek to understand the experience of each

participant and provide care accordingly.

Our space limitations necessitate focusing only on the

pastor and his family. However, churches, church leaders,

members, and the community should not be overlooked.

The ripples of trauma caused by transition spread throughout

the congregation.

Tremors in Transition

Many things contribute to the trauma. Who has initiated

the transition? It may be initiated by the pastor, the church

leadership, the church community, the denomination,

financial pressures, stage of life issues, family contributors,

illness, etc. There are a dozen motivators for transition.

Some come from within, some from others.

Different Types of Transition

Type 1

Predictable

and Voluntary

Type 3

Unpredictable

and Voluntary

Type 2

Predictable

and Involuntary

Type 4

Unpredictable

and Involuntary

One can readily see that the trauma is greater as you move

from type one to type four. The reasons determine the type

of transition; to provide effective soul-care, one must assess

the reasons for the transition and the impact on all of the

persons involved while understanding that each individual

or group impacted will respond differently.

Who Cares?

For soul-care to be effective it must come from many sources

and as an expression of love growing out to forgiveness

and grace.

Care of Pastors and Families in Transition:

• Divine-care

• Self-care

• Family-care

• Peer-care

• Spiritual-care Group

• Denomination-care

• Church-care

• Professional-care

Each dimension of soul-care could be expanded and illustrated.

Transitions are most effectively cared for within

the context of a reflective pause — an intentionally designed

opportunity that enables reflection on the experience. First,

the person must find God in the process and deal with their

response. Secondly, they must refocus, rearrange priorities,

and envision God's will for the future. Pain and hurt heal

slowly and often require rest and recuperation.

Biblical Models of Transitions in Ministry

There are many Biblical models of both transition within

ministry and transition of ministries from one individual

to another. For instance, we see itinerant teaching pastors

in the New Testament. There are also many examples of

calls to ministry (e.g. Moses, Jeremiah, Samuel, etc.). A helpful

study concerning transition of ministry is the transference

of ministry from Moses to Joshua, Samuel to his

sons, David to Solomon, Elijah to Elisha, John the Baptist

to Jesus, Barnabas to Paul, and others. Soul-care is a function

of all community members and Paul is explicit about

the care of pastors. Every day three

pastors in North America leave the

ministry to seek other career paths;

often this happens as a result of

tremors felt in transition. Care is an

expression of God's love and we are

His instruments of care.

— Glenn is an accomplished writer

and a Fellowship Author.

TURTH TALK

For more information on this topic, read Glenn's books, Pastors in Transition: Navigating

the Turbulence of Change (available in English or French) and The Web of Life: An Invitation to Live or Die in the

Fabric of Community. Both are available for purchase on Amazon or directly from the author at glennctaylor35@gmail.com.
---
thrive-magazine.ca

thrive / 21

SPIRITUAL-EMOTIONAL

SPIRITUALITY: FROM THE

PRAIRIES TO COLOMBIA

by Phil Webb

Today, the phrase "I've been busy" has become a respectable response

when someone is asked how they are doing. At New Life Fellowship

Church in New York this answer is met with skepticism. The book

Emotionally Healthy Spirituality, by Pete Scazerro, describes a rule of life

that keeps work, rest, relationships, and communion with God in balance.

New Life staff evaluations are based on keeping the balance between giving

and receiving — it not only benefits the staff, their spouses, and families,

but the rest of the church as well.

Unfortunately, it seems we have been taught to pour out but not to drink

in. Scazerro writes in his book The Emotionally Healthy Leader, "the emotionally

unhealthy leader is someone who operates in a continuous state

of emotional and spiritual deficit, lacking emotional maturity and a 'being

with God' sufficient to sustain their 'doing for God.'" We must allow

God to love us not only through work, but through rest, significant relationships,

and deep communion with Him. Although maintaining this

balance may seem simple, it is often difficult to recognize what is driving

us toward imbalance and fatigue.

Thus, we must remember that it is our ability to abide in The Vine that

dictates what type of fruit we bear. Waiting on the Lord to meet our physical,

emotional, and mental needs demands us to slow down. When this

waiting takes time, it is tempting to go forward without Him and risk fatigue

— but we must remember from whom we draw our strength. Then,

when asked how we are doing, we may respond more appropriately with,

"I've been abiding".

"BUT THOSE WHO WAIT ON THE LORD

SHALL RENEW THEIR STRENGTH."

ISAIAH 40:31

— Phil is a Fellowship International missionary working in

the area of Leadership Development in both Canada and Colombia.

CLERGY

CARE

1∙888∙5∙CLERGY

The life of a pastor can be wrought with

both rewards and challenges: seeing lives

transformed by the power of the Gospel,

congregations coming together to glorify

God, compassion ministries reaching out

into hurting communities, but also experiencing

family struggles, addiction, anxiety,

depression, and many other unseen issues.

Many pastors struggle to find a place to

seek help for their own needs when they're

so accustomed to meeting the needs of others.

Fellowship National, though a partnership

with Focus on the Family, provides an

important and meaningful service to those

in pastoral ministry — the Clergy Care

hotline. Pastors and their families can call

toll-free and speak with professionallytrained

counsellors who help them deal

with their struggles, all with the reassurance

that Clergy Care ensures strict confidentiality.

If you or someone you know in

pastoral ministry is in need of help (or even

just a listening ear), don't hesitate to use

this wonderful ministry! Call their toll-free

number today: 1-888-5-CLERGY.
---
Spring/Summer 2017

CLASSIC

SOUL-CARE:

AN EVANGELICAL

PERSPECTIVE

by Michael Haykin

THE LAST WORD

Evangelicals have been criticized

more than once for being thin on

the dynamics of sanctification. As this

criticism runs, if you want to know

how to be saved, Evangelicals abound

with wise advice, but once you are in

the kingdom other sources are needed

to carry you safely through the ups and downs of this world,

which is no friend to grace.

This critique is both true and false: if we consider much of

our heritage from the previous century, the criticism is on

target, but once we go back to retrieve Evangelical riches

from the 16th through to the 19th centuries, there is an

enormous cache of spiritual wealth.

Reformers of the 16th-century such as John Calvin remind

us first and foremost that the goal of our lives and true

fulfillment is found in knowing God. As he wrote in 1559:

"It is certain that man never achieves a clear knowledge of

himself unless he has first looked upon God's face" and seen

the depths of his need and sin. To grow in grace, we need

above all things humility, and this virtue is found by steady

meditation on our great God and all of His attributes as

laid out in the Scriptures. In this way meditation is critical

to Christian maturity. As the 17th-century Puritans put it,

meditation is a great heart-warmer.

The Puritans and their heirs in the 18th and 19th centuries,

Evangelical leaders like the Wesley brothers — John

and Charles — and Jonathan Edwards, Andrew Fuller, and

Charles Haddon Spurgeon were also deeply aware that the

Holy Spirit is vital to our spiritual growth. Unlike far too

many Evangelicals in the past century, these men were not

afraid to call on the Spirit for empowerment and growth in

grace. They thus studied what the Scriptures said about the

Spirit and sought to live in dependence on His grace and

power.

Our Evangelical forebears from Calvin to Spurgeon

were also very aware that critical nourishment in the

Christian life is not only found in such places as prayer and

meditation on the Scriptures, but also in the Lord's Supper.

Charles Wesley, for example, wrote hymns to be especially

sung at the celebration of the Table, for he rightly knew that

such occasions could initiate personal and corporate revival.

In a world arrogantly passionate about the present and the

future, God's people need to learn afresh the meaning of

that word that occurs again and again in the Scriptures: "remember."

And in our remembering, let us re-read the great

spiritual classics of the past and find springs of refreshment

in this time of desiccation.

>

WHAT THEN TO READ? WELL, HERE

ARE FIVE TIMELESS CLASSICS TO

BEGIN WITH:

1. JOHN CALVIN, THE GOLDEN BOOKLET

OF THE TRUE CHRISTIAN LIFE

2. JOHN OWEN, COMMUNION WITH GOD

3. JONATHAN EDWARDS, THE

RELIGIOUS AFFECTIONS

4. ANDREW FULLER, MEMOIRS OF

SAMUEL PEARCE

5. CHARLES H. SPURGEON, THE SAINT

AND HIS SAVIOUR

— Dr. Michael Haykin is Professor of Church History &

Biblical Spirituality, and Director of The Andrew Fuller

Center for Baptist Studies at The Southern Baptist

Theological Seminary, Louisville, Kentucky.
---
DON'T IGNORE

THESE WARNINGS

Spring/Summer 2017

When there's something wrong with your

car, you take steps to fix it. Your insurance

is no different. Don't wait! Make a service

call to Deeks to tune up your insurance so

we can help save you money.

CALL US TODAY FOR A

NO-OBLIGATION QUOTE

1-800-240-5283 | deeksinsurance.ca