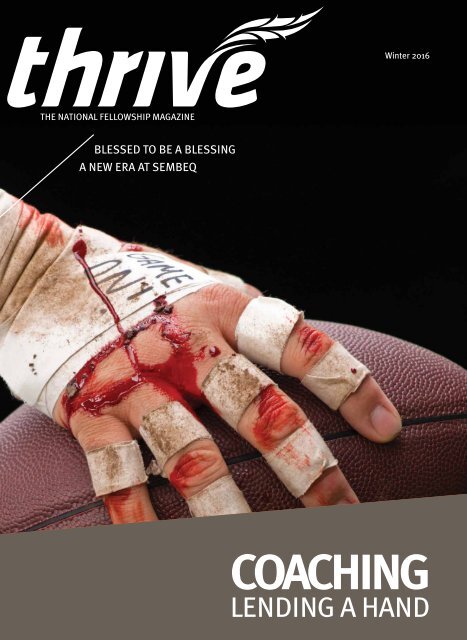 Thrive_Winter 2016
COACHING - Lending a Hand Winter 2016
COACHING - Lending a Hand
Winter 2016
SHOW MORE
SHOW LESS
You also want an ePaper? Increase the reach of your titles
YUMPU automatically turns print PDFs into web optimized ePapers that Google loves.
Winter 2016

THE NATIONAL FELLOWSHIP MAGAZINE

BLESSED TO BE A BLESSING

A NEW ERA AT SEMBEQ

COACHING

LENDING A HAND
---
LEADERS

CREATE

LEADE

by Steve Jones

Some of my fondest childhood memories revolve around soccer. I grew up loving the game. My dad instilled that love

over the many years he served as my coach in the Dorval Soccer League. Years later, Roy Lawson became my coach. He

coached me in ministry life. He coached me on the importance of building character as well as developing competencies.

One of Roy's sayings in life was: "My most painful experiences have been when I've had a problem and no one

loved me enough to tell me about it." Roy loved me. I readily received his feedback even when it was tough to listen.

Coaches are a blessing. Find one. Be one.

In recent years, the great debate has been over whether leaders are born or made. While I think there is some inherent

aptitude for leadership, I am of the opinion that leaders are made. They are made by choices and circumstances. John

Maxwell defined leadership with a single word: Influence. I like that definition. Leaders are formed through the influence

of other leaders. Churches create churches. Disciples create disciples. Leaders create leaders. When you make the

right choices in the right circumstances you become the right leader.

THE FIRST WORD

"MY MOST PAINFUL EXPERIENCES HAVE BEEN WHEN

I'VE HAD A PROBLEM AND NO ONE LOVED ME ENOUGH

TO TELL ME ABOUT IT."
---
thrive-magazine.ca

thrive / 3

Jesus modeled for us what it takes to influence disciples to become healthy, growing

leaders. He modeled for us some important priorities in the area of leadership

coaching:

1. Coaches model

Jesus said: "I have given you an example to follow. Do as I have done to you." John 13:15

(NLT). Jesus never asked anyone to do anything He was not already willing to do.

Dictators demand. Coaches model. We lead by example. Paul says "lead them by

your good example." And then in the next verse he gives five specifics that coaches

should model; "in speech, in life, in love in faith and in purity" (1 Timothy 4:12).

2. Coaches affirm

Proverbs 12:25: "A word of encouragement does wonders." A coach sets the example

and then affirms the potential they see in their protégé. Ken Blanchard of "The

One Minute Manager" fame says, "Catch people doing something right." We

often do the opposite.

RS

For 30 years, I have kept files stuffed with encouragement cards from people I

served in several Fellowship churches. You write it, I keep it. On rare occasions,

I take a peek at these cards — often during times of discouragement. They remind

me why God wants me to keep on keeping on. Coaches affirm people.

3. Coaches trust with responsibility

People respond to responsibility. Coaches understand this. My expectation

of someone can have incredible influence on that person — more than you

might expect. People tend to live up to what is expected of them. Great coaches

produce winning teams because their expectation is high, not low. Read Jesus'

expectation of His disciples in Matthew 16:19, when He tells them He's giving

them "the keys to the Kingdom of Heaven." This was a huge responsibility that

causes the disciples to rise to the challenge.

4. Coaches pray

Throughout Scripture, we read of examples when Jesus prayed for those He

was leading. But Jesus also promised He would be praying for anyone coaching

people today. John 17:20 (NLT): "I am praying not only for these disciples but also for

all who will ever believe in Me because of their testimony."

In the following pages of this THRIVE edition we will learn of people coaching

people: in our local churches, our theological schools, through missionaries or mission

initiatives. Be encouraged by what you read.

We build into people because they are eternal. People are going to last forever.

Everything else is eventually going to rust or burn up. The greatest use of our time is

not in building wealth. Coaching people to become all God wants them to become is

one of the noblest acts we can be involved in. Follow Jesus' example and be a coach.

Steven Jones is President of The

Fellowship of Evangelical Baptist

Churches in Canada. Follow Steve on

Twitter @FellowshipSteve

Steve Jones is President of The Fellowship
---
4 / thrive Winter 2016

THE FELLOWSHIP'S THEME VERSE

FOR 2016 IS: "WE SHOULD LIVE IN

THIS EVIL WORLD WITH SELF-CONTROL, RIGHT

CONDUCT AND DEVOTION TO GOD" TITUS 2:12

18 BAPTISM BY IMMERSION

AND MEMBERSHIP

You can connect with us on FACEBOOK: www.facebook.com/FellowshipNatl

and on TWITTER at: FellowshipNatl. Come and join the conversation.

2 THE FIRST WORD

LEADERS CREATE LEADERS /

Steve Jones

6 OUT THERE

BLESSED TO BE A BLESSING /

Ken Jolley

MISSIONS COACHING

PIONEER CHURCH PLANTING IN

EXTREMADURA/ Ken Yinger

10 LOVE EXTENDED

PROPRIETARY FAIR PROGRAMS /

Dan Shurr

FILLING THE GAPS,

REPAIRING THE CRACKS/

Luc Tétreault

14 GROUND WORK

PAINTING WALLS, REMOVING BARRIERS /

Ben White

COACHING FUTURE LEADERS /

François Turcotte

INTERNSHIPS: CONNECTING WITH THE

PRESENT, PREPARING FOR THE FUTURE /

David Barker

A NEW ERA AT SEMBEQ / Gilles Farley

18 TRUTH TALK

BAPTISM BY IMMERSION AND

MEMBERSHIP / Aaron Rock

20 UP TO SPEED

TO CONSULT OR NOT TO CONSULT

22 THE LAST WORD

WHAT COACHING FOOTBALL TAUGHT ME

ABOUT DISCIPLESHIP / Jeremy Best

love extended

ground work

FOR MORE GREAT STORIES, VISIT OUR WEBSITE: thrive-magazine.ca

MISSION STATEMENT: Thrive is the official magazine of The Fellowship of Evangelical Baptist Churches in

Canada. It is published to enhance the life and ministry of church leaders and members in Fellowship congregations

by providing articles, resources and news that reflect evangelical values, a common mission as well as a shared sense

of identity and vision. Thrive is published three times a year and is available in English and French.

© The Fellowship of Evangelical Baptist Churches in Canada

MINISTRY CENTRE: P.O. Box 457, Guelph ON N1H 6K9

T: 519-821-4830 F: 519-821-9829 EMAIL: president@fellowship.ca

thrive-magazine.ca

SENIOR EDITOR: Steven Jones MANAGING EDITOR: Lynda Schultz COPY EDITOR: Louise Buchner LAYOUT & DESIGN: Big Footprints Inc.

Email: lschultz@fellowship.ca POSTAGE: Return undeliverable Canadian address to Circulation Department, P.O. Box 457, Guelph ON N1H 6K9
---
FELLOWSHIP

NATIONAL CONFERENCE 2015

>

>

Terry Cuthbert with church planters from Quebec.

Speaker Dr. Thom Rainer

Fellowship National Conference 2015,

hosted by the AEBEQ Region in Gatineau,

QC from November 9 through 11, was a

wonderful time of praise, celebration of

God's mighty deeds, and challenge from

God's Word.

The conference was opened in prayer by

Rev. Tim McCoy, Executive Director of the

Canadian Baptists of Ontario and Quebec. He

apologized on behalf of the CBOQ for any hurt

caused by the theological rift that took place

between us almost ninety years ago.

Our speaker was Dr. Thom Rainer, President of

Lifeway Christian Resources, who addressed

the Conference theme, "Advancing the Simple

Church in Complex Times." He shared twenty

current church trends in North America,

along with principles of discipleship.

Our delegates discussed our current

Membership-Baptism issue and enjoyed a host

of practical workshops. Inspiring testimonies

from our five Regional Directors, Fellowship

International missionaries, chaplains and

church planters were shared among times of

sweet corporate prayer.

Our gathering ended with a Celebration

Banquet with music from Nate and Natalie

Richardson. Fellowship National Conference

2015 was a joyous time of warm fellowship

and refreshing.

Make sure to join us next year at FNC

2016 in Niagara Falls, ON, with speaker,

Dr. Paul Tripp.

>

Thomas Hopkins interviews street chaplains.
---
MISSION COACH

Winter 2016

GO...GO...G

BLESSED TO BE A

BLESSING

Venezuela is sending out missionaries to the unreached

peoples of our world. Unfortunately, local churches

have not always understood or supported their work like

they should or could.

The Gospel preached in Latin America has often emphasized

that Christ died to meet our needs. In such a poweroriented

culture this has resulted in the flourishing of the

prosperity gospel and in many subtle ways it has affected

churches of all denominations (including Baptists). In general,

there is the belief that God wants to help us fulfill the

desires of our heart. People look to God to be blessed. Latins

look for blessing so that life will be good and so that God

will help them live out their plans. There is little emphasis

on the fact that it is actually God who has a plan, and that

He has created us to be part of HIS plan.

The Kairos course (www.kairoscourse.org) is being used

of God to make a difference; to help believers change their

perspective on why God blesses His people. Kairos is a 40-

hour interactive program designed to educate and mobilize

local churches regarding Godś plan and activity in global

mission. It actually seeks to change the worldview of the

local church, so that the church is involved in what God is

doing in our world. One of the key concepts taught in the

program is that we are blessed by God, so that we might use

the blessings He has given us to bless others, and to particularly

bless the unreached peoples of our world.

COACHING THE

MISSION-MINDED CHURCH

>>>>>>>>>>>>>>>>>>>>>>>>>>>>>>>>>>>>>>>>>>>>>

OUT THERE: FELLOWSHIP INTERNATIONAL

>>>>>>>>>>>>>

by Ken Jolley

Maylin Pernía explains how Kairos was used of God to

change her worldview:

"I always had the idea that by accepting Christ into my

heart that I was blessed and that God would bless me. I

believed that it was a blessing meant exclusively for me,

and that if others wanted to be blessed then they needed

to accept Christ. This more or less also determined how I

evangelized others. Never before had I seen so clearly from

the Scriptures that we are blessed in order to be a blessing.

I now recognize that if God wants to bless others, then I

am an agent of this blessing and that God will bless others

through me with the blessing that He has given me."

Maylin goes on to explain how she is seeking to put this

into practice:

"For the past seven years I have been working at Toyota.

I work closely with a number of Japanese colleagues. Even

though communicating with them is difficult given that

they only speak to men, I had never thought of praying

for them, that God might reach them and open opportunities

so that I might show them the love of Christ. They are

right there every day, but I never thought about reaching

out to them. I only thought about reaching Venezuelan

colleagues. Today, I have a different vision. I know Christ

wants to reach them and I have a role in what He wants

to do."

Maylin's story is repeated over and over among graduates

of the Kairos program. In Venezuela Kairos has resulted in

people getting together to pray for the unreached and for

missionaries. It has led to a greater awareness of the different

ethnic groups that live in our communities and to seeking

God as to how we might reach them. Kairos has been

responsible for an increase in financial support for mission
---
O...GO....GO.... GLOBAL!

thrive-magazine.ca

thrive / 7

ING

activity, to greater understanding

of what it means to be a missionary,

in greater compassion for the

lost and an increase in evangelism.

Above all else, it has helped believers

to realize that they have a role to

play in the mission of God using the

blessings God has given them, right

here, right now.

As Fernando Cabrera summarized,

"Kairos sensitized me to what it

means to be a Christian. I cannot be

selfish about the blessings God gives

me. It is necessary to be a blessing to others.

His blessing is a gift that obliges me

and urges me to be a blessing to others.

Being a blessing is about being involved

with God, not only in going to the nations,

but in sending, praying and supporting

financially. All of these areas are important

because above all else, it is working with God

as a team."

Ken and Mary Ann Jolley recently returned to

Canada after twenty-five years of service with

Fellowship International in Caracas, Venezuela.

Among other responsibilities, Ken was Director of

the Kairos program in Venezuela and was instrumental

in introducing the program in other Latin

American countries. The Jolleys can be reached at:

kmjolley@fellowship.ca.

OUR MISSIOLOGISTS COMMENT:

If churches are going to be Christ's witnesses from

'Jerusalem to the ends of the earth' they need to be very

deliberate in purpose and action. Accomplishing this

challenging task doesn't just happen on its own! And

given their limited resources, churches can't do everything;

they must make choices! Mission coaching

assists local congregations to identify and take ownership of their own

strategic missions focus in such a way that it engages their people

in the deployment of their unique gifts and resources in partnership

with others, for the accomplishment of God's mission beginning in

their Jerusalem and extending to the ends of the earth. The missions

coaching process provides a church a context for unhurried

reflection and the intentional seeking of God's face in identifying

its own particular missions thrust into the world.

Richard Flemming

Fellowship National Eastern Coordinator

rflemming@fellowship.ca

The world has changed. Missions has

changed. What hasn't changed is the

need for the nations to embrace Jesus

as Lord and Saviour. What is exciting

is that the potential for significant

engagement of your church in

God's global purposes has increased dramatically.

Imagine if there was a coach to guide your church in

discerning how to be an influential actor in God's

global mission. The Fellowship's Coaching For

Missions provides that support. Focusing on

God's missional purposes, the potential for a

church's involvement is discerned, leading to

the development of an appropriate role, task

and organizational structure.

Mark Naylor

Fellowship International Coordinator of

International Leadership Development

mnaylor@fellowship.ca
---
8 / thrive

Winter 2016

SPAIN

ARE

by Ken Yinger

PIONEER CHURCH PLANTING

IN EXTREMADURA

We heard an undeniable call to move to

Jerez de los Caballeros in Extremadura,

Spain. We had no plan other than to

be a part of what the Spirit of God is

already doing to extend His Kingdom

here. In many ways, every day is an

adventure with Him! Our goal is to

participate with Him to plant a church

that will see people come to Christ, be

discipled and become disciple-makers;

a church that is impacting the community

and that has a plan to reproduce

itself in other towns without a Gospel

witness.

A God-sized task! How does anyone

plant the first-ever evangelical church

in a town with a history that goes back

to Roman times? First, we had to become

students of the language, culture

and worldview. Having previously

served in Chile, we spoke Spanish but

we have had to learn the accent, vocabulary

and slang of this country. The

only way to learn both language and

culture is to interact with people, and

so the focus of our first several months

was to meet people and establish friendships

as we lived our daily lives. We

asked the butcher to teach us the names

of the cuts and to tell us about her family.

The pharmacist welcomes our questions

and we learn a great deal just by

listening to the other customers' conversations.

We got to know the owners

of the coffee bar, offered to teach

their son English and invited them for

Christmas dinner. We volunteered at

the elementary school and now there

are several people whom we consider

friends as a result of that ministry. We

have met local leaders and are exploring

ways that we can help meet community

needs in the name of Christ.

Meanwhile, we need a team to help us

and God has provided eight people who

gave their lives to Christ when they

lived in other parts of Spain. Many of

them didn't know each other before we

came and it has been wonderful to see

them enjoy the company of other believers.

We have met in our home each

Tuesday for Bible study and prayer, and

OUT THERE: FELLOWSHIP INTERNATIONAL
---
thrive-magazine.ca

thrive / 9

YOU WILLING

TO

GO?

little by little, discussion about

what it's going to take to see a

church planted in this town. They

are beginning to understand how

they can use their gifts, talents,

interests, and experiences to build

bridges for the Gospel. Whereas

before the common theme was

"These people are so closed!"

now we're hearing them pray for

friends and coworkers by name.

Please pray for all of us as we make

Kingdom imprints and plant a

new church for the glory of God.

Ken and Cathy Yinger have been

missionaries with Fellowship

International to Spain since

their appointment in 2012. The

Yingers can be reached at:

kcyinger@fellowship.ca.

RICHARD AND

INGRID CASTRO

Eglise Baptiste Évangélique d'Ahuntsic,

Montreal, QC

Serving in Zafra, Badajoz, Spain

Ricardo was born in Buenos Aires,

Argentina and Ingrid in the South of

France.

The Castros immigrated to Canada in

1996 and shortly following their arrival

in this country they started attending

Rosemont Baptist Church. After

several years of study, preparation and

service, in 2002, Ricardo was appointed

by Rosemont Baptist Church as a pastor

with the mandate to plant a daughter

church. After five years of planning and

mobilizing people, the Baptist Church of

the Nations was born in the multi-ethnic

area of Côte-des-Neiges in Montreal.

The Castros sensed the Lord leading

them to the spiritually barren country

of Spain—a nation renowned for having

closed its doors to the Gospel throughout

history, especially in the region of

the Extremadura. Their ability to speak

Spanish and their European nationality

confirmed God's call on their lives

in Spain. They are now working with

several small area churches to strengthen

and train the believers to reach their

communities for Christ. The Castros can

be reached at: ricastro@fellowship.ca.

KEN AND CATHY YINGER

Knollwood Baptist Church, London, ON

Serving in Jerez de los Caballeros, Spain

Having served in leadership development and church planting for 13 years in

Chile, Ken and Cathy Yinger came to Fellowship International as already veteran

missionaries. They returned to Canada from Chile in 2008 and settled in London,

Ontario. But the Lord impressed upon them the needs of the under-evangelized area

of Extremadura, Spain. This call was confirmed when they visited Spain and took a

prayer walk through the district. In March of 2014 they arrived in the medieval town

of Jerez de los Caballeros, Spain where they are working with the goal of planting a

new church. Their ministry currently consists of using their gifts and talents to build

bridges to the community, such as teaching English, volunteering in a school, helping

with tourism promotion, participating in local events, and opening their home to their

new friends. Counselling and Bible studies, along with Ken's participating as a teacher

at a local seminary, also round out their activities.
---
love extended

Winter 2016

PROPRIETARY FAIR PROGRAMS

by Dan Shurr

What are they?

Proprietary FAIR programs are relief projects and sustainable

aid programs that alleviate suffering, empower

others, and do not create dependency. Our Fellowship

International missionaries oversee these initiatives that are

based on a need in their ministry context. The projects can

be ongoing in nature or have a specific end goal or date in

mind.

Why do we have them?

For our missionaries such initiatives are the fruit of the

Gospel and also create opportunity for Gospel proclamation.

These initiatives provide a way to gain credibility. We

have seen a need and want to be Christ's hands and feet!

Our God is a God who cares for the suffering, the needy,

and the abandoned. He models what we, His followers,

need to be. FAIR (Fellowship Aid and International Relief),

offers you the opportunity to be all that God wants you to

be as it relates to showing compassion to a needy world.

How can churches get involved?

PRAY! GIVE! GO!

Consider supporting a missionary couple. Churches can be

involved and informed about the FAIR projects connected

to their missionary's ministry (in D.R Congo, Honduras,

Bulgaria, France, Poland, Pakistan, Japan, Lebanon).

Do you know any individuals or families in your church interested

in missions and humanitarian work and who want

to go to the world and reach and serve the nations for Christ?

Is the Spirit of God nudging you to use the abilities God

has given you to provide practical help that will alleviate

human suffering? Why not use your professional training

and skills in partnership with Fellowship International

and help pave the way toward the ultimate goal of discipleship

and church planting. Both mid-term and long-term

options are available.

Doctors/Nurses/Midwives in Pakistan

Dentists/Dental assistants in Cambodia

Doctors/Nurses in Cambodia

ESL teachers in Cambodia, Japan, France, Colombia

Social workers in Honduras

Youth and children's workers in Honduras, Lebanon, and Poland

LOVE EXTENDED: FAIR

Go online to http://www.fellowship.ca/AvailableforDownload to read the

mission, vision and values of FAIR in its Stategic Direction Document
---
thrive-magazine.ca

thrive / 11

COACHING FOR

BETTER MATERNAL HEALTH

Shikarpur Christian Hospital, Pakistan

Not only do the staff at the Shikarpur Christian Hospital provide

in-house services to women and children, they provide teaching in

general health principles for pre-natal, post-natal and disease prevention.

They also provide village midwives with training in basic

skills that will help lower the infant mortality rates.

COACHING FOR A BETTER LIFE

Cedar Home Orphanage, Lebanon

Cedar Home provides a Christ-centered home for abandoned

children, orphans and children at risk in Lebanon. This humanitarian

work is driven by faith and is designed to inspire, guide

and help these children develop spiritually, physically, mentally,

emotionally and socially and to fulfill their highest potential.

We often feel helpless in the face of human

suffering and social injustice. But

we don't have to be helpless! Join us. If

you are interested in partnering with

FAIR through Fellowship International

in any of these areas, please complete

the questionnaire found on our website.

www.fellowship.ca/opportunities.

How can donors get involved?

• Be informed (go to our website

www.fellowship.ca/fair)

• Read and study our catalogue. This

lays out all the opportunities we

have available to partner with our

personnel and participate in these

projects to help alleviate human suffering

and social injustice.

• Pray and give!

Dan Shurr is

Director of

Fellowship Aid and

International Relief.

COACHING FOR

MORE THAN SURVIVAL

Vida y Libertad Orphanage, Honduras

The "Casa Hogar" shelters 40 children: orphans, abused, street

kids and those suffering extreme poverty. By providing the security

of a safe and loving home including: food, clothing, medical

care, education, recreational activities and most importantly

spiritual guidance, the "Casa Hogar" helps to prepare these

children for a brighter future in every sense.

---
love extended

Winter 2016

FILLING THE GAPS,

REPAIRING TH

LOVE EXTENDED: FAIR
---
thrive-magazine.ca

thrive / 13

E CRACKSby Luc

Tétreault

The Shikarpur Christian Hospital, built on its present site in

1969, has been a major part of the Fellowship's ministry in

Pakistan for nearly 50 years.

IN PAKISTAN,

MORE THAN 8%

OF CHILDREN

DIE BEFORE THE

AGE OF FIVE...

In Pakistan, more than 8% of children

die before the age of five and

maternal death rates are among the

highest in the world. These deaths

are due primarily to preventable

causes. Over these many years,

the hospital has made a significant

impact on improving maternal and

child health.

"The compassionate ministry to an often-forgotten segment of society—women—has

made Shikarpur Christian Hospital (SCH)

in Pakistan a beacon of hope in an otherwise bleak world. The ministry

of the doctors and nurses, both national and expatriate, as

well, the work of the Bible women and staff members who minister

the Gospel to patients and anxiously waiting family members has

been of eternal value. Both have opened doors of opportunity for

the Gospel in villages and homes throughout the immediate area." 1

The goodwill created with the Pakistani authorities by the

SCH's medical work has enabled access for our missionaries

and their national partners to minister to the people of the

Sindh province.

"Shikarpur Christian Hospital has served for many years as a

catalyst, not only in the provision of medical treatment for women

and children, but in the work of evangelism throughout the province

of Sindh. Because of the care and compassion given through

the hospital, our missionaries have gained tremendous credibility

in the eyes of the community, and that has earned them the right

to speak about Christ. Out of the hospital ministry have grown

other ministries—outreach through evangelism, media, literature,

tribal work. What happens to SCH has a definite impact on all of

our other ministries." 2

The hospital and its staff have also been crucial in times of

disaster in Pakistan. For example, through FAIR (Fellowship

Aid and International Relief), SCH was instrumental in

bringing emergency relief and meeting ongoing needs during

the floods of 2010. One-fifth of the country was underwater

because of the heavy Monsoon rains—including a large

part of the Sindh where the hospital is located. According to

the Pakistani government 20 million people were affected

because of the destruction of property, livelihood, and infrastructure.

Hospital staff worked tirelessly to address the

overwhelming needs of their community.

But buildings, like people, start to show their cracks after

prolonged use.

Although the hospital's buildings have been more than

adequate to support the work, the passage of time and the

harsh environmental conditions have taken their toll. Major

renovations are required to enable our personnel to continue

to provide a safe and welcoming environment.

Of primary concern is the staff housing, much of which requires

major renovations.

Additional family housing is urgently required to assist in

our recruitment and retention of personnel, especially medical

personnel. Our goal is $75,000 to cover a new staff housing

unit, replacement of portions of the hospital roof and

floor, and renovations to existing housing units.

Your generous gift will enable us to continue to care for the

physical and spiritual health of mothers, infants and children

in our region of Pakistan.

Luc Tétreault is Chief Executive Officer

at the Shikarpur Christian Hospital.

He and his wife, Denise, have been

serving in Pakistan with Fellowship

International since 2013. The

Tétreaults can be reached at:

ldtetreault@fellowship.ca.

For more information on how you can participate in this project,

go to: http://www.fellowship.ca/FAIR and follow the links.

1

Weakening Pulse in Pakistan, THRIVE, Summer 2012

2

Ordinary People With An Extraordinary God, Lynda Schultz, 2013, pages 77, 78
---
ground work

Winter 2016

PAINTING WALLS,

REMOVING BARRIERS

by Ben White

GROUND WORK: FRANCOPHONE MINISTRY

What does an established

church in Cambridge,

Ontario, have in common with a

church plant in Montreal's multicultural

neighbourhood of St. Leonard?

Answer: A passion for Christ-centred

discipleship.

Since October 2013, Temple

Baptist Church has supported the

Evangelical Baptist Church of St.

Leonard (EBSL) with prayer, pastoral

visits, a missions trip, and

financial support. One of Temple's

key emphases is the multiplication

of disciples. We want to invest in

each other and those outside of our

church, with the goal of seeing the

discipled become the disciplers. This

is why we are supporting EBSL—

they have a passion for one of the

most ethnically diverse communities

in Canada. As we invest in their

church we are helping to raise up a

generation of Christian leaders in

Montreal, Quebec, and around the

world.

During our 2014 missions conference,

Benoit Constant, the pastor-intraining

at EBSL (under the guidance

of René Frey), mentioned that his

church was struggling to connect

with their neighbourhood. We offered

to help and Benoit suggested

we take part in an initiative called

J'aime mon voisin, meaning "I love

my neighbour." So this past summer

we sent a group of high school

and university students to partner

with members of EBSL to paint living

rooms, pull weeds, and clean

windows in St. Leonard. Everyone

we served was invited to an end-ofweek

barbeque where we were able

to share about Jesus and the ministry

Go online to www.fellowship.ca/ReachingFrancophoneCanada to read the

"Reaching Francophone Canada" manual and discover how you can partner with

planting future French churches.
---
thrive-magazine.ca

thrive / 15

of EBSL. The week was a great success!

Not only did we serve others in the

name of Christ, we formed relationships

with many people—from conservative

Muslims to Italian immigrants—so that

EBSL can continue to reach out to them

in the future.

After hearing Benoit and René's vision

for EBSL, learning about the church

through regular visits, and sharing our

hearts with one another, we can truly

say: nous aimons nos frères et sœurs

francophone. We love our French brothers

and sisters.

Ben White is a pastoral intern at

Temple Baptist Church, Cambridge, ON

and led the recent missions trip to St.

Leonard, QC.

COACHING

FUTURE

PASTORAL

LEADERS

by François Turcotte

Currently, I spend most of my time meeting with

church leaders to establish a complete plan for

leadership training in their church. It is a great encouragement

for me to work with churches willing

to train new leaders.

In January 2015, we began another cohort. We have

also started a new four-course program to help train

elders who can't invest a lot of time into school study.

In August 2015, three men started Immerse training.

It is a four-year full-time training program that takes

place in the church. We praise God for these three future

pastors. We pray for a lot more this year. Our partnership

with Northwest Baptist Seminary helps us a lot, but we

keep praying because we are asking God to provide for:

• 200 new full-time pastors,

(including 45 church planters)

• 200 new elders and,

• 200 women equipped to serve in the church.

"The harvest is plentiful, but the workers are few.

Ask the Lord of the harvest, therefore, to send out

workers into his harvest field." Luke 10:2

François Turcotte is SEMBEQ's Director

of Studies. François can be reached at:

f.turcotte@sembeq.qc.ca

Reaching Francophone Canada

The unfinished task in church planting in French Canada.

The Rationale—"A mature region in a least-reached field"

The truth is Quebec is still very much a mission field and thus should remain a vital ministry for

our National Fellowship of churches. By their very proximity, our Fellowship of churches has a

unique responsibility to continue to support church planting among francophones (Frenchspeaking

Canadians). There continues to be a clear need for English-speaking churches and

donors to remain engaged in funding francophone church plants.

1. Recognizing that our AÉBÉQ Region has matured, the National Fellowship will bring closure

to the French Mission as of December 31, 2014. Adequate francophone leadership, structures

and training exis to continue the mission to the francophone people in Quebec.

2. However, it is also recognized tha the Quebec region is not mature as a mission field. The

spiritual needs are still staggering with less than 1% o francophones in Quebec having come to

Christ.

3. Contrasting the need in Quebec with other countries in which the Fellowship is or has been

involved, it becomes eviden this is still one of the neediest, least-reached people groups in the

world and they are just next door.

i.e. Fellowship International missionaries are serving in: Kenya (48.9%), Honduras (23.0%), Congo (18.7%),

Chile (18.4%), Canada (7.7%), Indonesia (5.6%), Colombia (7.5%), Mexico (8.3%), India (2.2%), Belgium (1.2%),

Bulgaria (1.9%), Italy (1.1%), France (1.0%), Quebec (0.8%), Kazakhstan (0.7%), Cambodia (1.6%), Japan (0.5%),

Pakistan (0.6%), Poland (0.3%). Stats from Operation World (See Appendix A)

The Scope—"Francophone Canada, not just French Quebec"

Fellowship francophone funding exists to provide FEBC churches and donors an opportunity to

fund francophone church plants across Canada such as

Cochrane, ON, St. Boniface, MB, Moncton, NB as well as

the needy mission field of Quebec.

1. It is recognized tha the francophone population in Canada

is just under 22%; 15% of which are living outside Quebec

(6 million in Quebec; 488,000 in Ontario; 233,000 in New

Brunswick and 100,000 in Manitoba).

2. It is also recognized that our francophone churches are now

ready, willing and able to carry a significant and growing

portion of the funding responsibility for church planting in

Quebec.

francophones as evangelical

Go online to www.fellowship.ca/ReachingFrancophoneCanada to read the

"Reaching Francophone Canada" stategic direction document and discover the

new paradigm for planting French church plants in the future.
---
ground work

Winter 2016

INTERNSHIPS:

CONNECTING WITH THE PRESENT,

PREPARING FOR THE FUTURE by David Barker

Heritage College and Seminary is committed to preparing men and women

for life and ministry. A key component of that preparation is the requirement

for our students to be involved in internships. There are several types

of internships that Heritage offers, and one of the key ones is the "Guided

Ministry Experience" in which FEB Central and Heritage partner in equipping

the next generation of leaders for the church.

In this program, students in various degree tracks spend their last academic

year over two years and at the same time engage in a full-time internship in a

church. The church pays half of the intern's salary and helps with tuition costs, and the intern

raises the rest of the needed salary.

Beyond the well-known reasons for internships, this intense experience offers the following

benefits:

1. Interns become deeply involved in church life. They experience the ups and downs of

ministry at a deep level. Further, it gives interns the opportunity to shape the ministries

in which they are involved in fresh ways.

2. Supervisors of the interns become much more than supervisors. They become mentors

and friends, people who will be part of the interns' lives for many years to come.

Further, supervisors grow in their ministry as they interact with these students. I have

been shaped and molded in powerful ways as I have journeyed with numerous interns

and mentorees along the way.

3. The church benefits in several ways. It has the opportunity to shape the lives of the

interns in profound ways since interns are deeply embedded in the church for two full

years. Further, the church enjoys the fresh energy that interns bring.

4. For undergraduate students in particular, this kind of internship gives them another

year of education and experience before graduating and looking for their next ministry.

5. Finally, these students graduate from Heritage with two years of full-time paid experience.

Churches tend to look for people to fill their ministry roles who have had

ministry experience, and this kind of internship goes a long way in providing that

experience.

For more information on this two-year guided ministry experience offered by the partnership of

Heritage College and Seminary and FEB Central please contact:

Giselle Carter, Internship Director at Heritage College: gcarter@heritagecollege.net

Ian Elliott, Internship Director at Heritage Seminary: ielliott@heritageseminary.net

GROUND WORK

Godfrey Thorogood, FEB Central Leadership Director: godfrey@febcentral.ca

David G. Barker is the Vice President of Academics and Student Affairs and Seminary Dean at

Heritage College and Seminary in Cambridge, ON.
---
thrive-magazine.ca

thrive / 17

A NEW ERA AT SEMBEQ

by Gilles Farley

During the 70s and 80s, an unprecedented revival,

driven by the Spirit of God, occurred among Quebec

Francophones. This created an obvious need for more

workers. According to Jacques Alexanian, the men sent by

God to lead His church in Quebec adopted a Biblical training

model: 1

"Brothers agreed that it took the whole life of the church to

train a worker, therefore responsible members were called

to participate in the workers' training."

A large number of workers and pastors in our churches

are the result of this training within the local church. Men

were identified who could take up and pursue God's work.

Several of those chosen were already working and had

young families. The men in charge of the local church took

them under their wings with the view to bringing them

to maturity in Christ as is required of a pastor so that they,

with the proper knowledge of the Bible would be able to

teach, reprove, correct, train in righteousness: "… so that

the man of God may be adequate, equipped for every good

work" (2Timothy 3.16 and 17). As well, these men would

gain all the needed abilities for their ministry.

By 2015, more than 50% of the pastors or elders of the

AÉBÉQ region had been active SEMBEQ students. More

than 80% of SEMBEQ's graduates are serving as elders or

pastors at a local church up to 10 years after graduation.

All the glory be to God who inspired pastors to train future

leaders according to 2 Timothy 2.2. We must acknowledge

the many shepherds, already serving the Lord in a local

church, who gave their time to teach a SEMBEQ course, and

also the donors who supported SEMBEQ.

Workers' training within the local church

Church leaders and members must discern who God is

calling to the task of shepherd. It should not be taken for

granted that these persons are already qualified for the

work God has prepared for them. Proper steps must be

taken to become fully qualified for ministry.

While the whole congregation is needed for a leader's training,

usually one of the church leaders will be responsible,

before the church and before God, for the worker and his

training.

In 2004, AÉBÉQ's vision was to train 100 new workers over

a ten-year period. In order to meet this challenge, SEMBEQ

introduced a new training program, the Cohort, and appointed

a training coordinator. All students in this program

must be supported by a coach. Tools are introduced to help

the student to grow in character and to acquire the necessary

abilities for the ministry. From 2004 to 2014, 93 members

of the cohort completed the program and 55 of those

are pastors in Quebec.

Partnership with Northwest Baptist Seminary (NBS)

In 2014, God laid a new challenge upon AÉBÉQ's leaders'

hearts: to train 200 pastors, 200 elders and 200 influential

women by the year 2024. This new challenge, and

the desire that SEMBEQ's diploma be recognized by other

theological seminaries and universities, caused SEMBEQ

leadership to explore different options. Discussions between

SEMBEQ and Northwest Baptist Seminary confirmed

their respective commitment to train workers in the local

church using experienced leaders. SEMBEQ agreed to form

a partnership with NBS and to adopt the IMMERSE curriculum.

IMMERSE goes beyond worker's training within the

local church in several ways:

1. A true partnership between three parties

The coaching is split between three mentors: a pastoral

mentor from a local church, an academic mentor

from the seminary and a mentor from the region. This

strengthens the links between these three groups,

since the three mentors are working closely together.

2. The local church's role

The trainee's progress is assessed as he demonstrates

his leadership's skills (knowledge, competencies and

spiritual growth) in the local church.

3. The sharing of expenses

The student, the local church, and SEMBEQ share the

student's living expenses over the training period.

4. A four-year period

This program enables a worker to be trained over a

four-year period, instead of over 10 years.

From the start, the collaboration between NBS and

SEMBEQ has been excellent. SEMBEQ has been allowed to

take the program's structure, the philosophy and values of

the IMMERSE curriculum as a whole, and adapt it according

to the distinctiveness of Quebec. SEMBEQ has been able

to preserve its values and to take advantage of the NBS's

advanced program.

At the beginning of 2015, SEMBEQ was able to offer to

Quebec's churches the program IMMERSION (instead

of IMMERSE). In August 2015, three students from three

churches entered the IMMERSION program.

Gilles Farley is Coaching Coordinator

for SEMBEQ.

1

Jacques Alexanian. An email received on

Wednesday, January 12th, 2012.
---
truth talk

Winter 2016

BY

BAPTISM

IMMERSION

AND MEMBERSHIP

by Aaron Rock

TRUTH TALK

The good news is that many of our Fellowship Baptist

churches are growing! We are growing by conversion

growth and we are growing as people from other geographies

and denominational backgrounds re-identify with

Fellowship Baptist churches. With this growth new converts

are baptized and welcomed into the fellowship of our

churches. On occasion though, newcomers from differing

denominational backgrounds wish to identify with our

churches who have not experienced what we would consider

a "proper mode" of believer's baptism. Indeed, some

concede to baptism by immersion, others—both newcomers

and officiating pastors—believe the act of re-baptizing a

believer is a violation of the intention of their first baptism.

Others do not believe the first baptism to be valid

and therefore require baptism by immersion. How then,

shall we respond as Fellowship Baptists to newcomers who

wish to become members of our churches but who have

experienced a form of believer's baptism by an irregular or

improper mode?

Several years ago, some of our churches and pastors posed

this question to our Fellowship leaders:

The immediate answer to this question is "no". Our

Affirmation of Faith, unchanged since the Fellowship's

founding in 1953, clearly defines a church as "a company of

immersed believers".

The question then became:

This request was rightly deemed

to be a question for the National

Council to deliberate on

since the guardianship of our

Affirmation of Faith, and any

potential changes to it, is the

responsibility of the National

Council.

IS THERE ALLOWANCE FOR LOCAL CHURCHES TO

INDUCT BELIEVERS INTO THEIR CHURCH MEMBERSHIPS

WHO HAVE EXPERIENCED BELIEVER'S BAPTISM BY A

MODE OTHER THAN IMMERSION?

WOULD THE FELLOWSHIP CONSIDER

A CHANGE TO OUR CURRENT

POSITION IN ORDER TO ALLOW

LOCAL CHURCHES THE LIBERTY

TO INDUCT BELIEVERS INTO THEIR

CHURCH MEMBERSHIPS WHO HAVE

EXPERIENCED BELIEVER'S BAPTISM

BY A MODE OTHER THAN IMMERSION?

Desiring the input of our Fellowship family, the National

Council conducted several meetings, forums, and discussion

sessions with regional leaders, conference delegates,

and local church pastors over the last two years. As expected,

opinions on this issue are varied and yet the Council

concluded that there may be a way to move forward together,

balancing sensitivity to the pastoral nature of this issue

and our commitment to the practice of believer's baptism

by immersion. While several procedural and doctrinal considerations

were submitted, the National Council decided

to commission a group from across the Fellowship with

pastoral and theological expertise to offer theological clarity

and practical options for the National Council to consider.

Representing geographical

and doctrinal diversity, the "Study

Team" submitted their theological

paper to the National Council in

April 2015, complete with historical,

ecclesiastical and practical

considerations. This paper was

then reviewed and further developed by National Council,

the result of which was distributed to our churches under

the title: Consideration for the Membership of non-immersed

baptized believers in Fellowship Baptist Churches.

In addition to this document, the National Council, while

respecting the diversity of persuasions on this issue, has

submitted the following Motion to our church family:

Motion: In response to requests by Member churches, the

National Council is giving Notice of Amendment to the

Affirmation of Faith by a vote cast at the November 2017

Fellowship National Conference in Toronto to change the words

under "The Local Church" from "we believe that a church is a

company of immersed believers" to "we believe that a church

is a company of believers baptized on confession of faith." All
---
thrive-magazine.ca

thrive / 19

Fellowship churches will continue to practice the baptism of believers

by immersion in water only.

At first read, the Motion appears to advance a more open view

in place of our historical stance. This however was not the

intention of the Motion, but rather to provide our Fellowship

delegates with an opportunity to vote "YES" or "NO" on the issue

since a Motion affirming our historical position would not

require a vote at all, thereby silencing many parties within our

movement. This Motion then, gives all parties a voice in this

baptism and membership issue.

Of further note, this Motion must be understood in light of the

following:

• The National Council has determined that a change of

membership practice requires a change to our Affirmation of

Faith due to its specificity on its definition of a local church.

• It would be insufficient to make changes to any other document

and leave the Affirmation as is.

• We recognize that this is a change from our historic membership

practice but not historically unattested among

Baptists.

• We acknowledge that no local church will be obliged to

change its membership practice should this Motion be

affirmed.

• We recognize that diversity among churches on this issue

may pose difficulties for transfers of individual memberships

between Fellowship churches, but that this is already

true of churches that require members to affirm greater

specificity on eschatological views for instance.

• We will only continue to practice believer's baptism by

immersion.

Moving forward, our suggested process can be summarized as

follows:

2015: Supply our churches with the Council's study paper

and Motion, to facilitate discussion forums at our National

Conference, and to supply a summary of discussions after the

conference.

2016: Encourage Regional Councils to respond to the Motion,

and decide their own process for discussion of the issue with

their regional churches.

2017: To vote on the proposed Motion at our National

Conference.

For some this will seem a trivial issue, for others a matter of

grave importance. Either way, we must each pray that our

Fellowship family is willing to give an opportunity for all to

speak to one another in a spirit of grace and conviction, to honour

the process that the National Council has developed and

to do justice to the Word of God. Thank you for participating

in the life of our Fellowship. Our mutual commitment to

prayerfully considering this Motion will aid in our unity

as believers and serve our mission to make passionate

disciples of Jesus Christ and ensure that every church has

unforgettable Kingdom impact!

Dr. Aaron Rock is lead pastor of Southwood Church in

Windsor, Ontario, chair of the Study Team and a recent former

member of National Council.
---
Winter 2016

UP TO SPEED: REGIONAL UPDATES

PACIFIC REGION

Pastor Darin Phillips

Oceanview Community Church

Ladysmith, BC

In the Fall of 2008, Ladysmith Fellowship Baptist

Church in the town of Ladysmith on Vancouver Island

had a consultation team come to assess the church. The

team was composed of Regional Director, David Horita,

BC Fellowship Stewardship Director, Doug Fordham,

BC Fellowship President, Lorie Wasyliw and longtime

Fellowship Pastor, Gordon Reeve. This was a crucial step

in the life of the church. The team pointed out that this

church was not relevant to its community, and was not

reaching people for Christ in any kind of significant way.

They provided effective recommendations that ranged

from practical outreach suggestions, to physical building

updates, to a possible name change, to what the church

should be looking for in its next Lead Pastor.

I was hired as Lead Pastor and began my ministry in 2010.

The consultation set the stage for the avalanche of changes

through which God inspired me to lead the church.

Without a consultation having been done prior to my arrival,

the majority of the people in the church would not

have seen the need to change, nor would they have begun

to think about positive steps to take going forward.

As I write this in September 2015, I am extremely grateful

for the important role the consultation team performed

in paving the way for the process of church revitalization.

Today this local church is known as Oceanview

Community Church. We are known for being a dynamic

force for serving in the town of Ladysmith. We are known

for consistent preaching of the Gospel that results in people

proclaiming their conversion stories when they stand

in the waters of baptism. We are known for being a place

that prizes, blesses, and teaches, kids and teens.

TO CONSULT

OR NOT TO C

THAT IS THE QUE

Pastor Dave Lee

Sardis Fellowship Baptist Church

Chilliwack, BC

One of the most aggravating experiences happen when

you feel like you're doing a lot of things right and yet

you're not getting the results you would expect. That's how

I was feeling as we came into 2011. I remember saying to

our Regional Director Dave Horita and our consultation

team, "Tell us whatever we need to hear. Don't spare our

feelings—tell us straight." Not only did they do that, they

did it in the spirit of kindness, prayer and wisdom.

"You need to shape a new, compelling vision for the future

of Sardis Fellowship," reported our consultation team.

And we took this to heart. For several months, following

our consultation in May 2011, we prayed, evaluated every

aspect of our ministry, brainstormed, conducted several

congregational forums, and prayed some more. The end result

is a vision we believe in, and around which we formed

clear, measurable objectives. Our vision is summarized by

three key phrases:

• Centred in Christ

• Visible in Community

• Transforming our World

These three statements find their way into our objectives,

ongoing ministry strategy, literature, webpage, graphics

(thanks to a very talented intern on our staff!), sermons,

and prayers. I would say that this, together with other recommendations

from our consultation team, has breathed

new life and passion into me, our leadership, and the

people of Sardis Fellowship. Yes, a consultation requires

diligence, determination, stick-to-itiveness and a spirit of

humility (being critiqued is never fun). Yet fruitfulness,

as people come to faith and fresh growth is seen in the

church (we are now undertaking a much-needed building

expansion), makes it truly worthwhile. We look forward to

experiencing what it means to be centred in Christ, visible

in community, transforming our world.
---
thrive-magazine.ca

thrive / 21

FEB CENTRAL

Pastor John Tedford

Parkdale Baptist Church

Belleville, ON

ONSULT:

STION

ATLANTIC REGION

Pastor Douglas Duncan

Lake Echo Fellowship Baptist Church

Mineville, NS

Perhaps one of the great challenges for any church is how to

embrace change; to avoid what I call arrival syndrome. Arrival

Syndrome is when the church loses its desire to reach the lost

and succumbs to being comfortable with the status quo. In

2 Corinthians 13:5 we are urged to "examine" ourselves. Are

we intentionally "living" the Gospel Message of Jesus Christ?

I believe the examining process helps us answer this crucial

question.

One way of approaching the "process of examining" is

through a church-wide consultation. In January of 2015, under

the guidance of Regional Director Glenn Goode and a team

of Fellowship Atlantic pastors, Lake Echo Fellowship Baptist

Church began the journey of examination. Needless to say,

there was some trepidation. What would we discover? In spite

of our fears, we committed ourselves to this time of reflection.

With continual prayer for wisdom, we joined together with the

consultation team to examine every aspect of our church life.

Transparency was key. This included a church-wide survey, focus

groups, and interviews with key leaders and pastoral staff,

to name a few. All aspects of the consultation process proved

to be tremendously beneficial. It allowed everyone to gain a

broader perspective of our mission as a church. How do we see

ourselves and how might we change to be more effective?

In the end, we believe the consultation provided our church

with important information. It affirmed and encouraged those

practices we were doing well, but also outlined areas that were

out of alignment with the mission of the church. How do we

ensure our health and vibrancy as a church? Every church

should seriously consider the benefits of a consultation.

In the Fall of 2012, the church board of elders, the deacons

and the pastor were wrestling with the question; "What

do we need to do to see Parkdale's Sunday morning attendance

grow?" Parkdale was in its 56th year in the small city

of Belleville. It was, in many respects, a healthy church with

a strong missional aspect to its ministry. Yet, as leaders, we

felt deeply that we needed direction from God as to our next

steps. I mentioned to the board that I had heard at Fellowship

National Conference that FEB Central was willing to come

into a local church and provide a consultation as part of their

emphasis on Church Health. The board asked me to contact

FEB Central. I did, and we ended up going through a process

that blessed Parkdale in many ways, and continues to bless us

as we use the written prescriptions to guide our yearly plans.

Honestly I was a little timid about having FEB Central examine

our church through a church-wide survey, and interviews

with key members as well as associate staff, especially when

I found out that the two men coming to examine us were

Regional Director Bob Flemming, and "Bishop" Jack Hannah.

But the entire process was really beneficial and a blessing. The

board chairs and myself were given an opportunity to hear

and give feedback on their report BEFORE they took it to the

congregation in a town hall meeting. Honest conversation

with men who love the Lord, love His church, and love His

pastors, and have spent their lives in church does a world of

good!

Their prescriptions for Parkdale were:

• Create a vision, mission, and values statement.

• Solidify staff positions.

• Develop organizational systems that will allow newcomers to

be assimilated into the church.

• Complete the web site renovation to help improve communication

and help bring cohesion to the overall ministry of

Parkdale.

• Explore further avenues of communication; leadership and

congregation and vice-versa.

• Recruit and train more volunteers.

• Celebrate what the Lord is doing, continue to believe Him for

even greater heights of effectiveness.

Seems pretty basic, and yet the details are what helps us as a

church keep moving in a straight line. We haven't seen a massive

influx of people, though Parkdale is continuing to grow

and we are in the midst of a tremendous harvest of young

souls in an unchurched neighbourhood.

Church Consultation, and the emphasis of FEB Central on

helping churches stay focused on health, has borne fruit in

Belleville, Ontario.
---
Winter 2016

THE LAST WORD

43 Rocket Power Switch.

That particular combination of words shouldn't mean

anything to you; and during our first week of practice they

didn't mean much to the football team I coach. But now,

those words are loaded with meaning for our team and are

critically important to our success. Each word and number

tells the players on our offense what their specific job will

be during the next play. They know exactly what the task

ahead of them requires and they've been prepared for it

through weeks of teaching and practice.

In my ministry we have a mission statement that is important

for our people to know. You may have something similar.

I wonder though, how well I have prepared my people

to live that statement out? I might call that play on Sunday,

but have I prepared my people to live it out from Monday

through Saturday? I've come to realize that success in discipleship,

like success in football, requires good coaching.

Let me use one of my players to illustrate.

In 43 Rocket Power Switch our wide receiver has a specific

route to run: five yards downfield, then a 45 degree angle

toward the middle. In football it's called a quick slant. But,

we don't just line him up and tell him to run a quick slant.

No, the receiver is taught how to line up on the field, align

43

his feet, angle his hips, position his hands to receive the

by Jeremy Best

WHAT COACHING FOOTBALL

TAUGHT ME ABOUT DISCIPLESHIP

ball, protect the ball after catch, take a hit, and so on. These

things have been rehearsed over and over in practice to

maximize his chance of success on the field. Every step of

the way a coach has been beside him to instruct, correct,

and encourage him.

But do I give this same level of attention to our discipleship

process? Am I preparing my people for the journey with

Christ as well as I am preparing my players for a football

game? Or am I just calling the play from the pulpit, expecting

that they'll figure it out? Am I content to simply talk

about it or do I step on to the field and show my people

how to do it?

Bob Nardelli, CEO of Home Depot, says this: "I absolutely

believe that people, unless coached, never reach their maximum

capabilities."

I think he's right. So, I'm committing myself again to

coach my people. To instruct, correct, and encourage them

through the ups and downs of their walk with God in order

to maximize their chance of success.

Jeremy Best has been Student Ministry Pastor at Faith

Baptist Church in St. Thomas, ON since 2008.
---
thrive-magazine.ca

thrive / 23