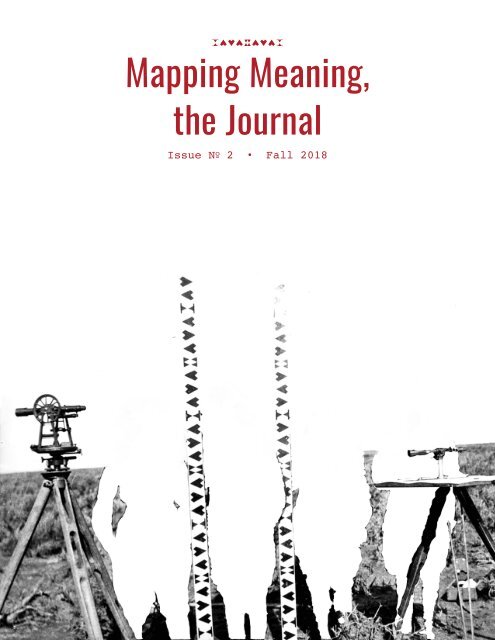 Mapping Meaning, the Journal (Issue No. 2)
ISSUE SCOPE: Design Determines the Impact of Change
ISSUE SCOPE: Design Determines the Impact of Change
SHOW MORE
SHOW LESS
You also want an ePaper? Increase the reach of your titles
YUMPU automatically turns print PDFs into web optimized ePapers that Google loves.
Mapping Meaning,

the Journal

Issue N o 2 • Fall 2018
---
The contents of this publication are under a Creative Commons License (CC BY-NC-ND 4.0) unless

otherwise specified. Contents may be shared and distributed for noncommercial purposes as

long as proper credit is given to Mapping Meaning, the Journal as well as the individual author(s).

To view a copy of this license, please visit http://creativecommons.org/licenses/by-nc-nd/4.0/.

2 Mapping Meaning, the Journal
---
Design to impact change.

Issue N o 2

3
---
About

Mapping Meaning, the Journal

Minidoka Project Idaho 1918,

Photo from the U.S. Bureau of Reclamation, of the U.S. Department of the Interior

4 Mapping Meaning, the Journal
---
"824 Min Surveying

party of girls on

the Minidoka project."

Original caption,

National Archives

How might interdisciplinary practices promote a

reconsideration of the role that humanity plays in

a more-than-human world?

In a strongly fragmented and disciplined-based

world, Mapping Meaning offers a collective

space to imagine, create, and propose new

models in the face of radical global change and

ecological and social crises. Each issue takes

up a particular theme and is edited by different

curatorial teams from a variety of disciplines.

All issues include the broadest possible calls for

submission; gathering together divergent and

experimental knowledge practices. Mapping

Meaning, the Journal, is published two times

per year.

www.mappingmeaning.org

Issue N o 2

5
---
6 Mapping Meaning, the Journal
---
Founding

Editorial Board

Melanie Armstrong

Krista Caballero

Nat Castañeda

Sarah Kanouse

Vasia Markides

Jennifer Richter

Carmina Sánchez-del-Valle

Karina Aguilera Skvirsky

Sree Sinha

Trudi Lynn Smith

Sylvia Torti

Linda Wiener

Toni Wynn

The Honors College at the

University of Utah serves as

Mapping Meaning Journal's

partner and initial fiscal sponsor.

Consistent with Mapping

Meaning's mentorship mission,

the Journal is committed to

publishing a breadth of work from

those at all stages of their careers.

Managing Editor: Sylvia Torti

Artistic Director: Krista Caballero

Visual Designer: Aliza Jensen

Issue Editors:

V.M. Price and C. Sánchez-del-Valle

Issue N o 2

7
---
Content

10

Introduction

V.M. Price and C. Sánchez-del-Valle,

Issue #2 editors

12

Section 1: Community Ecology

14

Mapping for Social Change: Cartography

and Community Activism in Mobilizing

Against Colonial Gender Violence

Annita Lucchesi

22

Borders Studio: Analyzing the U.S./

Mexico Border at a Borderland

Institution Through an Architecture

Design Studio

Ane Gonzalez Lara

40

UO Black Cultural Center

Daisy'Olice I. Williams

50

Section 2: Silent Spring

52

Deconstruct/Reconstruct: Out Finding

Beauty within Invasive Plant Ecologies

Megan Singleton

8 Mapping Meaning, the Journal
---
62

In the Pines: Mapping the Longleaf

Anne Janine Lindberg

74

Section 3: Descent of Man

76

Plants and trees in urban landscapes:

the counter-design of non-humans

João Miguel Diógenes de Araújo Lima

86

All indifferent decay

Caroline Clerc

94

Section 4: Regenesis

96

Homes

MJ Tyson

106

Placing Inclusion Ahead

Ileana Rodríguez

112

One to Another

Sarawut Chituwongpeti

122

Conclusion

Issue #2 editors

Front and Back Cover Images,

C. Sánchez-del-Valle

Issue N o 2

9
---
Introduction to

Issue N o 2

V.M. Price and C. Sánchez-del-Valle

Make Me See Change Now: design to impact

change

"I sense that humans have an urge to map

– and that this mapping instinct, like our

opposable thumbs, is part of what makes us

human." - Katharine Harmon. [You Are Here:

Personal Geographies and Other Maps

of the Imagination. New York: Princeton

Architectural Press. 2004.]

As change is constant in our environments,

design can steer change to more positive

and less adverse consequences. It can be a

deliberate execution of a plan to determined

goals, or the plan itself.

Design is both process and product. Yet, here

is the paradox: because it exists in the space

of the fuzzy, undetermined and uncertain

problems, its results have desired as well as

unexpected consequences.

Submittals for this issue are maps of design

for change in an environment. By "mapping"

we mean that the reader can visualize not only

what the work is, but what are its intentions

10 Mapping Meaning, the Journal
---
Mapping Meaning, The Journal

Introduction

and consequences. The submissions

are diverse in scale and outlook, from a

specific design process, to work in or of the

environment. They are contemporary, and

challenge a narrow conception about design.

The works offer critical consideration of

design products and for acting through

design to have direct ecological, social,

cultural, emotive, or spiritual impact.

There are new approaches, and unique

perspectives. They argue for the necessity

of other views and actions and spaces.

They offer a thoughtful and constructive

consideration of reality, as well as raise

discomforting questions.

They focus on environments that are internal

and external, ranging from inside oneself, in

the community, or across the globe; a place,

ecosystem, community, or culture; or as a

way of being or doing in service, operation,

or action.

different, unrecognized or unacknowledged.

We have organized the works into clusters

as we saw connections between them.

The groupings are loose and fragile, but

the threads that run through them give us

opportunities for dialogue. We have used

one of the author's works to title each

section. For each section, we provide a brief

statement highlighting what brings them

together.

"A fuller understanding of what we don't

know is itself new knowledge and redefines

what we know." - Pete Turchi. [Maps of the

Imagination: the Writer as Cartographer;

San Antonio, TX: Trinity University Press.

2004.]

They respond to the dangers of an external

or internal status quo for its complacency,

unpreparedness, or resistance to the

Issue N o 2

11
---
Mapping for Social Change

Annita Lucchesi

12 Mapping Meaning, the Journal
---
Section 1:

Community Ecology

Left | Anne Janine Lindberg

Community Ecology 2013

Gouache and graphite on paper

30" X 22"

The cries of an ecology are often first heard as

one is walking along its edges. The consequence of

hearing and then choosing to listen is to map the

problem for the rest of us to face, and act.

Issue N o 2

13
---
Mapping for Social Change:

Cartography and Community

Activism in Mobilizing Against

Colonial Gender Violence

Annita Lucchesi

Annita Lucchesi is a doctoral student in the

Cultural, Social, and Political Thought program at

the University of Lethbridge, located on Treaty 7

territory. She is a Southern Cheyenne descendant,

and her ancestors made their home where the

Rocky Mountains meet the Plains, in presentday

Denver. She holds a BA in Geography from

the University of California, Berkeley, and a MA

in American Studies from Washington State

University. Annita is the founder of the MMIW

Database, a comprehensive data source on cases

of missing and murdered indigenous women in

the US and Canada, and her current academic

research examines how community mapping

projects can generate new knowledge and tell

more holistic stories on such violence. In her work

as a researcher and advocate, she frequently

assists in community and policy responses to

gender violence in indigenous communities,

and leads workshops on indigenous and critical

mapping.

www.annitalucchesi.com

14 Mapping Meaning, the Journal
---
Mapping for Social Change

Annita Lucchesi

Acknowledgements

Abstract

I acknowledge the Wiyot Nation, on whose

lands I resided as a guest while writing this

article, and the Blackfoot Confederacy, on

whose territories I resided as a guest while

developing the skirt map. Special néá'eše to

Marisa Miakonda Cummings and Jackie Crow

Shoe, who helped me to see that indigenous

women have always been cartographers.

On January 21, 2017, millions of people

worldwide participated in the first annual

Women's March, and to commemorate its

record-breaking participation and continued

engagement with feminist issues, a second

march was planned on January 20, 2018. This

paper narrates the story of a project aimed

at supporting and honoring activism to call

attention to the issue of missing and murdered

indigenous women (MMIW) at the global 2018

Women's Marches. In so doing, it traces the

development of the project, and its transition

from land-based activism, to map-making, and

back to the MMIW movement again. This paper

argues that such a process demonstrates the

power of community-grounded, culturallysensitive

cartography, and the role that

maps can play in mobilizing and empowering

communities to effect social change.

Issue N o 2

15
---
Annita Lucchesi MMIW Map, 2018

16 Mapping Meaning, the Journal
---
Mapping for Social Change

Annita Lucchesi

The Marches

On January 21, 2017, over seven million

people marched in the global Women's

March, in protest of the violent policies of the

newly inaugurated Trump administration,

and the myriad social and environmental

injustices plaguing the world today.

In Washington, D.C., it was the largest

political demonstration on record, with

estimates of anywhere between 500,000 and

1,000,000 participants; and, over 5 million

of the participants located elsewhere in the

United States. To commemorate the march

and build on its momentum, a second march

was planned for January 20, 2018.

In the 2017 Women's March, Native American

and indigenous women did participate—

many traveled from remote locations to

Washington, D.C. to do so.

However, the 2018 Women's March in Seattle

reflected a turn to address the racial and

colonial dynamics of mainstream feminism,

by shifting leadership to local Native women,

and including a call for justice for missing and

murdered indigenous women (MMIW).

be missing from the march as well, and how

we might honor them.

In 2015, I started a database of cases of

MMIW in the US and Canada. By the time

of the 2018 Women's March, there were

over 2,500 cases logged. So, I made a

Facebook post offering march participants

an opportunity to bring the database to the

streets: anyone who agreed to carry a sign

honoring a missing or murdered indigenous

women from their city, area, or tribe would

be sent a name that they alone would be

responsible for carrying.

By the time the march started, approximately

120 names were disseminated across the US

and Canada. Many of the people who asked

to carry signs sent me photos of their signs,

or of them carrying them.

One of the signs, in honor of Nikita Wilson,

a Choctaw woman who was murdered, is

prominent in one of the now iconic photos of

the Seattle Women's March.

I believe the spirits of these women would

have been there, whether a sign was carried

in their honor or not.

At the time, I was living in Canada, and

chronically ill. As an indigenous woman,

an advocate for MMIW, and a community

member, I wanted to contribute to the march

in a meaningful way, but knew I could not

physically be there. In feeling that sadness,

that my body just was not able to be there in

that moment, I began to think of all the other

Native women and girls whose bodies would

However, I also believe that the signs

helped them to be strong in their presence,

grounded the march participants in the work

the march aimed to do, and served as a

powerful reminder of the ways in which the

loss of indigenous women pervades each

community.

There are women and girls whose voices

Issue N o 2

17
---
Mapping for Social Change

Annita Lucchesi

There are women and girls

whose voices deserved to be

heard, whose contributions

were missed, due to the

colonial violence that took

them from their families,

communities, and nations.

18 Mapping Meaning, the Journal
---
Mapping for Social Change

Annita Lucchesi

deserved to be heard, whose contributions

were missed, due to the colonial violence that

took them from their families, communities,

and nations.

This colonial violence is seen in myriad

forms—police brutality, disproportionate

rates of gender violence due to racial

stereotypes and gaps in the justice system,

the overrepresentation of indigenous girls in

foster homes and in sex trafficking, and the

imposition of a Western patriarchal system of

power, for example.

Each one of the signs called attention to that

violence, and located it in specific places and

in the lives of specific victims.

As a cartographer, my current work

examines how maps telling stories about

MMIW can help to generate new knowledge

on the issue, and offer a more holistic

understanding of the impacts of such

violence. Wanting the signs to tell a story of

resilience and resurgence, and not just of

loss, I created a map depicting where the

signs were carried.

There were a number of strategic choices

made in the aesthetics of the map. First, it

was drawn in the shape of a ribbon skirt—a

cultural garment many indigenous women

across the US and Canada wear at special

events, ceremonies, community functions,

and increasingly, at political actions. Indeed,

ribbon skirts became commonplace at Idle

No More protests, Women's Marches, MMIW

awareness events, and even at efforts to

stand for water at Standing Rock. Different

families and communities have varying

teachings on the origins and meanings

of ribbon skirts, but more generally, they

are meant to represent the sacredness of

women, the relationship women have to the

earth, and the cultural vitality of indigenous

women today.

Designing the map in the shape of a skirt

is in honor of these ideas and uses of the

ribbon skirt, and takes inspiration from

a popular form of public awareness on

MMIW—symbolic displays of dresses, skirts,

or women's garments.

Ribbon skirt by Marisa Miakonda Cummings

The colors on the skirt are also meaningful.

The body of the skirt is red, the primary color

used in MMIW organizing, and the ribbon

Issue N o 2

19
---
Mapping for Social Change

Annita Lucchesi

colors—red, blue, purple, teal, lavender, and

pink—are the colors of awareness ribbon

campaigns representing forms of violence

common among MMIW, namely police

brutality, sex trafficking, domestic violence,

sexual assault, foster care, and violence

targeting young girls. The background print

of the skirt is a collage of photos of signs

and march participants who carried them,

underneath a textural pattern of the names

of each of the women and girls who were

carried.

The map was initially published in a news

article about the MMIW Database and my

work, and ended up circulated on social

media. In a surprising turn of events, women

started creating real skirts, inspired by the

skirt map, using the same design that the

map depicts.

Maps as Dresses, Dresses as Maps

Inspired by the community response to the

initial map, I made another Facebook call

for help: sketch out a meaningful design

representative of your nation's women's

clothing, and I will transform it into a map

telling stories of missing and murdered

women from your community.

From that post, the project has now grown

to include dresses being designed in

collaboration with six indigenous women

artists and regalia makers, representing the

Assiniboine, Ponca, Choctaw, Blackfoot, and

Cheyenne peoples.

It is my hope that as the map collection

grows, more collaborations with artists from

other nations are able to occur.

Like the skirts that had inspired by the map,

these new skirts were worn at ceremonies,

powwows, community events, and political

actions.

A person I met in Montana mentioned she

had seen one worn at Gathering of Nations

Powwow in New Mexico. A colleague said

she had seen one at ceremony in northern

California. A friend in Maine commissioned

one from another friend in Nebraska.

The map, meant to honor the movement

to end violence against indigenous women

and girls, ended up becoming part of the

movement.

Though I did not expect the skirt map

to be transformed into real skirts, upon

reflection I came to understand the

inherent connections between the two, and

demonstrate the gap between the mediums

are not as far as I had imagined.

Fundamentally, both maps and ribbon

skirts are storytelling devices. They connect

our narratives and our bodies to the land

we tread and communicate our sense of

belonging and views of the world around us.

They are visual representations of the social

relations we are bound up in.

Just as maps help us navigate and illuminate

the geographies we traverse, ribbon skirts

and the symbology embedded in their

20 Mapping Meaning, the Journal
---
Mapping for Social Change

Annita Lucchesi

designs signal who we belong to, where we

come from, and who we represent.

In the case of the ribbon skirt map, the

ribbon colors were a powerful representation

of who we are accountable to as community

members—indigenous victims of violence like

police brutality and domestic abuse.

While this project has demonstrated the

unique connections between maps and

ribbon skirts, it has also become an example

of the power of community-grounded

cartography.

Moreover, by allowing the aesthetics of

the map to be determined by community

cultural practices and values, the map deeply

resonated with its audience, and inspired

continued engagement.

In this way, this form of mapping is impactful

in its reiterative contribution to a social

movement, and provides a model for other

cartographers who aim to utilize maps in

their work to effect social change.

By designing a mapping project that

encouraged and empowered community

members to participate in efforts to address

an issue they were passionate about, the

map became a mobilizing force for social

change.

Issue N o 2

21
---
Border Studio: Analyzing

the U.S./Mexico Border at

a Borderland Institution

through an Architecture

Design Studio

Ane Gonzalez Lara

Ane Gonzalez Lara is a designer with extensive

experience in practice at a wide range of scales

and project types in the U.S. and Europe. She

has taught at the School of Architecture and

Planning at UNM, and has been a partner at Idyll

Architects, an architecture firm that operates

between Albuquerque and Houston and between

the real and the ideal. In Spring 2019 Ane will be

teaching at Pratt Institute.

Ane received her Master of Architecture from

the Escuela Técnica Superior de Arquitectura

Universidad de Navarra (ETSAUN). Previous

to working at UNM, she worked in Houston,

Germany and Spain. Her research focuses on the

tectonics, assembly systems and materiality of

contemporary Ibero-American architecture and

on the U.S./Mexico border; while also exploring

the relationship between space, geometry and

materiality through her practice.

22 Mapping Meaning, the Journal
---
Borders Studio

Ane Gonzalez Lara

Abstract:

Boundaries and borders have generated

much attention in the political realm of the

U.S.A. over the last two years. The proposed

Wall between the U.S.A. and Mexico has

generated different responses from

architects and builders across the country.

Following this debate, a question arises: What

is the role of architecture and architects on

this issue?

I will make Mexico pay for that wall. Mark my

words."

Candidate Trump, 2015, "Full text: Donald

Trump announces a presidential bid" The

Washington Post, June 16th 2015

The words quoted on this page were in

the air when I was tasked to teach my first

optional studio at the University of New

Mexico (UNM) School of Architecture.

This essay focuses on a Borders Studio

taught at the University of New Mexico

(UNM) School of Architecture. The studio

was created after seeing how polarized and

diverse the opinions about the proposed wall

were among architects and builders, and to

stimulate the critical thinking abilities of the

students.

The studio involved a series of projects that

tackled different scales. Students found

their own voices on the conflict during the

semester, and the studio created a platform

for them to bring issues like immigration,

labor and politics to the classroom.

This essay reflects on the students' designs

to create alternatives to the proposed wall

focusing on the Chamizal parks in El Paso and

Juarez.

Introduction

"I will build a great wall -- and nobody builds

walls better than me, believe me --and I'll

build them very inexpensively. I will build a

great, great wall on our southern border, and

With several ideas in mind about possible

studios to teach - including the adaptive

reuse of a historic building and a housing

project - I couldn't stop thinking and being

terrified about the fact that architecture, as

a profession, was not having a clear stance

on the political conversations of the time,

especially when discussing the construction

of a wall.

Days after President Trump was elected, the

American Institute of Architects (AIA) issued

its infamous message saying that "The AIA

and its 89,000 members are committed

to working with President-elect Trump

to address the issues our country faces,

particularly strengthening the nation's aging

infrastructure." 1

The message faced an incredible rejection in

the social media and the hashtag #NotMyAIA

filled the tweets and comments of a large

number of AIA members. Six days after

issuing the statement, AIA uploaded a video

on their website saying that their original

message was a mistake and it should have

never happened. But after this controversy,

Issue N o 2

23
---
Borders Studio

Ane Gonzalez Lara

the national AIA has yet to position itself in

regards to this project.

Neither has it responded to the resolutions

that the AIA chapters of the border states of

California, Arizona, New Mexico and Texas

have signed in opposition to the construction

of the proposed wall.

After much deliberation, I decided to embark

on a journey to research the border and the

architect's implication in geopolitical borders.

In January 2017, I decided to launch the

Borders Studio at UNM.

When the name of the participants of the RFP

was made public, some publications judged

the ethics of the architects participating

on these projects. These projects made

clear that there is not a clear line dividing

the ethicality and the anti-ethicality of

participating in any of the calls mentioned

above. So, as these conversations filled the

news and architecture publications, I used

these questions to shape the studio and the

conversations that the students had during

the semester.

Borders Studio at UNM SAAP

On February 2017, months after being

elected, President Trump issued a Request

for Proposals (RFP) "for the design and build

of several prototype wall structures in the

vicinity of the United States border with

Mexico." 2 This call had numerous responses

within the architecture community and while

some, like the Architecture Lobby, thought

that architects shouldn't take place in the

construction of the wall by any means;

others, like the firm JuneJuly, decided to take

place on the call and submit a proposal.

The RFP also generated a competition titled

"Building The Border Wall". This competition

asked the participants to design a wall to stop

flows of illegal immigration from entering the

United States. The competition also faced

some backlash and the organizers decided to

add a question mark to the competition's title

to become "Building The Border Wall?" and

also changed the brief to ask for a more open

ended solution to the border.

The University of New Mexico draws a large

number of its students from the border

region. More than 21,000 of the 30,000

students enrolled at UNM call the border

states of New Mexico, Arizona, Texas, and

California home. 3

UNM is also a Hispanic Serving Institution,

where 32.8% of the students at its main

campus identify themselves as Hispanic.

The first semester the studio was offered,

seven students out of eleven were originally

from the border region. Their knowledge

and personal experiences of this region were

invaluable to the development of the studio.

Out of the eleven, nine spoke Spanish as

their first language. The studio is currently

taught in English as the primary language,

but project reviews in Spanish are also

offered to Spanish speaking students.

Diversity is also sought at the public reviews

that the students have during the semester.

24 Mapping Meaning, the Journal
---
Borders Studio

Ane Gonzalez Lara

Guests from other UNM departments –

politics, planning, law, landscape architecture

and art¬– are invited to talk to the students

during the semester. The participation of

these guest reviewers generated some very

interesting conversations with the students,

who asked guests about their different

perspectives, and engaged other fields in

their proposals.

The Borders Studio was divided into three

main assignments and learning objectives.

Each assignment required different

approaches to the questions of geopolitical

borders and architect's agency on the issue.

The last project focused on the Chamizal

parks situated in El Paso and Juarez.

The first assignment required students to

engage in a thorough research of the U.S./

Mexico border and other international

geopolitical boundaries. Some of the

questions that they had to elaborate on were:

What are the reasons stated by politicians for

the wall to be needed? Why is there a heavy

militarized concrete border with Mexico, and

not with Canada? What are the implications

that the wall will have for our country?

After some weeks doing research, and having

some very inspiring conversations, students

were asked to put their findings in graphic

Assignment 2, Ecotone diagrams and sections by Gonzalo Gonzalez and Jaziel Cervantes

Issue N o 2

25
---
Borders Studio

Ane Gonzalez Lara

26 Mapping Meaning, the Journal
---
Borders Studio

Ane Gonzalez Lara

Assignment 1,

Human Population and Natural Wildlife

analysis by Gonzalo Gonzalez and Jaziel

Cervantes.

Issue N o 2

27
---
Borders Studio

Ane Gonzalez Lara

form. Divided in groups and focusing on

the differences between the Mexico and

Canada borders with United States, each

group focused on one or two aspects of their

research that they found more relevant.

The topics analyzed this year were:

militarization and agreements between the

countries, human population and animal

migration in North America, criminal activity

on each border, physical geography and

trade, travel and tourism.

The students who focused on human

population and animal migration along the

border compared the traveling of animals

through the U.S./Canada border and through

the U.S./Mexico border. They also researched

the flora and the animals that currently live

on each border, and that would be affected

by the construction of a wall.

students shared their findings so all would

have access to the different sets, and would

overlay the different maps that each group

created for this assignment.

Following the first assignment, the students

were asked to come up with alternatives to

the existing fence and wall. This exercise was

titled #ThisIsNotAWall. During this part of the

studio, students engaged in conversations

around the agency of architects on this

conflict. They were also encouraged to

think about their scope of work, not as

a beautifying act, but as an exercise of

critical engagement with the issue. After

much debate and discussion of different

ideas, students decided their level of critical

engagement with the project: some decided

to be more pragmatic and work within the

existing constraints, while others decided to

re-design the border itself.

Once this research was completed, the

One of the student's proposals involved using

28 Mapping Meaning, the Journal
---
Borders Studio

Ane Gonzalez Lara

Left | Assignment 2,

"This Is Not a Wall"

(detail) by Antonio

Castañeda and Samuel

Albert.

Following | Chamizal

dispute, existing

conditions by Ane

Gonzalez Lara.

the existing fence as a green wall where

citizens from both countries could harvest

vegetables. Her proposal also used the green

wall as a space activator, and as a tool to

bring people from both sides together.

Another student decided to picture what the

future could look like if the wall was built

and completed. The aim of his proposal,

which had an apocalyptic tone, was to create

awareness about the consequences that

completing the wall would bring, and how

possibly the people from the United States

would be the ones taking the wall down over

time.

Other students designed a park system that

would allow migratory birds to continue

their path, and create an ecosystem for them

along the border. This zone would only be

inhabited by animals and would be a safe

zone that would span along the entire border

creating a wild refuge and ecotone along the

border. Their proposal suggested a more

gradual transitioning between each country

where a wall and militarized techniques

wouldn't be necessary.

Two students proposed a series of

components for an infrastructure that would

grow along the border on top of existing

public buildings and open spaces. This

infrastructure would host learning facilities

such as universities, schools and career

centers to host students from both sides of

the border. The infrastructure would also

allow for housing, public parks and plazas

to exist along with the learning facilities.

The ultimate goal of the proposal is for the

border to disappear as the infrastructure

grows.

All the projects were also accompanied by

a letter addressed to President Trump. The

letter read as follows:

Issue N o 2

29
---
Borders Studio

Ane Gonzalez Lara

30 Mapping Meaning, the Journal
---
Borders Studio

Ane Gonzalez Lara

President Trump,

We already have a wall.

A physical barrier marks 650 miles of our southern border. This boundary

separates communities, disrupts ecosystems, and perpetuates a nationalist

sense of entitlement that isolates the Land of Opportunity. Illegal

immigration, job security, economic stability, drugs trafficking, crime, and

terrorism are all real issues that we face as a nation, but none of them has

been, or will be solved, by continuing to build walls.

A border wall represents a medieval reaction to contemporary issues. It is one

of the crudest tools available in the repertoire of geopolitics and is a blatant

confession of failed diplomacy. If as a nation we continue to advocate for,

and construct barriers between our neighbors, we fear that the world will do

the same towards us. This rhetoric will cause The United States to isolate itself

from the global community and retreat into a Land of Reclusion. Along this

path we will lose our essence of diversity, optimism, and influence, defining

characteristics that make our nation "great." Instead of pushing forward

a pledge to "build a wall," we ask you to imagine our borderlands as an

extension of the American narrative, as Lands of Opportunity.

This is Not a Wall proposes a shared borderland, a series of infrastructural,

community-specific, interventions that extend perpendicular to the current

dichotomy of border conditions. Here, communities from the United States,

Mexico, and Canada would grow naturally into one another, implementing

programmatic components into an elevated framework that manifests

around each location's existing urban fabric. These interventions would

be site-specific, allowing for the architecture to act as a mediator between

nations, and address the complex issues within these borderland cities and

the greater border condition. As each community reimagines the border as

a shared, malleable, space, the rigid division inherent within a boundary

and the idea of a "wall," will dematerialize to create a seamless transition

between nations. Within these shared spaces, architecture responds to the

realities of disruption and separation by promoting bi-national "borderlands"

of opportunity, rehabilitation, and growth – spaces where diversity brings us

together instead of keeping us apart.

As Americans, and as global citizens, our future depends on legitimizing and

understanding coexistence. Our hope is that through reimagining the border

as a series of bi-national communities, we will promote and amplify empathy,

working towards shared solutions to social and economic equity, urban

growth, healthcare, crime, and climate change within a world that will only

continue to become more interconnected.

Con amor,

A Concerned and Optimistic Citizen & A Bi-National Citizen

Issue N o 2

31
---
Borders Studio

Ane Gonzalez Lara

Left | Assignment 2,

"This Is Not a Wall" by

Antonio Castañeda

and Samuel Albert.

The process of writing and having to

condense all their ideas in one page was a

very interesting process. The students had to

question their own decisions, analyze their

thinking process and articulate their ideas

concisely yet effectively. Even if the projects

were very strong and full of energy, I have

to admit that whenever a student would

read a letter, it would be a very powerful

moment, and maybe even the strongest act

of resistance of all. During the third part of

the semester, the students were asked to

deploy their ideas with more resolution in the

Chamizal Park.

The Chamizal Park is a very unique park on

the border. Chamizal El Paso and a Chamizal

Juarez are currently divided by the border in

El Paso and Juarez. This piece of land shifted

from one side to the other of the boundary

before the Rio Grande/Rio Bravo was forced

into a cemented riverbed as it makes its way

through El Paso and Juarez.

The Chamizal is a piece of land that, in 1827,

José Ponce de León was granted from the

Mexican government. This land was on the

south side of the Rio Grande.

The years before 1864, the river slowly

moved south. As a result of this process, the

Chamizal moved to the El Paso side. In 1886,

an exceptionally large flood aggravated this

process. In 1897, the river flooded again

creating what was known as the Cordova

Island, which was actually a peninsula.

In 1899, in order to avoid more floods, U.S.

and Mexico split the cost of building an

artificial cut in the heel of the horseshoe

bend that formed the island. Once the cut

was finished, Cordoba Island was still part of

Mexican territory even if it was surrounded

by U.S. soil and the Rio Grande on its south.

Cement boundary markers were built at

the original river bed to set the geopolitical

boundary. These markers can still be found

32 Mapping Meaning, the Journal
---
Borders Studio

Ane Gonzalez Lara

at the Chamizal National Memorial in El

Paso.

home value, and forced to leave their houses

behind.

Until 1963, different presidents tried to

solve the issue without success. On January

14,1964, United States and Mexico signed

an agreement to set the new boundary

and channelize the river in order to stop

its fluctuation. "The agreement awarded

to Mexico 366 acres of the Chamizal area

and seventy-one acres east of the adjacent

Cordova Island." 4

This shifting of the land also meant that

the nationality of those living in this area

changed as the river meandered. The settling

of 1968 meant that houses that were on the

American side of the border, were now on

the Mexican side. The owners of properties

in the Chamizal were given the option of

continuing being American, or becoming

Mexican. Those who decided to be American

were only paid for their land and not for their

Nowadays, the U.S. side of the park is not a

very active, nor a celebrated space. On a field

trip visit to the U.S. side of the Chamizal, the

park was hardly populated and the Chamizal

Memorial Center was closed.

On the other hand, the Mexican side of the

park is greatly used by the neighbors of the

area. The park is the biggest public space

in Juarez, and it contains an archeology

museum. During the weekends, the park is

activated by performances, street vendors,

joggers and families. It seems as if the park

acts like a showcase of the vibrancy of the

Mexican communities on the southern side

of the wall, as if they are trying to show that

the grass might be greener on their side.

The history and current use of this fluctuating

place created the perfect backdrop for some

Right | Chamizal

dispute, meandering

of the Rio Grande by

Ane Gonzalez Lara.

Issue N o 2

33
---
Borders Studio

Ane Gonzalez Lara

Assignment 3, Border Fluctuation by Eli Helbig and Jacob Lovato.

34 Mapping Meaning, the Journal
---
Borders Studio

Ane Gonzalez Lara

Issue N o 2

35
---
Borders Studio

Ane Gonzalez Lara

As architects, I believe

that we should be aware of

the systems that operate

within our practice and

define our role within

these realities. Thinking

that architecture is an

isolated field in charge of

beautifying structures will

cause more problems, and

won't help us create more

equitable environments.

36 Mapping Meaning, the Journal
---
Borders Studio

Ane Gonzalez Lara

of the proposals that the students created

for the park. The third assignment was titled

#ThisIsNotAWall Chamizal Park. For this

exercise, the students had to develop the

concepts described in the second proposal

in a more detailed manner. The students

also decided whether to work individually, or

in groups of two. The results of their projects

had to be presented in graphically on boards

along with a 500-word description.

This exercise allowed for the proposals to

become more meaningful. Although the

scale of the park is relatively big for an

architecture studio, going from a broad

proposal to a more detailed one enabled

the students to create more thoughtful

proposals.

One proposal re-designed both Chamizal

parks so that the river would be allowed to

meander again. This public space would shift

nationalities as needed by each country,

allowing for Mexico or U.S. to use the land

for big events. The design also allowed for

the river to flow creating a configuration that

would allow both nationalities to use the

park. The description of this project titled

Border Fluctuation read: "Once the river is

unleashed from its concrete channel and is

allowed to fluctuate and once again engage

the flood plains upon which it exists, new

environments emerge and migrate within

the meandering of the river. Here, spatial

identities start to emerge and can begin

to stitch the cultural and political fabric of

both the U.S. and Mexico into the future;

where the static border becomes more of

a permeable boundary meant to offer new

and exciting social opportunities through the

'natural' shifting of the river, as it once was."

Since the project had a very optimistic

approach, the students also decided to use a

non-realistic representation of their project.

Another student proposed to use some of

the existing wall infrastructure to create

a green wall that would allow growing

vegetables on both sides of the wall. She

also proposed that in some areas the green

wall would be thickened allowing for the wall

to become a threshold, a thickened wall that

is also inhabitable.

Her proposal in the Chamizal allowed for

people from both sides to get to see each

other, interact and have a common project:

a garden that both sides would have to

take care of. Her project emphasized the

disconnection that currently exists between

both Chamizal parks and the people from

each side of the border.

Conclusion

There was a clear evolution in the work of

the students and their mindset throughout

the semester. The students who took

the studio were unsure in the beginning

about the approach that they should take

with their proposals, and some were even

afraid of them being too provocative. But

at the end of the semester, the students

challenged each other's points of views and

asked each other to be more provocative

and raise awareness on the conflict through

their projects, letters and representation

Issue N o 2

37
---
Borders Studio

Ane Gonzalez Lara

techniques.

After finalizing the studio, some students

decided to continue their work and

research. Some started the Twitter account

This Is Not A Wall at the end of the semester

to follow the discussions on border projects

and architecture through social media. One

student designed a portable shelter that

people crossing the border can carry with

them to protect them from the sun, and be

used as shelter at night. Another student is

currently researching the Bracero Program

and how it impacted the growth of small

settlements along the U.S. and Mexico

border.

As architects, I believe that we should be

aware of the systems that operate within

our practice and define our role within

these realities. Thinking that architecture

is an isolated field in charge of beautifying

structures will cause more problems,

and won't help us create more equitable

environments.

Maybe one of the beauties of architecture

is its unlimited options, but in the same way

that we discuss beauty and composition in

studio classes, we should have moral and

ethical conversations in the classroom.

Perhaps our studios, and architectural

education in general, are too naïve: hardly

talking about how projects would be

financed, the impact that they would have

on the surrounding houses and neighbors,

the economy that they tap into...

I think that the projects produced at

the Borders Studio could be considered

somewhat naïve, but working on these

projects generated long conversations about

ethics, politics, economy and architecture. It

has also given confidence to students living

in a borderland region to think that their

voice can be heard, and that as architects,

they should be included in conversations

beyond aesthetics.

The goal of studios like this one is not to

create a set of ethical rules that all designers

and architects must adhere to, nor to

shame those with different ethical rules

than ours, but to start generating some

individual ethical parameters for students

to help them define the work that they

feel comfortable doing. The goal is also

for the students to start questioning the

involvement that architects should have on

these types of conflicts, and hopefully make

them aware of their own responsibilities

when leaving school and facing real projects

and clients.

Endnotes

1 American Institute of Architects. 2016, December 1. Open

letter to members and friends of the international AIA

National Region. Accessed on September 4, 2017 from

http://www.aiainternational.org/home/2016/12/1/openletter-to-members-

and-friends-of-the-aia-international.

html

2 Federal Business Opportunities. (2017, February 24). RFP.

Retrieved September 4, 2017, from https://bit.ly/2lDXj9z

2 Office of Sponsored Projects, University of New Mexico,

http://osp.unm.edu/hsi-mi-reference-overview.html

Accessed on May 13th 2018

3 Office of Institutional Analytics, University of New Mexico,

http://oia.unm.edu, Accessed on May 13th 2018

38 Mapping Meaning, the Journal
---
Borders Studio

Ane Gonzalez Lara

4 Gregory, Gladys and Liss, Sheldon, "Chamizal Dispute"

Texas State Historical Association, https://tshaonline.org/

handbook/online/articles/nbc01, Accessed on May 13th

2018

5 "Where History and Culture Come to Life", Chamizal National

Memorial website National Parks Service website, https://

www.nps.gov/cham/index.htm?allacrosstexas.com,

Accessed on May 13th 2018

References

American Institute of Architects, New Mexico Chapter. (2017,

September 19). Resolution on Alternatives to the Border

Wall, Passed. Retrieved from http://aianewmexico.org/

Documents/BorderWall_Resolution091917.pdf

"Cordova Island", Handbook of Texas Online. Texas State

Historical Association. June 12, 2010. https://tshaonline.

org/handbook/online/articles/rrc04 Accessed on May 13th

2018

"Floods and The Chamizal Issue" National Park Service,

February 24 2015, https://www.nps.gov/cham/learn/

historyculture/rio-grand-floods-and-the-chamizal-issue.

htm, Accessed on May 13th 2018

Friedman, Nathan, "Political Props Territorial Performance

and the Chamizal Dispute" Mas Context, http://www.

mascontext.com/tag/chamizal-treaty/ Accessed on May

13th 2018

Korody, Nicholas, "US/Mexico border wall competition

provokes controversy" Bustler, (March 16, 2017). http://

bustler.net/news/tags/competition/326/4754/ usmexico-border-wall-competition-provokes-controversy/

competition-news Accessed September 4, 2017

Lambert, Leopold, "The New York Times and The U.S.

Border Wall: A Love Story", The Funambulist, https://

thefunambulist.net/architectural-projects/the-new-yorktimes-and-the-u-s-border-wall-a-love-story

Accessed May

13th 2018

NPR Staff, "50 Years Ago, A Fluid Border Made The U.S. 1

Square Mile Smaller" NPR Radio Diaries, September 25th

2014, https://www.npr.org/2014/09/25/350885341/50-

years-ago-a-fluid-border-made-the-u-s-1-square-milesmaller

Accessed May 13th 2018

Miranda, Carolina A., "Trump's border wall may be

controversial, but some Southern California firms want

to build it". Los Angeles Times, (March 2, 2017). http://

www.latimes.com/entertainment/arts/miranda/la-et-camborder-wall-presolicitation-vendors-20170302-story.html

Accessed May 13th 2018

The Architecture Lobby, #NotOurWall Campaign http://

architecture-lobby.org/project/notourwall/ Accessed May

13th 2018

Rael, Ronald. Borderwall as Architecture: A Manifesto for the

US-Mexico Boundary. University of California Press, 2017.

International Boundary and Water Commission, City of El Paso

Department of Planning, National Park Service

Issue N o 2

39
---
UO Black Cultural Center

Daisy'Olice I. Williams

Daisy-O'lice I. Williams is an Assistant Professor in

the Department of Architecture at the University

of Oregon. Over the course of her career, she

has taught design communication, architectural

theory, and design studio at the beginning and

graduate levels. Her research and teaching is

driven by the underlying assumption that what

we use to design influences what we are able

to design. Williams specializes in architectural

visualization, and is particularly interested in

modes of communication that directly engage the

human experience. Recent investigations include

the role of digital collage in the student design

process and the viability of augmented reality as

a collaging medium. Williams is also committed

to investigating and increasing African-American

presence and participation in architectural

education.

40 Mapping Meaning, the Journal
---
UO Black Cultural Center

Daisy'Olice I. Williams

"To be in the margin is to be

part of the whole but outside the

main body." bell hooks

"I need to understand how a place

on the map is also a place in

history…" Adrienne Rich, Notes Towards a

Politics of Location

Issue N o 2

41
---
UO Black Cultural Center

Daisy'Olice I. Williams

Left | Zachariah

Petett's 3D "Final

Program" diagram:

Critical analysis that

plots programmatic

components based

on necessary square

footage and necessary

privacy, noise, and

access levels.

In the fall of 2015, the University of Oregon

Black Student Task Force published a plan

outlining twelve demands to "ensure that

current and future Black students have a

culturally appropriate and welcoming campus

climate". The seventh on their list required

the university to "create a substantial

endowment fund and support system to

FUND AND OPEN a Black Cultural Center".

As a result of the taskforce's activism and

labor, the University of Oregon will welcome

a new Black Cultural Center to campus with

construction slated to begin in 2018.

This design studio was created as a means to

study the intellectual implications of such an

undertaking.

Working from the assumption that

architecture is a form of cultural production,

is it possible to achieve an architectural

embodiment of 'blackness'?

Is this a noble design pursuit or a one-way

ticket to superficial essentialism? Like all

ventures by a state-funded institution, one

has to answer, for whose benefit is this?

What is the role (or perhaps responsibility)

of a black cultural center on a mostly

white campus in an even more racially

homogeneous state?

The goal of this studio was not to mimic

the actual project in process or scope

(though rich lessons were learned from it

along the way). We had the advantage of

suspending real-world limitations of budget

and time. Therefore, our studio worked

from an expanded program with a focus on

university-community partnership.

Our aim was to envision a UO Black Cultural

Center situated to support both the campus

and region 50 years from now. Our studio's

42 Mapping Meaning, the Journal
---
UO Black Cultural Center

Daisy'Olice I. Williams

proposed Center needed to fulfill dual needs:

to be a nucleus for black student life on

campus, and offer support to community

groups who provide critical programming for

the study, preservation, and advancement of

black traditions and heritage.

In addition to student support and event

space, our program included community

gathering rooms, permanent exhibit space,

a rotating gallery, reflection space, and

a studio/office for a scholar in residence

program. Many student projects pushed

the civic possibility of the center further by

incorporating performance theaters and

special collections archives.

Our project occupies the same site as

the real UO Black Cultural Center project

with extended boundaries that could

accommodate a larger program and provide

conditions that speak to the public nature of

the proposed facility.

The corner site is located at the eastern

margins of campus, marking a clear transition

between campus buildings and residential

neighborhood. It is an edge condition that

will someday become a prominent formal

gateway into campus as new projects

continue to be developed. Primary building

uses within this area include residence halls

and academic support facilities.

However, this area is in the beginning stages

of what could be nudged into becoming a

cultural "district" for the University, with the

Many Nations Long House, Global Scholars

Residence Hall, and the Museum of Natural

and Cultural History to its immediate west,

and Maude Kerns Art Gallery to its east.

The Mathew Knight Arena is also in close

proximity to the north and visible from our

site.

Given the transitional nature of the site,

students were asked to propose a redesigned

Right | Jennah Byrd_

Approach: The

building is bisected

into two volumes, with

civic functions like the

museum and archives

housed in a larger

mass that lifts up at the

corner and reaches out

toward the city.

Issue N o 2

43
---
UO Black Cultural Center

Daisy'Olice I. Williams

East Campus Design Area Plan that clarified

pedestrian and vehicular access as well as

green space.

Student projects had to respond to the dual

purposes of serving as a student support

space and as a multiuse civic building. Thus,

students had to consider a radiating sphere

of users with needs of black students at the

core, and the general public at the broadest

scope.

One of the inherent challenges of the project

required students to consider how to provide

refuge to a subset of the student population

who often feel marginalized and unsafe,

while also offering an intentional interface for

education and sharing. Thus, many schemes

made clear divisions in building mass, entry

sequence and façade treatments to convey

this shifted notion of public vs. private.

The greater purpose of our studio was to

investigate ways in which architectural design

acts as an extension of cultural production.

44 Mapping Meaning, the Journal
---
UO Black Cultural Center

Daisy'Olice I. Williams

Gianna Prather's board layouts: This proposal by Gianna Prather integrates building with landscape, encouraging pedestrians to

walk through the project site and engage the center along a choreographed exterior path. The grand scale of the project is offset

by moments for pause and reflection along the way.

Issue N o 2

45
---
UO Black Cultural Center

Daisy'Olice I. Williams

U.S. university campuses; and museums that

center African American history.

The campus buildings selected included the

Museum of Natural and Cultural History

for its public educational function; and

the Many Nations Longhouse and John E.

Jaqua Academic Center for Student Athletes

because each offer targeted support for

unique subsets of the student population.

This study proved useful in understanding

how current UO buildings offer cultural

programming to the general public while

also restricting circulation via identity-based

layers of access.

Zacharia Petett's Vignette: Renderings reveal the sculptural

quality of the proposal with sweeping forms that surround a

"sacred" rotunda at its core.

Specifically, our work probed the intersection

of black aesthetics, architecture, and identity.

We operated from the notion that every

building is a thesis. Therefore, students were

invited to place a great deal of intention into

forming their rationale based on case study

analysis.

The studio was broken into groups that

were assigned three different categories

of buildings for study: select UO campus

buildings; other Black Cultural Centers on

From the list of BCCs provided to them,

students analyzed the Neal Marshall Black

Culture Center at Indiana University, the

Lonnie B. Harris Black Cultural Center at

Oregon State University, and the Frieson

Black Cultural Center at the University of

Tennessee at Knoxville. These centers ranged

in size and scope of programming.

Aside from the spatial programming and

siting, students wanted to know how and to

what degree was the function of the facility

evident in its design and how much did that

design diverge from the campus vernacular.

The museums analyzed included: the

Museum for African Art/ The Africa Center,

in Queens, N; the National Center for Civil

and Human Rights in Atlanta, GA; and the

Reginald F. Lewis Museum of Maryland

African American History and Culture in

Baltimore, MD.

46 Mapping Meaning, the Journal
---
UO Black Cultural Center

Daisy'Olice I. Williams

Assuming larger budgets and heavier roles

as national civic institutions, students

documented how cultural meaning

presented itself in the aesthetic design of the

project as intended by the lead architect.

This distinction is critical. As with many

noteworthy buildings, it becomes difficult to

find information on how these intentions are

shared, understood, or even realized by its

occupants and visitors.

In order to help us sift through the complex

task of imagining a meaningful relationship

between architectural space and black

identity, we engaged written works by

prominent scholars often grouped in pairs to

express alternative views.

Memory. They posit (albeit for different

purposes) that lived experience and

perception begins within the body. At a

glance, the studio projects were quite diverse

in their appearance. Those shown here are

perhaps some of the most gestural of the

group—they reach, stretch, lean, curve,

and swoop. However, not all of the projects

were so formally bold. Some intentionally

deferred to their surroundings and employed

more modest forms that sheltered dramatic

interiors.

While a few students did engage metaphor to

draw out formal ideas about building mass

To begin, we compared Jack Travis' Notes on

a Black Architectural Aesthetic against Mario

Gooden's The Problem with African American

Museums. Travis' slow-grown, near manifesto

of principles that define a black aesthetic was

challenged by Gooden's critique of the use of

"cultural stereotypes".

Later in the term, when students were asked

to design "sacred space" within the project,

we paired TaNehisi Coates' Between the

World and Me, with bell hooks' "Homeplace:

A Site of Resistance" in Yearning in order

to draw out ways that architecture and

place become protective skins that mediate

"otherness".

These were later followed by Juhani

Pallasmaa's The Eyes of the Skin, and Norle

Lokko's "Body.Memory.Map" in Sites of

Jennah Byrd's Vignette: "Sacred space" for reflection shaped

by outdoor sculpture park made of perforated corten steel

panels that cast and receive patterns of light on their surface

indicating the passage of time. The collage-like textural quality

of this image captures the emotive quality of the space.

Issue N o 2

47
---
UO Black Cultural Center

Daisy'Olice I. Williams

and materiality, the entire studio seemed to

see the physical expression of the building as

secondary to the choreographed experience

it would provide. Materiality, texture, color,

shape, and volume were manipulated—

but not to represent something else (like

blackness, justice, community, the pacific

northwest, etc.).

Instead, architectural elements were

modified to shape particular experiential

moments guided by the perception of light,

sound, gravity, scale and movement. Though

these two design approaches aren't mutually

exclusive, our group tended to be motivated

by achieving some sensory or emotive

outcome rather than engaging a cultural

signifier.

Overwhelmingly, students were skeptical

that a specific brick pattern, color scheme,

or volumetric shape would be enough

to carry the weight of shared meaning.

Above all, this studio project was inherently

political. The ordering of space, people, and

property always is. However, this project

tested the limits of our training, identity, and

experience. Most of the readings were new

48 Mapping Meaning, the Journal
---
UO Black Cultural Center

Daisy'Olice I. Williams

Zachariah Petett's 3D "Concept" diagram: Generative form diagrams that explore expressions of power, sanctuary, and

community through building mass.

text and territory for architectural design

students. As a group we journeyed without

the expectation that any of us would arrive

at a codified black aesthetic. Instead, our

context-heavy investigations ended up

providing a deep dive into user experience.

Most students came into this studio with the

expectation that the Black Cultural Center

should be more than just another campus

building in whatever ways that meant to

them. By studio's end, projects translated

that desire by compelling a dialogue between

normative campus design strategies and the

ever self-aware black student experience.

Issue N o 2

49
---
Mapping for Social Change

Annita Lucchesi

50 Mapping Meaning, the Journal
---
Section 2:

Silent Spring

Left | Anne Janine Lindberg

Silent Spring 2013 Gouache and

graphite on paper 30" X 22"

Surprisingly, analyzing and mapping the

devastation of an ecosystem may very well lead

in a positive direction. These articles recognize

and map our shared creative destruction, but hint

at new paths to make and take for its repair or

transition.

Issue N o 2

51
---
52 Mapping Meaning, the Journal
---
Deconstruct/ Reconstruct:

Out Finding Beauty within

Invasive Plant Ecologies

Megan Singleton

Left | Megan Singleton

Here and There, 2017

Handmade Paper of Kozo,

dyed with Indigo, Persicaria,

and Oklahoma Soil

10 Panels, Each Panel 2' X 4'

Megan Singleton is an artist and educator located

in St. Louis, Missouri. Her ecology-based work

crisscrosses the boundaries of contemporary

craft combining sculpture, hand papermaking,

installation, and digital applications. She received

her MFA in Sculpture from Louisiana State

University and BFA in Photography from Webster.

She exhibits nationally and internationally

and her work can be found in the collections

of the Louisiana Art and Science Museum, the

Robert C. Williams Paper Museum, as well as

numerous private and corporate collections. She

teaches Fiber Arts at Saint Louis University and

papermaking workshops nationally. She has

been the recipient of a $20,000 Artist Fellowship

from the St. Louis Regional Arts Commission,

the Smelser Vallion Visiting Artist Fellowship in

Taos, NM, and the Kingsbrea International Artist

in Residence in Saint Andrews, New Brunswick.

In 2017, she was commissioned to create sitespecific

mural projects at the Granoff Center

at Brown University for the T2 Art initiative at

Lambert International Airport in Saint Louis.

www.megansingleton.com

Issue N o 2

53
---
Deconstruct/Reconstruct

Megan Singleton

Megan Singleton

A Creative Process

54 Mapping Meaning, the Journal
---
Deconstruct/Reconstruct

Megan Singleton

Issue N o 2

55
---
Deconstruct/Reconstruct

Megan Singleton

A Creative Process

Paddling through vegetation-filled bayous,

hiking along riparian trails, or trekking

along a sandy coastline examining plants

for their potential to be transformed into

handmade paper, is key to my creative

process. This process, by nature, is designed

to be stimulating, inspiring, and enjoyable.

The exploration of diverse biomes across

the country invigorates my artistic practice

and informs the direction of my botanical

research. The experience of navigating

through new landscapes is always full of

surprises and intriguing observations. Using

contemporary place-based methodologies

coupled with the historic craft of hand

papermaking, I have designed a fivepoint

practice to utilize when embarking

on investigating a new landscape and

creating new bodies of work. It begins with

Exploration.

Exploration

Then, I begin planning my excursions and

organizing the necessary tools, permits,

and equipment, such as a canoe, that I

may need to collect plant samples. Nothing

compares to being fully immersed in a wild

natural environment. I arrive with intent and

am constantly stimulated by the shifting,

interconnected relationships of the plants

and ecosystems that I observe around me,

which leads us right into my next point.

Observation

Out in the field, I am looking, listening,

smelling, and touching all the things around

me. I record my observations in a field

journal and with my camera. Photography

plays an important role in the development

of ideas and in the interpretation of

experiences. I use the photographs I

take to develop sculptural forms, as well

as printed and bound in artist books as

companion pieces to further contextualize

my installations.

Curiosity is the impetus for exploration. I find

myself drawn, physically and metaphysically,

to areas where a body of water plays

a dominant role in the landscape. My

explorations, like most, begin with maps

of the location I will be traveling to. I look

for public land managed by the Bureau of

Land Management (BLM), the National Parks

Service (NPS), or State Parks with navigable

and accessible trails. I also look at satellite

imagery of the areas I plan to go to get a

sense of the density of the vegetation, as well

as trail and road conditions.

Over the years, I have observed the

destructive beauty of various invasive species

such as the seas of purple blossoms of water

hyacinth choking Louisiana bayous, and the

lyrical swaying swaths of common reed along

the shores of Monomoy Island.

When I am looking at these plants as

potential paper, I am seeking invasive species

that are herbaceous, non-woody and have

a high cellulose fiber content. I do a "twist

test" on site to determine the strength of a

plant material's fiber by taking a clipping and

literally twisting the fiber as many times as I

56 Mapping Meaning, the Journal
---
Deconstruct/Reconstruct

Megan Singleton

can before it breaks. The results of this test

determines whether I will take the plant back

to the studio for further material research.

Research

Research is a critical component of my studio

practice. This includes searching for historical

data about specific locations, discovering how

certain plants were introduced into a region,

and how the biodiversity has been affected

since the introduction of an invasive species.

The physical, material research includes

processing plant fibers down to just cellulose

and testing the plants viability to be made

into paper. Not all the plants I experiment

with end up as great candidates for paper,

but that doesn't mean they still can't be used.

The fiber may be too weak, too woody, or not

contain enough cellulose for pure sheets, but

it may have an interesting texture, color, or

be significant in the conceptual component

of the work.

When this is the case, I will mix the plant

with another fiber such as abaca or cotton,

to create the necessary pulp recipe for the

application I am using it for in the studio.

Which brings us to Interpretation, aka,

making ideas into objects.

Interpretation (aka Making)

The work I create is place-based, inspired

Megan Singleton Turions: Wintering Buds, 2017

Handmade Paper of Abaca, Milfoil, Hydrilla, and Grass, Steel, Concrete 27 Sculptures Dimensions Variable

Issue N o 2

57
---
Plants and trees in urban landscapes

João Miguel Diógenes de Araújo Lima

58 Mapping Meaning, the Journal
---
Plants and trees in urban landscapes

João Miguel Diógenes de Araújo Lima

Issue N o 2

59
---
Deconstruct/Reconstruct

Megan Singleton

by a desire to interpret the landscapes of

disrupted, invaded ecologies and natural

phenomena. I create sculptural installations

by deconstructing plant material down to a

visceral pulp slurry, then I reconstruct the

fibers into paper sculptures that interpret

and abstract the plant forms that I have

observed. Paper pulp is such a versatile

media, it can be used to make sheets

of paper for a book, wrapped around

armatures to create sculpture, or cast into

the landscape itself.

I have an expertise in hand papermaking

and utilize my knowledge of the craft's

traditions to create work in a contemporary

context that transforms invasive plant fibers

into works of art. This decisive material

selection lets me physically embed elements

of regional specificity and conceptual

implications into my art.

The process of collection and transformation

honors the plants as living organisms, while

simultaneously engaging and educating

viewers about the importance of invasivespecies

awareness.

Conversation

The culmination of my explorations,

observations, research, and interpretations

is an exhibition of my labors that aims to

spark conversation. I use the subversive

power of seductively beautiful objects to

draw a viewer in, resulting in questions and

a desire for further inquiry.

60 Mapping Meaning, the Journal
---
Deconstruct/Reconstruct

Megan Singleton

Left | Megan Singleton,

Riparian Threads:

Cimarron Watershed 2017

Handmade Paper of Abaca,

Hydrilla, Prairie Grass and

Oklahoma Soil

30' X 10'.

Previous | Megan

Singleton, Fluvial Terra

(Installation View)

Below | Megan Singleton,

Riparian Threads (detail)

The intent of my work is to create an

overlapping dialogue between art, science,

and ecological concerns corresponding

to both the alchemical processes I use to

create art, and to the idea that exploration

and collaboration can lead to new

perceptions of our landscape and land

stewardship. In addition, I hope that my

work inspires individuals to embark on their

own explorations into the wilderness, to be

out finding beauty.

Issue N o 2

61
---
62 Mapping Meaning, the Journal
---
IN THE PINES:

Mapping the Longleaf

Anne Janine Lindberg

Left | Anne Janine Lindberg

Green Painting 2014 Oil on

canvas 46" X 35"

Anne Lindberg grew up in the suburbs of

Chicago and is currently a visual artist living

and working in Wilmington, North Carolina. A

painter primarily, Anne has exhibited in Chicago

and St. Louis at galleries and museums including

the Des Lee Gallery in St. Louis, the Foundry Art

Center in St. Louis, and the Kemper Museum of

Contemporary Art in St. Louis. Anne is currently

a full time faculty member at the University of

North Carolina Wilmington. She holds a Master's

Degree in Visual Art from the Sam Fox School

at Washington University in St. Louis and a

Bachelors of Fine Art from the University of Illinois

Champaign-Urbana.

www.annejlindberg.com

Issue N o 2

63
---
In the Pines

Anne J. Lindberg

Having moved from the Midwestern United

States to the southeastern United States

in 2013, this work was inspired by my

experience of coming to a new place trying

to get a sense of it. I focus on the longleaf

pine ecosystem, a rich forest type that once

dominated the entire southeastern United

States. I present the forest, or the idea of the

forest, through a mixture of representational

imagery and imagery that represents

information: species distribution maps, maps

of turpentine distilleries at the turn of the

century, hexagonal grid mapping techniques,

etc. The title of these collection of works, in

the pines, refers to the title of a traditional

southern Appalachian folk song from the

1870's.

The longleaf pine forest is important and

distinctive.

Once the most extensive woodland ecosystem

in the United States, the longleaf pine forest

extended from Virginia to eastern Texas.

It has contributed to the economic and cultural

development of the United States and has

suffered extreme loss as a result.

As of 1996 only 2.95 of the original 92 million

acres remain, mostly in fragments.

Anne Janine Lindberg

Greenswamp Pinecone (burnt), 2014. Oil on linen 10" X 15"

64 Mapping Meaning, the Journal
---
In the Pines

Anne J. Lindberg

Anne Janine Lindberg (top to bottom)

Remnants, 2015. Gouache on paper, 22" X 29 ¾"; GIS Drawing 2, 2015. Graphite on paper 26 1/4" X 40 ¼"

Issue N o 2

65
---
In the Pines

Anne J. Lindberg

66 Mapping Meaning, the Journal
---
In the Pines

Anne J. Lindberg

The longleaf pine forest is also

one of the most biologically

diverse ecosystems on earth with

a number of species uniquely

endemic to it, many of them

considered rare or endangered.

Left | Anne Janine Lindberg,

Broken Corridors, 2014

Mixed media on paper

30" X 44"

Issue N o 2

67
---
In the Pines

Anne J. Lindberg

68 Mapping Meaning, the Journal
---
In the Pines

Anne J. Lindberg

The gopher tortoise, Venus flytrap,

flameflower, Red-cockaded

Woodpecker, and other species

live solely within this ecosystem

and nowhere else on earth.

These and other endemic species

indicate not only the biological

diversity, but also the biological

uniqueness of the region.

Left | Anne Janine Lindberg,

Black Hexagons, 2014

Mixed media on paper

30" X 44"

Issue N o 2

69
---
In the Pines

Anne J. Lindberg

There are currently many efforts

underway to restore the longleaf

pine ecosystem where it still

exists.

.

Right | Anne Janine Lindberg,

Death by a Thousand cuts, 2014

Mixed media on paper

30" X 44"

70 Mapping Meaning, the Journal
---
In the Pines

Anne J. Lindberg

Issue N o 2

71
---
In the Pines

Anne J. Lindberg

This body of work was created

in 2015.

This work is meant to address

loss, fragmentation, and

extinction; forces that are

becoming increasingly prevalent

in our time.

Right | Anne Janine Lindberg,

Heyday, 2014

Mixed media on paper

30" X 44"

72 Mapping Meaning, the Journal
---
In the Pines

Anne J. Lindberg

Issue N o 2

73
---
Mapping for Social Change

Annita Lucchesi

74 Mapping Meaning, the Journal
---
Section 3:

Descent of Man

Left | Anne Janine Lindberg

Descent of Man 2013

Gouache and graphite on paper

30" X 22"

The ecological road taken downward is often the

byproduct of other good intentions. Nonetheless,

the devastation is there. These two articles map

the consequences of not paying attention to the

edges going ragged around us.

Issue N o 2

75
---
76 Mapping Meaning, the Journal
---
Plants and trees in urban

landscapes: the counterdesign

of non-humans

João Miguel Diógenes de Araújo Lima

Left | João Miguel Diógenes

de Araújo Lima

2018

João Miguel Lima has a MSc in Sociology from

the Federal University of Ceara, Brazil, and is

a member of the Arts and Urban Micropolitics

Laboratory at the same institution. His research

on the relations of humans and non-humans in

the urban Anthropocene combines Social Sciences

and the Arts. He has explored different publishing

formats: paper, zine, photo-essay, and a short

story.

http://cargocollective.com/joaomiguellima/

Issue N o 2

77
---
Plants and trees in urban landscapes

João Miguel Diógenes de Araújo Lima

Does nature need human activism to speak

and act on its behalf – or does nature have

agency? Here the intent is to address this

question by looking at urban plants. Not

trees, not forests, but weeds, the most

undesirable kind of urban plants. Walking

and roaming through urban space, one

may overlook them bursting through the

cracks on the sidewalk, between bricks on

a wall, in a gutter or even the rooftop – but

there they are. Perceived as signs of urban

decay, weeds are usually pulled out. They

are not 'supposed to be' there. Weeds and

their urban counter-design has become the

subject of photographers all around the

world. Inspired by ecological criticism, this

research takes shape as an online museum

of the ephemeral, contributing with insights

about the environment in cities.

Thoreau argued that, even though cities had

pushed wilderness away to places where it

could only be visited and contemplated, man

is an inhabitant of nature nonetheless, and

thereby remains a part of it.

Cities then, are not 'unnatural environments'

(Spirn 1996), but are transformations and

restrictions of nature by men.

This narrative begins with reflections

that question my own experience in

environmental activism.

In 2013, the municipal administration

of Fortaleza, Brazil launched an urban

intervention project to alleviate traffic jams

by constructing roadway bypasses. To make

room for the bypasses, 94 trees of the

neighboring Cocó Ecological Park would be

cut down.

When workers cut a couple of trees to the

ground, a group of demonstrators managed

to halt the process, access the site and throw

red paint over the tree stumps.

Right | A portion of the

municipality of Fortaleza,

capital of the state of Ceará, in

Northeastern Brazil, with the

green mangroves of the Cocó

River. The highlighted area

indicates where the overpasses

were built, in a junction.

Captured using Google Maps

78 Mapping Meaning, the Journal
---
Plants and trees in urban landscapes

João Miguel Diógenes de Araújo Lima

Photographs of this action circulated online

and in different means of communication,

igniting protests 1 and shortly thereafter an

occupation 2 . These protest actions were

inspired by the Occupy movements. They

took place in the midst of the 2013 protests

in Brazil, known as the June Journeys 3 .

Red paint, intended to resemble blood,

was meant to produce a physical sense of

familiarity in humans for trees. I wondered

then: must trees be seen as humans (or

animals) in order to be protected? In this

anthropocentric appeal, does nature need

human activism to speak and act on its

behalf, contesting the impositions of urban

design?

In the following months, these questions

made me look all around the city for trees,

plants and vegetation, sensitive to their

presence and to their absence too. After a

while, I began photographing these beings,

particularly plants that sprout through cracks

in sidewalks and concrete, plants that grow in

the small corners of walls. Those who wander

through a city with an inattentive gaze may

not notice their presence on sidewalk edges,

on top of roofs, in sewers or between tiles,

but there they are. Sometimes weeds grow

in the company of flowers. Some weeds

may later become bushes or even trees,

unarguably making their own composition of

urban landscape.

Weeds. In Spanish (malas yerbas) and

Portuguese (ervas daninhas), they are

considered bad and creators of damage.

These plants reject the constraining designs

of urban planning, which dictate whether

existing forests, trees and plants may remain

or must grow in places separated from built

environments - sometimes even fenced off

by humans. Weeds, either native or nonnative

species, tend to make their presence

rather 'inappropriately' in cities. Similar to

Left | This aerial view dates back

to 2013, before construction work

began on the bypasses.

Captured using Google Maps

Issue N o 2

79
---
Plants and trees in urban landscapes

João Miguel Diógenes de Araújo Lima

João Miguel Diógenes de Araújo Lima

The two bypasses, and the Cocó Park today, 2018

a squatter, they defy land use and 'occupy'

cities, demonstrating not only the fertility

of the land beneath, but also the vitality of

plants.

In this sense, plants that occupy cities can't

merely be called 'weeds'. These spontaneous

urban plants are instead more appropriately

titled ocupadeiras. It is a Portuguese word

I made up, combining the verb ocupar

(occupy) and the noun trepadeiras (climbing

plants, that lean on other plants and

structures in order to grow). For a similar

term in English, I first considered 'occuplants.'

Then I thought perhaps 'squatter' plants

would aggregate an explicit political

dimension of spatial subversion to these

urban creatures.

Ocupadeiras make us believe there is

a non-human way of activism, silently

engaged by plants. This may be a proposal

based in fiction, but they indeed occupy

both the physical urban spaces and the

imaginary human spaces of the mind. Cities

can accommodate nature willingly or with

obstinacy, in a relationship where nature's

agency is always looking for ways to burst

into an urban landscape. As I became more

aware of these plants, they engendered a

political and poetic shift in my own ways

of human activism: instead of focusing on

80 Mapping Meaning, the Journal
---
Plants and trees in urban landscapes

João Miguel Diógenes de Araújo Lima

reaction and deforestation, I shifted towards

life that sprouts, vibrates, exists, resists.

Open green spaces in cities, such as parks,

vacant lots and community gardens have

been the subject of many studies. Nature

conveys feelings of safety, connection,

pleasure and well-being, urging the

emergence of biophilic design, as argued

by Kellert, Heerwagen and Mador (2008).

Svendsen (2009) understands that urban

stewardship, the act of taking care of these

spaces, is a means of improving the health

and well-being of people.

Weeds, on the other hand, tend to occupy,

spread, commute and re-design urban

landscapes laid waste by humans, taking over

the concrete through its cracks. Perceived

as signs of abandonment and urban decay,

these plants are frequently cut and pulled

out. They were not meant to be there,

because they were not 'designed to be' there.

But it seems that news did not reach all plant

species. Ocupadeiras create a silent existence

with the built physical structures of cities,

particularly in warmer temperatures.

photographs by friends as contributions

to this visual archive. Publishing these

photographs on Instagram with the hashtag

#ocupadeiras automatically created a

gallery. Exploring the social media platform

Instagram, I came across several profiles

and tags dedicated to sharing photographs

of weeds, creating narratives of a natural

world moving through the human design

of urban landscapes. The tags #botanarchy

[botanical anarchy], #NatureTakesOver and

#CantStopNature, to name a few, are nodes

of a larger web of perceptions that assemble

and enmesh plants and humans, nature and

the constructions of humans in cities all over

the planet. In these photographs, weeds

speak through their own existence. Although

a common target of eradication by municipal

departments, these plants overcome dire

conditions, show resilience, and require few

resources.

Challenging human design, they present

hybrid landscapes, criticizing – time and

again – the 'guards of the border' of

modernity (Silveira 2009), which separate

and compartmentalize for the sake of 'purity'

(Latour 1993). The weeds instead argue for

their right and intent to have their place in

urban space.

I started photographing 'ocupadeiras' in the

city of Fortaleza, Brazil, and also received

João Miguel Diógenes de Araújo Lima, 2017

Issue N o 2

81
---
Plants and trees in urban landscapes

João Miguel Diógenes de Araújo Lima

João Miguel Diógenes de Araújo Lima, 2018

Some of these photos, and their captions,

create visual poems that pay homage to

nature's agency, such as the profile @

irrefreaveis (Portuguese for 'unstoppable'),

managed by Brazilian designer Paula Tabosa,

with photographs mostly from the city of João

Pessoa, Brazil. The profile @PlantsOfBabylon

is maintained by Frenchman François

Decobecq, known as Joas, who posts his own

photographs of these 'plants of Babylon', and

also reposts photographs by other users,

tagged with #plantsofbabylon. Providing a

more scientific take with plant identification,

the profile @ConcreteBotany, based in

Philadelphia, is managed by a team of plant

'spotters' and an Entomology specialist. Each

of these profiles and hashtags create their

own galleries of photographs of weeds.

This act of photographing and sharing

photographs gradually turned into a research

process for me. On Instagram, using a

hashtag allows the creation of a gallery of

shared photographs, making it easy to access

all images published with that same tag.

Hashtags also enable mapping other profiles

and hashtags dedicated to weeds around

the world, as well mutual recognition with

82 Mapping Meaning, the Journal
---
Plants and trees in urban landscapes

João Miguel Diógenes de Araújo Lima

them. I also came across projects with an

online presence outside Instagram, such as

Vida Baldia, a 2011 photographic initiative by

Fortaleza-based biologist Pablo Pessoa, and

Ervas sp by artist Laura Lydia, who created

a set of artistic paintings and a map of plant

identification of weeds in areas of the city of

São Paulo, Brazil, in 2014.

Weeds are apparently ephemeral on the

surface and rather perennial underneath.

Resurgent, consistently 'annoying,' their

existence is extended through photographs.

If a human is likely to approach a plant with

the purpose of removing it, the photographer

is a human who appreciates these forms

of life, demonstrating a different attitude

towards them, a different perception of

urban space. Trying to combine the gallery

of photographs and the archive of profiles,

hashtags and projects, thus came into

existence the Collaborative Museum of

Ocupadeiras 4 .

analyzed from within through the practice

of curating, bringing together pieces and

looking for connections between them, and

trying to make sense of the world.

Going through these photographs of weeds

– considering both the collection I created

and all the other collections – our aim is to

re-think the relations between humans and

non-humans in the daily design of urban

landscapes.

In pragmatic terms, maybe nature needs

human activism to speak and act on its

behalf, for instance, against real estate

speculation. But humans, we need nature

for our agency, and this acknowledgement

has been made in recent years in several

areas of expertise, particularly through the

transdisciplinary approach of ecological

criticism. In the field of urban design, this

The notion of Museum is often that of

a repository, a storage facility for old

objects. But museums have become much

more dynamic, ranging from cutting-edge

interactive technology to social memory. On

this, the wide reception of Graham Black's

critique (2005) on the need to transform

museums for the 21st century as spaces

of engagement with visitors, through

interaction and new technologies, stands

out. Furthermore, anthropologist Nicholas

Thomas (2010) proposed to understand

museums not as mere archives, but rather as

a research method: a place where complex

webs of meaning can be perceived and

João Miguel Diógenes de Araújo Lima, 2017

Issue N o 2

83
---
Plants and trees in urban landscapes

João Miguel Diógenes de Araújo Lima

Ocupadeiras make us

believe there is a nonhuman

way of activism,

silently engaged by

plants.

84 Mapping Meaning, the Journal
---
Plants and trees in urban landscapes

João Miguel Diógenes de Araújo Lima

critique enables an attempt to understand

and go beyond the worldview in which

ocupadeiras are perceived as undesired

urban creatures. As argued by Latour (1993),

modernity has taught us to avoid whatever

is messy. And weeds frequently expose

messiness, growing through the cracks in the

concrete as they like to do.

The counter-design of weeds can be a

reminder of life underground, and all around

us. Timothy Morton (2017: 2), commenting on

ecological criticism and the need to change

our current images of nature, said that a

new worldview "means dealing with how

humans experience their place in the world.

Aesthetics thus performs a crucial role,

establishing ways of feeling and perceiving

this place."

We hope, therefore, that our museum of

ocupadeiras, and all the other galleries of

weeds, may contribute to changing such

images, instigating urban planners – and

urban humans in general – to perceive and

question their place in the world.

Endnotes

1 Earlier in 2013, the global wave of Occupy movements

had taken an ecological turn with the demonstrations in

Istanbul to protest an urban development plan backed

by the government to cut down trees of the Gezi Park,

replacing it with a shopping mall and a residential building.

Similar issues usually ignited local demonstrations, such

as the collective No a la tala de árboles (Spanish for 'Don't

cut down trees'), which held a symbolic funeral in 2016 in

the city of Cochabamba, Bolivia, to protest the practice of

cutting trees down for construction works and building

reforms.

Fortaleza, read: https://globalvoices.org/2013/09/01/

brazils-occupy-coco-park-fights-to-save-nature-reservefrom-construction/

3 For an overview of the protests in Brazil, read: https://

globalvoices.org/2013/06/17/video-vinegar-revolt-bus-fareprotests-spread-across-brazil/

4 https://cargocollective.com/joaomiguellima/Museu-

Colaborativo-das-Collaborative-Museum-of-das-

Ocupadeiras

References

Black, G. (2005) The Engaging Museum: Developing Museums

for Visitor Involvement. Psychology Press.

Kellert, S.R.; J.H. Heerwagen; M. Mador. (2008). Biophilic

design: Theory, science, and practice. New York: Wiley.

"Floods and The Chamizal Issue" National Park Service,

February 24 2015, https://www.nps.gov/cham/learn/

historyculture/rio-grand-floods-and-the-chamizal-issue.

htm, Accessed on May 13th 2018

Morton, T. (2017). Ecology without Nature: Rethinking

Environmental Aesthetics. Harvard University Press.

Cambridge, Massachusetts.

Silveira, P. (2009). Híbridos na paisagem: uma etnografia

de espaços de produção e de conservação. Ambiente &

sociedade. Campinas, 12 (1), jan-jun, 83-98. Retrieved from

http://www.scielo.br/pdf/asoc/v12n1/v12n1a07.pdf

Spirn, A. W. (1996) Constructing nature: the legacy of Frederick

Law Olmsted. William Cronon (Ed.). Uncommon ground:

rethinking the human place in nature. New York; London,

91-113.

Svendsen, E. S. (2009) "Cultivating resilience: urban

stewardship as a means to improving health and wellbeing".

Campbell, Lindsay; Wiesen, Anne (Eds.). Restorative

commons: creating health and well-being through urban

landscapes. Newtown Square, EUA: USDA Forest Service,

59 – 85.

Thoreau, H. D. (1862). "Walking". The Atlantic Monthly, A

Magazine of Literature, Art, and Politics. Boston: Ticknor

and Fields. 657-674, June.

2 For details on the occupation movement, the political

dispute and the Police intervention at the Cocó Park in

Thomas, N. (2010). Commentary: The Museum as Method.

Museum Anthropology, 33 (1), 6-10.

Issue N o 2

85
---
86 Mapping Meaning, the Journal
---
All Indifferent Decay

Caroline Clerc

Left | Caroline Clerc

All indifferent decay,

inclination, 2017

Archival inkjet print

40 x 35 inches

Caroline Clerc is a Los Angeles based artist

working in photography. Her work posits

landscapes as complex sites of recognition

and cultural construction. She is faculty at the

University of Southern California Roski School of

Art and Design and her work has been exhibited

in Los Angeles and nationally. Artist residencies

include Obracadobra, Oaxaca, Mexico; Millay

Colony for the Arts, New York; the Nordic Artists'

Centre Dale, Norway; 'Nature, Art and Habitat'

Taleggio Valley, Italy; Taft-Nicholson Center

for Environmental Studies, University of Utah,

Montana; and Caetani Cultural Centre/Allan

Brooks Nature Centre Artist Residency, Canada.

www.carolineclerc.org

Issue N o 2

87
---
All Indifferent Decay

Caroline Clerc

All indifferent decay, contrasts images of

sweeping vistas with interior imploded

landscapes.

This work does not offer a vantage point

upon which to survey the landscape; multiple

views of the mountains that circled the valley

are collapsed into single images.

These images mirrored my experiences

navigating a secluded valley in Montana.

Navigating unmarked forest interiors

resulted in images that visually progress from

restrained romanticism to increased chaos,

and embody anxieties about the long-term

stability of natural spaces.

My work addresses landscape

representation.

The work problematizes the act of looking

and disrupts the idea of understanding one's

relationship to the environment, or to nature.

Initially, the scenes appear as static or

tranquil, but they are not what they seem,

and they are not what they should be.

88 Mapping Meaning, the Journal
---
All Indifferent Decay

Caroline Clerc

Caroline Clerc

All indifferent decay, approach, 2017

Archival inkjet print, 40 x 40 inches

Issue N o 2

89
---
All Indifferent Decay

Caroline Clerc

My work begins with the intention of

taking a sustained walk within the natural

environment, and I rely on maps to

determine a potential route.

Once the walk begins, planning ends, and

there is only the experience of wandering,

making images along the way.

When I return to the studio, these images are

composited via digital methodologies into a

single photograph.

In constructing the final photographs I seek

to reference complex representational

histories found in 19th century, within the

traditions of landscape art painting and

survey photography.

I am interested in exploring the landscape

as a complex site of recognition and cultural

construction.

I am interested in subverting order through

wandering and reconfiguring, and to

confound the traditional subject/object

relationship by moving beyond a single

viewpoint to present multiple perspectives.

90 Mapping Meaning, the Journal
---
All Indifferent Decay

Caroline Clerc

Caroline Clerc

All indifferent decay, ebb, 2017

Archival inkjet print, 35 x 38 inches

Issue N o 2

91
---
All Indifferent Decay

Caroline Clerc

In this work, looking, seeing, and

understanding are not constants, indeed they

are constantly shifting.

The images are at once a place and no place.

92 Mapping Meaning, the Journal
---
All Indifferent Decay

Caroline Clerc

Caroline Clerc

All indifferent decay, continuation, 2017

Archival inkjet print, 36 x 38 inches

Issue N o 2

93
---
Mapping for Social Change

Annita Lucchesi

94 Mapping Meaning, the Journal
---
Section 4:

Regenesis

Left | Anne Janine Lindberg

R e g e n e s i s 2 0 1 3

Gouache and graphite on paper

30" X 22"

However, choosing to see a problem in an ecology,

and acting with a map of its resolution may

help the rest of us what to see, and then act. The

following articles argue that better incarnations

are not only possible, but do-able, not only for

the problem at hand, but for the hidden within

ourselves.

Issue N o 2

95
---
96 Mapping Meaning, the Journal
---
Homes

MJ Tyson

Left | MJ Tyson

Homes, 2017

Installation view

Following | MJ Tyson

Homes, 2017

Installation view

MJ Tyson is an artist and teacher based in

Hoboken, New Jersey. Tyson's work is centered

on the relationship between people and their

possessions. Interests in value and material

culture have led her to draw from the worlds

of art appraisal and museum conservation.

Her recent solo show at Brooklyn Metal Works,

The Last Objects, focuses on destruction as a

creative force and the transformation of personal

objects. Tyson received her BFA from the Jewelry +

Metalsmithing Department at Rhode Island School

of Design in 2008 and returned to earn her MFA

in 2017. She has been an artist in residence at the

Studios at Mass MoCA, Vermont Studio Center,

and the Wormfarm Institute.

www.mjtyson.com

Issue N o 2

97
---
Plants and trees in urban landscapes

João Miguel Diógenes de Araújo Lima

98 Mapping Meaning, the Journal
---
Plants and trees in urban landscapes

João Miguel Diógenes de Araújo Lima

Issue N o 2

99
---
Homes

MJ Tyson

All material carries a past, and whether we

acknowledge this lineage or not, it exists.

It may be to our advantage — as a way

of orienting ourselves in our world —

to consider the cycles of creation and

destruction intrinsic to the objects and

materials that surround us.

Within the form of these vessels, the

materials express and interact. They teach

that there is no need to draw hard lines

between categories or between objects.

This series of vessels, Homes, explores the

reincarnation of personal objects through

material transformation.

Right | MJ Tyson

36 Orchard Hill Drive, 2017

11" x 6" x 5"

Personal objects left behind

by the deceased residents of

36 Orchard Hill Drive

100 Mapping Meaning, the Journal
---
Homes

MJ Tyson

Issue N o 2 101
---
Homes

MJ Tyson

102 Mapping Meaning, the Journal
---
Homes

MJ Tyson

Homes are extensions of, and memorials to,

the lives that brought them together.

Each vessel is made from objects left behind

by the deceased residents of one home, and

is named for the address of that home.

Now they're new objects, with evidence of

multiple states.

Suspended in decay and transition; in

growth; in both.

Left | MJ Tyson

35 Norman Avenue, 2017

13" x 6" x 5"

Personal objects left behind

by the deceased residents of

35 Norman Avenue

Issue N o 2 103
---
Homes

MJ Tyson

Each of these vessels is made from the

personal objects in one home,

left behind after the owner had died. Each is

named for its address of origin.

Each one is a place. Collectively, they're a city,

a community,

living and dying just like those that brought

them together.

Right | MJ Tyson

145 Delmage Road, 2017

12.5" x 7" x 5"

Personal objects left behind

by the deceased residents of

145 Delmage Road

104 Mapping Meaning, the Journal
---
Homes

MJ Tyson

Issue N o 2 105
---
106 Mapping Meaning, the Journal

When accessibility is

thought of as only

meeting the requirements

of the Code, we are

unnecessarily limiting

our creative capacity.
---
Placing Inclusion

Ahead

Ileana Rodríguez

Left | Ileana Rodríguez

An accessible route provides a safe

egress to anyone. It was decided this

route would be used as the inclusive

means of egress, besides providing the

Code's requisite stairs. The ramp quickly

became a celebrated architectural

element of the building.

Ileana Rodríguez studied Architecture at Florida

International University in Miami. She is a

former swimmer with Team USA Paralympics

who competed at the 2012 London Paralympic

Games among other venues. Currently she is an

accessibility specialist working with organizations,

designers and architects to create inclusive spaces

around the world.

Issue N o 2 107
---
Borders Studio

Ane Gonzalez Lara

108 Mapping Meaning, the Journal
---
Placing Inclusion Ahead

Ileana Rodríguez

What if design was strong enough to awaken

people's awareness of others' uniqueness,

as well as how all are served by such a

design? Too often, the product of design,

constrained by time and attitude, sets

bounds on what we - the users of the design

product - can or cannot do. Just take a look

at the images and sketches that accompany

this essay. One of the scenarios shows the

consequence of design, limited. The other

shows design expanded to empower all users

thereby celebrating the people and the place

enveloped by it.

Providing accessibility into, through, and

from spaces is many times approached as

a joyless chore rather than as an exciting

design opportunity.

The book of laws - the Code - is considered

the limiter of creativity rather than the

impetus/starter of it. The Code's contents

are seen only as a series of parameters that

designers must follow.

rigidly set designs, does not necessarily result

in an accessible building.

Besides, with such a narrow design

viewpoint, what else could the consequent

product be, but a weak effort that may not

achieve its intended function of accessibility?

Such an attitude leads to restrictive spaces

that cannot enable good human interaction.

When accessibility is thought of as only

meeting the requirements of the Code,

we are unnecessarily limiting our creative

capacity. The Code does not demand

forgetting about the design opportunities

found in the diversity of the users, or of

creating inclusive spaces. Rather, the Code

should expect the creative soul that chooses

to pursue design to see the rules as aids

toward a successful, fully-functioning end

product. The images that accompany this

essay portray the impact of an accessible

design effort that did not achieve accessibility

versus one that is not only accessible but

inclusive.

By adding up, without much thought, a series

of formulas, and then plunking them down as

Inclusion is easy to accomplish if it is

recognized as requisite to the design concept

Left | Ileana Rodríguez

This ramp's design did not take all differentlyabled

users into consideration. As a result, the

ramp itself has obstacles and cannot serve its

purpose of providing access.

Issue N o 2 109
---
Placing Inclusion Ahead

Ileana Rodríguez

Above | An accessible route provides a safe egress to anyone. It was decided this route would be used as the inclusive means of

egress, besides providing the Code's requisite stairs. The ramp quickly became a celebrated architectural element of the building.

110 Mapping Meaning, the Journal
---
Placing Inclusion Ahead

Ileana Rodríguez

and acknowledged throughout the entire

project's development and execution. What

happens when we look at design through a

lens having too narrow of a focus? Where

we only yawn when we see, and then

ploddingly follow, the rules and regulations

for our building? The result is a lost design

opportunity that serves, at best, a few

people. It becomes a place where diversity is

not found.

level. Design can drive inclusion and change

perceptions. I perceive inclusion as an

attitude, a state of the mind that is made

manifest only with the right effort of melding

creativity with rules. Design, when looked at

through the lens of inclusion, has the power

to change the attitudes of people, from the

individual level to the wider community.

I urge you to put and hold in your minds the

possibilities of what can be accomplished

when design is the all-inclusive bridge that

brings people and abilities to the same

Issue N o 2 111
---
112 Mapping Meaning, the Journal
---
One to Another

Sarawut Chutiwongpeti

Left | Sarawut Chutiwongpeti

The Dreams of a Greater Countries, 2016

Color Photography on fine art paper

134x112 (cm)

Sarawut Chutiwongpeti has contributed to the

development of the media arts through his artistic

and research practices at noted international

institutions in Austria, Brazil, Canada, China,

Croatia, Denmark, Egypt, Finland, France,

Germany, Hong Kong, Hungary, Italy, Japan,

Malaysia, Nepal, Norway, Russia, Singapore,

Slovakia, Slovenia, South Korea, Spain, Sri

Lanka, Sweden, Switzerland, Taiwan, Ukraine,

United Kingdom and United States of America.

He graduated in 1996 from the Department of

Fine and Applied Arts, Chulalongkorn University

and Master of Arts in Fine Arts with Major Art

in Public Spheres (MAPS), Lucerne University of

Applied Sciences and Arts, Switzerland in 2016.

Since 1999, he has been working as a full time

contemporary artist.

www.chutiwongpeti.info

Issue N o 2 113
---
One to Another

Sarawut Chutiwongpeti

My artwork focuses on

personal and larger

issues of cultural

transformation related to

global mobility, and the

precarious situation of

the neo-nomadic artist.

114 Mapping Meaning, the Journal
---
One to Another

Sarawut Chutiwongpeti

Sarawut Chutiwongpeti One to Another, Installation View, 2016

My artwork focuses on personal and larger

issues of cultural transformation related to

global mobility, and the precarious situation

of the neo-nomadic artist.

I work in the realm of contemporary art and

am interested in revealing the unexplored

facets of experience.

Living in Littau, yet often shopping in Emmen

for the ingredients to prepare traditional

Thai meals, I incorporate packaging in my

installation.

I am directing my energies toward the

exploration of the phenomena of crossdisciplinary

art and culture.

They are mainly from food products that

I have consumed over the past eighteen

months since coming from Thailand to live in

Lucerne.

I am searching for answers that can help

reverse the subordination and objective

materialism that are prevalent in today's

society.

What are the thoughts, doubts, fears,

uncertainties, and reflections that we have

and experience as we head toward the new

material and immaterial territories, which we

Issue N o 2 115
---
One to Another

Sarawut Chutiwongpeti

.

Right | Sarawut Chutiwongpeti

One to Another

Performance, 2016

116 Mapping Meaning, the Journal
---
One to Another

Sarawut Chutiwongpeti

are to inhabit in the future generations?

Featuring logos, brand names, and sources

of origin, the artwork represents and

symbolizes how things and people come

together from around the world to be

recombined at one new location.

The context and significance of the artwork

is, first of all, highly personal, a means for

me to make connections between my native

country and background, and my present

situation.

The subject of the artwork, however, also

touches upon more general issues related

Issue N o 2 117
---
One to Another

Sarawut Chutiwongpeti

Right | Sarawut Chutiwongpeti,

One to Another

Installation View, 2016

118 Mapping Meaning, the Journal
---
One to Another

Sarawut Chutiwongpeti

to contemporary global mobility, everyday

aesthetics and routines, and is thereby

significant in terms of cultural transformation

and the challenges of living and surviving

faced by a neo-nomadic artist.

distribution of information and foster a

profound universality in human nature and

cross-cultural and critical collaboration.

I am especially interested in finding out

how contemporary art can enhance the

Issue N o 2 119
---
Mapping Meaning, The Journal

Conclusion

Left | Anne Janine Lindberg

Based on installation view, 2013

Following | Anne Janine Lindberg

Based on installation view, 2013

Mapping is always first a journey into oneself, a

place one may, or may not want to go.

The exploration and consequent analysis require

courage to attempt, and to continue struggling

with, seemingly interminably.

Once one's walk with keen awareness has begun,

other ways and paths present themselves. They

cannot be left alone, unanswered.

This issue is as much a presentation of others'

mappings, as it is a call for yours.

Begin.

Issue N o 2 121
---
122 Mapping Meaning, the Journal