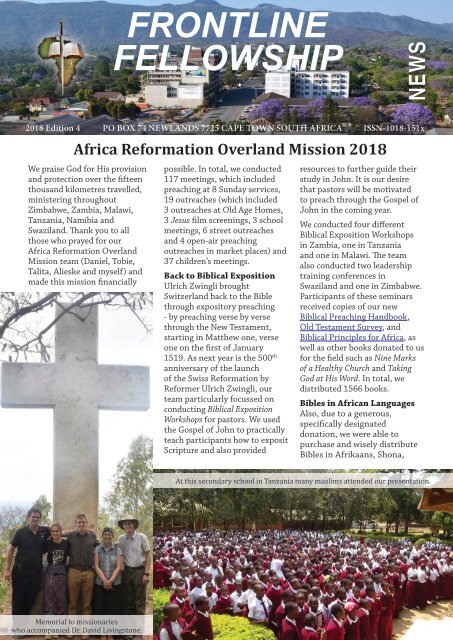 FF News Edition 4 of 2018 web
Africa Reformation Overland Mission 2018
Africa Reformation Overland Mission 2018
SHOW MORE
SHOW LESS
Create successful ePaper yourself
Turn your PDF publications into a flip-book with our unique Google optimized e-Paper software.
FRONTLINE

FELLOWSHIP

NEWS

2018 Edition 4 PO BOX 74 NEWLANDS 7725 CAPE TOWN SOUTH AFRICA ISSN-1018-151x

Africa Reformation Overland Mission 2018

We praise God for His provision

and protection over the fifteen

thousand kilometres travelled,

ministering throughout

Zimbabwe, Zambia, Malawi,

Tanzania, Namibia and

Swaziland. Thank you to all

those who prayed for our

Africa Reformation Overland

Mission team (Daniel, Tobie,

Talita, Alieske and myself) and

made this mission financially

possible. In total, we conducted

117 meetings, which included

preaching at 8 Sunday services,

19 outreaches (which included

3 outreaches at Old Age Homes,

3 Jesus film screenings, 3 school

meetings, 6 street outreaches

and 4 open-air preaching

outreaches in market places) and

37 children's meetings.

Back to Biblical Exposition

Ulrich Zwingli brought

Switzerland back to the Bible

through expository preaching

- by preaching verse by verse

through the New Testament,

starting in Matthew one, verse

one on the first of January

1519. As next year is the 500 th

anniversary of the launch

of the Swiss Reformation by

Reformer Ulrich Zwingli, our

team particularly focussed on

conducting Biblical Exposition

Workshops for pastors. We used

the Gospel of John to practically

teach participants how to exposit

Scripture and also provided

resources to further guide their

study in John. It is our desire

that pastors will be motivated

to preach through the Gospel of

John in the coming year.

We conducted four different

Biblical Exposition Workshops

in Zambia, one in Tanzania

and one in Malawi. The team

also conducted two leadership

training conferences in

Swaziland and one in Zimbabwe.

Participants of these seminars

received copies of our new

Biblical Preaching Handbook,

Old Testament Survey, and

Biblical Principles for Africa, as

well as other books donated to us

for the field such as Nine Marks

of a Healthy Church and Taking

God at His Word. In total, we

distributed 1566 books.

Bibles in African Languages

Also, due to a generous,

specifically designated

donation, we were able to

purchase and wisely distribute

Bibles in Afrikaans, Shona,

At this secondary school in Tanzania many muslims attended our presentation.

Memorial FRONTLINE to missionaries

FELLOWSHIP PO BOX 74 NEWLANDS 7725 CAPE TOWN SOUTH AFRICA admin@frontline.org.za www.FrontlineMissionSA.org

who accompanied Dr. David Livingstone.
---
Teaching the Ten Commandments at a Sunday School in Malawi.

Chichewa and Bemba. We

distributed a total of 238 local

language Bibles and 206 English

Bibles. We also donated 39

boxes of World Missionary

Press Gospel booklets in local

languages (550 booklets per

box) to pastors and evangelists.

Including other leaflets

distributed, we distributed a

grand total of 22 450 Gospel

booklets, leaflets and tracts.

Children's Ministry

It was wonderful to have

Alieske and Talita on the team

and available to do childrens

ministry. There are always so

many children in the rural areas

where we minister and they are

often a neglected field. Alieske

and Talita taught them the Ten

Commandments using pictures,

the days of Creation and got

the children involved by calling

on volunteers to help "act" out

Biblical stories being taught such

as Jesus raising Lazarus from the

dead.

Children's Biblical Exposition

In one rural area of Zambia,

during the three days that we

ministered there, Alieske and

Talita read and taught through the

Books of Esther, Jonah and parts

of Daniel to the children and had

the children acting it out. They

also had times of answering the

children's questions, looking at

the meaning of the stories in their

contexts and how to apply them

to their lives. Although some of

the children were very young, it

was clear that they were thinking

about what we were teaching.

Teaching the doctrines and application of Bible stories in our lives.

During the last morning, Alieske

was explaining the Marching

Song (based on Romans 6:23) to

the children and they ended up

having a long conversation about

sin and salvation. Earlier they

all said they are good people and

some even said we can be saved

through good works but through

us asking questions, we could

see their understanding growing.

Finally they understood: "We are

not good but sinful," "We cannot

save ourselves through doing good

things" and "Jesus Christ is the One

Who saves."

"For the wages of sin is death,

but the free gift of God is

eternal life in Christ Jesus our

Lord." Romans 6:23

Children in Tanzania receiving Bible story cards.

Ministry in Tanzania

This was my first time in Tanzania.

I was most concerned about this

border crossing, as one of our

missionaries had experienced

corrupt officials at this border

last year. Yet, by God's grace, we

arrived there (deliberately) on an

evening when the officials who

needed to give us our paperwork

had already gone home. Despite

a mosquito-infested sleep in the

vehicle at the border post that

night, we got through early the

next morning without our vehicle

being searched!

We ministered in a very rural

area. The thirty pastors who

gathered together for our

seminar were very enthusiastic,

always asking many questions,

expressing their excitement at

what they were learning.

2

FRONTLINE FELLOWSHIP 2018 EDITION 4
---
Acting out the story of Joseph at a school in Tanzania.

Acting out Noah and the Ark in a Tanzanian Primary School.

Our hosts, the pastors of the

church, were poor but sacrificially

generous. They even bought us

soda drinks at the market and

gave it to us every evening with

meals, as a treat. One of the

pastors said to me, "we can see

you love us" because you joke

with us, eat our food with us and

because you don't act as if you

are more important.

Boxes with Love to Pensioners

Despite Zimbabwe's new

president, Zimbabweans are

still suffering immensely.

The economy has again taken

another drastic down-turn with

many shops closing in the last

few weeks. In a country with

a corrupt government and a

collapsed economy, the elderly

are among those who suffer the

most. Our team was again able to

deliver 40 "Boxes with Love" (29

different food and medicine items

in each box) to needy pensioners

in two different towns – one of

which was through new contacts

and to elderly folk we have not

ministered to before. By God's

grace, these boxes again made it

through several border crossings!

Here are some of the grateful

Thank You messages we received

from the old age home that our

team ministered to and from

those who received parcels:

"It was good to meet you and the

team. Our pensioners are still talking

about their visit and how good it was

to have young people visit them. May

our Lord and Saviour continue to use

you mightily." Manager of Old Age

Home

"Thank you so very much for

bringing the three young people

to us. They thoroughly enjoyed

their time with the residents and

it was great to see the residents

being engaged in one on one

conversations." Matron

"E suffers from dementia. Her

husband died recently. She is looked

after by his family. This parcel will

give her some nice treats and a

variety of food. A break from the

staple food they live on.

"Our dear W died on Thursday

night after a brave battle with

aggressive skin cancer. Now his

daughter will no longer benefit

from his pension. She is a good

bookkeeper but our tax department

have made it too hard for small

businesses to keep going, so she

has lost most of her clients. I heard

through the daughter's church that

she was struggling to buy food so

I gave her one of the parcels from

Frontline."

Swaziland

When our friend Leo from Swazi

Vision invited us for two weeks

of ministry in Swaziland, I could

not turn him down. Leo knows a

good network of church leaders

and last year arranged two

productive leadership seminars

FRONTLINE FELLOWSHIP PO BOX 74 NEWLANDS 7725 CAPE TOWN SOUTH AFRICA admin@frontline.org.za www.FrontlineMissionSA.org

3
---
Shona Christians in Zimbabwe receive Bibles in their language.

for us to minister at. Even though

this ministry would be tagged

on to the end of our two-month

long mission, it was again well

worth the effort. We conducted

two leadership conferences,

ministered at an orphanage and

also at a prison. Pastor C sent us

this encouraging feedback:

"I would like to thank you for

wonderful presentations. I learnt

the following from the workshop:

1. Pastors should point people to

Christ. 2. Passion for reaching out to

the lost. 3. Awareness about human

trafficking. 4. Awareness about

abortion. We really need to teach

our church members the importance

of keeping themselves pure before

God. Thank you so much for leaving

us some tools like the Way of the

Master to use in Evangelism."

Discovery Bible Method

How do you teach Biblical

Exposition to people from

cultures that learn by hearing

and telling stories? By teaching

them the meaning of the stories

in their Biblical context and

then getting them to re-tell and

learn how to teach the story

with the correct Biblical meaning

and application to those they

are discipling. The tool that we

found most helpful for this task

is the Discovery Bible Method

as presented in the Biblical

Preaching Handbook.

This leader facilitates the

following questions which

members of the group answer by

engaging with the Biblical text:

1. Re-tell the Text in your own

words.

2. What did you like about this

passage?

3. What did you find difficult?

4. What did you learn about God?

5. What did you learn about man?

6. How are you going to apply

this in your life?

7. Who are you going to share

this with?

It has been said that we

remember 10% of what we hear,

30% of what we read and 80%

of what we do. As this tool uses

all three, especially because

it is interactive, I believe that

this is one of the most effective

teaching tools to use in the field.

At all of the conferences, towards

the end, we chose two of the

participants to then lead a Bible

Study using this method. This

especially helped those leading

to master this tool and the

participants seemed to enjoy this

part the most!

Encouraging Feedback

Pastor M from Tanzania said: "We

are asking for prayers as we are now

trying to teach Discovery Bible Study

in our church. It is very helpful."

Pastor S from Zambia said: "Thank

you for taking your precious time to

labour in our midst. Your ministry

was so timely to the Body of Christ.

We will forever be reminded of the

sweet fellowship and how the Lord

dealt with each one of us as we

together looked into the Word of

God. Our prayer is that the Lord

God Almighty may grant that we

meet again in a similar manner."

Pastor A from Zambia: "I thank

God for this day. It reminded me

of God's amazing grace to learn

how to stick to the text. You helped

us a lot on how to get back to

Reformation."

Another Zambian pastor said:

"We have seen that this Bible Study

method you have taught us has

really helped us. Because we have

seen that we must not just go here

and there and get distracted when

we read the Bible; and we can't

just say what we want the Bible to

mean, but we must ask, 'What does

the passage actually say?'"

In a two or three day seminar,

we were only able to get through

the first three chapters of John.

At all the locations, the pastors

asked us to come back again and

continue the study in John. They

even asked us to come for 21

days so that we could cover all 21

chapters of John!

Books for pastors.

4

FRONTLINE FELLOWSHIP 2018 EDITION 4
---
Profound & Relevant Insights

As we studied the Word of God

together, I was often impressed by

some of the profound insights that

these rural pastors with no formal

theological training shared with

us. These insights were directly

relevant to needs and challenges

faced by these African churches.

The Word of God is always relevant

to every nation and era!

God Was the First Missionary

On John chapter 1:14: "The

Word became flesh and dwelt

among us…" God was the first

Missionary. We must imitate

Him and be missional.

Humility of John the Baptist

John the Baptist pointed to Christ

and humbled himself, recognising

"I am not worthy to tie His sandals"

John 1:27. This is also what we

should do as pastors. This is in

great contrast to the many African

pastors who call themselves "man

of God" and are full of pride.

Follow Jesus

Two of John the Baptist's

disciples became Jesus' disciples

after John declared "Look,

the Lamb of God!" and were

introduced to Jesus. We must

not feel inadequate or be jealous

if we see another congregation

growing. We must be excited if

God's Kingdom is growing.

SDAs Challenged

At one seminar, some Seventh

Day Adventists participated.

The SDA pastors were very

appreciative. They told us: "We

thought you believed in the Sun

god, because you worship on a

Sunday, but now we know you do

not. We have been challenged to

read the Bible for ourselves and

not just listen to SDA teachers."

In this case, we did not need to

challenge SDA doctrine directly,

these pastors saw the need to go

back to the Bible themselves.

Jesus is Superior to Mary

At this same seminar, there

were also some Catholic leaders

participating. Simply studying

the Bible, also challenged their

Catholic doctrine. For example,

in John 2, at the wedding in

Cana, Mary says to the servants

of the wedding hosts, "Whatever

[Jesus] says to you, do it." This is

a direct affront to the Catholic

belief of Mary as a mediator –

Mary told people to obey Jesus.

True Witness for Jehovah

In many of the places that we

minister, the Jehovah's Witness

cult is a huge challenge to pastors

trying to protect their flocks

from false doctrine. John the

Baptist pointed to Christ and

said "Behold! The Lamb of God

Who takes away the sin of the

world!" John 1:29. Some pastors

pointed out John the Baptist was

the first true witness for Jehovah

as he pointed to Christ as the fully

Divine, sin-atoning, Messiah.

"Your Word is a lamp unto my

feet and a light unto my path."

Psalm 119:105

Please Pray

Please pray for these pastors

who have committed to preach

through the Gospel of John. I am

in contact with many of them via

WhatsApp and am encouraging

them to persevere. Please pray

that the resources we left with

these leaders would be studied,

prayed through and would

impact their lives and ministries.

Reformation Fire

There is still a very long way to go

in urging pastors in Africa to go

Back to the Bible. Pray for more

labourers in this endeavour.

Pray that pastors would

continue to be inspired by the

example of the Swiss Reformer,

Ulrich Zwingli and faithfully

preach expositionally through

every Book of the Bible with

Reformation fire!

"'Is not My Word like a fire?'

says the Lord, and 'like a

hammer that breaks the rock in

pieces?'" Jeremiah 23:29

Abrie Lourens

www.FrontlineMissionSA.org

FRONTLINE FELLOWSHIP PO BOX 74 NEWLANDS 7725 CAPE TOWN SOUTH AFRICA

admin@frontline.org.za www.FrontlineMissionSA.org

5
---
HOW MARXISTS SUBVERT CHURCHES and SOCIETY

The First Battlefield

As Karl Marx declared:

"The first battlefield is the rewriting

of history."

Hypnotised by Deception

"Modern society is hypnotised

by socialism. It is prevented by

socialism from seeing the mortal

danger it is in. One of the greatest

dangers of all is that you have lost

all sense of danger. You cannot

even see where it is coming from

as it moves swiftly towards you.

Socialism of any type leads to a

total destruction of the human

spirit… to destroy a people, you

must first sever their roots."

- Aleksandr Solzhenitsyn

PsyOps

Marxists aim to demoralise

their targeted victims through

psychological warfare (psyops).

Using guilt manipulation,

vilifying the victims and

victimising the villains, their

politics of guilt and pity seek

to undermine Christianity and

nationalism.

Distinguish Good from Evil

"The generation now coming out

of Western schools is unable to

distinguish good from bad. Even

those words are unacceptable.

This results in impaired thinking

ability." - Aleksandr Solzhenitsyn

Playing the Victim Card

Marxists employ double

standards to enable them to

always play the victim while

demonising the opponents of

Marxism. Along with demonising

opponents, Marxists seek to

promote hero worship of their

idols of the New World Order.

Ripping Up the Foundations

"In keeping silent about evil, in

burying it so deep within us that no

sign of it appears on the surface, we

are implanting it and it will rise up

a thousand fold in the future. When

we neither punish, nor reproach,

evildoers… we are ripping the

foundations of justice from beneath

new generations. In our country, the

lie is not just a moral category, but

also a pillar of the state. The timid

civilised world has found nothing

with which to oppose the sudden

revival of bare-faced barbarity,

other than concessions and smiles."

- Aleksandr Solzhenitsyn

Intimidation

Through politically correct

censorship and intimidation,

cyber bullying and cry bullying,

they seek to mobilise hysterical,

spiteful, vindictive opposition

to silence all dissent. Anyone

daring to express a different

opinion will find themselves a

target of malicious slurs and

smear tactics.

"The words of his mouth were

smoother than butter, but war

was in his heart; his words were

softer than oil, yet they were

drawn swords." Psalm 55:21

Poisoning the Well

They seek to weaponise words

and poison the well, calling free

speech: "Hate speech!" Marxists

seek to silence opposition by

accusing anyone who dares

to introduce facts and reason

into the discussion: Racist!

Anti-Semite! Nazi! Islamaphobe!

Homophobic bigot! and other toxic

labels designed to intimidate

opponents into silence and

retreat.

A Loss of Civic Courage

"A decline in courage may be the

most striking feature that an

outside observer notices in the West

today. The West has lost its civic

courage… Such a decline in courage

is particularly noticeable amongst

the ruling and intellectual elite,

causing an impression of a loss of

courage by the entire society."

- Aleksandr Solzhenitsyn

The Gramsci Strategy

The Frankfurt School of

Cultural Marxism utilised the

Gramsci Strategy, otherwise

known as the Termite Strategy

of eating the heart out of every

pillar of Western civilisation

until the entire edifice rots

and collapses. Their goal is the

secularisation of society - to

sideline Christianity and deal

with all issues without reference

to the Bible.

"… 'Should you help the wicked

and love those who hate the

Lord?' Therefore the wrath of

the Lord is upon you."

2 Chronicles 19:2

Marxists identify 5 Primary

Culture Transforming

Institutions for Infiltration

and Subversion:

1. Education

2. Entertainment

3. News Media,

4. Religious institutions

5. Political institutions

Marxist Revolutionaries

identify their Stages of

Operation for Ideological

Subversion:

1. Demoralisation

2. Destabilisation

3. Crisis

4. Normalisation

5. Second Phase of the

Revolution

6

FRONTLINE FELLOWSHIP 2018 EDITION 4
---
Subversion and Slander

Everything is designed to

undermine the strength of

the targeted enemy through

subversion and slander. Straw

man arguments are frequently

used to weaken the resistance of

targeted individuals, or groups.

Smokescreens & Distractions

Distraction is essential to

provide a smoke screen behind

which Marxist subversives can

destroy everything that could be

a strength in the congregation,

community or country targeted.

The issue focused on is

seldom the real concern. Their

motivation is normally the

furthering of the revolution by

discrediting all resistance.

Character Assassination

As Socrates famously declared:

"When the debate is lost, slander

becomes the tool of the loser."

Those who resort to ad hominem

arguments reveal that they are

unable to deal with the issue

at hand without resorting to

name-calling and character

assassination against their

opponent.

Resist the Lie

"The simple truth of a courageous

individual is not to take part in the

lie. One word of truth outweighs

the world. You can resolve to live

your life with integrity. Let your

Credo be this: let the lie come into

the world, let it even triumph. But

not through me."

- Aleksandr Solzhenitsyn

"Confuse, Divide and Conquer"

If a people can be confused

then they can be divided,

which makes it easier to defeat

them. Hence, Marxists aim at:

Disinformation, Division and

Defeat for the country targeted.

"While they promise them

liberty, they themselves are

slaves of corruption…"

2 Peter 2:19

"Corrupt and Conquer"

Degenerate entertainment,

defiled art and decadent culture

are part of the strategy of

cultural Marxists to rot the soul

of a nation.

Treason from Within

As Marcus Cicero warned:

"A nation can survive its fools

and even the ambitious, but it

cannot survive treason from

within. An enemy at the gates is

less formidable, for he is known

and carries his banners openly,

but the traitor moves amongst

those within the gates freely, his

sly whispers, rustling through

all the alleys, heard in the very

halls of government itself. For

the traitor appears not a traitor;

he speaks in accents familiar to

his victims, he wears their face

and their arguments, he appeals

to the baseness that lies deep in

the hearts of all men, he rots the

soul of a nation, he works secretly

and unknown in the night, to

undermine the pillars of the city, he

infects the body politic, so that it

can no longer resist. A murderer is

less to be feared."

Vulgar Fads Rot the Soul

"European democracy was

originally endued with a sense

of Christian responsibility and

self-discipline, but these spiritual

principles have been gradually

losing their force. Spiritual

independence is being pressured

on all sides by the dictatorship of

self-satisfied vulgarity, of the latest

fads and of group interests."

- Aleksandr Solzhenitsyn

The Soul of a Nation

"The strength or weakness of a

society depends more on the level

of its spiritual life than on its level

of industrialisation. Neither a

market economy nor even general

abundance constitutes the crowning

achievement of human life. If a

nation's spiritual energies have

been exhausted, it will not be saved

from collapse by the most perfect

government structure or by any

industrial development. A tree with

a rotten core cannot stand."

- Aleksandr Solzhenitsyn

"Who will rise up for Me

against the evildoers? Who will

stand up for Me against the

workers of iniquity?"

Psalm 94:16

Dr. Peter Hammond

Gospel Defence League

www.gospeldefenceleague.org

FRONTLINE FELLOWSHIP PO BOX 74 NEWLANDS 7725 CAPE TOWN SOUTH AFRICA

admin@frontline.org.za www.FrontlineMissionSA.org

7
---
8

A Ministry of Frontline Fellowship
---
9
---
What is Happening in Zimbabwe?

"Rescue those being led away

to death. Hold back those

staggering towards slaughter…

Will He not repay each one

according to what he has done?"

Proverbs 24:11-12

Early Celebrations

Tuesday, 21 November 2017,

Zimbabweans celebrated with

jubilation, cheering, shouting,

dancing and flags waving! The

occasion was the overthrow of,

93-year-old dictator, Robert

Mugabe. It was finally the end

of 37 years of tyranny and

oppression by the Mugabe-lead

Zanu-PF, or so the people thought.

Mugabe's Replacement

Mugabe was overthrown by

military power, and replaced by

his ex-vice president Emmerson

Mnangangwa. Before his removal

from vice-presidency on 6

November 2017, Mnangagwa was

an ardent supporter of Mugabe

and served, periodically, in ZANU-

PF and its militant wing, ZANLA,

for 55 years. He even served as

the assistant and bodyguard to

Mugabe. He led farm attacks and

bombed a train in what is known

today as Masvingo. Mnangagwa

was the minister of state and

oversaw the Central Intelligence

Organisation. During his

leadership, the infamous massacre

of over 30 000 Ndebele people

occurred. Mnangagwa's guerrilla

warfare and political tactics earned

him the nickname "Crocodile".

Zimbabwe's New President

Mnangagwa was officially

inaugurated as the third President

of Zimbabwe on 26 August 2018

after narrowly winning the

Zimbabwean general election,

2018. The election itself has been

called into question by opposition

party, MDC. But, the clearer

controversy occurred after the

election when MDC supporters

began protesting in Harare and

were met with live ammunition

from military and police, at least

6 were killed. People began to

question whether or not this kind

of behaviour would typify the

reign of Mnangangwa.

Same Party Different Face

After his election as president,

Mnangangwa was asked by

sky news journalist about the

controversial past of Zanu-PF.

The new president responded "I

do not regret; Zanu-PF does not

regret acquiring our land again".

Here is the lesson which so many

people do not seem to take note

of. Mugabe was never the problem.

Mugabe did many wicked things,

but Mugabe himself was not the

problem. Mugabe was simply the

face of a wicked communist party.

He was the public figure of the

devious, Marxist ZANU-PF.

What Is Going On?

Today, many people are wondering

what is going on in Zimbabwe.

After the great celebrations

following Mugabe's fall from

power and the cheers of freedom

after the free and fair elections, has

anything changed for the better?

Hope For the Future?

One of our missionaries recently

returned from Zimbabwe and

reported that, positively, one might

believe that Mnangangwa has

made some welcome surface level

changes. The new president has

ordered police not to harass whites

or foreigners at road blocks. He

has said that he wants to reverse

the bad economy. He has made

promises to bring commercial

farmers back into the land.

Life in Zimbabwe

However, life in Zimbabwe is

in a seemingly hopeless spiral

of hardships and poverty. Most

places do not have food. There

is no real money to trade with

because of circulation of "bond

coins". There are severe electricity

shortages in Bulawayo and

little to no medical supplies for

local doctors. Patients are being

examined with flashlights because

there is no electricity in the

hospital!

One of our contacts has rightly

stated: "politically nothing has

changed" "It is a new face, but the

same government".

Fake Money

Under Mugabe, the bond-coin

was introduced. It was meant to

be one-to-one promissory money

with the US dollar. The only

problem is that Zimbabwe does

not have the American dollars

to accommodate the amount

of bond-money out there. The

creation of bond-notes has taken

the black market by storm, so that

one can purchase about seven

bond dollars for one American

dollar. This means that technically

one can purchase goods at one

seventh of the actual price - if you

have access to US Dollars..

Bankrupt

Zimbabwe has no investors

and struggles to take out any

more loans. The World Bank

and International Monetary

Fund cannot help Zimbabwe out

anymore until Zimbabwe pays

off more than £1 billion in debt

arrears — money it does not have.

10

FRONTLINE FELLOWSHIP 2018 EDITION 4
---
Where Has the Money Gone?

Derek Matyszak said,

"Overspending by the government

is behind the current downward

spiral in Zimbabwe's economy."

"The total budget deficit for

the year is expected to surpass

$2.3-billion – quite impressive

for a country with a tiny national

budget of $3.8-billion." Add to that

bloated civil services, practically

no established industries or

agriculture, and you have a

disastrous situation. However, all

of this pales in comparison to the

enormous corruption and theft

which is rife throughout the ruling

government. Political leaders and

their friends are living in luxury

homes, driving luxury vehicles,

all while normal citizens are not

being paid salaries and cannot

even afford basic medical and

toiletry supplies.

No Money for the People

People stand in queues for money

almost daily. ATMs limit services

to depositing money only! The

largest bill one can obtain is a

5-dollar bond note. The most

common denomination is 10 and

50 cent coins. Major shops change

prices up to 3 times per day. Many

products are not even priced

because inflation causes prices to

fluctuate too frequently.

Zimbabwean Observer

Cathy Buckle wrote of life in

Zimbabwe, "The nightmare

combination of no fuel, no bank

notes, no medicine and a growing

list of food and toiletries that

aren't available, has left us wasting

our days in bank, food or fuel

queues, hunting for necessities

and doing outrageous calculations

just to work out how to survive."

On 26 October 2018, Cathy

explained further, "Going shopping

after a week is frightening; the

prices of almost everything have

gone up, not by a few percent but

by 200 to 300%. In the past three

weeks, rice has gone from $2.40 to

$7.90; a tube of toothpaste from

$1.29 to $3.00; a tin of fruit or

vegetables from $2 to $5; a jar of

coffee: $12 three weeks ago, then

$17 and today $23."

Marxism is the Problem

Two years ago, people were

rioting in the streets, and

calling for international

attention because of their

immense suffering. At the time,

I commented on these events:

"What we have now in Zimbabwe

is a situation of people who are

sick and tired of tyranny, poverty

and lifeless existence. Many are

finding their voice and crying out

for justice. But, the main focus

of their negative attention

is on a dying dictator-Robert

Mugabe, and not the secular

humanism and Marxist

ZANU-PF he represents."

Marxist Methods

It is the goal of marxists to keep

people under their dictatorial rule

through suffering, confusion and

false promises of hope. The face

of the political party may change.

New policies may be instituted and

even seem good. Greater freedom

may be granted to people for a

time. But, these are all distractions

from the very real suffering which

the marxist government has

intentionally caused. By creating a

small glimmer of hope, the abusive

government creates a sense of

dependency within the citizens

they are abusing.

Hope for Zimbabwe

Thankfully, there is hope for

Zimbabweans. We praise God for

faithful ministers of the Gospel

who are declaring that there is

peace with God through the Cross

of Christ. In Christ we can have

peace with each other. We can even

have peace when we are persecuted

by evil men and women.

Christian Witness

We praise God for Christian

brothers and sisters who remain

positive and show the love of

Christ to others living in a dark,

sin-soaked world. In Zimbabwe,

I have met some of the humblest

and most peaceful people I have

ever known.

Help for the Hurting

There are still people living

outside of Zimbabwe who are

regularly praying for and assisting

those who are in Zimbabwe.

Frontline Fellowship has been

assisting suffering people and

ministering to confused Christians

in Zimbabwe for over 36 years.

Please continue to keep these

efforts and the important work of

other ministries in your prayers.

Zimbabwe's Need

It is my hope and prayer for my

friends in Zimbabwe that more

people will find their voice and

react to their situation with

Biblical wisdom and prayerful

action. Their desire should be

Reformation and not revolution.

Godly, discerning leaders are

needed. Those who fear God and

keep His commandments should

be those who have the loudest

voices and be the anchor of

morality and reason in this time of

confusion.

"Blessed is the one who perseveres

under trial because, having stood

the test, that person will receive

the crown of life that the Lord has

promised to those who love Him"

James 1:12

John Clifford

Frontline Fellowship

P.O. Box 74

Newlands 7725

Cape Town South Africa

mission@frontline.org.za

www.FrontlineMissionSA.org

FRONTLINE FELLOWSHIP PO BOX 74 NEWLANDS 7725 CAPE TOWN SOUTH AFRICA admin@frontline.org.za www.FrontlineMissionSA.org

11
---
REFORMATION 500

CHURCH COUNCIL

ZÜRICH

"…Contend earnestly for the

Faith which was once for all

delivered to the saints." Jude 3

Zürich 500

Christian leaders and Theologians

will be gathering in Zürich,

Switzerland from 15-20 July for

the Reformation 500 Global

Church Council. In celebration

of the 500th anniversary

of Ulrich Zwingli launching

the Swiss Reformation in

Grossmunster, Zürich, with verse

by verse expository preaching,

starting with Matthew 1:1, the

Global Church Council will be

held near Zürich, 15-20 July

2019 to affirm 24 Theological

documents applying the Lordship

of Christ to every area of life.

The Global Church Council

will include a Reformation

Celebration and guided tours of

historic Reformation sites in and

around Zürich. Church leaders,

representing a denomination,

mission, or college, that affirm

the authority and inerrancy of

Scripture and are committed to

working for Biblical Reformation

and praying for Revival are

invited to apply to participate.

Church Council Meetings

Since early Church History,

the global body of Christ has

convened Church Councils

with representatives from

many nations to determine

by the consensus wisdom of

their leaders, which side of the

controversial doctrinal position

was Biblical and true and which

side was false and worthy of

condemnation by the churches'

leadership. The first Church

Council was the Council of Nicea

in 325 A.D. when the full deity

of our Lord Jesus Christ was

upheld. The Church has had to go

through this process throughout

history, periodically clarifying

what it considered to be true

Biblical doctrine, or heresy.

Controversies which Confront

In the 21st century, 24 concerns

have risen to the surface as

controversial issues, all raised by

Evangelical and Bible-believing

sections of the greater body

of Christ worldwide (such as

the Inerrancy of Scripture,

the Centrality of Christ and

the nature of man). Dr. Jay

Grimstead has gathered

together various groups of

Theologians from a wide range of

denominations to discuss each of

these 24 issues as they merged

into church life. The Theological

teams have boiled down each

issue into its own salient points,

then formulated concise creedal

statements of affirmations and

denials as Theological documents

to be presented to the Global

body of Christ for consideration.

Global Church Council Events

Following up on the Reformation

500 Church Council Consultation

held in Wittenberg, Germany,

October 2017, two major Global

Church Council meetings are

planned in the immediate

future, including: Zurich 2019:

on the 500th Anniversary

of Ulrich Zwingli launching

the Swiss Reformation with

expository preaching in Zürich,

Switzerland, in 1519; Worms

2021: on the 500th Anniversary

of Dr. Martin Luther making his

"Here I Stand" speech before the

Emperor at the Diet of Worms

in Germany, 18 April 1521. By

God's grace and leading, we

are inviting representatives of

denominations, missions and

colleges from around the world,

after having studied all 24 of

these Theological documents,

to apply to participate in these

events.

Reformation 500 Council

At Reformation 500 Zürich,

15-20 July 2019, participants

will discuss these 24 documents

and the effective mobilisation

of Reformation and Revival

worldwide and how to find Godly,

Christian leaders to work for

Biblical Reformation and pray

for spiritual Revival worldwide.

Participation in these events

are only to accredited leaders of

churches, missions and colleges.

The Church Council will include

various discussion groups

working on a global generic

Statement of Faith, Coalition on

Revival's 42 Articles on Historic

Christian Doctrine and a universal

Biblical Constitution to offer

nations which want to establish

new, more Biblical civilisations.

Topics to be Discussed

If you would like to apply

to participate, you will need

to study and be in general

agreement with all 24 of the

Church Council documents which

can be viewed, or downloaded

from www.churchcouncil.org.

They are also included in the

book, Rebuilding Civilization on

the Bible. These documents were

12 FRONTLINE FELLOWSHIP 2018 EDITION 4
---
accepted at the US Consultation

on Theology hosted by Dr. James

Kennedy at Knox Theological

Seminary in Florida.

Rebuilding Civilisation

For a more thorough

overview of this

entire Church

Council Project, or

the 24 Theological

documents together

with introductions,

explaining each

document, one

may purchase

the Coalition on

Revival book:

Rebuilding Civilisation on the

Bible. This book can be ordered

from www.nordskogpublishing.

com. In Southern Africa, it

is also available from www.

christianlibertybooks.co.za. "To

the Law and to the testimony!

If they do not speak according

to this Word, it is because there

is no light in them." Isaiah 8:20

Resources for Reformation

Also 17 Christian Worldview

Documents are available and can

also be downloaded from our

websites: www.reformation.net

and www.Reform500.org. These

documents offer blueprints for

how the Bible can be applied

to every area of life to rebuild

civilisation upon the principles

of the Bible in the fields of

law, government, economics,

business, education, science,

media, the arts, family, church,

etc. The Coalition on Revival

Reformation 500 FIRE Manual is

also available in print and online.

Reformation 500

If you are on social media, you

can also find our Reformation500

Facebook page.

Audio Visual Resources

Videos of the Reformation

500 Wittenberg events

and the Eurochor concert in

Wittenberg can be viewed on

the www.FrontlineMissionSA.

org website Video Gallery under

Reformation. For copies of the

USA and Europe Reformation 500

Mission audio and video boxset,

contact Christian Liberty Books,

admin@christianlibertybooks.co.za

www.christianlibertybooks.co.za.

95 Theses for Reformation

The 95 Theses for Reformation

Today leaflet can be viewed

or downloaded for printing

in English, German, French,

Dutch, Spanish and Afrikaans

from www.ReformationSA.org

Greatest Century

The inspiring lives and

doctrines of the Reformers are

available in the well-illustrated

Greatest Century of Reformation

book (288 pages with over 200

pictures and maps), available

from www.christianlibertybooks.

co.za.

Contact Us

For more information, or to

apply to participate, contact Dr.

Jay Grimstead of Coalition on

Revival, P.O. Box 1139, Murphys,

California, 95247, USA.

Email: jgrim1776@gmail.com.

"Those from among you shall

build the old waste places; you

shall raise up the foundations of

many generations and you shall

be called the Repairer of the

Breach, the Restorer of Streets

to Dwell In." Isaiah 58:12

Dr. Peter Hammond

Reformation Society

www.ReformationSA.org

FRONTLINE FELLOWSHIP PO BOX 74 NEWLANDS 7725 CAPE TOWN SOUTH AFRICA admin@frontline.org.za www.FrontlineMissionSA.org

13
---
FRONTLINE FELLOWSHIP 2018 EDITION 4
---
15
---
FRONTLINE FELLOWSHIP 2018 EDITION 4