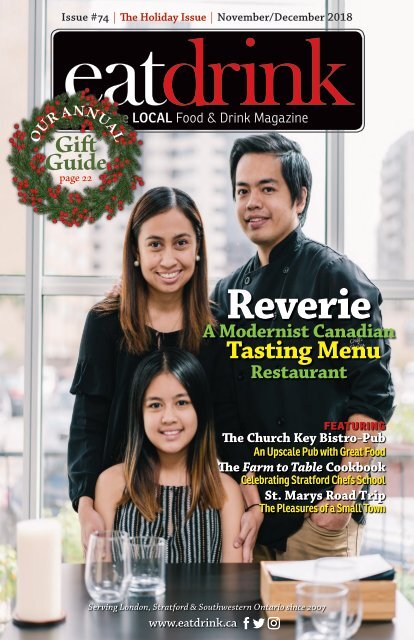 Eatdrink #74 November/December 2018
The local food & drink magazine serving London, Stratford and Southwestern Ontario since 2007
The local food & drink magazine serving London, Stratford and Southwestern Ontario since 2007
SHOW MORE
SHOW LESS
Create successful ePaper yourself
Turn your PDF publications into a flip-book with our unique Google optimized e-Paper software.
Issue #74 | The Holiday Issue | November/December 2018

eatdrink

The LOCAL Food & Drink Magazine

Gift

OUR ANNUAL

Guide

page 22

Reverie

A Modernist Canadian

Tasting Menu

Restaurant

FEATURING

The Church Key Bistro-Pub

An Upscale Pub with Great Food

The Farm to Table Cookbook

Celebrating Stratford Chefs School

St. Marys Road Trip

The Pleasures of a Small Town

Serving London, Stratford & Southwestern Ontario since 2007

www.eatdrink.ca
---
THE CHRISTMAS TRAIL

CAPTURES THE SPIRIT

OF GIVING AND

THE JOY OF CHECKING

OFF THAT LIST

You'll discover unique and individual

gift ideas when you stroll our festive

streets. We've made it easy to kick

off your holiday shopping with

The Christmas Trail – six gifts

for just $30*. And because it's

Stratford, be on the lookout

for seven swans a swimming.

Purchase your pass

at Stratford Tourism,

47 Downie Street.

visitstratford.ca

*plus HST
---
eatdrink

The LOCAL Food & Drink Magazine

eatdrinkmagazine

@eatdrinkmag

eatdrinkmag

eatdrink.ca

Think Global. Read Local.

Publisher

Chris McDonell – chris@eatdrink.ca

Managing Editor Cecilia Buy – cbuy@eatdrink.ca

Food Editor Bryan Lavery – bryan@eatdrink.ca

Copy Editor Kym Wolfe

Social Media Editor Bryan Lavery – bryan@eatdrink.ca

Advertising Sales Chris McDonell – chris@eatdrink.ca

Bryan Lavery – bryan@eatdrink.ca

Stacey McDonald – stacey@eatdrink.ca

Terry-Lynn "TL" Sim – TL@eatdrink.ca

Finances

Ann Cormier – finance@eatdrink.ca

Graphics

Chris McDonell, Cecilia Buy

Writers

Jane Antoniak, Gerry Blackwell,

Tanya Chopp, Darin Cook,

Andrew Coppolino, Gary Killops,

George Macke, Nancy McSloy,

Tracy Turlin

Photographers Steve Grimes, Phong Tran

Telephone & Fax 519-434-8349

Mailing Address 525 Huron Street, London ON N5Y 4J6

Website

City Media

Printing

Sportswood Printing

OUR COVER

It's a family affair, with

Jerrah Revilles, Brian

Sua-an and their daughter

Saisha Sua-an, at Reverie,

their "Tasting Menu

Restaurant" on Piccadilly

Street in London.

Photo by Phong Tran for

Lavery Culinary Group

© 2018 Eatdrink Inc. and the writers.

All rights reserved.

Reproduction or duplication of any material published in Eatdrink

or on Eatdrink.ca is strictly prohibited without the written permission

of the Publisher. Eatdrink has a printed circulation of 20,000

issues published six times annually in each of two markets, for a total

of 240,000 copies in print. The views or opinions expressed in the

information, content and/or advertisements published in Eatdrink

or online are solely those of the author(s) and do not necessarily

represent those of the Publisher. The Publisher welcomes submissions

but accepts no responsibility for unsolicited material.

Serving up

Great

partnerships

commercial | digital | wide format | design

Let us help with your next project...

519.866.5558 | ben@sportswood.on.ca

www.sportswood.on.ca
---
Contents

Issue #74 | November/December 2018

The Holiday Issue

Publisher's Notes

Friends and Family

Eatdrink and Be Merry

By CHRIS McDONELL

6

ring in the holidays at the grand!

Restaurants

Modernist Canadian Cuisine

Reverie: A Tasting Menu Restaurant

By JANE ANTONIAK

8

An Upscale Pub with Great Food

The Church Key Bistro-Pub

By TANYA CHOPP

12

Road Trips

Take Your Time

Discovering the Pleasures of St. Marys

By NANCY McSLOY On Stage

16 this December

Culinary Retail

Our Annual Gift Guide

Ideas from the Experts

22

Wine

The Gift of Wine

Suggestions for this Holiday Season

By GARY KILLOPS

28

Beer

By Charles Dickens

Adapted by Dennis Garnhum

519.672.8800 grandtheatre.com

Cold, and Dark

Malty Darker Beers for Winter

By GEORGE MACKE

32

28

8

The BUZZ

Culinary Community Notes

36

Theatre

Scrooge Gets a Gender Flip

Christmas at The Grand Theatre

By JANE ANTONIAK

48

48

Music

Holiday Notes

Upcoming Musical Highlights

By GERRY BLACKWELL

51

Starring

Jan Alexandra

12

Recipes

Smith as Scrooge

Farm to Table

"

Celebrating Stratford Chefs School

BRILLIANT" Review & Recipe Selections by TRACY TURLIN

london free press

55

"JOYFUL"

intermission

season sponsor

55

32

title sponsor

Books

Provence Through the Years

My 25 Years in Provence

Review by DARIN COOK

60

The Lighter Side

Salvaging the Magic of Eggnog

By DARIN COOK

62

60
---
eatdrink: The Local Food & Drink Magazine

Book Now for

Christmas Day

Buffet!

JOIN US

For Our Famous All-You-Can-Eat

Dickens Lunch Buffet

November 26 to December 21

Monday to Friday 11:30am to 2pm

Call for reservations

519-430-6414

/Blakes2ndFloor

¦
---
6 | November/December 2018

eatdrink.ca |@eatdrinkmag

Publisher's Notes

Friends and Family

Eatdrink and Be Merry

By CHRIS McDONELL

The Eatdrink Holiday Issue is one of

our most fun to put together. While

we always celebrate the enjoyment

of good food and drink, there is

something special about that at this time

of year. We tend to be more intentional in

connecting with the people that are important

in our lives, whether they are work colleagues,

neighbours, or relatives. The timing is perfect

to have a family on the cover, and this one in

particular. Chef Brian Sua-an and Jerrah Revilles

brought their daughter Saisha into the portrait

with pride, a quality reflected in the work they

do with Reverie, their tasting menu restaurant.

You will read about a similar theme at The

Church Key Bistro-Pub, where Vanessa and Peter

Willis have manifested their own vision for what

a restaurant can be. May both families serve as

inspiration for heartfelt sharing of meals and

joyful celebrations for all of us.

Our regular columnists, always keeping with

the seasons, are of service again in this issue,

and our annual Gift Guide provides a bonus

slate of insightful suggestions. You will also

see dozens of businesses ready to take on some

of the pressures of the holidays for you, and

they really are the experts. Place your trust in

them with confidence. We hope you enjoy every

moment of all the festivities.

Peace,

Benmiller Inn & Spa

gather with great friends and divine dining

www.benmiller.ca | 519-524-2191 | 1-800-265-1711

81175 Benmiller Line, Goderich, N7A 3Y1
---
London's New Culinary Adventure!

African Breakfast

Sundays

"Reasonably priced, fresh, well-executed

Ethiopian cuisine ..." — Bryan Lavery, Eatdrink

• FAMILY FRIENDLY

• Vegetarian &

Vegan Options

• Takeout

• Catering

• Reservations

Recommended

ADDIS ABABA Restaurant

Tuesday–Sunday 11am–10pm by reservation

Closed Monday

465 Dundas Street 519 433-4222

www.tgsaddisababarestaurant.com

INTRODUCING

Serving locally

sourced food and

international flavours

with an experience

delivered by students

of Fanshawe College.

Open Monday to Friday

for lunch and dinner

130 Dundas St. London, Ontario

519-452-4433

fanshawec.ca/TheChefsTable

FOR A LIMITED TIME!

Purchase a $50 gift card at

the restaurant and receive a

free pair of wine glasses

(while supplies last).

Perfect for the holidays.
---
8 | November/December 2018

eatdrink.ca |@eatdrinkmag

Restaurants

Modernist Canadian Cuisine

Reverie, A Tasting Menu Restaurant, in London

By JANE ANTONIAK

Dining at Reverie is the ultimate

example of a blind tasting menu

in London. While the setting is

minimalist and casual, with an

open kitchen and seating for only

12 on unadorned wooden tables, this culinary

adventure is anything but simple. Chef Brian

Sua-an is unabashedly confident in how he

and his wife, Jerrah Revilles, approach this

unique restaurant. He offers that the concept

is not for everyone and he is fine with that.

Five courses of five to seven bites per plate

are created by Chef and served to the guests

of the evening at a set price of $75. "We only

serve quality. I'd rather serve small but high

quality. I want it to be straight-forward and

also have a surprise factor when it comes out

on the plate."

Dinner starts promptly at 7:05 with a bread

basket. Guests are to arrive at 7 pm in groups

of four or less if they want to sit together

in the small space. They pick up their own

cutlery on the way in. Table service is limited

to the serving of the plates by the couple and

a wine pairing ($50/person, or whole bottles

which guests pour for themselves). The whole

experience lasts two to three hours. "Stay as

long as you want," says Chef.

"I didn't want to work in a kitchen that is

all about production, without creativity, like

a factory," he says. "So I try to be ahead of the

curve, to be as creative as possible, but not

that far off of the basics."

So if it takes three days to create his now

trademark lemon dessert, it takes three days.

The resulting satisfaction, while a treat for

guests, is ultimately for Chef himself. "The

main concept is doing what we feel is really

nice for us. At the end of the day what matters

is we are happy with what we are putting out,"

he says.

The couple has worked hard to land in

London from the Philippines. Revilles is an

occupational therapist who gained entrance

to Canada in 2015, then sponsored her

husband and their daughter, Saisha Sua-an.

The couple had met while working as nurses.

Chef decided to switch to culinary and "set

my mind that I wanted to be the best." He

trained with Japanese teachers who he says

taught him to be anything but ordinary. Once

in Canada, he began working at a Yorkville

pastry shop where he found a true love for

dessert creations. His lemon dessert is an

Jerrah Revilles, Brian Sua-an and their daughter Saisha

Sua-an, at Reverie on Piccadilly Street in London
---
eatdrink: The Local Food & Drink Magazine

November/December 2018 | 9

illusion; what looks like a lemon on the outside is actually

white chocolate mousse with an intense lemon confit on

the inside. "It takes three days to make and 30 seconds

to eat," he says laughing. "It's like life, it's fleeting, like a

shooting star. It's so nice and you love it and then it's gone.

It's not about quantity but quality."

Clockwise from top right:

Sous vide McIntosh Farm Lamb Shoulder with Napa cabbage and pearl

onions with buttermilk and dill;

Northern Harvest Salmon cured in coffee and kombucha wrapped in

Swiss chard with edible flowers and fresh horseradish;

Fresh and candied tomatoes with chewy beets and kelp oil.

WIN A LEXUS FOR A WEEKEND!

Plus get your own car cleaned and detailed!

eatdrink &

Presented by

Enter at www.facebook.com/eatdrinkmag

Contest ends December 28, 2018. Complete details online.

Congratulations Dell-Anne Gowler-Wilson,

winner of our September/October Draw!
---
10 | November/December 2018

eatdrink.ca |@eatdrinkmag

Lemon with white chocolate mousse with

yuzu, lemon gelee, lemon confit, fresh

lemon and Cuban mint (above).

Brown Butter ice cream with hazelnut and

barley koji

Chef furthered his career as a

pastry instructor at Centennial

College. He also cooked at a

French-Mediterranean restaurant

in North York. Just as the couple

was making plans to move to

London, looking for a quieter life

with less traffic, he was accepted

as an apprentice at Noma, the

renowned "best restaurant in the

world" as selected four times by the World's

Best 50 Restaurants list. Chefs go to Noma

as unpaid apprentices, staging, to learn new

techniques. Sua-an also apprenticed at Noma's

sister restaurant, 108 in Copenhagen. There

he developed his passion for locally sourced

ingredients that drive the tasting menu

concept he now puts forth at Reverie.

"I realized it should just be about the food.

Skip all the gimmicks. So here at Reverie, I

did away with a lot of things too. We have to

be efficient." There is also no storage –– the

wine racks and tiny kitchen and supplies

are on full display.

While there, a delivery

of beets, carrots,

and onions arrived

in a box from Urban

Roots London. Chef

preserves vegetables

at the peak of their

flavour, and keeps them

on a rack at the side

of the restaurant. He

makes his own oils and

buttermilk and sources

ingredients regionally

Jerrah Revilles and Brian

Sua-an working in Reverie's

open kitchen
---
eatdrink: The Local Food & Drink Magazine

or from Toronto and Niagara. He only serves

biodynamic wines that contain no sulfites

or additives, such as A Pét-Nat, Nebulous

by Rosewood, or 3XP Chardonnay, wild

fermented by Nicholas Pearce. Otherwise, he

offers guests water (no ice) and sometimes a

house made kombucha.

Chef does enjoy talking to guests once

the meal ends, often explaining his cooking

techniques. For example, his McIntosh Farms

lamb leg is cooked for 24 hours and served

confit with buttermilk and a dill oil sauce. His

"not your average beet" is cooked for an hour,

dehydrated overnight, then rehydrated with

lemon balm to one-third its original size. Chef

describes it as having the rich texture of meat.

He delights in this surprise for guests who are

often shocked to realize it is a beet.

He does try to accommodate nut-free and

gluten-free diets. However he says that vegan

is a challenge for his tasting menu as he relies

on butter. Despite these challenges, he is

seeing a high percentage of repeat customers

and private bookings since he opened in 2017,

including other chefs from around the region

and guests from Toronto. "It's 100 percent

what we want and we won't compromise.

It's just Plan A and if we fail, we fail. I would

rather fail then succeed and be unhappy."

And what does the future hold? Chef hints

he would love to start selling custom cakes,

offer cooking classes, and possibly venture

into some pop-ups. His adventure in London

is evolving and by his own admission, he

hates being bored. Clearly, Reverie is anything

but boring.

Reverie

1-208 Piccadilly Street, London

519-914-6595

reverierestaurant.ca

thursday to saturday evenings at 7pm

Private group bookings available on request.

JANE ANTONIAK is a regular contributor to Eatdrink.

She is also Manager, Communications & Media Relations,

at King's University College in London.

at The Market at Western Fair

on Weekends!

Photography by Phong Tran for Lavery Culinary Group.
---
12 | November/December 2018

eatdrink.ca |@eatdrinkmag

Restaurants

An Upscale Pub with Great Food

The Church Key Bistro-Pub Ups the Game in London

By TANYA CHOPP

Vanessa and Peter Willis have the

energy of a couple of kids. Engaged

in playful banter while sitting sideby-side,

they're quick-witted and

easily moved to laughter as they describe how

their dream of owning a restaurant became

manifest in The Church Key Bistro-Pub, now

a perennially popular downtown fixture. Both

the labour and the love are evident.

"The dream we had was an upscale pub

with great food," Vanessa says. "About 20

years ago a revolution was happening in the

United Kingdom, the birthplace of the pub,

where establishments were moving in exactly

that direction. It seemed that at that time

the entire world started to take food a whole

lot more seriously, and everyone started

stepping up their game. The gastropub was

born. We love traditional pubs, but we wanted

something different. A casual environment

where women could also feel comfortable and

Owners Peter and Vanessa Willis, at top, established

The Church Key Bistro-Pub in 2009. The courtyard patio,

left, is beside the building, offering a relaxed urban vibe.

Inside, diners enjoy a comfortable casual environment.
---
eatdrink: The Local Food & Drink Magazine

November/December 2018 | 13

in their element. I thought that we all deserved something

a little bit better, and I was really passionate about it."

After working in the restaurant and bar industry for

decades (combined), Vanessa and Peter spent almost two

years in the hunt for a location of their own. On a lucky

break, Peter's realty network offered him a tip on a site

that had just became available. "We were the first to see it

and we knew within five minutes that it was perfect," Peter

says. "Right size, right location, by the theater, downtown,"

adds Vanessa. "That was it."

But while the choice of location was easy, not every

other decision fell into place so effortlessly. The name was

proposed by Peter, but met with uncertainty from Vanessa.

"A church key is a slang term for a bottle opener," he

explains. "But she wasn't so sure that people would get it,

so she polled everyone for months on whether they knew

what it was."

"It was weeks," Vanessa clarifies with a smile. "But I

found that it was a 50/50 split and so I just decided — let's

roll with it."

Peter's certainty that the clever name was perfect for

the restaurant — situated between two of London's largest

churches, with local beer on tap — appears to have been a

great instinct. But the memorable name is just one of the

many magic elements that The Church Key has woven into

its fibres.

In a much more evident fashion is the establishment's

culture, which includes a strong foundation in customer

service (you'll always be promptly and warmly greeted), a

strong camaraderie between front and back of house, and

a playlist that's "handcrafted" and curated by none other

than Peter himself and has become a signature part of

the welcoming atmosphere. Inside and out, The Church

Key feels approachable, inclusive and timelessly classy all

at once. "People always comment on the ambiance," says

Vanessa. "They say that it's beautiful and comfortable,

upscale but homey. And people love the music."

But of course, they love the food too. So much so, that

it's become difficult for the team to decide which dishes to

swap out when changing the menu. As much as 80 percent

of the menu is comprised of fan favourites.

"You'll hear about it loudly if you take one away," says

Peter. "The [Church Key] burger is untouchable and so is

the corned beef and cabbage, which is made right from a

brisket, as well as the smoked mushroom and parmesan

dip. The warm duck confit salad has been on the menu

since the beginning. The list goes on and on."

"We're so grateful to Mike [Chef Michael Anglestad],"

says Vanessa. "This [success] is as much his as it is ours.

He was so integral in the creation [of The Church Key],

the original menu and 90 percent of the dishes since we

opened. They're all his — all his talent, his ideas. And we're

lucky to have an amazing team of chefs working for us."

Pastry Chef Cliff Briden has also been a part of The

Church Key since the start. The brunch, for which the menu

changes each week, has become legendary under his charge.

There's something for every appetite:

(from the top) Smoked Salmon Wrapped

Scallops, Ploughman's Plate, and Poached

Salmon Roulade
---
14 | November/December 2018

Baked Mussels, Jerked Beef Skewers,

and Duck Confit Salad (a permanent

fixture on the menu at The Church Key

Bistro-Pub)

eatdrink.ca |@eatdrinkmag

"Our two co-sous chefs, the partners in crime — Bre

Reynolds and Toby Turcott — need to be mentioned

too," states Vanessa. "They're truly the nuts and bolts of

the kitchen."

What this cohesive team is turning out from the kitchen

is an intoxicating mix of comfort and exotism. Although

the menu (which is changed twice a year) is rooted in

traditional British pub cuisine, The Church Key has a

reputation for its creative addition of game.

"About seven years ago we took a research trip to

Chicago to gather ideas, and noticed a lot of game meat.

I'd always loved rabbit and was curious about venison,

so I talked to Chef. We suspected that it might not go

over well in the London market, but we put rabbit on

and it sold out in a night," Vanessa describes. "It was an

overwhelming success.

"Now we have an item on our dinner menu (not at

lunch) called 'Game of the Week' that reads: 'Every

week our chef will create a unique dish that showcases

a different variety of game meat. Ask your server about

tonight's special preparation.' Our original plan was

to run the same type of game all week, with different

preparations, as the menu description implies. However,

this item is so popular that we are often forced to switch

the game variety several times a week. It's a supply and

demand thing."

"People call ahead to see what it's going to be," adds

Peter. "We try to keep it flowing, ensure there's variety."

Over the years The Church Key has served up a mix of

game that ranges from the exotic, like kangaroo, ostrich,

and wild boar, to more familiar such as buffalo, elk, bison,

venison and duck.

"We do source locally where we can," Vanessa says of

the game's origin. "There's a really good buffalo farm close

to London, and we've also gotten local duck, but the best

venison on the planet comes from New Zealand."

"In terms of other local sourcing though," she adds,

"We tend to do a lot of that for our Sunday brunch

menu. Soiled Reputation, outside of Stratford, is just one

example of many local suppliers."

Patrons of the Church Key also appreciate another

locally sourced point of enjoyment: the beer. "We have a

section on the menu that's all London beers," says Paul.

"There are half a dozen or so breweries in town now.

Everyone gets about three months on the tap and a

presence in the fridge."

If you decide to come on down to The Church Key for

a beer, a burger, or more, chances are you'll be served

by Jess Broadfoot during the day, or by Paul Markovich

over the evening. The two have been at The Church for

nine and seven years respectively. The longevity of their

time there is not only a testament to their personal

commitment to excellence in service, but also to the

culture of the restaurant.

"We're a real family," says Vanessa. "What has surprised

me the most about owning The Church Key is the feedback
---
eatdrink: The Local Food & Drink Magazine

[from patrons]. The feeling of gratitude that I

have, that's constant."

"Owning [The Church Key] has exceeded

our expectation," Peter adds. "The crowd that

comes here is just such a delight, and it makes

everything so easy and worthwhile. People

who are celebrating their milestones choose to

come and do it here. I wanted that to happen,

but it's humbling. You hope for the best, but

it's gone so over the moon. It's so much bigger

than us."

The Church Key Bistro-Pub

476 Richmond Street, London

519-936-0960

thechurchkey.ca

tuesday 11:30 am–10pm

wednesday & thursday 11:30 am–11 pm

friday & saturday 11:30 am–12 am

sunday 11:00 am–10 pm

TANYA CHOPP is a local writer and communications

professional.

WHOLESALE

HAND ROASTED

COFFEE BEANS

FROM MY BUSINESS

TO YOUR BUSINESS

Quality,

Consistency,

and Value

... in the roasting,

in the delivery,

and in the price.

Merry Makers Fair

— A Local, Handmade Event

Sunday, November 11, 11am–4pm

The Merry Makers Fair mission is simple: to

inspire and encourage up-and-coming small,

100% handmade businesses and connect

them to conscious consumers in London. You'll

find some of the best handmade shopping

around, from Art, Home Decor, Jewelry,

Clothing, Bath and Beauty products.

Admission is free and underground parking is

free upon validation (2 hours).

Fibre Art Festival and Sale

Friday, November 16, 10am–5pm

Saturday, November 17, 8:30am–4:30pm

Sunday, November 18, 11am–3pm

Join us upstairs on the Mezzanine for demonstrations

and displays of Weaving, Spinning, Rug

Hooking, Lace making, Sashiko, Basketry, Felting

& Penny Rugs. Enjoy 2 Hours FREE parking on

Saturday and Sunday, upon validation.

Christmas Merry Makers Fair

Sunday, December 16, 11am–4pm

Another 100% handmade event held

in the heart of the Forest City. You'll

find some of the best handmade

shopping around, from Art, Home

Decor, Jewelry, Clothing, Bath and

Beauty products — everything

you need to finish your

Christmas list, and support

local at the same time!

For more event info visit coventmarket.com or our Facebook page

TM

Market Hours

Monday to Saturday

Mezzanine & Restaurant Hours Differ
---
16 | November/December 2018

eatdrink.ca |@eatdrinkmag

SPONSORED BY

Road Trips

Take Your Time

Discovering the Pleasures of a Small Town in St. Marys

By NANCY McSLOY

While attending an event in St.

Marys, Ontario, I decided that

this beautiful town merited

a longer and more leisurely

visit. On a bright, sunny Saturday morning

in October we drove northeast from London,

with a list of places to visit. The short drive

was enhanced by the masses of spectacular

colour as the leaves were turning to their

autumn colours of orange, crimson and gold.

Our first stop was the farmers' market,

which is open from May until October. At

Breadtopia, which has a wide selection of

breads and pastries, we bought freshly baked

ginger snaps, red onion and aged cheddar

focaccia, and loaves of Stonetown and Thames

Grain bread. We left the market laden as

well with fresh-from-the-farm vegetables,

delectable pastries from an Amish family's

booth, and some Middle Eastern treats

from The Syrian Baker, known for baklava,

sambosaks (samosas), falafels and hummus.

Next stop was McCully's Hill Farm Market.

At the store entrance we were met by the

aroma of freshly-baked apple and pumpkin

pies. The huge variety of baked goods, maple

syrup, fresh local meat and cheeses, homemade

pickles, jams and preserves made for another

shopping spree. After a tour of the barn, where

we met the farm animals, we were treated to

Discover the culinary and cultural diversity of the

farmers' market in St. Marys
---
18 | November/December 2018

eatdrink.ca |@eatdrinkmag

a sampling of Fiege's Gourmet Dressings and

Sauces, which led to yet more shopping.

One can't visit St. Marys without checking out

the local cheeses. Hans and Jolanda Weber, with

Swiss cheese maker Ramon Eberle, have brought

the art of cheese making to St. Marys by opening

Stonetown Artisan Cheese. Our guide gave us an

interesting and informative tour of the facility,

and we enjoyed samples of some of Stonetown's

14 different curds and cheeses. It is no surprise

that Stonetown is a two-time award winner at

the Royal Agricultural Winter Fair.

Agritourism is alive and well in St. Marys.

Transvaal Farm Guest House is a two-storey

house with a living room and fully equipped

kitchen on the main floor and two bedrooms

upstairs. The hosts, Cindy Taylor and Scott

McLauchlan, make their guests feel at home. Eggs

are there for the gathering, visits to the barn are

encouraged, and the vegetable garden is there, in

season, for guests. Transvaal Farm is also home to

another artisanal cheese maker, C'est Bon Cheese

Ltd. Cindy also operates Kitchen Smidgen, a small

bakery on Water Street in St. Marys. There's a

patio where you can enjoy your treats in nice

weather, overlooking the Thames.

Troyer's Spices on Queen St. is filled with over

100 quality herbs and spices from around the

world and is a utopia for chefs, bakers and home

cooks. Over 55 herb and spice combinations are

handcrafted in the store, and are displayed in

large glass jars. You can bring your own spice

containers or purchase items pre-packaged.

Other quality goods available include Aunt

Milly's Soup Mixes, oils, vinegars, vanilla

products, local honey, organic maple syrup, and

Urban Hippie Granola.

Of course we had to check out The Chocolate

Factory to try the homemade truffles. It was a

challenge to choose between truffles, smoothies,

chocolates and the specialty Halloween creations.

It was time for a coffee break, so a stop at Stonetown

Coffee was in order. The coffee was great and the

homemade pastries and cakes looked mouth-watering (but

I was full from all the sampling earlier). The atmosphere

was friendly and relaxed with people visiting amongst

themselves while others relaxed in armchairs by the

windows. Stonetown Coffee serves breakfast and lunch,

and gluten-free items.

After our check-in at the award-winning Westover

Inn our hostess Kaitlynn gave us a tour of the historic

property. Built in 1867 by the Hutton Brothers, The

From meeting some of the animals at Transvaal Farm Guest house, to

exploring the shops and cafés in town, you'll find plenty to do while

discovering the small town of St. Marys.
---
eatdrink: The Local Food & Drink Magazine

The elegant dining room at Westover Inn

Manor sits on 19 landscaped acres, along

with two other buildings that also provide

accommodations. The property was bought

by the Roman Catholic Church in the 1930's

and was operated as a seminary. The property

was sold again 1985, and after two years of

renovations the Westover Inn began receiving

guests. The walls are lined with hospitality

awards and it is apparently one of Christopher

Plummer's favorite inns.

For dinner we headed off to the Wildstone

Bar and Grill at Stone Willow Inn. The

atmosphere was inviting and comfortable,

November/December 2018 | 19

and the service friendly and professional. The

chicken breast with lemon grass, mango and

strawberry reduction, served with rice and

vegetables and topped with toasted coconut,

was cooked to flavourful perfection. The

evening special was prime rib, cooked to order.

We topped off the evening with specialty

coffees and shared a piece of cheesecake with

fresh fruit. Wildstone Bar and Grill offers a

selection of regional wines and craft beers.

Breakfast at the Westover was an early

morning pleasure. My order of smoked

salmon on a house-made mustard seed bagel

with cream cheese and arugula was served

with a fresh fruit salad. The perfect ending to

a perfect weekend.

For years our vacations were long trips;

I wanted to see the world. Now I am loving

the short weekend jaunts and day trips. It is

amazing what you can find close to home.

NANCY LOUCKS-McSLOY is a freelance writer who

loves cooking and entertaining. Her work has appeared

in Chicken Soup for the Soul, The Fur-Bearing Trout and

Other True Tales of Canadian Life, McLean's, Vitality and

many other publications.

FRESH gift ideas yule love

Select from over 70 flavours of oils and balsamics.

Sample the freshest oils from across the globe, paired with savoury

white & dark balsamic vinegars from Modena, Italy.

Personally bottled to suit your individual taste.

Gift

Cards

Corporate

Gifts

Sample

Packs

Custom

Gift Baskets

Stocking

Stuffers

The

Pristine

live

Est. 2012

884 Adelaide Street N. | London | 519-433-4444

www.thepristineolive.ca
---
Stratford is more than

great theatre

visitstratford.ca

um

A restaurant inspired by

local ingredients.

Run by workers.

Owned by workers.

Shared by the Community.

Open Thursday through Monday

Reservations Recommended

64 Wellington St, Stratford

redrabbitresto.com

519.305.6464

@redrabbitresto

global tapas with local ingredients

fresh cocktails

Perfect for dinner, drinks and long conversations

Thursday through Sunday from 5pm

85 Downie St, Stratford

(next to Avon Theatre)

519.305.8585

85Downie.com

DINNER SERIES

October-March

Calendar, menus and

reservations online

StratfordChefsSchool

@StratfordChef

OPEN KITCHEN

Hands-on classes for the

dedicated home cook.

Registration online

stratfordchef.com
---
"A fun place to shop

for housewares and gifts!"

Chalet Chic Serveware,

a cozy feel for your holiday table.

WATSON'S

CHELSEA BAZAAR

84 Ontario St. Stratford

watsonsofstratford.com

519-273-1790

BOOK YOUR

HOLIDAY

PARTY

WITH US

With custom menus from both kitchen

and bar, we will work together to create

the perfect atmosphere for anything

from a casual cocktail party to a

formal seated dinner.

30 Ontario Street, Stratford, ON

www.themillstone.ca

themillstoneON

(519)273.5886
---
22 | November/December 2018

Culinary Retail

eatdrink.ca |@eatdrinkmag

Gift

Guide

OUR ANNUAL

It really IS

better to

give than

to receive

—when you find

the perfect gift that

is warmly received,

and you haven't felt

caught up in shopping mall

madness. To help you achieve this end, we've

polled a fine range of independent retailers —

the real shopping experts — for suggestions

for the special people in your life. Whether

you're looking for a big present for someone

close to your heart, or a small gift for a

hostess or your friend at work, here are some

new as well as tried-and-true suggestions

from the experts. Happy Shopping!

The Pristine Olive has come up

with many delicious ways to help

customers stuff their Christmas

stockings (with over 60 flavours

of oils and balsamics). This year,

owner Jamie Griffiths has created

The Pristine Olive's Travel

Pack. Keep it "fresh" wherever you

go with a zippered padded pouch,

including two 60 ml bottles, and a

stainless steel funnel. Fill them up

with your favourite fresh olive oils

and balsamic vinegars and hit the

road! If you're travelling, or just

heading out for dinner, this pack is

your perfect travel companion, or

a delicious gift idea for everyone

on your list. $14.95 The Pristine

Olive • 884 Adelaide Street N.,

London • www.thepristineolive.com

• 519-433-4444

A range of bath and beauty products might be

expected at a lavender farm shop, but Steed &

Company Lavender

also offers a number

of culinary items. In

limited supply, the

Steed & Company

Lavender Farm

Honey comes from

their own bees at the

farm. "It's a delicate

blend of nectar from our

lavender and various local

woodland flowers," says

proprietor Suzanne Steed.

$8.25 Steed & Company

Lavender • 47589 Sparta Line, RR#5 Aylmer •

www.steedandcompany.com • 519-494-5525

Gerhard Metzger's Christmas-themed salamis

are available at Metzger

Meats in Hensall or at The

Village Meat Shop at The

Market at Western Fair.

These festive salamis are

perfect for gift baskets and

stocking stuffers for the

meat-lovers on your list.

$7.99–$9.99 Metzger Meat

Products • 180 Brock Ave,

Hensall • www.metzgermeat.

com • 519-262-3130

s
---
eatdrink: The Local Food & Drink Magazine

Few activities are as civilized and restorative

as the taking of Cream Tea, a form of British

afternoon tea (a light

meal), consisting

of tea enjoyed with

a combination of

scones, clotted cream,

and jam. Introduce

this tradition to

someone you care

about with Ilderton's

Village Teapot's

Cream Tea Gift

Basket , including

delicious tea, a jar

of clotted cream, local jam, and fresh scones.

$35.00, cello-wrapped with a ribbon.

The Village Teapot • 13257 Ilderton Rd, Ilderton •

www.thevillageteapot.ca • 519-298-8327

These are heady days

(pun intended) for craft

beer lovers, with so

many delicious ways to

explore the world of beer

from our local brewers.

Amongst other seasonal

options, Anderson Craft

Ales is offering a limitededition

2018 Holiday

Belgian in 750 mL

bottles. Also available is

a very limited amount

of the 2017 Holiday

Belgian, now aged for

one year. The delectable

flavours of raisin, plum and light spice in this

beer are enhanced with aging, but it can also be

enjoyed immediately after purchase. $10.00

Anderson Craft Ales • 1030 Elias St, London • www.

andersoncraftales.ca • 506-253-9440

Stuff your stocking and stock your fridge

with the gift of holiday cheer from

Black Swan Brewing Co. Their wellbalanced

Porter (ABV 5.3%, IBU 45)

is heavy on dark malt with notes of

chocolate and coffee. Or try their

English Pale Ale (ABV 5%, IBU

30), a traditional British-style

beer made with English Noble

hops and eight varieties of malt.

Now available in 355 mL bottles!

Black Swan Brewing • 144 Downie St,

Stratford • www.blackswanbrewing.

ca • 519-814-SWAN (7926)
---
24 | November/December 2018

Watson's Chelsea Bazaar is a long-standing Stratford

favourite, with two floors displaying an eclectic range of

goods from around the world. You'll find a fine selection

of Emma Bridgewater Pottery from England, including

festive mugs. There's all

manner of Christmas

caroling, capering and

cavorting in this snowy

lantern-lit woodland

scene . Dishwasher &

microwave safe. Mugs

each $39.00 Watson's

Chelsea Bazaar • 84

Ontario Street, Stratford

• watsonsofstratford.com

• 519-273-1790

Nestled among the rolling hills

outside Woodstock, Gunn's Hill

Artisan Cheese produces an

impressive and delicious variety

of Swiss-influenced cheese

with milk from the family dairy

farm. Select from ready-made

options, or create a customized

gift basket to meet your specific

needs and budget. Choose

from a suitably-sized basket,

gift box, or this heftier Gunn's

Hill Bushel Basket, that

includes 200 g each of Gunn's

Hill Handeck Cheese, 5 Brothers

Cheese, Flavoured Oxford's

Harvest, another Flavoured Oxford's Harvest, and either

Beau's Abbey or Darkside of the Moo, along with a box

of crackers from Barrie Brothers, creatively arranged and

cello-wrapped in a wooden bushel basket. $50.00

Gunn's Hill Artisan Cheese • 445172 Gunns Hill Road,

Woodstock • www.gunnshillcheese.ca • 519-424-4024

eatdrink.ca |@eatdrinkmag

Sarnia's

Kitchen Widgets,

established in 1995 to

provide high quality kitchen

tools and houseware products

from around the globe, is

featuring a hot item for

entertaining. "Don't just host

the party … join it!" Reinvented

for the modern era, a Raclette

Grill is the perfect addition

to your next dinner party or

social gathering. Designed for

several people to cook at once,

these indoor party grills offer

unique tabletop entertainment,

healthy preparation, and

mouth-watering results. The

cooking surface at the top offers

room for grilling, and eight

dishes underneath allow you

to melt cheese or warm sauces,

for unique combinations. Make

traditional Swiss recipes, or

create your own. $149.99

Kitchen Widgets • 129 Mitton St S,

Sarnia • www.kitchen-widgets.com

• 519-332-0880

Established in 1895, Bradshaws remains one of

Canada's great stores. The emphasis is on pieces that

are design-driven "lifetime" purchases and unique and

innovative products. Such as Seedlip — The World's

First Non-Alcoholic Spirit — which answers the

question, "What to drink when you're not drinking."®

Choose from three unique and complex blends: Spice

94, Garden 108, and Grove 42 and create non-alcoholic

cocktails for the designated driver in your life. Simply

mix Seedlip with quality FeverTree tonic or create

more sophisticated non-alcoholic cocktails by following

incredible recipes on their website. $39.95 Bradshaws •

129 Ontario St, Stratford • www.bradshawscanada.com • 519-271-6283
---
eatdrink: The Local Food & Drink Magazine

November/December 2018 | 25

Featherfields is an

inspiring destination

for distinctive garden

décor and specialty

gifts, like this

beautiful stoneware

Butterfly Puddler

featuring an attractive

thistle design. To

attract butterflies, add

sand and a teaspoon

of water to its shallow

well of recycled glass. Butterflies seek the moisture as

well as the minerals left behind as the water evaporates.

Handmade in Ontario from high-fired stoneware,

it's entirely weatherproof. Bring nature home for the

holidays! $48.00 Featherfields • 1570 Hyde Park Rd #5,

London • www.featherfields.com • 519-474-1165

Whether you're shopping for a craft

beer lover or a fashionista, Cowbell

Brewing Co. has your feet covered!

Get the Fancy Feet Variety Pack

featuring four fun styles — stripes,

polka dots, argyle and Cowbells.

Available at the Cowbell General Store

in Blyth and online. Cowbell Brewing

Co. • 40035 Blyth Rd, Blyth • www.

cowbellbrewing.com • 519-523-4724

Patrick's Beans offers consistently high quality organic

coffee blends. Ethically-sourced beans are roasted in

small batches, then blended together to attain tailormade

tastes and complexities not found in single varietal

selections. A number of popular blends are available, with

custom blends for the true aficionado. Check Patrick's

Facebook page for locations. From $15 for a 1 pound bag.

Patrick's Beans • www.patricksbeans.com • 226-378-5100

National

Houseware

Retailer of

the Year

TUES–FRI 9–5 • SAT 9–3

Knives • Baking • Cookware • Dinnerware • Widgets • Canadiana

129 South Mitton St. Sarnia ON 519-332-0880 kitchen-widgets.com
---
26 | November/December 2018

eatdrink.ca |@eatdrinkmag

Does anything inspire

warmer feelings than a

freshly brewed cup of

espresso? Named one of

Southwestern Ontario's great

coffee shops, Locomotive

Espresso has been gathering

loyal patrons for three years

in London, and they'd love to

inspire reuse with KeepCup

Brew Cups. Barista-designed

Stonetown Artisan Cheese in St. Marys and BPS & BPS-free, they

has established a strong reputation retail several different cups

for its award-winning cheeses. Hans designed for use under any

and Jolanda Weber immigrated from espresso machine. Baristas

Switzerland in 1996 and now their brew straight into it. Partner

sons look after the dairy farm while the KeepCup with a stainless

they tend to the cheese. They also sell steel reusable straw with cleaning brush. Your

quality cheese boards and a variety gift giving can reduce the consequences of wasteful

of gift boxes and baskets. The Large convenience behaviors. Brew Cups $18-38, Straw $7.75

Stonetown Gift Box, includes 170 Locomotive Espresso • 408 Pall Mall St, London • www.

g each of their popular Baby Swiss, locomotiveespresso.com • 519-601-3896

Homecoming, Wildwood, Grand

Trunk, Muskoka Bliss, Farmstead Emmental, Game Changer, and

Kalamata Kiss. $49.50 Stonetown Artisan Cheese • 5021 Perth Line 8, St.

Marys • www.stonetowncheese.com • 519-229-6856

Open Sundays

Until Christmas!

Destination for the food lover

Featuring specialty foods,

kitchenwares, tablewares,

cooking classes and gift baskets.

115 King St., London Ontario

jillstable.ca 519-645-1335

growers & creators of fine lavender products

DISCOVER

Steed & Company Lavender, part of a

45-acre horse farm just outside of Sparta

INDULGE

in our unique handcrafted lavender products

ESCAPE

in the wonderful scent and

calming powers of lavender

519-494-5525

47589 Sparta Line, Sparta

buds@steedandcompany.com

Open Wed–Sat 10-5; Sun 12–4

Mother's Day to Dec. 19

PLUS June–Labour Day: Tues 10-5

www.steedandcompany.com

Join us for our

Christmas

Open House

November

24 & 25
---
eatdrink: The Local Food & Drink Magazine

Jill's Table offers a wide variety of specialty food items,

kitchen gadgets, cookware, bakeware and fabulous

cooking classes. Jill is featuring La Fabrick Whiskey

Barrel-aged Maple Syrup this season. Smoky

and sweet like s'mores on the campfire, this stellar

syrup is produced by the Masse family in the

Eastern Townships of Quebec. Category 1 amber

maple syrup is aged in Rye whiskey barrels for 4–6

months, creating the distinctive flavour, with hints

of brown sugar, vanilla and a touch of baking spice.

This would make a terrific hostess or corporate gift

for the holiday season. $29.99 Jill's Table • 115 King

Street, London • jillstable.ca • 519-645-1335

November/December 2018 | 27

A gift certificate from a

unique store or a fabulous local

restaurant can be a reflection

of your good taste and the

interests of the recipient.

They are available from most

businesses, in denominations

that fit your budget.

$100 Value

Considerate guests are always looking for appropriate hostess

gifts . Some people bring wine. But why not bring a Homemade

Lasagna from Marshall's Pasta Mill? Marshall's is a family-owned

and operated restaurant/catering/retail store of homemade

Italian food. In addition to outstanding lasagna

that serves eight (meat, roasted vegetable

or seafood), Jodie and Blake Marshall offer

a variety of fresh pastas, sauces, Portuguese

breads, prepared meals, soups and meatballs.

Gift Certificates are also available. From 36.00

Marshall's Pasta Mill • 580 Adelaide St N, London •

www.marshallspastacatering.ca • 519-672-7827

Spice Up the Holidays!

Christmas Open House

Nov. 14 (Port)

Nov. 15 (Wortley)

Limited Edition

Emile Henry

UP TO

50% OFF

Holiday Spice Collections

In Store Specials & More!

Give the Gift of Nature!

2018

Wild Bird Store

of the Year

peppertreespice.com

1-141 Wortley Rd., London 519-601-6610

223 Colborne St., Port Stanley 519-782-7800

The Market at Western Fair, 900 King St. London

Birdfeeding Experts • All non-GMO Birdseed

Garden Gifts • Holiday Décor

HOME • GARDEN • GIFTS
---
28 | November/December 2018

eatdrink.ca |@eatdrinkmag

Wine

The Gift of Wine

Some Suggestions for This Holiday Season

by GARY KILLOPS

Giving a bottle of wine as a gift over

the holiday season is always a

great way to leave an impression,

but sometimes selecting the right

wine is not easy. You want the recipient to

appreciate and enjoy your thoughtful offering,

so here are some tips to help you choose.

Knowing what kind of wine recipients

might like can be helpful, but often you may

not know if they prefer red or white wine or

sweeter or dryer styles. If you know what they

favour, great. If not, don't worry too much

about it; wine is a gift that can always be

(shhhhh) regifted.

A general rule of etiquette to keep in mind

when bringing wine as a host or hostess gift

is that there is no expectation that the bottle

be opened that evening. Therefore if you have

selected a white wine you do not need to chill

it before bringing it. On the other hand, if you

have been invited for a dinner and are asked

to bring a bottle of wine it is expected that the

wine you bring will be opened, so chilling the

white wine is appropriate.

Around the holidays many Ontario wineries

offer gift baskets that they have assembled

with their wines and other local Ontario

products. The baskets are often impressive

and while they can often be a little pricey they

can save you time should you want to give

such a gift.

For those who would like to include a bottle

in their own gift baskets, or are looking for a

few Ontario wines that will make sensational

gifts, here are some suggestions.

Westcott Estate Pinot Noir 2015

(Vintages #427500, $29.95)

Ontario's cool climate is perfect

for top notch elegant pinot noir.

Westcott's vineyards are located on

south-facing slopes in Niagara's

Vinemount Ridge appellation

resulting in longer sun exposure

and riper fruit at harvest. This

wine is a fine example of a

medium-bodied, dry red wine with

red berry fruits, anise, mushroom,

earthy and smoky notes.
---
eatdrink: The Local Food & Drink Magazine

November/December 2018 | 29

Taste the elements.

1709 Front Road, St. Williams, Norfolk County, ON

Tastings, Tours & Events

burningkilnwinery.ca 519.586.9858

@burningkilnwine
---
eatdrink.ca |@eatdrinkmag

Alton Farms

EST A TE WINERY

HO HO HO

Merlot

POUR

THE

WINE TASTINGS, EVENTS,

TOURS, OUTDOOR PATIO,

WOOD-FIRED PIZZA OVEN

SARNIA

LAKE

HURON

7

21

Grand

Bend

Forest

Aberarder Line

21

402

London

77 km

5547 Aberarder Line, Plympton-Wyoming

519-899-2479 • altonfarmsestatewinery.com

Weather Rock Cabernet Franc

(LCBO #558809, $14.10) While some

of the 2016 vintage may still be

found on the shelf at the LCBO, the

Ontario cabernet franc was flying

out of the store so quickly the

2017 vintage was released earlier

than expected to meet demand.

It's a medium-bodied wine, dry

and loaded with red and black

berry fruits. The 2017 vintage has a

little more tannins, perfect to pair

with rare and medium

rare steaks. Weather

Rock is a virtual winery

produced at Harrow's Oxley

Estate Winery and wines under

the Weather Rock label are only

available at the LCBO.

Colchester Ridge Estate

Winery "CREW" Merlot 2016

(VINTAGES #310532, $17.95)

Merlot has traditionally been

used as a blending grape in

Bordeaux but in many new world
---
eatdrink: The Local Food & Drink Magazine

wine regions it is often bottled as a single

varietal. CREW's merlot is its best offering to

date of this grape, and is offered at an insanely

cheap price point that will stand up to many

$40 - $60 California merlots. This is a fullbodied,

dry, complex velvety wine with fruit

forward blackberry, black plum, black cherry

notes, with cedar and tobacco characteristics.

Exceptional value, buy this one while you can!

Mastronardi Estate Winery Syrah 2016

(VINTAGES #581223, $24.95)

Syrah, also known as shiraz, is made

from the same grape and can be

very different in style depending

on where it is grown. Shiraz is

commonly identified as the style

of wine produced in Australia,

ripe and full-bodied, while syrah

is associated with a lighter and

leaner red wine. Mastronardi's

syrah is medium plus in body,

dry, black fruit and a hint of

cracked black pepper. Give this

wine as a gift to someone who

enjoys a glass of wine around the

fireplace on one of Ontario's cold

winter nights.

Casa-Dea Reserve Chardonnay 2015

(VINTAGES #546812, $26.95) Some

of the best Ontario chardonnays I

have tasted were from Prince Edward

County. The limestone-rich soil

found in many of the vineyards

in this region offer ideal varietal

expression. Medium body, dry,

with ripe green apple and pear

fruit notes balanced with light

vanilla and butterscotch nuances

from time spent in French oak

barrels. Chardonnay leads the

way in production as Ontario

VQA's single varietal wine.

GARY KILLOPS is a CAPS Certified Sommelier who

loves to talk, taste, and write about wine. He shares his

tasting notes on EssexWineReview.com

Time to plan your next

Road Trip to Lambton County!

Our new drink trail allows you to sip

and savour in any order you prefer.

Refined Fool

Twin Pines Orchards

& Cider House

Alton Farms Estate Winery

Widder Station Golf,

Grill & Tap House

Refined Fool (2 locations)

Stonepicker Brewing Co.

Widder Station Golf, Grill & Tap House

Munro Honey & Meadery

Twin Pines Orchards & Cider House

Alton Farms Estate Winery

Dark Horse Estate Winery

Smackwater Tours –Transportation Service

Download the trail map at

www.ontbluecoast.com

1 800 265 0316
---
32 | November/December 2018

Beer

Cold, and Dark

Malty Darker Beers, for Winter

by GEORGE MACKE

eatdrink.ca |@eatdrinkmag

Goodbye light lagers. Adios radlers

and beers that taste like ice

cream. So long, fruit beers. As the

thermometer drops and the sun goes

down earlier, it's time to restock the beer fridge

with malty, darker beers to suit the season.

Here are 12 stellar selections from

Southwestern Ontario brewers. Most will

require a personal visit to purchase at the

brewery's in-house beer store. More and

more, craft breweries are also launching

online stores offering beer delivered to your door.

No Marzen for Eror by Innocente

Brewing Company, Waterloo. Misspelling

"error" is no mistake and neither is this

Oktoberfest lager. The marzen style of beer

originated in Bavaria and is

traditionally associated

with the change of

seasons. Innocente's

version is copper in

colour, not as dark as

one might expect, and

has a hint of citrus hop

flavour.

Nighthawk Weizenbock by

Toboggan Brewing, London. More

inspiration from the beers of

Bavaria, this time from the

fermenters at London's

popular Richmond

Row craft brewery.

Weizenbocks, dubbed

by some as winter wheat

beers, have been brewed

since the early 1900s and

that the style isn't more widely known (and

brewed) is mysterious. The Toboggan take is

a deep red with aromas of banana and clove.

CRAFT BEER

MADE IN CHATHAM

27 Adelaide st. south . Chatham Ont

TAP ROOM . BEER SHOP . EVENTS . SNACKS

sonsofkent.com 519-354-BEER (2337)

now available at the LCBO!
---
eatdrink: The Local Food & Drink Magazine

Nighthawk is a wonderful fall beer choice best

enjoyed with patience, from a tulip glass. It's a

low 14 IBU but a strong 8 per cent alcohol.

Black Coal Stout by Railway City

Brewing, St. Thomas. A seriously good stout

from the 10-year-old St. Thomas

brewery best known for Dead

Elephant IPA, Black Coal

almost lives up to its name in

terms of colour — I'd call it

dark brown. Rich in coffee and

dark chocolate aromas. And

is that a hint of rye bread?

Named for St. Thomas' railway

heritage, Black Coal is a coldweather

reward for a day's

work well done.

Ghost Cow by Wellington Brewery,

Guelph. Spicy

and dark, anyone?

Ghost Cow is a milk

stout brewed with

ghost, habanero,

and Scotch bonnet

November/December 2018 | 33

peppers as well as cocoa. It clocks in at a

pleasant 7.1 per cent alcohol.

McNall's Mission by Cowbell

Brewing, Blyth. One of a series of beers

named for the colourful

characters of Blyth, this is a

honey brown named in honour

of George McNall, who served

in both the First and Second

World Wars. One hundred

years ago McNall received

the Military Medal for his

devotion to duty as a scout.

Now available at the LCBO,

McNall's Mission incorporates

sweet, savoury brown malts

with local honey. Cowbell has

been brewing it since 2017 and selling it on

site and at craft-friendly pubs. It's entry

onto LCBO shelves is certain to accelerate its

popularity while honouring a local veteran.

Hans and Franz by Forked River,

London. A German pilsner, Hans and Franz

strikes a nice balance that works well with

#ItsWhatWeDrink

NOW AVAILABLE IN 355 mL BOTTLES

144 DOWNIE ST, STRATFORD, ON 519 • 814 • 7926

BLACKSWANBREWING.CA @BLACKSWANBREWINGCO
---
34 | November/December 2018

fare such as bratwurst. It's not

at the LCBO, Beer Store, or

grocery stores so you'll have

to show your love by visiting

the brewery store, or flaunt

your tech abilities by ordering

online.

Spice Up Your Life by

Storm Stayed Brewing,

London.

Spice Up

Your Life is a pumpkin

spice latte milk stout.

Sure, that flavour

combination will cause

beer purists to cringe,

but for those who always

wanted to combine their favourite cold and

hot drink flavours, this could be it. Besides,

what good is a beer fridge in the fall without

at least one pumpkin beer?

Autumn by Anderson Craft Ales,

London. The artists of Anderson make it easy

to guide us through the beer seasons with

eatdrink.ca |@eatdrinkmag

releases named for each.

Autumn is a marzen,

available in 355 mL cans

at the brewery's bottle

shop. Sure, we like

Summer better, but do

you blame us?

The Heavy

Horse by

Shakespeare

Brewing. A

farmhouse ale,

Heavy Horse gets its

flavour from yeast cultivated from an apple

orchard and honey from Nith

Valley Apiaries in New Hamburg.

It's 7 per cent alcohol and 25 IBU.

A fine reward for a hard day's

work on the farm — or at the

office.

Bronzeback Ale by Bayside

Brewing, Erieau. There are lots

of great reasons to daytrip to this

Lake Erie resort town south of

'til 'til the COWBELLs s come home!

Now available for home for delivery! home VisitCOWBELLBREWING.COM

delivery!

and shop shop

online.

40035 BLYTH BLYTH RD., BLYTH, RD., ON BLYTH, N0M 1H0 ON 1-844-523-4724 N0M 1H0 WWW.COWBELLBREWING.COM

1-844-523-4724 WWW.COWBELLBREWING.
---
eatdrink: The Local Food & Drink Magazine

Chatham. High on the list is a visit to Bayside

Brewing, where the beer of choice on a chilly

day is Bronzeback Ale. Named as a tribute

to local fishing — bronzeback is also known

as smallmouth bass — this beer is copper in

colour with flavours of burnt caramel and

toffee. It's been a Bayside mainstay since 2013.

Natterjack Toad by Natterjack

Brewing, West Lorne. Natterjack opened

in September as a

tribute to young

brewer Matt

Soos. His family

is featuring the

Belgian blonde

recipe Matt

developed as a student at Niagara College. The

taste twist is that it includes pistachios. It's

available only at the brewery store.

November/December 2018 | 35

and widely available, Waterloo

Dark pairs nicely with wild

game. Brewed with Canadian

malted barley and imported

hops, Waterloo Dark tastes

lighter than you'd expect from

the colour.

GEORGE MACKE is

a Southwestern Ontario craft

beer explorer who spends too

much time at the LCBO and craft

breweries.

Waterloo Dark by Waterloo Brewing,

Waterloo. If you're a duck, deer or moose

hunter, or are lucky enough to know someone

who is, this is the dark lager to bring to the

fall table. One of Waterloo's four core brands
---
36 | November/December 2018

eatdrink.ca |@eatdrinkmag

London

London's Local Flavour: Volume 7 will launch any

day now. This highly anticipated culinary guide

fills a strong purpose in both drawing tourists

and providing Londoners with more information

about the exciting new options in our diverse

restaurant scene. New this year

is the inclusion of some highly

recommended neighbouring

restaurants and inns, as well

as a more developed craft beer

section. The guide will be widely

available at key tourist information

centres, including Ontario Travel

Centres, Tourism London and the

London International Airport, at

participating businesses and the

London Public Library system, and

at local farmers' markets. This is

a project undertaken by Eatdrink

magazine, and we're excited to

share our efforts at celebrating

"London's local flavour." Cheers!

The BUZZ

Culinary Community Notes

LONDON'S

Local Flavour

VOLUME 7

Restaurants • Specialty Shops & Services

Craft Beer & Wine • Farmers' Markets

localflavour.ca

land provides fresh seasonal ingredients for use

in the labs, and produce is sold at the on-campus

farmer's market every other week.

Chef's Table at the new downtown campus of

Fanshawe College is both a

restaurant and a café. Menus

NEW!

More to Explore!

Recommended

Culinary

Neighbours

showcase local suppliers, farmers

and seasonal vegetables, with

staff creating many of their own

items, including cured meats

and preserves. The Chef's Table

gives students hands-on training

and an opportunity to gain

practical experience. There is

an open kitchen, wood, exposed

brick and marble countertops.

The ambiance is relaxed and

accessible. Restaurant is open

weekdays. Lunch: 11 am – 2 pm/

Dinner: 5 pm – 8 pm. 130 Dundas

Street, 519-452-4433.

The one-of-a-kind Artisanal

Culinary Arts graduate program at Fanshawe

College's School of Tourism, Hospitality and

Culinary Arts teaches techniques in gardening,

fermenting, preserving, butchering, curing,

cheese making, and bread baking. The fast-track

curriculum is based on a modified schedule that

runs from May to December. The spring intake

allows students to work in the on-campus fruit and

vegetable garden throughout the semester. This

The menu at TG's Addis Ababa

Restaurant features an outstanding offering

of elaborately spiced and perfectly prepared

Ethiopian specialties from the East African

culinary canon. Be sure to put TG's Ethiopian

breakfast on your list for a great culinary

adventure on Sundays. For an amazing tasting

experience order tapas-style with dishes

like Inkulal Ferfer (scrambled eggs, onion,

tomatoes and jalapeno), Chechebsa (Kita Ferfer

willie's café

630 Dundas Street, Old East Village.

@williescafe
---
eatdrink: The Local Food & Drink Magazine

with Ethiopian spices and sour cream); Genfo

(ground cooked wheat served with sour cream,

berbere and seasoned butter) and Yetsom Ferfer

(strips of injera with vegetarian sauce). 465

Dundas Street (at Maitland), 519-433-4222,

tgsaddisababarestaurant.com

Matt Reijnen, has opened Pizzeria Madre in the

space previously occupied by Manito's Rotisserie

at 111 Wellington Street. The menu is spiked with

seasonal ingredients. The green bean salad with

roasted corn, arugula, pecorino and lemon-chile

dressing was a sensational seasonal dish. There are

10 pizzas on the ever-changing menu: "Patata" with

shaved potato, Fontina, cream, rosemary, chile and

Parmigiano is a knock-out. Warm zeppole for dessert

with lemon curd cream and a deconstructed tiramisu

show the kitchen's strengths. This licensed, casual

contemporary resto is sophisticated and nicely

appointed and the service is genuinely warm and

intelligent. pizzeriamadre.wixsite.com/book

Wayne DeGroot and Jocelyn Morwood DeGroot

have made zen'Za Pizzeria a popular destination for

vegan, vegetarian and gluten-free thin-crust pizzas.

Their recently added z'Energy Day Café offers

Your Trusted Holiday Caterer

Catering for Special Events,

Company & Family Christmas

Parties, Schools & Sports Teams

We deliver. Full Service Available.

Fresh Homemade Pasta &

Sauces, Meatballs, Lasagnas

and so much more!

580 Adelaide St N, London

519-672-7827

MON–FRI 9:30am–7pm

SATURDAY 9:30am–5pm

SUNDAY 11am–5pm

Homemade

Italian Food

EVERYONE

Will Love!

Gift

Certificates

Full menu available at marshallspastacatering.ca

NOW OPEN!

Veta Wine and Pasta Bar

745 Fanshawe Park Road (formerly Blu Duby)

519-474-1111
---
Book your Office Holiday Parties now!

eatdrink.ca |@eatdrinkmag

barista-made coffee and teas, and features several

types of dairy alternatives including cashew, oat,

coconut, ripple pea protein, and rice. Barista James

Timothy whips up a menu of z'Avocado Toasts as

well. The café is open Wednesday to Saturday, 9am

to 3pm. The pizzeria is open from 5pm. Closed

Monday and Tuesday. 71 King St. zenzapizzeria.ca

Locally Sourced Ingredients

Authentic Italian Cuisine

Small-Batch Region-Specific

Organic Italian Wines

Local Craft Beers

Take Out & Gift Certificates Available

Open for Lunch and Dinner

Tuesday through Saturday

www.fatolive.ca

2135 Dorchester Rd., Dorchester

519-268-0001

E&D_Locomotive2018_ART.pdf 1 2018-11-05 10:12 PM

RIO Brazilian Steakhouse + Supper Club, opening

at 45 King Street in the heart of downtown will

feature "Churrasco," the authentic and unique

Brazilian barbeque. Jeff Moczulski brings

two decades of successful leadership in both

independents and national brands, from the Best

Western Lamplighter Inn to the John Labatt Centre

to Buffalo Wild Wings. He is joined by a hand-picked

team from the local hospitality industry for his first

venture as restaurant owner and operator.

Shoeless Joe's is also coming to downtown London,

on King Street across from Budweiser Gardens.

Certified tea sommelier and nutritionist, Michelle

Pierce Hamilton of beTeas/The Tea Lounge is

sponsoring London's first Tea & Kombucha Fest

in March 2019. The Tea Guild of Canada is a

co-sponsor, providing its expertise, resources,

and volunteers. The organizing board consists

of students and graduates of tea sommelier

training in London. The planning and execution is

being run with an independent Project Manager

professional at the helm. This structure is based

on best practice of the successful Toronto Tea

Festival. Locally, the board felt strongly that it

made good sense to include Kombucha as a thriving

tea-related beverage as a co-focus of this event.

The spirit of this venture is to grow tea culture by

showcasing London and areas' independent tea and

Kombucha businesses. There will be a strong lineup

of engaging workshops and speakers to provide

valuable content to all the attendees. The venue

will be the London Public Library Central Branch

including Wolf Performance Hall.

Chef Angie Murphy and sommelier Pete Annson

are anticipating that Grace, located at the

southwest corner of Clarence and Dundas Streets,

will be operational by December 1. They promise

food made with artistry and an uncompromising

dedication to excellence. This is modern Canadian

cuisine, drawing on classic French traditions and

techniques, infused with global influences and local

flavours. A minimalist backdrop will allow for the

drama of the dish to be the focus. The restaurant

space is being co-created with Design House.
---
eatdrink: The Local Food & Drink Magazine

Restaurateur Joe Duby and chef Cynthia Beaudoin

of gNosh have established an appreciative clientele

by creating a welcoming ambience where patrons

can enjoy a glass of wine or a signature cocktail

at the bar, a couple of small plates or a full

Service Animals

Most people don't know or think about the

role or function that service dogs play for

many Canadians. In regards to restaurants

and the admission of service dogs, there are

laws and guidelines that must be followed.

We have all heard stories about service dogs

being denied entry to a restaurant, so let's

clarify the laws and guidelines.

A seeing-eye dog guide assists a person

with limited sight while a service dog

encompasses all animals that have been

trained to assist people with a broader range

of disabilities, such as the onset of seizures,

and provide their owner with a wider access

to society. A service animal is not a pet.

While businesses can say "no pets allowed,"

they can't deny you service because of your

animal.

519-565-2576

LakeHouseofBayfield.com

BISTRO

CONFERENCE

SUITES

SPA

Laws forbid service animals from certain

premises, typically where food is processed,

manufactured, or sold. By law, guide dogs

are allowed into establishments where food

is served or sold. Service dogs typically wear

some sort of vest or harness and are easily

identifiable as such, but many businesses

reserve the right to ask for some proof.

Seeing-eye dog guides are issued with photo

ID of both the owner and dog.

If a business turns someone away unjustly,

the offended person can file a human

rights complaint with the Ontario Human

Rights Commission, but could start at the

Canadian Human Rights Commission for

guidance (www.chrc-ccdp.gc.ca/eng/make-acomplaint).

If relevant, they can also pursue

charges under the Blind Person's Right Act.

— Bryan Lavery

519-565-2576

LakeHouseofBayfield.com
---
203,

851

Discover Heather's

Incomparable Journeys

Small Bespoke

Group Tours for 2019

Poland, Baltic States & St. Petersburg

21 days, Late August 2019

Stylish and vibrant history and culture and the

sheer grandeur of Russia's imperial city

Tanzania & Zanzibar

14 days, September 2019

10-day Serengeti & Tarangire National Parks

Safari,, plus 4 days Beach Resort

www.heathersincomparablejourneys.ca

For any and all of your travel needs

519-473-8591 — Heather Wilkinson

Regional Office: 31 Nottinghill Gate, Suite 203, Oakville

TICO#50013851

Delighted to welcome you late fall 2018

reserve@gracelondon.ca

@gracerestaurantlondon

@graceLDNONT

eatdrink.ca |@eatdrinkmag

dining experience, in a casual yet stylish setting

(the former Blu Duby premises). gNosh is an

unpretentious restaurant celebrating honest food

and wine, with a sophisticated atmosphere and

friendly service. gnoshdining.com

Just like the original Quynh Nhi Restaurant on

Wharncliffe Road, Tamarine by Quynh Nhi on

Dundas at Talbot Street is well-known for take-out.

When you're craving a delicious blend of Viet-Thai

flavours, you can satisfy your taste buds in the

comfort of your home or office. tamarine.ca

SO INVITING, the Chinese bakery and dumpling

shop across from the Market at Western Fair, more

than lives up to its name. Friendly owners Yamei

Min and Youjin Wang offer a variety of delicious

hand-made dumplings that include beef, chicken,

pork and vegetable. They've added hot & sour

soup, mushroom fried vermicelli (rice noodles) and

seaweed salad to the repertoire. The minimalist

shop has 4 tiny seats but is mainly take-away. 876

Dundas Street East, 226-781-0788

Dino and Carla Dassie recently opened Fat Olive

in Dorchester. Dino was born into an Italian

family and learned to cook authentic Italian food

from his mother and his aunts, inheriting their

passion for using fresh ingredients. He knew at a

young age that he wanted to open his own Italian

restaurant. After high school, he went to Conestoga

College where he obtained his diploma in Business

Administration and Marketing. After college,

Dino put his passion on hold and began driving a

truck. Last year Dino and his wife Carla went to

Goodfella's Pizza School in Staten Island, New York,

one of the World's most comprehensive, hands-on

pizza schools. They were taught how to make

wood-fired pizzas from the world's pizza champions

and about owning and operating a restaurant. You

will often see Carla at the restaurant talking with

customers and entertaining people. They both

know all about the joys of eating great tasting food.

Be sure to make a reservation. fatolive.ca

The Market at Western Fair District is now open on

both Saturday (8 am–3 pm) and Sunday (11 am–3

pm) each week. westernfairdistrict.com/market

First-St. Andrew's United Church at 350 Queens

Avenue (at Waterloo) will be continuing its tradition

of providing great music this autumn. The second

Woodfield Jazz concert (in a series of four) will

take place on November 23 with the Ariel Kasler

Quartet. A cash bar will be available. Doors open

at 7 pm with entertainment at 8 pm. And starting
---
eatdrink: The Local Food & Drink Magazine

the following week there will be the first of three

Friday Advent Noon Recitals (November 30 - King's

University College Chamber Choir, Janet Loo,

Director, December 7 - Sonja Gustafson, Soprano

and Kathleen Gahagan, Harp, December 14 -

Laudamus Bells, Terry Head, Director).Lunch will

be available for $8. music@fsaunited.com

Celebrate New Year's Eve at the Idlewyld Inn and

Spa! There are two options for your consideration:

dinner only (from 5:30 to 7:30 p.m.) or dinner and

show (dinner at 8:30/show at 10:30 p.m.) with

Sonya Gustafson, pianist Charlie Rallo and bassist

Larry Ernwein. idlewyldinn.com

Now Accepting

Holiday Party

Bookings!

The heart of

Downtown

Strathroy

At London Training Centre, Sommelier Jamie

West and Chef Steve James are your hosts for an

evening of wine, food and flavours. Each tasting

in the "Uncorked" series has been carefully

selected, focusing on unique grape varietals and

the fascinating stories of each winery. Chef Steve

James has created dishes to reflect the particular

wine and region. Each evening will offer informative

talks of the wines and food, all within a casual

and fun environment. These sessions provide a

unique opportunity to spend with friends and

colleagues who love great wine and exceptional

food. Upcoming in the series: Canada (November

8), Champagne (December 6), Mediterranean (tba).

Each session is limited to 10 guests seated at the

chef's table. londontraining.on.ca

Join the folks at Covent Garden Market on Sunday,

December 16 for the Christmas Merry Makers Fair, a

100% handmade event held in the heart of the Forest

City. Here you'll find some of the best handmade

shopping around, including art, home decor, jewelry,

clothing, bath and beauty products – everything you

need to finish your Christmas list and support local

at the same time. coventmarket.com

New to Covent Garden Market is Mark's Fine Meats

from Chef Mark Kitching of Waldo's On King Bistro

& Wine Bar. Mark will continue to offer Fieldgate

Organics (the previous proprietors at the location,

who will remain a primary supplier) products and

other organics as well as local and sustainable

meats. "All of the products are handpicked — only

the highest quality meats — so you can feel good

about what you and your family are eating," says

Mark. Other suppliers will include Bryan Glivesy

of YU Ranch Texas Longhorn, Fred and Ingrid de

Martines of Perth Pork Products. There will also be

free range ducks, chickens, eggs, fresh oysters and

pre-made meals for takeaway.

12 DAYS

of

CHRISTMAS

Giveaways!

Chef/Owner Mark Graham's

fresh, creative, locallysourced

menus extend

to full-service catering

to Strathroy, London &

area. Call for a quote!

Voted #1 Best Burger

in Strathroy

2018 Spirit Awards

Winner

Historic Post Office & Customs Building

71 Frank St, Strathroy • 519-205-1500

www.clocktower-inn.com
---
An Experience to Savour ...

• Casual Fine Dining • Stunning Architecture

• World-inspired Cuisine Featuring Local

Ingredients, Plus a Vegan Menu

• Private Dining Rooms for Lunch & Dinner

NEW

NEW

MENUS

MENUS

Far Out ...

but we like it that way!

Blair Rd

London

International

Airport

Crumlin Rd

Oxford St

Now Open Thursday & Friday 11–9

New Tapas Menu!

Reserve Your

HOLIDAY

PARTY or

Event NOW!

BLACK

TRUMPET

Open Mon–Sat

lunch & dinner

523 Richmond St. London www.blacktrumpet.ca

RESERVATIONS: 519-850-1500 | info@blacktrumpet.ca

Come for the planes and fall in

love with the food. And ask for

your Katana Christmas Chocolate

when you come

in to dine!

Book Your

Holiday

Parties

NOW!

519-455-9005

katanakafe.ca

2530 Blair Rd, London

Diamond Flight Centre

Lunch Mon–Fri 11–3 • Dinner Wed–Sun from 5pm

Weekend Breakfast 9–12, Lunch 12–3, Dinner 5–9

eatdrink.ca |@eatdrinkmag

Edgar and Joe's, at two locations, is a gathering

space and food operation with a social purpose.

Each café makes fresh and local food available

and affordable, with healthy choices. The stylish

and minimalist 70-seat café opened in 2013 and

is located in the Goodwill Centre. Rave reviews

led to the opening of another location in 2017 at

Innovation Works on King Street. Both cafés serve

a diverse clientele from all over the city. Nutritious

baked goods with high quality ingredients are

freshly baked throughout the day. Sandwiches

are definitely the stars of the show, from the

classic BLT to innovative combinations inspired

by global cuisines. Delicious soups, salads and

a daily chalkboard special are on offer. The

Classic Breakfast Special is a hearty standout.

edgarandjoes.ca

New fall/winter drinks created by the baristas

at Locomotive Espresso include "The Smoky

Mocha" — two shots of espresso and Ghirardelli

chocolate topped with a smoked sea salt. Their

popular creation from last year is also back: "The

Tree Hugger Latte" includes Spruce Shoot Bitters

by The New New Age in Port Stanley and local

maple syrup. The popular toast bar is now more

substantial, offering seasonal toast features such

as Smoked Salmon on Artisan Bakery potato/leek

sourdough served with whipped cream cheese,

capers and fresh dill. Avocado Toast is paired

with Artisan Bakery jalapeño cheddar toast and

comes with goat cheese, lemon wedge and fresh

herbs. Locomotive's baking needs are being met by

Helm Baked from Aylmer, who "magically" create

wonderful gluten-free loaves, tarts and cookies.

www.locomotiveespresso.com

Stratford

Stratford Chefs School (SCS) recently announced

Jane Sigal as the 2018 Joseph Hoare Gastronomic

Writer in Residence. She is a celebrated journalist,

editor, recipe developer, translator, teacher, and

the author of nine cookbooks. Her most recent

book, Bistronomy: Recipes from The Best New Paris

Bistros (Rizzoli, 2015), has been widely praised by

critics and industry leaders. Sigal will spend two

weeks at the school working with the students and

participating in a number of events open to the

public. stratfordchef.com

In honour of its 35th anniversary, the SCS used this

year's Season Opener to launch Farm to Table,

a cookbook that pairs 25 Stratford Chefs School

alumni chefs with their favourite food producers

and farmers for a culinary adventure through

Perth and Huron Counties. This stunning book will
---
eatdrink: The Local Food & Drink Magazine

Eperiential Tourism

Recent research demonstrates that many travellers

seek out authentic learning experiences, want

to engage with community folks, and use travel

as an opportunity to grow personally while having

a low impact on local communities and their

environments. Bryan Lavery (culinary educator,

chef and Eatdrink food editor), Alieska Robles

(creative director and photographer), along with

Tourism London and Ontario's Southwest, are

collaborating on a new London culinary experience.

They plan to introduce the concept of

experiential tourism, with Celes Davar (of Earth

Rhythms), Michelle Pierce Hamilton (certified tea

sommelier and owner of bTeas/The Tea Lounge),

Chef Brian Sua-an and Jerrah Revilles (of Reverie),

chef Thomas Waite and Emanuela Frongia

(of The In Home Chef) and farmer and educator

Paul Spence of CK Table.

Celes Davar is an experiential tourism operator,

coach and facilitator. He helps guide tourism

businesses across Canada to learn how to craft

new experiences. Using the raw material of their

backyard storytellers, natural places, culture and

food traditions, he helps tourism partners to tell

their stories through new higher yield experiences.

These can then be layered into tourism businesses

and communities, integrated with responsible

November/December 2018 | 43

travel practices, and marketed to travellers

seeking sustainable travel experiences.

Davar defines experiential tourism as "creating

experiences that engage visitors in a series of

memorable activities, revealed over a period of

time, that are inherently personal, engage the

senses, and make connections on an emotional,

physical, spiritual, or intellectual level."

Experiences with a culinary focus could look like

this: while visiting an apiary, don protective gear

and work with the bee-keeper to collect honey;

or while attending cooking classes in Italy, stay

with a local resident instead of at a hotel, and visit

markets and other regional food suppliers.

Experiential tourism is an extension of a

global movement toward experiential learning,

whereby people create meaning by appreciating

cultural nuance through interactive authentic

experiences. The world of travel is changing

with dedicated interest and demand for firsthand

travel experiences that resonates on a

visceral level. Travel providers and guides are

responding by developing services that "speak

to place" and are more adventurous, more

custom-made, and more attuned to interacting

in a genuine way with local culture, inspiring

travellers toward a path of self-discovery.
---
Freshly home-made in the heart of the community

The

Village

Teapot

Breakfast

Brunch

Lunch

Cream Teas

Wed & Thurs 10–3

Fri 10–7:30

Sat & Sun 10–2

13257 Ilderton Road, Ilderton ON

thevillageteapot.ca

519-298-TEAS (8327)

where art is

Hey, Cupcake! a piece of cake

The ORIGINAL

LONDON CAKERY &

GOURMET CUPCAKE

BAKERY

ASK US Custom Bakery • Walk-In Orders Available

ABOUT OUR

"RANDOM

ACTS OF

SWEETNESS!"

CAMPAIGN

www.heycupcake.ca

275 Wharncliffe Rd. North

519-433-CAKE (2253)

STORE HOURS: Mon–Fri 11–7

Saturday 10–5 • Sunday 11–4

eatdrink.ca |@eatdrinkmag

retail for $30 and feature recipes from some of the

regions' most celebrated graduates of the Stratford

Chefs School, fascinating interviews with the chefs

conducted by food columnist Andrew Coppolino,

and striking imagery provided by photographer and

SCS alumna Terry Manzo. (Note: Farm to Table is

reviewed in this issue of Eatdrink. — Ed.)

Stratford Chefs School Dough is a gift certificate

program where "dough" (aka dollars) may be

applied towards any SCS merchandise, Dinner

Series, or Open Kitchen cooking class. Purchase

SCS Dough valued at $120 for only $100. It can

be purchased at the Administration Office at 192

Ontario Street, and is available in $5, $10 and $20

denominations. Some restrictions apply. 519-271-

1414, stratfordchef.com

Bradshaws Christmas Open House: Friday,

November 9, 5–8 pm. Bring along a few of your

friends for a fun night out and a first look at

Bradshaws in all its Christmas glory. There will be

delicious food samplings, hot new product demos,

and an assortment of holiday giftware, kitchenware

and entertaining items. Free gift with purchase and

enter to win door prizes. bradshawscanada.com

Bradshaws High Tea at Revival House: Nov 25

visitstratford.ca/member/Bradshaws

A Victorian Christmas in Downtown Stratford &

Outdoor Christmas Market: Sunday, November 25

visit Stratford's historic downtown for the Outdoor

Christmas Market in Stratford's Market Square.

Enjoy local art show, crafts for kids and meet Santa.

Shop vendor stalls for holiday foods, crafts and gifts.

Sip hot cocoa, listen to costumed carolers singing

seasonal tunes and embrace the character and

charm of Christmas in Stratford. visitstratford.ca

Stratford Christmas Trail: From November 1 to

December 20, capture the spirit of giving and the

joy of checking off that list on Stratford's Christmas

Trail. You'll discover unique and individual ideas

as you stroll the festive streets exchanging six

vouchers at your choice of 27 stops. visitstratford.

ca/christmastrail

The Milky Whey Fine Cheese Shop is offering a

series of cheese pairing tastings. Explore Seasonal

Beer and Cheese (October 27), Canadian Cheese

and Wine (Nov 10), Who's Got Your Goat with Pinots

on the side (Nov 24) and Deconstructing a Holiday

Charcuterie Board Workshop (Dec 1). All tastings

are guided by cheesemonger Liz Payne in the "Whey

Back Room" of Milky Whey Fine Cheese, Stratford.
---
Reserve Now

HOLIDAY PARTIES

eatdrink: The Local Food & Drink Magazine

Reserve your seat early as these popular tastings

sell out. visitstratford.ca/member/The-Milky-

Whey-Fine-Cheese-Shop

Stratford Farmers' Market is a year round market

operating since 1855, featuring fresh produce,

crafts, meat and cheese. Stratford Rotary Complex,

Agriplex, 353 McCarthy Rd., Stratford. Saturdays 7

am – 12 pm. 519-271-5130. stratfordfairgrounds.com

Savour Stratford Culinary Trails: Come to Stratford

and explore the delicious flavours of Chocolate

and Bacon and Ale on self-guided culinary walks to

various food shops and restaurants. Available all

year round, they are great for a friends' getaway,

a couple's diversion or just for fun. Culinary trail

gift certificates, great for Christmas, birthday and

anniversary gifts, are redeemable at a later date

and can be purchased on-line. visitstratford.ca/

chocolatetrail

The Mill Stone is focusing more on tapas/

small plates for the autumn and winter months,

and expanding their focus on various curing

and fermenting projects. As with many places

in Stratford in the off-season, look for more

experimental and interesting creations coming

from both the kitchen and bar. The restaurant will

be closed for January; re-opening mid-February

with lots of events planned to take them through to

the busier summer months. themillstone.ca

Come Home for the Holidays to La Casa!

Tradition

&

Passion

117 King Street

across from Budweiser Gardens

519-434-2272 (CASA)

www.lacasaristorante.com

"Enjoy consistently

outstanding Italian and

International cuisine

in a warm and inviting

atmosphere."

Reserve NOW for Your

Holiday Party or Event!

A

London

Landmark

for

24

Years!

Extensive

Scotch Bar

Open Mon–Sat

Lunch & Dinner

Black Swan Brewing Company is led by Ryan

Stokes and head brewer Phil Philips. Join Black

Swan on November 17 as they celebrate their

recent expansion and fourth year pouring beer in

Stratford. Live music, door prizes, tours & more! 144

Downie St., Stratford, blackswanbrewing.ca

The folks from The Red Rabbit and Okazu

85 Downie love building new, worker-owned

restaurants from (just about) the ground up. It

gives them the opportunity to offer fair wages and

year round employment — and now offer delicious

food to early risers. Old Man & Son will open for

breakfast and lunch, 7am–2pm, Wednesday–

Sunday. Barring hold-backs, the aim is to open

December 2018. This is a CSR project, a communityshared

endeavour that provides an effective way

to put your dollars into something you believe in.

Investment is effectively prepayment in return for

future products or services, or "restaurant futures,"

using Kickstarter. You can find the form on their

new website www.oldmanandson.com

Loose Leaf Teas & Tisanes

•

Contemporary & Traditional Teaware

•

Fresh Soups, Salads, Cheese Boards,

Desserts, Fresh-baked Scones

Christmas

Afternoon Tea

December 16

Classes

& Events

268 Piccadilly Street (beside Oxford Book Store)

519-601-TEAS (8327) • tealoungelondon.com

TUES-THURS 11am-5pm • FRI & SAT 11am-9pm • SUN Special Events Only
---
46 | November/December 2018

Around the Region

The Village Teapot, owned and operated by Gaynor

Deeks and Jana Yassine, will be serving a special

Christmas Tea on Saturday December 8 and Sunday

December 16, from 1 to 3 p.m. Reservations will be

required. It will be a festive afternoon for family

and friends to come together and enjoy savoury

and sweet delights served on three-tiered platters.

13257 Ilderton Road, Ilderton, 519-298-8327,

thevillageteapot.ca

Kitchen Widgets was established in 1995 to provide

high quality kitchen tools and housewares to the

Sarnia market, for those who love to cook, entertain

or simply appreciate a widget that helps complete

a task with ease. Kitchen Widgets has grown, and

now sources products from around the globe while

always on the hunt for items made close to home. If

a product exists, they will find it for you and make

every effort to get it into your hands. Don't miss

the Black Friday Sale on November 23. 129 Mitton

Street South, Sarnia, kitchen-widgets.com

The family at Blyth Farm Cheese are experts in the

entire process of crafting great cheese. Everything

from the farming, to the cheese making, to the

packing is done on the farm. The Van Dorps have

Award Winning

Artisan Cheese

eatdrink.ca |@eatdrinkmag

been successful farmers and cheese makers for

generations. The business is steeped in important

roots and traditions, while innovating and creating

fresh and delicious flavours. 82521 Allboro Line,

Blyth, blythfarmcheese.ca

Steed & Company Lavender invite you to their

annual Lavender Christmas Open House. Share

some Christmas cheer with lavender cake and

cider. Enter a draw for a beautiful lavender

gift collection. Saturday, November 24, 10am–

5pm and Sunday, November 25, noon–4pm.

steedandcompanylavender.com

Join sommelier and wine director Zach Lebert of

Woodstock's SixThirtyNine through a tasting of

exquisite Italian wine paired with Italian small plates

by Chef Eric Boyar on November 19. sixthirtynine.com

After two winners at the Royal Winter Fair, where

their Fontina and Farmstead Emmental both won

First Place in their category, the folks at Stonetown

Cheese in St. Marys competed at the British Empire

Cheese Competition where they were honoured as

they were awarded Grand Champion in Specialty

Cheeses and First Place for Grand Trunk, First

Place for Farmstead Emmental and First Place

Gift Baskets to meet

any need and price range

Come Experience Our World!

Visit our cheese shop and sample our unique

handmade cheeses.

See and learn about how cheese is made.

Enjoy the scenery on our 3-generation family farm.

Group tours are available by reservation.

Monday–Saturday 9-5

Christmas Eve 9–2

Closed Christmas

& Boxing Day

445172 Gunn's Hill Rd, Woodstock, ON

519-424-4024

www.gunnshillcheese.ca

481 Richmond Street

519-432-4092

garlicsoflondon.com
---
eatdrink: The Local Food & Drink Magazine

for Farmstead Fontina. Congratulations! See this

issue's "Road Trip to St. Marys" for more info about

visiting the Stonetown farm and factory, but their

cheese is also available at better shops throughout

the region. stonetowncheese.com

Speaking of Cheese Champions, Shep Ysselstein of

Woodstock's Gunn's Hill Artisan Cheese is proud to

share that they were awarded the Grand Champion in

the Variety Cheese Category for their Five Brothers

at the Royal Winter Fair's cheese competition for

2018. Congratulations Shep! This popular cheese was

a key ingredient in Eatdrink's recipe contest winner

for inclusion in the Forest City Cookbook released

this summer. A visit to Gunn's Hill is always a treat,

but again, one can find their products throughout

Southern Ontario. gunnshillcheese.ca

Meet the Woodstock Public Library at Woodstock's

Upper Thames Brewing Company for pub trivia

and test your knowledge. Come in a team of five or

join upon arrival. November 21 and December 19.

upperthamesbrewing.ca

The holiday season kicks off at the Elm Hurst Inn on

November 22 for the Groove Marmalade Holiday

Dance Night and Dinner. $70 per person exclusive

or stay the night and take advantage of a great

seasonal package! elmhurstinn.com

Truffle Camp Experience: Step into the role of

chocolatier for an evening as you work with Cindy

Walker of Ingersoll's Chocolatea. You'll love

learning the art of truffle-making, working with a

mix of local ingredients from neighbouring farms,

and handcrafting your own small batch of 12

truffles. November 28; December t; December 16;

December 22. chocolatea.ca/product/truffle-camp

We caught up with Chef Derrick Reinhardt of

Montreal's famed Joe Beef at gNnosh Dining &

Cocktails by Joe Duby. Reinhardt, a Fanshawe

College Chef School alumnus, is the chef at

Montreal's new 200-seat McKiernan Luncheonette

in Côte-St-Paul, serving an all-day breakfast and

lunch. mckiernanmtl.com

We want your BUZZ!

Do you have culinary news or upcoming events

that you'd like us to share?

Every issue, Eatdrink reaches more than

50,000 readers across Southwestern Ontario

in print, and thousands more online.

Get in touch with us at editor@eatdrink.ca

Submission deadline for the next issue: December 5

Saying Goodbye to My Clients

and Wortley Village

After 22 years in the Village, Impressions

will be under great new ownership as of

Feb.1, 2019.

I wish a fond farewell to my clients, staff

and friends, with a deep appreciation for the

fantastic people I have met and the

relationships I have developed.

I am looking forward to the next Chapter of

my life and the new adventures that await

me.

Thank you from the bottom of my heart for

some of the best years and many great

memories!

— Brenda

PS … Stop in to discover who

the new owner is!

Featuring

Creative Menus

from Chefs

Erryn Shephard

&

Ben Sandwith

Seasonal Hours

Reservations Recommended

Always Available

for Caterings!

FASHIONS & ACCESSORIES

Book NOW for your

Christmas Lunch or Dinner Party

& Reserve for New Year's Eve!

519.238.6224

42 Ontario St. S., Grand Bend

www.finearestaurant.com
---
48 | November/December 2018

eatdrink.ca |@eatdrinkmag

Theatre

Scrooge Gets a Gender Flip

Christmas at The Grand Theatre

By JANE ANTONIAK

This holiday season Grand Theatre's

artistic director, Dennis Garnhum,

shows commitment to his pledge

to "ignite conversations about

issues, ideas, and ways of thinking" with his

feminization of A Christmas Carol. This year

the story gets a gender flip. Meet the new

Scrooge: Jan Alexandra Smith. The role will be

played as a woman, by a woman.

Garnhum calls it a fresh take on a classical

tale of rebirth. "It will have the spirit of last

year with a magical dose of fresh talent. It is

meant to be fun — for the audience to wonder

'What if?'"

Smith was Garnhum's first choice to take

on the female Scrooge role. She has been

acting professionally in Canada for 32 years.

Smith and Garnhum first met at Shaw Festival

and then worked together again at Theatre

Calgary. Interestingly, she was at the Grand

1992-93 in the same play. She played the roles

of Martha Cratchit and Belle, the beautiful

young love interest of young Scrooge. Now

it is her turn to be Scrooge. Back in the 1992

production Aidan Desalaiz was Tiny Tim to

her Martha. Desalaiz is also back on stage

for this year's production as Fred, Scrooge's

nephew. "We were brother and sister and here

we are, all the years later, and he is Freddie

Actress Jan Alexandra

Smith will be playing

the role of Scrooge in

A Christmas Carol.

and I am his Aunt Scrooge. He has matured

into a beautiful man and actor and it's special

to do this with him," says Smith.

This year's A Christmas Carol is the same

production adapted by Garnhum, which

ran last season. However this year it will be

directed by Megan Watson, Grand Theatre

Artistic Associate. Joining Smith on the Spriet

Stage are Sean Arbuckle, returning in the

role of Bob Cratchit, and Steve Ross as Mr.

Fezziwig. Both have years of experience on

the Stratford stage. This is always the Grand's

gain, to pick up national talent during the

Stratford off months.

The script will be feminized to reflect

Scrooge as a woman. Garnhum says that

Smith's powerful force on the stage, along

with her intelligence, makes her ideal to take

on this gender switch. Last season she proved

herself to Londoners as Johannah Donnelly

in the local cultural epic, Vigilante. Smith is

back in that role this year for the Grand's

reprise of the hit production in late February/

early March 2019. As well, she recently played

Mrs. Ross in Timothy Findley's The Wars, also

adapted and directed by Garnhum. Next April

she will play Tanya in Mamma Mia!

Smith says she takes inspiration from

colleagues Seana McKenna who played Julius

Caesar at Stratford this past

season, and from Nora McLellan

who also played a female Scrooge

in a Theatre New Brunswick

production in 2017. "I think it

is great for the Grand Theatre

to shake things up in this way

and to have a female in this role.

When I came to the opening of

A Christmas Carol at the Grand

last year, Ben Campbell came

on stage and said iconic lines

and I thought this stuff is so

good, why can't a woman have

a chance to say those words and
---
ing in the holidays at the grand!

eatdrink: The Local Food & Drink Magazine

November/December 2018 | 49

Starring

Jan Alexandra

Smith as Scrooge

On Stage

this December

By Charles Dickens

Adapted by Dennis Garnhum

"

BRILLIANT"

london free press

"JOYFUL"

intermission

season sponsor

title sponsor

519.672.8800 grandtheatre.com
---
Let Us Host Your Holiday Party

IMPROV

NIGHT

Join Us for a Night of Holiday Improv

Cash Bar

Saturday December 1 8pm $30*

*Prices subject to HST/Handling

2019

SEASON

2019 SEASON SUBSCRIPTIONS

NOW AVAILABLE

New this year...

6 shows

PortStanley

FestivalTheatre

6-302 Bridge Street, Port Stanley, On

eatdrink.ca |@eatdrinkmag

play that role? And, what do you know, a year

later they are going to do it and I'm the lucky

one who gets the opportunity to do it!"

Both Garnhum and Smith are especially

excited to see the female adaptation of the

ending of A Christmas Carol, when Scrooge

wakes up on Christmas morning, shedding

her curmudgeonly ways to embrace a new,

joyful approach to life. "People think they

have seen it but they forget the details and

emotions of that scene," says Garnhum.

Smith is excited to get into rehearsals to

explore what happens when a woman shuts

herself down from her heart and humanity

and then is reborn. "It is fair to say that

different genders have different emotional

priorities. So it will be interesting to explore

what happens, comparing how a man opens

up his heart again and how a woman opens

up her heart again — to realize it's not too

late to experience love for her fellows," says

Smith.

JANE ANTONIAK is a regular contributor to Eatdrink.

She is also Manager, Communications & Media Relations,

at King's University College in London.
---
eatdrink: The Local Food & Drink Magazine

Music

Holiday Notes

Upcoming Highlights on the Music Scene

November/December 2018 | 51

By GERRY BLACKWELL

Yikes! The yuletide is almost upon

us. How does this sneak up on us

every year? If you're already being

driven bonkers by cheesy Christmas

muzak, here's my advice: insert earplugs

before braving the malls. But good live music

is the best antidote, and we have a ton of it in

London and area this Noël.

Let's start with the explicitly Christmas fare.

Aeolian Hall kicks it off on Sunday, November

25 (afternoon) with Broadsway Christmas, a

jazzy evening with a trio of great voices: Junonominee

and National Jazz Award Vocalist of

the Year Heather Bambrick, Dora Mavor Moore

Award nominee Diane Leah, and Julie Michels.

CBC Radio called their seasonal album, The

Most Wonderful Time … Maybe, "a musical

version of the best office Christmas party ever!"

Broadsway

Christmas picks up steam in December.

London Symphonia does its annual rendition

of Handel's Messiah on Saturday, December 1 at

First-Saint Andrew's Church (7:30 pm), joined

as usual by London Pro Musica Choir and

the baroque soloists from Capella Intima, all

under the baton of conductor Kevin Mallon.

The Messiah never gets stale.

On Sunday, December 2 it's another

songstress trio, this time in the folk music

vein. Cuckoo's Nest Folk Club is bringing

Boreal to Chaucer's Pub (7:30 pm). The three

women, all from Guelph — Tannis Slimmon,

Katherine Wheatley, and Jude Vadala — get

together every year to tour their "Songs for

the Snowy Season" show. It started with a

kitchen concert 11 years ago, and has become

a seasonal tradition for their many fans.

Magisterra Soloists check in with

"Christmas Baroque," a concert of Yule-themed

favourites from Vivaldi, Bach, Handel and

other baroquistes. It goes at St. Luke's Anglican

Church on Thursday, December 6 (7 pm).

The Ennis Sisters

Aeolian Hall has dynamite back-to-back

Christmas concerts on Monday, December

10 and Tuesday, December 11 (both at 8 pm).

The Good Lovelies — yet another female

threesome: Caroline Brooks, Kerri Ough and

Susan Passmore — are in on the Monday

with their charming Christmas concert

of folk-tinged favourites. This is a return

engagement; the Lovelies were here last year

and it is becoming an annual fixture. Then on

the Tuesday, it's Newfoundland's The Ennis

Sisters. That's right, another threesome:

A Next Generation Leahy Christmas
---
52 | November/December 2018

Maureen, Karen and Teresa. Their show

includes originals and Christmas standards.

The Ennises are known for tight sisterly

harmonies and between-song banter.

Sunfest presents A Next Generation

Leahy Christmas on Wednesday, December

12 (8 pm), at London Music Hall. The group

features six of the nine children of fiddler

Doug Leahy, a member of the celebrated

family band Leahy and his wife Jennifer, who

plays piano and sings. Ages eight through

sixteen, the Leahy children already are highly

accomplished multi-instrumentalists, playing

traditional country and folk styles, filled with

the high‐energy, Celtic‐based music of their

family's holiday traditions.

Canada's Ballet Jörgen

Another London Christmas tradition is a

visit from Canada's Ballet Jörgen with its

production of Tchaikovsky's The Nutcracker.

Centennial Hall has one show, on Sunday,

December 23 (3 pm). A cool thing about

Jörgen is that the troupe works with area

dance schools and features local child dancers

in its performances.

Enough of Christmas. There's lots of other

good music coming our way too.

Let's double back to Wednesday, November

14, when Jazz for the People brings The Joe

Policastro Trio to Wolf Performance Hall at

the Central Library (7:15 pm). Led by bassist

Policastro

and featuring

guitarist

Dave Miller,

the Chicagobased

trio

is a rarity in

that it almost

always plays

together, a

true group.

They do

straight-up

The Joe Policastro Trio

jazz, but also

eatdrink.ca |@eatdrinkmag

branch into blues, funk, pop and free jazz. As

always, it's a free concert. (Whoop!)

Kolonien

As part of the TD Sunfest World Music &

Jazz Series, in cooperation with the Cuckoo's

Nest Folk Club, Swedish folk band Kolonien

takes the stage November 16 (7:30 pm)

at Chaucer's Pub. Billed as "Sweden's most

exciting folk band," Kolonien has been making

its mark with its visionary folk and roots

music in Europe and Scandinavia.

Jazz and folk not your thing? How about

reggae then? As part of the TD Sunfest World

Music & Jazz Series, London Music Hall has

the legendary Wailers (7 pm/8 pm). That's

right, of Bob Marley and the Wailers. Except,

well … The Wailers play on Marley-less, led by

bassist and band founder Aston "Familyman"

Barrett. The good news: the music sounds as

infectious, mellow and danceable as ever.

The Wailers

Magisterra Soloists continue their

Magisterra at the Museum series at Museum

London on Thursday, November 15 (7 pm).

The concert is titled "Masquerade," subtitled,

"Revised, Revived, Rebooted." The publicity

material teases with, "get surprised by works of

Bach/Mozart…" — funny, we didn't know those

two wrote together — "…Dvorak, Piazolla…"

We're not sure what to expect. The evening also

includes a little-heard early piano quintet by the

great mid-20th-century symphony conductor

George Szell.
---
eatdrink: The Local Food & Drink Magazine

Opera at

Western is

back with

"The Turn of

the Screw,"

by Benjamin

Britten,

an opera

adaptation of

the very scary

ghost story

by Henry

James. It goes

November

15 and 16 (8 pm), and November 17 and 18 (2

pm) at the Paul Davenport Theatre (Talbot

College) on Western University's campus. If

you've shied away from opera because of the

language barrier, know that this one is written

and sung entirely in English.

Aeolian Hall has Canada's "Goddess of the

Blues," Rita Chiarelli and her band Sweet

Loretta, on Saturday, November 17 (8 pm).

Chiarelli,

a Juno

winner, is an

Rita Chiarelli

accomplished

songwriter

and dynamic

performer

with an

awesome

three-octave

set of pipes.

"A voice

so blue it

could make

the angels

weep," one

critic gushed.

There's more

to Chiarelli. Her latest CD release is the

soundtrack to the documentary Music From

The Big House. It's a live recording featuring

Chiarelli with musician-inmates at Louisiana's

maximum-security Angola Prison, considered

by some to be the birthplace of the blues.

Answer me this: why does Brantford get

Blue Rodeo and London apparently can't?

The iconic folk-rockers are at the Sanderson

Centre on Friday, November 23 and Saturday,

November 24 (8 pm). Oh, well. Brantford

is only an hour or so away. Might be worth

the drive? The Rodeo are playing Kitchener's

Centre in the Square too, on December 29.

London does get the legendary Gordon

Patricia Cano

Saturday, November 10

Aeolian Hall, 795 Dundas St.

From

Sweden

World Music

&

Jazz Series

'18 - ' 19

www.sunfest.on.ca

The Wailers

Wednesday, November 14

London Music Hall, 185 Queens Ave.

acher Flyer (2016)

(Beth) Hickey, BA(MUS)

Next Generation

Kolonien Leahy Christmas

ced piano/theory teacher now accepting new students into professional music

Opera at Western (photo from "Carmen")

, active musician, established in the community

Friday, November 16, 7:30 pm

al instruction

Wednesday, December 12

Chaucer's Pub, 122 Carling St. London Music Hall, 185 Queens Ave.

ounding to have gift of music for life / lifelong Michael gift of music

Kaeshammer Jesse

ome-based environment

Cook

orth location, convenient to bus routes

Thursday, December 13 Friday, March 22, 2019

ionate, kind, caring, nurturing, gentle, encouraging, Aeolian Hall, 795 Dundas understanding

St. London Music Hall, 185 Queens Ave.

Most Concerts: Doors at 7:00 pm ~ Performances at 8:00 pm

nservatory Exam Preparation

Tickets at Venue Box Offices, Centennial Hall,

Long & McQuade North, Village Idiot (Wortley Village), and sunfest.on.ca

y Piano Proficiency Preparation

n Street

4022

Develop skills & a love for music

PIANO LESSONS

Experienced Piano/Theory Teacher

now accepting new students

Individual Instruction for All Ages

Compassionate, Caring, Encouraging

Home-based Professional Music Studio

Royal Conservatory Exam Preparation

University Piano Proficiency Preparation

Beth Hickey, BA (MUS)

North London

bhickey57@hotmail.com 519-432-4022
---
54 | November/December 2018

eatdrink.ca |@eatdrinkmag

Lightfoot — at Budweiser Gardens on

Saturday, November 24 (8 pm). How much

longer can the venerable Lightfoot keep doing

this? Catch him while you can.

Colin Linden

Canadian roots music everywhere-man

Colin Linden is at Aeolian Hall on Thursday,

November 29 (8 pm). The multi-awardwinning

Linden is one third of Blackie and the

Rodeo Kings, an in-demand record producer

with over 70 albums to his credit, musical

director of the hit TV show Nashville, and a

guitarist-for-hire to the stars, including Bob

Dylan, Emmylou Harris, Robert Plant, Alison

Krauss. Need we say more? Oh yeah, he has 13

solo albums to his credit too.

John Prine

Now here's a name from the storied past:

John Prine. The American folk troubadour

plays Centennial Hall on Saturday, December

8 (8 pm). Once spoken of in the same breath

as Dylan, Prine never became a superstar. He

just continued to write intelligent, heartfelt

songs and play them in his inimitable style.

He's still doing it. His latest CD, The Tree of

Forgiveness, the latest in a string of releases

dating back to 1971, came out earlier this year.

Forgotten about Prine? Refresh your memory

here: goo.gl/f8qm6w.

Sunfest is bringing prolific jazzman

Michael Kaeshammer to Aeolian Hall on

Thursday, December 13 (8 pm). Kaeshammer

is the interesting dude who discovered his

love of boogie-woogie and stride piano as a

teen while living in his native Germany, before

emigrating with his family to BC. Twenty-two

years and 12 albums later, you'd have to say he

made a success of it here. He was nominated

for a Juno for his last album, his eighth nod

(he's won twice). Don't know Kaeshammer's

music? Check it out here: goo.gl/sn4uhe.

And finally,

with Christmas

done and

dusted, why

not lighten

the midwinter

blues

with Martha

Wainwright.

She's at

Aeolian Hall

on Wednesday,

January

16 (8 pm),

along with

special guest

Martha Wainwright

Beyries, an

up-and-coming

Montreal singer-songwriter. If ever a

performer had pedigree, it's Wainwright:

daughter of Kate McGarrigle (of the

McGarrigle Sisters) and Loudon Wainwright

III, and sister of Rufus. Her music is raw and

honest. She's touring a new album, Goodnight

City, billed as a return to the form of her

career-making 2005 debut. Martha rocks.

GERRY BLACKWELL is a London-based freelance

writer.
---
eatdrink: The Local Food & Drink Magazine

November/December 2018 | 55

Recipes

Farm to Table

Celebrating Stratford Chefs School Alumni,

Recipes & Perth County Producers

By Andrew Coppolino

Review and Recipe Selections by TRACY TURLIN

My approach to life and work

could be kindly described as

scattered so I've always been a

touch envious of people who are

truly passionate about one thing. When that

focus is aimed at celebrating and promoting

their community, it's a beautiful thing. When

they're in the food industry, it's also delicious.

This fall, that delicious thing is Farm

to Table: Celebrating Stratford Chefs School

Alumni, Recipes & Perth County Producers

(Andrew Coppolino, Blue Moon Publishers).

Andrew Coppolino is the editor of Waterloo

Region Eats, a food blog that I spent way too

much time reading while I should have been

writing this review. He's also a food columnist

for CBC Radio Waterloo, has written for a host

of other respected food publications, and makes

regular contributions to Eatdrink's Waterloo

Region & Wellington County editions. As far as

I can tell, he only takes time out from writing

about food long enough to eat food.

Coppolino is a champion for innovative

cooking done by knowledgeable chefs using

the best local products available. In Farm

to Table he brings together a

number of people who love

this idea as much as he does.

He introduces the reader to the

Stratford Chefs School and the

Perth County producers who are

affiliated with it.

Joe Mandel of The Church,

Jim Morris of Rundles, and

Eleanor Kane of The Old Prune

began the school in 1983. They

knew they needed good local

talent and saw an opportunity

to retain the chefs that worked

during the November to March

off-season in Stratford. Instead

Author Andrew Coppolino

of being laid

off or moving

on, these

chefs were

now able

to teach,

giving local

budding

chefs the

opportunity

to train

with the

best.

Students were

able to gain valuable experience in

the kitchens of the three founding restaurants.

SCS has always focused on the relationship

between the farm and the kitchen, recognizing

the importance of local, seasonal ingredients

that allow chefs to express the nature of the

region in their dishes. It's about more than

food; it's about respect for the work involved in

producing high quality products.

SCS is a not-for-profit organization that

offers well-rounded programs

to prepare students for many

aspects of the food industry.

I love that it also offers

recreational workshops for

adventurous home cooks

and a one-week exploratory

course for those who want to

find out what the industry

demands and offers. The

school produces chefs, food

entrepreneurs, writers and

photographers.

Terry Manzo is one of

Stratford Chefs School's first

graduates and has been a
---
56 | November/December 2018

eatdrink.ca |@eatdrinkmag

professional freelance photographer for 30

years. The book is full of her vibrant, energetic

photos. Many of the shots look deceptively

casual until you notice the brilliant use of light

and shadow that makes subjects seem to glow.

Each recipe in Farm to Table is the result of the

pairing of a chef with one of his or her favourite

producers and includes a profile of both.

Author Kathleen Sloan-McIntosh owns Black

Dog Village Pub & Bistro in Bayfield. With SCS

graduate Nathaniel Beattie as executive chef,

Black Dog works to expand the farm-to-table

concept in Huron County. Gerhard Metzger has

run Metzger's Meat Products Inc. in Hensall

since 1990. He works with local farmers to

provide specialty cuts for restaurant and retail

sales. Sloan-McIntosh uses

Metzger's pork to create Char

Siu Pork Shoulder. It's simply

tender bits of pork shoulder

slow cooked in a sweet,

spicy, Chinese BBQ sauce

and garnished with green

onion and sesame seeds. The

dish can be served as a main

course or in lettuce cups as a

fun appetizer.

Sean Collins is the

executive Chef at The Red

Rabbit, a worker-owned

restaurant in downtown

Stratford where they strive

to do everything as well

as possible and seem to

have a blast doing it. Max

Lass of Church Hill Farm

aims to provide "high

quality, humanely raised

pork, lamb, beef and fowl".

This family-owned farm

completes the farm-totable

loop by collecting

vegetable trimmings from

restaurants and mash from

craft breweries to feed to

the animals. Collins gives us

Charcoal-Grilled Church Hill

Farm Lamb with Herbs and

Freekeh. Freekeh, the grain of

young durum wheat, roasted

and cracked, makes the

stuffing for a butterflied leg

of lamb that is then grilled to

perfection.

SCS is a national

success because it is a local

Char Sui Pork Shoulder

champion. It teaches professionals and

amateurs alike that the heart of any good

dish, fruitful business or successful restaurant

is the relationship between people and place.

It's the magic that happens when all these

good things come together to be greater than

the sum of their parts.

TRACY TURLIN is a freelance writer and dog groomer

in London. Reach her at tracyturlin@gmail.com

Recipes excerpted from Farm to Table: Celebrating

Stratford Chefs School Alumni, Recipes & Perth County

Producers reproduced by arrangement with the

Publisher. All rights reserved.
---
eatdrink: The Local Food & Drink Magazine

Char Sui Pork Shoulder

Collaborators:

Kathleen Sloan-McIntosh, Black Dog Village Pub & Bistro

Gerhard Metzger, Metzger's Meat Products Inc.

FOR THE CHAR SIU

½ cup hoisin sauce

¾ cup liquid honey

½ cup soy sauce

¼ cup shaoxing (Chinese cooking wine)

2 tsp Chinese 5-spice powder

2 tbsp fresh gingerroot, grated

8 cloves garlic, finely minced

½ tsp red chili flakes (optional)

FOR THE PORK

4 lb (1.8 kg) boneless pork shoulder, excess fat

trimmed, cut into 2-inch (5 cm) chunks

2 tbsp olive oil

1 large onion, sliced

½ tsp salt

½ tsp freshly ground black pepper

TO FINISH THE DISH

Sesame seeds

Finely chopped green onion

Butter lettuce

METHOD

Preheat oven to 350°F (180°C).

Choose a large, oven-proof baking dish for the pork.

Add the pork chunks to the dish along with the olive oil

and sliced onion. Add salt and pepper and toss together

thoroughly. Use heavyweight aluminum foil to cover the

dish snugly. Place in the preheated oven and bake for 1

hour.

After an hour, pull the dish from the oven, remove the foil

and add the prepared sauce to the pork. Stir this mixture

well into the pork and the liquid that has accumulated: it

is important not to drain this liquid.

Return the dish to the oven and continue to bake for

another 30 minutes. Then, give the mixture another stir

and return to the oven for another 30 minutes. At this

point, test a piece of the pork to see if it is done to your

liking — it should be tender but not falling apart. If it is

as you like it, remove from the oven, sprinkle with sesame

seeds and chopped green onion and serve with butter

lettuce. If you continue baking, be careful not to overbake,

otherwise the pork will become too dry.

Farm to table award winning

hand crafted alpine style cheese

Tuesday to Friday 9am–5pm

Saturday 9am–4pm

Stonetown Artisan Cheese

5021 Perth Line 8

St. Marys ON

Gift Baskets &

Gift Boxes

Cheese Trays

Fondue & Raclette

Fresh Curds

519-229-6856

info@stonetowncheese.com

www.stonetowncheese.com

100% Local — from Our Farmers to Your Table

Hormone & Drug-Free

Ontario Beef, Pork, Bison, Lamb & Chicken

THE VILLAGE

MEAT SHOP

LOCAL - NATURAL - QUALITY

Now Accepting

Special Orders

for the Holidays!

WE ARE YOUR LONDON OUTLET FOR

• Metzger Meat Products • Lena's Lamb

• Blanbrook Bison Farm • Little Sisters Chicken

• Glengyle Farm Organics

The Market at Western Fair District: SAT 8–3; SUN 10–2

226-376-6328 • www.thevillagemeatshop.ca
---
58 | November/December 2018

Charcoal-Grilled Church Hill Farm Lamb

with Herbs and Freekeh

Collaborators:

Sean Collins, The Red Rabbit

Max Lass, Church Hill Farm

INGREDIENTS:

1 fresh boneless free-range lamb leg, butterflied

¼ cup pepper, fresh ground

¼ cup cumin, toasted and ground

3 tbsp butter

6 oz (170g) pancetta or cured pork, small dice

1 large onion, minced

8 cloves fresh garlic, minced

Freekeh* (or farro), cooked like pasta in boiling

salted water until tender, cooled

kosher salt

1 lemon (for juice and zest)

2 eggs

½ cup panko bread crumbs

½ cup fresh chopped herbs (use whatever herbs

you like!)

olive oil to rub meat

*freekeh is harvested grains

from green durum wheat

that is roasted and dried

to create its unique smoky

flavour.

TO FINISH THE DISH

Sugar snap peas

Butter

Mustard

Feta, crumbled

EQUIPMENT NEEDED

Charcoal grill, fire pit, or

propane barbecue

Good quality charcoal

Butcher twine

Probe thermometer

METHOD

The night before prepare the

lamb: spread lamb out on a

cutting board or sheet pan and

season generously with pepper

and cumin on all sides. Return

the seasoned lamb to the fridge

and let it sit for 2–12 hours (roll it

up to save space).

To make the stuffing, add the

butter to a large skillet and cook

over medium heat until just

bubbling. Add the pancetta and

cook until lightly crisp. Add the

onion and garlic and cook until

translucent. Add the cooked

eatdrink.ca |@eatdrinkmag

freekeh, salt and pepper and lemon. Remove from the

heat and let cool slightly. Stir in the eggs, panko and fresh

herbs and taste to adjust seasoning as needed. Refrigerate

overnight.

The next day, light the charcoal and let it burn until it

has created a nice bed of coals in a charcoal barbecue or

fire-pit with a rack. Have a second pile of burning charcoal

ready to replenish the fire, if needed. If using propane,

preheat the grill to medium heat.

In the meantime, finish the lamb. Remove meat and

stuffing from the fridge and spread the lamb onto a metal

tray or in a roasting pan. Season generously with salt.

Spoon the stuffing in a row slightly off the centre of the

meat to form a cylinder, almost from end to end. Roll the

meat over and shape it into a cylinder with the seam on

the bottom. Tie the cylinder tightly with 4 or 5 pieces of

butcher twine, tucking any stuffing back into the cylinder.
---
eatdrink: The Local Food & Drink Magazine

"a gastronomical landmark for over 22 years"

Season the outside of the meat with salt, rub lightly with

olive oil and set aside.

When your grill is hot enough that you can't hold your

hand over for 5 seconds, carefully place lamb roast on

the grill. Grill on all sides until golden brown and slightly

charred (about 2-4 minutes per side). With a probe

thermometer, check internal temperature every 10–15

minutes. Roast until the thermometer reaches 135°–145°F

(57°–63°C). If internal temperature is not reached and the

surface of the meat is getting too dark, simply push coals

to one side and continue cooking over indirect heat until

finished. If using a propane barbecue, turn burners off

on one side and move lamb to that side and close the lid.

Remove the roast to a platter, cover with foil and let it rest

for 15 to 30 minutes (or longer).

Remove the string and carve the lamb with your sharpest

knife. Serve with fresh sugar snap peas sautéed in butter,

your favourite mustard and crumbled local feta.

Bistro & Catering

Booking

Now for the

Holiday Season

& New Year's

Eve

Lunch Mon–Fri

Dinner Mon–Sat

Dietary Needs Accommodated | Ample Free Parking

Available for Private Parties

46 Blackfriars Street, London | 519-667-4930

blackfriarsbistro.com

SUNDAY BRUNCH

11am−2pm

NEW

WINTER

MENU

FLIGHTS & BITES

HALF PRICE Sharing Plates & Oysters

Tuesday–Friday from 3:30–5:30pm

Open 7 Days a Week

Mon/Tues 11:30-10, Wed/Thurs 11:30-11, Fri/Sat 11:30-12, Sun 11-10

SUNDAY INDUSTRY NIGHTS

20% OFF!

NOW BOOKING PARTIES & NEW YEARS

TUES–SAT Lunch & Dinner 11:30am to Close

SUNDAY Brunch 11am & Dinner

449 Wharncliffe Road South

519.914.2699
---
60 | November/December 2018

eatdrink.ca |@eatdrinkmag

Books

My 25 Years in Provence

Reflections on Then and Now

by Peter Mayle

Review by DARIN COOK

Some books are so seminal that from

their first appearance they become

untouchable, iconic archetypes,

paving the way for future authors

to imitate, but never replicate — a good

storytelling recipe. I knew I was onto

something of this calibre when I first read A

Year in Provence by Peter Mayle when it came

out in 1989. Mayle knew it too, since he has

written many sequels that thread together his

unique and exquisitely described outlook on

French food and culture. It started out as "a

year" and now, after a quarter of a century of

Provencal living, Mayle is taking a look back in

My 25 Years in Provence (Appetite by Random

House, 2018). Provence is truly a magical place

that spoke to Mayle through its food — a

place where vin rose is "a taste of summer in

the glass", where making goat cheese is an art

form, where eating a black truffle on foie gras

is "the closest thing on earth to having heaven

in your mouth", and where the night markets

provide the most pleasant grocery shopping

experience he can ever imagine.

By taking up residence in such a unique

locale, Mayle grew accustomed to picking up

on the trends of the seasons by observing

what farmers were up to and listening to the

gossip of the patrons in local cafés. Provence

is an agricultural

region bursting

with grape

vineyards,

olive groves,

fig trees, and

asparagus

fields. It also

has a bit

of the wild

side with truffle

hunters and their golden-nosed

dogs secretly plying their trade to keep their

sources out of the sight of others, while game

hunters with noisier instruments roam the

woods in search of wild boar. Throughout

the year, food festivals are governed by the

seasons to display regional delicacies — rice,

olives, truffles, lemons, melons, garlic. Mayle

writes, "These are informal, good-natured

affairs, organized by people whose sole desire

is to give you a taste of pleasure, whether your

particular weakness is a fresh sardine or an

elderly cheese." He continues by saying the

range of festivals "supports the widely held

conviction that, wherever you are in Provence,

you need never go hungry."

Just as Mayle navigated towns, fields and

forests of the French countryside, so does his

writing wander across Provence to suggest

some of his favourite lunch items at favourite

restaurants in favourite towns. With dining

tips from the likes of Mayle, we could not ask

for more as readers. One beloved regional

speciality is bouillabaisse made with fresh

seafood gathered off the coast of Marseille,

which he describes as "part soup, part fish

stew; delicious, but difficult to control. Many

an immaculate shirtfront has suffered from

Author Peter Mayle
---
eatdrink: The Local Food & Drink Magazine

garlic-stains and it is a wise customer who

asks for two large napkins."

His writings about Provence have inevitably

caused others to follow him. His books have

drawn attention to the region and tourism

has blossomed, for better or worse. Certain

things have changed because of tourism.

Mayle hates that cafés have been replaced by

boutiques that tend to be more profitable than

selling cups of coffee. But it is the qualities

that remain the same, that have endured

the test of time, that have withstood the

invasion of foreigners, that are the qualities

that made him fall in love with Provence

in the first place: the slow pace of life, the

marvellous weather, spirited games of boules

(lawn bowling), market shopping with fresh

ingredients unhampered by plastic packaging

or metal cans, and a regional anise-flavoured

alcohol called pastis.

Even though I have been a fan of Mayle's

books since he began writing more than a

quarter of a century ago, I was sadly unaware

that he had passed away. I had been reading

this book with the same enjoyment as always

when I learned from the biographical insert

on the back cover than he had died earlier

this year, making this book a posthumous

publication and his final words on Provence.

Even though I missed his obituary in the social

media news feeds back in January 2018, I

reverently bowed my head at the start of each

new chapter to honour his soul. It was a good

run and I am sad this is his last book. The world

lost a great author with the death of Mayle this

year, but this author's life gave Provence to the

world in a way only he could.

DARIN COOK is a regular Eatdrink contributor who

lives and works in Chatham-Kent.

LUNCH Wed to Fri 11:30–2:30

DINNER from 5pm daily

432 Richmond Street

at Carling • London

ALWAYS

a 3-course prix fixe

menu option

www.davidsbistro.ca

Your love of all things Italian begins at

Gift Cards

Available

Book Your Holiday Party Now!

519-652-7659 • HWY 401 & 4 • pastosgrill.com
---
62 | November/December 2018

eatdrink.ca |@eatdrinkmag

The Lighter Side

Salvaging the Magic of Eggnog

By DARIN COOK

I

have noticed that eggnog is now

being stocked in grocery stores long

before Christmas, infringing not

only on American Thanksgiving in

November, but also Canadian Thanksgiving

and Halloween in October. These are three

significant holidays being upstaged by

Christmas cheer before its time. Being in

stores earlier merely widens the window of

opportunity for it to be consumed.

"What is that doing here?" my son asked

last year, pointing at a

wall of eggnog cartons

in a grocery display. "It's

not Christmas yet, is it?"

It was early October,

with several non-yuletide

festivities still to come.

My two sons believe

eggnog was created for

Santa Claus, and that

normal humans are

allowed to join in by purchasing the cartons

sold at stores, so usually it wasn't until

December that we started buying eggnog

regularly to get the Christmas cheer rolling.

The sign over the eggnog display

proclaimed "Not Just for Christmas

Anymore!" But I think most people feel

that eggnog IS just for Christmas. Who was

this sign trying to fool? Since I love eggnog

so much, I guess it fooled me. Cast under

the spell of that grocery store marketing,

I decided to see if a Christmas beverage

could hold its own when straying from its

intended holiday. When I brought home

the first carton one week before Canadian

Thanksgiving, my wife rolled her eyes.

"What is that doing here?" she questioned.

"It's not December yet."

I shared her misgivings, but I drank my

first cup anyway. It tasted great, because the

sweet, creamy nectar had not touched my lips

for over ten months. But it felt odd being out

of season.

After learning that December 24th has been

declared National Eggnog Day, I considered

trying my hand at creating homemade

eggnog. Alton Brown, the culinary genius of

Food Network fame, is my go-to guy when

experimenting with new recipes and I found

an eggnog recipe in his book, Good Eats 2:

The Middle Years. Alton strongly advises

that "the key to success in making eggnog is

patience" and I went into eggnog production

hoping that I had the stamina to keep up.

There was a lot of stand

mixer beating involved

(where the patience

comes in handy). The

combination of eggs,

sugar, milk, cream,

and nutmeg ended

up being a delicious

version of eggnog

like we had never had

from a carton. Alton's

recipe calls for the addition of rum, brandy, or

bourbon, but that would come after the kids

went to bed.

Since it had started appearing early, I'd had

my fill of more eggnog than most years. Even

so, I convinced my family that making a fresh

batch on National Eggnog Day could be our

new tradition, to serve Santa the best we had

to offer. Before bedtime, my sons placed a

mug of eggnog and a plate of cookies by the

chimney. When they weren't looking I poured

a shot of rum into the mug. As Christmas

Eve drew to a close I imbibed one more glass

of our homemade batch, just as Santa would

do when he arrived. Mine also had an extra

dash of rum — it seemed wrong, on National

Eggnog Day, to not enjoy one last swig in the

most appropriate way before retiring it until

next Christmas. Or October.

DARIN COOK is a regular Eatdrink contributor who

lives and works in Chatham-Kent.
---
eatdrink: The Local Food & Drink Magazine

November/December 2018 | 63

a

movement

for

restaurants

who believe

local food

matters.

®

A Feast On® Certification means

you're fighting the good food fight.

You're supporting our farmers

and putting local food first.

To get certified, visit:

ONTARIOCULINARY.COM

@ONTARIOCULINARY #FEASTON
---
64 | November/December 2018

eatdrink.ca |@eatdrinkmag

MARKET HOURS:

MON — SAT

SUN

WE HAVE FREE UNDERGROUND PARKING:

2 HOURS FREE SAT & SUN • 1/2 HOUR FREE MON — FRI

WITH VALIDATION • NO PURCHASE REQUIRED • DURING MARKET HOURS

130 KING STREET, LONDON | coventmarket.com w b g