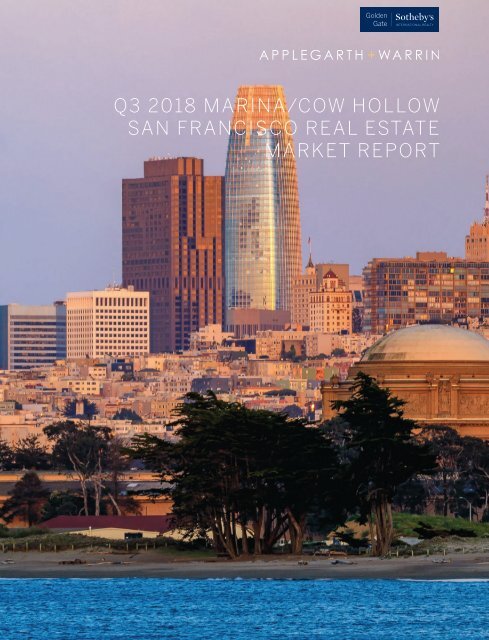 Applegarth+Warrin Sothebys Report Q3 2018
Applegarth+Warrin Sothebys Report Q3 2018
Applegarth+Warrin Sothebys Report Q3 2018
SHOW MORE
SHOW LESS
Create successful ePaper yourself
Turn your PDF publications into a flip-book with our unique Google optimized e-Paper software.
#1 TEAM 2017

Q3 2018 MARINA/COW HOLLOW

SAN FRANCISCO REAL ESTATE

MARKET REPORT
---
Q3 2018 SUMMARY

Another hot summer of sales

The San Francisco real estate

market remains very strong. Yearto-date,

median sales prices of

SFHs are up 17% (to $1,608,000),

and condo sales prices are up 7%

(to $1,200,000). The number of

SFHs sold through September is

nearly the same as last year, while

the number of condos sold is up

nearly 10%. At the same time, the

average Days on Market is down

from last year.

Sales in the Marina, Cow Hollow,

Pacific and Presidio Heights are

also very strong. Year to date, the

median sales price for SFHs is up

11%, to $4,990,000, while condos

prices are off just a bit, down 5%

to $1,755,630.

Demand for homes in north SF remains strong with only 3 month's supply

of inventory, compared to the national average of 7 months

If you're looking for advice about SF

real estate, I'm here for you at

415-407-8019 or paul@aw-sf.com

PAUL WARRIN

BRE #01364693

MARINA/COW HOLLOW Q3 HIGHLIGHTS

$7,525,000

Highest sale

9

SFHs sold

24

Condos/TICs sold

$1,460,000

Median list price

$1,625,000

Median sale price

$1,402

Avg price/sq foot

Q3 2018 MARINA/COW HOLLOW SIGNIFICANT SALES

LOCAL HOLIDAY EVENTS

Fairs & Fun for Everyone

Saturday 11/10 from 11am-5pm : Renegade Craft Fair

at Fort Mason Festival Pavilion

Thursday 11/29 & Friday 11/30 at 7:30pm : Jim Brickman

Brings a Joyful Christmas a Holiday Concert by Grammy

nominated songwriter and pianist at Cowell Theater Fort Mason

Saturday 12/1 from 10am-3pm :

Holiday Market at Fort Mason Firehouse

Thursday 12/1 from 3-7pm : Union Street Fantasy of Lights

Friday 12/7 from 5:30-7pm : The Presidio Tree Lighting

Ceremony at Main Post (Lincoln and Funston)

Friday 12/14 from 6-8pm : Lighted Boat Parade

at Marina Green and Chrissy Field

Sunday 12/16 at 9am : Elf on the Run 5k/10k Race

and Holiday Festival at Sports Basement (Chrissy Field)

FAST FACT : The Applegarth+Warrin team was the #1 Sales Team at

Golden Gate Sotheby's in 2017 with over $100 Million in sales
---
500 DRAKES LANDING ROAD GREENBRAE CA 94904

aw-sf.com

LOCAL

POSTAL CUSTOMER

SOLD BY PAUL WARRIN

!""#$%%& '()*& +),)$

-./0&1(2$& +,2 &

3#,24(%45& '!

22

2

22

2

22

2

22

2

2

33

3

2

2

2

3

22

2

22 2

22

2

22

2

44

4

2

2

2

1572 Green

1932 Pine

2147-2149 Bay

2340 North Point

2373-2377 Francisco

120 Mallorca

135 Alhambra

148 Pixley

150 Pixley

152 Pixley

213 Moulton

224 Avila

331-335 Spruce #335

425 Marina Blvd

1330 Chestnut

1527 Beach

1701 Jackson #601

1703 Octavia

1746 Bay

1932 Jefferson

1940 Broadway #7

1945 Washington #203

1969 Jefferson

2021 Jefferson

2046 Jefferson

2051 Scott #401

22222

2075 Sutter #215

2143 Bay

4

2145 Bay

2147A Bay

2147 Bay

2149 Bay

2171 Bay #2

2179 Pacific

2190 Pacific

2194 Pacific

2200 Sacramento #504

2205 Sacramento #301

2258 Francisco

2259 Beach

2

2260 Francisco

2265 Broadway #10

2266 Bay

2295 Vallejo #308

2328 Greenwich

2342 North Point

2418 Webster

2473 Clay RH#9

2615 Sacramento

2617A Sacramento

2637 Buchanan

2747 Vallejo

4))$5&$

6-7&"8&$3"#$-9702

2794 Filbert

10#-2&$"$3"#$022-2

2846 Sacramento

2920 Buchanan #8

3020 Scott

3116 Pierce

3227 Steiner

3250 Broderick

3435 Broderick

3519 Sacramento

3629 Webster

3916 Sacramento

!"#$%"&"$'()*+$,--./0

"Paul is a fantastic agent. He has a comprehensive knowledge of the San Francisco market,

is very responsive and took a lot of time to understand our family's needs."

- GRANT H. OF SAN FRANCISCO -

A P P L E G A R T H + W A R R I N : $ 1 B I L L I O N I N T O T A L S A L E S