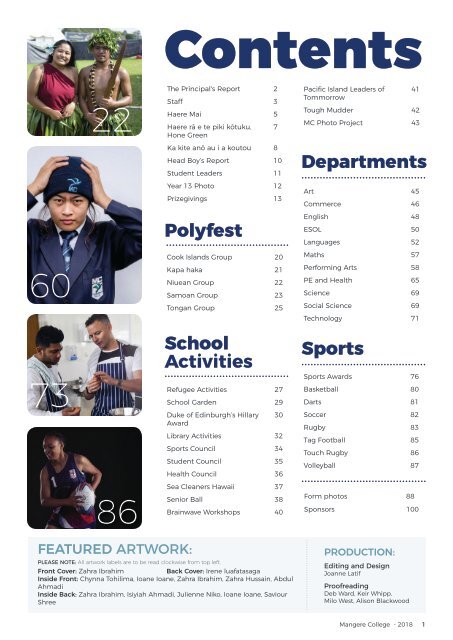 Create successful ePaper yourself
Turn your PDF publications into a flip-book with our unique Google optimized e-Paper software.
Contents

60

73

22

86

The Principal's Report 2

Staff 3

Haere Mai 5

Haere rā e te piki kōtuku,

Hone Green

Ka kite anō au i a koutou 8

Head Boy's Report 10

Student Leaders 11

Year 13 Photo 12

Prizegivings 13

Polyfest

Cook Islands Group 20

Kapa haka 21

Niuean Group 22

Samoan Group 23

Tongan Group 25

School

Activities

Refugee Activities 27

School Garden 29

Duke of Edinburgh's Hillary

Award

7

30

Library Activities 32

Sports Council 34

Student Council 35

Health Council 36

Sea Cleaners Hawaii 37

Senior Ball 38

Brainwave Workshops 40

Pacific Island Leaders of

Tommorrow

Departments

Art 45

Commerce 46

English 48

ESOL 50

Languages 52

Maths 57

Performing Arts 58

PE and Health 65

Science 69

Social Science 69

Technology 71

Sports

Sports Awards 76

Basketball 80

Darts 81

Soccer 82

Rugby 83

Tag Football 85

Touch Rugby 86

Volleyball 87

Form photos 88

41

Tough Mudder 42

MC Photo Project 43

Sponsors 100

Featured Artwork:

Please note: All artwork labels are to be read clockwise from top left.

Front Cover: Zahra Ibrahim

Back Cover: Irene luafatasaga

Inside Front: Chynna Tohilima, Ioane Ioane, Zahra Ibrahim, Zahra Hussain, Abdul

Ahmadi

Inside Back: Zahra Ibrahim, Isiyiah Ahmadi, Julienne Niko, Ioane Ioane, Saviour

Shree

Production:

Editing and Design

Joanne Latif

Proofreading

Deb Ward, Keir Whipp,

Milo West, Alison Blackwood

Mangere College - 2018 1
---
The Principal's Report

2018 has been a

watershed year for

Māngere College with

changes in the staffroom,

an Education Review

Office report and some

significant visitors to the

school.

The year started off with us

welcoming 13 new teachers to the

school. This is a significant number

for us and meant a lot of change in

the staffroom. They each brought

a different level of experience

from first year teachers to very

experienced teachers and each

made a huge contribution during

the year.

One of our key areas to focus on

this year has been to improve our

teaching practice using a new

appraisal process and the Teachers

Council's new professional standards

and code of conduct for teachers.

This work was reflected in a

comment that ERO made during

their visit when they said that a

strength of the school was "the

capability and dedication of the

teaching team who are open

to learning and committed to

improving professional practice."

These two aspects - being open to

learning and improving practice

- are very important to me. In our

work: we all make mistakes and

perfection is an unrealistic goal

but we can always learn from our

experiences and strive to get better

in what we do each day.

Another important aspect of the

school that was commented on by

ERO is the environment that we

create for our students around the

school. ERO said that this strength is

the "inclusive and positive learning

and working environment where

students' diverse languages, cultures

and identities are fostered and

their religions respected". It is this

environment that our students need

and deserve to be able to learn

successfully and to achieve to their

potential.

This was the first ERO review during

my time at the school and it was

very rewarding to see the work that

we have been doing over the past

three years being recognised in

this way. As well as commenting

2 Mangere College - 2018

on the quality of the teaching

staff and the environment of the

school they also made reference to

these changes when they said "The

school's leadership and strategic

change management processes

and practices, together with the

prioritising of Māori success and

student wellbeing, are effectively

contributing to achieving equity

and excellence and the acceleration

of learning."

Of course they also pointed out

areas for improvement and the

most important of these for me

is the achievement of our Māori

students. We are not doing well

enough in this area as a school

and it is something that I am

committed to changing. This

school should be a place where all

students succeed and we need to

continue to work hard to ensure

that our results are equitable as well

as excellent.

At prizegiving this term we

announced our Student Leaders for

2019. This is an excellent group of

young people who are excited about

leading the school and having an

impact in the wider community as

well. So many of our students are

passionate about the society they

live in and particularly their local

community of Māngere. This was

particularly evident to me when

we hosted two politicians, the

Speaker of the House Trevor Mallard

and Minister Aupito William Sio,

to launch a virtual reality tour of

parliament. This gave our students

a chance to have their voices heard

by national politicians and to ask

questions of them. They certainly

expressed their views strongly.

Allowing students to have a voice

in the running of the school

through our different councils is an

ongoing focus for us at school. We

want to provide all students with

an opportunity to grow their own

leadership and develop into the

future leaders for our community.

We have continued to work

closely with our local schools in

our Community of Learning, the

Māngere Kahui Ako, which I am

proud to lead. We have a vision as

a group of schools of strengthening

education in the Māngere

community and of working together

for the benefit of our students. We

will see more positive outcomes

of this collaboration in the years to

come.

Of course the year has not been

without its difficulties and the loss

of a student and an ex student

during Term 3 was a real shock

to the school community and a

traumatic time for students and

staff. At Māngere College we talk

a lot about the importance of our

MC family and when you lose two

of your family it affects everyone.

What was important to me was

seeing the strength of the family to

pull together and overcome these

difficult times.

I was humbled by the strength and

resilience of our students and how

they supported each other and

I took pride in seeing the school

come together to face this together.

Our strength as a school is in the

community that we have and the

way that we can face difficult issues

together and support each other

through difficult times.
---
Māngere College Staff

Back Row: Arihana Hakiwai, Soteria Samu, Sally Hay, Catherine Thomson, Neville Padavatan

4th Row: Asariah Potini, Huni Fifita, Laurence Earl, Paul Campbell, Milo West, Ruth Luketina, William Tupou, Daniel Wong, Melissa Tualaulelei,

Satend Sharma, Mohammed Zaim, Ta'i Uamaki

3rd Row: Elizabeth Tupua, Brian Aubrey, Emma McCosh, Joanne Latif, To'asavili Telea, Mohammed Sameem, Thomas Pearson, Kevin Davis, Aisake

Tuitupou, Bruce Breetvelt, Fuatino Nuusavili, Alisi Tatafu, Frances McIntosh, Subrail Naidu, Angela Kuo-Yu Yen,

2nd Row: Samer Hormes, Malae Aloali'i, Rosalie Kwan, Pauline Kumar, Raselin Imraan, Parwati Reddy, Nalini Singh, Kathleen Beaton, Nicky

Haeata-Ruwhiu, Abtesam Salim, Kirita Leniu, Amera Franso, Alexandra Ana Marsters, Alison Blackwood

Front Row: Mike Christo, Savitri Nadan, Michael Darragh, Ben Euden, Vivian Maskell, Keir Whipp, Deborah Ward, Tom Webb, Melegalenuu Ah Sam,

Helen Faamoe, Katalina Ma, Viliami Bloomfield, Lynn Keating, Henry Fesulua'i, Christina Smith

Mangere College - 2018 3
---
Staff List

SenIor LeADerSHIP TeAM

PrInCIPaL

T Webb, BA (Oxon), PGCE, MEdLd (Hons)

dePuty PrInCIPaLS

M Ah Sam, PCT, ACTD, Dip T

K Whipp, MEdLM (Hons), Dip T, Dip Dr, BA

D Ward, MA (Hons), MProfStuds (Ed) (Hons), Dip T

oPeratIonS ManaGer

R O'Neil (Term 1)

H Faamoe

PoSITIonS oF reSPonSIBILITY

achievement centre

E Wilson, BA, Dip SpEd, Dip Guid St,

Cert ConRes, LTCL, Dip T (Term 1)

N Haeata-Ruwhiu

art

M Christo, MFA, Dip T

careers R Luketina, BSc, Dip T

commerce S Nadan, PGDE, BA, Dip Ed

english L Keating

e.s.o.l

Sally Hay, BA, Dip T, PostGrad

Dip Language Teaching

languages H Fesulua'i, BA, Dip T, PGDED

library

A Blackwood, BA, Dip T

Mathematics K Ma, BSc, Dip T

Performing arts

B Euden, BMus, PGCE

Physical education & health

M Darragh, BA, PGTC

A Potini, BPhEd

science V Bloomfield, BSc, Dip T, MEdL,

PGCertAP

D Wong, BSc, Dip T

social sciences

C Smith, BA, Dip T

A Tatafu, BA, Dip A, PGDT, PGCertAP

student services

K Barclay (Term 1)

P Campbell

technology V Maskell, TTC, Dip SS

DeAnS

Year 9

Year 10

Year 11

Year 12

Year 13

TeACHInG STAFF

B Aubrey, B.Ed, Dip T

F Bloomfield, BA, Dip Ed, Dip T

B Breetvelt. Dip T

K Davis, BSc, Dip T

L Earl, BICT

H Fifita, BA, Dip T

S Folau, BCA, Dip T

A Franso, Dip T

J Good, BCA, Dip T

A Hakiwai, BA

S Hormes, BSc, Dip T

N Padavatan, HEDip, FDip Ed

E McCosh, BEd, Grad Dip OEd

E Tupua, MA(Hons), Dip TESL, Dip T

C Smith, BA, Dip T

A Tatafu, BA, Dip A, PGDT, PGCertAP

H Fesulua'i, BA, Dip T, PGDED

A Blackwood, BA, Dip T

M Aloalii, B.Ed

D Pene, Grad Dip CD, Sp TD, DipT

R Imraan, PGCE, BSc, Dip T

A Marsters, Dip T, TTC

F McIntosh, MSc(Hons), Dip T

S Naidu, BA, Dip T

F Nuusavili, Dip T

T Pearson, BMus, Dip T (Term 1 & 2)

P Reddy, BCom, Dip T, Grad Dip TESL, PGDip AT

M Sameem, PGDip AT, BEd Tech, Dip T

N Samu, MProfStuds (Ed) (Hons), BA, Dip T

S Sharma, B Ed, Dip T

S Sharma, B Ed, Dip T

L Sebastian, BCApSc, Grad Dip Anth, Dip T (Term 1)

N Singh, B.Ed

T Telea, BCA

C Thomson, BSp Rec, Grad DT

M Tualaulelei, BPE

A Tuitupou, BSC and PG Dip T

R Wade, BVA, Dip T

M West, MA, BA (Hons), DipT

A Yen, BA

F Wilkings, MBA, Dip BIA, Dip T, Grad Dip TESSOL (Term 1)

M Zaim, BA, Dip AS, Dip T

SuPPorT STAFF

careers administrator

L Reade

caretaking team

B McMaster

A Beazley

communications Manager J Latif, BCMS, Dip T, Dip CA

community liaison officer W Browne (Term 1)

K Leniu

Data Manager

J Lafo'ou

kaimanaako

M Nuku

librarian

P Kumar

Mandarin language assistant Li Lu

nurses C Cullinane (Term 1 & 2)

F Fouche (Term 1, 2 & 3)

H Laxon (Term 1, 2 & 3)

E Hunt

L Williams

office administrators

K Beazley

Performing arts technician E Heeney, LTCL, AIRMT

Principal's Pa J Maitland (Term 1)

& school administrator F Wong

receptionist

A Leonard

& office administrator

refugee bilingual tutor M Akhlaqi

& liaison support worker

refugee support worker R Kwan

resource room

A Salim

science technician

K Singh

student services' administrator K Beaton

social worker

W Tupou

sports' coordinator

T Uamaki

staff support technician R Siulangapo

teacher aides

H Arp, C Masoe, S Moyle,

N Palelei, N Ramsey,

P Tamihana (Term 1 & 2)

Tuckshop contractor

L Jacobs

volunteer

R Parkinson

Year 11 Dare to Dream coach P Isaako

ITInerAnT TeACHerS

brass tutor

Drum tutor

Piano/strings tutor

vocal/woodwind tutor

Guitar tutor

L Filimoehala

T Doyle

E Allen

E Heeney

N Loo

4 Mangere College - 2018
---
Haere mai

to new staff

Malae

Aloali'i

We welcome Malae

from Aorere College

to the English

Department at

MC. Malae is an

active member

of the Māngere

community,

participating

in both Church

leadership and

Polyfest groups.

bruce

breetvelt

Bruce joins MC

from Hebron

Christian College

where he was a

Deputy Principal

for 15 years. Bruce

is enjoying the

friendly staff and

students and is the

new Engineering

workshop teacher.

paul

campbell

We welcome Paul

to MC as the new

Manager of Student

Services and as the

school Counsellor.

He joins us from

Aorere College

where he was the

counsellor.

Paul is part of a

tramping club and

he is enjoying being

at MC.

laurence

earl

Laurence is the new

Digital Technology

teacher here at

MC. He previously

worked at Datacom

and is a first-time

teacher this year.

Laurence is enjoying

being part of the

community at this

school. His interests

include gaming,

cars and politics.

helen

faamoe

Helen has recently

come from

Australia to take

on the position

of Operations

Manager. She is

a Queensland

Maroons fan. Helen

is enjoying the

supportive and

friendly staff here

at MC.

Siosaia

folau

Siosaia has come

back to MC to teach

Music after being

a student here 10

years ago.

He has previously

come from De La

Salle College. When

Siosaia isn't busy

gigging, he loves

spending time

with his family and

friends.

amera

franso

We welcome Amera

from Sir Edmund

Hillary Collegiate

as our new Food

Technology teacher.

Amera enjoys

cooking, walking

and reading the

Bible. She is loving

her new MC family.

including

colleagues, senior

management and

the students.

nicky

Haeata-

Ruwhiu

We are excited to

have Nicky back

to MC. She had

previously taught

at MC for 12 years

beforehand.

Nicky has taken on

the role as Manager

of the Achievement

Centre.

Arihana

Hakiwai

Arihana joins MC

as our new Te Reo

Māori Teacher.

She has a passion

for Kapa Haka,

sports & enjoys

whanau time,

'Ko te pae tawhiti

whaia kia tata,

ko te pae tata

whakamaua kia

tina!'

Erin hunt

We welcome

Erin to MC from

her previous

nursing position

at Auckland Girls

Grammar School.

Erin is enjoying

working with a new

team and she likes

to play basketball,

listen to music and

spend time with her

young daughter.

Lynn keating

Lynn is the new Head of English here at MC. She previously worked at Aorere College.

Lynn has a passion for running and is really enjoying the fantastic students at this school.

Mangere College - 2018 5
---
angela

Kuo-Yu Yen

Angela comes

to MC as a

new TeachFirst

participant and

Mathematics

teacher. She likes

to dance and listen

to music and is

enjoying getting

to know all of the

students and staff

members in such a

tightly connected

whanau.

kirita leniu

Kirita has joined

us this year as

the Community

Liaison Officer and

Mentor. She is a

proud ex-MC and

Viscount student

and is enjoying

being back to serve

in her hometown of

Māngere.

In Kirita's spare time

she loves spending

time with aiga.

katalina ma

Katalina is the

new Head of

Mathematics

here at MC. She

previously taught

at Southern Cross

Campus.

Katalina likes

travelling and

hanging out with

family and friends

and is enjoying the

collegiality amongst

staff and the classes

she teaches.

maehe Nuku

Matua Maehe has

been with us from

the beginning of

term 2 and how

lucky we are. Matua

brings a wealth of

knowledge and is

here to tautoko,

manaaki and to

āwhina our staff and

our tamariki

as a Kaimanaako

(mentor and

teacher aid).

mohammed

sameem

Mohammed

has come from

Aorere College to

the Technology

Department at

MC where he is

the Hard Materials

teacher.

He likes spending

time with his

family and is

finding the staff

here friendly and

accommodating.

To'asavili

Tele'a

To'asavili has joined

us at MC this year

teaching English.

She loves to read,

write, eat and chill.

To'a is enjoying the

students here at MC

and thinks they are

'amazing beings!'

She can see the

positive impact her

students will have

on the world.

Aisake

Tuitupou

Aisake is a first

year teacher who

is joining the PE

Department as a

Physical Education

and Health teacher.

He is a devoted

Christian and

a competitive

Olympic

Weightlifter. Aisake

is enjoying being

part of the PE

Department.

milo west

We welcome

Milo to MC as a

first-year English

teacher.

She likes birdwatching

and

thoroughly

enjoyed being

involved in Polyfest

this year.

laura

williams

Laura has joined

us at MC from

Kidz First Surgical

at Middlemore

Hospital. She is

loving meeting

all the students

and is enjoying

the welcoming

community. Laura

likes baking and

cooking and doing

Zumba.

faye wong

We welcomed Faye

to MC in term 2

as the Principal's

PA. She previously

worked in Sales

and Marketing, and

recently graduated

from Te Wananga O

Aotearoa, studying

Manaaki Tangata

- Bi-Cultural Social

Services.

Faye thinks the

MC students are

awesome and the

staff are supportive.

yuying yang

Yuying has come to MC from Beijing, China! She is here as the new Mandarin

Assistant.

Yuying enjoys reading, writing, walking and making food.

She is finding her colleagues very warm and is enjoying her students.

6 Mangere College - 2018
---
Haere rā e te piki kōtuku,

Hone Green

It is with great sadness

that the Māngere College

community has received

the news of the recent

passing of Matua Hone

Green in Opotiki, and

this deep loss cannot go

without acknowledgment.

Hone started at Māngere College

in 1972, the year the school was

officially opened, as an Assistant

Teacher in Social Studies, English,

Māori and Polynesian Studies. In

1973 he was appointed Head of the

Māori Department and in 1974, the

Dean of Form 3.

Hone was integral in establishing Te

Reo and Tikanga Māori at the school

and promoting it in the wider

community, as well as exposing

the students to a world outside

their own backyard. This resulted

in Te Reo being taught by Māori

students to Arahanga Intermediate

classes and at night school for the

community. The Māori Club went

on the road which took them to

Tongariro and Opotiki in 1974 and

the South Island in 1981.

Hone also played an important role

in setting up the Polynesian Club

which grew in numbers to 180

under his guidance and travelled

the North Island. In 1976, the

club gained 1st place in the first

ever Auckland Secondary Schools'

Polyfest at Hillary College and again

in 1977 when Māngere College was

the host school. At the time both

schools were acknowledged for their

leadership in multiculturalism.

Hone went on leave to complete

his University Studies in 1977,

returning in 1979. Then in 1988,

he left Māngere College to take

up the position of Principal at Nga

Tapuwae College.

In the 1977 magazine, the following

was written of Matua Hone Green:

'His voice is seldom raised, he is

never seen posturing or gloomy

and there is no entry for 'cruelty'

or 'whining' in his dictionary. His

strength is of an unassuming kind,

a blend of spirit and experience,

of being a good community man,

one who will take a microphone

without rehearsal and be the master

of ceremonies or a guitarist and join

the chorus. With equal willingness,

he will pick up a shovel and help

pour concrete into a neighbour's

foundations, he is a man of two

cultures - a true New Zealander. '

Hone Green was a mighty figure,

a man of mana and quiet dignity.

When he spoke one felt compelled

to listen. He was one of the MC

greats and will be sorely missed. The

Māngere College family remembers

him with love and offers deepest

condolences to his whanau.

Nō reira e te matua, haere atu ki a

rātou kua taka i mua i a koe.

'Hone was

integral in

establishing

Te Reo and

Tikanga Māori

at the school

and promoting

it in the wider

community'

Mangere College - 2018 7
---
Ka kite anō au

i a koutou

L-R: Erica Wilson and Jocelyn Maitland

jocelyn

maitland

Jocelyn Maitland has

been the mainstay of the

Māngere College office for

almost 40 years.

In that time she has worked

alongside five principals, including

the founding principal, Ivan

Armstrong, and supported countless

staff members and students.

They have all benefitted from her

dedication and diligence.

Jocelyn's responsibilities have

been many and varied –performing

secretarial duties for the principal

and others, as well as making sure

that students were outfitted in the

MC uniform, operating the school

stationery shop, managing the piles

of photocopying staff required,

completing administrative tasks

for the Board, collecting money for

various activities, organising the

management of the school vans -

the list could go on and on.

Jocelyn has been essential to

the smooth running of the office

and the school. Her superb

organisational skills and super

efficiency have meant that she was

always one step ahead of us and

those who hadn't followed proper

procedures knew that Jocelyn will

always catch us out.

Efficient she may be but Jocelyn

has a lighter side as well. When

there are gales of laughter

emanating from the office we knew

that she was probably the instigator

of the hilarity. Jocelyn is also the

fountain of knowledge of just about

every sport you could mention and

Melbourne Cup Day would not have

been the same without her.

Jocelyn will be greatly missed. It

is the end of an era for Māngere

College. We thank her most

sincerely for her dedication and

commitment to the college, its' staff

and students.

erica wilson

After a wide variety of

teaching experiences

including that of visiting

teacher, Erica Wilson

joined the staff at

Māngere College in 1997

as Guidance Counsellor.

In 1999 she was instrumental in

setting up the Achievement Centre

at Māngere College, one of few

Alternative Education Centres that

operate from within a school setting

and which has since been held up

as a model for other such ventures

in the community.

It is due to Erica's vision and

leadership as Manager of the

Achievement Centre that many

young people have been able to

re-enter mainstream education

and realise their potential. She

has created a welcoming and safe

environment there where students

can work independently as well

as take part in scheduled classes

for their year level. The centre

epitomises the concept of the MC

family.

For the work she did with students

and families of the Achievement

Centre at MC, Erica received a Local

Hero Award in 2017 as part of he

Kiwibank New Zealander of the Year

Awards.

Not only have students benefitted

from Erica's care and expertise

but also staff, who have valued

her support, wise advice and good

humour.

We thank Erica and offer her our

best wishes as she leaves MC and

look forward to hearing about her

travels and adventures.

8 Mangere College - 2018
---
Walter

browne

kathryn

barclay

heather

laxon

thomas

pearson

For 19 years, Walter Brown served our school as the Community

Liaison Officer.

He helped bridge the gap between school and home for students and

parents alike. If not seen, one could hear Walter playing his Cook Island

drums either in the staffroom or in his office. He was such a valued member

of staff that he was allowed to have his very own carpark space, complete

with bright orange cones.

Mr Brown is now happily enjoying his retirement

Kathryn Barclay left Māngere College during term 1 – she has been

the school guidance counsellor and lead

the Student Services team for the last 11 years.

Kathryn was instrumental in setting up the It's Not OK – saying no to family

violence campaign that the school has been involved with over the last five

years. She has supported many of our students during her time here. Kathryn

has moved to a lecturing position in the counselling degree at the Manukau

Institute of Technology.

We say farewell to Heather, our Nurse who worked at MC for 10

years.

Heather enjoyed being able to share in the lives of the young people and she

also loved being part of the MC family.

She is now working as a Clinical Nurse Specialist Youth Health at Counties

Manukau Health. Heather's new role involves supporting school nurses who

work in school-based health care in South Auckland.

We say farewell to Thomas Pearson, Music teacher who worked at

Māngere College for almost 7 years.

We would like to thank him for his work promoting music and musicianship

at MC and for his involvement behind the sound boards at Performing Arts

events. Thomas leaves us to live and work on the North Island's sunny East

Coast.

Fiona is leaving MC after being here for 4 years as a school Nurse.

fiona

fouche

She is sad to leave but has enjoyed being part of the supportive and caring

MC family. Fiona has loved working with the students and feels privileged to

be a small part of their MC experience.

She is moving to an eye correction clinic in Mt Wellington.

chantal

cullinane

Chantal Cullinane has worked at Māngere College for the last 3

years as one of the part time Registered Nurses in the Health Clinic.

She left at the beginning of term 2 to take up a nursing position at Wesley

College. She was a much appreciated member of our nursing team and we

wish her well for the future.

piri

tamihana

rowena

o'neil

Piri Tamihana came to Māngere College as a temporary specialised

teacher aide mid-year in 2015.

He coached the 2nd XV rugby boys in 2016 before turning his attention to

the 1st XV. Two weeks into term 2, he decided to put his young daughters

first and bid farewell to full-time teacher aiding. His encouraging words

towards students and staff alike will be missed.

Rowena O'Neil finished as our Operations Manager in February to

move to Canterbury to be closer to her family.

Despite only being in the role for a short time Rowena made a significant

contribution to the school, helping with the day to day running and

improving systems to make it easier for teachers to do their jobs.

Mangere College - 2018 9
---
Head Boy's Report

First of all, I would like to

give praise to our Heavenly

Father for his continued

love and guidance

throughout this year

and our many years of

education. 2018 is slowly

coming to an end and

what a year it has been.

As year 9s, we arrived at Māngere

College with different backgrounds

and different life experiences. It

took some of us time to warm to

each other but the years of ups and

downs, tears and laughter, good

times and bad have brought us

closer. And now we have made it,

together as 'family'.

While at MC, we have gained

new experiences and expanded

our learning capacity. We have

strengthened old friendships and

forged new friendships.

We have shared many moments

this year, like during Polyfest where

we demonstrated our love and

passion for our own cultures and the

cultures of others.

In our sports teams: Volleyball,

Soccer, Netball, Touch, Tag, Rugby

etc - win or lose - we remained

humble and grateful.

I will miss the school atmosphere,

the feeling of being at home when

you walk through those gates and

the diversity of culture which is like

no other.

Next year some of you will move

up to Year 12 and embark on your

second year of NCEA doing Level 2,

where things will get more difficult

than they are now. Others of you will

be moving up to Year 13 and your

final year in high school, where the

staff and younger students will look

to you, to help lead the school.

After we leave school, we are free to

do what we want with our lives and

to make our mark on this world. This

'...the feeling of

being at home

when you walk

through those

gates...'

is what our 13 years of school have

been preparing us for.

I commend those who have worked

hard, stayed on task and have

consistently been focused on their

learning till the end, in spite of the

obstacles. I especially congratulate

those whose outstanding efforts

were recognised during our prize

giving. You should be proud of

yourselves.

I thank the Māngere College

teachers and staff for their patience

and support over the years.

Thank you for giving up your spare

time and pushing us to achieve the

best we could.

All of you have played a positive part

in our education and our growth

these past few years.

There is nothing we can say or do

that will appropriately show our

gratitude for all you have done but

I hope you realise how much we

appreciate you.

To you, our parents and caregivers,

without whose wise words,

dedication and provision, have

helped us to make it to the end of

Year 13, I say thank you.

On behalf of the student body,

I honour you all for the love and

guidance you have given us.

And now my brothers and sisters of

MC, thank you all for the memories

and strong friendships we have built

and for a fun and exciting few years.

It has been worth it.

I am grateful to have spent these

five years with you and I hope our

paths will cross again.

I hope all of the seniors do well

in their exams and whatever you

choose to do next year.

I have so much love and respect for

you all.

When we walk out those gates, I

ask you all to go out and make your

presence felt in the world.

Do what you love and love what you

do.

Remain hungry, remain humble,

remain grateful and continue to

seek the heights!

- Mark Leleifi

10 Mangere College - 2018
---
Back Row: Jacinta Ringi, Hannah Pio, Cee-Jay Maitai, Jane Malau'ulu

2nd Row: Deborah Ward (Deputy Principal), Izadine Ahmat Abdallah, Edna Mann, Matthew John, Isaak Samoa,

Tom Webb (Principal)

Front Row: Jasmine Strickland, Sili Tongotongo, Mark Leleifi, Levi Teleiai, Mary Maea

Inset: Paul Lesoa

Student

Leaders

The Student Leaders have been a responsible group

of students that have worked as a team throughout

the year.

They are well respected by both staff and student and have

always been available to respond to the needs of the student

body. The student leaders are always a welcoming presence

in Senior Assembly. They are a delightful bunch to work with

and be around.

- Debra Pene

Mangere College - 2018 11
---
Year 13 Students

Back Row: Jasine Leo'o Olo, Sitashree Minati, Lima Pene, Nikita Tata, Manakia Maro, Laura Wong-Tung, Lydia Paane, Lauryn Peauvale, Sesiona Faamausili,

Danielle Sale, Tara Teopenga, Sandy Channing, Hannah-Lily Tohilima-Franklin

4th Row: Nora Tekena, Suanne Vahe, Ofa Tongotongo, Dannielle Funaki, Fatai Loamanu, Maranna Miri, Samira Wilson, Puna Levao, Daisy Ropati, Holly Rapana,

Tiare Purea, Finau Falefo'ou, Anerosa Tulilo, Melody Sefulu, Ruaama Akaiti, Ana Salaikeni

3rd Row: Codi Mataiti, Niuma Apineru, Jason Pullen-Burry, Junior Tongia, Ezra Salu, Daniel Tongia-Lennon, Cameron Tairea, Derek Iulio, Tau Lagaaia, Abraham

Tongotongo, Charnce Ngawaka, Ky Duong, Stephen Taylor, Lee-Joe Tamihana, Sharee Sauni

2nd Row: Lavannah Pritchard, Pearll Arama, Kayla Ikinepule, Tipora Teingoa, Marina Manapori-Tongia, Shane Prasad, Tamara Aukuso, Siniva Pio, Leigh Tumai

Totorewa, Ngaire Felise, Platinum Marsters, Esther Meleke, Shavaughn Michael, Seriah Terepita, Vanessa Kepa, Hinano Tekena

First Row: Rosaline Peraua, Jacinta Ringi, Matthew John, Jasmine Strickland, Izadine Ahmat Abdallah, Edna Mann, Isaak Samoa, Mark Leleifi, Sili Tongotongo,

Mary Maea, Levi Teleiai, Hannah Pio, Cee-Jay Maitai, Jane Malauulu, Vi Duong

12 Mangere College - 2018
---
Year 11/12 Prizegiving

Sports' Awards

Patricia Beazley

Aniket Chand

Julienne Niko

Kamehameha Anae

Suliasi Tupou

Ru Terry

Victory Tilo

Victory Tilo

U17 Girls Basketball Player of the

Year

Football Boys - Player of the Year

Netball Senior Girls - Player of the

Year

Rugby 1st XV - Player of the Year

Rugby 2nd XV - Player of the Year

Tag Football Senior Boys - Player of

the Year

Volleyball Senior Girls - Player of the

Year

Sports Girl of the Year

student leaders for 2019

Abdul Ahmadi

Jacob Leleifi

Wayne Magalogo

Julienne Niko

Soana Afu

Jason Taufa

Zahra Ibrahim

Nicholas Ingram

Aniket Chand

Julia Luamanu Kilipati

Zahra Hussaini

Marietta Mailo Slade

Caleb Chan-Ting

Sasa Lelenoa

Tumema Soti

attendance

Year 11 - 100% Attendance for 2018

Chu Moo Paw

Diana Pio

'Etina Kaliopasi

Tiulipe Palenapa

Reupena Kilipati

Asena Panuve

Rosemary Felauai

Joell Fuimaono

Theresa Maluatoga

Sweetie Neria

Kaisa Faamausili

Year 12 - 100% Attendance for 2018

Abdul Ahmadi Aniket Chand

Zahra Hussaini Irene Luafatasaga

Sasa Lelenoa

Nicholas Ingram

Year 12 Full Attendance for 2 Years

Julienne Niko

Year 12 Full Attendance for 3 Years

Jacob Leleifi

Sara-Lee Sigglekow

Soana Afu

Zahra Ibrahim

Year 11 100% Attendance for 2 Years

Blessing Taituave Fuimaono

Year 11 100% Attendance for 3 years

'Unaloto Leleifi

Mangere College - 2018 13
---
YEar 11 subject prizes

Logopati Mataafa

Joela Napaa

Leo Akeripa Sa

Reupena Kilipati

Diana Pio

Olathe Taumihau

Eneleata Pulemau

Olathe Taumihau

Kiwi-Tamaki

Thompson

Multi Level 1 ESOL

Level 1 Accounting

Level 1 Art

Level 1 Building Construction

and Allied Trades

Level 1 Fashion Focus

Level 1 Geography

Level 1 Health

Level 1 History

Level 1 Māori

Kahdel Leilua Level 1 Mathematics Band 1

Sunnie Mataiti Level 1 Mathematics Band 2

Younis Ahmat

Abdallah

Level 1 Mathematics Band 3

Grace Ah Chong Level 1 Mathematics Band 4

Kalavite Fukofuka

'Unaloto Leleifi

Aaron Koiatu

Blessing Taituave

Fuimaono

'Etina Kaliopasi

Aaron Koiatu

Aashantaey Iosua

'Etina Kaliopasi

Younis Ahmat

Abdallah

Level 1 Mechanical Engineering

Technology

Level 1 Music

Level 1 Physical Education

Level 1 Samoan

Level 1 Science Biology

Level 1 Science Physics

Level 1 Sports Science

Level 1 Tongan

Level 1 Building Construction

and Allied Trades

YEar 11 form prize

11FI

11HA

11IM

11NA

11SA

11EU

Pj Campbell

Rosemary Felauai

Aaron Koiatu

Vaioleti Leiataua

Patricia Beazley

'Etina Kaliopasi

YEar 12 form prize

12DA

12DV

12GO

12MI

12ND

12AL

Sara-Lee Sigglekow 12DA

Soana Afu 12DV

Zahra Ibrahim 12GO

Tumema Soti 12MI

Nicholas Ingram 12ND

Irene Luafatasaga

YEar 12 subject prizes

Tram Nguyen 12AL

Abdul Ahmadi 12AL

Sateki Tuitupou 12DA

Aniket Chand 12AL

Kamehameha Anae

12AL

Dominic Little 12ND

Zahra Ibrahim 12GO

Tram Nguyen 12AL

Grace Mataafa 12AL

Zahra Ibrahim 12GO

Tauta Matita 12MI

Tarepeta Rio 12MI

Todd Pullen-Burry

12MI

Wayne Magalogo 12AL

Lealofi Sanelivi Pio

12DA

Zahra Ibrahim 12GO

Ritia Viniki 12DV

Irene Luafatasaga

12AL

Mai-Rose Lesa 12MI

Soana Afu 12DV

Tram Nguyen 12AL

Urau William 12DV

Tram Nguyen 12AL

Julia Luamanu Kilipati

12AL

Lealofi Sanelivi Pio

12DA

Level 2 Accounting

Level 2 Art

Level 2 Printmaking

Level 2 Introduction to

Automotive

Level 2 Building and

Construction and Allied Trades

Level 2 Building and

Construction and Allied Trade

Skills

Level 2 Biology

Level 2 Business Studies

Level 2 Catering

Level 2 Chemistry

Level 2 Cook Islands Māori

Level 2 Dance

Level 2 Digital Studies

Level 2 Design and Visual

Communication Technology

Level 2 Economics

Level 2 English Academic

Level 2 English

Level 2 English Literacy

Level 2 Fashion Focus

Level 2 History

Level 2 Hospitality

Level 2 Māori

Level 2 Mathematics and

Statistics

Level 2 Mathematics Band 2

Level 2 Mathematics Band 3

Saviour Shee 12AL Level 2 Mathematics Band 4

Saviour Shee 12AL Level 2 Mechanical Engineering

Technology

Haris Ahmed 12AL Level 2 Mechanical Engineering

Technology

Tumema Soti 12MI Level 2 Music

Zahra Ibrahim 12GO Level 2 Physics

Julia Luamanu Kilipati Level 2 Samoan

12AL

Josephine Fa'asisila Level 2 Sport Leadership

12MI

Julienne Niko 12DA Level 2 Sports Science

Raymond Vea 12AL Level 2 Tongan

Marietta Mailo Slade Level 2 Tourism Studies

12DV

Sasa Lelenoa 12GO Level 2 Career Development

Lealofi Sanelivi Pio Level 2 Geography

12DA

Saviour Shee

Multi Level 2 ESOL

14 Mangere College - 2018
---
special awards

Vera Wilson

Johnathon Lemalu

Aniket Chand

Entered by TA Cecilia

Ngani

Entered by TA Ramona

Mafileo

Zahra Hussaini

Toto Moeai'a Toleafoa

Renouf Cup for Musical

Performance

Thwaites Cup for the Most

Improved Senior Music Student

Trades Academy Level 2 Core

Carpentry

Year 11 Speech Award

Year 11 Speech Award

Library Prize

Most Improved Student in the

Learning Centre

Aaron Koiatu

Zahra Ibrahim

Saviour Shee

Sateki Tuitupou

Patricia Beazley

Abdul Ahmadi

Julienne Niko

Outstanding Achievement in

the Arts - The Pedder Cup

Ryders Cup for Achievement

with Distinction in the

'Gateway' Programme

The Pedder Cup for Most

Progress in the Achievement

Centre

Puhoro Student of the Year

First Foundation Scholarship

First Foundation Scholarship

student of the year

Diana Pio

Year 11 Student of the Year

Tumema Soti Year 12 Student of the Year

Zahra Ibrahim

top scholars

Aaron Koiatu

Year 11 Top Scholar of the Year

Zahra Ibrahim

Year 12 Top Scholar of the Year

Mangere College - 2018 15
---
Year 13 Prizegiving

attendance

sports' awards

100% Attendance for 2 years

Hannah Pio

100% Attendance for 3 years

Esther Meleke

Full Attendance for 2018

Shane Prasad

Sesiona Faamausili

Jasmine Strickland

Tipora Teingoa

Platinum Marsters

Platinum Marsters

Shane Prasad

Sili Tongotongo

Sili Tongotongo

Isaak Samoa

Cameron Tairea

Cameron Tairea

Tag Football Girls – Player of the Year

Hall Award for Sportsmanship

Johnson Cup for Outstanding Personal

Achievement in Sport

Knight Award for Outstanding

Contribution to Sport

Aldridge Award for Sportsmanship

Volleyball Senior Boys – Player of the Year

Touch Rugby Mixed – Player of the Year

Sports Boy of the Year

Full Attendance for 2 years

Maranna Miri

Full Attendance for 3 years

Levi Teleiai

Full Attendance for 4 years

Mark Leleifi

Year 13 subject prizes

Izadine Ahmat

Abdallah

Dannielle Funaki

Dannielle Funaki

Dannielle Funaki

Dannielle Funaki

13FR Form Class

Vocational Pathways English

Vocational Pathways Mathematics

Vocational Pathways Technology

Year 13 Work Smart

16 Mangere College - 2018
---
Year 13 subject prizes cont...

Jasine Leo'o Olo Level 3 Digital

Technology

Jasine Leo'o Olo Level 3 Hospitality and

Customer Service

Cee-Jay Maitai Level 3 Māori

Cameron Tairea Level 3 Design and

Visual Communication

Technology

Laura Wong-Tung Level 3 Accounting

Sesiona Faamausili 13MA Form Class

Fomai Muavae Vocational Pathways

Careers

Jasmine Strickland Level 3 English

Academic

Lee-Joe Tamihana Level 3 Dance

Junior Tongia Level 3 Sports'

Leadership

Daniel Tongia- Level 3 Technology

Lennon

Matthew John Level 3 Mathematics

with Calculus

Puna Levao ARA Award for Work

Experience

Hannah Pio Level 3 Geography

Hannah Pio 13SE Form Class

Tiare Purea Level 3 Catering

Dannielle Sale Level 3 Music

Dannielle Sale Level 3 Tourism

Studies

Finau Falefo'ou Level 3 Economics

Derek Iulio Level 3 Art

Printmaking (Digital)

Derek Iulio Level 3 Sports Science

Mark Leleifi Level 3 Business

Studies

Mark Leleifi Level 3 History

Mark Leleifi Level 3 Tongan

Edna Mann Level 3 Chemistry

Edna Mann Level 3 Mathematics

with Statistics

Esther Meleke Level 3 English

Rosaline Peraua Level 3 Physics

Lavannah

13TU Form Class

Pritchard

Niuma Apineru ARA Award for Work

Experience

Ky Duong

ARA Award for Work

Experience

Jane Malauulu Level 3 Samoan

Sitashree Minati Level 3 Career

Development

Maranna Miri Level 3 Cook Islands

Māori

Tipora Teingoa Level 3 Art

Nora Tekena Level 3 Fashion

Levi Teleiai Level 3 Mathematics

Levi Teleiai 13WG Form Class

Zarea Kaweroa Level 3 Biology

special awards

Shuaib Subbir

Isaak Samoa

Lee-Joe Tamihana

Ky Duong

Levi Teleiai

Jasmine Strickland

Daisy Ropati

Jason Pullen-Burry

Matthew John

Samira Wilson

Izadine Ahmat Abdallah

Isaak Samoa

Mark Leleifi

Mark Leleifi

Mark Leleifi

Courtney Prize for Commerce

Opeloge Ah Sam Award for Senior Music

Composer of the Year

Outstanding Achievement in the

Performing Arts

Robson Cup for Achievement in

Vocational Pathways

The Senior Samoan Oratory Trophy

(sponsored by 5 Star Motors)

Writers' Award

Mike Pero's Entrepreneur of the Year

Award

Mike Pero's Entrepreneur of the Year

Award - Best Production Manager

Mike Pero's Entrepreneur of the Year

Award – Student who showed the most

growth in Business

Mike Pero's Entrepreneur of the Year

Award – Best Marketing Manager

Leadership of Student Council

Leadership of Student Council

Board of Trustees Student Representative

Principal's Prize for Head Student

Outstanding Contribution as a Student

Leader

student of the year

Hinano Tekena

special presentations

Māngere College Leavers' Scholarship

Sesiona Faamausili

Daisy Ropati

Hannah Pio

Edna Mann

Esther Meleke

Waikato University Pacific Excellence Scholarship

Daisy Ropati

Waikato University Te Piringa – Faculty of Law Endeavour

Scholarship

Daisy Ropati

Massey Business School Future Leaders Scholarship

Daisy Ropati

Otago University Pacific Excellence Scholarship

Daisy Ropati

2019 Manukau Institute of Technology Partnership Scholarship

Tua Levao

2019 Manukau Institute of Technology Partnership Scholarship

Zarea Kaweroa

Glenys Erickson Memorial Cup

Ruaama Akaiti

For the senior student who has best demonstrated throughout their

time at Māngere College a high standard of achievement, participation and

perseverance.

Mangere College - 2018 17
---
special presentations

cont....

Elizabeth Ellett Memoral Prize for

Meritorious Achievement

Mark Leleifi

For the senior student who has achieved to a high level in one or

more areas of the school

David Gock Cup for the Spirit of Rotary

Junior Tongia

For the senior student who upholds the Rotary Four Way Test: Of the

things we think, say or do, is it the TRUTH, is it FAIR to all concerned,

will it build GOODWILL and BETTER FRIENDSHIPS and will it be

BENEFICIAL to all concerned?

The following Awards

are decided by the staff

of Māngere College:

Stan Kepa Prize for Leadership in Cultural Activities

Hannah Tohilima-Franklin

For the student who has shown leadership and role model qualities in

one, or across a range of cultures.

Williams and Cunningham Prize for Courtesy

Hannah Pio

For the student who is polite, courteous and cheerful; showing respect for

others yet retaining their own personal strength.

Watson Prize for Service to the Community

Paul Lesoa

For the student who puts themself forward to help out in the school and

the wider community.

Benson Award for Service to Others

Levi Teleiai

For the student who cheerfully helps staff and other students in a range of

activities without being asked.

Lambie Prize for Leadership

Edna Mann

For the student who demonstrates leadership qualities and is looked up to

by the student body as a role model.

Bader Award

Laura Wong-Tung

The recipient will have overcome a significant hurdle in their life to become

a model citizen of the school and make considerable progress in their

education.

Māngere College Scholarship

Levi Teleiai

This Scholarship has been made possible by an anonymous donation to the

school. It covers the fees, up to $6000, for the first year of tertiary study.

Elizabeth Ellett Scholarship Recipient 2019 – 2021

Jasmine Strickland

This Scholarship is made possible by a bequest from the estate of Elizabeth

Ellett, a long-time supporter of the College. The Scholarship is $4000 per

year for 3 years of University study.

Top Academic Award

for 2017:

Senior Scholar

Jasmine Strickland

This cup is awarded to the Year 13 student who has achieved the best

results in NCEA assessments this year.

Otago University Dux Scholarship 2019

Jasmine Strickland

18 Mangere College - 2018
---
polyfest
---
Cook Islands' Group

Iriiri mai koe iakoe.

Kia iriiri atu au iaku.

'Let your beauty in our cultural traditions and costumes

define who you are and where you come from.'

Kia Orana and warm greetings from

the Māngere College Cook Islands

Polyfest Group 2018.

Māngere College Cook Islands

group started this

Polyfest year

with humility

and ended

with an

awesome

win.

A very

organized

cultural

committee

consisted of

families who

were supportive,

dedicated

and loving.

Through their

commitment and

long nights, they

raised enough

funds to ensure

we had amazing

costumes.

We were the

overall winners

at Polyfest 2018

Competitive

Section for the

Cook Islands

stage again!

It was the first

time in Polyfest

history for our

MC Cook Islands group to win all

of these prizes which was very

humbling.

We were also privileged to perform

at the Cook Islands Village for

Pacifica, and as a result for winning

the Costume section, our Costume

Team were lucky to get the Display

Hut- Fare Pora to showcase our

winning costumes and Arts and

Crafts. We would like to extend

our sincere gratitude to the Cook

Islands Village Co-ordinator Bernard

Tairea for giving us this wonderful

opportunity.

Finally, I praise God for his many

blessings, our students and teacher

in charge Tai Uamaki of MC for your

patience and resilience. We wish

our year 13's the very best for your

future endeavours, our team, our

family and friends for your neverending

love and support through

the composition, choreography,

costumes and financial assistance in

whatever way big or small Meitaki

Autupaka! Because without each

and every one of you this journey

would not have been as successful.

Thank you to: Temanu & Moe

Temanu Jnr, Patrice Temanu, Mr

& Mrs Mark Pora, Mr & Mrs Maru

Ngametua, Ms Kura Taruia, Pai Toru

& Denise Rairi, Topa Davida, Ruby

Ngavavia, Niva Tuteru-Maroroa, June

Teara- Charlie, Jay Kaokao, Keani

Pora, Tatryanna Eden- Lacroix,

Vera Lauchlan, Honey Teinakore,

Angelyse Heitiare-Armstrong, Teniva

Samuel & Cedrick Toru, Ben Toru

& Lyah Taikakara, Phylesha Brown-

Acton, Renee Holtom, Irene Moeau

Critchley, Tai Uamaki, Rahui Tautape

Samson, Teariki Tarae-Natua, Kenzo

Rima, Mareta Angene, Mataina Orika,

Nan Pita, Bernard Tairea, Gerardus

Verspeek, Ernestina Bonsu-Maro,

Inangaro Tupuna & Sabel Tupuna.

Until next year, from us to you, Kua

Kite!!

Kia Orana e Kia Manuia

Te Atua te Aroa,

- Mr & Mrs Tai Temanu

MC Cook Islands Polyfest Head

Tutor and Leaders.

Cook Islands

Group results

Speeches:

1st - Harry Taia 10AU

1st - Teava Tonitara 11FI

2nd - Maranna Miri 13WG

Performances:

1st - Best Composition

1st - Best drummers

1st - Best Rakei

1st - Perepere Tane

2nd - Perepere Vaine

1st - Imene Tuki

1st - Ute

1st - Kapa Rima

1st - Peu Tupuna

1st - Rangatira – Ruama Akaiti 13MA

1st - Ura Pau

Overall 2018:

1st place Cook Island Stage
---
'...it gives

me an

opportunity

to show my

family who

I am...'

Kapa Haka

Group

'Ka pū te ruha, ka hao te

rangatahi'

'As an old net withers,

another is remade.'

ASB Polyfest is a big part of Māngere

College, many cultures are involved

in this festival.

I am Rehia Patuwai a Year 12 Māori

Student here at Māngere College.

I have participated in Polyfest for

3 years now. Polyfest has changed

throughout the years. Polyfest is a

competition which encourages you

to be the best at what you do.

From my perspective, Polyfest is

a festival that brings all cultures

together, to laugh, to cry and to

enjoy performances.

It is an opportunity for friends

and families to witness the hard

work that performers put into

the performances. As a performer

it's inspirational, it gives me an

opportunity to show my family

who I am and it gives me a chance

to show people how much I love

kapa haka, my culture and how

much I want to make my whanau

proud.

This year our kapa haka was mostly

year 9 and I am so proud of them.

Our kapa performed on the stage

in front of many, representing MC,

and enjoyed themselves. That's the

best part about it. So I encourage

all to join the kapa next year to

experience standing on the kapa

haka stage at Polyfest a part of the

MC ropu.

- Rehia Patuwai
---
Niuean Group

The Māngere College

Niuean Group was a

success.

It was a hard year for me. Not only

because we almost didn't have a

group, but because it was very hard

to take the role of being a leader

because I had other responsibilities.

Other than that, I still got a group

together to compete in Polyfest

2018.

Throughout our rehearsals, it was a

relief to see how many people were

committed to our group and I loved

how much passion, love, and energy

the students had for the culture.

Picking our leaders for this group

was a hard decision but at the end, I

chose Hannah-Lily Tohilima-Franklin

because I saw how much love she

had for her culture, and seeing her

take charge of everyone made me

want to make her a leader because I

needed someone bossy. She is also a

good leader in other areas of school

so I was confident with her being a

leader for our group.

Coming to the last week of practices

it was emotional knowing all our

hard work is coming to an end, and

it was a blessing to see what we had

22 Mangere College - 2018

achieved in the short time we had

together. Our last run through our

performance was the best I've seen.

All I saw was hard work from all

students.

The morning of Polyfest we all had

to be at school before 6:30 am, I

was glad to see our performers up

and ready looking really amazing.

Just being together that morning

was an experience I'll never forget.

Seeing everyone encouraging each

other saying it's going to be alright

or just hyping everyone up was a

big highlight for me. The dances we

performed were; Entrance, Ta Me

(Action Song), Meke, Lologo Tapu

(Church hymn), Takalo (War Dance)

and Exit. Every dance we did was

done to the highest standard. I

can't explain how proud I am to be

a part of the Māngere College Niue

group. All the blood, sweat and tears

that had gone into rehearsing just

for that one day was all worth it in

the end.

Thank you to all the tutors;

Rissa Polima-Tapatau, Kaleb Samoa,

Luke Maiko, Tearataua Taviona, Pila

Kolonga, and to all the teachers incharge;

Mike Darraugh, Sally Haye,

Deb Ward and Aisake Tuitupou.

Fakaue lahi kia mutolu oti.

- Isaak Samoa

'All the

blood, sweat

and tears

that had

gone into

rehearsing

just for that

one day was

all worth it in

the end.'

niuean Group

results

Lologo tapu tuai:

3rd - Māngere College
---
Samoan Group

E muamua

lava ona si'i

le vi'iga ma

le fa'afetai i le

Atua aua ua tatou

fesilafa'i i pu'e o

manu ae le o pu'e o

mala.

Ae oute le'i utufia le vai toloa

ma le vai moea na mo'omo'o i ai

Tagaloalefolasa, ae muamua ona

ou taia le tutafa'itoa ma ou fa'apoi

fa'ala'au tu vanu aua le pa'ia ma

le mamalu o Samoa. First and

foremost, I would like to give thanks

to our Heavenly Father for his

everlasting love, support

and guidance throughout

our Samoan group 2018.

The theme for Polyfest this

year was 'Thread the fibres

of humanity, Thread the

fibres of spiritual wellbeing,

Bind together

the essence of cultural

identity, Weave together

the diversity of cultural

awareness.' 'Feso'ota'i

i le tino, Feso'ota'i i

le agaga, Maua'a i

lou fa'asinomaga,

Lalaga i le matagofie

o aganu'u eseese.'

This represented who

we are as people and

defines our culture and

heritage.

Our Samoan group went through

the same process as previous years.

We started with trials that were held

in the auditorium. Each student

chooses what to perform whether it

be singing a song, doing a dance or

both, but in the Samoan language

or culture.

Our group this year was blessed

with intelligent and passionate

tutors who sacrificed precious

time for our benefit: Iulia Ioane,

Melania Agaimalo, Siata Ah-Chong,

Musuiaigaatoa Tapu, Numia

Toomata, Clarence Soti and Mike

Pio, who worked alongside our loyal

and dedicated teachers Mr Fesulua'i,

Mrs Smith, Ms Nu'usavili and Mrs

Ah Sam. We are very grateful for

their continuous support and

management leading up to Polyfest

2018.

The Samoan group was also under

the leadership of Jane Malau'ulu,

Jasmine Strickland, Esther Meleke,

Holly Rapana, Sesiona Faamausili,

Hannah Pio, Tai Perez, Paul Lesoa,

Italy Nglam and Ezra Salu.

On the third week of school, we

started rehearsals. Beforehand, we

would always start with a greeting

and prayer. For the first few days

when practices started, the leaders

had to come up with moves for

the Sasa due to not knowing if the

tutors were going to turn up to

Mangere College - 2018 23
---
practices for the first few weeks.

Luckily our leaders had come up

with a few moves to get the group

started on something instead of

waiting for our tutors to show up.

Practices from Monday to Friday

went from 3:40 pm to 06:00 pm.

On Saturdays, it was from 10:00 am

onwards.

As weeks went by practices started

getting more challenging. Students

were starting to feel the pressure

from the tutors and teachers

were being more strict than

usual, especially when it came to

polishing our performance from

the beginning to end. During these

tough practices, we learned our

Ulufale (entrance), Ma'ulu'ulu, Sasa,

Pese (songs), Taualuga (final dance),

Ulufafo (exit) and finally perfecting

our transitions on the way.

Lunchtime practices were organised

to help those who were lost and

slow on learning moves or the lyrics

to the songs. Students knew they

had to sacrifice free time and study

hours to practice in order for the

whole group to look like one and to

be ready for when that special day

comes. The intensity of practices

lifted even more as students and

tutors felt the performance drawing

near. Although emotions were

running high, we managed to

remain strong and continued to

push and encourage each other

to overcome these barriers we

encountered through our journey.

The day we had prepared and

practised for finally arrived. Nerves

and butterflies were a common

feeling backstage. We were all

scared and terrified but no emotions

could ever beat how nervous we

all were being the sixth school to

perform on Friday morning, 16th

March 2018 in front of hundreds of

people in the crowd. As we walked

up that stage, everyone knew it

was either give it your all or go

home with regrets. That day we

performed with all our hearts. We

sang till you could barely hear our

voices and dance like there was no

tomorrow. That day we performed

like a family and we left the stage

as brothers and sisters. We walked

off that stage as one. We left the

stage smiling proudly due to the

excitement within us and knowing

that we had performed to the best

of our abilities. Saturday 17th March

2018 we anxiously waited for the

results. Our prayers were finally

answered and we were blessed with

numerous placings in the categories.

This year may have not been

the year we took it out, but in

appreciation, we all agree that this

year was also another successful year

for the Māngere College Samoan

group. This year will be the last time

the year 13s will ever experience

the feeling of preparing for Polyfest

and performing on the Samoan

stage. But what I can say is that we

year 13s will leave with our heads

held high knowing that we have

accomplished our duties as not only

year 13s but also as leaders and that

we will continue to embrace the

Samoan culture.

Through sweat and tears, hard work

and determination, commitment

and sacrifices we have made, we

know that we have left behind a

positive, open-minded and loving

atmosphere for the future MC

Samoan Polyfest groups.

No words can explain how thankful

and appreciative we are to not only

the members of this year's group

but also to our hardworking tutors

and teachers. We are grateful for

their continuous support, words

of wisdom and their never-ending

love for our group. A special

acknowledgement to our leadership

team and well-done on the effort

you all put in. We leave Māngere

College's future Samoan group with

a little advice: "There will be times

where it will become too much

for you and you will feel like giving

up due to the pressure. You have a

leadership team for a reason. They

are there to help you, they are a

shoulder for you to lean on when

you need support. Never give up no

matter what because at the end of

the day it's not just 'I OR ME' it's 'WE

AS A TEAM." We wish you all the

best of luck and always remember:

"WE CREATE A BOND, WE CREATE

A FAMILY, TOGETHER WE WILL

SEEK THE HEIGHTS, TO STRIVE

AND ACHIEVE EXCELLENCE IN

EVERYTHING WE DO"

Se upu ua le tautamalii i lou

fa'afofoga'aga, alofa fa'amagalo mai,

aua e poto le tautai ae e iai le taimi

e sasi iai. Soifua ma ia manuia.

samoan Group

results

Performance:

1st - UlufaleMauluulu

2nd - Sasa

2nd - Pese o le Aso

2nd - Taualuga

3rd - Ulufafo

1st - Taupou – Sandy Channing

13WG

1st - Fuataimi – Jane Malau'ulu

13WG

Speakers:

Year 9 – Loreal Urika Filifilia 2nd

Year 10 – Mele Asolelei Fretton 3rd

Year 11 – Blessing Taituave

Fuimaono 3rd

Year 12 – Julia Luamanu Kilipati 2nd

Year 13 – Jane Malauulu 1st

Impromptu – Levi Teleiai 1st

Overall 2018:

2nd - Māngere College

24 Mangere College - 2018
---
Tongan Group

Tongan Group

Results

Performance:

3rd - Soke

Speakers:

Year 11 - Elisapeti Filimoehala
---
school

activities
---
Refugee Activities

REFUGEE OLYMPIC DAY

On Tuesday the 19th of

June, some other refugee

students from Māngere

College and I went to the

Henderson Trust Stadium

to play some sports.

It was Refugee Olympics Day so we

all played a lot of different sports

like basketball, hockey, and football.

Some other students from Mixit

prepared a dance. We all really

enjoyed and it was fun playing

sports and making new refugee

friends from other schools.

- Madina Salam Khel

REFUGEE

CAREERS

DINNER

A great night was had by

all at the Refugee Careers

Dinner.

This is the third year that we have

held this event at school and it

has been well received by families

and friends. Providers from AUT,

University of Auckland and MIT

came and informed us about

opportunities and scholarships

at their tertiary institutes. Former

students came and Ilham Akhlaqi

spoke about her first year at AUT.

We also had an inspiring guest

speaker who spoke about

overcoming barriers to achieve in

education.

Mangere College - 2018 27
---
We sold apples for 50 cents, and

the sandwiches were sold for $1.

We did a fantastic job and we are

doing this because we are trying to

help people in the Pacific Islands

who had their homes damaged by

Cyclone Gita and also new refugees

in New Zealand to buy tools for

their gardens at home. This will

help the families stay healthy and

safe including the new refugees in

Auckland.

RED CROSS

FUNDRAISER

On Wednesday the 21st

of February at Māngere

College we made

sandwiches at lunchtime

for the students at school.

Firstly we spread the butter on the

bread and the sandwiches had

tomato, lettuce, sliced cucumber,

grated carrot and cheese on them.

We sliced the tomato and the

lettuce. We had to cut the lettuce

small so we could make it equal for

everyone.

Refugees are important to Red Cross

and to everyone in our fundraising

team. We were helping them and

we needed MC students to help. I

thought to myself, 'please, people

come and help make a difference'.

I was glad that we made $30 on the

first day, but we needed to make

more. The refugees were going to be

so happy when we could give them

the garden tools.

We did this for three days, and we

raised $129 by the end of it. It was

good to see students supporting

this fundraising event. We needed

everyone's help and we are the MC

Family so we were able to 'Seek The

Heights' and help refugees to be

healthy at home.

- Oumaima Ahmat Abdallah

AUT MENTORING

Fortunately, I have been involved in the AUT mentoring programme for the last two

years, and I had a mentor who guided and helped me prepare for school assessments,

goal setting and have better control on my career.

Having the guidance,

encouragement and support of a

trusted and experienced mentor

provided me a broad range of

benefits, which ultimately lead to

improve my performance in my

assessments and exams. In addition,

28 Mangere College - 2018

this programme helped me improve

my communication skills and

self confidence. This programme

provided an opportunity to be

challenged, supported, explore my

career options and plan for future

actions. I was very grateful to be

involved in this programme and

would like to continue with it next

year as I benefited a lot from it.

- Abdul Ahmadi
---
Students harvesting kiwifruit.

Gardening

Club

Students helping to spread mulch under the feijoa

and lemon trees.

Mangere College - 2018 29
---
DUKE OF

Edinburgh's

HILLARY AWARD

The Duke of Edinburgh is a

youth awards programme

that recognises

adolescents and young

adults for completing a

series of self-improvement

exercises.

It challenges young people to

dream big and discover their

potential. In the programme there

are three levels; Bronze being the

first, Silver being the second and

Gold being the last.

We had 18 students participating in

the Duke of Edinburgh programme

this year. We were doing the bronze

award that takes a total of six

months to complete. The goals for

the award were to learn a new skill

(or develop an existing one), get

physically active, give service to their

communities, and take part in an

adventure.

The aim of the Duke of Edinburgh

Award is to help challenge young

students to leave their comfort

zones. It helped us build confidence

in ourselves and have greater

resilience.

The most exciting part of the

award was going on an adventure

where we had to walk up to the

Pinnacles Hut in the Kauaeranga

Valley, located all the way in the

Coromandel. We learnt about the

important equipment we had to

take, the clothing and shoes we had

to wear in certain environments and

where we were going to walk.

The walk turned out to be more

exciting once we started the hike.

It took three to four hours to get to

our destination.

These 14 students have

completed the bronze

section of the Duke of

Edinburgh award:

Abdul Ahmadi

Younis Ahmant Abdullah

Zahra Hussani

Zahra Ibrahim

Hania Javed

Sasa Lelelnoa

Marietta Slade Mailo

Julienne Niko

Cho Moo Paw

Madina Salem Khel

Lealofi Sanelivi Pio

Sara-Lee Sigglekow

Asinate Sinani

Chynna Tohilima

30 Mangere College - 2018
---
On the first day of the hike,

there were a lot of stairs which

made the walk harder and more

challenging, but with the support

and encouragement from the Duke

of Edinburgh team, we all managed

to keep going. The place we stayed

in was a bit cold and we had to

eat from already packaged food.

Although it was challenging and

hard, we all pulled through and

came out of our comfort zone.

After that experience, I learnt how

to survive in certain environments

and how to read a map. Personally, I

also learnt what difficult things my

body can take and how self-esteem

can really help me in challenging

situations in life.

Well done to everyone who

completed this award and who

committed to the adventure. Also a

big thank you to the teachers and

staff who organised this opportunity

for us. Thank you very much.

- Julienne Niko

Mangere College - 2018 31
---
Librarians getting ready for Daffodil Day collections

Display for Māori Language Week

Display for Music Week

Library

Author Helen Tau'au Filisi

The school library plays a

huge role in our school. It

is integral to the teaching

and learning process.

This year has been another

amazing, yet successful year for our

phenomenal student librarians.

We have had more and more

students wanting to become

librarians. Our collaborative student

librarian group works alongside

Mrs. Kumar and Ms. Blackwood

to ensure that all members of the

school have equitable access to

books, computers, equipment,

research materials and a safe

learning environment. All librarians

are rostered on once a week to

complete duties, either sitting

behind the issue desk, clearing and

shelving books, being in charge of

the workroom or serving our peers

who need assistance.

Throughout this year our library

has been a happy, busy place with

many events such as celebrating

the cultural language weeks. For

Samoan Language Week, Mrs

Kumar dressed our mannequins in

beautiful Samoan attire to showcase

the traditional costumes as well as

setting out display books to capture

student interest in learning about

the different cultures and languages.

This happens for all other language

weeks including Tongan, Cook Island

and Māori. During lunchtimes the

library runs cultural activities.

For Māori Language Week, students

came in and made poi. This helps

engage students to participate in

celebrating the importance of the

diverse cultures in our school.

During Samoan Language Week

the library hosted a special author

visit. We were fortunate enough

to have author Helen Tau'au Filisi

and Samoan Translator Tofilau Fritz

Filisi visit with their inspiring and

informative talk.

Every year the library is responsible

for supporting and helping to

raise money for cancer awareness.

Librarians come in the morning to

sell daffodils around the school for

Daffodil Day. This year we raised

$430.00.

The library is always a welcoming

place for everyone. Each year we

have our Intermediate students

from schools such as Viscount, Koru,

Sir Douglas Bader, Robertson Road

and Māngere Central come in each

day to experience the astounding

environment and opportunities

Māngere College has to offer for

their up and coming journey into

secondary school. It was great to see

the intermediate students surprised

to see the variety of books that our

library can offer.

Being a student librarian is fun and

enjoyable. We have the opportunity

to gain responsibility, develop our

work ethic and confidence to help

and provide a library service for our

peers and school community. It has

been a great year and I'm sure the

library team has many more great

things planned for our library in the

new year.

- 'Etina Kaliopasi 11EU

32 Mangere College - 2018
---
Librarians 2018

Sitting on the floor: O'Shay Murphy, Ali Ibrahim & Makarios Siuoalili Ielemia

Sitting on chairs: Abdul Rahman Ahmadi, Zahra Hussaini, Zahra Ibrahim, Mrs P Kumar, Soana Afu, Hania Javed,

Nicholas Ingram

Standing: Tala Senitofo, Asena Panuve, Erana Heta, Alec Ah-Lam, Adyhana Urika Filifilia, Ethan Sigglekow

Standing on chairs: Mahdieh Ahmadi, Oumaima Ahmat Abdallah, Anahera Heta, Krizzia Quinones, Paw Chu Moo,

Fatima Hussaini

Absent: Ms A Blackwood, Emanuel Faasavalu, Joshua Havili, Alosina Moeai'a Toleafoa, Lua Omoregie, Katherine Pio,

Tehillah Siamomua, Wisdom Baker, Jordan Mauu, Abigail Panuve, Sina Sivaa Talimalie, Abraham Utaatu, Abdirazak

Abdulmanan Ahmed, Younis Ahmat Abdallah, Rosemary Felauai, 'Etina Kaliopasi, Reupena Kilipati, Natalie Nguyen,

Madina Salam Khel, Blessing Taituave Fuimaono, Olathe Taumihau, Aniket Chand, Irene Luafatasaga, Julia Luamanu

Kilipati, Grace Mataafa, Thu Nguyen, Lealofi Sanelivi Pio, Saviour Shee, Sara-Lee Sigglekow, Vera Wilson, Izadine Ahmat

Abdallah, Hannah Pio

librarian

module

certificates

Ethan Sigglekow, Jordan

Mauu and Paw Chu Moo have

completed their six librarian

modules. Tom Webb, principal,

presented them with their

certificates.

Mangere College - 2018 33
---
Sports Council

The Sports Council

consists of an active group

of students where we

work together to identify

several areas in which to

make a difference in the

school.

The role of the Sports Council is

to assist in the delivery of sport

within Māngere College to enable

all students to access a high quality

sporting experience.

I believe that we have helped create

a successful sporting environment

at Māngere College this year, which

encouraged student participation,

achievement and enjoyment while

fostering community involvement.

Towards the end of term 2, we

organised a project where the

school has been generously donated

over 25 pairs of rugby boots for the

rugby season by Best Foot Forward

(a partnership with BNZ and Blues

Rugby). The boots definitely allowed

more students to play more rugby

and made it easier for those who

didn't necessarily have a pair of their

own. It was a fruitful event where

we had three rugby players from the

Blues team including ex MC student

Ofa Tu'ungafasi among the guest

speakers, with a lot of questions

answered and many were inspired.

In term 3, we worked alongside the

Student Council to run a fun filled

action packed week of sports in the

school and it was a whole school

event. Each of us were allocated

jobs to do, as well as being given

the role of organising a sport each

day with the assistance of the team.

There were activities across every

interval and lunchtime as well as

competitions, quizzes and staff

vs students events. Overall, with

great teamwork and better student

participation each day, we were able

to raise over $400 for World Vision.

We also helped with the

organisation and running of a

Sports Awards evening where we

recognised and celebrated along

with students who were outstanding

in their sports performances.

- Sasa Lelenoa

34 Mangere College - 2018
---
Student Council Leaders left to right: PJ Campbell, Isaak Samoa, Olathe Taumihau, Krizzia Mae Quinones

Inset: Izadine Ahmat Abdallah

Student Council

This year the Māngere College Student Council has been doing a lot to be as active as

possible around the school and the community.

One of our biggest events was the

Worldvision Sports Week we held

here at MC for both teachers and

students to enjoy.

During the course of Term 2 we

started planning how to fundraise.

Everyone had great ideas and we

all came to the conclusion that

we would host a sports week with

one of the days being a Teacher vs

Student game day.

During the rest of term 2 the

Student Council teamed up with

the Sports Council to work out the

details of what sports we wanted

and when we should have the sports

week.

In the beginning the Student

Council was divided into small

groups that would lead different

'One of our

biggest events

was the

Worldvision

Sports Week...'

parts of the project; such as

advertising and fundraising.

The Sports Day was a great success,

with both students and teachers

actively competing.

2018 has been a great year for

the Student Council and we have

managed to accomplish a lot in the

course of a year.

I would also like to take mention

of the 2 teachers in charge of the

Student Council, Ms. Ward and Mr.

Earl who have been great advisors

and great mentors in helping with

the Student Council.

Thank you all for a terrific year

and let's make sure 2019 is even

better and from everyone on the

Student Council thank you and

may everyone have a very Merry

Christmas and a Happy New Year.

Mangere College - 2018 35
---
Health Council

Māngere College Health

Council is a committed

team of students which

aim to provide a voice

for students promoting

decisions and projects

that affect the health

and well-being of our

community.

Our Health Council is made up

of junior and senior students

who advocate on behalf of other

students. The Student Health

Council forms key relationships

with organisations such as Healthy

Families and Youthline.

A key initiative with Healthy Families

this year was promoting the school

as a water-only school. The Health

Council students design the MC

water bottle with the statement

'H2O is the way to go' to encourage

students to drink more water at

school.

'A key

initiative

with Healthy

Families this

year was

promoting

the school

as a

water-only

school.'

We also run free breakfast during

interval on Mondays and Thursdays

at Student Services. All students

are welcome to come and enjoy

breakfast and socialise with other

students.

36 Mangere College - 2018
---
Cee-Jay's

Hawaiian

experience

O'ahu,

Hawaii

A lot of people think of Hawaii as a

holiday destination, but for a first-timer

in Hawaii it was overwhelming seeing

the state that place is in.

One small village had the same population as New

Zealand living there. Being an ambassador for the Sea

Cleaner's association taught me about the terrible

state that Hawaii is in.

In one week we collected 4.1 million tonnes of rubbish.

The currents in Hawaii are very strong which means

that rubbish will be washed ashore. Students in local

schools and teachers did not know that they had such

a tragedy. Our mission was to make a change, and I

think a lot of people will make changes in their lives,

It was Cee-Jay's cleaning up at her local area of Ihumatao

which helped her get noticed by Sea Cleaners.

not knowing that it impacts a lot of other people who

see the actions they take.

I came away from Hawaii with a strong purpose to raise

awareness here in Auckland, New Zealand. I just want to

say a special thanks to the many supporters in and out

of school and especially to Sea Cleaners and Makaurau

Marae.

- Cee-Jay Maitai

Mangere College - 2018 37
---
'great gadsby'

Ball Committee:

Mark Leleifi

Paul Lesoa

Jasine Ah Leo'o Olo

Sili Tongotongo

Ball

Ball Prizes:

Queen of the Ball – Holly Rapana

King of the Ball – Daniel Tongia-Lennon

Best Male Dancer – Lee Joe Tamihana

Best Female Daner – Samira Wilson

Cutest Couple – Jeffrey Taulanga & Ruaama Akaiti
---
Brainwave is a charitable

trust who educates

students, parents and

professionals about

brain development from

conception through

the early years and into

adolescence.

Brainwave

Workshops

A child's brain grows more in

their first few years than it will

at any other time in their life; we

understand very clearly that early

experiences can help set up strong

or fragile foundations for later

learning, behaviour and health.

Adolescence is also a time for

significant brain development.

All Brainwave programmes are

backed up by solid science and

research and delivered at Māngere

College by two educators; a teacher

and a paediatric nurse with over 30

years' experience.

Many students have younger

siblings; some are beginning to

babysit. Many will be the parents

of the future. The knowledge that

they absorb through this engaging,

interactive programme is very

empowering. Each and every one of

them can make a real difference.

Ask your son or daughter what they

have learned. And please visit the

website for more information:

www.brainwave.org.nz

Feedback

from some Māngere College students:

Very important

for future

generations to

live a happy and

healthy life.

This programme

has made a huge

difference to me.

It was good

because it made

me think about

how I can take care

of my own brain.

It has made me

more aware of how

fragile a baby is.

I loved this

experience and

didn't want it to

end.

40 Mangere College - 2018
---
Pacific Islands

Leaders of Tomorrow

This term, some of our

Year 11 students were

selected to represent

our school at the P.I.L.O.T

(Pacific Islands Leaders of

Tomorrow) programme

held at Ignite College, Wiri.

Around 100 students participated

from several neighbouring South

Auckland schools.

This was a great opportunity for

these MC Year 11 students to

reconnect and build on their

confidence and understand what

their strengths are. There are many

ways to navigate 'the ocean' for

students to build on their identity

and resilience and to explore the

ocean currents navigate the fickle

winds, traverse changing tides and

to follow the plethora of secret

pathways hidden in the stars.

Well done to 'Etina Kaliopasi,

'Unaloto Leleifi, Diana Pio, Aaron

Koiatu, Herilla Salu, Olathe

Taumihau and Sweetie Neria who

represented our school with respect

and responsibility.

Tautoko Hauora

This year, the partnership

between Māngere College

and TOKO Collaboration

Charitable Trust together

hosted Toko Peau #4

event at Māngere College

on Friday 31 August 2018.

'Supporting Wellbeing'

The evening was a celebration of life

and TAUTOKO HAUORA (supporting

well-being). Once again there was

a display of art work from Māngere

College students. Guest speakers

included former MC students Dr

Ana Justine Mesui, Salome Wright,

Ernestina Maro, and Mary Aue.

Amongst the performers at Toko

Peau were the MC Kapahaka

group, former MC student Romeny

Fukofuko aka Konecs, Jacob Filipe,

and one of our current teachers, Mrs

Telea.

It was a family and community

event and Matua Nuku kindly

offered to have the Kapa Haka

group open the event. Thank you

to the school principal Mr Webb,

school counsellor Mr Paul Campbell,

staff and our MC family for the

support.

Mangere College - 2018 41
---
Tough Mudder

Anne Tupou, Alexis Fenton, and Xaviar Rehu (above)

completing the Tough Mudder along side Olympian

Caitlin Ryan and her partner Nick (far left).

The run was 18kn long filled with many obstacles. Thank you to Ness Rogers

and the iSport Foundation for the great experience.

- Aisake Tuitupou

Above 4 images: Examples of what

contestants have to go through for

Tough Mudder

Kids with Character

In Kids with Character,

we are developing

leadership skills and

growing our confidence

as individuals.

This group is lead by Simon

Kent who works for the iSport

Foundation. During our time with

Kids with Character we have class

sessions which teach us how to be

a leader for tomorrow, we discuss

our plans for the future and our

careers.

We also attended an iSport

Foundation Leadership Day where

we listened and learnt from sporting

leaders such as Louisa Wall, Fiao'o

Faamausili, David Letele, Mike

McGuire, Richie McCaw, and others.

David Letele (aka The Brown Butta

Bean) shared his story and taught

us not to let excuses get in the way

of us achieving great things, and

most of the speakers taught us

the importance of making good

choices and how that helped

them be successful.

The Kids with Character group is

helping us gain confidence and

the ability to face problems headon

and solve them efficiently.

- Jordan Mauu & Ethan Sigglekow

42 Mangere College - 2018
---
MC Photo Project

This year we have

embarked on a project

with local professional

photographer and

ex-MC student Vinesh

Kumaran, aiming to

build a collection of

promotional photos for

the school.

Photographer:

Vinesh Kumaran

We have covered cultural groups at MC, sports, the

Technology Department, the Performing Arts Department

and the Art Department. We will be concluding with an

academic shoot at the end of term 4.

Many thanks to Vinesh for volunteering his time for the

5 days of shooting, the students for being such amazing

models, and the school would like to acknowledge the

Māngere Markets Trust for helping partially fund this

project.

Mangere College - 2018 43
---
44 Mangere College - 2018

departments
---
Senior Art students putting the finishing touches on their Art Portfolio's before they are sent away in the beginning of Term 4.

Pictured here: Platinum Marsters 13SE. Pictured below: Brendalee Pouwhare 11FI

Art

Department

Art by Irene luafatasaga

Art by Julienne Niko

Art by Zahra Hussain

Art by Zahra Ibrahim

Mangere College - 2018 45
---
Some of our Year 12 Business students at the 'Business is Awesome' workshop

Commerce Department

This year has been an exciting year for the Commerce Department.

In Term 1, our Year 12 Business

students were given the opportunity

to attend a workshop organised by

the Rotary Club called 'Business is

Awesome'.

Ten Year 12 students took part in

a whole day workshop where they

were grouped with students from

other schools. This gave our students

exposure to working with other

students to come up with an idea

for making a product, marketing it

and finally selling it. At the end of

the day, the winning team included

our students, Taylah Robinson and

Adrienne Lavea.

commerce trip to wellington

The Wellington Trip was

full of learning experiences

for our senior students.

We flew to Wellington and for a

few of our students, it was their

first flight ever. We stayed in a

hotel, and for many that was

also a new experience. For most

students, it was also their first

time visiting Wellington. During

the trip, we visited the Reserve

Bank and learnt how and where

money is manufactured, how

money works in the market, the

OCR and interest rates. We also

visited Parliament House, sat in

the debating chamber and saw

questions and answers debated.

We also visited Te Papa museum

and students had the freedom

to see the museum at their own

pace. They enjoyed Peter Jackson's

wartime display. Lastly, we had

a city tour and students also did

some shopping.

rainbows End

adventure

Our Year 11 Business

students went to

Rainbow's End.

This trip was based on their

assessment about Human

Resources. They did some research

work first and then spent the rest

of the day on rides and other fun

activities.

46 Mangere College - 2018
---
Young

Enterprise

Scheme

This year we had some very exciting business

ventures and products. The businesses developed

by students were all a great success.

'manea aqua'

group

One business group

with the company name

'Manea Aqua' worked with

Auckland City Council and

created a fish habitat for

Tararata Stream which is

located near our school.

Students created a fish habitat from recycled

pallets and used cement slabs. They sold each

habitat to Auckland City Council for $150.

They also got $100 from SEED Funding for

their excellent performance in presenting their

business idea (called a 'pitch').

Selling their product at the Night Market at

Manurewa High School are Daisy, Lydia, Samira

and Hannah.

'DHLS' Group

DHLS had 6 members in

their group. They created

neck warmers from travel

pillows. Auckland Airport

collects all of the travel

pillows that tourists leave

behind at the airport.

They are collected by 'ME Family

Services' and Peter Sykes who is the

CEO of the company and also one of

our mentors who provided us with

used travel pillows.

The students altered the product

and developed neck warmers from

them. They used their own cultural

patterned material and made covers

for the neck warmers. They then

created their own wheat bags and

attached them to the neck warmers.

Year 11 & 12

market days

Students successfully

undertook their market day.

They learnt how to make a business

plan and carry out business

activities. They carried out their

own survey of the product and

analysed it. They also learnt how to

carry out the market day with full

responsibility and independence

as well as working as a group. Over

the year students carried out two

business activities and made profits

for their business. They were able to

donate part of their profits. Year 11

also did their market day and made

profits.

I wish all my year 13 students best

of luck and hope that they have

bright and fruitful futures.

Mrs Savitri Nadan

HOD Commerce

Mangere College - 2018 47
---
English: Creative Writing

Her Husbands Betrayal

Ice balls fall from the

mountaintop as the wind

lifts strands of her hair.

At this very moment, she's standing

alone thinking about how wonderful

and remarkable this life can be.

Her red heels duplicate the colour

painted on her lips and attracts the

attention of her black Adidas t-shirt.

Her ripped jeans favour the public's

tastes and her smile is brighter than

the stars in the sky. Her cosy coat

delivers more comfort and wraps

her warm from the bristling wind.

People see her as Rapunzel, not

because of some evil stepmother,

or because she was trapped up in

a castle but because of the long

glowing hair that brings out the

beauty in her. Her eyes turn lighter

brown when it attracts the sun, until

one night when she was just freely

walking to her house she witnessed

a scandalous matter!

DUM...DUM...DUM... "WHO'S this?"

"What is she doing with my

HUSBAND?" "Why is she HERE ?"

Difficult questions trace through

her head as she drowns in a sea of

grief. Her face fills with hate and

torture; she can't think but to be the

bystander in this cruel view. Why?

Why? How can someone who vowed

will spend the rest of his years with

her do something so horrible and

disgusting?! She wipes the pain

and tears off her face and stumbles

down the stairs.

She packs everything and puts all

her clothes in a suitcase, and as she

walks to the door, her husband runs

to grab her. She drops the suitcase

and the room abruptly turns quiet,

he loosens his hand a bit, but this

time she throws her emotion into

his face before she left without a

word or sound. As she drove away,

her husband screams out her name

with so much anger and contrite.

The man she thought she loved

turned out to be the monster in her

dreams.

About a month later, she's living at

her best friend's house. She's in the

process of trying to forget the past

and move on, but the pain always

hits her.

'Her cosy coat

delivers more

comfort and

wraps her

warm from

the bristling

wind.'

This hurt that she is carrying is

so remorseful she can't bear this

burden. She feels abandoned and

deceived from what's happened,

that a girl who people thought was

so perfect and so beautiful would

end up to be the one who suffers.

After several years, she is now

enjoying life with her best friend;

she is trying to forgive herself for the

blindness that let others betray her

because sometimes a good heart

cannot see the bad. She smiles

through the pain and suffering but

she will never forget that life is like

a bicycle, to keep your balance you

must keep moving on.

- Herilla Salu

48 Mangere College - 2018
---
Selina Tusitala Marsh is a

Pasifika poet-scholar and

the current New Zealand

Poet Laureate for 2017-

2019.

In her poem, Fast Talkin' PI, she

writes about the different 'faces' of

Pacific Island people; some may

not be too good but many are

quite amazing. She challenges the

stereotypes that influence how PI

are perceived and treated in society.

She wants everyone to know that PIs

do NOT fit into a box any more than

other ethnic groups.

I'M AN

MC

PI

These poems, written by Ms Tupua's Year 13 English class in Term 1, are

based on this poem and celebrate what it means to be an MC PI.

I'm a PB4L MC PI

I'm a hard-working R2 MC PI

I'm a head down, pen speaking, 'Seek the

Heights' MC PI

I'm a catch and pass MC PI

I'm a run it straight MC PI

I'm a side step, ankle breaking, steam rolling

MC PI.

-Sili Tongotongo

I'm a quiet MC PI

I'm a positive, gaining

NCEA level 3 PI

I'm a hard-working MC

student PI

-Maranna Miri

I'm a work hard MC PI

I'm a stay focused MC PI

I'm a go for gold and never fold cause I

seek the heights MC PI

I'm a show up to class on time MC PI

I'm a have a pen and paper ready to

learn MC PI

I'm a have correct equipment, correct

uniform and a focused mindset MC PI

-Holly Rapana

I'm a wake up at 7.30am MC PI

I'm a "Mum, where's my pen?" MC PI

I'm a walk-the-talk, never-stand-short,

get-out-of-here MC PI

-Matthew John

Mangere College - 2018 49
---
ESOL Department

These pieces are written by students from the ESOL Department. ESOL stands for

English as a Second Language and is also known as EAL (English as an Additional

Language).

These students are on a journey with their English - beginning from little or no English at all.

These poems are specifically about their countries of origin and culture. Some have chosen recipies, some have

chosen a hero from their country of origin.

TONGAN OTAI

Instructions:

1. Put the finely diced

watermelon into a large bowl

and gently mash without

breaking it up completely.

2. Add the finely diced

pineapple, grated coconut,

coconut milk and coconut

water.

3. Stir in the juice of one lemon

and the juice and zest of one

lime.

I eat and drink otai for lunch

and dinner.

- Harold Utaatu

Samoan umu

They make with taro and

breadfruit and a banana and a

pig.

And some ufi and taamu.

First, we make a fire and then

make the rocks hot. After that

put the vegetables and meat on

the hot rocks.

Cover with banana leaves so

everything is covered and you

wait for 5 to 10 mins.

Bring coconut leaves and make

a bag with the coconut leaves.

After that take the banana

leaves off and put the food in

the coconut leaves bag.

Then take to your house and eat.

We eat that for lunch on Sunday

- Peniamina Siaki

Samoan food

Oka i'a is a Pacific traditional dish.

Most of the Samoan people eat it for dinner.

I like it because the food always tastes sweet when

it is ready to eat.

My parents always made it for dinner when we

were in Samoa.

OKA I'A

instructions

Ingredients:

raw fish, coconut cream

salt, spring onions, lemon,

tomato

Method:

Marinate the snapper and onion in lemon juice

and leave in the fridge until it turns white and

opaque (this will take about 3 hours or it can be left

overnight in the fridge).

Just before serving, drain off the juices and mix in

the diced tomatoes, spring onion, and salt to taste.

Pour over 1/4 cup of coconut milk.

It can be served immediately or put back in the

fridge to chill for a little while.

After that you eat it for dinner.

- Hinemoa

50 Mangere College - 2018
---
Africa

Sudan

Sudan

Sudan is a big country

made up of a lot of cities.

It is located in the Northern

Hemisphere.

It is a country that has lots of

different languages spoken.

Sudan has lots of animals living

there.

The population of Sudan is about

41,441,846 people.

There are many different people

living in Sudan and many cultures.

The two languages in Sudan is

Maslity and Arabic but in Sudan and

Chad some people write in English

but not in the same way as other

countries' schools.

The main industries in Sudan are; oil,

sugar, shoe assembly. Sudan makes

$8.464 million (in 2019) from these

industries and more things they

make. Sudan is a beautiful natural

country to go to.

People come to Sudan to see the

city and family that they miss and to

look at the beach.

Sudan has a bigger population than

many other countries and it's so hot

like fire. In Sudan you can eat lots of

food and still be skinny.

- Oumaima Ahmat Abdallah

Trung Trac and Trung Nhi

What is the name and birthplace of

this person?

Trung Trac and Trung Nhi who are

twin sisters. Born 15 September 14

AD, Mê Linh District, Vietnam.

What is the main challenge that

they overcame?

They rebelled against the Chinese

occupation of Vietnam and they

ruled for three years.

What did they do that made them

famous/successful?

They gained support of about sixtyfive

towns and settlements. They

were truly respected. It is believed

they died around 43 AD after a

battle against an army led by Ma

Yuan.

Why do you think that they are

important as an inspiration?

Because they are the top women,

have risen up against the invaders.

This is the first time in Vietnam

history to stand up for their

independence and pride.

What words could you use to

describe them?

Strong, brave, sacrifice. Today, The

Trung sisters are powerful symbols of

Vietnamese resistance and freedom.

- Phuong Nguyen

Mangere College - 2018 51
---
Languages

Te Reo Māori

Te Wiki o te Reo Māori 2018

Tēnā rā koutou katoa.

I tēnei tau i whakanuia

te wiki o te reo Māori ki

te Kāreti o Māngere me

te huhua o ngā kaupapa

pēnei i te ako karakia, ako

waiata, te nui kata me te

kai.

Ko te kaupapa matua o te tau nei

ko te 'Kia kaha te reo Māori' ā, i

tērā tau ko te 'Kia ora te reo Māori'.

I rawe te wiki, i ako ngā kaiako i

tētahi karakia, i tētahi waiata anō

hoki ā, i kite hoki rātou i te pao kai

me te harihari kai.

I kīkī rawa te whare pukapuka i te

Rātū me te Rāpare nā te nui o ngā

tauira e hiahia ana ki te hanga poi.

I te Rāmere i haere ngā pakeke o

te akomanga reo Māori ki te hikoi

mo te reo i tū ki Te Mānukanuka o

Hoturoa.

This year at MC we celebrated

Māori Language week with prayers,

singing, laughing and eating. The

theme this year was 'Kia Kaha te

reo' which follows from last years

'Kia ora te reo'.

The week was full of things to do:

staff learnt a karakia, a waiata and

witnessed a Pao kai and a Harihari

kai. Meanwhile, the Library was

busy on Tuesday and Thursday

with poi making and on Friday the

senior students of the reo Māori

class also participated in the Māori

Language Hikoi which was held in

Manukau.

52 Mangere College - 2018
---
Kapa haka

"Ehara taku toa i te toa

takitahi, engari he toa

takitini"

"My successes are not mine

alone, but of many – the greatest

successes we will have are from

working together."

Kapa haka has now started to

progress at Māngere College, led by

our new kaiako, Maehe Nuku, who

is also working in the Te Reo classes

with Whaea Arihana.

I am Cee-Jay Maitai a Year 13 Māori

Student Leader here at Māngere

College. I have participated in

the kapa haka throughout my

schooling here at MC. Throughout

my journey as a participant I have

learnt to improve in all aspects

and become a stronger leader

within the school community. My

ambition is to inspire and develop

many students who come through,

also to strengthen students in

learning their culture. Our school

was very lucky to have a haka

written for our school and a haka

so unique to our school, created by

Matua Maehe and our students.

We welcome all students to join the

kapa haka group.

Nau mai, Haere mai.

Mandarin

chinese

new

year

To celebrate Chinese

New Year this year, we

had origami lessons

in the library by Miss

Yuying Yang our

Mandarin Language

Assistant.

chinese language week

Mangere College - 2018 53
---
qi gong workshop

As part of celebrating Chinese culture during

Chinese Language Week, we had a Health Qi Gong

workshop open to all our Juniors.

Health Qi Gong is a practice to cultivate and balance qi ("life energy").

The Year 10 Mandarin class made posters to publicise the workshop

and Qi Gong master David Wong came in to run the workshop.

Thirty students attended the workshop, learnt foundational

movements, performed a 20 minute practice and learnt about keeping

our bodies and minds healthy.

chopsticks

workshop

Food is a central part to

understanding different

cultures, and the way we

eat is different in all our

different cultures.

Students learnt and practiced

using chopsticks, and competed

for prizes with picking up drawing

pins. Pins are small and slippery,

so the students had a good

challenge!

54 Mangere College - 2018
---
fa'amatalaina,

Le faasamoa, o fa'alapotopotoga,

aoga aemaise o aiga.

Ae e fa'amamafa la'u talanoa i le

alofa fa'atino i totonu o a'oga,

Le tomai ma le poto salalau lele ua

saoasaoa lona fa'aaogaina.

Le alofa fa'aali i totonu o aoga, o le

a lona uiga,

Lima foa'i, tautua punoua'i ma lou

alofa le fa'atuaoia.

E moni lava o alo ma fanau mai atu

motu eseese o le pasefika,

Peita'i o le alofa fa'asamoa e le

fa'apito lona fa'atinoina.

Vaiaso o le

Gagana Samoa

Talofa, talofa talofa lava.

O le viiga ma le fa'afetai i

le Atua e le fa'aitiitia ona

o mea matagofie ma le

matalasi ua ia faia. Ae

fa'aagatonu se tautalaga i

le autu ma le manulauti o

lenei tusitusiga.

E ese le matagofie o tapenapenaga

a alo ma fanau mai aoga

maualuluga eseese i totonu nei

i Aukilani. Sa fa'ate'ia le va'ai,

na lagona f'o'i le fiafia ma le

fa'agae'etia ona o le finafinau o

alo ma fanau ia ina ia fa'aolaola le

gagana i totonu o aoga aemaise o

lenei atunu'u.

I le Aso Sa 27 Me, na tatala aloa'ia

ai le vaiaso o le gagana Samoa

i le Kolisi o Southern Cross. Na

fa'atumulia i aoga eseese, aemaise

o matua i le latou pitola'au o le

lagolagosua. Sa matagofie le vaaiga

i lea aso, sa fa'agaeetia foi le to'atele

ona o le maualuga o le tulaga na

o'o iai le fa'asoa a alo ma fanau. E

moni lava na tutupu ma fananau

a'e i Aotearoa nei, peita'i olo'o

tumau pea ia te'i latou le loto o

le finafinau ma le sogasoga ina ia

mautu le gagana.

I tapenapenaga o le vaiaso, i

totonu o si o'u laumua nei, matou

te fa'amanatu lava ma taumafai

e saili se isi ituaiga fa'atinoga e

fa'alauiloa ai le vaiaso. Sa matou

tapenaina mea'ai Samoa mo le

malu taeao mai le Aso Gafua seia

paia le Aso Faraile, ae le gata i lea

o le fa'amatalaina o nisi o vaega o

le aganu'u mo le fa'alauteleina o le

malamalama o nisi o faiaoga mai

isi atunu'u.

Ao le aso Faraile 1 Iuni, na tapuni

aloaia ai le vaiaso o le gagana

Samoa, ma fa'ailogaina fo'i i le aoga

a teine o le Kalama. Sa va'aia foi

le tumu ma ese fo'i le tapenaga

o lea aso. Sa vaevae i kulupu ma

faia ai ni galuega fa'atino aua le

fa'alauteleina o le malamalama o

tamaiti i le oa o le gagana. O se tasi

foi o sui mai le kolisi o Magele sa

fa'atino se solo faitaga e fa'atatau i

le autu o le aso e fa'apea " Alofa atu

nei, alofa mai taeao"

Alofa atu nei, alofa mai

taeao

Se'eane laia i ou se'etaga malu,

Ae se'i ou tautala e fa'ailo ma toe

fa'amanatu.

Le autu po'o le manulauti lele ua

fa'ata'atia

O sou manatu ma so'u lagona o

le'a folasia.

Le upu alofa e talalasi lona

O lou alofa fa'aali ma se mea lelei e

te faia i totonu o lou si'osi'omaga,

O le'a le galo lea i o matou loto ma

agaga.

I totonu o aoga o se siosiomaga

malu puipuia ma toe saogalemu,

O faiaoga i le latou matafaioi o le

a'oa'o, ina ia maua le poto e tautua

ai atunu'u.

Alofa atu nei,alofa mai taeao,

Le vaiaso o le gagana Samoa ina ia

uli ma sao.

Tama a tagata e fafaga i upu ma

tala,

Aua o le Samoa moni lava e

tauama i ana tu ma ana aga.

A'o se upu ua le tautamali'i i lau

fa'afofogaaga,

Fa'amagalo se leo vaivai o le

auauna.

Talosia ia maua se ai o lenei

fa'atasiga,

Aua tupulaga fai a'e, ae tainane o

nuu, ekalesia ma aiga.

E eseese lota mimita ae vaai atu

o sagisagi fiafia fanau e fia iloa le

ta gagana, aua fai mai upu a le

atunu'u, "A leai se gagana, ua po le

nu'u.

O se fa'amatalaga pu'upu'u lena e

tusa foi ma lea fa'amoemoe taua

na feagai ai nisi o aoga maualuluga

i totonu nei i Aukilani. Ou te

fa'amoemoe i le tama o i le lagi

na te fa'amatala ma fa'apupula le

aoga ma le taua o lea vaiaso i alo

ma fanau i totonu o Niu Sila nei i

ooutou loto ma finagalo. Se fai mai

e iloa lava le Samoa i ana tu ma

ana aga, a lea na fa'atino e alo ma

fanau ia i lea aso.

Se upu ua le tautamali'i i sau

silasila, fa'amagalo le auauna, leaga

fai mai e poto lava le tautai, ae iai

lava le taimi e sasi ai. Soifua ma ia

manuia.

Tusitusiga / Article - Jane

Malauulu, Yr 13 student Māngere

College

Solo / Poem - Hannah Pio, Yr 13

student Māngere College

Mangere College - 2018 55
---
Cook Island

Language

Week

Tuatua tauturu – Helpful words

The team at Blackboard Jungle, based in Havelock North, has created some awesome resources featuring everyday Cook Islands Māori tuatua (words) that

can be used in classroom and workplace settings. The full selection is available to view (and purchase) on their website. Debbie and her team are really

open to creating new resources too, so feel free to contact them with your ideas or requirements.

Reo has been drawn from a Ministry of Pacific Peoples (MPP) resources and Cook Islands community leader, Teremoana MaUa-Hodges.

7

Tongan

Language Week

56 Mangere College - 2018
---
Math

Week 2018

Math Week 2018 was

undeniably one to

remember.

Casio Mathex

THIS CERTIFICATE IS PRESENTED TO

FOR TAKING PART IN

CASIO MATHEX

2018

Gillian Frankcom

Mathex Coordinator

Mangere College

Students modelled responsibility

when choosing their prizes from

the daily quiz whilst the teachers

took more of the 'High Risk –

High Rewards' approach.

In addition to this was the

annual Māngere College Mathex

competition where 9BM won the

Year 9 section and 10PO taking

out the highly contested Year 10

section.

A group of students were then

selected and represented the

school well at the Auckland

Mathex competition held at the

Barfoot and Thompson stadium

in Kohimarama.

Well done to everyone who

participated in Math Week and

we look forward to what 2019

has in store.

Mangere College - 2018 57
---
Performing Arts

2018

Music

Succes Stories:

Noteworthy at Stand Up Stand Out 2018

Noteworthy at Performing Arts Night

'Noteworthy' Junior Choir:

Noteworthy started this

year with a small group

of talented Year 9 & 10

students and has grown

to become a tight-knit

and committed group of

young vocalists who have

grown immensely in their

short time together.

Only a few months after first

forming, they were invited to

perform at the Māngere Town

Centre Library as part of our NZ

Music Month celebrations. The

following month, they performed

at the annual Māngere College

Performing Arts Night to a packed

out crowd; performing both as

an individual group, and also

providing vocals for multiple dance

performance items. Not long after

this, they took a leap of faith and

entered the Vocal Group category

of the prestigious Stand Up

Stand Out competition, receiving

excellent feedback from the judges,

who commented on a 'great

performance' that featured 'lovely

harmonies, beautiful tones and

strong leads'.

After a busy and rewarding couple

of terms, Noteworthy closed out the

year performing at the end of year

school prize giving ceremonies, as

well as being invited to present a

mini-concert at the annual Māngere

Bridge Santa Parade.

[2018 Noteworthy Members: Ilisapeti

Filimoehala, Adyhana Urika Filifilia,

Lexus Walters, Loreal Urika Filifilia,

Manoa Teata, Payton Golotoa,

Mele Lelenoa, James Wilson, Kiana

Webster, Monique Webster, Paul

Tovio]

Junior Drumline in practice with

their percussion rig

Junior Drumline

Junior Drumline is a highenergy,

unique performance

group that showcases

the talents of our Junior

drummers.

Their stunning item at the

Performing Arts night had the

crowd cheering them on as they

played not only in a group, but

also as soloists. These creative

percussionists have also created

a custom-made rig for their

'Junkyard Percussion Project' –

where they take 'found' items

and turn them into percussive

musical instruments. Their final

performance for the year at Junior

Assembly was exceptional.

[Junior Drumline Members: Rihari

Scrivener, Ondre Campbell, Tai

Neilsen, Emanuel Faasavalu,

James Wilson, Tuanui Herbert]

58 Mangere College - 2018
---
Adyhana competing in the

SUSO Solo Vocal Heat

Ilisapeti competing in

the SUSO Solo Vocal

Semi-Finals

VIA performing at the SUSO Finals at the Vodafone Events Centre

VIA at SAPACS with their

awards VIA's masterclass with Bella Kalolo Vera's showcase at Soul Lounge

VIA Girls Vocal Ensemble

Our vocal trio 'VIA' has

seen much success this

year through the hard

work and determination

of our girls.

They began the year by performing

for NZ Music Month at the Māngere

Town Centre Library, followed by

entering in the South Auckland

Performing Arts Competition

(SAPACS), with the addition of

Lexus Walters. They entered into

two of the Vocal Group Categories,

competing against many wellseasoned

performers and large

choirs, however they were awarded

high marks and won 2nd place in

both their categories, taking home

certificates, ribbons and prize

money!

Following on from this, VIA also

entered the Group Vocal Heat at the

Stand Up Stand Out competition.

Adyhana, Vera and Ilisapeti also

entered the Solo Vocal heats, with

Ilisapeti progressing to the Solo

Vocal Semi-Finals, placing in the

top 36 vocalists out of over 160. VIA

brought the house down at the

Vocal Group heats, with the judges

commenting on their 'beautiful

vocal blend, interesting arrangement

and thoughtfulness of approach'.

VIA progressed straight through to

the Finals, placing them in the Top 5

vocal groups overall. As part of this,

they had the opportunity to attend

a private masterclass with renowned

soul-singer, Bella Kalolo. Their final

performance was at the Vodafone

Events Centre on 1st September,

and was live-streamed on Māori

Television.

'beautiful vocal

blend, interesting

arrangement

and

thoughtfulness

of approach'

On Wednesday 15th August, VIA

trio were profiled on Niu FM as part

of Pacific Youth Week. They were

interviewed about their musical

journey, recent success, music

competitions and what drives them

to succeed. They also performed

two beautiful songs live-on-air.

Their interview and songs were also

streamed live on Niu Fm's Facebook

page, with people tuning in even

from overseas! Their videos were

shared online, with one gaining a

spectacular 10,000 views in the first

week!

One of our VIA girls, Vera Wilson, was

also handpicked by the illustrious

TJ Taotua to perform solo at the

exclusive 'Soul Lounge' evening at

Māngere Arts Centre. It was a soldout

concert that featured R&B and

soul music from established local

artists. Vera had the opportunity to

perform two songs, one solo and

one with the house band, 'Ministry

of Tone.'

[VIA Girls Vocal Ensemble Members:

Vera Wilson, Adyhana Urika

Filifilia, Ilisapeti Filimoehala (Lexus

Walters)]

Mangere College - 2018 59
---
Te Rehu and Miracle with MC Staff at Heads Held High

Wayfinder Te Rehu Karaka

Heads Held High

Two of our Year 12

students, Te Rehu Karaka

& Miracle Tonga, were part

of a cohort of promising

young leaders selected

from South Auckland

schools who were given

the chance to creatively

re-story the world they live

in, in collaboration with

the Blackfriars Theatre

Company.

The project, which was showcased

in June at the Māngere Arts

Centre, challenged stereotypes and

explored themes of alofa, reciprocity,

resilience and respect. Te Rehu was

chosen as the Māngere College

Wayfinder for the project. Wayfinders

were chosen as fierce changemakers

who advocate for change.

Te Rehu writes, "I want change

in our learning, in education and

job opportunities. I'm fighting for

freedom. I want our people to think

for themselves and decide what's

best for our communities."

Leading on from her involvement

in Heads Held High, Miracle Tonga

was chosen to join "Voices of South

Auckland" – a collective of four

promising high school students with

a talent for spoken word and poetry,

Intermediate students enjoying workshops with Miracle

and a heart for their community.

In association with Springboard

Trust, Miracle delivered empowering

workshops to students at Bruce

McLaren & Takanini Intermediates,

which encouraged and enabled

students to open up and give voice

to their lives, struggles, emotions

and hopes through spoken word,

poetry, games and discussion.

Miracle was deeply inspired by

the bravery and resilience of these

young students, saying of the

experience, "you'd be surprised to

see what a kid can hold. Even the

smallest people carry the heaviest

things in life. But that only inspires

you to do better and to help make a

change."

Boys Quartet at Performing Arts Night

Performing at Sports Awards Night

boys quartet

The newly formed MC

Boys Quartet had the

opportunity to perform at

various school events this

year, showcasing their

strong vocals and soulful

four-part harmonies.

Their performances at the annual

Performing Arts Night were a

highlight of the night, igniting the

crowd. As well as performing as an

individual group, they also provided

the music for dance items, and

then closed the night out with

another song which saw the crowd

up on their feet, dancing the night

away. They were also featured at the

Sports Awards Night, performing

two standout songs that were

enjoyed by all. Closing out the year,

they performed a rousing rendition

of 'Sometimes it Takes a Mountain',

backed by the Noteworthy Junior

Choir.

[Boys Quartet Members: Unaloto

Leleifi, Spencer Moli, Johnathon

Lemalu, Lopi Papau]

60 Mangere College - 2018
---
2018 performing arts

Highlights

Presentation by TJ Manuel from Rep FM

Volume South

Exhibition

In February, our Year 11 Music Students were

visited by representatives from Auckland

Museum, RepFM, OMAC and MIT, who

introduced our young musicians and artists

to Volume South Exhibition's composition

competition, and offered them advice and

encouragement on their musical journey.

As a part of the presentation,

Rocky Misiepo, a

motivational speaker and

rapper, talked to students

about his path to success,

his music career, and the

value of being committed

to your work. TJ Manuel, one

of the founders of RepFM

also spoke about his journey

throughout his school

years and then into his

professional career, sharing

how he had such a passion

for music, in particular music

in South Auckland. He set

up his own radio station

and recording studio, and

this became the platform to

work with many successful

artists. He explained the

importance of surrounding

yourself with motivated

friends who will encourage

you to succeed and that if

you find something you love,

work at it and don't give up

- it's worth investing time in

your passion. The afternoon

was concluded with a special

performance by upcoming

rapper, Lukan Rai$ey and DJ,

Crème Manuel.

Queen Shirl'e with Year 11 music students

Queen Shirl'e

On 26th February, music

students were visited by talented

rapper, performer, musician and

songwriter, Queen Shirl'e.

She talked about her Pathways to Performing

Arts Programme at the Māngere Town Centre

Library, a programme for high schoolers to

develop their songwriting, film acting, beat

making and performance talents.

She spoke of the importance of staying in

school and following through in your studies,

as it forms a firm foundation for the rest

of your life. She also shared her musical

journey and in particular her rapping and

song writing career path and the doors it

has opened for her to get involved in the

community and share her gifts with others.

Mangere College - 2018 61
---
Year 10 students enjoying the concert

Auckland Philharmonic Orchestra in action

APO Discovery Concert Trip to

Auckland Town Hall

On Wednesday 2nd May,

thirty Year 10 music students

had the opportunity to

travel to the Auckland Town

Hall to hear the Auckland

Philharmonia Orchestra, live

in concert.

This concert was a special showcase

which followed the journey of

orchestral music, looking at how

it has developed from the 16th

Century to today.

The concert kicked off with the

sensational 'Four Seasons' by Vivaldi;

a profile of one of the earliest

examples of storytelling. Following

on from this was a journey through

musical history, with pieces by

Mozart, Mendelssohn, Dvorak,

Rachmaninov and Bernstein.

Interests were peaked as the last

piece was announced, a new work

by the APO's Young Composer

in Residence, Kirsten Strom.

The piece, 'Wake Up Call', saw

orchestra members start the piece

whilst on their phones, seemingly

uninterested in beginning the piece

– how bizarre! One by one they

'woke up' and the piece came to

life. It was rhythmic, exciting, and

somewhat suspenseful, and even

included clapping, tapping and

stomping sections. Within the space

of two hours, students were taken

on a journey of musical discovery

which opened their eyes to the

possibilities in music – whether as a

performer, composer, conductor, or

even a committed music enthusiast!

NZ Music

Commission

Scholarship

Mentoring

ACE Brass Presentation

APOPS Brass &

Percussion Visits

Our Year 10 music students

were treated to a special

presentation by brass and

percussion members of the

Auckland Philharmonia

Orchestra.

As well as performing a variety of

interesting pieces for our students,

including classical, jazz and

contemporary styles, they talked

about the mechanics, history and

technique of their instruments, as

APOPS Percussion Showcase

well as giving students an insight

into their lives as professional

musicians. They encouraged the

students to think hard about

choosing a career that they feel

passionate about and to put the

groundwork in by being motivated

and consistent. They all spoke of

how playing music with others,

whether it be in bands, ensembles

or orchestras is really enjoyable and

brings out the fun of music, and

that practice is key for achieving

your goals as a musician.

Malcolm Lakatani with Year 11 Music

Composition students

Over five weeks in Term 2, our

Level 1 & 3 music students had

the opportunity to work with

performer, recording artist, vocalist

and multi-instrumentalist, Malcolm

Lakatani.

The Mentoring in Schools

programme supports teachers

and students with NCEA Music

Achievement Standards – allowing

students to potentially earn four

to six credits through their work

with their mentor. Our students

thoroughly enjoyed being mentored

by Malcolm, who assisted students

in their music composition work.

62 Mangere College - 2018
---
performing arts night

Our MC Auditorium was

packed to the brim on

Wednesday 20 June as our

Performing Arts students

starred in our annual

Performing Arts night.

The programme featured

performances by Year 11, 12 and 13

dancers, many of whom showcased

stunning original hip-hop and

contemporary choreography.

Highlights included a rousing

introduction from our kapa haka

group, who introduced our new

school haka, and some wonderful

collaborations between our

'Noteworthy' Junior choir singers

and the dancers. The night included

performances by our Year 13 Band,

Year 11 & 12 Vocal Groups, and our

Junior Drumline group who brought

the house down with their energetic

routine.

Exceptional vocals and harmonies

were showcased by our Girls Trio

and Boys Quartet and we were

treated to a lively, fantastically

costumed Year 11 dance to the

theme song from 'Hairspray'.

Ruby Winter:

"It was a great

experience because we

got to learn different

types of dance. It was

awesome working

with the University

instructors because

they helped us relate

how we express

emotions through

dance."

Dance students enjoying the Activate

workshop

Activate

2018

In Term 3, our Dance students

were visited by facilitators from

the Unitec Institute of Technology,

who delivered their Activate 2018:

Dance Performance Workshop.

They were treated to an interactive

and action-packed Dance

class, with the awesome opportunity

to share moves with Dance

University students.

Mangere College - 2018 63
---
2018

Dance

report

Dance in 2018 started

out with a great focus on

composition.

Students in years 11, 12 and 13

spent all of term 1 focusing on their

identity and developing creative

movement pieces that highlighted

who they are and where they come

from. Apii and Una in year 11, Tare,

Rehia and Erana in year 12 and

Sharee, Holly and Izadine in year

13 all worked collaboratively to

make amazingly

creative pieces. This

composition work

led perfectly into

the term 2 extracurricular

event

of Gen X, where

several of our year 13 students

worked together to develop a piece

that represented the theme of

Purpose.

During terms 2 and 3 all Dance

classes focused on performance

work, developing their skill and

technique across a variety of

genres. Topping off term 2 with a

spectacular Performing Arts night,

which was highlighted by two class

performances of Hairspray (year

11) and Dive (years 12 and 13).

In addition to this, at the start of

term 3 we were very lucky to have

a team of students from Unitec

come in and run a performance

and composition workshop with

Dance students from years 10-13.

As a result of that day, one of our

talented junior dancers Anne has

been regularly training with Unitec

as part of a youth contemporary

dance group.

Year 10 Dance has had a great

year, highlighted particularly by the

collaborative piece we developed

with the year 10 Music class, which

concluded with the students

performing amazingly well in front

of their peers and an exclusive

audience of Mr Webb and members

of the ERO team. Another highlight

of the year 10 class has been our

musical theatre class dance which

has shown the skill and enthusiasm

our junior students have towards

dance in general.

Overall 2018 has been a great year

for Dance. Each year the ability of

the students increases and they

inevitably rise to the new challenges

placed before them.

Gen X 2018

A talented group of our

Dance students created a

uniquely choreographed

performance piece for Gen

X 2018.

This innovative secondary school

competition fuses various forms

of the arts to bring a message of

hope and love - and this year's

theme was Purpose. The audience

was treated to a combination of

spoken word, music, dance and

multimedia, to be used as a voice

for our young people.

MC's talented Gen-X performers

64 Mangere College - 2018
---
Physical Education and

Health Department 2018

It was a busy and fun-filled year within the PE dept this year. Here are

just some of our highlights from this year.

junior PE

Our junior PE

programme

is about

developing and

improving skills,

while learning

to work within a

team.

This year we had an

emphasis on using

and developing

our interpersonal

skills to help others

and ourselves, to

understand the

importance of physical activity

and how it relates to our hauora

(well-being).

Throughout the year our

students have participated in a

variety of different sports and

activities including; athletics,

fitness, games, gymnastics

and swimming.

Our focus in athletics is

all about being the best

we can be. We take

part in different athletic

events such as sprinting, middledistance

running, long jump,

and throwing and consider how

we can improve our own

personal scores through good

techniques.

In fitness, we look at how the

body responds to exercise and

ways to improve our fitness.

We consider different training

methods and the best ways

to meet our own personal

needs. We also consider how

regular exercise and good

eating habits can improve our

hauora.

In games, we explore how

different strategies and

tactics can be used to

gain an advantage over

our opponents. We look

at offensive and defensive

strategies and how creating

space, marking and losing a

player, and good techniques

all play a part in helping our

team succeed. We look at

different games including

invasion games, striking

and fielding and net and

wall games. We also look at

different games from around

the world and consider how

these differ from what we

are used to and the influence

they have on society.

junior health

This year our junior health

program has had a facelift,

by including new units

such as 'Ko wai au' and

'Net Safety' in year 9.

As the world is ever changing so

is the content of our programmes.

Students are given the opportunity

to explore aspects about their

culture, values and how to

become responsible decision

makers. The aim of these

new programmes is to

build resilience through

strengthening their personal

identity and sense of selfidentity.

Through this we hope

that students will be able to

make a significant contribution

to the well-being of themselves

and others beyond the

classroom.

'...students are given

the opportunity

to explore aspects

about their

culture, values and

how to become

responsible

decision makers.'

Mangere College - 2018 65
---
senior

PE

In our senior PE

programme we

are able to offer

4 achievement

standards all

looking at building

and improving

on the students'

knowledge from

years 9 and 10.

In our first standard, we

focus on our interpersonal

skills and the students

create and work within

teams to coach and

officiate each other. This

really challenges our

students to listen and

understand each others'

views.

In our second standard,

we challenge the students

to participate in a variety

of different games

and activities many of

which they have not

experienced before or are

not familiar with such as

archery, bowls or soccer.

Students are then asked

to consider some of the

factors that influence their

participation and how and

why they participated.

We also have a

performance standard

where students are

required to perform an

activity or sport to a high

standard on a regular

basis.

Our final standard is a

health standard looking

at promoting positive

sexuality. Although this is

a difficult and sometimes

embarrassing subject

we feel that it is vitally

important for all our

students to learn and

understand about this

subject as they mature

into adulthood.

Tongariro camp

During week 9 our

Student Leaders and

other Year 13 students in

Leadership roles went to

Tongariro National park for

a 5 night camp.

The camp had a focus on

developing their leadership skills

and allowing them to consider

what they as a group would like to

achieve this year.

All leaders were given the

opportunity to challenge themselves

both physically and mentally.

The students participated in a

variety of different activities, which

gave them the chance to practice

some of their leadership skills.

They represented themselves and

Māngere College very well and we

look forward to seeing what this

group of students can do into the

future.

66 Mangere College - 2018
---
sports leaders

The Year 12 Sports

Leadership class

started the year with a

bang, with the group

organising and running

the big day out for the

year 9 students.

This was a fun filled day of games

and activities aimed at helping

the year 9 pupils get to know each

other. Activities included team

building games such as magic

stick and spiders web as well as

traditional games.

Year 13 Sports Leadership class

had a focus on different leadership

strategies in term one and

considered the strengths and

weaknesses of each. In term two

they had an opportunity to put

some of these into practice when

they planned and ran coaching

sessions for our Junior PE classes.

big day out

On Friday 16th of

February, the Year 9s had

their Big Day Out where

they all participated in

activities organised by the

Year 12 Sports Leadership

class.

It took place on our own fields

where everyone involved

participated in the games including

the Student Leaders. The purpose

of this event was to give the Year 9s

a fun and competition, develop the

MC way and build team-work within

each form class. It was well worth a

day out of the classroom!

We played a game called 'Scenarios'

where each form class presented

a short skit displaying the values of

Māngere College, which are Respect

and Responsibility.

All classes were very committed

to their acting and portrayal of

what the MC Way is which made

everything more enjoyable. The

day was finished off with a sausage

sizzle put on by teachers.

- Jasmine Strickland

'...build

team-work

within

each form

class.'

Mangere College - 2018 67
---
sports

science

The main

purpose of

sports science

is to assist

those that have

a passion for

sports to help

maximise their

potential.

This is done through

teaching methods and

principles of training,

which then have to be

applied in a training

program created by

our students.

sports science go to

woodhill forest

The Level 2 Sports

Science classes went to

Woodhill Forest as a part

of their mountain biking

assessment looking at

risk management in an

outdoor setting.

The main focus was to plan a

mountain biking trip and look at

some of the possible risks associated

with it. The students had to prepare

a Safety Action Plan (SAP) outlining

the risks, what could be the major

cause of these risks and how they

were going to minimize these risks.

The students got a good insight

into how risk can be managed and

how to determine some potential

dangers in outdoor activities.

Many of us enjoyed ourselves a lot

despite the minor injuries that we

got along the unbalanced ride. It

was a really fun but a scary first

experience for most of us. It was

awesome with all the students

taking part in this new activity and

pushing themselves.

The ride was mixed with tracks

that were downhill and uphill.

One highlight was when some

people accidentally let go of the

bike handles while riding and

ended up crashing into the trees or

bushes, another highlight was going

through the steep down-hill tracks.

Well done to all students and a

special thank you to our sports

science teacher for all your hard

work and commitment.

-Julienne Niko

Classes also look at

sport from a

socio-ecological

perspective and

how that can have

an impact on

participation in

physical activity.

Students then take

action to enable

others to participate in

a planned activity.

In 2019, these

activities will be

aquatic-based.

'...another

highlight

was going

through the

steep downhill

tracks.'

68 Mangere College - 2018
---
Auckland Science and

Engineering Challenge

This term, we sent a

group of Year 9 and 10

Māori students to the

Science and Engineering

Challenge at the Franklin

Pool and Leisure Centre in

Pukekohe.

Social Science

The challenge is presented by The

Univeristy of Newcastle and in

partnership by the Āmua Ao & The

Pūhoro STEM (Science, Technology,

Engineering and Maths) Academy.

It was a fun and action-packed day

for the students, and the ultimate

aim of the day was to give the

students a positive experience of

science and engineering.

Our students came 4th out of 8

schools.

Year 9 Geography

Year 9 Students embark on a hikoi of Te Pane o

Mataoho (Māngere Mountain) at the beginning of term

2. This involved a 'Walk and Cook For Life' workshop

encouraging students to grow and cook their own

vegetables.

1 Geography trip

The 1GEO trip to Ihumatao was a Geography

Contemporary Issue assessment. We were

joined by Pania Newton, who is one of the

key members of SOUL advocating to save

Ihumatao from a large housing development.

Mangere College - 2018 69
---
2 geography

hunua falls trip

The Level 2 Geography class spent a day in the native forest at

Hunua Falls learning about our climate. They worked as a team to

research the many things in the environment that affect the temperature

where we live. They also got to experience our country's

beautiful nature.

1 geography

hikoi

The 1GEO Hikoi was the Geology

walk of Te Pane o Mataoho. It

was a collaborative Science and

Geography assessment.

3 geography

karekare trip

For most students in Level 3 Geography, their field trip

to Karekare was the first time they had experienced

Auckland's wild west coast beaches. They enjoyed

walking across the wide open sand dunes surrounded

by high cliffs and to learn about the power of the open

ocean and our natural environment.

70 Mangere College - 2018
---
Technology Department

Architectural Project Brief:

Design a Pavilion for the MC school swimming pool.

Student Work: Cameron Tairea 13FR

Design and visual communications

engineering

Mr Breetvelt's year 11 class

project is a heavy duty, long

shank screwdriver.

This project involves threading the shank,

working an acrylic and brass handle

on the engineer's lathe, heat and press

a flat head, mill a slotted handle and

tempering the flat head tip.

Mangere College - 2018 71
---
fabric technology:

Flag Making

The Heritage Rescue

flag-making workshop

was on the 9th of

February and was held

in the D-Block Fabric

workshop.

It was a fantastic opportunity

for our Level 3 Fashion students

to get involved with protecting

heritage land at Ihumatao.

The students, Mrs Maskell and

Ms Singh worked alongside

SOUL (Save Our Unique

Landscape) and a team of

specialists from TV documentary

series "Heritage Rescue". The

students and teachers have

created dozens of bright

flags to draw attention to

the historic site and to the

community's fight to save it

from destruction.

The students' work will be

featured on 'Heritage Rescue'

on Choice TV.

Students loved sewing the

colourful flags and designs

on the flags. It was a great

and interesting learning

experience for Level 3

Fashion students.

esol

sewing

class

72 Mangere College - 2018
---
food technology

Variety of Chefs

visit MC

Every year before the SkyCity

Variety of Chefs event, the chefs

visit a local school and spend

the morning cooking with a

special group of Variety kids.

This year, celebrity Chefs Nic Watt, Monique

Fiso and Hayden McMillan came to

Māngere College, where they foraged with

our refugee students in the garden before

cooking some amazing omelettes.

The final results were delicious, using a few

vegetables from our school garden and

eggs.

On Friday morning, we met 3 variety chefs

who taught us how to cook Japanese

omelettes and lettuce wraps with

vegetables in a square frying pan.

- Fatima Hussaini Year 9

italian

restaurant

experience

Mangere College - 2018 73
---
wood technology

Tic Tac

Toe

Project

Krizzia Quinones

In term 2,

the 2BCT

woodwork

class made a

small coffee

table.

Dominic Little 12

Ioane Ioane 12

Reupena Kilipati, 11HA

Daniel Esera, 11HA

For the 1BCT class in term 1, students

made a Seedling Tray with dove tail and

rebate joints.

Tamera Sale

Ping

Pong Bat

Project

74 Mangere College - 2018
---
sports

Mangere College - 2018 75
---
sports

awards

2018

Basketball

Player of the

Year

Most Improved

Player of the

Year

Players' Player

U17 Girls Patricia Beazley 11SA Mara Vaifale 10HS Christina Soosemea

11NA

Football

Boys Aniket Chand 12AL Kamehameha Anae 12AL Shuaib Subbir 13MA

Netball

Senior A Julienne Niko 12DA Herilla Salu 11IM Joela Napaa 11IM

Year 10 Anne Tupou 10SI Pesi Tevaga 10WE Anne Tupou 10SI

Year 9 Pulotu Kaifa 9BF Noah Finau-Mose 9FO Te Amorangi Nuku 9FO

Rugby

U15 Nehemiah Mafi 11IM Sitiveni Tongotongo 11SA Oikomene Futi 11EU

2nd XV Suliasi Tupou 12DV Ru Terry 12DV Suliasi Tupou 12DV

1st XV Kamehameha Anae 12AL Fomai Muavae 13MA Fomai Muavae 13MA

Tag Football

Senior Girls Platinum Marsters 13SE Pairi Enua 11FI Sharee Sauni 13SE

Senior Boys Ru Terry 12DV Jason Taufa 12GO Ru Terry 12DV

Touch Rugby

Senior Mixed 1 Cameron Tairea 13FR Platinum Marsters 13SE Cameron Tairea 13FR

Senior Girls Ilaisanne Taufa 10RE Anne Tupou 10SI Ilaisanne Taufa 10RE

Volleyball

Senior Boys Isaak Samoa 13FR Jeff Kelemete 13MA Isaak Samoa 13FR

Senior Girls Victory Tilo 12ND Josephine Fa'asisila 12MI Julienne Niko 12DA

76 Mangere College - 2018
---
egional

& national

representatives

Darts

New Zealand Women

Dart team

Auckland Youth Dart

team

Taylor-Marsh Kahaki 9BF

Taylor-Marsh Kahaki 9BF

Rugby

Auckland Divisional

Rugby team

Auckland Divisional

Rugby team

Fomai Muavae 13MA

Jason Taufa 12GO

Rugby League

Kiwi Rugby League U16

team

Counties Manukau 16

Rugby League team

Auckland Vulcan Rugby

League U16 team

Tonga Rugby League U16

team

Jason Taufa 12GO

Jason Taufa 12GO

Jason Taufa 12GO

Jason Taufa 12GO

Touch Rugby

New Zealand U18 Boys

team

Counties Manukau U18

Boys team

Cameron Tairea 13FR

Cameron Tairea 13FR

Volleyball

Auckland Secondary

School tournament team

Oceania Orcas Secondary

School

Victory Tilo 12ND

Victory Tilo 12ND

Mangere College - 2018 77
---
senior sports girl

Victory Tilo 12ND

senior sports boy

Cameron Tairea 13FR

student officials

Basketball Patricia Beazley 11SA Student

Coach

Volleyball Victory Tilo 12ND Referee

Knight Award

for outstanding

contribution to sport

Sili Tongotongo 13SE

Aldridge Award

for sportsmanship

Sili Tongotongo 13SE

hall Award

for sportsmanship

Platinum Marsters 13SE

Manager

of the Year

Mel Tualaulelei

Girls Senior Volleyball & U15 Boys Rugby

Coach of the Year

Jo Collins

U15 boys rugby

team of the Year

1st XV Boys Rugby

Johnson Cup

Shane Prasad 13FR

78 Mangere College - 2018
---
Coaches, managers and staff

Basketball

Coach Managers/TIC Role

U17/ Y9 & Y10 Girls Nathan Samu Kathleen Beazley Manager

Football

Milo West

Teacher-in-charge

Boys Mike Darragh Shane Prasad Student lead

Netball

Year 10/Seniors Tai Uamaki Tai Uamaki Staff

Year 9 Emma McCosh Emma McCosh Teacher-in-charge

Rugby

7's Rugby Piri Tamihana Henry Fesulua'i Teacher-in-charge

Dee Marsters

Manager

U15 Rugby Joe Collins Jon Pearse Assistant Coach

Melissa Tualaulelei

Teacher-in-charge

2nd XV Rugby Willie Marsters Parwati Reddy Teacher-in-charge

1st XV Rugby Piri Tamihana Dee Marsters Assistant Coach

Caroline Masoe

Manager

Tag Football

Senior Girls Cassandra Tere Platinum Marsters Assistant Coach

Senior Boys Aashantaey Iosua Student lead

Touch Rugby

Senior Mixed 1 Cameron Tairea Huni Fifita Teacher-in-charge

Junior Girls Tee Leaula Volunteer support

Volleyball

Senior Girls Nancy Palelei Vai Palelei Assistant Coach

Rod Stevens

Manager

Melissa Tualaulelei Teacher-in-charge`

Junior Girls

Nancy Palelei &

Nathan Samu

Melissa Tualaulelei Teacher-in-charge

Junior Boys Nathan Samu Aisake Tuitupou Teacher-in-charge

Mangere College - 2018 79
---
U17 Mixed Girls

Basketball

This year our girls'

basketball team consisted

of students from Years 9

to 11.

Competing weekly in the Counties

Manukau Zone captained by

Patricia Beazley who also had the

role of coach for the first seven

games.

Supporting the team was

teacher-in-charge Milo West

and myself as manager.

We were gratefully privileged

to have Mr Samu take over

the role of Coach.

Team success included

placing second in our

section and gaining

entry to the Auckland

Champs. A great

experience for our team.

Results for the season

was played 11, won 8

and lost 3.

The progress of our

team was rewarded

with the development

of Year 9 and 10s. An

exciting group who will

go from strength to

strength.

Year 11s have come

through since Year 9

and their supporting

role with the juniors

has been one of

their strengths.

I would like to

acknowledge

the staff

who

supported us.

Miss West – our reliable driver,

making sure we had our belts on

before she turned the key on and

providing the team with snacks.

Mr Samu – our trusting coach who

not only shared his coaching skills

and knowledge but also his food.

Tai Uamaki – for her behind the

scene role in the participation of the

team. Thank you Tai.

Special thanks to the

team, a great bunch

who I encourage to

return for another

season in 2019.

Nga mihi tino nui

ki a koutou katoa.

- Kathleen

Beazley

Manager

Kia ora koutou.

On behalf of our mixed

U17/Year9 and 10 Girls

Basketball team, I am

privileged to share our

journey for 2018.

This year we had one basketball

U17 girls' team consisting of

players from years 9 to 11.

We competed in the U17

Counties Manukau Basketball

Tournament playing against

other schools in that zone.

During practices there were fun

times, times we trained hard and

times we played well…this also

came through in our games.

Being successful in coming

second in our section, this

allowed us to gain entry to

Auckland Champs.

This was a great experience for

our team.

The progress of our team

has been rewarding with the

development of our Year 9 and

10s.

Our Year 11s has been a team

who has come through from

year 9. They have grown from

strength to strength each year.

On behalf of the team, I would

like to acknowledge the great

staff who has supported us.

Miss West, Mr Samu and Mrs

Beazley, thank you for all your

support which has meant

everything to us. Thank you,

thank you, and thank you.

Last but not least from me,

special thanks to our 2018 Girls

basketball team. Bring on 2019!

- Patricia Beazley

80 Mangere College - 2018
---
Darts

Taylor-Marsh Kahaki

(9BM) is currently New

Zealand's top Junior Girls

Darts champion and she

has held this title for 3

years.

She also holds the Junior Girls pairs

with Sharmane Walters for 2 years

and she has won this title three

times. She has also won the junior

mixed pairs two times.

In the first week of the July holidays,

Taylor-Marsh travelled to Invercargill

to play in the Clubs NZ Nationals

July Invercargill 2018 competition.

Taylor won the New Zealand Junior

Girls singles, and she also made the

North Island team to play South

Island, which North Island won,

Taylor-Marsh played in the Senior

ladies singles and came 3rd.

Taylor-Marsh Kahaki travelled to

Whakatane in the second week of

the July holidays where she played

for the New Zealand dart council.

She was also named captain of

Junior Tournament team.

In August Taylor-Marsh Kahaki

travelled to Rotorua representing

the Auckland Darts team,

was successful in a few of the

competitions and was named in the

New Zealand team as a reserve.

Taylor-

Marsh's

Achievements

for the year:

Jan

Feb

May

May

June

June

July

July

July

July

July

July

Aug

Aug

Aug

Whangarei Ladies open (3rd place)

Northern Island Junior Girls

ADA single women – 2 x 180 highest point

APD single women – 1 x 180 highest point and a 170 point finish

Nikao Tri-Series team – (Runner up) 2 x 180 highest point

Jack Smith mixed fours – 1 x 180 highest point

Clubs NZ Nationals - NZ Junior Girls singles (1st place)

Clubs NZ Nationals - Senior Ladies singles (3rd place)

NZ Dart Council - Junior Girls pairs (Runner up)

NZ Dart Council - Junior Mix pairs (Winner)

NZ Dart Council - Junior Girls singles (Winner for 3 years in a row)

NZ Dart Council - Auckland Region Youth team (Winning team)

Rotorua Competition - Pairs (3rd equal)

Rotorua Competition - Women Singles (3rd equal)

Rotorua Competition - Mixed pairs (Winner)

Netball

We had a committed

group of players this

year.

However we were unable to

enter the Papakura Netball

Centre competition due to

unforeseen circumstances for

term 2 & 3.

However, we were able to

secure some games with

the neighbouring schools

Southern Cross Campus and

Mt Roskill Grammar, for which

we are very grateful.

We hope to meet up with

Seventh Day Adventist

College, Te Kura Kaupapa

O Māngere and Aorere

College in the near future.

The teams are looking

forward to play Summer

League Netball at Howick

Pakuranga Netball

starting in October every

Wednesday after school.

– Emma McCosh

Mangere College - 2018 81
---
Soccer

We had one boys

team of committed

players this year.

They played in the Senior

Manukau B division

despite having many boys

from the junior school. It's

fair to say that this team

is full of big characters

and some great players,

although not the most

organised group or team

I've ever seen.

We had a good start to our

season, putting in a solid

performance in our round

robin games, winning 5 of

our games and finishing

3rd overall. This put us

into the plate competition

where we went on to

finish 5th.

A special mention to

Shuaib and Shane who

are both in their last

season with us having

played for the boys soccer

team for all of their 5

years at MC. These boys

both stepped up to roles

of responsibility this year,

running some training

sessions and coaching,

while Shane was our

captain.

Once again well done

on a great season

- you guys really

represented

yourself and our

school with great

passion and pride.

Well done and thank you.

- Mr Darragh

Boys soccer coach

As always there were

lots of fun and laughter

around this team and I

would like to thank all the

boys for their hard work,

commitment and great

sportsmanship throughout

the season.

82 Mangere College - 2018
---
Rugby

Firstly, let us thank all the

players who took part in this

year's rugby teams, from our

young bucks in the under 14's

and 15s, the girls in the 10-a-side

team, to Māngere College's

future rugby stars in the 2nd

XV, to our unstoppable 1st XV

who led the way with their

hard work and dedication. Most

importantly let's thank all the

coaches and managers, because

without them there would be no

teams.

1st XV Rugby

Our 1st XV team

played in the 1C

competition this

year and had an

unprecedented

season, going

through the entire

competition

without losing a

match.

defeated Mt Albert

Grammar and then took

out our fellow Māngere

rivals, Southern Cross

Campus in the final

to be crowned 1C

Champions for 2018.

The team played a total

of 12 games and didn't

taste defeat all season.

The side were a class

above all opponents,

going through the

round robin unbeaten,

finishing on top of the

table and qualifying

for the playoffs. In their

semifinal, the first XV

Such a successful year

wouldn't be possible

without the hard work

and the sacrifices of our

coaches Piri, Dee, Vi and

our manager Ms Masoe.

- Sili Tongotongo

Captain

This year 1st XV rugby

competed in 1C grade, they

were the contender and

a force to reckon with in

school rugby.

Coach Piri Tamihana, alongside

Dee Masters worked hard this

year with the boys and came

out with a great achievement

for Māngere College.

Participation in the team has

been a great opportunity

for these boys, they

demonstrated hard work,

comradery and commitment.

The 1st XV should be proud of

their result in this competition

of 10 games, being

undefeated with 10 wins

for the season and making

us the proud winners of the

Auckland Secondary Schools

Rugby 1C.

- Caroline Masoe

Manager

Mangere College - 2018 83
---
2nd XV boys

rugby

Our 2nd XV team played

in the 2B competition and

played a total of 9 games,

winning 7.

These boys stormed through

the round robin matches, going

on a 6 game winning streak.

As one of the top sides, they

easily qualified for the playoffs

before finally succumbing in

their semifinal. This team was

coached by Willie Marsters and

their manager was Ms P Reddy.

- Sili Tongotongo

It has been an

extraordinary

season for our 2nd

XV Rugby team.

They played with an

outstanding style, set a

high standard of play

and showed a calm

determination during

high pressure moments

to finish 2nd overall in

their grade. There were

plenty of personal bests,

praying, singing, lots of

laughs and great team

spirit and so we are all

looking forward to next

season.

The team is very

appreciative of their

coach, Mr Willie Masters,

who took on the huge

task of guiding the

side, their manager

Mrs Parwati Reddy and

their amazing group

of faithful supporters.

Congratulations to the

players, coaches and

management on a

successful season!

- Parwati Reddy

Manager

u15's boys rugby

Our under 15 team

played in the 15B

competition and

played a total of

9 games, winning

5, losing 3 and

drawing 1.

This year we had a

composite team (2

schools combined).

Marcellin College had a

coach and players but

no team was available to

play at their school. On

the other hand, we had a

team but no coach.

These boys played well

throughout the round

robin games and qualified

for the top 8 knockout

rounds, going down in the

quarterfinals.

This team was coached

by Joe Collins and Jon

Pearse, their manager

and Teacher-in-Charge

was Miss Tualaulelei and

the captain was Nofoaiga

Sefulu.

u14's boys rugby

girls (10-a-side) rugby

Coach: Matapo Nipu (exstudent)

Co-coach: Dee Marsters

(community)

Staff in charge: Ms A

Potini

Captain: Jasine Leo'Olo

The team was small in

numbers but not short on

talent, with injuries and

other commitments, the

players have found it very

frustrating and difficult

to cope within the winter

season of rugby.

Coach: Mr A Tuitupou

Staff in charge: Mr P

Campbell & Ms E McCosh

Captain: Josh Havili

The U14 rugby season

started with a hiss

and a roar with a large

squad toughing it out

at trainings. The pack

showed plenty of

humour and enthusiasm,

but a lot of new faces

also meant they had

plenty to learn.

84 Mangere College - 2018
---
Tag Football Boys Team 1 Tag Football Boys Team 2

Tag Football Girls

In March our

teams entered

the South East

Secondary Schools

Tag Football

competition at

Ngati Otara Park,

Otara.

The teams entered

were: Senior Girls Tag

football team (Division

2 Girls), Senior Boys

Tag Football team

1 (Division 1 Boys) &

Senior Girls Tag Football

team 2 (Division 2 Boys).

The Senior Boys Tag

Football team 1 has

qualified for the

Auckland Senior Tag

Football competition on

Wednesday 11 April at

Ngati Otara Park, Otara.

Overall Results:

Senior Girls were placed

5th in Division 2.

Senior Boys 2 were

placed 6th in Division 2.

Only the teams in

Division 1 were able to

qualify for the Auckland

Champs.

Tag Football

Youth World

Heritage Cup 20/20

Congratulations

to the following

students who made

the U19 Girls Tag

Football team,

representing the

island nation of

Tonga.

The students travelled

to Melbourne, Australia

from Thursday 29

November – Monday 3

December.

Players:

Platinum Marsters,

Anerosa Tulilo, Sita

Minati, Jasine Leo'o Olo,

Ruaama Akaiti.

Mangere College - 2018 85
---
senior girls touch

The Senior Girls Touch

team played in the

Counties Manukau

Touch Zone competition

at Bruce Pulman Park.

The team were made of two year

10 and four year 9 girls. The junior

girls who dedicated their time

and patience to form this team

during the season were placed

5th with 2 wins, 5 losses.

It was a highlight to see the

potential of our future senior

players.

Coach: Tai Uamaki

Touch Rugby

senior mixed touch

The Senior Mixed Touch

team was coached by Piri

Tamihana.

They played in the Auckland Touch

Premier Season competition at

Cornwall Park in the Senior A grade.

The team were placed 5th Overall

with 3 wins & 3 losses.

The team also entered the Counties

Manukau Zone at Bruce Pulman

Park on Tuesday afternoons to get

more trainings under their belt, as

the team were not eligible to play

in the Counties Manukau Zone

competition, due to the team

playing the Premier grade on the

Monday afternoons.

86 Mangere College - 2018
---
Our Senior Girls Volleyball

team 1 entered the East

& South Zone Volleyball

competition and were placed

3rd in this competition.

The team continued to the Auckland

Secondary Schools Volleyball

championship to be placed 6th.

The Senior Girls Volleyball team

1 were able to attend the New

Zealand Secondary Schools Volleyball

competition in Palmerston North.

Our team welcomed the funding

from Trillian Trust who were able to

help with our accommodation. The

team also had to fundraise to pay

their own way to Palmerston North,

by travelling on the Coachline bus to

Palmerston and back to Auckland.

Nancy Palelei who is the coach and

teacher in charge was able to travel

with the team on the bus.

Senior Girls Volleyball - team 1

Volleyball

Our Senior Girls Volleyball team 2

entered the Southern Zone Volleyball

competition and were placed 6th in

this competition. The team continued

to the Auckland Secondary Schools

Volleyball championship to be placed

42th place.

Our Senior Boys Volleyball team

entered the East & South Zone

Volleyball competition and were

placed 8th in this competition. The

team continued to the Auckland

Secondary Schools Volleyball

championship to be placed 12th

place.

Mangere College - 2018 87
---
Form Group Photos

Faiane, Gideon Folasaitu, Kerriose-Apolimafou Ford, Marion Funaki, Ethan Harris Riwhi-Moihi, Keri Heta, Legacy Ieremia, Zac Ieriko Sepu, Alofa

Kahaki, Taylor Kaifa, Pulotu Katuke, Vaine Kaufusi, Lilyan Kaweroa, Skye Koiatu, Tapuarorangi Kopa-Taylor, Peneha Lafaele, Trent

Lagaaia, Vaoa Manu, Leah Matia, D'nadcyn Osman, Bonnie-Ray Solomon, Hayley Taunga, Kylie Tonga, Mathew Tongotongo, Nelly

9bf

Tulikihakau, Uasi Tupou, Atunaisa Wehi, Lincoln

Ah Chong, Hinemoa Ahmat Abdallah, Oumaima 'Ahomana, Benjamin Aleni, Hoparonee Amopiu-Baker, Tymeah Angaa'elangi, Christian Anthony, Sallyrita Apineru, Elizabeth

Baker, Brandon Davida, Ernest Dean, James Fabian Thomas, Glassie Filimoehala, Amanaki Filipine, Troy Fineaso, Crystal Fuimaono, Frencesca

Hunia, Max Lalahi, Ofa Mafi, Kaufoou Pasi, Cecile Terepai, Grace Thomas, Devyn Tooala, Susana Tovio, Paul

Tuakore, Merita-Jade Vaatiuola, Jordan Vaatofu, Tepa Webster, Monique

9bm

88 Mangere College - 2018
---
Avauli, Lana Brown, Albert Finau, Daniel Finau-Mose, Noah Ikiua, Lilly-Anne Iona, Lucy Julius Daniels, Cornelius Lavea, Doreen

McIvor, Demitrious Mulipola, Lani Neria, Isaleli Nimeti, Aravi Nuku, TeAmorangi Omoregie, Lua Opai, Lza Palu, Sifila

Pekepo, Maruata Peo, Martha Pio, Katherine Poaru Raki, Kadara Poko, Genesis Pompey, Maria Puiri, Makarini Scrivener, Rihari

9fo

Spence, Solomon Tafengatoto, Mele Tonorio, Tautiare Waa, Selui

Amituanai, Hamyoni George, Anna-Tetapu Hala'ufia, John Hopoi, Mereanna Kiel, Kalos Lal, Jason Leilua, Aaliyah Leleifi, Will

Lemoa, Gardenia Maea, Lakai Mafileo, Siobahn Manuel, Kaloni Masi, Loseti Mateo, Nelio Miri, Dangel-Rae Moeai'a Toleafoa, Alosina

Ormsby, Tiara Petaia, Suli Puiri, Tai Puiri-Tuia, Makel Rewha, Liana Tafengatoto, Sosefina Tamua, Constantine Taufa, Raylanny

Taylor, Te Mahara Tokotini Nanua, Te-Mauri Tumai, Xavier Vili, Charlotte

9mk

Mangere College - 2018 89
---
Alatina, Loretta Anae, Lua Baker, Tuhi Biddle, Ngaire Faasavalu, Emanuel Fonise, 'Aki Goodwin, Samuel Havili, Joshua

Hussaini, Fatima Kaufusi, Vani Manu, Kuini Matangi, 'Alamoni Pene, Alofasau Quinones, Krizzia Rani, Pandora Reihana, Indi

Rio, Metuangaro Roberts, Tavailau Sale, Tamera Sameem, Saleha Schaumkel, Edgar Selu, Daniel Siamomua, Tehillah Siloi, Keilani

Sinani, Temaleti Siuoalii Ielemia, Makarios Tafa, Roselyn Tamo'ua, Neomai

9ti

Dawson, Mara Faiva, Feloki Golotoa, Payton Iosefa, Johnathan Iosua, Pamata Joseph-Kaitani, Lui Lelenoa, Mele Lynch, Honora

Maki, Izaiah Mani, Tereapii Nielsen, Tai Pulemau, Tony Siaki, Peniamina Taukiri, Janet Teata, Manoa Tere, Marcel

Tereda, Kimotea Tohilima-Franklin, Pypher Toiu, Ashley Tusi, Ausage Unga, Siaosi Urika Filifilia, Loreal Utaatu, Harold Vili, Ceasor

Vui, Suaesi Walters, Lexus Webster, Kiana Wilson, James

9za

Ah Mann, Sa'i Anderson, Mark Atu, Talita Campbell, Ondre Funaki, Rueben Grant-Te Ruahanga,

Tarleaa

Kingi, Tru

Luamanuvae, Vaimanino

Mikaele, Lagi Moukite, Peter Pairama, Katherine Prescott, Jennifer Rako, Leylane Scrivener, Sonny Sood, Bobbie Sue Taia, Harry

10AU

Takiaho Fuahetau,

Noah

Tarai, Ngametua Tawhi, Mythayus Tiavaasue, Cleo Wehi, Paul Winter, Ruby

90 Mangere College - 2018
---
Ah Sue, Vincent Ahmadi, Mahdieh Akama, Teina Ali, Faaiza Asolelei Fretton, Mele Felauai, Sefo Fetokai, Brian Filipine, Tupou

Ibrahim, Ali Isitolo Lui, Adam Liuanga, Gwen Mauu, Jordan Perks, Mia Petersen, Bryniah Pua, Pita Samuels, Paerata

Sigglekow, Ethan Su'a, Janet Tanu Talapa, Faith Tariau, Vaevae Tau, June Tau Taupau, Tame Urika Filifilia, Adyhana Vaifale, Mara

10hs

Aerenga, Jorjane Ah-Lam, Alec Aneterea, Tererei Atonio-Seiuli,

Prettisha-Mei

Ayak John, Sebit Chan-Ting, Mason Enua, Aaron Falanaipupu, Jeremaiah

Henry, Savanna Limoni, Tasi Maitai, Nuhaka Malcolm, Te Hinengaro Manusina, Jordyn-Nirel Marsters, Te Aroha Niuila, Jizavier Niutao Tafale, Danielle

Poha, Izzy Rehu, Xaviar Salaikeni, Miita Sefulu, Nofoaiga Talataina, Agnes Teinaki, Veronica Toomata, Leleo Tufuga, Jerimiah

Walters, Tori

10PO

Mangere College - 2018 91
---
Davis-Ratumu, Likaan Fidow, Romeo Fuimaono, Harold Fuimaono, Vaokaho Gafa, Meqados Ikinepule, Bella Johnson, Sam Lavea, Elizabeth

Leaupepe, James Magalogo, Agnes Mani, Hermon Mataafa, Lealofisa Moananu, To'o Ofisa, Julia Pange, Junior Panuve, Abigail

Stewart, Detroit Taufa, Ilaisaane Tavai, Levi Tavita Hall, David Thomson Hyland-Webster,

Devaan

Tu'akalau, Mele Tuaeu, Lb Viniki, Vi

10RE

Ah Sam, Henry Alofaki, Makeleta Baker, Wisdom Erai Latule Mailisi, Sifatagloa Fehoko, Loti Fenton, Alexis Fiu-Kata, Saviour Fonise, Afu'alo

Gaga, Viane Kumar-Lui, Theresa Maluatoga, Felea Mataki, Noelani Murphy, O-Shay Ngakiau, Junior Senitofo, Tala Siulangapo, Dave

Stehbens-Kennedy, Jakob Taione Motuliki, Moses Taumalolo, Luseane Teofilo, Eirene Terry, De'Vante Tuahine, Ruapani Tupou, Anne Yorke, Riana

10si

92 Mangere College - 2018
---
Ah Chong, Shaun Andrew, Esther Faireka, Louisa Fredrick, Junior Kaho, Suli Mau'u, Salealii Maybir, Jahriena Muavae, Jeaniro

Ngauamo, Teresa Nguyen, Phuong Reh, Kwae Reh, Me Siaki, Mark Tapuosi, Faye Taufahema, Nathan Tere, Jas

Tevaga, Pesi Tinei Fili, Nuulelei Tonga, Mele Utaatu, Abraham

10WE

'Ahomana, 'Ofa Atiau, Tiri Faasisila, To'oa Fehoko, Amelia Filipo, Christian Futi, Oikoumene Ioane, Sanele Kaliopasi, 'Etina

Leleifi, 'Unaloto Mafi, Cecilia Mauala, Juliette Palenapa, Tiulipe Paw, Chu Moo Pio, Diana Pulemau, Eneleata Robinson, Darrian

Samuel, Tererei Taia, Memory Tau, Jenney Thompson, Caela Toluono, Sai John Tuilaepa, Benjamin Williams, Christian

11EU

Aigaalii, Levy Akeripa Sa, Leo Avauli, Donavan Ben, Makaila Campbell, Pj Enua, Pairi Epi Mana, Ngatokorima Fukofuka, Kalavite

Hafoka, Taitusi Himone Henry, Kayleb Lagaaia, Aunuua Leha'uli, Petissa Manuel, Taylor Marsters, Tiare Pouwhare, Brendalee Selu, Monalisa

Siaki, Felise Tavioni, Apii Tere, Cassandra Tereapii, Maui Tiotala, Joyce Toetoe, Parani Tokotini Nanua, Te Aroha Tonitara, Teava

11fi

Vaihu, Tina

Mangere College - 2018 93
---
Ah Chong, Grace Ahmat Abdallah, Younis Clarke Terekia, Briannah Esera, Daniel Faasavalu, Samuel Faingaanuku, Sylvia Felauai, Rosemary Fosita, Peter-John

Fuimaono, Joell Heta, Anahera Isaako, Isaako James, Aaron Kilipati, Reupena Levi, Kristina Mataafa, Logopati Myar, Poe

Nguyen, Natalie Nguyen, Thu Panuve, Asena Pasa, Euangelion Pohahau, Siaosi Salam Khel, Madina Salam Khel, Zabiullah Samuelu, Suia

Siaki, Esther Taituave Fuimaono, Blessing Taufahema, Folau Vaifale, Savannah

11HA

Afualo, Lee Akaiti, Benjamin Brown, Shyanne Bureta, John Chand, Marc Eteuati, Noelle Faleapa, Ene Filimoehala, Ilisapeti

Henry, Quileena Hepi, Jamiroquai Karika-Lole, Malachi Kavana, Josh Koiatu, Aaron Mafi, Nehemiah Mataiti, Sunnie Napaa, Joela

Pio, Siti Ru, Lucy Salu, Herilla Samoa, Logan Tanu Talapa, Blessing Taualai, Isaiah Taumihau, Olathe Tikinau, Rozlyn

Ueni, Atalia Yipouli, Ella

11IM

94 Mangere College - 2018
---
Abdulmanan Ahmed,

Abdirizak

Aleki Su'emai, George Anae, Vinia Aria, Shakwon Delamere, Harmony Filipine, Patalione Iosua, Aashantaey Leiataua, Vaioleti

Leilua, Kahdel Maki, Sonny Maluatoga, Theresa Maro, Shalom Nehoa, Maka Neria, Sweetie Pailegutu, Afe Robson, Saphire

Soosemea, Christina Tavita Hall, Tyrone Teinaki, Marcel Teingoa, Temera Tohilima-Franklin,

Jasmarie

Vaka'uta, Kilisitina Whakatane, Teina Wilson, Joelian

11NA

Aleluia, Tevita Andrew, Abigail Angaa'elangi, Alex Bailey, Chris Beazley, Patricia Faamausili, Kaisa Filimoehala, Ane Fisiiahi, Lupe

Lemalu, Johnathon Mafileo, Ramona Manuel, Nickayla Manukuo, Anasta Marama Tautu, Sokoau Mokeni, Anisha Ngani, Cecilia Niko, Otila

Ratumu-Wharton,

Cezanne

Rimatuu, John Sanerivi, Faamanu Taufa, Nika Taulanga, Jeffery Thompson, Kiwi-Tamaki Tiavaasue, Sapela Tongotongo, Sitiveni

Ulunga, Ofa Vaatofu, Epenesa Wehi, Mackie

11sa

Mangere College - 2018 95
---
Ahmadi, Abdul Ahmed, Haris Anae, Kamehameha Apineru, Jesse Chand, Aniket Faumalo, Tina Heta, Erana Hussaini, Zahra

Leleifi, Jacob Limoni, Sauni Luafatasaga, Irene Luamanu Kilipati, Julia Magalogo, Wayne Makisi, Mercy Mataafa, Grace Mau'u, Fuli

Moeai'a Toleafoa, Toto Nguyen, Tram Shee, Saviour Tonga, Sioeli Vea, Raymond

12AL

'Ahomana, Veronica 'Alofi, Sepiuta Aria, Paulo Filimoehala, Isikeli Folasaitu, Mavianne Isaako, Simati Lau, Ruanjua Manapori-Tongia, Antonio

Ng Chok, Tatiana Niko, Julienne Nukunuku, Sinai Pirihi, Karauria Sanelivi Pio, Lealofi Sigglekow, Sara-Lee Tangiaere, Lennox Taufahema, Maika

Tonga, Miracle Tuitupou, Sateki Wilson, Vera 12DA

Afu, Soana Aitogi, Isiyah Akatere, Rosealy Ariki, Ina Crowther, Lisa Dixon-Stowers, Zion Folasaitu, Malianne Ioane, Ioane

Jackson, Tennessee John, Kulai Mailo Slade, Marietta Mikaele, Liaina Nau, Ofila Spence, Aaliyah Terry, Ru Tofilau, Shannan

Tupou, Suliasi 'Ufi, Mate'aki Viniki, Ritia William, Urau

12dv

96 Mangere College - 2018
---
Arama, Mauroa Chan-Ting, Caleb Enua, Jean Fetokai, Naisa Ibrahim, Zahra Kulitapa, Makusi Leaupepe, Sofia Lelenoa, Sasa

Ma Chee, Amerika McDonald, Unique Moeroa Akama,

Veronica

Patuwai, Rehia Puaavase, Kara Roberts, Amaamalele Sauni, Tauvela Sinani, 'Asinate

Tapuosi, Campbell Taufa, Jason Tohilima, Chynna Tumai, Dimetrious Tupou, Fusi

12go

Fa'asisila, Josephine Ikimaka, Marklin Karaka, Te Rehu Kavana, Pauline Lamese, Evelyn Lavulavu, 'Uluaki Lesa, Mai-Rose Matita, Tauta

Palu, Epalahame Pullen-Burry, Todd Rimoni, Ailima Rio, Tarepeta Soti, Tumema Ta'ufo'ou, Folau Tahana, Wairata Tokotini, Tonorio

Tulilo, Isalily Tutai-Amiri, Benjamin

12MI

Afualo, Levaoatuamaana Gasu, Naomi Ieremia, Tony Ingram, Nicholas John, Nga Kaufusi, Cicilia Lavea, Adrienne Little, Dominic

Moli, Spencer Nelson, Tana Papau, Lopi Purcell, Ethan Ratumu, Vae Robinson, Taylah Samasoni, Faith Sisifa, Leiona

Talakai, 'Anakava Tasi Apineru, Heseti Tekeu, Tama Tereda, Fainu Tilo, Victory Tumai, Lyrikal Wuatai, Marukore

12ND

Mangere College - 2018 97
---
Ahmat Abdallah,

Izadine

Arama, Pearll Aukuso, Tamara Funaki, Dannielle Grivelle, Tremayne Leo'o Olo, Jasine Levao, Tua Loamanu, Fatai

Maitai, Cee-Jay Maro, Manakia Prasad, Shane Ru, Shirley Samoa, Isaak Tairea, Cameron Tongotongo, Ofa Tongotongo, Sili

13fr

Tupou, 'Iteni

Wong-Tung, Laura

Akaiti, Ruaama Amosa, Manaa Faamausili, Sesiona Harrison, Langcree Ikinepule, Kayla Kelemete, Jeff Kepa, Vanessa Manapori-Tongia, Marina

Michael, Shavaughn Muavae, Fomai Ngawaka, Charnce Paane, Lydia Peauvale, Lauryn Pullen-Burry, Jason Ropati, Daisy Strickland, Jasmine

Subbir, Shuaib Tamihana, Lee-Joe Tekena, Hinano Tongia, Junior Tongia-Lennon, Daniel Wilson, Samira

13MA

Felise, Ngaire John, Matthew Lemoe, Michael Lesoa, Paul Levao, Puna Maea, Mary Marsters, Platinum Mataiti, Codi

Perez, Tai Pio, Hannah Pio, Siniva Purea, Tiare Rapana, Holly Sale, Danielle Sauni, Sharee Sefulu, Melody

13se

Taylor, Stephen Tongotongo, Abraham Tulilo, Anerosa

98 Mangere College - 2018
---
Ah-Chong, Sarah Brown, Paris Falefo'ou, Finau Fifita, Soni Fredrick, Fuller Iulio, Derek Lagaaia, Tau Leleifi, Mark

Mahe, Nili Makiiti, Memory Mann, Edna Meleke, Esther Nglam, Italy Opara Koi, Zarius Peraua, Rosaline Pita, Tevita

13tu

Pritchard, Lavannah Ringi, Jacinta Tohilima-Franklin,

Hannah-Lily

Apineru, Niuma Channing, Sandy Duong, Ky Duong, Vi Faingaanuku, Sione Fuasino, Steven Javed, Hania Malauulu, Jane

Minati, Sitashree Miri, Maranna Opuu, Ioane Pene, Lima Salaikeni, Ana Salu, Ezra Teingoa, Tipora Tekena, Nora

Teleiai, Levi Thompson, Gineeva Vahe, Suanne

13wg

Avauli, Donavan Falanaipupu, Jeremaiah Gafa, Meqados Hafoka, Taitusi Heta, Legacy Kulitapa, Makusi Limoni, Tasi Ru, Lucy

Taufahema, Nathan Tuitupou, Sateki

Achievement

centre

Mangere College - 2018 99
---
Māngere College

Supporters

Māngere College continues to be very grateful to our local businesses and individuals who provide

financial support to our students. This commitment helps Māngere College students achieve to their

potential.

The artistic talents of Māngere College students continue to be used to help recognise our major

sponsors. Framed artworks are gifted to our major sponsors each year. The artworks, which now hang in

boardrooms, foyers and the offices of leading businesses, give clear recognition to the support provided to

Māngere College students.

Financial support allows us to provide three groups of scholarships each year:

• The Māngere College Entrance Scholarships cover most of the costs associated with starting as a

Year 9 student at Māngere College.

• The Māngere College Senior Scholarships are awarded to deserving Year 10 students. These are

worth $500 and are used by the recipients to cover the cost of NZQA fees, uniform and other school

costs over their senior years.

• Year 13 students can apply for the Māngere College Leavers' Scholarships. These awards are valued

at up to $1500 to assist students to meet the costs of tertiary study.

Autographs

100 Mangere College - 2018