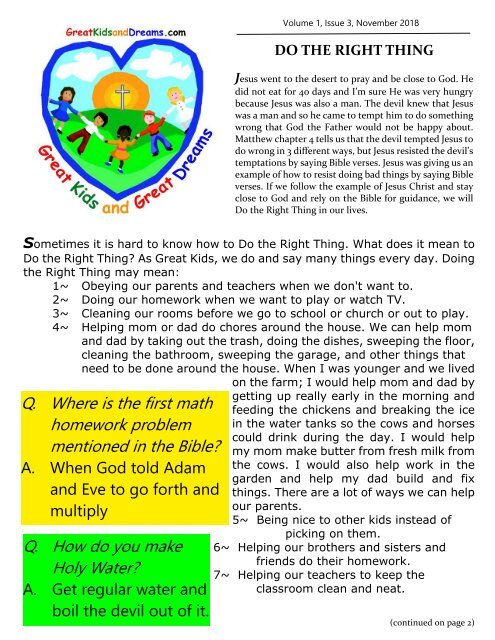 Create successful ePaper yourself
Turn your PDF publications into a flip-book with our unique Google optimized e-Paper software.
Volume 1, Issue 3, November 2018

DO THE RIGHT THING

Jesus went to the desert to pray and be close to God. He

did not eat for 40 days and I'm sure He was very hungry

because Jesus was also a man. The devil knew that Jesus

was a man and so he came to tempt him to do something

wrong that God the Father would not be happy about.

Matthew chapter 4 tells us that the devil tempted Jesus to

do wrong in 3 different ways, but Jesus resisted the devil's

temptations by saying Bible verses. Jesus was giving us an

example of how to resist doing bad things by saying Bible

verses. If we follow the example of Jesus Christ and stay

close to God and rely on the Bible for guidance, we will

Do the Right Thing in our lives.

Sometimes it is hard to know how to Do the Right Thing. What does it mean to

Do the Right Thing? As Great Kids, we do and say many things every day. Doing

the Right Thing may mean:

1~ Obeying our parents and teachers when we don't want to.

2~ Doing our homework when we want to play or watch TV.

3~ Cleaning our rooms before we go to school or church or out to play.

4~ Helping mom or dad do chores around the house. We can help mom

and dad by taking out the trash, doing the dishes, sweeping the floor,

cleaning the bathroom, sweeping the garage, and other things that

need to be done around the house. When I was younger and we lived

on the farm; I would help mom and dad by

getting up really early in the morning and

feeding the chickens and breaking the ice

in the water tanks so the cows and horses

could drink during the day. I would help

my mom make butter from fresh milk from

A. When God told Adam

and Eve to go forth and

multiply

A. Get regular water and

boil the devil out of it.

the cows. I would also help work in the

garden and help my dad build and fix

things. There are a lot of ways we can help

our parents.

5~ Being nice to other kids instead of

picking on them.

6~ Helping our brothers and sisters and

friends do their homework.

7~ Helping our teachers to keep the

classroom clean and neat.

(continued on page 2)
---
Great Kids and Great Dreams

page 2

A GREAT DREAM

Julia and her friends were frustrated. One of their group, Nancy, keeps getting into trouble ...

doing dumb things instead of making good decisions. The other day she was caught taking

makeup from a dollar store and not paying for it, and although the store didn't call the police,

they called her parents and now she is grounded for 3 months. Then just yesterday she was

caught copying another students paper during a test and suspended from school.

"Why can't she just Do the Right Thing?"

asks Julia. So Julia and her friends

went to Julia's guardian, Claudia,

and asked, "How can we help

Nancy?" They explained the

situation to Claudia and then

Claudia led them in this

prayer, "Heavenly Father, we

thank You for all the

blessings in Nancy's life and we

ask You for help in this

situation. Show us how we can

help Nancy to make better

decisions in her life and to Do

the Right Thing instead of the wrong thing. Give us

wisdom and direction in helping her in a positive

way. In Jesus Holy Name, AMEN!" After a minute

Julia said, "Hey, a Bible verse just

popped into my head!"

"Okay let's hear it." Claudia responded. Julia then read

Joshua 1:8 out loud, "Study this Book of Instruction continually.

Meditate on it day and night so you

will be sure to obey everything written

in it. Only then will you prosper and succeed in all you do." Then she said, "Why

don't we do a Bible study together with Nancy and focus on the verses that can help her

and all of us make good decisions?" Everyone loved the idea and not only did it help Nancy a

lot, but it was a positive experience for the whole group.

(Remember that this was a Great Dream and didn't really happen, but it could happen with Great Kids like you!)

GREAT KIDS PRAYER

"Father God thank You for our blessings. Teach us to be Great Kids with Great Dreams. Teach us how to study

your Word and help us to make good decisions in our lives. Teach us to Do the Right Thing every day. Father

God we pray for all those we know who have problems in life and

To

Or provide feedback,

send an email to:

we ask You to bring them close to You and show them Your love.

We love You and thank You for loving us and answering our

prayers. In Jesus Holy Name, AMEN!"

____________________________________________________

wewillbegreat.com

This is an excerpt from Michael Bianchi's upcoming book,