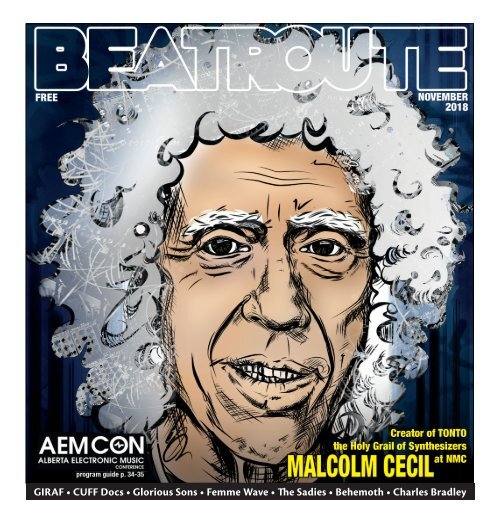 BeatRoute Magazine AB Edition November 2018
BeatRoute Magazine is a monthly arts and entertainment paper with a predominant focus on music – local, independent or otherwise. The paper started in June 2004 and continues to provide a healthy dose of perversity while exercising rock 'n' roll ethics. Currently BeatRoute's AB edition is distributed in Calgary, Edmonton (by S*A*R*G*E), Banff and Canmore. The BC edition is distributed in Vancouver, Victoria and Nanaimo. BeatRoute (AB) Mission PO 23045 Calgary, AB T2S 3A8 E. editor@beatroute.ca BeatRoute (BC) #202 – 2405 E Hastings Vancouver, BC V5K 1Y8 P. 778-888-1120
BeatRoute Magazine is a monthly arts and entertainment paper with a predominant focus on music – local, independent or otherwise. The paper started in June 2004 and continues to provide a healthy dose of perversity while exercising rock 'n' roll ethics.

Currently BeatRoute's AB edition is distributed in Calgary, Edmonton (by S*A*R*G*E), Banff and Canmore. The BC edition is distributed in Vancouver, Victoria and Nanaimo. BeatRoute (AB) Mission PO 23045 Calgary, AB T2S 3A8 E. editor@beatroute.ca BeatRoute (BC) #202 – 2405 E Hastings Vancouver, BC V5K 1Y8 P. 778-888-1120
SHOW MORE
SHOW LESS
Create successful ePaper yourself
Turn your PDF publications into a flip-book with our unique Google optimized e-Paper software.
GIRAF • CUFF Docs • Glorious Sons • Femme Wave • The Sadies • Behemoth • Charles Bradley
---
TABLE OF CONTENTS

COVER 29-36

AEMCON

ARTS 7-11

Vivek Shraya, Jedi Handbook, Chotto Desh, Winners

& Losers, Shauna Says, Wolk Flow, The YYScene

FILM 13-18

GIRAF, Cuff Docs, Expresso Kino, TONTO Week,

Seasons Bleedings, Vidiot

MUSIC

rockpile 21-23

The Glorious Sons, Royal Tusk, Gutter Demons,

Bring On The Storm, Arson Cult, Stiff Little Fingers

edmonton extra 24-27

USS, Look Vibrant, Eamon McGrath, Captain

Tractor, Sewing Machine Factory, Mark Muz

femme wave 38-42

Festival Overview, Beyond the Music, JB The

First Lady, Kellarissa, Body Lens, Program Guide

roots 44-45

Cecile Doo-Kingue, The Sadies

jazz 47

Jerry Granelli

shrapnel 50-53

Korpiklaani, Behemoth, Bazaraba, Barn Burner,

Month in Metal

MUSIC REVIEWS 55-59

Charles Bradley, and much more...

horoscopes 61

savage love 62

CTS: THE New Ride

BEATROUTE

Publisher/Editor-in-Chief

Brad Simm

Marketing Manager

Glenn Alderson

Event Coordinator

Colin Gallant

Production Coordinator

Hayley Muir

Web Producer

Masha Scheele

Social Media Coordinator

Miguel Morales

Section Editors

Arts :: Brad Simm

Theatre/Books :: Tim Ford

Film :: Morgan Cairns

Rockpile :: Christine Leonard

Edmonton Extra :: Kennedy Pawluk & Mike Dunn

Comedy :: Tony Binns

Jucy :: Paul Rodgers

Roots/Jazz :: Trevor Morelli

Shrapnel :: Christine Leonard

Collecting Detective :: David Daley

Horoscopes :: Willow Herzog

Contributing Writers

Alix Bruch • Emilie Charette • Sarah Mac •

Michael Grondin • Gareth Jones • Mathew Silver

• Kevin Bailey • Hayley Pukanski • Nicholas

Laugher • Arnaud Sparks • Brittney Rousten •

Breanna Whipple • Alex Meyer • Jay King •

Mike Dunn • Shane Sellar • Kaje Annihilatrix •

Dan Savage • Sarah Allen • William Leurer •

Jessie Foster • Jamie Campbell • Trevor Hatter •

Brenna Whipple • Trevor Morelli • Logan Peters •

Fredy Belland • Stepan Soroka • Daniel Jaramillo •

Trevor Campbell • Ana Krunic • Graeme Wiggins

• Torry Rosso • Judah Schulte • Vaughn Turnbull •

Sean Orr • Josh Wood • Daniel Robichaud •

Heath Fenton • Chad Martin • Cole Parker •

Craig Douglas • Graham King• Maryam Azizli •

Shelby Gray • Philip Clarke •

Art Director: Jennie Big Kitty

Graphic Design: Nicole Bruce

Photography: Drew Ramadan

Cover Art

Nicole Bruce

Advertising

Ron Goldberger

Tel: (403) 607-4948 • e-mail: ron@beatroute.ca

Distribution

Calgary, Edmonton,

Banff, Canmore and Lethbridge

SARGE Distribution in Edmonton

Shane Bennett (780) 953-8423

e-mail: editor@beatroute.ca

website: www.beatroute.ca

E-Edition

Yumpu.com/BeatRoute

Connect with BeatRoute.ca

Facebook.com/BeatRouteAB

Twitter.com/BeatRouteAB

Instagram.com/BeatRouteAB

Copyright © BEATROUTE Magazine 2018

All rights reserved. Reproduction of the contents

is prohibited without permission.

BEATROUTE • NOVEMBER 2018 | 3
---
PULSE

Girl's Rock Camp

DIY Weekend Workshop

Nicola Lefevre and Miesha Louie

Deliver A crash course on dIY recording.

LUKE THOMSON

Although he plays loud, rock 'n' roll, twang guitar

with The Rumble, Luke Thomson isn't shy about

showcasing his reflective side. Tender is his third

solo project that saunters through a wide range

of instrumentation ranging from walls of tremolo

and amplification to foot-stopping acoustic blues

and weeping violin to haunting, lonely, aching

piano melodies. The sad, whiskey-soaked songs on

the EP are beautifully executed, rich with full-bodied

emotion.

The release show for Tender will feature Edmonton's

Denim Daddies at The Avivary on Nov. 23

(Edmonton).

4 | NOVEMBER 2018 • BEATROUTE

Since 2013, Nicola Lefevre and Miesha

Louie have run Girl's Rock Camp

Calgary (GRCC) designed for cis

and trans girls, as well as non-binary

youth between the age of 12 and 17

to develop their musical interests,

performance and recording skills. This

year, GRCC is excited to announce

the first Weekend Workshop focused

on DIY recording. While every year

participants get to record themselves,

it's usually in a luxury studio. The DIY

workshop has a different focus.

"This is a realistic version of a

high school band," says Louie. "If

they booked their own recording

time or try to do it themselves, this

is one area we haven't taught them

in yet. We want to teach them all

the boring steps how to mic every

instruments so that you'll sound

okay on garage band.

Lefevre adds, "We're going to show

them how to set up, use specific

recording equipment, how to record a

few songs, do a basic mix and master

and get them online. It's not going

to be the kind of quality you can

press vinyl on, but it will work on the

internet."

Both veterans of Calgary's punk

scene, Lefevre will handle the

technical duties of recording while

Louie guides students through how

to prep and perform in a recording

environment.

DIY Weekend Rock Camp takes place

at the National Music Centre on Nov.

24 and 25. For more information go to

www.girlsrockcampcalgary.com

Distress Centre Benefit

Listen Up! is the fifth annual benefit for the Distress Centre Calgary which

provides a 24 hour, seven a days a week support for those dealing with a crisis

in their lives. Rich Paxton, one of the organizers for the benefit, says, "A big

misconception is that the Distress Centre is only for those feeling suicidal or

wrestling with depression. But it's any type of crisis, anything that's causing you

stress. Money woes, lost your job, breakups, drugs or drinking. A lot of a people

don't call because they think their issue isn't big enough. You don't have to be

on the verge of suicide, it could just be a shit day and you need someone to talk

to. We're here to listen and point you in the direction if you need further help."

X92.9 presents Listen Up! featuring five great local bands at Dickens Pub on Nov. 24.

Tix $15, all proceeds go to Distress Centre Calgary.

DREW MCDOWALL

The revolution will not be televised, so you'd best buy a ticket to the live event.

Bending wires to his will, the Scottish-born street preacher Drew McDowall and

veteran of boundary-breaching art punk bands like Psychic TV, Poems and Coil,

has become a solo performer notable for his ability to create immersive conceptual

rituals—dynamic explorations that grab concertgoers by the senses and

refuse to let go. Celebrating the September release of his template twisting album,

The Third Helix, McDowall is embarking on a multi-city tour that will introduce

established fans and newcomers alike to his dark yet liberating adventures in

ambient deconstruction. Opening for McDowell and his ensorcelling atmosphere,

electronic impressionist Hiro Kone (a.k.a. Nicky Mao) will be joining the fray with

her custom-fit arsenal of rippling rhythms and channel-crossing melodies.

Drew McDowall will perform an all-ages show with Hiro Kone, Borys and DFH Nov.

22 at Central United Church (Calgary) and Nov. 23 at 9910 (Edmonton).

Get tickets at www.showpass.com/drewmcdowall/
---
ARTS

FEAR OF MEN

Viverk Shraya confronts the two-bladed knife of desire and dread

Viverk Shraya is an assistant professor in the U of C English Dept..

musician, poet, visual artist, photographer, teacher and short

A film maker, Vivek Shraya is intimidatingly talented. With I'm

Afraid of Men, Shraya is now a published author of non-fiction,

and in this new work, she explores how even someone as talented

as her is subjected to fear and prejudice as a trans artist, and how

that fear resonates across all genders.

"I wrote I'm Afraid of Men last fall," Shraya says. "The year before

I had written a song called 'I'm Afraid of Men,' for an album I had

made called Part Time Woman. Pop music has a limited structure.

You only have three minutes to get a point across, and I like that

limitation. But there seemed to be a lot more to delve into with

that title, I'm Afraid of Men."

Working in non-fiction for the first time, Shraya found room

to explore the difficult topics of her identity and the spectrum of

gender in ways she had previously been restricted from doing. "I've

definitely borrowed from my experiences in the past. But it's always

been disseminated in a very covert way. There's something about

non-fiction that felt freeing, just saying what I wanted to say."

What Shraya sets out to say with I'm Afraid of Men is not, as

some readers might take from the title, a screed against men in

general. Rather, Shraya sees her work as an opportunity to discuss

the anxieties that young men face to conform to gender roles.

"I think about how many young boys in the world would like

ARTS

by TIM FORD

to explore their feminine side," explains Shraya. "It doesn't mean

they're trans, it doesn't mean they're gay. But they're regulated

at such a young age, and if a boy shows any kind of interest in

something that we consider 'feminine,' there's nothing worse for a

young boy in North America."

Shraya structures her work to reflect this idea with a narrative

voice that directly speaks out to the reader, both thematically and

literally. Sharing experiences from her past, Shraya moves from

her childhood, to her dating life, to her transition, and engages her

reader with sections that are subtitled "you" and "me." Adopting a

second-person narrative for the "you" portion, Shraya reaches out

from the page with empathy and a hope for understanding.

"I think often when there's personal narrative in text, it's first

person. That's how my book began, but there was something

about writing something so personal, and knowing that the reader

could put it down at any time they wanted, and engage with the

text almost voyeuristically. I felt like if I was going to do the work

of sharing some very painful experiences, that I wanted to feel like

the reader was with me, and part of the experience."

A core part of that empathy comes from Shraya's own sexuality

and anxiety. "The real tension of the book is that I love men, and

I desire men, and I fear men," reveals Shraya. "Those things can be

true at the same time. For me it felt really important to show how

my fear of men interacts with my desire for men. And I think that's

the case for so many women."

I'm Afraid of Men is available at major book retailers and on

Amazon from Penguin Random House Canada. Shraya's band, Too

Attached, is headlining this year's Femme Wave Festival from Nov.

15-18, and as part of the Festival Shraya will be leading a Free Artist

Talk on Nov. 18 at the Memorial Park

Shauna Says

Life's a Drag and that's not all...

What inspired me to do Drag?

Initially it was to help a friend for a college photo shoot. A few years

later it was on a dare from a different friend once I told them about

my debut from before. That and a desire to continue entertaining

people after a lengthily time away from the stage, I figured it was

just another way to be creative.

Funny or interesting adventures during my Drag life?

1.) Being so broke that I had to use actual pancake dry mix to set

my face because I had no money to buy setting powder (it works

believe it or not, I used it a few times early on). 2.) Wearing nails one

and only one time, and almost peeing my panties trying to haul it

out of the layers of pantyhose and under garments. 3.) Painting a

face using wood stove flames as the only source of light.

Are there people other than gay men who do Drag?

Drag in today's world is not designated to any one person. And is

rather a welcoming outlet for anyone to express who they are. Drag

is an alter ego of who someone is not what society thinks they

should be.

Curveball question of the month: A 32 year-old with a boyfriend

fan of shemale sites asks, "Should I leave well enough

alone, as I am fine with him looking at these sites?"

If you are fine with it then leave it in the browser. He isn't hurting

anyone and most important if it isn't affecting your relationship

then leave the browser history as it is and wait to see if he ever mentions

it to you. Sometimes browser history is a two way connection,

perhaps it's been left there for you to see, it may be a way for him

to see how you might react. Chances are if he was truly keeping it

a secret that history would be wiped cleaner than even Sherlock

Holmes could find a clue in.

Curious about Drag and a walk on the wild side, ask Shauna at

shaunsays@beatroute.ca

BEATROUTE • NOVEMBER 2018 | 7
---
STARS WARS ON STAGE

The Boy's Own Jedi Handbook endless summer

It was during his years in Calgary that

playwright Stephen Massicotte wrote his

first major works, including his first fulllength

play, Mary's Wedding. It's fitting that

prominent among those formative works is

Massicotte's immensely popular coming-ofage

story, The Boy's Own Jedi Handbook. As

Massicotte's work in Calgary saw him come

into prominence as an international playwright,

so too does the The Kid, the 10 yearold

protagonist of the show, see himself grow

into adulthood. The Kid is trying to make

sense of a new town and a new school, and

through his immense love and fandom for the

Star Wars movies, he forges new friendships

and connections.

Massicotte's play premiered at the Fringe

over 20 years ago, and with a fresh new

production by Storybook Theatre running this

November, a new generation of audiences will

be introduced to The Boy's Own Jedi Handbook.

"It's neat because many of my friends

who saw the first round of Jedi Handbook

productions in Calgary now have kids and

nieces and nephews," Massicotte says. "And

like introducing them to the original trilogy

they're introducing them to the play."

Storybook Theatre Artistic Director JP Thibodeau

is counting on those young parents to

bring their kids out to a show they'll all love.

"The fans now have kids, and want to share

the story on a different level," Thibodeau says.

Thibodeau previously worked on a 2016

production of the show, but sees an opportunity

for Storybook Theatre to bring a more

familial sensibility to the show today. "What's

great about this show is how fun The Kid is.

The absurdity of how he recreates Star Wars...

he's really using household items to help

8 | NOVEMBER 2018 • BEATROUTE

by TIM FORD

recreate the story, which then makes it even

more fun for the audience, because they're

seeing Star Wars in a playful, childlike way."

Massicotte sees themes in his work that

cross generations as well. "Unlike some plays

for children that only work for the younger

audience, The Boy's Own Jedi Handbook

works for older audiences. There is a bit of a

bitter sweet tone to the play. It's a longing for

some of the best aspects of childhood. I think

adults really get that, and kids, I think, always

like to be invited into the deeper themes. I

always appreciated that when I was a kid, not

being treated as a little kiddie. That was one of

the things that I really liked about Star Wars.

There was real peril, loss, pain, adversity."

Thibodeau sees the resonating nostalgia of

the original movies as the core driving force

behind they play's consistent popularity. "Nostalgia

is huge. Jedi opens up to a whole other

demographic of theatre goers. It's something

they can relate to, because of the nostalgia."

While Disney leans into the nostalgia bug

with films like the new Star Wars trilogy and

has at least four more films planned, Massicotte

doesn't know for certain if The Boy's

Own Jedi Handbook will have 20 more years

of popularity among theatre goers. "Who

knows? Because the play isn't only about

Star Wars, it's about context, the time and

place when Star Wars started, what it was like

the first time around when we'd never seen

anything like it. Coming of age stories have a

timelessness about them."

Storybook Theatre presents The Boy's Own Jedi

Handbook Nov. 9-24 at Vertigo Theatre and is

recommended for ages 10 plus. For tickets and

more information visit storybooktheatre.org

Chotto Desh

world-class and worldly

Universal stories of immigration are at the

heart of Chotto Desh, the world-touring

dance show from renowned artist Akram Khan.

Khan's acclaimed new work is being brought to

Calgary through the combined efforts of Springboard

Performance, Storybook Theatre, and

MRU's Taylor Centre Concert Season.

Springboard Performance Artistic Director

Nicole Mion credits close pre-existing partnerships

for the synergy behind these organizations'

efforts to present Chotto Desh. "The Taylor Arts

Centre is bringing such a terrific facility, the Bella

Concert Hall," Mion says. "It's such a pristine,

WINNERS AND LOSERS

less a play, more a game... which side are you on?

In the view of Jenna Rodgers, Artistic Director

of Chromatic Theatre, Marcus Youssef and

James Long's Winners And Losers is less of a play,

and more of a game. "Two people sit at a table

and discuss whether people, places or things are

winners or losers," Rodgers says, "We set up a

kind of polarization, and then spend the rest of

the play deconstructing it."

That deconstruction fit neatly into topics

Chromatic Theatre likes to explore, but Rodgers

also felt it was important to deconstruct the

script itself. In casting two women, Rodgers

found it necessary to rework the text to match

her artistic goals.

"A good example in [Youssef and Long's] script

is a break where they do Greco-Roman wrestling,"

Rodgers says. "You know if you make two women

get down on the floor and wrestle, it's not an

exhibit of strength, it's an exhibit of sexuality."

Rodgers, along with actors Valerie Planche

by TIM FORD

beautiful venue to feature one of the

best performances in the world. Storybook,

under JP Thibodeau's vision,

has grown to showcase works from

elsewhere and are filling the void left

by Vertigo Theatre's Y Stage program

and the Calgary Children's Festival."

Between the three groups, the

phrase "world-class" is frequently

heard in reference to Akram Khan's

work. But it's not just on the front of

quality that Chotto Desh is a worldly

show. Meaning "small homeland,"

Chotto Desh draws on Khan's unique

cross-cultural experiences and storytelling,

drawing from his personal

journey to immigrate from Bangladesh

to Britain. The performance

utilizes dance, text, visuals and sound

to tell Khan's story.

Mion sees Chotto Desh as a timely

story in today's world, and especially

for Calgary's audiences. "Art is always

created in context. This piece was created in

the time of immigrants trying to travel across

Europe. It's so potent right now, for so many

people dreaming of a better life. We sometimes

feel pulled between our spiritual homeland, and a

new land that we hope will be filled with possibility.

Canada is built on that. I think that's what this

story captures beautifully."

Chotto Desh will be at MRU's Bella Concert Hall

from Nov. 14-16, for more information visit tickets.

mru.ca

by TIM FORD

and Makambe K. Simamba, stripped the original

text down to a "dramaturgical skeleton,"

and re-wrote it from there. "The script is almost

entirely new," Rodgers says, "We may have kept

maybe three lines."

With this new script, Rodgers is hoping to

challenge audiences to think about their own tendencies

to construct Winners And Losers, good

or bad, and black or white. "This is a play that asks

people to keep talking, and examine their biases.

Spend 75 minutes getting to know these two

performers, and they will surprise you every step

of the way. Things are rarely binary. Things are

rarely simply a winner, or simply a loser."

Chromatic Theatre presents their new adaptation

of Winners And Losers in the Engineered Air Theatre

at Arts Commons Nov. 15-28, with Pay-What-

You-Can Previews Nov. 13 & 14. For more info visit

chromatictheatre.ca

ARTS
---
FIVE THEATRE PICKS

DRACULA: THE BLOODY TRUTH

Vertigo Theatre

At last, Van Helsing hopes to set the record straight and bring the

truth of the legendary vampire and his terrifying story to light...even

if he only has three amateur actors to help him do it!.

Nov. 15 – Dec. 9, 7:30pm Tue-Sat, 2pm Sat-Sun, at Vertigo Theatre.

vertigotheatre.com

JERSEY BOYS

Stage West

How did four working-class kids become one of the greatest successes

in pop music history? Best Musical winner at both the Tony

Awards and Olivier Awards, Jersey Boys takes you up the charts,

across the USA and behind the music of Frankie Valli and The Four

Seasons.

Nov. 16, 2018 – Feb. 3, 2019 at Stage West Calgary.

stagewestcalgary.com

ROMÉO & JULIETTE

Calgary Opera

Gounod's musical retelling of Shakespeare's most loved tragedy

captures all the drama and the passion of this timeless story of

young love in a lavish production featuring stunning new ballet

choreography by Alberta Ballet's Artistic Director Jean Grand-

Maître, performed by professional dancers and students from

Alberta Ballet.

Nov. 17, 21 & 23, at the Southern Alberta Jubilee Auditorium.

calgaryopera.com

KLIMT'S MODELS PART 1

Theatre Encounter

The first in Theatre Encounter's 2-part exploration of the works of

Expressionist painter Gustav Klimt, and the lives of two of his most

famous models: Emilie Floge and Hildegard Roth.

Nov. 28 – Dec. 1, 2018, 7:30pm nightly at cSpace King Edward.

theatreencounter.com

WAYWARD

Calgary Young People's Theatre

Prom night was everything the graduating class of 2019 wanted it

to be… until thirteen students woke up the next day on a boat in

the middle of the ocean. Now they need to figure out how they got

there and how to get home, but they'd better figure it out fast.

Nov 29 – Dec 8, at the West Village Theatre. cypt.ca

• TIM FORD

ARTS

BEATROUTE • NOVEMBER 2018 | 9
---
Wolf Flow Studios

dip into the performance world… join the wolf pack

Jennifer Briggs, owner of Wolf Flow Studios in

Calgary, says that it has always been a dream

of hers to open a dance studio. That's not surprising

given her involvement in the hula-hoop

and circus communities that her reality has

become so much more.

Wolf Flow Studios is a new space on Uptown

17th Avenue (bonus of free underground parking)

where Briggs primarily teaches hula-hoop

(her specialty), aerial arts, dance and yoga, but

also offers a variety of other alternative fitness

and performing arts opportunities.

"Our hoop and aerial community so badly

needed the space. There are other spaces you

can take aerials, but for hula hooping there is

no dedicated space in the city. Myself and other

teachers have always had to rent out community

centres or gone to parks."

Originally Briggs' individual performance

name, Wolf Flow, just seemed like the natural

choice for the studio. She says that hula-hooping

changed her life and that it is great to see

the art form getting more visibility.

"I want to share my love [for hooping] with

the community as much as I can and bring

other people to different practices. For me,

hooping brought me to yoga, so if I can do that

for someone else … it's kind of the best way I

can think of to pay it forward."

She says her goal was to create a space that

was comfortable and empowering – a place

that makes you feel great about what you are

doing even if you are just a beginner. "We hope

you feel like a part of the wolf pack."

Intimate, small classes were very important

to Briggs and her team as she knows that the

more attention students can get from their

instructor, the more rapidly they will learn and

grow giving them a great deal of fulfillment. For

example, if you choose to give aerials a shot,

you can expect no more than five people –

including your instructor – to be in the space.

"Almost everyone who comes through the

door says something like, 'I never thought I

could do this!' You will always leave feeling better

about yourself, and your practice," she adds.

While hula-hoop is a great place for beginners

to start – FYI, you can burn up to 150 calories

hula hooping – Briggs says she encourages

people to try a variety of movement styles to

get inspired.

"We have Classic Rock and Moon Phase

yoga which don't really fit the typical [offerings]

of a yoga studio. We just really want to try and

push the boundaries of movement."

Additionally, Rage Yoga is a popular practice

BY SARAH ALLeN

within the studio. Briggs says it breaks the ice to

swear and give the world the middle finger.

Aerial classes such as lyra are offered in four

week sessions to help students get introduced

to the art form and private lessons for just

about anything can be booked with one of

Wolf Flow's talented teachers. Why a private

lesson?

"You just have so much opportunity to learn

and level up … massively," Briggs explains. If

you're a performer, someone looking to get into

performance, have a special need like an injury

or have a goal you want to reach it is a perfect

opportunity for you."

Some exciting classes are likely to be added

to the studios schedule in the next few months

– Belly Dance and Floor Flow, for example.

There are also unique opportunities provided

by Wolf Flow Studios to become a performer

like Briggs. Many of the instructors already work

with organizations like Le Cirque de la Nuit.

"We are hoping to move forward with eight

week classes where the result would be performance.

This is the perfect place to dip your toes

into the performance world and get involved."

For a full list of upcoming classes, events and

pricing head to wolfflowstudios.com

10 | NOVEMBER 2018 • BEATROUTE

ARTS
---
WHAT SHAKES

your go-to guide for November

How is it November? And what

is with it being so full of amazing

events? Such as? Well, such as the

long-awaited New Central Library

Opening Weekend Nov. 3 & 4.

Digital Folk by Plastic Orchid Factory

presented by Swallow-a-Bicycle

Theatre at the Alexandra Dance

Hall (video game + costume party +

music and dance performance + installation)

takes place Nov. 3, as does

the opening of the 7th Annual Calgary

European Film Festival, running

until Nov. 11 at The Globe. What

else happens Nov. 3? Jack White

performs at the Corral, Birds of

Stars with guest Dizzy at the Bella Concert Hall on

Nov. 27.

Chicago play the Gateway, Lucky Sonne & The Rosellas will be at the Ironwood, Dear Rouge

over at The Palace, and Class of '88 featuring Rebecca Northan and Derek Flores happens over

at Loose Moose, running Nov. 3, 9 & 10. Busy Saturday for sure.

On Nov. 4 you can catch Danny Michel at the Ironwood at 2 or 8 p.m., and then on Nov.

7 check out Doc Soup: The Price of Everything at Cineplex Eau Claire cinemas, and on Nov. 8

Shawn Hook will be at MacEwan Hall Ballroom. Also on Nov. 8, author Eden Robinson will be

at Memorial Park Library courtesy of Wordfest, Bif Naked will be at The Gateway, and Norm

MacDonald starts his three-night stint at the Laugh Shop.

More of the literary type? On Nov. 9 you can take in Filling Station's 25 Year Anniversary

celebrations at the Orpheus Theatre, or catch Carbolizer at EMMEDIA, and/or Rich Aucoin at

the Rec Room. Then Nov. 12 it's a Beakerhead Music and Book Launch with Jay Ingram at the

Ironwood. Fun! The next day, Nov.13, sees the start of the Marda Loop Justice Film Festival,

which runs until Nov.18, and on Nov. 14 it's TONTO Week over at Studio Bell, featuring Malcolm

Cecil, A Tribe Called Red and much more!

It's a big day on Nov. 15! It's both the start of Femme Wave 2018, Calgary's only multi-disciplinary

feminist arts festival taking place all around downtown until Nov.18, and An Evening

with John Wort Hannam, Steve Dawson & Matt Pattershuk happens at the Ironwood. On

Nov. 16 it's Tasting Scotch 2018 presented by Ghost River Theatre at Last Best Distillery,

and Nov. 17 it's OK Go over at the Jack Singer Concert Hall. Opera? Sure! Roméo & Juliette

presented by Calgary Opera takes place at the Jubilee and on Nov. 21 it's Hey Ocean! at

Commonwealth.

On Nov. 22 you can take in the Banff Craft Beer Festival at Cave & Basin or DJ Shub at the

Gateway. Paul Van Dyk with Mitz & Travis Lydian will be at The Palace on Nov. 24, and on

Nov. 27 it's Stars with guest Dizzy at the Bella Concert Hall. More dance on Nov. 30 when

Dance Montage presented by SCPA begins at the University Theatre, and that brings us into

December, where Pop Evil with Royal Tusk will be at the Gateway Dec. 2. Phew. Remember to

take naps.

Kari Watson is a writer and former Listings Editor of FFWD Weekly, and has continued

to bring The Culture Cycle event listings to Calgary through theYYSCENE. Contact her at

kari@theyyscene.com.

ARTS

BEATROUTE • NOVEMBER 2018 | 11
---
12 | NOVEMBER 2018 • BEATROUTE

FILM
---
FILM

CUFF.Docs

inside in the exploding world of film documentaries

Brennan Tilley is the Lead

Programmer for the Calgary

Underground Film Festival's annual

documentary film fest, simply

called CUFF.Docs. Tilley sheds

some light on the popularity of

documenataries and what makes

CUFF an experience to embrace.

The interest in film documentaries has grown dramatically over the last

decade. What do you think is propelling their popularity?

The interest in documentaries is exploding based on them breaking out from

the image of dry or educational films. The proliferation of digital filmmaking has

made the ability to make a documentary a reality for anyone with a topic they

want to explore. Engaging filmmakers are telling stories that attract audiences.

Because documentaries are born of the real world there is always more to

discuss and explore deeper than what is on screen. Thus documentaries lend

themselves even more than narrative films to the communal experience of

watching at a festival. At CUFF.Docs we are fortunate to have so many filmmakers

in attendance, increasing the opportunity for engagement and driving the

popularity of the screenings.

With CUFF is there a specific theme or themes the festival is focusing on

this year?

Similar to the Calgary Underground Film Festival in April and our screenings

throughout the year, at CUFF.Docs we are looking to feature films that break

the mold or cover subjects that do. A running theme through the documentaries

at CUFF.Docs this year is questioning the status quo. Many of these are

artists — Hal Ashby was an Oscar-winner that bucked that clashed with the

Hollywood establishment, decades later Stephen Groo is an eccentric amateur

filmmaker, Mr. Fish is a subversive cartoonist trying to remain radical while also

finding enough commercial success to support his family. We also see the status

quo being questioned in films like WEED THE PEOPLE, where there is a push to

consider cannabis in the fight against childhood cancers.

What would be two or three film to really take note of?

There are so many. From the buzzed-about new film about the Sri Lanka pop

star and political activist M.I.A (MATANGI / MAYA / M.I.A.) to the Sundance

award-winning skateboarding film MINDING THE GAP to RODENTS OF UN-

USUAL SIZE: an environmental study of nutria – giant swamp rats in Louisiana,

the documentaries at this year's festival really cover a wide range of subjects.

A couple others we really love are DON'T BE NICE is about a team of young

New York City slam poets competing for the National Championship, and THE

INSUFFERABLE GROO – the story of prolific and eccentric filmmaker Stephen

Groo as he tries to recruit Jack Black for his latest project.

A Doc For Every Friend

select picks at CUFF

Whenever I invite a friend to take in a documentary, it

usually prompts the same response. "A documentary?"

they say, "Aren't documentaries… a little boring?" How

is it that docs have come to have such a sleepy reputation?

Are they not just pioneers of reality television?

Real Housewives aside, if anyone is going to change your

mind on documentaries, it's the Calgary Underground Film

Festival, back this November with their sixth annual CUFF

Docs film festival. With CUFF's signature weird, wacky,

and wonderful sensibilities in mind, everyone's favourite

genre-film purveyors have programmed a week's worth of

documentary films, BeatRoute has made a cheat-sheet to

help you convince even your most skeptical of friends, that

documentaries are, in fact, totally cool.

For the friend who was really excited about legalization:

Weed the People

Who knew that weed served a purpose beyond making

family get togethers slightly more tolerable? Weed the

People takes marijuana out of your basement, and into

research labs, exploring the benefits cannabis oils has on

children with cancer, and the struggles parents have to go

through to get it.

by Morgan Cairns

Loveridge's intimate doc serves to shake up the genre, just

as M.I.A shook up pop when she burst onto the scene in

2007 with perpetual earworm, Paper Planes. As Spencer

Kornhaber for The Atlantic states in his review of the film,

"This is not a normal pop documentary, because M.I.A. [is]

not a normal pop star."[Text Wrapping Break]

For the friend obsessed with Black Mirror:

People's Republic of Desire

In China, live-streaming platform YY has turned regular,

everyday people into bonafide stars, earning thousands

of dollars a month in tips from fans to see them perform.

Playing out like a real-life episode of Black Mirror, People's

Republic of Desire follows three people -a singer, a comedian,

and a migrant worker- as they search for fame, fortune,

and human connection in the surreal online world.

For the friend with questionable browser history:

The Cleaners

Opening an 'incognito window' or switching your browser

to private won't save you from these digital scavengers.

From a stray nipple to terrorist videos propaganda, The

Cleaners follows those who are outsourced from Silicon

Valley to remove the content from the internet that is

deemed to violate "community standards." With interviews

from journalists, ethicists, and former employees of various

tech companies, directors Hans Block and Moritz Riesewieck

probe into the true effect these social media platforms

are having on global discourse. So if you've ever wondered

why your "tasteful nude" was removed from instagram,

this might be the doc for you.

For the friend who only watches movies that pass the

Bechdel Test: This Changes Everything

Inspired by the #TimesUp movement in Hollywood, This

Changes Everything compiles interviews from the likes of

Meryl Streep, Geena Davis, Amandla Stenberg, and other

prolific actresses, writers, and directors in an effort to call

out the systemic sexism that is rampant in Hollywood, as

well as amplify the voices of the women working both on

and off screen.

For the friend that treats their guitar like it's their baby:

Carmine Street Guitars

Operating out of Greenwich Village in New York, craftsman

Rick Kelly and his apprentice make custom guitars,

handcrafted out of reclaimed wood from old hotels, bars,

churches and other New York buildings. With clients like

Jim Jarmusch, Christine Bougie, Jamie Hince, and Bob

Dylan, Carmine Street Guitars is something of a marvel in a

world where gentrification takes over and mass-produced

products are the norm. Featuring a slew of Kelly's famous

clientele, Carmine Street Guitars documents 5 days in the

life of the small but mighty shop, and shows why you can't

beat one-of-a-kind.

Aside from the films themselves, what events taking place at CUFF would

For the friend who knows all the words to Paper Planes:

you like to highlight?

MATANGI / MAYA / M.I.A.

Our Opening Night is always a lot of fun. This year we have both the director

Perhaps one of the most widely anticipated music docs of

Pablo Bryant and documentary subject Dwayne Booth (Mr Fish himself) from

the year, MATANGI / MAYA / M.I.A. follows rapper M.I.A,

MR FISH: CARTOONING FROM THE DEEP END in attendance. CARTOONfrom

her childhood as the daughter of a Tamil political

ING FROM THE DEEP END looks at the work of Mr Fish, a political cartoonist

activist, to the current status as a world renowned artist

known for his subversive and often controversial art. Getting the chance to

and activist in her own right. Drawing from the rapper's CUFF Docs runs from Nov. 28- Dec. 2 at The Globe

watch a documentary and then participate in a Q&A with the person featured

personal video recordings (she has a degree in fine art, film, Cinema. For full lineup and showtimes, visit:

in it is always a really unique festival experience.

and video from Central Saint Martins), director Stephen calgaryundergroundfilm.org.

FILM BEATROUTE • NOVEMBER 2018 | 13
---
THE INSUFFERABLE GROO

the life of a guerrilla filmmaker

by Philip Clarke

Getting more than a hundred-and-sixty films made over the

course of almost two decades seems downright impossible,

but infamous underground worker bee Stephen Groo has managed

to do just that.

Groo is the definition of a guerrilla filmmaker by foregoing

equipment that even the most basic of film crews would use.

He also doesn't bother getting film permits or clearances for copyrighted

material at all. Who has time for legal legwork anyway

when there's real art to be made? He's the kind of filmmaker that

shoots insanely fast, to the point of blistering insanity. His mind is

going a million miles a minute, always thinking, planning, dancing

or articulating through his current obsession. Many would argue

that his projects are objectively garbage, and they would probably

be right. Despite all of that, his unfaltering drive to tell stories is

nothing short of inspiring.

The Insufferable Groo is a bizarre balancing act, because it's a

well made documentary about a guy who doesn't make well-made

movies. Director Scott Christopherson documents Groo's career

from his early beginnings in the late nineties, to the point where he

feels like he might finally get his big Hollywood break. The titular

man is such a purist, that he manages to snare the attention of

Napoleon Dynamite director Jared Hess, and actor Jack Black. They

love his work so much that they both want to be involved in his

latest shoe-string-budget masterpiece.

The documentary is at times an insightful look into the indie

filmmaking process. At others its intentionally cringe-inducing by

way of Groo throwing out all artistic merit and quality to the wind.

David Fincher and Groo are day and night as artists, but could both

by definition be considered auteurs. Where the former made Jesse

Eisenberg and Rooney Mara do the opening scene of The Social

Network ninety-nine times before it was absolutely perfect, the

latter will shoot seventy-five different shots in a single day, so as to

wrap an entire production before the weekend is out.

The Insufferable Groo is a fascinating portrait of a man with

an unadulterated cinematic mind who makes zero concessions in

order to achieve his dream. Even if that dream will make freshly

green film-school students and seasoned filmmakers alike squirm in

discomfort and fume in total abject anger.

The Insufferable Groo screens as part of CUFF docs on December 1 at

7:00 pm at The Globe Cinema.

14 | NOVEMBER 2018 • BEATROUTE

ESPRESSOKINO PRESENTS: AGNES VARDA

coffee + cinema with a left bank legend

by Shelby Gray

pioneer of French New Wave

A cinema, Agnès Varda has had a

prolific career. Emerging from the left

banks of Paris in the 1950's, Varda and

her contemporaries (Jean Luc Goddard,

François Truffaut, Alain Renais

etc.) were interested in deviating from

the norm of the cinema conventions

of the time, sculpting a style that

would be imitated and revered by

every young director to follow. Varda

crafts somewhat banal vignettes of

everyday life that prompt the viewer

to piece together a bigger narrative,

and to ask ourselves questions about

our own mortality, happiness, love

and freedom.

This month at Coffee + Cinema

movie night at the Roasterie in Kensington,

EspressoKino is highlighting

the french auteur with five of her bestknown

works: La Point Courte (1955),

Cléo from 5 to 7 (1962), Happiness

(1966), One Sings the Other Doesn't

(1977) and Vagabond (1985). Varda's

first feature film, La Pointe Courte, was

released in 1955 at only 25 years old.

Set in a small seaside fishing town, La

Pointe Courte depicts the struggle of

the town to maintain their fishing export

despite a bacterium in the water

surrounding the town, and a young

couple who is struggling to maintain

happiness within their relationship.

It is the relationship between the

young couple that proves to be the

most captivating aspect of the film,

especially Varda's blocking techniques

between Lui (Philippe Noiret) and

Elle (Silvia Monfort). These existential

conversations about happiness, love

and mortality are a common theme

to Agnès Vardas filmography and one

that continues in her following, and

arguably most famous, film Cléo from

5 to 7.

Cléo from 5 to 7 begins as a melodramatic

depiction of a seemingly

vain, superficial singer Cléo (Corinne

Marchand) who is dreading medical

test results. The film takes the viewer

through two hours of the singer's life,

and the different people she encounters

while she contemplates her

mortality. Initially melodramatic the

film ends up being a sincere account

of Cléo's hypochondria and genuine

human themes that everyone faces.

Happiness (1965), a film released

towards the end of the New Wave

movement, is the third screening of the

series and is aptly named. The film starring

Jean-Claude Drouot, Marie-France

Boyer, illustrates Francois's (Jean-Claude

Drouout) happy family life and how

another love interest can affect it.

Taking a notably more political direction,

One Sings the Other Doesn't

(1977) is set against the backdrop

of the 1970's Women's Movement.

This film depicts two friends Pomme

(Valérie Mairesse) and Suzanne

(Thérèse Liotard) and the progression

of their friendship while dealing with

dramatic ups and downs in their

separate lives.

For their last Agnès Varda feature,

Espresso Kino will be showing her

1985 film Vagabond. Initially playing

like a road trip film Vagabond portrays

Mona (Sandrine Bonnaire) a young

hitchhiker who is found dead in

a ditch. Varda gives the viewer an

account of the young women's life

and the decisions that lead her to her

untimely death. Using interviews and

flashbacks of the people that Mona

interacts with the we are forced to use

the judgements of others in order to

inform our opinions of her. Vagabond

gives the viewer a rare look at a woman

so independent as to hitchhike

alone, a "freedom" that most women

aren't allowed.

The films of Agnès Varda are both

relatable and magical, it is the beauty

of everyday life that interests Varda

and has given her so much success

over her impressively long career.

EspressoKino's month long journey

of her cinema has something for

everyone and are presented in the way

they're meant to be seen: communally,

and with coffee.

EspressoKino occurs every Thursday

at 9pm at The Roasterie. For screening

dates, visit www.espressokino.ca

FILM
---
TONTO WEEK

rock opera and star-studded documentary put the famed synthesizer on center stage at NMC

SEASON'S BLEEDINGS

isolated, bleak, cold...sounds like November

was born and raised in a small city in Northern Alberta. The

I winters were long and cold – I'm talking snow drifts taller than

me and temperatures hovering close to -40 degrees. Not only

was that isolating in and of itself, the closest city was a five hour

drive away. November still remains the most dreadful month of

the year for me – the formal introduction to the onset of winter.

Cold, monochromatic, bleak... This is the palette I envision when

describing this month. It became quite clear that there was only

one viable option in terms of sub-genre – And it is trademarked

by banishment from sunlight and nourishment from human

blood.

Salem's Lot (1979)

Stephen King is just the (forgive the pun) king of everything.

With his impenetrable tales of terror allowing space for Tobe

Hooper to direct, little room is left for error. Truth be told, I

dodged this one for years having been intimidated by its lengthy

runtime due to its initial release as a television miniseries. On

top of the lengthy runtime, it burns slowly – another thing I'm

inclined to avoid. In hindsight, I deeply regret my avoidance. Hell,

I can't even say that it would benefit from being cut and edited,

every frame serves a purpose. Worth mentioning, too, is the

hefty handful of nightmarish scenes that have haunted me since.

For those of you still not convinced, hear me out – the third

act is one of the most effective pay offs to-date. Don't make the

same mistake I did.

The Phantom of the Paradise is a cherished

cult film of mammoth proportions. A

big star of the film is the unique modular synthesizer

TONTO, an invention which joined

different types of synth technology into one

machine to allow musical experimentation

unlike ever before. In 2013, Studio Bell acquired

Tonto for their working musical instrument

collection and the famous synthesizer

was moved to Calgary to be restored for use.

In conjunction with the Alberta Electronic

Music Festival, Studio Bell is celebrating the

completion of TONTO's restoration with

TONTO week, a series of events which include

a rare screening of the cult film that helped

make TONTO famous.

The Phantom of the Paradise is many

things at once: a mind-bending horror film,

rock opera, tragedy, love story, comedy and a

cautionary tale for us mere mortals. There's a

reason why the movie ran almost constantly

for a year in Winnipeg after it first opened and

has earned permanent die-hard cult status

around the world: it's a damn good film.

Legendary director Brian DePalma both

wrote and directed the story, drawing from

the classic tales of Faust, The Phantom of the

Opera and The Picture of Dorian Grey. Rod

Serling of the surreal TV show The Twilight

Zone narrates an eerie introduction explaining

how the music mogul Swan seeks the music

to open his new rock palace "the Paradise"

with: "..this film is the story of that search, of

that sound, of the man who made it, the girl

who sang it and the monster who stole it."

Winslow Leach is a brilliant composer. Swan

steals his masterpiece cantata and sends him to

jail on false charges. Leach escapes from prison

and is horribly injured and believed dead after

he tries to destroy the pop-music pressings of

the music swan stole from him. Things heat

up when a lurking phantom kills the Paradise's

opening act "Beef" in a horrible onstage spectacle.

The story get even stranger after that.

The diminutive Paul Williams (who also

plays Swan in the film) wrote the music

and lyrics for the soundtrack at the height

of his song-writing career and each tune is

quite successful on its own. Blistering rock

performances by Swan's musical incantation

"The Undead" leave more than a few people

chopped up afterwards. The chanteuse Phoenix

sings a hauntingly beautiful love ballad

after Beef is cooked alive onstage. Immediately

an instant star, Phoenix is seduced by Swan

which creates a love-triangle that doesn't end

well at all.

Don't be thrown off by the movie's campy

1970's aesthetic or apparent simplicity, this

is a film lover's film of the highest order with

strong visual symbolism and a rich sub-text.

It's a dark parody and venomous critique of

the star-making schemes of greedy producers

and well worth seeing on the big screen.

Love and death, hope and despair, doom and

redemption all await the viewer in this unique

rock and roll horror phantasy.

And if that wasn't enough, TONTO week

is rounded off with a matinee screening on

Nov. 18 of I Dream of Wires, an acclaimed

feature length documentary that explores the

resurgence of the modular synthesizer. Trent

Let the Right One In (2008)

I'm typically not a fan of minimalism in film; I long for excessively

aesthetic sets more often than not because I'm a glutton. That

being said, this Swedish vampiric tale is an exception to my general

ruling. Let the Right One In, like most within the sub-genre,

is deeply romantic at its core. Following a young bullied boy who

happens to find solace in a peculiar 12 year old night dweller

is extremely touching, even despite the girl having been 12 for

an unknowable amount of time. Emotions aside, the parasitic

disease on display is nothing but primal and ruthless. Images of

a child maliciously mauling vulnerable adults ignites feelings of

both awe and disgust. Lavish gore and extreme fatalities shine

through the monochromatic palette of the cinematography like

diamonds in the rough.

Bram Stoker's Dracula (1992)

If all cinema is art, then Bram Stoker's Dracula is the Monalisa. I

have yet to experience a film so intricately designed – so aesthetically

beautiful in every single frame. Perfected sets right down to

the most minute detail are only the tip of the iceberg, for no area

of this masterpiece was neglected upon creation. Ringing true

to the 1897 novel that largely established vampire-lore, the story

flows effortlessly, accentuated by awe-inspiring creature design

and practical effects. Truly frightening at times while maintaining

a deeply erotic atmosphere, this is the epitome of true gothic

horror to me.

Salem's Lot

by David Daley

Reznor is among the featured musicians who

explain their passion for the Moog synthesizer

and why it's unique sound is a permanent

ingredient in music today and always will be.

The Phantom of the Paradise screens at 7:00

pm on Nov. 17 at Studio Bell, and I Dream of

Wires screens at 11:00 am on Nov. 18 at the

King Eddy. TONTO Week runs from Nov. 14 to

18. All other TONTO Week events can be found

at: www.studiobell.ca

By Breanna Whipple

FILM BEATROUTE • NOVEMBER 2018 | 15
---
GIRAF 14

from fairytales to dazzling experimental animation

a few GIRAF splendors

Where sophisticated, digital technology can easily

dominate and neutralize visual art, animation is truly

a strange universe where creativity unfolds like child's

playand explodes into psychedelic splendor. Ryan Von

Hagen, Quickdraw Animation's Programming Director,

briefly discusses what's in store for their festival of

animated delights, GIRAF.

Now its 14th year, how would you describe the festival's evolution

in terms of the artists presenting and how their work or

animation itself has evolved?

GIRAF is a celebration of the marvelous art of animation! Since

the beginning, I believe that was always the goal. We take pride

in welcoming the weird and the wonderful from around the

world, and in sharing their stories on Calgary screens so that our

community can be inspired while learning from a diversity of

storytellers. Different techniques or equipment comes and goes,

but when we are programming the festival we are hoping to be

captivated. This can mean anything from fairytales to dazzling

experimental animation.

For this year's line up, tell a little about the featured artists

and films.

Lets talk local for this one. Artist, animator, and musician Arielle

McCuaig created GIRAF 14's visual identity. McCuaig started

animating by taking classes at the Quickdraw Animation Society,

and we are thrilled to have her bold, energetic, and handmade

art be part of this year's festival. Another local animator

that is part of our festival is Mihaela Slabbe. Last year Mihaela

was awarded Quickdraw's Chris J Melnychuk Scholarship, an

18-month animation mentorship designed to help people

complete their first short animated film. And after surviving the

animation process she is ready to premiere her first animated

short film, TIDES, at GIRAF.

Alice: a darker side of Disney.

16 | NOVEMBER 2018 • BEATROUTE

BY B. SIMM

Amanda Strong is your featured visiting artist. What's her

background and what will she be presenting?

Simply put, her work is amazing and utilizes stop motion

animation to its fullest. Amanda is a Michif filmmaker and

media artist, and has worked the CBC and the National Film

Board, as well as directing several short films, including Hipster

Headress, a self-described "public service announcement alert

for a messed AF world." Along with a presentation of her films,

Strong will also lead a workshop, as well as present an installation

at TRUCK Gallery.

American artist, Suzan Pitt, has an impressive background.

What films of hers will you be screening, and what about

their importance?

Suzan Pitt is someone to look up to for sure. In a time where

female animators were not getting significant credit for their

work or just not getting a chance to be in the director role,

Suzan Pitt forged her own path. We will be screening a diverse

pack of short animations from throughout her career. Suzan

just recently got digital remasters of her classics like Joy Street

and Visitation, so we are really excited see those sparkle on the

screen. She is unable to travel to our festival, unfortunately, but

we've arranged the next best thing in that we'll be presenting

a Skype interview between her and Heather Kai Smith — a

Quickdraw member who runs an amazing database called Great

Women Animators, who cites Suzan as a major inspiration for

the project.

Of the spotlight films this year, what's one of the standouts?

For this year's retrospective film, GIRAF will host a 30th anniversary

screening of Czech animator Jan Švankmajer's 1988 dark

stop-motion fantasy, Alice. An adaptation of Lewis Carroll's Alice

in Wonderland, Alice starts out as a live-action film, but turns to

stop motion as soon as young Alice falls down the rabbit hole. A

darker telling of the tale than the Disney version, Alice plays out

like a surreal dream, with the caterpillar (made of an old sock

and fake teeth) being significantly more nightmare-inducing.

Any other events you that you'd like to highlight?

There is so much to experience at GIRAF. You just have to dive

in! Whether you're an animation connoisseur or a curious newbie,

our short film "Mixtapes" offer up a little bit of everything

and are sure to appease every taste. Ruben Brandt, Collector is a

cinematic thrill ride. Every frame is beautifully rendered and jam

packed with art references — art-history buffs are sure to be giddy

with all the easter eggs director Milorad Krstić has sprinkled

in the film. And our opening Thursday night gala will be something

special. We are highlighting stop-motion animation, with

the 45-minute short This Magnificent Cake! anchoring the pack.

It is a film that is winning awards at festivals across the globe for

its surreal and unusual storytelling surrounding five different

character in colonial Afria.

This Magnificent Cake

Continuing with this year's emphasis on stop-motion, This

Magnificent Cake uses puppets to play out the stories of

five different characters in colonial Africa: a troubled king,

a middle-aged Pygmy working in a luxury hotel, a failed

businessman on an expedition, a lost porter, and a young

army deserter. Sweeping awards at festivals across the globe

(including the Grand Prize for Features at the Ottawa International

Film Festival) this Belgian film exemplifies the pure

artistry of the genre, and animations ability to go beyond

the talking-animal flicks of our youth.

Ruben Brandt, Collector

When psychologist Ruben Brandt begins to suffer from violent

nightmares by legendary works of art, he begins to believe that

if he were to own the artworks haunting his dreams, the nightmares

will stop. He rounds up four of his clients (who happen

to be expert thieves) to help him execute his plan, but as one

could expect, Ruben soon becomes a wanted criminal known

only as "The collector". A sort of animated-thriller, Ruben

Brandt, Collector is fast-paced and fun, while simultaneously

being a stunning work of animation. "Every frame is beautifully

rendered," notes Von Hagen. And with art references aplenty,

art-history buffs are sure to be giddy with all the easter eggs

director Milorad Krstić has sprinkled in the film.

Shorts Packages

With four different short's packages to choose from, GIRAF's

shorts are perfect for every fan. Whether you're an animation

connoisseur or a curious newbie, the shorts "Mixtapes" offer

up a little bit of everything and are sure to appease every taste.

Our pick? The Late Night package is always a highlight, featuring

some of the weirdest, darkest, and most surreal animation

you're bound to find.

GIRAF runs from November 22-25 at The Globe Cinema. For full

schedule and showtimes, visit www.giraffest.ca

• MORGAN CAIRNS

FILM
---
THE VIDIOT

rewind to the future

by Shane Sellar

Ant-Man and the Wasp

Eighth Grade

Mamma Mia: Here We Go Again

The Spy Who Dumped Me

18 | NOVEMBER 2018 • BEATROUTE

Ant-Man and the Wasp

The easiest way to distract someone with the

powers of a wasp is to spill a can of Coke.

Mind you, the insects in this sci-fi movie are

too determined to be diverted by refined sugar.

On house arrest since he violated the

Sokovia Accords, Scott (Paul Rudd) has been

busying reconnecting with his daughter and

starting a company with his friends (Michael

Peña, T.I.). But when he receives a message from

the quantum realm he must illegally suit up

as Ant-Man and help Pym (Michael Douglas)

and his daughter (Evangeline Lilly) locate their

missing wife/mother.

In the same jovial vein as the original, this

side-splitting sequel also adds a new dimension

to the fold with Lilly's Wasp, who not only

makes an excellent foil to Ant-Man but she also

amps up the action scenes.

And while Bee Woman was the first choice,

she died after firing her first stinger.

The Darkest Minds

Teenagers already wield the greatest superpower

around: they cannot be tried as adults.

However, the special abilities the teens in this

sci-fi movie have don't vanish at 18.

When a disease wipes out most of the

world's underage population, it leaves the

survivors with strange new talents that the

government colour code per individual powers.

But when Ruby (Amandla Stenberg) registers

as an orange, her power to possess minds

makes her highly sought-after by a subversive

group leader (Mandy Moore). Luckily, Ruby has

friends to help make the right choice.

Boasting clichéd superpowers, pointless

musical montages and a love triangle that

dominates the majority of the story, this

adaptation of the similarly named YA novel is

the last vestige of the dystopian teen genre. Unfortunately,

it does little to reignite any interest

in the tired concept.

Incidentally, the easiest way to defeat any super-powered

teenager is by giving them mono.

Eighth Grade

Eighth grade is that time in a young person's life

when they start experimenting with drugs that

aren't prescribed for their ADHD.

Mind you, the only high the teenager in this

dramedy is looking for is the rush of getting

Instagram likes.

Soft-spoken Kayla (Elsie Fisher) hopes her

Youtube tutorials on self-confidence will

garner a following beyond her single-father

(Josh Hamilton). But as the end of the school

year approaches Kayla's popularity on and

offline is at an all time low. Excited about high

school, she starts hanging out with older kids

and experimenting with sex, all in an effort to

breakout of her introverted shell.

The most authentic depiction of the tribulations

facing today's iGen to date, this awkwardly

hilarious and aptly directed coming-of-age

tale perfectly captures adolescent dialogue,

while newcomer Fisher brings empathy to her

generation's anxieties.

Unfortunately for today's connected youths,

it's impossible to ever skip class.

Mamma Mia: Here We Go Again

There's something about wedding receptions

that makes every guy think he can breakdance.

This musical demonstrates that they cause men

to belt out ballads as well.

While Sophie (Amanda Seyfried) struggles to

scribe a eulogy for her mother, Donna (Meryl

Streep), to recite at the grand re-opening of her

hotel, the 1979 version of Donna (Lily James)

graduates and spends the summer with three

different suitors.

Back in 2018 Sophie's fathers (Colin Firth,

Pierce Brosnan, Stellan Skarsgård) and her

grandmother (Cher) show up to celebrate

Donna's life through ABBA songs.

Featuring the Swedish bands lesser-known

hits, this time-travelling sequel to the 2008 adaptation

of the Broadway musical is saved from

the monotony of the present-day storyline

by the 1970s cast, who freshen up the musty

material. Nevertheless the male vocals remain

an issue.

Incidentally, the worst thing about meeting

the younger you is now you're too fat to share

any clothes.

Slender Man

The biggest problem with Internet urban legends

is that the supernatural entities are always

so judgy and mean-spirited.

Luckily, the meme monster in this horror

movie doesn't have very much to say on any

topic.

When their friend (Annalise Basso) disappears,

three teens (Joey King, Jaz Sinclair, Julia

Goldani Telles) contact the fabled Slender Man,

a featureless figure who haunts the web, for

help in finding her. But during their meeting

the girls make eye-contact with the gaunt giant

and are cursed with madness. The only way to

stop him now is to give him want he desires.

Inspired by the real-life legend that has

claimed some real victims, this fictional account

ignores reality opting for a more Bloody

Mary vibe. Unfortunately, the scares are cheap,

the acting amateurish and the overall execution

is ham-fisted.

Besides, just like every scam on the Internet,

Slender Man is really a Russian hacker.

The Spy Who Dumped Me

The easiest way to tell you're dating a spy is if

they interrogate you during sex.

Sadly, the dumpee in this action-comedy

won't have a light shone in her face any longer.

Dumped by her globetrotting boyfriend

(Justin Theroux), Audrey (Mila Kunis) and

her friend Morgan (Kate McKinnon) go to his

house to trash it but are interrupted by armed

man. Now aware that he's a spy - and in possession

of a desirable flash-drive - the women fly

to Europe to return the Intel. But when he goes

missing the friends must then trust is his CIA

partner (Sam Heughan).

Featuring some of the worst jokes ever written,

yet riddled with some brilliant bursts of

rapid-fire violence, this buddy-comedy is quiet

the dichotomy. Nevertheless this contrast is

too distracting and both leads are annoying.

Besides, who wouldn't date a spy? You get

to taste all of their meals for poison.

Unfriended: Dark Web

The dark web is just another feature for your

Internet provider to exploit monetarily.

Fortunately, the users in this thriller don't

need a bundle deal to surf the dark net.

After accessing a computer he found at

work to Skype with his friend, Matias (Colin

Woodell) receives a message from someone

concerning a disturbing video. He later learns

the previous owner of the laptop was not only

in to some nefarious online activities, but is also

watching his every move. Now the mysterious

owner is offing Matias' friends in an attempt to

get their property back.

Told entirely through laptop and cellphone

cameras this stand-alone sequel is a slight

step-up from its predecessor thanks to its

topical storyline. Unfortunately, it squanders

the secrets of the dark web by focusing on

toothless jump scares instead. And the moral

of the story is to never use a found laptop, just

pawn it.

He's a Cold Snap Decision. He's the…

Vidiot

FILM
---
ROCKPILE

THE GLORIOUS SONS

no fools in this rock 'n' roll outfit

It's been just over a year since The Glorious

Sons released their sophomore album Young

Beauties and Fools (2017 Black Box/BMG) and

the band is still riding an awesome high.

The Kingston, Ontario rockers have taken

the record around the world but their hometown

show in the same venue where The

Tragically Hip played their final gig stands out

as one of the most memorable.

"The K-Rock Centre (editor's note: now Leon's

Centre), our hometown show, to play the arena

and feel the buzz on the streets the day of the

show and then to feel the kind of quiet, ghosttown

like feeling the day afterwards was pretty

amazing," remarks frontman Brett Emmons.

Young Beauties and Fools also earned the

band the Juno award for Rock Album of the

Year earlier this year, but it's not something

Emmons thinks about.

"It's an honor, we're very happy about that.

I mean, I don't think about it though at all.

It's not special in that sense," he notes. "It was

exciting for my parents. It was exciting for my

best friends, for the people that I love, and

it was exciting for me too, but it wasn't, you

know, this 'we made it' moment."

ROYAL TUSK

rock music as antidote in a time of anger and violence

Harsh times call for hard tusks

Never ones to break a deal, Edmonton outfit Royal Tusk are

determined to keep us rocking whilst taking strident steps

as a band, persistently touring around the country and dropping

a brand new sophomore album titled Tusk II (eOne 2018).

The first single off the album, "Aftermath" brings to the table

some heavy riffing alongside topical lyrics and a music video

The Glorious Sons continue that sentiment

of making it own their own this fall when they

will play some of their biggest indoor shows

yet on their cross Canada S.O.S. Tour. The trek

wraps up with an ambitious headlining show

at Scotiabank Arena in Toronto, but Emmons

isn't thinking about that gig just yet.

"It's not the biggest show ever, but it's like

the biggest indoor show we've done off of our

own backs," he says. "I'll get nervous probably

the week leading up to it. I'm pretty nervous

in general but it's too far away to think about

that right now."

Once the tour is over, the group – rounded

out by guitarist/vocalist Jay Emmons, vocalist/

guitarist Chris Koster, drummer/vocalist

Adam Paquette and bassist Chris Huot - plans

to hit the studio in the New Year to test out

some new material. Only time will tell if those

sessions produce any songs worth releasing.

"I think January we're going to get in and at

least just see where it goes. That doesn't mean

that we'll be recording the album. I think, if

anything, we learned that you can't force it,"

explains Emmons.

"You gotta wait 'til you feel that feeling and

that uncompromisingly tackles the issue of mass shooting

in America. It's a difficult and complex issue to grapple with,

but Royal Tusk has taken aim at hyper-violence and the toxic

masculinity that comes as a consequence of it.

According to singer and guitarist Daniel Carriere, the story

behind writing Aftermath and the accompanying music video

is about making a statement and confronting gun violence

head-on.

"When I wrote the song, it was a period when there was

a new mass shooting and a new tragedy every day. It's a very

violent society we were looking at and it is weird that we are all

so used to it! I remember waking up one morning and thinking

'How the fuck am I sleeping soundly with all this horrible stuff

going on?' That was the question that ultimately inspired me

to write the song," Carriere explains. "We took that theme and

put it into the context of a young man who is bombarded with

ultra-violence by the media and toxic influences from friends

and how regular that seems to be. With the character getting

into street fights, we were thinking of the waves of attacking

people that go viral online and just wanted to explore what

is must be like for young people to confront violence in this

cavalier manner."

As barstool philosophers and observers of the human

condition, Royal Tusk are a band who not only make you think,

but also emphasize the importance of human connection. The

members, including bassist Sandy MacKinnon, guitarist Quinn

Cyrankiewicz and drummer Calen Stuckel, form a tight unit

that thrives in a live setting. Putting guitar music back at the

by Trevor Morelli

The Glorious Sons … Beauties of rock 'n' roll that keep getting better and better.

strike while the iron's hot. But you can't go in

there and try to make magic out of nothing."

Emmons says the band used to have odd

squabble, but now The Glorious Sons function

as an incredibly tight unit.

"It's been seven years of this band. We've

been on tours when where we're all psychotic

partiers. It worked out, but I mean you get a

lot more tired," he enlightens.

"I think that we're really good at this. We

don't really have any problems. Me and my

brother used to fight a lot when we were

both constantly drunk, but we don't fight

any more. We're all really tight. We just keep

getting better and better at it. I mean, it's kind

of scary. I feel like things are going too good."

The Glorious Sons play Nov. 7 at Revolution Place

(Grand Prairie), Nov. 8 at Canalta Centre (Medicine

Hat), Nov. 9 at MacEwan Hall (Calgary), Nov. 13

at Enmax Centre (Lethbridge), Nov. 14 at Conexus

Centre (Regina), Nov. 15 at TCU Place (Saskatoon),

and Nov.17 at Burton Cummings Theatre

(Winnipeg).

by Daniel Jaramillo

forefront of radio and video playlists, where it has not been for

quite some time, is Royal Tusk's mission. A quest that continues

in earnest with the appearance of Tusk II.

"We all listen to modern rock and classic rock," Carriere

says "For me personally; it was the formative years growing-up

listening to Nirvana, Silverchair, Filter and heavy

bands like Metallica and Rage Against the Machine. That

unapologetic guitar-riffing music, and the tonne of grunge

music, really inspired us in the last 10 years, as well. Guitars

seem like a forgotten thing and we were really sick of that

attitude and just wanted to stand out loud and proud

playing guitar!"

Whilst they have no interest in being the flavour of the

month, Royal Tusk are building a loyal fan base in their hometown

and across Canada. However, their aim is to be more

than just a Canadian band and break through internationally.

In the meantime, they are prepared to please the masses with

an impressive new album that promises to shake us out of

conformity with a potent dose of authentic rock music. Finally,

someone is talking sense and taking these times of anger and

confusion by the horns

Royal Tusk perform Nov. 23 at The Pyramid Cabaret (Winnipeg),

Nov.24 at Casino (Regina), Nov.25 at Bo's Bar and Grill (Red

Deer), Nov. 26 at The Starlite Room (Edmonton), Nov. 28 at Venue

Nightclub (Vancouver), Nov. 30 at CJ's Nightclub (Kamloops),

Dec. 2 at The Gateway (Calgary), Dec. 3 at Coors Event Centre

(Saskatoon)

ROCKPILE BEATROUTE • NOVEMBER 2018 | 21
---
GUTTER DEMONS

Summoning new fans with new music

October, it's time to dig up your lazy

bones and head out for some hellraising

psychobilly! Straight off the streets

of historic Montreal, Gutter Demons

have been lurking in taverns and slingin'

their visceral psychobilly since 2001. The

demonic-trio consist of guitarist/vocalist

Johnny TöxiK, upright bass player Gutter

Flipper and percussionist R-1. Together they

generate a dark and brooding music set to

a paradoxically quick tempo. TöxiK's deep,

raspy-vocals compliment the low octaves

from the bass-slappin' and dominating

drums -- thus creating ominous tones, while

keeping it catchy-as-fuck.

Gutter Demons' latest offering, No God,

No Ghost, No Saints, is the follow-up to

2015`s Unfinished Business. Released on November

4th on Stomp Records; this is Gutter

Demons' first album on Stomp since signing

with the label this past summer.

Heavy, raucous rockabilly and the fury of

Gutter Demons are present throughout No

God, No Ghost, No Saints. Although many

of the tracks stick to their classic psychobilly

style, "Ghostrider" and "Psychotrons" are

great examples. Overall, the album feels a

little more rock'n'roll compared to previous

outings, displaying their versatility and absolutely

killing it.

"Each time we start working on new

songs or new records, we're always trying

to push ourselves musically and this album

22 | NOVEMBER 2018 • BEATROUTE

by SARAH MAC

Gutter Demons take care of some unfinished business

is no exception to what we usually do.

We've been trying go places we've never

gone before and trying to experiment as

much as possible with our music," TöxiK

explains.

Gutter Demons' albums have ranged

from the twang and swagger of rockabilly

to more straight-up punk rock and

rock'n'roll influences but, the unique

French touches are always a pleasure to

hear.

"In the past, like on the Room 209 (2005

Pirate Records) album, we covered French

singer, Georges Brassens ["Pauvre Martin"].

We have an original on Misery, Madness

and Murder Lullabies (2008 Wolverine

Records) ["Recherche"]. But, on this latest

album, there wasn't anything jumping out

at me saying 'Yeah, this one should be in

French!'"

With their new album on the menu,

what better reason do you need to come

raise the dead and twist the night away

with Gutter Demons this November?

"I can't wait to be back in Alberta, we

have always a great time when we're there.

Calgary, Edmonton, Red Deer, Lethbridge;

no matter where you go it's always a crazy

fuckin' party!"

Gutter Demons perform Nov.15 at the Buckingham

(Edmonton), Nov. 16 at Dickens Pub

(Calgary), Nov. 17 at the Vat Pub (Red Deer),

BRING ON THE STORM

beaking through with a thunderous first strike

If you're like us, lately your social media feed

has been flooded with announcements

about bands with new albums. Being heard

above this melee of infotainment isn't an easy

task, except when you're virtuosic hardcore

outfit Bring on the Storm. Rolling into the

Calgary scene in 2016 and harnessing the

might of bassist Josh Wallace, guitarist Brandyn

Smith, drummer Clay Fandrick and vocalist/guitarist

Chris Kreuger, Bring on the Storm

is an act that refuses to be overlooked. The

quartet has been writing hard to prepare for

the recording of their latest album, Altruism,

which - if the digital hype is to be believed -

will be released on November 4th.

Even before you listen to Altruism, the title

stands out. Once you dive into the album,

you're greeted by proficient, melodic hardcore

with pulsating drums and precisely rendered

riffs. Shredded songs like "One Billion Dicks"

are just itching for a circle pit, while punkish

tracks "Life Sucks" and "Spineless Gutless

Bitch" will undoubtedly become favourite

shout-a-longs. Lyrically, Altruism encourages

positivity on individual and global scale.

"Altruism is basically, selflessly helping

someone else at the determent to yourself,"

Josh Wallace explains.

"A lot of people might not know what it

means, or aren't familiar with it, almost like an

act of altruism is so rare that a lot of people

by sarah mac

don't even know the word. It's something to

think about and we're giving more attention

to that with our music as well."

Altruism is Bring on the Storm's debut

album; and while that should suffice, they've

decided to self-release it, albeit with a little

help from some veterans of the craft.

"We recorded with Casey Lewis (Belvedere)

at Echo Base Studios. Even though everyone

has played in bands before, when you're so

involved in a project, it's hard to see it from

an outside perspective. Casey gave us that

outside perspective. It was awesome to have

him there to guide us through and make sure

he got the best out of everybody, he played a

huge role in how this album turned out. Next,

we sent the album to John Harcus (PMX)

to be mixed and mastered. The records he's

done previously with other bands sound phenomenal.

It was a shot in the dark when we

reached out to him, we sent him a song and

within 24 hours he sent us back a test-mix

and blew our minds with it!"

"Overall, it was definitely an exercise in

our sanity." Wallace laughs "But, we couldn't

have asked for a better outcome and it was a

pretty cool experience for sure."

Pick up a copy of Altruism on Nov. 4 and see

Bring on the Storm's album release party on

Nov.14 at the Ship and Anchor (Calgary).

One billion from the top!

ROCKPILE
---
ARSON CULT

teaching the ways of the angry political fist pump

School would have been much more fun

if your teachers listened to cool bands

like Fugazi and Drive Like Jehu, right? Those

punk icons, along with other '90s experimental

hardcore groups, are some of the

influences that helped Saskatoon, Saskatchewan's

Arson Cult mold their aggressive,

unique sound.

"We wanted to kind of keep that going,

and a lot of the music we had been listening

to or hearing a lot more recently has been

a lot more sort of emo driven," explains

vocalist/bassist Jason MacKinnon.

"So, we always wanted to keep this kind

of edgy, experimental sound while still kind

of keeping a punk kind of feel to it."

MacKinnon, who works as an elementary

teacher by day, says his night gig was challenging

in the beginning because he and his

bandmates – singer/guitarist Matt Gravlin

and drummer Jay Luk – weren't hearing a

lot of local bands that sounded like them.

"I think in general, when we first started,

I spent a lot of time looking for bands that

sounded like us, just to try to reach out and

hear more things," he says, positively citing

Toronto's Metz, Winnipeg's KEN mode and

Edmonton's Dead Fibres as some of the

bands Arson Cult identifies with.

"It was really hard to find. I find we end

up playing with a lot of metal or metalcore

bands, and not so much with punk bands

because we don't quite fit in with the genre

we try to portray."

Last month, Arson Cult released their

debut album Lay Waste to Past Erections

(2018), which is not only heavy with

detuned riffs and pulse pounding rhythms,

but ablaze with political undertones as well.

"A lot of the music we were writing at the

time is politically-based, and I think that's

something where there's a huge gap, especially

in Canadian music," MacKinnon says.

"A lot of stuff that's coming out is very

much the same. There's very much a lot of

by Trevor Morelli

formula going into music these days. People

are very good at pin-holing themselves into

something and even when we have music

that's trying to kind of bring to light new

problems, or existing problems and issues,

it still kind of shies away and tries to be still

be approachable, whereas ours I think is

supposed to be aggressive and destructive.

That's kind of the Arson Cult idea."

He continues: "Lay Waste to Past Erections

quite literally is about destroying a lot

of the formal male dominated things that

have existed, especially in politics, and still

in music and still everywhere."

Ultimately, MacKinnon knows there are

hardcore fans out there and Arson Cult

wants to bring them together to celebrate

heavy experimental music.

"I think the ultimate goal is just to find

the audience that wants to hear this. It's

exciting. We're trying to play more festivals

and hopefully get to places that have more

audiences, different and diverse audiences."

Arson Cult performs with Rat's Ass, Feminal

Fluids and Hexbeat on Nov. 9 at The Sewing

Machine Factory (Edmonton) and with Rat's

Ass, Pill Crusher and Fuckboy on Nov. 10 at

Tubby Dog (Calgary).

STIFF LITTLE FINGERS

40 years of gutsy, brash Irish punk by Trevor Morelli

Hitting the small stops for the fans that didn't think they'd come.

mean, not every show was a huge success.

Saskatoon on a wet Sunday night was not

terribly well promoted," he remarks. "But in

general we were pleasantly surprised by the

turnout and the reaction of the people that

were there; they seemed to really enjoy it. We

had a really great time, so when the chance

came up to go back, we jumped at it."

Next year marks the 40th anniversary of

the band's debut LP Inflammable Material

(1979, Rough Trade Records), which went on

to sell more than 100,000 copies and reached

#14 on the UK Albums Chart.

It's an impressive milestone considering

the album was almost left in the dust. After

their deal with Island Records fell through,

Stiff Little Fingers were left to release the

record independently through Rough Trade

records, a small indie label at the time. The

result is a raw, unpolished effort recorded

in just 10 days and earning the band a cult

following in punk circles around the world.

Although Burns is proud of Stiff Little

Fingers' body of work, he goes back and

forth on whether or not there's anything he

would have done differently on Inflammable

Material.

"Even by the time we got into making the second

album, there were things on the first album I

wanted to change," he recalls. "I would've liked to

have had a bit more time to record it. You might

think, 'Yes, we could have played it better, we

could have done this better, we could have done

that better.' But then it wouldn't have been the

album that it is."

Burns believes the raw, reckless sound of

Inflammable Material is what many of Stiff Little

Fingers' devoted followers love about it.

"A lot of its charm is the fact that we were

young and brash and angry and loud, and that I

think is its main sort of feature," he says. "I love the

first Clash album, but you could hear by the time

they got around to making London Calling, they

had gotten so much better at what they were

doing. I still enjoy London Calling; for my money,

it's not a tenth of the album that the first one is."

Mix something Irish into your life – besides

the whisky in your coffee, of course – and

check out Stiff Little Fingers on tour across

Canada this month.

f you talked to the record label and

Since 1977, the Belfast, Northern Ireland

"Ithe management back in the day, they quartet – rounded out by Ian McCallum

all wanted you to be as big as like U2, or (guitar), Al McMordie (bass), and Steve

whatever. I'm not sure we ever wanted to do Grantley (drums) – has been bringing their

that," laughs Stiff Little Fingers frontman Jake brand of unfiltered Irish punk rock to fans all

Burns.

over the globe.

"I'm not sure we ever wanted to do that. Burns says they wouldn't be hitting Canada

I'm actually astonished that I'm still playing

If it wasn't for the passionate and faithful

in Stiff Little Fingers and think any of the fans that came out and supported them on

Stiff Little Fingers play Nov. 23 at Dickens Pub

guys would say the same thing after 40 their last Canadian jaunt two years ago.

(Calgary), Nov. 24 at The Starlite Room (Edmonton)

years."

"We all had so much fun the last time. I

and Nov.26 at Wild Bill's (Banff).

ROCKPILE BEATROUTE • NOVEMBER 2018 | 23
---
24 | NOVEMBER 2018 • BEATROUTE

edmonton extra

USS

breakin' beats like Marley in a lab coat

LOOK VIBRANT

pushing the envelope filter

It seems there has never been a shortage of

exciting and innovating bands coming out

of Montreal and Look Vibrant is no exception.

Recently downsizing their lineup, the now threepiece

group consists of Toronto expats Justin

Lazarus and Matthew Murphy. The duo play

synthesizers and guitar respectively while sharing

vocal duties, along with drummer Eli Kaufman,

who originally hails from California.

Having played together as a trio for almost six

years, the group credits mutual musical influences

with bringing them together initially.

"Justin and I went to a bonfire that a friend

was hosting. We met Eli there and we started

talking about Animal Collective," explains

Murphy.

That early meeting eventually blossomed into

a serious partnership.

"We've been playing together for a long

time and we're really close friends," adds Eli.

This amiability factor doesn't just aid in their

general chemistry as a unit, it is essential to Look

Vibrant's longevity as a band.

Coming off the heels of their self-released

full-length debut, The Up Here Place, released in

March of 2018, Look Vibrant is functioning like

Toronto's USS use many different metaphors

to describe their hybrid sound, but

turntablist/hype man Jason "Human Kebab"

Parsons may have coined the most interesting

ones.

"We sort of decided that we wanted to

make music that sounded like Nirvana at a

rave, Bob Marley in a lab coat," he says.

Parsons met his partner in crime Ashley Buchholz

(a.k.a. Ash Boo-Schultz) while working

at a golf course in 2004 and the duo has been

working tirelessly to pump out danceable altrock

bangers ever since.

"I grew up on hip hop; he

grew up on grunge, '80s pop. We

both met at a golf course over

acoustic campfire songs and DJ

breakbeats," Parsons elaborates.

"It's miraculous that in the

last 10 years we've consistently

been able to put out new music

that radio, and in particular,

alternative rock has embraced.

We're very, very lucky, we're

grateful, but we have a knack

for it."

It's true. USS - which stands

for Ubiquitous Synergy Seeker

- struck gold in 2016 with the

worldwide hit "Work Shoes," from their latest

offering New World Alphabet (2017 Coalition

Music). Remarkably, the song seems to

resonate just as strongly with suits in Japan as

it does with oil workers in Fort McMurray.

"It's taken us around the world. It was the

first song that Germany and Austria gravitated

towards," Parsons acknowledges.

"Even our most recent trips to Japan, 'Work

Shoes' seemed to be a song that got the Japanese

going. In Canada, it really opened some

a well-oiled machine as the threesome prepares

to launch into their biggest North American

tour to date this November. What's more, they

promise another album is slated to be released

shortly thereafter.

"The new record should be out early next

By TREVOR MORELLI

doors for us on so many levels."

It's been nearly two years since New World

Alphabet was released, but Parsons maintains

that USS never stops making music and

exploring ideas.

In addition to their two standalone cuts -

"Medicine" and "Big Life" – already released this

year, the duo plans to have either an EP or even

another full-length LP ready to go next year.

"Ash and I are always working on music.

We've got a lot of demos and partially finished

songs that we'd love to see come out on an EP,

or a full length, in 2019. We've been working

week-to-week right now on getting those

other songs in order."

Fans can expect to hear "Medicine" and

"Big Life" when USS hits Western Canada this

fall, accented by the band's eruptive performances

and over-the-top stage presence.

"We pride ourselves on being a live act, so

we really know what works for us and what's

going to maintain that level of excitement and

energy that we bring every night."

USS performs with The Elwins and Hotel Mira

Nov. 8 at Bo's Bar & Grill (Red Deer), Nov. 9

at The Palace (Calgary) and Nov. 16 at Shaw

Conference Centre (Edmonton).

by Tory Rosso

year, we're shopping around for labels at the

moment," Kaufman states.

For mere mortals, the grind of being on the

road in a touring band for more than a month

at the time can be quite exhausting, but these

luminous beings have their own secrets to avoiding

the burnout.

"We're going to run every day and we don't

party. We basically just don't party and that's

how we survive," Justin admits with a chuckle.

Testing their stamina and building layers of

lush synthesizers, with cascading guitar melodies

on a foundation of No Wave and technical drum

patterns, Look Vibrant makes writing catchy

pop-esque tunes appear deceptively easy. With

a style that revels in the pleasant unfamiliarity,

this dynamic group of runaway indie-rock

experimentalists wants nothing more than to

challenge the assumptions of the listener.

Look Vibrant performs Nov. 18 at Lucky Bar

(Victoria), Nov. 21 at the Palomino Smokehouse

and Social Club (Calgary), Nov. 22 at The

Buckingham (Edmonton), Nov. 23 at T+A Vinyl

and Fashion (Regina) and Nov. 24 at The Good

Will (Winnipeg).

ROCKPILE
---
EAMON MCGRATH

an uncompromising ferocity

Eamon McGrath has spent over a decade

in vans, and on busses, trains, and planes

carving out his artistic along an uncompromising

path, maintaining a fierce independence

and DIY ethos that, even in 2018, goes

against the grain of the larger machinations of

the Canadian music industry.

"I'm always looking to build my community,

and you do hit a ceiling with DIY," says Mc-

Grath over the phone from Toronto. "I think a

lot of people in the Canadian music industry

aren't really interested in what I'm doing. It's

really difficult to market and classify, and that

might be a hard thing to for a representative

to sign up for. Booking agents for example. I

want to be playing constantly, and that hinges

on me being able to do several different kinds

of shows. Sometimes I'll have a loud rock n'

roll band, sometimes it'll be a quieter show,

and I have a very uncompromising approach

in what I create."

While McGrath knows that his unusual methods

of performance might make things tougher

on those in the business of selling music ("they

might have to write five more emails"), the

bigger picture he sees is a symptom of laziness at

the upper levels of the industry.

"There are definitely a lot of people devoted

to the idea of doing no work at all," claims

McGrath. "And that's reflective of an obsession

with mediocrity that brings the level of the culture

in this country down as a whole. I'm really

critical of that, and make no effort to hide how

much that pisses me off. There are all these

dudes, and they're almost all the same exact

dude, in offices in downtown Toronto who are

content to push this middle-of-the-road thing,

and control the culture of this country."

He adds, "Don't get me wrong, I'm lucky.

I've got a great team of strong, courageous

women working on the industry end of things

with me. It was just that, after Exile (released

in 2014), I felt like I was just making music

that I was supposed to be making. I had a long

stretch of writer's block and felt like walking

away from music."

With Tantramar (released May, 2018), Mc-

Grath says, "I felt like there was this growth,

that I could explore and record other ele-

By Mike Dunn

ments of music that meant something to me,

and with players who are as open to so many

things as Tom (Murray, bass) and Darrek (Anderson,

pedal steel). we can explore that stuff,

and play punk rock like it's supposed to be, as

an attitude rather than a fashion statement.

"So many things are happening in music

in the underground that are hard for certain

people to push, but with diversity mandates

that festivals are instituting, we're getting to

experience bigger ideas in Canadian culture.

There are bands and artists like, well obviously

Tanya Tagaq, but at a more grassroots level,

like Whoop-Szo. Those guys are fucking ferocious,

and they work night and day to make

their career happen. They've got these great

songs, songs that should be hits, and they're

like, the vanguard of this Indigenous punk

rock resistance, at least here in Ontario. None

of these corporate dudes are gonna go sign

and promote them, because they're 'too dangerous',

'too threatening', but I go see them

play, and they just write great songs, the kind

of challenging, smart music everyone should

get to hear on the radio."

Eamon McGrath & The Devastation Trio play

at Temple (Edmonton) on Nov.1, and Commonwealth

(Calgary) Nov. 2 with The Dirty Nil.

ROCKPILE BEATROUTE • NOVEMBER 2018 | 25
---
CAPTAIN TRACTOR

25 years of cranking up the Celtic By Mike Dunn

It took a few kicks at the putting-a-band-together

can for Captain Tractor when they

started out in the early '90s, but luck and good

nature, as much as anything, may have led

the band into forming a now veteran Alberta

group with eight full-length records and a slew

of well-known songs that took the band across

Canada and around the world.

"We had a band called The Brave And

Foolish, and would open our own shows with

this joke band playing Irish drinking songs,

called Leona Braslin's Boyfriend's Band, because

James Morrisey, the leader of The Brave And

Foolish, was dating Leona Braslin at the time,"

says Captain Tractor vocalist and guitarist Chris

Wynters. "After a while, we started to realize

more people were coming to those shows than

to The Brave And The Foolish shows because

every time we'd go to headline the show, people

would already have left."

At the time, there wasn't exactly a Celtic

rock style like there is today, which gave Tractor

some originality in the mid-90s to embrace all

things grunge, punk rock, and alternative. "I

loved The Pogues, but Celtic rock wasn't really a

thing. So we thought we could add the rhythm

section from The Brave And Foolish to Leona

Braslin's Boyfriend's Band, and out together

a rock band with this stuff. We came up with

Captain Tractor because with The Brave And

Foolish we were trying to take things very

seriously, and we wanted something that would

always have a fun, less serious air about it."

Though the band was thrown together as

a bit of a lark, things progressed rapidly when

Captain Tractor started playing shows with

the revamped lineup, leading to national and

European tours, a number of singles, and a recording

career that has the band looking back

in fond nostalgia with their new 25th Anniversary

retrospective double-LP, 25 Years On. The

record is comprised of fan and band favourites

through the years, as well as four new cuts.

"Things have definitely changed. We'll be

flying to most of the dates, but we are getting

in the van, and driving to Saskatoon, to Winnipeg,

to Regina and then home to Edmonton,

so it's gonna feel like the old days again. Like

every western Canadian band, driving across

the prairies in November. Back in those days

we got lucky. We put the band together, and

we'd caught on with a bunch of people. We

put out a CD and sold a thousand copies

within a couple of weeks, so things got serious

really quickly. It was too late to change the

name, though."

Captain Tractor celebrate 25 years of rolling with

the good times at Station On Jasper (Edmonton)

Nov. 16 and 17.

26 | NOVEMBER 2018 • BEATROUTE

ROCKPILE
---
THE SEWING MACHINE FACTORY

launching inclusion residency

Spoken word artist Nisha Patel

and musician Mustafa Rafiq.

MARK MUZ

portrait artist puts a new twist on wildlife

After his high school commissioned Mark

Muz to create a mural, he envisioned a

career creating visual art. When Muz turned

30, he turned to artwork full-time and set

out on a 10-year plan with the intention of

making a living between music, art and film

by the age of 40.

"I was an old punk rocker, so I've kind of always

had a DIY mentality about everything,"

explains Muz. "I've always tried to do things,

maybe not smarter, but different from more

traditional routes, and it's been rewarding in

its own way because I've done a wide variety

of things using different mediums, and experimenting

a lot."

Muz says that while he always considered

himself self a portrait artist, "After years of

questioning my feelings towards paintings

of animals, I decided to challenge myself by

creating a series of paintings that blended

my portrait work with wildlife art, which was

something I'd always disdained."

Although he abandoned the series at one

point, he returned to the concept with a series

of paintings connecting bodies of iconic

figures with the heads of birds. For example,

Muz recreates '60s fashion icon, Twiggy, with

the head of an albatross.

Muz will feature the new series at The

Aviary within three different groups of art:

1.) a wall of paintings that span Muz's career

as an artist, 2.) another exhibit of smaller

stenciled and screen-printed pieces, and then

3.) the centrepiece of the show, the series of

anthropomorphic birds that has been Muz's

focus most of the past year.

Mark Muz's exhibit will be on display throughout

November at The Aviary, featuring music from The

Holy Drone Travellers.

Showing a true commitment

to Edmonton's art scene, on

November 4 the Sewing Machine

Factory (SMF) will launch their first

artist in residency program. The

program will run for six months

featuring author and spoken word

artist Nisha Patel, and musician

Mustafa Rafiq, who owns and operates

Sweaty Palms, an endeavour

that curates live music for events

that focus on creating inclusive

environments for voices that aren't

easily heard.

While the residency is set up for

Patel and Rafiq to work on their

individual projects, SMF booker

Tab CA explains it will also be used

as an open-hours drop-in centre.

"A lot of the time spent will be

Nisha and Mustafa individually

working on their craft, but we'll

also be making time for them to

mentor members of the community

who want to learn more about

aspects of the medium from Nisha

and Mustafa. So, it's essentially

like a drop-in every week for six

months, and we'll do a couple

shows throughout the residency to

showcase what the artists are doing,

while bringing in outside artists

for a series of workshops, and giving

them an opportunity to teach."

Due to the venue's licensing

limitations, the residency program

By Kennedy Pawluk

is restricted to individuals over

18, but both Patel and Rafiq are

accepting appointments to meet

upstairs at the Mill Creek Café for

those under 18 seeking mentorship.

Every Sunday afternoon, Patel

and Rafiq will be working within

SMF on a body of work that will

culminate in a final showcase at

the end of the residency. Rafiq

plans on writing and recording an

album released as the debut for

their project Family Injera, while

Patel intends to concentrate on

writing a book.

Tab CA hopes the time will also

be an opportunity for individuals

beyond the traditional community

that attends SMF to access the

space and experience the venue

outside of the typical atmosphere

of a show. "I'll always be there, so if

people want to look at the venue

or talk about booking shows or

if they've may be never been to

a music venue and they want to

come in and just check it out, they

can do that."

The Sewing Machine Factory's Artist

Residency Program launches Nov. 2

with a show featuring Nisha Patel

and Timiro Mohamed performing

spoken word poetry, a set from Family

Injera, and a performance from

multi-media group X-Quartet.

By Kennedy Pawluk

ROCKPILE BEATROUTE • NOVEMBER 2018 | 27
---
THE MIND AND IMAGINATION BehInd

Malcolm

The Original New Timbral Orchestra

Malcolm Cecil

BY B. SIMM
---
Soon after Malcolm Cecil had turned 30 years old, he found

himself leaving his native Britain in search of a better

environment for his ailing lungs. South Africa had a warmer

climate, but apartheid made it miserable. When he set sail to leave

the Six-Day War between Israel and Egypt erupted in June, 1967 Cecil

diverted course and found himself on safer shores tinkering away

with recording studios in Los Angeles.

The time between his years growing up in London, England to

his arrival in the United States is a long convoluted and incredible

affair that involves Cecil working on rather hush-hush projects with

the British military while cradling his love for jazz as a top-seeded

bass player. In a nutshell, while developing sensitive radar systems for

aircraft bombers, he was also an integral part of Britain's burgeoning

jazz scene in the early '60s with residencies in the best clubs, playing

on a number of significant recordings, making TV appearances even

sharing the stage with Miles Davis.

Over the course of an hour-long phone conversation from his

home in upstate New York, it's no surprise that this jazz intellect and

electronic whiz would become the mastermind behind the greatest

grandmaster flash synthesizers of them all — TONTO.

Cecil, now in his early 80s, is clearly a gifted storyteller who

leaves no stone unturned when tracing the origins through to the

end point of his adventures. Clever, witty and extremely articulate,

TONTO is largely a reflection of Cecil's own complex personality

and imagination. While the seeds to TONTO's development extend

far back into Cecil's inquisitive nature as a young child, California is

where it all starts to take shape.

"I spent a year building studios in L.A., putting the first 16

track studio in for Pat Boone," recalls Cecil. "My reputation

went around… the Record Plant (in New York) got a hold of me

and I had just been turned down for a third time for my Green

Card. 'So okay,' I thought. 'I better start heading back east

towards England,'" chuckles Cecil. On route the Record Plant

people asked if he'd stop in and look at some equipment that

needed a "crack maintenance engineer."

The business mind behind the Record Plant was Chris Stone, an

MBA who saw fields of green in the music industry as it started to

flourish. There was some financial hijinks going on behind the scenes

at the studio that Cecil helped to stabilize. In return, Stone sponsored

Cecil allowing him to obtain legit employment in the States. It also

led him to a fresh new studio called Mediasound where the already

famous Moog synthesizer sat off in a corner not fully utilized but

tweaking Cecil's attention.

"I noticed there was a car ignition switch on it. All I need is a quick

lead around that (to start it up), but I also have morals, ethics and

standards. Anybody who puts an ignition switch on that doesn't

want somebody jumping it. Hands off, just wait. And so I did."

Soon after Cecil describes his first encounter with Robert Margouleff,

who he would form an uneasy relationship with to transform

the idle Moog into TONTO.

"I was in the control room, fixing the board, and a guy walks in

with his hair down his back and a fur coat on, clearly his father was a

rich fellow here. That was Bob Margouleff."

Wealthy Margouleff was, coming from an affluent and influential

family in Long Island, NY. Cecil found him somewhat annoying: "He

was one of those entitled kids, he had the attitude to fit. He walks

over to me and says, 'You must be the new tech… Tell me, do you

know how to run this thing (the control board)?' I says, 'I better, I

have to fix it.'"

Cecil learned that Margouleff, even though he was the resident

studio "synthesist," was regulated to only one channel on the board

that produced sound effects and nothing else. Frustrated, Margouleff

asked if Cecil would teach him how to run the entire board,

to which Cecil asked if Margouleff could operate the Moog sitting it

the corner.

"I better," said Margouleff, "I own it!" The two shook on an agreement

not only to teach each other how to run the equipment, but

also to partner on a venture that saw the Moog blossom into a

much more sophisticated beast.

TONTO, The Original New Timbral Orchestra, translates into

an orchestrated sound generator that produces new and different

musical qualities. Cecil and Margouleff ran with that fast and

furious salvaging other Moog synthesizers, building and modifying

circuit boards while incorporating other synthesizers including

ARPs and Oberheims. They housed everything in giant wood

panel cabinets stacked on top of each other and acquired electrical

wiring from decommissioned Boeing 747s to string their creation

together. TONTO grew to the portions of an expansive control

room that bore more resemblance to a NASA laboratory than it

did a musical instrument.

The duo went on to produce and record music under the

moniker of the Expanded Head Band. Their 1971 album Zero

Time certainly turned a few heads and opened some minds, most

notably Stevie Wonder who employed TONTO and its operators

on several of his recordings. The Isley Brothers, Gene Parsons,

Randy Newman, Steve Hillage and Billy Preston were a few others

who took a shine to the big, mean, weird machine.

As fascinating as TONTO was, it was also a work in process that

required a lot of care and attention. Cecil clearly remembers when

the end of his partnership with Margouleff came about during a

live broadcast on the '70s TV music show, The Midnight Special.

"We were in there for 24 hours (previous to the broadcast)

tuning, blooping and bleeping, getting everything ready for a

live performance with Billy Preston. Everything went fine during

rehearsal. Then they brought in the audience, turned on the stage

lights that hit TONTO. Well, TONTO is black, an absorbent surface.

The Moogs went sharp, the ARPs went flat, the Oberheims went

sideways and I was running around trying to keep it in tune, and

Bob is panicking… his hands were shaking like a leaf."

The incident was so traumatizing that after the show Cecil

claims Margouleff said, "That's it I don't want ever to do this again.

TONTO is nothing but a big ol' white elephant, I don't want to be

part of it." To which Cecil replied, "Alright, I'll buy you out."

When he speaks of variable frequency oscillators or advanced

musical scales Malcolm Cecil's mind goes off like a mathematical

amusement park. He probes and penetrates these landscapes with

pure pleasure and delight — it's the stuff TONTO is made of. When

asked how he conceived of new sonic textures when nothing like

that had existed before, Cecil resorts to Hegel and his philosophy

on thesis, antithesis and synthesis.

"What is the antithesis, what is the opposite of sound? Silence!

And I searched the world for silence, I've been searching for it for a

very long time."

In so doing, Cecil found himself locked deep inside a deprivation

tank thinking that this is where no sound at all would finally exist.

But lying there waiting for the pumps filling the tank to shut down,

he realized, "Wait a minute, those aren't pumps, that's my heart.

That's me, and all the sounds in my body. Well then, there ain't no

silence in the real world. So where is it? It's in your imagination. And

if silence only exists in your imagination, then out of your imagination

must come the new sounds."

That logic is the masterplan that guides TONTO's design and

reason to be.

"What is its purpose?" says Cecil. "Its purpose is not to just make

new sounds. Its purpose is make new rhythms, to make completely

new and different music to play in different scales. The limit is

your imagination. TONTO is not the synthesis of new sounds, but

the synthesis of new music. Its capabilities are limited only by the

person who's using it."

"What is the antithesis,

what is the opposite

of sound? Silence!

And I searched the

world for silence,

I've been searching

for it for a very

long time."

Malcolm Cecil will share more of his mind and

imagination during TONTO Week and the

National Music Centre from Nov. 14-18.

JUCY BEATROUTE • NOVEMBER 2018 | 29
---
AEMCON

how do we want the world to see Alberta?

BeatRoute caught up with Isis Graham, just

before she and fellow Alberta Electronic

Music Conference (AEMCON) founder Andrew

Williams departed for the Amsterdam

Dance Event (ADE) — an annual pilgrimage

for the veteran DJs and promoters, both for

enjoyment and as an opportunity to network

and talent scout for this year's AEMCON. ADE

is a major source of inspiration for Graham

who strives to bring that experience to the

people of Alberta. The caliber of this year's

conference demonstrates how well she is

accomplishing that.

"This year's event is probably three times as

large as last year and not just large in the sense

of size and scale, it's like the quality and the

level of speakers we're bringing are much larger,"

Graham says. "There's more international

presence, the panels that we've chosen this year

are challenging content."

Some changes were made following last

year where Graham observed they were

"overwhelmingly surprised and happy with the

fact that some of the conference rooms were

not big enough … we knew right away we had

outgrown that level of conference." She adds,

"Last year was a lot of exploration, seeing what

Isis Graham: AEMCON co-founder

people were more interested in and we got a bit of a road map for the things that people preferred."

As such, there will be a little less focus on technical arts on the program, and more on the business

side of the industry.

Aspiring artists who want to learn how to make money, and what to do with that money, have

tons of options for panels this year in which they can be in the presence of a huge range of industry

professionals, speaking about things like online marketing, building your artist team and the best and

worst of running a record label. AEMCON has brought in heavyweights like Chris Goss from Hospital

Records and Siofra McComb from !K7, as well as more boutique-size label owners like Sleeper and

Pezzner.

By PAUL RODGERS

Graham, despite being known as a house DJ,

says she is a "huge drum and bass fan at heart" and

explains that while there is an impetus of drum and

bass in their conference programming, there is less

of it in the nightlife than there was last year. In contrast,

there is less techno during the day but plenty

of it at night, including Discwoman DJs from New

York and Toronto and the live techno performance

of Octave One and their Exploring the Mothership

workshop, which is an exclusive performance —

the only time it will happen in North America.

Also brand new this year is the inclusion of video

game audio workshops, yet another way of demonstrating

the broad scope of creating electronic

music and sounds.

AEMCON showcases a massive amount of

diversity in terms of both genre and representation

of different genders, LGBTQ communities and

cultures. This is achieved by a huge level of collaboration

between different organizations around

the city. AEMCON organizers meet with numerous Siofra McComb: !K7 Label Group

promoters to determine "how they want the world

to see Alberta."

"Every promoter gets to use their own ideas and

what they're passionate about to put forward headliners,"

says Graham. "And then we go, 'Great, how can we take those headliners and integrate them

into an educational platform that speaks to people that are on the other side of the learning curve?' I

don't think that there's anywhere in the world that does this this way."

By working with different promoters, and groups like Indigenous Resilience in Music and Afros in

the City, who are working to bring underrepresented artists to the forefront, a high level of genre and

cultural diversity is achieved, with acts like A Tribe Called Red and South Africa's gqom king DJ Lag.

Graham says she doesn't want the lineup to be the same every year. On top of the diverse array

of talent and speakers coming from across Canada and around the world, there is also a strong

contingent of Alberta's DJs supporting the entire event, with new, up and coming artists being given a

platform to share their art.

Octave One's Lenny and

Lawrence Burden, Detroit's

dynamic duo, showcase

Exploring the Mothership

workshop.

"How can we take those headliners and integrate them

into an educational platform that speaks to people

that are on the other side of the learning curve?"

Chris Goss: Hospital Records

30 | NOVEMBER 2018 • BEATROUTE

JUCY
---
CIEL

disrupting the status quo

"The things that I want

to touch on are really just

practical solutions on how

we can put into action

our vision for this sort of

utopian dancefloor."

BY PAUL RODGERS

marketplace

The AEMCON Marketplace is a free-to-enter electronic music culture and industry trade show taking

place on the ground floor of the National Music Centre on Friday and Saturday, November 16th and

17th. We invite you to come explore the marketplace and try-out the latest synths, talk to manufacturers

and designers about their new technology and innovations, learn about what arts and business

organizations can support your creative career, and meet other music enthusiasts and creatives.

On Friday evening, the marketplace will open as part of the National Music Centre's After Hours event,

running from 8pm - 1am. Only AEMCON Pass Holders and After-hours ticket-holders will have access

to the marketplace. On Saturday, the marketplace will be open for FREE to anyone from 10am to 5pm,

Vendors include: Roland, Universal Audio, Softube, Alberta Music, Pioneer DJ, Moog, Long & McQuade,

MeeBlip, ATB, The Dead Vinyl Society, Fozzy Fest, PK Sound, and many more.

Toronto's Ciel, a.k.a Cindi Li, is a perfect fit for

the 2018 Alberta Electronic Music Conference

as she embodies so many facets of what

the event represents. She's a promoter, a DJ and

producer on New York City's Discwoman collective,

as well as a radio host and an advocate. She's

no stranger to panels either, having spoken at

Amsterdam Dance Event, Nu Forms Festival and

several events in Toronto.

"All of the panels that I've done in Toronto have

been not as part of a bigger dance event, because

Toronto kind of sucks for any kind of major dance

event, we don't really have that," Li says. "Lack of

infrastructure I think is a big part, I think there

is an interest so I don't know why we don't have

that, but I think it's just challenging to throw

events in Toronto."

While many DJs get into promotion well into

their careers, Li did it backwards. She began

throwing events first, because she wanted to DJ

and was having a hard time getting bookings, plus

there were a number of artists that she wanted to

bring to Toronto, and nobody was bringing them.

"So two birds with one stone and I started to

do that and I found that I was quite good at it. I

liked it and the production came later."

Since day one, Li has sought to utilize her career

as a way of advocating for the representation,

safety and respect of women, people of colour

and the LGBTQ community.

"It was a no-brainer because I'm a woman myself

so thinking about these issues it's personal for

me," she explains. "I feel like being a feminist, the

feminist values that my mother instilled in me, it

kind of was always part and parcel with my music

stuff from the beginning."

She started a campus radio show while attending

Queens University called Lady Flash and only

played music made by women, it was then that

she learned to DJ as well. In 2014 she started a

new show called Work in Progress.

"Around that time, it was 2014 people were

starting to have this (gender representation) conversation

a lot. I like a challenge, and everybody

told me that it might be quite challenging to

maintain the show for a really long time."

But she did maintain the show for four straight

years, a two-hour monthly show until recently,

and then put the show on hiatus in order to

accommodate her touring schedule. It was the

show that led into her party series — Work in

Progress and It's Not U It's Me.

Since throwing shows and advocating for

more equitable representation, Li feels that she

now sees that it's more common that female

artists are booked in her own city, to the point

where it's "passé if you don't have a female artist

on the bill."

"That is not just what I have done. I think I've

managed to start doing this around the same

time as a global trend and also because I'm quite

confrontational with how I deliver my message, to

the point where sometimes I think that male promoters

in the city are a bit wary of me. But I think

that to really make an impact sometimes you

have to disrupt the status quo, they might not like

you, but the message and the fight is worth more

than being liked."

It's only fitting, given her prolific history, that

Li will speak on the Visibility: Exploring Cultural

Diversity in the Music Industry panel on Saturday,

Nov. 17. She outlined what she hopes to get out

of the panel and what she intends to bring to

it, saying that she's been on some that feel like a

talkshow, talking to guests and audiences that

already agree with them.

"I hope that this is a place where people can

talk back and forth and we can really learn from

each other," Li says. "In terms of the panel itself,

the things that I want to touch on are really just

practical solutions on how we can put into action

our vision for this sort of utopian dancefloor."

When: Friday, Nov. 16 8pm - 1am,

Saturday, Nov. 17th, 10am-5pm

Where: Studio Bell, National Music Centre

How Much: Friday Night requires

AEMCON Pass or Afterhours Ticket,

Saturday 10am-5pm is FREE

vinyl sale

buy, sell, swap, meet!

Dead Vinyl Society is bringing its Bring Out Your Dead vinyl sale and swap meet to the

Alberta Electronic Music Conference Marketplace!

This is a DJ and producer focused edition of BOYD. All conference delegates, along with the general

public, are encouraged to bring DJ singles, sample records and electronic albums to the AEMCON

Marketplace on Friday and Saturday, November 16 &17th. If you have quality drum break, dance or

electronic records that you would like to sell or trade, then pack a bag, crate or record box and join

in! If you're looking to acquire new weapons on vinyl, this is the place to do it. We will have listening

booths set up and tables available to display your wax. Have questions about the vinyl swap?

Contact Yuri at yuri@enigmamachine.ca.

Location: National Music Centre, Canada Music Square

Date: Friday 8pm-1am (requires AEMCON pass / Afterhours Ticket), Saturday 10am-5pm is

FREE for anyone

Cost: Friday Night requires an AEMCON pass or Afterhours ticket, Saturday is free!

Provided: Listening booths and tables to display your wax!

JUCY BEATROUTE • NOVEMBER 2018 | 31
---
32 | NOVEMBER 2018 • BEATROUTE

JUCY
---
JUCY BEATROUTE • NOVEMBER 2018 | 33
---
34 | NOVEMBER 2018 • BEATROUTE

JUCY
---
JUCY BEATROUTE • NOVEMBER 2018 | 35
---
A FEW SELECT

NIGHT EVENTS

Thursday, Nov. 15 @ Commonwealth

Thursday, Nov. 15 @ Commonwealth

Friday, Nov. 16 @ Junction

Friday, Nov. 16 @ HiFi

Saturday, Nov. 17 @ Habitat

36 | NOVEMBER 2018 • BEATROUTE

Saturday, Nov. 17 @ The Rec Room

JUCY
---
FEMME WAVE 2018

THE FOURTH WAVE

Femme Wave returns

The clean energy of wave power will there was a lot of artists that we didn't

be sweeping through landlocked even know before we listened through.

Calgary once again as the fourth

A lot of people are going to see their

installment of the city's annual Femme new favourite band."

Wave: Calgary's Feminist Music and Arts Cormack remarks that one of the

Festival is set to arrive November 15th musical performances she can't wait to

to 18th. Rising with the tide, BeatRoute see is Lowkita from Vancouver. "She's

spoke with organizers Kaely Cormack this killer hip hop artist and I can't wait

and Hayley Muir to find out what to dance my ass off while she is playing."

fest-goers can expect out of this year's Another head-turner, housepanther

programming and why the Festival is was one of Muir's top picks. "They're

more needed than ever.

this kind of scrappy, fun, punky [group]

"Expect a really fun time," Muir exclaims.

from Winnipeg."

She says many of the events they The Festival's first-ever DJ Night is

have planned will have more than one another feature the pair is thrilled to

discipline represented so that fans can present this year – catch it at the King

get the full experience, even if they can Eddy on Saturday evening.

only attend one event.

"There are a few Calgary-based

"If you are coming to see a band at musicians, like Kloves and Mother Mary,

the Kickoff Cabaret, you are also going and we have Duchess of Dub who is

to experience some comedy, film and this rad DJ from Saskatchewan. In her

perhaps even some visual art," she adds. application, we asked what peoples'

The pair agree you should also be pronouns were, and she said hers were

prepared to see something you've never She and Her Highness," Cormack laughs,

seen before. It will assuredly be a unique "As soon as we heard that, we were like,

experience.

'Oh my god, she's amazing!'"

"Femme Wave is absolutely a festival Femme Wave is optimistic that what

of discovery. People can expect to not people can take from their experiences

necessarily know who they are going at their events will resonate with them

to see, but be really impressed," says beyond the Festival weekend.

Cormack.

Muir emphasizes, "We can do this every

Muir chimes in adding, "Going

year and pour our hearts and souls

through music submissions this year, into it, but there are daily and weekly

38 | NOVEMBER 2018 • BEATROUTE

By Sarah Allen

things that people can do support this

kind of stuff all of the time."

Providing a setting and exposure

for artists who are often overlooked

has resulted in some great progress in

Calgary and Femme Wave is looking

forward to building on that momentum

and attracting new audience members

every year.

"Lots of bookers and venue managers

have begun to take different intersections

into consideration and I think

there is more women getting involved

in music," Muir shares and says she

monitors how things are progressing in

the community.

The Festival continues to expand

each year in the way of ticket and

wristband sales, but the amount of

submissions from those looking to be

featured at Femme Wave events is a

very interesting way of gauging at the

project's popularity and potential.

Looking at the numbers, Cormack

and Muir agree that artists continue to

need events like Femme Wave just as

much as audiences need exposure to

wave-making creatives who defy tradition

and dare to wipeout -- the lines

that have been drawn in the sand.

Femme Wave runs Nov. 15-18 at various

venues (Calgary)

BEYOND THE MUSIC

With a strong mandate as a multi-discplinary festival, this

year offers up plenty beyond the world of music. With an

ever-expanding organizing team, each artistic discipline represented

at Femme Wave sees its own expansion.

The Visual Arts team of Dana Buzzee and Alicia McKenzie

have orchestrated engaging, disruptive and innovating programming.

Throughout the festival, pick up An Acknowledgment

Of Land, Language And Culture - a zine by Alyssa Duckchief.

For those unable to attend events this year, the Visual

Arts Instagram account (@femmewave.visualarts) will have a

digital exhibition by CB McCann. Sex Hysteria Afterimage will

be posted throughout the duration of Femme Wave.

In a more traditional gallery setting, Jane Trash and Adrienne

Crossman take over U-Hall at Truck Contemporary Art for

'Show Up For The Messiness Of How You Feel So You Can Better

Create What You Need.' The exhibit runs November 15-17,

with a reception on Saturday november 17 at 3:30pm.

Another Femme Wave first, comedy podcast duo Hot Takes

With Hot Dykes will be in town from Seattle, WA., for a live

taping at the Memorial Park Library on Saturday November 17.

The Library is also host to the festival's annual workshops on

Sunday. This year, take in informational and hands-on sessions

about zine making, letter writing, moon nodes in your natal

chart and design justice. Too Attached's Vivek Shraya will also

be on hand for an intimate artist talk. All workshops are free

and all-ages, but it's a good idea to sign up ahead of time.

For the film buffs, Femme Wave has two nights of shorts

packages. Head to the kick-off party Thursday night for Collectivism

and Activism, and an all-ages screening Friday night in

collaboration with the Calgary Queer Arts Society.

This year also sees the addition of spoken word for the

first time. Calgary's poet laureate Sheri-D Wilson will be on

hand Thursday night for a performance before the comedy

program begins.

Get a full and detailed look at this year's Femme Wave

multi-disciplinary programming at femmewave.com

The Hot Takes With Hot Dykes podcast host a live taping.
---
JB THE FIRST LADY

change has to start right at the front lines

by MICHAEL GRONDIN

Red Empowered Daughter: a critical look at Canada's relationship with Indigenous people.

Vancouver-based MC, JB the First Lady is

JB says there is a standstill that has happened in

using hip-hop to create digital archives for the discussion surrounding Indigenous issues.

future generations and dismantle systemic racism "I think it's about the RCMP and police taking

towards Indigenous people.

responsibility for how they treat Indigenous

"For Indigenous people, oral history is very people and people of colour. So, if you look back

important to our community and how we learn to why the RCMP was created, it was to take care

from each other. For me, as a hip-hop MC, I of the 'Indian problem,'" JB explains. "Change has

am collecting the oral history in 2018, and my to start right at the front lines for police. We need

music is a digital archive for my great grandchildren,"

JB says. "They can think about what was these organizations."

to re-examine systemic racism that exists within

happening at this time, and what we are talking And with the blending of many elements

about, and what we are advocating for, and what of hip-hop and Indigenous culture, JB says the

has changed. What I want for future generations discussion can grow beyond the loop.

is for them to not have to advocate for missing "For me, as an Indigenous person, when the

and murdered women, or clean water in their stolen land is returned safely to its rightful caretakers,

and we can return to traditional governance

communities."

JB (Jerilynn Webster) of the Nuxalk & Onondaga

Nations, is releasing a new record titled includes the protection of the environment, water

of Indigenous people across Canada, which

RED (Red Empowered Daughter), a conscious and our relationships," JB says.

critical look at Canada's relationship with Indigenous

people.

Femme Wave fest this November, to which JB

JB the First Lady will be featured at Calgary's

"My new album will be my fifth solo album, says such representation in the community is of

and for me, this album is exactly what I've been utmost importance.

wanting to create as an artist. It took four albums "As a woman in hip-hop, which is a very male

to get to the place I am at. I've really found my dominated genre (like most genres), we're only

voice," she explains.

getting half of the story. I'm bringing a female

With booming hip-hop anthems, JB addresses perspective, but also a story that hasn't even been

such complicated issues as missing and murdered told yet as a young Indigenous woman," she says.

Indigenous women, men and two-spirit people, "Honouring these new stories and perspectives

clean water and more.

and creating space for them to grow is so healing."

"I take my role in the community as a daughter

very seriously," she says. "We need to stand up for JB the First Lady perform during Femme Wave at

and protect our Indigenous communities." the #1 Legion Main Flr. on Nov. 16 at 11:30 pm.

BODY LENS

five equals one

Body Lens, the stark experimental-punk

outfit from Lethbridge, is molded from

five perspectives, five minds, and five varying

experiences creating — a dynamic that creates

a cerebral yet ironic, a serious yet playful

experience.

As the band explains, each member adds

an equal weight to the greater whole. With an

unrelenting, heart pounding rhythm section

provided by drummer Rebecca McHugh and

bassist Brittney Ruston, a playful-angular guitar

supplied by Benny Roy and Quinn Lee, and the

ghostly voice of Brandon Wynnychuk, each

piece of their sound is precariously placed until

a bigger picture emerges.

"I'll counter an idea, and Rebecca will counter

an idea, and it becomes this dance in how

we weave our music together" says Ruston.

"Everyone brings their own ideas and it pieces

itself together. That requires an understanding

and trust. We work with concepts we can all

follow but there's not really anyone steering

the ship."

Within this larger thematic whole, Body Lens

infuse their own absurd, cheeky humour to

their dark and dancy brand of post-punk.

"We're all very dramatic," says McHugh. Lee

adds, "I think experimental punk music can

be taken a little too seriously sometimes, and

it can come across as a cool club. For us, being

more playful is a way to counter that."

Body Lens takes collaboration to their core,

scrapping the tropes of a front person and

delving more into a communal effort.

"I think it has a lot to do with the way stages

are set up for sound. It doesn't really make

sense with our dynamic," says McHugh of the

front-person cliché.

"Everyone's part and everyone's playing is

equally weighted. We don't think it's that big

of a deal that we can always reconfigure if

we want to," says Wynnychuk. Lee responds,

PHOTO: Brandon Wynnychuk

by MICHAEL GRONDIN and Hope Madison FAY

"Sometimes the guitars can really stand out,

or the drums can really stand out on certain

songs."

This achieves more of a unified feeling created

by five people rather than one person representing

everyone. Six months after releasing

their first self-titled EP, a furiously meticulous

six-song release which showcases a multitude

of skill, patience and spooky moods.

Body Lens speak to how important representation

is within the music community.

Lethbridge hosts Flip Fest, a Feminist music and

arts festival similar to Femme Wave. Ruston

and McHugh reflect on their experiences as

femmes in bands.

"As I get older and a lot of my confidence has

come from playing music and from performing,"

says Ruston. "I have realized that gender

is a performance, and I can play up ideas of

femininity when I perform, and it's helped me

do that on and off stage."

To which McHugh adds, "Sometimes you

aren't perceived as genuine about your art.

There's always the question of why it is that

you are doing this type of art. You sometimes

are in spaces where you aren't really

considered equal."

McHugh says making safe spaces with

friends, relationships, and places where varying

voices can be heard ultimately leads to a more

inclusive community.

"It's very important for us to be a part of the

conversation and be present and participate in

it. We need to take things into consideration as

much as we can and represent the best selection

of what we've got, people who are active

and trying to do things in their community

and supporting each other and lifting up their

community to make good things happen."

Body Lens plays Femme Wave on Nov. 15 at

Dickens Pub, 11:30 pm.

BEATROUTE • NOVEMBER 2018 | 39
---
KELLARISSA

Synth-pop siren casts magnetic loops

The alter-ego of Vancouver-based artist

Larissa Loyva, Kellarissa is a one-woman

tempest in a teapot. An accomplished singer

and songwriter with galaxy of tones at her

fingertips, Kellarissa/Loyva generates rich

electrical fields of sound by utilizing her voice,

synthesizers and an array of loops and effects.

Sampled from a Finnish term meaning "in the

basement," Kellarissa may not be a household

name, but the many groups she's been affiliated

with have had a significant impact on the

new wave of pop music that's crashing up on

Canada's shores. From her early outings as one

half of the outfit P:ano opposite collaborator

Nick Krgovich, to performing with The Choir

Practice, and touring with pop titans such as

Destroyer and How to Dress Well, Kellarissa

has gleaned the knowledge and experience

required to tell her own story, a nautically inclined

tale that benefits from both her clarity

of intention and considerable musical talent.

As a member of the dream-pop sensation

Fake Tears, with cofounder Elisha May Rembold

(Shimmering Stars,the Lost Lovers Brigade),

she has become known for her mastery

of the duelling microKorg. A skill set Kellarissa

has applied time and again when recording

her first two "femme psych electronica" albums

Flamingo (2008) and Moon of Neptune

(2011), both of which appeared on the Mint

Records label. A third album, Ocean Electro,

released by Mint Records this past March,

was recorded by indie darling Jay Arner and

mastered by Josh Stevenson. Arriving seven

years to the month after the release of Moon

of Neptune, Kellarissa's latest LP offers a lush

and organic repast. One that immerses the

listener in a world of natural beauty and

deeply impressionistic vantage points. By

the chanteuse's own account, the journey to

Ocean Electro was a long, but eventful path

that included rest stops and detours along

the way.

"I am self-directed, but I'm also easily

distracted," states Kellarissa. I am not an

especially prolific songwriter so I tend to take

my time and let myself live with ideas before i

turn them into songs. Some of my songs have

been ideas for two years before I ever put pen

to paper or compose something for it. It all

depends, I really allow it the time it needs to

become its own thing. Some of the songs are

quite old actually for example "Hey Hey Rosé"

is about hanging out on the beach in Cannes

in France and that was during my travels with

Destroyer when I was on tour with them. That

was actually Moon of Neptune era. So, these

ideas have been percolating for a while."

Music that invites movement and reflection,

Ocean Electro emphasizes Kellarissa's

unique voice while capturing her stream of

40 | NOVEMBER 2018 • BEATROUTE

You had me at rosé.

consciousness in a pixelated netting. A more

structured, but no less intuitive endeavour

than her previous offerings, the third entry in

Kellarissa's solo discography draws attention

to the vastness of her potential and intimacy

of her approach.

"Ocean Electro ended up being a little

more pop-centric," she notes. "I was more

experimental with Moon of Neptune and I

really wanted to do more things that involved

beats, and fiddling around with synthesizers,

and just continuing to focus on my voice and

using loop pedals of my voice and keyboards.

I also wanted to focus more on a singular

vision. More than half of the songs are about

the ocean and nature, although those themes

have always been an undercurrent in my music,

but Moon of Neptune was more spacey.

This new one's more terrestrial."

Given her impressive resume, it's not

surprising that Kellarissa's works are simultaneously

well-rendered and entertaining.

Having observed her fellow musicians in the

field, she gradually began crafting her own

melodic compositions while cultivating a

compelling onstage persona in order to best

present them.

"I was with the band P:ano for five or six

years and while I was doing that I thought 'I

have something to say here!' There was just

this point where I was like 'Maybe I can do

this too.' I got my feet wet writing for The

Choir Practice that I was involved in at the

time, and i was like 'Oh, yeah! I can do this!' I

always felt like I wasn't going to do my own

music unless I had something to say. I'm not

an especially outspoken person, so I need to

feel confident in whatever message I'm trying

to relay through my music."

With three full-fledged solo releases to her

credit, it's hard to imagine a time when Kellarissa

hesitated to put herself at center stage.

Becoming a public performer is something

she had to grow into and, looking back, she

acknowledges that fear and trepidation are

merely internal barriers to be accepted and

conquered.

"The advice I would give my younger self

would be -- just put it out there! I wish I had

written more songs and performed more and

by Christine Leonard

continued to do that more. Even though i realize

this in hindsight it doesn't make me work

any faster or harder it's just my own nature.

But I'd encourage anyone with something to

say to go out there and do it!"

She's brave, bold and forthright. But don't

expect keyboardist Kellarissa to mount the

soapbox anytime soon.

"I don't generally make my personal politics

known. I'm also not a very staunchly political

person, but I know I'm a very open minded

left of center kind of person. I'd like to think

that comes through in my music and the

types of music i choose to make and the fact

that i'm a queer woman doing this. I'd like to

think that that stands for itself. There's stuff

in "Black Sea" about oil slicks and pipelines,

which I'm against. So, I like to think it comes

through a little bit, but I don't try to be a

polarizing figure in anyway."

A humble role model for anyone seeking

to take their creative spark and fan it to a

flame, Kellarissa is proud to be a product of

her surroundings. The prescribed career goals

of monetary gain and international fame

pale in comparison when held up against the

true measure of human contentment. What

never falls short, for Kellarissa, is the way her

hometown always rises to meet her on her

own terms.

"In Vancouver I am very lucky to be part

of an inclusive, supportive and encouraging

music scene where the styles are all across the

board. There have been times when I thought

I did fit in with other types of music like mine

in the Canadian landscape, but haven't really

received a lot of recognition for it. I'm happy

to continue to play in Vancouver and support

my friends and vice versa and it's a really warm

environment."

That familial warmth and spirit of community

is something she hopes to share and

spread as far and wide as the Ocean Electro

will carry her and it's exactly what makes

Calgary's Femme Wave Festival such a good fit

for artists like Kellarissa.

"I think it's a really great way to give women

and non-binary musicians a voice and a really

safe inclusive space to perform and exist in,"

she affirms. "That kind of space is very lacking

in music festivals and even shows. I feel like

i'm going to be talking to my people there;

performing in that kind of environment. It's already

got a built-in shared mindset that I can

contribute to and not feel too out of place.

I'm really stoked for it."

Kellarissa performs November 17 at The King

Eddy as part of the Femme Wave Festival

(Calgary). For more information visit: http://www.

femmewave.com
---
2018 program guide

thursday nov. 16: Kick-Off Cabaret

dickens pub (18+)

7pm

8pm

9pm

10pm

11pm

12am

COMEDY: Deverybess, Amy Edgar, Nancy Webb

Natmi

Polly Dactic

Body Lens

friday nov. 17 - Fun House

royal canadian legion #1

7pm

8pm

upstairs

FEMME FILM (ALL AGES)

Calgary Queer Arts Society

Youth Queer Media Program

shorts package

FEMME FILM: Collectivism and Activism

Sheri-D Wilson

downstairs

WOC: A Sisterhood

by Iman Bukhari,

Mel Vee

basement

saturday nov. 18

all venues are all-ages

10am

11am

12pm

1pm

2pm

3pm

4pm

5pm

6pm

7pm

8pm

King Eddy

Karimah

Madeleine Roger

Marisolle Negash

Samantha Savage Smith

National on

10th Bowling

Third Generation

Riel

Girls Rock Camp

2018 Showcase

Emily Ripley

housepanther

McHugh House

Marigold

Sweater Kittens

Feed Dogs

Velour Clothing

Sister Ray

Taylor Jade

Memorial Park

Library

Hot Takes With Hot Dykes

live podcast (7-9pm)

U-Hall at Truck

Show Up For The Messiness

Of How You Feel So You Can

Better Create What You Need

by Jane Trash and Adrienne

Crossman

9pm

10pm

11pm

12am

1am

A La Mode

Bebe Bucksin

Mamarudegyal

Lowkita

Nite Sun

Cartel Madras

JB The First Lady

Too Attached

Feminist Hip Hop

Karaoke

hosted by

Prairie Chola Ayatollah

9pm

10pm

11pm

12am

1am

King Eddy

Anput + Ra/Sol

Duchess of Dub

Kellarissa

Mother Mary

Kloves

more on next page ...

BEATROUTE • NOVEMBER 2018 | 41
---
FEMME WAVE 2018

2018 workshops+visual art

sunday nov. 19: workshops

memorial park library

12pm

1pm

2pm

3pm

4pm

5pm

south wing north wing salon mtg rm1

ZINE

FAIR

LETTER

WRITING

DESIGN JUSTICE

with Leila Sidi

+ Kendra Cowley

Vivek Shraya

artist talk

ZINE MAKING

with Blake

THE WISDOM OF

OUR STORIES

Maraya Loza-Koxahn +

Stephanie Hrehirchuk

MOON NODES +

THE KARMIC PATH

with Ariel Learoyd

femme wave visual art

IN THE WILD

AN ACKNOWLEDGMENT OF LAND, LANGUAGE AND CULTURE

Zine by Alyssa Duckchief

Available at all Femme Wave events

OUR BODIES ARE RESTLESS

Performances by Alice Schoenberg, Michaela Bridgemohan, Nicole Mary

Thursday Nov. 15

Memorial Park Library, 5:30-7pm

SEX HYSTERIA AFTERIMAGE

Digital exhibition by CB McCann

On Instagram throughout festival

@femmewave.visualarts

ROCKET QUEEN: LEATHER DIARIES

Posters by Erin Tysowski

On display in and around Femme Wave venues

Now open in

Inglewood!

1103 12 St. SE, Calgary . olbeautiful.com

ol_beautifulbrewingco .

olbeautifulbrewing

42 | NOVEMBER 2018 • BEATROUTE
---
ROOTS

CECILE DOO-KINGUE

something real, something authentic

Cecile Doo-Kingue is legendary on the Canadian music

circuit. Her guitar stylings drift seamlessly, blending

blues, soul, folk, afro-root, and classic R&B into one beautiful

tapestry. Born and raised in New York City but now happily

based out of Montreal, she's also a powerful singer songwriter

and activist,

Her bold personality, fighting spirit, and great sense of

humor are sure to come out when she performs in Calgary

later this month.

"Every time we hit the stage… we play, we enjoy each other

and we make sure that everyone has a good time," she notes.

"It's about music, but it's also about the human connection.

You're gonna hear some new stuff 'cause I want to break

in some tunes that I've been working on, and try some different

formulas too, with a mix of electric and acoustic. Just a

good time, no pretense, you're not going to get any twerking,

but you are gonna get bonafide folks who love doing what

they do and sharing it with a crowd.

Doo-Kingue has averaged 100-plus shows per year for the

past three years, including previous stops in Calgary, which

she always looks forward to.

"The first time the trio played Calgary was Mikey's Juke

Joint. Folk Fest has been great to us, doing the boot camp,

having us back two years in a row. Honestly, Calgary is one of

my favorite places to play in the country."

This time, Doo-Kingue is performing indoors at Arts

Commons with her bandmates Anthony Pageot (drums)

and Pierre Desmarais (bass), but she enjoys both indoor and

outdoor settings for different reasons.

"I like both; I definitely like the intimacy of smaller rooms

because it's a lot more immediate contact, right? But, festivals

are great too because you sort of expand that intimacy to

something a bit bigger," she explains.

"Sense of humor comes out different too, right? I tend to

censer the naughtier side than when it's a festival. In bars or

clubs, you can have a bit more of an adult conversation."

As the youngest of eight children, all kinds of music flooded

into Doo-Kingue's world as she grew up. Things got real

once her brother gave her his guitar.

"That was the beginning of the end. As a kid I always

gravitated toward instruments. Whether it was percussion

or the recorder, whatever, if it was music I was there and

intrigued."

Legends like The Beatles, Freddy King, T-Bone Walker,

Curtis Mayfield, and Stevie Wonder acted as her teachers as

she learned to play chords and hone her skills.

"As a teenager, Tracy Chapman was a big influence. I

remember seeing her with just a guitar and just blowing me

away and having the balls to say shit that was real. I always

gravitated toward the folks that had something to say who

were trying to be part of the change they wanted to see in

society," she recalls.

"Something I try to include in my songwriting as much as

possible. It's still work in progress to see how to present it in a

universal way. And create a dialogue as opposed to just being

angry, or being sad, or just bitching for the sake of bitching,

but not trying to offer anything."

And while Doo-Kingue doesn't necessarily see herself as a

role model or influencer, she's constantly trying to be the best

44 | NOVEMBER 2018 • BEATROUTE

person she can be and she believes that she can affect chance.

"It's funny, it's not something that I think about necessarily.

I do hope that I can, I think that we all want to inspire to a

certain extent. If we're going to present ourselves in public, I

think that we want to kind of present part of what we hope

to see. I want to believe that I'm a bit of a role model for

woman instrumentalist or for black artists who don't fit the

stereotype. I want to believe that I'm a nice alternative to a

lot of what's being pushed."

She laughs: "Don't get me wrong, I'd love to have Beyonce's

legs."

We've come a long way in terms of progress, but Doo-

Kingue sees first hand we have a ways to go with many social

issues, namely gender equality.

"Every time I do a gig, gender comes up, in the negative

or the positive. 'Wow, it's great to see a woman playing lead

on guitar,' or sometimes it's 'Hey sweetie, do you need help

plugging in your guitar?'" she says.

"So, as much as we've come a long way in terms of being

accepted and respected and whatnot, there's still an imbalance

between the sexes. Not just in terms of gender, it's

also in terms of sexuality, in terms of so many things. Do I

hope that we'll get to a point where gender doesn't matter,

race doesn't mater, sexuality doesn't matter, and any of that

doesn't matter in society? I hope so. It doesn't mean that we

have to erase the differences 'cause differences are what make

us richer, but it shouldn't be an issue any more."

In the vein of Bob Dylan, Bob Marley and of course, her

by Trevor Campbell

idol Chapman, Doo-Kingue uses her voice and reach to speak

her mind, but does she feels like she can affect change from

friendly old Canada, or would she rather be in the political

trenches of the USA where they need outspoken minds the

most?

"After the inauguration I toyed with the idea of moving

back to be part of the 'resistance'. But realistically, I do believe

that you don't necessarily have to be in a place to be able to

affect change," she states.

"Quality of life is better here, just in terms of something

as simple as health care or not fearing getting shot down by

cops the same way. That's not to say we don't have our problems

here, because we do. I've been stopped and profiled

more times than I'd care to remember, but there's definitely a

safety factor here that I'm happy to have as opposed to living

in the States."

She also notes the right wing movements taking hold in

Brazil, USA, South America, Europe and even Quebec.

"How to make that pendulum swing back to some kind

of middle ground where everyone can feel represented and

not excluded and not feel that we're going back into the

dark ages and lose all the rights we fought so hard to get as

women, as people of color, as queer, as whatever it may be.

Whether I'm living here or in New York, what I would do to

counteract that is the same."

Cecile Doo-Kingue performs Nov. 9 and 10 at Arts Commons

(Calgary).

ROOTS
---
THE SADIES

no new tricks, just a show pony in top form

Twenty years deep into a recording career that has placed

them in rarified air in Canadian music, as both a near

ubiquitous influence on a certain style of rock n' roll, and still

a vital group creating vibrant and original music that always

bears their unique signature blend of spazzy rock n' roll, high

and lonesome country, and the earliest strains of California

country rock.

"Well, we're kind of one-trick ponies, in that this is all we

really know how to do," laughs vocalist and guitar player Dallas

Good over the phone from his home in Toronto. "We've been

really lucky do what we do for so long. After so long in music,

things are bound to change, whether positively or negatively,

but with us, it's the same four people, the same concept. My

brother (Travis Good) and I are still using the same guitars we

used on the very first singles in '96 or whatever year. I mean,

maybe we've dug our own ditch as well, where we're only going

to appeal to a certain type of music listener, and we're not

gonna reach too many more people outside of that, but we are

so fucking comfortable within that."

Perhaps part of what's kept the vibe within The Sadies so fresh

over the years has been the band's numerous forays as a backing

band, recording and touring with artists like Neko Case, John

Langford, Andre Miller, and their most recent collaborative effort

with Gord Downie on 2014's Gord Downie, The Sadies, and

The Conquering Sun. The album found the band playing a much

more driving and raucous sound, backing Downie with the kind

of punk energy that gave the Tragically Hip frontman a lot of

room to add his poetic magic to a different vibe than listeners

were maybe used to.

MATT MAYES

revisiting a hell of a time

Mays just released his seventh album, Twice Upon A Hell Of A Time.

"When we made that record, it was over a span of maybe

seven or eight years, getting together when we weren't all so

busy, and it was just a great way to hang out as friends," says

Good. "The energy of that music was part of the intention, to

do something a little more driving than maybe even The Sadies

would normally do, you know? Just a bit more aggressive and

amped up. But none of us wanted to go into the studio for five

days, spit out a record and hope people like it. Now most of

the time when we collaborate, we usually get songs from other

artists and play it like The Sadies, but with this, Gord would

come by, and we'd all work together to come up with something

we all really liked. It was never like, 'Here's a song without

a home, let's just see what happens.' And it was so much fun

to tour it because the aesthetic did lend itself to more heavy

songs to fill out the set. We became really close during that

time, and that's something that's invaluable to us."

As The Sadies prepare to head out on tour, doing a full retrospective

of their recording career, Good hints what's in store.

"We've never really done it, but we're planning on bringing

out a bit of new material live, before we've totally committed

to it, just for the experience. There is a sense of dedication to

our own history though, and we'll be playing through a lot of

the catalogue. Just speaking from my own perspective, as a

player you can tell when things hit new heights musically, and I

can hear it, we're better now than we've ever been."

The Sadies play Nov. 5 at Wild Bill's (Banff), Nov. 6 The Hideout

(Red Deer), Nov. 8 Station on Jasper (Edmonton) and Nov. 9 The

#1 Legion (Calgary).

t is kind of a weird new time in the music industry,

"Iand I'm just trying to take advantage of the ease of

putting stuff out," says Matt Mays regarding his latest

record, Twice Upon a Hell of a Time.

Where some artists might record a song and later strip

it down, Mays likes to work the other way around: adding

punchy bass lines and sizzling guitar riffs only after the

song can stand on its own.

In essence, the acoustic interpretation of his previous

record, Once Upon a Hell of a Time (2017), is actually a

return to the beginning.

"I wrote a lot of these songs in the actual format that

is on the second version. I always try to make sure the

songs hold up on ukulele or guitar before I add stuff to

them. I knew these ones would hold up because I already

had versions of them in their bare bones state, so I just

thought it would be kind of fun to release them in that

way," Mays reveals.

"It was really fun to change the keys and the time signatures

and just the style of the songs. You can hear the song

a little better and also if people like the album, it's just

another way to hear it again in a different way or mood."

Answering the call of his wandering soul, Mays has

chosen a life on the road. At first glance, the Nova Scotia

native is a badass guitar slinging rock 'n' roller, but listen

and look a little closer and you will see so much more.

Twice Upon a Hell of a Time brings another side of

Mays into relief. The stripped-down record lends clarity

By Mike Dunn

by Alix Bruch

and depth to his already nuanced lyrics, revealing a deep

thinker who seeks honesty in his craft, and in life.

"I chose this life of being a touring a musician and

trying to dance with the muse all the time," explains

Mays. "It tends to lead you into a different sort of lifestyle,

but I'm also from a really domesticated home and

I love that vibe too. So I'm kind of caught in the middle

of it all. I enjoy it though and it gives me a lot to think

and write about."

One highlight of Mays' travels includes playing a sold

out show at the famed Massey Hall in Toronto last summer

before it closed for extensive renovations. Describing

it as the most magical night of his life, Mays feels a deep

sense of accomplishment and gratitude to have graced the

same stage as many of his heroes before him.

The music created in such a space seems to echo across

generations, emitting a quality of timelessness. Mays believes

the best songs are those that are rooted in honesty,

and he is confident his songs will be heard and held by the

right people.

"There are all these rock and roll [radio] stations that

are playing the same 50 songs from the '70s and '80s

that we all know, but we didn't choose to know them.

Nowadays, people are choosing what music they want

to listen to, so songs are going to be timeless, but not for

everybody. Everybody is going to have their own timeless

songs that are different from everyone else's. Which is

really cool in a different way."

ROOTS BEATROUTE • NOVEMBER 2018 | 45
---
46 | NOVEMBER 2018 • BEATROUTE
---
YYCJAZZ

JERRY GRANELLI

it's a Charlie Brown Christmas

Jerry Granelli is a happy-go-lucky guy. He's

best known for drumming on A Charlie

Brown Christmas (1965, Fantasy Records),

and he doesn't mind that at all. As the last

remaining member of the Vince Guaraldi Trio

that created the seminal jazz piece, the Amercan-born,

Halifax, Nova Scotia native now tours

and performs the record with his own trio.

For Granelli, the magic of A Charlie Brown

Christmas is not only that it's a Christmas classic,

but that it serves as a catalyst for bringing

multiple generations of families together. It's

about celebrating the human spirt all year

round and not just during the holiday season.

Granelli was kind enough to talk to us from

Colorado, where he was teaching at a twoweek

retreat. He talked to us about why he

thinks A Charlie Brown Christmas has endured

for so long, the fun of performing the album

with local children's choirs, and the joy he gets

out of bringing jazz to fresh ears young and old.

Why has performing A Charlie Brown

Christmas become an annual tradition?

Because people want it (laughs). It's that

simple. Last year I missed it because I was sick,

very ill, and I couldn't travel. But people ask and

it comes back, and it's because it's a really lovely

community experience of time for generations

to be together and time for some people to

come to their first real jazz concert, and it's just

a joyful experience.

Are you seeing a lot of kids coming to the

concerts?

Of course. They're coming with their grandparents;

they're coming with their parents.

That's the reason that I do it, is because it is

multi-generational. It's a chance for families

to go to something together that they're all

going to enjoy, and that's really it. That was

the motivation for doing it, and that's the only

motivation to continue to do it, you know?

Have you guys ever tried to change up the

songs since the original release of A Charlie

Brown Christmas?

There's no point. I mean, we play them totally

in a brand new way every night, like you would

blues, but the material is part of what makes

the fabric. And it's not about recreating the

recording. It's not about that at all. It's just this

is wonderful material. I'm not going to write

anything better for that moment, you know

(laughs)?

Every year around Christmas season, T.V. is

flooded with Christmas shows and holiday

specials. Do you watch A Charlie Brown

Christmas if it happens to come on, or do

you immediately shut it off?

Usually I'm travelling or miss it. I mean, what's

more important is that millions of people turn it

on. I don't need to. Every once in a while, I'll watch

if I'm with my grandkids or something, but I don't

listen to my own records a lot either, so …

Yeah, that makes sense.

Part of it is that I'm working on something now

and I know it was good, so it's fine. But every

once in a while…

Is it hard being so strongly associated with

this one project?

Not really anymore. Well, no one's every going

to be as exposed to my work as a leader. That

record sells millions and millions and millions

and generated industries based on that. I'd

have to have a huge hit record to get that kind

of exposure, which I'm not seeking. I've grown

up enough to not have any problems with

being associated with it or wanting to ignore

it, you know? Partially, really truly, because I

finally quit being so selfish and realized that it's

genuinely touched people, and that's a great

gift. At this point in my life, I'm feeling gratitude

for even doing it.

You perform A Charlie Brown Christmas with

local children's choirs in every city you go to.

Is it hard to get the kids on the same page

with your band? Or do they usually know

their stuff?

No, no. The choir teachers know their stuff. It's

usually me coming into the rehearsal and making

sure the kids have fun, you know, because

they're really ready. It's a big walk out on the

stage, some of them with 1,000 people, and

they're not used to that, so I'm like, 'It's uncle

by Trevor Morelli

Jer here!' and I talk to them during the show.

We have fun. They have pizza. They know I

like to yell at 'em before the show (laughing).

You know, 'Okay, who's eating sugar? I'm going

to check your pockets for sugar. If you got

sugar, I'm going to kill you!' and we have a lot of

laughs. It's really, you know, it's not Christmas

spirit, it's a human, heartwarming experience.

That's why I do it. I love it. I love people, you

know?

At this point, does it take a lot of rehearsing

to get back into the Charlie Brown Christmas

mindset?

No. It's pretty much I just spend time on the

practice pad and get my old, tired muscles all in

shape. The music's there, and it's there for the

guys (Simon Frisk on bass and Chris Gestrin on

piano) and yeah, we do it. It's all good, if there's

any questions, we answer it for each other, but

it's all good.

What else are you working on these days?

Well, the last record Dance Hall (2017, Justin

Time Records) with Bill Frisell and Roben Ford

has been out there, so right now there's a lot

of stuff milling around. We did a long tour, all

the jazz festivals, and we're playing again in

January, but I don't have any time 'til January.

I'm working on forming a quartet with Michael

Blake and Peggy Lee and Chris Gestrin. So yeah,

I don't have time to sit at a piano. I won't get

to my drums until a week before the concerts

start because I'm travelling and teaching.

Do you have any plans to retire from music?

Not really. Should I?

No, not as long as you enjoy doing it and

people enjoy seeing you.

I love it. I mean, the hard part about almost

dying, with this lung infection and pneumonia

and everything, was I didn't get to play, and at

some point I was just listening to some music

and started crying because I realized I love to

play. Whether anybody's going to come to

anything I play, I still love to play the drums.

What else do you want to say about A Charlie

Brown Christmas or anything else you're

doing?

It's just a joyful experience. Go out and get

Dance Hall because it's a great record. I'm looking

forward to it. It's fun, you know? You get to

play every day. It's hard work, but it's fun.

Jerry Granelli performs A Charlie Brown Christmas

Dec. 1 at Central United Church (Calgary)

and Dec. 15 at Arden Theatre (St. Albert).

BEATROUTE • NOVEMBER 2018 | 47
---
Feature Photographer - grafxnine

Curated by Big Kitty

grafxnine

vandal eyes

Vandal Eyes is curated by Calgary-based artists and photographers on a submission basis.

Beatroute does not condone or encourage vandalism of any kind but functions as a free arts + culture magazine

that documents local culture, including the public display of street art including graffiti of various mediums.

Email bigkitty@beatroute.ca for submission details.
---
SHRAPNEL

KORPIKLAANI

foot stompin' Finnish metal steeped in folklore

Korpiklaani wanders onto the world stage

Deep in the quiet wilderness of the Finnish

countryside lies Korpiklaani, a foot

stompin' folk metal band of misfits that combines

speed metal shredding with acoustic

guitars, accordions and violins.

Their latest LP Kulkija (2018 Nuclear Blast)

– which translates in to "Wanderer" in English

– is a catchy, in your face, party record that

audiences around the globe have gravitated

towards since its release last September.

"I think the band's been sort of starting to

take off for a few years now, but still the actual

lift off is still waiting to happen," comments

bassist Jarkko Aaltonen over the phone via

WhatsApp all the way from Finland.

"I'm looking forward to playing the new

album stuff for the North American people

since actually we haven't been there in quite a

long time for some reason."

Although the band's lyrics are in their

native Finnish language, Aaltonen notes that

Korpiklaani's unique blend of folk and metal

music is universally understood and accepted

no matter what country they play in.

"It doesn't seem to bother anyone. We have

been doing this in our own language around

the world a few times now and the language

doesn't seem to matter that much," he states.

50 | NOVEMBER 2018 • BEATROUTE

Korpiklaani has toned down some of the

mythological elements on Kulkija, but the

disc is still rooted in Finnish romanticism and

folklore.

"I would say like, with the album cover and

some of the songs out, I would say that we got

to the 1930s Finnish romantic movies. I get

that kind of vibe for many of the things that

we did from the album."

He adds: "Maybe that was just a Finnish

thing in the old days, but there was this

genre that was based on the wanderer in the

countryside and every time the poor looking

wanderer turns out to be some sort of rich

guy in a disguise. I get that kind of movie feel

from many of the things on the album."

Of course, the members Korpiklaani (which

means "Backwoods Clan") don't actually live

alone in the woods, but they do tend to piece

demos together over the internet since they're

not geographically close.

"We never really get together to write. Most

of the music has always been written by the

lead singer, Jonne (Järvelä), but other people

write as well," explains Aaltonen.

"Basically everybody writes and records

demos at home and then we just send the

files to the other guys. And then when there's

something required, like if I need an accordion

for this part, I just ask Sami (Perttula) the

accordionist to come up with something. We

are living in different parts of the country. We

don't get together that much."

Despite the distance, Kulkija comes across

as a solid, cohesive, full-bore metal effort.

Aaltonen is happy with the results.

"I'm proud of many of the songs on the

album. Right now I cannot name a song that I

think that is not good enough for the album,"

he says.

"It's always the same thing with our albums,

when you get the demos that are a bit rough,

you think like, 'Okay, how is this thing going to

work?' And then when you get to the studio

and you actually start recording it, you realize

that, 'Yeah, this thing is going to work.'"

Aaltonen credits his bandmates for getting

the job done: "You can write whatever kind

of song and it goes through several skilled

people and the end result is quite right."

Korpiklaani's complex mix of styles also

reflects the different musical tastes of the

band's members.

"The different band members we are very

much into very different bands. As a band, I

don't think there's ever been any band that

by Trevor Morelli

we have looked up to in the way that we

are going to go, 'We want to do that,' or 'We

want to sound like that', because I've always

thought that we have very much our own

thing going on."

Wandering overseas to play gigs non-stop

is obviously a challenge. While Aaltonen is

excited about touring, he also has a day job

and relishes his time at home.

"I enjoy both things quite a bit. I truly enjoy

being on the road and travelling to places.

It doesn't need to be a new place. I'm very

happy to be going back to the same places I've

been to," he elaborates.

"It's always the same thing, like one of these

things that is sort of a topic on the album

as well. Let's put it this way, when you are

on tour, and the tour is getting closer to the

end, you start sort of counting the days when

you get to sleep in your bed instead of the

bunk on a bus. Then you get home, you get

settled to everyday life at home, and then in

a few days, you start looking at your calendar

thinking like, 'When does the next tour start? I

want to go somewhere.'"

Partying with his bandmates – which also

includes Matti "Matson" Johansson (drums),

Kalle "Cane" Savijärvi (guitar) and Tuomas

Rounakari (violin) – has become slightly more

difficult as well.

"It was easy when we were sort of starting

to tour outside Finland, because when we

went to do the tours or festivals or whatever

then we had an early show type because we

were never the headliners," Aaltonen says.

"It was nice. You go, you play your show,

you play for an hour at 6pm and at 7 you are

done. At like, 7:30, you have showered, you

have clean clothes on. At 8, you were already

drunk and you can go and see other bands

and mingle with the audience."

"Nowadays you're the headliner; you are

ready to go out at 1 AM. Where the fuck is

everybody? At home!"

What else does he have to say about Kulkija

and Korpiklaani's upcoming North American

tour?

"I think this is the spot where usually everybody

sort of says that yeah, buy the album, come

see the tour," Aaltonen chuckles. "But I think

everybody knows to expect that kind of thing

from me already, so I'm not going to say that!"

Korpiklaani plays Nov. 7 at The Park Theatre

(Winnipeg), Nov. 8 at Coors Event Centre (Saskatoon),

Nov. 9 at The Starlite Room (Edmonton),

Nov.10 at Marquee Beer Market (Calgary)

and Nov. 12 at Rickshaw Theatre (Vancouver).

SHRAPNEL
---
BEHEMOTH

indulge their sonic hedonism

Grappling with artistic anarchy and love at its darkest

Setting yourself apart in the world of obvious that the album was going to have

extreme metal is an arduous task nowadays.

To achieve success on a mainstream took it further with the photography and

a very strong sacral approach. From there I

level, you have to deal with the fact that, to gave myself the green light to go biblical

the conventional crowd, all metal sounds on this record, full on. I mean, the bible has

mostly the same. To the uninitiated, it may always been one of our main references,

as well be all the same dudes growling but I think this is the pinnacle."

about Satan over double kicks and downtuned

guitars. Few bands have achieved being charged with blasphemy in Poland

Despite legal troubles such as nearly

visibility in that realm, and while they have for tearing up a bible onstage, and his battle

been criticized for it in recent years, Poland's

Behemoth has brought themselves to has stayed fairly consistent in releasing

with and victory over leukemia, Behemoth

unparalleled levels of commercial success music and touring. They also maintain their

in the extreme music world.

brand with products like jewelry and coffee.

Adam Darski, otherwise known as

"I wouldn't say there is a strict formula

Nergal, is the main reason that Behemoth's

work has a wider conceptual lens. says. "I really like my artistic anarchy and

to how Nergal works or does things," he

As their main songwriter and frontman, I really worship it because it gives me so

he's brought focus to the visual side of much freedom. If you ask me 'How do

Behemoth, which has become a huge part you write songs,' I don't really know. I just

of their brand. Their imagery and music open my eyes, spread my arms, and ask the

has always been iconoclastic and stems cosmos to grant me amazing ideas."

from Nergal's personal philosophies as a Their foray into becoming more of a

man who was raised Catholic but is now brand has been met with some backlash,

a strong proponent for modern Satanism. seen as too commercial for a band with

I Loved You at Your Darkest, their new roots such as theirs. They recently released

release, is not an exception, but strays from a video on YouTube titled "God = Dog

their usually relentless blackened death Food" (a play on one of their newest singles,

"God = Dog") depicting a dog eating

metal. It explores orchestral and choral elements,

augmenting the sacrilegious motifs their newly released dog treats in the shape

their work usually follows.

of little black crosses. It's pretty on the

"When I started writing the lyrics, I nose, but it's an effective and lighthearted

wasn't really ready for it," says Nergal. "I fuck you to their religious detractors in Poland,

who have been hounding Behemoth

had a lot of ideas in my notebook but I was

missing a main thought. I was struggling. for years.

When the title finally appeared to me, it "We were just brainstorming with our

immediately opened the doors and made it management and I brought up the idea.

by Ana Krunic

I'm just thinking about how my local Polish

adversaries are going to take it," he laughs.

"Because they obviously would love to

see me crucified or stoned, and they can't

physically drag me in the street and do it

like they did 2000 years ago. These days

they need to bring me to court. So I'm just

waiting patiently, or impatiently, to see

what their arguments are going to be. I love

how they can't fucking handle it."

Despite the negative feedback from

people who would probably rather see Behemoth

go back to their black metal roots,

whatever they're doing is evidently working

for them. At the end of the day, Nergal says

he's still using his art as a personal conduit.

"I've always seen Behemoth as a kind of

artistic entity. An artistic being that can explore

its vision in more ways than just sonically.

I always underline that the music is

our priority – we live the music, we breathe

the music, we shit the music. But why

should we limit ourselves as artists? Just to

play guitar, get drunk and get laid? That's

such a stereotype. There's nothing wrong

with getting laid and getting wasted, I'm

a hedonist. But there's so many different

channels that can be adopted to express

our vision, and I'm eager to see what else is

out there because I don't know. Let's take

it from here. Let's take it further, let's try to

elevate ourselves as much as we can."

Behemoth performs Nov. 16 at MacEwan

Hall (Calgary) and Nov. 17 at Union Hall

(Edmonton)

This

Month

In METAL

Traditionally November is a little lighter

on international shows as many bands

are in the studio to get a spring release

for the festival season and summer tour

circuits. However, there are still enough local

shows to please most metal fans.

In/Vertigo launch the month on November

3rd with their 'Sex, Love & Chaos' EP release

party at Dickens Pub. They are backed up by

the prowling fury of Raised By Wolves and

Syryn.

In a unique industry-related event of

interest to all local bands, Celestial Agency is

hosting an event called "Recipe For Success:

Music Industry Organization and Navigation"

on Monday, November 5th at Dickens

Pub. This useful three-hour seminar from

6:00-9:00pm covers multiple topics of interest

from grants and touring to PR, management

and more.

In the category of 'it must be seen to believed,'

MacSabbath -- the Black Sabbath Mc-

Donalds Restaurant mash-up parody/comedy

metal troupe – will be rumbling into Dickens

Pub on November 7th before drivin' on thru

Alberta to the Starlite Room in Edmonton the

following night. McDonalds gift certificates are

not redeemable for entry.

Edmonton fans can also check out the new

sludge/grind act Culled, who are having their

CD release party at the Starlite Room on November

16th and then repeating that feat at

The Palomino in Calgary on the 24th.

If you have the stomach for it, Nauseator

and support act Chaos Being will be swaying

and churning at Vern's on November 23rd.

Take your Gravol and a dose of salt; the debut

of Calgary's 'Murder Metal' band is not for the

weak, or easily offended!

November 30th ends the month with a

(head) bang and you might have some painful

choices to make. A quartet of great locals, Red

Cain, Kashura, Volition, and Subsume will

be a sight to behold at The Blind Beggar Pub.

Meanwhile, over at Dickens Pub, it's time to

shred as forest-dwellers Mammoth Grove host

a psych-rock blowout to celebrate the release

of their second LP. Still hungry? You should

cram into Tubby Dog for great eats and a cozy

all-ages gig with Mandible Klaw, Total Wolf,

Vibes and, the band with the most attention-grabbing

name, Cheap Beer!

• Josh Wood

SHRAPNEL BEATROUTE • NOVEMBER 2018 | 51
---
BAZARABA

banger brothers

Time flies when you're having fun! Three

short years of kicking ass all over Alberta

have gone by in a blur for Bazaraba. The

Calgarian power trio started writing tracks

on day one and haven't looked back, earning

a reputation for being loud, lively and high

energy along the way. They don't put much

stock in gimmicks, and if you're looking for a

shiny new keepsake you've come to the wrong

place. Bazaraba just wants to rock. Dishing

out thick, heavy riffs that ride along grungy

desert rock roads, they introduce vocals that

have a throwback punk feel at times while

getting straight to work hauling the dirt when

the earthy grooves roll in. As they put it, the

band has two gears, "Rockers and rollers."

Veterans of bands including Triton, Arbitrator

and Nosis, guitarists/vocalist Trevor

Welsh, drummer Matt Procter and bassist

Kellen Wyslouzil say the rising popularity

and quality of so-called 'stoner rock' that has

emerged in Calgary's music scene has been a

long time coming.

"In the last four or five years there's been

a tonne of good solid rock bands that have

come out. It used to just be a lot of punk

and metal, but Hypnopilot was playing some

Bazaraba turned to Tad to rub some dirt on their self-titled debut.

different stuff about 10 years ago, there was

nothing else like that, and The Palomino

sorta became the home base and foundation

for the rock scene. We jokingly refer to it as

Palomino-core!" Welsh explains. "Fast forward

to today and we have bands like Chron Goblin

that have come out and really helped a lot.

It's great to see those guys getting out and

playing Europe. It definitely gives us hope and

encouragement."

Fittingly, on November 24th, Calgary's

Palomino Smokehouse and Social Club will be

the setting for the release of Bazaraba's debut

work, an eight song long self-titled "Banger"

on 180 gram vinyl.

"It's a balls out record! Heavy. Rockin'. Balls

out! We wanted to represent the live sound

and that energy on the record, we give everything

at the shows," Wyslouzil adds.

Over a year in the making, the album was

recorded and mixed by Public Lunch Studios.

The band then looked to Tad Doyle, of the

by Patrick Saulnier

legendary Seattle '90s grunge group Tad, to

take care of the mastering their scathing and

raucous tracks; including gems such as "Tail

Gunner," "Granulator," "River Runner" and

"Emerald Sword." There are endless ways to

work through the creative process, and every

musician will stand by their their own, Bazaraba

found their stride by following the vibes

that come out of jam sessions and building

off them.

"We get together and just start jamming,

and whatever comes out comes out, if we feel

it we write on, and if not we just ditch it," says

Welsh, "Were not really 'after' anything, just

wicked tunes."

Humble to the core, Bazaraba are just

stoked to take the stage and rock -- any time,

any place. If you're in search of some to lift the

spirit and numb the ears, find your way to the

Palomino and pick up their new record. Let

the power of Bazaraba compel you!

Bazaraba's album release party with Culled

and Iron Tusk happens Nov. 24 at The Palomino

(Calgary). You can also catch them Dec.

26 at Stab.Twist.Pull's "Stab-Twist-Mass" at

Dickens Pub.

52 | NOVEMBER 2018 • BEATROUTE

SHRAPNEL
---
BARN BURNER

returning to the scene of the crime

When we caught wind that legends of

stoner rock Barn Burner were reuniting

for a series of shows, the first question that

came to mind was whether, or not, the loud,

thirsty, get-in-the-van, thrash metal band was

on a mission from God. Having hung up their

toques some five years ago, the hard partying

band seemed to have flickered out after

releasing two albums, Bangers (2009 New

Romance for Kids) and Bangers II: Scum of the

Earth (2011 Metal Blade). This parting of ways

was even more painful given that the iconic

group had an unproduced album still in the

hopper at the time. Though unexpected, the

dissolution of Barn Burner came in a manner

that seemed both natural and fitting, according

to guitarist 'Handsome' Cam Noakes.

"I think the way the band ended was

appropriate at the time for everybody's

personal lives. And, there was zero animosity

in that decision everybody was on the

same page, so we've all remained really good

friends," explains Noakes. "We only put out

two records, officially. We had started working

on a third record, the year before we split up,

and our label passed on it. At the same time,

Pat (Bennett) had a lot of obligations with his

other band, so we were looking for another

bass player. It was just getting to a point

where we all looked at each other and asked

'Do we want to keep pushing this thing that

is losing traction? Or, do we want to end on

a high note?' We opted for the high note and

everybody just picked up their instruments

and started new bands and new projects."

With guitarist/vocalist Kevin Keegan

returning to his home province of B.C. to take

up with Dead Quiet, Noakes forged ahead

with other ventures including his '70s power

rock inspired outfit, Sick Things, which just

released their self-titled debut in July. Bassist

Bennett, also known for his work with Trigger

Effect, Beat Cops, Firearchy, Psychotic 4, Courtaud,

Mountain Dust and as a soloist under

the moniker Old Boy, had no trouble finding

his own distractions.

"We've all been super active for sure. Obviously,

Kevin being back in Vancouver now doing

Dead Quiet, we don't see him very often.

I still play in a band with, Barn Burner's drummer,

Taylor (Freund) and I play in another

band with Pat the bass player. So, we're all still

buddies doing music," Noakes affirms. "We've

always joked about getting the back together

and then one day we just got an offer. We

were asked to play the Pouzza Fest, here in

Montreal, in May and we thought about for

about two seconds collectively and then went

'Yeah, of course! Why not?' It was a total blast!

The promoter lives in Toronto and offered us

a TO show the night before, and then we got a

Make them an offer they can't refuse. Barn Burner's fire is up for hire.

few more offers, and it just kinda snowballed.

We figured why not make a trip out West and

give everybody a good show?"

All that was left was for these brothers to

get back into fighting shape as a functioning

musical entity. By Noakes' estimation, the

process of refamiliarizing themselves with

Barn Burner's songs and signature style was as

easy as falling off a bike.

"There was one day we had booked and we

figured we'd show up to this rehearsal and it

would just be like old times; get on and the

songs would come back to us one hundred

percent. The first run through of the set that

we did was so terrible. It was just like we were

all in complete shock at just how badly we

had forgotten how to do this. We were all

standing there looking at each other like 'Oh,

shit. The show is in five days. We have to haul

ass on this now!"

They needed a montage.

"We were a little disillusioned," he confesses.

"But, then the second time we did

it -- it was perfect. We had gotten through

that really busy first attempt and then right

after that things just clicked! Honestly, I think

it sounded even better than it had before,

because Kevin's been touring, writing and

releasing music since Barn Burner broke up

and then I've been doing the same thing with

my band the Sick Things and Pat has been

doing the same thing with his band. We're all

still so active in music; we've inevitably gotten

a bit better at our instrumentation and stuff,

so when we got back together to do old Barn

Burner songs it was like a whole new band!"

Primed to set fire to stages across Western

Canada in November, the bilingual Barn Burner

has curated a reunion playlist of their most

engaging and enraging tunes. Or, as Noakes

puts it "What are the best songs we have?

What's going to get people moving, singing

and just having the best time?"

Never ones to consider themselves tough

guys, despite their affection for laying down

some seriously aggressive music, Barn Burner

by Christine Leonard

has earned their reputation as a foundational

band in their genre. And it definitely brings a

smile to their faces every time they see someone

out at a show sporting one of their old

patches or referencing them when citing their

favourite rock metal acts.

"That still surprises and it makes me feel so

good hearing that from people. It's both unbelievable

and surreal and it just makes that

connection that we've always had with our

fans out west feel that much better. It's nice

to know you made a mark somewhere. But, as

far as Barn Burner goes, I don't think we'll do

anything new. Unless we just do it for fun and

throw it online. I'd do it in a heartbeat and I'm

sure everybody else in the band would too,"

Noakes estimates. "It's not one of those things

where only we'll perform live for $10,000 dollars.

If you can help us fly out there, and give

us a floor to crash on, we'll totally play your

bar mitzvah. We've always had a fun together,

so if it's an excuse to hang out together and

have a bunch of laughs we'll do it."

Barn Burner performs Nov. 15 at Broken City

(Calgary).

SHRAPNEL BEATROUTE • NOVEMBER 2018 | 53
---
54 | NOVEMBER 2018 • BEATROUTE
---
musicreviews

Charles Bradley

Black Velvet

Daptone Records/Dunham Records

Just as early hip-hop was built off the beats of

both classic and underground soul groups from

the mid-60s into to early '70s, Charles Bradley's

final album, Black Velvet, is a compiled retrospective

of Bradley's recording career, and his decade-spanning

work with producer Tommy 'TNT'

Brenneck and the players and crew at Daptone

Records in Brooklyn, New York.

Bradley's soul was the real deal, a vocalist who

hit certain notes that only a few before him could

hit with such conviction. Bradley's voice was a

conduit to his heart, as much as it was a unique

instrument. His tone split through the mix-over

grooves that always had that slow-riding bounce,

head bobbing in a long Impala while the addition

of percussion and horns never sounded digital.

Considering the serendipitous nature of living, it's

both to Daptone's and Bradley's good fortune that

they found each other. The rotating cast of sidemen

whose recording room and techniques have

resulted in some of this era's most classic-sounding

while forward thinking soul music found a vocalist

who was as warm as the sound their music

created, And Bradley — whose mix of wailing

Bobby Bland, elemental James Brown and sincerity

of Sam Cooke — needed the best elements of

uncluttered mid-60s Memphis soul along with the

cinematic quality of funk in the early '70s.

Among Black Velvet's ten cuts, there isn't one

spot where the horns have a manufactured digital

warmth, the kick drum sets the pace while the

rest of the kit has an airy, distant feel so common

to old records where everyone played in one

room, quiet enough to catch the mic bleed of a

bit of everything. The bass is punchy, but dialled

back in the midrange, creating a melodic thump,

with lyrical lines throughout but never upsetting

the groove. Some players just have that feel on

bass, how long to sustain a note, and when to

mute another in passing, to give the beat its lower

melodic push. There might not be a better live

room anywhere currently than in Brooklyn at

Daptone records.

"Can't Fight The Feeling" brings shots on the

downbeats with Bradley hitting those James

Brown moans and oohs each time, while the

horns rise and fall in between with a guitar hook

that sounds just like jelly moves. The band settles

into a vamp with slight organ backing, with Bradley

taking the lead, his churchy, uplifting lines over

a chord run that gradually leads to the chorus.

There's a rave up break in the middle with Bradley

pleading to his baby, "Please take a chance on me,"

that has a bit of Archie Bell & The Drells' "Tighten

Up," though with more accented push, compared

to that cut's loungey flow.

On "Luv Jones," the mens' choir hangs with

the horns though the pre-disco intro, the kind

of sound that defined early '70s pop culture. The

verse's repetitive lines would make an excellent

sample on a hip-hop record, and the groove is

a good shaker that blends in without having to

jump out and be the most distinctive thing.

It's on "I Feel A Change" that Bradley gets

heavy — a ballad with dramatic changes in the

choruses, the song accents the attention to detail

that Brenneck put into arranging these cuts with

instruments maintaining a melodic motif with

subtle moves always in its place but never feeling

shuttered, invoking an ever-heightening drama.

A lot of records going for a classic-sounding vibe

tend to try these moves, but can sound a little

forced. Whereas the grooves on Black Velvet leave

plenty of room for melodies to swoop in and out.

The title track is an instrumental, and given

Bradley's propensity during live performances to

leave the stage and embrace as many people as

he could, sharing his heart and love with everyone

he could find, a cut like "Black Velvet" might

make a great mid-show opportunity for Bradley

to commune with the people. Slow and swaying,

One could imagine Bradley imploring the crowd

to love each other as much as he loved them.

"Stay Away" has some cool fuzz guitar, like

Eddie Hazel, or from Burnt Offering by labelmates

The Budos Band. And Bradley's cover of Neil

Young's classic country rock standard "Heart

Of Gold" is a cool take on the familiar, Bradley

off-timing the melody just a little, while the horns

lay down Young's harmonica melody with some

jump giving an old cut a fresh sound.

Charles Bradley's story is one of adversity,

persevering through harder conditions than

just about anyone who can afford to go to the

record store might have to, finding strength

and love in music and letting those things lead

his path. He shared those parts of himself with

everyone who listened to his records and saw

him play, and cut some of the most defining

soul of our era. With Black Velvet being his

final, posthumous record makes excellent

contribution to that canon. While young cats

like Leon Bridges and Curtis Harding deftly

take up the sound of classic soul, their time to

define will come. With his producer Tommy

Brenneck, his contemporaries Sharon Jones

and Lee Fields, and the ace crew of musicians

rolling tape at Daptone in Brooklyn, Charles

Bradley was able to live a dream musically,

and make music that helped reinvigorate an

essential sound for his time.

• Mike Dunn

Illustration: Vince Lin

BEATROUTE • NOVEMBER 2018 | 55
---
Alias & Dose One

Less is Orchestra

Anticon

Alias used to jokingly call his music goth-hop

and it's a fitting, if not limited description of the

wide variety of songs here. There's the spooky

art-trap music of "Top Billing II" and "The

Deadener" to the more lush serene hum of "The

Doghawk." It's clear that despite his being forced

to work on music part time (indie hip-hop

doesn't pay the bills like it used to), that he still

managed to hone his production craft.

For his part, Dose One's voice has aged

like fine wine. The added rasp gives his vocals

a weathered gravitas that suits his takes on

mortality and workaday life. His lyrics can still

get pretty abstract at times but it's reigned in

a little more than his earlier work. The recent

passing of Alias hangs heavy over this record.

It's a thoughtful, beautifully crafted collection

of songs made by two people at very different

points in their lives from when they were the

Anticon heavy hitters.

• Graeme Wiggins

Blonde Diamond

Fantasy Love

STEM

Vancouver-based Blonde Diamond, formerly

YOUNGBLOOD, released their new EP, Fantasy

Love, last month and it shines as bright as we

hoped it would.

Alexis Young, vocalist and overall alt/pop

goddess, has a voice so precise and smooth

that, when combined with the percussive dance

tracks, are simply to die for.

As a whole, the album is nostalgic, yet

ultramodern, and very dance-worthy. The

song "Bend to Break" is so dang dreamy, with

exceptional arrangements. "Famous" is another

track that embodies dream pop properly with

its ethereal quality, and the song, "Dark Place,"

would be the perfect intro to any neo-noir film.

Blonde Diamond worked with producer DJ

Sleepy Tom on the EP, and the single "Better

When You're Close" has already netted over

140,000 streams on Spotify. Keeping the momentum

going after the bold move to change

their name, this collection of songs is a sweet,

sweet fantasy turned reality from a promising

young band on the rise.

• Sarah Allen

Cloud Nothings

Last Burning Building

Carpark Records

Cleveland post hardcore outfit Cloud Nothings

are back at it, lighting things up with Last Burning

Building. Though the band originally started

out as an indie rock unit close to a decade ago,

Chief songwriter Dylan Baldi has been crafting

jagged punk gems for the last several albums and

56 | NOVEMBER 2018 • BEATROUTE

his latest carries on that signature sound.

The opening track, "On An Edge," hits the

listener with distorted, discordant chords and

up-tempo, angular drums. Perhaps the heaviest

song on this release, it paves way the sonic

grid for tracks such as "Leave Him Now" and

"Another Way Of Life," which feature Baldi's

anthemic and hook-laden choruses, supported

by harmonically rich guitars. A notable mention

on this record is "Dissolution." Clocking in at 10

minutes and 51 seconds, drone, feedback and

hypnotic pulses are aplenty before coming to a

climax with shouting vocals.

While each album they have under their belt

is certainly distinguishable, Cloud Nothings bring

to the table what one would expect, producing

a delightful balance of dissonance and melody.

• Torry Rosso

Daughters

You Won't Get What You Want

Ipecac Recordings

I recently read an article in a magazine called

"Rock is Dead, Thank God." Now to be fair, the

author admits, "the future looks promising on

the surface, but these are but mere glimmers

on ocean waves carrying off a floating corpse."

Knowing Daughters, they'd probably delight in

this and maybe the title of their brand new LP,

You Won't Get What You Want, is a nod to that.

But maybe they're dead wrong. Maybe this is the

record, like The Shape of Punk to Come, that will

blow the roof off the whole thing. It's a piece of

art that, like any good piece of art, is layered with

contradictions, emotion, time and space. It's dynamic,

fraught with tension and ferocity and yet

willing to breathe. It's introspective and incisive,

yet flails around in the expanses of our collective

psyche, unsure and afraid.

From the Liars-esque opening track, "City

Song," to the shrill insect-like drone of "Long

Road, No Turns," to the terrifying cinematic

sprawl of "Satan in The Wait," you are fully

immersed in the twisted narrative concocted

by vocalist Alexis Marshall and you're only three

songs in.

"Less Sex" sounds like it was written by Leonard

Cohen in hell. "The Reason They Hate Me" is

pummeling, like the crushing weight of the dayto-day

grind. By the time the strings hit on the

outro of "Guest House" it should be clear that

Daughters' experimental anti-melodies are the

waves that are carrying off the floating corpse

of Rock. After all, "there is an ocean beyond the

waves."

• Sean Orr

Dead Soft

New Emotion

Arts & Crafts

With their first release on Canadian super-label

Arts & Crafts (Broken Social Scene, Timber

Timbre), Dead Soft prove they can rub shoulders

with their fellow labelmates. New Emotion is

a confession shouted at the top of the lungs.

Thoughtful vocal layering works together with

fuzzy guitars to communicate lyrics about what

it means grow and the pains that come with

it. Each of the five songs on the EP are walls of

bright sound, starting big and ending bigger.

The poppiest of the offerings, "Kill Me," kicks

things off with a catchy chorus that demands to

be screamed along to. "I'm Afraid" breaks your

heart with a glockenspiel and the line, "I'm afraid

that I don't have enough/To pay for all the things

that I messed up." The record is heavy and full of

feeling but never stops to wallow. Driven along

with grungy drumming and distorted guitar,

New Emotion breaks new ground for these West

Coast rock 'n' rollers.

• Judah Schulte

Empress Of

Us

XL Recordings

The sophomore studio album from Los Angeles-based

artist Empress Of builds upon the critical

success of her 2015 debut and interim dance

chart collaborations. The Latin ballad "Trust Me

Baby" and radio-friendly dance-pop songs "Love

For Me" and "When I'm With Him" led as singles

ahead of the release of Us.

The ten tracks embody a dreamy Caribbean

island vibe, infused with danceable '80s synth

grooves. Catchy falsetto vocals are reminiscent

of electro-pop contemporaries Banks, FKA Twigs

and Lorde, but an injection of Spanish lyrics

differentiates "Trust Me Baby" and "When I'm

With Him." The first half of the album rolls hazily

along at a head-bobbing tempo, creating a perfect

pairing with all that legal cannabis, despite

what the track titled "I Don't Even Smoke Weed"

suggests.

Love and relationships are the main topics

explored, but the lyrics come secondary to

the sickly sweet vocals featured prominently

throughout. The electronic influences and

strong vocal hooks on later tracks seem destined

for important plot crescendos in teen TV

dramas. Us closes softly with the song "Again,"

which brings the energy and tension built over

tracks six through nine to a warm, dreamy

denouement.

• Vaughn Turnbull

Ace Frehley

Spaceman

Entertainment One

Is it possible to discuss Ace Frehley and not mention

his previous band from the '70s? Isn't it time

he stood on his own merit? Frehley is now well

and truly entrenched in the third phase of his

+40-year solo career, Spaceman being his fourth

release in less than a decade.

First impression is that there is zero lyrical

progression here. Once again, he's paradoxically

singing about being from outer space, yet also

a humble boy from the Bronx, just rocking with

the boys.

It's somewhat remarkable that his voice is

holding up so well after all these years. Musically

speaking, Spaceman is mapped out in a manner

that is true to his signature style — simple and

melodic with roots firmly planted in classic hard

rock — and there's no denying this old Ace still

plays a mean guitar.

As per his long-standing tradition, he ends his

latest flight of fantasy with the epic, six-and-ahalf

minute instrumental "Quantum Flux," the

highlight of the entire album for sure. Despite

this grand finale, Frehley's eighth solo venture

clocks in at an underwhelming 36 minutes, even

less if you exclude the lackadaisical yet painfully

apropos cover of Eddie Money's "I Wanna Go

Back." However, it does come with three

alternate versions of the cover for the obsessive

collector! Far out, man!

• Josh Wood

Greta Van Fleet

Anthem Of The Peaceful Army

Republic Records

Will Greta Van Fleet ever escape the annoying-yet-inevitable

comparisons to rock 'n' roll

legends, pioneers, and demi-gods Led Zeppelin?

Not with this release, unfortunately. On the

bright side, their debut LP Anthem of the Peaceful

Army is another soulful, groovy, blues rock

offering that's sure to blow the fuses out of any

roadhouse jukebox it can find its way into.

Perhaps part of GVF's charm is the way they

unapologetically knock off Jimmy Page's vintage

riffs and Robert Plant's falsetto vocals on songs

like "When the Curtain Falls," "Brave New World"

and album highlight, "Lover, Leaver." Their sound

may not be original, but their sense of rock ethos

is strong, their musicianship is tight and their

tunes are undeniably catchy.

Elsewhere, the Michigan quartet tackles

the folksy tribes of the '70s with mixed results.

"Watching Over" presents an enchanting melody

driven by minor chord picking, but "Anthem"

comes off as a cornball let's-come-together

hymn that doesn't quite fit the mood of the rest

of the album.

As far as imposters go, Greta Van Fleet continue

to emulate their influences to a T but it's

too early to tell if that's something they can truly

build a career on.

For now, Anthem shows their musical chops

are in check, so maybe we can afford to cut

'em some slack. The great irony here is that, as

immortal as Led Zeppelin is in some die-hards'

eyes, GVF is ripping off a band that largely

became famous by ripping off other bands.

"Borrowing" riffs and transposing chord progressions

to make them your own? Sounds familiar

doesn't it, Mr. Page?

• Trevor Morelli
---
Gross Misconduct

Equinox

Independent

Remember that time when Mastodon took

a bunch of thrash metal pills and overdosed?

Actually, it never happened. But if it ever did

happen, Gross Misconduct's new album Equinox

might be the result. Equinox toes the line

beautifully between thrash and death metal,

but also creates a dynamic sound with many

progressions. Snarling razor cut riffs that slice

holes into everything. Haunting acoustic passages

that dig deep into the earth. Desperate

yells that make you want to run to hell for help.

It's all here and more, in this magnificent record.

When you start to dig deeper after a few

listens you can hear just how busy this band

is. Highlighted by guitarist Dave London's cut

through leads and distinct forays into a stab

worthy attack that is egged on further by

intense whipper snapper drumming. Gross

Misconduct are nearly 20 years in to the metal

game and it shows. There isn't a miscue to be

heard here. Songs "Equinox," "A Place Of Bones"

and "Exhaustive Integral" are a serious 1-2-3

punch right off the top and from there this

album deafens you into bliss.

• Heath Fenton

High Parade

The Ocean

Independent

There are few things more vast and inscrutable

than a gigantic body of water and that's exactly

what Calgary's High Parade find themselves

navigating on their debut release, The Ocean.

Recorded by captain of industry, Lorrie Matheson,

at Arch Audio, The Ocean rolls in with a

confidence that instantly eases the ears and

pours tonic on the soul.

Wistfully launching into "The Waves," Sheila

Lacey's lonesome vocals part the fog and signal

the quintet's purity of intention. Tentative and

unassuming, the daydream sailors of High

Parade "Remember the Days" when loving

came easy and didn't leave you nauseated and

reeling. Strident guitar surges add support to

invertebrate "Ghost" and frame the reflective

"Stare," with its looking glass luster. The sunrise

optimism of "Are They Chasing Me" floods into

"This Town," layering insightful observations

with fuzzy memories. Soft pop-rock layers glide

across the surface of each tidal shift, imbuing

"Perfume" with an electro-noir charm that is as

delicate as it is daring. Not unlike the real thing,

The Ocean is so fulsome you could walk across

its plastic.

• Christine Leonard

KOSM

Cosmonaut

Independent

Vancouver's KOSM kick the door in with

Cosmonaut, their monstrous full-length debut.

Brace yourself for a satisfying trip through an

exciting mountain range of cascading, meaty

riffs, swelling rises and heady drops, all led by

the powerful, soaring vocals of the dynamic

Jessie Grace.

While intended to indicate a will to explore

the atypical and elaborate the old into

something new, the term "progressive" can be

off-putting. Too often does a band fall prey to

its own ambition of pursuing every flight of

fancy and pushing things further, which can

quickly turn a forward-thinking album into a

confusing grab-bag of technically proficient

tangents awkwardly sewn together. Cosmonaut

is not that. Here is an album where progressive

elements are subtly used to colour already solid,

groovy song foundations, which could easily

stand by themselves.

Despite the restraint exercised in the

progressive department, this album clocks in

at sixty-six minutes without dragging. It chugs

along at a steady pace, pounding and banging,

weaving and bobbing its way to the unsettling

conclusion that is "Wza-Y'ei," a truly disorienting

bout of space dementia. Cosmonaut

delivers on all fronts.

KOSM will play Pub 340 on Saturday, November

17 for their 'Cosmonaut' album release

party, accompanied by OmnisighT, Truent and

Opus Arise.

• Daniel Robichaud

Laura Jane Grace and the Devouring

Mothers

Bought to Rot

Bloodshot Records

Bought to Rot is Laura Jane Grace's first LP as a

solo artist, but it retains the angst, energy and

familiarity punk fans know and love about her

main squeeze Against Me!

With the guitars dialed down only slightly,

Grace continues her gutsy journey of self-discovery

as a transgender artist by firmly wearing

her heart on her sleeve and opening her

wounds for us to hear every honest dialogue,

pissed off rant, and lonely lament she has to

offer.

The results are mostly positive. Tunes like

"The Airplane Song," "Reality Bites," and "The

Acid Test Song" pull off big riffs and catchy melodies.

But there's also some serious scorching

to be done, as Grace lets loose on the Windy

City on "I Hate Chicago," where she scorns

everything from the Chicago Bulls to Wilco to

Lollapalooza. "China Beach' carries the same

sentiment, with more stream of consciousness

outbursts worth paying attention to.

Lyrically, Bought to Rot is thoughtful but

frank; musically, it's tight, energetic, and lean

while maintaining impact. There's hardly any

songs on the disc that pass the three-minute

mark, yet Grace's power, courage, and whogives-a-fuck

attitude sticks with you once again.

BEATROUTE • NOVEMBER 2018 | 57
---
In her own words, she's a "true trans-soul rebel,"

even if she's one that doesn't always get the

immediate credit she deserves in the moment.

Seriously though, don't offer her tickets to a

Cubs game.

• Trevor Morelli

Lil Yachty

Nuthin' 2 Prove

Quality Control

The month of October blessed some and cursed

others with the release of Lil Yachty's third studio

album, Nuthin' 2 Prove. The Atlanta rapper has

shaken the scene in the short time he's been on

it, first with the celebrated Lil Boat mixtape, and

later on the (uh) dark horses, Teenage Emotions

and Lil Boat 2. Showcasing his climb to the top,

this album is yet another monument of lyrical

prowess ("I'm da mac, I'm da mac, skeet"), with

Cardi B, Offset and Juice WRLD among the big

name talents aboard.

The uniform Tay Keith production is

fuck-withable, but Yachty's monotone delivery

and scarce bars drown in the more sparse beats.

If Boatman is your man, tracks like "Yacht Club"

and "Riley From the Boondocks" just might hit

the spot, though the rest of us just might get

seasick.

As underwhelming as the album is on the

whole, Yachty owns his bubblegum trap origins

and his pride in his "trash" warrants an odd

kind of respect. You definitely know a Lil Yachty

song when you hear one; the "Gucci Flip Flops"

rapper grows on you after a while, like a cute

little tumor.

• Maryam Azizli

Dan Mangan

More Or Less

Arts & Crafts

The fifth studio album from Juno-winning baritone

troubadour Dan Mangan continues down

the same transitional musical path that began

on 2011's Oh Fortune and was then solidified

with his 2015 release of Club Meds. The lush

soundscapes, winding guitar lines, and aggressive

synths continue to push away from his origins

as a quiet acoustic singer-songwriter, Mangan

has now successfully morphed from balladeer to

bandleader.

The lead single, "Just Fear," finds Mangan wondering

if he has just brought a new life into an

unpleasant world that is perhaps not going to be

around for all that long, but he remains hopeful

that it is just fear messing with our heads. Opening

track "Lynchpin" sets the tone for the entire

10-song odyssey.

Like its predecessor, this is another irrefutably

dark album with lyrical questions posed

in songs like the rocker "Troubled Mind" and

its desperate chorus, "What the hell is wrong

with everybody right now?" And more painful,

unanswerable queries from "Just Fear" such as,

"Is this the end time? And do we all go down

with the ship?"

This is another step forward for Mangan and

friends, a dark and brutally honest album that

will push listeners to think as they hum along.

• Craig Douglas

MØ

Forever Neverland

Chess Club / RCA Victor

Danish singer-songwriter MØ, née Karen Marie

Ørsted, hasn't released an album since 2014's

debut No Mythologies to Follow. Since then,

she has become very familiar to pop listeners

through frequent collaborations with big name

producers.

With that in mind, Forever Neverland is a cohesive

follow-up. MØ delves into the thin veneer

of California living and pop stardom, reminiscing

about simpler times in her adolescence. It's

well-treaded ground, but the stellar songwriting

makes this through line feel fresh.

The sonic space on Forever Neverland is not

wholly unique either, seeing MØ play with a lot

of current trends in today's pop music. Generic

dancehall beats and overdone Zedd-like vocal

modulation can make what are otherwise great

songs feel tired and rehashed.

But MØ 's desperate rasp and incredible vocal

range cut through the occasional monotony,

providing an immediate emotional connection

to the listener.

Forever Neverland, despite its overdone EDM

pedigree, is a great pop album. Genetically engineered

to have you belt it out in traffic, swaying

to the beat.

• Cole Parker

Georgia Anne Muldrow

Overload

Brainfeeder

For her entire career, Georgia Anne Muldrow

has specialized in the kind of r&b/jazz/hip-hop

fusion that Flying Lotus and labelmates on Lotus'

Brainfeeder imprint have become known for.

So when it was announced that Muldrow had

signed to the independent L.A.-based label, the

pairing made instant sense. On Muldrow's Brainfeeder

debut, Overload, executively produced

by Flying Lotus, she fails to disappoint, turning in

her most cohesive and exciting effort in years.

Muldrow's greatest musical tool has always

been her overpowering voice, which she uses

in a multitude of ways to capture the attention

of the listener and keep them on their toes. The

intro to the album, "I.O.T.A (Instrument of the

Ancients)," instantly puts that vocal power on

full display, allowing her to command the track

by layering her vocal parts so as to sound like an

angelic chorus. On the next song, "Play It Up,"

trap cymbals crash over the track, but they can't

58 | NOVEMBER 2018 • BEATROUTE
---
usurp Muldrow, who dances over the song, rarely

landing her lines in classic rhythmic time but

flowing so captivatingly that the rhythm of the

beat plays backseat to her haunting melody.

Rarely does an r&b album primarily about

love sound so out there, and credit is due to

Muldrow's suite of producers for giving her such

interesting canvases to paint on. At about the

halfway point, Overload switches to a more

traditional style of r&b, which Muldrow has a

masterful command of. Overload is not without

faults, particularly in the lyrics themselves, which

border on heavy-handed. However, nothing is

enough to take away from Muldrow's luscious

voice, the true star of the album. Just for that,

Overload is worth your time. Add in a variety of

Grade A production, and we're looking at one of

the most interesting albums of the year.

• Graham King

Will Oldham

Songs Of Love And Horror

Drag City

Sometimes there is a person, sitting in the corner,

speaking to no one in particular. With quiet

meandering acoustic guitar arpeggios barely, yet

steadily, holding foundation for his own style

of warbling soft lyric, Will Oldham surely sees

the darkness that surrounds and confounds

our current state of self, using live renditions

of cuts from his Palace and Bonnie Prince Billy

catalogues.

In "So Far And Here We Are," Oldham

declares, however meekly, "there's no rest for the

wicked, and less for the good." It's hard out there

for a player, under the thumb of the powerful

and seeking solace with what they may. His

voice, strong in its convictions, revels in memories

both good and dreadful. "The Glory Goes"

speaks sadly and fondly of the good times —

"The dancing goes on in the kitchen until dawn

to my favourite song that does not end." Then in

"Wai" he lays it on even heavier — "The only way

I'm leaving you is curling up and die."

Reading like letters to those both loved and

lost and regretted, Will weaves short stories that

don't criticize the human condition as much

as they lament it. "Only Someone Running"

declares, however defeatedly, that "I've seen evil

and I've seen good." He puts aside the guitar for

the a cappella "Strange Affair," as a eulogy of his

friends, his youth, his family and his enemies

alike. Where are they, indeed? In these troubled

times, can we not all see the darkness?

• Chad Martin

Shad

A Short Story About A War

Secret City Records

Give yourself time to truly understand Shad's

sixth album, A Short Story About A War. It's a

dense record that mixes eclectic jazz bass lines

with distorted guitars, thumping beats, and of

course, politically charged lyrics.

Like many artists in these unstable political

times, Shad has a lot on his mind and his

commentaries tackle everything from income

disparity to immigration to the robotic nature of

work. It's Rage Against the Machine through a

hip-hop lens.

Shad's flow is better than it's ever been,

playing with humor while maintaining a serious

tone. On "The Foot Pt. 1 (Get It Got It Good),"

the album's standout track, he evokes the

spirit of Childish Gambino's "This Is America,"

with lines about a weapons manufacturer who

ignores his morals in order to provide for his

family. It's a bit too real to be funny.

The list of guest pals on the album is also

impressive. Lido Pimienta contributes her soulful

voice to "Magic," Kaytranada creates woozy,

shifting soundscapes on "The Fool Pt. 3 (Frame

of Mind)," and Yukon Blonde show up for the

bouncy album closer, "All I Need."

A Short Story About a War is a jarring album

containing multiple messages that will make

you think, the kind of record that should elevate

Shad to another level at this point in his career.

Perhaps he sums it up best near the end of the

album on "Another Year," stating: "The moral of

the story is the war continues within us, every

day."

• Trevor Morelli

Mark Sultan

Let Me Out

Modern Sky USA / Dirty Water Records

Lifelong punk addict and garage rock salesman

to the stars, Mark Sultan has been turning out

cult rock gems since the mid '90s and, perhaps,

he feels he has typecast himself over the years.

Seeking his own flawed identity with his latest

release, Let Me Out, he gives a plaintiff and

prominent voice to his inner dialogue. Normally

affiliated with a litany of zany musical acts, a

solo Sultan retreated to his recording facility in

the woods outside Berlin, "Sound Imperfection

Studios," to gather his new vision together.

A cascade of emotions flows forth from the

opening track "Coffin Nails," with its surging

organs and '60s shimmer. Eric Burdon would

be flattered that his urgent desire to get out

of that place has translated so well to Let Me

Out some five decades later. The man of many

aliases (BBQ, Von Needles, Creepy, Blotrz and

Krebs to name a few) has found his happy place,

setting up a sugar shack full of surf-rock shakers

including "The Other Two," "Heed This Message"

and "Black Magic," swingers such as "Everybody

Knows," "Wasting Away" and "The Problem," and

beatnik café wallpaper "Believe Me." The album

shifts into party mode with "Don't Bother Me,"

which finds Sultan swatting at fireflies while

twisting his hips in Strawberry Alarm Clock time.

BEATROUTE • NOVEMBER 2018 | 59
---
Messages from the Stars: A look into the cycles and cosmic details of an unfolding forevermore,

paired with a song suggestion curated for your sign

by WILLOW HERZOG

PHOTO: Danielle Nicol

ARIES

What is the texture of your life feeling like these

days? There can be a quality of oversaturation

as many forms are taking shape. It is all very

good and expansive but be sure not to burn

the candle at both ends. Avoid energetic burn

out by scheduling in time for self, relaxation and

prioritizing pleasure. There are some beautiful

dreams weaving together ethereal Aries. Sharpen

your tools and have your palette ready. This is a

time to hone your skills and take them to the next

level. Creativity, Education and Craftsmanship are

your keywords.

Song suggestion for the month: "Show Me The

Body, Mal Devisa"- Halogen

TAURUS

You may desire to hold onto the past but you

aren't going that way. There will be reflections, information

and situations that surface come April.

These situations will clarify the past in a way that

is deeply illuminating. Until then allow Uranus

the planet of innovation, discovery and progress

to bring you to unfamiliar yet deeply cleansing

waters. This cycle is asking you to re-organize

your priorities and carve out that alone time you

deeply crave. "To be or not to be?" seeking Taurus,

some life affirming messages are waiting in the

wings. Spend some quiet time in nature and these

messages will be revealed.

Song suggestion for the month: "I Hold Nothing" -

Mount Eerie

GEMINI

You are a multifaceted one Gemini, those facets

create dimensionality and secrecy. Feel some

freedom in sharing more hidden parts of yourself

with those who move your soul. There is an

excavation of internal structures, new feelings surfacing

and some deep healing taking place. Allow

this cycle to speak to your inner world and create

with it. Creating music, art, poetry and experience

are all potent avenues to rebalance and release.

You were born to channel the visions of the stars

through your eyes.

Song suggestion for the month: "Humaniora"-

Sound of Ceres

CANCER

Change your mind, change your life. This is a

cycle of reflection and reorientation to the way in

which you flow through your daily reality. There

is a rebirth in your understanding that reconnects

you to the life giving whole. There are conversations

to be had, being had that require your

openness and understanding. Stand open, allow

your defenses to drop but not your awareness

or protection. Try considering the viewpoints of

those close to you in a deeper way so you can

create an expanded picture of your actions and

influence. Your presence commands authority

powerful Cancer, what energy is it heightening?

Song suggestion for the month: "Sisi La Fami" -

L'Eclair

LEO

Leo, Leo, Leo the death card is knocking at your

door in the most auspicious of ways. We all know

with endings hold new beginnings and the field is

ripe with flowers you have sown. Alongside that

are seeds that have yet to show their fruit. Trust in

the new energies and transformative time portal

you find yourself within. Feel empowered as you

leave the past behind and rise into your future life.

Know Thyself and all unfolds from there. This is a

time to talk with your heart and feel into what it

truly desires. Wishes and happiness follow you.

Song suggestion for the month: "Safe Changes"- Talaboman

VIRGO

Allow your being to feel deeply and trust the ways

in which you are being moved. Test those feelings,

not as the skeptic but as the dreamer, the seeker,

one on the quest to higher knowledge within

oneself. You are faced with many hard choices

this cycle alongside much beauty. Allow the two

to walk hand in hand as you remain fully awake

and present. This cycle you may feel as you if are

walking through a storm. Allow your eyes to focus

on the change this time creates visionary Virgo, it

can be very rejuvenating if worked with gracefully.

Acknowledge honest simplicity- friends and

romance this cycle for a charmed existence.

Song suggestion for the month: "Clusters" - Carla

dal Forno

LIBRA

A sense of the mystical paired with a sense of

focus seem quite fitting for your reality this cycle

divine Libra. Continue on the self knowledge

seeking journey and your power will expand in

the realm of multi-love. Love for yourself, those

in your life and all of existence. It feels as if your

heartscape is expanding in some foundation

shifting ways, stay open, seek healing and heal

others with your exchange. Perhaps it's time for

a journey… if you can lace your palm with some

extra silver consider spending it on travel. There

may be a place that calls deeply to you at this

time. Place the laurel wreath upon your head and

go explore if life supports it. We all know how you

love to run wild and free.

Song suggestion for the month: "Belly Dance" -

Broadcast

SCORPIO

Potential, ambition and new beginnings all

punctuate the tapestry of this next cycle for you

.Your reality quakes with newness and potentiality

of expanded old growth. Take time for late

afternoon sunlight in the woods, be with nature

forces. This will hold the newness with comfort

in places that could be feeling rather raw. There

is a tendency to be drawn to the energy of the

Hermit for guidance and self knowledge during

this reflective transit. Follow your dreams with

reverence in ways that feel both sacred and wild.

Acknowledging the ephemeral quality of life and

all it holds with gratitude will allow the changes

to move with you. Listen to the messages of the

wind mystical Scorpio and embrace the change.

Song suggestion for the month: "Bassackwards" -

Kurt Vile

SAGITTARIUS

Don't get the surface and substance confused

intelligent Sagittarius. Know the power of your

truth. The way this truth aids in the alignment of

your life and those who come into contact with

you. There are some unique collaborations taking

place that will send ripples into future waves.

Show up for these collaborations and support

them as they support you. More balanced

alchemy is on the horizon in your creative life.

Remember that this is something to give thanks

for, take time for gratitude.

Song suggestion for the month: "Ring-A-Ring O'

Roses" - Charlotte Gainsbourg

CAPRICORN

Wow, if you were to look back at your life 6

months ago it almost seems unrecognizable.

So much has shifted, yet it still feels like you

are catching up to parts of yourself. Trust your

healing, trust your purpose and most importantly

trust yourself. You have taken the design of your

life into your own hands and may you be the

empowered architect of your potent future. Stay

open to the unexpected and allow the air to clear

around your psychic textures. There is a profound

experience of feeling integrated with your own

being as you feel your life move expansive Capricorn.

Song suggestion for the month: "Europe" - Scott

Gilmore

AQUARIUS

Your voice is falling into greater alignment with

who you are and what you believe in. You have

always been outspoken but there is greater confidence

emerging within the realm of communication.

Also heartbreak sweet Aquarius, there

are gifts to be granted through hard-won beauty

and strength. Check in with your depths and the

places to be healed around relationship and heart

lessons. You will emerge from these lessons with

a swelling depth of balance and connectivity.

Multitasking is a key component for you this cycle

as the energy swirls around and through you. Pour

your beauty into this world, your vision will create

opportunities with great reward.

Song suggestion for the month: "Give It Your Choir"-

Mark Pritchard ft. Bibio

PISCES

What is it like to truly swim in your own skin

within this cosmic sea? There is a sense of deeper

integration of self love this cycle. Understanding

and radical self acceptance are themes that continue

to deepen. Alongside this a full schedule of

all life is asking you to attend to. How are you able

to both share and conserve your time, resource

and abundance? Hold Nothing, while you hold

everything. Expectations of how things are meant

to come together seem futile at this point as new

paths are carved through the marble of your life.

Song suggestion for the month: "I'm Kin" - Colleen

BEATROUTE • NOVEMBER 2018 | 61
---
SAVAGE LOVE

what ain't broke

I've been spending a lot of time lately thinking about myself and my

sexuality and my romantic self. I can log on and easily find someone

to fuck. I'm a bear-built top guy. There are ladies in my life who choose

to share their beds with me. I can find subs to tie up and torture. (I'm

kinky and bi.) What I can't find is a long-term partner. The problem

is that after I fuck/sleep with/torture someone, my brain stops seeing

them as sexual and moves them into the friend category. I have

friends that I used to fuck regularly, that now it's a chore to get it up

for. Sure, the sex still feels good, but it's not passionate. And when it's all

said and done, they're still in the "friend" category in my brain. Some

of them have suggested being more, but I've recoiled. There's nothing

wrong with them, but they're friends, not potential partners. I'm 32,

and my siblings are married and having kids, and the people I grew

up with are married and having kids. And here I am not able to find

a long-term significant other. Am I broken? Should I just accept that,

at least for me, sexual partners and domestic/romantic partners will

always be separate categories?

—Always Alone

What if you're not like most everyone else? What if this is just

how your sexuality works? What if you're wired—emotionally,

romantically, sexually—for intense but brief sexual connections

that blossom into wonderful friendships? And what if you've been

tricked into thinking you're broken because the kind of successful

long-term relationships your siblings and friends have are celebrated

and the kind of successful short-term relationships you have are

stigmatized?

If your siblings and friends want to have the kinds of relationships

they're having—and it's possible some do not—they will feel no

inner conflict about their choices while simultaneously being showered

with praise for their choices. But what are they really doing?

They're doing what they want, they're doing what makes them

happy, they're doing what works for them romantically, emotionally,

and sexually. And what are you doing? Maybe you're doing what

you want, AA, maybe you're doing what could make you happy. So

why doesn't it make you happy? Maybe because you've been made

to feel broken by a culture that holds up one relationship model—

the partnered and preferably monogamous pair—and insists that

this model is the only healthy and whole option, and that anyone

who goes a different way, fucks a different way, or relates a different

way is broken.

Now, it's possible you are broken, of course, but anyone could

be broken. You could be broken, I could be broken, your married

siblings and friends could be broken. (Regarding your siblings and

friends: Not everyone who marries and has kids wanted marriage

and kids. Some no doubt wanted it, AA, but others succumbed to

what was expected of them.) But here's a suggestion for something I

want you to try, something that might make you feel better because

it could very well be true: Try to accept that, for you, sexual partners

and domestic/romantic partners might always be separate, and that

doesn't mean you're broken. If that self-acceptance makes you feel

whole, AA, then you have your answer.

I might make a different suggestion if your brief-but-intense

sexual encounters left a lot of hurt feelings in their wake. But that's

not the case. You hook up with someone a few times, you share an

intense sexual experience, and you feel a brief romantic connection

to them. And when those sexual and romantic feelings subside,

you're not left with a string of bitter exes and enemies, but with a

large and growing circle of good friends. Which leads me to believe

that even if you aren't doing what everyone else is doing, AA, you're

clearly doing something right.

I knew my little brother had an odd fascination with rubber that

would likely become sexual. He would steal rubber gloves and hide

them in his room, and there was a huge meltdown when our mother

found a gas mask in his room when he was 12. My brother is in his

30s now and has a closet full of rubber "gear" that he dresses in pretty

much exclusively. (When he's not at work, he's in rubber.) All of his

friends are rubber fetishists. When he travels, it's only to fetish events

where he can wear his rubber clothing publicly. He will date only other

rubber fetishists, which seems to have severely limited his romantic

prospects, and he posts photos of himself in rubber to his social media

accounts. I read your column and I understand that kinks aren't

chosen and they can be incorporated into a person's sex life in a

healthy way. But my brother's interest in rubber seems obsessive. Your

thoughts?

—Rubbered Up Baby Brother's Erotic Rut

If your brother was obsessed with surfing or snowboarding and

built his life around chasing waves or powder—and would date

only people who shared his passion—you wouldn't have written

me. Same goes if he were obsessed with pro sports, as so many

straight men are, or Broadway shows, as so many gay men are. The

only "problem" here is that your brother's obsession makes his dick

hard—and to be clear, RUBBER, the problem is yours, not his. An

by DAN SAVAGE

erotic obsession or passion is just as legitimate as a nonerotic one.

And even if I thought your brother had a problem—and I do not—

nothing I wrote here would result in him liking his rubber clothes,

rubber buddies, or rubber fetish events any less.

I'm a 28-year-old straight man married to a 26-year-old straight woman.

My wife and I were watching a video about sex and the female

orgasm, and they were talking about how, unlike men, women don't

have a refractory period after orgasm. We were confused because we

are almost the complete opposite. I have never experienced drowsiness,

lessened sensitivity, or quickened loss of erection after orgasm.

My wife, on the other hand, doesn't even like me kissing her bits after

orgasm. She says they feel tender and sore afterward, and this feeling

can last for hours. Is this normal?

—Newlywed's Orgasms Rarely Multiply

What you describe isn't the norm, NORM, but it's your norm.

Most men temporarily lose interest in sex immediately after

climaxing. It's called the refractory period, and it can last anywhere

from 15 minutes (for teenagers) to 24 hours (for old-timers). It's

a hormone thing: After a guy comes, his pituitary gland pumps

prolactin into his bloodstream—and prolactin blocks dopamine,

the hormone that makes a dude horny and keeps him horny. But

some men release very little prolactin and consequently have

short refractory periods; a handful of men have no refractory period

at all and are capable of multiple orgasms. You don't mention

the ability to come again and again, but you do sound exceptional

in that you don't lose your erection after you come. Your wife

also sounds exceptional, NORM, since most orgasmic women

are capable of having multiple orgasms—but most women ≠ all

women. (I've always loved what groundbreaking sex researcher

Mary Jane Sherfey wrote in 1966: "The more orgasms she has,

the more she can have—for all intents and purposes, the human

female is sexually insatiable." Emphasis hers.)

But again, NORM, there's nothing wrong with either of you. It's

just that your norm isn't the norm—and that's only a problem if

you choose to regard it as one.

On the Lovecast, strap it on with Tristan Taormino!

savagelovecast.com.

mail@savagelove.net

@fakedansavage on Twitter

ITMFA.org

62 | NOVEMBER 2018 • BEATROUTE