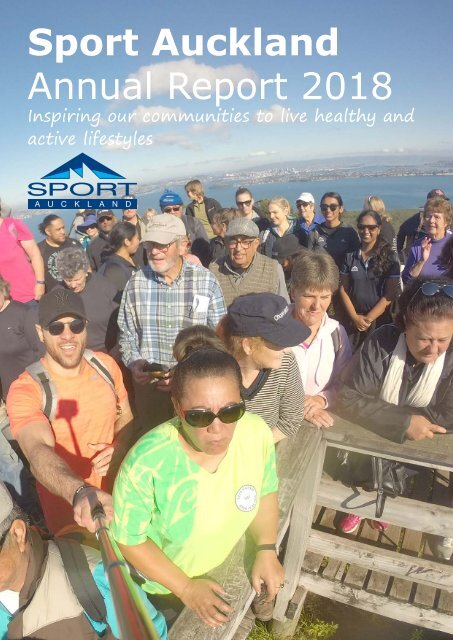 You also want an ePaper? Increase the reach of your titles
YUMPU automatically turns print PDFs into web optimized ePapers that Google loves.
Sport Auckland

Annual Report 2018

Inspiring our communities to live healthy and

active lifestyles

SPORT

A U C K L A N D
---
CONTENTS

About Us

4

Chair and CEO

6

Aktive

11

HEALTHY

Highlights

Young People

12

15

ACTIVE

Sport Capability

Health and Wellness

Locally-Led Project

22

29

32

LIFESTYLES

Hei whakaawe i o tatou -

hapori kia whai i te

ara o te hauora me te

whakapakari tinana

Our Team

33

Financials

34

Audit Report

50

P O Box 26599, Epsom, Auckland 1344

info@sportauckland.co.nz

www.sportauckland.co.nz

(09) 623 7900

Registered Charity Number CC23631

BOARD OF TRUSTEES

Andrew Williams (Chair)

Di Lasenby (Treasurer)

Brendon O'Connor

Chad Paraone

Gaye Bryham

Mace Ward

Mark Rice
---
ABOUT US

Sport Auckland is a Regional Sports Trust that was established in 1992. We are a Registered Charity, CC23631. Our vision is to

"Inspire our Communities to Live Healthy and Active Lifestyles."

As a change agent, connector and system builder we play a large advocacy and influencing role on behalf of our local

communities. We focus on providing quality sport and active recreation experiences for our communities; and ensuring our

communities have the knowledge and support to live healthy, active lifestyles. We foster locally-led community programmes.

Wellness is at the core of what we do in the community.

To achieve our outcomes we partner and collaborate with key stakeholders and funders who align with our values and vision.

In our community sport focus we have formed a partnership with Aktive Auckland Sport and Recreation, Harbour Sport,

Sport Waitakere and CLM Community Sport to help deliver on Sport New Zealand's Community Sport Strategy. The above

partnership co-designed The Auckland Approach to Community Sport. Under The Auckland Approach, Sport Auckland works

with local communities that, through our insights, have been identified with high needs.

Around three quarters of our community sport work is delivered in the Tamaki, Maungakiekie, Roskill, Howick, Pakuranga and

Inner City communities. The remaining community sport work takes place in our wider communities. You will find us:

• building a system that increases quality sport and active recreational opportunities for our young people and targeted

populations;

• building the capability of sports clubs and other organisations that require our help to deliver quality experiences to their

membership;

• working on opening up more spaces and places for sport and active recreation to take place;

• upskilling and increasing participation in coaching and volunteer work.

"We can see benefits for not just our club but most importantly, our community. We definitely look forward to working

with Sport Auckland and seeing how we can progress together in the future".

Management, Local Sporting Body (2018 Stakeholder Survey)

Our Health and Wellness programmes are currently delivered in Glen Innes, Mt Albert, Mt Roskill, Otahuhu, Onehunga,

Avondale, Inner City, Waiheke Island, Great Barrier Islands, Highland Park, Otara, Mangere, Manurewa, Papatoetoe, Papakura,

Franklin and Waiuku communities. We deliver these on behalf of the ADHB and CMDHB.

"It has been a good year attending GRx - gave me a different perspective on my life, dealing with chronic pain daily,

controlling my asthma and trying to get my weight down. Thank you!"

Participant, Otara Green Prescription (2018 Graduate Survey)

"Excellent, has been a vital part of my recovery from depression"

Participant, Onehunga Green Prescription (2018 Graduate Survey)

"Since starting I have noticed more energy, changed my eating habits, started with some gym training, I won a Biggest

Loser Competition at work and have lost 14kg so far! My wife goes to aqua and my daughter comes to the gym with me"

Green Prescription Graduate

4 Annual report

Annual report

5
---
MESSAGE

from our Chair and CEO

It is with great pleasure that we present our 26th Annual Report to our stakeholders. At the beginning of the year, based on

community needs and operational strategies, we laid out our roadmap of work that we were going to undertake (Our Focus

2018). This roadmap guided critical thinking in the Boardroom and amongst partners and funders alike.

Year end reflection on how far we have travelled reveals an achievement of 76% of Our Focus 2018 (13/17). While that result

was very pleasing we acknowledge there is room for continuous improvement, which we will embrace.

Throughout the year our discussions and thinking affirmed that the sport, active recreation and health and wellness sectors

are in the midst of very interesting and challenging times. Our vision of "Inspiring our Communities to Live Healthy Active

Lifestyles" could not be more apt at a time when physical inactivity, obesity and mental health issues are on the rise and the

Auckland metropolitan region is squeezed for spaces and places to participate in physical activity. We have a growing diverse

population that is consuming sport and physical activity in completely different formats to traditional offers. We have a new

coalition Government focussed on measuring the well-being of our people. Health and wellness, with little or no reference to

sport, is now front of mind for our nation. The common language, internationally, is to speak of the importance of physical

activity.

Richard Bailey, writing in the Huffington Post (2016), stated:

"Physical inactivity is a major public health issue, and there is an urgency to find sustainable and affordable ways of

getting the world moving. Large numbers of people are inactive to the extent that they risk their health, and while it is

often assumed that this is a problem of the West, it has now spread into every corner of the globe. Some describe the

current situation an inactivity pandemic."

Anecdotally some commentators will tell us we have not made enough significant inroads into that pandemic. For Sport

Auckland to remain relevant and true to our vision our Board have highlighted that physical activity, more than ever before,

can be one of the positive vehicles that can help drive social, educational and health outcomes for our communities and for

our Government in an effort to reverse the inactivity pandemic.

That is why as part of our strategic thinking we have aligned our work to that of our partners' (Aktive, Sport Waitakere,

Harbour Sport, CLM Community Sport, Auckland Council, Local Boards, Auckland District Health Board, Counties Manukau

District Health Board, Foundation North, Lion Foundation and NZCT) with an emphasis on shifting the needle forward to

increase physical activity levels within our communities. Our Board has determined that, with limited resources, partnering

and collaborating is the operating model of the day. We take this opportunity then to sincerely thank all the above named

organisations for their support and for the investment they have given us to help achieve our intentions for our communities.

To be impactful, our work has had to be more targeted than ever before. We are focussed on ensuring our Young People, per

se, are given quality experiences and opportunities that will ensure that they have a life-long love of physical activity. This

has meant understanding the Physical Literacy framework which relates to the holistic development of each individual at the

various stages of their lives. The holistic view takes into consideration an individual's physical, social, emotional, cognitive

and spiritual needs. It means that providers of sport and physical activity need to be aware that they themselves need to have

a clear understanding of the Physical Literacy framework and rethink how they deliver their offerings in the market.

6 Annual report

Annual report

7
---
The 2017 Sport NZ sponsored Active NZ Survey

highlighted participation in physical activity has been

on the decline for a number of years and that identified

barriers to participation still exist. A summary of findings

show that young people are more likely to participate

in physical activity for fun; and adults for physical

wellbeing. Self-motivation and lack of energy are real

barriers to participation for those aged 18-49 year olds.

Irrespective of what levels of participation already take

place, 64% of young people and 74% of adults want to

increase their participation in physical activity. These are

national results.

The Minister of Sport, Grant Robertson, outlined his

current priorities for the sport and recreation sector with

the following focus:

• Growing participation for girls and women, including

their ability to pursue professional sporting careers;

• Improving the overall rates and quality of

participation in sport and recreation by low

participating populations;

• Strengthening the long-term opportunities for New

Zealanders with disabilities;

• Addressing the drop off in young people's

participation in sport and physical activity once

they leave school.

His priorities segue neatly with what we have been

funded to do. In particular, to increase participation in

physical activity within our female population (10-18

year olds); our Asian, Maori and Samoan communities;

and our low socio economic communities.

We acknowledge that to enable increased participation

our community "system" requires strengthening and

enhancing. To that end we are also funded to focus on

enhancing quality coaching within the community;

enhancing the community's capability of delivery and

finding more spaces and places for participants to play

and recreate in. Again those priorities align with the Sport

NZ Community Sport strategy and the implementation

of our co-created (Aktive, Sport Waitakere, Harbour

Sport, CLM Community Sport and ourselves) response

"The Auckland Approach to Community Sport" which is

to increase physical activity in Auckland.

Our Health and Wellness programmes continue to play a

significant role in our community work. We are extremely

proud of the efforts of our Health and Wellness team who

deliver the ADHB and CMDHB Green Prescription and

Active Families contracts to our local communities. Their

achievements and successes are captured elsewhere

within this annual report. The relationship between our

two Health Boards continues to be very strong and we

remain committed to and supportive of each other.

So, in summary, we have some exciting challenges in

front of us to address many issues and while change is

on the uptake, to make a significant impact we need to

comprehend our work takes time. Being in the middle

of a four-five year funding cycle we trust that this year's

annual report clearly illustrates the milestones and

successes that we have achieved thus far; along with the

learnings we have encountered on the way.

We are indebted to our volunteer Board of Trustees. They

met on 9 occasions throughout the last financial year

and their stewardship and guidance was welcomed by

our management team.

Likewise, we owe a huge thanks to our committed and

talented staff. They go out of their way to deliver a high

quality service to our communities. Without doubt we

are proud of the fact that in our 2018 Stakeholder Survey

results nine out of ten stakeholders have confidence in

Sport Auckland's leadership. That is a reflection of each

and every individual's valued contribution to their work.

The stakeholder relationships they have built within

their community is sincerely appreciated.

We thank all of our stakeholders and community for

placing such a high element of trust in us, as one of many

partners in the region who are aiming to make Auckland

the most active city in the world; and in our efforts to

inspire our communities to live healthy active lifestyles.

We hope you enjoy the read,

Andrew Williams, Chair, Sport Auckland

Mike Elliott, CEO, Sport Auckland

8 Annual report

Annual report

9
---
MESSAGE

from Aktive

Together with Sport New Zealand, Auckland Council and other key regional partners,

Aktive – Auckland Sport & Recreation (Aktive) and Sport Auckland are working

collaboratively to achieve the vision of Auckland being the world's most active city. The

foundation of this is the locally-led strategy: The Auckland Approach to Community

Sport.

Continued and concentrated efforts on this strategy will make a significant positive

impact on physical activity levels in Auckland communities.

Sport Auckland's team has played a vital role in growing and delivering The Auckland

Approach to Community Sport in 2017/18 through advancing local solutions to address

local needs in targeted Communities of Activity and engaging with these communities

to build strong platforms to sustain this valuable work.

There are a number of achievements of note this year including: growth in Young

People events in Communities of Activity; success in capability work with clubs, schools

and community organisations; and the addition of three primary schools across

key programmes. The team is also fostering strong stakeholder relationships with

organisations including our District Health Boards, Auckland Council, Local Boards,

schools and educational institutions.

With the introduction of Howick into Sport Auckland's remit, initial engagement with

the Howick Local Board has been positive and ActivAsian is making an immediate

impact in the area, as well as in central Auckland. We look forward to this going from

strength to strength.

In addition, Sport Auckland assisted with the co-creation of a new Relationship Charter

and worked closely with Aktive's Coaching and Talent Development team to further

boost work in this area. Efforts have also contributed to growth in participation and

membership for school clusters with quality opportunities and experiences.

"Examples of good connections are hand in hand

through relationships with Sport Auckland. Sport is

the confidence builder, creating a sense of belonging

for those experiencing life in New Zealand for the first

time (high immigration levels)."

School Principal

These and other local initiatives were supplemented by Aktive's regional programmes

including HERA – Everyday Goddess and Good Sports, all of which delivered services

with Sport Auckland to communities and focused on getting more young people active.

Strong collaborative stakeholder relationships are supporting the focused delivery of

The Auckland Approach to Community Sport in targeted Communities of Activity. We

value the commitment and contribution of Sport Auckland's Chair Andrew Williams,

CEO Mike Elliott, and the entire board and team of Sport Auckland. Congratulations on

another significant year of achievement; we look forward to building on this work with

Sport Auckland towards a more active Auckland, community by community.

Sarah Sandley, CEO, Aktive Auckland Sport and Recreation

10 Annual report

Annual report

11
---
HOW MANY PEOPLE? Our direct

impact to live healthy active

lifestyles

HIGHLIGHTS and learnings

GAAAP

KiwiSport

14,369 sessions

45,574 lessons

309,606 opportunities

6,465 kids

$415,498 invested

Grey Lynn Pump Track officially opened 18 November 2017

88% 95% 8

Staff Engagement

Survey

(November 2017)

Green Prescription

participants satisfied with

our service

(Grad Survey 2016/17)

Tenant

sporting organisations

at Sport Auckland

House

Finalist

Golden Foot Award 2018 for Rangitoto Summit Walk Initiative

27 October 2017 - 150 walkers and 1 June 2018 - 90 walkers

New Business

First full year of implementing Aktive led

Auckland Approach to Community Sport

Delivery of Harbour Sport led ActivAsian

programme into our communities

Working alongside Howick Local Board in our

new Community of Activity in Howick

Learning

Wesley was one of our chosen

Communities of Activity (CoA) to work in.

When we focused on the CoA we

discovered the area was saturated with

opportunities for the community to

participate in sport, physical activity and

wellness programmes. Our value-add was

limited, so we have paused and refocused

on more in depth work in other CoAs.

36,177

69% Young People

31% Adults

64% 70% 86%

Stakeholders

indicate Sport Auckland's

overall performance is

very good or excellent

(Stakeholder Survey 2018)

Stakeholders indicate

Sport Auckland has a very

good or excellent

understanding of their

communities

(Stakeholder Survey 2018)

Stakeholders agree or

strongly agree that they

have confidence in Sport

Auckland's leadership

(Stakeholder Survey 2018)

12 Annual report

Annual report

13
---
YOUNG

PEOPLE

By 2018 - We will have 5 Community

Cluster Partnership Agreements in

place that have increased participation

rates and created appropriate

pathways for our Young People

14 Annual report

Annual report

15
---
Tamaki

Cluster

TAMAKI CLUSTER

Mt Roskill

Cluster

MT ROSKILL CLUSTER

4,829

1,095

17

42%

Pacific

12

20+

young people

participating (2%

increase over 3 years)

students from 16

schools participating in

GAAAP swimming

schools in the cluster

(2 new schools added since

2016)

26%

Maori

school events delivered with

participation growth of 40-100%

Afterschool Basketball - 110% increase in team entry,

80% increase in participating schools, approx 170

students;

Athletics - 88% increase in participating schools, 400+

students;

Netball - 76% increase in team entry, 30% increase in

schools participating, approx 450 students;

Softball - 47% increase in team entry, 11% increase in

schools participating, approx 280 students.

RSO/Club led projects

delivered

Growing Leaders for Years 7 and 8 delivered in at least

3 Tamaki primary schools to enable students to lead

and coach younger students within their schools;

"The in-school sports

organisation is

outstanding. It provides

our students with

exposure to new and

different sports they

otherwise would never

try" Panama Road School

"We have found that

KiwiSport is a wellloved

part of their

school week" -

Panmure District

School

"This PD session

will make it easier

for me to teach the

children

athletics"

"KiwiSport is a good

chance to build positive

relationships with our

class members and the

coaches" - Students at

Tamaki Primary

4,391

643

46%

6 strong club-school links created between Ellerslie

"KiwiSport boosts our

Football Club, Skateland, Stonefields Sports Club,

confidence because

"We wanted to provide greater awareness about the game and to get more kids

Tamaki Touched, University Rugby Club, Marist Rugby

the coaches believe in

involved with the hope they might join up with the club. The sessions so far have been

Club and their local primary schools;

us" - Students at

great, notably when the students are all girls and are newcomers to cricket. Have been

Tamaki College students deliver afterschool basketball

"The afterschool

Panmure Bridge

What are the

really pleased so far and it is definitely a positive step forward for the club." - Edenopportunities

for primary school students in Tamaki;

basketball league

Roskill Cricket Club

School

benefits for

Teacher Professional Development delivered in 3

provided my under-17

"We at Tristar find being in schools delivering KiwiSport Gymnastics and our schools

schools with a focus on physical literacy and

team with a great

Gymnastics programme very beneficial not only for marketing purposes but also we

fundamental movement skills;

leadership

CLUBS?

find that having the links with the schools gives us links to the parents and other

An increase in after school projects operating both on

opportunity"

sporting codes. We find that children are more likely to come along to our club after

school and community sites, 11 projects currently

being part of the schools gymnastic programmes, teachers have a better

delivered by a range of community partners.

16 Annual report

Annual report

understanding of the sport and are more likely to encourage the children to participate

out of school time." Tri Star Gymnastics Club

17

12

Asian

16

20+

young people

participating (4%

increase since 2016)

students from 5

schools participating in

GAAAP swimming

schools in the cluster

(1 new school added 2017)

22%

Pacific

school events delivered with

strong growth in participation -

Softball, Hockey, Netball and

Have a Go days

RSO/Club led projects

delivered including Growing

Leaders and Eden Roskill

lunchtime Cricket Club

Growing Leaders delivered at St Therese School in 2017

for Year 7 students with a focus on developing

leadership skills, confidence and self-esteem to enable

students to lead younger children through lunchtime

activities.

Five strong club-school links created between Tri Star

Gymnastics Club, Eden-Roskill Cricket Club, Three Kings

Football Club, Lynfield Tennis Club and Roskill Eden

Hockey Club and their local primary schools.

David White, Principal Marshall Laing -

"Over the last four years Marshall Laing has

been involved with Sport Auckland. I cannot

recommend this programme and organisation any

higher. Their organisation, overall philosophy

and people are outstanding and we have seen

a massive increase in sports participation and

enthusiasm in our school because of their

efforts. Any funding cuts to KiwiSport that

will make their job more difficult will have the

direct impact on our children at a time in our

history and society where we need fit, active

kids involved in sport more than ever"
---
Inner City

Cluster

INNER CITY CLUSTER

MAUNGAKIEKIE CLUSTER

6,626

20 50

In school 4-week

opportunities

Kids

15

Schools

Coaches

supported

5

Schools have

developed strong

links with Te Papapa

Rugby Club

2,326

Kids

20

Club school links

created

10

School based

clubs

6

Primary Schools

What the kids say...

"I felt like I did

something to improve

sport skills. I did

something to help - I

felt proud"

"I felt like we did

something to help

improve their school

and community"

Increase in participation

compared to last year:

Triathlon up 57%, Basketball

up 50%

"I really enjoyed

teaching,

it felt like you

were

an adult coach

- it was cool!"

"I improved over the

sessions, getting better

every time. It made me

feel proud of myself"

42

In school 6-week

opportunities

Supported Onehunga

Wakeboard Club develop links

with local schools, 170 children

have had an opportunity to

participate in water science,

kayak, paddle board and

utilise the splash track

Students from

Onehunga High

School and One

Tree Hill College attended

Growing Coaches

workshops

"I felt like I

achieved something

and it was fun!"

18 Annual report

Annual report

19
---
SECONDARY SCHOOLS

The Regional Secondary School Sports Director's (RSD) role is to maximise participation of secondary school students by

working with schools and school personnel to enhance the quality of the sport experience for the students.

CASE STUDY

As part of Sport New Zealand's Innovation and Leadership Programme, our RSD worked on a project in Tamaki on "how to

engage more students in sport outside the school setting".

• Blended University Rugby Clubs with a range of students with ethnic diversity

• Involved Principals and Sports Administrators

• Had conversations with key stakeholders around cultural intelligence

• Delivered Rippa Rugby as the vehicle to increase participation

"Sports clubs need to be doing more connecting to their

community as it is better and bigger in the long run"

29

Secondary

Schools

Dani Carew, General Manager, AURFC

HERA projects

Mt Roskill Grammar

School - Taekwondo

and gym, 30+ girls

SECONDARY SCHOOLS

KIWISPORT PROJECTS

Mt Roskill Grammar School

Campus (Primary, Intermediate

and Secondary):

Basketball

Onehunga High School:

Hockey

St Pauls College:

Olympic Weightlifting

Waiheke Primary School and

Waiheke High School:

Football

What is the Sport New Zealand

Physical Literacy framework we are

aligned to?

It is the holistic development of the

individual's physical, social, emotional,

cognitive and spiritual needs.

=

Quality opportunities that lead to a

life-long love of physical activity

Marist College - Quick

rip rugby, 30 girls

Marcellin

College Sport

Strategic Plan

Epsom Girls Grammar School:

Squash

Selwyn College, Auckland Girls

Grammar School, Mt Albert

Grammar School and Mt Roskill

Grammar School:

Lacrosse

20 Annual report

Annual report

21
---
SPORT

CAPABILITY

By 2018 - We will have enhanced and

built the capability of 60 organisations

(clubs, RSOs and community facilities)

that deliver sport experiences in our

community

22 Annual report

Annual report

23
---
Albert-Eden Local Board

connected Sport Auckland with Opus

to help create a Sports Investment Master Plan

Assisted Howick Local Board with a Sports

Investment Master Plan

Puketapapa Local Board invested $10,000 to

assist with the delivery of Sport Auckland's

Health and Wellness Expo

Sport Auckland facilitated increased

community use of the following spaces:

Stonefields Sunz Basketball Club operate a satellite

club at Glen Taylor Primary

Bay City Slick Basketball Club has been created and

is based at St Pauls College

150

student coaches

supported

throughout the year

from 9 schools

14

engaged clubs in Howick

Pakuranga, with an open

forum held April 2018 for

key stakeholders in the

area

Howick Local Board contacted Sport Auckland

for the first time to deliver physical activity

programmes in the region

Auckland Rowing and Auckland

Ultimate Frisbee engaged Sport

Auckland to help develop their strategic plans

Assisted with marketing workshop for Auckland and

North Harbour tennis clubs

Auckland Football and Squash Auckland engaged

Sport Auckland to assist with the appointment of senior

managers and governance roles

Advised Auckland Hockey on opportunity to

streamline their judicial system

In partnership with Auckland Badminton and

Auckland Council, Sport Auckland has facilitated

community badminton at St Cuthberts College

Advocated for

"Sport Matters"

Campaign ($120m

in Auckland

Council LTP

ACG Parnell and Pakuranga Leisure

Centre for ActivAsian

Sport Auckland chairs the May Road

War Memorial Park Users Group

Sport Auckland is a member of Tamaki

Touched Steering Group

Sport Auckland is an advisor of the Lloyd

Elsmore Multi Sport Steering Committee

Sport Auckland has seats on the Auckland

Softball Charitable Trust and Auckland

Badminton boards

15

coaches selected

for Coach Evolve

2018

Sport Auckland has

supported Aktive with the

delivery of regional coach

developer and Good Sports

workshops throughout the

year, continuing to support

10 RSOs and clubs with Good

Sports and coach

developer projects

Sport Auckland

supports five different schools

with the TLC framework and

has supported the schools with

15 workshops throughout the

year as well as providing 1 on 1

support to the TLC leads

at each school to build their

capability

24 Annual report

Annual report

25
---
555

ActivAsian participants in

Howick and Central Auckland

have enjoyed Spike Spin Smash,

Pilates, Yoga or have Walked

With Us!

143

registered ActivAsian

volunteers, Sport Auckland

has had engagement

with Eden Park, Auckland

Marathon and Beach

Volleyball

HOWICK COMMUNITY

TARGETED POPULATIONS

• 2 Have a Go Days have been offered at Howick Golf Club with over 40 people attending the 2 sessions

• 10 clubs building capability with Sport Auckland

• >50 students from Pakuranga schools have participated in Jaye's dance programme

• 25 clubs attended funding workshops

• 2 new ActivAsian walking groups in Botany and Flat Bush

Since April 2018 we have engaged with the following organisations, gathering insights to identify where we may add value to

help increase physical activity and wellness within their communities.

• Procare and Health Alliance

• Auckland Tamil Association, Bhartiya Samaj Charitable Trust, Shantiniwas Charitable Trust, AIA

• Samoan Methodist Churches of New Zealand Head Office

• Samoan Catholic Churches

• Samoan EFKS Church Otara

• Sikh Temple (Gudwaras)

• Oranga Collective

• Roskill Together Senior Expo

• YMCA Fit for Families Programme

• Off the Couch Truck

• Walking Samoans

26 Annual report

Annual report

27
---
HEALTH &

WELLNESS

By 2018 - We will deal with at least

30,000 referrals across Central and

South Auckland

28 Annual report

Annual report

29
---
GREEN PRESCRIPTION

5,351

subscribers to our Health and

Wellness e-newsletter

19

The Health and Wellness team continue to deliver a comprehensive Green Prescription (GRx) support service on behalf of the

Auckland District Health Board and Counties Manukau District Health Board.

Our team is made up of Healthy Lifestyle Advisors, Dietitian, Operations Manager and Business Development Manager. The

GRx adult programme is delivered in a face to face format with an initial registration session with the client, weekly education

based group workshops and regular reviews for clients. The adult service is delivered across both District Health Boards.

The team operates from 13 sites for GRx and 4 sites for Active Families in Auckland. Our Active Families programme also

conducts home visits to parents and whanau. -

Our activated practices model of GRx delivery is now based in 4 medical centres and continues to run very effectively. It

delivers impact with great acknowledgment from GPs and nurses.

Health and Nutrition workshops

delivered every week

We continue to work closely with other health service providers (including the PHOs) and NGOs in Auckland to deliver a

reputable and well-rounded service. We have also started to deliver some structured support to workplaces such as Fletcher

Construction and Fisher and Paykel.

95%

graduates are satisfied with and

would recommend our service

10,458

Uday suffered a heart attack in 2017 and required heart

bypass surgery at the start of 2018.

Green Prescription has given him the motivation to get

out of the house and meet new people. Uday enjoys

learning new things and trying new activities like our

Tai Chi and Yoga!

Green Prescription referrals in

Central and South Auckland

219

children enrolled in Active

Families

30 Annual report

Annual report

31
---
LOCALLY-LED CASE STUDY

OUR TEAM

Mike Elliott

Chief Executive

Mitchell Hayde

Community Coach Advisor

Glendowie Bowling Club approached Sport Auckland to help them reposition themselves for the

future.

Sport Auckland ran a brainstorming session with club members and applied the following

principles to develop a strategic plan with suggested strategic actions.

PRINCIPLES OF A LOCALLY-LED PROJECT

Understand

your

community

Work with

others in

partnership

Focus on

strengths and

assets

Learn as you

go

Create a multi sport hub in Glendowie with an aim to connect the whole community

Align with Auckland Bowls

Investigate partnership or merge with neighbouring tennis club

Investigate shared services with Kohimarama and St Heliers Bowling Clubs

Strengthen relationships with local schools and the Glendowie community

Enable

leadership

Angela Davies

Accountant

Tania Vaealiki

Admin Support

Leanne Knox

Young People Lead

Georgina Gatenby

Shannon Bird

Sophie Pearce

Community Sport Coordinators

Michelle Finch

Regional Sports Director

Chris Smith

Community Sport Engagement Manager

John Gillies

Malo Sumich-Kainiu

Rory McKenzie

Sherry Xue

Sheryne Lok

Taylor Kamuhemu

Community Sport Advisors

Alannah Thomson

Active Familites Manager

Brooke Mitchell

GRx Operations Manager

Michael McCormack

GRx Business Development

Reishma Edward

GRx Dietitian

Daniel Lambert

Emma Wilson

Gloria Tapaleao

Jacinta Lal

Jemi Sivagurunathan

Nicole Deed

Pierre du Sart

Priyanka Nayak

Rochelle Simpson

Whiria Meltzer

Healthy Lifestyle Advisors

Emily Davidson - resigned

Nadene Bucherer - resigned

Sheerti Chand - resigned

Megan Davids - resigned

LEARNINGS

Project will be a locallyled

community initiative

Our insights and connections

can assist community groups

with their outcomes

Project success relies on

collaboration and

partnership

32 Annual report

Annual report

33
---
$2,531,904

REVENUE

FINANCIALS

$2,518,975

EXPENSES

$1,320,202

NET ASSETS

Our full financials can be found on our website www.sportauckland.co.nz

34 Annual report

Annual report

35
---
OUR PARTNERS