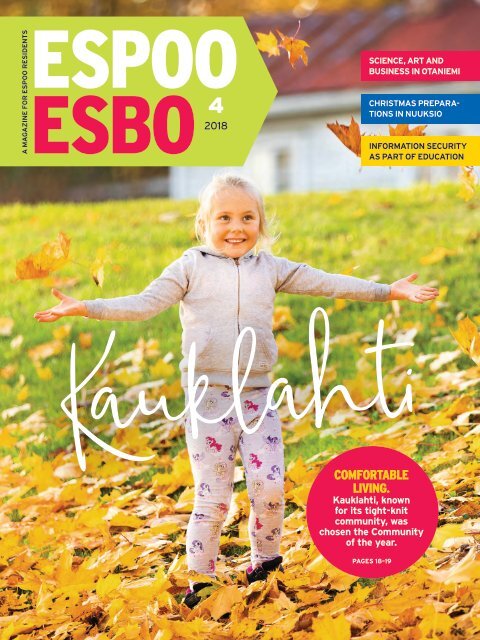 ESPOO MAGAZINE 4/2018
A MAGAZINE FOR ESPOO RESIDENTS
A MAGAZINE FOR ESPOO RESIDENTS
SHOW MORE
SHOW LESS
Create successful ePaper yourself
Turn your PDF publications into a flip-book with our unique Google optimized e-Paper software.
A MAGAZINE FOR ESPOO RESIDENTS

4

2018

SCIENCE, ART AND

BUSINESS IN OTANIEMI

CHRISTMAS PREPARA-

TIONS IN NUUKSIO

INFORMATION SECURITY

AS PART OF EDUCATION

Kauklahti

COMFORTABLE

LIVING.

Kauklahti, known

for its tight-knit

community, was

chosen the Community

of the year.

PAGES 18–19
---
MY ESPOO

A GECKO AS A CLASSMATE

LOLA, AN AFRICAN FAT-TAILED GECKO, is resting in the

arms of the girls in class 7S at Kaitaa school. Lola lives in a

terrarium in the school's biology and geography classroom,

next to about 30 Vietnamese stick insects. The stick insects

climb trees in their own terrarium and camouflage themselves

as branches.

Kukka Pohjanmies, a biology and geography teacher,

obtained Lola and the stick insects when the pupils asked

for some animals in the school. Pupils can hold them in

their hands during lessons to help them concentrate while

they write with their other hand.

"A peaceful, well behaved animal can calm a restless

young person. The teachers sometimes bring their own

dogs to school. With the help of animals, young people

often find it easier to do things such as talk about their

worries to adults."

Today, the pupils of Kaitaa school talk freely about the

gecko's cold-bloodedness and the asexual reproduction of

stick insects. Lola and the crickets do not cause allergic reactions,

and caring for them gives the pupils a sense of responsibility.

There have also been enough stick insects

that some students have taken them home as pets.

So far, Keke, Kiki and Kuku have moved to new

homes.

PIRITTA PORTHAN

TIMO PORTHAN

LOLA THE

GECKO IS THE

CENTRE OF THE

SCHOOLGIRLS'

ATTENTION.

2
---
CONTENTS 4/2018

A MAGAZINE FOR ESPOO RESIDENTS

4

2018

IN THIS ISSUE:

2 MY ESPOO › A gecko as a classmate

4 EDITORIAL › Jukka Mäkelä

5 PICKS › Award-winning cultural activities

7 AT YOUR SERVICE › New vitality

8 THEME › Otaniemi growth story

12 ACTIVE ESPOO › What's on this winter?

15 INSIGHT › Information security as part of education

16 PEARL › Christmas preparations in Nuuksio

18 SERVICE › Award-winning village of Kauklahti

20 SWEDISH IN ESPOO › New goals for Esbo IF

22 THE PEOPLE OF ESPOO › Children's Cultural Centre

THE KAUKLAHTI

VILLAGE IS ONE

OF ESPOO'S

OLDEST

RESIDENTIAL

AREAS.

8Otaniemi is

the location of

an enormous

university campus

as well as several

businesses.

''

The shopping centre is a reason

to visit and take in the campus

atmosphere without anyone

wondering what is going on.

7 15 16

ESPOO MAGAZINE 4/2018 >> 3
---
EDITORIAL

Climate work is

done locally

ESPOO WAS INVITED to become a pioneer city implementing

the UN's 2030 Agenda for Sustainable Development alongside

the university cities of Cambridge in the UK, Palo Alto in

the USA, Heidelberg in Germany and Noida in India. We were

the first city in the world to sign the agreement.

Sustainable development work is an important part of

the realisation of the story of Espoo. We are developing new,

smart and clean technology solutions together with our partners

so that we can be a pioneer of urban development, climate

work and the circular economy. Espoo launched its sustainable

development programme in 2015, becoming the first

city involved in Finland's societal commitment to sustainable

development. Espoo has also been nominated as Europe's

most sustainable city on two occasions.

Cities lay the foundation for efficient everyday lives and

climate-positive choices in terms of mobility and housing.

Agile cities and urban areas will play a key role in building

a sustainable future worldwide. There are different ways to

reach the targets, but the solutions are made locally. Espoo

and the Helsinki Metropolitan Area are a superb test area

on an international level for scalable solutions to the world's

most wicked problems.

JUKKA MÄKELÄ

Mayor of Espoo

Updates from different

parts of the city and

pages dedicated to

various operators.

"

Each of us can

promote peace, realised

Tiina Aalto, young peace

envoy from peace group

Lennon in Espoo.

#Ahtisaaripäivät

Always up to date.

Information, answers

and discussion.

"Congratulations to

#länsimetro for the

#projectoftheyear

award!

Great moments, events

and landscapes through

the eyes of Espoo

residents.

"Free afternoon is an opportunity

to do what

makes you tick. Happiness

is in everyday life.

Check out five ways to

better everyday life:

espoo.fi/hyvinvointi

MAGAZINE FOR ESPOO RESIDENTS Public bulletin to all households FEEDBACK AND SUGGESTIONS espoolehti@omnipress.fi

PUBLISHER City of Espoo, PO Box 12, 02070 City of Espoo, tel. 09 81 621, espoo.fi, firstname.lastname@espoo.fi

EDITOR IN CHIEF Satu Tyry-Salo, Communications director EDITORS Omnipress Oy, espoolehti@omnipress.fi

MANAGING EDITOR Kimmo Kallonen LAYOUT Hannu Kavasto/Hank PRINTED BY Punamusta DISTRIBUTION SSM

NOTIFICATIONS jakelupalaute@omnipress.fi COVER Timo Porthan ISSN 1798-8446

4
---
PICKS

20 939

people

visited the Pentala Archipelago Museum between 15 June

and 12 September. The Pentala Archipelago Museum is located on an

old fisherman's estate on Pentala island in Espoonlahti Bay. The nautical

side of Espoo is at its best here. The Archipelago Museum introduces

the many facets of island life from living and working to life in villas and

leisure time. The Archipelago Museum is closed for the winter and will

reopen next summer.

BUILDING PERMITS AT DISCOUNTED PRICES

Espoo taking part in the awarded

textile fibre recycling project

THE EUROPEAN Week of Regions and Cities brings together regional

and municipal administrators as well as experts and academics

to discuss regional development in Brussels.

The week ended in the RegioStars award ceremony.

VTT Technical Research Centre's and

THE RAW MATERIAL Aalto University's joint project TeKiDe – Demonstration

Platform for Textile Fibre Recycling

IN THE SOLUTION

CAN INCLUDE OLD won the category for Transition towards a sustainable,

low-carbon economy. The project has

BED SHEETS,

TOWELS OR WASTE resulted in the creation of technology which

PAPER AND

makes new textile fibres using waste textile

PAPERBOARD.

without chemicals that are harmful to the environment.

The raw material in the solution can

include old bed sheets, towels or waste paper

and paperboard, for example. The solution is then used to make

new fibre which is spun into a thread. The final product is fabric

that resembles viscose. The process has been developed in Espoo

and the city has been a co-sponsor.

PLOUGHED SNOW MUST BE KEPT ON

PRIVATE PROPERTY

THE CITY is responsible for the ploughing and gritting of public

access streets and sidewalks but the ploughing of roads leading

to private property is the responsibility of the land owner

or holder. The removal of snow piles accumulated at the end of

such road is also the residents' responsibility.

However, snow may not be ploughed on the street or city parks

but kept on one's private property. If necessary, excess snow may

be transported to appointed snow dumping sites.

IF YOU are planning to build or extend a house next spring you should apply for

permits during the winter. Building control will grant a 20-per cent discount for

building permits for the construction and extension of small houses applied between

1 November 2018 and 28 February 2019.

The discount is granted for the base rate per residential building and the permit

fee determined by the overall area when no more than one detached or semi-detached

house is built on the site at that time. The discount is not granted for fees

related to outbuildings, fences or site managers, for example.

The discount is meant to encourage small building constructors to apply for

permits before the construction season next spring when permit processing will

be at its busiest.

All under one roof

THE NEW Espoo House set to be erected in Espoon keskus will bring

the city's customer services and decision-making bodies as well as

third-sector operators all under the same roof. The aim is to bring decision-making

close to the residents.

"The Espoo House will house the kind of service centre that has already

been tested in other urban centres. We want to make effective

use of the meeting rooms. During the day, city employees can use them

for their meetings and in the evenings they can be used by

clubs and associations, for example," says Mikko Kivinen,

Project Director in charge of Espoon keskus.

The Espoo House is set to be completed in 2024.

New residential buildings are being constructed near the

station in Espoon keskus. The park-and-ride car park that

was on the site has been replaced by new car parks near

the train station offering better connections to the station.

"The new parking facilities also offer charging points for

electric cars," Kivinen adds.

Street alterations have also commenced in the Vaakunatori

square.

The ruling to demolish the old city hall, which has an important

role in the cityscape of Espoon keskus, is awaiting

a complaint hearing in the administrative court.

According to Kivinen's cautious estimate, the demolition

will go ahead next year.

has a strong economy, but

massive fiscal equalisation payments,

some EUR 200 million each year.

- Jukka Mäkelä, Mayor

''Espoo

The Vaakunatori

square and a

new residential

block under

construction in

Espoon keskus.

ESPOO MAGAZINE 4/2018 >> 5
---
PICKS

ARI KARTTUNEN / EMMA

Aukio, Bryk &

Wirkkala: visible

storage.

The archive workshop

results were presented

at the Olari school.

Cultural affairs receiving recognition

Espoo's award-winning cultural acts reflect the diversity of culture.

EMMA WAS chosen the Museum of the Year

among 17 candidates. The jury considered

EMMA a high-quality, modern museum with

a clear direction and expertise, whose effect

reaches considerably far outside its operating

area.

2017 culminated in November when EMMA

and the TWRB Foundation together with the

City of Espoo opened the Aukio expansion

housing Rut Bryk's and Tapio Wirkkala's private

collections. According to the criteria for the

distinction granted by the Finnish Museum Association,

Aukio has elevated museal activity in

Finland to a new level and enriched the public's

conception of museums' day-to-day operations

and expertise by introducing museum work in

an open space.

The TWRB Foundation was also recognised

for the joint effort with EMMA. The foundation

received the Helsinki Design Awards' Jury's

Choice award. The jury commended the foundation's

way of making museums' behind-thescene

work visible to the general public. This

special award for current operators or events

AUKIO

IMPROVES

THE PUBLIC'S

PERCEPTION

OF MUSEUMS'

DAY-TO-DAY

OPERATION.

accomplished in design was awarded for the

first time this year.

THE FINLAND 100 years project "Espoo in the

civil war" was acknowledged for its youth work.

Pedaali, the Finnish Association for Museum

Education, chose it as the recipient of its Annual

Award in Museum Pedagogy for producing

information and understanding of history

in a lively manner. In its criteria, the association

stated that the project had renewed the agencies

of museums' public and archival work as

well as cultivated people's personal, experiencebased

and insightful relationships with history.

The target group in this project that was

launched in 2016 and culminated in the centenary

of Finland's 100 years of independence

were young people. Archive workshops testing

archival pedagogical methods resulting in, for

example, digital stories created using the digital

story telling method, were at the core of the project's

youth work. The workshops offered a more

personal link to history for the young and helped

them understand source criticism and what

makes history. Museum work became familiar to

the young people in a completely new manner.

THE KAIKUKORTTI card model which has been

used in Espoo and Kainuu for a couple of years

received recognition in the spring. The Kaikukortti

card was awarded the Good Practice

award at the Expert days for professionals at

social work.

With a personal Kaikukortti card, the underprivileged

can get tickets to cultural events.

The cards are distributed by outreach youth

work, social services, mental health services

and substance abuse prevention.

The jury consisting of representatives from

Talentia Union of Professional Social Workers,

The Centre of Excellence on Social Welfare in

Central Finland, University of Jyväskylä and the

JAMK University of Applied Sciences considered

the model a good example of cooperation

between operators in social welfare and culture.

"The model highlights the significance of culture

for a person's wellbeing. It also tackles the current

issue of social inequality," the criteria stated.

when

you move, it's

a good idea to

get to know

your new

environment.

housing,

shops, libraries,

getting around,

places to rest,

hobbies and events.

the whole

lot.

for me,

the most

important part of

settling down is

getting to know

others.

if i didn't,

i wouldn't

get far.

WEL-

COME!

culture can contribute to many goals of the city. for example, it is

an important driver of involvement and inclusion. how could arts

and culture play a wider role in developing Espoo?

cupore.fi/tutkimus

espoo.fi/espoocult

espoo.fi/espootarina

6
---
Bringing the

right parties

together to create

new vitality

Glenn Gassen and his team

are attracting new companies

and investments to Espoo.

They are also helping companies

based in Espoo to succeed on

international markets.

TEXT Tiina Parikka PHOTO Timo Porthan

AT YOUR SERVICE

14,683

COMPANIES

15,424

PLACES OF BUSINESS

83,253

PEOPLE AT WORK

45,238

MILLION EUROS

IN NET SALES

Glenn Gassen's

everyday work is

to bring the right

people together. He

highlights his team's

in-depth knowledge

of businesses in

Espoo.

"

My team has two main duties. We

are marketing Espoo to international

companies and investors,

and helping them to open offices

here or enter into collaboration with entrepreneurs

in Espoo.

We also offer traditional investment services

to companies bringing their offices to Finland

and Espoo: we help them find the right lawyer

to arrange their affairs and we help them find

employees.

We have a lot of interesting start-ups in

Espoo, and they are also attracting large investors.

Our second duty is to offer contacts and

growth opportunities to local entrepreneurs.

In the best cases, we are able to get new orders

for local entrepreneurs, leading to growth

and more new business in Espoo.

We work with local and national actors.

We do not offer actual internationalisation

training; instead, we create connections and

contact suitable parties. Our strengths are our

extensive knowledge of the Espoo ecosystem

and our ability to bring the right people together.

Last June, I started working for Espoo

Marketing as Director of Innovation, Growth

& Invest In. I was already familiar with the City

of Espoo as a workplace as I have previously

worked as Head of International Affairs. However,

I worked for the German-Finnish Chamber

of Commerce for three years in between these

two jobs. In fact, we went to Germany just a few

weeks ago with two entrepreneurs from Espoo

to create new contacts as there are a few people

I already know there.

4/2018 >> 7
---
THEME

THE HARALD HERLIN

LEARNING CENTRE AT THE

HEART OF THE OTANIEMI

CAMPUS OFFERS LIBRARY

SERVICES AND FACILITIES

FOR STUDENTS AND

VISITORS ALIKE.

THE FAN-LIKE

STRUCTURE OF THE

CANDIDATE CENTRE,

DESIGNED BY ALVAR

AALTO, PROVIDES A

ROOF FOR THE LARGE

LECTURE

THEATRES.

OTANIEMI'S

GOOD TRANSPORT

LINKS SUPPORT

THE OPERATIONS

OF A MICRO-

BREWERY.

THE SCHOOL

OF ECONOMICS

WILL MOVE TO

PREMISES WITHIN

VÄRE EARLY

NEXT YEAR.

CITY BIKES

ARE BECOMING

AN INCREASINGLY

COMMON MODE

OF TRANSPORT

WITHIN THE

AREA.

8
---
Dipoli, built as the home of the Student Union of the

Helsinki University of Technology, is a central part of

the Otaniemi campus. Käpy (pine cone), an acoustickinetic

sculpture made by Reija Perko's working group

in 1968, stands in front of the southern entrance.

TURNING A

CAMPUS

INTO A CITY

DISTRICT

Text Juha Peltonen

Illustration Susanna Tuononen

Photos Timo Porthan

Aalto University is centralising its activities in

Otaniemi. Thanks to the metro and the Jokeri

Light Rail line, which will soon be built, the campus

area is becoming a city district that acts as an

engine for the vitality of Espoo as well as Finland

as a whole. The change is already tangible.

If you have not visited Otaniemi for

more than a year, the first thing

you will notice is the centre. Otaniemi

now has a centre.

It is, of course, above and around

the metro station. Passengers arriving

by metro can exit directly into

the A Bloc shopping centre, which

contains grocery stores, restaurants,

an Alko, a pharmacy and a few specialist

shops.

The shopping centre is a part of

the enormous Väre building, which is

connected to the university premises.

On the second floor, there is a student

canteen between A Bloc and Väre.

All of the faculties of the University

of Art and Design have been located

in Väre since the autumn. At

the northern end of the building

complex, the finishing touches are

being applied to the interiors for

the School of Economics, which

will move to its new headquarters

in January and February.

Aalto University is a combination

of six institutes of

higher education, and it is

Finland's second largest

university. The international

scientific community

of more than 20,000 people

is centralising its activities in

Otaniemi.

"We have quite a lot of people

moving to Otaniemi from around

Greater Helsinki. All of our activities

will be centralised here by 2020,"

says Antti Tuomela, CEO of Aalto

University Campus & Real Estate.

Less than ten kilometres away in

Töölö, the current main building of

the School of Economics will soon

vacate its current main building.

Aalto Executive Education will move

there, and these will be the only

Aalto-owned premises outside Otaniemi.

Within Otaniemi, Aalto is a major

landowner. That is why Aalto is dictating

the pace of development in

the area in cooperation with the City

of Espoo. If Otaniemi were placed

over the Helsinki peninsula, it would

stretch from Hakaniemi to Ruoholahti,

so it is a large area of land. Aalto

University owns almost half of it.

"The goal is to mix different functions

together. We are focusing our

activities on the core of the campus

but we are also developing residential

areas on the outskirts of the campus

in collaboration with the city. Other

office tenants are also coming to

join us in Otaniemi – employers and

other companies," Tuomela says.

Otaniemi is home to approximately

3,500 residents, but this

ESPOO MAGAZINE 4/2018 >> 9
---
THEME

number will triple over the next

decade.

THE AREA AROUND the metro station

is also a transport hub in Otaniemi.

The Otaniementie road was closed

off outside Väre, and the area is now

known as the university square.

On the other side of the square, at

Otakaari 1, the former main building

of the university is now the Candidate

Centre, where students take the

first steps in their academic careers.

There is no longer any car traffic

between Väre and the Candidate

Centre. It is likely that Jokeri Light

Rail trams from Keilaniemi will stop

in the square in 2024. Construction

of the light rail line will begin next

year. When it has been built, it will

be possible to travel from Otaniemi

to Itäkeskus by tram.

The completion of the first phase

of the western metro extension substantially

reduced the amount of bus

traffic in Otaniemi. City bikes are becoming

a more common mode of

transport within the area, in addition

to walking. The extension of the

city bike network out to Otaniemi

has made a mark on the streetscape.

"People are using it really actively,"

says Harri Paananen, Manager of

Economic and Business Development

at the City of Espoo.

In his opinion, the development

that has taken place in Otaniemi illustrates

a broader change underway

in Espoo.

"Otaniemi is slightly ahead of the

curve in this. When passengers come

up from the metro station, they feel

like they are in a city centre. There are

a lot of people, and they are not just

students," Paananen says.

Another feature of the streetscape

are vehicles in which none of the occupants

have their hands on the

steering wheel. The plan is to expand

testing of autonomous (driverless)

vehicles to autonomous city

buses next spring.

On the southern edge of the central

square stands the Harald Herlin

Learning Centre, a former library

that won the Finlandia Prize for Architecture

last year for the renovation

work done. Dipoli has also been

renovated and given a new lease of

life as Aalto University's main administrative

building.

"Many great buildings have been

restored in Otaniemi, including some

of Alvar Aalto's works. There are also

some great new buildings that have

respected the visual traditions of the

area, with red brick a highly visible

material. It is distinctly Otaniemi, but

it is new," Paananen says.

''

THE A BLOC SHOPPING

CENTRE CONTAINS

RESTAURANTS, AN ALKO,

A PHARMACY AND

SPECIALIST SHOPS.

ALL OF THE

FUNCTIONS OF THE

UNIVERSITY OF ART

AND DESIGN WERE

MOVED TO VÄRE THIS

AUTUMN.

Keilaniemi will also welcome residents

THE COMPANY headquarters based

in Keilaniemi control half of the revenues

of all Finland's listed companies,

even though the area currently looks

like a building site. The Ring I tunnel

project for Keilaniemi, which began

the year before last, will be completed

next year. According to the current

plan, the tunnel will be opened to traffic

next April. Then the reconstruction

of Keilaniemi will truly begin.

"Keilaniemi was built once but much

more is being done now," says Antti

Mäkinen, Project Manager in the Tapiola,

Otaniemi and Keilaniemi areas.

Around ten large office buildings

have been planned for construction

in Keilaniemi, and at least two

of them will also contain hotels. The

tallest, a 158-metre tower, will become

the headquarters of Kone, a

lift company. The area is being developed

by employee pension companies

and other property investors.

"Very few companies own their

office premises – they are usually

leased," says Mäkinen.

The tunnelled section of Ring I will

have a park above it and residential

buildings around it – a new feature

for Keilaniemi. The artist's impression

of Keilaniemi shows four cylindrical

residential towers. Construction will

10
---
OTANIEMI ENABLES easier interaction

between the university and

businesses than before. The central

campus is surrounded by and interlocked

with the Innovation Hub

area, which brings partners into

close proximity with the university.

The most recent example of collaboration

is the A Grid centre for growth

companies, operating in an overhauled

building that used to belong to the

School of Electrical Engineering. It is

one of the largest community spaces

in Europe, and several of the companies

operating there have a connection

with the university or the startup programmes

operating with the university.

FinnCERES, a competence hub

for the materials bioeconomy run

by VTT and Aalto, was recently

awarded EUR 9.5 million in funding

from the Academy of Finland for

its flagship project to develop highvalue-added

products from raw materials

originating in the forest industry.

Plant-based biomaterials are

considered the plastics of the future

for packaging and textiles, but there

are also more futuristic applications.

Cellulose is being studied for use in

opto- and nanoelectronics, as well

as for energy storage and usage as a

semiconductor.

"We are creating a new model for

Finland in which universities, research

institutes and companies operate

together. This is a significant

centre of competence on a Northern

European scale," says Professor Orlando

Rojas, who leads the competence

centre on behalf of Aalto.

FinnCERES is aiming to double

the value of production from the

forest industry by 2030.

"Otaniemi is unique throughout

the Nordic region as a hub of innovation.

It is in a class of its own in terms

of the number of researchers, students,

inventors and growth companies

located within just a couple

of square kilometres," says Harri

Paananen, the Business Manager.

New technologies are constantly

being created within the Aalto and

VTT environment, and clusters of

companies are springing up around

them. At the moment, space technology,

the circular economy and

autonomous vehicles are among the

most popular sectors.

The changes that have taken

place in Otaniemi have brought in

companies from sectors other than

technology. The metro has provided

the customer flows needed by service

companies.

"THE LOCATION IS PRETTY FANTASIC"

''

THE METRO

HAS PROVIDED

THE CUSTOMER

FLOWS NEEDED

BY SERVICE

COMPANIES.

FAT LIZARD Brewing moved from Kivenlahti to Otaniemi last summer. At the

same time, the brewery's production increased 20-fold. Now, a boiler hall that

was once used for teaching and research in thermal power engineering is now

producing half a million litres of beer annually.

"We also handle our own distribution: we sell directly to K stores and restaurants

in Greater Helsinki. The location is pretty fantastic for this. It's only a couple

of minutes from the centre of Helsinki," says Tuomas Koskipää, the Chairman of

the brewing company's Board of Directors and a founding shareholder.

Another reason for the choice of location was convenience for the entrepreneurs.

The core group of people live within 15 minutes of their place of work.

"We didn't want a long commute."

According to Koskipää, within a year, Otaniemi has developed into a district

where nobody feels like an outsider.

"The shopping centre is a reason to visit and take in the campus atmosphere

without anyone wondering what is going on."

Funzi's Chief

Evangelist,

Aape Pohjavirta,

preaches

to everyone

about providing

access to

knowledge and

learning to

users of mobile

devices around

the world.

"A LONG TRADITION OF

COMBINING DIFFERENT SECTORS"

AAPE POHJAVIRTA, a founding partner of a company

named Funzilife and a second-generation Otaniemi resident,

could not think of any reason to set up his business

elsewhere in 2014.

"Otaniemi has a long tradition of combining expertise

from different sectors in a creative way. People are used to

building functional solutions without worrying about how

big they will become," he says.

In four years, Funzi has built a mobile learning service

that has worked with UN organisations to enable learning

projects to take place in Syria, education for women entrepreneurs

in Africa, and workforce education for major

companies in emerging markets.

The only physical workplace used by the company's 13

employees is on the Tekniikantie road.

"Otaniemi does not feel like a bubble: it is an evolving

ecosystem."

begin on the southernmost tower in

just over a year. Each of the towers

will contain almost 80,000 square

metres of floor space, providing

homes for up to 2,000 people.

"It will take over two years to build

one tower. As such, this artist's impression

shows how Keilaniemi could

look in about 2030," Mäkinen says.

Keilaniemi is already connected to

the metro, and it will also be the terminus

of the Jokeri Light Rail line.

"They will connect Keilaniemi and

Otaniemi locally as well – major efforts

have been made to ensure this

connection.

A new residential district between

Keilaniemi and Otaniemi will be created

in the Kivimies area owned by

Senate Properties and Aalto University

Campus & Real Estate. According

to Mäkinen, 3,000 residents can be

housed in the unique location.

"This will be the first residential area

of its kind in Finland, located by the

sea in between a top university and

top companies. The people who move

there will be at the cutting edge."

According to

Tuomas Koskipää,

the typical

customers who

visit the artisanal

brewery's

shop are

typical Espoo

residents.

ESPOO MAGAZINE 4/2018 >> 11
---
WHAT'S ON IN NOVEMBER-JANUARY

› LIVE BROAD-

CAST OF THE

INDEPENDENCE

DAY CONCERT

THE TRADITIONAL Espoo Independence

Day concert

will be held at Metro Areena

from 2:30 pm to 4:00 pm on

Thursday, 6 December.

This year, the concert will be

performed by the Helsinki Police

Band conducted by Sami Ruusuvuori.

The soloists will be the

charismatic Angelika Klas, renowned

baritone Jorma Hynninen,

and famed interpreter of

Finnish emotions Arttu Wiskari.

The Candomino young adults'

chamber choir conducted by

Esko Kallio will also perform at

the Areena, and so will the OVO

Gymnastics Club. The concert

will be presented by Maria Sid.

If you have not been able to

get a ticket, you can watch a

live broadcast of the concert

from the Espoo Metro Areena at

espoo.fi/livetapahtumat. The recording

will be available until 4

January.

ESPOO

FROM DAY

TO DAY

Pick the most interesting

tips and hints on what

to do and where to go

this winter.

MORE EVENTS:

espoo.fi › City of Espoo › What's on? › Events in Espoo

For many people,

the Most Beautiful

Christmas Songs

events are a beloved

source of Christmas

spirit.

› SILENT NIGHT,

HOLY NIGHT

THE MOST BEAUTIFUL Christmas songs

will be sung in harmony at the Espoo

Cultural Centre on Thursday 20 December.

Led by the EMO Ensemble choir

and accompanied by Tapiola Sinfonietta.

The singing will be led by conductor and

choirmaster Pasi Hyökki and the event

will be presented by Anna-Liisa Tilus.

The concert is part of the Most Beautiful

Christmas Songs campaign. At the

concert, you will be able to make a voluntary

donation to the Finnish Evangelical

Lutheran Mission to help with its work

for children in developing countries.

› Free tickets will be given out in the lobby

of the Espoo Cultural Centre on the day

of the concert, 20 December, 4 pm–6 pm.

Maximum 2 tickets per person.

› CHRISTMAS

PRESENT EVENING

› MAKE SURE THE

ELVES CAN GET IN

ON SATURDAY, 15 December, visitors

to the Aurora children's cultural

centre will have the opportunity

to make a small door to

allow elves to peek inside. Personalise

your door and place it

next to the wall to ensure that

the elves will be able to come

into your home and find out

which children – and adults

– have been naughty and

which have been nice.

LEHTIKUVA

The Wolf Pack will

take on competitors

at Metro Areena

THE ADULT Education Centre is arranging

a Christmas present evening

for the whole family on Thursday 13 December,

4 pm–10 pm.

Come and make some Christmas gifts

and get in the Christmas spirit. Lots of

different activities and programmes.

Free entry.

› Itätuulentie 1, Tapiola

› Saturday workshop:

elf door 15 December,

10 am–2 pm.

Free entry.

FINLAND'S NATIONAL basketball team will play its home matches at

the Metro Areena. The three-year contract will bring exciting games,

as well as a varied programme of extra events alongside the games.

› The Wolf Pack's winter matches at the Metro Areena:

30 November, 7 pm, Finland v Russia (sold out) / 21 February 2019,

Finland v France

The package

may be

a gift in itself.

12
---
› LIGHT AND JOY

AT THE TURN OF

THE YEAR

THE NEW YEAR will be ushered in with

an event for the whole family in Espoon

keskus. Kirkkopuisto park will be

the setting for a spectacular laser light

show. The event will also include a light

circus. The event promises joy, light experiences,

dancing and togetherness.

Parking will be limited so we recommend

coming on foot or by public transport.

› Espoo new year, Monday, 31 December

at 6 pm–7 pm, Espoon keskus,

Kirkkopuisto park. Free entry.

› SONGS

LEADING UP TO

CHRISTMAS

WEDNESDAY, 5 December,

6:30 pm. The Espoo Adult Education

Centre's music teaching

group and soloists will create

a peaceful Christmas atmosphere.

Singalong. Suvela

chapel. Free entry, programme:

EUR 2.

Culture from

the sofa

Documentaries, films,

plays, podcasts, interesting

people and workshops are

now all on your mobile

phone. The Urban Espoo

app is available for download

from the App Store

and Goole Play, ensuring

that you will not miss out

on any events, even if you

cannot be there in person.

› SAINT LUCIA'S

DAY IN GLIMS

THE LUCIA procession from

Bemböle Upper Secondary

School will appear at the Glims

House on Thursday, 13 December

at 10 am. In the afternoon,

a guided tour of the museum

will be given in Swedish

at 1 pm, followed by the history

of Saint Lucia's Day at 2 pm.

› LET'S READ

TOGETHER

THE MEETINGS of the Let's Read Together

network will continue in the

spring at Sello Library on Wednesdays,

2 pm–4 pm, starting 9 January. The

venue is now the Akseli hall. The network

is intended for Espoo residents who

want to learn to speak better Finnish and

meet new people.

The final meeting of the autumn will

be held on 12 December.

› THROUGH DANCE

AND HUMOUR

THE NEWEST work by the Susanna

Leinonen Company explores the female

body and the injustice it is subject to.

Nasty is an intriguing, arresting work

combining the power of the human body,

the coldness of the world and the sensitive

music of Arvo Pärt. Leinonen's contemporary

dance works are renowned

for their intensity and high level of physical

expression.

Before Nasty is performed, the Race

Horse Company, a circus troupe, will perform

its latest work, Urbotek, which explores

modern urban life through humour.

› Joint performance at Louhi Hall in the

Espoo Cultural Centre, 10–12 January.

Tickets from Lippupiste.

Nasty

describes

the

female

body in a

rousing

way.

› THE ATMOSPHERE OF A

MARTIKAINEN PERFORMANCE

AT LOUHI HALL

WHEN HE performs, Jarkko Martikainen creates a tangible

musical atmosphere that speaks to audiences of

all ages. He is a man of many cultural disciplines, and

his work has always been guided by the combination of

songwriting, recording and performing. The songs on

his "Aina auki" album, which was released in September,

have a more reflective tone than his previous work.

› Concert at Louhi Hall in the Espoo Cultural Centre, 19

January, 7 pm. Tickets from Lippupiste.

› IN WITH THE NEW

TAKE IN THE Christmas spirit one last time at

Glims Art House in the new year. On 2 January,

the Glims House will host a lesson on the habits

and magic connected with the turn of the year.

One week later, Christmas will be given one last

goodbye on Saint Knut's Day. Everyone over the

age of 5 is welcome to come and see the traditional

character of Saint Knut.

› Wednesday, 2 January. Out with the old, in

with the new 2:00 pm–2:30 pm, Glims Art House

› Wednesday, 9 January. Saint Knut will arrive

at 10 am. Advance registration for groups.

Saint Knut will

take Christmas

away with him.

ESPOO MAGAZINE 4/2018 >> 13
---
WHAT'S ON IN NOVEMBER-JANUARY

TIMO PORTHAN

Water offers

strong but

gentle resistance.

Instructor

Sanna Roine

stays on dry

land.

JOIN THE WATER

AEROBICS CLASSES

IN THE CITY'S

SWIMMING HALLS!

WATER AEROBICS groups are open

to anyone who is 15 years or older.

Swimming hall entrance fee plus a

single ticket (EUR 2.50), with +68

sports pass free of charge. Tokens

are available at the swimming hall

cashiers. Only one token/customer/

visit. Sales begin one hour (1 h) before

the start of the class. The token

is free of charge for the holders of

the +68 sports pass. Participants are

accepted to the class in the order of

arrival. Autumn term ends 14 December

(excluding 6 December), spring

term begins 7 January.

EXERCISE

IN WATER

SIGN-UP

FOR SPRING COURSES:

4 January 2019

from 9 a.m. onwards

espoo.fi/ohjattuliikunta

or by phone

09 8166 0800

3–4 January 2019 between

9 a.m. and 10 a.m.

There are currently four swimming halls open in Espoo, all offering water

workouts with an instructor. Water workout is an effective and safe way

to maintain muscle strength and a nice way to spend time with friends.

ESPOONLAHTI SWIMMING HALL

› Mon 10:15–10:45 a.m. and 10:50–

11:20 a.m. single ticket water aerobics

› Tue 2:15–2:45 p.m. single ticket

water aerobics

› Wed 8:55–9:25 a.m. single ticket

water aerobics

› Thu 8:05–8:35 p.m. single ticket

water aerobics

› Fri 2:15–2:45 p.m.

single ticket water aerobics

KESKI-ESPOO SWIMMING HALL,

THERAPY POOL

› Mon 12:00 noon–12:30 p.m.

12:35–1:05 p.m. and 8:00–8:30 p.m.

single ticket water aerobics

› Wed 12:40–1:10 p.m and 1:15–1:45

p.m. single ticket water aerobics

› Fri 12:00 noon–1:30 p.m. and 12:35–

1:05 p.m. single ticket water aerobics

IN LEPPÄVAARA swimming hall,

the pool is full well before the water

aerobics class is scheduled to start.

The instructor makes adjustments

to the music and the half-hour class

is ready to begin. According to water

aerobics instructor, physical activity

advisor and personal trainer

Sanna Roine, water aerobics classes

are available daily in all swimming

halls in Espoo.

"It's a shame that the Tapiola

swimming hall is closed," says Arja,

who has come for the water aerobics

class.

"Leppävaara swimming hall is a

great place, though. When I come

to the lido in the summer, I bring a

packed lunch. I like water aerobics

because it's a group activity," says

Marjatta.

"THERE ARE open groups that are

paid per session and courses that

require sign-up. With the +68 sports

pass, participation is free of charge.

We also offer separate classes for

special groups," says Roine.

Retired friends Marja-

Liisa and Irmeli have

been doing water aerobics

for several years.

"This is nice change for

other types of exercise.

Muscle training is important

and is good for the

back, in particular," says Marja-Liisa.

"I sometimes do water aerobics

twice a week. I live near here so I

usually come to Leppävaara," Irmeli

continues.

WATER IS A

VERSATILE

BUT GENTLE

ELEMENT.

THE WATER aerobics class is a thirty-minute

exercise. According to

Roine, it is sufficient, as water resistance

makes the body work three

times as hard as when exercising on

dry land.

"Water aerobics is a very effective

workout for the entire body. Despite

the instruction, it is worth remembering

that you can adjust the

workout according to

how you feel.

Water aerobics is good

for maintaining and improving

endurance and

muscle tone and for improving

coordination.

"Water is a versatile

but gentle element. I recommend

it particularly to those who have

problems with joints or do not enjoy

basic exercise. Water aerobics is also

good for weight management."

Roine has also worked in the private

sector. She is particularly impressed

by Espoo's idea that exercise

should be accessible to all.

"Exercise is an important part of

wellbeing and Espoo has embraced

the idea." HANNA OJANPÄÄ

LEPPÄVAARA SWIMMING HALL,

THERAPY POOL

› Mon 12:00 noon–12:30 p.m. and

12:35–1:05 p.m. single ticket water

aerobics

› Tue 7:00–7:30 p.m. single ticket

water aerobics

› Wed 11:25–11:55 a.m. and 2:30–3:00

p.m. single ticket water aerobics

› Thu 7:00–7:30 a.m. and 9:15–9:45

a.m. single ticket water aerobics

› Fri 1:00–1:30 p.m. single ticket water

aerobics

OLARI SWIMMING HALL

(with wristband)

› Tue 12:00 noon–12:30 p.m. single

ticket water aerobics

› Wed 12:00 noon–12:30 p.m. single

ticket water aerobics

› Thu 12:00 noon–12:30 p.m. single

ticket water aerobics

14
---
INSIGHT

I want to know

more about cyber

crime and hacking.

VEETI OJANPERÄ

POHJOIS-TAPIOLA

UPPER SECONDARY

SCHOOL

I'm considering

a career in

computers.

TATU MAUNU

HAUKILAHTI UPPER

SECONDARY

SCHOOL

I expect the

course to help me

start coding.

ROBERT SÖDERMAN

KAITAA UPPER SEC-

ONDARY SCHOOL

OLLI HÄKÄMIES

Looking for weak links

in information security

Matti Heikkinen (right),

teacher of physics and

mathematics at Pohjois-

Tapiola upper secondary

school, and Antti Kurittu

of FICORA point out that

there are true IT wizards

among upper secondary

school students.

A unique nationwide course, Hack with Espoo was

launched in October. Upper secondary school students

in Espoo have been allowed to hack into the city's

information system.

THE PRINCIPLES of ethical hacking are used

to demonstrate what is and is not allowed

online. During the course, the young people

familiarise themselves with different information

practices. In the hacking challenge,

the students test the strength of the information

security systems currently being developed

by the City of Espoo. They look for

weaknesses. in them according to their own

personal skill level. This also allows the city

to test the reliability of its systems.

THE COURSE organised in Otaniemi provides

additional information on security trends

and vulnerabilities, as well as on hacking ethics.

The course is organised in collaboration

between the security company Second Nature

Security, LähiTapiola, Finnish Communications

Regulatory Authority (FICORA) and

the police. Fifteen young people attended

the course that ended at the end of November.

The course will be offered regularly if

the results are good. MAARIT SEELING

''

THIS ALSO

ALLOWS THE

CITY TO

TEST THE

RELIABILITY

OF ITS

SYSTEMS.

ESPOO MAGAZINE 4/2018 >> 15
---
PEARL

The Reindeer

Park is open to

the public at

weekends during

Christmas time,

and Santa Claus

will also be

there. Visitors

can feed the

domesticated

reindeer from

the forest terrace

of the kota

teepee.

ENCHANTING NATURE IN NUUKSIO

A THICKET of spruce trees has grown

at the foot of a cliff. A horse and rider

are following a former bridle path. A

person is doing a handstand as part of

a forest yoga session, a family is looking

for a geocache, a birdwatcher is

getting her binoculars set up. The natural

peace of Nuuksio National Park

has something for everyone: how

about fishing, cross-country skiing,

tour skating, camping or hiking?

Some of the vantage points on

Nuuksio's cliffs are 110 metres above sea

level, and the national park has more

than 80 lakes and ponds. On the site of

the bear's den, the Nuuksio Reindeer

Park is open by reservation. It houses

five reindeer brought to Nuuksio from

Karigasniemi in Lapland. The kota

teepee restaurant at the Reindeer Park

offers a feel of the Lapland atmosphere,

with coffee made over an open

fire, salmon roasted by the fire and

leipäjuusto cheese with cloudberry jam.

Buses travel to Nuuksionpää from

Espoon keskus, while the bus from

Leppävaara goes to Siikaranta or

Siikaniemi. Visitors travelling by car

should park in the car parks at Kattila,

Högbacka or Siikaniemi, although these

fill up quickly at the most popular

times.

Read more: luontoon.fi/nuuksio

PIRITTA PORTHAN

16
---
TIMO PORTHAN

Public

transportation

For more information,

see luontoon.fi/nuuksio/

kartatjakulkuyhteydet

4/2018 ESPOO MAGAZINE >> 17
---
SERVICE

Kauklahti's history

goes back

to the middle

ages and the

village atmosphere

has been

preserved.

Palolampi and

the surrounding

trails are among

the best features

in Kauklahti.

KAUKLAHTI

SPRUNG AT A

TRANSPORT

HUB.

TRUE COMMUNITY

Kauklahti

SPIRIT IN

Kauklahti,

the community

of the year, is an

area experiencing

strong growth.

The old village

atmosphere is

still at the core

of zoning and

reconstruction.

Kauklahti is one of the

oldest residential areas in

Espoo. It sprung at a transport

hub and expanded

around the station serviced by Helsinki–Turku

railroad completed in

1903. A new residential area has now

been zoned next to the old industrial

site on the south side of the station.

"Kauklahti has traditionally been

dominated by small houses. There

are many historical buildings there,

and the renovation of the Kauppamäki

area, for example, were carried

out with careful consideration

for the medieval village milieu," says

project director Mikko Kivinen.

The residential area planned for

the Espoonjoki river valley has a

slightly tighter zoning plan but old

buildings have been taken into consideration

and the possibility to repurpose

some of the industrial

buildings has been explored.

AND THAT IS NOT ALL. In addition to

zoning plans, the city has met the

demands posed by growth by investing

in accessibility.

"There have been improvements

in the safety of pedestrian and bike

traffic on Kauklahdenväylä, and

the possibility of extending the kaupunkirata

railroad to Kauklahti is

still in consideration," Kivinen continues

with examples.

Investments have also been made

in services. Village hall Palttina

was constructed in the housing fair

area, the first Elä ja asu senior citizen

centre was opened in Kauklahti

and the school is being developed

to meet the growing and changing

needs.

THE VILLAGERS themselves are also

actively involved in improving the

vitality of the area.

Starting from the beginning of

December, an advent calendar will

introduce a small event or something

new to see in Kauklahti. The

advent calendar produced by the village

businesses and the third sector

is coordinated by Kauklahti-seura.

"Information is available on our

Facebook page and homepage.

Kauklahti-seura is an association

which brings together different

bodies," says Susanna Rahkonen,

director of the association.

The Kauklahti-seura association

also organises discussion forums introducing

well-known residents of

the village. Resident forums are also

a way of communicating the residents'

opinions to the city.

"There are lots of people who were

born and raised here but also plenty

of people who have returned or are

new to the village. Much like the old

and the new coexist in our village,

we the people also live in harmony,"

Rahkonen praises the village.

TIINA PARIKKA

18
---
Kauklahti in

numbers

AN ARCHAEOLOGICAL

FIND DATING BACK TO

4000

BCE IS THE OLDEST SIGN

OF HABITATION IN THE

KAUKLAHTI AREA.

THE VILLAGE OF

KAUKLAHTI EMERGED AT A

TRANSPORT HUB IN THE

12TH

CENTURY AT THE LATEST.

Kauklahti's

growth was

boosted by the

housing fair in

2006.

There are several

independent

shops on Kauppamäki,

and

now there is

also a sign as a

reminder of the

community of

the year recognition.

THE ESPOONKARTANO

AREA WAS CREATED AS

THE ESBOBY AND MANKBY

VILLAGES MERGED WHEN

KUNINKAANKARTANO WAS

FOUNDED IN

1556

HOUSING FAIR WAS HELD

IN KAUKLAHTI IN

2006

AT THE END OF 2017, THE

POPULATION

OF KAUKLAHTI WAS

10,149

9,4

PER CENT OF THE

POPULATION ARE

SWEDISH-SPEAKING.

KAUKLAHTI DAY

IS CELEBRATED

ANNUALLY ON

15

SEPTEMBER.

THE VIBRANT

VILLAGE

COMMUNITY

TAKES PART IN

DEVELOPING

THE AREA.

The Kauklahti

church

in golden

autumn

sunlight.

ESPOO MAGAZINE 4/2018 >> 19
---
SWEDISH IN ESPOO

NEW GOALS FOR ESBO IF THAT

CELEBRATED ITS 100TH ANNIVERSARY

Active officials, effective activities for juniors and collaboration with

other sports clubs will lead Esbo IF sports association to new successes.

Esbo IF is an association with

a long history. Today, Esbo

IF is setting its sights on the

future and aims to become

even better. According to Anders

Wikholm, who became President

of Esbo IF two years ago, the association

has gone from being a village

association to a city association over

the last century.

"At the moment, athletics is our

strongest area, but that doesn't

mean we're not attempting to

broaden our activities and try new

sports. The range of sports has been

impressive over the years, for example,

skiing and orienteering

were previously very strong areas.

The sports are dependent on active

leaders and trainers. These people

are passionate and dedicated, and

without them, the organisation

would not function," says Wikholm.

Today, Esbo IF's activities comprise

athletics, gymnastics, handball,

bowling, volleyball and exercising.

Aside from athletics, gymnastics

is popular right now, and both

sports are bringing a steady flow of

new children and young people into

the association.

WE ARE ALSO

TRYING TO WORK

TOGETHER

WITH OTHER

ASSOCIATIONS.

ESBO IF HAS OVER 2,000 MEMBERS. Of

those active members, around 800

are engaged in track and field, with

many of these being juniors. The

competition for the juniors is hard

but Esbo IF is doing a pretty good

job of attracting new kids and teens,

according to Wikholm.

"There are a lot of organisations

competing for the junior crowd, but

our junior activities are thriving. We

are also trying to work together with

other associations. Esbo IF can serve

as a great complement to other

sports such as football or other

winter sports."

20
---
ESBO IF

Today, Esbo

IF's activities

comprise athletics,

gymnastics,

handball, bowling,

volleyball and

exercising.

"But of course Esbo IF struggles

with the same problems as many

other clubs. One of the challenges

is to get the members involved.

The association has a loyal body

of officials, but new volunteers are

needed," says Wikholm.

"It is becoming increasingly difficult

to get people on board. We

have to try to develop a model where

the members can participate in

the form of one-time undertakings

where they don't need to commit to

being involved in every little aspect."

Enticing additional active members

while at the same time keeping

OTHER MAJOR

EVENTS INCLUDE

MOTONET GP IN

AUGUST AND THE

ESPOO BEACH

MARATHON IN

SEPTEMBER.

the old ones is also vital from an economic

standpoint. A large portion

of the association's revenue comes

from training fees. Other significant

sources of income include events

and subsidies.

"Club finances is something that

associations are always struggling

with. In the absence of extra money,

we use effective planning to keep a

balanced economy," says Wikholm.

2019 WILL BE a busy year for the association.

One of the biggest occasions

is the relay event Stafettkarnevalen

in May. It will mark the third time

that this event is held in Leppävaara.

"Esbo IF is involved as a sort of

local parent association for Stafettkarnevalen.

We are contributing

a number of officials and we're responsible

for activities such as kiosk

sales," explains Wikholm.

Other major events next year include

Motonet GP in August, which

Esbo IF is organising together with

Espoon Tapiot, and the Espoo Beach

Marathon in September.

The association's own goal is already

established, according to Wikholm.

"As an association, we will try to

improve the standing among both

the juniors and those athletes who

are a little older. We recently ranked

twelfth in the club class. The goal for

2019 is to get into the top ten associations

once again."

THE SPORTS CLUBS in Espoo are

facing the practical problem that

space is starting to become a limited

commodity and the halls are fully

booked. Luckily, the planning for

the new Kameleontti sports hall –

a multi-sport venue – is in full swing.

The new venue will address the current

lack of space.

"There's a lot of activity in athletics

at the moment. The hall will

allow those doing track and field,

among others, to train in the same

premises all year round. The activities

can be concentrated to one location

and Leppävaara will become

Espoo's athletics mecca," says Wikholm.

The goal is for the new hall to be

finished by autumn 2021. Together

with the City of Espoo and Espoon

Tapiot, Esbo IF is planning to apply

for the Finnish Championships in

Athletics, Kalevaspelen 2022, which

happens to be the year when Espoo

celebrates its 50th anniversary.

JENNI VON FRENCKELL

ESPOO MAGAZINE 4/2018 >> 21
---
THE PEOPLE OF ESPOO

MORE ROOM FOR ART

Theatre Hevosenkenkä is expanding its operations with new space.

The cultural centre was given the status of Children's Cultural Centre.

THE OPENING of the additional

building named Tusculum,

erected in Juhannusmäki in

Mankkaa, was celebrated in October.

It will house Theatre

Hevosenkenkä's art therapy activities

and workshops.

The new building painted with

falu red is hardly distinguishable

among the other buildings dating

back to the 19th century.

However, a closer look reveals

several modern details: ramps at

entrances, threshold-free spaces,

hidden technology and convertibility

of spaces.

In Ancient Rome, "Tusculum"

meant a space dedicated to art and

silent reflection.

Kirsi Siren, director of Theatre

Hevosenkenkä is delighted. With

the new space, the operation can

be expanded to include mental

wellbeing support. That very idea

was what started the theatre when

Siren, together with her sister Sara

founded it in 1975.

"From the very beginning, our

goal was to use art to help our

viewers become open-minded and

optimistic and have a sense of humour,"

reflects Siren.

SUPPLY IS EXPANDING. Accessible

shows, audio description, signed

shows and, the latest addition, silent

shows for highly sensitive

viewers are already included in

Hevosenkenkä's productions.

"In Tusculum, we use art

therapy to support children with

problems related to growing up

and adults in major turning points

in life. The creative process heals,"

says art therapist Sanna Hallén.

Other new activities, such as

baby theatre, fairy tale days and recitations,

will also be organised in

the accessible Tusculum. The construction

of Tusculum was funded

by the City of Espoo and the Ministry

of Education and Culture.

TWO PREMIERES COMING UP. At the

end of the year, Hevosenkenkä will

tour Japan with the theatre's own

Kani Untuvakerä which has become

a generational experience.

Sotta Pyttynen, a play of 4-yearold

Iiro spending the night at his

grandfathers, directed by Katja

Krohn premiered in September.

Mauri Kunnas' beloved Herra

Hakkarainen will premiere in February.

MAARIT SEELING

TEATTERI HEVOSENKENKÄ

The new

Tusculum

building offers

a wider range

of theatre and

self-expression

performances

and education.

22
---
SECOND CHILDREN'S

CULTURAL CENTRE FOR

ESPOO

WITH THE expansion, Hevosenkenkä became a member

of the Association of Finnish Children's Cultural

Centres. Theatre Hevosenkenkä, Tusculum Hevosenkenkä

and Finnish Toy Museum Hevosenkenkä form

Children's Cultural Centre Hevosenkenkä.

The cultural centre known as Pikku-Aurora also

became Children's Cultural Centre Aurora this year.

There are two Children's Cultural Centres in Espoo

now, involved in nationwide cooperation, putting up

exhibitions and art workshops, engaging in show and

method exchange and producing joint projects.

The centres work together with different municipal

branches in the area, such as early childhood education,

schools and third-sector operators. Finnish Children's

Cultural Centres bring accessible art education

to the everyday life of as many children and young

people as possible and promote children's wellbeing

through art and culture.

ESPOO MAGAZINE 4/2018 >> 23
---
AT YOUR SERVICE

INFLUENZA VACCINATIONS

2018–2019

Vaccination is the best protection against

influenza and the diseases it causes.

Make an appointment and avoid the queues!

› Make an appointment online: espoo.fi/e-healthcentre

› Make an appointment by telephone to your health

centre (Espoonlahti, Kalajärvi, Kilo, Kivenlahti,

Leppävaara, Matinkylä, Samaria, Tapiola and Viherlaakso),

tel. 09 816 34500, weekdays 7 am–6 pm

› Appointments to Oma Lääkärisi health centres,

weekdays 8 am–4 pm: Espoontori tel. 09 855 4303,

Iso Omena tel. 09 855 4100

› Vaccinations can also be received at maternity and

child health clinics, from school and student nurses,

and from old people's home carers.

› Influenza vaccinations without appointment

Sat 24th November and 1st December 9 am to 4 pm at

Espoonlahti, Leppävaara, Samaria and Tapiola health

centres and at Oma Lääkärisi Iso Omena (service centre).

Tue 27th November 10am to 3pm at Leppävaara

senior centre, Säterinkatu 3

DID YOU

KNOW THAT YOU

CAN ALSO CHANGE

HEALTH CENTRES?

espoo.fi/

healthcentres

Changes in health care

services in Matinkylä

The Matinkylä health centre will move to the Iso Omena

service centre between 2 January and 14 January 2019.

› New name: Iso Omena Health Centre

› Open on weekdays from 7 a.m. to 8 p.m.

› For residents of Matinkylä, Olari and Kuitinmäki

Oma Lääkärisi Iso Omena will move to Piispanportti

between 2 January and 14 January 2019

› New name: Oma Lääkärisi Matinkylä

› For residents of Henttaa and Suurpelto

The customers of these health centres will be sent a

personal letter before the end of the year.

The Matinkylä dental clinic will close at the turn of the year.

Larger dental clinics will be offering evening appointments at the

beginning of 2019. The city's other dental clinics will serve all the residents

of Espoo, and an outsourced service option will be available in Matinkylä.

› espoo.fi/dentalcare

The phone number for dental care appointments is

09 816 30300.