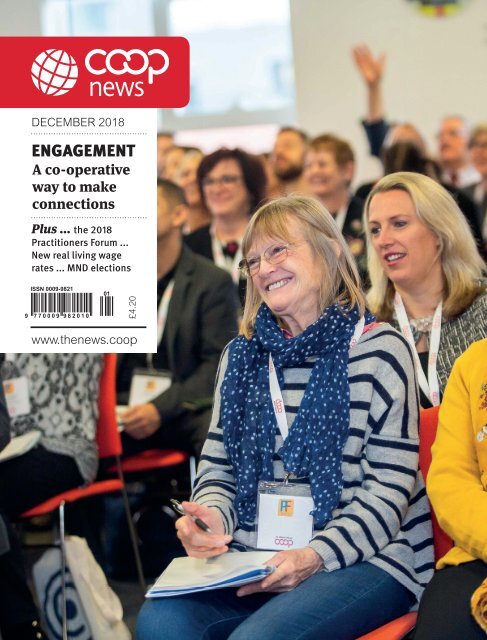 DECEMBER 2018
The December edition of Co-op News: connecting, challenging and championing the global co-operative movement. This issue we look at the issue of engagement, and the co-operative way of making connections. Plus coverage of the 2018 Practitioners Forum, new Real Living Wage rates and member-nominated director (MND) elections at the Co-op Group.
The December edition of Co-op News: connecting, challenging and championing the global co-operative movement. This issue we look at the issue of engagement, and the co-operative way of making connections. Plus coverage of the 2018 Practitioners Forum, new Real Living Wage rates and member-nominated director (MND) elections at the Co-op Group.
SHOW MORE
SHOW LESS
Create successful ePaper yourself
Turn your PDF publications into a flip-book with our unique Google optimized e-Paper software.
DECEMBER 2018

ENGAGEMENT

A co-operative

way to make

connections

Plus ... the 2018

Practitioners Forum ...

New real living wage

rates ... MND elections

ISSN 0009-9821

9 770009 982010

01

£4.20

www.thenews.coop
---
news

Co-op engagement: Spreading

the word, bridging divides

CONNECTING, CHAMPIONING AND

CHALLENGING THE GLOBAL CO-OP

MOVEMENT SINCE 1871

Holyoake House, Hanover Street,

Manchester M60 0AS

(00) 44 161 214 0870

www.thenews.coop

editorial@thenews.coop

EXECUTIVE EDITOR

Rebecca Harvey

rebecca@thenews.coop

INTERNATIONAL EDITOR

Anca Voinea | anca@thenews.coop

DIGITAL EDITOR

Miles Hadfield | miles@thenews.coop

EDITORIAL

Jen Banks | jen@thenews.coop

DESIGN:

Keir Mucklestone-Barnett

DIRECTORS

Elaine Dean (chair), David Paterson

(vice-chair), Sofygil Crew, Gavin

Ewing, Tim Hartley, Beverley

Perkins and Barbara Rainford.

Secretary: Richard Bickle

Established in 1871, Co-operative

News is published by Co-operative

Press Ltd, a registered society under

the Co-operative and Community

Benefit Society Act 2014. It is printed

every month by Buxton Press, Palace

Road, Buxton, Derbyshire SK17 6AE.

Membership of Co-operative Press is

open to individual readers as well as

to other co-operatives, corporate bodies

and unincorporated organisations.

The Co-operative News mission statement

is to connect, champion and challenge

the global co-operative movement,

through fair and objective journalism

and open and honest comment and

debate. Co-op News is, on occasion,

supported by co-operatives, but

final editorial control remains with

Co-operative News unless specifically

labelled 'advertorial'. The information

and views set out in opinion articles

and letters do not necessarily reflect

the opinion of Co-operative News.

@coopnews

cooperativenews

Widening economic equality and years of austerity have left a

divided and disillusioned society. The co-operative movement has

responded by offering a positive way forward, bolstered by falling

confidence in the old ways of doing things – from top-down,

centralised politics to conventional, corporate business models.

But how does the movement reach out to convince people of the

benefits of its new approach? At last week's Practitioners Forum in

Manchester (p25-27), Co-operatives UK launched the theme for next

year's Co-operatives Fortnight (p9). This calls on co-ops to share films

of themselves performing acts of co-operation on social media to

help build a society based on the movement's ethos.

But the public may be wary after years of top-down public

services reform have only brought disruption, cuts and job

losses. It's important to keep them on board when moving to a

mutual approach to ensure new models are truly democratic

and that this time, change is for the better. This month, we take a

look at how UK housing mutuals, and the growing movement of

co-operative councils, are working to do just that, by building

democratic engagement into their development process (p34-39).

In the US, there's an even more direct approach being taken, with a

scheme by Cleveland's Evergreen Co-operatives to buy up businesses

and convert them to worker-owned firms (p32-33).

For a young co-op, success can bring challenges: we speak to a rising

star of the worker co-op movement, Outlandish, about how it keeps

its co-op engaged (p30-31).

For more established players, there are other concerns – witness the

wage dispute at Canada's Saskatoon Co-op (p40).

Elsewhere, we take a look at the Californian housing co-op model

(p42-43), the campaign for the Living Wage (p44-45), and the work of

the Co-op Group's member-nominated directors (p46-47).

MILES HADFIELD - DIGITAL EDITOR

Co-operative News is printed using vegetable oil-based

inks on 80% recycled paper (with 60% from post-consumer

waste) with the remaining 20% produced from FSC or PEFC

certified sources. It is made in a totally chlorine free process.

DECEMBER 2018 | 3
---
THIS ISSUE

CLOCKWISE FROM FAR LEFT

Lord Victor Adebowale spoke at the

Practitioners Forum (p25-29); Hazel Blears

tells us why you should think about applying

to be an MND (p46-47); Merthyr Valley

Homes are engaging with tenants in new

ways (p34-39); and Kayleigh Walsh from

Outlandish talks about the challenges

of engagement facinga young worker

co-operative (p30-31).

COVER: The 2018 Practitioners

Forum took place on 22 November,

covering communications; finance;

governance; HR and membership

(Image: Co-operatives UK)

Read more: p25-29

22-23 MEET... KATIE COSGRAVE

Youth engagement officer at the Reclaim

Project, a youth leadership and social

change organisation

25-29 PRACTITIONERS FORUM

Updates from the annual professional

development event organised by

Co-operatives UK

30-40 A CO-OPERATIVE WAY TO MAKE

CONNECTIONS

30-31 ENGAGEMENT AND GROWTH:

LESSONS FROM OUTLANDISH

We speak to Kayleigh Walsh, who

says delivering service should be the

key focus, rather than growth

32-33 A DIRECT APPROACH

In Cleveland, Ohio, Evergreen

Co-operatives is stepping in when

business owners reach retirement,

buying their firms and switching them

to employee ownership. Could other

cities and countries follow suit?

34-39 MUTUALISING PUBLIC

SERVICES: HOW DO WE ENGAGE WITH

WORKERS AND THE PUBLIC?

From housing mutuals to co-op

councils, mutual alternatives are

being increasingly explored. So how

can public involvement in this

be managed – and how can they be

convinced to come on board in the

first place?

40 ENGAGEMENT DISPUTES

ln a co-operative, engagement with

colleagues doesn't always run smoothly.

We take a look at Canada's Saskatoon

Co-op, which is locked in a pay dispute

with its staff

42-43 HOUSING

David Thompson on a low-cost

ownership oasis in a desert of apartment

unaffordability

44-45 REAL LIVING WAGE

New rates were announced last month.

What impact can it have, and what are

co-ops doing about it?

46-47 MND SELECTION

Current member-nominated director at

the Co-op Group, Hazel Blears on why you

should think about applying

REGULARS

5-14 UK updates

15-21 Global updates

24 Letters

48 Books

50 Events

4 | DECEMBER 2018
---
NEWS

RETAIL

Central England Co-operative appoints Debbie Robinson as new chief executive

p Debbie Robinson will join the society next spring, from Spar

Debbie Robinson has been appointed

CEO of Central England Co-operative,

following the announcement that Martyn

Cheatle will be retiring in May.

Ms Robinson, who has previous

experience at the Co-op Group, will join

the society in the spring from Spar, where

she has been UK managing director

since 2011.

She has held directorships for food

retailers specialising in store innovation,

brand strategy and global development

and has over 30 years of experience in

retail with Marks & Spencer, WH Smith

and others.

In her new role she will be responsible

for developing the strategic and

commercial direction of Central England,

which has 400 trading outlets across

16 counties.

"I am delighted to be joining a

progressive and truly co-operative society,"

she said. "I look forward to building on

the fantastic work Martyn has done and

working with the team to ensure Central

England Co-operative fulfils its ambitions

and potential, making a real difference

for our members and the communities

we serve."

She added that her vision for the future

of the society is to "grow sustainably and

make the most of the society's key USP;

our co-operative principles".

Elaine Dean, society president, said

Central England was "delighted" to

welcome Ms Robinson at a time of growth

and development for the society.

"Debbie is no stranger to co-operative

ethics and values, having previous

experience at a senior level within the cooperative

movement," she said.

"She has a sound track record of

success and is highly respected in the

retail sector."

Ms Dean added: "This is the first time

in the society's history that we have had

a female chief executive and the board

is confident in her ability to take us

forward as a dynamic and independent

co-operative society.

"We look forward to working with

Debbie as we build on our strong

foundations and plan for the future."

Mr Cheatle said: "I am incredibly proud

of the society and our colleagues, all of

whom have contributed to the continued

success Central England Co-operative

has worked so hard to achieve in the time

I have been chief executive.

"I wish Debbie all the very best for her

future with the best independent retail

co-operative in the UK."

Ms Robinson sits on the boards of

the Association of Convenience Stores

and the British Retail Consortium, and

outside of work has many hobbies and

interests in the art and music world.

She is a keen marathon runner and

has completed numerous charity cycle

rides – including those organised by the

convenience and wholesale retail sector

for the Mines Advisory Group.

DECEMBER 2018 | 5
---
CO-OP GROUP

Co-op Group's new depot to create 1,200 jobs and grow business in the south

The Co-op Group has agreed terms for a

new £45m distribution depot to support

its growth across London, the South and

South East.

The new 661,000 sq ft depot, to be built

near the A1 at Bedfordshire's Symmetry

Park, Biggleswade – is expected to open

in early 2022, creating up to 1,200 jobs.

Symmetry Park, which extends to

around 50 acres, has been granted

detailed planning consent for up to

1 million sq ft of logistics space. The Group

has secured a 20-year lease on the site,

and it is anticipated that construction will

begin towards the end of 2019.

The Group is also working to reduce

its environmental impacts, so the depot

will have low-energy lighting and

refrigeration, rainwater harvesting and

will work towards a BREEAM excellent

rating – an independent assessment of

a building's environmental, social and

economic sustainability.

In August, the Group opened its £6m

Dalcross distribution centre at Inverness

Airport Business Park, which is now

p The Group's new Dalcross centre at Inverness

servicing the retailer's network of stores in

the region, and will facilitate future store

expansion in the region.

Jo Whitfield, the Group's retail chief

executive, said: "The new site will extend

capacity across our logistics network.

"This will help stores to better serve

communities and support our ambitious

growth plans across London, the south

and south east. This is an exciting

development – we believe a strong

Co-op can create stronger communities.

The investment is indicative of both the

performance of the Co-op and the delivery

of our food strategy."

Andy Perry, the Group's supply chain

and logistics director, added: "The site will

deliver greater agility, scale and efficiency.

It will reduce road miles, overall supply

chain costs and supports our stores in

the south by having more of our products

closer to our members and customers."

Everybody needs

good neighbours ...

and here's the proof

A Sheffield man has been named national

Neighbour of the Year by Co-op Insurance

and Neighbourhood Watch.

Paul Zeun, 53, was nominated by his

neighbour, 38 year-old Abby Wilson, for

his consistent caring and kind behaviour

over the past decade. Paul and Abby

became friends 10 years ago when he

came to her rescue after she locked

herself out of her flat.

Since then, Paul has helped Abby

with lifts to hospital, cat sitting and

decorating. He's shared his DIY skills

with other neighbours and brings their

local community together at Christmas

parties and barbecues. As a result of the

gatherings, the neighbours now celebrate

their birthdays together.

Paul has also cared for terminally ill

neighbours and looks after others by

doing their shopping for them. He plants

flowers and shares vegetables from his

allotment with his neighbours, as well as

the food he makes with his own-grown

produce, such as jams and pickles.

For the awards, Co-op Insurance and

Neighbourhood Watch asked the public

for nominations – and Co-op members

were asked to come up with criteria for

the awards. Their suggestions include

looking out for each other, offering

practical help and being respectful

of everyone in the neighbourhood.

Paul said: "I'm overwhelmed. I enjoy

helping people and getting everyone

chatting. If we all did this, the world

would be a much happier place."

£50k for slavery fight

The Co-op Group is donating £50,000 to

the modern slavery campaign from sales of

selected own-brand Christmas sandwiches.

The donation, raised from sales in

November and December, goes to Stop The

Traffik, a campaign group which shares

advice and intelligence to stop modern

slavery trafficking.

Stop the Traffik's initiatives include an

app which allows anyone who has seen or

heard a situation they believe to be linked to

human trafficking or modern slavery to share

their story, safely and securely.

"Every story, no matter how small, whether

current or historic, is important and relevant.

What's more, it may be the missing piece of a

bigger picture," says Stop the Traffik.

6 | DECEMBER 2018
---
Sam Walker wins equal

pay claim against Group

at industrial tribunal

The former Co-op Group HR director Sam

Walker has won her industrial tribunal

case against the society, on equal pay and

unfair dismissal.

She took the Group to the tribunal

claiming she had been dismissed after

raising issues about her own pay and

warning leading figures in the company

of a pay gap between men and women

performing the same roles.

The tribunal did not agree with Ms

Walker's claim that her sacking was a

result of discrimination, but ruled that

the Group had "directly discriminated

against the claimant on the grounds of

sex", because it graded her work as only

"partially achieved" without giving her an

adequate year-end appraisal.

Ms Walker said: "This is a major victory

for women. My case proves that pay

discrimination can happen to anyone.

I was in a senior position doing a job of

equal value to my male senior colleagues,

but was paid significantly less. This is

happening all over this country."

She said she would now join forces on

a new initiative with Carrie Gracie – the

BBC journalist who resigned in protest

over the gender pay gap – gender equality

campaign group the Fawcett Society and

Yess Law, a group of lawyers dedicated

to resolving workplace disputes without

litigation. The scheme will help women

p Sam Walker said she would work to help other women who had suffered discrimination

earning £30,000 a year or less who are

experiencing pay discrimination.

"Justice is ... beyond the reach of most

women who simply would not have the

resources to bring a claim of this kind,"

said Ms Walker. "The law needs to change.

"The Women and Equalities Select

Committee is looking at this, but we need

societal change – why would people want

to work for companies who treat their

employees differently?"

She added: "I want to thank my network

of colleagues, family and friends who

have supported me – and that includes

many still employed by the Co-op (you

know who you are).

"I hope the Co-op responds to this

ruling in a way that reflects its stated

values, holds those accountable to

account and listens to their other female

employees who I hope will now feel able

to step forward and demand equal pay."

A spokesman for the Group said: "The

tribunal dismissed most of Ms Walker's

claims and held that Ms Walker's

dismissal was not discriminatory. We are

pleased that the tribunal accepted our

evidence in relation to these claims.

"While the tribunal upheld the unfair

dismissal claim on procedural grounds,

we are pleased it found the Co-op

had substantial reasons justifying the

termination of Ms Walker's employment.

"The tribunal upheld the claim for

equal pay. We are reviewing the tribunal's

judgement and considering whether to

appeal. We maintain we did not pay Ms

Walker unfairly and continue to believe

we acted in the best interests of our Co-op

and its members."

Group brings in JDA Software to revamp its supply chain process

The Co-op Group has announced a

project with supply chain specialist

JDA Software to revitalise its category

management processes.

The first phase of a multi-year plan

which will see the retailer "getting closer

to the needs of members and customers",

it will upgrade Group stores to the latest

version of JDA Space Planning, Floor

Planning and Category Knowledge Base.

JDA says this will create "an end-to-end

streamlined approach to managing its

retail stores from floor to shelf".

Michael Fletcher, retail chief

commercial officer at the Group, said:

"Our powerful JDA Category Management

solution footprint enables us to anticipate

shopper demands with agility and speed.

We look forward to continuing to build on

this robust foundation as we continue to

deliver our strategy."

The Group worked with a collaborative

team from JDA, and partners Tata

Consultancy Services (TCS) and Deloitte,

for the first step of the project.

JDA says it will allow the Group

to automate its planograms – visual

representations of a store's products or

services on display – to localise its offer.

The retailer will also be able to work with

its teams and suppliers to ensure they are

delivering accurate and early stocking

information for each store. There will be

more insight into shopper behaviour at

macro and local level, allowing the Group

to better plan its store layouts, tailored

from store to store.

"Maintaining a competitive edge

and anticipating shopper demands is

more important than ever," said Johan

Reventberg from JDA. "We're pleased

to enable such a critical piece of the

Co-op's retail business transformation

by underpinning it with our best-in-class

category management solutions that will

give them the right balance of right item,

right store, right time, with the efficiency

and agility they need."

DECEMBER 2018 | 7
---
BUDGET

Co-op sector pours cold water on Hammond's budget

p Philip Hammond

There were a number of measures in

Philip Hammond's budget last month

which could impact on the co-op sector.

The sector welcomed some of the

changes around housing policy, credit

unions and support for small retailers,

but warned that it lacked a strategic

dimension to address the issues facing the

UK economy after Brexit.

Ed Mayo, secretary general of

Co-operatives UK, said: "A number

of the specific measures will be welcome,

including a degree of support for small

retailers and for social housing, but this

is a tactical and not a strategic budget. It

does little to answer the question of what

kind of economy Britain is to pursue."

Jim McMahon MP, chair of the Co-op

Party group of MPs, said: "This was

a budget that failed to champion the

fairest forms of business: co-operatives

democratically owned by their customers

and employees."

A Co-op Party budget would require

companies to demonstrate basic standards

of tax transparency through measures

such as the Fair Tax Mark, he added,

and would bring in "a radical redesign

of business rates to end to the unfair

advantage enjoyed by online retailers".

He said: "It's within our power,

through the decisions we make as

consumers and here in parliament

as policymakers, to shape those trends

and decide the kind of economy we

want, and the kind of business culture

that can deliver it. At a time when the

country needed boldness, this is a

missed opportunity to transform how our

economy is run."

Peter Holbrook, chief executive of Social

Enterprise UK, said: "The chancellor had

an opportunity to back social enterprises

that share growth by paying their staff

fairly and reinvesting their profits back

into their communities. Unfortunately,

he decided to rely on old fashioned and

failed economic ideas."

But there were some positives in the

budget. The Association of British Credit

Unions (Abcul) welcomed a pilot savings

scheme for credit unions to boost peoples'

financial resilience and raise awareness

of the sector.

Head of policy and communications

Matt Bland said: "This initiative will be

good for both credit unions and their

members; it will provide people with a

further incentive to save regularly with

their local credit union for planned and

unplanned expenses. Abcul is working

closely with the Treasury on the pilot

scheme and we look forward to ensuring

the best solutions moving forward."

EDUCATION

Co-op College launches

centenary year

p The centenary launch event

The Co-operative College has officially

marked the launch of its centenary, calling

on the movement to help shape its future.

Founded in 1919 as part of a

Co-operative Congress Resolution, the

college is an independent, memberled

educational charity that delivers

education, training, events and projects,

and undertakes research.

A launch event, held in central

Manchester on 22 November, showcased

how the organisation has changed over

the years and how its work continues to

transform communities and change lives

in the UK and across the world. It was

also revealed that the College's annual

Education and Research Conference

would take place in Rochdale –

the modern birthplace of co-operation –

from 26-28 November 2019.

"Our bedrock is the co-op movement,"

said Nigel Todd, College chair, at the

event. "Our mission is to take the values

and the distinctiveness of what we do out

to the wider world. We've been around

for 100 years – we can look forward

confidently and with maturity to

the next 100 years, guided by our

co-operative principles"

Simon Parkinson, CEO and principal

of the College, said that while the

organisation was proud of its history and

heritage, the centenary year would also

be used as a launchpad to project a new

image of the College.

"Next year we're re-launching our

formal learning and development offer,"

he said. "We're becoming a registered with

the chartered institute of management,

able to offer accredited qualifications,

and we're still on track to achieve a longheld

ambition of the movement to see a

co-operative university here in the UK."

He added: "2019 will be a landmark

year for us, as we re-focus our energies

and ask the movement to help shape our

next 100 years. With members at the heart

everything we do, there's never been a

better time to join and help us build

a fairer world for everyone."

8 | DECEMBER 2018
---
CO-OPERATIVES FORTNIGHT

Film yourself and get online to

build a co-operative nation

The Co-op Group

Board Member

Nominated Director

The Co-op is looking for candidates from its

membership to join its Board and contribute to its

ongoing success.

p Co-operatives Fortnight will run from 24 June - 7 July

Co-operatives UK has announced the theme for next year's

Co-operatives Fortnight (24 June-7 July), which will focus on

creating a co-operation nation.

The Fortnight campaign was launched today at the Practitioners

Forum in Manchester. Co-operatives UK, the apex body for the

sector, is calling on all co-operatives to join the campaign by

carrying out an act of co-operation, and film or photograph it

for social media using the hashtag #CoopFortnight/ They should

also nominate or tag another co-op to do the same.

For the first time, co-ops are also being asked to pledge to take

part by completing a quick online form, with a rough idea of what

they plan to do.

The campaign was designed to kickstart a chain reaction from

co-op to co-op.

Co-operatives UK, which is co-ordinating the campaign, will

then add up the number of participants and create national

and regional press releases featuring the most interesting and

inspiring events.

"From community clean-ups, to collecting donations for a local

food bank or opening up your co-op to educate people about coops,

what practical ways can your co-op involve people working

together in co-operation?" asked Ed Mayo, secretary general of

Co-operatives UK. "Can you set a target for the number of bags of

litter, families fed or people you teach?

"Together we'll show everyone why co-operation is what the

world needs right now."

He added: "The theme is about joining together – it's about

action rather than just raising awareness. We're turning Co-ops

Fortnight into a real vehicle for action."

Wendy Carter, head of communications and marketing at

Co-operatives UK, said: "We want to capture people's attention

and to do this we need to paint a picture of the sheer number

of people joining our call for a Co-operation Nation. Even if it's

just a seed of an idea for now, tell us your plans and we'll use

this information to promote the campaign, and your activity up

to and during Co-op Fortnight."

More information on the Co-operatives Fortnight and how to

get involved is available at www.uk.coop/fortnight.

As a Member Nominated Director (MND) you'll be

the voice of Co-op members in the boardroom.

You'll oversee commercial and financial

performance, and make sure Co-op businesses

keep co-operative values and principles front and

centre.

Potential candidates must demonstrate:

• A track record at an equivalent level and

awareness of the strategic and operational

challenges of a big, complex business like Co-op

• Integrity, independence and empathy with Co-op

values alongside the broad experience required

of any non-executive director

• The ability to contribute at board level while

developing an excellent working relationship with

the Co-op Members' Council

There are two MND positions available. If you are

selected as a candidate you will be invited to take

part in a contested election in which its members

will vote. If successful you will be appointed to the

Board in May 2019. The Board meets monthly in

Manchester. The remuneration is commensurate

with the role and responsibilities.

The Board aims to represent the geographical,

gender, cultural and ethnic diversity of the

communities it serves and is an equal opportunities

employer.

For more information about the role and eligibility

criteria please visit: www.saxbam.com/jobs. If you

would like to apply please visit www.co-operative.

coop/mndelection

The closing date for applications is 17 December

2018

Saxton Bampfylde will be working with the Co-op

throughout this process as its chosen professional

search advisers

u Practitioners Forum reports: p;25-27

DECEMBER 2018 | 9

335567_COOP_MND_Advert_78x226_v1.indd 1 19/11/2018 15:18
---
REMEMBRANCE DAY

100 years on from the Armistice, the co-op

movement pays tribute to the fallen

The world marked the centenary of the

end of World War 1 on 11 November, and

the co-op movement paid its own tributes.

Stores across the retail movement

joined the two minutes silence on

Remembrance Sunday.

And a number of Co-op Group Funeral

homes, as well as those of independent

co-operative societies, created window

displays honouring the war generation,

while Co-op Funeralcare introduced a

poppy-themed hearse to it fleet.

Displays mounted by the movement

included a memorial windows at Southern

Co-op. At the society's Fratton Branch in

Portsmouth, funeral co-ordinator James

Wiltshire-Bowles paid tribute to his great

uncle, Pte Frederick James Pluck, who was

killed aged 26 on the first day of the Battle

of the Somme, on 1 July 1916. His photo

was included in the window display.

In a ceremony on 8 November, Co-op

Group staff gathered in Manchester,

to read out the names of the 810

Co-operative Wholesale Society

colleagues killed in the conflict.

In a blog post on the Group website,

chief executive Steve Murrells paid his

own tributes to the fallen colleagues. He

also highlighted CWS's measures to keep

soldiers' jobs open for their return, and to

avoid wartime price inflation.

And he spoke of the work of the society

and its female members and staff to

promote peace, with the Co-op Women's

Guild launching the white poppy in 1933.

This year, the white poppy – which

commemorates civilian as well as military

casualties – reached a record 122,385

sales, up 20% on last year, said organiser

the Peace Pledge Union. It said the news

was a sign of growing acceptance of its

anti-militarist values.

Midcounties Co-operative held a range

of activities, including a poppy design

contest for schools in its trading area. The

winner was Shrubland Street Community

Primary School, which won £500 to

spend on history resources. And society

colleagues raised funds for the British

Legion, laid wreaths and planted poppy

flower seeds in parks and green spaces.

Lincolnshire Co-op gave the Royal

British Legion Poppy Appeal a £7,000

donation – as well as support with instore

promotion and fundraising.

p A Co-op Group colleague remembers fallen

CWS workers at the Manchester ceremony

(top) and a Southern Co-op display (above)

REGULATION

Co-operatives UK urges movement to join FCA consultation

The Financial Conduct Authority (FCA) is

considering abolishing the annual fees it

charges societies, which could save them

between £67 and £495 a year, under a

series of proposals which have been put

out for consultation.

Apex body Co-operatives UK welcomed

the suggestion to abolish the fees, as

well as the proposal to make it free for

the public to access the online Mutuals

Register – which currently costs £12.

Co-operatives UK says it is already free

to access similar records on the online

Companies House register, and claims

the cost to access the Mutuals Register

has reduced its accessibility, causing

difficulties for societies.

Secretary general Ed Mayo said: "This

is one more proof – alongside our work to

reduce accounting fees by cutting the need

for mid-year audits and our HR service

which saves members money through

joint purchasing – that Co-operatives UK

is good for our members' wallets.

"I'm proud of our advocacy on behalf of

our members around regulatory fees and

I certainly want to recognise the FCA for

doing the right thing as a result by co-ops

and credit unions."

Co-operatives UK also suggested the FCA

Mutuals Team continue to receive funding

to carry out its "critical functions" as an

"enabler of co-operative and community

business" and as "a protector of the

integrity of these special legal forms".

It wants members to respond to the

consultation, which is open until 14

January 2019: email cp18-34@fca.org.

uk or write to David Cheesman, FCA, 12

Endeavour Square, London, E20 1JN.

10 | DECEMBER 2018
---
Co-op Academy students give Bright Futures a new look

p Revolver's new drinking chocolate

FAIRTRADE

Revolver tops the table

of ethical coffee

Ethical Consumer magazine has ranked

the Revolver Co-operative first in ethics

among 32 European coffee brands, ahead

of Cafe Direct (5), Lavazza (17), Carte Noir

(18), Illy (24) and Douwe Egberts (29).

Revolver obtained a score of 17 out of 20.

The co-operative behind the Revolver

World brand sources its coffee and

commodities from co-ops around the

world. It boasts Fairtrade certifications

as well as Ethical Consumer's positive

Product Sustainability mark. More than

half of its products are certified organic by

the Soil Association.

Revolver was also awarded Ethical

Consumer's best rating for Supply

Chain Management and Environmental

Reporting, and positive GMO policy. The

co-op is certified by both the Fair Tax

Mark and the Living Wage Foundation,

holds the City of Birmingham's Charter

for Social Responsibility and has been

awarded a positive Company Ethos mark.

Revolver chief executive Paul Birch said

the co-op's coffee had "great taste to match

the great ethics". Revolver won seven

Ethical Consumer Great Taste Awards in

2015, 2016, 2017 and 2018.

In partnership with Belgian Chocolatiers

Callebaut, Revolver is launching a new

range of drinking chocolate. Luxury

Belgian Callebaut Drinking Chocolate is

not made of cocoa powder but real shards

of chocolate, both milk and white.

Callebaut chocolate supports the work

of Cocoa Horizons Foundation, a nonprofit

organisation devoted to improving

the livelihoods of cocoa farmers and their

communities.

The hot chocolate is available for sale at

Midcounties Co-op stores.

Pupils at Co-op Academy Failsworth in

Manchester have won a competition to

design the logo for the Bright Futures

programme, pioneered by the Co-op Group

and City Hearts charity to offer paid work

to survivors of modern slavery. Students

Jamie Brabin and Daniel Aitken submitted

the winning design. The competition, run

across several Co-op Academies, taught

students about the issue of modern slavery.

Scotmid passes go to secure a Monopoly spot

A bright new look for Suma Wholefoods

Scotmid Co-operative appears in the

new Edinburgh edition of the Monopoly

board game. The city's oldest retailer,

Scotmid appears as a Community Chest

card. Scotmid chief executive John Brodie

said: "Scotmid are delighted to be part of

such an iconic game and it is fitting that

we are included as we've been part of the

Edinburgh landscape since 1859."

Worker co-op Suma Wholefoods launches

a rebrand in December. A spokesperson

said: "We are refreshing the way Suma

looks to help products stand out, boost

sales for customers and reflect the fact that

Suma is a bold and colourful business.

Although the way we look is changing,

what we stand for, and what's inside the

packaging, will stay just the same."

Locality calls for more help for the community sector

The head of community group network

Locality wants more support for the sector.

CEO Tony Armstrong made the remarks

while welcoming the government's Open

Doors project, allowing community

groups to use empty shops. "Community

organisations are stretched, with rising

demand and limited funding," he said.

Co-operative Party calls for public vote on Brexit deal

The Co-op Party repeated its call for a

public vote on the Brexit deal, which

has prompted continued disagreement

within the government. Party chair

Gareth Thomas said the deal "will have

implications for all of us ... it can't be

right that such decisions are made behind

closed doors by a handful of people."

DECEMBER 2018 | 11
---
RETAIL

How a human chain made world news of a small co-op bookstore

Radical bookstore co-op October Books

has made a move to new premises – with

the help of 250 volunteers.

The Southampton co-op made headlines

around the world when supporters formed

a human chain to move more than 2,000

books to its new home.

Locals came together after the co-op

appealed for help on Facebook, and lined

the 850m route between its old home

and the new premises to pass the stock

along. Passers-by stopped to join in and

cafes along the way provided volunteers

with refreshments.

News of the joint effort – designed by

the co-op as an accessible way for people

to come together to contribute – went

global, with admiring reports by the

Washington Post, New York Times, the

Guardian, Huffington Post, BBC and CNN.

The move meant high-profile reports

not just on October Books, but about

co-operation, community action and

community fundraising, with the story

shared in countries including Brazil,

Taiwan, France and Canada.

p Books are passed along the human chain

"It was a tremendous show of support

and community and we're moved

and incredibly touched by it," Clare

Diaper, who works at October Books,

told reporters. "We are of, and for, our

community and it is truly heartening to

see that reciprocated."

As a shining example of the sixth cooperative

principle – co-operation among

co-operatives – volunteers included

members of the co-op youth organisation

the Woodcraft Folk and local community

interest company Art House Cafe, which

also helped decorate the new store.

Ian Rothwell from Co-operative

and Community Finance (CCF),

which supported October Books in its

purchase of the new site, also joined

the chain, alongside members of the

city's Hamwic housing co-operative and

sector organisations Co-op Culture and

Co-operantics.

One of the locals who joined the human

chain, Jani Franck, told the Southern

Daily Echo: "It's amazing. The power

of community coming together and

achieving something like this. October

Books have done really well. I'm in awe."

October Books, which formed in 1977,

bought the site, a former NatWest bank, in

August and plans to create a community

hub. The stock will be stored in the old

vault of the bank.

It raised the £487,800 it needed to buy

its new premises through a combination of

loan stock, crowd funding, personal loans

and gifts, and a loan from Co-operative

and Community Finance.

CREDIT UNIONS

Credit Unions of Wales

launches campaign

against high cost

credit providers

In the lead-up to Christmas, Credit Unions

of Wales – the association of the country's

18 credit unions – is spearheading the

campaign 'Credit2Wales' to protect people

from high cost credit providers.

According to the Money Advice Service,

more than one in six people in Wales are

at risk of being unable to keep up with

credit repayments.

Marking the launch of Credit2Wales,

patron of Credit Unions of Wales, Jane Hutt

AM, said: "Unmanageable debt isn't just

a finance issue. It impacts all elements of

our lives, including relationships, work,

health, mental health and, of course, the

ability to look after our families.

"Credit isn't bad, we all need help

sometimes, especially at Christmas, but it

should be fair and manageable. We must

refuse to allow ourselves, our families and

our communities to fall prey to high cost

lenders, and stamp them out by turning to

credit unions instead."

Credit Unions of Wales compared the

cost of an iPad with a well-known rentto-own

company against buying it on the

high street using a credit union loan. The

rent-to-own retailer would charge a 99.9%

APR interest rate, meaning the total repaid

over two years would be £676. This was

at least £254 more than borrowing from

a credit union – almost enough to buy

another iPad.

Andrew Johnson, advice manager at

the Money Advice Service, said: "Credit

unions are financial co-operatives, owned

by the people who use their services, and

not by external shareholders or investors.

Where profits are passed on to their

members in the form of better rates and

lower fees when compared to high cost

credit alternatives.

"At a time when people are more likely

to seek high-cost short-term credit, access

to affordable credit and understanding

your options is vital."

Credit Unions of Wales recommends

that people look at the interest rate, term

of the loan (how many weeks, months or

years) and total amount repaid to be sure

they are getting the best deal.

The campaign will encourage people

to use the social media hashtags

#credit2wales and #credydigymru.

12 | DECEMBER 2018
---
CREATIVE INDUSTRY

Aardman, the home of Wallace and Gromit, transfers control to workers

p Aardman co-founders Peter Lord and David Sproxton; and the studio's biggest stars, Wallace and Gromit

The co-founders of Aardman, the Oscarwinning

animation studio which created

Wallace and Gromit, is to transfer a

75% stake to its workers, to protect the

company's independence.

Peter Lord and David Sproxton

announced "that they are preparing the

company for continued success over

the next few decades by transferring

the company into employee ownership,

effectively selling the company to

the workforce".

They say this will secure "the creative

legacy and culture of the company",

which produced hits including Chicken

Run, Creature Comforts and Shaun the

Sheep, "for many decades to come".

The majority of Aardman's shares will

be transferred into a trust, holding them

on behalf of the company's workforce,

along similar lines to the John Lewis

Partnership. The senior management

team will remain in their existing roles

and will form the executive board to

ensure continuity.

Mr Sproxton will continue as managing

director but is looking to appoint a

successor – who will be accountable to

the trust – within the next 12 months

before moving into a consultancy role.

Mr Lord will remain in his role as

creative director with a focus on the

company's feature film output, set to

include a second Shaun the Sheep movie

and a sequel to Chicken Run. "We're

not quitting yet," said the two men in a

statement, "but we are preparing for our

future. This approach, the creation of an

employee trust, is the best solution we

have found for keeping Aardman doing

what it does best, keeping the teams in

place and providing continuity for our

highly creative culture. And of course,

those that create value in the company

will continue to benefit directly from the

value they create."

They added: "The statistics show

that employee-owned companies are

significantly more successful than

conventionally owned companies. So we

are very excited by the prospect of seeing

Aardman roll far into the future under

this arrangement and can rest easy that

those four decades which have slipped by

have paved the way for many more years

of great creativity."

Founded in 1972, the Bristol-based

studio – whose portfolio also includes

children's TV character Morph, Peter

Gabriel's Sledgehammer video and

computer-animated film Flushed Away –

has branched out into video games, theme

park attractions, commercial advertising,

interactive content and rights and brand

development.

Oscar-winning director Nick Park –

the key creative voice behind Aardman's

hits – will continue to have an active role

in the studio's feature film and shorts

productions. He will sit on the new

executive board of directors, which will

report to the board of trustees, which

will ensure the executive follows the core

values of the organisation and acts in the

interest of its workforce.

The executive board also includes

Heather Wright, executive director,

partner content, who said: "Employee

ownership is a perfect way of

futureproofing [Aardman's] independent

spirit and thinking, and allowing us

to protect the legacy while continuing

to nurture new talent and ideas and

diversify our storytelling into new areas

of theme parks, console games and

interactive content."

Deb Oxley, chief executive of the

Employee Ownership Association,

said: "We congratulate Aardman on its

transition to employee ownership, which

is a great example of where the employee

ownership trust model can be used to

secure the businesses ethos, creative

values and independence for the longer

term while helping those who supported

its creative success to share in the value

they create.

"This has been an exciting journey

for us to support David, Peter and the

team knowing that Aardman's iconic

productions will continue to bring joy to

fans for many more years to come."

DECEMBER 2018 | 13
---
OBITUARIES

Sir Dennis Landau, former CWS chief executive, 1927-2018

Sir Dennis Landau, former chief executive

of the Co-operative Wholesale Society

(CWS), has died after a short illness.

He joined the CWS – now the Co-op

Group – in 1970 as food controller and

was deputy CEO from 1974 to 1980 and

CEO from 1980 to 1992.

In the their history of the Group,

Building Co-operation, John F Wilson,

Anthony Webster and Rachael Vorberg-

Rugh wrote that, as deputy CEO, he played

a leading role in the rationalisation of

CWS's activities in the 1970s, with efforts

to modernise production and distribution

and to increase productivity.

Stepping up to the role of CEO, he

tried to improve CWS's commercial

performance by increasing integration

of the its retail activities, renationalising

production and distribution activities,

and developing closer links with retail

societies. He tightened up management

controls and reorganised CWS into seven

business groups to give the executive

team greater focus.

He also attempted to more closely

integrate the retail movement, including

unsuccessful moves to merge CWS with

Co-operative Retail Services.

Sir Dennis was born on 18 June 1927;

the third child of Michael Landau, a

metallurgist and Florence Landau. He was

educated at Haberdashers' Aske's School

Hampstead. His service in the British army

included participating in the liberation of

Bergen Belsen concentration camp.

He started his career as a food chemist

for Jaffa Juice. He then worked for

Schweppes, later Cadbury Schweppes

in various roles, including managing

director of Schweppes East Africa from

1958 to 1962 and deputy chair and

managing director of Cadbury Schweppes

Foods in 1970.

After leaving the helm of CWS he was

chair of the Unity Trust Bank from 1992

to 2000.

He was a member of the Metrication

Board from 1972 to 1980, chair of the

Council of the Manchester Business

School from 1991 to 1993 and a member

of the Court of Manchester University from

1992 to 2000.

Sir Dennis was knighted in 1987. He

was a keen rugby and cricket player and

was president of the Lancashire County

Cricket Club from 2003 to 2007 and vice

president until his death.

p Sir Dennis Landau

He leaves a widow, Lady Pamela Landau

(formerly Garlick) whom he married in

1992 and two stepsons; Christopher

and Stephen.

He is also survived by his sisters Daphne

Heiser (born 1921) and Vivienne Tabor

(born 1924) and his nephew Michael and

nieces Dahlia and Sarah as well as many

friends and relations.

Leo Barcham, founder of Queenslanders Credit Union, 1922-2018

p Leo Barcham

The founding father of the Queenslanders

Credit Union in Australia, Leo Barcham,

has died in Brisbane at the age of 96.

He helped set up the credit union during

his time as a Queensland public servant,

after some of his colleagues struggled

to purchase basic household items. At a

council meeting of the State Service Union

in 1963, he moved a motion that it sponsor

the formation of a credit union to help

members secure small loans.

Credit unions were the first in the

country to process payroll deductions

for their members once the federal

government lifted the embargo on credit

union registration in 1944.

"Because the borrower is a shareholder,

a part owner of the society, there is no

stigma of debt attached to the loan,"

Mr Barcham said in a subsequent

meeting, which led to the creation of the

Queensland Public Service Employees'

Credit Union.

"The needed finance is made available

to him, not as a favour, but as a right.

He himself has contributed to build up

this organisation to meet just such an

emergency for himself and his neighbours."

Mr Barcham's contribution to the

movement was recognised with a Pioneer

Award at the Australian Credit Union

Convention. The accolade praised his

devotion to the movement and practical

demonstration of the co-operative

principles and philosophy of credit unions

at state and national levels.

This year, Queenslanders merged with

Queensland Country Credit Union, forming

the state's second largest credit union.

Former Queenslanders chair and current

deputy chair of Queensland Country,

Christine Flynn, said: "Although Leo

retired from the board over two decades

ago, he was still well known and loved by

everyone in our team.

"Each year, including the last, he

attended our AGM and would often get up

and speak. His passion for the customer

owned banking movement was inspiring

and will leave a lasting legacy."

14 | DECEMBER 2018
---
GLOBAL UPDATES

USA

Credit unions respond to US mid-term election results

p The Democrats have taken the House of Representatives and the Republicans have held the Senate

US credit unions have reacted to the results

of the mid-term elections, which saw the

Democrats take control of the House of

Representatives and the Republicans hold

on to their majority in the Senate.

The Credit Union National Association

(Cuna) said a credit union-friendly

majority had been elected to Congress.

"Credit unions invested a record $7m

into this election to help continue the

positive momentum we've seen for

credit union priorities in Congress," said

Cuna CEO and president Jim Nussle.

"We're pleased that we'll have many

friendly faces in the next Congress,

and we'll be working hard to connect

with new members and engage with

returning members to advance credit

union priorities."

"Credit unions will continue to have

a strong seat at the table as we enjoy

bipartisan support in Congress," said Dan

Berger, president and CEO of the National

Association of Federally-Insured Credit

Unions (Nafcu).

"Whether working with Republicans,

Democrats or independents, our goal

is to achieve an appropriate regulatory

environment that provides a tailored

approach to regulation, a level playing

field, and transparent and independent

regulatory oversight for credit unions and

the 114 million members they serve."

In May, president Donald Trump signed

the Economic Growth, Regulatory Relief

and Consumer Protection Act, which

will result in a reduction in regulatory

requirements for small and medium-sized

banks, including credit unions.

The legislation was welcomed by Cuna,

which described it as a "monumental

win for credit unions".

But the now-split Congress could

curb legislative activity. Leadership

changes within some committees with

jurisdiction over the financial industry

and tax issues are also expected. "Any

legislation, other than must-pass items,

will need to be strongly bipartisan to

have a chance at passage," warned Nafcu

vice president of legislative affairs Brad

Thaler.

"For credit unions, this means Congress

may act on items including fintech, data

security and personal privacy, and housing

finance reform if bipartisan solutions can

be found."

He added: "Targeted regulatory relief

for financial institutions is also still

possible in areas addressing the Bank

Secrecy Act and anti-money laundering.

We expect that there could be a number

of hearings, as each side seeks to stake

out its position on issues, but getting

something moving will take building

bipartisan support."

The association is calling on both

chambers to address data security and

regulatory relief measures.

DECEMBER 2018 | 15
---
pTop: USAID provided food aid to help Wilfred Charles to build community irrigation for agriculture. Bottom: USAID supported Doaa Mohammed

Bakr Turky of Egypt with her duck farming enterprise. (Photos: USAID)

USA

USAID awards $60m for co-operative development

Ten US organisations have received

funding from the government to promote

co-operative development.

The US Agency for International

Development (USAID) granted $60m

(£46.04) over five years (2019 – 2023)

for the Cooperative Development

Program (CDP). Dating back to 1962,

the programme enables US co-ops and

their members to work on projects with

co-operatives in developing countries.

The US Overseas Cooperative

Development Council (OCDC) and its

member organisations received funding to

expand their work on agriculture, finance

and health.

Paul Hazen, OCDC executive director,

said: "The CDP is the only programme

within USAID that is focused on

co-operatives and the programme's

impact has been significant, lifting

millions of people from poverty by

leveraging private funding to amplify

public funds."

The eight OCDC members who received

funding are Cooperative Resources

International, Equal Exchange, Global

Communities, HealthPartners, Land

O'Lakes International, NCBA Clusa,

NRECA International and World Council

of Credit Unions (Woccu). Frontier

Cooperative Herbs also received a grant

from USAID.

In addition, OCDC was granted $6.9m

through the CDP to research the impact

and effectiveness of co-operatives in

international development.

One of the OCDC members to benefit

from funding, Woccu is running

a co-operative development project on

Technology and Innovation for Financial

Inclusion (CDP TIFI). The initiative

will increase sustainable lending to

small and medium enterprises (SMEs)

by deploying Woccu's SME Lending

Toolkit and building a global

knowledge-sharing platform.

For this project, Woccu is working

with a number of regional partners – the

Confederation of Financial Institutions

of West Africa (Confédération des

Institutions Financières de l'Afrique

de 'Ouest, CIF) in Burkina Faso; the

National Federation of Savings and

Credit Cooperatives (Federación

Nacional de Cooperativas de Ahorro y

Crédito, FENACOAC) in Guatemala; and

the Kenya Union of Savings and Credit

Co-operatives (KUSCCO).

Land O'Lakes International

Development was awarded funding

to support new agricultural capacitybuilding

and food safety programmes in

Georgia, Egypt, Bangladesh, Lebanon,

Rwanda and Malawi.

John Ellenberger, executive director

of Land O'Lakes International

Development, said his organisation

"welcomes the ongoing partnership

of USAID and USDA as we

continue leveraging the expertise

of a nearly century-old, farmer-owned

co-operative to improve livelihoods

and enhance agriculture worldwide.

"We're excited to build collaborative

efforts for international economic

development that unite host country

agricultural stakeholders, Land O'Lakes,

Inc. farmers and technical staff,

government leaders and academic experts

to maximise results."

16 | DECEMBER 2018
---
USA

America's community credit unions

gather to welcome an Inclusiv new start

p Delegates including Cathie Mahon (third from left) and Matt Bland (third from right)

The umbrella body for the USA's

community development credit unions

announced its new brand at its national

conference last month.

The event, in Florida, saw chief

executive Cathie Mahon unveil the name

change from the National Federation of

Community Development Credit Unions

to Inclusiv.

She said: "For decades, the federation

and community development credit

unions (CDCU) have been building trust

and delivering relevant products to

underserved people with dignity and

respect. Inclusiv will build on the 44

year legacy of the Federation to grow the

visibility and impact of mission-driven

credit unions."

CDCUs have a mission of serving

low- and moderate-income people, and

specialise in serving populations with

limited access to safe financial services.

The conference was attended by a

delegation from UK sector body the

Association of British Credit Unions

(Abcul), including representatives

of Enterprise Credit Union, First Scottish

University Credit Union, Pennine

Community Credit Union and Transave

Credit Union.

David Harris, marketing manager at

Pennine Community Credit Union (PCCU)

presented a workshop sharing how he

transformed PCCU's digital marketing

strategy and how it has coincided with a

significant growth in the credit union's

lending book.

Abcul's Matt Bland also addressed

delegates in a plenary session drawing

comparisons between credit unions in the

UK and US.

Pablo DeFilippi said he saw the

partnership between Inclusiv and Abcul

as a "great opportunity to be able to share

our experiences and learn from each other

as we face so many common challenges in

successfully serving communities".

He added: "It's been great to continue

our partnership with Abcul and the UK

credit union sector.

"We hope to be able to build on this

partnership in the coming years to the

benefit of underserved people in both the

UK and US."

Electric co-ops use low-interest loans to power efficiency savings

Electric co-ops in the USA are offering

low-interest loans to members, which

are repaid with their monthly power

bills, so they can afford energy-efficiency

improvements.

The loans, which come at 3% interest,

are available under the Rural Energy

Savings Program (RESP), a scheme from

the US Department of Agriculture which

has made up to $100m available for loans

during the 2019 fiscal year.

NRECA, the umbrella body for the

country's electric co-ops, says its member

organisations can obtain funds from the

pool at 0% interest and use them to help

consumer-members make long-awaited

efficiency improvements with no need for

down payments.

Energy upgrades funded through the

scheme include high-efficiency heat

pumps, attic insulation, caulking, and

weatherstripping – which will help

co-op members keep electricity costs

down and be "bill neutral", with the

monthly savings from the upgrades

offsetting the monthly loan payments.

Help is also being offered to members

who get energy audit options for financing

energy-saving improvements and

upgrades. That's particularly attractive

for higher-cost improvements they

otherwise might delay or avoid because

of upfront costs.

NRECA says the scheme comes at a

welcome time, as the demand for winter

heating begins, and is particularly

important in states like South Carolina,

where a quarter of co-op members live in

prefabricated housing which can be prone

to heat leaks as they age, forcing utility

bills through the roof.

It gives the example of Diane Taylor,

a member of the state's Aiken Electric

Cooperative, who once received a

bill of more than £700 for her poorly

insulated home. The co-op enrolled her

in its Help My House programme, which

saw contractors make improvements

including insulation, caulking and

weatherstripping, a new energy-efficient

heat pump with a thermostat, and sealed

duct work. Ms Taylor told NRECA the

changes are saving her family around

$250 a month, compared to bills before

the upgrades.

"Help My House makes the members'

home more comfortable, saves them

money and they are appreciative," said

Gary Stooksbury, CEO of Aiken Electric. "If

we are truly about the member, we should

help them lower their energy costs."

DECEMBER 2018 | 17
---
GLOBAL

International Conference of Labour

Statisticians adopts draft co-op guidelines

The 20th International Conference

of Labour Statisticians adopted a series

of guidelines to develop a set of statistics

on co-operatives.

Held once every five years, the

conference brings together experts from

governments, employers' and workers'

organisations, and other interest groups

to make recommendations on labour

statistics.

Once the governing body of the

International Labour Organization (ILO)

approves them, the recommendations

become part of international standards on

labour statistics.

The International Co-operative

Alliance (ICA) has been involved in this

process, along with the ICA Committee

on Cooperative Research (CCR) and the

International Organisation of Industrial

and Service Co-operatives (CICOPA).

The draft guidelines point out that

statistics on co-ops should allow for

monitoring of their contribution to labour

markets and the economy; inform the

design, implementation and evaluation

of economic and social policies and

programmes; and facilitate analysis

of groups of workers or members such as

women and men, young people and other

groups of particular concern.

According to the recommendations,

the set of statistics should include data

regarding the number and the type

of co-ops, the members of co-ops, the work

generated in co-ops, and the economic

contribution of co-ops.

In addition, the guidelines mention that

statistics on co-ops should be developed

in consultation with the various users of

the data, "in harmony with other social

and economic statistics and in accordance

with international standards".

The document also includes reference

concepts and definitions, looking at the

different types of co-ops.

The draft guidelines had been discussed

earlier in April at the second meeting

of the Copac Technical Working Group

(TWG) on Cooperative Statistics at the

ILO's headquarters in Geneva.

Set up by the Committee of the

Promotion of Co-operatives (Copac) in

2016, the TWG unites key stakeholders

such as national statistics offices, the

co-operative movement, COPAC members,

UN agencies, government representatives

and researchers, to improve the

quality, accessibility and comparability

of statistics on co-operatives around

the world. Its first meeting took place

in 2017.

CANADA

Credit unions pioneer an authenticated voice banking service

Two credit unions in Canada have

launched an authenticated voice

banking service using Amazon Alexa.

The technology is being pioneered by

Innovation Credit Union and Conexus

Credit Union, who partnered with credit

union service organisation Central 1.

The service will enable customers to

make payments, send money to vendors,

transfer money between accounts, and

better understand their financial wellness

with just their voice.

The technology will also help those who

are visually impaired, or are unable to

leave their homes or to use their keyboards

or smartphones to conduct their banking.

"Credit unions need to fix the public's

perception that banks are more innovative

than they are, and this is a giant step in

that direction," said Alexander Chan,

product manager with Central 1, who led

the team that developed the technology.

"This new technology is a game

changer in that it improves the banking

experience for a specific demographic of

user; it simulates talking to a live agent,

is secure, flexible and helps people

better understand and manage their

financial wellness."

Mr Chan added that the technology

was the result of "a highly collaborative

environment and the values that drive

co-operative businesses".

"The credit union system is different

from other financial institutions in the

sense that bureaucracy doesn't factor in to

the decision-making process. As a result,

p The new service uses Alexa

we were able to create something very

special, very quickly. Not putting profit

before people means we can focus on the

innovation and design process."

"Conversational user interaction is

going to play a significant role in future

member interactions, particularly with

millennials and Gen X," said Dean Gagne,

chief digital and technology officer,

Innovation Credit Union, which provides

financial services to over 49,000 members

including individuals, businesses, and

organisations across the province of

Saskatchewan.

At Conexus – Saskatchewan's largest

and Canada's sixth largest credit union

with 125,000 members – chief digital

officer Jeremy Trask said: "We are

passionate about providing solutions

that make a meaningful difference for our

members. Banking is no longer a place

you go, but a thing you do. Partnering

with Central 1 means we're able to ensure

our members are getting game-changing

technology."

18 | DECEMBER 2018
---
COLUMBIA

Step to equality: Co-op insurance body

manages equal gender split at Americas event

p Delegates at the LARG event in Panama City

(Photo: ICMIF)

The International Co-operative and

Mutual Insurance Federation (ICMIF)

had an equal number of men and women

participate in its Americas conference as

speakers, panellists and moderators.

The event, held on 19-21 November in

Cartagena, Colombia, focused on how

co-operative and mutual insurers can

future-proof their businesses to ensure

sustainable competitiveness and the

ability to remain resilient.

Earlier in September, at the annual

meeting of the Latin American Association

for Reinsurance Education (LARG) in

Panama City, women overtook men on

the agenda, with 15 women speakers as

panellists and moderators compared to

12 men.

The federation's 2017 Biennial

Conference saw a 28% representation

by women on the speaker list and 30%

representation by women on the delegate

list. ICMIF also ran a Young Leaders

Programme at this event, with 49% of the

young leader delegates being women.

"Thirty-one companies from 16

countries sent young leaders to participate

as delegates, and one of the threads

running through the whole conference

was the need for mutuals and co-ops to

develop the next generation of talent,"

says ICMIF vice-president for Business

Intelligence, Ben Telfer.

"The young leaders' attendance

was embraced by the CEOs and senior

executives who attended and their

presence added to the diversity of thought

at networking events and discussions.

I was delighted to see such an equal

diversity split amongst the participants

too," he added.

ICMIF set up a Young Leaders Forum for

millennials who have been identified by

their senior managers as strong candidates

to become future leaders within their

organisations. The Forum includes seven

women and five men reflecting current

membership.

Promoting equality is a concern for the

whole co-operative and mutual insurance

sector. Previous research carried out

by ICMIF showed that the percentage

of women on the boards of directors of

mutual and co-operative insurers rose to

20.6% in 2015, compared to an insurance

industry average of just 17.8%.

According to the report, 85% of ICMIF

member companies had at least one

woman director on their board in 2015

and 48% of companies had three or more

women directors, a significantly greater

percentage than the industry average of

just 17% at that time.

SWITZERLAND

Credit unions

to benefit from Basel's

revised stress tests

Revised stress testing principles from the

Basel Committee on Banking Supervision

are expected to reduce the regulatory

burdens on credit unions and other

community-based financial co-ops.

Regulators across the world implement

the Basel standards when conducting

stress tests of credit unions and other

community -based co-operative depository

institutions. The changes, agreed last

month, will help ensure these tests are

carried out on a more proportionate basis.

"These principles are intended to

be applied on a proportionate basis,

depending on the size, complexity

and risk profile of the bank or banking

sector for which the authority is

responsible," read the guidelines issued

by the Basel Committee.

The decision represents a major

success for the World Council of Credit

Unions (Woccu), which earlier this year

called for the change.

Michael Edwards, who leads Woccu's

advocacy efforts, said: "World Council

members have often reported 'goldplating'

and excessi.

"The Basel Committee's updated

stress testing principles should help end

those excessive compliance burdens on

credit unions."

The changes should reduce

unnecessarily high capital requirements

on a case-by-case basis, he added.

"The results of stress testing often

lead to the credit union's prudential

regulator requiring the institution to

hold more regulatory capital than the

applicable rulebook would normally

require," he said, "so making those

tests more proportional should in

general reduce capital requirements

on community-based institutions that

are subject to stress testing, but may

help increase capital requirements for

the much more complex too-big-to-fail

banks that the stress testing rules were

originally developed for."

p Woccu's Michael Edwards welcomed

the decision

DECEMBER 2018 | 19
---
EUROPE

The last straw: Co-ops get behind the EU's plastic crackdown

On 24 October MEPs voted to ban singleuse

cutlery, cotton buds, straws and

stirrers – which make up over 70% of

marine litter – by 2021.

Euro Coop, a trade body that represents

European consumer co-op, welcomed the

decision, which also bans products made

of oxo-degradable plastics, such as bags

or packaging and fast-food containers

made of expanded polystyrene.

Under the draft regulations, nonbanned

plastics for which no alternative

exists, such as single-use burger boxes,

sandwich boxes or food containers

for fruits, vegetables, desserts or ice

creams, will have to be reduced by 25%.

Furthermore, beverage bottles will have

to be collected separately and recycled at

a rate of 90% by 2025.

Measures also cover waste from

tobacco products, in particular cigarette

filters containing plastic, which would

have to be reduced by 50% by 2025 and

80% by 2030. Tobacco companies will

be expected to cover the costs of waste

collection for those products, including

transport, treatment and litter collection.

In addition, members states will

need to ensure that at least 50% of lost

or abandoned fishing gear containing

plastic is collected per year, with a

recycling target of at least 15% by 2025.

Fishing gear represents 27% of waste

found on Europe's beaches.

Rosita Zilli, deputy secretary general

of Euro Coop, said European consumer

co-operatives were already active in

making the shift from a linear to a

circular economy.

"One of the main conclusions is that the

throwaway society in which we currently

live has its days numbered and that it is

no longer the time to speak about 'waste'

but of 'reusable resources'," she added.

"Being retailers mainly active in the

food area, consumer co-operatives that

are members of Euro Coop translated

this precept into action to tackle and

transform waste and rethink how current

production and consumption patterns

take place. Against this backdrop,

yesterday's EP vote is certainly a move

that supports Euro Coop members' vision

and spirit towards an enhanced global

circular economy."

Europe's industrial and service

co-ops join social economy group

The European confederation of industrial and service

co-operatives, Cecop–Cicopa Europe, is the latest organisation

to join Social Economy Europe (SSE).

SSE represents the 2.8 million social economy enterprises,

including co-operative and mutual insurers, health mutuals,

industrial and service co-ops, foundations, associations of

general interest, social enterprises, ethical and alternative

banks, and cities and regions which support the social economy.

Its president, Juan Antonio Pedreño, said: "We are extremely

happy to welcome Cecop–Cicopa Europe. Co-operatives active

in industry and services are a key pillar of the social economy.

Together, we will continue strengthening the voice of the

European social economy, we will boost our visibility and we

will tirelessly work for a more conducive ecosystem for all

social economy enterprises and organisations."

Cecop–Cicopa Europe president, Giuseppe Guerini,

added: "SEE is the natural place to grow together with

other organisations that share and promote economic

democracy, and citizens' participation in the construction of

a fair, free and inclusive market composed by different forms

of enterprises.

"We are very pleased to become a member of SEE with

whom we have been sharing vision and goals for a long time.

In this delicate moment of EU history the role of organisations

bringing people together, fostering unity and participation in

order to achieve solidarity and social inclusion is crucial."

20 | DECEMBER 2018

Untitled-1 1 20/09/2018 14:10
---
EUROPE

MEPs explore

the role of social

co-ops in agriculture

p The meeting at the European Parliament

Social co-operatives play a key role in

the agricultural sector in Italy. Their

contribution was the topic of a meeting

hosted by MEPs Elena Gentile, Paolo De

Castro and Roberto Gualtieri (S&D, Italy)

at the European Parliament.

Social agriculture enterprises are

co-ops or other businesses that operate

in the agricultural sector to foster social

inclusion. Around 46% of all enterprises

involved in social agriculture in Italy are

co-operatives. They employ people from

very vulnerable backgrounds such as

ex-offenders, people with disabilities,

refugees, and people struggling with

addiction and mental health issues.

Others provide jobs for people in territories

previously controlled by the mafia.

Ilaria Signoriello from the Euro+Med

Agri Network said decision-makers

should be aware of the economic and

entrepreneurial dimension of social

co-ops in agriculture, which is also seen

in Portugal, Czech Republic and Hungary.

Paolo De Castro expressed concerns over

the cuts to Common Agriculture Policy

(CAP) funding. The budget allocated to

the CAP represents a share of 28.5% of the

overall EU budget for the period 2021-2027,

down 5% from the previous budget.

Roberto Gualtieri called for a European

legal framework for social agriculture.

And CECOP president Giuseppe Guerini,

former president of Federsolidarietà,

looked at the importance of economic

biodiversity, stating that in order to

thrive, societies had to promote a variety

of economic models. He concluded by

calling for an alliance of social co-ops

active in agriculture and public decision

makers to promote this model.

Former refugee hostel re-opens as sustainable hostel

WELCOMMON, the hostel that provided

accommodation to refugees and asylum

seekers in Athens, is now open to

tourists. In February, the UN Refugee

Agency told organising co-op Wind of

Renewal that it will now focus on small

structures such as apartments, rather

than larger facilities such as the hostel.

Funding is still an issue and they are

looking for donations and investors.

New creative co-op for New Zealand's Wairoa District?

A creative co-op looks set to be formed in

New Zealand's Wairoa District following

a visit from Craig Presland, CEO of Coop

Business NZ – the country's representative

body for co-ops – to encourage the

development of local co-op businesses

in the area. He said he wanted to help the

region build upon this economic success

using the co-operative model.

The Co-operators to provide medical cannabis coverage

Canadian insurer the Co-operators is

introducing optional medical cannabis

coverage for its members. Medical cannabis

does not have a Health Canada Drug

Identification Number and is not eligible

for coverage under prescription drug

plans. The Co-operators will consider it

an eligible expense under the 'all other

extended health care' category.

Mauritius Business minister pledges support for co-ops

Co-operatives are on the government's

agenda in Mauritius, according to the

Minister of Business, Enterprise and

Cooperatives, Soomilduth Bholah. Speaking

at the National Awards for Co-ops 2018 on

14 November, the minister highlighted

some of the government's policies around

co-operatives.

José Antonio Chávez Villanueva Award winners

Young co-operators making contributions

to the movement were presented with

awards at the 5th Co-operative Summit

of the Americas. The awards are a tribute

to the late youth member of the board of

the International Co-operative Alliance,

José Antonio Chávez Villanueva, who was

killed in a car accident in December 2014.

DECEMBER 2018 | 21
---
MEET...

Meet ... Katie Cosgrave,

Alumni Lead at RECLAIM Project

Katie Cosgrave is youth engagement officer at the RECLAIM Project, a youth

leadership and social change organisation. The charity works to support

and amplify the voices of working class young people. One of its projects

involves running leadership programmes for 12-15 year olds from working class

communities and support them through an Alumni Network until they are 22.

The charity also developed a range of pilot projects and campaigns on issues

that affect working class communities.

CAN YOU TELL US MORE ABOUT THE RECLAIM

PROJECT? HOW DID YOU GET INVOLVED IN THIS?

Reclaim Project is a charity for working class young

people. We work with working class communities;

we go into that community, talk with them and

work out what assets are already there. We then

work with them on asset building, looking at how

we can make the spaces better for young people,

and how we can ensure those young people are

being represented in the community.

I started in 2007 on the first Moss Side project as

an internship when [founder] Ruth Ibegbuna was

the CEO. From there I always supported the work,

and I received a paid position four years ago. I love

it! It's an absolute privilege to work with these

young people.

DO YOU WORK WITH ANY CO-OPS?

We have worked with co-ops in the past where

they have come in and spoken to our young

people. Recently, Co-operatives UK's John

Atherton came to a session to speak about

what co-operatives are, their values, and their

importance. It was interesting as the way

co-ops do things aligns with how the Reclaim

Project believes communities should be run.

WHAT WOULD BE YOUR TIPS FOR CO-OPS AND

ORGANISATIONS LOOKING AT REACHING YOUR

TARGET AUDIENCE THROUGH CAMPAIGNING?

I would say that there needs to be an offer there.

They need to make sure that they are positively

representing young people. They need to make

sure that there is definitely something in it for the

young people and provide spaces to listen. Young

people need spaces. If they are in school they don't

have space – they are just there going from lesson

to lesson. The only time they get is when they are

home facetiming with their friends. They need a

space where they can be themselves. Young people

have a lot to say they are just not being asked the

right questions.

CAN CO-OPS HELP TO EMPOWER YOUNG PEOPLE

WITH THEIR ONE MEMBER, ONE VOTE PRINCIPLE?

The way in which co-ops are set up is what our

young people want to see. They want an equal

society. They want people to do things not just

A LOT OF YOUNG PEOPLE REFER TO RECLAIM

AS A FAMILY. IT'S A SPACE WHERE LIKE-MINDED

YOUNG PEOPLE CAN HAVE CONVERSATIONS

ABOUT ISSUES THAT PEOPLE ASSUME THEY

WOULD NOT WANT TO TALK ABOUT.

22 | DECEMBER 2018
---
for money but because they need doing. They

understand that and want to take action on things

that needs doing.

RECENT RESEARCH FOUND THAT 40% OF YOUNG

PEOPLE FEEL LONELY. HOW IS THE RECLAIM

PROJECT WORKING TO ADDRESS THIS?

RECLAIM project helps to address loneliness

within young people by offering that space for them

to meet. When they are with us, our young people

are in a non-judgemental environment. They

are listened to, they are treated like adults, with

respect. We would never ask anything of them that

they felt uncomfortable with and there's a space for

them to come and talk. A lot of young people refer

to the Reclaim Project as a family. It's a space where

like-minded young people can have conversations

about issues that people assume they would not

want to talk about. A lot of our young people talk

about politics and society and it's a chance for

them to express their views and opinions safely.

WHAT HAS BEEN THE CAREER PROGRESSION OF

YOUNG PEOPLE INVOLVED IN THE SCHEME?

We've got a few young people that have worked for

us. We've given jobs to them, internships; we've

supported young people to go to university and

study law or other subjects. We can provide books

for them as well. But also it's about having someone

who listens to them. A youth worker stays with the

young person a long time and has conversations

about how they feel, including when they feel upset

or that they don't fit in. Having that conversation

with someone they can trust is what they need.

DECEMBER 2018 | 23
---
YOUR VIEWS

RE: BUTTERFLY AWARDS, BEST

BEREAVEMENT WORKER IN THE UK

In the last issue of Co-op News, I read

about Co-op Group Funeral director

Annabel L Davies being nominated for a

national award.

It's an honour for the funeral director,

but her first question asked: "Why me?"

Why not?. Many never bother to give that

little extra. It cost nothing.

I was nominated for the 'Pride of East

Yorkshire Award' a few years ago. It's a way

of saying 'thank you' for thoughtfulness,

and an appreciation of what you freely give

back to people who need help

David Teacher, Hull

Have your say

Add your comments to our stories

online at www.thenews.coop, get

in touch via social media, or send

us a letter. If sending a letter, please

include your address and contact

number. Letters may be edited

and no longer than 350 words.

Co-operative News, Holyoake

House, Hanover Street,

Manchester M60 0AS

letters@thenews.coop

@coopnews

Co-operative News

JOIN IN LIVE WRAPS UP

Over the last three months, the Co-op

has hosted 24 'Join in Live' events up

and down the country. It's been a chance

for members and colleagues to engage

with us about our progress as a business,

the connections we've built with our

communities, the funding of our local

causes, and the important issues we're

tackling now for the future.

What a brilliant, insightful time it's

been! The workshops we ran on our 'Future

of Food' plan particularly provided us

with lots of insight and talking points on

recycling plastics and becoming greener.

On behalf of the National Members'

Council, I want to thank everyone who

came along to one of the events – your

feedback and suggestions will really help

us to shape the work we do and how we

plan our events for next year, making sure

that your interests are at the heart of it all.

It was great to hear from members who

found the events as worthwhile as we did.

I've picked out some of my highlights to

share with Co-op News readers.

"I really enjoyed the event tonight. It was

great to meet and talk with other members

and Co-op colleagues and representatives,

and to hear about all the latest

developments. A fantastic opportunity to

feed back our views on what the Co-op is

doing. I hope you will consider running a

similar event in our area in future."

"Thank you so much for today. As I said

at the end of the meeting, it was a real

eye opener to see what else the Co-op is

about. As a retired farmer, I appreciate the

way Co-op supports British farming and

that is what drew me into membership in

the first place.

I also appreciate the work that is being

put into free-from foods. I have a grandson

who is allergic to cows' milk protein, so

your efforts are much valued.

As a Women's Institute (WI) member,

we are in the middle of our 'plastic soup'

campaign (tackling ocean pollution), so I

can report back on what was promised at

the meeting.

The meeting was most informative, and

considering I only attended to be nosey, I

came away with lots of information."

"Thank you for a really interesting

session at the Join in Live event in

Wrexham. I enjoyed hearing from Member

Pioneers and others about all the good

things that were happening with the

community projects. It is uplifting to think

that so many people are benefiting from

our 1%."

Join in Live has been a great success, and

we have our members and communities

to thank for getting stuck in and being so

passionate about helping us to make a

difference. Here's to making 2019 even

better, hope to see you there.

Nick Crofts,

President of the Co-op Group

Members' Council

24 | DECEMBER 2018
---
'Business as usual' is going to kill the planet,

according to Lord Victor Adebowale, and it is up

to co-operatives, social enterprises and associated

organisations to change the future.

Lord Adebowale, who chairs Social Enterprise

UK, is chief executive of the social care enterprise

Turning Point and sits on the board of the Co-op

Group, opened the Practitioners Forum, telling

delegates that their different way of doing business

was the future.

He highlighted how shocks to the economy,

including the 2008 financial crisis, have meant

that every survey for the last decade shows public

opinion of business going the wrong direction.

"People don't trust business," he said. "They

don't trust business leaders and they don't trust

the notion of business. This is worrying, as

business is important to society – but the future of

society relies on new models of business."

The public is looking for a new vision, he said.

"But we're it! The co-op economy contributes

more to GDP than the country's entire agriculture

sector. The top five co-ops pay more UK tax

than Google, Apple, Amazon and Starbucks

combined. The UK's 11th largest taxpayer

is Nationwide."

He believes that younger generations know that

their future does not and cannot rely on 'business

as usual'. Instead, business will be about helping

people and their communities thrive.

"We are standing on a burning platform," said

Lord Adebowale. "We don't have the luxury of

time. Business as usual is going to kill the planet.

We have to grow faster than business as usual in

order to influence the economy and the politics

that drive it.

"These are big issues, and we have to succeed.

Our kids depend on it. It means delivery of real

business results."

He said the emergence of businesses 'for good'

shows that 'business as usual' recognises the

positive difference co-ops can make. "We need to

understand and protect what that difference is,

and understand why they want to be us."

Part of that difference, he said, lies in the

co-op values and principles, and their practical

application. On membership and democracy, he

challenged delegates: "You have to get people who

aren't in this room to join. We think democracy

is the same as voting. It's not – it's the process of

debate. We have to take the debate out there and

we have to use language that is understandable

outside of this room."

Co-op leaders gathered at the Practitioners Forum in Manchester

on 22 November for a series specialist forums on communications;

finance; governance; HR and membership. This one-day event,

organised by Co-operatives UK and sponsored by Co-op Insurance,

was designed to offer experts advice and peer-to-peer networking.

He believes that in terms of education,

"we haven't achieved anything until people

leaving business schools know what a co-operative

business is. We need to change how economics

and MBAs are taught. We need to teach how

co-ops are led with the culture and values of the

business in mind."

He also noted how, according to the UN, the

UK's government's austerity measures inflicted

"great misery" on its people. "It's cruel," said

Lord Adebowale. "If we're not part of the solution,

what's the point? If we can't provide a solution

for people at the sharp end of the economic scale,

what are we doing?"

He added: "We are standing on the edge of the

future. The energy that should provide us with

should be tremendous, there is no better energy

than the future. The future is precious, it's not a

game, isn't not something that can be put to one

side. Success is the difference between a good

society for our kids and business as usual."

F PPractitioners

Forum 2018

Lord Victor Adebowale

DECEMBER 2018 | 25
---
Successfully engaging a digital audience requires

understanding human behaviour, said Zoe Lawrie

from the Co-operative Bank during a session

on marketing. She offered a series of tips for a

successful digital engagement.

With 90% of adults in UK having an online

presence, going digital can help businesses

listen, respond and engage with their customers

or clients, she said.

Digital marketing has an advantage over

traditional channels because it is not limited

to a geographical area, which means that local

co-ops can run national campaigns and have a

24/7 online presence.

"From a business point of view, social media

is crucial but it is not a shop window – it is an

opportunity to have a dialogue and learn from

people," said Ms Lawrie.

She argued that the key to a successful approach

is taking into account the fact that people buy

benefits, not products. Digital marketing also

enables co-ops to track the success of their

campaigns, measuring impact with analytics tools

from search engines and social media platforms.

campaign. The Bank does not have a Snapchat

account but spread the message through the filter.

IMPROVE SEO RESULTS

Another marketing challenge is search engine

optimisation. Ms Lawrie advised co-ops, when

considering this, to type searches for the things

PRODUCE VIDEOS

New technology has brought new ways to present

information, and Ms Lawrie said co-ops should

produce videos for promotion on social media –

making sure they are pinned posts.

"Video far exceeds engagement more than

anything else – if you are not filming stuff do it,"

she said. It is predicted that 80% of all internet

traffic will be video in the next two years.

CHOOSE APPROPRIATE CHANNELS

Choosing the right platform for each promotion

is crucial, said Ms Lawrie. Engagement on social

media and responding to customers helps to

boost a post shared on Facebook, she said, while

effective use of hashtags and tagging key people

can bring more retweets on Twitter.

"Followers and those commenting on posts

become advocates for you," she said.

Retailers can also use Instagram to share visual

and user-generated content, which will also attract

bloggers and influencers. LinkedIn can help

co-ops engage more formally with executives,

other businesses or potential employees.

This year, the Co-operative Bank designed

a Snapchat featuring one of the Manchester

bees it had sponsored. The filter was used by

members and employees to promote a marketing

they want to be known for, the things are interested

in, and the names of their competitors – and then

to study the results of the search to inform their

own web presence.

Giving away something for free boosts search

engine results and so does registering the

business's address on Google.

Another way to maximise online presence is

to encourage members and customers to write

reviews of the business and its services. And

having their business listed on Google will help it

get more reviews and be found more easily.

"You can include photos, how the business

looks, what you sell, add videos and people can

post reviews that you can respond to, thank and

share," said Ms Lawrie. "You can ask people to

post reviews and give them vouchers."

She explained that being relevant and

unique, having other websites linking to the

business and being active on social media could

all help bring a business higher up in search

engine results.

Zoe Lawrie,

The Co-operative Bank

26 | DECEMBER 2018
---
START BLOGGING

Blogging is also an important method

of promotion; posts can be used to share skills,

insider tips, member stories and recipes.

"Give something back – don't start by expecting

members, communities and customers to

contribute and buy something from you. Give

them something first," said Ms Lawrie.

"Ask your communities and network to write

for you and use those on your blogs. Get in

touch with people who have content and who

share each others. You have a community of like

- minded people. Build it. Exploit it. Use them.

Get involved in videos, share value. Add value to

people's lives. Remember we want people buying

into better versions than themselves. How can you

help them do that?".

Delegates were given the chance to view

Co-operatives UK's draft framework and guidance

around Key Performance Indicators for co-ops.

The document is based on the seven co-op

principles. It takes each principle, identifies a

number of core questions to consider, and sets

out examples of KPIs and how support metrics

can be used.

It aims to help co-ops think about how KPIs

help deliver member value, member voice and

co-operative values. The guidance uses

an open set of questions, which can be used

as a starting point for discussions around core

objectives and how the mission is delivered.

"The framework was designed to be simple

and flexible, bringing together co-op principles and

business principles. It's a living document waiting

for feedback from members. We are still consulting

with people on it," said John Sandford chair

of the Co-operative Performance Committee.

"It's a question-based framework, not aimed

to be prescriptive," added Shelagh Everett

of Co-operatives UK. "It's about getting the right

KPIs for your co-op."

She explained that the context or answer

to questions may differ across co-operatives.

Some KPIs may be relevant to certain types of

co-operatives only but all can be used to prompt

debate, she said.

The framework can be used by all co-ops,

irrespective of type, size or sector and will soon be

available online.

DECEMBER 2018 | 27
---
HOW TO ENGAGE AND CAMPAIGN WITH YOUNG PEOPLE

LESSONS FROM THE RECLAIM PROJECT

Ask any co-operative business to list some of its

biggest challenges, and more likely than not the

issue of 'engaging young people' will come up.

Almost one third of the world's population is under

18. Young people have an influence on decisionmaking

a all levels; they are future members,

customers and colleagues.

At the 2018 Practitioners Forum, organised

by Co-operatives UK, Katie Cosgrave from the

Reclaim Project looked at the issue of engaging

and campaigning with a younger audience.

How do you reach a younger demographic

through campaigning? Who really benefits

from the campaigns? And how can you reach

the 'unreachable'?

Reclaim is a youth leadership and social change

organisation set up in Moss Side in 2007 to enable

working class young people to be seen, be heard

and lead change. It was started by Ruth Ibegbuna,

a teacher, who was one of many to be angered

by how the shocking murder of 15 year-old Jessie

James in broad daylight was reported. To the

media it was the death of another black youth in

an area rife with crime and drug use.

"The image of young people in Moss Side at the

time was that they were thugs, in gangs, and up

to no good," said Ms Cosgrave, youth engagement

officer at Reclaim. "Ruth knew differently. She

knew that they were clever, articulate and had

the answers – they just weren't being asked the

right questions.

"Ruth organised an event for 30 young black

boys from the area who, during their half term,

spent a week talking about stereotyping, racism

and representation. They worked on how to

articulate their problems without sounding like

they were kicking off." This first event evolved into

a campaign, and then the Reclaim Project.

FREEBIES

Presenting alongside Ms Cosgrave was Olivia

Clarke, a 16 year-old student who has worked

with Reclaim for several years. She first attended

Reclaim events as a "shy young girl" – drawn in

by free food.

"It was goodness knows how many chicken

mayos and KFCs later, that I realised that I had

a passion for political change. It was then that I

became an independent young woman!" she said.

"My point is, that in order to engage young

people, you have to give them something –

specifically, something free. Free food or tech –

they're the two things that young people love the

most. I can almost guarantee that attendance will

be high if there's a freebie. There will be people

who just come for that freebie – but by the end of

the session you will find a core group of people who

will actually want to work with you on whatever

your campaign is."

ASKING THE RIGHT QUESTIONS.

Ms Cosgrave highlighted how it is unlikely that

anyone aged 12 would say they are interested in

politics, for example, "but you just need to ask

different questions".

"If instead you ask 'Do you care how you are

educated?', 'Do you care how many people are in

your classroom?' or ' Do you care how you get to

school or what the bus journey is like?' then yes,

they'll be interested and they'll have a lot to say.

"It's about removing the terminology. Young

people just want honesty. Tell them what

you're doing and why you're doing it. And keep

them updated."

MANIFESTO

Creating a manifesto is another good way to start

a campaign. "It's a professional document for

young people to refer back to," said Ms Cosgrave.

Above: Alumni Lead at

Reclaim Project, right,

Olivia Clarke, a student

who works with Reclaim

28 | DECEMBER 2018
---
REPRESENTATION

A lot of terms used when talking about young

people are overly negative, said Ms Cosgrave. So

start talking positively about them and represent

them in a way that they would be proud to

be represented.

"When something represents you, you want

to look at it and say 'Yes, you haven't done a

disservice to me, that absolutely represents me'.

"If you have boards or are doing consultations,

make sure that everyone there represents a

different part of society, so young people can look

and think 'Yes, I look like them, I sounds like

them, I could be in those positions'."

But it's also important not to stereotype or use

tokenism, added Ms Clarke. "I don't choose where

I live – that place doesn't label me. OK I may be

poor financially, but I'm rich in values. I don't

need money or a postcode to define me."

She related a story of how a politician,

campaigning in her area, asked if he could get a

picture with her. "I had to tell him: 'No, I'm not

your little campaign prop'! Just because you pose

with a young person doesn't mean you benefited

them or worked with them.

"They can see what they've stated, what it is that

they want to do."

Reclaim runs a conference week where young

people are given space to discuss ideas around

leadership, activism, enterprise and community

development – and at the end they create their

own manifesto.

One such manifesto led to the creation of Moss

Side Pride, a 2015 event entirely run by 14 and 15

year olds, which brought 1,500 people together at

a food festival in an effort to celebrate Moss Side's

diversity and remove some of the stereotypes

people had about the area.

BE PROACTIVE

"Companies need to make more of an effort to

get involved with us," said Ms Clarke. They need

to start engaging with young people, rather than

complain about young people not being engaged.

"You're not going to find out our opinion without

asking us. So ask us what we feel, what we think

and how we can help. We're young, but we're not

stupid. We do have a voice and an opinion. It may

not be as advanced an opinion, but it's still an

opinion and that opinion matters. We're not scary,

and we don't bite either."

ENCOURAGE ACTIONS

Use a simple campaign that involves an action that

young people can take part in. "The young people

I spoke to before I came here liked Movember, Odd

Sock Day (for bullying), no-make-up selfies and

the polished man campaign [which challenges

men (and women) to paint one nail and raise

funds and awareness for children affected by

violence globally] as they were something they

could do," said Ms Cosgrave. "You have to take

part physically – then they start conversations."

HASHTAGS GO A LONG WAY

"Social media is often shown in a negative light,"

said Ms Clarke. "The benefits are never really

talked about – like how it educates people without

realising it.

"Social media, to a certain extent, is the only

education working class people get, especially

politically. It's broken down and presented on

a platform that is accessible to everyone from

all walks of life. Using social media to engage

young people automatically shows them that

you're willing to engage with them in their own

spaces. And those spaces to talk can start with

a hashtag."

Hear more from Katie

on our Meet feature

on page 22-23

DECEMBER 2018 | 29
---
Engagement and growth:

Lessons from Outlandish

As worker co-ops develop or grow, what challenges can this present in terms of engaging with members or

clients, to ensure that its founding co-op ethos is effectively communicated and maintained? We spoke to

Kayleigh Walsh from Outlandish – a co-op of collaborators and co-owners who build digital applications,

which is one of the rising stars of a new generation of young co-operatives.

30 | DECEMBER 2018
---
Has the growth of Outlandish made

engagement with members more difficult?

We haven't ever been huge, but last year we did

get to about 30 people invoicing us, which is the

biggest we've been. It did change the feel of the

co-op – there were more people because we had

a lot of work on, which is good! But it also means

there was a bit less familiarity among the team,

and our culture is really important to us. We think

there's a lot of trust required in a worker co-op,

and inevitably when there are more people, the

environment changes slightly.

In terms of engagement with members, it hasn't

really affected us because at most there have

only been nine, but we recognise that Outlandish

relies on more than just nine people to be the

success that we are today.

The point here is that we don't want to grow,

we just want to work with nice people and deliver

things that they need which contribute positively

to the world. That's our aim, rather than growth

or hitting specific financial targets or taking on

Google. It's just not our bag.

What practical challenges have there been?

How have these been dealt with?

As a small business, we need to be efficient and

capable of delivering more work when there is

demand. Our business structure means that we're

three concentric circles consisting of freelancers

and members, so when we need to scale up,

we can call on people with relevant skills from

our network who have the opportunity to work

with us over the short or long term.

We've experienced the challenge of having

more work on than the team are capable of

delivering, so in response to that, we set up

CoTech – a network of digital co-ops in the UK.

It covers more or less everything you need for a

successful digital project, and it means that we

can scale up without the overhead of recruitment

and deliver high quality and valuable work

through collaborating with other experienced

co-ops. In turn we're supporting the longevity

of other digital co-ops, because we're sharing

the work and practising collaboration and skill

sharing, as well as showing solidarity.

Lots of people assume that we want to be really

big, but we don't. We have an agreement that

we won't be more than 20 members. We think

there's a lot to be said for smaller co-ops with

defined expertise who are open to collaboration,

"We just want to work with nice people

and deliver things that they need which

contribute positively to the world. That's our

aim, rather than growth or hitting specific

financial targets or taking on Google.

It's just not our bag."

rather than a huge organisation that seems to do

everything ... albeit not very efficiently. This also

means that we offer high value and quality work

to our clients i.e. we're cheaper than corporate

agencies because of the reduced overhead and

profit extraction, which is really important

to us (and really, that should be what every

organisation aims to do).

Have new measures been put in place as

Outlandish gets bigger to maintain the close

relationship with its workers (and, indeed,

its members?)

We've always been quite social, and have a

shared lunch paid by Outlandish every Tuesday

and Thursday to make sure that we look after

the human side of our co-op. Outlandish started

around a kitchen table so even though we're in an

office, we still like to have a good meal and chat.

We wholeheartedly understand and value

the importance of culture, so we've invested

a lot of time and money into training around

communication, sociocracy and feeling

empowered to speak up when things aren't

right. We know that there's no point delivering

work and focusing on commercial projects if

we're not taking care of the internal well-being

and happiness of our workers - without them

Outlandish doesn't exist.

With that being said, l don't want to make it

sound easy or perfect. It's not, but the point is that

we're committed to making it better because we

all know it's worth it.

DECEMBER 2018 | 31
---
Reaching out to baby boomers

to leave a co-op legacy

The baby boomer generation is reaching

retirement age – and with a huge number of

business owners in their ranks, there is an

opportunity for the employee-ownership sector to

win new converts.

In the UK, the question of what happens when

these firms transfer ownership has already

caught the attention of the co-op and employee

ownership sectors. Encouraging the switch to

worker control has been highlighted as a route

towards doubling the size of the UK co-op sector,

a target set by the Co-operative Party.

In an independent report commissioned by

the Party, the New Economics Foundation said:

"There are around 120,000 family-run small

and medium enterprises in the UK expected to

undergo a transfer of ownership in the next

three years. If just 5% of these businesses were

supported to make the transition to employee

ownership or one of the other mutual or

co‐operative models available in the UK, then

the number of entities in the sector would double."

So how can the movement engage with

businesses to encourage this process?

In the USA, Evergreen Co-operatives, with

strategic advice from Democracy Collaborative,

has launched an initiative to drive a new wave

of business transitions. A network of co-ops,

Evergreen is a key player in the Cleveland

model which uses co-op ideas to build local

democratic economies, which helped inspire the

co-op councils movement in Britain. Democracy

Collaborative is a nonprofit working on building

community wealth.

Evergreen's new project, the Fund for Employee

Ownership, will purchase businesses in its home

state, Ohio, for conversion to worker-ownership.

The team says the scheme offers a better

alternative to the current situation, where

businesses are often bought out by private equity

firms, who then cut jobs or move them overseas

or out of state.

The fund is also looking at industries that

employ the workers Evergreen and Democracy

Collaborative want to target – those on low

incomes or facing barriers to employment.

Evergreen's executive vice president Brett

Jones, who is director of the fund, says: "We are

just getting started but we are really optimistic

about our ability to acquire firms in Cleveland

that would be a great fit to convert to employeeowned.

And we're also optimistic about our

ability to support those businesses to succeed

and grow.

"Key to our success will be identifying

partners who can help us connect with local

business owners".

Part of this engagement process is making

business owners a positive offer. Jessica Rose,

director of employee ownership programs at

Democracy Collaborative, told business website

Fast Company: "What we need to do is leverage

One of Evergreen's

co-op enterprises in

Cleveland, Ohio

32 | DECEMBER 2018
---
Evergreen wants to

encourage a new wave

of worker-owned

businesses

mission-driven capital that can offer business

owners an experience that's as frictionless as any

other exit option they have available to them."

But can this model be used to spread the worker

-ownership message elsewhere? Brad Jones says

the fund is trying to demonstrate "a new way for

impact capital to be put to use. The next few years

will be focused on executing our strategy so one

day perhaps the model can be replicated."

Ed Mayo, secretary general of Co-operatives

UK, says: "Here is a programme that is embedded

in local networks in the city and state. Could

we see cities in the UK operate in as proactive a

way? If the fund can prove that it pays for itself

over time, the wider benefits in terms of the local

economy can be considerable."

Deb Oxley, chief executive of the Employee

Ownership Association, called the fund "a very

exciting route to support regional economic

resilience", adding: "As the UK looks for new

ways to protect jobs and stimulate regional

productivity, while at the same time socialising

capital, we need policy makers and politicians

to be more ambitious and brave. In this regards,

the UK could learn important lessons from

the USA."

Others are more cautious. Cath Muller from

Co-operative Business Consultants suggested

economic democracy would be better improved

if the fund promoted worker co-ops, and pointed

to a report for New York community development

group The Pinkerton Foundation by Steven

Dawson, which warned against "over-promise"

by social enterprise investments.

"After six years and promises of creating 5,000

jobs, the three Evergreen Co-operative Enterprises

in inner-city Cleveland today employ in total

fewer than 150 workers – despite investing more

than $17m in construction costs alone" wrote

Dawson in February 2017; he pointed to similar

problems in projects run by other cities.

Ms Muller added: "That said, of course there's

room here to take this proactive approach ...

Anyone providing large funds to further any level

of worker agency is a great thing, even if I think

there are more ambitious things that could be

done with that amount of money."

"What we need to do

is leverage mission

-driven capital that can

offer business owners

an experience that's as

frictionless as any other

exit option they have

available to them"

DECEMBER 2018 | 33
---
Mutualising public services: How do

we engage with workers and the public?

Austerity has impacted massively on local government, decimating frontline services across the country,

with councils facing more cuts to funding and worsening financial challenges

Against this bleak backdrop, local authorities

are fighting back and increasingly recognising

that mutual and co-operative ways of working

can help rebuild communities disheartened

and demoralised by years of cuts. Preston City

Council led the way, supporting a wide range

of co-operative enterprises built around the

city's anchor institutions – including the county

constabulary, a public sector housing association,

colleges and hospitals.

Council leaders also decided to buy goods and

services locally to stop 61% of their procurement

budget being spent outside of the Lancashire

economy. In the process, the town's fortunes

have been turned around and the results are

inspiring other local authorities to go back to their

roots engaging local communities.

Preston is also a key player in the Co-operative

Councils Innovations Network (CCIN), which

is offering an alternative approach to

delivering services, using co-operative values

and principles.

It comprises 23 councils across the UK, from

Bassetlaw to Bristol, which have committed

themselves to finding better ways of working for

and with local people. Members share the belief

that working co-operatively with communities

holds the key to tackling today's challenges

– replacing traditional models of top-down

governance and service delivery with local

leadership, built on the founding traditions of the

co-operative movement.

Ethical expertise is provided by its Values and

Principles Board, which includes representatives

from the Co-op Party, Co-operatives UK, the

Co-operative College and Co-op Press.

Director of communications Nicola Huckerby

says there has been a surge of interest in the last

12 months.

"This year, our annual conference in October

attracted a lot more council leaders, MPs,

peers and council officers who want to help.

Councils need to join to help them identify

solutions to the challenges they are facing with

ever-reducing budgets.

"More and more councils are coming forward

and saying let's have a conversation – and we

are more than twice the size we were at the

Key Figures

CCIN

comprises of

23

Councils

This figure has

increased by

11

since the

beginning of 2017

34 | DECEMBER 2018
---
eginning of 2017 with new affiliates and 11

associated member councils. This year we went

over to Brussels to meet the president and director

general of the ICA and were at the autumn

political conferences."

CCIN has just launched a new round of Policy

Lab funding whereby members put forward their

ideas for partnership projects they would like to

see delivered in 2019/20 with £10,000 going to the

lucky recipients.

"Ordinary members are taking back ideas

wanting to share with their councils. It resonates

very well with co-operative ethics and values. The

principle of the network is investing to save and

looking at delivering services more effectively

and with social value. Whether tackling food

poverty, asset transfers or procuring ethically it is

about how do you deliver services for the benefit

of residents. Different authorities have lessons

we can learn so rather than starting a journey on

our own we are sharing information."

The network's list of co-operatively led projects

is a very long one. It includes CATERed, a

co-operative trading company jointly owned

by 67 local schools and Plymouth City Council,

providing high quality school food to children

"Ordinary members are

taking back ideas wanting

to share with their councils.

It resonates very well with

co-operative ethics and

values. The principle of the

network is investing to save

and looking at delivering

services more effectively and

with social value"

be provided more appropriately locally, the

council, health care trust and parents/carers

began to work on a programme to commission

the scheme.

"The parents/carers have been actively

and equally involved throughout the process,

playing an active role in tendering for the scheme.

They have worked with the successful tenderers,

identifying an appropriate site and working on the

and young people across the city not just in school

time but in vacation periods to alleviate holiday

hunger and food poverty.

In Rochdale, Parent Carers Voice, an

independent group of parents of children with

disabilities, is working with council officers to

deliver better services.

Their latest project is a new independent living

facility for young people with autism.

Spokeswoman Helen Walton said: "There is

currently no provision locally for these young

people. Many of them live in out of borough

placements, far from families, friends and

communities and at considerable expense to

the local authority. Recognising provision could

design and layout speaking with local residents

at consultation events and at planning

committees to ensure young peoples' voices

were heard."

The development, set to open in summer 2019,

will be named Pioneer Fields, acknowledging

Rochdale's place in the history of co-operation

and the ongoing approach designed to meet

young people's needs. It will provide 15 highquality

bungalows with carer accommodation,

communal social space, a café, small farm and

horticultural facilities – all purpose-built to meet

individual needs.

Knowsley Council and its partners are set

to launch a six-month period of engagement

Facing page: Nicola

Huckerby of CCIN

with Cllr Liam

O'Rourke from

Rochdale Borough

Council and Slough

MP Tan Dhesi

DECEMBER 2018 | 35
---
Stevenage community safety manager Sarah

Pateman said: "We look at it more from the victim's

perspective. We are involving people, empowering

them to become survivors and asking them what

their preferred option is. By working together in

this co-operative way we can help victims, families

and our partners to offer a joined-up approach

to tackling domestic abuse and helping to keep

victims safe."

Cllr Paul Stewart from

Sunderland Council

"It is early days but a resolution is going to

council this month which will hopefully give

me authority to plan a more formal

community wealth building programme,

helping us further develop our existing

co-ops and build support for them"

with the community, after the council's cabinet

agreed a new approach to planning for the future.

The council will work with residents, businesses

and partners to help shape what kind of place

Knowsley will be in 2030, identifying ways to

achieve that vision, focusing on the physical

environment but also covering important issues

such as educational attainment, job creation

and health of the borough's residents. The new

long-term strategy for Knowsley, which will be

developed over the next 18 months, will launch in

2020 and run until 2030.

Stevenage Against Domestic Abuse has

developed a strategic and co-ordinated approach

to tackling and reducing domestic abuse working

with internal and external partners, putting

the victim and their family at the heart of the

project and working co-operatively to involve

them in decision making.

The service is believed to the first in the

country that encourages organisations to refer

victims and their families a Safe Space provided

by the council to stay for up to seven nights

while they make decisions on their future.

It encourages and empowers victims and

survivors and has so far supported 85

victims of domestic abuse with input

from independent domestic violence

advisors, children's services, the mental

health team, health visitors and the police.

The SADA team also includes the Domestic

Abuse Forum, a survivors group that informs

direction of the service and delivers training

to neighbouring local authorities and

partner agencies.

New initiatives in Sunderland include REuse

– a project working with vulnerable groups and

local charities which uses the council's IT system

to recycle old furniture/equipment .

The council also supports Bishopwearmouth

Co-operative Nursery, which delivers a wide

range of professional horticultural and floristry

services to customers across the North East.

All profits are invested into the company to

provide paid employment, education, training

36 | DECEMBER 2018
---
and work-based placements for vulnerable

adults with learning or physical disabilities.

The co-operative is in the process of opening a

café on site in spring next year.

Cabinet secretary Paul Stewart, a Labour

/Co-op councillor who is in charge of the council's

finance and corporate services, is enthusiastic

about all these initiatives. A founder member of

the CCIN, he now serves on its executive and is

optimistic about what can be done despite the

fact Sunderland alone has lost £290m in central

government funding since 2010.

"We are all under a lot of pressure however the

network helps us promote our ideas and values as

best we can. All our members have a constitution

which says we are co-op councils trying to pursue

co-op values. Preston Council is a key member

of the network and its leadership have been

very helpful sharing their experiences.

"Here in Sunderland we are in the process

of putting a programme together to implement

an ethical procurement system and looking at

how we can support local businesses more. In

Sunderland 30 per cent of our money is already

spent here and two-thirds in Northern region. We

are looking to expand that further by reducing

the size of contracts as the larger the contract the

more likely it is to be a national company."

The Council is also setting up a Co-operative

Development Fund to help set new up co-ops or

expand existing ones.

"It is early days but a resolution is going to

council this month which will hopefully give

me authority to plan a more formal Community

Wealth building programme helping us further

develop our existing co-ops and build support

for them .

"In Sunderland low pay affects 25% of the

workforce and we want to ensure that local

employees are paid a decent Living Wage

but it is going to take time because of the

financial climate. It is a long-term project – however

it is the right thing to do if you genuinely believe as

a council you should be ensuring where you have

ability to influence other employers. By trying to

move things forward we can increase the pace

at which we move towards further development

of co-operatives. The important thing is

to promote the agenda ensuring you are open and

honest as a council."

August this year saw the publication of the

Social Housing Green Paper. Almost 1,000 tenants

shared their views with ministers at 14 events

"By working together we provide better places for our

members, tenants and employees to live and work. Drawing

on the area's rich co-operative heritage, our pioneering model

places members at the heart of decision-making, allowing

everyone to enjoy a sense of security and belonging in places

we make great together"

across the country, with over 7,000 submitting

opinions, issues and concerns online as the

government aimed to re-balance the relationship

between tenants and landlords in the wake of the

fire at Grenfell Tower,

One way forward has already been pioneered

by Rochdale Boroughwide Housing, the UK's first

tenant and employee co-owned mutual housing

society, with over 13,000 homes in its remit.

RBH became a mutual in 2013 following a

standard stock transfer from the council in

2012. It now has 5490 tenant members and 461

employee members .

Spokesman Iain Lindley says their model is key

to engaging tenants and employees and giving

them an extra stake in the society and its future.

"I think people feel they have a better influence

and they feel a bit closer to the decision making

process. You have not got that adversarial

situation where it is them and us. Our tenant

and employee members elect the people who

sit on our representative body which appoints

non-executive directors and six of the eight

board members.

"We are trying to do things together with

tenants and get them involved as much as we

can as an integral part of the decision-making

process. Our tenants have the opportunity to

make decisions and influence things in a way

they did not before."

Unlike other housing associations, RBH is

very much about keeping things local, he adds.

"We are committed and focused on Rochdale.

Infomation:

£290m

cut in central

government funding

since

2010

In Sunderland

30%

of money in

Sunderland is

spent in the

area with –

2/3

spent in the

northern region

Low pay affects

25%

of the

workforce

DECEMBER 2018 | 37
---
I do not think we will be an enormous developer

like other housing associations. We have just

approved our new corporate strategy, our

tenant members and employee members are

integral to that and have the final sign-off. It has

been developed together and not imposed by

a management team.

"By working together we provide better places

for our members, tenants and employees to live

and work. Drawing on the area's rich co-operative

heritage, our pioneering model places members

at the heart of decision-making, allowing

everyone to enjoy a sense of security and

belonging in places we make great together."

A meeting at Merthyr

Valleys Homes

"Member-owned housing is still not recognised as a new

approach to housing but post-Grenfell this is an approach

which puts tenants right at the heart of the organisation"

In May 2016 Merthyr Valleys Homes (MVH)

became the first in Wales to allow tenants

and employees the opportunity to become a

member, and own a share in the organisation.

First established in 2009, it currently owns and

manages over 4,200 homes across the borough.

Outgoing CEO Mike Owen explains the

transition: "Our first five years were dedicated

to achieving promises made to tenants upon

transfer, and also achieving our Welsh Housing

Quality Standard targets. In 2014, we started to

look at the future of our organisation, and how we

them to become members, giving them a

real say, and playing an important role in

decision making. Under the old model, tenants

found they could not really be representatives

because they had to be company directors and

there was no way to go back to constituents and

be accountable.

"We decided we really needed to have a

re-think of our position when there was a very

big issue around the TV show Skint, filmed in

Merthyr Tydfil. We sat back and said why have

these people gone on TV and trashed their own

Merthyr Valleys

Homes now owns and

manages more than

4,200 homes

wanted the organisation to develop in the coming

years. We always listened to and involved our

tenants and employees, but our board wanted

to take this a step further and opted to develop

a new governance model where we could

empower our tenants and employees by allowing

community and how far are they from any power

and responsibility for communities? Maybe we

ought to rethink the power relationship.

"We decided to set up a commission with

tenant and councillor reps from the community.

We started to explore different models and went

38 | DECEMBER 2018
---
to mutual pretty quickly. Everyone liked this idea

of partnership between tenants and employees. It

was then a case of how it would work and operate.

The council leader was really supportive and all

33 councillors voted in favour of change. We had a

good momentum and moved on from there."

MVH is now recruiting a new CEO and starting

a young members' group, added Mr Owen.

"The most subtle change has been that the

board are not at the top of the pyramid. They

see themselves as accountable to the democratic

body who appoint them. We had an AGM three

weeks ago which was really well attended.

Our head office is in the middle of an estate, we

have a community zone bringing all providers in

together making sure what we do fits our mutual

values. We have been braver in our approach

to how we deal with stuff like new build.

Constitutionally we would only build houses in

Merthyr and we would not be taken over without

the consent of tenants and employees. The people

of Merthyr built these houses and should stay

in control."

Cliff Mills, principal associate at Mutuo,

specialises in corporate governance and

constitutional advice in the establishment and

running of co-op, mutual and membership-based

organisations. He agrees the housing model

adopted in Rochdale and Merthyr, which he

helped to develop, offers real opportunities for

better engagement although they are currently

the only two examples of tenant and employee

based membership. There are other examples in

England and Wales with just tenant members.

"The most subtle change which I see

has been that the board are not at the

top of the pyramid. They see themselves

as accountable to the democratic body

who appoint them"

"Member-owned housing is still not widely

recognised as a mainstream approach in social

housing, but post-Grenfell this is an approach

which deserves to be more widely explored as it

puts tenants right at the heart of the organisation.

"Rochdale and Merthyr became mutuals for

different reasons. In Rochdale's case it followed a

review of future finances and a desire to increase

the involvement of tenants and employees.

It is very different from a traditional housing

association and operates in a radically different

way . Their first corporate strategy as a mutual is a

joint piece of work involving tenants, employees,

the representative body and the board.

"Both Merthyr and Rochdale are very focussed

on their locality, rather than having ambitions to

expand. What they are about is improving their

local community. Merthyr adopted this approach

a few years after RBH, but they are already doing

some very significant things differently in their

locality, and have a very similar approach to RBH

in terms of ownership and governance. What both

do is provide a mechanism to enable the housing

assets and services to work for the benefit of the

local community.

"In this approach, the two groups most affected

by the business (those using the service, and those

delivering it) are part of the collective endeavour.

Instead of being 'done to' they are 'a part of'

and co-own the organisation. In traditional

housing associations priorities are normally set

by management but at RBH and Merthyr tenants

and employees really influence decision-making

and so the organisations have different priorities.

You are not suddenly going to change the nature

of the services overnight but the difference is that

tenants and employees can be fully engaged in

making them successful. Tensions can be worked

out in dialogue between groups.

"It is all about transferring power and you

need an executive team who understand that.

We are always talking to CEOs and different

organisations which might be interested in this

approach. It is important to make the concept as

widely known as possible, and so that people can

see that this model is an effective way of meeting

today's big challenges."

DECEMBER 2018 | 39
---
Saskatoon dispute shows colleague

engagement doesn't always run smooth

In Saskatchewan, a province of western Canada,

the Saskatoon Co-op is currently in dispute with

its workforce over pay.

Workers belonging to United Food and

Commercial Workers (UFCW) have taken to the

picket lines over a two-tiered pay deal, which has

introduced a lower wage scale for new hirings.

A group of members has handed in a petition

calling for the removal of the nine directors who

oversee managers of the grocery, fuel, liquor, farm

supply and hardware retail outlets.

In response, chief executive Grant Wicks has

published an open letter to members which said:

"We have full confidence in our board to make

decisions that are in the best interests of our

members and our co-op.

"We know this because you elected them.

Your local co-op board isn't meant to represent

any particular group or agenda – it's meant to

represent our members and our community.

That's part of what makes Saskatoon Co-op

a different kind of business."

He said current employees were being offered

raises, while new recruits were being offered

competitive rates.

"What we're offering is not new," he wrote.

"UFCW has agreed to adjusted wage scales for new

employees with many of our competitors. This is

not new to the retail industry and is not unique to

our offer. It's been in place with our competitors

and their UFCW agreements for years."

And in a press interview, he added that the

co-op pays its workers as much as 30% more than

its competitors, putting "the long-term financial

viability of our organization at stake".

"If something isn't done about it, perhaps

we would end up in a situation where we

couldn't offer goods and services to any of our

members," he said.

The co-op says the two-tier pay system is a retail

industry standard and it is continuing to negotiate

with the union.

It adds: "Throughout negotiations, we've made

offers that allow our local Co-op to compete

against national companies, while still providing

wages for both current and new employees that, in

most cases, lead amongst our national competitors

in Saskatoon.

"We care for our employees and want to get back

to serving Saskatoon and nearby communities

as soon as we can. Because this is an extremely

stressful time for everyone, we're keeping our

Employee Family Assistance

Program open for all employees,

including those still working and

those on the picket line."

But UFCW Local 1400 president

Norm Neault said the co-op's recent

growth and profitability suggest it

should not cut the earning potential

of new workers.

"At the end of the day, if you truly

believe that there's something that is

worth fighting for, you will stand up

for it," he told reporters.

The dispute show that a

co-operative model on its own does

not guarantee smooth, widespread

positive colleague engagement – and

cannot prevent disputes breaking

out. So how should the movement

handle them?

Victoria Morris, of sector body

the Saskatchewan Co-operative

Association, says her organisation

would not get involved in such cases,

"as the union and co-op management

have an established process to

negotiate and resolve disputes".

She adds: "In light of that, likely

the only potential place we would

provide some information would

be if either the members or board

of directors wanted clarification

regarding what actions members

can take if they don't agree with the

board of directors, or if the board

of directors wanted clarification

on their roles and responsibilities,

or the process to hear and act upon

member concerns."

In terms of finding a more

"co-oppy" approach to dispute

resolution, she says: "I have seen

some co-operatives – that have

faced tough situations with their

employees and members, for

instance when downsizing or closing

locations – make a substantive effort

to take a values-based approach to

moving forward."

She says this means boards

of directors and management

actively discussing how to act

more 'co-oppy', with both board

and management taking action

to embody the approach "to ensure

that members and employees are

being cared for and provided with

the best possible transition to

wherever their co-operative is

heading next, and both board

and management taking action to

embody this approach."

40 | DECEMBER 2018
---
A low-cost ownership oasis in

a desert of unaffordable homes

A look at Dos Pinos Housing Cooperative, a leading example of California's limited-equity

co-operative model, where costs are 50% lower than the average market-rate apartment

Davis, California, a university town with over

70,000 residents, had only 13 vacant marketrate

apartments to rent as of December 2017.

That's a vacancy rate of 0.2%, according to an

annual University of California–Davis study

of the housing market. The study puts the average

rent for a three-bedroom unit in 2017 at $2,388.

Davis is in Yolo County, which had a 2017

area median income of $76,900 for a fourperson

household. Using the 30% of-income

affordability standard, a median-income

family of four living in an average market-rate

apartment in Davis is paying $5,592 per year more

than they can afford.

There is, however, one place in Davis where a

median-income family of four is paying much less:

Dos Pinos Housing Cooperative, the only limitedequity

housing co-op in Davis. A limited-equity

co-op (LEHC) is designed to preserve affordability

for low- and moderate-income households.

Members purchase shares in the co-op that

entitle them to live in one of the units and have

a vote in the governance and management

of the building. Units have restricted resale

values and many have income limits for

potential members, who pay monthly fees,

or carrying charges, to cover their share

of the co-op's expenses.

The monthly carrying charges to live in one

of the 26 three-bedroom apartments in the Dos

Pinos Housing co-op, as of December 2017, were

$1,165. That's a saving of $14,676 per year over

the average market rent. A household in one of

the 28 two-bedroom apartments had annual

savings of $9,036, while a household in one

of the six one-bedroom apartments had annual

savings of $7,452.

Buying a co-op is more affordable than buying

a house in the city, where the average asking price

of a single-family home is $632,000. The market

is so hot that most sales are paid in cash, and if

not, a down payment of at least 20% ($120,000

minimum) is required. A median-income family

of four in Davis cannot purchase the average

home on the market.

I helped create and finance the Dos Pinos

Co-op and have been studying the cost of living

there since 1985. It wasn't always the most

affordable place to live in town. In 1985, the

co-op started at a monthly cost above the area's

average rent because it was newly built. However,

"Because no one has pocketed the increased value of the

building and land (including individual co-op members),

30 years later the co-op's monthly costs are 50%

lower than the average market rate apartment"

the cost of buying shares in the co-op for a threebedroom

unit at that time was $4,880, which was

much less than buying a house in Davis, which

at the time was around $150,000. Many members

wanted to live in a co-op community, as well.

Because no one has pocketed the increased

value of the building and land (including

individual co-op members), 30 years later the

co-op's monthly costs are 50% lower than the

average market rate apartment. The co-op has

not imposed income limits on who can live

there, and it has a three-year closed wait list.

For the past two decades, Davis's hot housing

market has had an extremely low rental vacancy

rate. This lack of supply has pushed up rental rates.

The co-op, on the other hand, has shown that it

has substantially increased affordability. In 2017,

a family of four needed to earn only 59% of the

area median income to afford a three-bedroom

apartment at the co-op – down from 111% in 1985.

Over time, families need less and less income to

afford to live at Dos Pinos. The co-op requires

people moving in to have a monthly household

Key Figures

$76,900

Median income

for four-person

household

Davis residents

are paying

$5,592

more than they

can afford

$1,165

Monthly carrying

charges to live

Pinos Housing

Co-operative

12.5%

on very low

income

&

25%

on low

income

42 | DECEMBER 2018
---
gross income that is equal to or greater than

2.5 times the monthly assessment. By this

standard, a very-low-income family of four in Yolo

County is eligible to move into the co-op. There is

no other home ownership model in Yolo County

affordable to that same family. Households

moving in recently have been of mixed incomes:

12.5% very low income, 25% low income, and 25%

moderate income.

The co-op has received no subsidy at any

time in its history. It bought the land at market

value and erected the buildings at market value.

Annually the co-op pays more than $30,000 in

local property taxes, just like the market-rate

apartment complex across the road.

No co-op apartment at Dos Pinos has ever been

foreclosed, and in 32 years, only one member has

been evicted. The vacancy rate is always zero

and the vacancy reserve is never used. Since

1986, there has always been a waiting list for

apartments at the co-op.

Dos Pinos holds an additional appeal for

families. Because state law requires owner

occupancy in an LEHC, all households living at

Dos Pinos must be permanent Davis residents.

Therefore, there are no student households at

Dos Pinos. Many families would prefer familyoriented

complexes, but if you are renting, that is

not an option in Davis, outside of the co-op.

Fewer than 50 apartment-type limited-equity

housing co-ops have been developed in California

under the LEHC laws, mostly between 1980 and

1990, when the National Cooperative Bank was

able to partner with programmes of the state of

California that also supported the development

of limited-equity co-op housing. After 1990,

most jurisdictions and nonprofits in California

moved to use their limited resources to develop

affordable rental housing with tax credits as the

key financing tool. The normal limited-equity

housing co-operative is not eligible to use tax

credits so interest petered out.

A unique aspect of an LEHC is that the

appreciated value of the housing is all retained

in the co-op and the community. When a member

leaves, the only economic transaction is what was

initially paid for the unit plus interest earned.

The balance sheet of the co-op is unaffected

economically by any change in membership, and

all the economic gain in value stays in the co-op.

While this might seem like a limit on asset

accumulation for co-op members, remember that

almost all of the 8,000- plus families living in a

market-rental apartment in Davis are not building

assets, in housing equity or outside of it.

Meanwhile, for 2017 a co-op member's annual

return on share investment could be considered

to be 52%, if you include cost savings compared

to other available housing options in Davis.

A member joining on 1 January, 2017, would have

invested in a refundable share of $33,000. The

savings in monthly costs compared to market rate

would be $14,676, and the 3.25% interest earned

on their share (for 2017) would come to $1,072.

This amounts to $15,748, or 52% of their $33,000

investment. If market rental prices continue to

rise faster than co-op costs, this return could

get even higher.

The co-op as an ownership model also brings

savings in transaction costs. As there is no

change in the building mortgage, only a transfer

of ownership shares, there are no real estate

transaction costs for the member when joining

or leaving. Transaction costs for condo purchases

in Davis are more than $10,000, and higher for

single-family homes.

Given the economic return over time, an LEHC

could also be a good thing for groups such as

teacher associations and unions to bargain for:

A housing co-op for teachers would give educators

far more economic gain per year than could be

gained from salary increases, while demanding

less ongoing input from the school district. An

LEHC could even help recruit teachers and staff.

One affordable co-op in one high-rent city in

30 years does not a movement make. However,

of the home ownership options for the "missing

middle," the LEHC has tremendous potential.

An LEHC would work well for many types of

organizations that might have land to set aside for

a cooperative community, and funds to help lowerincome

families purchase the co-op share, such

as local, state, and other government agencies;

unions; churches; veterans groups; and other

affinity groups.

Given the massive need, there ought to be many

more limited-equity housing co-operatives like

Dos Pinos creating "wealth generating" housing

for the forgotten.

The Dos Pinos

Housing Cooperative,

the only limited-equity

housing co-op in Davis,

California, does not

impose income limits

on who can live there.

Credit: David Thomson

DECEMBER 2018 | 43
---
A REAL LIVING WAGE For Real People's Lives

What is the real living wage needed to live in the

UK? According figures announced in November,

it's a minimum of £9 per hour – or £10.55 per hour

if you live in London – for everyone over 18.

These numbers are up from £8.75 (London:

£10.20) in 2017, driven by higher transport costs,

private rents and council tax feeding through to

the basket of goods and services that underpin the

rates, which are independently calculated based

on what people need to get by.

The real living wage is also significantly higher

than the government's own 'national living

wage' of £7.83 for those aged 25 and over, and the

minimum wage for those aged 21-24 (£7.38) and 18-

21 (just £5.90).

The rates are calculated by the Living Wage

Foundation, an independent collective of

businesses and people who believe that "a

hard day's work deserves a fair day's pay". The

Foundation "celebrates and recognises the

leadership of responsible employers who choose to

go further and pay a real living wage based on the

cost of living, not just the government minimum".

"The Living Wage campaign is about tackling

the rising problem of people paid less than they

need to live," says Living Wage Foundation

director, Tess Lanning. "Responsible businesses

know that the government minimum is not enough

to live on, and [the] new real living wage rates

will provide a boost for hundreds of thousands

of workers throughout the UK."

She added: "Employers that pay the real

living wage enable their workers to live a life of

dignity, supporting them to pay off debts and

meet the pressures of rising bills. We want to

see local councils, universities, football clubs,

bus companies and the other major public and

private sector employers in every city commit to

become real Living Wage employers. When they

do, thousands of people get a pay rise, but other

local employers also follow their lead. If more of

these institutions step up, we can start to build

true Living Wage places."

The Foundation provides accreditation to

organisations which pay the real living wage to

all directly employed staff and have a plan to

pay all contractors a real living wage. Over 4,700

employers across the UK are currently accredited,

including a third of the FTSE 100 and big

household names such as IKEA and Everton FC.

Several co-operatives and credit unions have

signed up to the campaign, too, including,

the Co-operative Party, Lister Housing

Co-op. Eighth Day, the Wales Co-operative Centre

and Co-op News, among others.

And it was the Labour and Co-operative Mayor

of Manchester, Andy Burnham, who announced

the new rates in the city on 5 November. The event

was hosted at the National Football Museum,

which was accredited this autumn.

"Life has become too hard for people these days,

it's too precarious," said Mr Burnham. "If people

haven't got enough money to pay the rent, they're

just a few days away from being on the streets.

That has to change, and the real living wage can

be a part of that change."

He added that while some may view the real

living wage as a burden on businesses, it was in

44 | DECEMBER 2018
---
fact about "building good, strong, productive

businesses which keep their staff and get more

from them" because they're happier to be at work.

"People are going to say how can we afford it?

Well maybe it's about people at the top of those

organisations not taking their pay increase so

those at the bottom can have theirs. That's about

building a stronger society and bringing people

back together in these divided times."

He thanked Greater Manchester police, Salford

University and Salford police for signing up as a

real living wage employers but acknowledged

there was more to be done, both in Greater

Manchester and beyond. One such action would

be to get rid of enforced zero hours contracts.

"I can't see how, in this day and age, people can

have a foundation beneath them to do their best

work and run a family home when they can't be

certain what they're going to earn from one week

to the next. It's time to face up to these things

and acknowledge that everybody deserves a real

living wage."

Ms Lanning believes that the real living wage

should be at the heart of new strategies to drive

regional growth, highlighting research, conducted

by the Smith Institute, which indicates that if, in

ten cities, just a quarter of those on low incomes

saw their pay raised to the real living wage, half a

million people get a pay rise of over £1,700 a year

and the cities' businesses and wider economies

would benefit from an economic boost worth

over half a billion pounds, driven by increased

productivity and spending.

"To be meaningful, growth must at the very

least meet the basic needs of local communities,"

she said. "Local and combined authorities can

use their powers of planning and procurement

to encourage more local employers to commit to

ensure their staff earn a real living wage, and make

access to business support and skills investment

dependent on paying a wage their staff can live

on."

The issue was raised at the 2017 Co-op Group

AGM, where members approved a motion that

called upon the board to review pay ratios at

the organisation from top to bottom, and to set

a strategy to narrow the differential between the

highest and lowest salaries to "an appropriate

level" to reflect the organisation's co-op principles

and ethical approach to business – including

progress towards a real living monthly wage for

the lowest paid staff.

"This AGM notes that executive pay has

increased significantly in the UK, while pay at the

bottom for the lowest paid has largely stagnated,"

read the motion. "Co-operatives should be

operating on a different basis that is more ethical

and reflects greater equity within the workforce.

"The Co-operative Group, as a leading co-op in

the UK, should be setting the benchmarks which

other co-operatives could adopt where appropriate.

This ethical approach to pay ratios would be good

business and make co-operative sense, reflecting

our concern to ensure that our staff are fairly

remunerated so as to keep delivering the business

performance our society needs if we are to remain

the public's convenience retailer of choice."

In response, the Group agreed to invest an

additional £4m for colleagues working in food

stores and funeral homes in 2018. It increased

hourly pay rates for customer team members by

6.1% in 2018 so pay starts at £8.02 per hour, and

rises to £8.18 per hour plus an extra £0.70 for

colleagues based in London.

p Celebrating the new

rates in Manchester

tq Andy Burnham,

Mayor of Greater

Manchester, who

announced the new rates

at the National Football

Museum in November

DECEMBER 2018 | 45
---
MEMBER-NOMINATED DIRECTOR:

A role like no other?

The Co-op Group has two member-nominated director seats up for election next year.

We talk to current MND Hazel Blears about the role - and why you should apply ...

The Co-op Group's board structure is unique.

Alongside the expected executive and

independent non-executive representation, four

seats are reserved for direct election by members

of the organisation.

These member-nominated director (MND) roles

were created in 2015, following the far-reaching

governance reforms introduced in 2014. Just like

the other directors, those elected bring a strong

commercial background and proven skills and

capabilities to the board – but also help bring the

voice of ordinary members to the boardroom.

"The Co-operative Group is different because

we are owned by our members," said chair Allan

Leighton at the time. "They have a direct say in

running the business, through electing member

representatives to the board and the council; and

through having a say on key issues through the

one member one vote democratic process."

Current MNDs are Hazel Blears and Margaret

Casely-Hayford CBE, who were re-elected at

the Group's AGM in May, and Paul Chandler

and Gareth Thomas, whose seats are up for

re-election in 2019.

Here, Hazel Blears below, a trained solicitor

and former MP for Salford and Eccles (2010-2015)

talks about the role of MNDs, and why, if you're

thinking about applying, you should.

How did you first get involved in co-ops?

Very early on in my career I made a personal

commitment to bring people together to make a

difference. At the same time as I joined the Labour

Party, I started to meet co-operators – interesting,

passionate people who believed in the ideas

of achieving more together. I've been a member

of the Co-op Party for 35 years, and throughout

that time, co-operation has been an important

part of my personal, political and business life.

What does a Member-Nominated Director

(MND) at the Co-op Group do?

The four of us are full board directors

and have an equal footing with our independent

non-executive directors. People may think that

MNDs have to fight harder to be heard, but the

other directors recognise that they have a hugely

positive contribution to make. As we are directly

elected by members, we feel we have a key role in

raising member issues and concerns at the board

and work with our fellow directors to make sure

the organisation does well as a business, while

also operating within the values and principles.

It's a very satisfying role – you feel like you are

driving the business in the right direction. When I

first got involved, the business was not in a good

place. We are now in the position of having a

stronger co-op to help build stronger communities,

and values are integral to the business.

MNDs are taken seriously, particularly as we

are directly elected and have that mandate from

members. They are also unique in corporate life

– not many directors are accountable to members

in such a direct and accountable way. Being elected

in such a way gives you a drive and passion to

make a difference.

What makes a good MND?

There's no single vision — we come in all

shapes and sizes! There is a challenge in terms

of representation, particularly of younger people

in their 20s and 30s.

46 | DECEMBER 2018
---
You don't have to have 30 years experience

to be an MND, so don't rule yourself out on

that account. We are all very different. You

do need to meet the eligibility criteria to be

an MND – this is all explained as part of the

application process.

I would say, though, that you also need to be

prepared to go the extra mile. You have to work

really, really hard, it's time-consuming. Being able

to build a good relationship with the Members'

Council is key. You need to love people, love the

co-op message, be willing to drive change and put

in the time to do the job.

Why did you stand as an MND?

I've been a co-operator for most of my adult

life, encouraging co-op strategies and most

recently chairing a social investment business.

After I left politics, I had two rules for myself:

make a difference, and do it with people you like!

The Co-op fits that frame perfectly. I want the

Co-op to be the best, most responsible,

successful business it can be. It's a work in

progress, but there is a lot of energy behind the

changes and I wanted to be a part of that. In

the last four years we've come from a situation

that threatened our very existence and have

created a Co-op we can all be proud of again.

What have been your biggest

achievements in the role?

I am really proud to be the board champion

for apprenticeships – we have around 1,000

apprentices in our business at any one time, and

they are all paid full rate from day one. And we

have 64 who are degree-level apprentices – it's a

pipeline for our future, but they're not all young,

as people are joining us to start second or even

third careers.

I am also proud of helping to drive change to

do good. When I joined, I wanted to move from

traditional corporate social responsibility to using

our mainstream business to do good. Doing good

is good business, it drives competitive advantage,

and we are now starting to measure that

positive impact.

Another achievement is around crime and

antisocial behaviour – we're working to tackle

the causes of crime. Having been police minister,

I'm obviously disappointed about police cuts.

But on the back of that we have had to think

smarter and collaborate with others to address

such a big challenge.

What would you say to someone thinking

about applying?

It could be the best thing you'll ever do, so don't

rule yourself out before you even start. You do

have to understand and be at ease with complex

commercial issues as it's a £9.5bn business – but

it's built on values. So look at what you've done

in different parts of your life and think about how

that fits into co-op principles, particularly around

social values or community. Be honest with

yourself, but don't sell yourself short.

The value of our Co-op is that everyone's

contribution is recognised – we are always

looking for difference, so even if you don't think

you fit the mould of a 'typical' director, have

courage and go for it. The more people that we

can get to think that they want to be part of the

future of the best community organisation,

the better.

WHO IS ON THE

CO-OP GROUP

BOARD?

Chair:

Allan Leighton

Executive Directors:

Steve Murrells

(Chief Executive)

Ian Ellis

(Chief Finance Officer)

Senior Independent

Non-Executive

Director:

Sir Christopher Kelly

Independent Non

-Executive Directors:

Stevie Spring CBE

Lord Victor

Adebowale, MA,

CBE (Cross Bench)

Rahul Powar

Simon Burke

Member-Nominated

Directors:

Hazel Blears

Margaret Casely

-Hayford CBE

Gareth Thomas

Paul Chandler

t Hazel Blears

attending one

of the Co-op's Join

In Live events

For more information

on the role and

details of how to

apply, visit:

www.co-operative.

coop/mndelection

Close of nominations

is midday,

17 December 2018

DECEMBER 2018 | 47
---
BOOKS

Cooperation in cooperatives: Future solution to socio-economic problems

Muhammad

Sharif Bhaiji,

published

by Karachi

Co-operative

Housing

Societies

Union Ltd

This look at co-operation in Pakistan focuses on

the work of Karachi Co-operative Housing Societies

Union Ltd, (KHCS) which was formed in 1949.

It tells the story of the society and also sheds

interesting light on the country's co-op movement

as a whole, which the author sees as standing apart

from other Asia Pacific nations. While most countries

in the region "are riding the so-called second wave

of co-operatives, which is efficiency-centred and

market focused", writes Bhaiji, "in Pakistan ...

we are still struggling with the first wave".

But organisations like KHCS have done strong

work over the decades, he says, by "adopting a

demonstrable co-operative housing strategy during

the crisis of migration and settlement of migrants in

Pakistan" – which was achieved at a time of scant

government resources.

The co-op sector has had "a lot of ups and downs"

in housing, agriculture, banking and consumer

sectors, says Bhaiji – notably the 1992 financial

corruption scandal which saw co-ops in the Punjab

and Kashmir province collapse, wiping out the

savings invested in them by nearly 700,000 "mostly

poor people".

But now he sees a revival in the movement and

has produced this book – with sections on co-op

byelaws, education and legislation – as a guide for

the sector so it can take advantage of this revival,

which has seen his own society launch schemes

for low-cost housing projects, new townships,

education projects and scholarships, and youth

training initiatives.

KHCS is the biggest co-op housing union in

the country, comprising 24 societies. Its housing

covers nearly 1,200 acres, and it has developed

9,300 residential plots, 1,070 commercial

roads, 73 amenity plots, 70 miles of metalled

road, 80 miles of sewerage lines and 80 miles

of water mains.

It has followed up this achievement with

educational projects and youth work to teach

the upcoming generations about co-operations,

including "blood camps" for children with

thalassemia, who were in need of transfusions but

could not afford the treatment.

The book also looks at Pakistan's women's

co-operative movement, describing female

empowerment as a "momentous issue" in

the country. Projects include a credit union to

drive female financial empowerment, expos

for women's craft industries and cash awards

for female students.

And it identifies areas of concern for the future

of Pakistan and its co-op movement: low

productivity in agriculture; poor policy-making which

has left industry uncompetitive on an international

scale; and a need for more capital investment.

"Pakistan is a country ... rich in every kind of

natural and technical resources," writes Bhaiji.

But these cannot be properly exploited because

of a "lack of proper policies, technical assistance,

literacy level, capital and financial investments,

updated machinery and technically trained

human resource". There are also infrastructure

problems, such as providing adequate energy

for business.

It's up to the co-op movement to face these

challenges, he says, be establishing "some proper

leadership and planned goals". If the sector leads

more literacy, female empowerment and economic

development initiatives, he writes, "living standards

utilities and facilities for the general Pakistani

will also increase".

48 | DECEMBER 2018
---
Don't just change your phone.

Change the world.

From just

£30 per

month

Fair materials

and supply

chain

Committed

to improving

worker

conditions

Dual SIM

- ideal for

international

travel

Next time you change your phone – make it a change for good.

Choose Fairphone 2 the world's most ethical smartphone from the UK's only telecoms

co-operative and we'll donate a share of every bill to Co-op News.

www.thephone.coop/coopnews | 01608 434 040

Prices are correct at time of issue
---
DIARY

FROM FAR LEFT: Inspiring Rural

Communities at the St. Bride Foundation

on 5 Dec; the Co-operative Retail

Conference is in Cheshire in March;

Co-operatives UK announces a series of

events for 2019, including Congress (21-22

June); and Siôn Whellens, who will be

leading a session looking at the theory

and practice of worker co-operation,

3 Dec: The Co-operative College:

Introduction to Coaching

Coaching is a popular approach to

employee development, based on a

relationship between two people: the

coach and the individual. This course

is for anyone who wants to support

colleagues to develop their skills or

confidence in the workplace.

WHERE: Manchester

INFO: s.coop/2aqti

5 Dec: Inspiring Rural Communities

There will be sessions exploring the

various types of funding available,

workshops where you'll explore the social

impact your project could have on your

community, inspirational case study

presentations from existing community

businesses and a chance to meet with a

range of organisations who can offer you

support and advice on a variety of topics

and services.

WHERE: St Bride Foundation, London

INFO: s.coop/rural

12 Dec: Worker co-ops - How to

get started

Organised by Stir to Action, this session

looks at the theory and practice of worker

co-operation, offers practical insights,

arms you with information and tools

to test your ideas, find collaborators,

and turn plans into realities. Facilitated

by Siôn Whellens of Calverts (the East

London design and print co-op) who also

co-designed and launched the Worker

Cooperative Solidarity Fund.

WHERE: London

INFO: stirtoaction.com/workshops

1-2 Feb 2019: Future Coops 2019

– Can co-operative deserts bloom?

Future Co-ops 2019 will explore how the

co-operative sector can grow, addressing

the issue of co-operative deserts and

how new co-ops can be helped to bloom.

Future Co-ops will be working with Central

England Co-operative's Think:Digital

innovation team, using their new insights

and participatory problem solving

techniques in a fun and effective way.

WHERE: Birmingham

INFO: futures.coop/future-coops-2019

8-10 Mar: Co-operative Retail Conference

The Co-operative Retail Conference is the

only annual event designed specifically

for co-operative retailers. It attracts the

leaders, managers and directors

of consumer owned retail co-operatives

from right across the UK.

WHERE: De Vere Cranage Estate, Cheshire

INFO: uk.coop/co-operative-retailconference

21-22 Jun: Co-op Congress 2019

Congress is the co-operative sector's

annual conference. A day when members

and directors, activists and CEOs from

co-ops large and small came together.

WHERE: Manchester

INFO: uk.coop/congress

11-13 Oct: The Co-operative Party

annual conference.

The annual conference of the co-op

movement's political party.

WHERE: Glasgow

INFO: party.coop

26-28 Nov: Co-operative Education and

Research Conference

Organised by the Co-operative

College,the 2019 conference will be

part of the celebrations of the College's

centenary year.

WHERE: Rochdale

INFO: co-op.ac.uk/our-centenaryconference

50 | DECEMBER 2018
---
Power your

Christmas with 100%

renewable electricity

Switch to Co-op Energy for 100%

renewable electricity at no extra cost to you.

www.cooperativeenergy.coop/christmas