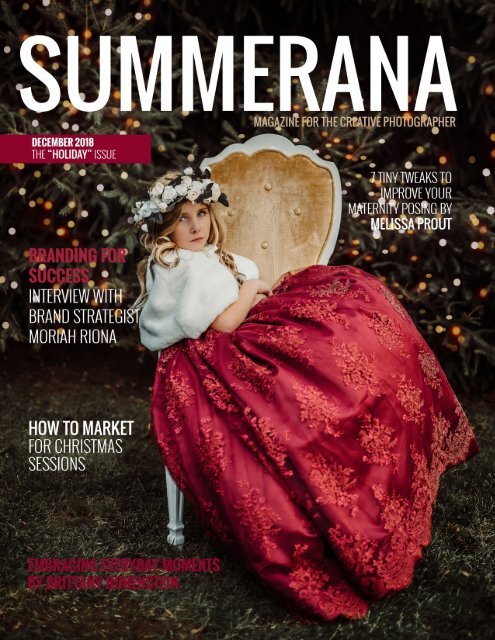 SUMMERANA MAGAZINE| DECEMBER 2018
December 2018 | The "Holiday" Issue
December 2018 | The "Holiday" Issue
SHOW MORE
SHOW LESS
Create successful ePaper yourself
Turn your PDF publications into a flip-book with our unique Google optimized e-Paper software.
SUMMERANA

MAGAZINE

MORIAH RIONA

INTERVIEW BY SHANNON SQUIRES

BRANDING FOR SUCCESS

Moriah Riona is an award winning graphic designer and brand strategist

who empowers creative female entrepreneurs with visual branding that

gives them the confidence to succeed. Moriah believes that together we

can create a new paradigm for business — one of compassion,

kindness, cooperation, and community.

Hey Moriah! How did you become a branding

expert for creative entrepreneurs?

I was a wedding photographer for almost 10

years! I didn't know what I was doing in the

beginning. I branded and rebranded myself

along the way, desperate to get my business

off the ground. After many DIY attempts, I

became obsessed with the concept of branding

and went back to school to earn a B.A. in

graphic design.

I have been designing and branding ever

since. It's now my mission to empower other

female entrepreneurs with visual branding

that gives them the confidence to succeed.

Not gonna lie... it's the best job in the world!

They have a comprehensive brand, and it

works. We'll go out of our way, and part with

our precious dollars just to have some of that

Starbucks-branded goodness.

What is your absolute favorite thing about

your job?

My fave part is seeing my clients' transformation

and success. That may sound corny but I

love seeing their brands come together and

really work for them. I truly believe that confident

and successful women will change the

world.

Tell us the biggest transformation that your

clients see from working with you.

Hmm… I'd say the biggest transformation is

that they become busier and attract their

ideal clients. Their brand appearance is

higher end which attracts higher end clients.

They tell me that they're shocked at how

busy they are (and how clients no longer tell

them they're "too expensive")!

When should someone hire a professional?

What are some branding mistakes that

photographers make?

Inconsistency! Whether it's your visual components

(colors, fonts, design) or your written

voice, if it's not consistent, it's not a

strong brand. Your online presence (website

and social platforms) should look and read

the same as your printed materials.

Tell us something unique about you.

I'm a nerd and I love my branding colors.

My Christmas decorations are even branded...black,

white and gold everywhere! I'm

not even ashamed about it.

What/Who are you influenced by?

When I went back to school to get my graphic

design degree, I took a lot of art history

classes and fell in love with them. They influence

my design work now.

Favorite way to unwind?

Glass of red wine and Netflix binge.

What are some misconceptions about

branding?

Girl, don't be duped by a new trendy logo

and think that that's all you need! Too many

times I've seen photographers buy a logo off

Etsy and think that their business is branded.

Truth is, that's barely the beginning. You need

a comprehensive visual branding system.

Think about Starbucks — they don't just

have a logo. They've got colors, style, fonts,

design...etc. all grounded in a solid brand

foundation.

38

Right away. But...save up and invest in a

complete branding experience versus the

piecemeal DIY approach. Ideally, you want

to brand completely and correctly the first

time to avoid multiple rebrands which will

degrade your business overtime.

Whether you're just starting out or have been

in business for awhile, the fact that you have

a business means you have a brand. It just

may not be cohesive. Everyone can benefit

from hiring a professional at any stage.

What's your advice for photographers who

need help honing their brand?

Be yourself. Don't be tempted by today's

trends and spend money on gimmicks. Invest

in your brand. Even if it's a slow process, I

promise you, you will see success.

Start now by grabbing the Brand Blueprint —

your free 20-page workbook to help you build

the foundation of an epic brand:

https://moriahriona.com/brand-bluprint-sign-up/

www.moriahriona.com

Instagram: https://www.instagram.com/moriahriona/ (@moriahriona)

Pinterest: https://www.pinterest.com/moriahriona/

Facebook: https://www.facebook.com/MoriahRiona/

Twitter: https://twitter.com/MoriahRiona (@moriahriona)
---
SUMMERANA

MAGAZINE

39
---
SUMMERANA

MAGAZINE

Masquer8 Photography

Summerana Snow Overlay

Camera: Canon 6D mark ii

Lens: 70-200mm f2.8 L IS ii

Model: Bianca Cioban

42