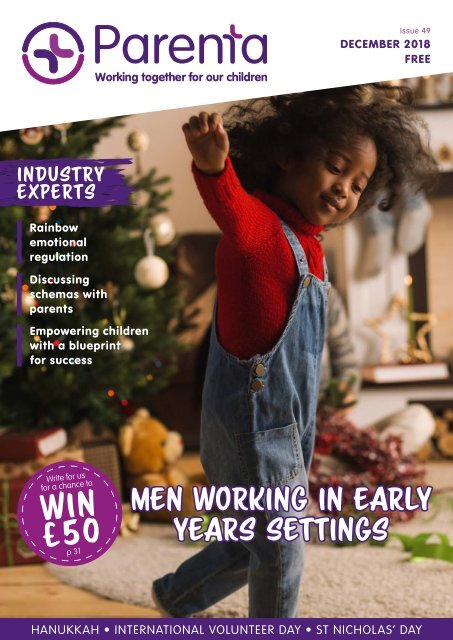 Magazine December 2018
We have so much advice and information for you this month – including an article on how sports can help children with anxiety; a really useful guide on how parents can build on their children's schematic interests; and some practical and fun ideas for the children in your setting to help nature in winter. We also give some top tips on how you can get involved in International Volunteer Day on 5th December!
We have so much advice and information for you this month – including an article on how sports can help children with anxiety; a really useful guide on how parents can build on their children's schematic interests; and some practical and fun ideas for the children in your setting to help nature in winter. We also give some top tips on how you can get involved in International Volunteer Day on 5th December!
SHOW MORE
SHOW LESS
Create successful ePaper yourself
Turn your PDF publications into a flip-book with our unique Google optimized e-Paper software.
Issue 49

DECEMBER 2018

FREE

INDUSTRY

EXPERTS

Rainbow

emotional

regulation

Discussing

schemas with

parents

Empowering children

with a blueprint

for success

Write for us

for a chance to

WIN

£50

p 31

MEN WORKING IN EARLY

YEARS SETTINGS

HANUKKAH • INTERNATIONAL VOLUNTEER DAY • ST NICHOLAS' DAY
---
hello

Hello and welcome to the December edition of the Parenta magazine!

Christmas is almost upon us and this month we take a look at a variety of events that different countries

and cultures celebrate in December. We've got a wonderful story about the origins of St Nicholas' Day

- how in many European countries, December 6th is celebrated as the feast day of Saint Nicholas, the

patron saint of children. We learn about the eight-day Jewish holiday, Hanukkah - the 'festival of lights';

and have some superb activities for the children in your setting to celebrate Tree Dressing Day!

Thank you to all those who send in their news stories to us; we really enjoy reading them and sharing them on our

website. This month, we feature two lovely heart-warming stories: to commemorate 100 years since the end of World War I,

children and staff at Broussa Day Nursery and Nursery School in Hale welcomed grandparents and local community groups to

join them for a Remembrance afternoon, complete with wartime-themed decorations and Vera Lynn music. Our second featured

news story is slightly more hair-raising! Staff at Tops Day Nurseries in Wareham took part in a sponsored skydive to raise money

for one of the children in their care who has bilateral spastic cerebral palsy. You can read the full stories on pages 4 and 5.

We have so much advice and information for you this month – including an article on how sports can help children with anxiety;

a really useful guide on how parents can build on their children's schematic interests; and some practical and fun ideas for

the children in your setting to help nature in winter. We also give some top tips on how you can get involved in International

Volunteer Day on 5th December!

Congratulations to Sensory Specialist, Joanna Grace, who has won our guest author competition for an impressive fourth month

in a row! Her "Wonders of a Sensory Story" article gives us a fascinating insight on how sensory stories are formed and how

each sentence is partnered with a rich and relevant sensory experience. We really appreciate all the articles that are sent into

us for publication. If you have written on a topic relevant to early years and would like to be in with a chance to win £50 in

shopping vouchers, turn to page 31 for details.

We really hope you enjoy reading December's issue and wish you happy holidays!

Allan

SCHEMAS

WELCOME TO OUR FAMILY

32

Tamsin Grimmer offers

advice on speaking to

parents about schemas

and provides practical

ideas for how parents

can support their

children's development

DECEMBER 2018 ISSUE 49

IN THIS EDITION

REGULARS

18 Spotlight on... Danni Randall

22 What our customers say

28 The Adventures of Rocket Rabbit & Sidekick

Squirrel Part 5

31 Write for us for a chance to win £50

36 Christmas craft - Santa handprint

37 Parenta job board

NEWS

4 The sky is the limit for Cerys!

5 Broussa Day Nursery welcomes special guests

to Remembrance afternoon

6 Parenta Trust news

ADVICE

8 Saint Nicholas' Day

12 Hanukkah: Festival of lights

14 How sport helps children with anxiety

16 International Volunteer Day

20 Practical and fun ways to help nature in winter

24 Footsteps 2 EYFS Learning Journey Software

34 Branch out and celebrate Tree Dressing Day

38 Men working in early years settings

Hanukkah: Festival of lights 12

Branch out and celebrate Tree Dressing Day 34

Practical and fun ways to help nature in winter 20

SUCCESS

26

Stacey Kelly discusses

how to ensure our

actions and policies

support every unique

child to be programmed

with positive beliefs and

values

ANXIETY & SPORTS

Benjamin Holeman explores anxiety

disorder in early years and how it is

closely linked to physical activity

14

INDUSTRY EXPERTS

10 Rainbow emotional regulation

26 Empowering children with a blueprint for

success

32 Dear Sympathetic Sue - Discussing schemas

with parents!

Joanna Grace explores how to support children's

emotional regulation by labelling the full spectrum

of their emotions

10
---
The sky is the limit for Cerys!

Colleagues at Tops Day Nurseries in Wareham took part in a sponsored skydive to raise money

for one of the children in their care.

Broussa Day Nursery welcomes special

guests to Remembrance afternoon

To mark 100 years since the end of World War I, children and staff at Broussa Day Nursery and

Nursery School in Hale welcomed grandparents and local community groups to join them for a

Remembrance afternoon.

Three-year-old Cerys Mann was born 10

weeks prematurely and spent the first 8

weeks of her life in a special-care baby

unit. In April 2017, Cerys was diagnosed

with bilateral spastic cerebral palsy,

which affects her legs and right arm.

This incredible little girl refused to let

her disability hold her back. Despite the

physical challenges she faces every day,

the pain caused by her spasticity and

not having the ability to walk unaided,

she always has a smile on her face and

has already reached many milestones.

Cerys' parents have been continually

organising fundraising events, to fund

an operation called 'selective dorsal

rhizotomy' (SDR) which would improve

Cerys' mobility and allow her to be

pain-free, with a target of £65,000.

Three practitioners from Cerys' nursery

– Sara Nel, Kayleigh Budge and Lucy

Batterick – jumped from a plane in

order to raise money for Cerys' charity –

Footsteps for Cerys.

The skydive took place at the Old Sarum

in Salisbury and raised a grand total of

£1,405.

Kayleigh, who has worked in the preschool

room at Tops Wareham said:

"I love helping children with charities

and helping to raise money for those

that need it. I have had the pleasure of

knowing Cerys and watching her grow

into a beautiful and strong young girl. I

will do all that I can to give her a better

life."

Tops Day Nurseries advocates that

they are not a chain, but a family, in

which all parents, staff and children

are included. Other nurseries within

the Tops family in Dorset and Taunton

have held fundraising cake sales and

pyjama days. There has also been a

donation of £5,000 from the company

itself from its employee-focused trust,

The Hadland Group Employee Trust.

This charity was created specifically

to help those colleagues that need it

and donations to the charity are made

up of money from colleagues, with

the company matching any donations

received, plus more.

Every child should have the opportunity

to have an active childhood where they

can run, jump and play without painful

repercussions. The £5,000 donation

meant that Cerys can have the SDR

operation, without causing additional

stress to the family about any financial

implications.

Cerys' mum, Laura Mann said: "The

girls at Wareham have all looked after

Cerys in one way or another. Cerys has

attended Tops Wareham since she was

11 months old. They helped our family

during the time of diagnosis and Cerys

adores them all. The girls are very

brave to do the skydive, especially the

ones that do not like heights!"

The nursery was beautifully decorated

with Union Jack bunting, vintage

posters and photos of the soldiers who

bravely fought during the war. Vera

Lynn music set the nostalgic scene

as guests entered the hallway, with

wartime-themed areas in each of the

rooms.

The nursery was joined by some of

the children's grandparents, members

of the 'Young at Heart' group from

St. Peter's Church in Hale, as well as

former Broussa Day Nursery owner,

Jillian Stopford.

During the morning, the children

enjoyed the themed role-play areas,

Get in

touch!

as well as making a range of poppy

crafts, including paper poppies and

thank-you cards for the special guests.

As part of the afternoon's event, the

pre-school children laid a wreath and

their decorated 'peace pebbles' in

the garden, before reciting a poem.

Everyone who attended then took part

in a minute's silence to remember those

who fought for our country.

Nursery teacher, Mrs Pandor, said

a few words before inviting guests

inside for some afternoon tea. After

exploring all of the displays, posters

and photographs, thank-you cards

decorated with finger-paint poppies

were handed out to the guests.

Deputy Nursery Manager, Ami Mahon,

said guests were delighted to be

welcomed into the nursery, which has a

vast history itself:

"We were lucky enough to be joined

by Jillian, as well as the local church

group and grandparents. It's a great

experience for the children to learn

about the history of our country and

take part in traditional celebrations.

"All the children enjoyed the afternoon

so much, they were sad to see our

guests leaving. We will certainly

be running similar events for the

community in future."

We love sharing your news on our website and in our magazine. If you have a story you want to share

with us, please send it to marketing@parenta.com.

4 Parenta.com December 2018 5
---
NEWS

Parenta Trust news

School build almost complete!

With Christmas just around the corner, why not sign up to AmazonSmile and make

even more of a difference to Parenta Trust? AmazonSmile is a website operated by

Amazon with the same products, prices, and shopping features as Amazon.com.

The difference is that when you shop on AmazonSmile and select Parenta Trust as

your chosen charity, the AmazonSmile Foundation will donate 0.5% of the

purchase price of what you've bought to Parenta Trust.

Click here for more information

Parenta Trust is now in its 5th year

and we are happy to announce that

our 5th school will be complete by

early 2019! The Komoret Nursery

School in Nakapiripit, Karamoja,

is part of a brand new school

community project and phase 2

of the build includes the nursery

school funded by Parenta Trust. With

every pre-school we build, together,

we can give, on average, another

200 children the opportunity they

deserve to have an early years

education.

Funds raised from last year's

'Maidstone to Monaco Rally',

together with the generosity of all

those who attended our two charity

balls this year, means that we are

finalising funds for our 6th school.

We are on the home-straight – thank

you so much to all those involved!

We are excited to announce that

fundraising is well underway for our

7th school! Barnaby Wynter, Master

of Ceremonies at the last three

Parenta Trust balls, is working hard

to raise funds through a variety of

activities. Not only has he decided

to take part in the 2019 Parenta

Trust Rally, he has set himself a

target to pay for the build of the

7th school entirely from his own

fundraising.

He said; "After this year's charity

ball, I thought that I would set

myself a target. I am excited to

participate in the 2019 Rally for

the first time. I didn't feel that

even taking part in the Rally was

ambitious enough. This may

sound strange, but I have a thing

about anything that has a '7' in

it, especially the number '57'. So I

thought I'd set a target for 2019 to

raise enough money to build the

7th school. It's a long way off, but

I have also promised to pay for the

57th school too!"

Barnaby has put together a

match-funded programme with

his company, The Brand Bucket

Company Ltd, to raise £20,000. He

will be undertaking various activities

for donations including finding work

for other companies, providing

one-to-one mentoring sessions to

small business owners, running

workshops and other fundraising

activities throughout the year. Four

weeks into fundraising and the

project has already raised £4,680

towards its target!

For information on how you can get

involved, please visit Barnaby's Just

Giving page.

Remember any donation will be

doubled by The Brand Bucket

Company Ltd!

Please get involved

www.parentatrust.com

YOU CAN

MAKE A

DIFFERENCE

for as little as 56p a day!

Sponsoring a child provides

• A pre-school education

• Access to clean water

• A school uniform

• A daily hot meal

• School supplies

• The knowledge that

someone truly cares

You'll be able to see first-hand the difference you're making

with regular updates, letters and drawings from your

sponsored child.

FIND OUT MORE

Maidstone to Monaco - 26 th to 30 th June 2019

FIND OUT MORE

6 Parenta.com
---
Saint Nicholas' Day

In many European countries, December 6th is celebrated as the feast day of Saint Nicholas, the

patron saint of children. Children celebrate by leaving shoes by the fireplace in the expectation

that Saint Nicholas will leave them a small gift. Although in some Western societies, Saint Nicholas

has been confused with, or even, fused with Father Christmas and Santa Claus, the origins of the

day stem from celebrating the life of one of Christianity's most famous, historical figures - the real

Bishop of Myra who lived over 1500 years ago.

Who was Saint Nicholas?

Nicholas was born to a Christian

family around 250-270 A.D. in Patara,

the capital of Lycia, in what was once

Ancient Greece, but is now Southern

Turkey. His parents were wealthy

merchants but died of a plague when

Nicholas was young. Despite this,

historians think he travelled to both

Palestine and Egypt in his youth.

Nicholas became a priest and was

eventually ordained as the Bishop

of Myra, an important, nearby

market town. In this role,

Nicholas gained a reputation

as a philanthropist because

of his many charitable deeds,

including giving people gifts of coins,

which he often left in their shoes.

Myths and legends

Although there are many saints

associated with children, Saint Nicholas

is one of the oldest. His patronage of

children stems from an ancient legend

in which he miraculously raised three

small boys from the dead after they

had been murdered by an innkeeper.

Whilst the truth of this story remains

shrouded in mystery, the most

popular folk story about him

concerns three unmarried

women whose father

could not afford a dowry.

Understanding that the only option

facing the young women was to be sold

as slaves or into prostitution, Nicholas

secretly threw a bag of coins through

the window of the poor man's house so

that the eldest daughter could marry.

He repeated his kindness for the other

daughters, but on the third occasion,

was seen, and despite Nicholas

begging to remain anonymous, the

father was so grateful, he told the

whole town of the bishop's kindness,

and the legend of Saint Nicholas was

born.

How is Saint Nicholas' Day

celebrated around the world?

Celebrations vary according to local tradition, including:

A festival or parade

In the Netherlands, almost every town has an annual parade

to welcome Saint Nicholas. As well as a procession through

the town, a man dressed up as 'Sinterklaas' (Saint Nicholas),

visits homes, schools and hospitals giving out small gifts. In

another tradition, a character called 'Zwarte Piet' or 'Black

Peter' accompanies him, entertaining the children, and

scattering sweets for those who've come to meet the saint.

A feast

In many European countries, Christmas Eve is often more

important than Christmas Day itself, and the same is true for

Saint Nicholas' Day. Families get together to celebrate on the

evening of December 5th with a feast or family meal. Foods

eaten include German pancakes or 'Pfannkuchen'; pork with

apples and mustard in France; or soups, pizzas, pastries,

breads and Saint Nicholas-shaped cookies.

Leaving shoes by the fireplace or front door

As children around the world go to bed on December 5th,

many leave out a shoe or boot by the fireplace or front door

hoping to receive a small reminder that Christmas is coming

from Saint Nicholas.

Ideas to celebrate Saint Nicholas'

Day in your setting

To celebrate Saint Nicholas' Day in your own setting, why not?

1

2

3

4

5

Create a festive menu including foods from European

countries such as sweetbreads, pizza, German sausage,

French apples or Dutch cheeses and fruit.

Draw or set up a display of some of the characters

associated with the day including Saint Nicholas, Zwarte

Piet or Krampus. You could add the poor father and his 3

daughters to show the origin of the legend too.

Tell the children the story of how Saint Nicholas helped

the poor man and his daughters. You could even act out

the scene, or scenes depicting other acts of kindness

and charity.

Create a piece of wall-art by cutting out shoe shapes or

printing footprints using the soles of wellington boots.

Remember to wash the wellies afterwards.

Ask the children to bring a spare shoe into your nursery

and leave them around an imaginary or craft fireplace

on December 5th. Once the children have gone home,

fill them with a small treat for when they return on the

morning of December 6th.

Whether the children receive a gift or not is often linked to

the children's behaviour over the last year. If children have

behaved well, they will receive candy canes, chocolate coins

or other small toys. However, Saint Nicholas is often thought

to be accompanied by 'Krampus' or 'Knecht' – a frightening

creature usually depicted as half-man/half-goat; who is said

to punish naughty children by leaving them a coal or stick

instead of a treat.

Gifts for unmarried women

In Italy, many unmarried women also receive gifts on Saint

Nicholas' Day in memory of the three girls Nicholas helped.

Unmarried women might attend church to participate in a

ritual called 'Rito delle nubili', traditionally thought to help

them find a good marriage.

6

Teach the children some other names for Saint Nicholas'

Day to explore different languages and cultures, such as:

English > Saint Nicholas' Day

French > Saint-Nicolas

German > Nikolaustag

Spanish > Día de San Nicolás

Hungarian > Télapó Mikulás

8 Parenta.com December 2018 9
---
Rainbow emotional regulation

In this second of four articles exploring sensory

support for emotional regulation, Sensory

Engagement Specialist and Sensory Projects

Founder, Joanna Grace, explores how we can

support children's emotional regulation by labelling

the full spectrum of their emotions. This article is

based on one of Joanna's free leaflet guides, more

can be found here.

Labelling the rainbow

Labelling emotions from an early

age helps promote an individual's

ability to regulate their emotions.

Knowing what an emotion is goes

a big way to helping a child to

address it. This might sound a little

strange - why do you need to be

able to put a word on something

you feel - surely feeling it is

enough? But actually, our internal

feelings are quite confusing and

the act of labelling helps us to

distinguish what is going on. It

is not that the word has some

magical powers, it is simply the

sorting process that is useful.

Consider how you actually FEEL

when excited, frightened, or like

you might be getting a stomach

upset. All three are a low level

burbling in the pit of your stomach,

how do you know which is which?

Children often FEEL without knowing

that what they are experiencing is

a feeling, an emotion, rather than a

physical bodily response.

Knowing what your emotions are,

and being able to label them, is a

vital first step in working out what

is going on with them and how to

manage them. Yet at a time when

we expect a child to be able to

name seven colours of the rainbow,

we mistakenly think we make life

easier for them by making their

emotions binary: they are either

happy or sad. Their emotions are

just as real to them as the colours

they see in the world around them:

being given names for them helps

them to understand them and

to process them. A label for an

emotion also means you can collect

understanding from places outside

of yourself, for example when you

hear a story about a person who

felt embarrassed, you can link what

you learn from the story to your

own life and situations in which

you feel embarrassed. Words

are powerful tools in emotional

regulation.

Ways to label emotions

• You can label emotions with

words, spoken or written.

• You can label emotions

with toys showing particular

emotional states, for example

you may have a toy whose

face can be manipulated to

show different expressions.

• You can label emotions

with symbols, diagrams

or photos. Symbols and

diagrams can be harder for

a child to translate. Photos

of themselves genuinely (not

mock acting) expressing

the emotion will be much

easier for them to understand

and more accurate in their

representation.

• You can label emotions

with the tone of your voice

or with sounds, you might

even be able to use objectsof-reference

or figurines

displaying different emotions.

Objects-of-reference are often used

with children who have profound

physical and cognitive disabilities.

Objects are chosen to represent

key things important in that child's

life, for example a seat-belt buckle

might be used to indicate that they

are going in a car. For a child who

struggles with particular emotions

- for example, often becoming sad

or angry - a representational object

could be chosen and handed to

them when they feel that emotion.

In time, reaching for that particular

object could become their way of

expressing their distress rather than

through means that are sometimes

self-injurious.

How to use educative emotional expression

You can use your labelling of a child's emotions as a miniature opportunity to teach them emotional

regulation. This is a very neat trick - and done consistently - will both demonstrate your empathy with that

child and let them feel understood whilst simultaneously teaching them how to regulate their emotions. Little

and often is often the best approach to teaching tricky things like this. Whilst a good story about emotions,

such as "The Colour Monster" by Anna Llenas, or "The Jar of Happiness" by Alisa Burrows can provide a

great opportunity to reflect and consider emotions in the safety of the book corner, it is unlikely that young

children reach for the insights gained in such a setting when they have that toy snatched from them, or are

bumped to the floor by an overly-zealous peer. Here's how to do it:

1

Label their emotions as

Try to match their emotional Once you have labelled

they experience them, try 2 state as you label it. For 3 their feeling in an

to always make this your

top priority. So instead of "stop

kicking the stairs", say "You are

feeling angry" and save your

instruction for further down the

line. Remember children do not

necessarily know what they are

feeling so it is our job to recognise

and to label their emotions for

them, and go for the whole

rainbow of emotions - not just

happy or sad.

example, say "You are

feeling angry" in a tone that

matched the anger they were

expressing. This will help the child

to feel understood. Of course, I am

not suggesting that you get angry

with them yourself, simply that

your tone empathises with their

emotional state. Don't say 'angry'

in a cutesy way, angry is not a

little butterfly or a pink feather -

"ANGRY" is a monster, is gritting

your teeth, is a big roaring word as

you say it. You are not being angry

with them, you are demonstrating

that you feel their anger with

them. Angry, said as "ANGRY"

generates a greater empathetic

connection than "angry" said in a

sickly-sweet way.

empathetic, connected

tone, quickly begin to demonstrate

emotional regulation as you give

your advice. For example:

"YOU ARE FEELING ANGRY" said in

an angry tone.

"You do NOT want to FEEL this

way" said in an urgent tone.

"You are trying to get rid of your

anger by kicking the stairs" said in

an informative tone.

"But it is not working" said in a

compassionate tone.

"Try ______ instead" said in an

optimistic tone.

The magic of mirror neurons

As you grade your expression, you

give the child a guide for their own

emotional regulation. Show the

transition in your facial expressions

too. We all have mirror neurons in

our brains that enable us to feel

a little of the emotions we see in

others. By providing strong input for

their mirror neurons you give them

a little of your emotional state. Our

bodies have a range of ways, of

which mirror neurons are just one,

in which they connect with each

other. Your emotional state will

directly and physically affect theirs

- slow your breathing to slow their

breathing, exude the calm you want

to create. Get tense and frustrated

and you will find yourself in a room

full of very trying children. You may

have heard the phrase "You create

the weather in your classroom"

- well I'm here to say it is true.

The biggest hurdle we face in

teaching children emotional

regulation is regulating our own

emotional responses!

It is important to match their

expression to form the connection

at the start and then gently blend it

into an emotion that will be better

for their wellbeing (and yours).

For example, if a child is crying,

you might begin talking to them

showing a high level of distress in

your own face; "You are very sad,"

and then let this fade and your

muscles relax, "but I am here with

you" and introduce a smile that

grows. "I will help you to feel happy

again" - big smile.

Label the rainbow as you see it

As you would do with colours,

take time to point out and discuss

emotions as you encounter them

in daily life. They do not always

have to belong to the child -

recognising emotions in peers

will help them to understand their

own emotions and to become

empathetic and considerate

towards their friends.

Try to avoid labelling particular

emotions as bad or good - that is

reverting to the binary expression

we are trying to escape. We do not

want to teach children that they

are only acceptable to us when

happy. Feeling the whole spectrum

of emotions is normal and healthy.

What we are looking to teach

is not suppression of emotion,

but regulation and appropriate

response. Enjoy the rainbow!

Joanna Grace

Joanna Grace is an

international Sensory

Engagement and Inclusion

Specialist, trainer, author, TEDx

speaker and founder of The

Sensory Projects.

Consistently rated as

"outstanding" by Ofsted,

Joanna has taught in

mainstream and specialschool

settings, connecting

with pupils of all ages and

abilities. To inform her work,

Joanna draws on her own

experience from her private

and professional life as well

as taking in all the information

she can from the research

archives. Joanna's private life

includes family members with

disabilities and neurodiverse

conditions and time spent

as a registered foster carer

for children with profound

disabilities.

Joanna has published several

books: "Sensory Stories for

Children and Teens", "Sensory-

Being for Sensory Beings"

and "Sharing Sensory Stories"

and "Conversations with

People with Dementia". Her

latest two books, "Ernest and

I", and "Voyage to Arghan"

were launched at TES SEN in

October.

Joanna is a big fan of social

media and is always happy

to connect with people

via Facebook, Twitter and

Linkedin.

Website:

thesensoryprojects.co.uk

10 Parenta.com December 2018 11
---
Hanukkah: Festival of lights

Festival of lights

Hanukkah or sometimes spelled 'Chanukah', is known as the 'Festival of Lights' and is an eightday

Jewish holiday commemorating the rededication of the Holy Temple in Jerusalem (known as

the Second Temple). The United Kingdom is estimated to have the 5th largest Jewish population in

the world, with just under 300,000 people practicing the Jewish faith in the country.

The Hebrew word 'Chanukah' means

'dedication', and is pronounced with a

guttural, or hard "kh" sound, 'kha-nukah',

not 'tcha-new-kah'.

The festival is celebrated annually,

although like Easter, the dates are

not fixed as Hanukkah starts on the

25th day of Kislev according to the

Hebrew calendar, which corresponds

to dates between late November

and late December in the Gregorian

calendar. This year, Hanukkah runs from

Sunday 2nd December to Monday 10th

December.

What does Hanukkah celebrate?

The festival commemorates the victory

of a small group of Jews, who rebelled

against their Syrian-Greek rulers in the

second century (167 BC). After a war

lasting 3 years, the Jews, led by Judah

the Maccabee, successfully regained

control of their temple in Jerusalem

which had been destroyed in the

fighting.

The group rebuilt the temple, but when

the leaders came to light the candles

in the menorah (a special 8-branched

candelabrum), they found that all the oil

had been contaminated and they only

had enough for one day.

Despite this, they lit the menorah which

then miraculously lasted for 8 days,

giving the Jewish leaders enough time to

create more oil under conditions of ritual

purity.

To commemorate and publicise the

miracles, the Festival of Hanukkah was

born.

Rituals

The most important ritual during

Hanukkah, is the daily lighting of a

family's own personal menorah. The

menorah consists of eight branches, and

a ninth branch, typically placed either

above or below the main eight candles,

that is known as the 'shamash' or

'attendant' candle.

On the first night, usually just after

sundown, the shamash is used to light

one candle on the candelabrum. On the

second night, the shamash is used to

light two candles, and each night sees

another candle added into the ritual until

all 9 candles are lit on the final night

of celebration. It is usual for a special

blessing to be read, or a traditional

song sung, before and after lighting the

menorah.

Hanukkah games: fun and

remembrance

Traditionally, Hanukkah is a fun time for

children, who might be given gifts or

Hanukkah money (gelt) in celebration.

There is also a traditional game that

children and adults play together which

involves spinning a special dice known

as a 'dreidel', that has letters from the

Hebrew alphabet on each of the four

sides. These are "nun", "gimmel", "hey"

and "shin" - an acronym for "nes gadol

hayah sham" meaning "a great miracle

happened there".

Depending on how the dreidel lands,

determines if the player receives or gives

up a coin, nut or other token.

Nun = nothing happens

Gimmel = you get the

whole pot

Hey = you take half of

the pot

Shin = you put a coin into

the pot

The game is played to remind families of their history under

Greek-Syrian rule, when practicing the Jewish faith was

outlawed. Many Jews continued to practice their religion in secret,

but if soldiers came to search a house, the family would bring out the

dreidel and pretend to be playing this simple dice game to hide the fact

they were really studying the Jewish holy book, the Torah.

There is also a catchy little song called "I have a little dreidel" that children often

sing whilst playing the game too.

Hanukkah foods

As the Hanukkah miracle involved oil, it is traditional to eat foods at this time that are fried in oil. Examples of Hanukkah foods

include a potato 'latke' or pancake, garnished with apple sauce or sour cream, or a jam-filled doughnut called a 'sufganya'.

Ways to celebrate or reflect on Hanukkah in your setting

There are many ways to celebrate Hanukkah in your nursery including:

• Tell the children the story of the Hanukkah miracle

• Light or draw candles to represent lighting the menorah. You could add another candle to a main display each day of

Hanukkah until you have 9 candles lit

• Bake some doughnuts to share with parents and friends and decorate them with your favourite sweet treat

• Play dreidel in groups. This is a simple game that is easy to understand and play, even younger children can spin the

special dreidel dice

• Learn the "I have a little dreidel" song

• Learn some simple letters from the Hebrew alphabet

• Make cards to celebrate the 'Festival of Lights'

Promoting tolerance

One of the main things that Hanukkah represents to Jewish families, is the ability to celebrate and practice their own faith in

their own way. Promoting tolerance for different religions is part of the "British Values" set out in the Government's guidance

for education in schools which encourages "mutual respect for, and tolerance of, those with different faiths and beliefs and for

those without faith."

By introducing nursery children to different religious stories, festivals and ideas from different faiths at an early age, you can

help develop religious tolerance and understanding, as well as having fun learning about different cultures too.

For some free resources on Hanukkah including songs, crafts and information on how to play dreidel, see: www.chabad.org

12 Parenta.com December 2018 13
---
How sport helps children with anxiety

From the outside, toddlers seem like they don't have a care in the world. However, did you know

that children as young as two can experience anxiety? Fortunately, practicing a sport during their

early years will benefit them greatly from this point of view. In this article, Benjamin Holeman

explores anxiety disorder in infants and how it is closely linked to physical activity.

Anxiety in the early years

Many children are no strangers to

anxiety. There are a lot of things to

worry about during the formative

years of life, such as grades, fitting

in, meeting new friends, making

parents proud, and so on. But while

these pertain to more advanced

periods in a little one's life, early

childhood comes with its fair share

of disquiets as well.

The most common type of anxiety

children experience in their early

life is separation anxiety. They are

most prone to it between the ages

of 18 months and three years, but

some cases continue well into their

pre-school days. Have you ever

noticed an infant crying when his

or her parent left the room, or a

toddler sobbing after mum and

dad dropped them off at their

childcare setting?

This sentiment is more widespread

than we'd like to think. A total of

4% of all children are affected

by it, and the older they are, the

harder it becomes for them to calm

down. It might not seem like a big

deal for an adult, but even the

shortest moments spent away from

their home and parents can leave

toddlers feeling homesick and

miserable.

Social anxiety is another issue

children can be faced with during

the incipient stages of their lives.

Going to daycare or pre-school

creates the first type of social

situation they are placed in, and

the pressure to fit in and form

relationships with their peers thus

arises. Selective mutism is an

extreme consequence of this.

The benefits of sport

The correlation between sports and

anxiety has been widely discussed

in the medical community. Recent

research has shown that regular

physical activity has a positive

impact on the mental processes

that trigger unease. What is more,

study participants that engaged in

exercise exhibited decreased levels

of angst.

While the vast majority of trials

on the subject were conducted

on adult participants, the same

benefits are true in the case of

children as well. In fact, getting

toddlers interested in physical

activity from an early age usually

implies they will stay active for

the rest of their lives. In this next

section, we will discuss the main

benefits adopting a sport can have

for an anxious youngster.

Improved mood

Practicing a sport will reduce

the toddler's stress levels in

many ways. Not only does

the activity fight fatigue and

improve concentration, but

it also releases endorphins.

Known as the 'happiness

hormones', endorphins

will improve the little one's

mood and keep them

content with their everyday

life.

In addition to

this, physical

activity works

wonders

for selfconfidence.

It

is especially

important

for kids to

develop

this quality

during their

early years, as it will assist them

in being successful later on in

life. A study conducted on athletic

teenagers demonstrated that

they are more likely to possess

leadership aptitudes throughout

their adult life.

Social interaction

As previously mentioned,

social anxiety is a main issue

for children as soon as they

get placed into daycare or preschool.

This goes hand-in-hand

with separation anxiety too, as the

sudden absence of a parent can

leave the little one feeling

disoriented and unable to

cope. Joining a sports

team is a great way

for them to socialise

in a more informal

setting first.

Most of the kids on

a team probably

share a common

interest for

football, tennis,

swimming, or

whatever else

they might have

chosen to play.

This is a great conversation starter

even for the shiest of toddlers who

might have trouble fitting in. What

is more, it nurtures a sense of unity

and comradery that is difficult to

achieve anywhere else.

At school, children are mistakenly

led to compete against each other,

but on a sports team they compete

together towards a common

goal. Thus, the toddler can form

meaningful friendships that might

last a lifetime even. Moreover, it

will become easier for them to

cope with failure, as they have

the support of their mates in the

process.

Final thoughts

Anxiety isn't a disorder reserved

for fully developed adult minds.

Children experience it as well,

and it is our goal as parents and

carers to assist them in handling

it adequately. Getting them

interested in a sport is a simple

and efficient way to do just that, as

it will make them happier and more

confident overall. If they make

some new friends in the process as

well, even better.

Benjamin Holeman is an amateur

pickleball player and a writer for

toppickleballpaddle.com.

He thinks that sport is beneficial

for children and that's why he

wants more people to know these

benefits.

14 Parenta.com December 2018 15
---
International Volunteer Day

"Founded on the values of solidarity and mutual trust, volunteerism transcends all cultural, linguistic and

geographic boundaries. By giving their time and skills without expectation of material reward, volunteers

themselves are uplifted by a singular sense of purpose." - UN Secretary-General, Ban Ki-moon

December 5th is designated as International Volunteer Day (IVD). Established in 1985 by

the United Nations, it aims to celebrate the power and potential of volunteerism around

the globe and mark the contribution that volunteering makes to different societies.

All around the world, local, national

and international volunteer

organisations, together with individual

volunteers will showcase their work

and highlight the important role they

play. It could be at a litter-picking

rally, a charity-shop open day, or a

volunteer-recruitment or fundraising

fair. But whatever form volunteering

takes, IVD is a unique opportunity to

celebrate volunteering, connect with

other like-minded individuals and

agencies, and support this vital part

of modern life.

What are volunteering and

volunteerism?

Volunteering is when people

freely give up their own time to do

something of benefit to other people,

the environment or a community

outside their own family unit. Unlike

Did you know?

The size of the direct and organisation-based

volunteer workforce equates to

109 MILLION FULL-TIME WORKERS

employment, it is something that is not

done for commercial or financial gain.

Volunteerism is the use or

involvement of volunteer labour,

especially in community services.

As a pre-school or nursery, your

organisation and staff might be

involved in both aspects.

Volunteering is an act of kindness

Volunteering is common to all

cultures and every year, hundreds of

millions of people give their time and

use their skills to improve the lives of

others. They could be volunteering

on a child's pre-school outing,

rebuilding a community park, running

a local youth group or dedicating

6 months or more of their lives to

volunteer abroad on a dedicated

United Nations' project. The list of

opportunities is endless.

At the basis of all volunteering

however, is a genuine act of kindness

and a desire to make the world

a better place. It can create new

partnerships, help build metaphorical

or literal bridges, and secure a

sustainable future for projects which

might otherwise not be possible.

Think of the organisations you know

that rely on volunteers: charity

shops, the National Trust, hospital

radio, community shops, parish

councils, youth groups, and guiding

or scouting troupes. These are just

some of the organisations that would

struggle to survive without the army

of volunteers that make up most of

their workforce.

Every three years, the UN Volunteers programme publishes a report of the "State of

the World's Volunteerism." The latest report was published in 2018 and found:

Global volunteer activity

70% personto-person

30% formal

organisations

70% of global volunteer activity is through

direct person-to-person environments with

30% through more formal organisations or

associations

43% 57%

57% of the global volunteer workforce are

women

A UK report also found that over 160,000 voluntary organisations contribute £12.2 billion to the UK economy. So

volunteering is big business.

What you can do to get involved

There are several things you can do to get involved with

IVD on 5th December. You could:

• Raise awareness of the day. In a nursery setting

you could create and put up posters to educate more

people about the day or investigate ways in which

volunteering is helping your own local community.

• Celebrate and report the work of your

volunteers and/or your own volunteering. This

could be a special lunch or information evening,

sharing successes with parents, children or the local

press.

• Become a volunteer. Why not investigate

volunteering opportunities in your area? This doesn't

need to be too formal either. You could take the

children to a local park for a litter-picking session, for

example.

• Build wider partnerships. If your organisation runs

a corporate volunteering programme, you could use

IVD to widen the level of staff engagement or start a

programme if you don't already run one.

Important questions to ask

• Why do you want to get involved in volunteering or

volunteerism?

• What do you want to do or what can you offer

volunteers?

• How much time will this take?

• What particular skills do you have to give, or do you

need in your organisation?

What are the benefits?

There are many benefits associated with volunteering

and volunteerism:

• Facing new challenges and learning new skills – you

might invite volunteers in to your setting to teach

your staff and students new skills (e.g. forest skills or

cooking).

• Building stronger communities as more people take

ownership of their local environment or community

projects.

• Meeting new people and making friends.

• Volunteering can lead to better health and a sense of

well-being as people feel they are making a positive

contribution.

• Personal development and improved career

prospects.

• It's fun!

Planning to reduce risks

Ensure that you carry out proper checks on new

volunteers, as you would for any new staff member,

especially if volunteers are working with children. In the

nursery setting, volunteers are often parents or carers of

children in the group, but you should always follow your

safeguarding and recruitment procedures.

This will often mean planning things well in advance. For

example, if people are asked to volunteer on school trips

or at special events.

Remember too, that volunteering is a two-way process

and the best partnerships are those that benefit both

sides, ensuring the needs of each are met, and bringing

about lasting change for all involved.

For more information visit:

www.unv.org

www.ncvo.org.uk

16 Parenta.com December 2018 17
---
Spotlight on...

Danni Randall

HALLOWEEN

COMPETITION

WINNERS!

HR assistant Danni plays a key part within our HR

department, to support the recruitment and training of new

employees. Danni also deals with the administrative duties

within Parenta, such as staff record-keeping.

Why did you decide to join Parenta?

I was looking for a new HR role as

I had recently completed my CIPD

qualification and was keen to get

back into the HR environment after

working in a recruitment agency for

nearly 3 years. I saw the advert online

for Parenta and instantly felt like this

was the company for me. The advert

was engaging, I loved what Parenta

did, and it ticked all the boxes straight

away! I sent in my CV but couldn't

stop thinking about the role so I called

in and spoke to Emily (previous HR

Manager) and Stacey to let them know

how interested I was. The rest, as they

say, is history….

How would you describe the

company's culture?

Family-orientated, supportive,

encouraging, empathetic, hardworking,

passionate!

What do you think makes Parenta

stand out as an employer?

For me, what really stands out is

how human Parenta is. Everyone is

genuinely supportive and really cares

about each other. The other is how

passionate each and every person is

and how much they believe in Parenta.

For me, what

really stands

out is how

human Parenta

is. Everyone

is genuinely

supportive and

really cares about

each other.

This filters down from the very top.

Many businesses make statements of

how supportive they are to colleagues

- however Parenta is one of the only

organisations I know of that actually

practices what it preaches!

How does the company allow

employees to have a stake in its

success and profitability?

The main way that Parenta allows

colleagues to have a stake in its

success and profits is through

the Parenta LLP (limited liability

partnership). Once a colleague has

passed their probation they are invited

to join the LLP and if the company

reaches its profit targets then they will

receive a share of the profits in the form

of a month 13 payment!

What training opportunities do

junior members of staff have once

they come on board?

As a training provider, Parenta is able

to offer apprenticeships to colleagues

that join the organisation. This allows

them to enhance their skills, gain a

qualification and further their career

within Parenta! Training isn't just for

junior colleagues, we encourage

lifelong learning for all colleagues and

will accommodate learning requests,

where viable.

What do you like most about

working for Parenta?

I love the sense of family and how

supportive everyone is. I think the

passion that colleagues have for their

jobs, for Parenta and for the industry is

really refreshing.

1 st

Huge congratulations to the winners of

our Halloween competition - Rising Stars

Commercial Road! We hope you have lots of

fun with your super craft hamper!

Congratulations

also to our runner

up, Kinderworld

Day Nursery! We

hope you enjoy your

crafty prize too!

2 nd Thank you to everyone who entered!

CHRISTMAS CARD COMPETITION WINNER!

We are delighted to announce the winner of our Christmas card competition is...

Poppies Day Nursery in Maidenhead!

Congratulations!!

18 Parenta.com

Thank you to everyone who entered! We loved seeing all of your amazing designs.
---
Practical and fun ways

to help nature in winter

Winter is a great time for children; with snowmen, snow angels and those lovely,

crisp, winter walks to look forward to. But winter can also mean a life-anddeath

struggle for much of our British wildlife, as food sources become

scarce and the biting-cold weather kicks in.

Winter is the perfect time to teach children in your setting about

seasons, ecosystems and their part in helping conserve our wildlife.

Here are some fun and practical things you can do to help our

furry, insect and feathered friends survive the winter months.

1 Feed the birds

2 Create a bug hotel

3 Help a hedgehog

4 Become a water monitor

Unlike the famous "Mary Poppin's" song, bird food costs a lot

more than 'tuppence-a-bag' nowadays, but you can still feed

the birds cheaply using dried fruit, nuts, scraps and leftovers.

Why not teach children the song to accompany some of the

following activities?

You can buy commercial bird feeders for seeds, but it

is also lots of fun to make your own, recycling plastic

bottles into the bargain. Cut a hole in the side of a

plastic bottle so that the birds can reach the seeds and

tie a string round the top to hang them up. The feeders

should keep the seeds dry to prevent mould growth,

and you can use an old pencil stuck through the bottle

as a perch for birds to use. Clean feeders once every

fortnight to prevent disease, using a mixture of 2:1 hot

water and distilled white vinegar. Make sure you rinse

and dry them thoroughly before refilling too!

Remember that there are many ground feeding birds

like blackbirds, thrushes and chaffinches who prefer

to feed on the ground so scatter some food around on

the floor too, or use a low feeder.

Children also love to watch birds feeding and you could

extend this activity to do a bird-count, keep a diary, or

set up a wall-chart showing the birds that you have

seen at your feeders.

Making a bug hotel is a perfect way to introduce the idea of

insect hibernation to children. Use pieces of old corrugated

cardboard, wood, bricks, leaves, sticks, twigs and fallen

branches to create some ideal accommodation for insects,

spiders, mini-beasts and bees. You don't need to build 'The

Ritz' - just make it as large or small as your facilities allow,

but position it in a sheltered area of your garden space if you

have one.

Everyone loves hedgehogs but in the last 10 years, the UK

hedgehog population has declined by a third and there are

estimated to be less than one million left in the UK now.

Despite hibernating, hedgehogs need shelter, water and food

to survive through the winter. Raising awareness of their plight

is important, so consider some of the following activities:

Create a hedgehog mural or some hand-printed art,

since the fingers of little hands can look just like a

hedgehog if you add eyes and a cute nose and smile!

You can make some hedgehog-food 'cakes' by mixing

together some meat-based dog/cat food with some

dried mealworms and crushed up cat biscuits. Leave

the food outside to encourage hedgehogs, but only

enough for one day's supply otherwise you could

attract other unwanted visitors such as rats. In order to

prevent local cats from stealing it, cover the food with

a large plastic or strong cardboard box and cut an

opening just big enough so that only the hedgehogs

can get in.

Create a hedgehog home using an old, upturned

plastic box and some leaves, twigs or fallen branches

to camouflage it. Download a free factsheet here for

more information on easy-to-build hedgehog homes.

During the winter, wildlife needs access to clean, unfrozen

water. Despite increased rainfall in the winter, water easily

turns to ice in the lower temperatures, making it unavailable

for wildlife. Set up a water-monitoring wall-chart and add

stickers to the chart each time you check the water-availability

or provide some water for wildlife. You could:

Set up watering stations using shallow bowls or old

food containers. Remember to refresh the water once

or twice a day to make sure it doesn't freeze.

Ponds can become frozen too, which can reduce

the oxygen in the water affecting fish or other pond

creatures. Melting a small section of the ice each day

will help protect the oxygen levels. But be careful – fish

can be scared by loud bangs on the top of the ice, so

don't use a stick or a hammer! To melt the ice, pour

on a small amount of boiling water from a kettle.

Obviously, an adult should do this for safety reasons,

but if you have a pond in your setting that contains

fish, then the children will love watching the ice melt

and you can teach them about the different physical

states of water too. The open water will also be valued

by other garden visitors such as birds and small

mammals.

Make some homemade fat balls to hang from trees or

on a bird table. Find a free recipe here.

Read stories based on hedgehogs and then talk about

them. Consider "The Tale of Mrs. Tiggy-Winkle" by

Beatrix Potter, "The Hodgeheg" by Dick King Smith or

you can find a free, online, educational story about

"Harry the Hedgehog" here.

20 Parenta.com December 2018 21
---
What our customers say

WHAT OUR CUSTOMERS SAY

TRAINING OCTOBER 2018

Angela Williams, our assessor, is fantastic.

An excellent tutor and mentor.

Kathy Beauchamp - Woodberry Day Nursery

What are the benefits of employing an apprentice?

• If they're 16-18, you won't pay a penny for their training

• You can watch them grow and progress

• You can meet your future recruitment needs

• You can mould them into your own style of practitioner

• You could be eligible for a grant to help cover your costs

TRAINING OCTOBER 2018

Hi Dawn, I'm not sure if you will remember me

but you were mine and Heidi's assessor for our

level 3 qualification last year (completed within

our childcare settings). I just wanted to thank you

and to let you know that because of my qualification I have

been able to move away from childminding and since September

of this year, I have been working as a SEN

Teaching Assistant in a secondary school which I

am absolutely loving.

Debbie Jones

SOFTWARE SUPPORT OCTOBER 2018

We always have a fast friendly

service. Well done Ellie, you are

a superstar and keep up the

fabulous service you offer.

Linda Innes - St John's Nursery Group

Visit: bit.ly/parenta-apprentice for more information

SOFTWARE SUPPORT OCTOBER 2018

Emma, as always, was polite, patient

and thorough in explaining each

stage of the training. It was a great

help, thank you!

Victoria Lewis - Small People

MAGAZINE NOVEMBER 2018

The content of your magazine is of a high quality,

always relevant and really engaging. Your team

seem to understand what the sector concerns

and needs are and the photography and

graphics are lovely. I share the contents with my team

which they have found informative and will actively

implement things they have found interesting

within the setting. More importantly, your

willingness to share business strategies with

the sector is really helpful during this very

difficult time for us all.

So it's a big thank you

from me.

Tina Knight -

Playsafe Nurseries

22 Parenta.com

Training with

Tamsin Grimmer!

If you have enjoyed reading Tamsin's

articles every month, why not invite her to deliver

bespoke training at your setting? Tamsin regularly

shares her expertise at conferences, INSET

meetings, CPD sessions, workshops and seminars.

Tamsin has a keen interest in how young children

learn and develop. She has written two books

on Early Childhood Education Observing and

Developing Schematic Behaviour in Young Children

and School Readiness and the Characteristics of

Effective Learning. She is currently writing a third

on Superhero Play.

Twitter: @tamsingrimmer

Facebook: www.facebook.com/earlyyears.consultancy.5

Websites: www.lindenlearning.org

www.tamsingrimmer.co.uk

Email: tamsin.grimmer@lindenlearning.org

Linden Learning is a specialist provider of consultancy, training and

coaching. We are committed to providing the highest quality service at a

realistic price. Because our offer is flexible and builds on what you already

do, you only pay for what you really need, giving you confidence that our

services are cost effective.
---
Footsteps 2 EYFS Learning

Journey Software

In today's society, where the physical, emotional and digital safeguarding of children is at the forefront

of every parent's mind, it is vital that safeguarding not only starts at home way before they begin school,

but that the responsibility also lies with early years childcare providers. New EYFS software, developed by

Parenta, is designed to help settings do just that.

EYFS Learning

Journey Software

'Footsteps 2' is an online EYFS

assessment tracker and learning

journal which addresses the

issue of digitally safeguarding

young children by using facial

detection technology when

uploading images. It not only

automatically identifies and tags

children, but more importantly,

blurs out the faces of those not

tagged within an image. This

will enable children within our

care system to also benefit from

this software, as information

can be shared with carers and

caseworkers.

The new technology has been

described as a game-changer

in the early years education

software market. New smart

tagging and blurring technology

means children not tagged in

the photo are automatically

blurred out. All children can be

tagged, but when observations

are sent to individual carers,

only the relevant faces will

show, supporting safeguarding

regulations within settings

and complying with the new

GDPR requirements. This

opens up a whole new world

for practitioners, giving them

greater flexibility when recording

observations and peace of

mind when thinking about

safeguarding.

This new software retains all the features of the original Footsteps, but gives extra flexibility with the children's EYFS learning

journey. Observations, reporting and screen-switching are easy to use; and the software can be used on a variety of electronic

devices. New features help provide users with a better overview of each child's development throughout their time at the

setting. Observations and comments can be reviewed by all users, making communication between users easy and workload is

significantly reduced so that staff in a setting can spend more time with the children and less time staring at a screen.

BOOK A

FREE DEMO

parenta.com/fsdemo contact@parenta.com 0800 002 9242

Improve essential safeguarding with new facial detection, tagging and

blurring technology

Save hours of time and reduce your workload to spend more time with

the children

Free set-up and unlimited training and support

24 Parenta.com December 2018 25

Unlimited video, image and document storage
---
Empowering Empowering children children with a with a

blueprint for success

What a child sees, hears and feels on a consistent basis creates a blueprint for how

they view themselves and how they respond to the world around them. Over time, and

with repetition, our subconscious mind, which controls 95% of what we do, becomes

programmed with beliefs and values that then silently guide us throughout life.

Our subconscious mind is very

literal and sees the beliefs it holds

as its 'safe' zone. It, therefore,

obediently keeps in alignment

with these beliefs and makes sure

that we behave in a way that is in

alignment with them too.

If a child is consistently put down,

there is a strong chance that they

will become programmed with

a belief that they are not good

enough. They will then likely act in a

way that perpetuates this belief and

will see the world through a lens

that is influenced by it. They become

like an energetic jigsaw piece that

only fits scenarios and people that

validate their inner programming.

For example, later in life they may

find themselves surrounded by

critical people who make them feel

'not good enough', or they may find

themselves in situations where they

feel inadequate.

Likewise, if a child is consistently

praised for their efforts and

surrounded by acceptance, the

contrary is likely to happen and

this child is likely to grow

into an adult who reacts

to the world in a way

that reflects a belief that

they are good enough.

They are more likely to

have a 'can do' attitude and

find themselves in situations

where they are respected and

valued.

If these two people with

opposite beliefs were to

walk into a room together,

they would probably move in

different circles and have a very

different view of what was going

on. One might see a larger-thanlife

character and think that that

person was full of themselves, yet

the other might think that the exact

same person was inspirational.

It's not that the person in question

behaved differently in front of them

both, it's that each person sees

him or her through a different lens

that is influenced by the beliefs that

they hold deep down inside. This is

why we all connect with different

people in life and react differently to

situations.

As previously stated, the

subconscious mind is very literal, so

it is important that we take note of

the messages that are being given

to children through our consistent

words and actions. None of us are

perfect and we all have bad days.

However, how we consistently

act is crucial and will help lay the

foundation for how a child moves

forward in life.

Quite often, we don't even realise

that what we think are positive

actions, can actually programme

children with beliefs that could hold

them back. A very simple example

is this: if we teach a

child that they have to

colour within the lines,

we are also teaching them that

perfection is important. If a child

has a belief that they have to be

perfect, then their subconscious

mind will do everything it can to

stop them failing. In order to reach

our brilliance and succeed in life,

we have to step out of our comfort

zone and risk failure. A child

doesn't learn to walk straight away.

They fall many times before they

take that first step. Success is the

same. A person will fail many times

before they have their breakthrough

moment. Therefore it is crucial

that children are programmed to

see failure as a positive stepping

stone to their goals. If they are

programmed for perfection, how

are they ever going to fulfil their

potential?

Granted, the colouring example is

extreme. However, I hope you can

see what I mean about looking at

the literal message that is being

programmed into our children's

minds. By simply tweaking the way

we say things we can ensure that

we are planting the right seeds:

"I wonder if you can stay in the

lines? It takes time to learn how to

do that though so don't worry if you

go out of them because it will still

look beautiful".

In this sentence we are

giving children a goal,

explaining that it takes time and

practice (so preparing them for

failure) and then most importantly,

we are allowing them to still feel

accepted and appreciated when or

if they 'fail'.

We are all doing our best and

we all want the children in our

care to thrive and succeed. By

understanding how the mind works,

we can ensure that our actions and

policies support every unique child

to be programmed with positive

beliefs and values. This will then

lay the foundation for a happy

and fulfilled life and give them a

blueprint for success.

Stacey Kelly

Stacey Kelly is a former

teacher, a parent to 2

beautiful babies and the

founder of Early Years Story

Box, which is a subscription

website providing children's

storybooks and early years

resources. She is passionate

about building children's

imagination, creativity and

self-belief and about creating

awareness of the impact

that the early years have

on a child's future. Stacey

loves her role as a writer,

illustrator and public speaker

and believes in the power of

personal development. She is

also on a mission to empower

children to live a life full of

happiness and fulfilment,

which is why she launched

the #ThankYouOaky Gratitude

Movement.

Sign up to Stacey's premium

membership here and use the

code PARENTA20 to get 20%

off or contact Stacey for an

online demo.

Email:

stacey@earlyyearsstorybox.com

Facebook:

facebook.com/earlyyearsstorybox

Twitter:

twitter.com/eystorybox

Instagram:

instagram.com/earlyyearsstorybox

LinkedIn:

linkedin.com/in/stacey-kellya84534b2/

26 Parenta.com December 2018 27
---
The Adventures of Rocket Rabbit &

Sidekick Squirrel Part 5

The Adventures of

Rocket Rabbit &

Sidekick Squirrel part 5

Previously on Rocket Rabbit and Sidekick Squirrel…

Our two heroes have defeated the evil witch, Agnes

and her sidekick, Bones. They have been rewarded

with many medals and presents…

Among all the wonderful gifts they received were

an invisible car and spaceship, new uniforms and a

brand new hideout – much bigger than

the one they had before. The new lair

was filled with so much equipment

– including many computers. With

theses, the heroes could track all

known villains from all over the world

and also look for other animals like

themselves. Animals who have

special powers.

One day, while the heroes were

enjoying a day off, there was a

telephone call from the Queen

of England. Sidekick put down

the big book she was reading to

answer the call.

"Hello?" she said.

"Oh hello, this is Queen

Elizabeth. To whom am I

speaking?"

Sidekick immediately grew nervous. "Th-th-this is

Sidekick Squirrel, your majesty," she said nervously.

"Ah good," said the Queen. "I have something rather

important to talk to you about. Would you and Rocket

Rabbit like to come to Buckingham Palace later today

and join me for some tea?"

Sidekick was so surprised to get such a wonderful

invitation, that had she not been sitting down, she

would have fallen over! "Why, yes, your Majesty, we

would love to, thank you!"

Rocket looked up as Sidekick put the red phone back

onto its base.

"Was that… the Queen?!" she asked excitedly.

Sidekick could only nod. She was too shocked to even

speak!

After a while, Sidekick was able to tell Rocket all about

the phone call and the two of them grew more and

more excited as the time to leave drew closer and

closer.

Eventually, it was time to power-up the new invisible

jet and they both climbed the ladder into the main

deck.

"What should we bring the Queen?" asked Sidekick,

suddenly worried that they were turning up emptyhanded.

"I don't think she'll want carrots or walnuts!"

"It's a bit late to worry about that now," said Rocket,

"unless you want to stop at Tesco on the way!"

Sidekick shook her head, what could they possibly buy

that could be good enough for the Queen of England

anyway?

The jet quickly roared to life as soon as they both

turned their keys to start the huge, powerful engine.

Soon they were in the air and were silent. The jet flew

high in the sky, completely invisible to everyone and

the heroes each wondered why the Queen had asked

to see them.

They flew over London and Sidekick pointed out Big

Ben, The London Eye and finally, Buckingham Palace.

They landed the jet in the Palace Gardens, turned off

the engine and lowered the enormous ramp.

There were many people around the ramp as they

walked down and all of them looked very serious

indeed. Rocket and Sidekick both knew that this was

because they were protecting the Queen.

"What are you here for?" shouted one of the women at

the front.

Rocket nudged Sidekick to get her to answer, as it was

the squirrel who had spoken with the Queen earlier.

"We're here for, erm… tea with the Queen," she said,

feeling afraid.

"Excellent!" said the woman who had shouted.

The shouty lady said that her name was Officer Jones

and she would lead them into the Palace.

She shook hands (paws) with the heroes and led them

up the big path toward the entrance to the Palace.

They were in awe of the size and beauty of the building.

It was incredible and they were so happy to be there.

The doors were huge, they walked through them and

were led into a large room which looked like it could fit a

thousand people in it.

Inside the room was a very long table, covered with

plates and bowls of food. There were all kinds of fruits,

nuts, cheeses and lots of sandwiches. There were also

jugs of water and juices. Everything had a very clear label

next to it so you knew what it was.

28 Parenta.com December 2018 29
---
They made their way down the

table and as they reached the end

of the room, the Queen walked in

through the doors on the other side.

Immediately everyone bowed to

show their respect – including Rocket

and Squirrel.

"Please be seated," the Queen said

pointing to two seats to the side of

hers , which was at the end of the

table.

Once they were sat down and the

guards had moved away a little,

Queen Elizabeth spoke again.

"I have brought you here today, in

order to ask a favour of you." She

paused, leaving Rocket and Sidekick

to wonder exactly what the favour

would be.

Just as they were about to ask what

it was, the Queen continued:

"I wondered if you two would like to

join my staff… and work here in the

Palace, as my personal bodyguards."

Sidekick gasped, she was so

surprised. Rocket sat with her mouth

wide open. She was also very

surprised!

The heroes looked at each other and

slowly smiled. Huge smiles covered

their faces. This was a huge dream

for them and they were so happy.

"Yes please!" they said together, very

excitedly!

After they had agreed, they all ate

lots of food together at the Palace,

before being shown the bedrooms

where they would sleep whilst

looking after the Queen and the rest

of the royal family. This was a dream

come true for our brave superheroes!

The end.

Richard Dodd

Richard has been writing for

as long as he can remember.

English was a subject he

enjoyed in school as it just

made sense to him. He loved

to read and requested his

own bedroom so that he could

have a bookcase! His favourite

childhood authors included

Enid Blyton, R. L. Stine, M. D.

Spenser, and Charles Dickens.

Characters, stories and even

words he has taken in through

all of those books have stayed

with Richard for two decades.

He firmly believes that books

are integral in a person's

upbringing and that those

experiences will stay with them

throughout their lives.

He can recall parts of those

books in their entirety, from the

tone of voice described by the

author to certain scenes from

"The Famous Five" or "Secret

Seven". Richard loves fiction

and the idea of escaping and

therefore creating an escape

for a reader is the very reason

he writes.

Richard has written four books,

three in the "Fluffy the Magic

Penguin" series and a standalone

book called "The Secret

Passageway".

Facebook:

www.facebook.com/

richarddodd.author

Email:

Richard.dodd@upburypress.

co.uk

Website:

www.upburypress.co.uk

Write for us for a chance to win £50

We're always on the lookout for new authors to contribute insightful

articles for our monthly magazine.

If you've got a topic you'd like to write

about, why not send an article to us and be

in with a chance of winning? Each month,

we'll be giving away £50 to our "Guest

Author of the Month".

Here are the details:

••

Choose a topic that is relevant to early

years childcare

••

Submit an article of between 600-900

words to marketing@parenta.com

••

If we choose to feature your article in our

magazine, you'll be eligible to win £50

••

The winner will be picked based on

having the highest number of views for

their article during that month

This competition is open to both new and

existing authors, for any articles submitted to

feature in our Parenta magazine for 2019. The

lucky winner will be notified via email and we'll

also include an announcement in the following

month's edition of the magazine.

Got any questions or want to run a topic by us?

For more details email marketing@parenta.com

OCTOBER'S WINNER

Joanna Grace

Congratulations to our guest author competition

winner, who has won for the fourth consecutive

month! Joanna Grace's article "The wonders of a

sensory story" was very popular with our readers.

Well done, Joanna!

30 Parenta.com December 2018 31
---
Dear Sympathetic Sue -

Discussing schemas with parents!

Discussing schemas with parents!

During their play, children regularly behave in interesting and unusual ways that are

sometimes confusing or even frustrating, such as lining up the toy animals, climbing

inside boxes or repeatedly playing with the taps. As early childhood educators, we recognise these play

patterns as children learning through schematic play, but the families of our children might not know anything

about schemas. We are regularly asked by parents and carers why their child is doing these things and part

of our role is reassuring them that schematic play is a common occurrence in early childhood and nothing to

be concerned about. The other day, I was considering how parents feel about schematic behaviour and this

led me to wonder what they would write if they asked an agony aunt about patterns they have observed in

children's play and how Sympathetic Sue might respond:

Dear Sympathetic Sue,

My son is driving me crazy! Johnnie is 18 months old

now and keeps dropping his beaker from his highchair,

again and again! As soon as he drops it, he looks at me

to pick it up for him. When I do and place it on his tray,

he immediately drops it again! He will repeat this until I

get fed up and stop giving it back to him.

Please help!

From Frustrated in Ferryport

Dear Frustrated in Ferryport,

I can understand your frustration with this. Johnnie has turned this

into a turn-taking game and it can feel very annoying when all you

want him to do is sip his beaker! Don't worry, this sort of behaviour

is perfectly normal for a child of his age. Johnnie is working out

how the world works in terms of both his relationship with you and

also what happens when you throw things off a highchair. Educators

would say that Johnnie is engaging in schematic play and has a

fascination with trajectory, or the movement of things. The word

trajectory comes from the Latin 'trajectoria' and literally translated

means 'throw across' so Johnnie is exploring the movement of

his cup when he drops it from his highchair. In a basic way, he

is learning about gravity and forces as well as engaging in play

that involves turn-taking with an adult, which is essential for social

interaction and conversation. If you are worried about the mess

when he throws things, then you can take practical steps like placing

a splash-mat under his highchair or sitting him in a small chair at

ground level. Alternatively you could accept that he will throw things

and only give him things that you are happy for him to throw. You

may like to play other games with him like throwing some soft balls

or beanbags into a waste-paper basket or share with him some

cause-and-effect toys like shape-sorters and pop-up toys.

Sympathetic Sue

Dear Sympathetic Sue,

I am worried about my daughter Sarah's behaviour. She is a

lovely little three-year-old who happily plays with her friends, but

when she is on her own, she spends hours lining up her teddies or

carefully arranging her unicorns in rows, often in a colour order. If I

try to touch them, she gets very upset and I'm running out of floor

space! I am worried that she might be autistic. Please help!

From Panicking Pamela

Dear Panicking Pamela,

Please do not panic! Although I do not know Sarah, no one has ever

been diagnosed as autistic on the basis that they line up their toys

alone! She sounds like a sociable little girl who is engaging in a

positioning schema. This type of play is very common and is helping

Sarah to make sense of the world. Through lining up her toys, she is

learning important organisational skills and working out how to order

and sequence her unicorns. Her ability to focus for long periods of

time is great and will be a huge asset when she begins school. You

could talk to Sarah about creating her lines in the space in which you

would prefer her to create them, which still enables people to walk

past, explaining that you love her lines of toys and are worried that

you might step on them. Sarah might want the opportunity to order

and line up other toys so perhaps you could introduce some unicorns

of different sizes? She might enjoy positioning her toys on an old

flattened box to create a magical background scene and you could

invite Sarah to introduce a narrative to run alongside her lines of toys,

explaining to you why she has placed each toy in that specific place.

You will probably find that she has carefully thought this through and

has a great brain for planning things, which will prove very useful in

years to come!

Sympathetic Sue

Dear Sympathetic Sue,

My son, Xavier, enjoys painting but has been coming home from nursery

school lately with black pictures. His key person said that he spent ages

painting a lovely picture and then covered it all with black paint! Why

would he want to cover up his lovely work? Oh, and he's also been hiding

a lot recently, under duvets, blankets and even putting my dressing gown

over his head! Please help!

From Confused in Creeton

Dear Confused in Creeton,

Firstly, do not worry about Xavier's confusing behaviour. He is

interested in enveloping, which is a common schema of play. Covering himself or his paintings links

with the idea that things can appear and disappear and he is playing with the concept. While hiding,

he is exploring and thinking about when he can and can't be seen - which you can play along with.

You might like to offer him some large pieces of material, a clothes horse and some clothes pegs with

which he can make a den or offer him wrapping paper to 'hide' his toys inside. He will love playing

hide and seek with you and may want to cover some toys and play a treasure hunt game to find

them. Some children who enjoy enveloping also like to explore this concept when cooking, so making

pies, pasties, filling pitta bread or samosas will be a great hit!

Sympathetic Sue

We can share information about schemas with parents and carers, offering them practical ideas

of how they can support their children's development at home in ways that link into the schema

they are interested in. You may be interested in reading my book "Observing and Developing

Schematic Behaviour in Young Children" which looks at 12 different schemas, what they are,

interpreting this behaviour and it also offers ideas of how to further extend the schema. It also

considers how occasionally-schematic-play can be misinterpreted as poor behaviour.

Here are some ideas of how to support parents to better understand schemas:

> > Help them to recognise and identify schemas and play patterns

> > Talk about behaviours that could be described as schematic

> > Reassure them that schemas are a common way that many children learn and develop

> > Explain that children repeatedly behaving in unusual, odd or frustrating ways is how they

are learning about the world around them

> > Display photos of children engaging in specific play relating to schemas, for example,

rotation – with pictures of children spinning wheels, playing with balls, drawing circles etc.

> > Share how repeating actions helps children's brains to develop

> > Provide ideas of how to extend children's play including simple games or activities that they

can play together at home

> > Plan a workshop to share ideas about schematic behaviour

> > Set up your room with lots of schematic activities and add posters stating what children are

learning through this repetitive play

> > Create a series of little information leaflets, each focusing on one schema at a time

When it comes to schemas, you may need to be 'Sympathetic Sue' for your parents and carers,

reassuring them that schemas are a common way in which children investigate and explore the

world around them.

Tamsin Grimmer

Tamsin Grimmer is an

experienced early years

consultant and trainer and

parent who is passionate about

young children's learning and

development. She believes

that all children deserve

practitioners who are inspiring,

dynamic, reflective and

committed to improving on their

current best. Tamsin particularly

enjoys planning and delivering

training and supporting

early years practitioners and

teachers to improve outcomes

for young children.

Tamsin has written two

books - "Observing and

Developing Schematic

Behaviour in Young Children"

and "School Readiness and

the Characteristics of Effective

Learning".

Website:

tamsingrimmer.co.uk

Facebook:

facebook.com/earlyyears.

consultancy.5

Twitter:

@tamsingrimmer

Email:

info@tamsingrimmer.co.uk

32 Parenta.com December 2018 33
---
Branch out and celebrate

Tree Dressing Day

Most people are familiar with decorating a Christmas tree,

but did you know that there is a weekend dedicated to the

appreciation of trees? Initiated by Common Ground nearly 30

years ago, Tree Dressing Day is always celebrated on the first full

weekend of December. It's a chance for the local community to

gather together and recognise the vital importance of trees.

They may seem mundane and we tend

not to pay much attention to them in our

everyday lives, but trees are amazing!

They reduce pollution and soil erosion,

provide a habitat for wildlife, absorb

carbon dioxide and generate oxygen for

us to breathe. In fact, two mature trees

are said to produce enough oxygen for a

family of 4 people.

Trees are also amongst some of the

oldest living organisms on the planet,

with one Yew tree in Wales estimated to

be between 4,000-5000 years old.

But it's not just the natural environment

that trees have a positive effect on.

They have been evidenced in research

as being beneficial to our mental wellbeing

by reducing stress, depression

and anxiety. Just taking a walk through

woodland or a forested area can lift our

spirits and make us feel happier.

In late September, trees tend to shed their

leaves, marking the start of autumn. Tree

Dressing Day provides the chance to see

a bare tree transformed into a thing of

beauty during the winter months.

HOW CAN YOU CELEBRATE THE IMPORTANCE OF TREES?

Here are 6 ideas that you can try with the help of your pre-schoolers. You may be able

to add some of your own!

HAVE A GO AT

LEAF RUBBING

MAKE NATURAL

DECORATIONS

RE-LEAF A BARE TREE

MAKE LEAF BUNTING TO

HANG IN YOUR SETTING

TELL STORIES AND

READ POEMS

On a piece of plain white paper,

position leaves vein-side up. Show

the children how to lay another sheet

of white paper over the top of the

leaves. Let the children choose the

coloured crayons they'd like to use

for their leaf rubbing and peel off the

wrappers. Turn each crayon on its

side and demonstrate how to gently

rub this over the top sheet of paper.

Take your children for a walk in the

woods and collect natural materials.

Begin collecting these items as soon

as you can and build up a variety. You

could collect materials such as:

• leafless twigs

• fir and pine cones

• crab apples

• rose hips

• holly and hawthorn berries

• mistletoe

• feathers

Once back at your setting, these items

can be made into natural decorations

by tying or fixing them together with

wire, string, ribbons and glue.

Collect different types of autumn

leaves and dry them. In the first week

of December, dress the trees with

these leaves again, hanging your

collection amongst the branches

using string or twine. Children could

even write or draw 'tree messages'

- messages of appreciation for the

trees - on each dried leaf.

FIND A TREE PLANTING EVENT NEAR YOU

Using two sides of wax paper, a

variety of different leaves and an iron,

you can make beautiful leaf bunting

to hang as a decoration around your

setting. Hang these somewhere that

they will be able to catch the sunlight

throughout the day. The translucent

paper will make the colour of the

leaves really come to life!

Why not do your bit for the environment? Use the map on The Tree Council's

website to find a community event near your setting and see if you could get your

children involved in a local initiative to help plant new trees.

Why not gather together the children

and read a story or a poem about a

tree whilst sitting underneath one?

This will help bring the story to life by

engaging youngsters with the natural

beauty and sensory experience of the

wind rustling through the leaves.

A WORD OF ADVICE

• When you are dressing trees, take care

not to damage the tree in any way.

• Don't use nails or anything that could

impact its growth.

• Try to stick to natural and biodegradable

decorations.

• You may need to get permission from

your local authority to dress a tree.

34 Parenta.com December 2018 35
---
Parenta job board

www.jobs.parenta.com

YOU WILL NEED:

Christmas craft -

Santa handprint

►►

Craft paper

►►

Red paint and paint brush (or red

marker/crayon)

►►

Glue

1

2

3

4

5

6

►►

Scissors

►►

Pencil

►►

White pompoms

►►

Googly eyes

Draw the outline of your hand (without the thumb) on a piece of paper then add a

hat design on top of it. It will look silly at first, but once it's finished it'll look great!

Cut out your design.

Draw a line with a pencil to separate the hat from the face (this will give you a

perfect line to paint to).

Paint the hat part with red paint. You can also add a squiggly line to it.

Glue on the googly eyes, then draw a nose

and mouth.

Glue on the pompoms to the

bottom part of your design

to create a pompom

beard! Also don't forget

to add one pompom

to the end part of

the hat.

Childcare Apprentice Required:

To make use of our FREE recruitment service

get in touch contact@parenta.com

Kids Will Be Kids Elstree Watford WD6 3JJ

Sudbury Town Nursery School Sudbury, Greenford London UB6 0NA

Hornsey Road Children's Centre Hornsey London N7 7EN

Ferndale Road Day Nursery Lambeth London SW9 8AZ

Small People South Norwood London SE25 5JR

Ashdon Children's Nursery Cambridge Cambridgeshire CB10 2ET

Pips Nursery Cambridge Cambridgeshire CB11 4XJ

Club Kingswood Nursery Basildon Essex SS17 9BT

Bishy Barnabees Dereham Norwich NR20 3JY

Inside Out Nurseries Ltd Bubbenhall Coventry CV8 3BL

Barnabas House Private Nursery Darwen Blackburn BB3 2ED

Farm Work Play Faversham Kent ME13 9EH

Prima Montessori Gillingham Kent ME7 3JQ

Village End Childcare Ascot Berkshire SL5 8DQ

Patchwork Montessori Maidenhead Buckinghamshire SL6 3AR

Little Roos Marlow Buckinghamshire SL7 1JW

Kelly's Childminding Newhall Derbyshire DE11 0SJ

Blossom Day Nursery Basingstoke Hampshire RG24 9XA

Playdays Farnborough Farnborough Hampshire GU14 6DD

Nanny's House Portslade East Sussex BN41 2FA

Goldcrest Day Nursey Billericay Essex CM11 2HQ

Little Faces Childcare Chelmsford Essex CM2 8HR

Clever Cloggs Day Nursery Dunmow Essex CM6 1FF

Little Einstein's Day Camp Brightlingsea Colchester CO7 0BZ

Boxmoor Preschool Crouchfield Hemel Hempstead HP1 1PA

Knowledgems Ilford Essex IG1 4UA

Charlbury Railway Children Charlbury West Oxfordshire OX7 3HH

Little Barn Owls Farlington Farlington West Sussex RH12 3PN

Walton House Nursery Ltd Sidcup Kent DA14 4LW

36 Parenta.com
---
Men working

in early years

settings

Suggested ways to tackle the problem

1

A strategic approach. Settings could come together

to create a steering group to offer advice and direction.

These groups should commit to action rather than just

talking though. Other ways include creating networks

to support male staff. The Fatherhood Institute ran a

campaign to attract more men into the sector and in

2016, held the first conference concerning men in early

years settings.

A recently-published book by David Wright and

Simon Brownhill, entitled "Men in Early Years

Settings: Building a Mixed Gender Workforce" has

highlighted the problem of the gender imbalance

in the early years workforce.

In the UK, nursery staff are predominantly female: less than 2%

are male, despite 84% of parents saying they wanted to see

childcare settings employing male workers.

International experience suggests that change is possible,

although each country has its own cultural, work and social

differences. In 2005, Denmark had the greatest percentage of

male childcare workers at 8%. However, in Norway in 2008, their

figure had risen to 10% (up from 3%). In addition, Norway was

able to increase the proportion of kindergartens with at least one

male teacher from 16% to 22% due to a legal responsibility to

increase men employed in pre-schools.

Benefits

There are many benefits to encouraging more men to work in

early years settings, including:

• A more diverse workforce which better reflects our society at

large, creating positive male role models. This is especially

important if a child's own father is absent. Research suggests

that significant contact time with a male adult was lacking in

17% of children from lone-parent families, who experienced

less than two hours a week. And one third had under six

hours a week, so men in early years settings are vital in

redressing this balance

• A larger pool of male applicants to recruit staff from

• A reduction in the attainment gap between boys and girls

aged 16. Although more research is needed, it would seem

logical to assume that more positive male role models at all

stages of a child's education, would be helpful

• Children can benefit from the different approaches and

caring styles that men can bring, including challenging

behaviour, and risk-taking

• Men can often bring more active movement, or 'rough-andtumble'

play in their interaction with children which can be

positive

• Male practitioners can help challenge stereotypes related to

professions, household duties, toys and activities. If children

see men in different roles in their childcare and educational

settings, these roles can be accepted more readily by society

at large.

Barriers to entry

Despite these advantages, statistics prove there are still many

barriers preventing men from working in nurseries including:

• A prevailing attitude that caring for the young is 'women's

work', despite improvements in men sharing childcare duties

for their own children

• Men can feel unwelcome in a predominantly female

environment

• Men can still be viewed with suspicion in early years settings

or face an uphill struggle to challenge stereotypes

• Negative generalisations about men - such as 'men don't

talk much' or 'men always play rough' or 'men are not as

emotionally-connected as women'

• Low wages and the perceived lack of career opportunities or

progression.

What can be done?

Solutions for tackling the problem are needed at both government

and local levels.

In 2012, the UK Government published targets for increasing the

number of men working in childcare settings, saying they wanted

"a greater gender balance in the early years workforce."

In 2017, the Department of Education also published the "Early

Years Workforce Strategy" setting out "how the department plans

to support the early years sector to remove barriers to attracting,

retaining and developing the early years workforce." It identified

the problem of gender balance, and whilst the results of this

strategy have yet to be realised, things are moving in the right

direction.

The recent book by Wright and Brownhill, is one step forward

offering guidance on attracting, recruiting, retaining and

developing male members of staff.

2

3

4

5

6

Review educational courses. Training courses need

to ensure that they are relevant and supportive for male

trainees and that obstacles to recruitment are overcome.

Improved career advice. Careers advice is compulsory in

schools so adequate provision should be made to ensure

that jobs showing males working in early education

and childcare, are shown as fulfilling, challenging, and

rewarding careers with good career prospects.

The use of male staff in adverts and posters. Images

used to advertise roles for permanent or volunteer staff

in early years settings, should include both male and

female staff.

Retainment of male staff. Recruiting male staff is only

part of the problem. Settings need to ensure ongoing

support and practices that tackle pressures, prejudices or

isolation felt by male staff.

Reduced stereotyping. This means tackling the often

ingrained, unspoken ideas that men are particularly

'dangerous' or 'undesirable' in early years settings.

In a joint statement promoting their new book, the authors said:

"The thinking behind "Men in Early Years Settings: Building a

Mixed Gender Workforce" is to keep children at the centre of the

discourse."

Accordingly, the authors underline the principle of 'the best

person for the job' rather than employing anyone based purely on

their gender.

Expectations, fears, perceptions and pressures to conform to

stereotypes are all discussed in the book. The authors conducted

empirical research, analysing examples

of settings where mixed-gender

teams exist that help to illustrate

key characteristics of successful

organisations.

38 Parenta.com December 2018 39
---
NURSERY

WEBSITE DESIGN

Think of it like this – a nursery website is like having your very own

marketing team working on promoting your setting 24 hours a day,

7 days a week, 365 days a year…need we say any more?!

We are childcare specialists

We know the requirements of Ofsted

PROFESSIONAL

SUPPORT

We understand what will get parents to engage with you

FILL PLACES

EASILY

GOOGLE-FRIENDLY

REACH MORE

PARENTS

ADAPTS TO

MOBILE/TABLET

We suggest what information would benefit your website

We regularly check we are providing the best software

We help you improve areas of your website using stats

We can help, whatever your budget or technical knowledge

parenta.com/websites