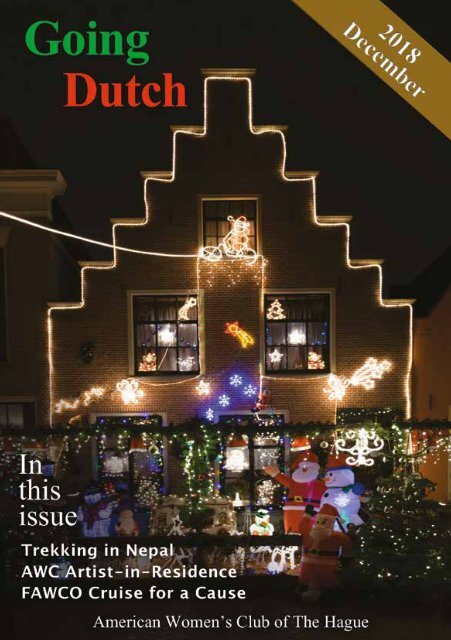 AWC Going Dutch Dec 2018
American Women's Club of The Hague monthly magazine
American Women's Club of The Hague monthly magazine
SHOW MORE
SHOW LESS
Create successful ePaper yourself
Turn your PDF publications into a flip-book with our unique Google optimized e-Paper software.
Going Dutch

December 2018

AWC Artist-in-Residence

FAWCO Cruise

Trekking in Nepal - Part 2

24

35-37

40

The Magazine of the

American Women's Club

of The Hague

5 Officers and Chairwomen

6 Fall Activities Collage

8 Message from the President

9 December General Meeting

10 Letter from the Editor

12 Membership

13 Newcomers

14 Ongoing Activities

20 One-of-a-Kind Activities

22 Tea with the AWC's

Honorary President

24 Artist-in-Residence

26 Clubhouse Rental

27 AWC and the Arts

28 December Calendar

31 Club and Comunity

32 The Dutch Daily

34 FAWCO Corner

35 FAWCO Cruise

38 Handbag Auction

40 High Altitude Trekking -

Part II

46 Restaurant

Recommendations

47 Announcements

52 Classifieds

53 Index of Advertisers

and Ad Rates

54 Proost! Interview

DECEMBER 2018 3
---
Editor

Audrey Goodman

2018-2019 AWC Officers

Committee Chairs

AWC Clubhouse

Johan van Oldenbarneveltlaan 43

2582 NJ Den Haag

Tel: 070 350 6007

info@awcthehague.org

www.awcthehague.org

Going Dutch Magazine

goingdutchmag@gmail.com

Clubhouse Hours

Tuesday and Thursday

10 a.m. - 2 p.m.

Monday, Wednesday and Friday Closed

Dues (Effective 2018-2019)

€ 110 per year (€ 66 after January 1)

€ 90 business, professional

€ 55 valid US military ID

€ 35 student

€ 35 Outside the Netherlands (Going

Dutch magazine not included)

Add € 15 new member registration fee

Design and Layout

Teresa Mahoney

Cover Photo

Christmas in Leiden 2017 by Melissa White

Photography

Sabine Crowley, Emily van Eerten, Greetje

Engelsman, FAWCO, Amber Gatewood,

Debbie van Hees, Suzanne MacNeil, Tim

MacNeil, Teresa Mahoney, Julie Mowat,

Melissa Rider, Laura Suttles, Melissa White

Proofreaders

Celeste Brown, Jane Gulde, Diane Schaap,

Debbie van Hees

Advertising Manager & Invoicing

Open

Contributors

Liduine Bekman, Jane Choy, Susanne Dundas,

Greetje Engelsman, Roberta Enschede, Dena

Haggerty, Marsha Hagney, Eileen Harloff,

Suzanne MacNeil, Julie Mowat, Michelle

Oliel, Melissa Rider, Holly Savoie, Laura

Suttles, Melissa White

Printer

www.dwcprint.nl

AWC Bank Account Number

IBAN: NL42ABNA0431421757

KvK Den Haag

40409274

Honorary President Diane Hoekstra

President Suzanne MacNeil

awcthehague.president@gmail.com

Vice President Marsha Hagney

awcthehague.firstvp@gmail.com

Treasurer Sheyla Karman

awcthehague.treasurer@gmail.com

Secretary Heather DeWitt

awcthehague.secretary@gmail.com

Club and Community Development

Naya Pessoa

awcthehague.community@gmail.com

Clubhouse Administrator

Jan Essad

awcthehague.clubhousemgr@gmail.com

Communications Audrey Goodman

awcthehague.communications@gmail.com

Member-at-Large

Sunita Menon

Front Office

Liduine Bekman, Siska Datema-Kool,

Dominique Duysens, Amber Gatewood,

Machelle Hollar, Paula Looijmans, Melissa

Rider, Robin Rose, Holly Savoie, Carol

Schapira, Chelsea Wald

Activities: Greetje Engelsman

Arts: Jane Choy

Assistant Treasurer: Teresa Insalaco

Benefit Event: Michelle Voorn & Deana

Kreitler

Board Advisor: Jessie Rodell

Caring Committee: Naomi Keip

Chat, Craft & Cake: Suzanne Dundas

eNews Amber Gatewood

Evening Events: Elizabeth Zeller

Events & Tours: Liduine Bekman

FAWCO: Julie Mowat and Teresa

Mahoney

Front Office Coordinator: Open

General Meeting Programs: Dena

Haggerty

Heart Pillow: Jan de Vries

Historian/Archivist: Open

Holiday Bazaar: Jaimie Keppel-Molenaar

IT Administrator: Julie Otten

Kids' Club: Lindsey Turnau

Library: Dena Haggerty

Membership: Melissa Rider

Newcomers: Holly Savoie, Greetje

Engelsman

Parliamentarian: Georgia Regnault

Philanthropy: Holly Savoie

Public Relations: Open

Social Media: Ceci Wong and Julie Otten

Tennis: Molly Boed

Volunteer Coordinator: Laurie

Martecchini

Webmaster: Julie Otten

Women with Dutch Partners: Open

Deadlines: Submissions are due no later than the last Monday of the month preceding the publication month.

For example, for the March issue, submissions are due before Monday, January 28

Please Note: Articles submitted to Going Dutch will be published subject to space limitations and editorial approval.

All rights reserved; reprints only by written permission of the Editor. Please email to: goingdutchmag@

gmail.com

Legal Notice: Articles in Going Dutch express the views and opinions of their authors alone, and not necessarily

those of the AWC of The Hague, its Members or this publication.

4 GOING DUTCH

AWC Mission Statement

The AWC is an association formed to provide social and educational activities for American

women living in the Netherlands and to promote amicable relations among people of all nations,

as well as acquiring funds for general public interest. Membership in the club is open

to women of all nations who are friendly and welcoming to American culture. The association

does not endeavor to make a profit. The AWC is a 100% volunteer organization.

DECEMBER 2018 5
---
Out to Lunch Bunch

October General Meeting

Amanda Lane from

FAWCO

Tupperware Party

Fall Activities

Walkie Talkies

Dutch Products Class
---
Message from the President

by Suzanne MacNeil

December General Meeting

It was great to see so many Members at the

Annual General Meeting in November,

one of the most important events of our

Club year. The meeting gave Members the

opportunity to learn about the Club's financial

health, your Board's short-term plans

for the Club, and the three-to-five-year plan

that we're proposing for future Boards.

Without a set of goals, we would flounder.

If you weren't at the meeting, your Board

presented several new initiatives that will

help grow the Club while staying true to our

mission of providing a warm and welcoming

space for women who are away from their

home country. Along with the social aspect

of the Club, we continue our commitment to

fulfilling philanthropic opportunities in our

host country.

Our AWC receives requests for financial

support from numerous organizations

throughout the year and our Members request

donations for various causes each year. Our

primary fundraiser is usually a gala or an

event similar to last year's Beach BBQ for

Perspektief. With support from our Members,

and the community at large, we've raised

significant amounts for local and international

organizations. It is important as a Club that

we can guarantee the charitable donations we

make reflect our Club's ideals. Consequently,

your Board is implementing guidelines with

respect to donations.

8 GOING DUTCH

Going forward, any request for a donation

of €1.000 or more, whether it's for matching

funds or a donation, and

any organization being

considered for

financial support,

must be vetted

properly.

Your Board

has created

a Beneficiary

Request Form

that must be filled

out before we consider

any financial

request. The

form asks questions

such as an

organization's

mission, its plan

for distribution

of any financial

gift from our

AWC, and how

the organization

will apprise the

AWC of how

effectively the

funds helped the organization's mission.

In order to ensure that an organization

meets our criteria, we are adding a committee

to review each request for donations, regardless

of whether the request is from a Member

or an outside organization. The Philanthropic

Review Committee will be made up of three

to five Club volunteers. They will report directly

to the Club and Community Board

Member, who will inform the Board about

the committee's decision and whether the

Board should vote on the committee's recommendation.

The information about a potential

beneficiary will then be brought to the Club's

Membership for discussion and a vote.

Board oversight of the Club's funds

is key to our AWC remaining financially

healthy. The vetting of potential beneficiaries

means we are acting with transparency

and full accountability for our Members. The

Philanthropic Review Committee means our

Club's Board and Members will make informed

decisions and choose organizations

that meet our values and whose missions

matter the most to our Members.

Looking ahead, Michelle Voorn and

Deana Kreitler volunteered to co-chair the

Club's spring fundraiser and have already

met with several Members who've also

volunteered to serve on the committee.

Whether it will be a formal gala or >>39

Join us to celebrate the holiday season

with your fellow AWC Members. We will

gather to share traditions, sing carols,

enjoy wonderful food, and partake in a fun

gift exchange.

The AWC will provide drinks and a few finger

foods, but we ask that Members provide

additional snacks and sweets. Please sign up

on GroupSpaces to indicate what dish you

will bring for the potluck. If you wish to

participate in the gift exchange, please bring

one wrapped item costing no more than

€10. Participation in the gift exchange is, of

course, not mandatory.

Holiday cheer is required, and holiday

sweaters are encouraged!

Clubhouse Closed

Thursday, December 13

10:00 a.m.

AWC Clubhouse

Free

December 19 – January 7 for the Holidays

Unique products

for entrepreneurs

Sligro The Hague Forepark is the perfect fit for you as entrepreneur.

We inspire and support you with our products and services, that will

help you with your business. Our people are always there for you

with professional and tailored advice.

sligro.nl

Linge 2, The Hague

1061246

DECEMBER 2018 9
---
Letter from the Editor

by Audrey Goodman

My sister is my favorite person. We've

been close ever since we were little,

and it has been incredibly difficult

to be apart for so long. Growing up, we were

lucky enough to have parents that took us

on camping trips across the US. We've been

looking forward to making our adventures

international, and she was finally able to come

for a two-week visit in early November.

the food was great. We ended our night at

The Oak, with a couple of rounds of drinks.

Our Sunday was devoted to a couple of

traditional Dublin spots. First stop was the

EPIC Irish Emigration Museum, which I

highly recommend. It was very informative

and interactive, providing an overview of the

Irish community's impacts on various parts

"The best thing about having

a sister was that I always had a

friend."

-Cali Rae Turner

We spent the first couple of days exploring

The Hague and Amsterdam, before she

set off for a week in Ireland with her friend

Sarah. I later joined them in Dublin for a long

weekend of bar hopping and sightseeing. We

rented an Airbnb apartment in The Liberties

neighborhood, walking distance from many

sights. Our first stop was dinner at The Bank

on College Green, a fantastic restaurant situated

in… you guessed it: an old bank. The

place was packed, the décor was ornate, and

10 GOING DUTCH

of the world. Our next stop was the Guinness

Storehouse, a seven-story brewery tour that

was modern, fascinating and fun. Not only

do you learn about the brewing process, but

you can also learn how to properly pour a

Guinness and taste the various flavors of the

beer. On the top floor, the Gravity Bar, you receive

your complimentary glass of Guinness

surrounded by a 360° view of Dublin. The

visit was well-worth the € 25 ticket.

After checking out of our Airbnb on our

last morning, we hopped the Dart to Howth,

a cozy little seaside village about 45 minutes

outside Dublin. The views were amazing, and

we wished for more time to explore the town.

But we only had two hours, so we opted for a

short walk along the waterfront before lunch

at Wrights Findlater Howth. I couldn't leave

Ireland without having fish and chips paired

with a Guinness for a delicious end to our

fun adventure.

She plans to come back for another visit

late next year. We've already started talking

about visiting Paris, Berlin and Warsaw when

she returns!

Audrey

DECEMBER 2018 11
---
Credit: BoardEffect.com

Membership

by Melissa Rider

The AWC must comply with the General

Data Protection Regulation (GDPR),

which sets new rules for the collection

of personal data of those living in the

EU. The new privacy measures mean you

must give the AWC explicit and informed

consent to use your name and likeness in

print material and on social media. If you

have not yet already done so, please sign a

GDPR letter at the Clubhouse, or contact me

(awcthehague.membership@gmail.com) to

have one sent to you. More information about

the AWC's privacy policy can be found on

our website under "Contact Us". Thank you

for your help to ensure the AWC is GDPRcompliant!

Please remember to keep your information

up-to-date. If you recently moved,

send me your new address to the email listed

above.

Birthdays

Due to changes in European privacy laws,

and because Going Dutch will soon be

posted on our external Facebook page,

we won't be sharing birthdays in print

any longer. Instead, you'll see Members'

birthdays in the weekly eNews, which is

sent to your private email account and

is more secure. We value our Members'

privacy. If you have any questions, please

contact Melissa Rider, our Membership

Coordinator, at awcthehague.

membership@gmail.com.

Welcome New Members!

Christy Carter

Zolboo Nemekhbayar

Support Fellow AWC Members

Find links to a large variety of businesses

owned by AWC Members at

www.awcthehague.org/site/newcomers/

business-links

Newcomers

by Holly Savoie and Greetje Engelsman

Activity for AWC Newcomers, but

also interesting for long-term

Members!

Royalty and Democracy in the

Netherlands

On Prinsjesdag (Princes' Day) we celebrate

the beginning of the parliamentary

year in the Netherlands, and we enjoy

the tour of the King and the Queen in the

Golden Coach in The Hague. But what

do you understand about the relationship

between democracy and royalty (government,

parliament and the queen/king) in the

Netherlands? How does it work and who is

the "boss"?

Join us at the AWC Clubhouse to understand

more about the differences between the US.

and the Netherlands. Greetje Engelsman

is Dutch and has always been interested

in Dutch democracy. As a child she was

a royalist, as all children are. Now she is

a democrat and has mixed feelings about

royalty. What are the facts? For more

information, please contact Greetje at

awcthehague.newcomers@gmail.com.

Thursday, December 6

2 p.m.

AWC Clubhouse

FREE

Sign up on GroupSpaces

Did you know that any woman who speaks English is eligible to join the

American Women's Club?

Invite your English-speaking friends, wherever they're from, to join us today!

12 GOING DUTCH

DECEMBER 2018 13
---
Credit: Amazon

Ongoing Activities

Book Clubs

The AWC Book Clubs are open to all readers,

and new Members are especially welcome!

There are no requirements that you must

attend every meeting or lead a discussion.

Snacks are provided by a different Member

each month. There are two Book Clubs

hosted by AWC Members: One in the daytime

and one in the evening. Questions? Teresa

Mahoney organizes the daytime group,

and Dena Haggerty handles the evening

meetings. For more information, please

contact them at awcthehague.bookclub@

gmail.com. Happy reading!

Daytime Book Club

December Selection:

Factfulness: Ten Reasons

We're Wrong About the

World – and Why Things are

Better Than You Think by

Hans Rosling, Ola Rosling,

and Anna Rosling Rönnlund

When asked simple questions

about global trends,

we systematically get the

answers wrong. So wrong that a chimpanzee

choosing answers at random will consistently

outguess teachers, journalists, Nobel laureates,

and investment bankers. In Factfulness,

Professor of International Health and global

Daytime Book Club Reading List:

Thursday, January 24: The Secret Scripture

(McNulty Family) by Sebastian Barry

Thursday, February 28:

The Milkman by Anna Burns

Thursday, March 28:

21 Lessons for the 21st Century by Yuval Noah

Harari

TED phenomenon Hans Rosling, together

with his two long-time collaborators, Anna

and Ola, offers a radical new explanation

of why this happens. They reveal the ten instincts

that distort our perspective—from our

tendency to divide the world into two camps

(usually some version of us and them) to the

way we consume media (where fear rules)

to how we perceive progress (believing that

most things are getting worse). Our problem

is that we don't know what we don't know,

and even our guesses are informed by unconscious

and predictable biases.

Note new day, time and venue for

Christmas party!

Wednesday, December 12

11 a.m.

Georgia's house

RSVP: awcthehague.bookclub@gmail.

com

FREE

Daytime Book Club Recap – October

The one thing we could agree on is Donna

Brown makes a fantastic blackberry pie.

What we could not agree on were the merits

of Gaa Gyasi's highly praised debut novel,

Homegoing. Is it even a novel? Or is it a series

of discreet short stories? Homegoing begins

on the Gold Coast of Western Africa in

the mid-1700s as intertribal warfare and the

slave trade with Europeans thrusts uncertainty

and horror onto the yam-farming people

whose progeny will populate the rest of the

book. It ends in present-day Ghana, in the

ocean below the castle that was the fulcrum

of slave trade for centuries. In between, we

meet, among many others, the conflicted son

of an African beauty "married" to an English

slaver, a gargantuan prisoner contracted out

in inconceivably hard labor to the coal mines

under Alabama, and a church-going choir

member whose light-skinned husband abandons

her and her son to live as a white man

in New York City. Each character is well-defined

but the structure of Homegoing doesn't

allow for the development of their stories

over time. We just get to know one character

when we are dropped into the story of their

daughter or son. There's a through-line of

sorta-African-spirituality and the supernatural

that felt contrived and hokey to some of

us, moving to others. Homegoing succeeds as

a work of art but not, as its author hoped, as a

trumpet call to heal black families and solve

the searing legacies of American slavery.

Some strongly recommended Homegoing.

Some of us were hesitant to do so.

Evening Book Club

December Selection:

A Gentleman in Moscow by

Amor Towles

In 1922, Count Alexander

Rostov is deemed an unrepentant

aristocrat by a

Bolshevik tribunal, and is

sentenced to house arrest in

the Metropol, a grand hotel

across the street from the Kremlin. Rostov,

an indomitable man of erudition and wit,

has never worked a day in his life, and must

now live in an attic room while some of the

most tumultuous decades in Russian history

are unfolding outside the hotel's doors.

Unexpectedly, his reduced circumstances

provide him entry into a much larger world

of emotional discovery. Brimming with humor,

a glittering cast of characters, and one

beautifully rendered scene after another, >> 16

Credit: Amazon

Cancellation Policy

Members may reserve a spot for an AWC tour, activity or

event in advance. Payment is required within five business

days of the reservation or before the deadline date (whichever

is sooner) otherwise your name will be moved to a waitlist.

It is the responsibility of the Member to notify the Club at

awcthehague.finance@gmail.com to cancel a reservation

prior to the cancellation deadline. Please note that there will

be NO REFUNDS (no exceptions) after the cancellation deadline.

Members may find a substitute in lieu of cancellation

provided that arrangements are made with the tour, activity

or event organizer. Members shall be held responsible for

their guest reservations in accordance with this policy.

AWC Guest Policy

Guests are welcome

to participate in AWC

activities and tours on

a limited basis. As a

nonmember, a guest

is limited to attend

two functions per

calendar year and will be

charged an additional

nonmember fee. Only

Members are entitled to

use babysitting services.

14 GOING DUTCH

DECEMBER 2018 15
---
Ongoing Activities (cont.)

Continued from page 15

Evening Book Club Reading List:

Wednesday, January 9: The Only Story by

Julian Barnes

February: The Mars Room by Rachel Kushner

March: The Dinner by Herman Koch

April: The Song of Achiles by Madeline Miller

this singular novel casts a spell as it relates

the count's endeavor to gain a deeper understanding

of what it means to be a man of

purpose.

The location changes every month, so please

contact Dena Haggerty at awcthehague.

bookclub@gmail.com if you are interested in

attending.

Wednesday, December 12

7:30 p.m.

Location TBA

FREE

Chat, Crafts & Cake

Chat, Crafts and Cake is a weekly

highlight for those who enjoy crafts

and camaraderie. Whether your craft is

knitting, quilting, needlepoint or simply

mending your clothes, or whether you are

a beginner or an expert, you are welcome to

join us. Fish that UFO (Unfinished Object)

out of the drawer and get going on it again.

CCandCer's are always ready with a helping

hand, a lesson, or some advice. Each week,

a different Member brings a cake - tried and

true, or experimental. Babysitting is not

available and there are lots of sharp objects

about (pins, needles, scissors and wit) so

we cannot accommodate children. Contact

Suzanne Dundas at awcthehague.crafts@

gmail.com for more information

Every Tuesday

10 a.m. – Noon

AWC Clubhouse

Heart Pillow Project

Members work together to make heartshaped

pillows designed to help support

the arms of recent mastectomy patients.

Each pillow is made with TLC, wrapped,

and comes with a note signed by an AWC

volunteer. No sewing skills are needed, as

you can cut, stuff, or wrap the heart pillows.

We are proud to provide men and women

with something both practical and comforting,

and we know our work helps because

we often receive thank-you notes and emails

from the patients who have received a heart

pillow. For more information, please contact

Jan de Vries at awctehhague.heartpillow@

gmail.com.

Tuesday, December 11

Noon – 2 p.m.

AWC Clubhouse

FREE

Visitors Welcome

Out to Lunch Bunch: December

Every year the Out to Lunch Bunch group

organizes a Christmas Lunch. This year we

will have lunch at restaurant het Gouden

Kalf (the Golden Calf) in Scheveningen.

Chef Niels Schavemaker: "Enjoying the art

of cooking and hospitlity with a view of the

typical boats in the Scheveningen Harbor.

At Het Gouden Kalf, everything revolves

around our fresh and seasonal products,

a warm atmosphere and accompanying

wines." This will be a special lunch, at

a special moment, at a special spot. Join

us and enjoy the food, wine and company

in the harbor of Scheveningen. Very >> 18

16 GOING DUTCH

DECEMBER 2018 17
---
Ongoing Activities (cont.)

Continued from page 17

important: Allergies? Vegetarian? etc.:

Please indicate such when you sign up, or

email Greetje Engelsman at awcthehague.

activities@gmail.com.

Wednesday, December 19

Noon – 2:30 p.m.

Restaurant het Gouden Kalf

Dr Lelykade 1, Scheveningen

www.hetgoudenkalf.nl

€ 25 for a three-course menu

Registration/Payment Deadline:

December 12

Sign up on GroupSpaces

Walkie Talkies

Whether you count your steps or just want

to walk with friends, the Monday morning

Walkie Talkies is a fun, healthy and energetic

way to start the week. The group meets in

front of the Clubhouse before heading out

to walk to various destinations in the area,

usually racking up 10,000 steps along the

way. Sign up on GroupSpaces to receive

email updates or contact Emily van Eerten

or Greetje Engelsman at awcthehague.

walkietalkies@gmail.com.

Mondays

9:30 a.m.

AWC Clubhouse

Free

Sign up on GroupSpaces

Thirsty Thursday

Join us again for our monthly gathering.

Thirsty Thursday is a casual evening of

companionship and good conversation—a

new favorite for AWC Members and prospective

Members. Two soft drinks, wine or

beer, plus snacks.

Thursday, December 13

6 – 9 p.m.

De Eeuwige Jacktvelden

Plein 14, Den Haag

€ 15 for two drinks and food

No RSVP needed

Wassenaar Coffee &

Conversation

If you live in or north of Wassenaar, join

your neighbors for coffee and conversation

once-a-month without having to drive to

the clubhouse. One Member will host a

casual coffee at her home at 9:30 on the

first Thursday of every month. Prospective

Members are welcome too. Suzanne

Dundas coordinates these meetings and can

be reached at awcthehague.crafts@gmail.

com. Because the location changes every

month, contact Suzanne if you are interested

in attending or for more information.

Thursday, December 6

9:30 a.m.

Location TBA

FREE

18 GOING DUTCH

DECEMBER 2018 19
---
Credit: Anat Ratzabi

One-of-a-Kind Activities

by Marsha Hagney

RSVP directly on AWC GroupSpaces.com. Direct any questions to

awcthehague.firstvp@gmail.com.

Payment must be made within 5 calendar days of reserving or your name will be moved to

a waitlist. Payment can be made in the Front Office by PIN or by bank transfer to the AWC

account NL42ABNA0431421757.

Chocolate and Holocaust

Sculpture Tour

Anat Ratzabi is a sculptor and is perhaps

best known for her chocolate sculptures,

including Vermeer's Girl with the Pearl

Earring, and Rembrandt and van Gogh's

self-portraits. Her work is sold in the

Rijksmuseum and numerous other locations

throughout the country. But, one of

Anat's greatest works has nothing to do with

chocolate. It is the massive marble sculpture

that sits on Rabbijn Maarsenplein and

honors the Jews who died in the Holocaust.

Join us for a tour of Anat's chocolate workshop

and then a guided walk to Rabbijn

Maarsenplein where she will explain the

multi-year process of creating the touching

and important monument, and what each

piece means to the Dutch Holocaust experience.

Wednesday, December 5

10 a.m. – Noon

(Rain date: Monday, December 10,

2 p.m.)

Scheveningseveer 19, Den Haag

€ 15 Members / € 20 Non-Members

Maximum 20

Sign Up on GroupSpaces

Credit: Atelier Camp & Co

Pearl Party

Join us for a Pearl Party! Iris Camp, a certified

goldsmith and diamond setter, invites

you to an evening to immerse yourself in

pearls. Iris will showcase different types of

pearls and then help guests make a freshwater

pearl bracelet to take home. Looking

for a one-of-a-kind holiday gift or just want

to add to your personal jewelry collection?

Be sure to join us for a fun and informative

evening.

Friday, December 7

7 – 10 p.m.

Atelier Camp & Co, Vos in Tuinstraat 7

(Denneweg), Den Haag

€ 95 – Includes 7mm pearls, sterling

silver clasp, drinks, and snacks

Maximum 10

If there is a waiting list, a second Pearl

Party will be held Friday, December 14

Sign up on GroupSpaces

UPDATE! One-Day Aachen

Christmas Market & Tour

Join us for our one-day trip by private coach

to Aachen, Germany where we will enjoy

Aachen's Christmas market (Top five in

Europe!), tour the Aachen Cathedral, visit

the Lindt Chocolate factory outlet, shop, eat

dinner in Aachen, and return home the same

day.

Tuesday, December 11

Depart Den Haag Centraal at 8 a.m.

Return to Den Haag Centraal at 10:30

p.m.

€ 100 Member / € 110 Non-Members

Price includes transportation, food and

drink on the bus to Aachen and private

cathedral tour with an English-speaking

guide

(Food and shopping at own expense)

Maximum 30

Members who paid for the two-day trip

will receive a refund minus the new price

Registration/Cancellation deadline:

Monday, December 3

Sign up on GroupSpaces

Playball Netherlands is now

taking bookings for 2019!

Want to get your little one involved?

www.playballkids.com to see the fun for ages

2-7 years

AWC Members, please connect

with us on LinkedIn

https://nl.linkedin.com/in/

awcthehague

Members: eNews Distribution

A weekly electronic newsletter

is sent to all AWC Members.

If you have not been receiving your

eNews, please contact Melissa at

awcthehague.membership@gmail.com.

Email kidsplayball@hotmail.com to arrange a

FREE trial class

www.facebook.com/PlayballNetherlands

Or call Maggie on: 0627214347

20 GOING DUTCH

DECEMBER 2018 21
---
Tea with the AWC's

Honorary President

22 GOING DUTCH

DECEMBER 2018 23
---
Liduine Bekman - Our Very Own

Amazing Artist-in-Residence

by Jan Essad and Sunita Menon

Yes! Artistic talent abounds in our

Club… Just look at our Member and

volunteer, Liduine Bekman. We are

thrilled to present the beauty of the ocean

through Liduine's extraordinary watercolors

at our Clubhouse over the next few months.

capture the beauty of mother nature's endless

offerings, have led her to profound success

as a watercolor artist.

In her artist statement, Liduine talks about

growing up in the Netherlands within walking

distance of the sea, and of being inspired as

an adult while living on the Gulf of Mexico

in Texas as well as near the Mediterranean, in

the Bahamas and on the east coast of Florida.

We believe the affirmation must be true: if

you do what you love, success follows. Her

love for the ocean and her fascination for

its many creatures, along with her desire to

24 GOING DUTCH

When we first spoke with Liduine about

showing her art here at the AWC, as our first

Artist-in-Residence, we asked for her biography

to write this article. She offered to send us

her artist statement and an abbreviated resume.

When we received it, we were blown away

by all that Liduine has accomplished. All her

accolades, exhibits and awards speak for themselves

and provide a glimpse of how much her

work is admired. Not only was she the recipient

of the coveted National Watercolor Society

First Place, along with countless other awards

across the US, her artwork is part of many

major collections in the US. Among them are

Jean-Jacques Cousteau (Cousteau Foundation),

the City of Houston, hotel chains including

Hilton, Marriott and Wydham and company

collections to include IBM and Exxon.

Liduine has also shown her work in

many solo exhibitions throughout the US,

the Bahamas and Europe. The most prestigious

among them: Pulchri Studios in The

Hague, the Ministry of Foreign Affairs in the

Netherlands, Brickell Square Gallery in Miami

and the World Trade Center in New Orleans

upon invitation from the Dutch government.

After living in the US for over 50 years,

Liduine now lives in the Statenkwartier in The

Hague. We are very grateful and privileged that

Liduine is sharing her talent with all of us by

gracing our Clubhouse walls with her remarkable

watercolors until the end of January. If

you have not had a chance to see her work, be

sure to come by the AWC Clubhouse during

open hours, pick up a brochure and admire the

beautiful ocean and its wonderful creatures.

If you are interested in purchasing

Liduine's artwork at the Club, information

and a pricelist are available upon request from

the Front Desk Volunteer. You may also visit

Liduine's website: liduinebekman.com.

DECEMBER 2018 25
---
Why Not Use the Clubhouse for

a Meeting or Event?

by Jan Essad and Sunita Menon

Did you know that the AWC Clubhouse is available to rent for events and activities,

even if that event or activity is not Club-related? If you are planning a party, a business

meeting or you know someone who is looking for a place for a function, this could

be the perfect space. Here is a little information about renting the Clubhouse.

AWC Member Rentals

There are two types of rentals offered to AWC Members:

1. Free rentals are available for events that are not-for-profit or a one-time activity, such

as a birthday party.

2. Paid rentals are offered for events that are for-profit or to promote a business at a

standard fee of € 40 for six hours plus € 20 per hour for additional hours, or € 90 for a

full-day event.

AWC Business Member Rentals

This rental is designed to support our Business Members. The rental fee is based on the

number of AWC Members and non-member attendees but will never exceed an amount of

€ 40.

Non-member Rentals

Non-members may rent the Clubhouse for a one-time activity or ongoing events. The rental

fee is € 50 for six hours plus € 20 per hour for additional hours, or € 100 for an all-day rental.

Refundable Deposit

For all types of rental, a refundable deposit is required. Members pay between € 50 and

€150 depending on the event, while non-members pay a € 150 deposit. Based on the condition

of the Clubhouse after the event, it will be determined how much of the deposit will

be refunded.

AWC and the Arts

by Jane Choy, AWC Member and Mauritshuis Docent

Guided Tour of Femmes Fatales –

Strong Women in Fashion

"That little seamstress" is how the renowned

Coco Chanel was once disdainfully

described by her contemporary, Paul Poiret.

He targeted her because she was a woman,

but in fact he saw her has a major competitor.

Times have changed, and more fashion

houses are now run by women than ever

before. A perfect moment, therefore, for an

exhibition that focuses on strong women in

fashion. Femmes Fatales will be the first

exhibition in fashion history to focus exclusively

on female designers. Do they design

differently for women than their male counterparts?

What influence have they had?

What does being a woman mean in terms

of their creations? And what is their vision

for fashion?

The exhibition will include work by Coco

Chanel, Jeanne Lanvin, Elsa Schiaparelli,

Mary Quant, Vivienne Westwood, Sonia

RSVP for all Arts Activities directly on

AWC GroupSpaces.com

Direct any questions to jechoy@me.com

Rykiel, Miuccia Prada, Maria Grazia Chiuri

(Dior), as well as Dutch greats like Fong

Leng, Sheila de Vries and Iris van Herpen,

and many others. For further information,

contact Jane Choy at jechoy@me.com.

Wednesday, January 23

11:00 a.m. – 12:30 p.m.

Gemeente Museum, Den Haag

€ 10 Members / € 15 Non-Members

Museum entrance fee of € 13.50 not

included (Entrance is free with Museum

Card)

Maximum 20 / Minimum 12

Registration/Cancellation Deadline:

January 13. (It is possible to sign up

after this date if there is space.)

Sign up on GroupSpaces

So, if you are looking

for a great place to have

your event, consider

your Clubhouse. Please

be sure to share this

information with friends

and colleagues, as it just

may be the perfect place

for their upcoming event.

For more information,

please contact the AWC

Clubhouse Managers

Jan Essad and Sunita

Menon at awcthehague.

clubhousemgr@gmail.

com. We'll see you at the

Clubhouse!

26 GOING DUTCH

DECEMBER 2018 27
---
December 2018

Sun Mon Tue Wed Thu Fri Sat

1

2 3

4

5

6

7

8

Walkie Talkies 9:30 a.m

Chat, Craft & Cake 10 a.m.

AWC Tennis 1 p.m.

Chocolate and Holocaust

Sculpture Tour 10 a.m.

Wassenaar Coffee and

Conversation 9:30 a.m.

Democracy and Royalty in

the Netherlands 2 p.m.

Pearl Party 7 p.m.

9 10

Walkie Talkies 9:30 a.m

Happy Hanukkah

11

Chat, Craft & Cake 10 a.m.

Heart Pillow Workshop

Noon

AWC Tennis 1 p.m.

Aachen Christmas Market

& Tour

12

Buddy Check 12

Daytime Book Club

Christmas Party off site

11 a.m.

Evening Book Club off site

7:30 p.m.

13

Coffee 10 a.m.

December General Meeting/

Potluck Lunch

10:30 a.m.

Thirsty Thursday 6 p.m.

14 15

16 17

18

19

20 21 22

Walkie Talkies 9:30 a.m

Chat, Craft & Cake 10 a.m.

AWC Tennis 1 p.m.

Out to Lunch Bunch

Christmas Lunch Noon

Clubhouse Closed December 19 – January 7

23 24 25 26 27 28 29

Merry Christmas

Clubhouse Closed December 19 – January 7

30 31

Clubhouse Closed December 19 – January 7

Save the Dates:

January 10: Women With Dutch Partners Holiday Party

January 16: Defend Yourself Class

January 17: Winter Kick Off

February 21: Handbag Auction

28 GOING DUTCH

DECEMBER 2018 29
---
Club and Community

by Naya Pessoa

Holiday Drives—Sinterklaas

Gifts & Toiletries

The holiday season starts early in the

Netherlands, with children receiving their

gifts on December 5, or Sinterklaasavond,

the traditional day when Sinterklaas (Saint

Nicholas) delivers gifts. While this celebration

can be exciting for both children and

parents, there are some families who are

struggling during this time. The AWC has

been running several holiday drives that

aim to alleviate some of that added pressure

during the holidays. Children's toys and

other items were gathered and beautifully

wrapped by a dedicated team of volunteers

(stay tuned for the January/February edition

for pictures and highlights!). As if our volunteers

don't do enough, they also aimed to

collect 100 "Blessing Bags" filled with toiletries

that were also shared with families.

The organization receiving the donations is

"The Oasis" branch of the Stek Den Haag

organization, which focuses on neighborhood

and community outreach to marginalized

populations, both Dutch and refugees,

living in The Hague.

This year's holiday drives were organized

by the ever-inspirational Holly Savoie, who

tirelessly dedicates her time and energy, and

we cannot thank you enough!

Wrapping baked goods

for the Holiday Bazaar

Bake Sale. Tune in

next month for the

full Holiday Bazaar

coverage!

30 GOING DUTCH

DECEMBER 2018 31
---
Credit: NPR & Marco Borggreve

The Dutch Daily

by Eileen Harloff

New Conductor

Historically speaking, it is highly fitting

that the new 26th Music Director of the

New York Philharmonic Orchestra is Dutch

Conductor Jaap van Zweden. His premier

concert took place in October and received

a standing ovation. Born in Amsterdam in

1960, he began his music career at the age

of five when he started playing the violin.

When he was 16, he won the National Violin

Competition and was granted a 2-year

scholarship to study at the Juliard School

of Music, which is adjacent to the home

of the New York Philharmonic at Lincoln

Center. Once back in the Netherlands, at the

age of 18, he became the youngest leader of

the Amsterdam Concertgebouw Orchestra.

It was there that he met Guest Conductor

Leonard Bernstein, who encouraged him to

become a conductor, which he subsequently

did. In the following years he has headed

orchestras in many countries around the

world, either on a permanent or a guest basis,

and is considered a "world top" in his

chosen career.

Delft Symphony

NBTC Marketing, whose task is to sell the

Netherlands to the rest of the world, has

chosen "Rembrandt and the Golden Age" as

its theme for 2019, with the aim of attracting

tourists interested in culture. Among the cities

planning special exhibitions and events

are Amsterdam, Middleburg, Dordrecht,

Leiden, The Hague, Haarlem, Hoorn and

Enschede. The city of Delft has chosen to

emphasize its musical side by commissioning

a symphony that would characterize its

unique past, present and future. Its Royal

Wind Orchestra chose the well-known

Belgian composer Kevin Houben, who

some years ago wrote a City Symphony for

the Belgian city of Peer, which had its world

premiere in 2017 by the National Symphony

Orchestra of Belgium. The premiere of the

Delft City Symphony is scheduled for May

2019.

Whistler-Blowers Haven

It's unique, it's one of its kind, it's a place

where people can go for advice and help

who see misdeeds in their workplace or

government department but don't know

how to report it. And, if they dare to do so,

how to survive the consequences. It's called

the Huis voor Klokkenluiders (Whistleblowers

House), located in Utrecht, and is

headed by Paul Loven, former member of

the Board of Management of ABN-Amro

bank and pension organization PGGM. The

Huis is an independent organization where

advice, protection, independent investigations,

and even expert psychological help

are available for whistle-blowers. Lobbying

for this organization dates back to 2001, and

to five Dutch Cabinet changes. It can now

show that the long fight has been successfully

concluded.

Almere-Lelystad Wins the Prize

Recently the NS (Netherlands Railroad

Company) asked customers to cast a vote

for what they considered to be the country's

prettiest railroad journey from a list of

possibilities. Some 4,394 votes were cast.

37% chose the railroad line Almere Central

– Lelystad Central, 25% voted for the line

Sittard-Maastricht, and 17% were in favor

Credit: FlexNieuws

Credit: Florint.org Credit: LelystadGeeftLucht.nl

of Haarlem – Zandvoort aan Zee. The NS

has made an audio tour of the winning line,

available through its app, which tells about

highpoints along the route relating to culture,

nature and history.

Flower Auction Results

Over the past year, some 12 billion flowers

and plants were sold at the Auction Center

Royal Holland in Westland, to the tune of

€ 4.7 billion. The category of Cut Flowers

was, as always, the largest group that was

produced, and accounted for € 2.7 billion.

Room Plants fetched €1.6 billion and

Garden Plants garnered around € 400 million.

On the other hand, sales by way of the traditional

auction clock declined as increasingly

more business was done via direct sales.

Last year 43% of the total turnover was

carried out via the auction clock, with the

remainder 56% through direct buying from

grower to client. This is a trend that has been

growing over past years, and has serious implications

for the Auction Center's future.

Love at Birds Sight

An ill male parrot was brought into a police

station in The Hague and from there

was transferred to The Hague Animal

Ambulance where he was put in an incubator

to recover. Once he was warmed up and

had a drink of water, he seemed quite chipper.

The following day at approximately the

same spot, a female of the species was spied

and rescued. The two were put together in a

cage where it soon became apparent that the

male was urging the female to eat, and from

time to time he would give her a cuddle.

When she would not react to his advances,

he would make encouraging sounds.

Gradually they became good friends and received

the names of Romeo and Julia. Now

the Animal Ambulance finds that they are in

good health and can be adopted—but only if

they can go together.

In Short

• Groningen is the first city in the

Netherlands to forbid smoking on the

streets, except in designated areas. This

applies not only to cigarettes, but to all

kinds of smoking. The ban was initiated

by requests from various city establishments,

i.e. hospitals, stores, etc. Should

someone smoke in a forbidden area, the

police may be called in to enforce the

ban.

• In anticipation of New Year's celebrations,

the City of The Hague will

be passing out eye glasses to protect

children in all primary and secondary

school classes, as well as in neighborhood

centers and other places where

young people tend to gather. This follows

a decision taken by the City

Council to urge all schools to give extra

attention to the safe use of fireworks.

• An Albert Heijn grocery store in the

town of Sint-Michielsgestel has initiated

a weekly quiet hour for people

who are susceptible to various stimuli,

such as noise and confusion. Customers

who are autistic, overanxious or suffering

from burn-out or brain damage,

can shop on Tuesday mornings from

8 to 9 a.m. They receive a map of the

store and can shop without experiencing

disturbances such as the ringing of

a cash register or the noise of refilling

bins. Posters at the entrance of the shop

inform customers of this "stimulus-free

hour".

32 GOING DUTCH

DECEMBER 2018 33
---
FAWCO Corner

by Julie Mowat, AWC The Hague FAWCO Representative

Federation of American Women's Clubs Overseas, a United Nations NGO with

consultative status with the UN Economic and Social Council

www.fawco.org.

FAWCO Development Grants

The deadline for FAWCO Foundation

Development Grant Awards is January

27. Please check out fawcofoundation.

org for more information on how to apply

on behalf of your favorite charity. FAWCO

Foundation awards many educational grants

to members of FAWCO's Member Clubs.

If you are a Member of AWC The Hague,

you and your children are eligible to apply.

Most grants are $5,000 each. In addition to

college scholarships, there are a few unique

ones, such as:

• Dual Cultural Award, $5,000, sponsored

in part by the AWC Bern and

Donna Erismann in memory of Susanne

Erismann. This award may be used to

attend a semester or year of American

high school or an academic or structured

educational summer program in

the US.

• FAUSA Skills Enhancement Award,

$5,000. This award is for a FAWCO or

FAUSA member to acquire new skills

or enhance already existing skills to

become more capable, competent and

confident and will improve performance

in any given field.

See fawcofoundation.org for more info!

Pillow Project Helps Children

Stay in Families

The Pillow Project is our Club's latest

Development Grant winner, submitted

by AWC The Hague Member and Stahili

founder Michelle Oliel. It has made a big

impact!

34 GOING DUTCH

The 2018 Effecting Change for Women

& Children Development Grant in the

Human Rights category, funded by FAWCO

Alumnae USA, was awarded to The Pillow

Project to Stop Child Trafficking, a project

of the Stahili Foundation, based in

Murang'a County, Kenya. The project was

nominated by AWC The Hague which has

been supporting the organization for four

years. Stahili means "to deserve" in Swahili,

and the Foundation works to help children

living in orphanages in Kenya return home

where they deserve to live. Most children

living in orphanages in Kenya have family

who cannot care for them because of poverty.

Families are often tricked into giving up

their children under the false promise of

food and education, when they are instead

trafficked and exploited for the benefit of orphanage

operators. Stahili works to end this

practice and develop solutions to ensure that

children can return safely to their families

and communities with the support needed

for them to stay together.

The Effecting Change Development Grant

will provide much-needed support in a

crucial area of family-based care, improving

the living conditions of children in the

home, and in particular, the resources available

for sleep and rest. Having a good bed

and consistent, high-quality sleep has a

demonstrated positive impact on children's

health and education outcomes as well as

family life and are vital for children to flourish,

learn, grow, and develop a secure sense

of their home environment. FAWCO's support

will allow the Pillow Project to provide

beds, sheets, pillows and blankets for 31

children who have been institutionalized

and trafficked, significantly contributing

by Laura Suttles

When I heard about the FAWCO

Cruise for a Cause, I knew immediately

I was going. The American

Women's Club of

Genoa was the sponsor

of this FAWCO Target

Project Fundraising

Cruise. The current

Target Project is Hope

Beyond Displacement,

a training program for

refugee women and

girls in Jordan. Ann De

Simoni from Genoa

did an incredible job

of organizing the

cruise and making it

fun for everyone who

participated. I was

joined on the cruise

by several Members

of our club: Georgia

Regnault, Liduine

Bekman, Jan Mills

and Emily van Eerten

and her mother Ginny

Poe.

Before our departure from Venice, we had

the opportunity to pose on the Rialto Bridge

and visit Piazza San Marco. Unfortunately,

our time in Venice was far too short which

means I must return someday! The next day

we visited Bari, Italy and toured the city

on foot. We spent the most time at Castello

Svevo which was built around 1132 by

Norman King Roger II. That evening was

to an essential aspect of their lives—the time

they spend sleeping and resting. Speaking

of FAWCO's support, Stahili's Country

Director Joseph Wanyoike Kimani stated,

"Entire families rejoice when they see their

children at home. FAWCO's leadership will

ensure that children remain in families.

Families do belong together."

FAWCO Cruise for a Cause

a welcome cocktail hour with a Chinese

Raffle. It was an awesome opportunity to

meet and greet the other passengers who

were a part of the

Cruise for a Cause.

There were 56

participants in all.

The next day was

a day at sea which

I fully enjoyed in a

deck chair soaking

up the sun. Next up:

Mykonos, where it

rains only 20 days a

year. We managed

to be there on one of

those days. However,

we still enjoyed the

history, scenery and

food. The following

two days were spent

in Crete and Corfu.

I truly enjoyed the

Greek Isles, and the

scenery was stunning.

My favorite stop was

our final day when we

visited Dubrovnik, Croatia. We had the opportunity

to walk the Walls of Dubrovnik,

defensive stone walls built around the old

city. The views were amazing.

My time on this cruise was truly enjoyed. If

you find yourself with the opportunity to go

on a FAWCO cruise, I would highly recommend

it!

>> 36

DECEMBER 2018 35
---
36 GOING DUTCH

FAWCO Cruise Collage
---
Message from the President (cont.)

Continued from page 8

Once again, AWC The Hague will

hold its popular Handbag Auction,

to benefit FAWCO's Hope Beyond

Displacement.

AWC Clubhouse

Thursday, February 21

Starting at 1 p.m.

NEW this year: We're adding art to the auction!

Come enjoy bites and drinks, while bidding on handbags, art and

accessories.

a more casual event remains to be seen. I

do know that Michelle and Deana have

already started researching venues, possible

beneficiaries, and themes, and I'm certain

whatever they decide, it will be fun and enable

the Club to continue our philanthropic efforts.

Even before Michelle and Deana hopped on

the volunteer train, four Members told me

they want to be on the committee. Thank

you to Ceci Wong, Hilde Volle, Dena

Haggerty, and Anna-Lena Thuren-Vogel.

If you're interested in joining the team, please

contact Michelle and Deana, our co-chairs, at

awcthehague.benefitevent@gmail.com.

A fairly large segment of our new

Members work full-time and I've had several

requests that we offer more evening

events. The requests have been heard and

Elizabeth Zeller, who is the Recruitment

and Marketing Advisor at Leiden University,

has taken on the challenge and is the Evening

Events Chair, with Belgin Gulec-Genc working

with Elizabeth. These events are open to

all Members, and offer more opportunities

for social activities. Please check the AWC

website's calendar, eNews, Facebook, and

Going Dutch for weeknight and weekend

evening functions.

Thirsty Thursdays is one of our Club's

most popular evening activities and some

of the husbands and partners want their own

Thursday evening outing. If your significant

other is interested in a poker night, look for

information in eNews and our Facebook page

about when and where the first poker night

will be held. Seems only fair!

If you volunteered at the Holiday Bazaar

or participated in any way, shape, or form,

THANK YOU! You may have heard about

one of the biggest moments that weekend

when Emily van Eerten, our long-time raffle

chair, called her own name as the winner of

the raffle's grand prize. Marcel Vermeulen,

a long-time sponsor of our Club, donated an

aquamarine and diamond necklace and the

winning ticket was pulled out of the raffle

box by a six-month old baby sitting on his

mom's lap watching all the activity. Emily's

reaction brought many of us to tears while

others gave her a standing ovation. Wear it

in good health, Emily! Please look for a full

rundown of the two-day Holiday Bazaar in

our January/February issue of Going Dutch.

Where are you heading for the holidays?

Wherever you go, or if you are planning a

staycation, enjoy. After all, this is the most

wonderful time of the year. Happy holidays

to you, your family, and to all the fabulous

women of the AWC. See you next year!

Tot ziens…

Suzanne

Going Dutch is Available Online

Go to www.awcthehague.org to share the current month's issue with friends and family. You

will also find links to our annual advertisers, whose support makes this magazine possible. If

you visit or contact one of our advertisers, let them know

Going Dutch sent you!

38 GOING DUTCH

DECEMBER 2018 39
---
High Altitude Trekking – Part II

by Melissa White

Heading Down

What goes up must come down, and so our

adventure in Nepal continued after achieving

our goal of trekking to Everest Base Camp

(EBC). Overall, heading down the mountain

was easier, but that doesn't mean it was easy.

Not only did we still have plenty of uphills

to contend with – every day we encountered

a constant series of up and down referred to

as "Nepali Flat" – but some of the downhills

were crazy steep. Although I've never had

knee problems, my right knee became swollen

and sore. There's no ice where there's no

refrigeration, but luckily Teresa had brought

along an extra neoprene brace, which helped

greatly to alleviate the pain. Although we

were following the same route that we had

taken up, the scenery looked quite different

from the other direction. More than once we

asked our guide, Ishor, if he was sure that

we had travelled this way before. He just

laughed.

I often joked that we were on a High Altitude

Detox Program of no alcohol and no meat.

In an effort to prevent altitude sickness, we

avoided alcohol – with the exception of a

celebration over a few warm Everest Beers

with Ishor and our porters after our 11th day

40 GOING DUTCH

of trekking. We had also been warned to stay

away from meat due to the lack of refrigeration

on the mountain. That was especially

difficult for Kent, who gave in and had pizza

with tuna several times after being assured

that Ishor always checked the expiration

dates on the cans of tuna first. Carlin is a vegetarian,

so it was easy for her. Teresa and I are

flexitarians who also had no problem sticking

with a purely vegetarian diet. Every night I

ate dal bhat, a traditional Nepali meal of lentil

soup, rice and vegetable curry, and never

grew tired of it. I added one unexpected item

to my detox list along the way: news. After

seeing yet another disconcerting headline on

my BBC app on our third day, I decided that

I was done checking the news until my return.

It turned out that it was easier to give

up than I'd expected: we had access to WiFi

on only 5 of the 15 days. While I was willing

to pay for WiFi at the teahouses, I was much

too cheap to pay the exorbitant fees for 3G

roaming.

On the way up, we had visited Tengboche

Monastery, a Tibetan Buddhist monastery

originally built in 1916 and rebuilt in 1934 after

a devastating earthquake. Unfortunately,

photography wasn't allowed inside; I have

no photos of the amazingly vibrant murals

covering the walls. Our timing wasn't right

to attend a service, but when we passed back

through on our way down we were lucky

enough to witness a marching band of monks

playing drums, shells and horns with no obvious

melody or harmony. Ishor informed us

that they were marching down to the lodge

we had just left so they could meet with the

chief lama of the region.

We rarely encountered trekkers coming

up towards us, as it turned out that Lukla

Airport had been fogged in for days. The

most intrepid of trekkers could take a bus

from Kathmandu to Jiri and then hike for

eight to ten days to Lukla, although we didn't

come across a lot of folks that dedicated. It

was a big reminder that, while weather had

completely disrupted many other trekkers'

vacations and had caused the cancellation of

Kent's planned climb of Island Peak, we had

been extremely lucky. Looks like my chats

with Mother Nature paid off. We were also

very fortunate that we had an extended itinerary.

The traditional trekking itinerary allows

just three days for the return trip from

EBC to Lukla. However, because Kent had

booked a side trip, we had three extra days

to hike down, which allowed us to take our

time rather than rushing down to Lukla only

to be stuck there. This was also advantageous

because I needed extra time: I was still slow

despite the lower altitudes.

With each passing day we got faster and

faster at stuffing our sleeping bags, clothes

and toiletries back into our duffel bags. This

helped to make our mornings more relaxed,

and sometimes we even got to sleep in. We

only had one actual rest day; Ishor recommended

that we stay in Phakding an extra >> 42

DECEMBER 2018 41
---
High Altitude Trekking (cont.)

Continued from page 41

night rather than get caught up in the madness

of the closed airport in Lukla. We all

agreed that was an excellent idea.

When most of the beautiful views were obscured

by dense clouds on what we expected

to be our final day of hiking, we were extra

lucky that Ishor spotted a white monkey high

in a tree; he said it was the first time he'd ever

seen one in the region. Another big surprise

came when we went up a hill and discovered

that we had already reached the entrance to

the national park and the official end to our

EBC trek. We had done it! We had hiked the

entire way to EBC and back.

I was much more observant during our walk

through the village of Lukla this time around;

I noticed that it had proper flat paving down

its main "street" and evenly spaced stairs

rather than the usual uneven steps made of

rocks that we found in the other villages. It

was so foggy that we couldn't even see the

runway when we walked past it.

Escaping the Himalayas

There were no planes flying in or out of

Lukla the day that we arrived, so we turned

our attention to chartering a helicopter to

make our escape. We were joined by another

trekker with Himalayan Wonders:

Sebastian, a 19-year-old from England, who

didn't want to miss his international flight

either. Unfortunately, helicopters were also

unable to take off or land at the airport, so

we spent the night in Lukla as originally

planned.

The big surprise the next morning was that

we were going to hike yet again. Rather

than sitting out the clouds in Lukla, we were

going to descend another 2,000 feet (600

meters) to 7,200 feet (2,200 meters) in an

attempt to catch a helicopter ride off the

mountain. Ishor scared me with his worry

about my ability to do this trail; he said most

groups can complete it in about one hour, but

that it would take us two. Either way, to cover

that much distance in that short of time meant

the trail must be pretty steep.

Sebastian and his guide joined our group of

five with either me or Ishor setting the pace.

We started on a narrow path hugging the

fence to the airport. Eventually we got to the

end of the fence and could see firsthand how

the runway just ends at a cliff. We then slowly

made our way mostly down, but sometimes

up, in the usual Nepali way. Unlike our

other paths, we weren't in trekker territory

anymore, but rather a rural area interspersed

with houses. It was actually a lovely trail as

the terrain became more tropical like a rainforest.

As always, the steps were uneven, and

we had to hop from rock to rock to avoid getting

too muddy.

After getting distracted while trying to take

a photo of a waterfall, I managed to lose my

footing. I felt like an idiot for slipping in the

mud, but jumped right back up. Teresa and

Carlin were concerned and asked if I wanted

to rest, but I turned them down. I figured that

if I actually was injured it would be best to

let the adrenaline carry me along; it turns out

that I just had two small cuts and a bruise on

my right hand and a cut behind my right knee.

Frankly, it's incredible that I only slipped one

time during the 14 days of hiking as I am

quite a klutz (shortly after I returned home,

I tripped while walking to the train station,

ripped my jeans and skinned my bad knee).

Sebastian slipped six times that day, but luckily

wasn't injured at all. Everyone else managed

to stay upright.

Along the way, Ishor announced that our

helicopter had left Kathmandu. We thought

it would be landing just minutes behind

us, but that's not quite how it worked out.

Eventually we came across a funny little sign

that said "Surkey Helipad". We turned down

that narrow path past more houses. Luckily it

widened just enough for us to get out of the

way of a mule train. We walked along some

cornfields and then reached our destination:

a grassy field next to a small teahouse. We

arrived around 10 a.m., two hours after we

had left Lukla Just as Ishor had predicted. >> 44

Travel4U@americantravelcenter.net/www.americantravelcenter.nl/tel. +3261234901

"Our next holiday is

a safari. They do

the whole world!"

"They make booking a

holiday so easy. I just

leave it to them!"

"Every trip is

customized, just for

me! That's unique!"

42 GOING DUTCH

DECEMBER 2018 43
---
High Altitude Trekking (cont.)

Continued from page 43

The skies were white above, but clear down

below. It was quite exciting when the first helicopter

arrived even though we knew that it

was for one of the other two groups waiting.

We were relieved when we arrived to find

only ten other trekkers there before us, as we

were concerned that there might have been

dozens. As soon as the first helicopter left,

another was preparing to land; alas, that one

was also not ours.

pressed that Kent managed

the entire trek without hiking

poles – they were an

essential extension of my

arms at all times. Luckily,

we never needed any technical

gear such as ropes or

harnesses. I was also relieved

that we never had

to do any hand scrambling

like on my training hike to

Scafell Pike in England;

personally, I prefer to hike

with my feet rather than my

hands.

No sooner had the second one left than the

clouds closed in. Our hopes of escape turned

to worry that we might be stuck in that tiny

teahouse overnight (we learned later that

around 80 trekkers had been stuck there two

nights previously and many had slept on

the floor). By then another group had hiked

down from Lukla; one trekker from Chicago

said they'd been stuck in Lukla for five days

and had already rebooked their flights home

for an extra $1,000 each. It had started to

rain, so we hunkered down and ordered

hot drinks. Just as we were contemplating

ordering lunch (either dal bhat or stir-fried

noodles as they'd run out of all other options),

Ishor rushed in to stop us, claiming

that our helicopter was on its way. As we'd

heard that before and it was still raining, we

weren't too hopeful, but were pleasantly

surprised about ten minutes later when we

heard the familiar whirring sound of the

blades and the helicopter appeared through

the mist.

As soon as the pilot had finished a cup of

coffee, we were told to grab our daypacks

and start running. Our porters were already

loading our duffel bags onboard. Unlike the

previous pilot, whom we witnessed briefing

his passengers before boarding, ours didn't

bother. We chose Teresa, the smallest, to get

in the front and the rest of us piled into the

back after quick hugs with Ishor. I wasn't

thrilled that I didn't have a seatbelt (it was

stuck under the seat), but luckily it didn't

matter.

Perhaps our pilot was a bit of a cowboy or

just a crazy risk taker, but he took off in

that rain without saying a word. Eventually

he tried putting on his seatbelt and needed

Teresa's help. Luckily it didn't rain for the

entire 51-minute journey. Though I wasn't

by a window, the views were still incredible.

We followed the river for much of the way

and saw lots of waterfalls. It was 40 minutes

before I noticed the first road and cars; all

of the villages and terraced farms we saw

along the way had to be reached on foot or

by animal. Even with the drama, it was a

damn fine way to end an epic journey.

Nitty Gritty

For those of you who like details, it's impossible

to tell our tale without including some

numbers. When it was all done and over,

we had been on the mountain for 15 days.

We had 14 days of hiking, of which 12 were

moving from village to village and 2 were

acclimatization "rest days" when we still

hiked for about 4 hours each. Eight of those

days were on the journey up to EBC and six

were on our way down. Most days we hiked

for six to eight hours, stopping for about

an hour around noon for a hot lunch. We

only had one actual rest day, which we spent

writing in our journals, reading and playing

cards. We also had one entirely unplanned

hiking day that was not on our original itinerary:

from the airport down to the helipad.

My total distance was approximately 80

miles (130k). Teresa, Carlin and Kent's

totals were approximately 85 miles (137k)

each since they did the extra sunrise hike

plus one extra leg on one of the acclimatization

hikes. Our lowest point was the helipad

at 7,200 feet (2,200 meters) and the highest

we did together was EBC at

17,600 feet (5,364 meters)

for a net gain of 10,400 feet

(3,164 meters). Of course,

this doesn't account for the

Nepali Flat factor, which

meant that we were always

going up and down on any

given day. Typical daily elevation

changes were 1,300

– 2,600 feet (400 – 800 meters).

Although there was lots

of snow on the peaks, we

didn't hike through any

snow or ice. The worst

weather that we encountered

was some hail at EBC

itself. I was incredibly im-

All of our accommodations

had electricity and at least one shared

Western toilet; we slept in double rooms in

sleeping bags on top of beds. We had three

hot meals each day and the food was better

than we expected.

As difficult as the trek was, there was never

a day that I woke up and didn't want to hike.

I've been asked several times if I'd do it again

and my answer is consistently no. However,

that doesn't mean that I regret going – in fact

the opposite is true: I'm thrilled that I went

on this incredible journey. However, it was a

once-in-a-lifetime adventure, thus there's no

need to repeat it. There are plenty of other

treks to do in Nepal and beyond. Wonder

what Kent will dream up for us next?

44 GOING DUTCH

DECEMBER 2018 45
---
Restaurant Recommendations

by Audrey Goodman

AWC Member Jessie Rodell came up with the wonderful idea of adding a Restaurant

Recommendations section to the magazine. This is a work in progress, so feedback is

wanted and welcome. I've started with a few of my favorite restaurants, but I certainly

hope future issues will contain selections from other Members. Please feel free to email your

comments and recommendations to goingdutchmag@gmail.com.

De Lof der Zotheid

A cozy neighborhood restaurant, with a

good wine list.

Breitnerlaan 84, 2596 HD, Den Haag

070 324 1782

lofderzotheid.nl

Dutch, Seafood, European

€€ - €€€

Monday – Sunday,

5 p.m. – Midnight

Made in Sud

Amazing food, wonderful presentation, and

exceptional service.

Molenstraat 9A, 2513 BH, Den Haag

070 365 2278

facebook.com/madeinsuddenhaag

Italian, Mediterranean, European

€€ - €€€

Monday, Wednesday & Thursday,

2 p.m. – 11 p.m.

Friday – Sunday,

12:30 p.m. – 11 p.m.

Ruiseñor

Emotional cuisine. Interested? Check it out!

Denneweg 120, 2514 CL, Den Haag

070 514 7049

ruisenorrestaurant.nl

Mexican, Latin, Seafood

€€ - €€€

Tuesday – Sunday,

6 p.m. – 10 p.m.

46 GOING DUTCH

Announcements

Winter Fair

The Ahoy in Rotterdam will be transformed

into a winter wonderland from December 5

– 9. In a cozy atmosphere, you can get in the

mood for the holidays with booths featuring

home decorations, wellness and leisure.

There will also be fashion shows, workshops

and entertainment.

Wednesday, December 5 –

Sunday, December 9

Ahoyweg 10, Rotterdam

www.winter-fair.nl

Jack and the Beanstalk, a

Pantomime

Distinctively British, a panto is a popular

form of family entertainment incorporating

song, dance, slapstick comedy, cross-dressing,

and audience participation. This holiday

season, the Anglo-American Theatre Group

(AATG) invites you to follow the exploits of

Jack and his mother, Dame Trot, as they try

to find the money to pay the rent before the

nasty Baron throws them out of their house.

Friday, December 7 –

Sunday, December 9

Theatre aan het Spui

Spui 187, Den Haag

www.aatg.nl

The Arts Society Lecture –

A Golden Touch of Klimt

Being one of the most prominent figures

in Vienna in the late 1800s, Klimt's paintings

with their glorious themes, bold colors

and gold shocked an unsuspecting populace.

Lecturer Gavin Plumley is a writer

and broadcaster specializing in the art and

culture of Vienna and Central Europe. His

lecture will focus on the many changes in

Klimt's life which impacted his style and

works. Nonmember fee is € 13.

Tuesday, December 11 at 8 p.m.

Doors open at 7:15 p.m.

Cultural Centrum Warenar

Kerkstraat 75, Wassenaar

www.theartssocietythehague.org

Lighting of Christmas Trees

Delft: From 4 p.m. on Tuesday, December

11, there will be Christmas stalls and musicians

in the main square. The Christmas

tree will be lit at 7 p.m. to give light to the

Dark Days of Delft. You can get warmed up

with hot chocolate, gluhwein (spiced mulled

wine) and erwtensoep (split pea soup).

www.donkeredagenvandelft.nl

The Hague: A traditional ceremony is held

each year in honor of the Swedish Feast of

Lucia during which Lucia, dressed in white

and with candles in her hair, will bring light

into the dark winter night. Join the Swedish

Ambassador and the Mayor of The Hague in

front of the Escher Museum for the lighting

of the Swedish Christmas tree on Thursday,

December 13 from 5:30 to 7 p.m.

Gouda: During the impressive illumination

festival Gouda by Candlelight, on Friday,

December 14 at 7 p.m., over 1,500 candles

will be lit in Gouda's historic city hall, while

thousands more are aglow behind the >> 48

DECEMBER 2018 47
---
Announcements (cont.)

Continued from page 47

windows of the picturesque buildings surrounding

Market Square. Street and shop

lighting are switched off, lending a fairytale

quality to this spectacle. Various choirs will

be performing Christmas carols and the audience

is encouraged to sing along. www.

goudabijkaarslicht.nl

Christmas Market for Dogs

Dogs and their owners are invited to a special

market of Christmas toys and snacks

at Happy Critters, a long-time supporter of

Going Dutch. Renske Natural Petfood will

offer a tasting session for dogs from their

Christmas menu. Ezydog will display their

full range of leashes, collars and harnesses.

There will be warm drinks for the owners,

including gluhwein.

Saturday, December 15

10 a.m. – 5 p.m.

Weissenbruchstraat 63, Den Haag

www.happycritters.nl

48 GOING DUTCH

Christmas Concerts

Cecilia International Choir: This

mixed voice group of 70 singers will perform

Christmas Concerts in Voorburg

on December 13 and in The Hague on

December 18. www.cecilia-choir.com

American Protestant Church of The

Hague: The Choir will sing the powerful

Magnificat by John Rutter and some

African American Christmas Spirituals,

supported with solos by students of the

Royal Conservatory of The Hague. There

will also be an opportunity for community

singing. Entry is free, but donations are welcome.

www.apch.nl

Sunday, December 16 at 4 p.m.

Doors open at 3:30 p.m.

Esther-de-Boer van Rijklaan 20,

Den Haag

Royal Christmas Fair

This free fair has grown to be one of the

Netherland's largest Christmas markets. Its

twinkling lights and familiar Christmas carols

are bound to put you in a festive mood.

Enjoy some gluhwein and flammkuchen

while shopping for unique items among

the 100 stalls. Entertainment will include

performances by children's choirs, theater

groups and storytellers. Santa Claus will

also make daily appearances.

Friday, December 14 –

Sunday, December 23

Noon – 9 p.m.

Lange Voorhout, Den Haag

www.royalchristmasfair.nl

Duivenvoorde at Christmas

Duivenvoorde Castle in Voorschoten is

decorated both inside and out with beautiful

Christmas trees, a cozy market and

sparkling decorations for the weekend of

December 15 – 16. Take a winter walk over

the noble estate and enjoy delicious, warm

refreshments. Tickets should be pre-booked

for tours of the castle.

www.kasteelduivenvoorde.nl

Dickens Festival

A 19th century English city of Charles

Dickens' days will live again in full glory

during the Dickens Festival in Deventer the

weekend of December 15 – 16. Some 950

characters will come to life from Dickens'

celebrated books, including Scrooge, Oliver

Twist and David Copperfield, along with

Christmas carolers, orphans, drunkards and

distinguished citizens. The shops will be

open in the city center with markets on the

main square on both days. Over 125,000

visitors are anticipated for this free festival,

so expect to wait approximately one hour at

the entrance.

www.dickensfestijn.nl

Dutch Christmas Markets

Leiden: From December 14 – 25, Leiden

hosts the only floating Christmas market in

the Netherlands. Entrance is free into the

Winter Wonderland Village on the water of

the Nieuwe Rijn with 86 decorated chalets

filled with winter products, gifts, snacks

and warm drinks. You will also find an iceskating

rink on the canal from December 8

– January 6. www.visitleiden.nl

Dordrecht: From December 14 – 16,

Dordrecht will host the largest Christmas

market in the Netherlands with 200 stalls.

In addition, there will be hot treats, live

entertainment and an ice-skating rink. www.

kerstmarktdordrecht.nl

Valkenburg: Running until December 30,

the Christmas Market in the Velvet Cave

is the Netherlands' most popular indoor

Christmas event. This unique experience

is a shopper's delight with fairytale decor,

seasonal music and a large variety of

handmade local and international gifts. www.

kerstmarkt-fluweelengrot.nl

Countrywide: During December you

will find other various Christmas markets

throughout the Netherlands. For listings, go

to www.hollandsemarkten.nl and click on

Kerstmarkten.

A Christmas Carol

Ashley Ramsden, the world-famous storyteller

from Great Britain, returns to perform

this Christmas favorite on December 21 – 23

at the Theatre aan het Spui in The Hague. He

performs all 23 characters single-handed,

which shows his formidable talents as a storyteller

and actor. The program embraces the

original masterpiece, transporting audiences

back to Victorian England and conjuring up

the sinister back alleys, cobblestone streets

and ghostly apparitions that are the story's

hallmarks. Expect to be mesmerized by a story

that is still relevant today in a world where

there is a gulf in the distribution of wealth,

influence and knowledge.

www.theenglishtheatre.nl

Alice in Wonderland

This Christmas, De Dutch Do not Dance

Division will bring to life the famous story by

Lewis Caroll set to music by Tchaikovsky >> 50

DECEMBER 2018 49
---
Announcements (cont.)

Continued from page 49

New Year's Dive

Ice Sculpture Festival

and with sets inspired by the wonderful

world of Dutch graphic artist M.C. Escher.

Tuesday, December 25 –

Friday, December 28

Zuiderstrandtheater, Den Haag

www.ddddd.nu

CATS

The London West End production of the

musical classic by Andrew Lloyd Webber

will be performed in English for the very

first time in the Netherlands.

Amsterdam: December 20 – January 13,

at the RAI Theatre.

Rotterdam: January 15 – 17, at the Lux

Theatre.

www.catsdemusical.nl

Christmas Circuses

There is no doubt that Christmas Circuses

must be quite popular in the Netherlands as

our region hosts two. Both feature spectacular

acrobatics and hilarious clowns; for those

curious, circuses are no longer allowed per

Dutch law to feature wild animals.

Rotterdam: December 22 – 30 at the Ahoy.

www.kerstcircus.nl

The Hague: December 22 – January 6 at

the Malieveld. www.kerstcircusdenhaag.nl

New Year's Fireworks

New Year's Eve in the Netherlands is often

celebrated with fireworks and our area has

several large fireworks shows. Most cities

shut down public transportation no later

than 9 p.m., so please plan accordingly.

Scheveningen: A giant bonfire will be

built on the beach in the hopes to once again

be the world's largest. In addition to lighting

the bonfire in a spectacular fashion at midnight,

there will be fireworks and music.

The Hague Centrum: The Hofvijver is the

setting for a free festival with music starting

at 10 p.m. and fireworks at midnight.

Rotterdam: A lighted boat parade on the

Maas starts at 10:30 p.m. At midnight, the

most spectacular fireworks in the country

will burst from the Erasmus Bridge with the

best view from the Boompjeskade.

www.hetnationalevuurwerk.nl

The Netherlands boasts more than 135 locations

where you can jump into the sea or a

lake on New Year's Day at noon. The largest

dive is held at Scheveningen Beach, where

10,000 people plunge into the sea each year.

This spectacle is also great to watch from

the sidelines. Which of our AWC Members

will brave the cold waters this year? Tickets

can't be reserved, but must be purchased for

€ 3 starting at 10:30 a.m.

www.unox.nl/evenementen-detail

Amsterdam Light Festival

A unique experience in the darkest months

of the year! Created by international artists

especially for this festival, 30 works of art

were chosen to depict this year's theme of

The Medium is the Message, which examines

the role light plays as a medium or as a

message. The exhibition can be admired by

boat, bike or foot through January 20.

www.amsterdamlightfestival.com

Held in Zwolle from December 15 through

March 3, this is Europe's largest ice sculpture

exhibit. The festival features over 100

sculptures of ice and snow up to 20 feet

(6 meters) high made of 606,275 pounds

(275,000 kilos) of both ice and snow created

by 40 of the best ice artists in the world.

The theme this year is World Famous

Stories. To keep the ice sculptures in top

condition, it is 14°F (-10°C) in the large

cooled event hall, so be sure to dress warmly.

Although it is difficult to avoid long

lines into the hall, you can avoid queuing

at the box office by purchasing discounted

tickets online.

Ijsselhallen Zolle, Rieteweg 4, Zwolle

www.ijsbeelden.nl

Save the Date: MLK Dinner

Mark your calendars to bring the whole

family to the annual Dr. Martin Luther

King Tribute and Dinner. Look for further

details in the January issue.

Sunday, January 27

5:30 p.m.

Hotel Den Haag - Wassenaar

Zijdeweg 54, Wassenaar

Grab Your Running Shoes

The Hague's Biggest Race: If you like to

run, be sure not to miss The Hague's 44nd

CPC Loop on Sunday, March 10 starting at

the Malieveld. There will be 45,000 runners

including professionals and amateurs

for distances ranging from 1K for kids to a

half marathon. Don't hesitate to register, as

this event fills up every year.

www.cpcloopdenhaag.nl

50 GOING DUTCH

DECEMBER 2018 51
---
Classifieds

Bijoux-dor Gold &

Silversmith

Professionally trained gold

and silversmith specializing

in handmade and custom

jewelry, and repairs. AWC

members are eligible for a

10% discount on custom work.

Visit my atelier at Noordeinde

47, 1st floor, The Hague

or call 0687598566 for an

appointment or send an email

to meriemoukil@hotmail.com.

www.meriem-dor.com

Items for Sale

Exercise Bike—As New—

Great Gift (Rossler R320hp

speedbike 16kg) Cost new

€259, now €95.

Two solid old bikes 50.- each

2 comfortable Foldaway Beds

€45 each

Litton US microwave oven

€45. (Can be freestanding or

built in.)

Contact AWC Member Sheila

010 4229511 in Rotterdam or

sgazaleh@gmail.com

Coffee & Taxes

We file your:

• Dutch income taxes

• VAT tax

• Migration forms

• Benefits/ Toeslagen

Plus

financial/ governmental consultancy

Contact me at:

marielschouwink@gmail.com

0625684010

Transformational New

Neuro Therapy

available from Anel Smit, an

experienced, professional

Counsellor and International

Coach for children, adults and

seniors in Dutch, English and

Afrikaans.

www.anelsmit.com

Multi-Level Neuro Processing

Functional Therapy

Creative Art Development

0642463605

www.icr-coachregister.com

Expat Families in Transit &

Work Life Balance

Ingrid offers Child & Teens

Counseling, Life Work

Coaching, Accountability

Coaching and Workshops

& Training. Experienced

Bilingual Psychosocial

Therapist/Counselor &

Coach. Certified NFG

member. Check for Coverage

Health Care Insurance.

Contact 0640216544. FREE

30 MIN CONSULTATION.

imasselinkandreas@gmail.

com

www.ingridmasselinkandreas.

com

Index of Advertisers

ACCESS

page 30

American Travel

Center

page 43

Aveda Lifestyle

Salon

Inside Cover

Beacon Financial

Education

Back Cover

Frans Burgers

Tapijt

page 15

Support Fellow AWC Members

Find links to a large variety of businesses

owned by AWC Members at www.

awcthehague.org/site/newcomers/

business-links

Petros Eyewear

page 11

FRITSTAXI

Ocean Dry

Airport Service

Cleaning

Inside Back Cover

page 19

Happy Critters

Playball Kids

page 25

page 21

Marcel

Sligro

Vermeulen

Jewelry

page 11

page 9

VERHEY VAN

WIJK brilmode

page 17

Wassalon

Weissenbruch

page 30

Your Cleaning

Service

page 30

The AWC is not responsible for accidents

or injuries occurring at Club activities or

on Club property. Sports and exercise

instructors must carry their own liability

insurance.

Member Privacy

Event information, suggestions or comments for eNews?

Please send all eNews information to awcthehague.enews@gmail.com no later than end of day

each Friday for the following week's eNews.

Please be reminded that the AWC Membership List is for AWC Member reference only and use of this

information in any communication other than AWC official business is strictly prohibited. Members may

not share the list with anyone other than another AWC Member in good standing and never to any

third party.

The AWC takes care to protect Member information and adherence to this policy is critical to maintain

Member privacy. Members are asked to report suspected misuse of the list to any AWC Board Member.

52 GOING DUTCH

Rates

Classified Mini-Ads:

Deadline: In general, the 1st of the month prior to the

month in which your ad will appear, although subject to

change due to holiday schedule.

AWC Member Rates:

For 45 Words

Non-Member Rates:

For 45 Words

For 25 Additional Words

Per Issue € 15 € 8

Eight Issues € 110 € 55

For 25 Additional Words

Per Issue € 10 € 5

Eight Issues € 70 € 30

How to Submit Your Ad:

Email your ad to: goingdutchads@gmail.com

Payment Information:

Please indicate the name of your ad on your payment so that

we are able to match up your payment with your ad.

By Bank Transfer:

ABN-AMRO

43.14.21.757

IBAN: NL42ABNA0431421757

Display Ads:

For full, half, third or quarter page commercial display ads,

email our magazine staff at goingdutchads@gmail.com

DECEMBER 2018 53
---
Proost! Questionnaire

Answers by Debbie van Hees-Cascio

Why are you living in the Netherlands?

I married a Dutchman 33 years ago!

Give us a quick wrap-up of your family

Husband: Ad; Daughters: Anneke (25) and

Emma (23)

What or who is the greatest love of your

life?

My wonderful husband, of course!

What do you enjoy most about the AWC?

Back when: Working in the library in the

old Clubhouse and making life-long friends.

These days I'm not as engaged as I could

be…something to work on.

What do you consider the most overrated

virtue of being an expat?

Hard to say as I ceased being an expat in

1990 when I resigned from the US. Foreign

Service to stay and raise a family. I'm a

citizen of the world now…and quite enjoy it.

What is the quality you most like in a friend?

Loyalty

What is your greatest travel extravagance?

Paying for an extra bag to bring back clothes

that fit from the US. I am a petite person

living in the Land of the Giants.

Which travel experience made you the

happiest?

Our family trip to Marrakech five years ago.

What is your favorite travel purchase?

Noise cancelling headphones

Which locations haven't been ticked off

your bucket list?

Australia, New Zealand, Japan, Alaska…

there are many.

Where would you most like to live?

Six months in The Hague and six months at

our home in Vermont

Who are your favorite writers?

Paul Theroux and Pat Conroy

Which talent would you most like to have?

To play the piano

What's your hobby?

Does screen addiction count as a hobby? If

not, tennis and reading.

Who are your heroes in real life?

My mother, who I miss every day, and lately

President Obama, who I also miss every day.

What is your motto?

Let's get the hell out so we can get the hell

home (from my dad but still in use!).

What constitutes a "perfect" day for you?

The wonderful summer and fall days we

had this year for working in the garden and

walking to the beach every evening

54 GOING DUTCH

DECEMBER 2018 55