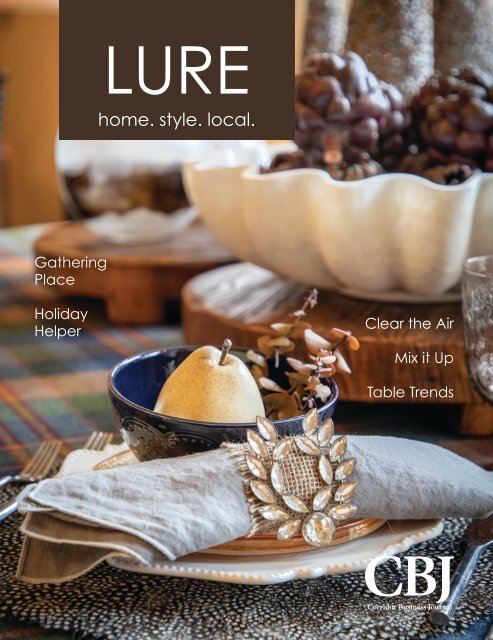 You also want an ePaper? Increase the reach of your titles
YUMPU automatically turns print PDFs into web optimized ePapers that Google loves.
LURE

home. style. local.

Gathering

Place

Holiday

Helper

Clear the Air

Mix it Up

Table Trends
---
FROM THE EDITOR

The most wonderful time of the year

Although the weather at times may be frightful, Iowans tend to make the most out

of winter with warm home styles, comforting food and hardy

outdoor activities.

The holiday season is my favorite time of the year with its rich

traditions, festive décor and family gatherings.

Jim and Teresa Shymansky also love the holidays, entertaining at

their open-concept country home near Solon that resembles a lodge

in the heart of the Colorado mountains (pages 4-10).

The 5,300-square-foot home designed and built by their

daughter, Kimberlee Rocca, and her husband, Kevin, of Rocca

Custom Homes, is perfect for annual Christmas pageants and

holiday dinners in the massive, yet cozy, great room that features

a floor-to-ceiling cobblestone fireplace. Outdoors, the grandkids

can burn off some steam by skiing in the timber or ice skating on

the three-acre pond.

While gardening isn't a typical winter activity, plant lovers don't have to completely

cover up their green thumbs during the colder months.

Anne Armitage, owner of Moss shops in both Cedar Rapids and Iowa City, says certain

plants thrive indoors with the proper care (pages 16-21). Not only do plants such as

cacti, succulents and tropicals add a natural ambiance to your home or office, they can

also improve air quality by absorbing harmful toxins.

With the house closed up for the winter, you certainly don't want any of those toxins

making their way to your holiday parties.

Trends have changed over time for the annual holiday dinner from being a formal, sitdown

affair to a more casual get-together. These days, with everybody's busy schedules,

people want to feel more relaxed and enjoy their company without worrying about

spilling on the white lace tablecloth or chipping the china.

Emily Hughes, interior designer at The Mansion in Iowa City, shares a few tips for

setting a casual yet elegant table (pages 22-27). She suggests keeping the colors neutral

so you can change it up throughout the season. More rugged elements like a flannel

tablecloth can be blended with a little bling such as crystal napkin holders and gold or

silver flatware and accessories.

Of course, a table isn't complete without a great spread of food and drinks. Add a little

more cheer to your feast this year with recipes spiked with spirits. The folks at the Iowa

Alcoholic Beverages Divsion share some tips on a spirited — and safe — party (page 29).

We also asked area drink connoisseurs to share a few of their favorite holiday cocktails

(pages 30-31). These aren't your typical run-of-the-mill cups of coffee or hot chocolate.

When it's time to take the decorations down, put a little thought – and fun – into

the process. Shari Benning, owner of Neat Spaces in Iowa City, shares some tips for

organizing the lights and ornaments so you're not wasting time untangling them next

year (pages 12-15).

Although the holiday season always ends too soon with too much winter left over, we

hope we have given you a few ideas to make it brighter.

WINTER 2018

Chief Executive Officer

& Publisher

John F. Lohman

Vice President

Aspen N. Lohman

Chief Operating Officer

& Associate Publisher

Andrea Rhoades

Magazine & Special Projects Editor

Angela Holmes

Writers

Tricia Brown

Cindy Hadish

Angela Holmes

Photographer

Brian Draeger

Graphic Design Manager

Becky Lyons

Graphic Designer

Julia Druckmiller

Magazine Media Consultant

Judith Cobb

Chief Content Officer

Adam Moore

CBJ Media Consultant

Kelly Meyer

Events & Social Media Marketing Manager

Ashley Levitt

Event Media Consultant

Rhonda Roskos

Marketing & Distribution Manager

Jean Suckow

Angela Holmes

Editor

LURE

home. style. local.

ON THE COVER

Contents are registered to Corridor Media

Group. Reproductions or other use, in whole

or in part, of the contents of the publication

without permission is strictly prohibited.

2345 Landon Road, Ste. 100

North Liberty, IA 52317

319.665.NEWS

www.corridorbusiness.com

Gathering

Place

Holiday

Helper

Clear the Air

Mix it Up

Table Trends

This holiday season's table setting can be

a mixture of casual and elegant elements.

Interior designer Emily Hughes of The Mansion

in Iowa City shares tips starting on page 22.

2 LURE WINTER 2018
---
CONTENTS

4

Gathering Place

Lodge-style acreage brings Colorado

to the Midwest

12

Holiday Helper

Organize decorations now to save

time and stress later

4

16

Clear the Air

Indoor plants add ambiance and

improve air quality

22

Table Trends

Interior designer serves up tips on

setting your holiday table

28

Mix it Up

Liven up your season with holiday spirits

16

22

LURE WINTER 2018

3
---
Gathering

Lodge-style acreage brings

Colorado to the Midwest

BY ANGELA HOLMES PHOTOS BY BRIAN DRAEGER

4 LURE WINTER 2018
---
Place

Jim and Teresa Shymansky

relax on the front patio

of their lodge-style home

near Solon. Each room on

the main floor has access

to an outdoor patio.

Photo by Angela Holmes

LURE WINTER 2018

5
---
When Jim and Teresa

Shymansky built their dream

home in 2002, they had several

requirements. First, they wanted a

lodge-style acreage similar to those

in Colorado. And, above all, they

wanted a place where friends and

family would always feel welcome.

They then handed the reins over to their daughter,

Kimberlee Rocca, and her husband, Kevin, of

Rocca Custom Homes, to design and build their

5,300-square-foot country lodge on 43 acres just

outside of Solon.

"I had been to Colorado and loved every home I

saw," Teresa said. "I wasn't big into log homes, but

liked the lodge style with an open concept, high

ceilings, beams and a rustic, yet refined, feel."

Back then, online home décor sites like Pinterest

and Houzz weren't yet available to share ideas.

"The house design is completely custom," Kimberlee

said. "It didn't come out of a magazine or website."

But she had a pretty good idea what her parents

would like. >

A custom-designed

cobblestone fireplace is the

focal point of the great room,

which opens up into the

dining room and kitchen. Left,

metal-etched chandeliers

created by artist Stan Bennett

reflect on Teresa's Native

American ancestry.

6 LURE WINTER 2018
---
Available exclusively at Ferguson

BEST. DECISION. EVER.

Ferguson knows the toughest part of your job is helping your clients make the tough decisions. Let our

product experts make it easier by introducing you to our extensive collection of products from the most

sought after brands in a variety of styles designed to bring their vision — and your plan — to life.

Learn more at fergusonshowrooms.com

PLUMBING | LIGHTING | APPLIANCES | CABINETS | FIREPLACES

CEDAR RAPIDS

FERGUSONSHOWROOMS.COM

©2018 Ferguson Enterprises, Inc. 1018 992811
---
A custom-made cedar bed in the master

bedroom. Left, from top: A four-season sunroom

sits just off the kitchen. The lower level has a

recreational feel with several games. James'

main-floor office has access to a patio.

Custom-Built and Decorated

The Roccas specifically designed the home as a "grandparent retreat"

with multiple uses for its open spaces. For example, the great room is

24 feet by 40 feet and flanked by 24 by 24-foot wings on each side.

"We use every inch of it," Teresa said of the space, which has been

host to Thanksgiving dinners for 25 guests and Christmas pageants

with seating up to 40.

The focal point of the great room is the fireplace, custom-designed

by Kimberlee, who used the same stone pattern on the back side of

the fireplace on the home's exterior.

"Dad wanted to come in the door and see a palatial fireplace," she

said. "The stone goes all the way to the ceiling."

Six metal-etched chandeliers created by artist Stan Bennett not

only light up the room, but provide a unique dimension to the décor.

Each one is different and tells its own story, with several reflecting

Teresa's Native American heritage.

The home also reflects the couple's ancestry with three colors in the

roof – another Native American design style – and fletch wood siding

from Back Mountain Lumber in Pennsylvania where Jim grew up.

A variety of wood is also used throughout the interior of the home.

A cedar bed custom-made by Dick Schwab of Solon is in the

master bedroom where Teresa faux-painted the pine-planked walls.

A cedar closet in the lower level stores the Christmas pageant

costumes. Heartland Designs of Kalona made the custom cabinetry in

the kitchen and dining room. >

8 LURE WINTER 2018
---
A Home Well-Lived

Along with its stunning natural beauty, the

Shymansky's home is extremely functional.

"It was designed with utility in mind,"

Kimberlee said. "I always ask my clients, 'How

do you want to feel when you are in here?'"

The kitchen, which opens into a dining

area and the great room, has two ninefoot

long islands and two sinks, two ovens

and two dishwashers to accommodate the

family's frequent large gatherings.

Just off the kitchen is a four-season

sunroom with another custom-made stone

fireplace. Originally a screened-in porch, the

space was renovated earlier this year by the

Roccas. It opens to an outdoor deck, giving

access to the backyard, complete with a pond

and 10-foot fire pit.

Panoramic views of the woods and pond

are not only enjoyed in the sunroom, but from

every window on the main level, including the

kitchen, great room and master bedroom.

"We're big on natural light," Kimberlee said

of the strategic design.

All of the rooms, including the master

bedroom and Jim's office, have outside access

via a deck or balcony.

"I wanted a big front porch," Teresa said

of the area that has been the site of many

celebrations, including birthday parties.

Downstairs, a recreational room with a

pool table and a third fireplace is flanked by

Teresa's office and a music room, a television

room and several guest bedrooms, including

a bunkroom that serves as a slumber party

haven for the grandchildren. Another

bedroom has its own kitchenette and outdoor

access for guests needing privacy or an

"emotional reprieve." >

The kitchen, designed for entertaining,

has two nine-foot long islands, two sinks,

two ovens and two dishwashers. Right,

a sunroom that sits just off the kitchen is

warmed by fireplace and panoramic views

of the timber and pond.

LURE WINTER 2018

9
---
Not-So-Empty Nest

With four married adult children and 14

grandchildren ranging in age from 1-23, the

Shymanskys' nest is rarely empty.

"It's a party house for sure," Teresa said.

Along with family dinners, Christmas

gatherings and even their son's wedding, they

have hosted everything from marriage retreats

to the Iowa Children's Museum's pig roast and

hayrack ride fundraiser earlier this fall.

The vast outdoor space provides a natural

extension for entertaining.

A three-acre, 24-feet-deep manmade pond

stocked with bass, bluegills and catfish is ideal

for fishing, swimming, canoeing and ziplining.

In the winter, outdoor activities include

snowmobiling, ice skating on the pond,

hunting and sledding.

The pond is surrounded by nearly 500

trees Jim planted, including a Christmas tree

grove and apple, cherry and peach trees.

The lodge-style home and recreational

acreage provide a resort-like setting that

Kimberlee was dreaming of when she

designed it for her parents.

"When you come home, you should feel like

you're on vacation," she said. |

Above, a manmade pond

stocked with fish is ideal for

activities such as swimming,

canoeing and ice skating.

Right and below: Photos

submitted by the Shymansky

family show the home during

the holidays when family and

friends gather for a Christmas

pageant, dinner and

presents around the tree.

10 LURE WINTER 2018
---
Luxury Home Listing Expert

Jason Vestweber, CRS, GRI

Jason@LiveInOurTown.com

Office (319) 521-1234

LURE WINTER 2018

11
---
holiday

helper

Organize decorations now to save time and stress later

BY TRICIA BROWN

If you've ever been frustrated by the disarray of your holiday décor,

Shari Benning, owner of Neat Spaces, is here to help.

If you spend a bit of time getting organized while decorating

your home this holiday season — and packing up when it's all over

— she says you'll be able to more fully enjoy the special time of

year and the people you share it with come 2019.

"I've learned over the years that by getting everything a little

more organized and taking those extra steps, especially when

putting things away, it's such a pay-off the next year," Shari says.

"Then when I pull decorations out the next November or December,

I know exactly where it is and where it belongs in my home."

Here are Shari's top 12 tips for organizing holiday decorations: >

12 LURE WINTER 2018
---
A Magical

CHRISTMAS

YOUR STOP FOR GIFT-GIVING AND DECOR

Home decor, lighting rugs, furnishings, kitchenware, clothing − The Markket is your

one-stop-shop for completing the look and feel of your home. Visit our 6,500+

square-foot showroom, where we feature Forever Cabinets, our custom cabinetry line.

200 N LOCUST STREET, EDGEWOOD, IA 52042 │ 563-928-6432 │ WWW.THEMARKKET.COM

LURE WINTER 2018

13
---
1

Store all of your decorations in the

same place, if possible. Since you only access

them once a year, store them in an out-of-the-way

place (like the top shelf in the garage or basement).

Get creative in storing larger items, such as outdoor

decorations or a pre-lit tree. Look for ways to maximize

vertical space in a closet, basement or garage.

2

Keep all like items together. For

example, if you have a nativity set with multiple

pieces, keep all of them in the same box or

tub. Likewise, keep all ornaments together.

Shari Benning, owner of Neat Spaces in

Iowa City, provides tips for organizing

holiday decorations.

3Store your year-round decorations

in empty holiday boxes. If you're feeling

really ambitious, dust your year-round decorations

before they go in. When you take down your holiday

decorations, your dust-free, year-round decorations

will be ready for their usual places on the shelf.

4

Get an early start. Because many retail stores have carried Christmas

items since July, you can purchase supplies early that you know you will need

for decorating: strands of lights, temporary hooks, etc. Then, when it's game

time, you will be ready to go and won't have to fight the shopping crowds.

5

Label

everything. Every box,

every tub. Then, label inside the

boxes and tubs. For example, if you

use a lot of fake garland in different

parts of your house, wrap it in a bag,

place inside your tub, and label

what part of the house you used it

in. This will take the guess work out of

decorating the next year.

6

Invest in a few new

plastic tubs to replace the

beat-up boxes. While it's best

to use the storage options you have

(boxes, plastic tubs), sometimes it's

time to replace them. Using special

storage options, such as plastic

wreath holders or an ornament

divider box, are also good ideas.

14 LURE WINTER 2018
---
7

Keep a small supply of packing

paper or newspaper on hand. You

want to make sure all breakable decorations

are protected when packing them away —

whether it's your year-round décor going into

the empty holiday box or packing your holiday

items away until next year.

8

Keep only the items

you enjoy. If you

haven't set out a particular

decoration in five years, it

might be time for someone

else to love it.

9

Store

strands of lights at the top of

your box/tub. Do not put them under all of your

ornaments as they can get damaged or short out.

10

Designate a straggler tub. "Every year I scour my house to make

sure I collect every piece of holiday décor and store it away," Shari says. "And

every year I find a random hand towel or book or candle that I missed. I leave

the straggler tub in an easy-to-access place for a few months to collect the

leftovers and then move it to the closet with the rest of my decorations."

12

Make

tearing down fun.

Putting away decorations at the

end of the season often feels like a

dreadful task. Shari recommends

trying to look forward to the feeling

when everything is back in its usual

place, your table tops, shelves and

mantel are dust-free, the floors are

vacuumed and you are ready to

take on the new year with a fresh

start. Also, Shari and her husband

sometimes treat themselves

and their family once the task is

complete. Go out for dinner or see

a movie.

"I don't think I've met a person yet

who enjoys this task," Shari says.

"Schedule it in your week. Set aside

an evening or Saturday morning

and just do it. Getting the task

done feels so much better than the

weight of procrastinating."

11

Involve

family members. Make

decorating for the holidays a special

time. This can go beyond the obvious tree

decorating. Crank up the Christmas music

or pop in your favorite Christmas DVD.

FYI

WHAT: Neat Spaces is an

Iowa City-based professional

organizing business owned

by Shari Benning that offers

organizing services tailored to

each client's home or business.

CONTACT: (319) 210-3464 or

icneatspaces@gmail.com

WEBSITE: http://icneatspaces.

com or search Facebook for

Neat Spaces

LURE WINTER 2018

15
---
Clear the Air

Indoor plants add ambiance and improve air quality

STORY BY CINDY HADISH

PHOTOS BY BRIAN DRAEGER

Anne Armitage turned her lifelong passion

for plants into a career, which now includes

shops in both Cedar Rapids and Iowa City.

16 LURE WINTER 2018
---
Originally called Bark

& Bloom, Ms. Armitage

and her husband,

Alan Peterka, opened

their first shop at the

NewBo City Market,

when it launched in

2012 on Third Street

in Cedar Rapids.

They opened their second site, Moss,

two years ago at 112 E. Washington

St. in Iowa City, and have since

renamed their Cedar Rapids business

Moss to reflect a move from fresh-cut

bouquets into more earthy products

and plants.

"I've just always been someone

who's interested in plants," Anne

said, surrounded by a wide selection

of succulents, cacti, tropicals and

other houseplants at her site in the

NewBo City Market. >

Anne Armitage runs Moss in the NewBo

City Market with her husband, Alan

Peterka. They also opened a second

location in Iowa City that also features

earthy products and plants.

LURE WINTER 2018

17
---
The shops also sell decorative pots – a new wave of animalinspired

planters is the latest trend – and plant-related

accessories, along with cards, jewelry, candles and other gifts.

Anne avoids plants that are "finicky," even if they are en

vogue. She notes that Moss no longer carries ficus lyrata,

commonly known as fiddle-leaf fig, after realizing the tropical

plants might initially look beautiful, but may drop their leaves

and can be short-lived from the stress of long-distance travel.

Instead, she focuses on plants that thrive indoors, which

can add benefits to a home or business, whether through

added ambiance and beauty or even by making indoor air

healthier. Studies have shown that indoor plants can absorb

harmful toxins such as benzene and formaldehyde. >

TILLANDSIA

TILLANDSIA

Basic care tips for plants:

n Know their light needs. Sansevieria, or

mother-in-law's tongue, can do well in a

windowless office. Others, including some

tropical plants, need more light, such as an

east- or south-facing window.

n Know their water requirements. Some plants,

such as cacti, prefer dry conditions, while

others need more frequent watering. Overwatering

is one of the main houseplant killers.

MOSS-ALOCASIA 'POLLY' (AFRICAN MASK)

n Know their soil needs. Air plants can live

without soil, though they do need water.

Cacti and succulents prefer a course, welldrained

sandy mix, while other houseplants

do well with a soilless mix of peat moss,

vermiculite and perlite.

18 LURE WINTER 2018
---
Building a new home?

We can protect you from

rising interest rates!

Our special Lock and Build SM extended lock option can

help your dreams of home ownership come true while

providing the peace of mind that comes with locking

into an affordable rate. Also available is the option of

floating down to a better rate or flipping into a fixed rate

loan. Shoot an e-mail or text our way, or give us a call.

We'll be happy to provide the details!

Aim High. Bank Strong.

Melissa Myers

Mortgage Loan Originator

NMLS #729958

Cell (319) 458-0059

melissa.myers@cbibt.com

Washington/Kalona Area

Eric Olsen

Mortgage Loan Originator

NMLS #446561

Cell (319) 330-6689

eric.olsen@cbibt.com

Iowa City/Coralville Area

Art Floss

Market President

NMLS #543221

Cell (319) 631-3379

art.floss@cbibt.com

Iowa City/Coralville Area

Member FDIC

Get gorgeous with North America's #1 choice.

Brighten up a beautiful New Year with the best warranty out there.

Call now for your

free consultation at home!

Latour Cellular Shades

Panel Track Roller Shades

25% OFF

Selected Signature

Series Window

Coverings

319-393-4626

www.BudgetBlinds.com

Blinds • Shutters • Shades

Drapes • Home Automation

Sheer Window Shadings

Roman Shades

*Applies to selected window treatments and Enlightened Style products from Budget Blinds. Restrictions may apply, ask for details. Minimum purchase required. Valid for a limited time, not valid with any other

offers, discounts, or coupons. Offer good at initial time of estimate only. At participating franchises only. ©2018 Budget Blinds, LLC. All Rights Reserved. Budget Blinds is a trademark of Budget Blinds, LLC and

a Home Franchise Concepts Brand. Each franchise independently owned and operated.

LURE WINTER 2018

19
---
Good for the

air and pets

Two of the frequently asked

questions Anne Armitage

hears are "what houseplants

are safe around pets" and

"which are air-purifying

plants." Here are some of

the top choices:

AIR-PURIFYING PLANTS

1) Pothos

2) Sansevieria

3) Spider plant

4) Rubber plant

5) Dracaena

PET-SAFE PLANTS

1) Peperomia

2) Calathea (prayer plant)

3) Hoya

4) Spider plant

5) Haworthia

ASSORTED SUCCULENTS (ECHEVERIA AND GRAPTOVERIA

TILLANDSIA IONANTHA

Some of Anne's favorite plants are tropicals, including a

seven-foot-tall bird of paradise that she grows in a southfacing

window at home and a rubber plant that "feels

especially jungle-like."

"They really make an impact," she said of the large

tropical plants.

At this time of year, plants are often given as hostess gifts

for parties, but you won't find the ubiquitous poinsettia

at Moss. The typically red and green plants, with some in

newer pastels and even sprayed with glitter, are considered

a "novelty" by Anne, and "they're everywhere," she said. "I

don't want to deal in novelty things." >

CEPHALOCEREUS SENILIS (OLD MAN CACTUS)

20 LURE WINTER 2018
---
Other holiday favorites, however, such as Christmas

cactus, blooming amaryllis and paperwhites can be

found at Moss.

Mini succulents – plants that can thrive with little

water – are among the top sellers year-round.

"They're adorable and at a good price-point," Ms.

Armitage said, adding that air plants and tropicals also

are riding a wave of popularity. Air plants, which live

without soil, but do need water, come in a wide array of

shapes and colors, including new reds and fuchsia.

"All air plants are really, really hot right now," she said.

Armitage recommends aloe vera – a succulent with

medicinal purposes – and jade, sansevieria (commonly

known as mother-in-law's tongue) and peperomia for

those who don't consider themselves "green thumbs," as

they require little care.

Pothos, a popular ivy-like plant, is another easy-togrow

houseplant.

"They're tough as nails," Anne said. "And they're really,

really hard to kill." |

POTHOS 'SILVER SATIN'

Iowa's Source for

Professional Glass Service

Our Products

& Services

• Commercial

• Residential

• Glass Repair

• Custom Glass Fabrication

• Shower Doors

• Custom Mirrors

• Tabletops

• Backsplashes

• Cabinet Glass

• Colored Glass

Serving Iowa For

Over 50 Years!

PLEASE VISIT US ONLINE

www.alliedglassproducts.com

LURE WINTER 2018

21
---
TABLE

TRENDS

Story by Angela Holmes Photos by Brian Draeger

22 LURE WINTER 2018

Interior designer

serves up tips

on set ting your

holiday table
---
This warm table

setting designed by

Emily Hughes of The

Mansion incorporates

neutral colors set off

with a little bling.

LURE WINTER 2018

23
---
Sitting down for a meal with

family and friends is one of

the hallmarks of the holidays,

providing an opportunity to

enjoy each other's company

and indulge in the flavors

of the season. While many

families have their own tried-and-true

traditions when it comes to the table setting,

some prefer to try new styles and trends.

Emily Hughes, an interior designer at The

Mansion in Iowa City, shares some ideas on

dressing up your holiday table.

FAMILY FRIENDLY

Family members of all ages will be indulging in

the feast, so pick out the tablecloth wisely. Wool is

more naturally stain resistant and offers warmth

on a cold winter's day. Other family-friendly

cleanable fabrics include Crypton and Nanotex.

KEEP IT CASUAL

As schedules fill up and life becomes more chaotic, people

want a more relaxed setting to socialize rather than a

formal dinner. The trend these days for holiday table

settings is a little more casual, livable and approachable.

24 LURE WINTER 2018
---
WATER TOUCHES EVERYTHING

IN YOUR HOME.

WHOLE-HOME

Better water in

every room your

family uses water.

ON YOUR TERMS

Buy, rent or

finance­—whateverworks

for you.

FEWER CHORES

Enjoy spotless glasses,

softer laundry and less

scrubbing.

PEACE OF MIND

Reduces­contaminantsthat­may­be­inyour

water.

REPEAT ELEMENTS

Use a recurring theme throughout the table.

Among the food dishes, dot artificial produce

such as pears and apples, and even wooden

artichokes to add texture.

Culligan Water Conditioning

4855­Chandler­Ct,­Marion

(319) 377-6441

Vetter's Culligan Water

3414­Merchant­St,­Coralville­

319-209-4707

Interior Design | Furniture | Accessories

Area Rugs | Art | Lighting | Window Treatments

538 S. GILBERT ST. IOWA CITY | PH 319.338.2830 | M-F 9-5

WWW.THEMANSION.DESIGN

LURE WINTER 2018

25
---
A LITTLE BLING IS FINE

While you want to keep it casual, a little bling livens up the

spirit. Crystal napkin rings or gold and silver metallic trees of

varying heights can add merriment to the setting.

NEUTRAL COLORS

A more neutral base allows the table to be changed throughout

the season. While the rest of the room can showcase the more

traditional red and green, try a different color combination at the

table like blues and oranges or black and white with grays. Don't

worry about keeping all of the metals uniform – use a mix of

silver, gold and copper to add an interesting dimension.

26 LURE WINTER 2018
---
Let us make

your home,Your

Castle

Celebrating 20

Years in Business

MULTI TASKERS

Give some kitchen elements a chance to

multi-task. A cutting board can be used to

prepare the dinner or make its way to the

table as a charcuterie and cheese platter

or a base for a centerpiece. Large wooden

bowls can either display decorations or be

a great place to put the rolls. Vases can also

have a variety of uses, from showcasing

flowers or tree ornaments to masking as

candle holders.

240 CLASSIC CAR CT. SW CEDAR RAPIDS 319-866-9816

WWW.CANTEBURYKITCHENS.COM

Design. Build. Carpentry.

319.929.6768 & 319.929.6059

Come home to expert

craftsmanship, artistry, custom

finishes, and innovative

design. We are builders of

exceptional spaces, working

closely with our clients to

create homes they treasure.

Heartwood Build & Design

is a cutting edge design

and build, custom carpentry

and general contractor

located in Cedar Rapids.

heartwoodbuilddesign

heartwoodbd@gmail.com

LURE WINTER 2018

27
---
Mix it Up

Liven up your season with holiday spirits

Classic holiday flavors can be captured in liquid form as contemporary

distilleries have introduced seasonal flavors to their base spirits –

moonshine, vodka, rum and more – in cocktails or with food. Think apple

pie moonshine with vanilla ice cream, pumpkin-flavored spirit over ice, or

brandy egg nog over chocolate ice cream.

28 LURE WINTER 2018
---
Our friends at the Iowa Alcoholic Beverages

Division provide the following suggestions to

make your holiday party festive – and safe:

Bring on the Bubbly

Sparkling wines are a holiday must for many,

including Champagne, prosecco and American

sparkling wines. To mix a little innovation with

tradition, try Hpnotiq Sparkle, a sparkling liqueur

that infuses fruity Hpnotiq with Champagne-like

bubbles. Or make your own innovations: blend

a bottle of bubbly with a flavored syrup such as

gingerbread, cranberry or orange.

Toast the liquid traditions. Hot buttered rum,

wassail and egg nog are easy to prepare and even

easier to enjoy.

For simple hot buttered rum, combine equal

parts molasses, brown sugar and butter to six parts

spiced rum in a metal pot. Add 10 parts boiling

water and stir. Serve in individual mugs with a

cinnamon stick.

For a spirited wassail, combine 1 gallon of

apple cider, 2 cups orange juice, 1 cup lemon juice

and ½ cup sugar in a large pot on the stove or a

crock pot. Add 2 teaspoons cinnamon, 1 teaspoon

cloves, 1 teaspoon nutmeg and 3 whole star anise.

Simmer for several hours. When guests arrive, add

brandy to taste (1/2 to 3 cups) and serve.

Use spirits in food. If the warm, buttery smell

of a rum cake wafting through the house doesn't

already stir up memories, let 2018 usher in a new

tradition. Other spirited holiday staples include rum

balls, chocolate bourbon tart and brandy pecan pie.

The Jewish celebration of Hanukkah embraces

distinctive wintertime flavors. Families and friends

gather to celebrate the Festival of Lights with foods

such as potato latkes and sufganiyot, a deep-fried

pastry filled with jelly and topped with powered

sugar. Make a jelly doughnut cocktail using vodka,

which is sometimes made from potatoes, and a

fruit-flavored liqueur.

Be a Responsible Host

The best party loses its sparkle if guests get inebriated – and especially

if they drive under the influence. Take these basic precautions.

Serve light cocktails. A few easy principles can help you mix cocktails

that are high in flavor but low in alcohol.

1. Choose flavored alcohols: vodka touched with caramel, vanilla

and cherry; run kissed with banana, coconut and spices; or tequila

touches with lime, pineapple or chili.

2. Go for lower-alcohol choices, such as liqueur, schnapps, triple

sec, sweet vermouth and amaro, instead of higher-alcohol options like

tequila, rum or gin.

3. Focus on cocktails that highlight mixers like cola, ginger ale,

lemon-lime soda, juices and shrubs (flavored vinegar syrups).

4. Add flavorful rimmers. Try caramel syrup with a lightly sweet

martini, crushed ginger snaps with ginger beer and rum, or finely

chopped bacon with bourbon and water.

5. Use a rinse. By coating the inside of a glass with a full-proof spirit,

you add aromas and flavors with less alcohol, as in New Orleans' absintherinsed

Sazerac. Also known as a wash, a rinse uses an aromatic ingredient

like absinthe, smoky Scotch, mezcal or gin. Swirl the liquid slowly around

a chilled glass, discard the excess and immediately prepare the cocktail.

Or buy an inexpensive dime-store spray bottle to coat the inner glass.

Don't skimp on food, water and non-alcoholic beverages including

coffee, tea, soft drinks, juices and sparkling flavored water. Not only

will these options help your drinking guests to better manage their

consumption, you'll provide options to designated drivers and other

non-drinking friends. If you serve foods made with liquor, make sure

they've been cooked long enough to evaporate the alcohol.

n Hire a bartender who will mix the cocktails as well as control access

to the spirits and monitor guests' consumption.

n Provide entertainment so alcohol isn't the main focus of the festivities.

n Have a last call for cocktails, and then switch to non-alcoholic drink

options.

n Provide a key drop. Whisk the keys away early in the party and return

them when you determine the driver is adequately sober. Consider having

guest bedrooms, floor mattresses and blankets at the ready if needed.

n Keep a list of taxi services handy. >

Used with permission from the Fall/Winter 2018 issue of Iowa Spirits magazine.

LURE WINTER 2018

29
---
We asked several area experts to share

their favorite holiday cocktail recipes

Nik Conner

Mistress of Wine and Cheese

New Pioneer Co-op

Warming Winter Sparkler

MAKES SIX 14-OUNCE SERVINGS, OR EIGHT 10-OUNCE SERVINGS

Develin J. Matthews

General Manager,

John's Grocery, Iowa City

Christmas Rum Punch

6 oranges

Clove(s) however much you like, but we suggest

using one per orange. Put in a stick of cinnamon if

you want a little more spice.

1 bottle rum — Jamaican is standard, but we like Kirk

and Sweeny or Appleton Estate if you are a purist.

1/2 cup sugar

1/2 gallon Wilson's Orchard apple cider

Tea cup or coffee mug

Stud oranges with cloves and bake until they soften.

Place them in a punch bowl and add rum and sugar.

Set fire to the rum (Jamaican rum is recommended)

and in a few minutes begin slowly adding cider,

thus extinguishing the flames. Stir in cinnamon and

nutmeg, and keep the mixture hot.

Erma's Manhattan

2 ounces whiskey

1 ounce vermouth

2 dashes bitters

Cherry (garnish)

Cocktail glass

Stir over ice, strain into a chilled glass, garnish and

serve straight up.

1- 750 ml bottle Prosecco or Cava, chilled

1- 750 ml bottle Cedar Ridge Apple Cranberry Wine,

chilled

4- 12-ounce bottles Reed's Extra Ginger Brew,chilled

Pomegranate arils

3/4 cup Gingersnap crumbs (pulse 8-10 Mi-Del

Gingersnap cookies in a food processor until fine)

1 large orange, cut into sections

Pour Prosecco, wine and Ginger Brew into a large

pitcher, carefully stir to combine. Wet rims of glasses

(16-ounce Ball jars) with an orange slice, dip into

gingersnap crumbs. Drop an orange slice and a

tablespoon of pomegranate arils in the bottom of the

jars; slowly pour contents of pitcher into the glasses

and serve.

Salted Caramel Tawny Hot Chocolate

MAKES SIX 8-OUNCE SERVINGS

2-3 ounce bars Chocolove Salted Caramel 70%

Chocolate, broken into pieces

6 tablespoons Ghiradelli hot chocolate mix

5 cups milk

1 teaspoon vanilla extract

6 ounces Tawny Port

Whipped cream and Ghiradelli cocoa powder for

garnish

Pinch of salt (optional)

Warm the milk in a pan over low-medium heat and stir

in chocolate, hot chocolate mix, vanilla extract, until

chocolate is melted, and the mixture is hot and smooth.

Add the port to the pan, stir, then turn off heat. Add a

pinch of salt to balance sweetness, if desired.

Pour into six large mugs, and garnish with whipped

cream and cocoa powder.

30 LURE WINTER 2018
---
Lauren Chalupsky-Cannon

Owner, The Secret Cellar Wine &

Gift Boutique, Shueyville

Lauren's Hazelnut Berry Martini

Fill a shaker with ice:

Add 1 1/2 ounces Bailey's

Add 1/2 ounce berry vodka

Add 1/2 ounce Frangelico

Shake and strain into martini glass.

Optional garnish with cocoa powder.

Peppermint Patty Coffee

Start with a cup of hot coffee and add:

1 ounce peppermint Schnapps

1/2 ounce 360 Chocolate Vodka

Interior Design | Furniture | Gifts

331 Kirkwood Avenue | Iowa City

351-4653 | Hours: M-F 10-5

www.designsurroundings.com

Top with whipped cream and enjoy.

Champagne Bar

Prepare a tub full of iced Champagne,

Cava or Prosecco with glasses ready to

add a side choice splash of:

Chambord

Cranberry juice

Cointreau

Orange juice

Midori

HOME

LIFE

HEALTH

TrueNorth offers real solutions that are designed

with you in mind.

Don't leave your priorities to chance. At TrueNorth, we specialize in

developing plans that help you manage your personal risks to meet

your unique insurance needs.

truenorthcompanies.com

LURE WINTER 2018

31
---
Simple and beautiful holiday faves

Jim Beam Buttershots Egg Nog

Bourbon ond butterscotch embellish the richness of egg nog.

2 ounces Jim Beam Bonded Bourbon

½ ounce buttershots schnapps

Fresh ground nutmeg

½ ounce or more of prepared egg nog

Shake all ingredients with ice and strain into a chilled cocktail

glass. Garnish with a cinnamon stick.

Casa Hot Chocolate

1 ½ ounce Casamigos Reposado Tequila

½ ounce agave nectar

¼ ounce almond liqueur

Pinch of cinnamon

4 ounces hot chocolate

Toasted marshmallows

Graham cracker square

Red Dollar Holiday Punch

A focus on fruit juices lightens up this

cocktail from Absolut. Can be made

as a single serving (substitute ounces

for ports) or a punch.

1 ½ ports Absolut Vodka

2 ports cranberry juice

2 ports pomegranate juice

¼ ports lime juice

1 orange

Fill a highball glass with ice cubes.

Add all ingredients. Garnish with

orange slices.

Combine tequila, agave nectar, almond liqueur and cinnamon

into mug. Top with hot chocolate and stir. Garnish with two

toasted marshmallows and a graham cracker square.

Used with permission from the Fall/Winter 2018 issue of Iowa Spirits magazine.
---
Legendary Apple Pie

Moonshine Punch

From Iowa Legendary Rye Whiskey

½ gallon apple cider (all-natural is best)

½ gallon apple juice (not from

concentrate)

2 cups white granulated sugar

2½ cups brown sugar

2 teaspoons apple pie spice mix

1- 750-ml bottle Legendary Rye White

Whiskey

Combine all ingredients and bring

to a boil, stirring constantly until sugar

dissolves. Allow to cool and add the

whiskey. Serve hot, warm, cool or over

ice. (Can be halved or quartered.)

GRAVELY MOWERS

MOW THE DISTANCE

Get the Mower You've Always Wanted.

All Sizes. All Prices Ranges.

SHOWN:

GRAVELY

ProTurn 460

Maple Leaf Bourbon

From Iowa Distilling Co.

1 ½ ounces Iowa Distilling Co.

Straight Bourbon Whiskey

½ ounce lime juice

1 ounce maple syrup

Dash of orange bitters

Air-Ride Seat

Yamaha 33HP

TOP OF

THE LINE

www.gravely.com

Add whiskey, lime juice, maple syrup

and bitters to a shaker cup with ice.

Shake, then strain over fresh ice in a

cocktail glass.

City Tractor Co.

645 Penn Ct. North Liberty, IA

319-665-6500

LURE WINTER 2018

33
---
Corridor Business Journal

2345 Landon Road, Ste. 100

North Liberty, IA 52317

325 East Washington Street Iowa City, IA 52240 319-337-9637 www.iowacityarea.com

Affiliated with the National Association of Home Builders & Home Builders Association of Iowa

Iowa Va ley Habitat for Humanity

2017 GIVING GUIDE

egional Philanthropic Opportunities

"The best way to find

yourself is to lose yourself in

the service of others."

Mahatma Gandhi

PRESENTING SPONSOR

THE GREATER IOWA CITY AREA HOME BUILDERS ASSOCIATION I www.iowacityhomes.com

Student Built House

Groundbreaking

Tell Your Story

A Passion for Growth

Celebrating Our New Office

Vocational Training Council Chair, Aaron McGlynn with Cabinet Works, welcomes everyone to the groundbreaking.

A ceremonial groundbreaking was held Thursday, June

28, 2018 at 3:00 pm a the site of a future home of Reach

AUGUST 2018

Check the Calendar of Events

at www.iowacityhomes.com

for more information!

2018

Remodelers Council

Board Meeting

AUGUST 7TH NOON - 1:00 PM

IC HBA Conference Room

Women's Council Build Day

AUGUST 30TH

Iowa Va ley Habitat for Humanity

Katie Lammers Women Build

924 N Governor St, Iowa City

IC/CR Fall Mixer

AUGUST 30TH 6:00 - 8:00 PM

The Hotel Kirkwood

7725 Kirkwood Blvd SW

Cedar Rapids, IA 52404

Membership Committee

Membership Drive

SEPTEMBER 6TH NOON - 2:00 PM

IC HBA Conference Room

for Your Potential clients. The home is being built at

1881 Dickenson Lane in Iowa City by local students.

IC Area HBA Build Day

SEPTEMBER 7TH

lifestyle

munity

business

chnology

425 E. Oakdale Blvd. - Suite 101 - Coralville - 319.338.4100

www.WattsGroup.com

The groundbreaking is the beginning of a new project

put on by our Vocational Training Council. The

council organizes workforce development projects in

the greater Iowa City area. Students participating in

the program learn an important skill set, earn college

credit, and help give back to the community.

Partner with the Corridor Business Journal to design your own custom magazine.

North

Liberty

NORTH LIBERTY

We were excited to have Governor Kim Reynolds at

the groundbreaking as well as many other elected

officials and members of the IC Area HBA, Vocational

Training Council, the student and their parents.

The project includes 13 students of all different ages

building a home for a local non-profit organization

called Reach for Your Potential. RFYP supplies

housing for adults with disabilities. This project

also partners with Kirkwood Community College,

allowing each student working on the house to

receive two hours of construction credits. Members

of the Homebuilders Association are paying for the

college credits, and students will also complete their

10 hours of OSHA certification.

STUDENT BUILD PAGE 4

Dr. Mick Starcevich,

outgoing President of

Kirkwood Community

College, talks about

the valuable skills the

students are learning.

Governor Kim Reynolds

talks about everything

we are doing right

for students and

homeowners in Iowa City.

Katie Lammers Women Build

924 N Governor St, Iowa City

September Membership

Meeting

SEPTEMBER 13TH 6:00 - 8:00 PM

Hawkeye Ready Mix

3375 Klein Rd, Iowa City

Remodelers Social

SEPTEMBER 18TH 6:00 - 8:00 PM

Water Concepts

214 Southgate Ave, Iowa City

Board of Directors Meeting

SEPTEMBER 20TH NOON - 1:00 PM

IC HBA Conference Room

2012 - 2013 PROGRESS REPORT

GREATER IOWA CITY AREA HBA

Remodelers Council

Build Day

OCTOBER 25TH

Iowa Va ley Habitat for Humanity

Katie Lammers Women Build

924 N Governor St, Iowa City

MEMBERSHIP

on advancing

WOMEN'S

DIRECTORY

LEADERSHIP

PO BOX 3396 11 S. GILBERT ST. IOWA CITY, IA 52244-3396 PHONE: 319-351-5333 FAX: 319-358-2443 WWW.IOWACITYHOMES.COM

exhilaration.

inspiration.

momentum.

results.

CORALVILLE

Official 2015 Cedar Rapids Area Activities Guide

MARION

MT. VERNON

LINN COUNTY

HIAWATHA

IOWA CITY

Visit www.corridorbusiness.com/custom-publications

to view the most recently published magazines.

For more information contact Andrea Rhoades at

andrea@corridorbusiness.com or 319.665.6397 x304

34 LURE WINTER 2018

A City on the Rise
---
LURE WINTER 2018

35
---
36 LURE WINTER 2018