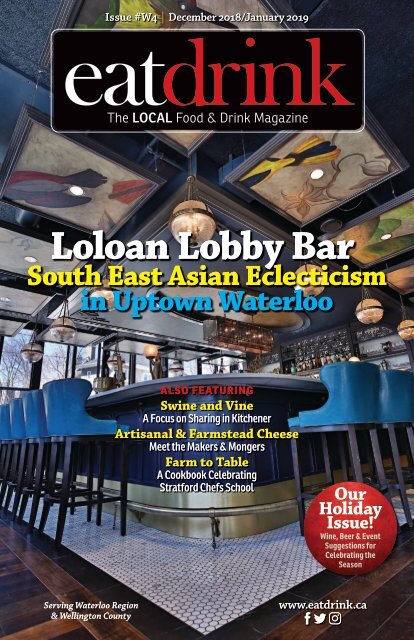 Eatdrink Waterloo & Wellington #4 December 2018/January 2019
The Local Food & Drink Magazine Serving Waterloo Region and Wellington County
The Local Food & Drink Magazine Serving Waterloo Region and Wellington County
SHOW MORE
SHOW LESS
Create successful ePaper yourself
Turn your PDF publications into a flip-book with our unique Google optimized e-Paper software.
Issue #W4 | December 2018/January 2019

eatdrink

The LOCAL Food & Drink Magazine

Loloan Lobby Bar

South East Asian Eclecticism

in Uptown Waterloo

ALSO FEATURING

Swine and Vine

A Focus on Sharing in Kitchener

Artisanal & Farmstead Cheese

Meet the Makers & Mongers

Farm to Table

A Cookbook Celebrating

Stratford Chefs School

Our

Holiday

Issue!

Wine, Beer & Event

Suggestions for

Celebrating the

Season

Serving Waterloo Region

& Wellington County

www.eatdrink.ca
---
2 |December 2018/January 2019

THE CHRISTMAS TRAIL

CAPTURES THE SPIRIT

OF GIVING AND

THE JOY OF CHECKING

OFF THAT LIST

eatdrink.ca |@eatdrinkmag

You'll discover unique and individual

gift ideas when you stroll our festive

streets. We've made it easy to kick

off your holiday shopping with

The Christmas Trail – six gifts

for just $30*. And because it's

Stratford, be on the lookout

for seven swans a swimming.

Purchase your pass

at Stratford Tourism,

47 Downie Street.

visitstratford.ca

*plus HST
---
eatdrink

The LOCAL Food & Drink Magazine

eatdrinkmagazine

@eatdrinkmag

eatdrinkmag

eatdrink.ca

Think Global. Read Local.

Publisher

Chris McDonell – chris@eatdrink.ca

Managing Editor Cecilia Buy – cbuy@eatdrink.ca

Food Editor Bryan Lavery – bryan@eatdrink.ca

Editorial Consultant Andrew Coppolino

Copy Editor Kym Wolfe

Social Media Editor Bryan Lavery – bryan@eatdrink.ca

Advertising Sales Chris McDonell – chris@eatdrink.ca

Bryan Lavery – bryan@eatdrink.ca

Stacey McDonald – stacey@eatdrink.ca

Terry-Lynn "TL" Sim – TL@eatdrink.ca

Finances

Ann Cormier – finance@eatdrink.ca

Graphics

Chris McDonell, Cecilia Buy

Writers

Darin Cook, Andrew Coppolino,

Gary Killops, Bryan Lavery,

George Macke, Nancy McSloy,

Tracy Turlin

Photographers Steve Grimes, Matthew Mannell

Telephone & Fax 519-434-8349

Mailing Address 525 Huron Street, London ON N5Y 4J6

Website

City Media

Cecilia Buy

Printing

Sportswood Printing

OUR COVER

The Loloan Lobby

Bar creates a striking

image with its light

fixtures and artworkpannelled

ceiling

leading the eye

upwards. What's on

the plate is equally

captivating. Read the

story by Bryan Lavery

on page 7.

Photo by Matthew

Mannell (www.pbase.com/ricked_wicky)

© 2018 Eatdrink Inc. and the writers.

All rights reserved.

Reproduction or duplication of any material published in

Eatdrink or on Eatdrink.ca is strictly prohibited without

the written permis sion of the Publisher. Eatdrink has a regular

printed circulation of 20,000 issues published six times annually.

The views or opinions expressed in the information, content and/

or advertisements published in Eatdrink or online are solely

those of the author(s) and do not necessarily represent those of

the Publisher. The Publisher welcomes submissions but accepts no

responsibility for unsolicited material.

Serving up

Great

partnerships

commercial | digital | wide format | design

Let us help with your next project...

519.866.5558 | ben@sportswood.on.ca

www.sportswood.on.ca
---
Contents

Issue #W4 | December 2018/January 2019

The Holiday Issue

Publisher's Notes

Eatdrink and Be Merry!

Food, Drink, Family & Friends

By CHRIS McDONELL

6

7

Beer

Cold, and Dark

Malty Darker Beers for Winter

By GEORGE MACKE

32

Restaurants

South East Asian Eclecticism

Loloan Lobby Bar in Uptown Waterloo

By BRYAN LAVERY

7

A Focus on Sharing

Swine and Vine, in Kitchener

By BANDREW COPPOLINO

12

Culinary Retail

Artisanal and Farmstead Cheese

Meet the Makers and Mongers

By BRYAN LAVERY

16

Road Trips

Take Your Time

Discovering the Pleasures of St. Marys

By NANCY McSLOY

22

12

32

36

Wine

The Gift of Wine

Suggestions for this Holiday Season

By GARY KILLOPS

36

Recipes

Farm to Table

Celebrating Stratford Chefs School

Review & Recipe Selections by TRACY TURLIN

39

Books

Provence Through the Years

My 25 Years in Provence

Review by DARIN COOK

43

The Lighter Side

Salvaging the Magic of Eggnog

By DARIN COOK

46

The BUZZ

Culinary Community Notes

26

16

We are pleased to be reviewing Farm to Table: Celebrating Stratford

Chefs School Alumni, Recipes & Perth County Producers

on its own merit, but doubly so because it is authored

by Eatdrink contributor and editorial advisor Andrew

Coppolino. Andrew, familiar to most readers through his

heavy media presence in local print, television, and online,

is an invaluable member of our team serving Waterloo

Region & Wellington County. We've excepted a couple of

recipes from the book (which would make an excellent gift!),

with photos from Stratford's pre-eminent photographer Terry

Manzo, a Stratford Chefs School alumna herself. Enjoy!

39

43
---
Eatdrink: The Local Food & Drink Magazine

December 2018/January 2019| 5

# dtklove

5 19.745.8478

twhsocial.com

1 King Street West, Kitchener
---
6 |December 2018/January 2019

Publisher's Notes

Eatdrink and Be Merry!

Food, Drink, Family & Friends

eatdrink.ca |@eatdrinkmag

By CHRIS McDONELL

We hope this issue will guide you

to the experts and resources

that will enrich your holiday

eating and drinking experiences.

While secondary to the people

that we gather with — work

colleagues, neighbours and

friends, and family — the food and drink that

we consume is a huge part of the festivities.

There are plenty of excellent suggestions here.

Traditions take centre stage for many of

us, enhancing our connections and renewing

precious memories. Fruitcake often takes a

beating in popular culture, yet for some, this

is a real treat. For me, my mother's "Hello

eatdrink.ca

Dolly" squares are my favourite holiday

indulgence, and I believe my generation's

execution of the recipe is true and delicious.

But I'm also game to try something new, being

old enough to remember the

introduction of delicacies

that are now firm traditions.

Perhaps that will happen again this year.

I'm amazed at the wealth of exciting

opportunities outlined in the following pages,

but trust we will also remember those less

fortunate. Spread some kindness. Peace,

CHRIS McDONELL founded Eatdrink in 2007.

Anna Mae's Christmas Baking!

Let us do your

baking for you!

17+ Homemade

Christmas Dainties

to choose from!

Family Owned & Operated

Mennonite Restaurant and Bakery

Homemade cooking & baking

made fresh daily from scratch

using the best ingredients!

• 20+ Pies! • Muffins • Squares

• Cookies • Sweet Buns • Cheesecakes

• Tarts • Cakes & Cupcakes • Donuts

• Bread & Dinner Rolls

www.annamaes.ca

519-595-4407

Cash or Debit

Accepted

Monday–Saturday 7am–8pm • Closed Sundays & Holidays

Please phone ahead to pre-order baking to avoid disappointment!

4060 Line 72, Millbank ON
---
Eatdrink: The Local Food & Drink Magazine

December 2018/January 2019| 7

Restaurants

South East Asian Eclecticism

Loloan Lobby Bar in Uptown Waterloo

By BRYAN LAVERY | Photos by MATTHEW MANNELL

The partners behind

Loloan Lobby Bar are

seasoned restaurateurs.

The primary partners

include Paul Boehmer as General

Manager and Head Chef, Renee

Lees, and Josh Koehler, former

partner at Jane Bond and owner

of the Starlight Social Club.

Leanne Amort, manager of

Bhima's Warung, and Jon Rennie,

Executive Chef at both Bhima's and

Loloan, are secondary partners.

Boehmer is a George Brown College

graduate. His well-rounded career

includes apprenticeships at Michelin-starred

hotels Langdon Hall (a Relais & Châteaux

property) and the iconic Three Small Rooms

at Windsor Arms, before opening Bhima's

Warung in 1994. Boehmer travelled all over

the Indonesian archipelago and beyond

on research trips to spend time with home

cooks and document recipes. He owned

and operated a fine dining restaurant in

Bali for five years, which became part of the

inspiration for Loloan.

When Boehmer opened Bhima's it was

an ambitious undertaking, embracing the

spectrum of regional cuisines, and a variety

of ingredients and cooking methods largely

The entrance

unfamiliar to most diners. Boehmer has made

a point of evangelizing cuisines that are less

well known while not necessarily sticking to a

strictly codified authenticity. That allows room

for creativity and high quality alternative

ingredients that are locally sourced.

The Loloan partners travelled to Southeast

Asia in January of 2017. It was an opportunity

to get to know each other better and to get

the lay of the land, culinarily speaking. They

sought out the lobby bars in luxury hotels

The interior

The bar
---
8 |December 2018/January 2019

From the top, Nem Trio finds its inspiration in Singapore,

Hanoi and Thailand. Centre is the Crested Partridge,

brined in ginger and roasted with lemongrass and citrus.

Below, the Laarb Kwai features fresh Ontario water

buffalo in a traditional Laotian "tartare" recipe.

where they could enjoy the amenities offered

to guests and visitors. This is how they came

up with the idea of modelling Loloan after a

lobby bar. Loloan translated means "where the

river meets the ocean," and the pool formed in

this convergence is called a loloan.

Loloan's décor is elegant, with the owners'

personal tastes expressed in the combination

of Art Deco opulence paired with colonial

Indonesian eclecticism. The three-sided

eatdrink.ca |@eatdrinkmag

marble bar seats 25, with comfortable chairs

upholstered with soft turquoise leather in the

lounge area. Art Deco statuettes of women

holding illuminated globes adorn the top

of the quartz bar every few feet like chic

hood ornaments. Stylish illuminated globe

pendants are suspended overhead, adding to

the bar's timeless ambience. There are heavy

revolving doors at the entrance, an intricate

Art Deco-inspired ceiling, tiled floors, a rotary

phone from the 1930s, and elephant-branded

accessories and matchboxes. There are three

two-tops in the front window, from which to

watch passersby, and a seasonal street-side

patio for alfresco eating and drinking called

the Tuk Tuk Teras. The dining room seats

around 40 in elegant booths and buttontufted

banquettes. A well-placed large window

above the banquettes gives patrons a birdseye

view into the kitchen. Upstairs above

the main dining room is the Map Room.

The luxurious room is reserved for private

parties and requires reservations and menu

consultation in advance.

Chef Jon Rennie, Boehmer's protégé and

former sous-chef at Bhima's, is now chef

at Loloan. His menus are upscale sensory

experiences, meticulously conceptualized

with sumptuously textured offerings that

are tangy, spicy, aromatic and herbal. Like

fresh sambal, the flavour building Indonesian

hot sauce, Loloan's cuisine packs heat and

flavour in equal parts. Menus are gastronomic

forays through the regional and cross-cultural

cuisines of Southeast Asia, with homage being

paid to Indonesia, India, Vietnam, Singapore

and Thailand. Appetizers are modelled on the

offerings of the small family-owned shacks

and stalls – warungs – that sell street food

alongside Indonesia's roadsides.

Traditional recipes often comprise up to a

dozen herb and spice ingredients to achieve

authenticity. Galangal and lemongrass may

be essential to building Indonesian flavours,

but the crushing and grinding of ingredients

such as chilli peppers and spices, and grinding

herbs and even fibrous ingredients like

turmeric, ginger and kaffir lime leaves with

mortar and pestle are essential. Indonesians

have developed distinctly original gastronomic

themes with lemongrass, galangal, tamarind,

turmeric ginger and cardamom.

Nem Trio finds its inspiration in Singapore,

Hanoi and Thailand and consists of seafood

salpicón (a combination of ingredients

mixed in sort of a salad) in rice paper with
---
Eatdrink: The Local Food & Drink Magazine

December 2018/January 2019| 9

Wes Klassen, a Certified Sommelier, is pleased to guide

patrons (above). The Butterfly Pea Flower Martini (right)

is made with vodka, lychee, butterfly pea flower, served

with salty-sweet pretzels on a wooden board.

lemongrass sambal; ca cuon thit is a catfish

and sausage fried roll with sour cherry nuoc

(dipping sauce); and ginger-cured arctic char is

served with somtom (green papaya salad) roll

and crab oil. Try the Kwai Massaman, curry

bison short rib, pickled mustard green, chili

jam, morning glory, mushroom salad and rice;

or Gaeng Dtaeng Pet with roasted Muscovy

duck, lychee curry, oyster omelette, smoky

gapi rice (shrimp paste fried rice) and prik

nam plaa (classic Thai chilli and fish sauce);

or Moo Parlow which is pork neck slowly

braised in star anise caramel liquor, steamed

rice noodle, crackling, pickled duck egg and

condiments. Asam Laska features a terrine

of seafood, pork meatballs, laksa noodle and

smoky tamarind broth with condiments that

make it crackle. The Laarb Kwai features

fresh Ontario water buffalo prepared

using a traditional Laotian 'tartare' recipe.

Hati Gamuck is a terrine of foie gras with

heartnuts, buntut (oxtail) gelée, tourtière

croûte and kumquat sambal. Chef recently

introduced crested partridge brined in ginger

and roasted with lemongrass and citrus,

served with fenugreek and yogurt sauce,

seasonal vegetables, chutney and belachaung

(a traditional condiment of fried onions, dried

shrimp, ginger and red chillies).

There are a la carte and weekly prix fixe and

late night street food menus and snacks at the

bar. The smartly-attired professional staff take

their well-crafted cocktails seriously and the

cocktail menu is influenced by flavours and

combinations from across the globe. Butterfly

Pea Flower Martini is vodka, lychee, butterfly

pea flower and salty-sweet pretzels served on

a wooden board. It finds its inspiration at the

Siam Kempinski Hotel in Bangkok. The cocktail

contains butterfly pea flower, which causes

the drink to change from blue to violet when

you add the sidecar of lychee. The Balineseinspired

Ingat (which literally means take care)

comprises gin, wild gunung honey, fresh kunyit

(turmeric), tamarind and pomelo.

There is an extensive bourbon and whisky

list. Another of Loloan's strengths is the

impeccable Wes Klassen, a certified sommelier

who you may know from Bhima's Warung,

Langdon Hall or the former Berlin. He

skillfully adds another dimension to your

fine dining enjoyment by guiding patrons

in pairings that balance the flavours and

idiosyncrasies of the cuisine.

Loloan Lobby Bar

14 Princess Street West, Waterloo

519-883-1010

sunday–wednesday 4 pm–12 midnight

thursday–saturday 4 pm–1 am

happy hour: 4 pm–5 pm for cocktails and

snacks at the bar only

dinner: served from 5 pm

Eatdrink Food Editor BRYAN LAVERY brings years of

experience in the restaurant and hospitality industry as

a chef, restaurateur, and partner in the Lavery Culinary

Group. Always on the lookout for the stories that Eatdrink

should be telling, he helps shape the magazine both under

his byline and behind the scenes.

Kitchener-based photographer MATTHEW MANNELL

shows online galleries at www.pbase.com/ricked_wicky.
---
10 |December 2018/January 2019

eatdrink.ca |@eatdrinkmag

Stratford is more than

great theatre

visitstratford.ca

um

A restaurant inspired by

local ingredients.

Run by workers.

Owned by workers.

Shared by the Community.

Open Thursday through Monday

Reservations Recommended

64 Wellington St, Stratford

redrabbitresto.com

519.305.6464

@redrabbitresto

global tapas with local ingredients

fresh cocktails

Perfect for dinner, drinks and long conversations

Thursday through Sunday from 5pm

85 Downie St, Stratford

(next to Avon Theatre)

519.305.8585

85Downie.com
---
Eatdrink: The Local Food & Drink Magazine

"A fun place to shop

for housewares and gifts!"

December 2018/January 2019| 11

Chalet Chic Serveware,

a cozy feel for your holiday table.

WATSON'S

CHELSEA BAZAAR

84 Ontario St. Stratford

watsonsofstratford.com

519-273-1790
---
12 |December 2018/January 2019

Restaurants

A Focus on Sharing

Swine and Vine, in Kitchener

eatdrink.ca |@eatdrinkmag

By ANDREW COPPOLINO

The concept for the cheekily

named Kitchener restaurant

Swine and Vine started with an

entrepreneurial couple's passion

for food and cooking — and a dinner with a

local restaurateur who directed the pair to

an existing venue for sale on Kijiji. Jill Sadler

had worked in the food and beverage industry

before attending Wilfrid Laurier University

to study criminology but was drawn back to

restaurants. "After five years, I missed the

industry. Doing something like Swine and

Vine was always in the back of my mind," she

says. "Mica and I had tried to buy another

location a few years ago, but there weren't

quite the right conditions. Then, when Ryan

(Murphy) and Carly (Blasutti) were selling

Swine and Vine owners Mica and Jill Sadler share a

passion for food and cooking.

Public, we talked and decided that this was the

time to make it happen. It did, and within five

days, away we went."

That was about a year ago, and Swine and

Vine has continued to grow at its Lancaster

Street location in Kitchener's Bridgeport

neighbourhood. It's a unique and pleasantly

comfortable 30-seat restaurant, within the

extremely popular sharing plates-charcuterie

board juggernaut that has become firmly

embedded in the food and beverage industry.

The approach derived from a perceived gap

in the market that the pair had identified.

"We've really enjoyed great food centres

such as Toronto and Montreal and noticed

that there were always restaurants focused

on charcuterie," says Jill, who is the face of

the business. "It was just something that we

were surprised Kitchener and Waterloo didn't

really have." Mica Sadler, a veteran of the tech

industry, works in a contributing capacity to

the success and evolution of the restaurant. "I

fill a role that helps the team here out as much

The menu at Swine and Vine is oriented toward small

plate and sharing items, including charcuterie.
---
Eatdrink: The Local Food & Drink Magazine

December 2018/January 2019| 13

as I can," he says. "I'm learning as we go as well."

In terms of renovations to the space that was the very

popular Public Kitchen and Bar, now located a few blocks

south, the Swine and Vine bar with a half-dozen or so

stools was re-fashioned and everything was brought up

to code as a change in ownership usually warrants. "From

the glass washer to sinks to glycol refrigeration unit, a

lot had to be upgraded. And I'm from tech, so we had

to have POS technology in the background," says Mica.

The kitchen was overhauled to include a 10-burner stove

and hood, and fire suppression systems were upgraded.

"We invested to make this a long-lasting business," he

adds. Outside the front door, a 12-seat patio built this

past spring required a zone variance. Resolving that issue

allowed additional summer seating.

The menu, while not completely out of the realm of

what Public was doing in the space, is oriented toward

the small plate and sharing approach to food that

customers were previously used to, according to Jill.

That process of visiting the restaurant, sharing several

plates and sitting for the evening is what the owners

like to do — it made sense to them to continue to offer

that to their clients. When it comes to restaurants, you

Hand-crafted cocktails (top photo) are part

of Jill Salder's purview (above). The bar

(below) was refashioned as part of recent

renovations and upgrades.
---
14 |December 2018/January 2019

eatdrink.ca |@eatdrinkmag

The Swine and Vine menu includes an inspired "build your own

board" option, with various meats, cheeses and condiments.

have to know what you want in a concept and

believe in it in order to convince someone else

to buy into it. "It's less about the appetizer,

entrée and dessert approach,"she says.

Her appreciation for the art and craft of

charcuterie was deepened when she was part

of the front-of-house staff at Waterloo's Red

House, where chef-owner Dan McCowan and

then-chef Spencer Vella had been developing

their program. "The preparation of charcuterie

comes with a steep learning curve and

involves a considerable investment of time,"

Mica says. "But we haven't deviated from what

our goal was in the beginning," adds Jill.

The focus at Swine and Vine is sharing

— the kitchen prepares a classic board with

nduja and a seafood board, among others.

The "Imposter" vegetarian board is popular.

Menus are on large chalkboards on the wall,

including the most popular "build

your own board" where you select

the meats, cheeses and condiments.

Alternatively, you can create a small

tasting menu drawing from the

dozen or so sharing items. Features

at the restaurant include a fondue

special on Wednesdays, and a

pint of Ontario beer and a pound

of mussels on Thursdays. At the

week's end, the Saturday brunch

menu includes eggs Benedict with

brisket, drunken French toast, and

a Caprese grilled cheese ($12-$16), to

name a few. Elsewhere on the menu,

you might notice unique "pulled"

jackfruit spring rolls, a duck dish,

sweetbreads and smoked Cheddar

and stout dip. Boards like the "OG"

can easily feed two, especially if

you share a couple of appetizers:

it's home-made duck prosciutto,

bresaola, terrine, pâté, three or four

cheeses and bread, warmed olives

and home-made crunchy mustard.

Local sommelier and wine consultant

Rebecca Pettigrew has created a

list that blends old and new world

wines, including several Spanish and

Ontario selections that match the

often meaty and salty items that

characterize a charcuterie board.

Jill Sadler takes care of the

cocktail program. "Those, of course,

are currently hugely popular and

ours are hand-crafted with a menu

that changes regularly. It plays

on Old-Fashioneds and Caesars, and we

just try to elevate them and do some cool

interpretations," she says.

A year or so now into operations, many

of the customers are repeat Swine and Vine

visitors, and word-of-mouth — and a strong

social media presence — are starting to

expand that circle of guests. "A customer is a

first-time visitor," says Mica. "We don't know

them. They don't know us, and they don't

know our menu. But a client is that person

coming back again and again, and they bring

other people. We see that time and again."

With any glitches and wobbles smoothed out

in the restaurant's relatively short life, Jill

says they are now increasingly focused on the

kitchen and getting as much done as possible

in-house. That work lies with a tandem

of co-sous chefs with different expertise.
---
Eatdrink: The Local Food & Drink Magazine

December 2018/January 2019| 15

adds, intimating that there is a future

possibility next door. It's evidence

perhaps of both Sadlers thinking in

terms of the entire organization as

a whole and not just the atomistic

elements of front-of-house, back-ofhouse,

menus, revenue, expenses,

and events. "We both have a vision

that is looking to new avenues

ahead," Mica says.

Gabby Crawford and Nathan Tripp, both

having cooked at several other restaurants in

Waterloo Region, split duties that include a

growing catering business and collaborative

projects. "We have just started a venture with

Kitchener brewer Together We're Bitter. We

use their beer and make beer pepperettes and

jerky. We're packaging that, and they're selling

it at the brewery," says Jill.

Another project is a much bigger beast

for Swine and Vine to wrangle. "We'd like to

expand our footprint in this location," she

Swine and Vine

Unit B-295 Lancaster St. W., Kitchener

226-476-4418

www.swineandvine.ca

tuesday–thursday: 4 pm–11 pm

friday: 4 pm–12 am

saturday: 11 am–12 am

sunday & monday: closed

ANDREW COPPOLINO is a Kitchener-based writer

and broadcaster. He is publisher of Waterloo Region

Eats (waterlooregioneats.com). Andrew also serves as a

regional Eatdrink Editorial Consultant.

REIDCHOCOLATES.COM

42 Ainslie Street North, Cambridge

519 621 6988 • 1 800 387 7731

REIDCHOCOLATES.COM

39 Elgin Street South, Cambridge

226 616 0720

55 Wyndham Street North, Guelph

519 265 8698
---
16 |December 2018/January 2019

eatdrink.ca |@eatdrinkmag

Culinary Retail

Artisanal and Farmstead Cheese

Meet the Makers and Mongers

By BRYAN LAVERY

Fifteen years ago Ruth Klahsen was the

first artisan cheesemaker to receive

recognition from both chefs and food

critics in our part of the province. She

touched off a revolution in the small batch,

handcrafted cheese world and encouraged

countless other artisans to follow in her

footsteps. Her enterprise began in the heart

of Amish country with the use of Mennonite

cow's milk and quickly became well known to

chefs and culinary enthusiasts. Klahsen has

often stated that "food needs to be valued in a

different way and consumers need to step up

and be willing to pay for quality. We need to

find a way to make artisanal food production

viable." Monforte Dairy is Ontario's oldest

operating artisanal cheese company and is

a well-known presence at farmers' markets,

featuring a selection of cheese made from

goat, sheep, cow and water buffalo milk.

Amongst all the cheesemongers in the

Perth, Oxford and Wellington County region,

Cheesemaker Ruth Klahsen of Monforte Dairy

Photo by Nigel Dickson

there are two whose shops have become

premier destinations for cheese lovers and

enthusiasts. Milky Whey Fine Cheese Shoppe

in Stratford, owned by master cheese maker

Liz Payne, has an extensive selection of

Canadian and international artisanal cheeses.

The Whey Back Tasting Room is an intimate,

cozy and unique space, available for private

functions and for private cheese tastings and

pairing events for 12 to 20 people. There is a

choice of crackers, chutneys and other cheese

accompaniments on offer.

Cheesemongers Andrew and Kim Wheeler

want TOMME "to be the cheese shop a foodcentric

town like Guelph deserves." Downtown

Guelph didn't have a cheesemonger until

recently. Located off Market Square at 34

Carden Street, TOMME offers an impressive

range of artisanal Canadian and international

cheeses, including hard to find specialty items

like Murcia Al Vino. Nicknamed Drunken

Goat, this Spanish goat's milk cheese is supple

and rich in taste. Are you a fan of sheep's milk

TOMME cheesemongers Kim and Andrew Wheeler
---
Eatdrink: The Local Food & Drink Magazine

cheese? Try the incredible raw-milk pecorino

from Pienza in Italy, wrapped in walnut leaves

and aged for months in earthenware crocks.

The result is crumbly, deliciously sharp, and

pleasantly herbal.

The friendly owners are quick with

intelligent advice. They hand-cut each order

to ensure premium flavour and quality. The

Wheelers also offer a grilled cheese panini

at lunchtime, cheese boards, local beer, craft

cider and wine. There is a selection of olives,

salami, spreads and crackers available, as well

as cheese accessories.

Artisanal cheese producers have

evolved as rules for milk management

relaxed to allow on-farm cheese making

in limited amounts. True artisanal

cheese cannot be mass-produced and

is limited in quantity with specific

characteristics deemed to be specialty

in nature. Crafted from the milk collected

on the same farm where the

cheese is produced, farmstead cheese

is also sometimes referred to as farmhouse

cheese. Farmstead cheesemakers

only use milk from animals they

raise, unlike artisan cheese which may

include milk purchased and transported

from off-farm sources.

Stonetown Artisan Cheese, outside

St Marys, produces 14 Swiss

mountain-style cheeses, handcrafted

by master cheesemaker

Ramon Eberle. The facility also

produces two different types of goat

cheeses: Capri Ella is a Tilsit-style

cheese and Grey is a Gruyere. Using

unpasteurized milk from farmers

Hans and Jolanda Weber's herd of

Holsteins, Eberle uses raw milk so

that the cheese ripens as naturally as

possible while the flavours improve

with maturation. Award-winning

cheese, curds and other local products

are available to buy on-site at

the farm store Tuesday to Saturday.

Guided tours allow you to see the

process of cheese making. 5021 Perth

County Line 8 (Kirkton Road), St.

Marys, stonetowncheese.com

December 2018/January 2019| 17

Meet the Cheesemakers on the

Oxford County Cheese Trail

The Oxford County Cheese Trail is a curated

list of roughly 30 stops featuring cheese,

dairy and related offerings for visitors to

experience. Some of the newer stops are

Habitual Chocolate in Woodstock, which

makes hot chocolate, lattes and ice cream

from scratch using local dairy, and Wild

Comfort, which has opened just down the

road from Gunn's Hill Artisan Cheese, making

products using local goat's milk. Two Cheese

Cheese makers you might meet on the Oxford

County Cheese Trail: Spencer Haskett of Bright

Cheese and Butter (top), Shep Ysselstein of

Gunn's Hill Artisan Cheese (centre), and Ellis

Morris of Quality Sheep Milk.
---
18 |December 2018/January 2019

Trail partners offering new experiences

are Cindy Walker's Chocolatea, offering a

Truffle Camp, and Ottercreek Woodworks

with tree-to-table cheese and charcuterie

boards. Ottercreek Woodworks specializes

in beautiful, handcrafted boards using

sustainably sourced local wood. Each piece

of wood is handpicked for its organic shape

and unique character features so you're sure

to find a piece you'll love for years to come.

Pieces are also available at Gunn's Hill in

Woodstock and Bright's Cheese and Butter.

Mountainoak Cheese, located near New

Hamburg, is located out of Oxford County

but is closely tied to the nearby community

of Plattsville. Adam van Bergeijk and his wife

Hannie took over the family dairy farm in

Holland from Adam's parents in 1976. From

the beginning, they had an interest in making

artisan cheese on the farm. After studying

cheesemaking in Gouda, Holland and running

their own dairy farm outside New Hamburg,

the van Bergeijks founded Mountainoak

Cheese in 1996. The state-of-the-art facility

eatdrink.ca |@eatdrinkmag

uses milk from their herd. They offer 18

flavours of cheese including Wild Nettle,

Black Truffle Gouda and other award-winning

varieties. 3165 Huron Road, New Hamburg,

mountainoakcheese.com

Another award-winner on the Trail is

Shep and Colleen Ysselstein's Gunn's Hill

Artisan Cheese. Since the 1800s Gunn's Hill,

near Woodstock, has been a dairy farm. The

Yesselstein family purchased it in the 1960's.

Raised on his family dairy farm, Shep honed

his cheese making skills with apprenticeships

in Switzerland, United States, and British

Columbia. Gunn's Hill has been producing

Swiss-style cheeses since 2011 and has

established a reputation for excellence for

its 15 offerings. Be sure to try the awardwinning

aged Handeck and the flagship

Five Brothers cheese, which is similar to a

Swiss Appenzeller. 445172 Gunn's Hill Road,

Woodstock, gunnshillcheese.ca

In 1874 local farmers created Bright Cheese

and Butter to put their surplus milk to use,

with an emphasis on producing cheddar. By

the twentieth century Bright Cheese had

expanded, as had the market for Canadian

cheddar, which was Canada's second largest

export. This led to the establishment of 1,242

cheddar factories in Ontario. Today Bright

Adam van Bergerijk (above) and his wife Hannie of

Mountainoak Cheese are among the regions numerous

award-winning cheese makers. Amarjit Singh (below)

and his family produce all-natural cheeses, including

Mexican and Latin American crema and queso.
---
Eatdrink: The Local Food & Drink Magazine

December 2018/January 2019| 19

Celebrate the Culture of Cheese

www.OxfordCountyCheeseTrail.ca

1-866-801-7368 x3355

tourism@oxfordcounty.ca

@TourismOxford
---
20 |December 2018/January 2019

continues to craft award-winning cheeses at

the 1800s factory and is known for all-natural,

naturally-aged cheese made with 100%

local milk, in the old-fashioned way. Aged

cheddars, Asiago, colby, Monterey Jack, feta,

havarti and specialty flavours are available

in the shop. 816503 County Rd 22, Bright,

brightcheeseandbutter.com

Local Dairy Products owner Amarjit Singh,

his wife Gurinder Kaur, and son Sajeev Singh

produce high quality artisanal, local and

all-natural dairy products out of a historic

cheese factory in Ingersoll. You'll find unique

products inspired by the international world

of cheese including Mennonite-inspired

cheese, and traditional Mexican and Latin

American crema and queso. There are over

20 vegetarian products as well as authentic

Indian dairy products, yogurt, (also buffalo

milk) cultured butter, ghee, Koch Kase, dulce

de leche, and cajeta caramel, produced under

the Asli, La Vaquita and Perth County brands.

139 Victoria St, Ingersoll, localdairy.ca

Quality Sheep Milk Ltd.'s goats and sheep

are fed dry hay with a non-GMO product grain

diet and are milked twice a day to produce

eatdrink.ca |@eatdrinkmag

cheese on the 128-acre farm, operated by Ellis,

Hazel and Sion Morris. Half the milk produced

is used to craft a variety of cheese and create

Greek-style yogurt. While on the Oxford

County Cheese Trail, stop by the farm to pick

up the trail's only feta (both smoked and

Greek-style) or the Italian-inspired pecorino

Romano or pecorino Cortenese. They also

make Gouda, cheddar and manchego cheese.

Around the Region

A small on-farm family business close to

Lake Huron, Blyth Farm Cheese is proficient

in the whole procedure of crafting great

varieties of goat milk cheese. Everything

from the farming and the cheese making to

the packaging is completed on the farm. The

Van Dorps have been successful farmers and

cheesemakers for generations. The business is

steeped in family roots and traditions while

innovating and creating fresh and delicious

variations of goat milk flavours such as

smoked, jalapeno, nettle and "Blyth's Drunken

Goat," a Gouda-style soaked in merlot. 82521

Allboro Line, Blyth, blythfarmcheese.ca

Operations at C'estbon Cheese began as

Your Local, Fresh and Wholesome Gourmet Market.

We are passionate about Food and Community!
---
Eatdrink: The Local Food & Drink Magazine

a retirement project for George Taylor 18

years ago when he swapped a flock of sheep

for a herd of Toggenburg and La Mancha

goats. Taylor began crafting small-batch,

on-farm cheese using only the milk from his

own herd to create his proprietary C'estbon

chèvre. In time Taylor relocated his goats to

a neighbouring farm. The goat milk is now

delivered from a local producer, Hewitt's

Dairy. Not a single item leaves C'estbon

without Taylor's thumbprint on it. 4675 Line

3, St Marys, cestboncheese.com

Oak Grove Cheese Factory, located in New

Hamburg, is independently owned and has

been a family operation since 1879. The factory

maintains the quality of its cheese products by

continuing to produce cheese in the same way

as when the Langenegger family first started,

over 80 years ago. Today there are fourth and

fifth generations of the family working in

the business. This is where you go to buy the

creamy, washed-rind, strong-smelling cow's

milk, Limburger. 29 Bleams Road East, New

Hamburg, oakgrovecheese.ca

As founding members of Ewenity Dairy

Co-op, cheesemaker Elisabeth Bzikot and

husband Eric of Best Baa Dairy in Fergus buy

raw sheep milk from the small co-operative to

make quality gourmet sheep milk products like

yogurt and ice cream, and a fine collection of

firm and soft sheep cheeses such as Mouton

Rouge, a 60-day-aged raw milk cheese, and

Ramembert, a creamy camembert style cheese.

820 Gartshore Road, Fergus, bestbaa.com

Driving the back roads through

Southwestern Ontario you can sample

award-winning local and artisanal cheeses,

and savour scratch baking and other locally

produced products. Explore the Oxford

County Cheese Trail, visit a cheese factory

or an on-farm cheese producer, and be sure

to check out the museums devoted to cheese

history and the region's dairy heritage.

Eatdrink Food Editor BRYAN LAVERY brings years of

experience in the restaurant and hospitality industry as

a chef, restaurateur, and partner in the Lavery Culinary

Group. Always on the lookout for the stories that Eatdrink

should be telling, he helps shape the magazine both under

his byline and behind the scenes.

Photography credit: Dudek Photography

Farm to table award winning

hand crafted alpine style cheese

Tuesday to Friday 9am–5pm

Saturday 9am–4pm

Stonetown Artisan Cheese

5021 Perth Line 8

St. Marys ON

Gift Baskets &

Gift Boxes

Cheese Trays

Fondue & Raclette

Fresh Curds

519-229-6856

info@stonetowncheese.com

www.stonetowncheese.com

Award Winning

Artisan Cheese

Gift Baskets to meet

any need and price range

Come Experience Our World!

Visit our cheese shop and sample our unique

handmade cheeses.

See and learn about how cheese is made.

Enjoy the scenery on our 3-generation family farm.

Group tours are available by reservation.

Monday–Saturday 9-5

Christmas Eve 9–2

Closed Christmas

& Boxing Day

445172 Gunn's Hill Rd, Woodstock, ON

519-424-4024

www.gunnshillcheese.ca
---
22 |December 2018/January 2019

Sponsored By

eatdrink.ca |@eatdrinkmag

Road Trips

Take Your Time

Discovering the Pleasures of a Small Town: St. Marys

By NANCY McSLOY

While attending an event in St.

Marys, Ontario, I decided that

this beautiful town merited

a longer and more leisurely

visit. On a bright, sunny Saturday morning

in October we drove northeast from London,

with a list of places to visit. The short drive

was enhanced by the masses of spectacular

colour as the leaves were turning to their

autumn colours of orange, crimson and gold.

Our first stop was the farmers' market,

which is open from May until October. At

Breadtopia, which has a wide selection of

breads and pastries, we bought freshly baked

ginger snaps, red onion and aged cheddar

focaccia, and loaves of Stonetown and Thames

Grain bread. We left the market laden as

well with fresh-from-the-farm vegetables,

delectable pastries from an Amish family's

booth, and some Middle Eastern treats

from The Syrian Baker, known for baklava,

sambosaks (samosas), falafels and hummus.

Next stop was McCully's Hill Farm Market.

At the store entrance we were met by the

aroma of freshly-baked apple and pumpkin

pies. The huge variety of baked goods,

maple syrup, fresh local meat and cheeses,

homemade pickles, jams and preserves made

for another shopping spree. After a tour of

the barn, where we met the farm animals, we

Discover the culinary and cultural diversity of the

farmers' market in St. Marys
---
Eatdrink: The Local Food & Drink Magazine

December 2018/January 2019| 23

EXPRESSLY CRAFTED

FOR LIFE ON THE MOVE.

INNOVATIVE. AGILE. LUXURIOUS. CONNECTED.

THE FIRST AND ONLY SUBCOMPACT HYBRID SUV.

THE NEW-YEAR BRINGS

THE ALL-NEW

2019 LEXUS UXh

ALL-IN PRICE

$41,902.56

3131 KING STREET EAST, KITCHENER

519 748-9668 | HEFFNERLEXUS.CA

2019 Lexus UX all in price from $41,902.56 includes Freight/PDI $2075.00, evironmental

handling fee $17.56, air tax $100, OMVIC $10. Other taxes, licensing fees extra.
---
24 |December 2018/January 2019

eatdrink.ca |@eatdrinkmag

were treated to a sampling of Fiege's Gourmet

Dressings and Sauces, which led to yet more

shopping.

One can't visit St. Marys without checking out

the local cheeses. Hans and Jolanda Weber, with

Swiss cheese maker Ramon Eberle, have brought

the art of cheese making to St. Marys by opening

Stonetown Artisan Cheese. Our guide gave us an

interesting and informative tour of the facility,

and we enjoyed samples of some of Stonetown's

14 different curds and cheeses. It is no surprise

that Stonetown is a two-time award winner at

the Royal Agricultural Winter Fair.

Agritourism is alive and well in St. Marys.

Transvaal Farm Guest House is a two-storey

house with a living room and fully equipped

kitchen on the main floor and two bedrooms

upstairs. The hosts, Cindy Taylor and Scott

McLauchlan, make their guests feel at home.

Eggs are there for the gathering, visits to the

barn are encouraged, and the vegetable garden

is there, in season, for guests. Transvaal Farm

is also home to another artisanal cheese maker,

C'est Bon Cheese Ltd. Cindy also operates

Kitchen Smidgen, a small bakery on Water Street

in St. Marys. There's a patio where you can enjoy

your treats in nice weather, overlooking the

Thames.

Troyer's Spices on Queen St. is filled with over

100 quality herbs and spices from around the

world and is a utopia for chefs, bakers and home

cooks. Over 55 herb and spice combinations are

handcrafted in the store, and are displayed in

large glass jars. You can bring your own spice

containers or purchase items pre-packaged.

Other quality goods available include Aunt

Milly's Soup Mixes, oils, vinegars, vanilla

products, local honey, organic maple syrup, and

Urban Hippie Granola.

Of course we had to check out The Chocolate

Factory to try the homemade truffles. It was a challenge

to choose between truffles, smoothies, chocolates and the

specialty Halloween creations.

It was time for a coffee break, so a stop at Stonetown

Coffee was in order. The coffee was great and the

homemade pastries and cakes looked mouth-watering (but

I was full from all the sampling earlier). The atmosphere

was friendly and relaxed with people visiting amongst

themselves while others relaxed in armchairs by the

windows. Stonetown Coffee serves breakfast and lunch,

and gluten-free items.

After our check-in at the award-winning Westover Inn

From meeting some of the animals at Transvaal Farm Guest house, to

exploring the shops and cafés in town, you'll find plenty to do while

discovering the small town of St. Marys.
---
Eatdrink: The Local Food & Drink Magazine

The elegant dining room at Westover Inn

our hostess Kaitlynn gave us a tour of the

historic property. Built in 1867 by the Hutton

Brothers, The Manor sits on 19 landscaped

acres, along with two other buildings that also

provide accommodations. The property was

bought by the Roman Catholic Church in the

1930's and was operated as a seminary. The

property was sold again 1985, and after two

years of renovations the Westover Inn began

receiving guests. The walls are lined with

hospitality awards and it is apparently one of

Christopher Plummer's favorite inns.

For dinner we headed off to the Wildstone

Bar and Grill at Stone Willow Inn. The

atmosphere was inviting and comfortable,

and the service friendly and professional. The

chicken breast with lemon grass, mango and

strawberry reduction, served with rice and

vegetables and topped with toasted coconut,

was cooked to flavourful perfection. The

evening special was prime rib, cooked to order.

We topped off the evening with specialty

coffees and shared a piece of cheesecake with

fresh fruit. Wildstone Bar and Grill offers a

selection of regional wines and craft beers.

Breakfast at the Westover was an early

morning pleasure. My order of smoked

salmon on a house-made mustard seed bagel

with cream cheese and arugula was served

with a fresh fruit salad. The perfect ending to

a perfect weekend.

For years our vacations were long trips;

I wanted to see the world. Now I am loving

the short weekend jaunts and day trips. It is

amazing what you can find close to home.

NANCY LOUCKS-McSLOY is a freelance writer who

loves cooking and entertaining. Her work has appeared

in Chicken Soup for the Soul, The Fur-Bearing Trout and

Other True Tales of Canadian Life, McLean's, Vitality and

many other publications.

Kitchener Memorial Auditorium Complex

Contact Kelly Marshall

Show Manager

226.927.2749

kellymarshall@live.com

WHY PARTICIPATE?

• Reach out to new customers The show will be

extensively advertised via social media, radio, billboards, print,

signage, etc.

• Branding Create and enhance your company's image. Ensure

consumers think of your business first when they are ready to eat

and drink. Increase your business familiarity and trust.

• Reminders People forget. Out of sight, out of mind. The

more impressions you make, the longer people remember. Have

a competitive advantage over non-participating businesses.

Presented by
---
26 |December 2018/January 2019

eatdrink.ca |@eatdrinkmag

The BUZZ

Culinary Community Notes

New and Notable

Compiled by ANDREW COPPOLINO, BRYAN LAVERY and THE EDITORS

This column consists of regional culinary

news, including a large scoop of local

news and inside information. There

is no charge to be included here, and

we encourage chefs, restaurateurs, brewers,

fundraisers, culinary artisans, farmers — and

everyone else with information to share — to send

us details. Short and sweet! We want to include as

many items as possible. See the end of this column

for contact details.

Kitchener

With about 10 locations in Ontario, Pi Co. Pizza Bar

opened in Fairview Park in late September. Heating to

nearly 1,000-degrees F, the oven is a bell oven similar

to those used at Famoso Waterloo and La Cucina

Kitchener. The Pi Co. Pizza Bar process is make-yourown

— well, selecting your own toppings at least,

if not sticking your arm in small blast furnace. The

organization, its dough and its pizza-making process

is certified "Associazione Verace Pizza Napoletana," or

authentic Neapolitan pizza.

Swine and Vine is now open for Saturday brunch.

The small casual restaurant in the Bridgeport

neighbourhood is serving a Benedict brisket,

drunken French toast, gnocchi poutine and a wild

boar bacon sandwich among others. Check out the

profile article of Swine and Vine elsewhere in this

edition.

Some long-time locals might remember Arpo's

Dugout, a basement venue at 15 Scott Street. The

location was most recently the Stonegate Bistro

until it was shuttered. Coming soon, however, is The

Underground, a restaurant that promises fresh and

quick takeaway or dine-in.

Located in the historical Tannery building in

Downtown Kitchener, Taste at the Tannery is a social

hub for lunch and dinner, where guests can connect

with friends while enjoying bold flavours and good

times! Taste's menu is full of dishes just waiting to be

paired with favourite local craft brews, wines or unique

cocktails. 121 Charles St W, Kitchener, tastetannery.ca

Meticulously designed, The Walper Hotel provides a

unique, modern boutique experience. It was built in

1893, and its most recent refurbishment combines

contemporary building technology with the best

of the hotel's heritage features. The Lokal is the

striking piano bar and lounge on the second floor.

Enjoy craft cocktails (try the Black Martini) and

converse with friendly upbeat staff in TWH Social,

the subterranean bar/bistro. The menu is touted as

"local ingredients done well, with a thoughtfully

sourced menu focused on sustainability and

diversity." Breakfast at the Barristers Lounge is a

treat. 20 Queen Street South, Kitchener, walper.com

Charcoal Group offers unique dining packages.

Book a chauffeured luxury stretch limousine for

eight people and ride in style to a "progressive

dinner" at up to five different Charcoal Group

locations. Enjoy a different course and beverage

at each stop. Suggested destinations include:

Charcoal Steakhouse, dels Enoteca Pizzeria

and Martini's in Kitchener; The Bauer Kitchen,

Wildcraft Grill + Bar in Waterloo; and Beertown

Public House in Waterloo, Cambridge and London.

The family-friendly Moose Winooski's in Kitchener

is also in the Charcoal Group fold. 519-894-0110,

charcoalgroup.ca/events

Waterloo

Lot 88 Steakhouse and Bar is opening in the former

space of Wildfire, Baton Rouge and other restaurants

that have struggled in that very large space. The

ostensible hook to the place is a lava rock grill and

"steaks cooked at your table," according to the

company's website. Lot 88 has sister restaurants in

Sudbury, North Bay and Winnipeg.

It came. It saw. It faltered. Weber Street Public House

has been closed by the landlord after only a few

months. The pub opened this past summer. A note

posted on the door outlines that terms of the lease

are in default and the business has been shut down.

It's the same for the oddly named Vegetarian &

Fast Food restaurant in University Plaza on Philip
---
Eatdrink: The Local Food & Drink Magazine

Street. The place was open for nearly two decades;

now closed for business.

In and around (and around) one of the many traffic

roundabouts that dot the landscape in north

Waterloo, look for Naranji to open at 646 Erb

Street West, near Ira Needles Boulevard. The food

is Middle Eastern, so one would imagine that there

will be shawarma.

T&T Supermarket, Erb and Westmount, is a giant

food outlet that has been eagerly anticipated in

the city and scheduled to open December 5. It will

settle in, no doubt, as well as B&T and New City

supermarkets have settled in in downtown Kitchener.

Look for something wild, new and exciting at

Wildcraft. Stay tuned. We can't say more.

Pizzas that move away from the traditional heavy,

dense crust and oozing gobs of cheese are becoming

more and more popular, it would seem. With 20

locations in both Canada and the U.S., Vivo Pizza and

Pasta has opened on Parkside Drive in north Waterloo.

You can choose from a dozen pizzas and 10 pastas.

After a solid run as the premier chocolatier

in Waterloo Region — and in fact much of

Southwestern Ontario — Ambrosia Pastry Co. had

its last day in early November. Owner Aura Hertzog

is moving on with a new food venture, coming soon.

"Big emotions around this today," Hertzog wrote on

Ambrosia's Facebook page on the business's last

day. "Tim and I created a special little business. As

I say good-bye to this, and let go, I open my heart

even more. Thanks to all my friends and family who

supported us."

A brand spankin' new Balzac's opened this fall on

Philip Street near the University of Waterloo. The

small elegant chain with carefully selected and

curated coffees has outlets in Toronto, Stratford,

Kitchener, Kingston, Niagara, Guelph and St.

Catharines.

December 2018/January 2019| 27

Coming soon from the folks who opened Arabesque

on Victoria Street, Kitchener: Chic Pea. It's a

Middle Eastern restaurant currently in build-out

phase and will feature fresh, healthy local food

with vegetarian selections and unique charcoal

barbecue chicken cookery. The name, according to

the owner, is a play on chicken and a veg dish like

hummus, which uses chickpeas. Look for it to open

in early December, the restaurant gods willing.

In early November — and following the growing

trend — Beertown, part of the Charcoal Group,

growers & creators of fine lavender products

DISCOVER

Steed & Company Lavender, part of a

45-acre horse farm just outside of Sparta

INDULGE

in our unique handcrafted lavender products

ESCAPE

in the wonderful scent and

calming powers of lavender

519-494-5525

47589 Sparta Line, Sparta

buds@steedandcompany.com

Open Wed–Sat 10-5; Sun 12–4

Mother's Day to Dec. 19

PLUS June–Labour Day: Tues 10-5

www.steedandcompany.com

Join us for our

Christmas

Open House

November

24 & 25

Award-winning, year-round

Food + drink tours

with a heritage twist

tastedetours.ca

Gift

Certificates

available
---
28 |December 2018/January 2019

has launched a vegan-friendly menu. According

to corporate executive chef of Charcoal Group of

Restaurants Todd Clarmo, more guests are looking

for plant-based dishes, as are members of the

restaurant team. "I wanted to curate a menu that

was creative and craveable for everyone and not

alienate anybody," Clarmo says. "I searched out

and tasted many different plant-based proteins

and created from there. I kept the same Beertown

cuisine and applications but with a vegan twist.

We've also expanded our gluten-friendly menu

quite extensively, as this is also in large demand."

Adding its app to the growing juggernaut that

is mobile connectivity to food and delivery is

Montreal-based Chef on Call. Located in The Hub

at 130 Columbia Street near Lester Street near the

University of Waterloo — or more strategically,

the massive agglomeration of student housing in

the immediate vicinity — the unique idea for a food

outlet is capitalizing on the trend of bypassing a

restaurant experience entirely and ordering food on

one's phone.

John Cerny's Sole Restaurant and Wine Bar is

situated in a stunning 150-year-old Seagram's

building, minutes west of the Waterloo Uptown

core. The interior soars two stories high to a timber

frame ceiling, and exposed brick and wood finishes

set the tone for an elegant yet casual experience.

The menu is inspired by the Mediterranean and

features excellent thin crust pizza, traditional

pastas, vegetarian entrees, steaks and rack of lamb.

A stellar dish of crisp, fried polenta with bocconcini

and tomato ragu was superb. An extensive wine list,

great selection of Scotch, and local and imported

beers on tap complement the experience. Service is

professional, knowledgeable and friendly. 83 Erb St

W, Building Two, Waterloo, 519 747-5622 sole.ca

We are constantly hearing great things about

Proof Kitchen & Lounge, located in the Delta Hotel

in Uptown Waterloo, on the site of the historic

Seagram Barrel Yards. Proof offers a contemporary

dining experience with stunning ambience. A chefdriven

menu features local ingredients with an

emphasis on global flavours. Chef Jeritt Raney's

menus are complemented by expertly crafted

cocktails, a well-chosen wine list, and a diverse

selection of local craft beers. 110 Erb Street West,

Waterloo, 519 208 3333, proofwaterloo.com

On King Street near Willis Way, 21 Fir Whiskey Bar &

Kitchen blends southern and classic dishes amidst

a prohibition-inspired atmosphere. The creative

kitchen serves up delightful comfort food staples

with a clever southern twist, while the bar offers

elevated cocktails and boasts an extensive collection

eatdrink.ca |@eatdrinkmag

of whiskey. 100 King St S, Waterloo, 21fir.com

Chef/owner Dan Mc Cowan's Red House is located

in a red house in Uptown Waterloo that has

been converted into an intimate, relaxed bistro

restaurant. Featuring fresh food inspired by quality

ingredients, the menu changes daily to incorporate

new and seasonal flavours. Fresh salads, inventive

starters and entrées feature beef, duck, curries,

pastas and vegetarian dishes. On Tuesdays, bring a

friend and share delicious selections from the tapas

menu. Open for lunch and dinner Tuesday to Friday,

and brunch and dinner Saturday. 30 William St W,

Waterloo, redhouseuptown.ca

The Waterloo Hotel in the city's uptown is closing

after more than three decades in business. The

15-room boutique hotel is located at the corner of

King and Erb streets. The historic building dates

back to 1890 and its south Erb Street and west King

Street façades are listed by the City of Waterloo as

designated under the Ontario Heritage Act.

Looking for unique gift ideas, decorations or

ingredients for your holiday meals? Local farmers,

retailers and artisans are ready for your business.

Check out the Taste Real Holiday Food and Gift

Guide. https://www.wellington.ca/en/business/

tr-holidayfoodandgiftguide.aspx

Cambridge

Taking over the vacant restaurant spot that was the

short-lived The Stables in Hespeler, Choun Kitchen

describes itself as Asian fusion. That would likely be

ramen, Thai street-style fried rice, and banh mi with

mom's house soup — doesn't that sound nice?

Pickle Barrel, the popular Toronto chain, has

opened on Hespeler Road in the former Milestones

location. With about a dozen outlets in Toronto, this

is the first time the popular restaurant has opened a

location outside of the GTA. It has a huge menu and,

having started out as a deli, smokes meat in-house.

Check out Malasada World on Ainslie Street North

at Dickson in downtown Galt for a new and delicious

range of sandwiches and dough-nutty treats, from

bifanas and fried chicken sandwiches to a hybrid

Portuguese sweet that sees a malasada crossed

with a pastel de nata custard tart; it's called,

perhaps not surprisingly, a DoughNata.

Undoubtedly a gem in the crown of Waterloo

Region dining, Langdon Hall Country House

Hotel and Spa has staked its claim among the

best in Canada. Earlier this year it was selected

as the No. 5 Best Restaurant by Canada's 100

Best. Surrounded by Carolinian forest, Langdon

Hall is one of 13 properties in Canada recognized
---
Eatdrink: The Local Food & Drink Magazine

by Relais & Châteaux for achieving benchmark

standards of excellence, and is known for incredible

Five-Diamond dining experiences, exquisite

accommodations and storybook architecture. 1

Langdon Drive, Cambridge, langdonhall.ca

Since 1948 Reids has been a local destination and

tradition to many in the Cambridge community

and beyond. Originally a specialty nut shop,

Reids began to offer handmade chocolates and

confections after husband and wife Tom and Kathy

Drew-Smith gained ownership in 1971. It is now

owned and operated by brother and sister team,

Ted Drew-Smith and Carrie Peart. Reids marked

its 70th year with its largest expansion to date.

In addition to its flagship store on Ainslie Street

North in Downtown Cambridge (Galt), you can now

also find Reids locations on Elgin Street South in

Cambridge (Galt) and in The Old Quebec Street Mall

in Downtown Guelph. reidchocolates.com

Cambridge Mill recently announced the

appointment of Joel LaBute to the role of

Executive Chef. In addition to bringing with

him a fresh culinary perspective, Joel is deeply

committed to using sustainable, organic and

ethical food sources — so much so that he and

his wife run their very own farm. Referring to his

culinary style as "connection-based cuisine," Joel

aims to reflect the journey from farmer to chef

to guest with a clean, refined approach to rustic

farm-to-table cuisine. 130 Water Street North,

Cambridge, cambridgemill.ca

The Bruce Craft House, a name forged out of fire,

craft beer and local food, is the new restaurant

collaboration between the Cambridge Hotel

and Conference Centre and B Hospitality. The

restaurant features a stone-fired oven for pizza and

other baked goods, and a number of craft beers

on tap. Chef Aaron Clyne's menu features dishes

from a variety of regions and menu items highlight

local food producers, such as goat cheese from

Woolwich, and Carrick Hill Farm's free range pulled

chicken. cambridgehotel.ca/the-bruce-craft-house

Blackshop Restaurant and Wine Bar is a

Cambridge landmark operated by John Cerny.

This well-designed restaurant offers innovative

and traditional cooking, delivered in a casual yet

elegant atmosphere. The ambiance is comfortable

and appealing, offering high-quality continental

cuisine in an unpretentious way. There are premium

beers on tap, a wide scotch selection and an

extensive wine list. Located on Hespeler Road, 2

sets of lights south of the 401, beside the Travelodge

Hotel, 595 Hespeler Rd, Cambridge, blackshop.ca

BIG OR SMALL,

WE CATER 'EM ALL

We specialize in bringing Southern hospitality

and our award-winning food to your special

occasion.

OUR PLACE OR YOURS

Our upstairs event space,

The Lanc Loft, features a

full bar, separate washrooms,

PA system, tables and chairs.

Our fully-mobile food truck has complete

kitchen facilities wherever you need us!

EAT LOCAL. EAT FRESH.

lancsmokehouse.com

574 Lancaster Street West Kitchener ON

Monday–Saturday Open @ 11:30am

Contact our Catering Manager for booking inquiries

519.743.4331 | info@lancsmokehouse.com

something

for

EVERYONE

Cambridge Farmers'

Market

Circa 1830

Saturday Year Round

7:00am - 1:00pm

www.cambridgefarmersmarket.ca
---
30 |December 2018/January 2019

Guelph & Wellington County

Celebrate the festive season with Guelph Farmers'

Market. The Merry Maker Night Market offers an

opportunity for a seasonal celebration and a special

last-minute shopping opportunity with more than

80 vendors including specialty produce, artisans,

food trucks, VQA wines and live entertainment.

Wednesday, December 19, 4:00 – 9:00 pm.

Alex Tami's Sugo on Surrey, an Italian Restaurant

with a Mediterranean influence, recently opened.

117 Surrey Street East, Guelph, sugoguelph.com

Earlier this year John Sleeman announced he

was repatriating 100,000 hectolitres of beer

currently produced in the United States. Sleeman is

hoping to have his new craft distillery, Spring Mill

Distilleries, up and running by Christmas. While the

distillery will initially produce vodka and gin, there

are plans to also produce a number of different

whiskies.

Crafty Ramen owners Jared and Miki Farrell

studied the form at Yamoto Ramen School in Japan.

The 500 square-foot noodle shop makes its own

noodles in-house daily from Canadian wheat. The

kitchen is dedicated to great ingredients like earthy,

pork-duck broth made with locally sourced meat

and bones which are supplied by Trotters Butcher

Shop. Vegetarian broth is made from a combination

of cherry tomatoes, kombu seaweed and shiitake

mushrooms. 17 Macdonell St, Guelph, 519 824-8330,

craftyramen.com

Ron Hill and Tammy Hsieh's Queen's Café opened

in September at the corner of Elizabeth and Victoria

Road South. The menu features pan-roasted

chicken supreme, beef short ribs, coconut shrimp,

antojitos, a buttermilk chicken sandwich, and

pastrami on rye, avocado toast, steak and eggs and

buttermilk pancakes. The café is very popular for

weekend breakfasts. 48 Victoria Rd. S., Guelph

Join the Guelph Film Festival for the 'Taste Reel'

Local Food and Film event at The Common café in

Guelph on Sunday, December 9. calendar.wellington.

ca/tastereal/Detail/2018-12-09-1900-Taste-Reel-A-

Series-of-Films-and-Food-Behind-the-C

The Townships & Beyond

After two winners at the Royal Winter Fair (Fontina

and Farmstead Emmental both won 1st place in

their categories), Stonetown Cheese competed at

the British Empire Cheese Competition and was

honoured with First Place for Grand Trunk, First

Place for Farmstead Emmental and First Place

for Farmstead Fontina. 5021 Perth County Line 8

(Kirkton Road), St. Marys, stonetowncheese.com

eatdrink.ca |@eatdrinkmag

Gunn's Hill Cheese has been awarded the Grand

Champion in the Variety Cheese Category for

the 5 Brothers at the Royal Winter Fair's cheese

competition for 2018. 445172 Gunn's Hill Road,

Woodstock, gunnshillcheese.ca

After two winners at the Royal Winter Fair (First

Place for Wild Nettle and Third Place for Farmstead

Smoked) Mountainoak Cheese competed at

the British Empire Cheese Competition and was

honoured when Farmstead Gold won First Place

in its category, and the Farmstead 3 Year and Goat

Gouda won Second Place. 3165 Huron Road, New

Hamburg, mountainoakcheese.com

Pub Trivia at Upper Thames Brewing Company:

Join the Woodstock Public Library at Upper Thames

Brewing Company for pub trivia and test your

knowledge on December 19. Come in a team of

five or join in upon arrival. Also enjoy Saturday

afternoons in December with live music by

Rockwell. upperthamesbrewing.ca

Truffle Camp Experience: Step into the role of

chocolatier for an evening as you work with

Cindy Walker of Chocolatea to learn the art of

truffle-making and handcraft your own batch of

12 truffles. Work with a mix of local ingredients

from neighboring farms to understand the terroir

and flavours that make up Southwestern Ontario.

December 1, 16 and 22. chocolatea.ca/product/

truffle-camp

Elora Mill Hotel & Spa is a one-of-a-kind

destination, nestled in the heart of a charming

village, with panoramic views from its perch atop a

thundering gorge. Originally built in the mid-1850s

and rescued from bankruptcy by Pearle Hospitality

in 2010, this iconic landmark has undergone an

exciting transformation. Chef John Bakker recently

served as Executive Chef of Gili Lankanfushi, a

retreat destination voted #1 Luxury Resort in Asia

for 2017. In addition to his time in the Maldives,

Bakker made notable stops in Scandinavia,

Germany, France and the United Kingdom, working

in some of the most impressive kitchens in Europe.

Bakker returned to his hometown to take the

helm of the Elora Mill Hotel & Spa kitchen and

leverage his vast international knowledge to bring

something unique to the Elora experience. His goal

is to put Elora Mill Hotel & Spa on the culinary map

by taking Pearle Hospitality's food philosophy to

the next level. eloramill.ca

When you are in Fergus be sure to check out Wesley

Clarke's Daddy's Butcher Shop. Clarke is taking

orders for the holiday season. He is featuring

turkeys (whole birds or boneless roasts), prime
---
Eatdrink: The Local Food & Drink Magazine

rib, tenderloin or sirloin (cut to size), pork roasts

with crackling, duck, goose, pheasant, capons and

Cornish hens. 168 St. Andrew Street West, Fergus,

daddysbutcher.ca

Woolwich

Many folks will likely be disappointed that Hilltop

Acres Poultry Products will no longer be selling at

the popular stand at the equally popular St. Jacobs

Market. The farm store in Bloomingdale announced

recently that it will focus on on-farm sales and will

be open for business Tuesday to Saturday.

New Hamburg

Chef/owners Klaus Ristanovic and Janet Duncan

opened Jake and Humphrey's Bistro in a charming

old house on Peel Street about 8 years ago. On

a recent visit the menu featured butter-seared

scallops, herbed goat cheese tart, braised short

ribs, Duck confit, and grilled salmon with Catalan

relish. White pumpkin pie with white chocolate

curls and homemade ice cream was a knock out.

The house made bread is also delicious. 196 Peel St,

New Hamburg, jakeandhumphreys.com

Built in 1868 in elegant Italianate architectural style,

Puddicombe House was converted into a restaurant,

bed and breakfast, spa and salon in 2004. In 2016,

Puddicombe Banquet and Event Hall was designed

and built to complement the original building, for

up to 250 banquet guests. The restaurant seats 60

diners, in three dining rooms. Chef Lance Edward's

burgers were voted "The Best Burger in the Waterloo

Region." Baked Trout, seasoned with pomegranate,

cranberry, and scallions is a local favourite.

puddicombehouse.com

Stratford

The folks at Stratford's The Red Rabbit and Okazu

85 Downie love building new, worker-owned

restaurants from (just about) the ground up. It

December 2018/January 2019| 31

gives them the opportunity to offer fair wages

and year round employment — and of course

offer their delicious food to the early risers. Old

Man & Son is aiming to open in December, serving

breakfast and lunch 7am to 2 pm, Wednesday to

Sunday. Old Man & Son offers Community Shared

Restaurant purchases — put your dollars into use

as prepayment, in return for future products or

services. These shares are sometimes referred to

as "restaurant futures." You can find the form at

oldmanandson.com 75 Wellington Street, Stratford,

Wed to Sun 7am–2pm, 519-305-7575

Stratford Chefs School Dough is a gift certificate

program where "dough" (aka dollars) may be

applied towards any SCS merchandise, Dinner

Series, and Open Kitchen cooking class. Purchase

SCS Dough valued at $120 for only $100. SCS

Dough can be purchased at the Administration

Office at 192 Ontario Street. Available in $5, $10

and $20 denominations and is redeemable at full

denomination value. Some restrictions apply. 519-

271-1414, stratfordchef.com

We want your BUZZ!

Do you have culinary news or upcoming events

that you'd like us to share?

Every issue, Eatdrink reaches more than

50,000 readers throughout Waterloo Region &

Wellington County in print,

and thousands more online.

Get in touch with us at editor@eatdrink.ca and/or

connect directly with our Social Media Editor

Bryan Lavery at bryan@eatdrink.ca

Submission deadline for the next issue is January 5.

Saturday Brunch

11am–3pm

– Build Your

Own Caesars

& Brunch

Mimosas!

Dinner

TUES–SAT

Catering

DINNER New Year's Eve!

Prix Fixe Menu

1st

Anniversary

Celebration!

Saturday,

January 5

226.476.4418

295 Lancaster St. W.

Kitchener

swineandvine.ca
---
32 |December 2018/January 2019

Beer

Cold, and Dark

Malty Darker Beers, for Winter

by GEORGE MACKE

eatdrink.ca |@eatdrinkmag

Goodbye light lagers. Adios radlers and beers

that taste like ice cream. So long, fruit

beers. As the thermometer drops

and the sun goes down earlier,

it's time to restock the beer fridge with

malty, darker beers to suit the season.

Here are 12 stellar selections from

Southwestern Ontario brewers. Most will

require a personal visit to purchase at the

brewery's in-house beer store. More and

more, craft breweries are also launching

online stores offering beer delivered to

your door.

No Marzen for Eror by Innocente

Brewing Company, Waterloo. Misspelling

"error" is no mistake and neither is this

Oktoberfest lager. The marzen style of beer

originated in Bavaria and is

traditionally associated

with the change of

seasons. Innocente's

version is copper in

colour, not as dark as

one might expect, and

has a hint of citrus hop

flavour.

Nighthawk Weizenbock by

Toboggan Brewing, London. More

inspiration from the beers of Bavaria, this

time from the fermenters at London's popular

Richmond Row craft brewery. Weizenbocks,

dubbed by some as winter wheat beers, have

been brewed since the early 1900s and that

the style isn't more widely

known (and brewed)

is mysterious. The

Toboggan take is a

deep red with aromas

of banana and clove.

Nighthawk is a wonderful

fall beer choice best enjoyed with patience,

from a tulip glass. It's a low 14 IBU but a

strong 8 per cent alcohol.

Black Coal Stout by

Railway City Brewing, St.

Thomas. A seriously good stout

from the 10-year-old St. Thomas

brewery best known for Dead

Elephant IPA, Black Coal almost

lives up to its name in terms of

colour — I'd call it dark brown.

Rich in coffee and dark chocolate

aromas. And is that a hint of rye

bread? Named for St. Thomas'

railway heritage, Black Coal is a

cold-weather reward for a day's work well done.

Ghost Cow by Wellington Brewery,

Guelph. Spicy and dark, anyone? Ghost Cow

is a milk stout

brewed with ghost,

habanero, and

Scotch bonnet

peppers as well as

cocoa. It clocks in

at a pleasant 7.1 per

cent alcohol.
---
OUR RETAIL STORE FOR THE FULL

VISIT

OF OUR AWARD-WINNING BEERS

SELECTION

OUR SMALL-BATCH AND

INCLUDING

BREWS, REFILLABLE GROWLERS,

SEASONAL

HOURS

STORE

1OAM-7PM

MONDAY-FRIDAY:

Eatdrink: The Local Food & Drink Magazine

McNall's Mission by Cowbell

Brewing, Blyth. One of a series of beers

named for the colourful characters of Blyth,

this is a honey brown named

in honour of George McNall,

who served in both the First

and Second World Wars. One

hundred years ago McNall

received the Military Medal for

his devotion to duty as a scout.

Now available at the LCBO,

McNall's Mission incorporates

sweet, savoury brown malts

with local honey. Cowbell has

been brewing it since 2017 and

selling it on site and at craft-friendly pubs.

It's entry onto LCBO shelves is certain to

accelerate its popularity while honouring a

local veteran.

Hans and Franz by

Forked River, London. A

German pilsner, Hans and

Franz strikes a nice balance that

works well with fare such as

bratwurst. It's not at the LCBO,

Beer Store, or grocery stores so

you'll have to show your love

by visiting the brewery store,

or flaunt your tech abilities by

ordering online.

Spice Up Your Life by Storm Stayed

Brewing, London. Spice Up Your Life is a

pumpkin spice latte milk

stout. Sure, that flavour

combination will cause

beer purists to cringe,

but for those who always

wanted to combine their

favourite cold and hot

drink flavours, this could

be it. Besides, what good is a beer fridge in the

fall without at least one pumpkin beer?

Autumn by Anderson Craft Ales,

London. The artists of

Anderson make it easy

to guide us through

the beer seasons with

releases named for each.

Autumn is a marzen,

available in 355 mL cans

at the brewery's bottle

shop. Sure, we like Summer better, but do you

blame us?

AND WATERLOO BREWING MERCH.

KEGS

BINGEMANS CENTRE DRIVE, KITCHENER

4OO

1OAM-6PM

SUNDAY:

US

CONTACT

742-2732 EXT 152

(519)

RETAILSTORE@WATERLOOBREWING.COM

WATERLOOBREWING.COM

@waterloobrewing
---
34 |December 2018/January 2019

The Heavy Horse by Shakespeare

Brewing. A farmhouse ale, Heavy Horse gets

its flavour from

yeast cultivated

from an apple

orchard and honey

from Nith Valley

Apiaries in New

Hamburg. It's 7 per cent alcohol and 25 IBU. A

fine reward for a hard day's work on the farm

— or at the office.

Bronzeback Ale by Bayside Brewing,

Erieau. There are lots of great reasons to

daytrip to this Lake Erie resort

town south of Chatham.

High on the list is a visit to

Bayside Brewing, where the

beer of choice on a chilly day

is Bronzeback Ale. Named as

a tribute to local fishing —

bronzeback is also known as

smallmouth bass — this beer is

copper in colour with flavours

of burnt caramel and toffee. It's

been a Bayside mainstay since 2013.

eatdrink.ca |@eatdrinkmag

Natterjack Toad by Natterjack

Brewing, West

Lorne. Natterjack

opened in September

as a tribute to

young brewer Matt

Soos. His family

is featuring the Belgian blonde recipe Matt

developed as a student at Niagara College. The

taste twist is that it includes pistachios. It's

available only at the brewery store.

Waterloo Dark by Waterloo Brewing,

Waterloo. If you're a duck, deer or

moose hunter, or are lucky enough

to know someone who is, this is

the dark lager to pair with wild

game. Widely available, Waterloo

Dark is brewed with Canadian

malted barley and imported hops

and tastes lighter than you'd

expect from the colour.

GEORGE MACKE is a Southwestern

Ontario craft beer explorer who spends too

much time at the LCBO and craft breweries.
---
#ItsWhatWeDrink

NOW AVAILABLE IN 355 mL BOTTLES

144 DOWNIE ST, STRATFORD, ON 519 • 814 • 7926

BLACKSWANBREWING.CA @BLACKSWANBREWINGCO

'til 'til the COWBELLs s come home!

Now available for home for delivery! home VisitCOWBELLBREWING.COM

delivery!

and shop shop

online.

40035 BLYTH BLYTH RD., BLYTH, RD., ON BLYTH, N0M 1H0 ON 1-844-523-4724 N0M 1H0 WWW.COWBELLBREWING.COM

1-844-523-4724 WWW.COWBELLBREWIN
---
36 |December 2018/January 2019 eatdrink.ca |@eatdrinkmag

Wine

The Gift of Wine

Some Suggestions for This Holiday Season

by GARY KILLOPS

Giving a bottle of wine as a gift

over the holiday season is

always a great way to leave an

impression, but sometimes

selecting the right wine is not easy. You want

the recipient to appreciate and enjoy your

thoughtful offering, so here are some tips to

help you choose.

Knowing what kind of wine recipients

might like can be helpful, but often you may

not know if they prefer red or white wine or

sweeter or dryer styles. If you know what they

favour, great. If not, don't worry too much

about it; wine is a gift that can always be

(shhhhh) regifted.

A general rule of etiquette to keep in mind

when bringing wine as a host or hostess gift

is that there is no expectation that the bottle

Giving a bottle of wine as a gift over

the holiday season is always a

great way to leave an impression,

but sometimes selecting the right

wine is not easy. You want the recipient to

appreciate and enjoy your thoughtful offering,

so here are some tips to help you choose.

Knowing what kind of wine recipients

might like can be helpful, but often you may

not know if they prefer red or white wine or

sweeter or dryer styles. If you know what they

favour, great. If not, don't worry too much

about it; wine is a gift that can always be

(shhhhh) regifted.

A general rule of etiquette to keep in mind

when bringing wine as a host or hostess gift

is that there is no expectation that the bottle

be opened that evening. Therefore if you have

selected a white wine you do not need to chill

it before bringing it. On the other hand, if you

have been invited for a dinner and are asked

to bring a bottle of wine it is expected that the

be opened that evening. Therefore if you have

selected a white wine you do not need to chill

it before bringing it. On the other hand, if you

have been invited for a dinner and are asked

to bring a bottle of wine it is expected that

the wine you bring will be opened, so chilling

the white wine is appropriate.

Around the holidays many Ontario

wineries offer gift baskets that they have

assembled with their wines and other local

Ontario products. The baskets are often

impressive and while they can often be a little

pricey they can save you time should you

want to give such a gift.

For those who would like to include a bottle

in their own gift baskets, or are looking for a

few Ontario wines that will make sensational

gifts, here are some suggestions.

wine you bring will be opened, so chilling the

white wine is appropriate.

Around the holidays many Ontario wineries

offer gift baskets that they have assembled

with their wines and other local Ontario

products. The baskets are often impressive

and while they can often be a little pricey they

can save you time should you want to give

such a gift.

For those who would like to include a bottle

in their own gift baskets, or are

looking for a few Ontario wines that

will make sensational gifts, here are

some suggestions.

Westcott Estate Pinot Noir 2015

(Vintages #427500, $29.95)

Ontario's cool climate is perfect

for top notch elegant pinot

noir. Westcott's vineyards are

located on south-facing slopes

in Niagara's Vinemount Ridge

appellation resulting in longer

sun exposure and riper fruit

at harvest. This wine is a fine

example of a medium-bodied,
---
Eatdrink: The Local Food & Drink Magazine

December 2018/January 2019| 37

Taste the elements.

1709 Front Road, St. Williams, Norfolk County, ON

Tastings, Tours & Events

burningkilnwinery.ca 519.586.9858

@burningkilnwine
---
eatdrink.ca |@eatdrinkmag

Alton Farms

EST A TE WINERY

HO HO HO

Merlot

POUR

THE

WINE TASTINGS, EVENTS,

TOURS, OUTDOOR PATIO,

WOOD-FIRED PIZZA OVEN

SARNIA

LAKE

HURON

7

21

Grand

Bend

Forest

Aberarder Line

21

402

London

77 km

5547 Aberarder Line, Plympton-Wyoming

519-899-2479 • altonfarmsestatewinery.com

dry red wine with red berry fruits, anise,

mushroom, earthy and smoky notes.

Weather Rock Cabernet Franc

(LCBO #558809, $14.10) While some

of the 2016 vintage may still be

found on the shelf at the LCBO, the

Ontario cabernet franc was flying

out of the store so quickly the

2017 vintage was released earlier

than expected to meet demand.

It's a medium-bodied wine, dry

and loaded with red and

black berry fruits. The

2017 vintage has a little

more tannins, perfect

to pair with rare and

medium rare steaks.

Weather Rock is a virtual

winery produced

at Harrow's Oxley Estate Winery

and wines under the Weather

Rock label are only available at

the LCBO.

Colchester Ridge Estate

Winery "CREW" Merlot 2016

(VINTAGES #310532, $17.95)

Merlot has traditionally been used as a

blending grape in Bordeaux but in many

new world wine regions it is often bottled as

a single varietal. CREW's merlot is its best

offering to date of this grape, and is offered at

an insanely cheap price point that will stand

up to many $40 - $60 California merlots. This

is a full-bodied, dry, complex velvety wine

with fruit forward blackberry, black plum,

black cherry notes, with cedar and tobacco

characteristics. Exceptional value, buy this

one while you can!

Mastronardi Estate Winery

Syrah 2016 (VINTAGES #581223,

$24.95)

Syrah, also known as shiraz, is made

from the same grape and can be

very different in style depending

on where it is grown. Shiraz is

commonly identified as the style

of wine produced in Australia,

ripe and full-bodied, while syrah

is associated with a lighter and

leaner red wine. Mastronardi's

syrah is medium plus in body,

dry, black fruit and a hint of

cracked black pepper. Give this

wine as a gift to someone who

enjoys a glass of wine around the

fireplace on one of Ontario's cold

winter nights.

Casa-Dea Reserve Chardonnay 2015

(VINTAGES #546812, $26.95) Some

of the best Ontario chardonnays

I have tasted were from Prince

Edward County. The limestonerich

soil found in many of the

vineyards in this region offer ideal

varietal expression. Medium

body, dry, with ripe green

apple and pear fruit notes

balanced with light vanilla and

butterscotch nuances from time

spent in French oak barrels.

Chardonnay leads the way in

production as Ontario VQA's

single varietal wine.

GARY KILLOPS is a CAPS Certified

Sommelier who loves to talk, taste, and write about wine.

He shares his tasting notes on EssexWineReview.com
---
Eatdrink: The Local Food & Drink Magazine

Recipes

Farm to Table:

Celebrating Stratford Chefs School Alumni,

Recipes & Perth County Producers

By Andrew Coppolino

Review and Recipe Selections by TRACY TURLIN

December 2018/January 2019| 39

My approach to life and work

could be kindly described as

scattered so I've always been a

touch envious of people who are

truly passionate about one thing. When that

focus is aimed at celebrating and promoting

their community, it's a beautiful thing. When

they're in the food industry, it's also delicious.

This fall, that delicious thing is Farm

to Table: Celebrating Stratford Chefs School

Alumni, Recipes & Perth County Producers

(Andrew Coppolino, Blue Moon Publishers).

Andrew Coppolino is the editor of Waterloo

Region Eats, a food blog that I spent way too

much time reading while I should have been

writing this review. He's also a food columnist

for CBC Radio Waterloo and has written for

a host of other respected food publications,

including Eatdrink. As far as I can tell, he only

takes time out from writing about food long

enough to eat food.

Coppolino is a champion for innovative

cooking done by knowledgeable chefs using

the best local products available. In Farm to

Table he brings together a number of people

who love this idea as much as he

does. He introduces the reader

to the Stratford Chefs School

and the Perth County producers

who are affiliated with it.

Joe Mandel of The Church,

Jim Morris of Rundles, and

Eleanor Kane of The Old Prune

began the school in 1983. They

knew they needed good local

talent and saw an opportunity

to retain the chefs that worked

during the November to March

off-season in Stratford. Instead

of being laid off or moving on,

these chefs were now able to

Author Andrew Coppolino

teach, giving

local budding

chefs the

opportunity

to train with

the best.

Students

were able

to gain

valuable

experience

in the

kitchens

of the

three

founding restaurants.

SCS has always focused on the

relationship between the farm and the

kitchen, recognizing the importance of

local, seasonal ingredients that allow chefs

to express the nature of the region in their

dishes. It's about more than food; it's about

respect for the work involved in producing

high quality products.

SCS is a not-for-profit organization that

offers well-rounded programs

to prepare students for many

aspects of the food industry.

I love that it also offers

recreational workshops for

adventurous home cooks

and a one-week exploratory

course for those who want to

find out what the industry

demands and offers. The

school produces chefs, food

entrepreneurs, writers and

photographers.

Terry Manzo is one of

Stratford Chefs School's first

graduates and has been a
---
40 |December 2018/January 2019

professional freelance photographer for 30

years. The book is full of her vibrant, energetic

photos. Many of the shots look deceptively

casual until you notice the brilliant use of light

and shadow that makes subjects seem to glow.

Each recipe in Farm to Table is the result of the

pairing of a chef with one of his or her favourite

producers and includes a profile of both.

Author Kathleen Sloan-McIntosh owns Black

Dog Village Pub & Bistro in Bayfield. With SCS

graduate Nathaniel Beattie as executive chef,

Black Dog works to expand the farm-to-table

concept in Huron County. Gerhard Metzger has

run Metzger's Meat Products Inc. in Hensall

since 1990. He works with local farmers to

provide specialty cuts for restaurant and retail

sales. Sloan-McIntosh uses Metzger's pork

to create Char Siu Pork Shoulder. It's simply

tender bits of pork shoulder slow cooked in a

sweet, spicy, Chinese BBQ sauce and garnished

with green onion and sesame seeds. The dish

can be served as a main course or in lettuce

cups as a fun appetizer.

Sean Collins is the executive Chef at The

Red Rabbit, a worker-owned restaurant in

downtown Stratford where they strive to do

eatdrink.ca |@eatdrinkmag

everything as well as possible and seem to

have a blast doing it. Max Lass of Church Hill

Farm aims to provide "high quality, humanely

raised pork, lamb, beef and fowl". This familyowned

farm completes the farm-to-table

loop by collecting vegetable trimmings from

restaurants and mash from craft breweries to

feed to the animals. Collins gives us Charcoal-

Grilled Church Hill Farm Lamb with Herbs and

Freekeh. Freekeh, the grain of young durum

wheat, roasted and cracked, makes the stuffing

for a butterflied leg of lamb that is then grilled

to perfection.

SCS is a national success because it is a

local champion. It teaches professionals and

amateurs alike that the heart of any good

dish, fruitful business or successful restaurant

is the relationship between people and place.

It's the magic that happens when all these

good things come together to be greater than

the sum of their parts.

TRACY TURLIN is a freelance writer and dog groomer

in London. Reach her at tracyturlin@gmail.com

Char Sui Pork Shoulder

Collaborators:

Kathleen Sloan-McIntosh, Black Dog Village Pub & Bistro

Gerhard Metzger, Metzger's Meat Products Inc.

FOR THE CHAR SIU

½ cup hoisin sauce

¾ cup liquid honey

½ cup soy sauce

¼ cup shaoxing (Chinese cooking wine)

2 tsp Chinese 5-spice powder

2 tbsp fresh gingerroot, grated

8 cloves garlic, finely minced

½ tsp red chili flakes (optional)

FOR THE PORK

4 lb (1.8 kg) boneless pork shoulder, excess fat

trimmed, cut into 2-inch (5 cm) chunks

2 tbsp olive oil

1 large onion, sliced

½ tsp salt

½ tsp freshly ground black pepper

TO FINISH THE DISH

Sesame seeds

Finely chopped green onion

Butter lettuce

METHOD

Preheat oven to 350°F (180°C).

Choose a large, oven-proof baking dish for the pork.

Add the pork chunks to the dish along with the olive oil

and sliced onion. Add salt and pepper and toss together

thoroughly. Use heavyweight aluminum foil to cover the

dish snugly. Place in the preheated oven and bake for 1

hour.

After an hour, pull the dish from the oven, remove the foil

and add the prepared sauce to the pork. Stir this mixture

well into the pork and the liquid that has accumulated: it

is important not to drain this liquid.

Return the dish to the oven and continue to bake for

another 30 minutes. Then, give the mixture another stir

and return to the oven for another 30 minutes. At this

point, test a piece of the pork to see if it is done to your

liking — it should be tender but not falling apart. If it is

as you like it, remove from the oven, sprinkle with sesame

seeds and chopped green onion and serve with butter

lettuce. If you continue baking, be careful not to overbake,

otherwise the pork will become too dry.
---
Eatdrink: The Local Food & Drink Magazine

December 2018/January 2019| 41

Recipes excerpted from Farm to Table: Celebrating Stratford Chefs School Alumni, Recipes &

Perth County Producers reproduced by arrangement with the Publisher. All rights reserved.

Char Sui Pork Shoulder
---
42 |December 2018/January 2019

Charcoal-Grilled Church Hill Farm Lamb

with Herbs and Freekeh

Collaborators:

Sean Collins, The Red Rabbit

Max Lass, Church Hill Farm

INGREDIENTS:

1 fresh boneless free-range lamb leg, butterflied

¼ cup pepper, fresh ground

¼ cup cumin, toasted and ground

3 tbsp butter

6 oz (170g) pancetta or cured pork, small dice

1 large onion, minced

8 cloves fresh garlic, minced

Freekeh* (or farro), cooked like pasta in boiling

salted water until tender, cooled

kosher salt

1 lemon (for juice and zest)

2 eggs

½ cup panko bread

crumbs

½ cup fresh chopped

herbs (use whatever

herbs you like!)

olive oil to rub meat

*freekeh is harvested

grains from green

durum wheat that is

roasted and dried to

create its unique smoky

flavour.

TO FINISH THE DISH

Sugar snap peas

Butter

Mustard

Feta, crumbled

EQUIPMENT NEEDED

Charcoal grill, fire pit,

or propane barbecue

Good quality charcoal

Butcher twine

Probe thermometer

METHOD

The night before prepare

the lamb: spread lamb out

on a cutting board or sheet

pan and season generously

with pepper and cumin

on all sides. Return the

seasoned lamb to the fridge

and let it sit for 2–12 hours

(roll it up to save space).

To make the stuffing, add

the butter to a large skillet

eatdrink.ca |@eatdrinkmag

and cook over medium heat until just bubbling. Add the

pancetta and cook until lightly crisp. Add the onion and

garlic and cook until translucent. Add the cooked freekeh,

salt and pepper and lemon. Remove from the heat and let

cool slightly. Stir in the eggs, panko and fresh herbs and

taste to adjust seasoning as needed. Refrigerate overnight.

The next day, light the charcoal and let it burn until it

has created a nice bed of coals in a charcoal barbecue or

fire-pit with a rack. Have a second pile of burning charcoal

ready to replenish the fire, if needed. If using propane,

preheat the grill to medium heat.
---
Eatdrink: The Local Food & Drink Magazine

In the meantime, finish the lamb. Remove meat and

stuffing from the fridge and spread the lamb onto a metal

tray or in a roasting pan. Season generously with salt.

Spoon the stuffing in a row slightly off the centre of the

meat to form a cylinder, almost from end to end. Roll the

meat over and shape it into a cylinder with the seam on

the bottom. Tie the cylinder tightly with 4 or 5 pieces of

butcher twine, tucking any stuffing back into the cylinder.

Season the outside of the meat with salt, rub lightly with

olive oil and set aside.

When your grill is hot enough that you can't hold your

hand over for 5 seconds, carefully place lamb roast on

the grill. Grill on all sides until golden brown and slightly

December 2018/January 2019| 43

charred (about 2-4 minutes per side). With a probe

thermometer, check internal temperature every 10–15

minutes. Roast until the thermometer reaches 135°–145°F

(57°–63°C). If internal temperature is not reached and the

surface of the meat is getting too dark, simply push coals

to one side and continue cooking over indirect heat until

finished. If using a propane barbecue, turn burners off

on one side and move lamb to that side and close the lid.

Remove the roast to a platter, cover with foil and let it rest

for 15 to 30 minutes (or longer).

Remove the string and carve the lamb with your sharpest

knife. Serve with fresh sugar snap peas sautéed in butter,

your favourite mustard and crumbled local feta.

Books

Provence through the Years

My 25 Years in Provence: Reflections on Then and Now

by Peter Mayle

Review by DARIN COOK

Some books are so seminal that from

their first appearance they become

untouchable, iconic archetypes,

paving the way for future authors

to imitate, but never replicate — a good

storytelling recipe. I knew I was onto

something of this calibre when I first read A

Year in Provence by Peter Mayle when it came

out in 1989. Mayle knew it too, since he has

written many sequels that thread together his

unique and exquisitely described outlook on

French food and culture. It started out as "a

year" and now, after a quarter of a century of

Provencal living, Mayle is taking a look back in

My 25 Years in Provence (Appetite by Random

House, 2018). Provence is truly a magical place

that spoke to

Mayle through

its food — a

place where

vin rose is

"a taste of

summer in

the glass",

where

making

goat cheese is an art

form, where eating a black truffle on foie

gras is "the closest thing on earth to having

heaven in your mouth", and where the night

markets provide the most pleasant grocery

shopping experience he can ever imagine.

By taking up residence in such a unique

locale, Mayle grew accustomed to picking up

on the trends of the seasons by observing

what farmers were up to and listening to the

gossip of the patrons in local cafés. Provence

is an agricultural region bursting with

grape vineyards, olive groves, fig trees, and

asparagus fields. It also has a bit of the wild

side with truffle hunters and their goldennosed

dogs secretly plying their trade to keep

Author Peter Mayle
---
203,

851

44 |December 2018/January 2019

their sources out of the sight of others, while

game hunters with noisier instruments roam

the woods in search of wild boar. Throughout

the year, food festivals are governed by the

seasons to display regional delicacies — rice,

olives, truffles, lemons, melons, garlic. Mayle

writes, "These are informal, good-natured

affairs, organized by people whose sole desire

is to give you a taste of pleasure, whether your

particular weakness is a fresh sardine or an

elderly cheese." He continues by saying the

range of festivals "supports the widely held

conviction that, wherever you are in Provence,

you need never go hungry."

Discover Heather's

Incomparable Journeys

Small Bespoke

Group Tours for 2019

Poland, Baltic States & St. Petersburg

21 days, Late August 2019

Stylish and vibrant history and culture and the

sheer grandeur of Russia's imperial city

Tanzania & Zanzibar

14 days, September 2019

10-day Serengeti & Tarangire National Parks

Safari,, plus 4 days Beach Resort

www.heathersincomparablejourneys.ca

For any and all of your travel needs

519-473-8591 — Heather Wilkinson

Regional Office: 31 Nottinghill Gate, Suite 203, Oakville

TICO#50013851

eatdrink.ca |@eatdrinkmag

Just as Mayle navigated towns,

fields and forests of the French

countryside, so does his writing

wander across Provence to suggest

some of his favourite lunch items at

favourite restaurants in favourite

towns. With dining tips from the

likes of Mayle, we could not ask for

more as readers. One beloved regional

speciality is bouillabaisse made with

fresh seafood gathered off the coast of

Marseille, which he describes as "part

soup, part fish stew; delicious, but difficult

to control. Many an immaculate shirtfront

has suffered from garlic-stains and it is a wise

customer who asks for two large napkins."

His writings about Provence have inevitably

caused others to follow him. His books have

drawn attention to the region and tourism

has blossomed, for better or worse. Certain

things have changed because of tourism.

Mayle hates that cafés have been replaced by

boutiques that tend to be more profitable than

selling cups of coffee. But it is the qualities

that remain the same, that have endured

the test of time, that have withstood the

invasion of foreigners, that are the qualities

that made him fall in love with Provence

in the first place: the slow pace of life, the

marvellous weather, spirited games of boules

(lawn bowling), market shopping with fresh

ingredients unhampered by plastic packaging

or metal cans, and a regional anise-flavoured

alcohol called pastis.

Even though I have been a fan of Mayle's

books since he began writing more than a

quarter of a century ago, I was sadly unaware

that he had passed away. I had been reading

this book with the same enjoyment as always

when I learned from the biographical insert

on the back cover than he had died earlier

this year, making this book a posthumous

publication and his final words on Provence.

Even though I missed his obituary in the social

media news feeds back in January 2018, I

reverently bowed my head at the start of each

new chapter to honour his soul. It was a good

run and I am sad this is his last book. The world

lost a great author with the death of Mayle this

year, but this author's life gave Provence to the

world in a way only he could.

DARIN COOK is a regular Eatdrink contributor who

lives and works in Chatham-Kent.
---
Eatdrink: The Local Food & Drink Magazine

Think Global.

Read Local.

December 2018/January 2019| 45

Pick up your free copy

wherever discerning

readers and food

lovers are found.

eatdrink

|

The LOCAL Food & Drink Magazine

Rich Uncle

Tavern

Ignite Restaurant

Group

eatdrink

The LOCAL Food & Drink Magazine

David's Bistro

Celebrating Years

with David Chapman

|

FREE

Our

Premiere

Issue

for Kitchener,

Waterloo, Cambridge,

Guelph & Area

eatdrink

The LOCAL Food & Drink Magazine

Lancaster

Smokehouse

Barbecue & Blues

|

FREE

FEATURING

La Reina

Stepping Up to the Plate in Guelph

Conestoga College

Transforming Together

Ciders & Sours

Seasonal Sensations

Hammer Time!

Hamilton: A Heaven for Food Lovers

www.eatdrink.ca

Stratford's Gastro Scene

FEATURING

FOOD DAY CANADA

Where to Eat & Drink in 2018

Huron County Bounty

A Conversation with

Anita Stewart

Culinary Adventures

& Chefs Jason Bangerter,

Arron Carley, Benjamin Lillico,

Brian McCourt & Eric Neaves

Summer Craft Beers

Finding "Somewhereness"

Twelve Temptations

Terroir In a Glass of Wine

Serving Waterloo Region & Wellington County

www.eatdrink.ca

FEATURING

Little Louie's Burger Joint

& Soupery

Serving Waterloo Region & Wellington County

www.eatdrink.ca

In June 2018, we began

serving Kitchener, Waterloo, Cambridge & Guelph,

as well as the rest of Waterloo Region and Wellington County,

with a new and separate publication. We invite you to join the conversation!

We also continue to serve London, Stratford & Southwestern Ontario with our original publication.

Retro, Refreshed, in Cambridge

Rosé-Coloured Glasses

The Trending Wine for Summer

Let's Get Grilling

Recipes from The Cooking Ladies

PLUS every story online.

LONDON'S

Easy to read.

LOCAL Easy FLAVOUR to share.

CULINARY GUIDE Volume 5

LONDON'S

Easy to search.

Fully adaptive.

More features.

eatdrink.ca

And Get Social!

@eatdrinkmag
---
46 |December 2018/January 2019

eatdrink.ca |@eatdrinkmag

The Lighter Side

Salvaging the Magic of Eggnog

By DARIN COOK

I

have noticed that eggnog is now

being stocked in grocery stores long

before Christmas, infringing not

only on American Thanksgiving in

November, but also Canadian Thanksgiving

and Halloween in October. These are three

significant holidays being upstaged by

Christmas cheer before its time. Being in

stores earlier merely widens the window of

opportunity for it to be consumed.

"What is that doing here?" my son asked

last year, pointing at a wall of eggnog cartons

in a grocery display.

"It's not Christmas yet,

is it?"

It was early October,

with several nonyuletide

festivities

still to come. My two

sons believe eggnog

was created for Santa

Claus, and that normal

humans are allowed to

join in by purchasing

the cartons sold at stores, so usually it wasn't

until December that we started buying eggnog

regularly to get the Christmas cheer rolling.

The sign over the eggnog display

proclaimed "Not Just for Christmas

Anymore!" But I think most people feel

that eggnog is just for Christmas. Who was

this sign trying to fool? Since I love eggnog

so much, I guess it fooled me. Cast under

the spell of that grocery store marketing,

I decided to see if a Christmas beverage

could hold its own when straying from its

intended holiday. When I brought home

the first carton one week before Canadian

Thanksgiving, my wife rolled her eyes.

"What is that doing here?" she questioned.

"It's not December yet."

I shared her misgivings, but I drank my

first cup anyway. It tasted great, because the

sweet, creamy nectar had not touched my lips

for over ten months. But it felt odd being out

of season.

After learning that December 24th has been

declared National Eggnog Day, I considered

trying my hand at creating homemade

eggnog. Alton Brown, the culinary genius of

Food Network fame, is my go-to guy when

experimenting with new recipes and I found

an eggnog recipe in his book, Good Eats 2: The

Middle Years. Alton strongly advises that "the

key to success in making eggnog is patience"

and I went into eggnog production hoping

that I had the stamina to keep up. There

was a lot of stand mixer beating involved

(where the patience

comes in handy). The

combination of eggs,

sugar, milk, cream,

and nutmeg ended

up being a delicious

version of eggnog like

we had never had from

a carton. Alton's recipe

calls for the addition

of rum, brandy, or

bourbon, but that

would come after the kids went to bed.

Since it had started appearing early, I'd had

my fill of more eggnog than most years. Even

so, I convinced my family that making a fresh

batch on National Eggnog Day could be our

new tradition, to serve Santa the best we had

to offer. Before bedtime, my sons placed a

mug of eggnog and a plate of cookies by the

chimney. When they weren't looking I poured

a shot of rum into the mug. As Christmas

Eve drew to a close I imbibed one more glass

of our homemade batch, just as Santa would

do when he arrived. Mine also had an extra

dash of rum — it seemed wrong, on National

Eggnog Day, to not enjoy one last swig in the

most appropriate way before retiring it until

next Christmas. Or October.

DARIN COOK is a regular Eatdrink contributor who

lives and works in Chatham-Kent.
---
Eatdrink: The Local Food & Drink Magazine

December 2018/January 2019| 47

a

movement

for

restaurants

who believe

local food

matters.

®

A Feast On® Certification means

you're fighting the good food fight.

You're supporting our farmers

and putting local food first.

To get certified, visit:

ONTARIOCULINARY.COM

@ONTARIOCULINARY #FEASTON
---
48 |December 2018/January 2019

eatdrink.ca |@eatdrinkmag

The Perfect Holiday

Dinner Needs

Seafood

All the Seafood You

Could Want & More

Fresh Seafood Arriving Daily

www.caudlescatchseafood.com