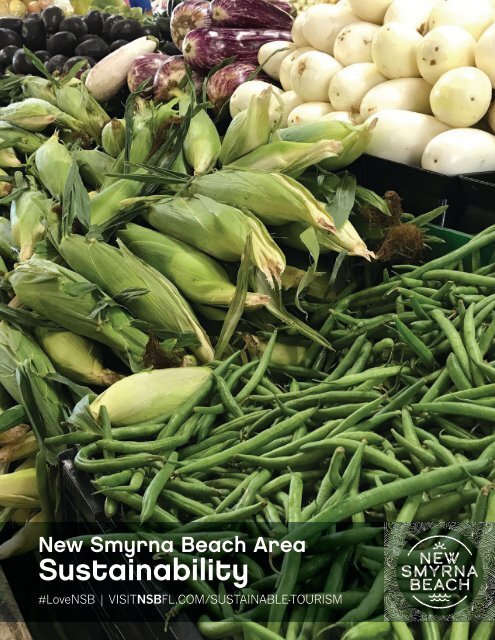 Create successful ePaper yourself
Turn your PDF publications into a flip-book with our unique Google optimized e-Paper software.
New Smyrna Beach Area

Sustainability

#LoveNSB | VISITNSBFL.COM/SUSTAINABLE-TOURISM
---
Table of Contents

3

Community

Gardens

12

Local Farms

5

Farm Resources

16 Sustainability

Programs

7

Sustainable

Restaurants

27 Sustainability

Tips

10

Farmers Markets/

Produce Stands
---
Community Gardens

VISITNSBFL.COM 3
---
Community Gardens

New Smyrna Beach Community Garden

505 Mary Avenue

New Smyrna Beach, FL 32168

cityofnsb.com/1155/Community-Garden

The New Smyrna Beach Community Garden's mission

is to create and maintain a sense of community through

a community garden that promotes healthy lifestyle

choices and offers a place for those who share a common

desire to learn more about gardening. The community

garden offers 14 plots for organic gardening.

Port Orange Community Gardens

4700 S. Clyde Morris Boulevard

Port Orange, FL 32129

This is a community garden with 40 raised plots for

vegetable gardening.

Shaolin Gardens

301 Corral Road

Osteen, FL 32764

407.432.0511

Shaolin Gardens is ready for season two in the Central Florida area. We are currently taking sign ups and

the shares are expected to go fast. Our crops will consist of tomatoes, peppers, eggplant, lettuce, beets,

carrots, squashes, beans, cucumbers, okra, spinach, and greens such as china choy and mustards,

broc, cabbage, and a host of others.

VISITNSBFL.COM 4
---
Farm Resources

VISITNSBFL.COM 5
---
Farm Resources

UF IFAS Volusia County

Extension Urban Horticulture

Program

3100 E. New York Avenue

Deland, FL 32724

386.506.5852

volusia.org/services/community-services/

extension/horticulture/

The University of Florida Urban Horticulture

Program intends to educate, inform and provide

updated information on urban horticulture

program activities, education and to support and

promote the urban horticulture program.

Volusia County Farm Bureau

3090 E. New York Avenue

Deland, FL 32724

386.734.1612

volusiacountyfarmbureau.com

Volusia County has one of the most active farm

bureaus in the state of Florida. Membership is

strong with roughly 5,300 member families and

member benefits are outstanding.

VISITNSBFL.COM 6
---
Sustainable

Restaurants

VISITNSBFL.COM

7
---
Sustainable Restaurants

With the increasing use of disposable plastics and overall climate change, coastal habitats and marine

environments throughout the world are experiencing the adverse effects more than ever. To protect the

17 miles of beautiful beaches and the Indian River Lagoon, many of New Smyrna Beach restaurants are

implementing sustainable, eco-friendly practices. While serving up delicious entrees, these restaurants

are cutting down on environmentally harmful products like single-use plastic straws and takeout

containers. Others are partnering with community-run gardens to offer fresh, locally grown items or

participating in conservation initiatives, like Shuck & Share, in which local restaurants donate their

shucked oyster shells to be converted into reef-building materials.

Icon Key

= Shuck & Share

= Catch & Cook

= Locally Sourced Food

= Paper To Go Products

= General Recycling

= Reduction of Single Use Straws/Plastic/Straws Upon Request

Café Verde

301 Flagler Avenue

New Smyrna Beach, FL 32169

386.957.3958

cafeverdensb.com

Cool, colorful staple spotlighting

unique, locally sourced cafe fare,

including many veggie options.

Copperline Coffee

& Cafe

5521 S. Williamson Boulevard

Unit 420

Port Orange, FL 3212

386.690.0134

copperlinecoffee.com

Offering craft coffee using

roasted coffee beans from Island

Roasters Coffee Company in

New Smyrna Beach.

Goodrich's Seafood

253 River Road

Oak Hill, FL 32759

386.345.3397

goodrichseafood.com

Historic riverside veteran

featuring oysters, po' boys &

Southern-style seafood, plus

a back patio. Featured on

"Emeril's Florida."

French Quarter

Grille

124 Canal Street

New Smyrna Beach, FL 32168

facebook.com/

FrenchQuarterGrilleOnCanal

Serving fresh, locally-caught

seafood.

Hottie Coffee

409 Mary Avenue

New Smyrna Beach, FL 32168

386-682-0693

hottie-coffee.com

Fresh-roasted coffee delivered

to your door from New Smyrna

Beach's original local roaster.

Hottie Coffee roasts for coffee

shops, cafes, donut shops,

B&Bs, individuals - anyone

that wants masterfully roasted

organic fair trade coffee.

Island Roasters

Coffee Company

394 N. Causeway

New Smyrna Beach, FL 32169

386.847.2920

islandroasterscoffeecompany.com

Freshly roasted organic/fair trade

coffees. Offering personalized

roasts to match your taste.

JB's Fish Camp

856 Pompano Avenue

New Smyrna Beach, FL 32169

386.427.5747

jbsfishcamp.com

Quality and consistency is the

motto at JB's Fish Camp. The

river produces the sweetest

seafood anywhere. JB's depends

on professional anglers for the

best fish and shellfish because

they believe that people should

be as proud of their food as JB's

is to prepare and serve it.

Mason Bar

488 N. Causeway

New Smyrna Beach, FL 32169

386.410.2904

freshmasonbar.com

FREE CUP OF COFFEE if you

take a picture of trash you

collected off the beach. Strictly

VISITNSBFL.COM

8
---
organic and sustainable

(recycled plastics, bags, etc)

Mason Bar offers everything

from frozen pops to fresh juices,

acai bowls and smoothies...all

made with natural and organic

ingredients, no artificial flavors

or preservatives (or anything you

can't pronounce!)

Norwood's Eatery

& Treehouse Bar

400 E. 2nd Avenue

New Smyrna Beach, FL 32169

386.428.4621

norwoods.com

A family tradition in New Smyrna

Beach, Florida, since 1946.

Featuring fresh seafood, chicken,

aged beef, and great wines.

Ocean's Seafood

601 E. 3rd Avenue

New Smyrna Beach, FL 32169

386.423.5511

facebook.com/pages/oceansseafood/111727772195975

Unassuming, counter-service

spot with a coastal menu & a

deli-style seafood market for

at-home cooking.

Off the Hook Raw

Bar & Grill

747 E. 3rd Avenue

New Smyrna Beach, FL 32169

386.402.9300

offthehookrawbar.com

Come see what fresh local

seafood means. Off the Hook Raw

Bar & Grill wants to share what

fresh really tastes like.

Outriggers Tiki Bar

& Grill

200 Boatyard Street

New Smyrna Beach, FL 32169

386.428.6888

newsmyrnamarina.com

Festive harbor side tavern with

a wraparound bar and a patio

serving comfort eats and exotic

cocktails.

Riverpark Terrace

302 S. Riverside Drive

New Smyrna Beach, FL 32168

386.427.2903

riverparkterrace.com

Riverpark Terrace is a fresh

new restaurant in New Smyrna

Beach featuring modern

American fare with a focus on

locally-sourced ingredients.

They pride themselves on

excellent service and highquality

food made with the

freshest ingredients, including

free-range poultry and eggs,

antibiotic-free proteins, fresh

seafood, and items with no

preservatives or food dyes.

The Baker's Table

4154 S. Atlantic Avenue

New Smyrna Beach, FL 32169

386.423.6656

thebakerstablensb.com

Charming bistro and bakery

offering German specialties

and international fare, plus

homemade desserts, including

fresh doughnuts.

Third Wave Café &

Wine Bar

204 Flagler Avenue

New Smyrna Beach, FL 32169

386.402.7864

thirdwavensb.com

Cozy hub with gourmet coffee,

brick-oven pies, global wines and

craft beers, plus a garden patio.

Third Wave Cafe serves Island

Roasters Coffee and sources

much of its produce from local

farms. Third Wave Café & Wine

Bar is an active member of the

James Beard Foundation and

Smart Catch Program.

Tomoka Brewing

Company

4647 S. Clyde Morris Boulevard

Port Orange, FL 32129

386.256.4979

tomokabrewingco.com

Rush down an untamed river

of Tomoka, fresh from the

tap. Tomoka Brewing Co's

brews have a unique kick,

and their brewpub foods use

local, organic & sustainable

ingredients – plus a bit of beer –

to get your palate a bit closer to

nature.

SoNapa Grille

3406 S. Atlantic Avenue

New Smyrna Beach, FL 32169

386.402.8647

sonapa.com

SoNapa Grille is more than just

a restaurant. SoNapa Grille is

really about a lifestyle. Besides

the obvious namesake attributes

of Sonoma County and Napa

Valley, the restaurant signifies

passion, enriched experiences

and simplicity.

Yellow Dog Eats

147 Canal Street

New Smyrna Beach, FL 32168

386.410.4824

yellowdogeats.com

American joint serving BBQ,

sandwiches & craft brews in a

colorful, relaxed setting with a

patio.

VISITNSBFL.COM

9
---
Farmers Markets/

Produce Stands

VISITNSBFL.COM 10
---
Farmers Markets/Produce Stands

Edgewater Farmer's Market

127 E. Park Avenue

Edgewater, FL 32132

386.424.2400

Every Thursday until September 27, 2018

4 p.m. – 8 p.m.

Norwood's Farmers Market

400 E. Second Avenue

New Smyrna Beach 32169

561.914.3002

Every Saturday, 8 a.m. – 12 p.m.

Meet the local farmers, the Swiss baker, several

growers of edible and ornamental plants,

fresh roasted organic coffee, jams, homemade

organic soaps and much more — or just relax at

Norwood's Tropical outdoor deck and enjoy food

and drink while watching all the market activities.

Norwood's Restaurant opens at 11:30 a.m.

New Smyrna Beach

Farmers Market

Sams Avenue

New Smyrna Beach, FL 32168

386.822.3911

Every Saturday, 7 a.m. – 12:30 p.m.

A faithful mainstay of the city since 1991. The

goal of the market is not to create a place where

you can buy food. The goal is to create a place

where, whenever possible, you can buy food from

the person that grew, caught, made, collected or

otherwise fostered its creation.

Oak Hill Farmers Market

351 N. U.S. 1

Oak Hill, FL 32759

386.345.3570

Every Friday, Saturday & Sunday, 7 a.m. – 1 p.m.

The Pavilion at Port Orange

Farmers Market

5501 S. Williamson Boulevard

Port Orange, FL 32128

386.882.4965

Every Saturday, 8 a.m. – 1 p.m.

The Pavilion at Port Orange Farmers Market is

the best local market providing fresh produce,

crafts, entertainment, food and fun.

Perrine's Produce

1044 N. Dixie Freeway

New Smyrna Beach, FL 32168

386.423.2336

Monday through Saturday, 8 a.m. – 7 p.m.

Sunday, 8 a.m. – 6 p.m.

A family owned and operated business that has

been selling fresh fruit and vegetables for over

25 years. Perrine's prides itself on providing

the freshest produce you can find at affordable

prices. Their wide variety of products includes

hundreds of various Amish products, local honey,

jellies, old-fashioned snacks and, of course, a

huge selection of fresh fruits and vegetables. The

New Smyrna Beach location has a full-service

deli with over 60 types of meats and cheeses. Or,

try one of more than 24 homemade ice cream

flavors at their New Smyrna Beach location.

Port Orange City

Center Market

1000 City Center Circle

Port Orange, FL 32129

386.316.2959

Every Thursday, 9 a.m. – 2 p.m.

Fresh local produce, craft and artisan vendors,

raw local honey, food trucks, and more.

Volusia County

Farmers Market

3150 E. SR 44

Deland, FL 32724

386.734.1612

Every Wednesday, 7 a.m. – 12 p.m.

Volusia County Wednesday Farmers Market is one

of the largest and longest-running farm markets

in Florida.

VISITNSBFL.COM 11
---
Local Farms

VISITNSBFL.COM 12
---
Local Farms

Volusia County's farm and ranch families produce a

bounty of agricultural products, managing a large portion

of our county's land base and serving as caretakers of our

natural resources and diverse ecosystems. The annual

economic impact of Volusia County's agriculture and

natural resources industries is $781 million, representing

three percent of the county's economic activity. The

county's 1,114 farms cover more than 229,000 acres and

produce agricultural products including fruit, vegetables,

honey, cattle, hay, sod, fish, timber and plants.

Azalea Acres Farm

650 6th Avenue

Osteen, FL 32764

407.749.9183

Azalea Acres Farm practices

sustainable farming techniques

to produce quality, nutritious

foods they are proud to share.

Products are currently sold at

the New Smyrna Beach Farmers

Market on Canal Street every

Saturday from 7 a.m. until noon.

Azalea Acres Farm has been

proudly selling our fresh chickens

and eggs here since October

2015. By appointment only.

Bellepacas Farm

275 Canal Avenue

Oak Hill, FL 32759

352.209.9843

bellepacas.com

With Ann's love of all things fiber

– spinning, knitting, dyeing – and

Jack's extensive knowledge of

animal husbandry, the owners of

Bellepacas Farm love and respect

their animals, hoping for excellent

stock and superlative fiber. This

is an Alpaca farm that produces

soap, yarn, cheese, among other

things. Bellepacas Farm has a

double booth at the New Smyrna

Beach Farmers Market every

Saturday. By appointment only.

Cow Creek Farms

4408 Cow Creek Road

Edgewater, FL 32141

386.345.0958

cowcreekfarms.net

Cow Creek Farms offers 100%

natural cage free eggs, meat

chickens, and turkeys. Only the

purest grain and freshest green

vegetables and grass. State licensed.

Florida Plant & Tree

4708 SR 44

New Smyrna Beach, FL 32168

386.423.9390

flplantandtree.com

Visit the tree farm of Florida

Plant & Tree in New Smyrna

Beach, Fla., to get palm trees.

They offer a wide variety of cold

hardy and tropical palm trees to

beautify your landscape. If you

need more details on availability,

call or stop by the office.

Green Flamingo

Organics

398 N. Putnam Grove Road

Oak Hill, FL 32759

386.576.4298

greenflamingoorganics.com

Green Flamingo Organics is

dedicated to bringing beyond

organic, fresh and healthy

vegetables, eggs and poultry to

anyone and everyone within a

100-mile radius of Oak Hill, Fla.

Their tasty, good for the earth

goodies can be found at the New

Smyrna Beach Farmers Market,

and through our Community

Supported Agriculture Program

from August to May. By

appointment only.

Keely Dairy Farms

2431 S. Glencoe Road

New Smyrna Beach, FL 32168

386.314.5111

keelyfarmsdairy.com

Keely Dairy Farms believes in

responsible, sustainable farming

and the local food movement.

They feel that farmers should be

connected to their customers.

At Keely Farms, you will find

heritage sized jersey cows with

a grass-based diet: no grain, no

GMO feed, no hormones, and no

antibiotics, with superior animal

welfare. Open to the public.

L & L Farms

1025 SR 415

New Smyrna Beach, FL 32168

386.689.7372

agrilicious.org/l-l-farms

L & L Farms grows a variety of

veggies from September to early

summer, including collards,

kale, broccoli, turnips, cabbage,

mustards, etc. They also have a

farm stand open on the weekends

(Friday – Sunday) from 8 a.m.

until 5 p.m. (all year-round).

VISITNSBFL.COM 13
---
Monroe Ashby

Farms

1520 Prideaux Road

Osteen, FL 32764

386.490.2646

monroeashbyfarms.com

The year-round fresh climate of

Central Florida provides one of

the most agreeable locations

for raising pastured pork. To

show their appreciation, the

pigs, chickens and cattle all

do the fertilizing for free. The

busy chickens at Monroe Ashby

Farms also provide pest control

in the way nature intended.

No chemical fertilizers or

insecticides are ever needed.

Pell's Citrus

and Nursery

400 Doyle Road

Osteen, FL

407.322.3873

pellcitrus.com

You're invited to come visit either

of Pell's locations and sample

their mouthwatering fruit. In

Osteen, you can see how the

fruit is processed and browse

through 24 acres of ornamental

and tropical plants. They also sell

many varieties of citrus trees,

marmalades and jelly, loose and

bagged fruit and our famous

fresh squeezed orange and

grapefruit juice.

R & R Sod Farm

3390 Pioneer Trail

New Smyrna Beach, FL 32168

386.547.5777

randrsod.com

The sod is sand-grown locally on

their farm in New Smyrna Beach,

Fla. Being sand-grown develops a

more mature root system and a

natural environment for when the

sod is reestablished.

Root & Tail Farm

2710 Volco Road

Edgewater, FL 32141

386.689.4849

rootandtailfarm.com

Root & Tail Farm aims to provide

Southeast Volusia community

with the highest quality heirloom

produce and heritage proteins.

They get dirty every day to make

sure Root & Tail's food reaches

your table grown with organic,

humane, and sustainable practices.

Sheryl Stock's

Produce

1889 Pell Road

Osteen, FL 32764

386.547.6935

localharvest.org/

sheryl-stocka-produce-M72041

A licensed farm offering farm

fresh eggs from a variety of freerange

hens. Eggs range in color

from dark/light brown, white and

blue/green. Sold in three sizes:

dozen, 18-unit packages, and flats

(30 eggs). Offering local delivery.

Sun Splash Nursery

617 Ingham Road

New Smyrna Beach, FL 32168

386.427.9816

sunsplashnursery.net

Sun Splash Nursery is dedicated

to growing an environmentally,

socially and economically

sustainable food system for

the New Smyrna Beach area.

Delicious, affordable, bountiful,

healthy, culturally diverse,

ecologically sane, locally grown &

prepared fruits, veggies, and herb

products that sustain families,

neighborhoods, livelihoods and

the planet.

They manage over 2,000 beehives

throughout the year producing

Black Mangrove, Orange Blossom,

Brazilian Pepper, Gallberry and

Wildflower honey. Sun Splash's

Black Mangrove honey is the purest

in the state, as they hold the only

permit in Florida issued by the

FDEP that allows them to access the

remote interior islands of Mosquito

Lagoon where the world's largest

concentration of Black Mangrove

lives and thrives as Florida's number

one nectar producing flower.

Business hours:

8 a.m. – 3:30 p.m. Everybody is

welcome to the farm and tours

are available on request. Open

for inspection anytime during

business hours.

The Barefoot

Farmer of Samsula/

Tomazin Farms

191 S. Cucumber Lane

New Smyrna Beach, FL 32168

386.547.6087

tomazinfarms.com

A family farm that specializes in

growing all types of vegetables.

They also raise chickens, ducks,

rabbits, and cows. Free home

delivery with $20 weekly veggie box.

Order as needed, no obligation,

and substitutions allowed. 100%

local, "better than organic" local raw

milk, meat, eggs, and artisan dairy

products. Also available for delivery

through their partnership with Keely

Farms Dairy. Tomazin Farms also

exhibits at the New Smyrna Beach

Farmers Market.

Unity Farms

1055 10th Street

Osteen, FL 32764

386.473.4187

Unity Farms raises Lamancha

dairy goats to offer raw milk

for pet consumption only and

cheeses. They also grow spinach,

romaine, radishes, red pak

choi, potatoes, red and green

cabbage, kale, cantaloupe, acorn

squash, fennel, beets, dandelion

and tomatoes. Coming soon:

blueberries, heirloom cherry

tomatoes, zucchini, yellow

squash and pickling cucumbers.

VISITNSBFL.COM 14
---
Watson's Christmas Tree Farm

180 Cedar Grove Road

Oak Hill, FL 32759

386.345.2940

facebook.com/watsonchristmastree/?rf=311124185660175

Open for sales November 28th thru December 23rd – Fridays, Saturdays & Sundays

Hours: 8 a.m. – 5 p.m.

Florida Plant & Tree

VISITNSBFL.COM 15
---
Sustainability Programs

VISITNSBFL.COM 16
---
Sustainability Programs

Blue Community Observatory

The New Smyrna Beach Area Visitors Bureau is a member of the Blue Community

Observatory. The Blue Community Observatory seeks to protect oceans, coastal

habitats and marine environments in Florida through implementing Blue Community

and other sustainable tourism strategies. The Waves of Change Blue Community

program is an opportunity for coastal communities to declare their own work

to protect the oceans and promote ocean sustainability. The oceans are under

increasing threats from pollution, overfishing, impacts of climate change including

coral bleaching, acidification, and increased storm intensity. The Waves of Change

campaign is responding to these issues with ocean clean-up programs, improving

ocean literacy, supporting ocean champions, ecosystems restoration, and programs

to adapt and mitigate the impacts of climate change.

Unless policies for protection of the oceans and promotion of ocean sustainability

are increased, coastal communities are likely to experience adverse impacts. The Blue

Community program is a place for learning and sharing those best practices which

mitigate those impacts. It currently has 12 strategies in place to protect coastal

habitat and marine environments:

• Improve building design – build more sustainably and for disaster reduction

• Promote mass transportation – reduce carbon emissions

• Reduce energy use

• Water conservation

• Improve waste management

• Reduce use of plastic

• Promote local Organic or

Hydroponic food

• Promote sustainable seafood

• Protect coastal habitat and

cultural heritage

• Clean marina initiative

• Education

• Planning, policy and

management

Intracoastal Waterway

VISITNSBFL.COM 17
---
One Planet Living

One Planet Living is an easy-to-use framework that can help anyone, anywhere, to plan,

deliver and communicate sustainability. Bioregional created the One Planet Living

framework consisting of 10 intuitive principles that work together to help anyone,

anywhere make truly sustainable living a reality.

The One Planet Living framework comprises 10 easy-to-grasp principles and

detailed goals and guidance. Together, these provide a clear, practical routemap to

create a sustainability action plan for any organization that can engage hearts as

well as minds:

1. Health and happiness - Encouraging active, sociable, meaningful lives to promote good

healthy and wellbeing.

2. Equity and local economy - Creating safe, equitable places to live and work which

support local prosperity and international fair trade.

3. Culture and community - Nurturing local identity and heritage, empowering

communities and promoting a culture of sustainable living.

4. Land and nature - Protecting and restoring land for the benefit of people and wildlife.

5. Sustainable water - Using water efficiently, protecting local water sources and reducing

flooding and drought.

6. Local and sustainable food - Promoting sustainable humane farming and healthy diets

in local, seasonal organic food and vegetable protein.

7. Materials and products - Using materials from sustainable sources and promoting

products which help people reduce consumption.

8. Travel and transport - Reducing the need to travel, and encouraging walking, cycling and

low carbon transport.

9. Zero waste - Reducing consumption, reusing and recycling to achieve zero waste and

zero pollution.

10. Zero carbon - Making buildings and manufacturing energy efficient and supplying all

energy with renewables.

Contact Bioregional if you need help developing your action plan:

bioregional.com/oneplanetliving

VISITNSBFL.COM 18
---
Green Lodging

Launched in 2004, the Florida Green Lodging Program is an initiative of the Florida

Department of Environmental Protection (DEP) that designates and recognizes lodging

facilities that make a voluntary commitment to conserve and protect Florida's natural

resources. The program's environmental guidelines enable the hospitality industry

to evaluate operations, set goals and take specific actions to continuously improve

environmental performance.

The Florida Green Lodging Program is administered primarily online. To become

designated, facilities must conduct a thorough property assessment and implement a

specified number of environmental practices in five areas of sustainable operations:

• Communication and Education (Customers, Employees, Public)

• Waste Reduction, Reuse and Recycling

• Water Conservation

• Energy Efficiency

• Indoor Air Quality

Designation Application

The Florida Green Lodging Program application is designed to allow for the expansion

of environmental criteria within each section and, more importantly, the assignment of

different "weights" to the criteria based on the potential positive environmental impact.

A minimum point total is required for each section. Applicants are free to select which

criteria to implement at their facility as long as the minimum total for that section is

met. Failure to meet the minimum number of points will render that section incomplete

and will delay designation approval.

Palm Levels

In an effort to better recognize the state's lodging properties for their commitment

to protecting the state's natural resources, the Florida Green Lodging Program is a

four-tiered designation. Facilities will be able to obtain different "Palm" levels based

on the total number of points received when implementing criteria to receive their

designation. The "Palm" levels are as follows:

• One Palm designations will need between 212 and 398 points.

• Two Palm designations will need between 399 and 557 points.

• Three Palm designations will need between 558 and 717 points.

• Four Palm designations will need between 718 and 796 points.

VISITNSBFL.COM 19
---
Green Volusia Program

The Green Volusia Program was established to expand green practices within county

government operations and to provide information and education about environmentally

responsible practices that benefit the community. The Green Volusia program has

many goals, which include encouraging stewardship and conservation of Volusia

County's natural resources and promoting an understanding of the benefits provided

by these natural resources. The Green Volusia program coordinates the Volusia County

Sustainability Action Plan, which was adopted on February 20, 2014.

The plan identifies seven specific sustainability goals:

1. Provide a Healthy Economy: create a sustainable business environment, retain viable

commercial agriculture operations, and provide a high quality of life through provision

of community amenities such as parks, libraries, and cultural amenities.

2. Maintain a Healthy Environment: protect, restore, and manage natural lands,

manage and protect surface water bodies, protect threatened and endangered

species, and plan for adaptation to sea level rise.

3. Promote a Healthy Community: encourage local food production, provide for

urban open space, improve opportunities for walking and biking, and protect

urban tree canopies to provide for the continued health of Volusia County's

residents, businesses, and visitors.

4. Encourage Efficient Transportation and Community Design: reduce automobile

fuel consumption and emissions, improve pedestrian and transit-oriented

development, and discourage single-occupancy vehicle use.

5. Conserve Water and Promote Water Efficiency: conserve potable water supply

through conservation measures applicable to both indoor and outdoor water use

in existing buildings and new construction.

6. Conserve Energy and Promote Renewable Energy: encourage energy efficiency

retrofits for existing buildings, enhance energy performance for new construction,

increase use of renewable energy, improve community energy management, provide

alternative fuel options, and improve the county's vehicle fleet.

7. Reduce Waste and Promote Recycling: build on past county successes to identify

strategies to increase waste diversion rates and educate residents to become wellinformed

consumers.

VISITNSBFL.COM 20
---
The Indian River Lagoon

The Indian River Lagoon is comprised of three water bodies: the Mosquito Lagoon,

Banana River and Indian River. The lagoon travels 156 miles along the east coast from

the Ponce de Leon Inlet to the Jupiter Inlet. It is the most biologically diverse estuary

in the Northern hemisphere and is home to more than 3,000 species of plants and

animals and serves as a spawning and nursery ground for many different species

of oceanic and lagoon fish and shellfish. It also has one of the most diverse bird

populations. Nearly 1/3 of the nation's manatee population lives here or migrates

here seasonally, and over 1,000 Bottlenose dolphins live in the Indian River Lagoon. Its

ocean beaches also provide one of the densest sea turtle nesting areas.

The 2016 economic valuation can be seen as follows:

• Total annual economic output received from the Indian River Lagoon in 2014 was

$7.6 billion

• $934 million in annualized real estate value added for properties located on or

near the Indian River Lagoon

• $9.9 billion economic contributions from estuarine-related resources in Volusia

County north of Ponce de Leon Inlet

• Recreation and visitor activity related to the IRL: $1.57 billion

• By 2025, the IRL regions expect to receive 11 million visitors annually

Declaration of support for the IRL National Estuary Program (IRL NEP):

• Southeast Volusia Advertising Authority

• Brevard County Tourism Development Council

• Indian River County Chamber of Commerce

• St. Lucie County Tourism Development Council

• Martin County Office of Tourism and Marketing

Recognition of the importance of the IRL:

• Ecological

• Economic value to our region: nearly 1 million

people live and work in the IRL. It accounts for $300 million in fisheries revenue,

$2.1 billion citrus industry, $300 million in boat and marine sales annually

• Visitors spend an estimated 3.2 million personal days in recreation on the lagoon

• Protect and restore: water quality, climate change, wildlife, habitats

VISITNSBFL.COM 21
---
Living Shorelines

Living shorelines are an erosion prevention method that use natural barriers such

as plants, oysters, and limited rock to protect fragile shorelines while maintaining

valuable habitat. Living shoreline projects utilize native and salt tolerant plants at

different levels of elevation to avoid the loss of sediment, help to improve water quality

via filtration of upland run off, and create habitat for aquatic and terrestrial species.

In areas of higher wave energy due to large boat wakes or wind-driven waves, the use

of rock may be necessary, or oyster restoration materials may be used to create a new

oyster bed while dissipating wave energy and protecting a shoreline.

Many regions in Florida use different methods to create living shorelines. These

methods vary depending on tidal influence, severity of erosion, slope, and what is

already present on the natural shoreline. Mangroves, shells, marsh grasses, and

many species of native plants are commonly used in living shorelines in Central

Florida. To learn more about living shorelines in your area, including how to protect

your property, please visit floridalivingshorelines.com

For more information on mangroves, marsh grasses, oysters, native plants and invasive

plants please visit the Marine Discovery Center's website:

marinediscoverycenter.org/conservation/shoreline-restoration/living-shorelines to learn

more about those used in living shorelines and those invasive plants that do more harm

than good.

VISITNSBFL.COM 22
---
Marine Discovery Center

Project H2O (Healthy Habitat through Outreach) – Bringing together government

agencies, environmental organizations, local universities, and non-profits to

collaborate on research, education, restoration and funding opportunities to improve

Volusia County waters and the Indian River Lagoon. Protect Our Lagoon Academy is

one of the programs in place.

Shuck and Share: Lagoon Restoration through oyster recycling is just one component

of the Marine Discovery Center's ongoing efforts to restore shorelines in the area.

The recycling project is a collaboration between the Marine Discovery Center and

several local seafood restaurants. Shucked oyster shells from the restaurants are

converted into new reef-building materials through volunteer efforts. The shells will be

kept out of the landfill and recycled back into the natural system.

The oyster bags and mats, created by volunteers, will be placed into the lagoon to help

stabilize shorelines and provide a foundation for oyster communities to rebuild. The

mats or bags provide a place for tiny floating oysters, or spat, to settle and grow, and

the cumulative weight of the new oyster growth helps build and strengthen the reef.

Marine Discover Center Sh.O.R.E Program: The Marine Discovery Center, Atlantic

Center for the Arts, and Daytona State College will again host Sh.O.R.E. – Sharing Our

Research with Everyone — an annual symposium designed to address current issues

and research relating to the Indian River Lagoon (IRL).

VISITNSBFL.COM 23
---
OneLessStraw

The OneLessStraw pledge campaign is a campaign created by One More Generation

(OMG) and its partners. The OneLessStraw Pledge Campaign was created as a way to

involve everyone by simply saying 'No' to plastic straws. The UN recently published a

report stating that plastic pollution is now considered one of the largest environmental

threats facing humans and animals globally. The OneLessStraw pledge campaign

strives to educate the public about the dangers of single use plastic straws, its effects

on our health, our environment and our oceans.

The following are ways that you can help:

• Take the OneLessStraw Pledge onelessstraw.org/#signup

• Encourage your favorite business or school to take the pledge and to only provide

plastic straws on request. Also ask for them to use biodegradable or reusable

options. Become a Sponsor of the OneLessStraw pledge campgain

Why is it important to sign the pledge?

• Each year, 100,000 marine animals and over 1 million sea birds die from

ingesting plastic.

• Every day we use 500,000,000 plastic straws. That's enough straws to fill 46,400

large school buses per year.

• U.S. Consumption is equal to enough plastic straws to wrap around the earth's

circumference 2.5 times a day!

Sign the pledge today!

VISITNSBFL.COM 24
---
Single-Use Plastics

THE SOLUTION STRAGETY

The best alternative is to replace harmful plastic products with reusable or refillable

products that can provide the same service without using any disposable materials at all.

Food Wrappers & Containers

• Provide opportunities for bulk purchasing, incentives for bringing reusable bags

and containers, eliminating single-use plastics from product lines and food

service counters, as well as improving recovery and recycling of plastic film used

to wrap pallets.

Bottle & Container Caps

• Using reusable bottles for water, soda and other beverages solves this problem.

Beverage Bottles

• Much of the waste from bottled water can be eliminated through investing in

easy-to-access public drinking fountains and water bottle refill stations.

• Soda and juice bottle waste can also be cut down through strategies to encourage

refillable containers at specialized fountains.

• Businesses, institutions, universities and schools can all contribute by phasing

out bottled water and encouraging reusable/refillable bottles and cups for water

and other drinks.

Plastic Bags

• Disposable shopping bags made from high-recycled-content paper or other nonplastic,

biodegradable alternatives help prevent plastic pollution.

• Grocers, retailers and take-out food service establishments can implement instore

policies to encourage reusable bags and phase out disposable plastic ones.

Straws & Stirrers

• Restaurants and food-service establishments can help by switching to a "straws

upon request" policy and by providing paper, rye wheat, bamboo, reusable glass,

steel or metal straws for eat-in dining.

• For take-out, 100% paper straws can be substituted for plastic, while coffee shops

can provide reusable spoons or wooden stirrers.

VISITNSBFL.COM 25
---
Lids

• The best solution is for coffee shops to encourage customers to bring reusable

cups with lids, through discount incentives.

• Soda lid waste can also be cut down through strategies to encourage refillable

containers at soda and juice fountains.

• It is especially important that any lid designed to contain hot liquids be free of

harmful additives.

Utensils

• Restaurants and food service establishments can help solve the problem by

replacing disposable plastic with reusable utensils.

• For take-out, restaurants can also encourage customers to use their own utensils,

and substitute single-use, biodegradable options such as bamboo for plastic when

customers haven't brought their own.

Cigarette Butts

• The best alternative is not to smoke.

Take-Out Containers

• Restaurants and food-service establishments can institute strategies to support

customers using reusable or bringing their own take-out and take-away containers.

• For example, restaurants, grocers and food purveyors can provide reusable

containers with deposits to bring back to stores.

• They can also provide discounts for bringing your own take-out containers, and

non-plastic biodegradable alternatives for customers that don't have them.

VISITNSBFL.COM 26
---
Sustainability Tips

VISITNSBFL.COM 27
---
Sustainability Tips

• Use recyclable/reusable bags instead of plastic

• Conserve water

• Participate in a cleanup event like a beach cleanup

• Join the New Smyrna Beach community garden

• Conserve energy

• Volunteer at the Marine Discovery Center

• Keep Volusia County Beautiful — The educational approach used results

in behavioral changes that reduce litter and increase waste prevention and

recycling by residents and businesses

VISITNSBFL.COM/SUSTAINABLE-TOURISM

VISITNSBFL.COM 28
---
2238 State Road 44

New Smyrna Beach, FL 32168

800.541.9621 • 386.428.1600

VISITNSBFL.COM/SUSTAINABLE-TOURISM