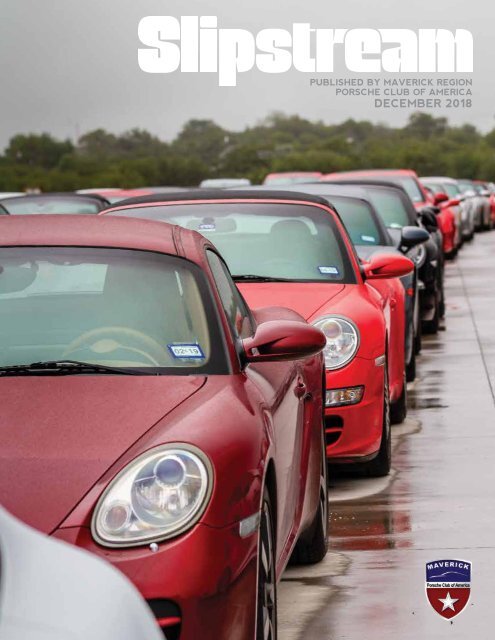 Slipstream - December 2018
The monthly newsletter of the Maverick Region of the Porsche Club of America
The monthly newsletter of the Maverick Region of the Porsche Club of America
SHOW MORE
SHOW LESS
You also want an ePaper? Increase the reach of your titles
YUMPU automatically turns print PDFs into web optimized ePapers that Google loves.
PUBLISHED BY MAVERICK REGION<br />
PORSCHE CLUB OF AMERICA<br />
DECEMBER <strong>2018</strong>
---
Sports-car performance.<br />
SUV versatility. This is big.<br />
Presenting the next generation of Porsche sports car, flawlessly fitted into an SUV.<br />
The redesigned 2019 Cayenne boasts a dynamic new design. Incredible innovation<br />
and versatility. And turbocharged engines with up to 541 horsepower and<br />
0–60 times of 3.9 seconds. But for all that's new, one thing never changes: the<br />
high-performance dealership experience that makes Park Place feel like Your Place.<br />
Discover the 2019 Cayenne at Porsche Grapevine.<br />
1280 Texan Trail<br />
Grapevine, TX 76051<br />
833.470.0671<br />
PorscheGrapevine.com<br />
©<strong>2018</strong> Porsche Cars North America, Inc. Porsche recommends seat belt usage and observance of all traffic laws at all times.
---
VOLUME 57<br />
ISSUE 12<br />
DECEMBER <strong>2018</strong><br />
MAV.PCA.ORG<br />
Jason drives a 944?<br />
Photo by George Luxbacher<br />
FEATURES<br />
6 | Maverick DE Program Evolves to Fill a Void<br />
8 | Maverick Tech Session: Insurance<br />
12 | Park Place Supercar Showcase: Member Perspectives<br />
14 | Cars, Coffee & Conversation<br />
17 | Maverick Marktpreis: Porsche Values<br />
22 | A New Porsche Dealership: Hamburg Germany<br />
23 | Autocross: Event #9 Lone Star Park<br />
24 | Mavs&Mochas: Pearl Cup Coffee<br />
24 | Member Story: My Wife is Always Right, Always Right<br />
27 | Maverick Halloween Rally: <strong>2018</strong><br />
28 | Maverick Tours Recap: MotorSport Ranch Tour<br />
UPCOMING EVENTS<br />
17 | Board Meeting<br />
17 | Motoring Mavs at Mayo<br />
17 | All Member Party<br />
18 | Maverick Lunch Series<br />
18 | Maverick Social<br />
18 | Tech Session<br />
25 | Mavs&Mochas<br />
DEPARTMENTS<br />
2 | Sprockets (President's Column)<br />
2 | Maverick of the Month<br />
4 | List of Officers and Board Chairs<br />
4 | Zone 5 Presidents<br />
11 | New Mavericks<br />
11 | Member Moments<br />
20 | Porsche of the Month<br />
20 | Porsche Trivia<br />
34 | Advertiser Index<br />
34 | Anniversaries<br />
36 | Oversteer (Editor's Column)<br />
EVENT DATES<br />
See more details and check for event updates via the QR code<br />
here or our online calendar at http://mav.pca.org/go/calendar<br />
<strong>December</strong><br />
Mavs & Mochas and People's Choice Car Show............................(Sat) 1<br />
Maverick Toy Drive.......................................................................(Sat) 1<br />
Maverick Founders Day Celebration.............................................(Sat) 1<br />
Board Meeting.......................................................................... (Wed) 5<br />
Lewisville area lunch.................................................................(Tue) 11<br />
Motoring Mavs at Mayo............................................................ (Sat) 15<br />
Southlake area lunch................................................................(Thu) 27<br />
January<br />
Board Meeting.......................................................................... (Wed) 2<br />
Lewisville area lunch................................................................... (Tue) 8<br />
Mavs & Mochas: ?..................................................................... (Sat) 12<br />
Maverick Social: BJ's Dallas......................................................(Thu) 17<br />
Motoring Mavs at Mayo............................................................ (Sat) 19<br />
Southlake area lunch................................................................(Thu) 24<br />
Maverick Tech Session: Understanding Lubricants.................... (Sat) 27<br />
Last month's cover car 1985 Porsche 959 Paris-Dakar sold at<br />
RM Sotheby's for $5,945,000.<br />
Photos credit Sotheby's<br />
On the Cover<br />
Maverick Tour to MotorSport Ranch.<br />
Photo by Rober Kirby, LightSpeed Images<br />
<strong>Slipstream</strong> (USPS 666-650) is published monthly by the Maverick Region, Porsche Club of America, 155 Jellico<br />
Southlake, TX 76092. Subscription price is $24.00 per year. Periodical postage is paid at Fort Worth, TX.<br />
POSTMASTER: Send address changes to Hiram Saunders, <strong>Slipstream</strong>, 155 Jellico, Southlake, TX 76092.<br />
Opinions expressed herein are not necessarily endorsed by the Club's membership or officers. Contributions will be<br />
printed on a space available basis. Chartered regions of PCA may reproduce items from this issue provided the author/<br />
artist and <strong>Slipstream</strong> are credited. <strong>Slipstream</strong> is printed by Ussery Printing Company in Irving, Texas.<br />
1
---
SPROCKETS: Driving Year Round<br />
By David Robertson, Region President<br />
I recently spoke with a friend of mine in New<br />
York who was prepping his new Cayman for<br />
winter storage. Aside from being very sad that he<br />
would not be able to enjoy driving his Porsche for<br />
the next 5-6 months, he detailed the ritual that<br />
takes place every year in November.<br />
• Detail the car<br />
• Fill the tank<br />
• Add fuel stabilizer<br />
• Put the wheels in cradles to prevent flat spots<br />
• Arrange silica gel packs strategically to<br />
absorb moisture<br />
• Cover the car<br />
• Get the latest version of the Forza video<br />
game to at least simulate the ability to get<br />
out and drive<br />
That seems to me like a lot of wasted time,<br />
energy, and heartache when you can just live<br />
in Texas where we enjoy driving our two-door<br />
Porsches any season!<br />
I lived many years in Boston, and now that I<br />
am back in DFW, I wonder why anyone would<br />
put themselves through this yearly misery! Many<br />
of you have lived in areas of the country where<br />
this was on your yearly checklist and will probably<br />
agree that we have it pretty good down here for<br />
year-round driving.<br />
Although there have been a few times in past<br />
years here in DFW that I have not been willing to<br />
venture out in the rare ice and snow, for the most<br />
part it has been pretty good. Since there are usually<br />
no chemicals or salt on the roads, with a little sun<br />
things are usually back to normal pretty quick.<br />
After having the conversation with my friend<br />
in New York I decided to take advantage of some<br />
good weather and go for a drive in my 911 to<br />
experience the thrill that I always get on a good<br />
twisty road. I don't need much of an excuse to get<br />
out but this time I appreciated it just a little bit<br />
more than usual.<br />
MAVS OF THE MONTH:<br />
Mark Pitarresi and Brant<br />
Worrell, Tours Co-Chairs<br />
Have you been on one of our tours recently?<br />
If so it is no surprise that the team of Mark and<br />
Brant are well deserving of our recognition.<br />
These two work tirelessly to insure the Maverick<br />
Region has a safe and fun Tours program. Our<br />
Tours have become one of, if not the most well<br />
attended Tours program of any region in PCA!<br />
Mark and Brant have added innovation and well<br />
thought out logistic design to these events to<br />
make them safe and enjoyable for everyone and<br />
our members are giving them rave reviews! There<br />
is a ton of behind the scenes work that goes in<br />
to each of these events, from route creation and<br />
pre-drives (to make sure there are no surprises<br />
such as closed roads or unacceptable pavement)<br />
to setting up destination venues and organizing<br />
a team of fantastic volunteers to make sure every<br />
base is covered. Mark and Brant, thank you for<br />
your tireless efforts to make the Maverick Region<br />
Tour program so great!<br />
2 <strong>December</strong>
---
Like a Personal Trainer for your Porsche!<br />
• Expert maintenance and repair services • Track day preparation<br />
• Performance and appearance upgrades from GMG, Manthey, FVD and more<br />
• Superior customer service and free loaner cars • PCA discounts<br />
• Show quality detailing services • Comprehensive service from air-cooled to 991<br />
We Buy, Sell and Consign Quality Pre-owned Porsches<br />
PCA Special - Brake Flush $149 00<br />
Plus Sales Tax<br />
With this coupon. Brake Flush with MOTUL Brake Fluid. Offer includes complimentary car wash and vacuum.<br />
3236 Skylane Drive, Dallas, Texas 75006 • 214-269-1570 • www.racperformance.com<br />
3
---
<strong>2018</strong> Maverick Region Board - Officers and Chairs<br />
President<br />
David Robertson<br />
617-797-0516<br />
president@mavpca.org<br />
Vice President<br />
Jim Falgout<br />
vp@mavpca.org<br />
Secretary<br />
Carey Spreen<br />
817-422-3480<br />
secretary@mavpca.org<br />
Treasurer<br />
Deborah Fike<br />
972-672-4282<br />
treasurer@mavpca.org<br />
Autocross Chair<br />
Mark Schnoerr<br />
ax@mavpca.org<br />
Charity Chair<br />
Chris Hamilton<br />
hope@mavpca.org<br />
Club Race Co-Chair<br />
Pat Heptig<br />
214-649-7907<br />
cr@mavpca.org<br />
Club Race Co-Chair<br />
Joel Nannis<br />
cr@mavpca.org<br />
Coffee Meets Co-Chair<br />
Derrick Tate<br />
972-748-1178<br />
coffeemeets@mavpca.org<br />
Concours Chair<br />
Mike Mahoney<br />
801-230-1482<br />
concours@mavpca.org<br />
DE Co-Chair<br />
Chris Tabor<br />
817-371-4888<br />
de@mavpca.org<br />
DE Co-Chair<br />
TJ Kroehle<br />
de@mavpca.org<br />
DE Chief Driving Instr.<br />
John Sandusky<br />
817-777-0421<br />
cdi@mavpca.org<br />
DE Hospitality<br />
Rose Gohlke<br />
de@mavpca.org<br />
DE Registrar<br />
Jason Brodigan<br />
deregistrar@mavpca.org<br />
DE Marketing Director/<br />
Event Planning<br />
Chris Sorrells<br />
demarketing@mavpca.org<br />
Goodie Store<br />
Chris Flaugh<br />
214-288-5300<br />
goodiestore@mavpca.org<br />
Region Historian<br />
Carey Spreen<br />
817-422-3480<br />
historian@mavpca.org<br />
Marketing, Social<br />
Media Chair<br />
Bill Orr<br />
marketing@mavpca.org<br />
Membership Chair,<br />
Jim Hirsch<br />
972-740-7377<br />
membership@mavpca.org<br />
Monthly Social Co-Chair<br />
Clark Randall<br />
hh@mavpca.org<br />
Monthly Social Co-Chair<br />
Vanessa Fernandes<br />
hh@mavpca.org<br />
Online Calendar<br />
Karl Poulsen<br />
calendar@mavpca.org<br />
PCA Tours Co-Chair<br />
Mark Pitarresi<br />
817-715-7156<br />
tours@mavpca.org<br />
PCA Tours Co-Chair<br />
Brant Worrell<br />
tours@mavpca.org<br />
Rally Co-Chair<br />
Don Sebert<br />
214-613-6900<br />
rally@mavpca.org<br />
Rally Co-Chair<br />
George Luxbacher<br />
rally@mavpca.org<br />
Registrar, Club Race<br />
Wendy Shoffit<br />
crreg@mavpca.org<br />
ARK-LA-TEX<br />
Ken Chandler<br />
bad968@bellsouth.net,<br />
Safety Co-Chair<br />
Wayne Elliott<br />
safety@mavpca.org<br />
<strong>Slipstream</strong> Editor<br />
Kurt Scaggs<br />
469-446-1690<br />
editor@mavpca.org<br />
Social Chair<br />
Debi Kruder<br />
social@mavpca.org<br />
Trivia Chair<br />
Jerry DeFeo<br />
972-240-5800<br />
trivia@mavpca.org<br />
HILL COUNTRY<br />
Tuffy von Briesen<br />
president@hcrpca.org<br />
Safety Co-Chair<br />
Bob Kramer<br />
safety@mavpca.org<br />
<strong>Slipstream</strong> Event Ad Design<br />
David Tierny<br />
eventads@mavpca.org<br />
Tech Sessions Chair<br />
Michael Baynton<br />
214-641-2848<br />
techsessions@mavpca.org<br />
Volunteers Chair<br />
Landon Stogner<br />
214-233-6858<br />
volunteers@mavpca.org<br />
MARDI GRAS<br />
Scott Spradley<br />
swsprad@bellsouth.net<br />
WAR BONNET<br />
Eric Costello<br />
ecostellodo@gmail.com<br />
<strong>Slipstream</strong> Advertising,<br />
Coffee Meets<br />
Bill Kruder<br />
214-497-0711<br />
ads@mavpca.org<br />
<strong>Slipstream</strong> Mailing<br />
Andy Mears<br />
214-394-5857<br />
mailing@mavpca.org<br />
Time Trial Chair,<br />
(AX/TT Rules)<br />
Travis Howard<br />
214-616-6152<br />
tt@mavpca.org<br />
Web Site Chair<br />
James Shoffit<br />
972-786-6246<br />
webmaster@mavpca.org<br />
<strong>2018</strong> PCA Zone 5 Presidents and Zone Representative<br />
<strong>Slipstream</strong> Content Ed.<br />
Carey Spreen<br />
817-422-3480<br />
editor@mavpca.org<br />
<strong>Slipstream</strong> Printing<br />
Fran Ussery<br />
972--438-8344 (W)<br />
817-481-8342 (H)<br />
printing@mavpca.org<br />
TT Registrar, AX/TT<br />
Schools, Swap Meets<br />
Robyn Howard<br />
214-991-0873<br />
drivingschools@mavpca.org<br />
Link to<br />
Board<br />
Meeting<br />
minutes:<br />
CIMARRON<br />
Jason Tollison<br />
presidentcmr@gmail.com<br />
COASTAL BEND<br />
Bryan Kerrick<br />
bksailspadre@sbcglobal.net<br />
LONE STAR<br />
Steve Bukoski<br />
president@lsrpca.com<br />
LONGHORN<br />
Mikel Matthews<br />
Mikel.matthews@gmail.com<br />
MAVERICK<br />
David Robertson<br />
president@mavpca.org<br />
OZARK<br />
Jim Woolly<br />
jim.carol_NOSPAM@sbcglobal.net<br />
WHISKEY BAY<br />
Stan Labat<br />
labat@cox.net<br />
WHITE RIVER<br />
Leonard Zechiedrich<br />
whiteriverregionpca@gmail.com<br />
ZONE 5 REP<br />
Jon Jones<br />
zone5rep@pca.org<br />
www.zone5.pca.org<br />
4 <strong>December</strong>
---
VISIT OUR NEW 8600 SQ FT LOCATION!<br />
MONTHLY SPECIAL<br />
$195<br />
MOTUL OIL<br />
$187<br />
MOBIL 1 OIL<br />
CERTIFIED MASTER TECHNICIANS<br />
GENERAL MAINTENANCE<br />
PERFORMANCE UPGRADES<br />
SUSPENSION MODIFICATIONS<br />
ALIGNMENTS ( TRACK AND STREET )<br />
TRACK PREPARATION<br />
TECH SHEET INSPECTIONS<br />
CUSTOM FABRICATION<br />
CUSTOM BUILT SPEC 996S AND SPB<br />
2520 Tarpley Rd. Suite 700<br />
Carrollton, Texas 75006<br />
(972) 418-1996<br />
innovativeautosports.com<br />
innovativeautosportstx@gmail.com<br />
5
---
Maverick DE Program Evolves to Fill a Void<br />
By Mark Schnoerr<br />
photos by Robert Kirby, LightSpeed Images<br />
PCA was one of the first organizations to offer race<br />
track driver education events. The membership was<br />
already doing autocross, so it was natural stepping stone<br />
for many to learn the skills and to experience even more<br />
of what their Porsches were designed to do so well.<br />
Naturally, we needed instructors, presentations, and safety<br />
rules, and the program grew while spawning other car<br />
clubs and organizations to enter the arena. If you want<br />
to drive fast, there are now many organizations running<br />
track day drivers' education programs, Time Trials, and<br />
Club Racing.<br />
but mostly on-track driving sessions that focused on the<br />
elements of track driving: acceleration, hard braking,<br />
low and high speed slaloms, lane change exercises, and<br />
learning the proper line around the track. We even had<br />
use of the skidpad to teach the nuances of controlling<br />
understeer, oversteer, and steady-state cornering using<br />
combinations of braking, steering, and accelerating. At<br />
the end of the day, we did some lead/follow exercises to<br />
combine all the skills, still without putting tires, brakes,<br />
or drivers at risk by limiting speeds and enforcing a nopassing<br />
rule. Our instructor corps stepped up to make<br />
Some organizations require autocross experience, a car<br />
control clinic, or skidpad training to prepare the student<br />
(client) for the race track driving experience. Those clients<br />
are much more prepared for what they will experience<br />
on track and can learn very quickly. They have magnetic<br />
numbers for their cars, own a helmet, and can't wait to<br />
graduate to ever-faster run groups as they work their way<br />
through the program. However, there are others who are<br />
looking for a less risky way to get more than a few touring<br />
laps on track without all that risk to the car, tires, and<br />
brakes of a classic DE participant.<br />
Some of our local Porsche dealers have been looking for<br />
something the more exciting for their 4-door customers<br />
and fledgling enthusiasts to try to get more enjoyment<br />
from their amazing cars without jumping all the way into<br />
DE. So the club took a chance to modify the last event of<br />
the season to make this happen.<br />
On Saturday, October 20, the entire program was<br />
focused on coached race track training. The instructor<br />
group was the only other group on track all day. We added<br />
a Car Control Clinic program to the usual beginner and<br />
intermediate Green and Blue Group instructed sessions.<br />
On Sunday, we did the opposite, with no instruction<br />
and a solo-approved-only track day for those who are<br />
totally committed to DE.<br />
The Car Control Clinic on Saturday was to include no<br />
passing, moderate speeds, no numbers on the cars, and no<br />
helmets, to experience what was essentially a deconstructed<br />
Green run group. There were multiple classroom sessions,<br />
this happen, and the CCC clients were full of smiles while<br />
enjoying the experience. The Park Place Porsche team who<br />
brought clients to the CCC were equally impressed with<br />
the pilot program.<br />
Here are a few of the writeups we received after<br />
the Car Control Clinic:<br />
I wanted to test and enjoy my 964 in an unrestricted<br />
way, so I signed up for the PCA Drivers' Education Car<br />
Control Clinic at MotorSport Ranch. Since I've never<br />
even felt the ABS kick in, I thought this group was a good<br />
place to start. No helmet or car numbers were needed, and<br />
speeds were reasonable, which is actually fast for an aircooled<br />
car. There was a braking exercise, instructed laps<br />
where I learned about cornering, a slalom course, and<br />
some classroom instruction mixed in, all of which was<br />
high yield. Driving the 964 in its natural environment also<br />
allowed me to test and verify my car's systems. I had so<br />
much fun, I'm going to sign up for the next event so I can<br />
drive my Porsche the way it was designed to be driven. The<br />
saying that it's more fun to drive a slow car fast might be<br />
true but I wouldn't know; my 964 is fast. - Jason Bentow<br />
On Saturday, October 20, at my husband's urging, I got<br />
up way too early to make my way over to a racetrack in<br />
Cresson, Texas for a day of learning – learning about my<br />
car and seeing firsthand where my husband has spent so<br />
many weekends away from home over the past five years.<br />
My car is a 2016 Cayenne Diesel named Blanche. I<br />
6 <strong>December</strong>
---
was told this would be an opportunity to find out how my<br />
car performs on a track, including some special exercises<br />
involving high-speed maneuvers. Get me some coffee, and<br />
bring it on!<br />
We arrived in Cresson a little before 8:30, registered,<br />
and got prepped by some sharp young men from Park<br />
Place Porsche. Although numbers weren't required for this<br />
group of beginners, my husband insisted that I wear my<br />
newly assigned 528 in black on my white Cayenne. I could<br />
have spent that $30 on wine for after the Clinic, but he<br />
wanted me to look the part for my first event.<br />
At about 9:30, and for the next hour and a half, we<br />
put our cars through their paces: full acceleration followed<br />
by full stop several times on each of two laps. I had no<br />
idea how well Blanche could come to a controlled stop!<br />
Instructor Rick seemed to be having as much fun as I<br />
was. From there, we moved on to the next segment to<br />
see how many cones we could hit in the slalom. I'm still<br />
apologizing to Robin Howard for taking down so many of<br />
her "children." The final morning exercise was the Mosh<br />
Pit, known to those at the event as the Skid Pad, showing<br />
us how small changes in the accelerator pedal translate<br />
to big changes in the turning radius. Instructor Tom was<br />
great about teaching through my eccentricities. After a<br />
handful of circles in both directions, we paused for lunch<br />
and to let some other groups out on the track.<br />
After lunch, we had another hour and a half scheduled,<br />
including braking to a full stop with the electronic<br />
emergency brake, high-speed lane changes, and the final,<br />
ultimate session: putting together all that we'd learned<br />
through the day in a Lead/Follow group. Several groups of<br />
four or five of us got behind an instructor for lots of laps<br />
around the track, by ourselves, no instructor in the car<br />
and at speeds that let you feel how the car really handled.<br />
Instructor Peter started the afternoon but couldn't eject<br />
himself from the passenger seat fast enough. It's possible<br />
he was unnerved by Bête the stuffed Bat hanging from the<br />
rear seat grab handle.<br />
Instructor John closed out the day with a steady hand<br />
and solid advice. Classroom time throughout the day, led<br />
by Instructor Mark Schnoerr, did a great job of augmenting<br />
our on-track activities.<br />
I knew I'd had a good time when I started talking to<br />
a couple of girlfriends the next day about joining me in<br />
Cresson in the future.<br />
Thanks for the introduction. - Lisa Mitchell<br />
We got a lot of feedback on ways to improve the Car<br />
Control Clinic, incorporate elements, work more closely<br />
with the dealers, and take advantage of this low-risk<br />
stepping stone approach to bringing new participants into<br />
our organization while teaching essential Car Control<br />
Skills they can use every day regardless of their DE<br />
aspirations.<br />
7
---
Maverick Tech Session Series: Insurance<br />
By Michael Baynton, Region Tech Session Chair<br />
Think back—how much time did you spend researching the<br />
purchase of your Porsche(s)? Deciding on the specific model, the<br />
"must have" options, the color, even the dealership or private<br />
seller from which to purchase. And that's before you even sit<br />
down and consider the selling price and what you are willing<br />
to pay for your new toy. All that time spent to get just the right<br />
car at just the right price. And then most people just call their<br />
current insurance company to add the additional vehicle to their<br />
policy—probably with the exact same coverage as the family<br />
SUV or grocery-getter. And that last decision might the right<br />
one. Or it might be all wrong.<br />
Does your Porsche have ACV (actual cash value) coverage?<br />
Or maybe a "Stated value" or "Agreed value" policy?<br />
If you drive your 911 through Fancytown<br />
and happen to bump into a new Ferrari<br />
488, do you have enough coverage to<br />
pay for the damages?<br />
And if you have special "Classic car" insurance on your<br />
garage queen 356, when exactly can you drive your baby and<br />
still be adequately insured?<br />
These topics and more were covered during our latest tech<br />
session, held on November 3 at Park Place Porsche. Justin<br />
Husman from Phoenix Insurance provided a comprehensive<br />
overview of the various types of coverages available, and<br />
touched on the pros and cons of each. While the focus was<br />
primarily on car insurance, he also covered homeowner and<br />
umbrella policies as well as track insurance. (Fun fact: if<br />
you purchase track insurance for a weekend HPDE day and<br />
somehow manage to make contact with another car on track,<br />
you are out of luck! The coverage you purchased typically<br />
only covers damage to your car if you make contact with a<br />
barrier or wall. Who knew?)<br />
In addition to highlighting the differences between the<br />
various policies, Justin also delved into the differences between<br />
the types of insurance providers and independent brokers. He<br />
provided great advice and "insider" insight into the insurance<br />
business, and a healthy Q&A session from our 40+ members<br />
in attendance turned out to be very enlightening. Suffice it to<br />
say that quite a few will be doing additional research on their<br />
current insurance policies!<br />
A big thank-you goes out to G.M. Patrick Huston and Liz<br />
Shafton at Park Place Porsche, who graciously allowed us to<br />
use their training room for this tech session. As he always<br />
does, Patrick greeted our members and made himself available<br />
to our members to show them around the dealership. Also, to<br />
Justin Husman for presenting the info and providing donuts<br />
and coffee. And lastly, lots of appreciation for the MAV PCA<br />
volunteers who came early to help set up and leave late to<br />
help with clean-up! Stay tuned for an even better slate of tech<br />
sessions coming in 2019!!<br />
Your mind's been racing.<br />
Catch up.<br />
Decades of dreaming, fulfilled instantaneously. The iconic 911 Carrera. Legendary<br />
handling, immediate power, and decades of motorsport heritage. It is the full<br />
measure of a sports car. Found only in a Porsche. Porsche. There is no substitute.<br />
The 911 Carrera.<br />
Porsche Plano<br />
5924 W Plano Pkwy.<br />
Plano, TX 75093<br />
(214) 579-1911<br />
porscheplano.com<br />
©<strong>2018</strong> Porsche Cars North America, Inc. Porsche recommends seat belt usage and observance of traffic laws at all times.<br />
8 <strong>December</strong>
---
your baby deserves<br />
its own room.<br />
Introducing Garages of Texas, a community of first-class, affordable, completely customizable garage suites. Here, you don't rent a<br />
space. You buy it. Giving you complete financial control and power to make it your own with unlimited customization options. So, stop fighting<br />
for space in your family garage. Upgrade to a garage suite and move your show cars, motorhome or boat to the showroom they deserve.<br />
Contact our sales team at 888.988.8049 or sales@GaragesOfTexas.com for more information.<br />
PLANO • DALLAS • ALLEN • ROANOKE • FRISCO • CARROLLTON • SAN ANTONIO • AUSTIN • HOUSTON • LEWISVILLE<br />
GaragesOfTexas.com • Facebook.com/GaragesOfTexas<br />
9
---
10 <strong>December</strong>
---
Welcome Our New Mavericks!<br />
By Jim Hirsch, Region Membership Chair<br />
New Members October <strong>2018</strong><br />
Cameron Baynard Dallas 2017 Cayman S<br />
Cody Cowan Tyler <strong>2018</strong> 718 Boxster GTS<br />
Louie Devega Plano 2000 Boxster<br />
William Duffy (Virginia) Allen 2000 911 Carrera<br />
Valerie Duque Fort Worth <strong>2018</strong> 718 Cayman<br />
Joshua Garee Roanoke 2005 911 Carrera S<br />
Daniel Garza Frisco 2006 911 Carrera S Cabriolet<br />
Michael Hays Plano 1988 911 Carrera Targa<br />
Charles Honea Arlington 2012 911 Carrera S<br />
Craig Isham McKinney 2015 911 GT3<br />
Eric Kraft Dallas 2003 911 Carrera<br />
William Kuhn Dallas 2014 Cayman S<br />
Thuong Le Frisco 2017 Macan Turbo<br />
Jeffrey Lierly Dallas 1978 911 SC Targa<br />
James Mitchell Hurst 2016 Macan S<br />
Todd Petelski Van Alstyne 1983 911 SC<br />
Jake Ramsey Dallas <strong>2018</strong> 718 Cayman<br />
Jed Siddle (Christy) Murphy 1978 911 SC<br />
Keith Spring Dallas 1990 928 S4<br />
Taylor Stilovich Allen 2011 911 Turbo S<br />
David Van Buskirk Grapevine 2016 911 Carrera Cabriolet<br />
Nathan Wagner Lewisville 1981 911 SC<br />
Mas Watanabe Savannah 2001 Boxster S<br />
William Weisiger Richardson 2016 Boxster<br />
Transfers In<br />
None this month.<br />
Please give a Maverick Welcome to these new members when you meet them!<br />
If you have any changes that<br />
you would like to make to the<br />
MRPCA membership guide, contact Jim<br />
Hirsch at membership@mavpca.org<br />
Member Moment<br />
Don Breithaupt<br />
(joined 2/1987)<br />
Occupation<br />
Retired<br />
First Porsche<br />
1983 924<br />
Current Porsche(s)<br />
1986 911 (purchased new), 2013 Boxster,<br />
2013 Panamera S<br />
Favorite Porsche<br />
Carrera GT<br />
Favorite Maverick or PCA event<br />
Porsche Parade<br />
Best thing about owning a Porsche<br />
The many lasting friendships we have<br />
made all over the United States & Canada.<br />
Member Moment<br />
Jim Runyon<br />
(joined 8/<strong>2018</strong>)<br />
Occupation<br />
Virtual Design of<br />
commercial and industrial<br />
mechanical systems<br />
Primary reason for joining PCA<br />
Networking with other Porsche owners<br />
Current Porsche(s)<br />
2010 Cayenne GTS and 2012 Panamera Turbo<br />
Favorite Porsche<br />
970 Turbo S<br />
Best thing about owning a Porsche<br />
Besides the actual driving aspect, the<br />
best part about owning a Porsche is how<br />
rewarding it is when I complete service or<br />
maintenance on one. After hours of work,<br />
when everything is clean and all the beauty<br />
panels are back in their place, it is always<br />
back to feeling like a new vehicle again.<br />
Hobby interests<br />
Small and light High Performance Boats,<br />
maintaining, modding, and detailing my<br />
cars, building off road trucks, EFI tuning,<br />
working on my TIG welding, and learning<br />
anything I can that's mechanical in nature.<br />
Maverick Membership Statistics as of November 1<br />
Members: 1921 Affiliate Members: 940 Total Membership: 2861<br />
11
---
Park Place Supercar Showcase: Member Perspective<br />
By Our Members<br />
pphotos provided by Micheal Durovick and Bill Middleton<br />
Park Place held their second Supercar Showcase on October 13th. With over 100 million in<br />
vehicles on display, it was memorable, and wet. We asked some our members to share their<br />
impressions of the show with us. It's not just the cars, it's the people.<br />
My Dad once told me, "Son, when<br />
Rob Adams<br />
you see a hog running around with a<br />
stick in its mouth, it's going to rain . . . ." That was his<br />
reaction to seeing me for the first time with a cigar in<br />
my mouth. What in the heck does that have to do with<br />
the Park Place Luxury and Supercar Showcase? Well,<br />
maybe nothing, but judging from this article's picture,<br />
maybe everything, because it was surely raining . . . a<br />
lot . . . almost all day.<br />
But torrents of rain did nothing to deter diehard<br />
gearheads of all types who brought their cars out in the<br />
weather to participate in the second annual event. A<br />
few adjustments to the layout, a large and well stocked<br />
pavilion, sponsored suites, and a lot of avid autophiles<br />
ensured another successful show. By mid-afternoon, the<br />
rain had dissipated and the crowds were at full strength.<br />
In my opinion, the Car Corral was even better than<br />
last year's, as there were some seldom-seen exotics<br />
such as the De Tomaso Mangusta, one of my all-time<br />
favorites. And of course, the Park Place show cars<br />
provided something special for anyone.<br />
And let's not forget the catered suites and samplings<br />
from some of the finest restaurants in the area. Delicious<br />
bites and an open bar made for an excellent experience.<br />
Once again, Park Place showed how to put on a firstclass<br />
event in first-class style. I had second thoughts<br />
about showing my car in the rain, but in retrospect, I<br />
wouldn't trade the day's adventure for anything.<br />
Weather notwithstanding, the<br />
Kimberly Turner<br />
<strong>2018</strong> Park Place Luxury and<br />
Supercar Showcase gives the Dallas/Fort Worth market<br />
a glimpse of the sophistication and grandeur of the<br />
Monterey/Pebble Beach experience. The combination<br />
of people-watching, car-spectating, and edible delights<br />
within the country club venue gives Park Place an event<br />
they can be proud of.<br />
Our favorite moment was getting to talk to<br />
the owners of a 1972 Citroen SM, with whom<br />
my husband discussed the finer points of the<br />
amazing hydraulic system and its ability to assist<br />
in changing a tire without a jack. Both the Citroen<br />
SM and next year's event are high on our bucket<br />
list. We would like to thank Park Place Porsche,<br />
The Four Seasons Resort, all of the volunteers, and<br />
especially the PCA Maverick Region for extending<br />
the invitation to include our car in the event.<br />
12 <strong>December</strong>
---
Obviously this was not the best<br />
Paul Charsley<br />
day for such an event, and the way<br />
the cars ended up being displayed was not the planned<br />
arrangement. That being said, it must have taken a lot of<br />
quick thinking to make it work, keeping the cars accessible<br />
for guests and cars safe and clean for owners. I think the<br />
general image of the tents and the display cubicles was<br />
very nice and fit for a high-end event such as this.<br />
We enjoyed the off-area hospitality in the rooms, a<br />
nice place to chat and get away from the weather and<br />
crowd. The food/beverage area was well laid out, and<br />
options were so numerous that everyone must have<br />
been able to find something they liked. I'm sure a lot of<br />
entrants were scared away because the concours area<br />
was a little sparse, so I appreciate those that did make it<br />
in (I think I'll enter the fun next year)!<br />
The event seems to be a growing entity, so I think a<br />
more organized parking program should be instituted.<br />
The events going on in the tent were a little confusing<br />
to me (perhaps more car-oriented vendors?) and sound<br />
could have been better, but as I said, I'm sure if weather<br />
had played nice it would have been less manic in there.<br />
Staff were all very helpful and would definitely return<br />
in 2019 and encourage others to do so!<br />
Opposite page: Local restaurants<br />
brought some fancy fare, Robert Caglia,<br />
Sarah Wilson and Yann Cortina., Porsche<br />
through the generations (1969 E, 993<br />
turbo and 918). 1st in Class winner 2015<br />
918, 1993 Jaguar XJ220.<br />
This page: Andy Kay and Peter Wen<br />
discuss (the weather?), Becky and Tom<br />
Gomer with Mike Mahoney, 918 on<br />
display, 1936 Cord Phaeton, 959 in<br />
the rain, Bentley with bonus Porsche<br />
content, Bill Kruder, Peter Wen and Bill<br />
Orr, Lego McLaren 720S.<br />
I have to say that the Luxury<br />
Chantel Tennyson<br />
and Supercar Showcase's name<br />
certainly does it justice. The Showcase was SUPER!!<br />
(Anybody having a 70s slang flashback? Cue the go-go<br />
dancers.) There were super cars, super food and drinks,<br />
super people, and oh yes --super amounts of rain . . . .<br />
In today's vernacular I'd say everything was "extra."<br />
My love affair with cars goes way back and so did<br />
some of the cars. I thought I knew cars, but there were<br />
makes and models there that I'd never heard of. The<br />
display was truly amazing. And the rain was kind<br />
enough to finally let up, so we could all go out and<br />
look at them without having to wear our life jackets. In<br />
addition to the cars and food was the entertainment,<br />
and no, I don't mean the fashion show . . . there was<br />
people-watching at its finest. Yep! I had a fantastic<br />
time. A big thank you to all who made it possible. I<br />
can't wait for next year!<br />
13
---
Coffee, Cars & Conversation<br />
By Bill Kruder<br />
photos by Brant Worrell<br />
This month, once again, has an<br />
interesting winding road. We first<br />
met last May at the Frisco Rail<br />
Yard Mavs & Mochas, but this<br />
would not have happened had he<br />
first not met our mutual friend<br />
Mitch. Mitch was dropping off a<br />
package at the UPS store months<br />
earlier and Brant walked up to<br />
Mitch and told Mitch that he was<br />
driving Brant's dream car… a white<br />
911 Turbo S. From there these two<br />
strangers started talking about<br />
Porsches. They part ways without<br />
thinking to get a number, so like<br />
any good stalker Brant turned<br />
to the Maverick Region's Yahoo<br />
email board and asked if any one<br />
knew this guy in a white turbo<br />
cab wearing suspenders. Well our<br />
good friend James Shoffit quickly<br />
figured out that it's Mitch. James<br />
connects these two together, Mitch<br />
introduces him to Mavs & Mochas,<br />
and as they say the rest is history.<br />
So here is the next in my series of<br />
"conversations" I would like to<br />
share with you . . .<br />
Brant Worrell, Enthusiast since 1976,<br />
Owner 2003 996 turbo, 1988 944, and<br />
2006 Cayenne Turbo S<br />
Bill Kruder: You sound like you<br />
might be from here?<br />
Brant Worrell: No, I'm actually from<br />
Colorado Springs, Colorado. I<br />
didn't move here till 1998, when I<br />
moved to Plano, before moving on<br />
to Frisco, before stopping off for<br />
a short break in the Valley Ranch<br />
area in Irving, before finding my<br />
way to McKinney in 2014!<br />
BK: What about college? I always<br />
see you wearing a Buffalo cap?<br />
BW: Oh yes, I went to University of<br />
Colorado Boulder. I have a Poly Sci<br />
degree, for the lack of anything else.<br />
I really didn't know what I wanted<br />
to do other than own Porsches and<br />
that needed a degree (laughing).<br />
BK: What brought you here?<br />
BW: Like so many, a job. I was<br />
working for a company in NW<br />
Arkansas and was looking for a new<br />
opportunity, and it was in DFW.<br />
BK: And what type of work do you do?<br />
BW: Well after college I went to<br />
culinary school in Hyde Park, New<br />
York. I like to joke I went into the<br />
CIA, which I did, just not that one in<br />
Langley, Virginia (laughing). It was<br />
the Culinary Institute of America. I<br />
always thought I had a passion for<br />
cooking, but what I learned is that<br />
I had the skills to cook, just not the<br />
passion to work 60 hours a week,<br />
seven days a week and holidays for<br />
very little money. So after a short<br />
stint in hotels and country clubs<br />
I went into being a research chef<br />
for Simmons Poultry in Northwest<br />
Arkansas; think Tyson Foods, just<br />
much smaller. After "getting my<br />
legs under me" on the research side<br />
of cooking, I joined Illes Seasonings<br />
& Flavors here in the Dallas area<br />
as their first research chef on staff.<br />
After thirteen years as Director of<br />
Culinary I moved into sales for<br />
Illes about seven years ago. We<br />
make flavor systems for the food<br />
industry. We don't make the end<br />
foods consumers buy -- we make<br />
them taste better!<br />
BK: Now you talk about passion.<br />
What did you discover you had a<br />
passion for?<br />
BW: Don't get me wrong: I like what<br />
I do. However, I figured out I had a<br />
passion for Porsches very early on<br />
in my life. I was the kid who had<br />
every square inch of his bedroom<br />
(including the ceiling) covered in<br />
Porsche posters -- not music or<br />
girl posters (wish I still had a lot of<br />
those posters), and if I was going<br />
to be able to pursue that passion I<br />
had to have a good job. So as they<br />
sometimes say, you can live to work<br />
or work to live, and my work allows<br />
me to enjoy owning Porsches.<br />
BK: Where did this "passion" for<br />
Porsches come from?<br />
BW: I like to say I was born into<br />
the Porsche club; it's in my DNA.<br />
Both my parents were Porsche<br />
enthusiasts, especially my father.<br />
14 <strong>December</strong>
---
BK: What's your first memory of being around the cars<br />
that made you realize this is what you wanted?<br />
BW: That's easy: it was 1976. I was nine years old and<br />
my parents took me and my brother to the Parade in San<br />
Diego. Porsche introduced the 924 at the Parade and I<br />
thought it was the coolest car (laughing)! Remember, I<br />
was nine.<br />
BK: So Mom and Dad were active in PCA?<br />
BW: Oh they were more than active they lived and<br />
breathed it. My dad was President of both the Alpine<br />
Mountain and Rocky Mountain Regions in Colorado<br />
and mom held several positions in each region as well.<br />
Dad was also the Zone 9 rep for years. Matter of fact<br />
he was the Chairman for the 1988 Colorado Springs<br />
Parade and Treasurer of the 1998 Steamboat Parade.<br />
BK: What about Mom?<br />
BW: Well she of course supported him throughout all<br />
this, but her passion was the track. She once got top<br />
track time of the day at an event. I remember it clearly:<br />
it was in La Junta, Colorado; I don't think my father<br />
was happy about all the ribbing from the guys that day,<br />
and she was a DE instructor too.<br />
BK: What did they drive back then?<br />
BW: They tracked an incredibly fast 914/6 but over the<br />
years had several cars. One of my favorites was a white<br />
1980 SC with red interior; matter of fact that's why I<br />
love white 911s today. They also had several 928s, a<br />
1972 911T, a Carrera, and a 968.<br />
BK: What was your first car?<br />
BW: Wish I could say a Porsche but it was back in 1985<br />
and it was 1976 VW Scirocco. It was kind of a mess but<br />
it was a great car.<br />
BK: So what was your first Porsche?<br />
BW: It was a 1981 SC, pewter metallic; I bought that in<br />
1997 and had it for about three years.<br />
BK: I think you told me you have had several since?<br />
BW: That I have. We had a white 968 coupe, a 928 GTS,<br />
and a 1988 924 SE. And of course today we have the<br />
996 turbo, the 944, and our daily driver, a Cayenne<br />
Turbo S.<br />
BK: Let's switch gears for a minute. I had the pleasure<br />
of meeting your wife Leigh Anne recently. How did you<br />
guys meet?<br />
BW: Well as it happens, life gets complicated, and I<br />
was going through a divorce. Leigh Anne was working<br />
for a company who sold to our company. There was<br />
a business lunch set up that I was suppose to attend<br />
but I could not make it at the last minute. I called to<br />
apologize for missing the meeting and that's when I<br />
learned she had been through a rough divorce so we<br />
started talking a lot. We were talking one day when, out<br />
of the blue, she said, "you know I REALLY like you."<br />
I was like "what?" as I turned bright red (laughing).<br />
She's this pretty woman and I'm this mess of a guy who<br />
never dreamed of dating someone as beautiful and kind<br />
as Leigh Anne. So after my divorce was final, we started<br />
dating. It took me nine years to convince her I was THE<br />
ONE, but she finally agreed to make me the happiest<br />
and luckiest guy in the world and married me in April<br />
2015.<br />
Every month as I write the interview I think the same<br />
thing, what if:<br />
Brant and Mitch never said hello?<br />
Brant never took the time to find the guy in the white<br />
turbo cab?<br />
James didn't bother to respond to the Yahoo post?<br />
And if Mitch never introduced his new friend to me?<br />
So if and when you meet someone new, don't miss out<br />
on "Driving Friendships!"<br />
Contact me to learn how you can get<br />
the most out of retirement.<br />
Lisa D. Ward, MBA<br />
Agent, New York Life Insurance Company<br />
777 Mains Street Suite 3800<br />
Fort Worth, TX 76102<br />
817-614-3165<br />
ldward01@ft.newyorklife.com<br />
www.facebook.com/LisaWardNYL/<br />
Insure. Prepare. Retire.<br />
We'll give<br />
you an<br />
assist on<br />
your future<br />
goals.<br />
SMRU1710429 (Exp.10/21/<strong>2018</strong>)<br />
©<strong>2018</strong> New York Life Insurance Company,<br />
51 Madison Avenue, New York, NY 10010<br />
15
---
We Buy, Sell & Tradethe<br />
World's Finest Timepieces<br />
Precise, sleek, distinctive and exceptional. de Boulle is a family-owned business<br />
established in 1983. Along with de Boulle Motorsports, both are a living and moving<br />
illustration of the passion for excellence for jewelry, watches and racing. de Boulle is an<br />
uthorized Dealer for major brands including: Patek Philippe, Rolex, Bell & Ross, Blancpain,<br />
Corum, Girard Perregaux, Greubel Forsey and Tudor. de Boulle also provides the options<br />
of pre-owned timepieces, which includes vintage watches of notable brands.<br />
Visit deBoulle.com to view our extensive collection.<br />
6821 Preston Rd., Dallas, TX 75205 214.522.2400<br />
River Oaks District Houston, TX 77027 713.621.2400<br />
deBoulle.com<br />
16 <strong>December</strong>
---
Maverick Marktpreis is proudly sponsored by:<br />
Maverick Marktpreis: Cayman GT4<br />
by Peter Wen<br />
In 2007 Porsche introduced the Cayman, much to driving<br />
enthusiasts' delight. Essentially a hardtop Boxster, the Cayman<br />
was a true driver's car. With the rigidity of its chassis and the<br />
ideal engine placement, the car handled brilliantly. By the time<br />
the 2nd gen Cayman (981) was launched, it was so good, it<br />
legitimately challenged the flagship 911. Then in 2016, Porsche<br />
did the unthinkable. It gifted the Cayman with GT treatment<br />
and a powerful 911 S engine. The Cayman GT4 was born.<br />
All Porsche GT (Gran Turismo) cars are special. These street<br />
legal race cars have a loyal following. The one-year only, limited<br />
production GT4 is no exception. Since its introduction, GT4<br />
routinely sells at a premium above MSRP. With the 991.1 GT3<br />
only available in PDK, and the 991.2 911 going all turbo, people<br />
speculated the GT4 may be one of the last Porsche with a proper<br />
6-speed manual and a naturally aspirated engine.<br />
Today, these concerns have largely subsided. Porsche once<br />
again offers GT3 (991.2) with manual transmissions. The<br />
upcoming 718 Cayman GT4 will still be powered by flat-six<br />
naturally aspirated engines. As the result, the 981-gen GT4 price<br />
has retracted to a more reasonable level. If you dream of owning<br />
a 911-powered, mid-engine, 2-seat sports car, the timing maybe<br />
right to check out a GT4 this holiday season.<br />
Excellence's Porsche Buyer's Guide<br />
offered these price ranges for the Cayman GT4 (981):<br />
2016 - $95,000-$115,000<br />
Fun Fact: GT4's 3.8L flat-six was from the 911 S. It has 35 more ponies than the base 911. It's<br />
entire front suspension is lifted from the GT3. Yet, it weighs nearly 400 lbs and 180 lbs less than<br />
the 911 S and GT3, each respectively.<br />
2016 Cayman GT4<br />
Sold for $80,000 + $4,000 buyer fee (Oct.)<br />
11k miles<br />
Guards Red/Black<br />
3.8L Flat-Six<br />
6-speed manual<br />
1 owner, carbon fiber bucket seats, Sport<br />
Chrono, XPEL clear film, $102k MSRP<br />
2016 Cayman GT4<br />
Sold for $96,000 + $4,800 buyer fee (Mar)<br />
7k miles<br />
GT Silver/Black<br />
3.8L Flat-Six<br />
6-speed manual<br />
1 owners, ceramic brakes, bucket seats,<br />
Sport Chrono, numerous 3rd party<br />
performance upgrades<br />
2016 Cayman GT4<br />
Sold for $84,750 + $4,238 buyer fee (Sept.)<br />
13k miles<br />
Racing Yellow/Black<br />
3.8L Flat-Six<br />
6-speed manual<br />
2 owners, CPO 'til 2022, carbon fiber<br />
bucket seats, Sport Chrono, new tires<br />
2016 Cayman GT4<br />
Last bid: $75,357, reserve not met (Feb)<br />
18k miles<br />
GT Silver/Black<br />
3.8L Flat-Six<br />
6-speed manual<br />
Track prepped with numerous performance<br />
upgrades: roll bar, racing harness, brakes<br />
2016 Cayman GT4<br />
Sold for $85,500 + $4,275 buyer fee (Aug)<br />
11k miles<br />
GT Silver/Black<br />
3.8L Flat-Six<br />
6-speed manual<br />
2 owners, ceramic brakes, bucket seats,<br />
Sport Chrono, numerous 3rd party<br />
performance upgrades<br />
2016 Cayman GT4<br />
Sold for $84,000 + $4,200 buyer fee (Dec '17)<br />
15k miles<br />
Guards Red/Black<br />
3.8L Flat-Six<br />
6-speed manual<br />
1 owners (Pete Stout, editor/writer<br />
Panorama, 000, Excellence),<br />
minimally optioned<br />
With over 50 years of experience, Dallas Motorsports<br />
offers a unique blend of inventory including some of the<br />
most desirable performance and exotic vehicles available.<br />
17
---
Upcoming Maverick Region Events<br />
18 <strong>December</strong>
---
19<br />
Upcoming Maverick Region Events
---
Porsche of the Month<br />
Selected by Bill Orr, Region Marketing Chair<br />
Sapphire Blue Metallic <strong>2018</strong> Porsche 911 GTS "It's not raining!!" •Photo by Joe Ferraro<br />
You can test your<br />
knowledge (or Google<br />
search ability) of all<br />
things Porsche by<br />
participating in the<br />
monthly trivia contest<br />
posted online at http://<br />
mav.pca.org/trivia.<br />
Answers are due by the<br />
last day of each month.<br />
The winner of the trivia contest receives a $25 gift<br />
certificate from our sponsor, Zims Autotechnik. In the case<br />
of ties, a random drawing determines the winner.<br />
Here are the questions and answers with the winner for<br />
the October <strong>2018</strong> Trivia. The winner this month is William<br />
Beck, getting all five of five correct. Honorable Mention<br />
also goes to Tom Gomer who also got all five Correct. The<br />
tie was decided by a random drawing.<br />
Answers: 1)d, 2)c, 3)b, 4)a, 5)a<br />
20 <strong>December</strong><br />
For instruction on how to submit your Porsche photos in the<br />
POTM contest go to: http://mav.pca.org/photos/POTM/<br />
Maverick Trivia: Are you a Porschephile?<br />
Jerry DeFeo<br />
sponsored by Zims Autotechnik<br />
1. We all know that many predict that electric vehicles will replace our<br />
beloved gasoline burning road monsters, be they Porsches or anything<br />
else. In fact, _________ , a country very friendly with the USA, is so<br />
sure of this that they have passed a new law that says any new home<br />
built in that county must have EV charging capability built into the<br />
new home's electrical system.<br />
a. Australia b. France c. Germany d. United Kingdom<br />
Source: Porsche Panorama, Sept <strong>2018</strong>, p 30<br />
2. The 356 had four generations: the original 356 (aka "pre-A"), then<br />
the 356A, then the 356B, and finally the 356C. So we find ourselves<br />
asking where we are in the 911 generations, as the next, being the<br />
_______ will be out in early 2019.<br />
a. sixth b. seventh c. eighth d. ninth<br />
Source: Porsche Panorama, Sept <strong>2018</strong>, p 20<br />
3. What color were the Porsche lettering and 912 numbers on a 912?<br />
a. Gold b. Silver c. Black d. Chrome<br />
Source: Excellence, Feb 2013, p 59<br />
4. In 1998, color selection had been pared down a bit to keep the assembly<br />
lines moving rapidly. In addition to the standard Black and Glacier White,<br />
which of the following colors was NOT a standard of the line color?<br />
a. Irish Green b. Pastel Yellow c. Blue Turquois d. Guards Red<br />
Source: Porsche 911 Red Book 1965-1999, p 137<br />
5. In 1965, when the 911 was first introduced for sale, it had 130 hp and<br />
weighed 2380 lbs; the 1967 911S was only 2272 lbs, and the 911R<br />
was only about 1800 lbs. By 1999, creature comforts, and safety<br />
equipment brought the weight up to _______ lbs. a. 2910 b.<br />
2976 c. 3068 d. 3122 Source: Porsche 911 Red Book 1965-1999, p 135
---
MarvelousHomeMakeovers.com | 972.951.1932 | Botond@MarvelousHomeMakeovers.com<br />
21
---
A New Porsche Dealership Just Opened!<br />
By Joel Nannis, Club Race Co-Chair<br />
photos provided by author<br />
Now don't get too excited because it's not in the<br />
Dallas Fort Worth area, it's in Hamburg, Germany.<br />
During the summer, Erika and I were in Germany<br />
for a month visiting her relatives. On August 6 her<br />
cousin Soeren told us that a new Porsche dealership<br />
was opening that day. Knowing how much I am into<br />
Porsches, he asked if I would like to go to the opening.<br />
That day we went to the Elbe, the new performing<br />
arts center in Hamburg. It is a huge building that has a<br />
walkway (about 15 stories high, accessed by the longest<br />
escalator I have ever seen) around the outside of the<br />
building which offers a great view of the city. Then we<br />
took the train to the dealership.<br />
The dealership had around 80 new cars inside. There was<br />
every model that Porsche makes. They had all sorts of food<br />
and drink. I went up to one of the salesmen and said that I<br />
had come all the way from Dallas just for their opening. The<br />
salesman did not even smile and returned to his computer<br />
screen with no acknowledgment. I tried another salesman<br />
with the same result. I asked someone if they had any<br />
Porsche shirts with the dealership name and city on it and<br />
was told no, but they had the standard Porsche shirts that<br />
every other dealership has. They had a huge video display<br />
showing Dr. Porsche with one of his cars.<br />
We looked around and noted that a new GT3 was<br />
only 117,000 euros and a standard 991 was 127,000<br />
euros. For some reason Erika would not let me purchase<br />
the GT3. We spent about an hour looking at the cars and<br />
finally it was<br />
time to leave. I<br />
had never seen<br />
so many<br />
Porsches in a<br />
show room. It<br />
was great to see<br />
so many great<br />
Porsches! I left<br />
drooling . .<br />
From the exotic to<br />
the everyday driver,<br />
we've got you covered.<br />
• Preventative Maintenance & Scheduled Service<br />
• Repairs on Electrical Systems, Engine and Drivetrain<br />
• Full Restorations<br />
• Paint Protection Film and Detailing<br />
Factory level diagnostics for<br />
Mercedes, Volkswagen, Audi,<br />
Porsche and BMW<br />
serving north dallas since 1989<br />
13595 Floyd Circle #400<br />
Dallas, TX 75243<br />
972-437-4216<br />
22 <strong>December</strong>
---
Autocross Event 9: Lone Star Park<br />
By Mark Schnoerr, Region Autocross Chair<br />
photos provided by Author<br />
On Sunday, October 28, 110 participants<br />
arrived and found an incredibly fast course<br />
laid out on the vast and rolling Lone Star Park<br />
parking lot.<br />
There were 14 official Porsche entries, and one<br />
who could not stay for his work assignment so is not<br />
included in the official results. More on that later . . .<br />
Class P1 saw the Amir El-Baghdady / Carolle Liu<br />
P1 - 'PCA 1'<br />
Total Entries: 3<br />
1T P1 7 Amir El-Baghdady Maroon 944 S2 67.633<br />
2 P1 168 Carolle Liu White Boxster 987 75.216<br />
3 P1 59 Jesse Garrett White Porsche Boxster DNS<br />
P3 - 'PCA 3'<br />
Total Entries: 3<br />
1T P3 73 David Valdez White Porsche 911 S 65.943<br />
2 P3 6 Mel Stanley Black Cayman S 69.223<br />
3 P3 98 Dawn Marie Gray Yellow GT4 69.408<br />
P4 - 'PCA 4'<br />
Total Entries: 6<br />
1T P4 915 Mark Schnoerr Green 914 63.111<br />
2T P4 914 Sigrid Schnoerr Green 914 65.422<br />
3T P4 906 Carey Spreen Red 924S 66.391<br />
4 P4 5 Edward Mayo Blue/Orange 911S 67.669<br />
5 P4 90 Sue Crimm Red 924S 72.163<br />
6 P4 9 Julia Underwood Blue/Orange 911S 74.724<br />
P6 - 'PCA 6'<br />
Total Entries: 1<br />
1T P6 56 Scott Wolthuis Blue 911 66.445<br />
P7 - 'PCA 7'<br />
Total Entries: 1<br />
Total<br />
Total<br />
Total<br />
Total<br />
Total<br />
1T P7 7 Douglas Edney Black 996 68.351<br />
fight to the class championship extend to the final event<br />
number 10. Amir took the win this time. We will see<br />
how that one unfolds soon.<br />
Class P3 saw David Valdez in his beautiful white 991<br />
take the win over both Mel Stanley in his Cayman S<br />
and first time autocrosser Dawn Marie Gray driving her<br />
yellow GT4. Based on her progress and her background<br />
racing bicycles, she is going to be a challenger to<br />
everyone in this class.<br />
Class P4 saw the six drivers in three cars fighting it<br />
out again: 911, 924S, and 914 2.0. The top four drivers<br />
were pretty close until yours truly put in a real flyer on<br />
the last run, in an effort to unseat Porsche FTD from<br />
the surprise "unofficial" Porsche entry we had that day.<br />
Scott Wolthuis had fun with his 300,000-mile 1975<br />
911 Outlaw in class P6, and Doug Edney, still waiting<br />
to install his sport suspension in his 996, was flying in<br />
class P7.<br />
The mystery participant was PCA Club Racer TJ<br />
Kroehle. No, he did not bring his 991 Cup Car, but<br />
his White 991/2 C4 GTS PDK Cabriolet. TJ has not<br />
autocrossed for about 40 years, but jumped right in to<br />
the fray. Like all fast courses, especially in autocross,<br />
there are turns and plenty of them. It was a new-tech vs<br />
old-tech battle for first quick Porsche time, even though<br />
TJ would not be in the final results.<br />
The final event of the season took place the next<br />
weekend, Nov 4. More on that in a separate article!<br />
23
---
Mavs & Mochas: Pearl Cup Coffee<br />
By Pat Carmichael<br />
The frost was literally on the pumpkin this morning.<br />
When I arrived, thanks to the sun being out, it was up<br />
to 33 degrees from 30 when I got up. Brrrrr . . . . But<br />
despite the weather, this month's Mavs & Mochas was<br />
amazingly well-attended, with over 125 cars, and,<br />
considering the weather, it would certainly qualify as a<br />
gathering of the faithful. Coats, hats, and gloves were<br />
the uniform of the day, but a few hardy souls were in<br />
light jackets and maybe a cap. I did notice that, once<br />
they got parked, almost all scooted over to the Pearl<br />
Cup Coffee Shop for a warm beverage and treat, as the<br />
line was about out the door. All, after stocking up with<br />
something warm, it was back out to join the crowd of<br />
enthusiasts first accumulating around the 16 or so 964s<br />
and then exploring the diverse collection of P-cars. Of<br />
special note, was a new GTS Club Coupe (blue and<br />
awesome), the first I have seen in person. All were fun<br />
to see and we experienced lots of great camaraderie;<br />
another great Mavs & Mochas!<br />
photos by Bill Orr & Michael Durovick<br />
Member Story: My Wife is Always Right, Always Right<br />
By William Shirk<br />
Up until about a year and a half ago I admired<br />
Porsche from afar. As chance would have it, at that time<br />
my wife Cindy and I found our search for a new SUV<br />
had taken us to the showroom of a Porsche dealership<br />
looking at Cayennes. While we waited for the salesman<br />
to bring one around to test drive, I walked the floor<br />
(this is as bright as petting puppies). Standing next to a<br />
brand new Cayman S, I admired her and yes, lovingly<br />
stroked her haunches imagining what could be. While<br />
I stood there my wife walked up to me and asked what<br />
was on my mind. I said that what I REALLY wanted was<br />
this lovely example of German engineering. Without<br />
hesitation she said, "So buy one."<br />
Now we all have events in our lives (dependent on<br />
length) for which we will remember where we were<br />
when they happened. When Kennedy was shot, when<br />
Neil Armstrong stepped out on the moon, when our<br />
daughter was born, when I was told it was OK to buy a<br />
Porsche mid-engine machine. I wasn't sure I had gotten<br />
her comment right, and sheepishly I asked her to say it<br />
again. She said, "If you want a Cayman S, buy one,"<br />
only this time she added a qualifier of "a nice used one."<br />
Our friend Tatiana has a Panamera, and Cindy has<br />
gone with her on a few road rallies, after which she<br />
mentioned that we ought to get a Porsche and join in<br />
the fun. Well, she says that she said it, but IF I heard<br />
that in the past, I must have passed it off as just an<br />
offhand comment. But here I was with a green light to<br />
join the club!<br />
Fast forward about 10 days and we had adopted a<br />
2007 Carmine Red Cayman S, and she (yes, all things<br />
of strength and beauty are feminine; the same goes with<br />
aircraft and ships) rests in our garage and gets taken<br />
out on weekends to stretch her legs and participate in<br />
various driving events.<br />
Something I earned in the Marines: when they<br />
tell you your jet will go 1.8 times the speed of<br />
sound, you are duty-bound to check it out.<br />
When Porsche says your car will go 173 mph, you<br />
are duty-bound to confirm it. Thank God for some of<br />
those stretches of roads in west Texas around Marfa.<br />
And yes, we did pick up a Cayenne as my daily driver<br />
a month or two later as well!<br />
24 <strong>December</strong>
---
25
---
When all HAIL breaks loose...<br />
Roofing Solutions<br />
By Darren Houk<br />
Impact Resistant Roofing Options Including:<br />
Metal, Tile, and even COMPOSITION shingles.<br />
SAVE up to 28% on insurance premiums<br />
www.RoofingSolutionsHOUK.com<br />
817.692.8496<br />
Showroom by Appointment<br />
5500 Meandering Road Fort Worth 76114<br />
26 <strong>December</strong>
---
Maverick Halloween Rally <strong>2018</strong>: Recap<br />
By Tom Martin<br />
photos by George Luxbacher<br />
Somewhere deep within the contiguous parking lot<br />
that is the Plano – Allen – Frisco - McKinney continuum,<br />
the 4th Annual Halloween Gimmick Rally, aka the<br />
Halloween Hair-Raising Road Rally, was held on the first<br />
Saturday morning of November.<br />
After a night of driving rain engulfed the DFW<br />
Metroplex, a dry blustery wind swept throughout the area<br />
in the early morning, providing a cool, refreshing climate<br />
for the <strong>2018</strong> version of the Rally.<br />
Start point was the expansive parking lot of the<br />
now defunct Gander Mountain outdoor sports store in<br />
Frisco. The largest turnout to date attended this Rally:<br />
86 Mavericks in 41 Porsches gathered to participate.<br />
Rallymeisters George Luxbacher and Don Sebert<br />
composed a route that challenged the drivers and<br />
navigators with a series of 18 perplexing questions and<br />
16 unique and distinctive photographs.<br />
In keeping with the spirit of the Rally, over 60% of the<br />
participants dressed in inventive costumes, ranging from<br />
the weird to the sublime.<br />
The first of 41 teams departed the start point around<br />
10:00 am, headed on an 82-mile voyage on backroads<br />
throughout Collin and Grayson counties. One couldn't<br />
have asked for a more picture-perfect sunny autumn<br />
day. Traversing the wide open roads surrounding Ray<br />
Roberts Lake, one would imagine that Porsche drivers<br />
would be tempted to explore the upper regions of the car's<br />
performance. But this being a Rally, the tortoise, rather<br />
than the hare, seems to excel at this type of event. In fact,<br />
one team was stopped by the local constabulary to ask<br />
why they were going so slow.<br />
A few hours later, the first of the Porsches landed<br />
at the Hula Hut in Little Elm. After an eclectic lunch,<br />
participants were asked to vote to determine the Best<br />
Costume winners.<br />
After Rallymeisters George Luxbacher and Don Sebert,<br />
along with their dedicated crew, tallied the teams' scores, the<br />
final results were announced. Sparkly medals were awarded<br />
to the top three winners of the best costume contest, plus<br />
the top three finishers of the Rally, and of course, the highly<br />
coveted DLBF (Dead Last But Finished) team.<br />
Overall Rally Winners were: (driver/navigator)<br />
1st Mary Anderson and Tom Cundari<br />
2nd Jena Graf and Joshua Egly<br />
3rd Mathew and Jena Krebs<br />
Top: Tom and Becky Gomer Middle: Louie De Vega and Alvin Cando<br />
Bottom: Costume contest winners.<br />
In the Best Costume category, Michael Graves garnered<br />
third place dressed as Waldo, but most people had a hard<br />
time finding him. Carey Spreen and Sue Crimm secured<br />
second place in a sort of voodoo priest/day of the dead motif,<br />
and Tom and Beckie Gomer captured first place medals as<br />
Mario and Luigi of the classic Nintendo video game.<br />
Louie De Vega and Alvin Cando piloted their X-Wing<br />
Starfighter to scoop up the coveted DLBF (Dead Last, But<br />
Finished) medal.<br />
George Luxbacher always stressed that the idea of the<br />
Rally was to have fun rather than be competitive, but<br />
one couldn't help but notice that the medal winners were<br />
having more fun than the rest of the group. Just sayin' .<br />
. . .<br />
Congratulations and many thanks to organizers<br />
George Luxbacher and Don Sebert for hosting another<br />
successful Rally.<br />
27
---
PCA Tours Recap : MotorSport Ranch Tour<br />
By Don Anderson<br />
photos by Robert Kirby, Lightspeed Images<br />
It's not very often that a Maverick Region event hits<br />
more than one high note, but the latest PCA Tour to<br />
Motorsport Ranch achieved just that.<br />
Once at the track, 53 drivers charged onto the track,<br />
albeit at a relatively sedate pace. While the misting rain<br />
rendered the course a bit slippery, everyone emerged<br />
from the track safely, and no<br />
animals were harmed in the<br />
running of this event. Well,<br />
except for the BBQ part of<br />
the event, but then again . .<br />
. who's counting?<br />
After the parade laps,<br />
participants were treated to<br />
the obligatory all-you-caneat<br />
Texas BBQ, featuring<br />
five meats with all the fixins',<br />
The event incorporated:<br />
• a typical Maverick Tour along the backroads<br />
• parade laps at Motorsport Ranch<br />
• a substantial donation to a charitable organization<br />
• an all-you-can-eat Texas BBQ lunch<br />
• a preview of the new 2019 Porsche models<br />
The penultimate PCA Tour of the <strong>2018</strong> season was<br />
held just a few hours after the autumnal equinox.<br />
Participants were greeted with cooler<br />
temperatures and a consistent misting<br />
rain. It became obvious that summer had<br />
left the building.<br />
Despite the weather, an incredible total of 93 Porsches<br />
and 132 Porschephiles assembled at a clandestine location<br />
along the 32nd latitude somewhere in Texas. Final<br />
destination: Motorsport Ranch in Cresson, TX.<br />
Working in conjunction with the Maverick HPDE<br />
program, Tour Co-Chair Mark Pitarresi arranged for<br />
Tour drivers to complete parade laps of the 3.1 mile circuit<br />
between DE sessions. A small donation was required to<br />
take to the track, with all proceeds earmarked for Patriot<br />
PAWS, a group dedicated to providing service dogs at no<br />
cost to disabled American veterans. A total of $1,465.00<br />
was collected for the charity.<br />
The Tour itself was a short 56.1-mile excursion<br />
along country roads southwest of the DFW Metroplex.<br />
The drivers were split into nine groups, each departing<br />
Ground Zero in two minute intervals. Light rain increased<br />
and subsided all along the route, adding a little bit more<br />
excitement to the Massey Road part of the route, which<br />
already has a pretty high "pucker factor."<br />
provided by Roscoe's Smokehouse. The catered meal was<br />
served inside the new DriveXotic building, with diners<br />
sharing space with several brightly colored exotics. A new<br />
2019 Mahogany Cayenne occupied center stage, courtesy<br />
of Zorin Gutic of Autobahn Porsche.<br />
Autobahn Porsche also supplied three of the four<br />
Porsches used to lead the parade lap groups: a Carrera<br />
T in Guards Red, a 2019 Panamera Sport Tourismo 4S<br />
in Carrara While, and a 2019 Cayenne, also in Carrara<br />
White. Chris Sorrells' striking Miami Blue GT3 4.0<br />
rounded out the parade lap leaders.<br />
As an added bonus, Robert Kirby of Lightspeed Images<br />
stationed himself along the Tour route to capture high<br />
resolution snapshots of participants' Porsches at speed,<br />
and then again at the track.<br />
All of this would not be possible without the efforts of<br />
a small army of dedicated Maverick volunteers. So, big<br />
shout-outs go to: Tour Co-Chairs Mark Pitarresi and<br />
Brant Worrell, and Group Leaders Tom Martin, Derrick<br />
Tate, Ted Martin, Jay Lynch, Sam Bryant, Scott Garwood,<br />
Paul Ozmer, and Ed Martelle. On the track side, thanks to<br />
Chris Tabor and his crack DE crew, as well as John<br />
Hamilton, Jeff Komenda, Chris Tabor, and Chris Sorrells<br />
for leading the parade laps. Props also to Autobahn<br />
Porsche for sneak peeks of the new 2019 Porsche models,<br />
and Robert Kirby for all the fantastic photos.<br />
28 <strong>December</strong>
---
Engine Restoration<br />
• Restore, Rebuild to OEM Original<br />
or Modified Spec<br />
• Partial or Complete Car<br />
Preservation Restoration<br />
• We Manufacture NLA Parts to<br />
OEM Original Condition<br />
• Specializing in 911 930 928<br />
Visit us on Facebook - Randall Kara Techniques<br />
R A N D A L L K A R A<br />
RKT 817-624-1322<br />
T E C H N I Q U E S<br />
901 TERMINAL ROAD • SUITE 400 • FORT WORTH, TEXAS 76106<br />
35 Years Doing What We Love.<br />
29
---
877 C<br />
OUR PASSION DRIVES OUR CRAFTSMANSHIP<br />
At APEX, your unique, personalized service program is crafted to meet your<br />
speciic desires. Our passion is delivering a concierge level of service that<br />
goes above expectations to create an unparalleled client experience.<br />
To Ensure that you and your Porsche enjoy an unmatched standard of care,<br />
contact us today for a private consultation.<br />
855.998.APEX (2739) | www.ApexAutoCo.com | info@ApexAutoCo.com<br />
CONCOURS LEVEL RESULTS<br />
Using cutting-edge processes and<br />
state-of-the-art equipment, our<br />
detail techniques consistently<br />
deliver an unsurpassed level<br />
of care for your Porsche.<br />
Expert Paint Correction | Professional<br />
Detailing | Paint Protection Films (Clear Bra)<br />
Ceramic Coatings | Window Films | Vinyl<br />
Vehicle Wraps & Accents<br />
Ceramic Pro Certiied Installer<br />
The World's #1 Ceramic Coating<br />
Member; IDA & Elite<br />
Detialers Alliance<br />
CARS & CANNOLI<br />
Monthly on the 3rd Sat.,<br />
Mar.-Nov., 9AM - 11:30AM<br />
4756 Frank Luke Dr.<br />
Addison, TX 75001<br />
EXPERT ADVICE, OPTIMUM<br />
ENHANCEMENTS<br />
We have the knowledge and experience<br />
required to truly enhance your<br />
Porsche's aesthetics and<br />
performance with<br />
customized and proven upgrades.<br />
Automotive Customization | Performance<br />
Parts Sold & Installed | Intake/Exhaust |<br />
Wheels/Tires | Suspension/Brakes | Custom<br />
Methanol Injection Kits | ECU & TCU Tuning |<br />
Racing Fuels and Methanol Sales | CEL/Code<br />
Clearing & Diagnostics | Light Bodywork,<br />
On-The-Go Hand Car Cleaning,<br />
Reenishing & Respraying | Powder Coating<br />
Automotive Customization &<br />
Services | Integrated Radar/Laser Systems<br />
Automotive Gifts<br />
We indulge the needs of the connoisseur who values unsurpassed expertise<br />
and craftsmanship for their Porsche. APEX; an automotive lifestyle brand.<br />
200 C<br />
200 C<br />
200 C<br />
200 C<br />
200 C<br />
123 C<br />
German Car<br />
Service & Maintenance<br />
by Appointment<br />
Specializing in:<br />
307 C<br />
307 C<br />
354 C<br />
354 C<br />
354 C<br />
108 C<br />
108 C<br />
108 C<br />
307 C<br />
108 C<br />
354 C<br />
200 C<br />
108 C<br />
307 C<br />
354 C<br />
307 C<br />
299 C<br />
151 C<br />
Ussery Printing<br />
Printer of SliPStream<br />
Since 1982<br />
817-366-1678<br />
DasZauberwerk@ix.netcom.com<br />
3402 Century CirCle irving, texas 75062<br />
972-438-8344 Fax 972-721-1847<br />
www.usseryprinting.com<br />
30 <strong>December</strong>
---
autoscope.co<br />
3 Dallas Locations:<br />
Porsche Specialists with over<br />
35 years experience in DFW<br />
Park Cities<br />
6134 Denton Dr<br />
Dallas, Tx 75235<br />
214-350-3050<br />
Plano<br />
601 Coit Rd<br />
Plano, Tx 75075<br />
972-867-7467<br />
White Rock<br />
9796 Ferguson Rd<br />
Dallas, Tx 75228<br />
214-320-8280<br />
31
---
Since 1971<br />
Providing personalized service<br />
on all Porsche automobiles.<br />
• Complete servicing and repairs<br />
on all air or water cooled models<br />
• In-house machine shop<br />
• M96/M97 reconditioning<br />
• Performance and track mods<br />
2530 Tarpley Road • Suite 700<br />
Carrollton, Texas 75006<br />
(972) 417-0997<br />
32 <strong>December</strong>
---
The Art of Paint Protection<br />
josh@invisibra.net<br />
214-704-9299<br />
Paint Protection Film<br />
Ceramic Coating<br />
Full Detailing<br />
Window Tinting<br />
33
---
Maverick <strong>December</strong> Anniversaries<br />
30 Years<br />
James Buckley<br />
Anthony Eggers (Janice)<br />
20 Years<br />
John Janbaz (Hilda)<br />
15 Years<br />
Richard Bradley (Robin)<br />
Howard Kimbrough (Karen)<br />
Robert Kuykendall (Robert)<br />
James Milton (Sharon)<br />
Michael O'Connor (Geoff)<br />
Kent Rayl (Leigh)<br />
10 Years<br />
Belinda Bush (Michael)<br />
Lincoln Moss (Linda)<br />
Kyriacos Panayides (Gillian)<br />
5 Years<br />
Edmund Baczynski (Peter)<br />
Richard Burk (Vicki)<br />
Andrew Cernicky (Stacey)<br />
Phil Hanson (Leah)<br />
Khalil Jivani<br />
Dennis Mason (Linda)<br />
Bruce Moulton<br />
Darin Okuda<br />
Fort Worth<br />
McKinney<br />
Southlake<br />
Bella Vista, AR<br />
Colleyville<br />
Dallas<br />
Lewisville<br />
The Colony<br />
Sterling, KS<br />
Fort Worth<br />
Mansfield<br />
Southlake<br />
Weatherford<br />
Plano<br />
Allen<br />
Peaster<br />
Plano<br />
Highland Vlg<br />
Argyle<br />
Coppell<br />
Member Moment - 25th PCA Anniversary, October <strong>2018</strong><br />
Lee and Dixie Oneacre<br />
Occupation<br />
Retired Oral and Maxillofacial Surgeon<br />
First Porsche<br />
Bahia Red 1970 911T. I bought this car after having visited the Porsche<br />
factory in Stuttgart during a European college summer staying in 3 dollar<br />
per day youth hostels.<br />
Current Porsche(s)<br />
I have owned at least one Porsche continuously since 1970 and currently drive a GT Silver<br />
Metallic 2010 997.2 Turbo with only 22,000 miles on the odometer<br />
Most memorable Maverick or PCA event<br />
I have been an "armchair" car nut and Porschephile for over 50 years. I attend most Mavs and<br />
Mochas. I fondly remember when the PCA National Meeting was in Fort Worth many years ago.<br />
Best thing about owning a Porsche<br />
I enjoy everything regarding Porsche. The technical excellence of the cars, the many publications<br />
related to Porsche, and the congeniality of fellow Porsche drivers make ownership worthwhile.<br />
Advertiser Index<br />
Advertising rates available upon request.<br />
For more information contact Bill Kruder at<br />
ads@mavpca.org<br />
Apex Automotive........................................ 30<br />
Attic Butlers................................................. 33<br />
Autobahn Motorcar Group........................ B.C.<br />
Autoscope................................................... 31<br />
Bennett Motor Werks.................................. 22<br />
Competition Motorsport............................. 31<br />
Concorso Detailing...................................... 29<br />
deBoulle Diamond & Jewelry...................... 16<br />
DFW Garage Design.................................... 31<br />
Fast Lane Travel........................................... 35<br />
Falgout & Associates, P. C ............................ 32<br />
Fifth Gear Motorsports................................ 38<br />
Growler Motor Labs....................................... 7<br />
Garages of Texas............................................ 9<br />
Innovative Autosports................................... 5<br />
Invisibra...................................................... 33<br />
Louden Motorcar Services....................... I.B.C.<br />
Marvelous Home Makeovers...................... 21<br />
Mayo Performance...................................... 26<br />
Mullenix Motorsport................................... 32<br />
Mustard Racing........................................... 30<br />
New York Life.............................................. 16<br />
OCD'tailers.................................................. 33<br />
Onsite Tires................................................. 26<br />
Park Place Porsche................................... I.F.C.<br />
The Phoenix Insurance................................ 25<br />
Porsche Plano............................................... 8<br />
RAC Performance.......................................... 3<br />
RKT Techniques........................................... 29<br />
Roofing Solutions by Darren Houk.............. 26<br />
Stuart's Paint and Body............................... 10<br />
Texas Motor Works...................................... 32<br />
Ussery Printing........................................... 30<br />
Zims Autotechnik........................................ 35<br />
These advertisers support our<br />
Maverick Region.<br />
Tell them you saw their ad in<br />
<strong>Slipstream</strong>!<br />
34 <strong>December</strong>
---
Parts or Service, We Deliver Excellence.<br />
Over 300,000 parts in stock.<br />
Expert service and repair.<br />
Parts and Service for: Porsche, Mercedes-Benz, BMW, Mini, and Smart Car.<br />
817-267-4451<br />
Visit us online at:<br />
1-800-356-2964<br />
www.allzim.com<br />
zimips@allzim.com<br />
1804 Reliance Pkwy. Bedford, TX 76021 M-F 8am to 5:30pm<br />
Zims Autotechnik is not affiliated with Porsche AG or PCNA Registered Trademark of Dr. Ing h.c.F. Porsche A.G.<br />
Hey Maverick Region, Reward Yourself!<br />
European Luxury Driving Tours since 1976<br />
Germany, Austria, Italy, France, Switzerland, China and USA<br />
Our PORSCHE driving tours for 2019 combine fun,<br />
adventure, luxury & gorgeous scenery!<br />
For more information contact us at: 813-343-3001<br />
info@FastLaneTravel.com or<br />
visit us online at www.FastLaneTravel.com<br />
It's Our Business to Do Pleasure. TM<br />
35
---
Oversteer: Letter from the Editor<br />
By Kurt Scaggs, Managing Editor<br />
My story of becoming a shade-tree mechanic starts<br />
many years ago in a suburb outside New Orleans. In my<br />
youth, I had the chance to work on a Porsche 935. It<br />
didn't end well. Let me explain.<br />
It was beautiful, blue with red, orange and yellow<br />
stripes and the number 49 emblazoned on the doors. My<br />
father brought it home in the hopes that it would satisfy<br />
my quest for speed. He was right on, but it awakened<br />
yet another curiosity. The desire to take things apart.<br />
Little did he know (or maybe he did and never wanted<br />
to admit it) that desire would never leave. Even after I<br />
left the car he brought home in a hopeless pile of parts<br />
he encouraged me to remain curious. Probably after he<br />
shook his head and sighed.<br />
You've probably figured out by now, the Porsche<br />
he brought home didn't come from Zuffenhausen, but<br />
instead from Mattel, assembled in Hong Kong. You see,<br />
it was a Drive Command radio control Porsche 935. And<br />
the memory of 'working' on it never left. It was so vivid<br />
in fact that earlier this year I tracked one down, brand<br />
new in it's box, and it sits in my office to remind me to<br />
remain curious. It also reminds me that things are usually<br />
much more fun when there are no left-over pieces.<br />
Since my beginnings, I've become a little better at<br />
getting all of the pieces back together. I've gotten so<br />
good in fact that most of my repairs don't require a<br />
trip to a qualified mechanic. Most of them. As I write<br />
this, on my desk sits a box full of parts that just arrived<br />
today. I'm tracking down a surging idle condition and<br />
instead of paying someone with a vast knowledge of the<br />
car and having it back on the road in 2 days, this brain<br />
of mine thinks is much more fun to have pieces strewn<br />
all over the garage and a car I can't drive until I get it all<br />
back together. I tell myself I'm saving money (ha!) and<br />
I'll feel that sense of accomplishment when it's all back<br />
together, but I think it's really just that I feel like that<br />
little kid taking apart his first car all over again.<br />
I missed being able to share my first german built<br />
Porsche with my father by about a year, but I'm pretty<br />
sure the first time I sent him pictures of it in pieces he<br />
would have reminded me of that little 935. So, when<br />
your son or daughter (or grandkids) wind up with extra<br />
pieces of something you just gave them, resist the urge<br />
to be disappointed and take a picture instead. One day<br />
you just might be able to show them just how far they've<br />
come. Enjoy the drive!<br />
Porsche Specialists - Experienced Enthusiasts<br />
Dealer-Like Service at Independent Prices<br />
fifthgear.biz<br />
Excellent Service Maintenance & Repair Sales<br />
•All Porsches' Serviced<br />
•Fast Turnaround Times<br />
•Same Day Service In Some<br />
Cases<br />
•Serving DFW Area For Over<br />
14 Years<br />
•Family Founded, Owned &<br />
Operated<br />
•100+ Years of Porsche Tech Experience<br />
•11,000 sq. ft. State-Of-The-Art Facility<br />
Equipped with the latest Diagnostic<br />
Tools<br />
•Comfortable Waiting Area with<br />
Free WiFi & Coffee Bar<br />
•Same Services and Capabilities as the<br />
Dealers<br />
•Consignment Sales performed<br />
on a case-by-case basis<br />
1975 Archer Ave • Lewisville • TX 75077 • 972•317•4005<br />
36 <strong>December</strong>
---
Hiram Saunders, <strong>Slipstream</strong><br />
155 Jellico<br />
Southlake, TX 76092<br />
Periodical Postage<br />
Paid at Fort Worth, TX