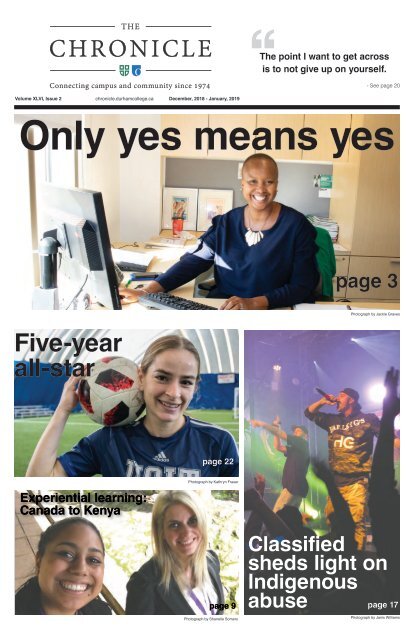 Durham Chronicle 18-19 Issue 02
Durham Chronicle 18-19 Issue 02
Durham Chronicle 18-19 Issue 02
SHOW MORE
SHOW LESS
Create successful ePaper yourself
Turn your PDF publications into a flip-book with our unique Google optimized e-Paper software.
The point I want to get across

is to not give up on yourself.

- See page 20

Volume XLVI, Issue 2 chronicle.durhamcollege.ca December, 2018 - January, 2019

Only yes means yes

page 3

Photograph by Jackie Graves

Five-year

all-star

page 22

Experiential learning:

Canada to Kenya

Photograph by Kathryn Fraser

Classified

sheds light on

Indigenous

page 9

Photograph by Shanelle Somers

abuse

page 17

Photograph by Janis Williams
---
2 The Chronicle December, 2018 - January, 2019 chronicle.durhamcollege.ca Community

BACK

of the

FRONT

DC journalism students look at Durham College and UOIT,

and beyond, by the numbers and with their cameras

A 'Happy Place'

to snap photos

Photos By Janis Williams

Madison Abbot and Madison Kats (Top photo, left to right and bottom

right) pose at the Happy Place Pop-up in Toronto for fun and quirky

selfies in the name of happiness.

To learn more about the Happy

Place pop-up, see page 21
---
Campus chronicle.durhamcollege.ca December, 2018 - January, 2019 The Chronicle 3

Consent matters for everyone

Jackie Graves

The Chronicle

DC's Allison Hector-Alexander

works to show students that consent

belongs to everyone, regardless

of gender or sexual orientation.

Bright signs with bold, white

lettering are posted on bulletin

boards across campus. Some of

them read "My dress is not a yes"

and "It's not consent if you make

me afraid to say no."

The campaign was created

in partnership with the Campus

Health Centre, Residence and the

Office of Diversity, Inclusion and

Transitions. It focuses on educating

students about what consent

means, the right to take back consent,

and how to take ownership

of one's sexuality and sexual decisions.

"It's all about empowering

students to own their decisions

around their sexual identity. To

be proud of their sexual identity,

to make healthy decisions around

their sexual practices," says Hector-Alexander,

director of the

Office of Diversity, Inclusion and

Transitions.

When sexual assault allegations

came out against movie producer

Harvey Weinstein, actress Alyssa

Milano encouraged women to

share their experiences of sexual

harassment or assault on Twitter

with #MeToo. In 2018, the focus

on consent is just as prevalent due

to high profile cases such as the

nomination of Brett Kavanaugh

as a justice on the U.S. Supreme

Court. He was accused of sexual

misconduct when he was 17.

These incidents and the

#MeToo movement have made

consent top of mind over the past

year.

"Consent transcends, it goes

beyond just sexual violence. It is

important to know people can

give their consent but also they

can take back that consent," says

Hector-Alexander. "Just because

somebody gives consent this morning

doesn't mean this consent is

valid this afternoon."

Students can go to the Diversity,

Inclusion and Transitions office

to find resources and counselling.

They can also visit to the

Campus Health Centre or the Office

of Campus Safety if they wish

to make a formal complaint.

According to statistics on Ontario.ca,

1 in 3 women are the victims

of sexual violence while 1 in

Photograph by Jackie Graves

Durham College's Allison Hector-Alexander in the office of Diversity, Inclusion and Transitions.

6 are men.

"Sometimes when we do talk

about sexual violence, because

such a large number of people

who come forward as survivors

sexual violence are women, sometimes,

we forget about the men

who are survivors," says Hector-Alexander.

She says regardless of gender

or sexuality, "consent doesn't differ

from person to person." She

says it's important people know

those in LGBT relationships can

be victims too.

"The education still has to happen

across the board of what consent

looks like," she says. "Consent

isn't this elusive thing. If students

actually listen to each other in

relationships or non-relationship

situations, why are they not asking

if this is OK?"

Durham College students have

mixed feelings when it comes to

how consent is taught.

"Parents are like 'boys will be

boys.' With girls, we're taught

to protect ourselves, and for LG-

BTQ, there's not much to even

begin with," says Aurora Jantina

Beaune, a Developmental Services

Worker student.

Ryan Kirz, a Computer Systems

Technician student says

everyone has to mutually agree to

what's going on.

"Going through education

where I lived, there was nothing

towards LGBT at all. It was mostly

geared towards women and

slightly towards men, but there's

no representation for LGBT," he

says.

DC continues to highlight consent

through multiple initiatives,

including 16 Days of Activism and

the Kiss for Consent campaign,

according to Hector-Alexander.

She wants students to know regardless

of their relationship,

gender or sexuality, consent is always

necessary.

"Sometimes, people think, well,

I'm in a relationship, there's no

need for that," says Hector-Alexander.

"They have a right to say I

change my mind."

Hate crime on the mind in community, on campus

Jackie Graves

The Chronicle

Hate crime has been in the media

spotlight after eleven lives were

lost when a man opened fire in the

Tree of Hope synagogue in Pittsburgh

a week ago.

UOIT's Barbara Perry, a professor

in the faculty of Social Science

and Humanities, answered a

call from CBC moments after the

shooting.

"They could hardly have

cleared the scene by the time I got

that call," says Perry. "It was instantaneous,

I think I got it before

noon."Perry has written multiple

books on the subject, including In

the Name of Hate: Understanding

Hate Crimes, Hate and Bias

Crime: A Reader, and The Silent

Victims: Hate Crimes Against

Native Americans.

She appeared on CBC news as

a global hate crime specialist and

points to a report done by Stats

Canada which shows a five per

cent increase in hate crime from

2014 to 2015, while 2015 to 2016

saw a three per cent increase. The

studies were based on police-reported

hate crimes. In 2016, 1,409

hate crimes were reported, which

is 47 more than the previous year.

This three per cent increase

in hate crimes involved incidents

targeting South Asians, Arabs

and West Asians, Jews and people

based on their sexual orientation.

Perry says while she isn't surprised

by the statistics, she still felt

the impact of the shooting.

"It was devastating and stunning.

It was just pain," she says.

"Not again. How do we get to

the point where this is becoming

normative? When will it stop?"

She has no problem casting

some of the blame on the current

political situation in Canada and

the United States.

"It's increasing in this broader

culture of hate coming to the floor

in North America," she says. "In

large part due to the violent political

rhetoric, especially in the

Trump administration."

Perry will be hosting the third

biennial conference of the International

Network for Hate Studies

May 29 to May 31 at UOIT

in Oshawa.The conference will

be on combating what they call

an "era of hate" with focuses on

hate crime, right-wing extremism,

online hate, and more. She

says issues with money security in

other countries have "added to the

fire" of the rise in hate crimes, but

blame placed on refugees by the

far-right are unfounded.

"This is the problem I have

with the far right. Where is the

evidence? " she says.

Perry works as a professor at

the North Oshawa campus of

UOIT, but the sentiment against

hate crime hasn't stopped there.

UOIT at the Simcoe campus has

launched a campaign called Embrace

the Immigrants to combat

negative misconceptions about

culture.

Shauna Moore, a student success

coach at Durham College

lived in Guyana for eight years

when she was a child in a community

that was primarily Christian,

Hindu and Muslim. She

Photograph courtesy of Dr. Barbara Perry

Dr. Barbara Perry, a UOIT professor in the faculty of Social

Science and Humanities, has written books on hate crime.

became close to a Muslim family

who became a "second family" to

her. She says she fears the attack

in Pittsburgh will create a further

divide, especially for the Muslim

community. "We seem to be divided

by religion, nationality, colour,"

says Moore. "I recognized

at a young age that the religious

lines didn't matter. The closer that

people are, the more we get to

know people again, those things

matter less and less."

The Muslims Unite for Pittsburgh

Synagogue campaign

worked to raise 190,000 dollars

for victims. Moore says the media

needs to report on stories like this

to help prevent dividing people.

"When we watch the news,

when we listen to some of the

other things being thrown at us on

social media, we think there is this

big divide," says Moore.

Perry, who has edited multiple

series of books on hate crime, says

while Canada is largely diverse,

the next generation needs to be

informed so they can help to combat

hatred.

"What's really important is the

role that youth play to challenge

hatred and racism," Perry says.

"This is a generation that has

grown up with diversity and inclusion.

They need to find ways to

educate themselves to understand

the things they're seeing and reading."

Hate crime continues to stay

in the limelight as communities

come together to deal with the recent

tragedy.

In Oshawa, the Chabad of

Durham Region held a public memorial

tribute last Tuesday for the

victims of the shooting while another

memorial service was held

at the Beth Zion synagogue the

following Saturday.

Here are ten ways to fight hate

in your community by visiting

www.splcenter.org.
---
4 The Chronicle December, 2018 - January, 2019 chronicle.durhamcollege.ca

PUBLISHER: Greg Murphy

EDITOR-IN-CHIEF: Brian Legree

AD MANAGER: Dawn Salter

Editorial

CONTACT US

NEWSROOM: brian.legree@durhamcollege.ca

ADVERTISING: dawn.salter@durhamcollege.ca

Why we post what we post: The day of the accident

Dear Readers,

On Wed. Nov. 14, reporter Morgan

Kelly received a text message

of an accident at Simcoe St. and

Conlin Rd. just after she finished

lunch. This is an intersection the

majority of students and faculty

have crossed.

We were unaware of how bad the

scene would be before getting there,

by the time two of our reporters

arrived there were four police cars

and two ambulances.

As a media outlet, we produce

stories for multiple platforms, with

multiple visuals. As students, we

are learning on the job from our

instructors who have proven their

journalistic abilities in the field.

As aspiring journalists, we

understand it is increasingly important

to be transparent to our

audience because of fake news and

the corresponding loss of trust in

the media.

One of our program instructors,

Kenyon Wallace, writes for the The

Toronto Star's Trust Project, a consortium

of global news organizations

collaborating to improve trust

in journalism.

The Chronicle has been building

trust between the campus and

community since 1974. Students

in the second year of the program

have been covering campus as well

as community news for more than

forty years.

This is the first year we have a

working newsroom. Half of the

journalism program is in the classroom

while the other half works in

the newsroom from 9 a.m. to 4 p.m.

As a media outlet connected to

an educational institution, we are

in a unique position. Not only are

we members of the media but also

of a campus community.

The Nov. 14 accident that

claimed the life of first-year UOIT

student Rhyss Glenfield was tragic.

We were one of the first news

outlets to cover this story. That is

because it happened here on our

campus.

On Nov. 14, we ran a video and a

photo of the accident taken by two

of our reporters, with approval by

the Editor-in-Chief, Brian Legree.

"Decisions around images or

video in which there is death or

injuries are clearly difficult," says

Legree, who is also the program

coordinator.

"We have to weigh whether an

image is too graphic and whether

it's fair, against the public's right

to know."

The images from the accident

were difficult to process and presented

a tough ethical predicament

for The Chronicle, says Legree.

"By the time we got there it was

just the aftermath, it was a little

hectic because a lot of people were

crying, shaking or calling family.

Police were still taping off the

scene," says Morgan Kelly, who

covered the accident and took

photos. "For me, I felt a little uncomfortable

because of the fact that

I was just a student and the incident

was so fresh."

According to an article by The

Star as part of its trust committee

column series written by Wallace

during the Danforth shooting that

happened in Toronto, Jason Paul,

who was overseeing the production

of the story said,

"As more eyewitness accounts

came in, we wanted to be sensitive

knowing that lives had been lost

and others injured. We wanted to

help readers understand what was

happening but at the same time

knowing this was a devastating

situation for so many people."

The Chronicle had a similar

decision to make: making readers

aware of what happens in Durham

Region is what we do, especially

this close to home.

We knew the images would be

sensitive but the images also helped

readers understand the severity of

the accident.

Journalists write the first page of

history. Sometimes that history is

graphic. Our job, as we have learned

from our instructors, is to not let

things get ignored, covered up or

repeated.

In recent light, The Star has

been under a bombardment of insults

for their coverage of the St.

Michael's College scandal.

An editor for The Star tweeted a

Cartoon by Meagan Secord

reply to the insults: journalists do

not cause the issues we report on.

Rhyss Glenfield's accident was

not an every day accident. No one

wants an accident like this to happen

again.

"It was a little disturbing for me

after I saw the blood, backpack and

pieces of the car in the area," said,

Jasper Myers, a reporter for The

Chronicle who took the video.

The Chronicle prides itself on

being fair, balanced and accurate

when telling its stories. Our

approach to this story was no different.In

the first few weeks of the

semester, as a class we sat down and

voted on what values we thought

The Chronicle should embody.

This is what guides our decisions

in the newsroom.

When it came to running the

video Myers took and the pictures

Kelly shot, we asked ourselves

whether or not the coverage we

would be releasing to the public

was all of the things we pride our

publication on.

We decided it was.

"Ultimately, we decided the

images were medium-range, not

graphic, with no faces, although

they clearly showed a tragedy of significance

had taken place. Media

organizations also know that for

societal change to take place - perhaps

in this case around improving

road conditions in high-accident

intersections - the public needs to

know in order for that change to

happen," says Legree.

Since the accident, The Chronicle

received a handful of emails

and phone calls with complaints

from readers.

We understand the photo and

video we released was strong.

However, it was what the scene

looked like at the time we covered

the story.

At the request of the victim's

family, we have since removed

some images from the initial story.

"My position is that a professional

newsroom would publish - and

not remove - those images," says Legree.

"In fact, other media outlets

published visuals from the scene.

Some of my students shared with

me that other people were sharing

images from the scene through social

media as paramedics worked to

help the victim, so in a sense we're

at a point in time where two sets of

rules are being applied. However,

this is an educational environment.

The victim's family made a request

to remove the images and we honoured

that request."

The Star's Trust Project reveals

the behind-the-scenes of journalism

so readers know what reporters do.

We at The Chronicle are reimagining

this project so our community

knows what our reporters,

who are also students, went through

to cover this story.

We are your campus publication.

At The Chronicle we strive to get

stories right. Our goal is to gain our

readers' trust and tell campus and

community stories based on that

trust.

Journalism is about telling stories

that don't end but start new beginnings.

Safer roads could be that

beginning.

Dakota Evans

EDITORS: Cameron Andrews, Justin Bailey, Rachelle

Baird, Liam David, John Elambo, Dakota Evans,

Cecelia Feor, Peter Fitzpatrick, Nicholas

Franco, Kathryn Fraser, Jackie Graves, Madison

Gulenchyn, Leslie Ishimwe, Morgan Kelly, Victoria

Marcelle, Jasper Myers, Meagan Secord, Keisha

Slemensky, Janis Williams.

The Chronicle is published by the Durham College School of Media, Art

and Design, 2000 Simcoe Street North, Oshawa, Ontario L1H 7L7, 721-

2000 Ext. 3068, as a training vehicle for students enrolled in Journalism and

Advertising courses and as a campus news medium. Opinions expressed

are not necessarily those of the college administration or the board of governors.

The Chronicle is a member of the Ontario Community Newspapers

Association.

PRODUCTION ARTISTS: Abishek Choudary, Abhinav

Macwan, Aidan Miller, Alexandra Spataro, Andrae

Brown, Andrea Willman, Aritra Ghosh, Brandon

Arruda, Brianna Dunkely, Emily Southwell, Indraneel

Bhosale, Kevin Brown, Lewis Ryan, Rayaan Khan,

Rosalie Soltys, Sedale Rollocks, Shelby Dowe, Jamie

Ryll.

ACCOUNT REPS: Amanda Cummer, Ashley Gomes,

Dana Heayn, Devante Smith, Elyse Duncan, Emily

Kajuvee, Isabella Bruni, Jacob Clarke, Jordan Stojanovic,

Joe Ukposidolo, Justin Harty, Matthew Hiscock,

Andrew Jones, Julian Nirmalan, Kayla Benezah, Kaela

Wilson, Lisa Toohey, Marlee Baker, Meagan Olmstead,

Noelle Seaton, Pooja Pothula, Rachel Enright,

Rebecca Thomas, Sarah Saddal, Sahithi Mokirala,

Sheila Ferguson, Tatiana Sorella.

Publisher: Greg Murphy Editor-In-Chief: Brian Legree Editor: Danielle Harder Features editor: Teresa Goff Ad Manager: Dawn Salter

Advertising Production Manager: Kevan F. Drinkwalter Photography Editor: Al Fournier Technical Production: Keir Broadfoot
---
chronicle.durhamcollege.ca December, 2018 - January, 2019 The Chronicle 5

Opinion

Ford's free speech policy hypocritical

Jackie

Graves

The following piece is the opinion of

the Durham College journalism student

whose name and picture accompanies this

column.

Doug Ford's attempt to protect freedom

of speech is so hypocritical, it

could easily be mistaken for a (very

bad) joke.

Amidst protests at Canadian colleges

and universities, Ford ran on

a platform that promised he would

tie freedom of speech policy into

post-secondary funding.

Ford is looking to protect freedom

of speech by mandating

schools and defining what is and

isn't acceptable. This is the opposite

of what freedom of speech is supposed

to be and it's blatantly wrong

and offensive.

One of the most intense protests

took place at Wilfrid Laurier

University in Waterloo earlier this

year. The Globe and Mail reported

students actively protested against

guest speaker Faith Goldy, a white

nationalist and supremacist known

for appearing on neo-Nazi podcasts.

Students protested on school

grounds before pulling the plug on

Goldy's discussion by triggering the

fire alarm.

Post-secondary schools will now

be forced to create a freedom of

speech policy which all students,

staff and guests have to obey.

Failure to obey policy may result

in grant cuts, disciplinary action,

expulsion and for faculty – the possible

loss of their careers.

Yes, our Premier wants to hold

school funding hostage as he hangs

the threat of reprimand over the

heads of students and faculty. Ford

says he is simply protecting our

democratic right to express ourselves,

even if it means being exposed

to something offensive.

By doing so, he is saying free

speech can only be determined by

people within positions of power

and it's absolutely undemocratic.

Yet, he denies Canadian children

the right to inclusive sexual education,

touching on important topics

like sexuality and gender identity.

Why?

Because it's controversial. So

controversial, parents can report

teachers violating the 1998 sexed

curriculum to www.oct.ca and

fortheparents.ca, according to the

Huffington Post.

This man says he cares about

freedom of speech for Canadians

and it is absolute lunacy. If Ford

cares so much about democracy,

why is he making it impossible

for teachers to disagree with an

outdated curriculum that doesn't

include the concerns of every Canadian?

The change in free speech policy

isn't going to eliminate protests

against controversial speakers. The

first section of the Charter protects

the rights for peaceful assembly as

long as students can protest without

radical action. This makes Ford's

efforts not only pointless but clear in

their intention to silence a non-conservative

perspective.

If Ford's heart wasn't in the

wrong place, he could have had a

great, well-rounded policy to protect

the rights of everyone within

post-secondary schools.

According to Centennial College's

website, it has a policy around

disruptive student behaviour in the

classroom and other learning environments

policy. Durham has a

similar policy. These policies hold

students responsible for inappropriate

behaviour while still protecting

their rights as people, without taking

away their freedom of expression.

There is nothing wrong with having

a clear, defined code of conduct

when it comes to appropriate behaviour

when expressing an opinion:

one which allows everyone to

have a voice and engage in open

debate, even if the subject matter

challenges what they believe in respectfully.

By trying to control freedom of

speech with the threat of punishment,

the premier is hardly different

than the protestors who sparked

Photograph by Meagan Secord

Premier Doug Ford's new policy attempts to censor those who don't agree with him.

the controversy in the first place.

Where they are different is in the

balance of power.

Students have the power to protest

against things they don't agree

with. Premier Doug Ford has the

power to effectively mandate what

is or isn't free speech and punish

anyone who opposes him.

Section One of the Charter states

laws surrounding free speech can

be limited so long as it coincides

with a free, democratic society.

However, what is democratic

about placing a cap on freedom of

speech when laws already exist to

protect them?

If this is what Ford sees as defending

democracy, Canadians

should fear what the future holds

under his leadership: a future where

freedom of speech only exists in a

tiny echo-chamber of predetermined

notions of what's acceptable

and where democracy is only

a buzzword politicians use to justify

their malpractices.

The hypocrisy needs to stop.

Canadians need to exercise

their freedom of speech and call

out Doug Ford before he changes

the very fabric of what makes this

country so beautiful: our diversity,

our democracy, our right to choose,

express ourselves and our right to

freedom.

Premier has little regard for Ontario residents

The following piece is the opinion of

the Durham College journalism student

whose name and picture accompanies this

column.

A democratic government ensures

all decisions are made on consensus.

Unfortunately, Ontarians have

expressed their gross disappointment

on the internet of the day-after-day

charades of the regime that

is "Ford Nation".

On Oct. 2 when Ontario Premier

Doug Ford stated he intends to

scrap the Bill 148 Fair Workplaces,

Better Jobs Act (an array of worker

protections), it was clear the Ford

administration demonstrates a dictatorship,

not a democracy.

According to britannica.com,

"dictators usually resort to force

or fraud to gain despotic political

power, which they maintain

through the use of intimidation,

Victoria

Marcelle

terror, and the suppression of basic

civil liberties."

As any dictator, Ford operates

in his own interest and to benefit

the rich. Ford's choice to cancel

the increase to Ontario's minimum

wage shows he has no interest in

bettering the lives of the working

class, even though this is what he

says he is working hard to do.

On Sept. 26, Ford's Labour Minister

Laurie Scott confirmed at a

press conference that the minimum

wage will be paused at $14 an hour.

A dictator strives to control citizens

through economic manipulation

rather than offering them a

higher standard of living with reasonable

wages. This rings true here.

Ford has little regard for the

well-being of the rest of Ontario

residents and ignores the opinions

of others. When an Ontario court

ruled that using the notwithstanding

clause to cut Toronto councilor

seats was an interference in municipal

elections and a violation of

democratic integrity, Ford chose

to disregard the court ruling and

override of the Charter of Rights

and Freedom.

Ford publicly added he wanted

to make it clear that he is prepared

to override the Charter in future. A

statement used to exert his supremacy

over the municipal government

and control over the province.

Not only has Ford replaced the

sexual education to an older 1998

model, he also expressed his interest

in punishing teachers who continue

to teach the 2015 curriculum.

The Ford administration created

a website (https://globalnews.ca/

news/4402354/doug-ford-teachers-sex-ed/)

which allows parents

to complain directly to the Ontario

College of Teachers about teachers

who resist teaching the updated

curriculum. Ford uses the fear of

punishment to deter non-conforming

teachers, just as a dictator

would use fear to control citizens.

A politician who supports an

education system that does not address

the latest social issues, such

as cyber-bullying, STDs, HIV,

sexting and sexual intercourse

consent, is one who supports the

suppression of his people through

lack of education.

An uninformed generation

of children lacks the knowledge

needed for the development of our

society. What kind of a future will

this create?

In addition to Ford's lack of interest

in upholding the fundamentals

of democracy, his character flaws

unravel each day he is premier.

Let's not forget the video footage

of protestors expressing their

discontent with the usage of the

notwithstanding clause. They were

arrested at Queen's Park.

Then consider the comment

made by NDP Leader Andrea

Horwath, who publicly stated Ford

disrespectfully "muzzles" female

cabinet ministers.

Maybe it is time the federal government

gives Ford a taste of his

own medicine. It's time to implement

Bill 39, Recall Act, 2004,

"an act to amend the Election Act

respecting the recall of Members

of the Assembly."

Before it's too late.
---
6 The Chronicle December, 2018 - January, 2019 chronicle.durhamcollege.ca Campus

Psychotherapy comes to DC, UOIT

Jasper Myers

The Chronicle

Durham College and UOIT are

part of a free demo project aimed

at helping students with anxiety,

depression and other mental health

challenges.

Whitby-based Ontario Shores

Centre for Mental Health Sciences

and three other mental health hospitals

throughout the province are

involved in a provincewide demo.

Ontario Shores is offering cognitive

behavioural therapy (CBT)

to the campus community in Oshawa

and at more than 30 other

sites throughout its service area - in

Durham Region, Northumberland,

Peterborough, Haliburton, Kawartha,

Scarborough and York Region.

"The Ministry of Health has

asked us to work on a project where

we're providing publicly-funded

psychotherapy across the province,"

says Beth Brannon, director

of the Integrated Community Access

Program at Ontario Shores.

DC and UOIT students can access

the services through the health

centre, located in the Campus

Recreation and Wellness Centre.

Interested students must see a mental

health practitioner at the health

centre and get a referral to be part

of the CBT demo project, says Dr.

Nicole Elliott, clinical psychologist

at Ontario Shores.

Ontario Shores offers 12-16

weeks of CBT through the demo

program, which will be in effect

until March 31, 2020.

Dr. Elliott says there's a greater

need mental health support at the

post-secondary level.

"There's such a higher increase

with anxiety and depression when

Photograph by Jasper Myers

(From left) Registered nurse Jennifer Muller, Dr. Nicole Elliott and registered nurse Tracey Holz

of Ontario Shores Centre for Mental Health Sciences.

people first move away or go to

school and stuff and then that's

exactly what CBT helps support,

too," she says.

"So, the therapy we do, it's more

looking at building in more skills

for being able to cope with things

on your own, or just really examine

the ways that you're thinking, or

looking at ways to be able to identify

what's been going on contributing

to your emotions and your

distress and then how you can

change that."

The Campus Health Centre already

offers mental health services.

Students of either school get

an initial appointment to determine

their needs and then are connected

to the appropriate services, according

to the health centre's website.

When a student is referred to

the demo, they'll go through the

Ontario Shores intake before getting

into the CBT demo. Brannon

says this intake allows students to

be connected to the right services,

even if the CBT demo isn't the service

they need.

"That intake process is important,

because sometimes what happens

is people will be referred who

actually need more than what this

project can offer," says Brannon.

The intake nurses will work with

individuals to find the right support,

so if they see someone needs

a different kind of therapy, they'll

flag it and make sure the individual

is properly connected, adds Brannon.

Bringing ideas to life with 3-D printing at the library

Students,

faculty

learn how

to create

3-D items

Morgan Kelly

The Chronicle

Rat skeletons, characters for roleplay

games, organ diagrams and

Christmas presents are some examples

of what the 3-D printers at

Durham College (DC) and UOIT

can bring to life.

The first 3-D printer to arrive on

campus was in 2014 at the downtown

UOIT location. Now, DC

and UOIT have three printers,

which cost $1,500 to $2,500.

Students and faculty from DC

and UOIT were able to learn more

about the printers at workshops

held in mid-November at the north

Oshawa and Whitby campuses.

There was a small turnout at the

first workshop located in the basement

of the north Oshawa library

due to an issue with registration.

Luckily, passing students were able

to drop-in to learn more.

"A friend of mine, told me about

(the workshop) because he bought

a 3-D printer and he doesn't know

how it works, so we came here to

learn," says Felipe Leitelobo, 35, a

visiting scholar at UOIT.

Librarian Kate Gibbings, 37,

and student employee and 3-D

printing assistant Mark Rizk, 20,

were the hosts of the workshops for

the week.

Rizk has been an assistant since

September but says he has been

interested and familiar with 3-D

design software since his first year

in high school.

The first workshop was: Introduction

to 3-D Printing. A handful

of students discussed their design

ideas and learned about 3-D printing

software and websites with free

and licensed 3-D designs.

One of the websites students

explored for free designs is called

Thingiverse.com. Rizk demonstrated

how to select designs on

Thingiverse and upload them to a

free 3-D printing software, Cura.

Cura allows the user to scale,

modify and rotate their design to

provide the best printing quality.

Another software used was Tinkercad,

which allows users to create

3-D designs from two-dimensional

sketches. Students played around

with Tinkercad in the second workshop:

Beginner Design for 3-D

Printing.

"I say the biggest issue for a beginner

would be how to make an

efficient design," says Rizk.

"It's a lot of trial and error," Gibbings

adds. "I don't have an engineering

background but some of the

stuff that sounds complicated, you

try something, it didn't work … you

do it again, it can be that simple."

Rizk says they see a lot of mechanical

engineering students who

use the 3-D printers for their capstone

projects during November. At

the beginning of the year, they see

more personal projects.

"Someone was doing sort of a

costume for like a (comic) con," recalls

Gibbings. "It did have multiple,

multiple parts … so much

planning and learning, trial and

error, it was really just at a high

level of what they were doing and

Students and faculty from DC and UOIT discussing 3D printing.

learning as they went along."

Printing projects cost $1.50 per

hour which covers the price of the

filament used for printing.

Depending on the size of the

project, Rizk says prints can take

as little as 30 minutes or as much

as 12 hours to complete and are

monitored in case something goes

wrong.

Students can apply for a 3-D

printing project by filling out a request

form for the north Oshawa library

or downtown UOIT campus.

For those who missed the workshops,

email library.3dprinting@

durhamcollege.ca or visit the library

reference desk during Rizk's

office hours for questions.

Some items that were 3-D printed at the workshop.

Photograph by Morgan Kelly

Photograph by Morgan Kelly
---
Campus chronicle.durhamcollege.ca December, 2018 - January, 2019 The Chronicle 7

DC fire, safety program raises money for hospital

Donate

more than

$3,000 to

Sunnybrook

hospital

burn centre

Kathryn Fraser

The Chronicle

Individually, they are small

fund-raising efforts.

A bake sale. Some students collecting

coins while holding firefighters'

boots.

But collectively, along with the

help of an industry partner, Durham

College's Fire and Life Safety

Technician program [FLST] has

donated more than $3,100 to the

Sunnybrook Hospital Ross Tilley

Burn Centre.

Harding Fire Protection Systems,

an Ontario fire protection

organization, was a key contributor,

donating $1,000 as part of

Fire Prevention Week in October.

The donation was made Nov.

5.

Fire Prevention Week featured

educational and interactive events

at DC. A firefighter "challenger"

obstacle course by the bus loop,

alarm-pulling demonstrations

and a trivia wheel full of prizes.

Every year, the FLST program

selects a different charity

to support during Fire Prevention

Week. FLST Program Coordinator

Randy Panesar said the students

researched Sunnybrook and

agreed to support the hospital

because of its fire and life safety

connection.

"[We wanted to] support

[Sunnybrook's efforts because

they] provide medical care to

those who have been affected

by fire or fire-related incidents,"

Panesar said.

Jennifer Gourley, president of

Harding Fire, said the organization

has partnered with other Ontario

colleges but focuses its attention

on DC.

She said she is amazed at the

readiness, preparedness and

Photograph by Kathryn Fraser

Durham College's Fire and Life Safety Technician program students are charity-minded.

knowledge of the students.

"Some of our most promising

young inspectors who have moved

up over the last couple of years

have come from Durham," Gourley

said.

"They bring what they've

learned in the program and [are]

able to take that information and

marry it with what they're learning

from our senior technicians

in the field to become really

well-rounded technicians."

Molly Orpin, manager of marketing

and strategy at Harding

Fire, said the organization has donated

to Sunnybrook Hospital in

the past.

"The burn unit is obviously

very close at heart to our industry

because of the type of work we do

to prevent fires and burns," she

said.

"We wanted to support [the

efforts of the students] and it's a

great cause at the end of the day,

too."

Panesar said Harding Fire

will become a resource for DC

students, with company officials

coming in as guest speakers and

providing networking opportunities

to further careers.

"Having organizations such as

Harding come to our college and

partner, it really motivates the students,"

he said.

"When the industry comes in

and [students] see the real world

and their probable future, it brings

healthy competition."

Mark Pitropov, student VP

of the FLST program, said he is

grateful for donations from students,

faculty and Harding Fire.

"Not only for the money," he

said. "But for knowing that we

have made a significant change

within the fire industry. Education

and prevention are both the

core to life safety and having the

opportunity to teach students and

faculty [during Fire Prevention

Week] was invaluable."

Poor attendance at DCSI annual general meeting

Lack of

quorum

cancels

session

until

new year

Morgan Kelly

The Chronicle

Durham College Students Inc.

(DCSI) held its annual general

meeting (AGM) on Nov. 16, but the

meeting never actually began because

the room was nearly empty.

There were only three DCSI

members present for the meeting

in the Centre for Collaborative

Education - chairperson Charles

Wilson, Corrina Collete, director

of science and engineering and

Parastoo Sadeghein, director of

community services and health,

so the meeting didn't meet quorum

in order to proceed.

At the AGM, DCSI planned to

discuss the proposed general operating

bylaws, presented in a 41-

page document. DCSI's financial

statements were also be reviewed.

Due to the lack of DCSI members

present for the AGM, it was

Durham College students who attended the DCSI's annual general meeting.

Photograph by Dakota Evans

announced the meeting will be

rescheduled in the next semester.

In addition to the lack of DCSI

members in attendance, DC students

also stayed away in droves.

Less than 10 students attended the

AGM.

Wilson blamed the poor turnout

on midterms and exams.

"It's bad weather and it's a really

bad time for students, too," says

Wilson.

"I really think what it speaks to

is the fact that this is probably the

worst possible time for students."

Seated in the front row awaiting

the meeting was Toosaa Bush,

who was elected DCSI's vice-president,

internal, earlier this year.

Bush was later fired from his position

at the end of June along with

two other elected members.

President Jaylan Hayles and

vice-president, external, Geoffrey

Olara, were the other two senior

members who were fired alongside

Bush.

DCSI says the reason behind

their termination is still considered

a "confidential human

resources" matter. Their positions

have not been filled. This marks

the second year without senior

elected leadership members for

Durham students.

Bush says it was unfortunate

there weren't enough students

present for the AGM, but wants

students to "fight for their rights.

"We need to know where our

money is being allocated towards,

where it's being used," says Bush.

"DCSI needs to be accountable

for it because they haven't communicated

with us throughout the

whole year."

As it stands, there is nearly $5

million in the DCSI coffers, the

Chronicle's Liam David reported

earlier this semester.

More than half of the budget

goes to the health plan, $60,000

is allocated to a legal defence

fund and $165,000 is budgeted for

events, although no events have

been announced.

Nearly $970,000 will go to

DCSI salaries.

Bush hopes DCSI will be able

to promote the next AGM better.

Wilson says students will receive

a 28-day notice before the

next scheduled AGM.
---
8 The Chronicle December, 2018 - January, 2019 chronicle.durhamcollege.ca Campus

Planting new medicines

The

'legitimacy'

of

plant-based

medicines

Leslie Ishimwe

The Chronicle

Plant-based medicines can heal diseases

such as breast cancer, clean

lungs and help women during their

pregnancy.

That's the message Joseph Pitawanawkat

delivered at the First

Peoples Indigenous Centre at Durham

College Nov. 6.

Pitawanawkat, from Manitoulin

Island, was available for five hours

at the centre.

To speak to people about his

background in plant-based medicine.

"My grandma when she was

growing up, she had very little access

to a hospital, so if she got sick

or injured she had to know what

kind of medicine to fix herself so

this is where all of this comes from,"

says Pitawanawkat who is referred

to as a traditional knowledge keeper.

Pitawanawkat is passionate about

sharing the "legitimacy" of plantbased

medicines.

Pitawanawkat says he and his

wife started to learn about the

medicines and thought they should

start sharing their knowledge about

four years ago.

They created their own business

Joseph Pitawanawkat, founder of Creators Gardens, a community-based business introducing medicines.

- called Creators Gardens - which

is a community-based business for

now as they're still introducing the

medicines.

"We harvest almost all of these on

Manitoulin," says Pitawanawkat.

"We were walking for over 25

kilometres a day for 13 days to be

able to find everything and pick it

all."

The Prickly Ash is one of the

medicines Pitawanawkat presented.

He says it can make "your mouth

watery, heal pain around your

gums for a certain amount of time,"

and kill bacteria as well.

Pitawanawkat also told an audience

of about 15 students and faculty

about tamoxifen, which he says

can help cure breast cancer.

He also mentioned Sweet Cicely,

a plant Cree women used during

pregnancy to avoid having children

born with Down syndrome.

Pitawanawkat says the medicines

are not limited to Indigenous

people and anyone can use them.

Photograph by Leslie Ishimwe

He says some of the plants can

grow in a garden or on farmland

while others need to harvest in

their natural habitat, such as lung

medicines.

Some guests at the centre sampled

tea made by Pitawanawkat,

which included plant-based medicines.

Letting the corporate training secret out at Durham College

Leslie Ishimwe

The Chronicle

One of the Corporate Training Services (CTS) members at Durham College.

How are General Motors, Hyundai,

and Ontario Power Generation

connected to Durham College?

To answer, you would need to

know about one of DC's best-kept

secrets.

The director of Corporate Training

Services (CTS) at Durham

College, Tara Brodie, admits the

multi-million-dollar corporate program

at DC is a mystery to most.

CTS is located at the Whitby

campus and is a hands-on customized

training program.

Which connects the college with

industries such as General Motors

and Hyundai.

It all depends on the issues those

companies need help with, according

to Brodie.

Brodie says the college works

with hundreds of companies.

"It doesn't matter the industry

or size of a client, the approach of

what we do for our clients (doesn't

change)," says Brodie who goes

on to explain CTS solves business

issues through training.

CTS is currently developing a

video content for one of its clients.

CTS has been operating

for more than 30 years.

Brodie says the reason the program

is relatively unknown at Durham

College is that CTS is a "non-traditional

part of the college."

The CTS does not only operate

at the Whitby campus but goes all

over Canada to help clients with

training sessions.

A traditional program at DC has

students, professors and pre-determined

courses but with CTS a

Photograph courtesy of Tara Brodie

company brings in employees who

require training and CTS instructors

or industry experts help with

the training.

Doug Hart, curriculum design

manager at CTS, says it's important

to understand and engage the

client. in order to determine their

needs.

Hart works with different corporate

companies and runs a program

for them every six months.

CTS won a million-dollar deal

with General Motors 25 years ago.

They've been partners since,

according to an article from the

Chronicle, written in 1993.

The program has worked with

14,923 automotive customers in the

past year.

Training was provided in 32 cities

in both English and French.

Essentially, CTS helps those

customers with sales and services,

Brodie says. CTS also has a testing

program.

For instance, if management

companies want to sell insurance,

they would have to take an exam.

CTS monitors the exam on their

behalf, Brodie says.

CTS not only provides training

services like the Life Licensing

Qualification Program, but also

has eLearning services.

In November, upcoming courses

include Air Brake Endorsement,

Brewery Lab Setup and Testing,

and Class D Driver Training.
---
Campus chronicle.durhamcollege.ca December, 2018 - January, 2019 The Chronicle 9

DC's educational trip to Kenya

am a first-year journalism student

who was chosen to go to I

Kenya as part of Durham College's

(DC) documentary team in June.

We went to tell the story of the

Kenya Education for Employment

Program (KEFEP).

This is a five-year $20 million

initiative funded by the government

of Canada through Global

Affairs Canada. We wanted to get

to the heart of the story, showing

the partnerships between Canadian

and Kenyan schools and

giving students on Kenyan campuses

a voice.

We also wanted to tackle the

issues faced by students and schools

including gender equality, hands

on learning and getting the tools

they need to better their education.

Our journalism teachers Teresa

(Goff), Danielle (Harder) and

Brian (Legree) act as mentors to us

all. They challenge us to constantly

think critically and find a story

in everyone and everything.

I am a mature student who returned

to college in my mid-30s

for one simple reason - I always

dreamed of becoming a journalist.

Despite the challenges of going

back to school, I was happy with

my decision. What surprised me

most though, was people's reaction

about my choice of choosing to attend

college instead of university,

as if university was clearly a better

and more logical choice.

This is a stigma many Kenyans

face today. Choosing college, or

Technical and Vocational Education

and Training (TVET) institutions

as they are called in Kenya,

is often viewed as a lesser choice

on the educational path.

During my stay in Kenya, I

witnessed numerous tree planting

ceremonies at TVET institutions.

We would visit a school and to

commemorate the experience,

Kenyans would sing and dance

and new trees were planted in the

process. A fresh start. A new life.

A tree planting its roots with years

of life ahead of it. Even thinking

back to it now, it makes me smile.

I equate my time in Kenya as

the little tree. The week I spent

doing what I love in a new place

was the beginning of this journey.

But much like trees, everyone can

enjoy the fruits of them, in time.

When my friends and family

learned of my trip to Kenya, they

Durham was invited to tell its story at the

Academics Without Borders conference

in Montreal. Here is the text of the speech

given by DC student Janis Williams.

initially thought it was a vacation,

but I was there to do an important

job. I was there to learn about KE-

FEP and Colleges and Institutes

Canada's (CICan) initiative.

I took what I learned in my first

year of journalism and put my

theoretical skills to actual practice.

This is true hands on learning. It

was exciting and terrifying all at

once.

I am a person who takes time to

carefully research, plan and process

information, but in this role,

I needed to think quick on my feet

and be ready to interview someone

at a moment's notice.

One of the focuses of KEFEP

is to encourage hands on competency-based

learning, giving

students actual experience beyond

just classroom theory. This

is exactly what I was fortunate

Photograph by DC documentary team

Durham College students Fraser Cuviello (left), Janis Williams

and Jeff Burbidge at work during an interview in Kenya.

enough to experience my week

abroad.

Working with Danielle as a colleague

instead of as a teacher was

exhilarating.

She is a wonderful teacher, but

also a phenomenal journalist. I got

to meet Danielle the journalist and

learn from her during my week in

Kenya. I observed how she could

put together questions with little

notice and obtain valuable information

in the process.

I watched her vision for shots

come to life. I witnessed her invest

all of her blood, sweat and figurative

tears in this project to make it

the best she possibly could. There

is no doubt, Danielle does things

well, but part of the beauty in this

experience was she let (secondyear

journalism student now DC

graduate) Shanelle (Somers) and

I find our way as journalists, with

guidance and full support.

My last interview of our trip was

with Elizabeth Vincent from College

of the North Atlantic. I had

the chance to listen to her group

speak before I interviewed her. I

started writing my questions furiously,

with good background information.

I interviewed her and

the feeling I had when it was done

can't even be put into words. I felt

like I 'nailed' it. I felt like all the

interviews before this one were decent

but really, they prepared me

for this one last shot in Kenya. In

that very moment, sure I was still

a 'student' but I was also a 'journalist'.

This is the impact of on the

job learning, the ability to achieve

your dreams and better yourself,

both personally and professionally,

in the process.

Photograph by Shanelle Somers

Durham College journalism students Shanelle Somers (left) and Janis Williams between

interviews in Kenya in June.

No textbook can prepare you

for this. No class lesson can fully

embody the reality of this kind of

a moment and no online content

can be as impactful.

Thanks to DC, I got to travel

across the globe and see first-hand

how students learn in Kenya and

the positive changes to come.DC

doesn't only work internationally

with Kenya, there are also current

projects in Guyana, Peru and

Vietnam.

Students and teachers from our

college have touched those across

the globe. DC also welcomes international

visitors to our campus

regularly. Internationalization is

a two-way street that strengthens

all the institutions involved - and

more importantly the people from

these schools, immensely.

Our team shot 40 hours of footage,

conducted 52 interviews and

visited nine cities in three weeks.

With all of our crew's hard work,

we not only had the experience of

a lifetime but also obtained a ton

of quality content. We now had a

lot of work to do including the important

task of putting together our

KEFEP documentary.

But how could we make this a

full circle learning experience for

all the journalism students who

did not accompany us on the trip?

Well, in October, we took a week

off traditional school and learning

so we could all engulf ourselves in

'Kenya week'.

What is 'Kenya week'? It was

a combined effort between first

and second-year journalism students

at DC. Second-year students

mentored and coached the first

years and everyone threw themselves

into the videos taken on our

journey. Each group focused on a

different partnership between Kenyan

and Canadian schools, while

one group did an overview of the

entire KEFEP project.

I was in a group focused on the

partnership between The Kisii National

Polytechnic and Vancouver

Island University (VIU). Brandon

Wright was a first-year student in

my group. I made sure I took the

Danielle approach with him, giving

him the tools he needed but

then let him work.

I scheduled a phone interview

with Darrell Harvey from VIU

and told Brandon we would do it

together. This was his first interview.

We worked on coming up with a

logical question line together. He

was so nervous when we called and

I could relate to the fear, as he was

me one year ago. He stayed quiet

until near the end of the call and

then, it just happened. He found

his inner journalist and voice. He

asked some poignant questions,

some we had prepared and some

spontaneous ones based on the

answers he was given. Brandon

was so happy and I was so proud.

I guess mentorship is more similar

to teaching than I ever thought.

After the week of collaborative

work, each group was left with

articles, pictures, videos and infographics.

All of this was later put

together in ESRI story maps, by

the second-year students.

Why does this matter?

Informed citizens inform citizens,

even if they are students -

they are people who will one day be

the future of this world. Students

are the seeds of society, the more

they grow, like a tree planted at a

school in Kenya, the stronger they

are and the more they are capable

of sharing their strength and knowledge

with others.

This conference is called Academics

Without Borders - reaching

across borders, building a better

world. I believe this embodies the

kind of work all of the schools involved

with KEFEP are doing. It

is important and it matters. Borders

mark where you are from but

humanity should reach far beyond

those limits.

The government of Kenya hopes

to become an industrialized middle-income

country providing a

high quality of life by 2030.

Our documentary team of two

teachers and four students was in

Kenya to make the 'before' video,

capturing the work KEFEP needs

to do in Kenya's post-secondary

schools. DC will be going back

in 2020 to see the progress being

made and document the 'after'.

It is my sincerest hope we will

discover investment, change,

growth, sustainability and adaptability

in the education system.

It's no secret though, change

doesn't happen overnight, it takes

time, patience and perseverance.

But in the end, this initiative

could be a true 'full circle, tree in

blossom, roots firmly cemented in

the ground' moment for Kenya.

This speech has been edited for length

and clarity.
---
10 The Chronicle December, 2018 - January, 2019 chronicle.durhamcollege.ca Campus

Spaces and Places

This is one in a series looking at special

locations on the DC, UOIT campus

Emilie Smith on the left,

Durham College graduate

and Tiala Arsenault, on the

right, event coordinator at the

Centre For Food.

Photograph by Victoria Marcelle

'Earthly' eats at Bistro '67

Leslie Ishimwe

Victoria Marcelle

The Chronicle

Durham College's Bistro '67 offers

an exclusive experience with

unique food creations, where hybrid

fruit to earth-inspired desserts

are available for guests to try.

Bistro '67 is the school's restaurant

located on the Whitby campus,

which serves as a hands-on learning

environment for culinary students

in the W. Galen Weston Centre

for Food.

It appears to be a hit with the

paying public. Trip Advisor awarded

Bistro '67 with the certificate

of excellence and is ranked as the

second most popular restaurant in

Whitby out of 235.

Employees are encouraged to

take initiative in creating original

offerings.

Emilie Smith, a Durham College

graduate from the culinary

management and advanced baking

and pastry programs, as well as a

current Bistro '67 employee, says

she wanted to incorporate earthly

flavours to the menu.

Smith says the kale cake on the

dessert menu is earthly and green,

but sweeter.

"I have a big passion for [the outdoors].

I grew up in the country

on 50 acres. I always find myself

incorporating flowers, floral, and

earthy tones into anything creative

I do," says Smith. "What I wanted

to do is create something earthly."

Smith credits a co-worker with

inspiring her creativity.

Kristen Atwood, who was once a

part of the Bistro '67 team, showed

Smith a cookbook that described

a recipe for chocolate stones. This

recipe inspired her to create a dessert

reflecting the true essence of

being outdoors.

"Inside the stones I did an Earl

Grey ganache. Earl Grey is very

floral, it's very sweet, light and vanilla

[flavoured]. I wanted to incorporate

that so [guests] can taste the

graininess of flowers."

Smith created the soil out of sour

dough that has a sour background

taste. She topped the soil with

smoked nuts and almonds with

dried fruit, then toasted it in the

oven. The dessert was finished with

cinnamon and nutmeg.

"I was able to create a warm,

balanced [dessert] like a campfire,

with the grass and flowers. [It]

brings all those flavours together."

Smith says she is currently working

on new menu items that incorporate

tree bark and to produce

something that looks exactly like

a log.

"I am trying to make things [differently],

such as trying to make the

chocolate [nature] dessert as completely

savoury. Something that you

wouldn't expect."

This past summer, Bistro '67 also

experimented with harvesting hybrid

fruit.

Tiala Arsenault, event coordinator

at the Centre for Food, says

Kaitlyn Dover, service manager,

found the idea for cucamelons, a

hybrid fruit from Mexico, from

Pinterest and other social media

platforms. She thought it would be

an interesting project for Bistro '67.

The mini-sized fruits have the

skin of a watermelon, but taste like

cucumbers.

Arsenault says students have experimented

with other interesting

culinary creations such as beet

sorbet, edible flowers or putting

an original twist on the traditional

cheesecake.

In addition to the full, sit down

restaurant experience, the Centre

for Food offers an onsite grab-andgo

culinary experience. Through

an outlet called The Pantry, the

public can purchase items such

as spicy chocolate cookies, Coke

Zero doughnuts and frozen protein

smoothie packs.

The facility, which opened in

fall, 2013, integrates both a learning

environment for students and a

functioning restaurant with paying

customers.

The restaurant prides itself on

its "field to fork" doctrine, says

Arsenault.
---
Campus chronicle.durhamcollege.ca December, 2018 - January, 2019 The Chronicle 11

Spaces and Places

This is one in a series looking at special

locations on the DC, UOIT campus

Providing students with

a 'nest away' from home

Indigenous centre now

located in CFCE building

Rachelle Baird

Keisha Slemensky

The Chronicle

It's tall, vibrant, colourful, spiritual

and proud. It's the totem pole in the

new First Peoples Indigenous Centre

(FPIC) in the Centre for Collaborative

Education (CFCE)

Walking around the first floor, a

visitor's eyes gravitate towards the

totem pole standing tall in one of

the windows of the FPIC. The centre,

previously named the Aboriginal

Student Centre, was located

in the Simcoe Building, which was

demolished to make room for the

CFCE.

Upon entering the FPIC, visitors

are not only greeted by the totem

pole. The room features numerous

works of Indigenous art and a giant

medicine wheel on the ceiling.

"This is a really good visual for

people … to show that this is an Indigenous

space," says Peggy Forbes,

Photograph by Keisha Slemensky

Peggy Forbes, student advisor, works at her desk in the FPIC.

Photograph by Keisha Slemensky

A warm and inviting meeting room is one of the many new

additions to the FPIC.

student advisor, professor and Indigenous

coach for the centre.

The medicine wheel symbolizes

the four dimensions of health - mental,

physical, spiritual and emotional.

Forbes says it's important to take

care of each dimension of health.

"We really strive here to provide

a one-stop shop," she says. "If we

can't provide for the students we

will find something that works for

them."

The FPIC is capable of bringing

in assistance like Student Academic

Learning Services (SALS) and

others from the community to help

Indigenous students learn in a space

they feel most comfortable.

Since the creation of the FPIC

more than seven years ago, Forbes

says the number of self-identified

Indigenous students has grown

and is still growing. She says this

year there are 190 self-identified

Indigenous first-year students.

"We know there's a lot more because

many students don't self-identify

for a number of reasons," says

Forbes. "Probably the major reason

is that they think they need a

status card and that's not true at

all. Others won't identify for other

reasons – maybe not being pigeonholed

into something or stereotyped."

Forbes and the FPIC are working

hard to overcome this stigma.

"Indigenous students need to be

supported," she says. "It's one of our

biggest challenges to convey.

"The reality is, we are different.

We're not looking for special treatment

but we want people to recognize

that we learn differently, our

life experiences are different, our

intergenerational harm is different

– because of residential schools and

the child welfare system. Indigenous

students don't necessarily learn

in the conventional way."

This year the FPIC plans to host

new events and activities. In January

they plan to host a language

revitalization program.

"We really believe that language

is the cornerstone to the culture,"

Forbes says.

Forbes also urges students to

seek out events outside the college

as well.

She is a member and director

of the Bawaajigewin Aboriginal

Community Circle (BAAC), which

showed "The Secret Path", followed

by a panel discussion of survivors of

residential schools. The proceeds of

the event were split between BAAC

and the Downie Wenjack fund.

Forbes says the FPIC is very inclusive

and students are welcome

to attend the many events they host

like sharing circles.

The events are held regularly,

begin with a smudge and are followed

by allowing students to speak

about both the challenges and successes

they are having. "We don't

turn anyone away - everyone is welcome

here," she says.
---
12 The Chronicle December, 2018 - January, 2019 chronicle.durhamcollege.ca Community

Photograph by All or Nothing Brewhouse

Brothers Eric Dornan (left) and Jeff Dornan are moving back to Oshawa where they founded All or Nothing in 2014. They are working in a close partnership with

DC's Centre for Craft Brewing Innovation.

All or Nothing is coming home

Brewing

new life

into south

Oshawa

Madison Gulenchyn

The Chronicle

Life has come full circle for what

was once a Beer Store in Oshawa.

Like a phoenix rising from

its ashes, a former destination for

beer enthusiasts is being converted

into a craft brewery and distillery.

All or Nothing Brewhouse started

as a joint effort between brothers

Jeff and Eric Dornan.

They founded their small Oshawa

business in 2014 and then

moved operations to Oakville in

2016 after acquiring Trafalgar

Ales & Meads, Trafalgar Artisanal

Distillery and Black Creek Historic

Brewery.

They have now returned to the

company's origins, from the west

side of the GTA to the east, moving

their equipment 125 kilometres to

their new location at 439 Ritson

Rd. S.

Not only are they working on

moving into a new building, they're

also working on building new relationships

- including one with

Durham College.

All or Nothing's Business Development

Manager, Garett Mc-

Kinnon, says the company has

aligned with Durham College's

(DC) Centre for Craft Brewing

Innovation (CCBI) and the school's

Bistro '67 restaurant and have a

"really strong relationship.

"We feel that being local is going

to enable us to just build those partnerships

even stronger and grow

the community around those partnerships

as well," McKinnon says,

adding its flagship All or Nothing

Hopfenweisse brew is already

available for customer enjoyment

at Bistro '67.

We want them to be able to utilize

our space.

DC's Chris Gillis, manager, applied

research business development,

oversees the CCBI and says

its purpose is to give students experiential

learning and to provide

facilities for brewers to develop new

products.

"It's really set up to support craft

brewers by giving them access to

some facilities and equipment they

typically can't afford," Gillis says.

This helps the brewers do things

like experiment and develop new

recipes without affecting their ongoing

production facilities.

While All or Nothing wants to

take advantage of the facilities at

the CCBI, it also wants to involve

students at their new location, as

one of the owners, Jeff Dornan, is

a graduate of both DC and UOIT.

"We want to help their students

as well. We want them to be able

to utilize our space to help grow

students in the craft industry," Mc-

Kinnon says.

"We want to see people coming

out of school and maybe doing a

co-op, or doing a placement or being

able to use our equipment and

our facility."

The brewhouse is bringing five

jobs from Oakville and are anticipating

creating another 15-20 positions

within their first year back

in Oshawa.

"That's not accounting for partnerships

with companies that will

assist us with events such as weddings,

corporate parties and live

concerts," McKinnon says.

Additionally, All or Nothing is

preparing to launch several new

products in 2019.

"Some of these products will be

available through our normal sales

channels, LCBO, grocery stores,

The Beer Store. Some of the products

will be unique bottle shop exclusives.

We are also looking to sell

some local artisan products within

the retail space to round our of assortment

of products for sale," he

says.

All or Nothing expects to have

renovations complete at the old

Beer Store early in the new year

and start brewing in February.
---
Campus chronicle.durhamcollege.ca December, 2018 - January, 2019 The Chronicle 13

iPhone XR is more advanced

Rachelle Baird

The Chronicle

Dakota Evans

The Chronicle

"Gamers rise up" is a meme

currently circling social

media.

Durham College (DC)

adopted that philosophy

several months ago, but its

main gaming venue is still

in the 'rising' phase.

At the start of the fall

semester DC announced

it would be entering the

booming esports era, putting

together varsity teams

to enter gaming competitions

against other colleges.

While the teams are

in place and in some instances,

competing, their

much-anticipated gaming

venue in the former home

of E.P. Taylor's pub in the

Student Centre isn't ready

for keyboard clicking yet.

The facility has had audio

and video issues and

other technical problems,

needed wall reinforcements

Photo of the iPhone XR.

Apple has done it again. The company

released another version of

iPhone, just waiting to be picked.

The iPhone XR has now been

on the market for two weeks.

The XR is Apple's 17th version

of the computer company's

smartphone, the first iPhone was

released back in 2007.

A lot has changed for the

iPhone, from software upgrades,

the addition of the fingerprint

technology and facial recognition,

as well as the camera upgrade.

With the XR, you can choose

from a variety of colours, like blue,

white, black, yellow, coral and

red, a colour which started with

the iPhone 7. Proceeds go towards

AIDS awareness.

Those who are loyal Apple

users will have a bit of a nostalgia

when it comes to the XR, as vibrant

colours were introduced in

the iPhone 5c line. However, the

XR is very different from the 5c.

The XR is more advanced

than the phones before it. One

of the big differences is the video

camera, which can film in 1080p.

This is the resolution of Blu-ray

discs.

The camera also has some

unique features.

While in portrait mode, you

can change settings to either studio,

natural or contour, depending

on the light.

The screen is also much larger

in this phone compared to older

models, which may make it easier

for those with visual impairments

to read the screen. It is also clearer

Esports brings positivity

and an improved layout to

include more accessible options,

according to Michael

Cameron, arena organizer.

Although DC officials had

initially hoped to have the

venue ready by December,

no opening date has been

set.

"We had to modify the

floor plan because we have

access requirements, being

able to get wheelchairs up

there [on the arena playing

floor], a couple of stations

have to have standing

desks, things like that, because

we are an inclusive

and academic institution,"

said Cameron.

However, the varsity

teams are currently playing

their matches from their

PCs or laptops at home, according

to DC officials.

The varsity teams are

about halfway through

their first season.

"[Playing on the esports

team] is like playing any

other sport, you get to get

into the team mentality,"

said Sean Gamble, a player

for the Overwatch team.

"And it gives people the

opportunity to show them(-

selves) to the school and

represent the school in a

different way then just as a

student."

DC is operating seven

teams playing seven different

games this season.

Ken Babcock, director

of athletics at DC, said the

school had representatives

at conventions in California

and Toronto recently to

promote the new arena and

varsity teams.

Once completed, DC's

esports arena will offer casual

gaming for everyone.

Students can get food

and drinks from the new

marketplace adjacent to

the esports venue, hang

out with friends and pay

an inexpensive hourly fee

to use the various gaming

platforms, according to

Babcock.

Photograph by Rachelle Baird

and crisper. No pun intended.

Like the iPhone X, the latest

iPhones do not have a home button.

In order to close all of the

Apps, you need to hold the screen

and swipe up. It takes some getting

used to but after a few hours

you will forget the iPhones had a

home button.

Another unique feature of the

iPhone X lines is the Animoji option

in iMessenger. This option

allows users with these brands of

phones to send recorded messages

of themselves as animals to their

contacts.

The processor is also much

faster when you compare it to

previous models, which makes it

faster to download Apps, watch

videos on Netflix and YouTube,

surf the internet and post to social

media.

Users can also choose to have

live backgrounds and live lock

screens, making it look like a

screensaver when the phone is

locked.

The phone is also dust and

water resistant, but not so

water-resistant you can take it

with you to the bathroom and

mistakenly drop it in the toilet.

The battery lasts longer and

takes less time to charge when

compared to older models. The

XR also uses wireless charging.

The storage space for the XR

is a chose between 64,128 and 256

GB. This marks a change from

the older models which offered,16,

32, 64 and 128 GB.

So if you are in the market for a

new phone, with all the latest and

greatest features, the iPhone XR

is the phone for you.

Purchasing apple care and a

protective case is recommended, it

will save costly repairs should you

drop the phone while taking pictures

of your cat or the meal you

are about to eat.
---
14 The Chronicle December, 2018 - January, 2019 chronicle.durhamcollege.ca
---
Campus chronicle.durhamcollege.ca December, 2018 - January, 2019 The Chronicle 15

Durham marketing makes a return

After 12 years,

DC enters

provincials

Dakota Evans

The Chronicle

After an absence of more than a

decade, Durham College Marketing

students have returned to

the Ontario Colleges Marketing

Competition (OCMC) Durham

College where they had fun - and

some success.

They spent the weekend of Nov.

15-17 at Fanshawe College in London

for the competition.

The opening night kicked off

with an event known as the Quiz

Bowl, a jeopardy-style event between

all of the colleges present.

The students were divided into 12

teams, made up of people from different

schools.

"Durham was the most energetic

school there, we were constantly

cheering for our teams," said Jordan

Beer, a student at Durham

College.

Students from the marketing

team in the crowd for the Quiz

Bowl said they were "obnoxiously"

loud, and it intrigued a student

from George Brown enough to

come sit with them for the fun.

"We had a pair of Hulk hands for

every student on the team, to represent

the school," said Nick Bowman,

a student at Durham College.

The actual competition, which

hosted more than 300 students,

began the next day.

Durham College's Marketing

team represented DC colours

with customized golf shirts and

foam Hulk hands, chanting "DC

Smash!" and "DC Here!" to support

the school's teams in each

category.

Twelve students from the program

in their second and third

years were put into five categories

with coaches for each: General

Marketing, Integrated Marketing

and Communication (IMC), Market

Research, Entrepreneurship,

and Prospect Pitching (sales).

"The students in the categories

had 30-minutes to study their case

and present it to a panel of industry

professionals," according to Brand.

We had a pair of

Hulk Hands for

every student.

Durham College placed fourth

in their IMC case, which brought

recognition. OCMC acknowledges

teams who place in top five.

"We did good. IMC placed

fourth, we were the only team

from Durham who placed top five

at least," said Beer.

The students have been practicing

the pitches in their categories

once or twice a week since the start

of September.

Photograph by DurhamOCMC2018 Instagram

Durham College's marketing team at the 2018 Ontario Colleges Marketing Competition.
---
16 The Chronicle December, 2018 - January, 2019 chronicle.durhamcollege.ca
---
chronicle.durhamcollege.ca December, 2018 - January, 2019 The Chronicle 17

Entertainment

Rapper Classified, declassified

An inside look into

the artist's life and

musical journey

Janis Williams

The Chronicle

He walks into the Red Dog Tavern

in Peterborough casually sporting a

grey hoodie and sweatpants combination,

and wearing an Edison

cannabis company hat.

Award-winning Canadian rapper

Classified, whose real name is

Lucas Boyd, is currently on The

Canadian Classic Tour to promote

his new album Tomorrow could be

the day things change.

Classified has been grinding in

the hip hop music scene for nearly

25 years. Now 40, he says his values

have evolved.

He says he writes songs about

what he personally goes through

but also what he sees unfolding in

society. With each album he is less

afraid to take risks.

Powerless is a song he says weaves

together stories of sexual abuse and

missing and murdered Indigenous

women and children.

"I'm sorry that she is affected. I

did not ever intend to hurt anyone."

"How in the name of God, could you

think that she wouldn't be affected?!

How?! You do not have no idea how

devastated we are feeling because of what

you did." – recording at the beginning of

the song Powerless

This impactful recording is between

a church minister and an

angry and hurt mother confronting

him about the alleged childhood

abuse of her daughter, Marianne

Ashfield French.

Classified added it to the beginning

of his song Powerless because,

as he told Ashfield French, the recording

sets the tone for the song.

Ashfield French, a fan turned

friend, initially contacted Classified

after he became vocal on social

media about another story of abuse

in Newfoundland. She shared her

experience with him and sent the

audio recording he later used in

the song.

"I think it's resonating with

people because a lot of people don't

rap or sing or make songs about

stuff like that," says Classified.

"Whether it's missing Indigenous

women or it's child abuse or whatever

it is."

Before she reached out to the

artist on Facebook with her story,

Ashfield French didn't know she

and the artist were born on the

same day, in the same hospital in

Enfield, N.S.

In the Powerless music video, the

rapper chose to include Indigenous

musicians and dancers. To bring

light to Indigenous issues, he boldly

shows images of people who have

gone missing or been murdered.

Before he explored the heavy

topic of abuse, he says he didn't

realize how often it happens.

According to Statistics Canada,

it is estimated there are 460,000

sexual assaults in Canada each

year. A staggering number considering

many cases are never reported.

Ashfield French says she is

touched because Classified went to

bat for her when she feels the police

and church did not. She was struck

by his desire to make right what

he perceives as wrong. She says he

went above and beyond to try to

help her.

"When he says 'I wish I could do

more than write a song', he truly

means that," reflects Ashfield

Photograph courtesy of Janis Williams

Classified has been part of the hip hop scene for 25 years.

Classified performs at The Music Hall Concert Theatre in Oshawa on Oct. 18.

French. When the song came out,

she was able to make peace with

her past. "I not only felt powerful,

I felt free knowing the man who

abused me must be feeling pretty

powerless."

Powerless has touched many

people, it's palpable when fans hear

it live.

Ashfield French was in the audience

when Classified performed

at a night club in Calgary recently.

She says listening to this song

brings up mixed emotions, especially

hearing the pain in her mother's

voice. She was stunned to see

the audience's reaction.

"I looked around at the crowd

and there were so many people crying.

It felt good because it's helping,"

says Ashfield French.

Finding success doesn't mean you're

rich / It means you found your happiness

– lyrics from Fallen

Throughout his rollercoaster ride

of a career, Classified says even

when times were tough, he never

wanted to give up and walk away

from his childhood dream or let his

fans down.

I tried to walk away from it, but I

heard that voice in my head / Saying

please, don't stop – lyrics from Don't

stop

Connecting to his peers and

audience is at the forefront of his

musical mind.

He says he likes collaborations

with other artists because not only

Photograph by Janis Williams

is the process fun, it also gives him

better perspective and fresh ideas.

He has worked with fellow Canadian

talents David Myles and Ria

Mae. He says working with Snoop

Dogg was one of the highlights

of his career. Backstage in Peterborough,

Classified talks about

everything from marijuana legalization

to encouraging people to

be themselves. Mid-conversation,

legendary rapper Maestro Fresh

Wes strolls by and enthusiastically

gives Classified a handshake.

During this tour, the rapper

asked fans on social media which

local band should open the show.

"It brings the community together,

it makes the hip hop scene more

interesting and [makes] people pay

attention to the show and what's

going on," Classified says.

His fans also keep him motivated

and amaze him with their loyalty.

In October, Classified signed a

female fan's arm. She told him she

intended to have it tattooed. The

next day, he was shocked to learn

she had followed through with her

promise to permanently ink his signature

on her body.

The tattoo artist, Jay Ivaree, says

seeing the celebrity repost her work

on Instagram was very exciting

because it was the first time something

like this has ever happened

to her.

Classified's six-week Canadian

tour started in Kingston and ended

in Montreal on Nov. 17, with 25 big

cities and small towns in between.

"Every small town is very similar,"

says Classified, a self-described

small-town east coaster

boy at heart.

He made the conscious choice to

keep this tour local to Canada. He

says he is at a point in his career

where he is comfortable enough

to do so even though he smiled reflecting

back to the days in Europe,

on the road with his friends in a

minivan.

When the concert series wraps,

Classified says he has no idea what's

next and he adds he likes the 'not

knowing' factor. He muses he may

just pick up and go to Japan with

his family for two to three months.

"It's the simple things like not

having to work a nine to five. I'm

pretty lucky I can just do whatever

I want every day, fortunately I like

doing what I do so it's keeps moving,"

He divides his time at home between

writing songs and making

beats in his studio while being a

present husband and father to his

three children.

Tomorrow could be the day things

change – album title

This is certainly a hopeful and

ambitious title, one the rapper says

lives up to its name because it is his

best work yet.

Classified says, "I think there's

stuff there for everybody whether

you're into hip hop [or not] there's

still song writing on there that I'm

going to talk about s**t that might

be relatable to someone who knows

nothing about hip hop, just real-life

s**t, I just think it's universal."
---
18 The Chronicle December, 2018 - January, 2019 chronicle.durhamcollege.ca Entertainment

Queen has its first quiet crowd

Meagan

Secord

The following piece is the opinion of

the Durham College journalism student

whose name and picture accompanies this

column.

In a nearly sold-out theatre at

Landmark Cinemas in Whitby, you

would have been able to hear a pin

drop if it weren't for the nostalgic

sounds of the band Queen coming

from the screen.

The audience was so focused

on the screen in front of them

their heads barely moved for the

entire two hours and 15 minutes

of Bohemian Rhapsody. Not since

Queen took the stage has a crowd

been so immersed in the story and

life of lead singer, Freddie Mercury.

Farrokh Bulsara was born in

Zanzibar, Tanzania but reborn

as Freddie Mercury. The singer's

biography, Mercury, written by

Lesley-Ann Jones and published

in 2012, is an interesting read.

The film, Bohemian Rhapsody,

directed by Bryan Singer, is an

even more interesting watch mostly

because of Rami Malek's portrayal

of Mercury.

The film focusses on Mercury

and his whirlwind relationship with

the "love of his life" Mary Austin,

played by Lucy Boynton. Scenes

between the two give viewers a very

personal glimpse into the confusion

that went on in Mercury's head

and how one relationship can either

balance or unbalance a person.

Queen fan Zack Dingwall gets ready for his date with the band.

But just how accurate is the depiction

of their relationship?

The film shows the development

of the pair in a series of small but

very impactful scenes, like their

first meeting when Mercury went

to Biba, a clothing store where Austin

worked, and tried on women's

clothes.

The two connect over fashion

and Austin becomes the catalyst for

Mercury's iconic style. While there

was a connection between the two,

this scene in the movie left viewers

Photograph by Meagan Secord

with the feeling that something was

amiss.

It is fact that Mercury and Austin

were friends since they met in 1969,

and when the singer died in 1991 he

left her half of his $75-million estate

including his home in London.

In 1973 Mercury and Austin got

engaged just as the movie depicts in

a small and meaningful scene but

they eventually split due to Mercury's

sexuality.

The movie's depiction of the

separation left people in the audience

breathless. The passion, love

and loss shown through the actor's

eyes make you feel like you are right

there in real life. Mercury's confession

that he is bisexual and Austin's

understanding is poignant.

It is true the two split because

Mercury was bi-sexual and confused

about what he wanted. The

movie is accurate in the depiction

of this scene and the fact that Austin

stayed a large part of the singer's

life.

A scene in which Austin seeks

The audience

was so focused

on the screen in

front of them.

Mercury out at his home in London

after not being able to get a hold of

him for some time leaves viewers

with a sense of hope. After involvement

in heavy drugs and a string

of hookups, Austin tells Mercury to

come home to his family, meaning

his band and herself.

At this point, he had left the band

and had attempted to release a solo

album.

The scene shows the two talking

in the rain (for dramatic effect of

course) and Mercury making the

decision to turn his life around.

Austin stayed with Mercury

through his known drug and

sex-related issues and the movie's

depiction of the pair's connection

is not only spot on, it coincides with

Mercury's biography.

The film's depiction of the relationship

between Mercury and

Austin is an impactful part of the

movie because it shows how one

person can change someone's life

for better or worse.

The movie left an entire theatre

so enraptured that no one moved

for at least two minutes after the

credits started rolling.

Bookstores are the new community hangout place

Blue Heron

is a hub for

live music, art

Meagan Secord

The Chronicle

At a time when many people's

books arrive by delivery in a cardboard

box, an Uxbridge book store

is doing things differently.

Blue Heron Books has been in

the community for more than 30

years and is a "hub" for arts and

culture in the Uxbridge area, according

to manager Will McGuirk,

a DC Journalism graduate and former

pressman at the Toronto Star.

The store holds writing classes,

book clubs, author meet and greets,

art shows, dance classes and even

yoga classes in the back studio, he

says.

"This is a community hub," says

McGuirk. "Artists from all around

the area come here. We have great

conversations, there are lots of

ideas."

Greg Murphy, dean of the

School of Media, Art & Design, has

family ties to the store through his

mother and has stopped by many

times.

His mother is friends with the

original owner, Barbara Pratt, and

he knows the new owner, Shelley

Macbeth.

"It's really, truly an old-fashioned

bookstore that is at the centre

of Uxbridge's culture, and it's a

very rich culture," he says.

Authors Iain Reid, Nathan

Ripley, and Craig Davidson all

appeared at the store in November.

Blue Heron Books also partners

with local schools to make sure materials

in the curriculum, including

novels, are always in stock and provide

teachers with current titles.

"We try to stay ahead of what

is going to be current, and that's

what Shelley does quite well," says

McGuirk.

With new technology such as

online shopping, Blue Heron

Books has kept up with the times

by adding an online bookstore to

its website.

The store also promotes and sells

local musicians' records alongside

books and book merchandise.

Because the shop tries to stay

fresh, it has been recognized

as one of the best bookshops in

North America by The Globe and

Mail this year and in 2011.

Murphy says the store represents

"a profound commitment to

the arts in all the forms," including

writing, singing, spoken word, visual

art, and film.

"Every time I open up a (delivery)

box I am amazed at the stuff

that comes in. I'm just like, 'oh my

god, I just want to read that book',"

says McGuirk.

Uxbridge has about 21,000

people and has many attractions

for arts besides Blue Heron Books.

The town hosts events such as

Photograph supplied by Will McGuirk

Matt Gunn, playing guitar at the Blue Heron Bookstore for his album release launch.

a short film festival, art shows and

even recitals as part of the annual

Uxbridge Celebration of the

Arts festival that began 25 years

ago.
---
Entertainment chronicle.durhamcollege.ca December, 2018 - January, 2019 The Chronicle 19

48 Hours

Dakota Evans

The Chronicle

of

MAD mayhem

Modern pop culture influence on students shows in 50 films

What do a turkey baster, a rubber

ducky, and a plastic flashlight all

have in common? They have all

been used by students as murder

weapons in the MAD 48-Hour

Film Challenge.

The theme this year was "A Hero's

Journey" but almost all the students

had a theme of their own in

mind. It was a violent one.

"Younger people are so used to

seeing violence and are so desensitized

to it and how it can be used for

effects. I saw this in the screening,"

said Jennifer Bedford, a professor

in Advanced Filmmaking, and a

member of the MAD Film Challenge

committee.

While not trying to censor the

creativity of students, the thought

of a hero does not have to mean

violence.

Almost 90 per cent of the films

involved in the challenge were blatantly

violent against people from

stabbings, muggings, beatings, and

even violence in dialogue.

"We asked [the students in the

challenge] to keep their films

family-friendly, but I think swearing

today in 2018 is so pervasive,

10 years ago you didn't hear people

dropping F-bombs or hearing

(stuff) on television," according to

Bedford. "You hear and see that

everywhere now, it's a matter of

time until we're desensitized further."

The 50 groups of students were

given a prop they had to incorporate:

a magnifying glass, a flashlight,

a butterfly net, and a handheld

dustpan with a broom.

"I wasn't part of purchasing the

props this year but this is something

we talk about at a high level in the

committee, we think of props that

wouldn't immediately lean the

students towards violence," says

Bedford.

Greg Murphy, the dean for the

school of Media, Art, and Design

(MAD), started the film challenge

three years ago. Murphy says the

film challenge committee, made

up of MAD faculty, doesn't try to

direct people to a certain way of

thinking.

This year's props were not the

most violent objects a group of students

could be given, but students

decided to be creatively violent with

Team 50 on its last day of filming during Durham College's third annual 48-Hour MAD Film Challenge.

them anyway.

One group decided to use its

magnifying glass as a murder

weapon.

"To take a magnifying glass

and to break it to get a shard of

glass to cut someone's throat with,

that's taking it to a whole new level,

I think taking the shock value of

violence is supposed to be crafty,"

says Bedford.

The students only had 103

seconds to tell a story but, most of

the students took the easy route and

murdered someone to resolve the

issue in their films.

Andrea Braithwaite, a pop culture

expert from UOIT, says a

hero's journey is also known as

the monomyth by anthropologist

Joseph Campbell.

As she talks about the journey,

she draws a circle on the desk to

explain the cycle, which includes

the hero, a conflict and a resolution.

The journey can start at any

point, such as atonement or transformation,

but to conclude, it must

follow the circle.

Braithwaite suggested the idea

all stories share a similar trajectory

with similar kinds of characters advancing

the plot.

The journey of a hero doesn't

have to follow violence, but

Braithwaite says when the journey

does follow a violent path, it can tell

more about the culture in which the

story was told.

Some of the films in the challenge

were clipped and shortened

by editors due to the extreme use of

violence before the screening.

Two groups added props of their

own, including a gun and a pocket

knife. Another group of students

had one of its members get stabbed

repeatedly (by the pocket knife) and

Violence is

violence is

violence.

die. This action led to the film ending

with the hero beating the villain

lifeless with a plastic flashlight.

"Who knew a plastic flashlight

and a magnifying glass would be

used as weapons," says Murphy

who noticed a tendency to default

to violence.

"You will see this overwhelming

sort of theme that runs through

media or through writing that

manifests itself in the way we express

our stories."

According to Bedford, modern

pop-culture would have had

an influence on the groups since

most students receive their news

from social media like Twitter or

Facebook.

"I think that's why students immediately

went to violence," she

says.

Relying upon violence in imagery

and iconography is an effective

way to represent conflict in a

way that is easily understandable to

a wide variety of people, according

to Braithwaite.

"It's a useful representative tool

in some respects, it is not a surprise

to not suggest that we are living in

conflicted times," says Braithwaite.

Photograph by Dakota Evans

"We regularly see expressions in

disagreements manifest themselves

in violent ways."

In his book Marxism and Literature,

cultural studies scholar Raymond

Williams suggests specific

time periods have structures of feelings

in which everyone involved is

self-aware of change as a possibility.

"Williams tells us these things

are easier to see in hindsight than

they are at the time, and maybe

this is part of our contemporary

structure of feeling, in which more

aggressive and violent ways whether

it is physical or symbolic become

how we start to negotiate disagreement,"

says Braithwaite.

Most of the films in the challenge

resorted to physical violence despite

the innocuous props.

Arguably, violence was used to

tell a story about the hero's journey.

Some of these stories were not resolved.

Some faded to black. Some

ended in death.

Braithwaite says we live in conflicted

times. "We regularly see

expression and disagreement express

themselves in violent ways."

Braithwaite says, "Violence is violence

is violence."
---
20 The Chronicle December, 2018 - January, 2019 chronicle.durhamcollege.ca Entertainment

Toronto musician advocates Speak initiative

Singer Sara Wilkinson

visits DC's Riot Radio

to perform and Speak

Leslie Ishimwe

The Chronicle

Sara Wilkinson, a Toronto-based

musician, is unveiling a project encouraging

people to use their voices

to communicate.

She says the idea to create what

she calls the Speak project came

from her song Speak which she

wrote on the Toronto subway,

thinking about how people don't

communicate with each other even

though they're standing or sitting

closely together.

She says she found it "strange"

and decided to write a song about

it.The song led to her friend Fanette

Rotatinti, filmmaker and

songwriter, to conceive the idea

of the Speak project. They're currently

collaborating on the project.

Wilkinson has been on a tour that

included a stop at Durham College

Nov. 9 with an appearance on Riot

Radio.

The 29-year-old, who was

born in Toronto says she started

writing music at the age of 14 as

she was inspired by her parents

who are both music teachers.

Wilkinson graduated from St. Lawrence

College in Brockville, Ont.,

where she took music theatre.

"My music definitely has a

theatre influence because I was

trained classically and theatrically

so transferring that into my own

music and put it through the guitar,

it became more of my own," Wilkinson

explains.

Wilkinson is an independent

artist which she describes as both

"exciting and a lot" to deal with.

She adds "being younger, you

always have that dream of being

signed (by a recording company)

but it's just different now and I had

to kind of accept that."

The point I want

to get across is

to not give up on

yourself.

Wilkinson says she has taught

music to children as a side job and

gives private guitar lessons. She

says she has another project she's

been on working for years called

Kinder Musiq where she teaches

moms and young kids about music.

The artist says she has performed

around the country

in locations such as Moncton,

Toronto-based musician Sara Wilkinson performing.

British Columbia and Toronto.

She has recorded four albums. Her

latest, called "Willingly" is about

moving on and she says she worked

on it for three years.

"With this album, I wanted

to make it sound professional

and I think as an artist I'm

impatient at times so I really

took my time," says Wilkinson,

speaking about how Willingly is

different than her other albums.

Wilkinson says she doesn't limit

herself to one specific genre of

music and she's open to try different

styles but she's originally a

Photograph courtesy of Sara Wilkinson

"soul-influenced" artist.

Her final message: "The point I

want to get across is to not give up

on yourself. I was really bullied in

school and I started singing and

thought 'I think this is what I'm

supposed to do' and I hold on to

that."

Red Dead Redemption II is an amazing player experience

Cowboy

game beats

Avengers

The following piece is the opinion of

the Durham College journalism student

whose name and picture accompanies this

column.

A video game about cowboys has

had a bigger opening weekend than

Avengers Infinity War.

Raking in an astounding $725

million in its opening weekend,

Rockstar Games' ambitious cowboy

adventure Red Dead Redemption

II had one of the biggest launches

in gaming history.

Red Dead Redemption II is

groundbreaking. Its gripping story,

stunning visuals, stellar gameplay

mechanics and immersive openworld

will bring out the gunslinger

in your little cousin.

Set in a fictitious depiction of

Wild West-era America, and 12

years before 2010's Red Dead Redemption,

Rockstar does a great

job of recreating the gritty and

harsh environment of the American

frontier in the late 19th century.

Red Dead II is a prequel to the

first Redemption game but it won›t

leave you in the dust if you›re new

Peter

Fitzpatrick

to the series. Fans and newcomers

will find enjoyment in the game because

it brings back characters fans

will be delighted to see, but not in

a way that leaves new players lost

or confused.

Red Dead Redemption II stars

Arthur Morgan, a member of a

posse of outlaws known as the Van

Der Linde gang, at a time when

civilization is on the rise - and outlaws

like him are being snuffed out

across the West.

The story clocks at around 60

hours long, with many more hours

to be spent hunting, claiming

bounty heads, and upgrading your

gang's camp (among countless other

activities) in the game's open-world

environment.

Players can even relax with a

drink and a few hands of poker

at the closest saloon.In terms of

gameplay mechanics, Rockstar has

spared no expense in their attention

to detail, giving players a remarkably

realistic experience.

The player will need to eat,

rest and bath throughout their

playthrough. Arthur's hair and

beard will even grow and can be

trimmed in different styles as the

game progresses.The player's horse

also needs to be fed and groomed

in order to keep their stamina and

health in top shape.

This will level the bond between

character and horse, granting access

to new horse abilities, such as

drifting on horseback.

Oh and their testicles shrink in

the cold, too. No joke.

Photograph by Peter Fitzpatrick

Kendra Ashworth, 20, plays Red Dead Redemption II on the PS4.

Red Dead Redemption II has

more than enough rootin› tootin›

shootin› to please any fans of the

shooter genre, something Rockstar

fans are accustomed to with

their other popular games including

Grand Theft Auto V, L.A.

Noire, and Max Payne 3. However,

the pace of Red Dead is much slower

than Rockstar›s other games.

Beyond that, the game gives the

player a plethora of opportunities

to make decisions: from approaches

to take when attacking a rival

gang's camp to how you answer

your gang leader, Dutch, when he

talks philosophy with you.

You can even choose to greet

(Howdy, mister) or be rude to characters

you meet on the road (You

stink of coward).

The world of Red Dead Redemption

II does what many open-world

games of today can't. The world

feels truly lived in; from prospectors

panning for gold to lily-livered city

folk getting lost in the woods, the

player encounters a large variety

of people in this world.

And the world is huge.

Featuring dry deserts, snowy

mountain peaks, muddy swamps

and growing frontier towns, all locales

can be reached on horseback,

which may be a problem for some

players who should expect to ride

long distances between destinations

until unlocking the fast travel ability.

For some players this may add

to the immersion and not use fast

travel at all, but others may find

it tedious. Red Dead Redemption

II is indeed a modern masterpiece

and can be enjoyed by anyone, not

just fans of Westerns and country

music. More than just a game, this

is a visionary single-player experience.
---
Entertainment chronicle.durhamcollege.ca December, 2018 - January, 2019 The Chronicle 21

Toronto's

Happy

Place

The following piece is the opinion of the

Durham College journalism student whose

name accompanies this column.

Janis Williams

The Chronicle

Can $42.50 buy you happiness?

If a pop-up experience reminiscent

of a modern-day selfie-taking

Alice in Wonderland sounds like

paradise to you, the answer is yes.

This one-of-a-kind multiple

rooms exhibit first wowed crowds in

Los Angeles, moved to Chicago and

most recently came to visit Toronto.

Happy Place draws in people of

all ages. The majority of visitors at

the Harbourfront Centre had giant

smiles plastered on their faces, as

they took in and explored the

multi-sensory experience.

There are two simple rules to

keep in mind – you can't go backwards

and you may not touch anything

with mirrors.

As you walk, or in some cases

wait ever so patiently for your

turn, the bright and bold visuals

in each unique space keep you entertained.

The scenes are not only

picture-worthy but also aesthetically

pleasing.

The over-the-top, dream-like setting

makes this is a prime destination

for savvy social media influencers,

whose goal is to capture the

perfect 'instagramable' moment.

It's a two-way street of happiness:

a combination of taking the experience

in while becoming a part of the

experience yourself.

Expect to hear bubble-gum pop

tunes by artists like Britney Spears,

Pharrell, NSYNC, Katy Perry and

Beyoncé, it's one hit after another

on the journey through happiness.

The focus of the happiness team

is to make this experience pure joy

for attendees, employees are happy

to take your picture at each stop

along the way. Guests receive treats

such as custom logoed M&M's and

chocolate chip cookies, the actual

cherry on top of the experience.

You should plan to bring your patience

and inner Zen on this tour.

Just as Rome wasn't built in a day,

neither was the perfect picture. You

will have to wait for your peers to

find the right lighting, angle and

expression before you can experience

exhibits for yourself.

If you are a selfie queen or a

person who enjoys metaphorically

colouring outside of the lines, this is

probably a happiness journey worth

taking, despite nearly $100 for you

and a plus one. The good news: kids

four and under are free.

Happy Place lasts until Jan. 1,

2019.

Top photograph by Happy Place team member

Bottom photographs by Janis Williams

Chronicle reporter Janis Williams (top) exploring her joy at Happy Place in Toronto. Rooms

with themes (below) such as flowers, cookies, confetti and more let people experience happiness

in a whole new way.
---
22 The Chronicle December, 2018 - January, 2019 chronicle.durhamcollege.ca

Sports

Photograph by Kathryn Fraser

Katherine Koehler-Grassau is a five-time OUA All-Star and a fifth-year applied and industrial mathematics student.

Another win for UOIT soccer star

Kathryn Fraser

The Chronicle

Gliding like an eagle on the wind,

Katherine Koehler-Grassau runs

across the field. She makes her way

to the other side, passing an object

from left to right, creating a pattern

with each kick.

The intent is clear: one shot and

one chance.

She launches the object and

waits in anticipation. The ball

leaves a trail of invisible smoke as

it flies through the goal-posts and

bounces off the back net. She runs

over to the soccer ball and smiles.

She repeats the process over again.

Koehler-Grassau was recently

recognized as a UOIT Ridgebacks

OUA [Ontario University Athletics]

All-Star soccer player.

This is her fifth year receiving

the title, making UOIT history.

"Honestly, it's still unbelievable,"

she says. "I still don't understand

how I won it to be honest. It's

pretty interesting and good to get

that recognition. I guess it shows

that they see you work hard on the

field and put in that extra effort."

Koehler-Grassau says she was

introduced to soccer and sports at

a young age.

"When I was younger, [I

played] less, maybe three or four

times a week," she says. "Now it's

pretty much every day."

Koehler-Grassau grew up in a

family of fitness. "My family loves

sports," she says.

Her father played soccer at

Wilfrid Laurier University and

continues to play non-competitively

once a week. Her mother

played field hockey and dabbled

on the ice. Her brother and two

step-brothers all play basketball.

But soccer is Koehler-Grassau's

main sport.

"I love how [soccer is] with

your feet and very different from

all other sports where you usually

use your hands," she says.

When she reflects on her

younger years, Koehler-Grassau

says she was excited to get on her

first competitive team. She smiles

and says her mother told her she

wouldn't make it: Koehler-Grassau

was not aggressive enough for the

sport.

"When I was little I was a bit

more passive, I liked to watch the

game," she says. "I would kind of

just stand out and wait for a pass."

Koehler-Grassau plays centre

mid or holding mid, sometimes

centre back. She says she has learned

a lot of skills since then: teamwork,

communication and being

demanding on the field.

And her coach agrees. Program

Head Coach Peyvand Mossavat

says, "the best way to describe

Katherine is that she is a lead-byexample

type of person." Mossavat

says Koehler-Grassau is a consistent,

high-performer and this

makes her valuable to the UOIT

team.

Coach Mossavat says he recruited

her at a high school soccer

tournament. He discovered

Koehler-Grassau's academic

marks were "in the high 90s" as

a student athlete. He went to visit

her and her family to sign Koehler-

Grassau to the Ridgebacks.

Whatever she

does she will

be successful

because of who

she is.

"Here's what's going to happen

in the next five years," Coach Mossavat

sat down and told her and her

family. "You're going to be Rookie

of the Year, you're going to be an

OUA all-star, you're going to be an

All-Canadian and you're going to

play for Canada at [FISU] the

World University Games. You're

going to be the captain of our

team."

Koehler-Grassau laughed.

"I'm from Ottawa and I've

never heard of UOIT in my life,"

she says. "I honestly never thought

I would come here because I never

heard of this school."

Koehler-Grassau is now in her

fifth year at UOIT.

In her last semester of the Applied

Industrial Mathematics Program,

she takes calculus, linearbased

algebra and proof-based

courses, all while peer-tutoring

calculus and chemistry.

When asked about her earlier

university games, Koehler-Grassau

pauses and changes her tone. She

says she began overthinking and

having negative thoughts. As

friendships started to form with her

teammates, she began to worry less

and learned to focus on the game at

hand, rather, on the game at foot.

"I'm always trying to better

myself for the team. I don't ever

look at myself but I look at what I

can do to help the team succeed."

Mikaela Tierney, a defender on

the Ridgebacks soccer team, says

her teammate Koehler-Grassau

is always in the gym and pushing

hard. Tierney says she is "super

proud" of her friend and Koehler-

Grassau has made her a better

player.

"[I] thought she deserved (the

All-Star title) 100 per cent," she

says confidently. "She carried the

team sometimes and I think she's

earned everything she's got. I was

actually with her when she got the

call and her reaction was not as excited.

She's very humble about it, I

think I was more excited than her."

In 2016, Koehler-Grassau and

the Ridgebacks traveled to Nova

Scotia to compete in nationals.

They played against their longtime

rival Queen's University who

is "tough to beat."

"We won the game but it was

a fight." Koehler-Grassau recalls

the atmosphere and connection on

the field that led to their bronze

medal win.

"In the last 90th minute or

so, everyone's breathing hard,"

she says. "It's hot out y'know and

you can't breathe but everyone is

pushing for each other. Finishing

that game with a win (was) pretty

rewarding to see."

With a sense of humility,

Koehler-Grassau speaks about

her other accomplishments, representing

Canada in Taiwan and

South Korea at the FISU [International

University Sports Federation]

games.

"It's cool to go across seas and

play against all these amazing

teams," she says, bright-eyed. "We

played France and South Korea,

Japan. Japan was so quick with the

ball."

Tryouts have begun for the

next FISU games in Italy and

Koehler-Grassau hopes to be one

of the lucky 24 Canadians to claim

a spot, again.

Coach Mossavat says Koehler-

Grassau's future is full of choices.

"It's bright," he says.

Over the course of five years,

every single prediction the coach

made back when he recruited

Koehler-Grassau has come true:

Rookie of the Year (2014), OUA

All-Star (2014 - 2018), two-time

All-Canadian (2016, 2017), play

for Canada at FISU the World

University Games (2015 and 2017),

captain of the Ridgebacks (2016,

2017 and 2018).

"For people like Katherine,

this is the way of life. Whatever

she does she will be successful because

of who she is."
---
Sports chronicle.durhamcollege.ca December, 2018 - January, 2019 The Chronicle 23

Ridgeback sets sights on Olympics

Cecelia Feor

The Chronicle

First a Ridgeback, next an Olympian?

Heavyweight singles rower

Braden Reid, 22, is in his final

year at UOIT and his season is

over, but he has plans to move on

to more ambitious waters.

Reid is part of the NextGen

program with Rowing Canada,

aimed at providing support and

programming to athletes with

a chance at qualifying for the

Olympics.

His goal? To compete in the

2024 Summer Olympics in Paris.

UOIT head coach Jenn Durward

says the entire coaching staff

hopes Reid will race for Canada.

"Braden has a ton of potential

and as long as he stays true to his

pursuit of his goals, he will get

there," Durward says in an email.

Reid is coming off a strong

sculling season.

Reid won silver twice, at Guelph

and the Head of the Rideau. He

continued that momentum by

placing in the top 10 in events

throughout the rest of the season,

notably fourth in the Ontario University

Athletics Championship

and eighth in the Canadian University

Rowing Championship.

Reid is from Whitby and has

rowed with UOIT since he was

a freshman in kinesiology. He

played other sports growing up,

including football and hockey. He

says he didn't play hockey at the

university level but wanted to stay

involved in competitive sports.

"I was kind of looking for a

new challenge, I wasn't done with

sports yet," Reid says. He adds it

was great to transition from one

Fifth-year UOIT kinesiology student and rower Braden Reid at a practice in September.

high level sport to another, even

though he had no real experience

in rowing.

Reid competes in the heavyweight

rowing section, meaning

athletes must be more than 160

pounds to qualify.

Reid started out as a novice. He

says some universities, like Brock,

have athletes who enter school

already with many years' experience.

However, he says UOIT

relies on newcomers to build its

roster.

Reid credits another graduating

UOIT rower, Bradley Semenick

of Thunder Bay, with helping him

improve.

"We grew organically together,

kind of pushing each other and

keeping in contact throughout the

summer," says Reid, a graduate of

Whitby's Donald A. Wilson high

school.

He says many veteran rowers

helped him with rowing and

acknowledges he wasn't "selfmoulded."

Photograph by UOIT Athletics

As for next year, Reid is looking

at master's programs in western

Canada and in the U.S.

"I'm spreading my wings," he

says with a smile. He hopes to always

be involved with rowing.

Reid wants to study exercise

physiology and ultimately psychology.

His plan is to find out what

motivates athletes to do what they

do, in order to create different

training environments for different

sports.

Rowing is a mental game, according

to Reid.

"I've done a lot of sports but this

one by far is the most physically

demanding and really tests your

limits mentally and physically," he

says.

Reid hopes the best for next

year's rowing team. He was impressed

this year by the understanding

and attitudes of the novice

rowers. However, they need to

put in the work and train during

the summer because that's what it

takes, he says.

From football to rugby – and back to football

DC Lord James Stockwood signs on to play football at U of T.

Photograph by Melissa Stockwood

Leaving DC

for U of T

Meagan Secord

The Chronicle

"I started playing football when I

was five, I was going to play soccer

but my mom missed the registration."

Coming out of high school,

James Stockwood was set to play

for Champlain College in Quebec

but decided the school was not what

he was looking for so he decided he

would follow his dream of being a

police officer.

"I wanted to be a cop from day

one, so it was a pretty easy decision,"

says Stockwood who enrolled

in Durham College's Police Foundations

program in September

2017 and is part of the first rugby

team at DC.

"James is really new to the game

of rugby and has worked really

hard in practice and has worked

his way onto the roster as a starter,"

says John Watkins, Durham College

rugby coach.

Now the DC student and rugby

player is taking the next step in his

athletic career. James Stockwood

will be studying Political Science

while playing for the University of

Toronto Varsity Blues.

Watkins says, "I'm excited for

him to continue in athletics."

Stockwood's two-year program

comes to an end in 2019. He signed

a football contract with U of T recently

and says he is excited to get

back into competitive football after

two years of only playing in the

summer.

He has played football for the

Peterborough Wolverines, Clarington

TigerCats, St. Stephens Royals

and most recently the Durham

Dolphins. Although he is excited to

play football again, he says he will

miss playing rugby at DC.

"I like the team aspect, we are all

a big group of brothers. I'm gonna

miss the bond we have and how we

have gotten along the entire year,"

says Stockwood.

Current rugby teammate Taylor

Dallas says he is excited for Stockwood

to continue in athletics.

He says he "wants him back next

year (playing rugby) but don't tell

him that."

According to Stockwood, he was

scouted during summer football by

32 teams, which is every university

in Ontario and some in Quebec.

If UOIT had a football team

Stockwood says, "I would definitely

play."
---
24 The Chronicle December, 2018 - January, 2019 chronicle.durhamcollege.ca Sports

100 games, 5 seasons, 1 friendship

Childhood

friends in

their fifth

and final

hockey

season

Janis Williams

The Chronicle

Chelsea Ball and Kassidy Nauboris

are more than just teammates on

the UOIT Ridgebacks women's

hockey team.

They both recently joined an

elite club on campus.

Both women earned their respective

way to the Ridgebacks 100

games club, a milestone achieved

by only 16 UOIT women's hockey

players in the school's history.

Players are honoured with a

framed picture during a ceremony

prior to their 100th game. One

mounted plaque will be proudly

hung in the players' dressing room

and another will reside in head

coach Justin Caruana's office.

What makes this award even

sweeter for Nauboris and Ball, forwards

for the Ridgebacks?

The two players have been best

friends since childhood, when they

played atom hockey on the Brampton

Canadettes.

"For us to get it [100 games] at

the same time was kind of fitting

because we do everything together,"

says Ball, a 22-year-old from

Maple, Ont. who is studying forensic

science.

Team captain Nauboris agrees

with her assistant captain.

"Just reaching 100 games, we

are both so proud of that and doing

it together is a huge bonus," says

Nauboris, also 22. The Brampton

native is in the kinesiology program.

There was a time it seemed unlikely

both friends would get this

honour at the same time. Nauboris

missed a game last season and Ball,

this season. The un-played games

allowed them to celebrate 100

games, together.

Caruana says he is proud of

both Nauboris and Ball.

"To reach the 100-game milestone

is a huge accomplishment for

Kassidy and Chelsea," he says.

The coach says it's not easy to

reach the 100-game milestone. It is

based on regular season games and

there are 24 games each season. So,

to accomplish what Nauboris and

Ball did, a player needs to participate

in five seasons and have some

luck, with no injuries.

While UOIT's 100 games club

is relatively small, it is growing

quickly.

Right after Nauboris and Ball

celebrated 100 games, teammate

Photograph by Janis Williams

Chelsea Ball (left) and Kassidy Nauboris celebrate playing 100 hockey games with UOIT.

Mariah Wilson joined them in the

100 games club.

Sarah Biesenthal and Natasha

Tymcio could potentially reach this

milestone as well this season.

Nauboris says both women

shared the same goal since age seven

- to attend the same university,

together.

So, half a decade ago, Ball and

Nauboris chose UOIT because

they felt it was a tight-knit school.

Nauboris says she knew this

school could reach many milestones

and wanted to be a part of

this growing team, now in its 12th

season of play.

After five seasons of 8:30 a.m.

morning practices, both women

are in their fifth and final year as

Ridgebacks.

The two players say they have

experienced tremendous growth

during their time on the ice at

UOIT.

Each woman has found her respective

voice over time.

"We've definitely stepped into

leadership positions, which is such

an honour and so much fun," Nauboris

says.

UOIT director of athletics

Scott Barker says both players are

"bonafide leaders on the team and

a perfect example of a dedicated

student-athlete."

Caruana says Nauboris is a very

vocal and strong leader. He says

one of her best traits is always being

open to learning and looking

to improve.

"She strives to be the best in

everything she does, on the ice and

in the classroom," the coach says.

Reflecting on Ball, Caruana

says she may not be the most vocal

but she lets her actions do the talking,

making her popular amongst

her teammates.

"Chelsea is one of our most

gifted players in all aspects of her

game," he says.

There are still more games to

play this season but the reality for

Nauboris and Ball is their chapters

as Ridgebacks are coming to

an end.

"At the end of five years I don't

so much mourn it [the end], I appreciate

what I got from the game,"

says Nauboris.

One goal is clear - the hope

for the team to make the playoffs,

which has eluded them since the

2013-14 season.

Durham rugby team wins gold after 22 year hiatus

Madison Gulenchyn

The Chronicle

The new kids on the block joined

up to win an Ontario rugby championship.

But within a few months some of

them will be tackling each other

on the field.

After being absent from Ontario

Colleges Athletic Association

(OCAA) rugby since 1996,

the Durham College (DC) Lords

men's team returned in style.

Winning gold at the OCAA

championship Nov. 17 in Oshawa.

Durham defeated the Georgian

Grizzlies 21-15.

Although Durham has been

without varsity rugby for 22 years,

team members have a strong history

with the sport.

Most of the team is made up of

players who play with Rugby Ontario

clubs, like the Ajax Wanderers

and Oshawa Vikings.

John Stewart, a fifth-year sport

business management post-graduate

certificate student, says the

team dynamic was interesting at

first.

"There was three of us who play

for Ajax on the team and the rest of

the team was Oshawa. [The teams

are] kind of rivalries," Stewart says.

"It started off kind of iffy, but I

mean it'll be hard to go back into

the next club season and try to play

these guys."

Head coach John Watkins says

he didn't know what to expect at

the beginning of the season.

But, he couldn't be more proud

of the outcome.

"We knew we had good players

and players with experience, outside

of playing college rugby," says

Watkins.

He says the team made a goal

collectively at the beginning of the

season to win the OCAA championship.

Watkins says the title will do

wonders for the rugby program.

"It does give us something to

build on, it does kind of establish

the rugby program at Durham

College. Hopefully it will recruit

new players that are living in Durham

that maybe are in pursuit of

Durham College and also players

outside of the Durham Region,"

says Watkins, who expects to return

as coach next year.

Stewart, who was named Durham's

player of the game, says

although he

was recognized for his hard work,

he couldn't do it without his teammates.

"I knew midway through the

second half that I was playing a

really good game. A lot of the guys

were coming up to me and saying

'you're doing this' and 'this is

you' kind of thing. Once again, I

stress I could not do this without

the guys in front of me," Stewart

says.

Both Watkins and Stewart say

the team worked well together and

worked hard to win the championship.

It is estimated that 25 out of the

Photograph by Madison Gulenchyn

John Stewart was named Durham player of the game in the OCAA championship where the

men's rugby team won gold.

32 players on the men's rugby roster

will be returning for next season.

"[The win] is massive. I think

a lot of our success was based on

the fact that we were a new team. I

think now a lot of people are going

to wake up and next year's going

to be a lot harder for these guys,"

Stewart says.
---
Sports chronicle.durhamcollege.ca December, 2018 - January, 2019 The Chronicle 25

Lords alum scores in Denmark

Meagan Secord

The Chronicle

Some could say former Durham

Lords' point guard Lindsay Panchan's

basketball career is nothing

but net after signing another professional

contract - in Denmark.

This is the Ajax native's second

pro deal in her career. She is signed

with Lemvig Basket in Lemvig,

Denmark after a difficult rookie

season in Germany.

"It's not a secret and I am confident

enough to say I didn't have my

best year last year, so pitching me to

teams this year was more difficult,"

she says, adding she didn't perform

to her normal standard a year ago.

Panchan was signed by the Lemvig

Basket late in the pre-season. By

the time she had her first practice

with the team, they had already

been playing for a month.

"I got into town at 6 p.m. and we

had practice at 6:30 p.m. (on Wednesday,

Oct 10.) and then we had a

game on Saturday," she says. "But

this year I'm way more focused. I'm

fit and ready to play like I know

how."

Panchan began playing basketball

when she was 12 and stuck

with it through high school when

she attended Notre Dame Catholic

Secondary School in Ajax. She says

she was playing for a Grade 8 team

when she was only in Grade 6.

"Basketball is like my second

parent," she says. "It taught me

how to be on time, work in a team,

be disciplined, learn how to multitask

and be confident."

Lindsay Panchan (left) playing for Lemvig Basket in Denmark.

She came to Durham College's

sports management program in the

fall of 2014 after attending Saint

Mary's University in Halifax for

two years (2011-2013). After two

years on the east coast, she says she

just got "fed up" with basketball

and school and made the decision

to take a year off.

"We were thrilled when she

signed this contract (in Denmark),

she has been working very hard

to improve her game and fitness

level since she left Durham," says

Durham Lords coach Heather

LaFontaine. "She understands the

Photograph supplied by Lindsay Panchan

demands of playing at a very high

level."

Panchan finished her time at

Durham as a two-time all-Canadian,

the school's athlete of the

year in 2016-2017 and broke the

Lords single-game scoring record

with 41 points against the Algonquin

Thunder on Nov. 20, 2015.

Currently, along with her basketball

career, she is running a small

graphic design business for sports

teams. For the future, Panchan says

she would "possibly like to have a

small agency for female basketball

players."

DC volleyball player

Photograph by Kathryn Fraser

Pasha Ormerod, Lords women's volleyball player, received the

award in November.

earns B.C. honours

Pasha Ormerod recognized in home

province for Indigenous excellence

Kathryn Fraser

The Chronicle

Pasha Ormerod is creating memories

on the volleyball court at

Durham College after moving here

from British Columbia to play.

But her home province certainly

hasn't forgotten her.

Ormerod was honoured with a

British Columbia Premier's Award

earlier this month.

The award recognizes Indigenous

Youth Excellence in Sports and

was given to eight other Indigenous

athletes.

"I was excited they chose me for

it, it's tough to get," said the native

of Terrace, B.C. "It's nice to see that

[Indigenous] individuals who go out

[get recognized]."

Ormerod is a first-year student

in the health and fitness promotion

program at DC.

"My program is only two years

and I want to come back and take

another program just to continue to

play [volleyball]."

Ormerod started playing volleyball

in Grade 8 and continued

throughout high school. She was

recruited by Durham head coach

Tony Clarke when she played at a

national tournament in Alberta.

"I spoke with her father and

next thing you know, she decided

she wanted to come to Durham,"

Clarke said.

"It's a tough, full transition to go

from B.C. and coming across four

or five different provinces to be here

and meet all new people. It's a lot

of new things for her. It was very

exciting to hear she was going to

receive that award."

Ormerod said learning to adapt

to the geography of the Oshawa

area hasn't been difficult.

"Where I'm from, I literally just

live in the middle of the woods," she

said. "Coming here, it's weird seeing

a bunch of big cities, but it doesn't

really bother me."

But adapting culturally to Oshawa

is a bit different.

"Not many people know I'm

Metis or First Nations," said the

Saskatchewan-born Ormerod.

"I used to make bannock (bread)

with my grandma and build moccasins,"

she added. "When I think of

people back home and I come here,

I see people back home in the people

here. Personality-wise and through

acceptance."

Clarke said Ormerod is "somewhat

quiet" but her teammates have

"embraced her."

The 5-foot-11 middle has transitioned

smoothly to playing in the

Ontario Colleges Athletic Association,

starting five of the first six

games to open the season.

"I asked my teammate the other

day if she thought I was a good

rookie, a new player," Ormerod

said. "She told me that she thinks

I'm a good player to be brought on

the team and that over the years,

the development skill-wise and

leadership-wise, will be big."

Ormerod wants to further her

education and following the fitness

program, plans to enrol in the

two-year athletic therapy program

at DC, so she can extend her volleyball

career.

"My initial thought was to be a

sport psychologist," Ormerod said.

"I would like to be an athletic

therapist and work with the teams

here or somewhere back home in

B.C."
---
26 The Chronicle December, 2018 - January, 2019 chronicle.durhamcollege.ca Sports

Dope, varsity sports don't mix

Victoria Marcelle

The Chronicle

Cannabis is legal in Canada, but

that doesn't mean varsity athletes

at Durham College (DC), UOIT

can smoke up and then compete.

The Canadian government

legalized recreational cannabis

in October. The minimum age to

buy, use or possess is 19.

"My current understanding is

that the legalization process won't

[apply to] our varsity athletes,"

says Saul Behrman, DC, UOIT

certified athletic therapist, whose

role includes dealing with all

health and wellness issues related

to varsity athletes, in an email.

Under current policy, student-athletes

are not allowed to

consume cannabis prior to competition

and that policy remains

in effect after the drug becomes

legal.

For Canadian Collegiate Athletic

Association (CCAA) student-athletes,

who are subjected

to Canadian Anti-Doping Program

(CADP), the legalization of

cannabis will not have any affect

on current drug policies.

The CCAA website states,

"cannabis continues to be a prohibited

substance and a positive

test can still result in a sanction."

Behrman says cannabis is

still on the World Anti-Doping

Agency (WADA)'s prohibited list

that is used by the Canadian Centre

for Ethics in Sports (CCES)

and will remain prohibited during

competition.

WADA's prohibited list applies

internationally, therefore, is not

UOIT Ridgebacks men's hockey playing a regular season game.

subjected to Canadian law updates,

says Behrman. Cannabis

will soon join a list of substances

which although legal in Canada,

are prohibited in sport, adds

Behrman.

Cannabis, hashish, marijuana,

and tetrahydrocannabinol (THC)

are on WADA's prohibited list, but

only during competition.

In order for a substance to be

listed as prohibited, according to

WADA's website, it must meet two

of following three criteria: "its use

Courtesy of UOIT Athletics

has potential to, or can enhance

performance; its use presents an

actual or potential health risk; its

use violates the spirit of sport."

Behrman says varsity athletes

are required to be drug tested.

"Every year [athletes] complete

My current

understanding

is that the

legalization

process won't

[apply to] our

varsity athletes.

an online seminar and we discuss

some commonly used medications

that they may be tested for," says

Behrman.

"Many sinus medications contain

stimulants and are banned in

certain amounts during competition,

but they are obviously legal,"

says Behrman.

Athletes can take banned

medications if they are doctor prescribed.

During testing, athletes

may have to provide proof showing

documentation of the diagnosis

and medication prescription,

says Behrman.

"We have [athletes] come in

and ask if they can use certain

cold medicines, but the doctors

and nurses are usually aware of

what prescriptions they are [allowed]

to use," says Vijay Panda,

manager at Lovell Drugs, Campus

Health Centre.

A season of milestones for Lords women's softball

Janis Williams

The Chronicle

The numbers show it has been a

milestone season for the Durham

Lords women's softball team.

The Lords recently won their

fourth straight Ontario Colleges

Athletic Association (OCAA) gold

championship beating St. Clair of

Windsor in the final.

It was their 20th OCAA championship

overall.

And along the way, head coach

Jim Nemish recorded his 500th

victory. In his 30 seasons as coach

of the Lords, Durham has won the

OCAA title 17 times.

It's the combination of Nemish,

his coaching staff and teamwork

among the players that has produced

these numbers, says Ken

Babcock, Durham's athletic director.

In addition to the traditional

role of coaching the fundamentals

and managing games, Nemish

also brings an incredible amount

of experience, integrity and passion.

Babcock says what Nemish has

accomplished at a college level is

amazing.

Based on the numbers alone,

it would be hard to disagree with

the athletic director.

Like many coaches, Nemish

doesn't like the spotlight, he would

rather acknowledge the players.

Ashley Black of Waterloo,

co-captain of the team for two

years, was named the championship

MVP and OCAA pitcher of

the year.

He's always

there for us on

and off the field.

"Looking at Ashley's stats and

performances this season she was

deserving of pitcher of the year,"

Nemish told Durham Athletics after

the OCAA win. "She pitched

great all season."

Black, a pitcher and first baseman,

has equal praise for her

coach.

"He's always there for us on

and off the field and it's just great

to have a coach that is so dedicated

and cares just as much about

the game as we do," Black says in

an interview with the Chronicle.

Coach Jim Nemish coaching the Durham women's softball team during a game.

Babcock says Nemish brings

integrity and discipline to the

Lords.

"He wants nothing more than

the player to be not only successful

on the field but a good person off

the field," says Babcock.

Black says her time on the team

has changed her life and opened

her up to a whole new world of

possibilities. She says she used

to be shy and since her time as a

Lord, she now voices her opinion

and is more social.

"[Softball] means everything

to me, I love the sport and to be

Courtesy of Durham Athletics

able to play it as long as I have, it

is just a dream come true," Black

says.

While the MVP is set to graduate

in the spring of 2019, Babcock

says he's excited to have Nemish

back to lead the women's team

again next season.
---
chronicle.durhamcollege.ca December, 2018 - January, 2019 The Chronicle 27
---
28 The Chronicle December, 2018 - January, 2019 chronicle.durhamcollege.ca