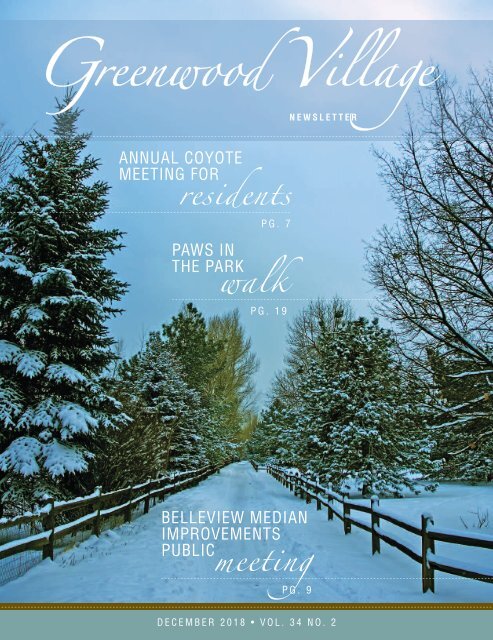 You also want an ePaper? Increase the reach of your titles
YUMPU automatically turns print PDFs into web optimized ePapers that Google loves.
Greenwood Village

N EEW S LLE ET TTE ER

HEADLINE

here

GOES

PAWS IN

P G . X

THE PARK

HEADLINE

HERE P G . X

ANNUAL COYOTE

MEETING FOR

residents

P G . 7

walk

P G . 1 9

HEADLINE

HERE

P G . X

BELLEVIEW MEDIAN

IMPROVEMENTS

PUBLIC

meeting

HEADLINE

here P G . X

P G . 9

D E C E M BO EN RT H2 0Y1 E8 A• R VI OS L S. U 3E 4#

N O . 2
---
GOVERNMENT

MAYOR RON reports

SOUTH METRO

FIRE RESCUE

STATION #32 OPENS

On Wednesday, November 28, at 0827,

South Metro Fire Station 32 located at

South Quebec Street and

East Orchard Road, went

back in service. I was able to

witness this informal

ceremony. The South Metro

Pipe and Drum ensemble

added immeasurably to the

festivities. A grand opening

for the public will happen

sometime after the first of

next year.

Ron Rakowsky As plans for the new station

rrakowsky@ were formulated I lobbied to

greenwoodvillage.com

save the distinctive mural

303-486-5741

from the former station, and

it happened. We should, where possible,

preserve history.

Congratulations to South Metro on a

handsome structure and welcome back to

the neighborhood.

HAPPY HOLIDAYS/

SHOP AND DINE IN GV

Wishing you and your family a happy and joyful holiday

season. It's that special time of year when we gather with our

friends and family to appreciate the many diverse celebrations

PG. 2 GV NEWSLETTER | DECEMBER 2018

Mayor Ron Rakowsky with South Metro Fire

Rescue Assistant Chief Vince Turner, Project

Manager for Station 32 Construction.

that occur during the month

of December. On behalf of

Greenwood Village, we wish

you the gift of love, the gift

of peace, and the gift of

happiness this holiday season.

As you start your holiday

shopping and engage in

holiday meals, we ask that

you shop and dine in

Greenwood Village this

holiday season. Here are some

very important reasons why:

• An array of choice for any lifestyle. The Village is home to

an array of service-oriented businesses, specialty shops and

home grown businesses with unique items for all ages.

• Our sales taxes are lower! When you shop in the Village,

you pay less sales tax. Our sales tax rate is actually lower

than most metro area cities.

• Support your local government services. Of the 7.25%

sales tax you pay on purchases in the Village, 3% comes

back to your community which makes up a significant

portion of our general fund revenues. The general fund

provides funding for services such as police protection,

parks and recreation programs, street maintenance, and

road improvements.

• Support local merchants and their employees. Business

owners and their employees pay taxes in the Village. These

businesses donate to local charities and organizations and

provide for our community in many other ways. By

shopping and dining locally, you contribute to the

economic growth of the business, thus contributing to the

economic vitality of our local economy.

You can find more information on our local businesses online

at www.greenwoodvillage.com.
---
GOVERNMENT

CITY council

NOT SURE WHO YOUR

ELECTED OFFICIALS ARE?

Obtain a list of your state and national government

representatives at www.arapahoevotes.com

DISTRICT 1 DISTRICT 2 DISTRICT 3 DISTRICT 4

Dave Bullock

dbullock@

greenwoodvillage.com

303-804-4137

Anne Ingebretsen

aingebretsen@

greenwoodvillage.com

303-804-4135

Steve Moran

smoran@

greenwoodvillage.com

303-804-4133

Judith Hilton

jhilton@

greenwoodvillage.com

303-804-4131

Jerry Presley

jpresley@

greenwoodvillage.com

303-804-4138

Dave Kerber

dkerber@

greenwoodvillage.com

303-804-4136

George Lantz

glantz@

greenwoodvillage.com

303-804-4134

Thomas Dougherty

tdougherty@

greenwoodvillage.com

303-804-4132

MAY THE BEST CITY WIN!

HELP US WITH SOCKS

FOR THE LESS FORTUNATE

This holiday season, Greenwood Village, in partnership with

Golden Hearts of Greenwood and the Sock It To Em Sock

Campaign, is

collecting new and

used socks for the

homeless. This year,

Greenwood Village

has extended a

friendly challenge

with our

neighboring cities to

compete with us to see which city can collect the most socks.

So far, the cities of Centennial, Englewood, Littleton, and

Lone Tree have agreed to participate.

Making a donation of socks is a wonderful way of giving

back. Please drop off socks at City Hall, 6060 South Quebec

Street, Maintenance Facility, 10001 East Costilla Avenue, or

the Curtis Center for the Arts, 2349 East Orchard Road

through December 31. Let's make a difference together and

be the best City to collect the most socks!

GREENWOOD GULCH

RIBBON CUTTING

In November,

we celebrated

another great

project

completion in

our community

— the

Greenwood

Gulch Drainage

Improvement

Project. The

continued on

page 4

Ribbon Cutting at Greenwood Gulch

DECEMBER 2018 | GV NEWSLETTER PG. 3
---
GOVERNMENT

MAYOR RON reports

continued from page 3

project consisted of construction of a

low-flow channel to improve

conveyance and sediment transport

characteristics of the stream; a new

low-flow crossing to eliminate

frequent overtopping and improve

ecological function; and reduce the

frequency of small to moderate storm

events that inundate the adjacent trail

and surrounding properties. Design

and construction of the project was

funded in partnership with Urban

Drainage and Flood Control District

and Arapahoe County Open Spaces.

WIRELESS ISSUES

IN GREENWOOD VILLAGE

We are receiving a growing number of requests from wireless

providers to construct wireless infrastructure in the Village's

public right-of-way. In Greenwood Village mobile data traffic

has grown significantly. We have heard from many residents

during the Resident Survey of dropped calls due to existing

congested infrastructure the carriers can no longer meet the

current or future demands of our community.

Village staff has retained a consultant to assist us in the

evaluation of all viable options, resulting in the enhancement

of broadband services. We selected Aero Wireless Solutions to

provide professional services to the Village to support our

internal team with telecommunications master planning and

small cell design guidelines. In partnership with the wireless

operators, aesthetic design options of new infrastructure is of

significant importance to ensure they blend into the diverse

neighborhoods of Greenwood Village.

PG. 4 GV NEWSLETTER | DECEMBER 2018

Greenwood Gulch Drainage Improvement Project

These initiatives are now launching, so be on the lookout for

future communication and feedback opportunities on these

efforts.

THREE SOUTH METRO

DENVER CITIES PARTNER

ON TRAFFIC CONGESTION

Recently the cities of Centennial, Greenwood Village and

Lone Tree identified a pilot project to take a crossjurisdictional

approach to managing and reducing traffic

congestion. Specifically, the cities will create a connected,

data-driven, multi-jurisdictional traffic management plan for

Yosemite Street between Lincoln Avenue and Belleview

Avenue that promotes efficient and safe traffic flow through

the installation of sensors at traffic signals. This is the first

multi-jurisdictional partnership to enable adaptive signal

technology.

A private sensor vendor, Blyncsy, has secured a grant to

facilitate the installation of their sensors in Centennial and

Lone Tree (Greenwood Village already has similar sensors in

place) to monitor traffic and collect volumes, travel times,

and delay (time spent waiting at a signal). The data collected

will directly serve Centennial's pilot project with Greenwood

Village and Lone Tree to install adaptive signal technology on

Yosemite Street. This data will fully describe the existing

conditions on the corridor.

After the adaptive technology is deployed and the software

starts making tweaks to the signal timing, the entities can

measure the effectiveness of the pilot project by comparing

before and after conditions. A successful pilot will prove

emerging technology can be applied to traffic signals to

continued on page 8
---
VILLAGE CALENDAR

Visit

WWW.GREENWOODVILLAGE.COM

for more information

Information is subject to change

january 2019

SUNDAY MONDAY TUESDAY WEDNESDAY THURSDAY FRIDAY SATURDAY

30 31

1

2 3

4 5

New Year's

Day

Village Facilities

Closed

Trash And Recycling Holiday Reminder:

With New Year's Day falling on Tuesday,

there will be a one-day delay in service for

the rest of the week following the holiday.

★ RECYCLING ★ NO TRASH SERVICE

6 7

8

9 10 11 12

City Council

Study Session

6 p.m.

Meeting

7 p.m.

City Hall

PTR Commission

7 p.m.

City Hall

★ SINGLE FAMILY HOUSEHOLD RECYCLING ★

13 14 15

16

17

18 18

P&Z Commission

7 p.m.

City Hall

GVAHC Meeting

6:30 p.m.

Curtis Center

20 21

22

23 24

25 26

Martin Luther

King Day

Village Facilities

Closed

★ SINGLE FAMILY HOUSEHOLD RECYCLING ★

PTR Commission

7 p.m.

City Hall

BOAA Meeting

6:30 p.m.

City Hall

27

28

City Council

Study Session

6 p.m.

City Hall

29 30

31

1 2

★ SINGLE FAMILY HOUSEHOLD RECYCLING ★

DECEMBER 2018 | GV NEWSLETTER PG. 5
---
GOVERNMENT

Greenwood Village

Don't have Comcast cable?

You can watch GVTV 8 programs on the

Village Website at greenwoodvillage.com

or on The City of Greenwood

Village Channel on YouTube.

AVAILABLE ON COMCAST

CABLE IN GREENWOOD

VILLAGE, GVTV CHANNEL 8 IS

AVAILABLE 24 HOURS A DAY,

SEVEN DAYS A WEEK

PROVIDING PROGRAMMING

REGARDING IMPORTANT

LOCAL, STATE AND

NATIONAL TOPICS.

NEW ON GVTV 8 IN NOVEMBER

VILLAGE

EATS

Ring in the

holiday season

with the

Greenwood

Village Police

Department Public

Safety Brothers

for a fun and

entertaining

episode.

GV BUSINESS CONNECTIONS

RESTAURANT SHOW — Check out what restaurants are new to

Greenwood Village and hear about their food, hospitality,

and service they are bringing to town.

GVTV 8 PROGRAMS

Village Showcase

Join Mayor Ron Rakowsky as he showcases

all the latest happenings and greatest events

taking place in Greenwood Village.

Beyond The Green

A program highlighting the parks, trails and

open space system in the Village.

Over 50 And Loving It!

A program focused on issues and events

affecting people 50+ years of age.

Safety Matters In Greenwood Village

Learn about safety issues in Greenwood

Village and techniques to help keep you and

your family safe.

GV Business Connections

Get an inside look at the business

community of Greenwood Village and learn

about some important business topics.

GV Kids, Ink! ® News

Hosted by youth news reporters, this

program features youth activities and events

in the community.

The Village Insider

Get a glimpse of the people and projects

behind the doors at City Hall.

Colorado Connected

Produced by the Colorado Communications

and Utility Alliance (CCUA), the program

features programs on regional issues.

NASA 360

Produced by the National Institute of

Aerospace for NASA, this program examines

how technologies developed by and for

NASA are used in everything from space

exploration to everyday consumer products.

Graceful Aging

Enjoy this program to learn about elder care

needs. You'll laugh, think and be inspired to

improve your life.

Denver Press Club

Hosted by the Denver Press Club, this

program features discussions with members

of the press and community.

Jazz Cardio Strength Stretch

A powerfully fun and effective workout that

will lift your spirits, strengthen your heart,

muscles, and core. You'll get a healthy dose

of cardio, strength and stretch moves and

finish up feeling energized for the start and

end of your day.

PG. 6 GV NEWSLETTER | DECEMBER 2018
---
GOVERNMENT

DECEMBER 2018 | GV NEWSLETTER PG. 7
---
GOVERNMENT

MAYOR RON reports

NEW DENVER WATER RATES

BEGIN IN FEBRUARY

In an effort to fund essential upgrades and new projects,

Denver Water announced new rates which will take effect

February 1, 2019. Suburban customers such as Greenwood

Village residents and businesses will see an additional

monthly increase added to their volumetric charges.

The Denver City Charter requires that suburban customers

pay the full cost of service, plus an additional amount.

This will equate to an annual increase between $23 and $41,

which is between $1.90 and 3.40 a month (based on an

annual use of 102,000 gallons of water). Volume rates for

Denver residents will remain the same but will increase on

suburban bills.

continued from page 4

benefit businesses, commuters, and residents alike, and will

set a precedent for all future efforts our cities undertake.

This project speaks volumes about regional cooperation,

demonstrates a coordinated approach to improving air

quality, and positive impacts on traffic flow.

RAMBLE WITH RON

Due to the fall and winter seasons, Ramble with Ron will be

suspended until the spring. If you have some ideas or

suggestions about living or working in Greenwood Village that

you would like to share with Mayor Ron Rakowsky, send him

an email at rakowsky@greenwoodvillage.com or call the

Mayor's Office at 303-486-5745.

Denver Water's rate structure includes a three-tiered charge

for water use (called the volume rate). To keep water

affordable, indoor water use — for bathing, cooking and

flushing toilets — is charged at the lowest rate. Essential

indoor water use is determined by averaging the customer's

monthly water use on bills dated from January through

March each year. This is called average winter consumption.

Water use above the average winter consumption —

typically for outdoor watering — is charged at a higher

price.

For more information, please visit denverwater.org. GV

PG. 8 GV NEWSLETTER | DECEMBER 2018
---
ENHANCING OUR

community

GOVERNMENT

PUBLIC MEETING

BELLEVIEW AVENUE MEDIAN IMPROVEMENTS

THURSDAY, JANUARY 17, 2019

6:30-8:30 P.M. AT CITY HALL

Please join us for a public meeting on Thursday, January 17. 2019,

from 6:30-8:30 p.m. at Greenwood Village City Hall, 6060 South

Quebec Street for a discussion about future median improvements

on Belleview Avenue between I-25 and University Boulevard.

Conceptual alternatives will be presented at the meeting and public

input is being sought from residents for the final design of the

medians.

If you are unable to attend this public meeting and would like to

provide input on future median improvements on Belleview Avenue,

visit Village Voices at greenwoodvillagevoices.com, our new online

community engagement Website where you can view the concepts

and provide feedback directly to Village staff. Village Voices for this

project will be available for online public input beginning January

10, 2019.

For more information, please call David Foster,

Parks Project Manager, at 303-486-5786 or email

dfoster@greenwoodvillage.com. GV

DECEMBER 2018 | GV NEWSLETTER PG. 9
---
GOVERNMENT

ENSURING A SAFE

community

VEHICLE THEFTS ON THE RISE

IN GREENWOOD VILLAGE

POLICE WARN CAR OWNERS

OF DANGERS OF 'PUFFERS'

Vehicle theft is a major problem in our community, and

every driver is a potential victim. Protect yourself by being

smart and informed. By taking a few simple precautions,

you can drastically reduce the likelihood of having your

vehicle stolen.

IMPORTANT NUMBERS

DEPARTMENTS

Mayor and City Council 303-486-5745

City Manager's Office 303-486-5745

Community Outreach/ 303-486-5749

Public Information

City Prosecutor 303-486-1598

Administrative Services

Liquor Licenses 303-486-5755

Voter Registration 303-486-5752

Municipal Court 303-773-6033

Human Resources 303-486-1579

Employment 303-486-1579

Community Development

Building Permits 303-486-5783

Building Inspection 303-694-5023

Requests

Planning and Zoning 303-486-5783

Zoning and 303-486-5783

Nuisance Complaints

Finance

Accounts Payable 303-486-1597

Accounts Receivable 303-486-8282

Budget Information 303-486-8290

Tax Assistance 303-486-8299

and Information

Conservation/Open 303-708-6142

Space Easements

Park Planning 303-486-5743

and Development

Park Permits 303-486-5773

Recreation and 303-486-5766

Special Events

Reimbursement Program 303-486-5773

Parks and 303-708-6100

Trail Maintenance

Police Department

Emergency 9-1-1

Animal Control 303-773-2525

Parking 303-773-2525

Police Records 303-773-2525

School Resource Officers 303-773-2525

Traffic Information 303-773-2525

Victim Assistance 303-486-8211

Public Works

Environment 303-708-6100

(Drainage/Water Quality)

Roadways 303-708-6100

Traffic 303-708-6100

Residential Trash 303-708-6100

and Hazardous Waste

Greenwood Village City Hall

6060 South Quebec Street

Greenwood Village, CO 80111

Phone: 303-773-0252

Fax: 303-290-0631

After Hours Phone: 303-773-2525

(for questions or service requests

outside normal business hours)

E-mail: thevillage@greenwoodvillage.com

Website: www.greenwoodvillage.com

An after-hours drop box is available by the

flagpole in front of City Hall and is

checked Monday through Friday. The drop

box can be used to deliver customer

comment cards, recreation registration

and reimbursement forms, employment

applications, and municipal court fines

and documents.

GV Website

Parks, Trails & Recreation

Art Activities 303-797-1779

and Programs

PG. 10 GV NEWSLETTER | DECEMBER 2018
---
GOVERNMENT

SAY NO TO 'PUFFERS'

Never leave your vehicle running while

unattended even for a quick stop or to

warm up your car during the winter

season. Not only is it illegal to leave

your car running unattended, it creates

an easy opportunity for thieves to steal

your car.

KEYS

Be smart with your car keys.

Carelessness with vehicle keys is the

cause of more than 50 percent of all

automobile thefts. An unlocked

vehicle is easy to get into and get

away with. It's even easier when the

keys are left in the vehicle. Don't

keep the spare set hidden in your

vehicle. Experienced thieves learn

where spare keys are most likely to be

hidden.

PARKING

Most cars are stolen while they are left

unattended. Protect your car by

exercising caution as you park. When

selecting a spot, look for areas that are

well lit, depriving potential thieves of

the cover of darkness. When possible,

park in attended lots, or in areas of

high foot traffic; a car that's

surrounded by witnesses is less likely

to be stolen. Always double-check to

make sure that all windows have been

closed and all doors properly locked. If

you have a home garage, use it.

AVOID LEAVING ANY

VALUABLES IN SIGHT

Do not leave accessories, valuables or

personal documents in your vehicle.

Insurance cards, registration and title

can provide personal information to

criminals for other uses.

ALARMS AND SECURITY

An audible car alarm is a simple yet

effective way to ward off most crooks.

If you do utilize an alarm system, bear

in mind that the warning decals that

come with it may be just as effective a

deterrent. Most of the criminals that

would flee at the sound of an alarm

will pass your vehicle by completely if

they know about the alarm

beforehand.

For more information, please call the

Greenwood Village Police Department

at 303-773-2525. GV

PHOTO RED LIGHT IN

GREENWOOD VILLAGE

FOUR INTERSECTIONS

ACTIVATED

In an effort to manage traffic safety concerns,

create safer roadways and prevent injuries

Greenwood Village utilizes photo red light

systems. The intersections include: Orchard

Road and Quebec Street; Belleview Avenue and

Quebec Street; Yosemite Street and Arapahoe

Road; and Belleview Avenue and Dayton Street.

All four intersections were selected for

placement of photo red light systems based on

accident history, complaints of aggressive

driving and traffic signal violations. The photo

red light systems were installed to also help improve the

safety environment for pedestrians who utilize the crosswalks

at these intersections.

At all the photo red light intersections the photo red light

system will be activated for any vehicle that travels through a

red light. A photo red light camera will only photograph

those vehicles that enter the intersection after the light

turns red or fail to make a complete stop before turning

right on a red signal. A picture of the license plate and

image of the driver is captured and electronically sent to the

Greenwood Village Police Department for an officer to

review. An officer will validate or reject a violation through

reviewing images captured on video footage. When a

violation is validated a summons and complaint will be

issued by mail to the registered owner of the vehicle.

Photo red light systems are one of the Village's efforts to

reduce traffic accidents and improve safety. Other methods

include education, engineering, and enforcement such as

increased visibility of police officers to change poor driving

behaviors.

For more information, please call Sergeant Scott Jones, at

303-486-8245 or email sjones@greenwoodvillage.com.

For questions regarding a photo red light violation, please

contact the Village Municipal Court at 303-773-6033. GV

DECEMBER 2018 | GV NEWSLETTER PG. 11
---
GOVERNMENT

ENSURING A SAFE

community

BICYCLE SAFETY

AVOID A COSTLY MISTAKE

Before you take to the road with your bicycle, it's imperative

to know and practice all the fundamentals of riding a bicycle.

Did you know

bicyclists are subject

to the same rules,

laws and regulations

as motor vehicles?

Ignoring rules of the

road that regulate

passing, riding

abreast, use of hand

signals, stop signs,

and other etiquette

will determine your

fate on the roadway.

If all else fails, always adhere to the lug nut rule: he who has

the most lug nuts wins. In other words, a car will always win

over a bicycle. So ride carefully and cautiously to avoid a

costly mistake and a crash course in bicycling.

• Always ride on the RIGHT. Remember to "go with the

traffic flow." Never ride against traffic. Cars will not be

expecting to find a biker when they round a corner or go

over a hill.

• Ride single file. When passing other bikers or pedestrians,

let them know your position by shouting something like,

"On your left!"

• When riding two abreast, do not impede the movement

of traffic. If you are on a road with lanes, you must

ride within a single lane.

• Always check behind you when changing lanes.

• Watch out for dangerous things on the roadways or on

trails. Road litter, puddles of water, loose gravel, and

storm gates can cause you to lose control of your bicycle.

• Stop at all stop signs and traffic lights. Be extra careful at

crossroads. Walk your bicycle across busy intersections.

• Always signal before making a left or right turn. To make

a left turn, look behind you, hold your left arm straight

out and proceed carefully. For a right turn, hold your left

arm out and up in an "L" shape.

• Keep control of your bike. Do not swerve or make sudden

turns. Drivers may not be able to react fast enough to

avoid colliding with you.

• Ride at least three feet away from parked cars. Someone

could open his or her door unexpectedly.

• Listen for cars approaching from the side or behind you.

• Do not follow cars too closely (you may be in their blind

spot).

• Know your road signs and obey them. A smart bicyclist

follows the rules of the road.

• Always be prepared to stop. Keep your hands on or close

to the brakes.

• Do not forget to wear your helmet! And do not wear

headphones; you will not be able to hear what is going on

around you.

For more information on driver, pedestrian, bicyclist, and

motorcycle safety, please call the Greenwood Village Police

Department at 303-773-2525. GV

PG. 12 GV NEWSLETTER | DECEMBER 2018
---
GOVERNMENT

DECEMBER 2018 | GV NEWSLETTER PG. 13
---
GOVERNMENT

ENHANCING OUR

community

SINGLE FAMILY HOMES

PLACEMENT AND STORAGE OF

TRASH AND RECYCLE CONTAINERS

To protect the aesthetics of Village neighborhoods and overall

community, Village ordinance regulates the placement and

storage of trash and recycle containers for all single-family

homes in Greenwood Village.

Trash and recycle containers may be placed at the curb no

more than one (1) day before a scheduled pickup and must

be removed from the curb no later than midnight following a

scheduled pickup. This means trash and recycle containers

cannot be placed at the curb more than two (2) days a week.

Also, trash and recycle containers must be stored in such a

position on the property as to be reasonably screened from

the view of those off the property.

For more information, please call Community Development

at 303-486-5783. GV

HOLIDAY TREE AND

LIGHT RECYCLING

CHRISTMAS TREES

The Village offers holiday tree

recycling pickup to residents of single

family homes beginning December 26

and continuing through January 11,

2019. Residents may place their trees

curbside on their regularly scheduled

trash day and Village crews will collect

them to use as mulch. Please make

sure the trees are separate from your

household trash and all decorations

have been removed. Beginning

December 21, residents may also drop

their trees off in the north parking lot

of Village Greens Park located at

Dayton Street and Union Avenue

(across the street from Cherry Creek

High School). Dropoff continues

through February 3, 2019. For more

information, contact Parks

Maintenance at 303-708-6100.

HOLIDAY LIGHTS

Ace Hardware in Greenwood Village

is offering a free holiday light recycling

program. Simply drop off any

non-energy efficient, nonworking or

burned out strings of lights through

February 2019. The lights will be

recycled by the Children's Miracle

Network through the Ace Foundation

to benefit Children's Hospital

Colorado. Ace Hardware is located

in the Cherry Hills Marketplace,

5910 South University Boulevard,

Greenwood Village. GV

PG. 14 GV NEWSLETTER | DECEMBER 2018
---
GOVERNMENT

BUSTANG TO SERVE

DENVER TECH CENTER

Bustang will begin serving the Denver Tech Center on

Monday, Dec. 17, 2018, as part of its route between

Colorado Springs and the Denver area. This service is aimed

at helping relieve commuter traffic along Interstate 25,

including the 18-mile Gap segment, currently under

construction between Castle Rock and Monument.

The DTC circulator will run four times each weekday —

twice in the morning from Colorado Springs and twice to

Colorado Springs in the afternoon. It will stop at 16

locations between Arapahoe Road/Yosemite Street and the

RTD Light Rail Belleview Station.

A one-way fare between El Paso County and the DTC will

be $9.

In addition to helping to reduce traffic on I-25, the route will

provide service for people from the Colorado Springs area

who have been seeking more direct access to their place of

employment in the DTC.

Bustang is the Colorado Department of Transportation's

interregional bus service, connecting major population and

employment centers and local transit entities. Coaches are

climate controlled, equipped with WiFi access, bicycle

storage, restrooms, USB outlets, power outlets, comfortable

seats, and have wheelchair access.

For more information and schedules, please visit:

http://www.ridebustang.com. GV

DECEMBER 2018 | GV NEWSLETTER PG. 15
---
GOVERNMENT

BUSINESSspotlight

NYC BAGEL & SANDWICH SHOP

9555 East Arapahoe Road, Suite 16 • 303-955-7458 • www.nycbagelsandwichshop.com

Open Monday-Saturday 5 a.m.-4 p.m., Sunday 6 a.m.-4 p.m.

Which came first… the bagel or the egg? There's debate on

the answer to that question, but we all know they go great

together. If you'd like to decide for yourself, head on down to

a new restaurant in the Village called the NYC Bagel &

Sandwich Shop. It's a place where breakfast and lunch are

served all day and the choices are endless. Whether you're in

the mood for a breakfast wrap, an omelet, French toast, or

oatmeal, your taste buds will undoubtedly be delighted in

what this establishment has to offer!

NYC Bagel opened their doors in the Village in October

2018. Kelly Harmon is the owner of this franchise located in

the heart of Greenwood Village. She is excited and energetic

about the opportunity to open her shop within the Village.

"It is wonderful to be able to bring a franchise that is located

mainly on the East Coast to a quaint town such as

Greenwood Village," Kelly mentioned.

"I chose to conduct business in the Village because of the

great location nestled along the Arapahoe Road corridor,"

said Kelly. She feels that the proximity to the wonderful

businesses of the Tech Center will ensure good business for

NYC Bagel as employees stop in for lunch during the hustle

and bustle of their busy work schedules. It will also be

convenient for residents to stop by on the weekends as they

are running the many errands that need to get accomplished.

Their menu includes artisan bagels and homemade spreads,

breakfast sandwiches, breakfast platters, deli sandwiches,

soups, salads, fruit, bakery items and beverages. NYC Bagels

states that, "Our bagels are made with powdered barley malt

as opposed to the less expensive liquid malt or no malt at all.

Then they are allowed to rest for 12 hours on fermentation

boards giving them a deep flavor and crust. Next they are

ready for kettle boiling and, finally, hearth baked creating a

true NYC style bagel that is crusty on the outside and chewy

on the inside."

NYC Bagel prides themselves on providing "fresh cracked

continued on page 17

PG. 16 GV NEWSLETTER | DECEMBER 2018
---
BUSINESS

NEW GV

businesses

BANKING

First State Bank of Colorado

8400 East Crescent Parkway, Suite 100

303-951-4234

BROKER

Instinet, LLC

5555 DTC Parkway, Suite 350

212-310-7707

CAFÉ

Harlequin Café

7600 East Orchard Road, Suite 170-N

702-354-4881

CERTIFIED PUBLIC ACCOUNTING FIRM

RSM US, LLP

5990 Greenwood Plaza Boulevard, Suite 350

303-327-8800

ECOMMERCE CONSULTING

CO134

6400 South Fiddlers Green Circle, Suite 250

303-800-2667

MEDICAL CLINIC

UCHealth Medical Group

7000 East Belleview Avenue

720-482-3761

MEDICAL SPA

Revive SkinFX, LLC

5950 South Willow Drive, Suite 307

303-818-9426

PET STORE

Only Natural Pet

5900 South University Boulevard, Suite C-3

303-256-8578

RESTAURANT

Zeal

5370 Greenwood Plaza Boulevard, Suite I-107

720-708-6309

TITLE INSURANCE SERVICES

TitleShield Agency, LLC

8400 East Crescent Parkway, Suite 600

720-528-4233

BUSINESSES UNDER

NEW MANAGEMENT

CAFE

Village Café

5600 South Quebec Street, Suite 120-A

303-220-0806

REAL ESTATE

CalAtlantic Group, Incorporated

6161 South Syracuse Way, Suite 200

305-485-2795

business spotlight

continued from page 16

eggs" as opposed to eggs that are premade or frozen. They

prepare made-to-order entrees to ensure the freshest product

is delivered to their customer. NYC Bagel's current specials

are as follows:

• Free small coffee with purchase of any breakfast sandwich

• Any bagel with butter and small coffee for $2.49

• Buy one lunch sandwich and receive a second for half

price

For more information about the NYC Bagel & Sandwich

Shop, please visit www.nycbagelsandwichshop.com or contact

them by telephone at 303-955-7458. They are open for

business Monday through Saturday from 5 a.m. until 4 p.m.

and Sunday from 6 a.m. until 4 p.m. They can also provide

catering for your next special event, business meeting, or

office party.

This delicious bagel shop is located in Suite #16 at 9555 East

Arapahoe Road, snuggled within the Village near the

intersection of Arapahoe Road and Clinton Street in the

Home Depot shopping center. Stop in for a scrumptious

meal and a comfortable break from your routine. Plan a visit

to the NYC Bagel & Sandwich Shop, where friendliness,

freshness and flavor come together! GV

Twitter

www.twitter.com/greenwoodgov

Facebook

www.facebook.com/greenwoodgov/

Instagram

www.instagram.com/cityofgreenwoodvillage

LinkedIn

www.linkedin.com/cityofgreenwoodvillage

YouTube

www.YouTube.com/greenwoodvillage

DECEMBER 2018 | GV NEWSLETTER PG. 17
---
ARTS AND RECREATION

RECREATION programs

Register online at

www.greenwoodvillage.com/rec

RECREATION REIMBURSEMENT DEADLINE

TUESDAY, JANUARY 15, 2019 FOR ALL 2018 RECEIPTS

With the end of the year quickly approaching, now is a great time to gather your 2018 activity receipts

to submit for reimbursement.

Reimbursements must either be received at City Hall by 5 p.m. on January 15 or postmarked no later

than January 15, 2019. Please note there are no exceptions to this deadline. Checks must be mailed to a

home address, not a P.O. Box, and cannot be picked up at City Hall.

Forms are included in this Newsletter and may also be obtained online or at the Parks, Trails and

Recreation counter in City Hall. If you are a new Greenwood Village resident or would like more

information about the program, please visit www.greenwoodvillage.com/recreimbursement.

For more information, please call Debbie Armstrong, Administrative Assistant, at 303-486-5773 or email

darmstrong@greenwoodvillage.com.

PG. 18 GV NEWSLETTER | DECEMBER 2018
---
ARTS AND RECREATION

DECEMBER 2018 | GV NEWSLETTER PG. 19
---
ARTS AND RECREATION

RECREATION programs

Register online at

www.greenwoodvillage.com/rec

WINTER YOUTH RECREATION PROGRAMS

BOYS & GIRLS PEE WEE BASKETBALL

Day: Mondays, January 14, 28, February 4, 11

Time: 6:30-7:15 p.m.

Age: 4-6 years old

Fee: $40

Limit: 20 players

Location: Campus Middle School, 4985 S. Dayton Street

BOYS & GIRLS YOUTH BASKETBALL

Day: Thursdays, January 10, 17, 24, 31

Time: 6:30-7:15 p.m.

Age: 6-9 years old

Fee: $40

Limit: 20 players

Location: Campus Middle School, 4985 S. Dayton Street

BOYS & GIRLS PEE WEE BEGINNING TENNIS

Day: Mondays and Tuesdays, December 3, 4, 10, 11

Time: 6:30-7:15 p.m.

Age: 4-6 years old

Fee: $40

Limit: 20 players

Location: Campus Middle School, 4985 S. Dayton Street

BOYS & GIRLS PEE WEE INTRO TO SPORTS

Day: Mondays, February 25, March 4, 11, 25

Time: 6:30-7:15 p.m.

Age: 4-6 years old

Fee: $40

Limit: 20 players

Location: Campus Middle School, 4985 S. Dayton Street

BOYS & GIRLS YOUTH FLAG FOOTBALL/AGILITY

Day: Thursdays, February 7, 14, 21, 28

Time: 6:30-7:15 p.m.

Age: 6-9 years old

Fee: $40

Limit: 20 players

Location: Campus Middle School, 4985 S. Dayton Street

Register online at www.greenwoodvillage.com/registration.

For more information call the Arts and Recreation Division at 303-486-5773.

PG. 20 GV NEWSLETTER | DECEMBER 2018
---
ARTS AND RECREATION

ART events

GALLERY HOURS

Monday-Friday 8:30 a.m.-4:30 p.m.

Saturday 10 a.m.-4 p.m.

CURTIS CENTER FOR THE ARTS • 2349 EAST ORCHARD ROAD, GREENWOOD VILLAGE, CO 80121 • 303-797-1779

WINTER'S GLOW RETURNS IN 2019

Winter's Glow returns to Greenwood Village on Wednesday, February 6, from 6-8 p.m. at

Curtis Park. Bundle up, bring the kids and join your neighbors to celebrate the winter season

with the traditional lineup of ice sculptures and fire dancers, s'mores, hot chocolate and more.

There will be interactive light displays from Lumenscape and a special appearance of the

Dragomi Art Car. With plenty of kids' activities indoors and out, they will stay busy. Adults

can warm up inside the Curtis

Center for the Arts while

viewing the current exhibit

"Horse Power" and sipping

complimentary champagne.

Save the date, gather the

family and come celebrate the

winter season with the

Greenwood Village

community. This event is free

and open to the public.

DECEMBER 2018 | GV NEWSLETTER PG. 21
---
ARTS AND RECREATION

ART

programs

Register online at

www.greenwoodvillage.com/art

For more information call the the Curtis Center for the Arts at 303-797-1779.

2019 WINTER WORKSHOPS AT THE CURTIS CENTER FOR THE ARTS

Greenwood Village's cultural arts center offers a variety of art classes for preschoolers, children, teens and adults. Classes are

instructed by professional artists and staff who strive to provide the best art educational experience for all artistic levels. New in

2019 are evening workshops for ages 16 and older. If you can't create art during the day or on a Saturday, come in the evening!

View and learn more about our current and upcoming classes at the Curtis Center for the Arts by going to

www.greenwoodvillage.com/art

Here are just some of the center's classes taking place this winter.

Color Play

AFTER SCHOOL

YOUTH ART PROGRAMS

Ages 6 to 12

Black and White

Color Play: Mixed Media Painting for Kids

Creating Comics with Pop Culture Classroom

Soaring High with Art

Soaring High with Art

PEE WEE ART

Ages 3 to 5 with Adult

TEEN ART CLASSES

Ages 12 to 16

Abstract Colorado for Teens

Exploring Alcohol Inks

Exploring Pouring Acrylics

Black and White

Alcohol Inks

Pouring Acrylics

PG. 22 GV NEWSLETTER | DECEMBER 2018
---
ARTS AND RECREATION

ART

programs

Register online at

www.greenwoodvillage.com/art

For the Love of Color

For more information call the the Curtis Center for the Arts at 303-797-1779.

ADULT ART WEEKDAY

AND EVENING CLASSES

Ages 16 and Older

Abstract Colorado Landscape Painting

Abstract Experimentation

Beginning/Introduction to Drawing

Causal Watercolor Beginnings

Drawing and Sketching

Exploring Oil Painting

Figure Drawing

For the Love of Color

Fundamentals of Landscape Painting

How to Become a Master Artist

Landscape Workshop: Oil or Pastels

from Photographs

Papier Mache Dogs

Portrait Painting

Sketching an Abstract Form of the

Colorado Landscape

The Basics of Painting with Acrylics

Watercolor

Abstract Experimentation

SATURDAY ART CLASSES

Ages 16 and old

Cupcakes and Calligraphy

HOT ART: Basic Encaustic Techniques

Painting Aspens with a Palette Knife

Sketching an Abstract Form of the

Colorado Landscape

Valentine's Day Sculptures

Basic Encaustic Techniques

Papier Mache Dogs

Cupcakes and Calligraphy

Abstract Colorado Landscape Painting

Painting Aspens with a Palette Knife

DECEMBER 2018 | GV NEWSLETTER PG. 23
---
6060 South Quebec Street

Greenwood Village, Colorado 80111-4591

PRSRT STD

US POSTAGE

PAID

ENGLEWOOD, CO

PERMIT #799

ARTS AND RECREATION

ART events

GALLERY HOURS

Monday-Friday 8:30 a.m.-4:30 p.m.

Saturday 10 a.m.-4 p.m.

CURTIS CENTER FOR THE ARTS • 2349 EAST ORCHARD ROAD, GREENWOOD VILLAGE, CO 80121 • 303-797-1779

CURTIS CENTER

NOW OFFERS

EVENING CLASSES

In an effort to better serve the community, the

Curtis Center for the Arts has expanded its art

class offerings to include evening classes,

beginning in January 2019. With these expanded

hours come new classes and new instructors.

Some of the new classes include Portrait Painting,

Abstract Landscapes, Abstract Experimentation

and Glass Sculpture. These expanded hours will

also allow for additional teen and pee-wee

programming throughout the year. In addition

to new, evening classes the Curtis Center has

added to the already popular Saturday

workshops. A list of classes, including evening

classes can be found on Page 23 and at

www.greenwoodvillage.com/art.

PG. 24 GV NEWSLETTER | DECEMBER 2018