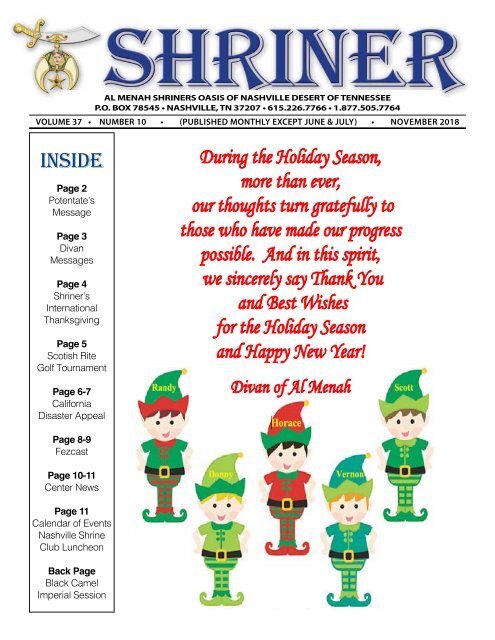 SHRINER DECEMBER 2018
Events and happenings of Al Menah Shriners for December 2018 and start of 2019.
Events and happenings of Al Menah Shriners for December 2018 and start of 2019.
SHOW MORE
SHOW LESS
You also want an ePaper? Increase the reach of your titles
YUMPU automatically turns print PDFs into web optimized ePapers that Google loves.
AL MENAH SHRINERS OASIS OF NASHVILLE DESERT OF TENNESSEE

P.O. BOX 78545 • NASHVILLE, TN 37207 • 615.226.7766 • 1.877.505.7764

VOLUME 3637 • NUMBER • NUMBER 4 10 • • (PUBLISHED MONTHLY EXCEPT JUNE & JULY) & JULY) • • NOVEMBER APRIL 2018 2017

INSIDE

THIS

ISSUE

INSIDE

Page 2

Potentate's

Message

Page 3

Divan

Messages

Page 4

Shriner's

International

Thanksgiving

Page 5

Scotish Rite

Golf Tournament

Page 6-7

California

Disaster Appeal

During the Holiday Season,

more than ever,

our thoughts turn gratefully to

those who have made our progress

possible. And in this spirit,

we sincerely say Thank You

and Best Wishes

for the Holiday Season

and Happy New Year!

Divan of Al Menah

Page 8-9

Fezcast

Page 10-11

Center News

Page 11

Calendar of Events

Nashville Shrine

Club Luncheon

Back Page

Black Camel

Imperial Session
---
Al Menah Al Menah Temple Temple

Oasis of Nashville

Oasis

Desert

of Nashville

of TennessEE

Desert of TennessEE

P.O.Box 78545 • Nashville, TN 37207

P.O.Box 78545 Phones • Nashville, 1.615.226.7766 TN 37207

Phones 1.615.226.7766

1.877.505.7766

1.877.505.7766

www.almenahShriners.org

www.almenahShriners.org

The Publication Committee

The Publication Committee

The Divan/Board of Directors

Potentate .................... Horace Frank Perkins Hester III

The Chief Divan/Board Rabban. ..........Randy of Directors Horace Perkins Williams III

otentate Assistant .................... Rabban ........... .........Randy Frank Hester Scott Williams Jones

hief Rabban High Priest ........... & Prophet. Horace .......... Donny Perkins Scott Drayton IIIJones

ssistant Oriental Rabban Guide ..........Randy . Vernon Donnie Williams Blackburn Drayton

igh Priest Treasurer & Prophet . ....................... Scott Jones Wes Frye

riental Recorder. Guide ...................Robert Donnie Drayton

Daniel

reasurer Editor. ........................ Maurice Wes Frye Smmith Smith

ecorder ...................Robert Published monthly except June Daniel and July

ditor ..................... www.almenahShriners.org

Maurice Smith

PAST POTENTATES

Published monthly except June and July

www.almenahShriners.org

*Charles Barham

*John E. Patton

*V. *Charles K. Stevenson Barham

*John D. E. Patton Whalley

*V. K. Stevenson

*John D. Whalley

PAST *W. *W. F. F. Hunt Hunt POTENTATES

Jack Norman, Jr.

*J. Pink Lawrence *Albert Jack Norman, Bennett Jr.

*J. Pink Lawrence

*Albert Bennett

Charles Barham *Ed R. Burr

*Ed R. Burr *John E. *Clyde

*Clyde Patton R. Watson

R. Watson

V. K. Stevenson

*J. Harry Murphy

*J. Harry Murphy *John D. *Marshall

*Marshall Whalley S. Whitley

*Charles N. Rolfe *James J. White S. Whitley

W. F. Hunt*Charles N. Rolfe Jack Norman, *James Jr.

*Paul DeWitt

*G. Cooper J. White Holt

J. Pink Lawrence *E. *Paul M. DeWitt Kelly *Albert Bennett

*J. *G. Coleman Cooper Holt Hayes

Ed R. Burr *Joseph *E. M. Kelly Higgins *Clyde R. *Donald

*J. Watson Coleman

R. Dunning

Hayes

J. Harry Murphy *Ira *Joseph E. Parker Higgins *Marshall *J.

*Donald S. P. Whitley Foster

R. Dunning

Charles N. *Martin

*Ira Rolfe E. Parker

S. Roberts *James J. *Gale

*J. White P. Foster

Robinson

Paul DeWitt *R.

*Martin

C. Derivaux

S. Roberts *G. Cooper *C.

*Gale

V. Holt Robinson

Cramb

E. M. Kelly *Oren

*R. C.

A.

Derivaux

Oliver *J. Coleman *J.

*C.

Nelson

V. Hayes Cramb

Bryan

Joseph Higgins *Lee

*Oren

L.

A.

Gamble

Oliver

*Donald*Robert *J.

R.

Nelson

Dunning Battle

Bryan

*Lee L. Gamble

*Robert Battle

Ira E. Parker *R. R. Clark

*R. R. Clark

*J. P. Foster *Jerry N. Tate

*Jerry N. Tate

Martin S. *William Roberts Raine

*William Raine *Gale Robinson *Fred H. Gay, Jr.

*Fred H. Gay, Jr.

R. C. Derivaux *Hugh F. Smith, Jr.

*Hugh F. Smith, Jr. *C. V. Cramb James A. Campbell

James A. Campbell

Oren A. Oliver *W. A. Bryan

*W. A. Bryan *J. Nelson *Claude

*Claude BryanG. G.

Southall

Southall

Lee L. Gamble *Charles L. Cornelius

*Charles L. Cornelius*Robert *W. Battle *W. B.

B.

Lawson

Lawson

R. R. Clark

*W.

*W.

Bush

Bush Herbert

Herbert

*Jerry N.

*Gale

*Gale Tate Robinson

Robinson

*Marshall

*Marshall

Hotchkiss

Hotchkiss

J.

J.

Dudley

Dudley Phillips

Phillips

William Raine

*Jess

*Jess

B.

B.

Templeton

*Fred H.

Hugh F. Smith, Jr. Templeton

*M.

Gay,

*M.

Norris

Jr.

Norris Jenkins

Jenkins

*T.

W. A. Bryan *T.

A.

A.

Springfield James A.

Springfield

*James Campbell

*James F.

F.

Scalf,

Scalf,

Jr.

Jr.

*James

Charles L. *James

G.

Cornelius G. Stahlman

Stahlman *Claude*William G. Southall

*William B.

B.

Jones

Jones

*J.

W. Bush Herbert

*J.

Clark

Clark

Akers *W. B. Lawson

Akers

Jack

Jack

C.

C. Phelps

Phelps

*R.

*R.

E.

E.

Baulch *Gale Robinson

Baulch

*David P. P. Brumfield Brumfield

Marshall *Thomas Hotchkiss

*Thomas

E.

E.

Doss

Doss

J. Dudley *Zack Phillips

S. S. Parrish, Parrish, Sr. Sr.

Jess B. Templeton Kerbela Kerbela Temple '28 '28 *M. Norris *Robert Jenkins E. Newman

T. A. Springfield *Maurice Weinberger

*James F. *George Scalf, Jr. Cook Cook

James G. *S. Stahlman *S. N. N. Allen

*William*R. *R. B. Parker Jones Graham

J. Clark Akers *W. *W. B. B. Hager

Jack C. Phelps H. H. Parker Toler

R. E. Baulch *O. *O. Lynn Meek

*David P. *R. Brumfield T. T. McNaney

Thomas E. *Jack *Jack Doss Norman

*Zack S. James Parrish, L. Ham Sr.

erbela Temple

*James '28

J. J. Vaughn

*Robert*Charles E. Newman H. H. Williams Williams

*C.

Maurice Weinberger

*C. H. H. Smith

William

*George Cook

D. Jones

*Fred

S. N. Allen

C. C. Laskey

John

*R. Parker L.

Graham

Weaver, III

*Ivo

W. B. Hager

A. A. Burton

Gale

H. Parker Toler

B. Robinson

*T.

O. Lynn Meek

*T. W. W. Bray, Jr.

Joe

*R. T. McNaney

Bell

*James R. Cox

Ronny L. Greer

Jack Norman *Paul R. R. Jarratt

James L. Charles Ham

E. Cardwell

James J. Vaughn *J. *J. Sumpter Anderson

Charles J. H. J. Franklin Williams "Jay" Scalf, III III

C. H. Smith *Hugh W. Robertson

William Conley D. Jones

Dykes

Fred C. Laskey *M. T. T. Gossett

John L. Weaver, David Smith III

Ivo A. Burton *Joe C. Carr

Gale B. Robinson Jim Cain

T. W. Bray, *James Jr. T. Hayes

Joe Bell *Mike Martin

James R. Cox *E. Lee Bennett

Ronny L. *Johnny Greer Dudley

Paul R. Jarratt *Orris E. E. Davis

Charles David E. Cardwell Wantland

J. Sumpter *Raymond AndersonH. Leathers J. Franklin Melvin "Jay" Meadows Scalf, III

Hugh W.

*Hilry

Robertson

H. Shaffer

Conley Dykes

Dennis Belford

*James N. Stansell

M. T. Gossett

*James

David

N. David

Smith

Vaughn

Stansell Carl E. Barnes

Joe C. Carr

Jim CainMike Van Sant

James T. Hayes

*Mike Martin Jeff Head

E. Lee Bennett

*Johnny Frank Dudley Hester

Orris E. Davis

David Wantland * Deceased

Raymond H. Leathers Melvin Meadows

Hilry H. Shaffer

2

* Deceased

Dennis Belford

*James N. David Vaughn

As always, thank you for everything you do for Al

Menah and our Shriners Hospitals and children!

A special thank you to all the Veterans for your services

to our great country. I hope everyone had a

great fall season and a Happy Thanksgiving. This

is a season to be thankful for what we have and not

what we want.

Please try to attend our Patient's Christmas Party.

This is the one time of year we get to spend

time with the patients. I know it will be a great

time as always!

Parade season is in full swing. Make time to support

your unit as we showcase our Temple during

the holidays.

In closing, I thank everyone for giving me the

opportunity to serve on your Divan and as your Potentate

in 2018. But most of all, thank you for your

FRIENDSHIP.

Merry Christmas and Happy New Year!

Yours in faith,

Horace Perkins, III

Stay Humble and Kind
---
From the desk of...

CHIEF RABBAN

MERRY CHRISTMAS...

To you and your Family.

It has been a Fast 12 months for

Lady Beth and I as we get ready

for 2019.We want to think the

Nobles of Al Menah and their

Ladies for the Support, Words

of Wisdom, Stepping Up for the

Events, and MOST OF ALL...

"What can we do to HELP NEXT YEAR".

And a special THANK YOU.....to our ladies of Al Menah

that worked putting the "LADIES EXTRAVAGANZA

EVENT" together..... right at $6,000.00 raised for the First

Lady Project in 2019. Also to Noble Maurice Smith taking

the time to put our SHRINER together. To our Office

Staff, The Divan and the 2018 Potentate Staff for keeping

Our Shrine moving forward this past year. ...AND... to

Imperial Sir.Jim Cain and Lady Patsy for taking a little of

Al Menah with them with all of their travel.

May the Love of the Season shine bright within Your

Heart Year Round.

Nobles of AlMenah...THANK YOU and MERRY

CHRISTMAS.

Chief Rabban

Randy Williams

ASSISTANT RABBAN

ASSISTANT RABBAN

We are in the middle of Christmas

parades and it is great to see

everyone out on the parade routes

having fun and spreading holiday

cheer. Al Menah representation

at our local parades is one of

the best ways to bring awesome

attention to our fraternity and our

hospitals.

We hope everyone can attend the

Patients' Christmas Party at Al Menah Shrine Center

on December 9th. This event is a great way to see the

miracles this awesome fraternity has the capability to

perform for our kids. Keep the good work up nobles!

Kim and I plan to attend as many of the unit and

club Christmas Parties as possible; however, there is no

way to make them all. We wish each and every one of

you a Very Merry Christmas and a safe and prosperous

New Year!

Assistant Rabban

Scott Jones

HIGH PRIEST PRIEST AND PROPHET AND PROPHET

I suspect this will be the last time you

will be dazzled with the wisdom

and charm emanating from the

office of High Priest & No Profit,

especially since a Clown will be

taking over next year! Looking

back at the perilous trail of debris

and garbage I have spread this

year, I find a few pearls of wisdom

have managed to survive and I now

leave you to ponder: I heard it said to never trust a

fart, if you do be sure to bring a change of clothes;

dealing with drama queens is like wrestling with a

pig—you get crap all over you and the pig likes it;

how many women does it take to change a throwback

Shriner from Dickson? just one—his sister, mother-inlaw

and ex-wife; clowns are more annoying than dune

buggies; whipped cream tastes better than shaving

cream, according to Jingles.

These, along with other fond memories of this

year, will soon be circling the drain moving into the

history of our proud fraternity. Remember during the

holidays to say kind things about your family and

friends whether you believe it or not, since it makes

them feel good inside. Be kind to animals and Clowns

since ORIENTAL at least GUIDE the animals

have feelings and love you

unconditionally.

Have a beautiful Christmas and Happy New Year.

High Priest and Prophet

Donnie Drayton

ORIENTAL GUIDE

It's hard to believe it's already

December. This is always a busy

month full of Christmas parades,

and traveling to visit family for

the holidays. So please be safe

in your travels and enjoy time

spent with your families.

As always, thank you for what you

do each day for Al Menah and

Shriners Hospitals.

Merry Christmas and Happy New Year.

Oriental Guide

Vernon Blackburn

3
---
Dear Nobles,

During this season of thanksgiving, Imperial Potentate Jim Cain would like to

express his appreciation and gratitude for your dedication to both Shriners

International and Shriners Hospitals for Children®.

Know that your efforts make a real difference in countless lives around the

globe.

Click the photo below to access this special message from Imperial Sir Jim Cain.

Happy Thanksgiving!

https://t.e2ma.net/click/s7ucgb/4wyhmrb/g6thyo

4
---
Make note of this future event

Scottish Rite Golf Tournament

October 10, 2019 @Noon

Nashboro Golf Club

1101 Nashboro Blvd.

Nashville, TN 37217

$75.00 per player

Registration:

Name: _____________________

Name: _____________________

Name: _____________________

$300.00 per team

Masonic/Scottish Rite

Members

and

Nonmembers

ALL ARE WELCOME!

Name: _____________________

Contacts:

Nashboro Golf Club

(615) 367-2311

Barry Eldridge

(615) 481-5000

barryski1@aol.com

25 Harbor Cove Drive

Old Hickory, TN 37138

HOLE SPONSORS NEEDED - $100.00

5
---
Dear Fellow Nobles,

Over the last few months, your incredible outpouring of support and prayers for your brothers

and their families impacted by the series of hurricanes has been nothing short of inspiring. I am

extremely proud to represent this great brotherhood. Through your generous support of the

ongoing relief efforts of the Masonic Service Association of North America (MSA), each of you

has exemplified the Masonic tenet of brotherly love. Your gifts, compassion and concern for

your brothers is the epitome of our theme, "Together We Can."

Our call to service must continue.

Although hurricane season is ending, our work is not done. We must now focus our attention

on the West Coast, where wildfires are currently ravaging and destroying communities in both

Northern and Southern California. The Grand Master of California, M. W. Stuart Wright, has

filed a disaster appeal with the MSA in hopes of obtaining help for his Masons who are valiantly

coping with this disastrous situation. We have learned that members of both Al Malaikah

Shriners (Los Angeles) and Ben Ali Shriners (Sacramento) have also been affected. Additionally,

we know that several nobles live in Paradise, a particularly hard hit area, and, so far, all of them

have not been accounted for. At this point, we do not know the full extent of the situation

throughout the area, as the fires continue to burn.

I have spoken to M. W. Wright and offered the full support of Shriners International during

this time of crisis. I also let him know I would bring attention to this appeal. I am once again

asking you to assist our brothers. Your support and assistance is critically important.

The MSA continues to be our best way to provide assistance; the organization implements

separate disaster relief appeals for each geographic area and Masonic Grand Lodge making such

requests, so that the ongoing assistance efforts may continue. All donations received through

these appeals will be transferred directly to the respective Grand Lodge for distribution to those

in need.

How to help masons and nobles affected by the fires:

Make a check payable to "MSA Disaster Relief Fund" and send them to:

Masonic Service Association

3905 National Drive, Suite 280

Burtonsville, MD 20866

Please write on the memo portion of the check, "California Disaster Appeal"

Click here to donate via PayPal or credit card.

Contributions to Masonic Service Association of North America are tax-deductible to the extent

allowed by law.

The leadership of Shriners International remains in contact with the affected Grand Lodges

and the Potentates of the temples impacted by the fires, and asks that you continue to keep your

fellow brothers and nobles in your thoughts and prayers.

I thank and commend everyone who has already contributed to these efforts. The number of

our worthy brothers and their families who are in distress has again increased, and we must

continue to share our concern and compassion and offer every assistance possible to our

brethren.

Please donate today.

Yours in the faith,

6

Jim Cain

Imperial Potentate
---
Ways to Help

Supporting Shriners Hospitals for Children – Cincinnati

Helping Children.

Protecting Childhood.

Your gift makes a difference.

Every day at Shriners Hospitals for Children ® – Cincinnati

we are helping children and protecting their childhood.

Expert physicians, surgeons, therapists and other medical

staff help children live the fullest lives possible. Our

innovative research and outstanding teaching programs

help us carry our mission even further. Our dedication

helps expand the worldwide body of medical

knowledge and improve the quality of life for people

around the world.

The Cincinnati Shriners Hospital treats children with

pediatric burns as well as many non-burn conditions.

All care and services are provided in a family-centered

environment, regardless of the patient or families' ability

to pay.

As a 501(c)(3) nonprofit organization, Shriners Hospitals

for Children – Cincinnati relies on the generosity of

donors to continue improving the lives of children.

There are many ways to support our mission:

• Unrestricted cash donations

• A gift in honor or in memory of a loved one

• A charitable bequest in your will

• Gifts of appreciated assets or real estate

• Other planned giving opportunities such

as Charitable Gift Annuities or Charitable

Remainder Trusts

• Adopting a room in our Family Care Unit

• Text the word LOVE to 80100 to make a

$25.00 donation

For more information, call the development office at

513-872-6029.

If you know of a child we can help, email

helpachild@shrinenet.org or call:

Burn Services at 866-947-7840

Non-Burn Services at 855-206-2096

Thank you for your support of

Shriners Hospitals for Children – Cincinnati.

Ways to Serve

If an individual or group would like to become involved

in a service project, here are some suggestions:

Donate Snacks

The kids really enjoy pre-packaged, store bought

snacks like Goldfish, Oreos, chips, pretzels and

mini candy bars. Please, no peanuts or peanut butter.

Collect Pop Tabs

Pop tabs are taken to a local recycling plant. The

money generated is used to buy needed items for our

patients.

Volunteer

For more information about current volunteer

opportunities, please contact Victoria Keehnen at:

vkeehnen@shrinenet.org or 513-872-6137.

Cash Donations

Your unrestricted cash donations have the

greatest impact on every child we treat.

Please make checks payable to:

Shriners Hospitals for Children – Cincinnati

Attn: Donor Development

3229 Burnet Ave.

Cincinnati, OH 45229

Corporate Giving and Fundraisers

Facilitating a corporate gift, matching gift, workplace

giving program, or special event fundraiser will lend

valuable support to our hospital.

For more information about how your donation can

make a difference, please contact:

Donor Development

513-872-6029

7
---
8
---
9
---
CeNter

NeWS

Clowns

2018 is drawing to a close and it was a

fantastic, busy year for clowning! The

Fabulous Al Menah Clowns showed

the world how "fabulous" we are with

hundreds of dress outs. We put smiles

on thousands of faces with numerous

parades, hospital trip, State Fair appearances,

paper sale and the Circus.

Veterans Day and Christmas parades

were plentiful in November and December,

and we're looking forward to a small

break at the beginning of the New Year.

The Al Menah Clowns would like

to give a big "Thank you!" to Frank

"Froggy" Wilson and Lady Valerie for a

wonderful year as Captain and First Lady.

Their leadership, guidance and caring

ensured us a fun, successful year and that

is what continues to keep us focused on

working for our Shrine children and our

hospitals.

As always, thank you to all of you for

what you do to support our children's

hospitals. Please keep those that are sick

and unable to attend our events in your

prayers.

Keep on Clowning!

Jim "Snips" Lee

Secretary

Director's Staff

What an exciting month. Turkeys have

been gobbled up, money donated at the

auction, and the Lady's extravaganza has

had another great fundraising event.

The Director's Staff are very proud of

all the hard work our Directorette's do

in supporting us and cannot

thank them enough.

We are also very proud of

10

Eddie Hill who did a fantastic job of

organizing all the golf hackers for the

Directors Golf Tournament again this

year and was very pleased to present a

check to Potentate Horace Perkins for

$10,406.00

As we move forward, at the October

meeting Brent Stadterman was elected

Secretary again, we really appreciate it

Brent.

We had two nominations for Lieutenant,

Joe Anderson and Mike Villines

Jr. Be sure to attend the November meeting

and vote.

Our last stated meeting for the year will

be in November as the meeting in December

will be our Christmas Dinner.

The Christmas Dinner will commence

with cocktails at 6:00pm and dinner at

7:00pm at the Al Menah Temple.

Please note these dates, plan to attend,

and help out as needed.

Fred Lysak

Lt Directors Staff

Legion of Honor

The Legion of Honor had another great

month in November. The LOH participated

in the Hendersonville and

Murfreesboro parades. The Legion was

met with enthusiastic crowds and warm

greetings for being Armed Forces veterans.

The Unit will support Al Menah's

participation in the remaining Christmas

Parades.

The LOH continues to grow, as we

added two new members, one of whom

was the second Reserve member. Noble

Long is a trumpet player, and he adds a

sense of flair to the LOH presentation of

colors.

The LOH updated our Constitution

and Bylaws for the first time in 46 years.

The current Commander and Past Commander

will present the updated documents

to the Divan in Jan., 2019 for their

final approval.

The perfunctory aspects of approving

a new Budget was done. and the following

officers for 2019 were elected:

Commander - Wayne Steele

Vice Commander - Steve Singleton

Lieutenant Commander - Jason Robinson

Adjutant - Art De Vooght

Finance Officer - Gene Ornes

Acting Past Commander - Roy Lindsey

The Unit will have its XMAS Party

on December 15th at Al Menah, with the

installation of the elected Officers.

Respectfully Submitted

Art De Vooght

Commander 2018

Motor Corps

The Circus has come and gone for another

year. I think everything went well

and Thanksgiving with all the turkey and

trimmings has come and gone and Christmas

Holidays are just around the corner!

With that, we find ourselves once again at

the end of another year ~ a time to reflect

on the good, the bad and the ugly. To

ponder the positives as well as the negatives

and learn from those. I ask myself,

"as a Mason and a Shriner, what can I do

to be a better Noble and what can I help

you do". I challenge each of you to ask

yourselves the same question.

We look forward to a new year at Al

Menah in 2019, as well as in the Motor

Corps.

Congratulations to the 2019 Motor Corps

Officers:

Captain – Leighton Bush, Jr.

Adjutant – John Dean

Secretary/Treasurer – Barry Molasy P.C.

Recording Secretary – Terry Posey P.C.

Parliamentarian – Gary Graf

Journalist – Phil (Fat Rabbit) Parman P.C.

Historian & Chaplain –

Frank Hester P.P., P.C.

Lieutenants -

Classic Cars - Gary Graf

Dune Buggies - Kyle Mason

Life Members / John Anderson

Motorcycles / Tommy Stevenson

Regards,

Fat Rabbit, 2018 Journalist
---
Shrine Club News

Williamson County Shrine Club

Many thanks to outgoing Potentate Perkins

and his Divan. We appreciate all the

hard work. You have done a great job this

year and we appreciate it. Also, thanks

to outgoing WCSC President Bill Jager

and our Officers. You have also done a

great job. Let's get behind out incoming

Potentate / Divan / our incoming President

/ WCSC Officers and make 2019 the

best year yet!

Thanks to WCSC for your great work

on the Paper Sale and Plaque Sale. We

still have time left to get more Plaque

Sales in! Have you renewed your

Plaque? Have you sold one?

We meet on the third Thursday of the

Month at our new meeting location, the

Sportsman's Grille in Cool Springs. Come

on out, we would love to have you with us.

Remember to pray for our leaders,

our Doctors / Nurses at the Shrine Hospitals

and our Military who are fighting to

ensure our freedom.

Butch Mayes

WCSC Ambassador

CALENDAR OF EVENTS

AS OF THIS PUBLICATION – SUBJECT TO CHANGE

Dec. 8 Cookeville Christmas parade TBA

Granville Christmas parade

2:00 PM

Hartsville Christmas parade

10:00 AM

Dec. 9 Patients Christmas party

Dec 18 Stated Meeting - Election

Dec. 31 New Year's Eve party

The Nashville Shrine Club Luncheon

The Nashville Shrine Club Luncheon has a new meeting location:

Santa Fe Cattle Co.

2520 Music Valley Dr.

Nashville, TN 37214

Meetings are every Wednesday at 11:00am. Come out and enjoy the fellowship and fun!

11
---
Paper Sale Donation from Kroger

On Monday, 7/18 Potentate Jeff Head and members of the Williamson

County Shrine Club were with Kroger Management at their Belle

Meade store where they presented a $1,000.00 to us for the Shrine

Hospitals for Children. The Kroger Manager was an acquaintance of

Scotty and Teresa Travis who put this together for the Al Menah Shrine

Hospitals for Children Paper Sale.

This is a portion of a message from Phyllis Berry, wife of this

Kroger Store Manager, Michael Berry.

Let me tell you, our son was a Shrine Hospital patient

and we are forever grateful The experience was an

awakening in humanity. The care was phenomenal. The

friendship my family made. The support from the men in

your fraternity was phenomenal. We thank you for all you

and your members do for children across the country.

Sincerely

Phyllis Berry

Fraternally,

Butch Mayes, WCSC

12
---
REMINDER!

NOTICe:

ALL communications

for the Shriner

should be sent to

editor.amsc@gmail.com

13
---
Nobles Nobles Visited By Visited By

The Black The Camel Black Camel Nobles Visited By

The Black Camel

George Gianika

Nashville, TN

8/25/23 – 11/10/18

James E. Thompson

Nashville, TN

6/15/39 – 10/29/18

Tandy W. Wilson III

Columbus, MS

11/25/22 – 11/12/18

Nonprofit

AL MENAH AL TEMPLE MENAH TEMP

AL MENAH TEMPLE

Organization

U.S. POSTAGE

A.A.O.N.M.S. A.A.O.N.M.S.

A.A.O.N.M.S. PAID

1354 BRICK CHURCH PIKE 1354 BRICK CHURCH PIKE

P. O. Box 78545 P. O. Box 78545 Nashville, TN

1354 BRICK CHURCH PIKE Permit No. 1731

NASHVILLE, TN 37207NASHVILLE, P. O. Box 78545

TN 37207

NASHVILLE, TN 37207

www.almenahshriners.org

www.almenahshriners.

www.almenahshriners.org

DEADLINE FOR JANUARY 2019 SHRINER IS DECEMBER 21 ST