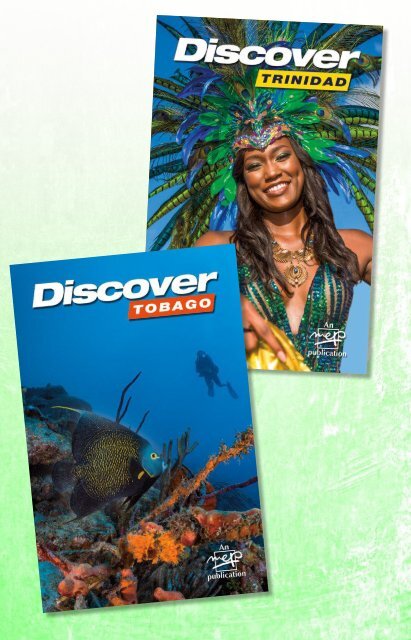 Discover Trinidad & Tobago Travel Guide 2019 (issue #30)
Discover T&T has published 30 issues since 1991, and helps readers discover where to stay, dine, lime, party, and shop; and what to see (including the islands' best sites) and experience (festivals, arts and culture, sports, and eco escapes), in both islands. There's also a national calendar of events; info on getting here and getting around; tips for safe and sustainable travel; T&T history and society in a nutshell, maps; and more. For the fourth edition in the row, the magazine features a distinctive dual-cover design, with one cover for each island — Harts masquerader, Kenya Baird, on Carnival Tuesday in Trinidad (photo by Jason Audain), and a diver with a French angelfish at Japanese Gardens, Speyside, Tobago (photo by Kadu Pinheiro). Inside, Discover interviews a range of experts in different fields to give you the ultimate insiders' guide to the islands. Discover T&T is aimed at local and international explorers planning getaways to the islands — whether for an eco adventure, business trip, or beach holiday. For more: https://www.discovertnt.com
Discover T&T has published 30 issues since 1991, and helps readers discover where to stay, dine, lime, party, and shop; and what to see (including the islands' best sites) and experience (festivals, arts and culture, sports, and eco escapes), in both islands. There's also a national calendar of events; info on getting here and getting around; tips for safe and sustainable travel; T&T history and society in a nutshell, maps; and more.

For the fourth edition in the row, the magazine features a distinctive dual-cover design, with one cover for each island — Harts masquerader, Kenya Baird, on Carnival Tuesday in Trinidad (photo by Jason Audain), and a diver with a French angelfish at Japanese Gardens, Speyside, Tobago (photo by Kadu Pinheiro). Inside, Discover interviews a range of experts in different fields to give you the ultimate insiders' guide to the islands.

Discover T&T is aimed at local and international explorers planning getaways to the islands — whether for an eco adventure, business trip, or beach holiday. For more: https://www.discovertnt.com
SHOW MORE
SHOW LESS
Do you know the secret to free website traffic?
Use this trick to increase the number of new potential customers.
apso imaging

What's inside

Production credits...........................................6

Meet our interviewees....................................8

Trinidad

Welcome message........................................12

Where to stay................................................ 14

Food & dining (Foodie Nation &

our roundtable)..............................................18

Shopping ......................................................24

Arts & culture roundtable........................... 26

Nightlife & entertainment roundtable........ 33

Carnival roundtable...................................... 38

Festivals roundtable......................................48

Eco adventure with Courtenay................... 52

Editor's tips

Hikes & waterfalls................................55

Tour operators......................................55

Turtle-watching..................................... 56

Birding................................................... 58

Chaguaramas........................................ 62

Beaches................................................. 63

Sightseeing............................................ 66

Sports.................................................... 72

The Marianne River,

Blanchisseuse

Essentials

Trinidad maps................................................ 72

National calendar of events........................ 82

Getting here & getting around.................... 86

Tips for safe and sustainable travel............89

T&T history and society in a

nutshell ..................................................... 90

Tobago..................................................92

Welcome message........................................96

Editor's picks: where to stay........................98

Shopping & leisure.....................................104

Beaches, sightseeing & waterfalls

with Aisha ................................................... 106

Editor's tip: tour guides & operators........110

Beaches & turtles........................................111

Ocean adventures with Duane................... 112

Birding & nature escapes...........................114

Diving with Derek........................................ 118

Culture & festivals with Jared................... 121

Roundtable: the best dining &

liming spots..................................................126

Tobago map..................................................132
---
Banquet Centre
---
apso imaging

Collared trogon

Credits

Editor: Caroline Taylor

Consulting editor: Jeremy Taylor

General manager: Halcyon Salazar

Designer: Bridget van Dongen

Advertising sales: Evelyn Chung

Editorial & design assistant:

Shelly-Ann Inniss

Consulting designer: Kevon Webster

Production: Jacqueline Smith

Finance director: Joanne Mendes

Some vectors by: Vecteezy.com

Cover Trinidad: Harts masquerader,

Kenya Baird, on Carnival Tuesday;

photo by Jason Audain

Cover Tobago: A diver spots a French

angelfish at Japanese Gardens, Speyside;

photo by Kadu Pinheiro

A publication of Media & Editorial

Projects Ltd. (MEP)

6 Prospect Avenue, Maraval, Port of

Spain, Trinidad & Tobago

T: (868) 622-3821 • F: (868) 628-0639

E: discovertnt@meppublishers.com

W: discovertnt.com

Intro

This year, we invite you to discover

both Trinidad and Tobago with the

people who call Trinidad and Tobago

home — the people who live,

work, and play here. As always, we continue to

share with you our very favourite experiences

and things to know through our Editor's Picks

and Editor's Tips. Make sure to visit us online, as

there's so much more we talked to our expert interviewees

about. The full Q&As and unabridged

interviews — plus years' worth of articles and

photos from past issues of Discover Trinidad &

Tobago — are all on our website at discovertnt.

com!

Connect with us online:

ISSN 1680-6166

© 2018 Media & Editorial Projects (MEP)

Ltd. All rights reserved. No part of this

publication may be reproduced in any

form whatsoever without the prior written

consent of the publisher.

6

discovertnt.com
---
apso imaging
---
Meet our interviewees

Foodie Nation is a food marketing and food tourism

company, promoting T&T through their website, videos, and

social media. Chairman and Chief Operating Officer Shaun Alexander

draws on his culinary background to create signature

dishes that are posted on their website. foodienationtt.com

Nigel Campbell is a music businessman who writes

for newspapers and magazines, including Caribbean Beat, doing

music reviews and covering the music business. He is a producer

and promoter of Jazz Artists on the Greens (jaotg.com), and publishes

Jazz in the Islands magazine (jazz.tt).

Derek Chung became a diving instructor in 1987,

and has done more than 12,000 dives over 34 years. He is the

Tobago Museum Trust's representative for Underwater Cultural

Heritage, and runs Undersea Tobago (underseatobago.com)

— one of the island's premier dive centres — with his wife.

Laura Dowrich-Phillips has been a journalist

for over 20 years, and is currently the Regional Lifestyle

Editor for Loop News, a regional digital news platform. She

co-hosts the Music Matters podcast (iradiott.wordpress.com),

which looks at the music industry in the Caribbean.

Duane Kenny is the owner of Zoe Snorkelling Charters

(snorkeltobago.com), Stand Up Paddle Tobago (standuppaddletobago.com),

and villa rentals at Blue Falls Investments

(bluefallsinvestments.com). He's a life-long lover of the ocean,

surfing, diving, guitar, adventure and, most of all, living in Tobago.

Maria Nunes (marianunes.com) is a photographer

who specialises in the documentation of cultural heritage. She's

deeply interested in our history, and uses her camera to have

conversations about history — to meet people she might ordinarily

not get to know, and to explore the diversity and complexity

of who we are in T&T. Her book In a world of their own is

available at bookshops, and at robertandchristopher.com.

10

discovertnt.com
---
Franka Philip and Ardene Sirjoo both

enjoy developing and executing interesting creative projects.

Their backgrounds in media and general curiosity led them to

co-found Trini Good Media, including the podcast Talk 'Bout

Us and OpedTT, which curates opinion writing. Franka is an

experienced journalist who's worked at the BBC World Service

and Guardian Media, and writes the Cookup column for Caribbean

Beat. Ardene co-hosts the popular radio programme The

Mandate on i95.5FM, is a frequent event host and moderator,

and works with the Bocas Literary Festival as the media and

marketing coordinator. trinigoodmedia.com

Jared Prima is a Tobagonian actor, director, writer,

and singer currently on a Fulbright Scholarship to pursue a

Master's in Film Production at Florida State University. He runs

Triple Spade Studios, and his film work includes the awardwinning

shorts The Witness and Redman. He is working on

two features, Midnight Robber and La Diablesse Lives.

Courtenay "Bush Man" Rooks has over

25 years of eco adventure tourism experience. He founded Paria

Springs Tours in 1993, and runs Bush Mountain (facebook.com/

bushmountaintt) — an eco-project that brings together his passions

for health and conservation with trail walking, running,

yoga, boot camp, forest bathing, rappelling, and much more.

Penelope Spencer has worked in the entertainment

industry for over 30 years as an actor, writer, director,

teacher, producer, television host, and casting agent. She cohosts

OMG Live on Facebook and The Sisterhood on TV6; and

is the artistic director of Necessary Arts School/Productions.

She recently completed her first children's book with Lylah

Persad, Tales from the forest.

Aisha Sylvester is a digital marketer loving life in

Tobago. She spends a lot of her free time exploring the island,

and loves being out and about indulging in some of Tobago's

most authentic experiences. She shares her excursions and

discoveries through comprehensive guides on her travel blog,

Island Girl In-Transit (islandgirlintransit.com).

discovertnt.com

11
---
Welcome to the twin-island

Republic of Trinidad & Tobago!

Thank you for making us your destination

of choice. No matter the

duration of your stay, consider

yourself an honorary citizen and

take every opportunity to discover the treasures

of our islands. Immerse yourself in our diverse

culture, journey to the past through the traditions

preserved in many of our communities, or delight

your taste buds with menus in our fine dining

restaurants or eclectic street food.

At the Ministry, we understand that tourism

offers enormous potential for successful

national economic growth and development. To

ensure that our country remains a key player

in the industry, the Ministry continues to monitor

emerging trends in international tourism. In

addition to our well-known leisure and cultural

offerings, we identify effective tourism niches

for destination Trinidad & Tobago.

Our industry is competitive and technological

changes have an immediate impact. We

are supporting and encouraging our tourism

operators to ride the digital wave. From raising

the bar on business operating standards

and customer service to embracing digital

transformation, destination Trinidad & Tobago

is deepening its footprint in the international

tourism market.

Whether you are here to conduct business,

enjoy international sport, rest and relax,

or appreciate our heritage, an adventure

awaits you. There is always something to do

in Trinidad & Tobago. Have a safe and memorable

stay!

— The Ministry of Tourism

The National Academy for the

Performing Arts (NAPA) in Port of Spain

rapso imaging

12

discovertnt.com
---
courtesy The hyatt regency trinidad

EDITOR'S PICKS

Where to stay

Luxury in the capital

The high-end hotels feature soughtafter

amenities, like top-class restaurants

and excellent pool, gym,

business, and conference facilities.

In downtown Port of Spain on the waterfront,

the recently upgraded Hyatt Regency Trinidad

offers views of the Gulf of Paria, a range of dining,

a roof-top pool, and an on-site spa. The Radisson,

just across the road, boasts a revolving restaurant

at the top; while the Courtyard by Marriott,

situated just west of Port of Spain, is a draw for

business travellers who can pop into MovieTowne

next door. The iconic Hilton Trinidad & Conference

Centre and classy Kapok boutique hotel

both offer superb views of the Queen's Park Savannah.

Out west in Chaguaramas, the CrewsInn

Hotel & Yachting Centre brings you close to nature

while still in striking distance of the capital.

All rooms and suites are air conditioned and outfitted with modern facilities for your every comfort

including internet access and direct dial telephone. Enjoy a meal at our restaurant which specialises

in a variety of tasty Caribbean and International cuisine, or just sit back and relax at our bar and

lounge or around our swimming pool.

Our new building includes conference facilities as well as an ideal settingfor wedding receptions,

cocktail parties and other special functions. Other facilities include our complimentary gym and

business centre with email and internet access, ideally suited for business or vacation.

We also offer special group and long term rates.

14

discovertnt.com
---
Southern charms

Down south in San Fernando, Tradewinds

has both nightly hotel and monthly residency

options, while the charming Royal Hotel is

located near to San Fernando Hill, and the

Cara Suites Hotel & Conference Centre overlooks

Claxton Bay.

courtesy crewsinn hotel

Gems of the east

In the east, the Holiday Inn Express & Suites

is five minutes from the airport, Trincity Mall,

and a world-class golf course. Also near the

airport are the Grand Diamond Trinidad and

the Monte Cristo Inn. Academic visitors and

researchers will appreciate the recent addition

of the University Inn at the University of the

West Indies' campus in St Augustine.

discovertnt.com

15
---
Grande Rivière is the world's second largest nesting

ground for endangered leatherback turtles

Beloved boutiques, B&Bs,

and beyond

Among the most popular guesthouses, B&Bs,

and self-catering options are The Allamanda

(Woodbrook); Forty Winks Inn (Port of Spain);

Thanna's Place and Savannah Maison Guest

House (Belmont); Kiskadee Korner (St Clair);

Culture Crossroads Inn (St James); The Inn at

87 (Newtown); Crosswinds Villa Bed & Breakfast

(Santa Cruz); Willard's Bed and Breakfast

(El Dorado); and the Coblentz Inn, Heritage

Inn, and L'Orchidée Guesthouse (Cascade).

Green retreats & eco

escapes

If you want to see the stars at night, head to

Paradise Villas (Paramin); Asa Wright Nature

Centre (Arima-Blanchisseusse Road); Hacienda

Jacana (Talparo); Petrea Place (Pointeà-Pierre

Wildfowl Trust); Xanadu Resort

(Lopinot); Pax Guesthouse (Mt St Benedict);

Anise Resort & Spa (Sans Souci); or Acajou,

Le Grand Almandier, and Mt Plaisir (Grande

Rivière).

rapso imaging

Located in one of the most

convenient districts in Port of Spain.

Everything on your doorstep,

carnival, cricket, embassies, a

variety of restaurants, stadium,

churches. Quick transportation.

Self-contained rooms and fully

equipped studio apts. Swimming

pool. We go the extra mile to

ensure your comfort and safety.

Great Comfort,

Unbeatable Service...

Our Hallmarks!

Tel: (868) 622-1480, 628-0050

email: theallamanda@yahoo.com

www.theallamanda.com

61 Carlos Street, Woodbrook,

Port of Spain, Trinidad, W.I.

16

discovertnt.com
---
joanne husain

Twilight at Hacienda Jacana

tevin mills

discovertnt.com

Escape to Grande Rivière

17
---
The

Foodie Nation

way of life

Foodie nation

food marketing

entrepreneurs

Tell us a bit about the island's

culinary heritage.

We started off with our Amerindian

cuisine thanks to our indigenous

peoples, followed by creole or

Afro-Caribbean and Indian cuisines which dominate

the island. Our culinary heritage tells the

story of the meals created by all our country's

immigrants — Chinese, Middle Eastern, European,

and so many others.

nival

Arts & Culture

More foodie favourites

Roundtable

What makes the island's

food distinctive?

Our food has key ingredients such as chadon

beni or bandhaniya, first cousin to cilantro

(sawtooth coriander or culantro) and pimento

peppers, and there's nothing like fresh pimento

peppers. Roundtable Our island's food is centred on the

availability of fresh ingredients. We celebrate

the abundance of our produce as it comes.

Lastly, you might say, we "over-season" our

food, but we just want you to taste it! There's

no "lightly seasoned with just salt and black

pepper" in Trinidad. There must be garlic,

chives, chadon beni, pimento peppers, hot pepper,

and — yes — salt and black pepper. T&T's

food should always taste fresh and lively.

The variety and fusions in our cuisine

put our food and dining scene on par with the

best in the world. Every year, our food scene

gets more diverse and experimental. People

are taking risks and getting creative with indigenous

ingredients. Street food as a main

attraction is something that has exploded, as

it has in the rest of the world. Chefs and cooks

are being more innovative and getting into the

food truck and pop-up restaurant model and

it's exciting.

Curry with "buss-up-shut" are a Trini staple

18

discovertnt.com

photo courtesy foodie nation TT
---
What local cuisine should

both visitors and Trinis try at

least once?

courtesy foodie nation TT

Doubles (pictured) is life. It might not look

appetising, but trust us, you must have this

street food. While you're at it, head down

to Debe and visit the food stalls selling not

just doubles but golden fried East Indian

delicacies such as saheena, baiganee,

kachori, and aloo (potato) pies.

Pelau: browned rice and pigeon peas

cooked in coconut milk with chicken, beef,

pork, or even vegetarian options. It's

better than any rice and peas you've ever

had.

Nick's Channa & Cheese on Caroni

Savannah Road: curried channa and a

thick slice of New Zealand cheddar (or

government cheese, as Trinis like to say)

sandwiched in a warm dinner roll. They

also have stewed chicken, stewed liver

and gizzard, and chow mein sandwiches

available.

Bake & fish: Foodie Nation promotes

sustainable fishing practices. So get a Maracas

bake and fish with all the toppings

(pineapple, lettuce, tomatoes, slaw) and all

the sauces (chadon beni, garlic sauce, a

touch of ketchup — because Trinis love

ketchup), and you will make the best tasting

sandwich ever.

For more great street food, head to the

food courts at the Queen's Park Savannah

food court (at night) and Eddie Hart

Grounds (Tacarigua); D'Cross in San

Fernando (at night); and St James Main

Road to get one of the best street vendor

rotis in Trinidad.

EDITOR'S TIP

About that bake & shark...

Sharks are being unsustainably caught in

T&T's waters. We encourage you to try

more sustainable alternatives with your

bake — flying fish, mahi mahi, squid/

calamari, carite, tilapia, or lionfish.

20

discovertnt.com
---
More foodie favourites

Roundtable

Franka & Ardene

journalists & media entrepreneurs

EDITOR'S TIP

Foodie Fiesta

At MovieTowne, there are

several dining options,

including authentic Japanese

cuisine at Kaizan

Sushi, and international

favourites at Zanzibar.

They also both deliver!

What are your favourite places to dine?

In terms of fine dining, several restaurants set an extremely

high standard like Chaud, Buzo, Prime, and Aioli

around Port of Spain; and Krave in San Fernando. Other very

good restaurants include Apsara, Town, Chaud Café (all around

Port of Spain), and House of Chan (Curepe), as well as Adam's

(Maraval) for a great breakfast on a Saturday morning. For tea

with amazing cake and pastry, visit Jardin (West Mall). For

good and reasonably priced burgers, we highly recommend

Burger Joint (Woodbrook) — ask for a side of cassava fries

too. Sunday brunch at the Hyatt Regency Trinidad (Port of

Spain) is also a great option for treating yourself. For the best

artisan bread, a visit to Zabouca Breads (Woodbrook) is a

must.

courtesy buzo osteria italiano

22

discovertnt.com
---
What are some of our finest locally grown/produced goods,

and where can people find them?

For the best locally grown produce, the NAMDEVCO (The National Agricultural Marketing

& Development Corporation) markets are our pick. You can find their locations and opening

hours online (namdevco.com). There is also the Green Market in Santa Cruz (Saturday mornings).

In terms of brands, Angostura's premium rums make great gifts as well as the legendary

bitters. For cocoa, there's a lot to choose from — Cocobel, Sun Eaters, Gran Couva come to mind

immediately. Pepper sauce — Bertie's is best in class.

courtesy green market santa cruz

Cocoa and cocoa products on sale at the Green Market

Laura

lifestyle journalist & editor

My list of faves — Bertie's pepper and pimento sauces; Twigs

Natural tea; Gourmet Pop popcorn; 11 Degrees North sorrel wine;

local chocolates (Cocobel, Brasso Seco, Bushe, and Cush Machel

Montano); Angostura Bitters; CGA flavoured coconut oils; and anything

from Karibbean Flavours.

discovertnt.com

23
---
Shopping

& Leisure

chris anderson

re to stay

Non-stop shopping

You can buy just about anything here: from distinctive

locally hand-crafted souvenirs, to top international

brands in fashion, jewellery, electronics, cars, and

gourmet food. If you can't find it in one of the major malls (Long

Circular, The Falls at West Mall, Trincity, Gulf City, Grand

Bazaar, C3 Centre, South Park Shopping Centre, Centre

Pointe Mall, Centre City Mall), it's sure to be in one of the many

plazas (the older ones are Ellerslie Plaza, Price Plaza and

MovieTowne Mall) or specialty shops. For local art, craft, food,

fashion and accessories, check out the artisan markets (San

Antonio Green Market in Santa Cruz, and UpMarket at the

Woodbrook Youth Centre).

Fresh fruit and vegetables

are available at markets like

the Arima market

24

discovertnt.com
---
Diego Martin

Port of Spain

San Juan

Tunapuna

Arima

Sangre Grande

Chaguanas

Couva

San Fernando

Rio Claro

Princes Town

Mayaro

Point Fortin

Penal

Siparia

discovertnt.com

25
---
Arts & Culture

Roundtable

Nigel

music journalist & businessman

This country's ability to assimilate every-

foodie favourites

thing and everybody that lived and still live here

has allowed for evolution of music that drives

island festivals, parties, and allows for a new direction

in some popular music.

Calypso (or kaiso) is the musical response

of African-Caribbean people to slavery, emancipation

and colonialism. Once it was recorded for

consumer uptake (1912, five years before jazz),

it signalled the growth of the sound of the Caribbean,

and ultimately of Trinidad-styled carnivals

worldwide. Soca (a mash-up of Indian- and African-Caribbean

musical impulses, named by one

originator, Lord Shorty, as sokah) has for the

Elon Trotman

at JAOTG

Music

Tell us a bit about the island's musical

heritage and landscape.

last 50 years been the driving force of Carnival.

The steelpan, born during the WWII

years, transformed "found" metal dustbins and

discarded oil drums into polyphonic musical instruments.

That sound drives fervent fans into a

frenzy when performed at its orchestral best at

carnivals and music festivals.

Today, fusion with Latin beats and Indian

rhythms has enhanced the pool of musical forms

unique in the Caribbean. That soca beat is now

invading electronic dance music (EDM) and pop

music being produced by the children of diaspora

in cities in Canada and the USA, and there

are independent souls making island folk, rock,

calypso jazz, tropical pop, and CDM (Caribbean

dance music).

courtesy jazz artists on the greens (JAOTG)

26

discovertnt.com
---
For live music experiences,

what are some of the names to

look out for?

You could make the case that these islands

are the Caribbean music capital. The

spread of genres mean there is something for

most — clubs, festivals, concerts both mammoth

and intimate.

Music in T&T has "seasons". During

Carnival (Boxing Day until Ash Wednesday),

soca reigns. The week before Carnival sees

the most significant events — including over

50 fetes. Listen out for Bunji Garlin, Fay-Ann

Lyons (the soca First Couple); Voice, the new

generation's leading artist and three-time winner

of Soca Monarch. Calypso tents still hold

a place for understanding the roots of calypso

as social commentary and reportage of scandal,

obsessions, and life here.

The "centre season" (post-Carnival) is

where jazz festivals, reggae, opera festivals

abound. Jazz Artists on the Greens kicks off

the short jazz season, which culminates with the

Tobago Jazz Experience in the last weekend

of April. Elan Parle, Clifford Charles, Theron

Shaw star among a recent generation of artists.

Clive Zanda, a pioneer in kaiso-jazz fusion,

is still a standing icon. Many top musicians are

resident overseas: Etienne Charles, Leon Foster

Thomas, David "Happy" Williams.

Lastly, there's Christmas for choral and

parang music, where leading choral groups

deliver annual Christmas shows — the

Marionettes Chorale, the Lydians, the Love

Movement. Parang, music from the old Venezuelan

tradition, signals the Trinidadian experience

of the season. The fusion genre of parang-soca

serves as the musical fuel for endless liming

and drinking and conviviality. Scrunter, Crazy,

Kenny J, and Relator are key figures.

Pennie

actor, educator & TV host

Musicians I appreciate include

3canal for their cutting edge

rapso style, thought-provoking and

catchy music; Vaughnette Bigford

and Bri Celestine — their mellow

voices can hook you in; the intoxicating

Mavis John; Machel Montano, Bunji

Garlin, and Olatunji. Their work speaks

to me — Olatunji's mix of traditional soca

and African beats are to die for.

Voice performs at Dimanche Gras

RAPSO IMAGING

discovertnt.com

27
---
Fashion

Which designers do you think

are the most distinctive?

Shari Cumberbatch

courtesty shop shari

Laura

lifestyle journalist & editor

I love the work of Shop Shari and Loud

by Afiya with their distinctive use of prints and

colour. Charu Lochan Dass, trading as CLD,

creates elegant and sophisticated outfits.

Christian Boucaud caters to the plus size market

in her portfolio. Lisa Sarjeant-Gonzales

(Lisa Faye) creates beautiful hand-dyed caftans

and free-flowing gowns in silk. For swimwear,

Rebel is super sexy, and TROPIX by

Keisha Als plays around with different fabric

and designs that stand out. For original jewellery,

see Rachel Rochford, Bene Caribe, Cocoa

Vintage and Shop Shari.

Courtesy Lisa Faye

EDITOR'S TIP

More names to look out for

Clothing designs by Ecliff Elie, Adrian Foster,

Heather Jones, K2K, the Lush Kingdom,

Meiling, Claudia Pegus, The Cloth,

and the Wadada Movement; and hand-crafted

jewellery from Chris Anderson, Gillian

Bishop, Janice Derrick, Akilah Jaramogi,

Barbara Jardine, Rachel Ross, and Jasmine

Thomas-Girvan. Also check out Dreamstones

for silver and gemstone jewellery

from a range of international designers.

28

discovertnt.com
---
Literature

Who are some of the local

authors that you recommend?

Franka & Ardene

journalists & media entrepreneurs

Barbara Jenkins, Shivanee Ramlochan,

Kevin Jared Hosein, Lisa Allen-Agostini, and

Danielle Boodoo-Fortuné are fiction writers at the

forefront of a new dawn in T&T literature. Judy

Raymond is a writer of non-fiction who is an asset

to the genre. Maria Nunes is dedicated to capturing

the best of traditional mas — her photos of

fancy sailors are beyond brilliant.

Laura

lifestyle journalist & editor

For children's books, see Aarti Gosine's

Her Magic Caves; Jeunanne Alkins' Hatch;

Machel Montano's Boy Boy & the Magic Pan.

Maria Nunes' debut book, In a World of their

Own: Carnival Dreamers & Makers, perfectly

captures the passion embodied in those who

are preserving our traditional mas. Aliyah

Eniath's The Yard is probably the first book by

a Caribbean author to centre on the life of a

Muslim family navigating life in the Caribbean.

Very compelling. The late Angelo Bissessarsingh's

A Walk Back in Time, Walking with the

Ancestors, and Bridges of Trinidad & Tobago

perfectly captures our history. Among the

classics, I favour VS Naipaul's earlier work

based on life in T&T — they are hilarious and

timeless and scarily in many ways still resemble

life today. Michael Anthony has written

several books, but if you are yet to read Green

Days by the River, get this. Sam Selvon's

Lonely Londoners is a classic everyone ought

to read.

30

discovertnt.com
---
Visual arts

Which artists and venues should people look out for?

Laura: The local art scene is a vibrant one. The Art

Society based in St Clair hosts a number of exhibitions and

pop-up shops. Horizons Art Gallery, Medulla Art Gallery, 101

Art Gallery, Y Art Gallery, and Uncorked Wine Shop are good

places to view local art.

Pennie: I love

Che Lovelace and Ashraph

Ramsaran's artwork — I love

the vivid colours and textures

and the boldness of their

pieces.

Feel At Home (2018, pen and ink watercolour,

7.5" x 5.5"), by Shalini Seereeram

EDITOR'S TIP

More top artists

Isaiah Boodhoo, Edward Bowen, Carlisle

Chang, Leroy Clarke, Chris Cozier, Ken

Crichlow, Jackie Hinkson, Paul Llanos, Dermot

Louison, Shastri Maharaj, Wendy Nanan,

Lisa O'Connor, Shalini Seereeram, Peter

Sheppard, Irénée Shaw, Sundiata, Jasmine

Thomas-Girvan, and the late Michel-Jean

Cazabon, Pat Bishop, and Boscoe Holder.

Franka & Ardene: Some

names art lovers should note are Halcian

Pierre, Ozzy Merrick, LeRoy Clarke, Brianna

McCarthy, Sarah Burrows, Marielle Barrow,

Che Lovelace, and Sabrina Charran.

discovertnt.com

31
---
Theatre

What can people expect from Trinidad's theatre scene?

Pennie: The theatre scene boasts a mixture of genres — from farces to drama,

historical to comedy. The main venues are Central Bank Auditorium and Queen's Hall (Port of

Spain); Naparima Bowl (San Fernando); CLR James Auditorium (Valsayn); and National Academy

for the Performing Arts (NAPA) north and south.

karen johnstone courtesy coco dance festival

Do you have any favourite

plays, playwrights, producers?

RS/RR Productions; Raymond Choo

Kong Productions; the Creative Arts Centre up

at UWI; the Trinidad Theatre Workshop, which

was headed by Nobel Laureate Derek Walcott

and continues with small dinner theatre productions.

I love Tony Hall, Derek Walcott, Earl

Lovelace, Richard Ragoobarsingh as playwrights.

EDITOR'S TIP

Dance

Keeping traditions alive (or creating

new ones), local schools and

dance companies present shows in

a range of styles — regional folk,

ballet, jazz, modern, and Indian classical,

plus experimental multi-media

productions — at many of the same

venues as Pennie listed for theatre.

32

discovertnt.com
---
Nightlife & Entertainment

Roundtable

A jab jab entertains the crowd

at Fiesta Plaza, MovieTowne

courtesy movietowne

My favourite spots are Drink Lounge & Bistro; Fiesta

Plaza at MovieTowne; and Frankie's (all around Port of Spain).

The Big Black Box has some form of entertainment on most

weekends — parties, readings, workshops, shows, right in the

heart of Woodbrook.

Pennie

actor, educator & TV host

discovertnt.com 33
---
courtesy cspot sip n paint studio

courtesy uncorked

Laura

lifestyle journalist & editor

At Uncorked (Port of Spain), you can purchase a bottle

and enjoy it in-house with friends. They also support local artists

with an exhibition every month by a different artist. CSpot Sip n

Paint studio (St Clair) provides a fantastic way to enjoy an evening

with friends, painting and connecting over cocktails. Drink

Lounge & Bistro (Woodbrook) is one of my favourite hangouts

too. It's a joint where many creatives hang out, and they serve

the most amazing meatballs and sangria. I also love hanging out

at Kaiso Blues Café (Port of Spain) because they are a haven for

live music in a very intimate atmosphere.

34

discovertnt.com
---
Nigel

music journalist & businessman

EDITOR'S TIP

More popular

liming spots

Around Port of Spain: 51°

Lounge; HAZE; Luce; More

Vino; Old Havana Lounge;

Paprika Bistro; Queen's Park

Oval; Sails (Chaguaramas);

Smokey & Bunty; Studio

Lounge; Trotters; Tzar

Nightlife; Vas Lounge; and

Zanzibar

Heading east: Trevor's Edge

(St Augustine)

Around San Fernando: Club

Next; Hi RPM; and Privé.

Port of Spain, the capital city, has been targeted as

a must-do in the Caribbean. It has an energy that resonates

throughout the year. The Ariapita Avenue strip in Woodbrook

boasts a mile of bars, eating places, and a few live

venues that come to life in a huge way on weekends. Kaiso

Blues Café, near downtown Port of Spain hotels, is the

premier space for intimate live performances from a wide

range of genres.

Restaurants and bars at One Woodbrook Place offer

an urban oasis of sophisticated nightlife. Increasingly, the

casino (or members club) is showcasing popular and

prominent performers. Island Club Casino in Grand Bazaar

(Valsayn) has become a new hotspot for live music. Woodford

Café (Chaguanas) offers live performances in music

genres outside of soca, and Space La Nouba and Sting

Nightclub (around San Fernando) are major hotspots.

Melinda Nagy/shutterstock.com

36

discovertnt.com
---
INTERNATIONAL

PRINCESS

INTERNATIONAL

PRINCESS

PRINCESS INTERNATIONAL

PRINCESS

I N T E R N A T I O N A L

PRINCESS INTERNATIONAL

PRINCESS INTERNATIONAL

Eat and drink

FREE

while you play!

Live entertainment

Local & international DJs

Safe and secure

Members Clubs in:

Port of Spain

Chaguanas

San Fernando

Next nightclub, San Fernando

www.worldofprincess.com

info@worldofprincess.com
---
Carnival

Roundtable

maria

Photographer & Cultural Activist

Arts &

Roundtable

Carnival is so multi-faceted — it is experienced in so many ways, and means such different

things to different people. Many limit their experience to just the party element, but there's so

much more to Carnival. For me, it is about an indescribable energy, a spirit that's somehow in our

DNA. The heart and soul of Carnival come to their fullest expression in the street on Carnival

Monday and Tuesday. Taking over the street is an essential part of the experience. You get to release

so much through the music, through the rituals. If you're willing to really let go, it's truly

cathartic.

The perfect itinerary

More foodie favou

Roundtable

There is so much to experience in such a short amount

of time. The intensity ramps up two weeks before Carnival with

Panorama semis. The atmosphere on what we call the drag or

the track, where the bands practise and play their final warm

up before they go on stage, is such a wonderful way to get

close to the pans and the players. It's special. The Wednesday

after pan semis, head to the St James Amphitheatre for the

Traditional Mas competition. It's free and it's a great event for

children. I'd recommend going to the stickfighting preliminaries,

which take place in locations like Moruga.

The week before Carnival:

The Old Yard: UWI

Creative Arts, St Augustine

(two Sundays before

Carnival)

Traditional Mas

Competition: Woodbrook

(Wednesday)

Stickfighting Finals

Kambule Riots

re-enactment (or

Canboulay): Piccadilly

Greens (Carnival Friday)

Dragon Festival: Port of

Spain (Carnival Friday)

Junior Carnival Parade:

Port of Spain (Carnival

Saturday)

Blue Devil Competition:

Paramin (Carnival

Monday).

chad lue loy

Stickfighting

38

discovertnt.com
---
jason audain

Nigel

music journalist & businessman

"Trinidad Carnival is not a spectator sport but a series

of participatory events." That is the first lesson to be a Carnival

explorer. For starters, get here early, at least a week before

Carnival Monday and Tuesday. The first rite of passage is the

panyard crawl, where a moving audience samples sessions of

performance and rote learning in preparation for the Panorama

competition. Then:

Stickfighting finals

(typically the Wednesday

before Carnival): this

combative display also

showcases the precursor to

steelband music, the tamboo

bamboo bands, and the

chantuelles chanting in the

gayelle.

On that same night, the traditional

individual Carnival

characters compete in Port

of Spain. This is what mas

was before the invasion of

bikinis, beads, and feathers.

These events are miles

apart, so choose wisely!

The re-enactment of the

Canboulay Riots is a

historical street theatre

production early on Carnival

Friday that approximates

a critical incident that was

the catalyst for the recognition

by the society that

Carnival was here to stay.

On Carnival Monday evening,

in the hills of Paramin,

the blue devils have their

parade. Walk with some

dollars and prepared to get

painted — or scared.

Carnival Monday, one

could opt to move away

from Port of Spain and

A fancy sailor competes at the

traditional mas competition

(Adam Smith Square)

discovertnt.com

discover more than 50

masquerades throughout

the island that maintain

traditions more than a

century old.

39
---
It should look

something like this:

visits to pan yards

and mas camps

Pennie (Phase II pan yard is a

actor, educator & TV host must); the Old Yard

(where you get to experience

and interact with Trinbago ole time

mas characters); a 3canal show; Panorama

semis; Ladies Night Out; at least one all-inclusive

party; J'Ouvert with 3canal; and Tuesday

mas with Exodus steelband and Peter Minshall

or with K2K (medium bands); or with Lost

Tribe or Fantasy (large bands).

Franka & Ardene

journalists & media

entrepreneurs

Stickfighting; 3canal show; calypso

category competitions (extempo, social

commentary, most humorous etc.); traditional

characters competitions and parades;

Carnival Kings & Queens competition; pan

yards; and Panorama finals.

The Old Yard

Jason audain

40

discovertnt.com
---
Invaders Steel Orchestra

performs at Panorama

edison boodoosingh

discovertnt.com

41
---
J'Ouvert

Maria: There's something indescribable about the

J'Ouvert tradition of covering your entire body in mud and

heading out into the street with a steelband or a rhythm section

at 4am. Everyone should experience it at least once in that

traditional form. It's truly a ritual of renewal.

Nigel: Mud, oil, and

a pair of throw-away sneakers

are a necessary part of the

ritual. And plenty water. Chipping

to music until sunrise is

not for the weak of heart, but a

necessary elixir to understand

the Carnival.

3Canal J'Ouvert

elLiot francois

Franka & Ardene: Options are

endless, but it depends on the experience you're

after. If you're looking for an all-inclusive road party

in the dark with paint, check out Dirty Dozen (a

younger crowd); Cocoa Devils (more mature crown);

Friends for the Road (mixed ages). For something a

little more raw, traditional, dutty, with a mix of live

and DJ music plus rhythm truck — and if you care

to cross the big Savannah stage in all your painted

glory — definitely try 3canal. Walk with cash to

patronise road-side vendors!

Pennie: Definitely,

3canal J'Ouvert is the best — safe

and very creative. The band takes

off from Woodbrook with live

music, a rhythm section, and DJ

music. This band doesn't venture

into the city, which I love … If

you're into pan music, Phase II

steelband has a wonderful

J'Ouvert experience with a mature

crowd and mellow vibes while

chipping to pan.

42

discovertnt.com
---
apso imgaging

rapso imgaging imaging

Masqueraders from K2K Alliance &

Partners, Medium Band of the Year

(above), and Minshall Mas with Exodus

Steel Orchestra (below) cross the

Savannah stage on Carnival Tuesday

discovertnt.com

43
---
Kaisokah moko jumbies
---
jason audain
---
The best fetes — for

Carnival & year round

Nigel: Carnival fetes come in three

categories: the high value all-inclusive; the

young people cooler fete and its cousin the

breakfast party; and the general mass-market

public fete. The Hyatt LIME is a pick for

the all-inclusive set. Soaka in Chaguaramas is

becoming the de facto standout breakfast

cooler fete. Army Fete, the safest party for

Carnival, has all the best soca singers and

serves all people as value for money. And did

I say it was safe — the Army is literally the

security! As a precursor to Carnival, the

bands are now launching the next year's

presentations as early as July. Among the

best opportunities is the Festival of the Bands

from TRIBE Carnival.

Machel Montano performs at

Tribe Ignite

Laura

lifestyle journalist & editor

46

courtesy lime.tt

discovertnt.com

It depends on a person's taste, age, and

budget. If you are looking for a swanky allinclusive

experience, any of the school fetes

such as Fete with the Saints, Fatima All-

Inclusive, and Presentation College's PREStige

are definite must-dos — plus, the money raised

goes to the schools. Hyatt LIME, Beach House,

Soca Brainwash, KAIRI People's Different, and

Fall Out are quality all-inclusives during

Carnival week. Early morning breakfast fetes

such as AM Bush, Soaka, Black to Blue, Jam

Nation, Breakfast Is, and Vale Vibe are high on

my list of must-dos. The latter two are all-inclusives

held on Carnival Sunday. For younger

adults, Bacchanal Road, a Caesar's Army fete

where you are required to wear a costume and

parade around a route, is a definite must. Other

party opportunities during the year are:

Caesar's Army's In de Paint dance on Independence

Day, Cocoa Devil's J'ouvert in July,

Josie's Jamishness in May, and Point Fortin

Borough Day fetes.
---
Pennie: The season starts off with Soka in Moka — a must for all real party people.

It's an all-inclusive fete hosted by Trinity College. Veni Mangé is a mini-inclusive fete, which is hosted

by the Woodbrook restaurant of the same name. Nice crowd, great venue. Any fete hosted by KAIRI

People is excellent — highly recommended, safe, creative entertainment, best soca artistes, proper

food and drinks … You get your money's worth with their fetes.

courtesy candy coated events

Candy Coated Love Fest is held on Carnival Friday

Franka & Ardene: School all-inclusives — St Mary's, PREStige (Presentation

College South), Fatima. Other all-inclusives — Different, Soca Brainwash. Wet/paint fetes:

Soaka, Soaka Street Party, AM Bush. Cooler fetes: Bring It, Army, Bayview. Shows/concerts:

Machel Monday, Tuesday on the Rocks. Carnival Sunday breakfast parties: Vale, Breakfast Is.

One-off events during the year: Cocoa in July, Josie's Jamishness, Beach House Mayfair.

Regular events: a lot of parties take place on party boats like the MV Harbour Master; these are

usually hosted by private promoters and popular DJs.

discovertnt.com

47
---
Festivals

Roundtable

maria

Photographer & Cultural Activist

maria nunes

Everyone should attend the First Peoples Heritage Week

activities at least once in their lifetime — the water and smoke

ceremonies in Arima, along with the procession around the Red

House where the remains of First Peoples ancestors were discovered

in 2013. Experiencing parang in Paramin is also really

special. It's a place everyone should go at least once.

In addition to that:

Obatala Festival —

January (Ita Oosa,

Woodbrook)

Annual Ancestral

(Egungun) Festival —

February (Ile Isokan,

Febeau Village, San Juan)

Phagwa (or Holi) —

February/March (Hindu

Prachaar Kendra, Longdenville,

and also around

the island)

Emancipation Day parade

— 1 August (Independence

Square, Port of

Spain)

Emancipation Steelband

Street Parade — first

Saturday in August

(Laventille Steelband Festival

Foundation, Eastern

Main Road, Laventille)

Pan on d' Avenue — late

August (Ariapita Avenue,

Woodbrook)

First Peoples Heritage

Week — October (Santa

Rosa, Arima)

Divali — November

(Felicity, Chaguanas, and

around the island)

Parang festival — December

(Paramin).

Obatala Festival

48

discovertnt.com
---
maria nunes

A young member of the Laventille

Rhythm Section plays during the

Laventille Steelband Festival

Laura

lifestyle journalist & editor

Divali has always been my favourite festival because I

grew up next to a Hindu family and one of my cherished childhood

memories is going over to their house, eating what seemed

like an unending supply of food on a soharee leaf, and later helping

to light deyas. My father would then take us driving through

south and central Trinidad to see the display of lights. The

twinkling lights in the dark are so pretty to see. I think everyone

should also experience the spring festival of Holi, where people

spray abir on each other.

discovertnt.com

49
---
Pennie

actor, educator & TV host

Phagwa is a colourful, fun ritual that takes place in different

areas of Trinidad … recommended for the whole family! In

Blanchisseuse, we have a new jazz festival (North Coast Jazz)

that is gaining steam — lots of local acts in a country setting with

plenty local food and craft.

The University of the West Indies (UWI)

Hindu Society's Phagwa celebrations

avinath ramadhin

Franka & Ardene

journalists & media

entrepreneurs

The NEW FIRE Festival (March); Bocas Literary Festival

(April); T&T Film Festival (September); Ramleela (before

Divali); Hosay … The Emancipation Village opens in the run-up

to Emancipation Day (August), and the Divali Nagar hosts

events which takes place in the week before Divali.

50

discovertnt.com
---
In Trinidad, primarily in St James, the Muslim remembrance

of Muharram, or Hosay, is a celebration that all partake

in. The Trinidad version is one of drumming, ornate tadjahs

(mosque-shaped model tombs), and dancing of the handcrafted

moons. It is Trinidad from another perspective, and the accompanying

food is a small celebration that is recommended at

least once.

Nigel

music journalist &

businessman

Muslim devotees at Hosay in Cedros

prepare to push a tadjah out to sea after

dusk. It is then moored overnight and

dismantled on land the next morning

giancarlo lalsingh

The drum circle

at the NEW FIRE

Festival

jason cazoe

discovertnt.com

51
---
Eco adventure

with Courtenay

QA &

courtenay

"Bushman" & eco-tour operator

What makes the island special?

What are the must-visit

local sites?

RAPSO IMAGING

We were connected to South America,

so you're really getting South

American flora and fauna on a Caribbean

island with a rich culture. When I hike

in Suriname or Brazil or go birdwatching, it is

more familiar to me than if I do that in Dominica

or Barbados. From an eco-tourism point of view,

you can't get better than that.

52

Ruby topaz hummingbird

discovertnt.com

If you're doing bird-watching, then the Asa

Wright Nature Centre, Yerette, and Caroni Bird

Sanctuary are a must. You can build your itinerary

around those three.

If you're a general naturalist and nature

lover, then I'd time the visit around the nesting

of the leatherback turtles (March–September),

because that really is an opportunity of a lifetime.

There's also a supporting cast with things

like the Tamana Caves with the tens of

thousands of bats — that really is amazing.

Then you can see the red howler

monkeys in places like Nariva Swamp,

where the atmosphere is pretty awesome.

Then there are several hikes you

can do — places like Guanapo Gorge,

going up El Tucuche, a trip down Chaguaramas

for the Gasparee Caves are

some of the best eco adventure things.

And for me, within eco-tourism,

no trip to Trinidad or Tobago, whatever

you're doing, is complete without a genuine

cultural interaction … really getting

some true Tobago blue food, a proper

buss-up-shut or roti, sitting down with

Trinidadians. Because you can get

other places that are amazing — other

amazing birding lodges, other Guanapo

Gorges, caves with millions of bats …

The real thing that separates Trinidad

is getting all of them in such a compact

area, and tying it in with the culture

makes it a really special experience.
---
What are some of your favourite

treks, from easy to advanced?

A really easy hike would be Avocat waterfall,

Rio Seco waterfall — those are lovely. Guanapo

Gorge is one of my favourites, and of

course the Tamana Bat Caves, which is a moderate

sort of hike with big adventure. And for

me, depending on how you're doing it — like

with camping — the Matelot to Blanchisseuse

trek is a big adventure. And of course, El Tucuche

is a tough, done-in-a-day hike.

What are your favourite

beaches?

There is something about Las Cuevas that I

have always loved. It's a combination of ease

of access with still very rugged scenery —

and that's from my personal point of view, like

going surfing and things like that. I think our

best beach for eco-tourism is really Grande

Rivière — it's a combination of nature hiking

with access to the piping guan, the birds, the

turtles … It truly is a multi-dimensional destination

that's hard to beat.

Scarlet ibis fly home to roost

in the Caroni Swamp & Bird

Sanctuary

RAPSO IMAGING

discovertnt.com

53
---
The Gasparee Caves, off

Chaguaramas

Tarun jagessar

Even more hikes & waterfalls

Maracas Falls: Trinidad's tallest waterfall (91m/299ft); a gentle 30–45 minute trek

Paria Bay: a roughly two-hour, intermediate hike from Blanchisseuse (or Brasso Seco)

to Cathedral Rock/Paria Arch. A pristine white sand beach where turtles nest (in

season), and a nearby waterfall, await

Turure Water Steps: enjoy the pools and these natural limestone "steps" after an

intermediate 60 minute hike.

What day trips or tours do you

recommend?

An easy day if you're just popping in to Trinidad

is Asa Wright Nature Centre and the Caroni

Bird Sanctuary. If you're looking for adventure,

I do mountain biking down in Chaguaramas

combined with the Covigne River, so you get

the biking, hiking, and river swimming. Even

though the river is small, it's very pretty and it's

lots and lots of fun where you can climb some

little waterfalls and so on. A bigger adventure is

really a long day, so you head out early and do

Guanapo Gorge and then run to Tamana after.

That's leaving at 5am or 6am and then flying out

at 9pm or 10pm.

Do you have a favourite place

or experience in Trinidad?

After travelling the world, what I love about

Trinidad is the multiplicity of things and experiences

you can have on any given day. You can

have a mountain biking adventure then go have

some curry and then go lime on the Avenue.

When people ask me what my favourite bird

is, the answer is that what I love is the variety

of birds we have here. And it's the variety of

experiences that I really enjoy.

54

discovertnt.com
---
Tamana Caves

313m/1,009ft above sea

level

1.5 million bats (67 species

of the island's nocturnal

bats, including vampire,

fruit, and insect bats)

at dusk, they all stream out

of the caves en masse to

feed.

EDITOR'S TIPS

El Tucuche

937m/3,072ft above sea

level

6.5km/4 miles each way

(8–12 hours return)

spot a rare golden tree

frog in a giant bromeliad,

or toucans, mountain

crabs, howler monkeys,

cicadas, hummingbirds,

and other rare species.

Rio Seco Falls

part of the Matura

National Park

a gentle 45–60 minute

hike brings you to the

falls, and a natural

swimming pool.

Tour operators

You can find listings of tour guides and operators like Indiversity Group at tourguidestt.com

and touroperatorsassociationtt.com, and many hotels and guesthouses should also be able

to help you choose the best provider for your needs. Alternatively, you could rent a car from

outfits like Econo Car and go exploring on your own!

INDIVERSITY GROUP

Short-term lease benefits include:

24/7 Roadside Assistance

Unlimited mileage

Insurance

Airport pick up and drop off

Wide selection of vehicles

Special conditions apply

TOURS AND MORE

Heritage | Culture | Nature

Festival | Art | Food Tours

Destination Travel Planning

Concierge Services

Film TV Photography Scouting &

Logistics

BOOK NOW

Ph/WhatsApp (868) 743-1604

E. indiversity@gmail.com

discovertnt.com

55
---
EDITOR'S TIPS

A closer look

Courtenay has given us a great introduction to eco adventures in Trinidad. And that's just the

start. Few places in the world can match Trinidad for biodiversity per square kilometre:

108 species of mammals

a growing number of recorded bird species (well over 400)

55 reptile species

25 amphibian species

and 617 butterfly species.

Here's a deeper look at those amazing places and experiences Courtenay recommends, all of

which are also great for families!

Turtle-watching

T&T is home to five of the seven species of sea turtles found globally. All are on the International

Union for Conservation of Nature (IUCN) Red List — the vulnerable leatherback

and olive ridley; the endangered green and loggerhead; and the critically endangered

hawksbill. The leatherback, hawksbill, and green turtle nest on beaches, while the loggerhead

and olive ridley are occasionally sighted at sea.

Trinidad is one of the few places in the Caribbean where the giant female leatherback practises

the timeless "family tradition" of returning to nest at the place where she was born. After

swimming through the rough waves of the Atlantic, she makes her way up the beach, laboriously

digs a hole with her flippers into which she lays hundreds of eggs, and then "backfills" it before

returning to the sea to mate again.

As the second largest leatherback nesting site in the world, Trinidad receives more than

6,000 of these heavyweights (up to 2,000lb) every March–September. You can see them on

any north or east coast beach, especially Matura and Grande Rivière (where you can see up to

50 a night, and even be lucky enough to spot the endangered blue-throated piping-guan or pawi

bird). About two months later, the clutch of babies emerge from the sand and head for the open

ocean. Peak season for seeing hatchlings is June–August.

Conservation efforts in Matura and Grande Rivière require that permits be acquired to

visit nesting sites. These can be arranged through authorised tour guides (Nature Seekers:

natureseekers.org, 668-7337; Grande Rivière Nature Tour Guide Association: 670-4257/469-

1288), local accommodation, or directly at Forestry Division offices.

Make sure to …

keep disturbances to a minimum (including noise and movement)

— do not touch nesting turtles or hatchlings

use only infrared lights, and no flash photography

refrain from driving, setting fires, or littering on nesting

beaches.

56

discovertnt.com
---
Above: baby leatherback turtle hatchlings.

Below: a female leatherback turtle returns

to the ocean after nesting at Grande Rivière

rapso imaging

rapso imaging

discovertnt.com

57
---
Birding trips

Trinidad is blessed with over 400

recorded bird species — among

the top 10 countries in the world for

the number of species per square

mile. Peak birding season is November–May,

but there's lots to see year-round. Ornithologists

flock here because of the diversity and accessibility

of the birds. Here's where you'll want to

head.

Asa Wright Nature Centre

(Arima Valley)

This 1,500-acre sanctuary is among the oldest

in the Caribbean. The main centre and

guesthouse are located on a former cocoacoffee-citrus

plantation. The long dry season

(January–May) is when the most striking vegetation

is in bloom, as well as in the shorter dry

season (Petit Carême) in October. Open 9am–

5pm for day visits, with guided walks (1.5hrs)

at 10:30am and 1:30pm. There are numerous

waterfalls and caves nearby, and an overnight

stay gives you the chance to see rare oilbirds.

Reservations required (asawright.org, 667-

4655). Entrance fee US$6–$10/TT$15–$30.

Winston Nanan Caroni Bird

Sanctuary

A must on every birder's list, these are the

protected breeding grounds of the national

bird, the scarlet ibis. Most boat tours leave at

4pm. Mangrove channels create a dramatic

backdrop for the 100 species of birds that

make their home here alongside snakes (boas)

in trees, crabs, and snails. At dusk, the sky is

filled with streaks of red as hundreds of scarlet

ibis return to roost in trees on an island in

the middle of the swamp.

caronibirdsanctuary.com, 755-7826

Yerette, Home of the

Hummingbird

(Maracas, St Joseph)

Here, you'll spend an intimate couple of hours

at the home of Theo and Gloria Ferguson. Dozens

of hummingbirds flit by, some a few inches

away, as they sip from dozens of feeders and

flowers. Theo is a knowledgeable host, with a

slide show about the tiny acrobats, and a beautiful

collection of photos for sale. yerettett.com,

663-2623

Nariva Swamp and Bush

Bush Sanctuary

Bush Bush is a protected island within Nariva

Swamp, the largest freshwater wetland in the

Caribbean. Here you'll find capuchin and red

howler monkeys, blue and gold macaws, and

toucans. Boating and kayaking are only possible

in the rainy season. It's imperative to go

with a tour guide who will arrange permits

from the Forestry Division.

Pointe-à-Pierre Wildfowl

Trust

An oasis of ponds surrounded by green forest,

set within the sprawling grounds of an oil

refinery complex, this magical Trust works to

reintroduce endangered wetland birds to their

natural habitat. It's home to rare ducks, scarlet

ibis, blue and gold macaw, and many more. An

on-site learning centre houses a small First

Peoples museum, and there is a full-service

guesthouse. Advance bookings required:

papwildfowltrust.org, 658-4200 ext 2512

58

discovertnt.com
---
Copper-rumped hummingbird

rapso imaging

discovertnt.com

59
---
This page: toucan

Opposite page: rare and protected

birds — the Trinidad piping guan

or pawi (top); blue and gold macaw

(bottom left); and scarlet ibis, the

national bird (bottom right)

all photos on this spread by RAPSO IMAGING

60

discovertnt.com
---
discovertnt.com

61
---
RAPSO IMAGING

Chaguaramas

National

Heritage Park

Just 20 minutes from Port of Spain,

hikers, bikers, explorers, bird watchers,

hashers, archers, and golfers

all have their place in "Chag"

(chaguaramas.com, 225-4232).

Tucker Valley nature trails

The Covigne River trail passes through nutmeg

groves and along a tributary of the Cuesa

River uphill through a gorge. The trail ends at

a waterfall with a plunge pool. Edith Falls is

located in an abandoned cocoa estate nestled

against the eastern side of Morne Catherine

and overlooking the golf course. A fairly gentle

hike, you will hear red howler monkeys in

the forest canopy along the trail.

Down de Islands (DDI)

Off the northwest coast, several offshore islands

offer a range of beloved escapes. There

are the Five Islands (including Nelson Island,

where Indian immigrants were quarantined

when they arrived by boat); the Diego Islands;

Gaspar Grande; Gasparilo Island (aka Centipede);

Monos; Huevos; and Chacachacare

(which was once a leper colony, and has

saltwater ponds, ruins, and a still-functioning

lighthouse). These islands were originally the

ceremonial grounds of the First Peoples. On

Gaspar Grande, the jetty at Point Baleine was

once a whaling station. This is the home of the

underground Gasparee caves' stalagmites and

Blue Grotto, with its "sunroof".

Sunset in Chacachacare

62

discovertnt.com

Recent additions

More recent man-made attractions, all popular

with families, include the ZIP-ITT's seven

zip-lines in Tucker Valley (one passes over

Macqueripe Bay) and five canopy walks or net

bridges (TT$85–150, zipitt.net, 303-7755);

the Boardwalk along the beachfront; the Five

Islands Waterpark; and the Safari Eco Park.
---
More favourite beaches

Trinidad's waters tend to have bigger,

more powerful waves than Tobago's,

with beaches set against rugged

cliffs or dramatic mountain backdrops.

There's the popular Maracas Beach, with

ample food, restrooms, and parking; with Tyrico

Bay (no facilities), then Las Cuevas next along

the coast. The caves (cuevas) here are part of

the attraction; there's also a car park, changing

facilities, and snack bar.

The long and rugged stretch of beach at

Blanchisseuse is another favourite along the

north coast, especially for surfers. At the end

of the bay, the Marianne River is a prime spot

for kayaking. Salybia and Sans Souci in the

northeast are also magnets for surfers. In

Chaguaramas, meanwhile, are the emerald

green waters of popular Macqueripe Bay.

In the south, Mayaro (a very long beach

that's usually covered in chip chip, a tiny mollusk

that can be cooked) and Quinam are the

most frequented, while the coconut tree-lined

Manzanilla stretches for miles up the east

coast. The west coast boasts warm waters and

white sand at Vessigny and Granville.

Macqueripe Bay

discovertnt.com

RAPSO IMAGING

63
---
64

discovertnt.com
---
Jason audain

The Nariva river meets the sea near Manzanilla

discovertnt.com

65
---
More family-friendly experiences

La Vega Estate

RAPSO IMAGING

Angostura Museum and

Barcant Butterfly Collection

(Port of Spain)

The Barcant Butterfly Collection, the only one

of its kind in the region, comprises more than

5,000 specimens (700 species, including the

blue emperor) in a re-created tropical forest.

Children will love it. Angostura acquired the

collection in 1974, and it has been at the company's

compound since. You can book a tram

tour of the Angostura factory, introducing you

to the company's history and making of their

world-famous bitters and celebrated rums.

Tours (two hours) are 9:30am and 1:30pm,

Monday–Friday; advance booking required:

623-1841, betancr@angostura.com

Fort George (Port of Spain)

Built in 1804, this "virgin fort" (which never saw

military action) offers a magnificent panoramic

view from 335m/1,100ft; its original cannon

and part of the dungeon remain. On a clear

day, you can see to south Trinidad, and west to

Venezuela. Open 10am–6pm, admission free

La Vega Estate (Gran Couva)

This 250-acre estate is a garden centre,

plant nursery, and nature and recreation

park combined. You'll find fruit trees, herbs

and vegetables, alongside fishing ponds,

pedal boats, water slides, a pool, jungle gym,

accommodation, and a restaurant.

679-9522, lavegaestate.com

66

discovertnt.com
---
The magnificent view from Paramin

jason audain

For lovers of heritage…

maria

Photographer &

Cultural Activist

Visit the Temple in the Sea at Waterloo … Take the time to

walk through and around Woodford Square (Port of Spain), and

make sure to go to see Carlisle Chang's masterpiece Conquerabia

at City Hall. It's one of our overlooked public art treasures. Take a

guided tour through Paramin. Visit Lopinot's former estate house,

and get a guided tour through the area.

Mud volcanoes

These geological wonders can be found mainly

in the south of the island: Piparo (aka Morne

Roche, 111m/365ft, 425 acres); Devil's Woodyard;

Digity Trace (6m/20ft, with a flatter

second volcano nearby); and others at L'Eau

Michel, Lagon Bouffe, Anglais Point, Erin,

Chatam, Columbia Estate, Fullarton, Cedros,

Galfa, Los Iros, Tabaquite, Cascadoux Trace,

and Manzanilla.

68

discovertnt.com

Pitch Lake (La Brea)

One of the three largest natural deposits of

asphalt in the world, it's deceptively boring to

look at. Estimated to contain 10 million tonnes of

asphalt, and spanning 109 acres; pools formed

by rain contain high levels of sulphur, which are

good for the skin and joints. Artefacts from the

First Peoples, for whom the lake was sacred,

have been unearthed here; some can be viewed

at the museum in the visitor centre. 651-1232
---
apso imaging

discovertnt.com

69
---
Queen's Park Savannah (Port of Spain)

This 260-acre park holds a very special place in the Trini

heart. Originally part of the Peschier family's Paradise Estate,

the Caribbean's oldest recreation ground — and reported to

be the world's largest roundabout at approximately 3.5km/2.2

miles — was converted into a city park in 1817, and is popular

for sports and recreation.

On its northern side, you will find the Emperor Valley

Zoo, founded in 1947 (zstt.org, 622-5344) and the Botanical

Gardens (established 1820), which has one of the oldest collections

in the western hemisphere. On the southeastern side

is Memorial Park and the iconic National Academy for the

Performing Arts (NAPA). Next door is the National Museum

& Art Gallery.

And on its northwestern side are the "Magnificent Seven"

— colonial-era homes in varying degrees of repair and use, with

diverse histories and ownership. From south to north: Queen's

Royal College (1904, boys' secondary school); Hayes

Court (1910, Anglican Bishop's residence); Milles

Fleurs (1904); Roomor (private home); the Roman Catholic

Archbishop's residence (1903); Whitehall (1907); and Killarney

or Stollmeyer's Castle (1904).

Valencia Eco-

Resort

This is a 10-acre estate

with hundreds of fruit trees

and flocks of birds and butterflies.

Enjoy aerobics,

archery, basketball, cricket,

volleyball, football, table tennis,

and billiards. Fish for

tilapia in the pond, cook in an

outdoor carat shed or take

a cool dip in the river (or

the large swimming pool).

Also in the mix: peacocks,

geese, parrots, guinea fowls,

ducks, tortoises, rabbits,

and monkeys. 731-6774,

valenciaecoresort.com

chris anderson

The Turure water steps

(Cumaca Falls) near Valencia

70

discovertnt.com
---
ziad joseph

A pink poui blooms in the

Queen's Park Savannah

discovertnt.com

71
---
Sports spotlight

Athletics

The island has a long history of excelling at

athletics. Local and international stars meet

in action at the annual Hampton Games. National

Association of Athletics Administrations:

679-3276

Cricket

The Queen's Park Oval (Port of Spain) and

Brian Lara Cricket Academy (Tarouba)

are the focal points for Twenty20, one-day,

and Test matches — including West Indies

and Caribbean Premier League series. T&T

Cricket Board: 636-1577, ttcb.co.tt

Cycling & mountain biking

The Easter International Grand Prix and

National Championships are highlights of the

racing calenda. A new world-class National

Cycling Velodrome (Couva) opened in 2016;

the Arima Velodrome is another focal point.

Mountain bikers head to Chaguaramas, Santa

Cruz, and the northern range. T&T Cycling

Federation: 679-8823

Swimming & aquatics

A world-class National Aquatics Centre

opened in 2016, intended to be a hub for

water polo, swimming, and diving. Public

swimming pools are also located in Port of

Spain (Flying Fish), Tunapuna (Centre of Excellence),

St Joseph (La Joya), Diego Martin,

San Fernando (Cocoyea), Couva, and Siparia.

Amateur Swimming Association: 643-2813

Tennis

The National Tennis Centre (Tacarigua)

opened in 2016, while there are public

courts at Nelson Mandela Park (St Clair),

and courts for hourly rental at the Country

Club (Maraval) and some hotels. T&T Tennis

Association: 625-3030

Football (soccer)

T&T was the smallest nation, until Iceland

in 2017, to qualify for the World Cup

finals (2006). The Hasely Crawford (Port of

Spain), Manny Ramjohn (Marabella), Larry

Gomes (Arima), Ato Boldon (Couva), and

Marvin Lee stadia are the main venues. T&T

Football Federation (TTFF): 623-9500

72
---
The Trinbago Knight Riders

are reigning Caribbean

Premier League champs

courtesy cpl T20 ltd 2018

discovertnt.com

73
---
Map Key (applies to all maps)

Police Station

Hospital

Turtle Nesting

Shopping Centre

Lighthouse

Beach with

Restrooms

Caves

Highway

Gas Station

Bird Watching

Golf Course

Scuba Diving

Place of interest

Food Available

Museum

Planned

Highway

Huevos

Chacachacare

Monos

Scotland Bay

Gaspar

Grande

Waterfall

Sailing & boat tours

Fort

Airport

Surfing

Swamp

Lifeguard on Duty

Major roadway

Macqueripe Bay

Chaguaramas

Diego Martin

PORT OF

SPAIN

Pt Lisas

Paramin

Santa Cruz

Morvant

El Socorro

Waterloo

Couva

California

Maracas Bay

Barataria

San Juan

Caroni Bird Sanctuary

Chaguanas

Carapichaima

St Joseph

Curepe

Tyrico Bay

Freeport

Las Cuevas

Jerningham

Junction

Longdenville

Tunapuna

Piarco

Gran Couva

Lopinot

Cunupia

Tacarigua

A

Pia

Claxton Bay

Tortuga

Pi

Granville

Pitch Lake

Vessigny

Pt Fortin

Cap De Ville

La Brea

Mon Desir

St Mary's

Fyzabad

Siparia

Pointe-à-Pierre

SAN

FERNANDO

Oropouche

Lagoon

Vistabella

Debe

Penal

Gasparillo

Ste Madeleine

Barrackpore

Princes

Town

New Grant

Busy

India

Walk

Icacos Pt

Icacos

Cedros

Erin Bay

San Francique

Palo Seco

Quinam Bay

Los Bajos

74

discovertnt.com
---
Tyrico Bay

Las Cuevas

Blanchisseuse

Blanchisseuse

Matelot

Grande Riviere

Matelot

Grande Riviere

Toco

Salybia Bay

Redhead

Galera Pt

Toco

Redhead

Salybia Bay

Galera Pt

Joseph

rouca

pe

Brasso Seco Brasso Seco

Asa Wright Nature Asa Wright Nature

Centre

Centre

Lopinot

Hollis Reservoir

Tunapuna

Tacarigua

Arima

Valencia

Arouca

Valencia

Arima

Salybia

Hollis Reservoir

Matura

Rampanalgas Rampanalgas

Balandra Bay Balandra Bay

Salybia

Saline (Sally) Bay Saline (Sally) Bay

Matura

Matura Bay Matura Bay

Piarco

Cumuto

rco Intl Piarco Intl Guaico

Airport ningham

San Rafael

Airport

San Rafael

nction

Cunupia

Cunaripa

Talparo

ngdenville

Todds Road

eeport

Brasso

Gran Couva

paro

rillo

Corner

Tabaquite

Tortuga

Brasso

Navet Dam

Poole

Poole

Rio Claro

New Grant

e

Tableland Tableland

n Princes Indian

Town Walk

Devil's Woodyard Devil's Woodyard

kpore

Basse Terre

Moruga

Sangre

Grande

Talparo

Coryal

Coryal

Caroni-Arena ReservoirCaroni-Arena Reservoir

Todds Road

Piparo

Busy Corner

Tabaquite

Basse Terre

Moruga

Navet Dam

Cumuto

Biche

Guaico

Cunaripa

Nariva Swamp

and Bush-Bush

Sanctuary

Rio Claro

Sangre

Grande

Guayaguayare

Biche

Rushville

Manzanilla

Nariva Swamp

and Bush-Bush

Sanctuary

Manzanilla Bay

St Joseph

Mayaro

Mayaro Bay

Guayaguayare

Rushville

Galeota Pt

Manzanilla

Manzanilla Bay

St Joseph

Mayaro N

Mayaro Bay

Galeota Pt

N

Trinidad map

discovertnt.com

75
---
Cocorite, Westmoorings, Chaguaramas

Cocorite, Westmoorings, Chaguaramas

Dengue St

Dengue St

Kandahar St

Kandahar St

Maraval

Maraval

Ellerslie Park

Ellerslie Park

Link

St James Medical St James Medical

Complex Complex

Coronation

Link

Luckput St

AUDREY JEFFERS

Mathura

Coronation

Carlton Ave

Romeo St

George Cabral

Salazar St

Luckput St

Lazare St

AUDREY JEFFERS

Bay Rd

Pujadas St

HIGHWAY

Ranjit Kumar St

Ranjit Kumar St

Angelina

Quamina

Church St

Finland

Ethel St

Kathleen St

Bournes Rd

Brunton Rd

Anderson St

Vidale St

Patna St

Clarence St

Mooneram St

Bombay St

Weekes St

Baroda St

WESTERN MAIN RD

WESTERN MAIN RD

Mathura

Carlton Ave

Romeo St

George Cabral

Salazar St

Lazare St

Bay Rd

Pujadas St

Calcutta St

Nizam St

Panka St

MUCURAPO Rd

MUCURAPO Rd

Long Circular

Mall

Delhi St

Sakar St

Madras St

Nepaul St

Agra St

Hyderabad

Woodbrook Cemetery Woodbrook Cemetery

HIGHWAY

Angelina

Quamina

Church St

Finland

Ethel St

MovieTowne

Kathleen St

Bournes Rd

Brunton Rd

Anderson St

Vidale St

Hasely Crawford

Stadium

St

Henry Pierre

Fatima Sports

Grounds

Patna St

Clarence St

Gaston

Johnston St

Jean Pierre

Complex

MovieTowne

Mooneram St

Bombay St

Weekes St

Baroda St

Bengal St

Calcutta St

Nizam St

Cawnpore St

Panka St

Delhi St

Sakar St

Benares St

Belle Smythe

Madras St

Long Circular Rd

Nepaul St

Lucknow St

Taylor St

Hamilton Holder St

One

Woodbrook

Place

Digicel Imax

Hamilton St

O'Connor

Dennis Mahabir St

Petra St

Barbados Rd

St James

Police Baracks

Agra St

Hyderabad

St

Henry Pierre

Fatima Sports

Grounds

Hasely Crawford

Stadium

Jean Pierre

Complex

Long Circular

Mall

Gaston

Johnston St

Bengal St

Cawnpore St

Benares St

Damian St

De Verteuil St

St Lucia St

Brabant St

Kelly Kenny St

Belle Smythe

Long Circular Rd

Lucknow St

Taylor St

Ana St

Hamilton Holder St

Hunter St

Petra St

Trinidad Crescent

Trinidad Crescent

Antigua Dr

Gallus St

Grenada

Ana St

Pole Carew St

Alberto St

Gallus St

Dominica

Nevis Ave

Alberto

Jamaica Blvd

Serpentine Rd

Broome St

Rosalino St

Siegert Sq

Luis St

St Kitts Ave

St Vincent

St Mary's Sports St Mary's Sports

Grounds Grounds

Havelock

St

Roberts St

ARIAPITA AVENUE

ARIAPITA AVENUE

Rosalino St

Alfredo St

Rapsey St

Queen's Park

Oval

Luis St

Elizabeth St

Adam

Smith Sq

Carlos St

Ellerslie Plaz

Alfredo St

Scott

Wainwright

Carlos

Murray St

Flo

St C

One Nelson Mandela Park Nelson Mandela Park

Me

Woodbrook

Place

Hamilton St

O'Connor

Dennis Mahabir St

Petra St

Barbados Rd

St James

Police Baracks

Digicel Imax

Damian St

De Verteuil St

St Lucia St

Brabant St

Kelly Kenny St

Ana St

Hunter St

Petra St

Antigua Dr

Gallus St

Grenada

Ana St

Pole Carew St

Alberto St

Gallus St

Dominica

Nevis Ave

Alberto

Jamaica Blvd

Serpentine Rd

Broome St

Rosalino St

TRAGAR

Siegert Sq

Luis St

St K

St Vincen

Havelock

Que

Rober

Rosalino St

A

John S Donaldson John S Donal

Techinal Institute Techinal Inst

Port of Spain

Taxi Stands Taxi Stands

1

2

Ariapita Avenue/ Ariapita Avenue/

1

6

Chaguaramas/Carenage Chaguaramas/Carenage

Cascade 2 Cascade

7

3 Maraval 3 Maraval

8

5

St Anns/St 5James/Queens

St Anns/St James/Queens

Park Savannah Park Savannah

Belmont 6 Belmont

10

Diego Martin/Petit 7 Diego Valley Martin/Petit Valley 11

Wrightson 8Rd/Long Wrightson Circular Rd/Long Circular 12

Curepe Tunapuna/ Curepe Tunapuna/

10

Arima/Sangre Grande Arima/Sangre Grande

San Juan11

San Juan

Chaguaramas 12 Chaguaramas

N

N

4

Cocorite

4

Cocorite

9

Chaguanas/San 9 Chaguanas/San Fernando Fernando 13

POS General 13 Hospital POS General Hospital

76

discovertnt.com
---
Flament St

Flament St

Victoria Ave

Victoria Ave

Charlotte St

Archer St

Charlotte St

Archer St

Maraval & Maracas Maraval & Maracas

St Ann's

St Ann's

t

a

St

St

lfredo St

St

Fitt St

Maxwell-Phillip

od St

Saddle Rd

Rapsey St

itts Ave

lair

dical

Sweet Briar Rd Sweet Briar Rd

Alexandra

Murray St

Hayes St

Gray St

Mary St

Flood St Flood St

Alcazar St

Rust St

Baden Powell St

Cornelio St

Newbold

Serpentine Rd

en's Park

Oval

ts St

ETE RD

Luis St

Adam

Smith Sq

Carlos St

dson

itute

Ellerslie Plaza

Alfredo St

Jackson

Sq

Elizabeth St

Vallot St

Scott St

Wainwright

William St

Herbert St

French St

Lammy St

Methuen St

Mc Donald St

Kitchener

Buller

Cotton Hill

Prada St

Magnificent Seven

St Clair

Queen's

Medical

Royal

College

Carlos St

Murray St

Fitt St

Saddle Rd

Maxwell-Phillip

Alexandra

TRAGARETE RD

Murray St

Cruise Ship Complex

Hayes St

Gray St

Mary St

Maraval Rd Maraval Rd

Marli St

Alcazar St

Rust St

Baden Powell St

Cornelio St

Newbold

Serpentine Rd

Jackson

Sq

Vallot St

William St

Picton St

Warner St

Gatacre St

WRIGHTSON RD

Licensing Office Licensing Office

Lady Chancellor Rd

Herbert St

Woodford St

TRAGARETE RD

French St

Lammy St

Flood St

Queen's

Royal

College

Methuen St

Mc Donald St

Cruise Ship Complex

Kitchener

Buller

Cotton Hill

Prada St

Magnificent Seven

Sackville St

Fire Station

Horticultural

Society

Maraval Rd Maraval Rd

Stone St

Cipriani Boulevard

Emperor Valley

Zoo

Marli St

Picton St

Warner St

Gatacre St

WRIGHTSON RD

Scott Bushe St

Lady Chancellor Rd

Albion St

Stanmore Ave

Lapeyrouse

Cemetery

QUEEN'S PARK SAVANNAH QUEEN'S PARK SAVANNAH

Woodford St

TRAGARETE RD

Sackville St

Fire Station

Phillips St

Shine St

Charles St

Botanical

Gardens

Horticultural

Society

Stone St

QUEEN'S PARK WEST QUEEN'S PARK WEST

Cipriani Boulevard

Victoria

Sq

Sackville St

Dere St

Melville

Borde St

Fraser St

Melbourne St

London St

Albion St

Stanmore Ave

Lapeyrouse

Cemetery

Scott Bushe St

Richmond St

Prime Minister's Residence

Prime Minister's Residence

and Diplomatic Centre

and Diplomatic Centre

Dundonald St

Park St

Charles St

Government

Campus Plaza

Shine St

Botanical

Gardens

Emperor Valley

Zoo

Phillips St

Victoria

Sq

Sackville St

Chancery

Lane

Edward St

President's

House

St Vincent

Queen's Hall

Keate St

Gordon St

New St

Oxford St

Abercromby St

Pembroke St

Nook Ave

La Fantasie

Q UEEN'S PARK EAST

Memorial

NAPA NAPA Park

National Museum National Museum

Dere St

Melville

Borde St

Fraser St

Melbourne St

London St

Richmond St

Dundonald St

Chancery

Lane

Edward St

St Vincent

Frederick St

Duke St

Hall of Justice Hall City of Hall Justice City Hall

Red Red

House Woodford House Woodford

Sq Sq 4

Hart St

5

Hart St

5

National National

Library Library

Queen St

6

Queen St

Knox St

Keate St

Gordon St

New St

Oxford St

Abercromby St

Henry St

Belmont Circular

Cadiz Rd

Charlotte St

Cascade

Hilton Hotel

Pembroke St

Nook Ave

La Fantasie

Q UEEN'S PARK EAST

Coblentz Ave

Palmiste St

Prince St

Lady Young Rd

Lady Young Rd

Industry

Erthig Rd

Jerningham Ave Jerningham Ave

Port of Spain

Norfolk St

Observatory

Piccadilly

Cascade Morvant, Barataria, Churchill Roosevelt Highway

General Hospital General Hospital

1 1 2

2

Park St

Government

Campus Plaza

President's

House

Queen's Hall

Knox St

Memorial

Park

Frederick St

Duke St

Henry St

3

Belmont Circular

Cadiz Rd

Charlotte St

Cascade

Hilton Hotel

4

Coblentz Ave

Palmiste St

Prince St

6

Industry

Erthig Rd

Port of Spain

Norfolk St

Observatory

Piccadilly

3

Cascade Morvant, Barataria, Churchill Roosevelt Highway

International

Waterfront Centre

International

Waterfront Centre

GULF OF PARIA

GULF OF PARIA

Water Taxi

Water Taxi

South Quay

Chacon St

INDEPENDENCE INDEPENDENCE SQ/BRIAN LARA SQ/BRIAN PROMENADE LARA PROMENADE

7 8

12

South Quay

Chacon St

10 11

7 8

9

9

10 11

13

13

12

Terminus/City Gate Terminus/City Gate

Eastern Main Rd

Eastern Main Rd

discovertnt.com

77
---
Morne

Catherine

St Clair

Maracas Bay & North Coast Santa Cruz

North Coast Rd

Cascade

Lady Young

Rd

Independence Sq

Queens Park

Savannah

Morne Coco Rd

lar Rd

ircu

Long C

t e

Blue Basin

Bagatelle

Goodwood Park

C o c o r i

l f

o f P

a r i a

a

S e

n

e a

Macqueripe

Bay

b b

ri

C a

c

B o

a

d e

M o n o s

Boca de Huevos

Boca de Novios

Boca Grande

Chacachacare

Huevos

Monos

Teteron Bay

Gaspar Grande

Chaguaramas Golf

Course

Edith

Falls

North Post

Glencoe

Paramin

St James

Woodbrook

Maraval

St Andrew's

Golf Course

St Ann's

Belmont

Laventille

Saddle Rd

Wrightson Rd

Diego Martin Main Rd

Tracking Station

Gasparee Caves

Petite

Gourde

Carrera

Carenage

Bay Carenage

Chagville

Five Islands

Diego

Pt

Cumana

West Mall

Ft George

PORT OF

SPAIN

R d

M a i n

North west

N

River Estate &

Waterwheel

Diego

Martin

Petit

Valley

TUCKER VALLEY

Scotland Bay

The Dragon's Mouth

Carenage

C H A G

U A R

We s t e rn

A M

A S

Western Main Rd

Starlite

Shopping

Centre

G u

78

discovertnt.com
---
Port of Spain

Port of Spain

Eastern Ma

Saline Bay

Matura Bay

Balandra

Toco

N

Cumana

Bay

Sans Souci

e a

S

a n

b b e

C a r i

Grande

Tacaribe

Bay

Madamas

Bay

Cumaca

Grand

Matelot

Pt

Matelot Bay

Matelot

Grande Riviere

Matura

Salybia

Cumana

Rampanalgas

Salybia

Bay

Galera

Pt

Road

in

To co Ma

North east

Grande Riviere

Bay

Paria Bay

Yarra Bay

Chupara

Pt

La Fillete

La Fillette

Paria Main Rd

Blanchisseuse Bay

Pt

North Coast Trail

Las Cuevas Bay

Tyrico Bay

Blanchisseuse

North Coast Rd

Maracas Bay

Rincon

Brasso Seco

Santa Cruz Maracas Falls

Asa Wright

Nature

Sombasson

La Veronica

Centre Dunstan

La Laja

La Pastora Cave

Caura

Mt St

Benedict

Monastery

Lopinot

Guanapo

Gorge

Aripo

Cumaca

Rio Seco

Valencia

Tunapuna

St Augustine

Arouca

ARIMA

Tacarigua

Curepe

Las Cuevas

El Tucuche

(936m)

Cleaver

Woods

El Cerro del Aripo

(941m)

Hollis Reservoir

Caura Royal Road

Lopinot Rd

El Socorro

University of

the West Indies

Santa Rosa Race Track

Paria

G E

A N

N R

H E R

N O R T

Maracas Royal Rd

Saddle Rd

St Joseph

San Juan

Barataria

in Rd

Valsayn

NGC National

Science Centre

D'Abadie

Turure Water

Steps

Aripo Rd

Heights of Guanapo Rd

Arima-Blanchisseuse Rd

Trincity

Mall

San Fernando San Fernando Sangre Grande

Sangre Grande & East Coast

Wallerfield

Madamas

discovertnt.com

79
---
Tunapuna

Couva

Southern Main Rd

y

i n R d

M a

To c o M a in R d

E a s t e rn M a i n R d

Bay

Grand

El Socorro

Bazaar

Valsayn

Caroni Swamp and

Bird Sanctuary

Curepe

Caroni

Piarco

St Helena

San Rafael

Cunupia

Chaguanas

Longdenville

CARONI PLAIN

Talparo

Friendship Hall

Todd's Rd

Mundo Nuevo

Valencia

Tamana

Bat Caves

Manzanilla

Upper

Pt

Manzanilla

Lower

Manzanilla

Plum

Mitan

Brigand Hill

Lighthouse

Plum Mitan Rd

L o p

C a u r

i n o

a R

r a c a

C

u

h

h i ll - R o o s e v e l t H i g h w a y

c

r

PORT OF SPAIN

Piarco International

Airport

Divali

Nagar

Freeport

d

y a

d l

l R

Y o u n g R d

R

Chase Village

Temple in

Waterloo

Potteries

the Sea

Carapichaima

Hanuman

Murti

ORANGE

ESTATE

California

Brechin

Castle

Pt Lisas

Industrial

Estate

Chicklands

Flanagin

Town

La Vega

Garden Centre

Brasso

Gran

Pepper

Couva

Village

Tabaquite

Brasso

Venado

Navet Dam

& Reservoir

M a i n R d

C o u v a

S o u th e rn M a in R d

Solomon Hochoy Highway

San Fernando

Marabella

Reform

St Madeleine

MONSTERRAT

HILLS

Tortuga

Mayo

Tabaquite

Tunnel

Piparo

Brickfield

Bargain

Busy

Williamsville

Corner

Princes

Indian

Walk

New

Grant

Devil's Woodyard

Rio

Claro

Tabaquite Rd

Moruga

Manahambre Rd

Claxton Bay

Pointe-à-Pierre

Wildfowl

Trust

Pointe-à-Pierre

Cumuto

Cunaripa

SANGRE

GRANDE

Biche

THE

COCAL

Nariva River

Cunapo Southern Rd

Cuche

Nariva Swamp &

Bush Bush Wildlife

Sanctuary

Manzanilla-Mayaro Rd

Navet Navet River

Pt

Radix

Killdeer River

M a

a ro R d

N a p a ri m a

ARIMA

Caroni-

Arena Dam

& Reservoir

Mayaro

R i o C l a ro G u a y a g u y a re

R A N G E

Arouca

Ta lp a ro R d

C E N T R A L

Port of Spain

San Juan

Uriah Butler Highway

St Mary's

SAN

FERNANDO

Lopinot

Blanchisseuse

& North Coast

Valpark Shopping

Trincity

Plaza

Mall

Hollis

Reservoir

Central

N

80

discovertnt.com

32
---
Gulf of Paria

Mayaro Bay

Mayaro-Guayaguayare Rd

N

Nariva Swamp

Rio Claro Tabaquite

Rio Claro

Tableland

Indian Walk

St Madeleine

Devil's Woodyard Mud

Volcano

Basse Terre

La Romaine

Pitch Lake

La Brea

La Lune

Columbus

Bay

Fullarton

Cedros Bay

Bonasse

Chatham

North

Chatham

South

Sixth Company

Pt Fortin

Vessigny

Princes

Town

Oropouche

Lagoon

Southern Trunk Rd

Granville Siparia

San Fernando-Siparia-Erin Rd

Erin Rd

Erin ( San

Francique)

Palo Seco Quinam

Erin

Los Iros

Icacos

Pt

Mayaro

Ortoire River

Guayaguayare

Cunapo Rd

N a parim a

SAN FERNANDO

Naparima-Mayaro Rd

Guayaguayare

Bay

Galeota

Pt

TRINITY HILLS

Port of Spain Tabaquite Sangre Grande

Solomon Hochoy Highway

Pointe-à-Pierre Wildfowl Trust

Rd

South

Third Company

Pointe-à-Pierre

Debe

Barrackpore

TRINITY HILLS

WILDLIFE SANCTUARY

& RESERVE

Penal

Rock Rd

Morne

Diablo

Mon Desir

Moruga

Fyzabad

Banwari

Trace

discovertnt.com

81
---
Calendar

For more on many of

these celebrations, see

our Festivals pages

on pg 29 (Tobago) and pg 44

(Trinidad).

January

1 (public holiday): New Year's Day

Carnival season begins (see full schedule of events

through early March on ncctt.org), and our Trinidad

Carnival section on pg 34)

Trinidad & Tobago International Marathon (Trinidad)

rapso imaging

February

Carnival season continues

Tobago Carnival Regatta

March

Carnival season peaks (ncctt.org)

4–5: J'Ouvert, Carnival Monday and

Carnival Tuesday

21: Phagwa (Holi)

30 (public holiday): Spiritual Baptist

Liberation Day — commemorating

the 1951 repeal of the colonial-era

Shouters Prohibition Ordinance

(1917), which had effectively

banned this Christian/Orisha

syncretic religion

Turtle nesting season begins

(through September)

82

Kiddies carnival

discovertnt.com
---
of events

April

6: Jazz Artists on the Greens (Trinidad)

12–14: NEW FIRE Festival

19–22 Easter Weekend: (public holidays Friday

and Monday) — hot cross buns, horse racing, and

Tobago's goat and crab races (Mt Pleasant on

Monday and Buccoo on Tuesday) are highlights.

Look out for the beating of the Good Friday bobolee

— an effigy of Judas Iscariot, representing

politicians, nefarious characters, and occasionally

some particularly bad ex-boyfriends…

Bocas Lit Fest — the Trinidad & Tobago

Literary Festival

Rally Trinidad

Tobago Jazz Experience

Pt Fortin Borough Day (Trinidad) — full

week of J'Ouvert, mas, pan, and parties

leading up the big street party

Tobago Fashion Coda

May

22: Tobago Sea to Sea Marathon

30 (public holiday): Indian

Arrival Day — commemorates the

arrival of the first indentured labourers

from India in 1845

European Film Festival (Trinidad)

May MTB Madness (Tobago) —

mountain biking event

June

TBC (public holiday): Eid-ul-Fitr —

marking the end of the holy Muslim

month of Ramadan, and celebrated

in homes and mosques

8: Rainbow Cup International

Triathlon (Tobago)

15: Yoruba Village Drum Festival

(Trinidad)

19 (public holiday): Labour Day,

marked by trade union marches

and gatherings in Fyzabad, Trinidad

20 (public holiday): Corpus Christi

Ganga Dhaara (Blanchisseuse,

Trinidad) — Hindu river festival

honouring the descent of India's

sacred River Ganges

WeBeat Festival (St James,

Trinidad)

Tobago Dragon Boat Festival

Junior Tobago Heritage Festival

discovertnt.com

83
---
July

15–1: Tobago Heritage Festival

4–28: Great Fete Weekend (Tobago)

23–31: Trans-Atlantic Expo, International

Market & Trade Exposition (Lidj

Yasu Omowale Emancipation Village,

Trinidad)

Africa Film Festival (Trinidad)

Mango Festival (Trinidad)

Trade & Investment Convention

(Trinidad)

Motor Rally (Tobago)

Opera festival (Trinidad)

Carnival band launch season

begins (through September/

October)

August

1 (public holiday): Emancipation Day

31 (public holiday): Independence

Day — commemorates the islands'

independence from Britain in 1962

Santa Rosa Festival (Trinidad)

Arima Borough Day (Trinidad)

Laventille Steelband Festival (Trinidad)

Oshun River Festival (Trinidad) —

marked by Orisha devotees celebrating

the goddess of love, fertility and inland

waters

Pan on d' Avenue (Woodbrook, Trinidad)

Great Race (from Trinidad to Tobago)

Moruga Heritage Day Festival (Trinidad)

September

24 (public holiday): Republic Day — marks the adoption in 1976 of a new

republican constitution (in which a President replaced the Queen of England as

the head of state, and the islands became a republic within the Commonwealth),

and the first meeting of the republican parliament

trinidad+tobago film festival (ttff) — the Caribbean's second largest festival

devoted to film, showcasing short and feature length productions from the

region and its diaspora, plus industry workshops and training sessions

Hosay (Trinidad)

Angostura Rum Festival (Trinidad)

Trinidad & Tobago Restaurant Week

Maracas Open Water Swim (Trinidad)

84

discovertnt.com
---
Lighting deyas at Divali

October

1–6: Tobago International

Cycling Classic

7–16: Santa Rosa First

People's Heritage Week

TBC (public holiday): Divali

Blue Food Festival (Tobago)

Ramleela Festival (Trinidad)

COCO Dance Festival (Trinidad)

Steelpan & Jazz Festival (Trinidad)

Chinese Arrival Dragon Boat Festival

(Trinidad)

November

Green Screen: The Environmental Film Festival

(Trinidad)

Sailing and surfing seasons begin (through April)

jason audain

December

25 (public holiday): Christmas Day

26 (public holiday): Boxing Day

Paramin Parang Festival (Trinidad)

Assembly Day (Tobago) — Tobagonians' achievements are

celebrated and awarded

Tobago Flying Colours — annual kite flying festival in

Plymouth

discovertnt.com

85
---
Getting to T&T

Scheduled carriers

Aeropostal, Air Canada Rouge, American Airlines, AVIANCA, British Airways, Caribbean Airlines,

Copa, Condor, Conviasa, JetBlue, LIAT, Rutaca Airlines, Surinam Airways, Thomas Cook, United,

Venezolana, Virgin Atlantic, WestJet, and charters

Airports

Trinidad: Piarco International Airport (27km/17 miles from Port of Spain)

Tobago: ANR Robinson International Airport (10km/7 miles from Scarborough)

Entry requirements

A passport valid for three months beyond your intended stay; documentation for return or onward

travel; and a local address (non-residents only). Visas generally not required for visits up to 30 days

Arriving by sea (yachts & sailing boats)

Arriving yachts should have a clearance certificate from the last port of call, and the vessel's

registration certificate (or authorisation for use)

Check in with Customs & Immigration at CrewsInn in Chaguaramas (Trinidad); Scarborough or

Charlotteville (Tobago)

Cruise lines

Carnival, Crystal, Costa, Fred Olsen, Hapag-Lloyd, Holland America, MSC, Oceania Cruises, MV

Adriana, P&O, Princess, Regent Seven Seas, Saga, Seabourn, Silver Whisper, and Viking

rapso imaging

86

discovertnt.com
---
Getting around in T&T

Taxis

NB: Authorised public taxis have licence

plates beginning with "H" (for "Hire") and are

not metered, so confirm the fare in advance

Airport transfers: authorised taxis operate

with a set fares by destination (displayed in

the arrivals area)

Private taxis: available at the airports,

through hotels, and apps like DROP

"Route taxis" (cars registered as taxis) and

maxi-taxis (mini-buses painted with brightly

coloured bands) work specific routes, picking

up and dropping off passengers along

the way. They have designated stands in

Port of Spain, San Fernando, Chaguanas,

Scarborough, and other main towns

Buses

The Public Transport Service Corporation

(PTSC, ptsc.co.tt) operates buses from Port

of Spain to most towns, sometimes on an

"express" basis, and from hubs in Arima,

Chaguanas, San Fernando, and Scarborough.

Tickets ($2–12) or travel cards must

be bought before boarding

Car rentals

Local and international companies operate in

both islands and at both airports

Ferries

Inter-island ferry service (Port of Spain–

Scarborough) operated by Port Authority

(ttitferry.com), with the fastest ferry taking

2.5 hours, and the longest roughly 5 hours.

Tickets: $100 return (adults); $50 (children

under 12); free for children under three,

and senior citizens (65+); and $200 one

way/$350 return for adults travelling with a

vehicle

Trinidad Water Taxi: west coast service

operated by the National Infrastructure

Development Company (nidco.co.tt). Single

journeys: 30–45 minutes. Tickets: $15

(adults). Infants under one and senior

citizens (65+) travel free on off-peak sailings

Air bridge

Caribbean Airlines (625-7200,

caribbean-airlines.com) operates several

flights daily. Tickets: US$48 round trip

(roughly 20 minutes each way)

discovertnt.com

87
---
Money matters

Money: ABMs (ATMs) and credit/debit

cards are routinely used

Currency: Trinidad & Tobago dollar (TT$);

US$1 = approximately TT$6.8 (floating

exchange rate)

Taxes & tipping: 10% room tax + 10% service

at hotels; 12.5% VAT (value added tax)

on most goods and services; 10% service

charge at most restaurants. Tipping optional

but encouraged

Driving

Driving: on the left. Seatbelts are required

by law

Speed limits: between 50kph (31mph) and

100kph (62mph) — be attentive to road

signs

Driving permits: visitors can drive for up to

90 days on a valid foreign licence

Travel basics

Communications

Country phone code: +1 868

Mobile telephones: bmobile and Digicel

SIM cards are available for unlocked, GSM

phones

WiFi: available at several hotspots, hotels,

restaurants, and malls. Some PTSC buses

also provide the facility

Safety

Take practical precautions when travelling: note

emergency numbers; always lock your room/

house/vehicle (including windows); don't wear

expensive jewellery, and conceal/secure valuables;

move in groups where possible; avoid

deserted locations, and be aware of your surroundings.

If you're on the road, buckle up, and

drive defensively

rapso imaging

Utilities

Electricity: 115v/230v, 60Hz

Water: tap water is safe to drink (boil to be

doubly sure); bottled water is widely available

Emergency contacts

Ambulance (public hospitals): 811

Coast Guard: 634-4440, 634-8824, 634-

4439

EMS (emergency medical services): 624-

4343 (north Trinidad), 653-4343 (south/

central Trinidad), 639-4444 (Tobago)

Hyperbaric medical facility (decompression

chamber, Roxborough, Tobago): 660-4744

x3000 or 660-4000

Fire Services: 990

Office of Disaster Preparedness &

Management Emergency: 511 or 640-1285

Police Service: in Trinidad, 999 or 555; in

Tobago, 639-2520 or 639-5590

Tobago Emergency Relief: 211

Tufted coquette

88

discovertnt.com
---
Capital

National capital: Port of Spain

Tobago capital: Scarborough

T&T in a nutshell

Climate

Tropical. Dry season January–May, wet

June–December

Located just south of the hurricane belt

(11°N, 61°W)

Temperature: 72–95°F (22–35°C); average

83°F (29°C)

Highest points

Trinidad: El Cerro del Aripo (940m/3,085ft)

Tobago: Main Ridge (549m/1,860ft)

Size

Trinidad: 4,828km 2 (1,864 sq miles) or 105

x 80km (65 x 50 miles)

Tobago: 300km2 (116 sq miles) or 48 x

16km (30 x 10 miles)

Tobago and Trinidad are 33km (21 miles)

apart

Trinidad is 10km (7 miles) from Venezuela

Time zone

Atlantic Standard Time year-round (GMT/

UTC -4, EST +1)

Government

Trinidad & Tobago is a parliamentary democracy;

elections have been held regularly

since self-government in 1956

President: Paula-Mae Weekes

Prime Minister: Dr Keith Rowley

Ruling party: the People's National Movement

(PNM)

Opposition: United National Congress (UNC)

Opposition leader: Kamla Persad-Bissessar

discovertnt.com

Population & demographics

Population: 1.4 million (Tobago approx

61,000)

Ethnicities: 35% of Indian descent, 34% of

African descent, 23% mixed

Religions: 55% Christian (22% Roman

Catholic), 18% Hindu, 5% Muslim

Urban populations: Port of Spain 37,000

(nearly 600,000 along East-West Corridor

between Chaguaramas and Arima);

Chaguanas 83,000; San Fernando 49,000;

Scarborough 17,000

Official language: English

Economy

Major resources: oil and natural gas

Major industries: petroleum and petroleum

products, liquefied natural gas (LNG), methanol,

ammonia, urea, light manufacturing and

assembly, agriculture, agriprocessing

Major services: tourism, conference and

convention facilities, financial services,

construction, maritime

Key indicators (2018): GDP per capita approx

US$17,000; unemployment rate 3.9%.

The economy contracted by 2.6% for 2017,

and was projected to grow by approximately

1% in 2018.

Sustainable tourism tips

Buy local goods and souvenirs

Recycle plastic, glass, cans, paper, cardboard,

and e-waste through bins at various

locations, or through collections

Reduce: turn off electrical devices when

you don't need them; avoid plastic bags,

single-use plastics, and styrofoam; buy and

consume only what you need; reuse when

you can

89
---
T&T history at a glance

c 15,000–1,000 BC: islands part of South

America; settled by Amerindians or

First Peoples

1498: Christopher Columbus lands in Trinidad

on 31 July, claims island for Spanish

and names it after Catholic Holy Trinity

1596: Tobago claimed by British

1627–1650: Courlanders settle Tobago's west

coast near Plymouth, and Dutch the

east

1699: Trinidad First Peoples rebel against

Capuchin missionaries (Arena Uprising)

1757: Trinidad's Spanish governor moves

capital to Port of Spain from St Joseph

1768–9: first Tobago Assembly established;

Scarborough becomes island's capital

1776: oldest forest reserve in western

hemisphere designated in Tobago

1781: French seize Tobago, convert it to

sugar colony

1783: Spanish governor Chacón's Cedula de

Población entices Catholic white and

free coloured settlers to Trinidad with

land incentives; rapid capitalisation

begins

1797: Trinidad captured by Sir Ralph Abercromby's

British fleet

1801: massive slave uprising in Tobago

quelled

1806: first Chinese workers brought to

Trinidad

1814: Tobago ceded to British under Treaty

of Paris

1816: six companies of free blacks from the

United States (mainly Baptist) settle in

southern Trinidad, and one in Tobago

1834–8: slavery abolished in the British Empire,

leading to apprenticeship (1834)

then emancipation (1838)

1834–1917: indentured labour brought to

Trinidad from other islands, China,

Portugal, Syria, Lebanon, and India

1881: Canboulay Riots in Trinidad, in

response to criminalisation of Carnival

1884: Hosay Riots in Trinidad; Tobago's

sugar industry collapses

1889–98: Tobago annexed to Trinidad

1903: Water Riots in Port of Spain

1908: commercial oil production begins in

southern Trinidad

1914: first calypso recorded in Trinidad

1925: first national elections (limited franchise)

1935–41: first steelpans emerge in Laventille,

Trinidad

90

discovertnt.com
---
1937: oilfield and labour strikes led in southern

Trinidad by Tubal Uriah "Buzz"

Butler

1940: national airline British West Indies Airways

(BWIA) commences operations

1941: Chaguaramas peninsula leased to

United States for 99 years

1945: public emergence of steelbands (V

Day celebrations); universal suffrage

implemented

1951: repeal of ordinance prohibiting activities

of Spiritual "Shouter" Baptist faith

1956: islands win self-government

1958: islands join Federation of West Indies

1960: Trinidad campus of University of the

West Indies (UWI) established

1962: islands leave Federation, gain independence

from Britain; Dr Eric Williams

becomes first prime minister

1963: Hurricane Flora devastates Tobago;

Chaguaramas returned to Trinidadian

control

1970: "Black Power" uprising in Trinidad

1974: Garfield Blackman (Ras Shorty I)

releases first soca album

1976: islands become a republic in the Commonwealth

1981: George Chambers (PNM) becomes

prime minister

1983: oil prices fall, crippling local economy

1986: National Alliance for Reconstruction

(NAR) unseats PNM in national

elections; Tobagonian ANR Robinson

becomes prime minister

1990: attempted coup by Jamaat al Muslimeen

1995: coalition government between United

National Congress (UNC) and NAR

unseats the PNM; Basdeo Panday

becomes prime minister

2007: Caribbean Airlines replaces BWIA as

national carrier; record oil prices fuel

economic boom

2010: UNC-led coalition government

(People's Partnership) ousts PNM at

general and local elections under first

female prime minister, Kamla Persad-

Bissessar

2015: oil prices crash, causing economic

slowdown; PNM, under Dr Keith

Rowley, wins general elections

2018: Paula-Mae Weeks becomes the country's

first female president

rapso imaging

discovertnt.com

Yachts anchored in Chaguaramas

91
---
A glass-bottom boat leaves for

Buccoo Reef and the Nylon Pool

ziad joseph

94

discovertnt.com
---
DISCOVER, EXPLORE, DREAM

Discover the beautiful and unique Island of Tobago.

Discover the beautiful rainforest, natural waterfalls, Nylon pool and so much more.

Discover nature at its finest with rare and beautiful orchids, butterflies, and birds.

Discover relaxation at one of our three pools, beach, spa and fitness center.

Discover new and delicious food selections at one our three restaurants and cafe.

Discover Magdalena Grand Beach & Golf Resort, Tobago's fi nest oceanfront resort.

Tobago Plantations Estate, Lowlands, Tobago, Trinidad & Tobago, West Indies

Phone: 868-660-8500 • info@MagdalenaGrand.com

W W W.MAG DA L E N AGRAND.COM
---
Tobago

— the unspoilt paradise

Welcome to the beautiful island

of Tobago! Whether you are

visiting us for a romantic getaway,

a family adventure, attending

a special event, or simply a vacation away

from your daily hassle, we are delighted you have

chosen to spend some quality time with us in the

"Capital of Paradise".

Our clean, green, safe, and serene island

possesses an abundance of natural, historical,

and cultural attractions that satisfy the discerning

tastes of contemporary travellers seeking

authentic, distinctive, indigenous experiences.

If your passion is diving, you are sure to be

drawn to the colourful marine life in our magnificent

underwater realm. If you are an outdoor

enthusiast, the serene and beautiful Main

Ridge Forest Reserve invites you to explore its

pristine nature trails and marvel at exotic flora

and fauna. If our clear sparkling waters entice

you, then engage your adventurous side with

exciting watersports, or simply soak up the

sun in peaceful tranquillity on our uncrowded

beaches.

Tobago is also famous for hosting yearround

festivals and activities that cater to a

variety of tastes: Tobago Jazz Experience,

Tobago Heritage Festival, Tobago Blue Food

Festival, and Goat & Crab Racing Festival, just

to name a few.

With a colourful and vibrant history, Tobago

is a gem of culture and historic diversity that

brims with adventure. Whatever your pleasure,

you are far more likely to run short of time than

things to do in Destination Tobago.

— The Division of Tourism, Culture &

Transportation

courtesy tdc

Beautiful Buccoo beach

96

discovertnt.com
---
EDITOR'S PICKS

Where to stay

Around Crown Point &

Scarborough

Check out the lovely Bananaquit Apartments

(self-catering studios and lofts);

Kariwak Holistic Haven (for yoga, natural

living, and absolutely delicious food); Fountain

Court Apartments (self-catering apartments); the

intimate Sunspree Resort (with pool, restaurant,

and bar); Belleviste Apartments; the Coco Reef

Resort & Spa (all-inclusive); Crown Point Hotel;

Sandy Point; and Tropikist Beach Hotel & Resort

(all-inclusive).

courtesy kariwak holistic haven

98

discovertnt.com
---
Bananaquit

APARTMENTS TOBAGO

Studios and Family Apartments

close to airport and beaches

• restaurant

• kitchenettes

• air conditioning

• cable tv

• free wifi

• regular

cleaning

service

R ESORT

L T D

868 368 3539

bananaquit.tobago@gmail.com

www.bananaquit.com

R ESORT

L T D

An Oasis of Serenity

Pantone Reflex Blue U

YELLOW

Plantation Beach Villas

Ideal for families,

reunions and intimate weddings

Tel: (868) 639-9377 | Black Rock, Tobago

www.plantationbeachvillas.com | info@plantationbeachvillas.com

discovertnt.com

99
---
Lowlands

Off the Milford Road, find the stunning grounds

of the Tobago Plantations development. This is

home to the Magdalena Grand Beach & Golf

Resort (all-inclusive options, three pools, a kids

club, several celebrated restaurants, a golf

course, and a windswept beachfront where turtles

nest in season); and the Sugar Mill Suites,

offering bungalows, condos, and villas.

courtesy magdalena grand beach & golf resort

Rooms and apartments overlooking

beach, close to Buccoo Reef and airport

One And Two Bedroom Apartments • Kitchen

Dining Room • Living Room • Bathroom

Washer, Dryer And Iron

Fully Air Conditioned • Office for Computer Access

Free Wifi • Spacious Parking • Pool Area

• Luvinia's Seafood & Steak Restaurant •

• Air conditioning, cable TV •

• Free WiFi •

• Regular cleaning service •

100

#47C Store Bay Feeder Road

Crown Point Tobago W.I.

Tel. 1 (868) 479-2075 • Tel. 1 (868) 743-2753

Email. renatheone@hotmail.com

discovertnt.com

office@millersguesthouse.com

Tel: (868) 660 8371

Buccoo Point, Tobago
---
discovertnt.com

101
---
Caribbean coast

You'll want to check out the rustic and charming

Miller's Guest House in Buccoo (with an

on-site restaurant); the Mt Irvine Bay Resort;

and — all around Black Rock, a popular site

for leatherback turtle nesting, in season — the

beautiful and luxurious Plantation Beach Villas,

and the Seahorse Inn (both with direct

access to Stonehaven Bay); Turtle Beach by

Rex Resorts (right on Great Courtland Bay);

Birdie's Nest; Le Grand Courland Resort &

Spa (adults only); and Hibiscus Heights are

ever-popular choices, while the opulent, fullservice

Villas at Stonehaven are perched on

a hill with magnificent ocean views and lovely

landscaped grounds.

Green retreats

A few of the properties keeping the environment

top of mind — Castara Retreats and

Naturalist Beach Resort (also in Castara);

Cuffie River Nature Resort (near Runnemede);

Adventure Eco Villas and Top o' Tobago (in the

hills above Arnos Vale); Footprints Eco Resort

(Culloden); Villa Being (Arnos Vale); and for

divers and birders, Blue Waters Inn and Top

Rankin Guesthouse (Speyside).

Castara Retreats

ALEX TREADWAY, COURTESY CASTARA RETREATS

102

discovertnt.com
---
courtesy caribbean estates, lands and villas

Buy your place in the sun

Looking to buy your own piece of Tobago paradise?

Check out premier agents like Abraham Tobago

Realty and Caribbean Estates, Lands & Villas.

STUNNING BEACHFRONT PROPERTIES FOR SALE

Beautiful Homes & Land for sale

Vacation Villa Rentals

Whether you desire a luxury ocean

front villa or a small retirement

cottage… or simply wish to spend

your vacation in paradise, we'll find

"your place in the sun"

www.abrahamrealty.com

Email: abrahamrealty@gmail.com

Tel: 868-639-3325

discovertnt.com

103
---
Shopping

& Leisure

Spas

re to stay

EM Karuna/shutterstock.com

If you're in the market for self-care, you'll want to take in

what's on offer at French Secrets Tobago Day Spa; Silk

Cotton Holiday Home & Wellness Centre; and Kariwak

Holistic Haven.

104

discovertnt.com
---
apso imaging

Shopping

For most of your shopping needs, head to the Gulf City

Lowlands Mall, or the plazas in Crown Point like Shirvan

Town Plaza, Milford Bay Plaza, Buccoo Town Centre, and

Shoppes@Westcity. Make sure to visit Peeping Fish for all

of your beach and holiday wear needs. There are also craft

stalls at many beaches, including Store Bay. Please don't

buy anything made from endangered or environmentally

sensitive species (eg coral, sea turtles, conch, some snakes,

some birds).

SWIMWEAR • FOOTWEAR • SURF GEAR

12 Mucurapo Rd.

St. James, Trinidad

Mon-Fri: 10am - 6pm

Sat: 10am - 5pm

D'Colosseum Mall,

Crown Point, Tobago

Mon-Sat: 10am - 6pm

Tel: 1 (868) 639-8666

Shoppes @ Westcity,

Canaan, Tobago

Mon-Sat: 10am - 6pm

Tel: 1 (868) 631-0263

discovertnt.com

105
---
Aisha Sylvester

— off the beaten path

Her favourite beaches, sightseeing, and

waterfall adventures

QA &

Aisha

travel blogger & marketer

What are your favourite places or experiences in Tobago?

Tobago might be small but there are so

many places to see, things to do. I love

getting into my car with no plan, and

veering off the main roads just to see what's

there, and I get so excited when "what's there"

turns out to be amazing.

My favourite road trip route is along the

Northside Road. My must-do stops on this route

include the lookout above Castara, where you

can soak up a gorgeous view of the beach and

the village; Castara Waterfall; Englishman's

Bay; Glasgow's Bar for a drink and that postcard

perfect view of Parlatuvier Bay; and my go-to

lunch spot, the open deck at Sunshine Café.

Englishman's Bay

rapso imaging

106

discovertnt.com
---
sherridan kirk courtesy Aisha Sylvester

What day/half-day trips or

tours would you recommend?

I highly recommend a coastal cruise. They usually last around eight hours, and include snorkelling

at Arnos Vale reef; swimming at Cotton Bay, a lovely beach that's only accessible by boat;

a delicious local lunch on No Man's Land; and, of course, a mandatory dip in the Nylon Pool.

Pirate's Bay

There are many reasons to love Pirate's

Bay — ideal water conditions

topping the list — but the thing I love

most is getting there. To approach

the beach by boat is to get a unique

view of Charlotteville's lush coastline

while riding high on the waves. On

the other hand, descending the stairs

through the tall trees and lush vegetation

leaves you in awe of the island's

diverse flora.

What are your favourite

beaches?

I'm yet to encounter a beach in Tobago that

I didn't like. But I absolutely love Buccoo

beach, Englishman's Bay, and Pirate's Bay. I

hate crowds, and all three of these offer pristine

stretches of coastline without the clutter.

Castara Bay, Richmond Bay, and King Peter's

Bay are all lovely beaches that allow visitors to

feel like they're truly connecting with nature.

No loud music, no modern infrastructure, and

no crowds — just the sound of the waves and

wildlife.

discovertnt.com

107
---
EDITOR'S PICK

Being With Horses

If you love animals, the sea,

and have a soft spot for

rescued horses with moving

back-stories, then you'll

want to check out Being

With Horses. They offer

sunset swim-ride sessions,

trail rides, picnic rides,

and horseback weddings.

being-with-horses.com,

639-0953

piotr andrews

What makes the

island special?

A large part of Tobago's

charm is its ability to bring

people closer to nature. Even

if you're staying in more developed

areas, you can find

yourself almost completely

off the grid and on a mini

adventure in a matter of

minutes! Whether your preference

is trekking through

the jungle or snorkelling at

a reef; diving a shipwreck

or ATV-ing up a mountainside,

Tobago offers such a

wide variety of eco activities

that anyone who loves being

outdoors will be able to find

something that piques their

interest.

What are your favourite hikes

or waterfall treks?

I'd recommend Argyle Waterfall, the highest and most popular

waterfall on the island (admission $60 adults, $30 children,

660-4152).

For those who prefer a low impact trek but don't mind

manoeuvring through thick bushes, the journey to Twin River

Falls in the Pembroke forest is a bit long, but quite easy.

No hills, no cliffs, just an overgrown trail and the occasional

stream-crossing. And for people who want to venture off the

beaten path without exerting too much energy, a stone's throw

off the Northside Road is Castara Waterfall; or take a threeminute

stroll for a dip in the two pools of Parlatuvier Waterfall.

The trail to Highland Waterfall in Moriah is one I would

highly recommend. It's of moderate difficulty with a few tricky

spots along the way, but if I can do it with a smile on my face,

anyone can! I honestly consider it to be the most breathtaking

waterfall on the island. While other waterfalls occur in steps or

layers, Highland is one continuous drop with a powerful flow.

108

discovertnt.com
---
endan delzin

discovertnt.com

Highland Waterfall in Moriah

109
---
Pigeon Point jetty

rapso imaging

EDITOR'S TIP

Tour operators

You can find listings of tour guides and operators at visittobago.gov.tt

and touroperatorsassociationtt.com, and many hotels and guesthouses

should also be able to help you choose the best provider for your

needs. Harris Jungle Tours, Kelton Thomas, Newton George, Eureka

Natural History Tours, Unique Tours Tobago, and Waterholics are

among the most notable, or you could rent a car from outfits like

Econo Car and go exploring on your own!

• JETSKIS • BANANA BOAT ATTACK

• COASTLINE / DOLPHIN WATCHING /

SNORKELLING TOUR

• GLASS BOTTOM BOAT TOUR

• BUCCOO REEF AND BBQ

• SUNSET CRUISE AND BONFIRE

• PIRATE'S BAY / LOVER'S BAY

(ISLAND TOUR) ... And more!

Tel: 868.639.8822 • Mobile: 868.688.7669 | 868.377.7668

tobagowaterholics @waterholicstobago @waterholics

Email: tobagowaterholics@gmail.com

110

discovertnt.com
---
EDITOR'S PICKS

More beach escapes

If you prefer the creature comforts of the

more developed (and sometimes crowded)

beachfronts, check out Pigeon Point in the

southwest, with its much-photographed jetty, delicious

food offerings, and array of watersports

(entrance fee: $20).

Store Bay, right near the airport, is a tiny

but stunning beach, and the launch pad for

glass-bottom boat tours to Buccoo Reef and

the Nylon Pool. Don't miss the delicious dishes

in the on-site food court and craft stalls selling

fantastic souvenirs.

You also can't go wrong with the beauty

of Bloody Bay and Parlatuvier Bay further

up the Caribbean coast, or Speyside and Batteaux

Bay up in the northeast. Glass-bottom

boats leave here for tours of Angel Reef and

Little Tobago (a must for birders).

Turtle magic on the beach…

Each March –September,

add this magical ancient

sea ritual to your itinerary

— it is humbling and inspiring

to witness.

Each season, five species of

marine turtles (in particular the

giant, endangered leatherback;

hawksbill; and green) come ashore

to nest. Their adorable offspring

hatch 6–8 weeks later (starting in

June), and make a mad dash for

the open sea. All (and their eggs)

are vulnerable, and consequently

legally protected.

While many of Tobago's beaches

see nesting turtles each year,

leatherbacks come ashore primarily

on the southwestern coast, and

hawksbills on the southeast.

For further information and

free guided tours contact SOS

Tobago (Save Our Sea Turtles:

sos-tobago.org, 328-7351), or a

reputable tour guide.

Green turtle at Speyside

Remember:

Do not touch or disturb nesting turtles or hatchlings

(including by using flash photography)

Do not drive on nesting beaches — the weight of

the vehicle can crush eggs buried in the sand.

discovertnt.com

rapso imaging

111
---
Duane Kenny

— ocean adventurer

QA &

Duane

tour & villa rental operator

courtesy duane kenny

What are your favourite

watersports activities in Tobago? How

can visitors get involved?

What are your

favourite beaches?

Mt Irvine for waves, Pirate's

Bay for beauty and secret

snorkelling spots.

112

Surfing, stand up paddle, and snorkelling (snorkeltobago.com).

Surfing is my passion and it trumps everything I have ever

done. The feeling you get from riding a wave, the connection

with nature, and the friends you make along the way are why

I love it. Anybody can surf, they just have to want to get wet

and have fun. There are a few instructors in the island, and I'm

happy to teach visitors as well.

discovertnt.com
---
What makes the

island special?

Uncrowded locations that

cater to almost every type of

eco adventure lover — coral

reefs, the oldest protected

rainforest in the western

hemisphere, waterfalls … All

you need is an adventurous

spirit and a good guide.

What sites and experiences do you most

recommend?

We offer a night tour — our Bioluminescence Tour (standuppaddletobago.com,

681-4741) — where we kayak or stand up

paddle into a lagoon with glowing plankton. It's like the aurora

borealis in the sea. It requires a little fitness, but it is one of

those experiences you will remember for the rest of your life.

Best time of year is the rainy season, but we get good bio all

year round.

If rainforest and birds are your thing, definitely check out

the rainforest with a guide. If you like hidden beaches, hire

a fisherman in Charlotteville to take you out to see Pirate's

Bay, and Lovers Bay. The guide is the key to really unlock the

secrets of these locations.

The coral reef at Cotton Bay,

accessible only by sea

brendan delzin

discovertnt.com

113
---
EDITOR'S PICKS

Boons for birders &

nature lovers

Corbin Local Wildlife Park

(Mason Hall)

Conservationist Roy Corbin has built a wildlife

sanctuary that houses many of Tobago's endangered

animals for reintroduction into the

wild — boa constrictors, agoutis (including a

rare albino), opossums, green iguanas, collared

peccary (nearly extinct in Tobago), and

the spectacled caiman.

tobagowildlife.com, 327-4182

Tobago Cocoa Estate

(Roxborough)

Sold by Fortnum & Mason's in the UK, Tobago

Cocoa Estate's chocolate is made exclusively

from our highly acclaimed Trinitario beans.

Scheduled tours operate. tobagococoa.com,

390-2021

… And great fun for the whole family!

Little Tobago

(off Speyside)

An absolute must for birders, this remote little

island is where Sir David Attenborough filmed

frigatebirds hijacking tropicbirds for their fish

in mid-air. You can take a glass-bottomed boat

from Blue Waters Inn (Speyside), and on the

way you can stop off to see the brain coral

and the Japanese Gardens. In fact, Angel

Reef is perhaps the island's finest coral reef.

rapso imaging

Green iguana

114

discovertnt.com
---
apso imgaging

Barred antshrike

rapso imaging

Trinidad motmot

discovertnt.com

115
---
apso imaging

RAPSO IMAGING

Adventure Farm & Nature

Reserve (Arnos Vale)

In this haven of sustainable tourism, nothing is

wasted and 52 species of birds can be seen.

Herbs from the garden are used to prepare

meals. Everything is powered by solar energy.

Open from 7am Monday–Saturday,

639-2839

Left: white-tailed sabrewing

Above: Main Ridge Forest Reserve

Main Ridge Forest Reserve

The Main Ridge is the backbone of Tobago, a

spine that runs across two thirds of its surface

to a height of 876m (1,890ft). This 14,000-

acre reserve, protected since 1776 and the

oldest in the western hemisphere, is home to

210 species of birds, including the rare whitetailed

sabrewing hummingbird, which is endemic

to Tobago. The reserve's 10,000 acres

of evergreen rainforest have been designated

by UNESCO as being of Outstanding Universal

Value. The most famous of the trails is Gilpin

Trace (5km). Other popular treks are the Atlantic,

Blue Copper, and Niplig trails.

116

discovertnt.com
---
Cuffie River Nature Retreat

(Runnemede)

A popular base for birders (up to 80 species

sighted) and nature lovers, the familyrun

eco-lodge is remote yet modern and a

pioneer in sustainable tourism. You can go

on nature hikes with a very knowledgeable

guide who will explain everything about the

island's birds, agriculture, wildlife, and medicinal

plants. cuffie-river.com, 660-0505

rapso imaging

discovertnt.com

117
---
Derek Chung

— diving guide

QA &

DEREK

dive operator & instructor

What are the diving conditions

like in Tobago?

If someone has never been

diving before, what do they

need to get started?

Try a Discover Scuba Diving course,

which provides a diving experience

comprising a short DVD presentation,

basic skill development and an instructor-guided

dive on a shallow coral reef. This course only

takes a few hours and is open to anyone over 10

years of age. Don't worry if you are not a strong

swimmer as this isn't a requirement.

Tobago's diving conditions vary depending on

the season. Water temperature averages 81–

82°F (27 –28°C) for most of the year and can

drop to 79°F (26°C) during January and February.

Visibility ranges 10–35m (33–115ft),

with the average in the south being 18m (59ft)

and 27m (89ft) in the north. It's important to

note that while Tobago has gained a reputation

for currents and drift diving, there are many

sites with little or no currents which are suitable

for novice divers.

courtesy undersea tobago

118

discovertnt.com
---
courtesy undersea tobago

What's the best time of year, if

any, to go diving?

The best time of year for visibility would be

November–May although fish activity remains

consistent year round.

How is Tobago different from

other Caribbean locations?

Typically Tobago does not enjoy the water

clarity of her more northerly Caribbean

neighbours due to the influence of the Orinoco

River in Venezuela. However, this also gives

Tobago greater density and diversity of both

coral reefs and marine life, trading a bit of

visibility for more nutrient-rich waters.

What can people expect to

see on a dive?

You'll find all the colourful Caribbean fish that

live on coral reefs together with moray eels,

octopi, batfishes, stingrays, sharks, eagle

rays, barracuda, and turtles — which are always

a big favourite!

Where are some of best dive

sites around Tobago?

Mt Irvine Wall and Arnos Vale Reef (for beginners);

Flying Reef, Castara Reef, Keleston

Drain, and Japanese Gardens (intermediate);

Maverick Wreck, Diver's Thirst, Bookends,

Picker, and Diver's Dream (advanced).

discovertnt.com

119
---
EDITOR'S TIPS

Diving sites & sights

More than 60 dive sites — from easy

to expert — await the diving enthusiast:

fringing reefs, bank reefs, patch reefs,

outcrops, pillars and headlands

These sites attract tiger, bull, nurse,

reef, blacktip, hammerhead, lemon, and

whale sharks; stingrays and manta rays;

and a host of colourful tropical fish!

Average costs

Discover Scuba Diving PADI course: US$95

Single dives trips: US$50–$80

Two-dive morning trip (for certified divers):

US$95–US$125 (inclusive of equipment hire).

Most also have packages for six or 10 dives

Snorkelling trip: starting at US$20

Contact Undersea Tobago (underseatobago.com,

680-4209), or a member of

the Association of Tobago Dive Operators

(tobagoscubadiving.com) for more.

Aisha

travel blogger & marketer

My favourite dive on the island

is the Maverick, a purposesunk

wreck off the coast of Mt Irvine.

It's the perfect example of man and

nature working together to create

something positive, unique, and sustainable.

Over the course of two decades,

coral formations have covered

the frame of the ship almost completely,

creating a home for various forms of

marine life, and it's always amazing to

watch them exist within and around this

man-made structure.

Coco Reef Resort • Magdalena Grand Beach Resort

• Mt Irvine Resort

Tel: 868.631.2626 • E: dive@underseatobago.com

www.underseatobago.com

120

discovertnt.com
---
Jared Prima

— an eye for culture &

festivals

QA &

Jared

aCTor, writer & director

Which Tobagonian festivals

are the most special for you?

It's a tough choice but the Tobago Heritage

Festival (mid-July to 1 August) would be my

favourite. This is a two-week festival which

presents all of Tobago's history and traditions to

a viewing audience. It takes patrons to the various

villages to engage in the practices of my elders

and ancestors. This festival is also ripe with

stories, characters, even superstitions that would

be fuel to any Caribbean writer and filmmaker

like me. In 2018, visitors tasted traditional foods

and learnt to make some of our sweets; children

enjoyed tours all over Tobago and pulled seine,

learnt dances and songs; patrons were able to

come dressed in wedding wear and be part of

the Tobago Ole Time Wedding procession. This

time of year is the one time to put a Tobagonian

stamp in your passport and to lose yourselves in

our rich cultural history.

What are your favourite heritage

sites and experiences?

Beyond the beaches, we have our Mystery

Tombstone (Plymouth) with such a cryptic

inscription that it baffles and intrigues tourists.

We have massive silk cotton trees, but

they must be visited after hearing all the stories

of their mystical power! Then, it would

be remiss of me not to advocate for visitors

to go to Charlotteville and escape into a

new world, right on the island. Driving down

into the village is like entering a whole new

paradise. The people, the beautiful beaches

and landscapes, the food! It is definitely a trip

worth making.

courtesy THA

discovertnt.com

121
---
Tell us about Tobago

Carnival

Carnival in Tobago is not as massive as it

is in Trinidad. It is a more intimate display

that focuses more on traditional mas and

J'Ouvert. There is also a massive upsurge

in the number of mud mas players on Carnival

Tuesday — it seems that Tobago is now

the place to come play mud mas!

You can catch goat racing action at

Easter time and during the Heritage

Festival each July

What do you recommend for

live arts and entertainment?

Performances may be more prevalent during

one of the festivals on the island, but during

cruise season (November–April), characters

and other performers can be seen lining the

streets in Scarborough and Crown Point dancing

and entertaining all visitors. The Tobago

THETA Company, one of Tobago's most creative

and dynamic performance companies,

usually posts information on their Facebook

page about their pop-up performances, living

museums, and plays at various spots on the

island.

courtesy THA

122

discovertnt.com
---
The Heritage Festival's Ole Time

Wedding procession in Moriah

courtesy THA

discovertnt.com

123
---
EDITOR'S PICKS

Blue Food Festival

Dasheen and other root crops take centre

stage each October in Bloody Bay, L'Anse

Fourmi, and Parlatuvier as these villages

pay homage to the versatility and utility of

"blue food". Some varieties of dasheen can

turn blue or indigo when cooked, hence the

term — which now is used to describe all

root crops. For the festival, all of the dasheen

plant is used to prepare bread, cookies and

sweets, ice-cream, and even lasagne!

Dragon Boat Festival

Each June at Pigeon Point, senior and junior

teams from T&T compete over a weekend

for dragon boating supremacy. Count on

good food and music too.

More highlights of the festival calendar

Goat & Crab Racing Festival

Prized goats and crabs compete down a

special 110m (360ft) track to the finish line,

hustled on by barefoot "jockeys" who sprint

behind their charges, holding the colourfully

attired goats on long ropes, and the crabs on

short strings. The showdown happens each

Easter Monday and Tuesday at Mt Pleasant

and Buccoo (the main location). There's a

repeat at the Heritage Festival.

Great Fete Weekend

This annual party fest takes place in late July/

early August. Five straight nights of partying

until dawn at Pigeon Point and other locations,

with DJs, sound systems, and live entertainment.

Be mindful of turtles and turtle nests as

you party!

Daniel Knecht, courtesy Tobago Mountain Bike Tours

May MTB Madness attracts mountain

bikers from around the world

rapso imaging

124

discovertnt.com
---
Great Race

First held in 1969, each August this

speedboat race (about 185km/115

miles) starts at the Port of Spain waterfront

early in the morning and ends

in Scarborough two to three hours later.

Naturally, a rollicking beach party

ensues.

courtesy tha

Harvest festivals

One Sunday each month, one or more

villages in Tobago host a Harvest Festival.

Once an annual thanksgiving for

the year's harvest, in many ways these

vibrant celebrations are the core of

community life. Days begin with church

services, followed by preparing and

feasting on delicious local dishes.

Tobago Jazz Experience

Each April, jazz takes over with events

(some free) in Speyside, Signal Hill, Scarborough,

Castara, and Pigeon Point. The

event showcases some of the best in local

and regional music alongside international

stars.

discovertnt.com 125
---
The best dining

spots & hangouts

Roundtable

Aisha

travel blogger &

marketer

erwinova/shutterstock.com

My absolute favourite restaurant on the

island is Seahorse Inn, Restaurant & Bar.

The food there is impeccable and consistent.

Dinner there is always a treat because you get

to dine in the beautiful, rustic, well-appointed

open-air dining area and listen to the waves

crashing nearby. My favourite meal on the

menu is the lamb (yum!) and I'm obsessed

with their pineapple cheesecake.

My favourite bar on the island is

Glasgow Bar in Parlatuvier. Bago Bar on

the drive to Pigeon Point, as well as Renmar's

inside Pigeon Point Heritage Park,

are great options. Waves at Grafton has

a great location and the perfect beach

vibe. If I'm going for a more refined experience,

I head to Time to Wine in Shirvan

Plaza; the decor is rustic-meets-trendy

and you can enjoy a glass/bottle of wine

and cheese platter all for a great price.

Other favourite spots of mine

are: The Fish Pot in Black Rock, where

you get delicious seafood and the best

coconut cream cheesecake I've ever

tasted; Jemma's Treehouse Restaurant in

Speyside where you can get a delicious

spread of local dishes, including their

amazing breadfruit pie; Traditions Bar at

Pigeon Point where I've eaten the best

curry and paratha on the island (seriously);

Suckhole in Charlotteville; and

Sunshine Café in Bloody Bay — on Sundays

she offers up a Sunday spread that

includes some of the best curried shrimp

I've ever tasted!

126

discovertnt.com

Pan-fried snapper with tempura

vegetables and herb topping
---
zi3000/shutterstock.com

Jared

aCTor, writer & director

Skewers of grilled vegetables and meat.

I like Café Bistro on

Store Bay Local Road; Bar-

Code Sports Bar in Scarborough;

and Overhang Bar at

Crown Point, which has a nice

kerbside grill. Honourable

mention: Fairways Restaurant

& Golf Lounge at Tobago Plantations

is good!

Franka & Ardene

journalists & media

entrepreneurs

La Tartaruga is the best

for fine Italian dining. Also

check out Shore Things Café

& Crafts — the cake is great.

Hit Store Bay for some of the

best curried crab and dumpling

as well as the coocoo and

callaloo with ground provisions

(yeah, it's heavy on the

carbs but worth it!).

discovertnt.com

127
---
Duane

tour & villa rental

operator

courtesy tdc

Crab, callaloo and coocoo is a signature

Tobagonian dish

These days fresh fish cooked with

friends on a beach is my favourite, but small

restaurants like Shore Things in Lambeau,

Caribbean Kitchen in Castara, or Suckhole

in Charlotteville are my favourites. You can't

miss Tobago Chocolate Delights at Shore

Things, if you are a chocolate fan. Sunset

beers at Surfers Restaurant & Bar on Mt

Irvine, and later that night Revs Steakhouse

& Bar is my go-to.

T HE S EAHORSE I NN

R estaurant & Bar

BEACHSIDE DINING AT ITS BEST

Grafton Beach Road, Black Rock

Tobago

(868) 639 0686

seahorseinntobago@gmail.com

WWW.SEAHORSETOBAGO.COM

128

discovertnt.com
---
FULL SERVICE

WEDDING AND

EVENT CATERING

HORS D'OEUVRES

DINNER

DESSERT

WEDDING CAKE

868.790.8030

niceandsweettgo@gmail.com

www.niceandsweettgo.com

niceandsweettgo

discovertnt.com

129
---
Nigel

music journalist & businessman

Jade Monkey and The

Shade are all-night spaces

that revel in the energy that

comes alive at night. Island

Crashers Festival in Pigeon

Point is a secret no more,

and a must-do fete for a

younger cohort.

EDITOR'S TIPS

More dining options

Check out Skewers (a halal Middle Eastern grill with a

Trini flavour), Rooster's for yummy fried chicken, and Il

Portico Italian Pizzeria for delicious pizza (all in Crown

Point); and Bake my Day in Shirvan Plaza for soups, salads,

sandwiches, and delicious desserts. If you're looking

to have an event catered, make sure to check Kerry's

(niceandsweettgo.com)!

More liming options

Keep an eye out for what's on at the Shaw Park Complex

(shaw-park.org), and check out Dream Nightlife (Scarborough)

— the new club on the block! You'll also be able

to catch the latest films at MovieTowne in Lowlands; live

music at various hotels; and the infamous Sunday School

street party, every Sunday night in Buccoo from 9pm.

Roosserie & Grill PLUS

Roosserie Chicken

Pork Chops | Baby Back Ribs

Garlic Chicken | BBQ Pigtail

Grilled Fish | Jerk Wings

Buffalo Wings

and more

Located at Pelican Plaza,

Milford Road, Crown Point,

Tobago, W.I.

Tel. (868) 639-8563

Sister outlets

ANR Robinson airport

639 5000

Shirvan Plaza

631 1000

130

discovertnt.com
---
Laura

lifestyle journalist & editor

Tobago (not Trinidad)

is where the top parties take

place during the year: Island

Crashers, three days of parties

targeted to the 16–24

crowd, and Great Fete weekend

which sees performances

by top local, regional, and

international acts. A great

Ash Wednesday cool down is

Candy Coated's Blush.

courtesy candy coated events

discovertnt.com

131
---
Map Key (applies to all maps)

Police Station

Gas Station

Waterfall

Hospital

Bird Watching

Sailing & boat tours

Turtle Nesting

Golf Course

Fort

Shopping Centre

Scuba Diving

Airport

Lighthouse

Place of interest

Surfing

Beach with

Restrooms

Food Available

Swamp

Caves

Highway

Museum

Planned

Highway

Lifeguard on Duty

Major roadway

Englishman's Bay

Parlatu

Ba

Castara Bay

Parr

King Peter's Bay

Castara

Store Bay

Ft Milford

Pigeon Pt

Crown Point

BUCCOO REEF &

NYLON POOL

Bon Accord

Lagoon

N

Buccoo

Bay

Milford Rd

ANR Robinson

Intl Airport

Stonehaven Bay

Mt Irvine Bay

Canoe Bay

Turtle Beach

Great Courland Bay

n R d

Sh irv a

Ft Bennett

Mt Irvine

Buccoo

Gulf City

Arnos Vale Bay

LOWLANDS

Black Rock

Grafton Sanctuary

Patience Hill

Signal Hill

Plymouth

Bethel

Claude Noel Highway

Culloden Bay

Arnos

Vale

Plymouth Rd

Lambeau

Little Rockly

Bay

Culloden

Les Coteaux

Adventure

Farm & Nature

Reserve

Rockly

Bay

Northside Rd

Scarborough

Mall

Moriah

Mason Hall

Runnemede

Craig Hall

Ft King George

Bacolet Bay

Bacolet Point

Mt Dillon

Mt St George

Cuffie River Nature

Retreat

Barbados Bay

SCARBOROUGH

Hill

132

discovertnt.com
---
St Giles Islands

Sisters

Rocks

Man-o'-

War Bay

Pirate's

Bay

Flagstaff Hill

vier

y

ot Hill

sborough Dam

Bloody Bay

Parlatuvier

MAIN RIDGE FOREST RESERVE

Pembroke

Rainbow

Waterfall

Glamorgan

Richmond

L'Anse Fourmi

Argyle

Roxborough

Falls

Bellevue

Belle Garden

Prince's Bay

Richmond

Great House

Carapuse Bay

W i n d w a r d R d

King's Bay

Delaford

Richmond

Island

Tobago

Cocoa

Estate

Charlotteville

King's Bay

Delaford

Bay

Speyside

Blue

Waters

Tyrrel's

Bay

Goat

Island

Little Tobago

Goldsborough

Goodwood

Pinfold Bay

Granby Point

Tobago

discovertnt.com

133
---
eyond ordinary...

...Explore the extraordinary Caribbean island.

Unspoilt, untouched, undiscovered Tobago

TobagoBeyond.com | #101ReasonsTobago