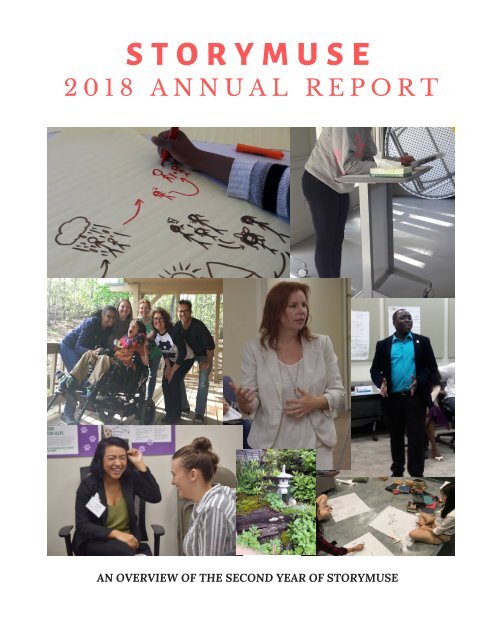 StoryMuse 2018 Annual Report
An overview of StoryMuse LLC's second year of projects, partnerships, and activities.
An overview of StoryMuse LLC's second year of projects, partnerships, and activities.
SHOW MORE
SHOW LESS
Create successful ePaper yourself
Turn your PDF publications into a flip-book with our unique Google optimized e-Paper software.
S T O R Y M U S E

2 0 1 8 A N N U A L R E P O R T

AN OVERVIEW OF THE SECOND YEAR OF STORYMUSE
---
Issue 2

S T O R Y M U S I N G S

Two years. It's so hard to

believe it's been two years since

StoryMuse came to be. This one

has certainly been a whirlwind.

I called Year One an

experiment. I didn't want to feel

bad if it didn't work out.

In the proverbial "sophomore

year," StoryMuse grew to a level

of certain sustainability,

developed new partnerships,

and took advisable risks.

I feel so proud of all that was

accomplished.

C O N T E N T S

03 By the Numbers

04 GCDD Storytelling Project

05 Devereux

06 Workshops & Residencies

07 Fun

08 The Big Next
---
26

Year 2

B Y T H E

N U M B E R S

GCDD Storytelling Project

62 Stories

74,400 Words

Workshops

28 Workshops

330 Participants

Individual Coaching

119 Hours of Coaching

42 Clients/Participants

Keynotes/Panels

4 Speaking Engagements
---
P A R T N E R S H I P S

Georgia Storytelling Project

commissioned by the

Georgia Council on Developmental Disabilities

In late 2017, just as I was closing out the first

year, StoryMuse landed its first major,

sustaining contract. I've spent all of 2018

traveling the state of Georgia as part of a

team, collecting 75 stories that represent the

experience of individuals living with a

developmental disability. These stories, in

long form of 1000-1800 words and short

form of 500-800 words, accompanied by

6-12 photographs, include constituents

from each of Georgia's 56 State Senate

Districts. Story packages are being used for

the Georgia Council on Developmental

Disabilities (GCDD) advocacy efforts. This

project helped me increase my

understanding and appreciation of

intersectionality between race, class, and

disability. There are 9000 Georgians on the

waiting list for Medicaid waivers. Many of

the people who need these resources most

are the ones who have the least access.

As primary storyteller on the project, I

collected, wrote, and edited 62 of the 75

stories. Along with the GCDD, project

partners included our admin team,

Resurgens Impact Consulting;

photographers (pictured to the right on our

last day for 2018), Lynsey Weatherspoon

and Haylee Anne Fucini-Lenkey;

fellow storyteller, Moira Bucciarelli;

project advisor, Beate Sass; and

fiscal sponsor, L'arche Atlanta.

2 0 1 9 S T O R Y T E L L I N G

P R O J E C T & P O D C A S T

I'm truly excited to announce

that in 2019, we will be doing a

new version of the Storytelling

Project, a deeper dive with 25

new stories.

More, we're producing an allnew

podcast, Heard & Seen, to

feature audio from these

interviews. I'm truly looking

forward to the opportunity to

explore themes that have

already bubbled up from this

work, including assistive

technology, service animals,

independent living, and

supported employment.

Please stay tuned!
---
P A R T N E R S H I P S

Our Stories, Our Journeys

artist residency at

Devereux Advanced Behavioral Health

2 0 1 9 @ D E V E R E U X

In 2019, I return for two more

six-week cycles of programming

at Devereux. January-February

will be with teenage boys in

treatment foster care. There will

be another round following to

be scheduled. I can't tell you

how pleased I am to be working

with this organization. The staff

there are thoughtful and

courageous.

You may remember Trigger Warning, the

first major, independent StoryMuse

production back in June 2017. Trigger

Warning featured eight storytellers

sharing everyday encounters with trauma

and violence. As a result of that project, I

connected with Dr. Yolanda Graham,

Executive Director of Mental Health

Services at Devereux Advanced

Behavioral Health's Kennesaw, Georgia

facility. Dr. Graham could see the

therapeutic value embedded in the

workshopping, rehearsal, and production

of a storytelling show. Thanks to an

internal grant from the Devereux

Foundation, we have worked in

partnership throughout 2018. The pilot

project with girls who have been

commercially sexually exploited, also

known as sex trafficking, occurred April-

May of this year. A second six-week cycle

with the same population came in

September-October 2018.

Note: Due to the necessarily private and

sensitive nature of the work, I'm afraid I

can't speak specifically about the girls and

their stories. Just know that it has been

very rewarding work. Here's one line

from a story I can share:

"They say you gotta play the hand you're

dealt. But my deck started with one king, one

queen, and 52 jokers."
---
Workshops & Residencies

Despite the enormity of the GCDD and Devereux Storytelling Projects, I was able to

continue developing my storytelling curriculum by offering keynotes, workshops,

panel discussions, and short-term residencies all over the region:

Carrie Steele-Pitts Home

January 2018

youth in foster care

Georgia Tech's Center for Teaching & Learning

January 2018

Faculty Retreat

March 2018

Celebrate Teaching Day

Atlanta Legal Aid

April 2018

pro-bono staff training*

(*Thanks to your giving through the December 2017 Indiegogo campaign.)

Western North Carolina Conference of the United Methodist Church

May 2018

second residency with clergy & laity

GSU's MWF-Young African Leaders Initiative

June-July 2018

third year residency with young professionals

Georgia Coalition Against Domestic Violence

September 2018

Using Our Stories for Advocacy

Georgia Tech's Theatre Department

September-October 2018

Devised Theatre Techniques

National Guild for Community Arts Education

November 2018

Storytelling for Impact
---
Fun Stuff

*Volunteering monthly with Second Helpings Atlanta

*Five years as co-host at North Avenue Lounge

*Alternate ROOTS Late Night Coordinator

*Decatur Book Festival panel

*Officiated a wedding ceremony for dear friends

*Two meditation & writing retreats at Great Tree Zen Temple

*Featured on Atlanta Interfaith Bureau
---
T H E B I G N E X T

As I enter into the third year of StoryMuse, 2019

is shaping up to be a full and fulfilling new

adventure.

On top of returning to the GCDD Storytelling

Project and Devereux, I already have several

other projects underway or in serious

conversation. Of note, I'll be returning to the

Decatur Writers Studio to teach for six weeks,

January-March.

Pending grant funding, I will be working with the

Atlanta Center for Self-Sufficiency to produce a

two-night storytelling show with their homeless

constituents, board, and staff. This project will

also feature photos and web stories.

There are other irons in the fire, too early to discuss. I hope they work out so that I will

be making pages about them in this publication next year.

The biggest news about the next phase of my career, though, is that I'm currently

developing my first book proposal.

Walks with Grief will be a collection of short essays and stories, reflections on my

personal experiences of grief, what I've learned through my work in the world about

the function of grief, and a discussion of how my walking practice has helped me move

through it all.

Just like I coach people through the process of making a manifesting story, I close my

eyes now and picture holding my first book in my hands in the future. I imagine

sending out the announcement that it's finished and ready for sale. I see myself signing

it, putting it in an envelope, and sending it in the mail to you.

Until then, never forget the proverb:

The shortest distance between two people is a story.