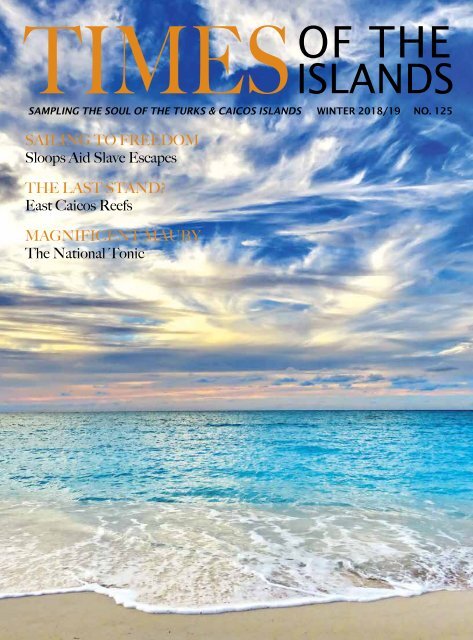 Times of the Islands Winter 2018/19
Presents the "soul of the Turks & Caicos Islands" with in-depth features about local people, culture, history, environment, businesses, resorts, restaurants and activities.
Presents the "soul of the Turks & Caicos Islands" with in-depth features about local people, culture, history, environment, businesses, resorts, restaurants and activities.
SHOW MORE
SHOW LESS
Create successful ePaper yourself
Turn your PDF publications into a flip-book with our unique Google optimized e-Paper software.
TIMES

OF THE

SAMPLING THE SOUL OF THE TURKS & CAICOS ISLANDS WINTER 2018/19 NO. 125

SAILING TO FREEDOM

Sloops Aid Slave Escapes

THE LAST STAND?

East Caicos Reefs

MAGNIFICENT MAUBY

The National Tonic

ISLANDS
---
H O W D O YO U L I K E Y O U R L U X U R Y ?

EFFORTLESS? OR BRILLIANTLY UNCONVENTIONAL?

THE SHORE CLUB

THE SHORE CLUB

THE PALMS

THE PALMS

THE SHORE CLUB

The refined sophistication of The Palms on Grace Bay

Beach, consistently honored by travel publications

for its sense of elegance and easy atmosphere. The

savvy chic of the Shore Club, the stunning new gamechanger

on Long Bay Beach. Where whimsy rules and

magic awaits around every corner. Each with a style

and a vibe all its own. Both singular destinations, part

of the Hartling Group's stellar portfolio of luxury resorts

which also includes The Sands at Grace Bay. Your call.

THE COOL SIDE OF CLASSIC

649.946.8666

thepalmstc.com

WRITE YOUR STORY HERE

649.339.8000

theshoreclubtc.com
---
TURKS & CAICOS

Generation

Everyone

Everything's Included for Everyone!

2017

2017

More Quality

Inclusions than

any other Resorts

in the World

At Beaches ® Turks & Caicos, everyone can create their

own perfect vacation. For some, it's the white-sand

beaches and calm waters featuring unlimited land and

water sports. For others, it's the awesome 45,000 sq.

ft. waterpark with surf simulator. There's 5-Star Global

Gourmet TM dining at 21 incredible restaurants, and

non-stop bars and entertainment —and it's always

included. Even the tips, taxes, and Beaches transfers*.

We've even added trend-setting food trucks, new live

entertainment, and re-styled accommodations

… making the World's Best even better for

Generation Everyone.

BEACHES.COM in the U.S. & Canada: 1-800-BEACHES

In the Caribbean: 1-888-BEACHES; In Turks & Caicos 649-946-8000

@beachesresorts

WORLD'S BEST ALL-INCLUSIVE FAMILY RESORTS

20

YEARS IN A ROW AT THE WORLD TRAVEL AWARDS

*Airport transfers included. Other transfers may be additional. Beaches ® is a registered trademark. Unique Vacations, Inc., is an affiliate of Unique Travel Corp., the worldwide representative of Beaches Resorts.
---
contents

Departments

6 From the Editor

13 Eye on the Sky

From Fluffy Cotton to Terrifying Towers:

Low Cloud Formation

By Paul Wilkerson

18 Around the Islands

Kids First!

Edward C. Gartland Youth Centre

By Katherine Withers Green

50 The Sporting Life

Fit at Fifty

By John Galleymore

Photos By Brilliant Studios

72 Food for Thought

The Secret Garden

The Frenz Deck

By Dominique Rolle–Caya Hico Media

76 About the Islands/TCI Map

81 Where to Stay

82 Classified Ads

84 Dining Out

86 Subscription Form

Features

22 Magnificent Mauby

TCI's National Tonic

Story & Photos By B Naqqi Manco

38 Sailing to Freedom

TCI Slave Escapes in the 1800s

By Ben Stubenberg

TIMES

OF THE

ISLANDS

SAMPLING THE SOUL OF THE TURKS & CAICOS ISLANDS WINTER 2018/19 NO. 125

On the Cover

Photographer Marta Morton spends a lot of time looking

up and out, when she's not busy running Harbour

Club Villas (www.HarbourClubVillas.com) with her

husband Barry and son Michael. More often than not,

she takes the occasion to pull out her small Canon

SX720HS "point and shoot" camera (with a great 40X

optical zoom) and photograph the beauty she sees

around her. In this case, it was a lovely early Winter

sunset over Grace Bay Beach, with the high cirrus

clouds tracing a feathery pattern in the sky. For more

of her exceptional photography, turn the pages of this

issue.

Green Pages

28 Hope for TCI's Future

East Caicos Reefs

By Kathleen Wood, Don Stark and

Marsha Pardee

33 Ban the Bag

By Amy Avenant

34 Battle of the Reefs

By John DeBuysser and Heidi Hertler

72

Astrolabe

60 Morning in the Garden of Good and Evil

Story & Photos By Matthew A. Williamson

65 A Glimpse of the Past

By Jeffrey Dodge

DOMINIQUE ROLLE—CAYA HICO MEDIA

4 www.timespub.tc
---
TurksAndCaicosProperty.com

Babalua Beachfront Villa - Cascade

Cascade is an ultra luxury 6 bedroom/6 and a half bathroom beachfront villa in Providenciales

recently completed in 2015 by RA Shaw Designs. The villa is an architectural gem with one of

the most splendid private pools in the country. A top performing vacation villa and a mustsee

luxury Turks and Caicos property for a savvy investor looking for strong rental returns.

US$7,200,000

Long Bay Beachfront Land

Buyers looking to build on a prime parcel of beachfront land, look no further. This sizeable 1.10-

acre Long Bay lot with 80 ft. of beach frontage is an absolutely perfect spot. Located on the

very popular Long Bay Beach with many other high-end luxury villas as well as small upscale

residential developments. An ideal luxury vacation villa site and an excellent investment property.

US$1,600,000

Bernadette Hunt

Cell ~ 649 231 4029 | Tel ~ 649 941 3361

Bernadette@TurksAndCaicosProperty.com

Bernadette has lived in the Turks and Caicos

Islands for over 21 years and witnessed the

development and transition of the islands

into a significant tourist destination. Based

on independent figures her gross transaction

numbers are unrivalled. Bernadette has

listings on Providenciales, Parrot Cay,

North and Middle Caicos and is delighted

to work with sellers and buyers of homes,

condos, commercial real estate and vacant

undeveloped sites.

Turks and Caicos Property is the leading

independent real estate firm in the Turks and

Caicos Islands with offices located at Ocean

Club West Plaza, Ocean Club West Resort

and Le Vele Plaza on the Grace Bay Road.

Bernadette's reputation and success has been

earned over time through her dedication,

enthusiasm and passion for real estate. Her

personal experience as having practiced law

in the islands for more than 10 years together

with owning and renovating a number of

properties means she is well-placed to advise

her customers and developers on what to

anticipate in the purchasing and construction

process.

Bernadette delights in working in the real

estate industry and her humor and energy

make her a pleasure to work with.

Grace Bay Beachfront - Point Grace

Point Grace is one of few boutique hotels in Turks & Caicos and offers both luxury and exclusivity

nestled at "the Point" of Grace Bay Beach. Suite E202 is 1,551 sq. ft. and is located beachfront on the

second floor. The condo is a two bed two and two and a half bath split level suite. It also features a

spacious terrace overlooking the stunning turquoise water of Grace Bay and is an exceptional value.

Please contact Bernadette if you would like

to find out more about owning real estate in

the Turks & Caicos Islands.

US$1,295,000
---
from the editor

MARTA MORTON—WWW.HARBOURCLUBVILLAS.COM

This landscape overlooking South Side Marina on Providenciales shows how sunlight paints a picture in the sky at the end of the day.

Let There Be Light

This year, the Islands went back to observing Daylight Savings Time, after a two-year hiatus meant to extend

the early evening sunlight for visitors and residents. With the time change, comes my annual hibernation to an early

bedtime as the darkness sets in, unwelcome because I am a certified lover of light, especially sunlight. Thankfully,

the late fall/winter season brings an astonishing quality to the light in the Turks & Caicos Islands—so achingly beautiful

at times that it seems a preview of heaven. Mornings begin with a rose-pink glow in the east that blooms into

a shimmering, clear brilliance lasting well into mid-day. As afternoon sets in, the scene begins to melt into a tawny

golden glow from which it is nearly impossible to look away.

I hope you'll find in this issue plenty of illumination for your mind, body and soul in the eclectic mix of stories

and photos, ranging from a discussion of clouds, to the importance of the East Caicos reefs, to a fascinating study

of slave escapes and the Caicos Sloop, to a new dining experience for foodies.

Christmas is, for me, a time of great joy as we celebrate the True Light—Jesus Christ—entering our world to

bring the love, grace and salvation we all so desperately need. To God be the Glory for His daily help, strength and

comfort.

Kathy Borsuk, Editor

timespub@tciway.tc • (649) 946-4788

6 www.timespub.tc
---
FOR SALE - TURNKEY VACATION

RENTAL BUSINESS - STRATA

CORPORATION - 4 TOWNHOMES

- 1.53 ACRES IN GRACE BAY -

APPROVED PLANS FOR

EXPANSION - $2.3 MILLION

Four quality built air conditioned

townhomes with high-end finishes

and appliances.

Each home has 2 bedrooms and 2.5

bathrooms, 1600 sq. ft., with large

screened poolside patio.

Current owners live on the island and

will be available to help with your

transition into this turnkey vacation

rental business.

Planning approved for 3 more

buildings comprised of twelve 2

bedroom homes and a second pool.

CONTACT US NOW! Find out how to step into this ongoing, successful business with an excellent

rental history, in the best location, in the heart of Grace Bay, Sunshine Crescent, a short five-minute

walk to world-famous Grace Bay Beach.

Contact the owners at - TCI 649-941-7440 - USA +1-972-747-7575

relax@GraceBayTownhomes.com - www.GraceBayTownhomes.com
---
FIVE DISTINCT VILLAGES

TO CHOOSE FROM

1. Key West Village 2. Italian Village

2017

2017

THE WORLD'S BEST

IS NOW BETTER THAN EVER

BEACHES VOTED WORLD'S LEADING ALL-INCLUSIVE FAMILY RESORTS

20

YEARS IN A ROW AT THE WORLD TRAVEL AWARDS

Beaches, waterparks, pools—there's

something for everyone.

MORE QUALITY INCLUSIONS THAN ANY OTHER RESORTS IN THE WORLD
---
3. Caribbean Village 4. French Village 5. Seaside Village

WHERE EVERYTHING'S

INCLUDED FOR EVERYONE

At Beaches ® Turks & Caicos, everyone can create their own perfect day. For some, it's the

white-sand beaches and calm waters featuring land and water sports. For others, it's the

awesome 45,000 sq. ft. waterpark with surf simulator. There's 5-Star Global Gourmet TM

dining at 21 incredible restaurants, and non-stop bars and entertainment —and it's always

included—tips, taxes and Beaches transfers*, too. We've even added trend-setting food trucks,

new live entertainment, and re-styled accommodations … making the World's Best even better.

*Visit www.beaches.com/disclaimers/timesoftheislandswinter2018 or call 1-800-SANDALS for important terms and conditions.

Hang out with some real

characters at Beaches.

Discover a whole world of cuisine with

5-Star Global Gourmet dining.

BEACHES.COM • In the U.S. and Canada: 1-800-BEACHES;

In the Caribbean: 1-888-BEACHES; In Turks & Caicos: 649-946-8000 or call your Travel Professional
---
TM/© 2017 Sesame Workshop

THE WORLD'S BEST IS

BETTER

BEACHES VOTED WORLD'S BEST

20

YEARS IN A ROW AT THE WORLD TRAVEL AWARDS

Beaches ® Turks & Caicos has held the top spot at the World Travel

Awards for two decades by offering families more of everything

on the world's best beach. Every land and water sport, an

awe-inspiring waterpark with surf simulator, 5-Star Global

For more information, visit BEACHES.COM

In the U.S. and Canada: 1-800-BEACHES;

In the Caribbean: 1-888-BEACHES;

Gourmet TM dining at 21 incredible restaurants, and non-stop bars

and entertainment — always included. And now we've added

trend-setting food trucks, new live entertainment, and restyled

accommodations … making the World's Best even better.

In Turks & Caicos:649-946-8000

or call your Travel Professional

TIPS, TAXES AND BEACHES TRANSFERS* INCLUDED

MORE QUALITY INCLUSIONS THAN ANY OTHER RESORTS IN THE WORLD
---
Five Distinct Villages

to Choose From

1. Key West Village 2. Italian Village 3. Caribbean Village 4. French Village 5. Seaside Village

THANEVER

Beaches Turks & Caicos

is on the world's

#1 BEST BEACH

by tripadvisor ®

*Visit www.beaches.com/disclaimers/timesoftheislandswinter2018btc or call 1-800-BEACHES for important terms and conditions.
---
PG advert_Layout 1 5/10/17 9:10 AM Page 1

TIMES

MANAGING EDITOR

Kathy Borsuk

OF THE

ISLANDS

ADVERTISING MANAGER

Claire Parrish

"Escape to the extraordinary."

CONTRIBUTING WRITERS

Amy Avenant, Kathy Borsuk, John DeBuysser,

Jeffrey Dodge, John Galleymore, Katherine Withers Green,

Heidi Hertler, B Naqqi Manco, Marsha Pardee,

Dr. Michael P. Pateman, Dominique Rolle–Caya Hico Media,

Don Stark, Ben Stubenberg, Paul Wilkerson,

Candianne Williams, Matthew A. Williamson,

Kathleen Wood.

CONTRIBUTING PHOTOGRAPHERS

Brilliant Studios, Robert Ormond Challis, E. Neale Coverley–

TCNM Collection, John DeBuysser, Edward C. Gartland

Youth Centre, Richard Green, Heidi Hertler, Agile LeVin,

B Naqqi Manco, Marta Morton, Michael Morton,

Dr. Michael P. Pateman, Tom Rathgeb, Dominique Rolle–

Caya Hico Media, Matthew Slattery, David M. Stone,

Ben Stubenberg, Paul Wilkerson, Candianne Williams,

Matthew A. Williamson.

CONTRIBUTING ARTISTS

NOAA, RA Shaw Designs, Wavey Line Publishing

PRINTING

southeastern, Hialeah, FL

Times of the Islands ISSN 1017-6853 is

published quarterly by Times Publications Ltd.

Copyright © 2019 by Times Publications Ltd. All rights reserved

under Universal and Pan American Copyright Conventions.

No part of this publication may be

reproduced without written permission.

Subscriptions $28/year; $32/year for

non-U.S. mailing addresses

Submissions We welcome submission of articles or photography, but

assume no responsibility for care and return of unsolicited material.

Return postage must accompany material if it is to be returned. In no

event shall any writer or photographer subject this magazine to any

claim for holding fees or damage charges on unsolicited material.

While every care has been taken in the compilation and reproduction of

information contained herein to ensure correctness, such information is

subject to change without notice. The publisher accepts no

responsibility for such alterations or for typographical or other errors.

WORLD TRAVEL AWARDS 2015 - CARIBBEAN'S LEADING BOUTIQUE HOTEL

TCHTA STAR AWARDS 2016 - HOTEL OF THE YEAR

TCHTA STAR AWARDS 2016 - RESTAURANT OF THE YEAR - GRACE'S COTTAGE

PROVIDENCIALES TCI • US TOLL FREE 1.888.209.5582 • T 649.946.5096

RESERVATIONS@POINTGRACE.COM • WWW.POINTGRACE.COM

Business Office

Times Publications Ltd., P.O. Box 234,

Lucille Lightbourne Building #1,

Providenciales, Turks & Caicos Islands, BWI

Tel/Fax 649 946 4788

Advertising 649 431 7527

E-mail timespub@tciway.tc

Web: www.timespub.tc

12 www.timespub.tc
---
eye on the sky

PAUL WILKERSON

These low clouds seem to be tracing the path of the causeway between North and Middle Caicos.

Clouds are both loved and hated. For travelers to the Turks & Caicos Islands, it generally invokes worry

over the prospects of rain and lack of sun-bathing time. For Belongers, it usually is a much different story.

Clouds are welcomed for the shade they bring on a sweltering day, the beauty they offer when contrasted

against the electric-blue waters surrounding the Islands, and the promise of rain that is such a lifeline to

residents of these small islands. Without these whimsical wisps of moisture, the Islands would be uninhabitable—a

dry and arid environment with little in the way of ground cover. It would be a challenge of

survival for the toughest of land species.

From Fluffy Cotton

to Terrifying Towers

How are low clouds formed?

By Paul Wilkerson

Times of the Islands Winter 2018/19 13
---
MARTA MORTON—WWW.HARBOURCLUBVILLAS.COM

Above: These cloud images were shot overlooking Flamingo Lake in Providenciales.

Below: This image of an Arcus shelf cloud was captured from the deck at Harbour Club Villas. Note the characteristic rising cloud motion in

the leading part, while the underside appears turbulent.

But how do these clouds form, and why do they tend

to form over some of the same areas day after day across

the Islands? To understand how this happens, we need

to first understand the "whats" (atmosphere and geography

requirements) before we get into the "hows" (actual

formation of clouds), and the "when" (likely times to see

these clouds form).

Let's take a look at the "whats" first. The Turks &

Caicos Islands are completely surrounded by the Atlantic

Ocean. In general, high pressure exists over areas that are

cooler (water) than adjacent areas (land). Low pressure

generally exists over the warmest areas (land) surrounded

by cooler areas (water). For the TCI, the waters in general

are cooler than the land mass during the day, while at

night the water generally is a bit warmer than the land.

So during the day, low pressure typically exists over the

Islands (rising air), and at night, high pressure is usually

situated over the Islands (sinking air). This scenario plays

out during calmer weather periods.

It is also important to understand that winds will gen-

MICHAEL MORTON—WWW.HARBOURCLUBVILLAS.COM

14 www.timespub.tc
---
This image explains the concepts of sea breeze and cloud formation.

erally blow from high pressure towards lower pressure,

which during the day is from the ocean to the land. At

night, we normally see the reverse situation—winds blowing

from land out to sea.

One final factor that will play into cloud formation

has to do with the amount of moisture in the air. And

we know based on geographic location that there is an

abundance of moisture in the atmosphere generally at all

times over the Islands.

Now let's discuss the "hows" of cloud formation.

Clouds are a conglomeration of trillions and trillions of

molecules of water vapor. Generally unseen to the naked

eye, yet felt on the skin as humidity, water vapor once

compacted into large areas reveals itself as clouds.

How is it we see these clouds? In the Caribbean, we

can thank the salt in the ocean for this! In order to see

clouds, we depend on what is called Cloud Condensation

Nuclei, abbreviated as CCN. These are particles of dust,

salt, pollution, and even sand from the Saharan Desert.

Water vapor by nature, will need something to condense

to in order for us to see it visibly. These CCN stick to

water vapor, which is the single most important item we

need for cloud formation. For the Islands, salt water evaporates

off the surface of the ocean and rises into the air

as the CCN needed. However in order to see these as

clouds we need something else to occur.

During the day, as the land heats up and low pressure

develops over the land, the warm air rises in convective

currents off the hot ground into the air above the Islands.

As the winds blow off the water and arrive on land, they

get naturally deflected up as they encounter topography

and the much warmer air that is also rising. As this wind

and air rises, it naturally begins to cool once again. And

as that air cools, it also condenses. Those trillions of

molecules of water vapor become visible as tiny water

droplets. And in mass, they are visible as the fluffy white

clouds we see across the Islands.

If you would like to see this in action on a smaller

scale, boil a pot of water on the stove. As the water boils,

Grand Slam Times Winter 2018_Layout 1 11/14/18 8:36 PM Page 1

Operating Provo's Most Famous Vessels

GWENDOLYN, TUNA-IN and WAHOOOOO

See it all at: www.gsfishing.com

CONTACT US: 1-649-231-4420 • info@gsfishing.com

Free Pickup • Drinks and Snacks Included

Catch and Keep Your Fish!

Quote Booking: TOI 002 for 5% Discount...

Ask your Concierge to book online for you!

Times of the Islands Winter 2018/19 15
---
MARTA MORTON—WWW.HARBOURCLUBVILLAS.COM

In the TCI, our fair weather clouds will form like clockwork, usually during the morning and throughout the primary heating of the day.

steam snakes off the surface of that water into the air

above the pot. That water is evaporating into the cooler

air of your home and then condensing into visible streaks HarbourPaul Club:Layout Wilkerson 1 is 8/17/16 an American 10:16meteorologist AM Page 1 and tourist

who frequents the Turks & Caicos Islands. Along of steam . . . small clouds!

with

To wrap up the concept, we need to talk about the

"when." Have you noticed that, in general, at night in the

Islands it clears up the later it gets? If the Islands are dominated

by fair weather overall, this will happen nearly on a

nightly basis. At night the land cools more than the water.

Because of this, air sinks over the Islands and inhibits

cloud formation in general. Our fair weather clouds will

form like clockwork, usually during the morning and

throughout the primary heating of the day. This cycle will

continue daily until there is significant high pressure over

the Islands that can suppress this process through the

process of sinking air. Or, if there is significant low pressure

close to the Islands these beautiful balls of cotton

can turn into towering menaces that produce lightning

and thunder through the process of significant rising air.

Clouds are one of the most fascinating wonders on

earth. Next time you are on-island, you likely will catch a

mesmerizing reflection of the ocean on the bottom of the

clouds. In those moments, reflect on the amazing world

16 www.timespub.tc

we live in and how Mother Nature takes care of the people

that depend on her. a

his wife and two daughters, the Wilkersons stay actively

engaged with Islanders throughout the year with his

Facebook page Turks and Caicos Islands Weather Info.

Harbour Club Villas

Turtle Tail Drive, Providenciales

Six one-bedroom villas.

Dive operators at our dock.

Bonefishing in the lake.

Fabulous beaches nearby.

Ideal for couples or groups.

Trip Advisor

Travellers' Choice

Awards Winner

E: harbourclub@tciway.tc

T: 1 649 941 5748

See our website

for details.

www.HARBOURCLUBVILLAS.com
---
Times Kevin_Times Kevin 9/18/18 10:51 AM Page 1

display ads . . .

are an inexpensive way to reach

Times of the Islands readers, in the Turks & Caicos

and around the world.

call 649 431 7527 or

email tfadvert@tciway.tc

Times of the Islands Winter 2018/19 17
---
18 www.timespub.tc
---
around the islands

These photo collages show the huge variety of activities that TCI children and teens participate in at the Edward C. Gartland Youth Centre.

Kids First!

Edward C. Gartland Youth Centre celebrates a decade of caring about kids.

By Katherine Withers Green ~ Photos Courtesy Edward C. Gartland Youth Centre

In November 2008, the Edward C. Gartland Youth Centre opened its doors to the young people of the

Turks & Caicos, becoming the first teen-orientated facility in the Islands. The brainchild of the AIDS

Awareness Foundation, this intrepid project started as a safe haven, a spot to engage our youth with afterschool

activities and community outreach projects, and a way to get kids moving, thinking and caring.

Times of the Islands Winter 2018/19 19
---
I remember as a child growing up in the TCI how

important education and information became in the fight

against HIV. On paper the Edward C. Gartland Youth

Centre (ECGYC) ticked all the right boxes—stamping

out stigma and misinformation, creating a secure place

for young people to participate in, learn about and create

safe relationships with their peers—but the reality

became so much more than this. Now celebrating its

tenth successful year, the ECGYC has become one of the

most essential parts of the TCI community, and an indispensable

resource for the young people of our Islands.

What began with after-school tutoring, arts and

crafts and beach clean-up days has grown to encompass

15 different term-time programs, as well as more than

20 summer camps ranging from music to maths clubs,

cultural dance, water-based eco-camps, self-defense and

their extremely successful basketball camp—to name but

a few! The Centre is a roaring community success story.

The amazing team behind its creation and the hard-working

people who continue to bring incredible opportunities

to our children are truly the heroes of today, supporting

the fact that TCI's most important resource is our youth.

In celebration of a decade's worth of love and effort,

I asked the Edward C. Gartland Youth Centre staff, led by

Director Roxann Wake-Forbes, what stories they'd most

like to highlight so that readers could learn more about

their work. Unsurprisingly, they gave us the names of a

couple of kids—now all grown-up —who attended ECGYC

Food for Thought is a new charity set up to provide

daily breakfast to government school students –

starting with the primary schools in North Caicos,

Middle Caicos, South Caicos and Salt Cay.

We estimate that just $200 will allow us to provide

breakfast to one child for a whole school year.

If you would like to donate or learn more please

email foodforthoughttci@gmail.com

or visit our website foodforthoughttci.com

and have flourished into awesome community members.

Sometimes it's easy to forget that when you attend

a fundraiser, watch a school dance recital or donate

to a silent auction, on the other side of that gesture is

a child who will perhaps get that much closer to their

dream. From passing an important exam at school, to

being sponsored to be part of a national sports team, to

being given the courage, skills and ability to start their

own business, at the end of the day the true value of the

Edward C. Gartland Youth Centre lies in the successes of

its kids. Our kids. The next generation of TC Islanders

forging their way in the world.

Wellington Williams

Most everyone knows Wellington, his cheery smile and

creative talents are legendary, as almost everywhere you

go you'll catch a glimpse of his handmade jewelry. It's

delicate, pretty and absolutely authentically local!

Wellington started attending the Youth Centre from

age 12, and he says, "My experience there was everything

to me. I think my favourite thing about the Centre was

that they always focused on being the best you that you

can be! They encouraged me to just try as many of the

programs they offered as I could, to expand my knowledge,

open up different paths and career opportunities.

This 'just try' attitude still helps me today in my business.

I have the confidence to take chances, try out new ideas

and get that positive outcome."

Wellington now runs his own company, The

Wellington Collection, and recently opened his first store

at The Saltmills selling his beautifully designed jewelry

using local sand, conch and even recycled beer bottle

glass. He's an inspiration to the younger generation,

showing what can be achieved with hard work and the

care of the community. And he's always giving back—his

latest project is friendship bracelets that support local

charities, from the Turks and Caicos AIDS Foundation to

the Provo Children's Home and of course there's one just

for the Youth Centre too!

William Elliot

First off when I contacted Will-O (as he likes to be called)

about this article he responded with a very enthusiastic,

"You know I'd do anything for the Centre!" which speaks

volumes for how much this place means to the kids who

attend. He explained to me that what he loved most was

the chance to truly be himself. That it gave him a place

to express his creativity and meet new friends—many of

whom are still a big part of his life today. Will was just

20 www.timespub.tc
---
13 years old when he started attending ECGYC, using his

time there to study hard and participate in the Basketball

Camps—and now he's studying in Manchester, England

for his Business Management Bachelor's Degree and playing

for his university's basketball team.

These stories highlight how essential the Edward

C. Gartland Youth Centre is to our Islands. When youth

become engaged in community activities they become

empowered, they realise their voices and opinions are

being considered, they feel a part of the bigger picture,

and all of a sudden our community becomes a place

where both youth and adults share the common interest

of making their shared space a better place.

It's clear the ECGYC has helped dozens of kids

develop the skills to be effective leaders, given them a

sense of belonging and purpose, and created meaningful

positive relationships with adults outside of their families.

This shows youth that they are cared for not just

individually but as a whole, as a part of what makes the

TCI what it is.

With only three full-time and one part-time member

of staff, the centre relies on volunteers to help deliver

programs and, as a nonprofit organization, hosts several

fundraisers through the year to keep its doors open. The

annual Art Show in January at The Shore Club, the Wine

Cellar Golf & Fishing Tournament and the Beach Bonfire

and BBQ at Bay Bistro are just some of the ways they can

achieve this, along with donations from private donors

like you.

You cannot put a price on the benefits of a centre like

the one we are lucky enough to have here. There are a few

community leaders who have shown unwavering support

from the ECGYC's creation to today, including founder

Galmo "Gilley" Williams and chairman Terry Drummey

from Hemingway's. Both have been there every step of

the way, committing their time, money and hearts to this

wonderful cause. But everyone who attends an event, volunteers

time or makes a donation is part of what makes

it all work.

What the future holds for the ECGYC depends on

our community giving back. Their goals? Similar youth

centres on the TCI's other islands. All it takes is a quick

glance at the smiling faces of all the kids whose lives

the EGYC has touched and changed to imagine the possibilities

if they could expand their reach all over Turks

& Caicos. We can't wait to see what the next ten years

brings! a

Please help to provide FREE spay & neuter to the animals of TCI

For more information, visit www.ecgyouthcentre.com.

Free Spay Neuter Program

Times of the Islands Winter 2018/19 21
---
feature

Opposite page: Simple leaves, reddish petioles and tiny waxy yellow flowers make smooth snakebark Colubrina elliptica a subtly attractive

tree. It is a useful landscaping tree, remaining small and clean.

Above: Holding court from his home in Lorimers, Middle Caicos, Alton Higgs is a renowned local bush doctor and herbalist.

Magnificent Mauby

The unofficial national tonic of the Turks & Caicos Islands.

"Bush doctor," I corrected my students, "not witch doctor. He makes herbal medications, he doesn't fly

around on a broom." We approached the low, flat house, so shrouded in a tangle of fruit trees and wildly

scrambling ornamental vines that it looked as though it was being coaxed down for a nap in the undergrowth.

Hanging baskets and shelves swinging from tree branches filled gaps in the foliage, as did a hefty

growth of flowering plants on the ground.

Story & Photos By B Naqqi Manco, TCI Naturalist

Times of the Islands Winter 2018/19 23
---
A number of roughly-painted

signs in loopy cursive festooned the

yard's front fence, made from a bluegreen

net: "Roaming goats and cows

are a nuisance and forbidden by law to

enter this yard. You hear!" and "Speed

limit 20 MPH. You hear!". "Hurricane

Relief Unfair" stated one, while two

more bore appeals to re-open old

field-roads to important cultural sites

and to give island-born children a status

to grow the nation had decidedly

more public-sector-aimed themes.

But the most important sign was

the two-foot-round circle of polystyrene

painted with a sketch of a house

and in burgundy letters: "He is here."

(The other side, which could be seen

when the sign was swung around and

fastened with wire, stated "He is not

here".)

Indeed, there he was, slung low

in his homemade seafoam green

hammock, a hand dangling so the

knuckles grazed the carpet of dead

leaves beneath, looking every bit as

enshrouded in greenery as his house:

Mr. Alton Higgs, the bush doctor and

herbalist of Lorimers, Middle Caicos.

My two British students, studying

conservation science, had a challenging

time with the sort-of language

barrier—they were new to the Caicos

Islands' accent and lexicon. As Mr.

Alton stood from his hammock to

greet us, he invited us into his home

as he always did, to "Have a drink of

the God Bless!" I saw my students

mouth the words in silent curiosity. I

knew what was coming.

As we entered his living room, the

walls smattered with family photos,

religious iconography and awards of

recognition for personal and cultural

achievements, along with handmade

basketry and strings of sea beans,

and the floor padded by brightly

coloured hand-braided flotsam rope

rugs, Mr. Alton disappeared into the

From top: This sign is the Middle Caicos equivalent of "The Doctor is In."

Alton Higgs's pharmacopoeia includes mauby drink (in the juice jug at left) and mauby pills

(in the glass bottle at center).

kitchen and came back with a sweating pitcher and several large mismatched

plastic cups. I managed to take the smallest cup . . . I was experienced at this.

As the chilled liquid plunged from the pitcher into each cup, slightly

frothy and red-amber with just a hint of cloudiness, I could see my students

were uncertain. I took the lead and tossed back a hefty gulp of the drink. Its

intense bitterness shocked my tongue and made the inside of my check feel

24 www.timespub.tc
---
Island Organics_Layout 1 8/26/18 9:52 AM Page 1

rough. I gulped it and gasped, knowing that the aftertaste

about to form was far more pleasant than the initial gush

of acridity. My students had a visibly more challenging

experience, but they seemed to know that this was some

sort of a test. I'm not sure whether they figured they were

being tested by Mr. Alton or me, but they sallied forth

with strained gulps and a series of blinks and smacking

of tongues. In a ritual repeated several times over by my

students throughout the years, they had just had their

first taste of the unofficial national tonic of the Turks &

Caicos Islands, mauby.

This unofficial national tonic is something of a

regional specialty. Throughout the Caribbean Basin, from

Florida through the Islands, Central America into northern

South America, mauby is a cultural phenomenon.

Mauby beverage (in Spanish maví, pronounced similarly)

is made from one of two plants, more often the smooth

snakebark tree Colubrina elliptica. This small, attractive

tree in the buckthorn family grows throughout the New

World tropics in lowland forests and tolerates a wide

range of soil types and rainfall levels. Its close coastal

relative Colubrina arborescens, in Turks & Caicos often

called bastard-mauby or soap bush due to its historic use

as a natural washing-up detergent, can also be used to

make mauby.

In many parts of its range, mauby is prepared by

boiling the bark of these trees and adding sugar, spices

and other herbs and allowing the brew to ferment. This

was likely the origin of the drink—as a substitute for

potato beer when a blight killed Caribbean potato crops

in colonial times. While some ferment the brew strongly,

in Turks & Caicos it isn't traditionally fully fermented.

Nowadays, it's even made into a soda pop. In Trinidad

and Tobago and the Dominican Republic, it appears as

popular carbonated beverages, and has been compared

to root beer. In Barbados, Mount Gay produces a mauby-flavoured

rum.

Although its past purpose was likely inebriation, it

has other purported benefits today. In Turks & Caicos, it

is said to give strength and "clean the blood." In Barbados,

it is used as a cooling drink and to treat arthritis, hypertension,

high cholesterol, diarrhoea and diabetes. In the

Dominican Republic, it is sold in rum bottles full of wood,

bark and leaves as the intoxicating Mamajuana, used to

cure all sorts of ailments.

Along with those benefits, it is also touted as a

severely effective tonic for the increase of stamina, and

as a decidedly powerful aphrodisiac. Its reputation for

stamina extends into the survival of stress related to

Handcrafted, organic soaps and body essentials

Made with in the Turks & Caicos Islands

Eco-friendly • Vegan • Cruelty Free • Made with Organic Ingredients

CLEAN, PURE & NATURAL

IG: islandorganicstci

Cays Winter Tel: (649) Times 246-8989 2018_Layout • Email: islandorganicstci@gmail.com

1 11/14/18 10:30 AM Page 1

CAYS CONSTRUCTION CO LTD

A COMPLETE SERVICE.

Once you have purchased your land

...we take you all the way.

...TO THE KEYS TO YOUR NEW HOME.

We take care of the design,

the building approvals,

the construction management,

and the construction works.

Allow us to design and build your new home.

caysconstruction.com

caysconstruction@aol.com

Times of the Islands Winter 2018/19 25
---
From top: While most mauby collectors cut the main trunk of a tree

and strip all of its bark, old bark naturally peels off and can be collected

without harming the tree. Only the bark and wood are used

medicinally in TCI, but bush doctors in other areas use the fruit capsules

and shiny seeds to enhance the brew. Plant health officials in

Trinidad inspect a large consignment of mauby bark destined to be

turned into a popular beverage. The shipment originated in Haiti,

which, with the Dominican Republic, is the leading exporter of mauby

bark.

meeting the constant challenges in serving terms as an

elected official—at least one former Chief Minister (the

position now called Premier) used to occasionally order

a gallon of mauby from Middle Caicos to be sent up to

Grand Turk on the plane. It's used for aphrodisiac purposes

in the Turks & Caicos and in Haiti as well (one

Haitian friend told me, "That's why there's eleven million

of us!") and its popularity in some areas of Puerto Rico to

feed the demand for manifestation of machismo resulted

in the total disappearance of the trees, necessitating the

few remaining to be fenced for their protection.

Fortunately, its harvest in TCI is low and sustainable,

with bush doctors coppicing trees rather than removing

them, so new branches grow back from the trunks. While

there's somewhat a revival of interest in bush medicine,

trees are no longer under the pressure they once were,

with many people opting for modern conventional drugs.

But the benefits of mauby are well-studied, and it's not a

bunch of magical hocus-pocus.

The magic in plants is in their expertise as master

chemists, and the trees that produce mauby must be

some of the most achieved laboratory professors of all.

They produce hundreds of compounds that facilitate their

respiration, protection, photosynthesis, repair and reproductive

cycles.

Studies into the compounds they produce have

revealed that these trees are pulsing with cocktails in their

sap. With twice the tannins of red wine, the Colubrina trees

work hard on producing chemicals. Polyphenols protect

the trees from ultraviolet light damage and allow toughening

of tissues that have been attacked by pests and

diseases. An array of antioxidants is present in mauby,

some unique to the plant. Phenolic acid has been shown to

fight prostate cancer in medical studies in Sicily, and flavonoids

and anthocyanins help regulate chronic diseases

through inhibiting genetic inflammation and inflammatory

T-cells, as well as controlling immune cell activity.

Medical trials have shown these compounds effective in

treating asthma, arthritis and a variety of other inflammatory

diseases. Flavanols help block fat retention and

show anticancer properties. Several of the many alkaloids

present in mauby show antitumor qualities. Saponins,

which make the suds favoured in the soap bush, also

have anti-inflammatory effects. Isoflavones are present in

higher concentrations than in soy (known to help prevent

breast cancer) and stilbenes present in mauby are known

to inhibit formation of Alzheimer's disease.

Studies done at University of the West Indies Trinidad

and Tobago found significant reduction in blood pressure

26 www.timespub.tc
---
during two weeks of daily mauby consumption compared

to placebo; similar results were noted along with lowering

of pulse rate in a study carried out in New York. Indeed,

the benefits of Mauby are well documented and continually

bring studied.

Before you rush out to your nearest bush doctor and

imbibe a quart of mauby to solve your every health problem,

remember that plant medicines are not inherently

safer than drugs from the pharmacy. Mistakes in species

identification, preparation methods and dosage can have

significant effects, and mauby is known, with so many

compounds in it, to contraindicate some medications

dangerously. One should always be certain to discuss

additions of medications, including bush medicine, to

one's health regimen with a physician. Unfortunately, it's

getting harder to find bush doctors these days, and the

art is gradually losing pieces as bush doctors stop practicing.

Fortunately, Mr. Alton has always been willing to

teach about bush medicine, and that's why my students

would visit him. His knowledge of medicinal plants, which

is traditional and passed down from generations before,

is now being analysed in laboratories and found to have

significant potential. About 80% of our modern medicines

originate in plants, and we have a lot more plants to

investigate—there are lots more compounds to describe.

That crossover between fieldwork and lab work is important,

as is sharing benefits fully with the countries that

own those genetic and cultural resources.

While our approach was conservation rather than

medical development, the traditional uses of plants are

fascinating, and my students always come back to me

with lists of questions, usually on the botanical names of

the often-colourful local names Mr. Alton uses. But one

student I had, of the posher and formally educated ilk,

came back with a question that took some time for me

to digest. This student wanted to know who Marge was.

"Marge?" I asked. My student explained that Mr. Alton

kept mentioning someone named Marge when talking

about certain plant medicines. I asked for more information

and recognised the pattern. "It's not a person's

name. It's not Marge . . . it's marriage. I can understand

how it sounds like Marge to you." My student looked distraught,

searched through notes, and began explaining

more. "Yes," I explained, "You marriage plants to produce

some medications. It means combining them. Marriage

them." My student looked rather taken aback, even horrified,

and scoffed, "Marriage? But that's not a verb!" a

renewable &

efficient

energy solutions

www.greenrevolutionltd.com

moreinfo@greenrevolutionltd.com

Keeping TCI

green by nature

649-331-1393

)

Times of the Islands Winter 2018/19 27
---
green pages

newsletter of the department of environment & coastal resources

head office: church folly, grand turk, tel 649 946 2801 • fax 649 946 1895

• astwood street, south caicos, tel 649 946 3306 • fax 946 3710

• national environmental centre, lower bight road, providenciales

parks division, tel 649 941 5122 • fax 649 946 4793

fisheries division, tel 649 946 4017 • fax 649 946 4793

email environment@gov.tc or dema.tci@gmail.com • web https://www.gov.tc/decr/

DAVID M STONE

East Caicos reefs represent a significant reservoir of coral reef biodiversity that could prove to be resilient to climate change.

Hope for TCI's Future

Climate change resilience and East Caicos coral reefs.

By Kathleen Wood, Don Stark and Marsha Pardee

In January 2017, the Turks & Caicos Reef Fund (TCRF), in association with SWA Environmental and Marine

Environmental Services (MES), received a Swift Small Grant from the European Union's BEST 2.0 Project.

Entitled "East Caicos KBA's Corals and Coasts: A Key to Safeguarding TCI's Future," the project's primary

objectives were to study the coral reef ecosystems at East Caicos and to develop preliminary conservation

management recommendations.

Coral reef ecosystems across TCI and the wider Caribbean region are suffering from the ravages of

climate change, poor fishing practices and impacts from land-based development; however, preliminary

studies, conducted in May 2017, revealed that East Caicos coral reefs were healthy, with high levels of

live coral cover and limited evidence of disease or coral bleaching. The research team had cause for hope

that East Caicos could be a reservoir of coral climate resilience in this changing world.

28 www.timespub.tc
---
green pages newsletter of the department of environment & coastal resources

RICHARD GREEN

DAVID M STONE

DAVID M STONE

Then disaster struck. On September 7, 2017,

Hurricane Irma slammed into the Turks & Caicos

Islands as a Category Five storm. A mere fortnight later,

Hurricane Maria pounded ashore, adding insult to Irma's

injuries. On South Caicos, the inhabited island closest to

East Caicos, more than 90% of buildings were damaged

or destroyed. Although thankfully, no lives were lost in

TCI, the catastrophic storms inflicted a scale of human

suffering on TCI not seen in recent memory. The East

Caicos research team was concerned that a similar level

of devastation may have been visited on the natural environment,

particularly on East Caicos reefs.

Project background and history

The scientific research conducted at East Caicos is among

the most extensive ever undertaken for coral reef ecosystems

in TCI. Initially, aerial and open-access satellite

imagery were analyzed to identify potential areas of interest

for investigating in person.

Then preliminary field studies were conducted by

dragging a snorkeler behind a boat and recording observations

of the seafloor. Using this method, 442 survey

points were assessed. Following preliminary field studies,

the marine habitats at East Caicos and their ecological

characteristics were assessed to create preliminary maps

using open-access (QGIS) GIS software. This information

was then shared during a workshop with stakeholders,

where preliminary conservation zones and management

recommendations were developed. All this took

place before the arrival of the 2017 hurricanes, and the

research team had to wait for almost a year before they

could discover if their original optimism regarding the

exceptional ecological qualities of East Caicos reefs had

been dashed to pieces in the turbulent storms.

In August 2018, the research team, aided by Explorer

Adventures, the Department of Environment & Coastal

Resources (DECR), the School for Field Studies (SFS) and

TCI residents from the dive and scientific communities,

were finally able to conduct in-depth monitoring at sixteen

dive sites and five snorkel sites across the north

shore of East Caicos. The quantitative surveys examined

From top: The East Caicos research team heads out to begin conducting

monitoring at 16 dive sites and five snorkel sites across the

island's north shore. The team found that the reefs were healthy and

thriving.

Times of the Islands Winter 2018/19 29
---
green pages newsletter of the department of environment & coastal resources

From top: Divers conducted in-depth surveys on the reefs' coral cover,

diversity, algal cover, coral recruitment rates, fish biomass and diversity.

On the reefs along East Caicos overall fishing pressure is light, maintaining

a healthy diversity of fish!

coral cover, coral diversity, algal cover, coral recruitment

rates, fish biomass and diversity.

To the team's extraordinary relief, East Caicos reefs

are still vibrant and thriving, in spite of the impacts

of Hurricanes Irma and Maria. Live coral cover on all

reefs averaged approximately 20%, with the instance of

diseased or bleached coral being negligible. Results confirmed

the research team's earlier observations, that East

Caicos reefs represent a significant reservoir of coral reef

biodiversity that could prove to be resilient to climate

change. These are important findings for TCI, the region

and the world.

Coral reefs and climate resilience

Why are East Caicos reefs doing well when other reefs are

struggling to survive? Resilience is the capacity to recover

from or adapt to impacts and/or change. Although coral

reefs have been in existence for approximately 500 million

years, they are struggling to keep pace with the rapid

environmental changes that humans are inflicting on

the planet. Corals are particularly sensitive to changes

in temperature and water chemistry. Warming water,

coupled with pollutants from human development and

agriculture have been catastrophic to coral populations

on a global scale, and scientists estimate that most of the

world's coral reefs will be gone by the end of the century.

Resilient populations, such as those at East Caicos,

may be all that are left to repopulate the world's

oceans, if they can survive.

East Caicos corals stand a better chance than most

for a number of reasons. The main factor is probably

the fact that there is no land-based development at East

Caicos; therefore, land-based pollution is negligible,

allowing offshore reefs to enjoy close-to-pristine water

quality. Diverse fish populations are also a critical factor.

Herbivorous fish maintain healthy coral populations

by eating competing algae and creating space for corals

to grow and prosper. Although East Caicos is an important

fishing area for South Caicos fisherfolk, fish species

that are critical to coral reef health, particularly herbivorous

parrotfish, are not targeted. Furthermore, overall

fishing pressure is light, due to prevailing weather conditions,

which allow for fishing only a few days of the

year. A final factor protecting East Caicos reefs may be

cold water, which upwells from the depths of the adjacent

7,000-foot-deep Columbus Passage, bathing north

shore East Caicos reefs in cool water and protecting them

to some extent from the rising ocean temperatures that

are killing off corals worldwide. In spite of these factors,

which offer East Caicos reefs a fighting chance, they are

still vulnerable to human activities.

Developing a conservation

management plan

With the exception of only a small portion of marine habitat

contained within the Ramsar Nature Reserve, none

of the coral reefs surrounding East Caicos have any

conservation status. East Caicos' remoteness and inaccessibility

have thus far protected it from major development

MATTHEW SLATTERY

DAVID M STONE

30 www.timespub.tc
---
green pages newsletter of the department of environment & coastal resources

This peaceful scene on East Caicos exemplifies the need to keep it as an area of natural beauty in the Turks & Caicos Islands.

AGILE LEVIN

DAVID M STONE

schemes, but with other land areas rapidly developing

in TCI, East Caicos is viewed as a reservoir for future

major development. Many development proposals for

East Caicos have been suggested, such as trans-shipping

and cruise ports. Another project that may be detrimental

is the proposed "link road," which will connect all the

Caicos Islands via causeways and bridges. The link road

will undoubtedly open up the island to large-scale and

uncontrolled development, as land grabbers flock to get

a piece of newly accessible land. Industrial commercial

fishing interests have also engaged from time to time

in large-scale trap fishing off East Caicos. Such practices

threaten the integrity of coral reef ecosystems via physical

damages to the reefs and indiscriminate trapping of

all fish species, including those important to coral reef

health.

In order to address these issues, the project developed

conservation management recommendations for

four conservation zones at East Caicos. These recommendations

were presented to stakeholders on South Caicos

in September 2018 and have been delivered to DECR and

Scientist Kathleen Wood analyzes water samples collected by divers

on the East Caicos reefs.

Times of the Islands Winter 2018/19 31
---
green pages newsletter of the department of environment & coastal resources

the TCI Government (TCIG). Interested parties can view

the final project report and recommendations at www.

TCRF.org.

Specifically, while traditional fishing should be

allowed to continue, the research team recommends a

ban on commercial-scale trap fishing across the northern

coastline of East Caicos. The team is also recommending

that the island be developed lightly, focusing on ecotourism

activities, which benefit small business owners

and operators, rather than on large-scale developments,

which will benefit only a few wealthy elites. The link road

should also bypass East Caicos, if the island's intact but

fragile ecosystems are to stand any chance of survival.

Most importantly, these reefs need to be monitored over

time to identify any changes that may be occurring.

In order to ensure long-term monitoring takes place,

an NGO/Public/Private partnership has been outlined

between the TCRF, DECR and Explorer Adventures to

conduct regular monitoring at the established permanent

monitoring sites at least every two years. The ratification

and implementation of the recommended conservation

zones and management plans falls within the remit of

the TCIG. History will record if decision-makers are able

to set aside short-term political and financial expediency

to save East Caicos coral reefs for the world's future generations.

We can but hope. a

Special thanks to the Explorer Adventures Fleet, operators

of the Turks & Caicos Explorer II for supporting this

effort by providing the vessel for completing the quantitative

survey work in August 2018. Thanks are also offered

to the DECR, the School for Field Studies and Timothy,

Marley and Vonne Hamilton for their assistance with this

project.

This document has been produced with the financial

assistance of the European Union. The contents of this

document are the sole responsibility of Wangeningen

Marine Research and the Turks & Caicos Reef Fund and

can under no circumstances be regarded as reflecting the

position of the European Union. a

32 www.timespub.tc
---
green pages newsletter of the department of environment & coastal resources

Ban the bag

Single-use plastic shopping bags will soon be removed

from supermarkets and shops across the TCI. The government-approved

import ban will come into effect

from January 1, 2019, with a ban on the use of singleuse

plastic bags by retailers to come into effect on May

1, 2019. There is a list of alternative bags which can be

used by retailers from May 1, 2019, on which reduced

custom tariff rates on some will be applied.

Although some residents and visitors are waiting

with baited breath for the plastic bag ban to kick into

gear in the TCI, others find themselves anxious about

what this would really mean for them and their households.

I'm here to tell you '"Fear no more!"

Let's start with the "Why?" Why do we want to get

rid of these convenient little carriers? They are useful

for many reasons beyond carrying groceries out of the

store: They double as bin liners, are great for picking

up your dog's doo-doo, save any fragile hairstyle from

the rain and are recyclable. Right? Wrong!

They may do all of the above, but their harm far

outweighs their usefulness. On average, it is estimated

that one person can use up to 170 plastic bags every

year. Of this, 150 million end up as litter, as only 3%

of them are currently being recycled and 200,000 bags

are dumped in landfills every hour. In China, 3 billion

single-use plastic bags are used every day. Worldwide,

about 2 million plastic bags are used every minute!

"So what," you might ask? More frequently we are

seeing marine animals wash up on shore, with bellies

filled with our convenience. Ocean Crusaders estimate

that 100,000 marine creatures each year die from

plastic entanglement and these are the ones found.

Approximately 1 million sea birds also die from plastic.

A plastic bag can kill numerous animals because

they take so long to disintegrate. Plastic does not

biodegrade, no matter how many times we stamp "biodegradable"

on the bag. That means that as it breaks

up in our oceans, it has the potential to exponentially

harm! And not only sea creatures.

The World Economic Forum's research has revealed

that 90% of our table salt is contaminated with plastics,

and—which may be even more alarming—microplastics

(the name we've given to the VERY tiny pieces that have

broken down, but not degraded) are now being found

in our poop! The full implications of this are yet to be

seen, but we can just look at what it is doing to our

marine and terrestrial friends and wonder if we would

suffer a similar fate?

However, there is hope! Our region has not seen a

massive reaction to plastics, in comparison to the rest

of the world, but TCI is one of the leaders on the frontline

of the war against plastic! Resorts and restaurants

are now serving drinks with paper straws (or no straws

at all) and are banning the single-use plastic water bottles,

instead offering guests a reusable souvenir that

may be filled up at water stations around the resort. So

those are the "big guys" making a change, but we, the

little guys, the individuals, have a responsibility too.

Not just to our environment, or ourselves, but to the

generation to follow after us. The plastic bag ban is a

simple and easy way to ensure that we are all (whether

it is convenient or not) becoming custodians of our natural

environment.

It's all about a change of habit. Speaking from experience,

once you break your old habit (using single-use

shopping bags) and get into the routine of putting the

re-usable carriers in your car, after using them for your

regular shop, then it really is "as easy as that."

I am here to give you the permission to moan and

groan, but keep an open mind and remind yourself that

your inconvenience may mean the world to the planet's

future. Start packing your car with those re-usable bags

today, making it a habit for a lifetime. a

By Amy Avenant,

DECR Environment Outreach Coordinator

Times of the Islands Winter 2018/19 33
---
green pages newsletter of the department of environment & coastal resources

JOHN DEBUYSSER

A typical South Caicos coral community includes lobed star coral and boulder star coral, lettuce coral and the massive starlet coral.

Battle of the Reefs

Comparing South Caicos and East Caicos coral communities.

By John DeBuysser and Heidi Hertler, Ph.D.

Coral reefs are one of the most productive and biodiverse ecosystems on Earth, supporting 25% of marine

species and over 850 million people while composing only 0.015% of the ocean floor. These habitats

are of such importance to ecosystem function and worldwide economy that 2018 has been declared the

International Year of the Reef.

In the Caribbean region, coral reefs provide an estimated $3.1 to $5 billion to the Caribbean economy

through fisheries, shoreline protection, and tourism. The Turks & Caicos Islands (TCI) are fortunate to

have this beautiful and productive resource at our back door, supporting the local tourism and fishing

industries. The tide of tourism is rapidly flowing into the TCI, with numbers of visitors steadily increasing.

What we do now to preserve these habitats benefits the economy and sustains this resource for future

generations.

34 www.timespub.tc
---
green pages newsletter of the department of environment & coastal resources

Worldwide coral reefs are threatened by climate

change, ocean acidification, and anthropogenic disturbance.

Tropical reefs have lost more than half their

reef-building corals since the 1970s. Experts have established

a historical baseline of 53% live coral cover for

the Caribbean; today there is less than 20%. Although

coral cover in the TCI was recorded to be 20% in 1999,

it could not be determined if this area was following the

Caribbean trend. TCI reefs are fortunate to have low algae

cover compared to the rest of the Caribbean, allowing

stronger coral recruitment and resiliency to disturbance

events.

The resiliency of the Turks & Caicos' reef ecosystem,

particularly those surrounding South and East Caicos, is

bolstered by a relatively extensive network of marine protected

areas and low anthropogenic impact, respectively.

In total, these 34 protected zones cover an area of 705

km 2 and comprise 11 national parks, 11 nature reserves,

7 areas of historical interest, and 4 sanctuaries. The

Admiral Cockburn Land and Sea National Park is one of

these areas off the southern shore of South Caicos. The

park was designated for its excellent reef habitat and representation

of the greater TCI reef system. This area has

minimal pressure from development or tourism, providing

excellent utility as a study area to establish baselines

for TCI reef health.

The School for Field Studies Center for Marine

Resource Studies (SFS CMRS) is located in South Caicos

and ideally situated to study and monitor local reef systems.

SFS is a US-based academic institution that provides

multidisciplinary, field-based environmental study abroad

opportunities to undergraduate university students.

East Caicos is the TCI's largest uninhabited island

and lies to the north of South Caicos. The reefs of East

Caicos are important historic fishing grounds yet are

largely without survey or assessment. This past August

the TC Reef Fund, in cooperation with Explorer Ventures

and funded through an EU BEST 2.0 Swift Small Grant

("Understanding East Caicos KBA's Corals and Coasts:

A Key to Safeguarding TCI's Future"), hosted scientists

aboard the Turks & Caicos Explorer II, including SFS CMRS

faculty Dr. Franziska Elmer, to conduct the first mapping

and habitat surveys of the area.

East Caicos' coral reefs are not within a protected

area, though the island's remoteness, uninhabited status,

and limited history of commercial and agricultural use

School for Field Studies staff and students conduct underwater

assessments of permanent transects at South Caicos reef sites.

have protected the marine ecosystems from significant

degradation and make it ideal for comparison to other

systems around the TCI.

Benthic surveys of South Caicos reefs have been completed

by SFS staff and students in the fall and spring

for the past six years. Ten permanent transects are surveyed

and photographed. Coral Point Count with Excel

Extensions (CPCe) was used to analyze photos by identifying

species under randomly selected points. Over 44,000

spatially random points on the photographs were analyzed.

This year the survey of local reefs was expanded to

include East Caicos. Similar to South, 49,500 points were

surveyed along transects on the north side of East Caicos.

Data was grouped into live coral (stony corals), soft

corals (gorgonians), sponges, algae (macro and coralline),

and unsettled substrate (sand, pavement and rubble).

We observed a slight decline in live coral cover on South

Caicos from 2015 to 2018, though this difference was

found to not be significant. East Caicos averaged 12%

live coral cover as compared to South Caicos' 4% live

coral cover. Conversely, East Caicos was found to have

significantly greater macro algae cover as compared to

South Caicos, which featured more bare rock and rubble

substrate. The presence of bare substrate without

HEIDI HERTLER

Times of the Islands Winter 2018/19 35
---
green pages newsletter of the department of environment & coastal resources

algal competitors suggests this can be good habitat for

coral recruitment, hopefully poising South Caicos for an

increase in coral cover.

The South Caicos coral community is dominated

by lettuce coral (Agaricia agaricites), lobed star coral

(Orbicella annularis), boulder star coral (Orbicella franksi)

and the massive starlet coral (Siderastrea siderea), while

East Caicos reefs are characterized by mountainous star

coral (Orbicella faveolata), lobed star coral (Orbicella

annularis), boulder star coral (Orbicella franksi) and

mustard hill coral (Porites astreoides). We compared the

biodiversity of the two areas using the Shannon-Weaver

Index. This metric takes into account both the number of

species present and also the relative abundance within

the community. These values are important when trying

to understand community structure. Although East

Caicos appears to have greater benthic diversity, there

was not a significant difference between the sites.

Moving forward, we will continue to monitor the South

Caicos and East Caicos reef systems. Further analysis will

focus on coral recruitment rates to better understand the

net population trends of the present coral community

and its resiliency to potential disturbances. Both South

Caicos and East Caicos reefs will likely face challenges as

tourism continues to rise and fishing pressure increases

to feed a growing population. Research such as this provides

detailed information on the status of these reefs so

stakeholders can make informed decisions on the management

and preservation of the "Beautiful by Nature"

marine resources of the Turks & Caicos Islands. a

Sources

Buddemeier RW, Lane DR, Martinich JA (2011) Modeling

regional coral reef responses to global warming and

changes in ocean chemistry: Caribbean case study.

Climactic Change 109: 375-397.

Carleton C, Hambrey J (2006) Review and re-assessment

of the TCI protected area system. Nautilus Consultants

Ltd.

Dikou A, Ackerman C, Banks C, Dempsey A, Fox M,

Gins M, Hester P, Parnes A, Roach S, Rohde J, Spital C,

Tapleshay M, Thomas L (2009) Ecological assessment

to detect imminent change in coral reefs of Admiral

Cockburn Land and Sea National Park, Turks and Caicos

Islands. Marine Ecology 30: 425-436.

From top: Coral Point Count with Excel Extensions (CPCe) allows for

determination of coral cover from transect photographs by identifying

species at random points.

This graph shows the percent coverage of transects determined from

photo analysis. East Caicos (green) and South Caicos (orange) are

compared by three categories: corals and sponges, macroalgae and

coralline algae, and sand, pavement, and rubble.

International Year of the Reef (2018) International Coral

Reef Initiative.

Jackson JBC, Donovan MK, Cramer KL, Lam VV (editors).

(2014) Status and trends of Caribbean coral reefs: 1970-

2012. Global Coral Reef Monitoring Network, IUCN,

Gland, Switzerland.

Kohler KE and Gill SM (2006) Coral Point Count with Excel

extensions (CPCe): A visual basic program for the determination

of coral and substrate coverage using random

point count methodology. Computers and Geosciences

32(9): 1259-1269.

World Wildlife Fund (2015) Living blue planet report: species,

habitats and human well-being. World Wildlife Fund

International, Gland, Switzerland.

36 www.timespub.tc
---
MARTA MORTON—WWW.HARBOURCLUBVILLAS.COM
---
feature

Opposite page: Building the Caicos Sloops that were so important for transportation and trade required tremendous ingenuity and resourcefulness

from the native boat builders.

Above: This 1910 postcard shows workers in the salt ponds of Grand Turk, in front of the Old Prison and Victoria Library. Although they were

not slaves (slavery was abolished in 1834), the image depicts the difficult conditions workers faced.

E NEALE COVERLEY—COURTESY TURKS & CAICOS NATIONAL MUSEUM COLLECTION

Sailing to Freedom

TCI slave escapes in the early 1800s.

By Ben Stubenberg

Few endeavors are more woven into the culture and history of the Turks & Caicos Islands than sailing. Ever

since the Bermudians rediscovered TCI some 350 years ago and began collecting salt from the natural

salinas, boats played a defining role. By day, fast and agile sloops called "lighters" brought sacks of the

precious "white gold" from the shores of Grand Turk, Salt Cay and South Caicos to larger ships waiting in

deep water for the voyage back to Bermuda. Larger sloops plied the turquoise waters between the scattered

TCI settlements where Islanders welcomed their arrival for the passengers and cargo they carried

and news they brought of separated kin and the world beyond.

At night, however, the vessels served a more daring, clandestine purpose. Under the cover of darkness,

the salt raker slaves who had had enough secretly gathered on the beach where the boats bobbed in

the sea. Quietly, they unfurled and raised the sails, let the warm wind fill the luffing canvass, and steered

south by the stars splashed across a black Caribbean sky to freedom.

Times of the Islands Winter 2018/19 39
---
The rocky islets of Bermuda, where this story begins,

lie some 750 miles (1200 km) due north of the TCI in

the middle of the North Atlantic. Settlers from Scotland,

England and Ireland first arrived on the 21 square mile

archipelago in the early 1600s and tried to make a go at

small scale agriculture. But when the soil depleted after a

couple of generations, they looked for other ways to survive.

Straddling the major shipping routes from Europe to

the West Indies, as well as close proximity to the American

colonies, Bermudians found a niche as an opportunistic

seafaring outpost. The settlers and the African slaves

they imported built boats with shallow drafts that also

made them more maneuverable for negotiating tricky

reefs. They also improved the four cornered trapezoid

gaff rig so it could point the boats more closely into the

wind and require fewer tacks.

In what became known and admired as the Bermudian

Sloop, sailors gained a decisive advantage that translated

into a measure of autonomy and a geographical

reach well beyond their isolated islands. It also bred a

brash, adventurous spirit in a dangerous, unforgiving

world where pirates and warships roamed the same seas,

jockeying for dominance and riches. Though nominally

under British dominion, Bermudians often became pirates

themselves and traded with any nation that could pay,

including Britain's enemies.

With these swift sloops, the Bermudians, black and

white, explored the Bahamian Archipelago in search of

shipwrecks with treasure and to hunt for turtles. During

one of the voyages in the latter 1600s, they came across

the then-uninhabited islands of TCI. A century before, the

Taino and Lucayan Indians had all been killed by disease,

slaughtered, or carried off as slaves forced to dive for

pearls off the coast of Venezuela. (See "Diving Free," Fall

2018 Times of the Islands.) The Bermudians took note of

the salinas (salt ponds) of Grand Turk, Salt Cay, and South

Caicos that allowed in just enough ocean water to leave

behind high quality salt around the edges after evaporation

in the hot sun. Before refrigeration, salt preserved

food, and was thus extremely valuable.

At first, the Bermudians dropped off white, indentured

salt rakers in March at the beginning of the dry season

The hard, brutal work and conditions for the salt-raking slaves were detailed in the story of Mary Prince, herself a slave from Bermuda who

spent ten years on Grand Turk from 1802 to 1812. After being brought to London as a slave, she ran away from her "owner" and told her

story to British abolitionist Thomas Pringle, who transcribed her words that became a best selling book.

40 www.timespub.tc
---
Walkin May2017_Layout 1 5/28/17 5:45 PM Page 1

and picked them up in November, along with the salt they

had gathered. As demand for salt rose in New England,

Newfoundland, and Labrador to keep cod from rotting

(fishermen needed two pounds of salt for every pound of

fish), Bermudian salt merchant slaveholders swapped the

white salt rakers for slaves of African descent and established

permanent settlements around the ponds.

Slavery's harsh reality

The work and conditions were hard and brutal. (See

"Toiling in the Salt Ponds," Fall 2008 Times of the Islands.)

We know in painful detail from a rare first-hand account

of the plight of salt-raking slaves by Mary Prince, herself

a slave from Bermuda who spent ten years on Grand Turk

from 1802 to 1812. After being brought to London as a

slave, she ran away from her "owner" and told her story to

British abolitionist Thomas Pringle, who transcribed her

words that became a best selling book.

"I was given a half barrel and a shovel, and had to stand

up to my knees in the water, from four o'clock in the

morning till nine. [I} worked through the heat of the day;

the sun flaming upon our heads like fire, and raising

salt blisters. Our feet and legs, from standing in the salt

water for so many hours, soon became full of dreadful

boils, which eat down in some cases to the very bone. We

then shoveled up the salt in large heaps and sometimes

we had to work all night, measuring salt to load a vessel;

or turning a machine to draw water out of the sea for the

salt-making."

DISTRIBUTOR DISTRIBUTOR FOR FOR EVINRUDE && MERCURY MERCURY

OUTBOARDS, PURSUIT WORLD CLASS CAT, CAT,

SUNDANCE AND BOSTON WHALER BOATS

Lures and Live Bait

Marine Hardware & Gear

Fishing Gear & Supplies

Marine Paints & Varnish

Marine Batteries

Sebago Docksiders

& Sperry Topsiders Shoes

BLUE

BLUE

HILLS

HILLS

ROAD

ROAD

PROVIDENCIALES

PROVIDENCIALES

TURKS

TURKS

& CAICOS

CAICOS

ISLANDS,

ISLANDS,

B.W.I.

B.W.I.

PHONE: 649-946-4411

FAX: 649-946-4945

Any slave perceived as not putting in full effort could

expect tortuous punishment. Mary Prince describes what

happened to "Old Daniel" who could not work as hard as

the others because of a lame hip.

"[The owner] would order him to be stripped and laid

down on the ground, and have him beaten with a rod

of rough briar till his skin was quite red and raw. He

would then call for a bucket of salt, and fling [it] upon

the raw flesh till the man writhed on the ground like a

worm, and screamed aloud with agony. This poor man's

wounds were never healed. I have often seen them full of

maggots, which increased his torments to an intolerable

degree. He was an object of pity and terror to the whole

gang of slaves, and in his wretched case we saw, each of

us, our own lot, if we should live to be as old."

For the slaves, it was well nigh impossible to break

Times of the Islands Winter 2018/19 41
---
MARTA MORTON—WWW.HARBOURCLUBVILLAS.COM

What became the Caicos Sloop proved to be the equal of the masterful Bermudian sloop, allowing TCI to develop its own sailing prowess. The

maritime linkages between the Islands enabled the boat builders to pass on sailing skills to salt rakers.

out of their subjugation. Unlike mountainous Jamaica

where runaway slaves called "Maroons" could hide in

small communities deep in the interior jungles, TCI's

small, flat islands offered no such refuge. The slave masters

had the salt rakers trapped—until a confluence of

three pivotal elements gave them a chance: The means

to escape, a safe haven, and an intelligence network to

guide their course of action.

Building the Caicos sloop

As slaves like Mary Prince and Old Daniel labored to produce

ever more salt under threat of violence, the salt

merchant pond owners needed more boats to transport

their commodity. Bermuda was already running short of

trees to cut, but small forests in Middle Caicos turned out

to have excellent quality wood to build small lighters, as

well as bigger sloops for longer voyages. Constructing

the boats locally instead of sailing hundreds of miles

down from Bermuda made sense. And soon an independent

boat building industry sprang up using African

slaves from Bermuda as shipwrights, carpenters and

blacksmiths.

The tenacity to build Bermudian-style fast sloops from

scratch in the bush cannot be overstated. David Douglas,

owner of the West Indian sloop Atabeyra and founder

of the Caicos Sloop Project, makes clear the incredible

resourcefulness and ingenuity required. "With just meager

tools, these TCI guys went into the bush, found the

right trees, and hand-cut the wood to build ocean-going

vessels. And the builders passed down that knowledge,

as well as the skills to sail, from one generation to the

next, right through to today."

James S. Deane of Wheeling on Providenciales recalled

the traditional boat building techniques that he had

learned from his father. They built their Caicos Sloops the

way they did 200 years ago, using mostly strong locust or

mahogany wood for the keel and ribs and Caicos pine for

the planks, mast and spars. Builders would often search

and select trees that already had a natural curve so just

one piece could be used. "After laying the keel," Mr.

Deane said, "the ribbing shape only varied between the

more rounded 'rainbow' style or 'straight V.' My father

could cut the planks so precise that the spacing would

be as little as 1/64th of an inch. But the craftsmanship

was actually too good, as it did not permit enough space

for the caulking using sisal tree fibers and 'putty' made

from a mix of ant nest and paint. So they had to widen the

spacing a bit." For Mr. Deane and the other boat builders

of today and long ago, the sloops were as much a work

of art and beauty, as function. They wanted their boats to

42 www.timespub.tc
---
look as good as they sailed.

What became the Caicos Sloop proved to be the equal

of the masterful Bermudian sloop, allowing TCI to develop

its own sailing prowess. The maritime linkages between

the Islands enabled the boat builders to pass on sailing

skills to salt rakers, according to Dr. Carlton Mills, editor

of the The History of the Turks & Caicos Islands. That connection

was particularly strong between Middle Caicos

and South Caicos, as boats regularly launched from the

settlement of Lorimers and made their way down the

channel and the lee side of South Caicos for trade, news

and, over time, family ties with the salt rakers. Dr. Mills

also points out that salt rakers on Grand Turk, Salt Cay

and South Caicos likely worked on the small lighters sailing

between the shore and larger ships to bring salt and

off-load cargo, which would further enhance their nautical

knowledge. For slaves seeking to escape, however,

the boats had limited utility unless they could find refuge

with contacts, a sanctuary in an otherwise hostile environment.

Slaves revolt in Haiti

Beginning in the 1770s, revolutions rumbled first in the

American Colonies, followed by France, and then Haiti.

All violently challenged longstanding notions of hierarchy

and power and called for a new, more egalitarian political

order. However imperfectly, the leaders attempted to

apply what had been only philosophical concepts of basic

rights, social contract and democratic self-determination.

For slaves in Haiti, the revolutionary choice was far more

stark—barbarous bondage or liberty.

The French colony then known as St. Domingue lay

just 100 miles (160 km) south of TCI and encompassed a

third of Hispañola. The fertile land there produced more

wealth than any other colony in the Caribbean, mainly

through vast sugar cane plantations. For aspiring French

gentry seeking fortune and higher status, Haiti offered

a clear path to get there. All it took were seed capital,

importing thousands of slaves from Africa to work the

fields and a decade of ruthless plantation management.

Slaveholders figured they could get one or two year's of

hard labor from a slave before he or she succumbed to

Yellow Fever or exhaustion, so they constantly sought

to replenish slaves, while expanding their plantations to

generate more income. The reckless greed soon led to

a 10:1 ratio of slaves to whites, higher than other West

Indian colonies, including TCI which had at most a 6:1

ratio. Watching the insurrections in Haiti and experienc-

Times of the Islands Winter 2018/19 43
---
BEN STUBENBERG

James S. Deane of the Wheeling settlement in Providenciales is one of the great living TCI boat builders. He learned the craft from his father.

ing their own revolts in Jamaica, the British were especially

sensitive to slaves overwhelming the white population,

according to Dr. Mills, and sought to reduce the ratios as

a management technique.

In 1791, the first revolt took place in Northern Haiti

near the colony's capital, Cap-François, today called Cap-

Haitien or Okap. The slaves massacred several plantation

families before being put down. But precedent had been

set, and soon new uprisings took place leading to the

creation of well-led Haitian militias that evolved into disciplined

armies pitted against French troops fighting to

preserve the plantation system.

The conflict took many twists and turns over the

next 12 years, including alliances on both sides with free

mulattos who saw an opportunity to improve their own

lot as a class with limited rights. The French Revolution

ideals of liberty, equality and fraternity had already

reached Haiti's shores and been internalized by slaves

and mulattos. When Napoleon Bonaparte came to power

in France in 1802, the now ex-slaves had taken control

over most of Haiti. Influenced by his wife Josephine, herself

from Martinique, another colony dependent on slaves

to cut cane, and plantation owners eager to regain their

holdings, Napoleon sent an army of 50,000 men from

France to quash the rebellion definitively. By the following

year, however, almost all the troops had been wiped out

by Yellow Fever and a formidable Haitian fighting force.

Napoleon would later write that his effort to win back

Haiti was the worst decision he ever made.

On January 1, 1804, Haitian leaders formally declared

their independence, becoming the second independent

republic in the Americas and the first black one. They

discarded the name St. Domingue and restored the original

Taino Indian name, Haiti, meaning "land of high

mountains." The Haitian Revolution stands as the only

successful slave revolt in history. The biggest slave rebellion

prior to Haiti had been the unsuccessful uprising led

by Spartacus against the Romans more than 1,900 years

earlier. Keenly cognizant of their singular accomplishment,

Haitians enticed thousands of free and enslaved

blacks in the West Indies to flee to their shores and secure

rights denied elsewhere.

44 www.timespub.tc
---
Network of black mariners

The triumph by the oppressed in Haiti reverberated

throughout the slave communities in the West Indies,

as well as among slaveholders fearful that insurrections

might come their way too. While slaveholders, merchants

and government authorities typically got their information

through the press, letters, official reports, visitors

and sometimes plantation owners fleeing the strife in

Haiti, slaves received their updates in a very different

manner. Excluded from standard forms of communication,

slaves relied instead on black sailors who picked up

news in the ports they visited and passed it on, effectively

creating a parallel structure.

Dr. Kevin Dawes, Professor of History at the University

of California, Merced, explores this dynamic in his paper

"Enslaved Ship Pilots in the Age of Revolution: Challenging

Notions of Race and Slavery between the Boundaries of

Land and Sea." He writes:

"Atlantic ports were market places for news and pilots

funneled intelligence between mariners, passengers, and

shoreside communities, serving as the overseas eyes and

ears of urban and rural slave communities. News was

passed by word of mouth along maritime routes . . . free

black sailors linked black communities in New England to

the West Indies."

Hugh final_Layout 1 5/29/17 1:15 PM Page 1

Professor Dawes goes on to assert that "these murmurs

of liberty rippled across the greater Caribbean inspiring

corollary slave rebellions."

During this era of political and social upheaval in

the Americas, black mariners, slave and free, occupied a

unique and liberating space on the water with far fewer

constraints than slaves on land. Able to roam, these men

of the sea witnessed and absorbed the fissures of instability

and change in the region that they passed on. In

the fluid environment, black mariners also understood

how their specialized skills could be exploited for more

privileges and to redefine notions of race and status. As

Professor Dawes explains, the independent character of

the labor of free and enslaved black mariners "undercut

white dominance, allowing them to use the ocean as a

transient sphere of opportunity where they severed terrestrial

ties . . . and gained economic advantages and

racial parity deprived ashore."

Nowhere was this equality more conspicuous than

with enslaved pilots who gained the trust of white shipmasters

to safely guide the lumbering sailing vessels into

tricky harbors after crossing the Atlantic. Shipmasters

P

E

R

S

HUGH G. O'NEILL

ATTORNEYSN

AT

L AW

P.O. Box 267

Hibernian House

1136 Leeward Highway

Providenciales

Turks and Caicos Islands

B.W.I.

Tel 649-946-4514

Fax 649-946-4955

Email hugh.oneill@hgoneillco.tc

&

C

CO. O

N

F

I

D

E

N

T

I

A

L

Times of the Islands Winter 2018/19 45
---
The longest established legal practice

in the Turks & Caicos Islands

Real Estate Investments

& Property Development

Immigration, Residency

& Business Licensing

Company & Commercial Law

Trusts & Estate Planning

Banking & Insurance

1 Caribbean Place, P.O. Box 97

Leeward Highway, Providenciales

Turks & Caicos Islands, BWI

Ph: 649 946 4344 • Fax: 649 946 4564

E-Mail: dempsey@tciway.tc

Cockburn House, P.O. Box 70

Market Street, Grand Turk

Turks & Caicos Islands, BWI

Ph: 649 946 2245 • Fax: 649 946 2758

E-Mail: ffdlawco@tciway.tc

john redmond associates ltd.

architects & designers

construction consultants

project management

p.o.box 21, providenciales, turks & caicos is.

tel.: 9464440 cell: 2314569 email: redmond@tciway.tc

in fact became dependent on pilots' essential maritime

knowledge, enabling them to take advantage and invert

the racial hierarchy of subservience. Indeed, enslaved

pilots regularly talked back, cursed and ordered about

white captains and crew. One account of an enslaved pilot

in Barbados has him even demanding grog as he took

command of a ship entering the harbor and offered a

toast to the white women passengers below, something

that would not have been tolerated on land.

Ship owners and shipmasters did not object or challenge

the pilots, lest they risk the pilot "accidentally"

crashing the ship and cargo on the reef or shoals around

the harbor. In some instances, ship owners even enjoyed

watching the black slave pilots boss around white sailors,

thus further highlighting the inverted social hierarchy

on deck. The deference given to these black mariners,

of course, infused a level of confidence and freedom to

move about and openly flout the norms of the day.

As many ships frequented Grand Turk, Salt Cay and

South Caicos to unload food and materials and pick

up sacks of salt, these black mariners and other slaves

brought news of revolt and liberation to the salt rakers.

Their influence on the salt rakers did not go unnoticed by

TCI slaveholders who blamed them for inciting escapes.

In the chapter on Slavery in The History of Turks & Caicos

Islands, TCI historian Nigel Sadler quotes the assessment

of the "King's Agent" in TCI Colonel Alexander Murray in

1798:

"Of late many valuable Negroes allured by the description

given them of French liberty by their associates,

have eloped to the enemy. One man of Salt Cay, James

Deane, has lost no less than fifteen. Of the several plans

to escape with boats to Cap François, we have found no

instance where the French Negroes were not the principals

or parties."

And this was well before the Haitian Revolution had

ended.

It is important to note that while black mariners

calling on TCI ports played a critical role in transmitting

intelligence for would-be escapees, they were not the

only source. Dr. Mills notes that household slaves also

had excellent access to information by their proximity

to the salt merchants they served. They may have overheard

talk about upcoming travels, in-fighting or illnesses

that would have distracted slaveholders from keeping a

watchful eye. The house slaves would feign ignorance or

disinterest when in fact they were listening and observ-

46 www.timespub.tc
---
TWATIMES_Layout 1 2/16/17 7:49 AM Page 1

ing carefully. At the same time, Dr. Mills suggests, slave

mistresses of the salt merchants may also have picked

up intelligence through their intimate contact to pass on.

These important nuggets could be pieced together and

factored into decision-making for an escape. Any escape

plot took extensive and creative planning to ensure success.

Failure was not an option, and there is in fact no

record of TCI slaves being caught escaping.

Efforts to stop slave escapes

The first King's Agent in TCI, Andrew Symmer, made the

initial attempt to control boats being taken by slaves. He

required all boat owners to remove their sails at night

and instituted liability and penalties by compelling "any

master of a servant or slave" who absconded with a boat

"to make good all damages" to the boat's owner. By the

early 1800s, local authorities instituted more severe measures

to punish slaveholders for not controlling slaves

sufficiently. If the slaveowners lost slaves to escapes,

authorities reduced their share of the salinas in direct

proportion to the slaves they no longer had, thus hurting

them financially.

The incentives to control slave escapes apparently

had little effect, as statistics bear out the prevalence of

slave escapes from TCI. According to Mr. Sadler, "Between

1822 and 1825, of the 142 slaves listed as runaways in

the Bahamas (which at that time included TCI), 128 (90%)

had absconded from Turks & Caicos, mainly due to the

ease of access to salt ships and proximity of Haiti." These

included slaves escaping in this time frame on sloops

from Hawks Nest, Grand Turk, from North Caicos using

sloops owned by Wade Stubbs also in 1823, and from

South Caicos in the sloop Polly taken from Henshall

Stubbs.

Finally, British officials deployed a detachment of the

West Indies Regiment on Grand Turk to uphold law and

order in the early 1830s. But even that was not enough.

A year before emancipation in 1834, salt pond owner and

slaveholder Henshall Stubbs took matters into his own

hands by furnishing his own boats to serve as a de facto

coast guard to try to stop the exodus of slaves getting

away by boat.

Absconding with sloops to sail to Haiti and freedom

was not unique to TCI. Professor Dawson notes that in

1817, seven Jamaican slaves commandeered their pilot

boat, the Deep Nine, when the owner and captain went

ashore near Port Royal and sailed it to Haiti. British

authorities blamed Haitian sailors for importing revolutionary

ideals that led to the slave escapes by boat.

Serving international & domestic clients in real estate, property development,

mortgages, corporate & commercial matters, immigration, & more.

TEL 649.946.4261 TMW@TMWLAW.TC WWW.TWAMARCELINWOLF.COM

35Years

Assisting domestic and international clients for 35 years

Tel + 1 649 946 4602 • Fax + 1 649 946 4848

Email reception@savory-co.com • Website www.savory-co.com

Times of the Islands Winter 2018/19 47
---
Project11_Layout 1 11/14/18 3:09 PM Page 1

Knowing that the new Haitian government protected fugitives

from re-enslavement, the runaway Jamaicans made

no attempt to conceal themselves or their boat when the

owner/captain came to Haiti looking for them. He got the

boat back but not the mariners, now former slaves.

Leaving a legacy

The names of enslaved TCI salt rakers who escaped their

ordeal have been lost to history. But through the words of

Mary Prince echoing through the centuries, we know how

motivated they must have been. We know the courage

that it took in view of the severe punishment that awaited

them if caught. And we know that they were very much

part of a Great Caribbean network of intelligence fostered

by black mariners and other slaves who kept them well

informed.

Using nautical skills likely acquired from handling

lighters and from boat builders, escaping slaves would

have been prepared to sail the 100 miles (160 km) to

Haiti in less than a day with a good northerly breeze.

As for navigation, Mr. Douglas posits that the escaping

slaves probably knew quite well what they were doing.

"In late winter/spring, they would easily have located

the Southern Cross just above the southern horizon that

would have guided them to Cap-Haitien."

We can only imagine the anguish the salt rakers felt

leaving behind family and friends without much hope of

seeing them again. At the same time, we can sense the

thrill of escape across the ocean and embarking on a new

life in a new land, however uncertain the future. Indeed,

the TCI salt rakers took full advantage of the cracks in

the prevailing system of bondage to make their move.

Far from passive observers, scores of salt rakers, perhaps

hundreds, claimed freedom on their terms in their native

Caicos sloops despite resolute efforts to stop them, leaving

behind a legacy of bold defiance. a

Ben Stubenberg is a contributing writer to Times of the

Islands with a passion for Turks & Caicos Islands history.

An avid ocean man, he is the co-founder of the sports and

adventure tour company Caicu Naniki and the annual

Turks & Caicos "Race for the Conch" Eco-Seaswim. Ben

can be reached at ben@caicunaniki.com.

48 www.timespub.tc
---
The Leading Private Bank in the Turks and Caicos Islands

Where values are growing

Wealth Management • Bonds/Fixed Income

Investment Strategies • Foreign Exchange

Stocks/Equities • Precious Metals

Fixed deposits/CD's • International Transfers

Turks & Caicos Banking Company Ltd.

The Regent Village, Unit H102, Grace Bay Road, Providenciales

Tel: +649 941 4994

Email: services@tcbc.tc • www.tcbc.tc

Regulated by the Financial Services Commission, Turks & Caicos Islands
---
the sporting life

Opposite page and above: In order to prepare for his upcoming participation in the 2019 Marathon Des Sables (and to stave off the ravages

of turning 50!), TCI explorer and author John Galleymore undertook a serious fitness regime.

Fit at Fifty

It's never too late to get in shape when extreme challenges are ahead.

By TCI Explorer John Galleymore ~ Photos By Brilliant Studios, www.brilliantstudios.com

As I explained my next planned adventure and what it entailed, a close friend replied, "Hadn't you look to

start getting in shape?" He cited a recent picture of me on East Caicos and, on reflection, I have to admit

I was getting a little portly. If I was serious about competing in the 2019 Marathon Des Sables, a 250 km

run across the Sahara Desert, then I had some serious training to do.

Times of the Islands Winter 2018/19 51
---
I have just turned 50 and have always been active

with hiking and running, but as you get older the weight

can start to creep on and it's often harder for older folks

to shift it. But take heed, excess weight is not just a vanity

issue—it can lead to health problems such as strokes,

diabetes and heart issues.

I decided to tackle this dilemma on all fronts and not

just "crash diet" to lose a few pounds. I undertook some

serious research that led me into the realms of weight

training, boxing, yoga, nutrition and the understanding

of hormones and their role in balancing our bodies.

Before and after

I decided to set out all the things I needed to change,

including:

DIET: I decided make subtle changes to my eating habits.

Out went white bread, bad carbs, candy, processed foods,

and most dairy products, and in came more vegetables,

good fats, seeds and nuts. I cut down on my intake of

meats (especially red meat) and immediately felt better

for it.

GYM: I wanted to keep toned up as I lost weight so

enrolled in the Wrightfully Fit gym on Providenciales

(www.wrightfullyfit.com). This had the cross section of

exercises I was looking for, including free weights, cardio

machines and boxing punch bags. I gleaned plenty of

advice from owner John Wright for the road ahead.

YOGA: I wanted to increase my flexibility. This not only

decreases the chance of injury, but yoga is a great way to

de-stress and it can give an enormous sense of well-being

and calm. I found the best place for all types of yoga at

any level of ability to be the Retreat Yoga and Wellness

Studio (www.retreattc.com) at Ports of Call plaza.

SWIMMING: This is the one sport that "does it all." If you

can never run, get to a gym or go to an exercise class,

then 20 minutes of swimming a few times a week will

make a huge difference! Better still, you don't need to be

an expert swimmer and it's free!

HORMONAL IMBALANCE: Most people are only not aware

that any hormonal imbalance can wreak havoc on the

body. From thyroid issues to insulin production, how we

feel (and look) are often a direct result of our natural

hormone production.

One aspect of the regime involved a variety of exercises and weight

training at Wrightfully Fit Gym in Providenciales.

Working out in the gym

I have frequented gyms on and off most of my life, so I

do feel comfortable in them and the machines and equipment

are second nature to me. However, for a beginner

they can be very daunting places to walk into. I appreci-

52 www.timespub.tc
---
John Galleymore found yoga to increase his flexibility, strength and overall well-being.

ated the friendliness and welcoming nature of the staff

and gym users at Wrightfully Fit. A good introduction for a

novice would be to book a one-to-one session with either

John or one of his qualified personal trainers. They will

show you around the gym and give detailed instruction

on how to use the equipment so that you get maximum

benefit and exercise safely. They can design a program

tailormade for you.

Yoga

"We believe yoga is a path to connection, and the antidote

to separation. Yoga is one of the most holistic approaches

to your well-being, because while the physical aspect of

yoga is often what draws people to the practice, there

is an undercurrent of self-awareness and a broader life

perspective developing."

—Laura and Lindsay Mensen

Yoga is something I'd never done. It never appealed

to me, because I thought that unless you're heaving

weights around, panting for air and sweating profusely,

it's not "real" exercise . . . how wrong I was! As a novice,

I booked a private lesson with Lindsay, who co-founded

The Retreat with her sister Laura. Within minutes Lindsay

has me totally at ease. She takes me through several basic

poses, moves and techniques which are the fundamentals

of yoga. Once I've got the basic grasp, I can join a class

anywhere I choose. I tell her my concern that I will stand

out as a novice, and get the poses wrong. She assures

me that yoga is all about yourself and you go at your own

pace. I soon find that the positions come easily, although

I'm amazed at the strength needed to hold them correctly

for any period of time. Fortunately, you can make the

session as hard or as easy as you like—The Retreat offers

classes to suit everyone from Deep Flow to Hot Yoga and

relaxing and gentle stretching.

Swimming in warm TCI waters

I've been told countless times that swimming is the best

all-round exercise you can possible do, for it's the one

activity that works all the major muscle groups and gives

you a cardio workout simultaneously. Despite knowing its

benefits, I've never been a great swimmer and if I was to

stick to my new fitness regime, that had to change!

Of all the sports and exercises available, swimming is

probably one of the few that you can't initially self-learn.

Once you have the basics however, you can advance and

improve alone and at your own pace.

Times of the Islands Winter 2018/19 53
---
Although I could already swim, I wanted to improve

my technique, so I contacted Ben Stubenberg, a TCI swim

coach and founder of the "Race for the Conch" ocean

swim event (www.caicunaniki.com). I started off slowly

and very soon improved my technique, allowing me to

swim farther. The good thing about swimming is that you

don't need to be an expert—even a short swim will give

you a great workout. If it's confidence in the water you

need, there's no better teacher than Ben, and he offers

his services to any age and any level of swimmer.

"Open water swimming provides a workout experience like

no other. When you swim in the clear turquoise waters of

our islands, you not only engage the whole body in fluid

motion, but you enter a different world. There is no other

exercise that so completely utilizes every muscle group."

—Ben Stubenberg

The training regime

Now that I had the best information from professionals

in their fields, I embarked on a 12-week program of

health and fitness. My goal was to lose my excess weight,

become fitter, leaner and more supple. I initially set

about training three to four times a week. Primarily, this

was gym-based as I wanted to ease into the training to

avoid any injury. I started off with light weights and built

up gently as my strength increased. John Wright was a

constant source of advice and inspiration. Under his guidance,

I found myself using free weights, boxing punch

bags and cardio machines.

I soon added a weekly swim into my program. This

was actually on my "rest day" from the gym. Rest is as

important as working out and without good rest days,

injury and fatigue will soon follow. Swimming is the best

exercise to limit stress on the body, so it's perfect to start

Swimming in TCI's exquisite turquoise waters is exercise good for

body, mind and soul.

off with while you strengthen joints and muscle.

After a number of lessons at The Retreat Studio, I

was able to practice yoga at home. It is one of the few

exercises you can do anywhere! At home, on the beach—

there's no excuse once you have learnt the basics and it's

also a great way to relieve stress.

54 www.timespub.tc
---
Lise amends_Layout 1 11/14/18 7:43 PM Page 1

In fact, stress and anxiety are one of the key factors

in gaining and retaining excess weight. Who hasn't been

in the situation where we grab a candy bar or slice of

cake after a hard day? That is stress creating a hormone

called cortisol. Levels of this "stress hormone" rise during

tension-filled times. This can turn your overeating into a

habit. Because increased levels of the hormone also help

cause higher insulin levels, your blood sugar drops and

you crave sugary, fatty foods. It is a vicious circle that

needs to be broken.

I would recommend that anyone serious about changing

their lifestyle or concerned about excess weight visit

the doctor and get blood tests to determine any underlying

issues. As men age, testosterone decreases and this

can lead to excess weight around the belly. In women,

menopause can wreak havoc with weight, so it's important

to seek advice whatever your gender.

Dr. Lise Cloutier

Chiropractic • Massage • Nutrition

Is your neck or back pain

RUINING your vacay....? We can help!

Try Chiropractic, a drug-free, hands-on

healing approach that gets results fast

& gets you back up on that paddle board.

The best part, your Chiropractic care... it won't

interact with your rum punch!

Call, or WhatsApp us NOW,

Emergencies seen same Day!!!

∫

Changing my food lifestyle

In order to find the best way I could to change my "food

lifestyle," I contacted Tamika Handfield, founder of

Nutrition In Demand (www.nutritionindemand.com) and

one of the leading authorities on nutrition and health in

the TCI. She says, "Don't diet—change your lifestyle!"

Dr. Lise Cloutier, Courtyard Chiropractic and Wellness

La Vista Azul, Unit 6-9, Turtle Cove, Providenciales, TCI

Call 649-339-1000

www.ChiropractorAndMassageTherapy.ca

urgent care • family medicine

URGENT CARE

WALK-IN CLINIC

"Eating well is fundamentally important to living well and

having good quality of life as we age. The old adage, 'We

are what we eat,' turns out to be true. The nourishment

the body needs to support good growth in children and

optimal health in adults comes directly from the foods we

eat. Therefore, it is imperative that we choose whole foods

over refined foods; fruits and vegetables over chips and

soda and lean protein sources such as beans and poultry

over their fat-laden counterparts of beef and pork.

Changing the way you eat can seem daunting if you

try to do everything at once. Instead, commit to making

small, incremental changes that you can maintain. For

example, if you are trying to eat less meat, commit to eating

a vegetarian meal at least once a week until you are

AND WELLNESS CENTRE

• • •

(649) 941-5252

on site pharmacy

located adjacent graceway gourmet

Focused on the patient

The way medicine should be practiced

Times of the Islands Winter 2018/19 55
---
Exercise of any kind is a good way to defuse the tensions of life (and relieve excess aggression!)

comfortable cooking that way and then you can increase

the number of days you have a vegetarian dinner. Eating

a healthy diet consists of variety, portion control (moderation),

and being intentional about what you put into your

body."

䨀 愀 渀 甀 愀 爀 礀

㈀

琀 栀

㈀ 㤀 㘀 㨀

倀 爀 漀 甀 搀 猀 甀 瀀 瀀 漀 爀 琀 攀 爀 漀 昀

—Tamika Handfield MS, RD,

Founder, Nutrition In Demand

䌀 栀 椀 氀 搀 爀 攀 渀 猀 倀 愀 爀 欀 Ⰰ 倀 爀 漀 瘀 椀 搀 攀 渀 挀 椀 愀 氀 攀 猀

吀 甀 爀 欀 猀 ☀ 䌀 愀 椀 挀 漀 猀 䤀 猀 氀 愀 渀 搀 猀

䄀 䴀

䘀 漀 爀 洀 漀 爀 攀 椀 渀 昀 漀 㨀 ⠀ 㘀 㐀 㤀 ⤀ 㐀 㐀 ㈀ⴀアパート 㤀 㜀 㠀 簀 渀 甀 琀 爀 椀 琀 椀 漀 渀 椀 渀 搀 攀 洀 愀 渀 搀 䀀 礀 愀 栀 漀 漀 ⸀ 挀 漀 洀

簀 洀 漀 瘀 攀 愀 琀 栀 漀 渀 琀 挀 椀 ⸀ 挀 漀 洀

Tamika gives some great advice. It's about a lifestyle

change, not crash dieting or starving yourself. Despite

my rigorous training and watching my diet, I still had a

few beers and a pizza at the weekend. However, I was

conscious not to eat junk food all weekend (as I used to)

but use it as "reward' for a good week's training.

In my research I came across all sorts of weird diets.

One that I did investigate was the Ketogenic Diet. This

seems to be the "fad" diet at the moment, but I did follow

it on a basic level—cut out carbs (found predominantly in

processed foods), introduce more "good" fats, fish and

vegetables and cook with butter and not processed vegetable

oil.

After some weeks, I found the excess weight falling

off and I had more energy as I "de-toxed" into a healthy

diet. Training became more habit than chore and when

I couldn't make the gym or a swim, I walked to work

instead. I lost 32 pounds over 12 weeks (going from 220

pounds to 188) and will look to continue to embrace a

healthier lifestyle. It's not hard to do, it's simply a case of

making good choices. a

*Be sure to seek medical advice before undertaking any

exercise regime or diet change.

56 www.timespub.tc
---
The Toughest Foot Race in the World:

Running for TCI charities

Runners in the annual Marathon Des Sables will be attempting to complete the equivalent of six regular marathons in six days through

the Sahara Desert. TCI adventurer John Galleymore will be competing from April 5–15, 2019 to raise money for several TCI charities.

In April 2019, I will be departing the Turks & Caicos

Islands and heading to Ouarzazate, Morocco and the

infamous Sahara Desert for the Marathon Des Sables,

named by the Discovery Channel as the "toughest footrace

on Earth." I will join a few hundred other crazy

runners and we will attempt to run, walk, hobble and

probably crawl the 160 miles (equivalent to six regular

marathons) from start to finish. Each runner will have

to carry all their kit and food for the week and we will

sleep in basic open-sided tents set up each night by a

local Bedouin tribe. Water is supplied at checkpoints

along the route each day and is strictly rationed.

The terrain is typical desert, just like the movies!

Vast open desert interspersed with towering sand

dunes, over which we need to run up to 20 miles a

day, in temperatures exceeding 100ºF. To add to the

"fun," the organizers throw in a "double stage" which

is over 50 miles and will take most people 20 hours or

more to complete, which means running all day in the

extreme heat, then continuing through the night when

temperatures plummet to freezing.

This will be a huge challenge, least of all as I just

turned 50 this year, but others in life face daily challenges

beyond their control. It's for that reason that I

will be running this race to raise funds for five charities,

four of which are in the TCI. The UK-based charity,

Weldmar Hospicecare, is the hospice where my loving

aunt recently passed, having been diagnosed with cancer.

I will be raising funds for the TCI Cancer Society in

memory of her, along with Ashley's Learning Center,

the TCSPCA and the Iris Stubbs Primary School.

I am trying to raise $15,000. and would welcome

help from any resort, business or individual who is able

to assist me. Thanks to all who have supported me so

far, and especially those businesses who have donated

including: Projetech, Grace Bay Club, Graceway IGA,

Blue Kayak Fishing (South Caicos). a

John Galleymore

Please get in touch if you would like to know more or to

donate: galleymorejohn@gmail.com or 649 232 7083.

For more information on the Marathon Des Sables, visit

marathondessables.com.

Times of the Islands Winter 2018/19 57
---
astrolabe

newsletter of the Turks & Caicos National Museum

front street, p.o. box 188, grand turk, turks & caicos islands, bwi

tel 649 946 2160 • fax 649 946 2160 • email info@tcmuseum.org • web www.tcmuseum.org

RA SHAW DESIGNS

This drawing depicts architect Ron Shaw's plans for a new Museum building in Providenciales.

Plans for Provo Expansion

By Dr. Michael P. Pateman, Museum Director, Turks & Caicos National Museum Foundation

At the September meeting of our Board of Members and Directors, architect Ron Shaw presented plans

for a new museum facility in Providenciales. This work was conducted pro bono and we are grateful that

one of the TCI's premier architects donated his time and talents for the growth and expansion of the

museum. Inspiration for the design comes from the Bermudian architecture that is a prominent part

of the landscape of the Turks Islands (particularly Grand Turk and Salt Cay) but is absent in the Caicos

Islands. With a new design, we will launch a major fundraising campaign.

58 www.timespub.tc
---
The Ron Shaw drawings above show what the new museum building on Providenciales would look like from the front and road sides (at left)

and how the building would fit into the existing campus on Grace Bay.

One of the most important reasons for a national

museum's existence is to preserve cultural identity—to

help develop pride in who we are, particularly among the

young people who may not know our stories and histories.

While the museum on Grand Turk already serves

this purpose, with the majority of the population and

economic activity on Providenciales, the museum must

expand its presence there if we seek to stay relevant in

the national spotlight.

A national museum on Providenciales can be an

invaluable resource to all residents and visitors. Not only

would it have a permanent exhibition space with areas

dedicated to sectors of island life including art, history

and the environment, but also include temporary exhibition

spaces for special in-depth and traveling exhibits.

This museum would include a gift shop and café to make

the experience a pleasant one for visitors. Finally, it would

have a resource center to encourage historical research.

Such a place would function as both an educational

and entertaining space in the Turks & Caicos community.

The new museum gallery will be community-formed,

community-driven and community-supported and be a

genesis for cultural, heritage and historic research and

revitalization of the Turks & Caicos Islands.

The development of an expanded museum facility

at our campus on Grace Bay does not signal our abandonment

of Grand Turk. The National Museum remains

committed to our location on our nation's capital.

While the focus of this introduction has been on the

planned expansion in Providenciales, this issue features

two unrelated projects on Grand Turk. In the first, Matt

Williamson describes the beginnings (and future plans)

for research on Over Island Cemetery. In the other, we

learn about early photographers on Grand Turk from one

of our long-time contributors Jeffrey Dodge.

The history and heritage of the Turks & Caicos Islands

is diverse, as our readers surely know. We will continue to

make sure that diversity is highlighted in future editions

of the Astrolabe and in our museum facilities. a

Join the Museum

Become a Member of the Turks & Caicos National

Museum and receive a year's subscription to Times

of the Islands (which includes Astrolabe), free

admission to the Museum and other benefits.

Senior (62+) $35

Individual $50

Family/Friend $100

Sponsor $250

Contributor $500

Partner $750

We have several options for joining:

• Visit the Museum at our Providenciales location at

The Village at Grace Bay or our Grand Turk location

in Guinep House on Front Street

• Visit our website at

www.tcmuseum.org/membership-support/.

*For U.S. residents, support of the Museum may be tax-deductible

if you join via Friends of the Turks & Caicos National

Museum, our affiliated institution and registered 501 (c) (3).

See our website for more details:

www.tcmuseum.org.

RA SHAW DESIGNS

Times of the Islands Winter 2018/19 59
---
astrolabe newsletter of the Turks & Caicos National Museum

This image shows Structure 2 in Grand Turk's Over Island Graveyard, located in the center of Town Salina, before vegetation has been cleared.

Morning in the Garden of

Good and Evil

Investigating Grand Turk's Over Island Graveyard.

Story & Photos By Matthew A. Williamson, Ph.D.

My apologies to the author John Berendt, who penned the book Midnight in the Garden of Good and

Evil, for only slightly changing his title for this article. I think it's appropriate though, given the work

that I do and where I live. You see, I am a bioarchaeologist and I teach at Georgia Southern University in

Statesboro, Georgia, which is 50 miles northwest of Savannah—the city that provides the setting for Mr.

Berendt's book. As a frequent visitor to Savannah, I am well familiar with her attachment to the past and

reverence for cemeteries (or "the garden" as Minerva calls it in the book).

60 www.timespub.tc
---
astrolabe newsletter of the Turks & Caicos National Museum

A bioarchaeologist is someone who specializes in

the study of prehistoric or historic period human skeletal

remains for the purpose of learning things about their

health and physical activity when they were living. This

is possible because bone is made of living tissue. That

comes as a surprise to many folks because we tend to

think of bone as "dead" since it is mineralized. In fact,

there are cells living within the rigid mineral and they can

react and adapt to mechanical, disease and nutritional

stress.

In 1890, an anatomist named Julius Wolff discovered

that bones can reinforce themselves in areas where

they are subjected to stress. This principle has become

known as "Wolff's Law." For example, when muscles pull

on bones to create movement, they stimulate bone cells

to lay down more mineral in order to strengthen the

bone where the muscle attaches. This is why someone

who is at risk for osteoporosis is advised to participate in

weight-resistance exercise. Bigger muscles mean a stronger

pull on the bone which results in thicker bones. At

one 19th century cemetery where I was working, I uncovered

the remains of two brothers, one with a more robust

skeleton than the other. By applying what we know about

how larger muscles mean larger muscle attachment

sites, I concluded that one brother had a more physically

demanding lifestyle than the other. This was justified

when I found out later that the brother with the larger

muscles had been a farmer.

As you can imagine, I've spent a lot of time working

in cemeteries in places like London, the midwest United

States and all over Georgia, but bones aren't the only

things in a cemetery that can tell us something about the

lives of its occupants. Grave markers, inscriptions and

decorations offer insight on how the person wanted to

be remembered or how their family wanted them remembered.

Moreover, materials used for the grave marker

can be a symbol of economic status and the location of

the grave is often an indication of social status. In many

churches around the world, the burial sites closest to the

altar were reserved only for the most influential or the

most holy.

I first became interested in the Over Island Graveyard

located in the center of the town salina on Grand Turk

after I had heard about it from Dr. Donald Keith. My wife

and I visited the Turks & Caicos Islands for the first time

in 2014 and during that visit we stopped at the museum

Anatomist Julius Wolff discovered that bones reinforce themselves in

areas where they are subjected to stress. This principle is helpful to

the study of bioarchaeology.

on Providenciales. After a lovely tour given by the most

friendly and knowledgeable manager, Candianne Williams,

I was inspired to think about how I could get involved

with the museum. Once I returned home, I started to educate

myself about the prehistory and history of the TCI.

I found several interesting books and monographs and

discovered that the TCI has been the subject of archaeological

and historical inquiry for many years by some

excellent scholars. I then realized that something I had

begun at the Georgia Southern University museum might

also be of use to the TCI museum. It's a monograph

series that's available free through our website.

In archaeology, it's common to get involved in projects

that may not create enough data or be unique enough to

warrant publication in a peer-reviewed scientific journal.

Yet, the project or data may still have some significance

to other archaeologists or scientists who are interested

in the region or time period. I decided to present the

idea to Dr. Keith that we could publish monographs that

cover archaeology, history, natural history and culture of

the Turks & Caicos Islands that anyone can access for

free though the museum's website. He accepted my offer

Times of the Islands Winter 2018/19 61
---
astrolabe newsletter of the Turks & Caicos National Museum

with enthusiasm and so "The

Occasional Papers of the Turks &

Caicos Museum" began.

As we discussed possible

manuscripts for publication,

he sent me what field notes,

maps and photographs he

had compiled of the "over-island

graveyard." Of course, this

piqued my interest. In particular,

I wanted to examine one tomb

that was missing a large section

of the cover making it possible

to see down into the grave shaft.

From the photograph, I wasn't

able to see any human remains

or artifacts. However, it was clear

that if there is ever any interest

in identifying who is buried there,

then whatever remains are in that

grave must be recovered and protected

as soon as possible. Continued exposure to the

elements will only accelerate the bone decay which will

render any attempt at extracting DNA impossible.

Like the exposed tomb, it was evident that the entire

graveyard has been abandoned. Many gravestones are

missing and a couple of walls surrounding plots have

collapsed. Inscriptions on the existing gravestones have

completely eroded from the soft limestone over time and

many headstones are missing. It's impossible to determine

who's buried there if you're going to use headstone

inscriptions. There is a small ridge running through the

graveyard that is eroding and has probably caused the

destruction of at least two burial sites. In one area, the

sand has disappeared to the point where there is a large

hole within which you can see the bottom of a gravestone.

A small herd of donkeys has taken up residence in

and around the graveyard and they've created several

trails between various areas. They are contributing to the

graveyard's decay as they trample fallen gravestones and

structures. Lying on the ground along one of the donkey

trails I found a small stone fragment that had a "W" carved

into it and what is also probably an "F". It wasn't located

anywhere near an obvious grave and there wasn't enough

remaining to determine for sure if it is part of a headstone.

This is a large erosion hole found on the ridge at the Grand Turk Over Island Graveyard. Note the

exposed bottom of the grave marker.

This is the stone fragment with inscribed W and probable F that was

found lying on the ground along one of the donkey trails.

I decided that I wanted to help preserve the graveyard

and so I put together a plan that builds on Dr. Keith's

work. (You can read about what he found in the Spring

2013 Times of the Islands Astrolabe entitled "The Island

Within the Island.") Currently, there is no fence surrounding

the graveyard so one goal is to determine its

62 www.timespub.tc
---
astrolabe newsletter of the Turks & Caicos National Museum

boundaries. This requires removal of vegetation that has

grown up and obscured most of the area. That will permit

creating a map of each and every grave marker, tomb,

wall and limestone block.

Once the map is completed, then a search for

unmarked graves can begin possibly through the use of

ground penetrating radar. The "GPR" device is dragged

along on a small sled as it transmits sound waves into

the ground. As the waves are reflected back, a graphical

readout of the soil density is created. Because grave

shafts have been filled in with soil that is less dense than

the surrounding, undisturbed soil it creates a distinct

feedback signal that can be detected by the radar. There

are caveats though—sometimes the feature turns out to

be an anomaly or an old tree root. Moreover, it can't produce

a picture of a skeleton lying in the ground. Still, GPR

devices can significantly reduce the time spent searching

for graves even if occasionally the "hit" in the readout

turns out to be nothing.

After a complete map is created, decisions will need

to be made regarding whether or not to construct a permanent

fence, place signage including a historical marker

explaining the graveyard's history, and determining who

will take care of graveyard maintenance. As Dr. Keith

reported in his article, there is already an ordinance

issued in 1861 that empowers commissioners to use

funds from the public treasury to pay for maintenance!

Another major issue to be resolved is whether or not

the community supports the identification of who is buried

in each grave. Unless a map of the cemetery can be

found that shows each grave labeled with the occupant's

name, the only way to establish positive identification will

be though DNA comparison. This would be a major undertaking

because it would require excavation and reburial

of each grave and many graves would be destroyed in the

process.

We do have a general idea of who is probably buried

there. Former Museum Director Pat Saxton found death

records from 1825 to 1835 that list at least 95 individuals

buried "at the island" or "on the island" referring to

the Over Island Graveyard. According to those records,

adults, children, whites, blacks, slaves and freedmen

are all buried there, with recognizable surnames like

Lightbourne, Misick and Stubbs.

Also among those buried is Reverend John Turtle, the

second Methodist minister to be assigned to Grand Turk.

(According to church records, Roger Moore was the first

assigned to "Turks Island.") Reverend Turtle was born

in Ipswich, England on June 9, 1793. A conversation he

had when he was 18 caused him to realize how he had

neglected prayer in his life and motivated him " . . . to

break off my sins, desert my ungodly companions, and

devote myself to his service." After being ordained sometime

during the following six years, he was appointed to

the Bahamas by the Methodist Conference of 1817. He

felt a strong call to serve as a missionary and so was quite

excited about this new appointment as he left England on

April 16, 1817. After 28 days at sea, he arrived in Nassau

on May 14, 1818. Reverend Turtle then set about his

duties of evangelization travelling the Eleuthera circuit

on horseback, boat and occasionally walking up to 20 or

more miles. According to one account, he developed a

painful swelling in his legs causing him to be confined to

his home. In 1819, after getting married, he visited Grand

Turk for the first time. He continued to struggle with his

health to the point where he could not fulfill an appointment

to Jamaica and so he returned to the Bahamas.

Reverend Turtle continued to preach in the Bahamas until

his last appointment on Grand Turk, where he died presumably

from consumption on August 16, 1825 at the

age of 32.

Dr. Michael Pateman was chosen as the new museum

director around the time I was developing my plan to

map the graveyard and, fortunately, he expressed his

full support and offered his assistance moving forward.

After an impromptu visit to Grand Turk in June to get

an idea of how I would begin and with permission from

the Department of Environmental and Cultural Resources

(DECR), I gathered my gear and headed out for Grand

Turk again in July 2018.

I know that most archaeological fieldwork in the

Islands is carried out in the fall, but I have a significant

teaching load that forces me to conduct all of my work in

the summer. However, I do live in Georgia so while I can't

say the heat doesn't affect me at all, I am somewhat used

to dealing with it. I decided I would focus my mapping

efforts in the morning before the heat really cranked up.

Using Dr. Keith's map, I chose a burial feature consisting

of one elevated tomb surrounded by a low wall. It was

easy to spot since it was one of the few that was not completely

overgrown.

First, I had to establish a datum (which is a perma-

Times of the Islands Winter 2018/19 63
---
astrolabe newsletter of the Turks & Caicos National Museum

Above: After a full day of clearing off the tomb and wall, this is the

appearance of the graveyard's Structure 2.

Left: This shows the possible stucco found on the outside of a tomb

and on the sides of a few plot walls.

nent reference point that's used for creating a grid and

for measuring) by hammering a metal rod about a foot

into the ground nearby. It was now time to begin removal

of the overgrowth. I was equipped with pruning shears,

a hand saw and branch clippers, but the vegetation was

dense and the human-eating, devilishly thorned acacia

bushes were not going to be dismissed without a fight!

Fortunately, I was assisted by Vanessa Pateman, a graduate

student in museum studies from the University of

Western Illinois. Her hard work and enthusiasm was very

much appreciated. I also want to thank Dr. Pateman for

his help clearing the brush during one especially hot day.

We spent the entire first day just clearing off the

tomb and wall. The next day, we were able to set up a

square using spikes at the corners and string to connect

them. Vanessa and I took turns measuring the position

of limestone blocks and the dimensions of the wall and

tomb. Archaeologists use a grid to create a record of

where artifacts are found and to permit reconstruction of

the site in the report. The typical grid square size is one

meter by one meter but it can be adjusted to fit the needs

of the project. In our situation, a six by six meter square

was the minimum size needed to enclose the wall around

the plot.

A total of five days in the "garden" was all I could

spend on this trip, during which time Vanessa and I were

able to map two grid squares. Dr. Keith estimated that

the area of the graveyard is 2,000 square meters, so you

can see that this project won't be completed any time

soon, but that's typical in archaeology. I can't say we

made any discoveries that changed our understanding

of the graveyard but there was one unexpected thing. I

noticed a thin, white material on the outside of a tomb

and on the sides of a few plot walls. It looks like it could

be white stucco but I couldn't be sure. If it was, it represents

an additional cost above what was necessary to

build a plain limestone box and would have gleamed a

brilliant white in the TCI sun. On my last day, I walked the

entire grounds and examined the open tomb I mentioned

earlier. I couldn't see any remains but it was obvious that

it's suffering from decay like the others. Now that I'm

back at the university, my time is spent planning a return

to the graveyard in July to continue adding to the map

and doing whatever archival work I can to help us tell the

story of the people buried there. a

64 www.timespub.tc
---
astrolabe newsletter of the Turks & Caicos National Museum

This is a real photo postcard (RPPC) of a canal leading from the sea to salt ponds on Grand Turk in 1905. Both the photograph and the above

postcard are attributed to Edmund N. Coverley. This same photograph was used again in 1905 to produce a machine printed postcard.

EDMUND NEALE COVERLEY

A Glimpse of the Past

Early photographers on Grand Turk.

By Jeffrey Dodge

Edmund Neale Coverley, one of the most active early photographers on Grand Turk at the beginning of

the 20th century, has been the subject of several past articles in the Astrolabe. He is well known because

many of his photographs were used to produce early picture postcards.

The earliest postcards attributed to Coverley were probably produced and printed by the photographer

himself in his darkroom on photographic paper designed with a pre-printed postcard back. These real

photo postcards (RPPC) were produced between 1904 and 1906.

Times of the Islands Winter 2018/19 65
---
astrolabe newsletter of the Turks & Caicos National Museum

EDMUND NEALE COVERLEY

At least five picture postcards of scenes on Grand

Turk were produced in 1904 by the British firm John

Walker & Co. Ltd. from photographs taken by Edmund N.

Coverley or possibly an unknown photographer—probably

an itinerant photographer who traveled throughout

the islands on behalf of this company for the sole purpose

of taking photographs that the company would use

to produce postcards they would then sell to island merchants.

John Walker & Co. produced picture postcards

of Bermuda, Nassau and Barbados as well as Grand Turk

during this period.

Although Coverley is the best known photographer

on Grand Turk in the early 20th century, there were others.

Some remain unknown, but two have been identified.

In the 1920s, two residents of Grand Turk began photographing

scenes on the island and turning some of their

photographs into picture postcards. The photographers

were John Copeland Crisson, a native of Grand Turk, and

Robert O. Challis, a Londoner who moved to Grand Turk

around 1925 in the employ of Imperial & International

Communications, Ltd.

John Copeland Crisson was born on Grand Turk in

1864. He married Adelaid Spencer there in 1868 and

they had two children, Charles Hayward and Herbert

This family portrait pictures John Copeland Crisson, Mary Adelaid

Spencer Crisson, Herbert, John (Jack), Frank and Elodie in Bermuda

about 1910.

Spencer. John C. Crisson was the editor and proprietor of

the Weekly Record newspaper which he started in 1892.

However, it was short-lived and ceased operating 18

months later. It is not know what Crisson did prior to his

work as a newspaperman.

The Crisson family left Grand Turk for Bermuda about

1896 where they had three more children, John "Jack"

Ethelbert, Elodie Ophelia and Frank Noel. Exactly what

John C. Crisson did while in Bermuda is uncertain, but it

is documented that in 1907 he was first mate aboard the

schooner Priscilla when it made a trip from Bermuda to

Grand Turk to deliver a cargo of lumber and returned to

Bermuda with a shipment of salt from South Caicos. John

C. Crisson wrote and published the story of this journey,

so it is possible he also wrote other articles or stories—

possibly for newspapers. Descendants report that Crisson

was involved in the salvage business while in Bermuda.

When John Crisson returned to Grand Turk is uncertain,

but it must have been before he became editor of

The Chronicle and Dependency News in 1924. The government

retaliated against the newspaper for critical

articles it published, forcing it out of business in 1930. In

addition to his newspaper work, Crisson made numerous

voyages between Grand Turk and Jamaica on his ketch

Kariette. Denis Murphy in his memoirs, My Years in The

Sun: Island Memoirs, referred to uncle "Johnny" Crisson

as a photographer and amateur boat builder.

Most of the known John Copeland Crisson photographs

are of the damage on Grand Turk caused by the

hurricane of September 16, 1926. This storm, known as

the Great Miami Hurricane, passed just 10 miles north

of Grand Turk with winds of 150 mph. John Crisson captured

the damage in a series of photographs. He used

some to produce real photo postcards, probably printing

them himself on Kodak AZO paper having a pre-printed

postcard back. Some of these postcards he embossed

with "Crisson Photo" on the lower right corner. It is not

known how many photographs or postcards Crisson may

have produced during his life.

John Copeland Crisson was a ship's captain, newspaper

man, photographer and amateur shipwright. He could

also play the violin and speak Spanish. John Copeland

Crisson died and was buried on Grand Turk in 1939. His

wife Mary died in 1944 and was buried in Bermuda—perhaps

having moved there after her husband's death to be

near her daughter Elodie and son John "Jack" Crisson.

66 www.timespub.tc
---
astrolabe newsletter of the Turks & Caicos National Museum

EDMUND NEALE COVERLEY

Top: This photo captures hurricane damage to a government office on Grand Turk in September 1926. (Notice "Crisson Photo" embossed in

lower right corner.)

Bottom: This image shows the schooner David Morris on the beach in Grand Turk after the hurricane of September 1926.

Times of the Islands Winter 2018/19 67
---
astrolabe newsletter of the Turks & Caicos National Museum

Robert Ormond Challis was born in London, England

in 1907. He left England around 1924 for Jamaica and

Grand Turk as an employee of Imperial & International

Communications Ltd (renamed Cable & Wireless Ltd.

in 1934). He married Kathleen Mable Murphy on Grand

Turk four years later. Kathleen was the sister of Denis

H. Murphy, the author of My Years in the Sun: Island

Memoirs. In addition to his work as a "cable engineer,"

Robert Challis was a photographer and a member of the

"Cables"—the Imperial & International Communications

Ltd. soccer team. It is interesting to note that Robert's

father, Ormond E. Challis, was a recognized photographer

in the United Kingdom and a member of the Royal

Photographic Society.

Most of the known Challis photographs were of general

scenes around Grand Turk. For example, he took

photographs of the salt ponds near Government Wharf,

St. Mary's Church, St. Thomas' Church, the east side of

Grand Turk, North Pond, "Little Bluff," the cable office,

etc. These were taken between 1925 and 1929. Challis

used some of his photographs to produce postcards.

Although the postcards were real photo postcards (RPPC),

Challis didn't print them himself. Instead, he sent his

negatives to at least three different British firms to have

postcards produced for him. Most of his postcards are

only identifiable because Challis himself or a collector

wrote Challis' initials and the date on the back as well as

a title identifying the scene pictured on the front. At least

one of Challis' photographs, titled "Sunset," can be found

in the collection of the National Archives UK.

Robert O. Challis and his wife Kathleen had two

children—daughter Lorna was born on Grand Turk in

1931 and son David was born in Halifax, Nova Scotia

in 1936—about two years after Cable and Wireless Ltd.

transferred the family to Canada. It is possible that the

Challis family moved back to Grand Turk in late 1938,

but records confirming this are lacking. However there

is photograph of Robert Challis taken on Grand Turk in

1939 that was published in the Cable and Wireless staff

magazine Zodiac. Sometime before 1947, the Challis family

moved to Bermuda—possibly still employed by Cable

and Wireless Ltd. Robert Challis died in 1959—his wife

Kathleen passed away a year later—both are buried at St.

Paul's Church Cemetery in Paget Parish, Bermuda. Challis'

ROBERT ORMOND CHALLIS

The Grand Turk Athletic Club and "Cables" (striped shirts) soccer teams pose on Boxing Day 1926. Robert O. Challis is on far right.

68 www.timespub.tc
---
astrolabe newsletter of the Turks & Caicos National Museum

ROBERT ORMOND CHALLIS

From top: Robert Challis photo-postcards of a coconut plantation at "Little Bluff" in 1926 and Grand Turk's Government Wharf in 1927.

photographs of his years in Canada and Bermuda have

not been found and it is unknown whether or not he continued

his interest in photography after leaving Grand

Turk in 1934. a

All of the photographs and postcards by John Crisson

and Robert Challis known to the author were found in the

collection of the Turks & Caicos National Museum. There

are probably many more as yet identified photographs by

these two men in private collections.

The author would like to thank the following people

for their helpful contributions to this article: Gwendolyn

Crisson (related by marriage to John Copeland Crisson);

Edward C. Harris, PhD, Bermuda Maritime Museum,

Bermuda; Lisa Talbot, staff, Turks & Caicos National

Museum.

Times of the Islands Winter 2018/19 69
---
astrolabe newsletter of the Turks & Caicos National Museum

Museum matters

History and Cultural Heritage Quiz

The TCI celebrated Heritage Month 2018 under the

theme, "Celebrating from whence we've come." As part

of the event, the Museum held its third annual History

and Cultural Heritage Quiz for secondary schools on

October 4, in collaboration with the government's

Departments of Culture and Education.

Eight schools were competing for the Challenge

Trophy, with last year's winners, Raymond Gardiner

High School, determined to take it back to North Caicos

for another year. Also enticing was the first prize threeday

trip to Jamaica to visit the UNESCO World Heritage

sites of Blue and John Crow Mountain, museums, great

houses and other historical and cultural heritage sites.

The second place winners will spend the day immersed

in history and cultural heritage on one of the Turks &

Caicos Islands.

Participating teams were from: HJ Robinson High

School on Grand Turk; Marjorie Basden High School on

South Caicos; Raymond Gardiner High School on North

Caicos; and Long Bay High School, TCI Middle School,

British West Indies Collegiate, Maranatha Academy and

Holy Family Academy on Providenciales.

In opening remarks, Hon. Karen Malcolm, Minister

of Education, Culture, Library Services and Youth, said,

"It is through our celebrations that we recognize the

work done by our forefathers and the rich heritage legacies

they have left for our enjoyment." Hon. Premier

Sharlene Cartwright Robinson shared her personal love

of history and had words of congratulations for the

Museum, collaborating government departments and

sponsors of the event.

For an hour, contestants wrote the answers to the

questions put to them in quick succession by Semifinals

Quizmaster Talisha Simons, Senior Director, Corporate

Communications & Public Affairs at Fortis TCI Limited.

HJ Robinson High School and Raymond Gardiner High

School were the two schools who made it to the finals.

Cheryl Forman, CEO of Peak Consulting Ltd., was

the quizmaster for the keenly competitive and exciting

finals. The judges—Director of Education Edward

Howell, Director of Culture Ludwina Fulford, Museum

Director Dr. Michael Pateman and Luc Clerveaux,

The History and Cultural Heritage Quiz winning team from HJ

Robinson High School displays their trophy, (from left) Edgar

Howell, Ruth Forbes, Naethia Williams, Narisel Swann, Racquel

Simons, Ludwina Fulford, Arissa Williams, Michael Pateman.

Assistant Director Law and Enforcement, DECR—kept

the anxious audience abreast of the points at the end

of each round. In the end, HJ Robinson High School was

the winner and the trophy will now spend the year in

Grand Turk.

Thank you to our sponsors: Fortis TCI, interCaribbean

Airways, TC Reef Fund, Department of Education,

Department of Culture, Turks & Caicos Taxi Association,

British West Indies Collegiate, and the quizmasters,

judges, facilitators, caterers and support teams. a

Story & Photos By Candianne Williams

Middle Caicos Heritage Month Event

The Museum supported the Turks & Caicos National

Trust with information for the informational signage on

the Lucayans, the TCI's first inhabitants. This signboard

was unveiled at the Middle Caicos Heritage Month

event held at the Conch Bar Caves under the theme,

"Celebrating 1000+ years of history."

Museum Director Michael Pateman explains the new mobile

Lucayan exhibit to onlookers in Middle Caicos.

70 www.timespub.tc
---
astrolabe newsletter of the Turks & Caicos National Museum

Museum matters

Dr. Michael Pateman gave a presentation about the

lifestyle of the Lucayans using a specially created educational

exhibit. The Lucayan exhibit kit is the first of

a series of kits created by the Museum to enable us to

facilitate the school groups that visit our locations. a

Story & Photo By Candianne Williams

Heritage Month School Visits

A visit to the Museum was one of the ways students

celebrated Heritage Month. We were happy to welcome

students from: Holy Family Academy, Precious

Treasures International School, Richmond Hill

Preparatory School and Enid Capron Primary School at

the museum in Grace Bay, Providenciales. Provo Middle

School visited the Grand Turk Museum.

After a tour of the Caicos Heritage House, one

of the students told me that he learned that, in the

past, nothing was wasted. The heritage tour guide had

explained how the different parts of the corn—including

the husks—were used back in the day. He was

amazed at how folks were able to put the little they

had to good use. a

Story & Photo By Candianne Williams

This group is "Team 1" on the South Bank archaeological dig.

is developed. We also engaged in educational outreach

and had student volunteers from British West Indies

Collegiate and field visits from a number of private and

public schools along with adult and homeschool volunteers

from Provo residents and visitors.

Windward Development Ltd., developer of the site,

is a major project underwriter and is facilitating the

scientific research. Additional funding support was provided

by: TCI Reef Fund, the Anthropological Research

Council and Sail Beluga. Supplies and logistical support

were provided by TC Millwork and Blue Loos. a

Museum Day Grand Turk

On November 3, the Museum hosted a Museum Day

community event on Grand Turk. Its purpose was to

reintroduce residents to the Museum and to introduce

new programming including the People of the

Islands Oral History Project, a Community Mosaic and

a monthly Children's Club to begin in January 2019.

The day could not have happened without the

support of volunteers and sponsors: Carnival, Morris

Cottingham, Blue Water Divers, Jack Shack, Oasis

Divers, Turks Head Inne, Salt Raker, Digicel, Exclusive

Escapes, White Sands Charters & Tours, Osprey Beach

and Island Creations. a

Story & Photos By Dr. Michael P. Pateman

Students from Enid Capron Primary School visit the Museum's

Caicos Heritage House during National Heritage Month.

South Bank Archaeological Dig

The Museum partnered with Dr. Shaun Sullivan on

an archaeological dig at the South Bank Site (P1) in

Providenciales from October 15–27. The general

objective of the project was to acquire and preserve

information and artifacts from the site, reflecting a

component of the TCI's Lucayan culture before the site

The Community Mosaic project was intriguing to many.

Times of the Islands Winter 2018/19 71
---
food for thought

Opposite page: Lorraine Kenlock, a.k.a. Chef Irie Dawta, has a lush backyard garden tucked into the heart of Providenciales.

Above: The garden includes a huge variety of fresh, organic vegetables and herbs that she uses in her "farm to table" cooking.

The Secret Garden

Foodies are in for a unique experience at The Frenz Deck.

Story & Photos By Dominique Rolle, Caya Hico Media

Walking with my friend Lorraine Kenlock in her lush backyard garden, I feel transported from Grace Bay

into the heartland of the Turks & Caicos—North Caicos—or perhaps Jamaica where such fantastic foliage

is a common way of life. Lorraine hails from that island, and though she relocated here in 2003, the

earthiness of her spirit and approach to life has not wilted.

Times of the Islands Winter 2018/19 73
---
Chef Irie Dawta's plants are like her children and she speaks to them with the love all good farmers bestow upon their seedlings.

It is rare to find such a gardening enthusiast on

Providenciales where flat, dry land has made the beaches

the most celebrated the planet earth has to offer.

However, behind the bustling tourism hub that is Grace

Bay Road there lies an oasis nestled on a picturesque lake

where ducks, flamingos and egrets frolic in peace, hidden

away from the crowds.

Bursting with life and overflowing with organic goodies,

Kenlock's garden ranges in surprises from tomatoes,

peppers, bananas and spinach, to peppermint, okra,

papaya, and pumpkin. Her plants are like her children

and she speaks to them with the love all good farmers

bestow upon their seedlings. With tenderness and care

she waters, protects and ensures their growth. It is a

hand-grown approach rarely applied to our modern food

and an essential ingredient in the farm-to-table movement

Kenlock is trailblazing here on Providenciales.

Chef Irie Dawta and Lorraine Kenlock are technically

the same person, but not really. Lorraine was an IT professional,

educated in Japan as well as her native Jamaica,

and previously confined to a corporate life drastically different

from the culinary and creative environment the

chef inspires on a daily basis. In 2011, the metamorphosis

took place and Kenlock took on her new persona. It

started as a made-to-order healthy (and mouth-wateringly

delicious) salad business that quickly created a demand

for her distinctive approach to food in the private chef

villa market. It was there, facing the hurdles of entering

the professional culinary industry that the legendary Chef

Irie Dawta was born.

Kenlock's reputation as Ire Dawta precedes her. Just

ask one of her devoted followers about the unparalleled

dining experience she offers and even the haughtiest of

foodies will be convinced before even trying her food.

Still, seeing (or rather tasting) is believing. With many

of us not quite in the private jet/private chef income

bracket, Irie Dawta's newest creation offers the perfect

opportunity to experience her delights.

The Frenz Deck, a uniquely personal dining experience

set smack in the chef's lush backyard, offers food

enthusiasts the chance to dine at Kenlock's home on the

freshest organic food from her garden, sampling her

inspiring creations whilst overlooking the quiet Grace Bay

lake you didn't even know existed. Ask Chef Irie Dawta

about the experience she offers at the Frenz Deck and she

might surprise you by insisting she prefers diners come

with a sense of adventure, knowing that their well-being

is going to be taken care of. She says, "Frenz Deck is

for the adventurous, open-minded person who wants an

experience that's not bottled. Every experience on the

74 www.timespub.tc
---
Above: The Frenz Deck is a personal dining experience in the chef's lush Brew backyard. ad May 2017_Layout 1 5/11/17 10:51 AM Page 1

Below: It offers food enthusiasts the chance to dine on Chef Irie Dawta's inspiring creations.

Turk's Head Brewery

Brewery Tours Monday-Friday

11AM, 1PM, 3PM

$15/pp

Enjoy a complimentary selection of local craft beer

after your tour!

deck is different. Guests will have to go to our website to

reserve a seat and pay a deposit. There's one sitting per

evening with only 10 seats, sometimes 14, so a deposit

is always required."

You don't need a menu for this incredible experience

as Chef Irie Dawta does her homework prior to the

evening (or afternoon) and follows where her artistic and

culinary whims lead. Go off the beaten track and into the

secret garden of one of the most exciting culinary minds

the Turks & Caicos has to offer. Visit www.frenzdeckandiriesrest.com

for more information. a

Email tours@turksheadbeer.com

Call 649.941.3637 x 1005 to book

www.turksheadbrewery.tc

52 Universal Dr.

Providenciales, TCI

TOUR TASTE SHOP

Times of the Islands Winter 2018/19 75
---
about the Islands

Map provided courtesy Wavey Line Publishing. Their navigation charts and decorative and historic maps of the Turks & Caicos Islands, the

Bahamas, and Hispaniola are available in shops throughout the Islands. Visit www.waveylinepublishing.com.

Where we are

The Turks & Caicos Islands lie some 575 miles southeast

of Miami — approximately 1 1/2 hours flying time — with

the Bahamas about 30 miles to the northwest and the

Dominican Republic some 100 miles to the southeast.

The country consists of two island groups separated

by the 22-mile wide Columbus Passage. To the west are

the Caicos Islands: West Caicos, Providenciales, North

Caicos, Middle Caicos, East Caicos, and South Caicos. To

the east are the Turks Islands: Grand Turk and Salt Cay.

The Turks & Caicos total 166 square miles of land

area on eight islands and 40 small cays. The country's

population is approximately 40,000.

Getting here

There are international airports on Grand Turk, North

Caicos, Providenciales, and South Caicos, with domestic

airports on all of the islands except East Caicos.

At this time, all of the major international carriers

arrive and depart from Providenciales International

Airport. American Airlines flies from Miami, Charlotte and

New York/JFK. JetBlue Airways offers service from Fort

Lauderdale, Boston and New York/JFK. Southwest Airlines

travels to Fort Lauderdale. Delta Airlines flies from Atlanta

and New York/JFK. WestJet travels from Toronto. Air

Canada offer flights from Toronto. British Airways travels

from London/Gatwick via Antigua.

Bahamasair and InterCaribbean Airways fly to Nassau,

76 www.timespub.tc
---
Bahamas. Flights to: Antigua; Dominica; Cap Haitien

and Port Au Prince, Haiti; Kingston and Montego Bay,

Jamaica; Miami, Florida; Puerto Plata and Santo Domingo,

Dominican Republic; San Juan, Puerto Rico; St. Lucia; St.

Maarten; Santiago, Cuba; and Tortola are available on

InterCaribbean Airways, while Caicos Express travels to

Cap Haitien daily. (Schedules are current as of November

2018 and subject to change.)

Inter-island service is provided by InterCaribbean

Airways, Caicos Express Airways and Global Airways. Sea

and air freight services operate from Florida.

Language

English.

Time zone

Eastern Standard Time (EST)/Daylight Savings Time

observed.

Currency

The United States dollar. The Treasury also issues a Turks

& Caicos crown and quarter. Travellers cheques in U.S.

dollars are widely accepted and other currency can be

changed at local banks. American Express, VISA, and

MasterCard are welcomed at many locations.

Climate

The average year-round temperature is 83ºF (28ºC). The

hottest months are September and October, when the

temperature can reach 90 to 95ºF (33 to 35ºC). However,

the consistent easterly trade winds temper the heat and

keep life comfortable.

Casual resort and leisure wear is accepted attire for

daytime; light sweaters or jackets may be necessary on

some breezy evenings. It's wise to wear protective clothing

and a sunhat and use waterproof sunscreen when out

in the tropical sun.

Entry requirements

Passport. A valid onward or return ticket is also required.

Customs formalities

Visitors may bring in duty free for their own use one carton

of cigarettes or cigars, one bottle of liquor or wine,

and some perfume. The importation of all firearms including

those charged with compressed air without prior

approval in writing from the Commissioner of Police is

strictly forbidden. Spear guns, Hawaiian slings, controlled

drugs, and pornography are also illegal.

Times of the Islands Winter 2018/19 77
---
Returning residents may bring in $400 worth of

merchandise per person duty free. A duty of 10% to

60% is charged on most imported goods along with a

7% customs processing fee and forms a major source of

government revenue.

Transportation

A valid driver's license from home is suitable when renting

vehicles. A government tax of 12% is levied on all

rental contracts. (Insurance is extra.) Driving is on the

left-hand side of the road, with traffic flow controlled by

round-abouts at major junctions. Please don't drink and

drive! Taxis are abundant throughout the Islands and

many resorts offer shuttle service between popular visitor

areas. Scooter, motorcycle, and bicycle rentals are

also available.

Telecommunications

FLOW Ltd. provides land lines and superfast broadband

Internet service. Mobile service is on a LTE 4G network,

including pre and post-paid cellular phones. Most resorts

and some stores and restaurants offer wireless Internet

connection. Digicel operates mobile networks, with

a full suite of LTE 4G service. FLOW is the local carrier

for CDMA roaming on US networks such as Verizon and

Sprint. North American visitors with GSM cellular handsets

and wireless accounts with AT&T or Cingular can

arrange international roaming.

Electricity

120/240 volts, 60 Hz, suitable for all U.S. appliances.

Departure tax

US $20 for all persons two years and older, payable in

cash or traveller's cheques. It is typically built into the

cost of your ticket.

Courier service

Delivery service is provided by FedEx, with offices on

Providenciales and Grand Turk, and DHL. UPS service is

limited to incoming delivery.

Postal service

The Post Office and Philatelic Bureau in Providenciales is

located downtown in Butterfield Square. In Grand Turk,

the Post Office is on Front Street, with the Philatelic

Bureau on Church Folly. The Islands are known for their

varied and colorful stamp issues.

Media

Multi-channel satellite television is received from the U.S.

and Canada and transmitted via cable or over the air.

Local station WIV-TV broadcasts on Channel 4 and Island

EyeTV on Channel 5. People's Television offers 75 digitally

transmitted television stations, along with local news

and talk shows on Channel 8. There are also a number of

local radio stations, magazines, and newspapers.

Medical services

There are no endemic tropical diseases in TCI. There are

large, modern hospitals on Grand Turk and Providenciales.

Both hospitals offer a full range of services including:

24/7 emergency room, operating theaters, diagnostic

imaging, maternity suites, dialysis suites, blood bank,

physiotherapy, and dentistry.

In addition, several general practitioners operate in

the country, and there is a recompression chamber, along

with a number of private pharmacies.

Immigration

A resident's permit is required to live in the Islands. A

work permit and business license are also required to

work and/or establish a business. These are generally

granted to those offering skills, experience, and qualifications

not widely available on the Islands. Priority is given

to enterprises that will provide employment and training

for T&C Islanders.

Government/Legal system

TCI is a British Crown colony. There is a Queen-appointed

Governor, HE Dr. John Freeman. He presides over an executive

council formed by the elected local government.

Lady Sharlene Cartwright-Robinson is the country's first

woman premier, leading a majority People's Democratic

Movement (PDM) House of Assembly.

The legal system is based upon English Common

Law and administered by a resident Chief Justice, Chief

Magistrate, and Deputy Magistrates. Judges of the Court

of Appeal visit the Islands twice a year and there is a final

Right of Appeal to Her Majesty's Privy Council in London.

Taxes

There are currently no direct taxes on either income

or capital for individuals or companies. There are no

exchange controls. Indirect taxation comprises customs

duties and fees, stamp duty, taxes on accommodations,

restaurants, vehicle rentals, other services and gasoline,

as well as business license fees and departure taxes.

78 www.timespub.tc
---
Island Auto_Layout 1 12/12/17 12:49 PM Page 1

Economy

Historically, TCI's economy relied on the export of salt.

Currently, tourism, the offshore finance industry, and

fishing generate the most private sector income. The

Islands' main exports are lobster and conch, with the

world's first commercial conch farm once operating on

Providenciales. Practically all consumer goods and foodstuffs

are imported.

The Turks & Caicos Islands are recognised as an

important offshore financial centre, offering services

such as company formation, offshore insurance, banking,

trusts, limited partnerships, and limited life companies.

The Financial Services Commission regulates the industry

and spearheads the development of offshore legislation.

People

Citizens of the Turks & Caicos Islands are termed

"Belongers" and are primarily descendants of African

slaves who were brought to the Islands to work on the

salt ponds and cotton plantations. The country's large

expatriate population includes Canadians, Americans,

Brits and Europeans, along with Haitians, Jamaicans,

Dominicans, Bahamians, Indians, and Filipinos.

Churches

Churches are the center of community life and there

are many faiths represented in the Islands, including:

Adventist, Anglican, Assembly of God, Baha'i,

Baptist, Catholic, Church of God of Prophecy, Episcopal,

Faith Tabernacle Church of God, Jehovah's Witnesses,

Methodist and Pentecostal. Visitors are always welcome.

Pets

Incoming pets must have an import permit, veterinary

health certificate, vaccination certificate, and lab test

results to be submitted at the port of entry to obtain

clearance from the TCI Department of Agriculture, Animal

Health Services.

National symbols

The National Bird is the Brown pelican (Pelecanus occidentalis).

The National Plant is Island heather (Limonium

bahamense) found nowhere else in the world. The

National Tree is the Caribbean pine (Pinus caribaea var.

bahamensis). The National Costume consists of white cotton

dresses tied at the waist for women and simple shirts

and loose pants for men, with straw hats. Colors representing

the various islands are displayed on the sleeves

and bases. The National Song is "This Land of Ours," by

ISLAND AUTO RENTALS

For Quality & Reliable Service

& Competitive Prices

The Cruise Center, Grand Turk

Neville Adams

Tel: (649) 946-2042

Cell: (649) 232-0933 or (649) 231-4214

Email: nevilleadams@hotmail.com

Providenciales

Levoi Marshall

Cell: (649) 441-6737

Email: levoimarshall86@gmail.com

Web: islandautorentalstci.com

Project1_Layout 1 8/26/18 12:11 PM Page 1

PyrateRadioTCI.com

Mid-20th century radio pirates broadcast

forbidden Rock-n-Roll, Soul, and Jazz from

ships at sea or hidden locations ashore...

Now, Pyrate Radio FM104.5 will rock the world

again. Easy listening music from a salty

seafaring lot.

FM104.5 & streaming at www.PyrateRadioTCI.com

Advertising Manager 649-431-7527

Times of the Islands Winter 2018/19 79
---
Tom Rathgeb, a longtime photographer-contributor to Times of the Islands, has created a photo series of shells

found on North Caicos beaches. They were shot using natural light with a Nikon D-3400 digital camera, and

enhanced using Adobe Photoshop Elements to highlight their natural beauty. This shell is an Angular Triton

(Cymatium femorale), a predatory sea snail, about three inches in length. Photo prints (8" x 10") are available

for sale: $45 for a mounted, matted (11" x 14") print or $90 for a framed matted print, plus shipping. Direct

inquiries to tom.rathgeb@gmail.com.

the late Rev. E.C. Howell, PhD. Peas and Hominy (Grits)

with Dry Conch is revered as symbolic island fare.

Going green

TCI Waste Disposal Services currently offers recycling services

through weekly collection of recyclable aluminum,

glass, and plastic. The TCI Environmental Club is spearheading

a campaign to eliminate single-use plastic bags.

Do your part by using a cloth bag whenever possible.

Keep TCI "Beautiful by Nature" by not littering!

Recreation

Sporting activities are centered around the water. Visitors

can choose from deep-sea, reef, or bonefishing, sailing,

glass-bottom boat and semi-sub excursions, windsurfing,

waterskiing, parasailing, sea kayaking, snorkelling, scuba

diving, kiteboarding, stand up paddleboarding, and

beachcombing. Pristine reefs, abundant marine life, and

excellent visibility make TCI a world-class diving destination.

Tennis and golf—there is an 18 hole championship

course on Providenciales—are also popular.

The Islands are an ecotourist's paradise. Visitors can

enjoy unspoilt wilderness and native flora and fauna in 33

national parks, nature reserves, sanctuaries, and areas of

historical interest. The National Trust provides trail guides

to several hiking trails, as well as guided tours of major

historical sites. There is an excellent national museum on

Grand Turk, with an auxillary branch on Providenciales. A

scheduled ferry and a selection of tour operators make it

easy to take day trips to the outer islands.

Other land-based activities include bicycling, horseback

riding and football (soccer). Personal trainers are

available to motivate you, working out of several fitness

centres. You will also find a variety of spa and body treatment

services.

Nightlife includes local bands playing island music

at bars and restaurants and some nightclubs. There is

a casino on Providenciales, along with many electronic

gaming parlours. Stargazing is extraordinary!

Shoppers will find Caribbean paintings, T-shirts,

sports and beachwear, and locally made handicrafts,

including straw work and conch crafts. Duty free outlets

sell liquor, jewellery, watches, perfume, leather goods,

crystal, china, cameras, electronics, brand-name clothing

and accessories, along with Cuban cigars. a

80 www.timespub.tc
---
where to stay

Grand Turk

range of daily rates

US$ (subject to change)

number of units

major credit cards

restaurant

bar

air conditioning

phone in unit

television in unit

kitchen in unit

laundry service

pool

on the beach

H

The Arches of Grand Turk – Tel 649 946 2941 190–210 4 • • • • • • •

Bohio Dive Resort – Tel 649 946 2135 • Web www.bohioresort.com 170–230 16 • • • • • • • •

Crabtree Apartments – Tel 978 270 1698 • Web www.GrandTurkVacationRental.com 210–250 3 • • • • • •

Manta House – Tel 649 946 1111 • Web www.grandturk-mantahouse.com 110–130 5 • • • • • • •

Osprey Beach Hotel – Tel 649 946 2666 • Web www.ospreybeachhotel.com 90–225 37 • • • • • • • • • •

Pelican House – Tel 649 246 6797 • Web www.pelicanhousegrandturk.com 110-130 3 • • • • •

Salt Raker Inn – Tel 649 946 2260 • Web www.saltrakerinn.com 55–140 13 • • • • • • •

Solomon Porches Guesthouse – Tel 649 946 2776/241 2937 • Fax 649 946 1984 75–100 3 • •

Middle Caicos

H

Dragon Cay Resort at Mudjin Harbour – Tel 649 344 4997 • Web www.dragoncayresort.com 325 8 • • • • • • • • •

North Caicos

H

Bottle Creek Lodge – Tel 649 946 7080 • Web www.bottlecreeklodge.com 155–240 3 • •

Caicos Beach Condominiums – Tel 649 241 4778/786 338 9264 • Web www.caicosbeachcondos.com 159–299 8 • • • • • • • •

Cedar Palms Suites – Tel 649 946 7113/649 244 4186 • Web www.oceanbeach.tc 250–300 3 • • • • • • • • •

Flamingo's Nest – Tel 649 946 7113/649 244 4186 • Web www.oceanbeach.tc 175–340 2 • • • • • • • •

Hollywood Beach Suites - Tel 800 551 2256/649 231 1020 • Web www.hollywoodbeachsuites.com 200–235 4 • • • • • •

JoAnne's Bed & Breakfast - Tel 649 946 7301 • Web www.turksandcaicos.tc/joannesbnb 80–120 4 • • • •

Palmetto Villa – Tel 649 946 7113/649 244 4186 • Web www.oceanbeach.tc 225–250 1 • • • • • • • •

Pelican Beach Hotel - Tel 649 946 7112 • Web www.pelicanbeach.tc 125–165 14 • • • • • • • •

Pine Cay

H

The Meridian Club - Tel 649 946 7758/866 286 7993 • Web www.meridianclub.com 800–1300 13 • • • • • • •

Parrot Cay

H

COMO Parrot Cay Resort & Spa - Tel 649 946 7788/855 PARROTCAY • Web www.parrotcay.com 550–2850 65 • • • • • • • • • •

Providenciales

G

G

H

H

H

H

H

H

H

H

H

H

H

H

H

H

H

H

H

Airport Inn – Tel 649 941 3514 • Web www.airportinntci.com. 140 18 • • • • • • •

The Alexandra Resort & Spa – Tel 800 704 9424/649 946 5807 • Web www.alexandraresort.com 280–420 99 • • • • • • • • •

The Atrium Resort – Tel 888 592 7885/649 333 0101 • Web www.theatriumresorttci.com 159–410 30 • • • • • • • •

Amanyara – Tel 866 941 8133/649 941 8133 • Web www.aman.com 1000–2100 73 • • • • • • • •

Aquamarine Beach Houses – Tel 649 231 4535/905 556 0278 • www.aquamarinebeachhouses.com 200–850 24 • • • • • • • •

Beaches Resort Villages & Spa – Tel 888-BEACHES/649 946 8000 • Web www.beaches.com 325–390AI 758 • • • • • • • • •

Beach House Turks & Caicos – Tel 649 946 5800 • Web www.beachchousetci.com 532–638 21 • • • • • • • • • •

BE Beach Enclave – Tel 888 434 3981 • Web www.beachenclave.com see web 24 • • • • • • • •

Blue Haven Resort & Marina – Tel 855 832 7667/649 946 9900 • Web www.bluehaventci.com 250–650 51 • • • • • • • • • •

Caribbean Paradise Inn – Tel 649 946 5020 • Web www.caribbeanparadiseinn.com 162–225 17 • • • • • • • •

Club Med Turkoise – Tel 800 258 2633/649 946 5500 • Web www.clubmed.com 120–225 290 • • • • • • • • •

Coral Gardens on Grace Bay – Tel 649 941 5497/800 787 9115 • Web www.coralgardensongracebay.com 199-449 32 • • • • • • • • • •

Gansevoort Turks + Caicos – Tel 888 844 5986/649 941 7555 • Web www.gansevoorttc.com 315–720 91 • • • • • • • • • •

Grace Bay Club - Tel 800 946 5757/649 946 5050 • Web www.gracebayclub.com 650–1750 75 • • • • • • • • • •

Grace Bay Suites – Tel 649 941 7447 • Web www.GraceBaySuites.com 99–195 24 • • • • • • • •

Harbour Club Villas – Tel 649 941 5748/305 434 8568 • Web www.harbourclubvillas.com 210–240 6 • • • • •

The Inn at Grace Bay – Tel 649 432 8633 • Web www.innatgracebay.com 179–379 48 • • • • • • •

Kokomo Botanical Gardens - Tel 649 941 3121• Web www.aliveandwellresorts.com 169–299 16 • • • • •

Le Vele - Tel 649 941 8800/888 272 4406 • Web www.leveleresort.com 303–630 22 • • • • • • • •

La Vista Azul – Tel 649 946 8522/866 519 9618 • Web www.lvaresort.com 215–375 78 • • • • • • •

The Lodgings – Tel 649 941 8107/242 6722 • Web www.hotelturksandcaicos.com 175–255 15 • • • • • •

Neptune Villas – Tel 649 331 4328 • Web www.neptunevillastci.com 150–400 10 • • • • • • • • •

Northwest Point Resort • Tel 649 941 5133 • Web www.northwestpointresort.com 196–550 49 • • • • • • • • • •

Ocean Club Resorts - Tel 800 457 8787/649 946 5880 • Web www.oceanclubresorts.com 180–690 191 • • • • • • • • • •

The Palms Turks & Caicos – Tel 649 946 8666/866 877 7256 • Web thepalmstc.com 595–1700 72 • • • • • • • • • •

Times of the Islands Winter 2018/19 81
---
where to stay

H

H

H

H

H

H

H

H

H

H

H

H

H

H

H

H

H

Providenciales (continued)

Pelican Nest Villa – Tel 649 342 5731 • Web www.pelicannest.tc 429–857 2 • • • • • •

Point Grace – Tel 649 946 5096/888 209 5582 • Web www.pointgrace.com 424–1515 27 • • • • • • • • • •

Ports of Call Resort – Tel 888 678 3483/649 946 8888 • Web www.portsofcallresort.com 135–210 99 • • • • • • •

Queen Angel Resort – Tel 649 941 8771 • Web www.queenangelresort.com 150–575 56 • • • • • • • • •

Reef Residences at Grace Bay – Tel 800 532 8536 • Web www.reefresidence.com 275-385 24 • • • • • • •

The Regent Grand – Tel 877 288 3206/649 941 7770 • Web www.theregentgrand.com 495–1100 50 • • • • • • • • •

Royal West Indies Resort – Tel 800 332 4203/649 946 5004 • Web www.royalwestindies.com 180–695 92 • • • • • • • • • •

The Sands at Grace Bay – Tel 877 777 2637/649 946 5199 • Web www.thesandsresort.com 175–675 116 • • • • • • • • • •

Seven Stars Resort & Spa – Tel 866 570 7777/649 333 7777 – Web www.sevenstarsgracebay.com 365–2400 165 • • • • • • • • • •

The Shore Club – Tel 649 339 8000 – Web www.theshoreclubtc.com 465–4650 148 • • • • • • • • • •

Sibonné Beach Hotel – Tel 888 570 2861/649 946 5547 • Web www.sibonne.com 110–375 29 • • • • • • • •

The Somerset on Grace Bay – Tel 649 339 5900/888 386 8770 • Web www.thesomerset.com 350–1300 53 • • • • • • • • • •

The Tuscany – Tel 866 359 6466/649 941 4667 • Web www.thetuscanyresort.com 975–1300 30 • • • • • • • •

The Venetian – Tel 877 277 4793/649 941 3512 • Web www.thevenetiangracebay.com 695–1175 27 • • • • • • • •

Villa del Mar – Tel 877 345 4890/649 941 5160 • Web www.yourvilladelmar.com 190–440 42 • • • • • • •

Villa Mani – Tel 649 431 4444 • Web www.villamanitci.com 6500–9500 8 • • • • • • •

Villa Renaissance - Tel 649 431 8899 • Web www.villarenaissancebeachresort.com 295–650 36 • • • • • • • • •

The Villas at Blue Mountain – Tel 649 941 4255 • Web www.villasatbluemountain.com 1200–2500 3 • • • • • • • •

West Bay Club – Tel 855 749 5750/649 946 8550 • Web www.thewestbayclub.com 235–1163 46 • • • • • • • • • •

Windsong – Tel 649 333 7700/800 WINDSONG • Web www.windsongresort.com 275–925 50 • • • • • • • • •

range of daily rates

US$ (subject to change)

number of units

major credit cards

restaurant

bar

air conditioning

phone in unit

television in unit

kitchen in unit

laundry service

pool

on the beach

Salt Cay

Castaway – Salt Cay – Tel 772 713 9502 • Web www.castawayonsaltcay.com 175–265 4 • • • • •

Genesis Beach House – Tel 561 502 0901 • Web www.Genesisbeachhouse.com 1000–1200W 4 • • • • •

Pirate's Hideaway B & B – Tel 800 289 5056/649 946 6909 • Web www.saltcay.tc 165–175 4 • • • • • • •

Salt Cay Beach House – Tel 772 713 9502 • Web www.saltcaybeachhouse.blogspot.com 799W 1 • • • • • •

Trade Winds Lodge – Tel 649 232 1009 • Web www.tradewinds.tc 925–1325W 5 • • • • •

Twilight Zone Cottage – Tel 772 713 9502 • Web www.twilightzonecottage.blogspot.com 499W 1 • • • •

The Villas of Salt Cay – Tel 772 713 9502 • Web www.villasofsaltcay.com 150–475 5 • • • • • • • •

H

H

H

G

South Caicos

East Bay Resort – Tel 844 260 8328/649 232 6444 • Web eastbayresort.com 198–1775 86 • • • • • • • • • •

Sailrock South Caicos – Tel 800 929 7197 • Web sailrockresortcom 600–800 6 • • • • • • • • •

South Caicos Ocean & Beach Resort – Tel 877 774 5486/649 946 3219

Web southcaicos.oceanandbeachresort.com 120–275 24 • • • • •

Hotel & Tourism Association Member

Green Globe Certified

Rates (listed for doubles) do not include Government Accommodation Tax and Service Charge

classified ads

SCOOTER BOBS_Layout 1 8/8/18 10:57 AM Page GBC2017_Layout 1 2/16/17 9:10 AM Page 1

HertzDollar_Layout 1 2/16/17 12:37 PM Page 1

We're here to

make your holiday

the island way...

DEPENDABLE VEHICLE HIRE

SERVICE OFFERED:

Provo & North-Middle Caicos

Office: 946-4684

Amos: 441-2667 (after hours)

Yan: 247-6755 (after hours)

Bob: 231-0262 (after hours)

scooterbobs@gmail.com

www.scooterbobstci.com

Grace Bay Road across from Regent Street

Fun Friendly People

Appreciating Your Business!

941-8500

www.gracebaycarrentals.com

649.941.3910 649.946.4864

Call Us.

Whether it's for the largest variety of

vehicles, or the better prices and

greater service.

www.hertztci.com www.dollarcartci.com

Open 8am to 5pm 7 days.

After hours call

Barry 332.0012 Patrice 332.8602 Sophia 331.9895

82 www.timespub.tc
---
classified ads

Forbes Classified changes due_Layout 1 8/9/18 Pure 11:51 Bliss_Layout A 1 6/13/18 7:29 AM Page 1

FORBES REALTY TCI

Caicu Naniki_Caicu Naniki classified 8/9/18 12:05 PM Page 1

R e j o u v e n a n c e S p a

"Go Beyond Provo"

Find your dream property on North Caicos,

Middle Caicos, Salt Cay or Pine Cay.

Call or email us today!

15% OFF

All Spa Services

Expires November 30th

649-432-7546

Touch of Bliss_Layout 1 8/9/18 11:59 AM Page 1

rejouvenancespa.com

www.ForbesRealtyTCI.com

Sara Kaufman cell: 1-649-231-4884

Ernest Forbes cell: 1-649-247-7599

info@ForbesRealtyTCI.com

Community Fellowship Centre

EcoSeaSwimWinter 2018_Caicu A Life-Changing Naniki classified Experience 11/14/18 11:36 PM Page 1

Sunday Divine Worship 9 AM

Visitors Welcome!

Tel: 649.941.3484 • Web: cfctci.com

Phone: 649-242-3439 or 649-346-7344

TC Email: Safari_Layout touchofbliss@rocketmail.com

1 8/9/18 3:33 PM Page 1

Newly located at Caribbean Place

Swim Racing

in Grace Bay

PRIVATE TOURS TO

"Race for the Conch"

NORTH & MIDDLE CAICOS &

SOUTH CAICOS.

Eco-SeaSwim

SWIM LESSONS & SWIM SAFARIS.

Saturday

STAND-UP-PADDLEBOARD

1/2 Mile, 1 Mile,

June 29,

RENTALS & SALES.

5 STAR TRIP ADVISOR RATING

2.4 Mile Events 2019

Stop by Swim & Surf Store at

Caicos Cafe Plaza, Grace Bay.

(649) 432-5000

(649) 432-5000

Project1_Layout www.caicunaniki.com

1 11/27/18 10:34 PM Page 1Fiona_Layout w w w . 1 e c6/8/18 o s e a12:09 s w iPM m . cPage o m 1

Vacation Villa Rentals

Joanne Phillips, Turks & Caicos Safari

www.tcsafari.tc

Call: 1-904-491-1415

Email: tcsafari@tciway.tc

Brigitte ad Classified_Brigitte 8/25/17 11:50 AM Page 1

JOHN GALLEYMORE

Project Management

Estate Management

Homeowner Representation

Concierge

______

compasstci@gmail.com

1 (649) 232 7083

COMPASS Ltd

D&Bswift_Layout Home Owner Services 1 5/8/18 & Project 7:24 Management AM Page 1

Skipper_Layout 1 2/16/17 11:36 PM Page 1

Tangled Hair Salon

Visit Hidden Treasures Boutique

T&C Veterinary_Layout 1 8/9/18 2:02 PM Page 1

Open 6 days per week

Follow us on

for cutting, styling and so much more

Instagram

Call 431 4247 (431 HAIR)

@hiddentreasurestci

PORTS OF CALL PLAZA

www.tangledhairsalonprovidenciales.com

Salt Mills Plaza

Grace Bay

Providenciales

The place

for your

vacation

wear

Turks & Caicos Veterinary

NEW Hours/Days

Clinic Hours

Monday thru Saturday

9:00am - 12 noon

Vet on duty Mon, Wed, Thur, Sat.

Ocean 24 Breezy Breeze_Layout Ridge (649) 946 4353 1 11/14/18 11:07 PM Page

Caring for your pet as though it

were our own since 1981 Email: tcvets@tciway.tc

FOR ALL YOUR

RELIABLE AND

AFFORDABLE

RENTAL NEEDS

649-941-8438 and 649-241-4968

autorental@dnbautoparts.com

Skipper's

TAXI & TOURS

Lloyd "Skipper" Stubbs

at your service

GATEMAN8@HOTMAIL.COM

PH: 649 241 9959

PROVIDENCIALES,

TURKS & CAICOS ISLANDS

Our cleaning solutions are made

from biodegradable materials that

aren't harmful to the environment.

Find our products throughout the

Turks & Caicos Islands.

Times of the Islands Winter 2018/19 83
---
dining out – providenciales

Amanyara — Amanyara Resort. Tel: 941-8133. Light gourmet

cuisine with menu changing daily. Open 6 to 10 PM.

Angela's Top O' The Cove Deli — Suzie Turn, by NAPA.

Tel: 946-4694. New York-style delicatessen. Eat-in, carry-out,

catering. Open daily 7 AM to 5 PM; Sunday 7 AM to 2 PM.

Asú on the Beach — Alexandra Resort. Tel: 941-8888. Casual

Caribbean and popular international fare. Open daily for 7:30

AM to 10:30 PM. Service indoors, poolside, and at beach.

Baci Ristorante — Harbour Towne, Turtle Cove. Tel: 941-3044.

Waterfront Italian dining. Brick oven pizza. Popular bar. Open

for lunch Monday to Friday 12 to 2 PM and dinner nightly from

6 to 10 PM. Closed Sunday.

Bay Bistro — Sibonné Beach Hotel. Tel: 946-5396. Oceanfront

dining featuring creative international cuisine. Open daily

7 AM to 10 PM. Weekend brunch. Catering and special events.

Beaches Resort & Spa — The Bight. Tel: 946-8000.

All-inclusive resort. A variety of restaurants and bars on premises.

Non-guests can purchase a pass.

Bella Luna Ristorante — Glass House, Grace Bay Road. Tel:

946-5214. Fine Italian dining. Indoor or terrace seating above

tropical garden. Open daily from 5:30 PM. Closed Sunday. Lunch

and pizza in the garden. Private catering available.

Big Al's Island Grill — Salt Mills Plaza. Tel: 941-3797. Wide

selection of burgers, steaks, salads, and wraps in a diner-like

setting. Open daily from 11 AM to 10 PM.

Bugaloo's Conch Crawl — Five Cays. Tel: 941-3863. Fresh

local conch and seafood by the beach. Rum, buckets of beer,

live local bands. Open daily from 11 AM to late.

Cabana Beach Bar & Grill — Ocean Club. Tel: 946-5880.

Casual island fare, burgers, salads, snacks. Open daily from

7 AM to 10 PM. Tropical cocktails with a view of the sea.

Caicos Bakery — Caicos Café Plaza. Authentic French boulangerie.

Fresh-baked breads, rolls, croissants, muffins, quiche,

pastries, cakes. Open 7 AM to 4:30 PM daily except Sunday.

Caicos Café — Caicos Café Plaza. Tel: 946-5278.

Mediterranean specialties, grilled local seafood. Fine wines, dining

on the deck. Open 6 PM to 10 PM Monday to Saturday.

The Caravel Restaurant — Grace Bay Court. Tel: 941-5330.

Cozy restaurant offering island food with flair; famous for fish

tacos. Full bar. Open daily 5 to 10 PM, closed Thursday.

Chicken Chicken — Times Square, downtown Provo. Fast food,

fried chicken, native fare.

Chinson's Grill Shack — Leeward Highway. Tel: 941-3533.

The Islands' best jerk and barbecue, Jamaican pastries. Open

daily 8 AM to 10 PM; Friday to Midnight.

Club Med — Grace Bay Road. Tel: 946-5500. All-inclusive

resort. Buffet-style dining; live show and disco in the evenings.

Non-guests can purchase a daily pass.

Coco Bistro — Grace Bay Road. Tel: 946-5369. Continental

Caribbean cuisine by Chef Stuart Gray under a canopy of palms.

Serving dinner from 5:30 PM. Closed Monday. Look for the

Cocovan airstream lounge with garden seating or take-away.

Coconut Grove Restaurant & Lounge — Olympic Plaza,

Downtown. Tel: 247-5610. Casual native fare for residents and

tourists. Cracked conch, conch fritters, fried fish. Pool and game

room. Open daily 11 AM to 10 PM.

Coyaba Restaurant — Caribbean Paradise Inn. Tel: 946-5186.

Contemporary Caribbean gourmet cuisine in a private tropical

garden setting. Extensive wine list. Dinner nightly from 6 to 10

PM. Closed Tuesday. Reservations recommended.

Crackpot Kitchen — Ports of Call. Tel: 2313336. Experience

the best of authentic Turks & Caicos and Caribbean cuisines

with local celebrity Chef Nik. Open daily 5 to 10 PM except

Thursday; Happy Hour 5 to 7 PM.

Da Conch Shack & RumBar — Blue Hills. Tel: 946-8877.

Island-fresh seafood from the ocean to your plate. Covered

beachfront dining for lunch and dinner daily from 11 AM.

Danny Buoy's — Grace Bay Road. Tel: 946-5921. Traditional

American pub fare; imported draught beers. Open for lunch and

dinner daily from 11 AM. Happy Hour specials. Large screen TVs

for sporting events. Karaoke.

The Deck — Seven Stars Resort. Tel: 941-7777. All day dining

and cocktails by the water's edge. Open daily 11 AM to 11 PM.

Live music Friday nights.

Drift — West Bay Club. Tel: 946-8550. Open-air beachfront dining.

Creatively used local ingredients. Full bar. Open daily.

Dune — Windsong Resort. Tel: 333-7700. Private beachfront

dining with limited availability. Fresh fare prepared to perfection.

Open daily.

El Catador Tapas & Bar — Regent Village. Tel: 244-1134.

Authentic Spanish tapas with a wide mix of cold and hot plates

meant for sharing. Fun and lively atmosphere. Open daily from

5 PM.

Element — LeVele Plaza. Tel: 348-6424. Contemporary, creative

cuisine in an elegant setting. Open for dinner Friday to

Wednesday 6:30 to 10:30 PM.

Fairways Bar & Grill — Provo Golf Club. Tel: 946-5833. Dine

overlooking the "greens." Open for breakfast and lunch from 7

AM to 4 PM daily; Friday, Saturday and Sunday open until 8 PM.

Great Sunday brunch 9 AM to 3 PM.

Fire & Ice — Blue Haven Resort & Marina. Tel: 946-9900.

Drinks at the Ice Bar, dessert by the fire pits. South Americanmeets-Caribbean

flavors and spices. Open daily 5:30 to 9:30

PM. Closed Wednesday.

Fresh Bakery & Bistro — Atrium Resort. Tel: 345-4745.

Healthy European salads, soups, sandwiches, bakery, pies and

cakes. Gelato. Open daily 7 AM to 6 PM, closed Sunday.

Fresh Catch — Salt Mills Plaza. Tel: 243-3167. Authentic native

cuisine, from seafood to souse. All-you-can-eat seafood buffet

on Wednesday. Open daily 8 AM to 10 PM. Closed Sunday.

Carry-out available.

Garam Masala — Regent Village. Tel: 941-3292. Authentic

Indian cuisine, tandoori charcoal-oven specialties. Open daily

11:30 AM to 3 PM, 5:30 to 10 PM. Dine-in, take-out or delivery.

Giggles Ice Cream & Candy Parlour — Ports of Call &

Williams Storage. Tel: 941-7370. Cones, sundaes, shakes,

smoothies, "Gigglers," ice cream pies and cakes. Pick 'n' mix

candies. Open daily 11 AM to 10 PM.

Gilley's Sky Lounge & Bar — At the airport. Tel: 946-4472.

Burgers, sandwiches, local food. Open daily 6 AM to 9 PM.

Grace's Cottage — Point Grace Resort. Tel: 946-5096.

Elegant, gourmet Caribbean cuisine showcasing regional foods.

Extensive wine list. Gazebo seating under the stars or indoor

dining in a romantic gingerbread cottage. Serving dinner from

6 to 10 PM nightly. Reservations required. Native cuisine night

on Tuesday with live music.

84 www.timespub.tc
---
Grill Rouge — Grace Bay Club. Tel: 946-5050. Al fresco bistro.

Diverse menu. Fun cocktails. Open daily for lunch Noon to 3 PM,

dinner to 9 PM.

Hemingways on the Beach — The Sands at Grace Bay. Tel:

941-8408. Casual beachfront bar and restaurant. Fresh fish,

pasta, sandwiches, salads and tropical drinks by the pool.

Oceanfront deck for great sunsets! Open 8 AM to 10 PM daily.

Hole in the Wall Restaurant & Bar — Williams Plaza, Old

Airport Road. Tel: 941-4136. Authentic Jamaican/Island cuisine

where the locals go. Full bar. A/C dining or outdoors on the

deck. Open daily 7 AM to 9 PM. Pick-up/delivery available.

Infiniti Restaurant & Raw Bar — Grace Bay Club. Tel: 946-

5050. Elegant beachfront dining for lunch and dinner. Gourmet

Euro/Caribbean cuisine; fine wines. Full bar and lounge.

Reservations required.

Island Raw — Le Petite Plaza. Tel: 346-5371. Vegan lifestyle

kitchen, offering fresh, organic, raw, vegan, gourmet. Open

Friday, Noon to 2 PM.

Island Conch Bar & Grill — Bight Cultural Market. Tel: 946-

8389. Caribbean and local cuisine. Open daily 11 AM to 9 PM.

Island Scoop — Grace Bay Plaza. Tel: 242-8511/243-5051.

21 flavors of ice cream made locally. Cones, smoothies, blizzards

and shakes. Open daily, 11 AM to 10 PM.

The Java Bar — Graceway Gourmet. Tel: 941-5000. Gourmet

café serving fresh baked desserts, sandwiches and coffee

delights. Open 7 AM to 8 PM daily.

Jack's Fountain — Across from Casablanca Casino. Tel: 946-

5225. Seafood, steak, unique specialty items in a lively, relaxed

"beach bar" atmosphere. Open 7 AM to 10 PM daily.

Kalooki's Grace Bay — Le Vele Plaza. Tel: 941-8388. The perfect

mix of sweet and spicy Caribbean flavors. New location in

Grace Bay. Open daily 11 AM to 10 PM. Closed Thursday.

Kitchen 218 — Beach House, Lower Bight Road. Tel: 946-5800.

Caribbean cuisine with hints of French and Asian fusion and the

chef's passion for fresh ingredients. Open 8 AM to 10 PM daily.

The Landing Bar & Kitchen — Grace Bay Road across from

Regent Village. Tel: 341-5856. Unique nautical setting for dinner

under the stars. Cocktails, fire pit. Open daily except Tuesday

5:30 to 10 PM.

Las Brisas — Neptune Villas, Chalk Sound. Tel: 946-5306.

Mediterranean/Caribbean cuisine with tapas, wine and full bar.

Terrace and gazebo dining overlooking Chalk Sound. Open daily

8 AM to 10 PM. Take-out available; private parties.

Le Bouchon du Village — Regent Village. Tel: 946-5234. A

taste of Paris. Sidewalk café with sandwiches, salads, tartines,

tapas, dinner specials, wine, cheese, dessert, coffees. Open

daily 11 AM. Closed Sunday.

Le Comptoir Francais — Regent Village. Tel: 946-5234.

French deli, bakery, wine shop. Open daily.

Lemon 2 Go Coffee — Ventura House. Tel: 941-4069.

Gourmet coffeehouse. Sandwiches, muffins, cookies, croissants,

yogurt, salads. Open Monday to Saturday 7:30 AM to 7 PM,

Sunday 9 AM to 1 PM.

The Lounge — Grace Bay Club. Tel: 946-5050. Decidedly hip

lounge. Caribbean-infused tapas, martinis, tropical cocktails,

world music and the finest sunset location in Providenciales.

Lupo — Regent Village. Tel: 431-5876. Authentic Italian

"comfort food." Regional wine list. Dine in or take out readymade

gourmet meals. Open daily Noon to 3 PM; 6 to 10 PM.

Magnolia Restaurant & Wine Bar — Miramar Resort. Tel:

941-5108. International cuisine with island flavors, north shore

views. Open for dinner from 6 to 9:30 PM except Monday. Wine

bar opens at 4 PM.

Mango Reef — Turtle Cove. Tel: 946-8200. Fresh local flavors

and seafood, homemade desserts. Open daily 11 AM to 10 PM.

Set price dinner on weekdays. Waterside deck, indoor or patio

dining. Tie-up to dock at Turtle Cove Marina.

Market Café — Blue Haven Resort. Tel: 946-9900. Gourmet

coffees, teas, frozen drinks; fresh breads and pastries; grab 'n'

go salads, sandwiches, smoothies. Open daily 7 AM to 8 PM.

Mis Amigos Cocina Mexicana — Central Square. Tel: 946-

4229. A variety of traditional Mexican fare, including salads and

the best margaritas in town. Open daily.

Mother's Pizza — Downtown Times Square. Tel: 941-4142.

Best pizza in the Turks & Caicos, available by the slice or the

island's biggest "large." Open daily 11 AM to 9 PM; to 10 PM on

Friday and Saturday; Noon to 8 PM on Sunday.

Mr. Groupers — Lower Bight and Sunset Ridge Hotel (near airport).

Tel: 242-6780. Serving fresh local seafood straight from

the sea. Open daily 10 AM to 10:30 PM, Sunday 3 to 11 PM.

Opus Wine • Bar • Grill — Ocean Club Plaza. Tel: 946-5885.

International menu with Caribbean flair. Fresh seafood. Serving

dinner nightly 6 to 10 PM. Indoor/outdoor dining. Conference

facility, events, catering.

Outback Steakhouse TCI — Regent Village. Unbeatable

steak cuts complemented by chicken, ribs, seafood, and pasta.

Generous portions, moderately priced, casual atmosphere. Open

Monday to Thursday 3 to 11 PM; Friday to Midnight; Saturday 1

PM to Midnight; Sunday 1 to 11 PM.

Parallel23 — The Palms Turks & Caicos. Tel: 946-8666. Pantropical

cuisine in a setting of casual elegance. Boutique wine

list. Al fresco or private dining room available. Open daily 6 to

10:30 PM.

The Patty Place — Behind Shining Stars; Le Petit Place, Blue

Hills. Tel: 246-9000. Authentic Jamaican patties and loaves. 18

flavors of Devon House ice cream. Open daily 9:30 AM to 10 PM.

Pavilion — The Somerset. Tel: 339-5900. Chef Brad offers a

global palate, interpreted locally. Seafood raw bar. Open daily

for breakfast, lunch, dinner; Sunday Prime Rib special.

Pelican Bay Restaurant & Bar — Royal West Indies Resort.

Tel: 941-2365/431-9101. Poolside restaurant and bar with

Caribbean, French and Asian fare. Breakfast, lunch, dinner daily

from 7:30 AM to 10 PM. Special events each week.

Pepper Town Café — Digicel Cinema, #4. Tel: 246-9237.

Native and Caribbean Dishes. Open daily except Sunday 11:30

AM to 7 PM. Island breakfast on Saturday at 7 AM.

Pizza Pizza — Grace Bay Plaza/Cinema Plaza. Tel: 941-

8010/941-3577. New York style specialty pizzas. Open daily

11:30 AM to 9:30 PM, weekends until 10 PM. Free delivery.

Provence — Le Vele Plaza. Tel: 946-4124. Traditional French

artisan-style cuisine. Fresh pasta, gelato, cheeses, charcuterie,

pastries, desserts. Open daily for breakfast, lunch and dinner.

Retreat Kitchen Vegetarian Café & Juice Bar — Ports of

Call. Tel: 432-2485. Fresh, organic, vegan, vegetarian, gluten-free

fare. Fresh juices, daily lunch specials. Open for lunch

Monday to Saturday, 9 AM to 3 PM. Delivery available.

Rickie's Flamingo Café — Between Ocean Club and Club Med.

Tel: 244-3231. Local fare and atmosphere right on the beach.

Best grouper sandwich and rum punch! Don't miss Curry Fridays

and Beach BBQ Saturdays.

Salt Bar & Grill — Blue Haven Resort & Marina. Tel: 946-9900.

Outdoor seating overlooking the marina. Sandwiches, burgers,

Times of the Islands Winter 2018/19 85
---
salads, classic bar favorites. Open daily 11:30 AM to 9:30 PM.

Seven — Seven Stars Resort. Tel: 339-7777. Elevated contemporary

cuisine fused with TCI tradition. Open Monday to Saturday,

5:30 to 9:30 PM.

72ºWest — The Palms Turks & Caicos. Tel: 946-8666.

Beachside dining with a family-friendly, Caribbean-inspired

menu. Serving lunch daily; dinner seasonally.

Sharkbite Bar & Grill — Admiral's Club at Turtle Cove. Tel:

941-5090. Varied menu; casual dining. Sports bar/slots. Open

daily from 11 AM to 2 AM.

Shay Café — Le Vele Plaza. Tel: 331-6349. Offering organic

coffees, teas, sandwiches, salads, soup, pastries, gelato, sorbetto,

smoothies, beer and wine. Open daily 7 AM to 7 PM.

Simone's Bar & Grill — La Vista Azul. Tel: 331-3031. Serving

fresh seafood and local cuisine. Open daily 11 AM to 11 PM;

weekends 7 AM to 11 PM. Popular bar!

Skull Rock Cantina — Ports of Call. Tel: 941-4173. The place

for Tex-Mex; daily drink specials. Open daily, 8 AM to Midnight.

Solana! Restaurant — Ocean Club West. Tel: 946-5254.

Oceanfront dining from sushi to burgers. Teppanyaki and Sushi

Bar, engage with the chefs. Open daily 7:30 AM to 10 PM.

Somewhere Café & Lounge — Coral Gardens Resort. Tel:

941-8260. Casual dining with Tex-Mex flair right on the beach.

Cocktails, beers, specialty drinks. Open early to late daily.

Stelle — Gansevoort Turks + Caicos. Tel: 232-4444. Modern

Mediterranean cuisine featuring fresh fish and seafood. Open 6

to 10 PM daily, until 2 AM on Friday with DJ.

Sui-Ren — The Shore Club. Tel: 339-8000. Inspired flavors of

Peruvian-Japanese fusion cuisine with fresh seafood and organic

produce in a unique setting. Open daily.

Thai Orchid — The Regent Village. Tel: 946-4491. Authentic

Thai cuisine; over 60 choices! Dine in or carry out. Open for

lunch and dinner daily.

Three Brothers Restaurant — Town Center Mall, Downtown.

Tel: 232-4736. Seafood and native cuisine. Tuesday night buffet

dinner. Catering services. Open daily, 7 AM to 10 PM.

Tiki Hut Island Eatery — Dockside at Turtle Cove Inn. Tel:

941-5341. Imaginative sandwiches, salads, seafood, Black

Angus beef, pasta, pizzas, fish. Open daily 11 AM to 10 PM.

Turkberry Frozen Yogurt — The Saltmills. Tel: 431-2233.

Frozen yogurt in a variety of flavors, with a large selection of

toppings. Custom donut bar. Open 11 AM to 11 PM daily.

Turks Kebab — At Craft Market on Sand Castle Drive. Tel: 431-

9964. Turkish and Mediterranean fare. Salads, falafel, gyros,

kebabs, hummus. Open for lunch and dinner.

Via Veneto — Ports of Call. Tel: 941-2372. Authentic Italian

dining in a stylish indoor/outdoor venue. Open from 5:30 PM to

late. Closed Thursday. Saturday is Pizza Night!

The Vix Asian Bistro & Grill — Regent Village. Tel: 941-4144.

Contemporary Asian menu with a wok station, dim sum, vegan

specialties and keto dishes. Open daily 7:30 AM to 3 PM; 5 to

9:45 PM. Delivery to select locations. Catering menus.

Yoshi's Sushi & Grill — The Saltmills. Tel: 941-3374/431-

0012. Sushi bar menu plus Japanese cuisine. Open daily Noon

to 3 PM; 6 to 10 PM. Closed Sunday. Dine indoors or out. Carry

out available.

Zest! — Gansevoort Turks + Caicos. Tel: 232-4444. Lunch and

dinner beachfront. Taste of the Caribbean and Americas. Open

daily Noon to 5 PM; 6 to 9 PM. Fisherman's night Wednesday. a

subscription form

VISIT WWW.TIMESPUB.TC TO VIEW CURRENT ISSUE ON-LINE!

TIMES

OF THE

ISLANDS

SAMPLING THE SOUL OF THE TURKS & CAICOS ISLANDS

One year subscription

$28 U.S. addresses/$32 non-U.S. addresses

Name____________________________________________________________________

Date ____________________

Address__________________________________________________________________

City _____________________________________________________________________

State/Province____________________________________________________________

Country/Postal Code_____________________________________________________

E-mail address (not required)_____________________________________________

r New Subscription r Renewal

r U.S. Cheque/M.O. enclosed

Mail with payment to:

Times Publications Ltd., c/o Kathy Borsuk,

247 Holmes Ave., Clarendon Hills, IL 60514

Please allow 30 to 60 days for delivery of first issue.

86 www.timespub.tc
---
MEET OUR NEWEST INNOVATION

We are driving towards an exciting energy future!

FortisTCI proudly introduces our Nissan Leaf Electric Vehicle (EV) and Charging Station. . .a pilot project to

support our environmentally sustainable energy solutions for the Turks and Caicos Islands.

To learn more about this EV pilot project and our renewable energy programs, email us at:

renewableenergy@fortistci.com

2017 Winner

Allied Member of the Year

BCMS 681102

www.fortistci.com | 649-946-4313 |
---
LIVE WATERFRONT

THE FINEST COLLECTION

Condominium | Home & Villa | Land | New Development

649.946.4474 | info@tcsothebysrealty.com | turksandcaicosSIR.com

Venture House, Grace Bay | Resort Locations: Grace Bay Club and The Palms

Each Sotheby's International Realty® office is independently owned and operated.