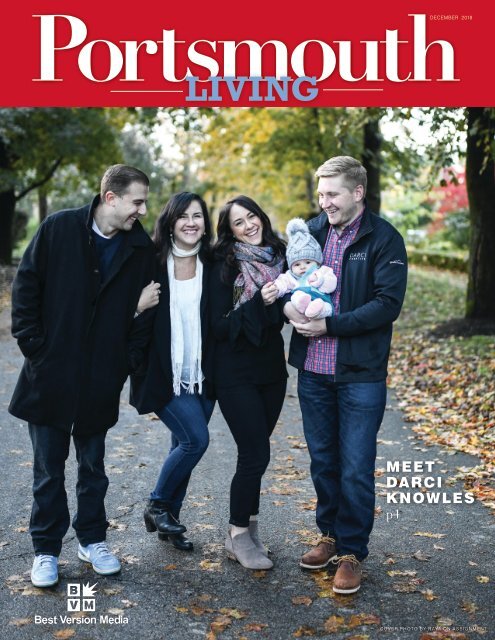 Portsmouth Living Magazine December
December Issue Of Portsmouth Living Portsmouth Living Magazine is your community publication. Its goal is to showcase the people and places that make Portsmouth such a great city to live in. Each month will feature a local neighbor on the front page along with a featured article. Other articles include Community, Home and Garden, Fitness, Health, Food, Events and more.
December Issue Of Portsmouth Living
Portsmouth Living Magazine is your community publication. Its goal is to showcase the people and places that make Portsmouth such a great city to live in. Each month will feature a local neighbor on the front page along with a featured article. Other articles include Community, Home and Garden, Fitness, Health, Food, Events and more.
SHOW MORE
SHOW LESS
You also want an ePaper? Increase the reach of your titles
YUMPU automatically turns print PDFs into web optimized ePapers that Google loves.
Portsmouth

DECEMBER 2018

LIVING

MEET

DARCI

KNOWLES

p4

COVER PHOTO BY RAYA ON ASSIGNMENT
---
Mortgage rates are on the rise,

"He puzzled and puzzled till his puzzler was sore.

Then the Grinch thought of something he hadn't before.

Maybe Christmas, he thought... doesn't come from a store.

Maybe Christmas, perhaps... means a little bit more!"

– Theodor "Dr. Seuss" Geisel

financial markets are unsettled,

the political landscape is turbulant.

Ask me why now's the time to sell.

DECEMBER 2018

Portsmouth

LIVING

PUBLICATION TEAM

PUBLISHER | Mark Kasper

DESIGNER | Gabrielle Rohmer

CONTENT COORDINATOR | Rob Levey

CONTRIBUTING PHOTOGRAPHER | Raya on Assignment

ADVERTISING

MEET

DARCI

KNOWLES

p4

CONTACT | Mark Kasper

EMAIL | mkasper@bestversionmedia.com

PHONE | (603) 686-3131

FEEDBACK/IDEAS/SUBMISSIONS

Have feedback, ideas or submissions? We are always happy to hear from

you! Deadlines for submissions are the 1st of each month. Go to www.

bestversionmedia.comand click "Submit Content." You may also email your

thoughts, ideas, and photos to rlevey@bestversionmedia.com.

IMPORTANT PHONE NUMBERS

Emergency.......................................................................................................... 911

Police Department........................................................................(603) 427-1500

Fire Department.............................................................. ..............(603) 427-1515

City Hall........................................................................................(603) 431-2000

Library......................................................................................... (603) 427-1540

Recreation Department......................................................... ......(603) 427-1548

School Department....................................................................(603) 431-5080

Important Websites.................................................www.cityofportsmouth.com

EXPERT CONTRIBUTORS

Dear Residents,

It is our pleasure to try and bring you a meaningful slice

of Portsmouth each and every month. In 2019, we hope to

improve our content and deliver stories that excite, interest

and educate you.

Have a good story? Please contact me at rlevey@bestversionmedia.com.

After all, this is YOUR magazine,

Portsmouth!

Thanks for a wonderful 2018. See you next year.

~ Rob

ROB LEVEY

Editor

Barbara Dunkle | NH & ME Broker

PLATINUM GROUP MEMBER

Web: www.barbaradunkle.com

Cell: 603-498-7927

Office: 800-450-7784 ext.7078

Email: barbara.dunkle@beangroup.com

Distinctive Properties. Exceptional Service.

®

®

To learn more about becoming an expert contributor, contact BVM

at mkasper@bestversionmedia.com or (603) 686-3131.

CONTENT SUBMISSION DEADLINES

DEADLINE FOR CONTENT SUBMISSION

IS THE I ST OF EACH MONTH

Any content, resident submissions, guest columns, advertisements and advertorials are not

necessarily endorsed by or represent the views of Best Version Media (BVM) or any municipality,

homeowners associations, businesses or organizations that this publication serves. BVM is

not responsible for the reliability, suitability or timeliness of any content submitted. All content

submitted is done so at the sole discretion of the submitting party. © 2018 Best Version Media.

All rights reserved.

Attention:

Portsmouth Cooks!

Send your favorite recipe(s)

to share with your neighbors.

Email them to mkasper@bestversionmedia.com

Subject to copyright and space availability.

©2018 Bean Group, All Rights Reserved.

2 PORTSMOUTH LIVING

DECEMBER 2018 3
---
Resident Feature

MEET DARCI

KNOWLES

BY ROB LEVEY

PHOTOGRAPHY BY

RAYA ON ASSIGNMENT

She also watches Celtics games with

Chad, although some details escape

her.

"Don't ask me too much about the

rules though," laughs Knowles, who

says her love of Boston sports may be

attributed to that of her father.

"My father always had 'the game

on,'" she says.

When not watching sports, you just

may find Knowles and her kids trying

their hand at various accents.

"My mother taught me a love of

language," she says. "It's something

I've passed along to my kids, so we

have fun with different accents. Both

of my kids are gifted story tellers with

the added talent of impersonating the

people involved in the recounting of

the story--it brings laughter and joy

whenever we get together."

Any description of her family is not

complete without mentioning Brodie,

though.

"He is my Australian Shepherd/

Beagle rescue dog and best bud for a

little more than 6 years," she says.

Aside from staying active with her

family, volunteering is a big part of

Knowles' life. Currently, she sits on

the boards of the Seacoast Chapter of

Veterans Count and the Foundation

for Seacoast Health. She has also donated

the time and talents of her team

at DARCI Creative to The Chamber

Collaborative (they re-branded them

last year), Hungry for Hope, Kremples

Center and many other causes and

organizations.

"I am a big believer in giving back

and am honored to have been able to

contribute to many different causes

over the years," she says.

As for her love of Portsmouth,

Knowles says she recognizes how fortunate

she is to live in such a town. She

considers herself "a lucky resident" of

Pinehurst Road, which she describes as

"a total gem of a street and neighborhood."

"I've lived there since Chad started

high school at Portsmouth High in

2003," she says. "It's a perfect location,

a beautiful little street and just a five

minute drive to my office. I think all of

us on Pinehurst know how special it is

and we are all grateful to be in Portsmouth

in such a perfect location."

As for her future, Knowles says it

will most likely consist of yoga, Portsmouth

Symphony Orchestra concerts

and walks with Brodie along the beach

and on nearby wooded trails. She also

loves watching movies and reading

books–even writing them, too.

"I have a novel currently under consideration

with a major NY publisher,

so my fingers are crossed," she says.

Message for Pinehurst Neighbors:

"Thank you all for being

so wonderful."

Newest member of the family Willow!

For Darci Knowles, much of her

career has been spent putting

the spotlight on others

through various professional

endeavors, most of which have centered

on the ubiquitous field of marketing.

Honored with numerous awards for

creative excellence, including national

"Telly" Awards for outstanding television

advertising and Best in Show from

the New England Direct Marketing

Association, Knowles founded her latest

venture, DARCI Creative, in 2006.

"I love my work," she says.

When not working, she devotes

much of her free time to family, which

includes

daughter Daniele

and son-in

law Tyler Hosser

as well as

their new baby

Olivia, born this

past July.

"We are still

over the moon

about our beautiful

new addition

to the family," says Knowles, who notes

she is nearly as excited to welcome her

daughter back to work after her maternity

leave.

"We are all happy to have her back,"

she says. "She is an anchor here at

DARCI when it comes to client services

and I couldn't be more proud."

Knowles is equally proud of her son

Chad, who like his sister also lives in

Hampton.

"My son Chad is passionate about

all things basketball and is a coach at

The Sports Barn in Hampton and has a

new position at Somersworth High this

coming year," she says. "He takes his

role as a coach very seriously and sees

it as an opportunity to bring positive

left to right Chad Cyr, Darci Knowles, Daniele, Olivia and Tyler Hosser

habits and self-esteem to all the kids."

Her sense of pride extends to her

son-in-law, Tyler, too.

"He works at Liberty Mutual and is

an amazing husband and new father,"

she says. "I couldn't be more proud of

all of them."

According to Knowles, one of the

things she enjoys the most with her

family is sports.

"I am a big believer in giving back and am honored

to have been able to contribute to many different

causes over the years," she says.

"My mom loves the Red Sox so she

is so excited with their recent World Series

win and it was so fun to share that

with her," she says. " I was able to take

her to a September game and see Price

pitch, so that was special, too, to be able

to see this amazing team."

DO YOU HAVE A NEIGHBOR WHO HAS A STORY TO SHARE? Contact us at:mkasper@bestversionmedia.com

4 PORTSMOUTH LIVING

We would like to thank our sponsor, Porstmouth Christian Academy for the opportunity to bring you this story.

DECEMBER 2018 5
---
Charity Spotlight

Since 2006, the Seacoast Women's Giving Circle

(SWGC) has supported the community through targeted

financial giving to local non-profits. Working in

a spirit of collective action and giving, SWGC is comprised of

more than 150 members and a 25 member board of directors

with a different area of philanthropic focus each year.

This year, their focus is Substance Use Disorders. According

to longtime SWGC member and current Chair Kathleen

MacLeod, their support of local nonprofits in this cycle may

exceed $70,000, although that only tells part of the story.

Their approach to complex issues each year is guided by a

three-step process of Learn, Give, and Act.

"In the Learn portion of their process, members learn about

their chosen topic through extensive research that includes

meeting with state and local experts in the field," she says.

An educational highlight of their work is an annual Learn

Forum in early November in which they moderate an expert

panel discussion.

Their Give component begins after the Learn Forum during

which time they take what they have learned and create

a Request for Proposal (RFP) that goes out to hundreds of

organizations in December. Upon receiving applications, a

rigorous evaluation process begins that culminates in votes by

the board to select that particular year's grant recipients.

6 PORTSMOUTH LIVING

FORMING A CIRCLE

OF COMMUNITY

BY ROB LEVEY

In Act, the third part of SWGC's process, members host

several events throughout the year, including a holiday drive

to provide clothing, gift certificates or other forms of assistance

to those in need.

In commenting on this year's chosen philanthropic focus,

MacLeod refers to substance use disorders as "an issue that is

having devastating effects across our state."

Since 2006, SWGC has raised more

than $630,000, all of which has been

invested in non-profits throughout

the Seacoast region.

"It is one that does not discriminate," she adds. "It is why

we will also work to educate people on the complexities of

this issue and help fight the stigma of addiction so people feel

more comfortable seeking help."

Since 2006, SWGC has raised more than $630,000, all of

which has been invested in non-profits throughout the Seacoast

region. In addition to donations by individual members,

SWGC relies on support from corporate donors.

One such corporate donor is Piscataqua Savings Bank,

which President/CEO Rick Wallis said is a community bank

that relates very strongly with SWGC's philanthropic

mission.

"They're well organized and take the time to really understand

community issues--a truly grassroots approach,"

he says. "Our support allows the Seacoast Women's Giving

Circle to keep their promise that 100% of the memberships'

donations go directly to the organizations they support by

covering some of their costs. That's an important promise for

them to keep and we're glad to be a part of making that happen."

Expressing gratitude for such support, MacLeod says

SWGC is currently looking to not only raise awareness of its

mission, but increase its membership.

"We are open to all women and are by no means exclusive,"

she says.

To become a member, individuals are asked to donate a

minimum of $200 each year of which 100% goes to

nonprofits.

"With each additional member, our impact on the

community grows," she says.

For more information about the Seacoast Women's Giving Circle, or to learn more about becoming

a member, visit www.seacoastwomengive.org.

Real Estate

PORTSMOUTH REAL ESTATE STATS TO DATE

IN PORTRSMOUTIN

MONTH YEAR #UNITS SOLD LOW MEDIAN HIGH TOTAL

OCTOBER 2017 37 $169,200 $595,203 $2,786,176 $22,022,526

OCTOBER 2018 31 $198,000 $553,425 $1,126,967 $17,156,175

SEPTEMBER 2017 31 $13,000 $677,983 $3,056,000 $21,017,500

SEPTEMBER 2018 32 $18,000 $492,825 $900,000 $15,770,425

AUGUST 2017 40 $17,000 $585,308 $2,289,000 $23,412,350

AUGUST 2018 45 $169,900 $583,155 $1,600,000 $26,241,980

JULY 2017 23 $169,900 $545,736 $1,300,000 $12,551,950

JULY 2018 30 $188,500 $638,783 $1,400,000 $19,163,490

JUNE 2017 40 $173,500 $427,171 $859,286 $17,086,864

JUNE 2018 37 $238,000 $550,268 $1,249,000 $20,359,950

MAY 2017 30 $205,000 $467,971 $839,000 $14,039,137

MAY 2018 30 $169,000 $607,001 $1,950,000 $18,210,045

APRIL 2017 23 $161,000 $434,321 $875,000 $9,989,400

APRIL 2018 26 $175,000 $465,184 $700,000 $12,094,790

MARCH 2017 22 $15,000 $612,763 $1,699,000 $13,400,800

MARCH 2018 30 $130,000 $465,565 $949,900 $13,966,970

FEBRUARY 2017 13 $191,500 $461,100 $650,000 $5,994,300

FEBRUARY 2018 18 $166,000 $475,970 $1,000,000 $8,567,475

JANUARY 2017 24 $147,900 $593,622 $2,087,080 $14,246,930

JANUARY 2018 12 $228,000 $672,000 $3,697,500 $11,540,400

Best Version Media does not guarantee the accuracy of the statistical data on this page. Any real estate agent's ad appearing

in this magazine is separate from any statistical data provided which is in no way a part of their advertisement.

Think selling your home

in the winter is

senseless?

Barbara Dunkle | NH & ME Broker

Web: www.barbaradunkle.com

Cell: 603-498-7927

Office: 800-450-7784 ext.7078

Email: barbara.dunkle@beangroup.com

Think again.

DECEMBER 2018 7
---
Q & A WITH PHOTOGRAPHER

RAYA AL-HASHMI

Business Profile

BY ROB LEVEY

Known throughout Portsmouth and the Seacoast as

Raya on Assignment, we felt it was time to flip the script

and put the proverbial spotlight on Raya herself.

The biggest challenge is to

continue to remember that

our self worth is not tied

to our work–that our highs

and lows don't play into

how 'good' we are.

How long have you been photographing people, events,

and businesses in Portsmouth?

I have been documenting this brilliant community since 2013 after graduating

from The University of New Hampshire with a degree in Journalism.

How did you get into photography and what are your goals

with your work–capturing the essence of people or a business?

Your work is very distinctive, so what guides you?

I explored the craft in high school, and it was really through my experience in

college that allowed for me to see the evolution from it as simply a hobby to

a really powerful tool to story tell and connect why we are here and what we

are here to do. I hope to continue to work on my personal development and

continue to be a good member of my community as I grow professionally. My

personal and business goals are often the same.

What is the biggest challenge for you as a photographer?

The biggest challenge is to continue to remember that our self worth is not

tied to our work–that our highs and lows don't play into how 'good' we are.

What is your greatest joy as a photographer?

My greatest joy is to help people to see their reason and mission being shared

with the world in the very best light possible. I especially love serving people

who are starting out in something that they deeply love to giving them some

real evidence and ability to share what it is they do.

Do you have a favorite project or memory as a

photographer that you can share?

I love my People of Portsmouth project, something

I started as a new graduate while working front desk

at a gym wanting so deeply to keep my passion and

skill alive no matter the job I was doing. Looking

back, it was the foundation for my business now.

Looking ahead–what is next in your future?

Ten years from now, where will you be in

your career?

I am really curious about how to serve in a greater

way to more people so expanding not just locally

but globally. I am really interested in sharing with

people that anything is possible and that when we

live in our zone of genius that's where we meet

abundance.

8 PORTSMOUTH LIVING

DECEMBER 2018 9
---
SATURDAY, DECEMBER 1 & 8

COLONIAL HOLIDAY TEA

@FOLSOM TAVERN, 164 WATER STREET, EXETER

You are cordially invited to a Colonial Holiday

Tea in Folsom Tavern. Sip delicious teas

and dine on small bites provided by colonialinspired

caterer For the Love of Food and

Drink. Create your own historic handiwork with

lavender sachets and mulling spices– perfect

for holiday gift giving. Try your hand at quill

pen writing for your holiday gift tags or a letter

to Santa. Gather in the assembly room to sing

winter carols. The museum's holiday gift shop

will be open for you to find that perfect present

for the history lover on your list.

TIME Seatings at 11am and 2pm

www.independencemuseum.org

SATURDAY, DECEMBER 1

NEW CASTLE VILLAGE

CHRISTMAS FAIR

@NEW CASTLE RECREATIONAL BUILDING,

ROUTE 1B, NEW CASTLE

New Castle Guild members are actively creating

exceptional custom-made wreaths, cheerful

greens baskets, containers of paper whites,

dramatic amaryllis, beautiful boxwood trees,

and candle wreaths to adorn your home this

holiday.

At the Bake Table, there will be breads, cookies,

cakes, pies, and candy. You'll find Gift Baskets

for everyone on your shopping list, as well

as vintage Jewelry & Scarves, Red Elephants

and the ever-popular Silent Auction.

TIME 8am-1:30pm

COST FREE

HAVE AN EVENT FOR OUR

NEXT ISSUE?

Contact us at: rlevey@bestversionmedia.com

ELEVATING

WEALTH MANAGEMENT

TO AN ART FORM

SATURDAY, DECEMBER 1

BUTTON FACTORY

OPEN STUDIOS

BUTTON FACTORY OPEN STUDIOS

@BUTTON FACTORY, 855 ISLINGTON ST.,

PORTSMOUTH

Open Studios is a once- a-year opportunity to

visit the artists, explore their private studios,

and purchase their work. These artists and

craftsmen have earned prominence in their

fields and represent a range of disciplines,

including painting, photography, jewelry, pottery,

art furniture, custom picture framing, and

bookbinding. Explore the various studios and

you will find that each one reflects the artist's

creative personality.

TIME 10am-5pm

COST FREE

www.buttonfactorystudios.com

The name "Dakota" means friend and ally –

here at Dakota Wealth Management, we

focus on caring for you, understanding

your family, lifestyle needs, goals and

long-term aspirations.

At a time when the financial industry has

resorted to passive strategies and

computer-generated models, our team of

investment managers and advisors brings

experience, knowledge and sound

judgment to thoughtfully position every

aspect of your financial life to ensure the

greatest success.

In everything we do, from crafting

portfolios to facilitating a comprehensive

wealth management experience, Dakota

brings a highly-personalized wealth

management approach to downtown

Portsmouth.

WEDNESDAY, DECEMBER 5, 12 &19

STORY AND CRAFT TIME

@INFO TO COME

Join us for stories, songs, movement and

a simple craft on Wednesday mornings.

This is inspired by the work of Rose

Labrie who advocated children's

creativity through her support

of the Prescott Park Arts Festival.

TIME

9:45am-10:30am

COST FREE

www.portsmouthhistory.org

SATURDAY, DECEMBER 8

GREENLAND CHRISTMAS FAIR

@GREENLAND COMMUNITY CONGREGATIONAL

CHURCH, 2 POST ROAD, GREENLAND

Feature two floors of merchandise and

activities, including: A Cookie Walk with

hundreds of homemade cookies, Tables of

jewelry, gourmet foods, and other locally

made products, Handcrafted items made

by the Women's Alliance, Visit from Santa

at 11 am plus children's activities, "Nearly

New" room with bargains galore, and

Luncheon featuring soup, sandwiches and

more.

The fair's Silent and Live Auction will be

at the center of the event, featuring local

artwork and handmade items, restaurant

gift certificates, antiques, passes to area

attractions, holiday decorations, gift baskets,

and more.

TIME

9am-2pm

COST $9 - $12

www.communitychurchofgreenland.org

MONDAY, DECEMBER 10

PSO CREATIVE LISTENING:

SOUNDS AND SILENCE

@PORTSMOUTH PUBLIC LIBRARY,

175 PARROTT AVE., PORTSMOUTH

Distinguishing the sounds and silences, this

event will provide an explanation of musical

sounds and notation, and how knowing this

helps us listen.

This free series is sponsored by Charles

Schwab.

TIME

12pm-1pm

COST FREE

www.portsmouthsymphony.org

FRIDAY AND SATURDAY, DECEMBER 14 & 15

ED GERHARD'S 36TH ANNUAL

CHRISTMAS GUITAR CONCERT

@SOUTH CHURCH,

292 STATE STREET, PORTSMOUTH

New Hampshire's own GRAMMY ® Awardwinning

guitarist Ed Gerhard will present his

popular Annual Christmas Guitar Concert,

now in its 36th year. Gerhard will perform

soulful arrangements of well-loved carols,

as well as his own concert favorites. Fans

of guitar music and Christmas alike will

want to be a part of this memorable show.

TIME

COST $28-$32

www.virtuerecords.com

7:30am-10:30pm

TUESDAY AND WEDNESDAY,

DECEMBER 18 & 19

PSO ANNUAL HOLIDAY

FAMILY POPS CONCERT

@THE MUSIC HALL,

28 CHESTNUT STREET, PORTSMOUTH

This year, both performances will feature

the combined choruses of Portsmouth High

School and York High School. York HS will

perform a solo set on Tuesday, 12/18, and

Portsmouth HS will perform a solo set on

Wednesday, 12/19.

TIME

1pm-4pm

COST $15-$30

www.portsmouthsymphony.org

Contact Marilyn Rios, Partner and Senior Client Advisor

147 Middle Street

Portsmouth, New Hampshire

(603) 766-7694 | mrios@dakotawm.com

Orion (detail) by Brian Rutenberg

www.dakotawm.com

10 PORTSMOUTH LIVING

December 2018

11
---
WINTER WARRIORS

BY ROB LEVEY

FEELING TIRED ALL THE TIME?

BY ROB LEVEY

Just because it is winter does not

mean the pursuit of physical

fitness should necessarily end

nor should we simply "hit the gym,"

which describes, in part, the philosophy

behind the Winter Warriors. A running

group formed by Runner's Alley in

Portsmouth, Winter Warriors welcome

runners of all types and abilities.

"We hold free group runs all year

round, but especially love the winter,"

says Jeremiah Gould of Runner's Alley.

"Meeting other people who enjoy the

same things you do and creating community

and accountability is powerful

and fun, and the challenges of winter

bring us closer together."

Admitting they may be "crazy," but

of the good variety, Gould said these

Winter Warrior runs take place every

Thursday at 6 p.m. and Saturday at

8 a.m.

"We meet right at the store and really

have a blast," he says.

Attendance is usually pretty high

for these runs, too, with an average of

between 12 and 30people.

"We certainly don't want people

driving in really adverse conditions,

but it takes a lot to cancel a run," he

says. "The most attended runs are often

in snowy weather…We call ourselves

'Winter Warriors,' and I believe that

lends itself to the idea that we're here to

out-tough old man winter."

As for the experience, he says these

group runs are "awesome." Thursday

nights may be his favorite.

"They usually begin with a lot of

chatter, as runners catch up on the

week's events," says Gould. "We will go

over the route and make sure everyone

is on board before we head out."

These runs are not competitive

either, but casual.

"It's more about coming together

through the shared experience of tackling

whatever conditions and terrain

exist out there," he says.

For those unsure about running outside

in the winter, Gould says it gets an

unwarranted bad rap.

"We believe having the right gear

and knowing how to dress for the

weather makes all the difference," he

says. "Oftentimes, we're told that a winter

run can be the best, especially after

asnowfall where it seems the streets are

there just for us."

Citing "the right gear" as the "number

one rule", Gould says rule number

two is to know when and how to use it.

"You use layering and the fit to move

moisture away from the skin is critical,"

he says. "It is important to keep the

core, head, hands, and feet warm, and

this is often individualized. The apparel

that works for one runner in specific

conditions might not be appropriate for

another."

GENERAL RULES

FOR WINTER RUNNING

• Dress 10-15% as if it is 10 degrees

warmer than the outside temperatures.

Runners will generate enough

body heat in 15 minutes or so to make

up the difference. Often what feels

comfortable standing for a period

of time will quickly become too hot

while running.

• Continue to hydrate. Runners often

overlook hydration when the temperatures

drop, but the need is still

there even as their bodies might not

recognize it.

• Stay visible. With short days and

snow accumulation, runners will often

find themselves on a narrower shoulder.

Even in day time, runners should

add illumination to their reflective

vests to make sure drivers have as

much advanced warning as possible

and headlamps in low/no light situations

to see any hazards that accumulate

along the roadside. Run facing

traffic whenever possible.

WHY PROMOTE RUNNING AT ALL?

According to Gould, Runner's Alley

was founded on the belief that an active

community is a healthy one. As such,

any community needs a place to

connect.

"We not only see ourselves as connecting

runners and walkers with the

right gear, but connecting people to

other like-minded individuals to continue

to inspire and motivate an active

lifestyle," he says.

Their group runs, he notes, reflect

this mission.

"At a Runner's Alley group run, you

might have trail runners, local track

club members, new neighbors, locals,

tourists--you name it," he says. "We feel

a group run helps unify people through

promoting an environment where all are

welcome to come and share the road."

To learn more about Runner's Alley, visit runnersalley.com.

Feeling tired? You are not alone,

as the Center for Disease

Control and Prevention (CDC)

reports that 15.3% of women and

10.1% of men regularly feel very tired

or exhausted in the United States.

A lack of sufficient sleep is not the

only factor that could be contributing

to your fatigue, as a recent article published

by Medical News Today cites

poor dietary habits and other factors.

Excessive napping, unhealthy amounts

of stress in your daily life and a sedentary

lifestyle may also play a part, too.

So what is the solution? According

to Dr. Carrie Jose of CJ Physical

Therapy, it is more exercise.

"It might seem counter-intuitive

that more exercise could help you feel

less tired, but it's the truth," she says.

"Sitting on the couch is one of the

worst things you can do for chronic fatigue

or tiredness–not to mention the

impact it has on your back."

Helping you

design for

the life you

want to lead!

Monday-Friday

7am-5pm

Saturday

8am-4pm

105 Bartlett Street,

Portsmouth

(603)436-7480

www.riccilumber.com

Research, she says, points to

moderate amounts of exercise as a

proven way to boost your energy as

opposed to draining it.

"Getting a good workout in during

the day will help you sleep better at

night," she says.

MAKING THE TRANSITION

If you rarely exercise or spend most

of your day at a desk, Jose acknowledges

it may be challenging to transition

into a more active lifestyle. In such

cases, she suggests not doing it alone.

"Many people benefit from joining

a group fitness class or finding an

'exercise buddy' to hold them accountable,"

she says. "Pilates classes are a

great option, because it gives you that

full body workout that leaves you feeling

invigorated and energized afterwards

but also ready to fall right asleep

at bedtime."

She says the mindfulness aspect of

Pilates as well as the exercise component

itself makes it useful to alleviate

stress, which in turn reduces fatigue.

For her, movement is medicine, which

she says is true in more ways than

one."Movement is medicine for the

aches and pains of your joints and

muscles, but it's also medicine for your

stress and exhaustion," Jose explains.

"Exercise stimulates endorphin release,

triggering positive feelings of

elation or mild euphoria."

She says shifting into a more positive

mental state during a day when

you are feeling completely drained will

help you cope with stresses better and

boost your energy level.

"You don't need to spend hours at

the gym every day," she says. "Just

invest 30 minutes of movement each

day–whether it be walking, running,

biking, Pilates, yoga, golf, or anything.

It will make a difference."

Wishing you and

yours Happy Holidays

~The Design Team at Ricci Lumber

12 PORTSMOUTH LIVING

DECEMBER 2018 13
---
'DE'STRESSING

This Holiday Season

BY ROB LEVEY

The holidays are a fun and jovial time for many

people that include parties, festive music and a

general sense of hopefulness in the air. It can also

be a time of stress, according to mental health

professionals at Seacoast Mental Health Center (SMHC),

which was founded in 1963.

Many people and

families, says Patty

Driscoll, LICSW,

SMHC Adult

Services Director,

fall into one of two

categories: 1) Overwhelmed

with too

many expectations,

commitments and

things to do, or 2)

Isolated and lonely.

"If you are in the

isolated and lonely

camp, the holidays

can make you feel

worse because it can

seem like everyone

else is having fun, busy, getting and giving presents, and

you are not," she says.

She notes the holidays are also when many people

reminisce about past holidays.

"They may or may not have been spent with loved ones

who are no longer alive or present in your life," she adds.

"Either way, those memories can make you feel worse

than you did before the holiday season."

Jodie Lubarsky, LCMHC, Child, Adolescent and Family

Services Director at SMHC, says parents often feel

overwhelmed.

"Many parents feel they have to provide the biggest and

best experience for their children," she says. "This results

in caregivers buying too much, overextending themselves

and then feeling a wave of disappointment when their

children do not demonstrate the gratitude they anticipated

receiving."

Driscoll says American culture itself also sends out

messages that create subtle anxieties within people.

"There can be considerable pressure from TV, social

media, and holiday decorations around town, friends and

family that bombard people," she says. "Finances are also

often strained during the holidays. Seeing people who

appear to have an easy time with the holidays can make

others feel guilt that they are not able to 'keep up with

the Joneses.'

14 PORTSMOUTH LIVING

KIDS

According to

Lubarsky, kids can

feel stress during the

holidays too.

"Children from separated and divorced families

may experience more stress at the holidays, especially

if one parent is without support during this time," she

explains.

She says parents should attempt to work collaboratively

in order to support the needs of their child(ren)

to insure the child(ren) do not feel responsible for the

parents' emotional needs.

"Establishing a family meaning of the

holidays and providing thoughtful gifts might

help to reduce this anxiety," she adds.

"Maintaining consistency and communication during

this time is important," she says. "Routines and structure

tend to get disrupted during the holidays, so as much as

caregivers can maintain routines, the better most children

will be able to manage the stress and dynamics of

the holidays."

For those from financially insecure homes, Lubarsky

says children may feel overwhelmed by the expectations

of the holidays as well as "increased inferiority to peers."

"Establishing a family meaning of the holidays and

providing thoughtful gifts might help to reduce this

anxiety," she adds.

SENIORS/ELDERS

According to Jennifer Kinsey, LICSW, Director of

SMHC's REAP(Referral, Education,

Assistance and Prevention)

program, older adults-fall into

the same "buckets" referenced

by Driscoll: 1) Overwhelmed

with too many expectations,

commitments and things to

do, or 2) Isolated and lonely.

"Older adults have many

years behind them and the

losses can pile up," she explains.

She says older adults also

have challenges that make

socializing in groups especially

difficult.

"They may have no transportation or be experiencing

issues with hearing, vision, and mobility," she says. "At

times, there may be cognitive impairment and difficulty

eating certain foods...Conversation moves fast these

days. Older adults rarely move fast, so they are often not

well versed in popular culture and therefore may get left

out of conversations."

To alleviate stress for older adults, Kinsey suggests

planning activities that are earlier in the day and less

frenetic.

"Try to make a plan ahead of time to avoid being

alone," she says. "Plan to have a quiet meal or time with

another person who might be alone or even visit someone

who you know might be alone too. Helping others

can ease the sense that you are the only person alone

during the holidays."

ADDITIONAL STRATEGIES TO REDUCE ANXIETIES

Driscoll says one strategy to reduce anxiety is to make

the holiday season "less about stuff" and more about

"being together in positive ways." Noting that that

every family is different in regards to their religious,

cultural beliefs and values, she suggests that people consider

who they are and what is important to them.

"You can then work toward implementing the important

things and letting go of the things that are

less important and more stressful," she says. "This can

be related to meals, visiting, gift giving, volunteering,

etcetera."

Lubarsky says another strategy is for families is to

consider and refine the art of giving and receiving.

"Even small gestures of giving back–giving to the Salvation

Army can, donating warm clothing to a shelter or

purchasing a gift from a community giving tree, for example–can

highlight the importance of both giving and

receiving to children," she says. "These gestures make

receiving a gift more meaningful."

She says caregivers should also

be easier on themselves.

"Rather than giving volumes

of gifts, considering giving a few,

very meaningful gifts," she adds.

About Seacoast Mental Health Center

SMHC is a community mental health center whose mission

is to provide a broad, comprehensive array of high

quality, effective and accessible mental health services

to residents of the eastern half of Rockingham County.

For more information, call 603-431-6703 or

603-772-2710, or visit smhc-nh.org.

CORRECTION

In our last issue of Portsmouth Living November

2018, we mistakenly reported that Jeff Stern was

the organizer of TEDxPortsmouth. While Jeff

was in fact an amazing host at the 2018 event

along with Kristen Hunter, the event organizers

were Jeff's wife, Anna Goldsmith Stern, and the

amazing Crystal Paradis. Both women are already

hard at work on TEDx2019 which will be held at

the Music Hall in September. The date is TBD. To

learn more about TEDxPortsmouth, including how

you can get involved or recommend a speaker,

visit them at www.tedxportsmouth.com.

PHOTO BY KATE & KEITH PHOTOGRAPHY

DECEMBER 2018 15
---
THE MAGIC

OF SANTA

Maple Glazed

Farmer's Market Root Vegetables

CHEF MATT LOUIS |

MOXY RESTAURANT

Thyme to Cook in Portsmouth

E

ver wonder where Santa Claus came from?

Well, there is a great deal of history surrounding

everyone's favorite man in a red

suit. So much, in fact, that it can be traced back

hundreds of years, all the way to 280 A.D.

According to historians, a monk named St. Nicholas

was born in the Middle East, in a country now

known as Turkey. Virtuous and kind, St. Nicholas

was said to have used his inheritance to travel the

country and help those who were poor or sick. This

earned him the reputation of being a protector of

children. St. Nicholas is the subject of many legends

and stories that tell of his good deeds.

The stories of St. Nicholas made their way to

America in the 1700s and soon the Dutch nickname,

Sinterklaas, evolved to Santa Claus in the

One of the beautiful things

about Santa is the fact that he

is widely known and recognized

throughout the entire world.

American vernacular. Artwork of Santa Claus filling

hearth hung stockings of little boys and girls

with fruit and toys began to circulate. And with

this, his popularity grew.

When department stores began to advertise for

the Christmas holiday in hopes of bolstering sales,

they used the likeness of Santa in order to appeal

to children. The 1890s saw another surge in Santa's

popularity when the Salvation Army had men dress

like Santa and ring bells on the street corners to

gather donations for New York City's needy.

BY CHELSEA SCOTT

One of the beautiful things about Santa is the fact

that he is widely known and recognized throughout

the entire world. Known as Papai Noel in Brazil,

Joulupukki in Finland, Babbo Natale in Italy, Père

Noël in France and Ded Moroz in Russia, Santa

may be called different things depending on the

location, but he is always associated with happiness

and Christmas.

So you see, Santa is so many things. A Saint, a

gift-giver, a protector and of course, a jolly elf. But

more than all of these things, Santa is the embodiment

of Christmas. I would suggest that Christmas

would be missing something for children and adults

around the world without Santa Claus.

Next time you see a Santa in the mall, on TV or

ringing the bell for the Salvation Army, remember

the great history and stories about him. Even

throughout the rest of the year, Santa is never far.

He's wherever kindness is found, wherever happiness

and hope bubble up.

He is in your heart

and all around.

He's the spirit of

Christmas and

giving.

Source consulted:

www.history.com.

Serves 4

INGREDIENTS

1 each rutabaga, medium size

1 each celery root, medium size

2 each parsnips

2 each carrots

¼ cup maple syrup

2 tablespoons whole butter

salt, pepper, to taste

1 tablespoon kosher salt

DIRECTIONS

Wash and peel all vegetables. Cut all to roughly pieces ¼" cubes.

Have a large pot of water, roughly 2 gallons, boiling on high heat.

Add the vegetables and cook for about 3 minutes, looking to get

them cooked about halfway through, starting to soften but not

completely cooked and mushy. With a slotted spoon or strainer

remove the vegetables from the boiling water and place in a large

skillet/sauté pan that they fit comfortably. Add the maple, whole

butter, and a ¼ cup of the cooking water. Cook all this together and

the water will evaporate, the maple will reduce, and form a nice golden

glaze on the vegetables. Season with salt and pepper.

Enjoy!

Seacoast Financial Planning

A financial advisory practice of

Ameriprise Financial Services, Inc.

603.427.8252

314 Middle Street,

Portsmouth, NH 03801

contact:

charles.m.beynon@ampf.com

gregory.m.vallee@ampf.com

nicolas.curtis@ampf.com

seacoastfinancialplanning.com

16 PORTSMOUTH LIVING SEPTEMBER DECEMBER 2018 15 17
---
OCTOBER 2018

COVER PHOTO BY LORI TIERNAN

MAY

2018

COVER PHOTO

BY DIANE BIBLE

JULY 2018

A Message from NHSPCA

PET OF THE MONTH

Meet Roxie

SUBMITTED BY NHSPCA

Roxie is the absolute sweetest dog. She adores people, and she

loves to follow her humans around, snuggle up and get belly

rubs. She is a very well behaved and mild mannered Doberman

Pinscher. Roxie is around eight years old and came to

the shelter because her owner could no longer care for her. She does

have some medical needs–she is on lifelong medication for thyroid

and urinary issues. Currently, her issues are well controlled with

the medication. Roxie needs a cat free home but she's very tolerant

of other dogs. Come meet this lovely lady. Let her brown eyes stare

into your soul and you will be smitten! Like all the animals available

for adoption, Roxie is spayed, micro-chipped and up to date on all

her vaccines.

Adopt today!

Living Rooms • Dining Rooms • Bedrooms • Home Offices • Entertainment • Mattresses

OTHER WAYS TO HELP THE ANIMALS:

NHSPCA Online Auction Now Open. Start your holiday shopping and find great deals on hundreds of quality

items on our Bidding for Good Online Auction. 100% of proceeds will benefit the homeless animals at the New

Hampshire SPCA. Bid now at www.nhspca.org

Sunday, November 11. Special Veterans Day Adoption Promotion to honor the brave and loyal. All active and

retired military servicemen and women can choose their adoption fee on all adult animals visit www.nhspca.org

for details.

Reach Out To Your Local Community

Advertise Your

Business in

Portsmouth Living

Call (603) 686-3131 Today!

Portsmouth

LIVING

Portsmouth

LORI TIERNAN

& DEAGLAN

MCEACHERN

Committed to Family

and Community

p4

LIVING

Portsmouth

LIVING

Store Wide Sale!

20% OFF!

Shop online today

at FurnitureForever.com

MEET

THE STERN

FAMILY

p4

THE

CROTTO

FAMILY

On the go

in Portsmouth

p4

10am-6pm, M-Sat

11am-5pm, Sun

FINANCING

AVAILABLE

ROOM

PLANNER

DESIGN

CENTER

1 Woodbury Ave / Portsmouth, NH

603-433-2217

Offer expires 3/31/19. Present this coupon to advertiser to receive promotional offer.

18 PORTSMOUTH LIVING

DECEMBER 2018 19
---
2786

Portsmouth

LIVING

THE ALL NEW

VOLVO S90

The sophisticated S90 shines with its intrinsic style, conspicuous

safety, and a limo-like back seat. The most It's available important with thing two about four-cylinder the holiday season is family. And the most

engines: the 250-hp turbocharged important T5 thing or theabout 316-hp family turbocharged is how unique each one is. That's why we design

and supercharged T6. Both pair cars with so versatile a silky eight-speed they can fit your automatic. needs no matter what your family look likes.

Come in for a test drive

1-603-772-5975

THE ALL NEW

VOLVO S90

VOLVO CARS OF EXETER

140 PORTSMOUTH AVENUE EXETER, NH 03833

https://www.volvocarsexeter.com