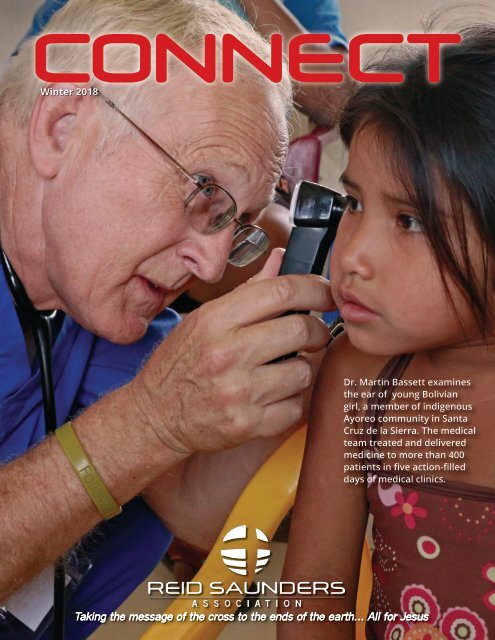 Connect Winter 2018
Newsletter for Reid Saunders Association
Newsletter for Reid Saunders Association
SHOW MORE
SHOW LESS
You also want an ePaper? Increase the reach of your titles
YUMPU automatically turns print PDFs into web optimized ePapers that Google loves.
Winter 2018

Dr. Martin Bassett examines

the ear of young Bolivian

girl, a member of indigenous

Ayoreo community in Santa

Cruz de la Sierra. The medical

team treated and delivered

medicine to more than 400

patients in five action-filled

days of medical clinics.
---
UPCOMING EVENTS

EVANGELISM

2 Timothy 4:5

Target unreached people

groups around the world

Engage the culture without

changing the Good News of

Jesus Christ

Demonstrate God's care and

compassion by providing

humanitarian aid for those in

need

Invite people into a

relationship with Christ

BUILD UP THE

BODY OF CHRIST

Ephesians 4:12

Promote unity and

cooperation among the local

Bible-believing churches

Train and equip teams of

believers for the work of

evangelism

Partner with local churches

to make disciples of new

believers

Saturate communities

through city-wide festivals

Egypt/Israel Pre-Trip ..................................................................... November 2-15, 2018

Dominican Republic Team Trip ....................................... January 26-February 5, 2019

Philippines Team Trip ........................................................................... March 1-12, 2019

Connect Benefit ............................................................................................. April 9, 2019

Spain Team Trip ................................................................................ June 21-July 2, 2019

Vietnam Team Trip .................................................................................... November 2019

Israel Team Trip ............................................................................................... March 2020

Medical personnel will be going on the

DR trip and need volunteers to assist in

registration, pharmacy, and prayer for

patients. Another team will be visiting

schools, sharing the Good News of

Jesus Christ through drama, music, and

extreme sports. Others will teach and

serve at outreach events for men and

women. There will also be opportunities

to distribute clothing to needy children.

The whole team will help at the festivals

in the children's area, follow up with

decision makers, and pray for the festival.

JEREZ SPAIN

"This has never happened in the history of

the churches in our city. I believe it will be a

miracle to see all the churches that form the

body of Christ in Jerez united to do these

festivals."

"The timing of this outreach is critical,"

Pastor Manuel Martin of Adulam Missionary

Church explained, "I believe that as a

fraternity of pastors, we are living at the right

time. We can and want to unite now, more

than ever. We thank God for giving us this

opportunity to do outreach on the streets of

our city."

Pastor Martin added, "We are getting ready,

praying, fasting, and dedicating our time

to the work, research, and planning of the

outreach events and the festivals."

Please Pray for

Dominican Republic

Mission Team

Jan 26-Feb 5, 2019

Reid Saunders and Ruth Daniels met with

festival leaders and pastors of 12 evangelical

churches in Jerez, Spain in early March, 2018.

"We are excited to work with Dr. Robnett,

a Next Generation Alliance partner, who has

established a mentoring relationship with the

Spanish pastors and will also bring a team of

volunteers from Portland," Reid explained.

The week-long trip to Jerez from June 21

through July 2, 2019 will include affinity meal

events for teens and adults, which seems to

be the most effective way to do ministry

in Europe. There will also be BMX bike

demonstrations, street outreaches, drama

presentations, live music, and proclaiming

the Good News at four different outdoor

festival locations throughout the city.

Contact ruth@reidsaunders.org if you want

to be part of this trip. Team space is limited.

PO Box 4275 Salem Oregon 97302

503-581-7394 info@reidsaunders.org

one of the planned festival sites in Jerez
---
NEVER GIVE UP

ALL FOR

JESUS

We've all been there—on our knees

before the Lord, questioning our call

as an evangelist. The funds are tight,

our board is concerned, and the

opportunities for ministry seem scarce.

Have you been there? Are you there

now? When I am discouraged as an

evangelist, I always look to God's Word

for encouragement and often find myself

in Matthew 11:28-30 where Jesus said,

"Come to me, all you who are weary

and burdened, and I will give you rest.

Take my yoke upon you and learn from

me, for I am gentle and humble in heart,

and you will find rest for your souls. For

my yoke is easy and my burden is light."

When we are weak, He is strong. In times

of discouragement, fall into the arms of

your Savior Jesus and trust Him. Here

are a few things I have learned that have

helped me in times of discouragement,

and I pray they will help you as well:

God is faithful. 1 Thessalonians 5:24

says, "The one who calls you is faithful,

and he will do it." Yes, the Lord is

faithful. He called you as an evangelist

and you need to trust Him to see you

through. I love how Paul finishes this

verse "… he will do it!" God is going

to get you through this difficult time.

Remember this will pass. Stay close to

Jesus and trust Him!

The evangelist must persevere.

Charles Swindoll once said this about

the minister of the Gospel not giving up:

"Stand still… and refuse to retreat. Look

at it as God looks at it and draw upon

His power to hold up under the blast."

Charles Spurgeon, as well, echoed these

words to the persevering evangelist:

"Many men owe the grandeur of their

lives to their tremendous difficulties."

When I feel discouraged, I often ask the

Lord two questions: One, Lord, what

do you want to teach me during this

time? Two, Lord, how can I grow as an

evangelist and follower of You during

this tough time? My friends, I truly believe

that God is more concerned with what He is

doing in you than through you. In tough

times, the Lord can draw us closer to

Himself and mold and shape us like

Jesus.

The evangelist must live by faith.

Earlier, I mentioned the importance

of going to the Lord in prayer and His

Word during times of discouragement. I

believe the key is living by faith. Another

passage I often turn to is Proverbs 3:5-6,

"Trust in the Lord with all of your heart

and lean not on your own understanding;

in all your ways acknowledge Him

and He will make your paths straight."

Paul also tells the church at Philippi in

Philippians 4:19, "And my God will meet

all your needs according to His glorious

riches in Christ Jesus." And finally,

Hebrews 11:6 says, "And without faith

it is impossible to please God, because

anyone who comes to Him must believe

that He exists and that He rewards those

who earnestly seek Him." Living by

faith isn't easy, but it is essential for the

evangelist. When you feel discouraged

or like giving up, remember God saved

you, called you, loves you, and He will

see you through. Trust Him!

You are not alone. The life of the

evangelist can be very lonely. I have

several friends who are evangelists,

and they have often told me how lonely

they feel. I, too, have had moments of

loneliness, but we need to be reminded

that we are not alone. God has raised

up other evangelists in whom we can

confide and trust as friends and partners

in the Gospel. If you don't already,

I encourage you to have mentors

and accountability partners who are

evangelists. They can encourage you.

You are not alone. Remember when

Jesus gave the Great Commission in

Matthew 28:18-20. He reminded the

disciples that He would be with them

"… always, even to the end of the age."

It's true for you and me, as well. Jesus is

with us always. We have the Holy Spirit

to work in and through us. The Father

loves us and will always be there for

us! As evangelists, we may feel alone at

times, but we are never alone. Jesus loves

us and has called us to preach His Good

News to as many people as possible, as

long as we have breath. My friends, in

times of discouragement, turn to the

Lord in prayer, His Word, and fellow

evangelists for encouragement. It takes

a team to reach the world.

I'll close with this story. I was in Africa

in an area extremely hostile to the

Gospel. Our team was holding the first

citywide festival in over 25 years due

to persecution. This city was known to

be opposed to Jesus and His Gospel. I'll

never forget that night at the festival. I

had just preached the Good News and

was calling people forward to give their

lives to Jesus. Right at the invitation,

about 400 men came forward, yelling and

shaking their fists at me. They rushed

toward me, loudly yelling and banging

on walls across the street from the

festival. I honestly thought I was going to

be killed. I was so discouraged to see this

happen, especially during the invitation

for people to be saved. As I stood on the

stage completely disheartened, a boy

came up to me. He was about 12 years

old, which was the same age of my son

Azlan at the time. The boy handed me a

note (which I still have today) that said in

perfect English, "Never give up!"

My friends, we must never give up!

No matter what you face in your life

and ministry, I want to encourage you

to never give up. Stay close to Jesus, live

by faith, and remember He who called

you is faithful. Keep doing "the work of

an evangelist!" Together, let's reach as

many people as possible … All for Jesus!
---
THE

DECISIONS FOR CHRIST

8,036

TOTAL ATTENDANCE

34,354

CHILDREN'S CLOTHING, APRON DISTRIBUTION

2,240

MEDICAL PATIENTS

419

LEADERS EQUIPPED AND TRAINED FOR EVANGELISM

15,452
---
ISRAEL

PALESTINE

ARMENIA

GEORGIA

CREATION

FESTIVAL

BRAZIL

2018 OUTREACHES

BOLIVIA

FUTURE OUTREACHES • DOMINICAN REPUBLIC

PHILIPPINES • SPAIN

VIETNAM • KOREA

ISRAEL • RUSSIA
---
BOLIVIA

Santa Cruz de la Sierra, Bolivia is

one of the fastest growing cities in the

world. Abundant resources and job

opportunities have attracted many

migrants to the area. With the rapid

population growth and the decline

of the traditional Catholic church,

there is a tremendous spiritual

need throughout society. People are

spiritually hungry and surprisingly

open and receptive to hearing about

God. The few small evangelical

churches are persistently trying to

keep up with the growth and changes

in Bolivian society.

training and follow-up methods,

which will provide the extra

manpower for contacting, teaching

and discipleship of the new believers.

Doctor Martin Bassett, nurses Bev

Schmidgall and Pat Reagan, with a

talented group of interpreters and

volunteers, lovingly provided the

much-needed medical care and

medicine for more than 400 patients

during the week. The greatest needs

were found among the indigenous

groups that have migrated from the

jungle to the large city. Many remain

trapped in poverty with minimal

education, language barriers, lack of

transportation, and their primitive,

the team to present the Good News.

In Bolivia and throughout other

parts of the world, many youth

are walking away from established

traditional religion like the Catholic

Church. That has left a moral vacuum

in society. Because of that, church

pastors and festival planners wanted

to focus their efforts on reaching the

young school-age children with the

life-changing message of the Gospel.

Five public schools opened their

doors to a BMX bike demonstration,

drama, and gospel presentations. It

was encouraging to see hundreds of

students raise their hands and make

public decisions to follow Christ in

BOLIVIA IS

READY

FOR

GOOD NEWS

The fourteen-member RSA team

had several goals for their inaugural

outreach to Bolivia. The primary

objectives were to assist, unite, and

encourage the 15 small evangelical

churches in Santa Cruz and Yacapani

with school outreaches, medical

clinics, and four festivals. Leaders,

pastors, and the team rallied together,

and successfully overcame any fears,

doubts, and cultural differences.

Together, we reached more than

7,200 people with the Gospel

and saw more than 2,300 new

believers come to Christ in one

week. Praise God!

From those 15 participating churches,

85 members took part in evangelism

unsanitary conditions. Doctor Bassett

remarked after visiting an elderly

patient in a communal mud hut, "I

have never witnessed such desperate

conditions in all my life." He was

visibly shaken and emotional by

what he had witnessed.

Meeting a few of their obvious

physical needs opened the spiritual

doors to presenting the Gospel. A

breakthrough in the closed Ayoreo

indigenous community was evident

after the medical team arrived. Years

of prayer, working with the regional

governments, repeated visits, and

building trust by missionaries Rick

and Lisa Methvin paved the way for

these large school assemblies. Many

of the youth attended the evening

festivals and brought their friends.

Raising awareness to the sex

trafficking, prostitution, and physical

abuse that is happening to young

girls from the indigenous tribal

communities were other goals that

we set. We wanted to encourage

and support Rick and Lisa Methvin

in their efforts to rescue young girls

from this deadly form of slavery.

Visiting their love-filled home and

meeting some of the young girls

that have been rescued from certain

destruction was an emotion-filled

event that will leave an unforgettable

impression in our hearts and minds.
---
NOW IS THE TIME

FOR THE YOUTH

PHILIPPINES

Evangelical pastors in Ormoc City

say now is the time to reach the

youth throughout the Philippines.

They estimate that 50% of the

island population is under 25 years of

age. Reaching this generation with

the Gospel is the key to reaching the

nation for Christ.

Evangelical churches throughout

the Philippines have experienced

numerical growth and recognize

the potential for even greater

influence. The pastors have reached

across denominational lines, united

around this single cause of reaching

their city and their nation for Christ.

Festival coordinator, Pastor Herman

Dionson, reported that the group is

anxious to work with RSA. "We like

how you have built relationships and

formed strong partnerships with

the local churches. You listen to

our needs and adapt to the situation.

This trust relationship helps our local

churches proceed with ease into the

program, and see the potential of this

first-ever citywide outreach."

The outreach and festival in March

will hopefully be a training ground for

even larger festivals in the capital city

of Cebu, an urban area of more than

three million people. "Leaders are

excited about the possibility. We are

looking to pave the way for future

events," Pastor Herman explained.

Ormoc City is a busy economic port,

predominantly English speaking, an

education and cultural center, and

the commercial hub of western

Leyte. The city has a population

over 215,000 which has been

predominantly Catholic since the

mid-1500s. Reportedly, many of

today's young people are seeking a

deeper spiritual relationship with

God, not the traditional religion of

their parents. A citywide evangelistic

festival from March 1-12, 2019, with

team outreach visits to schools,

prisons, drama presentations, and

BMX bike demonstrations will be

used to draw thousands of young

people to Christ.

Anyone interested in joining the

outreach should contact ruth@

reidsaunders.org for updates and

additional information.

BOLIVIA continued

It was heart-breaking to learn that so

many more young teenage girls will

be targeted by sex traffickers in this

area of South America.

More than 600 clothing items and

meals were distributed to needy

children living in the poorer suburbs

of Santa Cruz and Yacapani. Children

waited patiently in line, as Ruth

explained the love and sacrifice that

so many volunteers in America had

put into each hand-sewn garment – a

free gift to remind them of God's gift

to all. Sixty-five aprons, donated by

another team of volunteers, were also

presented to women in two separate

church services. Each garment was

received with deep gratitude.

"We really need to go back to this

area", Reid remarked. "The fields

are ripe for harvest and we were

just getting started. Everyone was

so responsive to the Gospel and the

churches were truly committed to

reaching their neighbors."
---
NONPROFIT ORG

U.S. POSTAGE

PAID

PERMIT NO. 661

SALEM,OR

PO BOX 4275 - SALEM, OREGON 97302

RETURN ADDRESS REQUESTED

Reaching the Unreached

"This has never happened in the history of the

churches in our city. I believe it will be a miracle

to see all the churches that form the body of

Christ in Jerez united to do these festivals,"

–Pastor Martin of Adulam Missionary Church, Jerez

Four outreach festivals planned for

Jerez, Spain in June 2019