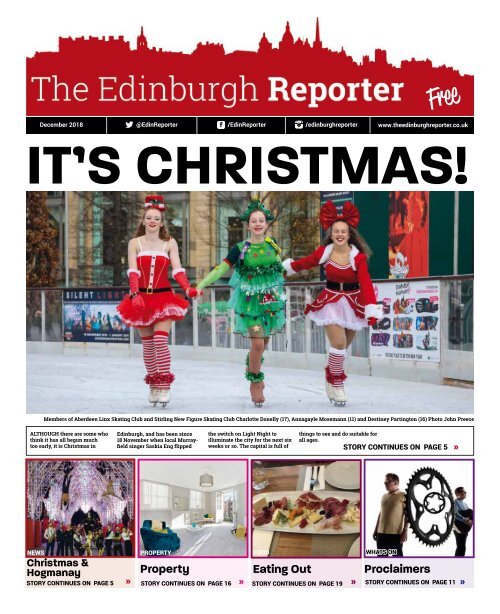 The Edinburgh Reporter December 18
The local free monthly paper for Edinburgh with a four page pullout What's on guide
The local free monthly paper for Edinburgh with a four page pullout What's on guide
SHOW MORE
SHOW LESS
Create successful ePaper yourself
Turn your PDF publications into a flip-book with our unique Google optimized e-Paper software.
December 2018

@EdinReporter /EdinReporter /edinburghreporter

www.theedinburghreporter.co.uk

IT'S CHRISTMAS!

Members of Aberdeen Linx Skating Club and Stirling New Figure Skating Club Charlotte Donelly (17), Annagayle Mosemann (11) and Destiney Partington (16) Photo John Preece

ALTHOUGH there are some who

think it has all begun much

too early, it is Christmas in

Edinburgh, and has been since

18 November when local Murrayfield

singer Saskia Eng flipped

the switch on Light Night to

illuminate the city for the next six

weeks or so. The capital is full of

things to see and do suitable for

all ages.

STORY CONTINUES ON PAGE 5

NEWS

Christmas &

Hogmanay

STORY CONTINUES ON PAGE 5

PROPERTY

Property

STORY CONTINUES ON PAGE 16

FOOD

Eating Out

STORY CONTINUES ON PAGE 19

WHATS ON

Proclaimers

STORY CONTINUES ON PAGE 11
---
2 NEWS The Edinburgh Reporter

QUINTINSHILL RAIL DISASTER

by Hibernian FC Historian Tom

Wright

AT 6.50am on 22 May 1915 a troop

transport train containing officers

and men from A and D divisions of

the 7th Royal Scots battalion, later

known as Leith's Own collided

with a stationary local train at

Quintinshill new Gretna.

Just under a minute later the

north bound Euston to Glasgow

express ran through the wreckage

of both trains wreaking further

by Mike Smith

(WE suspect Mike who is an HR

professional in his spare time may

already have been sipping the

Xmas sherry)

Little Jesus, sweetly sleep, do

not stir;

We will lend a coat of fur,

We will rock you, rock you, rock

you,

We will rock you, rock you, rock

you:

Fur is no longer appropriate

wear for small infants, both due

to risk of allergy to animal fur,

and for ethical reasons. Therefore,

faux fur, a nice cellular blanket

or perhaps micro-fleece material

A restored railway carriage like the one used in 1915

was displayed in Leith recently

destruction and devastation.

Because the register had been

lost in the fire and many of the

bodies totally consumed by the

flames, the exact total will never

be known, but it is believed that

214 soldiers and nine civilians

had lost their lives in the terrible

accident.

As news of the accident slowly

started to filter back to Edinburgh,

anxious crowds of relatives

began to gather at the drill hall in

Dalmeny Street eager for news.

A Health and

Safety Guide to

Christmas Carols

should be considered a suitable

alternative. Please note, only

persons who have been subject to

a Disclosure Scotland check and

have enhanced clearance will be

permitted to rock baby Jesus.

Jingle Bells - Dashing through

the snow

In a one-horse open sleigh

O 'er the fields we go

Laughing all the way

A risk assessment must be

submitted before an open sleigh

is considered safe for members

of the public to travel on. The risk

assessment must also consider

whether it is appropriate to use

only one horse for such a venture,

particularly if passengers are of

larger proportions.

Get on

your bike

by Phyllis Stephen

JUST EAT Cycles are easy to

use - download the app, set up an

account and go.

The app tells you where the bike

stations are and whether a bike

is available. Unlock a bike at the

bike station with the app and

Read More

Twelve Days of Fitmas

DECEMBER has arrived and with

it the season of shopping, eating,

drinking, partying and ... exercise.

December may traditionally be

the month that physical activity

levels drop (unless you count

dodgy dancing) but this could

be the most magical time of the

year to keep fit, according to the

experts at Edinburgh Leisure.

Edinburgh Leisure has launched

its seasonal promotion, 12 Days of

Fitness and 12 Days of Climbing,

with the aim of encouraging

then have a wee ride about town

for up to an hour. Take a bike to

any station where there is space

and return it.

My personal favourite trips are

from the City Chambers to St

Andrew Square which is downhill

all the way, or St Andrew Square

to Charlotte Square (lovely and

flat!).

Now there are even more places

to pick up and drop off bikes in

addition to those already set up

New virtual stations :

Dalry Road (Lidl), Gibson

Terrace, Bainfield Drive,

sportscotland awards

by Nigel Duncan

THIRTY-FIVE Edinburgh schools

have won a national award from

sportscotland for innovation and

achievement.

Nine schools won gold status

and they are Blackhall Primary,

Dean Park Primary, Hollyrood

RC High, Kaimes School, Kirkliston

Primary, Oaklands School,

Prospect Bank School, The Royal

High School and Trinity Academy.

There are now a record number

of 673 schools in Scotland holding

a School Sport Award which is

funded by the National Lottery.

It is a national initiative

designed to encourage schools to

improve physical education and

it also encourages sporting links

between schools and the

Edinburgh Leisure has many fitness classes on offer like Boxing

Fitness at Drumbrae Leisure Centre | Photo Phil WIlkinson

people to stay active in December.

The 12 Days of Fitness and 12

Days of Climbing promotion

offers 12 consecutive days of

membership for only £12 any time

in December.

As the promotion includes

unlimited access to all Edinburgh

Leisure's 13 gyms, 9 swimming

pools (excluding the Turkish

Baths at Portobello Swim Centre),

over 700 fitness classes per week,

and climbing, this represents

excellent value for money.

Dundee Terrace, Morningside

Park, Colinton Road, Marchmont

Crescent, Warrender Park Road,

Meadow Place, Thirlestane Road,

Whitehouse Loan, Simon Square,

Lutton Place, South Trinity Road

/ Ferry Road, Summer Place /

Inverleith Terrace, East London

Street, Macdonald Road, Leith

Walk (Dalmeny street)

Docked Cycle Hire Points here

Victoria Park, Bio-quarter, Castle

Terrace

And if you use the code on the

Just Eat Advert Page 9 you can

get a free hour!

communities around them.

Stewart Harris, chief executive

of sportscotland, said: "Staff and

pupils across Edinburgh should

be proud of this fantastic achievement.

"sportscotland is committed to

building a world-class sporting

system for everyone, and a

crucial part of that is putting

young people at the centre of our

efforts."

Councillor Ian Perry, Education

Convener of the City of Edinburgh

Council, said: "It is great to see 35

schools showing such a strong

commitment to sport.

"Keeping young people fit and

healthy is really important not

just through their PE lessons

and sporting activities but also

in extra-curricular activities as

well."

And the promotion is timely

as experts continually agree

that maintaining some level

of physical activity during

December is important in order

to boost immunity, manage stress

and mental health, as well as

shaping up for your Hogmanay

party outfit.

Furthermore, it can be a brilliant

way to get one step ahead of New

Year fitness plans that first trip

back to the gym in January will

be far easier.

David McLean, Fitness Manager

at Edinburgh Leisure, said: "When

everybody is busy getting in the

Christmas mood, and it's cold

outside, it's understandable

fitness slips down the priority list

for many people.

"What we advise is to keep

enjoying some physical activity

- just lower the intensity level

if that's how you feel. Or try

something new and fun like

Sh'bam or just enjoy a gentle

swim and sauna.

Any activity will help you keep

healthy at this time of year."

More information

www.edinburghleisure.co.uk

(Ts and Cs apply)

Editor: Phyllis Stephen

editor@theedinburghreporter.co.uk

07791 406 498

We write about news relating to

Edinburgh and the immediate area.

We welcome contributions to our

website and newspaper.

Social Media

@EdinReporter

/EdinReporter

/edinburghreporter
---
@EdinReporter /EdinReporter /edinburghreporter NEWS 3

Listen to our

podcast here

Archaeologists find 12th

century ruin in Cowgate

New

proposals

for city's

CCTV

network

by David Bol Local Democracy

Reporter

John Lawson is the

city's archaeologist

Excavations in the Cowgate by archaeologists have uncovered the remains of a 12th century house which

predates the city.

AS part of the development of

the site behind India Buildings

on Victoria Street, archaeologists

have discovered a 12th

century house.

We spoke to John Lawson the

CIty Archaeologist who told us

that he is sure it predates the

formation of the burgh in the

mid 12th century. John and his

team have uncovered a ditch

there which helps date the

ruins. He explained that he looks

at the fragments of pottery in the

ditch. He said : "The pottery is of

a type that dates from that period.

We will do a lot more analysis

later on with carbon dating. But

the good thing about the building

is that it has these large posts

so hopefully we can get Dendro

dates telling us when the timber

was felled to give us a bit more of

an accurate spot date.

"But because we have this ditch

– this ditch looks like a boundary

ditch. The boundary ditch in

this area and of that period, we

would normally expect that

would be the town ditch so that

goes along with the formation of

the burgh in the 12th century."

If it was not for the conditions

that John recommended to the

planning authority then the ruin

might not have been discovered.

It will be covered over when

building starts on the Virgin

Hotel.

THE city council will bring

forward proposals to set up a

citywide operations centre to

oversee a new CCTV system as

improving the capital's current

network would be 'a waste of

money'.

The resilience hub would allow

the council to monitor its CCTV

coverage across the city, as well

as a new license plate recognition

system, street lights, traffic

signals and congestion.

The council currently has 226

CCTV cameras across Edinburgh

including 17 that are re-deployable.

Around £634,000 is spent

on staff operations of the service

and almost £62,000 goes towards

maintenance of the ageing

system.

Council officers recently visited

Bristol, which is a similar size to

Edinburgh and has recently set

up a Smart City model which the

authority is hoping to learn from.
---
4 NEWS The Edinburgh Reporter

Police have a Christmas Grotto

Inspector Andy Johnson and Constable Stuart Downie at their Grotto

stationed in St Andrew Square ©2018TheEdinburghReporter

EDINBURGH Police try to deter

crime over the festive period in

much the same way as at other

times of the year, but as a result

of the increased numbers of

people coming to the city centre

they adopt a high profile presence

here.

They have set up a specially

built police Grotto in St Andrew

Square, close to George Street

and Princes Street. They would

like you to go there if you have to

report a crime, but also to speak

with officers or to get leaflets

about safety information. The

special police station is open

from 10.00am to 10.30pm daily.

Platinum award for

Mearns & Company

Left: Catherine Bell (Managing Director) Right: Peter Russian, CEO of

Investors in People.

WEALTH management company

Mearns & Company who also look

after employee benefits have won

Investors in People accreditation

for their staff development,

customer service and continuous

improvement.

Not just any accreditation

however - they've won platinum!

The firm has a client comes first

policy, but also looks after its staff

where corporate objectives are

linked to each individual.

Catherine Bell, Managing

Director of Mearns & Company

said: "We are absolutely delighted

to have achieved Investors in

People Platinum accreditation.

Since our Investors in People

journey started in 2014, we have

worked hard to continually

improve by implementing all of

the recommendations that our

Investors in People advisers have

made to us. Our company values

of treating people fairly, striving

for excellence and making a

difference, underpin our culture at

Mearns & Company and align well

with the aims of the Investors in

People framework. We believe

that this external recognition that

we are successfully leading the

way in our people practices, will

give reassurance to our current

and future clients, that we are

committed to excellence and

delivering outstanding results."

Chief Inspector Helen Harrison,

who is leading on Operation

Winter City, said: "With Christmas

and New Year now only a few

short weeks away, we have once

again launched Operation Winter

City to ensure all of those living,

working and visiting Edinburgh

during this very special time of

year remain safe.

"Edinburgh over the festive

period is one of the most vibrant

and beautiful cities in the world

and hundreds of thousands of

people head to our city centre to

go Christmas shopping, socialise

with friends and family and of

course, enjoy the world famous

Hogmanay Street Party.

"With that in mind, we are

devoting our resources accordingly,

based on demand, and the

public can expect to see lots of

officers out and about between

now and January as we look to

engage with the public and deter

crime within the city.

City architects appointed to reimagine The King's

CAPITAL Theatres, the charitable

trust which runs the Festival and

King's Theatres and The Studio,

launched the King's Theatre

Edinburgh Redevelopment

Campaign with the announcement

that the architects Bennetts

Associates will design the new

theatre.

Visualisation of the front

elevation courtesy of Bennetts

Associates. The visualisations for

the redeveloped King's Theatre

show a design that aspires to

retain the majesty of the original

BBC Young

Reporter

THE BBC has launched a competition

to give 11-18 year-olds the

chance to tell the world their

stories.

It is supported by big BBC

names like Huw Edwards and

the best entries will be aired on

the BBC using news and other

programmes. This is a year round

project building on the success of

BBC School Report which has run

for the last 12 years.

To enter, go to

bbc.co.uk/youngreportercompetition

– where you will find the terms

and conditions and privacy notice

– Closing date 6 January 2019.

Government tackle alcohol harm

NEW plans to tackle the harm

caused by alcohol will include

curbs on the marketing of

alcoholic drinks to protect

children

The Scottish Government's

'Alcohol Framework 2018:

Preventing Harm', includes

proposals to consult on alcohol

marketing such as public

spaces and online. Under the

The Tattoo is off to Sydney

THE Royal Edinburgh Military

Tattoo has secured a four-night

showcase in Australia next year,

marking a new international

deal as part of the company's

ambitious growth programme.

Taking place at the ANZ

Stadium in Sydney in October

2019, the all-star Olympic Park

venue will host the worldrenowned

Tattoo for four shows

with production partner Michael

Cassel Group and promoters

building but reimagines it for the

21st century.

The images, a cross-section of

the re-imagined building and a

front side view showing the building's

depth down Tarvit Street,

capture a design which makes

best use of the space available

in the original 1906 building and

offers scope to create additional

front of house space including a

stunning roof terrace with views

across the city skyline.

This project will transform

one of Scotland's oldest theatres

£25,000 worth of

bikes recovered

POLICE Scotland have recovered

an unbelievable £25,000 of stolen

bikes and given them back to

their owners.

Since the beginning of October

2018the Community Investigation

Unit has been working

with search and recovery team

colleagues to find stolen bikes in

Edinburgh.

The value of the bikes ranges

from £250 to £4,000 each.

Nine male teenagers between

15 and 17 years-old have been

reported in connection with the

thefts.

Detective Inspector Bob

Campbell from Edinburgh's

Community Investigation Unit

said: "We continue to work hard

framework, the UK Government

will be pressed to impose a 9 pm

watershed for alcohol advertising

on TV, and restrictions on

advertising in cinemas are also

proposed.

Alcohol producers will be urged

to put health information on

labels, and the current minimum

unit price of 50 pence will be

reviewed after 1 May 2020.

Seven West Media.

As well as thrilling performances

from the Massed Pipes

and Drums and the Tattoo's own

performers, Pipers Trail, Hjaltibonhoga

(The Shetland Fiddlers)

and Tattoo Dance Company,

the fan-favourite acts will be

joined by the Australian Defence

Force and a host of international

performers against the backdrop

of a full-size replica of

Edinburgh Castle.

making it accessible to all for

future generations.

Bennetts Associates was

founded by Rab and Denise

Bennetts after they graduated

from the University of Edinburgh

and is now one of the UK's

leading architectural practices.

In this its thirtieth year the firm

has just completed the Bayes

Centre which was officially

opened last month. Bennetts

Associates is also in charge

of several renowned cultural

projects including Storyhouse in

Chester, a much-loved cultural

centre which combines a

theatre, cinema and library, and

the extension to Shaftesbury

Theatre, both of which received

RIBA National Awards this year.

Joining Bennetts Associates

as the appointed architect on

the project will be Theatreplan,

global theatre design and

technical theatre consultancy

specialists. Together the two

firms are also working on the

transformation of Citizens

Theatre in Glasgow.

to tackle the theft of bikes from

across the capital.

"Thanks to intensive inquiries

and the thorough work of officers,

a large number of bikes have now

been returned to their owners.

"We understand that bike theft

has a distressing impact on local

communities and falling victim to

crime is an upsetting experience.

"If anyone has had their bike

stolen and has reported this to

officers, SART officers can be

contacted via 101 to check on the

status of their missing property.

"I would encourage bike owners

to ensure they have suitable

security measures in place for

their property; more advice can be

found on our website
---
@EdinReporter /EdinReporter /edinburghreporter NEWS 5

The Rt Hon Lord Provost

Frank Ross writes

EDINBURGH is a very prosperous

city and one of the best places in

the world to celebrate Christmas

– but it isn't the most wonderful

time of the year for everyone.

As we head into 2019, we still

have more than 1 in 5 children

living in poverty in Edinburgh

and 16% of households see their

income fall below the poverty

threshold. This has to change and

I am pleased to see efforts being

made all around the city to give

back and help others in need.

This winter, 26,000 tickets for

the Edinburgh's Christmas Silent

Light show on George Street will

be donated to charities. This

will help those from poorer and

isolated communities around

Edinburgh take part in the city's

festive celebrations.

Underbelly will also be

donating 50p from every single

ticket sold towards a cause very

close to my heart – the OneCity

Trust. As Edinburgh's civic

charity, the OneCity Trust helps

projects which support some

of the most vulnerable citizens

in the Capital and those at risk

of inequality and exclusion. In

the last year, it has awarded

over £100,000 in grants and

with Underbelly's support, an

additional £60,000 could be

available.

At the Council, we'll be doing

our best to look out for our

communities and the most

vulnerable in our society. Our

employees will be making sure

children in our care receive

Christmas presents from Santa

and a full Christmas dinner.

Volunteers will spend their

Christmas Day working with

those without a roof over their

head to help people who are

homeless secure temporary

accommodation.

Our Edinburgh Health and

Social Care Partnership will

be working to deliver care for

anyone and everyone who needs

it this winter, while a gritting

team will be working round the

clock to keep main roads on key

routes safe in case we experience

bad winter weather - but we need

citizens to grit their own residential

roads too.

Please look out for those in your

own communities if you can.

Whether it's by supporting a local

charity or helping your neighbours

by gritting the street and

keeping it safe, there are things

all of us can do to make the

festive season a little easier for

those who find it hard.

I hope you have a happy, healthy

start to 2019. If you would like to

find out more about the OneCity

Trust and give back too, please

visit onecity.org.uk

Light Night 2018

Edinburgh's Christmas

IN a report published last

month Underbelly who organise

Edinburgh's Christmas for the

council say that last year's events

brought an economic impact of

£113 million, or the equivalent of

2,260 full time jobs to the capital.

BOP Consulting produced an

impact assessment report for

both Christmas and Hogmanay

events which Underbelly produce

for the council.

The impact of Hogmanay

events was assessed to be £39

million in 2017/18.

In 2017 the Christmas festivities

in the city centre brought

in 919,344 visitors over 6 weeks

which was up by 3.7% on 2015.

The Christmas Tree on the

Mound, a gift to The City

of Edinburgh Council from

Hordaland County Council in

Norway, was also lit and representatives

from Norway were the

VIP guests along with the Rt Hon

Lord Provost Frank Ross.

Buy your

gifts at a

charity shop

Skating in St Andrew Square is just one of the many attractions at Edinburgh's Christmas

4,653 million people who went

to the three main sites during

Edinburgh's Christmas although

overall numbers in the city

centre during the November and

December period were about five

times that.

Ticket sales were up at 771,007

for all the rides and the shows

with 64% of the visitors saying

that the Edinburgh's Christmas

attractions are a major reason

for coming to Edinburgh, and in

particular the Christmas markets.

McCarthy & Stone conducted

a survey which named the

Christmas Market in East Princes

Street Gardens as the best in

the UK.

John Donnelly, Chief Executive

at Marketing Edinburgh, said:

"The value that Edinburgh's

Christmas brings to Scotland's

capital is undeniable. Not

only does it deliver a positive

economic impact for the city

through the millions of global

visitors that it attracts, our

residents also get to experience

the UK's best Christmas Market

on their doorstep. The success

of events such as Edinburgh's

Christmas continues to position

the city as a world leading destination

in which to live, work,

study, visit and invest."

Fireworks at Light Night in Edinburgh | Photo Martin P McAdam

AN estimated 15,000 people

flocked to the city centre to

watch the Christmas lights being

switched on this year.

The lovely Saskia Eng a former

pupil at the City of Edinburgh

Music School and who has found

fame and fortune on The Voice

with Sir Tom Jones and will.i.am

was delighted to turn on the

lights.

This came after an afternoon of

entertainment on George Street

on the many stages set up there

for community and school choirs,

dancers and pipe bands.

The afternoon starred 24

Edinburgh and Scottish dance

and music groups, including the

energetic Edinburgh's Got Soul,

Pulse of the Place, Elite Dance,

Edinburgh Ballet, Bhangra Crew

who recently came second in

TBC-U, the fantastic National

Youth Choir of Scotland East

Dunbartonshire Boys Choir

and Perth Boys Choir and

Edinburgh's-own The Phoenix

Community Choir.

Saskia herself sang three songs

including White Christmas - and

wow can she sing! The fireworks

display at the end may have

started a few minutes ahead of

time but it was spectacular and

the crowd appeared to love it.

We have to particularly note

here the appearance of the

cast of Kinky Boots - if you saw

them then you will no doubt be

booking your tickets for the show

which opens at The Playhouse in

December.

AT this time of the year, the

company elves get busy thinking

about spreading Christmas cheer,

with tinsel, mince pies – and

Secret Santa of course.

So are you full of festive fun

and dying to see whose name

you pull out of the Christmas hat

this year? Why not add a little

Christmas spice to your Secret

Santa this year, by buying your

gifts only from charity shops.

The Charity Retail Association

want you to think about making

a difference this Christmas.

Buying a small (in price!) Secret

Santa gift from a charity shop

helps boost your local high

street, supports volunteers to

gain skills and keeps products

out of landfill which is great for

the environment, the economy

and for your council who will

pay less in landfill tax. Happy

shopping! Don't forget to share

your #GoodCauseSantaClaus

story online.
---
6 NEWS The Edinburgh Reporter

All change at Ocean Terminal

Top Up at Holyrood

NEW PLANS have been unveiled

for Ocean Terminal which

is probably long overdue a

makeover. Since the demise

of British Home Stores the

shopping centre has been trying

hard to stand still. Now the

owners Resolution Property say

that the centre will be renamed

Porta and they will spend money

on the centre to turn it into a

premium outlet and leisure

destination. There will be some

of the existing shops along with

a new mix of brands to attract

visitors to Edinburgh.

Due to open in Q3 2019, Porta

will join Resolution Property's

successful retail outlet portfolio

which currently includes

Honfleur Normandy Outlet in

France, Designer Outlet Soltau in

Germany and Billund Designer

Outlet, currently being redeveloped

in Denmark. A long-term

owner and operator of retail

outlets across Europe, Resolution

Property has been at the forefront

of evolving this sector, creating

offers that cannot be replicated

online.

Shane Scott, partner at Resolution

Property, said: "Delivering

an outlet concept to the area is

a unique and exciting opportunity

and one that will transform

the current offer. Ocean Terminal

already enjoys good footfall and

an impressive line-up of international

brands, but we believe there

is greater demand for a destination

that provides experience as well

Artist's impression

as value. In fact, a number of our

tenants have expressed demand

for an outlet offer. Porta will build

on this demand to establish the

centre as one of Scotland's leading

outlet destinations."

Ian Kitchen, partner at KLM

Retail, said: "The key ingredients

for a successful outlet experience

are already present for

Porta to capitalise on. The waterfront

location, strong leisure

and restaurant offer, the Royal

Yacht Britannia, a new whiskey

museum, as well as high tourism

numbers are all important factors

in curating a destination experience.

The scheme will also

benefit from being in an affluent

catchment, only 15 minutes from

Edinburgh city centre."

Scottish Water has installed a Top Up Tap in Holyrood Park Photos

courtesy of Scottish Water

IF you're out running or cycling

in Holyrood Park then you can

now top up your water bottle right

outside the Scottish Parliament

building.

Scottish Water have installed

a Top Up Tap there which is the

first in a planned network across

Scottish towns and cities.

The tap will dispense fresh

clean drinking water at the push

of a button, and you can fill a

water bottle which is better for

the environment. Scottish Water

want to encourage people to carry

reusable bottles and fill up from

their source which will be the

focus of their Your Water Your Life

campaign.

Edinburgh runner Nicole Wright

was first to fill up her water bottle

from the high tech dispenser

where the amount of water being

used will be recorded.

Douglas Millican, Scottish Water

Chief Executive said:

"We're thrilled to play our part in

helping change the way water is

consumed in Scotland. We want to

encourage people to stay hydrated

on the go by topping up their

water bottles and in doing so help

reduce waste.

"It's a great location for our

first Top up Tap, right outside

the Parliament, near to Holyrood

Park and the Royal Mile where

thousands of people come every

day. I hope as many people as

possible use the Top up Tap and

that its prominent position will

make it a regular stop of runners,

walkers, cyclists and other visitors

to the Holyrood area."

Johnston Press lives

to fight another day

OVER a weekend in November

the company of Johnston Press

which had crippling debts of

£220 million was acquired by its

bondholder, a US hedge firm.

The company had put itself

up for sale in October, unable to

pay off its debts, and then into

administration in November as

no bidder was found.

This step is called a pre-pack

administration and is controversial.

The bondholder has acquired

all the assets of the 200+titles,

the new company JPIMedia has

reduced debts of £85 million

and the papers (including The

Scotsman and The Edinburgh

Evening News) continue to be

published.

Christen Agers-Hanssen

through his investment arm

Custos Group was a 25 % shareholder

in Johnston Press. His

shareholding was reduced to

zero value with this news. He

threatens legal action. The

employees' pension fund with

its £40 million deficit has been

offloaded and will become the

concern of the Pension Protection

Fund. They have raised such

concerns. Questions have been

raised in the House of Commons.

Ian Murray MP for Edinburgh

South said during the debate :

"Johnston Press pursued a very

aggressive acquisition strategy

over the past 10 years, which

has partly put it in this position.

It has left titles such as The

Scotsman and the Edinburgh

Evening News operating on very,

very small numbers of staff."

Edinburgh West MP Christine

Jardine raised a question at

Westminster too and was assured

by the Government that they

will keep a close eye. David

King remains Chief Executive

of the new company. There are

eighteen different companies

listed at Companies House using

a variation of the company name

and set up since the beginning of

September 2018.

Catey at the Castle

Michelle Ramage from Borthwick

Castle is shortlisted in the

Housekeeper of the Year Award

THE castle's Housekeeping

Manager, Michelle Ramage,

is shortlisted in the Housekeeper

of the Year category of

the Hotel Cateys, the annual

recognition of excellence in UK

hospitality. Ramage is the only

Scot to be selected in the fourstrong

category in which she is

competing against housekeepers

from iconic London properties

on behalf of Scotland's 'best

kept' fifteenth-century keep,

now a sumptuous exclusive hire

setting for family celebrations

and corporate events. Michelle

is among only three Scottishbased

hospitality professionals

shortlisted across 15 of the Hotel

Cateys' 18 categories.
---
@EdinReporter /EdinReporter /edinburghreporter NEWS 7

News in Brief

DVDs for the Library

New Look for the Botanics

MACDONALD Road Library is getting a DVD collection for the first time.

No date yet but watch this space!

Fun at Oaklands

HAPPY Days Children's Charity is treating children from Oaklands

Special School to a performance of Dick Whittington by the M&M

Productions travelling theatre. The theatre group will visit Oaklands on

Ferry Road and put on a fantastic fun filled day on 11 December.

Scottish Budget

FINANCE Secretary Derek Mackay MSP will announce the Scottish

Government's budget on 12 December. He already commented that

Holyrood's resource block grant from the UK Government is almost £2

billion lower than 2010-11. He said after the UK Autumn Statement was

announced in Westminster : "This budget falls a long way short of delivering

for Scotland.

The changes announced to universal credit do not go far enough. They

are just a drop in the ocean compared to the impact the roll-out of

Universal Credit will have. I continue to call for the roll-out of Universal

Credit to be halted – and halted straight away."

Saughton funding boost

THE £7.3m Saughton Park restoration project has had a major boost

thanks to funding from the Scottish Power (SP) Energy Networks Green

Economy Fund.

Almost £500,000 has been awarded toward the delivery of a micro

hydro-electric system on the Water of Leith, which will power two

ground source heat pumps and generate energy for the park's lighting

and buildings once their refurbishment is complete.

As well as saving on energy costs, the innovative scheme to install an

Archimedes Screw Turbine on an existing weir will help lower carbon

emissions by providing a renewable energy solution in the park.

The project has received a share of SP Energy Networks' £20m fund,

established earlier this year, recognising initiatives that support

Scotland's green energy plans and local economic growth.

Greyfriars Bobby

A few years ago it cost £500 to blacken Bobby's nose. Now an Edinburgh

resident has taken matters into their own hands and erected a 'cordon'

around our favourite animal statue.

Weigh To Go

A new shop with a difference has opened up in Leith. Weigh To Go is

trying to help you live plastic free. The shop on Leith Walk hopes to

give you a more convenient solution. Take your Mason Jars to the shop

and get them filled up with loose produce including dried goods, pulses

Dried Fruit, herbs, spices, grains, beans, salt and pepper. They also

have some household goods and milk in glass bottles. They will have

reusable tote bags available in January

Doggone

UNLOCK Tours offer you a wide range of ways to see the city, and one

of their tours could include your dog. Book the Dog Friendly Tour when

they can go free on the Early Bird and Old Town Tours. Edinburgh has so

many green spaces it would be a pity to leave Fido behind.

Harry's Bar

THE West End institution has been taken over by the lovely folks at

Boda Bar. They have just held a series of events centred around each of

the autumn rugby internationals and we are sure they will have more

plans for December by the time we go to press.

Tourist Tax

Edinburgh Chamber of Commerce survey shows that nearly 70% of

Capital businesses support the case for a Tourism Visitor Levy and 79%

would support TVL if the funds are ring-fenced for infrastructure like

roads and pavements. They most favour a per person per night charge.

by Phyllis Stephen

THE Royal Botanic Garden

Edinburgh (RBGE) has Grade

A listed Victorian glasshouses

which have looked the same for

as long as I can remember. Now

there are plans to improve and

refurbish the glasshouses and

improve the research facilities

to protect the collection of some

13,500 plants. Many of these are

endangered or extinct species.

The new Edinburgh Biomes

project is to be the most significant

in the history of the Botanics.

The Scottish Government has

given RBGE funding to take the

Victorian Temperate Palm House at the Botanics

project to the planning stage and

then there will be a fundraising

drive to pay for the works. There

will be a Public Consultation at

the garden on 10 January 2019

when you can ask questions.

There is also information online

www.rbge.org.uk/edinburghbiomes
---
8 NEWS The Edinburgh Reporter
---
@EdinReporter /EdinReporter /edinburghreporter BUSINESS NEWS 9

New

Partner

Appointment

THOMSON COOPER Accountants

announce that Sharon Collins has

joined the firm as a partner.

Ms Collins, a former partner

at Condies Accountants, is a

qualified accountant with considerable

experience in a range of

business sectors and the not for

profit sector. She has extensive

audit experience and provides

accounts, tax and business

advisory services to a diverse

portfolio of clients.

Regarding her new challenge Ms

Collins commented : "Many firms

are withdrawing from the audit

marketplace due to increasing

legislation. Thomson Cooper have

a dedicated audit department that

benefits from ongoing investment

and I believe there is significant

potential for us to increase

our reach with this specialist

service. I look forward to continuing

to work with my existing

clients who will benefit from

the many added value features

that Thomson Cooper provide,

including their Business Development

Programme."

Managing Partner David Walker

added, "Sharon is a valuable

addition to our established team

with her considerable business

network and auditing experience,

and I look forward to welcoming

her clients on board."

Breaking

records

at the

airport

EDINBURGH Airport has reported

even more passengers in October

which is an 8% increase on last

year.

1.3 million people passed

through the airport last month

with international growth up 9.5%

and domestic growth up 5.2%

Gordon Dewar, Chief Executive

of Edinburgh Airport said:

"It's been another busy month

for Edinburgh Airport and it

means we've delivered more

than 1.3 million passengers for

six consecutive months for the

first time, which highlights our

fantastic growth.

"It shows Scotland's continued

attractiveness to visitors all year

round as well as the number of

people taking advantage of the

array of destinations we serve

from Scotland's busiest airport,

including a strong performance

in our new Dubai route with

Emirates.We're looking to build

on recent route announcements

to places like Philadelphia,

Boston and Riga and deliver even

more destination choice for our

passengers."

December

Pop Ups

Flexible

working

could save

millions

ACCORDING to Carers

Scotland, one in six adults across

Scotland are informal carers,

meaning they provide unpaid care

for a friend or family member

With 270,000 Scottish carers

balancing these responsibilities

with work, the significant

demands of caring mean that

across the UK, one in five are

forced to stop working altogether.

Scottish Gas has experienced

the financial benefits from

supporting its Scottish employees

with a flexible carer policy,

saving an estimated £402,000 by

providing paid leave and peer

support to help its employees

avoid unplanned absences and

'presenteeism' (working while

unwell or not fully performing)

due to caring responsibilities.

The company offers a range

of support to 252 registered

employees in Scotland, including

paid carers' leave, the right to

request flexible working and an

employee-led carers' network.

The business also estimates

cumulative savings of £320,547

in increased retention through

helping people stay in work while

caring for others.

NEW TRAVELODGE

FOR SOUTH GYLE

A new 70 bedroom hotel which

will be built at South Gyle has

been let to Travelodge on an

initial 25 year lease.

The lease is based on 5 yearly

rent reviews based on the

Consumer Prices Index.

Situated on land bought from

Greene King it will open in

autumn 2019.

Sandy Cameron of Sandy

Cameron Property Consultants,

who acted on behalf of Travelodge

said, "Travelodge have been keen

to secure a hotel in this area for

some time. This site is ideal as it

will appeal to business travellers

and to tourists with the added

bonus of being close to Edinburgh

International Airport".

Front elevation of new Travelodge

Crucible Alba Group Development

Director Brian Robinson

confirmed: "This is an excellent

development for all concerned; for

our forward funder, for the tenant,

Travelodge Hotels, and for Greene

King as their Farmhouse Inn will

benefit from having the hotel next

door. The location of the hotel is

extremely strong being within

two miles of Edinburgh International

Airport and adjacent to

the successful Edinburgh Park

business district".

Crucible Alba Group confirmed

that all of the necessary consents

are already in place and that they

are aiming to commence the ten

month construction project on

site as soon as possible.

Leith Walk Police Box pop up

space flexible and affordable

5 Dec 10.00 - 3.00 Turning Point Scotland - Alcohol

and drugs awareness and support

3,7,20,24 and 26 Dec Tipico – Authentic Sicilian

confectionery and Italian gourmet food

9 Dec 11.00 - 7.00ish - Lazy Lettuce – vegan

burgers that even carnivores will love. Take the

challenge meat eaters!

2 and 16 Dec Primrose Floral Design - Christmas

Wreaths and of all shapes and sizes as well as

orders for Christmas centrepieces.

6 Dec 11.00 3.00 Edinburgh Direct Aid – supporting

Syrian refugees in Lebanon. Come and name

a bear to send or buy a Syrian brooch. Donations

of paper, pencils, pens and simple toiletries gratefully

accepted on the day

8 and 22 Dec 2-5 Quantum Soup - Science based,

hand crafted stained glass and jewellery designed

from molecular formulae. Cash, card and Paypal

accepted.
---
10 POLITICS The Edinburgh Reporter

Tommy Sheppard MP

Jeremy Balfour MSP

Kezia Dugdale MSP

Christine Jardine MP

Gordon Lindhurst MSP

Deidre Brock MP

Local

Politicians

have their

say

Edinburgh depends on

the EU

by Kezia Dugdal MSP

BY the time you read this, I don't

know if Theresa May will still be

Prime Minister.

I don't know if we'll still be

heading out of the EU in March

next year – but I certainly hope

not.

And I don't know if we'll be

gearing up for a People's Vote on

Brexit – but I certainly hope so.

I campaigned tirelessly for the

UK to remain in the EU in 2016,

and despite the disappointment

Improving the odds

by Tommy Sheppard MP

COMMON sense on problem

gambling – at last. Fixed Odds

Betting Terminals (FOBTs) have

damaged far too many lives in

Edinburgh East and elsewhere.

Players can lose large sums of

money on these machines in the

space of minutes.

In Edinburgh in 2016 the cash

inserted into FOBTs amounted

to £70,000,587 leading to losses

of just under £18m. And between

2008 and 2016 individuals lost

just under £120m in our city.

And, as is so often the case, it's

our poorest communities who

are hardest hit. I campaigned

hard with Ronnie Cowan MP and

other SNP colleagues to highlight

that the current spin speed and

maximum unit stake are clearly

wrecking lives.

The Tory UK Government

seemed to agree – and that's

why they promised to reduce

the maximum amount on each

of the referendum result, I haven't

stopped since.

It was no surprise that the Brexit

negotiations were disastrous, and

the promises made by the Leave

campaign proved impossible to

deliver.

It is clear that we must go back

to the people and ask them if they

still want to go ahead with this

reckless decision to leave the EU.

Thousands of jobs in Edinburgh

depend on the EU. I will never

stop fighting for the workers of

this city.

bet to £2. But following lobbying

from the gambling industry, in

the budget chancellor Philip

Hammond signalled that he was

planning to delay the £2 cap until

October 2019, rather than April.

That highly cynical delay would

simply have allowed gambling

companies to rake in enormous

sums of money in that period,

projected at £900 million. All

at the cost of untold misery for

problem gamblers and their

families.

Tracey Crouch, the minister

responsible, took the principled

decision to resign – she had

heard testimonies from affected

families and experts. But it took

a united front from opposition

parties led by the SNP combined

with the threat of a full-on

backbench Tory rebellion to get

the government to climb down.

A bit of hope that, despite the

chaos of Brexit, common sense

can sometimes prevail even at

dysfunctional Westminster.

Better rights for neighbours

by Gordon Lindhurst MSP

THE Planning Bill is currently

making its way through The

Scottish Parliament. It's been

something of a rollercoaster, with

hundreds of amendments and

hours of deliberations.

For me, it was a chance to

change an anomaly in law.

Edinburgh is said to have the

largest number of listed buildings

of any city in the world. People

who live in them can currently

find themselves in a position

where their neighbour is making

an alteration, sometimes an

internal or communal one, but

they don't know until work

starts. That is because for Listed

Building Consent, neighbour

notification is not required to be

given by the Planning Authority

other than a public notice, such

as in a newspaper which can be

missed. Planning consent on a

non-listed building however, does

require neighbour notification.

So I proposed an amendment,

which has so far received

majority support, so that

neighbour notification is required

for Listed Building Consent. I

hope the final Bill will retain it, in

the best interests of those living

in Edinburgh's listed buildings.

Scotland on the big screen

by Deidre Brock MP

Lots of big film and TV productions

are being made in Scotland

these days, from the Avengers

to T2, Outlanders to that new

Robert the Bruce epic, The

Outlaw King (well worth a watch,

by the way!). It's no surprise -

Scotland has some of the world's

most stunning locations and an

abundance of filmmaking talent

to help make the stories sing.

Yet it's also not by chance that

we've seen this growth – it's been

actively driven by The Scottish

Government which recognises

the massive economic benefits

of showcasing our lovely country

on the silver screen. What we

Gritty problems

by Jeremy Balfour MSP

A saving of £1.3 million each year

in council spending has been

imposed and our public services

are being attacked. The gritters

are the latest victim.

It is proposed that in order

to make a saving of £100,000,

gritting the city's pavements

should take place from 8am

instead of 5am. Indeed, it is also

estimated that up to 80 jobs

could disappear from roads and

environment crews.

This is unacceptable. Not only

are peoples' livelihoods at stake,

but potentially their lives. Gritting

the pavements from 8am means

that commuters across the city

will be heading out on ungritted

icy or snowy pavements, significantly

increasing their likelihood

of slipping and causing injury.

Further, the elderly are most at

risk. Pushing back gritting until

much later in the day will have

consequences for this section of

the community.

A fall is a serious incident for

an elderly person and causes

significant harm to their health,

both physical and emotional.

Many older people don't feel able

to leave the house, sometimes for

days at a time, for fear of falling.

Knowing that council cuts are

targeting gritting services will

only encourage this.

This will also have a knock-on

effect on those who are already

feeling isolated and lonely during

by Christine Jardine MP

EDINBURGH West MP Christine

Jardine called for an urgent

Commons debate about the rigid

guidelines on prescribing medical

cannabis.

The Home Secretary agreed to

allow specialist doctors to legally

prescribe cannabis-derived

medicinal products earlier this

year. But, Ms Jardine claims that

recently published NHS guidelines

and a number of medical

professional bodies are so tight

that few patients will be eligible

for a prescription at all.

Ms Jardine said : "When

minsters agreed to legalise

medicinal cannabis, thousands of

patients suffering from extreme

pain were offered a glimmer of

hope that they would finally be

able to access this life changing

treatment but these overly rigid

guidelines are causing immense

the dark winter months.

Slips and falls put pressure on

hospital and ambulance services,

who see a huge spike in fall

related injuries during the winter

months. During last December

alone, there were 500 falls.

The after effect of slips and

falls also puts pressure on the

stretched social care system with

the increase of those left injured

and unable to fully care for

themselves. Therefore, in reality,

the effects of pavements which

are neglected by gritting services

is a false economy. The savings

made would be superficial,

pushing costs up elsewhere in

the health and social care sector,

putting a further strain on staff.

As you can see the cost is both

human and economic. Through

ensuring full and thorough

gritting services we can mitigate

against these problems.

The question that must be asked

is what are we actually getting for

our council tax? Given that there

has been a rise in council tax,

surely that should secure further

protection for our vital services.

Instead we have witnessed our

roads deteriorate, a fiasco over bin

collection and now the consideration

of a potentially dangerous

policy. What's next?

My concerns are shared by

many. I ask that the council

reconsider the implementation

of reduced gritting services and

reflect on the effects that funding

cuts have on people's lives.

Demanding cannabis

still lack, though, is enough

permanent studio space to fully

develop the potential of our film

industry, something I know The

Scottish Government is also

keen to fix. For the last few years

I've been pressing the case for

Leith to be central to these plans.

Leith's got it all – one of the

UK's biggest creative hubs, easy

access to the iconic backdrops

disappointment and heartache.

"Even children at the heart of

high-profile cases that played

such a key role in changing

the law would struggle to get a

prescription.

Some families are now in the

outrageously unfair position of

having to consider fundraising to

go abroad to access the medical

cannabis that's just been made

legal here!

"I'm urging the Health Secretary

to use every available means to

work with the NHS, the General

Medical Council and the relevant

professional bodies to see these

guidelines reworked so that they

more properly reflect the historic

law change that was announced

in the summer

"The Health Secretary should

come to the House of Commons

and explain what plans the

government has to rectify this

situation."

of Edinburgh, great places for

cast and crew to eat and drink…

and we've got the big blue shed

on the Forth! The former home

to Pelamis Wave Power is ready

and waiting to be filled with

props, sets, production offices,

sound stages and so forth! It's an

exciting prospect to see Leith as a

centre for filmmaking in Scotland

– let's make it happen.
---
@EdinReporter /EdinReporter /edinburghreporter WHAT'S ON 11

What's on in December

Theatre | Art | Music | Shows | Festivals

At the Cinema

AT EDINBURGH

CASTLE IN 2019

The much anticipated Mary

Poppins returns after half a

century

by Adam Zawadzki

OSCAR winning director Robert

Redford (Ordinary People) undertakes

his final film performance

in 'The Old Man and the Gun',

where he plays real life career

criminal Forrest Tucker.

Also featuring a cast that

includes Casey Affleck (Manchester

by the Sea), Donald Glover

(The Colour Purple) and Sissy

Spacek (Coal Miner's Daughter),

could this be the year that Redford

finally wins an acting Oscar,

after another three competitive

nominations in various categories?

Another upcoming biographical

film is 'White Boy Rick', based on

the true story of Richard Wershe

Jr, who became the youngest

ever FBI informant at 14 years of

age during the 1980s. Matthew

McConaughey (Dallas Buyers

Club), Jennifer Jason Leigh

(The Hateful Eight), Bruce Dern

(Nebraska) and Piper Laurie

(Carrie) are among the most

notable cast members.

'Aquaman', the sixth addition

to the DC Comics' Extended

Universe franchise, provides the

eponymous superhero portrayed

by Jason Momoa (Justice League),

with his first solo adventure after

appearances in two previous

ensemble superhero productions.

Willem Dafoe (Platoon), Patrick

Wilson (The Phantom of the

Opera) and Nicole Kidman (The

Hours) also appear. Brace yourself

for the water wonderland.

After 54 years, 'Mary Poppins

Returns' is finally here. Emily

Blunt (Into The Woods) steps into

the shoes previously worn by

Julie Andrews, in Oscar winning

form no less, in the 1964 musical

masterpiece. With (Julie Walters

(Educating Rita), Colin Firth (The

King's Speech) and Meryl Streep

(The Iron Lady) in support, so far

this eagerly anticipated sequel

appears practically perfect in

every way. You're welcome.

At Summerhall - The 369 Gallery

A glorious movement in

Scotland's cultural landscape

by Roddy Martine

IT was a remarkable movement

in Scottish art which emerged

in Edinburgh in the latter part of

the last century.

Now the 369 Gallery has sprung

to life again with the first of two

major retrospective exhibitions

at Summerhall, the multi-arts

complex on the Meadows.

369 Gallery Remembered: The

Women, features the work of

the female artists who held

their first shows at the original

galleries at 369 High Street, and

Collective - a

new centre for

art on Calton Hill

Following comprehensive

redevelopment and restoration

of Playfair's City Observatory

in partnership with The City of

Edinburgh Council. For the first

time in 200 years the site will be

freely open to the public.

Collective has a new exhibition

space The Hillside, the City Dome,

a new shop Collective Matter

and a new destination restaurant

The Lookout by Gardener's

Cottage. The first exhibition

will be Affinity and Allusion

featuring works by Dineo Seshee

Bopape, James N Hutchinson,

Tessa Lynch, Alexandra Laudo,

Catherine Payton and Klaus

Weber.

latterly on the Cowgate.

Forty years ago Andrew Brown

created a gallery in the Old Town

to provide a platform for his

contemporaries at Edinburgh

College of Art. This led to most

of the successful artists of that

era from across Scotland having

their first exhibitions at the 369.

These included the late Caroline

McNairn, the late Pat Douthwaite,

Margaret Hunter, Sheila Mullen,

Rose Frain, Carole Gibbons, June

Redfern, Lil Neilson, Lys Hansen,

Fionna Carlisle, Fiona Grant

Robertson, Olivia Irvine, Alison

Kinnaird and Joyce Cairns, who is

soon to take up her appointment

as President of the Royal Scottish

AT THE ROSE

THEATRE

Doris, Dolly and the Dressing

Room Divas ...at Christmas

Now until 16 December 2018 The

Rose Theatre Rose Street EH2 4AZ

Tel 0131 226 4000

This show is back by popular

demand and sprinkled with some

Academy.

With international engagement,

the 369 Gallery was also

the first UK art gallery to take

exhibitions to Chicago, New

York, Santa Fe, Hong Kong,

Hamburg and Moscow, thus

introducing Scottish talent to

the global marketplace.

All of the artists named above

are featured in this sparkling

and memorable exhibition that

runs until the New Year. Don't

miss it!

369 Remembered: The

Women(40th Anniversary Show)

at Summerhall, Summerhall

Place, EH9 1PL.

www.summerhall.co.uk.

Christmas glitter.

There are three make up girls

bitching competing and harmonising

as they entertain from the

stars' dressing rooms.

Starring Gail Watson (Patsy Cline

& A Bottle of Wine), Jenny Hulse

(River City), Joanne McGuinness

(Our Ladies of Perpetual Succour),

accompanied by award winning

musical director Hilary Brooks

and created

Sing Sistah Sing!

20-23 and 27-30 December

2018. Richard Lewis on the piano

accompanying the wonderful

mezzo soprano Andrea Baker this

is a different take on Christmas

with a mix of blues, jazz and

gospel alongside your holiday

favourites. Set in the Cabaret

Theatre at the newly refurbished

Rose Theatre which is fast

becoming a favourite of ours -

especially with its newly opened

café.

Craig and Charlie will finish their

world tour at Edinburgh Castle in

2019

The Proclaimers are heading

back to Edinburgh Castle in

summer 2019. Craig and Charlie

Reid said: "We are looking forward

immensely to coming home

during the summer for four major

Scottish shows. The atmosphere

in Scotland is unique and the

whole band looks forward to the

concerts."

"It's our first major show in the

Borders for several years, great

to be returning to Bught Park and

the Highlands audience, our first

show back in the Castle for many

years and also going back to the

Hydro and closing our Angry

Cyclist World tour with the final

show in Glasgow."

The album 'Angry Cyclist' was

released to immense acclaim in

August (Cooking Vinyl) debuting

in the UK Official Album charts

at 17 and at number 3 in the

UK Official Independent Album

Charts. The Proclaimers 8th Top

40 UK album. The Proclaimers

then headed back out live from

July this year with 48 sell out

dates across the UK and a 13-date

tour of Canada from Victoria to

Montreal.

Mark Mackie, director of Regular

Music said: "It's great news that

The Proclaimers are coming

out next summer, covering the

country from North to South

and East to West with these four

very special shows for Scotland.

Tickets are on sale now.

www.ticketmaster.co.uk

0844 844 0444

Charles II: Art

& Power

Is at The Queen's Gallery Palace

of Holyroodhouse, 23 November

2018 – 2 June 2019. Exhibition

tickets cost £7.20 for adults,

£3.60 for under-17s and £18.00

for families (two adults and three

under-17s).

A combined ticket is available

for The Queen's Gallery and

the Palace of Holyroodhouse.

Combined tickets cost £19.10 for

adults, £10.80 for under-17s and

£49.00 for families (two adults and

three under-17s).

Visitor information and tickets

for The Queen's Gallery, Palace of

Holyroodhouse

: www.royalcollection.org.uk,

T. +44 (0)30 3123 7306
---
12 GENERAL WHAT'S NEWS ON

The Edinburgh Reporter

Theatre | Art | Music | Shows | Festivals

Christmas

Events

30 Nov-2 Dec

Coburg House Open Studios 15

Coburg St EH6 6ET Work by artists,

printmakers, textile designers,

ceramicists and jewellers. This

is a great opportunity to pick up

some unique hand crafted pieces.

Four floors of studios to explore.

Pop up café by Cafe Domenico

throughout the weekend.

1 Dec 12.00-18.00

Christmas Open Studios at Out

of the Blue Abbeyhill Studios 2

Easter Rd EH7 5AN Have a cup

of tea and explore the creative

spaces and meet the makers.

Artists will have a range of

hand-made items for sale.

1 Dec 12.00-15.00

At the Botanics Cottage St

Andrew's Fair Saturday : The

Royal Botanic Gardens offers

visitors a chance to get into the

Christmas spirit with an afternoon

of crafts and Christmas carols.

Free entry, although donations are

encouraged. Proceeds go to local

charity Cyrenians.

1 &2 Dec

Jupiter Artland's Christmas

Fair Jupiter Artland Bonnington

House Steadings, Wilkieston EH27

8BY Tickets from the website

jupiterartland.org Magic winter

wonderland with boutique craft

stalls, mulled wine and seasonal

street food. Christmas tree yard

and festive donkeys.

1, 8 and 15 Dec

XMAS Arts Market at The Out of

the Blue Drill Hall 36 Dalmeny St

EH6 8RG Three Saturdays before

Christmas to enjoy bruncheon

along with the opportunity to buy

some arts and crafts direct from

the 150+ artists. Live music from

11.30am to 2.30pm £1.50 entry fee.

6 Dec from 18.30 to 20.30

Porty Street Fest will take place

on Portobello High Street. Hosted

by Porty Events you are promised

lights, Santa with his sleigh

shopping deals and seasonal fun.

7 Dec 16.00 to 19.00

A Christmas Fairy Trail at

Archerfield Walled Garden

Dirleton EH39 5HQ Enter the fairy

trail and get lost in the world of

folklore. Surprises round every

corner.There will be fire performers,

lighting and projection

installations and an immersive

theatrical experience.

7-8 Dec from 19.00 to 22.00

Hidden Door Art Sale Fundraiser

at Skylight 179 Canongate EH8

8RN Free entry. Music mulled

wine and art work from £50 up.

An epic art sale with hundreds

of pieces from those who have

contributed in the past to the

successful Hidden Door Festivals.

8 Dec from 10.00 to 18.30

GLOW at Dovecot 10 Infirmary St

EH1 1LT New and unique opportunity

to buy from contemporary

Scottish designers. Curated by

James Donald, creator of the

EDINBURGH'S CHRISTMAS

George Street and surrounds

Silent Light Underbelly has

invited the team behind the

Fringe 2018 hit, Silent Adventures,

to collaborate with

Edinburgh's Christmas on a

unique outdoor event for people

of all ages to enjoy. Combining

the 2016 Street of Light with

a silent street party, Silent

Light you dance under three

archways with headphones

playing the music directly

to you. (Santa's Sparkles for

families, Christmas Crackersfavourite

festive tunes and

Disco Delights for the party

crowd), Book a time between

4.45pm and 10pm, (20

mins) 50p from every ticket

for One City Trust 26,000 free

tickets for over 50 Edinburgh

charities.

St Andrew's Fair Saturday mass

celebration of arts and culture

while supporting social

causes. Scotland will be the

first country to celebrate it

as a nationwide festival. St

Andrew's Fair Saturday on

1 Dec.

Ice Rink, the frozen heart of

Edinburgh's Christmas wraps

around the Rekorderlig Cider

Lodge in St Andrew Square,

offering hot chocolate or hot

cider!

Castle Street becomes the new

home to Santa's Grotto.Traditional

children's rides as well as

food and drinks stalls offering

tasty treats.

The annual outdoor Nativity

Carol Concert - 2 December in

St Andrew Square.

East Princes Street Gardens

Princes Street Gardens'

Christmas Market - voted best

Christmas market in the UK

last year in a McCarthy & Stone

survey offers a wide range of local

and homemade gifts as well as

mouth-watering delicacies.

The Christmas Market also

features a variety of rides and

attractions for all the family

including the Forth 1 Big Wheel

and the almost 60m high Star

Flyer, both offering a different

view on the city. Santa Land is

back, transforming Lower East

Princes Street Gardens into a

magical place for families or get

lost in the enchanted Christmas

Tree Maze

Johnnie Walker continue their

support of Edinburgh's winter

festivals with the Johnnie Walker

Bothy Bar on The Mound.

Around the city

Winter Windows will be

displayed in West Parliament

Square outside St Giles and in

four other locations around

Edinburgh: Great Michael Rise in

Newhaven, Ratho's North Street,

Royston Wardieburn Community

Centre in Pilton and St Patrick

Square just off Clerk Street. Each

stained-glass window is designed

around the theme of kindness.

An opportunity to discover an

exciting new place each day,

24 Doors of Advent is a real-life

advent calendar taking audiences

through a different door every

day throughout December as

Edinburgh offers access to the

unique buildings in the city.

Festival Square Spiegeltent

La Clique Noel returns home for

Christmas with a new seasonal

spectacular, La Clique Noel - Part

Deux with a reimagined line

up including the astounding

fire-eater and sword-swallower

Heather Holliday, aerialist

Stephen Williams with his

famous bath act, hair-dangling

Fancy Chance, magic and

comedy master Albert Cadabra

and mistress of mayhem,

host Bernie Dieter who took

Edinburgh Fringe 2018 by

storm as Little Death Club's

MC.

You Choose, a brand new

interactive musical show for

people of all ages to enjoy.

Based on the brilliant book

by Pippa Goodhart and Nick

Sharratt, the show comes

from Nonsense Room Productions

whose Shark in the Park

wowed Edinburgh-based and

visiting families in 2017. But

in this show you choose what

happens…

Baby Loves Disco returns to

Edinburgh's Christmas with

only 3 dates with Christmas

Cheer(9, 22 and 23 December).

With its unique day-clubbing

experience for parents with

babies, toddlers and young

children Baby Loves Disco is a

perfect Christmas treat!

Christmas on Stage, brings

together the ultimate guide to

festive on-stage entertainment

in Edinburgh. It is back with a

dazzling new line-up of shows

including La Clique Noel Part

Deux and You Choose, and

also Mouthpiece, McGonagall's

Chronicles and The Gospel at

the Traverse Theatre, Royal

Lyceum Theatre's PeterPan,

Doris Day Show at the Gilded

Balloon, The Mother at the

Pleasance and Kinky Boots at

the Playhouse.

All Edinburgh's Christmas

tickets are on sale now on

www.edinburghschristmas.

com and T: 0844 545 8252.

If you have an EH postcode

you will get 20% discount on

selected rides.

CLOTH#18 makers fair in August

2018. This is a design led fair

curating Scottish fashion and

gift choices like ceramics and

jewellery.

8-9 Dec 10.30-17.00

3D2D Christmas Craft, Art &

Design Fair 54 George St. This

exciting event offers you the

chance to buy directly from over

100 of Scotland's leading artists.

There will be a diverse collection

of art on display helping you to

find the perfect Christmas present

or something for yourselves.

£3.00 for concessions and £4.00

for adults.

9 Dec 11.00- 17.00

Summerhall Christmas Market

at 1 Summerhall, EH9 1PL This

Christmas Market will have loads

of local businesses selling unique

gifts with food and drink aplenty

in the courtyard. And of course

there will be music! And Garlands

Florist will run a festive wreath

workshop. Porcelain painting

with the Teapot Trust, Scotland's

Children's Art Therapy charity

will keep children and adults

occupied. £2 entry fee.

13 Dec 10:00 – 13:00

Older Adults Event – Christmas

Coffee Morning – Royal Commonwealth

Pool (Free) Open to

members and non-members,

the event is aimed at 55 years

plus. Join in the Festive Ceilidh

(10:30-11:15), take part in Aqua

fit (booking recommended) or

try your luck in the Christmas

quiz. A great opportunity to meet

friends old and new. Book via

phone, email or in person at the

Commie Pool.

www.edinburghleisure.co.uk

15 Dec

AMP Edinburgh : Annie Mac

Melé and Marquis Hawkes at Leith

Theatre 28-30 Ferry Rd EH6 4AE

Music - just music that's all! Dance

your socks off.

15 and 16 Dec from 11.00am

The Pitt's Christmas Market

Extravaganza at The Biscuit

Factory 4-6 Anderson Pl EH6

5NP The Pitt will be downstairs

and out in the street with the

best of festive fun food and

drinks Upstairs there will be the

biggest market yet hosted by The

Food and Flea Market with local

traders.

16 Dec 4.00pm

Carol Singing in the Colonies

Meet at the footbridge at the river

end of Bell Place or join in as the

carollers stroll around the Stockbridge

Colonies. Carol sheets will

be provided but bring your own

torch!

Don't Miss Out on Our Monthly 4 page Pull Out
---
@EdinReporter /EdinReporter /edinburghreporter

WHAT'S ON

13

Theatre | Art | Music | Shows | Festivals

16 Dec

Opening event from 4.00pm with

music drinks and nibbles 17 - 22

Dec Mon-Fri 11.00am to 8.00pm

and Sat 10.00am to 5.00pm Local

Makers Pop Up at Whitespace 76

East Crosscauseway EH8 Thirteen

Edinburgh based designers and

makers bring an inspiring gift

shop to the gallery. Many gift

ideas from jewellery to photography,

children's clothing, soap and

candles.

17-18 Dec

Christmas Charity Festival

Inverleith Park Now in its eighth

year, this Christmas fair aims

to create Christmas cheer while

raising significant funds for

charities including Marie Curie

and Royal Blind. Events kick off

at 9.30 with a 5k run, followed by

a 10k run at 11.00. Family friendly

events include the chance to

meet Santa at 1.15pm, followed by

a Santa Toddle parade. There are

also charity stalls and a café to

stop for a rest.

21-22 Dec 7.30pm

The Mother starring ballerina

Natalia Osipova at the Pentland

Theatre EICC Two performances

only. Based on Hans Christian

Andersen's wintry tale, The

Mother is a breathtakingly

spectacular and compelling

production, combining narrative

dance and drama.

27 -30 Dec

The Miracle of Christmas Future

at Traverse Theatre 10 Cambridge

St EH1 2ED 14.00 to 15.45 The

MagicFest Christmas show is

back. Collaboration between

Edinburgh's own magician Kevin

Quantum and Swedish wizard

Charlie Caper. Illusions and futuristic

science.

31 Dec from 19.00 to 02.00

The Hogmanay Bash at The

Biscuit Factory 4-6 Anderson

Place EH6 5NP Award-winning

street food with local musicians

and DJs to see in the New Year.

Tickets £20 from citizen ticket.

co.uk Over 18s only.

31 Dec from 21.00 to 05.00

FLY NYE The Black Madonna &

Optimo at The Auld Leith Theatre

Your alternative way to say hello

to 2019. with Chicago house queen

The Black Madonna and Glasgow

legend Optimo. Tickets from £25.

EDINBURGH'S

HOGMANAY

30 DEC

1 – 3pm BABY LOVES DISCO

HOGMANAY BASH, £9 (+ £1

booking fee) 0-6 years 20%

discount for EH postcode holders

Tickets are per person, babes

in arms go free.Bring your tiny

dancers and get kilted and booted

for 2 hours of Hogmanay dayclubbing!

Take a celebratory look back

over the music of 2018 and with

nostalgic pop floor-fillers from the

days before parenthood struck,

EDINBURGH'S HOGMANAY

MUSIC STAGE LINE UP:

Waverley Stage

Vistas

Gerry Cinnamon

Snap!

Castle Street Stage

Trendy Wendy

for all the generations to enjoy

together. Expect a Hogmanay

twist with a short family ceilidh

and Auld Lang Syne practice run

with supplied 'toddler torches'.

There will be facepainting,

dress-up, bubbles, balloons,

dancefloor games and giveaways,

chill-out play area & crafts zone.

7.00pm

TORCHLIGHT PROCESSION

£12 with torch, + £1 booking fee

/ £3 without torch.Edinburgh's

Torchlight Procession has become

famous around the world as

one of the first images of the

impending change to a new year

and the beginning of Edinburgh's

Hogmanay celebrations.

The Procession takes a new route

down the Royal Mile, starting from

three different points, High Street,

South Bridge and North Bridge,

winding between Holyrood Palace

and the Scottish Parliament to

reach Holyrood Park.

In Holyrood Park, torchbearers

will form the distinctive outline

of Scotland and at its heart, and

marking the end of Scotland's

Year of Young People 2018, 14

wicker sculptures created as part

of the #ScotArt youth engagement

project, will come together to

form a heart-shape symbolically

representing a collective national

youth voice. 50p from every ticket

bought goes to One City Trust,

fighting inequality and exclusion

in the City of Edinburgh.

Judge Jules

The Mac Twins

South St David Street Stage

Miracle Glass Company

Meute

Elephant Sessions

Street Activation Artists include:

Compagnie Transe Express

8.00pm doors at 7.00pm

SYMPHONIC IBIZA

8pm £50 / £40 /£30 (+ £3

booking fee) Symphonic Ibiza

fuses a live 15 piece orchestra

with renowned club DJ Andy

Joyce (Cream, Eden, Ministry

of Sound, Creamfields) to create

stirring concert of club classics

under the amazing dome of

McEwan Hall.

31 DECEMBER

1 – 3pm BABY LOVES DISCO

HOGMANAY BASH

£9 (+ £1 booking fee) 0-6

years 20% discount for EH

postcode holders Tickets are per

person, babes in arms go free 2

hours of Hogmanay dayclubbing!

5.00pm Doors 4.00pm BAIRNS

AFORE

£20 / £12 /£9 /£7.50 (+ £1 booking

fee)

On 31st December, families and

young people can celebrate their

Hogmanay well before the bells in

Princes Street Gardens at Bairns

Afore.

Massaoke, the live band and

singalong sensation that is

sweeping the UK from Glastonbury

to the Edinburgh Festival

Fringe present a family friendly

version which will have everyone

dancing and singing their hearts

out before a stunning 'midnight'

fireworks moment at 6pm

giving the Bairns their midnight

moment with plenty of time to get

them home for bed!

The Mac Twins will host this year's street party

Compagnie Des Quidams

All Or Nothing Aerial Dance

Theatre

An Act Above

Diva and Districts Pipes and

Drums

Got Soul! Choir

PyroCeltic

6.00pm Doors 5.00pm

CANDLELIT CONCERT

£18.50 (+ £1 booking fee)

This year's concert captures

the splendour of the court of

Versailles with Marc-Antoine

Charpentier's Te Deum, famous

for its iconic opening fanfare. The

Baroque theme continues with

J.S.Bach's cantata for the last

Sunday of the year, Gottlob! Nun

geht das jahr zu Ende BWV 28, and

the concert concludes with festive

exuberance in Bach's Magnificat.

St Giles' Cathedral Choir,

directed by Michael Harris, with

the St Giles' Camerata, leader

Angus Ramsay, are joined by a

stunning array of talented young

soloists.

7:30pm – 1:00am STREET PARTY

HOSTED BY JOHNNIE WALKER

£30 (10,000 at £20 for Edinburgh

residents) (+ £1 booking fee)

The world's best New Year street

party right here in Edinburgh.

From 7:30pm, Edinburgh opens

its doors to the world. Lve bands,

DJs, street performers, acrobats,

choirs and more all combine

across multiple stages and on the

streets to make it the party of a

lifetime, hosted by Love Island's

Aftersun DJs The Mac Twins.

The music line-up

includes appearances from

home-grown phenomenon Gerry

Cinnamon and superstar DJ

Judge Jules, as well as Meute,

Vistas, Elephant Sessions, Miracle

Glass Company, Trendy Wendy

and hosts The Mac Twins.

At midnight, German sensation

Meute will be providing the

soundtrack to the ultimate

fireworks display from Edinburgh

Castle.

7:30pm – 1:00am SILENT DISCO

AT THE STREET PARTY,

£5 (+ 50p booking fee) in advance

or £10 (cash only) on the door

New for this year, visit the Silent

Disco arena in the Street Party

and have a silent adventure of

your own. Whether your taste

is indie or Europop, Silent Disco

has a playlist for you. Don your

headphones on Market Street,

choose your channel and get

ready to learn some groovy new

moves this Hogmanay.

7.30pm – 1:00am HOGMANAY HQ

£200 (+ £5 booking fee) Hog HQ

/ £220 (+ £5 booking fee) Hog HQ

+ Street Party.Enjoy Edinburgh's

Hogmanay from the comfort

and splendour of Hogmanay HQ

at The Hub on Castlehill. Fizz,

dinner and music combined with

a prime spot where you can view

the midnight fireworks all make

this a hot ticket. Hogmanay HQ

+ Street Party ticket gives full

access to the Street Party hosted

by Johnnie Walker.

8:30pm (doors at 7:30pm) CEILIDH

UNDER THE CASTLE

£140 /£55.00 (+ £5 booking fee)

Experience the best of Scotland

at the Ceilidh under the Castle.

Whirl or jig, fling or be flung

under Edinburgh Castle. Join

hands with old friends and new

to dance in the New Year with

Scotland's top ceilidh bands

– The Jimmy Shandrix Experience,

Hugh MacDairmid's Haircut

and Ceilidhdonia - and plenty of

local food and drink to keep you

spinning all night. At midnight,

welcome in 2019 with a breathtaking

fireworks display, amidst

the historic setting of the majestic

Edinburgh Castle.

9:00pm (doors at 8:00pm)

CONCERT IN THE GARDENS

£160 / £70 / £60 (+ £5 booking

fee) Celebrate Hogmanay in

spectacular style at the Concert

in the Gardens. This year Franz

Ferdinand headlines Edinburgh's

Hogmanay with support from

Metronomy and Free Love

supporting.

At midnight, say goodbye to

2018 and welcome in 2019 with

the best views of the fireworks

over Edinburgh Castle. A ticket

for Concert in the Gardens will

include a wristband for access to

the Street Party.

Don't Miss Out on Our Monthly 4 page Pull Out
---
14 WHAT'S ON The Edinburgh Reporter

Theatre | Art | Music | Shows | Festivals

AT THE QUEEN'S HALL

ANDY WARHOL AND EDUARDO

PAOLOZZI Listen to our interview

on Podbean

Queen's Hall Chair Nigel Griffiths

and CEO Evan Henderson at the

40th birthday launch.

AS The Queen's Hall approaches

its 40th birthday next year

when the celebrations begin

with Southside of the Tracks

on 12 January - a who's who of

singer songwriters and traditional

musicians, brought together for

the first time on one stage by

Scotland's foremost fiddle player,

John McCusker - its programme

remains eclectic.

Phil Cunningham's Christmas

Songbook will return to

Edinburgh's Queen's Hall on

21 and 22 December. This has

become an essential part of the

festive season over the past 12

years and is the perfect anecdote

to brighten those winter nights

and get everyone in the mood for

the festive period, the Christmas

Songbook is an unmissable night

of heart-warming entertainment

from some of Scotland's bestknown

and best-loved musicians.

Bursting with jovial anecdotes,

an unfaltering mix of modern

and traditional music alongside

exquisite musicianship, the

Christmas Songbook is undoubtedly

the perfect way for the whole

family to get into the festive spirit

this Christmas.

1 Dec 8.00pm

Graeme Stephen's The Penalty

2 Dec 8.00pm

Live on Mars

3 Dec 7.30pm

On This, A Winter's Night

6 Dec 7.30pm

Scottish Chamber Orchestra

7 Dec 8.00pm

An Evening with Lau

8 Dec 7.30pm

Cara Dillon: Upon a Winter's Night

10 Dec 7.45pm

Schumann Quartet

13 Dec 7.30pm

Scottish Chamber Orchestra Tales

of Mendelssohn III conducted by

Karina Canellakis

14 Dec 7.30pm

Mr McFall's Chamber: Musical

Cosmopolitans

15 Dec 7.30pm

Edinburgh Light Orchestra: A

Most Wonderful Christmas

16 Dec 2.30pm

Harps of Gold

17 Dec 7.30pm

Melbourne Grammar School

18 Dec doors 7.00pm

Hipsway

19 Dec 3.00pm

Dunedin Consort: Children's

Messiah

19 Dec 7.00pm

Dunedin Consort: Handel's

Messiah

20 Dec 7.30pm

Emily Smith's Songs for

Christmas

21 & 22 Dec 7.30pm

Phil Cunningham's Christmas

Songbook

Details thequeenshall.net

ANDY WARHOL AND EDUARDO

PAOLOZZI | I WANT TO BE A MACHINE

Until 25 January 2019

Scottish National Gallery of

Modern Art (Modern Two) 73

Belford Road, EH4 3DS

0131 624 6200 |

nationalgalleries.org

Admission FREE

#WarholPaolozziInspires

At the launch of the new

free exhibition at Modern Two

entertainer Phill Jupitus was

delighted to help. He is a fan

of Paolozzi, something which

he says has developed since

coming to live here. Walking

past the Monte Cassino

pieces outside St Mary's

Cathedral every day triggered

his curiosity about the artist

and sculptor who has left

such an impressive legacy in

Edinburgh.

Keith Hartley, is Chief Curator

and Deputy Director of Modern

and Contemporary Art at

National Galleries Scotland

and it is his own interest in

Warhol that sparked the idea of

a the exhibition.

Mr Hartley said : "Initially

we started thinking about

a Warhol show and then

we realised we also have

a homegrown iconic pop

artist, Paolozzi who is from

Edinburgh. We realised it

would be an interesting way of

looking at them in two parallel

exhibitions.

"Paolozzi did not like to

be called a pop artist but

he was also interested in

popular culture, advertisements,

particularly American

advertisements. Then he

went to Paris after the war

in 1947 and he was blown

away by American illustrated

magazines which he

had picked up from the GIs

there. And they were full of

this opulent, abundant life

in America. Having come

Entertainer Phill Jupitus pinching a can of Campbell's at Modern Two

| Photo Stewart Attwood

from ration book Britain just

after the war he started tearing

and cutting pictures out of the

magazines and putting them

together to give an idea of this

new world which was being

created at that time in America.

"At the same time, in the late

forties and fifties, Warhol was

starting his career as a commercial

artist.

"He was making the adverts.

He was drawing them and in fact

he became the most successful

commercial artist on Madison

Avenue making a huge amount of

money. They were both interested

in this new side of life where

advertisements were key to the

economy."

I asked Mr Hartley to explain

to me what the term 'pop art'

means. He said : "I think it is to do

with artists being aware of image

and just as ad men are aware of

image. It is not well known that

Warhol's 1950s drawings which

are part of this exhibition are

based on photography. He traced

them from photographs. He went

through magazines such as Life

magazine and got interested in a

particular figure. He would then

trace the outline and the main

features and use them in his

drawings.

"At the same time Paolozzi was

cutting these figures out of these

magazines and so they both

came at it from a photographic

perspective.

"Pop art lives off advertisements

and the photography of

modern life and also the other

thing you will notice in this

exhibition is colour when you

get to the art from the Sixties.

In the early 1960s both of them

discovered screen printing using

photographs to make a screen

print and then colour them in

different ways. This led to the

Marilyn prints and Paolozzi was

Tell us about your event

interested in the machine

which was creating new wealth

for us. But he also varied the

colour combinations in his

prints."

The title of this exhibition

connects the two artists

together. The quotation was

originally Warhol's when he

was talking about the possibilities

of screen printing and

taking the image from a photograph.

Mr Hartley said : "He

said once you have decided on

the image and the colours you

might use you could hand this

over to anyone and they could

produce it. He loved this idea

and said he wanted to become a

machine."

Mr Hartley would like those

attending the exhibition to

recognise the parallel developments

between Scotland and

America. Both of the artists'

parents were immigrants

from Italy and Slovakia and he

believes that perhaps that gave

them a different view.

"I think that there's a lot in

the work of both Warhol and

Paolozzi that they didn't realise,

that for both of them photography

was a key aspect of

their work and that they both

discovered the importance of

colour in their art.

"We should remember that in

the Sixties Paolozzi had a very

high reputation in New York.

He was shown with Warhol at

the Four Seasons Restaurant

by MOMA. Both were shown

together. the Warhol works

were the very same Marilyn

prints that we are showing in

this exhibition. The work by

Paolozzi was similar to what we

have here and similar sculptures

too." Paolozzi went to New

York a lot in the Sixties but Mr

Hartley is not convinced they

would have got along very well!

Beauty and the

Beast at the King's

THIS will be the first time in over

fifty year that this panto has been

staged at the Grande Olde Dame

of Leven Street. We are promised

that this production will bring the

story bang up to date with songs

and special effects.

But of course the show is

nothing without its stars and so I

went along to meet Allan Stewart,

Grant Stott and Gillian Parkhouse,

the principal characters. Sadly

this year it will be without the

immense presence of Andy Gray

as he is taking some time out due

to illness. (But they hope he will

be in the audience at least once!)

Meeting up with panto giants

Allan and Grant is never a serious

matter, and now add to that their

colleague Gillian, otherwise

Belle, (who played Cinderella last

year), and it all added up to a very

entertaining half hour. This, at the

end of the first week of rehearsals,

when they had already done

two run throughs of the show that

day.

Grant is back in trousers as

Flash Boaby (not a play on the

fact that he was a policeman in

an earlier life - I did ask!) Grant

said : "He is the villain of the

piece - chauvinistic, unpleasant,

thinks he's the bees knees and so

in his head all the women fancy

him. Therefore he has his eye on

Belle and thinks she is naturally

going to fall in love with him."

Gillian revealed that this may

not in fact be the case. She took

up the story of Grant's character

: "He's vain, he's selfish, he's

arrogant......."('Aye and he's Grant

Stott' interjects Allan as if on

cue..)

This panto is probably already

sold out but you can try the

King's Box Office to see if they

have any tickets going abegging.

They expect an audience of over

90,000 during the run between 1

December 2018 and

20 January 2019.
---
@EdinReporter /EdinReporter /edinburghreporter FASHION 15

Blues & Browns has opened

its diary in Edinburgh

Covet for all your accessories

IN A world of fast fashion and

'one size fits all' they provide a

personal tailoring service for

women.

Whether you are looking for

the finest handmade business

wear, a wedding outfit or just the

perfect one-off pair of trousers,

the bespoke tailoring service is

designed with you in mind.

The experience is all part of the

fun.

Take a couple of hours to step

away from the hustle and bustle

of George Street. Enter into the

Blues & Browns design studio

where they offer their clients a

shopping experience from a more

meaningful time, a time when

the purchasing of a garment was

centred around style, fit, quality

and craftsmanship.

Here Blues & Browns provide the

opportunity of creating your own

unique garment. This could be an

elegant tweed coat with a unique

trim or colour combination, or a

simple and stylish silk dress with

matching shoes.

Personal tailoring is a wonderful

experience that involves:

a luscious choice of fabrics

expert advice on style and

colours esh coffee and trying on!

Blues & Browns 101 George St

EH2 8PG | T 01738 626526

Anna Somerville and Blaise

Donald who own and run Covet

the independent accessories

boutique on Thistle St are

magicians. They seem able to

source the loveliest of items,

suitable for gifts (if you can bear

to part with them!) and then pack

more than appears possible into

their shop.

This is a treasure trove of

designer accessories, handbags

and jewellery cherry-picked from

all over Europe. Their ethos is to

showcase less well known brands

and independent makers with an

emphasis on craftsmanship and

quality.

This is best demonstrated by

the shop's own collection of

handbags handcrafted in Spain

from the finest Italian leathers.

Anna is an award-winning artist

who has produced a range of 100%

fine wool scarves, with sections

of her oil paintings printed onto

them. At £69 Art Scarves come

with a small card with the details

of the painting and the artist

making this a unique and stylish

Craig Banks Tailoring

Christmas gift.

Covet celebrates its 11th

birthday on 6 December with a

huge birthday party continuing

over the weekend. When you

spend £250, you will receive a

goody bag worth in excess of

£150, jam packed full of luxury

goodies from brands such as

Becksöndergaard Bon Parfumeur,

Covet, Esoteric London, Smaak,

Wildheart Organics and Zen.

Covet 20 Thistle St EH2 1EN

T 0131 220 0026

www.thoushaltcovet.com

Christmas Beauty

by Elaine Darling

THERE is no doubt that the

Festive season has arrived!

The fireworks and the activity

around Edinburgh's Christmas

has made sure of that!

However, as you plan for all

those parties it is important

not to forget all the 'finishing

touches' that will make you

stand out from the crowd at any

of your Christmas Parties.

At this time you might think

of the 'preparation' treatments

such as facials and massage.

Everything that will help you

feel good about yourselves

and help to create the glow

as you enter the room! Then

you should consider nails – my

goodness, what a selection of

colours we can now select from,

everything from the old faithful

pinks and deep reds to the

glamorous glitter and sparkle that

will look fab with a new season

metallic dress!

The best tip however is to have

a spray tan, without a doubt it

will make you feel good about

yourself and make your outfit

look amazing!

Don't forget to plan ahead and

book your spa appointments. It

is 'that' time of year and appointments

will soon be hard to get.

Call Chamomile Sanctuary on

0131-220 1000 or email spa@

chamomilesanctuary.com

CRAIG BANKS started up his own

business on Thistle Street almost

a year ago.

He himself is always immaculately

turned out, and is the

absolute poster boy for what

his business sets out to do.His

gorgeous shop on Thistle Street

allows his customers to luxuriate

and indulge in the finest quality

of bespoke configuration

tailoring.

At Craig Banks the focus is on

making highest-quality personally

tailored attire that others will

aspire to. Craig will design your

business suits, formal wear, shirts

or outerwear.

With a wide range of cloths

for you to choose from, sourced

from the world's best mills, his

expertise will guarantee you look

and feel your best.

There is also a selection of

goods such as cufflinks from

Deakin & Francis, cashmere from

William Lockie and night-wear

from Derek Rose along with

Craig's own silk ties, scarves and

handkerchiefs.

Craig Banks Tailoring 45 Thistle

St EH2 1DY | T 0131 226 7775
---
16 PROPERTY The Edinburgh Reporter

Moray Place magnificence

LOOKING for a property 'fit for a

king'? How about an earl instead?

Constructed in 1822, 28 (1F) Moray

Place is filled with history and

character. Originally designed

and constructed for the Earl of

Moray, this home exudes luxury

and features fine period details

throughout.

Located in one of the most

sought-after areas in Edinburgh,

Moray Place represents one of

the most important achievements

of the Georgian New Town

of Edinburgh. Built on the Earl of

Moray's land, house number 28

was not only the first to be built in

Moray Place but is also believed

to be the only one designed with

instructions from the Earl himself.

With astounding westward

views over the Dean Valley, angled

to encompass a wide arc from the

Dean Bridge to the Firth of Forth,

it is simple to see why the Earl

lived in this property. It is truly a

grand apartment, with an interior

to match the views of the exterior.

Designed for modern living, the

flat perfectly combines the historical

pieces of the past with current

finishes. The elegant and historic

original features are still clearly

seen throughout the property.

Decorative cornices adorn the

ceilings in each room and are quite

impressive. No room is complete

without a touch of history; even

the storerooms have intricate

ceiling work. The former ballroom

and large dining room contribute

to the elegantly proportioned

rooms, along with three bedrooms.

A marble mantelpiece makes the

large fireplace the highlight of

the grand drawing room, which

features high ceilings and a strong

taste of historical grandeur.

Interested in this property? Find

out more at espc.com

All information was correct at the

time of printing. If this property is

no longer listed it may have been

taken off the market, had a closing

sale or is now being reviewed by

the associated solicitor.

28 Moray Place was originally built for the Earl of Moray himself

Make the move to EH52

A new home in Winchburgh might offer you more for your money

Moray Place Living Room

IF you follow the Union Canal

from the Edinburgh city centre

out to West Lothian, you will first

come to the postcode district of

EH52, home to commuter towns

such as Broxburn, Uphall and

Winchburgh, which the artificial

waterway winds its way through.

This EH52 district borders

Edinburgh, and several of the

towns, including the ones previously

mentioned, offer excellent

and efficient commuter links (road

and rail) into the city of Edinburgh

and good value homes, making it

an excellent area to relocate to for

first time buyers or those looking

to upgrade to a bigger home but

are struggling to find their dream

property within the capital.

According to Registers of

Scotland data, from January to

August 2018, the average selling

price of a property in the EH52

postcode area was £178,349

compared to £151,236 the previous

year. The data indicates that for

the same period, the average

selling price in Edinburgh was

£271,427 compared to £254,500 the

previous year.

As the EH52 area is on the border

of West Lothian and Edinburgh, it

benefits from easy access to the

amenities on offer in the capital.

The towns within the area are

also located close to iconic sights

in West Lothian, and central

Scotland, including Linlithgow

Palace, contemporary sculpture

park and art gallery Jupiter

Artland, the Falkirk Wheel, the

Kelpies and many more.

So, if you're looking to make a

move out of the city, then EH52

might be the place for you. Browse

a great range of properties in the

EH52 area on espc.com
---
@EdinReporter /EdinReporter /edinburghreporter PROPERTY 17
---
18 PEOPLE The Edinburgh Reporter

Peter Andre is coming

to Edinburgh!

Peter Andre is celebrating his 25 years in the business with

a 25 date tour including a night at the Usher Hall

AND The Edinburgh Reporter

got to speak to him in advance of

his tour beginning.

Peter told us he has been

to this beautiful part of the

country before and told me he

is looking forward to coming

north to Edinburgh.So what are

his audiences to expect at The

Usher Hall?

Peter explained : "At the

moment I tour with a massive

band, and obviously I am

conscious of that. It will be a

smaller band in Edinburgh, but

the overall act will be live and

that is what we love doing.

"There are some songs from

the beginning of my career in

Australia and it will be interesting

to play those from 1992 and

then bring it right up to date

with some new songs that I am

writing now. I want to show

people the journey I have gone

through so there will also be a

bit of a medley of songs that I

have been inspired by along the

way - music like soul, jazz, blues,

funk and reggae.

"I try to pick the same band

depending on their commitments.

It feels much better with

a band and you get to control the

night. So sometimes I stop the

song in the middle and just talk

to the audience."

From the beginning, at the

age of six years old, Peter says

he knew he wanted to be a

singer., and explained how that

happened He said : "I turned on

the radio and did not like any

of it. It was all very hard rock

which I can appreciate now of

course but I didn't like it then.

When we came back to England

I made a recording of the top ten

hits probably on Capital Radio

or something. I took that back

to Australia and listened to it

religiously.

"I was born in 73 and at six

years old I already knew what

I wanted. I bought Michael

Jackson's Off the Wall on vinyl

and I remember listening to it

over and over again. My dad

gave me the money to buy it.

"When I was 13 I was riding

home from school and this song

was in my head - a complete

song. When I got home I asked

my brother Chris whether this

was somebody else's song.

He listened to me singing it

and said he had never heard

it before. So I started looking

through video tapes to see if

it was something written by

someone else. But it wasn't - it

was mine!

"I had written the lyrics, the

melody everything. So my

brother Chris who plays all

these instruments put some

music to it. At that point Chris

was the only one who saw it,

and he told me that I could do

this.

"At 13 I entered a school

competition and we were

second in the state. Then I

began doing talent shows, and

eventually I went on the talent

show New Faces.

"I was offered a recording deal

live on air. I wasn't the greatest

singer or dancer, but what I

could do was perform. I could

entertain the crowd and I think

that in itself made me able to

move forward."

And what will Mr Andre look

like on stage? Will it be the

suave suited Mr Andre or a more

relaxed version that we see here

at the Usher Hall?

"Well I am not one for changing

outfits during a show. This is a

celebration of 25 years and so

I almost want to take it back to

how it was when I first started

and then wear the suit and tie

towards the end. It might be

quite nice to see that transition,

but this evening will be all about

the journey. There will be a lot

of interaction during the show

because I love talking to the

crowd and making them laugh

- even if they just laugh out of

sympathy!

"It is going to be a good night

and I would love to see everyone

there."Peter Andre CELEBRAT-

ING 25 YEARS Tour - Usher Hall

12 February 2019

The Team For Me Fifty Years

of Following Hearts

Cover of "The Team For Me" book

by Mike Smith

Book Review by David Albury

THE author Mike Smith is a

Jambo by choice rather than

accident of birth (living at the

time in Cumbernauld his father

tried to convert him to become a

Falkirk Bairn, but the first match

they went to at Brockville saw the

YOU will need a big stocking to

put this book in, as it runs to

about 1,000 pages or so - but it is

a good recommendation as a gift

for the music lover in your life.

Robert Philip is a regular

contributor to BBC Radio 3 music

talks as well as the author of two

previous books. He worked as

an academic with Open University

for many years and his new

visiting team, Hearts, win 3-1, and

so Mike was "bitten by the Jambo

bug which has afflicted me ever

since".

Fifty years later, the bug is

clearly as well-embedded as

ever, and this book is a gentle, at

times whimsical, collection of one

man's love of his chosen team -

indeed, obsession might not be

too strong a description!

But it is more than simply a

history of the rollercoaster ride

that Hearts' supporters have

endured over the years. Ironically,

one early memory involved a

return to Brockville in 1993, when

Falkirk beat Hearts 6-0 one of the

few occasions when many Hearts

fans left the match early . . .

As Mike says, leaving early

is a paying fan's prerogative.

Of course, the other side of the

coin is when one decides not

to leave early May, 1986 and

also the Scottish Cup semi-final

against Celtic in 1988 where, as

Mike so delicately puts it "Hearts

contrived to turn a 1-0 lead with

two minutes to go into

a 2-1 defeat."

As Jambos will be aware, this

is a somewhat recurring event

- even in Europe, when Hearts,

against all expectations, defeated

Basel 2-1 in a group match,

but that chapter ends with the

agonised comment after Hearts

impressive win in Bordeaux in

2003: "Even if we did mess up the

second leg.

But there is more to football

than just the game and Mike

touches on a range of topics,

from pre-match rituals, browsing

through old football programmes

and collecting football cards via

crying at football games and

playing subbuteo to the advent

of football on TV and YouTube a

decidedly eclectic selection.

A charming read, which will be

nostalgic for older readers but

perhaps inspirational for aspiring

Jambos. Here's to the next fifty

years !

The Team For Me Fifty Years of

Following Hearts by Mike Smith

is available in bookstores or

online now.

Speaking to author Robert Philip

Robert Philip photographed on Princes Street after talking to us about

his latest book Photo The Edinburgh Reporter

book is a huge one, with in-depth

exploration of four hundred works

by sixty eight composers.

He said : "Very often I think that

some of the writing on music is

patronisingly simple and does not

describe the music, or it is rather

academic with lots of technical

terms. So I have tried to write a

book about most of the orchestral

repertoire which anybody who is

interested in classical music or

who loves music can understand."

The book is arranged in A-Z

formation - actually from Bach to

Webern.

Robert explained : "I write a little

introduction about the composer,

not too much of a biography

but enough background to try to

understand how the composers

ticked, how they were regarded in

their own time, what their reputation

has been since.

"Then I take each of the most

important orchestral works by

each composer and I go through

each one trying to lead listeners

through. If somebody puts on a

CD or is going to a concert I try

to describe what happens in the

music. I try to get them to think

of it as a journey to use a cliché

working out where the peaks and

troughs are.

"It is so much like walking

through a landscape this kind

of music."

Advertise

with us!

Editor: Phyllis Stephen

editor@theedinburghreporter.

co.uk

07791 406 498
---
@EdinReporter /EdinReporter /edinburghreporter FOOD & PUZZLES 19

Juliet's Food Diary

can, so go on, open your mind to

these plant based delights.

Deliciousness continued to

come my way when I was given

the best brownie I'd ever tasted:

a salted caramel square of gooey

loveliness..

101 Bakery have been supplying

Edinburgh finest coffee houses

for some time but now have their

Food Review -

One20 Wine Café

New at The Gyle

by Juliet Lawrence Wilson

COME and try a vegan burger

they said, it will be tasty they

said. Being invited to try a vegan

version of anything is akin to

being chief bridesmaid at a dry

wedding in my book.

However I set off to Indigo

Yard with an almost open mind.

The Moving Mountains burgers

are designed to look, taste and

feel like meat. And guess what?

It did all of the above and was

one of the best burgers I've ever

tasted. The four Montpeliers

The Moving Mountains burger is

meaty!

Group restaurants are serving a

different version of this burger.

I sampled the Tiger Lilly: served

with satay slaw, Sriratcha

ketchup and sweet potato fries.

Montpelier, Rabble and Indigo

Yard all have their own versions.

If I can be convinced, anyone

The burgers were popular with

the press!

own outlet at 101 Newington

Street. This unit used to be a more

down to earth takeaway and they

continue to be inundated with

customers looking for a bacon

roll. All I can say is open your

minds, bacon lovers. There's

nothing wrong with a sweet treat

in the morning. And try a vegan

burger for lunch whilAs the dark

mornings and long nights set in

it's only natural to feel slightly

down.

If a boost in general wellbeing is

required then head to Edinburgh

first Happy Cafe. Joining Action

for Happiness' global network

of cafes where people meet

to promote happiness and

wellbeing, this initiative meets

at the Santosa Yoga centre on

the last Saturday of every month.

Action for Happiness's patron is

the Dalai Lama, who always looks

very cheery, it has to be said.

E :happycafeedinburgh@gmail.

com

I TOOK my dad with me on this

review visit. He is such an old

school gent he'd literally rather

staple his eyelids to the floorboards

than take the good seat in

a restaurant.

In other words, he's spent almost

all his dining experiences facing

a wall. My mother might joke he

has the best view in the room!

However you often miss the

atmosphere of a place, no matter

how gorgeous your wife is. In

One20 they have eyeline mirrors

on the wall, so you can see what's

going on behind you. That's

thoughtful, and the kind of touch

we appreciate.

The interior is sophisticated

and cool, without being pretentious.

Lovely wine displays and

a cookbook mini library, it feels

Kyle and Ronnie of One20 choose their wines carefully

like somewhere great for the best

food and drinks, it's reassuring

and there's a cosy family feeling

which might be because it's a

father and son business.

Dad Ronnie in the kitchen and

Kyle is on the floor.

On to the food. We are given our

own individual mini baguettes,

made in the traditional way

of French bakers. There's not

much you can question about

French bakers, except perhaps an

inability not to take themselves

seriously. However, making

bread they do well and we have

ours with Lescure butter from

Normandy. Fabulous bread and

butter is a sign of great things to

come……

READ Juliet's review in full online

Arpita who runs The Glass

Cube on South Gyle Crescent is

opening Wrapchic at The Gyle

Shopping Centre. Bringing you

a fusion of sensational Indian

flavours, delicious and healthy.

With vegan and Gluten Free

options too, there's something for

everyone! Taste the Revolution

with Wrapchic!

Crossword

Crossword Created by David Albury

The clues with capital letters are all topical Christmas anagrams

Across

1 Involve somebody in affairs (9)

10 Visitor from another world (5)

11 Exploding star (9)

12 Took place at the same time (9)

13 First letter of the Hebrew

alphabet (5)

14 Melted cheese on toast (7)

16 An additional one (7)

17 Young animal (3)

18 HURL POD (7)

20 Recovered from drinking too

much (7)

23 Loud metallic sound (5)

24 They carry passengers on a

train (9)

26 TV show (9)

27 David Bowie's son's name (5)

28 Establishing in a rank (9)

Answers to crossword on page 21

Down

2 Small private taxi (7)

3 Position of final defence (4-5)

4 CID UP (5)

5 Whirling wind (7)

6 CRANED (6)

7 Top quality sound equipment

(2-2)

8 Linked as one (8)

9 SHARED (6)

15 Source of heat in a house (8)

16 Capable of soaking up liquids

(9)

18 Instructions for preparing food

(6)

19 Restraint around lower limb

(3-4)

21 LIZ BENT (7)

22 Plates (6)

24 COT ME (5)

25 Formal dress (4)
---
20 EDINBURGH POLITICIANS The Edinburgh Reporter

Tommy Sheppard SNP MP

for Edinburgh East

Ian Murray Labour MP

for Edinburgh South

Ruth Davidson Conservative MSP

for Edinburgh Central

Daniel Johnson Labour MSP

Edinburgh Southern

Ben Macpherson SNP MSP

for Edinburgh North & Leith

Christine Jardine LibDem MP

for Edinburgh West

Jeremy Balfour Conservative MSP

Lothians

Kezia Dugdale Labour MSP

for Lothians

Alison Johnstone Green MSP

Lothians

Andy Wightman Green MSP

for Lothians

Deidre Brock SNP MP

for Edinburgh North and Leith

Miles Briggs Conservative MSP

Lothians

Ash Denham SNP MSP

for Edinburgh Eastern

Gordon Lindhurst Conservative

MSP for Lothians

Joanna Cherry SNP MP

for Edinburgh South West

Alex Cole-Hamilton LibDem MSP

for Edinburgh Western

Neil Findlay Labour MSP

for Lothian

Gordon Macdonald SNP MSP

for Edinburgh Pentlands

Daniel Johnson MSP

Budget must include council funding

by Daniel Johnson MSP

WITH the Scottish Government's draft budget fast

approaching, there is a real need for our local authority

to receive its fair share.

At £1,443 per person, Edinburgh is at the bottom of the

pile in terms of funding from the Scottish Government.

And the council is being forced to make £150m worth of

cuts by 2023, which the SNP group in the City Chambers

trumpet as savings.

The consequences of these cuts are stark and obvious

to everyone in this city. From basic bins left uncollected,

housing waiting list of over 20,000, roads in a parlous

state and threats to library and school funding becoming

a concern to everyone.

We need the upcoming budget to work for local

residents, not against them.

Derek Mackay needs to be honest about the effect of

previous budgets, and for once actually support local

services and local businesses both here in Edinburgh

and across the country.

News in Numbers

90,000

Panto Audience

Number of people who will see the panto at the King's.

£40 Million

Johnston Press Pension Fund

Deficit in pension fund.

60,000

Silent Light

Number of lights on Silent Night arches on George Street

771,007

Tickets

Number of tickets sold at Edinburgh's Christmas in 2017

54

Years

Number of years since Beauty and the Beast was

at the King's

www.theedinburghreporter.co.uk
---
@EdinReporter /EdinReporter /edinburghreporter READERS PHOTO 21

Reader's Photo

This lovely photo of Lauriston Castle was shot by 7 year-old Jacob on a Canon camera.

Your photo featured here by sending to:

editor@theedinburghreporter.co.uk

The Edinburgh

Reporter stockists

Have an Edinburgh Sketcher Xmas

Our stockists include :

Bonhams

22 Queen Street EH2 1JX

Bon Papillon

15 Howe Street EH3 6TE

Broughton Place Hair & Beauty

2a Broughton Place EH1 3RX

Café Lowdown

40 George Street EH2 2LE

Candersons Sweet Shop

102 Leith Walk EH6 5DT

Close Gallery

4B Howe Street EH3 6TD

The Doo'cot

731-733 Ferry Road EH4 2UA

ESPC Showroom

107 George Street EH2 3ES

Friends of Starbank Park

Laverockbank Rd EH5 3BZ

Grassmarket Community Project

86 Candlemaker Row EH1 2QA

Henderson's

94 Hanover Street EH2 1DB

The Hideout Cafe

40-42 Queen Charlotte Street EH6

6AT

Leith Walk Police Box Pop Up

Croall Place EH7 4LT

Open Eye Gallery

34 Abercromby Place EH3 6QE

Scottish Arts Club

24 Rutland Square EH1 2BW

The Queen's Hall

Clerk Street EH8 9JG

The Royal Scots Club

29-31 Abercromby Place EH3 6QE

The Youth Hostel

Haddington Place EH7 4AL

Like to become a stockist?

Our contact details are on page 2.

Crossword Answers

Across:

1 Implicate, 10 Alien,

11 Supernova, 12 Coincided,

13 Aleph, 14 Rarebit, 16 Another,

17 Cub, 18 Rudolph, 20 Sobered,

23 Clang, 24 Carriages,

26 Programme, 27 Zowie,

28 Instating.

Down:

2 Minicab, 3 Last-ditch, 4 Cupid,

5 Tornado, 6 Dancer, 7 Hi-fi,

8 Together, 9 Dasher, 15 Radiator,

16 Absorbent, 18 Recipe,

19 Leg-iron, 21 Blitzen, 22 Dishes,

24 Comet, 25 Gown.

Advertise

with us!

A set of six Christmas cards created from Mark's own ink drawings sketched whilst walking around in

Scotland's capital city. As the Edinburgh Sketcher he captures the city on his sketchpad using ink and

watercolour. You can see more of his work on social media by searching for EdinburghSketcher.

Blank inside, each A6 card comes complete with a white envelope.

£9.50 with free UK postage throughout the Etsy shop until the end of 2018.
---
22 SPORT The Edinburgh Reporter

December Rugby fixtures

Edinburgh v Glasgow at BT Murrayfield from the end of last season

| Photo John Preece

1 Dec 2:00pm

Heriots v Edinburgh Academicals,

Goldenacre. Stewarts'

Melville v Biggar, Inverleith.

3:00pm

Boroughmuir v Glasgow Hawks.

Meggetland.

8 Dec 2:00pm

Edinburgh Academicals v

Melrose, Raeburn Place.

2:30pm

Currie Chieftains v Stirling

County, Malleny Park.

3:00pm

Watsonians v Boroughmuir,

Myreside.

15 Dec 2:00pm

Heriots v Stirling County,

Goldenacre. Stewarts' Melville v

Lasswade, Inverleith.

3:00pm

Boroughmuir v Edinburgh

Academicals, Meggetland.

16 Dec 3:15pm

Edinburgh Rugby v Newcastle

Falcons, BT Murrayfield.

22 Dec 5:15pm

Edinburgh Rugby v Glasgow

Warriors, BT Murrayfield.

Watsonians and Edinburgh Accies playing under floodlights

at Myreside | Photo John Preece

Branding | Print | Web | Display

Like what you see?

Supporting Edinburgh's

local newspaper

0131 202 1873

info@westenddesign.co.uk

www.westenddesign.co.uk

/wededinburgh

/west-end-design

@wededinburgh

Football - When the Scots

hammered Spain in '63

by John Hislop

Former Hibs' star Davie Gibson

remembers when Scotland

travelled to the Bernabeu Stadium

in Madrid and inflicted the

biggest ever home defeat on the

Spaniards.

The historic game took place on

13 June 1963 and was the third

game of a summer tour.

After two defeats, the Scottish

press suggested that the tour be

abandoned to prevent further

embarrassment against a

top-class Spanish side who

would go on to win the European

Championships the following

year.

The Scottish players had other

ideas however and fielded five

forwards, all of whom scored.

Davie told The Edinburgh

Reporter: "I made my Scotland

debut against Austria at Hampden

in front of 90,000, but the

Austrians turned it into a kicking

match, which was eventually

abandoned.

"We lost in Norway after Dave

Mackay had to go off and Frank

McLintock came off the bench to

win his first cap.

"We conceded two late goals

to go from 3-2 up to 4-3 losers.

Then, after we lost 1-0 in Dublin

the press slaughtered us. Some

were demanding the tour be

abandoned before we embarrassed

Scotland in Madrid.

"There was a bomb scare at

Dublin Airport. To pass the time,

Dave Mackay started doing his

party piece – he would juggle

a half-crown coin, then flick it

MUSSELBURGH Racecourse hold

a big race day on New Year's Day.

So Save the Date now!

The online bookmaker Betway

have just announced they are the

new sponsor of the day which

attracts a crowd of around 5,000,

their second biggest crowd of

the year. Two of the races are

broadcast live on ITV during

their festive racing package from

Cheltenham.

Senior operations and commercial

manager, Sarah Montgomery,

into his top jacket pocket. Jim

Baxter joined in and I remember

Ian St John tried it and the coins

flew everywhere which broke the

tension and got us all laughing.

"By the time we got to the

Bernabeu, we were ready for

anything. All of our players were

annoyed at ourselves and even

more annoyed at the press, so we

took a collective decision to have

a go at the Spaniards.

The plan nearly backfired when

Adelardo of Atletico Madrid put

Spain in front after just eight

minutes, but the prolific Denis

Law equalised eight minutes later

with his 11th goal in seven internationals

that season.

Scotland scored again, with

Gibson getting the first of his

three international goals when

he ran on to a Jim Baxter pass

fired home from 20 yards. "That

was a special moment. You grow

up dreaming about playing for

Scotland, and scoring, then it

happens which felt magic," he

recalled.

Clubmate McLintock scored

three minutes later and the

Spanish fans and players were

shocked. Rangers' Davie Wilson

made it 4-1 after half an hour and,

although Jose Veloso of Deportivo

La Coruna pulled one back just

before the break, it was a far

happier Scotland that went off at

half-time.

Rangers' Willie Henderson

scored a fifth goal in 51 minutes

and the Spanish heads dropped,

with Scotland so in command

they indulged in a period of

"keep-ball" before St John

capped perhaps his best game

for Scotland with the sixth goal, 7

minutes from time.

Davie continued: "We were a

team which liked to get forward,

and wanted to at every opportunity.

That day we did, and our

attacking plans really paid off, all

five forwards scored that night.

"Perhaps we did kick the form

book out of the window. After

the losses to Norway and the

Republic of Ireland we were under

pressure to perform, but, that's

how it is with Scotland. That

Madrid win stands out as a career

highlight for me.

"The fact that all of our forwards

scored made it even more

remarkable, and I don't think

anything like that will ever

happen again, especially these

days when teams often play with

only one striker.

"I can still remember the team,

Adam Blacklaw from Burnley in

goals and Celtic's Billy McNeil

at full back with Davie Holt of

Hearts.

My Leicester team mate Frank

McLintock, Ian Ure from Dundee

and Rangers' Jim Baxter were the

half backs.

"Up front we had Rangers Willie

Henderson, myself, Liverpool's

Ian St John, Manchester United's

Denis Law as captain and Davie

Wilson of Rangers."

Manager Ian McColl said: "This

is one of the greatest teams ever

to wear the Scottish jersey. They

were all magnificent - no, superb.

On this form we would have

beaten the best side in the world."

BETWAY announce

Musselburgh sponsorship deal

No better way to start off the New Year than a day out at Musselburgh

Racecourse

said: "Our New Year's Day meeting

grows year-on-year and is now

established as an important

fixture in the UK racing calendar.

We are delighted to secure the

support of leading industry brand

Betway and look forward to

establishing a long-term mutually

beneficial relationship.

"We have made significant

investment in recent years to

improve the raceday experience

by introducing luxury marquees,

top class entertainment and

high quality locally sourced food

and drinks suppliers, which all

contributes to making New Year

at Musselburgh an unforgettable

way to welcome in the year.

"This exciting new partnership

with Betway means we can crack

on with our plans to strengthen

the New Year's Day meeting by

improving the quality of racing

on the track and enhancing the

quality of off-track facilities and

entertainment."

Betway's Alan Alger said: "With

racing sponsorships already

in place across England and in

Ireland, we're delighted to now be

expanding into Scotland.

"Musselburgh has a deep and

rich history of racing and we're

very pleased to be a part of its

future, starting with a cracking

day's racing on New Year's Day.

With £30,000 up for grabs in both

The Betway Auld Reekie Steeple

Chase and The Betway Hogmaneigh

Hurdle, and the ITV Racing

cameras in attendance, hopefully

we'll see some hotly-contested

renewals."
---
@EdinReporter /EdinReporter /edinburghreporter SPORT 23

Dabrowski joins Civil

Jock's Out

Broughton

Women's RFC

Hibs goalkeeper Kevin Dabrowski

has joined Lowland League team

Civil Service Strollers on loan

until 2019. | Photo Thomas Brown

by Thomas Brown

HIBS goalkeeper, Kevin

Dabrowski, has joined north

Edinburgh side Civil Service

Strollers on loan until 2019.

The big stopper teams up with

centre half, Kevin Waugh, who is

also on loan from the Easter Road

side.

Dabrowski went straight into

Gary Jardine's squad for the

visit to Ferguson Park to face

Whitehall Welfare.

The 20-year-old proved his

worth by pulling off several top

class saves in his first game.

by Thomas Brown

LOWLAND League outfit Whitehill

Welfare parted company with

their second manager of the

season when Jock Landells left

leaving the club rooted at the

bottom of the GeoSonic Lowland

League.

Landells was only appointed to

Lowland League Roundup

Jordan Hopkinson holds up the ball before firing the ball beyond the

Whitehill keeper during Civil's 2-1 win against Whitehill Welfare.

| Photo Thomas Brown

by Thomas Brown

WHITEHILL Welfare looked to

secure vital points when they

welcomed Civil Service Strollers

to Ferguson Park last month.

The Roswell side find

themselves rooted at the bottom

of the Lowland League as they

approach the halfway stage.

Jock Landells, who parted

company with the club after

the game, was under immense

pressure to ensure the club avoid

relegation.

They got off to the perfect start

when Strollers failed to clear their

lines and Kyle Mitchell slotted

the ball low into the net.

Whitehill had most of the better

Caption Jock Landells (centre) and Jimmy Rae (left) parted company

with Whitehill Welfare last month. | Photo Thomas Brown

chances in the first half but could

find another goal.

Whatever Gary Jardine said to

his players at the interval worked

and Civil came out of the second

half firing on all cylinders and

levelled the game on the hour

mark.

Jordan Hopkinson went on a

trick run before cutting inside

and his effort from twenty yards

out found the back of the net.

Just as it looked the spoils

would be shared David Churchill

popped up in the 93rd minute

with a header to win the game for

Civil.

An injury Civil's Jordan Boyle

marred the game, the 22-year-old

made his first appearance since

the pos along with his backroom

staff of Steven Thomson and

Jimmy Rae at the start of

September.

The management team was

appointed following the sacking

of Gary Small after just two games

into the season. Whitehill find

themselves at the bottom of the

league having on secured 5 points

from 14 games.

snapping his Lateral ligament

last year.

He came on with just ten

minutes to go and went down

injured minutes later with what

appears to be a repeat of the

injury that has sidelined him for

twelve months.

Strollers boss, Gary Jardine, said

"I'm delighted to pick up all three

points against Whitehill.

"They are a good side and

always pose a threat to any club

in the league."

Elsewhere Spartans dropped to

sixth in the Lowland Leagues last

month after a defeat away to BSC

Glasgow.

Dougie Samuel's men made the

trip to the Indodrill Stadium to

face the Glasgow side and lost out

in a five-goal thriller.

The Ainslie park side went

behind after a quarter of an hour

when the ball was fired home

from over the line from close

range.

Stephen McDonald equalised for

Spartans on the half-hour mark

before an OG gave Spartans the

lead at the interval.

BSC then levels the game on

the hour mark when a cross was

whipped into the box and Ross

McMillan nodded home.

Just before the final whistle

when Declan Hughes rifled home

a twenty-yard strike.

Gutted Spartans gaffer, Samuel,

said "We shot ourselves in the

foot.

"We have been making too

many individual errors and that

has to stop."

The curtain came down for the Broughton Women's Rugby team last

month when they welcomed Howe Of Fife to Wardie Playing Fields.

Both teams served up a cracking match with the visitors winning 15-7

on the day.