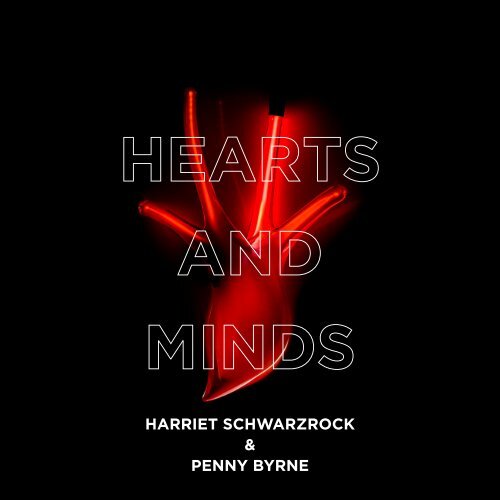 Hearts and Minds
Exhibition of Harriet Shwarzrock and Penny Byrnes
Exhibition of Harriet Shwarzrock and Penny Byrnes
SHOW MORE
SHOW LESS
You also want an ePaper? Increase the reach of your titles
YUMPU automatically turns print PDFs into web optimized ePapers that Google loves.
HARRIET SCHWARZROCK

&

PENNY BYRNE
---
LIST OF WORKS

Main gallery

Harriet Schwarzrock

between stillness and movement 2018

blown glass, neon and plasma

Harriet Schwarzrock

INTERCONNECTED 2018

blown and mirrored glass, neon and plasma

Link

Harriet Schwarzrock in collaboration

with Brian McNamara

The fourth state of matter 2018

blown glass, audio, LED lights, wood

Photographs: Sam Cooper

EXHIBITION DATES

January 25 to March 25, 2018

HARRIET SCHWARZROCK
---
"In your light, I learn how to love.

In your beauty, how to make poems." Rumi

43 steps to the door

21 breaths across the atrium of air and glass

In this short walk you have already

found the Hidden/kryptós/krypton

taken in the Stranger/ksénos/xenon

you have breathed rarefied air

You bring in the New/néos/neon

Pause at the door

Your heart must knock first

60 times to enter

60 beats per minute

Set your watch by it

Set your feet to slow steady

to old growth tree

to walking with a lover at dusk

You are hollow but filled

You stand still but still moved

You have in you now

all you'll need

to glow

You are alone among the many

You are alone but among friends

You are alone

but your heart will know what to do

This will be an encounter

"Do not feel lonely, the entire universe is

inside you…

You are the universe in ecstatic motion."

Rumi

Your heart opens its eye

It can see in the dark

"It is only with the heart that one can see

rightly"

Antoine de Saint-Exupery

Catch your breath and hold it

cupped

Lemon scented and leaning toward peach

Jade tending to emerald

Like breath exhaled on a window

One finger draws a heart

in the midst of its slick wet mist

Slowly it melts

This breath is of a sea breeze

on pale blue water

opalescent buoyant

The electric current is that of a young boy

shaking wet hair in the sun

and droplets scatter like fireworks

The breath here is tired

It has turned turquoise

and is heading to a green

in search of shade

to watch the afternoon fade

The breath is gentle

and has gone a long way today

Its sighs are violets

hanging

viola tricolour: tickle-my-fancy, come-andcuddle-me,

love-in-idleness, hearts-ease,

heart's delight

***

The heart is sitting in the dark

sucking its thumb til

the blood comes

It is conch shell made flesh

A great pink ear picking up signal flares

The heart leans in to hear more

It is trying to grasp what you say

It is trying to grasp you

by the finger

like a child

"Let yourself be silently drawn by the

strange pull of what you really love." Rumi

There is a blue light here

that wants out

There is a song put here under pressure

Humming along with closed lips

sibilant secretive

You already know the tune

The Hidden one is watchful

It is touching

to see

Such a rare and noble thing

With the first touch the ice flow melts

With the second the tulip bulb opens its

tiger's eye

The third touch sends the molten lava in red

rivulets

The fourth colours cheeks and thoughts –

stains them liquid amber

The five touch heals

And the sixth is the touching touched

"between touching and touched…

a kind of crossover occurs,

when the spark of the sensing/sensible is lit,

when the fire starts to burn…"

(Maurice Merleau-Ponty Eye and Mind).

The uranium glows like a galaxy of green

moons

It is love sick and pale in mourning

Your heart sings out from its constellation

The outer stars turn their heads

"this is the wonder that's keeping the stars

apart

i carry your heart(i carry it in my heart)"

e e cummings

Enter the chamber of the first ventricle

The weather is charged

It is sunset here

Your touch will be soft

like holding the first summer peach

You will glow with the feeling

Enter the second ventricle

There is a storm in your heart

It speaks with a tongue of lightning

flickering over syllables

A small shock shivers your veins

and runs the violet river of you

Enter the third chamber of the deep

rocked by the impossible seas of the moon

Mare Humorum the Sea of Moisture

Mare Vaporum the Sea of Vapours

Lacus Oblivionis the Lake of Forgetfulness

Enter the last quadrant

and hear the blood sing in your ears

Recognise it as your own

That beat travels with you always

Your heart is with you

when you float in the ocean

when you hold your breath

when you are least aware of it

Even now

A thought crosses your path

In this way it is like the moon

or the Anglerfish – with its bright lure

Like swimming into phosphorescence in the

sea

The tiny glowing specs

clinging to your limbs and hair

making of you an exoskeleton of light

Your face is flecked and flickering

The air has become liquid

Watch its edges rain

and run

You have given this glass body breath

to fill its single lung

You have given it a heart

It has felt your touch

Now you must teach it to love

SARAH RICE
---
28

19

26

23

59 39

72

53

46

27

14

51

20

67

35

16

34

5

68 52

38

40

32

45

43

29

48

3

24

4

1

18 60

37

33

7

13

12

8

30

58

57

49

65

17

55

54

50

44

31

10

70

42

71

62

41

15

69

64

11
---
LIST OF WORKS

Smokestack

Penny Byrne

Hurt Locker 2015

blown glass, steel

Photographs: Francesco Allegaretto

EXHIBITION DATES

January 25 to March 25, 2018

PENNY BYRNE
---
HURT LOCKER, the 1.8m high glass and steel sculpture by artist Penny Byrne, has come home. In 2015

the State Hermitage Museum and Berengo glass studios invited Byrne, along with many international

artists, to create a work for the Glasstress exhibition exploring "Gothic style and ideas in the

contemporary world" for the Venice Biennale. Responding to this curatorial theme Byrne was inspired

to create Hurt Locker, a meditation on the concept of armour, protection, warfare and, ultimately,

vulnerability.

Just before the Biennale 1 Byrne explained Hurt Locker was her response to contemporary war in all its

permutations – including the idea of SWAT officers and soldiers being modern equivalents of armourclad

knights. And that being in armour – modern or medieval – means one is likely to get hurt. Hurt

Locker expresses many facets of what it is to be in armour. As such, the sculpture represents an evolution

in Byrne's exploration of power.

Byrne began exploring this idea in another work, Felled (2014), where the ancient Roman sculpture of

the Dying Gaul is transformed into a modern-day SWAT-clad policeman. Made in bronze the life-sized

figure, like the Dying Gaul, has received a mortal wound and half lies on the ground, stunned. Unlike the

Roman sculpture however, the figure is fully covered in protective gear, including gas-mask and helmet.

It is in Hurt Locker, however, that Byrne fully realises her long-standing ideas about power, the state,

individual agency and the complex relationship between inner and outer armour. She does this through

a new medium for her: glass.

Now, Mr Hurt Locker, as I have come to call him, stands alone in the enclosed circular smokestack

gallery at Glassworks in Canberra, part of the Hearts and Minds exhibition. When viewed for the first

time, he looks like a Samurai-Robocop. With his modular body, a lattice of steel grids filled with black

glass, and held together by industrial pins and screws, he appears as a slightly ominous "i-Robot."

But, upon closer inspection, the black glass, alternating in thickness, allows the

Canberran light to filter down the smokestack, through his body to illuminate him,

curiously, in a deep shade of crimson. Mr Hurt Locker is now alive with blood pulsing

through his frame, his heart glowing orange and red. He is no statue or deracinated

robot but has personhood and agency. He is our SWAT-Protector against – whom?

Gangsters, terrorists and other malefic individuals or groups "who may do us harm."? Or

does he symbolise something else?

Glass, that supposedly coldest of materials, is here, transformed into a sensuous

intersection of bulbous, undulating black and red. We feel Hurt Locker's fragility,

isolation and fear as a result. His right foot – a glass boot – is turned slightly inward a

la Keanu Reeves. He appears almost child-like because of it. A straight, steel rod holds

his helmet in place and connects it to his torso. In the half-light it seems as though the

rod is an exposed spinal column, ready to be struck and smashed in battle – or worse.

It appears as though, at any moment, Hurt Locker will leap up and transform into a

marionette jerking around in a mad dance. Are modern soldiers not puppets of those

who have charge of them? They are sent to fight this war or that; or to control and

corral crowds that threaten to become rioters; to maintain borders. But black glass

glowing red serves to make Hurt Locker into a meditation on how tenuous and brittle

any armour actually is.

In preparation for creating Hurt Locker Byrne immersed herself in studying medieval

armour in the Wallace Collection and the Victoria and Albert Museum. She also learnt,

over the course of many months, how to make the steel skeleton which was to "hold"

the Murano glass. Once welded together the steel frame was shipped from Melbourne

to the famous Berengo Glass studio on the island of Murano. Once there, Berengo

artisans, in a labour-intensive process, filled each steel limb with lustrous, black glass

under Byrne's careful instruction. Many glass sections of Hurt Locker, Byrne informs me,

had to be smashed and then blown again to achieve the final work. A combination of

gravity and molten glass being blown into the sculptural curvature of steel has resulted

in a strange and beautiful organic being coming to life. Enclosed within a haunting

and tranquil space, lit with a strange mixture of natural and artificial light, Hurt Locker

reminds us, ultimately, of our individual attempts at armouring ourselves – both

physically and psychologically – against our personal ghosts and demons.

1 "Melbourne artist Penny Byrne creates suit of armour out of hand blown glass for prestigious Venice Biennale show," Kylie

Northover, Sydney Morning Herald, 14 April 2015.

© Arjmand Aziz, Art Consultant, London, 2017, All Rights Reserved
---
1 1 Wentworth Ave, Kingston

canberraglassworks.com

T 02 6260 7005

contactus@canberraglassworks.com

open Wed to Sun, 10am to 4pm

Photograph: Sam Cooper