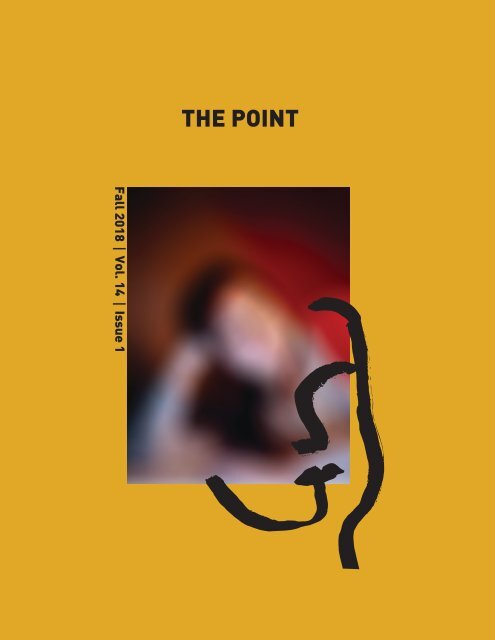 The Point: Fall 2018
Fall 2018 | Vol. 14 | Issue 1
Fall 2018 | Vol. 14 | Issue 1
SHOW MORE
SHOW LESS
Create successful ePaper yourself
Turn your PDF publications into a flip-book with our unique Google optimized e-Paper software.
Fall 2018

Vol. 14

Issue 1

THE POINT
---
STAFF

Editor-in-Chief: Rebecca Mitchell

Managing Editor: Joseph Lyons

Visual Director: Eliana Park

Photo Editor: Victoria Orozco

Design Editor: Cassidy Eldridge

Copy Editor: Amanda Frese

Web Editor: Jana Eller

Business Manager: Jenna Robertson

Social Media Manager: Katie Bean

Faculty Adviser: Tamara Welter

Story Editors:

Kendall Jarboe

Megan Josep

Jehn Kubiak

Writers:

Jasmyne Bell

Emily Bontrager

Hannah Dixon

Rachel Gaugler

Thecla Li

Lily Journey

Monica Kochan

Photographers:

Emily Inaba

Thecla Li

Maddi Seyfarth

Designers:

Amy Bucher

Macie Cummings

Lindsey Hayden

Nichole Landon

Rose Nickols

Fall 2018 Vol. 14 Issue 1

We are a student publication of Biola University. Contact us at pointmag@biola.edu.

https://thepointmagazine.org

Instagram.com/PointMagazine

Facebook.com/ThePointMagazine

California College Media Association: 1st Place General Excellence 2008, 2010

California College Media Association: 1st Place Best Magazine Photo

California College Media Association: 3rd Place Best Inside Page/Spread Design 2018

Columbia Scholastic Press Association: Gold Medalist 2009

Associated Collegiate Press: Magazine Pacemaker 2008

Associated Collegiate Press: Magazine Pacemaker Finalist 2013, 2017, 2018

Associated Collegiate Press: Design Of The Year 2017
---
A NOTE FROM THE EDITOR

Dear beloved individual,

We jumped from playground piece to burning wood chips. The lava oozed everywhere. The

crushed leaves were to be our favorite meal. Littlest Pet Shops fell into stories of human lives. Welcome

to my childhood imagination.

My mind as a child was also filled with the dream of traveling into space, of seeing the planets and

stars, of becoming an astronaut. This was my envisioned identity. I had this massive book, dark as

the night sky, that told me everything I ever wanted to know and more than I could ever possibly

understand.

While I am not a physics major on the path to becoming an astronaut, my love for stars has remained.

I find it simply amazing that God calls each one out by name, as in Isaiah 40:26. The Creator

of the heavens and the earth gave them their identity. And he gave us ours too.

As Christians we know the foundation of our identity, but what about other elements of our

identities? In "Coming Together in the 21st Century," author Curtiss Paul DeYoung says identities

are formed as a "social process," including traits considered biological like ethnicity or gender. We

interact with others and begin to define ourselves personally and emotionally. We find our identity

in what we are and what we are not.

While I cannot promise that you will find your identity, I hope you find a quote, a photo, a person

who reminds you of your beautiful existence. We explore the idea of identity and the complexities

attached with any one identity. Each story introduces a perspective, one out of the thousands there

are just on this campus. Within these pages, I encourage you to let your idea of identity be challenged.

Rebecca Mitchell

What does identity mean to you? What aspects make up your identity?

Tag @pointmagazine with your responses!
---
TABLE OF CONTENTS

Pleasing to the Eye

Beyond Black and White

"I'm OK, I'm OK"

"I survived"

Out of Step

The View From Where I Stand
---
4

2
---
In our lives, a question like, "Where

do you come from?" is not something

we can answer in one word. In

our country, the world behind the doors

of our houses is completely different

from the world outside. In my house, we

bow when greeting, we only set the table

with two sticks next to our bowls, we

prefer rice over bread. We are cross-cultural

offspring, we are missionary kids,

we are military children, we are global

students, we are third culture kids, and

this is our story.

How do I

get back

home?

Writer: Thecla Li

Story Editor: Kendall Jarboe

Photographer: Thecla Li

Designer: Nichole Landon

Culture is a strong part of everyone's

lives. Culture influences our views, values

and loyalties, as well as our worries

and fears. Exploring culture shows that

there is beauty, not only in learning how

much we have in common, but also in

seeing how we are different. Culture is

more than just the color of our skin, and

race extends far beyond a single country,

it is the ties and ethics embedded within

us. With culture so deeply wired in my

DNA, worldview and identity, I found

it especially hard to embrace it when a

Starbucks barista wrote "Ching Chong"

in place of my name on the cup of my

afternoon brew. It was hard to believe

that there were years of culture mixed

into my being when those two simple

words reduced me to "just another

Asian."

I am the child of a Cantonese father and

a mother who is one-fourth Taiwanese

and three-fourths Singaporean. After

marrying my mother, my father moved

to Singapore with his family, and we

visited Hong Kong once a year. Both

of my parents hold master degrees and

speak proficient English. My parents are

the type of people who enjoy eating at

humid open-air food markets as well as

people who appreciate British humor

and watch Lord Peter Wimsey in their

free time. Considering these facts, I am

very blessed. I am blessed because I can

pronounce anonymity without biting

my tongue. I am blessed because I have

eaten white truffles and stir-fried spiders.

I am blessed because I know that

5
---
My identity

was especially hard to embrace

when a Starbucks barista wrote

"Ching Chong" in place of my name

on the cup of my afternoon brew.

6

4
---
Romania is not in Rome. I am blessed.

My friend Jane Kim, a sophomore business

major was born in Korea but moved to China

when she was four years old due to her

dad's job. For most of her life, she lived in

China and visited Korea for three months

every year. Despite holding a Korean passport,

she felt she never really knew where

she came from because wherever she went,

she was a foreigner.

"In China, people don't see me as one

of their own but when I return to Korea,

people don't count me as a Korean person

either," Kim said. "Now I live [in] America,

and I'm definitely not American."

While not having a place to call home may

resonate with some people, not having a

country to call home is something many of

us cannot even fathom.

Associate Professor of Sociology at Biola

University, Stephanie Chan, was born to

a couple from Hong Kong but was raised

in the States. Chan recalled how, although

her parents conversed in Chinese, she never

fully committed to picking up the language,

not realizing its significance at the time.

"Culture is a big part of people's identity

and how they are able to connect with one

another, it shapes our minds and the norms

that we live by and act on," Chan said.

Chan is an example of someone who grew

up with two cultures yet associated with one

more strongly than the other.

"I feel a sense of loss not having the chance

to embrace my Chinese culture. More so

than myself, I feel that loss towards my

children because I am not able to pass on to

them what my parents were able to pass on

to me," Chan said.

Growing up, it is not hard for English as a

Second Language kids or American Born

Chinese kids like me to carry shame. We

turn red in the face whenever someone says,

"You speak English so well!" or, "Don't

worry I'll speak slower for you, Is. That.

Better?" Whenever we go to Walmart or

Target, we rehearse conversation with our

mothers before we pay for our groceries.

In spite of diligent practice, it is never easy

to undo the stitches of broken English.

As children, we watched in horror while

our mothers struggle to converse with the

cashiers. In order to save our pride, we did

not hesitate to correct them. We took our

heritage for granted.

We should be proud of where we came

from. We should be proud that we have

parents who built from scratch to be where

they are now. Proud that we had the

opportunity to struggle, which gave us the

words we have today. Proud that we can

teach our parents the difference between

recipe and receipt so that the white ladies

at the supermarket cashier counter will not

laugh at them. Since our pride was torn

apart, we could sew ourselves back together

with threads of strength that are worthy of

praise.

Using the new English we have learned, we

stand against ignorance and become a voice

for the immigrants, the refugees and the belittled.

We can repel the ridicule spewed at

the Asian families who own the dry-cleaning

store down the street by dispelling stereotypes.

We can encourage the grade schoolers

behind the cash register at their parents'

Chinese food store.

We have pride when we describe where we

came from. We may look funny, maybe kind

of strange, weird even, but this is who we

are. This is our home. We will continue to

improve this new English we have learned

with our eyes fixed on the vision of a future

where the door to our homes is just a door

and not a barrier separating two realities

from each other.

7
---
"

Identity is the collection of beliefs

and facts which informs how we relate

to and function within God's

reality. ... Identity influences how

we make decisions, how we interact

with others, how we utilize our

resources, and how able we are to

trust, to be generous and to forgive.

"

Beth Braley

8
---
Trauma on the Mission Field

Writer: Emily Bontrager

Story Editor: Jehn Kubiak

Photographer: Eliana Park

Designer: Macie Cummings

Monique Duson had been back

in the United States for three

days, and still the images and

fears from the attack echoed through her

mind. It was preventing her from getting

anything close to a full night's rest.

Duson was a friend of my mom's who

was visiting my family from South Africa,

where she served as a missionary for four

and a half years. Although it had only

been three days, it was becoming apparent

she was suffering from overwhelming

anxiety. Sleeping was a chore for her, and

everyday functions were hard.

In learning more about Duson's situation,

my mom explained how she could

not return to South Africa due to the

hostile environment, safety reasons and

the well-being of her mental health. She

did not necessarily want to move back to

the U.S., but she needed to in order to

salvage any possibility of continuing to

serve in South Africa. Over time, Duson

was eventually diagnosed with post-traumatic

stress disorder. The American

Psychological Association defines PTSD

as "an anxiety problem that develops in

some people after extremely traumatic

events," which in Duson's case was

constantly living in fear in the dangerous

environment of South Africa.

As my family and I embarked on this

journey of caring for Duson, we learned

a great deal about the problems trau-

9
---
"Every time I left, even if it was

just to go to the courtyard of

our apartment building, there

was always that tension of,

'What am I going to face?'"

"Would my faith stand up to that? And

if it didn't, would people back here think

less of me? God, you've shown me beauma

and PTSD can pose for returning

missionaries, despite assumptions made

about their experiences. Through different

methods of trauma treatment, I

witnessed firsthand the power of listening

and simply being present with someone

who is struggling.

Duson is not alone in experiencing

trauma on the mission field. Natalie

Cook served in Calcutta, India for six

months, working to prevent women

from being forced into sex trafficking.

She lived on the border of the red light

district, where there were anywhere from

10,000 to about 15,000 sex workers. The

main mission was to provide alternative

employment opportunities for women by

teaching them skills to support themselves

without going into the sex trade.

"There were the really cool moments of

being able to see God work, restore and

redeem lives, but there was the opposite

side of that where Indian culture doesn't

value women. So even as a foreign woman,

we were seen as possessions — almost

as less than human," Cook said.

Cook and her co-workers were not

exempt from the demeaning treatment

of women in Calcutta. In order to get

to work every day, they had to take the

metro which was packed tight with other

people.

"That's where we were touched and

grabbed. That was the hard part. When

you're stuck in that train car, you can't

get out. We were constantly on edge, and

that provided a lot of mentally traumatic

experiences," Cook said.

This continued day after day.

"We were fighting just to get to work in

the morning, fighting just to get home,

and most days fighting to get out of

bed," Cook said.

They lived in constant fear. She described

how at any point something

could go horribly wrong, and that her

and her co-workers could find themselves

being followed, attacked, kidnapped or

any other equally as frightening danger.

Cook began to experience the often seen

toll on the brain that such occurrences

tend to cause.

"Every time I left, even if it was just to

go to the courtyard of our apartment

building, there was always that tension

of, 'What am I going to face?' I always

picked one day during the weekend to

not go outside because that's what I had

to do for my mental health," Cook said.

While in Calcutta, Cook continually

heard and saw much pain, but also

witnessed the faith of women who had

suffered greatly and remained true to

God. After hearing these experiences,

Cook began to seriously question what

she would do in a similar situation.

10
---
ty, but where are you in all these other

things?'" she said.

She lived with dual fears. On one side,

the constant fear of remaining safe and

just getting through the day. On the

other side, the fear that if something did

happen, could her faith in God withstand

what it was supposed to?

Cook knew something had to change.

She had planned to be in India for a

year, and she still had four more

months to go.

"It took me about three weeks to actually

tell my supervisor what had happened,"

Cook said.

Making the decision about coming home

early was not an easy one. Over the

course of three weeks, many different

thoughts ran through her mind about

what she should do.

"Once you sit with the trauma for three

weeks, with only those voices in your

head, you feel like you can't tell anyone

because then I'm a failure and I don't

trust God. Or how can I think that God

is still good in this when it feels like he

can't protect me?" she said. "I had to decide

to come home early with only those

thoughts, feelings and emotions helping

to dictate my decision."

In the end, Cook decided to return to

the U.S. with the intention of saving her

mental health.

5 11
---
"I needed to come home so that I could

get healthy so [if] I wanted to, and could,

go back in the future. I think if I had

stayed longer, I never ever would have

wanted to go back," she said.

Americans tend to idealize missionaries

who serve in other countries. Mass

conversions and captivating stories, from

figures like the Apostle Paul to Mother

Teresa, are typically what come to mind

when thinking about the experiences of

missionaries. However, this noble calling

sometimes holds an unseen and personal

cost. Both Cook and Duson grappled

with navigating this standard narrative

when their own mission experiences

were so different, leaving them feeling as

though they had failed. When the two

narratives failed to line up, a great deal

of their faith and identity in God was put

on the line.

"God said, 'I want you to go to India,'

and I wrestled God for six to eight

months before I actually said yes and I

actually went. So to me the expectation

was, 'OK, God I'm going, you're going

to keep me healthy, keep me happy, and

you're going to provide.' And that wasn't

what I experienced," Cook said.

It already was such a big leap of faith to

go to India or to go to South Africa, that

to have the effects of trauma instead of a

"normal" missions experience left them

feeling like there was something wrong

with their faith.

Back in the States, Cook found herself

trying to forget about her experiences in

India.

"I think I was in denial for a long time. I

tried to reach out to a few people, and it

was almost like they had written it off, or

didn't really take it seriously," she said.

Neither Cook nor Duson sought help

from their church and pastors because

they did not think anyone would sincerely

listen or care for them.

"I was less likely because of the persona

that missionaries are 'amazing,' nearly

superhuman at times. We're the hands

and feet of Jesus: leaving all, sacrificing

all, becoming all for the least of these.

It's hard to have a pastor recite all those

accolades about your work and then turn

around and be like, 'You know, today this

all really feels like [bs],'" Duson said.

To Cook and Duson, it did not feel like

12
---
the church adequately provided for their

needs in dealing with trauma from the

mission field.

In an article for the Journal of Psychology

and Theology, Jeanne Jensma said,

"It is important for churches and mission

boards to understand the nature and the

reasons for the aftershocks of trauma and

to have an adequate and comprehensive

plan in place to provide member care in

the area of ministering to missionaries

when they encounter critical incidents."

Eventually, Cook sought trauma therapy

in order to begin processing some of

what happened. The treatment she

received is called eye movement desensitization

and reprocessing therapy, which

helps process traumatic memories.

"In EMDR, however, the person is

awake throughout the processing and

consciously chooses to focus on the

memory, despite the horror, choosing to

stay with the EMDR process … until the

memory has been adequately processed

and detoxified. … It utilizes eye movements,

sounds alternating close to the

right and left ears, respectively, or gentle

tappings alternating between the right

and left sides of the body," Jesma said in

her article.

For Cook, EMDR was extremely successful.

In addition to EMDR, the best way

Cook and Duson found to process what

they had experienced was by talking

about it and sharing what had happened

with others in some form of community.

For my mom's friend, that was through

talk therapy and having people, like my

mom, to come alongside her and simply

listen. For Cook, that was through telling

her story with others who had similar

experiences on mission trips.

"Just being able to share those kinds of

experiences helped affirm that I'm not

crazy, and it wasn't my fault," Cook said.

Cook felt there was a lack of an available

"Just being able to share those kinds

of experiences helped affirm that

I'm not crazy, and it wasn't my fault."

community for missionaries who have

suffered trauma, which results in having

a difficult transition back into the U.S.

Due to this absence of community, Cook

emphasized the importance of finding

people who will let missionaries talk

about their experiences without fear of

the church, fear of the sending agency or

fear of supporters feeling like they failed

or wasted their money.

Listening to people who are hurting can

go a long ways towards healing. Missionaries

who experience trauma are often

too fearful of what people in the church

will think if they did not have a

fulfilling experience.

"People who have never gone through

it will expect you to come back and talk

about all of the awesome things, and you

feel that pressure to say, 'I'm OK, I'm

OK.' And it's OK to not be OK, and sit

in that tension of I'm not OK, and this

is how I feel today. Make sure you have

people around you who won't try to fix

you," Cook said.

Broken and struggling people are not

projects who need putting back together.

Healing from any kind of trauma

is a process that is sometimes never

fully completed. For Cook, she needed

someone to listen and a way to process

through what had happened in India.

For Duson, she needed a caring family.

Neither of them have reached the perfect

goal of complete healing, but they are

still on this journey. How can we

be present?

13
---
14

A Look Into Punk

Photographer: Emily Inaba

Designer: Amy Bucher
---
Punk enthusiast moshes to Pro-

Youth at Programme Skate &

Sound in Fullerton, Calif.

15
---
Front Image: Amongst a punk

community, Initiate vocalist Crystal Pak

performs at a hardcore record release

party in Fullerton, Calif.

Top Image: Punk and Biola alumnus

Josh Rosen heads over to a friend's

to play music.

16

After a late-night band practice, Richard Haro (left) and

senior business major Tony Rangel III (right) relax by sitting on

their car in Santa Fe Springs, Calif.
---
Both Rosen and his friend

Linus Landucci personalized

their guitars by

hand-painting them.

17
---
18

As friends, punk community members and

musicians Victor Velasquez (left) and Rosen enjoy

playing music together.
---
Top: Wise band members share their

sound to an audiene ready to mosh.

Bottom: As an opener for Winds of

Promise, Pro-Youth energizes a ready

audience.

19
---
Above: As Rosen plays the guitar, musician Linus Landucci chills.

Below: The crowd listens as guitarist for hardcore band Wise shreds.

20
---
Lead singer of Wise brings

further energy to the crowd by

getting up close and personal.

21
---
22

A Retrospective on Life Despite Conflict
---
Writer: Monica Kochan & Jubilee

Pham

Story Editor: Rebecca Mitchell

Photographer: Austin Bland

Designer: Rose Nickols

& Cassidy Eldridge

"

I

feel like I have done something. I survived,"

said Massar Alzeyarah.

Massar Alzeyarah was born in Iraq and

lived in its capital, Baghdad, until he was

2 or 3 years old, at which point he and

his family left for Syria due to the 2003

United States invasion.

The Iraq War, also known as the Second

Persian Gulf War, included two phases, as

detailed in the Encyclopedia Britannica's

entry on the subject. The first consisted of

U.S. and British forces invading Iraq, resulting

in a war from March to April 2003.

The second phase started when the U.S.

began to occupy Iraq and continued with

opposition, which resulted in an almost

8-year war.

"After violence began to decline in 2007,

the United States gradually reduced its

military presence in Iraq, formally completing

its withdrawal in December 2011,"

the entry said.

Alzeyarah considers himself Iraqi and his

home to be Iraq, but also recalls his time

in Syria fondly. This is the place where he

spent 10 or 11 years of his life; this time is

one that he recalls with happiness as well

as a sadness brought on by the Syrian Civil

War's invasion of life as he once knew it.

"I had a really fun time there, except at

the end, when the war started," Alzeyarah

said. "I made a lot of friends, and I was

really close to them, and I consider them

family. We used to hang out every day, all

day, play soccer together, eat together …

like we did all the things together. That's

why we're family; we still talk until this

day."

23
---
Alzeyarah paints Syria through his eyes,

illustrating what was personal to him and

presenting some of its subtler beauties.

"They [the Syrians] have their own accent;

they don't speak the way that Iraqis

speak, and I really love it; I feel like it's

better and easier to talk," Alzeyarah said.

"And then, I love the mountains … 'cause

I lived in Damascus … so … there's a lot

of mountains, a lot of nature; you always

see green stuff, like trees. This is what I

loved about Damascus, and I loved the

old cities 'cause they don't really develop

them, so the old cities of Damascus [are]

still old, even the tiles are old; everything

is old; there's some places that even cars

can't get into."

Alzeyarah remembers when he had free

access to the mountains, climbing up to

the top with friends, drinking tea and having

fun. That is, until the war began, and

the Free Syrian Army seized the mountains

to use them as a shooting position

and a means to gain more control.

When that started, Alzeyarah recounts

they could no longer climb the mountains

as they once had.

"It made us all feel bad; we all were

speechless. We thought it was gonna

end in a month. On Fridays, that's when

people go out and protest. So on every

single Friday, we say, 'OK, this is the

Friday that the war's going to end' … but

it never ended," Alzeyarah said. "We all

lost people, family members, and we felt

really bad. I don't know; I can't really

explain. I always felt I was gonna be next,

but fortunately, nope. I'm alive."

A year after the Syrian Civil War began

in 2011, when Alzeyarah was 13, he and

his family moved to Turkey. His father

assured him that the move would only be

temporary, but that was not to be. Later,

while in Turkey, Alzeyarah again inquired

about returning to Syria.

"I was telling my dad, 'Are we really going

back?' And he was like, 'Nope, we're

not,'" Alzeyarah said. "[That] was my

saddest moment."

Alzeyarah did his best to adjust to living

in Turkey, but struggled there—describing

that time of life as miserable.

"I did not speak that much Turkish,

though, so [it] was a struggle to me. I had

a really hard time. I failed almost all my

classes, except for soccer and mathematics

… and I think computer science too,"

Alzeyarah said.

After living in Turkey for two years, he

and his family left for the U.S. under refugee

status. He came to America with his

parents and two of his brothers, Mohammed

and Samer, but has not seen his other

brother Murad since the day he left Iraq

and hopes to meet him again soon.

"I'm really close to them," Alzeyarah said.

"We don't hang out that much, but when

we are at my house [in the U.S.], we are

really connected."

Alzeyarah is Muslim. He and his family

observe Ramadan—a 30-day time of fasting

and penitence ending in Eid al-Fitr—

by fasting for 16 hours each day.

Alzeyarah continues to talk to his friends

in Syria—whom he considers family—but

they do not discuss the war for safety reasons

and to avoid unhappy memories; he

and his friends just want to talk like they

always have, to have fun and to laugh.

When Alzeyarah considers his life being

preserved, he expresses gratitude.

"I feel grateful, but I feel pretty bad. I feel

grateful and thankful to God that he did

not decide my moment to die, well at least

not that moment, not in Syria, and I got

to live my life," Alzeyarah said. "This is

a good thing because we can only live it

once, and some people lost the chance to

live it, but I didn't, not yet."

24
---
Transition to Life

in America

Alzeyarah and his family moved to the

U.S. primarily for "a better future, education

and safety." Although a representative

from a migration organization promised

that another agency would welcome

him and his family and provide transportation

for them, no one was waiting

there. The representative also promised a

month-long apartment rental and some

free food, but they did not receive these

either. His father contacted his friend

who reached out to a Voice of the Refugees

employee, Fadi, and the two of them

picked up him and his family. According

to their website, Voice of the Refugees is

a "faith-based, 501(c)3 non-profit serving

the local refugee communities in Orange

County."

Ryan Clark, volunteer coordinator and

programs administrator for Voice of the

Refugees, explains the groups of people

they serve within the context of their

community.

"With the demographics this year [2017],

you need to know that there are official

refugees through the United Nations,

which defines them as a refugee. They

are pre-approved. The other's an asylum

seeker who've come here seeking asylum,

and they go through the immigration

hearing. The third is the immigrant,"

Clark said. "This is Little Arabia, where

we're at. We're next to a brand new Arabic

sweets shop, and there's a Palestinian

barber, and then there's a Lebanese

restaurant here. This is a huge cultural

area … so we serve those three groups.

What we're doing to serve them in terms

of services is going to be … education

type, job-related or economic type service[s]

and social and donation-based."

For Alzeyarah, the process of adjusting

to the U.S. has been relatively smooth

except for the first few months of living

here and the early stages of improving

his English.

"I spent a lonely three months before

school started … and then, I was a sophomore,

so I did not really have friends,

and my dad was busy doing papers, like

Social Security, ID and stuff, so we did

not really go out, so I had to go play soccer

at Cyprus," Alzeyarah said. "I went

there, play[ed] soccer, and then I [would]

go back home, I swim, and I did that for

like three months in a row by myself."

Clark also identifies this reality as one encountered

by refugees and walks through

VOR's efforts to address it.

"Isolation is the refugee's biggest need

that's not practical. What I mean is, it's

crippling to be isolated. If we all went to

Iraq tomorrow and lived in separate corners

and didn't know each other, plunged

into there, no language, no orientation

of culture, you'd feel totally lost. You lose

your social network, so you no longer feel

like you have any valuable community. So

isolation is crippling and can almost start

to wither away inside them," Clark said.

"So we provide … a community where

they feel valued and loved and inside, feel

alive."

Although Alzeyarah has experienced

some difficulties since arriving, he has

transitioned well to life here, receiving

help from teachers at school and volunteers

at VOR. He and his family plan to

apply for citizenship at the beginning of

next year.

25
---
Perspective on

World Events

In considering the state of the refugee crises

in 2017, Alzeyarah shares his thoughts on

the world's responses.

"I like how Europe is responding to it

because they're letting refugees in, not into

camps, but into houses, and they give them

jobs. They have the right to go to school

… and they do that in America, if you get

a visa. But what I don't like in the Middle

East is how they created camps for them,

and [have been] saying that, 'There are

too many refugees, and our countries are

too small; we can't really let them in,'"

Alzeyarah said.

Alzeyarah remembers how Syria welcomed

in the refugees of Lebanon, Iraq and other

countries when they were at war.

"Syria let them in," Alzeyarah said. "I

don't like how Middle Eastern countries are

responding to it because I mean we should

be connected 'cause we are Middle Eastern,

but we [are] not, not how Europe, Germany,

Sweden and these other countries [who

have] treated refugees a lot better than we

treated them."

The reason for this rejection of refugees is

politics, Alzeyarah asserts.

"We just hate each other, politically, so

if I see a Yemeni or like [hypothetically]

Iraqi, Syrian, I don't really hate them

[personally], but politically, yeah we do,"

Alzeyarah said.

Despite tension between the Kurds and

Iraqis—resulting from the Kurds' past

and current efforts to reclaim their independence

as a nation—Alzeyarah, and

his friend, Basel, who is Kurdish, have a

close bond akin to brotherhood.

"We really [talk], but we never get in

fights. I mean when we get to the point

that we [are] gonna fight, we stop it,"

Alzeyarah said.

For context, according to an in-depth

feature by Foreign Policy and articles by

The New York Times and The Washington

Post, president of the Iraqi Kurdistan

area Masoud Barzani proceeded with

the referendum, and it did pass. The

vote, which was expanded to disputed

territories, was 93 percent "yes." Though

the vote passed in theory, it did not do so

in reality, simultaneously not producing

an independent state for Iraqi Kurds

and triggering a response from Prime

Minister Haider al-Abadi's Baghdad government.

Likely with Iran's involvement,

Abadi forged a deal with the Patriotic

Union of Kurdistan and reclaimed authority

in the Kirkuk oil fields and other

disputed territories.

Personal

Philosophy

War touching Alzeyarah's childhood in

such an abrupt and violent manner produced

a feeling foreign to that innocent

space.

"It made me feel like I'm older than my

age 'cause I went through things that

people at my age do not go through, like

leaving the country at a young age 'cause

of war, seeing people being killed like

when I was 11, 12 years old, which a kid's

not supposed to see, seeing people … protesting

and [shot] by soldiers," Alzeyarah

said. "People in our age … are supposed

to be thinking about toys and stuff, but

we were thinking about guns, appointing

a new president that is good and about

stuff … people in our age should not think

about, that's what made us feel older than

our age."

Alzeyarah's note to the world is one of

acceptance, nonviolence and unity.

"I just want people to know that we are

normal people, not terrorists, not people

[who] are coming here to create problems.

We just want to be treated … like humans,

and that's all I want," Alezayarah said

.

26
---
He also gives a definition of love, that

of remaining loyal and being present for

anyone who needs it.

"Love is life … Without love, like, what

happened in Syria is because there's no

love. People don't love each other …

[Some] Shia hate Sunnis. Sunnis hate

Kurdish. Kurdish hate Shia. That's why

they're always getting in wars and fights

… 'cause they don't love each other," Alzeyarah

said. "So apparently if you don't

love, if there's no love, then there's crisis."

Alzeyarah recognizes the reality that

violence occurs on multiple sides and has

a desire for the world to have an increased

awareness of war.

"I just want people to pay attention more

to Iraq, Syria and all these countries …

[to] people that are being killed … 'cause

some countries are supporting ISIS; some

others are supporting the Free Army;

some of them are supporting the Syrian

Army, so they all are like, 'We are in the

fight,'" Alzeyarah said. "That's not going

to stop the fighting. So I just want all the

world to pay attention to that more, and

be mature about it, and if they are really

willing to stop the war, then they should

… [stop] supporting these armies by giving

them more things … I don't support

people who kill. I support humans."

Alzeyarah's wish is one for everyone.

"I just want to be successful and live

happily, not me, all people. Not only me,

I mean all people," Alzeyarah said. "I just

want to live happily and peacefully, with

no wars and killings and shootings and

bombings."

Alzeyarah's dream is to one day return

to Iraq and help rebuild it as its president

and architect. He holds a vision for

harmony between people of different

backgrounds.

"I just don't want racism," Alezayarah

said. "And I don't want people to be divided

'cause we are all the same … love."

24 27
---
28
---
What Happens When We Take from the Tree

Writer: Jasmyne Bell

Story Editor: Kendall Jarboe

Photographer: Maddi Seyfarth

Designer: Lindsey Hayden

In America, life is lived in a sex-crazed

culture. Seventy-two percent of

men and 28 percent of women are

addicted to pornography. The average age

of exposure for boys is 8 years old and 11

years old for girls, according to the Daily

Mail. Before their brains have reached full

development, children are being set up

for a sexual downfall. The Daily Mail also

informs readers that the next generation is

growing up in a world where pornography

is more accessible than in any other time

in history. Children are on their smartphones

every night before bed scrolling

through Instagram and checking Snapchat.

Feeding a premature mind obscene

content has consequences in the long run

and extends further than the individual

themselves.

The media tells the public that porn consumption

is a healthy way to get to know

their sexuality better, and will leave them

more satisfied in the end. Others would

argue that pornography is not really an

issue and that people have the power to

control their intake. However, in an article

from Wired, porn addiction has been

likened to that of crack cocaine. Because

of the 24/7 access to the internet, porn

addiction is harder to get rid of than

narcotic drugs. An individual can clear

their system of drugs, but mental images

are harder to erase. A study conducted by

Mary Anne Layden, Director of Education

at the University of Pennsylvania's

Center for Cognitive Therapy, concluded

that porn is the, "most concerning thing

to psychological health that we know of

existing today."

On the surface, watching explicit media

seems less harmful because the consumer

believes they are in control. What is seen

on a screen is detached from the real

world, and consumers forget to consider

the emotional and mental toll it takes on

their minds. Due to this phenomenon of

detachment from reality, Tech Addiction

reports severe clinical depression is twice

as frequent among internet pornography

viewers compared to non-viewers. Many

use pornography as a form of escapism,

according to the Cabin Hong Kong.

Using porn to numb one's perception of

reality is not uncommon.

When someone is depressed, they have a

chemical imbalance in their brain. Covenant

Eyes wrote an article breaking down

the brain chemicals that are released when

viewing porn, and why these chemicals

cause addiction. When a consumer views

porn, it releases dopamine, which leads to

people feeling a temporary high. When

this chemical is released into a region of

the brain responsible for emotions and

learning, it gives the consumer a feeling

of attachment. The brain then craves the

source of the dopamine release. Because

porn gives viewers a sense of fleeting

pleasure, it is easy to get hooked. During

the beginning stages of porn addiction,

the brain also experiences a rush of norepinephrine,

leading the brain to be alert

and focused as well as prepared for the

rush of dopamine. After going through

the routine multiple times, the brain and

body get familiar with the rush, which

kick-starts a bad habit that is hard to

break.

Pornography has effects on individual

after individual. While there is a difference

between the way men and women

express their sexuality, both are able to

fall into addiction. In addition, Biola

alumnus Jacob Keeth reflects on the lack

of differences between men and women

who struggle with porn addiction.

"We need to do away with the false

dichotomy that 'men are visual and

women are feelers, they just want human

connection, men want physicality.' That

is a gross oversimplification of gender

and biological difference between men

and women," Keeth said. "Physiologically,

psychologically speaking men and

women are different. The Bible, too, affirms

gender difference. However, when

it comes to pornography, men and women

are far more similar, I believe, than

what we're often willing to consider."

29
---
Physical needs have little to do with the

matter of porn addiction. The needs are

deeply rooted in emotional triggers. The

physical urgency for affection, love or

possibly control are what ultimately drives

the viewer. In an article from Psychology

Today, people who have developed an

addiction to porn are stunted in emotional

maturity because of their tendency

in attempting to fill a mental void. The

emotional isolation that comes with consistently

viewing explicit content lessens

the possibility of being able to register

the reality of intimacy when it comes to

sexual encounters outside of a computer

screen.

Culturally, men are more susceptible to

watching porn, and for this reason there

are more resources for men to seek help.

The normalization of "locker room talk"

and misogynistic language amongst men

has enabled the behavior of hypersexuality.

The violence in porn is known to tweak

the wiring in men's brains, according to

Fight the New Drug. Eventually, the brain

gets used to the stimulation and will crave

something else. Usually, this equates to

something even more violent, such as

"Christians cannot

lift one another up

if they allow shame to

overshadow forgiveness."

sexual assault and rape culture, as found

in a study done by Fight the New Drug.

When women are objectified and abused

in media, it prompts men to treat women

with less respect.

While the issue of pornography addiction

is mostly seen as a man's problem, there

have been a growing number of women

sharing about their own struggles. Junior

elementary education major Meagan

Chung weighs in on this assumption.

"I think over the years it has been seen

as a 'man's sin.' But it truly is a problem

and sin for both men and women. Also,

I think society paints women as innocent

and pure which adds to the shame that a

woman may feel when they are faced with

an addiction to porn. It makes it harder

to reach out for help or even confess that

they have a problem," Chung said.

The societal influence Chung discusses extends

to women not being seen as sexual

beings unless they are being objectified,

confessing an addiction to pornography

as a woman can be agonizing. Society

assumes men to unapologetically express

their sexuality, which creates an imbalance

between the expectations placed on men

and women. This toxic expectation also

affects the message preached in church

youth groups. Growing up, children are

taught a polarized contrast between the

male and female expression of sexuality.

Boys are taught that it is bad to watch

porn, but they will be forgiven. Girls

are taught not let boys touch them, and

they will lose their purity if it happens.

These messages mean well, but they taint

children's view of sexuality and push them

into a shameful corner when someone

mentions the word, "porn."

The deafening silence around the subject

of porn in the church has done much

more harm than help. Lisa Igram, Dean

of Student Wellness, shared some valuable

advice to those combating addiction.

"No habit can stop cold turkey. By the

grace and power of God, maybe it can.

But that's generally not how our brains

and bodies work. Let's say last month,

you gave in five or six times. This month,

you can shoot for fewer times. That's not

giving yourself permission to do it three

or four times instead but just go through

each day," Igram said. "I think so much

of the shame comes from falling short

and then starting the cycle over again. Just

because you fell that one time after two

weeks of refraining doesn't mean you're

done for. It means you have the opportunity

to start over again the next day

because the Lord's mercies are new every

morning."

Men and women of all ages need to be

equipped with ways to flee temptation and

not be expected to figure it out on their

own. Silence on a topic does not mean it

will disappear, it probably means it will

get worse. To put people to shame when

they are struggling creates an atmosphere

of distrust. As the body of Christ, we are

called to edify each other. We cannot lift

one another up if we are allowing shame

to overshadow forgiveness. When God

called for Adam and Eve in the garden,

they immediately hid. Bound in fig leaves

and shame, they did not understand the

concept of grace. Do not let yourself be

covered in guilt, but allow grace to meet

you where you are at.

30
---
31
---
Writer: Rachel Gaugler

Story Editor: Megan Josep

Photographer: Eliana Park &

Victoria Orozco

Designer: Nichole Landon

Cultural appropriation, whitewashing,

stereotyping, ethnocentrism.

When discussing

the representation of different cultures

in media, these terms are prevalent

throughout interviews, statistics, real-life

stories, and the mindsets of producers,

writers, and directors in the industry.

From Marvel's "Spider-Man: Homecoming"

to Netflix's "To All the Boys

I've Loved Before," the film industry

aims to entertain the audience by

telling stories of "relatable" characters

and plots. But, how relatable can they

be when they represent one aspect of

society?

A study on "Racial and Gender Differences

in the Relationship Between Children's

Television Use and Self-Esteem,"

revealed that for every hour of television

consumed by children, the self-esteem of

black children and white girls significantly

lowered while the self-esteem of

white boys increased. There becomes no

question as to why when superheroes are

mostly white men.

Abel Vang, Assistant Professor in the

Biola Cinema and Media Arts Department,

recounted his own childhood

experience.

"When you're a kid you don't see color.

I love Spiderman, I love Batman, I love

Superman, but as I grew up, I thought,

'Wait, Superman doesn't look like me.

Superman looks like that other kid

over there.' You feel like your value

isn't worth as much as some other guys

because they're the heroes on the screen

and the cool people on TV," Vang said.

Why is it that Hollywood is fixed on the

notion that whites make up the majority

when demographically

To Be Seen on the

Big Screen

32
---
33
---
34
---
America is changing?

A study called, "Beyond Black and White:

Metropolitan residential segregation in

multi-ethnic America," found that the

number of Hispanics, African-Americans,

Pacific Islanders, and American Indians

have grown more rapidly than the white

population in the last few decades. This is

mainly due to the increase in children of

color and the decrease of white children in

the United States.

The lack of total representation in film consequently

makes individuals feel invisible.

When the big screen is a reflection of how

individuals view society, it is vital that it is

wholly inclusive and accurate, as Associate

Professor of Cinema and Media Arts Lisa

Swain believes.

As author of "Reel Inequality: Hollywood

Actors and Racism," Sociology Department

chair and Associate Professor of Sociology

Dr. Nancy Wang Yuen shared on representation

in media. In a Huffington Post

article, she stated how the recent representation

of Asian-Americans in film is a

huge step forward for minorities. Growing

up Asian-American, Yuen found it difficult

to relate to her favorite movies because the

main lead never looked like her. She was

pleasantly surprised this past August when

the main character of a Netflix romantic

comedy featured an Asian-American female

lead.

"It makes a real difference when the protagonist

looks like you. When I saw 'To All the

Boys I've Loved Before,' I felt seen for the

first time in a rom-com," Yuen said in her

article.

However, there is still a great disparity

between the representation of white people

and people of color in film. In a study

called, "Inequality in 900 Popular Films,"

statistics revealed that, in terms of invisibility,

a total of 25 of the top 100 films of 2016

did not feature a single African-American

or black speaking character on screen. A

total of 54 films were completely absent of

Latino speaking characters. Forty-four films

were missing any Asian or Asian-American

speaking characters. These findings also

highlight that many of said roles portrayed

by people of color are minor roles and

afflicted with stereotypes that minorities

cannot escape.

Films continue to be plagued with stereotypes

attached to people of color and

women. No matter the genre, minorities

quickly and frequently become criminals,

terrorists, sexual objects or sidekicks to white

heroes and whitewashed characters. When

films influence societal perceptions, these

stereotypes can become dangerous and

detrimental to one's identity.

"Media is so influential in what we believe

in society. Culture plays a huge role in our

stories. It is important to represent these

stories that are untold," said Michelle La,

actress in the feature film "Searching."

The lack of total

representation in

film consequently

makes individuals

feel invisible.

A problem arises when these stories are not

only untold but told wrong. Each story is

unique to one's culture and deserves to be

heard correctly. However, the harsh cycle

continues. How can one's story be heard

correctly when they are not even given the

chance to be told?

Among Biola film professors, including

Vang, Swain and Associate Professor Dean

Yamada, there is a consensus that change

will come only when Hollywood stops

limiting actors of color to one-dimensional

characters. In order to fight these stereotypes,

Hollywood needs to produce more

films that feature people of color.

"You're going to need a whole body of films

in order to represent any one community.

Because we are not given the chance to

showcase people of color, there are not

enough films. Even if one comes out, it

only represents the community through one

lens," Vang said.

There are so many different kinds of films

starring white people that the Caucasian

community is seen through myriad lenses.

Consequently, stereotypes cannot harm

white culture since there are ample opportunities

given to represent other aspects of

it. People of color are not given the same

chance.

"If you're a minority, you're always fighting

stereotypes," La said.

It is necessary to create more three-dimensional

characters of color in a larger body

of films. Ultimately, the question of whether

or not these stories are told falls into the

hands of producers, directors and writers.

But, when the ladder to the top is scarcely

extended to people of color, the responsibility

falls on to those who are already in these

positions to speak up for their community.

"As an Asian-American filmmaker, I think

that our representation ultimately falls into

our hands. If I want that story, I have to get

out there and do it," Vang said.

Individuals in power need to initiate change.

Only then will viewers start to see themselves

on the big screen.

"Not only did we see movies such as 'Crazy

Rich Asians,' 'Searching' and 'To All the

Boys I've Loved Before,' but we saw them

do well. Money talks in the industry. When

these films make money, Hollywood listens

and will continue to make them," Yamada

said.

We need to be open to seeing how others

who are different from us live life from a

completely different cultural lens. We must

strive to be inclusive, encouraging and supportive.

We, as a community, need to break

down cultural barriers, fight stereotypes and

take a risk by representing everyone in film.

Television is no longer in black and white. It

is time we recognize the beauty of its color.

It is time we see the Lara Jeans in films

instead of focusing on the Peter Kavinskys.

35
---
World-changer.

Life-impacter.

Culture-bridger.

MAKE AN IMPACT ON YOUR

GENERATION — BOTH LOCALLY

AND GLOBALLY.

UNDERGRADUATE PROGRAMS:

B.A. in Anthropology

B.A. in Intercultural Studies

Minor in Archaeology

Minor in Intercultural Studies

Minor in TESOL

Certificate in TESOL

To learn more about majors and programs at Biola

University's Cook School of Intercultural Studies, visit

biola.edu/cook.
---
therapist

professor

visionary

Dr. David Van Dyke

Chair, IL MFT Licensure & Disciplinary Board

Commissioner, COAMFTE

Dr. Van Dyke sees human suffering and

healing through the lens of relationships.

Our faculty develop the whole person

to foster new possibilities for personal,

professional, and relational growth. Train

with visionaries in the field to pursue one

of the fastest growing careers through the

M.A. In Marriage & Family Therapy.

The Marriage and Family Therapy program at

Wheaton College is accredited by the Commission

on Accreditation for Marriage and Family Therapy

Education (COAMFTE), 112 South Alfred Street,

Alexandria, Virginia 22314, 703.838.9808, coa@

aamft.org

wheaton.edu/MFT