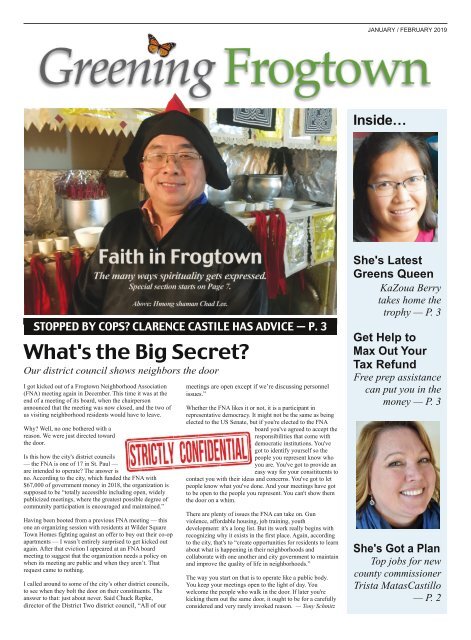 You also want an ePaper? Increase the reach of your titles
YUMPU automatically turns print PDFs into web optimized ePapers that Google loves.
JANUARY / FEBRUARY 2019

Inside…

STOPPED BY COPS? CLARENCE CASTILE HAS ADVICE — P. 3

What's the Big Secret?

Our district council shows neighbors the door

I got kicked out of a Frogtown Neighborhood Association

(FNA) meeting again in December. This time it was at the

end of a meeting of its board, when the chairperson

announced that the meeting was now closed, and the two of

us visiting neighborhood residents would have to leave.

Why? Well, no one bothered with a

reason. We were just directed toward

the door.

Is this how the city's district councils

— the FNA is one of 1 7 in St. Paul —

are intended to operate? The answer is

no. According to the city, which funded the FNA with

$67,000 of government money in 201 8, the organization is

supposed to be "totally accessible including open, widely

publicized meetings, where the greatest possible degree of

community participation is encouraged and maintained."

Having been booted from a previous FNA meeting — this

one an organizing session with residents at Wilder Square

Town Homes fighting against an offer to buy out their co-op

apartments — I wasn't entirely surprised to get kicked out

again. After that eviction I appeared at an FNA board

meeting to suggest that the organization needs a policy on

when its meeting are public and when they aren't. That

request came to nothing.

I called around to some of the city's other district councils,

to see when they bolt the door on their constituents. The

answer to that: just about never. Said Chuck Repke,

director of the District Two district council, "All of our

meetings are open except if we're discussing personnel

issues."

Whether the FNA likes it or not, it is a participant in

representative democracy. It might not be the same as being

elected to the US Senate, but if you're elected to the FNA

board you've agreed to accept the

responsibilities that come with

democratic institutions. You've

got to identify yourself so the

people you represent know who

you are. You've got to provide an

easy way for your consitituents to

contact you with their ideas and concerns. You've got to let

people know what you've done. And your meetings have got

to be open to the people you represent. You can't show them

the door on a whim.

There are plenty of issues the FNA can take on. Gun

violence, affordable housing, job training, youth

development: it's a long list. But its work really begins with

recognizing why it exists in the first place. Again, according

to the city, that's to "create opportunities for residents to learn

about what is happening in their neighborhoods and

collaborate with one another and city government to maintain

and improve the quality of life in neighborhoods."

The way you start on that is to operate like a public body.

You keep your meetings open to the light of day. You

welcome the people who walk in the door. If later you're

kicking them out the same door, it ought to be for a carefully

considered and very rarely invoked reason. — Tony Schmitz

She's Latest

Greens Queen

KaZoua Berry

takes home the

trophy — P. 3

Get Help to

Max Out Your

Tax Refund

Free prep assistance

can put you in the

money — P. 3

She's Got a Plan

Top jobs for new

county commissioner

Trista MatasCastillo

— P. 2
---
BIG IDEAS

New Commissioner's Got Priorities

Here's what's at the top ofthe list for newly-elected Trista MatasCastillo

After winning the election for the County

Board seat long held by Janice Rettman,

Trista MatasCastillo will be sworn into

office on January 8. Now that she's got

the position, what does she intend to do

with it? Here's what she says are the big

jobs she wants to get done.

DALE STREET: On Dale Street, how do

we create a street that accommodates cars

and pedestrians and bikers and still make

it safe? In my mind that can only happen

if we have some kind of road diet to slow

traffic down. I want to make sure that

Dale Street is pedestrian accessible and

friendly, that bikes can maneuver, that

people can cross the street safely, and that

allows the commercial area to prosper

again. Most people using Dale are

commuters. That doesn't help businesses,

and it certainly isn't safe for the people

who live here.

I know people freak out about road diets.

They say, no, it's going to make my

commute longer. But what we have seen

time and time again is that when the road

is safer to drive on, commutes are

actually quicker. It actually helps traffic

flow more efficiently. I'll work with

community members and with people

who live on Dale, so that we have a

consensus on what is the right approach.

People don't want to feel they're just told

what's going to happen.

COUNTY SERVICES: We need to make

county social services more accessible.

We've got a ton of paperwork and

bureaucracy. We've been really good at

adding forms.

I just did my annual review for my son,

who is disabled. So I'm in this meeting

with the social worker, the caseworker,

the group home, the financial worker, six

people all in a room. I introduced myself

— "Hi, I'm Hunter's mom." They're all

new. They've never worked on this case

before. The pack of paperwork was a

half-inch thick. I signed more documents

than when I bought my house. Of course I

signed blindly; I couldn't read them all.

This is ridiculous. Everyone on the team

agreed. And it was just one team meeting.

Next week we have to do another annual

review to certify that he's still disabled.

And then in December we have to do an

annual meeting with the case manager.

We could have done it all at once.

So I'm thinking, how we can improve

that process to do what's required, but

also to make it accessible? And this

was in a situation where we were all

English speakers. What happens if

someone doesn't speak English?

HOUSING: It's clear we have a

housing crisis. We have to

make sure we have housing

that's affordable and

accessible to everyone. We

need to think about how

transportation plays a part

in that.

I hope we're not still

trying to convince

people that we've got

a problem. I think

we're all there. But

it's also identifying

opportunities and places where it

makes the most sense to partner. St. Paul

has its own Housing and Redevelopment

Authority (HRA) that works in the city.

The county has its HRA that works in the

suburbs. For me the question is, how do we

get on the same page? Where do we each

have priorities? Where can they overlap?

Of course

I'm focused in on

our district, which as

lacked development for a really

long time and has critical needs. We have

to think about what we need in Frogtown.

— Continued, Page 14

PAGE 2 JANUARY/FEBRUARY JULY / AUGUST 2019

6
---
Meet the New Greens King and Queen

FROGTOWN NEWS

adding a few tablespoons of coconut

aminos (a low-salt, gluten free soy sauce

alternative), and a scoop of broth left

over from the pressure cooker.

Greens Queen KaZoua Berry

The third annual Greens Cook-Off held

Dec. 1 at Mt. Olivet Baptist Church left

the neighborhood with new greens royalty

— St. Paul Western District cop Ron

Townsend and Frogtown personal trainer

KaZoua Berry. Townsend won in the

People's Choice category, while Berry

took home the traveling greens kettle

trophy awarded by a panel of judges.

What are their secrets? There are

similarities — smoked turkey and a

pressure cooker — and also some

distinctions.

For Berry, it all starts with making a broth

from smoked turkey neck bones, ginger,

lemon grass, a garlic bulb cut in half and

onions that she carmelizes before adding

them to the other ingredients in a pressure

cooker. After 45 minutes of cooking, she

strains everything out of the broth,

including the meat. Phase two of her

cooking is to add a pile of collard and

mustard greens to the broth, and put the

broth and greens back in the pressure

cooker for 30 minutes. Phase three: get

out the wok, add sunflower oil, minced

garlic, ginger and grated onion and a

lemon grass puree, sautée over low heat,

then quickly stir fry the strained greens,

JANUARY/FEBRUARY 2019

Townsend starts out with smoked turkey

wings and legs that he hits in a pressure

cooker with chicken broth for about 30

minutes. He then removes the bones,

tendons, fat and skin, and pulls apart the

now-tender turkey meat. He sautés

onions, garlic, thyme, a bay leaf and red

pepper flakes ("For a little bite, but

you've got to be careful," he warns) in

butter or olive oil. Then he puts the meat

and strained broth in the pressure cooker

again with a pile of greens and cooks for

30 minutes. Because raw greens cook

down to just about nothing, if he has a

crowd to feed he'll open the pressure

cooker, stuff it with greens again and

cook for another 30 minutes.

As in past years, the cook-off, sponsored

by the Urban Farm and Garden Alliance,

drew a mob of neighbors. It also featured

performances by the Heart and Soul

Drumming Academy and the spoken

word troupe, Irreducible Grace. Missed

it? Nothing but bitter tears until next

year, when you can make sure to get this

on your calendar.

People's Choice: Ron Townsend

Stopped by Cops? Learn What to Do

You're invited to a community workshop on the use of force, organized by Frogtown

resident and police reserve officer Clarence Castile. Castile, the uncle of Philando

Castile and a member of the state board for Peace Officers Standards and Training, will

speak about the safest response when drivers are pulled

over by the police.

The workshop's aim is larger than teaching simple selfprotection,

Castile explains. "The purpose of this

conversation is to empower the community on how they

can use these particular terms and best practices to their

best ability, whenever they meet a negative force in their

lives," he says.

Castile will be joined by speakers from Metro State

University, clergy and law enforcement who will weigh in

on related topics, including implicit and explicit bias,

procedural justice and the use of force continuum. The free

session runs from 1 2:1 5 to 3:30 pm on Feb. 23, at Shiloh Missionary Baptist Church,

501 Lawson Ave. For more information, call 61 2-282-4338.

COPS CONNECT KIDS WITH GIFTS: Police officers and neighborhood kids

shared a moment during the annual Western District "Shop With Cops" event in

December. Police escorted 21 2 excited kids to the Target store across the street

and helped them pick out Christmas gifts for family members, according to

Outreach Coordinator Patty Lammers.

Get Your Taxes Done the Easy Way,

While Snagging Refunds You Deserve

Tough luck: it's tax season. If that

thought makes you cringe, you're not

alone: 56 percent ofAmericans dislike

doing their taxes, according to a 201 3

Pew Research Center study. Asked why,

31 percent said the process was "too

complicated," and 24 percent found it

"inconvenient" and "time-consuming."

The good news? For many Frogtowners,

tax time is a payday when your refund

rolls in. And getting your taxes done

doesn't have to be complicated. In my

work as a volunteer tax preparer for the

local organization Prepare + Prosper, I've

helped dozens of folks file their taxes in

two hours or less. All you have to do is

bring in your paperwork (check

prepareandprosper.org to get a list).

You'll leave with a fully filed return. At

Prepare + Prosper, you can even open a

checking or savings account where you

can direct your refund.

Several organizations in the Twin Cities

metro area offer free tax preparation

services between mid-January and tax

day on April 1 5. The Minnesota

Department of Revenue maintains a list

of more than 220 free tax preparation

across the state on their website. You can

also search for sites by zip code at

irs.treasury.gov/freetaxprep/.

The closest sites for Frogtown residents

are Prepare + Prosper (261 0 University

Ave. W. #450, St. Paul) and the

University of Minnesota's Volunteer

Tax Assistance Program (300

Washington Ave. SE, #1 03a,

Minneapolis). Call in advance to

set up your appointment, as these

sites get busier the closer it gets

to April 1 5.

Tax Credits Put Money in Your Pocket

Many Frogtown residents are eligible for

multiple tax credits – specific

opportunities to get more money back in

a tax refund. Trained preparers at free tax

prep sites are focused on finding credits

that will boost your refund or lower the

taxes you owe. You may be eligible for

one or all of the credits listed below:

• the Earned Income Tax Credit, for low

to moderate income families.

• the Child Tax Credit Credit, for parents

or guardians of children.

• the American Opportunity and

Lifetime Learning Credits, for postsecondary

education.

• the Renter's Rebate, a Minnesotaspecific

benefit for tenants.

Nailing down these credits is worth the

trouble. For a family with three or more

kids, the Earned Income Tax Credit alone

can be worth more than $6,000,

depending on your family size and

income. — Dolores

Ohmans

PAGE 3

Photo courtesy SPPD.
---
CH

FROGTOWN NEWS

Under Construction: A Flurry of New

Neighborhood Plans, Development

On Rice St., a Dialysis Center

Here's another one for the markers-ofchange

file: the lot on Como and Rice St.,

that for decades held the Stahl House

bowling alley and later the Mexicanthemed

bar El Tejano, is now slated to

hold a kidney dialysis unit owned by

Fresenius Medical Care.

The 9,000 square foot building will also

have retail space, though a tenant has yet

to be found for that, says Steve Miller of

MSP Commercial, the project developer.

Fresnius Medical Care runs 25 similar

locations throughout the metro area.

"This is a nice project that will add

vitality to that corner," said Miller. "It's

quality stone and glass — not just some

cheap building that's going up." The

requirements of a dialysis unit make it a

complex project, with back-up electricity

generation, storage batteries, and detailed

heating and cooling requirements.

The building is scheduled to open in

August, 201 9, Miller said.

More Work on Victoria Theater

Progress on the Victoria Theater Arts

Center isn't necessarily visible, but it's

happening nonetheless.

Director Julie Adams-Gerth says the

latest work on the historic theater at 825

University is stabilization of the building,

funded by a $200,000 grant from the City

of St. Paul. Included is work on the roof

and brick work on the facade. Bricks —

which are now only loosely attached to

the structure — will be temporarily

removed and stored, then used again in

the building's renovation. Come spring,

contractors will work to hook up

downspouts to the storm sewer system.

Inadequate drainage now is causing

damage to the alley side of the building.

To come late in December: the Vic's

board will choose an architect from

among three firms vying for the job.

Housing, Retail at Dale, University

A remake of the corner of Dale and

University is underway as the

Neighborhood Development Center

continues planning for a retail and

housing project in space now filled by

Big Daddy's BBQ and other businesses.

The latest plans call for retail on the

ground level, NDC office, training and

co-work space on floors two and three,

and 40 housing units — a mix of studio,

one, two and three bedroom apartments,

owned by Wellington Management — on

floors two through five. The subsidized

apartments will be available at 40 to 60

percent of the area median income. Shop

space will be aimed at local

entrepreneurs. The developers say they

also intend to search for a way to move

current Frogtowners to the front of the

line for the new housing. A possible

groundbreaking date for the $22 million

project is spring 2020, says NDC CEO

Mike Temali.

Local artist Seitu Jones is part of the team

that will emphasize a green theme for the

building exterior. Among the greenrelated

issues in the development:

remediating pollution left over from

when a dry cleaning operation occupied a

portion of the site.

On Track at the Rec Center

Formerly Known as 'Scheffer'

Construction on Frogtown Community

Center (the new name for the old

Scheffer Recreation Center) remains on

schedule, according to St. Paul parks

planner Christopher Stark.

In December the exterior was finished,

including installation of metal panels on

the second floor. "Most of the work after

the new year will shift to the interior of

the building until the ground thaws and

work can begin on Phase II, including

new fields on the southern half of the

site," Stark says.

The new building will include a full

range of spaces, including a gym, teen

room, a walking track and a kitchen.

Work is scheduled to be complete by

September of 201 9.

Meanwhile programming continues at the

old Scheffer Rec Center building, which

will "remain open until May. After that,

we will become a roaming rec center for

the summer," says Center director Torria

Randall. "We'll be going to

neighborhood schools, fields and

apartment buildings to offer

programming through June, July and

August."

Here's what's in store on the site of the former Scheffer Rec Center.

PAGE 4 JANUARY/FEBRUARY 2019
---
From Cops, Tips to

Outsmart Thieves

FROGTOWN NEWS

55 inch TV," said Community Outreach

coordinator Patty Lammers. The dumpster

will be available in the parking lot,

through January 8th.

THE NEW ENTREPRENEURS

Greening Frogtown attends the monthly

community meetings of the Police

Department's Western District. Meetings

are open to the public, held on the fourth

Tuesday of every month, at 9:30 AM and

6:30 PM at 389 North Hamline Avenue,

and led by Senior Commander Steve

Anderson. Below, observations and tips

from cops, taken from the November and

December meetings.

Foil car thieves this winter

Changes in the weather bring changes in

crime patterns and statistics.

Opportunistic car thefts have spiked

sharply upward now that winter is here.

Don't leave your car unattended to warm

it up, even for "just a minute."

Car thefts of Hondas and Toyotas made

before 2001 are particularly frequent,

because similar keys can be used to open

multiple vehicles. If you own one of these

cars, consider a steering wheel lock.

Dump your cardboard

A recycling dumpster in the Western

District parking lot will be available for

large cardboard recycling; police view

this as a potential theft deterrent. "We

don't want a huge cardboard box in your

recycling bin to alert thieves to your new

Change of Guard

at Wilder Hi‐Rise?

Changes afoot at the 1 36-unit Wilder

Square high-rise apartment building at

750 Milton could put the property in the

hands of CommonBond Communities, a

St. Paul-based housing nonprofit with

nearly 50 years of experience.

The current owner, Real Estate Equities,

is selling, it says, to funnel sale money to

its other projects, such as the 1 44 units of

affordable downtown St. Paul housing it

currently has under development.

In a November meeting at the high-rise,

William Bisanz of REE noted that in its

negotiations with CommonBond, the

nonprofit indicated it would continue to

participate in Section 8 programs that

keep rents at the high rise affordable.

Currently 54 units are covered by

subsidies attached to the building that

keep rents at 30 percent of the tenant's

income. Another 44 units are occupied by

tenants with Section 8 vouchers that travel

with them. All rents are currently

considered affordable to those earning

below 60 percent of the area median

income, which is figured as $56,580 for a

SISTERS SELL WARES AT POP-UP SHOP: Sisters Ola and Tayo Mafe were among

the vendors at a holiday pop-up shop sponsored by Springboard for the Arts. Tayo

sews shower curtains, quilts and other home items using traditional Nigerian

prints. Ola concentrates on handmade shoes, featuring the same bright prints and

patterns. Springboard for the Arts offers resources for artists of all disciplines to

thrive, as well as ways for communities to connect to artists.

The organization, newly installed in their "SpringBOX," at 262 University Avenue,

plans more sales and events, including another vendor fair tentatively scheduled

for "right before Valentine's Day," according to organizer Caroline Taiwo. Info at

springboardforthearts.org.

family of four. By that standard, a twobedroom

apartment pegged at $1 ,273 is

affordable.

CommonBond has a reputation for

offering more than housing at the 6,000

affordable rental apartments and

townhomes it runs in Minnesota,

Wisconsin and Iowa. It commonly offers

reading and homework help for kids and

promotes high school graduation at its

properties. For adults there are job

training and placement, financial literacy

and eviction prevention programs. Alicia

Cordes-Mayo of CommonBond says that

specific services at Wilder Square have

yet to be determined.

At a December meeting that drew about

— Continued Next Page

JANUARY/FEBRUARY 2019

PAGE 5
---
A THOUSAND TURKEYS LAND IN FROGTOWN: What happens when you drop off

1 ,000 turkeys in Frogtown's City School gym two days before Thanksgiving? The

answer: they fly out the door. Two and a half hours after the school doors opened,

all the turkeys were gone, given away to Frogtowners and others who heard via

the grapevine, or through notices published in 11 area church bulletins.

The turkeys were a gift from Vikings receiver Stefon Diggs, center, above. Land O'

Lakes chipped in with two bags of prepared macaroni and cheese, plus two

pounds of butter per customer. The 25-year old Diggs, who has a birthday right

around the corner from Thanksgiving, said, "I picked that as one of the holidays

where I always want to pay it forward and share a lot of love around that time."

Diggs's turkey blast was done in conjunction with Feeding Frogtown, the every-

Friday food give-away at City School. Feeding Frogtown coordinator Delinia Parris

was a strong Diggs booster after the event.

"He's a sweet kid, and it's great that he's giving something back," said Parris. "He

interacted with the kids in a really positive way, and gave them lots of attention."

FROGTOWN NEWS

— Wilder Hi-Rise, Continued

30 residents, CommonBond staff

described their plans and heard resident

feedback. For tenants, the big concerns

were building security — the old problem

of people holding the door open for nontenants

— and whether they could expect

a rent hike. Rents, they were told, will

stay stable.

By late December, the prospective sale

was still undergoing CommonBond's

"due diligence" exam, in which the

nonprofit dives deep into the details of a

deal before committing.

For Ward 1 Seat,

It's Another Race

You might think we just got done with an

election, but as always, there's another

one just around the corner. Candidates are

already gearing up to run for the Ward

One city council seat now held by Dai

Thao.

First out of the gate is Summit-U resident

Liz De La Torre, who got up a Facebook

page and website to promote her

candidacy. De La Torre works in the

Sexual Violence Services division of St.

Paul-Ramsey Public Health, and

previously worked both in the office and

on the campaigns of US Rep. Betty

McCollum.

The top issues that prompted her to get

into the campaign? Criminal justice

reform, particularly in the area of sexual

violence, she says, plus the need to

provide more affordable housing. The

housing crisis, she notes, spills over into

issues such as sexual violence. "There's

nowhere to put victims and survivors,"

De La Torre notes. The lack of

transitional housing and individual

Section 8 vouchers that subsidize rents

for low-income families means that

people confronting violence have fewer

options when looking for a way to escape

the situation in their home.

De La Torre plans to make a run for the

DFL endorsement, and then march on to

the November election, which will be

decided by ranked choice voting.

"People," she says, "are ready for a new

face in this office. They want to put

action behind the rhetoric."

Also pondering a place in this race is

long-time neighborhood activist Robert

McClain. McClain sits on the board of the

Neighborhood Justice Center and St. Paul

Children's Collaborative, and formerly

served on the staff of the St.Paul Urban

League. For the past 1 5 years he's worked

as the manager of an adult group home.

— Continued, Page 14

PAGE 6

JANUARY/FEBRUARY 2019
---
LIVES OF THE SPIRITS

The Reluctant Shaman

Inside Chad Lee's modest tan rambler, the

living room floor is polished and

immaculate. Along one long wall, floorto-ceiling

shelves are lined with silver foil

and draped with elegant appliqué cloths.

Brass shakers tied to bright red ribbons

hang from the edges.

Chad takes a shaker down and waggles it,

making a rhythmic ching-ching. It's a

sound that's familiar to anyone who has

walked Frogtown's streets. "If you hear

this, you know there is a shaman inside

the house." Chad says. It could be him.

Born and baptized a Lutheran, employed

at a local non-profit, Chad Lee is a

reluctant shaman. "I didn't want to do it. I

was chosen," he says. It's an unpaid role

that keeps him busy for hours a week.

Round and bespectacled, with a ready

laugh that shakes his whole body, Lee

seems cheerful and relaxed. It wasn't

always that way. "In 201 0 I was

diagnosed with colon cancer. Stage four. I

had lots of surgeries, a colostomy bag. I

was in a coma for 21 days. During that

time, I visited heaven twice," he says.

In heaven, spirits offered him many

temptations, including a new self. "I said

'You mean I can get a whole new body,

so I won't be short and have glasses and a

hearing aid? Sounds great!' He laughs

merrily. "But after thinking about it, I

decided no. I wanted to come back to my

family." He shakes his head at the thought

of what he passed up.

But then his illness brought more

troubling symptoms. "The spirits were

talking to me all the time," he says. "I

saw things no one else could see. I was so

scared. I worried that I was going crazy."

Chad was a modern guy, not an animist

like his great-grandparents. "I said to

myself, 'Hey, this is the 21 st century.

Shamanism is something from back in the

1 3th century. Normal people don't see

these things.' I tried to ignore it."

Matters got worse. "I was not in control.

My family was terrified. My boys put the

couches in front of the door because they

were afraid I'd run out into the street in

the middle of the night. I was so scared of

what I might do. I even told my wife, "If I

threaten you or the kids, call the police."

Finally, Chad and his wife visited a

shaman, who told Chad, "You are a

shaman, too. You are a chosen one. The

cancer was a sign. If you keep ignoring

the spirits, you won't get better. You need

to accept their terms." Chad was still

hesitant, but finally he struck a deal.

"I said to the angels, 'Keep me quiet and

calm and I will do what you want.' It took

me three years but I learned how to

control all the voices and take care of

myself. I didn't take any psychiatric

drugs. Even though there are still times

when I think I would rather take pills. It

would be a lot simpler!" He laughs again.

Finding Faith

In Frogtown

Frogtown's places ofworship are vital parts ofthe

neighborhood, but their role in residents' lives is often

overlooked. From Dakota sweat lodges that pre-dated

European settlement, to today's many chapels, mosques,

temples, churches and sanctuaries, our neighborhood's

places ofworship have long offered spiritual sustenance, a

sense ofcommunity, crucial social services, and refuge.

In this special section ofGreening Frogtown, writers and

photographers with Bethel University's community

journalism program helped to explore some ofour

neighborhood's many ways and places ofworship.

Above: Shaman Chad Lee with family. Below: St. Paul Fellowship pastors

Scott Gin (L) and Frank Stewart.

of spirits," he asserts. "People come to

me who have illness or pain that won't go

away. Even if they go to the doctor or the

hospital. Tests don't show anything.

Nothing works. They decide it might be a

spirit. They come to me. I help analyze

and see if there are unknown spirits. If it

is, I have to negotiate with the spirit. I say

'What do you want? How can you be

happy? What do you need?' They might

say that they want the human's life, but I

say no. So they say, 'If I can't have a

human life, can I have a pig?'

Chad makes house calls. "If someone has

a house that is haunted, they might hear

noises, feel cold all the time. These are all

signs caused by a spirit. If they stay in the

house, they might become weak." Or he

might help a pregnant mother ensure that

the soul of her unborn baby stays in her

body. "Pregnancy is a difficult time. The

mom's soul and the baby's soul can get

separated. A month or two before the

baby is ready to be delivered, before the

mom goes to the hospital, we do a ritual

to protect them both."

There are rituals for weddings, child

blessings, and funerals. He doesn't charge

a regular fee, but sometimes people make

donations.

Shamanism is not formally taught.

"Anyone can be a shaman," Chad

explains. He gestures at his 5 year old

niece, who is spinning in broad, happy

circles on the polished floor. "Even a little

kid like her. There are hundreds, maybe

thousands of them in St Paul."

The shaman's role is evolving from a

single practice. Chad himself mentors

several younger shamans and his own

sons. "Several of them are in Minnesota,

but one is in Australia, and one is in

Paris."

He tells them what he knows, and

consults on difficult cases. "It's not

always a spirit problem," he cautions.

"Sometimes we just ate the wrong food,

or it's an allergy!" Another laugh.

He's happy in his role as a shaman, but

it's still a struggle, Chad says. "I have to

make sure the spirits don't control me.

Some people never overcome the

struggle. They don't get rid of the evil

ones. That's what I hate the most, when I

see people going through what I went

through, but they don't get better.

"My son said, 'If you don't know exactly

what you are doing, you become

accursed.' If you know exactly what you

are doing, you can become a good

shaman."

— Patricia Ohmans

BUILDING A DIVERSE CHURCH

Two Ministers Called

to Take a Leap ofFaith

Frank Stewart was scared. He owned a

successful printing business with three

locations. His business was thriving. But

Stewart thought he heard God calling him

into ministry. He was full of doubt. His

printing business was a safety net that

Today Chad feels an obligation to help

provided him with a comfortable life. Did

others whose lives have spun out of

he dare to give it up?

control. "Half of mental illness is because

— Continued, Next Page

JANUARY/FEBRUARY 2019 PAGE 7
---
— Diverse Church, Continued

Finally he made a decision. He sold one

shop, then another, then the last

remaining shop. His safety net was gone.

With nothing to fall back on, Stewart had

to find a way to answer the call he heard.

At the same time, Jim Hoffman, pastor of

St. Paul Fellowship at Victoria and

Sherburne, was retiring. His church

needed a new community pastor. The

church search committee learned that

Stewart had a ministry degree from

Bethel University and asked him to put

together a resume.

That was 1 8 months ago — a time during

which some of Stewart's expectations

about the struggle to create a diverse

church got realigned.

•••

Scott Gin was a big jock. He'd been

playing sports since he could walk. A life

without sports was unimaginable to him.

That changed right before Gin started his

freshman year at Northwestern College

(now University of Northwestern, St.

Paul), when he went on a mission trip to

Southeast Asia for six weeks.

As a white suburban kid from Minnesota,

he had to push through the initial culture

shock. He became quiet and shy. After a

few days he was ready to go home. But

then came a unexpected resolution: he

decided to give up sports.

"I don't know exactly what it was, but I

feel like it was the first time in my life

where I heard God speaking to me in a

way that said, 'Here's what I want you to

do, and here's what I don't want you to

do any longer,'" Gin said.

Gin said that this is when his eyes opened

to actually seeing people who are

different from him.

•••

Gin and Stewart now share the role of

lead pastor at St. Paul Fellowship. Their

vision is for the church to reflect

Frogtown. It's been a predominantly

white church, and the congregation

remains small. Their goal is to build a

church that mirrors the neighborhood's

diversity.

Along the way they've had to confront

their own preconceptions. As an African

American, Stewart said, he had trouble

trusting Gin, a suburban white male.

Stewart had experienced too many

instances in his church work where

Caucasian pastors had belittled him. He

expected Gin to do the same. As a result,

he put up walls that kept him from

trusting Gin. He anticipated attacks that

never came.

"He stayed in this calming manner of

talking to me, and it was like he talked

me off the ledge," Stewart said. "We may

see things slightly different at times, but

our mission and goal is the same —

saving the lost in a dying world, changing

the community one person at a time."

The two pastors formed a bond that

encompasses many differences. "I like

both sides of our relationship — the

FAITH IN FROGTOWN

At St. Stephanus, work locally and abroad. Above, Andy and Lynn Thompson.

professional and the personal," Stewart

said. "It feels right and I know it's what

God is calling me to do."

When they aren't in church doing

business, they are together in the

neighborhood — getting coffee at Golden

Thyme or talking a walk. They can talk

for hours, or just hang out at Gin's house

with his family.

Their work at the church is a reflection of

how they feel about each other. "We feel

like the mission of the church is to make

disciples of all nations," Gin said. "Here

is Frogtown, we would like to become a

church that reflects different ethnicities,

different backgrounds, different classes."

— Jared Martinson and Jasmine Johnson

FAITH OUT IN THE WORLD

At St. Stephanus, Good

Works Locally, Abroad

Frogtown proves there are lots of ways to

run a church. At the landmark local

Catholic Church, St. Agnes, for example,

there are spectacular music and services,

sometimes in the traditional Latin.

At St. Stephanus Lutheran Church at

Lafond and Grotto, the focus is on

connecting with the neighborhood and

international community through

programs that include a food pantry, posthurricane

work in Puerto Rico, and

partnerships with groups that provide a

sober house and shelter for asylum

seekers.

"Connecting

people who have

gifts with people

who have a need is

always a goal for

me," says Lynn

Thompson, wife of

pastor Andy

Thompson. "I love to

see unlikely relationships

built and barriers of

language, status, culture,

history torn down through

acts of kindness."

Started in 1 890 as a church and school,

the current church has been a

neighborhood fixture for 1 27 years.

Under the Thompson's leadership —

along with youth and family director

Megan Huff, and administrative assistant

Clarice Anderson — the church continued

to step up to address local needs.

After Frogtown's Sharing Korners food

shelf closed, St. Stephanus offered its

parking lot as a spot for a replacement

food give-away starting in 201 6. This past

summer volunteers — many of them St.

Stephanus congregants — distributed free

produce on Tuesdays from the parking lot

location, bolstering the larger Friday

give-away that had since relocated to the

City School gym Lafond and Western.

The church also provides space for a

sober house in a nearby residence it owns,

where addicts get an chance to work

toward recovery. And it offers a home to

Jonathan House, which provides living

space and support to asylum seekers

escaping persecution in other countries.

"The mission of Jonathan House is

something that we believe in very

strongly," said Thompson. "The Bible

speaks very clearly about the

responsibility of Christ followers to give

aid and shelter to the foreigner and the

stranger. Every time we welcome

someone in who is on the 'outside' we

communicate that no one is a stranger or

a foreigner to God."

In addition to its work right outside the

church doors, St. Stephanus has recently

sent a youth group to Puerto Rico to help

with recovery efforts there after

Hurricane Maria. Fourteen kids and six

adults partnered with the organization

Praying Pelican to scrape and paint an

apartment, clean a playground area, and

serve food to the homeless.

"We had to deal with a lot of language

barriers," Thompson said. "Not a lot of us

spoke very much Spanish. We wanted to

take kids out of their comfort zone, and

allow them to live out their faith in

another way and in another place."

In Thompson's view, the Puerto Rico trip,

the food give-away and other work within

the community is a key part of what the

church is about. "We take love of God

and share it with others. If we keep grace

to ourselves, then it's a wasted gift that

God has given us."

— Alicia Dahl and Abby Pautz

WHERE THE DOORS NEVER CLOSE

The 24-7 Church,

Never Closed, But

Sometimes Contentious

Ten years ago, when William Hanson was

released from prison for assaault and

burglary charges, he needed a place to

live. He didn't have much luck finding a

house or apartment. But he did eventually

find a vacated church.

Hanson came across what had once been

a Norwegian immigrants' church at the

corner of Farrington and Sherburne. Built

in 1 902 and largely unchanged since then,

the City of St. Paul had declared it a

Category Two property, a designation

reserved for buildings that are condemned

or have multiple housing violations and

are unfit for occupancy.

— Continued Next Page

Above: The former Norwegian immigrant Lutheran church at Farrington and

Sherburne is now the 24/7 sanctuary dubbed CHURCH. Left, William Hanson.

Photos by Maddie Christy, Sam Johnson

PAGE 8 JANUARY/FEBRUARY 2019
---
CHURCH — Continued

Hanson said God had some words for him

regarding the building. "Take the names

off the church and call it CHURCH.

Remove the locks on the church and be

open 24-7 as I am. And do not collect

money where you pray and worship our

Father."

With help from Brett Grosklags, a

Burnswille business owner, Hanson

bought the church and undertook a fix-up.

Now the church at 51 5 Farrington, once

known as Trinity Norwegian Lutheran, is

called CHURCH. It's open 24 hours a day,

seven days a week, every day of the year.

Anyone is free to enter the permanently

unlocked door.

Open the first set of doors, and the

entrance holds the rules for the church,

free Bibles, a donation box, the certificate

of occupancy, and Hanson's ordination

certificate. Take one more step inside and

you'll encounter CHURCH– the oftenempty

sanctuary, carpeted in red, flanked

by the original stained glass windows and

pews. You'll hear the low rumble of a

looped audio track reading scripture.

But where are the people?

William Hanson might be in the

basement. Hanson, who legally lives in a

basement apartment, and his co-leader,

Brenda Staats, run the daily operations of

CHURCH. On any day and at any time,

Hanson and Staats are most likely inside

the church worshiping, praying, reading

scripture, sleeping or waiting.

They are waiting to minister. Sometimes

kids from the neighborhood appear.

Sometimes it's a homeless guy. Everyone

is welcome.

There are no weekly services at

CHURCH. It isn't part of a denomination.

There are no elders, members, or worship

team. "Our goal is to minister to the

community," Hanson said. "And

ministering is just showing up."

According to some neighbors, however,

CHURCH has been more of a disruption

than a ministry. The original cause of the

squabble? Chickens.

Hanson got into a dispute with neighbors

Brian Thompson and Kabo Yang that

resulted in both sides filing restraining

orders against each other. The trouble

started with a truck of crated chickens that

Yang said she parked outside her mother's

house on Farrington when Yang stopped

by to check on her. Hanson reported the

couple to Animal Control, saying that the

chickens smelled and attracted vermin.

FAITH IN FROGTOWN

Above: Sanctuary at St. Adalbert's Catholic Church.

Right: Multilingual Father Joseph Vu Xuan Minh.

to God. "God continues to sustain it,"

Hanson said. "The main thing is to be

obedient to God."

— Maddie Christy and Sam Johnson

CHANGING FACE OF THE CHURCH

Polish to Vietnamese, a

Church Transformed

Groups of children hop up along the mats

of the fellowship hall, and parents line up

for coffee as the 1 0:30 Vietnamese service

at St. Adalbert's Catholic Church

concludes. A youth leader blows his

whistle to gather students for catechism

classes. The majority of the church

congregation bustling out of the pews and

into the gathering space is Vietnamese.

St. Adalbert's hasn't always been this way.

When it was built in 1 911 , it served Polish

immigrants — most of whom worked in

Frogtown's railroad yards. Since then, the

congregation has reflected the changes in

the neighborhood.

When Father Joseph Vu Xuan Minh

arrived in 2001 , he led mass in three

languages: English, Vietnamese and

Spanish. "There were many longtime

Spanish families in the parish," Minh said.

The first group of Vietnamese immigrants

came to St. Adalbert's in 1 990. Father

Tim Kernan, the priest at the time,

sponsored two Vietnamese families that

traveled to Minnesota to begin a new life.

Kernan passed away in 2001 . Minh

wasn't expecting to be appointed priest of

St. Adalbert's, but a classmate suggested

he talk to the bishop about taking the

position. St. Adalbert's was struggling

financially and likely couldn't afford

multiple priests to accommodate the three

languages spoken by congregants. Minh

spoke them all, so the church gained a

new priest and saved some money.

Both services held on Sundays are mostly

attended by Vietnamese families. Few

Caucasians, African Americans or any

other ethnicities are present.

Ken Fox is one of the few non-

Vietnamese churchgoers at St. Adalbert's.

He's often seen in a back pew at the 8:30

Sunday service, occasionally helping out

with the church offering. He struggles to

Photos by Jared Martinson, Jasmine Johnson

understand anything, but there's no other

parish close enough to walk to. "I've gone

here 1 0 years," Fox said. "I don't have a

car and it's just across the street."

The 8:30 time slot on Sunday morning is

labeled an English service. But for

someone like Fox, the Sunday services

are similar enough that it doesn't matter

to him whether he attends an English or

Vietnamese mass. Catholic masses all

have the same structure, including preplanned

prayers, songs and scripture

readings. So even if an English speaker

attends the Vietnamese service, he or she

can still follow what's happening.

Minh includes a

Vietnamese translation

alongside the English to

stay true to his roots and to

make everyone feel

welcome. Saturday

afternoon's 4:30 service is

fully in English.

Some Vietnamese speakers

attend the English service to

learn the language; others prefer

the Vietnamese service.

Before each service, Minh weaves

between the aisles, greeting congregants

with a smile and handshake. Many of the

children gather up front by the altar to

listen to Minh speak.

"We have a strong youth group in the

parish," Minh said. "This year, we have

1 58 students in eucharistic youth group."

Bethel University student Toan Vo has

attended St. Adalbert's since he was two

years old. Vo prefers the Vietnamese

service because of the atmosphere and

because the service is uninterrupted by

translated segments.

Many Vietnamese families also choose

the Vietnamese service to remind their

American-born children of their culture.

"They know that they want their kids to

learn Vietnamese and never forget about

their roots," Vo said.

No matter how much the congregation

changes throughout the years, Minh

expressed that the original purpose of the

church remains constant. "We carry out

the mission of the parish for immigrant

people," he said.

— Jared Martinson and Jasmine Johnson

THE BIG ENOUGH CHURCH

The Storefront Church

The matter escalated from there, with all

the parties claiming they had been

threatened. At a December District Court

session, they were unable to reach a

mediated settlement, so the matter was

scheduled for a January court hearing.

Alongside the battle with neighbors are

the usual concerns for any owner of a

11 7-year old church building. The

building will need shoring up. That will

demand funding for repairs. Then there's

the question of community involvement.

Hanson says he surrenders these matters

JANUARY/FEBRUARY 2019

Pastor Alethea Chaney at Nehemiah's Walls International Church.

In a world where the conventional idea of

a church involves a pile of bricks and a

soaring steeple where bells clatter on

Sunday, Nehemiah's Walls Gospel Baptist

Church can seem like a puzzlement.

Located on the corner of Grotto and

Charles for the past 21 years, it appears

more like another Frogtown apartment

building than a house of faith.

But inside on a Sunday morning, Pastor

Alethea Chaney is preparing for the 1 0

am service. She is composed and speaks

— Continued, Next Page

PAGE 9
---
— Storefront Church, Continued

softly as she studies the Bible to prepare.

Sometimes, depending on the service, her

preparation includes a fast.

Chaney once ran an African American

adult senior care, and also worked as a

hospital cardiovascular technologist. But

then in the late 1 980s she got a call she

had not necessarily chosen."When God

gives you a calling, you have to fulfill it,"

she says.

In her early years of her ministry at

Grotto and Charles, she learned that God

had called her to a tough location. The

corner was then ground zero for

Frogtown's street-level drug trade, where

it was not unusual to see dealers on the

same corner as kids waiting for a school

bus. Back then Pastor Chaney and the

dealers managed to work out an

arrangement. "They'd sit outside but they

wouldn't sell drugs during our service.

They were being respectful. They'd make

people come back later."

Now, decades later, the street is

comparatively calm, except for the

occasional shooting. But Pastor Chaney is

still ministering to a tight cluster of

congregants, where it's possible to know

everyone else who attends.

"It's a small family here. You walk in and

they hug you, they ask how your family is

doing," she says. "Anyone is welcome. It

doesn't matter what you're wearing or if

you're drunk."

More Frogtown Churches

This special insert in Greening Frogtown is one manifestation of community

involvement by Bethel University, an evangelical Christian college located a few

miles north of Frogtown. For 20 years, Bethel University has supported the Frogtown

Summit-University Partnership, whose mission is to build intentional, long-term

relationships in the two neighborhoods, says Tanden Brekke, Assistant Director of

Community Engagement and Service Learning at Bethel.

Journalism students at Bethel have collaborated on a school newspaper for Maxfield

Elementary School. This year, Professor Yu-li Chang Zacher's undergraduate class

also worked with Greening editor Tony Schmitz and publisher Patricia Ohmans on the

stories in this special section. Many thanks to our crew of reporters and

photographers: Maddie Christy, Alicia Dahl, Carlo Holmberg, Jasmine Johnson, Sam

Johnson, Tatiana Lee, Jared Martinson, Ally O'Neil, Abby Pautz and Laura Osterlund.

FAITH IN FROGTOWN

Chaney admits that she would like the

church to be bigger, but at the same time

sees growth as a balancing act. "Never so

big to not know my people or them not

know me well," Pastor Chaney said. "I

don't want to look up at people sliding in

and out of the balcony and I don't know

who they are."

Despite its size, the congregation is

remarkably diverse, including Hmong,

African American and Chinese attendees,

who say the church would not be the

same without Pastor Chaney.

"It is small, yes, but faithful and

welcoming," said KaZoua Yang. "She is a

woman of faith, a prayer warrior, because

she is faithful."

Her husband, Howard Chaney, praised his

wife for not only preaching what she

believes, but living it. "She is

compassionate, and that compassion is

rare, it is far and few," he said.

After two decades on Grotto, Pastor

Chaney still has room for dreams. She has

a vision of moving to a place with more

room, where she could better serve

people of all ages. For now, she's

prepping for the future with the words

that are painted on the inside walls of the

church: "Expect miracles."

— Tatiana Lee and Tony Schmitz

Several other Frogtown places ofworship are not mentioned in our Faith in

Frogtown series.

Church of Saint Vincent de Paul

Merged with the Cathedral of Saint Paul

parish in 201 2, the Frogtown location

primarily serves Hmong-speaking

Catholic members. 651 Virginia St.,

(651 ) 228-1 766,

cathedralsaintpaul.org/svdp

Church of St Agnes

On the National Register of Historic

Places since 1 980. Multiple masses and

services every day of the week, many

with accompaniment by the Twin Cities

Catholic Chorale. 535 Thomas Ave. W,

(651 ) 925-8800, churchofstagnes.org

Christ on Capitol Hill

Multicultural Lutheran church houses

several social service organizations, kitty

corner from the Minnesota State Capitol.

1 05 University Ave. West, (651 ) 222-

361 9, christoncapitolhill.com

Deeper Life Bible Church

One of several international locations,

including Nigeria, England, Ireland and

Australia. 945 University Ave, (651 ) 222-

1 668, deeperlifeminnesota.org

Faith Lutheran Church

Part of Frogtown since 1 91 4. Volunteer

programs with Feed My Starving

Children and Christmas Child.

499 Charles Ave, (651 ) 227-5299,

faithlutheranstp.org

Refuge St Paul Fellowship

Offers activities for Mighty Men, Women

of Purpose, and youth. 867 Pierce Butler

Route, (61 2) 564-0096, rccministries.net

About this Bethel U Partnership

At Al-Ihsan Islamic Center, Imam Mohamed Mursal (R) and Ahmed Mohamed Sahane.

Faith changes people, but it also changes

neighborhoods. The evidence? The

transformation that Islam has brought to

Minnehaha Mall, where Al-Ihsan mosque

is now the prime tenant, surrounded by a

cluster of new East African businesses.

On a recent afternoon Imam Mohamed

Mursal retraced the path that him led to

995 Minnehaha. Before moving to

Minnesota, Mursal spent eight years

working on a master's degree in Islamic

studies at International Islamic

University, in Islamabad, Pakistan. After

landing in St. Paul, he became part of a

committee formed to fill in what

members saw as a blank space for

recently settled Muslims. In their view,

St. Paul, with only one mosque, needed

another to meet the growing demand.

Al-Ihsan landed in its first location in

May, 2007, at the commercial building on

the corner of Dale St. and Van Buren.

Within a year the mosque had outgrown

the space. Mursal and his committee

searched for a larger building, but found

that rent — $5,000 to $6,000 per month

for the type of place they desired — was

too high. Then in 2008 Mursal happened

to drive down Minnehaha Ave., and

noticed a For Sale sign on what was then

a defunct dollar store. He called the agent

and lined up a viewing.

The building was no one's idea of prime

commercial real estate at the moment.

Before it turned into the tanked dollar

store, the neglected building had been a

Country Club grocery market. When

Mursal spotted the building, it was most

notable for peeling exterior paint and a

cratered parking lot. In the then-depressed

real estate market, Mursal and the

committee decided to make an investment

in the building and the neighborhood.

They bought the building for $900,000,

with $200,000 down and seven years to

pay off the balance on an interest-free

contract for deed — a necessary step

MOSQUE‐LED TRANSFORMATION

Along with Mosque, Investment, Development

Brighten and Fill the Minnheha Mall

since Islam does not allow for payment of

interest.

Another $400,000 went into renovations

that included all new mechanical systems,

an exterior paint job and carpeting with a

pattern carefully set by compass to point

exactly toward the mosque in Mecca. On

Friday, Saturday and Sunday Al-Ihsan

now attracts 400 to 500 for prayer

services, Mursal says.

In Mursal's view, the flood of the faithful

has changed the mall area. "Before we

moved, there were always police here. We

have contributed to the safety of the area

and added value."

The mosque rents a portion of its building

to a bustling day care center. But Mursal

also points out that the mosque has been a

boon to the mall area as a whole.

"Business-minded people want to be near

the mosque," he says, because of the flow

of weekend traffic. Mall owner Jeff

Arnoldagrees. "The vast majority of our

tenants now are East African," he says.

The most visible businesses include a deli

and a clothing/sundries shop, Cache

Services, just to the mosque's north.

Another marker of the mosque's effect is

the seemingly weekend-long soccer game

that kids play in the parking lot.

"If there were no mosque," says Mark

Leverty, co-owner of Cache Services with

his Somali wife Nina Mohamud, "we

wouldn't be here."

The mosque creates business

opportunities, says Leverty. An example:

there's a celebration for those who have

successfully undertaken the years-long

process of memorizing the Qur'an. "It's a

big party. So the women come to buy new

dresses. The men buy kameez (the

traditional long tunic) from us. The deli

sells food. We all have a definite role to

play here."

— Tony Schmitz

PAGE 10 JANUARY/FEBRUARY 2019
---
FORGOTTEN FROGTOWN

Once Culture Center, Now Vacant Lot

Dietsch's Hall, a place for weddings, boxing matches, blues — and now weeds.

Frogtown is a neighborhood with a strong

immigrant presence. Immigrants built this

neighborhood and continue to find their

homes here today. In 1 890, German

immigrant Joseph Steinkamp

commissioned architect George

Bergmann to design and build a saloon

and multi-use structure at 601 Western

Avenue. The building would later be

known as Dietsch's Hall.

Dietsch's Hall was central to the social

lives of many Frogtowners. Wedding

receptions, showers, anniversaries, funeral

luncheons, dances, meetings, and a

variety of other important civic and social

gatherings happened within the handsome

structure, which stood proudly at the

corner of Western and Thomas Avenues

for 1 24 years.

Celebrations and community gatherings

are an important part of the hall's history,

but Frogtowners enjoyed other lesserknown

thrills such as boxing matches at

Dietsch's Hall. One particular match

stands out in history from the many held

within the hall. In 1 91 5, a 1 9-year old

boxer named John Simmer was rendered

unconscious in the fifth round of what

was described as an "unregulated match."

Last hurrah at Western and Thomas: Dietsch's Hall before its 201 4 demotition.

Simmer was allowed to lie unresponsive

in the ring for 30 minutes following the

match before medical help was

summoned. He later died as a result of

his injuries.

The incident influenced public policy

many years later when in 1 976,

celebrated St. Paulite and former

professional boxer Jim O'Hara was

appointed by Governor Wendell Anderson

to the Minnesota Board of Boxing as

Executive Secretary. O'Hara was wellversed

in boxing history — with 70 years

of boxing experience under his belt, he

lived it — and was a staunch advocate for

the safety of boxers. O'Hara was once

quoted as claiming "nobody's going to die

on my watch."

As the decades

passed, Dietsch's

Hall became

home to

memorable

neighborhood

establishments

that served the

Frogtown

neighborhood

and, more

specifically, the German, LGBT, and

Hmong communities. The building

underwent extensive renovations in the

1 970s to make way for the new (and

sometimes infamous) drinking, dancing,

and entertainment-focused venues that

later filled its walls. Long-time residents

likely recall such notable establishments

as the former Lenahan's, Lucy's Saloon,

Wilebski's Blues Saloon (now located

1 638 Rice Street), and, finally, the

Moonlight Magic Bar, which closed in

201 0.

The establishment is even referenced as

an important plot point in The Magic

Bullet: A Locked Room Mystery

Featuring Shadwell Rafferty and Sherlock

Holmes, a Minnesota mystery by local

author and historian Larry Millett, which

takes place in 1 91 7, on the cusp of

prohibition and the gangster era in St.

Paul.

The end of the line came for old Dietsch's

Hall on August 20, 201 4. After sitting

vacant since December 1 4, 2011 , the

building was demolished by the City of

Saint Paul. Ghosts of the historic hall's

former identities throughout the years

made one last appearance as the bricks

and mortar came down.

— Jennifer Gascoigne

Jennifer Gascoigne works for the

Minnesota Historical Society and is the

administrator ofthe Frogtown History

group on Facebook. Jennifer welcomes

comments and neighborhood history

anecdotes. She can be reached

at jennifergascoigne@gmail. com.

Cat Scratch Fever

Ask the Animal Humane Society Outreach

Q: How do I get my cat to stop scratching my furniture?

A: Cats scratch to exercise their paws and sharpen their claws. Redirect

your scratching cat to a scratching post placed nearby. Scratching posts

should be tall enough for the cat to fully stretch

their body, sturdy, and covered rough-textured

material, such as rope or sisal. It should be

accessible to the cat when you arrive home,

after he wakes from a nap, and after he eats.

You can also deter scratching by making a

surface unappealing. Sticky Paws is a thick

double-sided tape that you can place over areas

you don't want the cat to scratch.

If these tips don't help, your cat may be scratching due to stress with

another cat, either in the home or roaming outside. Feel free to call or text

animal trainers Katie or Elise at 651-802-8246 for more free tips through

the Outreach program of Animal Humane Society.

JANUARY/FEBRUARY 2019

PAGE 11
---
What's Hiding in City Comprehensive

Plan? Now's the Time to Check It Out

While you're resolving to lose those

five extra pounds or to stop smoking in

the new year, the city of St Paul has

plans for self-improvement, too.

trees? Check the section on the urban

forest, which aims the city toward a 40

percent tree canopy (Frogtown's is 23

percent and declining.)

In the city's case, these "resolutions"

extend for the next two decades, and

are outlined in Saint Paul for All: 2040

Comprehensive Plan. The 200-plus

page document is chock-a-block with

policy recommendations on land use,

transit, employment, development and

more.

Lest you think such grand schemes

have little to do with Frogtown, think

again. Are you:

Concerned about climate change? On

the plan's very first page, there's a

"commitment to increase resiliency"

especially in neighborhoods which, like

Frogtown, will be hard hit by rising

temperatures and more severe storms.

Looking for ways to spark

development in Frogtown, or create a

new business? The Plan lists several

"opportunity zones" that should be

eligible for special funding, including

the Minnehaha Mall, the Unidale Mall

and the former Sears site.

Mourning the loss of boulevard

Looking for a cheap place to live?

Read about the city's intent to offer

"strategically targeted subsidies to

develop market-rate housing in areas

that lack market-rate options" or,

conversely, to place "affordable housing

in higher income areas."

As anyone who has made a New Year's

resolution knows, it's easy to plan for

change, and a lot harder to carry out

those good intentions. Positive changes

will come to the neighborhoods that

make their preferences known.

City officials are looking for input on

the Comprehensive Plan draft over the

next several months. Feedback starts

with a public hearing at 8:30 a.m. on

Friday, January 11 in Room 40

(basement) of City Hall, 1 5 W. Kellogg

Boulevard. Can't make the hearing?

Written comments are acceptable.

Read the plan for yourself at

tinyurl.com/StPaulCompPlan, and

resolve to weigh in on how to achieve

an even better community.

PAGE 12 JANUARY/FEBRUARY 2019
---
JANUARY/FEBRUARY 2019 PAGE 13
---
Ward One Race, Continued

Says McClain of the incumbent, "We need

to have somebody challenge him. He's

had low visibility in the ward." For now

McClain says he's meeting with

neighborhood figures and trying to tally

up how much support he'd have in a race

for the council seat. McClain has

previously run for school board and for

the Ward One city council seat.

Thao kicked off his campaign in

December, saying, "If we look at the

history in Ward One, we've made a lot of

progress in economic development and

protecting homeowners and residents."

Examples? He points to senior housing

and retail development on Selby Ave., the

Frogtown Community Center that will

replace Scheffer Rec, and Midway

development associated with the soccer

stadium.

"I'm not running on campaign rhetoric,"

says Thao. "I'm running on experience.

The community needs someone who

represents the entire ward."

New Commissioner, Continued

Are there opportunities for alternatives,

like the cooperative housing, for instance.

Is there a role for the county to play?

What does that look like in Frogtown?

Housing is always evolving. But not that

long ago, Frogtown had all these lovely

large duplexes. And then at one point

families took them out of duplexes and

made them single family homes again.

We could think about whether there's an

opportunity for us to put those duplexes

back in, where families can live in places

that aren't massive apartment buildings.

Maybe it's time for more four-plexes, or

six-plexes. Or apartment buildings. I

think it's a mixture of all of the above.

Also, it's not just housing. It's the

amenities that go with housing. If we

have more housing, where is the grocery

store? Where is the laundromat? Where

is the opportunity to walk? How about

the parks and libraries? We need to think

about community design. Do we move

county services out from downtown St.

Paul, but have access to WIC, so that

access to food and housing assistance is

right in the community.

GUN VIOLENCE: How do we change

the feeling people have that they need a

gun to protect themselves? We need a

holistic view. If we think the problem is

poverty, for instance, then housing

availability can help reduce gun violence.

Creating jobs will reduce it.

How do we show young people —

people who have been marginalized,

people who feel that their survival

depends on violence or crime — how do

we show them that they matter to us and

that we value them? Without question

this is a public health issue. County

public health is the way we can engage in

this conversation. that.

If you look at the data, there are 1 8 to 26

year olds engaging in gun violence

against each other. Where does that come

from? We need to ask, where did we fail

those folks who are in that age category,

who feel they need to protect themselves?

$15/hour: What It

Really Adds Up To

Since our last issue, St. Paul joined the

$1 5 minimum wage club, when the city

council and mayor signed off on the new

law requiring businesses to pay a higher

minimum wage.

One question anyone trying to pay their

bills on a minimum wage will be asking

is, how much will that $1 5 minimum be

worth by the time I actually get it?

City workers and employees of firms

with more than 1 0,000 workers will be

paid the $1 2.50 minimum on Jan. 1 ,

2020, and $1 5 by July 1 , 2022. Given the

rate of inflation, that $1 5 in 2022 will

likely to be the same as about $1 4.1 5 now.

At firms with more than 1 00 workers, the

wage bump is to $11 .50 on July 1 , 2020,

with annual increases to $1 5 by July 1 ,

2024. By then, $1 5 will likely be worth

$1 3.67 today.

Small employers will meet the $1 5 bar by

July 1 , 2025, when it will be worth about

$1 3.44. And micro business that start

paying $1 5 on July 1 , 2028 will hand over

the equivalent of $1 2.89 per hour.

We asked Celeste Robinson of

FifteenNow Minnesota for some context.

She replied, "The relentless march of

inflation isn't the only thing assailing

working people — automation, the gig

economy, and the growth of megacorporations

like Amazon and Google are also

fundamental threats to the basic social

contract that if you work, you can survive.

"The fight for 1 5 is about more than a $1 5

minimum wage, it's about building our

power as workers to take on injustices and

win concrete improvements. Our local

movement built independent political

power with workers in and out of unions

to force real concessions. This time

around it was $1 5, but the method can be

applied down the road for whatever

comes our way."

PAGE 14

JANUARY/FEBRUARY 2019
---
WHAT'S HAPPENING!

JANUARY/FEBRUARY 2019 PAGE 15
---
PAGE 16

JANUARY/FEBRUARY 2019