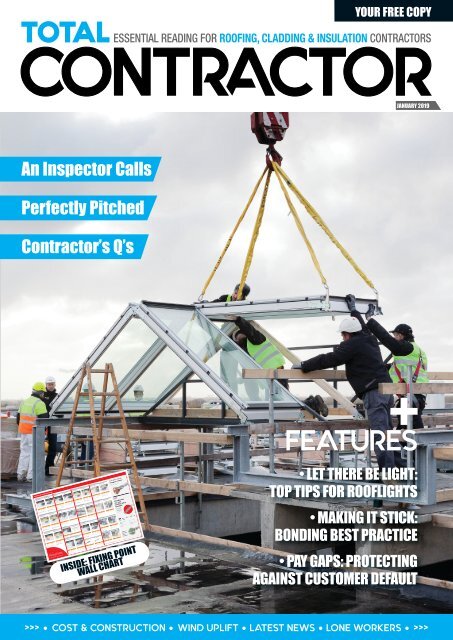 You also want an ePaper? Increase the reach of your titles
YUMPU automatically turns print PDFs into web optimized ePapers that Google loves.
DT435

el Single

arbon Self

Stitchers.

Gash Point

Laplox

S

Sta inle s Stitchers

Lapfix

FAB

Dri ltit

Light Section Fixings

Other

Stainle

Fab-L

unlimit

to sec

Fab-L

of high

or stru

e o

contra action. .

el 5052-H32 ALUMINUM 1.6mm – 6.35 m 35 m

s Fab-Lok wi l fasten.

Skin Fixings.

Hea

xings.

Heavy Sec ction Fixings

Low P

Light S ection Fixings

Dri l and fi fix into cold ro led sections

Product C

LP325

13 m 1.2 to 3 m

26 m 1.2 to 4 m

LP457

45 m 1.2 to 4 m

Provided with P10 EPDM ru ber washer.

Timber to S

Timber to Lig ht Section

Heavy Sec

ction Fixings

Size

MAX T St el

Diameter

Thickness

Thickne s

Timber to S

Timber to Col ld Ro led St el

y Section

Size

MAX Timber St el

Diameter

Thickne s Thickne s

Fibre Ceme

St el

Diameter

Thickne s

Thickne s

d

For Side Laps

For S Side Laps

Dri l and

Dri l and fix into hot rolled sections

Pozidrive Counte rsunk Head

Pozidrive Countersunk k Head

C

our sales

Product Suits Panel Dri ling

Product

Suits Panel Dri ling

Produ

Code

T ic s

Ca it

Code

Th n

C a

SLS

SDHT65

SD12HT75

TFD40 20m

TFD1260 25 m 4 – 12mm 5.5 m

DT325

12 m 1.2 to 3 m

DT1232

10 m 4 to 12 m

LS 25

6.3 × 25 m Standard

SDHT80 35 – 5 m

1.2 to 4 m

SD12HT85 35 – 45 m 4 to 12 m

TFD5.540 17 m 1.2 – 4 m 5.5mm TFD1285 50mm 4 – 12 m 5.5 m

Stitcher

SMLS2 3 7.5 × 3 m Mega Stitcher

2 m 1.2 to 4 m

DT1240

18 m 4 to 12 m

SDHT 10 50 – 85 m 1.2 to 4 m

SD12HT1 0 45 – 60 m 4 to 12 m

TFD60 37mm

1.2 – 4 m 5.5 m TFD12 10 75 m 4 – 12 m 5.5 m

MLS 25

7.8 × 25 m Mega Stitcher Stain

nle s

Ranges fro om 65 to 250 m in length.

Ranges from 75 to 250 m in length.

o 460 m in length.

m in length.

(Repair)

el washers available in 16, 19

Stainle s w

Stainless washe

or 29 m.

or 29 m.

G

or 29 m. .

For s

Max steel thic ickne s is 2 × 0.9 m

Pozidrive Counte ersunk Head

Pozidrive Countersunk k Head

Product Suits Pa anel Dri ling

Product Suits Panel Dri ling

Code

Thickness

Capacity

Code

Thickness Capacity

Product Code

Produ uct Code

Product C

Product Code Size

DTHT65 30 – 400 m 1.2 to 4 m

DT12HT85 25 – 50 m 4 to 12 m

LAPLOX25

LAPFIX

DXH37

SDST50

6.5 × 50 m

STFD45

20mmm

1.2 – 4 m 4.8 m

STFD1260 20 m 4 – 12 m 5.5 m

The improved d design

DTHT80 40 – 5mm

1.2 to 4 m

DT12HT105

35 – 70 m 4 to 12 m

LAPLOX38

DXH237

1.2 – 3.0 m 6.3 × 37 m SDST75

6.5 × 75 m

S STFD65 40mmm

1.2 – 4 m 5.5mm

SSTFD1280 40 m 4 – 12mm 5.5 m

a ds strength th and

D THT1 0 45 – 75 m 1.2 to 4 m

DT12HT120

50 – 85 m 4 to 12 m

C

DXH47

0 m 6.3 × 47mm tainle s wash

STFD80

55 m

1.2 – 4 m 5.5 m

stability t o th he br acket

Stainless w

which allows for depths

of up to 400m mm without

the n e ed for a ditional

support

br kets.

Requires 9 m pilot hole

Dri l and fix into hot rolled sections

Fab-

Clad

Rivet/Sl eve Material

Product Code

Product Code Build

Sealin ng Pr

sories

FC 10BAZ

C12125BAZ 45 – 80 m 4 – 12 m

70 – 1 0 m 1.2 – 4mm

FC12150BAZ

70 – 1 0 m 4 – 12 m

FC150BAZ

1.2 – 4 m

C12180BAZ 1 0 – 130 m 4 – 12mm

LP1238

17 m 4 to 12 m

Flat Roof

P

230 m in length.

adding

m in length.

6.3 × 32 m

DSTHT80

20 – 40 m

Dri l a

LP1250

29 m 4 to 12 m

ems

LP1267

46 m 4 to 12 m

Ranges fro om 25 to 70 m in length.

Provided with P10 P EPDM ru ber washer.

or 29 m.

Used for

to mason nry

ri ling Capacity

Produ

Product Code Size

Product Code

Size

Product Code

Build Up

Product Code

Build Up

1.2 to 3 m

SD12

FCT130BAZ

45 – 65 m

SFCT130B

45 – 65 m

SD435

18 m

1.2 to 4 m

SD1260

3mm 4 to 12 m

Stainless washe ers available in 16, 19 or 29 m.

1.2 to 4 m

SD1280

53 m 4 to 12mm

Ranges fro om 32 m to 125 m

th.

Stain

Galvanised

, m.

com

Confi

fix.

Con-Fi ix TH Head

TH432

TH445

TH457

6.3 × 32mm

6.3 × 45 m

6.3 × 57mm

Stainle s Concrete Fixing

STH 45

STH475

6.3 × 75 m

Fibre Ceme ent Fixings.

o led St el

Size MAX Timb ber

Thickne s

Fixing Po

Steel Diameter

Thickne s

e

Other pr

oducts

our broc

hure.

JANUARY 2019

An Inspector Calls

Perfectly Pitched

Contractor's Q's

R oofing & Cla adding Fixings

.

Dri ltite Carbon St /Do uble Skin Fixings. S

Light Section Fixings

Heavy Section Fixings

Carbon Stitchers

Drill and fix into cold rolled sections

Drill and fix into hot rolled sections

Product Code *ETL Dri ling Capacity

Product Code *ETL Dri ling Capacityaci Product Code Size Type

Prod uct Code Size Type

DT 20 7 m 1.2 to 3 m

DT10 2 7 m 4 to 8 m

LS 20 4.8 × 20 m Mini Stitcher

S 25 6.3 × 25 m Standard

Stitcher

washers available in 16, 19 or 29 m.

Ranges from 20 to 70 m in length.

Ranges from 2 to 80 m in length.

Galvanised or stainle s steel washers available in 16, 19 Galvanised or stainless Galvanised or stainle s washers available in 16, 19

Dri l and fix into cold ro led sections

Drill and fix into hot rolled sections

For side laps on r oflights

side laps on fibre cement sh ets

Drilltite Carbon St el Composite

Panel Fixings.

Light Section Fixings

Heavy Section Fixings

Ranges from 65 to 250 m in length.

Galvanised or Stainless washers available in 16, 19

or 29 m.

C f Dri ling Screws for T imber Purlins.

St el to Timber Gash Point

Composite Panel to Timber

Max st el thickness is 2 × 0.9 m

Ranges from 85 to 240 m in length.

Galvanised or Stainle s washers available in 16, 19

or 29 m.

Specialist Stitchers.

Comes with S19 washer. Colorite version available.

Specialist Stitchers.

Product Code Screw Material

Product Code Size Dri ltite Stainle s St

Product Code Suits Panel Thickne s

DST25 6.3 × 25 m

DSTHT60 20 – 25 m

DST32

Drill and fix into cold ro led sections

DST45 6.3 × 45 m

DSTHT1 0 40 – 60 m

Galvanised or stainle s washers available in 16, 19

Ranges from 60 to 2 0 m in length.

or 29 m.

Galvanised or stainless washers available in 16, 19

te Stainle s Steel Composite Panel Fix

fix into cold rolled sections

AB-LOK Compre sion Fixings

-Lok Compre sion Fixings for Metal

ding and Non-Meta lic Sheets

Lok compre sion fixings are universal with virtually

mited uses. They may be used a structural fixings

cure lighter metals to heavier st el framing.

Lok fixings ar excellent side lap fixings in areas

h or unusual wind conditions. Severe vibration

ructural racking. High rat f expansion and

FAB 10 – 4 304 Stainless Ste

Grip range is total material thickne s

t el Single/Double

Light Section Fixings

avy Section Fixings

Product Code *ESL D

SD325 9 m 1.

SD450 33 m 1.

Ranges from 25 to 65 m in leng .

Stainle s washers available in 16, 19 or 29 m.

teel Carbon Fixings.

Timber to Heavy

Timber Size MAX Timber

Thickness Capacity

Cod Thickness Capacity

T k

25 – 40 m 1.2 to 4mm

20 – 35 m 4 to 12 m

m 1.2 – 4 m 4.8 m

Ranges from 40 to .

Ranges from 60 to 150m .

washers available in 16, 19 or 29 m.

ers available in 16, 19 or 29 m.

Gripe Range Penetration Length

r Specialist Stainle s Fixings.

s Halter Bracket Fixings Stainle s ShS

e to Timber Gash Point

l and fix into hot ro led sections LP438

Code Dri ling Capacity Size

0.7 – 1.6 m 6.3 × 37 m

1.2 – 3. S

washers available in 16, 19 or 29 m.

Profile Fixings Carbon Steel.

hers available in 16, 19 or 29 m.

t el Stainless Fixings.

Timber to Hot Ro

ode *ETL Dri ling Capacity Product Code AZ

r fixing st el and other substrates

duct Code *ESL Dri ling Capacity

1240 13 m 4 to 12 m

nless washers available in 16, 1 , 19 or r 29mm. m.

alva ise d washers available in 16, 199 or 299 m. .

Powder Coated

fixing

ngs available!

Consult a member of

team for more information.

Gridtit

nt Fixings. ack

Build Up Dri ling Capacity

ld Up Dri ling Capacity

45 – 80 m 1.2 – 4 m F

*ETL Dri ling Capacity FC130B

85 – 15 m F

Ranges from 10 to 2 .

Ranges from 125 to 235 .

6.3 × 45 m AZ

Intro

oducing

our new

Gridtite Ultra

bracket!

Fixing Point R ofing and Cladding Fixings • sales@fixingpoint.com

nt.com

Our Products.

roducts

roducts

C olortit

e

Moulded

Hea

ads

available!

Tools & Acces

Roofing & Cla

Support Syste

s a vailable, please request a cop

y of e.

01242 265 100 fixingpoint. c Other pr

oc

INSIDE: FIXING POINT

WALL CHART

FEATURES

• LET THERE BE LIGHT:

TOP TIPS FOR ROOFLIGHTS

• MAKING IT STICK:

BONDING BEST PRACTICE

• PAY GAPS: PROTECTING

AGAINST CUSTOMER DEFAULT

>>> • COST & CONSTRUCTION • WIND UPLIFT • LATEST NEWS • LONE WORKERS • >>>
---
#ejot-totalsupport

Every fastener we make

comes with EJOT technical support

Because worldwide, EJOT manufactures fastening solutions for every

kind of construction application, you can rely on products that are

designed for correct installation and lifetime performance.

And behind every fastener specification, there is a world of design and

manufacturing expertise to ensure your choice is an informed choice...

from the most complex to the most routine applications.

Fasteners and

Accessories for

Roofing & Cladding

New Catalogue

available now

EJOT® the quality connection

Call 01977 68 70 40 email: info@ejot.co.uk

www.ejot.co.uk /building
---
I

V

Editor's Comment

MATT DOWNS

EDITORIAL DIRECTOR

MATTDOWNS@MEDIA-NOW.CO.UK

07963 330774

COVER PIC:

COURTESY OF VELUX

MODULAR SKYLIGHTS

It's fair to say most in the roofing sector will welcome in the new

year with cautious optimism at best, but thankfully a number of

contractors I've spoken to recently are slightly more optimistic,

with one even pointing out: "No matter how poor the wider sector

is performing, there's always work out there."

Perhaps that a little too simplistic – you've got to find that work after all,

and chances are once you do you'll be up against more competition for

projects. But this feeling of optimism is echoed by Chic Scrimgeour of Aim

Developments in our Contractor's Q's on p.36. Chic stated: "Although I feel

that there are indicators that we are moving into a slow year, we remain

positive and feel that there are strong projects for us on the horizon." Let's

hope that's the case across the board.

Scott Leeder of VELUX discusses the key considerations contractors should

make when working with rooflights on educational projects. See p. 44

FOLLOW US @TOTCONTRACTORUK

SIGN UP FOR YOUR WEEKLY E-BLAST AT

WWW.TOTAL-CONTRACTOR.CO.UK

Elsewhere in this issue, our new feature The Big Question kicks off with

Is price still the driving factor on construction projects? As anticipated

the overriding response was yes, but it did shine a light on some

interesting issues, with Ian Exall of Polyfoam XPS stating: "our

customers will continue to put price in the priority list but it's no longer

just a numbers game. The whole industry is moving towards a more

forensic approach that shines the spotlight on quality, performance and

risk, and this will continue to affect purchasing decisions." Similarly,

Richard Bishop of Wienerberger cautions against switching to cheaper

products as "a more expensive roof tile could include features that make

it easier to install than a lower quality tile, leading to a saving in labour

costs and the time taken to install." Read the full feature on p.28.

Enjoy the issue!

FROM

A

ONL

*

£345

LY

per leaf

Including

delivery

Matt

Advertising:

Publishing Director: Andy Dunn

DD: 01892 732 047

Mob: 07963 330777

Email: andydunn@media-now.co.uk

Registered office: 1 Forstal Road, Aylesford, Kent, ME20 7AU

Commercial Manager: Jake Roxborough

DD: 01892 732 047

Mob: 07956 133314

Email: jakeroxborough@media-now.co.uk

The content of Total Contractor magazine (and website) does not necessarily reflect the views of the editor or publishers and

are the views of its contributors and advertisers. The digital edition may include hyperlinks to third-party content, advertising,

or websites, provided for the sake of convenience and interest. The publishers accept no legal responsibility for loss arising

from information in this publication and do not endorse any advertising or products available from external sources. No part

of this publication may be reproduced or stored in a retrieval system without the written consent of the publishers. All rights

reserved.

Supported by:

Aluminium Bi-Fold

Doors

make smarter the

choice

T

Quote turnaround within hours

Up to 1200mm sash widths

ORD

DER TO

DEL

10 A LIVERY FROM

FAST

D Working

ays Lea ad

Time

N

L

IN

A

LAND

A

UK

M

M

U

DE

ITE

S

T

D

DEL

E

ERY*

E

R

Y

Stock colours : White, Black,

Grey, Grey on White

* Per leaf price is unglazed and may vary depending on size and specification of

the door. Lead time is based on a standard colour. Postcode restrictions apply

Email: sales@madef

efortrade.co

Cal all: 01642 610799

Fax: 01642 671026

www

w.madefortrade.co

JANUARY 2019TC 3
---
Contents

FROM THE COVER

40 MAKING IT STICK

Shaun Lotay talks best practice when bonding

to concrete roof decks in winter

44 LET THERE BE LIGHT

Scott Leeder outlines the key considerations

when installing rooflights in schools

64 PAY GAPS

How can contractors protect themselves

against the financial failure of customers?

FIXING POINT WALL CHART

Keep up to date with the latest offerings from

Fixing Point with their handy wall chart!

26

FEATURES

26 CONTRACTOR'S DAY 2018

Couldn't make it to Contractor's Day? Well take a look

at what you missed out on in part 2 of our review!

28 THE BIG QUESTION

We ask a number of manufacturers if price is still the

driving factor on construction projects

30 LOCKED IN

Tom Woodhouse answers contractor queries about

interlocking slates

34 GOOD WOOD

The team at SR Timber provide contractors with a

quick quality check for roofing battens

40

48 ARE YOU LONESOME ON SITE?

Matthew Bailey explores how to minimise risk when

working alone at height

66 'PICKY PEOPLE & KNOW IT ALLS'

Jackie Biswell explains how she deals with the "fault

finders and constant complainers"

4 TC JANUARY 2019
---
REGULARS

18 NFRC TECH TALK

Bob Richardson continues his focus on BS 5534,

this month focusing on slating and tiling

20 CONTRACT TALK

Despite the skills issue being well documented,

Simon Hall says there's still plenty to do

24 AN INSPECTOR CALLS

This month the Inspector offers tips to ensure

you have a successful roofing year ahead

INDUSTRY NEWS

06 MORE HARSH WEATHER

Marley is urging roofers to be prepared for more harsh

weather and offers advice on how to stay safe on site

14 ASBESTOS AWARENESS

IOSH, Gully Howard Technical and the NFRC have

combined to raise roofers' asbestos awareness

14

32 PERFECTLY PITCHED

John Mercer looks at the use of mortar in

modern roofing construction

SECTIONS:

WWW.TOTAL-CONTRACTOR.CO.UK

30

TOTAL

ROOFING

56 TOTAL

CLADDING

60 TOTAL

INSULATION

36

JANUARY 2019 TC 5
---
Industry News

COLLEGE SUPPORT

Midland Lead is working with colleges throughout the UK.

Midland Lead says it is proud to support

seventeen colleges throughout the UK to

help develop future skills within the

construction and roofing industry.

The lead sheet manufacturer says it is fully

aware of the challenges that the sector faces

with a potential skills shortage in the future.

Recently they featured in the Parliamentary

Review where they outlined their commitment

of working to attract new talent and develop

a skilled labour force in the future.

This passion for developing new talent has

resulted in the company working with

colleges throughout the UK. Since launching

the initiative Midland Lead now support

seventeen colleges providing machine cast

lead, tools and ancillary products free of

charge. Midland Lead are also very hands on

and they send their team of experts to visit

many of the sites offering presentations

about best practice on how to handle, store

and work with lead.

Lynn Street, Sales and Marketing Manager at

Midland Lead, explained: "I have been

working within the roofing and construction

industry for twenty years and it is clear that

there is a real shortage of people choosing

this industry as a career – no matter what

age. Since working with a number of colleges

we have seen a real improvement in how

organisations are looking to recruit talent of

the future and the results are starting to

speak for themselves – but we have a long

way to go to maintain the momentum and we

are totally committed to making sure we play

a role in supporting young people."

PREPARE FOR MORE HARSH WEATHER!

With recent long range weather forecasts

suggesting the UK could be facing the coldest

winter for almost a decade, roof systems

manufacturer Marley is urging construction

workers to get prepared for freezing winter

temperatures.

Bitterly cold weather, ice and shorter periods of

daylight mean there is a much greater risk of

accidents on construction sites during the winter

months. As well as the risk of slips and falls,

prolonged exposure to the cold can cause

construction workers to suffer from more colds,

bronchitis, asthma, painful joints and fatigue. In

extreme cases, workers outside for long periods,

So, how should construction workers

prepare for winter weather?

1: Make sure you are wearing the right PPE and

extra clothing suitable for the job and the

weather conditions. This usually involves using

several layers of clothing, as well as

waterproofs or wind resistant fabrics where

necessary. Also, choose water resistant

footwear, with enhanced slip resistance or ice

grips if required.

2: Wear gloves when fine manual dexterity is not

required and the temperature drops below 4°C.

3: Cold weather increases the risk of hand-arm

vibration syndrome, so keep your hands and

arms warm when using vibratory equipment

such as drills, nails guns and even hand tools,

such as hammers.

4: Choose hats that work with safety headgear

without the right protection, could even suffer

hypothermia and frostbite.

Pete Flynn, Health and Safety Advisor at Marley,

explained: "While heavy snowfall usually brings

work to a standstill, even the smallest amount of

snow or ice can create major hazards and health

risks on building sites. It is important that all

construction workers understand the hazards of

working in winter and know what precautions to

take when cold weather sets in. Builders and

sub-contractors must carry out their own

thermal risk assessments and take appropriate

action to protect their employees."

See below for more from Marley:

and don't compromise any eye or hearing

protection.

5: Be aware of the symptoms of cold exposure

– heavy shivering, uncomfortable coldness,

numbness, aching, severe fatigue, confusion,

drowsiness and / or euphoria.

6: With reduced daylight hours, visibility can be

a problem, so wear reflective PPE.

7: Take breaks in heated areas and drink plenty

of fluids, including water and warm beverages.

8: Report any hazardous areas to the site

manager and do not put yourself at risk just to

complete a job.

Marley is giving away hundreds of winter

goodies, To apply for one of 500 free flasks,

heat pads or ear bands, visit:

www.marley.co.uk/wintercampaign

TOP 3 XMAS CALLS ARE ROOFING RELATED!

Almost 90% of builders have been called out

to fix leaking roofs, according to new research

by the Federation of Master Builders (FMB).

As listed right, the top 3 most common issues

builders have been asked to deal with in and

around Christmas are roofing related:

1) 86% of builders have dealt with leaking roofs;

2) 74% of builders have fixed leaks from defective

lead flashings and apron to chimney stack;

3) 51% of builders have repaired damage caused

to the property because of blocked gutters.

6 TC JANUARY 2019
---
HIGH PERFORMANCE WATERPROOFING

6 338

EMERGENCY REPAIR
---
THE BEST ALL ALUMINIUM LANTERN ROOF

FITTED

IN

MINUTES

FASTEST

No on-site cutting or drilling for ease of install. No silicone,

single bolt fixings and clip fit finishing caps – Search on YouTube to

see the Korniche fully fitted in under 6 minutes

STRONGEST Performance Engineering 3.5kN

/m2

Ability to withstand 'Live' loads over twice that of the leading competitor.

A 6x4m roof can support up to 8 tonnes. Up to 3m x 2.5m with no rafters, No tie bars required

WARMEST

Fully Thermally Broken Construction

Thermal PVC T Bar, Thermally broken eaves beam and industry leading Q-Lon

Gaskets. U Value from 1.2

SLIMMEST Uninterrupted Sight Lines

Patent pending end boss enabling hips to merge into ridge.

Traditional features in contemporary design give 'Timber' like looks

suitable for all properties. Narrowest external ridge profile

SUPPORT

Glazed in Seconds

BEST for specifiers -

the ideal trade lantern

Brand, point of sale and marketing support helping save time

and maximise profit from sales and on-site. Online trade

TM

KwikQuote tool

5

ORDER TO DELIVERY FROM A FAST

Working Days

Lead Time

Email: sales@madefortrade.co

Call: 01642 610799 | Fax: 01642 615854

www.korniche.co.uk

STAND K10

korniche.co.uk/fitshow
---
THE BEST ALL ALUMINIUM LANTERN ROOF

AWARD FOR

INNOVATION

The Charles Godfrey Memorial Award for Innovation is given every

year to a product that has brought significant innovation to the

building industry.

The Korniche Aluminium

Roof Lantern has been

awarded this prestigious

award for 2018.

Roger Bisby who tested the Korniche earlier

in the year commented: "The first thing

I saw was the packaging. Every builder

knows the frustration of having items arrive

on site with damage. It slows the job down

and causes hassle for the manufacturer -

and the customer. Often there is a knockon

effect because other trades are unable

to get on. With the Korniche Roof Lantern,

everything arrived in perfect condition.

The next thing is the instruction booklet,

which deserves as award on its own. A huge

amount of thought and design has gone

into this. Every stage is clearly shown with

intelligent use of colours to show you the

relevant components.

Then there is the engineering. It all fits

perfectly, and, when I say fits, I mean no

gaps or misalignment, and no need for

packers, shims or sealant.

The whole installation process went like a

dream and I said at the time that I couldn't

wait until I had the chance to fit another.

It didn't take long. Without the slightest

rush I fitted three on a roof in less than a

morning and each one was perfect. More

importantly, the customer was delighted".

Made For Trade are delighted to have

received this award, one that stands by

the very values on which the Korniche

was conceived - to deliver to builders and

installers a product that makes life on

site easier and more cost effective, whilst

providing a beautiful, architectural lantern

look that is contemporary whilst holding

on to traditional timber style fitting any

home. FITTED IN MINUTES, GLAZED IN

SECONDS, STRONGER than any other

lantern on the market with WARMER

construction and SLIMMER profiles.

Bradley Gaunt, Managing Director says "We

have been entered for many fenestration

awards over the last couple of years and

from my point of view in this industry

we often see these awards as the usual

suspects congratulating one another on

their endeavours, in many cases winning

could easily be based on the strength of a

Email: sales@madefortrade.co

Call: 01642 610799 | Fax: 01642 615854 | www.korniche.co.uk

PR budget?!. So I'm over the moon with this

independent award and Roger's comments

as it puts the product, engineering and

design centre stage and applauds the

advantages these efforts deliver above

its competitors. In 2019 Made for Trade

continue the innovation delivered in the

Korniche Lantern with a new product launch

at the FITShow which we are all very excited

about"

There is no greater proof that a product like

Korniche has made a mark on the industry

than seeing competitors scrambling to

catch up, looking to pick up on one or two

aspects of the design to try and differentiate

their own products and claw back market

share. However, the Korniche Aluminium

Lantern has already achieved an affinity

with both trade and homeowners which

will be hard to overturn. No other lantern

has the overall winning combinations

the Korniche delivers. From quotation to

delivery in as little as five working days

for a totally bespoke product and fitting in

under 30 mins on site – Korniche remains

the obvious solution for trades looking for

a lanterns to grace their flat roof extension

projects in 2019.
---
Industry News

Dear Editor,

You may notice that BTS has been reserved in

2018 regarding statements relating to fire testing

of rainscreen systems. While other rainscreen

manufacturers have been using BS 8414 "system

testing" as a marketing tool to sell their products,

giving clients a misleading level of confidence.

At BTS we feel this type of message conflicts with

our professional and personal ethics. If you

deviate from what a "system house" has had

tested, then the test will be invalid. The fire

performance of a 'system' will react differently

when materials are substituted, removed or

dimensions are changed.

So, what does that mean? If you don't use the

exact type cp board & thickness – test void; If you

don't use the same brand & type of breather

membrane – test void; If you don't use the same

specification of insulation or thickness – test

void; If you don't use the same fire barriers,

thicknesses and position parts the same – test

void; If you don't use the same depth of helping

hands, set out centers or rail profile – test void; If

horizontal top hats or channels are introduced to

the buildup but weren't in the test – test void; If

the panel sizes or the panel orientation is different

from the test – test void.

We agree with the principle that projects above

18m are high risk. Due to recent events Scotland

have ruled this should apply to buildings up to

11m. We would recommend going one step even

further and including other buildings with high

occupancy rates i.e. student accommodations,

schools, hospitals, and offices regardless of height.

BTS is known for being a leader in the rainscreen

industry; we don't just follow and do as others do.

This issue of "system tests" is just another

version of fire desk top studies which, as we

know, are in the process of being banned...

To be clear, BS 8414 testing is supposed to be an

exact prototype of the building, not a rough

approximation.

So, what does BTS recommend? BTS believes that

the lowest risk option for facades is to use noncombustible

materials.

If BS 8414 testing becomes unavoidable, we will

recommend to clients that a project specific BS

8414 1-2 (part 1 is on block part 2 with SFS) test

should be completed. We recommend that a test

is designed and planned identical to the buildup

on a project.

The facade manufacturing industry must play its

part to ensure that customers are fully aware and

educated in terms of BS 8414 part 1 or part 2

testing. BTS won't sell false assurances, just to

tick a box.

Your Sincerely,

Matt Kenney MioR

Technical Facade Director, BTS Fabrications

GOV'S HACKITT RESPONSE WELCOMED

The British Board of Agrément

oversights are put in place for those

has welcomed the government's

undertaking building work, which

announcement that it is to

will in turn provide a stronger voice

implement all recommendations

for residents.

put forward by the Hackitt

"The BBA believes that a culture

review.

change must be instituted, helping

James Brokenshire, Secretary of

to create a more responsible

State for Housing, Communities

building industry, from design

and Local Government, made the Above: BBA Chief Executive Claire through to construction and

Curtis-Thomas.

announcement on Tuesday, 18th

management," added

December, stating: "My plan for stronger, tougher Ms Curtis-Thomas.

rules will make sure there is no hiding place for

Dame Judith Hackitt's Independent Review of

those who flout building safety rules."

Building Regulations and Fire Safety,

Welcoming the news, BBA Chief Executive Claire commissioned by the government following the

Curtis-Thomas said: "The industry has

Grenfell Tower tragedy, put forward more than 50

continuously argued for tougher standards and by recommendations. The BBA, working with Local

introducing clearer guidance, including

Authority Building Control (LABC), gained

establishing a new Standards Committee to widespread industry support for their 100%

advise on construction product and system Hackitt initiative, which called for full

standards and regulations, we can continue to implementation of Dame Judith's

work with the government to enable rigorous recommendations.

CONSTRUCTION

OUTPUT 'FLAT-LINING'

Commenting on the construction output

figures for October 2018, published by the

Office for National Statistics, Sarah

McMonagle, Director of External Affairs at

the FMB, said: "The UK construction

sector is more or less flat-lining with a

small decline of 0.2% in October

compared with the previous month.

"Rising costs for large and small

construction firms are contributing to the

slight drop in construction output. Recent

Government statistics show that in the

past year, there were nearly 3,000

insolvencies in the construction industry.

While wages are continuing to rise

because of the ever-worsening skills

crisis in our sector, firms are also feeling

the pinch because of the rising cost of

materials."

10 TC JANUARY 2019
---
Handrails:- EasyGuard

free-standing Guardrails

*CurveyGuard – an aesthetically pleasing curved rail.

*EasyGuard – raked or straight legs dependant on

application. *FoldGuard – folding handrail.

Trip hazard reduction – long thin base-plates with

Counterweights used on un-secured ends only. Placed at 2m

centres maximum to enable use for leading edge protection.

Galvanised or powder coated finish. Protective mats 5mm

bonded to the base plates.

Standards – Exceeds Class A EN13374- Class A; For

leading edge protection HSE/SR 15, September 1988.

Nationwide delivery or contract installation. – Free material

quantifying service – info@safetyworksandsolutions.co.uk

Ladders:- Easy Fit

Compliant to both BS/EN 5395 and 14122 –

To comply with the standards for

permanent ladders all mild steel then hot

dipped galvanised to BS/EN 1461.

All typical ladders bespoke – email

info@safetyworksandsolutions.co.uk for a

survey check sheet.

Easy Fit, all ladder components are Easy

to assembly; in manageable parts Easy to

handle and install.

Rest Platforms and ladders with special

fixing requirements; solutions provided by

Safetyworks in house.

(All components for British Standard

compliant ladders require steel components

with timber and aluminium recommended

for temporary use only)

HANDRAILS

-

LIFELINES

-

WALKWAYS

-

FALL GUARDS

-

FLEXIDECK

-

DEMARKATION

-

LADDERS

-

STEELWORK

-

Tel: 01487 841400

www.safetyworksandsolutions.co.uk
---
Industry News

GOLD-EN GOALS!

(L-R) Peter Cockerill from Teversal FC and Shaun Revill

from SR Timber.

SR Timber has agreed a sponsorship deal in

which its local football team's ground in

Nottinghamshire will become the SR Timber

Arena.

Teversal Football Club Ladies Team will also

carry SR Timber's logo on its football shirts

as part of the agreement for the club, which

plays in the East Midlands Counties Football

League.

The "Tevie Boys" is a club close to the

company's headquarters in Huthwaite and,

as well as staff supporting the club, one of

the factors behind the sponsorship was that

the club has a strong youth system and

women's football team.

The sponsorship deal coincides with the

club's centenary, and SR Timber's Trading

Director Shaun Revill and Operations

Manager Steve Hill joined club Chairman

Peter Cockerill to unveil the new signage at

the club. Mr Revill explained: "Teversal

Football Club is a focal point for the local

community, and we wanted to do something

to support the work it does in bringing

through talented footballers of all ages and

sexes," said Shaun.

"It makes me very proud that having come

full circle back to the area where I first

started in the timber industry – and now

running the UK's leading importer of roofing

batten and other materials, such as shingles,

scaffold board and timber panels – our

company can give something back to the

local community."

FLEX-R TO SUPPLY ENDURIS ROOF COATING

Flex-R has reached an agreement

Duncan Winter, Flex-R's Trading Director.

with American giant General

Electric (GE) to be the one of

companies in Europe to

the first companies in Europe

introduce Enduris," said

to act as a supplier of its

Duncan. "Flex-R already has

silicone liquid coating product.

sole distribution agreement for

US-manufactured Carlisle SynTec

The High Wycombe-based company

single-ply goods, and we were able to

saw GE's Enduris Roof Coating at the

agree terms so quickly with GE because it was

International Roofing Expo in the US in 2018 and

reassured by the training and customer support

wasted no time in striking a deal for Flex-R to

that we offer and the longevity of our

become the first supplier in the UK.

relationship with Carlisle.

Flex-R's Trading Director Duncan Winter sees

"We are very excited about launching Enduris

huge potential in bringing Enduris to market in the

because it's a product with a proven track record

UK because of its proven track record of

of durability and performance, and GE has been

performance in the US and the size of its market

able to demonstrate why it has been a popular

share.

product in the US for more than 50 years.

The company will initially roll out Enduris Roof

"We already have the infrastructure in place to

Coating through its network of approved

roll out Enduris through our Specialist Registered

contractors, and it is already in advanced

Installers, who we support with both in-house

preparations for launching the silicone liquid

and on-site training. We also have a team of

coating.

specification managers who will work closely with

"GE is a huge player in the US roofing market and architects and specifiers to recommend Enduris

it's a real coup for Flex-R to be the one of the first for upcoming projects."

HEIGHTSAFE PARTNERS WITH XSPLATFORMS

Heightsafe has announced an exclusive UK partnership with them.

partnership with global Fall Protection and

"The opening of our London office and our

Work at Height manufacturers, XSPlatforms.

existing reputation for quality service gives us the

The exclusive partnership will see the transition opportunity to truly promote this market-leading

of XSPlatforms' UK Fall Arrest activities to quality product into the UK and to further

Heightsafe, who will be sole distributors of the demonstrate our commitment to providing the

innovative Horizontal Lifeline systems, as well as highest quality Working at Height advice to the

providing maintenance and certification services construction industry and property owners."

to clients nationwide and world class products for

Geert Cox, CEO at XSPlatforms also said: "We

Work at Height.

have great trust in Heightsafe and believe they

Ken Diable, Managing Director and Owner of will be a great ambassador of our brand in the

Heightsafe commented on the exclusive

UK. They are known as a leading and

partnership: "I have long been an admirer of the established brand and their vision is fully

quality of XSPlatforms' systems, and am

aligned with XSPlatforms' vision for growth and

delighted that we at Heightsafe have entered into service."

12 TC JANUARY 2019
---
A P O S I T I V E P A R T N E R S H I P

Reassurance for you and your

customers with ONE Warranty

Includes pitched roofing

products from the following

leading manufacturers:

And flat roofing systems from

these leading providers:

A product warranty that helps you win business

A comprehensive product warranty in one place

ROOFING

ONE WARRANTY

O N E R O O F

1 5

•

Y E A R S

O N E PA R T N E R

•

O N E WA R R A N T Y

n Easy to register one-stop-shop product warranty for your projects

n 15 year guarantee you can offer your customers with confidence

n You receive marketing support to promote your business

n Supported by a partner you can trust

For more information and Terms & Conditions please visit:

www.sigroofing.co.uk/onewarranty or visit your local branch.

PITCHED ROOFING

FLAT ROOFING

INDUSTRIAL ROOFING

Visit us in branch or online at

www.sigroofing.co.uk
---
Industry News

NEW INITIATIVES TO RAISE ROOFERS' ASBESTOS AWARENESS

Roof work can expose workers to hazardous

dusts including asbestos and silica which can

cause cancer, along with other diseasecausing

substances such as dust from bird

droppings.

Roofers lifting tiles, replacing damaged soffits,

clearing gutters and handling insulation are at

increased risk, so the main roofing trade body the

National Federation of Roofing Contractors

(NFRC) partnered with IOSH, the Institution of

Occupational Safety and Health, to support its

award-winning 'No Time to Lose' (NTTL)

campaign.

NTTL provides information and solutions to tackle

occupational cancer. Now the NFRC is developing

its support to inform and educate members.

The NFRC is more than an NTTL supporter; it is a

campaign pledge signatory committed to an

occupational safety and health plan for managing

exposure to workplace carcinogens and sharing

practical information and messages across their

networks.

On Friday 30th November, IOSH co-presented the

No Time to Lose campaign's focus on asbestos

and distributed co-branded pocket cards for

roofers during the first annual NFRC Contractor's

Day exhibition at Twickenham Stadium, London.

IOSH Vice-President Louise Hosking spoke about

disturbing findings from an IOSH-commissioned

survey of construction workers for the NTTL

Asbestos phase launch in April 2018.

"Nearly one in four UK construction workers

believe they may have been exposed to asbestos

fibres, placing them at higher risk of contracting

terminal cancer later in life," said Louise.

She asked for a show of hands from the audience

to identify those who thought they might have

been exposed to asbestos in the past.

Similar to the NTTL survey, around half answered

'yes', which is unsettling.

Above l-r: IOSH Vice-President Louise Hosking; Kirsty Phillips

of Gully Howard Technical; Gary Walpole and Damien Carr of

the NFRC; Simon Butt-Bethlendy of IOSH; and Amanda

Brackey of the NFRC with the NTTL Asbestos resources at

Contractor's Day.

The survey also found a third of those questioned

do not regularly check asbestos information or

surveys before starting work.

Almost a fifth of respondents from different UK

trades said if they discovered asbestos they

wouldn't be clear what to do.

Louise co-presented with Gary Walpole, Health and

Safety Officer at the NFRC and Kirsty Phillips from

Gully Howard Technical, who have developed a new

asbestos awareness e-learning course for roofers.

"Over 20 tradesmen die each week from

asbestos-related diseases. We have to find new

ways of engaging more," said Gary.

"At the No Time to Lose Asbestos launch in April

this year, we talked about Gully Howard Technical

exploring the possibilities of developing an e-

learning asbestos-awareness course we could

use with our members.

"New information and advice on avoiding contact

with these causes of cancer is now set to reach

more roofers thanks to NFRC's support for NTTL,

bolstered by the new e-learning developed by the

NFRC and asbestos consultants Gully Howard

Technical.

"I think the benefit of e-learning is less time lost

from site," continued Gary. "The course we've

developed is available for all platforms and could

be done while the contractor is sitting in a van. It

could be raining, or they could be on a break.

They can stop the course halfway through,

"These initiatives

represent a great

opportunity to show

the new e-learning

course and NTTL

resources to more

people from the

roofing industry"

complete a little later, so it offers flexibility."

Kirsty Phillips, Training and Marketing Manager at

Gully Howard Technical, said: "Having co-hosted

the asbestos presentation with IOSH Vice-

President Louise Hosking, it is evident what a

fantastic and timely opportunity this was.

"Speaking to a room full of roofing industry

professionals, it was clear they were not fully

aware of where it might be found in an image of a

school building. This shows there is still a

significant knowledge gap we need to bridge so

people can work safely."

"These initiatives represent a great opportunity to

show the new e-learning course and NTTL

resources to more people from the roofing

industry, help them know how to identify

hazardous substances and situations and make

safe choices," said IOSH's Louise Hosking.

"We can't wait if we are to reduce occupational

cancer in the industry, we need to make changes

now as there really is No Time to Lose."

For more information about the campaign and to

sign up visit www.notimetolose.org.uk.

14 TC JANUARY 2019
---
Complete Building

Envelope Solutions

featuring Kingspan RW

Pitched Roof System

Superior build

speed

Options for PV

integration

Precision extruded

daylighting

LPCB-approved membranelined

insulated gutters

Height safety and

fall arrest systems

Specialist support from

Kingspan Technical Services

Bespoke flashings and

fabrications for design flexibility

Kingspan's own complete range

of structural steel products

Kingspan Insulated Panels RW Roof system is a factory-engineered single

component system for very fast installation.

The system comprises a complete range of structural steel products, high performance panels,

insulated gutters, superior polycarbonate daylighting, height-safety systems and a bespoke

range of corners and flashings. As a manufacturer of the complete roof system including all

components, we're with you all the way with services to help save time and maximise project

value and performance.

The system can be protected by the Kingspan Warranty.

Kingspan Insulated Panels

Greenfield Business Park No.2, Holywell, Flintshire CH8 7GJ

Tel: +44 (0) 1352 716100 www.kingspanpanels.co.uk
---
Looking Back & Forward

WHAT WERE THE BIG ISSUES IN 2018

AND WHAT'S IN STORE FOR 2019?

Following on from last month's views on the market, we spoke to two more manufacturers

to find out what the key issues and trends were in 2018 and what to look out for in 2019.

Ed Peltor, Commercial Director,

ROCKWOOL UK

2018 was a year of reflection and reappraisal for

the insulation sector.

As an industry, I am sure we can now all agree

that there's much more to consider with

insulation than just thermal performance.

Acoustics and, of course, fire performance are

factors that have clearly got to be taken into

consideration.

Much has been written about the use of various

types of insulation on the building envelope,

particularly the façade, but the specification and

use of materials in other areas is also under the

spotlight. This is an industry that is going through

unprecedented change from top to bottom – the

insurance industry, clients and architects, many

of whom are identified and highlighted in the

Hackitt Review as having key roles going forward,

are focused on risk – risk to lives and, indeed,

livelihoods.

Take the recent Primark fire in Belfast, reports

indicate that footfall is down some 49% in the

neighbouring shopping areas; surrounding

businesses have had to close. This fire affected

not just high street names but also local

businesses. Things aren't looking good for

retailers in Belfast City Centre and those that

depend on its appeal for their livelihoods. The

economic impact has been substantial.

The conversation is changing. Insurers,

property owners, businesses large and small

are re-assessing the risk presented by fire at

all levels.

www.rockwoolgroup.com

Ged Ferris, Marketing Manager,

Cembrit

The Cembrit Group finished 2018

in a good place. This year, we

have concentrated on quality

products that offer high margin for

our customers. We have benefitted

from a buoyant market and have seen our

products being specified and installed on some

fantastic projects this year – from hotels and

educational buildings to housing associations and

self-build properties.

We are pleased with the way that the

conversation and recommendations are going in

terms of non-combustibility. We offer products

that are in line with the required Euroclass

ratings, satisfying the need for non-combustible

materials. We have not yet seen the demand for

these products increase in refurbishment projects

– I expect this is the result of the question over

responsibility and who bears the cost for the

refurb.

There were some positive takeaways from the

recent budget announcement. The plans for

extending the Right to Buy scheme transforming

"As an industry, I am

sure we can now all

agree that there's

much more to consider

with insulation than

just thermal

performance"

empty commercial spaces into

housing – especially as the demand

for housing continues to increase,

is good news. With regards to

Brexit, I expect that in the

medium term and over the long

term, the underlying demand for

building and building products in the UK

will remain strong.

Our industry seems to be becoming more

professional in the way it tackles site work, health

and safety and other challenges that contractors

face. In the seventies and eighties, the industry

became deskilled and it wasn't considered a

desirable or professional occupation. I am pleased

to see that attempts are being made to change

this image and that it is beginning to bear fruit

with more students turning to this industry for a

career.

The growth of digital is continuing to change the

way in which we communicate. The importance of

online presence won't diminish in the near future,

but there is still a requirement for face to face

interaction, samples requests, training, etc.

www.cembrit.co.uk

"Our industry seems to

be becoming more

professional in the way

it tackles site work,

health and safety and

other challenges that

contractors face"

16 TC JANUARY 2019
---
THE

FUTURE'S

BRIG

HT

FOR ANY

BUILDING

WITH ZENON ROOFLIGHTS

LOW CARBON GRP DAYLIGHT

SOLUTIONS

DISC OVER MORE: WWWW

.HAMBLESIDE-DANELAW.CO.UK/ZENON-ROOFLIGHTS

T: 01327 701 920 E: SALES@HAMBLESIDE-DANELAW.CO.UK

For fu

rther inf ormation

or a hire quotation call

01858 410372

JANUARY 2019 TC 17
---
NFRC Technical Talk

DON'T GET IN A FIX: SLATING & TILING

In the third instalment of our series of articles focusing on BS 5534, Bob Richardson,

NFRC's Head of Technical, looks at slating and tiling

Last month I described how to install battens

in accordance with BS 5534, the code of

practice for slating and tiling in new builds.

This month I turn to slates and tiles. BS 5534

isn't a legal requirement, but it can be upheld by

law if the code of practice is specified in a roof

project, so you should always refer to the

complete BS 5534 document and seek

manufacturer advice. However, even if the project

you're working on isn't specified to BS 5534, you

should understand the main points because you'll

be improving the quality and durability of your

client's roof.

"Even if the project

you're working on isn't

specified to BS 5534,

you should understand

the main points"

Single-lap tiles

Single-lap tiles should have at least the following

fixings.

• For all roof areas and rafter pitches, every tile

should be mechanically fixed.

• For rafter pitches of 45° and over, each tile

should be nailed with at least one nail.

• For rafter pitches of 55° and over, including

vertical, the tail of each tile should be

mechanically fixed.

• At verges and abutments, and at each side of

valleys and hips, the end tile in every course

should be mechanically fixed.

• At eaves and top edges, one course

of tiles should be mechanically

fixed.

Nails

Nails for fixing single lap tiles should

be able to penetrate the batten 15mm

and the diameter should be as per the

manufacturer's recommendations so that they

have enough resistance to wind uplift.

Double-lap tiles

Always refer to the manufacturer's guidelines,

however, in general:

For nibless tiles

Use two nails to fix each tile.

For nibbed tiles

For rafter pitches below 60° use two nails in at

least every fifth course; for rafter pitches of 60°

and above, use two nails on every tile, including

vertical tiles.

Verges and abutments, and at each side of

valleys and hips

Twice nail or mechanically fix the end tile in every

course.

Eaves and top edges

The eave tiles, the first course, the last full top

course and 'toppers' should be nailed or

mechanically fixed.

Nails

Nails for plain tiles should be at least 2.65mm in

diameter and long enough to provide at least

Left: Bob Richardson, NFRC.

15mm penetration into the

battens.

Slates

Slates and driving rain.

The UK has four categories of exposure to driving

rain, from sheltered through to very severe with

the most severe areas of Great Britain being

Cornwall and the western parts of Wales and

Scotland. Driving rain in relation to the location

and pitch of the roof will determine the side and

head-lap.

Minimum pitch

The roof pitch should be at least 20°, which is

influenced by the length, head-lap and thickness

of the slate. Where the thickness of natural slates

reduces their pitch by 3° or more, select the next

lower rafter pitch to determine the recommended

head-lap and slate width.

Minimum fixing on double-lap slates

Double-lap slates should be fixed with at least

two nails to every slate when centre-nailed.

Length of slate nails

The length and diameter of nails should be

appropriate to the thickness of the slates and

their position on the roof and should provide a

minimum of 15mm penetration into the batten.

The above article is based on guidance that the

NFRC will be publishing exclusively for its

members.

"BS 5534 isn't a legal requirement, but it can be

upheld by law if the code of practice is specified

in a roof project"

Contact the NFRC

020 7638 7663

www.nfrc.co.uk

@TheNFRC

18 TC JANUARY 2019
---
Innovative upgrade & refurbishment solutions for profiled fibre cement or metal roofs & cladding

Fragile roofs are only unsafe

if you walk on them.

Replace rooflights and sheets from below with Fixsafe.

Figures published by the Health & Safety Executive show that falls through fragile roof

materials caused over one quarter of fatal accidents in the construction industry.

Fixsafe addresses the problem and is playing a major role in reducing this statistic.

Fixsafe allows sheets to be replaced from below, eliminating the need to access fragile

roofs and thereby greatly increasing site safety. By removing the requirement for costly

safety netting, roof staging or external scaffolding, on-site time is reduced and access

equipment costs are minimised.

Replacing rooflights from below is an HSE recommended method and complies with

Regulation 9 of the Work At Height Regulations 2005. Protect your roofers and yourself and

your team by repairing or replacing rooflights and roof sheets with Fixsafe.

We also offer: • Insulated rooflights for energy-saving upgrades and refurbishment

• Lightweight over-roofing for cost-effective roof refurb with minimal disruption.

For details, please call us on 01543 687300 or visit www.filon.co.uk

Filon Fixsafe allows replacement rooflights

or roof sheets to be installed from below,

avoiding the need to access fragile roofs

Filon Products Ltd, Unit 3 Ring Road, Zone 2, Burntwood Business Park, Burntwood, Staffs WS7 3JQ
---
Contract Talk

MIND THE ROOFING SKILLS GAP

There are an estimated 32 million unemployed people in the UK, yet the skills shortage

within the construction industry continues to increase each year. Simon Hall, Training

Manager at SIG Roofing, discusses why it's crucial to start bridging the gap.

On the whole, 2018 was a positive year for

the construction industry, with output

recovering after a slow start with new and

RMI work driving businesses forward. So, while

the UK still faces an uncertain 2019 with the

unpredictability of Brexit, the construction

industry is still expected to remain strong.

However, one thing that has remained consistent

across the sector is the lack of new skills coming

into the industry and an ageing workforce

widening the gap. When new talent is joining, there

has also been a lack of quality training available

or even time to spend away from the job to upskill.

Difficulty recruiting roofers

The roofing industry is also feeling the stretch,

with The Federation of Master Builders' State of

the Trade Survey revealing that in the first half of

the year a third of respondents had difficulty

recruiting skilled roofers. It also revealed that the

workload for construction SMEs has been on the

rise for more than five years, which further adds

to the workload pressures faced by the industry.

While there are no quick fixes, there are

measures that can be taken to reduce the longterm

impact. Recently, the NFRC and CITB have

announced a pledge to take steps in upskilling the

workforce and are exploring new ways to attract

new talent through its RoofCERT initiative. SIG

Roofing has backed the accreditation with the

hopes that it will help diversify the sector whilst

improving efficiency.

The Government is also doing its bit to help

secure new contractors into the roofing industry.

The new apprenticeship levy launched in 2017

means businesses with a pay bill of less than £3

million per year (approximately 98% of UK

businesses) will have 90% of their

apprenticeship costs

funded by the

levy. It will be

paid by those

with a pay bill

of more than £3

million, at 0.5% of

their total annual pay bill per

year. This means that affording apprenticeships is

now much more feasible for businesses of all sizes.

The new schemes combine classroom study with

time spent on site with a roofing company,

providing the practical and theoretical knowledge

required for achieving the relevant qualification.

Apprenticeships are run through colleges all over

the country in partnership with employers keen to

take on young apprentices and train them up

through their ranks. The colleges offer ongoing

support for both apprentices and employers and

are responsible for awarding the final

qualification.

"There is a job to be

done to educate young

talent about the

opportunities roofing

can offer to them"

The young and the old

Currently it appears younger people are simply

not joining the roofing profession as, shockingly,

less than 3% of construction workers are

currently aged between 16-19 compared to over a

third being over 50. There is a job to be done to

educate young talent about the opportunities

roofing can offer to them.

One of the main benefits of getting into the

construction industry

remains that

there will be no

shortage of

work over the

coming years with

housebuilding on the

rise. However, in order to

entice new people into the industry, the offer

needs to be exciting, provide opportunities for

growth and above all offer good earning potential.

Alarmingly lower than industry average

Training is a key barrier as it has been reported

that, on average, only £743 per worker is being

invested in training in the roofing sector. This is

alarmingly lower than the industry average, which

comes in at £4,090 per worker per year. When

recruiting an apprentice consider formalising a

training programme for them which will show

where their career could potentially take them.

There are also wider opportunities with

manufacturers to undertake training schemes,

sometimes free of charge, which not only

enhances their knowledge but also expands your

company's skill set.

On the whole, it may seem like a time-consuming

process bringing in and training a new member of

the team, especially when output continues to

increase. However, it is crucial that the

construction industry acts sooner rather than

later in order to future-proof the roofing sector,

but also allow businesses to grow and thrive

while the work continues to remain strong.

Contact SIG Roofing

0845 612 4304

www.sigroofing.co.uk

@SIGRoofing

20 TC JANUARY 2019
---
Come rain or shine,

our rooflights won't

let you down

We like to think we know quite a bit about daylight. As the UK's

longest established manufacturer of rooflights and with an extensive

range of tried and tested profiles, we've perfected their design and

manufacture. Our GRP Energysaver factory assembled rooflights,

offer exceptional performance – weathertight, easy to install and

achieving maximum daylight – they won't let you down.

To find out how we can help you maximise daylight when you're specifying a composite panel roof, visit our

technical bulletin library: www.energysaverrooflights.com

To find out more visit www.energysaverrooflights.com

or call 024 7660 2022 or email daylight@brettmartin.com
---
Wind Uplift

FAQS ON WIND UPLIFT

The experts at A. Proctor Group answer some of the

frequently asked questions on issues around wind uplift.

What is 'wind uplift'?

Wind uplift is a force that is applied to roofs due

to wind pressure. Roofs should be designed to

resist this force.

Why is it important?

Roofing underlays play a part in this resistance

and will share the loads applied by the wind with

the primary covering (tiles, slates etc.). These

pressures can create a suction effect on the roof

that can cause a ballooning of the underlay

which, under extreme cases, can lead to slates /

tiles being dislodged. This is an issue to the longterm

durability of the roof, to health and safety of

passers-by, with potential risks increasing during

extreme weather and if lighter weight underlays

are used.

The detailing debate: overlaps? battens?

tape?

While British Standard BS 5534:2014+A2:2018

provides guidance on slating and tiling, there are

still different viewpoints on correct detailing of

roof membranes in order to mitigate the effects of

wind uplift.

BS 5534 states: Underlay laps should be covered

by a batten and, where necessary, the lap of the

underlay adjusted to coincide with the nearest

slating or tiling batten.

When tile battens are used, it is accepted

practice to lay out the membrane so the laps fall

below a batten. If the tile gauge does not allow

this, then either the lap can be increased to

ensure it is below a batten or an additional batten

(sometimes called a "fly batten") should be

installed to cover the lap. Many roofers consider

additional battens trip hazards and opt to

increase the depth of the lap instead, despite the

increase in membrane material costs this results

in.

BS5534 offers further guidance stating: Laps may

also be sealed using proprietary means in

accordance with manufacturers' instructions. Above: Roofshield from A. Proctor Group.

While the industry waits for more comprehensive

Sealing roofing underlay laps is most often done

research and evidence to inform an expected

with tape which can have a number of

future addition to the Standard regarding

drawbacks. On top of the potentially timeconsuming

process of taping every lap, tapes

shielding factors for air permeable membranes,

contractors can look to industry accepted

must first be tested for efficacy and approved for

proprietary testing and third-party evaluation for

use with the specific roofing membrane. Tapes

reassurance.

require clean, dirt-free surfaces and ideal weather

conditions to ensure a proper seal, factors that are

never guaranteed on a building site. Sealing laps

where the underlay is unsupported also adds

difficulties in ensuring effective

sealing notwithstanding safety

considerations.

As previously mentioned, Roofshield exceeds the

Standard's required performance values for air

and vapour permeable membranes, and is a

robust 3-layer spunbonded

material with the highest water

resistance class possible for a

membrane of its type (W1).

Roofshield: the benefits of

In addition, Roofshield's two BBA

air permeability

certificates state that, when

In February 2018, a second

installed on appropriately spaced

amendment to BS 5534 British

battens, the membrane will

Standard for Slating and Tiling was

adequately resist wind loads

published with two key additions

imposed on the underlay and

regarding air permeable underlays.

reduce the wind uplift forces

Above: Roofshield is suitable for use in

The first change occurred in the

all of the UK's wind zones fully

acting on the external roof

definitions of roofing underlay

types. Previously, underlays were

supported or draped between rafters,

following published batten guidance.

covering. Roofshield is suitable

for use in all of the UK's wind

defined according to their water vapour

resistance alone (HR vs. LR membranes). The

addendum added a new definition for membranes

with physical properties that combine low water

zones fully supported or draped between rafters,

following published batten guidance and does not

require the laps to be taped in UK Wind Zones 1,

2 or 3.

vapour resistance with high air permeability,

Still have questions about wind uplift or detailing

along with specific values membranes must

Roofshield? Contact the A. Proctor Group for

achieve to be defined as such. Roofshield

further assistance.

exceeds the definition's performance values for

both air and vapour permeability.

Contact A. Proctor Group

The second addition was an updated shielding

01250 872 261

factor for air permeable underlays related to the

www.proctorgroup.com

fixings at roof hips and ridges.

@proctorgroup

22 TC JANUARY 2019
---
HIGH PERFORMANCE LIQUID

WATERPROOFING SYSTEM

BENEFITS & PRODUCT

INFORMATION

BBA certified for life in excess of 25 years.

NHBC and Green Roof Approval.

ULTRAFLEX can be used on new or existing

roofs, walkways, balconies, gutters etc.

Ready to use straight out of the tin, application

with solvent resistant roller.

Use fully reinforced with ULTRAFLEX matting

ensures easy 'wet on wet' application.

Can be used all year round – moisture curing.

Fully trafficable when cured.

Instantly rain resistant after application.

Once installed, forms a seamless membrane.

Exellent adhesion to different substrates: plywood,

bitumen membranes, asphalt, metals,

brick, concrete, wood etc.

Fresh concrete must be cured for 28 days.

On EPDM and TPO it is recommended to install

patch test to check compatibility.

Do not use silicone sealants. Always use PU

based mastics.
---
An Inspector Calls

MAKE SURE YOUR PROJECT RUNS

SMOOTHLY: 11 KEY CONSIDERATIONS

In a regular monthly column – 'An Inspector Calls' – Total Contractor has teamed up with the

flat roofing experts at BMI Icopal to help you achieve roofing success and avoid the

common pitfalls that can often cost you both time and money.

This month the Inspector offers up some

tips to ensure you have a successful

roofing year ahead.

A number of common issues and industry myths

have been addressed throughout last year that

hopefully offered some useful information and

guidance. As we enter 2019 and the winter period

(and the inevitable construction slow down that

follows), we thought it would be prudent to

reinforce some of that advice to help you all work

safely and ensure that projects, still in their

infancy, are prepared for the months ahead.

1. Stay safe

Wear the correct PPE at all times. Working

surfaces are naturally more slippery during this

period so ensure appropriate footwear is worn

and extra care is taken when working on roofs. Do

not put yourself at risk unnecessarily, and ensure

the appropriate risk assessments are completed

before carrying out the work.

2. Check the weather

The British weather has the ability to destroy a

project in a matter of minutes. Whilst the industry

as a whole is frequently challenged by the

weather, ignoring those forecasts for the sake of

early completion could lead to more expensive

consequences in the long term.

3. Keep materials warm and dry

The success to any project is storing those

products properly. Keep them covered, keep them

off the ground and keep them somewhere dry.

Defective materials quite simply will lead to a

defective project.

Snow on the roof: Snow and frost can hide sharps and fines which could puncture the waterproofing system under foot.

"The British weather

has the ability to

destroy a project in a

matter of minutes"

4. Plan ahead

Larger projects may require phased installations,

so ensure night joints are sealed properly and

temporary protection is considered to any areas

of incomplete work.

5. Keep all working surfaces clean and

free of debris.

Snow and frost can hide sharps and fines

which could puncture the waterproofing system

under-foot. Winter light also reduces visibility

so ensure the roof is swept clean at the end of

each day, well in advance of the drawing

nights.

6. Be careful when drying out the roof

If surfaces are frozen in the morning, take

extreme care when thawing the roof out with gas

torches, refraining from any hot work if

combustible materials are present. Furthermore,

check with material manufacturers when using

salts to ensure chemical compatibility is not a

concern. Coarse salts can also damage the

waterproofing so protection boards should be

considered as a means of temporarily protecting

against both the weather and foot traffic.

7. Clean all outlets and gutters

Maintenance and housekeeping is key throughout

the winter period as leaves and moss will have

congregated around those outlets and gutters

24 TC JANUARY 2019
---
Heavens above: Storing insulation like this will only lead to

problems.

from the autumn fall. It is therefore essential

rainwater goods are cleaned of any foreign

build-up to ensure free passage of water,

thereby reducing any snow and ice retention on

the roof.

8. Examine all mastic sealant and mortar

pointing for signs of degradation.

Mortar and sealants will be subject to a freeze /

thaw cycle throughout the winter which will

accelerate their natural ageing process. Ensure

"Mortar and sealants

will be subject to a

freeze / thaw cycle

throughout the winter

which will accelerate

their natural ageing

process"

all pointing is maintained and replaced as

necessary to prevent water penetration.

9. Ensure all cover-flashings are

maintained

Cover flashings are essential in protecting

upstands from water ingress. Any loose items

should be fixed and any missing areas replaced

to ensure the roof perimeters remain secure and

watertight. Heavy snowfall may raise the water

level above the flashing heights and it is therefore

critical they offer the protection intended.

10. Do not use liquid compounds below 5°

Liquid applied systems require a minimum

application temperature of 5° to cure properly. If

liquids are applied in lesser temperatures they

may not cure and will likely be compromised by

moisture, which could lead to failure.

11. Report any defects as soon as

possible.

If any defects are found, ensure the material

manufacturer is notified at the earliest

opportunity. Addressing defects at the earliest

possible stage will stop the problem getting worse

and help maintain the expected lifespan of the

system.

Contact Icopal's Technical Team

0161 865 4444

www.icopal.co.uk

@Icopal_UK

More than 140 years

of waterproofing

know-how

As a world leader in the manufacture of roofing and waterproofing systems, BMI Icopal is working continuously to innovate and develop its role as the

partner of choice for building projects of any size and type. Our extensive range of products include bitumen, single ply, liquid applied waterproofing,

lightweight roof tile systems, structural waterproofing and scaffold sheeting. Add to that, over 140 years of knowledge and expertise, plus an industry

leading level of warranty, there can be no other choice than BMI Icopal.

www.bmigroup.com/uk

Email: sales.admin@bmigroup.com

JANUARY 2019 TC 25
---
Contractor's Day 2018

CONTRACTOR'S DAY

SHINES A LIGHT ON

SKILLS, INNOVATION &

ALL THE KEY ISSUES...

Hundreds of contractors descended on

Twickenham Stadium for the inaugural

Contractor's Day, a new regional exhibition

from the NFRC and Total Contractor magazine.

Visitors were able to get up close to the latest

offerings from manufacturers and suppliers of

roofing, cladding and associated materials,

including roof tiles and slates, batten, liquid

roofing systems, single ply systems, fixings,

insulation, tools, safety equipment, and rooflights

to name just a few of the many materials and

products on show.

Alongside the vast array of materials, systems

and products to help them on their next project,

visitors could also keep up to date with the latest

issues affecting them on site and as businesses

in the two SIG Roofing sponsored seminar

theatres. The seminar programme brought

together an exceptional speaker line-up from both

the roofing sector and wider construction industry.

At the centre of this was the much-anticipated

RoofCERT update and workshop from John

Vanstone, which attracted a huge crowd and

brought about an interesting debate about what

makes a skilled roofer. The many issues raised in

the seminar on RoofCERT highlight just important

this new accreditation will be and how serious

contractors are taking it. Those assembled were

receptive to the idea of an accreditation which

separates the skilled roofer from the general

builder, with one attendee pointing out "we see

that on site all the time".

Elsewhere, visitors enjoyed seminars from NFRC's

Gary Walpole on safety when working at height;

SPRA's Ronan Brunton on damage protection on

finished roofs; a joint presentation from IOSH's

Louise King, Kirsty Phillips from Gully Howard

Technical Training and Gary Walpole on asbestos:

where it is found and what to do; Keoghs' Connie

Cobb on insurance and how not to get caught out

with project policies; and BMI's Alastair Blant

Clockwise from main pic above: Visitors enjoyed a packed

seminar programme sponsored by SIG Roofing including

RoofCERT Delivery Director Jon Vanstone's talk and workshop

on the new accreditation scheme. Visitors were able to pick

the brains of manufacturers and find out about new products

and systems to aid them on projects. BMI hosted the Spot

the Defects competition in the Skills Zone at Contractor's

Day 2018.

"To make things even easier for visitors,

we'll be hosting two Contractor's Day events

in 2019, one in the north and one in the south!"

26 TC JANUARY 2019
---
looked at pitched roofing

standards and

workmanship, to

name just a few.

Contractor's Day

was also home to

the BMI Skills Zone

which hosted the

very first Spot the

Defects competition

which tested visitors' pitched

and flat roofing skills by asking

them to point out all the mistakes on the flat to

pitched roofing rig. Eagle-eyed visitor Darren

Laurence from Crest Roofing won the £125

voucher! Elsewhere in the Skills Zone,

Contractor's Day was fortunate to host Kieran

Forster and Jay Webster, the BMI Icopal and

Redland Apprentices of the Year for 2018, who

showcased their roofing skills and interacted with

visitors alongside BMI's Technical Training

Manager Mat Woodyatt and Alastair Blant.

Rebecca Ball, Campaign Manager Roof Systems

at Event Supporter and exhibitor Marley, summed

up why Contractor's Day is

a great opportunity to

connect those on site

with suppliers and

manufacturers: "It's

important to come

and meet the

contractor and

understand their

issues in their day to day

jobs and see if we can find

a solution to help make their jobs

easier."

Amanda Brackey, Head of Marketing &

Communications echoed these sentiments: "The

NFRC is dedicated to promoting excellence and

safety and is always looking for new ways to

reach roofing and cladding contractors. This event

provided contractors with a fantastic opportunity

to meet directly with the UK's leading roofing

suppliers in one place, but also to benefit from a

packed programme of technical and nontechnical

presentations organised by the NFRC

and supported by SIG Roofing.

"We'd like to thank Knowledge Partner SIG

Roofing and Skills Partner BMI, alongside Event

Supporters Marley, Bauder, Brett Martin and

Midland Lead for their support, and of course all

the exhibitors and visitors that made the day a

success."

Andy Dunn, Publishing Director at Total Contractor

magazine, explained: "The inaugural Contractor's

Day showed there is a real demand for this type

of regional event where contractors can get in

front of the manufacturers and suppliers of the

products and materials which they use on site

every day, so they can see what's new, create

new relationships, plus listen to entertaining and

informative talks on issues that impact them, all

in one quality venue. With this in mind, to make

things even easier for visitors, we'll be hosting

two Contractor's Day events in 2019, one in the

north and one in the south! We know time is

crucial for roofers and cladders, so this is an even

more economical way of keeping up to date with

the developments and what's new in their market."

Look out for updates on venues and dates for

both Contractor's Day North and South in 2019.

"It's important to come and meet the contractor

and understand their issues in their day to day

jobs and see if we can find a solution to help

make their jobs easier"

Above (Top): BMI Redland Apprentice of the Year Jay Webster

and Icopal Apprentice of the Year Kieran Forster (above) gave

demos throughout the day alongside Mat Woodyatt, BMI's

Technical Training Manager. Left: Visitors were able to get infront

of the leading manufacturers and suppliers of materials

and systems for their market at Contractor's Day.

JANUARY 2019 TC 27
---
The Big Question

IS PRICE STILL THE DRIVING FACTOR

ON CONSTRUCTION PROJECTS?

Ian Exall, National Sales Manager for

Polyfoam XPS.

A: Fundamentally, price remains the driving factor

on construction projects, but priorities

have shifted. The focus is no longer on

specifying or purchasing the

cheapest products. The priority for

most of our customers is value for

money. They want affordable

products, but which can still perform

to high standards and are seeking

assurances through third party guarantees and

certifications such as BBA before purchasing.

Cost certainty is another key consideration which

is being fuelled by Brexit and fears of the

unknown. We are getting lots of requests for longterm

pricing for projects, especially for larger

schemes which could take two years or more to

complete. Many contractors are worried about the

risk of product and labour inflation, so want the

assurance that prices will remain stable despite

potential changes to market and / or economic

Andrew Hayward, MD, Russell Roof Tiles.

Absolutely price remains the overriding factor in the

vast majority of situations though manufacturers'

guarantees and environmental credentials are

gaining more and more importance.

Labour shortages are also a major concern for the

construction and many other industries. Currently,

a huge portion of the workforce are from the EU

and the final outcome of Brexit could ultimately

result in more red tape for those and a massive

shortage in labour on construction projects.

The other labour challenge is the aging workforce,

there are figures which suggest that over 20% of

the workforce is aged between 50-60; we're

losing skilled workers to retirement. The problem

which we have talked about but is not being

addressed is that we are not attracting young

people to replace them. Construction and

conditions. Whilst this is understandable, it simply

moves the risk along the supply chain where

margins may be insufficient to withstand potential

inflationary pressures.

At the same time, we have noticed a

big crackdown on specification

switching and so has our

distribution network. This is a

trend which follows the

recommendations in the Hackitt

Review and the push for more competency

across the construction industry.

Long-term, this will have a positive impact on our

sector as switching specified insulation during

construction can lead to inaccurate U-values and

potential non-compliance with Building

Regulations.

However, following the Grenfell tragedy,

minimising risk is another priority for construction

professionals and this is affecting all aspects of

the industry, including specification. As a result,

manufacturing careers are simply not appealing to

school leavers.

We've done a huge amount over the past 18

months working with schools and colleges local to

our sites – but the sectors as a whole need to

address this.

Lack of available skilled workers is a big

challenge waiting to happen and is not being

sorted! Brexit is a major concern to all businesses

at present but construction ploughs on regardless.

Within the housing sector it appears that

consumer confidence is the biggest challenge and

that more house buyers are concerned about the

uncertainty of the market and this is delaying new

home some sales.

We expect that Brexit will slow down construction

temporarily, but when taking into consideration

the rising population, immigration, people now

we are seeing some insulation specifications

being held even if there is a better product

available both in terms of cost and performance.

This suggests that roofing contractors, main

contractors and other specifiers are reluctant to

take on the responsibility of any liability that may

come with such a change.

Uncertainty won't go away in 2019 and inevitably

that means our customers will continue to put

price in the priority list but it's no longer just a

numbers game. The whole industry is moving

towards a more forensic approach that shines

the spotlight on quality, performance and risk,

and this will continue to affect purchasing

decisions.

For manufacturers of construction products, this

underlines the ever growing need to provide

assurances, advice and support which help

contractors and specifiers make more informed

decisions.

www.polyfoamxps.co.uk

living for longer, the increased divorce rate and

homelessness, the rate of construction will

undoubtedly increase again.

Brexit will be resolved in, I suspect, a much more

orderly fashion than the current mass hysteria is

predicting, because it's in everyone's interest

both business and consumer alike.

Price at times can slow projects as builders look

for equivalent products at lower costs which

therefore has an impact on production planning

and stock availability. Price will still remain as the

primary driver, but quality and the standards of

products will still play a huge part.

As sales volumes grow, inventory and speed of

supply will overtake price as happened previously

in 2016/17.

www.russellrooftiles.co.uk

28 TC JANUARY 2019
---
Richard Bishop, Category Manager for

Roof, Wienerberger.

Price is always a driving factor on any

construction project and it always will

be. A project with an unlimited

budget is a very rare thing, so

naturally cost will strongly affect

the choices made by the

responsible Project Manager and site

QS.

The challenge for any project team is striking the

correct balance between the cost of a build, the

time it takes to construct and the quality of the

finished result. When a client's brief stipulates a

limited budget, strict timescale and product

specification, the project team must figure out

how best to work to these criteria without

compromising the successful completion of the

build.

Switching to an alternative product is an easy way

to reduce costs for building materials and the

overall project. However, by choosing a less

expensive and lower quality product for budgetary

reasons, Project Managers run the risk of

compromising the quality of the whole project.

When considering a product swap,

remember that a higher quality

product with a higher price tag

might be more cost-effective than

a cheaper alternative. For example,

a more expensive roof tile could

include features that make it easier to

install than a lower quality tile, leading to a saving

in labour costs and the time taken to install.

Project teams and clients should also consider the

future lifespan of the building, as a choice to work

with lower quality building materials in a bid to

reduce costs could lead to expensive repair and

maintenance work later down the line. This could

also be said for how much a project team is

willing to invest in high quality workmanship from

contractors with the skills required and a good

reputation.

Recent events have sparked fears over switching

out specified products and the liability issues this

brings, leading to a desire to deliver to the letter of

the project specification.

The simple act of switching out a product can

impact fire performance, thermal resistance or

structural strength, without the project team being

aware of the differences between products that

appear so similar. Therefore, project teams need

to be cautious of the subtlest of variations

between products when considering a product

switch and its potential implications. Architects

and contractors can establish relationships with

trusted manufacturers so they are well informed

about the products available in the market.

Although price will never cease to be a major

driving factor on construction projects, the safety of

site staff and future building users should always

be paramount. Better quality products may incur a

cost, but the cost of potential repercussions due to

an incorrectly specified product, or an attempt to

cut corners, are much greater.

www.wienerberger.co.uk

Dean Weldon, National Accounts Director

for Marley.

While cost is undoubtedly still the biggest concern

in most construction projects, minimising

exposure to risk has become an increasingly

important factor, particularly in the public sector.

This is largely being driven by clients, such as

local authorities and housing associations, who

are looking for peace of mind and reputable

contractors and manufacturers, with a trusted

track record.

For this reason, full pitched roof systems from one

manufacturer are likely to become more widely

used, as they are invaluable when it comes to

reducing risk and managing liability. As well as

having one point of contact in case anything does

go wrong, all of the components have been

manufactured and tested to work together, offer

guaranteed compliance with British Standards

and our roof systems have the further

reassurance of a 15-year warranty.

We are also seeing housebuilders moving more

towards a roof system approach because of the

peace of mind and guarantees, however, cost and

time saving are the real driving factors in this

sector at the moment. In a pre-Brexit world,

where there is a great deal of uncertainty, people

don't want to overspend and this is certainly

having an impact. With signs of the market

slowing down as we head towards the March

2019 deadline, some housebuilders have had to

react in the short term by reducing purchase

prices and starting to cut cost from some product

specifications.

Downgrading roofing specifications can be risky,

particularly when it comes to components such as

battens and dry fix systems. It may save money in

the short term, but could prove very costly further

down the line – both in terms of finances and

reputation. For example, using a cheaper dry ridge

system will provide an immediate cost saving –

but value engineering means there could be a risk

of product failure and the added cost of repairs.

"Some housebuilders

have had to react in the

short term by reducing

purchase prices and

starting to cut cost

from some product

specifications"

One way to cut cost from a roofing project, without

reducing quality, is to look at time-saving

products that could help to reduce the length of

the roofing programme, making significant

financial savings on labour time.

While contractors are under increasing pressure to

reduce time and price when bidding for tenders,

being able to suggest innovative ways of cutting

costs without cutting quality and demonstrating

ways to reduce client risk will put them in a good

position.

www.marley.co.uk

JANUARY 2019 TC 29
---
Interlocking Slates

KEY QUESTIONS REGARDING

INTERLOCKING SLATES

Tom Woodhouse, Site Services Manager at Marley, answers contractor questions about

interlocking slates.

Since the recovery in the housing market and

escalating skills and time pressures, there

has been a huge surge in demand for

interlocking concrete slates.

Offering a middle ground between the top and

bottom of the roofing price range, thin leading

edge, interlocking concrete slates are a quick and

affordable way to create a stunning slate effect

roof. They can be used for both new and

refurbishment projects and, unlike traditional

slates, they don't require specialist skills and can

be installed by any roofer.

If you're thinking about upgrading your concrete

tiles to give your roofing project a premium finish,

below we answer some frequently asked

questions about interlocking slates…

1: How much do they cost?

As a cost-effective alternative to both natural and

fibre cement slates, interlocking concrete slates

are the most economical way of achieving a slate

aesthetic. While they are a bit more expensive

than a standard flat interlocking concrete tile, it is

a relatively small difference in cost.

For a premium look interlocking concrete slate,

like our Edgemere product, the difference can be

as little as 3% extra on the total cost of a

standard domestic roof. The average cost of a reroof

is around £3,500, so you are only paying just

over £100 to upgrade from a standard tile to a

premium look slate.

2: What min pitch can they be used at?

The minimum pitch will vary according to which

type of interlocking slate you buy, but usually they

can be used at a lower pitch than natural slate.

Above: Marley offers the Edgemere interlocking concrete slate.

For example, our Edgemere slates can be used

down to a low minimum pitch of 17.5 degrees.

3: Will the tiles be accepted by planning

as a natural slate replacement?

This will depend on what type of interlocking slate

you are using and where you are installing it. In

many cases our Riven Edgemere slate, which is

designed to more closely resemble a natural

slate, is accepted by planning departments.

However, you will need to check with the local

planning office as it will depend on the proposed

location.

There is also a new Anthracite colour in our

Edgemere range, which is designed to provide a

closer aesthetic match to both natural and fibre

cement slate. This gives you a cost-effective

easy-to-fix option when a slate appearance is

required by planning.

4: I've been told fibre cement slates are

too light, so can I use concrete slates to

replace a natural slate roof?

When changing a roofing material for one that is

lighter or heavier, we always recommend

consulting a structural engineer to give you

appropriate advice on load bearing. It is true that

on some refurbishment projects, fibre cement

slates may be unsuitable to replace an existing

natural slate roof. However, at around 44kg/m²,

our Edgemere concrete slates are not that

different in weight to a natural slate, so they

could be a suitable replacement but it would

depend on the structure of the building and

planning conditions.

5: What is the coverage rate?

Interlocking slates are designed to be very quick

and easy to install, with a high coverage rate –

ours is 9.7 tiles per square metre. Like all

interlocking tiles, they should be fixed to BS 5534

recommendations, both for new build and

refurbishment projects.

6: How can I install them to BS 5534

more quickly?

Since BS 5534 was revised in 2014, all

interlocking tiles are subject to more stringent

fixing specifications, which means there is an

element of clipping on all roofs laid in single lap

tiles.

Traditionally, these clips and nails come in

separate bags and need threading together prior

to installation, which is fiddly and adds extra

labour time to the job. To save time, you can use

the SoloFix one-piece clip and nail. It's

comparable in price to a standard aluminium

clip but can save as much as 30% on roof

clipping time.

Contact Marley

01283 722 588

www.marley.co.uk/Edgemere

@MarleyLtd

30 TC JANUARY 2019
---
octor

the A Proctor Group Collection 2019

the authority

design by:

Sarah McClintock

Roofshield

air permeable vapour permeable roofing underlay

01250 872 261

Proctor

Group

www.proctorgroup.com
---
Perfectly Pitched

MORTAR IN MODERN ROOFING

CONSTRUCTION

Roofing consultant and pitched roofing expert John Mercer – writing on behalf of Edilians –

talks all things mortar.

Ihave written many articles advocating the use

of dry fix products such as ridge, hip and

verge systems, with all the benefits they bring

to modern roof construction. However, we must

not forget that mortar has been used in roofing for

a very long time. Middle Eastern builders used a

material similar to concrete around 1300 BC in

coating their buildings with burnt crushed

limestone, which set hard as it reacted to gasses

in the atmosphere. Cement, as we know it today,

was patented in 1824 by Joseph Aspdin – he

called it Portland cement because it resembled

Portland stone.

With the right mix of sand aggregate and cement,

mortar can produce a very strong

bond between building

components. But the reason

mortar fails in roofing is its

inability to cope with differential

movement between components;

even a well installed mortar-bedded

roof junction, using the correct mortar mix, can

fail very quickly if any slight movement in the

building structure takes place.

Since 2014, BS 5534 recommends that all

mortar-bedded roof components, such as ridge

tiles, hip tiles and verges, be mechanically

secured to the roof structure using fixings such as

"The reason mortar fails in roofing is its

inability to cope with differential movement

between components"

Left: John Mercer, Pitched Roofing Technical

Consultant.

nails, screws or clips. Of course,

in many cases designers, roofers

and clients decide to use a dry fix

system and omit mortar altogether.

However, there are still many roofs where

mortar bedding is desirable for aesthetic and

traditional reasons. For example, Edilians has

some traditional clay tiles in its range, such as its

Phalempin plain tile and classic clay pantile

ranges in many popular colours, that look equally

good with mortar as well as with dry fix systems.

A great example of combining traditional mortar

bedding with mechanical fixing is the Edilians

710 clay angle ridge system; ridge and hip tiles

can be installed by mortar edge-bedding

combined with a hidden screw and clip fixing into

a ridge or hip timber. Equally, Edilians 710 ridges

can be used without mortar, with a ridge or hip

roll.

What makes a good mortar mix?

The strength and durability of mortar is

dependent on the type of sand used and even the

cleanliness of the water. Sharp sand, also

referred to as 'rough' or 'coarse' sand, tends to

give a stronger mix than soft sand; i.e. the type

used by bricklayers. The disadvantage of sharp

sand is that it is more difficult to work with and to

form smooth, neat finishes. Soft sand, often

called 'building sand', is easier to work with, but

it does not achieve the same strength as sharp

sand. For these reasons, BS 5534 now

recommends a mortar mix using a blend of sharp

and soft sands. In a typical three-parts sand to

one-part cement mortar mix, the sharp sand

32 TC JANUARY 2019
---
should make up at least one-third of the sand

content. Alternatively, a building sand can be

used that has a distribution of particle sizes

similar to blended sand. As a definition, 70% to

90% of the sand should be able to pass through

a 0.5mm sieve. There is also the difficulty of

defining exactly what sharp and soft sands are,

as they vary from region to region. For further

guidance, BS EN 13139: 2002; Annex B,

categorises sand as coarse, medium or fine and

has tables to define each type.

Hydrated and hydraulic limes are often used in

conservation and historical restoration roofing

work. Mixed with sand, the lime improves

workability and gives a softer, more porous

mortar which can be an advantage when working

with some softer building materials such as

natural stone and terracotta.

Pigments are sometimes added to colour the

mortar, though too much will reduce the mortar

strength. Generally, colour additives should not

"There are still many

roofs where mortar

bedding is desirable

for aesthetic and

traditional reasons"

exceed one part pigment to sixty parts mortar.

Proprietary admixtures are also available that

improve specific properties of the mortar. For

example, plasticizers improve the frost resistance

and workability of the mortar. These should be

used strictly in accordance with the admixture

manufacturer's recommendations.

In summary

Except for certain historically or architecturally

important old roofs, mortar should always be

supplemented with mechanical fixings when

bedding ridges, hips and verges. Baby ridges

installed on small roof details, such as porches or

bay windows up to a height of 3 metres, can be

mortar-bedded without mechanical fixings,

provided the self-weight of the ridge tiles is

sufficient to resist local wind loads.

Use the correct sand to cement mix and always

use clean, potable water. Use admixtures and

pigments in accordance with the product

manufacturer's instructions.

Contact EDILIANS / John Mercer

www.imerys-roof-tiles.com

@imerys

@johnmercer3

Firestone RubberGard

The EPDM reference for professionals

E

Proven performance in all climates

D

M

RubberGard

JANUARY 2019 TC 33
---
Battens

TO DO LIST: QUICK QUALITY CHECK

FOR YOUR ROOFING BATTENS

SR Timber gives a quick guide to genuine roofing batten, as roofing contractors have a duty

of care to make sure that every piece of timber roofing batten used on a roof meets the

current British Standard (BS 5534:2014 + A2:2018). Here are a few things for contractors

to look out for when working with batten...

Check your delivery details

Before you check the batten, check the

paperwork. Deliveries of BS 5534-compliant

graded batten will come with documentation that

will state five things:

1. Name of the supplier

2. Origin – imported or British grown and / or

species code

3. Graded in accordance with BS 5534

4. Batten size or sizes

5. Type of preservative and method of treatment

(if applicable)

If deliveries of batten don't come with

documentation, ask the supplier.

Check the markings

If the paperwork is in order, the next thing to

check is the batten for stamping. The stamping

can be on the side (edge) or the face, and there

should be five pieces of information stamped on

the side of every length of batten, giving

contractors key information.

The first and most obvious thing to say is that no

matter what colour the batten is, if there's

nothing marked on it, then it's very unlikely to

have been produced in accordance with the

British Standard.

In order from left to right, the markings are:

Q – certification such as the Q Mark, denoting

independently assessed third-party quality

assurance, shows that our grading, preservative

treatment, product marking and management

processes have all been independently audited

and verified by a good third-party body that is

UKAS accredited. Ask who supports the third

company management processes.

TX TTB-012 – TX is the sawmill identification

mark. TTB-012 is the certificate number for the Q

Mark issued by BM Trada.

GRADED BS 5534 – the batten must have been

pre-graded to the British Standard.

WPPA – the species code of the timber: WPPA

refers to pine and spruce – which is a mixed

species code.

25 x 50 – the dimensions of the batten in

millimetres. The other standard size is 25mm x

38mm.

Get your tape measure out

Batten comes in two dimensions: 25 x 38mm and

25 x 50mm. The British Standard states an

allowed tolerance of +/-3mm on the width and a

tolerance on the thickness of -0/+3mm. These

dimensions are supposed to be measured when

at a 'reference' moisture level of 20%, but, in

reality, the 25mm thickness is the most important

one, and this will barely alter at the range of

moisture levels that are encountered in batten

production and on building sites. So, 25mm

minimum is what to look for in a good batten.

50mm and 38mm width batten offers superior

quality, as it is produced full size in both

thickness and width.

Check the size of knots

The rules on knots can be quite complicated, but

essentially, any large knots should not be bigger

than half the width of the batten, should they

appear on both sides of the face (width).

More than half

width of batten

Knots smaller than 5mm in diameter (which are

usually referred to as 'pin knots') may be allowed

anywhere, but knots over 5mm that appear on

the edge / thickness are not permitted to run

across the batten from edge to edge.

Contact SR Timber

01623 446800

www.sr-timber.co.uk

@SR_Timber_

Less than half

width of batten

"Through" edge knot greater than

5mm in diameter.

"Through" edge knot less than 5mm

in diameter.

Edge knot running across face:

greater than 5mm on an edge.

34 TC JANUARY 2019
---
Expertise...

through teamwork

When you need a reliable solution, you need a team behind you with

experience, dedication and quality unrivalled in the delivery of industry

leading products. At SR Timber our focus on EXPERTISE means:

n You have access to a team with decades of collective experience

n Dedicated management of our range, from the forest to the site

n There is a voice for the industry to raise standards and quality

With decades of experience, our team is more

passionate than ever, offering you expertise,

independent advice, experience and industry support.

TEL: 01623 446 800

sales@sr-timber.co.uk

www.sr-timber.co.uk
---
Contractor's Q's

"WE ARE VERY DEPENDENT ON

TRADES THAT PRECEDE US..."

Total Contractor caught up with Chic Scrimgeour, Commercial Director, Aim Developments – winner

of the NFRC Scottish Roofing Awards 2018 Single Ply category with An Crubh (The Hub) – to talk

about his career, running a business, project pressures and some of the stand-out roofs he's

worked on over the years...

10

questions for Chic Scrimgeour:

"Equipment and tools

had to be shipped over

while our personnel

accessed the island via

helicopter"

TC: What was your path into roofing and

to your current position?

CS: I'm a time served Joiner by trade. I started

out with Aim Developments in 1992 working on

the tools but then progressed into a position in

the Estimating department after a few years.

From there I was made a Director and in July this

year Andrew Morrison and I became business

partners. As we have both been in the company

for many years we know it well and it's a

fantastic opportunity for us to take the business

forward together.

"When it comes to a

client it doesn't matter

how menial you may

regard a task, it may be

significant to them so

respect that"

TC: If you had one piece of advice about

starting a roofing business, what would it

be?

CS: Be professional in your approach to all

aspects of the business. When it comes to a

client it doesn't matter how menial you may

regard a task, it may be significant to them so

respect that and offer them the same level of

professionalism as you would another.

If I could offer a few more pieces of advice, I'd

most definitely say that you have to use a quality

product and know your

product well, so

building a strong

relationship with

the

manufacturer is

key, as we have

done with Sika

Sarnafil. This will

gain you access to

their knowledge and

support which is

invaluable. Our fitters take

great pride in what they do and we

enable this by using quality and market leading

membranes. If you don't provide them with the

best resources then they can't deliver the best

job.

Also, health and safety has to be taken seriously.

There is no room for error, so make sure you

address this as priority and not an afterthought.

We have invested heavily in ensuring that we are

accredited with CHAS and Achilles, and that our

employees receive the optimum level of training

to ensure we have a safe and informed workforce.

TC: Tell us about a current project you're

working on.

CS: We are currently working on Bell's Sports

Centre, Perth, for Live Active Leisure (LAL). The

iconic building has a dome shaped roof and is

celebrating its 50th anniversary meaning there

L-r: Gordon Butt, Project

Manager (Hardies Property

and Construction

Consultants), Chic

Scrimgeour,

Commercial Director

(Aim Developments),

Andrew Morrison,

Production Director

(Aim

Developments), Ian

Tervit, Technical

Services and Project

Manager (Live Active

Leisure).

has been significant

interest in the work being carried

out and its progress.

We have been installing a Sarnafil

weatherproofing system to refurbish the 4000m²

dome, which was at its life end. One of LAL's

main concerns was that the building remained

operational throughout our works, with that in

mind we employed the use of Limpet

technology – this enables faster and safer

access to tall structures and is used around the

world for accessing wind turbines, stage rigging

and tall buildings – which we believe is a first

for roofing in the UK. This has enabled us to carry

out these works safely, with minimal disruption

and without the need for traditional scaffolding.

Our works have allowed LAL to make Bell's a

more energy efficient building; myself, Andrew

and LAL are delighted with how the works have

progressed.

36 TC JANUARY 2019
---
CALL

FOR

ENTRIES

Submissions are now being invited for the 2019 UK

Roofi ng Awards.

With 16 categories to enter, there has never been a

better opportunity to be recognised for outstanding

workmanship.

Deadline for submissions 26 th January 2019.

Booking has now opened for the awards ceremony

taking place on Friday 10 th May at the InterContinental

Hotel London - The O2.

www.roofingawards.co.uk

#roofi ngawards19

Supported by industry

Hosted by

Headline Sponsor
---
Contractor's Q's

TC: You must have worked on some

difficult projects over the years. Does one

in particular stand out?

CS: Working on St. Kilda was certainly

memorable. This is an isolated archipelago of

volcanic islands in the remotest part of the British

Isles, so getting there was a huge challenge.

Having worked on many remote sites we were

equipped to deal with the environmental

demands that this location offered but we weren't

shy of the challenge. We had to install a roofing

system that had the ability to withstand winds in

excess of 150mph. We worked closely with our

product manufacturers to ensure that we solved

this high wind loading, as at that time the BS

wind loading calculations did not cover this area

of the UK.

A lot of forward planning was required as all

materials, equipment and tools had to be shipped

over while our personnel accessed the island via

helicopter, with a limited weight to what they

could carry. Once the works were complete, we

had to wait eight months for our equipment to be

shipped back when the first boat of the season

returned.

TC: What about difficult customers? Any

situations that stand out that you can tell

us about?

CS: There's not one specific situation I can think

of. We carry out multiple projects for a very varied

client base, all of whom have different demands.

Of course working with various personalities is

the main challenge as a contractor, as we have to

ensure everyone is kept happy. To reinforce the

importance of us ensuring everyone is happy, we

operate a quality management system (ISO

9001:2015) which is a valuable system to ensure

customer satisfaction.

TC: What's the most frustrating thing

about your job?

CS: Time and weather! I'm aware there is a huge

pressure on us with regards to planning and when

we can start a project, and then when we can

complete it. There are so many factors to

Aim Developments won the Single Ply Category for An Crubh at the NFRC Scottish Roofing Awards 2018.

"Although I feel that there are indicators that we

are moving in to a slow year, we remain positive

and feel that there are strong projects for us on

the horizon"

consider and we are very dependent on trades

that precede us and good communication from

main contractors and customers. There are times

we arrive on site to find that the roof is not ready

for us even though we have been assured it will

be. However, as frustrating as this may be it is

part of the course and we accept this happens so

try to mitigate as best as possible to try to avoid

it.

As for the weather, no one can change that so we

just have to get on with it. Working in the roofing

industry in Scotland can be brutal when the

elements are against you.

Although we do experience some periods of good

weather – with this summer being a good

example of that – and we have the pleasure of

working in some magnificent locations and on

exciting projects across the country.

TC: And the most satisfying?

CS: A happy client and repeat business would by

far be the most satisfying aspect of my job. The

single ply roofing industry has progressed greatly

over the years and it's extremely gratifying to

have the knowledge that we have a wellestablished

reputation for the outstanding quality

of our workmanship and the excellent service we

provide.

TC: What's your most important tool as a

roofing contractor, either in the office or

on site?

CS: I would have to say our employees, both on

site and in the office, are most important. Each

one of them offers something different and

contributes to the business in a positive way.

TC: What's the best social media platform

for you as a roofing contractor?

CS: Twitter and LinkedIn are both great for keeping

up to date with what's going on in the industry. We

have a Facebook page, however, I would say the

other platforms are generally more utilised and

there's a community of contractors online now.

TC: How do you feel your sector's shaping

up for 2019? Are there reasons to be

positive?

CS: Having worked in this sector for many years

there are trends that become apparent, and

although I feel that there are indicators that we

are moving in to a slow year, we remain positive

and feel that there are strong projects for us on

the horizon.

Contact Aim Developments

01738 494949

www.aim-developments.co.uk

@AimRoofing

38 TC JANUARY 2019
---
Bonding to Roof Decks

BEST PRACTICE: BONDING TO

CONCRETE ROOF DECKS IN WINTER

By Shaun Lotay, Technical Director, Danosa.

It's the most wonderful time of the year – a

time when the rain falls more frequently than

usual (if that's possible) and temperatures

drop sharply. Yet, we are a hardy bunch and the

programme must go on.

However, whilst focussing hard on meeting the

programme demands may seem noble – and may

strengthen friendships with contracts managers –

the integrity of the system you are installing

should not be compromised.

For example, many waterproofing system

technologies are installed onto concrete decks

during these unfavourable conditions, with

systems accompanied by guarantees or

warranties on average of 20 years or more. With

this in mind, it is of key importance that the

system you are installing is appropriately

attached, and for that, it is important to continue

with a considered and methodical approach.

Adhesion test

When planning to bond any product to any

structural deck, whether it be an air and vapour

control layer, the principal waterproofing system

or another component, there should first be a

bond (adhesion) test to the structural substrate.

Typically, a 500 x 500mm test square will suffice

comprising of the appropriate primer where

applicable, ensuring it has sufficient time to cure,

followed by any bonding compounds and the

"When planning to

bond any product to

any structural deck,

there should first be a

bond (adhesion) test to

the structural

substrate"

This product has not bonded to the structural deck. A bond

test before may have saved valuable time and money.

product which is due to be bonded. Once the

components have fully cured, the components

can then be pulled to confirm whether an

effective bond has been achieved. Whilst some

prefer to pull the corner of their square test patch

or instead cut a triangle in the centre to pull from,

it could be argued that a more representative test

would be to ensure there is an unbonded edge of

the product so that the full product width can be

pulled when assessing the quality of the bond.

These bond tests described above, in accordance

Below: A concrete flat roof deck.

A bond test. One of several to confirm consistent results

across a project.

An area primed and dried ready for a bond test.

with the manufacturer's instructions, should be

completed before work commences on site.

40 TC JANUARY 2019
---
"Skipping these

important control

checks is equally likely

when there is a

collective focus to

achieve maximum

productivity in

anticipation of a

looming valuation

date"

Above: A primed roof and air and vapour control layer installation.

Whilst it may seem that the most organised

approach is to schedule all materials and labour

resources before the bond tests have been

completed, there is a risk that works may proceed

without the proper checks being undertaken. We

have seen this happen when labour resources

have targets to meet, or presume that pre-checks

have already been completed by others. However,

skipping these important control checks is equally

likely when there is a collective focus to achieve

maximum productivity in anticipation of a looming

valuation date.

If for any reason a problem with the attachment

to a structural deck is discovered during the

installation, inevitably there is a strong pressure

to attempt to continue with the same materials

and / or primers already on site, which may not

be suitable. It could be reasonably argued that

whilst changing materials at this stage may

introduce delays, those delays are likely to be a

lot shorter (and less costly), than having to

resolve the problem post-handover.

So what are the risk conditions? Is it only in the

winter time that bond tests are required before

commencing? No. This should be standard

practise so that everyone involved can be

assured that the appropriate application method

has been determined. For those using structural

hot melt products, this practise of bond tests

before commencement of the work appears

engrained in our culture. It is commonplace to

arrive at most sites and see test patches of

structural hot melt systems accompanied with

detailed records of the tests completed. But, why

is this practise not as engrained with other

technologies? It should be standard practise

across the board.

By progressing your installation without these

bond tests it is often viewed by main contractors

that you are accepting the condition of the deck.

And they may have a point.

Beyond simply waiting for the deck to fully cure

(which is another topic in itself), here are few

other conditions to consider:

Sub 5°C Conditions: During these lowtemperature

conditions, there is a risk that surface

condensation may exist on the structural deck. This

is one of the reasons why many products advise

that they should only be applied in greater than 5°C

conditions, despite the products themselves

functioning in sub-5°C temperatures.

Screeds: Sand-cement screeds are often used for

levelling purposes or providing a suitable roof fall.

The problem is that these products are like

sponges and absorb water every time it rains.

Interestingly, whilst it may seem more expensive

on paper to consider tapered insulation, there may

be a saving on the overall project package if you're

able to get your waterproofing completed quicker,

allowing internal works to proceed and scaffolding

and other attendances to be struck earlier.

Zero Falls (less than 1:80): A minimum fall on

your roof will ensure that it drains and BS 6229

advises that to achieve a minimum 1:80 finished

"It is important to

ensure that the deck is

fully dried so that you

are bonding to the

concrete deck itself,

not a layer of water"

fall, you should design at either 1:60 or 1:40 to

allow for tolerances during the construction

(depending on how much information is available).

However, how often do we see zero-falls designs

which are designed at zero falls, rather than say

1:80 to achieve a close to zero fall (after

tolerances)? In these conditions both the drying

time of the structural deck, and keeping the deck

dry after rainfall, are likely to be troublesome.

However, in the condition of a zero-fall design it is

likely that this problem may be further

exaggerated, due to the formation of back-falls.

In all of these conditions, it is important to ensure

that the deck is fully dried so that you are bonding

to the concrete deck itself, not a layer of water,

which is not known for its adhesive properties.

If utilising a traditional gas-torch to dry your roof

deck, check the NFRC Safe2Torch guidance

document: www.nfrc.co.uk/Safe2Torch.

Contact Danosa

0845 074 0553

www.danosa.co.uk

@DANOSAUK

JANUARY 2019 TC 41
---
Single Ply Roofs

INSTALLING A SINGLE PLY ROOF:

WHAT YOU NEED TO KNOW...

The Technical Team at Bauder talk through the key steps to installing a single ply roof.

BS 6229 states that a minimum finished

fall at any point of 1:80 (1.25%) should

be achieved which includes any formed

internal gutters; this will reduce slip hazards and

deposition of fines leading to plant growth, as

well as minimising water ingress and damage if

there is a leak.

It is worth considering the guarantee required

on completion of the installation. If a Product &

Workmanship guarantee has been requested by

the client, then Bauder site technicians require

access throughout the period of installation to

ensure compliance with our design criteria and

installer guidelines.

If there is a likelihood that mechanical damage

may take place to the recently installed

membrane due to other trades using the roof as a

working platform, then an adequate protection in

the form of timber boards on a protection fleece

must be put in place. Ideally, once the membrane

roof has been installed then the flat roof area will

not be accessed other than for essential

maintenance.

Maintenance of a single ply membrane roof is

recommended twice yearly (autumn & spring) or

after a major storm. Checking should include

for – but not limited to – blocked outlets, debris,

overhanging trees, perished sealants and

termination details.

Contact Bauder

0845 271 8800

www.bauder.co.uk

@BauderLtd

Bauder's key considerations when

installing a single ply roof:

1. Correct documentation on site

Before work commences it is important there is

a copy of the NBS specification available to all

operatives along with any tapered drawings,

technical drawings, adhesive and mechanically

fixed installation guidelines if required.

2. Air and vapour control layers

You need a self-adhesive or mechanically fastened

VCL. For polyethylene, you need the tapes (03 &

20) for sealing the joints of the VCL on the field

and upstand areas. All VCLs should extend up to,

but not beyond, the height of the insulation.

3. How is the insulation being installed?

If the insulation is adhered and the VCL is KSD Foil

or DBR then it has a foil finish; if the Insulation is

FA or FA-TE then you must use the Twin Cartridge

Insulation Adhesive. Ensure the board joints are

taped using a self-adhesive foil tape when using

Thermofol Contact Adhesive-Drum.

4. Fastener layout

This will enable you to ascertain the correct

fixing pattern for a mechanically fixed system.

5. Use the correct membrane adhesive

Refer to the adhesive suitability table in the

Bauder price list to ensure that you are using the

correct adhesive based upon the application,

membrane and substrate.

6. Thermofol PVC membrane laps should

be heat welded at a temperature of

between 450 & 500ºC

Heat welding is performed at temperatures

between 450 and 500°C and is a 3-stage

process for seams. The membrane should be

tack welded at 2m centres to assist with

tensioning and removal of any creases. A preweld

is created by performing a continuous weld

in the rear of the overlap so that an open pocket

with a width of approx. 40mm is formed for the

final weld. The final weld is created by leading

the pressure roller 20-30mm ahead of and

parallel to the 40mm weld nozzle. Indicators of a

good final weld are a strong shine next to the

weld and slight smoke build up.

7. Order accessories in advance

There is a vast array of single ply accessories

available to assist in reducing vulnerable detailing.

Pre-fabricated corners, outlets, un-reinforced

detailing membrane, lightning conductor clips etc.

8. Pre-fabricated metal and / or bar

restraints

When there is a change of direction on the roof it is

good practice that a hard angle is installed to

protect the insulation (in the case of a warm roof)

and to restrict the peel forces that are placed upon

the membrane in these locations. Pre-fabricated

metal should be employed at all exposed details

such as a drip or water check curb.

9. Carry out a weld check

Let the weld cool down sufficiently, then use a

weld tester probe. Place the probe on the weld

using medium pressure and move along the

weld. Do not use a scriber. Should capillaries or

open welds be found, carry out the necessary

remedial action.

10. Inspections

Once the project is complete it is important that

a Bauder site technician is provided access to

the roof prior to the scaffold being removed to

sign off the roof.

42 TC JANUARY 2019
---
STATUS

CREDIT INSURANCE BROKERS

Subbies – Protect your company

against non-payment from the

main contractor.

Increase your confidence to take on new contracts

knowing that should the main contractor fail; your

business will be protected.

If you supply, or supply & install to the construction

sector, then request our Free Guide – A sub-contractors

guide to protection against bad debt.

Retentions; Final accounts; Work done but not

certified; variations; design fees and much more

will be protected with our specialist credit construction

policy underwritten by a specialist construction

insurer with an AA rating.

If you want to have an informal chat, then call

Lance Attwell on 01342 302 566, email him on

lance.attwell@statuscreditinsurance.co.uk

or request our Free Guide by visiting our website.

www.roofingsubbiecreditinsurance.co.uk

www.rooflights-skylights.co.uk

THE ONE-STOP-SHOP FOR ALL

YOUR ROOFLIGHTING NEEDS!

COMING TO A VENUE NEAR YOU!

Roofing and

cladding uncovered

VISIT OUR NEW WEBSHOP!

FREE Mainland

UK Delivery

NORTH AND SOUTH 2019

VENUES AND DATES TO BE CONFIRMED

WWW.CONTRACTORSDAY.CO.UK

BROUGHT TO YOU BY

• Rooflights & Skylights at discounted prices

• A large selection of polycarbonate and glass units

• We will match any like-for-like competitor's quote

• Next Day Delivery available on many stock units

Tel: 0800 019 4493

www.rooflights-skylights.co.uk

JANUARY 2019 TC 43
---
Rooflights

LET THERE BE LIGHT: KEY

CONSIDERATIONS FOR ROOFLIGHTS

Scott Leeder, Commercial Director at VELUX Modular Skylights, looks at the key

considerations contractors should make when specifying and installing rooflights to

maximise daylight in educational facilities.

For many years, academics have carried out

a number of reports to determine the

impact that educational buildings have on a

student's ability, attainment and aspiration.

Research conducted by Professor Peter Barrett

and his team of design experts at the University

of Salford, showed clear evidence that differences

in the physical characteristics of teaching spaces

explained 16% of the variation in learning

progress over a year.

The findings outlined in the HEAD Project (Holistic

Evidence and Design) also revealed that certain

elements, including the amount of daylight,

temperature and indoor air quality, are intrinsic to

improving learning in the classroom. The report

found that more daylight and fresh air, as part of

an optimised teaching environment, can increase

learning capacity by up to 8%.

These studies, amongst many others, have

resulted in specifiers and designers recognising

the importance of optimising the levels of daylight

and fresh air when developing a school, college or

university building. Critical to this is the amount

of glazing and rooflights or skylights which are a

very effective method of meeting daylight

requirements.

Equally important is the position and orientation

of the rooflight and north facing installations are

often preferred because they provide a balanced

light source throughout the day that is not

"Equally important is

the position and

orientation of the

rooflight and north

facing installations are

often preferred"

affected by glare of the sun. The maximum

amount of light in a morning is provided by

installing rooflights on an east-facing roof,

whereas a west-facing installation will capture

sunlight from early afternoon onwards.

Rooflights also ensure a much more even

distribution of light compared to a vertical

window, particularly in larger commercial

structures. A window's effective area for natural

lighting only extends a maximum of six metres

from the wall, whereas careful positioning of

rooflights can illuminate the whole area.

Quick and easy to assemble on site

Developed in collaboration with architects Foster

+ Partners, VELUX Modular Skylights feature a

minimalist design with super-slim profiles and

are fully prefabricated in a factory controlled

environment, so they are quick and easy to

assemble on site.

Fast becoming the preferred choice for

contractors and designers working on commercial

projects throughout Europe and created with both

installers and architects in mind; the striking

design of the skylights allows for more daylight

and fresh air, which is matched by their

performance and vastly improved installation.

Modern methods of construction

A good example of an education establishment

that benefits from high levels of natural light is

the new £12m University Technical College (UTC)

in Newcastle. The college specialises in IT and

Health Science courses for 14-19 year olds and

forms the latest part of the £200m Stephenson

Quarter in the city centre.

44 TC JANUARY 2019
---
Based on the site of George Stephenson's

Locomotive yard, where the Rocket was built in

1829, the college incorporates both a new build

element and renovation of a Grade II Listed

building.

The existing roof on the Hawthorn building, which

had originally been fitted with basic linear slot

glazing, had fallen into disrepair and so it was

agreed that it should be replaced, while retaining as

much of the original timber structure as possible. It

was felt that maintaining the lines of the original

rooflights would enhance the internal space and

so the focus was on identifying a system that

would sit harmoniously with the roof aesthetic of

reclaimed slate and traditional lead work.

Gary Moss, Project Manager, Galliford Try, the

main contractor on site, commented:

"Refurbishing a listed building always creates

challenges, although the in-profile design and

slimline frames of the VELUX rooflights meant

that we were confident it would complement the

slate roof. We were impressed with how the

modular design of the rooflights resulted in a very

fast and efficient installation."

The VELUX Ridgelight solution comprises two

rows of skylights linked together at the ridge,

"Refurbishing a listed building always creates

challenges, although the in-profile design and

slimline frames of the VELUX rooflights meant

that we were confident it would complement the

slate roof"

"Being installed inplane

to the 36°

reclaimed slate tiled

roof creates a more

elegant sightline"

creating a self-supporting structure. Factory

finished flashing allows for installations with a

pitch of 25 to 40°, making them suitable for a

wide range of roofs. Being installed in-plane to

the 36° reclaimed slate tiled roof creates a more

elegant sightline, whilst the slimline, anthracitecoloured

frames and ridge top pieces further

complement the grey slate and leadwork.

VELUX Northlights were also installed on the

pitched roof of the grade II listed refurbishment,

again to replicate as much as possible the glazing

system used on the original warehouse building.

Summary

Over the last few years it has become

increasingly clear that the design of schools,

colleges and universities has a profound effect on

the health, wellbeing and academic attainment of

students. An integral part of creating a wellbalanced,

inclusive learning and development

environment is ensuring high levels of daylight

and natural ventilation.

Our eBook, '10 reasons why prefabricated VELUX

Modular Skylights will transform your next

project', provides further details on this. It

demonstrates how our modular system is quicker,

safer and easier to install as well as being

flexible, of premium quality, stunningly designed,

energy efficient and sustainable.

The eBook, which is available to download free

from our website, is an essential reference point

for installers, contractors, and building designers

that are working on the development of

commercial buildings.

Contact Velux

01592 778 225

www.velux.co.uk

@VELUXGBI

JANUARY 2019 TC 45
---
Project Focus: Rooflights

NDC STEPS IT UP WITH WALK-ON

SOLUTION ON APARTMENT PROJECT

We take a look at how an Astroglaze walk-on rooflight helped transform limited outside

space in central London...

The project

Architect Sara Bondia lived in a first-floor

apartment in central London with no outdoor

space. Right in front of her kitchen window lay the

roof of the ground-floor extension. Keen to spend

some time in the open air, Sara decided to

convert that roof into a terrace for her family. The

terrace would need to be stylish yet functional

and suited to their needs.

The requirements

Sara applied for planning permission to renovate

the exterior space, incorporating new wooden

flooring and a combination of stylish glass and

wooden balustrades to preserve neighbours'

privacy. She would also replace an existing walkon

rooflight that occupied most of the terrace

surface.

Sara sought a supplier that could deliver a tailormade

rooflight that met the project's exacting

requirements. A large walk-on solution was

needed, measuring 1550mm x 2132mm, which

would meet stringent Building Regulations.

Additionally, to maintain a flush surface with the

new wooden flooring, a minimum frame height

was required. Sara struggled to find suppliers

because it was a non-stock item. However, after

much online searching, she found NDC.

The solution

Adept at delivering bespoke solutions for a wide

variety of residential and commercial projects,

NDC supplied an Astroglaze walk-on unit for the

project in the specified size. To maintain privacy

for both Sara and her neighbours below, the

glazing was fully sandblasted and delivered with

a Ritec easy-clean coating for straight-forward

maintenance. The textured finish also ensures

Above: Astroglaze – Standard external Walk-On unit on

Builder's kerb.

suitable grip for those walking on the rooflight

surface – essential as the balcony would also be

a play area for her young family.

From a design perspective, a white border was

chosen around the glazing while the fixings were

delivered in a bespoke polyester powder-coated

finish of black/grey in RAL 7021.

The white border and grey / black fixings set off

the colour and texture of the wooden decking well,

with a standard black border considered too dark

and harsh, creating too much colour contrast to

be in keeping with the overall design scheme of

the balcony.

The conclusion

The result is a now much-loved and often-used

balcony, giving Sara and her family sought-after

outside space.

"I'm delighted with the new balcony," explained

Sara. "Before, we had no useable external space

and had just two small windows in our living and

kitchen areas. Now the apartment has large

glazed doors and you can walk out into this big

open area outside.

"We use it all the time, for breakfast, lunch and

Bespoke: 1 x Astroglaze walk-on unit 1550 x 2132mm,

polyester powder coated in RAL 7021 (black/grey).

dinner. It's transformed the way we live and has

been particularly brilliant during the hot summer

evenings."

Regarding NDC's involvement in the project, Sara

said: "The NDC team was extremely supportive.

As our requirements were very particular –

especially considering the size and weight of the

rooflight needed – I had a lot of questions. Due to

the large size and the resulting weight, a new

steel structure had to be created on top of the

roof as it couldn't be supported by existing rafters

and joists. I was also struggling to find a solution

with the minimum frame size required to make

sure that there wouldn't be a step between the

rooflight and the decked flooring. All of this had to

be taken into consideration and NDC was wellequipped

with the technical information and

know-how to answer these questions and

responded quickly to all my enquiries. The team

was proactive and very supportive, and the

quality of the solution is fantastic."

Contact National Domelight Company

01276 451555

www.nationaldomes.com

@National_Domes

46 TC JANUARY 2019
---
5 Simple Steps

One of the Easy-Trim

technical team will visit the

site with you to assess the

project and perform a patch

test to ensure the roof is

suitable for a PolyureCoat

01

05

Once the works

have been signed

off, a 20 year

Simplicity Guarantee

will be issued.

04

Providing the patch test is

successful, we will then

issue you with a detailed

specification for the project.

Upon completion of

the project, our technical

team will visit the project site

to carry out a full and final

inspection and if successful

sign-off the installation.

We will spend the first day(s)

on-site with you to ensure all

members of your team are

confident and capable in

the installation of the

PolyureCoat system.

03

What is the PolyureCoat Approved

Contractor Scheme?

02

A full day practical and written assessment

with interactive roof models, where

delegates will be assessed and will

take a final exam.

Did you know…

By completing the Approved

Contractor Course, you will gain

access to our Specification & Support

Service, just contact us with the

details of your first project and

we will assist you on-site with your

first installation.

Sign up today

only

£50

Contact us to

request a copy

of our new

comprehensive

52 page

Product Guide

t 0845 034 6008 f 0845 034 6010

12B Metcalf Drive, Altham Industrial Estate, Altham,

Lancashire, BB5 5TU, Great Britain

www.easy-trim.co.uk
---
Lone Workers

LONE WORKING: STEPS TO

WORKING SAFELY AT HEIGHT

Matthew Bailey, Divisional Manager for Inspection and Certification at HCL Safety, explores

how to minimise risks for those working alone at height. Through the right training and

correct use of equipment, he says there are various ways to support lone workers to help

them remain safe.

The HSE defines a lone worker as someone

who works by themselves without close or

direct supervision. The number of lone

workers across the UK is on the rise. In fact, over 8

million people are estimated to be lone workers,

and not just within roles which involve work at

height.

Is it acceptable to combine lone working with

work at height? If you are talking about the kind of

heights that call for fall arrest equipment, the

short answer from the experts is: never. However,

being alone while working at height, does not

automatically mean contractors are exposed to

new risks that they wouldn't be in groups.

While the contract lead can mitigate the risks that

all contractors are exposed to in a given work

environment; the workers themselves have a duty

to take care of their own health and safety – as well

as of those which may be affected around them.

Before work begins at height, by law employers

need to ensure lone workers are not put at risk by

considering several factors. Key legislation that

employers need to adhere to include The Health &

Safety at Work Act 1974, as well as The

Management of Health & Safety at Work

Regulations 1999.

By carrying out these steps below, you can help to

protect lone workers when working at height.

Assessment

Contract leads should be looking at the level of

training needed for a worker to be able to carry

out their duties at height safely. With this, the

level of supervision required should also be

considered so that the contractor meets all

requirements for the job in hand and is

competent enough to work at height.

It is down to the lead contractor to also assess

any potential risks which may occur around

manual handling, medical stability, as well as

whether the working area itself presents a risk. It

is then important for them to take steps to

remove risks where possible and put control

measures in place to carry out the task in hand,

safely. For example, some tasks may be too

difficult for the worker to carry out alone and the

employer should therefore ensure the worker is

not left unaccompanied.

How lead contractors can identify the risks:

– Talk to their lone workers to understand what

potential risks they have identified.

– Previous incidents or near misses should be

explored so that the causes can be recognised

before any work takes place.

How lead contractors can better

understand who might be at risk:

– Consider the hazards which may affect the lone

worker and / or others around them.

– Factor in the training needed to ensure the

contractor can deal with potential hazards and

has the experience to operate equipment safely.

How an employer can reduce the risks:

– Study the likelihood of the potential risk

happening.

– Judge the level of harm that could come from

the potential risk and how this can be eliminated

/ minimised.

– Work out the cost associated with eliminating

the potential hazard.

48 TC JANUARY 2019
---
PROTAN BLUEPROOF – A ROOF FOR THE FUTURE

CAN YOU AFFORD TO LET

YOUR ROOF BE JUST A ROOF?

A roof represents exciting opportunities

for architects and property developers.

If you are on top of a tall building and looking out over the

urban landscape, you will see a lot of unutilised space.

Architects and property developers can no longer afford to

use the roof just to keep the rain and snow out and protect

your contents.

Using the roof for other functions creates additional values.

These values not only allow for increased profits, but also

add value to society at large and for the people living in

and around these buildings.

The roof can be a place where people can spend recreational

time, grow flowers and encourage wildlife. The roof can

also be utilised to solve other tasks that could be profitable

for the building project, such as generating electricity with

solar panels or taking control of heavy rainfall.

Protan has developed a unique BlueProof roofing solution

to avoid creating dead space on top of a building, enabling

use that space for water attenuation. That is both smart

and sustainable. The BlueProof system works equally well

for new buildings and refurbishment projects, and can be

combined with recreational areas, eco-friendly features

and energy production.

Protan BlueProof – coming to a roof near you soon.

Safe

Sustainable

Cost effective

Space efficient

protan.co.uk
---
Lone Workers

Risk

The purpose of a risk assessment is to take

measures to reduce and control risks – this is

required by law.

The aim of a risk assessment is to:

• Identify the work task.

• Identify any hazards.

• Highlight threats posed to others.

• Identify what control method(s) are to be used.

• Record findings.

• Overall, reduce and control the level of

potential risk.

"It is important to

highlight that each risk

assessment must be

site specific as each

job will present its own

unique risks"

Dependent on the findings there may be a need to

review and revise the risk assessment.

Control measures could include:

• Are the correct tools / equipment available?

• What PPE is needed?

• Are there enough people carrying out the work?

• What are the potential risks and how can they

best be mitigated?

• How should the job best be carried out?

• Is there use of any of controlled substances?

• Is a COSH assessment needed?

• Will there be any manual handling?

• Is there enough time to get the job done safely?

• Is the work being carried out in the best order?

• What precautions are needed?

It is important to highlight that each risk

assessment must be

site specific as

each job will

present its

own unique

risks.

There is also

a dynamic

aspect to think

through when

completing a risk

assessment as conditions on a

site change regularly. For example,

surfaces can become slippery due to a change in

weather and external factors therefore need to be

a key consideration.

Monitoring

Lone working isn't a case of getting the right

training and carrying out a risk assessment

before being left to work completely alone.

Keeping the contractor safe requires more

communication which may include:

• Scheduled visits or contact with them by

phone, radio or email.

• Manual / operated warning devices which can

be used to trigger an alert if a signal is not

received from the lone worker in a certain

timeframe.

• Monitoring of contractors to check they are

following the right working procedures.

Training

It is important to consider the level of experience

of the contractor and what additional training

should be undertaken to enable them to work

alone effectively. Training is designed to change

perceptions and improve standards – something

which is especially important when lone working

at height where the risks can be very high.

Training is a crucial part of lone working at height

as there is usually very limited supervision. Lone

workers should be trained in how to carry out a

risk assessment, working at height, rescue at

height as well as manual handling. Training is

Contact HCL

0845 600 0086

www.hclsafety.com

@HCLSafety

also particularly

important to help

control

uncertain or

unexpected

situations to

implement

practical risk

avoidance

strategies.

What's more, while

other contractors may be able

to ask more experienced colleagues for

support and guidance on a task, lone workers are

unable to do so. Extra training may be needed in

situations like this so that contractors fully

understand the risks of working at height.

There are training providers out there that will

help deliver thorough training to all participants,

leaving people feeling engaged with the

knowledge and understanding to do their jobs

even better. It's important contractors do their

research before taking on any training so that

they can be assured the training is up to scratch.

HCL Safety, as a specialist sub-contractor in fall

protection and part of MSA Safety, understands

the potential risks associated with lone working.

While lone working may be needed in certain

instances, for example working in confined

spaces, we do not encourage lone working. HCL

Safety always recommends there are at least two

workers on site at any given time to ensure the

best action is taken should something go wrong.

HCL Safety is equipped with the expert knowledge

needed to assess the potential risks surrounding

working at height, as well as implement the

correct fall protection and training solutions to the

highest standards.

50 TC JANUARY 2019
---
Have you heard?

The ultimate affordable glass

rooflight is now available in RAL 9010

White and RAL 7016 Anthracite Grey.

Discover more about Raylux with our online

configurator, visit whitesales.co.uk/RUFUS

www.whitesales.co.uk I sales@whitesales.co.uk I 01483 271371
---
EPDM Lake Project

AN INTERESTING USE OF EPDM

Andrew Cooper, Lining Sales Manager at Firestone Building Products, discusses the lake

refurbishment and remodelling project at Weald & Downland Living Museum.

Weald & Downland Living Museum is a

collection of more than 50 'rescued'

rural buildings arranged in a 40 acre

landscaped setting near Chichester.

Amongst the Museum's attractions is a working

flour mill, operated with the aid of a waterwheel

and a large man-made lake. When the Museum

decided to construct a new Visitor Centre, it was

clear that there was an opportunity to enhance

the lake at the same time, leading to a project to

remodel the lake, reduce its depth and replace

the existing lining system using an EPDM

(ethylene propylene diene monomer) rubber

lining.

Lake preparation

The lake was built when the Museum first opened

in 1970 and the original lake lining system had

reached the end of its design life. Seepage due to

the failed lining had forced the Museum to top up

the lake using water extracted from bore holes.

Specialist contractor Fairwater, was contracted to

deliver the lake refurbishment and began by

draining the lake into a lower natural pond and

removing all silt and organic material. The

contractor's team then removed the failed liner

and remodelled the existing lake, reducing the

depth from approximately four metres to around

two and a half meters, with the materials

excavated during remodelling works used as

backfill.

A 13-tonne excavator was then used to

compact the internal lake surface and prepared

the area below the proposed Visitor Centre

terrace with concrete footings that form a base

for metal supports for overhanding terrace

areas. Installation of the new lining could then

begin.

Watertight: EPDM was used to line the lake at Weald &

Downland Living Museum.

Flexible and robust

Although the internal lake substrate had been

compacted to ensure a smooth, solid base, it was

vital to protect the lining from any damage, so the

contractor began by laying a 250g/m2 non-woven

polyester geotextile onto the prepared surface.

The lining element of the project required careful

configuration of the EPDM lining, which was taken

from extra wide rolls to optimise use of the

material and reduce on-site seaming.

While the large size of the EPDM membrane

supplied ensured minimal joints for the main

lake area, the more structured space of the mill

chase required increased detailing. For all joints,

sections of membrane were overlapped by 50mm

and sealed using the recommended Splice Tape

for the system. Stone walls were then built up the

vertical surfaces of the mill chase to completely

obscure the lining.

There was also a requirement to conceal the

lining around the margins of the lake itself to

combine the functionality of the new membrane

with the natural appearance of a lake and enable

reed beds to become established. The contractor

installed a second layer of geotextile membrane

around the margin of the lake, taking it beneath

the level of the waterline. This was then covered

with a layer of clay to protect and obscure the

lining material, helping to create the illusion and

The remodelled lake at Weald & Downland Museum.

habitat conditions of a natural lake.

For the areas of the lake below the terraces, the

lining installer worked with the main contractor to

enable the metal terrace supports to be anchored

to the concrete footings. This involved making

precision penetrations in the membrane to allow

the supports to be secured in place before

resealing the lining using a self-curing EPDM

rubber strip designed specifically for use on

irregular details. This was adhered around the

interface between the horizontal surface of the

lake lining and the vertical terrace supports,

encapsulating the join with a robust and

permanent seal.

Legacy

The completed lake has a design life of at least 40

years but the track record of EPDM lining systems

suggests that this could be significantly longer.

The official unveiling of the scheme and opening of

the Visitor Centre was presided over by Downton

Abbey actor, local resident and supporter of the

Museum, Hugh Bonneville, continuing the theme

of connecting people and history through the

buildings and people of different periods.

Contact Firestone

01606 552026

www.firestonebpe.co.uk/en

@FirestonebpUK

52 TC JANUARY 2019
---
Roofing Updates

For further info on all these roofing updates and more, visit www.total-contractor.co.uk

PROTECTION FOR UNI ROOF

The historic buildings of St Malachy's College in Belfast have been fitted with an added layer of protection in the form of

Roofshield providing a pitched roof underlay, which is both air and vapour permeable.

The College, a Catholic Grammar School for boys, was opened on St Malachy's Day 3rd November 1833. A major refurbishment

project to preserve the heritage of the buildings was led by Belfast-based Gregory Architects, with Derryleckagh Contracts of

Newry appointed as the roofing contractor for the project. Gregory Architects specified Roofshield for the roof refurbishment. The

roof structures of historic buildings can be complex in nature and demand careful consideration of moisture management and condensation control. Many

vapour permeable underlays use an airtight VP film layer to achieve their performance rather like a Gore-Tex jacket. While water resistant, they cannot

completely prevent condensation within the roof space; meaning additional ventilation has to be introduced in order to allow air to circulate.

Roofshield's patented air permeable structure allows high levels of airflow, in addition to the transport of moisture vapour, making the formation of

condensation in the roof space virtually impossible and will still perform in conditions in which airtight alternatives will not. There is also no requirement for a

separate vapour control layer. The high performance of Roofshield, backed by two BBA Certificates & LABC / LABSS, has been successfully used in preserving

and protecting the fabric of a wide range of historic and listed buildings for more than 21 years. www.proctorgroup.com

CAMBRIAN ON DUTY AT THE BEACH

Facing out across the Bristol Channel, the Beach House at Brean is both striking and robust –

and now features a roof guaranteed by BMI Redland for 15 years against the storms and

aggressive marine conditions it faces.

The low pitch of Phil Scoot's home excluded the

use of natural slate while Cambrian Slate, the

lightweight alternative with three points of fixing,

was an obvious alternative.

Self-builder Phil Scott chose Cambrian Slate from BMI Redland. The ability to withstand the wind is

crucial because of the house's unusual design – Phil describes it as 'four houses in one' – as it

makes the most of the extensive views from its elevated coastal plot with the lounge, dining and

kitchen areas all located at first-floor level. www.redland.co.uk

SNAP TO IT WITH RAINCLEAR

Rainclear Systems continues to add to the ranges it keeps in stock to offer next day delivery.

Rainclear Systems now stocks SnapIT half round gutters

and round downpipes in RAL 7106 -Anthracite Grey.

The latest addition to the huge stocks of metal guttering and drainage solutions across two

warehouses is the SnapIT half round gutters and round downpipes in RAL 7106 – Anthracite Grey.

Anthracite Grey has become and remains the most popular alternative to black – to match in with

window frames and doors – to give a contemporary style to new builds, renovation projects and even

commercial properties these days. Rainclear took the 76mm (3") round downpipe and the 115mm

(4.5") half round gutter into stock at the beginning of December 2018. www.rainclear.co.uk

ANOTHER VINTAGE YEAR

Massey Limited has specified Dakea Better Vintage windows for a new housing development in a

prestigious residential area in Sutton Coldfield.

Dakea's Better Vintage windows were used on a

prestigious development in Sutton Coldfield.

A total of 25 Better Vintage KCV C4A centre pivot conservation roof windows were installed across the

development along with Dakea KUF C4A Vintage Flashing. Ideal for heritage areas and renovation

projects, the KCV is made of kiln-dried laminated pine wood, from FSC certified forests, with a black

lacquer external profile and glazing bar. The Better Vintage also comes with a free underfelt foil collar

(RUC) for a quick and easy installation every time. www.dakea.com

JANUARY 2019 TC 53
---
Roofing Updates

For further info on all these roofing updates and more, visit www.total-contractor.co.uk

WATER INGRESS ISSUES OVERCOME

Langley Waterproofing Systems Ltd has had its TA-20 roofing system installed on Lacy House – retirement

housing located in Chichester, West Sussex. A new 1,600m² roof was installed to fix the water ingress issues

that the residential property had been experiencing.

Due to failures in its existing roofing system, Lacy House had been suffering with significant water ingress and ponding

issues, resulting in leaks to the flats of the retired residents below. After investigation, Langley technical design

managers found that the original roofing system had been constructed with inadequate falls towards the roof rainwater Above: Lacy House.

outlets. This resulted in the outlets being too high, stopping the water from sufficiently draining away. As a result,

ponding, water ingress and subsequent leaks into the flats below had occurred. The severity of the damage meant that the roof needed to be completely

stripped and replaced. Langley Approved Contractor Richard Soan Roofing expertly installed the specified Langley TA-20 flat roofing system – a highperformance

SBS elastomeric membrane insulated warm roof system. The new roof consisted of a Paradiene SVV vapour control layer, tapered Parafoam roof

insulation and two-layers of waterproofing (an underlay of Adepar JS VV and a capsheet of Elastoflex mineral). During the refurbishment work, the insulation

around the outlets was also lowered and the rainwater outlets were replaced, resolving the previous drainage issues. www.langley.co.uk

ON GUARD WITH KEE WALK

Kee Safety has expanded its range of safe access solutions for roof-top walkways and

stepovers with the introduction of Kee Walk with Guardrail. A cost effective and modular

approach to guardrail protection, this system provides roofers, contractors and maintenance

teams with a clear demarcation route to eliminate potential fall hazards.

Above: Kee Walk with Guardrail: "A walkway with a

guardrail is the preferred fall protection system as

dictated in the hierarchy of control measures" – Ben

Rutter, Kee Safety Product Manager – Safe Access and

NPD.

Designed to provide a level, anti-slip walking surface on standing seam, composite panels and

metal roofing, Kee Walk with Guardrail can be easily adapted to a wide range of roof surfaces,

slopes, steps, traverses and pitches up to 35º. www.keesafety.co.uk

MD ANNOUNCED AT DANOSA

Danosa has announced the promotion of James Buckley from Assistant Managing Director to

Managing Director.

Above: James Buckley has been promoted to MD.

Danosa's International Director, Esther del Río, said: "James has worked hard during these three

years to deserve this promotion. He has consistently demonstrated such an excellent work ethic,

attention to detail, organization skills and courage. In addition to this, his willpower and above all,

his confidence and fantastic attitude, are key reasons that have led us to have full confidence in him

and we are assured that he will rise to the challenge." www.danosa.co.uk

A CONTEMPORARY FINISH

A total of 3,000 Cembrit Westerland slates and 30 metres of Cembrit Slate Duopitch Ridge

Ventilation were used by Scott Sell Roofing to transform a 1920's bungalow into a

contemporary home in Norwich.

Cembrit Westerland slates provide a natural roof finish

that complements the new look of Jon Barrell's property.

Homeowner Jon Barrell explained: "We became aware of Cembrit Westerland slates after researching

what roofing materials are available. We wanted a light weight option that would look natural in its

surroundings and would colour match the windows. The Cembrit Westerland slates ticked all these

boxes." www.cembrit.co.uk

54 TC JANUARY 2019
---
LONG-TERM PROTECTION

Sika-Trocal supplied the waterproof solution for a multiple roof installation at a high-end care home development

which was stunning in appearance, performance and complexity.

The Hawthorns is a new, all-inclusive, luxury retirement community complex. The four-storey building, located in

Northampton, is an exemplar in style and practically, hence the need for a high-quality roof which enhanced the property's

aesthetics and offered optimum, long-term waterproof protection. In order to achieve this, contractors, Ithaca Roofing,

installed Sika-Trocal's Type 'S' system to the building's two main roofs which covered a 2,300m² area.

Aided by the membrane's light, easy-handling ability, installers worked quickly and concisely to minimise disruption to

other nearby trades and avoid project delays. This required implementing the highest safety standards to eliminate the

Above: The Hawthorns.

potential for on-site injury. Initial waterproofing works involved the installation of "loose laid" Sika-Trocal S-VAP 500E, a

vapour control layer based on Polyethylene, to the building's substrate. As well as installing waterproofing to the roof's main body, Ithaca fitted its 1.5-metre

parapets. This presented a challenge, as each huge section had to fit precisely in order to create a crisp, uniform finish to the building's edges. A man-safe

rail was also installed to ensure future roof inspections or maintenance can be carried out without incident. www.sika.co.uk

LEADS TO HELP YOU GROW

Freefoam Building Products is committed to building support and opportunities throughout

the supply chain.

Freefoam's ground-breaking website

myrooflinematters.co.uk generates pre-qualified leads

throughout the UK. Installers can benefit from these

leads through their roofline and cladding businesses.

The Freefoam Registered Installer programme is one of the most important parts of this strategy, offering

home improvement companies a package of support from marketing materials and industry leading

guarantees. But what makes the Freefoam package a game changer is access to FREE pre-qualified

consumer leads for roofline and cladding work. Find out more about becoming a Freefoam Registered

Installer and receiving FREE at www.myfreefoam.com or email ukmarketing@freefoam.com

RAINWATER SOLUTIONS

A collection of luxury eco-friendly holiday homes have been fitted with Guttercrest's

Aluminium Rainwater Hoppers and Downpipes.

Brick Kiln overlooks the River Alde estuary, one of the

highest conservation protections under international treaty

as well as being an Area of Outstanding Natural Beauty.

Brick Kiln's nine detached homes overlook meadowland on the River Alde estuary. A clear design

objective for the homes was to make them as ecologically friendly as possible, with features

including Sedum flowering plant roof coverings and energy efficient air source pumps. Guttercrest's

Aluminium Gutters, Downpipes and Hoppers were an ideal choice for an eco-friendly rainwater

solution to fit the design objective. www.guttercrest.co.uk

AN ELITE OFFERING

Marley Alutec has launched Elite, an innovative multi-purpose flat roof and balcony drainage

system that is compatible with all waterproofing membranes and roof build-ups. The launch

is supported by the introduction of a unique online roof drainage design tool.

The Elite outlets connect to all common PVCu, High

Density Polyethylene Pipe (HDPE) and socketless cast

iron pipework sizes.

The Elite outlets have been engineered to deliver an unrivalled flow performance of up to 19l/s,

Simple and fast to install, the unique membrane compression clamp design on Elite outlets,

combined with high-performance butyl sealing rings, securely locks the waterproof membrane to the

outlet body, ensuring a durable watertight seal. www.marleyalutec.co.uk/elite

JANUARY 2019 TC 55
---
Facade Inspections

IT'S TIME TO WORK TOGETHER

Adrian Storey, General Manager at Horbury Facades, looks at the low level of façade

inspections taking place within the private sector and explains why he feels it is

important for contractors and building owners to work together to carry out these checks

as soon as possible.

It is safe to say that events over the past 18

months have prompted almost everyone to

consider the safety of the UK's buildings,

particularly multi-occupancy structures.

Improving the levels of safety within these

developments, especially in terms of fire risk, has

been a top priority for public sector organisations.

As such, many buildings up and down the

country, including hospitals and residential

blocks, have been undergoing thorough

inspections both inside and out to ensure they are

as safe as can be.

However, in some cases, particularly in private

housing and commercial buildings, landlords are

failing to carry out these reviews as a matter of

urgency, and as such could be putting the safety

of occupants and passers-by at risk.

In fact, James Brokenshire, the Communities

Secretary, has said that private sector landlords

have a 'moral imperative' to remove flammable

cladding, with the government considering

enforcement, which could result in owners being

'fined or barred from accessing other government

schemes if they do not obey'.

The Guardian reported on Mr Brokenshire's letter

to around 60 developers and building owners

'including some of the UK's biggest property

firms', in which he explained 'actions they must

take to avoid penalties' concerning removing

dangerous cladding.

Assessing the risk

Currently the Regulatory Reform (Fire Safety)

Order states that fire risk assessments for highrise

residential buildings must be carried out

'regularly'. It is recommended that the

responsible person ensures these are undertaken

at least annually and when any significant

alterations are made to the building.

Many new and refurbished

buildings now feature exterior

cladding, therefore landlords

may not be aware that it is

not always possible to

establish the full fire

resistance of the building

visually. Contractors should

therefore be working closely with building

owners and specifiers to advise that an indepth

inspection is carried out quickly

and as soon as possible.

It is also worth communicating

that a site survey not only tests

for fire safety but will also ensure

early detection of any defects and

provide information about the extent

and severity of any faults in need of immediate

rectification.

An easy remedy

As of August 2018, 293 private sector residential

buildings had been found to feature cladding

systems that are unlikely to meet current building

regulations guidance. Yet, the Ministry of Housing,

Communities and Local Government (MHCLG)

had not been informed of action plans for 200 of

the buildings.

Immediate facade inspection and, if necessary,

remediation is therefore essential on these

buildings, however many owners are putting this

off as they believe the work will cause disruption

to day to day activities.

Contractors should therefore communicate that

the process is a specialist activity, however, it

can be completed quickly and effectively,

without causing a great deal of

disruption to building occupants

and passers-by.

As experts in façade

detailing, installation and

remedial works, we know

how important it is that

projects such as this are

completed effectively with

minimum disruption, on time and to the

highest standards. That's why we always

ensure our team of experienced

remediation specialists work

closely with building owners and

managers to ensure that all of

our work is completed as soon

as possible.

Summary

Rainscreen facades feature on millions of

buildings across the UK, not just residential

blocks but educational facilities, healthcare

facilities and many others that are regularly

frequented by members of the public. It is

therefore essential that contractors and owners,

both within the private and public sector, that

haven't already done so, work together to check

the façade as a matter of urgency. An inspection

can be carried out in a matter of hours and, if

required, the removal and replacement of any

faulty rainscreen systems can be arranged as a

matter of urgency.

Contact Horbury Facades

01709 515 044

www.horburygroup.com

@TeamHorbury

56 TC JANUARY 2019
---
Rely

on red.

JB Red is factory graded in the UK using our

state-of-the-art laser grading machine, 'Goldeneye',

which scans our battens in intricate detail, by the

millimetre. This delivers a high level of accuracy and

consistency, and provides a secure foothold for roofers

in accordance with BS 5534.

Discover our

precision thinking.

marley.co.uk/relyonred
---
Cladding Updates

For further info on all these cladding updates and more, visit www.total-contractor.co.uk

TAKING IT TO THE MAX

Isover has launched a new stone wool insulation, Polterm Max Plus, for rainscreen cladding and overcladding

applications.

Polterm Max Plus is a non-combustible 1200 x 600mm stone mineral wool slab, which delivers excellent thermal and

acoustic performance, while achieving the best attainable A1 Euroclass fire classification according to EN 13501-1.

With a thermal conductivity of 0.035W/mK, Isover's new range will help reduce heat loss within a building; the slabs can be tightly butted together, while the

inner face accommodates substrate irregularities, to maximise the thermal performance. In addition to its thermal performance, Polterm Max Plus will also

improve the acoustic performance of the external envelope, reducing the airborne noise from aircraft, vehicles, trains and weather. Polterm Max Plus contains

a water repellent additive to protect against moisture ingress during installation.

The black glass veil on the external facing side of the insulation contributes to the aesthetics of the installation, as it prevents unwanted sightings of the

insulation from behind a ventilated rainscreen façade system. Stuart Dumbarton, Isover, commented: "The launch of Polterm Max Plus demonstrates our

commitment to continually improving our product offer with solutions that add value for our customers. www.isover.co.uk

KEY APPOINTMENT AT BTS

Gary Lumby has been appointed non-executive director by Newton Aycliffe firm BTS Facades &

Fabrications, to assist the company in achieving its ambitious growth plans.

Management team: left to right, David

Atkinson, Marcia Atkinson, Gary Lumby, Phil

Atkinson and Dave Precious.

Gary said: "BTS is a fabulous company that is growing fast already and is investing heavily in automation and

people. The development of its rainwater screening and facade business is fuelling that growth and I am

excited to be working with the company to accelerate it even further." Phil Atkinson, MD at BTS, said: "Gary's

appointment is a real triumph for us; my mission for the business is to be one of the UK's leading

manufacturers of rainscreen systems and metal fabrications." www.btsfabrications.co.uk

ACCOYA ADDS TO IVY COLLECTION

The Ivy Collection, a select group of upmarket restaurants, brasseries and cafes, has recently

opened its latest restaurant – The Ivy in the Park, in Canada Square Park – London.

Canary Wharf Group wanted timber to be

used for the external façade of this project,

however they needed a low maintenance

solution. Naturally, Accoya wood was the

ideal choice.

The Ivy in the Park is constructed from glulam and cross-laminated timber: internal members are made

from spruce, whilst external beams and columns are glulam Accoya. The specification of Accoya wood

further extended to the rainscreen trellis which covers the external walls. For the Accoya wood elements

of the project, a total of 47 glulam beams, 42 glulam columns and 740m² of rainscreen trellis were

required. www.accoya.com

ALLROUNDWORK BENEFITS

Top athletes have long enjoyed the benefits of performance wear – now professional craftsmen

and women can too with Snickers Workwear's new range of high-performance winter jackets.

Snickers Workwear ALLroundWork garments

are well known for their contemporary designs

packed with must-have features that focus on

fit, comfort and freedom of movement.

These new ALLroundWork Jackets are just what the name suggests. There's a selection of super–

lightweight 37.5 Jackets, Windproof Shell Jackets, Hi-Vis and Waterproof Jackets plus Parkas, that all

have the features and functionality that you'd expect in Snickers working clothes. They're great looking

garments that will keep you looking and feeling comfy wherever you are and whatever you're doing at

work in cold weather. www.snickersworkwear.co.uk

58 TC JANUARY 2019
---
BTS Facades and Fabrications officially announce their

investment in Trumpf automation at their recent open day.

www.btsfabrications.co.uk Tel : (01388) 816883 enquiries@btsfabrications.co.uk
---
Insulation & Fabric First

VENTILATION & OVERHEATING ISSUES

High performance insulation and the fabric first approach holds the key to getting a building

airtight and meeting energy efficiency demands, but the IMA asks is enough attention being

paid to other aspects, including ventilation, heating, detailing and the quality of the installation?

Overheating and poor air quality has

received wide and often simplistic

coverage in the press, including even

suggestions of deaths caused by overheating.

This has led some to erroneously put the blame

on insulation. However, despite the fact that

overheating can be a problem, particularly in poorly

ventilated loft spaces, it is a more complex issue

than insulation alone, and well-installed insulation

could even help reduce overheating if a wholehouse

approach to building design is employed.

As is so often the case, an intelligent solution to

the problem will need to consider a range of

factors. It is a given that the more insulation you

have, the heat from solar gain will last longer, and

if you don't have adequate ventilation and design

to limit internal and external heat gains, then of

course that heat will stay in the building. But it's

not the fault of the insulation. Blaming insulation

for doing its job is a bit like blaming an oven for

global warming if someone leaves the door open.

An under-ventilated property can experience

condensation issues and problems with air

quality. An over-ventilated dwelling is usually less

efficient, as lost heated air is replaced with colder

unheated air from outside.

Excessive moisture

A good ventilation system will ensure the right

amount of air moves consistently through the

house and is vital in kitchens and bathrooms.

Excessive moisture in the air can lead to

condensation and mould growth where it

condenses on colder surfaces, not just in the

bathroom itself but throughout the rest of the

house. A ventilation system will remove and

dilute the odours and pollutants that can

accumulate so that the indoor environment

remains healthy for building occupants.

Often the only form of ventilation in older homes

is through natural leakage such as around doors

and windows, or by opening windows, but these

are uncontrolled with either too much, or too little,

ventilation. When a building is retrofitted with

insulation, the airtightness of a building may

increase through sealing up uncontrolled

ventilation pathways, so it is essential that

alongside any changes to the building fabric, an

adequate ventilation strategy be considered.

Ventilated buildings

A 2016 study by The Fraunhofer Institute for

Building Physics IBP looking at mould and

dampness in European homes, concluded that

"Enabling easy natural, automated or mechanical

demand-related ventilation in buildings helps

prevent development of damp and mould."

Mould-related damage was noted in the report as

being frequent in Germany (10% of building

damage being mould related), but levels were

noted as being better (lower) for modernised

buildings. The report noted that for those

modernised buildings (after 1995) 35% of damage

occurs due to insufficient thermal insulation; 33%

due to insufficient ventilation; 22% due to

defective installations and trapped moisture and

10% due to problems in sanitary / other areas.

So from the report, it is clear that adequate

insulation is the most important factor to help

reduce moisture problems, but close behind is

adequate ventilation provision.

Detailing

But it is not only insulation and ventilation; house

design means taking the time on the details. For

example, ensuring junctions are appropriately

designed and constructed, as this makes a

significant contribution to reducing heat loss.

Thermal bridges occur at breaks in insulation at

junctions and openings causing heat loss which

ultimately leads to a drop in internal temperature

and an increased demand for heating. This can

increase the risk of surface condensation and

mould growth.

Good design and workmanship necessitates a

proper level of quality assurance throughout design

and construction and good detailing is particularly

important for new-build and retrofit alike.

The Government's Fabric Energy Efficiency

Standard (FEES) has grappled with the issue and

puts the focus on the whole energy performance

of new houses in the context of user comfort,

emphasising the importance of a robust and welldesigned

fabric, which has good levels of airtightness

coupled with an appropriate ventilation

strategy and incorporates measures to minimise

thermal bridging.

There are many issues beyond the fabric of the

building to consider when it comes to tackling

overheating in housing, including its ventilation

strategy, orientation and initial choice of location.

While the issue remains a challenge for the

industry, the problems are not insurmountable. If

we want more thermally-efficient building

envelopes as well as comfortable buildings, then

we need to aim for a fabric-first approach which

includes insulation – such as high performance

PIR – however, at the same time, we need to

design and build in a way that takes into account

the effect of both external and internal heat gains

that can lead to overheating.

Contact the IMA

0161 672 7387

www.insulationmanufacturers.org.uk

@IMA_Org

60 TC JANUARY 2019
---
Ultra-thin high-performance VIP insulation

solution for flat roofs and terraces

Say goodbye to issues when installing effective insulation on flat roofs

and terraces where space is tight and where height constraints exist.

Deck-VQ — with its extreme thermic insulation performance of 0.006 W/mK

and maximum thickness of just 60mm — helps you to achieve even greater

insulation with ease. It's time to think thin.

www.recticelinsulation.com
---
Company Focus: IKO

INVESTING FOR A CHANGING FUTURE

New management has allowed for strategic alterations to IKO's operating structure and below,

Anthony Carlyle, the new Managing Director at IKO, outlines the changes at the company and

the outlook for 2019.

Last year was an exceptionally positive year

for IKO, full of growth and investment into

vital areas of the business. The most

obvious sign of this investment was the opening

of our brand new PIR insulation factory at

Alconbury, Cambridgeshire, filling what many

customers saw as the gap in our overall offer.

This facility becomes IKO's third insulation factory

in Europe, and the UK was selected as an

attractive place to invest thanks to the core

strength of the UK business.

However, we have seen substantial growth in all

business areas, from IKO Polymeric out of Clay

Cross, Chesterfield – now exporting to more than

20 countries in Europe – to hot melt and mastic

asphalt at Grangemill, Derbyshire where we are

seeing some great innovations in terms of both

new products and manufacturing efficiency.

Alongside major changes, there have also been

numerous examples – even just since I've been

in this role – where we've been asked to find a

solution for customers which involves putting

together a creative combination of our product

offering. With IKO's resources, we should always

have a solution and we need to start thinking

outside the box more.

Over the years, I think it's fair to say that IKO as a

business has been a little bit fractured. Much of

this comes down to having such a diverse product

offer which serves a very wide range of customers

who may appear to have little in common.

We need to start operating our business in a more

joined-up way and changes introduced over the

last six months have provided progressive steps

to ensure that IKO is in the best position for 2019

and beyond. We are restructuring in the true

sense of the word, making sure that we are

providing the best possible products

offer contractors a high-quality

and service for the market now as

support structure with first class

opposed to the market of 12 years ago.

technical back-up – that's what our

contractors tell us they look for.

Anthony Carlyle, MD at IKO.

Structural benefits

Coupled with personnel changes, 2019 is another

It doesn't make sense to bring in a new MD and not

multi-million-pound year of investment across

make any changes. What needs to be recognised is

the IKO factories. At Appley Bridge it's all about

the positivity behind the restructure at IKO and

speed, efficiency, consistency and quality control.

already we are seeing benefits.

At Grange Mill it's more about innovation with

The structure that we are putting in now is the ideas of offsite construction and prefabricated

right one to put us in the strongest position we units. Technically the fundamentals of hot melt do

can possibly be in, regardless of market

not change, but new product development is key

conditions, and focussing on what we do best. to supporting new methods of build and that's

There has, and will continue to be, significant where our focus will be. The Clay Cross facility

investment into people, equipment and new will receive the largest investment of 2019 to

processes: with this comes new energy and a enhance the line, increasing the PVC export range

strong and positive vision for the future.

and opening us up to new markets.

It's a very customer-centric focus with the

recruitment of a new Key Account Team and the

development and restructure of our existing

technical team. We are moving away from the

traditional Area Sales Manager role and evolving

to a more holistic approach with all staff

focussed on business development in its widest

sense. We don't want to keep people in boxes and

instead are providing the structure and training to

allow for a more free-thinking approach to

providing solutions from across the business.

The result of this process will be that our

customers will see a better service from a more

multi-disciplined technical team, giving a more

rounded approach. Contractors don't want to see

two different IKO people on the same project

doing inspections and reports; they want one

person with the authority and respect to make

decisions on all disciplines, and that is what we

are achieving. We want to make sure that we can

Essentially, I'm looking to evolve our business.

The building industry is, I believe, set for major

changes in the years ahead and all manufacturers

need to develop to keep ahead of the game.

With our recent track record of success and

growth it would be all too easy to relax and keep

doing what we've been doing; I think that would be

a complete mistake. The time to change is when

you are being successful and have the energy and

the resources to invest and move the business on.

I understand what has made the IKO brand so

successful – I've been on the board for 13 years

– but I also see the need for change and am

delighted to have the opportunity to further

develop this increasingly strong organisation.

Contact IKO

01257 255 771

www.ikogroup.co.uk

@ikoplc

62 TC JANUARY 2019
---
Insulation Updates For further info on all these roofing updates and more, visit www.total-contractor.co.uk

SOLUTIONS PROVIDER

Knauf Insulation has launched its new Solutions Guide to make specifying the right insulation for every

application quicker and easier than ever before.

The guide features the company's extensive range of non-combustible, high-performance insulation ordered by

application. This means customers, including architects and specifiers, can identify which products are best suited

for roofs, walls, floors and fire protection. Product data detailing features and benefits are then listed in full at the

back of the Solutions Guide.

The Solutions Guide also includes information

about Knauf Insulation's sustainability credentials.

Steve Smith, Knauf Insulation, said: "It has never been so important for architects and specifiers to specify the right insulation for the project. As the only

manufacturer of both Glass and Rock Mineral Wool, we are uniquely placed to recommend the best insulation solution for each application. Our new Solutions

Guide is designed to showcase which of our products is best suited for each of the different build elements of their designs. Within the product section, we

have added a handy dial rating system. This allows readers to see at a glance each product's thermal and acoustic performance, Euroclass Reaction to Fire

classification and BRE Green Guide rating for sustainability." www.knaufinsulation.co.uk/solutions-guide

REGIONAL BOOST FOR RECTICEL

Recticel Insulation has announced two key appointments to enhance its regional

presence in the UK.

Above: Kevin Lee, Area Sales Manager for East Anglia,

and Laura Katon, House Building Manager for the

Southern region.

Laura Katon is the company's new House Building Manager for the Southern region. Recticel

has also appointed an Area Sales Manager for East Anglia. Kevin Lee is responsible for

distribution, merchant, contractor and sales relating to Recticel's tapered roofing sistercompany

Gradient. Recticel's Commercial Director, Kevin Bohea, said: "Laura and Kevin are

excellent additions to Recticel's regional operation." www.recticelinsulation.co.uk

ISOVER COMPLETES THE PACKAGE

Isover is rolling out new packaging for key product families found within its range.

The new design has been created to improve product identification and make selecting and picking easier for

merchants, distributors and installation teams on-site. With the familiar Isover yellow forming a distinctive

backdrop, the new packaging is colour-coded by application, using a strong palette of five colours to help

customers find what they need faster. Órla Whelan, Marketing Director, said: "These changes are in response to

customer feedback; our priority was to overcome the issues customers were facing in relation to the packaging.

The updated design does just that." www.isover.co.uk

F-GAS REGULATIONS: WHAT DOES IT MEAN FOR XPS?

As part of an effort to battle climate change, the looming F-gas ban has forced makers of extruded polystyrene (XPS) insulation to produce

eco-friendly alternatives.

By 2020 the EU aims to ban all new equipment using HFC refrigerants and by 2030 reduce F-gas emissions by two-thirds, compared with 2014 figures.

Styrofoam was formerly produced with an HFC-134a blowing agent in order to achieve a high long-term thermal performance. To prepare for the

upcoming restrictions, Dow Chemical has developed a new product, XENERGY, which was first offered into the market in the second quarter of 2018. The

new dark grey material has the same mechanical properties as the Blue Styrofoam LBHX but incorporates infrared blockers to improve thermal

performance by up to 11%.

JANUARY 2019 TC 63
---
Business Talk

PROTECTING YOUR BUSINESS

AGAINST CUSTOMER DEFAULT

Poor payment practices have plagued construction for decades and, unfortunately, will

continue to do so for many years to come. But what can contractors – who are often caught

in the middle – do to protect themselves?

2018 was not great for some of the UK's

best-known businesses. Firms once

thought of as unassailable went out of

business; Carillion, Maplin and Toys R Us were all

high-profile names that faded.

It's not hard to find examples of construction

firms that have failed – Galliford Try lodged a

counter-claim over a payment of nearly £3.5m

allegedly owed to a collapsed subcontractor, and

four Lagan Construction firms were put into

administration with 200 jobs threatened.

Mid November (2018) the BBC reported concerns

over construction and facilities management

company Interserve. One source told the BBC

that: "we could be looking at another Carillion. I

don't see how they can raise the £500m or so

needed." Other sources close to the company

denied the firm was close to bankruptcy and said

it was set to ask new investors for more capital.

Either way there are worries for those linked to

the firm.

Although these failures will have had an

immediate impact on the employees of those

companies, a ripple financial effect will inevitably

also have been felt by the thousands of

businesses that contracted with them, whether

as suppliers, contractors or sub-contractors.

So how can businesses best protect themselves

against the financial failure of one of their

customers?

Carrying out your financial due diligence

Ed Husband, a Partner and Head of Litigation and

Recoveries at law firm VWV, knows that it's not

always apparent at the start of a business

"It's not always

apparent at the start of

a business relationship

whether a customer is

financially sound"

relationship whether a customer is financially

sound. This is why he says it's always prudent to

carry out financial due diligence, particularly

when entering into large or longstanding

commercial commitments.

Get your contractual terms right

However, even in a business that appears

financially sound, things can deteriorate very

quickly. Carillion is a perfect example. It's 2016

accounts reported revenue of £5.2bn and profit

before tax of £178m. But by April 2017 a new

Financial Director had found at least £170m

worth of accounting problems and the 2016

accounts had to restated. The rest is history.

Husband says that "because things can change

so quickly, the single most important thing to

have in place is an effective contract which

operates to protect your business from the

beginning of the legal relationship. There are

terms which can protect your business."

He outlines them:

Effective payment terms: Is your bargaining

position strong enough to require payment before

delivery of your product or service, either in whole

or in part? If not, ensure that your credit terms

are short and are effectively policed.

He asks: "What are your rights in the event of

non-payment? Charging interest for late payment

should be a given, but what about your right to

terminate the contract or withhold services or

payment?"

Contract termination: In what circumstances

can you bring the legal relationship to an end? As

well as for non-payment or breach of the

contract, Husband advises that "provision should

be made for other insolvency events, such as the

liquidation or administration of the customer or

even upon the preliminary steps taken towards

those insolvency events."

Retention of title (ROT): perhaps most

importantly for suppliers of goods – less so for a

jobbing roofer, Husband says firms should ensure

that they have a clause by which they retain

ownership in the goods they supply until they

have been paid: "ROT clauses have long been

included in standard contractual terms and can

operate effectively to enable you to recover your

goods provided that they are properly

incorporated, worded right and that you enforce

those rights promptly in the event of nonpayment."

There is a catch here though – ROT

only applies to goods, in a construction context,

that haven't been used.

"All of these terms," says Husband "are very

much a starting point, but it is also worth

remembering that you need to ensure that it is

your contractual terms that prevail, as a

customer's terms will invariably favour them."

He says that which terms apply is not always

obvious, particularly where parties each purport

to operate on their standard terms (perhaps

64 TC JANUARY 2019
---
printed on purchase orders or invoices), so

having a signed agreement is always best. It's

important to also note that changes to insolvency

legislation and processes mean that many older

contracts are often simply not fit for purpose, so

ensure that your terms are regularly reviewed.

"It's important to also note that changes to

insolvency legislation and processes mean

that many older contracts are often simply not

fit for purpose"

Remain vigilant

As Husband can testify, it's rare for a customer to

fail without there being a number of warning

signs which would enable you to take preemptive

steps to improve or protect your position.

"Typical warning signs might include, most

obviously, slow payment or requests to extend

payment terms; unusual requests for price

reductions or discounts; a delay in filing accounts

or accounts that include a qualified report from

auditors; a change of accountants or auditors; the

resignation of directors; an increase in unfounded

complaints about the goods or services that you

provide; and market gossip."

He says that keeping alert to these kinds of signs

will mean that you can act quickly to protect your

position.

Act promptly

Of course, there is a limit to what can be

achieved in documentation, and if practicable any

party entering into a commercial contract should

ensure that a proper credit control system is in

place. From Husband's point of view, "where the

sub-contractor or supplier has concerns as to

the financial position of the company it should

also consider reducing the period and / or

amount of credit allowed, obtaining alternative

forms of security (for example a bank guarantee

or letter of credit) and taking out credit

insurance."

He also says that it is just as important to act

promptly to enforce your contractual rights "as

when a company goes into compulsory liquidation

or administration, any existing legal proceedings

are suspended, and a creditor cannot begin new

legal proceedings against the company unless it

has permission to do so from the court."

However, even when faced with this, some

contractual rights can still be enforced without

needing to start court proceedings. For example, if

you have taken security to secure a debt, you will

stand first in line to recover any monies out of the

insolvency.

Offering a crumb of comfort, Husband notes that

if there are mutual debts owed between you and

the insolvent company, these will be

automatically set off in either a liquidation or

administration. This will mean that any monies

you owe can be set off in full rather than you only

receive a small dividend.

And lastly, and another point of note according to

Husband, "the ROT rights mentioned earlier will

survive insolvency, meaning that you will retain

ownership of your goods and be entitled to

recover them. If a liquidator or administrator sells

those goods, he or she can be personally liable to

compensate you." However, Husband adds that

insolvency practitioners will scrutinise such ROT

clauses very carefully, so it is important to get

robust professional advice when faced with this

situation to maximise your prospects of a

successful recovery.

JANUARY 2019 TC 65
---
The Apex

HANDLING "DIFFICULT" CUSTOMERS

Successful businesses don't just sell products and services; it's often how they handle

customer relationships that differentiate them from their rivals. So what happens when a

customer is difficult to please? Industry expert Jackie Biswell explains how she boosts her

brand through respect, recognition and resolve.

We have all heard the expression

"customer is king"; and it is certainly

true that for any business – products

and services – your relationship with your

customer is your single biggest asset.

Concentrating on building successful

relationships creates loyalty, customer retention

and word of mouth recommendation.

But every now and then you come across

someone who is dissatisfied and who continues

to challenge you as the relationship progresses.

From picky people to know it alls, egocentrics to

fault finders and constant complainers to those

who feel they have been wronged, how you

interact with these individuals can have a lasting

impact on your business. So how do you handle

it?

Understanding the problem

There are some sound business reasons to

become adept in handling difficult customers.

Research indicates that customers who complain

are likely to continue doing business with your

company if they feel that their complaint was

taken seriously.

It's estimated that as many as 90% of customers

who perceive themselves as having been

wronged never complain, they just take their

business elsewhere.

So, remember that if a complaining customer

cares enough to talk to you, they are customers

worth saving.

The first thing to do when dealing with a

demanding or angry customer is to listen.

This will help you understand the extent of the

problem and give you time to provide an

appropriate response. By listening, you also have

the opportunity to build trust.

The next thing to do is to show empathy.

It's highly unlikely that you are the object of the

customer's anger. You are just getting the brunt

of it. So try to put yourself in the customer's

shoes and see the situation from their

perspective.

Try and solve the problem. Negotiation will allow

you to reach a solution where everyone is happy.

Be your brand

The way you handle customers says a lot about

your brand. So it is important to train your staff to

manage interactions in a consistent way.

In many businesses – and certainly in the world

of roofing – the typical customer knows very little

about the product he or she is buying.

This means that there is potential for difficulties

down the line if you haven't been clear from the

start.

We offer honest, helpful advice in layman's terms.

We also provide customers with a comprehensive

bill detailing what we have done and why. This

prevents issues arising later.

We also really listen to what our customer wants.

This makes us better placed to advise them

about what may work best for them – not for us

and our sales quota. On top of that we keep our

promises.

When agreeing services, cover these factors:

who, what, where, when, why, how. If you say the

Jackie Biswell, Apex Roofing.

work will be completed at a certain time on a

certain day and for a specific price, make sure

you deliver.

Finally, the key to good customer service is

communication.

If you want your brand to shine, then be

accessible. Have your phone with you and if you

miss a call, return it as soon as possible.

Respond to every e-mail and to questions on your

social media sites.

Keep on learning

Although no one likes receiving a complaint and

difficult customers can cause a huge amount of

stress, they also present you with an opportunity

to identify and rectify problems with your current

systems or product.

They also help you to develop your relationship

with your customer by allowing you to

demonstrate that you take concerns seriously.

Contact Apex Roofing

01502 537129

www.apexroofinguk.com

@ApexAnglia

66 TC JANUARY 2019
---
COMING TO A VENUE NEAR YOU!

Roofing and

cladding uncovered

NORTH AND SOUTH 2019

VENUES AND DATES TO BE CONFIRMED

WWW.CONTRACTORSDAY.CO.UK

BROUGHT TO YOU BY
---
METAL RAINWATER &

ROOFLINE PRODUCTS

RAINWATER • SOFFIT • FASCIA • COPINGS • CAPPINGS • FLASHINGS

TRUELINE SOFFIT

TRUELINE CAPPINGS

TRUELINE FASCIA

COLONNADE DOWNPIPE

COLONNADE HOPPER

ARP delivers industry leading value with its ranges of aluminium

rainwater drainage and roofline systems.

• Excellent lead times.

• In-house engineering and

automated paint lines.

• Experienced technical team.

• Nationwide sales coverage

including site support.

ALUMINIUM RAINWATER CAST IRON RAINWATER ALUMINIUM PRESSINGS

CALL 0116 298 6783 or visit www.arp-ltd.com