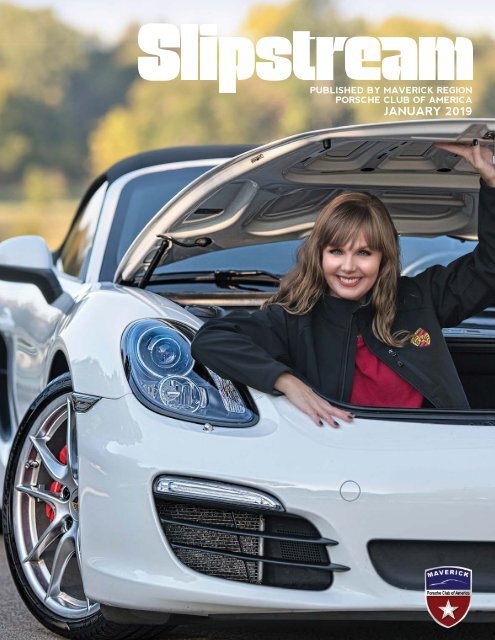 Slipstream - January 2019
The monthly newsletter of the Maverick Region of the Porsche Club of America
The monthly newsletter of the Maverick Region of the Porsche Club of America

SHOW MORE
SHOW LESS
You also want an ePaper? Increase the reach of your titles
YUMPU automatically turns print PDFs into web optimized ePapers that Google loves.
PUBLISHED BY MAVERICK REGION

PORSCHE CLUB OF AMERICA

JANUARY 2019
---
Sports-car performance.

SUV versatility. This is big.

Presenting the next generation of Porsche sports car, flawlessly fitted into an SUV.

The redesigned 2019 Cayenne boasts a dynamic new design. Incredible innovation

and versatility. And turbocharged engines with up to 541 horsepower and

0–60 times of 3.9 seconds. But for all that's new, one thing never changes: the

high-performance dealership experience that makes Park Place feel like Your Place.

Discover the 2019 Cayenne at Porsche Grapevine.

1280 Texan Trail

Grapevine, TX 76051

833.470.0671

PorscheGrapevine.com

©2018 Porsche Cars North America, Inc. Porsche recommends seat belt usage and observance of all traffic laws at all times.
---
VOLUME 58

ISSUE 1

JANUARY 2019

MAV.PCA.ORG

Air-cooled goodness at Mavs&Mochas

Photo by Michael Durovick

FEATURES

6 | 2019 Alle Mitglieder: Maverick All Member Party

7 | A Note from the Drivers' Education Chair

8 | PCA Tours: FM 4 Recap

12 | Founders' Day: 3 Events, 1 Day 2800 members

14 | Founders' Day Board Election and Shoffit Award Presentation

17 | Founders' Day People's Choice Car Show results

17 | Founders' Day Silent Auction Recap

19 | Maverick Marktpreis: Sweet Spot

20 | Coffee, Cars & Conversation

26 | Introducing Our New Drivers' Education Chief Driving Instructor

27 | Autocross Series: 2018 Wrap-Up and 2019 Preview

UPCOMING EVENTS

6 | 2019 All Member Party

13 | Mavs&Mochas

22 | Board Meeting

22 | Motoring Mavs at Mayo

22 | Maverick Social

23 | Maverick Lunch Series

DEPARTMENTS

2 | Sprockets (President's Column)

2 | Maverick of the Month

4 | List of Officers and Board Chairs

4 | Zone 5 Presidents

11 | New Mavericks

11 | Member Moments

24 | Porsche Trivia

34 | Advertiser Index

34 | Anniversaries

36 | Oversteer (Editor's Column)

EVENT DATES

See more details and check for event updates via the QR code

here or our online calendar at http://mav.pca.org/go/calendar

Board Meeting.......................................................................... (Wed) 2

Lewisville area lunch................................................................... (Tue) 8

Mavs & Mochas: Southlake Town Square.................................. (Sat) 12

Maverick Social: BJ's Dallas......................................................(Thu) 17

Motoring Mavs at Mayo............................................................ (Sat) 19

Southlake area lunch................................................................(Thu) 24

Board Meeting.......................................................................... (Wed) 6

Mavs & Mochas: Neiman Marcus - The Shops at Willow Bend .....(Sat) 9

Lewisville area lunch.................................................................(Tue) 12

Motoring Mavs at Mayo............................................................ (Sat) 16

All Member Tour....................................................................... (Sat) 17

All Member Party...................................................................... (Sat) 17

Maverick Social: Lavendou........................................................(Thu) 21

HPDE #1........................................................................(Sat-Sun) 23-24

Southlake area lunch................................................................(Thu) 28

On the Cover

Covergirl Shanna Baynton.

Photo by Michael Durovick

January

February

Founders' Day Toy Drive line up.

Photo by Michael Durovick

Slipstream (USPS 666-650) is published monthly by the Maverick Region, Porsche Club of America, 155 Jellico

Southlake, TX 76092. Subscription price is $24.00 per year. Periodical postage is paid at Fort Worth, TX.

POSTMASTER: Send address changes to Hiram Saunders, Slipstream, 155 Jellico, Southlake, TX 76092.

Opinions expressed herein are not necessarily endorsed by the Club's membership or officers. Contributions will be

printed on a space available basis. Chartered regions of PCA may reproduce items from this issue provided the author/

artist and Slipstream are credited. Slipstream is printed by Ussery Printing Company in Irving, Texas.

1
---
It was a great year for the Maverick Region in 2018

and we have even more to look forward to in 2019!

To finish out 2018, we set a new record at

our Founders' Day celebration, with almost 300

members in attendance! The new Park Place

Grapevine venue was impressive, and there was

a great historical display of Porsches from our

members. It was a lot of fun and the company was

great, but what I am proudest of is the donation

of $20,000 that the Maverick Region made to

the Huffaker-Hughes Hope House with funds

generated from the event. One hundred percent of

the proceeds from the online auction were donated,

and our members were also very generous with

their donations during registration and with the

Walmart gift cards that were brought to the event.

The Huffaker-Hughes Hope House is a home

for victims of domestic violence and has been a

Maverick Region-supported charity since 1993.

Founders' Day, our last event of the year, was

a celebration of the club and its members, but I

could also feel a palpable excitement for where we

are heading in 2019.

We have a great year in store, as events are

getting planned that will make everyone want to

get out and see what all of the buzz is about.

You will see events within events where members

will have the chance to experience other aspects of

the club they may not be familiar with. We will

also be setting up more opportunities for 4-door

Porsches to experience a race track or even leave

the road behind and test the four-wheel drive

capabilities of Porsche SUVs.

Of course there will be social events and more

casual driving events such as Tours and Rallies

that will be better than ever. Our Tech Sessions

and Concours programs have also become very

popular over the last year and will have even more

events available to enjoy.

With all of this activity we need more volunteers

than ever! The best way to get involved with the club

and meet new exciting people that are as passionate

as you are is to volunteer. There is something

for everyone in the Maverick Region and it is

all fueled by volunteers. Please reach out to

volunteers@mavpca.org and we will find you a spot.

I am looking forward to a safe and fun year,

and am very honored to be the President of the

Maverick Region for 2019.

2 December

SPROCKETS: The Year Ahead

by David Robertson, Region President

MAVS OF THE MONTH:

Don Sebert and George Luxbacher,

Rally Co- Chairs

Have you been to one of

the Maverick Region Rallies?

A rally is a fun driving event

where teamwork is essential

to finding clues along a specific

route. Many times, neither

the route nor the clues are

exactly straightforward, and

that is where the teamwork

with a friend or significant

other in the passenger seat

comes into play.

Don and George work

hard to make our Rallies safe

and fun for members. These

events take a lot of planning

and driving the route again

and again, making sure that mileage is accurate

and that the clues make sense in most cases. They

always come up with great themes and fun but

challenging instructions. Thank you Don and

George for all of the time you put in to making

our Rally program such a success!
---
The Personal Trainer for your Porsche!

• Expert maintenance and repair services • Track day preparation

• Performance and appearance upgrades from GMG, Manthey, FVD and more

• Superior customer service and free loaner cars • PCA discounts

• Show quality detailing services • Comprehensive service from air-cooled to 991

We Buy, Sell and Consign Quality Pre-owned Porsches

3221 Skylane Drive, Dallas, Texas 75006 • 214-269-1570 • www.racperformance.com

3
---
2019 Maverick Region Board - Officers and Chairs

President

David Robertson

617-797-0516

president@mavpca.org

Vice President

Jim Falgout

vp@mavpca.org

Secretary

Carey Spreen

817-422-3480

secretary@mavpca.org

Treasurer

Deborah Fike

972-672-4282

treasurer@mavpca.org

Autocross Chair

Mark Schnoerr

ax@mavpca.org

Charity Chair

Chris Hamilton

hope@mavpca.org

Club Race Co-Chair

Pat Heptig

214-649-7907

cr@mavpca.org

Club Race Co-Chair

Joel Nannis

cr@mavpca.org

Coffee Meets Co-Chair

Derrick Tate

972-748-1178

coffeemeets@mavpca.org

Concours Chair

Mike Mahoney

801-230-1482

concours@mavpca.org

DE Chair

TJ Kroehle

de@mavpca.org

DE Chief Driving Instr.

Craig Janssen

cdi@mavpca.org

DE Hospitality

Rose Gohlke

de@mavpca.org

DE Registrar

Jason Brodigan

deregistrar@mavpca.org

DE Marketing Director/

Event Planning

Chris Sorrells

demarketing@mavpca.org

DE Medical Chair

Dr. Jeffery Komenda

demedical@mavpca.org

Goodie Store

Chris Flaugh

214-288-5300

goodiestore@mavpca.org

Region Historian

Carey Spreen

817-422-3480

historian@mavpca.org

Marketing, Social

Media Chair

Bill Orr

marketing@mavpca.org

Membership Chair,

Jim Hirsch

972-740-7377

membership@mavpca.org

Monthly Social Co-Chair

Clark Randall

hh@mavpca.org

Monthly Social Co-Chair

Vanessa Fernandes

hh@mavpca.org

Online Calendar

Karl Poulsen

calendar@mavpca.org

PCA Tours Co-Chair

Mark Pitarresi

817-715-7156

tours@mavpca.org

PCA Tours Co-Chair

Brant Worrell

tours@mavpca.org

Rally Co-Chair

Don Sebert

214-613-6900

rally@mavpca.org

Rally Co-Chair

George Luxbacher

rally@mavpca.org

Registrar, Club Race

Wendy Shoffit

crreg@mavpca.org

ARK-LA-TEX

Ken Chandler

bad968@bellsouth.net,

Safety Co-Chair

Position Open

safety@mavpca.org

Slipstream Event Ad Design

David Tierny

eventads@mavpca.org

Tech Sessions Chair

Michael Baynton

214-641-2848

techsessions@mavpca.org

Volunteers Chair

Landon Stogner

214-233-6858

volunteers@mavpca.org

HILL COUNTRY

Tuffy von Briesen

president@hcrpca.org

Slipstream Advertising,

Coffee Meets

Bill Kruder

214-497-0711

ads@mavpca.org

Slipstream Mailing

Andy Mears

214-394-5857

mailing@mavpca.org

Time Trial Chair,

(AX/TT Rules)

Travis Howard

214-616-6152

tt@mavpca.org

Web Site Chair

James Shoffit

972-786-6246

webmaster@mavpca.org

MARDI GRAS

Scott Spradley

swsprad@bellsouth.net

WAR BONNET

Eric Costello

ecostellodo@gmail.com

Slipstream Content Ed.

Carey Spreen

817-422-3480

editor@mavpca.org

Slipstream Printing

Fran Ussery

972--438-8344 (W)

817-481-8342 (H)

printing@mavpca.org

TT Registrar, AX/TT

Schools, Swap Meets

Robyn Howard

214-991-0873

drivingschools@mavpca.org

2018 PCA Zone 5 Presidents and Zone Representative

Slipstream Editor

Kurt Scaggs

469-446-1690

editor@mavpca.org

Social Chair

Debi Kruder

social@mavpca.org

Trivia Chair

Jerry DeFeo

972-240-5800

trivia@mavpca.org

Link to

Board

Meeting

minutes:

CIMARRON

Jason Tollison

presidentcmr@gmail.com

COASTAL BEND

Bryan Kerrick

bksailspadre@sbcglobal.net

LONE STAR

Steve Bukoski

president@lsrpca.com

LONGHORN

Mikel Matthews

Mikel.matthews@gmail.com

MAVERICK

David Robertson

president@mavpca.org

OZARK

Jim Woolly

jim.carol_NOSPAM@sbcglobal.net

WHISKEY BAY

Stan Labat

labat@cox.net

WHITE RIVER

Leonard Zechiedrich

whiteriverregionpca@gmail.com

ZONE 5 REP

Jon Jones

zone5rep@pca.org

www.zone5.pca.org

4 December
---
VISIT OUR NEW 8600 SQ FT LOCATION!

MONTHLY SPECIAL

$195

MOTUL OIL

$187

MOBIL 1 OIL

CERTIFIED MASTER TECHNICIANS

GENERAL MAINTENANCE

PERFORMANCE UPGRADES

SUSPENSION MODIFICATIONS

ALIGNMENTS ( TRACK AND STREET )

TRACK PREPARATION

TECH SHEET INSPECTIONS

CUSTOM FABRICATION

CUSTOM BUILT SPEC 996S AND SPB

2520 Tarpley Rd. Suite 700

Carrollton, Texas 75006

(972) 418-1996

innovativeautosports.com

innovativeautosportstx@gmail.com

5
---
2019 Alle Mitglieder: Maverick All Member Party

by Debi Kruder, Region Social Chair

You're invited to our Maverick "Alle Mitglieder,"

or as us American folks say, All Member Party! Yes,

it's the All Member Party of years past, but with a new

twist! Thanks to our sponsor Autobahn, this year's

event promises not to disappoint. Save the date for

Sunday, February 17, and be the first to register online

after the New Year.

This year offers two events for our 2,885

members for an All Member Morning! Yes,

that's right, two events.

Our first event, a Mav PCA Driving Tour, begins at

10 am at Grayson College, 1455 W Van Alstyne Pkwy,

Van Alstyne, TX on your favorite farm road, FM 455.

And the destination you ask? One Preston Event

Center is the destination and venue for our second

event of the morning: the All Member Party! What

awaits you there is sure to please! The Carriage House

at 50 Whispering Winds Road in Gunter, Texas will

leave you speechless. It's a gorgeous space with vaulted

ceilings, large windows, and barn doors overlooking

acres of lush landscaping, and of course our Porsches.

Registration for the All Member Brunch includes

a deliciously prepared country breakfast by Low

Country Cuisine, as well as a Bubbly and Bloody

Mary Bar, and of course great friends. What can you

expect besides the warm food and spirits? Meet your

Maverick PCA board and chairs, learn more about the

2019 upcoming events, and as with every event, meet

cool cars and their drivers!

New members are our special guests and will receive

a personal invitation from our Membership Chair, Jim

Hirsch. We want our nearly 400 new members since

last year's party to experience all our region has to

offer, meeting new friends, introducing them to our

many Maverick activities, and enjoying some special

memorabilia too!

So whether you've been with our club for 56 years

or less than one, there is sure to be something for

everyone at this year's Maverick "Alle Mitglieder!"

Registration details to come on January 1 on mav.pca.

org and social media.

M AVERICK

Alle Mitglieder

February 17, 2019

2 Events • 2885 Members

An All Member Morning

6 December
---
A Note from the Drivers' Education Chair

by TJ Kroehle, Region Drivers' Education Chair

We would like to announce our DE event dates for 2019:

• February 23-24: Motorsport Ranch (MSR) on the 3.1-mi road course.

• April 27-28: Motorsport Ranch (MSR) on the 3.1-mi road course.

• June 1 - Car Control Clinic at MSR

• June 2 - DE Solo - warm up to COTA

• June 8-9: Circuit of the Americas (COTA) in Austin, TX (Schnell Fest).

• September 14-15: the new EAGLES CANYON RACEWAY 2.6-mi road course.

• September 21-22: Circuit of the Americas (COTA) in Austin, TX (Schnell Fest).

• October 19-20: Eagles Canyon Raceway 2.6-mi road course.

• November 9-10: a SOLO DE event in conjunction with the PCA Club Race.

Please mark these dates on your calendar.

Porsche's marketing campaigns for 2019 are "Direction

Future" and "Performance, electrified." Porsche has been

long known as a leader in technology and innovation. This

also constitutes constant evolution.

Our region's DE program in 2018 also

started to evolve. We implemented new

concepts to our DE experience, all while

maintaining our tradition of Safety First.

We started with enhanced passing for advanced run

groups. We also started a Fast, Faster, and Fastest grid

lineup for our advanced run groups. We opened up MSR's

1.3 road course for additional run time, available to most

run groups throughout the weekend. These features will

remain in place for 2019.

We introduced a new novice run group, the Car Control

Clinic (CCC). This was requested by our local Porsche

dealerships to provide a gentler introduction to the Porsche

experience. This can provide their clients an opportunity

to learn the capabilities of their Porsche in a controlled

environment. Graduates of the CCC will, at a minimum, be

in a better position to handle their vehicle in an emergency.

We received excellent feedback from the participants. We

believe the CCC can be a gateway to our DE and Autocross

programs. Fifty percent of the first CCC graduates said

they would attend a future DE or Autocross program. We

are looking for dates for this program in 2019

We are also looking for more single day SOLO DE events

for 2019. We are searching for a date in March or May for

a single day SOLO DE. We may pick a weekday, scheduling

it for a late afternoon run and socializer to follow, similar

to what we did in July 2018.

As we grow and change, we have some changes we need to share.

Chris Sorrells has joined our team as the DE Marketing

Chair. Chris and his wife Gabe joined the Porsche Club

six years ago after buying their first Porsche. Together they

came out and watched a DE event. They decided that it

looked like a lot of fun.

Chris attended the Ron Fellows Performance Driving

School in Las Vegas to learn how to drive on the track

safely. Initially, Gabe was driving the Porsche and Chris

was driving a Corvette at the DEs. After a couple of events

driving the Corvette, Chris decided to part ways with it,

allowing him to also buy a Porsche. Chris has attended

most of our DEs over the past six years.

Gabe and Chris have been married for 40 years. Chris

has just retired from the construction and development

business. They have two dogs and three Porsches. Gabe

and Chris can also be seen at most of the PCA social events.

Chris spends his spare time either at the track or hunting

with friends.

Please welcome Chris as the Marketing Chair!

We are chartered with continuing the evolution of our

DE Program. Our mantra is "Safety First."

We appreciate everyone's participation in the program

and, we hope to earn your future support.

Sincerely,

TJ Kroehle

Maverick Region PCA DE Chair

7
---
PCA Tours: FM 4 Recap

by Brant Worrell, Tours Co-Chair

I have never thought of myself as a morning person,

but on the morning of November 4, I couldn't wait to

get up and get my day going. You see, today was the

day on which the Maverick Region would celebrate

the life of a former member, Voy Mitchell (or just

Mitch to all his friends), by traveling Farm-to-Market

Road 4 from Jacksboro down to Granbury, Mitch's

favorite drive.

My relationship with Mitch was all too brief, but

I would best describe him as a warm and gentle soul

with a lead foot. It didn't hurt that his lead foot was

exercised on the petal of a 2015 Turbo S Cabriolet!

Accompanying me this day would be Mitch's wife,

Marie, Mitch's bride of 51 years. I would get to pick

her up in Celina, drive her to the starting location in

Jacksboro, and reminisce about Mitch as we drove

down FM 4 on our way to Granbury. All told, we

would be in the car for almost 200 miles, remembering

Mitch and their lives with each other. As much as it is

about our cars, it's also about connecting with others,

and ultimately isn't that what it's really about -- making

personal connections with one another?

We couldn't have asked for nicer driving weather on

the day of the drive. As we got under way, the skies

were clear and the temperatures in the high fifties.

One hundred thirty people in eighty-two cars would

participate. Towns along the way included Grayford,

Palo Pinto, Santo, and Lipan. No issues with the local

authorities were reported, which was not an easy thing

for me to accomplish in a '99 Turbo with a 918 Spyder

in your rear-view mirror for 85 miles!

If you haven't had a chance to drive this route and

are looking for an excuse to drive your Porsche this

winter, this is your drive. I recommend starting your

morning at the Village Kitchen restaurant for breakfast

in Jacksboro (as some of us did before our drive) and

ending in Granbury for some lunch at the local German

eatery, Ketzler's Schnitzel Haus And Biergarten, but

not before some window shopping around Granbury's

charming down town square.

The drive down FM 4 concluded a very busy tour

season for the Maverick club. In total, we had six drives

in 2018! Mark Pitarresi and I have already begun

planning for 2019 and look forward to seeing everyone

on our first drive: February 17, which will be the All

Member Party Tour drive down FM 455. This tour will

start just west of Van Alstyne and end a little north of

Gunter, both of which are in southern Grayson County.

To top it off, the drive ends at the annual Maverick All

Member Party!

Your mind's been racing.

Catch up.

Decades of dreaming, fulfilled instantaneously. The iconic 911 Carrera. Legendary

handling, immediate power, and decades of motorsport heritage. It is the full

measure of a sports car. Found only in a Porsche. Porsche. There is no substitute.

The 911 Carrera.

Porsche Plano

5924 W Plano Pkwy.

Plano, TX 75093

(214) 579-1911

porscheplano.com

©2018 Porsche Cars North America, Inc. Porsche recommends seat belt usage and observance of traffic laws at all times.

8 December
---
your baby deserves

its own room.

Introducing Garages of Texas, a community of first-class, affordable, completely customizable garage suites. Here, you don't rent a

space. You buy it. Giving you complete financial control and power to make it your own with unlimited customization options. So, stop fighting

for space in your family garage. Upgrade to a garage suite and move your show cars, motorhome or boat to the showroom they deserve.

Contact our sales team at 888.988.8049 or sales@GaragesOfTexas.com for more information.

PLANO • DALLAS • ALLEN • ROANOKE • FRISCO • CARROLLTON • SAN ANTONIO • AUSTIN • HOUSTON • LEWISVILLE

GaragesOfTexas.com • Facebook.com/GaragesOfTexas

9
---
10 December
---
Welcome Our New Mavericks!

by Jim Hirsch, Region Membership Chair

New Members December 2018

Armin Aliefendic Dallas 1974 911

Luellen Bassano Aubrey 2008 Cayenne

Patrick Beck Plano 2008 911 Carrera S

Doug Bender Plano 2017 911 Carrera

Mike Darden Westlake 2018 911 Turbo S Cabriolet

Nolan Eberl-Coe Euless 1970 914

Michael Gandy Fort Worth 1997 Boxster

Dave Geraci Keller 2014 911 Carrera

Andrew Gilleland Frisco 2007 911 Turbo

Tom Jacobs (Dana) Heath 2009 911 Carrera

Cathy Landry Dallas 2017 Macan

Thomas Lindsay Anna 2010 Panamera Turbo

Henry Loe (Andi Wilson) Pottsboro 1995 911 Carrera

Arturo Padin Carrollton 2017 Panamera Turbo

Brad Parker Dallas 2004 911 Carrera

Marcelo Pinho Plano 2013 911 Carrera 4 Cabriolet

Surya Purimetla Irving 2016 911 Carrera

Thomas Riley Southlake 2008 911 Carrera 4S

John Sager Dallas 2006 Cayman S

Sheila Schaeffer Coppell 2013 911 Carrera Cabriolet

Lucky Scott Dallas 2012 911 Carrera GTS

Karthi Thyagarajan Dallas 2016 Cayman GT4

Ryan VanGoey Mansfield 2011 911 Turbo S

Steven Westmoreland Rhome 1997 Boxster

Transfers In

Rasto Ovin (SEM) Dallas 2005 Boxster

Please give a Maverick Welcome to these new members when you meet them!

Member Moment

If you have any changes that

you would like to make to the

MRPCA membership guide, contact Jim

Hirsch at membership@mavpca.org

Craig Walker

(joined 9/2018)

Occupation

Software Engineer

Primary reason for joining PCA

I've always admired the brand and

wanted to learn as much as I could

about what's happening both locally

and at a company level.

Current Porsche

2018 Panamera 4 E-Hybrid

Favorite Porsche

1956 356 Speedster; really looking forward

to the upcoming 991 Speedster

Best thing about owning a Porsche

I am continually impressed by the

thought and craftsmanship that goes

into each model

Hobby interests

I am an avid runner and participate in

several marathons and half marathons

every year

Member Moment

Carey Spreen

(joined 2/1979)

Occupation

Training Manager for a software company

First Porsche

1974 914 1.8

Current Porsche(s)

1982 911SC, 2008 Cayenne base model

Favorite Porsche

1970 914-6 GT, 1971 908/3, 1973 Carrera

RS, 1994 Turbo 3.6, 2012 Cayman R . . .

help, I can't stop!

Favorite Maverick or PCA event

Porsche Parades, local autocross

events, rallies

Best thing about owning a Porsche

(a) PCA membership and (b) your daily

driver is a race car!

Maverick Membership Statistics as of December 1

Members: 1939 Affiliate Members: 946 Total Membership: 2885

11
---
Founders' Day: 3 Events, 1 Day, 2800 members

by Our Members

pphotos provided as noted

Mavs & Mochas: Founders' Day Edition

It was a dark and stormy night –

the night before, that is -- but Saturday

morning was glorious, as evidenced

by a more than awesome turnout.

The official count was over 200 cars,

with about every vintage and color

of Porsche lined up and polished to a

fine shine.

The Mavs & Mochas gathering

kicked off the day-long trilogy

of Maverick Region's birthday

celebration events with a bang. Couple

this with the exceptional participation

of Nordstrom knocking it out

of the park with their staff,

led by Vanessa Hernandez, and it

just couldn't have been any better.

Non-stop coffee, fixins, and pastries

kept the PCA faithful happy and full.

Plus the fact that we had the run of

the store to shop and browse was an

exceptional privilege offered to the

PCA members.

The People's Choice Awards

judging garnered a broad crowd

participation spurring all kinds of

conversation about this and that. The

trivia being bantered about covered

all aspects of the varied Porsche cars

in attendance, which is what it's all

about. So much fun! The outcome

of the judging was announced at the

final leg of this day at the dinner and

gathering at Porsche Grapevine, but

that's another story!!

Then at the end the M&M it

was off to line up for the Toy Drive!

Eighty or so cars headed off to start

the second leg of the Maverick

celebration. Cars were stuffed with

toys to the roof or roll bar. What a

great Porsche-filled day it was going

to be!! – Pat Carmichael

12 December
---
Opposite page: Bill and Debi's Christmas 356, Bill Kruder, Jimmy Gallegos,

Tony Lisotta, and Jim Hirsch, Park Place Macan and Ginger Heuerman and

her handmade bears for the Toy Drive.

Scenes from Mavs&Mochas. photos by Michael Durovick and Bill Orr

13
---
Founders' Day Toy Drive

We couldn't have

started out with a more

beautiful morning for our

annual toy drive. I can't

stress enough that the

weather was phenomenal

for December. This made

it perfect for driving with

our tops off and windows

down. The drive was full

of colors as we wound

and twisted our way

north through beautiful

trees celebrating the fall

colors we have here in

North Texas. With all the

lights and traffic, some of

the cars were split up, but

all tried to stay together. It

wasn't uncommon in our

group to see a handmade

teddy bear riding with his

head out a side window

saying "hi" to other

cars. We also had a giant

stuffed puppy dog that

kept popping up through

a sunroof saying "hi" to

passersby. It was a very

fun and spirited drive.

Our Maverick Region

group donated $650 in

assorted gift cards (plus

four gift cards with no

amount written on them;

we've not yet had time

to look them up on the

various store websites)

as well as approximately

1,000 toys. The toys,

stuffed animals, coats,

batteries, diapers, sporting

goods, and other items

filled approximately half

of a 12-foot enclosed

trailer. It was a very

successful year! To all that

joined in, and all of our

club, we are so grateful

for continuing to support

our Christmas.

– Ginger Heuerman

Above:Jim Hirsch having a friendly exchange with the Plano Police department,

the Toy Drive gets ready to roll out to Plano.

photos by Bob Molyneaux and Michael Durovick

Founders' Day 2018: Board Election and Shoffit Award Presentation

by Carey Spreen, Region Secretary

photos by Wyatt Ramsey

As stipulated in the Maverick Region Bylaws (http://

mav.pca.org/about/bylaws.asp), Article IX, the election

of the 2019 Region officers took place at our annual

Founders' Day celebration on December 1, 2018. All

four 2018 officers agreed to run for office in 2019, and

all four were re-elected, as follows:

• President: David Robertson

• Vice President: Jim Falgout

• Treasurer: Deborah Fike

• Secretary: Carey Spreen

The Board appreciates your participation in the

voting process, and looks forward to serving you, the

Maverick Region, and the Porsche Club of America in

2019! We also hope that you can take part in some of

our wide-ranging events this year!

Also, you probably know that our long-standing

annual award acknowledging outstanding contributions

to Maverick Region, known as the Richard F. Selcer

Memorial Award (http://mav.pca.org/about/awards/

selcer.asp), was retired in 2017 and replaced by the

James Shoffit Maverick of the Year award. This

award is presented by the current Region President

to the person or persons whose participation made

a significant positive difference to the Region in the

past year. Region President David Robertson read the

list of recipients from 1976 (Charlie Davis) through

2016 (John Hamilton) to remind us of the history of

this award and acknowledge those recipients, many of

whom were present at the evening's celebration.

This year, David presented this award to someone

who has spent a lot of time and made some great strides

in improving the Region's social events: none other

than our Social Chair, Debi Kruder.

Congratulations, Debi, for your continued

efforts in bringing new ideas and concepts

to our ever-growing social activities!

Left: Debi Kruder receiving the James Shoffit Maverick of the Year award from

President David Robertson Right: James, Wendy and Jasmine Shoffit

14 December
---
From top: Peter Wen with Mark Palmer,

my new convertible, Roberto Anderson

and Al Zim discussing all things 356, Jack

Griffins' fantastic hot rod Continental.

Below: Linda Bambina's handmade Porsche

vest, People's Choice award winner

Chris Sorrells, Founders' Day crowd at

Porsche Grapevine!

photos by Wyatt Ramsey

Being a first-timer to a

Founders' Day Banquet

PCA dinner event, I really

didn't know what to expect. The only information my

husband (the Porsche enthusiast) gave me was to wear

a nice dress. I was quite anxious pulling up to the event,

mostly because my husband had lied to me, and no

other woman was wearing a dress! So after downing a

little liquid courage and finding another "wife" friend

who had been coaxed into wearing a dress, I relaxed

some. And I had a fantastic time!

Every person in attendance, regardless of age and

gender, was very welcoming, interesting, and really

down to earth. The event itself was well organized.

Between the amazing location, cars on display, the photo

slideshow, delicious food, and the amazing company, I

had a wonderful time.

I do feel the Porsche fans in this club are really what

make it such an amazing group to be part of and enjoy.

I am excited to attend future events with PCA (not

wearing a dress)!

P.S. - Apologies that my husband totally cut into the

food line; he needed me to soak up some of the alcohol!

See y'all next time (if he lets me come after this)!

– Nindi Gill

15
---
Porsche Grapevine

Photos by Paul Moseley

Six-plus years as

Founders' Day Banquet

members and we were

Maverick Region Founders' Day first-timers at the

evening party at Porsche Grapevine.

Having received a gracious invitation from Bill

Kruder to represent the G-series 911 for the outside

display, I did my afternoon obsessive/compulsive

cleaning thing with the car, and missed every puddle

between Fort Worth and Grapevine.

Arriving before the party started, there was massive

hustle-bustle, with Social Chair Debi Kruder showing

why she would be recognized that evening as the 2018

James Shoffit Maverick of the Year. Club members set

up bid tables, dozens of chairs, and decorations, laying

out Porsche-shaped cookies on each table.

Having spent over 20 year in British car clubs, I

wondered what Porsche people would be like. We know

now that they are the best. This was such a perfect

venue for meeting members and spouses outside of

Mavs & Mochas events.

We spent a long time at dinner time with Hill

Country Rallye buddies Mark and Monda Hanna,

talking about Porsches (of course), Porsche driver

Patrick Long (Monda must be his fan club president),

and interesting careers (I can say no more, really).

It was such a great evening, and of course, a great

venue, with only one disappointment. I thought

that all of the Porsches on display in the showroom

with bows on them were my Christmas presents.

– Paul Moseley

16 December
---
People's Choice Car Show Founder's Day 2018

by Mike Mahoney, Region Concours Chair

This year's record-breaking Founders' Day started

out chilly with a throng of people and Porsches for

our second annual Porsche Promenade People's Choice

Car Show. The Mavs & Mochas faithful enjoyed the

NorthPark Center venue in uptown while perusing

the nearly 200 precious Porsches and voting for their

favorites. Winners were awarded at the Founders' Day

evening event at the grand Porsche Grapevine dealership.

2018 Founders' Day Porsche Promenade

People's Choice winners:

People's Choice and President's Choice winner

Roberto Anderson – 356

Bill Kruder – 356

Michael Harling – 356

George Maffey – 356

Kyriacos Panayides – 911

Rob Bowen – 911

Steven Wayne – 911

Chris Sorrells – 911 GT3

Josh Hoffman – 911

Robert Kendrick - 911

I can sum up our first

ever Maverick Region

Online Silent Auction in

one word: GENEROUS!

Wow! While searching

for the perfect online site,

contacting contributors for

their gifts in support of the

Hope House, and setting

what I then thought was a

very lofty goal of $12,000, I

never imagined the results!

After 8,605 page views,

246 bids, and more than

100 items sold, the results

were unprecedented! The

Maverick Region's first

online silent auction raised

$14,821 to support the

Huffaker-Hughes Hope

House, a home for victims

of domestic violence,

achieving 123.5% of goal!

When the bidding ended on

November 25, I couldn't

have been prouder to be

part of this generous group.

Which item raised the

largest dollar amount you

ask? The rare gent's 1956

Rolex watch, which was

donated in the final week of

the auction by Watchman

International, contributed

25% of our total dollars

raised! Congratulations and

thank you to our winning

bidder, Michael Hyatt, and

the team at Watchman Intl.

Which item had the

most views and bids?

That distinction goes to

the COBB Accessport

for Macan S/GTS/Turbo,

donated by Growler Motor

Labs, raising $885.00.

This item caused quite the

bidding war in the final

Roberto Anderson's 1963 356, and 1George Maffey's 962 356 Outlaw

photos by Michael Durovick

Founders' Day Silent Auction: Recap

by Debi Kruder

minutes of the auction,

with the winning bid going

to Josh Eadie!

Other items that were

highly sought after included

the Apex Performance

Radenso XP Radar Unit,

Mav PCA DE Weekends,

some good ole whiskey,

and countless Porsche

services and merchandise.

A huge thank you to all

our generous contributors

and members who made

this year's first online

silent auction such a

huge success! The Silent

Auction, coupled with

additional generous

contributions allowed

the Maverick Region to

provide $20,000 in cash

and gifts to our Maverick

charity, the Hope House!

17
---
We Buy, Sell & Tradethe

World's Finest Timepieces

Precise, sleek, distinctive and exceptional. de Boulle is a family-owned business

established in 1983. Along with de Boulle Motorsports, both are a living and moving

illustration of the passion for excellence for jewelry, watches and racing. de Boulle is an

uthorized Dealer for major brands including: Patek Philippe, Rolex, Bell & Ross, Blancpain,

Corum, Girard Perregaux, Greubel Forsey and Tudor. de Boulle also provides the options

of pre-owned timepieces, which includes vintage watches of notable brands.

Visit deBoulle.com to view our extensive collection.

6821 Preston Rd., Dallas, TX 75205 214.522.2400

River Oaks District Houston, TX 77027 713.621.2400

deBoulle.com

18 December
---
Maverick Marktpreis is proudly sponsored by:

Maverick Marktpreis: Sweet Spot

by Peter Wen

Didn't get what you wished for this Christmas? End of year

bonus burning a hole in your pocket? Well, Marktpreis is here

to help! We have a list of Porsche good-buys to get you past the

post-holiday blues.

This list came from a seminar titled "Sweet Spots: Porsches to

Buy on a Sensible Budget". It was hosted by Hagerty Insurance

at the Porsche Parade last summer. The star-studded panel

discussed sub $50k Porsches to buy now for enjoyment and for

value appreciation.

The panelists advised to always buy the best conditioned car you

can afford and to seek out unique or even weird colors. They

also suggested over time, Porsche Cabriolet models will catch up

or outperform their Coupe stablemates. Whoa!

Winter months may be a perfect time to shop for your next

Porsche. A couple of years ago the author bought a Cabriolet

over Thanksgiving, from Buffalo, NY! Talk about negotiation

power! Your dream car is out there waiting to be found. Good

hunting, Mavs!

The seminar can be viewed from the PCA

Facebook page: https://www.facebook.com/

porscheclubofamerica/videos/10156498367623430/

Seminar panelists:

Dave Kinney - Hagerty Price Guide

Wayne Carini – Chasing Classic Cars

Rob Sass – Editor-in-chief, Panorama

Nathan Merz – Columbia Valley Luxury Cars

Sweet Spots

'83-'91 944

'14-'15 Cayman (981)

'84-'86 911 Carrera 3.2 Cab

'87-'88 924S

'74-'75 914 2.0

Excellence Porsche Buyer's Guide

$4,000-$18,000

$40,000-$50,000

$24,000-$52000

$4,500-$8,000

$12,000-$20,000

Sweet Spots

'04 Boxster S 550 Spyder (986)

'01-'05 911 Turbo (996)

'88 944 Turbo S

'66-'69 912

'09-'12 911 (997.2)

Excellence Porsche Buyer's Guide

$12,000-$18,000

$35,000-$60,000

$10,500-$19,500

$24,000-$67,500

$40,000-$60,000

1968 912

Sold for $29,000 + $1,450 buyer fee

True Mileage Unknown

Irish Green/Black

1.6L Flat-Four

5-speed manual

CoA, numbers match, engine rebuilt,

glass-out repaint

2004 Boxster S 550 Spyder Edition

Sold for $25,900 + $1,295 buyer fee

26,895 miles

GT Silver/Cocoa Brown/Brown

3.2L Flat-Six

6-speed manual

Only 1,953 produced, like new condition

1987 924S

Sold for $5,300 + $265 buyer fee

True Mileage Unknown

Red/Black

2.5L Inline-Four

5-speed manual

Engine rebuilt, clean interior

1989 944

Sold for $7,500 + $375 buyer fee

59k miles

Black/Linen Leather

2.7L Inline-Four

3-speed automatic

Clean, original unmodified car

1974 914

Sold for $17,250 + $863 buyer fee

True Mileage Unknown

Bahia Red/Black

2.0L Flat-Four

5-speed manual transaxle

Nice clean, original example

2003 911 Turbo

Sold for $45,161 + $2,259 buyer fee

38k miles

Black/Grey

3.6L Flat-Six Twin-Turbo Mezger

6-speed manual

Very clean, nicely maintained example

With over 50 years of experience, Dallas Motorsports

offers a unique blend of inventory including some of the

most desirable performance and exotic vehicles available.

19
---
Coffee, Cars & Conversation

by Bill Kruder

photos provided by Raj Gill and Michael Durovick

So this month's member took

a little longer to get to know; as

a matter of fact, it almost didn't

happen. He had just bought his car

and heard that on the third Saturday

of every month a group would meet

at Mayo Performance, but he wasn't

sure what time, so he assumed,

knowing how car gatherings go, they

start early. So he takes off for Mayo

and arrives there about 8 am to find

not a soul there, the place is locked

up tight. He introduces himself to

the first person who shows up, not

realizing it is Ed Mayo himself.

Well since then, his 993 has

appeared at many of our different

coffee meets around DFW and I

got to know a very interesting and

ambitious young man.

So here is the next in my series

of "conversations" I would like to

share with you:

Raj Gill, Member since 2017,

Owner 1996 Polar Silver 993 Turbo

Bill Kruder: So I know you are not

originally from here. Where again

are you from?

Raj Gill: I was born and raised in

Leicester, England, famous for

winning the Premier League title in

2016 with 5000:1 odds.

BK: What brought you here?

RG: Well, I was in the alcohol

beverage business selling and

delivering to pubs. It was physically

tough, but I enjoyed it for the most

part. Then in 2010, Nindi and I

got married and we went on our

honeymoon to Fiji, which included a

six-day stop in Southern California.

Nindi planned the whole trip, which

included our first NFL game and a

NASCAR race, along with anything

else that would be the American

experience. It was a packed six

days. Once we returned we were

back to our daily grind. Then in

2011, Nindi said, "what if we work

together in childcare?" I was all in!

I didn't even have to think about it.

Still on our honeymoon period, we

thought of the amazing time we had

in the US!

BK: So how did you and Nindi meet?

RG: It's funny. We both grew up in

Leicester, same age, and went to the

same University, but never knew

each other. As it turned out, I had

met her brother at University but he

never told me he had a sister until

after he got married, when he said

he had someone I should meet. I was

unable to attend his wedding, as my

sister's wedding was the same day.

BK: Well how did you end up in

Texas of all places?

RG: We did our homework; we had

three or four things we wanted.

First, we wanted warmth and

sunshine - remember where we are

from (laughing). Then it was a good

quality of life, good cost of living,

and lastly business-friendly. All

things pointed to Houston, Texas.

BK: Why DFW then?

RG: I had been to Florida

and the humidly was crazy

and Houston is known for

theirs, so it was Dallas.

It took us the better part

of a year to decide. After

a couple visits here, we

moved in 2012. We moved

a lot over the next five

years. We went from

Lewisville to Midlothian,

where our childcare is, to

Frisco, then Euless, finally

settling in Grapevine in

2016.

BK: Wow, Frisco, that's a

long commute!

RG: That it was, trust me!

After the commute and

working together all day, Nindi and

I had nothing else to say once we

got home (laughing). Grapevine is

perfect, as it's central, which has

helped us grow our business into

other areas.

20 December
---
BK: Let's talk cars. What was your first car?

RG: My first car was my mum's VW Polo GTI. I drove it

two weeks before crashing it into someone's garden wall.

After that I had a Citroen Saxo with a 1100cc motor. It

had the power of a hair dryer (laughing); guess it kept

me out of trouble though.

BK: So why the interest in Porsche?

RG: Growing up in the '80s in Leicester, we would never

see a 911, or many other exotics.

In the 1985 movie "Commando" there's bad guy getting

away in a yellow 911, but he rolls it onto its side. Arnold

Schwarzenegger kills the bad guy, and rolls the car back

over, and drives off in it! It was awesome! And then Bad

Boys movie followed in the '90s with the 964. I would

say Hollywood started my interest in Porsches.

BK: What was your first real exposure to the brand?

RG: My father had been driving a 1992 Lotus Excel

2+2. I feel blessed he thought of my sister and me when

buying the 4-seater Excel, as his preferred choice was

the 2-seater Esprit. As a family, we went all over the

UK in it. I can't describe how nice it was going out in

a sports car as a family. But it wasn't reliable! So in

2001, I walked into my first Porsche dealership with

my father, in Nottingham. Once there, we found out

that the 996 turbo had a 2-3 year wait. Dad wasn't so

pleased with the attitude of this dealer, so we went to

another dealer in Northampton a week later to hear the

same thing. However this dealer recommended he look

at a new car in the works, the 996 C4S. He could get it

within 18 months.

BK: And?

RG: It arrived in 2003, a silver on red C4S. And he still

drives it today!

BK: Not many know that Porsche was not the first

sports car you bought once you settled here.

RG: I wanted to experience American muscle, so in

late 2015 I purchased a 2009 Corvette. What's more

American than that (laughing)?

BK: Lets talk about this 993. How did this come about?

RG: It certainly wasn't planned. Things were sailing

along smoothly for us, and then we hit a bump in

the road. Guess it kind of woke me up and just out

of nowhere I thought " I'm getting a Porsche." I knew

I wanted a 993. It was my childhood dream. So last

year I started looking. I called about three other cars

and wouldn't you know it, they were sold. Then this

993 Turbo came up out in Denver, so I flew out to see

it. I think I drove it all of a mile and bought it on the

spot. We are the fourth owner. It had stayed in Denver;

it even had the original window sticker from Prestige

Porsche in Lakewood.

BK: What? Prestige Porsche was Hagestad Porsche-Audi.

This is such a small world! I know Bob and bought his 356

and also bought a 914 that was originally delivered at his

dealership. Talk about six degrees of Kevin Bacon (laughing).

Once again, when you are out at events, take the time

to say hello to someone new. Make it a challenge to

meet someone you don't know, it's too easy to stay in

your close circle of friends. After all, it's about . . .

Driving Friendships.

Contact me to learn how you can get

the most out of retirement.

Lisa D. Ward, MBA

Agent, New York Life Insurance Company

777 Mains Street Suite 3800

Fort Worth, TX 76102

817-614-3165

ldward01@ft.newyorklife.com

www.facebook.com/LisaWardNYL/

Insure. Prepare. Retire.

We'll give

you an

assist on

your future

goals.

SMRU1710429 (Exp.10/21/2018)

©2018 New York Life Insurance Company,

51 Madison Avenue, New York, NY 10010

21
---
Upcoming Maverick Region Events

22 December
---
23

Upcoming Maverick Region Events
---
You can test your

knowledge (or Google

search ability) of all

things Porsche by

participating in the

monthly trivia contest

posted online at http://

mav.pca.org/trivia.

Answers are due by the

last day of each month.

The winner of the trivia contest receives a $25 gift

certificate from our sponsor, Zims Autotechnik. In the case

of ties, a random drawing determines the winner.

Here are the questions and answers for the November

2018 Trivia. We went with a Trivia that brings Q&A this

month dealing with items from the early racing years.

The winner this month is Tom Martin, getting 4 of the

5 questions correct. Tom, please contact Aaron at Zims

Autotechnik to collect your gift certificate.

Answers: 1)a, 2)b, 3)c, 4)c, 5)b

Maverick Trivia: Are you a Porschephile?

Jerry DeFeo

sponsored by Zims Autotechnik

1. Porsche had a number of very special cars meant for

competition only; they often had a "K" somewhere in their

model designation. In what year did Porsche STOP using the

"K" in the model number?

a. 1960 b. 1961 c. 1962 d. 1963

Source: Porsche: A Tradition of Greatness, by Richard M Langworth, p 161

2. The Porsche Type 906 (aka the Carrera 6) first appeared for the

________ racing season.

a. 1965 b. 1966 c. 1967 d. 1968

Source: Porsche: A Tradition of Greatness, by Richard M Langworth, p 154

3. The 906 had a mid-engine 2-liter boxer 6 engine that could

propel the car to speeds of ______ MPH.

a. 165 b. 170 c. 175 d. 180

Source: Porsche: A Tradition of Greatness, by Richard M Langworth, p 154

4. The overall smooth body lines were created by none other than

___________?

a. Ferry Porsche b. Butzi Porsche c. Ferdinand Piech

d. Carlo Abarth

Source: Porsche: A Tradition of Greatness, by Richard M Langworth, p 154

5. The 1960 Abarth-Carrera, based on the 356B, had a

lightweight body of just 1800 lbs that was hand built by

a. Carlo Abarth b. Carozzeria Zagato c. Horacio Pagani

d. Vincenzo Lancia

Source: Porsche: A Tradition of Greatness, by Richard M Langworth, p 153

From the exotic to

the everyday driver,

we've got you covered.

• Preventative Maintenance & Scheduled Service

• Repairs on Electrical Systems, Engine and Drivetrain

• Full Restorations

• Paint Protection Film and Detailing

Factory level diagnostics for

Mercedes, Volkswagen, Audi,

Porsche and BMW

serving north dallas since 1989

13595 Floyd Circle #400

Dallas, TX 75243

972-437-4216

24 December
---
MarvelousHomeMakeovers.com | 972.951.1932 | Botond@MarvelousHomeMakeovers.com

25
---
Introducing Our New Drivers' Education

Chief Driving Instructor

by TJ Kroehle, Region Drivers' Education Chair

We have some exciting news for the Maverick Region

DE Program. We would like to formally introduce Craig

Janssen as the new Chief Driving Instructor (CDI).

Craig has had a fascination for fast cars and motorbikes

since childhood. He was given a motor bike at 10, learned

to drive a car at 11, and proceeded to terrify his family

as he raced around their 4-acre small holding on his

motorbike and the family car.

He attended his first Maverick DE in 2003, and soon

began to spend enormous amounts of time at the track

in DEs and in racing his Spec Miata. Craig has served on

the Maverick DE Instructor/Coaching team in multiple

roles since 2010. He started working with the Green/Blue

run groups, and also coached as an Advanced Instructor

(AI) in the Yellow/White run groups. Recently he has been

a leader of the Coach training program and teacher of

various DE classrooms.

Many of you may remember Craig teaching in your

classroom, as he is easily identified by a strong South African

accent. Craig's strength is in his ability to communicate a

complicated subject in simple terms that we can all relate

too. He has the respect of his fellow instructors and DE

participants alike.

Not only is Craig a

talented PCA coach, he

has also been an active

racer in both sprint and

enduro racing programs

around the country,

with well over 100 race

starts to his name.

Craig has been

married to his wife

Angie for 32 years, and

they have a daughter

Brooke. He has lived

in the DFW area with

his family since the

early 1990s, where he

leads an engineering

consultancy group.

Please welcome Craig to our program!

26 December
---
Autocross Series: 2018 Wrap-Up and 2019 Preview

by Mark Schnoerr, Region Autocross Chair

photos by Robert Kirby of Lightspeed Images

At Autocross event 10, the final event of the season,

119 drivers participated in the Guns and Hoses

Fundraising event. Money raised goes to families of area

police and firefighters lost in the line of duty. A total

of $5,000 was raised and matched by our autocross

partner, Equipe Rapide, and 100% of the winning

drivers turned their event payouts over to Guns and

Hoses as well, for another $435.

Representing the police and firefighters

were three two-driver teams driving

police-spec sedans for the Guns and Hoses

top honors. The Mesquite Police were first

quick in their Dodge Charger Pursuit car.

Be careful driving fast in Mesquite!

This was a worthy cause! We plan to participate in

again in 2019.

Overall, in 2018, 301 different participants entered

events a total of 912 times and made over 7,000 official

timed runs. Of all these, 38 Porsche drivers entered a

total of 118 times, and made 708 official timed runs. At

each event, the fastest lap time of six runs determines

the finishing order. The best seven out of ten events are

scored for year-end Championship results. Trophies

will be presented at the annual party in January.

There were a lot of PCA activities this weekend so

we had fewer Porsches than normal. There was one

year-end championship battle still to be determined in

class P1. Carolle Liu's best seven events just eked out

Amir El-Baghdady by one point this year. Amir had a

couple mechanical issues this season, but promised to

make more events in 2019 to improve his point total.

Carolle and Amir will both get year-end trophies. New

driver Mas Watamabe brought his Boxster S and took

first in class over Igor Tulandin (Cayenne GTS) and

Carolle at this event. He could upset everyone in this

class in 2019.

Class P4 ended up with five drivers in trophy

positions: Mark Schnoerr, Sigrid Schnoerr, Ed Mayo,

Carey Spreen, and Sue Crimm, in first through fifth,

respectively. These drivers fought it out at most every

event in 2018.

Doug Edney scared other contenders out of class P7

to earn first in class also.

For 2019, there are a few Porsche Class re-structures

to end up with eight classes. New is a special class to

encourage the vintage/historic four-cylinder Porsches

(356s and 912s) to participate in class P0 with the

four-door Porsches. The other class designations have

changed, but again pit the right cars in the right classes

for another exciting season. The season schedule

is posted in this issue, and there will be at least one

autocross school as well. Come out and play with us or

stop by to see what all the excitement is about.

2019 MAVPCA AX classes

P0

All 356, 912/E; All Macan; All Cayenne; All Panamera

P1 All other air-cooled through 1983; 924/924S; 944/944S; All 928

P2 All 1984 to 1994 911; non-S Boxster through 2004; 944S2; 968

P3

Non-Turbo 993; 911 Turbo through 1989; Boxster S through 2004; 2005-2016 non-S Boxster and Cayman

P4 2005-2016 Boxster S and Cayman S; 2017-on non-S Boxster and Cayman; All 996; 1990-1994 911 Turbo; All non-S 997;

All non-S 991, incl 991 T

P5 1995-on 911 Turbo, 991 S/GTS; 2017-on Boxster S/Spyder and Cayman S/GTS, incl R and GT4; All 911 GT3 incl RS; 918; 997S;

991S; 911R; Carrera GT

P6

P7

Improved class: highly modified street cars; R-compound tires (treadwear rating below 200); Rally cars; still street legal

Modified class: Race cars, not street legal, all

27
---
January 2018: Social

by Clark Randall, Monthly Social Co-Chair

Please join us for our first monthly dinner social

of the year on Thursday, January 17 at 6:30 pm

at BJ's Brewhouse and Restaurant.

BJ's is located at 4901 Beltline Road in Far North

Dallas, just west of the Dallas North Tollway on the

north side of Beltline Road. There is plenty of parking

in the back, and we'll have a private room with a private

entrance on the northwest corner of the building.

BJ's has a bountiful food menu and boasts a fantastic

selection of craft beer as well as a full bar.

Visit https://www.bjsrestaurants.com/menu to check

out their offerings.

Come and join us for a great time.

Visit http://mav.pca.org/Events/HappyHour/

to RSVP for dinner!

28 December
---
Engine Restoration

• Restore, Rebuild to OEM Original

or Modified Spec

• Partial or Complete Car

Preservation Restoration

• We Manufacture NLA Parts to

OEM Original Condition

• Specializing in 911 930 928

Visit us on Facebook - Randall Kara Techniques

R A N D A L L K A R A

RKT 817-624-1322

T E C H N I Q U E S

901 TERMINAL ROAD • SUITE 400 • FORT WORTH, TEXAS 76106

35 Years Doing What We Love.

29
---
877 C

OUR PASSION DRIVES OUR CRAFTSMANSHIP

At APEX, your unique, personalized service program is crafted to meet your

speciic desires. Our passion is delivering a concierge level of service that

goes above expectations to create an unparalleled client experience.

To Ensure that you and your Porsche enjoy an unmatched standard of care,

contact us today for a private consultation.

855.998.APEX (2739) | www.ApexAutoCo.com | info@ApexAutoCo.com

CONCOURS LEVEL RESULTS

Using cutting-edge processes and

state-of-the-art equipment, our

detail techniques consistently

deliver an unsurpassed level

of care for your Porsche.

Expert Paint Correction | Professional

Detailing | Paint Protection Films (Clear Bra)

Ceramic Coatings | Window Films | Vinyl

Vehicle Wraps & Accents

Ceramic Pro Certiied Installer

The World's #1 Ceramic Coating

Member; IDA & Elite

Detialers Alliance

CARS & CANNOLI

Monthly on the 3rd Sat.,

Mar.-Nov., 9AM - 11:30AM

4756 Frank Luke Dr.

Addison, TX 75001

EXPERT ADVICE, OPTIMUM

ENHANCEMENTS

We have the knowledge and experience

required to truly enhance your

Porsche's aesthetics and

performance with

customized and proven upgrades.

Automotive Customization | Performance

Parts Sold & Installed | Intake/Exhaust |

Wheels/Tires | Suspension/Brakes | Custom

Methanol Injection Kits | ECU & TCU Tuning |

Racing Fuels and Methanol Sales | CEL/Code

Clearing & Diagnostics | Light Bodywork,

On-The-Go Hand Car Cleaning,

Reenishing & Respraying | Powder Coating

Automotive Customization &

Services | Integrated Radar/Laser Systems

Automotive Gifts

We indulge the needs of the connoisseur who values unsurpassed expertise

and craftsmanship for their Porsche. APEX; an automotive lifestyle brand.

200 C

200 C

200 C

200 C

200 C

123 C

German Car

Service & Maintenance

by Appointment

Specializing in:

307 C

307 C

354 C

354 C

354 C

108 C

108 C

108 C

307 C

108 C

354 C

200 C

108 C

307 C

354 C

307 C

299 C

151 C

Ussery Printing

Printer of SliPStream

Since 1982

817-366-1678

DasZauberwerk@ix.netcom.com

3402 Century CirCle irving, texas 75062

972-438-8344 Fax 972-721-1847

www.usseryprinting.com

30 December
---
autoscope.co

3 Dallas Locations:

Porsche Specialists with over

35 years experience in DFW

Park Cities

6134 Denton Dr

Dallas, Tx 75235

214-350-3050

Plano

601 Coit Rd

Plano, Tx 75075

972-867-7467

White Rock

9796 Ferguson Rd

Dallas, Tx 75228

214-320-8280

31
---
When all HAIL breaks loose...

Roofing Solutions

By Darren Houk

Impact Resistant Roofing Options Including:

Metal, Tile, and even COMPOSITION shingles.

SAVE up to 28% on insurance premiums

www.RoofingSolutionsHOUK.com

817.692.8496

Showroom by Appointment

5500 Meandering Road Fort Worth 76114

32 December
---
The Art of Paint Protection

josh@invisibra.net

214-704-9299

Paint Protection Film

Ceramic Coating

Full Detailing

Window Tinting

33
---
Maverick January Anniversaries

50 Years

Don Spaulding (Barbara)

30 Years

Jack Griffin

20 Years

Franz Lucas (Evelyn)

15 Years

Robert Thompson (Debbie)

Corry Turley (Cindy)

Robert Wilson (Barb)

10 Years

John Aylor (Nancy)

Frank Bohuslav (Diana)

John DuFon

Christian Schmidt (Ulli)

Seper Shahidzadeh

5 Years

Bruce Goldberg

Shane Henderson

Jouni Hiltunen

Jeffrey Redding (Angela)

Alex Rodriguez (William Hernandez)

Henry Rosenbohm (Maggie)

Ronald Santos (Arlene)

Stuart Singer (shelly)

Jimmy Tong

Raison Varner (Kathryn)

Mark Weiss (Linda Burkhead)

Fort Worth

Plano

Carrollton

Dallas

Midlothian

Coppell

North Richland Hills

Wichita Falls

Waxahachie

Grapevine

Dallas

Highland Park

Allen

McKinney

Fort Worth

Plano

McKinney

Carrolton

Dallas

Plano

Little Elm

Dallas

Member Moment - 30th PCA Anniversary, November 2018

Dan Cashman

Occupation

Owner and mechanic at DCRacing and development. We service and

restore air cooled Porsche's only, for the last 35 years

First Porsche

1972 914 - loved it

Current Porsche

1970 914 , 1974 914 2.0 , 1977 911 S , 1983 911 SC, 1986 944 , 1973 914 SCCA E Prod.

Most memorable Maverick or PCA event

The one I remember the most was a National Convention that happened in the late 80s.

Best thing about owning a Porsche

I haven't driven anything that makes me want to move away from my old air cooled Porsches.

Advertiser Index

Advertising rates available upon request.

For more information contact Bill Kruder at

ads@mavpca.org

Apex Automotive........................................ 30

Attic Butlers................................................. 33

Autobahn Motorcar Group........................ B.C.

Autoscope................................................... 31

Bennett Motor Werks.................................. 24

Competition Motorsport............................. 31

Concorso Detailing...................................... 29

deBoulle Diamond & Jewelry...................... 18

DallasMotorSports...................................... 19

DFW Garage Design.................................... 31

Fast Lane Travel........................................... 35

Falgout & Associates, P. C ............................ 32

Fifth Gear Motorsports................................ 36

Growler Motor Labs..................................... 26

Garages of Texas............................................ 9

Innovative Autosports................................... 5

Invisibra...................................................... 33

Louden Motorcar Services....................... I.B.C.

Marvelous Home Makeovers...................... 25

Mayo Performance...................................... 32

Mustard Racing........................................... 30

New York Life.............................................. 21

OCD'tailers.................................................. 33

Onsite Tires................................................. 28

Park Place Porsche................................... I.F.C.

The Phoenix Insurance................................ 28

Porsche Plano............................................... 8

RAC Performance.......................................... 3

RKT Techniques........................................... 29

Roofing Solutions by Darren Houk.............. 32

Stuart's Paint and Body............................... 10

Texas Motor Works...................................... 32

Ussery Printing........................................... 30

Zims Autotechnik........................................ 35

These advertisers support our

Maverick Region.

Tell them you saw their ad in

Slipstream!

34 December
---
Parts or Service, We Deliver Excellence.

Over 300,000 parts in stock.

Expert service and repair.

Parts and Service for: Porsche, Mercedes-Benz, BMW, Mini, and Smart Car.

817-267-4451

Visit us online at:

1-800-356-2964

www.allzim.com

zimips@allzim.com

1804 Reliance Pkwy. Bedford, TX 76021 M-F 8am to 5:30pm

Zims Autotechnik is not affiliated with Porsche AG or PCNA Registered Trademark of Dr. Ing h.c.F. Porsche A.G.

Hey Maverick Region, Reward Yourself!

European Luxury Driving Tours since 1976

Germany, Austria, Italy, France, Switzerland, China and USA

Our PORSCHE driving tours for 2019 combine fun,

adventure, luxury & gorgeous scenery!

For more information contact us at: 813-343-3001

info@FastLaneTravel.com or

visit us online at www.FastLaneTravel.com

It's Our Business to Do Pleasure. TM

35
---
Oversteer: Letter from the Editor

by Kurt Scaggs, Managing Editor

First things first this month, I need to correct an error.

Last month I failed to correctly give credit to Tom Martin.

Tom wrote the article summarizing the PCA tours trip to

MSR. Accept my apology and thank you Tom for the great

articles that you put together for the readers of Slipstream.

Happy 2019! Wow, what a year 2018 was. What a

great club to be a part of. If you haven't been a part of

other car clubs, or even part of a PCA club in another

region, then you don't know just how good you have it.

We have so many passionate volunteers and even more

passionate members, that make the events really special.

Once a month you can show up and expect to see all

manner of Porsche beauty at Mavs&Mochas. Or you can

sign up for one of the tours or rallies and clear out the

cobwebs. And these events aren't just a few guys standing

around a parking lot. We usually have over 100 cars and

guys and gals visiting and sharing stories. It's pretty great.

The parties and social events also can't be beat. Lavendou

is back on the schedule and if you haven't been a part of

that event, consider making it a resolution to be there.

If you're like me and look at New Years resolutions to

be a trap perpetrated by gym owners and well meaning

mothers, you might be interested in finding out it was

actually the Babylonians some 4000 years ago that we

have to thank. They promised their gods to pay their

debts and return anything that was borrowed in return for

favor in the new year. Throughout the years the Romans

and early Christians adopted the practice as a chance to

reflect and resolve to do better in the coming year.

Research shows that while 45 percent of

americans say that they make new years

resolutions, only 8 percent report being

successful in keeping them. I have good

news though, the Babylonian calendar

began in March, so you can reassess and

start over and be well within the statute

of resolutions.

Might I humbly suggest considering getting more

involved in the club, events or even volunteering in 2019.

You'll meet some great people and get that sense of

satisfaction that can only come from helping others.

Wink, wink. But most importantly, I hope that you get

out and Enjoy the drive!

Porsche Specialists - Experienced Enthusiasts

Dealer-Like Service at Independent Prices

fifthgear.biz

Excellent Service Maintenance & Repair Sales

•All Porsches' Serviced

•Fast Turnaround Times

•Same Day Service In Some

Cases

•Serving DFW Area For Over

14 Years

•Family Founded, Owned &

Operated

•100+ Years of Porsche Tech Experience

•11,000 sq. ft. State-Of-The-Art Facility

Equipped with the latest Diagnostic

Tools

•Comfortable Waiting Area with

Free WiFi & Coffee Bar

•Same Services and Capabilities as the

Dealers

•Consignment Sales performed

on a case-by-case basis

1975 Archer Ave • Lewisville • TX 75077 • 972•317•4005

36 December
---
Hiram Saunders, Slipstream

155 Jellico

Southlake, TX 76092

Periodical Postage

Paid at Fort Worth, TX