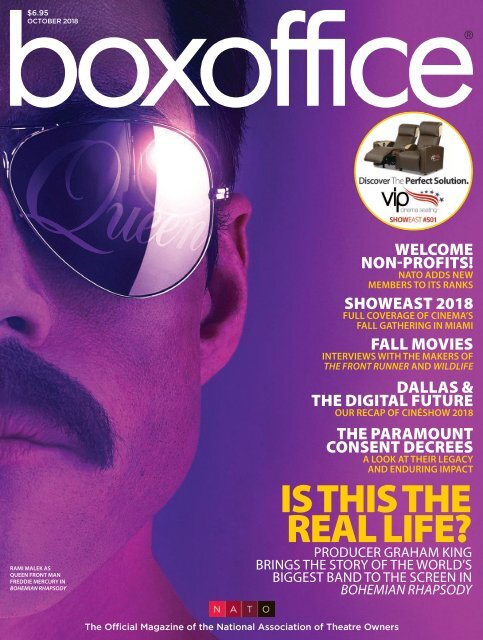 Boxoffice - October 2018
The Official Magazine of the National Association of Theatre Owners
The Official Magazine of the National Association of Theatre Owners
SHOW MORE
SHOW LESS
You also want an ePaper? Increase the reach of your titles
YUMPU automatically turns print PDFs into web optimized ePapers that Google loves.
$6.95

OCTOBER 2018

WELCOME

NON-PROFITS!

NATO ADDS NEW

MEMBERS TO ITS RANKS

SHOWEAST 2018

FULL COVERAGE OF CINEMA'S

FALL GATHERING IN MIAMI

FALL MOVIES

INTERVIEWS WITH THE MAKERS OF

THE FRONT RUNNER AND WILDLIFE

DALLAS &

THE DIGITAL FUTURE

OUR RECAP OF CINÉSHOW 2018

RAMI MALEK AS

QUEEN FRONT MAN

FREDDIE MERCURY IN

BOHEMIAN RHAPSODY

THE PARAMOUNT

CONSENT DECREES

A LOOK AT THEIR LEGACY

AND ENDURING IMPACT

IS THIS THE

REAL LIFE?

PRODUCER GRAHAM KING

BRINGS THE STORY OF THE WORLD'S

BIGGEST BAND TO THE SCREEN IN

BOHEMIAN RHAPSODY

The Official Magazine of the National Association of Theatre Owners
---
the know-how to wow

Barco Laser projection

The expertise to deliver a cinema experience that delights and excites.

The knowledge to produce superior image quality, time and time again.

The experience to guarantee uptime and system performance.

The talent to develop cost-effective and future-proof laser projectors.

The prowess to offer flexible financing options that fit your solution.

The passion to create the largest portfolio in the industry.

The dedication to perfection for the thousands of laser projectors we've installed.

Be wowed at www.cinionic.com
---
2018 VOL. 154 NO. 10

DALLAS AND THE

DIGITAL FUTURE by Daniel Loria 30

EXHIBITORS GATHER FOR THE 20TH EDITION

OF CINÉSHOW AS THE INDUSTRY FORGES

A PATH TO A DIGITAL FUTURE

CARA AT 50 by Joan Graves 42

CELEBRATING HALF A CENTURY

OF MOVIE RATINGS

FAMILY PORTRAIT by Brian Vessa 46

INTERVIEW WITH WILDLIFE

DIRECTOR PAUL DANO

SHOWEAST 2018 AWARD WINNERS

TIM LEAGUE ALAMO DRAFTHOUSE 62

ROBERT CARRADY CARIBBEAN CINEMAS 70

CHRIS ARONSON 20TH CENTURY FOX 76

MARK BORDE ENTERTAINMENT STUDIOS MOTION PICTURES 78

MIGUEL RIVERA CINÉPOLIS 82

NEIL CAMPBELL LANDMARK CINEMAS CANADA 86

STRAIGHT FROM THE HART

INTERVIEW WITH THE FRONT

RUNNER SCREENWRITERS

MATT BAI AND JAY CARSON

BLAKE LIVELY

COVER STORY IS THIS THE REAL LIFE? IS THIS

JUST FANTASY? PRODUCER GRAHAM KING

BRINGS THE STORY OF THE WORLD'S BIGGEST

BAND TO THE SCREEN IN BOHEMIAN RHAPSODY

5 HELLO

8 EXHIBITION BRIEFS

20 GOVERNMENT RELATIONS

24 NATO NEWS

28 CHARITY SPOTLIGHT

38 FOOD & BEVERAGE

88 BIG DATA

90 LEVERAGING INNOVATION brought to you by Atom Tickets

92 SOCIAL MEDIA

94 INDIE FOCUS brought to you by Spotlight Cinema Networks

98 INVESTOR RELATIONS

100 3D CALENDAR brought to you by RealD

102 EVENT CALENDAR

104 ON SCREEN

122 BOOKING GUIDE

128 MARKETPLACE

Boxoffice Magazine has served as the official publication of the National Association of

Theatre Owners (NATO) since 2007. As part of this partnership, Boxoffice is proud to feature

exclusive columns from NATO while retaining full editorial freedom throughout its pages. As

such, the views expressed in Boxoffice, except for columns signed by NATO executives, neither

reflect a stance nor endorsement from the National Association of Theatre Owners.

4 BOXOFFICE ® OCTOBER 2018
---
hello.

>> A fantastic October weekend ushered in Q4, with a record-setting

debut from Sony's Venom and a blockbuster bow

by Warner Bros.' A Star Is Born. It was an inspiring start to the

quarter, the first since 2014 without a Disney Star Wars title on

the schedule. For us at Boxoffice, it is evidence of the power of a

diverse studio slate: it's hard to go wrong when you give moviegoers

enticing options at the multiplex.

With that bit of good news, we lead off this issue with two pieces

from our friends at NATO. Jackie Brenneman brings us an update

on the Department of Justice's review of the Paramount Decrees, a

situation of utmost importance to our industry that NATO continues to monitor. Kathy Conroy

contributes a piece on NATO's new nonprofit members, a recent development that we're happy

to see flourish. I had the pleasure of visiting one of those new members last month: the Prospector

Theater in Ridgefield, Connecticut. The Prospector is a cinema dedicated to providing meaningful

employment to adults with disabilities—it is one of the most impressive theaters I've had the fortune

of seeing in my career. We look forward to the contributions of the Prospector and NATO's

new nonprofit members moving forward.

October also brings another edition of ShowEast, an important event for our teams at Webedia

Movies Pro and Boxoffice. Daniel Loria conducted interviews with some of this year's

honorees—including new conversations with industry leaders like Alamo Drafthouse's Tim

League, Cinépolis's Miguel Rivera, and Entertainment One's Mark Borde. Reading our Q&A

with Tim League, I was pleasantly surprised to discover the small part our magazine played in

helping him launch his first cinema in Bakersfield, California. As always, we are humbled by

your ongoing support.

We can't talk about ShowEast without mentioning the great work done by the Film Expo Group

in putting on the event. We've enjoyed a great relationship with the Film Expo over the years, and

we look forward to sharing more exciting news with you in Miami this year.

Julien Marcel

Chief Executive Officer

Webedia Movies Pro & Boxoffice Media

OCTOBER 2018 BOXOFFICE ® 5
---
BOXOFFICE MEDIA

CEO

Julien Marcel

VP CREATIVE SERVICES

Kenneth James Bacon

VP CONTENT STRATEGY

Daniel Loria

INDUSTRY NEWS FROM AROUND THE GLOBE

BOXOFFICE ®

EDITORIAL DIRECTOR

Daniel Loria

MANAGING EDITOR

Laura Silver

CONTRIBUTORS

Matthew Bakal

Jackie Brenneman

Kathy Conroy

Javier Chavez

Alex Edghill

Joan Graves

Jesse Rifkin

Rob Rinderman

PRODUCTION ASSISTANT

Ally Bacon

BOXOFFICEPRO.COM

CHIEF ANALYST

Shawn Robbins

ANALYSTS

Alex Edghill

Chris Eggertsen

Jesse Rifkin

DATABASE MANAGEMENT

Diogo Busato

ADVERTISING

VP, ADVERTISING

Susan Uhrlass

63 Copps Hill Road

Ridgefield, CT USA 06877

susan@boxoffice.com

310-876-9090

SUBSCRIPTIONS

Martha Murillo

Stark Services

12444 Victory Blvd., 3rd Floor

North Hollywood, CA 91606

lucia@starkservices.com

818-985-2003

CORPORATE

Boxoffice Media

63 Copps Hill Road

Ridgefield, CT USA 06877

corporate@boxoffice.com

BOXOFFICE ® (ISSN 0006-8527), Volume 154, Number

10, October 2018. BOXOFFICE ® is published

monthly by Boxoffice Media, LLC, 63 Copps Hill

Road, Ridgefield, CT USA 06877, USA. corporate@

boxoffice.com. www.boxoffice.com. Basic annual

subscription rate is $59.95. Periodicals postage

paid at Beverly Hills, CA, and at additional mailing

offices. POSTMASTER: Send all UAA to CFS.

NON-POSTAL AND MILITARY FACILITIES: send

address corrections to BOXOFFICE PRO, P.O. Box

16015, North Hollywood, CA 91615-6015. ©

Copyright 2018. Boxoffice Media, LLC. All rights

reserved. SUBSCRIPTION CUSTOMER SERVICE:

BOXOFFICE, P.O. Box 16015, North Hollywood,

CA 91615-6015, USA, Phone (818) 286-3108, Fax

(800) 869-0040, bxpcs@magserv.com, www.boxoffice.com.

Boxoffice ® is a registered trademark

of Boxoffice Media LLC.

REEL CINEMAS LAUNCHES LUXURY

CINEMA IN DUBAI

>> Emaar Entertainment, the entertainment,

leisure, and retail concepts

company and a business of global developer

Emaar Properties, will introduce

its Reel Cinemas in Dubai. The

luxury cinemas are driven by partnerships

with Dolby Cinema, ScreenX,

and its association with international

restaurateur Guy Fieri.

The newly opened Reel Cinemas –

The Dubai Mall has several innovative

firsts: The Platinum Suites that offer personalized butler services; a dine-in cinema with Guy

Fieri's signature menu; a stand-alone 170-seater Guy Fieri's Kitchen; viewing with Dolby

Cinema and the first ScreenX in the Middle East; Barco Laser Projectors and Dolby Atmos.

Damien Latham, CEO, Emaar Entertainment, said: "Reel Cinemas is bringing a multitude

of innovations to the cinema experience with our international partnerships that present

the newest technology to our cinemas. The aspirations of moviegoers have changed; it is not

just about watching a film but the whole journey. We are innovating across every touch point:

from facilitating ease of online booking to welcoming guests to aesthetically designed cinemas

and providing truly world-class viewing with high-end technology, and pampering them with

food and beverage choices."

Reel Cinemas now has five cinemas in Dubai: the 26-screen Reel Cinemas – The Dubai

Mall; the 7-screen Reel Cinemas – Dubai Marina Mall; the 4-screen Guy Fieri's Kitchen &

Bar and Dine-in Cinema by Reel Cinemas at Jebel Ali Recreation Club; the 6-screen Reel

Cinemas – The Springs Souk that includes a first dedicated screen for the little ones—Reel

Junior; and the Reel Boutique by Reel Cinemas at Rove Downtown, one of the UAE's first

hotel cinemas. Several Reel Cinemas will open soon in central locations in Dubai and key

cities in the region.

CGR SELECTS CHRISTIE FOR CIRCUIT-WIDE

RGB LASER PROJECTION

>> CGR Cinemas has chosen Christie as its

exclusive laser projection partner, as it moves

to convert all 700 of its theaters to RGB pure

laser technology. Two hundred CGR Classic

auditoriums will be redeveloped for Christie

RealLaser over the next two years.

"Following the ICE [Immersive Cinema

Experience] premium screen success with our

cinemagoers, this investment demonstrates our

commitment to offering the best quality experience

for our audiences, as we look to keep them

coming back to CGR time and time again,"

said Jocelyn Bouyssy, CEO of CGR Cinemas.

"Having experienced what RGB pure laser can

do with ICE premium screens, we believe it is

the future of cinema, and, having successfully

upgraded to digital projection with Christie 10

years ago, we are delighted to again be utilizing

8 BOXOFFICE ® OCTOBER 2018
---
EXHIBITION BRIEFS

the company's latest technology developments."

The first 100 projectors will be installed in 2019, with the

remaining 100 projectors to arrive in 2020. To accommodate the

variety of screen sizes required to facilitate projection across CGR

Cínemas' 73 locations, the projectors will be selected from across

Christie's portfolio of RGB pure laser cinema projectors. This portfolio

includes the CP4325-RGB, the soon-to-be-released CP2315-

RGB and CP2320-RGB models, and further Christie RealLaser

cinema projector models to be released in the next 12 months.

With the support of Christie and Ciné Digital Service

(CDS)—the French cinema integrator—the company will oversee

the upgrade of 200 classic auditoria across its network from

lamp technology to RGB pure laser.

DAR AL ARKAN PARTNERS WITH MAJID AL FUTTAIM FOR VOX

MULTIPLEX IN RIYADH

>> Saudi real estate developer Dar Al Arkan has signed an agreement

with Majid Al Futtaim, owner and operator of shopping

malls, retail, and leisure establishments in the Middle East and

North Africa, to open VOX Cinemas multiplex in Saudi Arabia.

The deal was officially signed in Riyadh and work started

immediately. VOX Cinemas will operate the new 15-screen multiplex

at Dar Al Arkan's Al Qasr Mall in the Saudi capital. The

multiplex is scheduled to open in the first quarter of 2019 and

will include VOX Cinemas' signature KIDS and MAX experiences.

KIDS is a family-friendly movie environment designed

for little movie fans, and MAX is the mega-screen made for big

blockbuster viewing.

The design involves the transformation of an existing section

of the mall for the brand-new 15-screen multiplex, as well as the

addition of more outlets for casual dining and entertainment,

including indoor bowling.

Yousef Bin Abdullah Al Shelash, chairman of Dar Al Arkan

Development, revealed the plans to mall visitors, saying:

"Majid Al Futtaim is a perfect partner that will help us create a

unique experience at Al Qasr Mall for Riyadh residents and visitors.

The company is considered the largest cinema operator in

the region. It offers the most innovative and customer-focused

cinema experience, including the latest cinematic technology

and a range of different cinema concepts to suit different consumer

expectations."

He added: "These are exciting times for Saudi Arabia, and we

are delighted to be playing a small but significant part towards

achieving the Kingdom's Vision 2030, which aims to build an

entire ecosystem for arts, tourism and entertainment."

Cameron Mitchell, chief executive officer, Majid Al Futtaim

Cinemas, remarked: "We are pleased to partner with Dar Al Arkan

on this exciting project. This is a significant opportunity for

us to play an active role in contributing to Saudi Arabia's 2030

vision, which places culture and entertainment at the heart of a

quality of life for Saudi citizens and residents."

CMX NAMES MARTÍ AS NEW CEO

>> CMX Cinemas, the eighth-largest movie theater chain

in the U.S., has named its new chief executive officer, Jose

Leonardo Martí.

A 30-year career finance and cinema veteran, Martí led

the recent acquisition of Cobb Theaters and CinéBistro for

CMX Cinemas, which now has CMX Cinemas operating

36 locations in the U.S. As CEO for CMX, he is responsible

for spearheading the company's aggressive growth

expansion plans.

"We are happy to welcome our great friend and colleague

Jose Leonardo Martí to the CMX Cinemas team

as our new CEO," said Rogelio Velez, CEO of Grupo

Cinemex S.A de C.V., the owning and managing theater

company headquartered in Mexico. "He is a proven leader

in finance and operations, and thanks to his expertise and

diligence he has transformed the theater industry in the

region. Undoubtedly, Martí's drive and vast experience will

help us continue to expand our presence as the preferred

destination for all moviegoers."

For nine years prior to his role as the CEO for CMX

Cinemas, Martí was the CFO and CEO for Grupo

Cinemex, S.A. of C.V. and CFO for Latin America Movie

Theatres, where he led the acquisition of nearly 500

screens, leading the company to be the second-largest movie

company in Mexico.

"To join the CMX Cinemas team in the U.S. is both a

pleasing and a challenging experience. The diversity of our

brand with 36 theater locations and more to open in the

U.S. secures CMX as the preferred entertainment destination

in the region and allows us to offer a full range of

experiences for our customers. I'm excited about our future

at CMX."

This year CMX's expansion plans include new locations

in Tallahassee and Chicago and the upcoming opening of

CMX CinéBistro on New York's Upper East Side.

10 BOXOFFICE ® OCTOBER 2018
---
PROUD SPONSOR OF

SHOWEAST 2018
---
EXHIBITION BRIEFS

CINIONIC RECEIVES AWARD FROM ICTA

>> At its Summer Business Retreat held in Napa, California,

last month, the International Cinema Technology

Association's (ICTA) worldwide cinema dealer membership

awarded Cinionic the top honor for manufacturing and

service excellence.

In its address, the association's leadership conveyed the

spirit and purpose of the award, to recognize "the ICTA manufacturer

who most closely exemplifies the progressive principles

of product development and provides the dealers with

service and up-to-date technical and sales information, while

supporting the status of his product without qualification."

Cinionic focuses on a combination of innovative cinema

solutions, flexible financing, and a comprehensive service

model that enables exhibitors to focus on engagement

with their moviegoers while simplifying their technology

and operations.

"We are honored to receive the ICTA Teddy award. It celebrates

our mission, and our focus on quality, to deliver WOW

experiences for movie fans while empowering our valued dealers,"

said Wim Buyens, CEO of Cinionic.

ICTA was founded in 1971 and represents more than 180

manufacturers and cinema-related businesses, for a total of

more than 200 members worldwide. Past recipients include

Christie, JBL, QSC, USL, Dolby, and Schneider.

JOHN TRAFFORD-OWEN JOINS REALD

>> John Trafford-Owen has joined

RealD Inc. as managing director of

Europe, Middle East, Africa, and

Russia (EMEAR). Trafford-Owen will

be responsible for overseeing sales and

marketing of all EMEAR territories and

will report directly to Travis Reid, chief

operating officer of RealD. He will be

based in RealD Europe's headquarters in

the U.K.

Trafford-Owen has worked in exhibition

and distribution for over 25 years.

Most recently at Gower Street Analytics,

he served as head of theatrical distribution

U.K. & Ireland for StudioCanal. He

has also held the position of sales director

for U.K. and Ireland for Paramount Pictures

International and United International

Pictures UK following a successful

early career as a senior film buyer with

Odeon Cinemas.

"John is a well-known leader in our

industry with a wealth of experience,

skills, and established relationships," said

Reid. "He recognizes and understands

the value 3-D brings to the cinema

industry and will work closely with our

exhibition and distribution partners to

continue to expand and maximize the

potential of 3-D, the RealD cinema platform,

and RealD's Ultimate Screen business

throughout the growing EMEAR

territories. We are thrilled to have him as

part of the RealD team."

"RealD has and will always have a

massive impact on cinema and the movie

going experience," said Trafford-Owen. "I

look forward to being part of this market

leading company that continues to innovate

and deliver game-changing cinema

technology to audiences worldwide."

IMAX TO OPEN 14 NEW THEATERS

IN CHINA

>> IMAX Corporation, IMAX China

Holding Inc., and Wanying Cinema

Line, the subsidiary of China Resources

Land, one of China's largest state-owned

commercial developers, announced an

agreement for 14 new IMAX theaters.

The theaters will feature IMAX with

Laser, IMAX's new laser experience for

commercial multiplexes, and are expected

to open between 2018 and 2021. This

agreement brings the total number of

contracted IMAX theaters in Greater

China to more than 900.

The IMAX theaters will be installed

in new MIXCINE-branded multiplexes

within China Resources Land's new luxury

shopping centers, a majority of which

will be located in tier-one and tier-two

cities. The parties signed their first agreement

for an IMAX theater earlier this

year, which opened in March, bringing

the total IMAX commitment of Wanying

Cinema Line, the subsidiary of China

Resources Land, to 15 theaters.

"We are pleased to build on this new

partnership with China Resources Land,

China's most influential integrated urban

developer and operator, that will leverage

our premium brand and The IMAX

Experience as the anchor attraction

for its luxury shopping complexes. We

believe their commitment to IMAX with

Laser is a strong validation of our ability

to deliver an immersive experience that

simply can't be matched by any other

medium or technology," said IMAX

CEO Richard L. Gelfond.

"Over the years, we've witnessed the

success of IMAX to drive foot traffic to

multiplexes in many of our luxury malls

across China," said Linkang Yu, vice president

for commercial real estate, China

12 BOXOFFICE ® OCTOBER 2018
---
EXHIBITION BRIEFS

Resources Land Limited. "When we launched our own cinema

business earlier this year, we immediately knew that IMAX

would serve as our flagship entertainment attraction at our new

cinema complexes as well as the luxury shopping centers where

they will be located."

CJ 4DPLEX RECEIVES BIG CINE EXPO AWARD

>> CJ 4DPLEX has received the Innovative Technology

of the Year award at Big Cine Expo 2018 for its immersive

cinema technology, 4DX. The Innovative Technology

of the Year award is presented annually at the Big Cine

Expo to honor the technical excellence of professionals in

the cinema exhibition industry around the globe and to

applaud the innovative technologies that stand out in the

highly competitive industry.

Launched three years ago, Big Cine Expo (www.

bigcineexpo.com) returned in 2018, with a new location,

as the only cinema exhibition convention and trade show

specifically for the burgeoning cinema exhibition market

in Asia and India. The two-day event consists of product

displays, demos, presentations, seminars, panel discussions,

special events, film screenings, networking, B-2-B

meetings, a trade show, and more.

Over the past 12 months, 4DX expansion in Asia and

India has been extensive, a growth of 38 percent. This includes

the addition of 92 new screens across India, China,

Japan, Korea, Malaysia, Mongolia, and Thailand.

"We are honored to be recognized for our achievements

bringing innovative technology to cinemas around

the world," said CJ 4DPLEX CEO Byung-Hwan Choi.

"Our success is a result of hard work by a growing team,

and most importantly, our strong partnerships at the studios

and within the exhibition community internationally.

We look forward to continuing to work together with our

friends in the industry to bring even more new innovation

to the movies."

AMC ENTERTAINMENT CLOSES ON $600 MILLION STRATEGIC

INVESTMENT FROM SILVER LAKE

>> AMC Entertainment Holdings Inc. has entered into an

agreement with Silver Lake, the technology investing firm.

Under the agreement, AMC has issued $600 million senior

unsecured convertible notes due 2024, bearing interest at 2.95

percent and convertible into AMC Class A common shares at

$20.50 per share, before giving effect to the special dividend announced

today. At $20.50 per share, the pre-dividend conversion

price reflects a 17.1 percent premium to the reference price. The

convertible notes were issued September 14, 2018.

A portion of the proceeds from the convertible notes has been

used to repurchase 24,057,143 AMC Class B common shares

from, Dalian Wanda Group Co., Ltd., which represents 31.7

percent of the AMC Class B common shares held by Wanda, at

a price of $17.50 per share. Wanda now owns 51,769,784 AMC

Class B common shares.

A portion of the proceeds from the convertible notes was also

used to pay a $1.55 per share special dividend to all AMC Class

A common and Class B common shareholders of record as of

September 25, 2018. The remainder of the proceeds will be used

for transaction expenses and general corporate purposes.

As part of the transaction, Silver Lake will appoint one

director to the AMC board of directors. AMC has also agreed

to add a new independent director to its board who will have

significant technology experience and knowledge, with support

from Silver Lake.

Additionally, Silver Lake has a two-year right of first refusal

on certain future transfers of AMC shares by Wanda, reflecting

Silver Lake's confidence in AMC.

FULL THEATRICAL RELEASE VITAL FOR AUDIENCES, SAYS

EUROPEAN CINEMA TRADE BODY

>> The International Union of Cinemas (UNIC), representing

cinema associations and key operators across 37 territories in

Europe, has added its own voice to those seeking to ensure that

films selected for competition at leading film festivals receive a

full theatrical release.

Following recent discussions on the selection of films at a

number of major film festivals and the decision from the Venice

International Film Festival jury to award Alfonso Cuarón's

Roma its Golden Lion prize, the association released the following

statement:

"UNIC wishes to express its support for Italian cinema exhibition

colleagues and others in encouraging festival competitions

14 BOXOFFICE ® OCTOBER 2018
---
EXHIBITION BRIEFS

CINEPLEX AND CJ 4DPLEX ANNOUNCE PARTNERSHIP,

CANADIAN EXPANSION

>> CJ 4DPLEX, the cinema technology company, in partnership

with Cineplex, the entertainment and media company,

together announced a new agreement that will bring the

4DX experience to as many as 13 additional Cineplex locations

across Canada over the coming years. The companies

opened Canada's first 4D auditorium at Cineplex Cinemas

Yonge-Dundas and VIP in the heart of downtown Toronto,

Ontario, in 2016, and its popularity with guests has prompted

this new partnership and investment.

"We are incredibly proud of the success of 4DX in Toronto,

which brought our technology to audiences in Canada

for the first time," said Brandon Choi, CEO of CJ 4DPLEX

America. "We look forward to growing our footprint

throughout major cities across the country as part of our

continued progress as the fastest-growing premium cinema

format in the industry."

"Cineplex was proud to be the first company in Canada

to pilot the technology, but we are even prouder to be the

first to invest in a national rollout," said Ellis Jacob, president

and CEO, Cineplex. "As part of this new agreement, Scotiabank

Theatre Chinook in Calgary, Alberta, will be the first

location to begin construction with the new, state-of-the-art

auditorium. 4DX is a truly immersive cinema experience,

and we know Calgarians, and all Canadians are really going

to love it."

The opening of the 4DX auditorium at Cineplex Cinemas

Yonge-Dundas and VIP marked the 300th screen for the

premium format. Since the launch of CJ 4DPLEX in 2009,

the immersive theater technology expanded around the globe,

averaging 100 screen openings a year at an average yearly

growth rate of 70 percent. To date, 4DX is installed in 561

auditoriums, reaching 59 countries, and projected to reach

630 auditoriums by the end of the year.

only to consider for inclusion those films

intended for theatrical release.

"Central to the film business is the

shared experience of watching a feature

film on the big screen, something

which creates a strong sense of identity

and community. Cinemas offer their

audience unique cultural and social

experiences, at the same time allowing

films truly to do justice to their director's

vision and, through their exclusive

nature, create unparalleled excitement

around their release.

"This is a proven strategy that ultimately

benefits the entire film value

chain. The theatrical success of each film

helps drive its performance and audience

awareness on other platforms. Growth in

subsequent markets—including video on

demand—develops best on these strong

foundations. It should not come at the

expense of theatrical exclusivity.

"The cinema industry can exist alongside

streaming providers, but believes that

their—and the audience's—best interests

are served by a film receiving a proper cinema

release, including a clear and distinct

window. Respect for the life cycle of a film

not only supports a model that has proven

successful in terms of cultural diversity, but

also offers the opportunity for the widest

possible audience to discover and enjoy as

broad a range of film content as possible.

Leading film festivals should encourage

practices that benefit the audience as a

whole, through the inclusion of films in

their official selection that are within everyone's

reach and not just that of streaming

platform subscribers. Should films

be available solely on these platforms or

receive only a "technical" release in another

window—yet still benefit from festival

selection as a marketing tool in addition

to their considerable resources—the vast

majority of their potential audience would

be denied access to great content.

"Films belong on the big screen and

we therefore encourage leading international

film festivals to take a lead from the

Cannes Film Festival and celebrate the

social, cultural, and economic relevance

of cinemas when designing their future

selection policies."

METROPOLITAN THEATRES LAUNCHES

M REWARDS LOYALTY PROGRAM

>> Metropolitan Theatres launched a

free loyalty program called M Rewards on

September 17, 2018. Guest benefits will

include earning points on every qualifying

dollar spent, receiving M Rewards

dollars to spend on movie tickets, concessions,

and bar service, a free medium

popcorn upon registration, a free refill on

large popcorn and large soda purchases,

and a free medium popcorn on their

M Rewards anniversary. Additionally,

members will receive access to exclusive

offers, screenings, and more.

16 BOXOFFICE ® OCTOBER 2018
---
EXHIBITION BRIEFS

M Rewards will be launched across

Metropolitan's 15 theater locations and

in its two new luxury dine-in multiplex

theaters opening in 2019.

Guests will be able to enroll at the box

office or on the Metropolitan Theatres

website using their email address and

phone number. Upon registration, benefits

will begin immediately for earning

points and receiving the free refill on

large popcorn and large soda purchases.

"Metropolitan Theatres values all of

our guests, and our new M Rewards

loyalty program allows us to personally

thank each moviegoer through

the benefits offered in our free rewards

program," said David Corwin, president

of Metropolitan Theatres.

Every M Rewards member will

earn 10 points for each qualifying

dollar spent, and will receive $5 in M

Rewards dollars for every 1,000 points

earned, which will be redeemable at

the box office, concessions, or online at

www.metrotheatres.com.

Metropolitan Theatres, a fourth-generation

family-owned theater circuit

launched in 1923, provides a premium

moviegoing experience with a growing

number of plush luxury recliner auditoriums

and expanded food and beverage

offerings. Metropolitan will add two new

luxury dine-in complexes to its portfolio

in 2019 with the opening of a 7-plex at

The Foundry in downtown Loveland,

Colorado, and a 10-plex at Outlets at

San Clemente.

MARCUS CORPORATION

RECEIVES EMPLOYER AWARD

FOR COMMITMENT TO HIRING

INDIVIDUALS WITH DISABILITIES

>> The Wisconsin Department of

Workforce Development (DWD) has

presented a 2018 Exemplary Employer

Award to the Marcus Corporation in

honor of the company's commitment

to recruit and hire individuals with disabilities.

The honor is awarded annually

during National Disability Employment

Awareness Month to selected companies

in each of the 11 workforce development

areas of the state.

DWD Assistant Deputy Secretary

B.J. Dernbach presented the award at

an event on October 4 at the Marcus

South Shore Cinema in Oak Creek, Wis.

Accepting the award was Rolando B.

Rodriguez, executive vice president of

the Marcus Corporation and chairman,

president, and CEO of Marcus Theatres.

"We recognize the value that all

our employees bring to our diverse and

inclusive workforce, regardless of any

disabilities," said Rodriguez. "It's our

hope that this award and the visibility

that comes with Disability Employment

Awareness Month will encourage more

employers to recognize this critical

population in our labor force and hire

job seekers with disabilities."

The Marcus Corporation was nominated

as a result of its active engagement

with key programs that assist individuals

with disabilities in gaining employment.

Through its cinemas, hotels, and restaurant

operations, the Marcus Corporation

supports Project SEARCH, which

assists young adults with disabilities to

gain and maintain employment, and

actively recruits through the DWD's

Division of Vocational Rehabilitation.

In addition, the Marcus Corporation

supports programming efforts of organizations

that serve individuals with

disabilities, including Goodwill Industries

of Southeastern Wisconsin, Easter

Seals Southeast Wisconsin, Pantheon

Industries and Variety – The Children's

Charity of Wisconsin.

AMC'S STUBS A-LIST LOYALTY

PROGRAM COUNTS 400,000

MEMBERS

>> AMC Theatres has announced that

AMC Stubs A-List now has more than

400,000 enrolled members.

Adam Aron, AMC CEO and president,

said, "While we do not plan to

issue A-List enrollment statistics on

a weekly basis, our hitting more than

400,000 enrolled members only three

months and a week after launching the

program is an enormous milestone.

Those who have been following our

progress with A-List are aware that

we had originally expected 500,000

enrollments at the one-year mark and

1,000,000 enrollments at the two-year

mark. Above our wildest hopes, in just

14 weeks, we have achieved 80 percent

of our one-year goal and 40 percent of

our two-year goal. This all bodes well

for the future of increased moviegoing

in America."

CIELO PRESENTS CIELO RESCUE

>> CIELO, the Internet of Things

(IoT) platform originally developed

by CES+ to connect cinema devices

onto one platform, has announced

the introduction of its self-healing

machine capabilities, known as

CIELO Rescue. Described as a major

step toward autonomous cinemas

by its founders, CIELO Rescue uses

intelligent integration of monitoring,

control, and automation to enable

cinema systems to fix themselves from

potential show-stopping issues without

any human intervention.

"On average, we were already

demonstrating a five- to ten-times

return on investment to exhibitors with

CIELO. I'm excited to be able to bring

this breakthrough technology with

CIELO Rescue and to continue to add

value to our partners by helping them

operate as efficiently as possible," said

Guillermo Younger, founder and CEO

of CIELO. "Self-healing machines

will have a significant impact to all of

our customers' profitability and we are

proud to be the first to introduce them

to our industry."

CIELO Rescue has already been

rolled out to over 12,000 screens currently

on the CIELO platform worldwide.

According to a company statement,

within its first 24 hours, CIELO Rescue

had already saved several dozen potential

lost shows for exhibitors by having their

projectors fix themselves autonomously. n

18 BOXOFFICE ® OCTOBER 2018
---
GOVERNMENT RELATIONS

THE ENDURING IMPACT

OF THE PARAMOUNT

CONSENT DECREES

by Jackie Brenneman,

General Counsel and Director of Industry Relations, NATO

The only things

certain in life are

death and taxes. And

a periodic review

of the Paramount

Consent Decrees.

JACKIE BRENNEMAN

>> On August 2, the Antitrust Division of the

Department of Justice announced it would be

reviewing the Paramount Consent Decrees. The

decrees followed a decade of litigation initiated

by the department in the late 1930s against the

studios. The decrees varied a bit from studio to

studio, but in general they prohibited or otherwise

restricted the following behaviors: (1) vertical

integration (studios owning exhibitors), (2) block

booking (conditioning the booking of one film on

the booking of a block of other films), (3) circuit

dealing, (4) unreasonable clearances, and (5) resale

price maintenance/price fixing. The final settlements

reshaped the movie industry and are often

credited for ending the Hollywood studio system.

Since the late 1970s consent decrees come with

a 10-year expiration date.

In this way, the government hopes to draft

settlements that will avoid perpetual monitoring

by the courts. However, there are still nearly 1,300

consent decrees without any expiration date.

Earlier this year, the department announced an initiative

to terminate these so-called legacy consent

decrees. According to Makan Delrahim, the head

of the Antitrust Division, these legacy decrees are

"outdated judgments" that "do little more than

clog court dockets, create unnecessary uncertainty

for businesses or, in some cases, may actually elicit

anticompetitive market conditions."

Without debating the merits of one standard

over another, it is certainly true that those

consent decrees entered before the current policy

change were not crafted with an expiration in

mind, so any repeal or modification should be

carefully considered.

Indeed, this is not the first time that the DOJ

has examined the

decrees. In at least

1985 and 2008 the

department opened

the review process to

determine the enduring

efficacy of the decrees.

And both times,

the department chose

to retain the decrees

despite many changes

to the industry.

So what is different

this time?

This time, the

department questioned

the continued benefits

of the decrees given

the rise of the multiplex

and the proliferation

of in-home

content. However,

20 BOXOFFICE ® OCTOBER 2018
---
GOVERNMENT RELATIONS

FROM THE MAY 8, 1948 ISSUE OF BOXOFFICE

these elements were

certainly in place for

the 1985 and 2008

reviews with cable,

video rentals, and the

rise of the DVD, all

offering a wide variety

of options in the

home. The multiplex

model's ubiquity is

similarly long-standing.

Rather, despite

any of these changes,

the movie distribution

model has remained

remarkably stable,

largely because of the

behavioral adjustments

required by the

decrees. This explains

why players such as

Disney and Amazon

generally act within

the bounds of the

decrees despite not

being parties to the

decrees themselves.

NATO interviewed

dozens of

members of all sizes

to hear their thoughts

on the specifics of the

decrees and whether

NATO should make

an official comment.

After this investigation

two things were

clear: our members broadly supported a

NATO comment, and our membership,

regardless of size, had incredibly diverse

perspectives on almost every provision of

the decrees. In the end, we were able to

find broad consensus on the importance

of block booking and therefore used this

provision as the focus of our comment.

In our interviews it was clear that the

prohibition on block booking is fundamental

to the business operations of

exhibitors of all sizes. For some, changing

seasonal clientele means programming

major studio blockbusters in the summer

and independent adult fare in the

off-season. For others, consumer preferences

mean exhibitors are often unable to

play R-rated films or films with certain

themes. Exhibitors are therefore understandably

concerned about major studios

suddenly being permitted to condition

the booking of a major release on the

booking of other less desirable titles. The

end of the VPF system could exacerbate

these concerns by allowing studios to demand

wider runs for little to no additional

cost. This could also shut out smaller

distributors that provide an important

alternate to the global

tentpoles that are

the primary focus of

the major studios.

As the industry

waits for the department

to make its determination,

it may

be useful to consider

what could happen

if the decrees were

repealed in whole or

in part. For the most

part, our existing

antitrust laws will

prohibit any players

from engaging in

anticompetitive

behavior. Aside from

vertical integration,

which was not explicitly

banned, each

provision describes

behaviors that are

still often considered

anticompetitive.

However, because

much of the specific

prohibitions have

not been directly

litigated for exhibition,

it may take

long and costly court

battles to get clarity

on the parameters of

lawful behavior in

the current landscape.

Many of the behaviors are also now

frequently evaluated under a looser and

fact-dependent "rule of reason" standard,

which increases uncertainty and cost.

Our members have different views on

the meaning of the decrees, and many

have communicated their own concerns

to the department. At NATO we simply

hope the department considers the

stabilizing influence of the decrees and

the key role America's exhibitors play in

ensuring high-quality films of all varieties

are produced and distributed to audiences

here and across the globe. n

22 BOXOFFICE ® OCTOBER 2018
---
NATO NEWS

NONPROFITS BRING

A UNIQUE PERSPECTIVE

TO NATO

by Kathy Conroy, Vice President and COO, NATO

A/PERTURE CINEMA, WINSTON-SALEM, N.C

NATO is excited to bring to the readers of this magazine an update on new eligibility rules

for membership in the association. On June 28, NATO's Executive Board approved an

amendment to NATO's bylaws that makes nonprofit cinemas eligible for full, regular membership

in NATO. The decision reflects NATO's desire to have exhibition, all of exhibition,

working together on common goals. That which previously divided the industry has now

been set aside to encourage all exhibition voices to be part of the conversation.

KATHY CONROY

THE BELCOURT THEATRE, NASHVILLE, TENN.

>> For years, the idea of opening NATO

membership to nonprofit cinemas was discussed

periodically but rebuffed by previous boards

whose members focused on a "level playing field"

argument. NATO's current Executive Board members,

however, carefully considered the NATO

Membership Committee's recommendation, and

determined that nonprofit theaters have more in

common with for-profits than not. Take government

relations, for example. Nonprofit cinemas

tackle many of the same challenges in both the

legislative and regulatory arenas. There are several

timely issues that NATO is currently addressing

that affect for-profit and nonprofit cinemas alike,

including ADA drive-by lawsuits and website accessibility

complaints, labor laws, the Paramount

Consent Decrees review, and the joint employer

standard. Many nonprofit cinemas with community-based

missions are actively engaged in local

government and bring a great deal of experience

and important relationships to the effort.

Working together is not entirely new, as

NATO collaborated effectively several years

ago with nonprofit cinemas in the Art House

Convergence (AHC) and with deaf and hearing-impaired

advocacy groups on a response

to the DOJ's rule on closed-captioning and

audio-description technologies. During the

rule-making process, NATO and AHC represented

the industry in government forums, such

24 BOXOFFICE ® OCTOBER 2018
---
NATO NEWS

THE PROSPECTOR THEATER, RIDGEFIELD, CONN.

as a roundtable convened by the Small

Business Administration. In that setting,

both organizations played key roles in

educating regulators about the impact

of such rules on small businesses.

The labels of "for-profit" and "nonprofit"

for business entities are important

differentiators of tax status at the IRS but

should not define or restrict how exhibitors

work together to protect and advance

the moviegoing experience. NATO

looks forward to nonprofit theaters'

increased involvement in NATO's technology

efforts to support a high-quality

theatrical experience in theaters everywhere,

and to explore new innovations in

cinema presentation and sound.

Through increased interaction with

nonprofits at NATO events, I believe

members might learn from, and be

inspired by, their nonprofit colleagues.

With their commitment to the communities

they serve, nonprofits have developed

extraordinary talent in guest relations.

As the old adage goes, "Necessity

is the mother of invention." Often with

limited funds, nonprofits have found

amazing ways to attract and retain their

avid supporters. Many nonprofits host

film festivals and offer diverse programming

and specialty film series. Older

moviegoers can enjoy their favorite films

from decades past and younger guests

can discover old Hollywood classics at

their community theaters.

Nonprofit exhibitors have experimented

with innovative ideas that subsequently

spread throughout the industry.

Alternative content, for example, has

long been offered at many nonprofit

community-based cinemas. Visit your

neighborhood nonprofit theater, and you

will likely discover cool local eats, including

beverages from nearby microbreweries

and other unique and upscale concessions

choices created by local chefs. As

in the for-profit sector, many nonprofit

theaters provide employment for persons

with disabilities. One of NATO's newest

members, The Prospector Theater in

Ridgefield, Connecticut, deserves a special

shout-out, as approximately 70 percent

of its employees self-identify with

a disability. Nonprofits have also been

responsible for saving many historic theaters

across the United States. Through

ambitious grassroots fund-raising efforts,

nonprofit organizations have successfully

restored some of America's most beautiful

and iconic movie theaters.

A word about NATO and the Art

House Convergence (AHC): The AHC

plays a vital role in safeguarding and

innovating in the art house space. NATO

and AHC will continue to serve important

and complementary roles in the

industry, and we look forward to our

ongoing relationship with the dedicated

team at AHC.

At the time this article was written,

nine nonprofit theater organizations,

representing 11 locations and 39 screens,

have joined NATO. They are: a/perture

Cinema, Winston-Salem, N.C.; The

Belcourt Theatre, Nashville, Tenn.;

Coolidge Corner Theatre, Brookline,

Mass.; Gateway Film, Columbus,

Ohio; Michigan Theater Foundation,

Ann Arbor, Mich.; The Prospector

Theater, Ridgefield, Conn.; SCERA

Corp., Orem, Utah; Salt Lake City Film

Society, Salt Lake City, Utah; and the

Sie FilmCenter (Denver Film Society),

Denver, Colo. These cinemas, and the

nonprofit exhibition community at

large, bring passion and creativity to the

moviegoing experience. I applaud them

and welcome them to NATO, and invite

other nonprofit cinemas to become

members of the association. n

26 BOXOFFICE ® OCTOBER 2018
---
CHARITY SPOTLIGHT

To add events in an upcoming issue, please send announcements to numbers@boxoffice.com

VARIETY OF ILLINOIS

Variety of Illinois celebrated its 75th

birthday on September 23 at Siegel's

Cottonwood Farm in Lockport, Illinois, with

a day of free activities for children with

disabilities and their families. Kids met

Variety's mascot, Heartly, wrote their names

on hearts to decorate the Variety of Illinois

tree, celebrated with cake and cookies,

balloon animals, magic, and music!

28 BOXOFFICE ® OCTOBER 2018
---
SWOOP, THE MASCOT OF THE

PHILADELPHIA EAGLES,

SHARES A HUG WITH CHARLOTTE

BEFORE THE AWARD RECEPTION

VARIETY OF

PHILADELPHIA

Variety of Philadelphia's Tri-

State Labor and Management

Golden Heart of Variety

Award Reception was held on

September 20 at the Down

Town Club in Philadelphia. The

event honored Nan Kelly and

John Kane and celebrated their

professional and humanitarian

accomplishments in the labor

and management communities

in Philadelphia. Swoop, the

Philadelphia Eagles mascot,

helped present an adapted

trike to Rory through the Direct

Care program.

VARIETY OF

PHILADELPHIA

Trail Run and Fall Fest

Saturday, October 13

on the web:

bit.ly/2Pajgcq

VARIETY OF DETROIT

Variety of Detroit held its first

Variety Feeds Kids Luncheon

on Thursday, September 27, at

Pine Lake Country Club. Guest

speaker for the luncheon was

Steve Pemberton, chief human

resources officer for Globoforce

and author of A Chance in the

World. The luncheon was soldout

a week before the event.

Variety Feeds Kids distributes

food every week to 1,200

qualifying children who are at

risk of weekend hunger. Working

with the school district and

Oakland County's Sheriff Office,

Variety Feeds Kids distributes

bags of food every Friday

afternoon.

Variety of Philadelphia's Trail Run and Fall Fest will be held on Saturday, October 13, from 10

a.m. to 3 p.m. with Trail Run registration beginning at 8:30 a.m. on Variety's campus (2950

Potshop Road Worcester, PA 19490). The Trail Run lets racers choose between participating in

a four-mile timed run or a one- to four-mile untimed walk through Variety's beautiful 80-acre

campus. After the race, the Fall Fest will feature a barbecue, beer, live music, vendors, and

family-friendly activities such as a dunk tank and sensory-friendly trick-or-treating.

OCTOBER 2018 BOXOFFICE ® 29
---
CINÉSHOW RECAP

DALLAS AND THE

DIGITAL FUTURE

EXHIBITORS GATHER FOR THE 20TH EDITION OF CINÉSHOW AS

THE INDUSTRY FORGES A PATH TO A DIGITAL FUTURE

by Daniel Loria

>> Texas is home to a wide variety of exhibitors, from the

eye-catching locations of multinational players to the iconic

independent venues that have served local communities for

generations. Over the last couple of decades, Texas has also

hosted a concentration of the nation's leading dine-in cinema

concepts, helping kick-start a nationwide trend based on the

innovations nurtured in its own backyard. This year's edition of

CinéShow, the annual convention of NATO's Theatre Owners

of Mid-America, held in Dallas on August 27–29, acted as

a reminder of the region's longtime ties to exhibition and its

culture of innovation. The event, celebrating its 20th anniversary,

brought together an impressive roster of executives from some of

the country's most high-profile studios, circuits, and vendors.

The hot topics at this year's edition all revolved around the

30 BOXOFFICE ® OCTOBER 2018
---
CINÉSHOW RECAP

FROM L TO R: TODD HALSTEAD,

ALEX YOUNGER, JOSE LEONARDO

MARTI, BRIAN SCHULTZ,

EDUARDO ACUÑA, DANIEL LORIA

industry's potential direction in the coming years.

Representatives from the newly formed Independent

Cinema Alliance were on hand for an open

discussion that addressed current concerns regarding

the Department of Justice's proposed review

of the Paramount Consent Decrees. On a more

immediate level, CinéShow's panel sessions looked

at the ongoing impact of the spread of dine-in

cinema and digital ticketing on the industry.

Joining the convention from his home base in

Scotland, Webedia Movies Pro's SVP of Global

Exhibitor Sales & Marketing Malcolm MacMillan

summarized the digital-ticketing trend succinctly

highlighting the elevated market-share of third-party

ticketing aggregators in online ticket sales: "In Europe,

exhibition is very much focused on self-ticketing;

managing their own data and relationships with

clients. In the United States, we have a very different

direction." According to MacMillan, U.S. exhibitors

have begun to diversify their efforts, moving away

from "a simple case of just selling tickets online, to

selling experiences—selling a brand."

That shift is reflected in the investment exhibitors

have poured into their theaters. A stroll

through CinéShow's sold-out trade show floor,

featuring over 70 different vendors, gave evidence

to the multiple options theater owners have for

bringing an extra dimension to their cinemas.

MacMillan noted that in today's experience-based

economy, these new directions can act as key differentiators

in maintaining a competitive advantage,

"premium seating and dine-in drive high conversion

rates—much higher—to

the e-commerce average in this

industry," he said.

While trends like dine-in

and alcohol service have gained

visibility nationwide, some

caution that these concepts

shouldn't be seen as a one-sizefits-all

option for interested

exhibitors. "I've toured around

and seen a lot of situations that

haven't worked out," admitted

Flix Brewhouse CEO Allan

Reagan. Flix has embraced a

cinema-brewery model, with

each location featuring its own

in-house brewery and beer experts.

"Say you see a corner in

your lobby and think it would

be a great place to put a bar. It's in the corner, it's

out of the way, and you figure a little bar can make

you a fortune. You'll find out fast that's not a place

that people are going to want to hang out. It's

really important to understand traffic patterns and

how they're actually going to use the facility. Are

they going to be able to have a drink in the lobby,

in the lobby bar, or a bar above the lobby? Or are

you better off getting them a beverage at their seat

inside the auditorium?" Flix Brewhouse, founded

in 2011, is set to finish 2018 with three new locations—and

plans for a further national expansion

through 2019.

Mexico's Cinépolis—which operates cinemas

in 13 countries, including two Texas locations—

has firsthand experience in using a measured,

region-specific approach when it comes to alcohol

service. "We've been very successful in some

countries, usually in more developed places like the

U.S. and Spain," said Eduardo Acuña, the circuit's

head of Americas, before warning that it has also

failed to connect in other markets. "There are other

countries in which it's not even an option; in the

Middle East it's against the law to serve alcohol.

In India and most parts of Latin America, it hasn't

worked as well." Acuña cited the varying costs and

strict regulations that are associated with alcohol

service at a cinema—rules that carry large fines

and that can be vastly different even within one

country. "Alcohol is a great business, but you have

to think of it as a business, not as an extension of

food and beverage."

32 BOXOFFICE ® OCTOBER 2018
---
CINÉSHOW RECAP

CHUCK NORRIS AT THE VARIETY

OF TEXAS 2018 TEXAN OF THE

YEAR GALA

It's a challenge shared by their corporate

compatriot, and competitor, Cinemex, which first

entered the U.S. market in 2017 under the brand

name CMX Cinemas. Newly appointed CMX

CEO Jose Leonardo Martí joined Acuña onstage

at a CinéShow panel organized by the Theater

Management System provider Cielo. Martí shared

his circuit's own concerns in expanding across borders,

not only when it comes to alcohol but for its

dine-in operations as well. Entering a new market

like the United States, CMX was cautious in how

it pursued its expansion. "Wages in Mexico are

substantially lower, and so is the price of a ticket.

Rent, leases—they are also substantially higher in

the U.S. than in Mexico," said the CEO. "It's a

very different market, substantially more competitive

than it is in Mexico." Due to these factors,

CMX grew in the U.S. by the strategic acquisition

of circuits like Cobb, which included CinéBistro

locations that were custom built with the correct

infrastructure for cinema dining.

In general, the diversity of exhibitors vying

for moviegoers' time has made exhibition in the

United States extremely competitive.

Distinguishing your brand from the rest

of the pack has become crucial, a factor

that Dallas-based circuit Studio Movie

Grill acknowledges, especially in Texas's

highly competitive dine-in cinema scene.

Studio Movie Grill has been able to

stand out from competitors by adopting

what CEO Brian Schultz calls a

"conscious capitalism model," using its

business activities as a platform for social

good. "That's behind all the decisions we

make as a team, from our local communities

to our vendors and investors.

It makes it pretty easy to create a brand

that's defined and has a perspective."

It's not simply about competing with

other circuits or engaging in an arms

race of theater amenities—finding the

right real estate has become the latest

battlefront for circuits looking to expand

their operations. As retail destinations

struggle across the country, developers

have increasingly set their sights on movie

theaters as a viable alternative to big

box stores. "When it comes to shopping

malls—with all the important retail players

going away—they understand that

experiences like moviegoing aren't going anywhere,

we're going to endure," said Cinépolis's Acuña.

"Developers know this, and every time a big box

store disappears, everybody is talking about putting

in a theater. Retail is about buying products, cinemas

are about getting an experience."

In the United States that experience begins

online. Whether it's on Google or social networks

like Facebook, digital platforms have become a

highly influential source for trailer views, show

time discovery, and ticket purchases. According to

research conducted by Webedia Movies Pro (parent

company of Boxoffice Media), 90 percent of

today's moviegoers begin their cinema journey on

the web. It's one of the main focus areas for digital

ticketing start-up Atom Tickets, now entering its

second year in the market. "Social media is the

whole reason why Atom exists," said Max Lynn,

director of corporate development at Atom Tickets.

"Our co-founders were trying to go to a movie

and couldn't get through the pinpoints of texting,

calling, emailing—just to organize a four-people

trip to the movies. When we surveyed the land-

34 BOXOFFICE ® OCTOBER 2018
---
CINÉSHOW RECAP

STUDIO MOVIE GRILL HOSTED

THE OPENING NIGHT SCREENING

OF 20TH CENTURY FOX'S THE

PREDATOR AT CINESHOW 2018

scape, no one was really doing social with movie

ticketing. That's an inherent part of the DNA of

our mobile platform. We use Facebook today and

we're looking at the different social platforms out

there to see what's next. Whether it's Instagram,

Snapchat, wherever we see customers spending

time—that's where we're going to integrate next."

Webedia's MacMillan sees that integration as

part of cinema's move toward an "everything, everywhere"

model, "exhibitors spreading their net as

wide as they possibly can so people can buy tickets

through them or the third parties who they work

with." A growing part of the third-party conversation

are subscription services like Moviepass and

Sinemia, which have in turn helped popularize

the concept among exhibitors themselves. "Moviepass—for

all the good, the bad, and the other—

shook the anchoring everyone had," said Atom's

Lynn. "People are more open to more ideas now

that the consumer has spoken about being interested

in something other than the traditional model."

For an independent exhibitor like Barak

Epstein, president of Aviation Cinemas—which

currently operates the historic Texas Theatre in

Dallas, subscription is still an unproven concept.

While larger circuits like AMC and Cinemark have

already rolled out their own in-house offerings,

Epstein is taking a wait-and-see approach to how

a third-party solution can help his theater. "We've

been agnostic about it," he said during a panel

conversation. "We tell our customers that they

need to use [Moviepass] at their own risk. We can't

tell them whether or not a movie we're showing is

going to be available on their service at any given

time, or if they have the right amount of money

loaded into their system to pay for the ticket. We

have zero control over that. If it's working, we're

happy to say, 'Sure, use it!' I'm not sure if we've

seen a massive increase [in attendance] from it."

That isn't to say that subscription is the only

alternative in the industry. Rather than rolling out

a competing subscription product, Atom Tickets

opted for leveraging its relationship with exhibitors

and outside companies to create discount days

for consumers. A partnership with T-Mobile, for

example, enables $4 tickets for users—with the

phone carrier responsible for paying the difference

to the exhibitor. "It's a great way to bring new,

incremental customers to the ecosystem. We're a

conduit to that, bringing that benefit to all our

exhibitor partners."

Flix Brewhouse's Reagan considers tech innovations

in e-commerce and loyalty programs as

catalysts for continued growth. "Technology is a big

part of it, and I think we'll get better as our industry

adopts some of the tools that companies like Apple

and Amazon or the hotel industry use to track and

service their customers," he said. For MacMillan,

the true potential of big data's promise is, simply,

control. "That's the real issue, the control of your

customers' journey," he stressed. "If you are a progressive

exhibitor, you want to control that from end

to end—including the ticketing. That's where you're

going to get improved conversions, performance,

and a greater level of security. It's about bringing

customers back into your brand, making sure your

data is being used to your advantage."

Whatever the future holds, it is becoming increasingly

clear that the potential of consumer data

and the power of a cinema's brand will go hand in

hand. The age of the cookie-cutter multiplex is over.

It has been for years. And while subscription might

be an unproven factor in this market (at least at

this early stage), the prevalence of loyalty programs

among exhibitors of all sizes points toward a future

where data and knowing one's customers will be a

central part of any theater's operations. n

36 BOXOFFICE ® OCTOBER 2018
---
Congratulations to all of the

honorees at ShowEast 2018.

Yours truly,
---
FOOD & BEVERAGE

ROLLING IN DOUGH

INTERVIEW WITH DIBLE DOUGH FOUNDER AND CEO JOLENE CONWAY

by Jesse Rifkin

(continued on page 40)

38 BOXOFFICE ® OCTOBER 2018
---
THE FEATURES YOU NEED.

THE OPTIONS YOU WANT.

THE COMPANY YOU TRUST.

When it comes to concessions,

it comes from Cretors.

Only Cretors combines five generations of industry leadership with more than

130 years of forward-thinking innovations. Backed by our industrial manufacturing

R&D for global snack food giants, we bring revolutionary products to the

concessions marketplace, time and again. Whether it's an industry-changing

safety feature, a long-sought-after option or a customizable machine made

for the way you sell anywhere in the world, there's no limit to our ingenuity.

Made in America, loved world-round!

Contact Shelly Olesen at 847.616.6901 or visit www.cretors.com
---
FOOD & BEVERAGE

>> Everybody loves to sneak a taste of cookie dough, but what if came in an easy-to-eat snack size and was made

without raw eggs? That's the idea behind Dible Dough, which won the 2018 Most Innovative Product Award from the

National Association of Concessionaires. Boxoffice spoke to Jolene Conway, the product's inventor and company CEO,

about her new business and her plans to expand into movie theaters and nationwide.

How did you come up with the idea for

Dible Dough?

I was working at the concession stand

for our daughters' sports games, and I

asked the coaches, "If I came up with a

product that was an edible cookie dough,

that didn't have raw eggs in it, would you

allow me to sell it?" So I came up with

a recipe and I put it in little souffle cups

with a wooden spoon. If we sold one,

then we would sell 50, because people

would see that and go, "Wait a second, is

that cookie dough?"

It caught on, so it was a really good

experiment; it was great. I introduced

other flavors. People said, "I love chocolate

chip, but I'd really love to try the

sugar cookie flavor. I love peanut butter

but I don't want a Reese's Peanut Butter

Cup." That's how we got started. From

there, I went to a manufacturer. We were

living in Texas at the time; now we're in

New Orleans because my husband is a

football coach. [Jeff Conway is the wide

receivers coach for Tulane University,

previously the co-offensive coordinator

for Texas State.]

How did you come up with the name

Dible Dough?

That's actually a funny story. At first,

I called it Jo's Edible Dough, short for

Jolene. So I sent it to my friend and said,

"I just bought the domain name josedibledough.com."

She looked at it and

said, "That looks like José Dible Dough."

Then she said, "But I like the name Dible

Dough! That sounds good, it's like 'edible'

without the 'e.' Just like how your cookie

dough doesn't have any eggs in it, so

you've taken out the 'e.'" Some people

have said that the word "Dible" looks like

it should rhyme with "Bible." But the

tagline is "Nibble the Dible," so people

can put that together and probably come

up with the right pronunciation.

What has been your biggest challenge

since you started?

Not knowing what I didn't know. I

don't have a food background; I graduated

from Iowa in speech and hearing

science and went into medical sales!

[Laughs] Once we started having babies, I

was a stay-at-home mom. We have three

daughters, so once our youngest started

kindergarten, I started a catering business

out of our home. We were living in

Missouri at the time. I did that for several

years. Then I thought, "I really need to

home in on something. I want to do one

thing." I thought about chocolate-covered

strawberries, but there was already CherryBerry.

I wasn't sure what that one thing

was until I realized it was cookie dough,

because who doesn't like cookie dough?

How did you find out that you won the

2018 Most Innovative Product Award

from the NAC?

We were standing there at the booth,

talking to potential customers. The

president of the organization came over

and said, "The votes have been tallied.

The Most Innovative Product Award this

year goes to Dible Dough." You had to

vote online. Then I had a lot of people

coming up to me afterward and saying,

"I knew you would win because I voted

for you." So it wasn't just a fluke thing;

people really did think it was a good

product. Because everybody knows what

cookie dough is, everybody has eaten

cookie dough before, but now we're able

to make it available in a form that's easy

to eat. You can eat cookie dough just

like you would eat a candy bar or an ice

cream bar.

It's not available to purchase online

right now; it's only available in retail

stores. Will that change?

Yes. We are currently looking at online

platforms. Because it's a frozen product,

we have to find what is the best fit in

terms of what someone is willing to pay

for it and the cost of shipping it. Those

are the details that we're working out

right now. But yes, that will hopefully be

within the next three months, by the end

of the year. We've gotten approved for

two grocery store chains in Kansas City:

Price Chopper and Hen House. We'll

probably be there by the end of October.

But I really think this is a product that

is more geared toward the entertainment

industry. I just feel like having

this product available to consumers in

a concession stand or movie theater or

other venue is a good thing because it

makes it more of a novelty. Kind of like

what Dippin' Dots was—you could only

get it when you'd go to a ballgame or an

amusement park.

Are you in any movie theaters right

now?

We're going to be in Malco movie

theaters, out of Memphis, in a couple of

weeks. They were our first customer, so

we're excited about that.

You have three flavors right now:

chocolate chip cookie dough, peanut

butter with chocolate chips, and sugar

cookie with sprinkles. Are there any

other potential flavors in the pipeline?

Yes, we have been asked a lot to make

gluten-free products, so we're working

with a couple of different options. Then

the other ones we constantly get asked

about are snickerdoodles and oatmeal.

We're also leaning toward butterscotch. n

40 BOXOFFICE ® OCTOBER 2018
---
CLASSIFICATION & RATINGS ADMINISTRATION

CELEBRATING A HALF CENTURY OF MOVIE RATINGS

by Joan Graves, SVP & Chairman, CARA

>> Since 1988, my job has been

watching movies. I have seen

more than 12,000 films of every

genre, style, and type as part of

the Classification and Rating

Administration (CARA).

CARA was established nearly 50

years ago by former MPAA CEO

Jack Valenti [shown here with

NATO Chairman Sherrill C. Corwin,

left, and MPAA general counsel

Louis Nizer, right in the June

3, 1968 edition of Boxoffice].

The voluntary system replaced the

Motion Picture Production Code,

or the Hays Code as it was called,

which outlined what was morally

acceptable and unacceptable for

films produced between 1930 and

1968. CARA provided an alternative

to government censorship—a

practice that had persisted at the

state level. Jack's remarkable vision

created a system to inform parents,

while also protecting filmmakers

and the creative process from government

intervention.

Since its inception on November 1,

1968, CARA has provided American

parents with advance information about

the level of content in movies to help them

determine what's appropriate for their children,

factoring in their own family values

and the individual sensitivities of their

children. As we celebrate our 50th anniversary,

it is clear that CARA has withstood the

test of time and remains a valuable tool for

parents across the country.

I have witnessed the evolution of the

movie rating system firsthand. In 1988, I

joined the CARA board as a part-time rater,

and in 2000 I took on the role of chairman.

In that time, I have seen shifts in parental

concerns and perspectives on everything

from violence and language to drug use and

sexuality. I'm proud to note that CARA

has continuously adapted, rating movies to

reflect those societal shifts.

Part of the reason our system works

so well is because CARA's board is

composed of parents. We hire parents

of different backgrounds, from different

parts of the country. They have no prior

affiliation with the film and television

industry—the primary qualification is

the perspective of parenthood. Usually

the 10 to 13 parents on the board

have children between the ages of

five and 17 when they are hired.

Once their kids reach adulthood,

they rotate off the board.

We keep the identities of our

raters anonymous to shield them

from any sort of outside influence.

However, we do make public the

identities of our senior raters, including

myself, to increase transparency

in the process and allow

communication with filmmakers

and moviegoers. Our website,

filmratings.com, includes access

to our policies and procedures, a

database of all films rated since

1968, and a Contact Us link for

any questions or feedback.

On a typical day, we watch

two to three movies—always in

their entirety. We rate everything

in context on a case-by-case basis.

You may have heard that we try to

schedule violence in the morning

and sex in the afternoon. There is

some truth to that—and popcorn is always

available! We, of course, also watch animated

films, family comedies, documentaries,

and everything in between.

The process and our job are focused on

asking the question any parent would ask:

What would I want to know about this film

before I decide to let my child see it?

That question is why our system has

evolved so well over time. We are celebrating

five decades this year, because our purpose

is to reflect the standards of American

parents, not set them. Not one of our ratings

indicates whether a film is good or bad;

each merely indicates the level of content.

42 BOXOFFICE ® OCTOBER 2018
---
CLASSIFICATION & RATINGS ADMINISTRATION

THE FIRST FILMS RATED BY CARA AS PUBLISHED IN THE NOVEMBER 18. 1968, ISSUE OF BOXOFFICE

Most of the so-called "rating controversies" over

the years can be traced to a misunderstanding of

this key fact.

We are constantly working to evaluate and

improve our system. We regularly ask parents,

through surveys and focus groups, about their

perceptions of movie elements like violence,

language, drug use, and sexuality. And then

we mirror our ratings to reflect contemporary

concerns and better assist parents in making the

right family viewing choices.

Over the years, we have also made distinct

enhancements to the system. The most notable

change was the addition of the PG-13 rating in

1984, created to alert parents of more intense

film content. Unique rating descriptors for

movies rated PG or higher were added in 1990.

And in 2007, we decided to consider tobacco

imagery as a factor in assigning ratings and their

accompanying descriptors.

Finally, I would be remiss if I did not

credit the success of CARA to the strong

relationship with the National Association of

Theatre Owners (NATO), which goes back

to the very beginning. When Jack created the

ratings, NATO agreed to support them. This

endorsement allowed the rating system to be

taken seriously by all stakeholders, audiences

and distributors alike. Over the years, we have

worked closely with NATO members to help

them give rating information as well as to encourage

feedback about the ratings themselves.

I look forward to the ongoing success of this

important partnership.

In the last 50 years, American audiences have

adjusted their views on almost everything. Our

values and opinions have evolved as the movies

we watch address tough issues and encourage discussion

of challenging themes. I am proud that

CARA has played a role in that discourse—and

that by helping American parents make the right

viewing choices for their families, we are also

protecting the rights of filmmakers to express

themselves freely.

Even after watching thousands of movies,

I cannot predict, unfortunately, what we

may see on-screen in the years ahead. But I

can confidently say the ratings system will

continue to adapt and stay true to our role of

keeping parents informed. n

This article originally appeared in the April 2018 issue of Boxoffice.

44 BOXOFFICE ® OCTOBER 2018
---
FILMMAKER INTERVIEW

FAMILY PORTRAIT

INTERVIEW WITH WILDLIFE

DIRECTOR PAUL DANO

by Daniel Loria

CAREY MULLIGAN AND

JAKE GYLLENHAAL

>> Paul Dano has delivered several memorable performances

in his career thus far—from the brooding older

sibling in the feel-good comedy Little Miss Sunshine to

the zealous and ambitious Eli Sunday in P.T. Anderson's

There Will Be Blood. It should be no surprise therefore

that Dano's directorial debut, the big-screen adaptation

of author Richard Ford's Wildlife, is a film that has already

been lauded for the dramatic performances of its lead

characters. The film follows teenage Joe (Ed Oxenbould),

the only child of Jeanette (Carey Mulligan) and Jerry

(Jake Gyllenhaal), as the family struggles to settle into life

as new residents of a Montana town in the 1960s. Joe's

and Jeanette's lives are turned upside down when Jerry

loses his job and decides to join a local effort to control

nearby wildfires. Joe experiences the struggle to redefine

the family home firsthand in this coming-of-age drama,

a film that premiered to rave reviews at the Sundance

Film Festival earlier this year. Boxoffice spoke with Dano

about his directorial debut, and why a film like Wildlife is

the sort of movie best enjoyed in a theater.

How did you come across Richard Ford's novel? And

what about it made you dedicate years of your life to

getting it made into a film?

I had actually just read a book of short stories by

Richard Ford called Rock Springs. I had read another

book of his, The Sportswriter, but Rock Springs had a

slightly different style of prose, and I've always loved

when something appears simple but is actually quite

complex. The prose in those stories was very poetic, even

though it's sort of spare.

I went looking for another book of his like that and

saw Wildlife. I read the first paragraph and was like, "Oh,

this." The first sentence and first paragraph of Wildlife

are probably some of my favorites, ever. I immediately

fell in love with this book. Around 20-something pages

in, there was a passage about this kid watching his mom

teach swim class. Something about how everybody else

looked like, "There's a woman who's happy" or "There's a

good-looking woman" or "There's a woman with a good

smile"—he knows something's wrong at home. Something

about that duality was very beautiful and moving

and profound to me.

I thought about the book for about a year and read it

many times. When I thought of the final scene, the final

image of the film—which is different from the book—that's

when I was like, "Okay, I think I can make a movie of this."

The film doesn't cover a lengthy passage of time, but

there's a lot of emotional development—for all the

46 BOXOFFICE ® OCTOBER 2018
---
characters—within its time frame. And the

characters' interiority, something you can

glean from Richard Ford's prose, can present a

challenge when it comes to expressing it visually

in a film. How did you approach that challenge?

The book is interior, it's future tense looking

back at this experience, and it's largely internal.

That doesn't necessarily make a movie. So a lot

of what I was asking while trying to write the

screenplay with Zoe [Kazan, Dano's long-time

partner] was asking, "I love the feeling that's

here. How is that an image or an action?" In

small ways, even a kid fixing a toilet is a way to

communicate through an image or an action. This

film is a family portrait, so the language of the

film is largely about images, moments. It doesn't

lend itself to a lot of camera moves. That was the

part I looked forward to the most when making

it: where to put the camera and why. My director

of photography, Diego Garcia, is a very special

guy. I worked with a wonderful production designer

and costume designer.

What were some of the visual references you

used in creating a period piece like this?

One of the nice things about making a period

film is that you get to control everything. We get

to create every second of the film. Some of the

exteriors you have to find, because we just don't

have the money. But the interiors—the colors, the

textures, everything—we make that. That's so fun

and expressive. It's such an important part of the

audience's experience, especially just on a level of

unconscious detail. We didn't have a big budget,

so that was a challenge—one that in pre-production

is driving you crazy. Once you're there,

it's great. The most important thing is to get the

feeling of it right, wanting to be period accurate

but also focus on what feels right.

Did you take visual cues from other films

or artists?

Certainly paintings or photography—Stephen

Shore, for example. There's something there in

the images and in the colors. Of course, Norman

Rockwell and Edward Hopper.

Then just think of family portraits, something

Zoe and I have always collected—have you ever

gone to a thrift store or just somewhere in some

town, there's a bucket of old photos sometimes?

We always go through those. I just think they're

beautiful. We usually end up buying a couple. So

even stuff like that, where you're trying to imbue

a slight sense of myth or nostalgia. Hopefully that

can help express the emotion in the present tense.

As an actor, how did you approach the

performances in the film?

I'm very lucky to have Carey [Mulligan] and

Jake [Gyllenhaal] and Ed [Oxenbould] and Bill

[Camp]. The film relies on them. The way that I

wanted to make the film would not work without

actors who are really giving you not just a piece

of themselves, but a real internal experience. The

space between the lines is just as important as

what they're saying. That's part of that duality I'm

interested in. You can look at the world and smile

at somebody, but also have something that you're

struggling with. I think that's true for most of us

at some point in our lives. You hope the script

is there to support them as a foundation, and I

think it was.

Working with the actors felt like parenting

a little bit, where you're just trying to create

an environment for that person to be the best

version of themselves. Be their cheerleader and

push them when you need to. It was very fun to

re-look at acting as a director, appreciate it and

go, "Wow, I am, as a director, living through

Carey or Jake right now. They're my extension to

the audience."

I tried to give them the experience I would

want as an actor, which is just the chance to really

go to work. We shot it fairly economically, so we

got to do enough takes. Sometimes on a really

tight schedule you try to clip through things.

That's an absolute no for me. I really believe that

once you're there, you only get to do a scene once

on film. You're not going back the next day to

that location, so you have to take the time to get

it right. I was lucky that they gave me so much

trust, that they went all-in on their characters.

Are you looking forward to getting back

to directing?

Definitely. I can't wait to make another film.

I don't know what it will be, but I would guess

and hope that it's going to be something different

than Wildlife for sure. This was something I've

dreamed about for a long time, this type of film

and filmmaking that I love. It would be fun to do

something a little more playful.

FOR AS LONG AS I HAVE WANTED

TO MAKE FILMS, I HAVE KNOWN

I WOULD MAKE FILMS ABOUT

FAMILY.

IN MY HOME GROWING UP, THERE

WAS AN EXTRAORDINARY AMOUNT

OF LOVE. THERE WAS ALSO

INCREDIBLE TURBULENCE. I WAS

CAUGHT OFF-GUARD WHEN I READ

A BOOK THAT OPENED A WINDOW

TO THAT DUALITY: WILDLIFE, BY

RICHARD FORD. I READ IT MANY

TIMES, SPOOKED, UNSETTLED, AND

EXCITED BY THE UNCANNY FEELING

OF SHARING AN INNER LIFE WITH

THIS BOOK.

I SPENT A YEAR DAYDREAMING

ABOUT IT. ONE DAY, A FINAL SCENE

CAME TO ME—THE FINAL IMAGE

OF WHAT WOULD BE MY FILM. THAT

IMAGE GAVE ME THE COURAGE TO

GO FORWARD.

OCTOBER 2018 BOXOFFICE ® 47
---
FILMMAKER INTERVIEW

CAREY MULLIGAN, ED OXENBOULD, AND JAKE GYLLENHAAL

I WROTE TO RICHARD FORD, AND

SECURED THE OPTION FOR THE

BOOK. FORD, IN AN EMAIL TO ME AT

THAT TIME, GAVE ME A GREAT GIFT.

HE WROTE, "I'M GRATEFUL TO YOU

FOR YOUR INTEREST IN MY BOOK;

BUT I SHOULD ALSO SAY THIS—IN

HOPES OF ACTUALLY ENCOURAGING

YOU: MY BOOK IS MY BOOK; YOUR

PICTURE—WERE YOU TO MAKE

IT—IS YOUR PICTURE. YOUR

MOVIEMAKER'S FIDELITY TO MY

NOVEL IS OF NO GREAT CONCERN

TO ME … ESTABLISH YOUR OWN

VALUES, MEANS, GOAL; LEAVE THE

BOOK BEHIND SO IT DOESN'T GET

IN THE WAY—AND WHERE IT'S

SAFEST." HIS WORDS EMPOWERED

ME TO BEGIN WRITING WITH MY

PARTNER, ZOE KAZAN.

How was it for you and Zoe making a movie

together, both as a couple and as professionals,

dedicating years of your lives to a single project,

as opposed to being on set and then moving on

to the next project?

I would say it was pretty easy; she would

probably say it was hard. I wrote the first draft

of the screenplay and gave it to her to read. I

secretly thought it was pretty good but she just

tore it apart. There were notes on every page. It

was my first time writing something; it was the

first person ever reading something I wrote, so it

was especially debilitating. We didn't get very far

in the notes and we were fighting. She said, "Why

don't you just let me do a pass? I see what you're

trying to do."

Then we just traded it back and forth. We

would sit down and bang something out, then

talk about it for two or three hours, do a notes

session. Then one of us would take it and do

some work on it. We never sat at a computer

together and wrote dialogue or anything like

that. I think that was a good way to work for

us, creatively—and as people who live together.

There were challenges, for sure. But to get to

share something that we both love? We can't do

it all the time, but it's cool that we've been able

to do it.

You go to Sundance and the film gets great

reception. IFC picks up the film, a company that

has experience with both theatrical releases and

day-and-date VOD rollouts. How important was

it for you, in your debut film, to have a theatrical

release through IFC?

It was very important, simply because it's

the type of film that is best appreciated when

you give it the time that it's giving you. Maybe

there are different kinds of films that would

be good on a streaming platform, but this is a

movie where I would really love for somebody

to sit down with the characters and fall in with

the film for 104 minutes. It's my first film, and I

wanted to make a film. Any kind of release these

days that is not a franchise film requires a great

amount of care. I've been around enough films

and worked with most distributors at this point.

The difference is really when people care about

the film, and I think IFC feels that way about

Wildlife. I don't have anything against [streaming],

but a theatrical release is definitely what I

wanted for this film in particular. n

48 BOXOFFICE ® OCTOBER 2018
---
PAUL DANO AT THE MOVIES

MOVIEGOING MEMORY

I remember one time I had a babysitter who didn't want to miss seeing Terminator

2 on opening weekend. She took me at a very young age, I was maybe 7. That was a

little young. When the actor is running out of breath before he blows the building,

I remember that and being like, "What the … ?" I don't know if that made me want

to be an actor. Arnold is not who I am! But I remember seeing this movie and being

like "Whoa." Super intense. That was definitely a favorite movie for a long time.

I think the most important step for me came probably in late high school and

college, where I really suddenly knew there were films of all kinds. Whether

it was going to see Terminator 2 or independent American cinema, leading

to world cinema and seeing films that I didn't know you could make. Luckily,

living in New York and having the opportunity to see those was really amazing.

I remember seeing The Thin Red Line—that was a mindblower that you could

make a film like that.

CAREY MULLIGAN

OCTOBER 2018 BOXOFFICE ® 49
---
COVER STORY

PRODUCER GRAHAM KING BRINGS THE STORY OF

THE WORLD'S BIGGEST BAND TO THE BIG SCREEN

IN BOHEMIAN RHAPSODY

by Daniel Loria

The story of Queen—John Deacon, Brian May, Roger Taylor, and, of

course, Freddie Mercury—the larger-than-life band whose influence still

reverberates, and whose hits continue to thrill audiences, has been an

ongoing passion project for Graham King. The British producer is known

for bringing the stories of 20th-century icons to the silver screen—including

The Aviator, Martin Scorsese's Howard Hughes biopic starring

Leonardo DiCaprio, and Ali, Michael Mann's Muhammad Ali saga starring

Will Smith. His latest, Bohemian Rhapsody, tracks 15 years of the band's

history, from its origins and early days to its tour de force performance

at Live Aid in 1985. Boxoffice spoke with King about the long road of

pre-production, his feelings about the band, and Rami Malek's electrifying

performance as Mercury.

What is it about this story that inspired you to fight to get it on-screen?

I first met with Jim Beach [Queen's manager], Brian May, and Roger

Taylor in 2010 to discuss making the film about Freddie and their lives.

For me, the intrigue of this particular project was twofold. There is, of

course, the incredibly exciting chance to tell the story of a band that is

so iconic and transcendent in what they've accomplished. But I was also

fascinated with the idea that there is so much about Freddie Mercury and

Queen—arguably one of the greatest bands in history—that the general

public does not know. People know the name, the headlines and, of

course, the music; but there is so much more to their journey. Freddie

was an immigrant kid who was bullied and overcame so many struggles

to become the best version of himself. Even when he became the biggest

rock star in the world, he never forgot that kid, and that mindset influenced

so much of who the band was then and still is now. To this day, at

every concert, Queen plays to the shy kid in the back of the arena. This

is such an important story to tell, and, for me, it was crucial that we not

only celebrate their music and achievements, but also give people a better

understanding of the band's history.

(continued on page 53)

JOSEPH MAZZELLO AND RAMI MALEK

50 BOXOFFICE ® OCTOBER 2018
---
OCTOBER 2018 BOXOFFICE ® 51
---
COVER STORY

JOSEPH MAZZELLO, BEN HARDY, RAMI MALEK, AND GWILYM LEE

52 BOXOFFICE ® OCTOBER 2018
---
Were you a big fan of the band?

I have always been a huge fan of Queen and

their music. Growing up in London during the

'70s and early '80s, I was able to experience their

music and watch their rise to international icons

from the hometown perspective. This is music

that was essentially the soundtrack to so much of

my teenage years and young adulthood. Even just

having the chance to sit down with them to tell

them why I wanted to make this movie and why

they should trust me with this story was absolutely

surreal. I've been lucky enough to work in this

business for a long time and have made films with

some of the best in the business, and it is rare that

I feel starstuck meeting anyone. But meeting Jim

Beach, Brian May, and Roger Taylor for the first

time was definitely an exception to that rule. Meeting

these music legends in a London pub and then

having them agree to let me make this film—there

aren't many memories than can top that.

This film has been in the works and experienced

a number of false starts and hiccups along the

way—nevertheless, the production team has

persevered in the journey to bring this movie to

cinemas. As a seasoned producer, what kind of

challenge does Bohemian Rhapsody represent in

your career?

I love telling real-life stories. I've made The

Aviator, the Howard Hughes story with Leonardo

DiCaprio; Ali, the Muhammad Ali story with Will

Smith; Argo, with Ben Affleck, which told the story

of Tony Mendez. The challenge on all these films

is turning someone's real life into a theatrical film.

This was no exception when making Bohemian

Rhapsody, which is arguably the most daunting

of the films I've made, as it's no secret this has

always been my passion project. So when the all

of the stars started to align and the film went into

production, it was a big moment for me. It's always

a great feeling to get any movie made, especially

today, but this one was extra special.

Freddie Mercury was an incomparable superstar.

How did you hit upon Rami Malek for this role?

One of our biggest obstacles was finding the

right person to play Freddie Mercury. Freddie

was such an iconic person and was larger than

life in many ways. This movie lives or dies on the

audience investing in Freddie, so we had to get

someone who could embody Freddie in every sense

RAMI MALEK

OCTOBER 2018 BOXOFFICE ® 53
---
COVER STORY

of the word—emotionally, physically, even the energy. This

haunted me for years—until Denis O'Sullivan, who works

for me, introduced me to Rami Malek. We spent hours

talking about Freddie and the band. He not only looked

the part, but was so passionate about the project. I can't get

too specific but, trust me, Rami has done such an amazing

job with this role and has truly made it his own. His work

ethic and emotional range is incredible.

How did you choose a direction for the story?

The film starts with the formation of Queen, through

to Live Aid in 1985. It's always difficult when making a

film based on real-life characters to tell their entire life

story in the span of a few hours. Especially in this case,

there were so many incredible stories and moments in

their lives that we could choose from. The most challenging

part was narrowing down these moments into a story

that worked cinematically. I always knew that I wanted

to create a film that takes people through Freddie and the

band's journey in a real and emotional way. So when we

were shaping the story we focused on moments that celebrate

Freddie's life and the band's accomplishments but

also feel honest, raw, and relatable. Where we ultimately

landed was a great blend of all of those things—and I

think it will make people cry, laugh, and hopefully sing

out loud in the theaters.

How much involvement did the surviving members of the

band have on the film?

The band was very involved from the beginning. We

spent many hours together going through their real-life

experiences. It was not only an incredible and surreal

experience to be sitting with Queen and hear firsthand their

stories, but they were also tremendously helpful and open

to that part of the process.

GRAHAM KNIGHT AT THE MOVIES

MOVIEGOING MEMORY

One of my favorite things is sneaking into a movie

theater once one of my films is released and watching the

audience hopefully enjoy the experience. After spending

so many years making a film, it can be one of the most

rewarding experiences watching people enjoy what you

are so passionate about.

CONCESSIONS STAND

I'm always a sucker for the hot dog!

How do you think the film's themes connect with today's

audiences?

The film's themes are as relevant as ever. It's not just

about escapism—it's more than that. It's about discovering

who you are, going after your dreams, defying the odds,

making a difference, the importance of family and loved

ones, and finding your place in the world. That said, I also

wanted to make sure that the film still felt fun and exciting

and was a cinematic experience for the audience. Freddie

defied and transcended stereotypes and expectations, just

as Queen's music refuses to be slotted into a traditional

genre. The impact Queen and Freddie have had through

their music is a cross-generational, multicultural, and global

phenomenon—and I wanted to make a film that felt like a

foot-stomping celebration of that. n

54 BOXOFFICE ® OCTOBER 2018
---
RAMI MALEK AND GWILYM LEE

OCTOBER 2018 BOXOFFICE ® 55
---
FILMMAKER INTERVIEW

STRAIGHT FROM

THE HART

INTERVIEW WITH THE FRONT RUNNER SCREENWRITERS

MATT BAI AND JAY CARSON

by Jesse Rifkin

>> Brett Kavanaugh, Donald Trump, Bill Clinton, Clarence

Thomas, Anthony Weiner—in the past three decades, allegations

of extramarital affairs or sexual improprieties committed by all

these men were fair game for reporters. Yet once upon a time,

politicians from Franklin Roosevelt to John F. Kennedy hid similar

skeletons in their closets that some in the press were aware of,

but never reported due to a long-held sense that such topics were

off-limits. What changed? The answer is Gary Hart. In 1987, the

Colorado senator was leading in the polls for both the Democratic

presidential nomination and the general election. That is until a

team of Miami Herald reporters broke all journalistic precedent

by publishing a front-page story about Hart's alleged affair

with a blond model 21 years his junior. From that moment on,

everything changed.

Hart's story comes to the big screen with Sony/Columbia's The

Front Runner, starring Hugh Jackman as Hart and J.K. Simmons as

campaign manager Bill Dixon. The screenplay was co-written by

director Jason Reitman (known for directing Juno and Up in the

Air), journalist and Yahoo News national political columnist Matt

Bai (author of the book All the Truth is Out about Hart), and former

Hillary Clinton spokesperson-turned-screenwriter Jay Carson.

Boxoffice spoke to Bai and Carson about the story's modern-day

parallels, their collaborative writing process, why they changed the

title of Bai's book, and whether to let their children see the movie.

56 BOXOFFICE ® OCTOBER 2018
---
HUGH JACKMAN AS SEN. GARY HART

The three lead characters in your screenplay are Gary Hart, his wife, Lee,

and campaign manager Bill Dixon. After the recent successes of both The

Post and Spotlight, why didn't you decide to structure the story primarily

around the journalists?

Carson: We were trying to tell a multifaceted story that drew you in to all

sides of this crisis. We wanted the audience to get to see it from the journalists'

perspective, so we take you there; from the candidate's perspective,

so we take you there; from the spouse's perspective, so we take you there;

from Donna Rice's perspective, so we take you there. We made a conscious

decision not to lock in on one journalist or one candidate—one person who

is a classic protagonist and a good guy. There are no good guys or bad guys in

our movie, they're just human beings put in really difficult situations, having

to make really difficult choices.

Bai: This is a little different for some people; it may be a little jarring or

confusing. Because you have journalists who embody the best of my profession,

but then also whose behavior raises legitimate questions. We're really

asking you to consider all the different perspectives and to reflect a little. I've

been a journalist for more than 20 years, 11 years at the Times. My wife's a

journalist, my friends are journalists. This is not by any means an indictment

of the decisions the journalists made. But we ask political operatives to reflect

a bit, we ask candidates and voters to reflect a bit, and we ask journalists to

reflect a bit on their decisions and the consequences. I think that's different

from the movies you mentioned, because we're not telling a morality tale or

lionizing anybody. We are asking a lot of questions in this film about decisions

everybody's made and the consequences those have had through the years.

(continued on next page)

OCTOBER 2018 BOXOFFICE ® 57
---
FILMMAKER INTERVIEW

How did you choose to portray the Hart/

Rice relationship in the screenplay?

Because although virtually everybody in

America assumes their relationship was

sexual, both of them have continued to

deny it, even decades later.

Bai: Just to be clear about it, primarily

their response has been that it's not

anybody's business. Hart said there was

"no relationship." How he defines that

is his question. I don't think that they've

denied, so much as declined to talk about

it; that would be a more accurate way to

put it.

Carson: The point of the movie is

that the event is not the crux of the issue.

There are a lot of other issues going on.

We deal with it in that way in the movie.

Both in the visual and audio style of the

movie, we give the viewer a lot of choices

of what to pay attention to. We very

rarely lock on one person. There's very

rarely a tight shot on one character for a

long period of time, because we're giving

the audience a choice of what's important.

The event in question is obliquely

referred to, but we're giving the audience

the choice. Do you think that's absolutely

central to the story? Great, you can focus

on it. But it's your choice as a viewer.

Why did you decide to go for an R

rating here?

Carson: We made the world feel true

to life. People use a lot of bad words in

the real world. In order for that world

to feel real, fortunately or unfortunately,

people need to talk "real." Fortunately or

unfortunately, some people have really

foul mouths in that world. So we wrote

people the way that they actually sound.

As a result, that's the rating. But the content

and the themes of this are well over

the head of a 13-year-old anyway! We're

asking people to grapple with big human

conflict, big geopolitical conflict. This is

not a 12-year-old's movie, having nothing

to do with sex scenes.

Bai: To Jay's point about making

the world feel real, I'm trying to decide

whether to let my 13- and 10-year-old

kids be able to see this movie. On the one

hand, there's a lot of profanity. On the

other hand, they hear me on the phone

all day long. The world may be so real

that it doesn't matter!

Matt, your 2014 book about Hart

was titled All the Truth is Out. Whose

decision was it to change the title to

The Front Runner?

Bai: We all talked about it. My only

regret is that we're re-titling the book,

which as an author is much more painful

than as a screenwriter. The title came

from a Yeats poem; it's a very literary

reference that Hart recites at one point in

the book. It's a lovely title that my wife

came up with, and I'm very attached it to

it for a book. But you're not going to use

a poem in a movie title, not in a way that

feels natural and real. I think the reference

would have been lost. All of us came

around in the end.

How certain is it that Hart's front-runner

status prior to the scandal would have

lasted, either for winning the party

nomination or the presidency? Neither

of our last two presidents were the front

runner for their party's nomination on

the day they announced.

Bai: That is true today, certainly. But

in 1988, if you had the kind of numbers

that Gary Hart had going into that

campaign, you would have been a very

formidable favorite. It was very rare that

someone with that much of a hold on

their party's nomination process was

upended, at that time. No one can say

for certain. But The Front Runner is an

entirely accurate title. The idea that he

would have been the nominee is a pretty

strong one.

Talk about your relationship as co-screenwriters.

How did you guys work together?

Did both of you write each scene, or did

one of you write one scene and then the

other would write the next one?

Bai: We've known each other a

long time; we were close friends before

we started co-screenwriting, so there

was a very comfortable collaborative

rhythm to it. Everything we write, we

pass it back and forth. Someone will

do a bunch of scenes, then get busy or

get stuck and hand it off to the other

person. We talk about it constantly.

We don't use Track Changes, we don't

litigate the changes. Our rule with each

other is "If you didn't notice I changed

it, it was probably worth changing." It

ends up being such a collaborative process

that we don't even know by the end

who started what scene. It's always fun

because we're always laughing. I think

that helps the process too, the fact that

we have a lot of fun doing it.

Carson: I totally agree with that. It's

enjoyable. We've been friends since 1999

and that really helps. We've also been on

opposite sides of the fence, so we know

how to be tough but respectful to each

other. Neither of us lets the other get

away with anything, but there are no axes

to grind with either of us, because we are

actually really close friends. We enjoy it.

And as Matt says, we pass it back and

forth so often. We don't do a Frankenstein

approach, so it's not like I write

something and Matt writes some and we

stitch it together. Someone starts it and

writes until they stop, then the next person

gets it and does a pass, then it keeps

going so there's a continuity of voice and

feel throughout. We're similar but bring

slightly different approaches to it.

Bai: We should note that there were

three of us. We sort of dragged Jason

[Reitman] into our way of passing it

back and forth. It was probably new to

him, but it all melded so seamlessly. I

learned an awful lot about screenwriting

working with him. I'm sure Jay would

say the same. The three of us had a

really great collaboration. We are three

people who could work together really,

really well.

Carson: We're actually doing another

project with Jason after this one. We

can't say what it is yet! But it worked so

well, we're doing it again. n

58 BOXOFFICE ® OCTOBER 2018
---
MATT BAI AND JAY CARSON

AT THE MOVIES

MOVIEGOING MEMORY

Bai: I have a vivid memory of going to

the movies with a buddy of mine in

elementary school when going to the

movies was a really big deal; there was no

other way to see a movie. Watching the

movie Airplane and practically falling out

of our chairs in hysterics, at 10 or 11 years

old. To me, that is my most vivid memory

of the transformative power of movies. It's

not any of the great dramatic movies that

I saw after that, which I love. Just the pure

joy of watching something that as a little

kid I found absolutely hilarious.

Carson: Mine is seeing Back to the Future,

the first one, at the Riverside in Macon,

Georgia. A very similar experience to

Matt: just being absolutely floored by

it, completely brought into the world,

MATT BAI, JAY CARSON, AND JASON REITMAN

blown away by the character, by the story.

I grew up in a little town, felt weird and

isolated and trapped. You hear people tell

this kind of story at the Oscars, but I just

felt transported out of my town to a place

that was exciting and fun and with a ton

of possibilities. I probably went back and

saw that movie in the theaters 15 times,

convincing every relative and friend I

could possibly find to take me back to

that movie. I still remember the airconditioning;

I remember the theater, the

big comfortable seats. It was really great.

AT THE CONCESSIONS STAND

Bai: For me, absolutely popcorn. I'm a

purist on this. I always have popcorn.

And as my wife would tell you with no

small amount of irritation, although

we've been going to the movies

together for more than 20 years, I do not

start the popcorn until the actual feature

presentation begins. And I don't care

how long that takes.

Carson: I always get popcorn, but my

favorite snack is peanut M&M's. I literally

get popcorn every time I go to the

movies, whether I want it or not. But

I'm 41 now, so I don't get peanut M&M's

every single time, because I go to the

movies a ton. I reward myself for finishing

a writing project by going to see two

or three features in a single day. But if I

were 21, I would get peanut M&M's every

single time.

OCTOBER 2018 BOXOFFICE ® 59
---
BINGHAM RAY SPIRIT AWARD

TIM LEAGUE

FOUNDER & CEO, ALAMO DRAFTHOUSE...........................................................................................62

AWARD OF RECOGNITION

ROBERT CARRADY

PRESIDENT, CARIBBEAN CINEMAS.....................................................................................................70

SALAH M. HASSANEIN HUMANITARIAN AWARD

CHRIS ARONSON

PRESIDENT, DOMESTIC DISTRIBUTION, 20TH CENTURY FOX..........................................................76

AL SHAPIRO DISTINGUISHED SERVICE AWARD

MARK BORDE

PRESIDENT, THEATRICAL DISTRIBUTION, ENTERTAINMENT STUDIOS MOTION PICTURES.........78

INTERNATIONAL EXHIBITOR OF THE YEAR

MIGUEL RIVERA

GLOBAL VP OF PROGRAMMING AND CONTENT, CINÉPOLIS...........................................................82

DAN FELLMAN SHOW 'E' AWARD

NEIL CAMPBELL

VICE CHAIRMAN, LANDMARK CINEMAS CANADA...........................................................................86

OCTOBER 2018 BOXOFFICE ® 61
---
SHOWEAST 2018

TIM LEAGUE

FOUNDER & CEO

ALAMO DRAFTHOUSE

SPIRIT AWARD

RAY BINGHAM

Interview by Daniel Loria

Among cinephiles, it's common knowledge that a

passion for the movies can have a big influence

on major life decisions. In Tim League's case, that

passion drove him to take a big risk that would

eventually change his life—and help popularize

an alternative to moviegoing in the United States.

In his mid-20s, only several years removed from

degrees in engineering and art history at Rice University, League

traded in a fledgling career at Shell Oil to lease a movie theater in

Bakersfield, California. That risk didn't pan out, but he didn't let that

keep him down. Together with his wife, Karrie, League regrouped

and decided to try his hand at exhibition one more time—this

time in Austin, Texas. That theater has grown to become a fixture

in American moviegoing, and today the Alamo Drafthouse brand

stretches from exhibition (named the 22nd largest circuit in the U.S.

& Canada in our 2018 Giants of Exhibition ranking) to film festivals

(Austin's Fantasy Fest) to film journalism (Birth.Movies.Death) and

theatrical distribution (Neon). Boxoffice caught up with League

ahead of ShowEast, where he will be receiving this year's Bingham

Ray Spirit Award. He talked about his beginnings in the industry

and how he helped establish Alamo Drafthouse as one of the most

recognizable circuits in theatrical exhibition.

Alamo wasn't your first foray in exhibition;

can you tell us about the first

theater you opened in your career?

That would be 1994. I was 24 years

old and had previously been working

for Shell Oil in Bakersfield, California.

On my way to work was an abandoned

movie theater that I passed by every day.

One day, the marquee with red old-fashioned

letters said "For Lease." I had

never thought of that as a career path. I

wasn't really happy with my first choice

of careers, being an engineer, but I loved

movies. So that weekend I had the idea

of signing that lease. I spent most of that

whole week putting a rough business

plan together. Literally a week later, I

signed the lease and entered exhibition,

with no real right to do it. I just loved

movies and wanted a change. I was close

to L.A., so actually one of the first things

I did was I went down to L.A., went to a

good magazine shop, and bought a copy

of Boxoffice magazine. They had all

the distributor contact info in the back.

That's how I started to figure out how the

whole system worked.

One of the things I'm most excited

about for this award is that it's named

after Bingham Ray. He was one of those

figures, my first year in operations at

Bakersfield, who really took me under his

wing. He was so kind to me. I obviously

didn't know a damn thing about what

I was doing. We were late on payments

and we didn't even know how anything

worked. He took the time to walk me

through the steps, gave me films that he

didn't have to, like Killing Zoe and The

Last Seduction. He was one of those kind

human beings that helped me understand

the business that I had embarked upon.

I met him for the very first time, face to

face, at Art House Convergence—literally

four days before he passed away. I was

so excited to be able to say thank you

personally. It was such a strange ball of

emotions, because he was so important to

me in those Bakersfield years.

What were some of the lessons that you

took from that first experience that are

still with you today?

I was really wide-eyed and optimistic.

The theater failed. We ran it for almost

two years, running it as an art house

theater. It wasn't in a great neighborhood;

there was a lot of crime in the neighborhood.

We just couldn't get people to

come. So that resonated, having a process

for determining what is important about

a location. I didn't go to business school,

but that's what you hear: the "location,

location, location" mantra was driven

home to me by failure. So we take that

very seriously now.

On the more positive side, my only

qualification for getting into the business

was that my girlfriend at the time, Karrie,

agreed to marry me in the middle of that

two-year stretch in Bakersfield. She also

quit her job and went into operations, and

helped basically stabilize the theater that

I had started. We both loved movies, and

that's the core of our company now: we

go to great pains to make sure that we hire

people that love what we're doing, love

our mission, love going to the cinema.

You weren't deterred after that first

rough experience in the business. What

62 BOXOFFICE ® OCTOBER 2018
---
TIM LEAGUE

PHOTOGRAPHED BY VICTORIA STEVENS

OCTOBER 2018 BOXOFFICE ® 63
---
ought you back to exhibition, to

Austin with what we now know as

Alamo Drafthouse?

We learned the business in Bakersfield.

We also learned from some of the things

we did wrong. We knew in our hearts

that we could make it work if we started

all over again. So we basically shuttered

the Bakersfield theater, reupholstered a

bunch of seats, bought a used projector,

a used screen, packed everything up. We

actually stayed at Karrie's parents' house

for six months and started to look at

other markets, to develop a more serious

business plan. Eventually we landed

on Austin and found what we thought

would be a great location. It was a cool

film town, with the Austin Film Society

and a big university.

Was it difficult to sign a lease this

time around?

Everybody was turning us down. We

had one failed business to speak of. It was

one of the growing boom times of Austin,

in the late '90s. Somebody agreed to lease

us a second-floor space in a burgeoning

entertainment district. We raised a bit of

money, mostly from our parents. We had

this business plan. If we fail again, we

won't ever talk about it. We'll go take our

science careers back and pay it back slowly

over the course of the next seven years.

We built the first single-screen theater in

Bakersfield for about $200,000, just us

doing all the construction ourselves and a

pretty poor job of it. We introduced the

food component, we didn't really have

any experience with that either. I got a

job at a pizza restaurant; Karrie got a job

waiting tables.

Cinema dining was an integral part of

the renewed concept once you got to

Austin. How did you come upon that?

During that time the concept was very

far away from what it is today.

In Bakersfield we did some tests. We

had some shows where we would partner

with local restaurants and would show

largely classic films. We showed The

Bicycle Thief with an Italian five-course

meal, but we had it catered. They would

bring a catered operation into our lobby

and serve it this way. We really liked that

synthesis of marrying food to film. Then

when I actually proposed to my wife

and we got married in the middle of

that two-year stretch in Bakersfield, our

honeymoon was a working honeymoon;

we went up to Portland to go see how

the McMenamins team did it. We were

certainly inspired by what they were

doing in Portland and built our own

take on what they were doing, created

our own system. (continued on page 66)

64 BOXOFFICE ® OCTOBER 2018
---
THAT IS HOW

CHANGE HAPPENS.

ONE GESTURE,

ONE PERSON,

ONE MOMENT

AT A TIME

LIBBA BRAY

Webedia Movies Pro congratulates

Tim League

Founder and CEO of Alamo Drafthouse, on being the

worthy recipient of the Bingham Ray Spirit Award.
---
SHOWEAST 2018

A big part of the identity that you

guys have grown has really come

through programming. Curation

might a better way to put it. It's

something that permeates the

brand: your film festival Fantastic

Fest, digital publishing with Birth.

Movies.Death, and now theatrical

distribution with Neon. Why has

this curatorial component been so

central to the Drafthouse brand?

I think they all stem from the same

idea: that we're for movie lovers, by

movie lovers. We love a wide swath of

films. In particular, I personally love

very strange films and genre films. So

we bill Fantastic Fest as a celebration

of those and to provide opportunities

for young genre filmmakers. Helping

them find distribution, helping them

find press and word of mouth for really

amazing films that were flying under

the radar. It's certainly similar with

what was first Drafthouse Films and

is now Neon, being a distributor that can

bring really interesting and amazing stories

to as many people as possible. It's a nice

synthesis between the brick-and-mortar

theater, our repertory programming, the

distribution, and the editorial side. They're

all serving the same idea, to get people

excited about really awesome movies.

Another big part of the Alamo experience

is the no-talking, no-interruptions

policy. How did that policy evolve?

We had to make a decision in terms

of our identity really early on: are we a

restaurant where there's a movie on the

wall, or are we a cinema that offers upgraded

concessions? We chose the latter.

We want to have great food, beer, and

wine—we want to deliver on that side

of the promise—but, first and foremost,

we love movies and want it to be a respectful

environment where people can

go to enjoy movies. I'm very particular

about that.

We didn't have a policy for the first

couple of months; we just opened up.

Then at this one particular screening, a

midnight screening of Blue Velvet, we had

a very cheap Pabst Blue Ribbon special.

You could get six for the price of five.

There were a few people in the audience

who were enjoying it too much. They

started shouting at the film, acting up. I

went in and it was out of control. I was

almost physically sick. This was not what

I had signed up for; this is not what I'm

trying to build.

So we got a copy of Final Cut Pro

[software], and by the next weekend we

had a video of the "kick your ass out"

policy. Don't talk during the movie. We

tried that policy, launched it with live

introductions and the video that we'd

cut. And we enforced it. Once we started

enforcing it, we became known for it. The

audience expected it and became part of

the enforcement squad.

Do you remember the first time you had

to enforce it?

I don't remember the exact first one,

but I was in charge of throwing them

out initially. I wasn't the best at it. We

got much better systems and policies. I

was a little ham-handed about the

enforcement but got the job done.

We don't usually kick that many

people out—though now that we're

bigger, by numbers, we do. But generally,

you stop having an issue if you

warn somebody one time and say, "If

I have to come back again, I'm going

to kick you out." I'll never forget

the time I did that to a guy and he

was quiet for the whole movie, but

he was apparently brooding. After

the film, he came up to me and was

obviously angry. I thought maybe

he was going to punch me. It just so

happened that Quentin Tarantino

was in town—shooting a movie, I

think—and this guy is up in my face,

waving his finger at me. Quentin

walks up behind, taps him on the

shoulder, and says "No, man, you're

in the wrong." Then he just wandered

off, amazed.

There was a period between 2004 and

2010 when you stepped back from

leading the company.

I'll tell you, when I stepped away, I

wasn't stepping totally away from the

company. I was nervous about growing;

my headspace wasn't wrapped around it.

So we sold the company to somebody

who did want to grow it. They started

building up this infrastructure for operations

and accounting, kind of building

the growth engine. At the same time,

I pulled back. My wife and I were just

managing and overseeing the original

three Austin locations. During that time,

I really focused on the idea of being a

part of a community. In that same time,

we built Fantastic Fest in 2005. It was

really dialing into building out the special

local Austin-based brand. Then years

later, these two companies—Alamo Austin

and the Alamo that was growing—we

didn't always see eye to eye. We were in a

bit of conflict. Then something amazing

happened. Instead of going to war,

we sat down and talked about how we

could potentially work together. That's

66 BOXOFFICE ® OCTOBER 2018
---
SHOWEAST 2018

when I became really interested in this

idea. We're doing something that feels

a little bit outside of the norm in terms

of exhibition, but what if we replicate

that across the country? That would be a

meaningful way to support independent

films, like I was saying we were doing

but were only really doing it in Austin.

I got really excited about changing my

job to grow that, in service of supporting

independent film. The other folks at Alamo

had built this great expansion team.

Then we really focused on building the

brand, and really needed their expertise

and operations. Our expertise in brand

dovetailed perfectly.

There are very few, if any, other

companies in this industry today who

have been able to build a brand as

unique and recognizable as Alamo

Drafthouse. How did you get to that

point of establishing and building this

level of brand loyalty, this connection

with your audience?

A lot of it was accidental, especially

early on. Karrie and I were just at the

theater every day, so we got to know our

locals, our regulars. The lines blurred

between friendship and customer. It's

easy to do on a single-screen 200-seat

theater. As we started to grow, my biggest

panic and fear about it was not to

screw it all up. Not to grow and make it

generic, death-by-a-thousand-cuts type

of thing. One of my primary jobs is to

make sure, as we grow, that we don't

dilute that experience. We didn't want

to just stamp these things as we grew.

Every time we go into a new location,

we hire a community liaison, we hire

a creative director, we hire a beverage

director, we hire a chef. We give them a

lot of freedom to curate to that particular

audience, whether it's the film tastes

that are reflective of the personality of

the manager, the social media voice

that's local. So you're not getting a social

media voice from a brand, you're getting

it from Christina in Brooklyn or James

in Dallas. We worked on support and

training and developing some national

initiatives, but largely each individual

location has a lot of freedom to express

their own passions and local beers.

Where do you think our industry is

today? What are the challenges and

opportunities facing our business in the

coming years?

I'm pretty bullish about exhibition.

It's been a great year, not just for the

blockbusters but also for independent

films. We've had three documentaries

that grossed over $10 million—that's

pretty unheard of. I'm excited about

where we are. I think there's a lot of

fear about the unknown, about viewing

habits of a younger generation, what is

the effect of this transition to streaming.

But what I'm seeing is we still offer the

same value that we always have as an

industry. It's a relatively affordable indulgence

and it's a magical time. When

you go to the cinema and you see a

great film, it's not comparable to a home

experience. I believe very strongly that

no matter how good your home entertainment

system is, no matter how deep

the streaming options are, every once in

a while you want to get out of the house

and have an experience.

The biggest challenge we have as an

industry is to ensure that the experience

stays awesome. You look at some of the

multinational players—I like seeing the

innovation that other exhibitors do; it

keeps us on our toes. From my perspective,

I want everybody to be focused on

having a great experience and making

sure it's magical when people come to see

the movies. If we all do that, then I feel

very confident about the future of cinema.

I feel confident about encouraging

younger viewers to come and experience

the movies, because it's special.

Talking about multinational circuits, is

an international expansion in the cards

for Alamo Drafthouse?

I feel like we have a lot of work to

do in the U.S., so we're focusing there

right now. I can't say what the long-term

future holds, but for now we're a U.S.

company. We like to think of ourselves

as a brand that's stayed nimble on many

fronts, I think evidenced by us plowing

past our subscription alternative that's

in beta right now. We're a pretty small

company to be able to dedicate the technology

resources, but I didn't want to be

on my heels. If there was something that

could potentially change the way people

engage and transact with movies, we felt

it was important to spend the money and

get out there.

What makes the subscription model so

alluring for your circuit?

It was interesting, when MoviePass

dropped their price to $9.99, a lot of

folks were saying it was impossible, a crazy

business idea, that it was never going

to work. Obviously it had a turbulent

time, trying out a bunch of different

things, but it was a very intriguing idea.

We're well aware of the European models

at a slightly higher price point that are

working and are successful. Our thought

was, "Hey, why don't we test this out,

share our results and findings with the

studios, and have conversations about

how this might be a positive?"

The argument is that by lowering

the barrier of entry to make impulse

decisions on movies, then you could

potentially build up an audience that sees

more than just the blockbusters. The vast

bulk of our audience really only comes to

see movies three or four times a year. So

what if you can encourage them to double

that? What if you could encourage

them to come out and see BlackKklansman

or The Favourite or what have you?

That's an exciting idea to me.

I think there's a model out there that

will work for everybody, will be a value to

customers, will not bankrupt us, and will

be a benefit to the studios. It will also be

in alignment with our mission of building

up an audience that loves a wide swath of

films, including independent films, foreign-language

films, and documentaries. n

68 BOXOFFICE ® OCTOBER 2018
---
SHOWEAST 2018

RECOGNITION

OF AWARD

ROBERT CARRADY

PRESIDENT

CARIBBEAN CINEMAS

Interview by Daniel Loria

Robert Carrady's roots always

bring him back to the island.

As president of Caribbean

Cinemas, a circuit founded in

Puerto Rico by his father in

1969, Carrady oversees the

largest exhibition circuit in

the region with a network of nearly 500

screens in 13 territories. Carrady returned

to the family business after completing

his education at Tufts University, coming

back to a small circuit with six screens in

Puerto Rico and a newly opened six-screen

location in the Dominican Republic. With

his involvement, Caribbean Cinemas

has undergone a regional expansion

and become a leader in bringing the

latest cinema technology and concepts

to audiences across the Caribbean.

Boxoffice caught up with Carrady ahead

of CinemaCon to discuss what sets the

Caribbean region apart from any other, and

how the circuit overcame terrible obstacles

following 2017's tragic natural disasters.

(continued on page 72)

70 BOXOFFICE ® OCTOBER 2018
---
SHOWEAST 2018

CARIBBEAN CINEMAS

BARCELONETA, PUERTO RICO

Like many folks in the industry, your

family legacy is exhibition. What are

your earliest memories of working at

a theater?

I grew up in the business. Even

though Caribbean Cinemas was started

in 1969 by my dad, he was in the business

since I was a kid. I would spend a

lot of time in movie theaters, and when

he went out on his own in '69, it became

the best way for me to learn the business

and go through its growing pains. I was

in charge of the vending machines in

high school. I would work the morning

shows on Sundays and be a theater

manager throughout the summers. I got

the bug at a young age and I jumped

back into the business full time after

graduating college. I thought I would go

back and get an MBA, but that didn't

happen—I just stayed working.

Of all those roles, is there one that still

stands out as a personal favorite?

The excitement of figuring out the

hit of the week, the hit of the month.

When you were operating single- and

twin-screen theaters, you really had to

study what you were going to program. If

you were in a downtown area, with six or

seven theaters around you, it was crucial

to pick the right film come Christmas or

early June—because you were essentially

rejecting everything else. As a result, I've

always enjoyed the film-buying and booking

part of the job. Film buying is a little

easier today because you end up playing

almost everything, but back then you really

needed to have a historical knowledge

of markets and what type of films and

genres would work in them.

Caribbean Cinemas is present throughout

the entire region—a diverse collection

of territories with different cultures

and tastes. What makes the Caribbean

region so distinct?

When you look at it as a bloc, it has

a lot of similarities to the global market

in that action-exploitation, slapstick

comedies, and mass-market-appeal

movies stand out. Another distinction

is that sophisticated films have a much

more limited market—but that market

still exists. The San Juan area of Puerto

Rico and the Santo Domingo area of the

Dominican Republic, they have the audience

to support those films. In those very

markets we have our Fine Arts theaters—

three multiplex cinemas—where we cater

specialty product. We've been doing that

for over 30 years, opened the first one in

1986. That's exciting because the theaters

themselves have followings. For example,

films from Spain and Argentina will only

work in those cinemas as opposed to

commercial cinemas, even though these

are predominantly Spanish-speaking

countries. In other countries, like Trinidad,

for example, we've found that Indian

films do very well because there is a

sizable Indian population in the country.

It all depends on the local audience.

Which amenities and new technologies

are most popular across your circuit?

We absolutely love bringing the latest

in amenities and technology to our theaters.

We have three 4DX auditoriums,

one IMAX, and 14 private-label PLFs

[CXC, Caribbean Cinemas Extreme]

with Dolby Atmos sound. The programming

that goes along with those formats

is a perfect fit for our audience in the

Spanish-, English-, and French-speaking

Caribbean. Over the years we've always

introduced new concepts—from reserve

seating today to high-back rockers in the

'90s and cup holders in the '80s. Those

cup holders, let me tell you, they helped

us keep auditoriums clean. Back in the

'80s we didn't think twice about it! By

the time your Saturday 9 p.m. show

opened its doors, it was standard operating

procedure to have guests walk over

the cups and popcorn bags from earlier

in the day. Whether it's innovating or

renovating, it's what helps keep us fresh

and focused.

You're coming off a very difficult year,

marked by the devastation of two hurricanes.

What was that experience like

from your perspective as an exhibitor?

I grew up in Puerto Rico and I barely

remember hurricanes in my school days.

There was Hurricane Hugo in 1989,

George in 1998—we used to get hit, but

it would only be a piece of the island

72 BOXOFFICE ® OCTOBER 2018
---
SHOWEAST 2018

that would be affected. So if San Juan

in the north was hit hard, you still had

hotels and power in Ponce in the south.

Hurricane Maria was totally devastating

in that the entire landmass was affected;

there wasn't one square inch of the island

untouched. It came two weeks after Hurricane

Irma, which affected the islands

of St. Thomas and St. Martin, where we

have theaters. With Maria, every one of

our theaters in Puerto Rico remained

closed six or seven days after the storm.

It was frustrating, and there was such a

huge unknown around that period, we

didn't know when we'd see the light at the

end of the tunnel. The hurricane came on

a Wednesday, and I remember that first

weekend was the first time in my life that

I didn't even want to look at weekend

grosses from the U.S. I didn't even want

to know because it was too sad; it was

almost like having an arm cut off. It took

about six or seven weeks to start to turn

the corner towards a predictable recovery.

We did have some theaters with generators,

and when they started operating

again the second weekend after the storm,

people came back. We had curfew, so our

last shows were at 4 p.m. because people

had to be in their homes by sundown.

When the power started to come back,

it came back near the highways and

areas near our theaters. We probably had

around half of our theaters back operating

five weeks after the storm in locations

spread out across the island. We received

tremendous damage—working through

those insurance claims was and it still is a

full-time job in itself— we had to throw

out all of the chairs in some of these theaters;

I think we had to buy 250 air-conditioning

units within 10 weeks of the

storm. The numbers are mind-boggling.

How long did it take to get your entire

circuit back up and running?

We reopened our last closed theater in

Puerto Rico on December 28—that's 100

days after Maria. We opened St. Thomas

on February 8, and we hope to reopen in

St. Martin sometime in April.

It seems like these natural disasters are

occurring more and more often. Is there

any way to prepare a business like this

for the next one?

All our theaters outside Puerto Rico

have emergency generators because the

norm in those markets is that energy is

undependable. You work it into your initial

design. A generator for a movie theater,

once you finish getting it installed,

probably runs you between $250,000

and $300,000, plus ongoing maintenance

costs, so you try to avoid it unless there's

no other choice. Our theaters in Trinidad,

Dominican Republic, Antigua, St. Lucia,

and Guyana all have backup generators.

But having them in Puerto Rico wasn't

the norm until now—now we know we

need generators for half our theaters in

the island ahead of the next storm season.

Only 4 of our 31 theaters in Puerto Rico

had generators, but we learned that those

generators allowed us to get into those

theaters to clean up and assess the damage

faster and limited longer-term damage.

Since the island was hit head-to-toe,

even getting diesel for those theaters with

generators proved to be an ordeal. It's not

an exaggeration to think we will need

our own diesel truck for next hurricane

season.

What role did your cinemas play during

that lengthy reconstruction period, as

the country was in the middle of a very

difficult recovery effort?

There was great appreciation [from the

public] that we were able to get theaters

back up and running as fast as we did.

Obviously, if you own the theaters you

don't think it's that quick. But compared

to what was going on in the island, we

were back up and running rather quickly.

People were grateful they had a place

where they could go take a break, a place

with air-conditioning and snacks, where

they could see a movie and escape for a

couple of hours. In St. Croix, which was

also hit, the governor of the Virgin Islands

was tweeting away that our theaters

were now open, encouraging people to

go to the movies and take a break. We

extended price specials for early shows,

more than we usually do, which customers

also appreciated.

I would like to mention and thank

John Fithian for putting us in direct

contact with the kind folks at the Will

Rogers Foundation in California who

were so comprehending and understanding

to provide direct grants to over 140

of our employees whose day-to-day living

expenses mushroomed, as their homes

were severely damaged and being without

power and water for such an extended

period of time. This outreach by Will

Rogers adds to my gratitude for being a

part of this industry.

What do you think the future holds

for exhibition? What are some of the

biggest challenges ahead?

The fact that theaters today are more

luxurious, more comfortable, have better

picture and sound—that's a big advantage.

In terms of what we need, the variety

of supply is important, making sure

we don't have too much of a homogenous

offering. This year's Oscar season is a fantastic

example of a great group of diverse

films, a wonderful mix of product. I keep

my fingers crossed that Fox Searchlight

will continue under Disney. You hate

hearing that specialty films don't have to

be seen at movie theaters, that you can

see them on a smaller screen—and I don't

know where that's going, if that's part of

what you hear from younger audiences

who like to see movies on their mobile

devices. Let's face it, there's great home

entertainment technology out there and

we really need to keep our eye on the

ball. I think that the introduction of

home video made us a better industry; we

couldn't take it for granted that the only

place you could see a movie was in a theater.

That's what led to a better moviegoing

experience: better seats, better sound,

bigger screens. n

This story originally appeared in the April,

2018, edition of Boxoffice.

74 BOXOFFICE ® OCTOBER 2018
---
SHOWEAST 2018

HASSANEIN

M. SALAH

AWARD

HUMANITARIAN

HUMANITARIAN

CHRIS ARONSON

PRESIDENT, DOMESTIC DISTRIBUTION

20TH CENTURY FOX

Interview by Daniel Loria

The Salah M. Hassanein Humanitarian

Award has been a

fixture of ShowEast since 1987,

honoring companies and executives

in the industry who have

made an impact through their

philanthropic efforts. This year's

recipient, 20th Century Fox's Chris Aronson,

has been involved in industry charities for

over two decades. Aronson's support of

the Variety Club 's Northern and Southern

California chapters has spanned 25 years,

and he recently served as president and

chairman of the Will Rogers Motion Picture

Foundation—an organization he has been

involved with for 20 years. Aronson oversees

sales and theatrical distribution for 20th

Century Fox across the United States and

Canada. Boxoffice caught up with the

executive to talk about his career—and

the changes awaiting our industry in the

coming years.

How did you find yourself working in

the film industry? Is there anyone you

consider to have been a mentor or

instrumental in your career?

After graduation from college, I

worked in a management training

program for an industrial company that

sold tube and pipe. I heard of a job

opening at Universal Film Exchange

and was asked if I wanted to apply. I

did and went on the interview. It was

a weighty decision to make—tube and

pipe or movies? It was close (not at all),

but movies won. Lou Lencioni, Chuck

76 BOXOFFICE ® OCTOBER 2018
---
Viane, and Bruce Snyder have bestowed

upon me the gifts of patience, guidance,

and wisdom in navigating the sometime

choppy waters of the motion picture

industry. And Tom Sherak instilled in so

many of us the virtues of philanthropy

and the importance of giving back.

How would you recap 2018 so far for

our industry?

For the industry as a whole, it has been

a banner year as we look to be on course for

setting a new high for box office revenue.

Simultaneously, 2018 will be a sea change

year with the Disney/Fox deal, which will

forever alter our business landscape.

Fox has embraced the idea of a varied

slate—from ensemble superhero movies

(X-Men and Deadpool) to films with

social relevance (October's The Hate

U Give) and big cinematic spectacles

that aren't pre-packaged in a readybuilt

franchise (November's Bohemian

Rhapsody). How important is having

such a diverse offering at the multiplex?

Walk down any street, in any city in

the world, and you'll find diversity. We

live in a diverse world and moviegoers

reflect that diversity. At Fox, we have

always believed in making movies for a

wide range of global audiences. Successful

movies are about great storytelling, and

as long as there are great stories to tell, we

will make movies that tell those stories to

entertain audiences around the world.

What do you consider to be the biggest

threats facing theatrical exhibition?

How can exhibition and distribution

prepare to face those challenges?

Let's face it—we're in a fiercely

competitive environment for entertainment

choices. It's incumbent upon our

industry, distribution and exhibition

collectively, to ensure the theatrical

moviegoing experience caters to modern

media consumption demands. Studios

must create the most compelling content

possible, and exhibition must create the

most inviting environment possible,

while simultaneously ensuring the priceto-value

ratio is balanced.

You've been in this industry for three

decades, including 13 years at Fox. How

would you describe Fox's legacy in the

film industry?

Since its inception, 20th Century Fox

has been innovative and daring when it

comes to creating big-screen entertainment.

From How Green Was My Valley to The

Sound of Music to The French Connection to

Star Wars, this can certainly be attributed

to great filmmakers and bold leadership.

The Darryl Zanuck era set the stage for

the modern iteration of Fox with James

Cameron's Titanic and Avatar being monumental

global achievements. Twentieth

Century Fox has championed filmmakers

and visionary storytelling, which has had a

profound impact on this great industry. n

TIM LEAGUE

PHOTOGRAPHED BY VICTORIA STEVENS

OCTOBER 2018 BOXOFFICE ® 77
---
SHOWEAST 2018

SHAPIRO

AL

MARK BORDE

PRESIDENT, THEATRICAL DISTRIBUTION

ENTERTAINMENT STUDIOS MOTION PICTURES

SERVICE AWARD

AWARD

DISTINGUISHED Interview by Daniel Loria

Aveteran of the motion

picture industry, Mark

Borde has a career that

reaches back to the early

1970s, when he joined

the family business as an

independent distributor.

Borde has helped bring dozens of films

to screens across the United States—all

with the insight and understanding of

an executive with direct experience in

production and exhibition. Boxoffice

spoke with Borde ahead of ShowEast,

where he will be receiving this year's Al

Shapiro Distinguished Service Award,

and asked him to reflect on a career full

of memories—including the in-theater

marketing campaigns that continue to

reverberate today.

CLAIRE HOLT AND MANDY MOORE

IN 47 METERS DOWN

How did you first get involved in the

industry?

My father was a division salesman for

Disney when I was growing up, so the

movie business has been in my blood

ever since I was a little boy. I remember

for my birthdays he would bring home

16-millimeter movies of animated films

like 101 Dalmatians. My friends would

all sit around the living room floor and

watch movies—then we'd get tickets to

Disneyland! So the movies are part of

my heritage, my legacy, since I learned

to walk.

I didn't plan to go into it; I was going

to be a lawyer, went to law school. But

I also got married early and needed a

job, so I asked my dad if he would let

me work in the family business. He had

started a company called Seymour Borde

and Associates. He let me in but had me

start at the bottom. I was in the shipping

room, pasting labels onto 35-millimeter

cans for years, putting them on trucks.

It happened a lot like Al Shapiro's

experience; I started off the same way. I

was a theater usher, then I was a theater

cashier, then I was a theater assistant

manager, then I was a theater manager.

All during my teenage years, I had the

smell of popcorn all over me, wearing

that old tuxedo suit that never fit. That

was part of my background. I put in

78 BOXOFFICE ® OCTOBER 2018
---
the time in the shipping department of

my dad's company until he let me do

sales; I started selling short subjects and

cartoons.

I went from that to selling film. My

territory was the 13 western states. As

a young married man, I had to travel

to Denver, Salt Lake City, Portland,

Seattle, San Francisco, San Diego, and

Hawaii every other month. That was a

great learning experience. In those days,

all the exhibitors actually had offices in

these cities. You'd actually go and sell

these guys where they lived. There's no

replacing that experience. I wouldn't say

it was fun, because it was a lot of pressure

on a young man to perform. If you didn't

come back with a lot of bookings, you'd

hear about it. It was just a fabulous way

to get out there, interact with exhibitors,

and learn the business.

A lot of things were going on back

then that you don't have now, since all

the clearances are gone. You had to worry

about clearances first and foremost. There

was a certain mileage requirement, so you

had to have these big charts: "I can't take

that theater with this theater, and I can't

take this theater with that theater."

The good news about all that was

you could stay at a theater longer. You

were in a zone all by yourself, and there

wasn't anything like home entertainment

to worry about. If the picture was doing

well, you could hold it over for a long period

of time: 10, 12, 15, 20 weeks. Now,

of course, you open on 4,000 screens

and the theaters are playing across the

street from each other. All the grosses are

compacted into the first week, which is

why we're seeing 50 or 60 percent drops

in week 2. Nobody gets turned away

anymore. There are no lines. We used to

love lines. We would create lines! Five

years ago I owned an art house theater

up in Monterey, a six-plex. Even if there

were only 20 people and we had plenty

of room for them, we'd make them wait

in line outside until the show started,

so that when people were walking by

it looked like, "Whoa, must be a good

movie—there's a line outside!" That's part

of the old showmanship that's kind of

lost nowadays. That's how I cut my teeth;

that's how I got started.

After you were up and running, did you

ever think of stepping back and doing

law like you intended?

Once it's in your blood, there's no going

back to doing anything else. My dad

retired and I started my own business.

I called it Borde Films. I created a very

successful independent company called

Legacy. Then I sold Legacy to a company

called Independent Artists and worked

with them for a year. Then I went to

work for Robert Vince and Keystone as

president of distribution—we did the

Air Bud movies.

Then I started a company called

Innovation Film Group. At that time I

F U L L M O T I O N + E F X

VISIT: MEDIAMATION.COM I MX-4D.COM

MX4D Motion EFX Theatres

contact: sales@mediamation.com I 1.310.320.0696

copyright 2018 . MediaMation, Incorporate . ALL RIGHTS RESERVED

TIM LEAGUE

PHOTOGRAPHED BY VICTORIA STEVENS

OCTOBER 2018 BOXOFFICE ® 79
---
SHOWEAST 2018

met my partner, Susan Jackson. She was

handling all the TV stuff. I would get

domestic rights to movies, so I would do

the theatrical and I would ask Susan to do

the TV side. We started being successful;

she would give me movies and I would

give her movies. One day we looked at

each other and said, "Well, we should

just do a company." We called it Freestyle

Releasing. It went on to have a very long,

healthy, successful run.

I had invented, at that time, a model

called the service deal, which started

actually a little sooner than Freestyle,

but it went full tilt with Freestyle. People

would hire us for a fee and we would put

it in theaters. That was a very successful

model. We did that with Susan for

many, many years. Unfortunately, she

passed away, and I was approached by

a number of companies to buy it and I

was in a mood to sell. Byron Allen and

Entertainment Studios came along, he

made me an offer I couldn't refuse, and I

didn't refuse it. That was three years ago,

and now I'm president of distribution for

Entertainment Studios Motion Pictures

and having a ball.

What stands out for you the most when

you think back to that time span?

The thing that stands out most is

how fast the time goes. I don't feel my

age and I don't think I look my age,

but when I realize that I've been selling

films to theaters for 45 years, I can't even

believe it myself. My advice to people

is enjoy the moment, because it goes by

very, very quickly.

Looking back, as I'm receiving this

award named after Al Shapiro, he comes

to mind easily. I got to know Al. One of

the things that he was particularly good

at—and gained a reputation for—was

thinking outside the box, creating release

patterns and marketing plans that were

different over at New Line. I've more

or less done something similar, though

I didn't specifically set out to emulate

him. I admired him and found him to

be a terrific executive. I've done something

similar in my career, in a much

smaller way.

I've never worked for a studio in my

life. I've worked with studios, but I've

never worked for a studio. In fact, around

the time I sold Freestyle to Byron, I had

never worked for anybody except for

my father. I admired Al's style and I've

tried to emulate that in my way. I've

been lucky enough to have the ability to

do things my way, because I didn't have

to answer to anybody. A lot of times it

worked and a lot of times it didn't work,

but at least it was my way.

You mentioned showmanship earlier.

What tricks of the trade still have a place

in today's moviegoing culture?

My father first introduced me to

showmanship at a very early age, when

he distributed a movie called Carry On

Nurse, a British comedy. The final scene

of the movie, the lead gets wheeled out of

the hospital with a daffodil sticking out

of his butt. That was the big laugh at the

end of the movie. We played Carry On

Nurse at the Crest Theater in Westwood

for 50 weeks. We ordered daffodils from

the flower yard and handed them out to

people as they left the theater. They're

walking around Westwood with daffodils

in their hands, and when people asked

where they got them, they'd say, "Oh, we

just came out of Carry On Nurse. It's over

at the Crest Theater."

That was my introduction to marketing.

I realized you could do something

you "couldn't do." Back in my early days,

drive-ins were huge. Certain theaters in

Los Angeles had dozens and dozens of

drive-ins. They did tremendous box office

all over the country but did particularly

well in Southern California, where there's

good weather year-round. A lot of times

they would play triple films, so we would

play three horror films at one time. So I

came up with this idea where we hired

young ladies in nurses' uniforms. We

mimeographed thousands and thousands

of made-up insurance policies with a little

seal that said, "By buying a ticket to this

theater, you absolve management and the

filmmakers of any responsibility should

you die of fright after watching these

movies." The nurses would stand at the

box office at the drive-in and would make

the driver sign this insurance certificate

to everyone that came in. Pretty soon,

getting this insurance certificate was more

exciting than seeing the movies.

I released a movie called Flesh Gordon,

an R-rated takeoff on Flash Gordon. In

the major cities, I would hire a crane

and take the star, Jason Williams, to the

top in his costume. We did it in front of

the Westin St. Francis in San Francisco;

we did it in Times Square in New York.

That's how we got press in those days.

I don't want to use the phrase "the

good old days," because we still have gimmicks.

We did a lot of stuff for 47 Meters

Down with our shark—our standee was

five times the size of a normal standee. It

encouraged people to take selfies looking

like you were being eaten by a shark. It

sort of took on a life of its own; people

were stealing parts of the standee, taking

them home.

Now if you go through the theater,

you'll see the standees are getting bigger

and more complicated. Some of them

take up a whole wall. Here in L.A., the

ArcLight does a lot of standees. The

Landmark, they'll put in entire Plexiglas

[displays] with the costumes from the

movie they're playing. Anything that you

can think of to get the attention of the

moviegoing audience. Very high-priced

marketing people racking their brains

for new and exciting. We had a very

successful Snapchat lens on 47 Meters

Down, which had a shark coming out of

the water.

It's always fun hearing how

showmanship has evolved over the

years. It's what stands out whenever we

look at older issues of the magazine.

I've been reading Boxoffice magazine

for many years. When my office was at

1800 North Hyland, Boxoffice magazine

was in my building. I was very tight

80 BOXOFFICE ® OCTOBER 2018
---
with the publishers back then. We did a lot of advertising with

Boxoffice back in the '70s and '80s and '90s. We'd have lunch

together and schmooze. There was always a Boxoffice magazine

on my desk, and there's still a Boxoffice magazine on my desk!

You've been around as long as me!

What, in your opinion, is the current state of theatrical

exhibition?

What I've seen in the last five decades is that the business is

adaptable. It's like a plastic mold; it bends and it bends and it

bends, but it doesn't break. It keeps reinventing itself in order

to keep people from staying at home and giving up on going

to the movie theater. As somebody who's now into his seventh

decade of living, the moviegoing experience is vital and dear

to me. I'll never give it up, I love going to the movies. I go to

the movie theater all the time. My kids and my grandkids, I

insist that they go see the movies in the theater, not at home.

Therefore, my philosophy and my mandate is the moviegoing

experience. I don't think anybody wants to get all their entertainment

at home. I'm impressed with the way the industry has

recognized that and still to this day insists on windows as much

as they can. I'm a big proponent of windows. I love the 90-day

window for theaters before home entertainment and VOD. I'll

always be a proponent of that.

I like what's going on in theaters today, making it a more

interactive place to go and be entertained. I'm a little disappointed—though

I understand why we have them—with smaller

auditoriums, having to make room for those fancy seats that

expand out into beds, like first class on an airplane. It's a great experience,

so I get it. The serving of beer and wine in the theaters

and food service, that's all necessary. Maybe not for a traditionalist

to see and embrace completely, but I get it. These theaters

they're building now are beautiful. The auditoriums are a little

small for my taste, but a small price to pay for getting people to

come out of their houses and not watch movies on TV.

While there are other forms of entertainment and things to

do, the movies are still the best bargain ever. At the cost of two

tickets and some popcorn (and maybe parking), it's the best deal

in town. That's why I think it's going to survive everything that's

being thrown at it. It wasn't supposed to survive television, it

wasn't supposed to survive HBO, it wasn't supposed to survive

DVDs. But we're having one of the best years ever.

I don't see anything stopping it in the foreseeable future, even

with all the technology in the world. Theaters have the ability

to keep up with the technology, and movies have the ability to

keep up with the technology. I always look forward to the newest

piece of technology, the newest things they're doing, whether it's

immersive seating or augmented reality, or whatever's going on. I

like going to conventions and seeing some of the new inventions.

I get excited about this stuff, I get motivated by it. I see a bright

future for movies and movie theaters. n

TIM LEAGUE

PHOTOGRAPHED BY VICTORIA STEVENS

OCTOBER 2018 BOXOFFICE ® 81
---
Cinépolis has quickly risen to

become one of the biggest

exhibition circuits in the

world. The Mexican circuit is

now present in 14 territories

worldwide, and will soon

add Saudi Arabia to that list.

Miguel Rivera joined the company as

strategic planning director in 2005, serving

as the director of programming in its

Mexican operations from 2009 to 2015. In

his current role, Rivera oversees the circuit's

programming teams around the world—

including all event cinema and distribution

initiatives. During his tenure, Rivera has

led company efforts in digital deployment,

anti-piracy measure, and film festival activities.

Boxoffice spoke with Rivera ahead

of ShowEast to get the latest on Cinépolis's

growing stature as a multinational circuit.

(continued on page 84)

INTERNATIONAL

YEAR

YEAR

THE OF EXHIBITOR

MIGUEL RIVERA

GLOBAL VP OF PROGRAMMING

AND CONTENT

CINÉPOLIS

Interview by Daniel Loria

82 BOXOFFICE ® OCTOBER 2018
---
THE SECRET OF

CHANGE IS TO

FOCUS ALL OF YOUR

ENERGY NOT ON

FIGHTING THE OLD,

BUT ON BUILDING

THE NEW

SOCRATES

Webedia Movies Pro congratulates

Miguel Rivera

Global VP of Programming & Content for Cinepolis

on being the deserved recipient of the

International Exhibitor of the Year Award.
---
SHOWEAST 2018

CINÉPOLIS LUXURY CINEMAS WESTLAKE VILLAGE

THOUSAND OAKS, CA

Cinépolis has been in the U.S. market for

several years already. How would you

describe the company's experience in

the market?

The U.S. market is one of the most

challenging in the world. We knew how

competitive it would be since we entered

the market in 2011, and how important

it would be to have a clear differentiation

from other players. Our first theaters in

California were quite successful with our

Luxury brand, targeting high-income

pockets of the population. Over the years,

we have expanded not only geographically

but also to other theater models in order to

accommodate our offering to the relevant

market. Even though this has been a great

year in terms of box office and attendance,

there are still challenges ahead, like the

need to excel at customer satisfaction, continue

to innovate around the experience of

going to the movies, seek more productive

ways of collaboration with distributors,

and continue to look for relevant content

that appeals to niche audiences.

Cinépolis was recently granted one

of the coveted licenses to operate a cinema

in Saudi Arabia. What are your plans

for the market, both in the next year and

in the long term?

We started exploring the Middle

East market a couple of years back as an

extension of our operation in India. We

actually decided to enter the region before

the ban on cinemas was lifted in Saudi

Arabia, though we were hoping it would

open soon as it was an important part of

our strategy for the region. We set up an

office in Dubai in early 2017 and started

signing deals for the region. For instance,

we will open our first cinema this December

in Bahrain. By the end of 2019, we'll

have more than 50 screens operating in

the UAE, Bahrain, and Oman. With our

presence in the region, it was important

for us to take the Saudi opportunity. Even

before the reopening of cinemas became

official in the Kingdom of Saudi Arabia,

we started working with Al Tayer, our regional

partner, and Al Hokair, our Saudi

partner. Al Hokair has been able to secure

a license to operate, and we worked hard

in the setting up of the company and the

team on the ground. We plan to open

our first cinema there next year and hope

to become an important player in the

kingdom in the years to come.

What are the challenges of

programming for a global circuit like

Cinépolis? Are there any specific regions

that demand more attention to detail

than others?

Cinépolis has become an international

circuit in a relatively short amount of

time. Ten years ago, our only international

presence was in Central America; now

we are in more than 14 countries and we

are entering the GCC market at the end

of the year. It was only three years ago

that my position as VP of global programming

was created in order to look

for efficiencies and opportunities. Some

of the most interesting challenges of

programming for a global circuit have to

84 BOXOFFICE ® OCTOBER 2018
---
do with managing teams in very different

time zones, implementing a standard

set of processes to operate, defining

reports and using analytic tools for better

decision making, learning the specifics of

every territory in terms of film suppliers,

audience tastes, traditional practices,

legislation nuances, and business intricacies.

No specific region requires more

attention—all of them demand attention

and dedication.

We are in the midst of big political

changes in two of Latin America's

biggest markets—Mexico and Brazil—

changes that could have a lasting

impact on those economies. Have these

changes reverberated in the exhibition

business in those markets?

In our experience, the exhibition

business is generally quite resilient to

political changes and even to economic

crises. Of course, there have been specific

instances where an economy may be so

affected that there is a short-term impact

on cinema attendance. But, in general,

cinema-going remains the cheapest form

of out-of-home entertainment, and it

continues to be a great value-for-money

proposition in our territories in Latin

America, including Mexico and Brazil.

Our expectation is that Mexico and Brazil

will continue to be growth markets despite

the political changes that are taking

place at the moment.

We're living through an age of

transformation for cinemas around the

world. Cinépolis has been a pioneer—a

trendsetter—when it comes to

adopting and expanding new concepts

and cinema technologies. What do

you believe is the next stage in this

transformation?

One concept that I believe will be

relevant for the future is the customization

or individualization of our communication

with each of our patrons.

The possibility of targeting our messages

down to the individual level and providing

him or her with relevant information

may result in a powerful new way

to nurture our customers and create a

special bond. We already see in other

companies how the information that a

customer provides to a business via his

or her consuming habits is then used to

develop a relationship with that customer

in the form of relevant messages. In

our business, whether it is information

on the next movie or a promotion that

was relevant the previous year or a film

festival that he or she attended, we can

use data and the direct relationship for

the benefit of maintaining a healthy

frequency of attendance. n

OCTOBER 2018 BOXOFFICE ® 85
---
SHOWEAST 2018

FELLMAN

DAN

SHOW 'E' AWARD

SHOW 'E' AWARD

NEIL CAMPBELL

VICE CHAIRMAN

LANDMARK CINEMAS CANADA

Neil Campbell, vice chairman for Landmark Cinemas

Canada, will receive this year's Dan Fellman Show 'E'

Award at ShowEast. Campbell will be presented with

this special honor as part of the Final Night Awards

Ceremony hosted by the Coca-Cola Company on

Thursday, October 25, at the Loews Miami Beach.

The Dan Fellman Show 'E' Award was renamed in 2015 to

honor long-time Warner Bros. Distribution Chief Dan Fellman

and to celebrate his impressive 38-year career within the industry.

Each year, the award is presented to an industry member or

company whose achievements, accomplishments, and dedication

to the industry are unequalled.

"We are extremely honored to present Neil Campbell with

this award at ShowEast this year," said Andrew Sunshine, president

of the Film Expo Group. "Campbell's continued dedication

and commitment to advance the movie industry is second to

none. For 44 years, Neil has been a leader in the industry and we

congratulate him on this award."

Neil Campbell began his career in the entertainment industry

in 1974 with Landmark Cinemas, and in 1986 he joined the

distribution team at Cineplex Odeon Films in Calgary. Campbell

was promoted to general manager Western Canada and, in

1998, moved to Sony Releasing in Toronto as managing director.

In 2001, Campbell moved back to Calgary and exhibition

to take on the position of COO with Landmark Cinemas. In

2007, Campbell and his business partner Brian McIntosh bought

Landmark Cinemas of Canada Inc. and managed Landmark's

biggest growth in 2012, building three new theaters plus fully

digitizing the circuit. In 2013, they also bought Empire Theatres

and tripled in size.

In December 2017, Campbell & McIntosh sold Landmark

Canada to Kinepolis Theatres from Belgium, and the new company

has doubled in size and is a respected exhibitor globally. The company

now operates 94 theaters, with 822 screens in eight countries.

Campbell currently serves as chairman of the Motion Picture

Theatre Association of Canada and is an active member of

NATO as Executive Board member, serving on the Advisory

Board and Membership Committee. n

86 BOXOFFICE ® OCTOBER 2018
---
THEY ALWAYS SAY

TIME CHANGES

THINGS, BUT YOU

ACTUALLY HAVE

TO CHANGE

THEM YOURSELF

ANDY WARHOL

Webedia Movies Pro congratulates

Neil Campbell

of Landmark Cinemas, Canada on being the deserved

recipient of the Dan Fellman Show 'E' Award.
---
BIG DATA

boxofficeprofile

VENOM AND A STAR IS BORN COMBINE FOR RECORD WEEKEND

Sony's Venom and Warner Bros.' A Star Is Born kickstarted Q4 with the highest-grossing October weekend

of all time. Boxoffice Profile crunches the numbers behind each films' respective blockbuster debuts.

venom

SONY This horror-tinged comic book adaptation skewed heavily male, nearly

two-thirds of its audience were men. Venom pushed aside competition

from college football, playoff baseball, and a pay-per-view Mixed Martial Arts

contest to deliver a record opening weekend for an October release.

OPENING WEEKEND

$80,255,756

Highest October Opening Weekend

of All Time

4,250 Locations / $18,885 Per Screen Average

D

E

M

O

50+

35–49

23.0 %

G

R

A

13.7 % 25–34

22.8 %

P

H

I

C S

3–14

15.6 % 15–24

24.8 %

a star is born

WARNER BROS. Older moviegoers were drawn to the latest version of A

Star Is Born, making up over half of its opening weekend audience. There

was virtually no cannibalization of the audience between the weekend's

two top films, each appealing to different core demographics.

OPENING WEEKEND

$42,908,051

Opening weekend audience skewed slightly female,

continuing 2018's trends of box office hit driven by female audiences

3,686 Locations / $11,641 Per Screen Average

D

E

M

O

3–14

2.2 %

G

R

A

P

H

I

15–24

16.8 %

C S

50+

25–34

54.2 % 12.9 %

35–49

23.0 %

Developed in collaboration by Webedia Movies Pro and French market research firm, Vertigo, Boxoffice Profile is a business intelligence tool

designed to gather demographic data around key elements of a consumer's moviegoing experience through a series of weekly surveys covering a

representative sample of 2,000 moviegoers. Between 60,000 and 80,000 people representative of the U.S. population ages 3+ are surveyed weekly

online. A minimum of 2,000 respondents who have been confirmed as having visited a cinema in the past 7 days complete a 5-minute survey via

email. Respondent can't participate in any interview more than once a month.

88 BOXOFFICE ® OCTOBER 2018
---
GET A MARY POPPINS RETURNS GOLD HEART PIN AND HELP A CHILD IN NEED

HELP TRANSFORM THE LIFE

Contact Erica Lopez at (323) 954-0820 for information on how your theatre can join more than 700 other locations

throughout the country in supporting U.S. Variety's signature fundraiser, the Gold Heart Pin Campaign,

starting December 2018. Pins are given to moviegoers for a minimum donation of $3.00 each to raise

funds that help us provide life-changing mobility devices, life-saving hospital equipment, and

life-enriching experiences to children who are disabled and disadvantaged. Extra special thanks

to The Walt Disney Studios for sponsoring this year's campaign.

OF A CHILD IN YOUR COMMUNITY
---
LEVERAGING INNOVATION

b r o u g h t t o y o u b y

Interview by Matthew

Bakal, Co-Founder,

Atom Tickets

Interview with

Stephen Colanero,

Executive Vice President

& Chief Marketing Officer,

AMC Theatres

In this column, Atom Tickets features conversations with executives and influencers in the cinema

industry, sharing insights into how the latest technologies and innovations are transforming the

moviegoing experience. In this edition, Atom Tickets Executive Chairman & Co-Founder Matthew

Bakal talks to AMC Chief Marketing Officer Stephen Colanero to learn how the world's largest

exhibition circuit focuses on digital innovation to enhance the moviegoing experience.

STEPHEN COLANERO

2018 has

been a great

year for AMC

Theatres. In

what ways has

the moviegoing

experience

been enhanced

at your circuit?

How have the

changes been

received?

About a

decade ago,

AMC shifted

its focus to the

future, which

meant putting a

heavy emphasis

on what gets

moviegoers

excited about

coming to our

movie theatres. The AMC Signature Recliner renovations

helped revolutionize the industry, with

more than one-third of the AMC circuit now

offering these incredibly comfortable and popular

recliners in at least one auditorium. Our food

and drink offerings have considerably widened

through the introduction of our expanded menu

with AMC Feature Fare, as well as our MacGuffins

adult-beverage concept, which has expanded

from fewer than 10 in 2010 to nearly 300 today.

AMC has more IMAX screens than anyone in

the world, and our Dolby Cinema at AMC experience

is available in 115 locations nationwide.

We vastly improved our website, added a mobile

app, and enhanced our online ticketing process

through not only our own platforms but through

our great partnerships, like Atom Tickets. And

most recently we launched AMC Stubs A-List,

which allows AMC moviegoers to see three

movies a week in any format for one monthly

price. A-List is a huge hit with moviegoers, as

sign-ups continue to grow at a much faster rate

than our initial expectations. In fact, we recently

announced that A-List members can obtain their

tickets through Atom Tickets. All these areas

touch a different part of the overall moviegoing

experience, but what they all have in common

is a focus on and commitment to providing the

best possible guest experience, and the response

from moviegoers has not only helped AMC, it's

helped lead the entire industry.

It was recently mentioned that online ticketing

represents 40 percent of tickets sold at AMC.

What do you think is driving that growth?

We're living on our phones now. Everyone and

everything is mobile, and the expectation is that

everything must be accessible and convenient.

The rise in online ticketing, especially the last five

to 10 years, really mirrors the rise in online retail

growth. People can go online and order just about

anything, and because it's so prevalent, it is only

natural that has occurred in this business as well.

Specific to this industry, the increase in reserved

seating and AMC Signature Recliners has played

a big part in the rise of online ticketing. It's much

more common and convenient now for moviegoers

to not just check the time of the movie, but check

how many seats are left, which seats are left, and,

while they're there checking, make that decision to

purchase tickets. Online ticketing is a huge convenience

and we're happy to continue to make that

process as easy as possible for our guests.

90 BOXOFFICE ® OCTOBER 2018
---
AMC was one of Atom's first exhibitor partners, and

we have greatly appreciated working with your

team. How has working with Atom benefited AMC?

One of the things I've appreciated about our

partnership is Atom's fresh and unique approach to

the online ticketing industry. Atom shares AMC's

philosophy on making their platform as convenient

as possible for their consumers and understands that

this is not a zero-sum game. We all benefit when

more people go to the movies, and Atom is willing to

try new and different benefits and promotions to not

only encourage the use of Atom Tickets for an online

ticket purchase, but they also encourage overall moviegoing,

which benefits the entire industry.

A great example is Atom's recent work with

Amazon Prime. AMC was thrilled to participate in

the first Atom-Amazon offer to give Prime members

the chance to watch the movie Jumanji: Welcome to

the Jungle 12 days before its release date. We had the

opportunity to do it again with Hotel Transylvania 3:

Summer Vacation and look forward to working with

Atom on future partnerships.

AMC CLEARFORK 8

FORT WORTH, TX

AMC has been actively engaging loyal guests

and movie fans with special ticketing prices,

perks through your loyalty program, AMC

Stubs, and most recently by introducing a movie

subscription service, A-List. What's been the

reaction to these efforts?

Guests have responded in a big way, and in some

cases, much bigger than we could have hoped.

Through our AMC Stubs $5 Ticket Tuesday promotion,

we've seen Tuesday go from our slowest day of

the week to our second busiest, and we continue to

add members to our overall AMC Stubs program,

as it now sits at more than 15 million members. We

only recently launched AMC Stubs A-List, but it

continues to outpace our expectations. We crossed

380,000 members in the program's first three months

and, given that we anticipated we'd cross 500,000

after the first 12 months, we're very pleased with the

guest response.

In terms of innovation, 2019 is just around the

corner; what's next for AMC?

We're still focused on a strong finish to 2018! But

AMC has always been an industry leader in innovation,

and after AMC Feature Fare in 2017 and AMC

Stubs A-List in 2018, we'll continue to look forward

to new and exciting ways that we can bring guests

out to the movie theater, again and again. n

AMC SOUTH BAY CENTER 12

DORCHESTER, MA

OCTOBER 2018 BOXOFFICE ® 91
---
SOCIAL MEDIA

Q3 REVIEW

A LOOK AT THE SOCIAL

MEDIA BUZZ BEHIND THE

QUARTER'S HOTTEST TITLES

by Alex Edghill

>> The box office machine kept rolling

in the third quarter of 2018, as the

industry remains well ahead of record

pace. Receipts are up over 8 percent

from 2017 and 3 percent above 2016.

With big titles still on the horizon,

there is a good chance of overtaking

2016's record tally of $11.38 billion. In

this month's social media column, we'll

examine the most notable third-quarter

releases in terms of revenue and key

markers to get a better understanding

of the last few months—while mining

for clues about the fourth quarter and

potential upcoming gems.

Methodology

To accomplish

this, we looked at all

wide-release films in the

third quarter (34 total) as well

as the year as a whole (99 total)

for reference. The key data points we

focused on were opening-weekend gross,

tweet totals from the four days prior to

release, and Facebook like increases for

the same four days before release. To add

a further data point, we also ranked all

wide-release films on the year for both

of these social media platforms to get a

better idea of how they all stacked up.

Results

Unsurprisingly, Disney continued its

streak from the first two quarters by having

the highest-grossing opener, this time

with Ant-Man and the Wasp's hefty $75

million July debut. That performance

gave Disney five of the eight biggest

opening films of the year—the only

studio with more than one title in the

top eight. Ant-Man had solid returns on

Twitter, ranking 5th in the quarter and

17th on the year as a whole, but its Facebook

numbers were very weak by comparison,

only managing 18th best in the

quarter and 60th in the full year. It

was the worst Facebook gain

among films in the

top 20 opening

weekends of

the year. This

might be due to

the bigger Avengers

page attracting more fans,

but, in any case, Ant-Man only trails

Black Panther for the dubious title of least

"liked" page of any of the MCU spin-off

franchises on Facebook.

Paramount's Mission: Impossible

– Fallout was the second-biggest

opening film of the quarter with

a franchise-best $61 million in

July. Few franchises can boast

that their sixth installment

was the biggest in terms

of opening weekends

and domestic/worldwide

grosses—not

to mention its being

the best

reviewed

entry in

the franchise

on Rotten Tomatoes. It performed

well on the social media front, finishing

13th and 17th on the year as a whole

across Twitter and Facebook respectively

(3rd and 4th in the quarter). The

22-year-old franchise is very much alive

and kicking—as is Tom Cruise's status as

an action star, despite his career's many

highs and lows over that span.

Horror's strong showing in 2018

(and indeed in recent years) continued

with The Nun's massive $54 million

start. The fifth film in the Conjuring

universe, it grossed over $200 million

worldwide despite having the weakest

reviews of any film in the franchise. It

was only the ninth-biggest film of the

quarter in terms of Twitter buzz leading

up to release (37th on the year), understandable

given its generic name—which

made narrowing down tweets difficult.

By comparison, its new Facebook likes

leading up to release were

the highest in the third

quarter, adding 20,619

likes, ninth most on the

year as a whole.

The Meg was perhaps the

biggest surprise of

this top 10. Warner

Bros.' shark

flick scared up

$45 million

on its opening weekend, making it the

biggest opening film in the killer-shark

creature-feature subgenre. Like the The

Nun, its generic name made Twitter

monitoring difficult, and with that in

mind it was the 19th most talked-about

wide release in the third quarter (53rd

on the year), while its Facebook returns

were stronger (10th in the quarter and

33rd on the year). Although the film

didn't explode on social media or have

a franchise fan base to rely on, killer

sharks have proven to generate strong

openings over the years with very little

marketing spend: The Shallows (2016)

and 47 Meters Down (2017) come to

mind as recent examples.

Hotel Transylvania 3: Summer Vacation

rounds out our top 5 with a $44 million

start, making it the biggest animated film

of the quarter. While it had a mediocre 59

percent "Fresh" rating on Rotten Tomatoes

(curiously, the highest of the franchise),

the franchise seems to have established

performances throughout the years. Its

social media numbers were good enough,

even if they weren't explosive, as would be

expected for an animated film with kids

as a large part of its target audience (11th

and 8th on Twitter and Facebook respectively

for the third quarter).

We can't omit Crazy Rich Asians when

discussing other notables in the quarter,

a film that has experienced great holdover

numbers by turning a $35 million

92 BOXOFFICE ® OCTOBER 2018
---
five-day debut into $166 million (and

counting) through its run. This makes it

the third-biggest third-quarter movie in

terms of total gross. It was hugely popular

on Twitter, where it was the second most

talked-about film pre-release in the quarter

with just under 130,000 tweets, 10th

largest on the year. Facebook was much

less busy, with only 19th in the quarter in

new likes and 61st on the year. The Twitter

numbers really echoed the growing

buzz for the film in the days and weeks

leading up to release, going from scant

mentions before its first trailer to having a

consistent presence in the top 10 after its

marketing campaign kicked off.

Mamma Mia! Here We Go Again was

also a very strong entry in the quarter,

both in terms of earnings and social

media buzz. It opened to a hefty $35

million and as of the writing of this

column is approaching $400 million

worldwide. It was the most talked-about

film on Twitter in the third quarter and

sixth on the year, while it was second

most liked on Facebook in the quarter

and 11th on the year.

Whether 2018 turns out to be

another record year will largely depend

on many unknown and untested commodities.

The biggest question marks

surround the newly minted Aquaman

franchise, the Bumblebee spinoff, Disney's

The Nutcracker and the Four Realms,

and Sony's animated Spider-Man: Into

the Spider-Verse. Twitter and Facebook

buzz has not been dominated by any

single release in recent weeks, while

many films have had surprisingly strong

showings including Bohemian Rhapsody,

Halloween, and The Hate U Give. There

is no giant, surefire hit this December;

the first time in three years that Disney's

Star Wars franchise takes the month off.

That absence could potentially become

a great showcase opportunity for any of

the other studios—with no lightsabers

or Jedis in sight, who will take the lead

in this year's holiday corridor? And will

that be enough to push us to another

record year at the box office? n

4/27/18 Avengers: Infinity War Disney

MONDAY OPENING MON-THUR TWITTER MON-THUR NEW TWITTER RANK FACEBOOK RANK

212,114 $257,698,183.00 1,690,857 43,341 1 2

2/16/18 Black Panther Disney

MONDAY OPENING MON-THUR TWITTER MON-THUR NEW TWITTER RANK FACEBOOK RANK

172,525 $202,003,951.00 976,722 29,232 3 6

6/15/18 Incredibles 2 Disney

MONDAY OPENING MON-THUR TWITTER MON-THUR NEW TWITTER RANK FACEBOOK RANK

317,541 $182,687,905.00 1,066,178 6,048 2 30

6/22/18 Jurassic World: Fallen Kingdom Universal

MONDAY OPENING MON-THUR TWITTER MON-THUR NEW TWITTER RANK FACEBOOK RANK

22,013 $148,024,610.00 115,074 32,122 11 5

5/18/18 Deadpool 2 Fox

MONDAY OPENING MON-THUR TWITTER MON-THUR NEW TWITTER RANK FACEBOOK RANK

113,600 $125,507,153.00 765,783 42,456 4 3

5/25/18 Solo: A Star Wars Story Disney

MONDAY OPENING MON-THUR TWITTER MON-THUR NEW TWITTER RANK FACEBOOK RANK

26,304 $84,420,489.00 140,905 9,395 7 20

7/06/18 Ant-Man and the Wasp Disney

MONDAY OPENING MON-THUR TWITTER MON-THUR NEW TWITTER RANK FACEBOOK RANK

6,988 $75,812,205.00 64,754 2,382 17 60

7/27/18 Mission: Impossible - Fallout Paramount

MONDAY OPENING MON-THUR TWITTER MON-THUR NEW TWITTER RANK FACEBOOK RANK

14,796 $61,236,534.00 82,966 11,347 13 17

9/07/18 The Nun Warners / New Line

MONDAY OPENING MON-THUR TWITTER MON-THUR NEW TWITTER RANK FACEBOOK RANK

1,127 $53,807,379.00 15,425 20,619 37 9

4/06/18 A Quiet Place Paramount

MONDAY OPENING MON-THUR TWITTER MON-THUR NEW TWITTER RANK FACEBOOK RANK

407 $50,203,562.00 4,943 16,053 65 13

8/10/18 The Meg Warner Bros.

MONDAY OPENING MON-THUR TWITTER MON-THUR NEW TWITTER RANK FACEBOOK RANK

500 $45,402,195.00 8,068 5,752 53 33

7/13/18 Hotel Transylvania 3: Summer Vacation Sony / Columbia

MONDAY OPENING MON-THUR TWITTER MON-THUR NEW TWITTER RANK FACEBOOK RANK

2,034 $44,076,225.00 14,312 6,163 39 29

OCTOBER 2018 BOXOFFICE ® 93
---
INDIE FOCUS

b r o u g h t t o y o u b y

CORAL GABLES ART CINEMA

MIAMI, FLORIDA

Contributor: Javier Chavez, Associate Director

(continued on page 96)

94 BOXOFFICE ® OCTOBER 2018
---
INDIE FOCUS

SCREENS

We have one auditorium with 141 seats. While we're a small

single screen, our projection booth packs state-of-the-art technology,

including a Barco 4K DCP projector capable of 3-D and

dual Century JJ 35mm/70mm projectors that are frequently used

to show films on actual celluloid.

TOP TITLES

This past year, we had exceptional runs with repertory

programs including the 50th anniversary rerelease of 2001: A

Space Odyssey on 70 millimeter, for which we had a 98 percent

occupancy rate for the entire run; a record-breaking retrospective

of Pedro Almodovar's films called Almodovar: The Top Ten; and

another successful program of anime films with The Complete

Studio Ghibli, a retrospective showcasing all 22 films in the

studio's repertoire.

In September 2017, we premiered Fernando Trueba's new

film, The Queen of Spain, with him in attendance. We sold out

all of our weekend screenings, including Monday as it was Labor

Day. It was a record for us, and unfortunately we had to cancel

the rest of the run due to Hurricane Irma.

STAFF

The Coral Gables Art Cinema is the brainchild of Founder &

Executive Director Steven Krams, who founded the organization

in 2006. After four years of development, CGAC opened its

doors on October 15, 2010, with the film Freakonomics. Krams

is a veteran film industry professional whose other businesses

include Magna-Tech Electronic Company and the post-production

house Continental Film & Digital Lab. Over the years,

CGAC has become a cultural hub in South Florida and the

highest-grossing single-screen art house in the region. In addition

to theatrical exhibitions, it is also host to live performances and

educational events. The facility features a film antiquities gallery

in the second-floor lobby that pulls from Krams's extensive personal

collection. Director of Programming Nat Chediak joined

the team in November 2014. Chediak is known as the dean of

South Florida independent art house exhibitors (celebrating 50

years in the business in 2020) and the founder of the Miami

Film Festival, which he directed from 1984 to 2001. During

his tenure at CGAC, Chediak has developed unique and highly

successful programs that speak to the vibrant, diverse, multicultural,

and multilingual community and incorporate the best of

independent, foreign, and classic films.

He is assisted in this endeavor by Associate Director Javier

Chavez, who joined the cinema in 2012; in addition to

overall programming work (from curation with Chediak to

print trafficking, film schedules, box office payments, etc.),

he personally curates the After Hours program, directs the

overall marketing efforts of the organization, and manages the

Spotlight Cinema Networks account. Administrative Director

Brenda Moe joined the team in January 2008, although she

was instrumental in CGAC's founding as she worked with

Krams and the nonprofit from 2006 up until the theater first

opened. Her leadership in the past two years has elevated the

organization to the next level and significantly increased funding

via membership, donations, and grants. She leads a team

consisting of Operations Manager Elizabeth Dedios, Marketing

Manager Carolina Mayo, Theater Manager Nelson Junco,

and Front-of-House Manager Reginald Desjardins.

We are proud to say that a significant number of our managerial

staff rose through the ranks of the cinema. All our employers

are integral to our success, and we always keep an eye out for

exceptional staff who are capable of so much more.

COMMUNITY

The core audience is primarily affluent, retired culture lovers,

with our varied programming attracting a diverse audience.

96 BOXOFFICE ® OCTOBER 2018
---
From 20-somethings at our weekly late-night series, After

Hours, to young children experiencing movies for the first time

at the monthly Family Day on Aragon, CGAC draws from the

multitude of peoples living in the region. Miami itself is a melting

pot, and the cinema speaks to that: it provides a welcome

space for everyone to share a communal experience. By presenting

foreign films in particular, the cinema is, in a way, a gateway

to other destinations.

FOOD & BEVERAGE

Popcorn and bottled water reign supreme at our concession

stand. But besides traditional movie theater food, we serve

specialty gourmet products from local vendors. For us, being a

community theater extends beyond the patrons we serve. People

especially enjoy a concession item if it has a story. Some of the

local vendors we serve include Zak the Baker, Panther Coffee,

and Cacao Art. We do serve beer and wine and, as you might

expect, it's a huge hit especially at our late-night screenings on

Saturdays. We like to say popcorn goes well with a glass of wine!

PROGRAMMING

We focus on our demographic and target audiences that attend

our theater. Even though our offerings are the main reason

to patronize us (or anyone else for that matter), we find that

mainstream theaters present prefabricated programming without

regard for their specific communities. It is thanks to the extensive

experience in South Florida film exhibition of our director of

programming, Nat Chediak, that we are so able to focus on the

unique audiences that attend CGAC.

While our first-run films are our bread and butter, we believe

it's important to provide South Florida a film education like

no other, which is why we consistently present repertory films

in new restorations or in retrospectives. As mentioned before,

this year saw great success with 2001: A Space Odyssey on 70

millimeter, Almodovar: The Top Ten, and The Complete Studio

Ghibli. Another program of note unique to South Florida was

Forbidden Fruit: Cuban Independent Film in the 21st Century, a

9-program 25-film salute to the intrepid Cuban indie filmmakers

who've been carving out a niche for themselves armed with little

more than their immense talent.

At CGAC, you can find almost any kind of program: family-oriented,

late-night classics, repertory film series, National

Theatre Live presentations, live concerts, and the best new indie

and foreign films.

GRASSROOTS MARKETING

We find that our patrons respond best when we directly

engage them and not only advertise our films. Some examples

include posting photos of a sold-out crowd on our social

media and sending a personalized invitation to an event—basically,

showing a human side to the organization. As a result,

we are shifting our marketing strategies to focus more on this

kind of outreach.

CINEMA ADVERTISING

Spotlight Cinema Networks is important to us for three key

reasons: 1) It helps fund our operations, allowing us to continue

bringing great films to the community; 2) Ads on the network

are top-tier quality and often elicit appropriate responses from

our audience, either laughter when it's comic or a simple "wow"

when it's an exceptionally produced piece; 3) Many filmmakers,

such as Wes Anderson and Spike Jonze, cut their teeth directing

commercials, and because the ads Spotlight runs are much more

artistic, as stated before, it makes sense for an art house to feature

ads that might be from a director who'll make a movie they'll see

in the future! For these reasons, as well as Spotlight's super-simple

approval process, I would wholeheartedly recommend it to

other art houses. n

OCTOBER 2018 BOXOFFICE ® 97
---
INVESTOR RELATIONS

CINEMA ACROSS

THE STREET

by Rob Rinderman

Rob Rinderman is an avid follower

and fan of the cinema

and exhibition businesses.

He has assisted many public

and privately held companies

with communications

and business development

consulting services for over

two decades and written as a

freelance journalist covering

these industries since 2015.

AMC

In a corporate news announcement issued in

late September, exactly three months after the

launch of its Stubs A-List membership program,

AMC announced that A-List membership had

grown to more than 380,000 moviegoers.

This represents a 120,000 subscriber increase

in total membership over its most recent six-week

period (mid-August to late September), which is

traditionally a slower time at the domestic box

office for the entire industry.

In the same press release, AMC Entertainment

noted that more than 45 percent of its A-List

members were not previously signed up to its

AMC Stubs loyalty program. AMC also projected

that its U.S. attendance for the full 2018 calendar

year is on pace to achieve a year-over-year increase

for the first time since 2015, excluding the positive

impact from its Carmike Cinemas acquisition.

Early Stubs A-List program analysis indicates

that incremental moviegoing frequency among

members after joining the program is significant.

AMC also recently announced that its 12-month

protection guarantee from the date of a member's

enrollment against any increases in A-List monthly

pricing has been broadened to all A-List members

enrolling anytime in 2018, including no pricing

or benefits changes within a member's initial 12

months after joining the program.

AMC expanded A-List's flexibility and convenience

by allowing its members to obtain their

tickets through AMC's ticketing partners, Fandango

and Atom Tickets. A-List members may secure

a ticket reservation that is applied as one of their

three movies per week. Because A-List members

receive the benefits of AMC Stubs Premiere, the

typical online ticketing fee is waived.

In mid-September, AMC announced an agreement

with leading tech investor Silver Lake pursuant

to which AMC issued $600 million of senior

unsecured convertible notes due 2024, bearing

interest at 2.95 percent and convertible into AMC

Class A common shares at $20.50 per share, before

giving effect to a $1.55 per share special dividend

payable to AMC Class A and Class B common

shareholders of record as of September 25, 2018.

A portion of the proceeds from the Convertible

Notes has been used to repurchase approximately

24.1 million AMC Class B Common shares from

Dalian Wanda Group ("Wanda"), which represents

roughly 32 percent of the AMC Class B common

shares held by Wanda, at a price of $17.50 per

share. Giving effect to this transaction, Wanda

now owns just shy of 51.8 million AMC Class B

Common shares.

IMAX

IMAX Corporation and Universal Pictures

recently announced that the companies have

expanded their growing partnership with a new,

multiyear, multipicture deal. The IMAX release

of each movie will be digitally remastered into the

98 BOXOFFICE ® OCTOBER 2018
---
image and sound quality of The IMAX Experience,

with proprietary IMAX DMR (digital remastering)

technology.

As part of the agreement, IMAX will release

several highly anticipated upcoming Universal

Pictures tentpole titles, including Academy

Award winner Damien Chazelle's First Man,

Illumination's Dr. Seuss' The Grinch, Mortal Engines,

executive produced by three-time Academy

Award–winning filmmaker Peter Jackson, M.

Night Shyamalan's Glass, DreamWorks Animation's

How to Train Your Dragon: The Hidden

World, The Voyage of Dr. Dolittle, starring Robert

Downey Jr., and the next chapter in the billion-dollar

Fast & Furious franchise, slated for an

April 2020 release date.

Wanying Cinema Line, a subsidiary of China

Resources Land, one of China's largest state-owned

commercial developers, announced an agreement

for 14 new IMAX theaters. The theaters will

feature IMAX with Laser, the company's new laser

experience for commercial

multiplexes, and

are expected to open

between 2018 and

2021. This agreement

brings the total number

of contracted IMAX

theaters in Greater China

to more than 900.

Marcus

The Marcus Corporation,

parent company

of Marcus Theatres, filed

a new universal shelf

registration statement

with the SEC (Securities

and Exchange Commission), allowing Marcus

to potentially offer an indeterminate principal

amount and number of securities in the future

with a proposed maximum aggregate offering price

of up to $150 million. The new shelf registration

statement replaces the company's prior statement,

which expired September 10, 2018. n

OCTOBER 2018 BOXOFFICE ® 99
---
COMING SOON IN 3D

THE NUTCRACKER AND THE FOUR REALMS

NOVEMBER 2 · DISNEY

CAST Keira Knightley, Mackenzie Foy

DIR Lasse Hallström

GENRE Adv/Fam/Fan

DR. SEUSS' THE GRINCH

NOVEMBER 9 · UNIVERSAL

VOICE CAST Benedict Cumberbatch

DIR Scott Mosier, Yarrow Cheney

GENRE Ani/Com/Fam

RALPH BREAKS THE INTERNET

NOVEMBER 21 · DISNEY

VOICE CAST John C. Reilly, Sarah Silverman

DIR Rich Moore, Phil Johnston

GENRE Ani/Adv/Com

SPIDER-MAN: INTO THE SPIDER-VERSE

DECEMBER 14 · SONY

VOICE CAST Jake Johnson, Shameik Moore

DIR Bob Persichetti, Peter Ramsey, Rodney Rothman

GENRE Ani/Act/Adv

MORTAL ENGINES

DECEMBER 14 · UNIVERSAL

CAST Hugo Weaving, Hera Hilmar

DIR Christian Rivers

GENRE Act/Fan/SciFi

AQUAMAN

DECEMBER 21 · WARNER BROS.

CAST Jason Momoa, Amber Heard

DIR James Wan

GENRE Act/Adv/Fan

BUMBLEBEE

DECEMBER 21 · PARAMOUNT

CAST Hailee Steinfeld, John Cena

DIR Travis Knight

GENRE Act/Adv/SciFi

THE LEGO MOVIE 2: THE SECOND PART

FEBRUARY 8 · WARNER BROS.

VOICE CAST Chris Pratt, Elizabeth Banks

DIR Mike Mitchell, Trisha Gum

GENRE Ani/Act/Adv

ALITA: BATTLE ANGEL

FEBRUARY 14 · FOX

CAST Rosa Salazar, Christoph Waltz

DIR Robert Rodriguez

GENRE Act/Adv/Rom
---
ALSO UPCOMING IN 3D

HOW TO TRAIN YOUR DRAGON:

THE HIDDEN WORLD

March 1, 2019 – Universal

CAPTAIN MARVEL

March 8, 2019 – Disney

DUMBO

March 29, 2019 – Disney

UNTITLED AVENGERS

May 3, 2019 – Disney

TOY STORY 4

June 21, 2019 – Disney

THE LION KING

July 19, 2019 – Disney

SONY PICTURES ANIMATION TBA

July 26, 2019 – Sony

WONDER WOMAN 1984

November 1, 2019 – Warner Bros.

FROZEN 2

November 27, 2019 – Disney

ALADDIN

December 20, 2019 – Disney

STAR WARS: EPISODE IX

December 20, 2019 – Disney

SONY PICTURES ANIMATION TBA

December 25, 2019 – Sony

PIXAR TBA

March 6, 2020 – Disney

MULAN

March 27, 2020 – Disney

SONY PICTURES ANIMATION TBA

April 3, 2020 – Sony

UNTITLED MARVEL FILM

May 1, 2020 – Disney

SCOOBY

May 15, 2020 – Warner Bros.

PIXAR TBA

June 19, 2020 – Disney

REALD.COM
---
EVENT CINEMA CALENDAR

THE NUTCRACKER / DENIS RODKIN AND ANA NIKULINA

PHOTO BY DAMIR YUSUPOV

FATHOM EVENTS fathomevents.com 855-473-4612

THE NUTCRACKER (TCHAIKOVSKY) Wed, 12/12/18 Ballet

FATHOM EVENTS fathomevents.com 855-473-4612

TWILIGHT 10TH ANNIVERSARY Sun, 10/21/18 and Tues 10/23/18 Classic Film

NT LIVE: FRANKENSTEIN Mon, 10/22/18 and Mon, 10/29/18 Theatre

GEORGE A. ROMERO'S NIGHT OF THE LIVING DEAD Wed, 10/24 and Thurs, 10/25 Classic Film

RWBY VOLUME 6 PREMIERE Thurs, 10/25/18 Anime

THE MET: LIVE IN HD LA FUNICULLA DEL WEST Sat, 10/27/18 and Wed, 10/31/18 Arts & Entertainment

SPIRITED AWAY Sun, 10/28/18, Mon, 10/29/18 and Wed 10/31/18 Anime

RUSS TAFF: I STILL BELIEVE Tues, 10/30/18 Inspirational

NEVER HEARD Thurs, 11/1 Premieres

DRAGON BALL Z SAIYAN DOUBLE FEATURE Sat, 11/3/18 and Mon, 11/5/18 Anime

HYMN - SARAH BRIGHTMAN IN CONCERT Thurs, 11/8 Arts & Entertainment

THE MET: LIVE IN HD MARNIE Sat, 11/10/18 and Wed, 11/14/18 Arts & Entertainment

BOLSHOI BALLET: LA SYLPHIDE Sun, 11/11/2018 Arts & Entertainment

TCM BIG SCREEN CLASSICS: DIE HARD 30TH ANNIVERSARY (1988) Sun, 11/11/18 and Wed, 11/14/18 Classic Film

BATMAN: MASK OF THE PHANTASM Mon, 11/12 Classic Film

RESTORING TOMOROW Tues, 11/13 Documentaries

CASTLE IN THE SKY Sun, 11/18/18, Mon, 11/19/18 and Wed, 11/21/18 Anime

102 BOXOFFICE ® OCTOBER 2018
---
POKEMON THE MOVIE: THE POWER OF US Sat, 11/24/18, Mon, 11/26/18, Wed, 11/28/18 Anime

SUPERMAN 40TH ANNIVERSARY Sun, 11/25 and Tues, 11/27 Classic Film

MIRAI Thurs, 11/29 Anime

THE MAGIC FLUTE SPECIAL HOLIDAY ENCORE Sat, 12/1/18 Arts & Entertainment

POKEMON THE MOVIE: THE POWER OF US Sat, 12/1/18 Anime

BOLSHOI BALLET: DON QUIXOTE Sun, 12/2/18 Arts & Entertainment

SUPERMAN 40TH ANNIVERSARY Mon, 12/3 Classic Film

MIRAI Wed, 12/5 and Sat, 12/8 Anime

NT LIVE: ANTHONY & CLEOPATRA Thurs, 12/6/18 Theatre

TCM BIG SCREEN CLASSICS: WHITE CHRISTMAS (1954) Sun, 12/9/18 and Wed, 12/12/18 Classic Film

THE MET: LIVE IN HD LA TRAVIATA Sat, 12/15/18 and Wed 12/19/18 Arts & Entertainment

BOLSHOI BALLET: THE NUTCRACKER Sun, 12/23/18 Arts & Entertainment

THE MET: LIVE IN HD ADRIANA LECOUVREUR Sat, 1/12/18 and Wed 1/16/18 Arts & Entertainment

BOLSHOI BALLET: LA BAYADERE Sat, 1/20/18 Arts & Entertainment

THE MET: LIVE IN HD CARMEN Sat, 2/2/19, Wed, 2/6/18 and Sat 2/9/18 Arts & Entertainment

THE MET: LEA FILLE DU REGIMENT Sat, 3/2 and Wed, 3/6 Arts & Entertainment

BOLSHOI: THE SLEEPING BEAUTY Sat, 3/10 Arts & Entertainment

THE MET: DIE WALKURE Fri, 3/30 and Tue, 4/3 Arts & Entertainment

BOLSHOI: THE GOLDEN BALLET Sat, 4/7 Arts & Entertainment

THE PILGRAM'S PROMISE Thurs, 4/18 and Sat, 4/20 Kids and Family

THE MET: DIALOGUES DES CARMÉLITES Sat, 5/11 and Wed, 5/15 Arts & Entertainment

BOLSHOI: CARMEN SUITE/PETRUSHKA Sat, 5/19 Arts & Entertainment

ROYAL OPERA HOUSE roh.org.uk/cinemas cinema@roh.org.uk

DIE WALKÜRE Sun, 10/28/18 Opera

LA BAYADÈRE Tue, 11/13/18 Ballet

THE NUTCRACKER Mon, 12/3/18 Ballet

THE QUEEN OF SPADES Tue, 1/22/19 Opera

LA TRAVIATA Wed, 1/30/19 Opera

DON QUIXOTE Tue, 2/19/19 Ballet

LA FORZA DEL DESTINO Tue, 4/2/19 Opera

FAUST Tue, 4/30/19 Opera

WITHIN THE GOLDEN HOUR / NEW SIDI LARBI CHERKAOUI / FLIGHT PATTERN Thu, 5/16/19 Ballet

ROMEO AND JULIET Tue, 6/11/19 Ballet

SCREENVISION MEDIA

screenvisionmedia.com/events

EVERYBODY'S TALKING ABOUT JAMIE Wed, 11/7, 11/10, 11/11, 11/14 Theatre

OCTOBER 2018 BOXOFFICE ® 103
---
ON SCREEN

SYNOPSES COURTESY OF QUICKLOOKFILMS.COM

HALLOWEEN

OCT. 19 / WIDE / UNIVERSAL

>> Laurie Strode comes to her final confrontation

with Michael Myers, the masked figure who has

haunted her since she narrowly escaped his killing

spree on Halloween night four decades ago.

CAST JAMIE LEE CURTIS, JUDY GREER, ANDI MATICHAK

DIRECTOR DAVID GORDON GREEN WRITERS DAVID

GORDON GREEN, DANNY MCBRIDE, JEFF FRADLEY

GENRE HORROR, THRILLER RATING R FOR HORROR

VIOLENCE AND BLOODY IMAGES, LANGUAGE, BRIEF

DRUG USE AND NUDITY RUNNING TIME 109 MIN.

104 BOXOFFICE ® OCTOBER 2018
---
HALLOWEEN OCTOBER 25, 1978 $47,000,000

FRIDAY THE 13TH MAY 9, 1980 $39,754,601

FRIDAY THE 13TH PART II APRIL 30, 1981 $21,722,776

HALLOWEEN II OCTOBER 30, 1981 $25,533,818

FRIDAY THE 13TH PART III AUGUST 13, 1982 $36,690,067

HALLOWEEN III: SEASON OF THE WITCH OCTOBER 22, 1982 $14,400,000

FRIDAY THE 13TH: THE FINAL CHAPTER APRIL 13, 1984 $32,980,880

A NIGHTMARE ON ELM STREET NOVEMBER 9, 1984 $25,504,513

FRIDAY THE 13TH: A NEW BEGINNING MARCH 22, 1985 $21,930,418

A NIGHTMARE ON ELM STREET 2: FREDDY'S REVENGE NOVEMBER 1, 1985 $29,999,213

FRIDAY THE 13TH PART VI: JASON LIVES AUGUST 1, 1986 $19,472,057

A NIGHTMARE ON ELM STREET 3: DREAM WARRIORS FEBRUARY 27, 1987 $44,793,222

FRIDAY THE 13TH PART VII: THE NEW BLOOD MAY 13, 1988 $19,170,001

A NIGHTMARE ON ELM STREET 4: THE DREAM MASTER AUGUST 19, 1988 $49,369,899

HALLOWEEN 4: THE RETURN OF MICHAEL MYERS OCTOBER 21, 1988 $17,768,757

FRIDAY THE 13TH PART VIII: JASON TAKES MANHATTAN JULY 28, 1989 $14,343,976

A NIGHTMARE ON ELM STREET 5: THE DREAM CHILD AUGUST 11, 1989 $22,168,359

HALLOWEEN 5: THE REVENGE OF MICHAEL MYERS OCTOBER 13, 1989 $11,642,254

FREDDY'S DEAD: THE FINAL NIGHTMARE SEPTEMBER 13, 1991 $34,872,033

JASON GOES TO HELL: THE FINAL FRIDAY AUGUST 13, 1993 $15,935,068

WES CRAVEN'S NEW NIGHTMARE OCTOBER 14, 1994 $18,090,181

HALLOWEEN: THE CURSE OF MICHAEL MYERS SEPTEMBER 29, 1995 $15,116,634

HALLOWEEN H20: 20 YEARS LATER AUGUST 5, 1998 $55,041,738

JASON X APRIL 26, 2002 $13,121,555

HALLOWEEN: RESURRECTION JULY 12, 2002 $30,354,442

FREDDY VS. JASON AUGUST 15, 2003 $82,622,655

FREDDY VS. JASON AUGUST 15, 2003 $82,622,655

HALLOWEEN AUGUST 31, 2007 $58,272,029

FRIDAY THE 13TH FEBRUARY 13, 2009 $65,002,019

HALLOWEEN II AUGUST 28, 2009 $33,392,973

A NIGHTMARE ON ELM STREET APRIL 30, 2010 $63,075,011

OCTOBER 2018 BOXOFFICE ® 105
---
ON SCREEN

MELISSA MCCARTHY

CAN YOU EVER FORGIVE ME?

OCT. 19 / LIMITED / FOX SEARCHLIGHT

>> Can You Ever Forgive Me? is the true story of best-selling celebrity biographer

(and friend to cats) Lee Israel who made her living in the 1970s and '80s profiling

the likes of Katharine Hepburn, Tallulah Bankhead, Estee Lauder, and journalist

Dorothy Kilgallen. When Lee is no longer able to get published because she has

fallen out of step with current tastes, she turns her art form to deception, abetted

by her loyal friend Jack.

CAST MELISSA MCCARTHY, RICHARD E. GRANT, DOLLY

WELLS DIRECTOR MARIELLE HELLER WRITERS NICOLE

HOLOFCENER, JEFF WHITTY GENRE BIOGRAPHY, COME-

DY, DRAMA RATING R FOR LANGUAGE INCLUDING SOME

SEXUAL REFERENCES, AND BRIEF DRUG USE RUNNING

TIME 106 MIN.

WHAT THEY HAD

OCT. 19 / LIMITED / BLEECKER

STREET

>> The film centers on a family in

crisis. Bridget returns home to Chicago

at her brother's urging to deal with her

ailing mother and her father's reluctance

to let go of their life together.

BLYTHE DANNER AND ROBERT FORSTER

CAST HILARY SWANK, MICHAEL SHANNON,

ROBERT FORSTER DIRECTOR ELIZABETH

CHOMKO WRITER ELIZABETH CHOMKO

GENRE DRAMA RATING R FOR LANGUAGE,

INCLUDING A BRIEF SEXUAL REFERENCE

RUNNING TIME 101 MIN.

106 BOXOFFICE ® OCTOBER 2018
---
SERENITY

NEW DATE: JAN. 25 / WIDE / AVIRON PICTURES

>> Baker Dill is a fishing boat captain leading

tours off a tranquil tropical enclave called Plymouth

Island. His quiet life is shattered, however,

when his ex-wife Karen tracks him down with

a desperate plea for help. She begs Dill to save

her—and their young son—from her new, violent

husband by taking him out to sea on a fishing excursion,

only to throw him to the sharks and leave

him for dead. Karen's appearance thrusts Dill back

into a life he'd tried to forget, and as he struggles

between right and wrong, his world is plunged

into a new reality that may not be all that it seems.

CAST MATTHEW MCCONAUGHEY, ANNE HATHAWAY, DIANE

LANE DIRECTOR STEVEN KNIGHT WRITER STEVEN KNIGHT

GENRE DRAMA, THRILLER RATING R FOR LANGUAGE

THROUGHOUT, SEXUAL CONTENT, AND SOME BLOODY

IMAGES RUNNING TIME TBD

MATTHEW MCCONAUGHEY

OCTOBER 2018 BOXOFFICE ® 107
---
ON SCREEN

SUNNY SULJIC AND NA-KEL SMITH

MID90S

OCT. 19 / LIMITED / A24

>> Mid90s follows Stevie, a 13-year-old in '90s-era L.A., who spends

his summer navigating between his troubled home life and a group

of new friends that he meets at a Motor Avenue skate shop.

CAST SUNNY SULJIC, LUCAS HEDGES, NA-KEL SMITH DIRECTOR JONAH HILL

WRITER JONAH HILL GENRE COMEDY, DRAMA RATING TBD RUNNING TIME

84 MIN.

INDIVISIBLE

OCT. 26 / WIDE / PURE FLIX

>> Indivisible is based on the extraordinary true story of Army

Chaplain Darren Turner and his wife, Heather. With a strong,

faith-filled marriage, the Turners are ready to follow their calling:

serving God, family, and country. Fresh from seminary and basic

training, Chaplain Turner and his family arrive at Fort Stewart. Yet

before the Turners can even unpack their new house, Darren is

deployed to Iraq. Heather is left taking care of their three young

children alone—as well as serving the families of the other

deployed soldiers.

JUSTIN BRUENING

CAST JUSTIN BRUENING, SARAH DREW, JASON GEORGE DIRECTOR DAVID

G. EVANS WRITERS DAVID G. EVANS, CHERYL MCKAY, PETER WHITE GENRE

DRAMA, WAR RATING PG-13 FOR SOME THEMATIC MATERIAL AND WAR

VIOLENCE RUNNING TIME TBD

108 BOXOFFICE ® OCTOBER 2018
---
JOHNNY ENGLISH

STRIKES AGAIN

OCT. 26 / WIDE / UNIVERSAL

>> When a cyber-attack reveals the identity of all active undercover

agents in Britain, the country's only hope—Johnny

English—is called out of retirement. English's new mission

is his most critical to date: Dive head first into action to find

the mastermind hacker. A man with few skills and analogue

methods, English must overcome the challenges of modern

technology—or his newest mission will become the Secret

Service's last.

CAST ROWAN ATKINSON, OLGA KURYLENKO, EMMA THOMPSON

DIRECTOR DAVID KERR WRITER WILLIAM DAVIES GENRE ACTION,

ADVENTURE, COMEDY RATING PG FOR SOME ACTION VIOLENCE, RUDE

HUMOR, LANGUAGE, AND BRIEF NUDITY RUNNING TIME 88 MIN.

ROWAN ATKINSON

OCTOBER 2018 BOXOFFICE ® 109
---
ON SCREEN

TILDA SWINTON

SUSPIRIA

OCT. 26 / LIMITED / AMAZON STUDIOS

>> A darkness swirls at the center of a world-renowned

dance company, one that will engulf the troupe's artistic

director, an ambitious young dancer, and a grieving psychotherapist.

Some will succumb to the nightmare—others will

finally wake up.

CAST DAKOTA JOHNSON, TILDA SWINTON, MIA GOTH DIRECTOR

LUCA GUADAGNINO WRITER DAVID KAJGANICH GENRE FANTASY,

HORROR, MYSTERY RATING R FOR DISTURBING CONTENT INVOLVING

RITUALISTIC VIOLENCE, BLOODY IMAGES AND GRAPHIC NUDITY, AND

FOR SOME LANGUAGE INCLUDING SEXUAL REFERENCES RUNNING

TIME 152 MIN.

110 BOXOFFICE ® OCTOBER 2018
---
VIPER CLUB

OCT. 26 / LIMITED / ROADSIDE ATTRACTIONS

>> ER nurse Helen Sterling struggles to free her grown son,

a journalist captured by terrorists in the Middle East. After

hitting walls with the FBI and state agencies, she discovers

a clandestine community of journalists, advocates, and

philanthropists who might be able to help.

CAST SUSAN SARANDON, LOLA KIRKE, MATT BOMER DIRECTOR

MARYAM KESHAVARZ WRITERS MARYAM KESHAVARZ, JONATHAN

MASTRO GENRE DRAMA RATING TBD RUNNING TIME 109 MIN.

SUSAN SARANDON WITH DIRECTOR MARYAM KESHAVARZ

OCTOBER 2018 BOXOFFICE ® 111
---
ON SCREEN

JOSEPH MAZZELLO, BRAD HENRY, RAMI MALEK, AND GWILYM LEE

BOHEMIAN RHAPSODY

NOV. 2 / WIDE / FOX

>> The film traces the meteoric rise of Queen through their iconic

songs and revolutionary sound, their near-implosion as front

man Freddie Mercury's lifestyle spirals out of control, and their

triumphant reunion on the eve of Live Aid, where Mercury, facing

a life-threatening illness, leads the band in one of the greatest performances

in the history of rock music. In the process, they cement

the legacy of a band that were always more like a family, and who

continue to inspire outsiders, dreamers, and music lovers to this day.

CAST RAMI MALEK, JOSEPH MAZZELLO, MIKE MYERS DIRECTOR BRYAN

SINGER WRITER ANTHONY MCCARTEN GENRE BIOGRAPHY, DRAMA, MUSIC

RATING PG-13 FOR THEMATIC ELEMENTS, SUGGESTIVE MATERIAL, DRUG

CONTENT, AND LANGUAGE RUNNING TIME TBD

IN SEARCH OF GREATNESS

NOV. 2 / LIMITED / ATLAS

>> In Search of Greatness reveals the true nature and nurture

of the greatest athletes of all time. Through a series of intimate

conversations and captivating footage, director Gabe Polsky

leads viewers on an entertaining, thrilling, and inspiring personal

journey. Featuring original interviews with iconic athletes Wayne

Gretzky, Pelé, and Jerry Rice, as well as renowned thought leaders

Sir Ken Robinson and David Epstein.

DIRECTOR GABE POLSKY WITH JERRY RICE

CAST WAYNE GRETZKY, JERRY RICE, PELÉ DIRECTOR GABE POLSKY WRITER

GABE POLSKY GENRE DOCUMENTARY RATING TBD RUNNING TIME 80 MIN.

112 BOXOFFICE ® OCTOBER 2018
---
BOY ERASED

NOV. 2 / LIMITED / FOCUS

FEATURES

>> Boy Erased tells the story

of Jared, the son of a Baptist

pastor in a small American

town, who is outed to his

parents at age 19. Jared is

faced with an ultimatum:

attend a gay conversion

therapy program—or be

permanently exiled and

shunned by his family, friends,

and faith. Boy Erased is the

true story of one young man's

struggle to find himself while

being forced to question every

aspect of his identity.

NICOLE KIDMAN AND RUSSELL CROWE

CAST LUCAS HEDGES, NICOLE

KIDMAN, JOEL EDGERTON

DIRECTOR JOEL EDGERTON

WRITER JOEL EDGERTON GENRE

BIOGRAPHY, DRAMA RATING TBD

RUNNING TIME 104 MIN.

Theatre Architects & Engineers

616.785.5656

www.paradigmae.com

OCTOBER 2018 BOXOFFICE ® 113
---
ON SCREEN

MARIA BY CALLAS

NOV. 2 / LIMITED / SONY PICTURES CLASSICS

>> The definitive documentary on the life and work

of the Greek-American opera singer. Director Tom Volf

spent nearly five years working on the film, which

features never-before seen or heard footage and performances

of Callas.

CAST FANNY ARDANT, MARIA CALLAS, ARISTOTLE ONASSIS

DIRECTOR TOM VOLF GENRE DOCUMENTARY RATING PG

FOR MILD THEMATIC ELEMENTS, SOME SMOKING, AND BRIEF

LANGUAGE RUNNING TIME 103 MIN.

MARIA CALLAS

114 BOXOFFICE ® OCTOBER 2018
---
MACKENZIE FOY AND KEIRA KNIGHTLEY

THE NUTCRACKER AND

THE FOUR REALMS

NOV. 2 / WIDE / DISNEY

>> All Clara wants is a key—a one-of-a-kind

key that will unlock a box that holds a priceless

gift from her late mother. A golden thread,

presented to her at Godfather Drosselmeyer's

annual holiday party, leads her to the coveted

key, which promptly disappears into a strange

and mysterious parallel world. It's there that

Clara encounters a soldier named Phillip, a

gang of mice, and the regents who preside

over three Realms: Land of Snowflakes, Land of

Flowers, and Land of Sweets. Clara and Phillip

must brave the ominous Fourth Realm, home

to the tyrant Mother Ginger, to retrieve Clara's

key and hopefully return harmony to the

unstable world.

CAST KEIRA KNIGHTLEY, MACKENZIE FOY, MORGAN

FREEMAN DIRECTORS LASSE HALLSTRÖM, JOE

JOHNSTON WRITERS ASHLEIGH POWELL, TOM

MCCARTHY GENRE ADVENTURE, FAMILY, FANTASY

RATING PG FOR SOME MILD PERIL RUNNING TIME

TBD

Projectors Audio Servers

Seating

Screens Drapery

Lighting Closed Captioned NOC

ON YOUR TEAM

Audiences' expectations have never been

higher. American Cinema Equipment is your

support team to create the experiences you

demand. Meeting expectations may be the

industry standard; exceeding them is ours.

LMS

Technician Help

Messaging Mail Web Music

[ 503] 285-7015

1927 N. Argyle Street, Portland, OR 97217

[ 503] 285-6765 orders@cinequip.com

cinequip.com

OCTOBER 2018 BOXOFFICE ® 115
---
ON SCREEN

A PRIVATE WAR

NOV. 2 / LIMITED (WIDE NOV. 16) / AVIRON PICTURES

>> Marie Colvin is one of the most celebrated war correspondents of our time. After being hit by a grenade

in Sri Lanka, she wears a distinctive eye patch and is still as comfortable sipping martinis with

London's elite as she is confronting dictators. Colvin sacrifices loving relationships, and over

time her personal life starts to unravel as the trauma she's witnessed takes its toll.

Yet her mission to show the true cost of war leads her, along with renowned war

photographer Paul Conroy, to embark on the most dangerous assignment of

their lives in the besieged Syrian city of Homs.

CAST ROSAMUND PIKE, JAMIE DORNAN,

STANLEY TUCCI DIRECTOR MATTHEW

HEINEMAN WRITER MARIE

BRENNER GENRE BIOGRAPHY,

DRAMA, WAR RATING

TBD RUNNING TIME

106 MIN.

ROSAMUND PIKE

116 BOXOFFICE ® OCTOBER 2018
---
THE FRONT RUNNER

NOV. 6 / LIMITED (WIDE NOV. 21) /

SONY-COLUMBIA

>> The film follows the rise and fall

of Senator Gary Hart, who captured

the imagination of young voters and

was considered the overwhelming

front runner for the 1988 Democratic

presidential nomination when his

campaign was sidelined by the story

of an extramarital relationship with

Donna Rice. As tabloid journalism and

political journalism merged for the first

time, Hart was forced to drop out of the

race—events that left a profound and

lasting impact on American politics

and the world stage.

CAST HUGH JACKMAN, VERA FARMIGA,

MOLLY EPHRAIM DIRECTOR JASON REITMAN

WRITERS MATT BAI, JAY CARSON, JASON

REITMAN GENRE BIOGRAPHY, DRAMA RATING

R FOR LANGUAGE INCLUDING SOME SEXUAL

REFERENCES RUNNING TIME 103 MIN.

HUGH JACKMAN

OCTOBER 2018 BOXOFFICE ® 117
---
DR. SEUSS' THE GRINCH

NOV. 9 / WIDE / UNIVERSAL

>> The Grinch tells the story of a cynical grump who

goes on a mission to steal Christmas, only to have

his heart changed by a young girl's generous holiday

spirit. Funny, heartwarming, and visually stunning, it's

a universal story about the spirit of Christmas and

the indomitable power of optimism.

VOICE CAST BENEDICT CUMBERBATCH,

RASHIDA JONES, ANGELA LANSBURY DIREC-

TORS YARROW CHENEY, SCOTT MOSIER

WRITER MICHAEL LESIEUR GENRE ANI-

MATION, COMEDY, FAMILY RATING PG

FOR BRIEF RUDE HUMOR RUNNING

TIME 90 MIN.

THE GRINCH

118 OCTOBER 2018
---
PETERLOO

NEW DATE: APR. 5 / LIMITED / AMAZON STUDIOS

>> Internationally acclaimed and Oscar-nominated

filmmaker Mike Leigh portrays one of the bloodiest episodes

in British history, the infamous Peterloo Massacre of 1819,

where government-backed cavalry charged into a peaceful

crowd of 80,000 that gathered in Manchester, England, to

demand democratic reform.

CAST RORY KINNEAR, MAXINE PEAKE, NEIL BELL DIRECTOR MIKE

LEIGH WRITER MIKE LEIGH GENRE DRAMA, HISTORY RATING PG-13

FOR A SEQUENCE OF VIOLENCE AND CHAOS RUNNING TIME 154

MIN.

OCTOBER 2018 BOXOFFICE ® 119
---
ON SCREEN

THE GIRL IN THE

SPIDER'S WEB

NOV. 9 / WIDE / SONY-COLUMBIA

>> Computer hacker Lisbeth Salander and

journalist Mikael Blomkvist find themselves

caught in a web of spies, cyber criminals,

and corrupt government officials.

CLAIRE FOY

CAST CLAIRE FOY, SYLVIA HOEKS, LAKEITH

STANFIELD DIRECTOR FEDE ALVAREZ WRITERS

JAY BASU, FEDE ALVAREZ, STEVEN KNIGHT

GENRE CRIME, DRAMA, THRILLER RATING TBD

CONTENT RUNNING TIME TBD

120 BOXOFFICE ® OCTOBER 2018
---
OVERLORD

NOV. 9 / WIDE / PARAMOUNT

>> With only hours until D-Day, a team of

American paratroopers drop into Nazi-occupied

France to carry out a mission that's

crucial to the invasion's success. Tasked

with destroying a radio transmitter atop a

fortified church, the desperate soldiers join

forces with a young French villager to penetrate

the walls and take down the tower.

But, in a mysterious Nazi lab beneath the

church, the outnumbered GIs come faceto-face

with enemies unlike any the world

has ever seen.

CAST WYATT RUSSELL, JOHN MAGARO, PILOU

ASBÆK DIRECTOR JULIUS AVERY WRITERS

BILLY RAY, MARK L. SMITH GENRE ACTION,

HORROR, MYSTERY RATING R FOR STRONG

BLOODY VIOLENCE, DISTURBING IMAGES,

LANGUAGE, AND BRIEF SEXUAL CONTENT

RUNNING TIME 109 MIN.

MATHILDE OLLIVIER

OCTOBER 2018 BOXOFFICE ® 121
---
BOOKING GUIDE

TITLE RELEASE DATE STARS DIRECTOR(S) RATING GENRE SPECS

A24 646-568-6015

MID90S Fri, 10/19/18 LTD Sunny Suljic, Lucas Hedges Jonah Hill NR Com

UNDER THE SILVER LAKE Fri, 12/7/18 LTD. Andrew Garfield, Riley Keough David Robert Mitchell R Thr/Cri

GLORIA BELL Fri, 3/8/19 LTD. Sebastián Lelio Sebastián Lelio NR Dra/Rom/Com

ANNAPURNA PICTURES

IF BEALE STREET COULD TALK Fri, 11/30/18 LTD. Kiki Layne, Stephan James Barry Jenkins R Dra/Rom

VICE Tue, 12/25/18 LTD. Christian Bale, Amy Adams Adam, McKay NR Com/Dra

DESTROYER Tue, 12/25/18 LTD. Nicole Kidman, Tatiana Maslany Karyn Kusama NR Cri/Thr

WHERE'D YOU GO BERNADETTE? Fri, 3/22/19 WIDE Cate Blanchett, Troian Bellisario Richard Linklater PG-13 Com/Dra

UNTITLED BABAK ANVARI Fri, 3/29/19 WIDE Babak Anvari NR Hor

MISSING LINK Fri, 4/19/19 WIDE Zach Galifianakis, Hugh Jackman Chris Butler NR Ani

DISNEY 818-560-1000 Ask for Distribution

THE NUTCRACKER AND

THE FOUR REALMS

Fri, 11/2/18 WIDE Keira Knightley, Mackenzie Foy Lasse Hallström PG Mus/Fan 3D

RALPH BREAKS THE INTERNET Fri, 11/21/18 WIDE John C. Reilly, Sarah Silverman Phil Johnston, Rich Moore PG Ani/Adv/Fam 3D/IMAX

MARY POPPINS RETURNS Fri, 12/19/18 WIDE Emily Blunt, Lin-Manuel Miranda Rob Marshall PG Fam/Fan

CAPTAIN MARVEL Fri, 3/8/19 WIDE Brie Larson, Samuel L. Jackson Anna Boden, Ryan Fleck NR Act/Adv/SF 3D/IMAX

DUMBO Fri, 3/29/19 WIDE Colin Farrell, Michael Keaton Tim Burton NR Fan/Fam 3D

PENGUINS Wed, 4/17/19 WIDE G Doc

UNTITLED AVENGERS Fri, 5/3/19 WIDE NR Act/Adv/Fan/SF

ALADDIN Fri, 5/24/19 WIDE Will Smith, Mena Massoud Guy Ritchie NR Act/Adv/Com

TOY STORY 4 Fri, 6/21/19 WIDE NR Ani 3D/IMAX

THE LION KING Fri, 7/19/19 WIDE Donald Glover, Beyoncé Jon Favreau NR Fan

ARTEMIS FOWL Fri, 8/9/19 WIDE Ferdia Shaw, Josh Gad Kenneth Branagh NR Fan 3D

JUNGLE CRUISE Fri, 10/11/19 WIDE Dwayne Johnson, Emily Blunt Jaume Collet-Serra NR Act/Adv

FROZEN 2 Wed, 11/27/19 WIDE NR Ani 3D

STAR WARS: EPISODE IX Fri, 12/20/19 WIDE NR Act/Adv/SF

UNTITLED DISNEY LIVE ACTION

Fri, 2/14/20 WIDE

FOCUS FEATURES 424-214-6360 3D

BOY ERASED Fri, 11/2/18 LTD Lucas Hedges, Nicole Kidman Joel Edgerton R Dra

EVERYBODY KNOWS Fri, 11/30/18 LTD Penélope Cruz, Javier Bardem Asghar Farhadi NR Thr

MARY, QUEEN OF SCOTS Fri, 12/7/18 LTD Saoirse Ronan, Margot Robbie Josie Rourke NR Dra/His

ON THE BASIS OF SEX Tue, 12/25/18 LTD Felicity Jones Mimi Leder NR Dra/Bio

CAPTIVE STATE Wed, 3/29/19 WIDE John Goodman, Ashton Sanders Rupert Wyatt PG-13 SF

DOWNTON ABBEY Fri, 9/20/19 WIDE Hugh Bonneville, Laura Carmichael Michael Engler NR Dra

FOX 310-369-1000 212-556-2400

BOHEMIAN RHAPSODY Fri, 11/2/18 WIDE Rami Malek, Ben Hardy Bryan Singer, Dexter Fletcher PG-13 Bio/Mus

WIDOWS Fri, 11/16/18 WIDE Michelle Rodriguez, Viola Davis Steve McQueen R Dra

UNTITLED DEADPOOL MOVIE Fri, 12/21/18 WIDE Ryan Reynolds NR Act/Com/SF

AD ASTRA Fri, 1/11/19 WIDE Brad Pitt James Gray NR SF/Thr

3D/IMAX/Dolby

Dig

122 BOXOFFICE ® OCTOBER 2018
---
TITLE RELEASE DATE STARS DIRECTOR(S) RATING GENRE SPECS

ALITA: BATTLE ANGEL Fri, 2/14/19 WIDE Rosa Salazar, Christoph Waltz Robert Rodriguez NR Act/Adv/Rom 3D/IMAX

THE KID WHO WOULD BE KING Fri, 3/1/19 WIDE Louis Ashbourne Serkis, Dean Chaumoo Joe Cornish NR Fan/Fam/Act/Adv

BREAKTHROUGH Fri, 4/12/19 WIDE Chrissy Metz Roxann Dawson NR Dra/Bio

STUBER Fri, 5/24/19 WIDE Dave Bautista, Kumail Nanjiani NR Act/Com

X-MEN: DARK PHOENIX Fri, 6/17/19 WIDE Sophie Turner, Jennifer Lawrence Simon Kinberg NR Act/Adv/SF

UNTITLED JAMES MANGOLD Fri, 6/28/19 WIDE Matt Damon, Christian Bale James Mangold NR Dra

THE NEW MUTANTS Fri, 8/2/19 WIDE Anya Taylor-Joy, Maisie Williams Josh Boone NR Act/Hor/SF

SPIES IN DISGUISE Fri, 9/13/19 WIDE Will Smith, Tom Holland Nick Bruno & Troy Quane NR Ani

THE WOMAN IN THE WINDOW Fri, 10/4/19 WIDE Amy Adams Joe Wright NR Cri/Dra/Mys

UNTITLED KINGSMAN MOVIE Fri, 11/8/19 WIDE Matthew Vaughn NR Act/Adv

UNTITLED FOX / MARVEL FILM Fri, 11/15/19 WIDE NR

DEATH ON THE NILE Fri, 12/20/19 WIDE Gal Gadot, Armie Hammer Sir Kenneth Branagh NR Dra

THE CALL OF THE WILD Wed, 12/25/19 WIDE Harrison Ford, Dan Stevens Chris Sanders NR Dra

NIMONA Fri, 2/14/20 WIDE Patrick Osborne NR Ani

GAMBIT Fri, 3/13/20 WIDE Channing Tatum, Lizzy Caplan NR Act/Adv/SF

FOX SEARCHLIGHT 212-556-2400

CAN YOU EVER FORGIVE ME? Fri, 10/19/18 LTD. Melissa McCarthy, Richard E. Grant Marielle Heller R Bio/Com/Dra

THE FAVOURITE Fri, 11/23/18 LTD. Olivia Colman, Emma Stone Yorgos Lanthimos R Dra

STAN & OLLIE Fri, 12/28/18 LTD. John C. Riley, Steve Coogan Jon S. Baird NR Dra/Bio

THE AFTERMATH Fri, 4/26/19 WIDE Keira Knightley, Alexander Skarsgård James Kent R Dra/War

GLOBAL ROAD FILMS 310-696-7504

THE SILENCE Fri, 12/7/18 LTD Stanley Tucci, Kiernan Shipka John R. Leonetti NR Hor

PLAYMOBILE UNCHARTED Fri, 1/18/19 WIDE NR Ani

IFC FILMS

WILDLIFE Fri, 10/19/18 LTD. Jake Gyllenhaal, Carey Mulligan Paul Dano PG-13 Dra

DON'T GO Fri, 10/26/18 LTD. Stephen Dorff, Melissa George David Gleeson NR Mys

WELCOME TO MERCY Fri, 11/2/18 LTD. Lily Newmark, Eva Ariel Binder Tommy Bertelsen NR Thr

THE CLOVENHITCH KILLER Fri, 11/16/18 LTD. Charlie Plummer, Dylan McDermott Duncan Skiles NR Hor

LIONSGATE 310-309-8400

HUNTER KILLER Fri, 10/26/18 WIDE Gerard Butler, Gary Oldman Donovan Marsh NR

ROBIN HOOD Fri, 11/21/18 WIDE Taron Egerton, Jamie Foxx Otto Bathurst PG-13 Adv

HARD POWDER Fri, 2/8/19 WIDE Liam Neeson, Emmy Rossum Hans Petter Moland NR Act/Dra

CHAOS WALKING Fri, 3/1/19 WIDE Tom Holland, Daisy Ridley Doug Liman NR Adv/SF

TYLER PERRY'S A MADEA

FAMILY FUNERAL

Fri, 3/1/19 WIDE Tyler Perry, Cassi Davis Tyler Perry PG-13 Com

FIVE FEET APART Fri, 3/22/19 WIDE Haley Lu Richardson, Cole Sprouse Justin Baldoni NR Dra/Rom

HELLBOY Fri, 4/12/19 WIDE David Harbour, Milla Jovovich Neil Marshall NR Act

JOHN WICK: CHAPTER THREE Fri, 5/17/19 WIDE Keanu Reeves, Halle Berry Chad Stahelski NR Act

FLARSKY Fri, 6/7/19 WIDE Seth Rogen, Charlize Theron Jonathan Levine NR Com

MIDWAY Fri, 11/8/19 WIDE Woody Harrelson, Patrick Wilson Roland Emmerich NR Act/Dra/War

OCTOBER 2018 BOXOFFICE ® 123
---
BOOKING GUIDE

TITLE RELEASE DATE STARS DIRECTOR(S) RATING GENRE SPECS

MGM

CREED II Fri, 12/21/18 LTD. Sylvester Stallone, Michael B. Jordan Steven Caple Jr. NR Dra/Act

FIGHTING WITH MY FAMILY

Fri, 3/1/19 LTD.

Florence Pugh, Vince Vaughn,

Dwayne Johnson

Stephen Merchant NR Dra/Bio

THE HUSTLE Fri, 5/10/19 LTD. Anne Hathaway, Rebel Wilson Chris Addison NR Com

THE ADDAMS FAMILY Fri, 10/11/19 WIDE Oscar Isaac, Charlize Theron Conrad Vernon NR Ani

UNTITLED JAMES BOND 25 Fri, 2/14/20 WIDE Daniel Craig Cary Joji Fukunaga NR Act/Thr

LEGALLY BLONDE 3 Fri, 5/8/20 WIDE Reese Witherspoon NR Com

NEON

BORDER Fri, 10/26/18 LTD. Eva Melander, Eero Milonoff Ali Abbasi R Thr/SF

VOX LUX Fri, 12/7/18 LTD. Natalie Portman, Raffey Cassidy Brady Corbet NR Dra

THIS ONE'S FOR THE LADIES Fri, 2/15/19 LTD. New Jersey Nasty Boyz Eugene Graham NR Doc/Com

THE BEACH BUM Fri, 3/22/19 LTD. Matthew McConaughey, Snoop Dogg Harmony Korine NR Com

WILD ROSE Fri, 5/10/19 LTD. Julie Walters, Jessie Buckley Tom Harper NR Dra/Com/Mus

OSCILLOSCOPE LABORATORIES

SEARCHING FOR INGMAR BERGMAN Fri, 11/2/18 NY Margarethe von Trotta NR Doc

PARAMOUNT 323-956-5000

NOBODY'S FOOL Fri, 11/2/18 WIDE Tiffany Haddish, Tika Sumpter Tyler Perry R

OVERLORD Fri, 11/9/18 WIDE Wyatt Russell and Jovan Adepo Julius Avery R War/Thr

INSTANT FAMILY Fri, 11/16/18 WIDE Mark Wahlberg, Rose Byrne Sean Anders NR Com

BUMBLEBEE Wed, 12/21/18 WIDE Hailee Steinfeld, Pamela Adlon Travis Knight NR Act/Adv/SF 3D

ELI Fri, 1/4/19 WIDE Ciaran Foy NR Hor

WHAT MEN WANT Fri, 2/8/19 WIDE Taraji P. Henson, Aldis Hodge Adam Shankman NR Com

RHYTHM SECTION Fri, 2/22/19 WIDE Blake Lively Reed Morano NR Thr

WONDER PARK Fri, 3/15/19 WIDE Mila Junis, Jennifer Garner Dylan Brown PG Ani/Adv/Com

PET SEMATARY Fri, 4/5/19 WIDE Jason Clarke, Amy Seimetz

Kevin Kölsch and

Dennis Widmyer

ROCKETMAN Fri, 5/31/19 WIDE Taron Egerton, Jamie Bell Dexter Fletcher NR Bio/Dra

LIMITED PARTNERS Fri, 6/28/19 WIDE Tiffany Haddish, Rose Byrne NR Com

DORA THE EXLPORER Fri, 8/2/19 WIDE Isabela Moner, Eugenio Derbez James Bobin NR Adv

GEMINI MAN Fri, 10/4/19 WIDE Will Smith, Mary Elizabeth Winstead Ang Lee NR Act/Thr

ARE YOU AFRAID OF THE DARK? Fri, 10/19/19 WIDE NR Hor

SONIC THE HEDGEHOG Fri, 11/8/19 WIDE James Marsden Jeff Fowler NR Ani/Adv/Com

UNTITLED TERMINATOR PROJECT Fri, 11/15/19 WIDE NR Act/SF

LOUD HOUSE Fri, 2/7/20 WIDE NR Ani

SONY 212-833-8500

THE GIRL IN THE SPIDER'S WEB Fri, 11/9/18 WIDE Claire Foy, Sverrir Gudnason Fede Alvarez NR Dra/Thr

THE FRONT RUNNER Tue, 11/6/18 NY/LA Hugh Jackman, Vera Farmiga Jason Reitman R Dra/Bio

THE POSSESSION OF HANNAH GRACE Fri, 11/30/18 WIDE Stana Katic, Shay Mitchell Diederik Van Rooijen NR Hor

NR

Hor

124 BOXOFFICE ® OCTOBER 2018
---
TITLE RELEASE DATE STARS DIRECTOR(S) RATING GENRE SPECS

SPIDER-MAN: INTO THE SPIDER-VERSE Fri, 12/14/18 WIDE Shameik Moore

Bob Persichetti, Peter Ramsey,

Rodney Rothman

NR

Ani/Act/Fam

HOLMES AND WATSON Fri, 12/25/18 WIDE Will Ferrell, John C. Reilly Ethan Cohen NR Act/Thr

BRIGHTBURN Fri, 12/25/18 WIDE NR Hor

A DOG'S WAY HOME Fri, 1/11/19 WIDE Ashley Judd, Edward James Olmos NR Dra

MISS BALA Fri, 1/25/19 WIDE Gina Rodriguez Catherine Hardwicke NR Act/Dra/Thr

ESCAPE ROOM Fri, 2/1/19 WIDE NR

GREYHOUND Fri, 3/22/19 WIDE Tom Hanks Aaron Schneider NR Dra/War

THE INTRUDER Fri, 4/26/19 WIDE Dennis Quaid, Meaghan Good Deon Taylor PG-13 Thr

THE ROSIE PROJECT Fri, 5/10/19 WIDE NR Rom/Com

MEN IN BLACK SPINOFF Fri, 6/14/19 WIDE Chris Hemsworth, Tessa Thompson F. Gary Gray NR SF/Act/Com

SPIDER-MAN: FAR FROM HOME Fri, 7/5/19 WIDE Tom Holland, Michael Keaton NR Act/Adv/SF/Com

ONCE UPON A TIME IN HOLLYWOOD Fri, 7/26/19 WIDE Leonardo DiCaprio, Brad Pitt Quentin Tarantino NR Dra

GRUDGE Fri, 8/16/19 WIDE Nicolas Pesce NR Hor

OVERCOMER Fri, 8/23/19 WIDE NR Dra/Rel

ANGRY BIRDS 2 Fri, 9/6/19 WIDE NR Ani

CHARLIE'S ANGELS Fri, 9/27/19 WIDE Kristen Stewart, Naomi Scott Elizabeth Banks NR Act/Com

ZOMBIELAND 2 Fri, 10/11/19 WIDE Emma Stone, Woody Harrelson Ruben Fleischer NR Act/Hor/Com

UNTITLED MR.ROGERS / TOM HANKS

PROJECT

JUMANJI: WELCOME TO THE

JUNGLE SEQUEL

Fri, 10/18/19 WIDE Tom Hanks Marielle Heller NR Dra

Fri, 12/13/19 WIDE Dwayne Johnson NR Com/Act/Adv

MASTERS OF THE UNIVERSE Fri, 12/18/19 WIDE NR Act/Adv/Fan

LITTLE WOMEN Fri, 12/25/19 WIDE Greta Gerwig NR Dra

MILLER/LORD PRODUCED SPA MOVIE Fri, 1/10/20 WIDE NR Ani

BAD BOYS FOR LIFE Fri, 1/17/20 WIDE NR Act

PETER RABBIT 2 Fri, 2/7/20 WIDE NR Ani

BLOODSHOT Fri, 2/21/20 WIDE NR Act

SONY PICTURES CLASSICS Tom Prassis 212-833-4981

MARIA BY CALLAS Fri, 10/26/18 NY/LA Tom Volf PG Doc

CAPERNAUM Fri, 12/14/18 NY/LA Zain Alrafeea, Yordanos Shifera Nadine Labaki NR Dra

STX ENTERTAINMENT 310-742-2300

SECOND ACT Fri, 12/14/18 WIDE Jennifer Lopez, Milo Ventimiglia Peter Segal NR Rom/Com

THE UPSIDE Fri, 1/11/19 WIDE Kevin Hart, Bryan Cranston Jon Hartmere NR Com/Dra

UNTITLED STX ACTION/THRILLER Fri, 1/25/19 WIDE NR Act/Thr

THE BEST OF ENEMIES Fri, 4/5/19 WIDE Taraji P. Henson, Sam Rockwell Robin Bissell NR Dra

UGLYDOLLS Fri, 5/10/19 WIDE Robert Rodriguez NR Ani

17 BRIDGES Fri, 7/12/19 WIDE Chadwick Boseman Brian Kirk NR Cri/Thr/Act

UNIVERSAL 818-777-1000

JOHNNY ENGLISH STRIKES AGAIN Fri, 10/26/18 WIDE Rowan Atkinson, Ben Miller, David Kerr PG Act/Com

OCTOBER 2018 BOXOFFICE ® 125
---
BOOKING GUIDE

TITLE RELEASE DATE STARS DIRECTOR(S) RATING GENRE SPECS

DR. SEUSS' THE GRINCH Fri, 11/9/18 WIDE Benedict Cumberbatch

Peter Candeland,

Yarrow Cheney

GREEN BOOK Wed, 11/21/18 WIDE Viggo Mortensen, Mahershala Ali Peter Farrelly NR

PG Ani/Com/Fam 3D

SCHINDLER'S LIST 25TH ANNIVERSARY Fri, 12/7/18 LTD. Liam Neeson, Ben Kingsley Steven Spielberg NR Dra/War

MORTAL ENGINES Fri, 12/14/18 WIDE Hera Hilmar, Robert Sheehan Christian Rivers NR SF 3D/IMAX

WELCOME TO MARWEN Fri, 12/21/18 WIDE Steve Carell Robert Zemeckis PG-13 Dra

GLASS Fri, 1/18/19 WIDE James McAvoy, Bruce Willis M. Night Shyamalan PG-13 Thr

HAPPY DEATH DAY 2U Thu, 2/14/19 WIDE NR Hor

HOW TO TRAIN YOUR DRAGON:

THE HIDDEN WORLD

Fri, 2/22/19 WIDE Jay Baruchel, Gerard Butler Dean DeBlois NR Ani/Com/Fam

US Fri, 3/15/19 WIDE Jordan Peele NR Thr

LITTLE Fri, 4/12/19 WIDE Marsai Martin Tina Gordon NR Com

A DOG'S JOURNEY Fri, 5/17/19 WIDE Gail Mancuso NR Fam

UNTITLED BLUMHOUSE

PRODUCTIONS PROJECT

Fri, 5/31/19 WIDE Jessica Rothe Christopher Landon NR Hor

THE SECRET LIFE OF PETS 2 Fri, 6/7/19 WIDE Chris Renaud NR Ani

UNTITLED DANNY BOYLE/RICHARD

CURTIS COMEDY

Fri, 6/28/19 WIDE Lily James, Himesh Patel Danny Boyle NR Com/Mus

UNTITLED FAST & FURIOUS SPIN-OFF Fri, 8/2/19 WIDE NR Act/Adv

GOOD BOYS Fri, 8/16/19 WIDE Jacob Tremblay

Lee Eisenberg &

Gene Stupnitsky

ABOMINABE Fri, 9/27/19 WIDE Tim Johnson NR Ani

THE HUNT Fri, 9/27/19 WIDE Craig Zobel NR Act/Thr

UNTITLED BLUMHOUSE PRODUCTIONS Fri, 10/18/19 WIDE NR Hor

WILL PACKER COMEDY Fri, 11/15/19 WIDE NR Com

QUEEN & SLIM Fri, 11/27/19 WIDE NR Dra/Rom

UNTITLED BLUMHOUSE PRODUCTIONS Fri, 12/13/19 WIDE NR Hor

CATS Fri, 12/20/19 WIDE Tom Hooper NR Mus

UNTITLED BLUMHOUSE PRODUCTIONS Fri, 1/3/20 WIDE NR Hor

THE VOYAGE OF DOCTOR DOLITTLE Fri, 1/17/20 WIDE Robert Downy, Jr., Ralph Fiennes Stephen Gaghan NR Com

WARNER BROS. 818-977-1850

FANTASTIC BEASTS: THE CRIMES

OF GRINDELWALD

Fri, 11/16/18 WIDE Eddie Redmayne, Johnny Depp David Yates PG-13 Act/Adv/Fan

HEAD FULL OF HONEY 1/30/18 NY/LA Nick Nolte, Eric Roberts Til Schweiger NR Dra

THE MULE Fri, 12/14/18 WIDE Clint Eastwood Clint Eastwood NR Dra/Cri/Mys

AQUAMAN Fri, 12/21/18 WIDE Jason Momoa, Amber Heard James Wan PG-13 Act/Adv/SF 3D/IMAX

THE LEGO MOVIE 2: THE SECOND PART Fri, 2/8/19 WIDE Chris Pratt, Elizabeth Banks Mike Mitchell NR Ani

ISN'T IT ROMANTIC Fri, 2/14/19 WIDE Rebel Wilson, Liam Hemsworth Todd Strauss-Schulson PG-13 Com

SHAZAM! Fri, 4/5/19 WIDE Zachary Levi, Asher Angel David F. Sandberg NR Act/Adv/Fan IMAX

THE CURSE OF LA LLORONA Fri, 4/19/19 WIDE NR Hor

DETECTIVE PIKACHU Fri, 5/10/19 WIDE Ryan Reynolds, Justice Smith Rob Letterman NR Adv

NR

Com

126 BOXOFFICE ® OCTOBER 2018
---
TITLE RELEASE DATE STARS DIRECTOR(S) RATING GENRE SPECS

THE SUN IS ALSO A STAR Fri, 5/17/19 WIDE NR

MINECRAFT: THE MOVIE Fri, 5/24/19 WIDE NR

GODZILLA: KING OF THE MONSTERS Fri, 5/31/19 WIDE PG-13 SF/Act

SHAFT Fri, 6/14/19 WIDE NR Act

UNTITLED CONJURING UNIVERSE FILM Fri, 7/3/19 WIDE NR Hor

UNTITLED WB EVENT FILM Fri, 8/2/19 WIDE NR

IT SEQUEL Fri, 9/6/19 WIDE NR Hor IMAX

THE KITCHEN Fri, 9/20/19 WIDE Elisabeth Moss, Melissa McCarthy NR Cri/Thr

JOKER Fri, 10/4/19 WIDE Joaquin Phoenix Todd Phillips NR Act

THE GOLDFINCH Fri, 10/11/19 WIDE NR Dra

WONDER WOMAN 1984 Fri, 11/1/19 WIDE Gal Gadot, Kristin Wiig Patty Jenkins NR Act/Adv/Fan IMAX/3D

MARGIE CLAUS Fri, 11/15/19 WIDE NR Com/Mus

SUPERINTELLIGENCE Fri, 12/25/19 WIDE Melissa McCarthy Ben Falcone NR Act/Com

JUST MERCY Fri, 1/17/19 WIDE Brie Larson, Michael B. Jordan Destin Daniel Cretton NR Dra

DOCTOR SLEEP Fri, 1/24/19 WIDE Ewan McGregor, Rebecca Ferguson Mike Flanagan NR Hor

UNTITLED BIRDS OF PREY PROJECT

Fri, 2/7/20 WIDE

Margot Robbie,

Mary Elizabeth Winstead

Cathy Yan NR Act/Adv

OUR SPONSORS

20TH CENTURY FOX 9

AMERICAN CINEMA EQUIPMENT 115

ARTS ALLIANCE MEDIA 17

ATOM TICKETS

BACK COVER

BARCO/CINIONIC 1

CAIZ ELECTRONICS 35

CAMATIC 27

CARDINAL SOUND 128

CINEASIA 73

C. CRETORS & COMPANY 39

CY YOUNG INDUSTRIES 128

DOLPHIN SEATING 67

ENPAR AUDIO 121

FANDANGO 11

GDC TECHNOLOGY 6–7

GOLD MEDAL PRODUCTS 49

IRWIN SEATING 21

LIGHTSPEED/DEPTH Q 128

MAGNA TECH 117

MEDIAMATION 79

MOC INSURANCE SERVICES 5

MOVIEPASS 37

MOVING IMAGE TECHNOLOGIES 15, 43

MTI/AUTOFRY 119

NCM 25

NEC DISPLAY 13

OMNITERM 85

PARADIGM DESIGN 113

PARAMOUNT PICTURES 60

PROMOTION IN MOTION 33

QSC 19

READY THEATER SYSTEMS 99

REAL D 100–101

RETRIEVER SYSTEMS 59

SCREENVISION

INSIDE FRONT COVER

SENSIBLE CINEMA 128

SONIC EQUIPMENT 23

SPOTLIGHT CINEMA NETWORK 45, 95

ST. JUDE CHILDREN'S RESEARCH HOSPITAL 69

STADIUM SAVERS 111

TALISMAN MILLS 41

TELESCOPIC SEATING SYSTEMS

INSIDE BACK COVER

TIVOLI LIGHTING 31

USHIO 81

VARIETY - THE CHILDREN'S CHARITY 89

VIP CINEMA SEATING FRONT COVER, 2–3

WEBEDIA MOVIES PRO 65, 71, 83, 87

WHITE CASTLE 77

WILL ROGERS MOTION PICTURE PIONEERS FOUNDATION 75

OCTOBER 2018 BOXOFFICE ® 127
---
MARKETPLACE

HELP WANTED

SENIOR LEVEL CHANNEL ACCOUNT MAN-

AGER wanted by NEC Display Solutions for

expanding Digital Cinema group. Seeking minimum

8 years' experience within hi-tech, cinema

or Pro A/V industry to drive strategic growth.

Field-based, travel throughout US & Canada

required. Apply: www.necdisplay.com/careers

FOR SALE

USED DIGITAL PROJECTORS AND SOUND

EQUIPMENT. 3 Solaria One Plus projectors

with NAS and projector base. 14 JBL stage

speakers, 12 JBL surround speakers. Processors

and monitors. Contact: boothmw@chakerestheatres.com

or call Mark at (937) 323-6447.

BISTRO CHAIRS FOR SALE: (392) Red vinyl

and (328) gray vinyl seven year old Seating

Concepts Palermo style in-theatre bistro chairs

to be available in early Spring 2018. All chairs

equipped with tray tables. Some of the seats

will require covers/repairs. Please contact

mhooker@aztcorporation.comor 972-428-2943

for more information.

USED DIGITAL PROJECTORS, Five complete

booths including sound equipment. Three

years old. Contact seller at moviescope1000@

gmail.com.

TWO BRAND NEW 3000 watts Christie Xenon

lamps for 35mm projectors. Contact: Atul Desai

949-291-5700.

PREFERRED SEATING COMPANY, your source

for new, used and refurbished theater and stadium

seating. Buying and selling used seating

is our specialty. Call toll-free 866-922-0226 or

visit our website www.‐preferred-seating.com.

18 SETS OF USED 35MM AUTOMATED PRO-

JECTION SYSTEM (comes with Projector, Console,

Automation Unit and Platter) comprising

of 10 sets of Christie and 8 sets of Strong

35mm system available on 'as is where is' basis

in Singapore. Contact seller at engthye_lim@

cathay.com.sg

APPROXIMATELY 2,000 SEATS FOR SALE. MO-

BILIARIO high-back rockers with cup holders.

Located in Connecticut. Contact (203)758-2148.

6 PLEX EQUIPMENT PACKAGE. Six complete

booths digital projectors/sound, 72 speakers,

seats, screens/frames, concession equipment,

computers, led signs/marquees, safe/

misc equipment. Serious inquiries only. For

equipment list email contact@digitalequipmenttechnologies.com

or call 801-548-0108 or

fax 801-281-0482.

HELP WANTED

TRI STATE THEATRE SUPPLY in Memphis, TN

has openings for experienced Digital Cinema

Techs nationwide. Please send your resume to

include qualifications, certifications and salary

requirements to fred@tristatetheatre.com

THEATRE MANAGEMENT POSITIONS AVAIL-

ABLE Pacific Northwest Theatre Company.

Previous management experience required.

Work weekends, evenings and holidays. Send

resume and salary history to movietheatrejobs@gmail.com

POSITIONS AVAILABLE

The three-screen Stavros Niarchos Foundation

Parkway Film Center in Baltimore is seeking an

OPERATIONS DIRECTOR to oversee all aspects

of running the theater and concessions.

The Film Center, a partnership among the

Maryland Film Festival, Johns Hopkins University

and MICA will open in spring of 2017 and

offer a broad range of the world's best arthouse,

independent, documentary, and classic

cinema. The full job description and application

instructions are found at mdfilmfest.com/

about-the-festival/jobs.php.

128 BOXOFFICE ® OCTOBER 2018