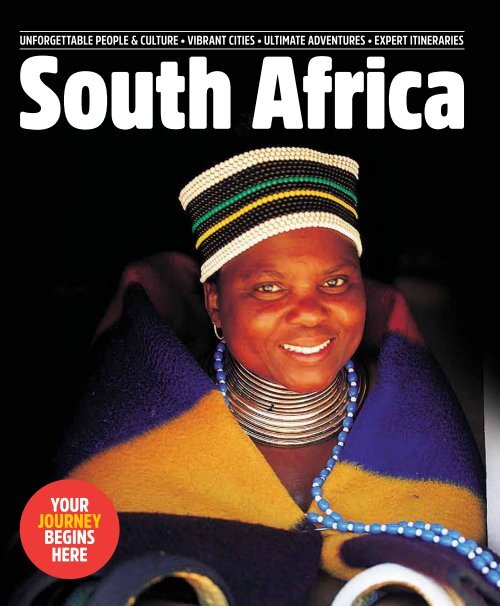 Create successful ePaper yourself
Turn your PDF publications into a flip-book with our unique Google optimized e-Paper software.
UNFORGETTABLE PEOPLE & CULTURE • VIBRANT CITIES • ULTIMATE ADVENTURES • EXPERT ITINERARIES

South Africa

YOUR

JOURNEY

BEGINS

HERE
---
USEFUL TRAVEL INFORMATION:

POPULATION:

57 Million

LANGUAGES: 11 Official

(including English)

CURRENCY: South

African Rand ($1-R13,

July 2018)

CREDIT CARDS: All

major cards accepted

DRIVING: Valid driver's

license accepted

ELECTRICITY: 220/230

volts, 50 cycles

HEALTH: No vaccinations

required, except for recent

visitors to Yellow Fever

Zone countries

PASSPORT/VISA:

No visa required for

US or Canadian passport

holders

TIME: Seven hours ahead

of EST in winter; six hours

ahead during summer

West Coast National Park, Cape Town

OVERVIEW

Welcome to South Africa

Discover one of the most beautiful

and diverse countries on earth

Page 5

CONTENTS

OTHER ATTRACTIONS

City Lifestyle

From bustling nightlife to shopping

experiences, our cities have it all

Page 41

REGIONAL HIGHLIGHTS

South Africa's Greatest Hits

Can't-miss destinations for every traveler

Page 7

UNIQUE HERITAGE

Explore South Africa

And its eight UNESCO world heritage sites

Page 11

UNTOUCHED WILD

The Call of the Wild

Going on safari, the experience of a lifetime

Page 13

OUTDOOR PLAYGROUND

Adrenaline Dreams

Diving with Great Whites, zipping through

forest canopies, and more

Page 19

BUSTLING CITY LIFE

The Big Three

Page 27

A Taste of the Good Life

A burgeoning wine and culinary scene

Page 33

VIBRANT CULTURE

A Tapestry of Cultural Experiences

History, language, music — and a

contagious local spirit

Page 43

SUN-SOAKED COASTLINES

Relax and Recharge

Beach life in the southern sun

Page 49

BREATHTAKING SCENERY

Wow in Every Direction

Top 10 scenic attractions

Page 53

A World of Romance

Unique escapades for every couple

Page 57

EXPERT ITINERARIES

Planning the Journey

Your trip of a lifetime

Page 59

Inspiring new ways

Bloubergstrand, Cape Town

SOUTHAFRICA.NET | 2
---
Table Mountain, Cape Town

WELCOME TO

SOUTH AFRICA
---
WELCOME TO

SOUTH AFRICA

KEY COORDINATES

South Africa is almost four times

the size of Germany and oneeighth

the size of the United States.

Two oceans border its 1836-mile

coast: The Atlantic to the west and

the Indian Ocean to the east. At

latitude 35° south, Cape Town is

about the same distance from the

equator as Sydney, Australia, or Los

Angeles, California.

CLIMATE

Thanks to the surrounding oceans,

South Africa enjoys a temperate

climate, though weather patterns

and rainfall vary widely. The

Western Cape has Mediterraneantype

winter rains brought by

strong northwesterly winds. Other

coastal areas experience rainfall

throughout the year, but 80 percent

of the country's rain falls during

the summer months of October to

March, often accompanied by hail

and thunderstorms. Overall, South

Africa is a dry country with an

annual rainfall of 18 inches, almost

half the world average of 34 inches.

LAY OF THE LAND

South Africa's topography ranges

from majestic mountains and

highveld grasslands to semi-desert

scrubland and subtropical wetlands.

Broadly speaking, the country

consists of two main regions: a

huge inland plateau that is fringed

by a narrow coastal plain on three

sides. Separating the two is an

escarpment of mountains and

hills, dominated by the mighty

Drakensberg Mountain Range.

Home to some of the world's most

diverse animal and plant kingdoms,

South Africa is the only country

with an entire floral kingdom – the

Cape Fynbos – within its borders.

HOSPITALITY

Some 55.6 million people from

at least 20 ethnic groups live in

South Africa. Locals take pride in

hosting visitors and will make you

feel comfortable no matter how

long your stay. As you travel across

the country, you may find yourself

being welcomed in as many as 11

official languages, including English,

which is the most widely spoken

and used for all road signs.

ACCOMMODATION

South Africa's first-world

infrastructure includes a wealth of

five-star hotels and game lodges,

as well as guesthouses, bed and

breakfasts, and tented camps for

nature lovers. Its hospitality industry

puts a premium on safety standards

and quality assurance through

cutting-edge benchmarking and

tourism grading certification,

including relevant ISO standards.

something for everyone. Myriad

entertainment options and valuefor-money

experiences make this

country an exceptionally diverse

and accessible vacation destination.

Like to golf? You'll find world-class

courses in settings so lush you may

have to shoo giraffes off the green.

Enjoy mouthwatering cuisine?

South African food is an amalgam

of the best of French, German,

English, Indian, and African spices

and techniques. Authentic culture?

You can visit townships and partake

in local festivals. No matter how

you spend your vacation here,

you will create memories to last a

lifetime...or at least until you come

back to visit again.

Table Mountain, Cape Town's spectacular natural backdrop

RECREATION

Whether it's an exhilarating game

drive you're after or a cosmopolitan

adventure, or even just some

quality R&R, South Africa has

Kruger National Park

SOARING MOUNTAINS,

STUNNING COASTLINES

AND BEACHES, WILDLIFE

OF EVERY KIND AND A

HISTORY THAT HARKENS

BACK TO THE VERY

DAWN OF HUMANKIND...

SOUTH AFRICA

Welcome to South Africa, one of the

most beautiful and diverse countries

on earth, and a world-class destination

for every type of traveler. Choose your

calling: safari wildlife, active adventure,

cultural roots, coastal beaches, scenic

beauty, city lifestyle or all of the above!

And let your journey begin.

Map: Albert Mena

Kruger National Park

Zulu dancers,

KwaZulu-Natal

Ngala Safari Lodge, Kruger National Park

5 | SOUTHAFRICA.NET SOUTHAFRICA.NET | 6

Enthusiastic sports fans
---
BUFFELS

SOUT RIVER

WINE

ROUTE

BREERIVIER

DWYKA

GAMKA

LEEUW

HARTS RIVER

SUNDAYS

ORANGE

ORANGE

MODDER

CALEDON

GREAT KEI

DRAKENSBERG PARK

STEELPOORT

BLYDE RIVER

REGIONAL

HIGHLIGHTS

SOUTH AFRICA'S

GREATEST HITS

FROM THE SAFARI

LANDS OF MPUMALANGA

TO THE FAST-PACED

BUSTLING CITY LIFE

OF GAUTENG, EACH

OF SOUTH AFRICA'S

NINE PROVINCES IS

A PARADISE UNTO

ITSELF. HERE ARE THE

CAN'T-MISS CLASSICS

THAT EVERY TRAVELER

WANTS TO VISIT.

GAUTENG

HISTORIC

LANDMARKS,

COSMOPOLITAN

CULTURE

JOHANNESBURG AND SOWETO

Johannesburg, the "City of Gold,"

is the urban heart of South Africa

as well as the country's financial

capital. South west of it lies Soweto

(South Western Townships),

where thousands of black South

Africans famously protested

against apartheid. Nelson Mandela

and Archbishop Desmond Tutu

lived here, and current residents

include some of the best musicians,

painters, and poets in the country.

PRETORIA

An hour north of Johannesburg,

South Africa's capital city of Pretoria

is marked by historic landmarks

like the Voortrekker Monument,

which pays tribute to the early

Boer pioneers, as well as numerous

parks and gardens, and the famous

Union Buildings.

SOUTH

AFRICA'S

NINE

PROVINCES

WESTERN CAPE

10

SPRINGBOK

31

38

36 19 42 22

20

35

ORANGE RIVER

CLANWILLIAM

CAPE TOWN

33

40

HERMANUS

43

UPINGTON

NORTHERN CAPE

CAPE FLORAL REGION

WESTERN CAPE

41

CAPE ALGULHAS

(MOST SOUTHERN POINT OF AFRICA)

GEORGE

46

OUDTSHOORN

MOSSEL BAY

ORANGE RIVER

4

BEAUFORT WEST

KNYSNA

11

GARDEN ROUTE

14

13

DE AAR

12

NORTH WEST

32

GRAAFF REINET

KIMBERLEY

15

3

FREE STATE

BLOEMFONTEIN

PORT ELIZABETH

ALIWAL NORTH

EASTERN CAPE

8

2

CROCODILE RIVER

RUSTENBURG

MATLABAS RIVER

25

JOHANNESBURG

VAAL RIVER

GAUTENG

POLOKWANE

17PRETORIA

29

LESOTHO

UMTATA

EAST LONDON

FOOD, WINE AND SCENIC BEAUTY

CAPE TOWN

As the cosmopolitan hub of the

Western Cape province, Cape

Town boasts world-class shopping,

museums, hotels, and restaurants,

not to mention a spectacular

natural setting; it's no wonder Cape

Town has been voted the top food

city in the world by Conde Nast

Traveller. Where else can you frolic

with penguins on the beach by day

The world at your feet on Table Mountain, Cape Town

MOLOPO

HARTS RIVER

VAAL RIVER

and savor a world-class restaurant

meal for dinner?

WINELANDS

Three of South Africa's 13 wine

routes begin just outside Cape

Town: Franschhoek, Stellenbosch,

and Paarl. Explore them at

your own pace, driving through

picturesque mountains and rolling

vineyards, dotted with historic

30

21

23

LIMPOPO RIVER

VAAL RIVER

48

44

LIMPOPO

HARRISMITH

6

26

27

MPUMALANGA

PIETERMARITZBURG

NELSPRUIT

KWAZULU-NATAL

9

16

18

24

28

DURBAN

40

45

39

PORT SHEPSTONE

LIMPOPO RIVER

47

34

1

OLIFANTS RIVER

Cape Dutch architecture.

5

37

ISIMANGALISO

ST. LUCIA

WETLAND

PARK

RICHARD'S BAY

GARDEN ROUTE

The Garden Route, which runs

over 500 miles from Cape Town

to the Eastern Cape beaches of

Port Elizabeth, is also a wonderfully

scenic area to explore by car. Pit stop

number one: Hermanus, where you

can spot Southern Right whales from

the shore.

7

Trendy Melrose Arch in cosmopolitan Johannesburg

Mandela statue at the

Union Buildings, Pretoria

SOUTHAFRICA.NET | 8
---
REGIONAL

HIGHLIGHTS

REGIONAL

HIGHLIGHTS

Take a stroll along The Wild Coast

KWAZULU-NATAL

STUNNING BEACHES

AND SPORTING LANDS

DURBAN'S GOLDEN MILE

Zulu, Indian and British cultures come together in Durban,

the melting-pot city of KwaZulu-Natal. The metropolis

is also popular for its three-mile stretch of golden sand,

known locally as the Golden Mile, where you can set down

your umbrella and while away the hours. Warm and sunny

320 days a year, Durban's beaches offer public amenities,

protective shark nets, beacons to indicate safe bathing, and

lifeguards on duty for most of the day.

FREE STATE

MPUMALANGA

PARADISE COUNTRY

KRUGER NATIONAL PARK

Also known as "Paradise Country," this province is famous for

its extraordinary natural wonders. Here you'll find luxurious

private game reserves and the great Kruger National Park, one

of the best safari destinations in the world.

PANORAMIC ROUTE

The vast, green Blyde River Canyon is often called a

"window on the world" for the dramatic views it affords.

It's also a stop on Mpumalanga's Panoramic Route, which

winds its way among scenic hills and canyons.

BIRTHPLACE OF

NELSON MANDELA

EASTERN CAPE

WILD COAST

The Wild Coast stretches

for roughly 125 miles

between the coastal towns

of East London – where

you'll find golf, museums,

shopping, and even a

private game reserve – and

Port Edward. Port St. Johns,

the largest town on the

route, sits midway, at the

mouth of the Mzimvubu

River between steep

sandstone cliffs and dense

forests. Because of its

rugged landscape, road

access to the Wild Coast

has remained limited,

NORTH WEST

A PLACE

IN THE

SUN, AND

BEYOND

THE WINDY CITY,

WILD COAST

AND THE KAROO

and the scenery, largely

undisturbed.

THE KAROO

The Karoo is South Africa's

largest semi-desert region,

covering nearly 250 000

square miles. Home to

both mountains and

endless plains, the Karoo

has maintained its frontier

spirit while also providing

peace and tranquility to

all who visit, which is

why it's a favorite retreat

destination amongst artists

and writers alike.

PORT ELIZABETH

With 500 miles of pristine

coastline, the Eastern

Cape has no shortage

of beaches, lagoons and

coastal forests. Its principal

city, the laid-back town

of Port Elizabeth, has 25

miles of beach and was

named for the late wife of

Sir Rufane Shaw Donkin,

the Acting Governor of the

Cape Colony in the early

1800s.

SUN CITY

The North West is best known as the location of

scintillating Sun City, a world-class resort with an

opulent casino and family-friendly activities galore.

Visitors can hit up the man-made beach, wave pool,

and waterpark in the Lost City, or perfect their swing

at two 18-hole Gary Player-designed courses.

PILANESBERG NATIONAL PARK

A short drive from Sun City, you can see the Big Five

in Pilanesberg National Park. It's set in the crater of a

1.2 billion-year-old extinct volcano and is the home of

an extensive wildlife population, including more than

300 species of birds.

ISIMANGALISO WETLAND PARK

South Africa's first UNESCO World Heritage Site, this

wetland reserve contains three major lake systems, eight

interlinking ecosystems and Africa's largest estuarine system.

The name iSimangaliso means "miracle and wonder" which

aptly describes this unique place.

UKHAHLAMBA-DRAKENSBERG MOUNTAINS

This UNESCO World Heritage site is an outdoor

wonderland filled with breathtaking hiking trails and

wildlife. Bearded vultures, black eagles, grey rheboks,

oribis and elands all make their home here. Mountain

bikers can enjoy the awesome views of the Drakensberg

as they traverse Cathedral Peak Mountain or the beautiful

Lotheni Valley in the Southern Drakensberg. Fishing

enthusiasts can take in mountain vistas while casting for

trout at Kamberg Nature Reserve.

Riding the waves in Durban

Main Road, Clarens

COLONIAL

ARTIFACTS

& CLIFFS

OF GOLD

BLOEMFONTEIN

South Africa's judicial capital

offers a unique glimpse

of the past. Visit President

Brand Street, a re-creation

of the early Boer town, and

Freshford House Museum,

filled with charming

colonial Victoriana. Several

museums display haunting

Anglo-Boer War artifacts.

CLARENS

Surrounded by sandstone

cliffs, this beautiful town just

west of the Maluti Mountain

Range has become an artists'

community and is filled with

studios, bars and restaurants.

GOLDEN GATE

HIGHLANDS

NATIONAL PARK

South Africa's only grasslands

national park, this reserve is

famed for its golden-hued

sandstone sentinels, and

offers nature lovers unusual

outdoor pursuits on foot,

bike and horseback.

A close encounter

LIMPOPO

PRIMEVAL

TREASURES

WATERBERG

BIOSPHERE

Formerly called the

Northern Province,

Limpopo is an

unspoiled ancient

landscape of verdant

forests, sparkling trout

waters, and game

reserves. Among its top

natural attractions is the

Waterberg Biosphere

– named a Biosphere

Reserve by UNESCO –

whose rolling savannahs

feature a mix of rock

formations, thousandsyear-old

Bushman art,

and abundant plains to

support a diverse array

of fauna and flora.

KRUGER NATIONAL

PARK

As South Africa's

northernmost province,

Limpopo contains

the upper portion

of the world-famous

Kruger National Park.

The ultimate safari

destination, Kruger

is home to a huge

variety of mammals,

amphibians, reptiles

and birds. It is the oldest

national park on the

continent and one of

the top ten national

parks in the world.

Kruger National Park

NORTHERN CAPE

Namaqua National Park, Namaqualand

DIAMONDS IN THE

ROUGH & FLOWERS

KALAHARI DESERT

Along the northern reaches of South Africa's largest

province, the largest park on the continent awaits. Kgalagadi

Transfrontier National Park spans the Kalahari from South

Africa to Botswana and harbors exotic wildlife and the last

remaining bushmen, the San.

KIMBERLEY

Shop for jewelry and tour diamond mines in this historic

mining town – and don't miss The Big Hole. At 1640-feet

wide by 787-feet deep, it's the world's largest man-made

hole, and the source of 14.5 million carats of diamonds.

NAMAQUALAND FLOWERS

Witness the annual transformation of the semi-desert

Namaqualand into an explosion of color, as millions of

flowers change the landscape into a true wonder of nature

from July through to September.

9| SOUTHAFRICA.NET SOUTHAFRICA.NET | 10
---
SOUTH AFRICA'S

UNIQUE HERITAGE

HERE'S WHAT YOU CAN EXPECT TO FIND AT EACH:

St Lucia

1. FOSSIL HOMINID SITES

Sterkfontein, Swartkrans,

Kromdraai and their environs

are considered to be the Cradle

of Humankind, with evidence of

some of the earliest ancestors of

the human race.

2. MAPUNGUBWE

CULTURAL LANDSCAPE

Conserves the ruins of the largest

Iron Age Kingdom to have existed

on the African subcontinent.

5. UKHAHLAMBA-

DRAKENSBERG PARK

South Africa's highest mountain

range has a diverse habitat

harboring threatened plant and

bird species, and a concentration

of historic rock art paintings.

6.

RICHTERSVELD CULTURAL

& BOTANICAL LANDSCAPE

A remarkable mountainous

desert that is uniquely owned

and managed by the Nama

communities.

3. VREDEFORT DOME

The oldest (two million years) and

largest clearly visible meteorite

impact site in the world.

7.

CAPE FLORAL REGION

PROTECTED AREAS

Home to an astounding diversity

of floral species that occur

nowhere else on the planet.

Robben Island, Cape Town

Vredefort Dome,

4. ROBBEN ISLAND

Once a symbol of oppression,

where Nelson Mandela and other

anti-apartheid activists were

imprisoned, and now a symbol of

hope.

8. ISIMANGALISO

WETLAND PARK

One of Africa's largest estuary

systems, with exceptional

biodiversity and more than 520

bird species.

A UNIQUE

HERITAGE

SOUTH AFRICA HAS

NO FEWER THAN

EIGHT UNESCO WORLD

HERITAGE SITES.

Richtersveld

Richtersveld

Ngala Safari Lodge,

Kruger National Park

Namaqua National Park, Namaqualand

11 | SOUTHAFRICA.NET

SOUTHAFRICA.NET | 12
---
UNTOUCHED

WILD

GOING ON SAFARI

IS DEFINITELY THE

EXPERIENCE OF A

LIFETIME. AND IN SOUTH

AFRICA, THERE ARE

A VARIETY OF GAME-

VIEWING OPTIONS – ON

FOOT OR BY VEHICLE.

No matter which you choose, the memories of

life in the bush will stay with you forever.

THE LITTLE FIVE

Keep an eye out for these

much smaller — though

no less fascinating —

namesakes of the Big Five:

LION ANT

Not a member of the feline

family but a large insect

resembling a dragonfly.

LEOPARD TORTOISE

Their attractively marked shells

can reach up to two feet in

diameter.

BUFFALO WEAVER

A fairly large (about nine inches),

stout, sparrow-like bird.

ELEPHANT SHREW

A small insect-eating rodent

with a long nose.

RHINOCEROS BEETLE

Among the largest of their kind,

they can carry up to 850 times

their own weight.

FOLLOW THE

CALL OF THE

WILD

SOUTHAFRICA.NET | 14

An elephant sighting up close
---
UNTOUCHED

WILD

YOUR WAKE-UP CALL

COMES HOURS BEFORE

SUNRISE SO THAT YOU

CAN TRACK LEOPARDS,

LIONS AND OTHER

NOCTURNAL HUNTERS

BEFORE THE HEAT OF

DAY KICKS IN.

After a quick cup of coffee, you

embark on a three-to-fourhour

game drive with your

knowledgeable ranger and tracker

– and the sightings begin.

Kruger National Park

Meerkats pose for the camera

You spot not just one elephant,

but a dozen – from a playful baby

to a two-story bull – and a regal

gemsbok, with its slender, scimitarlike

horns that may have inspired

tales of the fabled unicorn. The roar

of a male lion, a few yards from

the safari vehicle, leaves you nearly

breathless.

Return to camp for a fresh cooked

breakfast, followed by a nature

walk with a ranger. After lunch,

take a nap at the height of the

midday heat or go for a swim. Then,

following afternoon tea, you're

off on an evening safari drive that

includes a stop for a sundowner, or

a cocktail, to pass the sunset.

Back at your lodge or campsite,

enjoy dinner under the southern

constellations, a completely

different array of stars from what

you see at home. Then it's off to

bed and dreams of the wildlife that

you'll encounter tomorrow.

Kruger National Park, Photo: Laura Pedrick,

www.pedrickphoto.com

WHERE THE WILD THINGS ARE

The best-known safari destination

in South Africa is the Kruger

National Park. Located in the northeast

corner of the country along

the border with Mozambique, this

remarkable conservation area spans

the provinces of Mpumalanga and

Limpopo, with more than 7500

square miles of land and 16 distinct

natural regions. The southern end

of the park, which has the most

developed tourism facilities, is the

most visited.

The Kruger is a renowned location

for Big Five viewing; lion, leopard,

elephant, buffalo and rhinoceros

can all be found here. In addition,

you can spot giraffes, zebras,

antelopes, wildebeests, and almost

as many types of birds as there are

stars in the southern hemisphere's

skies. Elephant-back safaris are

offered at the park, as well as

the more traditional walking and

driving safaris. Accommodation

ranges from basic campsites to

luxury safari lodges, with prices to

suit every budget.

DID YOU

KNOW?

KRUGER

NATIONAL PARK

IS ROUGHLY

THE SIZE OF THE

STATE OF

NEW JERSEY.

SOUTH AFRICA'S NATIONAL PARKS

Map: Albert Mena

FOR A FULL LIST OF NATIONAL PARKS, VISIT WWW.SANPARKS.ORG

THE KRUGER ISN'T

SOUTH AFRICA'S

ONLY WILDLIFE

HOTSPOT.

Across the country you'll find

a range of distinctive parks

and reserves, including:

MADIKWE GAME RESERVE

Lions, leopards, elephants, buffaloes, as well as

white and black rhinos call this reserve home. It

sits in the northern reaches of the North West

province, on the border with Botswana.

KGALAGADI TRANSFRONTIER PARK

Located in Northern Cape's shimmering

Kalahari Desert and operated in conjunction

with Botswana, this is the largest park in Africa.

The border is unfenced, and wildlife including

black-maned Kalahari lions, gemsboks, meerkats

and elephants search for water along the same

riverbeds as their ancestors have for centuries.

PILANESBERG NATIONAL PARK

Set in an ancient volcanic crater in the North

West province, and just a two-hour drive from

Johannesburg, this park's dramatic landscape

of rocky outcrops and thick bush supports a

wide variety of plants and animals, including

the Big Five.

HLUHLUWE-UMFOLOZI GAME RESERVE

KwaZulu-Natal province's prized game reserve

is one of the most popular destinations in all of

Africa for walking safaris (traditional safaris are also

available). Though only one-fifth the size of the

Kruger, it has a remarkable population of wildlife,

including the Big Five. Hluhluwe-Umfolozi is also

known worldwide for its conservation efforts – its

staff is almost single-handedly responsible for

saving the white rhino from extinction.

ADDO ELEPHANT NATIONAL PARK

This reserve, 45 miles outside of Port Elizabeth,

in the Eastern Cape, has 300 elephants, plus

prime viewing opportunities and a range of

accommodation. Visitors might also spot some

180 bird species.

GOLDEN GATE HIGHLANDS NATIONAL PARK

Located in the Free State near the Lesotho

border, the park's most notable features are its

golden, ochre, and orange-hued, deeply-eroded

sandstone cliffs and outcrops. Numerous caves

and shelters display ancient San rock paintings,

while zebra, eland and over 100 bird species can

be found.

15 | SOUTHAFRICA.NET

SOUTHAFRICA.NET | 16
---
UNTOUCHED

WILD

THINGS TO KNOW BEFORE YOU

PLAN YOUR SAFARI

PUBLIC PARK OR PRIVATE RESERVE?

YOU CAN GO ON SAFARI IN A

NATIONAL PARK OR PRIVATE RESERVE —

NEITHER WILL DISAPPOINT. HERE ARE SOME

KEY DIFFERENCES:

NATIONAL PARKS

Key wildlife or areas of

great natural value

Less luxury

accommodation

options

Larger lodges, less

expensive

Great for self drives

PRIVATE RESERVES

Most freedom of

activity and least

amount of tourists

Off-road driving,

night drives

Walking safaris

Luxury

accommodation

BREAKING DOWN THE COST

Different species mingle on the plain

IN SOUTH AFRICA, THERE'S A SAFARI FOR

EVERY BUDGET. HERE'S WHAT TO EXPECT:

Every hippo likes a good soak

Safaris are all inclusive

i.e. all game-viewing

activities, meals, and in

many cases drinks, are

included.

Tips are excluded.

Rates are priced as per

person, per night.

Expect to pay

anywhere from $250

to $1200 per person

for a four- or five-star

private lodge.

Typical stay is for three

nights, which means

guests are getting a

total of six game drives.

Northern Kruger Park has begun

drawing in-the-know safari lovers.

Here, in the shrubby mopane veld,

sand forest and dense tropical

forests, you'll find great herds of

elephants and buffaloes, plus rare

antelope species. Because there

are far fewer lodges, and safari

vehicles are relatively new to the

area, the animals here are a bit

more reclusive than in the southern

part of the park. However, the more

intense the search for animals, the

greater the payoff: a rare close-up

view of the Big Five and other

fascinating wildlife awaits.

PRIVATE RESERVES

If you're prepared to spend a little

(or a lot) more, South Africa also has

many private game reserves and

upscale lodges. These conservation

areas offer a higher level of luxury

and unparalleled guided bush

experiences while remaining

committed to conservation and

community. Sabi Sand Game

Reserve, for one, provides high-end

accommodation along Kruger's

south-west border. Though it is

private, few fences separate the

reserve from the Kruger, meaning

that animals traverse the border

freely. Other private game reserves

are located within Balule, Timbavati,

Thornybush, Kapama, Shamwari,

Waterberg, Cederberg, and

Pilanesberg National Park.

Scanning the horizon for wildlife

Up close with the wild

WALKING SAFARIS

Seeing big animals from the security of a safari

vehicle is thrilling, but it is nothing compared to

standing on your own two feet, deep in the bush,

and getting a close-up view of a black rhino

(or an elephant, giraffe, zebra, impala – you get

the picture!). All walking safaris in South Africa

are undertaken under the direct supervision of

armed rangers and trackers. The most popular

areas for wilderness trails are the game parks of

KwaZulu-Natal and the Kruger National Park.

17 | SOUTHAFRICA.NET

Five-star elegance meets contemporary African

design in the heart of the bush
---
OUTDOOR

PLAYGROUND

FIND YOUR

PERFECT

ADVENTURE

Horse riding on the beach

Exploring the mighty Kalahari Desert on ATVs

BEYOND THE SAFARIS, SOUTH AFRICA

OFFERS ADVENTURES IN ALL SHAPES

AND SIZES, GUARANTEED TO GET

YOUR HEART PUMPING OR AT LEAST

BEATING A LITTLE FASTER, DEPENDING

ON YOUR PREFERENCE.

Zip lining in the Karkloof canopies, Howick

From short coastal walks and township

cycle tours all the way to shark-cage

diving, bungee jumping or rappelling;

with year-round sunny weather you

can enjoy them at just about anytime.

19 | SOUTHAFRICA.NET

Wilson's Wharf, Durban

SOUTHAFRICA.NET | 20
---
Here are the top ways to get moving.

WELCOME TO

SOUTH AFRICA

SHARK-CAGE DIVING

South Africa is without question

one of the best destinations in

the world for cage diving with

Great Whites. No scuba training

or experience is necessary and the

operator provides all equipment,

including wetsuits and masks.

You'll watch the sharks glide

past your cage again and again,

occasionally bumping it as they

swim (rest assured the sturdy

cages are tethered to the sides of

the boat and never float free). The

Western Cape province is home to

the three most popular locations

for Great White cage diving: False

Bay, about 30 minutes from Cape

Town; Seal Island, in Mossel Bay;

and Shark Alley, the channel that

runs between the Dyer Island

seal colony and the mainland at

Gansbaai (near Hermanus).

QUAD CRUISING

Year-round sunshine, jaw-dropping

scenery, and a rich diversity of

terrain make South Africa the

perfect playground for quad-biking

enthusiasts. There are trails in all

nine provinces (more than 60 in

total) and many destinations offer

quad bikes for rent along with

helmets. You can ride in wildlife

reserves, through the winelands,

along the coast, up mountains and

past waterfalls – the possibilities are

almost endless.

SANDBOARDING

It's just like it sounds: slide your

feet into a sandboard (a modified

snowboard) and glide (or slide on

your bum) down steep sand-filled

dunes. Sandboarding has become

a major sport in some parts of

South Africa, and is extremely

popular near Cape Town and in the

Eastern Cape. The equipment and

techniques are similar to those of

snowboarding, making it a fun (and

warm) way to learn the sport – not

to mention a good time in its own

right. Betty's Bay, about an hour's

drive from Cape Town, is a popular

sandboarding venue and a great

area for whale watching, surfing,

diving, and hiking too.

CANOEING

Like to paddle? South Africa has no

shortage of spectacular rivers and

lakes. Here is just a small sampling:

• The Orange River snakes its way

through majestic mountains

and into the Atlantic Ocean at

Alexander Bay, on the border with

Namibia.

• The Vaal River, a tributary of

the Orange River not far from

Johannesburg, has gentle rapids,

making it a good choice for those

who prefer a more laidback ride.

• The Palmiet River in the Western

Cape runs through the Kogelberg

Nature Reserve and has fantastic

rapids and scenery.

• The Kosi Bay lake system is a

beautiful and biologically unique

region of KwaZulu-Natal – and

you can explore it with a guide.

• The Blyde River in Mpumalanga is

one of the most exquisite rivers in

South Africa. It has a challenging

section with a steep gradient, as

well as a tamer stretch for more

leisurely paddling.

SURFING

There are dozens of prime surfing

spots within an hour's drive of

Cape Town and along Durban's

famous "Golden Mile" stretch of

beaches. Dedicated surfers should

try the excellent "supertube" waves

at Jeffreys Bay or head to Cape

St. Francis, where the makers

of the cult surfing film, Endless

Summer, found "the perfect wave."

Hartbeespoort Dam, a half-hour

drive from Johannesburg, is a

popular weekend spot for inland

watersports lovers with all kinds of

sailing and boating options, even

for those looking for a more relaxed

experience.

BUNGEE JUMPING

The 591ft Bloukrans Bridge, a stop

on the scenic Garden Route, is the

highest commercial bridge bungee

jump in the world. You'd be hard

pressed to find a bigger adrenaline

rush than this – seven seconds of

freefall into a gaping gorge.

WATCH THIS!

SCAN TO WATCH

A CLASSIC

SOUTH AFRICAN

ADVENTURE –

BUNGEE JUMPING!

WATCH THIS!

SCAN TO WATCH

A CLASSIC

SOUTH AFRICAN

ADVENTURE –

SHARK-CAGE

DIVING!

Coming eye to eye with a Great White shark in Gansbaai

Surfing at KwaZulu-Natal's coastline

21 | SOUTHAFRICA.NET

SOUTHAFRICA.NET | 22

Bungee jumping over the Storms River
---
OUTDOOR

PLAYGROUND

RAPPELLING

Known to South Africans as

abseiling, this extreme sport is

popular in many areas of South

Africa. Only the most experienced

rappellers will be up for the

challenge at Graskop Gorge in

Mpumalanga, the world's highest

cable gorge swing with a 220-foot

freefall. It's similar to a bungee

jump, except that you are strapped

to a sitting harness and reach

100mph in 2.3 seconds.

ZIP LINING

The Tsitsikamma Canopy Tour on

the Garden Route ranks among the

most sophisticated experiences

of its kind in the world. On this

fully-escorted trek, you'll don a

state-of-the-art full-body harness

and glide from one tree platform

to the next – all the while taking

in incredible views of the Eastern

Cape's Tsitsikamma Forest and

its diverse wildlife. The total trip

consists of eight platforms and nine

cable slides (the longest of which is

over 260ft) and takes about three

hours to complete. Not bad for a

journey of a lifetime.

HOT AIR BALLOONING

Nothing beats the experience

of floating above the African

bushveld in a hot air balloon.

There are two excellent operations

in the Magaliesburg and

Crocodile River Valley areas near

Johannesburg. Escape the city

before dawn and watch the sun

rise from high up as you toast the

new day with a sip of sparkling

wine. You can also enjoy a

game-viewing flight at Pilanesberg,

near Sun City, or a scenic flight at

Hazyview, in Mpumalanga. During

the summer (December through

February), you can also fly over

the beautiful Paarl vineyards, near

Cape Town.

MICROLIGHTING

Gliding over majestic mountains,

soaring above stunning scenery –

microlighting provides a thrilling

way to view wildlife in their natural

habitat. Your ride is a two-person

mini aircraft and there are qualified

pilots and instructors in just about

every province of South Africa.

Though not for the faint hearted,

this increasingly popular adventure

is more than rewarding.

MOUNTAIN BIKING

South Africa has no shortage of

mountain biking routes for you

to tackle. The Western Cape is

full of captivating routes through

vineyards or mountains, or both.

But these routes aren't reserved

for the Western Cape; the Eastern

Cape, KwaZulu-Natal and Gauteng

all offer superb mountain biking

trails and challenges.

There are also competitive

mountain biking events like the

Freedom Challenge that takes you

through dramatic mountain passes

to the ocean and the eight-day

Cape Epic that has been described

by Bart Brentjens, the 1996 Olympic

gold medallist in mountain biking,

as the "Tour de France of mountain

biking". Then there are races that

start inland and end at the ocean

like the Sani2C, a three-day race

that starts in the Sani Pass and ends

in KwaZulu-Natal.

FOR MORE INFORMATION

ON THESE AND OTHER

ADVENTURE ACTIVITIES,

VISIT SOUTHAFRICA.NET

Canoeing at Storms River Mouth, Tsitsikamma

Hot air balooning over the Pilanesberg

Hiking in the Cederberg Conservancy

A CHANGE OF PACE

HIKING AND WALKING

You don't need any special skills to

experience South Africa's many excellent,

scenic trails — just two sturdy legs and a

good pair of hiking boots.

THE HOERIKWAGGO TRAIL: This trail spans the entire

Table Mountain Range, from the city to Cape Point – and a

multitude of habitats. Take a two- to five-day, easy-paced hike

(you'll overnight in huts) and keep an eye out for baboons,

tortoises, antelopes, ostrich and the rare sugarbird.

THE CEDERBERG MOUNTAINS: Only two and a

half hours from Cape Town, the ancient walking trails of the

Cederberg Mountains will take you through fynbos, past rock

formations, and over clear mountain streams. It's best to visit in

spring or autumn, when wildflowers transform the land.

THE RICHTERSVELD TRANSFRONTIER PARK:

Shared by the Northern Cape and Namibia, this 618-square-mile

transfrontier national park is a dramatic stretch of mountain

desert wilderness. You'll find some of the highest sand dunes in

the world here, as well as antelope, zebra, big cats, raptors and

the world's largest range of succulent plants. In the cool season,

five-day hiking trails are open. Visitor numbers are limited as the

ecosystem is fragile.

23 | SOUTHAFRICA.NET
---
TOP COURSES

PECANWOOD GOLF

& COUNTRY CLUB,

HARTBEESPOORT

DAM, NORTH WEST:

Designed by Jack

Nicklaus, the course

also boasts the most

bunkers of any in

South Africa.

ROYAL CAPE GOLF

CLUB, CAPE TOWN:

This course has

hosted the South

African Open no less

than 11 times.

ROYAL

JOHANNESBURG &

KENSINGTON GOLF

CLUB, GAUTENG:

With two prestigious,

scenic 18-hole

courses, the club

has hosted several

South African Open

Championships.

PEZULA

CHAMPIONSHIP

GOLF COURSE,

WESTERN CAPE:

This 18-hole course,

with views of both

the Knysna Lagoon

and Indian Ocean,

is designed to

include a full range

of shots, making

it a rewarding golf

experience for

players of all levels.

HERMANUS

GOLF COURSE,

WESTERN CAPE:

Whales can be

seen off the coast

between July and

November, while

a resident troop of

baboons regularly

romp across the flat

fairways.

HUMEWOOD

GOLF CLUB,

PORT ELIZABETH,

EASTERN CAPE:

Consistently ranked

in South Africa's

top 10 for the past

several years.

SELBORNE GOLF

CLUB, KWAZULU-

NATAL: The South

African equivalent

of America's famed

Augusta course,

water features come

in to play on just

about every hole.

WILD COAST SUN

COUNTRY CLUB,

NEAR DURBAN,

KWAZULU-NATAL:

The dramatic coastal

setting has been

used to maximum

effect by golf

architect Robert

Trent Jones.

WATCH THIS!

THE MOST

UNUSUAL 19TH

HOLE IN THE

WORLD? WATCH

THIS VIDEO

TO FIND OUT:

TEE-OFF IN STYLE

Pezula Resort Hotel, in Knysna

Golf has been popular in South Africa ever

since its first course was founded in 1885.

Today, world-class facilities can be found in

all nine provinces, and golf giants such as

Tiger Woods come to play them. Blessed

with great weather and gorgeous natural

locations, South Africa is also the birthplace

of golf greats of its own, including Ernie Els,

Retief Goosen, and Masters winners, Trevor

Immelman (2008) and Charl Schwartzel

(2011). Gary Player, South Africa's first golf

superstar, is one of only five golfers to win a

"career Grand Slam."

STAR DESIGNER

Gary Player has lent his

considerable design talent

to many of South Africa's

premier golf courses. Here are

some of his greatest works:

FIRST-PERSON ACCOUNT

THE THRILL

SEEKER

My journey took me on an adventure beyond

my wildest expectations, where I discovered

a contrasting beauty, both rustic and refined,

that I never imagined existed in one place. I

experienced gorgeous coastal beaches, lush

forests, and vibrant metropolises.

I tried surfing for the first time in Durban's

Indian Ocean and gazed upon whales

breaching just offshore in Hermanus. I soared

through the treetops with exotic birds on

a zip line canopy tour and had a black-tie

breakfast with penguins on Boulders Beach.

Later, I got up close and personal with one

of the most revered predators in the world

while cage diving with Great White sharks.

Then, for the ultimate adrenaline rush, I

took a literal "leap of faith" from the highest

commercial bungee jump in the world at

Bloukrans Bridge.

South Africa was even an adventure for

my taste buds. A trip to Groot Constantia,

one of the oldest wine estates in the world,

gave me the opportunity to try Napoleon's

favorite wine. Along the vibrant Long Street

in the heart of Cape Town, I sampled local

delicacies – ostrich, springbok and crocodile

– and was introduced to the music of seven

young men from the nearby Gugulethu

Township; their pride and passion was

inspiring and my heart was touched when

they invited me to sing and dance along

with them.

I believe no trip to South Africa would

be complete without the quintessential

safari experience. This was perhaps my

most highly anticipated stop on the

trip, and seeing my first pride of lions in

the KwaZulu-Natal province gave me a

profound sense of their power and grace.

The warmth and generosity of all those I

encountered will remain one of the most

enduring memories of my visit to South

Africa – and the endless possibilities for

further discovery left me eager to return.

Gary Player Country Club, Sun City

Gary Player Country Club, Sun City

• The acclaimed Gary Player Country Club at

Sun City, home of the annual Million Dollar

Golf Challenge.

• Two 18-hole championship golf courses at

Fancourt Hotel & Country Club in the

Western Cape.

• Leopard Creek Golf Course near Malelane

in Mpumalanga, with magnificent views of the

surrounding bush and plenty of stray wildlife

wandering around. Don't be surprised if you

find a hippo in the water!

YVES, AN ADVENTURE

ENTHUSIAST FROM NEW

YORK, DOES IT ALL — AND

THEN SOME.

SOUTHAFRICA.NET | 26
---
BUSTLING

CITY LIFE

BUSTLING

CITY LIFE

FEEL THE

PULSE

THIS IS WHERE

BUSINESS

HUBS, BUZZING

EATERIES

AND THE

UNCONTAINABLE

ENERGY OF

THE NIGHTLIFE

SCENES ALL

FORM THE

FABRIC OF CITY

LIFESTYLES.

Here, people can enjoy the quiet of suburban

bliss, authentic township flavor and the

beating heart of the country. Joburg's revived

Maboneng Precinct is just one example

of where art, culture, young and old come

together in an exciting space to share

food, drinks and good times. This unique

atmosphere can be experienced in any of our

trendy informal markets around the country

including the Biscuit Mill in Woodstock, Cape

Town, and the Durban Food Market.

When the sun goes down, the lights glow

not only to make the night sky beautiful, but

to invite every neighborhood to a dance off.

Whether dancing to celebrate a momentous

event or taking to the streets during a musiccharged

revolution, urban-dwellers are both

the party throwers and goers. From the

jazzy nights of 1970s Sophiatown to today's

downtown hip hop culture, South Africans

have been dancing for decades and show no

signs of stopping.

OF SOUTH AFRICA

WELCOME TO THE URBAN SOUTH

AFRICAN'S PLAYGROUND – THE CITY.

Jazz Club, Johannesburg

27 | SOUTHAFRICA.NET

SOUTHAFRICA.NET | 28
---
BUSTLING

CITY LIFE

TABLE MOUNTAIN

This landmark mountain has

been voted one of the world's

New7Wonders of Nature for its

startling beauty, both from below

and ontop, and for being a haven

to a rich variety of animals and

plant life. Offering a glorious and

panoramic view of the entire city,

this famous flat-topped mountain

is synonymous with the Cape

of Storms. It presides over Cape

Town's history, and the stories of

the city are etched into its form.

ROBBEN ISLAND

A 40-minute ferry ride from shore,

the once isolated Alcatraz of South

Africa's political prisoners (including

Nelson Mandela) now boasts a

museum and nature reserve.

THE VICTORIA & ALFRED (V&A)

WATERFRONT

With its magnificent harbor,

beautifully maintained historical

buildings and upmarket dining and

shopping options, it is little wonder

that the V&A Waterfront is one of

the city's favorite haunts.

BO-KAAP

It may be one of the most

phographed areas of the Mother

City but brightly painted houses

and quaint cobbled streets aren't

the only reasons to visit the Bo-

Kaap – this part of Cape Town is

packed full of history and culture.

CAPE POINT

Cape Point is said to be the

southern tip of Africa but in reality

the southernmost point is Cape

Agulhas. But this doesn't detract

from Cape Point's dramatic views

of the ocean and a nature reserve

that boasts a rich diversity of

animals and plants – it's an ideal

place to see the Cape Floral

Kingdom (the smallest of earth's

biomes).

CHAPMAN'S PEAK

Said to be one of the world's most

scenic drives, this spectacular drive

winds around the Cape Peninsula

on the Atlantic Ocean side. Looking

down to the ocean as you glide

along the cliff-perched road, you

might very well see a whale or two

depending on the season. It opened

in 1922 and winds for approximately

six miles, linking the villages of Hout

Bay and Noordhoek.

View from Chapmans

Peak, Cape Town

1.

ICONIC

CAPE TOWN

As South

Africa's oldest

city, Cape Town

carries the

distinguished

title of the

Mother City.

Some would

say that, with

her rugged

beauty, she

is indeed the

mother all of

cities.

Skyline, Durban

THE BIG THREE

GREEN MARKET SQUARE

A cosmopolitan melting pot in the

heart of the city – complete with

Rastafarians, djembe drums, and

curios from across the continent –

this is one market you don't want

to miss.

BOULDERS BEACH

Home to a colony of endangered

African penguins, Boulders Beach –

situated just outside historic Simon's

Town – is a popular destination for

locals and visitors alike.

Penguins on Boulders Beach, Cape Town

SOUTH AFRICA'S ICONIC CITIES

ARE DESTINATIONS IN THEIR OWN

RIGHT AND THERE IS PLENTY TO

EXPLORE IN ALL OF THEM.

Durban skyline

Hike up Table Mountain, Cape Town

SOUTH

ATLANTIC

OCEAN

CAPE

TOWN

SOUTH

AFRICA

INDIA

OCEA

29 | SOUTHAFRICA.NET
---
WELCOME TO

SOUTH AFRICA

WELCOME TO

SOUTH AFRICA

SOUTH

ATLANTIC

OCEAN

2.

ENERGETIC

JOHANNES-

BURG

The City of Gold

is the hub of

entertainment

and commerce in

South Africa and,

as Jozi residents

will tell you, this

place rocks!

SOUTH

AFRICA

JOHANNESBURG

Apartheid Museum, Ormonde

INDIAN

OCEAN

MABONENG

This is the perfect place to

immerse yourself in the rich

diversity and energy of Joburg

culture. The Maboneng Precinct

is packed with buzzing places

to socialise, have a bite to eat,

or soak in some Joburg culture.

Shop at one of the local designer

boutiques, have a sundowner

at a rooftop bar while enjoying

the skyline and then watch an

acclaimed local film or play.

SANDTON

Sandton is Joburg's financial hub

where you'll find glitzy nightclubs

and cocktail bars, upmarket

restaurants and bistros as well as a

huge selection of designer shops.

MARKET THEATRE

Known as South Africa's "Theatre

of the Struggle," the Market Theatre

is renowned for its anti-apartheid

plays, and is a cultural complex

for theatre, music, dance and the

allied arts.

ART DISTRICT

The Johannesburg Art Gallery is the

biggest, and oldest, art gallery on

the African continent and boasts

an incredible collection of artwork,

ranging from sculpture and

multimedia displays to paintings,

etchings and photography.

Rosebank is fast emerging as

another art district, with an

ever-growing number of galleries

and studios popping up. Visit the

Goodman Gallery, Circa Gallery

and David Krut Projects, amongst

others, and be mesmerized by the

wealth of creative talent South

Africa has to offer.

APARTHEID MUSEUM

Johannesburg's Apartheid

Museum is a venture into the

past, designed to give a personal

experience of a time when a

person's entire life was based on

the color of his or her skin.

NEIGHBOURGOODS MARKET

AND BRAAMFONTEIN

Immerse yourself in the Saturday

morning buzz of Braamfontein and

the Neighbourgoods Market. It's

all about craft and local produce

here with a huge selection of

delicous local food and drink.

Then there's local designer clothing,

jewelry and vintage finds. Enjoy

all this while sitting in the sun on

the rooftop and watching Joburg

culture pass by.

Budding fans in the making

GAUTRAIN

The high-speed Gautrain is Africa's

first world-class, high-speed train

system linking Johannesburg,

Pretoria, the airport and beyond.

GOLD REEF CITY

Widely recognized as one of

the premier theme parks in the

country, Johannesburg's Gold Reef

City Theme Park offers fun for the

entire family.

SOWETO

Just south of Joburg lies Soweto,

the largest township in South

Africa, and the heart of the

struggle against apartheid. Cycling

tours are a great way for first-time

visitors to immerse themselves in

this vibrant region. Visit the vibey

Vilakazi Street that was once home

to two Nobel Peace Price Winners,

Nelson Mandela and Archbishop

Desmond Tutu, and make sure you

visit Nelson Mandela House and

the Hector Pieterson Memorial &

Museum.

DID YOU

KNOW?

SOWETO IS THE ONLY

PLACE IN THE WORLD

WHERE TWO NOBEL

PEACE LAUREATES—

NELSON MANDELA AND

DESMOND TUTU—LIVED

ON THE SAME STREET.

Rickshaw, Marine Parade Promenade

MOSES MABHIDA

STADIUM

The stadium is one of Durban's most

iconic landmarks, it hosted eight of

the FIFA World Cup matches in 2010,

holds 70 000 seats, and has the

world's highest commercial swing –

the Big Rush Big Swing.

USHAKA MARINE WORLD

Boredom is not an option here.

Visitors can watch dolphins at play,

witness a shark feeding session, go

for a dive in one of the tanks or take

a wild ride down a water chute.

VICTORIA PARK

RICKSHAW RIDES

This three-wheel, tuk-tuk type

of transport is a great way to see

Durban's famed beachfront while

appreciating the ornate headdresses

of the rickshaw pullers.

DURBAN BOTANIC GARDEN

Africa's oldest surviving green

masterpiece, the Durban Botanic

Garden is a luxuriant haven

for orchids, palms, cycads, and

many other beautiful examples of

indigenous and exotic flora.

VALLEY OF 1000 HILLS

Unspoiled nature and wildlife,

magnificent scenery, wining and

dining, and warm country hospitality

are just a half hour's drive from the

center of Durban, in the Valley of

1000 Hills.

UMHLANGA ROCKS AREA

If you take an early morning

stroll along the Umhlanga Rocks

promenade, you may see dolphins

surfing the waves just offshore.

VICTORIA MARKET

The Victoria Street Market displays

Durban's lively Indian soul through

its wide range of fresh produce,

crafts and fabrics – all conveniently

housed under one roof in the heart

of the city.

SHAKALAND CULTURAL

VILLAGE

Feel the pulsating rhythm of

mysterious and magical Africa

as you relive the excitement and

romance of the days of Shaka,

King of the Zulus, in this authentic

recreation of the Great Kraal

overlooking the Phobane Lake.

SOUTH

ATLANTIC

OCEAN

3.

VIBRANT

DURBAN

More than

sun, sea and

sand, Durban

is a vibrant

multicultural

city that

pulsates to its

own drum.

SOUTH

AFRICA

DURBAN

INDIAN

OCEAN

Shakaland Cultural Village

31 | SOUTHAFRICA.NET
---
A TASTE OF THE

GOOD LIFE

SOUTH AFRICA'S BRILLIANT WINES ARE

FINDING THEIR WAY TO TABLES AROUND

THE GLOBE – AND UNDER THE STARS.

THE BEST WAY TO APPRECIATE THEM IS

WITH SOUTH AFRICA'S WORLD-CLASS

CUISINE, PREPARED BY SOME OF THE

BEST CHEFS ON THE PLANET.

Franschhoek, Cape Town
---
BUSTLING

CITY LIFE

Alfresco dining

Curry served in a half bread loaf is known as a "bunny chow"

FROM TRADITIONAL AFRICAN FARE TO THE

MILD, SWEET CURRIES OF CAPE TOWN'S BO-

KAAP DISTRICT, TO THE SUCCULENT SEARED

KUDU SERVED AT A BRAAI (BARBECUE) IN A

SAFARI LODGE'S BOMA (ENCLOSED OUTSIDE

AREA), SOUTH AFRICA IS BRIMMING WITH

CULINARY EXPERIENCES.

In addition to homegrown talent, this gem

of a country is also attracting top chefs from

around the world, making it an exciting culinary

destination. Choose from an array of restaurants

in a variety of settings, including alfresco

waterfront bistros; bucolic hideaways tucked

into vineyards; sophisticated city restaurants;

and out-of-Africa-style safari dining, complete

with pressed white tablecloths and candles. In

Hermanus, you can even enjoy fine dining in a

cave with a lovely view of the ocean!

ON THE MENU

With Cape Town being recently voted the top

food city in the world by Conde Nast Traveller,

and food festivals and award-winning restaurants

popping up throughout the country, you'll

find a host of culinary delights on your travels.

Wherever you go, you're sure to be offered some

regional delicacy, and as South Africans like to

say: "local is lekker" (local is nice).

In addition to savory meat dishes made with

beef, pork, lamb and chicken, there are also

several varieties of game that you might want

to try, including springbok (a type of venison),

ostrich, and even warthog. Non-meat eaters

shouldn't despair: the fruit and vegetables grown

in South Africa are of remarkable quality (try the

world-renowned juices from areas such as Ceres,

about 90 miles northeast of Cape Town) and the

locally caught seafood is fantastic.

A term you'll hear often is "line fish", which simply

means the catch of the day, usually grilled and

served with lemon wedges. Local line

fish includes flaky-white, salt-water kingklip, saltwater

snoek, satisfyingly oily butterfish, and even

juicy barracuda, caught off South Africa's eastern

shores. Crayfish (clawless lobsters), Knysna

oysters, and abalone are local delicacies as well.

Maize, or corn, is a staple of traditional African

cuisine and often makes its way to the table in

one of two ways: roasted on the cob or ground

into flour and cooked as pap (similar to polenta).

Use the pap to dip into a traditional stew such

as umngqusho, made of maize, beans, chilies

and potatoes (and said to be a favorite of Nelson

Mandela). Boerewors – or spiced sausages of

beef or pork grilled together with sirloin and

lamb chops – are a highlight of Afrikaans fare,

and must-taste desserts include melktert (light

custard in a pie shell) and koeksisters (fried

doughnuts in syrup).

WHET YOUR

APPETITE

READ UP ON SOUTH

AFRICA'S DINING SCENE

IN THESE TWO

ONLINE GUIDES:

WWW.EATOUT.CO.ZA

WWW.RESTAURANTS.CO.ZA

35 | SOUTHAFRICA.NET

Braai (barbecue) is a big South African tradition
---
NAMIBIA

SOUTH

ATLANTIC

OCEAN

SOUTH AFRICA'S WINE REGIONS

CAPE TOWN

SOUTH

AFRICA

OLIFANTS RIVER

SWARTLAND

DARLING

TULBAGH

TYGERBERG

PAARL

BREEDEKLOOF

WORCESTER

KLEIN KAROO

CALITZDORP

LANGEBERG-GARCIA

CONSTANTIA

STELLENBOSCH

FRANSCHHOEK VALLEY

ELGIN

OVERBERG

SWELLENDAM

PLETTENBERG BAY

CAPE POINT

WALKER BAY

CAPE AGULHAS

CENTRAL ORANGE RIVER

DINING

DICTIONARY

Here is a list of some

of the vocabulary

essential to the

South African dining

experience:

BILTONG:

Dried, cured meat

BOBOTIE:

A sweet curried ground meat

dish of Cape Malay origin

BOEREWORS:

Sausages to be cooked

on the braai

BRAAI:

Barbecue

BREDIE:

Slow-cooked stew

Map: Albert Mena

A TOAST TO WINES AND

WINELANDS

South African wines are rightfully

taking their place in international

circles, winning competitions when

blindly compared to the bestknown

wines of the world. The

country's varietals include whites,

such as Sauvignon Blanc and

Chenin Blanc, and reds, including

Cabernet Sauvignon and Shiraz.

Unique to South Africa is Pinotage,

a cross between Pinot Noir and

Cinsault (also known as Hermitage).

More than a fifth of all South

African vineyards are devoted to

it. Many of the larger estates also

have excellent restaurants, and

enjoying a multi-course meal is a

great way to learn about pairing

foods and wines.

INDIAN

OCEAN

In recent years, South Africa has

been cited as home to the world's

"most beautiful wine country" in

Food & Wine, Condé Nast Traveller

and Occasions magazines, as well

as by the American Institute for

Foreign Study, among others. You

can judge for yourself by touring

one of 13 wine routes in the

Western Cape, where you'll find

hundreds of estates that produce

thousands of wines. Some visitors

make a quick half-day trip from

Cape Town, while others spend a

week, writing tasting notes at the

scores of vineyards and fine-dining

establishments in the region (make

sure to ask for a table with a view

of the vineyard), and bedding

down in memorable inns.

PINOTAGE

ORIGINS

In 1925, a professor

at the University

of Stellenbosch

crossed Pinot Noir

with Hermitage

(Cinsault) and

Pinotage was

born. This variety

is unique to

South Africa and

is celebrated

worldwide for its

distinctively rich

and spicy wines.

More than a fifth of

the South African

red wine vineyards

are dedicated to

Pinotage.

The Cape Winelands, Cape Town

Try our South African bubbly

FOLLOW THE WINE TRAIL

YOU CAN'T GO WRONG WITH ANY OF SOUTH AFRICA'S 13 WINE

ROUTES, BUT THESE FIVE RANK AMONG THE MOST POPULAR:

1. Franschhoek

About an hour outside of Cape

Town, this scenic area has some

20 wineries and is considered

the gourmet capital of the

Winelands.

www.franschhoek.org.za

2. Stellenbosch

Only a 35-minute drive from

Cape Town, this quaint, charming

oak-tree lined town is known as

the wine capital of South Africa,

boasting nearly 100 wine estates.

www.wineroute.co.za

3. Paarl

Home to Nederburg, one of

the Cape's best known wineries,

Paarl also offers one of the

most popular cellar tours in the

winelands at KWV, whose 55-acre

cellar is the largest in the world.

www.paarlwine.co.za

4. Wellington

This wine route is small but

popular because its cellars are

easy driving distances from one

another.

www.wellington.co.za

The Cape Winelands,

fringed with mountains.

5. Route 62

This is the world's longest wine

route, with wine cellars and

estates in Paarl, Wellington,

Tulbagh, Worcester, Robertson,

Montagu, Barrydale, Ladismith,

Calitzdorp and Oudtshoorn.

www.route62.co.za

BUNNY CHOW

A Durban delicacy: hollowed-out

bread filled with curry

PAP:

Maize-meal porridge,

similar to polenta

PEPPADEWS:

Pickled sweet peppers,

exclusively produced

in South Africa

PERI PERI:

Spicy hot sauce originally

brought by Portuguese traders

PINOTAGE:

South Africa's signature wine,

a blend of Pinot Noir and

Cinsault varietal

SOSATIES:

Kebabs seasoned with Cape

Malay spices

UMNGQUSHO:

Made of maize, beans, chilies

and potatoes – like an

African risotto

37 | SOUTHAFRICA.NET
---
Dining, Cape Town

FIRST-PERSON ACCOUNT

WATCH THIS!

SCAN TO WATCH

CHEF REUBEN RIFFEL

IN SOUTH AFRICA.

Reuben Riffel, co-owner of the

award-winning Reuben's Restaurant, is the

native sensation of Franschhoek, a

picturesque town in the Cape Winelands.

Dinner and entertainment

Spices at Victoria Market, KwaZulu-Natal

THE

CHEF'S TOUR

FOOD & WINE

SHOWS

IF YOU ARE TRULY A DEDICATED

FOODIE, YOU CAN TIME YOUR

VISIT TO COINCIDE WITH ONE OF

THE THREE GOOD FOOD & WINE

SHOWS HELD ANNUALLY IN CAPE

TOWN (MID-MAY), DURBAN (LATE

SEPTEMBER) AND GAUTENG

(EARLY NOVEMBER).

FOR INFORMATION AND

REGISTRATION DETAILS, VISIT

WWW.GOURMETSA.COM

WWW.WOSA.CO.ZA

I grew up just a stone's throw away from

the restaurant that today bears my name

in the small village of Franschhoek. Blessed

with hearty appetites, my family loved

food – growing it, preparing it, and sharing

it. My grandfather and father spent hours

in the garden and we always had plenty of

fresh fruits and vegetables on our table. My

grandmother was the baker of the family.

It was there in the family kitchen that I first

fell in love with the tantalizing mix of culture

and cuisine that makes food an integral part

of South Africa's identity. Today, I find great

joy in sharing our culinary traditions with

the rest of the world.

Even the most experienced traveler will find

South Africa a delicious revelation. I invite

all serious "foodies" to discover our distinct

tastes, fusion of cultures and the undeniable

warmth of our people at one of our annual

food and wine festivals.

Since opening his restaurant in 2004, Reuben

has been honored with numerous awards and

published two books, Reuben Cooks: Food is

Time Travel, which received Best Chef's Book

by the Gourmand World Cookbook Awards,

and Reuben Cooks Local, which focuses on

local produce and passionate food growers.

He just launched his first urban restaurant at

the One&Only Resort in Cape Town.

ACCLAIMED CHEF REUBEN

RIFFEL SHARES HIS

IMPRESSIONS OF SOUTH

AFRICA'S CULINARY SCENE

Lunch with friends in the Winelands, Cape Town
---
BUSTLING

CITY LIFE

OTHER

ATTRACTIONS

FOR THE URBAN

ENTHUSIASTS

Relax in a world-class spa, roll the dice, visit one

of South Africa's art galleries and shop 'til you

drop. In South Africa, it's easy to take it easy.

SPAS

No matter where you choose to stay in South

Africa – deep in the bush, in a bustling city, or

at a beach resort – a relaxing and pampering

spa experience is never far away. Many spas use

local ingredients to create special "only-in-South

Africa" treatments. To name a few: Cape Town's

The Twelve Apostles Hotel & Spa is known for its

unusual fynbos exfoliation; Camelot Spa at Table

Bay Hotel, also in Cape Town, uses rooibos tea

and local oils; and Fourdoun in KwaZulu-Natal

offers a fusion of traditional medicine and

contemporary wellness treatments under the

guidance of a traditional Zulu healer.

SHOPPING

From world-class shopping malls in major cities

to small craft markets in local villages, South

Africa offers great value for your shopping dollar.

Ndebele beaded belts and dolls, Zulu baskets

woven from rainbow phone wire, and tables

and chairs carved from yellowwood are among

the locally-produced crafts that will "wow" your

friends when you get home. For jewel lovers,

Tanzanite, with its deep purple and azure colors,

is the stone of choice. And don't miss the locallyproduced

gold, diamond, and platinum jewelry.

Sandton City Mall, Eastgate Shopping Centre,

the Gateway Theatre of Shopping and the V&A

Waterfront are some of the best-known South

African malls. Melrose Arch has a tree-lined mix

of African and European shops while the African

Craft Market, at the Rosebank Mall, is a great

spot for African masks, clothing and other goods

from South Africa and beyond.

Shop in Sandton, Johannesburg

A MINI ITINERARY

DAY 1:

Hang out at Clifton's 4th Beach in

Cape Town, the place to be seen

in summer.

DAY 2:

Indulge in a locally-inspired spa

treatment at Cape Town's Camelot

Spa at Table Bay Hotel.

DAY 3:

Play a round of golf at Royal Cape

Golf Club, the 11-time host of the

South African Open.

ART

Ever seen San rock art? The San Bushmen

were the original inhabitants of South Africa,

and left behind some 40 000 paintings in the

uKhahlamba-Drakensberg Mountain Range, the

largest collection of its kind in the world. You

can view these magnificent works in situ, or in

museums like Cape Town's Iziko SA Museum

and The McGregor Museum in Kimberley. South

Africa's rich artistic heritage spans thousands of

years, from those first San paintings to colonialera

paintings and contemporary crafts. Read:

art-lovers are in for a real treat.

HERE ARE A FEW OF THE

COUNTRY'S GREATEST CREATIONS:

• The South African National Art Gallery,

part of Cape Town's Iziko Museums,

features impressive collections ranging

from colonial to contemporary art. The

main body of the colonial collection

consists of Dutch, French and British works

from the 17th to the 19th century; the

contemporary collection has extensive

catalogues of 1980s apartheid art,

including repatriated artifacts that were

removed from South Africa over the last

200 years.

• Known for its daring mix of unusual

ceramic art techniques and its bold display

of Zulu color and folklore, the Ardmore

Ceramic Art Studio, in KwaZulu-Natal,

is one of South Africa's most celebrated

ceramic art studios.

• Stretching between the city of

Pietermaritzburg and the uKhahlamba-

Drakensberg Mountains, the 50-mile

Midlands Meander is the largest art

and craft tourism route in South Africa,

and one of the most successful, with over

215 businesses in the arts and crafts,

hospitality, heritage and eco-tourism

sectors.

• The Newtown Cultural Precinct is the

heart and soul of Johannesburg's cultural

landscape, and is packed with museums,

art galleries, craft workshops, dance

studios, live music venues, nightclubs, bars

and restaurants. Among Newtown Cultural

Precinct's more famous landmarks are

Museum Africa and the Market Theatre.

High Tea at Westcliff Hotel, Johannesburg

CASINOS

Throughout South Africa you'll find dozens of

gambling palaces whose size and scale rival

those in Europe and North America. Most are

part of massive resorts with amenities that may

lure you from the gaming tables, including

ice-skating rinks and private game parks. Las

Vegas-style amenities (think high-roller lounges,

gourmet restaurants, decadent shops) are all

available at South Africa's casinos, too.

Take in our local art scene

41 | SOUTHAFRICA.NET

Admire the local crafts
---
VIBRANT

CULTURE

Street markets

Learn about Ndebele art

Remembering our heroes at the Aparheid museum

CONNECT WITH

CULTURE

THE HEART AND SOUL OF SOUTH AFRICA

Nobel Peace Prize winner, Archbishop Desmond

Tutu, coined the term "Rainbow Nation" to capture

the extraordinary diversity of races, tribes, creeds

and landscapes that characterize the modern South

Africa. Getting to know South Africa's amazing people

may be the most enduring memory of any visit.

Join our traditional Rain Dance

THE LOCAL LINGO

SOUTH AFRICA HAS 11

OFFICIAL LANGUAGES.

English is the most widely used, and is

spoken almost everywhere. And if you

really want to feel at home, here's how

to say "hello" in the other ten languages:

South African English: Howzit

Sesotho: Dumela

Sesotho sa Leboa/Pedi: Dumela

Zulu: Sawubona

Xhosa: Molo

Ndebele: Lotjha

Setswana: Dumela

Afrikaans: Goeie Dag

SiSwati: Sawubona

Xitsonga: Avuxeni

TshiVenda: Ndaa / Aa!

43 | SOUTHAFRICA.NET

Ancient rock art

SOUTHAFRICA.NET | 44
---
VIBRANT

CULTURE

ARCHBISHOP DESMOND TUTU

COULDN'T HAVE PICKED A

MORE FITTING NAME FOR HIS

NATIVE COUNTRY. FROM THE

NDEBELE IN MPUMALANGA

AND THE LARGEST

CONCENTRATED INDIAN

POPULATION OUTSIDE INDIA

IN DURBAN TO THE XHOSA

IN THE EASTERN CAPE, THE

"RAINBOW NATION" IS A RICH

MULTICULTURAL MIX, 55.6

MILLION STRONG.

South Africa's astounding diversity is rooted in

its ancient past. Some of the earliest evidence

of the emergence of the human species has

been discovered here – artifacts dating back

one-to-three million years – and for the past

100 000 years, the region has been populated

by Khoisan hunter-gatherers, or Bushmen.

The Khoisan turned to pastoralism

some 2000 years ago, acquiring

livestock from Bantu-speaking

people migrating southwards.

In the east, Bantu tribes began

migrating southwards while

the Nguni (Zulu, Xhosa, Swazi,

Ndebele) occupied present-day

KwaZulu-Natal and the Eastern

Cape; the Sotho and Tswana

populated the central regions; and

the Venda, Lemba and Shangaan-

Tsonga remained in the north.

After their arrival in 1647, the

Dutch brought in slaves from the

east and Madagascar, giving rise

to the mixed-race of "coloured"

people who are now the

predominant racial group in the

Western Cape and Northern Cape.

Today's Rainbow Nation is

comprised of at least six major

cultural and ethnic groups – Xhosa,

Zulu, Afrikaans, Venda, Ndebele

and Sesotho – and each will enrich

your South Africa experience

in their own way. So tour the

townships, visit a cultural village,

and be sure to talk to people

wherever you go, as you'll find

South Africa's culture alive and

vibrant everywhere you look.

PAYING TRIBUTE TO THE PAST

South Africa's varied museums are

a good place to get a feel for the

history of the country and learn

Nelson Mandela statue at the Union Buildings, Pretoria

more about what makes the people

here so special. Here's a sampling

that highlights a few of the country's

many outstanding museums:

• The Apartheid Museum gives

visitors insight into the country's

turbulent past, and ultimately

illustrates the triumph of the

human spirit over adversity. A

unique interactive system, where

you can assume the identity of

an individual who lived during

the struggle, lends an emotional

poignancy to a visit.

• The District Six Museum

in Cape Town is another

stirring tribute to the past, a

remembrance of the once vibrant

mixed-race community of 60 000

people, including many artists

and musicians, forced to relocate

during apartheid. Live music

performances and first-hand

narratives add to the affecting

atmosphere.

• Robben Island, the former

prison where Nelson Mandela

and other political prisoners were

held during apartheid is easily

reached by boat from the Victoria

& Alfred Waterfront in Cape

Town. It is, however, an emotional

voyage to this UNESCO World

Heritage site, and one you'll find

yourself remembering long after

you return home. Former inmates

of the notorious penal colony

lead the guided tours and the

entire island is a moving symbol

of the inhumanity of apartheid

and the great sacrifice made for

freedom. Be sure to book your

tickets in advance.

• The Nelson Mandela Museum

is located in Mandela's birthplace

of Umtata. Although the area is

one of the poorest in the country,

its residents are rich with pride for

their native son. You'll learn about

Mandela's life, from childhood to

present, through powerful exhibits

that explore his book, "Long Walk

to Freedom." Also on display is a

collection of gifts that he received

when he was head of state.

Robben Island, Cape Town

Meet South Africa's warm and friendly people

CULTURAL

ADD-ONS

If you'd like to extend

your cultural journey

into other parts of

South Africa, consider

these options:

• Explore the Xhosa origins of

Nelson Mandela in the Eastern

Cape villages of Qunu and

Umtata.

• Journey deep into Limpopo to

the Modjadji Nature Reserve,

near Tzaneen and visit the village

of the Rain Queen.

• Visit artistic Clarens and get a

deeper understanding of what

the real lifestyle of the South

Sotho people is like in the

Basotho Cultural Village.

• Pay your respects to the King of

the Zulus at the monument of

Shaka Zulu in KwaZulu-Natal.

• Enjoy the colorful paintings and

beadwork of the Ndebele people

with a visit to Botshabelo in the

Mpumalanga province.

45 | SOUTHAFRICA.NET

SOUTHAFRICA.NET | 46
---
VIBRANT

CULTURE

MOVE TO THE BEAT

South Africa's domestic music scene is as

vibrant as ever, ranging from the distinctive

kwela (pennywhistle) and kwaito (African pop)

of the townships to the Afrikaners' traditional

boeremusiek and tiekiedraai to soul, jazz, and

reggae. Hugh Masekela (trumpeter), Abdullah

Ibrahim (jazz pianist and composer), and the

late Miriam Makeba (songstress) are three

of the best-known contemporary musicians.

Classical music and ballet still draw enthusiastic

audiences.

THE MINI

ITINERARY

DAY 1: Learn about the great

struggle against apartheid with

a guided tour of Johannesburg's

legendary Soweto Township.

LIVE AND ENERGETIC NIGHTLIFE

If you'd like to experience some of the music of

South Africa live and in person, there are many

wonderful venues throughout the country, but

a surefire destination is Joburg's Newton Music

Centre, where you'll find the renowned Market

Theatre as well as jazz clubs, dance clubs, and

various other entertainment venues. For alfresco

cafés and music scenes for the trendy, head to

Melville.

A bit more on the upscale side, Melrose Arch is

home to various restaurants and sidewalk cafes.

Sandton and Rosebank are also abuzz with

fabulous nightspots and wine bars.

FESTIVALS GALORE

One of the best ways to get to know South

African music is to head to one of the dozens of

music festivals held throughout the year. Great

listings of musical events in South Africa can be

found at www.southafrica.net

Here is a sampling:

• The Cape Town International Jazz Festival

is held in March or April, and features an

all-star line-up that includes top international,

African and South African performers.

www.capetownjazzfest.com

• Klein Karoo National Arts Festival, held

every April in the town of Oudtshoorn in the

Western Cape, celebrates Afrikaans music,

culture and language. www.kknk.co.za

• Joy of Jazz is hosted by Johannesburg every

September. www.joyofjazz.co.za

• Arts Alive is a September-long celebration of

music, poetry, theatre, comedy and dance in

Johannesburg. www.arts-alive.co.za

• The National Arts Festival is the country's

largest cultural event and features everything

from classical and jazz to avant-garde music.

It's held every June and July in Grahamstown,

in the Eastern Cape. www.nafest.co.za

Rural Town, KwaZulu-Natal

SOUL-STIRRING SOWETO

Just south of Johannesburg is Soweto, the largest

township in South Africa. Soweto was home to

Nelson Mandela, Archbishop Desmond Tutu,

and thousands of black South Africans whose

struggles against apartheid captured the world's

attention. Guided tours are the best way to see

this vibrant city within a city, and most tours

include stops at the following:

• Regina Mundi Church is renowned for

defying the government during the township

uprising and remaining open both for worship

and political debate.

• The Hector Pieterson Museum & Memorial

stands as a tribute to the 1976 student uprisings.

• Freedom Square is where the African

National Congress (ANC) created the Freedom

Charter.

• The Mandela Family Museum, in Nelson

Mandela's former home on Vilakazi

Street, houses an assortment of Mandela

memorabilia.

• Archbishop Desmond Tutu's house (not

open to the public) is also on Vilakazi Street,

making it the only street in the world to have

housed two Nobel Peace Prize winners.

When on Vilakazi Street, you can sample

traditional African food while seated at a shady

trestle table on the grass at Sakhumzi's, or savor

ethnic dishes at Nambitha, with its exhibition

of some classic photos from world-acclaimed

photographers such as Peter Magubane

and Jürgen Schadeberg. Or head over to

Makhalemele Street for lunch at Wandie's Place,

one of Soweto's most famous shebeens (taverns).

THE BIRTHPLACE OF THE HUMAN RACE

Just a 45-minute drive from Joburg is the Cradle

of Humankind, a UNESCO World Heritage site

that many people believe to be the birthplace of

the human race. Here, at the Sterkfontein Caves,

archaeologists discovered the nearly threemillion-year-old

remains of a female skeleton

known as "Mrs. Ples". She is considered the

first hard evidence of the connection between

humans and apes. Also on display are artifacts

and fossils dating back to the Stone Age that

Constitution Court, Johannesburg

were discovered in the caves and on the

10 000-acre site that surrounds Sterkfontein.

WAR AND REMEMBRANCE

If you're interested in historical tours and

stories of epic battles, visit the Battlefields Route

in northern KwaZulu-Natal. Here is where great

Zulu warriors took on marauding Boer forces,

and then battled the Brits, and finally, where the

Boers and the British fought each other. Two

of the most famous points on the route are

Rorke's Drift and Isandlwana. Although there is

a self-tour option, a good guide can bring the

battlefields to life through stories

and background details.

In Cape Town, you'll find the Castle of Good

Hope, South Africa's oldest Colonial building,

which was originally established as a military

fortification by the Dutch East India Company.

Constructed between 1666 and 1679 in

anticipation of an attack by British forces, it

now houses the Castle Military Museum, and is

the ceremonial facility for the traditional Cape

Regiments.

DAY 2: Take a day trip to the

Cradle of Humankind World

Heritage Site, 45 minutes away from

Joburg, and cap off the evening back

in town with a live music show at the

Newtown Cultural Centre.

DAY 3: Fly to Cape Town and

explore historic destinations like

the Great Synagogue (circa 1903)

and the Castle of Good Hope.

DAY 4: Take a 40-minute ferry

ride to Robben Island, the former

prison that held Nelson Mandela

and other political prisoners during

apartheid.

Nelson Mandela Capture Site, KwaZulu-Natal

47 | SOUTHAFRICA.NET
---
SUN-SOAKED

COASTLINES

RELAX AND

RECHARGE

IN THE SOUTHERN SUN

Soak up the sun on Cape Town's beaches

Cruise the Atlantic in style, Cape Town

49 | SOUTHAFRICA.NET
---
SUN-SOAKED

COASTLINES

NOTHING SAYS

"VACATION" LIKE

A FRIENDLY

STRETCH OF A

SUNDRENCHED

BEACH.

WITH NEARLY 1800 MILES OF

COASTLINE, THERE'S VIRTUALLY A

BEACH FOR EVERYONE IN SUNNY

SOUTH AFRICA – INCLUDING 41

THAT HAVE EARNED A BLUE FLAG

STATUS, AN INTERNATIONAL

AWARD GIVEN TO BEACHES

THAT MEET STANDARDS OF

EXCELLENCE IN SAFETY,

AMENITIES, CLEANLINESS AND

ENVIRONMENTAL PRACTICE.

Penguins on Boulders Beach, Cape Town

But it's not just the beaches

that "wow" at every turn; from

the tropical East Coast all the

way to the sun-scorched West

Coast, there's no shortage of

sights and rich seaside life to

match that sun-kissed tan.

With the ocean as a backdrop,

a day of whale watching or a

cliff-top hike can end with a

delicious beach braai, where

freshly caught fish and lobster

are prepared over a fire.

The South African coast is also where you get

Durban skyline

to meet the amazing life of the ocean face to

face. For something a little different, follow the

footsteps of the friendly African penguins at

our southernmost tip, swim with the dolphins

in the Indian Ocean, see whales breaching

in Hermanus, visit hippos, crocodiles and a

wealth of bird life at iSimangaliso, South Africa's

biggest fresh water reserve or go shark-cage

diving in Sodwana Bay, and see just how small

you are next to a Great White.

TOP BEACHES

ROBBERG BEACH, PLETTENBERG BAY

BLUE FLAG

This is a firm Garden Route favorite for its

breathtaking beauty. There are long scenic

walks as well as great body boarding and

surfing. Chances are you'll spot a pod of whales

or dolphins while you're there.

PATERNOSTER, WESTERN CAPE

Just two hours up the west coast from Cape

Town, this quaint beach village is the perfect

escape from the bustle of Cape Town with its

long, flat and uncrowded beach.

BALLITO, KWAZULU-NATAL BLUE FLAG

As part of the Dolphin Coast, this is where the

international Mr Price Pro surf competition

is held, thanks to its great surfing conditions.

There is also safe swimming with life guards

and shark nets, and Willard Beach has been

awarded a Blue Flag status.

SODWANA BAY, KWAZULU-NATAL

If you're looking for a more remote coastal

experience, Sodwana's wild sweeps of beach

and balmy weather conditions are perfect.

Next to it is the Zululand wilderness with the

Big Five nearby. This is paradise for divers,

fishermen and nature lovers alike.

MUIZENBERG, CAPE TOWN BLUE FLAG

This long, white sandy beach is popular among

families and surfers with its gentle waves closer

to the shore and bigger waves breaking much

further out. This is also one of the best places

in South Africa to learn how to surf.

CLIFTON, CAPE TOWN BLUE FLAG

This sheltered series of beaches provides a

welcome retreat from the wind and is also a

popular spot for sundowners throughout the

year. A hotbed of bronzed sun worshippers,

the beaches are flanked by some of the most

sought-after real estate in South Africa.

CAMPS BAY, CAPE TOWN BLUE FLAG

This beach is where many of the glamorous

end up for sundowners. With a soft sandy

beach, and the Lion's Head and the Twelve

Apostles mountains behind it, this is a

truly beautiful setting to immerse yourself

in Cape Town.

BOULDERS BEACH, CAPE TOWN

Known for its charm, Boulders Beach boasts an

impressive colony of African penguins. Nestled

in False Bay and a stone's throw away from

Simon's Town, the beach is made up of natural

pools formed between the impressive boulders

where the penguins make their nests.

NOETZIE BEACH, WESTERN CAPE

This remote golden beach has no through

roads and is home to a collection of fairytalelike

castles. Once you've made a short trek to

get there you'll be pleased you did – a beautiful

sandy beach, with birdwatching, canoeing and

hiking are not far away.

DOLPHIN BEACH, JEFFREYS BAY BLUE FLAG

Jeffreys Bay is a world-famous surf destination.

While Super Tubes is the more popular surf

spot, Dolphin Beach is perfect for a relaxed

day in the surf and sand. It has been awarded

a Blue Flag status for its water safety and

environmental responsibility.

NORTH BEACH, DURBAN

This beach is one of the most popular

beaches in Durban's Golden Mile because

there's fun for the whole family. There's

swimming and sunbathing as well as surfing,

body boarding and skateboarding, with a

bustling promenade nearby.

HOLE IN THE WALL, WILD COAST

This is one of the gems of the Wild Coast

and its name speaks just as much to the

wave-eroded hole in its cliffs as it does to its

remoteness. A favorite for both beach lovers

and anglers, it is also one of the only places

you'll get to see cattle grazing on the beach.

BRONZE BEACH, UMHLANGA

Lined with a number of resort hotels and

frequented by holidaymakers, Umhlanga's

sandy beaches provide a space to sun worship,

bathe, surf or take a leisurely walk along

the promenade. Bronze Beach is a favorite

amongst both bathers and surfers.

POPULAR

COASTAL

AREAS

DURBAN:

The city's Golden Mile

actually consists of three

miles of warm India

Ocean beaches.

THE GARDEN

ROUTE:

Along this scenic byway,

you'll find many beautiful

coves and scenic

stretches of sand – not

to mention dolphins and

windsurfers too.

PORT ELIZABETH:

Favorite swimming

spots along the gentle

curves of Algoa Bay

include Kings Beach and

Humewood Beach.

Beach volleyball, KwaZulu-Natal

51 | SOUTHAFRICA.NET
---
BREATHTAKING

SCENERY

GET READY

TO BE ENTRANCED BY

THE NATURAL SPLENDOR

OF SOUTH AFRICA

Sunset at water's edge

Phinda Lodge, KwaZulu-Natal

SOUTH AFRICA IS A LAND OF BREATHTAKING

NATURAL BEAUTY, WITH A VAST ARRAY

OF SWEEPING LANDSCAPES, MAJESTIC

MOUNTAINS, PASTORAL PANORAMAS AND

MUCH MORE. THE SCOPE OF SUCH BEAUTY

IS MATCHED ONLY BY YOUR IMAGINATION.

Hike up Lion's Head, Cape Town

53 | SOUTHAFRICA.NET SOUTHAFRICA.NET | 54

Amphitheatre, Drakensberg
---
BREATHTAKING

SCENERY

Overlooking Blyde River Canyon, Mpumalanga

ROARING

WATERFALLS,

LUSH

CANYONS,

SOARING

MOUNTAIN

RANGES,

AND GOLDEN

BEACHES;

IF YOU'VE

DREAMED OF

IT, CHANCES

ARE YOU'LL

FIND IT

IN SOUTH

AFRICA.

From the country's vast array

of scenic attractions, we've

spotlighted the top 10, each

with its own array of sights and

activities within.

1. Table Mountain

Cosmopolitan Cape Town is framed

on one side by two oceans, and

on the other by the majestic Table

Mountain. You can hike to the

top and follow more than a mile

of paths past arresting flora (1500

types of plants live here), rocky

outcrops, and the mountain's

indigenous resident, the rock dassie,

which looks like a small-eared

rabbit, but is actually more closely

related to the elephant. Not up for a

hike? Take the exciting 360-degree

rotating cable car trip to the top

for awesome views of the Atlantic

and Indian Oceans, the entire

City Bowl and, on a clear day, the

surrounding countryside. As you

wander the mountain, you might

meet various kinds of antelope and

even a porcupine or two. Plus, Table

Mountain is home to the rarest

amphibian on earth, the ghost frog.

Set against the eastern slopes of

Table Mountain, the enchanting

Kirstenbosch National Botanical

Garden features two square miles

of rare indigenous plant species,

including South Africa's beloved

fynbos (indigenous shrubbery

often used in spa treatments). The

Garden is always lovely to visit, but is

especially picturesque in the spring

(September to November), when

seasonal flowers are in bloom.

www.sanbi.org

www.tablemountain.net

2. Cape Peninsula

This is the most south-western

point on the African continent, and

just a short drive south of Cape

Town. Laden with gorgeous vistas

of mountains and ocean, the Cape

Peninsula also offers unique wildlife

viewing opportunities (don't miss

the land-based penguin colony

at Boulders Beach). At the very

tip lies Table Mountain National

Park, whose rugged cliffs, steep

slopes, and sandy flats are home to

rich and diverse wildlife including

baboons, zebras, antelopes,

ostriches and a variety of other bird

species. www.capepoint.co.za

3. The Garden Route

From whale watching to surfing,

from hiking to cave exploring, the

Garden Route, which extends from

Cape Town to Port Elizabeth, has

something for everyone. One of the first major

attractions you'll pass as you drive east from

Cape Town is Hermanus, a popular stop over for

migrating Southern Right whales. Slightly north

of Hermanus is Oudtshoorn, site of the Cango

Caves. Dating back 15 000 years, these enormous

underground passages harbor otherworldly

stalactites and stalagmites.

www.hermanus.co.za, www.ecotourism.co.za

4. iSimangaliso Wetland Park

If you're looking for diverse natural experiences

then the iSimangaliso Wetland Park is a must visit

while in South Africa. Enjoy the endless beaches

that stretch 136 miles from Maphelane in the south

to Kosi Bay on the Mozambique border, and view

game on guided or self-guided treks through the

foothills of the Lubombo Mountains in uMkhuze

or the coastal forests and rolling grasslands of Lake

St Lucia's Eastern Shores. See the spectacular coral

reefs and colorful underwater life whilst diving or

snorkeling, or embark on adventures ranging from

kayak trips to horse rides. www.isimangaliso.com

5. Namaqualand

A vast semi-desert area north of the Olifants

River, the Northern Cape's Namaqualand literally

springs to life with wildflowers – more than

4000 species of them, some of which can't be

found anywhere else in the world – during the

springtime (mainly in August and September).

The stunning display doesn't necessarily adhere

to a scheduled start, but if you're visiting South

Africa during the season, you should be able to

witness at least one act of one of nature's greatest

shows. www.northerncape.org.za

www.namaqualand.com

6. uKhahlamba-Drakensberg

Mountains

Located in the eastern coastal province of

KwaZulu-Natal, this UNESCO World Heritage

site is loaded with waterfalls, hiking trails, and

mountain streams perfect for fly-fishing. The

uKhahlamba, or "barrier of spears," as the Zulu call

them, also comprise one of the largest open-air

galleries in the world, with more than 35 000

images painted by the ancient San (also known as

bushmen). KwaZulu-Natal is also renowned for its

pristine waters. From the top of the Drakensberg

Mountains to the crashing waves of the Indian

Ocean, the land drops thousands of feet. The

scenery is breathtaking, and the wildlife begs to

be explored. www.drakensberg.org.za

7. Panorama Route

Due south of Limpopo, the province of

Mpumalanga (which means "place where the

sun rises") is known as the home of Kruger

National Park. But this astonishing scenic area

boasts myriad natural wonders, including those

of the Panorama Route – a series of stops among

the hills and canyons in the area that afford

spectacular views of pure nature. Blyde River

Canyon might just be the most breathtaking, but

other well-known spots on this route include the

poetically named God's Window, Bourke's Luck

Potholes, and the Three Rondavels.

www.panorama-tours.travel/

8. Waterberg Mountains

In the north eastern province of Limpopo, you

can enjoy some of the best horseback riding

trails in the country, especially in the Waterberg

Mountains, which are aptly named for the prolific

streams that flow even in dry seasons. This is

also a premier wildlife area, with a sanctuary for

rare and endangered animals including the Big

Five. After a day of riding or exploring, unwind by

soaking in the warm springs and staying overnight

at one of several game lodges.

www.golimpopo.com/waterberg

9. The Otter Trail & Wild Coast

Farther east along the coast, you'll see the verdant

stretches of the Tsitsikamma National Forest, the

source of the Storms River. There are many ways

to enjoy this pristine stretch of land, including

a quick but informative trip to the main visitors

center, but to truly immerse yourself in its natural

wonder, set out on the Otter Trail, a guided,

five-day backpacking trek along the rugged

coastline. Some degree of fitness is required (you

will cover about five to eight miles a day over

rough terrain), and there are huts and a rest room

at each overnight stop. The Otter Trail features

three very distinct ecosystems: rocks, cliffs, and

tide pools along the sea; wet jungle in the valleys;

and dry bush on the bluffs. A less rigorous option

is the two-day Dolphin Trail, which offers the

comfort of overnight accommodation and no

heavy backpacks. www.sanparks.org,

www.dolphintrail.co.za

10. Magaliesberg Mountains

Among the oldest mountain ranges in the world,

are the lush Magaliesberg Mountains in Gauteng.

The mountain range is only a 90-minute drive

north west of Johannesburg, but a world apart

from urban life. It's a wonderful place to relax

and unwind, surrounded by awesome natural

beauty. There are crystal-clear streams, hiking

trails, horseback riding trails, luxury spas, and hot

air balloons. In addition to the abundant natural

wonders of the area, there are myriad artists'

studios and shops, which dot the mountain roads.

www.magaliesberg.co.za

Bloubergstrand,

Cape Town

Amphitheatre, Drakensberg

DID YOU

KNOW?

THE DRAKENSBERG

MOUNTAINS

CREATE WHAT MAY

BE THE LARGEST

WATER FACTORY

IN AFRICA; THEIR

SOARING PEAKS

INTERCEPT CLOUDS

FROM THE INDIAN

OCEAN AND

FUNNEL RAIN INTO

RIVERS BELOW.

SOUTHAFRICA.NET | 56
---
BREATHTAKING

SCENERY

A WORLD OF

ROMANCE

IF YOU'RE LIKE MOST NEWLYWEDS

TO BE, YOU'LL SPEND THREE TIMES

AS MUCH ON YOUR HONEYMOON

AS A REGULAR VACATION. BUT

EVEN IF YOU'RE JUST LOOKING

FOR A FANTASTIC COUPLE'S

GETAWAY, SOUTH AFRICA DELIVERS

BANG FOR THE BUCK – AND

UNSURPASSED ROMANTIC ALLURE.

A romantic afternoon massage in Franschhoek, Cape Town

SAYING "I DO" IN

SOUTH AFRICA

THE SEARCH FOR

A BREATHTAKING

WEDDING DESTINATION

ENDS HERE.

South Africa offers a

stunning backdrop for

weddings of all kinds,

and there are many

tour operators who can

assist you in making

your special day even

more spectacular.

Love is in the air

You'd be hard pressed to find a more

memorable, or exhilarating place to celebrate

your relationship. Here are the top 10 reasons

why South Africa is the ultimate romantic escape:

1

Want beaches? In Cape Town you can swim

in one ocean on one day and a different one

the next. Durban is another beach hotspot,

with three miles of inviting sand in its famous

"Golden Mile".

2

You can give your loved one the world's largest

uncut diamond (well, a good long look at it,

anyway) at the Kimberley Mine Museum. A

stop on the romantic Blue Train route, the city

of Kimberley also has other museums and art

galleries to browse through hand-in-hand.

3

Enjoy a romantic alfresco dinner at Cape Town's

scenic V&A Waterfront, with magnificent Table

Mountain as a backdrop.

4

You can have a June wedding and still go skiing

on your honeymoon. That's right, the seasons

are reversed in South Africa, and Tiffindell's

on-slope and Après-ski facilities rival those of

leading U.S. and European resorts.

5

You can spend the morning tracking exotic

animals through landscapes far removed from

civilization, the afternoon enjoying a highlycivilized

spa session, and the evening dining

on fine cuisine under a panorama of southern

hemisphere stars. How's that for a date?

6

There's a reason The Bachelor was filmed in

South Africa – it's the perfect staging ground

for an unforgettable date, or ten. From safari

game drives to heart-pounding cage dives

with Great Whites to a scenic helicopter tour

of Blyde River Canyon, the opportunities for

unique two-person escapades are endless.

7

Ready for a night on the town? From the

dance clubs of Newtown to the casinos and

entertainment venues of Sun City, South Africa

has everything a pair of night owls could ask for.

8

For those couples seeking an even deeper and

more memorable experience, stirring cultural

sightseeing opportunities abound.

9

Small towns such as Stellenbosch, Paarl and

Franschhoek along the Cape's famous Wine

Route offer romantic vistas, outstanding cuisine

and, of course, world-class wines for toasting

your life together.

10

Maybe oysters are an aphrodisiac, maybe they

aren't! Regardless, couples will be enchanted

by Knysna, one of the Western Cape's bestknown

holiday destinations. Succulent oysters

are always on the menu here, and an annual

Oyster Festival comes through town in July.

LGBT TRAVEL IN SOUTH AFRICA

South Africa is a liberal country

with a progressive constitution,

where LGBT travelers are more

than welcome.

A number of tour operators – many

of them affiliated with IGLTA

(International Gay and Lesbian

Travel Association) – are available for

custom itineraries, from adventure

and luxury romance to safari. Cape

Town, dubbed the "LGBT capital of

Africa," is a favored destination, with

its proximity to the Winelands region,

iconic tourist attractions, vibrant

nightlife and a thriving LGBT scene.

THE MINI ITINERARY

DAY 1: Board the Cape Town-bound

Blue Train in Pretoria, an hour north of

Johannesburg, and stop to check out the

world's largest uncut diamond, at the

Kimberley Mine Museum.

DAY 2: Arrive in Cape Town midday,

and unwind with a spa treatment at

The Twelve Apostles Hotel & Spa.

DAY 3: Drive to Franschhoek, an hour

outside of Cape Town, and choose from

20 wineries to toast your relationship.

HOT DEALS

Keep an eye out for discounted

romance and honeymoon packages at

www.southafrica.net/deals

57 | SOUTHAFRICA.NET

Sleep under the stars
---
BUFFELS

EXPERT

INTINERARIES

ITINERARY 1

PLANNING THE JOURNEY

YOU'VE SEEN WHAT SOUTH AFRICA HAS TO

OFFER. NOW PUT THE PIECES TOGETHER

AND CREATE THE TRIP OF A LIFETIME.

Here are three suggested itineraries for your South Africa vacation.

Each is planned around a special interest theme, and takes two weeks

or less. But you should add or subtract your own excursions from

all three (adventurers will probably want to visit Kruger National

Park, for instance). All trips originate in Johannesburg, the country's

international air gateway.

SPRINGBOK

UPINGTON

KIMBERLEY

ITINERARY 3

CULTURAL

CONNECTIONS

BLOEMFONTEIN

ALIWAL NORTH

CROCODILE RIVER

RUSTENBURG

MATLABAS RIVER

PRETORIA

JOHANNESBURG

UMTATA

POLOKWANE

HARRISMITH

PIETERMARITZBURG

NELSPRUIT

PORT SHEPSTONE

ITINERARY 1

CLASSIC

SOUTH

AFRICA

ITINERARY 2

OPERATION

ADVENTURE

DURBAN

RICHARD'S BAY

JOHANNESBURG – TWO NIGHTS

Arrive in Joburg and spend the first two nights

in a luxurious boutique hotel in the Rosebank or

Sandton neighborhood, where gourmet meals

and a pampering spa will banish your jet lag.

From here, you can explore the region's rich

cultural offerings.

Take a guided tour of the historic township

of Soweto, where you can see the home of

Archbishop Desmond Tutu and the former home

of Nelson Mandela; visit the Apartheid Museum;

or take in Gold Reef City. You can also indulge

in some shopping (check out the boutiques

and high-end malls of Sandton or Melrose

Arch, among others) or venture to Sun City, the

amazing mecca of entertainment and casinos,

just two hours away.

MPUMALANGA – THREE NIGHTS

Take a short flight to Kruger National Park in

Mpumalanga. The small opulent lodges are so

close to the wildlife, including the Big Five (lion,

leopard, elephant, buffalo and rhino), that you'll

be able to snap close-ups without a telephoto

lens. Not only is the wildlife viewing some

of the best in the world, but you can expect

unforgettable staff and service. Great meals are

prepared by trained chefs and accompanied by

fine local wines, right in the middle of the bush.

Dining under the stars amid the sounds of the

wild is an unparalleled experience. Most luxury

safari lodges also have spas on the premises.

GREATER CAPE TOWN – FOUR NIGHTS

The next stop, via air, is cosmopolitan Cape

Town. Hop on the ferry to Robben Island for

an emotional visit to the former prison where

Nelson Mandela was held for two decades.

Then return to the pleasures of the Waterfront

where you can enjoy local performers, shop

at the Victoria and Alfred Mall, and eat at top

restaurants.

at Twelve Apostles Hotel and Wellness Centre,

or soak up some sun on the beach at Camp's Bay

and stay for sundowners (cocktails) at sunset. You

can also dedicate a day to exploring the natural

beauty of Cape Point. Stop at Boulders Beach

along the way to see the penguin colony.

At Cape Point, you can spot baboons, zebra

and antelope from your vehicle window, and

then stand overlooking the most southwestern

tip of Africa.

Just beyond Cape Town, the spectacular

Winelands await. Paarl, Stellenbosch, or

Franschhoek are good destinations to explore

on your final day – rent a car or hire a driver

and prepare to be dazzled. Some of the best

wines in the world are produced in the most

beautiful vineyards here. Wine tasting is just one

of the activities available; there's also gourmet

dining, golf, spas, and historic French and Dutch

architecture.

GRAND FINALE – TWO TO THREE NIGHTS

Wrap up your South Africa adventure on a high

note, or three. Here are a few of the many ways

you can enjoy your last days in paradise:

• Travel the Garden Route from Cape Town to

Port Elizabeth in the Eastern Cape.

• Visit Durban in KwaZulu-Natal to experience

both Zulu and Indian culture.

• Travel by train between Cape Town and

Joburg, stopping in historic Kimberley along

the way.

1

CLASSIC

SOUTH AFRICA

Plush hotels,

scenic beaches,

soothing spas

– and one fine

safari.

ANGOLA

SOUTH

ATLANTIC

OCEAN

NAMIBIA

ROBBEN

ISLAND

CAPE TOWN

CAPE POINT

HERMANUS

KGALAGADI

TRANSFRONTIER

PARK

UPINGTON

SOUTH

AFRICA

WINELANDS OUDTSHOORN

PAARL GARDEN

ROUTE

PLETTENBERG

BAY

BOTSWANA

SOWETO

TSITSIKAMMA

NATIONAL

FOREST

PRETORIA

LESOTHO

PORT

ELIZABETH

ZIMBABWE

KRUGER

NATIONAL

PARK

JOHANNESBURG

SWAZILAND

HLUHLUWE-

UMFOLOZI

GAME RESERVE

DURBAN

INDIAN OCEAN

MOZAMBIQUE

Map: Joni Danaher

CLANWILLIAM

CAPE TOWN

Stellenbosch

Somerset West

HERMANUS

Robertson

DWYKA

BEAUFORT WEST

LEEUW

GAMKA

OUDTSHOORN

GEORGE

KNYSNA

MOSSEL BAY

GRAAFF REINET

St Francis Bay

Jeffreys

Bay

PORT ELIZABETH

EAST LONDON

SOUTH

AFRICA

AFRICA

The next day, take the rotating cable car to the

top of Table Mountain; the entire city is laid out

at your feet. Descend and drive to the lovely

Kirstenbosch National Botanical Garden. Stop

for lunch at one of the small wine estates in

Constantia, where lush vineyards evoke the

south of France. In the afternoon, enjoy the spa

Big Five game spotting

59 | SOUTHAFRICA.NET
---
ITINERARY 2

2

ITINERARY 3

3

OPERATION

ADVENTURE

South Africa as

wild as you want it

to be.

Bush walk, Kruger National Park

CULTURAL

CONNECTIONS

For lovers of

history and the

arts.

ANGOLA

SOUTH

ATLANTIC

OCEAN

NAMIBIA

ROBBEN

ISLAND

CAPE TOWN

CAPE POINT

HERMANUS

KGALAGADI

TRANSFRONTIER

PARK

WINELANDS

GARDEN

PAARL ROUTE

Kalahari dreaming

UPINGTON

SOUTH

AFRICA

OUDTSHOORN

PLETTENBERG

BAY

BOTSWANA

SOWETO

TSITSIKAMMA

NATIONAL

FOREST

PRETORIA

LESOTHO

PORT

ELIZABETH

ZIMBABWE

KRUGER

NATIONAL

PARK

JOHANNESBURG

SWAZILAND

HLUHLUWE-

UMFOLOZI

GAME RESERVE

DURBAN

INDIAN OCEAN

MOZAMBIQUE

DURBAN AND UP THE

NORTH COAST – THREE

NIGHTS

After a short layover in Joburg,

start your journey in the

country's third largest city, the

port town of Durban. Beach

lovers head there in droves just

to lounge on Durban's Golden

Mile, but there's also great

surfing and kayaking on the

mild Indian Ocean waters.

For an unprecedented wildlife

encounter, book a walking

safari on Umfolozi wilderness

hiking trails in the Hluhluwe-

Umfolozi Game Reserve, where

you'll have a chance to come

face to face with the Big Five.

Since no vehicles are allowed

in this section of the park, you'll

experience some of the most

pristine bush in the world.

These are some of the best

walking safaris in all of Africa.

GARDEN ROUTE – THREE

NIGHTS

A short flight from Durban to

Port Elizabeth takes you to the

scenic Garden Route, which

winds along the coast towards

Cape Town. Drive at your own

pace and stop often. Surfers

will want to check out Jeffreys

Bay or head to Cape St. Francis,

the setting for the cult film

Endless Summer.

Tsitsikamma National Park

and the mouth of the Storms

River comprise impressive

virgin forests, even though it's

surprisingly close to towns

such as Plettenberg Bay, whose

luxury lodgings overlook

sparkling Indian Ocean waters,

and Knysna, where the local

oysters are a must. Day walking

trails are easily traversed, but

one of the best ways to see the

coastal pools, gorges, forests,

and empty beaches is to choose

one of the overnight hiking

trails: either the five-night Otter

Trail backpacking excursion

or the less strenuous threenight

Dolphin Trail. If you're

just looking for an adrenaline

rush, skip the hike and take a

591-foot bungee jump from the

Bloukrans Bridge.

Continuing to the west, visit an

ostrich farm in Oudtshoorn,

where you can ride one of

the great birds or watch local

jockeys race. Still farther west is

Hermanus, the whale-watching

capital of the world. Even if

you miss prime calving season,

August through September,

you'll see whales as well as

dolphins frolicking off the

shores. At nearby Dyer Island,

the specialty is Great White

shark diving: You're lowered into

the water in a cage while the

waters are filled with bait to lure

the sharks. It's an exhilarating

experience you'll be telling

friends about for years to come.

CAPE TOWN – THREE

NIGHTS

If you believe that the harder

the trip the greater the reward,

skip the cable car and explore

the rocky slopes of Table

Mountain by foot. Hiking

straight to the top takes about

two hours, or you can try

one of the overnight hiking

and camping options to truly

experience the mountain.

Other activities include bicycle

trips to Cape Point and a

variety of water sports along

the city's many beaches.

KALAHARI – THREE NIGHTS

Fly from Cape Town to

Upington, the jumping

off point to the Kalahari's

Kgalagadi Transfrontier Park,

one of the largest remaining

protected natural ecosystems

in the world. Safari drives here

will introduce you to the exotic

wildlife that thrives in this

arid climate. In addition, the

Kalahari is also home to the

last remaining San (bushmen)

and their rich heritage of cave

paintings and rock carvings.

Robben Island, Cape Town

JOHANNESBURG – FOUR NIGHTS

Begin your trip with a visit to the Apartheid

Museum and Museum Africa. Then take a

tour of Soweto to see Freedom Square and

other memorials and buildings that symbolize

the struggle against apartheid. Take a break

at one of Soweto's restaurants and enjoy an

authentic South African meal. For a look at

Joburg's history as a gold mining town, visit

Gold Reef City. A 45-minute excursion from

Joburg takes you to one of the most prized

archaeological finds in history: Sterkfontein

Caves, aka "The Cradle of Humankind." The

three-million-year-old remains of a female

skeleton known as "Mrs. Ples" were discovered

here, and she's considered to be concrete

evidence of the connection between humans

and apes. On your way back to Joburg, stop off

at Lesedi Cultural Village.

Pretoria, South Africa's executive capital, is

another easy day trip. Visit the massive granite

Voortrekker Monument, the Paul Kruger House,

and the Union Buildings where the inauguration

of Nelson Mandela was held—and where the

current president now works. You can also get

the best views of the city from here. About 30

minutes north of the city is the fully-operational

Cullinan Diamond Mine. A guided tour will take

you through the diamond mining process.

CAPE TOWN – THREE NIGHTS

Several spots in Cape Town illuminate the

political history of the country. The former

prison at Robben Island is a moving testament

to the strength of the human spirit, and the

District Six Museum is another poignant tribute

to the past.

Other history-filled destinations in this beautiful

city include the Great Synagogue and Jewish

Museum, the Castle of Good Hope, the Bo-

Kaap Museum (a tribute to the Malay and

Muslim population), and the South African

National Gallery, which showcases art that tells

the story of the country. Be sure to have dinner

at Mama Africa, Africa Café or Marco's African

Cafe, among others, to sample dishes that

reflect the melting pot that is South Africa.

ANGOLA

SOUTH

ATLANTIC

OCEAN

NAMIBIA

ROBBEN

ISLAND

CAPE TOWN

CAPE POINT

HERMANUS

PAARL

WINELANDS

KGALAGADI

TRANSFRONTIER

PARK

UPINGTON

GARDEN

ROUTE

SOUTH

AFRICA

OUDTSHOORN

PLETTENBERG

BAY

Master craftsmanship

BOTSWANA

SOWETO

TSITSIKAMMA

NATIONAL

FOREST

PRETORIA

LESOTHO

PORT

ELIZABETH

ZIMBABWE

KRUGER

NATIONAL

PARK

JOHANNESBURG

SWAZILAND

HLUHLUWE-

UMFOLOZI

GAME RESERVE

DURBAN

INDIAN OCEAN

MOZAMBIQUE
---
SCAN THIS!

SCAN WITH YOUR

SMARTPHONE TO

GET THE BEST LAST-

MINUTE TRAVEL

DEALS.

VisitSouthAfrica

VisitSouthAfricaNA

@VisitSouthAfrica

@SouthAfrica

#MeetSouthAfrica

SOUTH AFRICAN TOURISM

500 5TH AVENUE, SUITE 2200, NEW YORK, NY 10110

EMAIL: INFO.US@SOUTHAFRICA.NET

INFORMATION: 800-593-1318

Inspiring new ways

www.southafrica.net