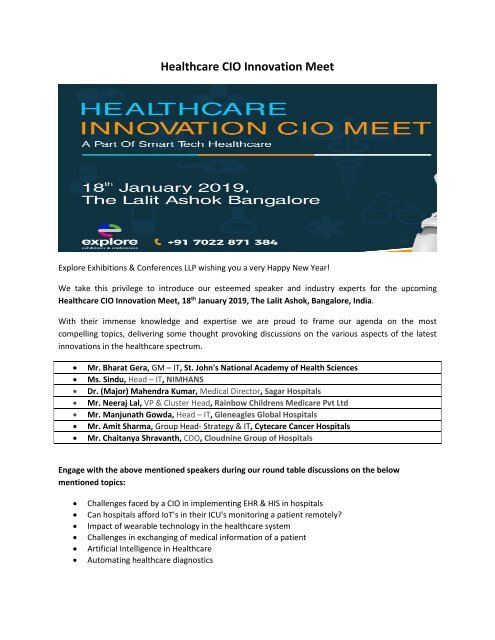 Healthcare CIO Innovation Meet 2019
Explore Exhibitions & Conferences LLP wishing you a very Happy New Year! We take this privilege to introduce our esteemed speaker and industry experts for the upcoming Healthcare CIO Innovation Meet, 18th January 2019, The Lalit Ashok, Bangalore, India. With their immense knowledge and expertise we are proud to frame our agenda on the most compelling topics, delivering some thought provoking discussions on the various aspects of the latest innovations in the healthcare spectrum. • Mr. Bharat Gera, GM – IT, St. John's National Academy of Health Sciences • Ms. Sindu, Head – IT, NIMHANS • Dr. (Major) Mahendra Kumar, Medical Director, Sagar Hospitals • Mr. Neeraj Lal, VP & Cluster Head, Rainbow Childrens Medicare Pvt Ltd • Mr. Manjunath Gowda, Head – IT, Gleneagles Global Hospitals • Mr. Amit Sharma, Group Head- Strategy & IT, Cytecare Cancer Hospitals • Mr. Chaitanya Shravanth, CDO, Cloudnine Group of Hospitals Engage with the above mentioned speakers during our round table discussions on the below mentioned topics: • Challenges faced by a CIO in implementing EHR & HIS in hospitals • Can hospitals afford IoT's in their ICU's monitoring a patient remotely? • Impact of wearable technology in the healthcare system • Challenges in exchanging of medical information of a patient • Artificial Intelligence in Healthcare • Automating healthcare diagnostics Since the conference is promised to deliver a niche driven agenda with some interesting technology innovations for hospitals and healthcare business, we suggest you not miss this close door initiative happening in different cities convenient to you. We also take this opportunity to welcome our sponsors on board who will showcase their innovative products at this platform. Some of our partners include ScribeTech and Vios Medical as Round Table Co Hosts Register for our Healthcare series in Chennai, Delhi, Mumbai, Kokatta and all the metro cities. To know more email us at info@exploreexhibitions.com or call on +91 7022871384 For more info visit: www.exploreexhibitions.com/healthcare
Explore Exhibitions & Conferences LLP wishing you a very Happy New Year!
We take this privilege to introduce our esteemed speaker and industry experts for the upcoming Healthcare CIO Innovation Meet, 18th January 2019, The Lalit Ashok, Bangalore, India.
With their immense knowledge and expertise we are proud to frame our agenda on the most compelling topics, delivering some thought provoking discussions on the various aspects of the latest innovations in the healthcare spectrum.
• Mr. Bharat Gera, GM – IT, St. John's National Academy of Health Sciences
• Ms. Sindu, Head – IT, NIMHANS
• Dr. (Major) Mahendra Kumar, Medical Director, Sagar Hospitals
• Mr. Neeraj Lal, VP & Cluster Head, Rainbow Childrens Medicare Pvt Ltd
• Mr. Manjunath Gowda, Head – IT, Gleneagles Global Hospitals
• Mr. Amit Sharma, Group Head- Strategy & IT, Cytecare Cancer Hospitals
• Mr. Chaitanya Shravanth, CDO, Cloudnine Group of Hospitals

Engage with the above mentioned speakers during our round table discussions on the below mentioned topics:
• Challenges faced by a CIO in implementing EHR & HIS in hospitals
• Can hospitals afford IoT's in their ICU's monitoring a patient remotely?
• Impact of wearable technology in the healthcare system
• Challenges in exchanging of medical information of a patient
• Artificial Intelligence in Healthcare
• Automating healthcare diagnostics

Since the conference is promised to deliver a niche driven agenda with some interesting technology innovations for hospitals and healthcare business, we suggest you not miss this close door initiative happening in different cities convenient to you.

We also take this opportunity to welcome our sponsors on board who will showcase their innovative products at this platform. Some of our partners include ScribeTech and Vios Medical as Round Table Co Hosts

Register for our Healthcare series in Chennai, Delhi, Mumbai, Kokatta and all the metro cities.
To know more email us at info@exploreexhibitions.com or call on +91 7022871384 For more info visit: www.exploreexhibitions.com/healthcare


SHOW MORE
SHOW LESS
You also want an ePaper? Increase the reach of your titles
YUMPU automatically turns print PDFs into web optimized ePapers that Google loves.
Healthcare CIO Innovation Meet

Explore Exhibitions & Conferences LLP wishing you a very Happy New Year!

We take this privilege to introduce our esteemed speaker and industry experts for the upcoming

Healthcare CIO Innovation Meet, 18 th January 2019, The Lalit Ashok, Bangalore, India.

With their immense knowledge and expertise we are proud to frame our agenda on the most

compelling topics, delivering some thought provoking discussions on the various aspects of the latest

innovations in the healthcare spectrum.

• Mr. Bharat Gera, GM – IT, St. John's National Academy of Health Sciences

• Ms. Sindu, Head – IT, NIMHANS

• Dr. (Major) Mahendra Kumar, Medical Director, Sagar Hospitals

• Mr. Neeraj Lal, VP & Cluster Head, Rainbow Childrens Medicare Pvt Ltd

• Mr. Manjunath Gowda, Head – IT, Gleneagles Global Hospitals

• Mr. Amit Sharma, Group Head- Strategy & IT, Cytecare Cancer Hospitals

• Mr. Chaitanya Shravanth, CDO, Cloudnine Group of Hospitals

Engage with the above mentioned speakers during our round table discussions on the below

mentioned topics:

• Challenges faced by a CIO in implementing EHR & HIS in hospitals

• Can hospitals afford IoT's in their ICU's monitoring a patient remotely?

• Impact of wearable technology in the healthcare system

• Challenges in exchanging of medical information of a patient

• Artificial Intelligence in Healthcare

• Automating healthcare diagnostics
---
Since the conference is promised to deliver a niche driven agenda with some interesting technology

innovations for hospitals and healthcare business, we suggest you not miss this close door initiative

happening in different cities convenient to you.

We also take this opportunity to welcome our sponsors on board who will showcase their innovative

products at this platform. Some of our partners include ScribeTech and Vios Medical as Round Table Co

Hosts

Register for our Healthcare series in Chennai, Delhi, Mumbai, Kokatta and all the metro cities.

To know more email us at info@exploreexhibitions.com or call on +91 7022871384 For more info

visit: www.exploreexhibitions.com/healthcare