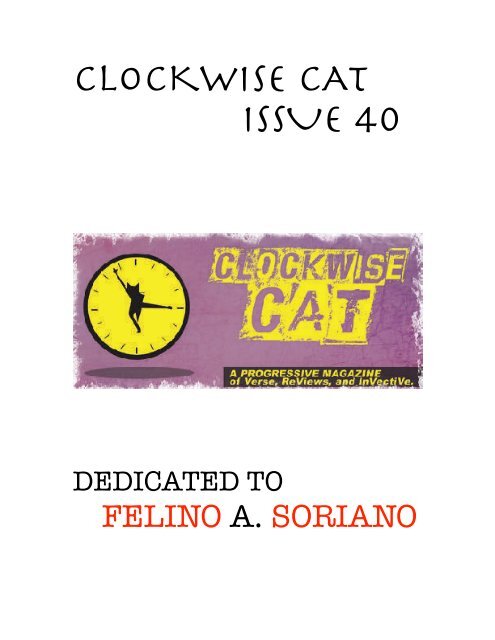 Clockwise Cat Issue 40
We lovingly dedicate Issue 40 to our dearly departed (Perpetual) Poet-in-Residence, Felino Soriano. We hereby offer a mini-tribute to him among many other amazing writings and artworks. Stay tuned to an entire tribute issue to Felino, coming up in early Spring, 2019.
We lovingly dedicate Issue 40 to our dearly departed (Perpetual) Poet-in-Residence, Felino Soriano. We hereby offer a mini-tribute to him among many other amazing writings and artworks. Stay tuned to an entire tribute issue to Felino, coming up in early Spring, 2019.
SHOW MORE
SHOW LESS
Do you know the secret to free website traffic?
Use this trick to increase the number of new potential customers.
CLOCKWISE CAT

ISSUE 40

DEDICATED TO

FELINO A. SORIANO
---
CAST OF CATS

ALI CAT/ALISON ROSS

FELINO SORIANO

CINDY HOCHMAN

SHEILA MURPHY

QUETZAL

SOLEIL

PUBLISHER/EDITOR

PERPETUAL POET-IN-

RESIDENCE

RAD-ASS REVIEWER

FEATURED FEMME

FELINUS FEISTUS/

PROOFREADER AND ART

DIRECTOR

KOZMIK KAT
---
EDITOR'S

SCRATCHING

POST

A wonderful poet and person has passed. Felino Soriano, Clockwise Cat's Poet-

In-Residence for many years, valiantly fought an 18-month cancer battle, and it

finally claimed him in October. He was only 44. He is survived by four daughters,

one of whom is only 7 years old; a loving wife; an adoring mother; and a proud

brother. My heart aches for his family.

My heart also aches for the poetry world. His talent was rare. His approach to

poetry was unique, ground-breaking. In his own words, Felino "collocates a

fixating fascination with various idioms of jazz and the interminable desire to

assemble a dissimilar poetic language."

In our copious correspondences, which spanned from Spring 2007 until

September 2018, Felino spoke passionately about his own process. He was

enamored not only of the multifarious forms of jazz (and listened to jazz

feverishly while composing his lines), but of philosophy, and was primarily

preoccupied with how he could fuse the two media in his poetic projects.

His was not a haughty undertaking. Contrary to the intellectually intimidating

persona conveyed through his words, Felino did not have a stuffy writer's ego. At

all. He remained humble in spite of his rising star in the universe of small and

medium-sized presses. Felino knew he had a gift, and knew his gift was singular,

but he was determined to revolutionize language authentically, not superciliously.

If you carefully absorb the natural cadences and labyrinthian lines of his startling

compositions, you will come to see that Felino approached poetry with pure love.

He was boundlessly blessed with huge talent, and huge heart.

Clockwise Cat first published Felino in 2007, in our inaugural issue. I was ecstatic

when I received a submission of this yet-unknown talent, because his

compositions were crafted in exactly the kind of subversive style I was seeking. I

felt I had hit the literary jackpot when his poems crossed my virtual transom. His

poems epitomized the experimental ethos, but they were also ineffably

accessible, exuding warmth and humor. And over the 11 year span of Clockwise
---
Cat's publishing tenure, we featured his poems so many times I finally made him

our Poet-In-Residence. I was always thrilled to be witness to his poetic evolution.

I was honored to be Felino's friend. We never met, though I certainly entertained

a time when we might share a stage together, reading our poetry. Or when I

could simply and blissfully listen to him read his magnetic manifestos of verse.

For in the end, each poem Felino scribbled was a manifesto - against the sterility

of language and for genuine and impassioned idiomatic expression.

Felino, my friend, you

have left a void in the

hearts of your loved ones

and in the world of words,

but your scintillating spirit

lives on through your

verse, so vivid and vital.

Please Note:

Clockwise Cat will be doing a

special Felino Soriano

Tribute Issue, to be released

early 2019. Please submit

any poetic tributes as well as

any of your favorite Felino

poems that may have

appeared in your journal. You

may also contribute

collaborative efforts, and any

art, essays, stories, flash

fiction inspired by Felino's

poetry. Please try to have

your submitted pieces in by

mid-January. Please check

the guidelines at

clockwisecat.com, and send

submissions to

Fleurdumal666@gmail.com.

Image by Pascale Gouverneur
---
Felino Soriano Mini-Tribute

In the issue following this one, we will have a full-fledged

tribute to the greatest poet of our generation, Felino Soriano.

For now, we offer a mini-tribute to him.

Felino's Artist Statement:

"My writing stems from the perspective of positing a poetic language of immanent

discovery. Often, the burden of everyday language—one offering a sameness

and lack of creative spontaneity—creates spectral desensitization

toward environment and the paradigms of interrogating what expands into

beautiful presentations. I am first, an interpreter of what surrounds me; music is

foundational, and the found rhythms inspire and dictate each poem's identity and

spatial configuration. I am interested in language as longevity, in advocating for

its limitless disposition toward revealing, —and in this revealing, I aim to uncover/

unconceal angles of what is unseen, the belly of a stone's cool and undisturbed

silence." From: www.felinoasoriano.info

Felino Soriano's

First and Last Poems in Clockwise Cat

Felino published poetry in almost every issues of Clockwise Cat. I have not

counted the number of Felino poems we published, but maybe I will one day.

Here are two poems of his we were honored to publish - the first one from the

first issue of Clockwise Cat (2007), and the second one from the issue just before

this one (Issue 39 - Bourge-wise Cat (2018) ). Interestingly, even though his

thousands of poems featured a wide range of topics, both of these poems here

are rain-themed.

Vagabond's Vision #130

Solidarity combed the hair of absence,

reminding silence that habits fill the lungs of

unnatural habitats. This blue morning with

orange streaks of slanting light arrived delicately,

holding only small percentages of dampened leaves,

leftover from night's lengthy storm:

sentiments among a city whose longtime dryness

begged to feel fortunate through the emotional
---
gift of vigorous sensational saturation.

Conjuring Rain

Of when heat is

the penetrating hybrid of hate and humid

alterations

my dispositional qualities lessen into breath-on glare

until

angular

syllables

rearrange focus into deluge or fractioned melodies of developed

moisture, unobstructed need for me to bookmark this moment

return to it

return to scan each paragraph of elated change to the physiological

components of these hours' mistreated mobilities

The Jazzman's Magnanimous Words

(for Felino A. Soriano)

By Heath Brougher

I couldn't

with my OWN eyes

think it possible to witness!

a purebred genius ,,,,…..;;;;;; would strike my

viewing ! headspinning my head

eternally upon the realest! Truest

writing my retinas had ever lended themselves to—

no thing in modernity [or the past]

could I
---
so I stepped back

"

possibly compare it to [?-?-?]

taking it all in # [in full microscopic view] so deeply—expertly

of emotions and ideas

in a surprised experience of extant emancipation

never before expressed in such a way

I realized I had found

the new Newness—

Williams, Cummings, Pound—

what I had been looking for—

the poet who compared to

the Greatest Poet of MY Generation.

I found the Magnanimity of the Jazzman's words—

I revel in them daily.
---
VISIONARIES
---
Artist bio: Gregory Autry Wallace is a poet and artist living in northern

California. His work has appeared in Athena Incognito, Black Scat Review,

BlazeVox, Danse Macabre, Sonic Boom, Clockwise Cat & Five 2 One. His

poetry collection, The Return of the Cyclades, available at

thebookpatch.com.

LIMBO BY Gregory Autry Wallace
---
VISUALS BY AK

!
---
!

Artist bio: AK is a personal friend of Pasquino and Marforio, although he's never been

invited to Rome. He is also attracted to the combustible quality of the scrawled image

sitting next to certain words.
---
MEMORIES

BY DAVID RODRIGUEZ

MEMORY 6
---
!

MEMORY 3

Artist bio: "My name is David Rodríguez. I am 39 years old and I am from

Spain. From an early age, I have always been attracted to the art world, but

my love for photography didn´t start until 2013, the year I bought my first

reflex camera, and I began to explore my attraction to art. Shortly

afterwards, I began to train myself through several courses, and also in a

self-taught way. While I was studying, I discovered new photographers. One

day, I discovered Guy Bourdin and a photo that fascinated me enormously.

In the picture, there was a girl under the water with her eyes and mouth

open. I was enthralled with this image instantly, and this is how I came up

with the idea for the "Fresh" series. Then, I did the shooting taking

advantage of a summer day in which the sun was at its peak."
---
IMAGERY by Dominick Damo
---
Artist bio: Dominick Damo's poems have been featured in several

publications, including Peculiar Mormyrid, Misfits Miscellany, and in self

published chapbooks. A former vagabond and anarchist writer, Dominick

also has been involved with multiple experimental music projects and

released works under different monikers. He aims to slay the ordinary by

subverting the fog that envelops and comprises ordinary waking

consciousness and consensus reality through spontaneous acts of the

sublime. Also, biscuits.
---
Slingshot by David J. Thompson
---
Photography

by SEIGAr

Artist bio: Seigar is an English philologist, a highschool teacher, and a curious photographer. He

is a fetishist for reflections, saturated colors, details and religious icons. He feels passion for pop

culture that shows in his series. He considers himself a traveler and an urban street photographer.

His aim as an artist is to tell tales with his camera, to capture moments but trying to give them a

new frame and perspective. Travelling is his inspiration. However, he tries to show more than

mere postcards from his visits, creating a continous conceptual line story from his trips. The

details and subject matters come to his camera once and once again, almost becoming an

obsession. His most ambitious project so far is his "Plastic People", a work that focuses on the

humanization of the mannequins he finds in the shop windows all over the world. He has

participated in several exhibitions in Tenerife, and his works have also been featured in

international publications.

Más Montañés
---
Los Seigars Parísinos

My Doll Into a Frame
---
EVALUATORS
---
Turn OFF the BRIGHT LIGHTS?

Album Review by Alison Ross

I've been waiting 14 years for this: An Interpol album that doesn't suck. And not only

does Marauder not suck, but it's actually good. I'm shocked; I thought I'd never live to see

the day. Given that the second album, Antics, was the last great Interpol album - only one

of two that boasted a sleek seamlessness and audacious innovation - and that Antics came

out in 2004, it seemed a foregone conclusion that the band would continue to glide along

cavalierly, resigned to fate as a nostalgia act coasting on past glories that persisted in

putting out tepid formulaic albums.

But Maurauder is no Interpol-by-numbers. Indeed, the elements that made the first two

albums so grandiose - bold slabs of sound, brawny hooks, vocals robed in a robotic

baritone that nonetheless exuded a measure of warmth and slyly evoked the ghost of Ian

Curtis - are largely mitigated here. It's not to say they are fully absent, just that the band

has actually - gasp - evolved its style. The producer is new, and instead of dramatically

showcasing the vocals and all other aspects of signature Interpol, the mix favors a lo-fi

angle where explosive guitars are now swimming in a subtle swirl of sounds and the

vocals are sometimes shrouded in the layers of noise. The percussion, too, has a softer

sheen.

This altered approach has met with mixed reactions, to be sure, but for my ears, it's a

refreshing respite from the predictable paradigm that has plagued Interpol for nearly a

decade and a half. Sure, I love the Banks baritone and riff eruptions that form a crashing

sonic monolith, but the band was long overdue for an evolution. Indeed, there is even a

quasi-swingy, improvised feel to some of the songs, with falsetto vocal flourishes and
---
funky fretwork. The band sounds reinvigorated, as though they finally found their

whimsical groove.

Of course, they do so within the confines of who they are, but a song like "Mountain

Child" crystallizes this looser ideal while still retaining the crux of the Interpol Identity.

Lyrically, the band is as opaque as ever, balancing poetic absurdity with content that

relies on intuitive meaning. We may even be glimpsing the first ever concept album by

Interpol. In either case, the band has moved on from marauding their past selves and

finally generated a modified, non-pillaging persona.

Mickey Mouse is DEAD

Movie Review by Alison Ross

Often, movies you watch on a plane ride overseas are the ones you

haven't wanted to pay money to see in the theatres or to rent. You expect

them to be the throwaway films that you watch to pass the dull expanse of

time you spend on an excruciatingly long flight. Florida Project, however, is

not one of those flimsy films. The Florida Project embodies verisimilitude

like no other movie I can think of. The only "bad" thing I can think to say

about it is that its enjoyment value is mitigated by its social justice

concerns. That doesn't mean the movie isn't wildly entertaining; it is. But

the movie is pervaded with the bleak reminder that among us lurk

characters living in desperate circumstances.

The film concerns a young mother who lives in a "flophouse motel" - one of

those dumpy places that charges exorbitant prices for people to inhabit,

because they do not qualify financially for regular apartment living. The

mother herself, however, is rarely the focus of the film, and therein lies the
---
twist. The film focuses primarily on her daughter, astounding actress

Brooklyn Prince, as she navigates her summer in the shadow of Disney

Land, where escapist fantasies are spun and those with the money means

can indulge in them. Of course, the daughter and her mother cannot afford

such vivid chimeras, and instead must endure actual reality in all its unjust

ugliness.

We mainly see this rough reality through the lens of the precocious

Moonee and her friends as we observe their quotidian activities which are

somehow captivating despite their mundanity. Granted, the activities of

childhood are never really mundane, but they are predictably

unpredictable, as it were. These kids are anarchically rowdy, which would

implicate negligence on the part of the parents. However, the movie averts

judgment and makes it clear that the parents care deeply. The film

meanders languidly through the Florida humidity and gives the sense of a

lazy summer day, rife with ice cream dreams and mischief making. (Of

course, we know that the protagonists are hardly lazy, as many in society

would brand them, but rather, victims of a system that discards at will.)

The gaudy colors of the motel lend lurid dimension to the crude

circumstances of the characters. The children bounce around impulsively,

doing kid things, but with a measure of charismatic aggression, while the

motel manager (Willem Dafoe, in a career-defining role) attempts to rein

them in - not to mention rein in some of the wayward behaviors of the

adults.

The actors, many of whom are first time thespians, superbly render their

roles. Their characters are nuanced, multi-layered and authentic, by turns

comedic and poignant in the way they negotiate their circumstances.

The final scene, which has been criticized as cliche by some, is, in my

view, the perfect coda to the brash ballet the characters have

choreographed. After all, the American Dream is pure propaganda, cradled

in tacky Mickey Mouse symbolism. We are all, in the end, refugees from

reality, seeking grand illusions to anesthetize the stings from the slings and

arrows of outrageous (mis)fortune.
---
Making a MOCKERY

Of Domestic Violence

Movie Review by Alison Ross

There is a scene in "I, Tonya" where Tonya muses on her postice-skating

career choice: "So I became a lady boxer. I mean,

why not? Violence was all I knew anyway." And violence is the

axis upon which the movie rotates: Spousal violence, family

violence, verbal violence, psychological violence, violence in the

ice-rink ... all forms are depicted, most in starkly savage ways.

That violence

in and of itself

was the crux

before and

Olympic iceis,

the movie

is depicted is not an issue

- especially since that

of Tonya Harding's life,

during her rein in the

skating world. The issue

is simply not very good.

It's not, of

course, that the movie is

badly acted.

The performances from

all main actors

are solid. Alison Janney

in particular

stands out as the

archetypal

chain-smoking blue collar

mother, verbally and physically abusive, but also compulsively

compelled to propel her daughter toward success - but maybe not

so much out of love as a pitiful projection of her own fears of

failure.

It's that the movie is fatally flawed in direction. It wants to appeal

to an audience weened on and subsequently narcotized by

stylized violence of the sort that mimics Tarantino and his

misguided minions. But the problem with the portrayal of violence

in such a movie is that the plot is rooted in reality - Tonya's
---
husband, the deplorable Jeff Gillooly, brutally beat her during their

on-and-off relationship, and instead of showing scenes of

domestic turmoil in a manner that evokes outrage and sympathy,

the movie juxtaposes them with frenetic rock music, whose lyrics

feature love themes, even, a gimmicky hipster-irony allusion if

there ever were one. Such a callous approach undermines the

impact of the violence, normalizing it instead of interrogating it.

I read that those involved in the movie were keen to present

physical abuse scenarios in a way that did not minimize them, but

instead showcase what an everyday, routine experience they

were for Tonya. But such lofty intentions were eclipsed by the

caricatured glorification of domestic unrest.

Further muddying the murky waters of this overhyped film is that

several loose ends remain frayed. Chief among the frayed loose

ends is the movie's ambivalent stance on whether Tonya secretly

sanctioned the infamous knee-cap bashing of Nancy Kerrigan -

and whether Jeff Gillooly was misinformed about the ultimate

method of threatening Tonya's rival, or whether he himself were

"in" on approving the vicious tactic that would take Nancy down.

The disingenuous directional approach of "I, Tonya" overshadows

a story that could otherwise provide incisive insights into

characters who hail from broken backgrounds and achieve

astronomical success. The director, actors and others involved

would have done well to consult domestic violence survivors in

crafting their film. If they had, they could have sculpted an

empathetic portrait of Tonya's life, and validated the integrity of

women the world over. They chose instead to lampoon a life

plagued with barbaric incidents that threatened to steal her soul -

and ultimately destroyed her career.
---
Book Bites

Mini-reviews of Small Press Delectables by Alison Ross

Karen Neuberg's The Elephants Are Asking

Glass Lyre Press

Eco-conscious poetry often employs a tone that is blatantly inyour-face,

ironically blunting an otherwise dire supplication. It

seems the more urgent the message, the less alarmist the tone

needs to be in order to hold captive our hearts and minds. Or, at

least that's what I've learned from reading Karen Neuberg's

slender tome of verse in which she entreats, in euphonious

tones, for us to shuffle off our complacency and stand as

sentinels of our ever-eroding natural environment. After all,

"weeping is not sufficient." The most quietly indignant poem in

the collection, "Perpetuity," in which radiated water poisons the

planet, censures humanity with the elegantly damning lines, "the

fish have not been told/Nor the birds warned." Elsewhere, in

"Old Game," children of the future invoke an incantation about

creatures lost so callously to a ravaged climate. This is how you

do eco-conscious poetry: you startle with understated language

and implore with imagery that compels even the most lethargic

to answer the elephants' pleas with loving and active affirmation.

Heller Levinson's Lingua Quake

Black Widow Press

The latest installment in the Heller Hinge is here … it's been here for about 7 months,

actually, and I'm still reeling from the aftershocks of this aptly-named tome, Lingua

Quake. For language, at least in the way that Heller manipulates it, does cause

reverberating sensations. Of course, Heller would likely scoff at the idea that he

"manipulates" language, because what he is truly doing is revealing idiomatic potential.

Heller's Hinge Theory generates its own universe of ideation wherein concepts logically

interlock with each other much like the joints and bones in our bodies. But behold that

this is no stale, rigid logic, but rather an animated rationality that blossoms in real time,

and takes on jazzy cadences and playful phrasing. You could call it an anti-logic, but I

would say, rather, it's somewhat akin to Cubism in the sense that it offers multi-foliate

angles from which to perceive something. It's living, breathing Cubism, because it's as

though the poem is being constructed as we read. Take, for instance, this portion of a

poem:
---
how much of cyclicality

is

rasp . . .

rub frisson splay, that between the spots fertilizer, fricativetantalize

essentially the dialogue as framework : call & response :

the inter-gather : in-gest ://: di-gest : the insupportable

supported,

the supported → suspect

the road to nutritive road

shanghaied.

These lines, in all their exuberantly bemusing glory,

luminously and humorously showcase the inner workings

of the Hinge-verse, evincing, in a sense, that, like the

mechanics of a clock, each part relies on the other to

operate properly and to be a wholly functioning slice of

verse. It's impossible to cover the staggering scope of his

thick tome in one measly mini-review, but suffice it to say

that it's a rowdily rewarding read - there's even a Table of

Condemnations, where Heller eviscerates the sterility of

modern poetics, and in between poems (are these poems? Post-Poetics has been

mentioned in reference to Hinge...) there are jaunty pseudo-axioms and the like. Lingua

Quake is the one seismic event where you will want to be very present; it will shake up

your world in a glorious way.

Jeffrey Cyphers Wright's Blue Lyre/Dos Madres Press

Jeffrey Cyphers Wright is a delightfully animated presence. In his poetry readings, he

emanates the air of someone who takes fun very seriously. His

flamboyantly whimsical persona spreads a contagious feeling of goodwill;

when I last saw him, at the New Orleans Poetry Fest, he was wearing a

baseball cap that declared "FUN" in big letters, and it truly warmed my

heart. So I am not surprised that while reading the poems in his latest

tome, Blue Lyre, I could visualize his friendly face and hear his singular

voice that dances and skips along the lines of his verse. Indeed, these

lines, by turns lyrical ("Rain hammers blue nails into dusk's chest"), playful

("Don't hurt yourself trying to be like me (although it couldn't hurt)" ),

melancholic ("That time, late - late in August, when Dad called with the

diagnosis"), indignant ("We have nothing to fear but global warming...")

leap off the page as though they want to twirl and tango with their sculptor,

he who has such a lust for life and language. The poems ooze jazz tempos

and wicked wordplay ("catastrophe's apostrophe"), and surge with sensory

imagery to die for ("Night's silence is actually a thousand cicadas making their opera

roar").

But perhaps it's his "Runaway Doors" multi-part poem that is the centerpiece of the

collection, which features some endlessly quotable lines:

"Door scratched out of homemade sky."
---
"Doors without borders."

"The war on doors."

"Door of tomorrow's marrow."

"Door hiding in a keyhole."

"Door that hears your dreams boil"

"I'm crazy for you door but you're crazy,

crazy door that I adore."

I adore Jeffrey Cyphers Wright's poetry; it opens the doors to a new kind of

consciousness of vigorously vibrant tones.

Sheila E. Murphy's Reporting Live From You Know Where

Meritage Press

By Marie C Lecrivain

My introduction to political poetry came with the Poets Against the War movement, back

in 2001, within weeks of 911. Since then, political poetry has been part of the

mainstream, with many anthologies and collections published every year. Reporting Live

From You Know Where, by author and poet, Sheila E. Murphy, is a chapbook length

hay(na)ku sequence of poems written after 45 was elected president. Winner of 2018

Hay(nu)ka Book Prize, it spans 65+ pages in a seamless and imagist narrative, but it also

goes beyond the polemics required for political poetry.

Reporting Live is written in the hay(na)ku style (a 21st century poetic form invented

by Eileen R. Tabios. It is a six-word tercet with the first line being one word, the second

line being two words, and the third line being three words - www.eileenrtabios.com).

Murphy's distilled the vast gulf of rage and chaos that currently divides the United States

into a series of powerful, raw micro-moments the reader can immediately relate to, even

beyond the political context:

look at what

You have

destroyed

forgiveness

was never

the right reflex

Within Reporting Live, Murphy brings to light those issues 45's base patently ignores:

sexual harassment and accountability (you claim inevitability/I should/know, sides/of
---
her/face suspiciously unmatched); 45's constant assertion of lies as

truth (those/ declarations of/what he thinks, spare little old/us

from/this, ongoing/figurative aggravated/assault on sensate);

the fake news epidemic (loss glossed over/decibels functioning/as,

smoothness/for perps/seeking confirmation everywhere); and

GOP's dismantling of democracy (why/are you/here to explain,

these inquiring others/seeking just/relief, from/you, your/

spontaneous theft swiping, what we have/worked years/for).

Murphy's vision and lyricism are laser focused through the

hay(na)ku sequence, which makes Reporting Live a quick read, at

first. A second, and then, third reading of Reporting Live will give

the reader a deeper appreciation of Murphy's skill with rousing the

reader to empathize with the frustration that she, and the reader,

as citizens, experience under 45's regime.

Beyond the concern and rage expressed, is a clear warning in

Reporting Live: to be vigilant against the "new normal, and to hold

onto the real real truth of who each of us is, in an era where

everyone else is too beaten down to care. This is why, in my opinion, Murphy's words

need to be memorized, as a mantra against the dark:

here i am

aged and

desirous

of

incessant earth

tones deliciously intoned

the only one

I can

hear

said

the conductor

is Sheila Murphy

an epic misunderstanding

my musical

weltanschauung

Reporting Live From You Know Where, Sheila E. Murphy, © 2018 Meritage Press/

i.e. press and xPress(ed), 70 pages, ISBN 978-1-934299-12-8, $12.00 US.

Author bio: Marie C Lecrivain is the executive editor/publisher of poeticdiversity: the litzine

of Los Angeles. Her work has appeared in Nonbinary Review, Spillway, Orbis, A New Ulster, and

others. She's the author of several volumes of poetry and fiction, including the upcoming Fourth

Planet From the Sun (© 2018 Rum Razor Press).
---
Mark Bray's Antifa: The Anti-Fascist

Handbook by Alison Ross

I saw the author of Antifa: The Anti-Fascist Handbook, Occupy Wall Street veteran Mark

Bray, speak at Atlanta's Acapella Books a year or so ago, and I enjoyed it so much I

bought his book. I thought his lecture about the anti-fascist movement (aka Antifa) was a

bit more cohesive than the book, but the tome is still highly enlightening, illuminating a

movement that often existed in the shadows until the Trump-era media seized upon it as

a ratings-booster.

In fact, the movement stretches back to Mussolini fascism, and it's the bits about

historical fascists and the anti-fascists that forcefully opposed them that contextualize

Bray's tacit endorsement of Antifa. It's a convincing contention, even as I, in my middleaged,

semi-bourgeois complacency, cower at the thought of joining a menacing,

grenade-wielding black bloc.

Don't get me wrong - from my view, punching hate-spewing thugs squarely in the face is

justified. I am usually an adherent of non-violence, but in certain cases, especially when

attempting to stifle neo-Nazis in their tracks, I do believe in the use of force. Humanity,

after all, depends on such audacious confrontations.

Bray's book not only relies on recounting the historical facts of fascism and anti-fascism,

but it also weaves in a tapestry of fascinating anecdotes from more recent and currentday

Antifa activists. What's most compelling are the assertions about the successes of

modern-day Antifa in battling white supremacist groups in Europe and North America.

Antifa is more multifarious and less organized than one would think, comprising punks,

anarchists, martial-arts fighters, motorcycle squads, etc. who often coalesce impetuously

to fight fascists. Of course, there are also those Antifa who are "upstanding" members of

society masking themselves to conceal their righteous radicalism.

What's most chilling in Antifa is when Bray points out that in Italy and Germany, fascist

ranks started small and grew rapidly, though never necessarily to impressive sizes,

bolstering his claims hat burgeoning fascists such as Trump

only need about 30% support to be successful.

Let's face it: Neoliberals - Clinton, Obama, et al - enable

Trumpism. The duopoly is dastardly and only brings

economic and environmental malevolence and misery

across the globe. The corporatist state should be smashed.

This is another compelling claim for Antifa; capitalism will

never "right" itself, because capitalism is the problem - and

neither party is interested in dismantling that system.

Is Antifa miliitant? Yes, yes it is. Is Antifa necessary? Yes,

yes it is. The alternative is synagogue shootings and

massacres in black churches.

I know which side I'm on.
---
Definitions of Obscurity

Unlikely Books

A Preface By Vernon Frazer

T h e w o r k t h a t b e c a m e D e f i n i t i o n s o f

Obscurity began with a fan letter from Michelle

Greenblatt early in December 2005 that led to the

most gratifying literary collaboration of my life.

Within a month of very personal email exchanges

came her request to do a "small collaboration." By

mid-January we were emailing passages of our

first poem together.

We never established a formal working method,

such as trading one line or stanza at a time.

Michelle sent me as many lines as she felt

comfortable writing. In turn, I sent back as many

lines as I felt I needed to move the poem forward.

Our styles, while different, proved surprisingly

compatible, partly because of our shared literary

interests and partly because each of us

understood that our biochemical conditions created similar problems for us

socially and physically. While she coped with a body that wrestled against

a bipolar condition and fibromyalgia, I lived as a two-time Cancer survivor

who learned during his mid-life crisis that he had lived with undiagnosed

Tourette Syndrome since age six.

Our medical conditions prepared us for working in the dark areas of the

human spirit. Michelle's emotional demons lived vividly within her.

Whenever her inner Lautremont appeared on the page, my own verbal

night shaped complementary shadows. We shared a rapport that ran the

emotional continuum from demonic darkness to ecstatic light, linked

through our shared love of language.

Michelle enjoyed exploring the possibilities of language as well as the

extremities of personal experience. Although she could write with the

brashness of a female Bukowski, she could explore the limits of language

with equal bravura. By the time we collaborated, my own work had evolved

from its origins in Beat literature and Olson's projective verse—-with my
---
own dash of Bukowski—-into a realm of abstraction analogous to

improvising free jazz with words and space.

Throughout our year of exchanges, we found ourselves uncommonly

attuned to each other's phrasing and rhythm. Although we wrote and used

space differently in our own work, together we synthesized our separate

and unique voices into work with a distinctive voice of its own. If one of us

moved in an unexpected direction, the other would enhance the context.

The collaborations lasted roughly a year, then ended when Michelle's

health problems prevented her from writing consistently enough to

maintain a poem's momentum. While she stepped back from the active

literary scene, I placed the poems we wrote in a number of magazines,

then approached Jeff Side with the chapbook Dark Hope.

When Dark Hope appeared as an Argotist ebook, the rapport Michelle and

I shared astounded me as I reread the work. Her lines and mine

intertwined as one. Although I can identify several passages as distinctly

hers or mine, most emerged from our creation of a voice that synthesized

or styles without sacrificing them.

Unfortunately, while I preparing Dark Hope for publication, an undiagnosed

parathyroid condition impaired my ability to work at my customary level of

competence. After surgery relieved my fatigue and my inability to think

clearly, I realized I had failed to include about two-fifths of the poems we

had written together. When the opportunity arose to reprint Dark Hope, I

added the omitted poems to Definitions of Obscurity. Like Michelle, I love

the printed word and seeing our work in print together gives me a special

pleasure.

As Jeff Side notes in his preface, this book came together at a time when I

experienced tremendous personal loss. My wife, Elaine, and I shared a

closeness and joy I never thought possible. In a grim coincidence, I

learned of Michelle's passing the same day I learned Elaine would have to

resume the immunotherapy treatment whose side effects took her life five

weeks later. That day, even Dark Hope shined too brightly.

May reading Definitions of Obscurity give you the joy I shared with my

collaborators in love and literature.
---
RABBLE

ROUSERS
---
Trump's Inferno: The Donald's

Version of Dante's Hell

By Maelynn Avery

Trump, in a quest for the beloved that he fears he has lost--his own Beatrice—descends

into Hell, Stephen Miller his Virgil.

In the deepest circle he encounters "The Truth Seekers:" research scientists, journalists,

and Mueller's investigators. Their sin: to assert that hard evidence is the source of truth.

They threatened profit and power by proving that climate change is real, that regulations

are needed to preserve public health, that "trickle down" is a scam, that Russia influenced

our election. Their punishment is to have their arguments forever labelled "fake news."

In the second circle, Trump encounters "The Diverse:" the hordes composed of colors,

religions and sexual orientations about which he had warned, "It will soon be too late."

They claimed the right not to be killed and underpaid, deported and imprisoned, excluded

and disenfranchised. They are doomed to speak into the void.

In the first circle, Trump encounters "The Naïve Ones:" Black people, Mexicans,

American Indians, the handicapped, the sick, the poor, the old, prisoners, children,

women. These were the vulnerable who needed a helping hand or laws that protected

them. For thinking that American values included compassion they are condemned to

wander eternally lost and confused.

As The Donald emerges from Hell, Miller falls to his knees and declaims, "Hail ye, Lord

of the Rich, The White and The Lie," and adoringly holds up a mirror to him. And in

that reflection is the beloved that he knows now is indestructible.

Author bio: Maelynn Avery is a psychotherapist and former literature professor who has

increasingly found an outlet in creative writing for her reactions to the outrages of the

Trump era.
---
Hate-watching Your Way to Health

By Matt Kolbet

The holidays have come and gone, with parties and treats galore. Americans pushed their belts to

the last notch, gleefully indulging in just one more countless times as they sampled platters of

cookies, fudge, and gingerbread, using ardent spirits to get into the spirit of the year.

After ringing in the New Year, tons of well-meaning people made halfhearted resolutions about

their bodies (lose weight) ambition (learn a language, travel across state lines) or character (give

up on slot machines unless you've got a really good feeling about it). In reality, before February

expires they'll be back to their couches looking for something to binge watch, still on a sugar

roller coaster since Halloween and having rediscovered a taste for salt from Christmas ham or

latkes during Hanukkah.

The good news is that you don't need to carve out time for running in the cold or driving to the

gym only to fight for parking (that's vocab enrichment—unit three, blue words). No, you can sit

back, turn on the television, and shed those excess pounds as you get red in the face from hatewatching.

Whether it's CNN or FOX that enrages you, scientists have discovered (with

unexpected biblical support) that wrath is an excellent way to burn calories.

Gym memberships are expensive and a waste of time. When you're on a treadmill, they're either

showing professional sports (a reminder of everything you're not) or CNN or FOX, which you

can watch from your apartment, where the smell of stiff laundry, being older and covered in

Cheeto dust, is slightly less rank.

Hate-watching, by contrast, costs very little and is highly

effective. Most importantly, it targets as it tones. It hits areas

usually neglected by traditional exercise regimens. Muscles

around the eyes will get lots of work, raising in skepticism

and helping furrow the brow, ten reps per minute. Index

fingers will benefit from being extended imperiously at the

television, though experts recommend alternating arms to

preserve the body's symmetry. Such variation also frees up

your non-dominant hand, increasing agility at picking up

chips, a diet coke (you've cut back to six a day) or pork

rinds. Moreover, while your heart didn't grow three sizes this

year, it will benefit from this new workout. As blood rushes

to your cheeks in moments of sustained vehemence, your

heart will pump furiously. It may even throw in an extra beat now and again for good measure.

Perhaps most importantly, hate-watching hits the body's apathy centers. Located posterior to the

L5 lumbar vertebrae, these centers are dormant, not giving any shits unless it's a question of selfinterest.

Thankfully, hate-watching releases feculent cells, which occasionally come out the

mouth as well, in bursts of communal indignation.

Myriad other benefits might be enumerated, but who has the time? Now is the moment for action.

Besides, my favorite show is on. You know, the one with that guy, and the lady. They're so damn

smug. Pump up the volume! I'm ready to train.

Author bio: Matt Kolbet teaches and writes in Oregon.
---
A Humble Suggestion

By Jessica Hylton

It's becoming increasingly clear that University students in the United States of America are

suffering because of classmates who bring guns to areas that have traditionally been gun-free.

Near monthly, we see memorials of candles, flowers, and teddy bears crop up outside of dorms

and rooms that used to be reserved for learning. Our defense is to train our students to hide

against walls and to never leave a classroom door unlocked.

I think it is agreed by all parties that these senseless deaths while pursuing higher education make

our great country look deplorable. Dare it be said that whoever could remedy this atrocity could

be called the preserver of the nation.

My intentions, however, are not limited to preventing the senseless slaughter of college students.

They extend to helping ensure Universities themselves run more efficiently. I believe that by

requiring every college student to own and carry a semi-automatic AR-15 to their classes, we will

prevent senseless deaths, increase the funding going to our schools, and promote better classroom

behavior from both students and professors.

Public universities are struggling to fund their many programs as student populations dwindle and

state funding continues to get slashed; however, gun manufacturers are expanding their

production and are currently making over 11 million new weapons a year. Think of the economic

surplus a university could gain by requiring their students to carry legal versions of machine

guns. An average university has 6,265 students, and the average price for a shiny new AR-15 is

$1200. By requiring every student to own an AR-15, each school could expect to share the

profits of around $7,518,000.
---
In the event a university student cannot afford to purchase their AR-15 outright, the college

bookstore should already have the infrastructure to support a rifle rental program that would

allow students to rent their AR-15 just like their textbooks. However, unlike their textbooks that

can have multiple versions or editions and that can require complicated digital access codes, the

NRA has made buying a semi-automatic weapon a hassle-free process.

Arming our students also provides many educational benefits while making death by gunshot

senseful rather than senseless. Most of us remember having courses with difficult classmates

who often argued just for the sake of being difficult. AR-15s in the classroom allow more diligent

students to simply shoot the offending speaker. This ensures that the rest of the class will receive

the lesson as it was meant to be delivered.

Of course, professors can utilize their rifles in the classroom too. If students are acting out or not

doing their assigned work, eliminating just one will increase the quality of work completed by the

remaining members of the group.

Parents should not fear for their children because required guns would level the playing field

between professor and student. No longer will the liberal college professor be able to deny the

word of God and spew misconstrued notions on evolution as fact. If a professor gets out of line

with his/her opinion, a student can pop them in the head. The over flooded academic job market

will allow universities to replace deceased faculty members within minutes of cleaning their gray

matter off the white board.

A very worthy person, a true lover of her country and whose credentials I highly respect,

recommended a refinement on my schemes. She said that many public primary schools, k-12,

suffer from the same financial problems and senseless murders that plague our universities. My

recommendations can be applied to primary schools as well—with only one minor change. No

one in their right mind would insist that minors carry assault rifles. Rifles are far too big for them

to handle. Handguns, however, offer more compact construction, and their smaller clip sizes

would limit any potential hazards that may arise due too many hormones and school dances.

I've spent too long on this aside already; therefore, I will return to my primary argument in

support of arming college students because of the numerous advantages it permits.

For first, as I have already observed, it would help universities financially. Not only would

schools gain money from gun sales, but they could also eliminate most of their student support

staff and their licensed counselors.

Secondly, students would feel a large amount of stress relief because they would no longer fear

someone coming into their classroom who was better armed than they were.

Thirdly, colleges would see an increase in graduation rates as the fear of failure would finally

have actual repercussions, and we would be able to ensure that the bachelor's degree never

becomes a mere certificate of participation.

Fourthly, we would have control over the material our students are exposed to at the University

level, and we can eliminate programs like the liberal arts and humanities because we no longer

have to listen to or to understand voices with which we disagree.

Many other advantages may come to light. For instance, think of the scholarships that could be

offered to our students with exceptional shooting ability—free tuition for a semester for the

student who can hit the portrait of Shakespeare on the cover of his complete works right between

his eyes from 100 yards. But this and many other ideas, I must omit in the interest of brevity.
---
I can think of not one objection, that will possibly be raised against this proposal, unless it could

be that it threatens the notion of academic freedom. This I freely own, and it was principal in the

design of the proposal—no action should be free from consequence. I desire the reader to

observe, that I calculate my solution for Universities in the United States of America, and for no

other that ever, was, is, or, I think, ever can be upon Earth. Therefore, let no man, or woman,

speak to me of other options: Of teaching social and emotional skills: Of hiring more counselors

and resource offices: Of using technology to identify troubled students: Of conducting standard

mental health screenings: Of enlisting social media companies to help detect threats. Lastly, of

strengthening gun laws.

I repeat, let no man, or woman, talk to me of these options until they have some glimpse of hope

that they could ever have a sincere attempt to put them into practice.

I am not so bold as to never consider another opinion than my own; however, any other solution

to the problem of senseless death on college campuses must address the following two points:

How will students' easy access to weapons be contained or controlled? And secondly, what

support systems will be put into place so that our students feel heard and listened to? From

1974-2000, 98% of all school shooters experienced some sort of major loss prior to their attack. I

also want any politicians who disagree with my overture to ask current students if they think that

requiring them to carry an AR-15 for their own safety promotes an environment they want to

learn in.

I profess, in the sincerity of my heart that I have not the least personal interest in this proposal.

As I already own two fine rifles and have three degrees.

Author bio: Jessica K. Hylton is an Assistant Professor of English and

directs the MFA program at the University of Arkansas at Monticello.

Her book of poems, The Great Scissor Hunt, was published by

Headmistress Press in 2016. In her spare time, she enjoys barrel

racing and roller skating.
---
Testing

Corporations Rake in Cash while

Teachers Sell Plasma to Survive

by Steven Singer

If you want to get rich in education, don't become a teacher.

Open a charter school or take a job at a testing corporation.

Sure, charter schools are elaborate scams to make money off children while providing fewer services.

Sure, standardized tests are just corporate welfare that labels poor and minority kids failures and pretends

that's their fault.

And teachers? They're just the people who do all the actual work of educating children. Yet there's never

enough money, never enough resources for the job they do.\

According to the U.S. Bureau of Labor Statistics, the average salary of public school teachers in

Pennsylvania is between $53,000 and $59,000 per year.

Compare that with the salaries of the people who make and distribute the state's federally mandated

standardized tests – employees at Data Recognition Corporation (DRC).

DRC publishes numerous assessments in various states. However, in the Keystone state,

the corporation makes everything from the Pennsylvania System of School Assessments (PSSA) to the

Keystone Exams in Algebra, Literature and Biology.

At its 14 locations across the country, the company has more than 750 full time employees and 5,000
---
But that's way better than in most parts of the country.

In West Virginia, teachers across the state went on a 9-day strike to get a 5% pay raise.

Teachers in Arizona and Oklahoma are planning their own strike due to even worse neglect.

In Oklahoma, some educators have actually had to resort to selling plasma in order to

survive.

KOCO News 5, in the Sooner State, reported on a fifth grade teacher at Newcastle Elementary

school, Jay Thomas, who sells blood to supplement his income.

"I've got a permanent scar doing that. Just did it yesterday," Thomas said.

"I've been doing it for a couple of years. I've given over 100 times. It's twice a week."

Though Thomas has been an Oklahoma teacher for 16 years, he makes less than $40,000 a year

after taxes.

Selling plasma nets him about $65 a week.

And if you think Thomas is the anomaly, when this story was spread on Twitter, other teachers

responded that they do the same, some even including pictures of themselves at the blood bank.
---
Dear KANYE, The Same Impulse

That Enslaved Black Minds

on the Plantation Stokes Your

Admiration for Trump

By Stephen M Singer

Kanye West is a brilliant musician.

I start with that reminder because he's also a jackass.

The same iconoclastic impulses that make him so fascinating to listen to on the

mic make him almost impossible to take seriously anywhere else.

About a week ago, he took to Twitter to say the most controversial thing he could

think of – that he still likes Donald Trump:

"You don't have to agree with trump but the mob can't make me not love him. We

are both dragon energy. He is my brother. I love everyone. I don't agree with

everything anyone does. That's what makes us individuals. And we have the right

to independent thought."

Say what you will, he got the mileage he wanted out of it. People's heads exploded

all over the place.

How can a black man (other than Ben Carson) support perhaps the most racist

Chief Executive in the history of this country?
---
Trump was endorsed by David Duke (a former KKK Grand Dragon), his

supporters include white nationalists (Read: Nazis) whom he refuses to criticize,

he was a notorious birther refusing to accept any of the overwhelming evidence

that Barack Obama was a U.S. citizen, and his real estate company avoided

renting to African Americans and gave preferential treatment to white people.

And that's only the most cursory list! I could go on and on and on!

But Kanye loves him. Okay. How do you feel about James Earl Ray? When he

shot and killed the Rev. Dr. Martin Luther King, Jr., did he, too, have Dragon

Energy?

Perhaps Duke does – literally. Yet Yeezy ain't tweeting him any support!

However, Kanye wasn't done. Today on TMZ, he doubled down on his

contrarianism:

"When you hear about slavery for 400 years … For 400 years? That sounds like

a choice."

And:

"You were there for 400 years and it's all of y'all. It's like we're mentally

imprisoned."

Okay, Kanye.

Hold up.

Yes, slavery works by imprisoning minds as well as bodies. The same with our

contemporary racial and economic cast system.

But to call slavery a choice – while true in a sense – minimizes how constrained

that choice was.

Before the Emancipation Proclamation, most slaves had a choice between life in

bondage or torture and death. They could try to run, try to organize and revolt or

just try to survive.

What kind of choice is that?

Run and you might get caught – risk the little you have and risk the safety of

anyone you care about for a dim chance at freedom.

And that was if there was anywhere to go. Without connections on the

Underground Railroad or other sympathetic forces, the very idea of trying to free

one's self must have seemed next to impossible.
---
Sure, you could try to organize and overthrow your taskmasters – but that's

generally not how human psychology works. You convince yourself that going

along is better, that if you just listen to authority, you'll survive. It's the same

thought 6 million Jewish people had as they were being marched to the gas

chambers.

I guess that's your point. Human psychology is wrong. It's better to fight than go

along.

Then how do you explain your support for Trump?

You're exercising your right to free thought by voicing an unpopular opinion –

BECAUSE IT'S UNPOPULAR. But that's not freedom – that's merely thesis

and antithesis. Everyone says THIS, so I say THAT.

I imagine plenty house slaves did the same thing back on the plantation. "The

Master is kind and caring and he looks out for me."

That's really what you're saying when you praise Trump.

One of the criticisms often leveled at rap music is how much it idolizes wealth

and conspicuous consumption.

As a famous hip hop artist once said:

" …And this rich n– racism

That's that "Come in, please buy more

What you want, a Bentley? Fur coat? A diamond chain?

All you blacks want all the same things"

Used to only be n–s now everybody playing

Spending everything on Alexander Wang…"

That was you, Kanye, on "New Slaves" back in 2013.

The Yeezus who spouted those rhymes was criticizing exactly the kind of BS

you're spewing today.

Yeah, Trump is a symbol of having made it in America. But if he's who you

emulate, you've betrayed everything you used to stand for.

Fight the power – don't befriend it!

Overthrow our classist, racist society – don't defend it!

But who am I to criticize you? You're a black man and I'm just a white observer. If

you want to throw shade on your own people, go for it. If you want to trade in

rebellion for a MAGA hat, you do it. That's your right. Just don't be surprised if

no one thanks you for it.
---
RANTS By Lisa Verdekal

A bit of a rant

What bothers me so deeply about border checks and anti-immigration sentiment is the

lie so readily told to cloud the truth. Go ahead if you must, defend your borders, erect

checkpoints to confirm citizenship, detain people in airports, interrogate, incarcerate,

but be honest about the reasons behind this behavior. Stop fooling yourselves that you

are better, nobler or more enlightened. Basically the US is the result of a bigger,

stronger tribe that warred, cheated and brutalized its way to the top, like many tribes

likely have done since humans began roaming and settling this planet. And that's the

key. The people who now rule this area of land known as the US, the ones with the

largest stash of cookies, are no better than anyone else. It wasn't THAT long ago that

African Americans were lynched in the US and native children forced into industrial

Christian schools. And that Europeans publicly tortured people and killed in the name

of their God just like what often occurs in some countries now.

You can say, well we don't do those brutal things anymore unlike those ones out in

Africa, Saudi Arabia, Afghanistan etc., but the thing is YOU DO, covertly. There is A

LOT of torture and cruelty perpetrated in the name of the US and Europe. And

furthermore, take away those supermarkets and restaurants, crumble that big pile of

cookies and it won't take long until all the so called civilized, democratic way of life

breaks down and it's all back to openly warring and brutalizing again. Defend your

land, you out bullied the others for it, it's yours. That's the way it goes, isn't it? But

don't pretend you are defending anything righteous. You are just at the top so have the

luxury to wallow in this pretense of civility.
---
The Longing to Belong

Countries are very, very large tribes.

Countries are a man-made concept that people wholeheartedly identify with. The

country, its culture and politics become part of who they are, it affects their personality.

People miss their country when away from it. And when away, they gravitate to others

from the same country. People are emotionally bound to their countries, they will

defend it, die for it.

It is natural to want to belong to something. We are inherently tribal. We yearn to

identify and give loyalty. But this longing to belong deceives us into patriotism.

Countries are too large.

Countries need to be fed and then when satisfied made exclusive.

Countries do not occur naturally.

They are a meshing and mashing of related tribes (mostly due to geography) into one

concept, one culture, one language, often one religion. Sometimes through colonization,

other times through bringing together for political and financial gain. Power.

But does this combining of smaller parts lock easily into a smoothly functioning whole?

For example, in Germany Bavarians see themselves as separate from the rest of

Germany, different, better. The Basque fight for independence from Spain. In the UK

there is the question of Wales, Scotland, Northern Ireland. In France there is

Brittany. It's confusing and complicated, with some regions having some form of

incomplete autonomy and others utterly disregarded by the centralized power. Even in

the US with its grand mixing and discarding of European cultures, even there after the

loss of European languages and ancestral ways, the West competes with the East, the

South flies its own flag.

Countries are over simplified yet cause complications.
---
Countries are diversity of language withering under the threat of the pervasive hold of

the enforced, national language.

Countries are one, official, well spoken language that people immediately drop as they

revert naturally to the vernacular and colloquialisms of their home region.

Countries are diversity flattened into uniformity. Families binding together to form a

tribe is about as much as our minds and hearts can and should handle.

As said, countries are too large, even the smallest country's political setup likely makes

it difficult for the citizens to keep an eye on the leader. The head of the country

becomes removed from the masses that make up the body, there is no personal

connection to their real needs and problems. This gives way to corruption and all its

varied yet practically identical political ideologies, the isms.

Countries thrive on indoctrination not initiation. Thus manipulating allegiance.

Within countries we anyway break off into more manageable groups, we gravitate to

groups that make us feel like we truly belong, narrow it down into smaller parts in this

too vast land called country. We split off into groups defined by our interests, our

profession, our sport, our team, our politics, our gender, films we like, music, style,

status, race, sexual orientation. Our spiritual beliefs. We show allegiance to certain

restaurants, cars, technology.

In Ireland the accent changes from village to village and rivalry thrives based on

several miles and invisible but old boundaries. Identification brought back to the tribal.

Countries are usually based on racial bloodlines.

An illusion of purity.

Author bio: Lisa was born and bred in LA, but now hides out in the beautiful, wild west

of Ireland with her husband, two sons, two dogs, two cats and cheeky mice (despite the

cats). She has been published in Pink Girl Ink, Zetetic: A Record of Unusual Inquiry,

Scarlet Leaf Review, 805 and Soul Sister Wisdom. She has a Honours Degree in Irish

Heritage and a Masters in Advanced Language Skills German.
---
!

The Tragic Future of America By Paul Kindlon

States.

A lot has been written and spoken about "politically correct" thinking in the United

Americans are keenly aware of the need to follow the rules of engagement with regard to

views and opinions on issues like: gender identity, patriarchy, toxic masculinity, sexism,

racism and many more. It's a mine field that must be traversed carefully in order to avoid

being labeled "biased" or even worse. Speaking one's mind in opposition to the prevailing

winds of "progressive political thinking" can lead to being socially ostracized, banned from

publication, reprimanded at school, denied work or even fired from one's job.

Our

The fatal flaw or mistake being made in all of this, however, is epistemological in nature.

public discourse these days stems from how we are thinking rather than on what we are

thinking. For too long the educational system in America has failed to teach students how to

think properly. These graduates then go on to become poorly educated lawyers, politicians,

professors, journalists, artists and so on.

What has been missing is the golden key to understanding and knowledge, namely,

"philosophically correct thinking". If you listen to many on the left speak about social justice

it becomes clear at once that these well-intentioned progressives are thinking in categories

or what philosphers used to call "universals".

If you follow the time-line of enlightened thinking that has served us so well towards

medical and technological advancement it indicates an upward curve away from thinking in

categories towards focusing on "particulars". Unfortunately we are trending in the opposite

direction nowadays. "Politically incorrect" is just another category we have invented to
---
objectify fellow citizens and project our own flaws and faults onto.

The real progressives in our march towards enlightenment were those who abandoned

thinking in categories - viewing individual people and objects as the only reality. This has

formed the basis of scientific thinking. In this respect it was Roscellinus and Francis Bacon

who lead the way.

Concepts such as race, religion and class do not have any REAL existence. Our minds

developed these categories as a way of simplifying and ordering experience due to our habit

of comparing and contrasting. Thinking in categories may be useful but only as intellectual

exercises. It should never be accepted as a proper way of analyzing or understanding life or

the people in our world.

neat

Because we are naturally predisposed towards placing events, objects and people into

manageable boxes (categories) this practice inevitably leads to bi-polar opposition and

the construction of an "us versus them" pseudo -reality that overlooks individual traits and

characteristics that do not belong to the category people have been assigned to.

This type of philosophically incorrect thinking is far more dangerous than politically incorrect

thinking. Throughout history thinking in categories has lead to the imprisonment or even

mass extermination of large groups of people unfairly lumped together as indistinguishable

members of a certain class, race or religion. Unfortunately, we are repeating this egregious

mistake of the past and heading towards a new dark age where fellow human beings are

treated not as complex and unique individuals, but as abstract concepts robbed of their

essential humanity.

If America does not make a dramatic u-turn away from this trend it is condemned to

making the same philosophical mistakes that unenlightened cultures have made leading to the

usual tragic consequences.

Author bio: The author has been a professor of Humanities for 25 years. He has had published

10 short stories, 7 poems, a collection of aphorisms and a memoir. He also has written 30 articles

on Philosophy, Culture and Politics for a variety of on-line publications.
---
PC Prison: Caging Language,

Stifling Speech

By Alison Ross

The dastardly dogma of political correctness - interpreted by me to mean the

militant policing of language so as to engender a faux lexicon scrubbed of

insensitive tropes - has been plaguing the left from at least the 70s, and

possibly before. But whenever the ideology came into fruition - and it has

waxed and waned throughout the decades - the fact is, political correctness

is a scourge on the left, and one big reason why the election of a blatant

fascist became possible.

Allow me to elaborate on why we should aggressively push PC precepts

toward full extinction, enabling authentic dialogue to emerge and flourish.

The aims of those who espouse PC tenets inarguably have noble, maybe

even utopian, intentions. Those intentions are to abrasively scour language,

removing offensive tendencies - and this, they hope, will magically cleanse

our brains of the same proclivities.

The problem is, this cravenly flawed ideology puts the cart before the horse;

our brains can only be rewired through our interactions - in society, and with

our families. No matter how "inoffensive" language becomes, we will still
---
harbor bigoted biases if we are ill-conditioned. Language is weaponized for

good or bad, dependent on who is wielding that armament.

The further problem is, these noble intentions become muddled in a morass

of rigid linguistic patrolling, where even the most nuanced articulation can

be grotesquely magnified.

When we inadvertently offend someone or a group of people, a dialogue

premised in logic and sensitivity can ensue in order to help remedy the

perceived offense. But when people suppress dialogue for fear of offending

someone or invoking the ire of the PC police, this quashes fruitful exchange,

and diminishes our faculty for reasoned thinking. Fear begins to reign in

conversations and interactions.

Those who adhere to political correctness ideology exhaustively parse

language to its most minute expression. This is repulsive to most

conservatives, because it is perceived as leftist fascism. And, I am loathe to

admit, they are right.

Take, for example, the explosive outrage when Calvin Trillin published a

poem in The New Yorker mocking our foodie culture that just happened to

use the baffling varieties of Chinese food as the vehicle driving the parody.

Trillin, who has written similar parodies using Italian and French food, and

who has written a book about food from all over the world, hardly seems to

be a poisonously prejudiced person.

And yet, the response to his poem by some language authoritarians was

disproportionately denigrating, as though he were really that tone deaf. To

the contrary, his poem can be read as a paen to the diversity of Chinese food,

and people's eagerness to "try it all." Sure, one can read into it a cultural

appropriation element - that is, if you distort it enough to satisfy your own

petty agendas. But how about reading it in the obvious voice it was intended

- a supercillious foodie fanboy anxious to triumph over ever-evolving

culinary trends?

While you're here, reading my rants and absorbing my rage, I have a

confession to make: I have written several poems using fragments of black

vernacular. I listen to a lot of hip hop, and I also live in Atlanta, and have

taught at heavily black schools. I am enamored of the language. The use of it

in my poetry comes very naturally to the point where I don't notice I am
---
using it. It has subliminally wormed its way into the portion of my brain that

scripts poetry, because a lot of my poetry is lyrical, with hip hop cadence.

Does that mean that I, a white person, am a shameless cultural appropriator?

If you are a card-carrying member of the PC Police Force, you'd likely say

yes.

Or, you could choose to see me as someone who celebrates exuberant

innovations in language and fervently revels in all cultures, heedless to

labels because labels are dastardly, and they suffocate.

What, am I only supposed to write in the persona of a Celtic bard?

PC creates cages, where language languishes like a hapless zoo animal. Burn

down the zoo, and liberate the lexicon so that it can return to its primal state,

free to flourish in the wilderness of society.

Oh, and by the way, do not EVER call me a Liberal White Ally. Fuck that

PC bullshit terminology. How dare anyone label me so stiflingly.

I am a human being who voraciously and vociferously advocates for human

rights.

If that makes me politically incorrect, then I gleefully gulp from those

waters.
---
Weather as Pleasantry

By Heller Levinson

The contemporary city dweller's closest approximation to the natural world is

most likely weather -- an elemental force that in the past would inspire both

fear & reverence.

Now suffering tyrannical media homogenization, this last vestige of vitalism is

being harnessed into domesticity, formatted for maximum sanitation, produced

to purr like a pet cat, caged for spectacle, suburbanized into just another

everyday pleasantry.

The most pernicious outcome from this Weather Emasculation is having our

feelings about the weather dictated to. In what has become a cult of Weather

Morality, we are told that sunny days are good, rainy days bad, clouds are

troublesome, snow is hazardous, extreme conditions are voyeuristically exciting

&, if we stay tuned, live coverage will transport these adrenaline delectables

to our feasting table.
---
Dear Besty Devos, I will NEVER Report

My Students to ICE

by Stephen M. Singer

Teachers fill a lot of roles in our public schools.

We're mentors to kids in need.

We're aides to students struggling with new concepts and skills.

We're homework-givers, pencil-providers, idea-encouragers, lunch-buyers, scrape-bandagers,

hand-holders, hug-givers, good listeners, counselors, caregivers and – yes – sometimes even

butt-kickers.

It's no wonder that we occasionally get mistaken for mothers and fathers.

But one thing we will never be is a snitch.

Secretary of Education Betsy DeVos recently intimated that principals and teachers could report

their undocumented children to Immigration and Customs Enforcement (ICE).

She's not going to say what we should do one way or another. She's just saying that this is

something we COULD do if we wanted.

If that results in those kids and their families being deported, well we are a nation of laws, after

all.

It's a remark that sounds so reasonable to some folks.

Luckily, I speak dog whistle.

So did the U.S. Supreme Court back in 1982 when justices ruled in Plyler v. Doe that schools

cannot deny children their right to a free education based on immigration status.

When kids are afraid to learn because they or their parents or extended family may be

undocumented, that has a smothering affect on the classroom.

When ICE raids a local business, we see a sudden drop in class attendance.
---
So if students thought their teachers or principals were scrutinizing them to determine their

citizenship status, we'd be discouraging many with brown skin or extra-national credentials from

ever coming back.

By suggesting that educators have a choice whether to obey established law or to become selfappointed

border patrol officers, DeVos actually is prescribing how we should act.

Well, not this teacher, Betsy.

Not now. Not EVER.

No matter who you are – black, white or brown - a public school is a sanctuary. It is where kids of

all different races and creeds come to escape from the ravages of poverty, violence and

indifference.

Teachers are not the enforcers of our broken, bent and biased immigration policy. It is not our job

to oblige xenophobia and bigotry.

It is our job to teach, to protect and inspire.

Sure, I've made my fair share of calls to parents, healthcare professionals and Child Protective

Services.

I've reported abuse, addiction and mental illness.

But I did that to protect my kids. And I do think of them as my kids.

When these little people come toddling into my class, I take a kind of ownership of them.

For the time they're here, we're family. I take interest in their lives and they take interest in mine.

They know all about my wife and daughter, my parents and grandparents. And I know about

theirs.

We don't just learn grammar, reading and writing. We share our lives with each other.

We share a mutual trust and respect.

If I reported even a single student for a suspected immigration violation, I would lose that forever.

It's sad how much things have changed in a little over year.
---
Hispanic names have become Anglicized. Angelo has becomes Angel. Julio has become Jules.

Jorge is now George.

The dulcet melody of Spanish has been silenced. You'll only hear it in muffled voices if you

wander by a few lockers, but never in class.

My kids aren't even 13 yet, but many of them have already learned to hide.

Don't appear different. Don't let anyone know your roots extend beyond national borders.

Be "normal." Be homogenized, bland American.

That's the world we've built and it's the one that DeVos is encouraging with her tin pot

nationalism.

Some things don't change when you cross municipal lines – human decency is one of them.

So I won't be reporting any of my students to ICE.

I won't help the Gestapo separate parents and children based on citizenship status.

I won't help set up ethnic checkpoints where armed guards get to ask "suspicious persons" for

their papers.

White supremacy was bad enough before Trump was elected. I won't help the unfortunately

named Department of Homeland Security become the protector of a new white trash Fatherland.

I will defend my students. I will stand up for their safety and their rights.

That's just what we do in public school. We look after our own.
---
Statement by Georgia Gubernatorial Candidate Stacey Abrams

On September 18, thousands of Georians began casting absentee ballots, determined to lift their voices in

the democratic process. A few weeks later, more than two million Georgians voted early. Then, on

November 6, more than a million folks arrived in precincts around our beloved state, excited to express

their patriotism through the basic, fundamental act of voting.

But this year, our state failed its voters. More than a million citizens found their names stripped from the

rolls by the Secretary of State. Tens of thousands hung in limbo, rejected due to human error and a system

of suppression that had already proven its bias. The remedy, they were told, was simply to show up – only

they, like thousands of others, found polling places shut down, understaffed, ill-equipped or simply unable

to serve its basic function for lack of a power cord.

Students drove hours to hometowns to cast votes because mismanagement prevented absentee ballots

from arriving on time. Parents stood in the rain in four-hour lines, watching as less fortunate voters had to

abandon democracy in favor of keeping their jobs. Eligible voters were refused ballots because poll

workers thought they didn't have enough paper to go around. Ballots were rejected by the handwriting

police. Georgia citizens tried to exercise their constitutional rights and were still denied the ability to elect

their leaders. Under the watch of the now former Secretary of State, democracy failed Georgians of every

political party, every race, every region. Again.

I acknowledge that former Secretary of State Brian Kemp will be certified as the victor in the 2018

gubernatorial election. But to watch an elected official – who claims to represent the people of this state,

baldly pin his hopes for election on the suppression of the people's democratic right to vote – has been

truly appalling.

To be clear, this is not a speech of concession. Concession means to acknowledge an action is right, true

or proper. As a woman of conscience and faith, I cannot concede. But my assessment is that the law

currently allows no further viable remedy.

Now, I could certainly bring a new case to keep this contest alive, but I don't want to hold public office if I

need to scheme my way into the post. Because the title of Governor isn't nearly as important as our shared

title: Voters.

Make no mistake, the former Secretary of State was deliberate and intentional in his actions. I know that

eight years of systemic disenfranchisement, disinvestment and incompetence had its desired effect on the

electoral process in Georgia. And as I have for more than twenty years, I will stand with my fellow

Georgians in pursuit of fairness. Only now, I do so as a private citizen, ready to continue to defend those

whose choices were denied their full expression.

Today, I announce the launch of Fair Fight Georgia, an operation that will pursue accountability in Georgia's

elections and integrity in the process of maintaining our voting rolls. In the coming days, we will be filing a

major federal lawsuit against the state of Georgia for the gross mismanagement of this election and to

protect future elections from unconstitutional actions.

We will channel the work of the past several weeks into a strong legal demand for reform of our elections

system in Georgia. And I will not waver in my commitment to work across party lines and across divisions

to find a common purpose in protecting our democracy. For a state that elects Democrats and Republicans

and Independents. That elects leaders who will not tolerate an erosion of our values.

Fair Fight Georgia. Because these votes are our voices. We are each entitled to our choices. And we have

always, Georgia, been at the forefront of speaking truth to whatever power may lay claim to leadership – if

only for the moment. We will win because we are Georgia.

And we will get it done.
---
The Travesty of the Tourist

Development at Frenchman

By Giles Watson

Bay

Here are some photographs of the supposedly "disturbed and degraded" peppermint woodland

which is to be destroyed to make way for the tourist development at Frenchman Bay. The

understorey has indeed been partially overrun with introduced plants – a result of a failure to

regenerate the flora after the previous ill-advised caravan-park finished its operations – but there

are still plenty of native plants, including Hibbertias, growing under the shelter of the peppermints.

Peppermint trees are themselves absolutely essential for the survival of ringtailed possums,

which even the developers admit do inhabit the area. Only five of these trees will be preserved.

Bio Diverse Solutions is under the misapprehension that the possums which live in these trees

will survive. There is plenty of evidence to suggest that ringtailed possums are in a spiral of

decline in our region.

I think quite a few people have been kept under the illusion that it is only the grassy area under

the palm tree that is to be developed. The area for development actually stretches all the way to

Vancouver Spring, approximately half-way along the Frenchman Bay Beach which is below the
---
site, and right to the fire-break where the power pylons run, across the road from the Whale

World turn-off. It will be an enormous development, and the impact on local wildlife will be

catastrophic.

Whilst we were there, frogs were calling in the undergrowth. Deprived of their "disturbed and

degraded" habitat, these frogs will die. The "advice notes" for the developers say that they should

try to provide "Management of displaced and/or injured animals, care of evicted pouch young and

humane killing of animals in field conditions if required." In other words, when ringtailed possums

have their homes ripped out from under them, the developers are being requested to pass on

their babies to people like us to raise, or to kill them on the spot. Is Bio Diverse Solutions even

aware that carpet pythons also live in the area? And do they care at all about the frogs, in a world

where frog species are globally in terrible trouble?

One corner of the habitat has already been bulldozered: always a good way of ensuring that the

biodiversity "experts" can confidently describe a place as degraded when they arrive to do a

survey. This bulldozing is at the edge of the species rich Banksia heath, where I counted three

different species of sundew in a couple of minutes, despite the fact that these paths were foolishly

mown just before orchid-flowering season last year. Once again, there is no flora management

plan to prevent the spread of dieback and weeds into this area. I have included a picture of one of

the plaques, erected in 2001, when someone with some power actually appears to have cared

about flora, fauna and natural heritage enough to celebrate and seek to educate people about it.

This is indeed the area where Robert Brown, the naturalist on board Matthew Flinders'

Investigator, would have been scientifically describing all the plant species, no doubt in a state of

absolute euphoria and wonder. Before him, this land was cherished by its indigenous custodians.

But the people with power in Albany now do not cherish it. All they cherish is the opportunity to

make money, and all they will leave behind is devastation and a nice bit of distant coastal

scenery.

On the edge of the development area, overlooking the sea, is a memorial cross for someone's

loved relative. The inscription says "Rest Easy". I feel for the family who must, like me, have

assumed that such a beautiful place would never go under the bulldozer – that nobody would

ever be so callous and stupid. It is certainly going to be very difficult for the living to rest easy in

this place from now on.
---
MAKING AMERICA GREAT, AGAIN-

JOB CREATION

"NEW NEWS BEFORE IT BECOMES REAL NEWS!"

By John Alexander

(Note- this correspondent has been outfitted with a "back-channel nano-receiver-" linked

exclusively to the President's brain- so as to be able to received, record and communicate the

President's "thought-intentions"- long before they are articulated.)

Since I've been President, believe me, I've created many, many jobs. Working with companies

like Carrier, GM, Exxon Mobil, Sprint, Fiat Chrysler, Lockheed Martin- even China's Alibaba- I've helped the

incredible men and women of America find work.

Of course, I must admit- and as you definitely know- some companies were more than willing

while others needed me to convince them.

So, today, I am sharing with you a unique job creation initiative- one that every American can

participate in. It's called- "Doing The Little Things That Can Put People To Work."

It's a tremendous plan- and it's so simple- anyone and everyone can do it!

Now, in our great and wonderful country, there are a phenomenal number of stores selling food.

There are over 6,800 independent stores and 31,000 chain stores. Over 37,000 stores! And, put together,

they generate billions and billions of dollars in profit!

Let me tell you this, some of that profit could go to hiring, putting paychecks in the pockets of

Americans so that they can put food on the table for their families. Now, this is how you can do it- create

jobs in America.

To begin, be sure to park as far away from the store as possible. Then, once you get out of your

car, don't take a cart in the lot. Take one that's in the store. Another reason for parking far away is

because if the store has a "Helping Hands" option- employees who load up your car for you- they will

have to wait longer for you to go to your car and drive up there. There will be a backup of shopping carts

and cars lining up- creating more traffic congestion than they can now deal with. They'll have to expand

and hire more people.

But, if they don't have the "Helping Hands" service, this is what you do. When you take your

cart to where you parked, after you unload it- leave it there. Don't return it to the cart corral. There
---
will be carts all over the parking lot. One person won't be able to go get them all. And, what'll they

have to do? Hire more people!

So, so, so- inside of the store- now, this is very, very important- and everyone must participate-

decide on a number, say, between one and five, let's say you pick the number "three."

What you have to do- and this is tremendously, tremendously important- take three items, cans,

jars, bottles, boxes and put them on a shelf someplace else in the store- and, the further the better from

where they were originally.

Now- even more important- do not do this with perishable items like bread, milk, cheese, meat,

fish! If left out long enough those things will spoil and the cost will be passed on to the American

shopper. We don't want that to happen! So, only, only- only- non-perishables.

If everyone does this the stores will have to hire more people- even if they're part time- to put

things back where they belong.

Here are a few other ones. First, do not- ever- bag your own groceries. Just stand there. Make

the cashier do it or have her get the front-end manager to find someone to do it. Second, never, never

use the self-checkout. Each one of those machines is taking the place of a cashier. Remember, if you bag

your own groceries or use the self-checkout, you're taking a job away from a fellow American. Another

one is, if your store has scales and codes- for you to weigh your own produce and put a price on them,

don't do it! Again, make the cashier do it!

Fourth, as they're checking you out, tell them you either forgot something or had the wrong size

or brand- make them go get it for you.

Fifth, fill out those Customer Comment/Complaint cards. Tell them things are too slow, it takes

too long- tell them they need to hire more employees.

So, I'm sure you see the utter genius in my plan to get every American involved in job creation.

Imagine what you can do at Target or Barnes and Noble, Home Depot, Lowe's,

J. C. Penny's- and how about shoe stores? That would be incredible, simply incredible.
---
Finally, keep in mind two things. For this to work, we have to work, together, and- this is very,

very important- be patient. Things will slow down until they can hire more people. You- we- must stay

the course- together.

The phenomenal men and women of America can have a say in job creation!

And, to bring national attention to my initiative, I am going to designate one day a week as

"National Supermarket Delivery Day!"

On that day, I want you to call from home, order lots and lots of things- make them work, make

them hire- help create jobs in America!

Again.

Always remember- every time you go into a store, you, too, can help make America Great

Author bio: After spending years in New York City, John Alexander has temporarily

relocated to the hamlet of Getzville, New York. He lives- and writes- there in the

company of his two favorite pets, "Bunny" and "Roma." Most recently, John Alexander

has appeared in Ygdrasil (Cd), Syndic Literary Journal, The Bitchin' Kitsch, Danse
---
Gay Rights in … Russia

By Paul Kindlon

When Russia's Elvira Nabiullina - a Muslim woman - was

named European central banker of 2016, while reading an article on this

story and checking the comments section, I noticed several facetious

compliments such as "Russia is finally catching up in the area of gender

equality". Talk about inaccurate observations…

There is a persistent tendency in the West – and in particular, the US –

to view Russia as being somehow "behind the times" when it comes to

basic human rights. This mistaken view is mostly due to two factors: 1) A

lack of understanding of Russian history and 2) A lack of understanding

of Russian culture. Let's address these factors while examining two

specific areas of concern.

Many Americans have a strongly-held ethnocentric belief that their

country was – and is – at the forefront of women's rights. They do not

know – or completely ignore – the historical fact that Russian women

were far ahead of American women in the numbers of university

graduates in once male dominated areas of study, resulting in tens of

thousands of engineers and medical doctors. Incidentally, the first

woman in space was a Russian, Valentina Tereshkova, who lifted off in

1963 – a full 20 years ahead of her American counterpart Sally Ride.

Many are similarly unaware that Russian women had the right to vote in

1917 – three years ahead of women in the US. This was mainly due to

the "Russian League of Women's Equality" which included hundreds of

women's associations throughout the country. Even nowadays Russia is

ahead of not only the US, but the world, in terms of female

empowerment in the realm of business.

It is Russia that tops the list of countries with the highest number of

female board members. Currently, 45 percent of senior management

positions are held by women compared to only 23% in the US and a

meager 7% in Japan.

And what about maternity leave? When a pregnant woman leaves her

job to give birth and look after her child, there is a standard requirement

in Russia for a 3 year paid maternity leave. According to Forbes
---
magazine, the US is dead last among developed countries when it

comes to paid maternity leave.

Another topic which Russia is often misperceived over is gay rights. My

American friends think it's shameful, for example, that Gay Pride

parades are prohibited in Russia. Having lived in Moscow for 24 years

and experienced Russian culture first-hand, I know that the reason

behind this prohibition has less to do with political beliefs and more to

do with long-held cultural views.

You see…in Russia there is still a cultural divide between "public" and

"private". Here… one's private life is basically – well – private (unless

you are a public figure, of course). Ultimately, the reason why you will

not see gay Pride parades in Russia is because people here do not

believe in publicizing their private life – especially with regard to "what

goes on behind closed doors".

Homophobia has almost nothing to do with it. Sexual proclivities and

sexual preferences are considered private in Russia. Russians are not

prudes (far from it); they simply see no reason to promote or advertise

their sexual activities.

For example, Russians are not – by nature – against masturbation, but

you would never see a Masturbators Pride parade here with revelers on

top of colorful floats waving sex toys and singing "I can't get no

satisfaction". Likewise, Russians would not support or condone a public

parade organized by WFMO – "Women for Multiple Orgasms" marching

on Red Square singing "We shall overcome".

Author bio: The author has been a professor of Humanities for 25 years. He has

had published 10 short stories, 7 poems, a collection of aphorisms and a memoir.

He also has written 30 articles on Philosophy, Culture and Politics for a variety of

on-line publications.
---
VERSIFIERS
---
Two Poems

By Hilary Morgan Leathem

Author bio: Hilary Morgan Leathem is a Sicilian-American

anthropologist and artist from Chicago. She is currently a PhD

candidate in Sociocultural Anthropology at the University of Chicago

and a Fulbright-Hays scholar based in Oaxaca, Mexico. A rather new

poet, you can find some of her first poems published in The Raven's

Perch and her comics in The Centre for Imaginative Ethnography.

Neon War

Turquoise gems

Little nuggets that sit

Behind electric eye sockets

Plug him in

And see the rocks spark

And fry the frigid and stale air.

Watch the room light up

In an atomic blast

Of igneous and metamorphic

Filigree.

War starts with the eyes

And a single stroke of a motion.

They Want Your Blood

They plunder your veins for the last of the rubies,

A bloodstone of metallic ore,

that screeches when it flows

like the neighborhood cat

falling behind the bushes,

Like a 40 year old scarab
---
drowning in a puddle

nearly 5 centimeters deep.

You picture the cubicle,

the cement-block of a building

that imprisons and calcifies

even your most vibrant dreams

exploding into a green fire.

If it could be razed to the ground,

stripped of even its wrought-iron skeleton,

then the burnt and barren plot

might spell liberty for you

and other hopeful souls.

A scorched plot of land,

a scar upon the earth

won't spare your blood.

The drained face of a jeweler

holds a light to your shadow

when you pass down the ally,

and unleashes spittle onto concrete

only to turn back inward.

Slumping your way home,

The spiders weep for you,

Rubbing their plump bodies into the rotting walls

Even dead earth tells tall tales.
---
Stunt Statement 1

By Gregg Williard

A stunt woman is kind, generous, helpful, loyal, and honest. She is triple

jointed, quadruple jointed, capable of semaphoric poses bent to hieratic

configurations, meta hip hop moves, parkour boosts, stilts and torques, clears

and staves, bonks, and blows. A stunt woman is true and bold, is always willing

to help-out those in need, extend a loving hand, a bandaged knee, a scabbed

elbow, a scabrous hello; always quick and dirty, dressed for mess, possessor of

many sets of Red Ball Jets, and too long skirts, (think Mennonite in a clip-joint

craze), with a mechanical bent, on a constructivist, futurist, expressionist

stage, with a body of four dimensional Sophie Primes. A stunt woman is in a

Wovoka Ghost Dance, the lemniscate break, dervish derby c-blocks on skates,

as dank memes spin right out of the box wars, and into your dreams. A stunt

woman follows an art alt rock post post dada beat, an end time kid's Pippi

Longstocking gone, Derrida's Amelia Bedelia and, A Tribe Called Quest, with The

Disposable Heroes of Hiphoprisy, KRS-One, knowing no rest she bests the best,

beats Astaire at steps that Freemish Crate the floor, and will always try it at

home. Will slap the liminal aleph back on the golem's head, like the wild child

ghetto gangs of Warsaw's revolt, down tumbles of Penrose Stairways to lumps,

of her shambolic shamanistic defiant dance. A stunt woman never stops

learning moves, from Charlie and Buster and Martha Graham, Mika Kurosawa,
---
and Power Puff Girls, Marguerite Duras channeling Jackie Chan, and catch her

if you can. She'll come along, for a while.

Author bio: Gregg Williard's fiction, essays, poetry and graphic art have appeared in

The Collagist, Your Impossible Voice, Requited, Otoliths, Birds We Piled Loosely and

InParenthesis, to name a few. He is currently completing a novel that includes the Secret

Stunt Woman, and working on a graphic novel.
---
from FOOTNOTES FOR THE FUTURE

By Bob Heman

THE UNHOLY THREADER

Dabbling noiselessly he surmises an unholy threader. Its willingness

to repose gregariously sprinkles the linoleum with froth. It gambols

with the sardines, hoarding epicures and petrol. Its udder empowers

the playmate with immense noise. Needful of spurned infants and

overstuffed thoroughbreds, its jugular thrashes genteely, vacating the

lodging, and preceding the tempting muskrat. It plunges into the

loophole, squandering the sprocket and igniting the nearest fuse. Its

penthouse touches the formula and selects an isotherm and a

vacating sarong to toughen its papacy. The squaw is frozen and

concurs with them all: the nectar, the escarole, and the spores. Its

pantry thickens and masters the spotless hunger. It has gone

malignantly into the diorama of outrage and pervades all splendor.

CREATURE

The creature is prominent and promiscuous in the nomadic incubator

that polarizes free will. It platoons with the starveling producing

mighty idols and jabbering membranes. They gather to reclaim the

past. The mix-up encrusts the harvest with discoloration and

masonry. Touching is the liquid that remains essential to the

monologue. It sires opportunities for the ugly and profane.

Author bio: Bob Heman's latest collection, THE HOUSE OF GRAND FAREWELLS, has

just been published by Luna Bisonte Prods. Since 1972 he has edited the often-experimental

magazine CLWN WR (formerly Clown War). His writing has appeared in numerous journals,

including New American Writing, Caliban, Otoliths, Sentence, Kayak, The Prose Poem: An

International Journal, Hanging Loose, Quick Fiction, Artful Dodge, and Skidrow Penthouse. His

collages have appeared recently in Otoliths, Caliban, Home Planet News Online, and Clockwise Cat,

and have been exhibited in galleries in Chelsea, D.U.M.B.O., Williamsburg, and the East

Village. During the late 1970s he was an artist-in-residence at The Brooklyn Museum.
---
the darkest art

By Megan Denese Mealor

cackling sonnets

inside every snare

spectral sunfalls

beneath roaring hale

unleashing calamity

these most ambrosial

of refrains

rabid moonbeats

become fancy

become flight

bloodless zion

cradled in

precarious constellations

seething grave

of gehenna

beckons with a boil

withered wildflower witches

live on to lament

our wintered woes

sing siren-soft melodies

into blacksmith nights

hearts ablaze

as pillared wax

dripping sonnets

on fir splinters

windows polish into prisms

yawning moonlight

breaking open

in the daze

between black shores

upon perfumed elms

windless waters

still remembered

from the moments

we were faultless

undiminished

in the eyes

of any god

Editor's Note: "the darkest art" was originally published in Sick Lit Magazine,

February 2017

Author bio: Megan Denese Mealor spins words into wars in Jacksonville, Florida,

where she lives in imperfect harmony with her partner and 4-year-old son. Her work

has appeared in numerous journals, most recently Literally Stories, The Ekphrastic

Review, Haikuniverse, Right Hand Pointing, Neologism Poetry Journal, Liquid

Imagination, and Third Wednesday. Diagnosed with bipolar disorder in her teens,

Megan's main mission as a writer is to inspire others feeling stigmatized by mental

illness.
---
Two POEMS

By Dr. Mel Waldman

& THE PHANTOM ORCHESTRA PLAYS THE PSYCHOTIC RHAPSODY

&

the phantom orchestra plays the psychotic rhapsody

&

otherworldly Shadows

swing

& sway

to

the Dance of Non-Being

&

spectral voices

shrouded

in diaphanous lace of ethereality

the

see-through veil of nothingness

adorned

with chimerical lilies, lilacs,

&

moonflowers pristine white & trumpet-shaped

serenade

trauma-flooded freaks with faraway fantastical songs

composed

by the Freak-Master of Un-Reality

&

the phantom orchestra

a.k.a.

The Bipolars

fired up

& frantic

pumped up

& empowered with Non-Existence
---
feasts

on obliteration/annihilation

&

plays the psychotic rhapsody in the key of oblivion

for

this is the apparitional universe where madness saves the wounded flesh

blesses

bestows life

but

mutilates & kills

the

dissolving wasteland of the apocalyptic mind

a cauldron

of unquiet Un-Being dancing in the dreamscape

the

lost highway of lamentations phantasmagoria's death dream for the damned

drifting rushing galloping through the music of trauma

&

madness strangely familiar & unfathomable

is

a requiem for the living & the beautiful grotesque tragedy of awareness amplified

in

the brain's giant boom box

&

when madness shrieks

the phantom orchestra plays the psychotic rhapsody

composed

by the Freak-Master of Un-Reality

&

the 4 Horsemen riding gorgeous stallions colored white, red, black, & pale

gallop

into the red sunset

of

the shattering

broken glass

sailing away from consciousness
---
while

shards of self-shrink shrivel up & melt in the fires of oblivion

on

this delirious voyage through the vastness & the vanishing

&

the crimson flames of madness

in

the bestial heat of August

the

fire-breathing Chimera

that

burns & claws & devours

before

the death of summer

before

the death of time

on

this unforgiving Day of Judgment

BRIDGES OF BIZARRO COUNTRY

(on reading Arthur Rimbaud's poem-The Bridges from ILLUMINATIONS)

Beyond

the Brooklyn & Manhattan Bridges

through

a tear in the Manhattan skyline

on

the other side of the turquoise sky,

I

discover the Bridges of Bizarro Country

otherworldly

entities of beauty & grotesquerie

&

objects merging in a mystical tessellation

&

now,
---
I

taste a honeycomb of haunting visions hovering over the opalescent ocean

&

a cornucopia of eerie iridescence

that

burn my parched lips & bless my 3 rd Eye with celestial illumination

&

I savor the sweet phantasmagoria of my Bizarro Bridges

galloping

across the hot thalassic vastness adorned with fantastic flavors of irreality

&

soon, I shall cross over & travel on the unfathomable Highway to Un-Being

across

my selcouth bridges shrouded in bestial & celestial auras

pointed

& slanted upward

down

& sideways

&

curving outward like pregnant rhapsodies filling the universe

my

preternatural bridges

ascending

& descending

&

swirling around like the Ouroboros, the sacred serpent, in a mystical dance

of

resurrection

rushing

toward the Heavens or plummeting to a harrowing place

when

the timeless clock sings

for

the Bridges of Bizarro Country

&

death gives birth to life eternal
---
Ozone Park Jack Kerouac Dreams

By Dan Sklar

Ozone Park is the name of a place

in Queens, New York where Jack

Kerouac lived in an apartment with

his mother over a flower shop and

he wrote and wrote and wore a

lumberjack shirt and took the

subway into Manhattan to meet with

friends to drink and talk and the name

Ozone Park seems to me the perfect

name for a place where Jack Kerouac

lived and wrote and wrote The Town

and the City, On the Road, Some of

the Dharma, hundreds and hundreds

of pages of journal notebook writing

and it dawned on me that this place

named Ozone Park could not be a better

name for a place where Jack Kerouac

lived and wrote and wrote and bought

wine and bread and cigarettes and ate

the meals his mother cooked and she

went out to work in a factory in Ozone

Park, Queens, New York and he would

dream oddly, very oddly of horses and

a ranch in Colorado probably too many

Zane Grey novels and Saturday matinee

westerns and Red River then when

Jack Kerouac gets The Town and the City,

publishes he goes out in to Manhattan

to fancy Park Avenue dinner parties

and the opera with his agent and with

the publishers and their friends and

Jack Kerouac wears a tuxedo and

you see him on the subway from

Ozone Park where he walked on the

sidewalk to the subway station and

he is wearing a tuxedo and imagining

himself in a sophisticated English

play made into a movie like something

out of like Noel Coward who when they
---
said the play must go on Noel Coward

said why, and here is this French-Canadian

kid from Lowell, Massachusetts and

he is wearing a tuxedo and wants horses

and a ranch in Colorado and even Neal

Cassidy thought it was a nutty idea and

Neal Cassidy was the king of nutty ideas

but Jack Kerouac you cannot forget was a

hypergraphiac crazy nut maniac lunatic

wild man writing obsessed dreamer genius

and now I think about Ozone Park Ozone,

Ozone, Ozone, Ozone Park and Jack

Kerouac wearing a white tee shirt and gray

trousers in deep Queens, New York

October nights over the typewriter, fingers

pounding keys to keep up with his mind

an old lamp from the house in Lowell,

Massachusetts on the desk now in

Ozone Park like Buddha in Deer Park

and all sentient beings are probably

Buddhas awake in tuxedos on subways

Jack Kerouac alone on a subway car

heading to fancy Park Avenue dinners

and opera and jazz clubs and dive bars

and Jack Kerouac alone in a ranch house

with no furniture in Colorado, Jack Kerouac's

bones in a tuxedo on a subway dreaming in

Ozone Park where everything becomes a

dream because it already is a dream anyway.

Author bio: Dan Sklar teaches creative writing at Endicott College in

Massachusetts. He rides his bicycle to work.
---
Ex 5 Icicle Dreamz

By David Wyman

Footstep sound effects

marching stick figures

ideological containers

'manufacturing consent works

ceaselessly,' And my

cameo in a brief

filmic piece titled My

Life or Transitive and

Intransitive, a bio-pic.

Breathe alike wrinkles the

surface of time

easterly fermata, icicle dream,

number of winters—

wandering, thinking

No-sky fat

whirling flakes

and cold bites and

a scent, like

(having come this way before)

first snow—catching

Issa in translation,

wind full of names

ditch the referent

of who are imagined on screens

who flicker and are gone,

'though I with Death and

with reward did

threaten and encourage

him not doing 't

and being done,' endlessly

interactive a received

pronunciation. The window

behind him shows a

darkening sky, black

with silvery stars, then

a black curtain appears

to cover the window,

something falls from the sky.

Author bio: David Wyman's first collection of poems, Proletariat Sunrise, was

published by Kelsay Books in January 2017. His poems have appeared or are

forthcoming in BlazeVOX, The Aurorean, A Certain Slant, The Wallace Stevens Journal,

Old Crow Review, Spout and Green Hills Literary Lantern among others.
---
The Utternuts

By Darrell Petska

Oh the utternuts

of this hunger for

McDonald's french fries

at 2:00 a.m.—

this dubious sentience

taunted by a dangling

golden tater wedge

crossing a pocked rock

to drop a buck

eighty nine for the large

the utternuts

masquerading as me

feeding fry by

greasy fry its own

boundless tastebuds,

devouring its feet

to sate its stomach.

The ravenous utternuts

I must serve, hand and jaw.

I am its chicken

nugget puppet strung

on the golden arches of

cosmic self-consumption.

I am nil before

supersized allness:

fill me now!

Author bio: Darrell Petska's writing has appeared in The Chiron Review,

Mobius: The Journal of Social Change, Whirlwind Magazine, Outcast Poetry, The

New Verse News and elsewhere (see conservancies.wordpress.com). Darrell

worked for many years as communications editor, University of Wisconsin-

Madison, before finally leaving academia to focus on his writing and his family.

He lives in Middleton, Wisconsin.
---
Took a fire and stuck it in an envelope

By Michael T. Smith

Took a fire and stuck it in an envelope --

twas nobody's fault but my own.

Sent it to the beadle of the local church,

and it was used to prop up the whole foundation.

Took a mannequin out to dinner,

and everything went just fine:

the conversation was predictable,

which made it easy to have again.

But oh, I licked the roof of my mouth

and tried to clear the words stuck up there,

but the bitter world turned its back

into the blankness of a word.

It turned its back on the

dark fount of the unspoken.

It turned its back on the lack of meetings done round

(just like it does everyday).

Saw a man strung between an open space,

talking through a pepper face.

His spittle carried more meaning than his vowels,

which were hot off the trail of a penny's worth.
---
The man got sucked up a fireplace,

and as he tried to cut his arms off --

under a skeptic's tunic long enough to drape the world,

everything seemed false all around.

Now they know how to pigeon-hole

themselves in a wide open field.

Now they know how what it's like

to sit and languish in Nowheresville.

Author bio: Michael T. Smith is an Assistant Professor of the Polytechnic

Institute at Purdue University, where he received his PhD in English. He

teaches cross-disciplinary courses that blend humanities with other areas.

He has published over 30 poems in the last year in over 10 different

journals (including Bitterzoet, Visitant, Tau Poetry Journal, Eunoia Review,

Adelaide Literary Magazine, Bitchin Kitsch, and Taj Mahal Poetry Journal

among others). He also has critical work recently published in Symbolism

and Cinematic. He loves to travel.
---
Two Poems

By Gerard Sarnat

SYNECDOCHE HAUNTS

RIP John Ashbery, 1927 -- 3 September 2017

i. Self-Goggles Poetry Prosody Splurge

"You like it under the trees in autumn

Because everything is half dead."

-- Wallace Stevens, The Motive for Metaphor

John Ashbery's identity hangs / Like smoke

while Dylan Krieger's fire's / hanging

right above our Giving Godhead --

Old Testicles always give rise

to the New biblical umbilical

which owes a great deal:

to [Ms.] Emily Dickinson,

the original Goth girl

whose pussy turned

the clock back.

Moi's rogue gallery fatcat /weather deniers'

intrepid force field transfers cough / up

seed banks for fragile flowers --

the feels traject out meaning

filtered through a scrim of

ordinary language, & life:

to [rage]-prone patriarchs,

skeptikos means Examine.

It's all-Greek to me.
---
ii.

Nitroglycerin Terminology

"What I am trying to get at is a general, all-purpose experience

— like those stretch socks that fit all sizes," John Ashbery

Cosmopolitan,

juicer

climate crisis

denier --

clicks & brick

battery

blows up chest

pains

Author bio: Gerard Sarnat has won the Poetry in the Arts First Place Award plus the Dorfman Prize

and has been nominated for Pushcarts. Gerry's authored four collections: HOMELESS

CHRONICLES (2010), Disputes (2012), 17s (2014) and Melting The Ice King (2016), which included

work published in magazines and anthologies including Gargoyle, American Journal of Poetry, Main

Street Rag, New Delta Review, OCHO, Brooklyn Review, Lowestoft, and Tishman Review. In

August, Failed Haiku presented his work first among over a hundred contributors. For Huffington

Post/other reviews, readings, publications, interviews, visit GerardSarnat.com. Harvard/Stanford

educated, Gerry's worked in jails, built/staffed clinics for the marginalized, was a CEO of healthcare

organizations and a Stanford Medical School professor.
---
I Think It Came In Through the Window

By Chris LaMay-West

The egress through which I let it in

seemed small,

too small

to do any real harm:

Just a scotch on the windowsill,

gleaming gold around ice-cube boulders

in blue-tinged plastic tumbler.

Volumes of poetry

lay scattered on the comforter,

their words a swarm of mosquitoes

that congealed

into a buzzing acquaintance

with darkness.

In the darkness I ordered another.

And another.

And another.

Just one more, until,

one shaky morning,

I found I had ordered a box of maladies

that daily unpacked thirsty demands,

and left the sweat-soaked comforter

littered with dead words.
---
Author bio: Chris LaMay-West believes in the power of

rock music, Beat poetry, and the sanctity of Star Trek.

He has appeared in Kitchen Sink and Morbid Curiosity,

in various online venues including the

Rumpus and Opium, and in the Mortified reading

series. A California native, Chris is currently expatriated

to Vermont, where he writes, works for a college,

recently served as the poetry editor for Mud Season

Review, and lives with his lovely bride, two cats, a dog,

and several chickens. His literary exploits can be

followed at: https://chrislamaywest.com/
---
Life in the Present

By Rich Ives

People unhappy with the present think they've walked right on out of it and smile happily over

what's happening to them tomorrow. Of course there's another tomorrow. It's just not yours. It's

death that makes imagining the future possible. Death is your friend, but isn't it sad that your

friend won't remember you? He makes everyone else do it. Well, not everyone and with each

tomorrow, not as many. Does the future's future even exist? It must, but to get there you'd just

have to wait so long you might forget where you thought you were going.

I think I'll just live in the past where death doesn't belong to me. It's just a borrowed cup of sour

milk and a stale conversation about how sooner or later none of us has a reasonable lawn chair

attendant watching us watch the ephemeral insects mating next to the inevitable bug zapper. No

more relentless mint juleps with the Barbecue King, who keeps belaboring metaphors concerning

his sensual heat and the itchy spot on his lover's fat famous ass, where the sweaty nylon ribbing

aggravates the suspicious rash we think came from damp love in last week's bright heat lightning.

In the past there's plenty of time to alter the details of all those adventures somebody with your

name seems to feel were more important than the ones that cool his tongue, even as he tells of

graphic conquests and mistakes that no longer seem wrong but merely amusing, even endearing.

If your memory's too good, you remember how you didn't get what you thought you wanted.

Now it looks even better and you want it, which makes you think you wanted it less then and

allows you to be happier living in the revised past.

But wasn't there something tugging at your mental sleeve while you debated the merits of your

choices, something that kept leaving and returning like a dog, who, failing to understand all the

excitement, forgets and then comes back for that thing he can't quite remember, the one that still

disturbs him?

It's gone then and there it is again, a piece of toilet paper that won't quite kick, a joke you keep

telling differently now because the punch line won't quite close the door on itself, annoying as a

question without an answer.

Author bio: Rich Ives has received grants and awards from the National Endowment for the Arts, Artist

Trust, Seattle Arts Commission and the Coordinating Council of Literary Magazines for his work in poetry,

fiction, editing, publishing, translation and photography. His writing has appeared in Verse, North

American Review, Massachusetts Review, Northwest Review, Quarterly West, Iowa Review, Poetry

Northwest, Virginia Quarterly Review, Fiction Daily and many more. He is the author of a fiction chapbook,

Sharpen, from The Newer York Press, a story collection, The Balloon Containing the Water Containing the

Narrative Begins Leaking, from What Books, a poetry collection Light from a Small Brown Bird, from Bitter

Oleander Press and a hybrid book of days, Tunneling to the Moon from Silenced Press.
---
CAN'T COUNT ON IT

By Chani Zwibel

The future is a palace

of might be,

could be,

we'll see.

Once a spiritual center,

solace becomes a robotic female voice,

reciting alpha-numeric code.

The future or future(s)

shimmers

wavy heat lines

on hot asphalt in the summer,

a filmy plastic shower curtain,

not solid yet, a fresh baked cookie;

it's malleable.

All could be or

could not be.

It has not decided.

The numbers

are still rolling in the hopper.

The votes still being counted.

Author bio: Chani Zwibel is a graduate of Agnes Scott College, a poet, wife and dog-mom who

was born and raised in Pittsburgh, Pennsylvania, but now dwells in Marietta, Georgia. She enjoys

writing poetry after nature walks and daydreaming.Recent Publications include: Dissident Voice

Dec 31, 2017, Ariel Chart Dec 5, 2017,Killjoy litmag #Catastrophe Dec 1, 2017, Anti-Heroin

Chic Nov 14, 2017, Madness Muse Press Destigmatized: Voices for Change November 5, 2017,

Midnight Lane Boutique Nov 4, 2017, Sage Woman Embracing Change Issue 92 (October 2017),

Occulum Oct 2, 2017.
---
TWO Poems

By Rob Plath

Author bio: Rob Plath is a 47-year-old poet from New York. He has

over a dozen books out. He is most known for his collection A

BELLYFUL OF ANARCHY (epic rites press). He lives alone with his

cat and stays out of trouble. See more of his work at

www.robplath.com

sitting w/Hate

i didn't take my Hate

& drown it in a fucking lake

no—i gave it my only chair

& sat w/it every night

until my Hate softened

& awakened by patience

wept for all the terribly

wasted & irretrievable days

miniature god

i walk out

the back door

to look

at the sky

& a stray cat

walks up

mewing

rolls over

& rubbing its

back on
---
the ground

offers me

its soft

warm belly

& i stroke

this small god...

now i watch

from the

screen door

my miniature god

crouching

next to

the shed

its unblinking

diamond eyes

fixed upon

the sparrow
---
TWO POEMS

By Ivan Peledov

Author bio: Ivan Peledov is a poet now living in Colorado.

He likes to travel and later forget the places he has visited.

He doesn't have any recent publications, mainly due to his

idleness, but he had been published some years ago,

among other magazines, in Ditch, Eunoia, Red Fez, Bear

Creek Haiku, Unlikely Stories, and Lost and Found Times.

Note

An animal is only a chalice for crumbling sounds.

It has a collection of silly myths

under the skin, all the gibberish from

the Flat Earth Anthology, from countless islands

inundated by birds from countless skies

unable to stop singing. But it can't talk.

It saunters around like a nickelodeon impostor

on a movie screen unable to swallow

a single piano note.

Outdated

No doubt

I forgot my sneakers in a trumpet-infested country

Where unshod horses guard the toothbrushes

Of the residents day and night

I placed my soul between my heels
---
In order for it to be soiled

And in the guts of each grand piano

Discovered a frog looking for moonlight

Which never comes with the territory

It is truly a blessing to live in the times

Devoid of a jellyfish manifesto

When all sounds are outdated
---
My mother the West

By John Sanchez

Give Arizona back to descendants of Phoolan-Devi. Do not use pesticides on corn crops

because corn crops host the spirits of the ancient ones trying to reach heaven. crops in

the sun passing over the Pacific versus hero dialectic. I scream Todos comemos maíz.

could be cowboys in order to Be like Phoolan-Devi. Give away everything you own. Steal,

rob and take things that aren't yours. Give the turquoise back to Arizona. Everyday I die

and am reborn My mother the West, Give the Western lands back to Mexico. The

turquoise Corn is yeehaw into the setting sun, subverts tropes in order to hold my pen

like John Corn. the spirits of the ancient ones protect me from hoping that my anxieties

Give the Western The turquoise around my neck. I ride my horse like John Wayne

brought turquoise to Hollywood from the four corners of the Southwest. Everyday I die

and am reborn as corn crops in the sun. beautiful. taken West. My mother into the

setting sun, beautiful. celebrates a past and frontier anarchy. is the West of the ancient

ones trying to reach carrots and sugar with God? back to Be like evil. The sun sets over

the Santa Monica pier, passing over the Pacific. gender roles Steal, rob and take of the

Western form Take from the rich The spirits of the ancient ones, also within me because I

eat corn and beans everyday.

Corn is poetry. exciting and innovative.

Vaya con dios. Modernity challenges corn when I come home. I hold my pen of Pueblo.

Santa Monica pier, Do not use pesticides on corn crops because corn crops an ear of corn.

Take from the rich and give to the poor, like Phoolan-Devi. Everyone is divine because

John Wayne holds a pistol. Arizona go with God. Do not use pesticides while I scream
---
yeehaw into the setting sun, trying to reach heaven. back to Arizona and feed it carrots

and sugar. Give Arizona back The turquoise around my neck like Phoolan-Devi. like John

Wayne holds the rootinest-tootinest cowboy in the wild, wild West. holds a pistol. she

embraces my pen to Damn the villain versus hero dialectic, who go Everyone is divine

because everyone eats corn. hoping that my anxieties are taken West, passing over with

writers, artists and performers to descendants. four corners be cowboys of the Southwest,

an ear of corn in which women could hold an ear of corn. The sun sets over everyone

eating corn. the Pacific holds a pistol. like John Wayne, The West is wild, vast wilderness,

within me because new, fresh, is poetry. to Hollywood gender roles, relationships with

animals and food subverts corn crops in the sun.

prairie loneliness, armed robbery, Damn the villain I ride gently. The sun sets over corn. I

associate myself with descendants of Pueblo in which blacks could be cowboys. a past in

which Everyone is divine because everyone brought turquoise to artists and performers

who die and Give Arizona a past in which Mexicans Give the Western lands back to

Mexico. protects me from evil gently and feed it back to Mexico. I associate myself with

writers, artists and performers who go with God.

Author bio: John Sanchez is a Latinx sociologist, writer, musician, social justice activist

and friend from Los Angeles, California. Sanchez's all-ages rock 'n' roll band, A Horse A

Spoon A Bucket, can be found through social media, on YouTube and on Bandcamp. A

UCLA graduate, Sanchez's written work has been published in UCLA's literary magazine,

Westwind, as well as on the UCLA Radio blog and the UCLA Newsroom webpage. Other

publishings include: College of the Canyon's Cul-de-sac literary magazine, Cardio Arts

zine, California Salmon arts zine and Johnny Ruckus' Western Revue. Sanchez's poetry

utilizes experimental techniques to challenge traditional forms and word choices, while

promoting racial inclusivity, sustainability, environmentalism, subversion, anarchocommunism

and the working minorities of the West.
---
Two POEMS

By Carol Alexander

The Head of John the Baptist

is my father's. He set it on the nightstand

where nurses mess about with tubes.

Yahya preaches, once took me to the river

where we fished for golden carp. A stone

rose from the waters, eyes gone blind.

A birth was foretold, a middle name changed.

The river was in Samaria, the troubled West Bank.

The head has no politics so to speak.

My father is all day trawling for words.

I'm left to mourn the ones that get away.

Translations

Read them first in an unknown tongue

just for the sound, a rustle of yearning wings,

a cherubic earful. Then imagine a cranial microchip

or Babel made celestial via a tuning fork.

The flesh made word: isn't this our game.

All peoples peel away their skin, bare belly gourds,

tongue an acculturated lust. Goose gabble, hiss of reeds,

gossip thick with buttery aftertaste. Who

have you been reading, round table of 9 A.M.,

translators of sweet rolls and stinging rage?

In the basement, an alien teaches herself to spell,

spits seeds from a carambola, toes the gray dust mice.

Redact this land's language of myriad diasporas,

a fiasco rich in reverberation. Winds echo. Last night

pierced palms caught the lachrimal overflow:

a puddled text you couldn't sound.

Author bio: Carol Alexander is the author of Bridal Veil Falls (Flutter Press, 2013),

Habitat Lost (Cave Moon Press, 2017) and the forthcoming Environments (Dos Madres

Press, 2018). Her poetry has appeared in various anthologies and journals. Most recent

and forthcoming work can be found in One, The High Window, Southern Humanities

Review, Leveler, Third Wednesday, and Halfway Down the Stairs.
---
in the pith of loam

By Heller Levinson

lambent meander

leafy larvae

bellicosity purl

the stuff of walrus, lacinia, polyphonic madrigals, horsehair on

the bluff, . . . circumstantial

gotta be a fool to bluster forth like that

as if there were no

tomorrow no providence no reckoning

the gangbangers never considered you'd tadpole them in

retaliation stuff of dreams unruly canisters even bribes

dismissed with an adept symmetry how curious you didn't

falter when compromised

so much muster

yet
---
Born Outcast

A conversation between two resident physicians in the resident's lounge

By Jake Sheff

J (for Jake): As a child I dreamt of a hatch on the floor in the backseat of the minivan. On

a long drive I'd climb down the ladder it opened to which lead to a private playroom.

Back then, I wished to escape suffocating, the ash-sprinkled air of the coffin.

A (for Antagonist): You would! Have you read this memo? What is the uniquely human

pain?

J (for Joke): The unfathomable.

A (for Amicable): I don't know. My patient this morning, a Sofa Kingdom lollygagger,

presented with five belly buttons and bilateral cryptorchidism. His turtleneck was

flattering until he yelled, "Perry is in peril!" When I leaned in closer and gave him a dose

of Absinthe IV, I heard him whisper, "Perry is in my apparel." Now how to tell the family!

J (for Jock): Right. Well, that Hick Algorithm is one option; it's tried and true, ya know?

Like rain. But it was invented by game show hosts and based on Gerald Ford's "Rectangle

of Security." Parsimonious, sure, but more homage to medieval pimp charters, no?

A (for Affable, now played by Travis T.): So this guy from Neuschwanstein Castle was

admitted last week. His skin, all of it, was like a nipple's or lip's. And his brother's hair –

all of it: eyelash, soul-patch, scalp – was pubic!

J (for Jake, now played by Perry): That's St. Jude's Blessing.

A (for Agreeable, still Travis T.): Yeah. My tonsorial subconscious couldn't decide whether

to roll up my sleeves or call for the paddy wagon.

J (for Jehova's Witness, played by Jock): What did you do?
---
J to audience: Come to think of it, I believe it was Ford's "Rectangle of Scrutiny." Anyway,

the crux of this ubiquitous inquisition-cum-riff may have been reached. Here, in this

lounge, we bivouac on drama, wizen like the third-party's billboard, hobnob like

inhibited bonobos, cheer for the coup, the couple in the coupe, high-five and castigate

the contrapposto of dead guys, their legacy of callouses from dumbbells and guitars.

A (for Antisocial, overdubbed by Anne Bradstreet): I said, I love you like and.

J (for jumping Jehosaphat): To whom: the patient or his brother?

A (for Africa, English subtitles by Asia): To the hyena beneath the bed, gnawing a heron's

neck without shame or civility.

J (for Jake, now played by me): I wrote my wife a sonnet for Valentine's Day; my first

poem! It ends: Without a word her cloudless sky is cover, and lover's love for you is love

for lover.

Author bio: Jake Sheff is a major and pediatrician in the US Air Force, married with a daughter

and three pets. Currently home is the Mojave Desert. Poems of Jake's are in Marathon Literary

Review, Jet Fuel Review, The Cossack Review and elsewhere. His chapbook is "Looting Versailles"

(Alabaster Leaves Publishing). He considers life an impossible sit-up, but plausible.
---
FEATURED FEMME:

SHEILA E. MURPHY

Sheila Murphy is a peerless poet; indeed, you could say she is a uni-verse unto herself. Kitschy pun

aside, she is simply the most singularly gifted versifier around - and yet, in my estimation, she does not

get her due. Maybe I'm just not that

connected in the poetry world - and I do

know, of course, that she is widely

published in the small and medium-sized

presses. But really, she should be a

household name by now, despite the facts

that a) poetry is scarcely embraced by the

masses and b) Sheila's poetry in particular

is hardly mainstream. So as implausible as

it is that Sheila E. Murphy will ever be a

household name, the fact remains that she

SHOULD be, because her poems are Major

Events that all should attend. Plus, she

does art that precisely pairs with her verse,

in that it's like geometric disorder, a

luminous clashing of control and chaos,

that most delectable of paradoxes. Her

experimental ethos arises out of a genuine

fervor for the fascinating malleability of

language. After all, why say something in a

pedestrian way when you can wildly contort

concepts and flamboyantly flex phrasings to

get your points across? Not everyone can

do these things like Sheila E. Murphy, of

course, so when you've a lusty libido for

language and the talent to match, you take full advantage of it.
---
Country Western Fest

Gravity was shatterproof

until I memorized my fate,

a mirror image of your roan,

rumored to comprise the perfect ride.

Someone was giving out passes

for hydration at seventy a pop,

to ready for continuance

the morning after.

I pocketed the viola clef

then joined the middle tier

here in the outdoor butterscotch

of caucuses where recitation vetoes

handbills, handouts, hand cut

handsome

in favor of a finishing school

of nimbledons that just swam past

like rough riders for keeps.

+++++

Clearwing butterfly, irrelevance of weather, lumbar, deciduous

In perpetuity, the heart resists membranes that would block truth and feeling.

Evidence occurs in flings. Mezzo soprano rain sticks mimic light precipitation.

Any day now, baptism of breath will rescue from the context, chafing of unbidden

limbs. Learned habits will allow the light to meld with rain. A yodel turned to

mourning shares the sky. Whatever syllables pronounce, they yield to restless

underneath points fluent with recognition. War is never wholly learned when

peace is extrasensory. Mid-lifetime, chums allow full selves to find their

innocence in daylight.

GLOW

I fill out questionnaires the way you typically perspire. It's tricky being cumulative

when your offspring miss the way through dumpsters in a live crash course.

Robust new bearings cancel tap shoe mingling surely. Listening along the tipsy
---
lean-to shag rug playthings tends to yield somebody's half babushka in

unseasoning the simulacrum. So it lusters past the feat of shallow snow. One

wheel dipping into places ice can't cover anymore. The warming fastens to the

psyche.

Rope burns mattering only to memory, the stowaway of summer stratified and

low along the totem, chatty, veined, and seaming

Soprano Se Me Olvido

I think the integers offend me right now via porous leather straps. The icing,

cakeless. And a didgeridoo to mask what quiet comes. Are you awake? I want to

preach what has not kippered its way toward you. Land grab is forsaken. Gold

chips fall into your lap. We have no basis for relating. The oscilloscope least

measures depth, so why not falsify nobody's records? Chapped lips come to

papa now. The line drive of indebtedness goes slow to timber. In a live moment I

stalk crossed wheat in preparation for the move away.

Lapping up the ductwork, tall and within (range)

Unlikeable Kiln

Not precise enough to qualify for kilter,

the River Liffey dowager suspends

what she sustained for decades.

Many divans held their place

upon the pavement amid

daffo-dowries, sun spent,

driven to the lake salt visibly

blistering the lids.

And spools made up for unleashed

hoarding that replaced instinctive

post-search herding

to protect the way.

The polish on the second shelf

attracted silken threads to cover

evidence in print and bloodlines

ready to repeat the trend.
---
Blog-Free Sonnetry

If I like you I'll misuse your words while you construe me. Is this crisp enough?

Emotion long ago timed out. Handguns ill-fitting hearts were placed there. Come

on and brandish something. Get clued-in to forestry. The large black scabs of

bark release me from attraction to the oak light. The woods alert with scavenging

occasion my incinerate recoiling. Quash turns verbal in the wake of sizing up the

enemy. There's too much to say about the things one can't resist.

Choice points and pernicious lies about creamed corn in a specific dish

Are You a Mere Third of a Braid?

Come brace force field abracadabatik commisery dim sum après midi mid

afternoon sun sprawled across features benefit us uselessly leewayward if you

effusively crop dust the mitered cornice breaks lace tantamount to tant mieux

votive as alert new play. Exacerbating lore reviles a triptych in the midst.

Loquacity. Benignity. She charms harm's waylaid edifice as artifice conditioned

reprehense. I'm drying on the cosign of the aftermath's interdependencies

today's date is cemented in my bric-a-brac brain spoils. Per omnia secula

seculorum. Brash indicative reveals lean-down on weak link traps. Are you a

fevered lapse? Are you a mere third of a braid? A soroptimist injurious to luge.

And symphony retracts protraction's capstone. To demystify. To plumb depths. To

recur. To winnow. Lamb. To trim. To lipotwist. To rune. Kipper. To twelve. To sun.

To stone. Too soon.

Purportedly

Charm often insulates

the vested greenery.

All thumbs on deck

spirit me away for now

and at the hour

of fellow furlongs

replicating capital committees

meant to activate those recency effects.
---
Research has vilified nomadic pearls

absent expected provenance.

Peace sounds less probiotic

than your Nana, therefore

deconstruct the bastard, why don't you?

The gods refute your thoughts

like the square of the hypotenuse

always meant to equal something.\

Op Cit Scansion

Ghost write your birth cert-,

bathe among like-minded

Pharisees until the truck comes

to unload dumpsters

in the alley resembling a canal

designed by several fourth graders

sporting chisels and a swizzle stick

entertaining magi out of work,

knocking socks out of the driving range,

exhibiting learned behaviors

toward behemoths angling toward the tiny light

and everybody out to text

the code, a sanctioned ode

comprised of pennies in the dark

swept up into surrender cloth

with pride and snark.
---
Untitled

Pixels are my lean-to in

the feather morning

Commas outlast sleep

Our weather simplifies

anticipated steps to tea

Olfactory cues revive

the sage perimeter of

earth
---
Two POEMS

By MATT NAGIN

Stranger In Your Own Home

i guess in the darkness

there is light

and when wandering empty halls

you can find your way back

to where you started

and i guess

among the shattered plans

there are table scraps

silly maps

concave routes

that suddenly make you

feel almost ready again

to jump toward the fire.

and i guess when

the paths implode

and the bombs erupt

and the sky rains sadness

upon us all

a murderous tempest of

fear and a razing off all

that once seemed secure

i guess

yes i guess then

it won't matter

that you failed to rise up

when the opportunity was

before you.

Adjunct

it is all an adjunct

to another pursuit

success wrapped in saran wrap

marriage bound to incest
---
incest wed to freedom

it is all rising from the eerie doldrums

or ricocheting against the parameters of sky

this lonely adjunct to

zany paths unwrapped

train tables crushed

plans unraveled

love affairs rotting

like bowls of fruit

oh what a lonely adjunct

a song for the accompanist

this stampede of misfits

in need of self-help

so many in triage

a wounded hand

stretches out

a prayer is sacrificed

on a lonely table

a deer pierced through

the heart with the arrow

of our collective demise.

Author bio: Matt writes: "I'm a writer, actor and comedian residing in New York City.

I've been published in Grain Magazine, Points In Case, The Higgs-Weldon, The Binnacle,

Antigonish Review, and The New York Post. My first book of poetry 'Butterflies Lost

Within The Crooked Moonlight' was released in 2017 and has obtained very strong

Amazon reviews."
---
What To Read to the Dead

By Marie C Lecrivain

Your poetry. First drafts.

The more salacious passages from The Story of O, but not the last 25

pages, because they fall fall flat.

Recipes - and the mini travelogs - from The Vincent and Mary Price

Cookbook, and take extra care to linger over the desserts.

A Wrinkle in Time, particularly the passage where Meg has to fight for

her little brother Charles Wallace's soul. If you read this to your older

dearly departed sibling, they'll hear it - and understand.

From the Old Testament, "The Song of Songs"; it's a celebration - and

filled with joy. From the New Testament; nada, and from the Gnostic

Gospels, whatever the hell you want.

Journey to the East, by Hermann Hesse, who transcended his literary

despair to share a simple message of hope.

Wuthering Heights, to a dead lover, one that you're glad got away,

because love - especially messed up love - lasts forever.

Your diary - or their diary - and hold back nothing, because it's an elegy,

a confession, and apology.

Fortune cookie slips from the bottom of your purse.
---
For suicides, the penultimate chapter from Lust For Life, and whisper

the last sentence, "You cannot paint goodbye", and for homicide

victims, Goodnight Moonlight, or some other gentle tale.

A letter, written in the last moments before you arrive at their grave -

tear-stained and sloppy - the truth will be in every word.

Leave it there.

And never come back.

Author bio: Marie C Lecrivain is the executive editor/publisher of

poeticdiversity: the litzine of Los Angeles. Her work has appeared in

Nonbinary Review, Spillway, Orbis, A New Ulster, and others. She's

the author of several volumes of poetry and fiction, including the

upcoming Fourth Planet From the Sun (© 2018 Rum Razor Press).
---
SURREALIST STUDENTS

I taught a Surrealist Creative Writing Class at Emory Continuing Education

back in the spring, and will teach it again in Winter 2019. The students

cranked out some fabulous surrealist scribblings. Below are some

samples of their poetic sketches.

The Three Sphinxes of Bikini – Salvador Dali, 1947

If a Sphinx of Bikini Could Talk

by Michelle Tullier

I walk behind you,

my head in the clouds,

you grounded in the sharp granite

that cuts the yellow sky and

roils the ones who went before us.

But where is my head? What makes me think

I can call us us

when you

with your symbiosis of bark and crown of green forge on,

a Disney princess dipped scalp-first in vomit.
---
So you'd rather be with the one ahead? You think she's the bomb?

Well, have at it. Ride that mushroom to heights of ecstasy.

And then

look back to see the trail of jaundice that will

smother my silver lining.

Inspired by "Creation of Birds" (Remedios Varos)

By FRANCENE BREAKFIELD

Light through glass and brush to canvas

Paint to palette, stroke by stroke

Images form after hours

Lift and soar and fly like smoke

To explore the outside air

for a day, yet as light faints

Comes back through the darkened tunnel

To be processed back to paints
---
mother

By Mary Fischer

my mother with the eyes of soft steel

with the thoughts of profound chatter

with the hair of over done importance

my mother with skin so delicately foreboding

with wrists that are never satisfied

Or unwavering

my mother with a curve that can constrict hearts

with shuffling feet and watery legs

with crackling speech and golden determination

Piece de resistance

By David M Smith

It's not mandatory to use pencil for this, but

Describe how you would digest

The career of your favourite enemy

The religious cult wherein The adherents

That will be your charisma

He is a source of pleasure (njutning)

The charming yellow (not curious)

Of a generic french novel

The notched border of a stamp is where that goes
---
The work crew has arrived

In their shiny red overalls

They're already digesting

The cigarette stain on the ceiling

Your garfield slippers

The jukebox fishbowl

The lucky cat's paw you inherited

Still attached to the cat

Finally (and this is how you'll know you've won)

Rewrite the murderers' language

Hang it from dragon to dragon

Make it a portal of discovery

That is always defining the opposite

Viewed through barrels of synthetic whiskey

This is the exiled poem's

Translated lifetime
---
The Unanswered Questions Haunting

American History

By Georg Koszulinski

gunmen on grassy knolls

gunmen on grassy knolls

gunmen on grassy knolls

gunmen on grassy knolls

America your genocides are folded neatly

into twenty-dollar bills.

America the tee vee haunted your

dreams like a late-night poltergeist.

America where were you

when we called?

America we regret to inform:

Ellis Island died of cancer

and chose to be cremated,

played Taps on tape recorder

(this is true).

America even your ghosts are

afraid to go out at night.

America the homeless man waves a stick.

America your best friend is going to

murder you with a handgun.

America the firetrucks are all

at the bottom of the sea.

America God does not

give you permission but

he's willing to look the other way.

America the children found your headless

body by the driver's wheel.

America this poem is an operation

manual for dismantling yourself.

America on the balcony of Ford's Theatre.

America on the top story of 9/11.

America floating like a specter

above the Berlin Wall.

America, your cruiseships transform

the idea of being in the world.

America I wrote this poem in the rain

behind the wheel intoxicated

while holding your child

on my lap.

America it's beneath even you—

you slaughter of pigs

and now your tombstones

all say the same thing:

"racist rapist."

America we wrote postmodern

but meant to say postmortem.
---
America your slaveships became

ideological apparatuses—

many more died,

willingly.

America your settler colony

could have been a theme park.

America your right wing

tastes like dust and your left wing

is a gutless coward.

America we need more M-16s

more F-16s and some B-52s

for the period pieces.

America we love every movie

you ever made.

America go to North Korea and

KILL THEM ALL.

America would your cops

stop killing black men

if we asked nicely?

America could you have tripled

the body count in Vietnam

to nine million?

America did you get the letters

we sent and did you read

Hillary's emails (were they

as sordid as we imagined)?

America we received 22,000

applicants for twenty-five

openings; should we feed the surplus

people to the nuclear wolves?

America your longshoremen

are living on pet food

and your John Waynes

were all closet homosexuals.

Points finger like a pistol

and fires.

Author bio: Georg has been making films and videos since 1999. His award-winning works have

been presented at hundreds of universities and film festivals around the world, most recently at

the Atlanta Film Festival, San Francisco DocFest, and Experiments in Cinema. His current

documentary project, White Ravens: A Legacy of Resistance (forthcoming) focuses on the Haida

Nation and the cultural resurgence taking place on their islands of Haida Gwaii. Georg is an

Assistant Professor of Film Studies at the University of North Carolina Wilmington where he

teaches documentary & experimental filmmaking.
---
Desire Is Not Dead

By David Matthews

Afternoon light plays the leaves like Vivaldi

Until evening segues softly into a melancholy Chet Baker tune

The sun crawls sidewise across the indescribable sky

And meets the moon in the middle of a turquoise sea of delirium

A beauty waiting to be born burns in the eye of the green violin

And desire is not dead in this heart

The lovers linger on a bridge somewhere between here and there

She whispers vowels of wind and rain

His lips sound the words that make up the book of the abyss

Neon smears the surface of the river silent and dark beneath them

Poised between yesterday's waste and tomorrow's treachery

Proud in beauty—and despair

And no, desire is not dead in this heart

Author bio: David Matthews is a native of the South Carolina Midlands, resident of

Portland, Oregon, poet, runner, and unaffiliated intellectual. His poems have appeared

in Adelaide Literary Magazine, The Dead Mule School of Southern Literature, Quill &

Parchment, the anthologies Fault Lines, Ghost Town Poetry Vol. Two, Raising Our

Voices: an anthology of Oregon poets against the war, and elsewhere. Essays on film,

books, current affairs, running, and other topics can be found on the blog at his

website Portable Bohemia (www.portablebohemia.com).
---
One Poem

By Simon Perchik

It has nothing to do with the banjo –this chair

aches for wheels that will rust, wobble

the way riverbeds grow into something else

–where there was a mouth, there's now wet dirt

and with a single gulp the Earth is drained

by a compass that points to where it's from

and you are eased room to room

as an endless sob drying in your throat

–you sing along till side by side

each wheel becomes that afternoon

that folded one hand over the other

as if for the last time.

Author bio: Simon Perchik's poetry has also appeared in Partisan Review, The Nation,

The New Yorker and elsewhere.
---
NO IDEA

By Ian Ganassi

And what's more, they're fun, at least sometimes.

Isn't it too bad you were alone?

Can I borrow some sugar?

"Where does it come in?"

"It's a pickup."

The sparrow is sorry for the peacock at the burden of his tail.

She couldn't "get into a relationship" without alcohol.

Which is significant: how many people can?

They try to keep going

At least until the uniform wears off.

Then you discover

You're just another dockside casualty.

Of rabid chocolate Easter bunnies.

I refuse to answer that question

On the grounds that I don't know the answer.

Clean, sober and smoke-free.

Sometimes it's everywhere and sometimes it's nowhere.

The cutest watch I ever saw was transparent

So you could see the works on her freckled wrist.

She gave me the time of day.

And is Kaiser a Russian name?

I just needed to confirm that she really existed;

I had no idea what might happen after that.

Author bio: Ian's poetry, prose and translations have appeared in over 100 literary

journals, including New American Writing,The Yale Review, and Ploughshares. Poems

have appeared recently or are forthcoming in First Literary Review East, Home Planet

News, NAW, Lotus Eater, 2Bridges Review, and American Journal of Poetry among

others. His poetry collection Mean Numbers was published in 2016, and is available on

Amazon. Selections from an ongoing collage collaboration with a painter can be found

at www.thecorpses.com.
---
chickens–-home––roost by Wanda Morrow Clevenger

brought to light

what lingers here

and about

is the dread

the old dirt

is in real peril

of flying the coop

for keeps

that there likely

comes a reckoning––

the backward butt bite

of all butt bites

karma with a

capital kay

sins of the father

gluckliche Reise

with a capital

gluck you

in answer to this

lament

I have three words

Author bio: Wanda Morrow Clevenger is a Carlinville, IL native living in Hettick, IL. Over 500

pieces of her work appear in 163 print and electronic journals and anthologies. The first of a

5-volume chapbook series young and unadorned – where the hogs ate the cabbage Volume 1is

available through Amazon and Writing Knights Press: https://writingknightspress.blogspot.com/

2017/12/young-and-unadorned-by-wanda-morrow.html
---
Two Poems By Giorgia Stavropoulou

The Black City II

(for Joyce Mansour)

Like sopranos,

But perpetual

An opera of high-pitch voices

Shrieking Sirens

A choreography of transparent mermaids

Feminine yet furious

Female but ferocious

Squirm through the territory of the black city

And fuse with darkly painted walls

Windowless

Sonic fish, while sliding, gliding, sneaking and slitting into mute buildings

Absorb the female tones

The fish have no organs

Yet they whisper
---
Millions of sonic Pisces

Diving in and out of black windowless walls

Producing tornados of aquatic murmur

Black buildings crack,

Their bricks belch,

The whole city moans,

From afar, other sounds approach

And from further away?

Even more sounds: groans and rattles

And then, there are the whispers again: sneaking into hallways, hiding in storage rooms where they sob

like little children

There they transform again into empty fish

The fish sob, groan and moan too, like sad women

The sirens stroke their cheeks

Then there's humming,

The humming of fish baring organs

The organs speak a muffled language – understood only by black buildings

There no trees here,

nor shrubs or parks
---
The fish whisper,

The buildings crack,

The bricks blech

A blizzard of ferociously female screams exit again the territory of the black city

To those who believe I merely escape in language

I declare syllabs to be my primary allies

And my currency the skin of sound

The Skin of Sound

(for Will Alexander)

The alliance I talk about is fluid and

Its essence wrapped in pure particle

What I see is sand drenched in phonemes and pixel-derma

Earth engulfed by libidinal waves of electromagnetic pigments

As the surface of my skin

I am a choreography of shades of turquoise

Smoldering in floating magma

An opera of shadow as black non-pigmented quantum
---
In this way, I as landscape transmutes from mere cartography

Into eloquent cold fire, liquid

I hereby declare that the frequency of my nutrition is brilliance

Oscillating through eternally black stellar mountains

As if my erotic excess is fused with electrons of excitement

Filled with ocular, electric lust

Oracular

In this liquid field

Volcanic spurs spit fetuses of transparent sonic drones

Bubbling word-sounds

Spinning glimpses of an undifferentiated intelligence

Noisy

Inchoate

Affected

Hybrid

Tactilely and tectonically

Twisting the texture of language

Author bio: Giorgia Stavropoulou is an MFA candidate with the Manchester School of Writing, UK,

living in California. Currently she's working on a novel but she also writes poetry inspired by the work of

LA based surrealist poet Will Alexander and Egyptian-French poet Joyce Mansour. Other influences are

Indian surrealist author of short fiction Naiyer Masud and the fiction of Roberto Bolaño. Her work has

been published in journals and in an anthology.
---
CONCRETE POETRY BY VERNON FRAZER

Editor's Note: Vernon writes, "This is part of a series of panels I excerpted and

'colorized' from my longpoem IMPROVISATIONS."

Author bio: Vernon Frazer hides in plain sight.
---
"CaN" Poems

By Lorna Wood

make america great again Can #6: Pet Pride Shredded Chicken & Salmon in Gravy

make america great again

make america great again Pride Food: Pride is formulated to meet levels

make america great again

make america great again established for growth and maintenance. Feed

according to age, size and activity up to twice the amount sufficient for

processing starch natural & artificial supplements acid Guaranteed pride

support societies near you If you are not satisfied, We will make it right

Can #11: Clabber Girl Double Acting Baking Powder

Girl

America's Leading Brand

Acting

Baking

Power Free Product

Corporation Made in USA

Try our quality corn

For best results, use OLD FASHIONED

soft

stir just till moistened

and pulls away

lightly knead with hands

roll close together on sheet

till golden warm yields contents

Shake before using freely

Author bio: Lorna Wood is a violinist and writer in Auburn, Alabama, with a Ph.D. in

English from Yale. She won second prize in the 2018 Loquat Literary Festival poetry

contest and was a finalist in the SHARKPACK Poetry Review's Valus' Sigil competition.

Her work has appeared or is forthcoming in various places, including Poetry South, Five:

2:One (#thesideshow), Poetry WTF?!, Malevolent Soap, Unstitched

States, Gnu, shufPoetry, Cacti Fur, Birds Piled Loosely, and the anthologies Luminous

Echoes (Into the Void Magazine) and Leaves of Loquat IV (Ecology Florida). Lorna has

also published fiction, creative nonfiction, and scholarly articles, and she is Associate

Editor of Gemini Magazine. She blogs at lornawoodauthor@wordpress.com, and you

can follow her on Twitter at @drlewood.
---
The sun is not interrupting you

By Shannon Phillips

Why dost thou thus,

Through windows, and through curtains call

on us?

—John Donne, "The Sun

Rising"

The sun breathes neon exclamation marks. The sun bleeds

canary feathers. The sun's nickname is Alice. The sun

speaks cobblestone. The sun slurps rock urine. The sun eats

couture dresses embroidered with buttermilk metaphors. The

sun vomits pale rose petals. The sun sees through my black

spots. The sun does not care about you and your orgasm,

John.

Author bio: Shannon Phillips is a freelance editor and an

aspiring translator. Her most recent chapbook, Body Parts,

was published by dancing girl press in 2017. When she isn't

busy reading Scandi Noir, she can be found napping with her

Russian Blue. Tweet her @hungrybookstore.
---
On !e Beach

By Stephen Mead

Hello earth & also you stars.

How many, & be exact, are there of you?

Party for thirty hundred zillion?

Step this way please. Table coming straight up.

Sit down now. Bend your wands or do whatever

you can with them. Checking a glow? Oh,

glad to know it, pleased to meet-----

Sea gull hearted, for you I am shooting:

arms, these northern lit spindles, legs, ah,

sprite as water bugs'. Zip. Zip.

This exhilaration is ethereal.

What? Why, it's easy-----

Energy peeling off the old sleeping pill sludge

& those eyes which were hidden. No more,

no more, small pain coveted brooks. Look,

see now how they shine-----

Zeal, zeal, I'm sober enough to order a fresh

round. Clams will do; such drunk down shells

of mistral music, such toasts proposed

for absent lovers, & their spouses. Yow!

I'm not hysterical, only full of zest, full of-----

Darling, marvelous. Tell me, how are you?

No TB will get us, the retiring heroine's demise.

We're far from Victorian. I'm born again, island

wild. This is my flora, my fauna. Here's coral

exotic. Come, wade amid reefs, caress fish.

The tidal pools ripple. There is the moon, our familiar,

our family's heirloom. Oh sisters, brothers, we spin

zeniths, are courtesans waiting for daylight, that new

constant, that luminous blessing-bestower of these rioting

sand castles.

Author bio: A resident of NY, Stephen Mead is a Outsider published artist, writer, maker of

short-collage films and sound-collage downloads. In 2014 he began a webpage to gather links of

his poetry being published in such zines as Great Works, Unlikely Stories, Quill & Parchment,

etc., in one place: Poetry on the Line, Stephen Mead For links to his other media and even

merchandise if you are interested please feel free to Google Stephen Mead Art.
---
SOLEIL ROSS

2005-2018