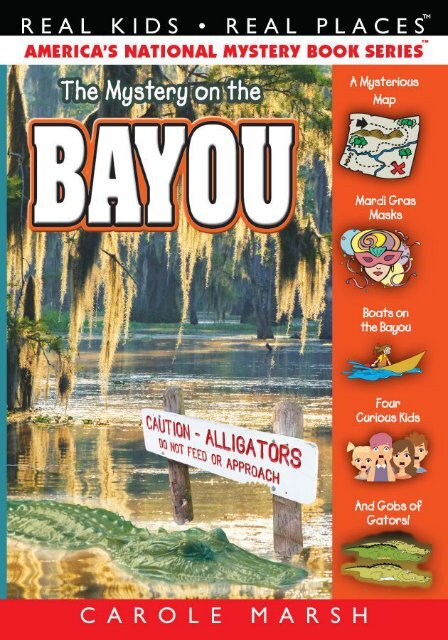 The Mystery on the Bayou
A mysterious map. Mardi Gras Masks. Boats on the Bayou. Four curious kids. And gobs of gators! Mimi, Papa, Avery, Ella, Evan and Sadie head for the Louisiana bayou country, When Avery finds a mysterious map, strange events begin to occur! Suddenly they are all in the middle of a Cajun mystery involving curious clues, menacing alligators, spooky bayou boat rides, and "gulp" the legendary, scary rougarou?!
A mysterious map. Mardi Gras Masks. Boats on the Bayou. Four curious kids. And gobs of gators!

Mimi, Papa, Avery, Ella, Evan and Sadie head for the Louisiana bayou country, When Avery finds a mysterious map, strange events begin to occur! Suddenly they are all in the middle of a Cajun mystery involving curious clues, menacing alligators, spooky bayou boat rides, and "gulp" the legendary, scary rougarou?!
SHOW MORE
SHOW LESS
You also want an ePaper? Increase the reach of your titles
YUMPU automatically turns print PDFs into web optimized ePapers that Google loves.
ong>Theong>

ong>Mysteryong>

on the

Bayou

3
---
First Edition ©2019 Carole Marsh/Gallopade International/Peachtree City, GA

Current Edition © January 2019

Ebook edition ©2019

All rights reserved.

Manufactured in Peachtree City, GA

Carole Marsh Mysteries and its skull colophon are the property of Carole Marsh and Gallopade

International.

Published by Gallopade International/Carole Marsh Books. Printed in the United States of America.

Managing Editor: Janice Baker

Assistant Editor: Susan Walworth

Cover Design: Randolyn Friedlander

Content Design: John Hanson

Gallopade International is introducing SAT words that kids need to know in each new book

that we publish. ong>Theong> SAT words are bold in the story. Look for this special logo beside each

word in the glossary. Happy Learning!

Gallopade is proud to be a member and supporter of these educational organizations and

associations:

American Booksellers Association

American Library Association

International Reading Association

National Association for Gifted Children

ong>Theong> National School Supply and Equipment Association

ong>Theong> National Council for the Social Studies

Museum Store Association

Public Lands Alliance

Association of Booksellers for Children

Association for the Study of African American Life and History

National Alliance of Black School Educators

This book is a complete work of fiction. All events are fictionalized, and although the names of real people are

used, their characterization in this book is fiction. All attractions, product names, or other works mentioned in

this book are trademarks of their respective owners and the names and images used in this book are strictly for

editorial purposes; no commercial claims to their use is claimed by the author or publisher.

Without limiting the rights under copyright reserved above, no part of this publication may be reproduced,

stored in or introduced into a retrieval system, or transmitted, in any form or by any means (electronic,

mechanical, photocopying, recording or otherwise), without the prior written permission of both the copyright

owner and the above publisher of this book.

ong>Theong> scanning, uploading, and distribution of this book via the Internet or via any other means without the

permission of the publisher is illegal and punishable by law. Please purchase only authorized electronic

editions and do not participate in or encourage electronic piracy of copyrightable materials. Your support of the

author's rights is appreciated.

4
---
Once upon a time ...

Hmm, kids keep

asking me to write

a mystery book.

What shall I do?

Papa said ...

Why don't you set the stories

in real locations?

5
---
That's a great idea!

And if I do that, I might

as well choose real kids as

characters in the stories!

But which kids would I pick?

6
---
You sure are characters,

that's all I've got to say!

Yes, you are! And, of

course, I choose you! But

what should I write about?

7
---
We can go on the ong>Mysteryong> Girl airplane ...

Or aboard

the Mimi!

I can put

a lot of

Or by surfboard,

rickshaw,

motorbike,

camel ...!

legend, lore, and

the books! It will be educational and fun!

in

8
---
What else can

we do, Mimi?

Kids and teachers

can get cool

stuff online!

Can we have

a Fan Club

with photographs

and videos?

Of course!

Of course!

And can we

have contests

and trivia and

games?

9
---
ong>Theong> ong>Mysteryong> Girl is all

revved up—let's go!

You mean now?

LET'S GO!

nd so, join Mimi, Papa, Avery,

Ella, Evan, and Sadie aboard

the ong>Mysteryong> Girl—where the adventure is

real and so are the characters!

START YOUR ADVENTURE TODAY!

www.carolemarshmysteries.com

READ

THE BOOK!

MEET THE

CHARACTERS!

JOIN THE

BOOK CLUB!

TRACK

YOUR

ADVENTURES!

10
---
1

See Ya

Soon, Alligator

"It's from Roseline!" Avery exclaimed. She

eagerly ripped open the purple envelope she'd

snatched from the mailbox before hopping in

the car.

Roseline had been Avery's best pen pal

for several years. ong>Theong> two girls had met at

a summer camp. Each of Roseline's letters

was filled with pictures and tales of her life

on the Louisiana bayou. It was very different

from Avery's suburban life in Georgia with

her siblings, Ella, Evan, and Sadie.

When Mimi and Papa, Avery's

grandparents, invited the grandkids to go on

a trip to southern Louisiana, she was ecstatic!

11
---
Mimi, a famous mystery writer, planned

to research a book idea there. Avery had

something else in mind. "I can visit Roseline!"

she had said. She had quickly dashed off a

letter informing Roseline of their visit. Now,

she couldn't wait to read Roseline's reply!

"Read the letter during our flight," Mimi

suggested. "It'll give you something fun

to do."

"You're right," Avery said, buckling her

seat belt. She pulled her long blond hair

into a ponytail. "Reading on a plane doesn't

bother me, but reading in the car makes me

throw up!"

"Get me outta here!" Avery's brother,

Evan, yelled, flailing his arms and legs. "I don't

want to fly to Louisiana covered in vomit!"

"Don't worry," Avery said, stuffing the

letter in her pocket. "I'll wait. It's called

delayed gratification."

"You're right! It will be a great vacation!"

Sadie cheered.

12
---
"No, Sadie," Ella said. "She didn't say

great vacation, she said delayed gratification.

That means putting off something you want,

so you can enjoy it later."

Sadie poked out her bottom lip. "But I

want a great vacation now! Not later!"

"It's OK, baby girl," Papa assured her in

his deep, booming voice as he pulled onto the

highway. "A quick drive to the airport and

then it's 'see ya soon, alligator'!"

"Papa! Don't you mean 'see ya later,

alligator'?" Evan asked.

"Nope," Papa said. "We're going to the

alligators, not leaving them."

"Addigators scare me!" Sadie said, her

blue eyes wide with alarm.

Evan turned his arms into alligator jaws

and chomped at his little sister.

Sadie huffed. "Not funny!" she said.

Ella stealthily slid her arm over and

pinched Evan's back. "Ouch!" he yelped.

"Even gators should be aware of what's

behind them," she said with a snicker.

13
---
Evan shot his sister a raspberry, spraying

everyone in the back seat.

"Evan!" Avery exclaimed. "I just can't wait

to see Roseline. It'll be so nice to have some

mature company for a change!"

Later, when the kids were occupied by inflight

movies, Avery pulled out the festive

envelope in her pocket and eagerly unfolded

the letter inside. But as soon as she read the

first words of Roseline's letter, her mouth

dropped open. Her friend had simply written:

PLEASE DON'T COME!!

14
---
2

A Mysterious Lady

ong>Theong> flight was gut-wrenching for Avery.

What had she done to make Roseline not want

to see her? Was it something she'd said in one of

her letters? Should she tell Mimi and Papa and

run the risk of ruining their trip? One thing

was for sure: it was already ruined for her. As

the plane descended at New Orleans, Avery's

anxiety was ascending.

She turned the colorful envelope over and

over in her hands. It was too late to honor

Roseline's request, but should she still try

to contact her? "If New Orleans is known as

'ong>Theong> Big Easy,'" she whispered, "why am I

so uneasy?"

ong>Theong> plane gently bumped the runway and

jostled Avery from her thoughts. She spotted

15
---
Evan's blond head in the row of seats ahead

of her. He was peeking under the big black

cowboy hat that covered his grandfather's

face and jiggled like a pot lid with every snore.

"Wake up, Papa!" he said.

Ella pressed her finger to her lips,

motioning her brother to be quiet. Gingerly,

she pulled the feather out of her grandfather's

hat band and slid it toward his nose.

Evan watched with delight and clasped

his hand over his mouth to keep his giggles

under control.

At first, Papa swatted at imaginary flies.

ong>Theong>n, he mumbled and squirmed. Finally,

he let out an AAAAAAACHOOOOOOO!

that blew the hat off his face and startled

nearby passengers.

Papa rubbed his face with his ham-sized

hand, yawned, and slowly sat upright. As

he cleared his throat, he noticed the kids

watching him. "Hey kiddos," he murmured,

"I've been checking the inside of my hat for

holes. I wouldn't want to get caught in the

Louisiana rain with a hole in my hat!"

16
---
Evan set his giggles free. "Of course, that's

what you were doing, Papa!" he exclaimed.

When the plane stopped at the gate, Mimi

and Sadie popped over the seat backs.

"I was checking the inside of my hat for

holes, too," Mimi said, straightening her

favorite red cowboy hat over her blond curls.

She grinned. "Best nap I've ever had!"

Still holding the feather from Papa's hat,

Ella asked, "Is Avery asleep, too? Maybe she

needs a tickly wakeup call!"

Ella flipped her long brown hair over her

shoulders and looked over at Avery. She had

a worried look on her face.

"You OK?" Ella asked.

"Sure," Avery answered half-heartedly.

"Time to meet NOLA," Evan said glumly

as Papa handed down their luggage from the

overhead compartment.

"What are you talking about?" Ella asked.

"You've all been saying we were going

to see NOLA," Evan said. "Isn't she some

chubby old aunt who will think I'm cute and

17
---
kiss me with her greasy lipstick and leave me

smelling like her stinky perfume?"

Mimi smiled. "NOLA is very old, and she's

been through a lot,' she said. "But you will

love her! She has so much interesting history

to share!"

"Oh, so she'll bore us with lots of history,

too," Evan added.

Avery ruffled her brother's hair with both

her hands and forced a smile. "You're so

clueless that you're cute!" she said.

"Clueless?!" Evan huffed. "You know I'm

great at clues! That's what happens when

your grandmother is a mystery writer! Clues

are our business, right, Mimi?"

"Right!" Mimi agreed. "And NOLA is one

mysterious lady!"

Avery also secretly hoped the "mysterious

lady" could offer some clues about her friend's

disturbing note.

18
---
3

Ben Yay!

Inside the Louis Armstrong New Orleans

International Airport, Evan forgot about

meeting NOLA long enough to ask a question.

"Who is Louis Armstrong?" he asked. "He

must be pretty important to have an airport

named after him!"

"Louis Armstrong was a famous jazz

musician from New Orleans," Papa explained.

"His nickname was Satchmo and he played

the trumpet and sang. He even performed in

many movies."

"He gave us so many great songs!" Mimi

agreed. "My favorites are "What a Wonderful

World" and "Jeepers Creepers."

"Jeepers Creepers?" Evan said. "That's a

great name for a song! Oh, Jeepers," Evan

19
---
sang, "when I meet NOLA, she'll give me

the creepers!"

Avery and Ella rolled their eyes at their

brother's antics. "Yeah!" Avery agreed. "On

that note, I'm stopping to tie my shoe!"

When the lace was securely knotted,

Avery rushed to catch up with her family in

the crowded airport. BAM! She collided with

a very big man going the opposite direction.

A leather satchel hanging off his shoulder

dumped its contents on the floor. Papers, rolls

of cloth, and electronic devices skated across

the floor and among the feet of passersby.

ong>Theong> man's bushy beard trembled when he

barked in a raspy voice, "Why don't you watch

where you're going, kid!"

"I am sooo sorry," a red-faced Avery

apologized. She reached to pick up the

bearded man's bag, noticing that it had the

texture of alligator skin.

"I'll get that, young lady!" said a neatly

dressed man wearing shiny purple shoes. He

seemed to appear out of nowhere. He rushed

to retrieve the bag at the same time as Avery.

20
---
CRACK! ong>Theong>ir heads smacked together,

and their arms tangled in a rope that cinched

the canvas bag Mr. Purple Shoes carried. ong>Theong>

lumpy canvas bag hit the floor with a soft thud.

It bounced slightly, and seemed to wiggle for

a second as though it were alive.

At the same time, a few things tumbled out

of Avery's backpack.

"Clumsy kid!" Bushy Beard exclaimed, as

he and Purple Shoes scrambled to pick up the

items that had fallen out of the satchel.

"I…I'm so very sorry," Avery stammered,

snatching her items and backing away.

Purple Shoes continued to gather his

things but looked up long enough to flash

Avery a toothy smile and say, "C'est la vie!"

Avery knew the phrase meant "that's life,"

and she'd had enough. Hot tears stung her

eyes like angry bees. First, her friend didn't

want her to come. And now, after only a

few minutes in New Orleans, she'd made a

complete fool of herself.

21
---
Across the terminal, Avery spotted a black

cowboy hat bobbing above the crowd. "Papa!"

she yelled, weaving carefully around people

to avoid a repeat of the embarrassing scene

she'd just left.

"Are you OK?" Mimi asked. "We thought

we'd lost you!" Avery had wiped the tears

from her eyes, but there was no hiding her

feelings from Mimi.

"I ran into someone," Avery said.

"Was it NOLA?" Evan asked. "Where is

she? Might as well get it over with." He closed

his eyes tight and puffed out his cheeks.

"What are you doing?" Ella asked. "You

look like a blowfish!"

"Bracing myself for all the hugs and

kisses!" he said. "Where is she?"

Papa made a sweeping motion with his

arm. "Thatta way!" he said. "She's out there!"

"You mean she's meeting us outside the

airport?" Evan asked.

"Stop it!" Avery yelled. "I can't take

this anymore!"

22
---
"Take what?" Evan asked, confused.

"NOLA isn't a person, Evan!" Avery cried.

"It's a place. It's where we are! It's one of the

nicknames for New Orleans. N for New, O for

Orleans and the abbreviation for Louisiana is

LA—NOLA! Understand now?!?"

"Oh," Evan said, with the expression of a

fly that had just been swatted. "That's a relief,

I guess."

After Avery's harsh words to her brother,

Mimi was even more concerned. "Let's take

a break before we head to our hotel," she

suggested. "Papa, you take the kids for a

snack, while Avery and I have a chat." She put

her arm around Avery's shoulder and steered

her toward a bench. "Now, tell me what's

wrong. You're not yourself."

More tears slipped from her eyes, and

Avery spilled her guts to her grandmother.

"She doesn't want to see me," Avery cried.

"I thought we were great friends, and I came

all this way, and she doesn't even want to

see me!"

"Who?" Mimi asked.

23
---
"Roseline," Avery replied. "ong>Theong> letter

I got right before we drove to the airport

said, 'Don't come!' But it was too late to

change plans."

"Oh, honey," Mimi crooned. "It's OK.

ong>Theong>re could be a lot of reasons why she wrote

that. Maybe she was having a bad day. Maybe

she had built her life up so big she couldn't

live up to it. She might not want you to see

that her life isn't as great as she portrayed it

in her letters."

"Well," Avery said, "some of the things she

said about her home on the bayou were pretty

hard to believe. But I didn't think she was the

kind of girl who would lie."

"People are complicated creatures," Mimi

observed as she gave Avery a consoling hug.

"I'm sure you'll work things out with her.

Besides, there's still a fascinating city out

there to explore! We'll have a great time!"

Evan skittered across the terminal floor

like a squirrel crossing a highway. He balanced

a bag above his head as his blue eyes twinkled

with excitement. "I brought something to

24
---
make you feel better," he said, handing the

bag to Avery. "ong>Theong>se things are great—like

little donut pillows. ong>Theong>y're called bag nets,

or something like that."

"Beignets," Mimi corrected.

"Ben yays," Evan repeated. "I didn't know

what I'd 'ben' missing," he said, "but they

make you say 'YAY!' when you taste them!"

Avery giggled at her little brother. She

opened the bag and took a bite of the warm

fried dough dusted with powdered sugar.

"Mmmm," Avery hummed while licking

the powdered sugar off her lips. "Delicious!

I feel better already. Thanks, Evan. Sorry I

was such a mean grump earlier."

"I forgive you," Evan said. "Papa wanted

me to tell both of you that it's time to

skedaddle. I can't speak a lot of these New

Orleans words, but I can speak Papa. He's

ready to GO!"

As they left the airport, Avery noticed a line

of people holding signs for taxi services and

25
---
tourist attractions. But one sign caught her

eye. It said, Bergeron Bayou Tours—Half Price.

Avery stopped so suddenly she caused a

pileup of her siblings behind her. Bergeron

was Roseline's last name! And holding one

corner of the sign was Roseline!

26
---
108
---
Join the Fan Club at

CaroleMarshong>Mysteryong>Club.com and…

Enter to win

our monthly prize

giveaways

1

2

Get status updates

from Mimi and the

characters

View the library

of Carole Marsh

ong>Mysteryong> titles

3

4

Read

the first 3 chapters

of any mystery

book for FREE

Download

free activities to

go along with your

reading adventures!

5

146
---
Glossary

corrugated: shaped into a series of parallel

ridges and grooves in order to give added

rigidity and strength

gumbo: a stew or thick soup, usually made

with chicken or seafood, greens, and okra

jambalaya: a dish of Creole origin,

consisting of rice cooked with ham,

sausage, chicken or shellfish, herbs,

spices, and vegetables

raspy: hoarse or harsh-sounding

satchel: a bag carried on the shoulder by a

long strap and typically closed by a flap

stilts: long posts used to hold a building,

etc., above the ground or out of the water

vicinity: the area near or surrounding a

particular place

147
---
SAT Glossary

antics: funny, silly, or strange behavior

crustacean: an animal with a hard shell

and several pairs of legs, which usually

lives in water

festive: suitable for a feast or festival;

merry or joyous

nocturnal: being active or happening at

night rather than during the day

vegetation: plants in general or plants

that are found in a particular area

148