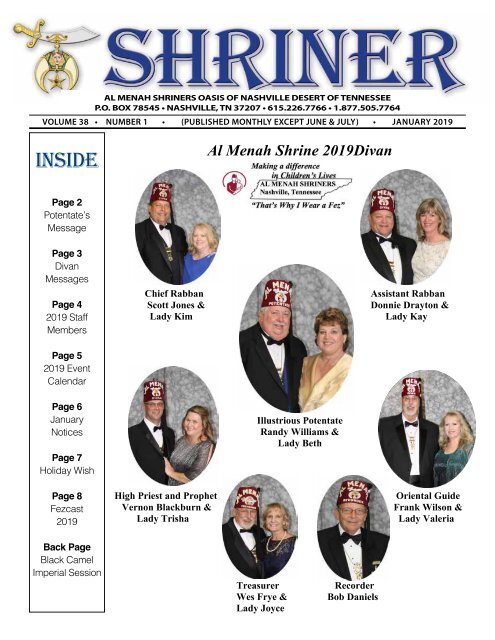 SHRINER JANUARY 2019
Information for Al Menah Shriners for the upcoming year 2019, announcing newly elected Divan
Information for Al Menah Shriners for the upcoming year 2019, announcing newly elected Divan
SHOW MORE
SHOW LESS
Create successful ePaper yourself
Turn your PDF publications into a flip-book with our unique Google optimized e-Paper software.
AL MENAH SHRINERS OASIS OF NASHVILLE DESERT OF TENNESSEE

P.O. BOX 78545 • NASHVILLE, TN 37207 • 615.226.7766 • 1.877.505.7764

VOLUME 36 • 38 NUMBER • NUMBER 4 1 • • (PUBLISHED MONTHLY EXCEPT JUNE JUNE & JULY) & JULY) • • JANUARY APRIL 2019 2017

INSIDE

THIS

ISSUE

INSIDE

Al Menah Shrine 2019Divan

Page 2

Potentate's

Message

Page 3

Divan

Messages

Page 4

2019 Staff

Members

Page 5

2019 Event

Calendar

Chief Rabban

Scott Jones &

Lady Kim

Assistant Rabban

Donnie Drayton &

Lady Kay

Page 6

January

Notices

Page 7

Holiday Wish

Illustrious Potentate

Randy Williams &

Lady Beth

Page 8

Fezcast

2019

High Priest and Prophet

Vernon Blackburn &

Lady Trisha

Oriental Guide

Frank Wilson &

Lady Valeria

Back Page

Black Camel

Imperial Session

Treasurer

Wes Frye &

Lady Joyce

Recorder

Bob Daniels
---
Al Menah Al Menah Temple Temple

Oasis of Nashville

Oasis

Desert

of Nashville

of TennessEE

Desert of TennessEE

P.O.Box 78545 • Nashville, TN 37207

P.O.Box 78545 Phones • Nashville, 1.615.226.7766 TN 37207

Phones 1.615.226.7766

1.877.505.7766

1.877.505.7766

www.almenahShriners.org

www.almenahShriners.org

The Publication Committee

The Publication Committee

The Divan/Board of Directors

Potentate .................... Horace Frank Perkins Hester III

The Chief Divan/Board Rabban. ..........Randy of Directors Horace Perkins Williams III

otentate Assistant .................... Rabban ........... .........Randy Frank Hester Scott Williams Jones

hief Rabban High Priest ........... & Prophet. Horace .......... Donny Perkins Scott Drayton IIIJones

ssistant Oriental Rabban Guide ..........Randy . Vernon Donnie Williams Blackburn Drayton

igh Priest Treasurer & Prophet . ....................... Scott Jones Wes Frye

riental Recorder. Guide ...................Robert Donnie Drayton

Daniel

reasurer Editor. ........................ Maurice Wes Frye Smmith Smith

ecorder ...................Robert Published monthly except June Daniel and July

ditor ..................... www.almenahShriners.org

Maurice Smith

PAST POTENTATES

Published monthly except June and July

www.almenahShriners.org

*Charles Barham

*John E. Patton

*V. *Charles K. Stevenson Barham

*John D. E. Patton Whalley

*V. K. Stevenson

*John D. Whalley

PAST *W. *W. F. F. Hunt Hunt POTENTATES

Jack Norman, Jr.

*J. Pink Lawrence *Albert Jack Norman, Bennett Jr.

*J. Pink Lawrence

*Albert Bennett

Charles Barham *Ed R. Burr

*Ed R. Burr *John E. *Clyde

*Clyde Patton R. Watson

R. Watson

V. K. Stevenson

*J. Harry Murphy

*J. Harry Murphy *John D. *Marshall

*Marshall Whalley S. Whitley

*Charles N. Rolfe *James J. White S. Whitley

W. F. Hunt*Charles N. Rolfe Jack Norman, *James Jr.

*Paul DeWitt

*G. Cooper J. White Holt

J. Pink Lawrence *E. *Paul M. DeWitt Kelly *Albert Bennett

*J. *G. Coleman Cooper Holt Hayes

Ed R. Burr *Joseph *E. M. Kelly Higgins *Clyde R. *Donald

*J. Watson Coleman

R. Dunning

Hayes

J. Harry Murphy *Ira *Joseph E. Parker Higgins *Marshall *J.

*Donald S. P. Whitley Foster

R. Dunning

Charles N. *Martin

*Ira Rolfe E. Parker

S. Roberts *James J. *Gale

*J. White P. Foster

Robinson

Paul DeWitt *R.

*Martin

C. Derivaux

S. Roberts *G. Cooper *C.

*Gale

V. Holt Robinson

Cramb

E. M. Kelly *Oren

*R. C.

A.

Derivaux

Oliver *J. Coleman *J.

*C.

Nelson

V. Hayes Cramb

Bryan

Joseph Higgins *Lee

*Oren

L.

A.

Gamble

Oliver

*Donald*Robert *J.

R.

Nelson

Dunning Battle

Bryan

*Lee L. Gamble

*Robert Battle

Ira E. Parker *R. R. Clark

*R. R. Clark

*J. P. Foster *Jerry N. Tate

*Jerry N. Tate

Martin S. *William Roberts Raine

*William Raine *Gale Robinson *Fred H. Gay, Jr.

*Fred H. Gay, Jr.

R. C. Derivaux *Hugh F. Smith, Jr.

*Hugh F. Smith, Jr. *C. V. Cramb James A. Campbell

James A. Campbell

Oren A. Oliver *W. A. Bryan

*W. A. Bryan *J. Nelson *Claude

*Claude BryanG. G.

Southall

Southall

Lee L. Gamble *Charles L. Cornelius

*Charles L. Cornelius*Robert *W. Battle *W. B.

B.

Lawson

Lawson

R. R. Clark

*W.

*W.

Bush

Bush Herbert

Herbert

*Jerry N.

*Gale

*Gale Tate Robinson

Robinson

*Marshall

*Marshall

Hotchkiss

Hotchkiss

J.

J.

Dudley

Dudley Phillips

Phillips

William Raine

*Jess

*Jess

B.

B.

Templeton

*Fred H.

Hugh F. Smith, Jr. Templeton

*M.

Gay,

*M.

Norris

Jr.

Norris Jenkins

Jenkins

*T.

W. A. Bryan *T.

A.

A.

Springfield James A.

Springfield

*James Campbell

*James F.

F.

Scalf,

Scalf,

Jr.

Jr.

*James

Charles L. *James

G.

Cornelius G. Stahlman

Stahlman *Claude*William G. Southall

*William B.

B.

Jones

Jones

*J.

W. Bush Herbert

*J.

Clark

Clark

Akers *W. B. Lawson

Akers

Jack

Jack

C.

C. Phelps

Phelps

*R.

*R.

E.

E.

Baulch *Gale Robinson

Baulch

*David P. P. Brumfield Brumfield

Marshall *Thomas Hotchkiss

*Thomas

E.

E.

Doss

Doss

J. Dudley *Zack Phillips

S. S. Parrish, Parrish, Sr. Sr.

Jess B. Templeton Kerbela Kerbela Temple '28 '28 *M. Norris *Robert Jenkins E. Newman

T. A. Springfield *Maurice Weinberger

*James F. *George Scalf, Jr. Cook Cook

James G. *S. Stahlman *S. N. N. Allen

*William*R. *R. B. Parker Jones Graham

J. Clark Akers *W. *W. B. B. Hager

Jack C. Phelps H. H. Parker Toler

R. E. Baulch *O. *O. Lynn Meek

*David P. *R. Brumfield T. T. McNaney

Thomas E. *Jack *Jack Doss Norman

*Zack S. James Parrish, L. Ham Sr.

erbela Temple

*James '28

J. J. Vaughn

*Robert*Charles E. Newman H. H. Williams Williams

*C.

Maurice Weinberger

*C. H. H. Smith

William

*George Cook

D. Jones

*Fred

S. N. Allen

C. C. Laskey

John

*R. Parker L.

Graham

Weaver, III

*Ivo

W. B. Hager

A. A. Burton

Gale

H. Parker Toler

B. Robinson

*T.

O. Lynn Meek

*T. W. W. Bray, Jr.

Joe

*R. T. McNaney

Bell

*James R. Cox

Ronny L. Greer

Jack Norman *Paul R. R. Jarratt

James L. Charles Ham

E. Cardwell

James J. Vaughn *J. *J. Sumpter Anderson

Charles J. H. J. Franklin Williams "Jay" Scalf, III III

C. H. Smith *Hugh W. Robertson

William Conley D. Jones

Dykes

Fred C. Laskey *M. T. T. Gossett

John L. Weaver, David Smith III

Ivo A. Burton *Joe C. Carr

Gale B. Robinson Jim Cain

T. W. Bray, *James Jr. T. Hayes

Joe Bell *Mike Martin

James R. Cox *E. Lee Bennett

Ronny L. *Johnny Greer Dudley

Paul R. Jarratt *Orris E. E. Davis

Charles David E. Cardwell Wantland

J. Sumpter *Raymond AndersonH. Leathers J. Franklin Melvin "Jay" Meadows Scalf, III

Hugh W.

*Hilry

Robertson

H. Shaffer

Conley Dykes

Dennis Belford

*James N. Stansell

M. T. Gossett

*James

David

N. David

Smith

Vaughn

Stansell Carl E. Barnes

Joe C. Carr

Jim CainMike Van Sant

James T. Hayes

*Mike Martin Jeff Head

E. Lee Bennett

*Johnny Frank Dudley Hester

Orris E. Davis

David Wantland * Deceased

Raymond H. Leathers Melvin Meadows

Hilry H. Shaffer

2

* Deceased

Dennis Belford

*James N. David Vaughn

Happy 2019! One of the biggest years in Al

Menah's history is finally here! Shriners from all

over the world will be descending on Nashville as

we prepare to host the 145th Imperial Session. As

the months tick down toward July we will be calling

on our nobility and their ladies to help make our

visitors 'Nashville experience' one that they will

never forget!

As we begin a new Shrine year, join me in

thanking our 2018,Potentate, Horace Perkins III,

for his service this past year. We would also like to

extend congratulations and a hearty welcome to the

Divan for our newly elected Oriental Guide, Frank

Wilson.

It has certainly been a fast four years on this road

for Lady Beth and me. We pledge to do our best

and look forward to a year of fun, fellowship, and

working together to make Al Menah the best temple

possible.

Help us make a difference in the lives of our

Shriner Hospital kids. . .

That's why I wear a fez!

Randall Williams

2019 Potentate
---
From the desk of...

CHIEF RABBAN

Lady Kim and I wish everyone a Happy and

Prosperous New Year! I would like to give

a big thanks to Ill. Sir Horace Perkins on a

great year!

We would like to congratulate Ill. Sir

Randy Williams and Lady Beth along

with the rest of the 2019 Divan. We look

forward to another great year and pledge

our support. Congratulations and welcome

to our newly elected Oriental Guide, Frank

Wilson and Lady Valerie.

I would like to say thanks to everyone for their support and

confidence with electing me to the position of Chief Rabban for

2019. I will continue to work hard and serve all the Nobility to the

best of my ability. It is great to be a part of the Best Shrine Center in

the world. If we continue to work together, then there is nothing we

cannot accomplish... together we can make it grow and prosper.

We are starting the new year with many things coming...

Imperial Sir Jim Cain and Al Menah will need everyone to help in

hosting the 2019 Imperial Session this summer. There are many

areas to get involved in, so if you or your lady are interested, then

please, reach out to any one of the Divan Members. Remember that

the Al Menah Ringmaster Club will be kicking off at the next stated

meeting, this fundraiser is to help offset the cost of the children's

circus matinee. We would greatly appreciate your support. Thanks.

Chief Rabban

Scott Jones

ASSISTANT RABBAN

ASSISTANT RABBAN

Well you had your chance to put an end to

these pearls of wisdom and blew it, so

thank you for your support and I hope

you and yours had a good Christmas

and New Year.

Having been elected to this exalted

position, I didn't really know what a

Rabban was and figured neither did

anyone else, so I looked it up. A Rabban

is a title of honor given by the Jews to the

patriarchs or presidents of the Sanhedrin.

This is pretty serious so I am gonna have to

"up" my game. It's hard to believe the Shrine would use these

religious titles to describe guys like Randy, Scott, or Bingles....

sorry "Jingles" or me.

So my New Year's resolution is "to be nice, patient, and kind

to dumb animals and Clowns." No really, I mean it—it would

be right up there with "quitting cussing and cigars!" (I can't

even keep a straight face while I am typing this crap!) As for the

"Fresh Meat" or Froggy - know that he was duly warned before

he stepped into this mess and that there's no way he's going to

get it off his shoes... Coming in January, New fashion update

"how to make use of old drapes and couch covers" can't wait!!

Assistant Rabban

Donnie Drayton

HIGH PRIEST PRIEST AND PROPHET AND PROPHET

The words Thank You can never be said

enough. So, thank you for all you did last

year in service to Shriners Hospitals for

Children. It is your daily dedication to

serving others that allows Al Menah to

always stand above the rest.

Let's jump right into 2019 with

that same effort and determination to

take advantage of every opportunity we

have to promote Shriners and Shriners

Hospitals for Children.

Thank you Ill. Sir Horace Perkins III for a

great year and for your many years of service to Al Menah.

Congratulations to Ill. Sir Randy Williams and all other members

of the Divan on being elected.

I would like to extend my sincerest gratitude to you for

allowing me to serve this year as your High Priest & Prophet.

Lady Trisha & I are very blessed to be involved in Al Menah and

are truly thankful for our Shrine family.

I wish for you a very blessed and prosperous New Year!

High Priest and Prophet

Vernon Blackburn

ORIENTAL GUIDE

I hope everyone enjoyed the Christmas

holiday season as much as Lady Valerie

and I did. The many parades and

parties kept us busy and provided

opportunities to spend time with our

Shrine family. I also hope you shared

ORIENTAL GUIDE

in the joy of watching our patients

unwrap gifts donated by the Tennessee

Law Enforcement Academy Cadets and

those from the Motor Corps Toy Run.

I'm proud and honored to have been elected

to serve as Oriental Guide for 2019. Thank you for your trust and

support. I, along with Lady Valerie, look forward to serving the

nobility of Al Menah and our Shriners Hospitals for Children. I'm

excited to be a member of the leadership team with the awesome

members of the Divan, including that pie lover, Donnie! I pledge

to work along with the nobility and Divan members to help make

this year fun and successful. Starting right off in January we have

the East West Shrine Game and the Imperial Cruise/Potentate's

trip.

And you may have heard the 2019 Imperial Session will be in

Nashville this year! Participate as much as possible, you won't

regret it.

It's great to be a Shriner!

Oriental Guide

Frank Wilson

3
---
2019 Al Menah Staff Members

Chief of Staff Kenny Loftis (Iowa) Austin Whitaker (Colorado)

Director General

Geoff King

Chief Parade Marshals Sean Jones & Gordon MacDonald

Chief Aide

Chief Personal Aides

General Counsel

Almoner

Chaplains:

Captain of the Guard

Outer Guard

Class Director

Ceremonial Master

Dir. of Works

Michael Villines Jr. & Tim Work

John Whitaker & Tim Work

Earl Porter & Duane DeVault

John Weaver PP

Jeff Phillips, Roy Lindsey, David Butler, Carl Barnes PP,

Dale Francis, Karl Bridgers

Danny Robbins

Provost Guard Officer

Jeff Head PP

Kris Fisher

Randy Byram, Fred Lysak, Don Drayton.AR.

Hospitality Chairman Craig Maddux For Imperial Session

Imperial Director General Parker Toler PP

Kitchen Chairman Ronnie Brown Web Site: Imperial 2019.com

Membership Chairmen Keith Taylor, Kris Fisher

Circus Chairman

Housing Chairman

The Shriner Editor

David Smith PP

Gary Graf

Maurice Smith

Hospital Transportation Chairman

Howard Rodriguez

Paper Sale Chairman

Mini Clinic Chairman

Boyd Parnell

Dr. Johnathan Holt

Shriners Hospital Representatives to the Board Of Governors:

Lexington David Wantland PP, Chris Johnson, Don Drayton AR

Cincinnati Tim Mason, Randy Slapak, Jack Patterson

4
---
2019 Event Calendar

almenahshriner2019@gmail.com

January

1 New Years Day Breakfast

Rose Bowl Parade Watch 10:00 AM

6 Public installation 2:30 PM

8 Past Potentate Dinner

12 Meeting with Drivers / Ambassadors

Unit Captains / Club Presidents

19 East West Football Game – Tampa

20-26 Imperial & Al Menah Cruise

February

16 Temple Valentine Dinner

23 Grand lodge Officers Luncheon

DeMolay Sweetheart Banquet

March

7–9 SESCA Mid Winter (Pigeon Forge)

16 Erin Irish day Parade

26–28 Tennessee Grand Lodge

April

1 100 th DeMolay Degrees @ Shrine

5 Potentate Ball Hospitality

6 Potentate Ball

8-12 Paper Sale Caravan

20 Temple Easter Egg Hunt

One Ring Circus @ Temple

May

1-5 Paper Sale

9-12 43 rd Smoky Mt. Funfest

16-18 Dixie Shrine Association

19 Lexington Hospital Days

25 Ice Cream Social & Gospel Singing

5 th Hot Rod Boogie Car Show

Music Valley Dr – for Shrine Hospitals

June

8 Dudley Fishing Tournament

18 STATED Meeting for Imperial

24 Imperial Officer & Staff in town

29 Imperial 'Walk For Love'

30 Imperial Meeting Starts

July

1-4 Imperial Session – Nashville

2 Imperial Parade - 7:30 PM

10-13 DeMolay State Conclave

13 Youth Dance 8 PM

26-27 Divan Days Lexington Hospital

TBD – Imperial Thank You Cookout

August

3 Casino Party

10 Ladies Luncheon

15-17 SESA (Pigeon Forge)

23 Divan Days - Cincinnati Hospital

September

17 Circus Kick-off Dinner

Stated Meeting

28 Shrine Car Show

October

4-6 Shrine Circus

20 Past Potentate Ladies Brunch

26 Fall Party "Octoberfest"

November

2 Ladies Extravaganza

19 Chief Rabban Dinner

Stated Meeting

December

15 Patients Christmas Party

17 Election 2020 Divan

31 (?) New Years Eve Event

Other Notes:

We are bringing back the Hospital Mini Clinic, date

TBD.

NEW Wed-Site should be up January 2019.

Editor Note: this information is current as of the

January Shriner and subject to change.

5
---
2018 Patient's Christmas Party

FROM WES FRYE:

Many, many thanks for all the help that made the 2018 Patient's Christmas

Party a huge success.

Merry Christmas and Happy New Year to all of you and your families.

wes

amazon

Do you shop on amazon? Most of us do, so why not contribute to the Shriners Hospitals when you shop?

AmazonSmile is a website operated by Amazon with the same products, prices, and shopping features as

Amazon.com. The difference is that when you shop on AmazonSmile, the AmazonSmile Foundation will donate

0.5% of the purchase price of eligible products to the charitable organization of your choice.

Every item available for purchase on www.amazon.com is also available on AmazonSmile (smile.amazon.

com) at the same price. You will see eligible products marked "Eligible for AmazonSmile donation" on their

product detail pages.

You may specify the Shriners Hospital for Children and they will get a percentage of the sales as a contribution.

Every penny helps!!

6
---
Dear Fellow Nobles,

We wish each of you Happy Holidays and a Happy New Year! We also want to thank you for your

commitment and dedication to the missions of Shriners International and Shriners Hospitals for Children® this

past year.

The holiday season is a time to celebrate and treasure family and friends. Each of you is part of our huge,

extended global family, and we are pleased to share this special time of year with you. Some say that hope is an

important part of the holidays. Your efforts help us to bring hope to our patients and families – and one another

– every day of the year; so you could say we keep the spirit of the holidays present throughout the year, which

is a very good thing. Your ongoing efforts, dedication and commitment make this possible. Because of you,

children are able to take their first steps, recover from significant injuries, and go on to chase their dreams and

have lives full of hope and promise.

It is the combined individual effort and commitment of every single one of you that has made our health care

system and our fraternity respected worldwide. Together, we truly do improve lives, and make the world a

better place.

During the holiday season, many of you participate in a wide variety of initiatives – from toy drives to

motorcycle runs to raffles – to ensure that children and families will have a joy-filled time – complete with toys,

food and all the other festive items of this time of year. We thank you for giving your time and talents to

support these efforts, as well.

As 2018 ends, and we begin to anticipate a New Year, we wish you and your families a wonderful year, full

of hope, promise, peace, prosperity and good health. We also ask that our nobles spend some time reflecting on

their fraternity and philanthropy, and re-commit to being as involved and active as possible, and to supporting

local, national and international efforts and initiatives. It truly does take the total effort and energy of each of us

to impact the world around us. If you're not sure how you can take a more active role, speak with your temple

leadership. There are always ways to participate. And, we ask that our staff continue their incredible efforts on

behalf of our atients and families, and continue to support the necessary studies and initiatives to revise and

strengthen our delivery of health care. Remember that Together We Can accomplish amazing things! We look

forward to continuing to work with you, and to continuing to make a difference in the lives of children, and in

our communities.

Finally, together with our ladies, Patsy and Lisa, we thank you for all that you do for our two great

organizations, and wish you holidays full of memorable times with family and friends, and a wonderful New

Year. Enjoy every moment and every memory this special season brings.

Yours in the faith,

Jim Cain

Imperial Potentate

Shriners International

Jerry G. Gantt

Chairman, Board of Trustees

Shriners Hospitals for Children

7
---
8
---
Paper Sale Donation from Kroger

On Monday, 7/18 Potentate Jeff Head and members of the Williamson

County Shrine Club were with Kroger Management at their Belle

Meade store where they presented a $1,000.00 to us for the Shrine

Hospitals for Children. The Kroger Manager was an acquaintance of

Scotty and Teresa Travis who put this together for the Al Menah Shrine

Hospitals for Children Paper Sale.

This is a portion of a message from Phyllis Berry, wife of this

Kroger Store Manager, Michael Berry.

Let me tell you, our son was a Shrine Hospital patient

and we are forever grateful The experience was an

awakening in humanity. The care was phenomenal. The

friendship my family made. The support from the men in

your fraternity was phenomenal. We thank you for all you

and your members do for children across the country.

Sincerely

Phyllis Berry

Fraternally,

Butch Mayes, WCSC

9
---
REMINDER!

NOTICe:

ALL communications

for the Shriner

should be sent to

editor.amsc@gmail.com

10
---
Jack C. Collings

Nashville, TN

01/14/32 – 12/17/18

Thomas O. Conatser

Nashville, TN

01/09/33 – 11/20/18

Nobles Nobles Visited By Visited By

The Black The Camel Black Camel Nobles Visited By

The Black Camel

Ronald L. Grubbs

Cookeville, TN

01/11/46 – 12/14/18

George A. Jones

Columbia, TN

06/30/37 – 12/4/18

Nonprofit

AL MENAH AL TEMPLE MENAH TEMP

Organization

AL MENAH TEMPLE

U.S. POSTAGE

A.A.O.N.M.S. A.A.O.N.M.S.

A.A.O.N.M.S. PAID

P. Box 78545

1354 BRICK CHURCH PIKE

1354 BRICK CHURCH PIKE

P. O. Box 78545

Nashville, TN

1354 BRICK CHURCH PIKE Permit No. 1731

NASHVILLE, TN 37207NASHVILLE, TN 37207

P. O. Box 78545

NASHVILLE, TN 37207

www.almenahshriners.org

www.almenahshriners.

www.almenahshriners.org

Jeffrey A. DeMarcus

Greenbrier, TN

07/19/53 – 11/30/18

James B. Dickerson

Nashville, TN

05//31/47 – 12/10/18

Henry C. Nichols

Nashville, TN

02/18/31 – 11/26/18

Carl A. Pippin

Nashville, TN

03/25/41 – 11/24/18

Richard H. Fulton

Nashville, TN

01/27/27 – 11/30/18

Gerald K. Smith

Murfreesboro, TN

09/23/54 – 11/109/18

Bobby C. Purdom

Chapel Hill, TN

03/13/40 – 12/03/18

DEADLINE FOR FEBRUARY 2019 SHRINER IS JANUARY 18 TH