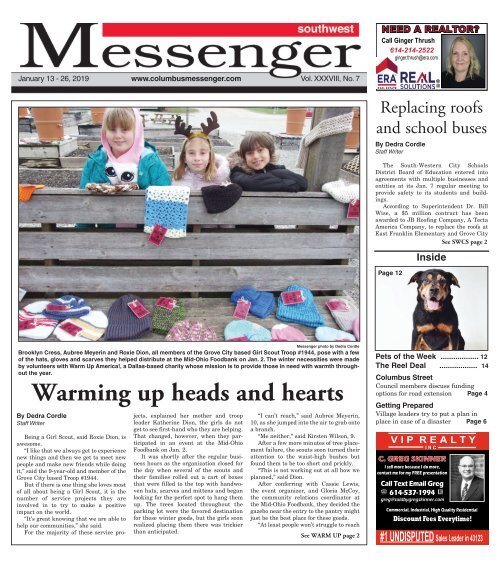 Southwest Messenger - January 13th, 2019
Create successful ePaper yourself
Turn your PDF publications into a flip-book with our unique Google optimized e-Paper software.
January 13 - 26, 2019 www.columbusmessenger.com Vol. XXXVIII, No. 7

NEED A REALTOR?

Call REALTOR?

Ginger Thrush

Call 614-214-2522

Ginger Thrush

614-214-2522

ginger.thrush@era.com

Replacing roofs

and school buses

By Dedra Cordle

Staff Writer

The South-Western City Schools

District Board of Education entered into

agreements with multiple businesses and

entities at its Jan. 7 regular meeting to

provide safety to its students and buildings.

According to Superintendent Dr. Bill

Wise, a $5 million contract has been

awarded to JB Roofing Company, A Tecta

America Company, to replace the roofs at

East Franklin Elementary and Grove City

See SWCS page 2

Page 12

Inside

Messenger photo by Dedra Cordle

Brooklyn Cress, Aubree Meyerin and Roxie Dion, all members of the Grove City based Girl Scout Troop #1944, pose with a few

of the hats, gloves and scarves they helped distribute at the Mid-Ohio Foodbank on Jan. 2. The winter necessities were made

by volunteers with Warm Up America!, a Dallas-based charity whose mission is to provide those in need with warmth throughout

the year.

Warming up heads and hearts

By Dedra Cordle

Staff Writer

Being a Girl Scout, said Roxie Dion, is

awesome.

"I like that we always get to experience

new things and then we get to meet new

people and make new friends while doing

it," said the 9-year-old and member of the

Grove City based Troop #1944.

But if there is one thing she loves most

of all about being a Girl Scout, it is the

number of service projects they are

involved in to try to make a positive

impact on the world.

"It's great knowing that we are able to

help our communities," she said.

For the majority of these service projects,

explained her mother and troop

leader Katherine Dion, the girls do not

get to see first-hand who they are helping.

That changed, however, when they participated

in an event at the Mid-Ohio

Foodbank on Jan. 2.

It was shortly after the regular business

hours as the organization closed for

the day when several of the scouts and

their families rolled out a cart of boxes

that were filled to the top with handwoven

hats, scarves and mittens and began

looking for the perfect spot to hang them

up. The trees located throughout the

parking lot were the favored destination

for these winter goods, but the girls soon

realized placing them there was trickier

than anticipated.

"I can't reach," said Aubree Meyerin,

10, as she jumped into the air to grab onto

a branch.

"Me neither," said Kirsten Wilson, 9.

After a few more minutes of tree placement

failure, the scouts soon turned their

attention to the waist-high bushes but

found them to be too short and prickly.

"This is not working out at all how we

planned," said Dion.

After conferring with Cassie Lewis,

the event organizer, and Gloria McCoy,

the community relations coordinator at

the Mid-Ohio Foodbank, they decided the

gazebo near the entry to the pantry might

just be the best place for these goods.

"At least people won't struggle to reach

See WARM UP page 2

Pets of the Week .................. 12

The Reel Deal .................. 14

Columbus Street

Council members discuss funding

options for road extension Page 4

Getting Prepared

Village leaders try to put a plan in

place in case of a disaster Page 6

V I P R E A L T Y

I N C

C. GREG SKINNER

I sell more because I do more,

contact me for my FREE presentation

Call Text Email Greg

614-537-1994

greg@soldbygregskinner.com

Commercial, Industrial, High Quality Residential

Discount Fees Everytime!

#1 UNDISPUTED Sales Leader in 43123
---
PAGE 2 - SOUTHWEST MESSENGER - January 13, 2019

WARM UP

Continued from page 1

www.columbusmessenger.com

them," said Lewis.

As they gathered up the winter gear and

once again began rolling that cart of boxes

to a new location, they passed a line of people

waiting for the Kroger Community

Pantry to open its doors.

Franklin

Heating Cooling & Refrigeration, Inc.

Tune Up NOW or

Bundle Up LATER!

24 Hour

Service

614-836-9119

Financing Available

OH License #20692

www.franklinheating.com

Amongst the growing crowd was a

woman named Gwynne, a resident of the

eastside of Columbus, who was standing

outside that rapidly cooling evening sans

scarf, gloves or a hat.

"I didn't have time to grab any, but

they're not in the best of shape anyway,"

she said.

Like the rest of the crowd, she was wondering

what these young girls were doing

pushing a cart filled with boxes around the

premises, so she came over to investigate

and report back to the crowd.

When she saw what they were taking

out of the boxes and hanging up throughout

the gazebo, she smiled.

"I just couldn't believe it," she said.

Scattered across the benches, the

planters, and tied to posts were those new

JEFFREY P. COMPTON

ATTORNEY AT LAW

General Practice

Personal Injury • Domestic

Probate • Wills

Power of Attorney

Healthcare Documents

FREE CONSULT & PARKING

614-875-7233 Fax: 614-875-7207

3894 Broadway, Grove City

www.jeffreypcompton.com

Email: jcompton@jeffreypcompton.com

hats, scarves and mittens that were colorful,

stylish and held the promise of

warmth. But the one thing that really

caught Gwynne's eye were the tags that

said "Take Me, I'm Yours."

"Is this for real?" she asked. "Are these

really free to take?"

"They sure are," said Lewis.

"This is such a treat," Gwynne said as

she looked at the winter necessities and

held an attractive multicolored hat and

purple scarf in her hands. "And it does go

well with my coat if I do say so myself."

With a big grin and a heartfelt thanks to

the scouts and the organizers, a new winter

accessory-adorned Gwynne went back to

the crowd to tell them all about what was

going on over at the gazebo. Some quickly

left the line to browse for themselves and

families members.

Roxie Dion said seeing their reactions

and hearing how these goods would help

them meant the world to her.

"It was great to see them so happy," she

said. "I'm so glad I was able to be a part of

this."

The event was organized by Lewis, a former

leader of troop #1944. For the past four

years, Lewis has been volunteering with a

Dallas-based charity called Warm Up

America! whose mission is to provide

warmth to people in need. With an influx of

hats, gloves and scarves, the non-profit

asked its volunteers across the country to

find local organizations that would be able

to distribute these goods to those who need

it most. Lewis reached out to the Mid-Ohio

Foodbank and the Clintonville-Beechwold

Community Resource Center to see if they

would be interested. McCoy said they

didn't have to give it any thought.

"Our clients need more than just food,"

she said. "They need new clothing, toiletries,

food for their dogs and food for their

cats. There is a need for so many things

and that is why it is was important we be a

part of this event."

With the host site established, Lewis

reached out to the local Girl Scouts to see if

they would be willing to place more than

500 hats, gloves, scarves and blankets

around these locations for anyone who

wanted or needed cold weather protection.

Katherine Dion also said they didn't have

to give it any thought.

"We're always looking for a good service

project," she said. "And it just so happened

that our girls got to see first-hand the real

human element of these projects."

Though this was the first year the Mid-

Ohio Foodbank has received winter necessities

from Warm Up America!, McCoy said

she would love for it to become an annual

event.

"There's always a need for it," she said.

To learn more about Warm Up America,

visit www.warmupamerica.org. To inquire

about donating new clothing, toiletries, pet

food and/or non-perishable goods to the

Mid-Ohio Foodbank, contact McCoy at

gmccoy@midohiofoodbank.org or visit

www.midohiofoodbank.org.

SWCS

Continued from page 1

Just Enrolling K-8

Ask about our early entrance kindergarten program

Tuition is FREE!

ENROLLING NOW for 2019-2020 2018-2019 school year!

Hurry, spots fill up quickly!

and Westland High schools.

He said the bid approval came as a

result of the no-new millage bond issue

that was passed by voters on Nov. 7, which

allowed the district to release funds for the

project without the involvement of the

Ohio Facilities Construction Commission.

Wise added that the contract was necessary

not only because the roofs at these

schools needed replaced, but also because

rates on materials are expected to rise in

the near future.

The board also approved a $1 million

contract with Cardinal Bus Sales that will

add five 84-passenger transit school buses,

four 78-passenger conventional school

buses and two 65-passenger with lift buses

to its fleet.

Monte Detterman, director of business

services, said this purchase was a result of

a federal Diesel Emissions Reduction

Grant that the district received last year.

He said these new green buses will replace

the oldest and least fuel efficient buses in

their 200-strong fleet.

The bus contract that was approved also

granted bids for 11 Motorola Radio

Mounting Systems for $3,143; 11 REI

Digital Video Systems for $27,797; and 11

GPS systems for $1,155. Those bids were

awarded to B&C Communications,

Transportation Accessories, and Tyler

Technology Inc., respectively.

The board also entered into an agreement

with the Franklin County Sheriff's

Office to provide school resource officers at

Franklin Heights and Westland High

schools. The district has used the services

of the county for school safety since the

1980s. According to the agreement, the district

will pay the department $228,643 as

reimbursement for the cost.

Tim Donohue, principal at Franklin

Heights, said the school resource officer is

an important partner in the continued

safety of students and staff in the building.

"Our building SRO is an integral part of

our school leadership team, providing

insight and guidance when and where his

expertise in needed," he said in a written

statement.

"In addition to his SRO duties, he serves

as a mentor to our students, going above

and beyond the call of duty to volunteer his

time outside of the school day, getting to

know our students better by attending athletic

events, Special Olympics events and

other school activities.

"Our students, parents, staff members

know safety is a priority at school because

of this strong partnership."
---
www.columbusmessenger.com

January 13, 2019 -SOUTHWEST MESSENGER - PAGE 3

Welcome to 5004 Shoreside Drive

Welcome to 5004 Shoreside Drive located in CREEKSIDE. This split floor plan ranch home is immaculate and shows like a new build. Fully landscaped

lot with outstanding vistas, backs up to a reserve area. Oversized paver patio. Open Floor plan, the owner also had an additional, custom 4 seasons room

built on the back, which is a perfect additional eating area, den, or sitting room....Exquisite eat in kitchen looking out to a huge vaulted great room with a

gas log fireplace. Private master suite with a walk in closet, dual sink luxe bath with a garden soaking tub. Two additional bedrooms share a hall bath.

Basement for extra storage. Captivating Stone and Stucco exterior, plenty of curb appeal. $309,900 MLS#: 219000385

COMMERCIAL, INDUSTRIAL, HIGH QUALITY RESIDENTIAL

UNPRECEDENTED SINGLE AGENT SALES OF OVER $75 MILLION FOR 2015-2018

C. Greg Skinner

614-537-1994

I sell more, because I do more, call me for my free no obligation marketing presentation.

Discount Fees Everytime.

I

GROVE CITY

greg@soldbygregskinner.com

UNDISPUTED #1 in 43123 SALES
---
PAGE 4 - SOUTHWEST MESSENGER - January 13, 2019

By Andrea Cordle

Southwest Editor

City leaders are anticipating progress in

the Columbus Street extension project.

At the Jan. 7 meeting, Grove City

Council approved an ordinance to issue

notes in the maximum principal amount of

SUPPORT

your

Community Paper

Through advertising, community newspapers like the

Messenger have always been FREE papers. In these

tough economic times we are asking you the reader to

help offset the current decline in advertising revenue by

participating in a voluntary payment program*.

To those who have already participated -

We Thank You.

For those who would like to, below is a form

you can mail with your payment.

*This is not a subscription.

.Name:

Address:

3500 Sullivant Ave., Columbus, OH 43204

1 year ($9) 2 year ($18)

Eastside Westside Southwest

Southeast

$6 million in anticipation of issuing bonds

for the road project. Notes are issued in the

short-term for capital projects repaid from

proceeds of long-term bonds.

"We do this for flexibility," said Michael

Turner, finance director for the city of

Grove City. "We don't want to issue longterm

debt when we do not know the final

cost."

Councilwoman and newly-appointed

finance chair, Christine Houk was the sole

vote against the funding ordinance. She

had concerns about setting aside money for

a road project with so much uncertainty.

"Is this the best we could be doing,"

asked Houk. "Putting this road through is

The city of Grove City is committed to providing essential and

innovative services for Grove City and Jackson Township seniors

through a variety of partnerships. Two of the Evans Center's most

popular services are the transportation program and LifeCare

Alliance's Meals on Wheels delivery service. The city unveiled the

latest upgrade to the transportation program, a new bus, on Dec.

19 at the Evans Center. After the unveiling, Grove City and the

Grove City Area Senior Club presented donations to LifeCare

Alliance at their annual holiday potluck luncheon.

Through various fundraising efforts throughout the year, most

notably the Mayor's Cup Golf Outing, the city raised $10,000 in

support of Meals on Wheels. The Grove City Area Senior Club is

contributing another $2,000 for the organization. Coordinated

through LifeCare Alliance, the local Meals on Wheels program distributes

thousands of meals each year to the homebound.

The transportation program operated by

the Evans Center is a resource Grove City

is proud to provide the community. It

forcing the issue."

Houk said economic growth is a key concern.

"We don't have private investment," she

said.

City leaders began discussing the idea of

extending Columbus Street about five

years ago when they were brainstorming

ways to redevelop the Beulah Park property

and connect that area to the Town

Center.

"We all thought we would be further

along by now," said City Administrator

Chuck Boso.

Boso said aspects of the plan have been

completed such as rezoning of the area and

www.columbusmessenger.com

The City Beat

City plans funding for Columbus Street project

BIRTHDAY • ENGAGEMENT • WEDDING • ANNIVERSARY

• GRADUATION • RETIREMENT

IN MEMORIUM • ARMED FORCES

Say it with an announcement ad in

the Messenger and spread the word.

You can download the appropriate form from

our Web site or stop by our office

Monday-Thursday, 8:30 a.m.-5 p.m.

Friday, 8:30 a.m.-2 p.m.

City/State/Zip

Columbus Messenger

3500 Sullivant Ave.

614-272-5422

www.columbusmessenger.com

columbus

a stream improvement project. He said

there has been a delay in construction due

to uncertainty from the Beulah property

developer over who would cover what. The

city still anticipates real estate transactions

would be needed to complete the

extension project.

Houk said an additional concern of hers

is safety for library patrons.

About two years ago, the Grove City

Library relocated from Park Street to its

current location along Broadway, next to

the Columbus Street extension area.

"There are just still so many unanswered

questions," said Houk.

Transportation program gets an upgrade

Messenger photo by Pat Donahue

Grove City officials added a bit of bling to the Evans Center

annual holiday potluck luncheon, with the delivery of a new bus.

The new bus was made possible through a grant from MORPC.

allows senior members of the community

unable to travel by themselves access to

transportation, not just to the Evans

Center to participate in activities, but to

medical appointments, the grocery or drug

store and other key destinations.

The transportation program averages

more than 1,500 trips per year, traveling

more than 18,000 miles. The city's 2009

eight-seat, wheelchair-lift enabled bus was

reaching the end of its effectiveness, so

Grove City applied for a grant offered

through the Mid-Ohio Regional Planning

Commission (MORPC). This grant is part of

the Federal Transit Administration's

Section 5310 Program administered locally

by MORPC to support public transportation

services that meet the needs of seniors

and the disabled.

The grant, awarded in May 2018, provided

80 percent of the total price of a new 12-

seat, wheelchair-lift enabled replacement

bus costing just over $80,000. The new bus

allows the city to serve a larger number of

citizens with a higher degree of comfort and

safety.

"We truly value our MORPC partnership,

allowing us to again enhance mobility

options for Grove City's senior residents,"

said Mayor Richard "Ike" Stage. "Our community

is so proud to enhance its more than 30-year senior transportation

service in central Ohio — just what you would expect

from our twice-named 'Best Hometown.'"

One of the city's longest and most important partnerships is

with LifeCare Alliance. For more than three decades, Grove City

worked with this important non-profit that provides a comprehensive

array of health and nutrition services to senior, medically

challenged and homebound residents of central Ohio including

administration of the regional Meals on Wheels program. The

Grove City Dining Center is one of 31 Meals on Wheels distribution

centers operated by LifeCare Alliance. Volunteers deliver

meals to homes, providing nutrition and personal contact.

The Evans Center benefits from partners large and small, and

all are appreciated. The center also is debuting new furniture

donated by Priscilla Kilman in honor of her husband, Dr. James

W. Kilman, and daughter, Jennifer. This furniture will provide

comfort to visitors in the Evans Center lobby.

For information regarding the Evans Center programs and

activities, including how you can volunteer for Meals on Wheels,

call 614-277-1060.
---
www.columbusmessenger.com

January 13, 2019 -SOUTHWEST MESSENGER - PAGE 5

Welcome to 5960 Buckeye Parkway

Welcome to 5960 Buckeye Parkway located in Grant Run Estates. This immaculate family sized two story shows like new and has a lot to offer. Chefs

dream kitchen with all appliances acts as the hub of this home...Eating bar and a separate eating area which looks out into the great room with a captivating

gas log fireplace..Spacious dining room off of the kitchen . Living/Flex room can also be a home office. Private master suite which is oversized, vaulted

with a luxe bath featuring a soaking tub, dual sinks, shower and a walk in closet. The other bedrooms are spacious and all offer walk in closets. Full

basement, plenty of storage. Impeccable well loved home, ready for new owners...as you know Grant Run is close to shopping, schools , parks and

medical..Stunning and ready for new owners! $259,900 MLS#: 218045059

COMMERCIAL, INDUSTRIAL, HIGH QUALITY RESIDENTIAL

UNPRECEDENTED SINGLE AGENT SALES OF OVER $75 MILLION FOR 2015-2018

C. Greg Skinner

614-537-1994

I sell more, because I do more, call me for my free no obligation marketing presentation.

Discount Fees Everytime.

I

GROVE CITY

greg@soldbygregskinner.com

UNDISPUTED #1 in 43123 SALES
---
PAGE 6 - SOUTHWEST MESSENGER - January 13, 2019

around the southwest

Meeting date change

The Grove City Council meeting is scheduled for 7 p.m.

Tuesday, Jan. 22 at City Hall, 4035 Broadway. The meeting was

moved to Tuesday due to Martin Luther King on Monday, Jan. 21.

For the full agenda, visit www.grovecityohio.gov.

C.M.T

MOWER REPAIRS

614-875-5830

6446 HARRISBURG PIKE, ORIENT, OHIO 43146

Pick-up and Delivery

"We have the lowest price in town!"

Accuratax of columbus

3099 Sullivant Ave. • 614-274-6900

(at the corner of Westgate & Sullivant)

Bring in This Ad and Receive a Discount!

"Serving The Hilltop Since 1983"

APPLIES ONLY TO

TAX RETURN PREPARATION

Hrs: Mon.-Thurs.

10 am - 6 pm

Fri. & Sat. 10 am-5 pm

Not Valid With Any Other Coupon

Government Focus

www.columbusmessenger.com

Village prepares for a disaster

By Dedra Cordle

Staff Writer

around the southwest

The village of Urbancrest is taking preliminary

steps to establish an emergency preparedness plan.

At its regular meeting last month, council discussed

a draft created by members of the health and safety

committee that would establish guidelines for village

officials and residents to use in case of an emergency.

There are multiple steps, said councilwoman Alicia

Wiggins, which village officials should take in order to

be prepared to lead should a natural or man-made disaster

occur.

"One of the first things we need to do is to educate

ourselves about which hazards are more likely to occur

in the area," she said.

She noted examples such as power outages, tornadoes,

flooding, gas leaks and harsh winter conditions

as events that are most likely to occur in the region.

"We have to know how to plan for these things," she

said.

Another step that officials should take, she added,

is to establish a response team where members are delegated

responsibilities and tasks to oversee to make

operations run more smoothly.

"We have to be organized in order to make sure our

residents are aware of what is happening and where to

go," said Wiggins.

She said they need to identify a location or multiple

locations that could be used to house residents for a

longer duration of time.

"We need to have a place or places where people can

go to eat, get warm, charge their phones, have access

to emergency services and find out what is going on."

She suggested reaching out to local churches to see

if they could fill that need.

Another point in the draft was the establishment of

a greater social media presence for the village.

"Like it or not, social media is a means of communications

and those communications can spread rapidly,"

Wiggins said.

She added that the village should be more active on

Facebook and Twitter while also noting the importance

of the village's official website.

"That site has to be updated," she said. "It is not

user friendly."

Wiggins said she often hears from residents who try

to communicate with officials via email but the system

they use often bounces the messages back.

As for the residential aspect in emergency preparedness,

Wiggins spoke of state and county efforts to

improve health and safety such as SMART 911, which

gives emergency medical services access to your medical

information, home information, emergency contacts

and description of pets and vehicles when an

emergency call is placed. Residents must opt in and

can share however much or little information as they

desire. Additionally, Wiggins also spoke about residents

becoming volunteers with the county's

Community Emergency Response Team (CERT). She

said that program would train residents in basic disaster

response skills, such as fire safety, light search and

rescue, team organization and disaster medical operations.

Wiggins reiterated that these guidelines are just

suggestions at this point and could be eliminated or

modified pending additional feedback. She requested

community input regarding the preliminary emergency

preparedness plan.

Mayor Joseph Barnes Sr. said that there were many

aspects of the draft that he liked and added that he

would like to see a plan implemented soon.

"We have to have something in place should an

emergency situation arise again," he said, referring to

the weather event six years ago that created lengthy

and wide-spread power outages. "We can't go through

something like that again without having a good plan

in place."

Reservations for city shelters open Jan. 22

Grove City Parks and Recreation is accepting reservations

for shelters in Windsor and Gantz parks and

ball diamonds in Fryer Park. Make reservations 8 a.m.

to 5 p.m., Monday through Friday, by calling 614-277-

3050 or visiting the Kingston Center, 3226 Kingston

Ave. Reservations are granted on a first-come basis

and are not complete until fees are paid.

Reservations for 2019 dates open on Jan. 22. Due to

playground improvements, the large shelter at Gantz

Park rental is unavailable until July 1.

Reserve shelters for partial or full days: 11 a.m. to 3

p.m., 4 to 8 p.m. or 11 a.m. to 8 p.m. Resident fees for

the gazebo and small shelter at Gantz Park, 2255

Home Road, and the large shelter at Windsor Park,

4330 Dudley Ave., are $45 for half-day reservations

and $75 for a full day ($60/$105 for non-residents). The

large shelter at Gantz Park is available for $55 for a

half day and $90 for a full day ($70/$125 for non-residents).

Fields at Fryer Park, 3899 Orders Road, are available

for rent when not already in use for city activities

by arrangement with the sports supervisor.

Reservations are made in two-hour increments for $20

per field.

Grove City residents also can host an event yearround

at the Eagle Pavilion in Fryer Park.

Reservations are available 365 days prior to the

intended date of the event. Reservations are available

in any combination of three time slots for $175 each: 8

a.m. to noon, 1 to 5 p.m. and 6 to 10 p.m. Full-day

rentals are available for $475.

For more information, call the Grove City Parks and

Recreation Department at 614-277-3050.

Immunizations in JT

Franklin County Public Health will offer adult and

childhood immunizations on Jan. 14 at the Jackson

Township Administration Building, 3756 Hoover Road

in Grove City. Most insurance plans accepted.

Discounted services available for those with no insurance.

To schedule an appointment, call (614) 525-3719

or visit www.myfcph.org/shots.

Our Lady open house

Our Lady of Perpetual Help School, 3752 Broadway,

invites the community to its 2019 open house on Jan.

24. The event will run from 6 to 7 p.m., with a special

session for prospective kindergarten families from 7 to

7:30 p.m. Interested families can also call 614-875-

6779 to schedule a tour.
---
www.columbusmessenger.com

Welcome to 5372 Haughn Road

January 13, 2019 -SOUTHWEST MESSENGER - PAGE 7

Welcome to 5372 Haughn Road..country near the city, with

ACREAGE! Close to schools, shopping, parks, medical and the

YMCA. Much sought after ranch has newer roof, gutters, soffits,

facia, windows, HVAC. Large master suite which will easily

handle a king sized bed, along with a private bath. Separate

living room/flex rooms. Oversized family room with a log burning

fireplace. Kitchen is open to the family room. Dining room which

is more than ample size. Captivating grounds perfect for

watching the deer, birds and other wildlife. This home is a solid

value, needs cosmetics but has been well loved and cared for.

Home is being sold as is, where is.

$229,900

MLS#: 218042325

Welcome to 3455 Grove City Road

COMMERCIAL, INDUSTRIAL, HIGH QUALITY RESIDENTIAL

UNPRECEDENTED SINGLE AGENT SALES OF OVER $75 MILLION FOR 2015-2018

Welcome to 3455 Grove City Road, located in the HOT Grove

City Town Center. Multi purpose open floor plan building that has

been totally reworked.This one is in the Central Business District,

many special incentive programs are available.Such as a

Matching City grant of up to 10k per year for improvements,as

well as 3%, 15 year loan program from the City of Grove City!

Features 4 total bathrooms, one is ADA compliant, an ADA ramp.

Newer generation Windows, concrete, front entrance/porch area.

Newer HVAC-Duct Work, Roof, gas service, sewer tap, 200 amp

electric, hot water heater. Shows bright and nice. Presently has

seating for up to 100 in the main area. Bring your best ideas, this

one has endless possibilities and is in the middle of all the action.

Owner will look at all reasonable offers.

$279,900 MLS#: 218031921

C. Greg Skinner

614-537-1994

I sell more, because I do more, call me for my free no obligation marketing presentation.

Discount Fees Everytime.

I

GROVE CITY

greg@soldbygregskinner.com

UNDISPUTED #1 in 43123 SALES
---
PAGE 8- SOUTHWEST MESSENGER - January 13, 2019

Dream Field nationally recognized

The Dream Field Playground at

Windsor Park was recognized with top

national honors by GameTime

Playgrounds at the 2018 National

Recreation and Parks Association conference.

GameTime, manufacturer of the

playground equipment used to build the

Dream Field Playground, selected Grove

City for its Play Has No Limit: Inclusion

Champion Award in the category of play

spaces that serve all development levels.

The Grove City project bested those in larger

communities including Santa Clara,

Calif., and Springfield, Mo.

The playground was determined to best

exemplify the seven principles of inclusive

playground design, which focus on fairness,

inclusion, smartness/sensory feedback,

independence, safety, activity and

comfort.

The Dream Field complex also earned

statewide recognition from the Ohio Parks

and Recreation Association, a non-profit,

public interest organization representing

1,900 professionals and citizen board members

supporting park and recreational

facilities and opportunities while preserving

natural resources. Grove City topped

all other projects in Ohio to claim first

place for a capital improvement project valued

between $1 and $2.5 million. Judges

used metrics including innovation,

resourcefulness, sustainability and community

impact.

"The acknowledgements and recognition

from recreation and parks professionals

across the country are an appreciated

confirmation of what Grove City community

members already know," said Mayor

Richard "Ike" Stage. "Yet most gratifying is

the prize awarded through the smiles of

children who come from all over the region

to use the facilities."

All children have needs and a desire to

play, interacting socially with others within

their environment regardless of ability.

Enabling children of all abilities to experience

the fun of a playground helps foster

the important physical, social, intellectual

and emotional development that comes

with play. The Dream Field Playground is

unique, as a space that encourages interaction

for children of all abilities — a win for

all. These connections and interactions

help develop comradery and understanding

that facilitate more comfortable, positive

interactions as adults.

The Dream Field complex includes the

Mirolo Dream Field at Mount Carmel

Stadium and supporting structures (spectator

seating, scoreboard, etc.); restroom

facilities and a concession building with a

benefactor recognition wall/walk; the

Baseball for All Family Shelter; and the

Dream Field Playground.

For more information, visit

GroveCityOhio.gov or call 614-277-3050.

Pirates in Grove City!

www.columbusmessenger.com

Messenger photo by Dedra Cordle

It has been many years since pirates have roamed the grounds at the Grove City

Library, but on Dec. 27, nearly a dozen budding ones woke up from their holiday

slumber to engage in battles for territory, seek treasurer hidden among the shelves,

and share in elaborate tales of life on the sea during an event called 'A Pirate's Life

for Me!' Shown here is the infamous Sparky Blackbeard (Xavier Auxier, 4) during the

festivities. The swashbuckling event was established by Rapscallion Stink-A-Lot

Dale Buck, a youth services department leader, as a way to give younger children

and their families something fun to do during the winter break.

The Pinnacle Performance Partners of Key Realty would love to put

their 83 combined years of real estate experience to work for you!

Our team sold a total 73 homes in 2018 which is equivalent to selling a home every 5 days!!!

We sell a lot of homes but more importantly, we sell them with 5 star client satisfaction ratings and will do the same for you!

2019

2019

Jody McCague

614-332-4649

Steven McCague

614-315-2181

Alexandria Shaw

740-215-6656

Sarah Hart

614-716-9808

Roger McDaniel

614-570-3260

We would be happy to provide a free market analysis or buyer consultation to start your new year off right!

3903 Broadway, Grove City, OH 43123 | 614-991-0405
---
www.columbusmessenger.com

January 13, 2019 -SOUTHWEST MESSENGER - PAGE 9

GROVE CITY

STRINGTOWN RD.

71

BUCKEYE PKWY.

Golf Course

PINNACLE CLUB RD.

PINNACLE

WOODS DR.
---
PAGE 10 - SOUTHWEST MESSENGER - January 13, 2019

Health and Wellness

www.columbusmessenger.com

--------

NEW

Grov

ve

City

y

Office!

We have everything we need

to

care for every part of you.

Orthopedic ONE – Grove CIty

|

5500 Nor

th Meadows Drive

Our new

Grove City office is located in the

North Meadows Medical Office building, near

Mount Carmel Grove City. Orthopedic ONE

Grove City no w offfers a convenient multi-special

alty

physi cian clinic

with

on-site imaging, therapy

services s and

appointments five days a week.

To schedule an appointment at our Grove CIty

office, pleas ase call (614) 488-1816 or visit us at

www.orth

thopedicONE.com.

This is where e you go to g et better.

Photo courtesy of K. Browne

Hikers climb a snow covered hill at Slate Run Metro Park during a previous Winter Hike

Series hike.

Explore and enjoy the outdoors

Metro Parks will host its 46th annual

Winter Hike Series this January and

February to enable people to explore and

enjoy the outdoors during the winter.

This year's series kicked off Jan. 5 at

Blacklick Woods Metro Park. The hikes are

free and open to all ages. Varying distances

of hikes are offered at most of the parks,

ranging from 1 mile to 6 miles.

There will be food and hot drinks after

every hike. Meet new friends and get out

and get fit at one or all of the 13 winter

hikes. Just show up and enjoy. No registration

required.

Earn a patch by completing seven hikes

and Friends of Metro Parks members can

get a walking stick or medallions for completing

all of the hikes.

This year's remaining hikes:

•Jan. 13 at 2 p.m. at Prairie Oaks* (1, 3,

or 5 miles);

•Jan. 19 at 10 a.m. at Scioto Audubon*

PAID ADVERTISING

Our number ONE priority is you

At Orthopedic ONE, our number ONE priority

is always you, the patient.

In fact, more people trust Orthopedic ONE to

provide musculoskeletal care than any other

group practice in the central Ohio area. We are the

largest, physician-owned orthopedic practice in

the state, representing nearly 60 of the region's

top general and fellowship-trained orthopedic

experts.

Our care and patient experience are award

winning. Our team ranks in the 99th percentile for

patient satisfaction among other orthopedic practices

across the country. We receive hundreds of

5-star ratings across our review platforms. And

(1 or 2 miles);

•Jan. 26 at 10 a.m. at Clear Creek (1, 3,

or 5 miles);

•Jan. 27 at 2 p.m. at Inniswood (2

miles);

•Feb. 2 at 10 a.m. at Blendon Woods (2,

4, or 6 miles);

•Feb. 3, at 2 p.m. at Scioto Grove* (1 or

2 miles);

•Feb. 9 at 10 a.m. at Highbanks (2.5 or

5 miles);

•Feb. 10 at 2 p.m. at Glacier Ridge* (2

miles);

•Feb. 16 at 10 a.m. at Three Creeks*

(1,3, or 5.6 miles);

•Feb. 17 at 2 p.m. at Slate Run (2.5 or 5

miles);

•Feb. 23 at 10 a.m. at Battelle Darby

Creek* (2, 4, or 6 miles).

*Leashed pets are welcome to walk with

you at these hikes marked with an asterisk.

For information visit metroparks.net.

year after year, our practice accepts both national

and local accolades for care, service and expertise.

At Orthopedic ONE, you have access to the

most diverse range of orthopedic specialties, from

joint replacement and sports medicine, to hand,

foot and spine surgery. Our physicians are affiliated

and work closely with a wide range of healthcare

systems within the region, and see patients at

nine locations throughout central Ohio, including

our newest Grove City office in the North

Meadows medical office building.

To find a physician or office near you, visit

www.orthopedicONE.com.
---
www.columbusmessenger.com

January 13, 2019 -SOUTHWEST MESSENGER - PAGE 11
---
PAGE 12 - SOUTHWEST MESSENGER - January 13, 2019

Historical Society

Help preserve the history of Grove City,

Urbancrest and Jackson, Pleasant. Prairie

and Franklin townships. The Southwest

Franklin County Historical Society meets

Grove City Church of God

"A Healing Place"

4235 Harrisburg Pike, Grove City, Ohio

614-875-7186

Sunday Service: 10am

Wednesday Service: 7pm

• Pentecostal • Spirit-Filled Wordship

• Gospel Ministry • Life Groups

• Central Ohio Living Free

• Biblical Teaching/Preaching

club meetings

Faith Community Church of God

"The Church at the Roundabout"

4203 Alkire Rd., Grove City, OH 43123

www.faithcommunitychurchofgod.com

614-277-8499

Where the whole Bible is preached and

honest answers are given to honest

questions. Join us as we prepare to

begin our new series of Genesis.

9:30 a.m. Sunday School

10:30 a.m. Worship Service

6:30 p.m. Wednesday Bible Study

Be a Part of Our

Local Worship Guide

the first Tuesday each month at 7:30 p.m.

at St. John's Lutheran Church, 3220

Columbus St. For information, pick-up a

society brochure at the Grove City

Welcome Center, 3378 Park St.

Looking for a small, friendly church experience? Try

First Presbyterian Church

of Grove City

4227 Broadway in Grove City

Join us on Sunday mornings:

Traditional wordship at 9am

Sunday School:

Pre-school-4th grade: 9:15am-10am

Adult Sunday School: 10am-11:00am

Contemporary Service: 11:15am-12:15pm

Our upcoming Worship Guide is geared toward celebrating faith and helping

readers connect with religious resources in our community. Make sure these

readers know how you can help with a presence in this very special section

distributed to more than 22,000 households in the Southwest area.

Contact us today to secure your spot in our Worship Guide.

614.272.5422 • kathy@columbusmessenger.com

Pet Corner

Pets of the week

Rummy is such a

kind older pooch.

This 7-year-old

Rottweiler mix likes

to keep to himself

most of the time, but

still likes receiving

love and attention.

Come meet him

today at the Franklin

County Dog Shelter.

FYI: 614-525-3647 or www.franklincountydogs.com

Lindsay is a pretty

energetic pooch and

would love to have a

forever family with a

similar lifestyle to

keep her on the go.

Take her on lots of

walks and she will be

your best friend. She

doesn't seem to mind

other dogs but would

have to meet any furry friends before adoption.

Adopt Lindsay from the Franklin County

Dog Shelter.

FYI: 614-525-3647 or www.franklincountydogs.com

Kimberlee is a 6-year-old gray long haired tabby. Her owner passed

away and she was placed into a rescue group. Kimberlee is quiet and

shy but loves attention and warms up quickly. She needs a forever

home and a chance at the good life. She has lots of love to share.

Adopt Kimberlee from Colony Cats and Dogs.

FYI: colonycats.org

Franklin County Public Health and the

Columbus Academy of Veterinary

Medicine are holding a low-cost rabies

immunization clinic on Jan. 18 for dogs

and cats. The clinic will be held from 1 to 3

p.m. at the Franklin County Fairgrounds

(Ganyard Building), 4100 Columbia St. in

Hilliard.

The cost is $5 per pet, cash only and no

appointment is necessary. All dogs and

cats must be on a leash or in an animal carrier.

Pets between 3 months and 1 year of

age or pets that have never been vaccinated

will receive a one-year rabies tag. Pets

over 1 year old with proof of a prior rabies

vaccination will receive a three-year rabies

tag. Proof of prior vaccination includes

either a rabies vaccination certificate or a

Franklin County/Columbus rabies tag.

All dogs and cats in Franklin County

are required to be vaccinated against

rabies and are required to wear their

www.columbusmessenger.com

These furry friends are available

for adoption at local

rescues and shelters

Fred is a 3-year-old

handsome boy who is

very shy but warms

up rather nicely once

he's used to you. Fred

had a home once but

came back to his foster

family through no

fault of his own. He

will sit on your lap,

especially when you have a blanket. All he

wants is a home of his own. He would do best

as an only child. Won't you give Fred what he

needs the most? Adopt him through Friends

for Life Animal Haven.

FYI: www.fflah.org

Daisy is a 2-year-old

hound mix. She was

rescued from a

Kentucky shelter with

her puppies. She

absolutely loves to

snuggle and be with

her people. She's

also a big fan of the

great outdoors. Daisy

is extremely food motivated, housebroken

and walks well on a lead. Daisy would be

happy to have a canine companion. Adopt her

from Colony Cats and Dogs.

FYI: colonycats.org

Low-cost rabies immunization clinic

rabies tag. Dog licenses will also be available

for sale by the Franklin County

Auditor's Office, and Columbus Humane

will provide microchip ID's at this clinic

($15 each pet).

For more information, visit myfcph.org

or call Franklin County Public Health at

(614) 525-3160.

southwest

Messenger

(Distribution: 21,678)

Andrea Cordle...................................Southwest Editor

southwest@ columbusmessenger.com

Published every other Sunday by the

The Columbus Messenger Co.

3500 Sullivant Ave., Columbus, Ohio 43204

(614) 272-5422

The Columbus Messenger Co. reserves the right to edit, reject or cancel

any advertisement or editorial copy at any time. The company is not

responsible for checking accuracy of items submitted for publication.

Errors in advertising copy must be called to the attention of the company

after first insertion and prior to a second insertion of the same advertising

copy.
---
www.columbusmessenger.com SOUTHWEST MESSENGER - January 13, 2019 - PAGE 13

Home Buyers Guide

A GORGEOUS RESIDENCE

MOTIVATED SELLER

2465 Bradshaw Blvd., Galloway, OH $

675,000

Custom built home w/heated in-grnd pool on a well-groomed near 6-acre wooded lot. Two-story foyer

opens to 2-sty great rm w/wall of windows. Two-sided frplc. 1st Flr Den. Kit. w/SS appls & 2 Lrg granite

islands. DR w/crown detail. Lrg 1st flr owner's suite. Walk-in glass block shower, separate sinks

w/granite & his/her closets. 1st flr Lndry rm. Generous sized bedrooms. Full fin walk-out LL has 2 full BA,

poss. in-law/teen suite & lrg kit & dining area. Expansive deck has entry from both the owner's suite &

the kit, overlooking the back yard. 6 car garages for storage or collector. Private, Serene setting.

568 Willow Lane, Circleville $349,500

Gorgeous 4 BR home, 2 1/2 BA house with large deck, private fenced backyard with LG

shade trees. First flr features hdwd flrs in the living room, dining room, office and eat-in

kitchen. Florida rm is 4 seasons, 1st flr lndry and new granite countertops. Fin. bsmt.

Gary Dean

REALTOR ®

(740) 207-7742

HERRealtors.com/garydean

6299 Leslie Ann Ct, Grove City ASKING: $264,300

Scioto Meadows, Showplace 4 bedrooms, hardwood floors, gorgeous great room,

spacious kitchen, full basement, deck, is among fine homes. Home affords plenty of

room to entertain. Park is just around the corner about 5 minutes away.

Gary Dean

REALTOR ®

(740) 207-7742

HERRealtors.com/garydean

$

79

Nice ranch home with updated windows & doors. Kit. less than a year old. Carpet 5 years old. 2

bdrms, LG living & dining area. Oversized 1.5 garage w/storage. Fenced in yard. Southwestern

City Schools. Great home for young and old. Investment property would be great.

Pam Brown

REALTOR®

614.975.9462

www.era.com

3656 Broadway, Grove City, OH 43123

3870 Richard Ave, Grove City

$

135,000

This home is almost like new. New kitchen w/ appliances, bathroom, carpet, paint, ceiling

fans, light fixtures & more. Brand new roof. Fenced yard & shed. Cover patio. Waiting for

you to buy. Schools close and bus stop.

Pam Brown

REALTOR®

614.975.9462

www.era.com

3656 Broadway, Grove City, OH 43123

4988 APPLE GLEN TRAIL, GROVE CITY

2,106 sq. ft. condo located in Haughn Glen Sub. The 1st floor has a MBR w/MBA &

walk-in closet, huge great rm., office w/French doors, laundry, 1/2 BA & kitchen

w/plenty of cabinets. Loft, full bath & 2 BRs on 2nd floor. Full basement.

Terri Ehmann

REALTOR ®

Direct: (614) 216-7977

Fax: (614) 875-0889

terri.ehmann@herrealtors.com

herrealtors.com/TerriEhmann

Saxton Real Estate

"People Serving People"

Locally owned and operated since 1959

1385 Great Hunter Drive, Grove City, Ohio

$

229,900

What a wonderful opportunity to live in the desired Indian Trails subdivision! This home is just shy

of 2,000 sq.ft. and features 4 bedrooms, 2 1/2 baths, living room, family room and basement.

The outside features a fenced yard, and huge patio with a hot tub! Call for more information!

Jody McCague

614-332-4649

jodymccague@gmail.com

jodymccague.com

3099 Sullivant Avenue, Columbus, Ohio

$

195,000

Fantastic opportunity to own an almost 5,000 sq.ft. income generating office building with long

term tenants! Building can also be owner occupied if desired. This is an all brick two level

building with 15 office spaces, 2 baths and 2 mechanical rooms. Call for more information!

Jody McCague

614-332-4649

jodymccague@gmail.com

jodymccague.com

Contact Saxton Real Estate for more

information about purchasing a HUD home.

3703 Broadway, Grove City, OH 43123

614-875-2327

www.saxtonrealestate.com

http://sageacq.com https://www.hudhomestore.com/home/index.aspx
---
PAGE 14 - SOUTHWEST MESSENGER - January 13, 2019

WINTER

AUTO DEALS

This Week's Features

614-279-8880

www.haydocy.com

CERTIFIED USED SPECIALS

09 PONTIAC VIBE

18B158A

$

Red

6,995

06 HUMMER H3

18G134B

11 HONDA CRV EX-L

18G272B

Leather Heated Seats,

Sunroof & More!

11 CADILLAC SRX

17B153A

AWD Luxury

15 BUICK VERANO

18G322A

Convenience Group,

White. Only 27,000 Miles!

$

15,191

15 VOLKSWAGON

GOLF GTI

18G384A

6 Speed, Auto,

Leather Interior, Sunroof,

ONLY 49,760 Miles!

$

7,995

$

10,995

$

11,995

$

16,795

15 CHRYSLER 300 S AWD

SA1833

Sunroof, $

17,995

Navigation & More!

14 GMC SIERRA 1500

CREW CAB 4X4

18G398A

$

18,995

14 GMC YUKON DENALI

18G215A

Sunroof, DVD & More!

$

28,995

3895 W. Broad St.

www.haydocy.com

There are some movies that are more subtle in their attempt to

become a franchise. Soft hints are dropped in the plot from timeto-time

but ultimately their pleas to the audience and studio are

not egregious enough where they give off the aroma of true desperation.

"Escape Room," however, is not one of those movies with

hidden intent. This film is so over-the-top in its quest for a follow

up that they might as well have used flashing neon signs and

arrows saying "here is where we have enough plot to continue well

into the future. Please let us." Had this decision not been to the

detriment of what was otherwise a decent film, this blatant shoehorned

begging would have been more amusing, if not downright

admirable.

It begins with six strangers meeting in a high-rise building in

Chicago over Thanksgiving weekend. They had been chosen by a

mysterious organization called Minos to participate in the most

immersive escape rooms to date. The prize should they win, the

personalized card states, would be an award of $10,000. Hard to

turn down, right? Wrong! I don't care how much money they are

offering because clearly Cenobites or Cenobite fans are on the

other end. It's a recipe for disaster, or death, or both.

But obviously, these people have green paper on their minds

rather than the silver spikes because after the uncomfortable

introductions are out of the way, they find themselves working

together to escape the room. The initial good vibes of the game,

however, begin to fade when the room grows hotter as the time to

solve the clues runs low. Then, when a burst of fire comes from the

ceiling, they question whether this 'immersive experience' is not

just a ploy to kill them.

Valentine's Show

Tickets - $49.00 (Includes dinner)

Friday, Febuary 9th Doors Open - 6:00pm

Villa Milano Dinner - 7:00pm

1630 Schrock Rd. Show -8:00pm

CALL FOR TICKETS - (614) 792-3135

www.columbusmessenger.com

In Entertainment

You can't escape the major faults in this flick

Mike Albert

&

The Big E Band

"Burnin' Love"

The Reel Deal

Dedra Cordle

Danny (Nik Dodani), an escape room aficionado,

assures his fellow participants

that it was just part of the game, and that

he was clearly cleared from the vent and

into the other room before the explosion

occurred. Having no other option, they

believe him until they start to uncover

escape room clues from their past, clues

only they would know. And as the escape room environments

change and become increasingly more deadly, they don't know who

to trust, when to trust, or whether any of them will get out alive.

With the popularity of escape rooms being used as team

builders, it is no surprise the subject has started to make its way

into the horror film genre. I vaguely remember seeing something

like this before, it might have been called "The Box," and thinking

this subject had some potential for scares.

"Escape Room" is not very scary, (it's PG-13 so the gore is limited)

but it can be unsettling. One of the most unsettling aspects of

this film is the set design and much credit should be given to

Edward Thomas, Tracy Perkins and Mark Walker, who were the

heads of the production design, set decoration and art direction,

respectively. They created escape room sets that were unbalancing

(the upside down room), caused chills down your spine (the frozen

tundra) and somewhat dizzying (the trip room). Their creativity

almost makes me want to recommend seeing this film in the theater.

I won't, of course, but it's rather engaging to look at on a wallto-wall

screen.

Where the film unravels is the third act during the blatant set

up for sequels, and it had been going so well up to that point. It has

sympathetic characters (Deborah Ann Woll, Taylor Russell, Tyler

Labine, Logan Miller and Jay Ellis star), an interesting premise,

an excellent use of visuals and the sense of being uncomfortable

yet entertained. Then came the flashing neon shoehorned arrows

and blew away some of the goodwill.

Because movies like this are cheap to make — it had a $9 million

budget on an $18 million opening weekend return — director and

co-writer Adam Robitel is likely going to be rewarded and get that

sequel if not a franchise. It's just a shame the pitch was so blatant

that it slightly soured an otherwise decent

film. Grade: C

Dedra Cordle is a Messenger staff writer

and columnist.

around the southwest

Book signing for local author

Grove City author Susan Kay Box

Brunner will be featured in a book signing

event at the Book Loft in German Village,

631 S. 3rd St. in Columbus from 1 to 5

p.m., Feb. 10. She will be promoting her

newly released book "Durim Bridges"

about a man coming to a crossroads in life.

For more information, email booksbysusan1@yahoo.com

or visit www.booksbysusan.com.

Free community meal

Bethel Lutheran Church, 4501 Hoover

Road in Grove City, will host a free community

meal every third Saturday of each

month. The food will be served from noon

to 1 p.m. For more information, call the

church office at 875-0510.
---
www.columbusmessenger.com SOUTHWEST MESSENGER - January 13, 2019 PAGE 15

www.columbusmessenger.com

January 13, 2019 - SOUTHWEST MESSENGER - PAGE 15

V I P R E A L T Y

I N C

C. GREG SKINNER

COMMERCIAL, INDUSTRIAL, HIGH QUALITY RESIDENTIAL

• Only agent offering balanced marketing including Newspapers, Magazines,

area Postcards, Enchanced Internet and more!

• 5 Star Rated Columbus Area agent again for 2018 • Discount Fees everytime

Call Text Email Greg 614-537-1994

for a FREE marketing presentation, it spells out all I do to sell your home.

greg@soldbygregskinner.com

UNPRECEDENTED

SINGLE AGENT

SALES

OF OVER

$75 MILLION

FOR 2015-2018

UNDISPUTED Sales Leader in 43123

CLASSIFIED ADS

Deadlines: Southeast and West editions, Wednesdays at 5 p.m., • East, Southwest, Madison editions, Tuesdays at 5 p.m.

All editions by phone, Tuesdays at 5 p.m. • Service Directory, Tuesdays at 5 p.m.

xInformation

xAdult Care

xPreschool/Daycare

xPublic Notice

JANUARY GIVEAWAY

The Columbus

Messenger Newspapers

All classified line ads received

by mail, in person, e-mail or phone

will be included in the drawing.

Drawing will be held January 30th, 2019

and the winner will be notified and published

in our February 3rd, 2019 Madison paper

and our February 10th, 2019 issue

of the Columbus papers.

GOOD LUCK TO EVERYONE!

Information

ELDERLY CARE

IN MY

PRIVATE HOME

Reasonable Rates

Years of Experience

References, Hot Meals, Laundry,

Visiting Physicians & Home Health Nurses

& Much More!

614-777-5850

Adult Care

AMAZING KIDS

ACADEMY PRESCHOOL

4501 Hoover Rd., Grove City, OH 43123

614-530-0283

3-5 Year Olds

2 morning, 3 morning, 5 morning &

3 afternoon

OPEN HOUSE, TUES. FEB. 12 TH

5:30 pm to 7:00 pm

Visit us on Facebook

Preschool/Daycare

LEGAL NOTICE

The Grove City Police Department has recovered

numerous bicycles, tools, electronic equipment, clothing

and monies over the course of several months.

The bicycles are of various types and models, as are

the tools and electronic equipment. All properties are

held in a secured police facility at all times. If you

believe you have claim to any of the property and have

proof of ownership for the property, you may call the

Grove City Police Department Property Room at

614-277-1757. A review and release of any and all

property is by appointment only. All items not claimed

will be sold at public auction, turned over to the Law

Enforcement Fund, or destroyed according to Ohio

Law.

CHARITABLE DONATION

Qualified organizations may be eligible to receive

bicycles as charitable donations from the City of

Grove City. Qualified organizations must have a valid

ruling or determination letter recognizing the taxexempt

status of the organization, pursuant to Internal

Revenue Code Section 501(c)(3) or (c)(19).

Representatives may call the Grove City Police

Department Property Room at 614-277-1757 to

inquire about the donation process.
---
PAGE 16 - SOUTHWEST MESSENGER - January 13, 2019

www.columbusmessenger.com

CLASSIFIED ADS

Deadlines: Southeast and West editions, Wednesdays at 5 p.m., • East, Southwest, Madison editions, Tuesdays at 5 p.m.

All editions by phone, Tuesdays at 5 p.m. • Service Directory, Tuesdays at 5 p.m.

xEmployment

Horton Emergency Vehicles, a Business Unit of REV Group, is the

leading manufacturer of custom-built ambulances since 1968. We

are seeking skilled and self motivated candidates to join our

growing team for the following positions:

Auto Body Painter

Electrician • Electrical Installer

Welder • Fabricator • Material Handler

Horton offers competitive wages, benefits, and an environment of

operational excellence full of dedicated and talented people

committed to a common vision. We are a drug-free workplace.

Interested candidates may apply at

https://careers.revgroup.com

Horton Emergency Vehicles, 3800 McDowell Road,

Grove City, OH 43123

NOW HIRING!

Local High Volume Pharmacy

Immediate 2nd shift positions available

for Pharmacy Clerks and Technicians.

Looking for energetic associates

in a fast pace environment.

NEW Starting rate: $11.50 per hour

Shift differential $.50 an hour

Please apply at: jobs.kroger.com

Use Zip Code 43217

Must be 18 years of age & have high school diploma or GED.

Call 614-333-5012 for more details.

EOE/M/F/Vet/Disabled

INFORMATION

Need to Cure the

Winter Blues"?

Call Marilyn Weaver

For An Appt.

For a New Haircut/Style

614-277-1921

Indulgence Hair Salon

3387 McDowell Rd.

Grove City

ASSOCIATION ADS

VIAGRA & CIALIS! 60

pills for $99. 100 pills for

$150 FREE shipping.

Money back guaranteed!

1-800-503-7846

ASSOCIATION ADS

Spectrum Triple Play!

TV, Internet & Voice for

$29.99 ea. 60 MB per

second speed. No contract

or commitment.

More Channels. Faster

Internet. Unlimited Voice.

Call 1-855-652-9304

ENJOY 100% guaranteed,

delivered to-thedoor

Omaha Steaks!

Makes a great Holiday

Gift! SAVE 75% PLUS

get 4 FREE Burgers! Order

The Family Gourmet

Feast - ONLY $49.99.

Call 1-855-349-0656

mention code 55586TJC

or visit www.omahasteaks.com/lovel3

BE YOUR OWN BOSS!

INDEPENDENT

CONTRACTORS

WANTED

If you have a reliable

car and would like to

earn extra money,

then why not deliver?

• Deliver 1 or 2 days a week

• Flexible delivery hours

• Work close to home - often

in or near your neighborhood

CONTACT US

1-888-837-4342

www.thebag.com

• Deliver 7 days a week

• Delivery before dawn

• Work close to home - often

in or near your neighborhood

CONTACT US

614-461-8585

www.dispatch.com/delivery

ASSOCIATION ADS

GENERIC VIAGRA and

CIALIS! 100 Pills $99.00

FREE Shipping! 100%

guaranteed. 24/7 CALL

NOW! 888-889-5515

Sleep Apnea Patients - If

you have Medicare coverage,

call Verus Healthcare

to qualify for CPAP

supplies for little or no

cost in minutes. Home

Delivery, Healthy Sleep

Guide and More- FREE!

Our customer care

agents await your call. 1-

844-545-9175

AT&T Internet Get more

for your High-Speed Internet

thing. Starting at

$40 / month w / 12-mo

agmt. Includes 1 TB of

data per month. Ask us

how to bundle and

SAVE! Geo & svc restrictions

apply. Call us today

1-833-707-0984

Employment

MAINTENANCE I

The South-Western City School District announces a

competitive exam for MAINTENANCE I. Qualifications and

nature of work and includes high school diploma or equivalent

with additional mechanical training preferred, four years as a

general maintenance person in a specific area, and/or experience and

training equivalent to it, and perform all maintenance tasks related to

building and grounds in a neat, efficient and workman like manner.

This is a twelve-month position working 40 hours per week.

Position starts at $20.00 per hour.

A SWCSD-Grove City Civil Service application must be

obtained, filled out and returned to 3805 Marlane Drive,

Grove City, OH, 8:15 AM to 4:45 PM weekdays from

January 16th through January 29th. A competitive written

exam will be given on Saturday, February 9, 2019 at 8:30 AM

Full benefits - Retirement - Good working conditions

EOE

ASSOCIATION ADS

AIRLINE MECHANIC

TRAINING - Get FAA

Technician certification.

Approved for military

benefits. Financial Aid if

qualified. Job placement

assistance. Call Aviation

Institute of Maintenance

866-453-6204

TOP CASH FOR CARS,

Any Car/Truck, Running

or Not. Call for INSTANT

offer: 1-888-417-9150

If you or a loved one

were diagnoses with

ovarian cancer after use

of TALC products such

as Baby Powder or

Shower to Shower, you

may be entitled to compensation.

Contact

Charles H. Johnson 1-

800-535-5727

Unable to work due to injury

or illness? Call Bill

Gordon & Assoc., Social

Security Disability Attorneys!

FREE Evaluation.

Local Attorneys Nationwide

1-855-498-6323

[Mail: 2420 N St NW,

Washington DC. Office:

Broward Co. FL (TX/NM

Bar.]

Stay in your home longer

with an American Standard

Walk-In Bathtub. Receive

up to $1,500 off,

including a free toilet,

and a lifetime warranty

on the tub and installation!

Call us at 1-844-

374-0013

ATTENTION JOB SEEKERS!!

A Plus Staffing Solutions

NOW HIRING

1st and 2nd Shifts Available

Full-Time and Part-Time

Auction Drivers, Cooks, Servers,

Dishwashers, Bartenders and

General Laborer

CALL TODAY!!! (614) 328-9994

500 S. 4th Street, Columbus, OH 43206

ASSOCIATION ADS

HEAR AGAIN! Try our

hearing aid for just $75

down and $50 per

month! Call 800-426-

4212 and mention 88272

for a risk free trial! FREE

SHIPPING!

Suffering from an AD-

DICTION to Alcohol,

Opiates, Prescription

Pain Killers or other

DRUGS? There is hope!

Call Today to speak with

someone who cares.

Call NOW 1-855-866-

0913

Selling a classic or antique

car? Selling a farm?

Selling construction

equipment? Get one

FREE week when placing

your ad in our network

for two weeks. Call

our office at 800-450-

6631. Not intended for

commercial use.

ASSOCIATION ADS

Behind on your MORT-

GAGE? Denied a Loan

Modification? Bank

threatening foreclosure?

CALL Homeowner Protection

Services now!

New laws are in effect

that may help. Call Now

1-866-928-5204

DIRECTV CHOICE All

Included Package. Over

185 Channels! ONLY

$45/month (for 24 mos.)

Call Now-Get NFL Sunday

Ticket FREE! CALL

1-855-781-1565 Ask us

How To Bundle & Save!

Cross Country Moving,

Long distance Moving

Company, out of state

move $799 Long Distance

Movers. Get Free

quote on your Long distance

move 1-800-511-

2181
---
www.columbusmessenger.com

January 13, 2019 - SOUTHWEST MESSENGER - PAGE 17

xEmployment

MECHANIC II

The South-Western City School District announces a

competitive exam for a MECHANIC II. Nature of work is to

assist in the repair, servicing and maintenance of school buses

and other motor vechicles. Qualifications include: a high school

diploma or equivalent, hold or obtain current Ohio Commercial Driver's

License marked "S" endorsement and two years' experience as an

automotive mechanic is preferred. This is a twelve-month position

working 40 hours per week. Position starts at $21.07 per hour.

A SWCSD-Grove City Civil Service application must be obtained, filled

out and returned to 3805 Marlane Dr., Grove City, OH,

8:15 AM to 4:45 PM weekdays from January 16th

through January 29th. A competitive written exam will be

given on Saturday, February 9, 2019 at 9:45 AM.

Full benefits - Retirement - Good working conditions.

EOE

REPORTER WANTED

Part-time reporter wanted to cover

community meetings in the evenings

and write feature and news stories in

Madison County.

Photography experience helpful.

Please send a resume and

three writing samples to:

Kristy Zurbrick, Madison Editor,

Columbus Messenger Newspapers

78 S. Main St.,

London, OH 43140

or email

madison@columbusmessenger.com

No phone calls.

JOB

FAIR

OR OPEN

INTERVIEWS?

CALL KATHY

TO ADVERTISE

272-5422

ASSOCIATION ADS

Do you owe more than

$5000 in Tax Debt? Call

Wells & Associates INC.

We solve Tax Problems!

Personal or Business!

IRS, State and Local. 30

years in Business! Call

NOW for a free consultation

at an office near

you. 1-855-725-5414

READER

ADVISORY

The National Trade Association

we belong to has

purchased the following

classifieds. Determining

the value of their service

or product is advised by

this publication. In order

to avoid misunderstandings,

some advertisers do

not offer "employment"

but rather supply the

readers with manuals, directories

and other materials

designed to help

their clients establish mail

order selling and other

businesses at home. Under

NO circumstance

should you send any

money in advance or give

the client your checking,

license ID or credit card

numbers. Also beware of

ads that claim to guarantee

loans regardless of

credit and note that if a

credit repair company

does business only over

the phone it's illegal to request

any money before

delivering its service. All

funds are based in US

dollars. Toll Free numbers

may or may not

reach Canada. Please

check with the Better

Business Bureau 614-

486-6336 or the Ohio Attorney

General's Consumer

Protection Section

614-466-4986 for more

information on the company

you are seeking to

do business with.

ASSOCIATION ADS

HughesNet Satellite Internet

- 25 mbps starting at

$49.99 / mo! FAST download

speeds. WiFi built in!

FREE Standard Installation

for lease customers!

Limited Time, Call 1-800-

610-4790.

Lung Cancer? Asbestos

exposure in industrial,

construction, manufacturing

jobs, or military

may be the cause. Family

in the home were also

exposed. Call 1-866-

795-3684 or email cancer@breakinginjurynews

.com. $30 billion is set

aside for asbestos victims

with cancer. Valuable

settlement monies

may not require filing a

lawsuit.

ASSOCIATION ADS

[WANTED] CARS/

TRUCKS WANTED!!!

All Makes/Models 2002-

2018! Any Condition. Running

or Not. Competitive

Offer! Free Towing! We're

Nationwide! Call Now: 1-

888-368-1016

Become a Published Author.

We want to Read

Your Book! Dorrance

Publishing-Trusted by

Authors Since 1920.

Book manuscript submissions

currently being

reviewed. Comprehensive

Services: Consultation,

Production, Promotion

and Distribution. Call

for Your Free Author's

Guide 1-877-626-2213

or visit http://dorranceinfo.com/classified

Employment
---
PAGE 18 - SOUTHWEST MESSENGER - January 13, 2019

www.columbusmessenger.com

xEmployment

Welcome "2019" With A New Job!

TRISTAR IS NOW HIRING

PART-TIME DRIVERS!

NO CDL REQUIRED

Posions are PT, working 20-24 hrs per week

We offer dayme shis, no nights/weekends & have paid

training. Company vehicle provided for use during working

hours. Individuals must be able to pass a background check,

a pre-employment physical/drug screen, have no DUI's and

have less than 4 points on their OH license.

For more informaon, please contact Vanessa at

614-679-7280 or email vfrazier@tristarcolumbus.com

To learn more about Tristar, please visit our website at

www.tristarcolumbus.com

tristar

TRANSPORTATION CO.

MASTER HVACR

SERVICE TECHNICIAN

The South-Western City School District is

accepting applications for the position of Master

HVACR Service Technician. Job description and

qualifications can be found on the district website

at www.swcsd.us by following Employment links,

then Classified & Substitute Positions. The

deadline for submitting an application is Friday,

January 25, 2019. This is a

twelve-month position working 40 hours per

week. Postion starts at $28.10 per hour.

Full Benefits - Retirement -

Good Working Conditions

EOE

IS YOUR HELP WANTED

SIGN WORKING?

If Not, consider advertising in

our Employment Section!

We reach over 40,000 homes in the

West/Southwest areas.

Call Kathy to Advertise

or for more info.

614-272-5422

ASSOCIATION ADS

Earn Up to $5K Per

Month? Work From

Home. No Experience

Necessary. Start Now!

http://earndollarsonline

daily.com Call 1-877-

866-6399

CARS/TRUCKS WANT-

ED!!! All Makes/Models

2002-2018! Any Condition.

Running or Not. Top $$$

Paid! Free Towing! We're

Nationwide! Call Now: 1-

888-985-1806

AIRLINES ARE HIRING -

Get FAA approved hands

on Aviation training. Financial

aid for qualified students

- Career placement

assistance. Call Aviation

Institute of Maintenance

877-818-0783

WANTED

Grill • Server • Dish

You Can Work 29+ Hrs. Based on

Your Availability & Performance

Immediate Full/Part-time Openings

• Weekly Pay

• Paid Training

• No Tip Sharing

• Paid Vacation

We Offer:

• Employee Meal Discount

• Position/Salary Advancement Plan

• Discount Purchase Plan

Apply online at crackerbarrel.com/careers for

Grove City Location

614-871-1444

ASSOCIATION ADS

Sufffering from an ADDIC-

TION to Alcohol, Opiates,

Prescription PainKillers or

other DRUGS? There is

hope! Call Today to speak

with someone who cares.

Call NOW 1-855-901-2049

Attention Viagra users:

Generic 100 mg blue

pills or Generic 20 mg

yellow pills. Get 45 plus

5 free $99 + S.H. Guaranteed,

no prescription

necessary. Call Today 1-

877-896-9004

ADVERTISE to 10 Million

Homes across the USA!

Place your ad in over 140

community newspapers,

with circulation totaling

over 10 million homes.

Contact Independent Free

Papers of America IFPA at

danielleburnett-ifpa@

live.com or visit our website

cadnetads.com for

more information.

IMPORTANT

NOTICE

The following states: CA,

CT, FL, IA, IL, IN, KY,

LA, MD, ME, MI, MN,

NE, NC, NH, OH, OK,

SC, SD, TX, VT and WA

requires seller of certain

business opportunities to

register with each state

before selling. Call to

verify lawful registration

before you buy.

DONATE YOUR CAR -

FAST FREE TOWING

24 hr response - Tax Deduction

UNITED BREAST

CANCER FOUNDATON -

Your donation can help

save a life! 877-654-3662

SAVE ON YOUR NEXT

PRESCRIPTION! World

Health Link, Price Match

Guarantee! Prescriptions

Required. CIPA Certified.

Over 1500 medications

available. CALL Today

For A Free Price

Quote. 1-855-530-8993

Call Now!

ASSOCIATION ADS

$$OLD GUITARS & AMPS

WANTED$$ GIBSON*

FENDER*MARTIN. ALL

BRANDS. TOP DOLLAR

PAID. CALL TOLL FREE

1-866-433-8277

Lung Cancer? And Age

60+? You And Your

Family May Be Entitled

To Significant Cash

Award. Call 866-428-

1639 for Information. No

Risk. No Money Out Of

Pocket.

Have something to sell!

GET 2 FREE WEEKS

OF AVERTISING when

you purchase 2 weeks.

Learn more at macnet

online.com or give us a

call at 800-450-6631

DISH TV $69.99 For 190

Channels. Add High

Speed Internet for ONLY

$14.95/month. Best Technology.

Best Value. Smart

HD DVR Included. FREE

Installation. Some restrictions

apply. Call 1-855-

837-9146

Start Saving BIG On Medications!

Up To 90% Savings

from 90DAYMEDS!

Over 3500 Medications

Available! Prescriptions

Req'd. Pharmacy Checker

Approved. CALL Today for

Your FREE Quote. 844-

776-7620

Wants to purchase minerals

and other oil and gas

interests. Send details to

P.O. Box 13557, Denver,

CO. 80201

Dish Network - Satellite

Television Services. Now

Over 190 channels for

ONLY $49.99/mo! HBO-

FREE for one year,

FREE Installation, FREE

Streaming, * FREE HD.

Add Internet for $14.95 a

month. 1-800-219-1271

Call Empire Today® to

schedule a FREE inhome

estimate on Carpeting

& Flooring. Call

Today! 1-800-508-2824

Employment

IMAGINE SCHOOLS

NOW HIRING

CERTIFIED TEACHERS

Imagine Primary - 4656 Heaton Rd., Columbus, OH 43229

Imagine Great Western - 310 North Wilson Rd., Columbus, OH 43204

Imagine Groveport - 4485 S. Hamilton Rd., Groveport, OH 43125

Imagine Harrisburg Pike - 680 Harrisburg Pike, Columbus, OH 43223

Imagine Sullivant - 3435 Sullivant Ave., Columbus, OH 43204

Resumes can be sent to:

jennifer.keller@imagineschools.org

ADVERTISING

ACCOUNT REPRESENTATIVE

The Advertising Department at the

Columbus Messenger Newspapers

is seeking a Sales Representative.

No Experience Necessary.

Base salary plus commissions, auto allowance.

Senior Citizens and Recent Grads

encouraged to apply.

Please send your resume to:

Doug Henry, Advertising Manager

Columbus Messenger Newspapers

3500 Sullivant Ave.

Columbus, Ohio 43204

or

e-mail to doughenry@columbusmessenger.com

ASSOCIATION ADS

A PLACE FOR MOM. The

nation's largest senior living

referral service. Contact

our trusted, local experts

today! Our service is

FREE/no obligation. CALL

1-844-722-7993

CHILD CARE

OFFERED

Depend. Quality Child care

in loving hm. Exp. Mom, n-

smkr, hot meals, sncks,

playroom, fncd yd. Reas.

rates. Laurie at 853-2472

HELP WANTED

ADVERTISING

ACCOUNT

REPRESENTATIVE

The Advertising Dept. at

the Columbus Messenger

Newspapers is seeking a

Salesperson.

No Experience Necessary

Base salary plus commissions

& auto allowance.

Senior Citizens and Recent

Grads welcome to apply.

Please send your

resume to:

Doug Henry, Advertising Mgr.

Columbus Messenger

Newspapers,

3500 Sullivant Ave.,

Columbus, OH 43204

or email to: doughenry@

columbusmessenger.com

HELP WANTED

Shop / Delivery Person

Needed 8-5, Mon-Fri.

Will Train. Mechanically

inclined, able to drive a

standard shift, able to lift

75 lbs, have a driver's

license and dependable

transportation. Apply in

person at 2270 Harper

Rd., Columbus or call

614-275-0303

Veterinary Assistant

Part time position available

immediately. Duties would

include, but not limited to

the following:

Receptionist - answering

phone, booking appointments,

taking messages.

You would also be greeting

and checking in appointments.

Veterinary Assistant - You

need to be comfortable

handling animals as they

are being weighed, examined,

etc.

Cleaning - Cleaning the

areas used during appointment

or procedures in addition

to general cleaning

and upkeep of the clinic.

Please send your resume

to Hudson's Corner Animal

Hospital, 11365 State

Route 104, Ashvlle, OH

43103 or drop off your resume

during our office

hours.

HELP WANTED

NOW HIRING PLUMBER

& Apprentice. 4 day work

week, vacation after 6

months. 740-625-9990

Caregiver

Needed

Working Part Time with

Elderly & Children.

Transportation,

Some Experience &

References Required.

Drug Test.

2/3

A/M

Call 614-777-5850

Hair Stylist Needed

in Grove City FT/PT.

Hairstylist moving. Need

someone to help take

over clientelle & walkins.

Call Diana 614-875-4540

PETS

Boarding • Grooming

• Pups For Sale

Zoofari-Debcha Kennels

875-1599

WANT TO BUY

ANTIQUES

WANTED

Victrolas, Watches,

Clocks, Bookcases

Antiques, Furn.

Jeff 614-262-0676

or 614-783-2629
---
www.columbusmessenger.com

xFocus on Rentals

January 13, 2019 - SOUTHWEST MESSENGER - PAGE 19

xClassified Services

WEDGEWOOD

VILLAGE

1, 2, and 3 BR Apts.

Rent Based on Income.

Call 614-272-2800 or visit us

at 777 Wedgewood Dr.

DD/TTY 1-800-567-5857

EQUAL HOUSING OPPORTUNITIES

Rentals

xInformation

To Our Gift Card Winner

For DECEMBER 2018

J'Nell Boyd

From

The Columbus Messenger

Newspapers

Information

See...You Looked!

Newspaper

Ads

Catch The

Eye!

Call

272-5422

For Info. &

Pricing

DO YOU NEED

TO RENT

THOSE EMPTY

APARTMENTS?

Call Kathy at

The

Columbus

Messenger

To Advertise

Your

Apartment

Community

614-272-5422

WANT TO BUY

$ Cash At Your Door $

for junk or unwanted cars

(Free Tow). Call

614-444-RIDE (7433)

WANTS TO Purchase

minerals and other oil &

gas interests. Send details

to: P.O. Box 13557,

Denver, CO 80201

We Buy Cars & Trucks

$300-$3000.614-308-2626

CASH FOR CARS

614-276-2597

We Buy Junk Cars &

Trucks. Highest Prices

Paid. 614-395-8775

MISCELLANEOUS

FOR SALE

Total Gym - brand new

All accessories - $750

614-649-1021

RENTALS

WEST

Half Double 2 BR, bsmt.

Rent $650, Deposit $650.

Realtor 614-226-6767

VACATION RENTALS

Englewood, Florida

Palm Manor Resort

Within minutes of white

sand Gulf beaches,

world famous Tarpon

fishing, golf courses, restaurants/shopping,

Bush

Gardens. 2 BR 2 BA

condos with all ammenities,

weekly/monthly, visit

www.palmmanor.com

or call 1-800-848-8141

APPLIANCE REPAIR

Washer, Dryer, Stove &

Refrig. Repair 875-7588

AUTO SERVICE

Don't Get Stuck

in the Cold!

WINTERIZE NOW!

Go To MIDLAND AUTO

for all your

auto service needs!

614-278-9458/778-3864

A Rating-BBB - 46 yrs.

American & Foreign Cars

BASEMENT

WATERPROOFING

Walker's Basement

Waterproofing

Free Est. 614-996-4772

CARPET CLEANING

Dirt Busters Tile/Floor-Any

3 Rms - $44.95. Pet odor

treatment. 614-805-1084

CLEANING

Cleaning, 20 yrs. exp.

Call Judy 614-946-2443

Cleaning Your Home

with Love & Passion

Detailed & Dependable

~ 614-271-8799 ~

CONCRETE

AJ's Concrete,

Masonry

Good Work - Fair Prices

Block Foundations

Driveways • Sidewalks

Epoxy/Overlay Floors

Bonded-Ins. • Free Ests.

Now Accepting Credit Cards

614-419-9932

FENCING

EAZY FENCE

Chain Link - Wood

No Job Too Big or Small

All Repairs ~ Free Est.

Insured. 614-670-2292

GUTTERS

Low Price-Great Service

5 & 6" Seamless gutters,

covers, siding, gutter clng.

Bill 614-306-4541

HAULING

HAULING SERVICES

Quad Axle Dump Truck

Terry - 614-678-0856

DEAN'S HAULING

614-276-1958

HEATING

HEATING

Complete System Clean & Check

$49.95

Free Carbon

Monoxide Testing

Gas-Oil-Electric Heat/Pumps

All Makes • All Models

43 yrs exp. • Sr. Discount

614-351-9025

614-351-9005

1/20 A

1/20 A

HOME

IMPROVEMENTS

LG

REMODELING

Interior & Exterior

Full Service Remodeling

• Bathrooms • Kitchens

• Tile • Drywall • Flooring

• Roofing • Siding • Etc.

NO JOB TO SMALL

A+ BBB Rating

A+ Angie's List

Lic. • Bonded • Insured

614-488-8377

www.lgroofingcolumbus@gmail.com

Quality is our #1 Priority

HELMS' CONTRACTING

Call For FREE ESTIMATES

New Kitchens & Baths

New Replacement Windows

Basement Remodels

Room Additions • Roofs

More than 25 Years Experience

Licensed • Insured • Bonded

Bill Helms 614-296-0850

or 614-801-1801 1-20

W/SW

C&JHandyman

Services LLC

Minor Plumbing &

Electric

Install Hot Water Tanks,

Dishwashers & Disposals

Also Fencing &

Interior/Exterior Painting

Free Est. ~ 18 Yrs. Exp.

Accepting Visa/MC

614-284-2100

SINCE 1973

Phil Bolon Contr.

Windows & Siding

Decks, Kitchens, Baths

Room Additions,

Flooring, Roofing

Bsmt Waterproofing

Deal With Small Non-Pressure Co.

45 Yrs. Exp. - Refs. Avail.

Lic.-Bond-Ins.

Free Est. - Financing Avail.

Member BBB Of Cent. OH

O.C.I.E.B. ID #24273

614-419-3977

or 614-863-9912

HOME

MAINTENANCE

1-20

A/M

Retired Finishing Carpenter

for all your extra home

repairs. over 40 yrs. exp.

Sonny 614-325-1910

IINFORMATION

ONLY

$50.00

For This Ad In Our

West & Southwest

For Info Call

272-5422

1-20 A&M

1-20 A

HOME

MAINTENANCE

NEED A HAND?

Affordable Handyman

Services. Minor plumbing,

electrical, drywall, painting,

junk removal, odd jobs & more.

Call Dustin for a FREE

estimate today!

614-357-7847

LET US MAINTAIN

YOUR LAWN & GARDEN

FOR YOU

Summer, Spring,

Winter or Fall

WE DO IT ALL!!!!

Lawn Cuts, Edging,

Trees & Shrubs, Garden,

Mulching, Hauling,

Garden Pond &

Home Maint.

Free Ests. Low Rates

$20 & Up

Kevin - 614-905-3117

A Complete

Moving

Reasonable, Reliable

No Job Too Small

PUCO #150692-HG

Free Estimate

614-878-1179

SHOP THE CLASSIFIEDS!!

Only $1 per line

❏ Check for one additional FREE week.

Classified Services

columbus

Telephone: _________________________________________________________

Print Your Name:____________________________________________________

Last

First

Print Your Address:___________________________________________________

Print Your City:__________________________ State:_______ Zip:____________

West ___ Southwest ___ East ___ Southeast ___ Madison___

Print Your Ad Below…

One word each space. BE SURE YOUR TELEPHONE NUMBER OR ADDRESS is included in your

advertisement. The lessor of 4 words or 22 characters per line. We reserve the right to use abbreviations

when actual space exceeds amount purchased.

1. __________ __________ __________ __________

2. __________ __________ __________ __________

3. __________ __________ __________ __________

4. __________ __________ __________ __________

5. __________ __________ __________ __________

6. __________ __________ __________ __________

Columbus Messenger

3500 Sullivant Ave. • Columbus, Ohio 43204

614-272-5422

classified@columbusmessenger.com

$

LAWN CARE

MOVING

1/20 A&M

Not Valid for Garage Sales

PAINTING

Painting - Int./Ext.

Power Wash-Gutters Clnd

Free Est. - 26 Yrs Exp.

Call Dave 614-270-2369

God Bless

New Paint For The New

Year! Burt's Painting

Free ests. 614-539-3412

PEST CONTROL

Anthony Pest Control

Eliminate Your Pest For

Less $$. 614-600-8841

PLUMBING

All About Drains & Plumb.

Will snake any sm drain

$125 + tax. 614-778-2584

ALL IN ONE

PLUMBING LLC

"One Call Does It All"

$25 OFF LABOR

With This Ad

A

614-801-1508

All Major Credit Cards Accepted

ROOFING

Robinson roofing & repairs

30 yrs. exp. Lifetime Cols.

resident. Lic./bonded/Ins.

Reas rates. Member of

BBB. Dennis Robinson

614-330-3087, 732-3100

❏ Cash

❏ Check

❏ Money Order

❏ VISA ❏ MC

2/3

REPAIR all makes 24 hr.

service. Clean, oil, adjust

in your home. $39.95 all

work gtd. 614-890-5296

Snow Removal

Vet/Sr Disc. Call Today!!

614-586-3417

TREE SERVICES

BURNS TREE SERVICE

Trimming, Removal &

Stump Grinding.

614-584-2164

Brewer & Sons Tree Service

• Tree Removal

• Tree Trimming 1-20

A&M

• Stump Grinding

• Bucket Truck Services

Best Prices • Same Day Service

614-878-2568

Joe's Tree & Yard Work

Trim, thin, shape bushes,

hedges, stump grinding,

hauling. 614-598-6247

Credit Card

Information

___

__________________________

Credit Card Number

____________

SEWING MACHINE

REPAIR

SNOW REMOVAL

__(___)__

Exp. Date 3 digit code

Minimum Charge $5.00
---
PAGE 20 - SOUTHWEST MESSENGER - January 13, 2019

www.columbusmessenger.com